The Kuraoka Family Weekly Journal
Germany 2004
www.kuraoka.org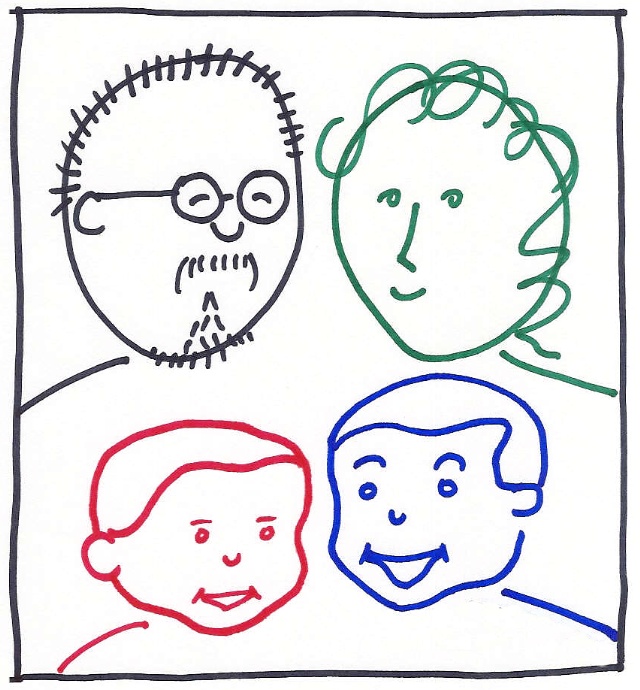 Us: John (42!), Ondine, Leo (2), Roy (4)
Monday, 02 August 2004
Froehlich Geburtstag to John! Yup, he's a year older today, so it's no surprise that we have corrections to Friday's journal due to his senility.
The park with the matsch-spielplatz (the "mud play area" with the water and sand) is the MueGa (Muelheimer Gartenshau); the "Darlington Park" bit commemorates one of Muelheim's partner cities. And, it was Ilka who invited John to the game. Finally, the exchange rate is about one dollar to 0.83 Euro.
A quick review. Last week we flew LTU from LAX to Duesseldorf, a ten-hour flight, then were brought to beautiful Muelheim, our home for the next six weeks. Dax und Juergen were here to shepherd us along for our first couple days, for which we're deeply grateful. They introduced us to a circle of friends and neighbors, and the welcome we have felt is warm and wonderful.
Even after being carefully guided around town, following the simplest of routes, by Dax und Juergen, we turned out to be slow studies.
We are also very grateful for Patricia, a neighbor who has a daughter, Veronica, nearly four years old. Patricia has been absolutely wonderful showing us around, and helping us deal with everyday matters like finding telephone numbers and telling us that our dryer is beeping.
"Our" flat. Here's a capsule description of our immediate surroundings. The street is a quiet one, with townhomes, houses, and tall trees on both sides. The closest major intersection is Brandenburg and Friedhofstrasse. "Our" flat is on the third floor, up a spiraling marble-like staircase that echoes especially loudly with two small children. There is one flat per floor. The stairs continue down to the cellar, which has the washing machines, dryer, cellar storage areas, rec room, and exit to the inner courtyard.
But, if you wind all the way up the stairs, you'll find us in "Casa Wittmann." You walk into the foyer/dining area, and on your immediate right is John's workstation with his laptop, set on a green antique sewing machine treadle with a heavy wooden tabletop. There are two windows, one of which is also a door leading out to a balcony overlooking Langensiepenstrasse and the entrance to the complex three stories below. Turn to your left, and you're facing the living room with its windows looking out onto the balcony patio. The kitchen is on your left and the two bathrooms and two bedrooms are on your right. That sounds like not a lot of space, but we wouldn't be surprised if the flat is about the same size as our four-bedroom house in San Carlos. The rooms are huge; for instance, just the living room and balcony patio are at least as big as our entire old house on Meade (which had just one bathroom less in 660 square feet). The flat is luxuriously furnished, with gleaming tile floors, white walls, lush plants, a wall of books, and an eclectic, worldly blend of decorations that mix South American wall hangings with Persian rugs with children's pictures with African masks with paintings of nudes by an artist whose signature looks like "E Rutert."
Friday Patricia showed us where she buys meats and fruits. The walk is a little longer than from Barker Way to Albertson's on Navajo Road, and winds through some pretty woodlands and residential areas. We bought some sausage, pork, apples, and milk. The boys were dog-tired when we arrived back home, but after we put them to bed Leo was up, then Roy was up, then the two of them were awake talking and rollicking around until after midnight. John had moved a large ball out of the hallway and placed it next to their door. That turned into a huge topic of discussion for Roy and Leo. Roy: "Look, someone must have put this ball here." Leo: "Daddy did it." Roy: "Daddy is asleep. I wonder if there's a wind." Daddy, who was not asleep, finally had to go and growl at them, after which they fell into a scared-of-Daddy-Bear silence broken by only the occasional complaining moan or surreptitious giggle.
We had a new experience when we decided to use the bidet instead of taking a full shower. Ondine had to show John how to use the bidet first, though, one of those oddball married moments. Anyway, we liked the bidet; quicker, easier, and less wasteful than a shower. We got to thinking about those computerized bidet seats they sell at Mitsuwa. Then we tried to see how much could one wash in a bidet? Feet yes, armpits no, was the conclusion.
Saturday morning, we devised a different plan for putting the boys to bed. Friday night, we had let them share that special late-night brother-bonding thing. But, that went on too long. So, for Saturday, we decided we'd wake them up at a regular time, and run them ragged all day. We got them up at about 7:30 or 8 a.m. We did some cleaning and John washed a load of whites. Ondine called Desiree, her college roommate at the University of Heidelberg, and scheduled our trip to her house in Ladenburg. Desiree and her husband, Martin, have two boys, Paul and Till. Then, she called Hans Jochen, Juergen's brother, and arranged to meet him and his family on our way back from Ladenburg. So, we have a week to master the road signs and traffic! We're making a determined effort to get out and drive every day.
Speaking of which, it was a little after noon when we drove to the MueGa for the first time on our own. Ondine drove there, and we got lost! We ended up in downtown Muelheim. We made our way back to the park. It was Afrika Tage at MueGa, Africa Days. We walked along the Ruhr to the beat of the drums, and got to see the fountain we had seen, semi-live, on the Muelheim/Ruhr webcam (see our main page for the link). Then, we turned back into the park and found the Afrikanischer Markt. We had to drag the boys away from the drummers, because we had made a date with Patricia, Gregor, and Veronica for a late afternoon kaffee trinken und schwimmen. John drove home, and we got even more lost! For a while it looked like we were headed to either Bonn or Duesseldorf. Or Madrid. We had to stop twice for Ondine to look at the map. Woo hoo! Roy, in the back, asked, plaintively, "will we ever get home?" We told him that getting lost was part of the adventure of travel. Ondine navigated us back home safe and sound, by which time both boys were fast asleep. We woke them up (ha! Serves them right for keeping us up all night), gathered the swimming stuff together, and met Patricia, Gregor, and Veronica in the courtyard downstairs.
They had laid out a wonderful spread of pastries, tea, and coffee. Wow! That perked the boys right up. Veronica had some sidewalk chalk to share too. Roy drew some of the amazing fountains and spirals from the MueGa. We told Patricia and Gregor about our adventures getting lost.
After kaffee trinken, we went to the indoor pool just off the courtyard. It's a wonderful facility, with showers and a sauna. The pool is about four feet deep all the way across, and the water was nice and cool. It felt warm to get out of it! Roy and Leo splashed and played in the water.
We put the boys to bed, dog tired, at about 7:00. Leo screamed until about 9:00, then fell asleep. Ahh! Roy woke up once at nearly 11:00, probably because Leo in his wandering had turned the light on then fallen asleep.
Sunday morning, Erika and Paul (who were at the party) came to pick up Ondine for some walking. Ondine thought they meant a stroll, but it turned out to be a group of fitness walkers. So, Ondine got an hour of serious, fast-walking exercise! Later, Virginia and Dag, and Dag's parents, came over for a visit. It was quite a funny thing to meet up with them here in Germany! Virg and Dag were surprised to see Ondine with Erika and Paul – Ondine felt like quite the local. Virg and Dag, and Dag's parents, drove five hours to come see us, which was such a sweet thing of them all to do. We showed off Dax und Juergen's flat, then went to lunch at Tannenhof, a nearby restaurant with its own playground. Dag drove his parents, and Virginia walked with us. Then, Dag came back in the car to report that the restaurant was farther away than previously thought. He picked up Virg and Roy, while we decided to pick up the pace with Leo in the stroller. So, Ondine got a second power walk in!
We had a delightful, leisurely lunch with unusually slow service (it took about an hour to be served, which is a long time for the boys). Dag's mother played with Roy, while Leo seemed pretty content to sit and watch. The boys enjoyed the playground with its swings and teeter-totter. John had gruene bandnudeln mit Frisch pfifferling, green pasta with fresh chanterelle mushrooms in a cream sauce. Ondine ordered the mushrooms mit roasted potatoes and eggs. The boys got fish sticks, which Leo devoured but Roy didn't seem to care for. But, they did enjoy the pommes frites (French fries).
We said goodbye to Virg and Dag at the restaurant, since they had a five-hour drive back to his parents' house, from which they were headed to Mallorca. We had a quiet afternoon, and again started putting the boys to bed at around 6:30. Leo screamed for only about an hour this time, so things are looking up!
Monday was one of the two designated wash days we have (we have Monday and Tuesday, the Hocevars have Wednesday and Thursday, and the other days are catch as catch can for everybody). We'll take full advantage of that. And, it's John's birthday. What is he, 50-something? Nah, just a scruffy 42. Ondine served up some dampfnudeln with vanilla cream, after which the boys bounced off the walls.
Erika und Paul volunteered to walk around the city with us, showing us where things are. So, we piled into the car, determined to find our way to the parking lot by the MueGa in one motion. We had carefully plotted our route, and discovered where we had been (or thought we had been) missing a turn. As John struggled to back the car out of the driveway, suddenly there were Paul und Erika! They had come to show us the way. (Word seems to be getting out about how lost we are.) They took us to the Muega by a different route. So now we're totally confused. But, we had a great time exploring the town. Erika und Paul treated us and the boys to eis (ice cream) along the river – delicious! And, they gave John a birthday present – two baseball caps ("Mehr als Wohnen/Gardenstadt Huetenau eG" and "30 Jahre Uni Essen") and a CD of what they said was "typical German music" by a singer named Heino. Vielen dank fuer das Geschenk! They also showed us where to buy bus passes cheap. Hmm, do you suppose that maybe they're worried about us being loose on the roads? (Or, as Dag put it yesterday, "Americans off their leash!") Erika und Paul are heading to Moscow and St. Petersburg for two weeks, which sounds like an exciting trip!
On the way home, we stopped for milk and other necessaries at Real, the supermarket (after getting lost again; we decided that it's best for John to drive and Ondine to navigate, since she can read the road signs). Ondine had a pang of sticker shock when she thought the price on some salami she just had sliced was more than 17 Euros (which would have been a bit over $20), but it turned out that that was something else. The selection of kaese (cheese) is wider than we see in the States, and generally priced lower too. But, on most items, the weak dollar makes things cost more. We bought a haircut clipper (4.99 Euro), so John can cut his and the boys' hair.
We came home and got ready to go swimming with Patricia, Gregor, and Veronica. This time, we brought down the kaffee trinken – quite a labor going down all those stairs! They had set up a wonderful Playmobil canal set, with a working lock and lots of little boats, which occupied Roy for quite some time. Then, we all went swimming. Veronica, who is nearly four years old, is truly water-safe – she can jump in and swim the entire length of the pool.
We put the boys down at a usual hour, around 7:00. And, despite their fuss, they both actually went to sleep! Maybe they are finally getting adjusted. John's Mom, Frances, called this morning to wish John a happy birthday, and Barbara and Bill called him in the evening.
This week, Roy and Leo start their classes on Tuesday mornings and Friday afternoons in Saarne, a neighboring suburb. Ilka will come over to accompany Ondine to the class, so she can follow her in the car. But, the drive back from class will be our first solo drive, since John needs to work. Wish Ondine luck!
The weather last week was absolutely delightful: sunny and warm, but not hot, with comfortably cool evenings. That was apparently the first warm weather in a while, as several people thanked us for bringing it from California. The nice weather stayed with us over the weekend, despite the forecast for rain.
Pop Quiz:
The two baseball caps Paul und Erika gave to John said "Mehr als Wohnen/Gardenstadt Huettenau eG" and "30 Jahre Uni Essen." Translated, John's forehead now says:
A) "More women in the garden with extra-Grande hooters" and "30 jars of olive essence."

B) "Pardon my driving/I should be gardening or playing a Hootenanny" and "30 Years, One Smell."

C) "The Garden City of Huettenau: More than a place to live" and "30 Years University of Essen."
If you chose anything but C, you are one sick puppy. Honestly, we don't know where you get those ideas.
Read on ... continue to the next journal.
See the photo highlights ... on our Mülheim photo page.
Visit our current journal, updated at least once a week since 1998, right here.
Back to the Kuraoka Family main page, with lots more stuff, including photos!