The Kuraoka Family Weekly Journal
Germany 2004
www.kuraoka.org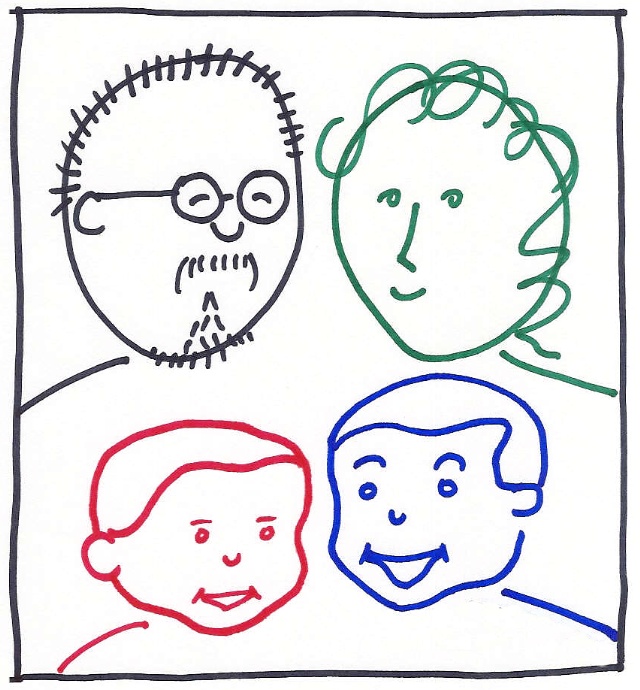 Us: John (42!), Ondine, Leo (2), Roy (4)
Friday, 06 August 2004
We're getting ambitious! We may be leaving this evening or tomorrow morning to drive to Ladenburg, to stay with Ondine's former college roommate, Desiree, and her family.
Over the weekend the boys finally settled into a more-normal sleep pattern. We went to the MüGa for the first time on our own, and got lost both going and coming home. We had kaffee trinken und schwimmen with Patricia, Gregor, and Veronica. Virginia and Dag (from San Diego) came for a visit, accompanied by Dag's parents. It was quite a drive for them to come visit us!
Monday was John's 42nd birthday. Frances called him, as did Barbara and Bill. Erika und Paul came to show us around the city, and gave a present to John: a CD of German music and two caps. Ondine went to the stadtmitte (town center), and found an ATM, transit tickets, a Fielmann's (for glasses), and more. On the way home, we stopped at Real for groceries and a hair clipper.
After we came home, we went swimming with Patricia, Gregor, and Veronica. This time, we brought down the kaffee trinken. We put the boys down at a usual hour, around 7:00. And, despite their fuss, they both actually went to sleep! So, they are finally getting adjusted.
Tuesday, Roy and Leo started their class in Saarne, a neighboring suburb. Ilka came over to accompany Ondine to the class, so she can follow her in the car. They had a great time at the class, which featured songs and accompanying movements. One was about a porcupine. The teacher, Martina, suggested that Ondine could go outside for brief intervals, to get Leo used to being in class by himself. (Roy, of course, is accustomed to being in a class.) That way, Ondine could conceivably leave the boys in class and go run errands, as most of the moms do. The class goes from 9 until 1, a full half-day.
While they were gone, John worked on projects for Rhino Linings (San Diego), Orsus Solutions (Israel), and First Northern Credit Union (Chicago). He also put his birthday CD from Erika und Paul on, and cranked it up. He played it twice, hoping to start being able to sing along, but when Ondine returned home with the boys, they wanted classical.
When John picked up the mail, there was a birthday card from his Mother, all the way from La Canada.
Tuesday evening, Leo started singing the "Hello Song" from the class. It was very cute – somehow, he was thinking about it.
Wednesday was a cooler day than we've had this past week. In the morning, we had two wasps inside. Roy was very worried, but when Ondine told Leo that the wasp just wanted to sniff his food because it was hungry, Leo wanted to feed the wasp. "Here, wasp," he said, holding a piece of apple out on his fork. "Eat this."
It started to sprinkle for a couple hours in the mid-afternoon. John picked up a new project for MADD and may pick up a small project from the Netherlands. So, his work is just humming along! This bodes well for future trips.
Here's Leo's first original knock-knock joke. Are you ready? "Knock-knock!"
(Who's there?)
"Pepper and cheese!"
This is hysterically and endlessly funny if you're two years old.
The reality that we're in another country is sinking in on the boys. "We're in Germany!" both of them say, delighted by all the different things we see. The street sweepers and garbage trucks have been especially exciting.
In the evening we went to Real for gas and groceries. After dinner, Ondine cleaned the bathrooms.
Thursday morning, we finally picked up our voice mail. It wasn't hard – it was just there were so many other things to do this week that figuring out the voice mail turned out to be a surprisingly low priority. We had three messages waiting for us.
Ilka came over to take Ondine, Roy, and Leo to the petting zoo. It was a gorgeous day, sunny and warm with clear blue skies. So nice, that John strolled down to the neighborhood bakery, and bought two tarts and two brochen. The plum tart was very tart, and the boys gobbled it up. The other thing was a poppyseed kuchen – very interesting with a sort of bittersweet, nutty center of packed poppyseed filling. We decided that the brochen is somewhat better than the brochen from Real, and if pricier (0.23 Euro each, vs. five for 0.59 at Real) is certainly convenient. The petting zoo was set in a lovely wald with tall, shady trees. Roy und Leo petted goats and sheeps and looked at pigs and fed deer and in all had a great time.
In the late afternoon, Ondine drove all by herself to the MüGa, then walked into the Forum to buy beads for a project. She made it there and back safe and sound, although Roy, who stayed home, with Leo and John, voiced his concern: "How will you get back home?" Roy, John, and Leo walked to the little neighborhood park. When Ondine came back, she parked on the street instead of in the driveway. The driveway is still a challenge to back out of because it's so steep.
In the evening, Patricia invited Ondine to go for a walk after the boys went to bed. So, she did, and they ended up at the local bar/restaurant, the Tannenhof, where Ondine had her first beer of the trip.
Friday morning, the boys were being rats. "We're kitchen rats," Roy said in a raspy rat-voice. "We pour out all the peanuts and eat them all!"
A ringing of the building doorbell startled us. Ondine answered, and it was a neighbor down the street. When she parked the car on the street last night, she had inadvertently blocked not just one but two driveways! She apologized profusely and sheepishly, and (because she wasn't dressed for going outdoors) John went to move the car. John apologized again to the man, who, fortunately, was good-natured and seemed rather amused.
In the afternoon is Roy and Leo's second class, a different one with a different teacher. Then, we may hit the road ("Americans off their leash!" as Dag said) to Ladenburg, about a four-hour drive away. Yes, on the Autobahn. Or, we may wait until Saturday so traffic will be lighter.
Things we have learned since our arrival.
Driving: That, while German drivers are aggressive and fast, they are also focused on driving, unlike California drivers who are aggressive, fast, and distracted. That the German interpretation of "yield" means waiting for a fast-moving space a few feet longer than the car you're driving. That if you stall at an intersection, the horns don't start until you've had at least one chance to re-start. That Einbahnstrasse is not the name of a street (the arrow is the big tip-off). That the power windows work with the car turned off and the key out of the ignition.
Trash: That if we don't throw out the biol (the composting trash) every evening, we get a big harvest of tiny flies. That both the aluminum foil and plastics go into the yellow recycling tonne (can). That, as Ilka said, the world won't come to an end if there's something recyclable in the regular trash. That the trash gets picked up every couple days.
Kid Stuff: That most people use disposable diapers (Pampers seem to be the only brand). That there is nothing as good as Penaten Cream. That the cheap toys in Germany are made in China too. That, even halfway 'round the world, there's one kid in every class you really have to keep an eye on.
Other stuff: That Germans get less mail than Americans, mostly because American mailboxes are stuffed with bulk rate junk. That a bidet is great. That products here are scented much less-heavily than American products, a wonderful relief. That it's all easy.
Read on ... continue to the next journal.
See the photo highlights ... on our Mülheim photo page.
Visit our current journal, updated at least once a week since 1998, right here.
Back to the Kuraoka Family main page, with lots more stuff, including photos!