The Kuraoka Family Weekly Journal
Germany 2004
www.kuraoka.org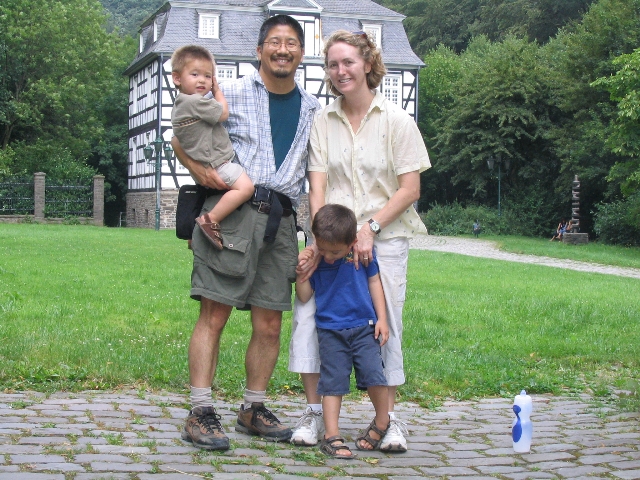 Us: John, Ondine, Leo (2), Roy (4)
Monday, 16 August 2004
Quite the busy week we've had! Over last weekend, we hit the Autobahn for a long road trip, traveling south to Ladenburg to visit Desiree and Martin, their sons Paul and Till, and their dog Seppl. We went to Heidelberg, driving down the cobblestone streets right in front of the place where Ondine and Desiree shared a room in their University of Heidelberg days. John got to go into the castle, which was a lot of fun. A bee or wasp stung Roy. On the way back, we stopped in Frankfurt to visit with Jürgen's brother, Hans Jochen, and his family.
Now, we left off the last journal around mid-week afternoon. Well, Wednesday evening, Patricia came over with some beer, so John at last had his first German beer, a weiss and a dark. The light one was very drinkable; the dark one was tastier, almost chewy.
Thursday we went to Hagen, to the Freilichtmuseum, an open-air museum, with Patricia, Gregor, and Veronica. We followed Gregor, a good thing, because we'd never have found the place on our own! It was a glorious day, but with gevitter (thundershowers) forecast for later in the day. Patricia warned us to bring our rain jackets, and in fact brought some for the kids, which was very nice.
The Westfälisches Freilichtmuseum Hagen is sort of like a Williamsburg (VA), only older and German. It was a small village, in which various craftsman and tradespeople demonstrated how things were made in the old days. It was a tourist attraction for German tourists – the signs were all in German, and the only English we overheard came from two Australians. The picture at the top of this page was taken at the Freilichtmuseum. And here are a few more. The last photo shows Roy und Veronica.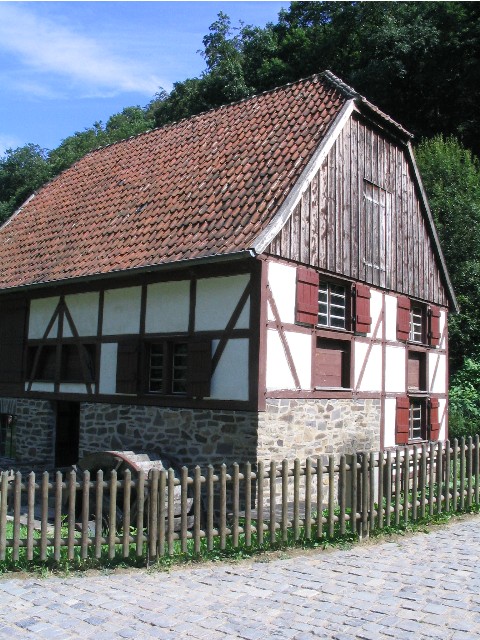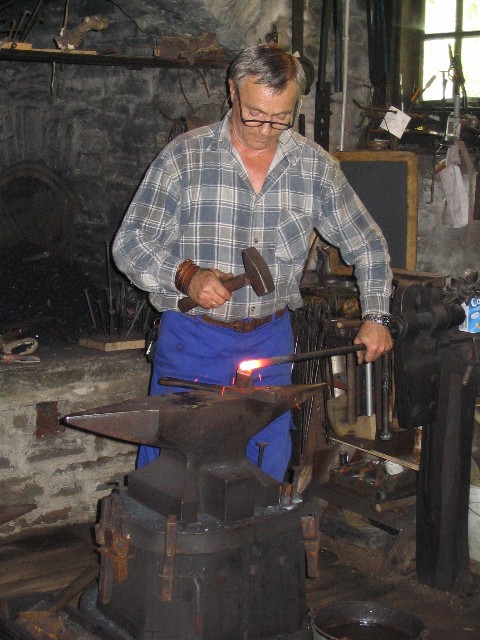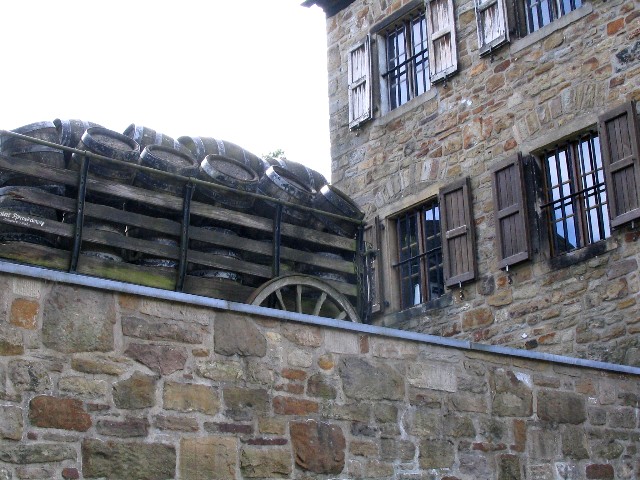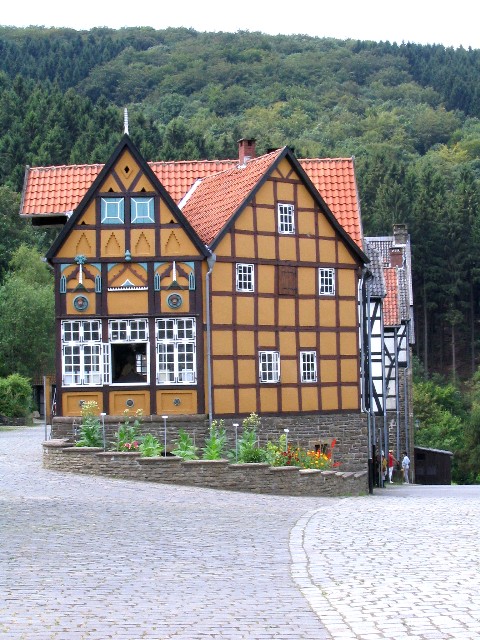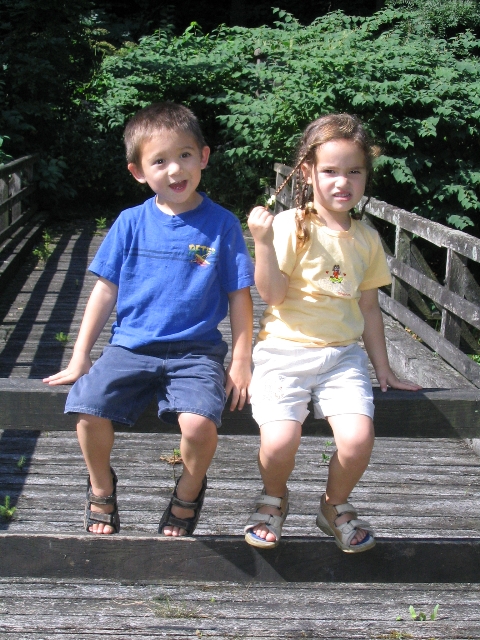 We watched the man in the second photo demonstrate making iron bits, using forms and big hammers and tongs. He gave Leo an iron button with a heart shape on it; when he held it out to Leo, Leo eyed it and him very skeptically, with his steady, blank gaze. John prompted Leo to take it, and he eventually did, and held onto it for most of the rest of the day, looking at it and saying, "I don't eat this."
We also watched a man make nails in a forge. Leo and Veronica received nails from the man demonstrating – Leo was even more reluctant to take this sharp thing from a stranger, but John accepted for him, and then Leo carefully examined the nail as if not quite believing that his parents would let him have something so inherently sharp. At the nail-making demonstration, John put Roy on his shoulders so he could see over the crowd, and another wasp, this one lurking in John's hair, stung Roy! "There was a wasp in Daddy's hair," Roy screamed, as we struggled to get out our tube of Fenistil gel. Patricia was quicker than we were, somehow magically producing her tube in the wink of an eye. A wasp in his Daddy's hair, for crying out loud, someplace where he ought to feel somewhat safe.
We made a postcard print at the printing shop (10 Euro cents), and looked at the papermaking mill. Roy, Leo, and Veronica fed a couple sheep handfuls of grass.
We walked to the backerei, where Patricia got a loaf of fresh bread, which she shared. Leo steadily ate a huge chunk of bread. Then, we went to the rope-maker, who was a character that believed in engaging and challenging his audience. Veronica got roped (ha!) into being his demonstrator, and for her participation came away with a length of rope that she had made! It started raining as we walked back to the cars. Suddenly, Gregor calmly announced that he had a wasp in his pants.
He then added, in a tone that was, at most, urgently perturbed, that it was still in there (and, judging from things, moving North). He walked (briskly) into a restroom and extracted the wasp before more damage was done. Gregor, we decided, with considerable respect, was the Calmest Man Ever To Have A Wasp In His Pants, and it would take a brave person to challenge him for the title. Braver than us, anyway.
Then, it really started to thunder and pour. We got totally soaked, even with raingear. The kids got totally soaked. We clambered into the Passat and started stripping the kids down to change clothes, while Gregor, Patricia, and Veronica patiently waited. We got the kids changed, but couldn't change our own clothes, so we drove home soaking wet, in periodic heavy downpours. We were very thankful to have Gregor to follow home; else we'd still be out there. Roy conked out, but Leo stayed awake chatting about this and that. He talked about the Hannas across the street on Barker Way! The Hanna's house, Mr. Hanna, Mrs. Hanna, where Mr. And Mrs. Hanna sleep (in the Hanna's house, of course). It was funny that here, in Germany, in a rainstorm, Leo was thinking of the Hannas.
Another funny thing – while we were hurrying to the car in the rain, we put on Leo's rain jacket. When the rain really kicked up, he started insisting that we take his rain jacket off. Which was perfectly logical when you consider that it's called a rain jacket and not a dry jacket. So, obviously, rain is what comes of wearing a rain jacket. "I don't want my rain jacket on any more," he said, as rain thumped his face and thunder roared and crackled around us. "Take the rain jacket off."
We stopped for gas at Real on the way home. It took about ¾ tank, which cost about 45 Euro, or a bit over $50.
We had Chinese food at home, our first delivered food here at the flat.
Friday Roy and Leo had a play date with a boy from one of their classes. After that, we tried to have a quiet day at home. Towards the end of the afternoon, though, the boys got grizzled and cranky, so Ondine took them down to the hof, where they met up with Patricia and Veronica. Both Roy and Leo are becoming quite attached to Veronica. They ended up going to Patricia and Gregor's flat, where they hung out for a while playing with Veronica's toys.
Saturday Ilka treated John to his first fußball (soccer) game, in Arena AufSchalke in nearby Gelsenkirchen, just above Essen. They had planned to take the train in, but Ilka's husband, Hendricks, decided he would go to his office a few minutes from the Arena, so could drive us (Hendricks does not care for fußball). Their dog, Lulu, accompanied us in the wayback of the station wagon. Hendricks dropped Ilka and John off on a nearby street and they walked to the arena. The landscape was a sea of blue and white, the FC Schalke 04 colors. John was very glad the visiting team, 1 FC Kaiserslautern, seemed to be in a reddish orange and not green and beige, since that's what he was wearing.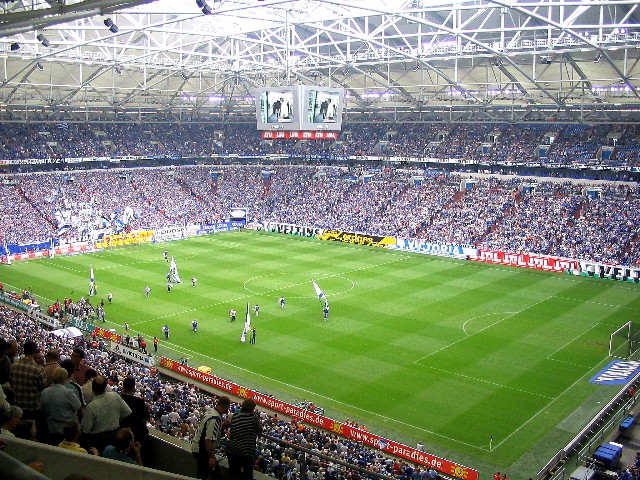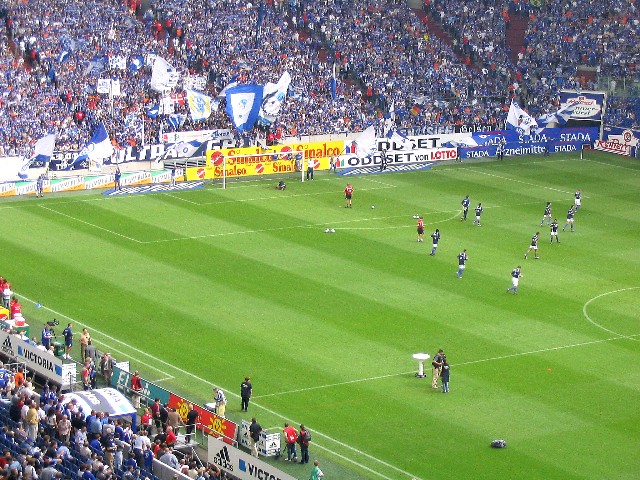 Schalke beat Kaiserslautern 2 to 1 in a very hard-fought game with many exciting turnovers, before a crowd of 60,956. John tried to treat Ilka to a beer, at least, but everything in the arena is paid for with a scrip debit card. He enjoyed a bratwurst, beer (only his second of our trip), bretzel, and Sinalco cola – wow! He had a great time. The announcer and the audience had a great little answerback routine, in which the announcer would leave player's names for the audience to complete. At the end, he'd announce "danke," and 60,956 people would roar back "bitte!" The other two-part cheer that went up was when one side of the stadium would yell "Schalke!" and the other side would reply "null-vier!" John thought that they were shouting "no fear," and idly wondered why they'd be cheering in English. It wasn't until much later (like, as he writes this) that he realized that null-vier was 04, part of the team name.
On the drive back, Ilka and Hendricks said they had seen some American-rules football in the same arena just a few months ago. They didn't quite understand the rules, though. "They'd line up, throw the ball, everyone fell down, and then they'd line up again," Hendricks said, a pretty good description of American football as far as we're concerned. Soccer is a much faster, constant game with rapid turnovers over each 45-minute half.
When John got home, he found that Ondine, Roy, and Leo weren't home. He leafed through a newspaper and the Edeka markt sales flyer, then decided to go for a walk. He remembered that they had said something about going to the wald, so he decided to see if he could find them. As he walked, he found himself retracing the route to Edeka, so he thought he'd stop by and get some groceries. Then, he made a wrong turn, and, in turning back, remembered that he had no bags with him. Here in Germany, you are expected to bring your own bags. So, as it was a lovely day in the wald, he kept walking even though he had no idea where he was. He decided to turn around at the crest of one particular hill, but, once he arrived, he decided to walk down to a major street, just so he could later identify where he had walked on a map. Who should he run into, after so many twists and turns? Ondine, Roy and Leo with Patricia und Veronica! Patricia spotted John first, and figured that he must've talked to Gregor. They were on their way back home from a friend of Patricia's house. It was an amazing coincidence, and Roy and Leo walked with John all the way back to the flat, chatting happily about all the things they had seen. A big hit was fox poop.
Sunday we went to the stadtmitte, despite the rain forecast. However, the clouds cleared away and it was sunny and pleasant. On our way down the steps, the boys discovered a treat for them left by the Hocevars, our downstairs neighbors: delicious chocolate creatures! They ate those in the car, saying "vielen danke!" to the Hocevars.
Because it was Sunday, all the shops in the Forum except the cafés were closed. It was fun to window shop, plus there were lots of interesting fountains and kinder-attractions. There was a pyramid with gears inside that kids could turn, and an amazing post-modern seesaw modeled, it appeared, on the Devil's Postpile. As you walked on steel tubes, they went up and down depending on who was standing on what tube.
We had eis at a little eis café – delicious! We got some tortes for kaffee trinken in the afternoon with Guido and Michaela.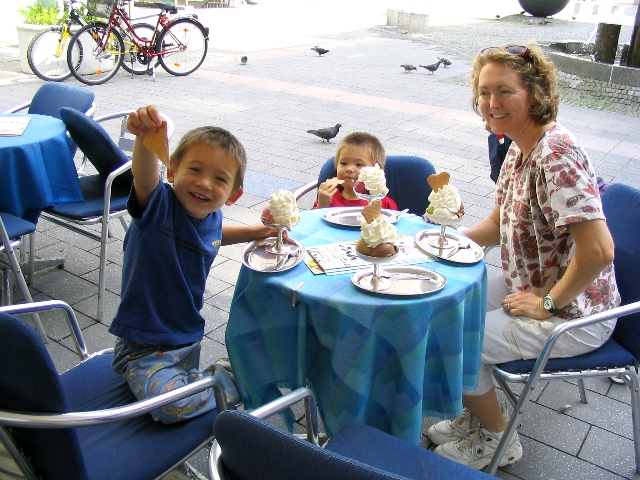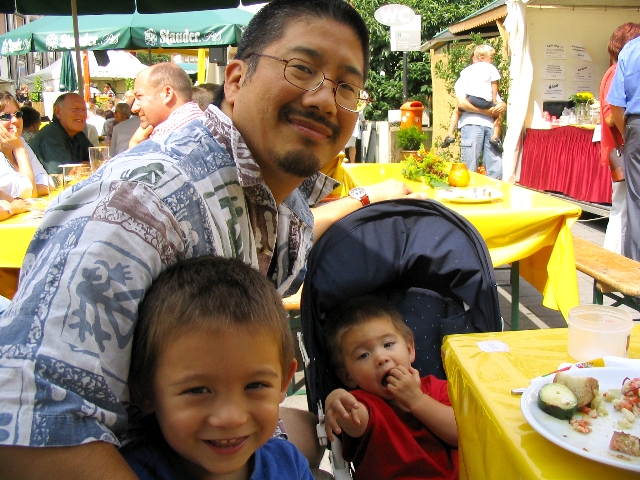 Suddenly, we found ourselves in the midst of Kulinarischer Treff, a sort of "taste of the Ruhrgebiet." Ondine got a Warme Vorspeisen, from Restaurant Dalaman, a Turkish restaurant. It consisted of "Sigaraböregi: Blätterteigröllchen mit Schafskäse gefüllt, Peynirlikabak: Zucchini mit Champignons überbacken, Kabakmücüver: Reibekuchen aus Zucchini, Zwiebeln, Schafskäse und Eiern, Peynirlimantar: überbackene Champignons mit Schafskäse und Tomaten, Sarma: Weinblätter mit Reis gefüllt." All for five Euro.
John found himself standing in front of the Kochschul Ruhrgebiet Henzek with Leo and no line. So, he paid his 5 Euro and got a plate from there, the Gegrillter Lachs-Zucchini Spiess mit Senf-Honig-Dipp auf karamellisiertem Gemüsesalat. The kids ate most of John's Lachs – salmon, but also sampled the salad, which had potatoes, carrots, and onions.
Coming home, we got lost again. Sigh. But, we found our way back. Both boys fell asleep in the back.
Guido and Michaela came over at about 3:00 for kaffee trinken, and showed Ondine how to get to Duisburg Hauptbahnhof.
In the early evening, we watched some of the Olympics. The Germans seem to be very much into swimming and weightlifting events. Also, we noticed that German sports coverage is designed to be actively watched – there isn't the extensive captioning that makes it possible to watch American TV coverage with the sound off.
We also checked our budget. We were 7 Euro over budget last week. And, we have 15 Euro to last this week (so, we'll probably go a little over again). Not bad!
Monday we plan to take a railroad trip to Köln. It is rainy, with more rain and thundershowers predicted for the week. We packed the rain jackets – much to Leo's chagrin since he didn't especially want any rain. ("Don't take the rain jackets," he said. "I don't want a rain jacket.") This will be the boys' first train ride in Germany. We got six days worth of rail passes ($342 for all of us) before we left the States, and so far haven't used any.
Barbara and Bill called – they are in Hamburg (but their luggage is in Paris). They had an adventure bringing John's camera and film. The Paris authorities were not about to let them hand-check the film at all, and brought over additional security people to handle them. They will be coming to Mülheim later this week.
Random Thoughts Department
The boys love the Heino Gold CD that Erika und Paul gave John for his birthday. When Guido came over, he was appalled to see Heino in the haus. We took the Heino Gold CD in the car for our drive to Ladenburg, figuring it would be just the thing for the Autobahn, but the Passat doesn't have a CD player. On the drive back from Hagen, when Roy was asleep, Leo said he wanted Heino Gold. When Roy awoke, he took up the cheer. "I want to hear Heino Gold," they clamored.
Roy has suddenly started using some German, and asking what the German word is for various things. Leo sort of uses German phrases interchangeably with English since it's all the same to him as long as it works.
Photos now posted on our Mülheim page. And, previous journals from this trip can be found on our Archive page.
Read on ... continue to the next journal.
See the photo highlights ... on our Mülheim photo page.
Visit our current journal, updated at least once a week since 1998, right here.
Back to the Kuraoka Family main page, with lots more stuff, including photos!