The Kuraoka Family Weekly Journal
Germany 2004
www.kuraoka.org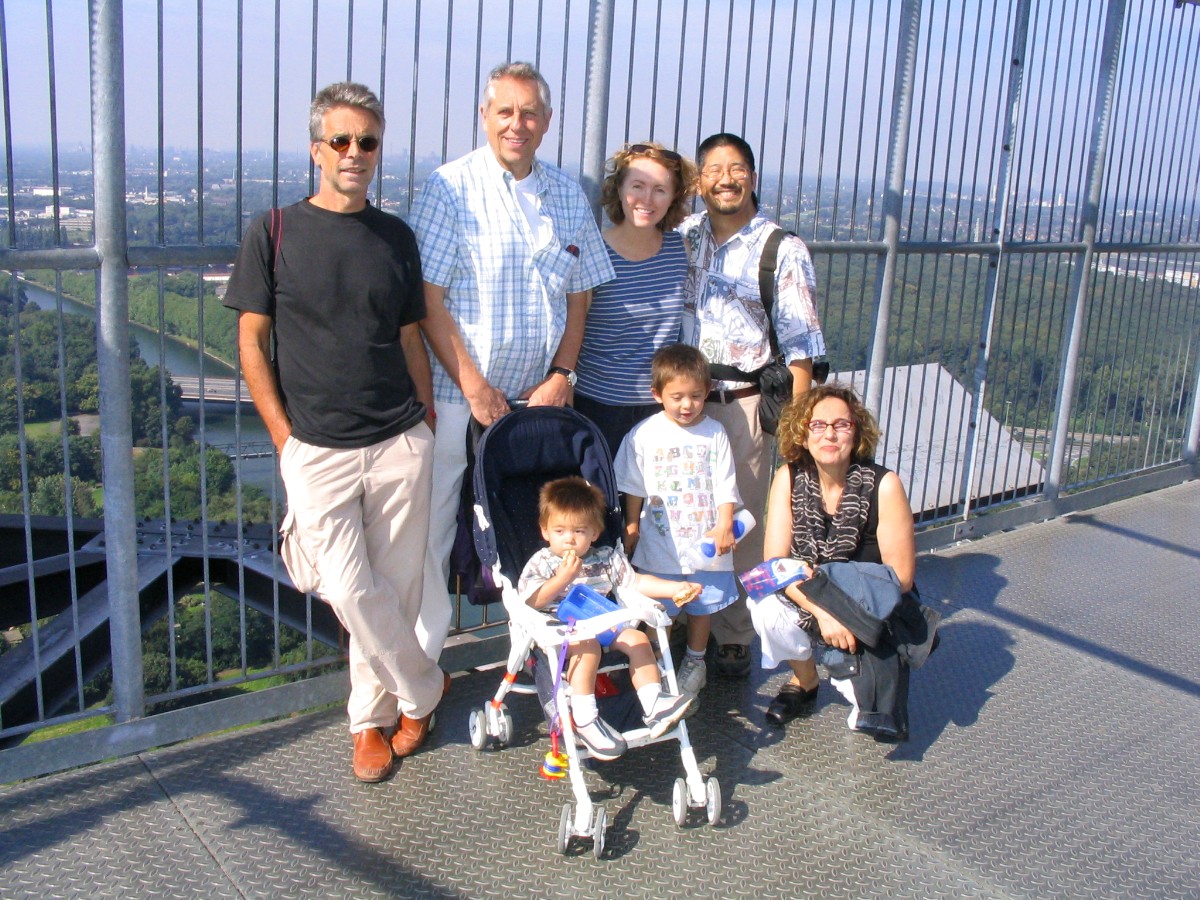 (Back) Peter, Klaus, Ondine, John. (Front) Leo (2), Roy (4), Marlies
Monday, 13 September 2004
We are home! It is so hard to believe that that photo above, with Peter and Klaus und Marlies, was taken just over a week ago.
We jammed a lot into our last few days. Landschaftspark at night with Patricia und Gregor, kid-free, thanks to Erika! The Gasometer with Peter, Klaus, und Marlies. Köln for a second time, and this time John and Roy walked up 509 steps to the observation platform 97 meters up in the southern tower! They were in the bell room (home of Petersglocke, the largest free-swinging bell in the world, which Roy will be happy to tell you) when one of the smaller bells struck 11:30 with two deafening bongs. Roy had the good luck to be looking right at the hammer mechanism when it struck! Then, John and Roy were descending in the tower when the big bell struck 12.
Tuesday Ondine took Roy and Leo to the wasser-spielplatz with Gabi und Jonas. We'd been to the MüGa many times but the boys loved the matsch-spielplatz so much that this was the first time they went to the wasser. There were lots of amazing water play areas, all set in those uniquely European cobblestones. A fountain up high sent water tumbling down steps, through various channels (which the kids could control with metal gates), over wheels, into thumping see-saw chutes and more. Leo went up to some deep water, near some corkscrew-like hand pumps, so Ondine had to keep shepherding him away.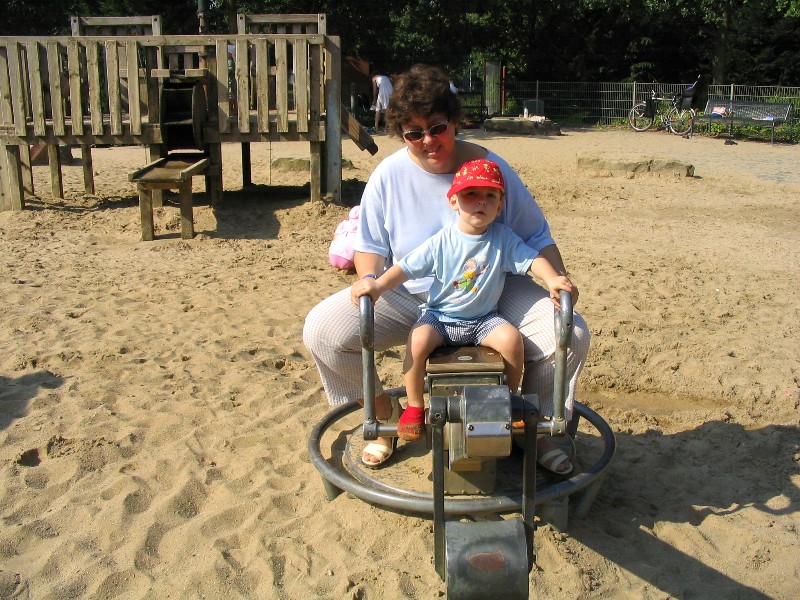 John did laundry and cleaned up the flat as best he could, considering that the boys were coming back.
Wednesday the boys went to the wasser-spielplatz with John, while Ondine ran errands, washed and vacuumed the car, and did more cleaning in the flat. The boys ran around the wasser until nearly noon. Leo stayed away from the deep water, choosing to move water around the various channels with his joghurt bucket. Then, they moved on to the match-spielplatz.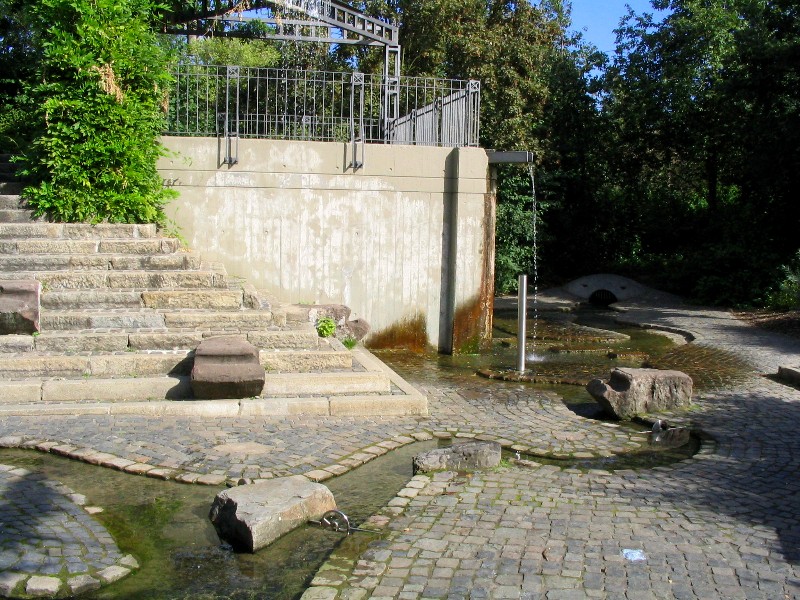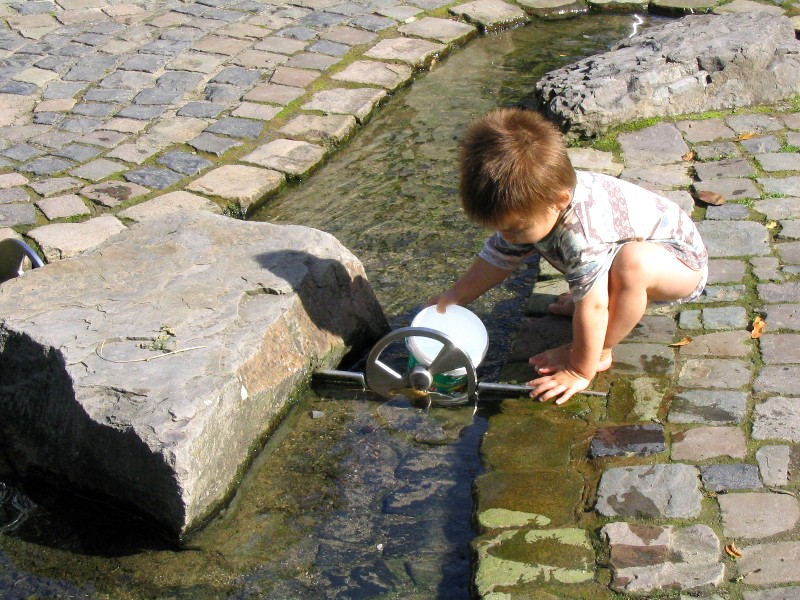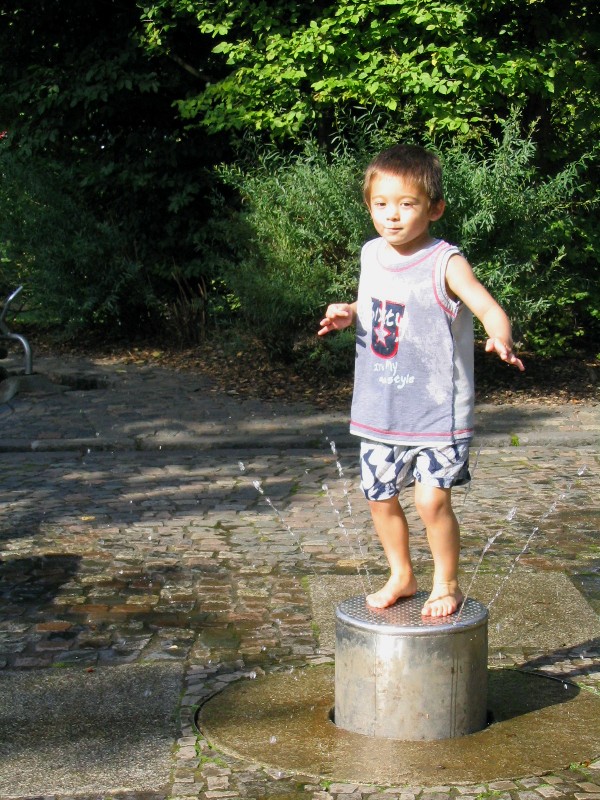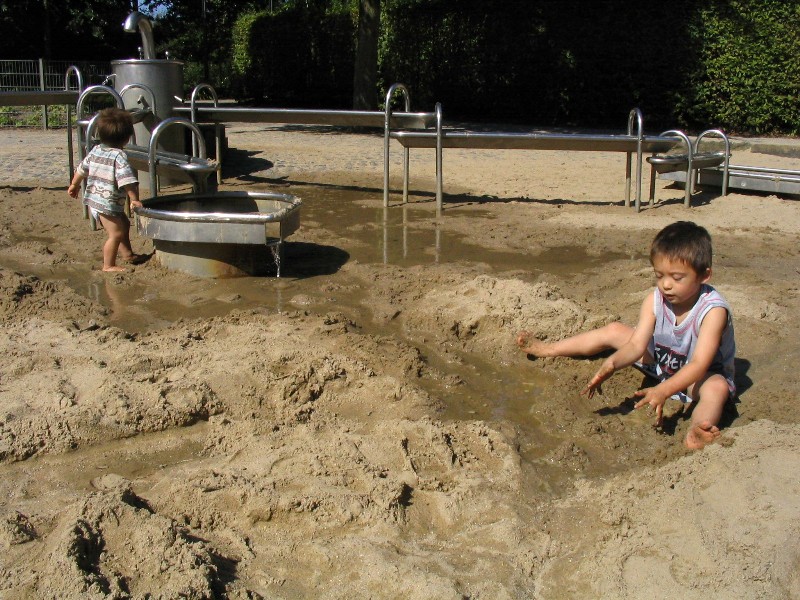 Ondine drove back to the MüGa, and watched the boys at the matsch while John went over to the Camera Obscura, which was closed. So, he hopped a fence and climbed the spiral staircase to the walkway at the top. The Camera Obscura was built in an old water tower. The views from the top showed the stadtmitte amid the trees.
In the late afternoon, Patricia, Gregor, und Veronica came over, bringing us dinner from their favorite Turkish take-away. It was gyros, made with pork instead of lamb – excellent! The pommes frites were excellent too – what a great meal! Thank you Patricia und Gregor! Veronica, Roy, and Leo played together; Veronica and Roy played – or tried to play (what with interruptions from Leo) – a game of Kalle Kangu.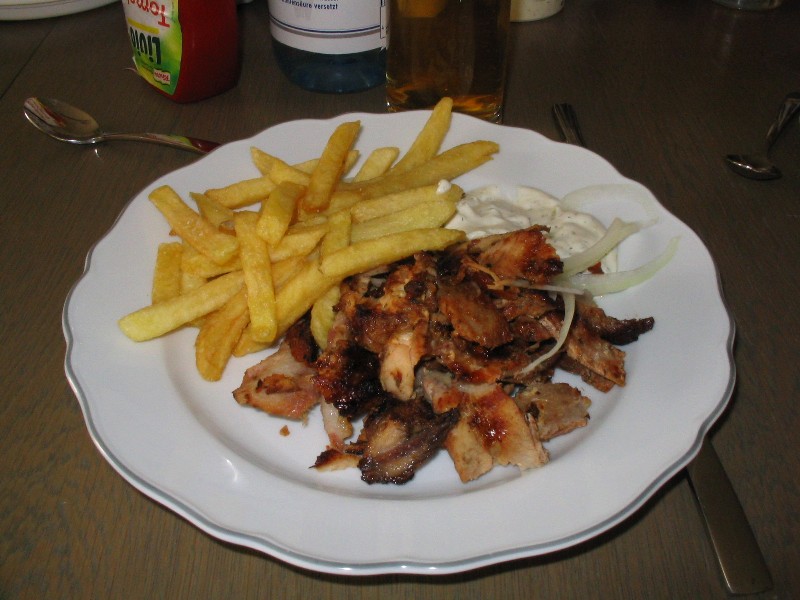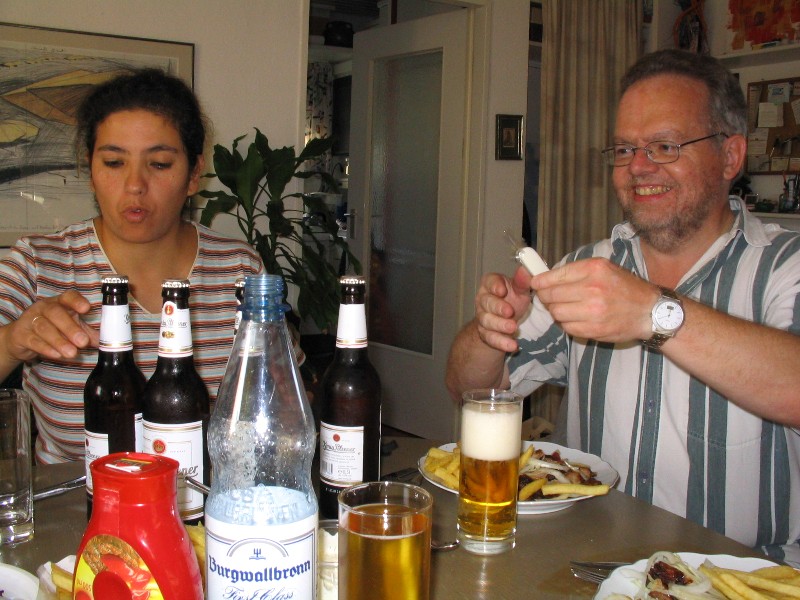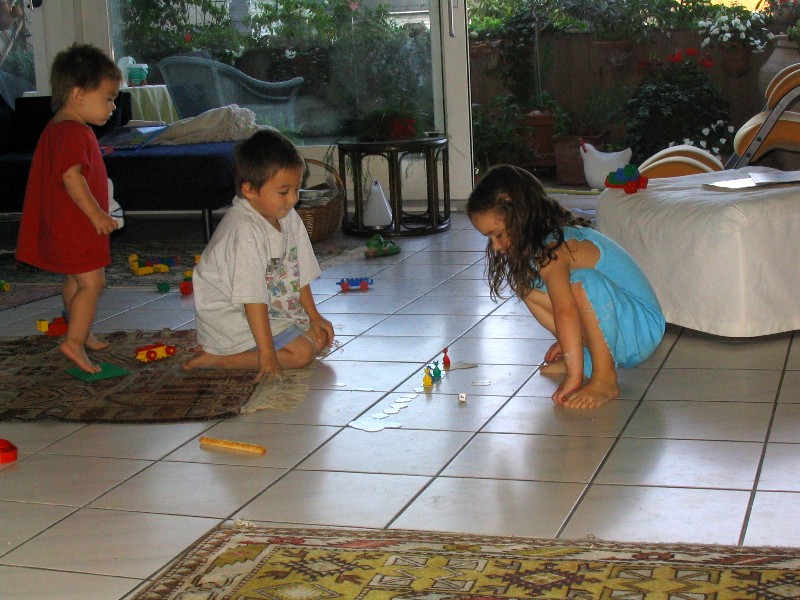 Then, we cleaned and packed until about 3 a.m. We had to abandon a huge pile of clothing to make room for souvenirs and gifts. Both of us, for instance, abandoned almost all our tops.
Thursday morning, the boys awakened us at 5:45. We got up and finished packing and straightening. Klaus picked us up at about 7 in his Renault Espace, a minivan with huge windows. Thanks, Klaus, for taking us to the airport! Patricia und Veronica waved to us from their balcony, then came down to say goodbye. Patricia told us that Veronica had been crying a lot last night about Roy and Leo leaving.
We got to the airport with plenty of time to spare. We went through three separate security checks, with two X-ray scans of our carry-on luggage. Most were double-checks, with a second passport and boarding pass check immediately after the first one, so our documents were checked maybe a half-dozen times. But, when we got to the gate, the man checking boarding passes noticed Roy and Leo and advised us to wait outside the gate area, because we were a couple hours early and there was nothing in the gate area except toilets and a vending machine. So, we turned around and spent a happy hour or so eating fruestueck and watching Roy and Leo play with Duplo blocks in the LTU Kinderland, a big, closed-off play area in the lounge. The Kinderland was amazing, with a colorful foam floor, lots of playthings (mostly in red, because red and white are the LTU colors), riding toys, plastic chairs and tables, two huge stuffed animals, and a painting of an LTU aircraft with a hole for kids to peer out the windshield. As the time of our flight approached, we went through the second security check a second time. But this time, the guards recognized us, and John got a momentary neck massage from the man scanning him! The flight got out a little late. Boy, car seats are a pain when going down the airplane aisle! Fortunately, other passengers helped us lug things.
The flight (LTU Flight 1530 DUS-LAX) went well, smoother perhaps than the flight over which was Leo's first airplane flight ever. On the flight over, we had booked the four middle seats and put Roy and Leo in the middle so we both had an aisle seat. This time, we thought to put Roy by the window then John on the aisle, Ondine on the aisle in the middle section, then Leo. But, Roy didn't want the window seat, so Leo got it. Roy got the inside middle, which scored him an extra seat to lie down in because the plane wasn't full. Leo fell asleep in his car seat right before take-off, and slept for maybe a couple hours. Roy managed to get a nap in much later on the flight; in fact, we had to wake him up to put his seat belt on for landing. We got no sleep, as usual.
We were thrilled to find some neat things in the duty-free on-board shop, including some Naomi Campbell perfume that we had been requested to bring back but hadn't been able to find. We spent all of our remaining Euros there, over 150 Euros (a little over $200) worth of perfume, LTU watches for the boys, an unusual and pretty Swatch watch for Ondine, and little Lego packs. All of that went into bag and under the seat, except for one Lego pack for Roy to play with on the flight.
The food was typical LTU – excellent. We highly recommend LTU, by the way, for flying to Germany. The inconvenience of having to fly out of LAX (from San Diego) is well compensated by the excellent service, great food, and a feeling of being in Germany from the moment of boarding.
The movies were also typical LTU: one good second-string movie and one slightly old big hit of varying quality. First up was Welcome to Mooseport with Gene Hackman playing a popular former U.S. President, and Ray Romano playing the Mooseport handyman. The two end up running against each other for mayor of Mooseport. It was good, probably worth renting. The other movie was Dennis the Menace with Walter Matthau as Mr. Wilson.
After we landed we let everyone off before us, since we knew we had a huge handful with the kids and car seat. We were gently but firmly pressed to hurry things along as we collected bags, kids, and car seat lumbered back down the aisle and into California.
We had a customs adventure, because one of the souvenirs Ondine bought was a lot of dried sausages. We had been assured that the sausages were okay to bring into the States, but that was not true. As we were pointed toward the agricultural area, three inspectors wandered over from various relaxed conversational knots and converged behind the tables. We were about the most-exciting thing to happen in the agricultural section of airport customs. Everyone was very friendly and pleasant, but we had to put all our bags through an X-ray scanner with hand-checks to find the forbidden sausages. Once located, these ex-porcine threats to homeland security were unceremoniously dumped in a trashcan with a blue liner. Sigh. We could've brought back more clothes! Oh well, better dump about $40 worth of sausages than be a disease vector.
Patty came to pick us up in Elaine's black GMC Envoy. She had been wandering around the airport for quite a while, even having trouble finding anything about LTU. ("What airline?" "LTU." <think think think> "Where are they arriving from?" "Germany." "Oh, you mean Lufthansa …") LTU just about owns Düsseldorf, but shares a gate at LAX. It really is a German local's airline. Anyway, she found it at Tom Bradley, which is the international section of LAX, near parking structure 4 (pull into the airport then stay in the left-turn lane until you're almost heading back out). She had been wandering around LAX for a couple hours, long enough for security people to start recognizing her. ("Haven't found your brother yet?" "No, and I'm not that sure I really want him back that badly.") She received the information that customs inspections could take "up to three hours," so she went upstairs for a coffee. As she came back down with a cart, John found her. Roy got a ride out to the parking lot on a cart.
We were halfway back to Frances' house when we realized, with a sinking sensation, that the big bag of duty-free gifts was not with us! We turned around and went back to LAX (muchas gracias to Patty, who had to go to LAX twice in a day). Ondine went back in, and had the good fortune to talk to Monika, the flight attendant who had been hurrying us out the door. A search was started, going through all the trash from the cleaning crew, to no avail. Monika then thought of the surveillance video, to see if she could find out who cleaned our row, but the video was missing. Now that was extraordinary. Anyway, she took down all our information, gave Ondine her cell phone number, and said she'd try to find out more.
It was almost 8:00 when we finally got to Grammy's house.
The kids had a very rough night, with Leo up every couple hours crying.
Friday morning, we went to Bargain Box, a local thrift store, to replace the clothes we had abandoned in the flat in Germany. It was yellow-tag day: all clothes with a yellow tag were just a dollar! Wow! John re-equipped himself for $5: a pair of Brooks Brothers green plaid shorts, two polo shirts, a long-sleeved dark green shirt which Frances turned into a short-sleeved shirt, and a beautiful putty-colored Travelsmith microfiber travel blazer! Ondine found two tops, a pair of shoes, and several CDs and craft supply bags. And, we found a pair of nice boxers for Roy. Total: about $22.
This was our first outing without the kids since we went to Landschaftspark at night! (Vielen Danke Erika!) It felt strange driving a car with an automatic transmission for the first time in six weeks. Ondine said it felt sort of out-of-control, because the car just rolled. John, who did less driving in the Passat, felt less strange driving an automatic. Anyway, we got accustomed to a higher level of control. Maybe our next car will be a stick shift?
Then, we came back to Frances' house and vegged out. The boys, amazingly, took naps, and Frances hemmed John's new shirt and shorts.
Saturday morning, John called around to get tires for the Mazda. We were going to get them before we left for Germany, but it occurred to us that sitting in a driveway for six weeks would probably be bad for new tires. He found a set of Bridgestone Traction TAs for about $520 installed, at the local Firestone shop that came with Frances' recommendation.
Aunty Grace and Uncle Mike came over with Holly in the afternoon. They looked tired; Holly and Roy played together just wonderfully (Leo was down for a nap).
In the evening we went to Elaine's house, where she's watching the twins, and saw them. Amanda, Andrew, and Eric were out; Breanna was home, though, as were Amanda and Cooper. Pam came over, too, with her Irish Setter, Casey.
Sunday morning we did a load of laundry and packed the car. You know what we forgot to do way back in July? (Remember? John drove to Frances' house with the boys, and Ondine followed later, after cleaning the house; we left John's car at LAX for Dax und Jürgen and left Ondine's car at Frances' house for the drive home; we carried both car seats with us to Germany and back?) Well, we forgot to remove the car seats from Ondine's car! So, suddenly, we were going back to San Diego with four, count 'em four car seats. So, there was not much room for much luggage. John will drive back up to L.A. later this week to pick up the rest of our stuff.
The drive home was uneventful, but when we pulled into the driveway a banner stretched across the garage door welcoming us all home – thank you Doris! Barbara and Bill had placed balloons on the front lawn for the boys; Roy chose the ladybug and Leo got the frog.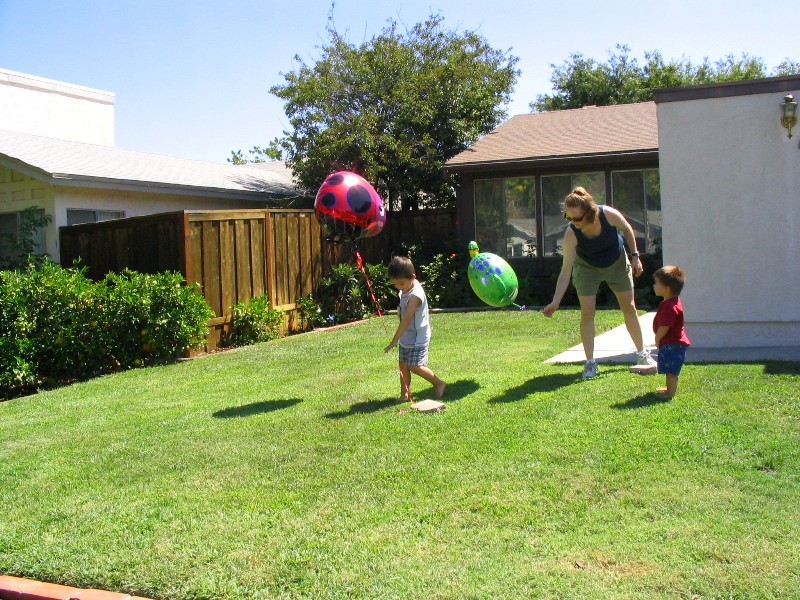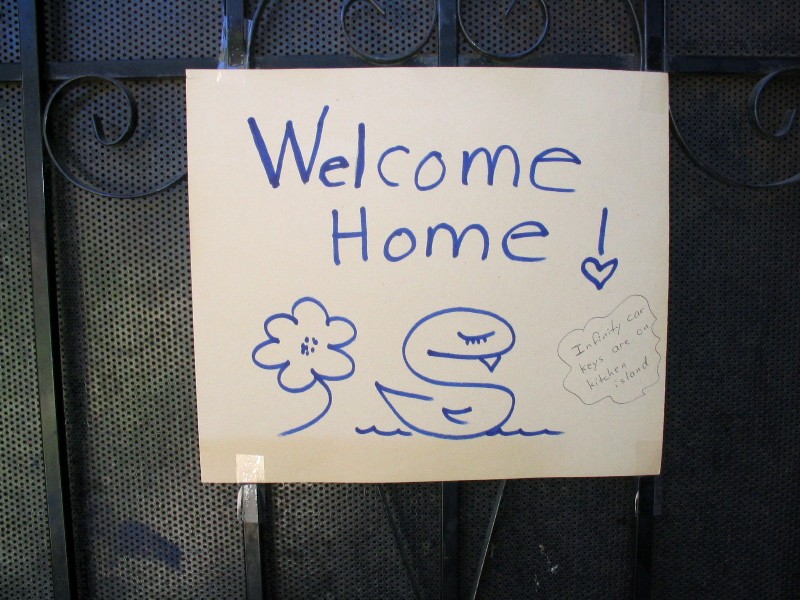 The house was spotless! Barbara and Bill did some work on it while we were gone, including re-doing the flower beds in the front and back yards, adding a screen guard to the patio door, and even fixing our kitchen range hood fan! Thank you Barbara and Bill! That night, we put the boys to bed in their own bedrooms for the first time in just over seven weeks.
That night, John only had to get up three times for Leo crying, a vast improvement.
Monday morning, when Leo awoke, he chatted about this and that, and then said, out of the blue, "I like this room." So, he feels good to be home. We were very glad to hear that Dax und Jürgen ate breakfast almost every day out on the back patio – such a relaxing picture that makes!
John's work is storming full speed ahead, so that's good too, with a new project for Manheim looming, plus ongoing work for First Northern, Rhino Linings, and Hyatt. What with having to get a new battery for his car (not unexpectedly dead, since it was the original factory battery from 1996), and having to get back up to L.A. to retrieve our stuff, he barely has a spare minute this week.
Sleeping: We haven't had four straight hours of sleep at night since last Tuesday. Wednesday we were up until 3 a.m. packing, Thursday we were in transit, and so far Leo has been up crying every hour or so every night.
Personal milestones in Germany. We feel very comfortable driving a stick-shift car now. Roy now goes through the night without his nighttime pull-ups. He still drinks a fair amount of water, but he just gets up to pee now! Wow! Ondine's German improved dramatically over our stay, which a couple people there commented on. And, Roy picked up more than he demonstrated while there, just this morning holding almost an entire conversation in German.
Final thoughts department. When we originally packed to go to Germany, we reluctantly took the nebulizer and albuterol capsules. It took a lot of room, but we figured that maybe if we had it we wouldn't need it; if we left it behind we'd regret it. Well, not only did we not need it, but (knock wood) no one got sick in Germany! That's so weird we're reluctant to mention it. See, sausages are health food.
It's amazing to think that just last Monday we were in Köln. Reflecting on our stay, are just so grateful for all the wonderful new friends we made!
We hope Patricia, Gregor, und Veronica are reading this, as they were such a big part of our life there in Mülheim. In the early days, shortly after our arrival, Patricia was so thoughtful. She'd call to say she was going to the grocery store, so we could tag along or follow. We played the CD of German children's music that Gregor made for us, and that has been wonderful! Veronica was so much fun for the boys, and we hope that the boys were entertaining for her! John has the Maus pin stuck to his office clock.
To Erika und Paul, we are still listening to Heino Gold, a little piece of Germany here in San Diego! The boys claimed Heino Gold for the stereo in the family room, so John has Die Hitparade der Volksmusik in his office stereo set.
Peter, Leo misses you, and still asks where you are about once a day. "In Germany," we tell him. "Peter's in Germany," Leo says quietly and wistfully, with a faraway look in his eyes. The boys really loved Irrland!
Roy really adored Marlies, who won him over completely by taking him up the glass elevator in the Gasometer a second time. Klaus was wonderful, too, translating key points in the guide's talk for John and driving us to the airport, during rush hour no less. Vielen Danke, Klaus!
The boys still remember Paul und Till, too, and Seppl. Thanks Desiree und Martin, for putting us up for that wonderful weekend in Ladenburg! We wish we could've gotten together again. Well, we will have to get back to Germany again. Roy already has it in his head that we'll return to Germany "in two years."
And, thanks again to Dax und Jürgen for really making it all possible!
More photos and video clips are posted on our Mülheim page. And, previous journals from this trip can be found on our Archive page.
Visit our current journal, updated at least once a week since 1998, right here.
Back to the Kuraoka Family main page, with lots more stuff, including photos!