The Kuraoka Family Weekly Journal
www.kuraoka.org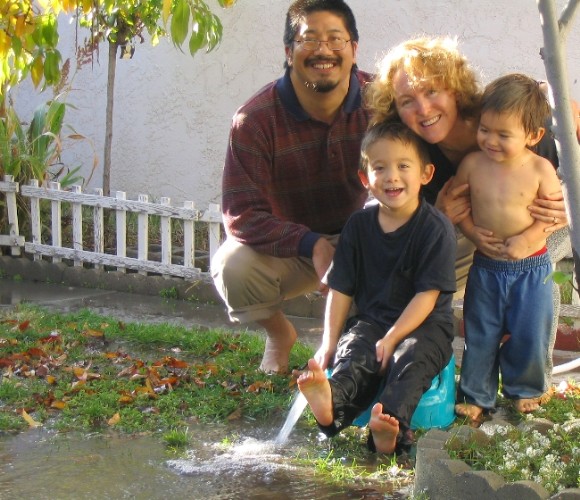 Us, December 9, 2004: John, Ondine, Roy (4), Leo (2)
Friday, 31 December 2004
2004 was quite a year! National news included Mount St. Helens erupting again, with minimal effect. Four summer hurricanes hit Florida in eight weeks, making the worst hurricane season in recent memory. Former president Ronald Reagan died after a long struggle with Alzheimer's disease. Lifestyle guru Martha Stewart was convicted on charges of lying to Federal investigators, and sent to prison. And, in baseball, the Boston Red Sox won the World Series, breaking an 86-year "curse."
Most of the national news centered on the U.S. presidential election, which pit incumbent president George W. Bush against Democratic Party candidate John F. Kerry. Bush won a narrow but decisive victory. The more-interesting election story was the race for San Diego mayor, which pit incumbent mayor Dick Murphy against county supervisor and perennial mayoral candidate Ron Roberts. Roberts was tipped to win, but a sudden write-in candidacy by councilwoman Donna Frye threw everything off. More voters wrote in Frye than voted for Murphy, but several thousand write-ins had no bubble filled in, and were disqualified from the count. So, Frye won the vote but Murphy won the election. The result is being challenged.
Speaking of San Diego news, our football team, the San Diego Chargers, shut out the Cleveland Browns 21-0 to win the AFC West Championship for the first time since 1994. They'll be in the Super Bowl play-offs for the first time since 1995. That's a big turnaround from last-year's last-place league finish. In Spring, our San Diego Padres played their inaugural game in Petco Park downtown, their new home stadium. They beat the San Francisco Giants 4-3 in overtime.
The longest grocery store employee strike in U.S. history came to an end in March. The strike had us going to Windmill Farms more, a habit we've pretty much stuck with since our local Ralph's closed in May taking with it the Wells Fargo bank branch John used (a new branch recently opened in the same shopping center). Local gas prices have gone from $1.63 per gallon at the start of 2004 to a high of $2.49; they're about $2.07 now. And, in our neighborhood, the overhead wires along Cowles Mountain Boulevard are being put underground.
In international news, the fighting in Iraq continued, despite the official "handing back" of Iraqi sovereignty in June. The Summer Olympic Games were held in Athens, Greece. Yasser Arafat, leader of the Palestine Liberation Organization, died. In late December, a 9.0 earthquake off the coast of Sumatra triggered massive waves and tsunami that obliterated entire cities and killed more than 121,000 people (at current count) in Southeast Asia and some as far away as Africa.
Economically, the price of crude oil rose to more than $50 per barrel for the first time in 20 years, and the dollar fell to record lows against the Euro ($1.3667 = 1 Euro).
In Solar System news, a planetoid-like object, Sedna, was discovered far beyond Pluto. Sedna, technically classified (for the time being) as a "Kuiper Belt Object" (KBO) has a reddish-brown surface and a moon that orbits it.
A rare sky event occurred in Spring: the alignment of five planets in the nighttime sky. We saw Mercury, Venus, Mars, Jupiter, and Saturn, all in a row like a string of tiny diamonds. The next such alignment won't occur for 30+ years.
NASA's Mars rovers landed successfully, prompting lead scientist Steven Squyres to become something of a rock star in our household. The rovers, named Spirit and Opportunity, later discovered evidence that a "salty sea" once existed on the surface of Mars. In late December, indications of "recent" (in geological terms) volcanic activity on Mars were detected by an orbiting survey craft (not by the rovers).
The SpaceShipOne rocket plane became the first private manned spacecraft to make two launches and returns in a week. And, much farther out in space, the Cassini spacecraft reached the rings of Saturn, and launched its Huygens probe to Titan, one of Saturn's large moons.
Our big adventure this year was a six-week stay in beautiful Mülheim, Germany, thanks to Dax und Jürgen! You can read all about it on our Mülheim pages. This was the first international trip for Roy and Leo, who collected their first passport stamps. For Leo, it was his very first plane ride!
We met some relatives: Konni and Ullun, Barbara, Christoph und Marianne, Hans-Jochen und Ulla, Jule, and Bille. And, of course, Dax und Jürgen's son, Guido and his girlfriend Michaela. We also made lots of good friends there to whom we owe much thanks for easing our way: Patricia, Gregor, and Veronica; Desiree, Martin, Paul, und Till; Peter; Klaus und Marlies; Erika und Paul; Ilka und Hendricks; Horst; the Hocevars … the list just goes on and on.
Certain people have entered family vernacular. "Marlies," for instance, seems to be Leo's shorthand for a fun time. The name of Desiree und Martin's dog, Seppl, has become a verb meaning to root around getting into mischief ("Leo's Seppling around in my room!"). The Hocevars are a double nightly presence for Leo, since he has claimed both the stuffed mooses for his bed. Both mooses (and one bear) carry the name of Hocevar. That's a practice someone shared with us years ago that we adopted; naming stuffed animals after whoever gave it. That way, not only does the animal have a name, but there's also a lasting connection to the giver.
Since we were house-swapping with Dax und Jürgen, we did a major housecleaning before we left! And, we learned how to drive stick-shift, itself a major accomplishment.
Leo went from a 17-month-old, breast-feeding toddler, to a 2-and-a-half-year-old, eating-everything-in-sight, toilet-trained kid. He grew about 5" this year, and is now about 33-1/2" tall. His car seat straps are at the highest setting, so he must have a long torso. He moved from a crib to a bed. He had his first dentist's appointment. He started pre-school at Montessori Discovery School in Santee immediately after our return from Germany; he goes two days a week and his teacher is Latonda. He started toilet training at almost the same time, and is now totally toilet trained during the day. Some of Leo's favorite playthings are toy animals: he really loves being around real animals, too, and feeling their wild, animal energy. Leo can hold a fluent conversation, and read too many words to count including everyone's name. Despite his testing negative for celiac, we started him on a gluten-free diet in late December, which we'll continue for another month before re-introducing wheat.
Roy is now 4-1/2. This year, he grew more than 3", to 42-1/2" tall. He's entering his final year at Montessori Discovery School; his teacher is the director, Mrs. Dunn. We've been researching public schools. He still prefers non-fiction to fiction for bed-time stories. He is out of his car seat and into a booster seat. He's also out of night-time pull-ups! His main interests right now are volcanoes, Mars, science, and math. He definitely likes powerful forces of nature, like volcanoes and tornadoes, which we find fascinating. Equally fascinating, is that in his pretend world, he performs heroic deeds by warning people (frequently in Germany) about some impending natural disaster, and helping mobilize the evacuation to safe places. He is becoming much more interested in sitting down with books, and he is definitely starting to read. When we find news articles that would interest him, we read them to him, with the result that his knowledge is often more up-to-date than his books!
Ondine started the year with her very first published article; she now has 23 published articles including a travel piece in the San Diego Union-Tribune. The other articles have all been for San Diego Family Magazine. She has a new professional website: www.ondine.us.
John was interviewed for an article in the November 22 issue of Adweek, about freelancing. New business this year included Sony Electronics, Orsus Systems, Aviatech, Rhino Off-Road, and the Active Foot Store. He was elected secretary of NAWCC Chapter 59, a two-year gig.
Our trips in 2004, in addition to our Germany trip which was well-documented on our Mülheim pages, included a weekend getaway to Thousand Trails Pio Pico to do research for one of Ondine's articles. We stayed in a nice "Getaway Club" cabin – a relaxing and great way to get to the mountains! We also went up to L.A. several times to visit John's mom and family.
Barbara and Bill's trips included a week at Sand Pond and two weeks in Germany, one of which they spent in Mülheim. They went to Lawrence Welk Village for a week, and Roy got to stay with them overnight. And, they made numerous trips to their cabin in Big Bear.
Frances helped John's sister, Elaine, with the Verzani twins. Her big trips were Yosemite and Mammoth with Marion. Elaine, Patty, Amanda, and Breanna went to Paris!
Major acquisitions in 2004 included a Canon A70 digital camera, two (used) guitars for John (a classical Takamine G116 and a steel string Fender DG-11), new tires on the Mazda, brake jobs and new batteries in both cars, Ondine's new (used) Pentium 4 computer, John's new (used) IBM ThinkPad T22 laptop, a DVD player, Leo's tricycle, Leo's bed, new linoleum in the main bathroom, and a new (used) Lady Kenmore clothes dryer. We now have a wireless network so John can work in the kitchen in the mornings and Ondine can have high-speed internet access. Ooo. John had his Dad's Seiko Weekdater wristwatch repaired, so now it's in working order.
Major discards in 2004 included some photo gear, the big canopy from our front yard, car seats, Leo's crib, a glider chair and ottoman, and a bunch of baby stuff! Also, we let our twice-a-month housecleaner go, and have been maintaining things on our own (and doing well, by the way).
New little relatives and friends in 2004 included the Verzani twins, Amanda and Cooper, and new neighbor Sydney Levenson.
Passages included long-time family friend Lynne Ruckdashel. She was one of John's Mom's oldest friends, having been a next-door neighbor in Halldale. And, former neighbors Oneta and L.E. Young died, weeks apart, in an assisted living community. On a lighter note, cousin Peter and Valerie moved to the ranch in Montana. And, our dear friends Jeff and Athena bought a house in West Jordan, Utah!
What will 2005 hold? In September, Roy will start Kindergarten, which is the first year of public school. At some point, Leo will start going to pre-school three days a week. Ondine hopes to expand into writing for more-lucrative publications, and has one travel article due this month (on spec) for the Los Angeles Times. And, she has a new system of "Speed Cleaning," which she wants to implement (she has made the apron already). John has a product he's thinking of launching. We may try to do more camping this coming year. We have (or think we have) two free weekends coming to us from Ralph's Club.
Back to the Archives page
Back to the Kuraoka Family main page
Forward to the current Weekly Journal.