The Kuraoka Family Weekly Journal
www.kuraoka.org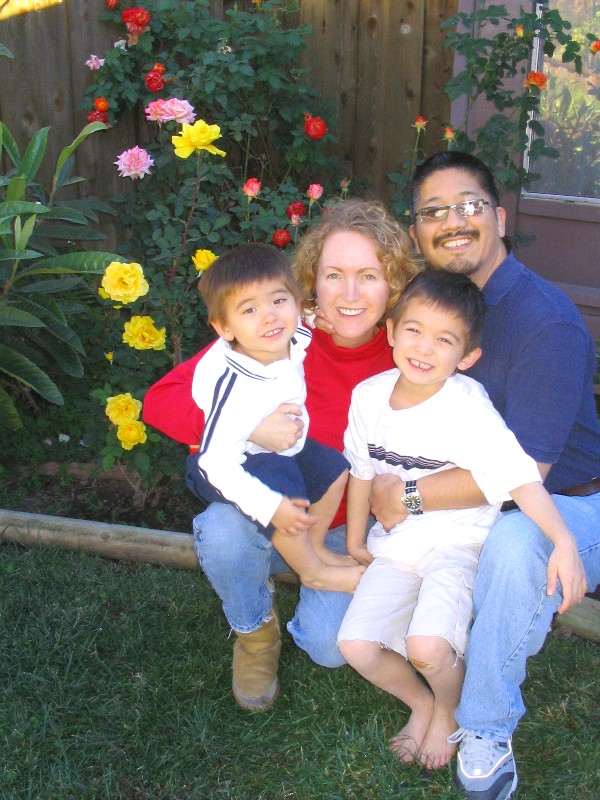 Us, December 6, 2005: Leo (3-1/2), Ondine, Roy (5-1/2), John
Saturday, 31 December 2005
2005 was a big year for San Diego News. Mayor Dick Murphy resigned, and a special election early in the year left two candidates: former police chief Jerry Sanders and city councilwoman Donna Frye. Sanders went on to win the special election in November. Several former city council members were found guilty of corruption charges. The City's pension fund under-funding made national headlines – it seems San Diego may be the canary in the coal mine on that issue though. And locally based Congressman Randy "Duke" Cunningham resigned in disgrace after acknowledging that he had taken bribes from defense contractors. Even the weather made news, with San Diego starting 2005 by having its third rainiest rain-year in recorded history, about 22-1/2 inches. The good news, was that our trolley system opened its Green Line connecting Santee with Old Town. And, we got a new school superintendent, Carl Cohn. And, at the San Diego Zoo, a baby panda was born, a female named Su Lin.
In national news, the Chicago White Sox beat an 88-year "curse" to win the World Series. The Space Shuttle Discovery flew again in August. There's a new Supreme Court Chief Justice, John Roberts, who replaced the late William Rehnquist. Hurricane Katrina swamped New Orleans and some 90,000 square miles of Louisiana and Alabama in the biggest natural disaster to hit the U.S.
In international news, German Cardinal Joseph Ratzinger became the 265th Pope, Benedict XVI, following Pope John Paul II. Iraq held its first elections under its U.S.-supported self-government, but our troops remain there, still taking casualties. The London Underground was hit by suicide bombers, killing more than 50 and injuring 700. But an even bigger scare was "Bird Flu," a threat of a global pandemic.
In solar system news a tenth planet was discovered, larger than Pluto and on a similarly tilted plane. It has one moon and the memorable name 2003 UB313.
Meanwhile, in our little lives, things have been pretty calm. We enjoyed two weekend getaways sans kids, thanks to Ralph's grocery store and Barbara and Bill, who took Roy and Leo. We went to Solana Beach – ahh – in April and again in August. We took the boys on family outings to the desert and Old Town and O'Fest, between frequent days at Sea World. We went camping at Silent Valley (where we were amused by the antics of a family of raccoons). We enjoyed yet another kid-free weekend when Barbara and Bill took Roy and Leo to their timeshare unit in Coronado for a couple days.
Roy is now 5-1/2. He grew about an inch and a half, to a bit over 44" tall, and weighs about 43 pounds by our old bathroom scale. He lost his first two teeth (front bottom). He started Kindergarten at Gage Elementary, our neighborhood school. His teacher is Mrs. Youngman. He has done great, no troubles transitioning from pre-school to Kindergarten at all. Mrs. Youngman has a lot to do with that – she's a real treasure of a teacher. Roy received his class' "Citizen of the Month" award for November. He loves reading and writing, and saw his first musical play (a middle school production of Oklahoma!). But a real surprise has been his participation in the Gage Running Club! He runs four laps (a mile) every school day, plus he and John walk to school. He's the top Kindergarten runner, and just received his 50 mile ribbon! The highly regarded principal of Gage is leaving after just over two years, having been offered the chance to turn around a school on its last legs. Roy is still very interested in weather, volcanoes, and planets.
Leo is now 3-1/2. He grew nearly three inches, to about 36-1/2" tall, and weighs about 32 pounds by our old bathroom scale. He entered his second year at Montessori Discovery School on Fanita, and now attends three half-days a week. He's in Zan's circle, which makes her the first teacher to have had both boys. He asked to play soccer, so we signed him up. Leo liked his Blue Dragons soccer uniform (the same colors as FC Schalke), and told people "my game is soccer," but didn't seem too interested in the game otherwise. He is still very interested in dinosaurs and all animals. We stopped worrying about celiac for the time being. 2005 marked Leo's (and John's) very last "water adjustment class" at Grossmont Hospital. In the summer, both Leo and Roy took swim classes at the Fletcher Hills Pool. Leo continues to show his inner troll, with his hoarse little voice, hunchy stomp-walk, and all-around love of wild dancing, hitting things, and stuffing things in his mouth. Sigh.
Ondine has continued writing articles for San Diego Family Magazine, but at a slower pace than before. Still, she kicked off 2006 with two articles in the January issue. She added Today's Local News to her roster of publications. She wants to increase her queries to other publications as well. She's also working on fiction. Her biggest project of 2005 was writing a section for the annual San Diego Family Magazine Out & About publication, a guide to things to do in San Diego. It was about 13,000 words! It should be out in January. Her freelance writer's website shows an ever-increasing number of good clips and published articles.
John has been busy. He's had an increase in projects coming in from San Diego companies. He was contacted to be one of the "experts" to be included in a book about small business management due to be published next August. He walks Roy to school every day, and runs with him so he's getting in shape too! All the exercise has made his feet grow a half size. Weird. He finished a term as Secretary of the watch and clock collector's club, and asked to be replaced so next year he'll have no official duties. He launched a Tucker's Luck fansite. He's such a geek! He got new glasses this year, and had to get progressive bifocals.
In other family news, Barbara and Bill hatched four eggs, which turned into four chickens, which all turned out to be hens! They (Barbara and Bill, not the hens) built an elaborate coop by the persimmon tree, with a glassed-in section made from our old patio doors. They get four eggs a day during the warmer seasons! Ondine's brother Jeff has started a mobile DJ business with Michelle. It is called J.B. & Sons Mobile Music, and in 2005 he played gigs for various schools and Hometown Buffet. This New Year's Eve/Day, we had both Auntie Ulli and Grammy here! Finally, a sad note: John's brother-in-law Mike got very sick in December, and spent nearly a week in the hospital. He's back at home now.
Passages in 2005 included Arnie Lacombe, of the watch and clock club. His funeral was the first Ondine had ever attended.
New friends in 2005 included Kayla, Karin and Kenn's baby girl, and Chad, Athena and Jeff's adopted three-year-old boy. Also, Jill and Eric got married, and Jill is now pregnant and due next year!
Major acquisitions in 2005 included a new desktop computer for John (2.0 gHz with 1 gig of RAM), a new HP printer/scanner/copier and Moleskine organizer system for Ondine, a new overhead fan and light in the main bathroom, a fantastic Thomasville oak dining room table with six chairs and two leaves (found on Craigslist and purchased in the nick of time for Roy's birthday party), a black guitar for Leo, a new daypack for Ondine, Katami Bar and The Step, two new tires for John's car and a new back seatbelt in Ondine's car, and a more-recent set of World Book encyclopedias.
Major discards included the big stroller and Ondine's old purple daypack, both of which were huge parts of our lives. We got new gray bean bag chairs, which meant our old tan ones got moved on. Our old set of Funk & Wagnall's encyclopedias were replaced. For over a month, we had weekly pick-ups from charity, and moved a lot of stuff out.
Our weekly journal started the year with about 17,000 hits and ended with more than 21,000, so we had 4,000 visitors through 2005.
Looking ahead to 2006, we have a family trip to Hawaii planned. And, cousin-in-law Kevin will be returning home!
Back to the Archives page
Back to the Kuraoka Family main page
Forward to the current Weekly Journal.