The Kuraoka Family Year In Review
www.kuraoka.org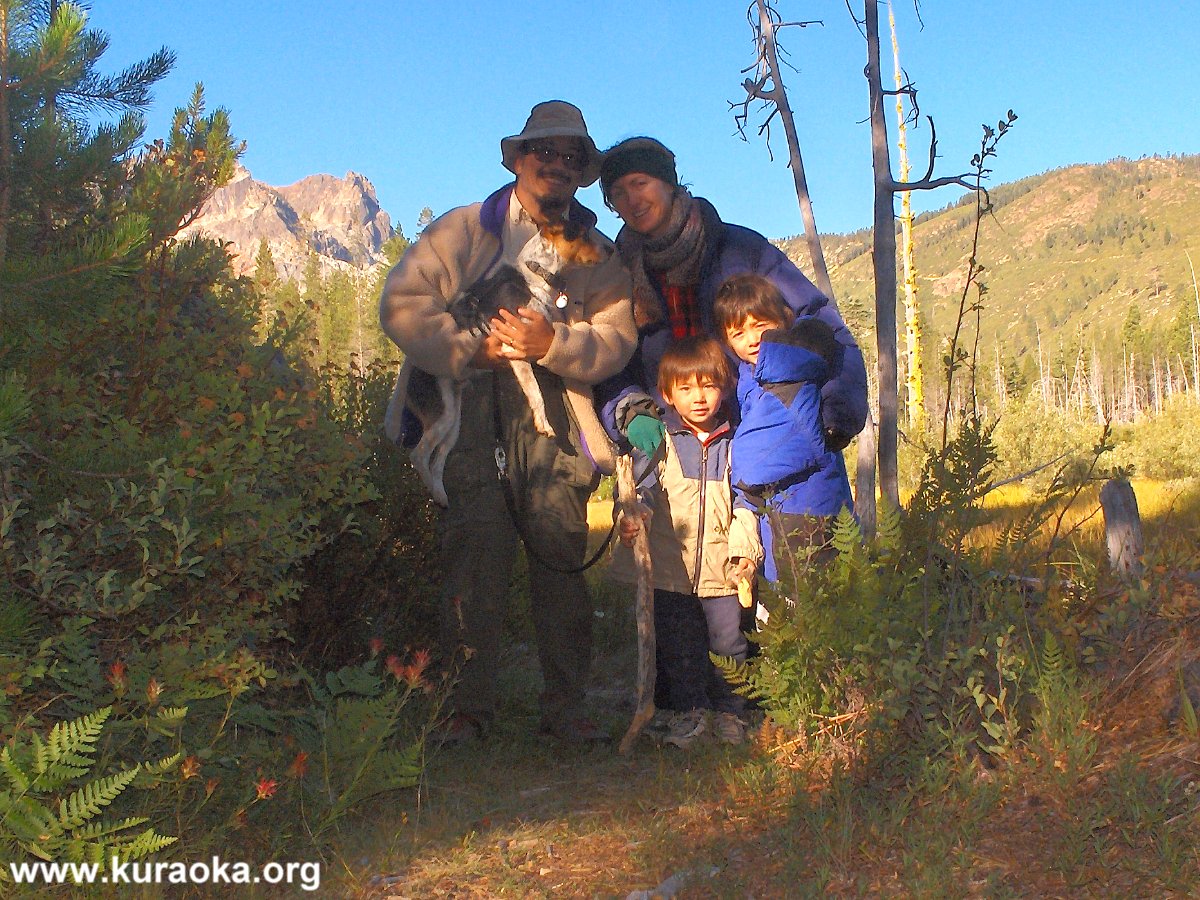 Us, August 10 2007: John, Ondine, Buddy (being held), Leo (5), Roy (7)
Monday, 31 December 2007
Well, it's the end of 2007 already, and time for our annual Year-In-Review! John's Mom Frances is here for our annual feast-fest, with German feasting for New Year's Eve and Japanese feasting for New Year's Day! She came down, as usual, on the train.

The big San Diego story in 2007 was the fires, which closed schools for a week. We weren't evacuated this time. A landslide in La Jolla took out a few homes. Speaking of sliding houses, home prices in San Diego County continued to slip, posting the biggest drop since, well, last year: the median price is down $47,000 to $440,000. On an up note, our San Diego Chargers again won the AFC West championship, so they're in the Super Bowl play-offs!

A California law restricting automotive greenhouse gases was ruled illegal by, of all people, the Environmental Protection Agency.

The federal government has had its own struggles. U.S. Attorney General Alberto Gonzales resigned under fire, amid accusations of partisan terminations of several state attorneys general, including California's own Carol Lam early in 2007.

National stories included the subprime mortgage mess, the Major League Baseball steroid scandal, which effectively puts an asterisk by every individual record set over the past few years, and a "surge" in Iraq that resulted in the most U.S. casualties since the invasion.

International news included a new British Prime Minister, Gordon Brown, taking over from Tony Blair. The first post-Soviet Union president of Russia, Boris Yeltsin, died. And, in Pakistan, a delicate emerging democracy was hammered by the assassination of presidential candidate Benazir Bhutto. Toys with lead-based paint and decals coming in from China put a damper on Christmas toy-giving worldwide, sparking an ever-increasing scrutiny of global vendor practices.

On other worlds, the Mars Exploration Rovers kept going. The Hubble Space Telescope, though, seems to be on its last legs, with no more repairs or adjustments planned.

We've had another wonderful year. Trips included a weekend getaway to Barbara and Bill's cabin in Big Bear and a trip to the JPL Open House. The boys enjoyed a weekend in Coronado with Barbara and Bill.

Our first big trip of 2007 was the Kuraoka clan trip to Hawaii, an incredible three-generation, two-island experience. Highlights for us included a side trip to Volcanoes National Park (where, for the first time in years, there was no surface lava) and an on-the-beach fireworks show put on by Eric and Andrew! It was wonderful to spend time together as a family, and we all certainly created some very special memories.

Our second weeklong trip was to Sand Pond with Barbara and Bill, where Ulli, Liz, and Les joined us. For the first time, we put the boys in their own tent! This trip was memorable for its late-night bear padding through the campsites and knocking over dumpsters, and a side trip to the Kentucky Mine, where Les worked when he met Liz.

We hosted a block party just after Thanksgiving (a future annual event?), and in mid-December Roy and Leo held their very own garage sale, making a whopping $10!

Roy started second grade with Mrs. Sinkovich, then was moved into a combination second/third-grade classroom with Mrs. Hayes but continues to do math with Mrs. Sinkovich. He has run more than 75 miles with the Gage Running Club. He did a Mad Science after-school program.

Roy did swim class and played his second season of soccer, with the Galaxy, and started playing chess seriously. And, he joined the Cub Scouts! He's a Wolf Cub in Den 1, Pack 951. He's earned some Scout Bling: a Bobcat badge, the first bead marking three achievements toward his Wolf badge, several outings patches, four belt loops (chess, astronomy, collecting, and soccer) and a pin (soccer)!

The big change and challenge for Roy this year, has been adjusting to an orthodontic device that's widening his upper jaw. We have to crank a tiny nut two half-turns every day. He's used to it now, thankfully.

Roy is 48-3/4" tall and weighs about 50 pounds by our dodgy bathroom scale.

Leo started Kindergarten this year! That was a big change for him, leaving Montessori Discovery School and starting at Gage Elementary. His teacher is Mrs. Youngman, who also had Roy when he was in Kindergarten. Leo has adapted very well, and even loves doing his homework! It's amazing how much he has learned even in just these few months since September. He now reads! And writes! He's still drawing monsters and ghosts, though.

Leo runs every school morning with the Gage Running Club, and has racked up about 50 miles so far. The fires affected his total, since school was cancelled for a week. As Kindergartener, he only gets to run once a day – the older kids run at recess too. He did a series of swim class in the summer, played his third season of soccer with the Crusaders Soccer Club in the Fall (his team was the Blue Dragons), and participated in a Mad Science after-school program at Gage. He actually sang (in deadpan earnest) at the Kindergarten holiday show, which was very cute. His dental adventure this year was having three cavities filled!

Leo is 41-3/4" tall and weighs about 40 pounds by our highly inaccurate bathroom scale.

Ondine has continued to write freelance articles, focusing on higher-paying publications like Living In Style. She has continued to pick up projects for MSN and the Ford Edge. And, she submitted some of her poetry and fiction! No bites yet, though. Got to save something for 2008!

John continues to freelance as well. New projects included work for Sidmar, Sunrise Telecom, and Affinity Group (publishers of Trailer Life and MotorHome magazines). His Ad Blog celebrated its 1,000th entry in 2007. He launched two new business-gathering websites, one aimed at writing flyers and the other at writing brochures. And, his Tucker's Luck website got so much traffic in December that he may have to upgrade its hosting plan! In health care news, he returned to Kaiser after nearly 20 years with Blue Cross.

Buddy, our dog, started 2007 needing emergency surgery to remove a huge chunk of gristle that he'd swallowed. The year could only get better after that! He enjoyed his own vacation last summer, staying with Barbara and Bill for over a week while we were in Hawaii.

Barbara and Bill got rid of their chickens, the end of an era. We miss the clucking and the fresh eggs, and Buddy misses wondering what was going on next door. Barbara is looking forward to retiring in 2008, and they're already planning some big trips! Bill bought a new SUV, a dark gray all-wheel-drive Honda Pilot!

Achievements of Friends and Relations Dept. Bill's son Jason completed Border Patrol training, and is stationed here in San Diego! John's niece Amanda started her first year of teaching on her own. She's teaching second grade! Our friend Jennifer started nursing school, and Casey moved with her family up north. Ooo, ooo, and Ondine's friend and San Diego Family Magazine editor, Kirsten, got an agent for her novel trilogy! Wow!

Major acquisitions in 2007 included two expensive appliances: a new Whirlpool Duet Sport HT 8500 high-efficiency washing machine (replacing our old Frigidaire HE model), and Roy's orthodontics. John got new progressive trifocals.

We dug out a small but highly productive vegetable garden in the front yard, and got two "Earth Machine" composting bins in the back yard. We got a new trash bin from the city, which was good as the city is now charging for them. We got a new kitchen light and ceiling fan. And, new garage door springs after one of the old ones exploded.

Our cars are still going strong. John got four new Kumho Solus tires for his '96 Infiniti G20, and Ondine got four new BF Goodrich g-Force Sport tires and a new battery for her '00 Mazda Protegé. Ondine's car passed John's in total mileage in 2007, despite being four years newer. That's what telecommuting saves!

Ondine got a new computer, so she's the only one in the house on Microsoft Windows Vista. John's still limping along with his old computer and ThinkPad notebook, but he did get an LCD flat-panel monitor to reduce his energy consumption. He got a new used laser printer, an ancient but solid HP LaserJet 4M+, replacing his similar old DEClaser 5100, which died, and a new used AlphaSmart 3000, replacing his old one, which died.

New friends this year include Kenna, Karin and Kenn's new little one (now about 7 months old), and, in Mülheim, Andreas Roberto, Patty und Gregor's brand-new baby boy! And, our friend Jill is expecting a boy!

Passages this year included Dawn Ruckdashel, a family friend. She was a few years younger than John. The Ruckdashels and John's family were next-door neighbors in Halldale, and remained close friends all through the years.

It was a rough year for dogs we knew. Frances' dog Charlie, Blaise and Karen's dog Lucy, and Jennifer's dog Yoshi have all moved onto the next phase.

Remember, photos from 2007 can be seen on our 2007 photo page.

Neighborhood gas prices started the year at about $2.69 per gallon and are now about $3.35.

This journal began the year with 24,590 visits logged and ended with nearly 27,690, for about 3,100 unique visits over the year.

Looking ahead to 2008, we're looking forward to another great year! To see what we're up to now, visit our regularly updated weekly journal!

Back to the Archives page
Back to the Kuraoka Family main page
Forward to the current Weekly Journal.