Click on any photo to see it full-size. All photos copyright John or Ondine Kuraoka, Barbara Brooks, Bill Nutter, or Frances Kuraoka, or as noted.
12-31-2007: New Year's Eve! First up, you see Grammy and Roy making makizushi. Then, Roy and Leo soloing. They made a lot of makizushi!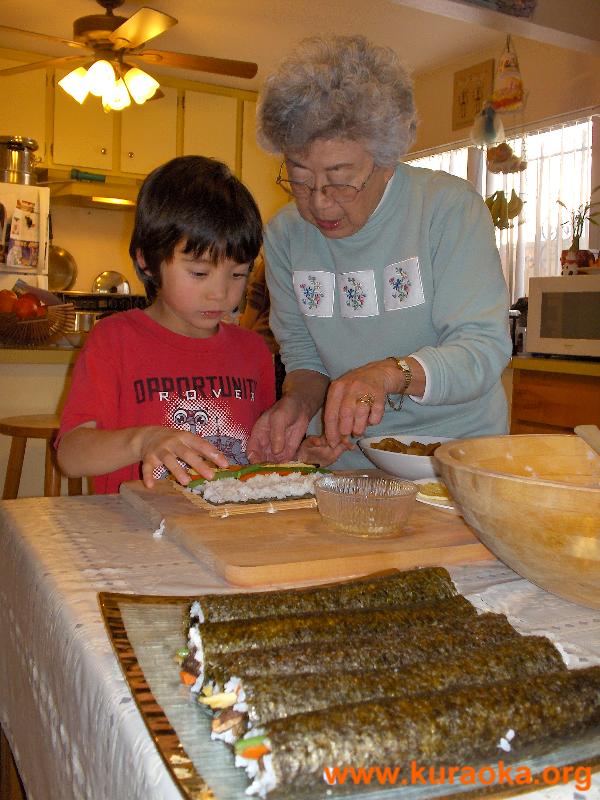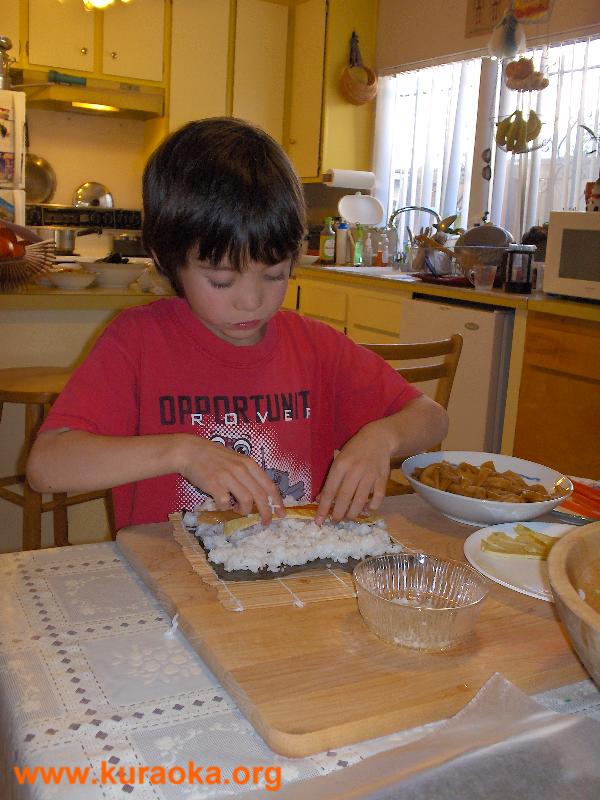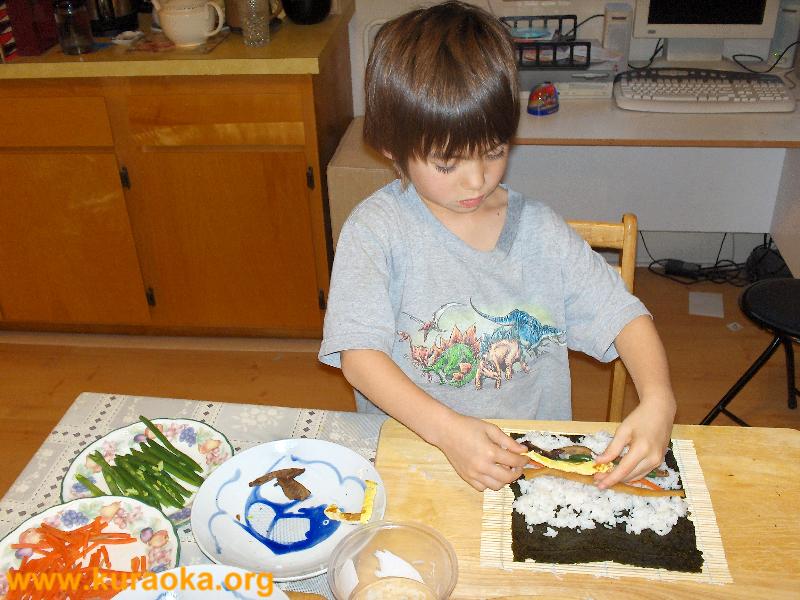 12-15-2007: Yard Sale! The boys planned this yard sale for a month, making signs and price lists for sequins, polished rocks, and sticks. Oh, and a few excess toys. They got up at 4:30 to set up and post signs. Here they are, searching the horizon for signs of customers. They made over $10, thanks to kind neighbors.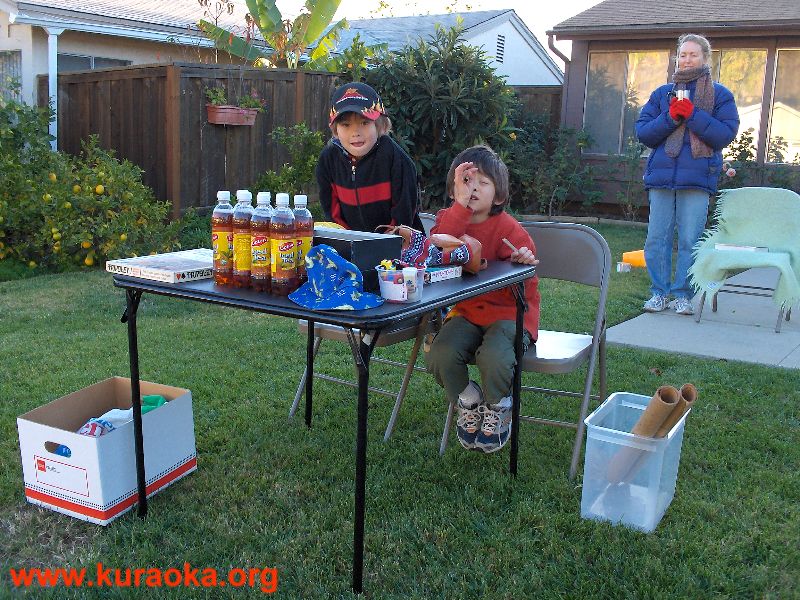 12-09-2007: Second Advent and the Coming of the Washer. Here is our tree, up, lit, and mostly decorated for Second Advent. Roy is on the prowl for gaps to fill with more ornaments. Next, you see our brand-new Whirlpool Duet Sport HT washer, which replaced our seven-year-old Frigidaire. You can travel back in time to see our old washer and Roy as a 35-week-old right here.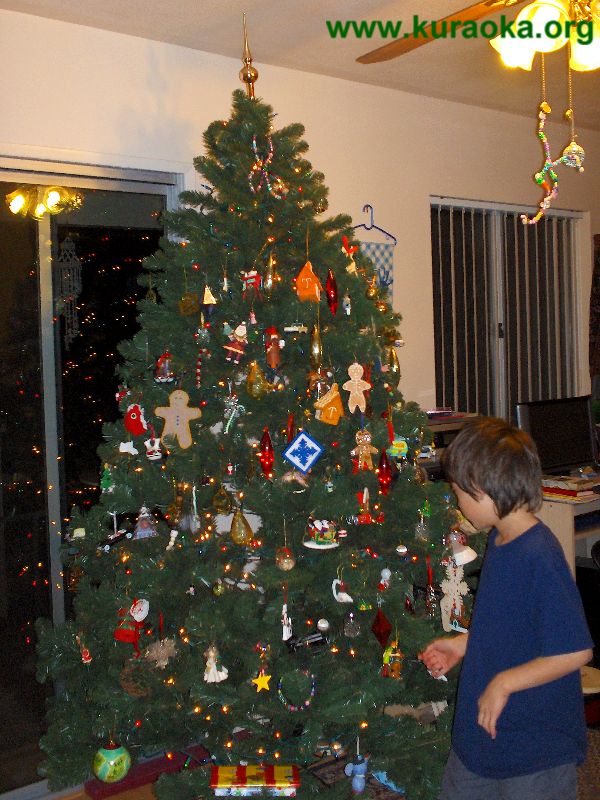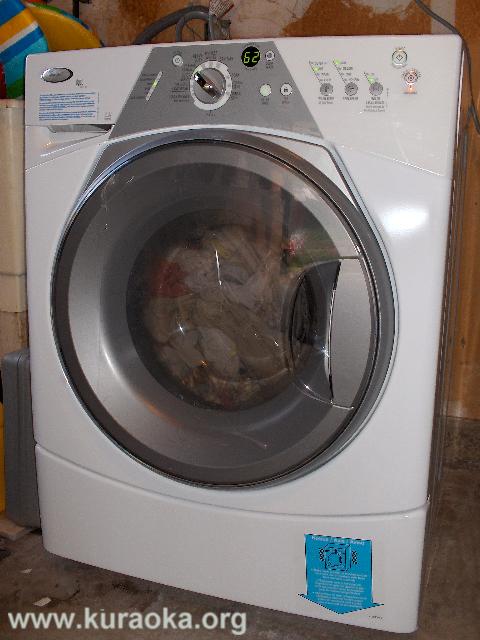 11-25-2007: The Barker Way Bash! We had a block pot-luck right after Thanksgiving because our neighbors are people to be thankful for! We had 26 people here. The first photo shows (clockwise starting from the left) Doris, Jenny (standing), Inez, Ondine, Jorge, Bill, Barbara, Ofelia, and Jose. The second photo shows (clockwise starting from the lower center) the backs of Doris, Inez, and Ondine, then Leo at the kid's table, Jorge, Roy, Sydney, Bill, Danny (standing next to the kid's table), Barbara, and Ofelia. The third photo shows Leslie, Inez, and Kathy. The last photo shows Ron, Jose, and John.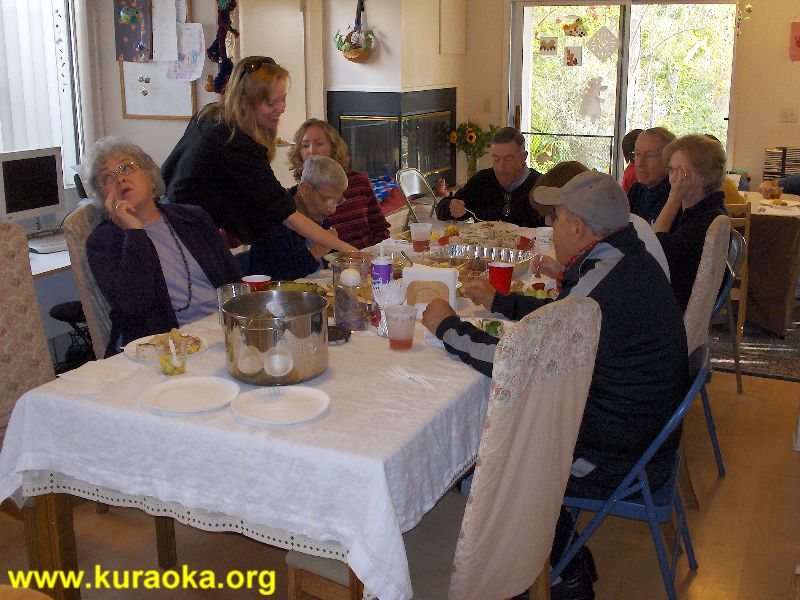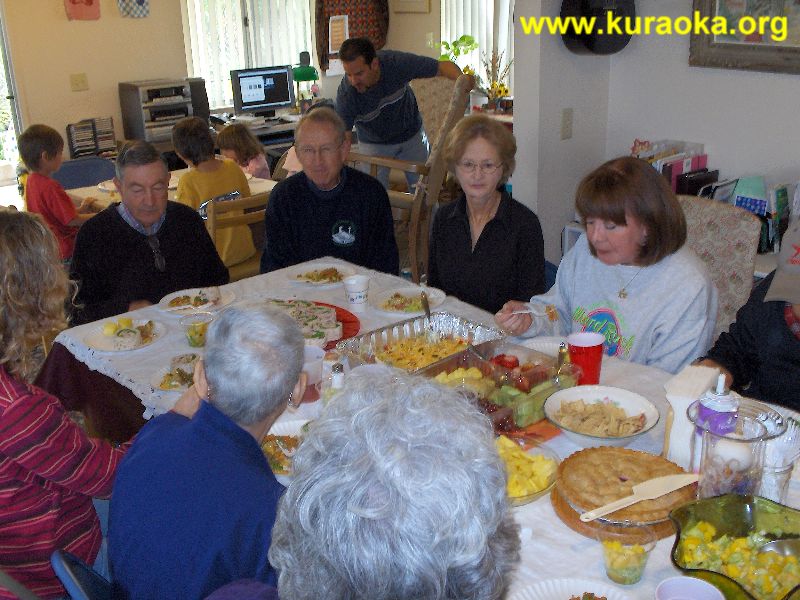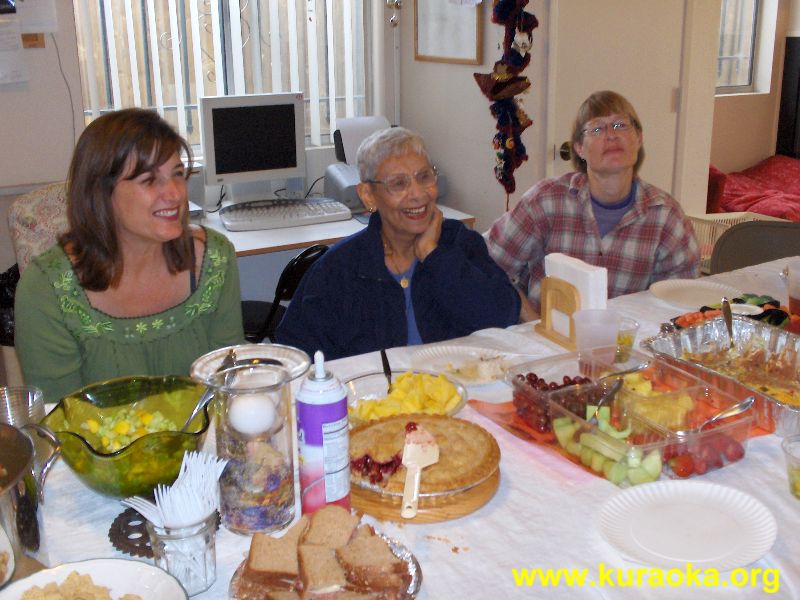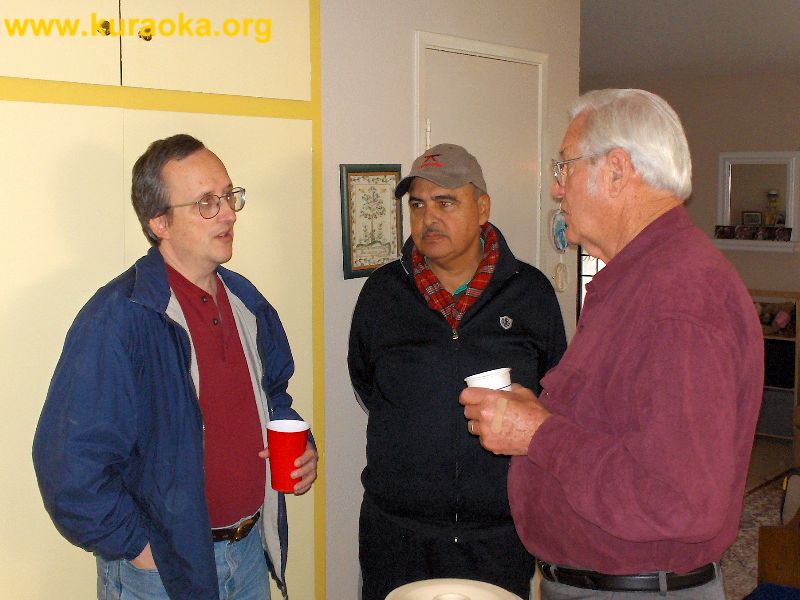 11-22-2007: Happy Thanksgiving! And we have much to be thankful for. Here's a couple quick looks at our table, laden with feast and surrounded with family. In the first photo, you see Kaleb in the foreground left (in the striped shirt), then going clockwise round the table you see Barbara's stripes, Michelle, Winter (standing), Leo, Roy, Jeff, Neena (standing), Bill, and Jeffrey. In the second photo, starting with Kaleb again and going clockwise, you see Barbara, Autumn, Winter, Michelle, Ellie, Leo, Jeff, Neena, Bill, Ondine, and Jeffrey. In the annual couch photo, you see (left to right) Jeffrey, Roy, Ellie, Winter (in back), Leo, Jeff, Michelle, Neena, Kaleb, and Autumn.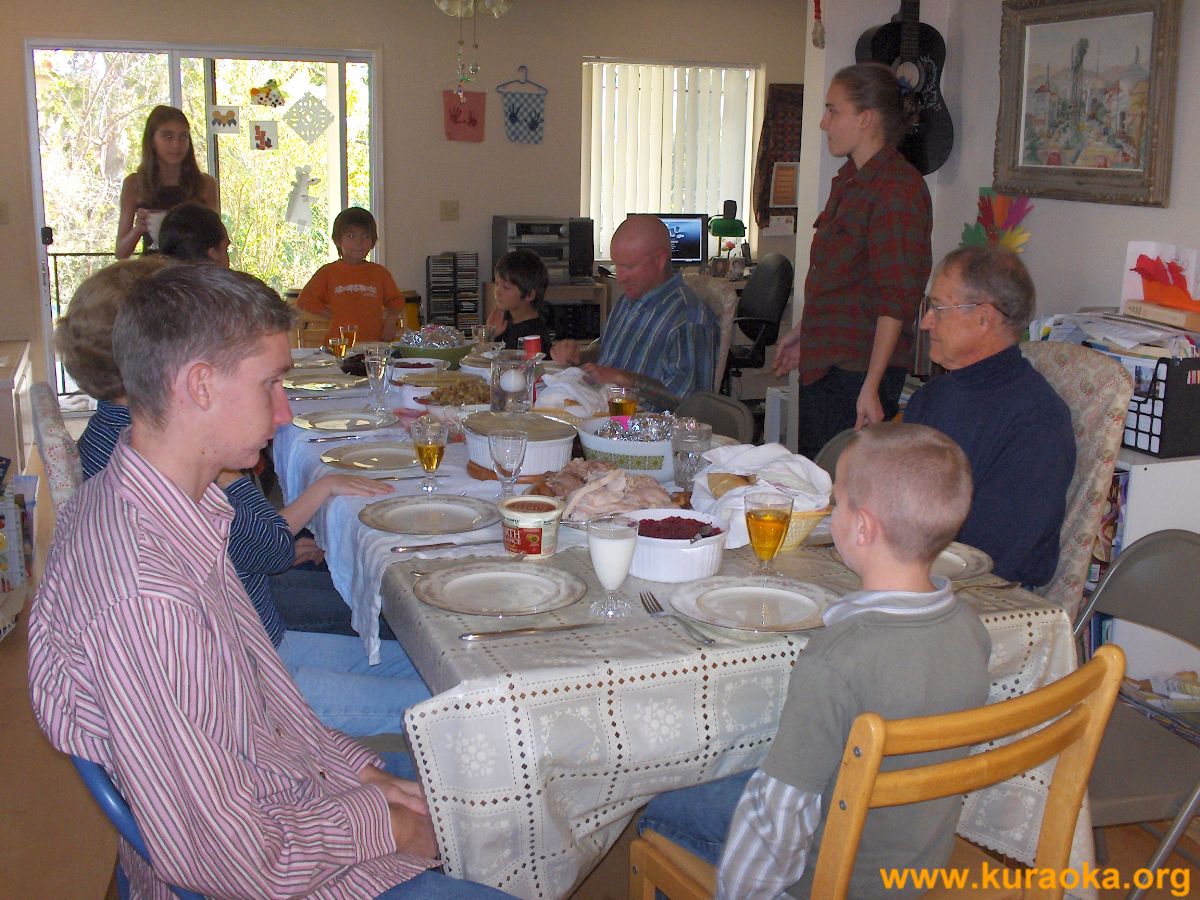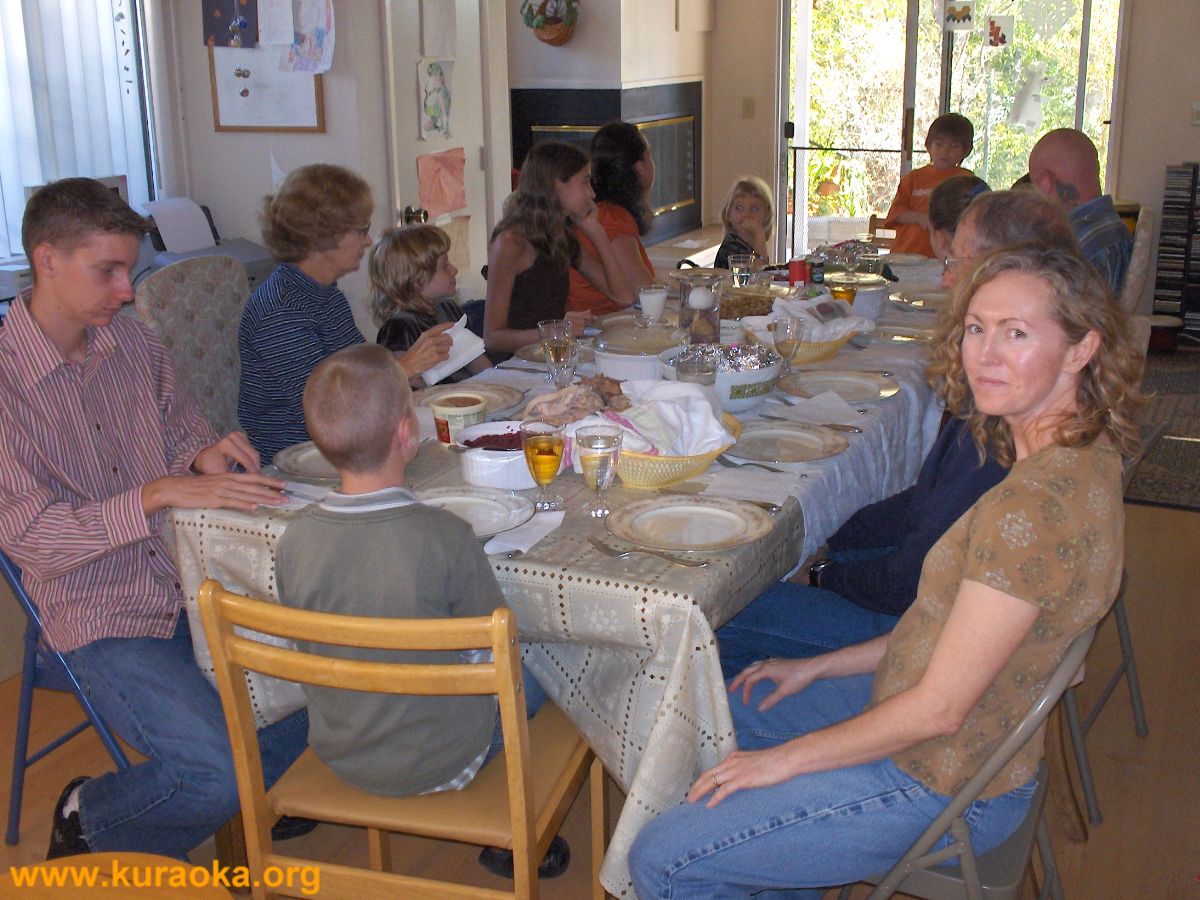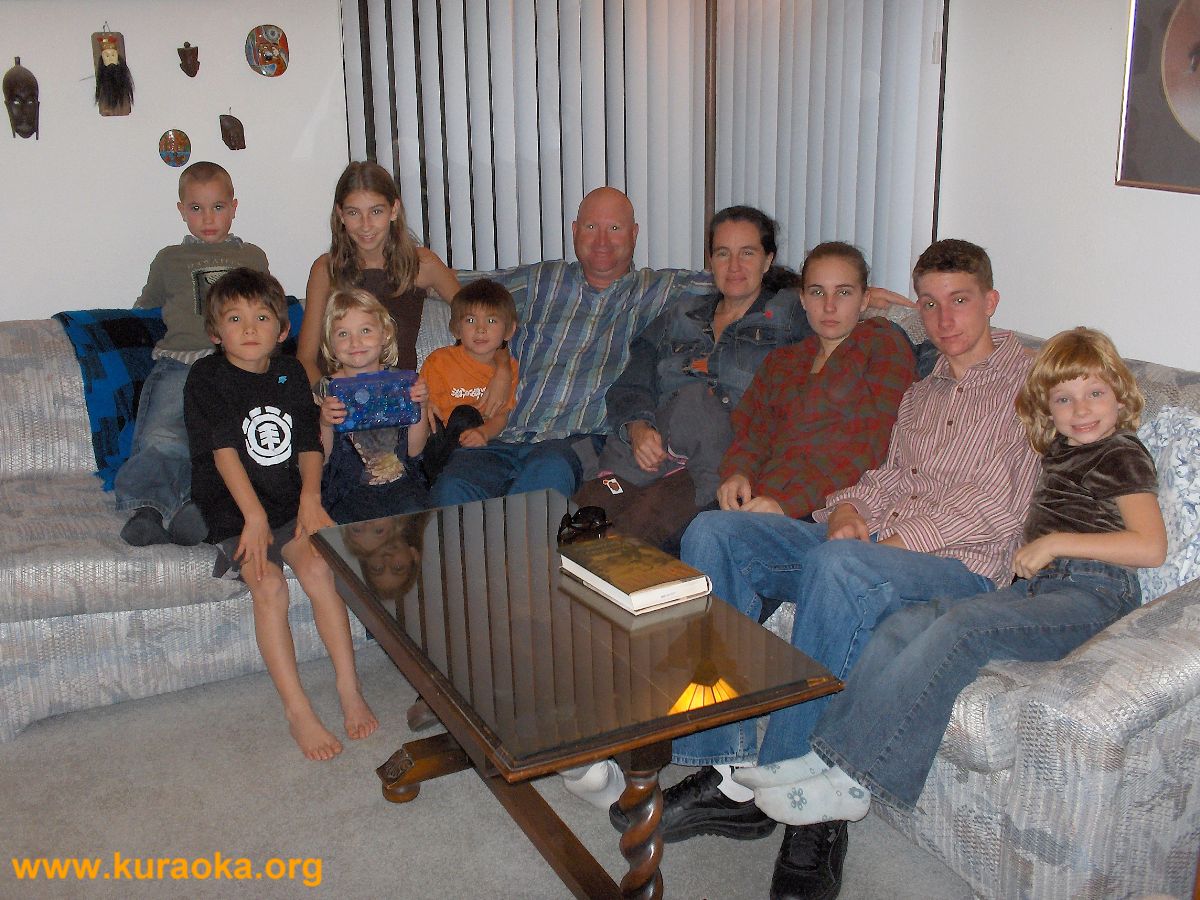 10-31-2007: Happy Halloween! Here we are, all in costume (except for John, who was dressed as his usual Republican-at-a-picnic). First is Leo as a vampire/ghoul and Roy as a pirate. Like our Frankenstein Monster? He's stuffed. Next is Witch Ondine with Vampire Leo and Pirate Roy. Isn't she a bewitching witch? Makes John feel like Darrin Stevens, she does. Then, we have Barbara and Bill getting into the Halloween spirit.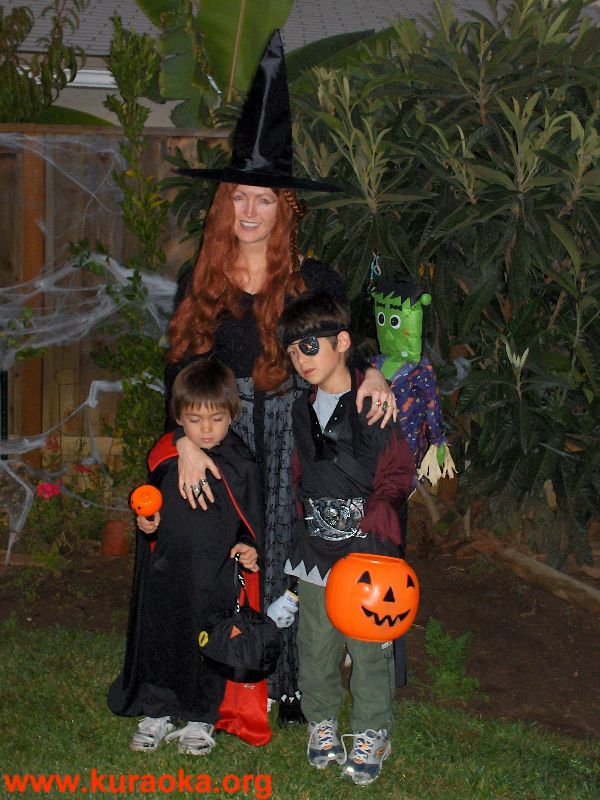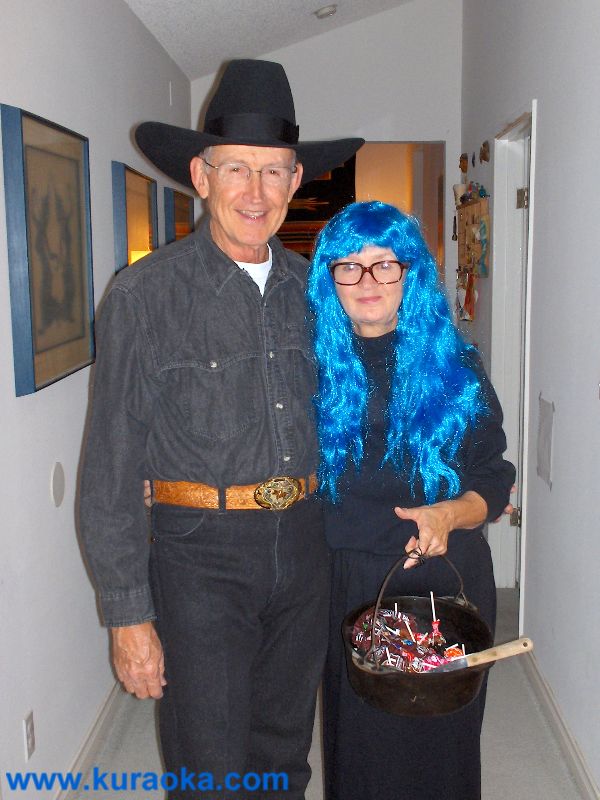 10-14-2007: Coronado overnight! The boys stayed with Barbara and Bill at their timeshare, while we enjoyed a kid-free weekend! First you see Bill and the boys on the beach searching for shells, then Roy with a couple treasures, then Leo on the rocks, then Barbara and the boys enjoying huge ice cream cones! Wow!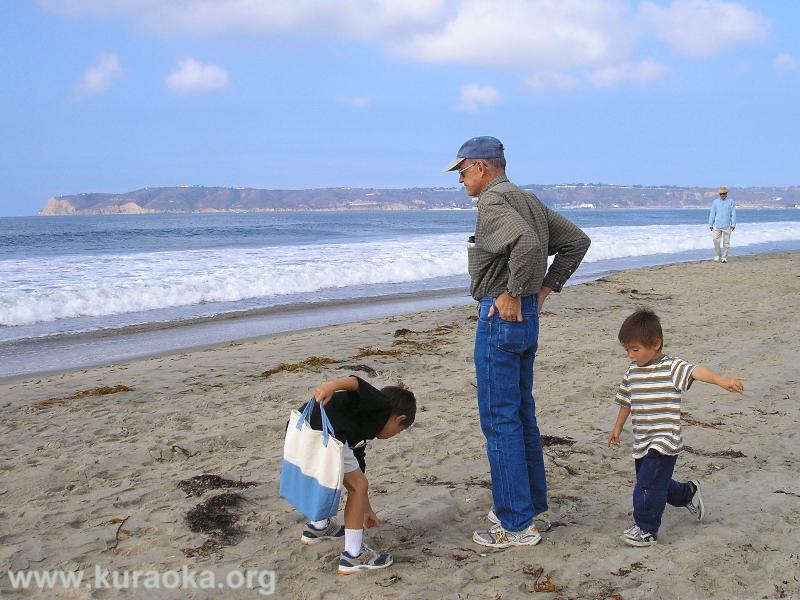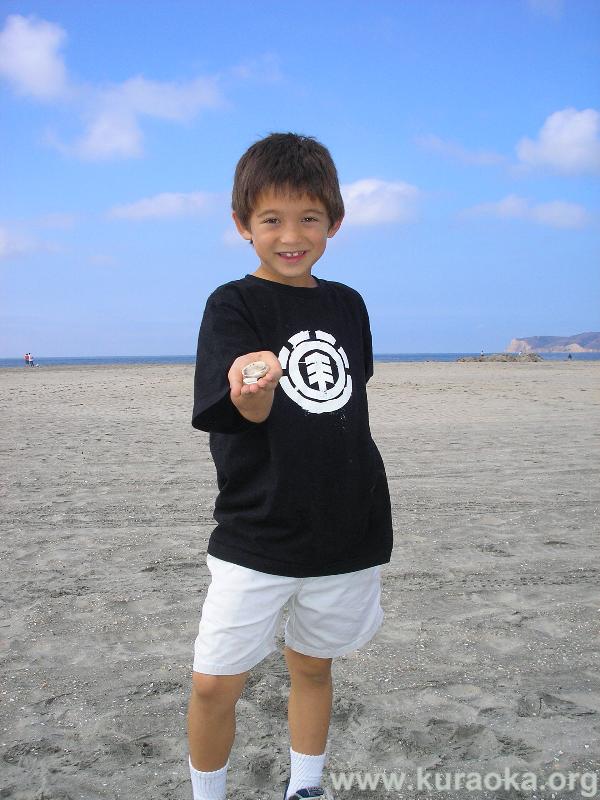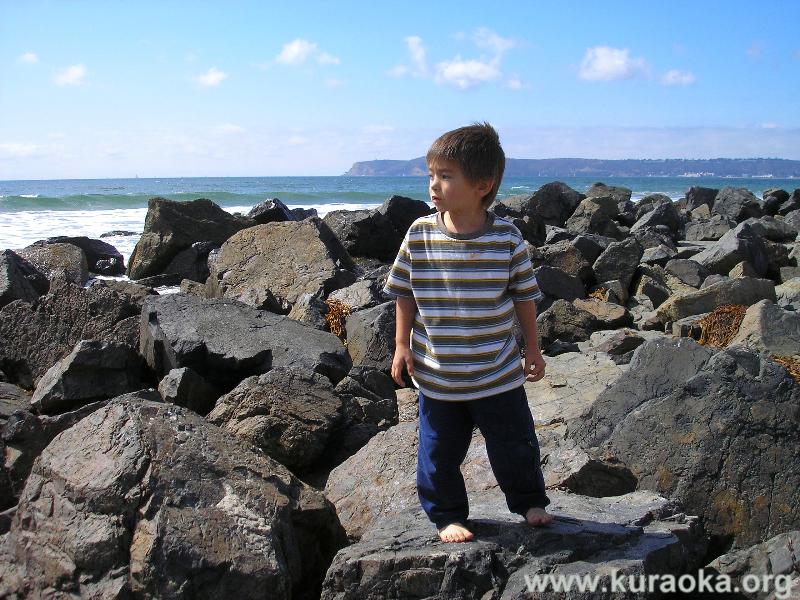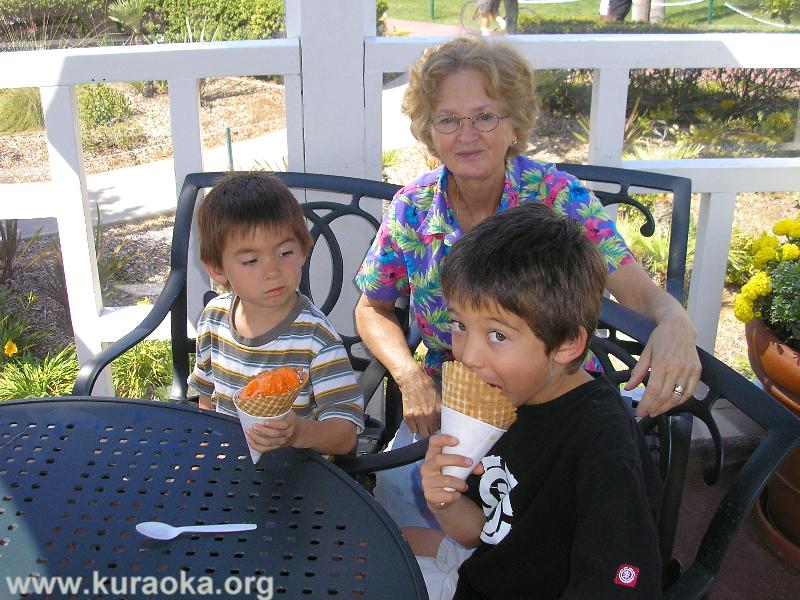 10-04-2007: Good-bye to the chickens. It's the end of an era, as Barbara and Bill pack the chickens off to a humane farm where they will live out their lives in poultry paradise. In the first photo, Roy is holding Second Hand. The middle shows him by the coop. And the last photo is also the last photo of the chickens. Leo was too sad even to participate in a photo session, but you can see him holding Second Hand by scrolling down to April 19.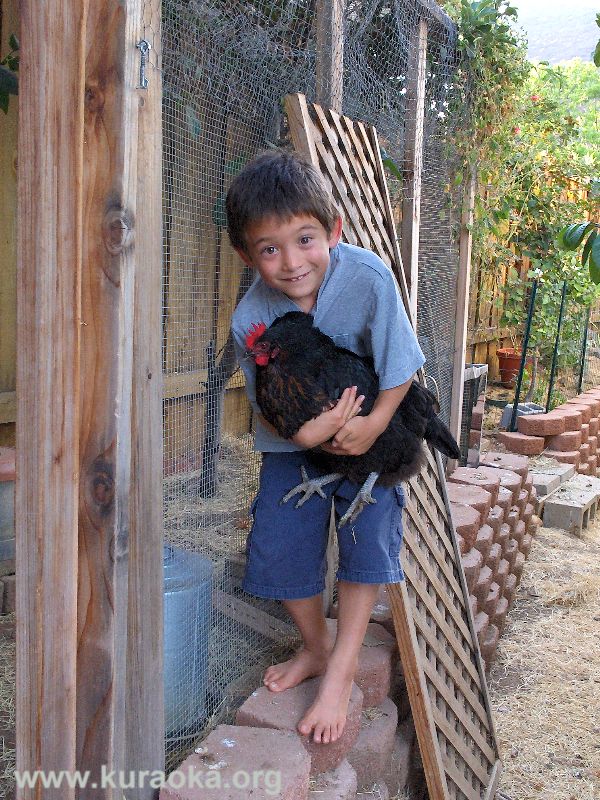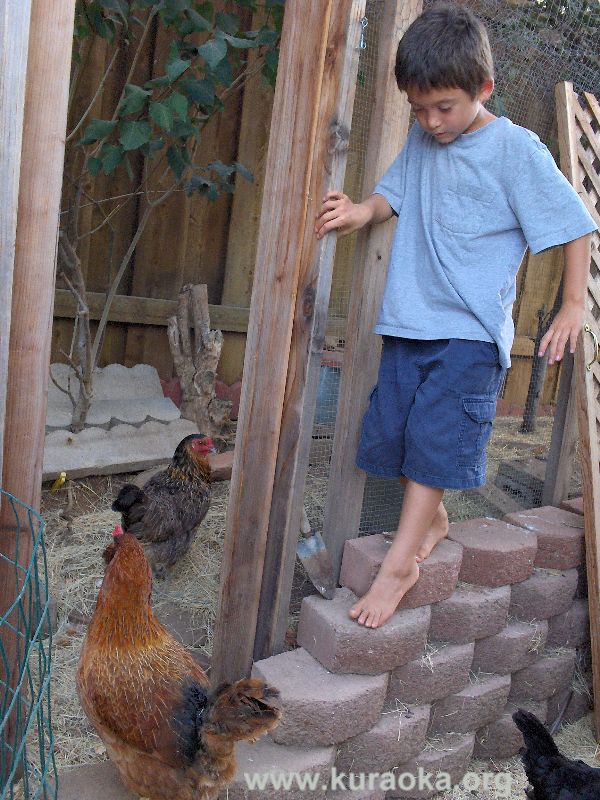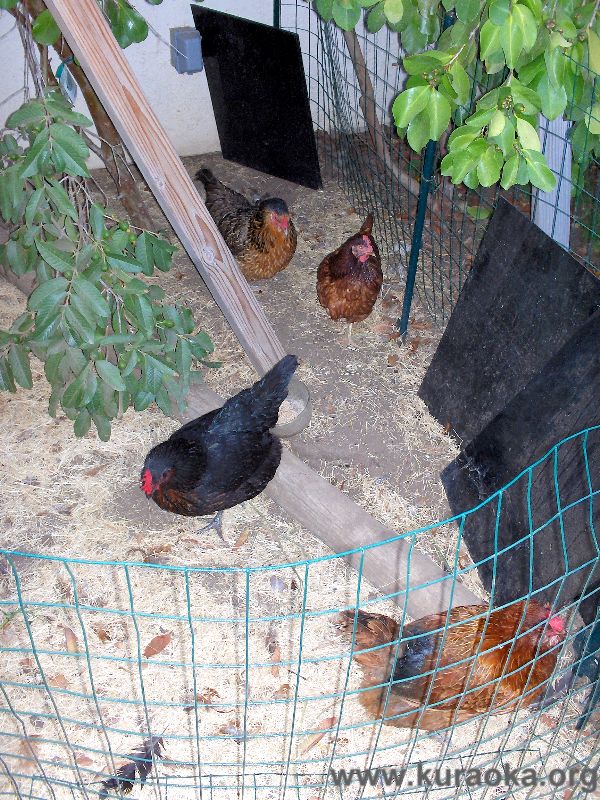 9-25-2007: Cleaning the kitchen floor. See, this is how we polish all those nooks and crannies, such as between the stove and the countertop.
Canine Cleaner! 5.42 MB
9-04-2007: First day of school! First you see the boys with their schultüten packed with goodies. Next, there they are, backpacks on and ready to walk to school. Leo is especially excited as this is his first day at Gage Elementary. The fourth photo shows Leo waiting for the bell to ring in the Kindergarten play area (that's his backpack hanging on the hook), and the fifth shows him sitting in the morning circle. The last photo shows Roy taking a place in the second grade morning circle.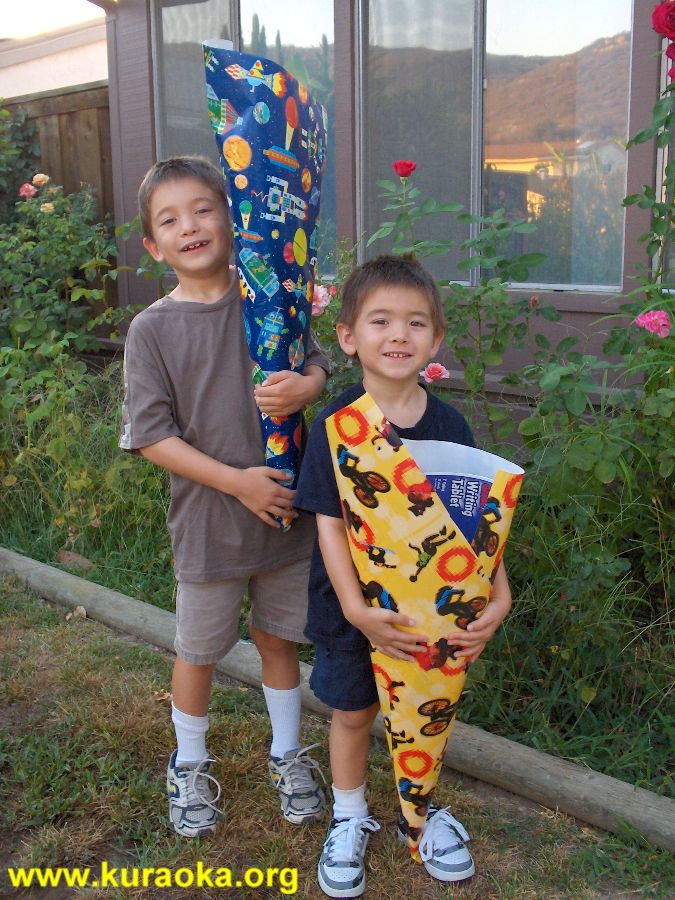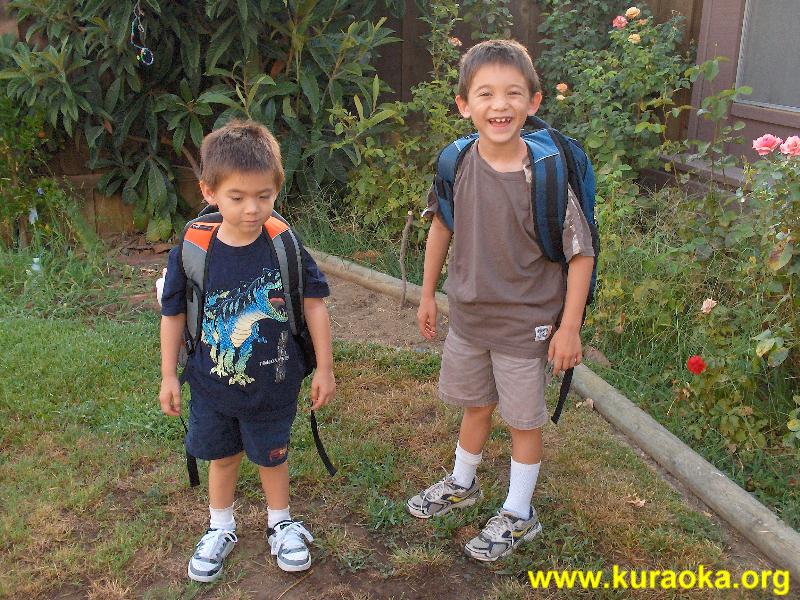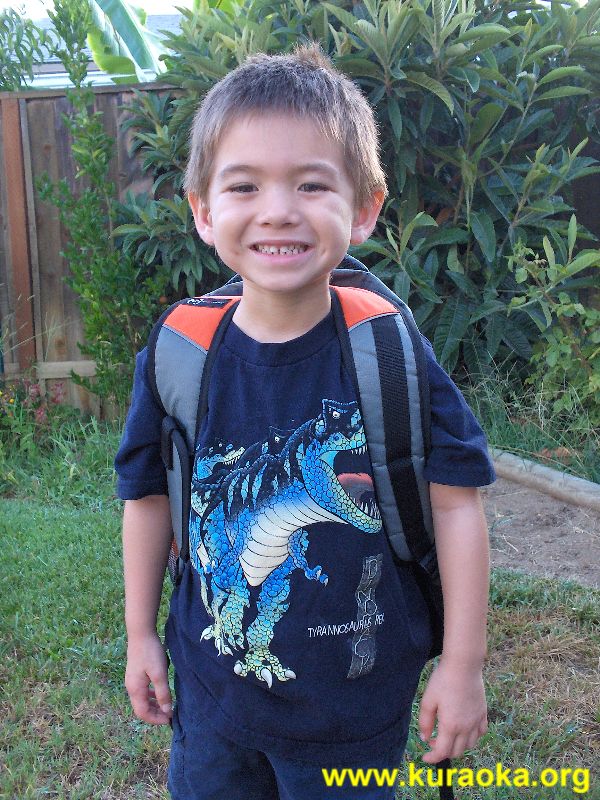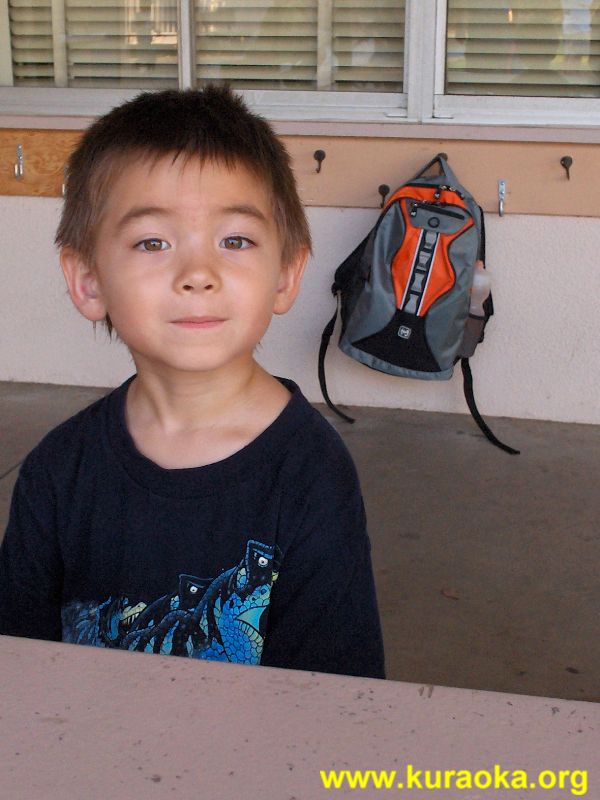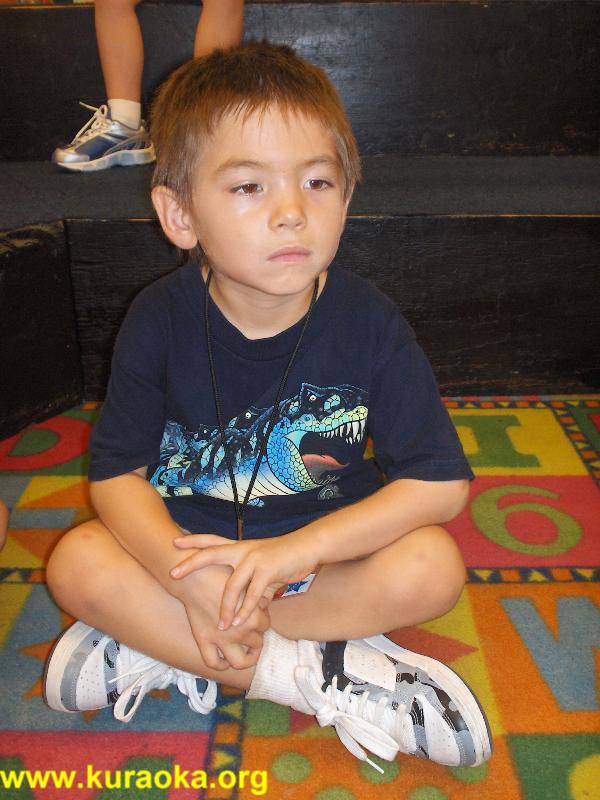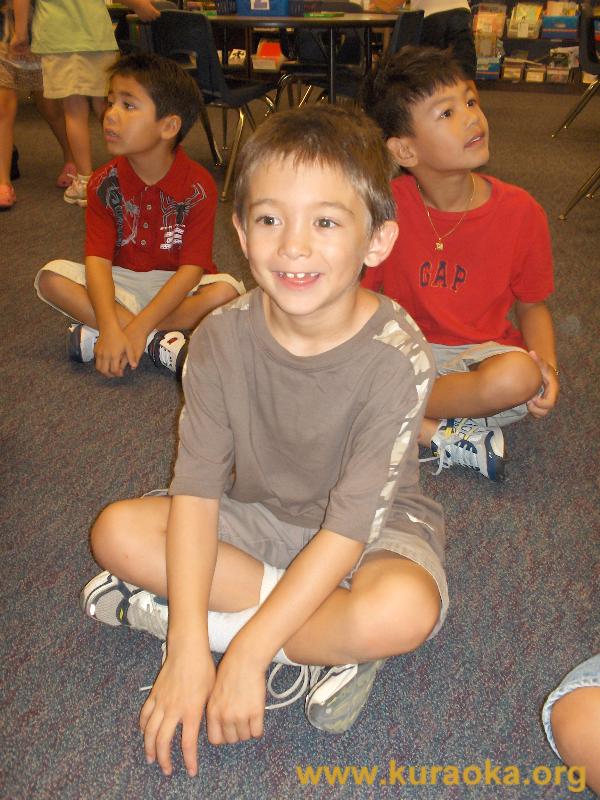 8-04-2007 to 8-12-2007: Camping at Sand Pond! Check out our photos and videos from Sand Pond 2007. Here's a small sample, showing the boys at Sand Pond, the brothers (all three of them), the sisters (three-quarters of them), Ondine and the boys at Gold Lake, John and the boys in the morning, and the Kentucky Mine.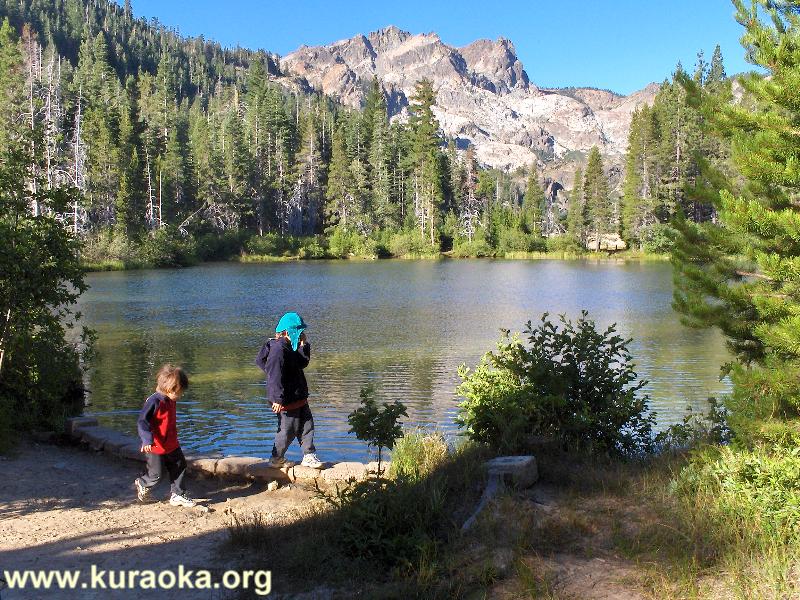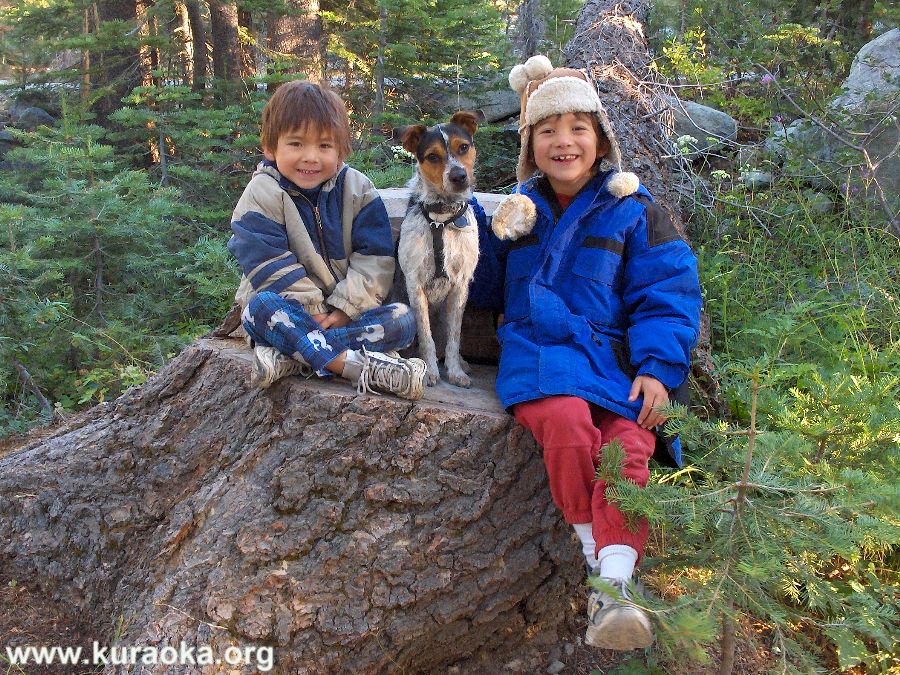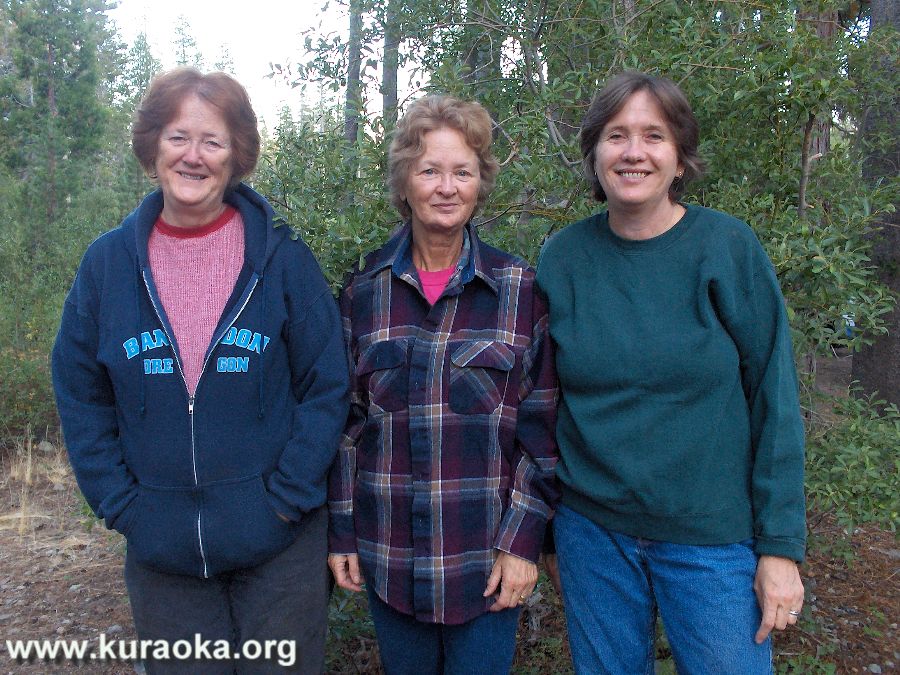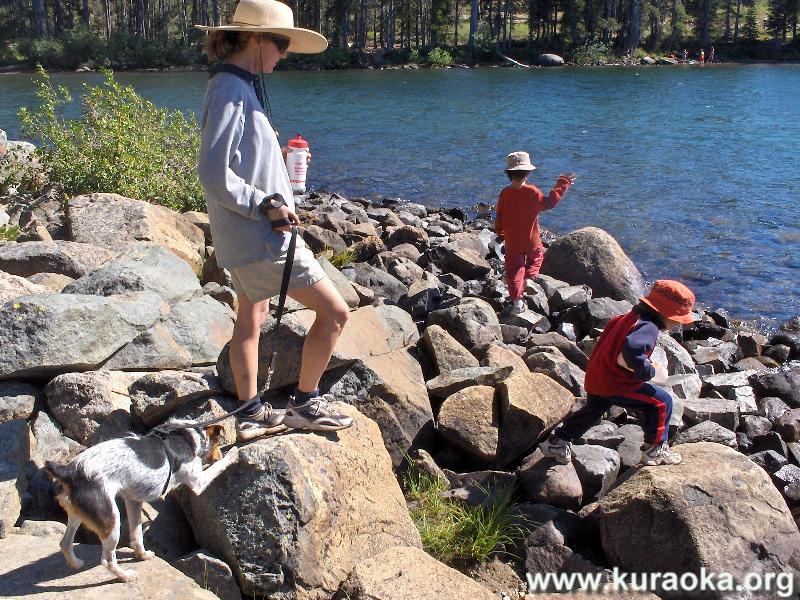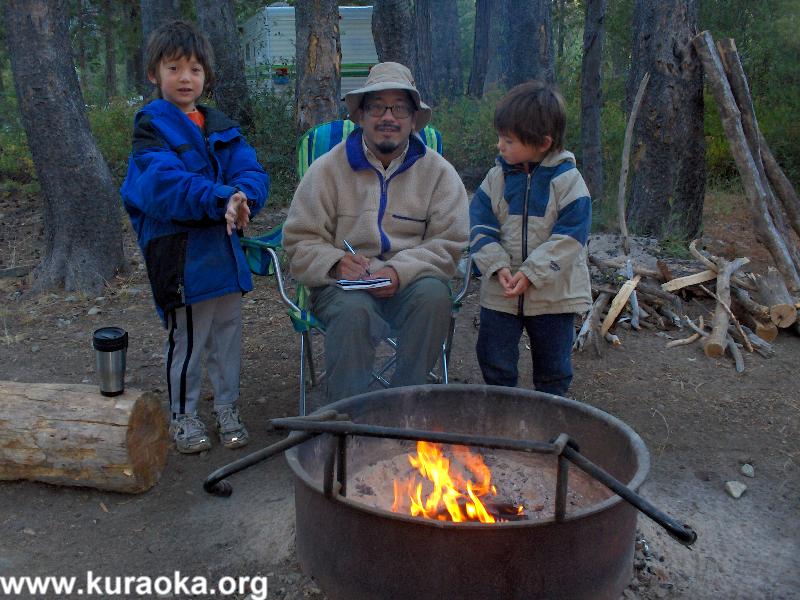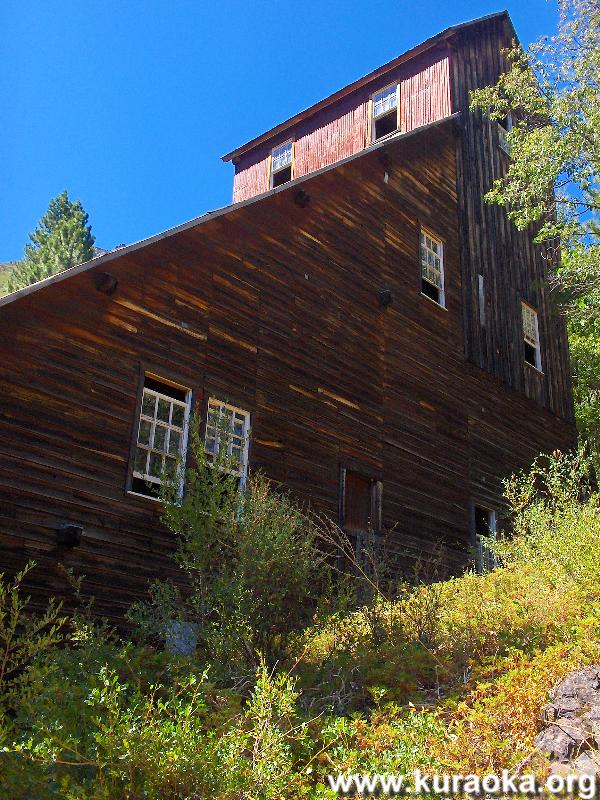 7-19 to 7-20-2007: Leo's Birthday(s). Ondine made a fruit salad and brought doughnut holes to Leo's pre-school for his in-school celebration. Then, on his actual birthday, we had ice cream cake and a family get-together at home, with Grandma Baba, Grandpa Bill, and Grammy!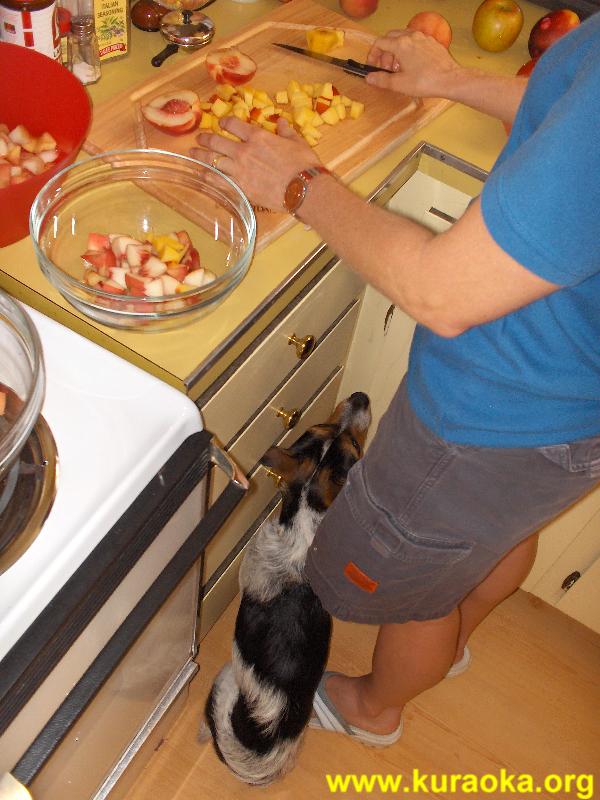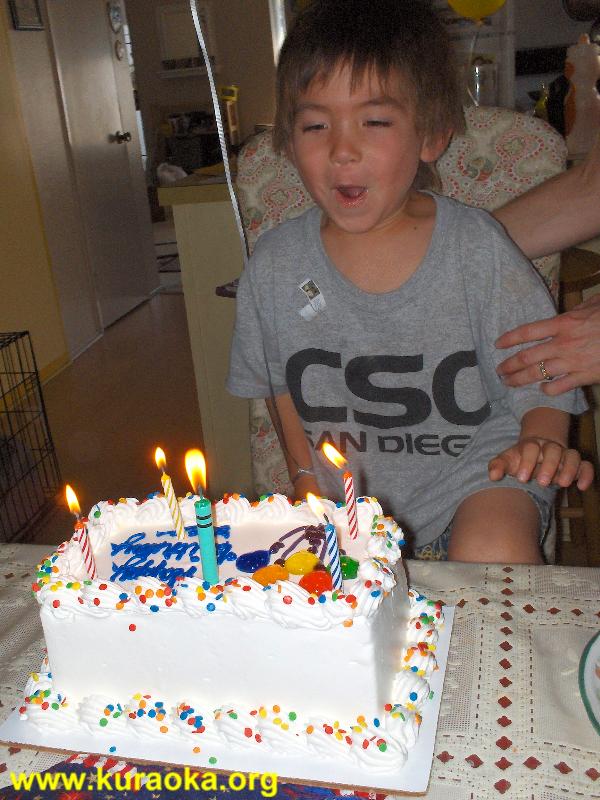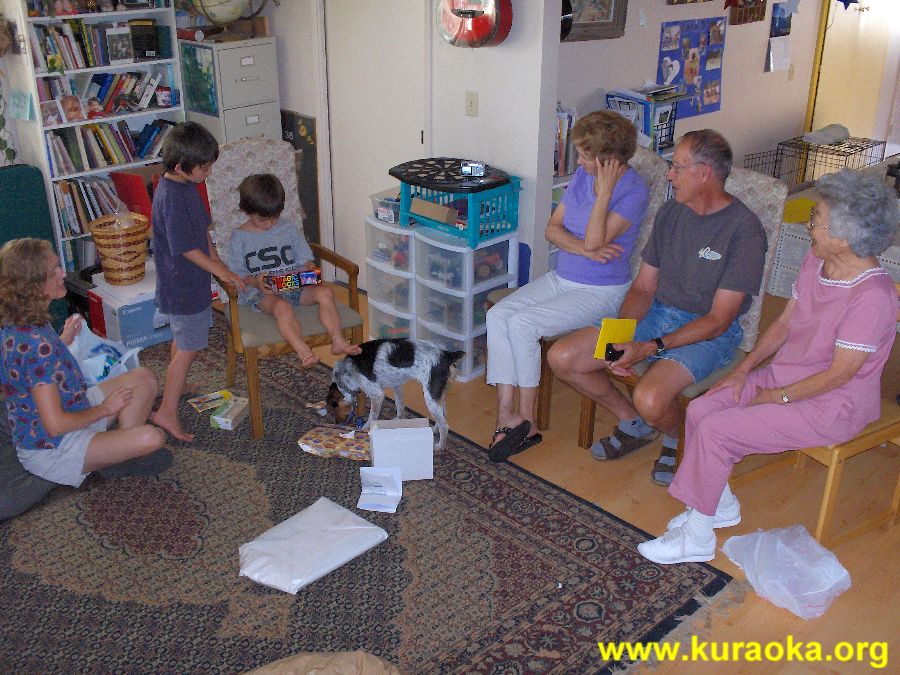 7-15-2007: A morning at the beach. Roy likes to catch waves on his Boogie Board! The second photo shows Leo, Ondine, and Roy working on a sand-dog-turtle. These were taken at La Jolla Shores.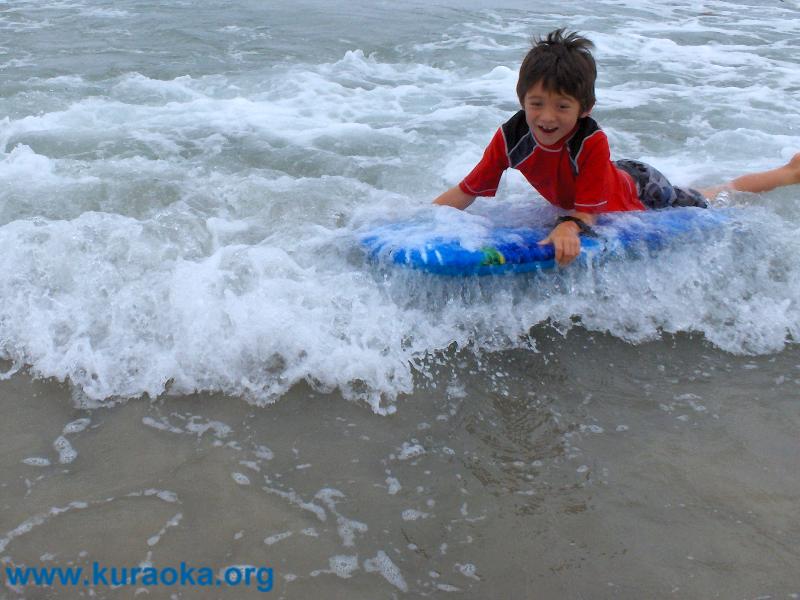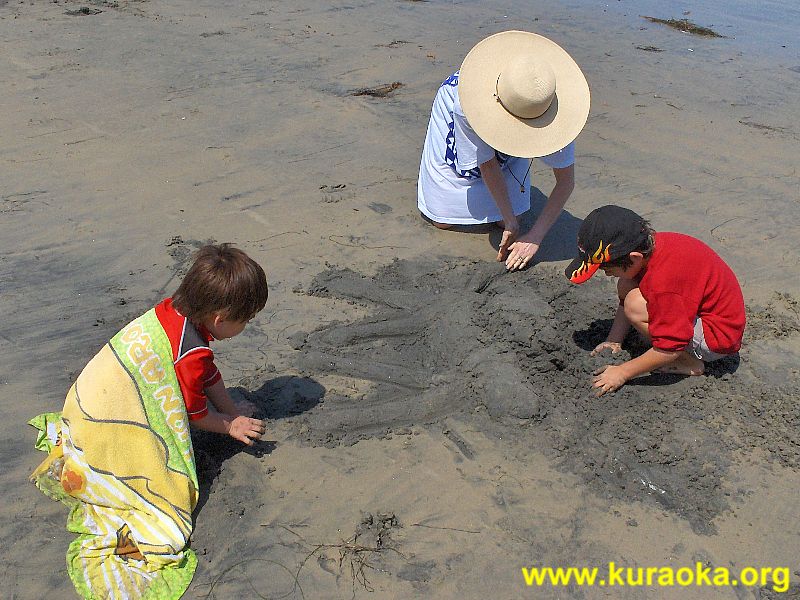 06-30-2007 to 07-07-2007: Family trip to Hawaii! Visit our Hawaii vacation page for all the photos, videos, and journals. Here are a few samples showing the view from our balcony, Grammy with Roy and Leo at Volcano House (thanks, Grammy!), Leo at Hale'uma'u crater and the steam vents, Roy at Sulphur Banks, Grammy with Ondine and the boys in front of Matsumoto's Shave Ice, Eric coaxing Leo on the Boogie Board while Roy paddles by, and the whole group of us.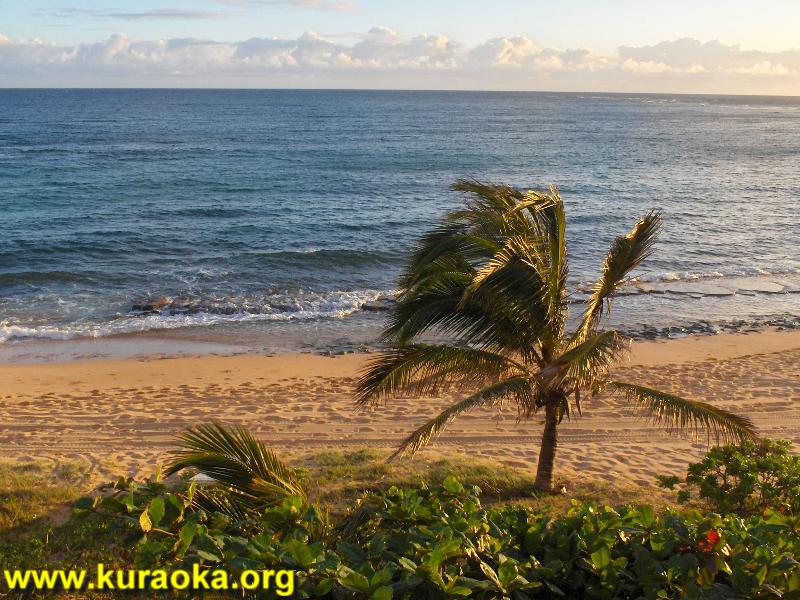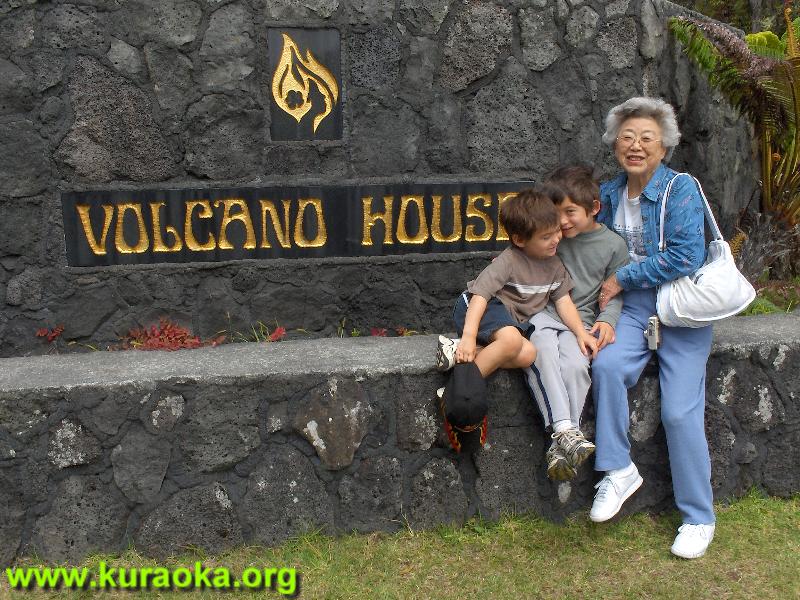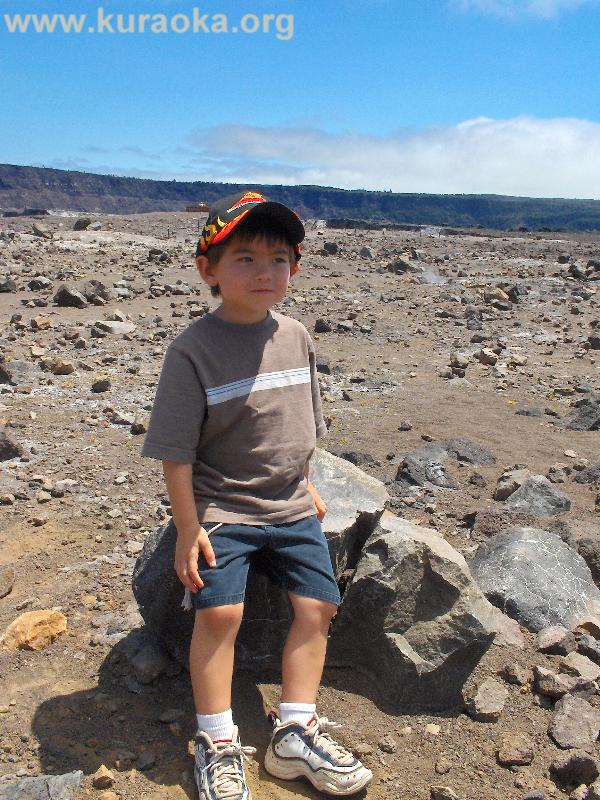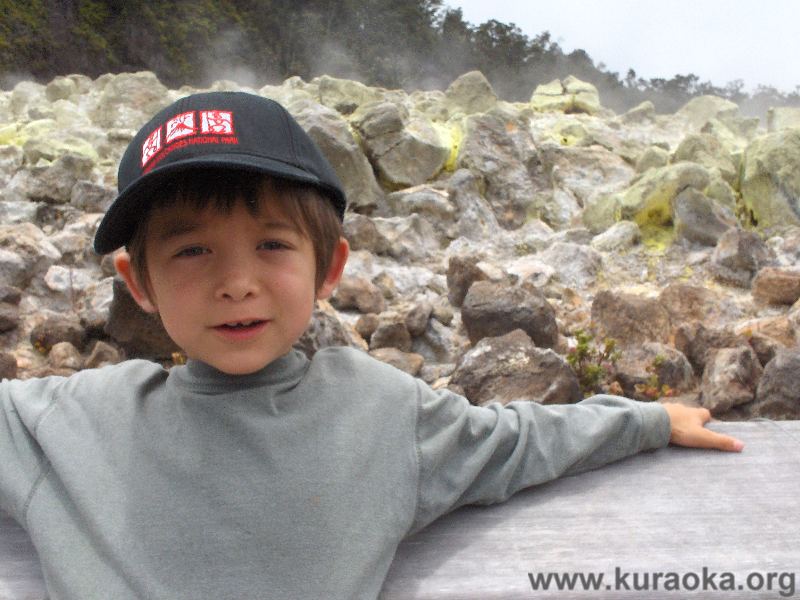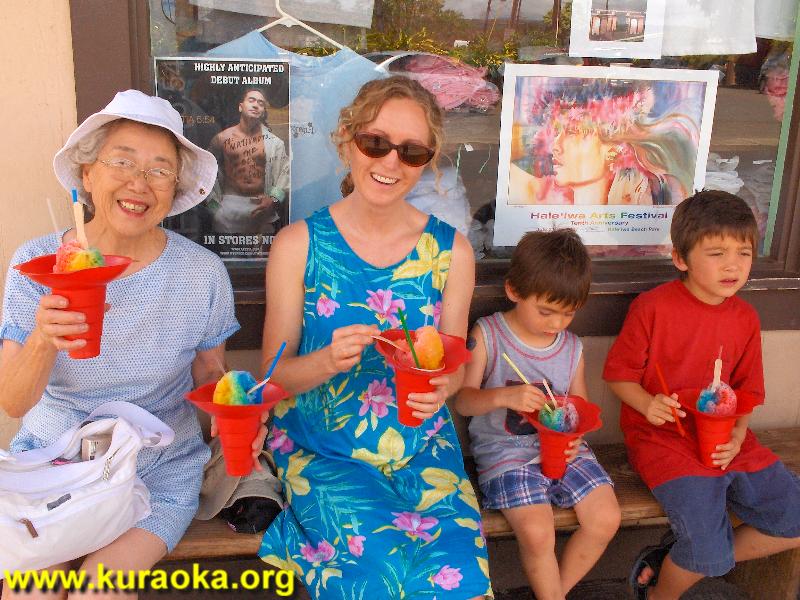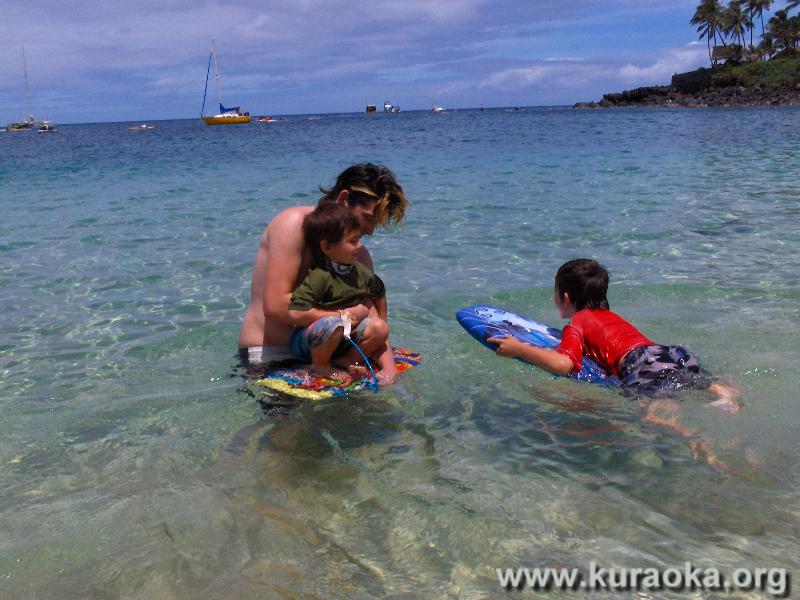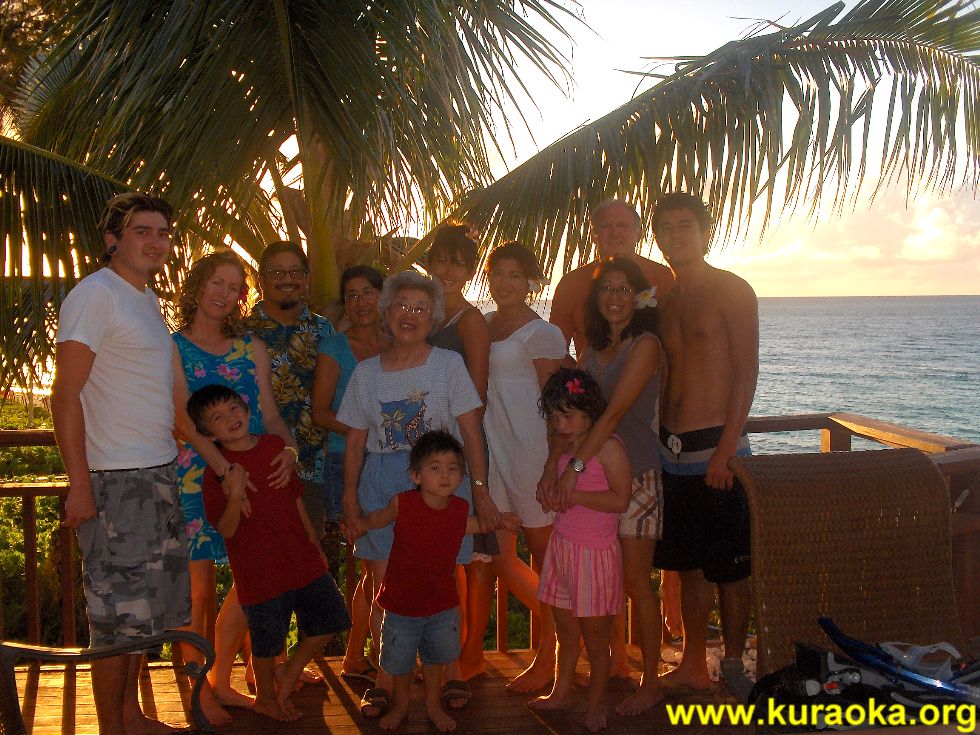 6-23-2007: Earth Machines and a small harvest. First you can see our two Earth Machine composting bins - the City was selling them for $25 each to encourage composting and reduce landfill trash. We immediately transferred the contents of our old trashcan composter into them, and next you see Ondine adding some more scraps to a bin behind the bush (both bins have their lids off). The third shot shows one tiny harvest from our front garden: tomatoes, radishes, lettuce, and our first carrots and bush beans. Oh, and the last peach from our peach tree.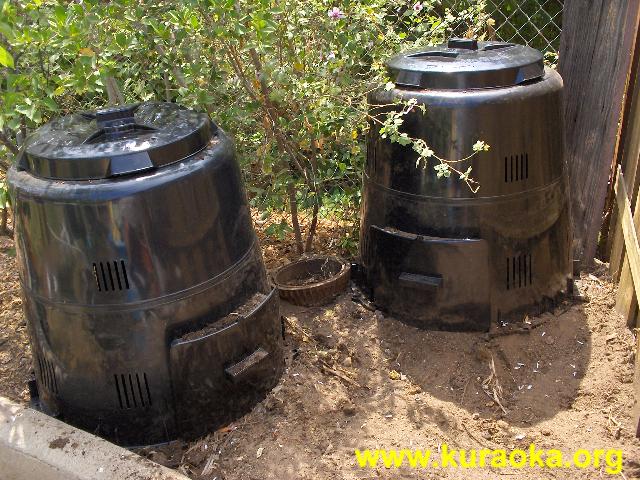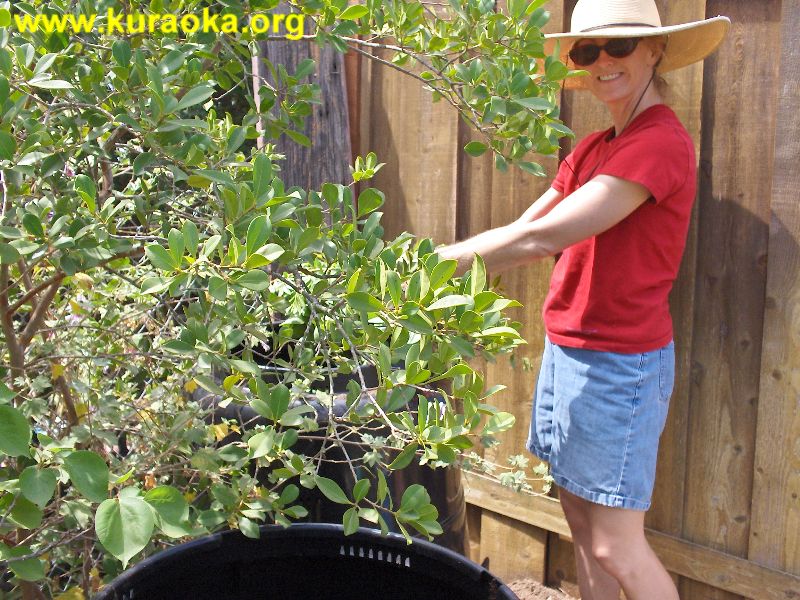 6-13-2007: Doughnuts with Dad and Running with Roy! First up, are John and Leo at our very last "Doughnuts with Dad" Father's Day celebration at Montessori Discovery School. Oh, Leo looks thrilled to be photographed. Later that same day, Roy was recognized as one of Gage Elementary Running Club's top runners, with 290 miles! He was was of the top half-dozen runners in the whole school. The whole Running Club racked up a total of 45,912 miles over the school year! Here's Roy at the school assembly, receiving his medal and certificate from Mrs. Elrod, the P.E. coach (holding microphone), and Mrs. Zitsman, the principal (presenting). He seems justifiably pleased with himself! The last shot, from Stephen's Mom, shows Roy with two good friends from class (and two other Top Runners in B-5), Kelly and Stephen!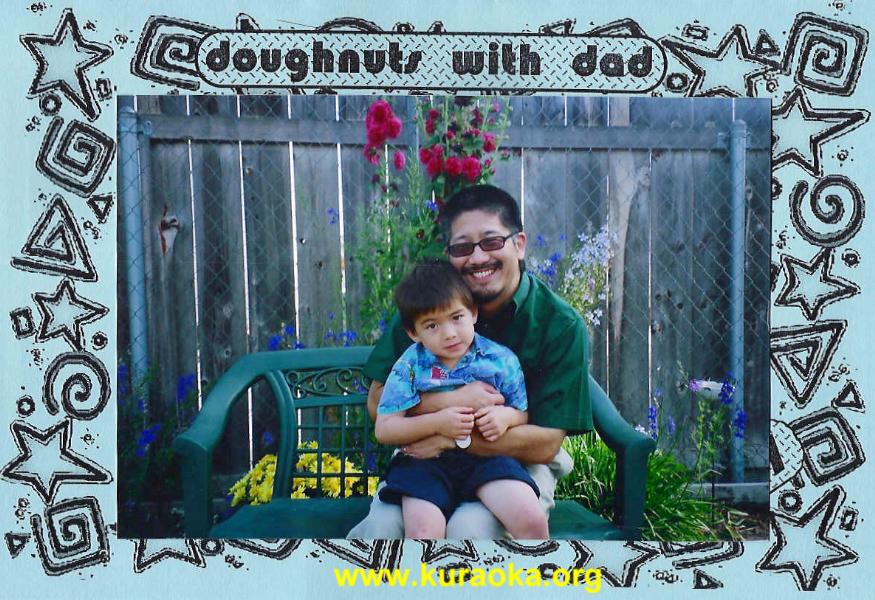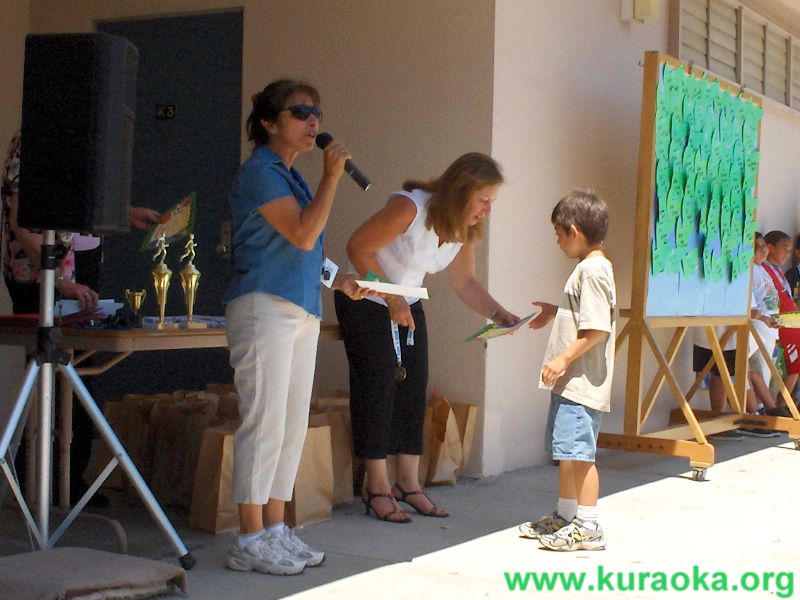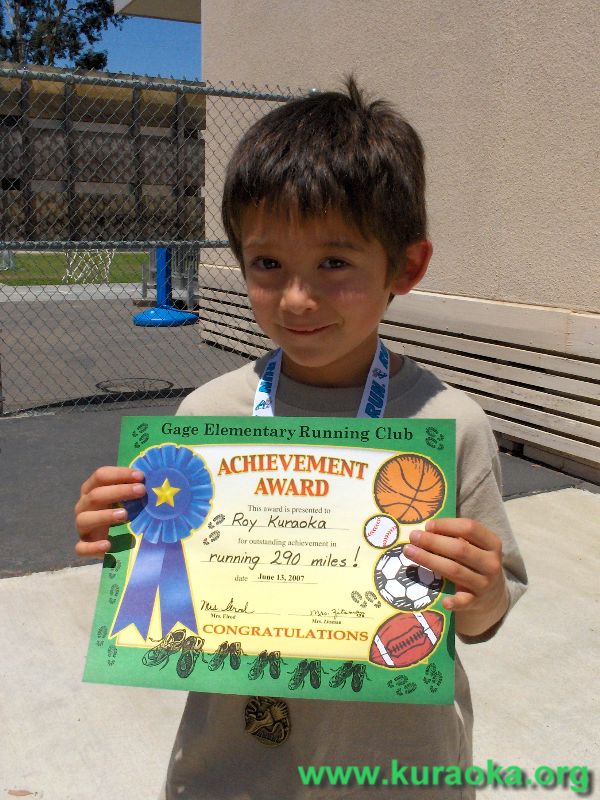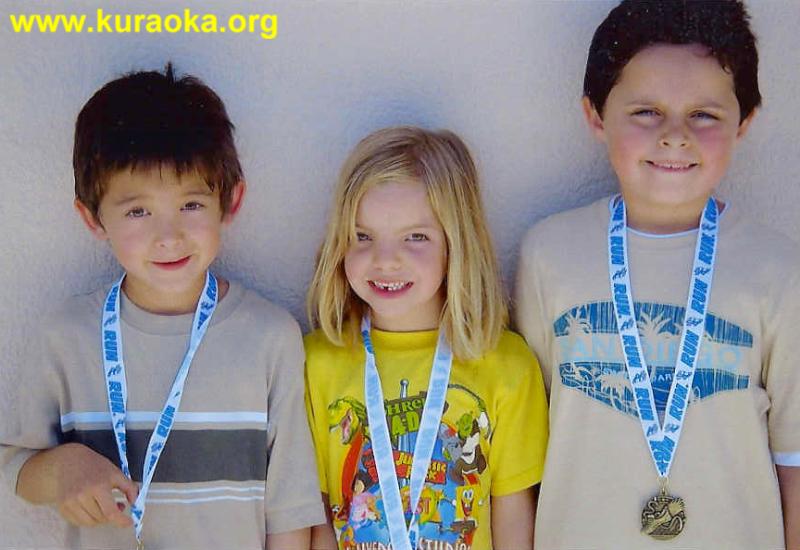 6-03-2007: Roy's birthday party! Here's Roy's birthday cake planets (Ondine made the cake)! It was lemon with lemon cream cheese frosting. Next is the crowd outside making supernova t-shirts. We had 14 kids over, most of whom you can see here. Starting at the back table, going clockwise from the upper left, is Lauren, Sean (partially obscured), and Lacey. At the front table, we have, clockwise from Max (in sunglasses), we have Leo (turned around), Kelly, Stephen, Morgan, Roy (you can just see his feet; he's in front of Ondine), Tommy, and Sophia. Not seen in the photo: Alex, Cody, Zack.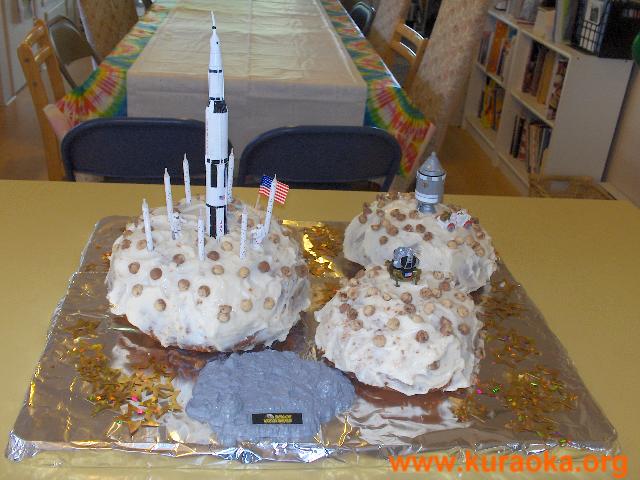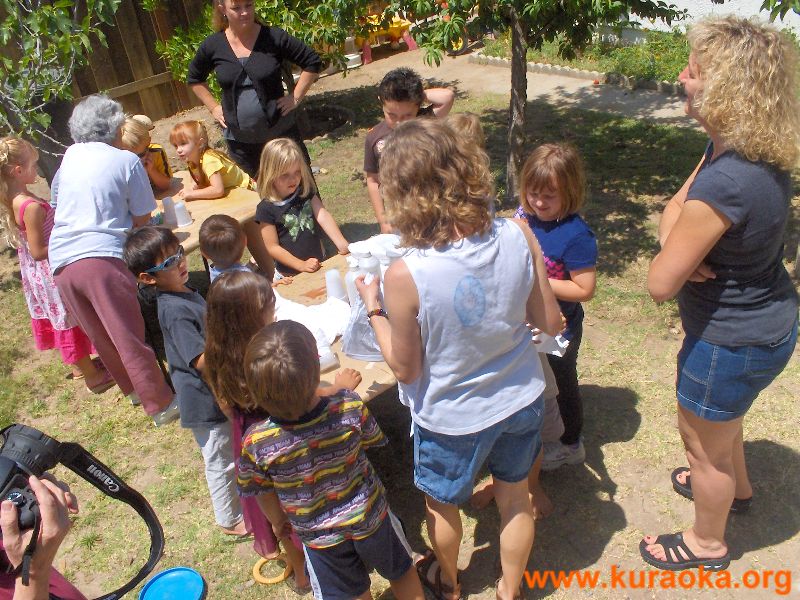 6-01-2007: The last MDS Step By Step party! Can you pick out Leo? He's on the right, behind two boys, one in camo and the other in a red t-shirt. We'd have posted a short video, except this is pretty much all Leo did: stand there, stock-still, scanning the crowd like he was Dance Security. But he said he had a great time doing it. Roy, seated in the group of spectators, tried to stay interested.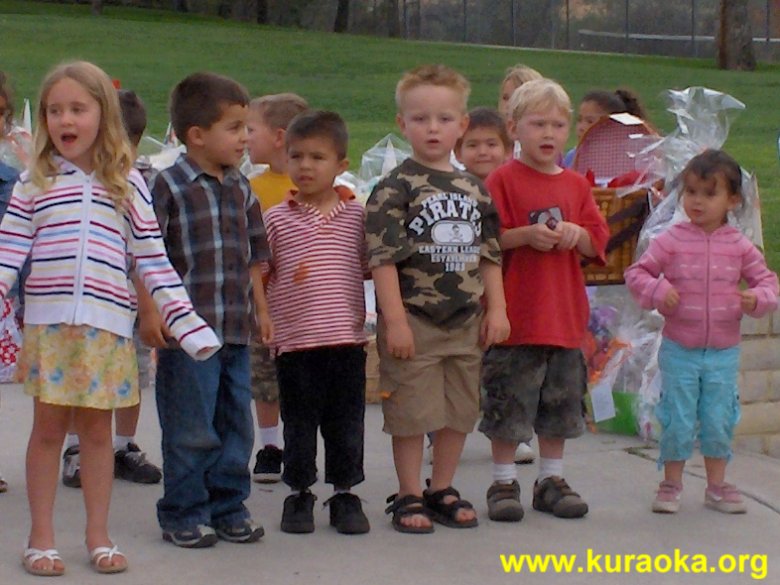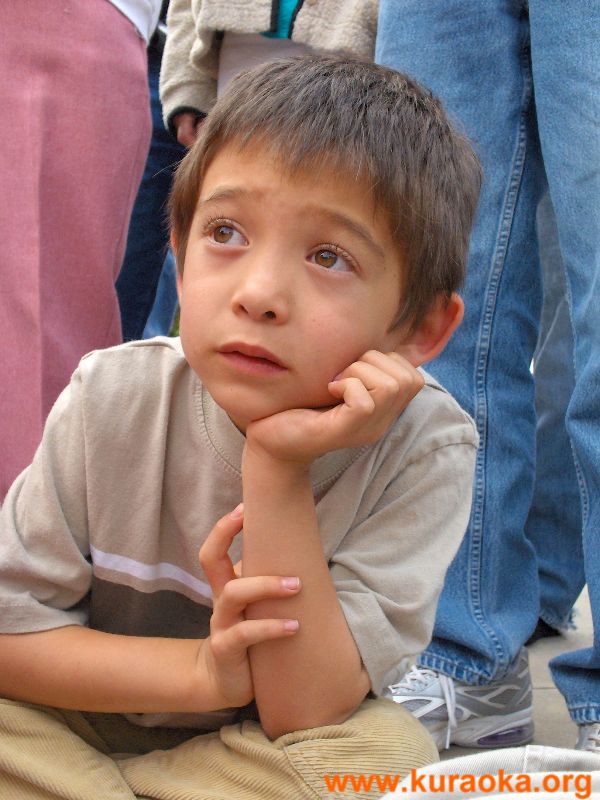 5-30-2007: Ondine cleans! Here she is hard at work on the kitchen window. And where is John? Oh, he has work to do. Like taking this picture and uploading it. Yeah. Yeah, that's it. Lives like a king, he does.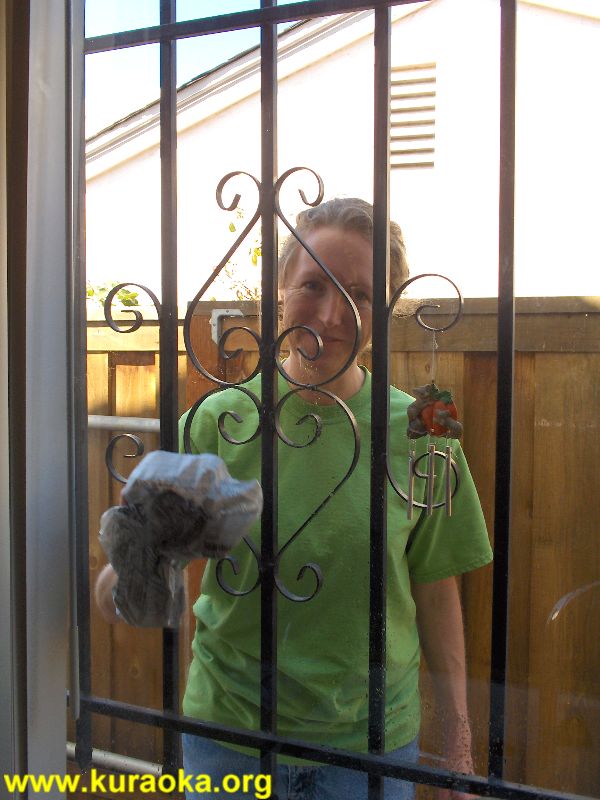 5-28-2007: Kids and cupcakes. Here are (left to right) Carson, Cydney, Roy, and Leo at Big Rock Park in Santee. Ondine made the cupcakes (from scratch, mind) to celebrate Cydney and Roy's fast-approaching 7th birthdays. Hence the "7" on each cupcake.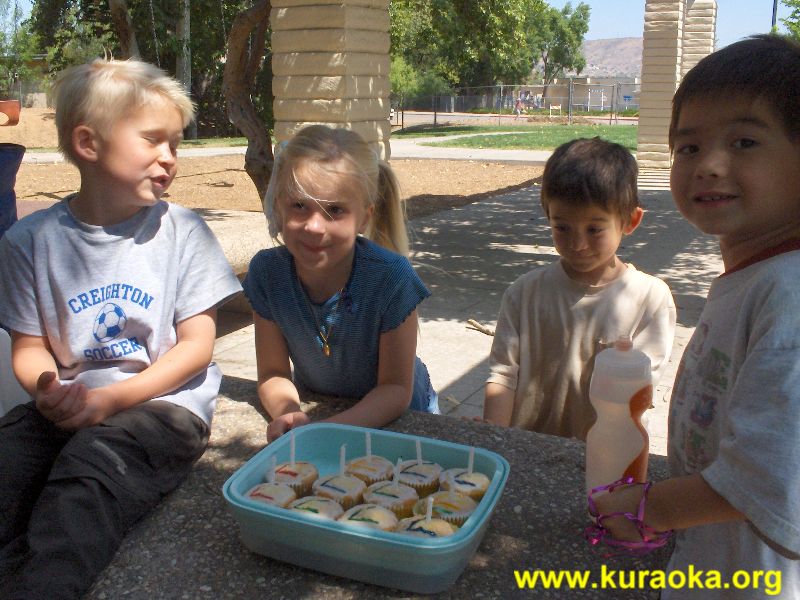 5-17-2007: A typical après-breakfast scene. Leo is about to take his bowl to the sink after eating, an activity that has Buddy's rapt attention. Rapt. It's worth noting that Leo has never yet dropped his bowl. But that doesn't keep Buddy from living on hope.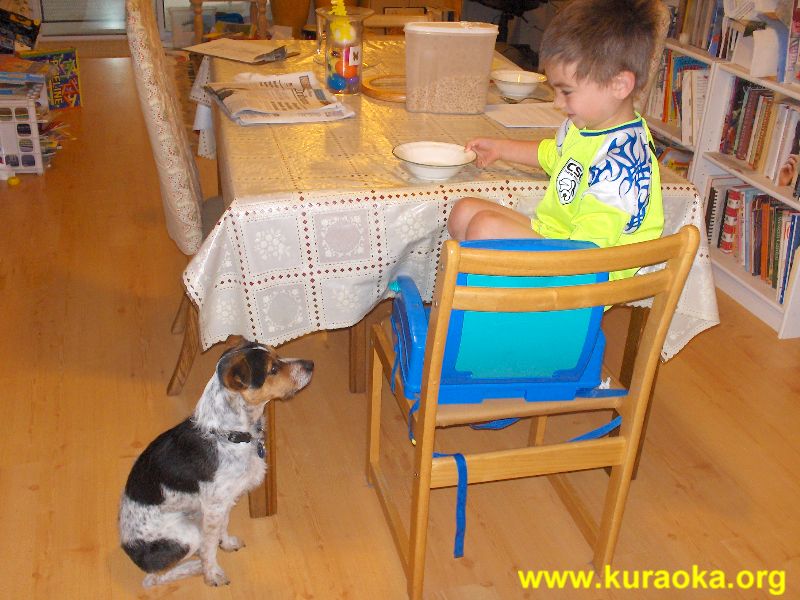 05-13-2007: Mother's Day! Here's Ondine with Roy and Leo, enjoying their card and their cuddles.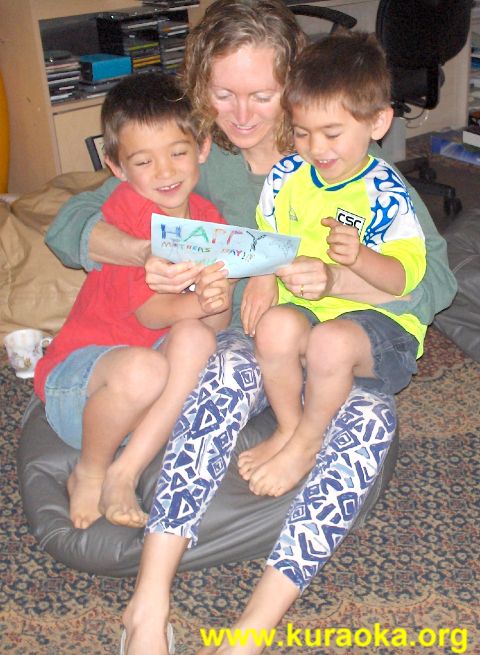 05-09-2007: Muffins with Mom. Here are Ondine and Leo at Montessori Discovery School's "Muffins with Mom" Mother's Day celebration.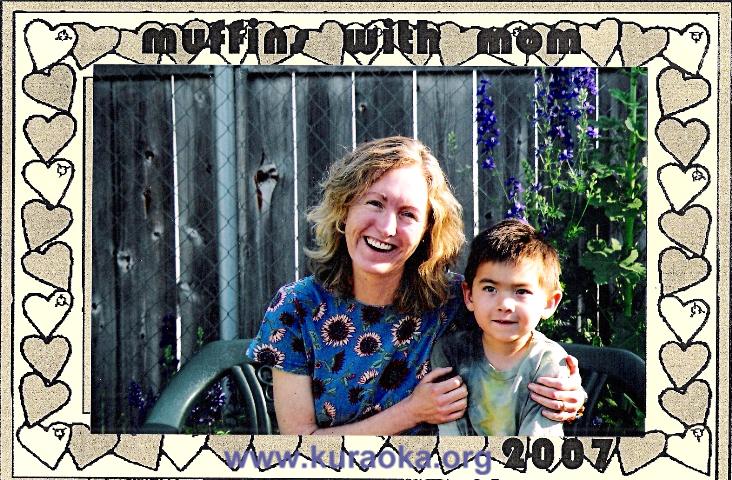 05-07-2007: A hawk's lunch. Bill saw this redtail hawk in a neighbor's tree, and realized it had a rattlesnake in its talons! He got this photo as it flew off to a quiet spot to enjoy its meal.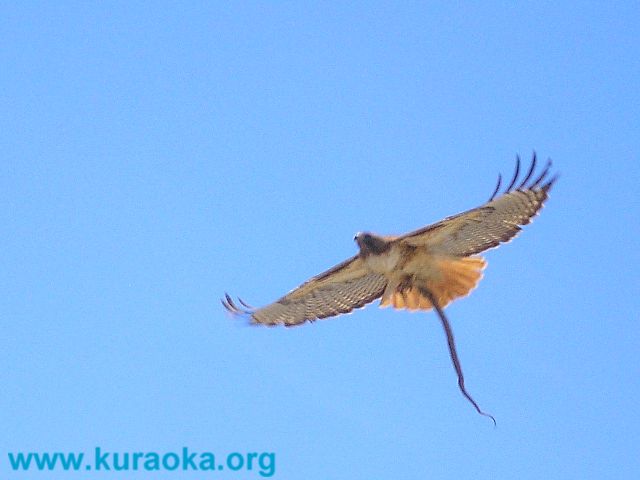 04-19-2007: Happy Birthday to Baba! We had dinner and cake next door, then the boys disappeared to play. Here are Leo and Second Hand!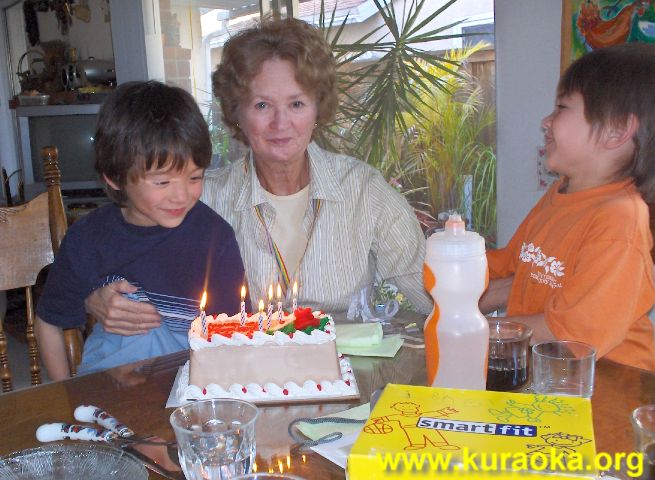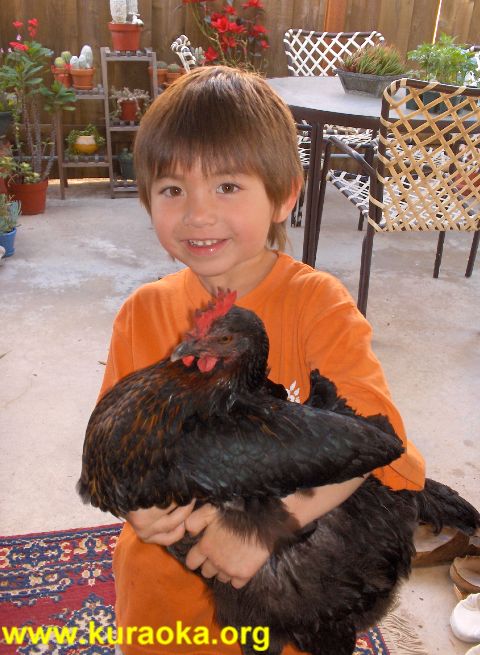 04-10-2007: Easter treats. Here are Roy and Leo experiencing a bit of post-Easter celebration sugar rush. Roy has the jelly beans and Leo is blissfully working down a massive marshmallow bunny peep.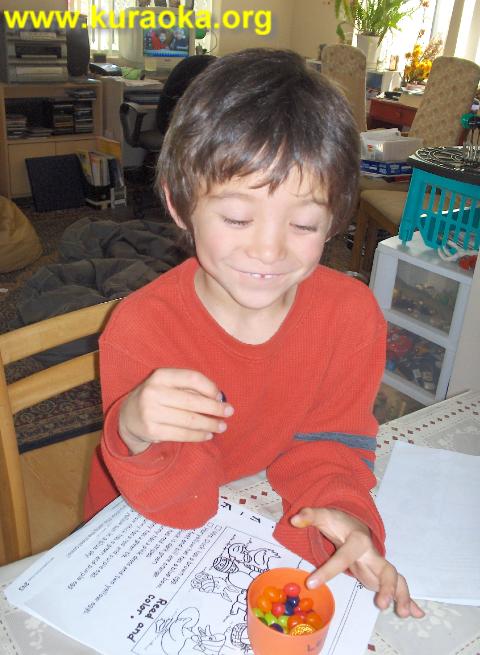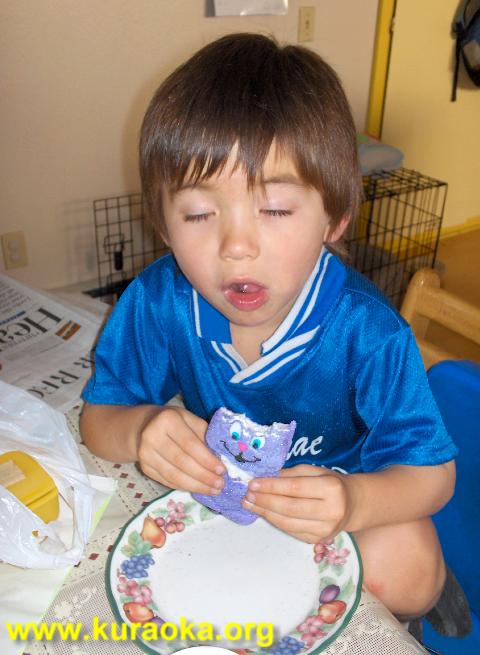 04-04-2007: Dying Easter eggs. Roy is on the left with the orange egg and Leo is on the right with the green egg.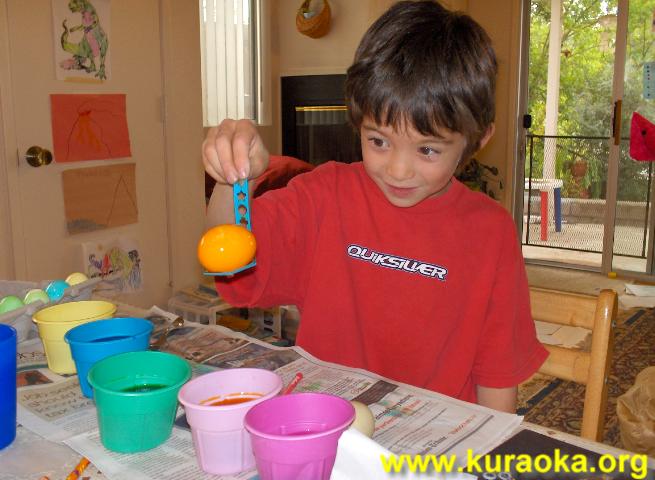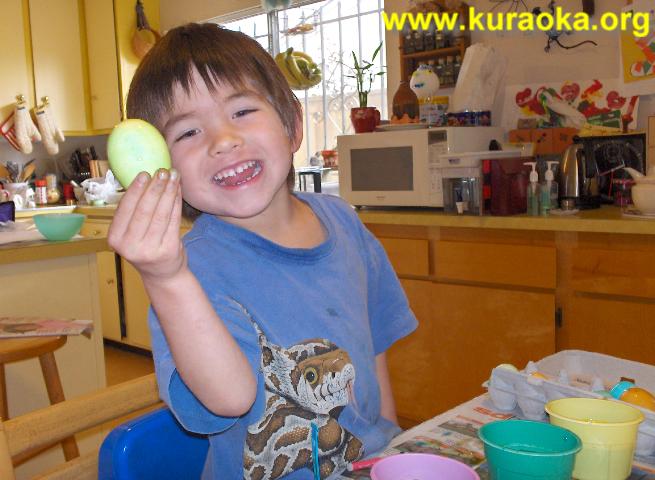 04-01-2007: Roy and Leo on the beach in Carlsbad. The water was cold, but not too cold, as you can see.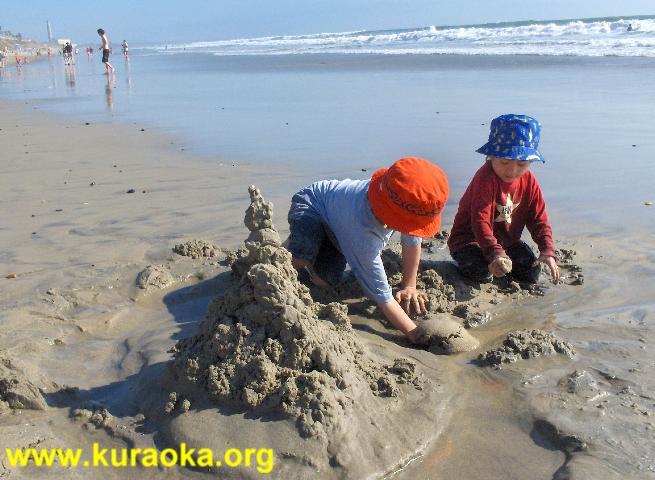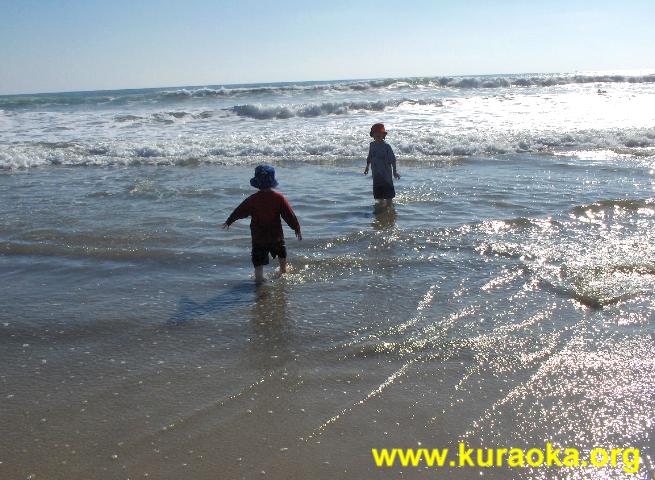 03-31-2007: Roy and Leo's overnight! The boys spent the night at Baba and Grandpa Bill's house. They went to Souplantation for dinner and got balloon swords and helmets!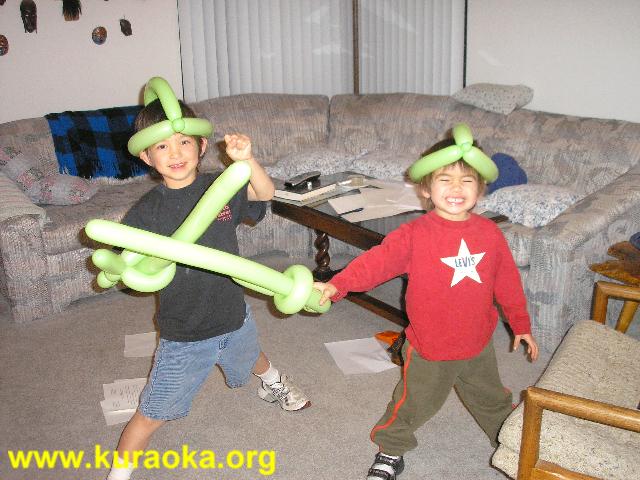 03-24-2007: Big Bear Weekend. We went to the Discovery Center, where the boys made bird feeders. You see Roy on the right, rolling his in birdseed. We also hung out by the lake, where the boys found long marsh grasses. You can see Leo becoming a dinosaur with claws. And, on the far left, Buddy found treasures of his own.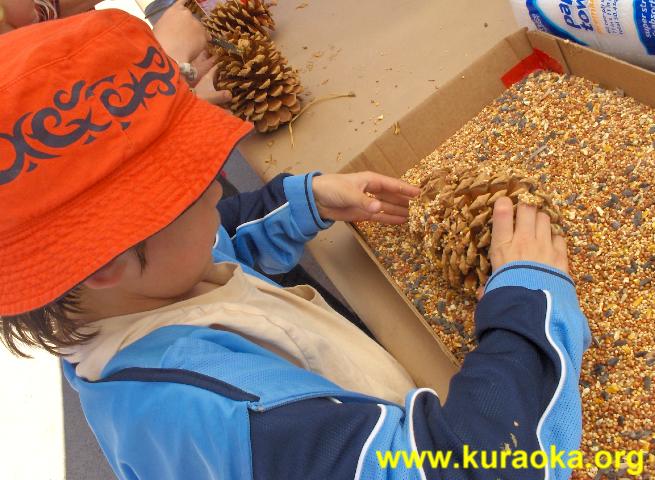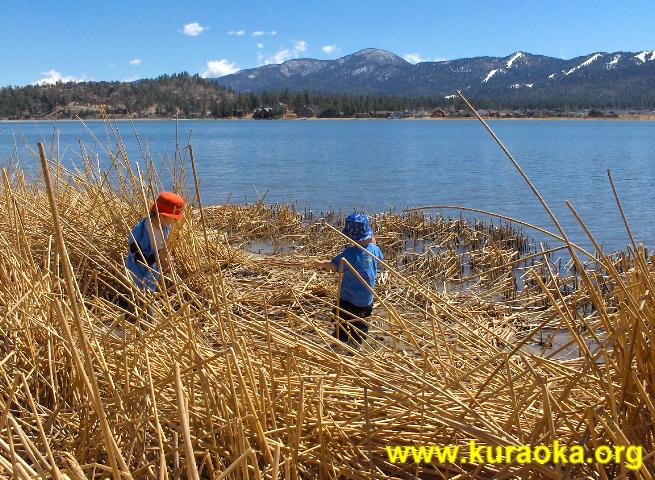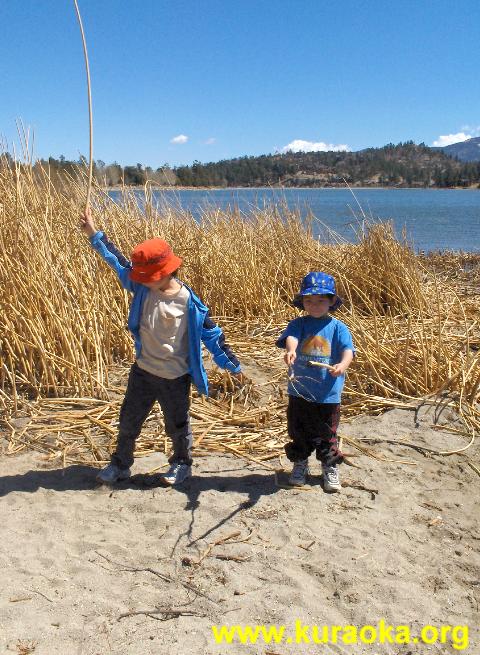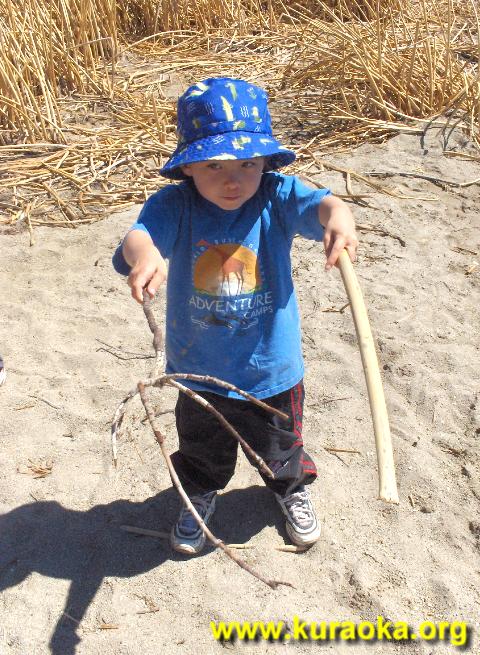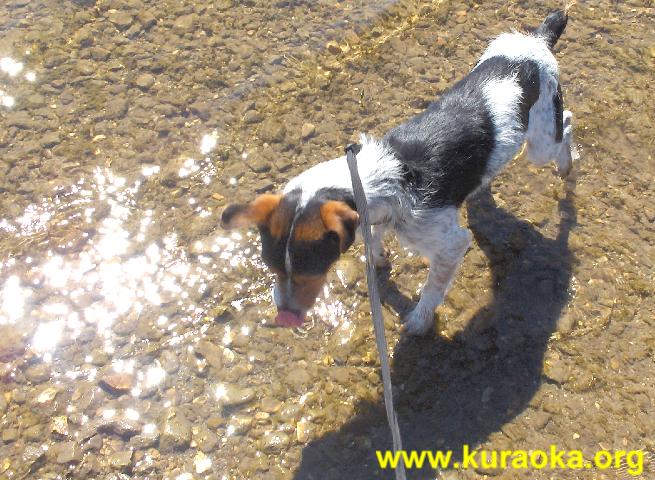 03-17-2007: Three Grandparents, Two Lucky Kids. Grammy came to visit, and we all got together for kaffeetrinken Saturday afternoon. From left to right, there are Frances, Leo, Bill, Roy, and Barbara.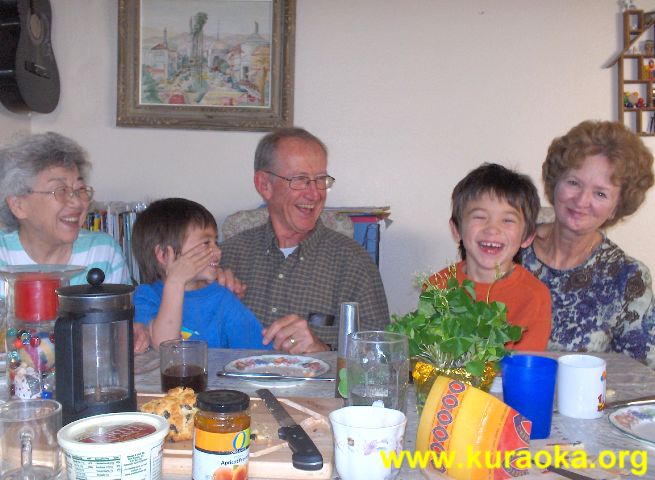 03-11-07: Ugly Cat Cupcakes. Inspired by the recipe and activity guide in Nate the Great and the Snowy Trail, we made "Ugly Cat Cupcakes." It was a two-day project. The first day, we made molasses cookies for the heads, cupcakes for the bodies, and chocolate frosting to glue everything together. The second day we assembled our Ugly Cats using licorice strings for tails and whiskers, chocolate chips for ears, and gumdrops for wild bugged-out eyes. Here are Ondine, Roy, and Leo mixing, then a litter of Ugly Cat Cupcakes, and an Ugly Cat Close-up. They are delicious.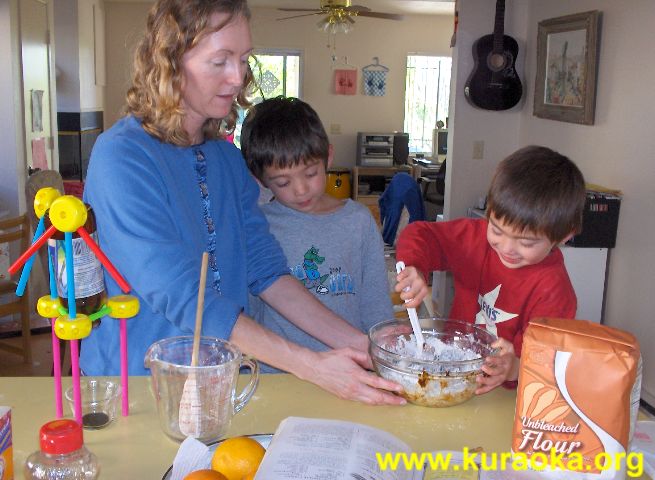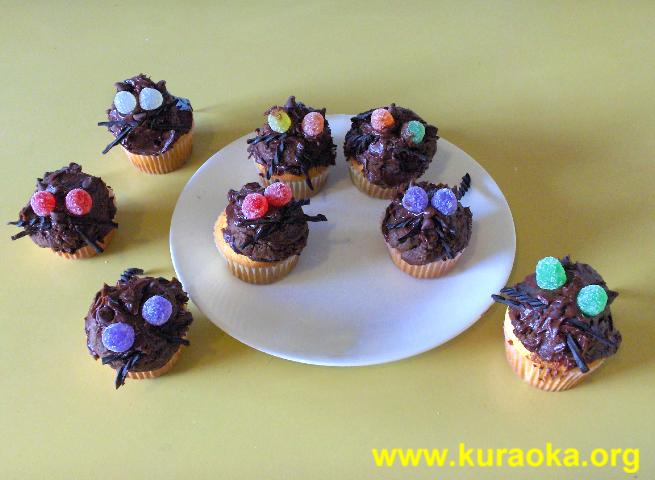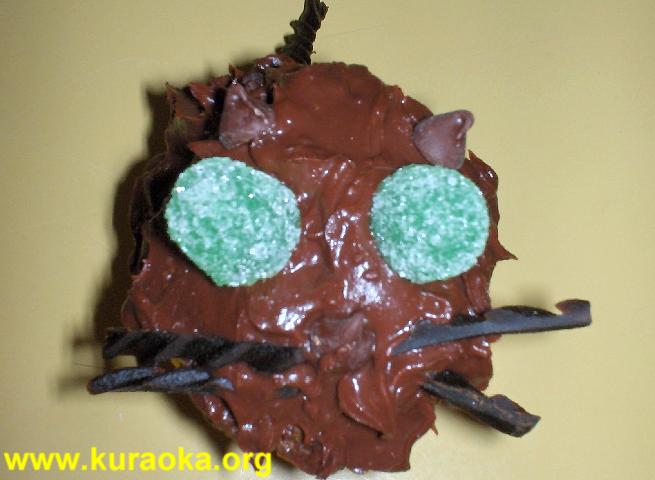 02-19-2007: Rainy day reading time. Leo did not sit on Buddy; Buddy wedged himself under Leo. When Ondine reads to Roy and Leo, Buddy likes to snout and snoozle himself right into the middle of the coziness. Later, the boys piled out to play in the back yard and enjoy the rain. There's Leo in the side yard, then Leo and Roy in the mud that is our back lawn.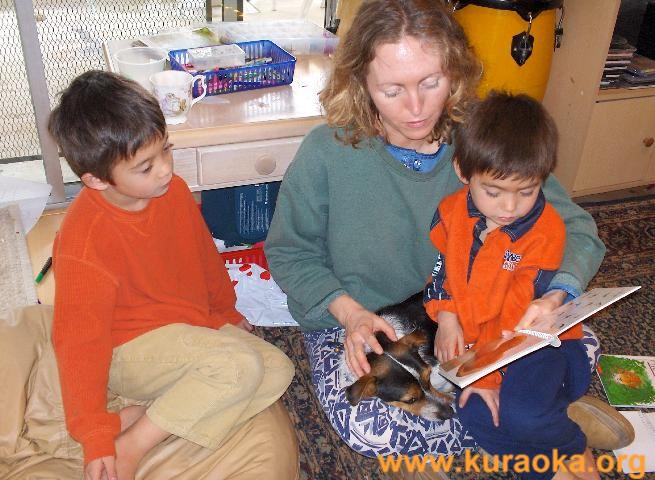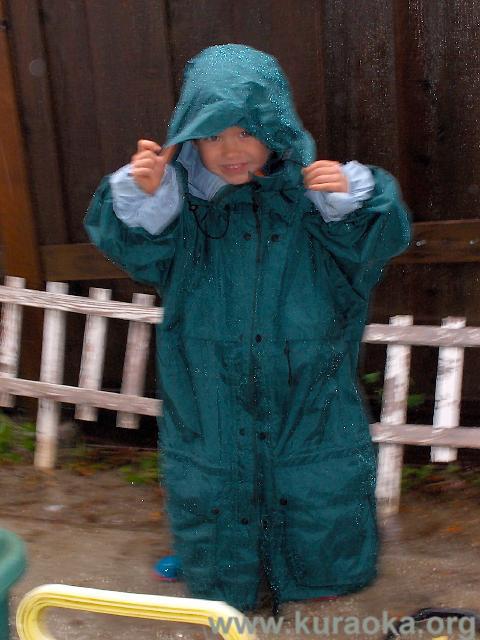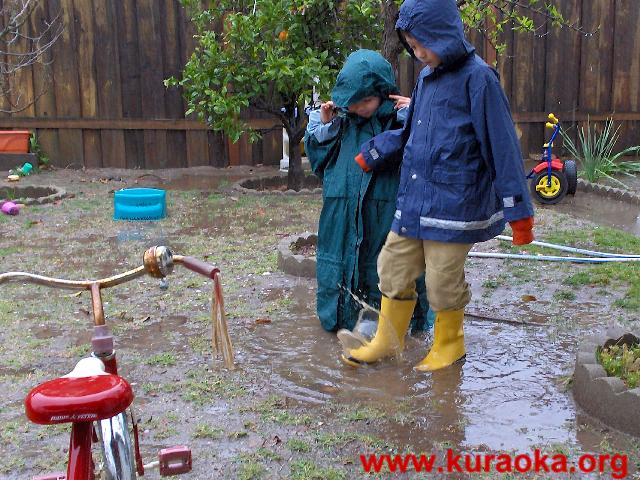 01-20-2007: The $1,460 chunk of gristle. Buddy ate something that blocked his gut, and it took surgery to have it removed. The first photo shows what they pulled out of him, next to a quarter for scale. The one in the produce bag is the one John took in to show the vet (which Buddy threw up); the second, larger piece is what they removed from inside him. A small bit flaked/tore off when we were playing with it trying to figure out what it was; it looks and feels like a huge chunk of cartilage. We didn't recognize it, and think he snarfed it up on a walk. The second photo shows a convalescing, coneheaded Buddy. He seems relieved to be home. (The pink in his eye, by the way, is normal - he lacks pigmentation in a secondary eyelid so it always looks bloodshot.)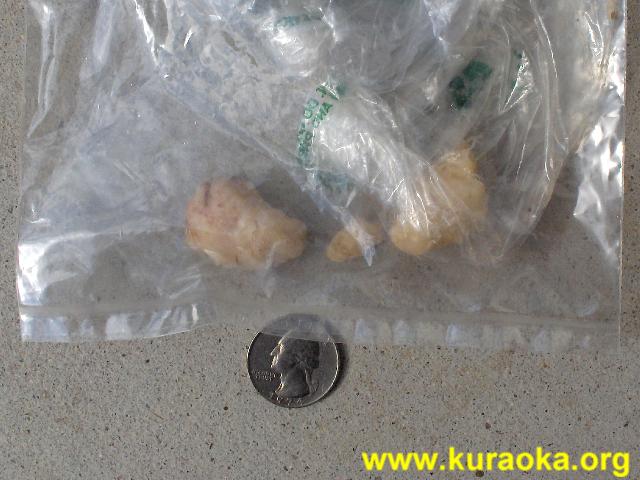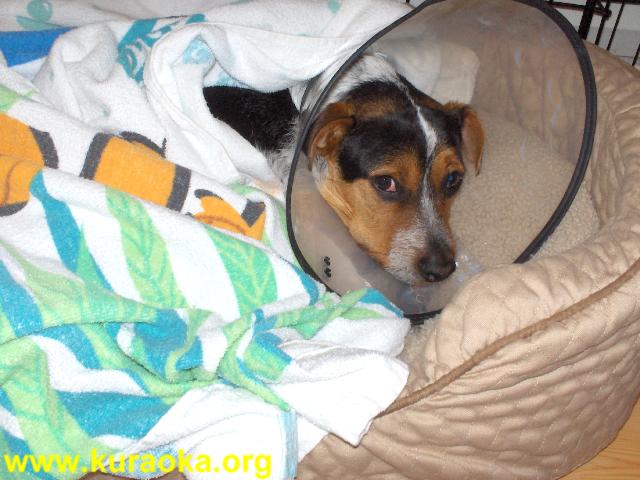 01-01-2007: Oshogatsu spread. Here's just the part on the kitchen island, the ozoni stuff is on the stove and the mochi is in the oven. From top left working clockwise, there is teriyaki chicken, persimmons, kimpira gobo (burdock root), tangerines, makizushi rolls (uncut) and age-sushi, sushi rice pressed into forms and rolled in toasted sesame seeds, makizushi, cucumber salad, and sunomono. The small three dishes hold (from left to right) seaweed salad, kuromame (sweet black beans), and konyaku.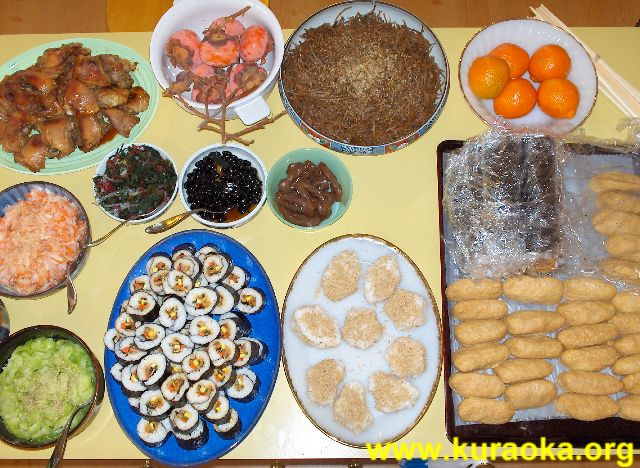 12-31-2006: Sushi Chef Roy. Here's Roy carefully making makizushi. You can see the pile he's already made (Ondine made the pile of age-sushi on the left), and he went on to make about a dozen rolls.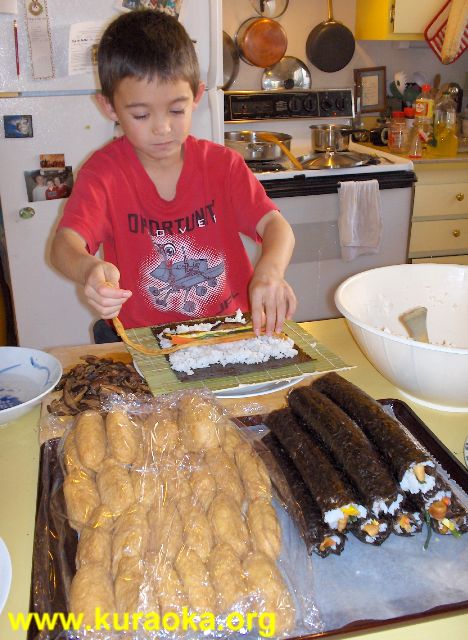 12-06-2006: St. Nicholas Day. Here's our Christmas card family photo, taken in front of the fireplace. In front, John and Ondine (holding Buddy, who desperately wants to see what's in John's stocking), and in back, Roy and Leo.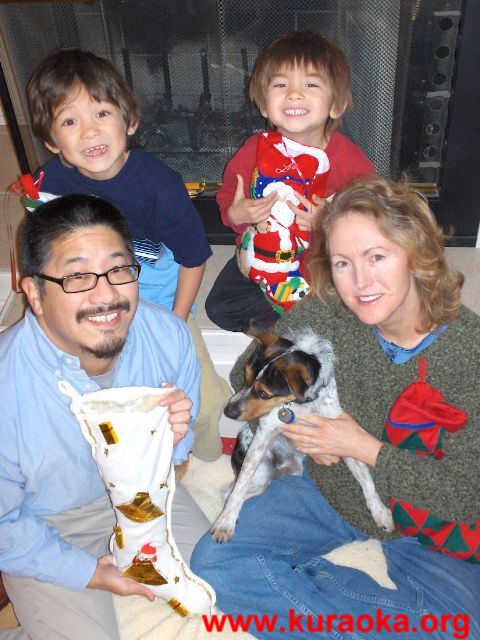 Archived Photos from 2006
Archived Photos from 2005
Archived Photos from 2004
Back to the Kuraoka Family main page