The Kuraoka Family 2009 Year in Review
www.kuraoka.org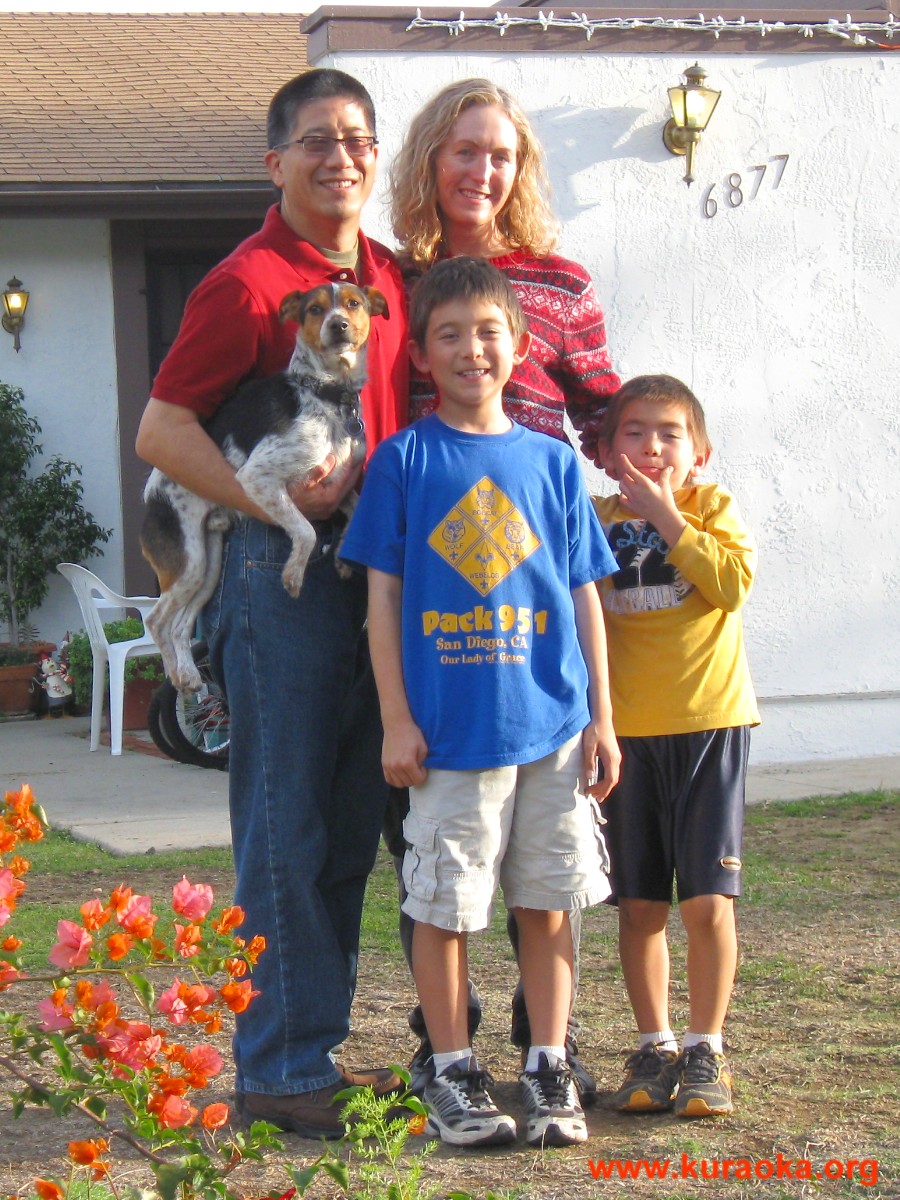 Holiday card photo taken December 17, 2009: John, Buddy, Roy, Ondine, Leo
Thursday, 31 December 2009
It's time for the annual Kuraoka Family Year-In-Review. Click to see our photos from 2009.
Globally, the economy continued to dominate, although there are signs of a recovery. Another big story was H1N1 or "Swine Flu," which was declared a pandemic. The wars in the Middle East continue, with terrorist attacks increasing.
In the U.S., 2009 saw the inauguration of the first black U.S. president, Barack Obama. Early signs of an economic recovery included rising home prices and consumer spending in the last quarter of '09, although unemployment remains high at 10%+ for much of the nation.
GM's Pontiac and Saturn divisions joined Swedish automaker Saab on the automotive scrap heap. GM's Hummer division was sold to a Chinese heavy equipment manufacturer, pending approval. Meanwhile, Japanese automaker Toyota faced the biggest recall in its history over faulty floor mats causing uncontrolled acceleration in various Lexus and Toyota models.
The Dow Jones Industrial Average started the year at just over 9,000, plunged to 6,547 in March, then crawled back up past 10,000 in October. It's now at about 10,428.
Here in San Diego, our Chargers football team again won the AFC West championship, putting them into Super Bowl contention for the third straight year! And, Chula Vista Park View won the Little League World Series, the first San Diego team to win the championship since 1961.
Home values are rising, which leads neatly into our tiny part of the universe, because our application for a property tax reduction based on declining property values, made in 2008, was turned down on initial review. We withdrew the application.
Gage Elementary got a new principal for the new school year, Kathy Burns. She seems a positive, take-charge sort of school executive, and we've noticed some improvements in procedures and programs. For instance, the Gage Running Club kicked off on the second day of school!
Leo is now 7-1/2 years old. He grew nearly two inches, to 46-1/4" tall, and weighs about 48 pounds. He finished first grade with Mrs. Ferris, and is now on to second grade with Mrs. Roseman in Room 17. His strongest activities include reading, writing, and art. During the last school year, he ran 175 ¼ miles with the Gage Running Club – and he's on track to beat that this year, having racked up over 100 miles already! In comparison, in first grade it took Leo until late February to run 100 miles.
Based on discussions with his teachers – both his current and former – we had Leo evaluated at Kaiser's John Richards Learning Center, and he was diagnosed with "ADHD/Inattentive Type," which is the current term for what used to be called ADD or attention-deficit disorder. Medication is probably in his near future, although for the time being we're managing with fish oil supplements and a few in-class behavior modification techniques.
Early in 2009, Leo took an art class at Neko Press Studio in La Mesa with comic book illustrator Billy Martinez. He stuck with it for some time, but finally opted to stop.
Leo's soccer season closed with an undefeated record for the "Royal Knights." Yay! In other sports news, we took the training wheels off Leo's bike, so he's now a free-wheelin' two-wheeler! He loves to try to do tricks like wheelies and jumps, which so far usually end in a crash of some sort, but that doesn't seem to discourage him.
Leo joined Cub Scout Pack 951 as a Wolf. His fellow den-mates all attend Our Lady of Grace, a private Catholic school, so it's opened the door to a new bunch of friends.
Roy is now 9-1/2 years old. He grew nearly two inches, to 52-1/2" tall, and weighs about 66 pounds. He finished third grade with Mrs. Dalton, and is now in fourth grade with Mrs. Hesche in Room 6. His strong suit in school continues to be math, although he also loves reading and writing. During the last school year, Roy ran 265 miles with the Gage Running Club, and, like Leo, is on track with over 100 miles so far this school year!
Roy's soccer team was the "Blue Armored Penguins," and his teammates included his good friends Alex and Michael. Unexpectedly, Roy says he'd like to play soccer again next year. He also tried wiffle ball and tennis, and rides his bike freely. He's not so much into doing bike tricks, but he's definitely a fiend for straight-line downhill speed!
Roy is now a first-year Webelos Scout, attached to Pack 951. He has a new khaki uniform, and suddenly looks more Scout-y. His friends Alex, Stephen, and Michael remain his close buddies in school and Scouting. In related developments, he had his first solo sleep-out in the back yard in August, and slept out again several nights during the summer.
Big orthodontic news: Roy got his braces off! He still has to wear a retainer, though, and he's been very good all year about not losing it!
Ondine took her first major novel-writing workshop in an effort to get her novel submission-ready. The course, with author Drusilla Campbell, was superb, and gave Ondine the critical insight and the tools to take her draft to the next level.
She also took up hula, and even performed – with the rest of the dance class – at the Del Mar Fair on Independence Day! (See the video here!) Another trip to the Fair netted her a second-prize prize ribbon for a work of "recycled wearable art" in the jewelry category!
One of the magazines for which Ondine did a lot of writing, Living In Style, went under – a victim of the sour economy. Not only did she lose that source of future business, but she also got stiffed on the articles she'd already completed.
In another passage, Ondine gave up Jazzercise this year following a knee injury that may have been related to overuse. She had been a steady Jazzerciser, going at least four times a week. She's looking into yoga and tai chi now. And her knee? An MRI produced up a diagnosis of osteoarthritis.
She continues to volunteer at Gage Elementary, helping out in Leo's and Roy's classrooms doing the "Everyone a Reader" program.
John has managed to keep working steadily, no small accomplishment, even picking up a handful of new clients including Balance Energy, Enterprise Informatics, and a new initiative aimed at helping used car dealers stop "curbstoners," or unlicensed automotive flippers. He moved his Tightwad Marketing for Small Businesses website to its own host after CompuServe shut down.
John went through an all-day "BALOO Training" with for the Cub Scouts – BALOO stands for "Basic Adult Leader Outdoor Orientation." So now he's officially "BALOO Certified."
He won a third-prize ribbon at the Del Mar Fair for "recycled wearable art" for the hatband he made from scraps of junk mail!
Buddy the dog is nearly five years old and as game as ever. He was sick for about a month in the summer, not eating and having diarrhea – although his energy level seemed the same as always. The day before we were going to take him to the vet, we figured out that his kibble had gone rancid in the heat! We bought him a fresh bag of kibble, and instantly his appetite returned and diarrhea went away! He'd lost weight, down to 16 pounds or so, but now his weight is back to his usual 18-19 pounds. He recently bagged a rat, and enjoys an ongoing running battle with a local opossum.
The Travel Section. It was a light travel year for us. We went to Sand Pond without Barbara and Bill for the first time ever. Aunt Ulli joined us there. We spent a delightful summer week high in the Sierras, where we saw a rare August snow! We didn't get snowed on, though – just rained on and blown about by the wind.
After our Sand Pond trip, a bit of Germany came to us in the form of Kevin, Dagmar's 16-year-old nephew, who came to stay with us for a few weeks. We had lots of fun showing him around.
John and the boys enjoyed several Cub Scout weekend campouts, including Camp Balboa and Indian Hills. Other outings included multiple trips to Legoland for the boys' birthdays. We went to Medieval Times at least a couple times, and the Pirate Dinner Adventure once.
We closed out the year with a weekend snow trip to Barbara and Bill's cabin in Big Bear.
Book Review. In 2009, Ondine read Mansfield Park by Jane Austen, the first "Twilight" book, A Heartbreaking Work of Staggering Genius by Dave Eggers, The Help by Kathryn Stockett, and The Diary of Anne Frank, among other things. John finished the Victorian-era "Barchester Series" by Anthony Trollope, a six-book sweep that took him a few years. He's now on a Russian kick, reading Anna Karenin/a by Leo Tolstoy, with Dostoevsky's epistolary Poor Folk lined up afterwards as a sort of class counterbalance.
Roy finished reading all the "Harry Potter" books. Leo has been enjoying the "Little House" books by Laura Ingalls Wilder, and we've been reading him one chapter a night at bedtime. Roy and Leo discovered comic books, reading and re-reading John's collection of Calvin & Hobbes and Foxtrot.
We started letting the boys watch original Star Trek episodes on Fancast – so we're raising Trekkies! Actually, we're giving them even more anachronistic pop culture references, because they also love The Beverly Hillbillies and the original Munsters, Addams Family, Underdog, and Little Rascals. We've even let them watch some of the original Twilight Zone shows! A lot of those are in black and white, which doesn't faze them.
Home & Garden. We dug up a big patch of our front lawn in 2009, enclosed it in chicken wire, and put in a vegetable garden! That, in addition to the organic locally grown fruit and veg we get from our CSA box, supplied a lot of our produce! Oh, and Barbara and Bill's banana tree produced its first crop of homegrown bananas!
Movin' On Dept. John's sister Patty sold her house in Van Nuys and bought a lovely place in Oro Valley, near Tucson, Arizona. John's Aunt Merry moved to a senior community in Westminster, Colorado, closer to some of her kids and grandkids, and his Aunt Yochi moved to a senior community in Rancho Palos Verdes. Ondine's brother Jeff seems to be out of the picture with Michelle and his family, but they're doing okay. Kaleb joined the Navy after graduating high school, and Neena graduated as class valedictorian and is looking into colleges! Our friends Henrietta and Vlado moved from their condo to a nearby apartment.
Achievements of Family & Friends Dept. Athena and Jeff renewed their wedding vows for their 20th anniversary, and Morgan and Rob had a wedding ceremony on the beach to celebrate their 25th anniversary (when they married, they didn't have a ceremony). Bill's Aunt Betty was honored for volunteering 3,000 hours at a hospital. Ondine's writing friend Kirsten's novel Ice Song was listed as "Best of 2009" by the School Library Journal in the category of adult books for high school students, and "Best of 2009" by Barnes & Noble for science fiction/fantasy book clubs! And, Ondine's former roommate Virginia was elected to be the local area representative for Smith College!
Passages: Late last year, John moved his Dean Witter retirement account to UBS following a good young broker who seemed to have turned things around. A few months later, that broker unexpectedly died, and the new broker is seemingly inert so the account sort of drifts. It's kind of a hard-luck account, that one. Somewhat closer to home, Roy and Leo each had goldfish for a while, but they died. Another goldfish was acquired, but it, too, died.
Acquisitions. We joined the iPod age at last! John got one of the first third-generation iPod Touches, buying it within minutes of the announcement and having it shipped overnight. It's the mid-level 32 GB version, and cost $299. Ondine got Barbara's hand-me-down second-generation 8GB iPod Touch. And, Ondine and John both got iPod Shuffles (the second-generation one, not the current third-generation one) for running around. John loves his Shuffle for running.
In office stuff, John's leather briefcase got some new leather loops put on to hold the strap. Ondine got a new HP PhotoSmart C5500 to replace her old printer/scanner/copier, which died, and a powerful new shredder.
The kints got more Lego sets than you can shake a stick at. Or put away, for that matter. Bill and Mr. Hanna built the boys a go-kart! And, the boys each moved up one bicycle size.
A few new kitchen items include a Zojirushi airpot for hot tea – we calculate it'll pay for itself in five or six years through not having to run the microwave as often to heat up our cups of tea. We got a Cuisinart electric hand mixer, replacing the Black & Decker one that Ondine found in the house when she moved in.
Stuff, departed. We threw away Roy's car seat – he's big enough to not need one, although we still use a booster when traveling just so he can see better. John shaved off his beard after our trip to Sand Pond, and also lost a couple inches around his waist. Less of him is always a good thing. Ha! Lots and lots of clothing (and one bicycle) got passed on as the boys grew and John shrunk, but the dead printer and hand mixer could only be recycled.
Neighborhood gas prices started the year at about $1.83 per gallon, peaked at $3.05 per gallon during the summer, and are currently at about $2.99 per gallon.
Our weekly journal started the year with about 29,760 visitors logged and ended with about 31,415, for about 1,655 unique visitors over the year.
Remember, photos from 2009 can be seen on our 2009 photos page. To see what we're up to now, visit our regularly updated weekly journal!
Back to the Archives page
Back to the Kuraoka Family main page
Forward to the current Weekly Journal.