Click on any photo to see it full-size. All photos copyright John or Ondine Kuraoka, Barbara Brooks, Bill Nutter, or Frances Kuraoka, or as noted.
12-31-09: Makizushi chefs! Roy and Leo both enjoy making makizushi, or sushi rolls, for our Oshogatsu New Year's day feast. Here you see Roy starting to dampen the outer edge of the nori, and Leo rolling one up. Each roll is filled with five ingredients, each cooked and seasoned separately and sliced into thin strips: Kampyo (gourd strips), egg, carrots, green beans, and Shiitake mushrooms. Meanwhile, Grammy keeps prepping ingredients and dishes. Later, during the New Year's Eve festivities next door, Roy and Buddy prove to be two peas in a pod.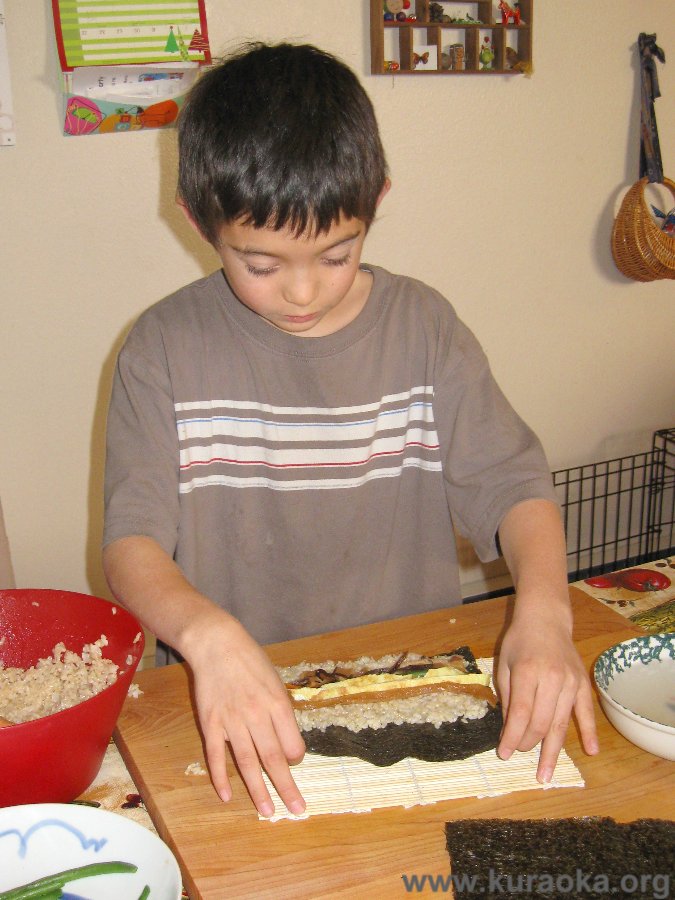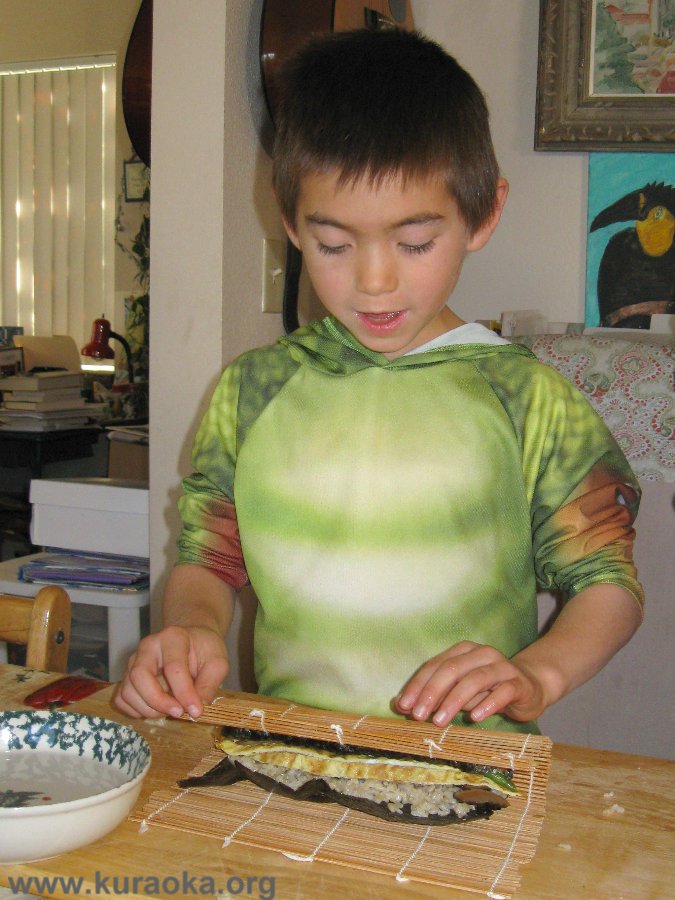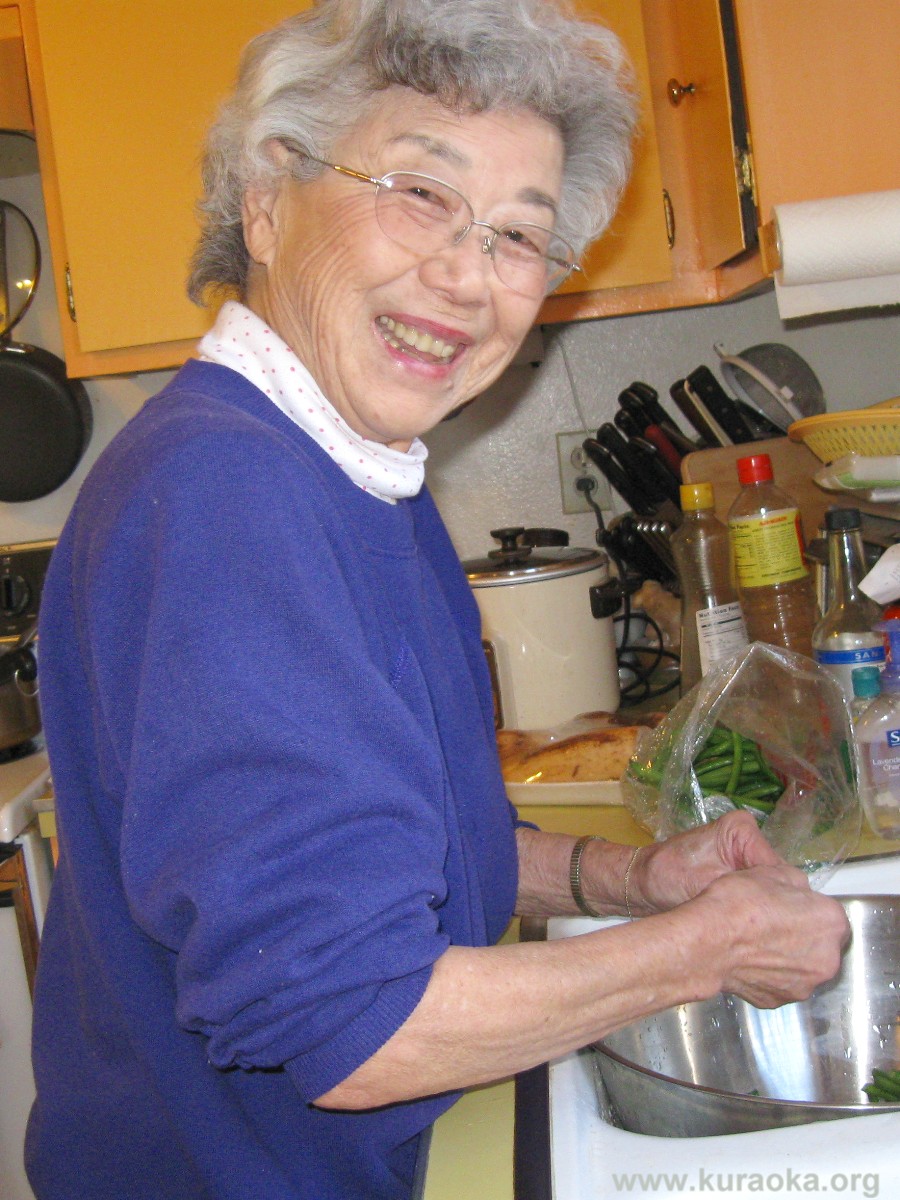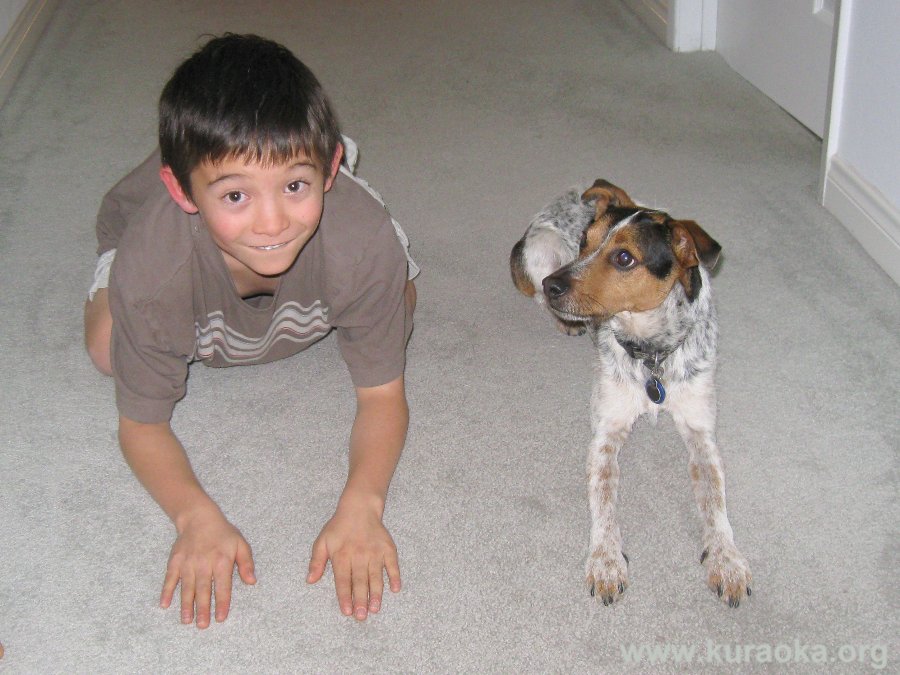 12-26 to 12-28 2009: Snow trip to Big Bear! We had a great time at Barbara and Bill's lovely treehouse in Sugarloaf. Note Roy sledding in a parka ... and shorts! Buddy found lots to keep him busy, what with all the birds and squirrels. We all had lots of fun on the great sledding hill right across the street. In the second to the last photo, note the jay on the branch just above Roy and Leo.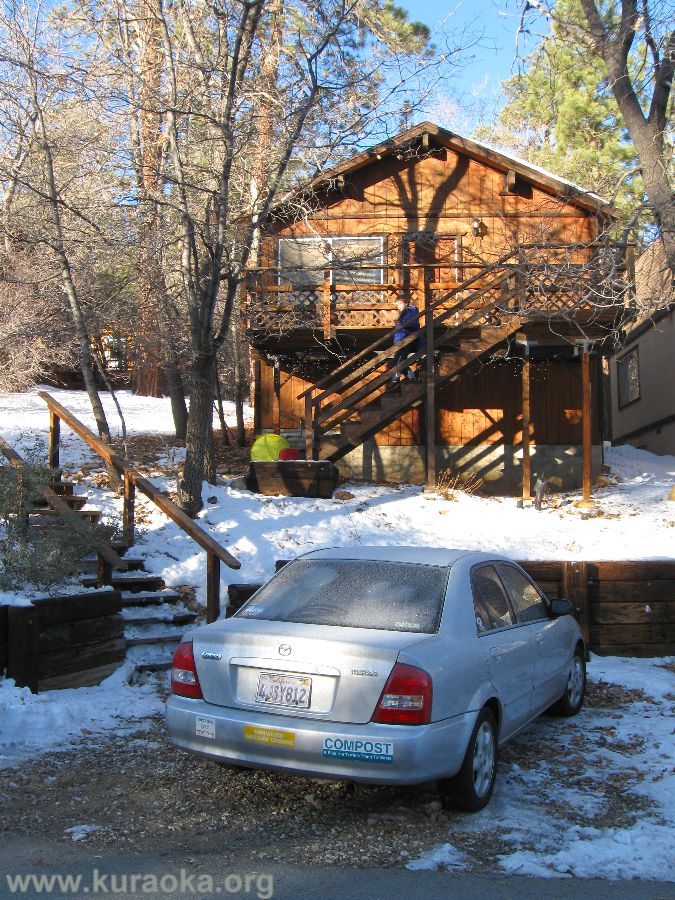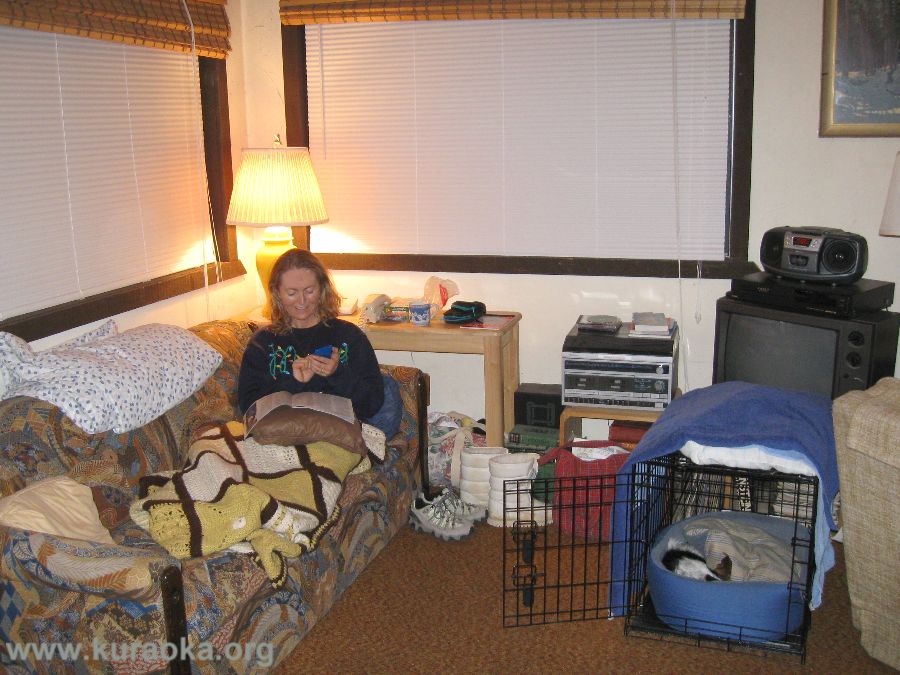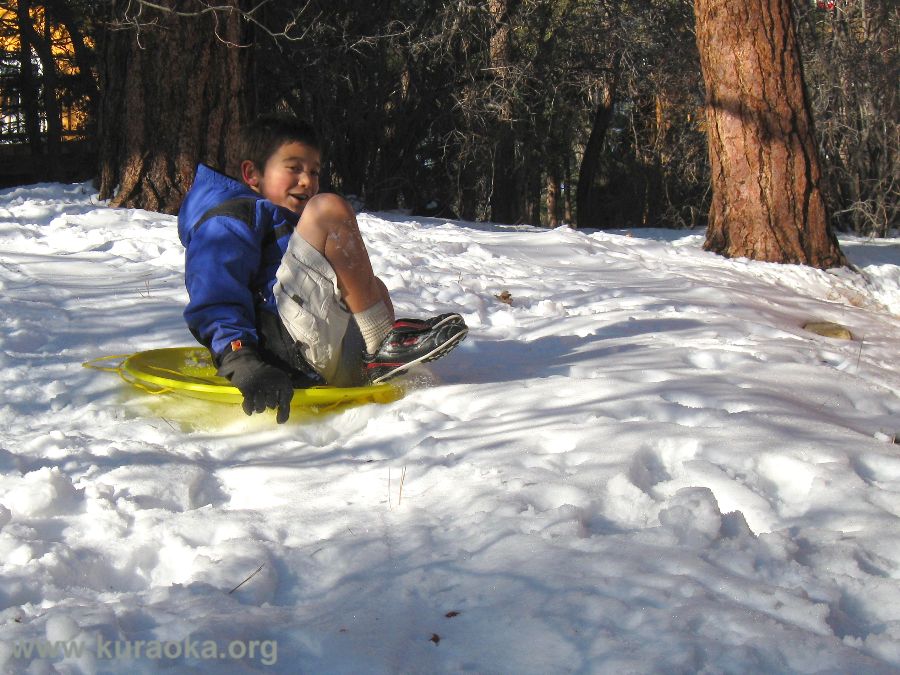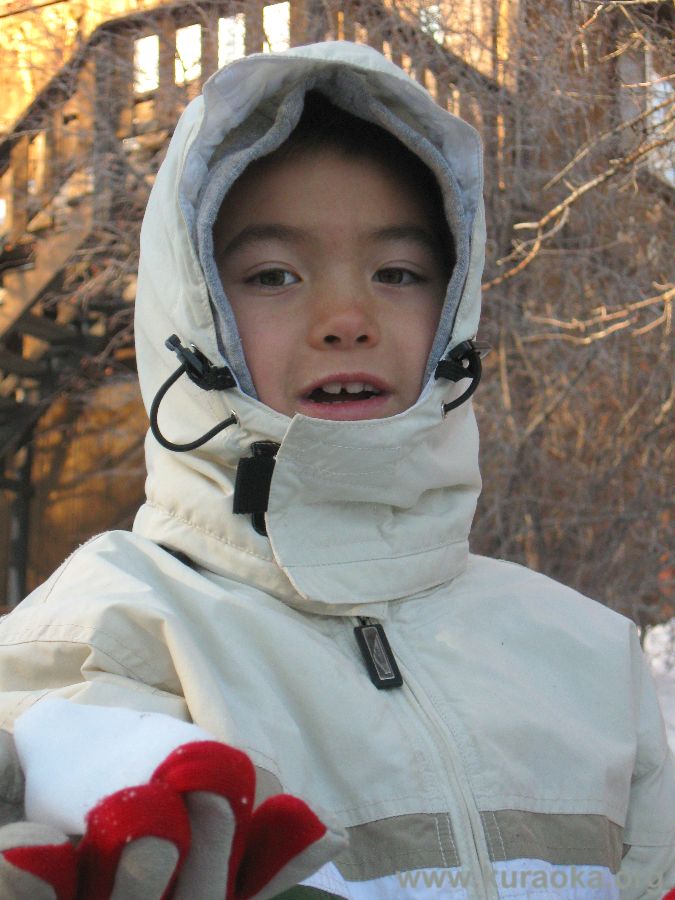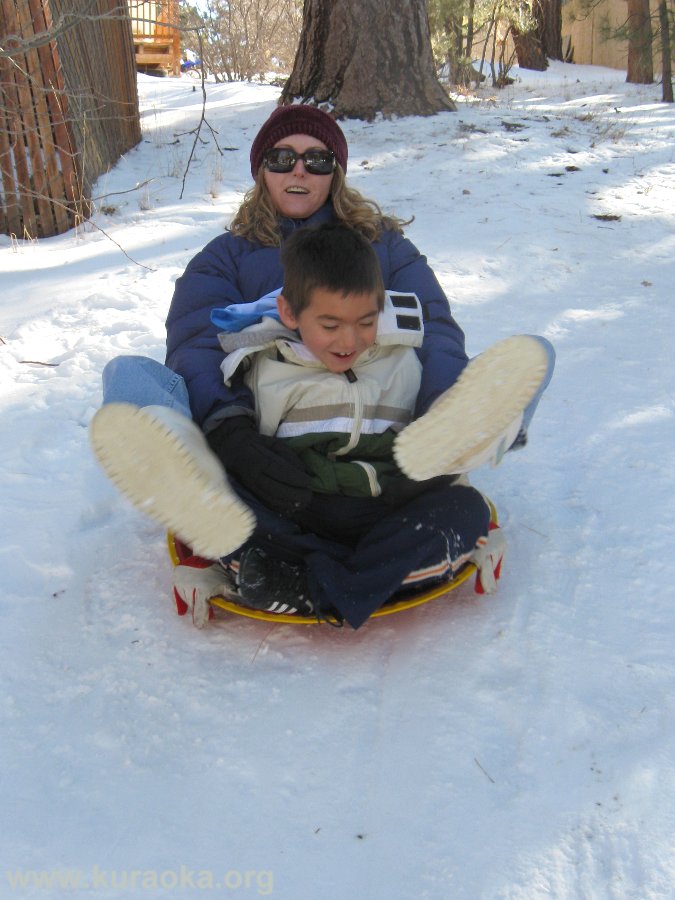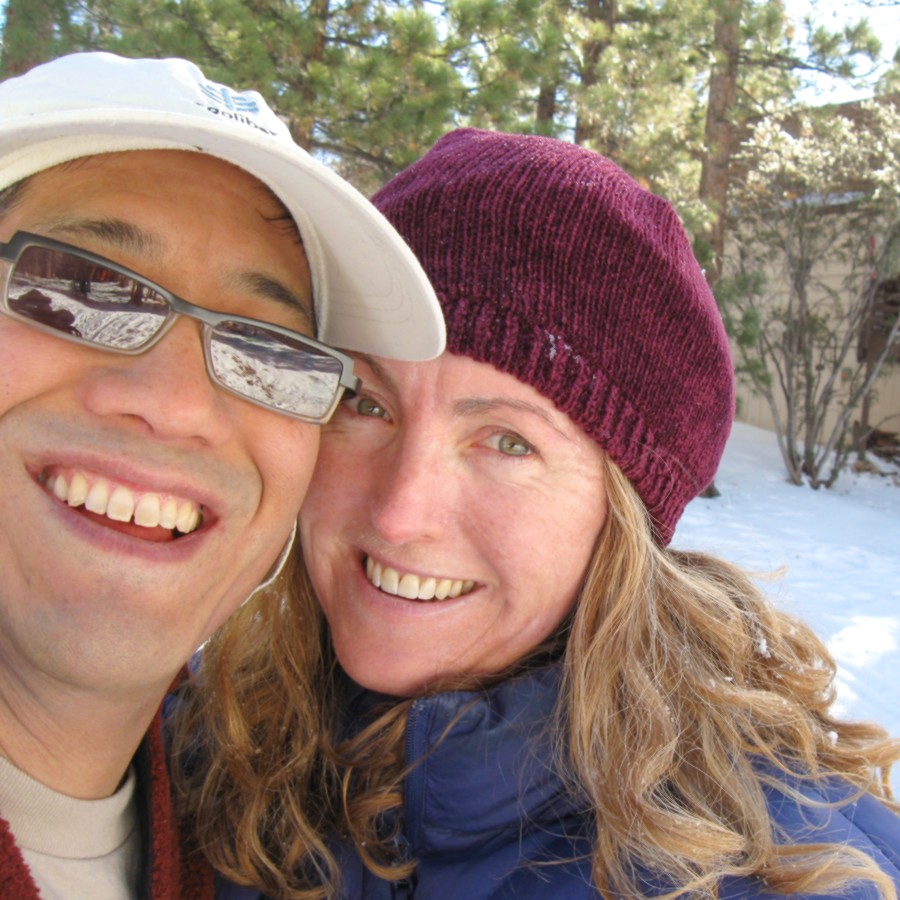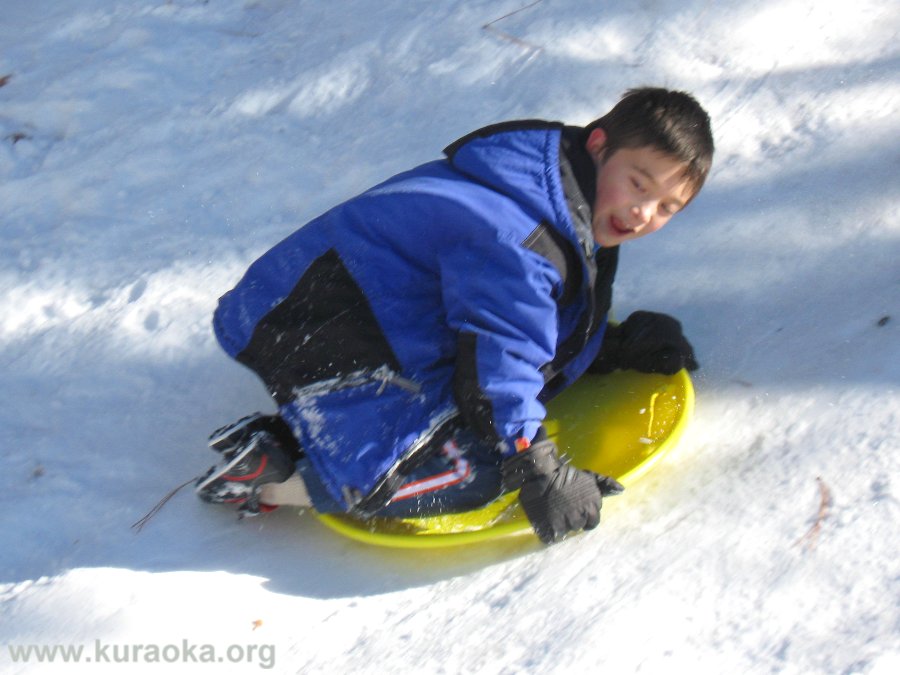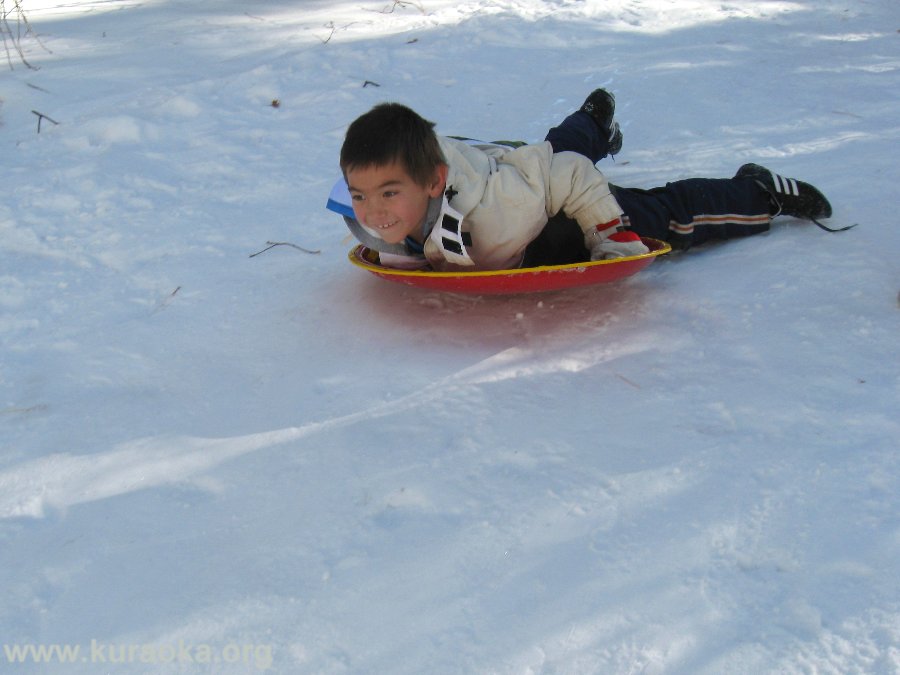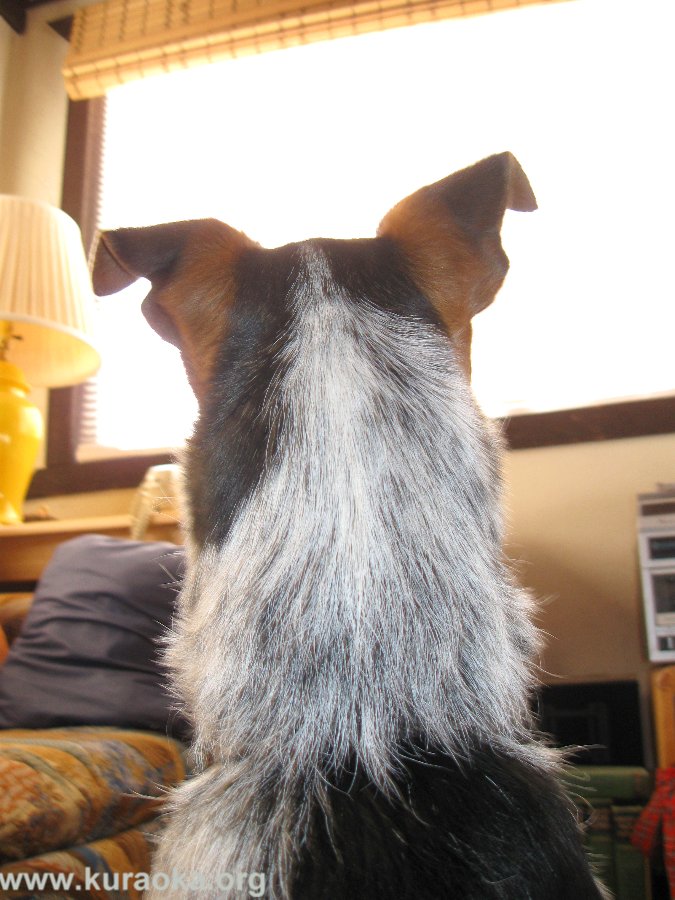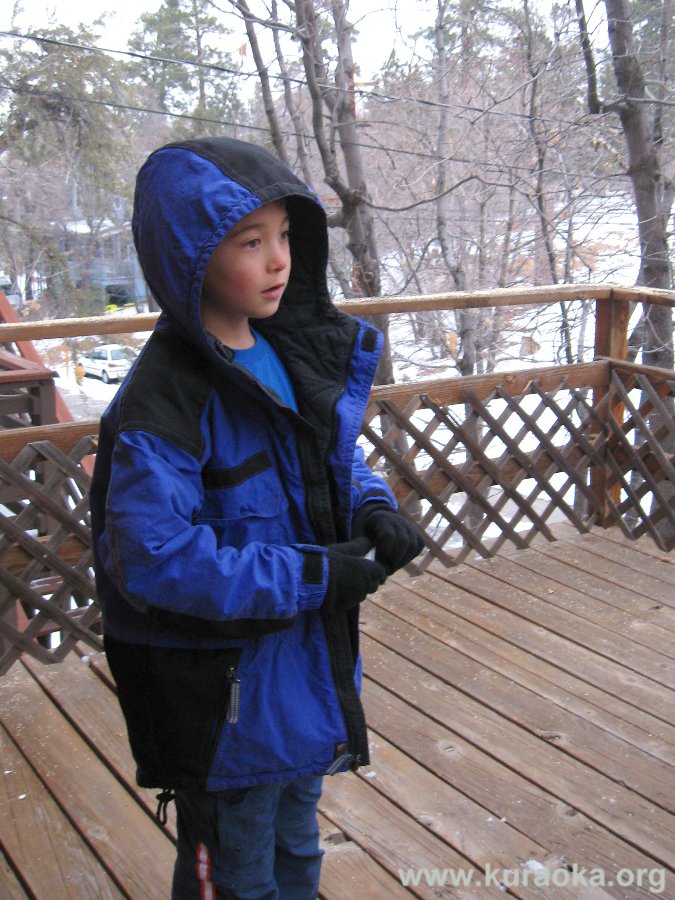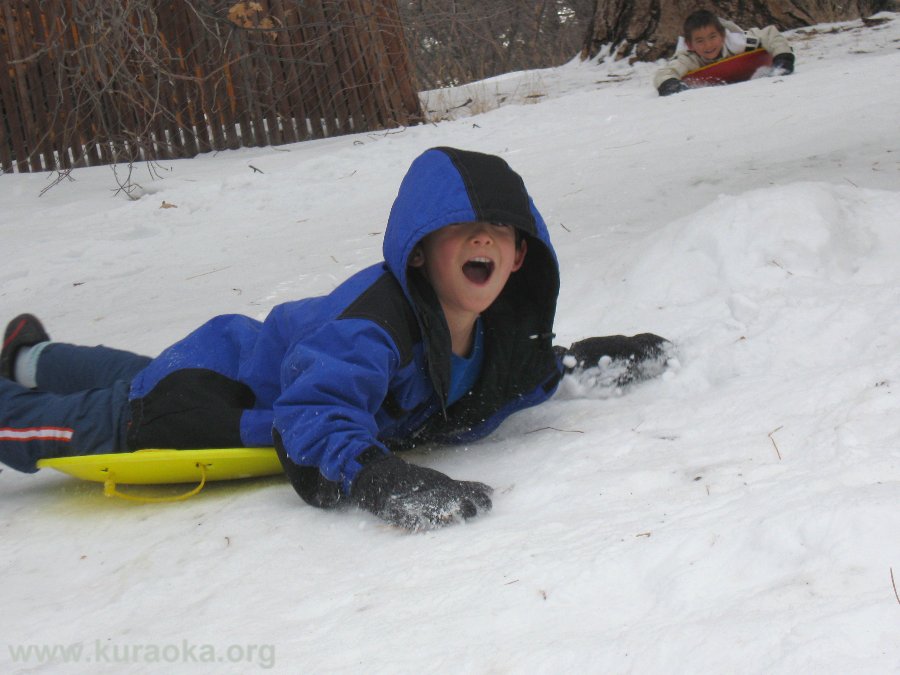 12-26-09: The day after Christmas. Here's Roy in Grammy's front room, rarin' to go. And, here we all are in front of Grammy's front door, ready to hit the road to Barbara and Bill's cabin in Big Bear!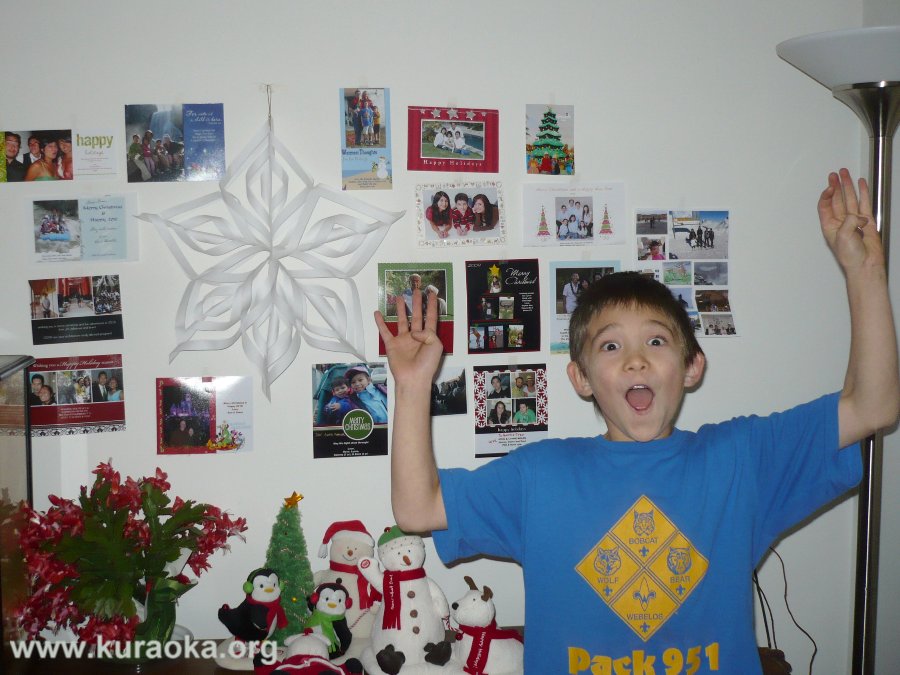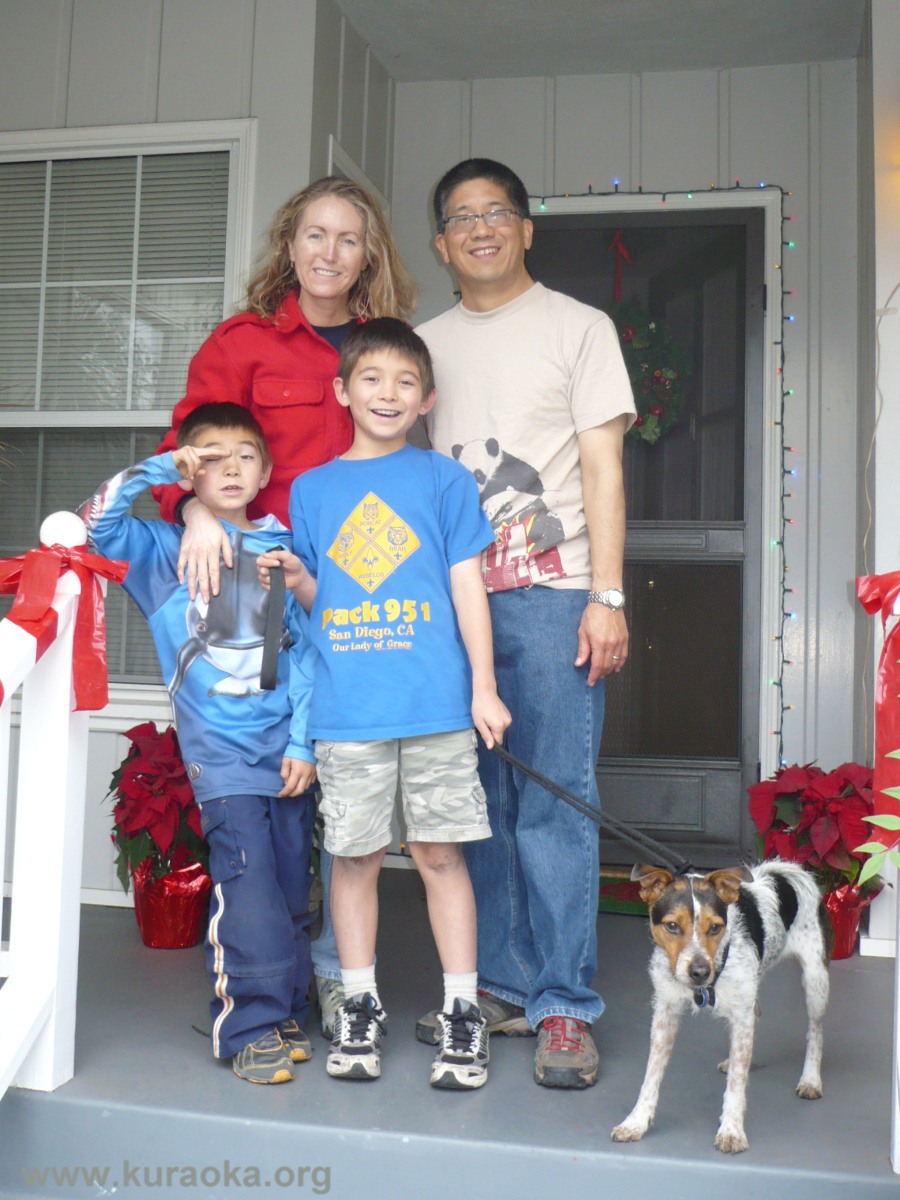 12-17-09: Holiday card photo! Here we all are! Back: John, Ondine. Front: Buddy (the dog), Roy, and Leo.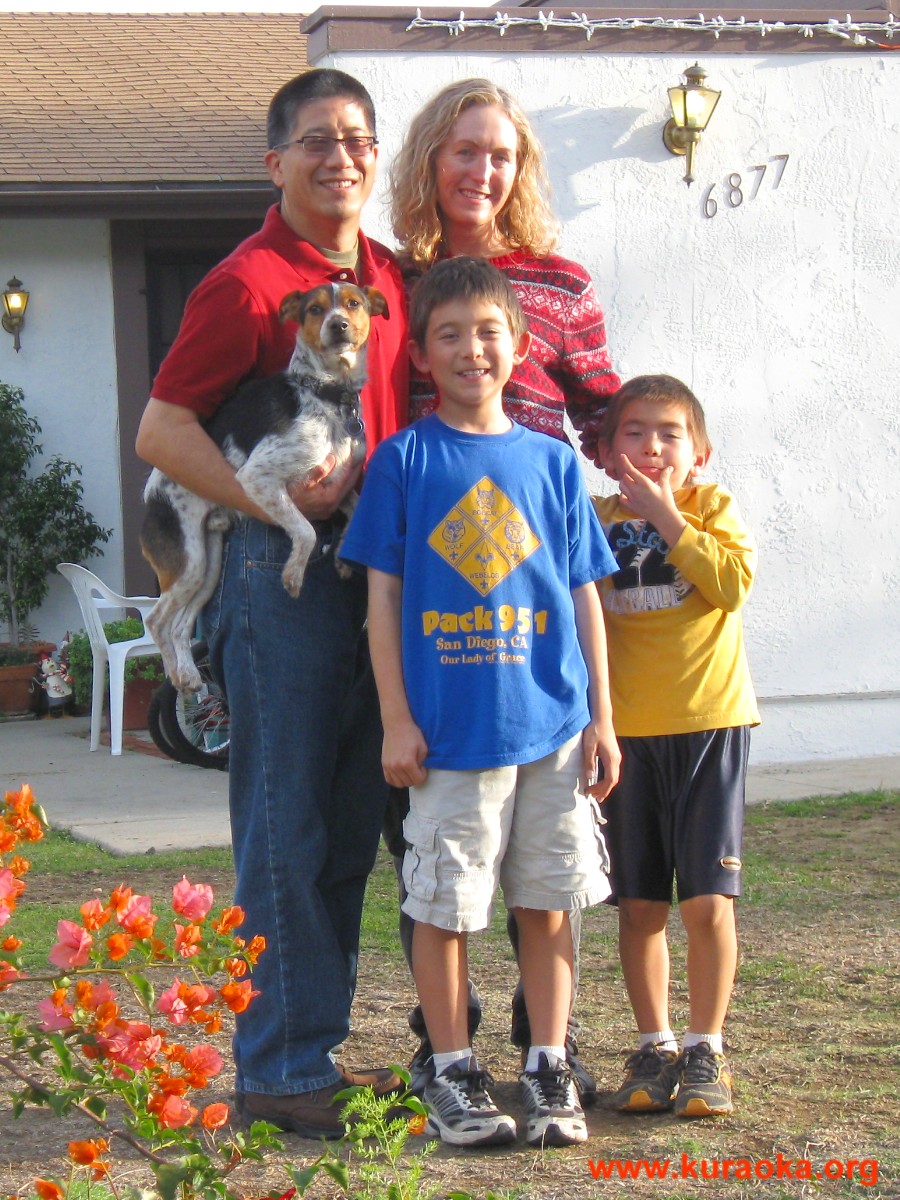 12-13-09: Shhh! Chess match in progress! Roy's friend Alex (on the right) came over, and they soon settled into a game of chess. And, if there's anything going on, Buddy likes to be as close to the middle of it as he can.

12-12-09: DaVinci exhibit at the Air & Space Museum! First John helps Roy and Leo build DaVinci's collapsible bridge in one of several hands-on exhibits. They did it! Then, Roy strikes a serious mug in the Air & Space museum itself.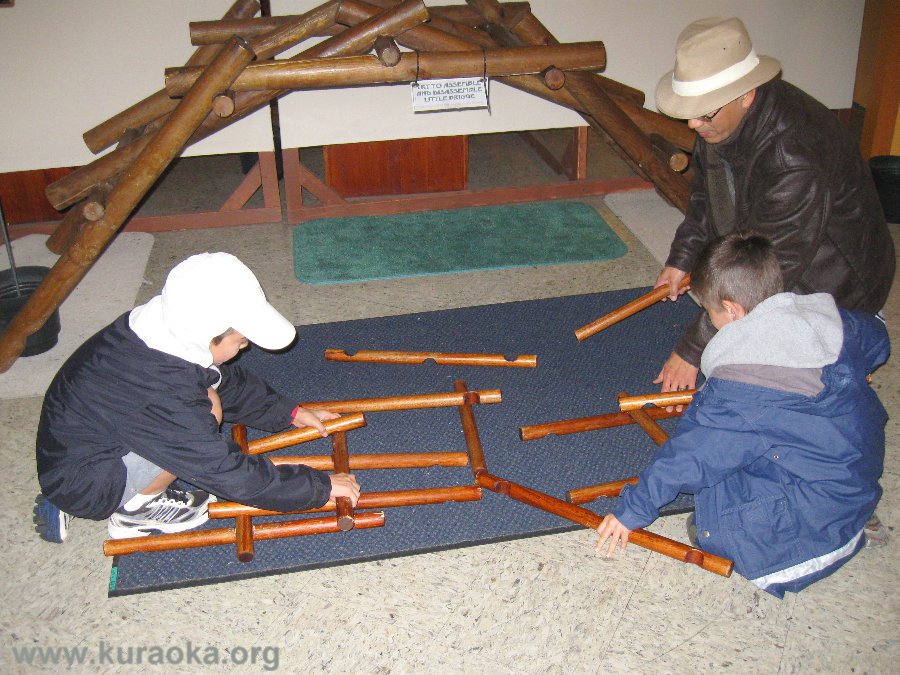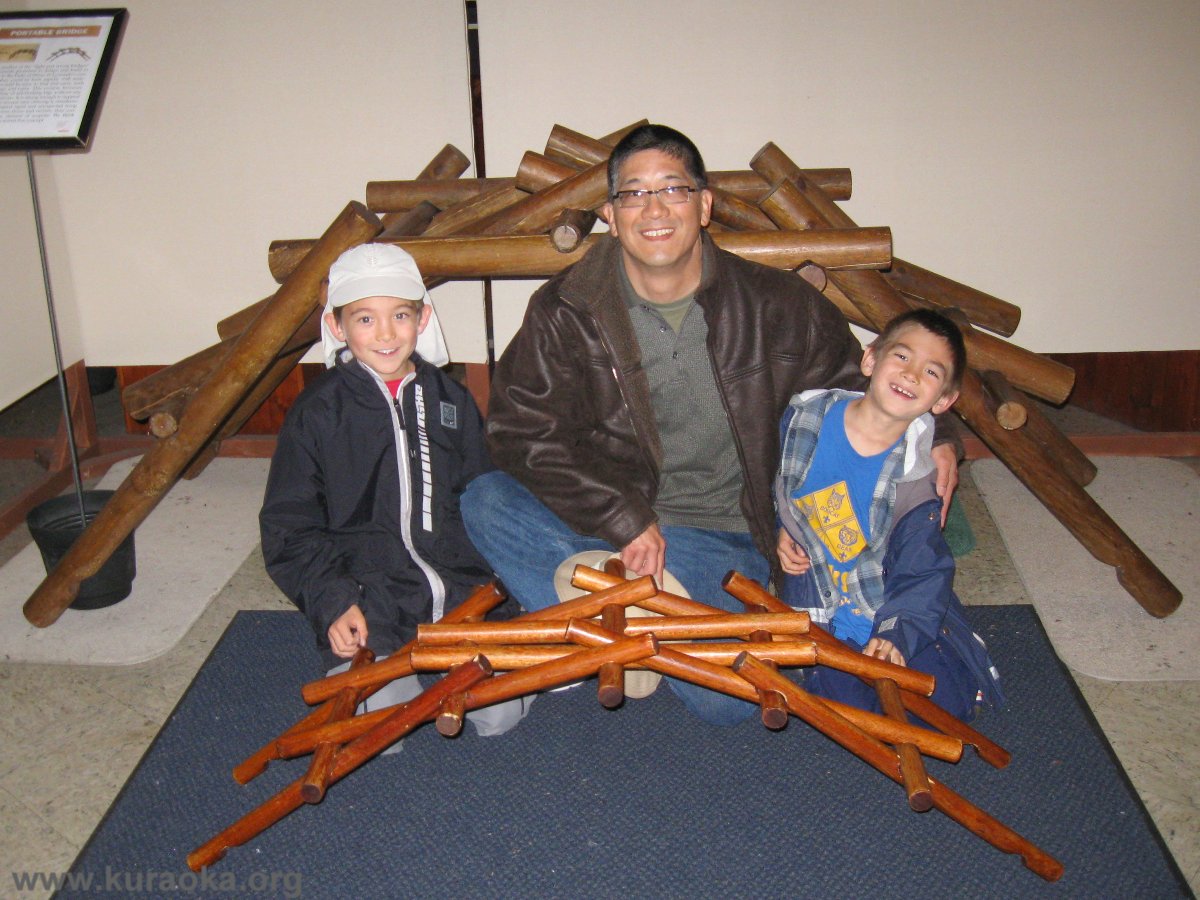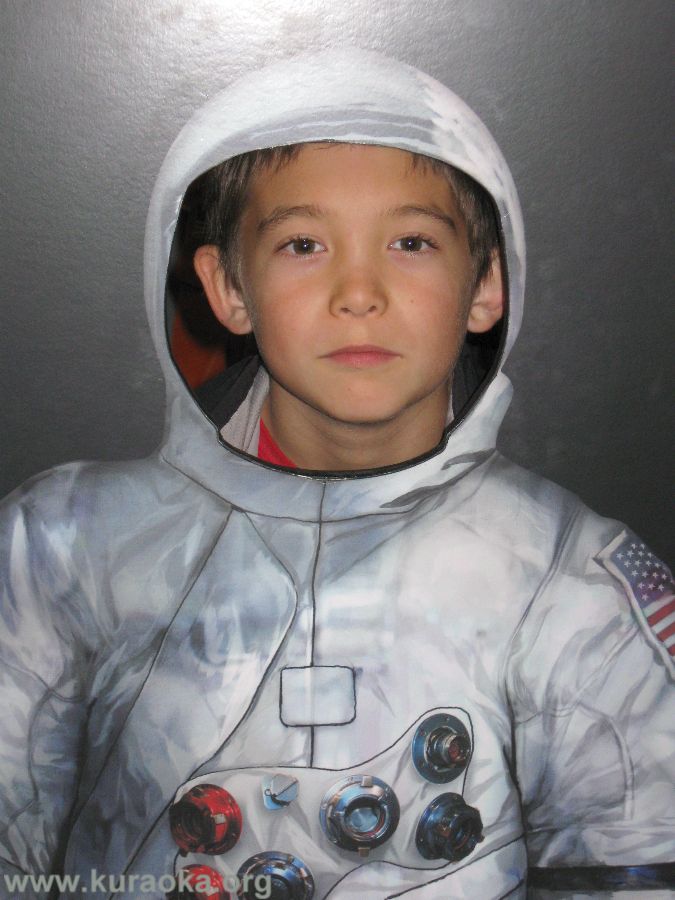 12-06-09: Leo and Buddy are two of a kind. Here they share a pillow (and a pose).

12-05-09: Roy's Lego crystal light saber! When Barbara and Bill took Roy and Leo to Legoland, Roy spent most of his money in the Pick A Brick shop. This clear icicle was just a few pieces short of two feet long.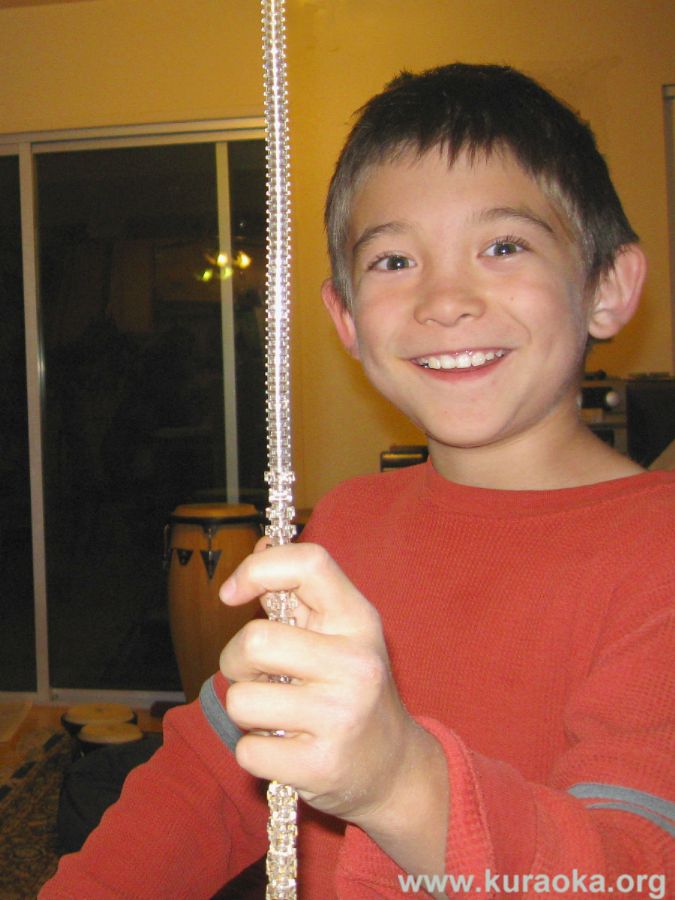 11-23-09: Pirate's Dinner Adventure! Everyone say ARRR!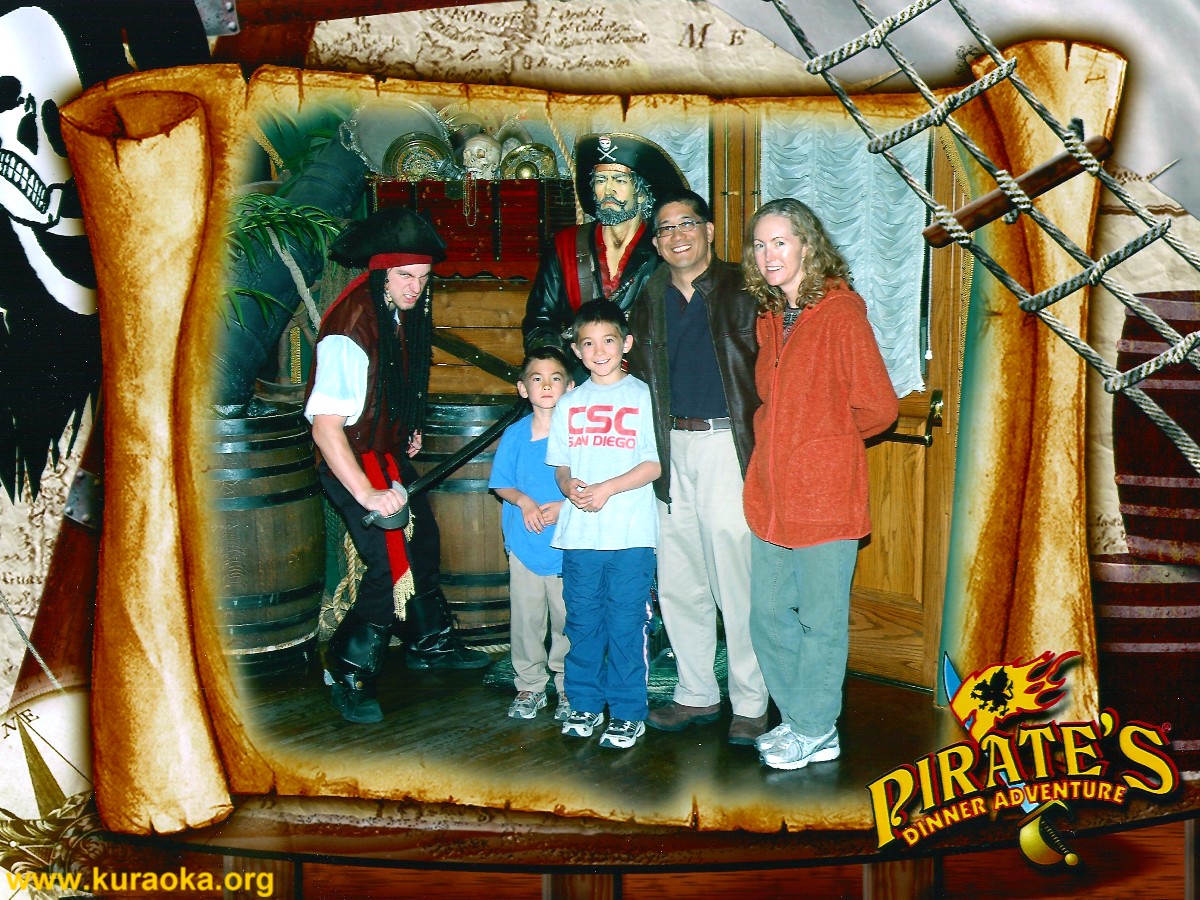 11-22-09: Mother Goose Parade! Cub Scout Pack 951 marched in the Mother Goose Parade in El Cajon, and Roy and Leo rode in the float!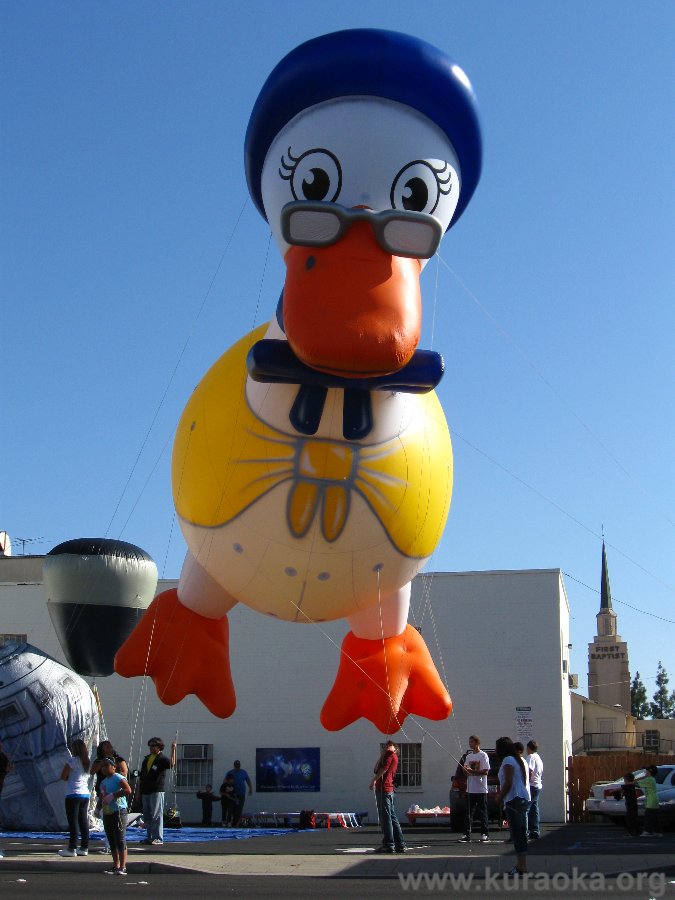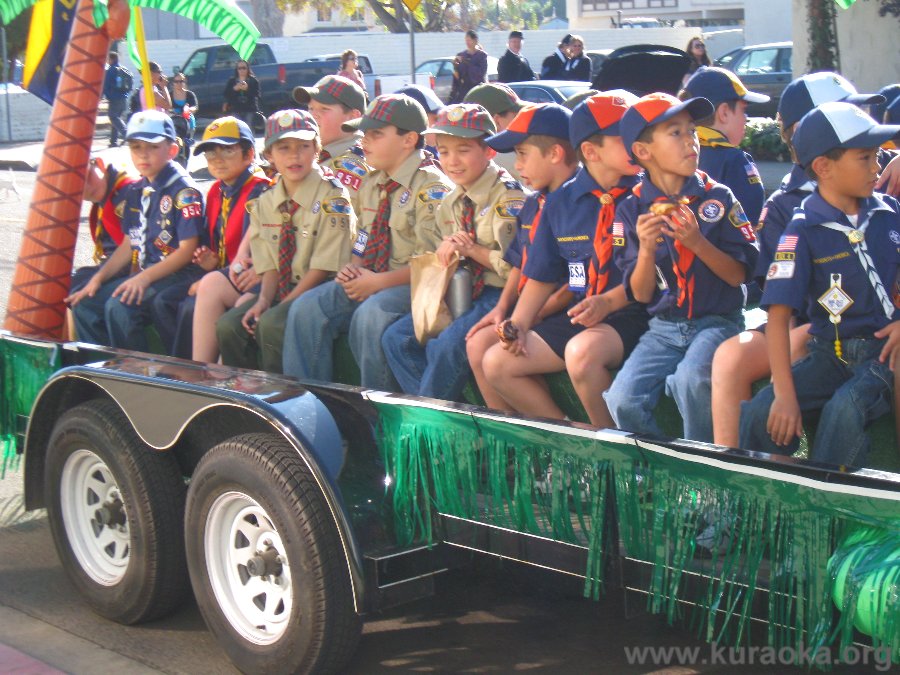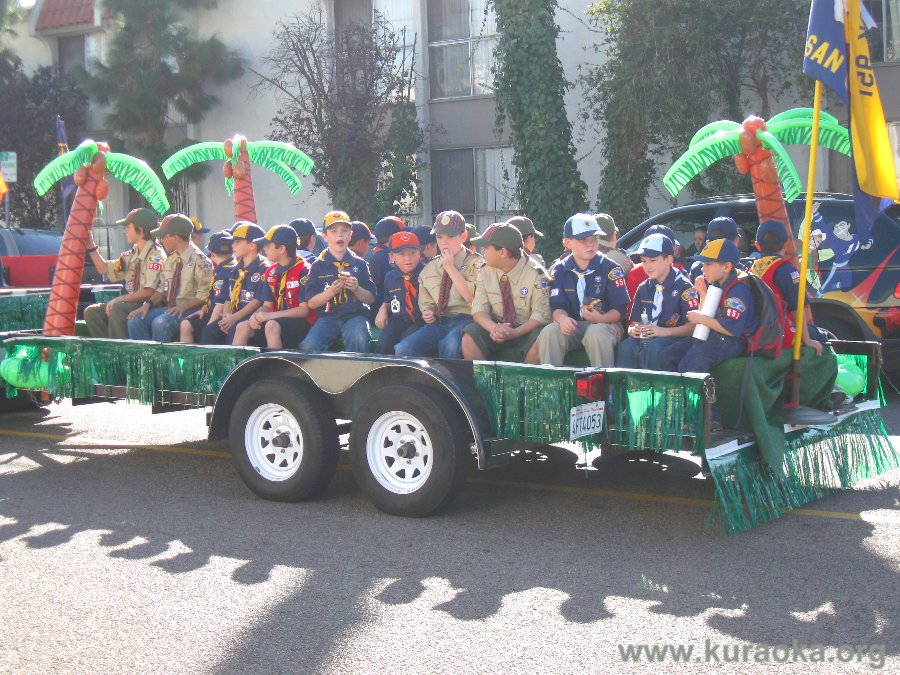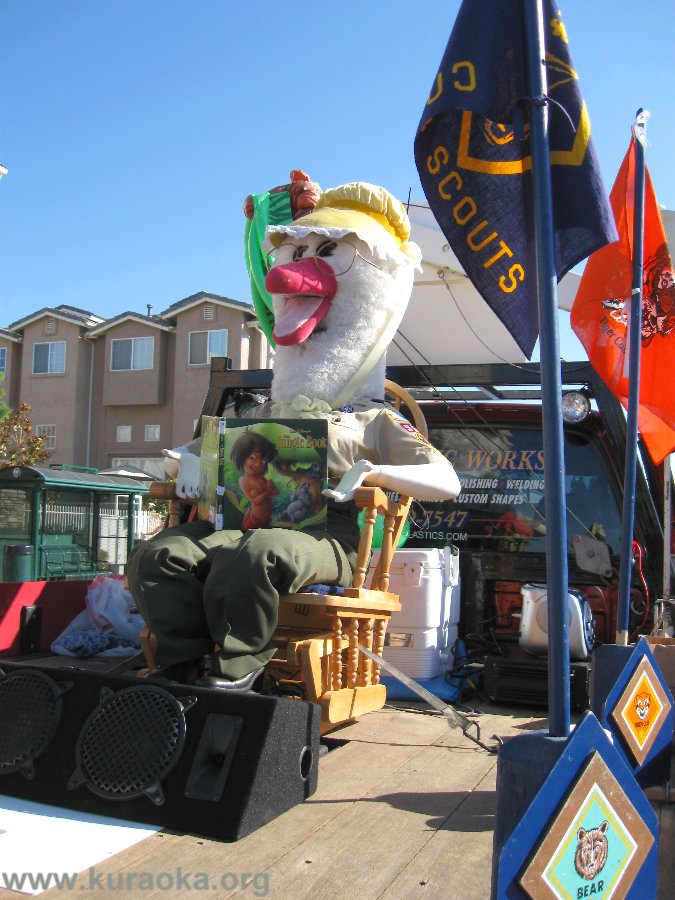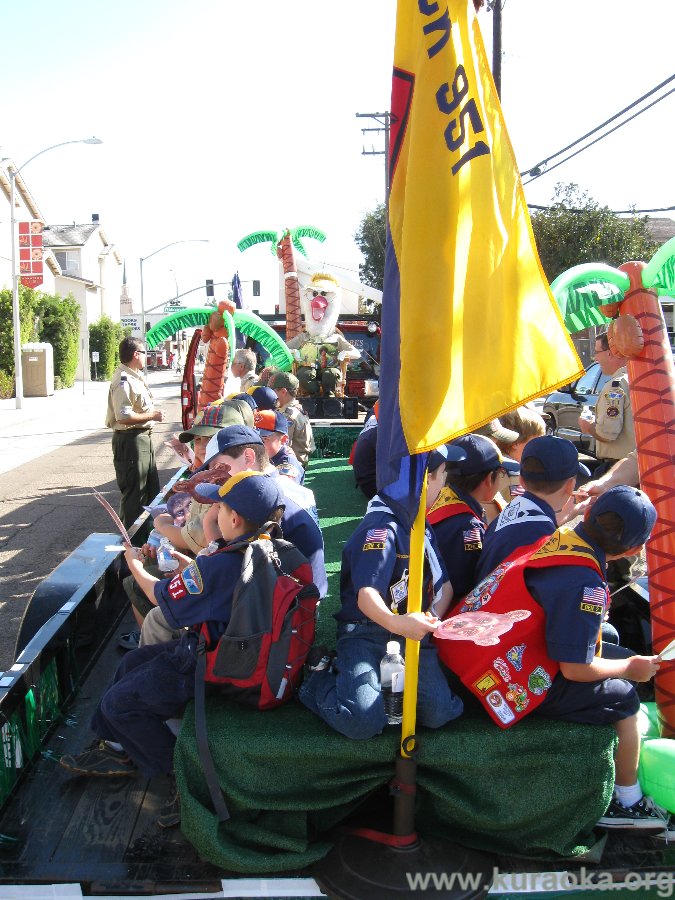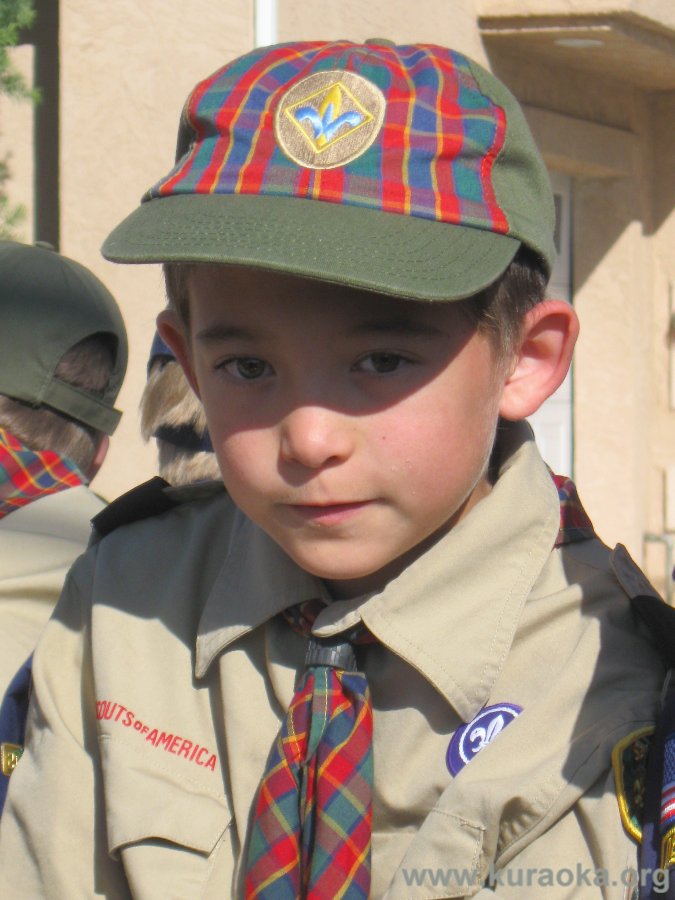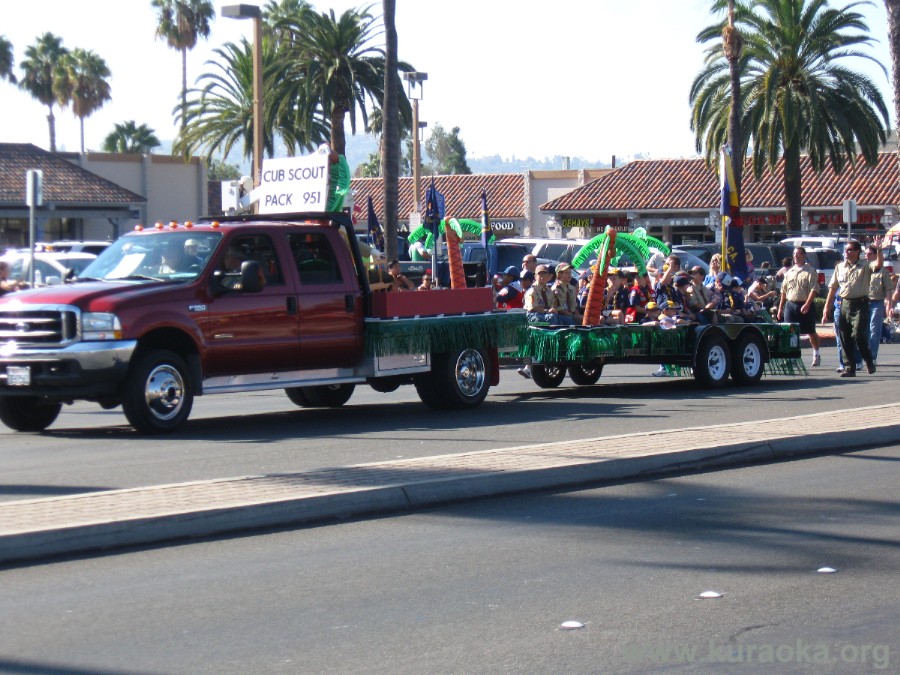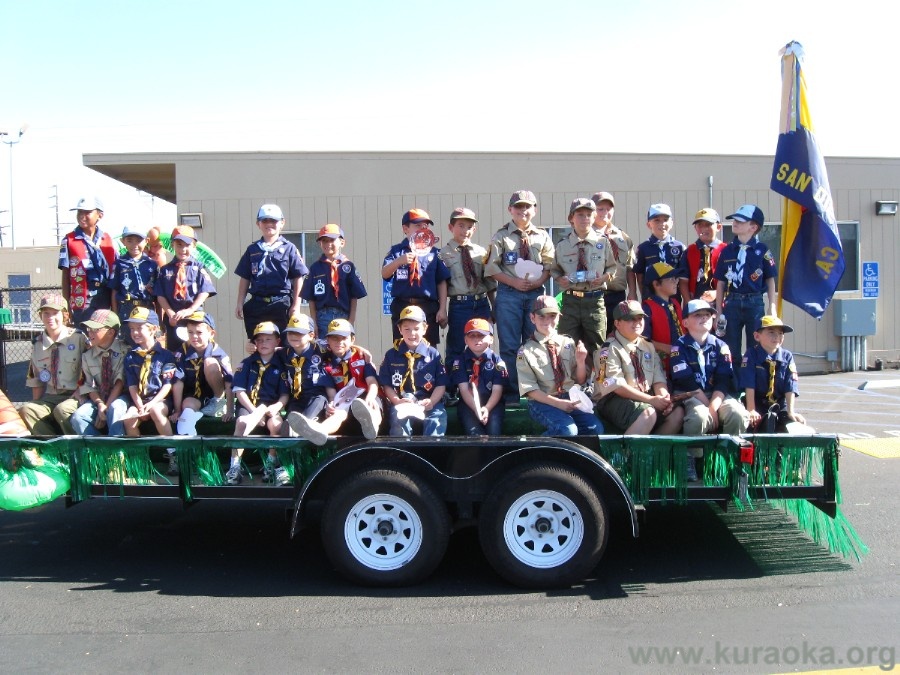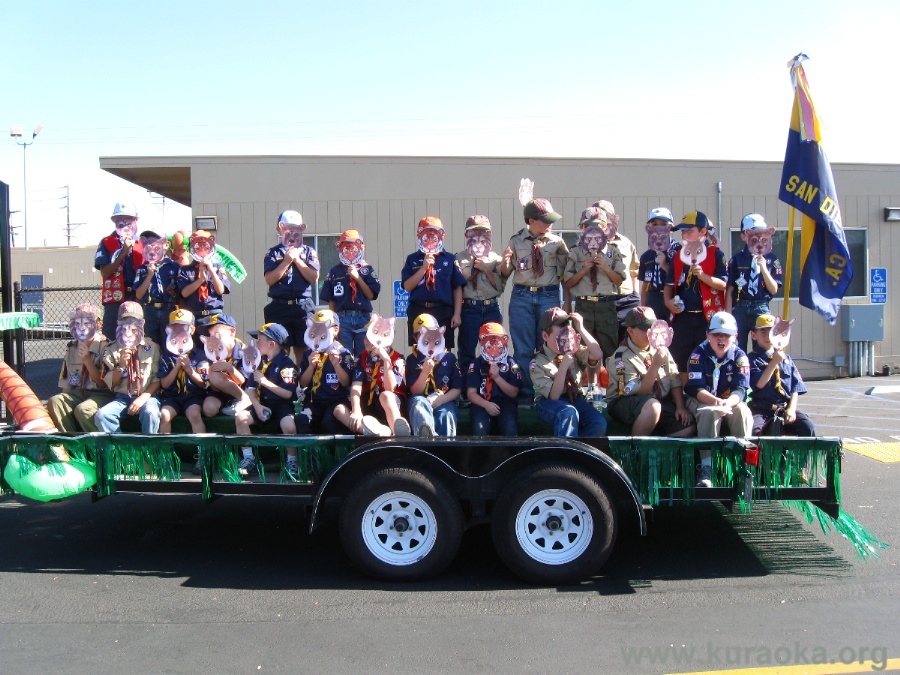 11-07-09: Pomegranates! Leo and Roy devour pomegranates from our tree, while Buddy looks on longingly.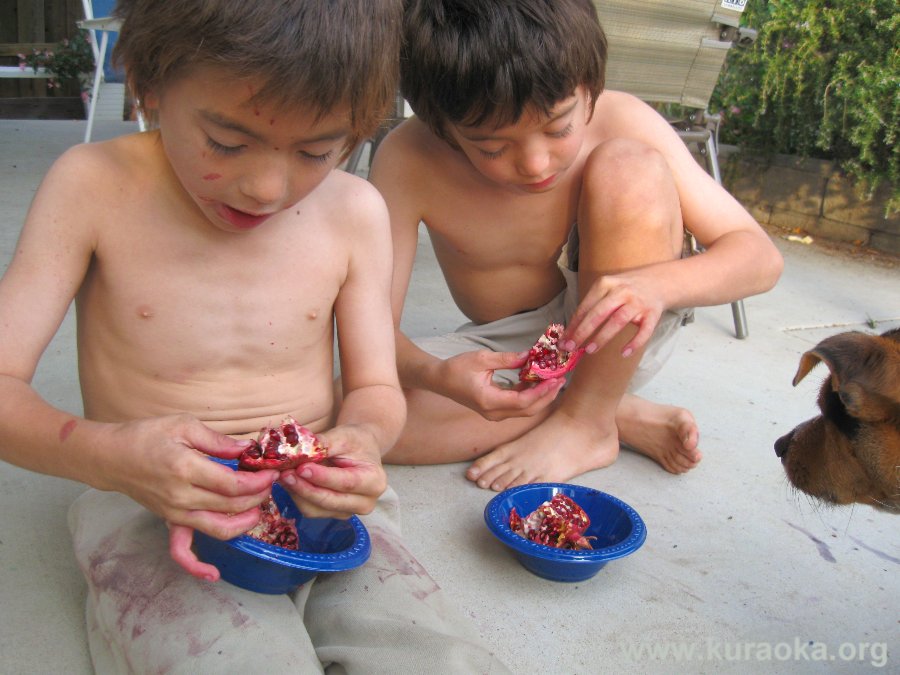 10-31-09: Happy Halloween! And here we are!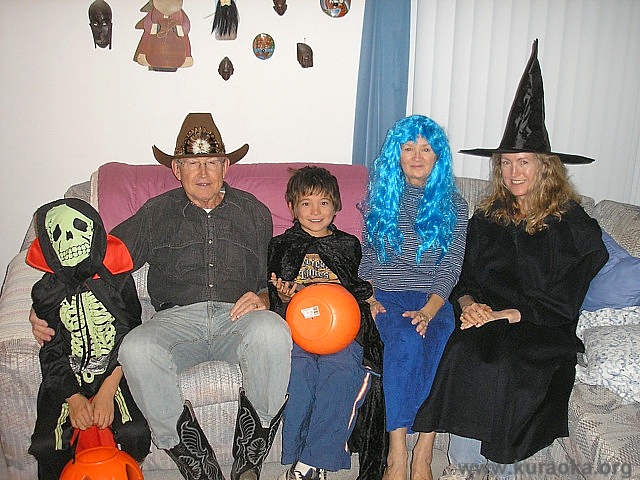 10-24-09: Oma's Pumpkin Patch with the Cub Scouts! First up is most of Roy's den. From left to right in back are Michael and Alex (at the far right). In front, from left to right, are Roy, Stephen, Donovan, and Timmy. Next, Leo and Roy with their pumpkin patch picks.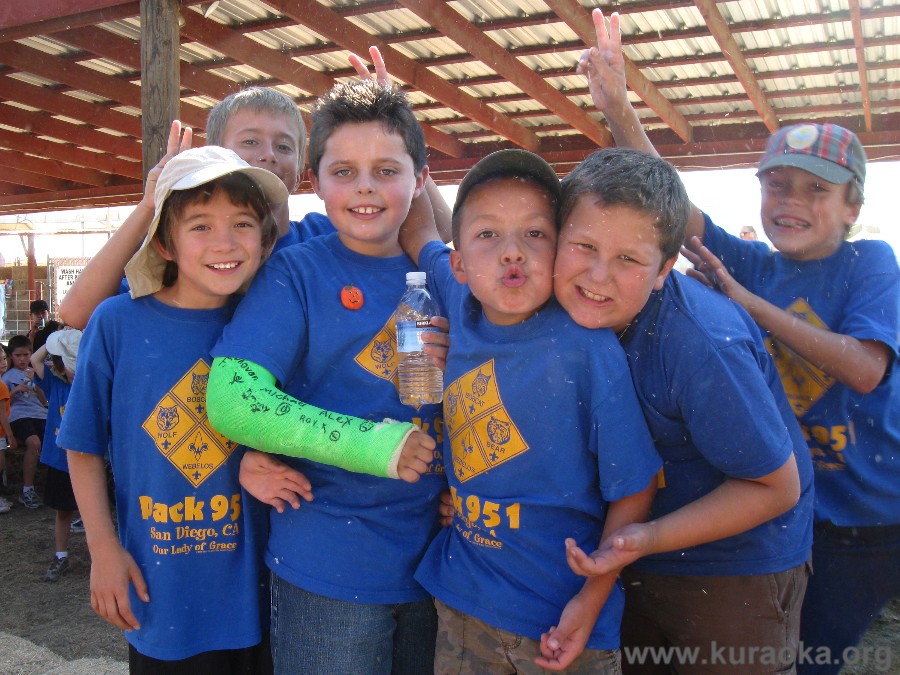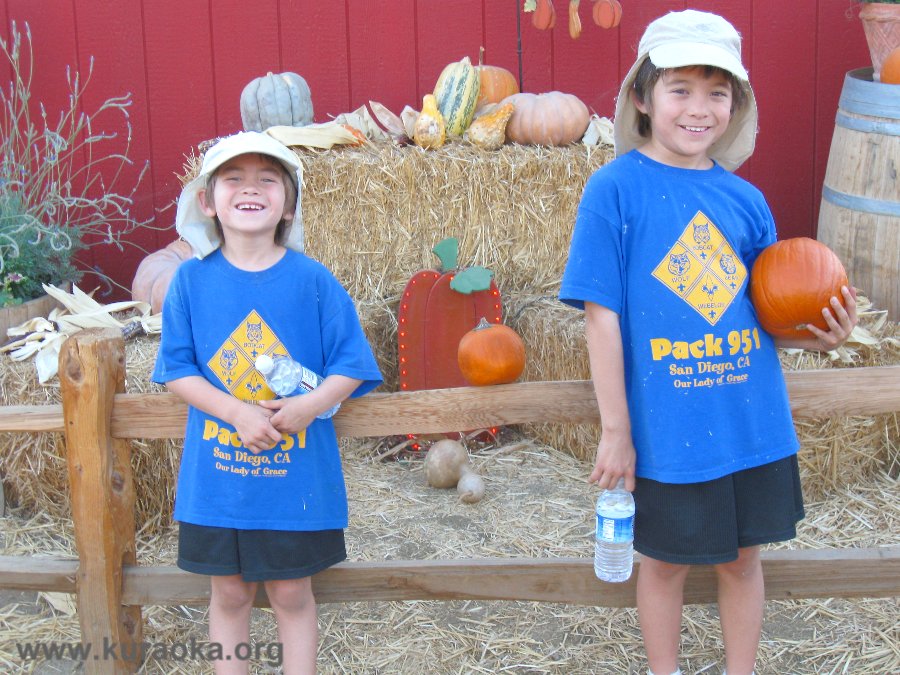 10-18-09: Legoland! Here we are, belatedly going on Leo's birthday trip to Legoland! Miniland was decorated for Halloween, complete with giant spiders on the skyscrapers (look closely), trick-or-treaters in costume on the streets, and zombies in the cemeteries! The set-up from the Chula Vista Little League team's World Series win was still up. Then we did some splashin'! First John and the boys went around, then John and Leo went around (and around and around) while Roy took pot shots from the shore. Ka-bloosh! We also rode the Sky Cruiser, a short ride for a long line. At the end, the boys were tired but very happy.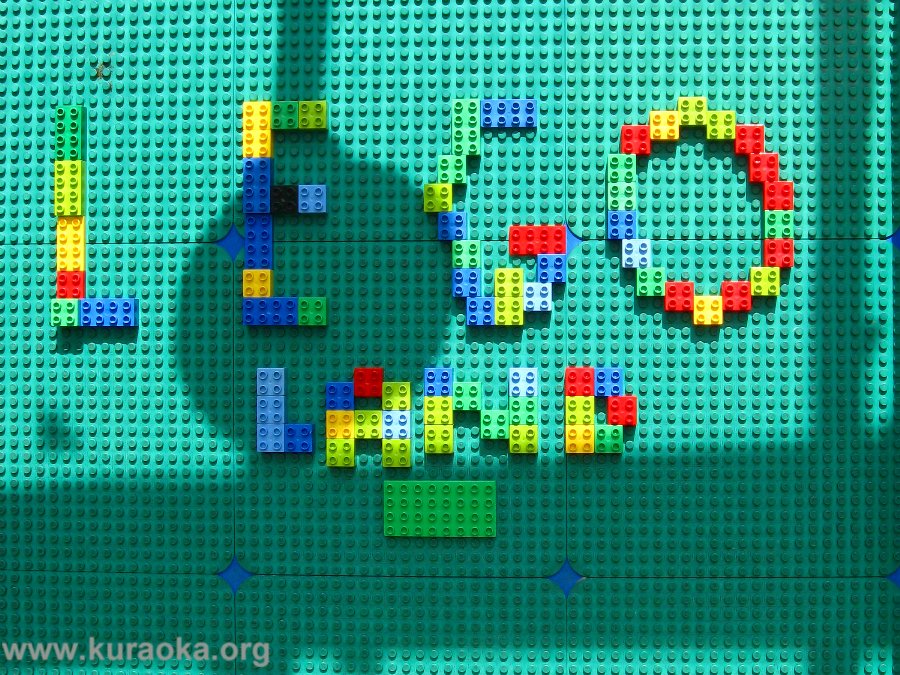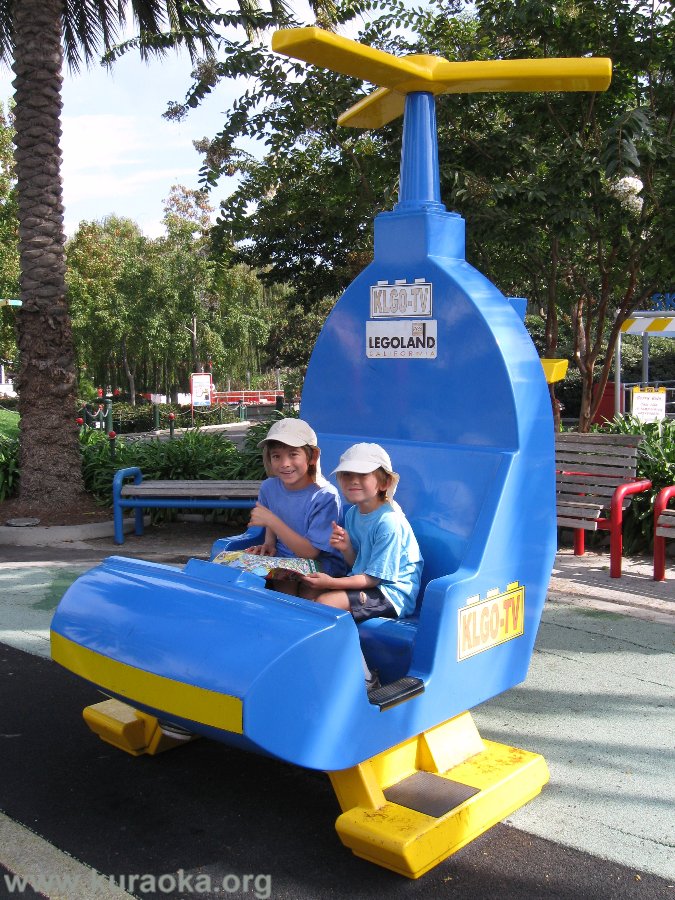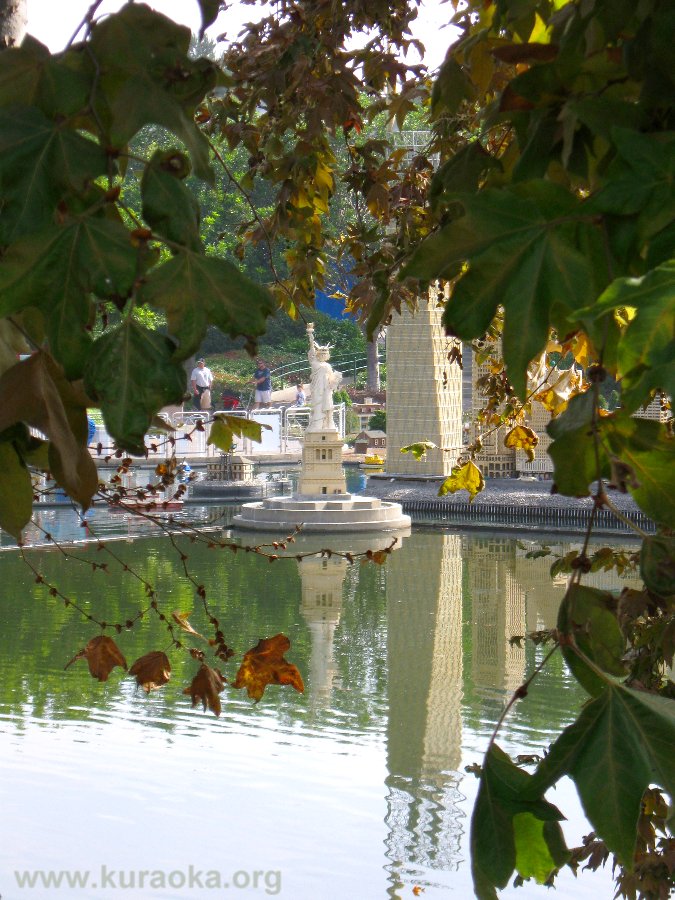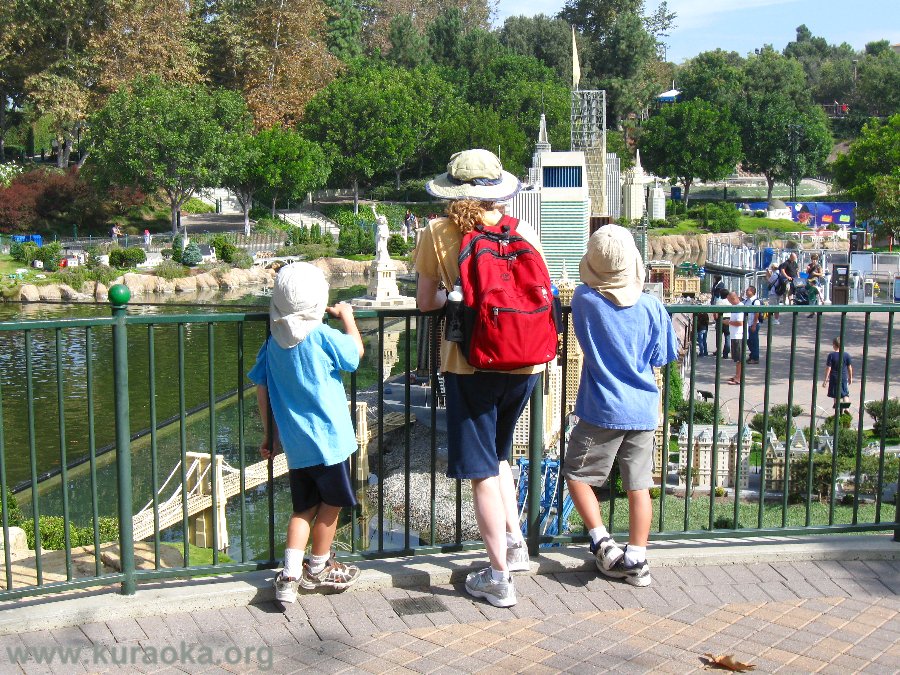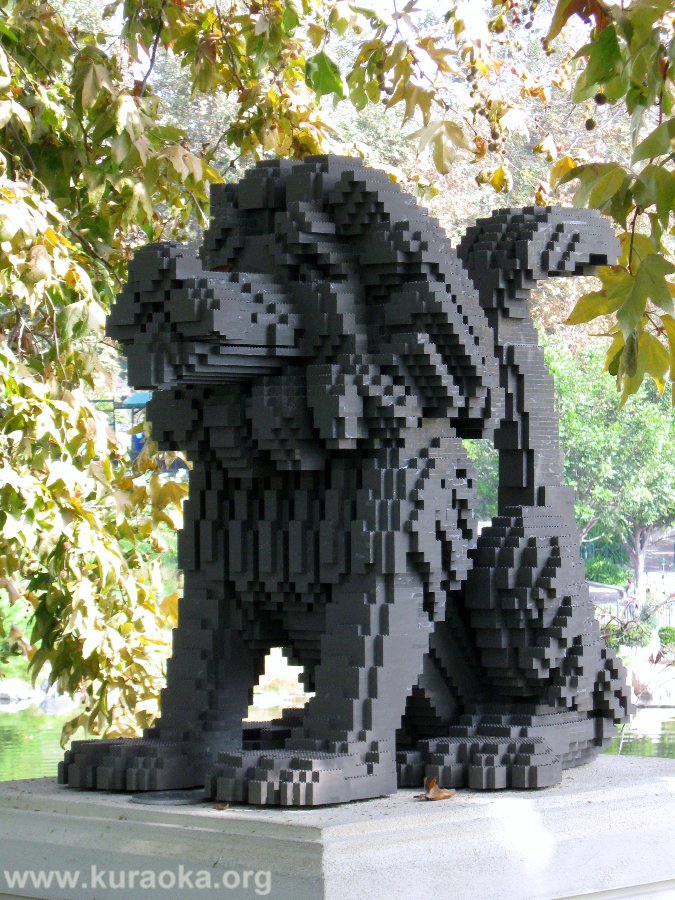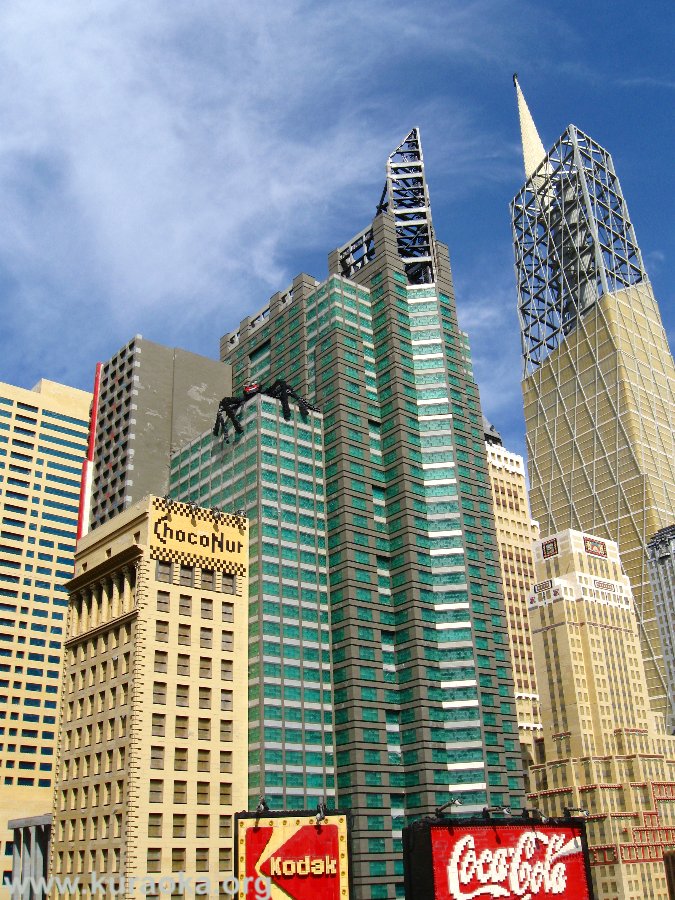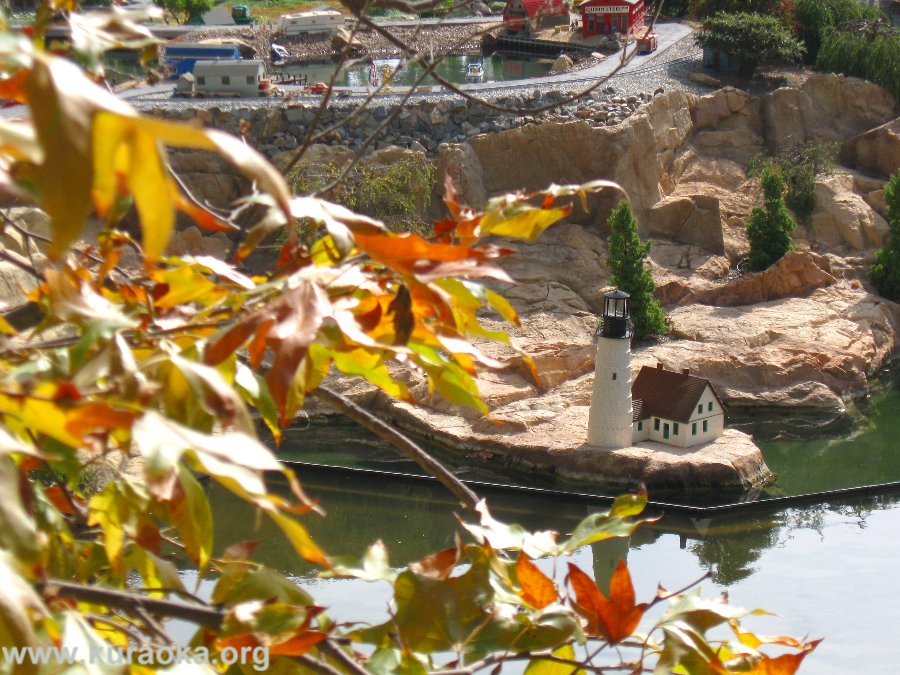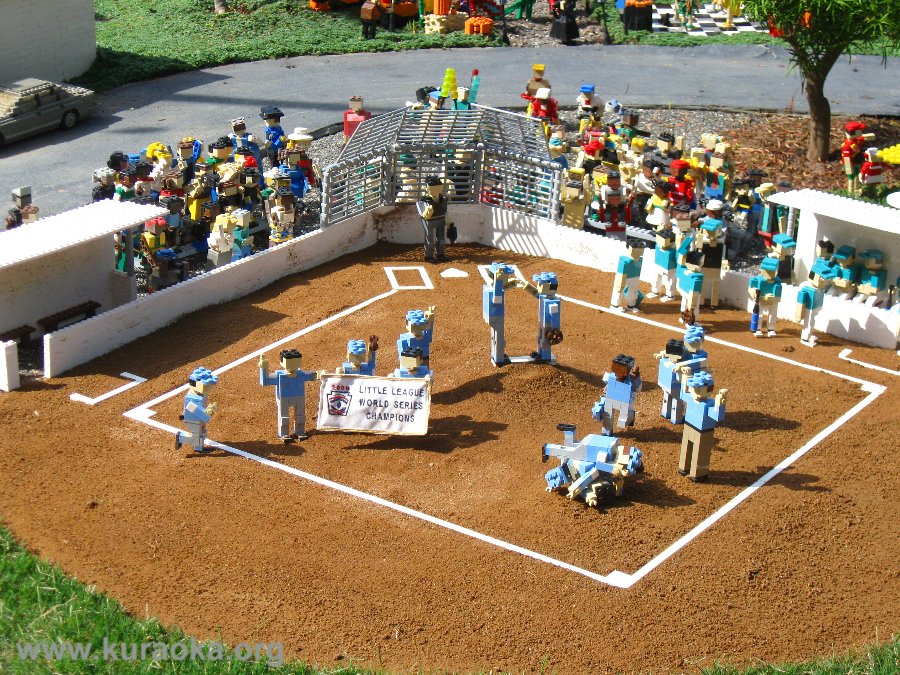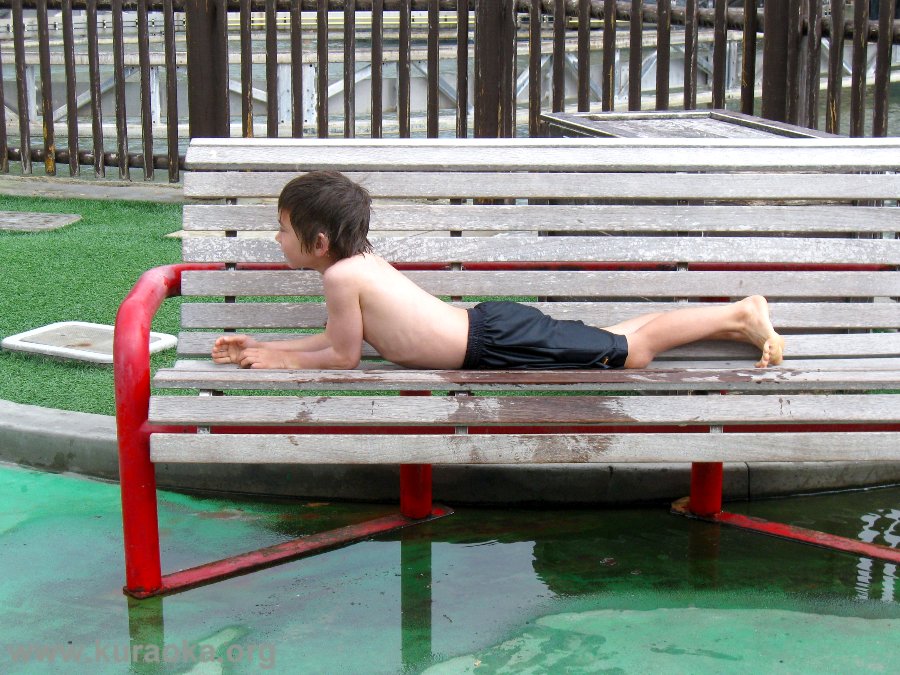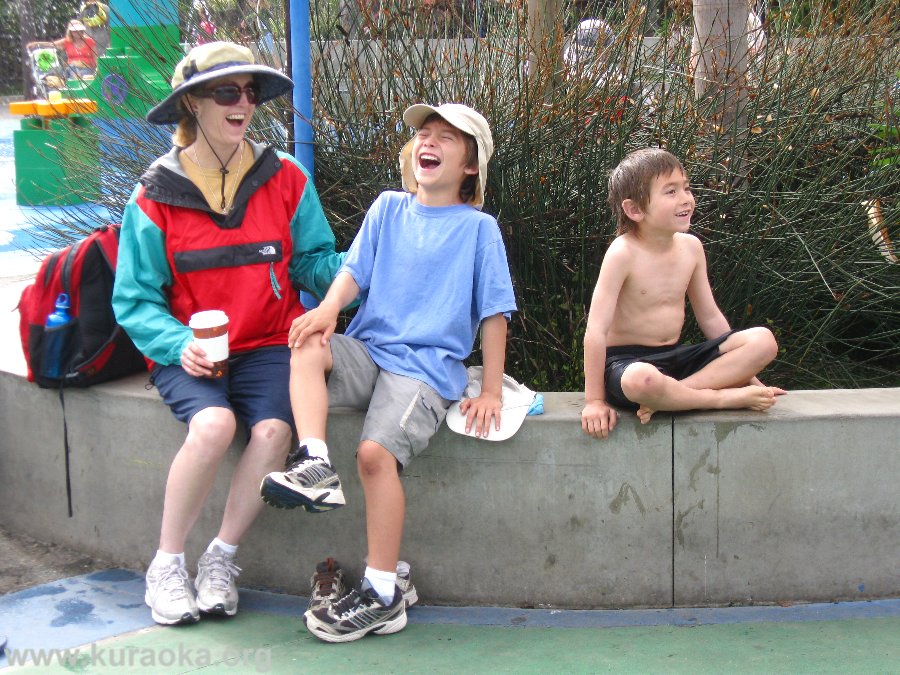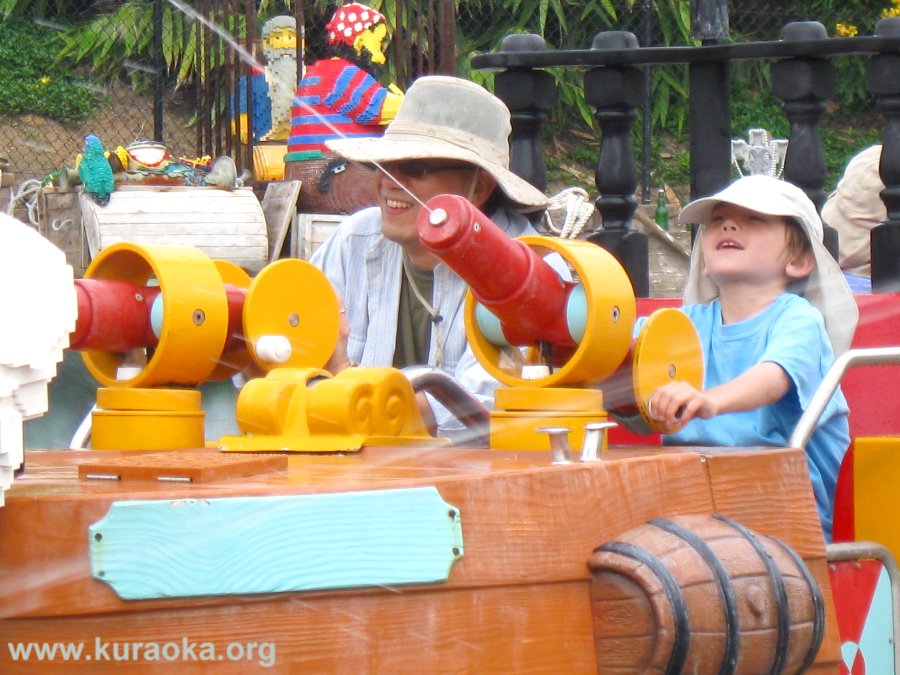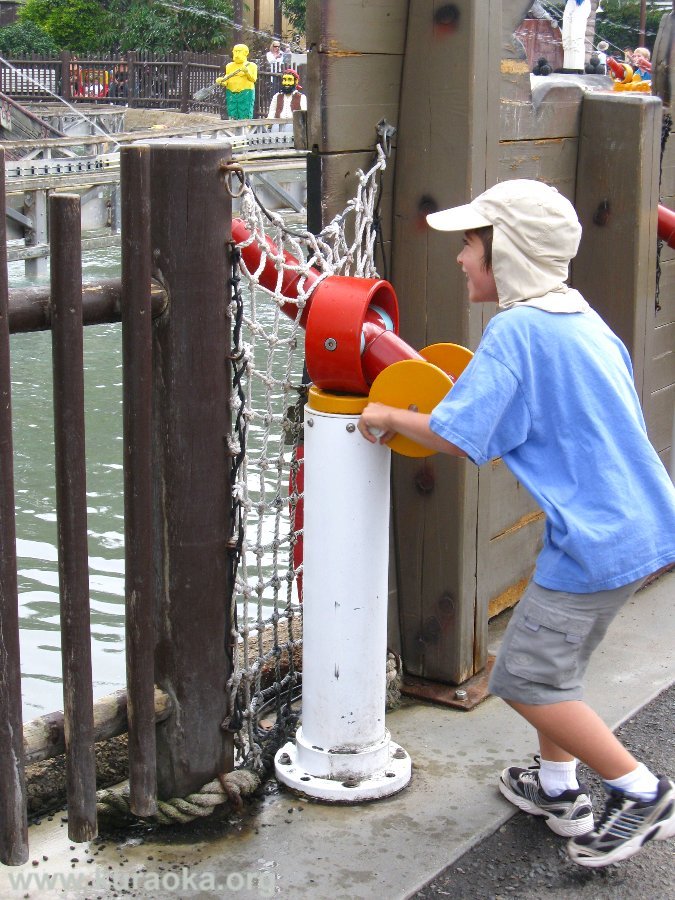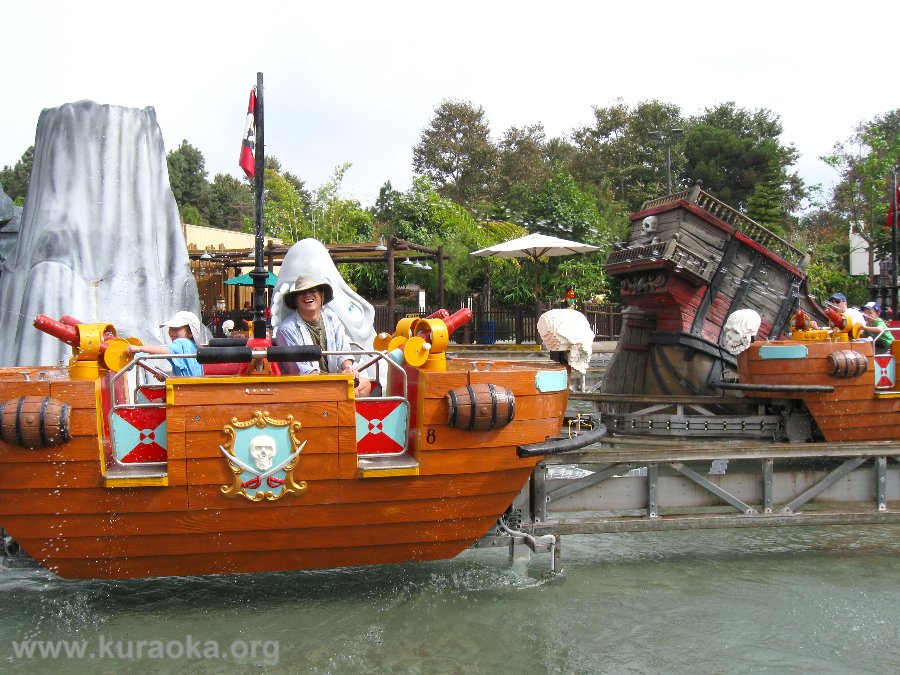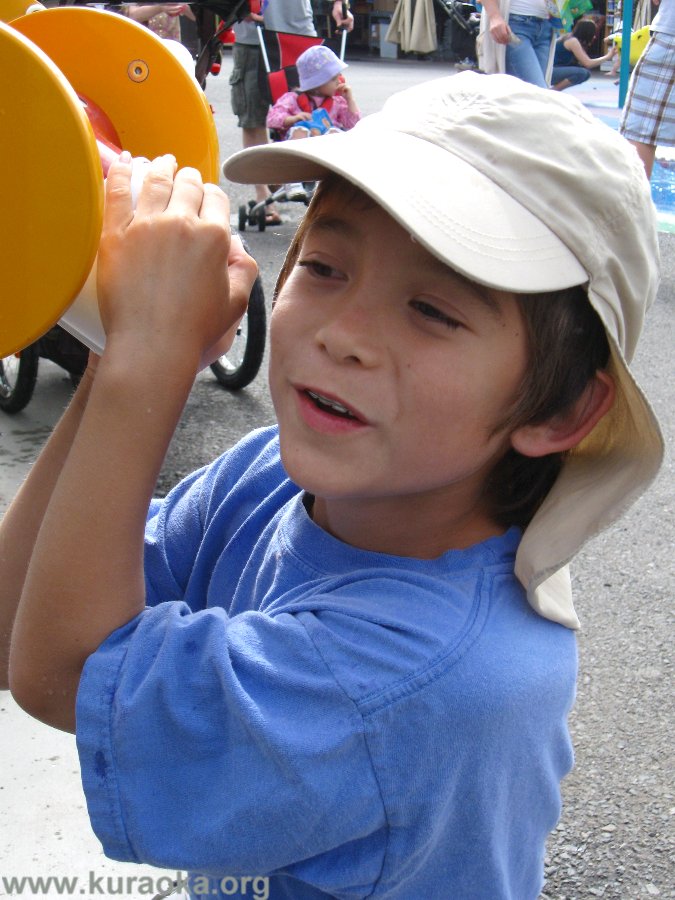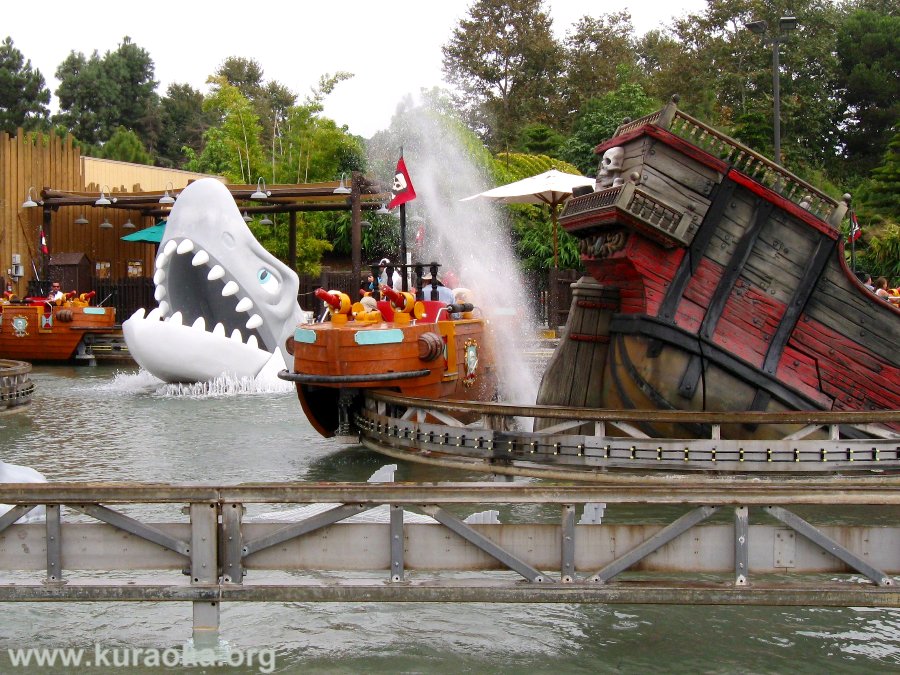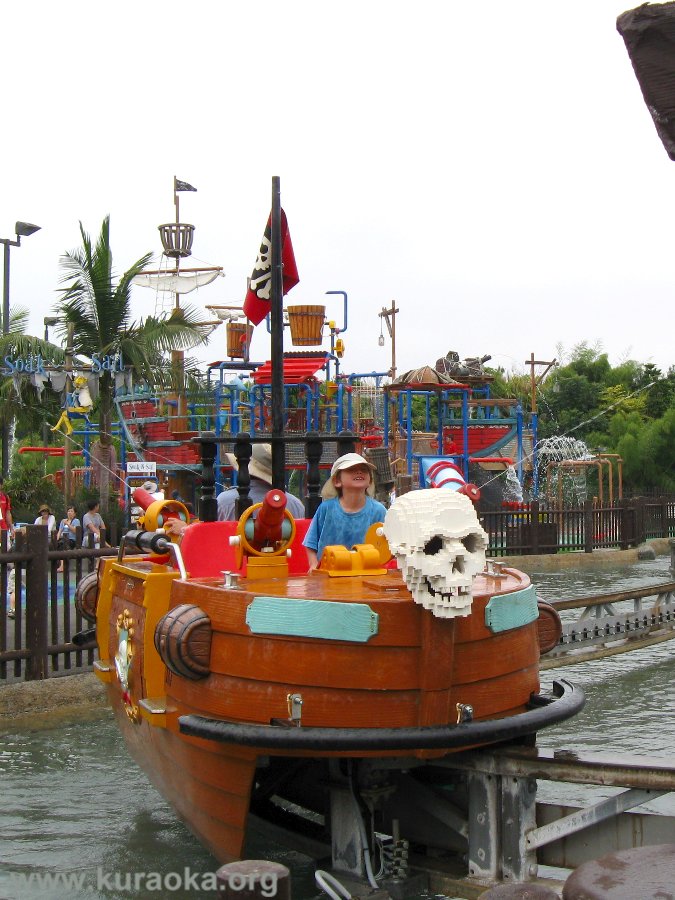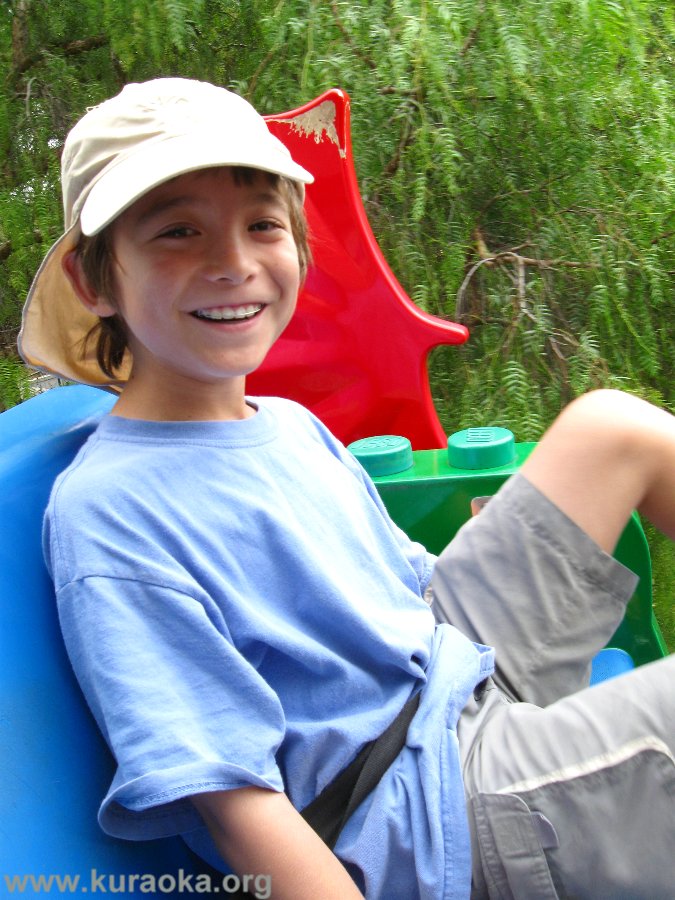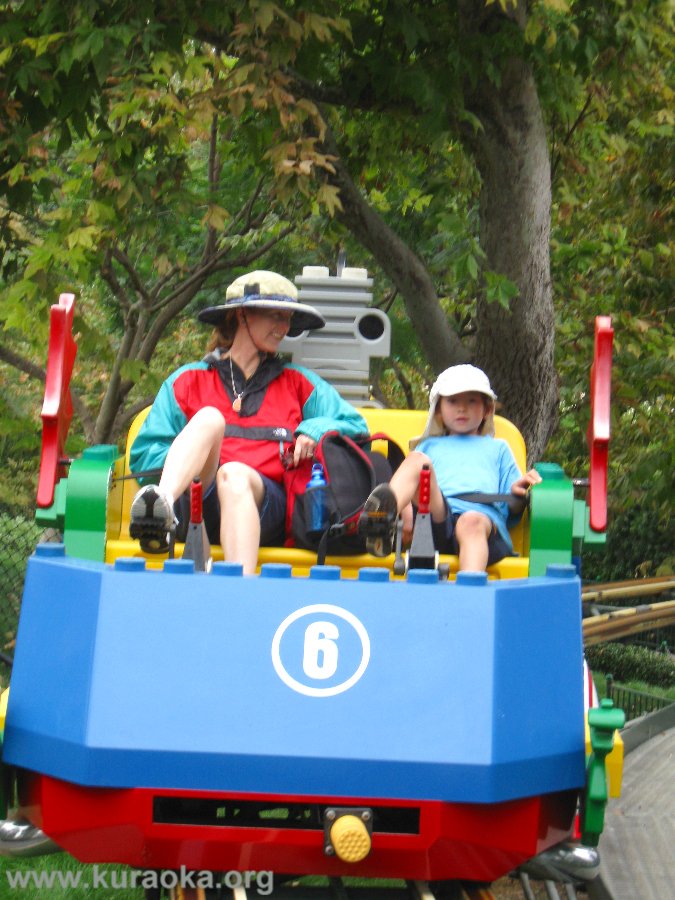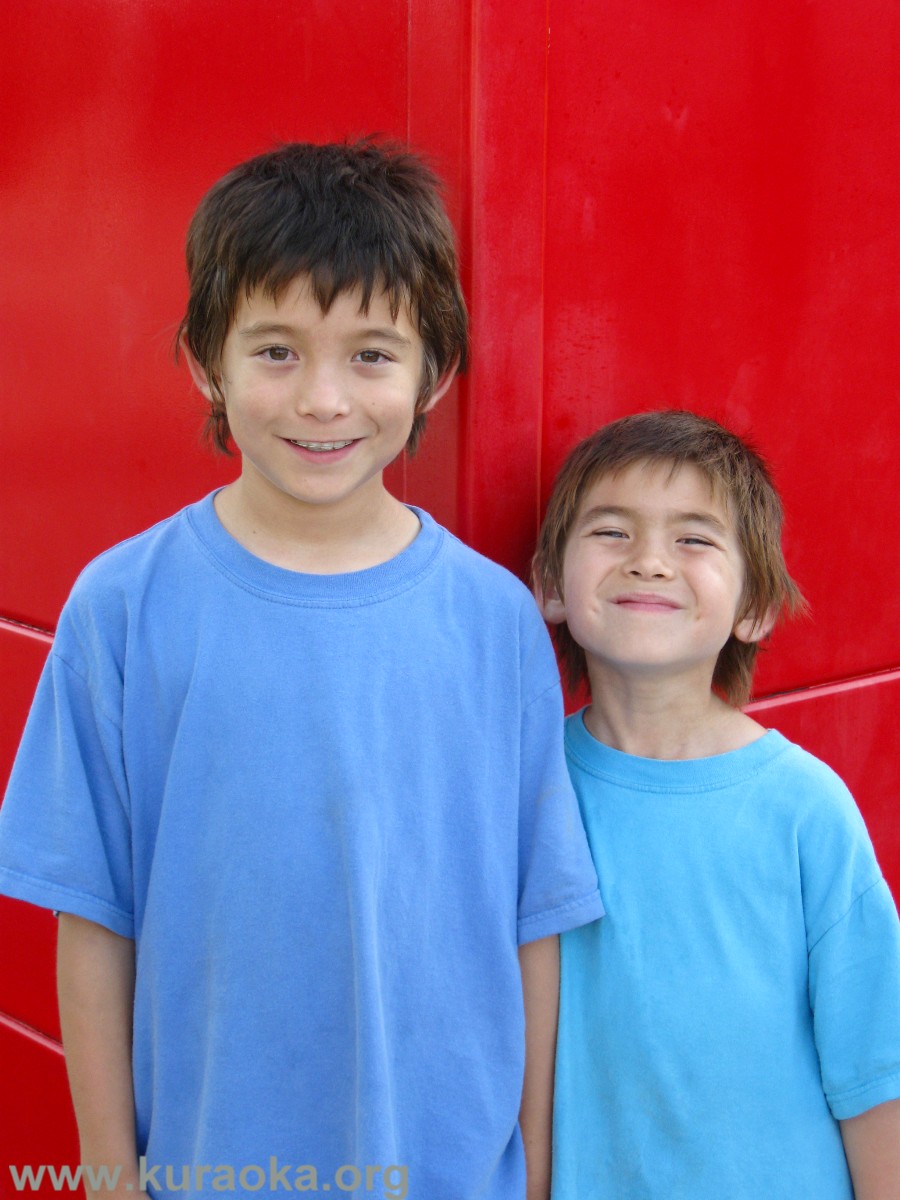 10-12-09: Go Cart Go! Bill and our neighbor Mr. Hanna built a go-cart for Roy and Leo. Here they are, exploring their first car!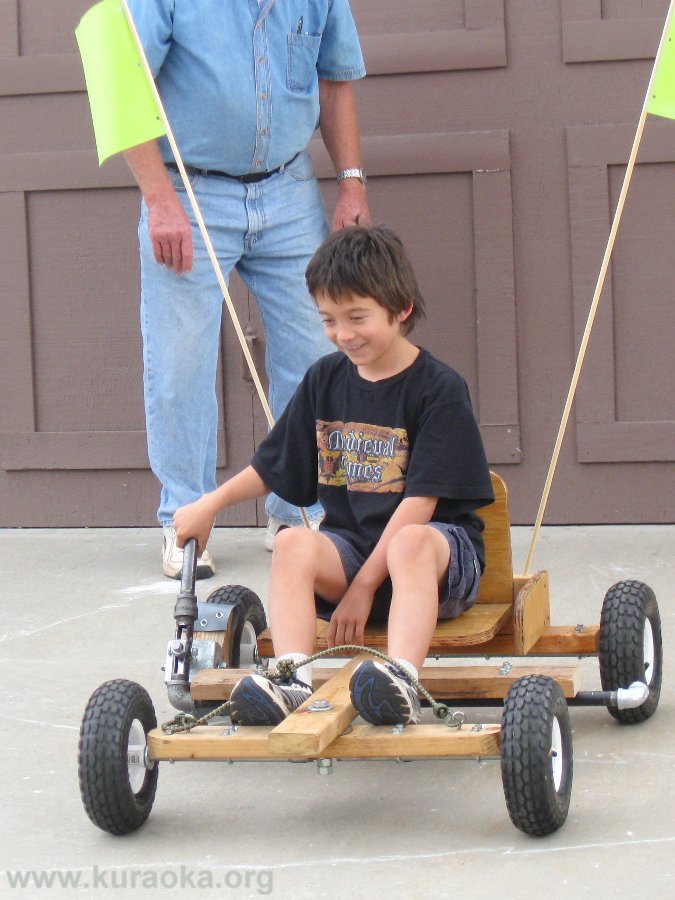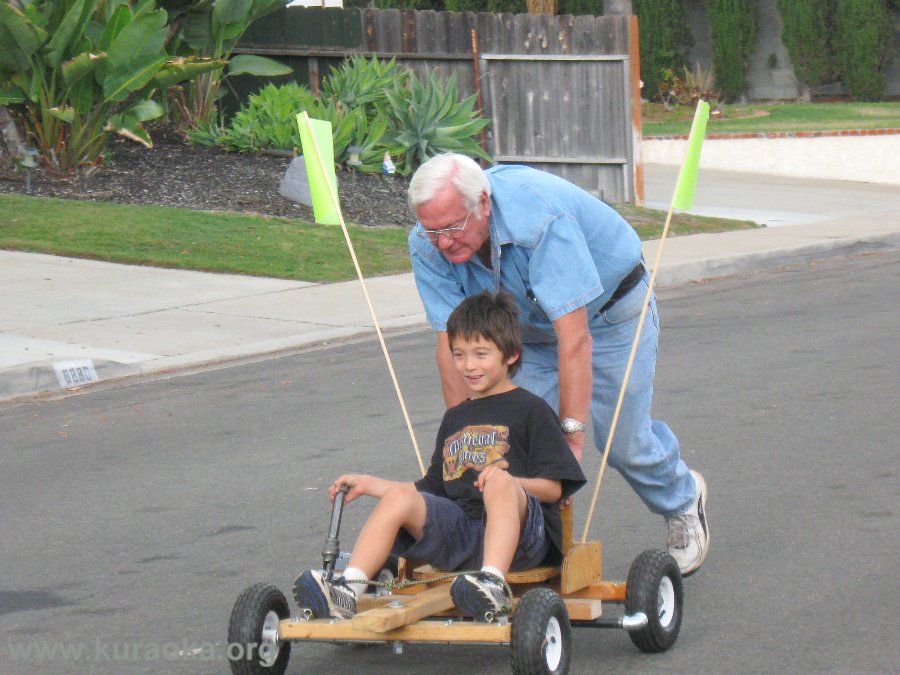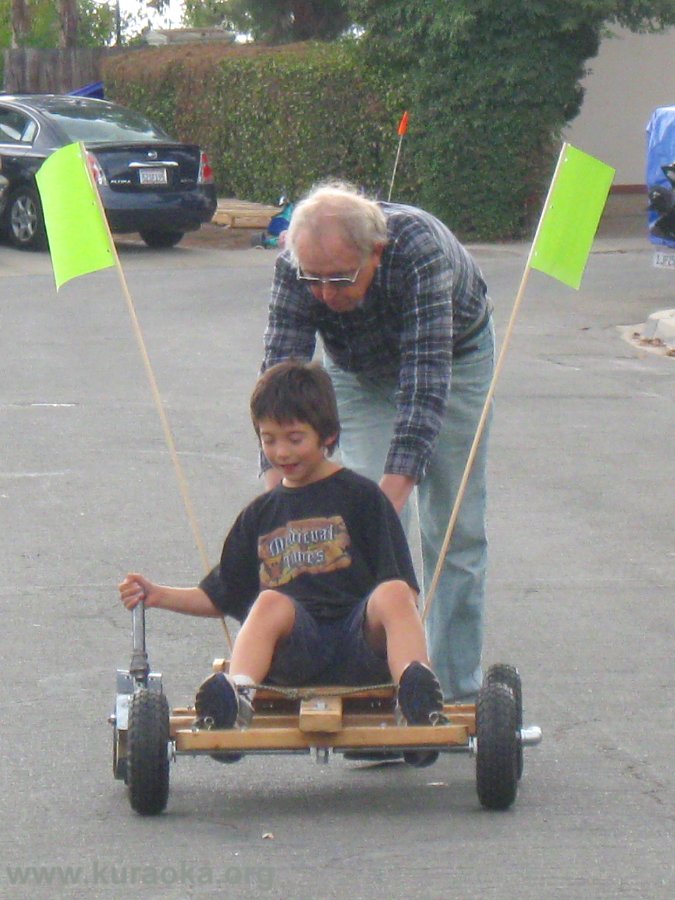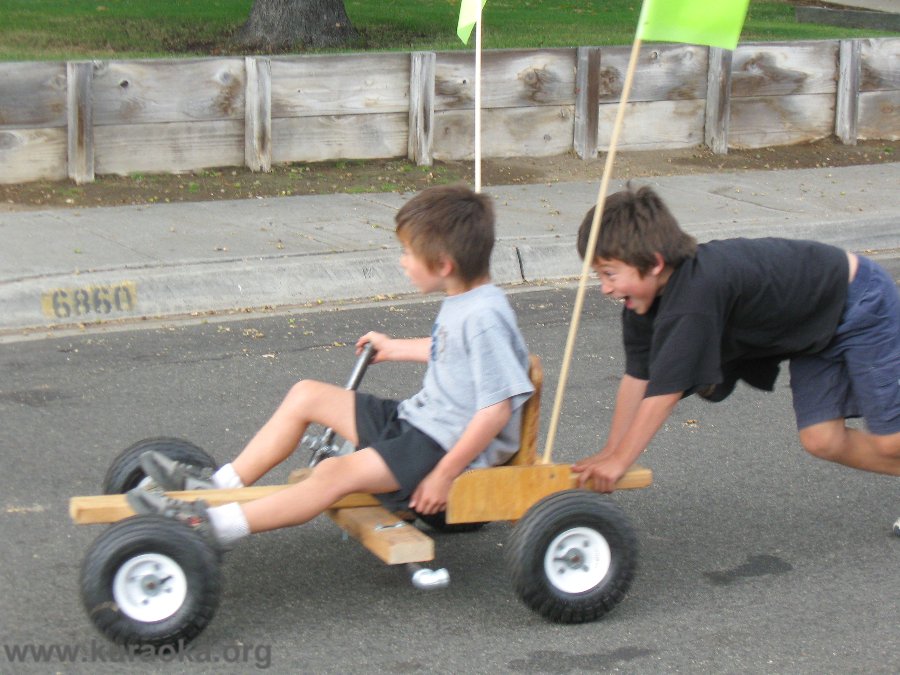 10-04-09: Indian Hills Campout with Pack 951! Here's Leo straightenin' the curves and flattenin' the hills on the BMX dirt track. It's hard to remember that he only started riding on two wheels less than a month ago! Also, here's his grubby little face at Denny's, where Ondine and Roy joined us for lunch after camping.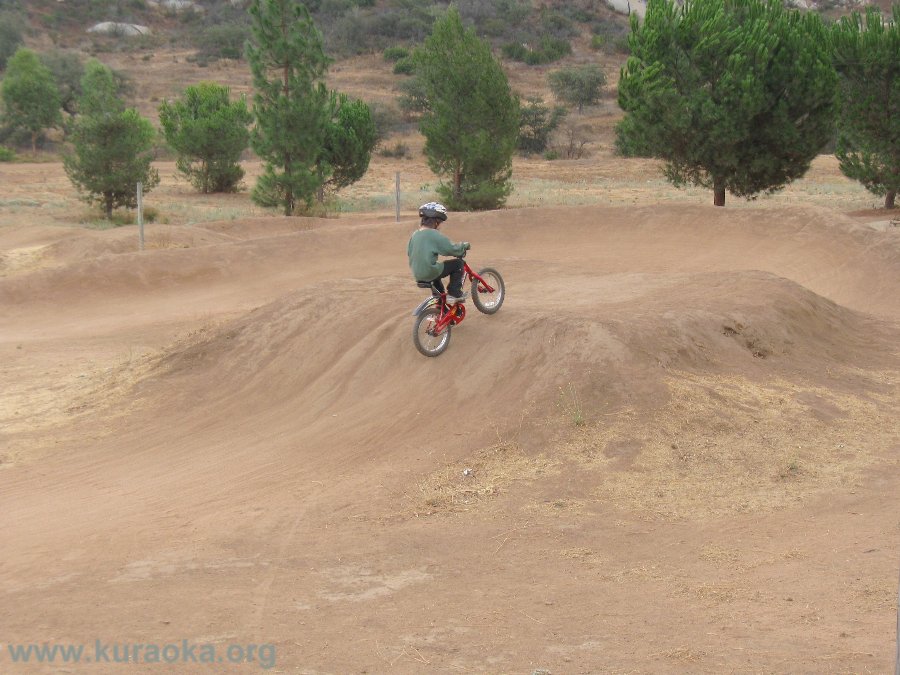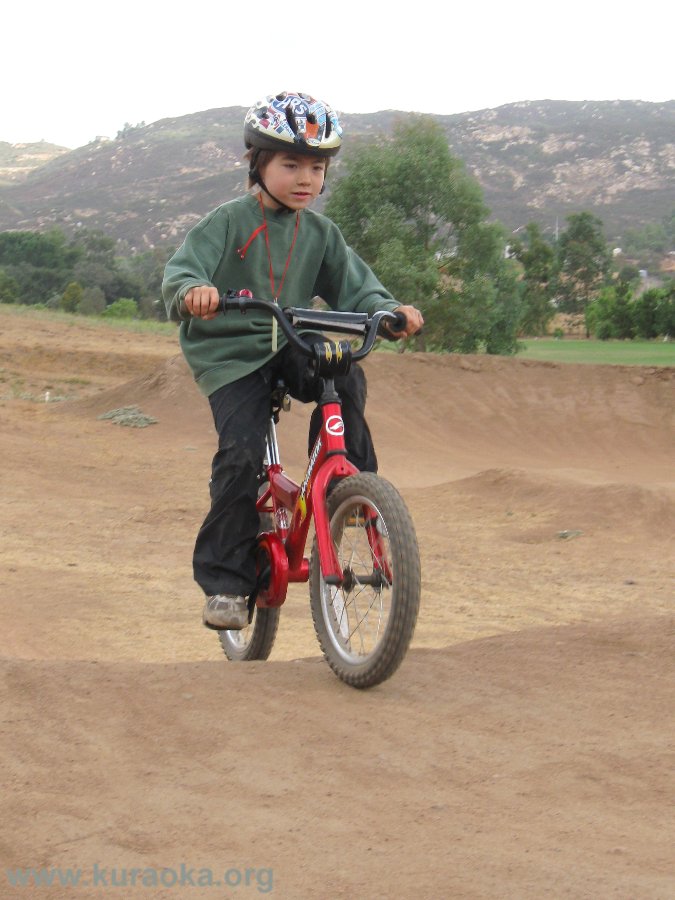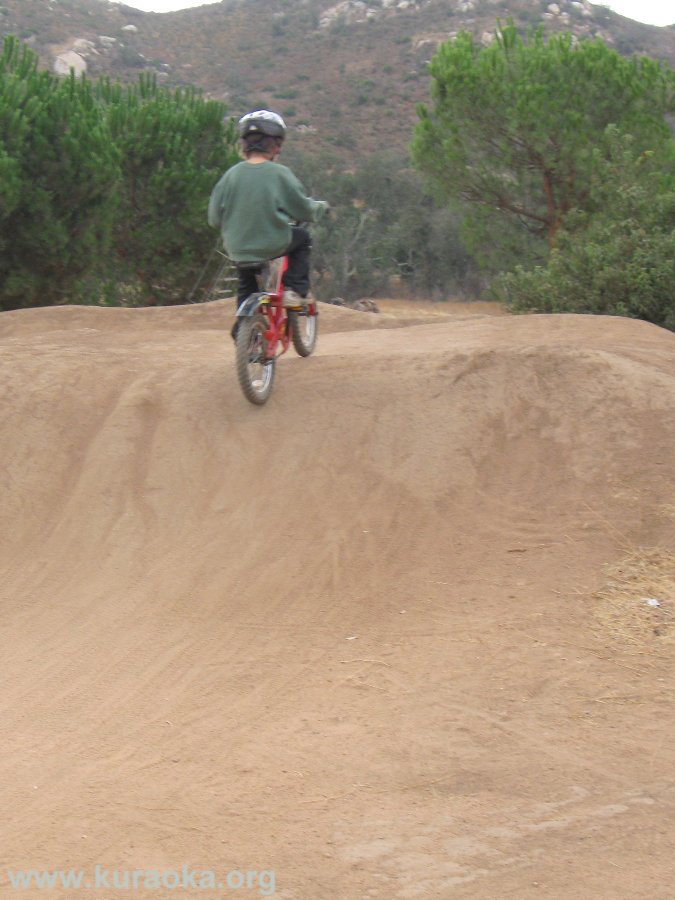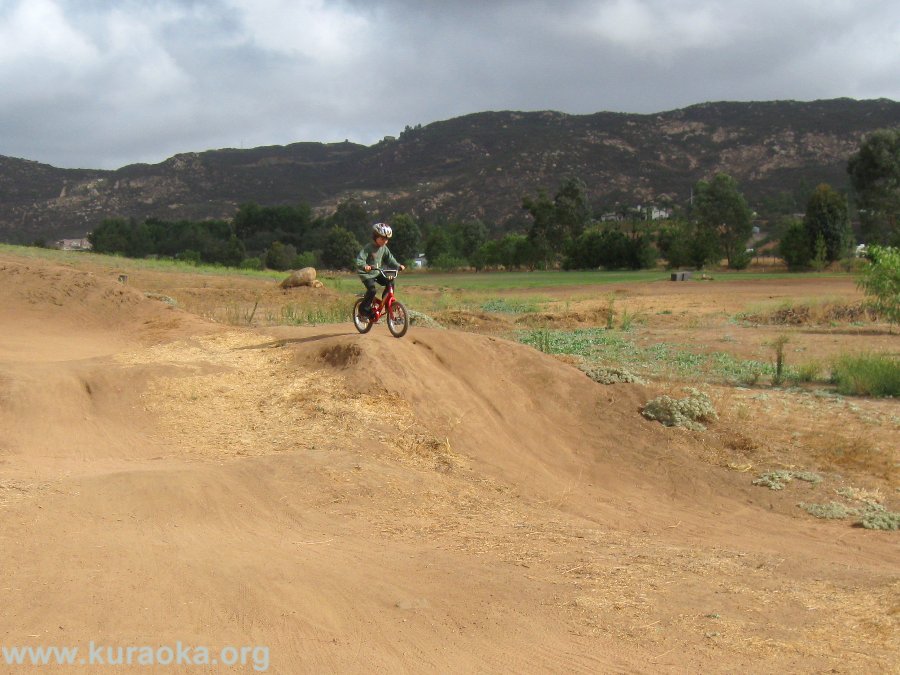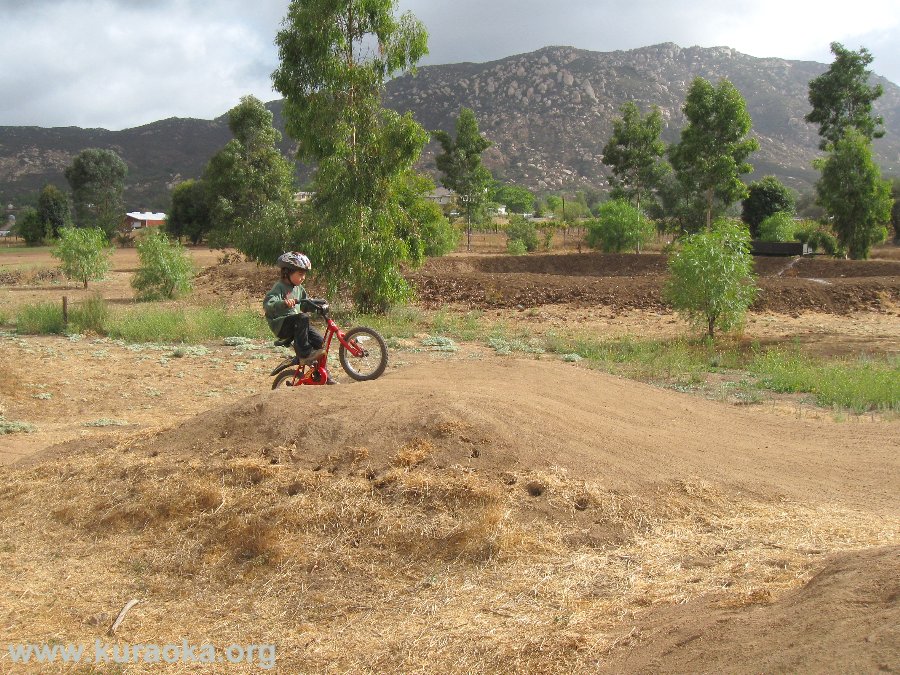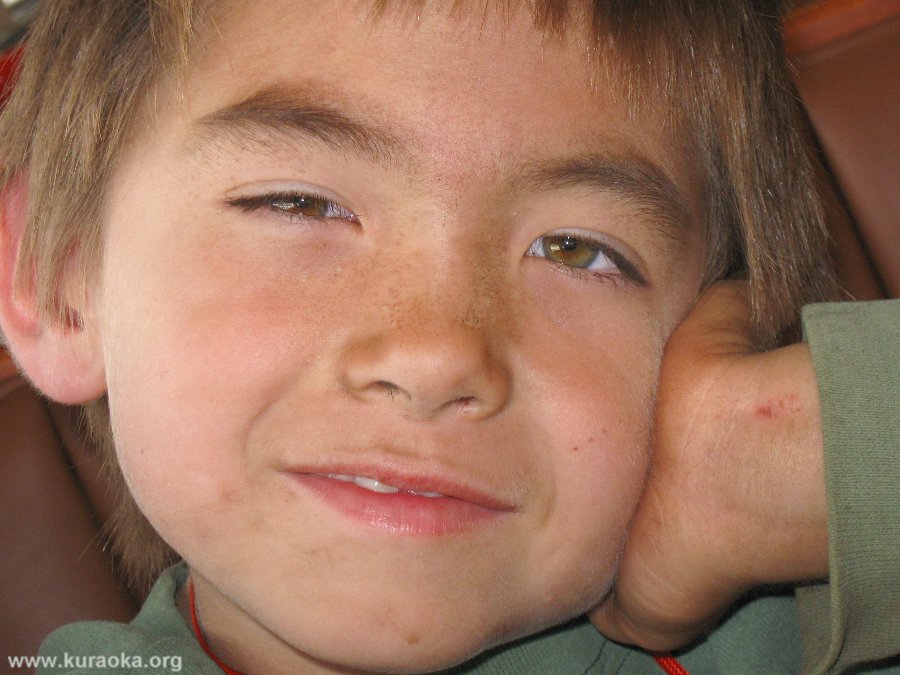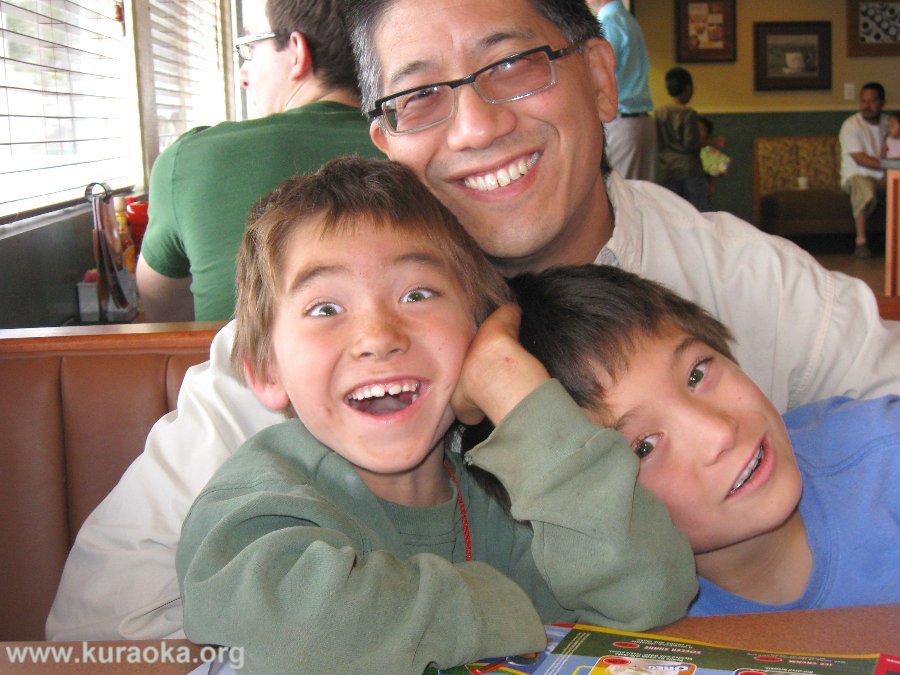 9-26-09: Aerospace Museum and Panda Land! Also, Roy's friend Alex stayed overnight. Here are John, Roy, Alex (standing), and Leo at the San Diego Aerospace Museum. They're watching a video about the space program here. Next up are a couple photos of the kints at dinner at Panda Land in La Mesa.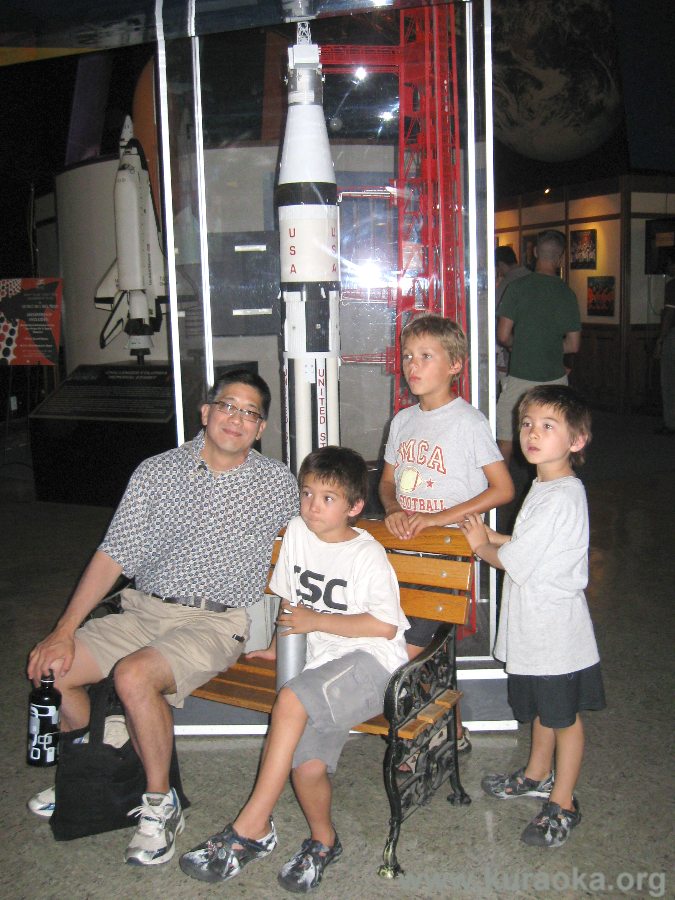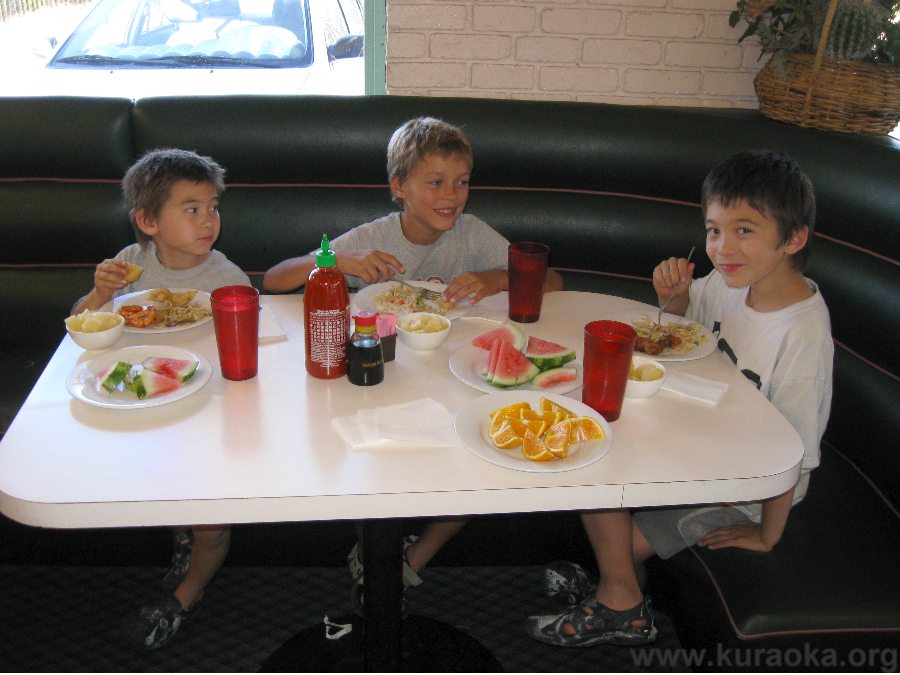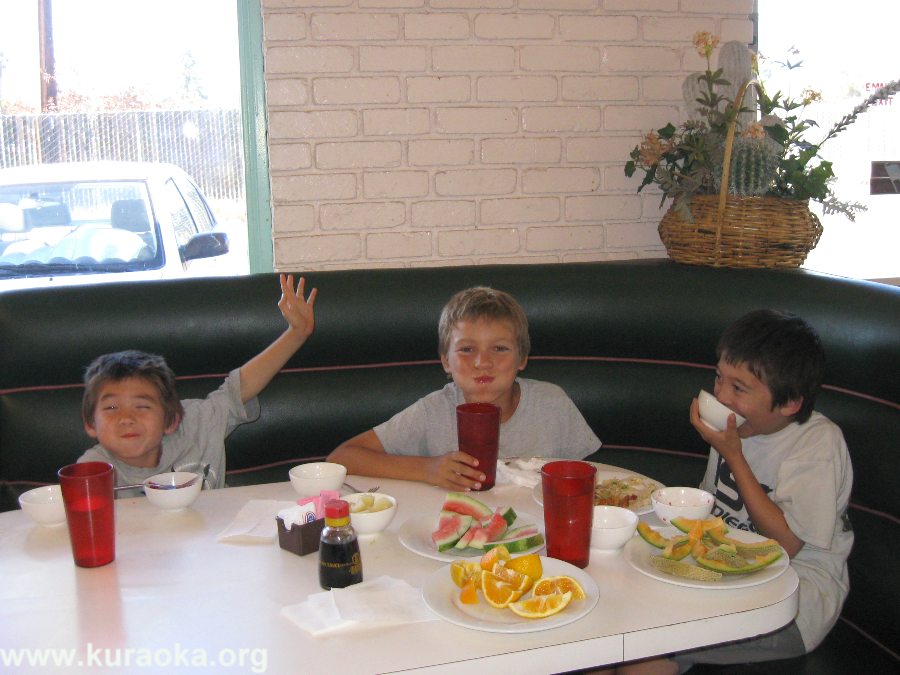 9-14-09: Cousins! Here are Michelle with Ellie and David. And then, Winter, Autumn, and Neena.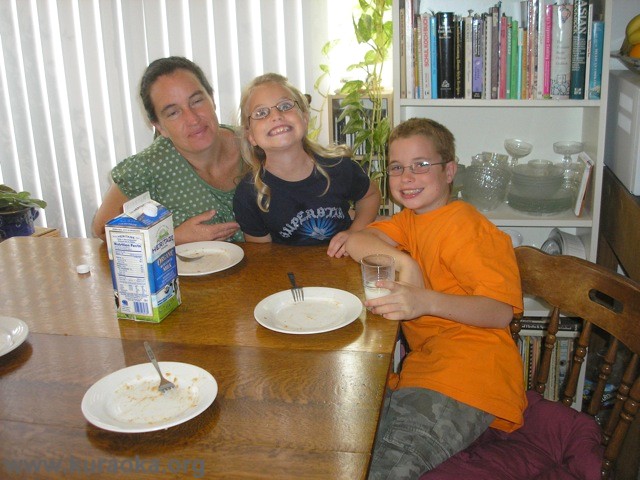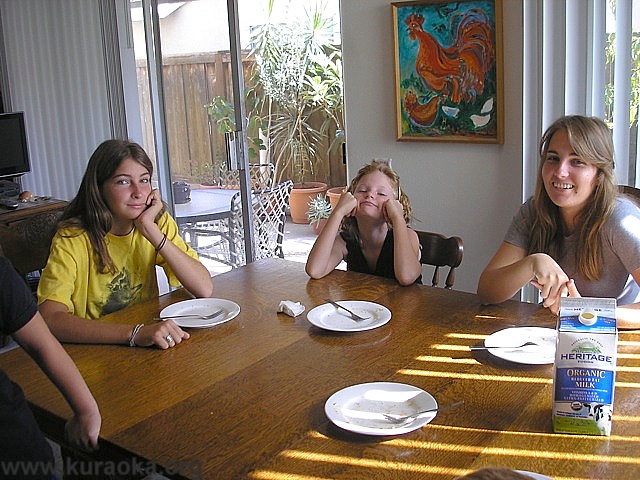 9-13-09: Barbara and grandchildren. From Roy (foreground, back to the camera) going clockwise around the table: Jeffrey David, Neena, Ellie, Winter, Ondine, Barbara, Michelle, Leo, Autumn. In the second photo, moving clockwise from Leo (foreground, in blue): Autumn, Roy, David, Neena, Ellie, Winter. Michelle shared some poetry she'd written!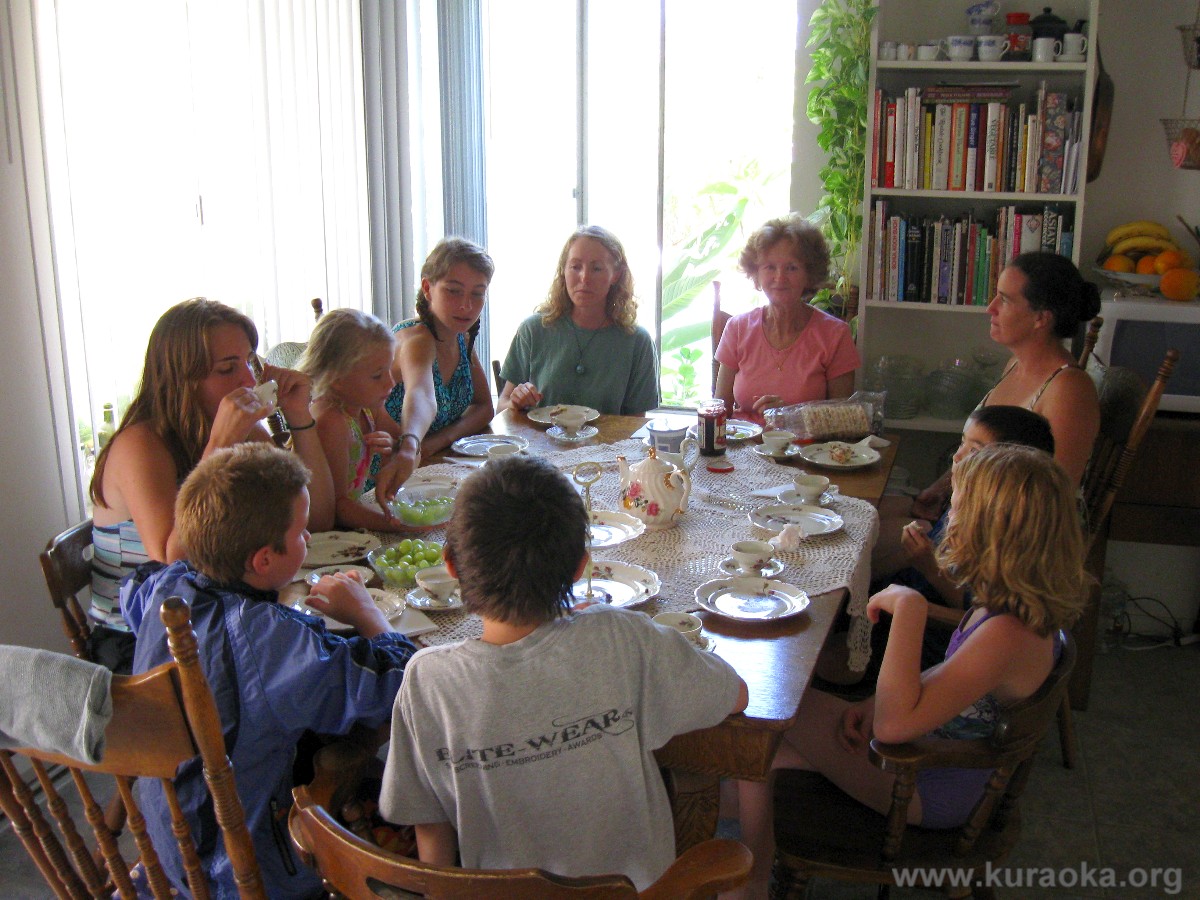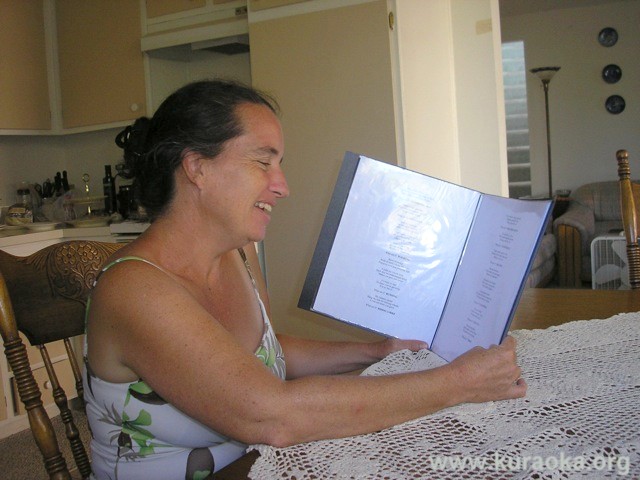 9-12-09: A visit from Jason, Wren, and cousins! First up is Bill's son Jason and his girlfriend Wren. Michelle and kids spent the weekend at Barbara and Bill's house. First you see the younger cousins: Jeffrey David, Autumn, Roy, Leo, and Ellie. The third photo shows the older set: Frances, Leo (again), Michelle, Winter, and Neena. The fourth photo is from earlier in the day, at Leo's soccer game at Tuxedo Park. Right in the middle, mugging, is Autumn. From left to right you see Ondine, Ellie, Neena, Winter, and David.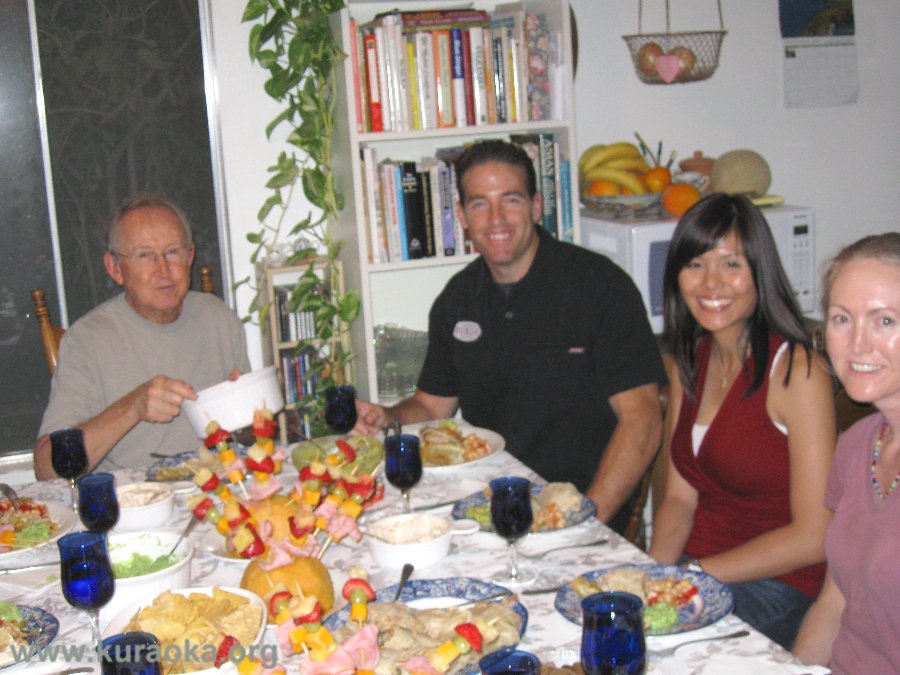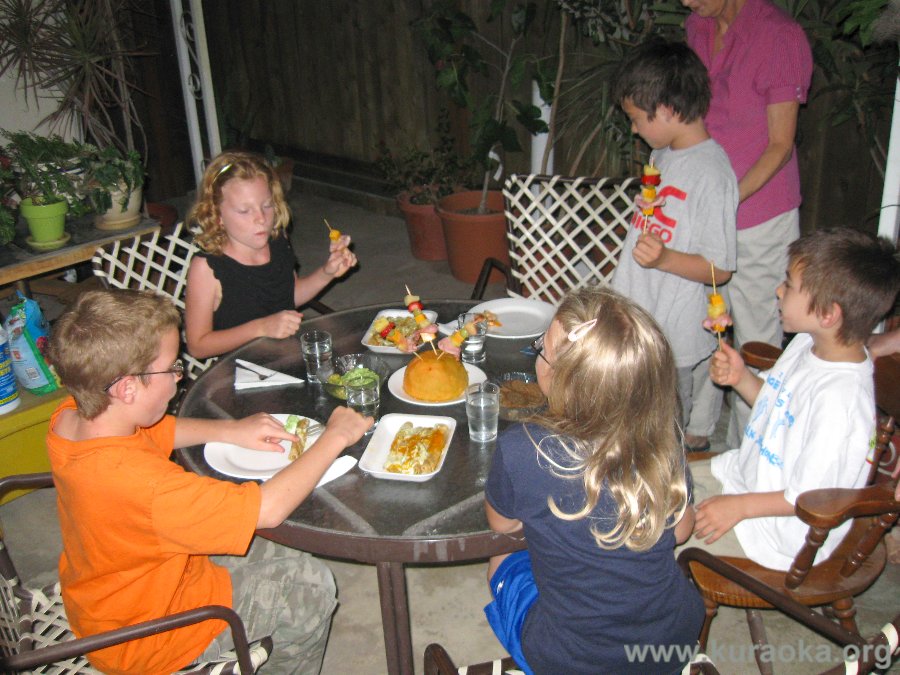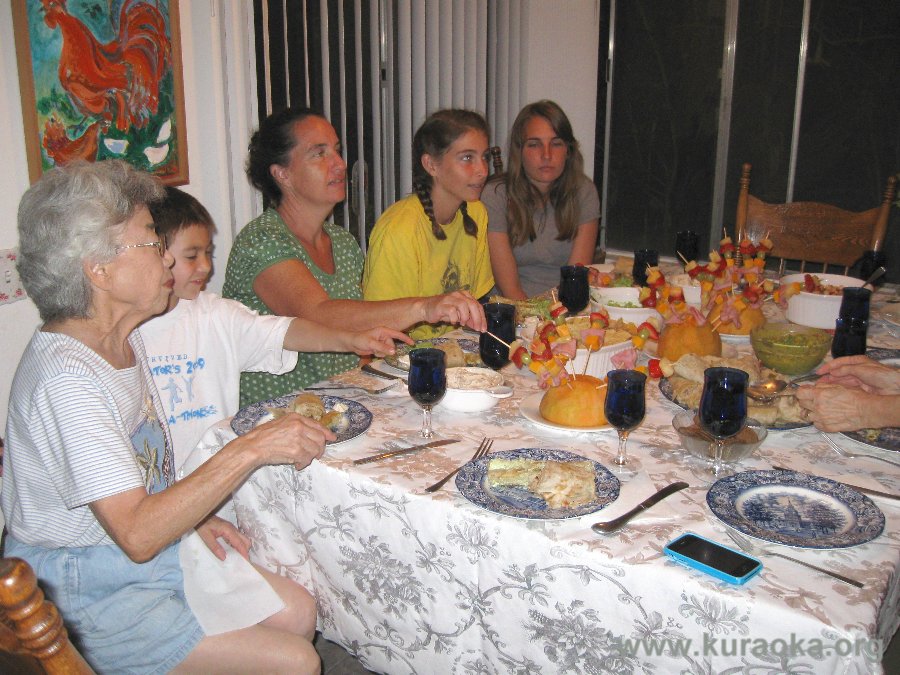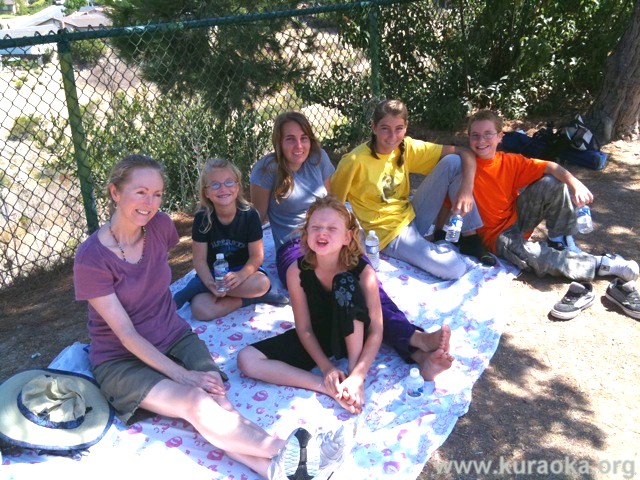 9-09-09: A last glimpse of Kevin. Here he is in Germany, getting ready to board the ICE for Duisburg. Photo from Dagmar und Jürgen.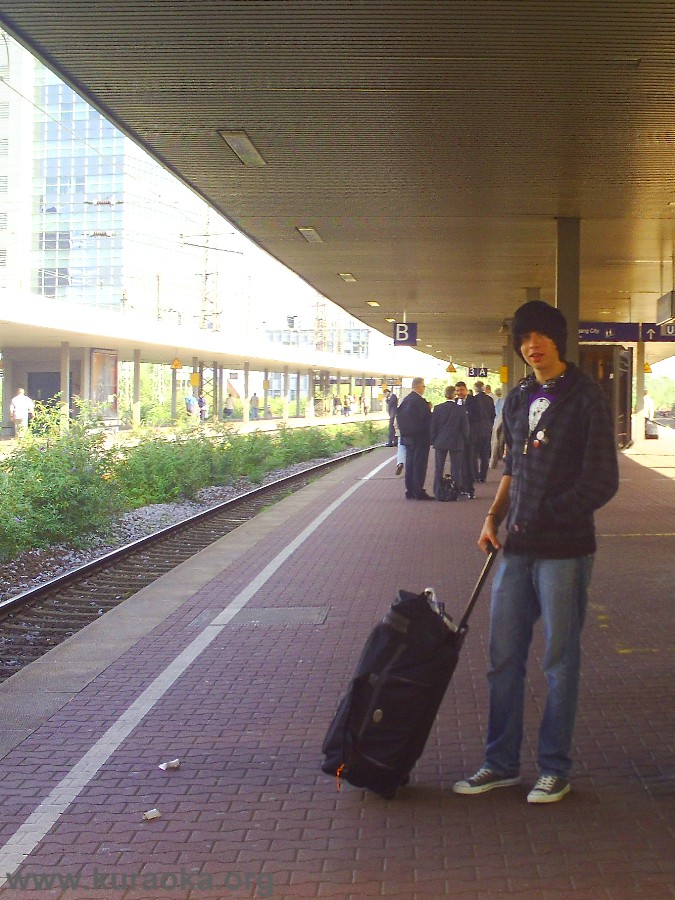 9-08-09: First Day of School! Here are Roy and Leo with their Schultüte, en route to school, and Leo by his classroom, waiting to go in.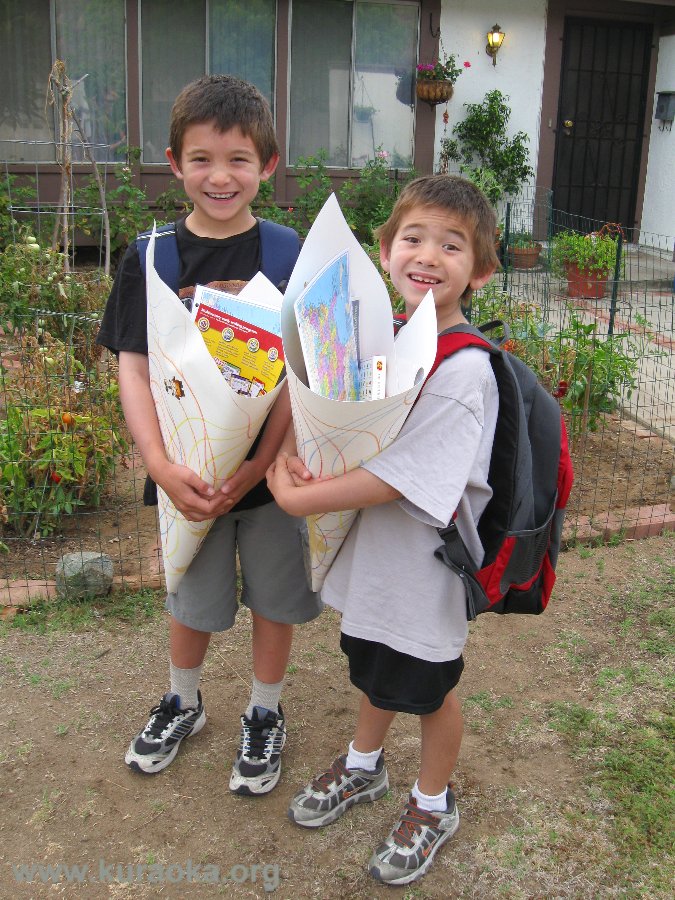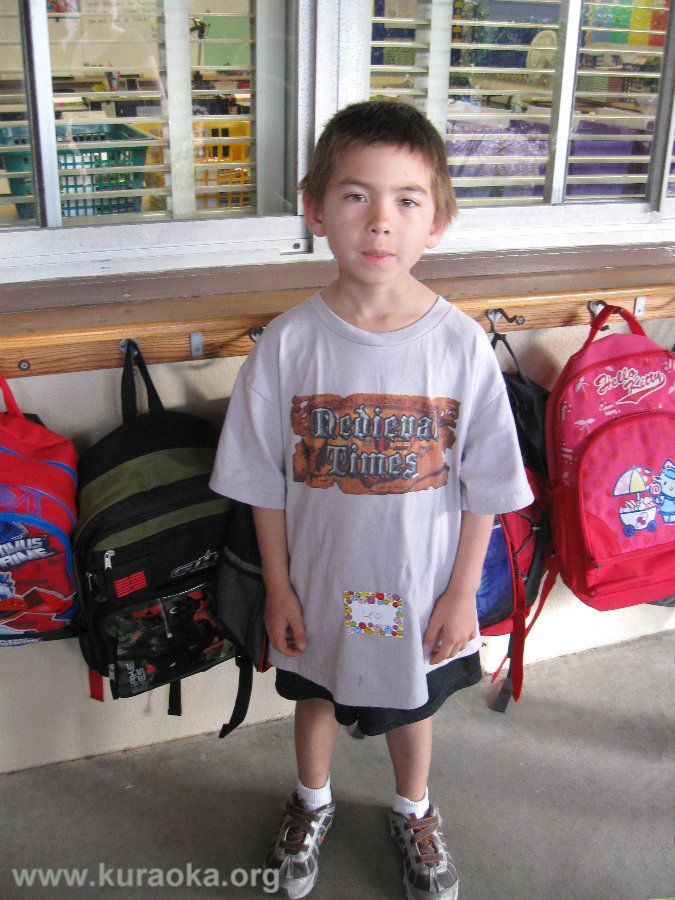 9-07-09: Last free day before school! For some reason, Leo came out in the morning dressed like this, much to Roy's amusement. Then, a Big Day, we took the training wheels off Leo's bike! Look at him go!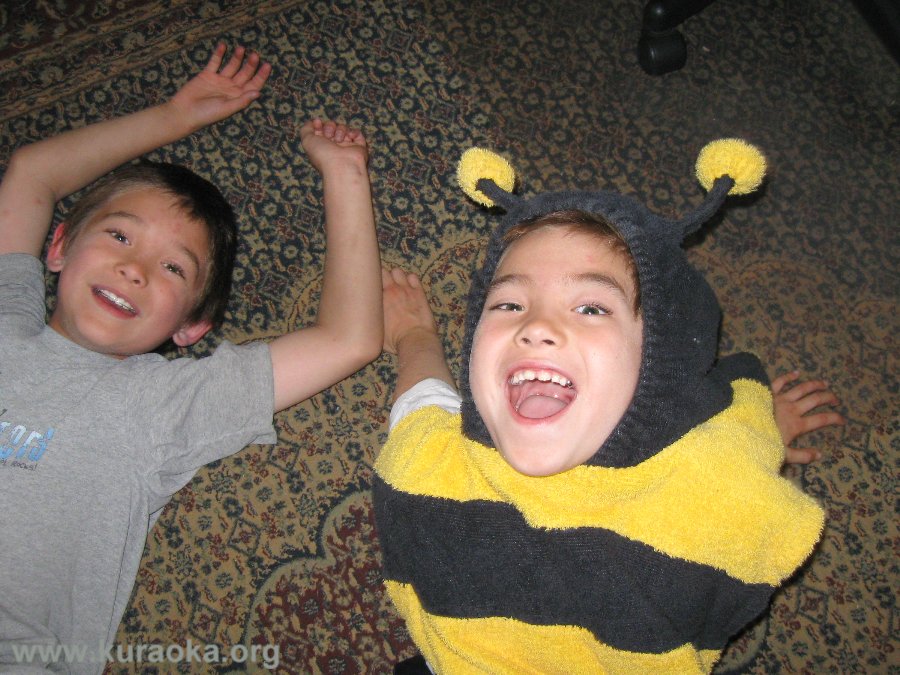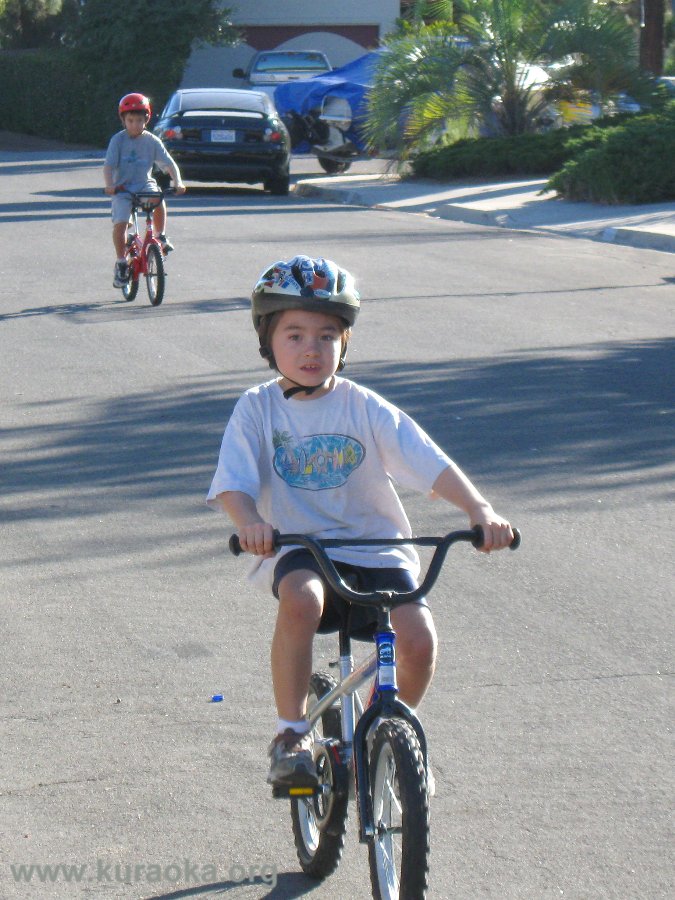 9-06-09: Medieval Times! Here we are with "King Philip" (photo from Medieval Times).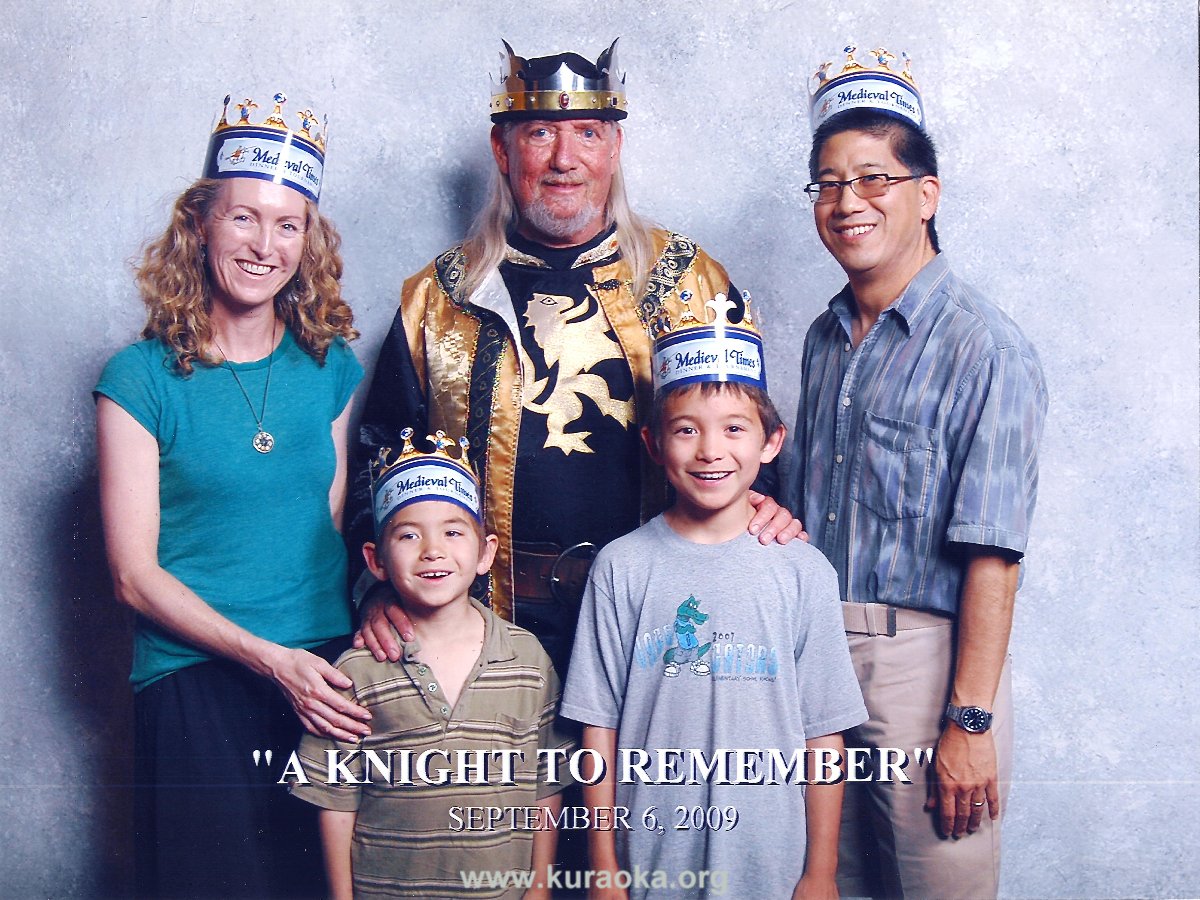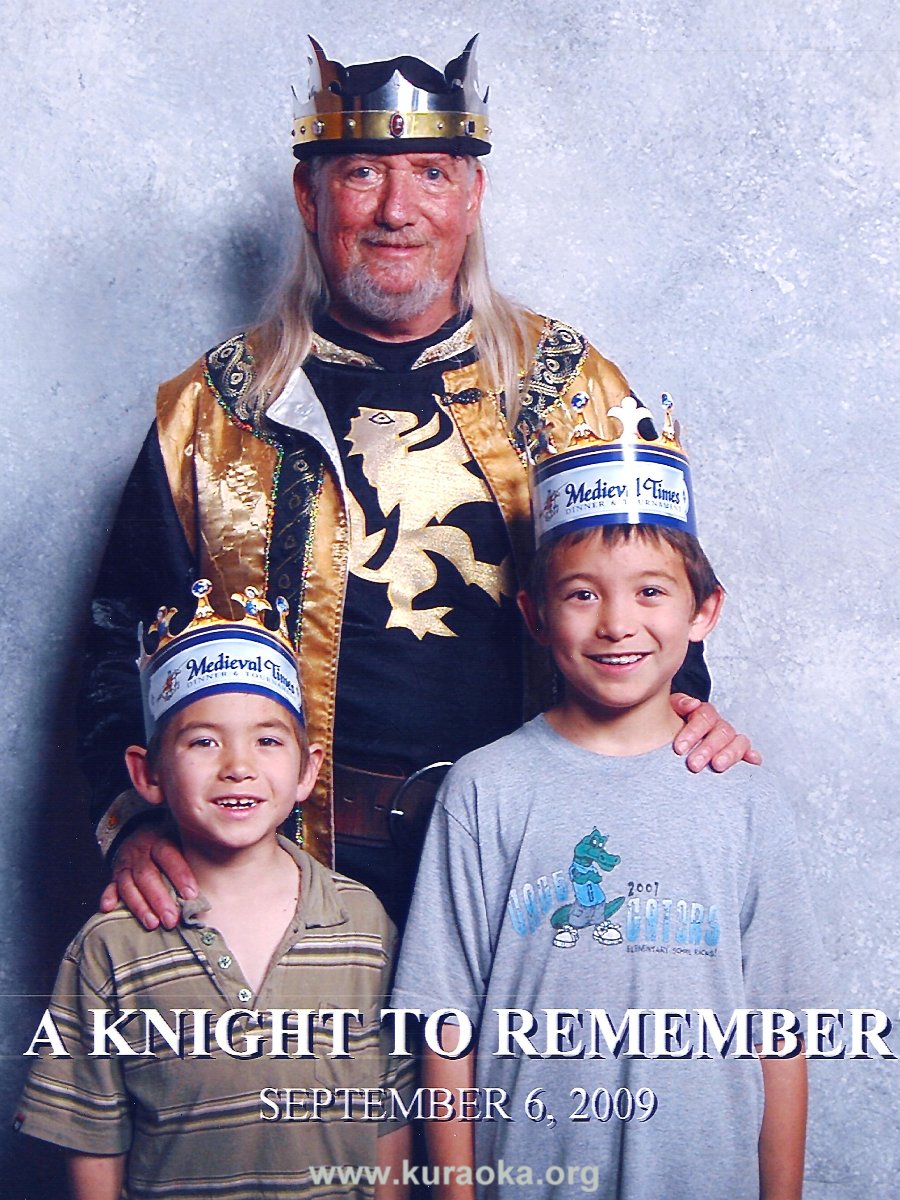 9-04-09: Auf Wiedersehen to Kevin! Here are Roy, Leo, Kevin, and Barbara in front of the house at about 4:45 a.m. Next, Ondine makes sure Kevin has the necessary travel papers easily accessible. The last photo shows Roy, Leo, and Kevin at the airport. So long, Kevin! It was a pleasure having you, and join us again in San Diego!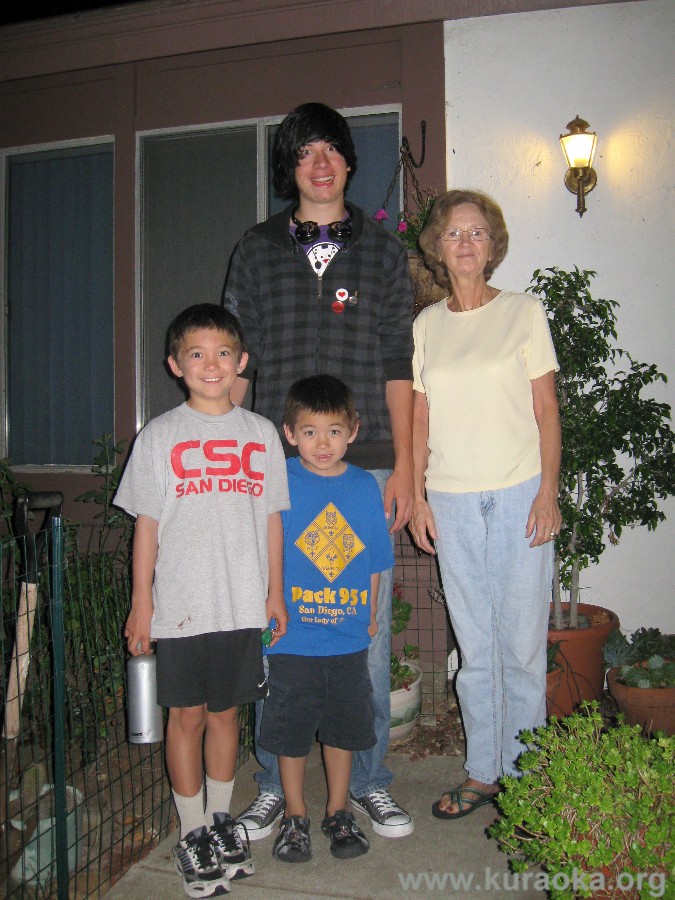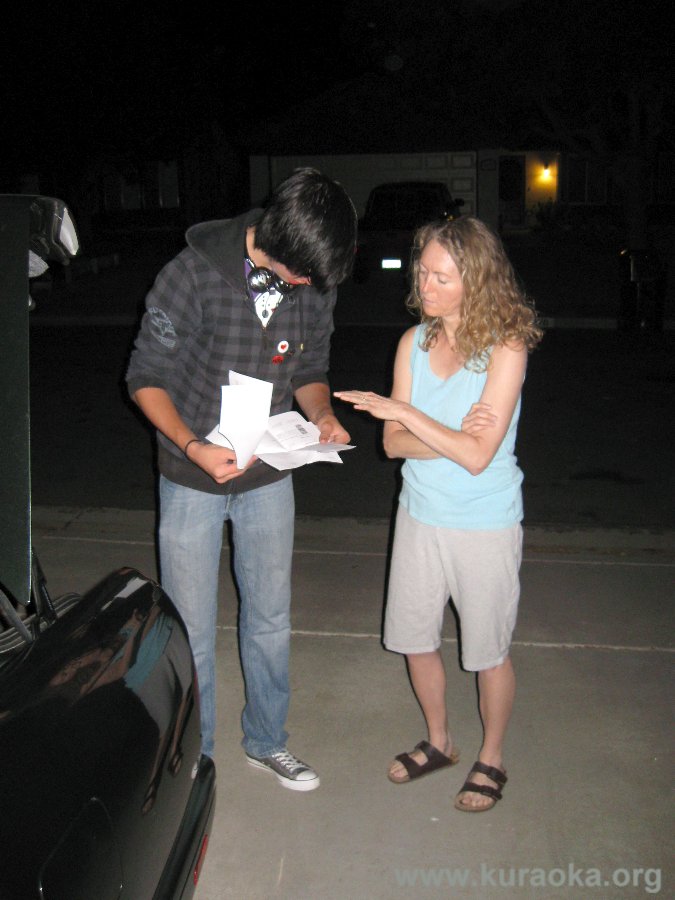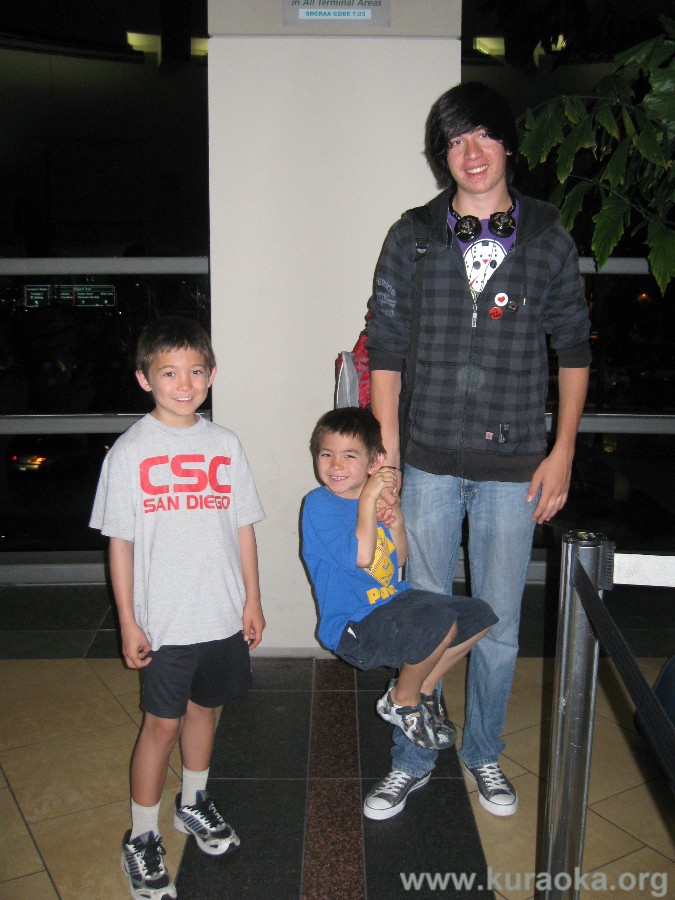 9-03-09: La Jolla and Mission Beach! Ondine and the Kints 'n' Kevin went to La Jolla. Here they are on the cliffs by the Torrey Pines Glider Port, and then next to the Cave Store. They went through the cave! Then, they went to the amusement park at Mission Beach. Here are Kevin and Roy on the roller coaster, and Leo and Roy on the bumper cars. Finally, we all went out to dinner at Beef 'n' Bun. The last photo shows Kevin staring down his "Monster Burger" with fries. The full journal entry is archived here.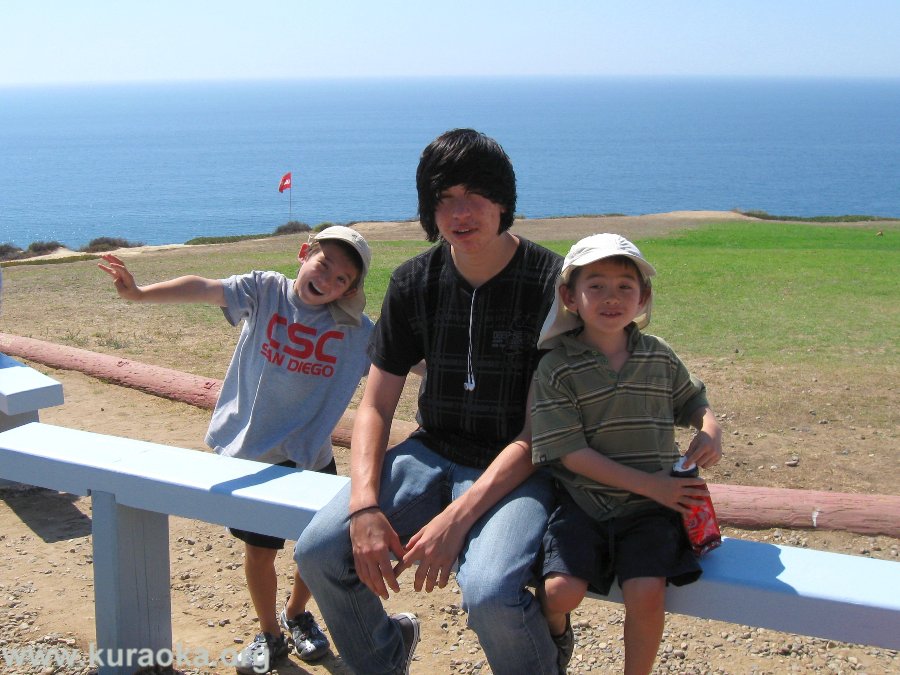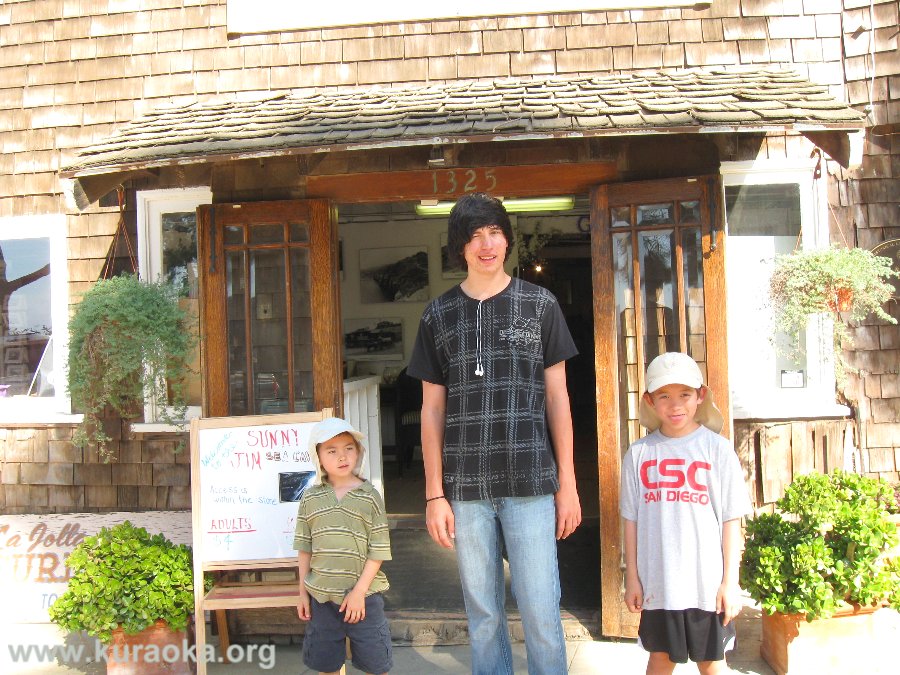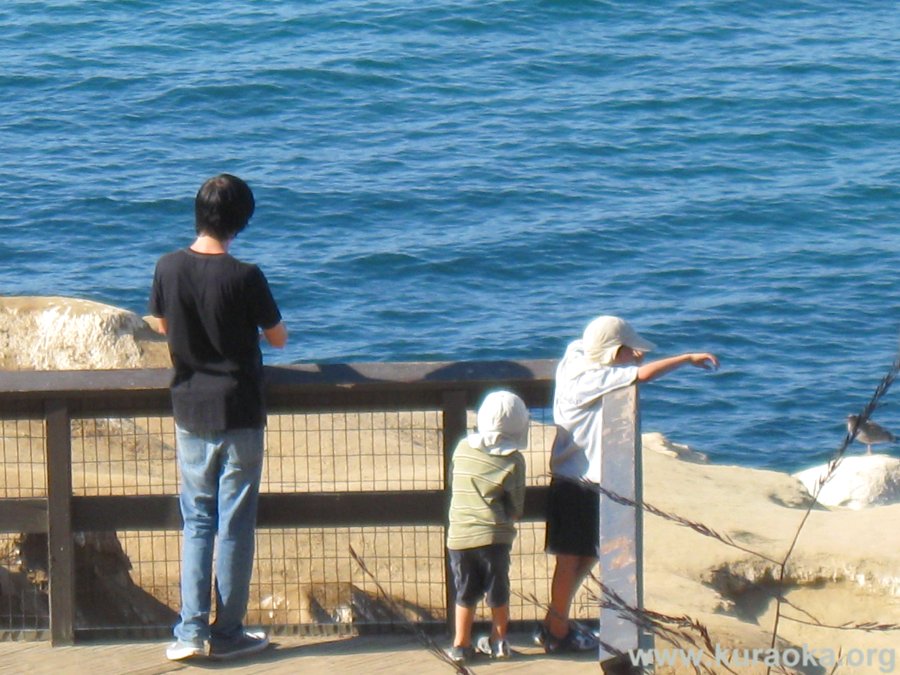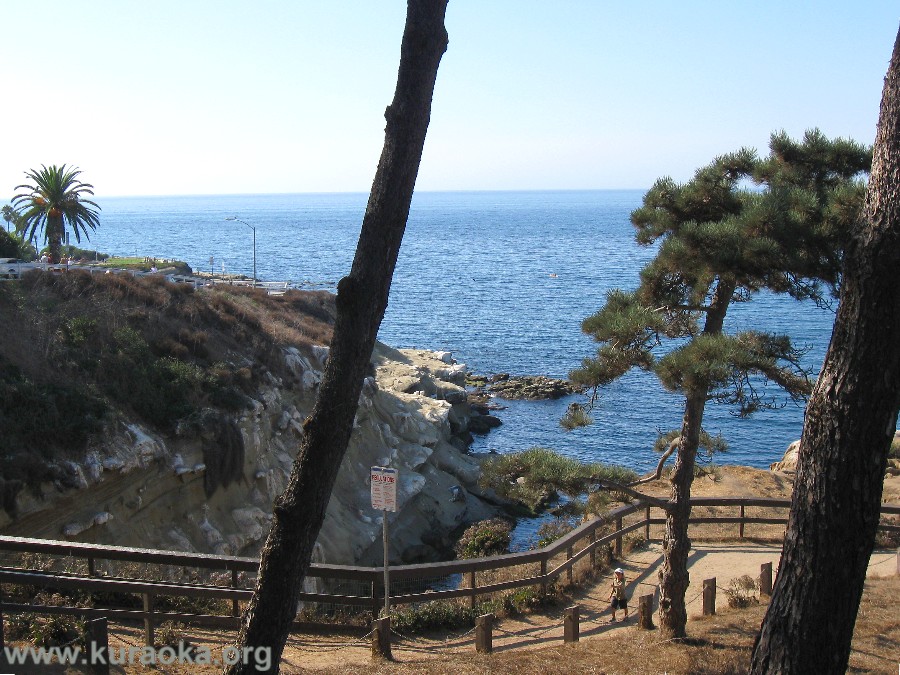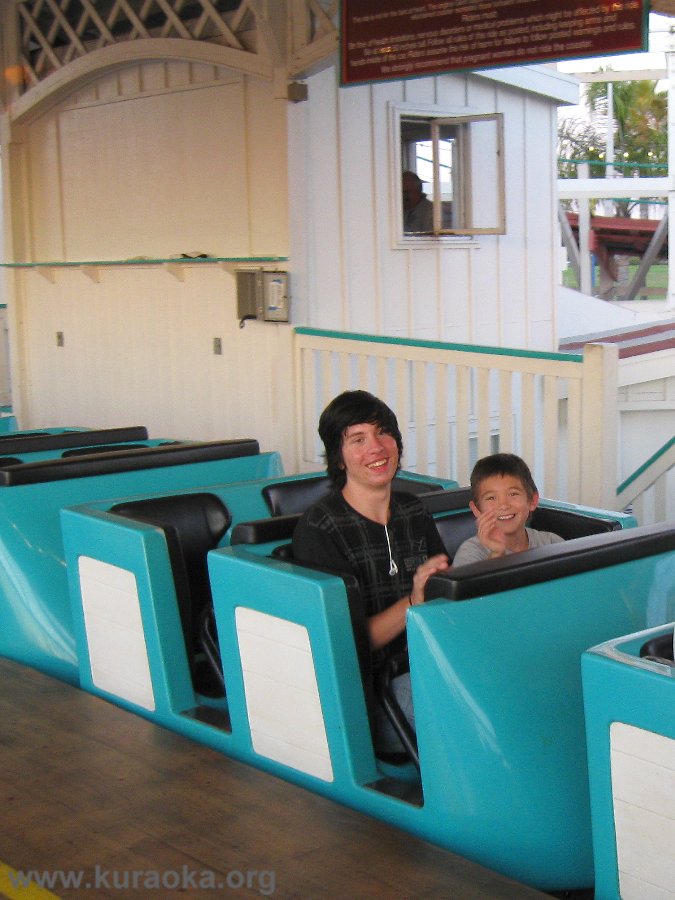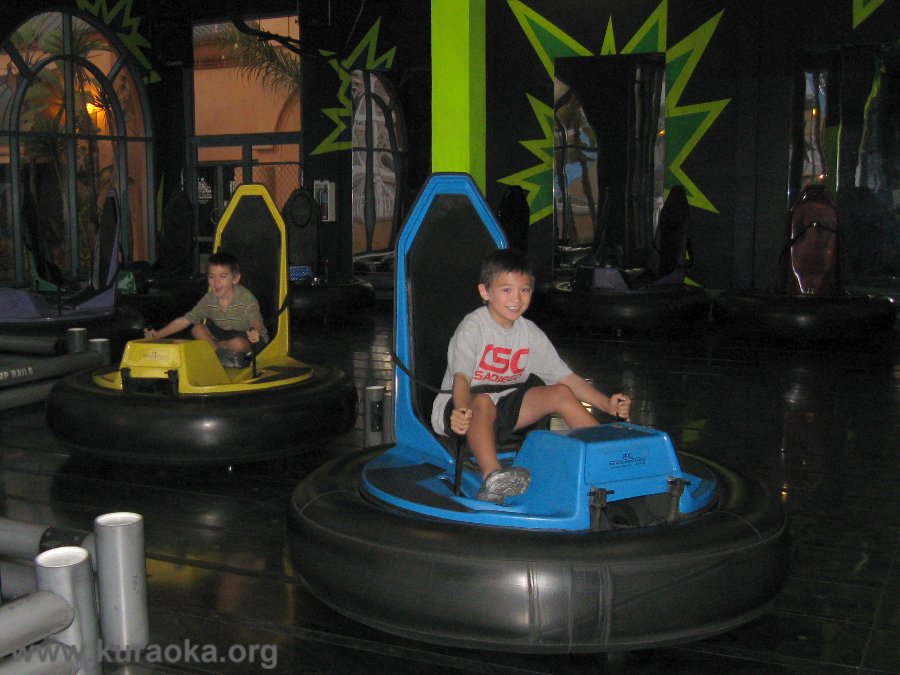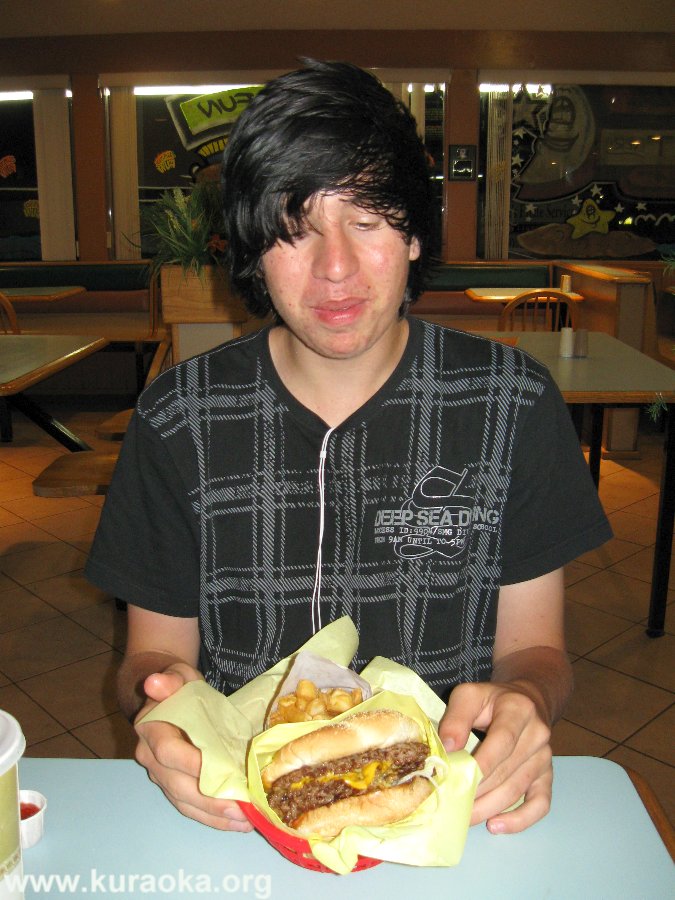 9-02-09: Roy slept out again. Here Leo and Buddy join him on the cot in the back yard.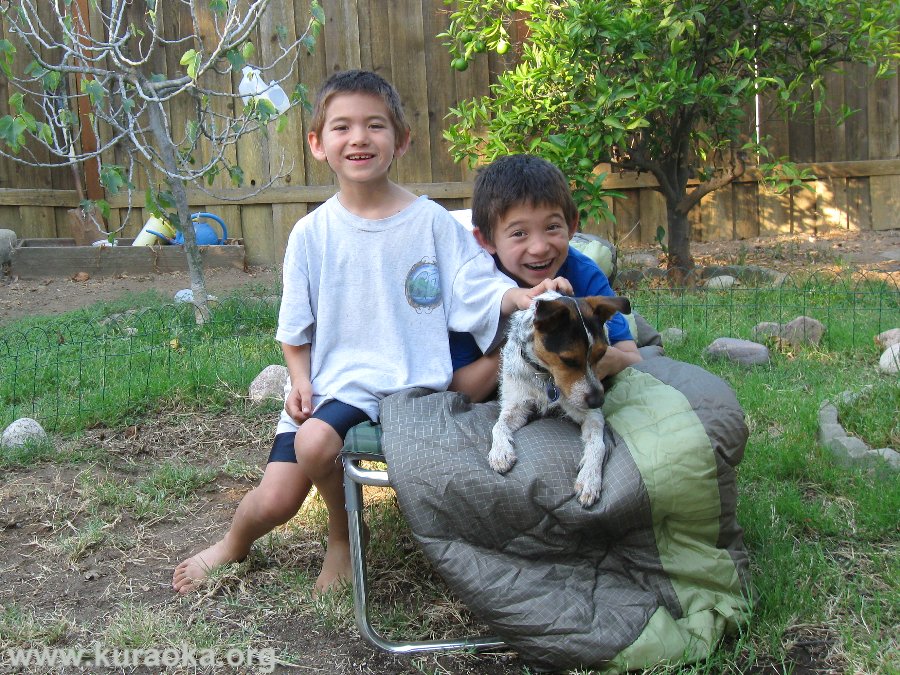 9-01-09: Kevin solved the Rubik's Cube! He's the only person we know first-hand who's done it.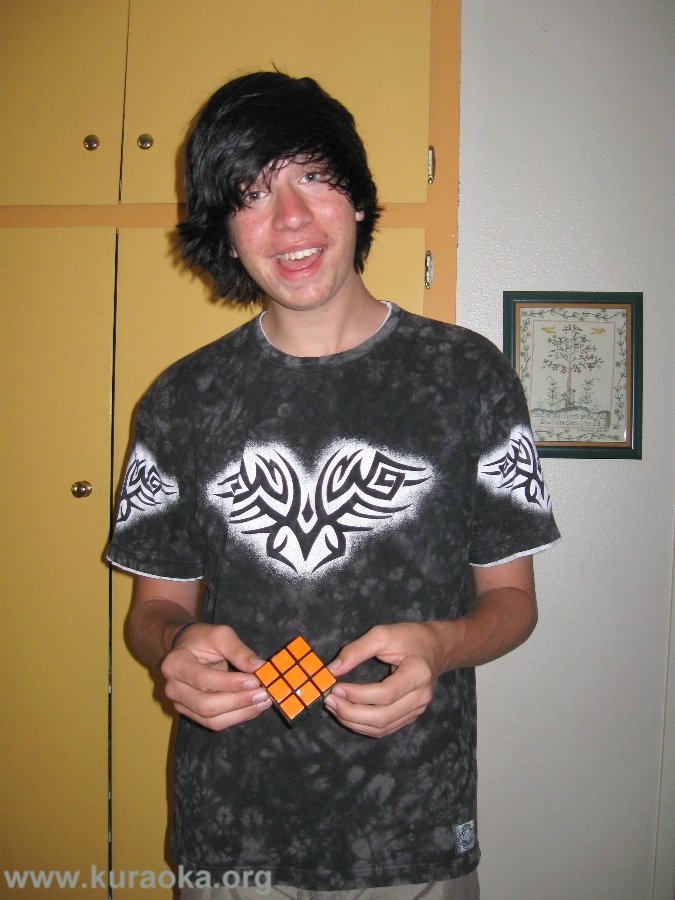 8-30-09: Sea World Soak Zone! Kevin and Leo sat in the very first row of the Soak Zone for the dolphin show – you can just see Kevin's head near the stairway handrail (Leo is right next to him). Then, Kevin and John sat in the Soak Zone for the Shamu show. They sat in the third row back. The boys joined them at the last minute, sitting in the space in front of them. Hmm, very few people wanted to be in the second row (or even the third), wonder what that means? Ha! Then, Ondine rode on Shipwreck Rapids with Kevin and the boys. Woo hoo! Fire the water cannons!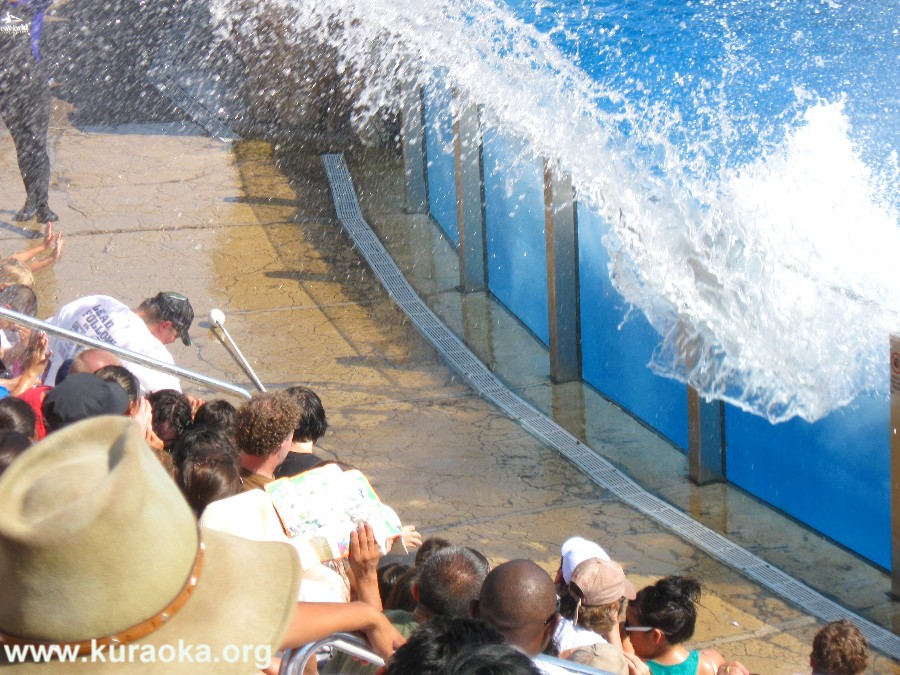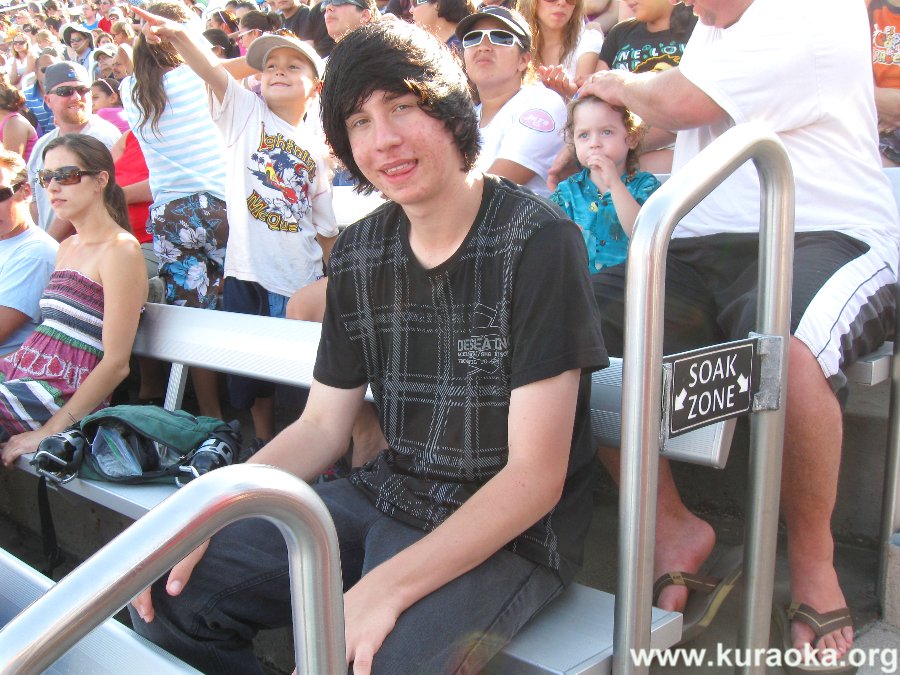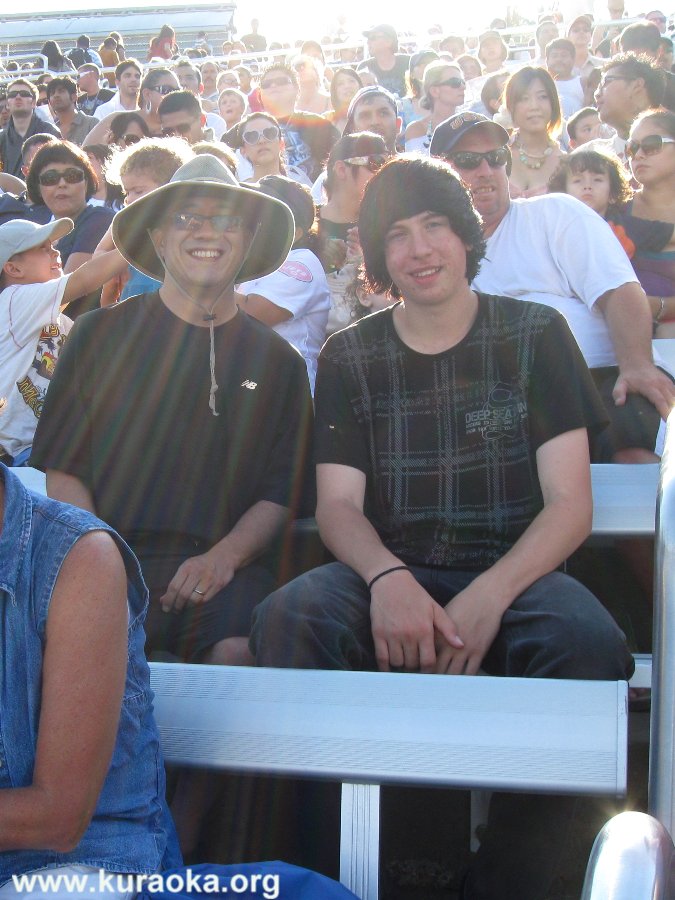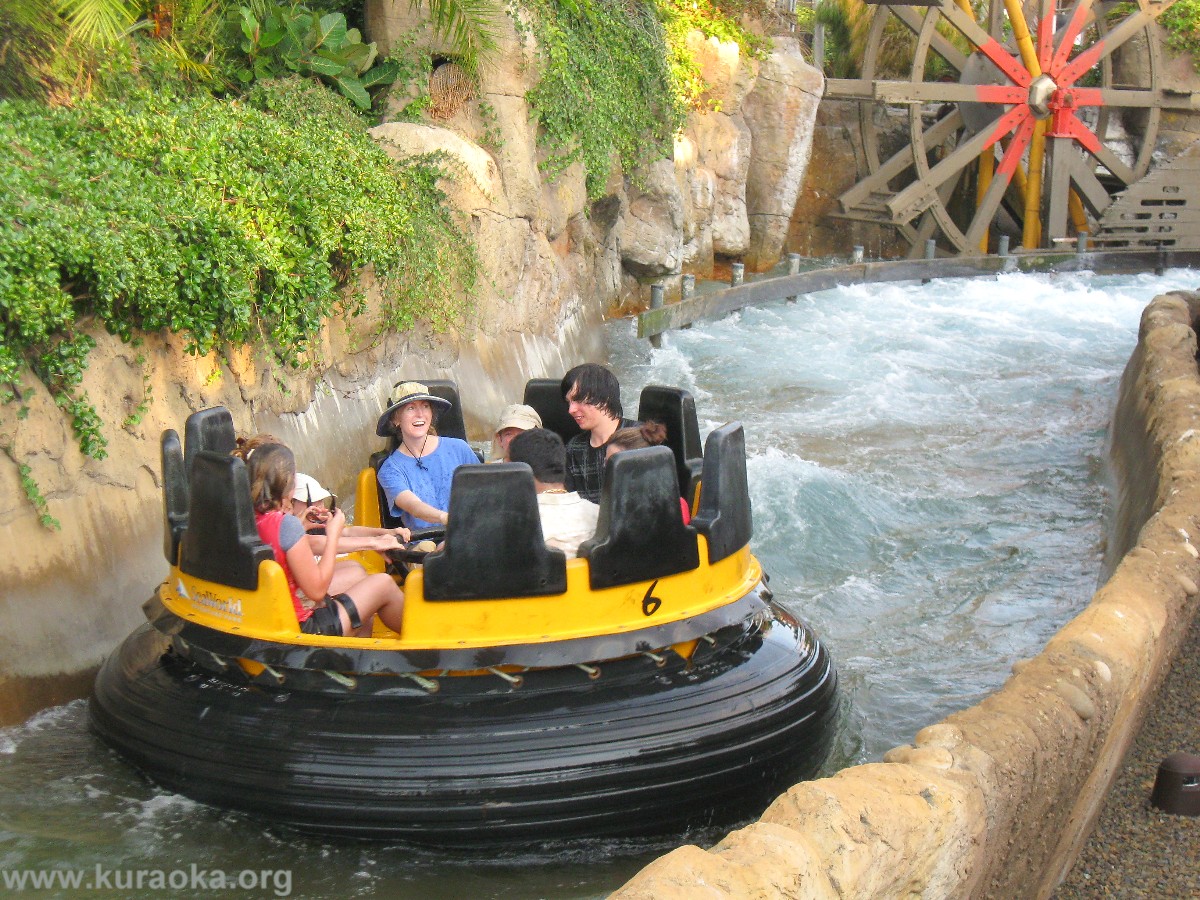 8-29-09: Kevin gets an iPod Touch! He seems thrilled with his purchase, a significant savings vs. buying it in Germany!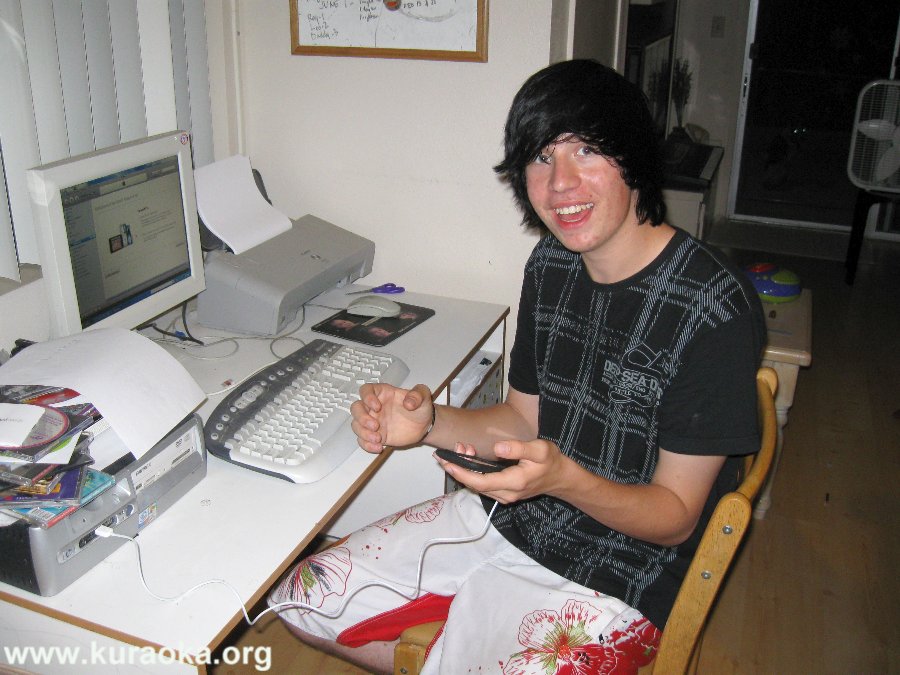 8-23-09: The Midway Museum! John, Roy, Leo, and Kevin went to the Midway Museum downtown. It is surprisingly cramped inside, and Kevin had to hunch down or he'd hit his head on low-hanging pipes, ceilings, lights, and other protuberances. The third photo shows Roy and Leo under water, as indicated by the water line on the wall behind them. We had lunch on the fantail, then took the tour of the Island, the Midway's superstructure. Leo sat in the Boss' chair and Roy sat in the Mini Boss' chair. They even got to take the conn and steer a course! Kevin had to duck for even the outside hatches. The next series of four photos shows an operations room, with spinning screens, flashing lights, readouts, buttons, toggles, and switches. And when the challenge gets overwhelming, who our fearless flyers call? Mom! According to Roy, there were about 1,400 switches on that wall, and more on the other side! Leo and Kevin tried their hand at safecracking. We returned to the flight deck to look around and enjoy the views, and what should we see? An S-3 Viking warplane sporting the green cloverleaf emblem of the City of Fürth! Fortunately, all the missiles and rockets and weapons are completely safe. This missile, for instance, is only armed when fully red. Um ... Moving right along, here's a lever we'd like in our house. Only, we'd like one that actuated a kint/unkint. Yeah! That skull and dagger is one of Kevin and Leo's favorite squadron emblems. We managed to hop into some cockpits before the carrier closed down for the day. Here are Roy, Leo, and Kevin at the controls! The full journal entry is archived here.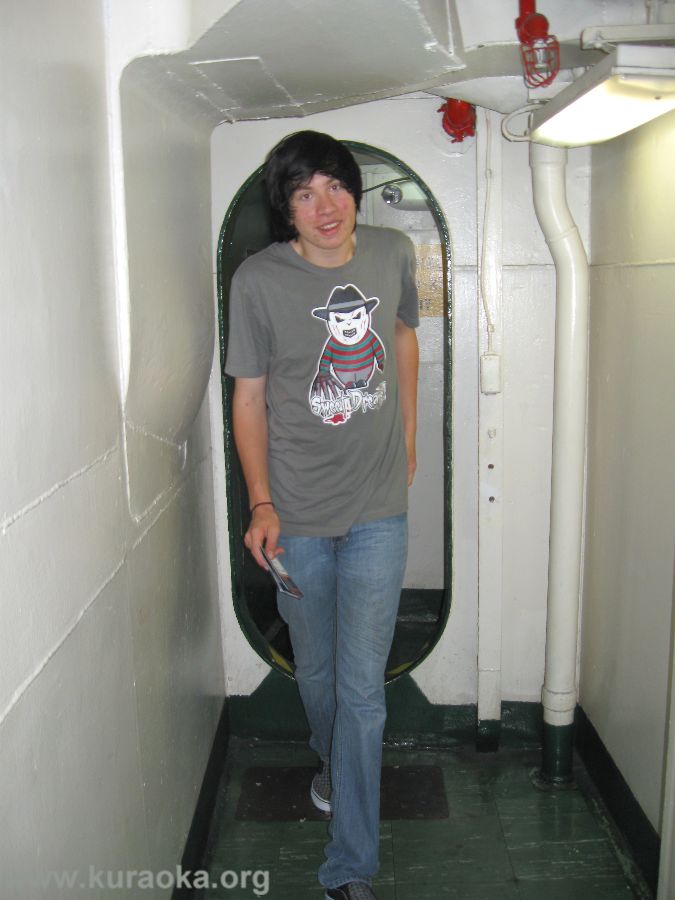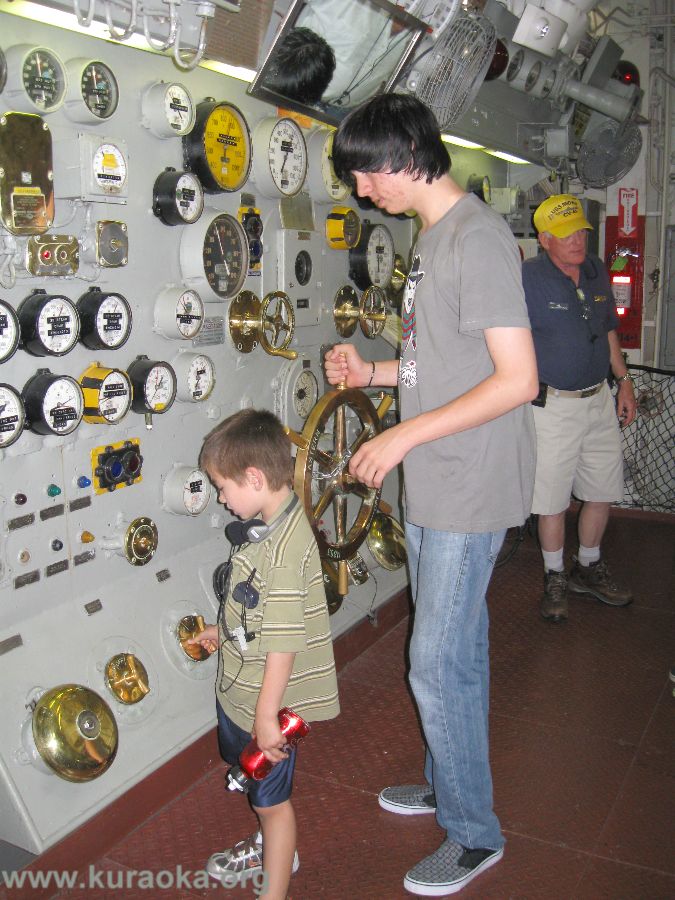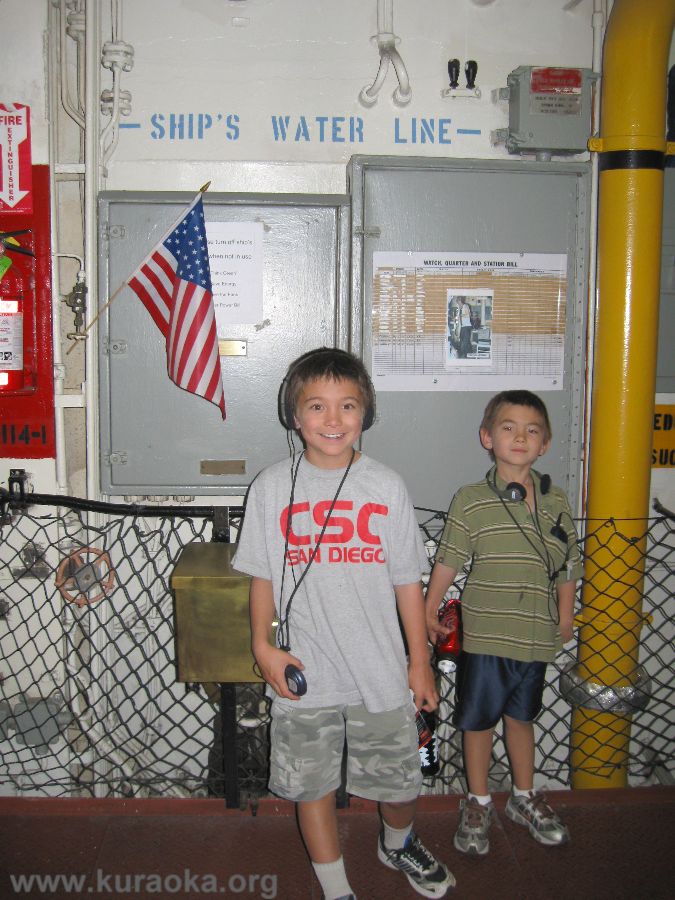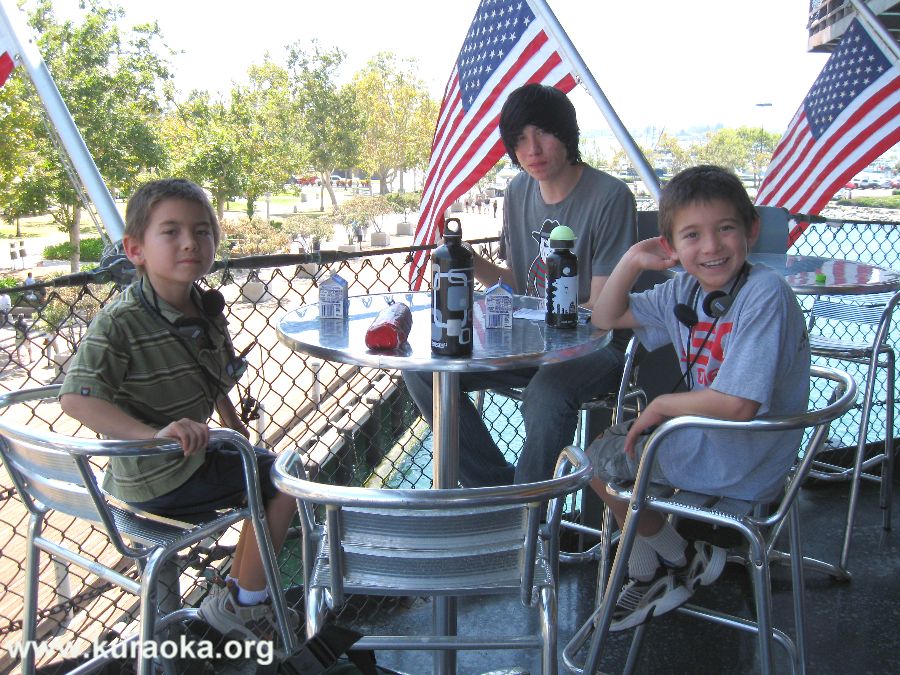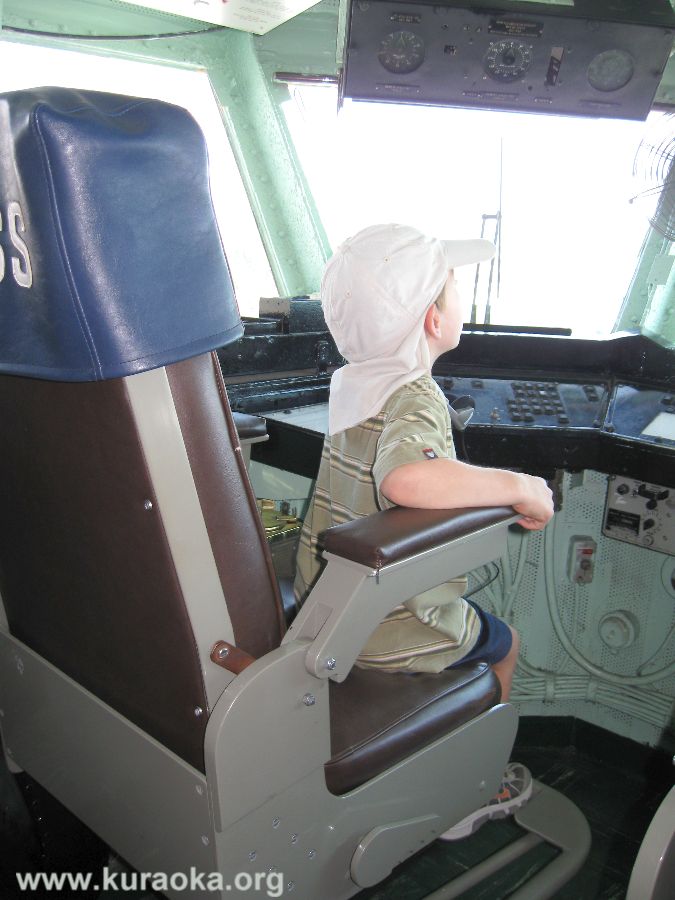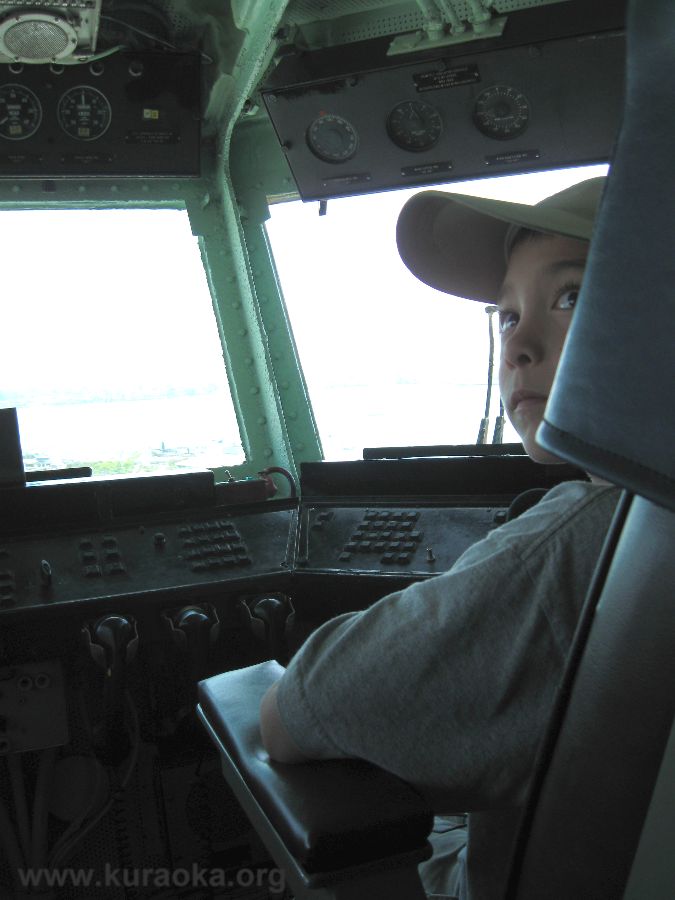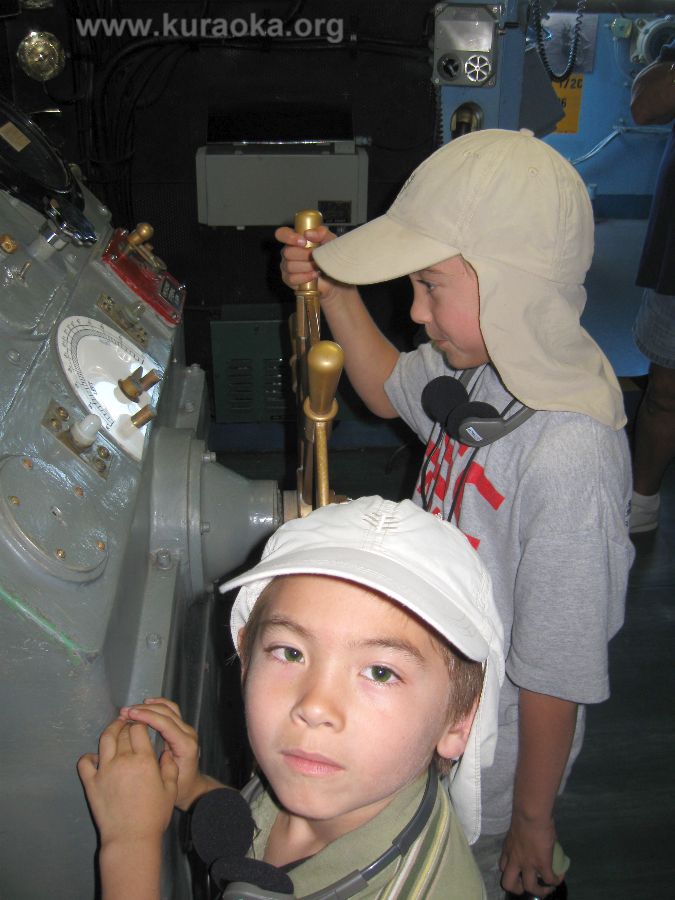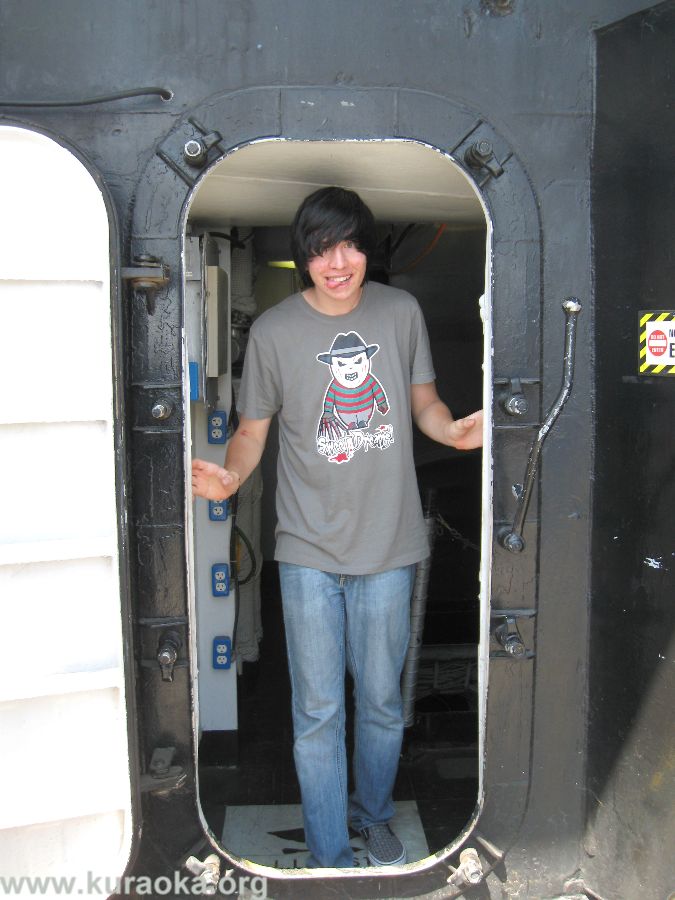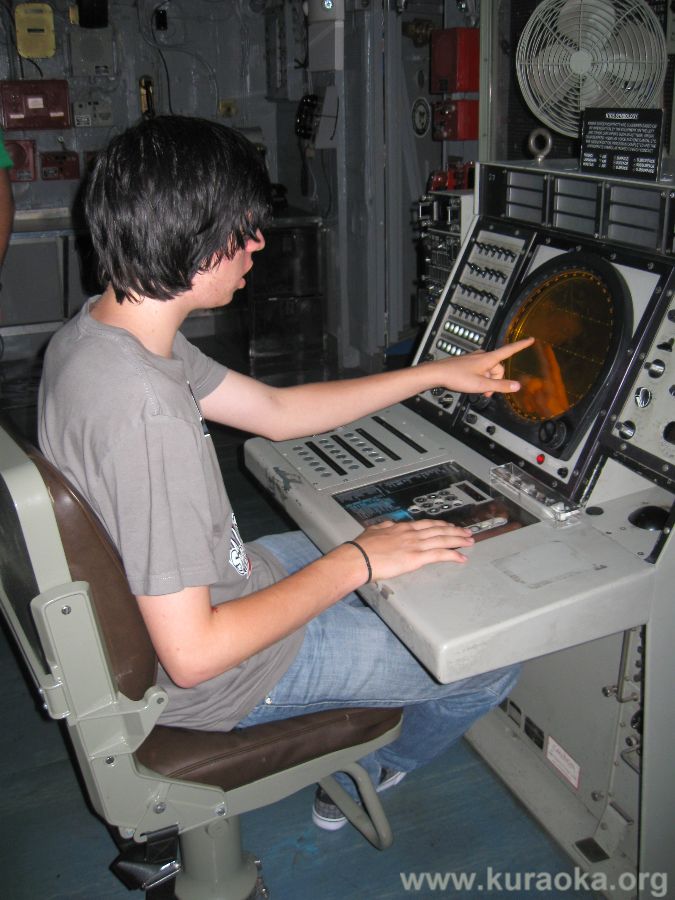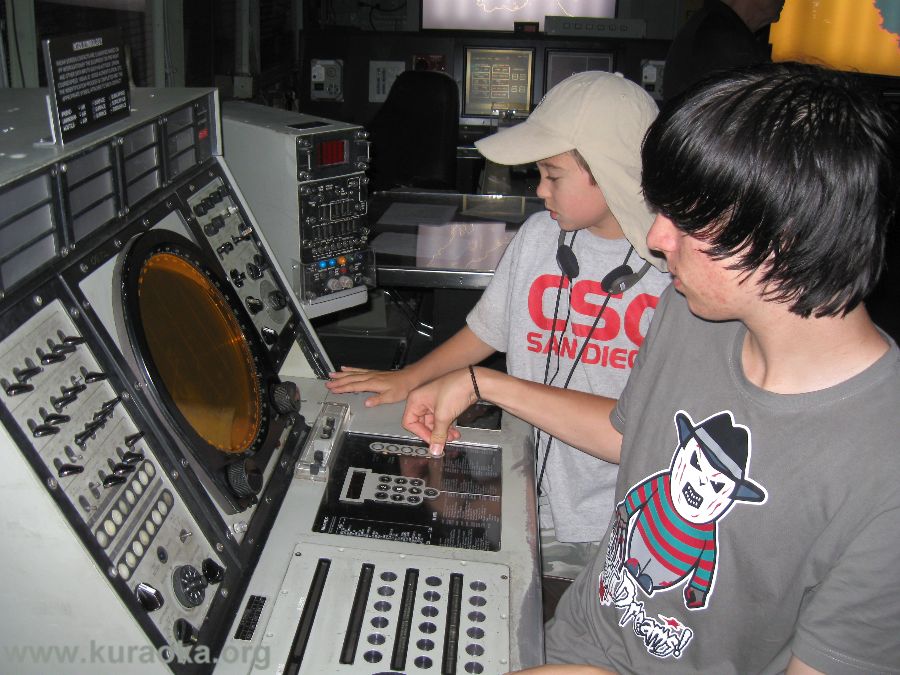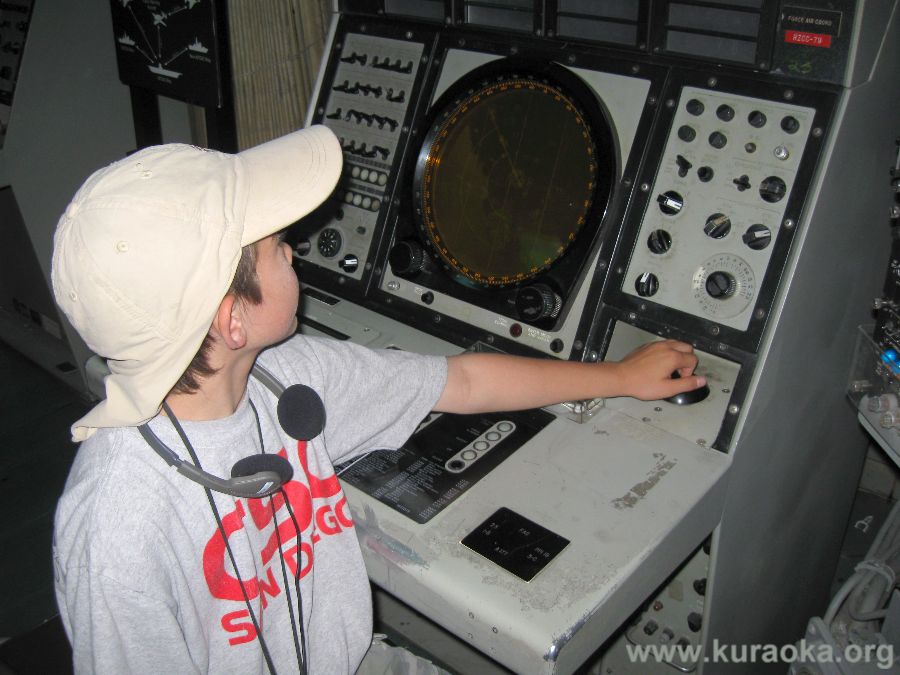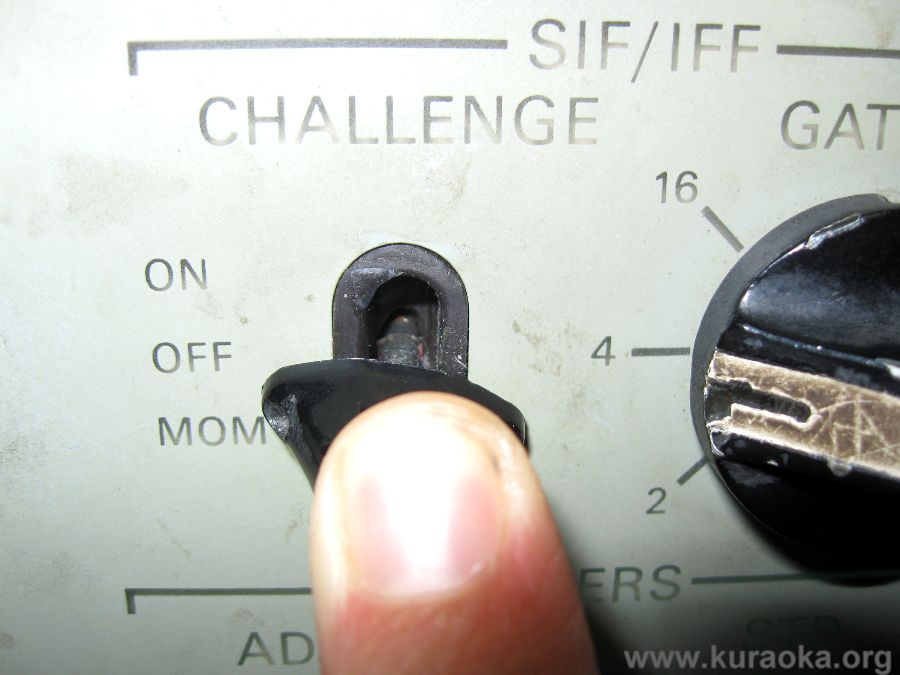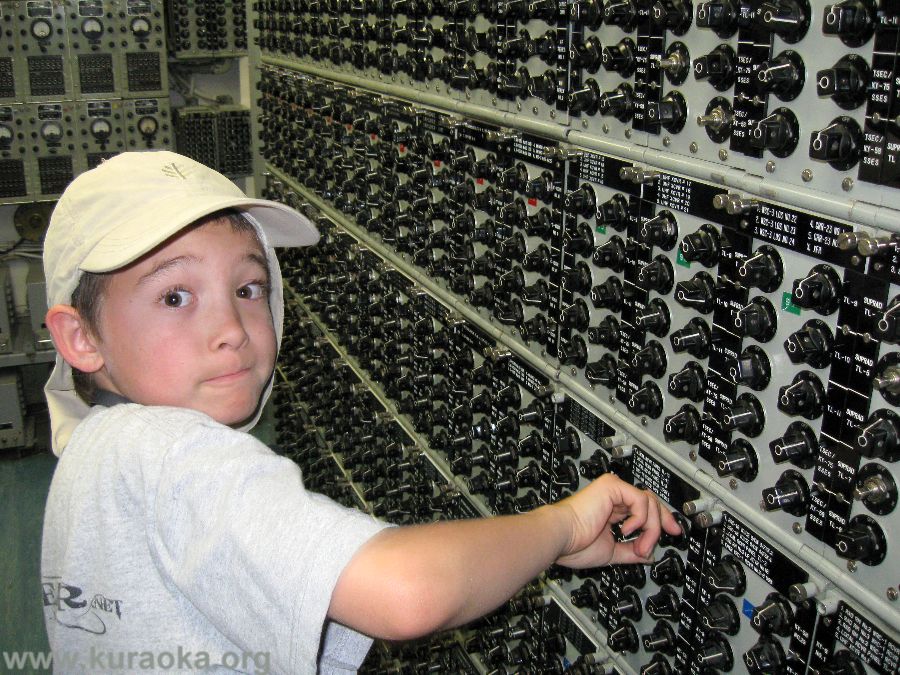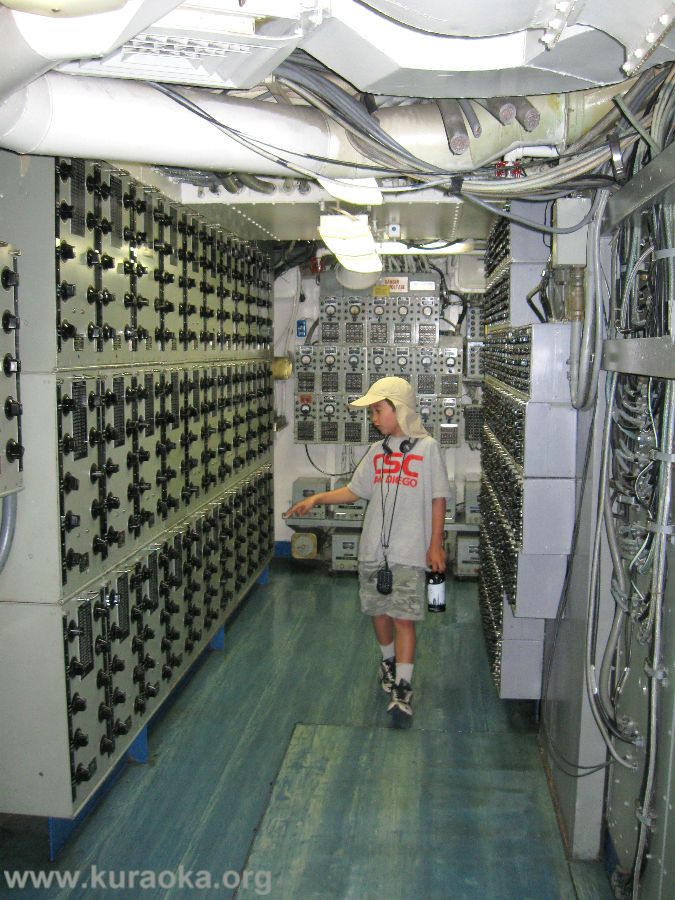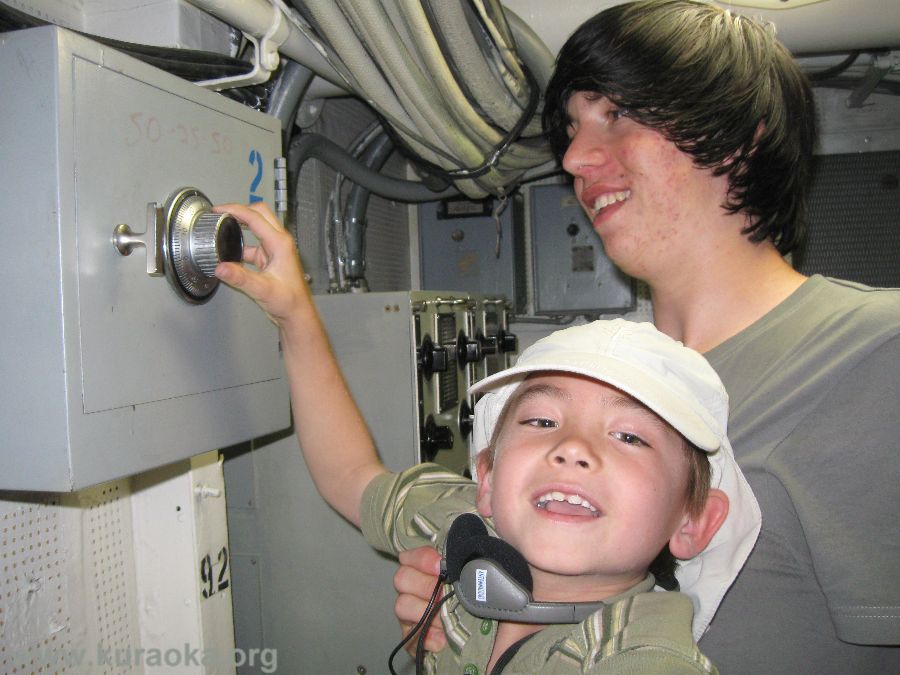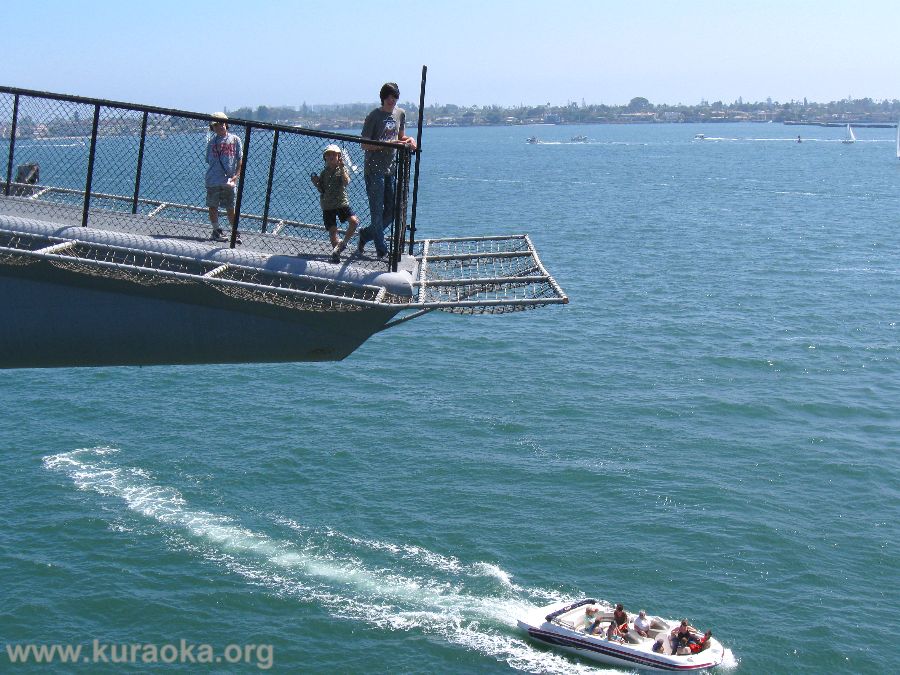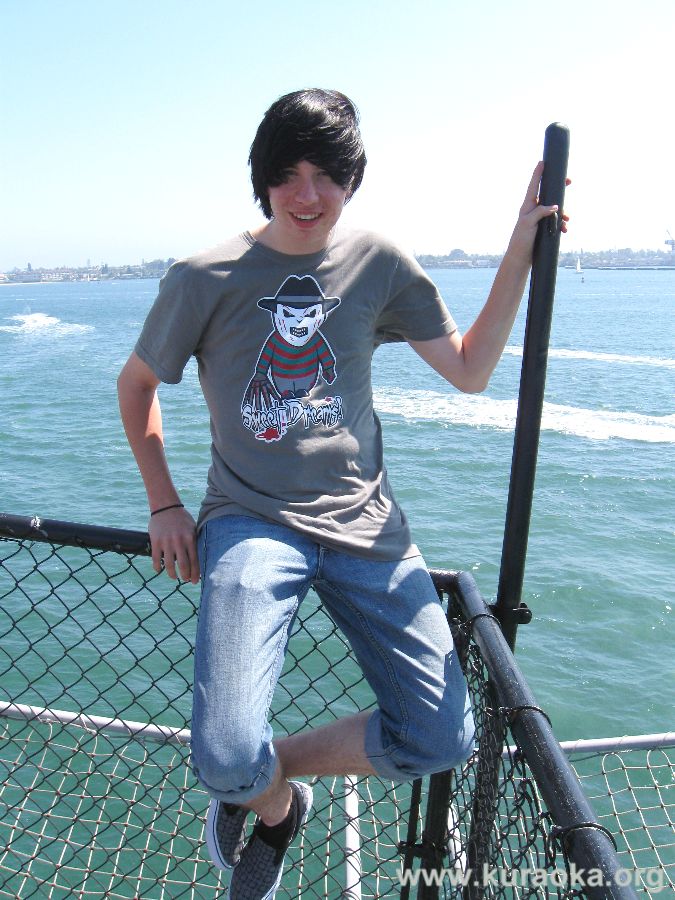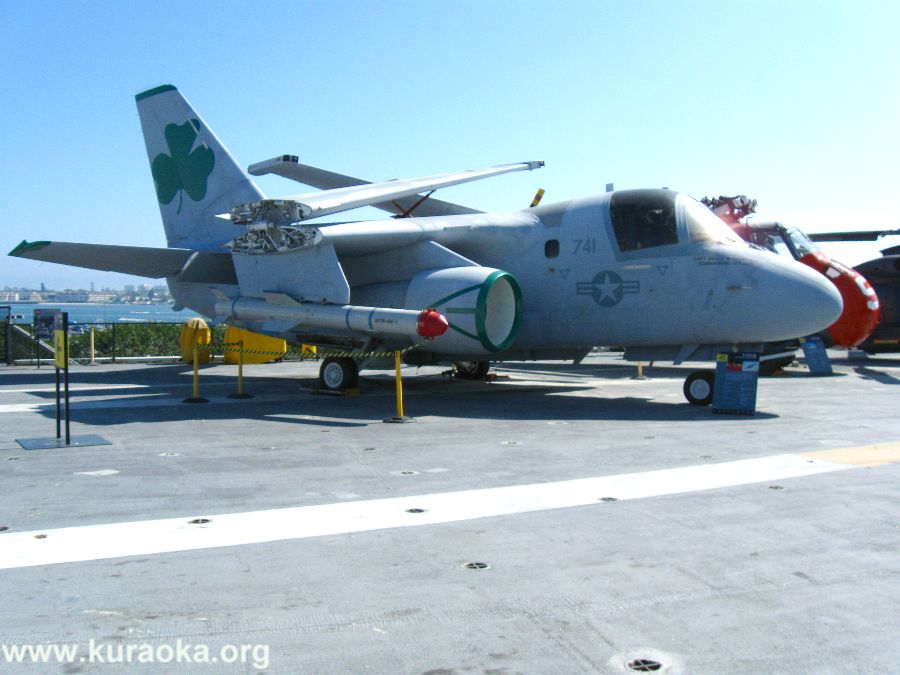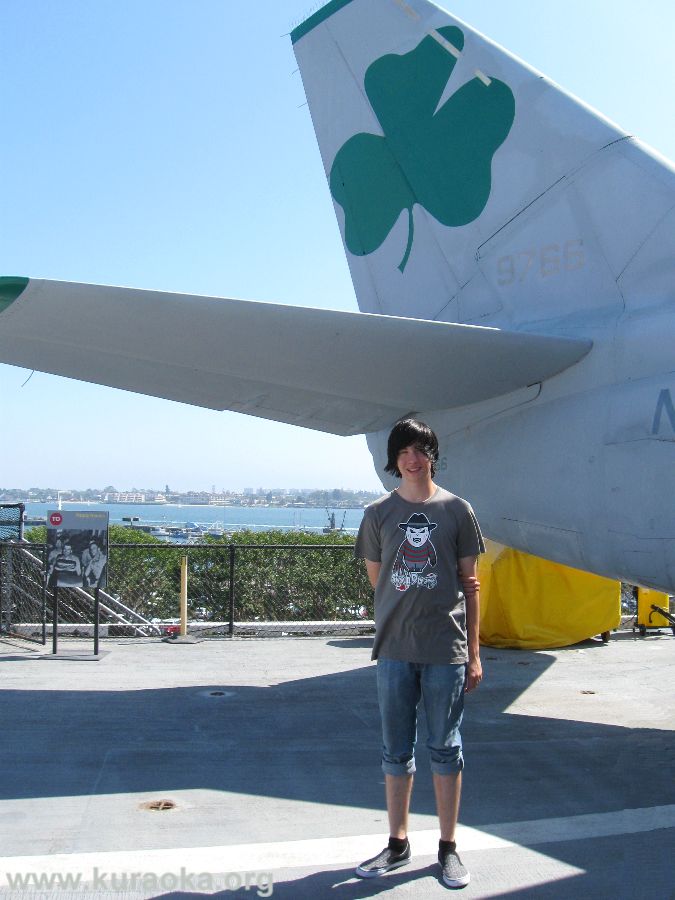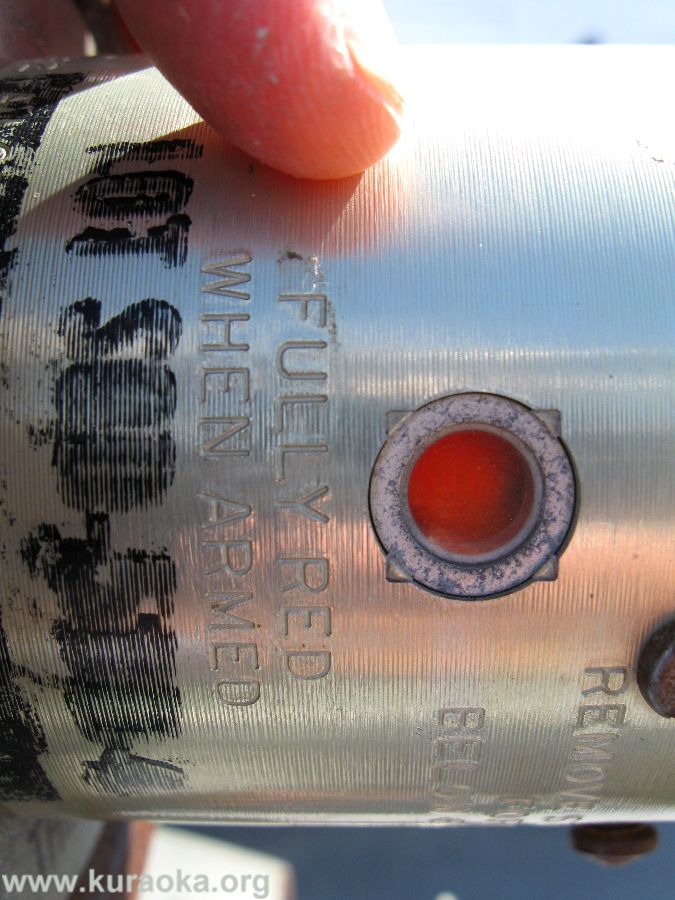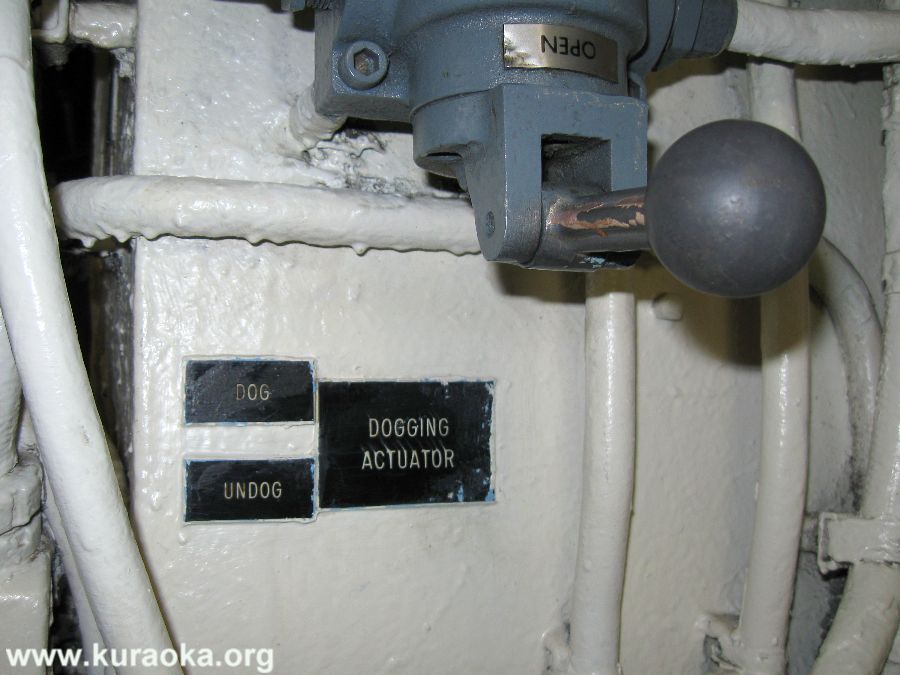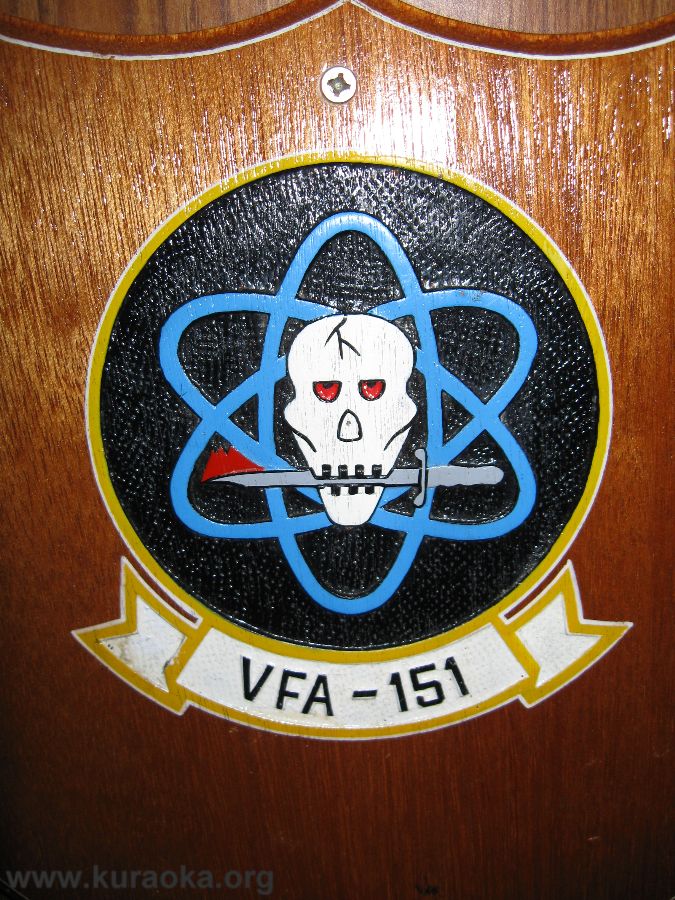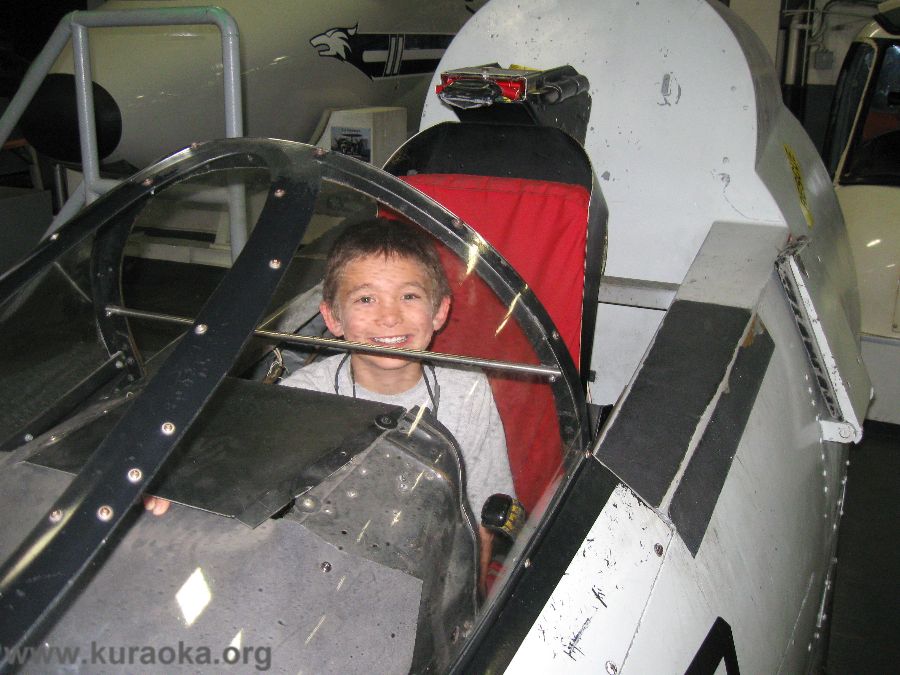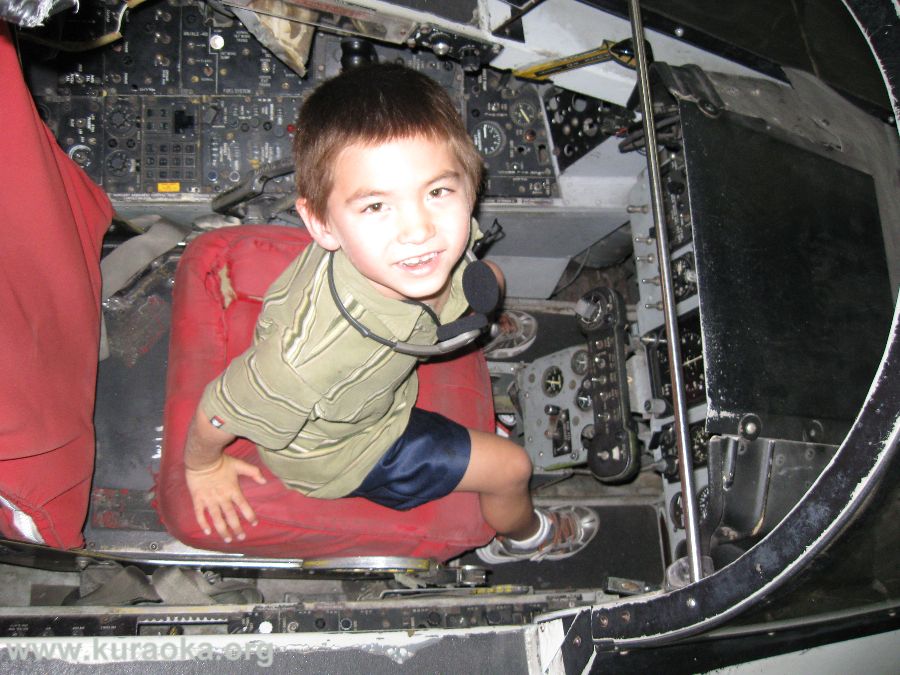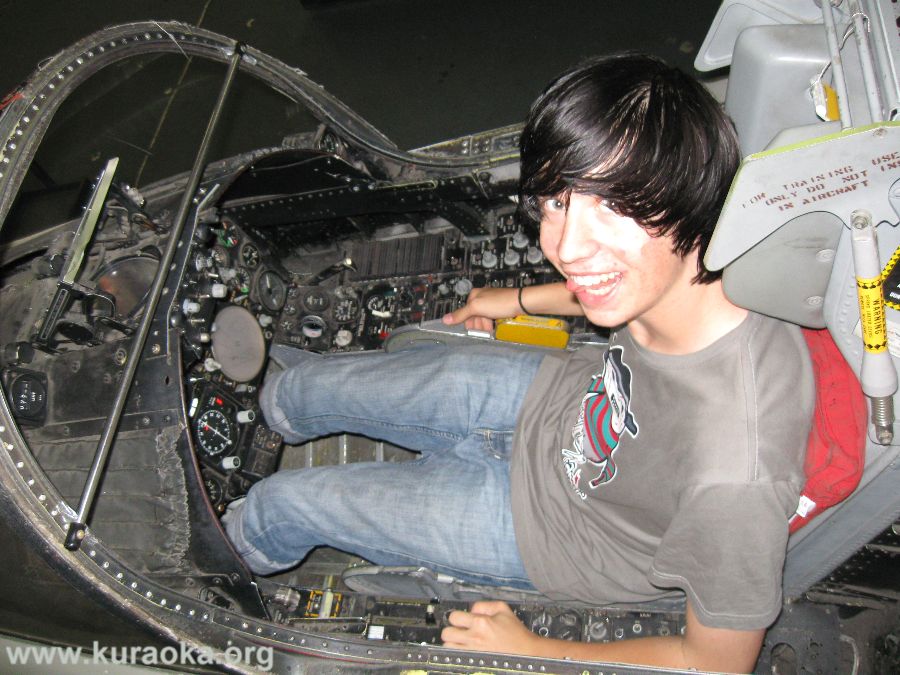 8-22-09: Balboa Park! We took Kevin to Balboa Park. John, Roy, Leo, and Kevin went through the Automotive Museum and the Aerospace Museum. Note the sign behind Kevin, Leo (at the wheel) and Roy in the second photo. Hey! We tried to take another family portrait right in front of the chapel where we were married, but of course that just grossed our kids out. John kicked off his sandals and waded into the fountain, and Leo promptly followed him. Kevin has his doubts.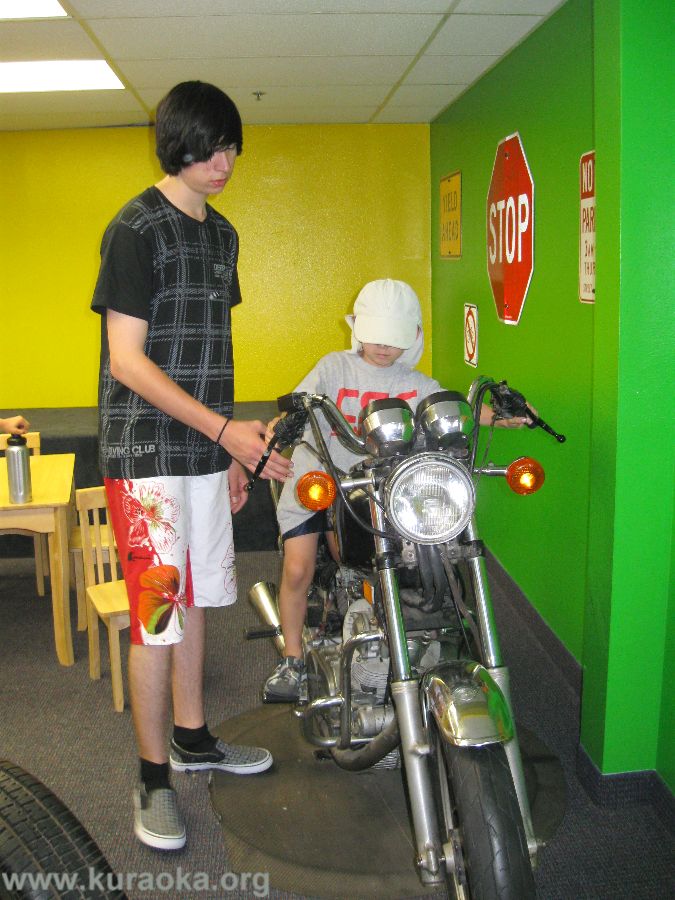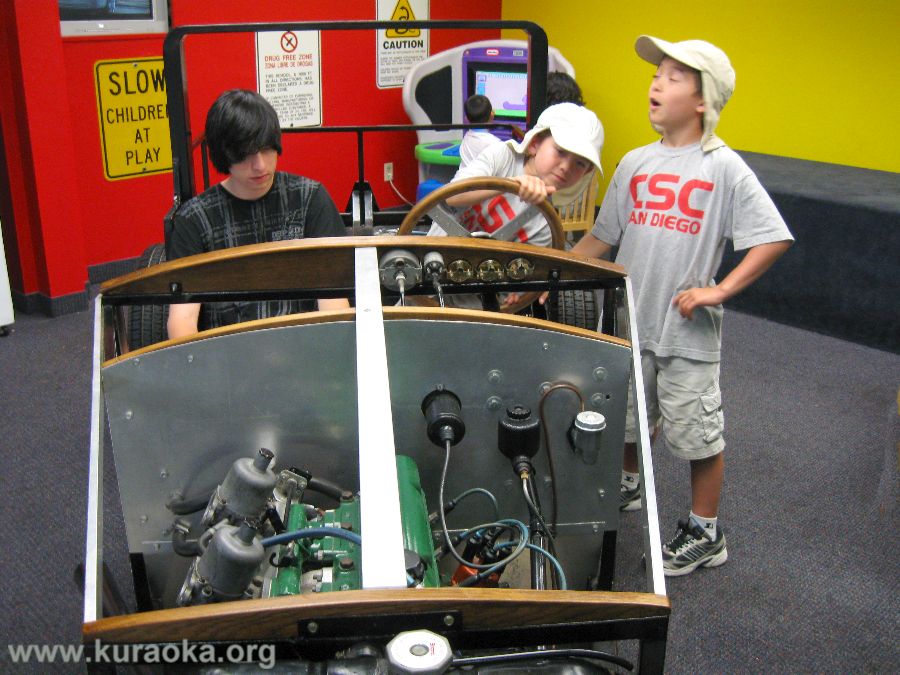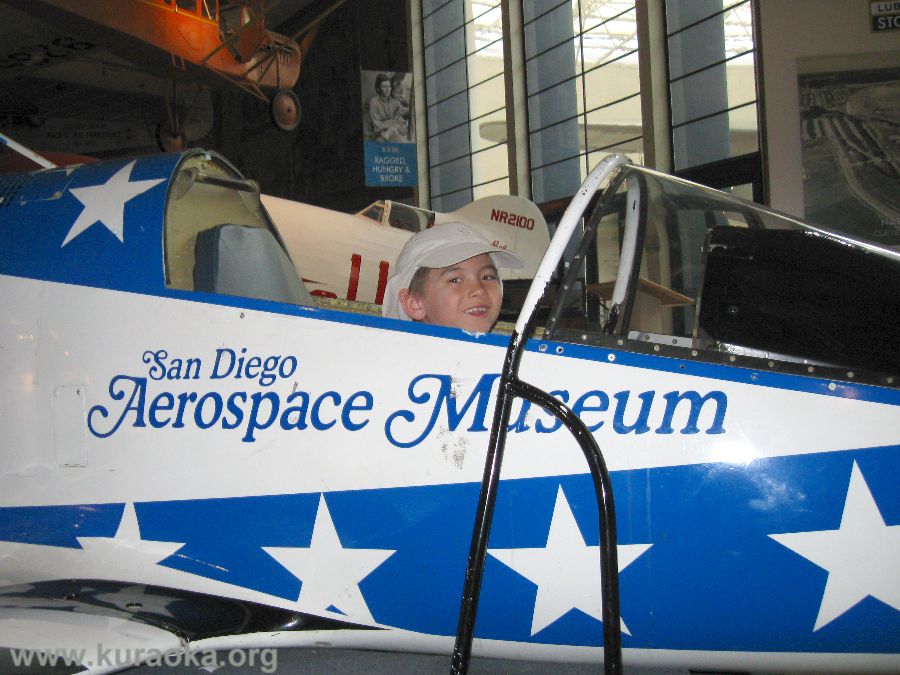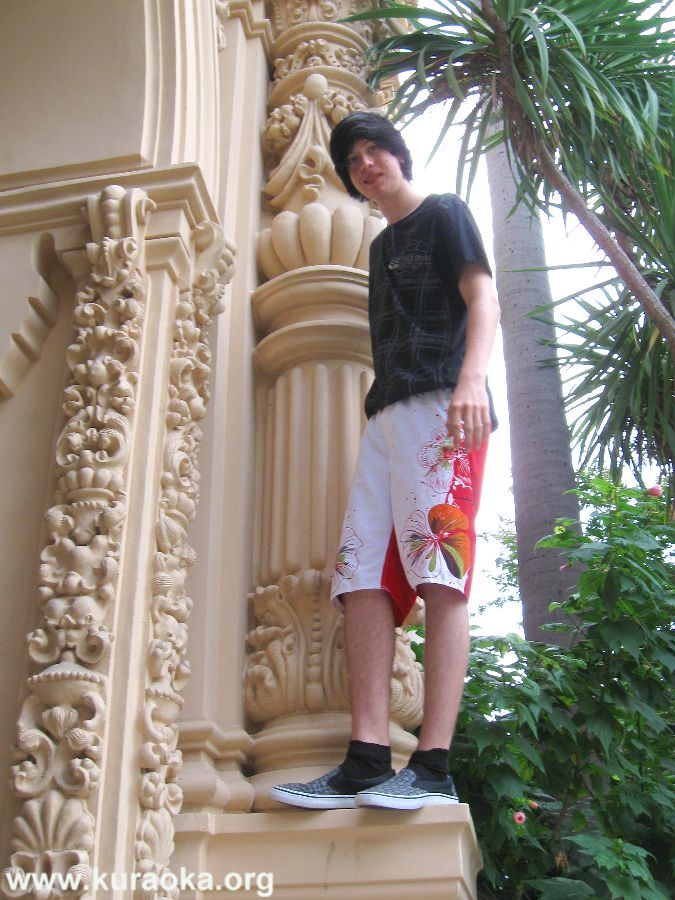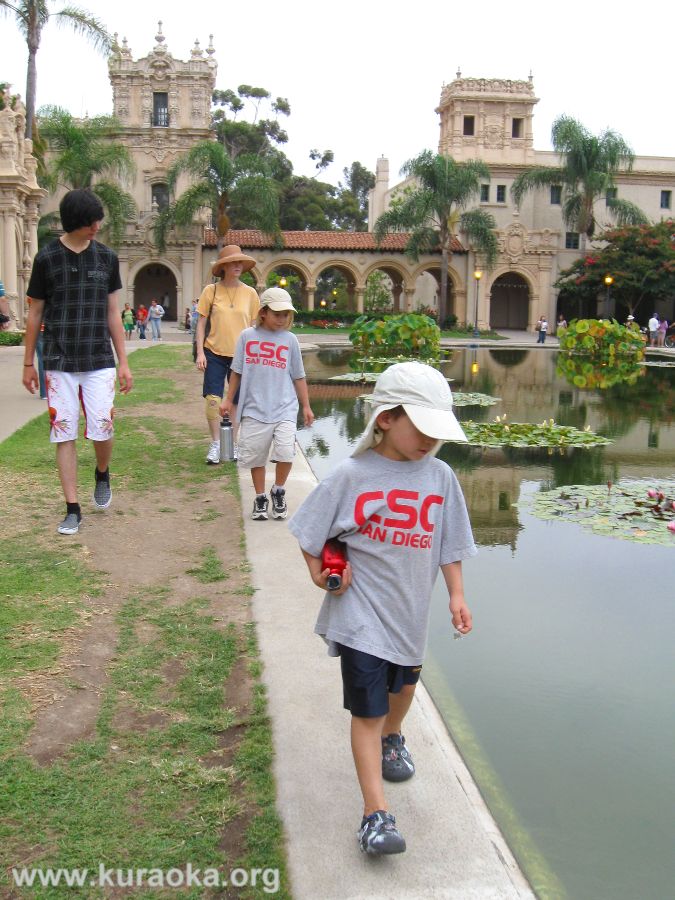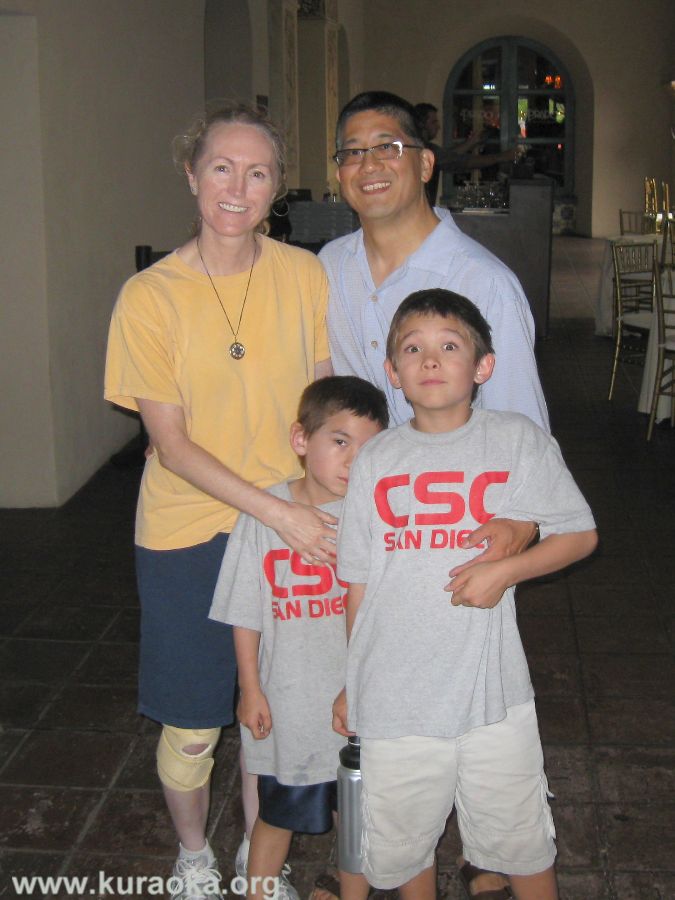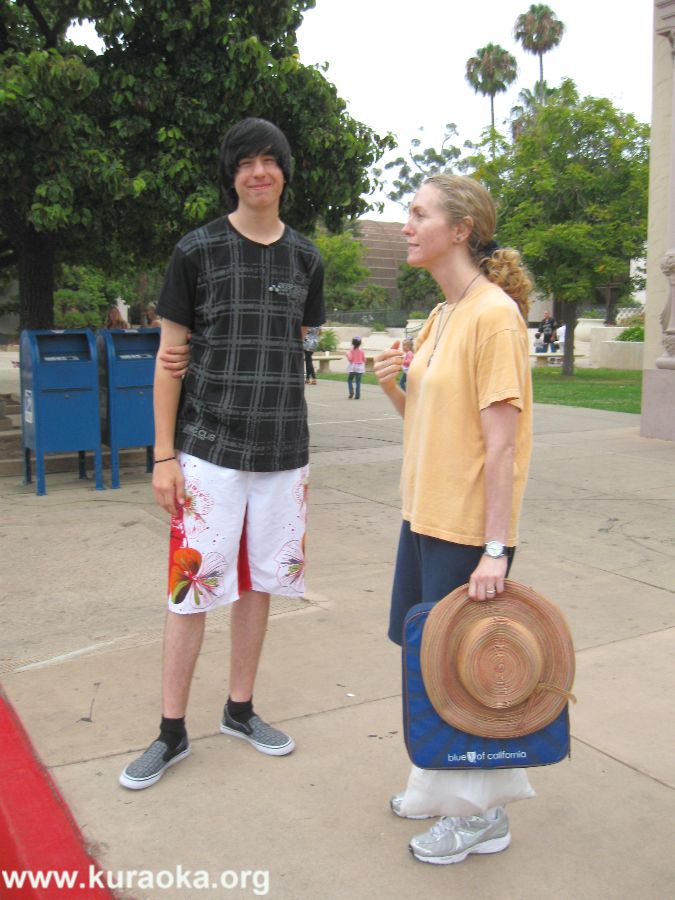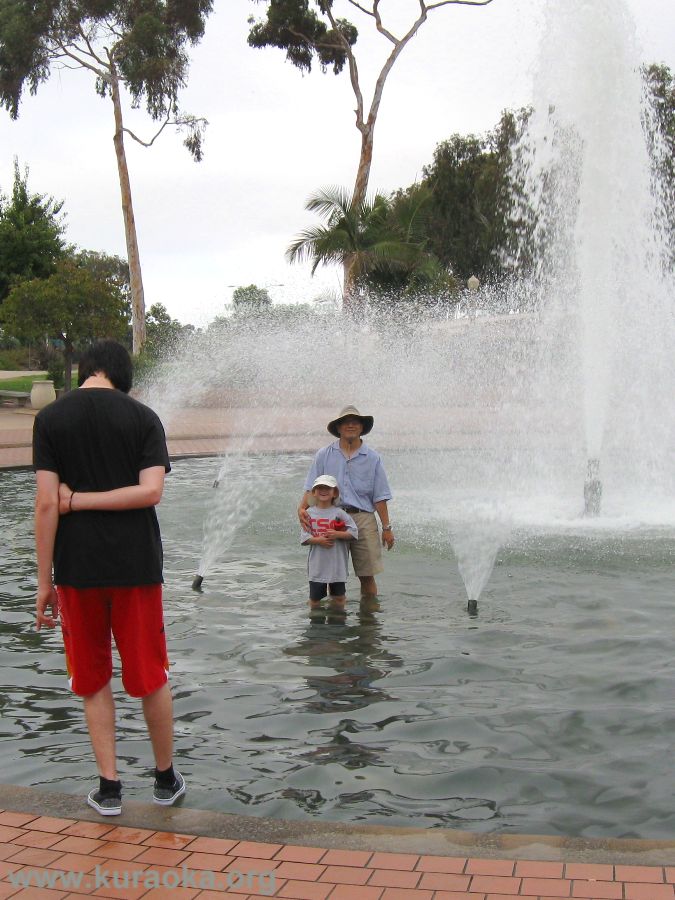 8-21-09: Go Kart Go! Here are Bill and John Hanna making the chassis across the street. Then, Barbara and Bill check the fit with Leo, who seems thrilled with his new wheels. The last photo shows Bill checking the fit with Roy aboard.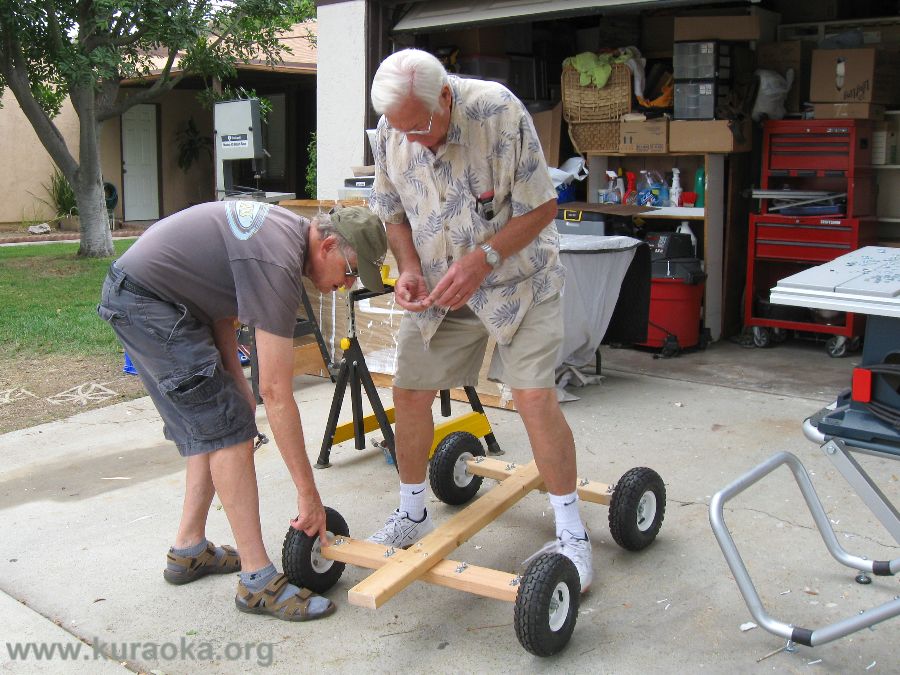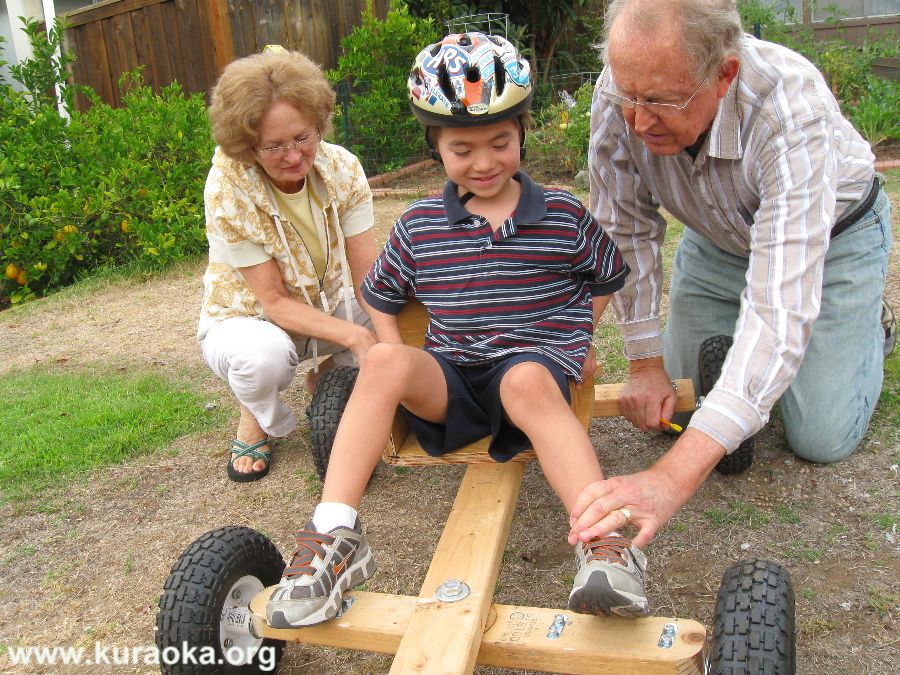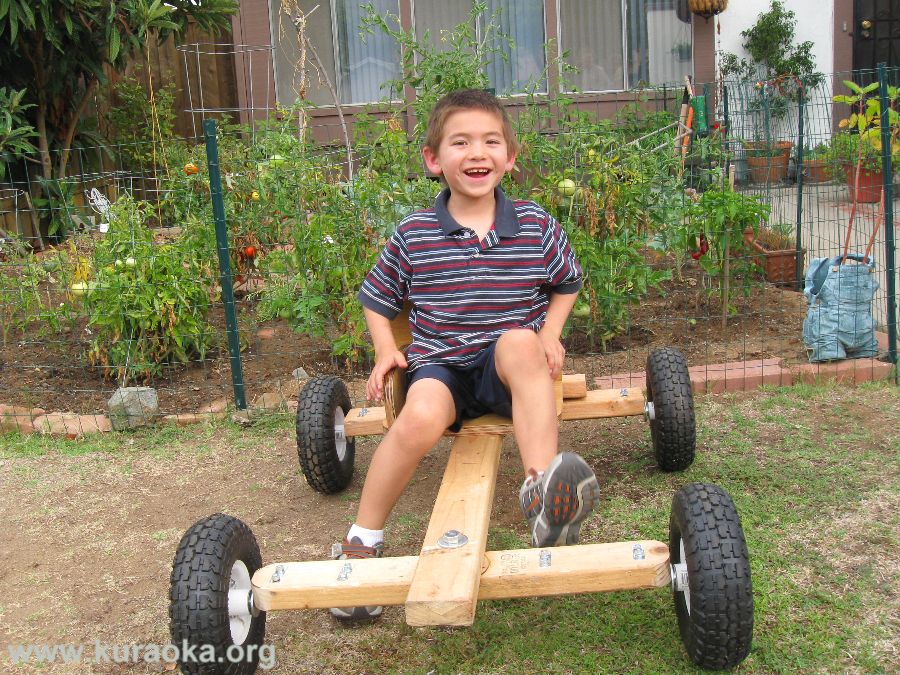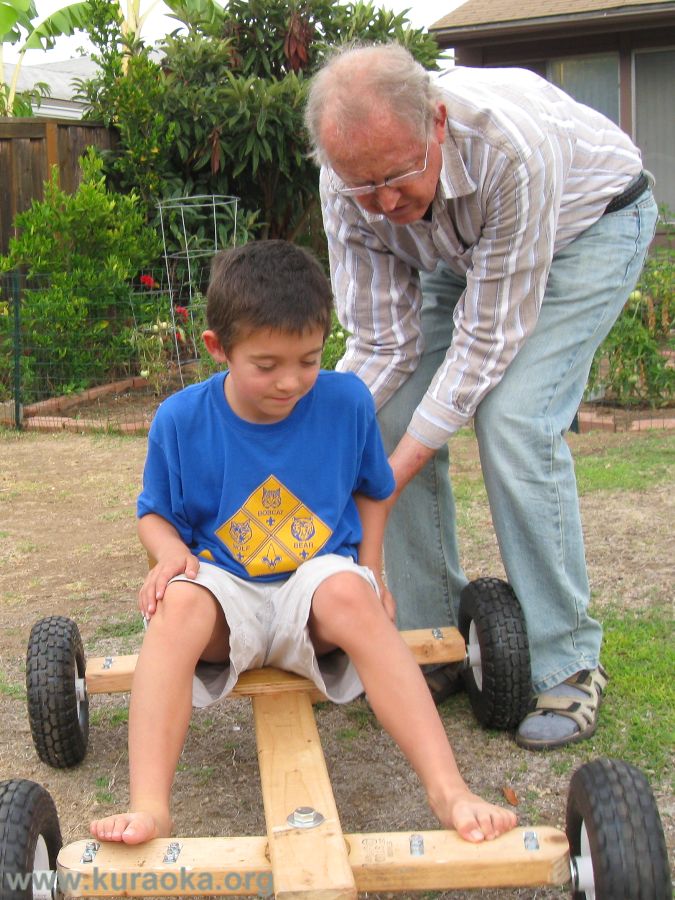 8-15-09: Kaffeetrinken mit Kevin, Bill, und Barbara! Here are Kevin, Bill, Barbara, and Ondine at B&B's house. The gathering quickly developed into a pool party, and Kevin good-naturedly joined in the splash battles and swimming fun.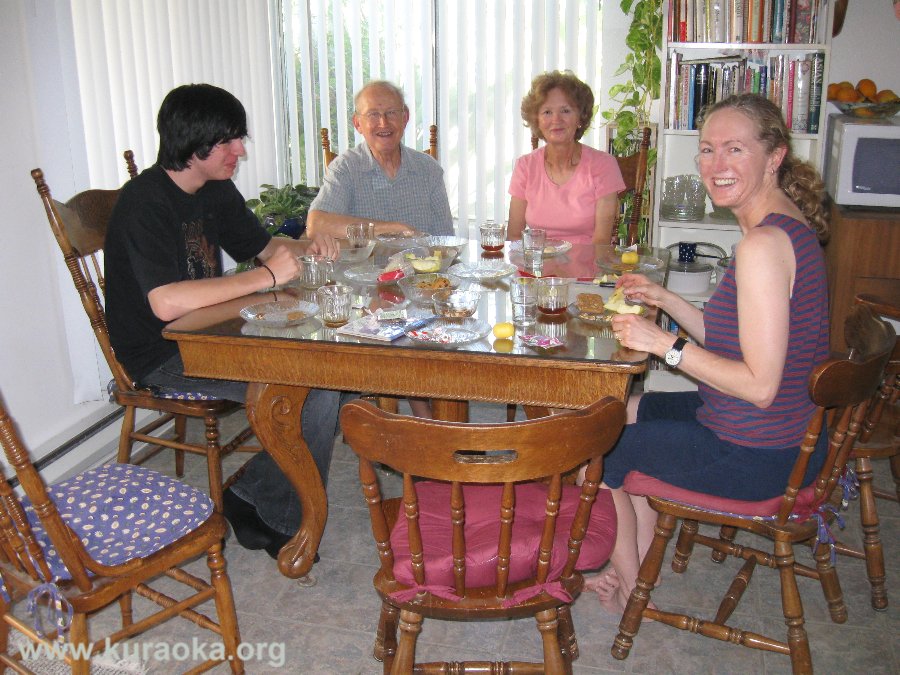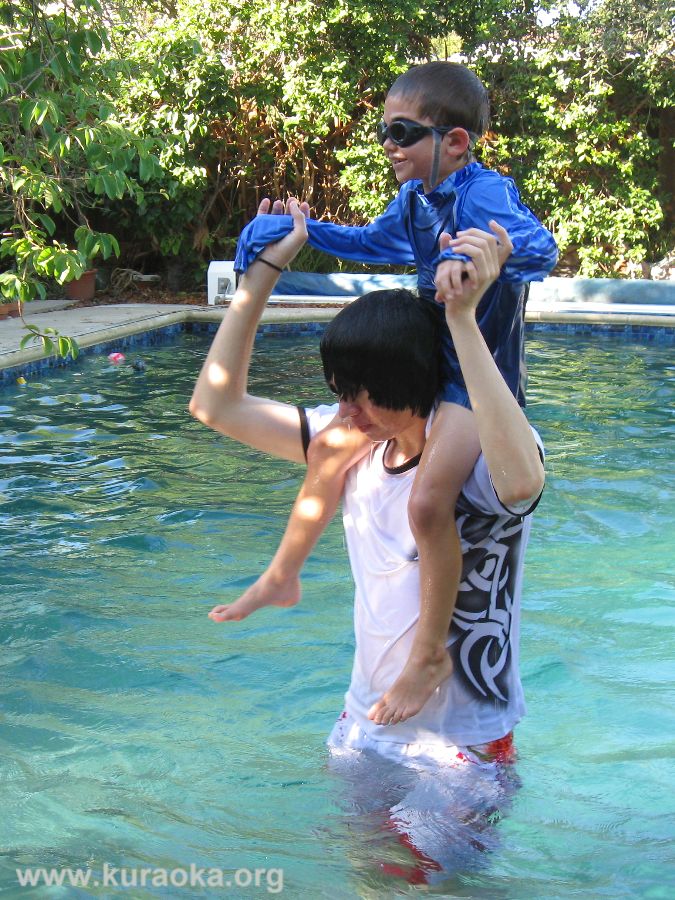 7-20-09: Happy Birthday to Leo! Here he is at his at-home birthday with Barbara and Bill and us. First up, Leo relaxes after blowing out all the candles on his birthday cake. Next, Leo, Grandpa Bill, and Roy are enjoying Leo's very creative birthday card from Roy (who also bought Leo a present of two Hot Wheels cars). Next up is (left to right) Roy, Ondine, Leo, Buddy, Grandma Barbara, and Grandpa Bill admiring Leo's "Space Police Galactic Enforcer" Lego set. The last photo shows Leo with his new "Power Miners Thunder Driller" Lego set.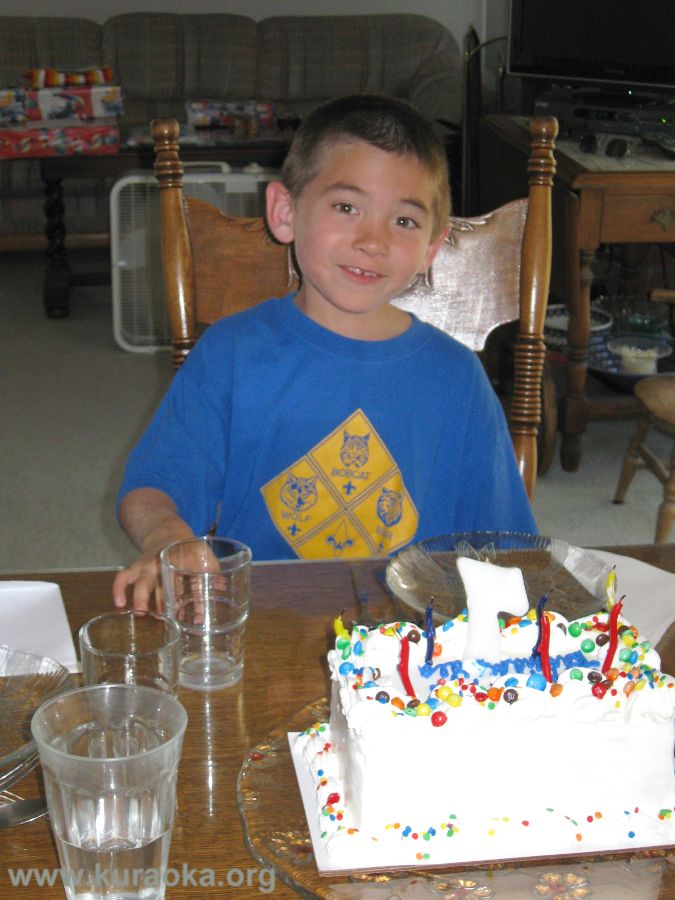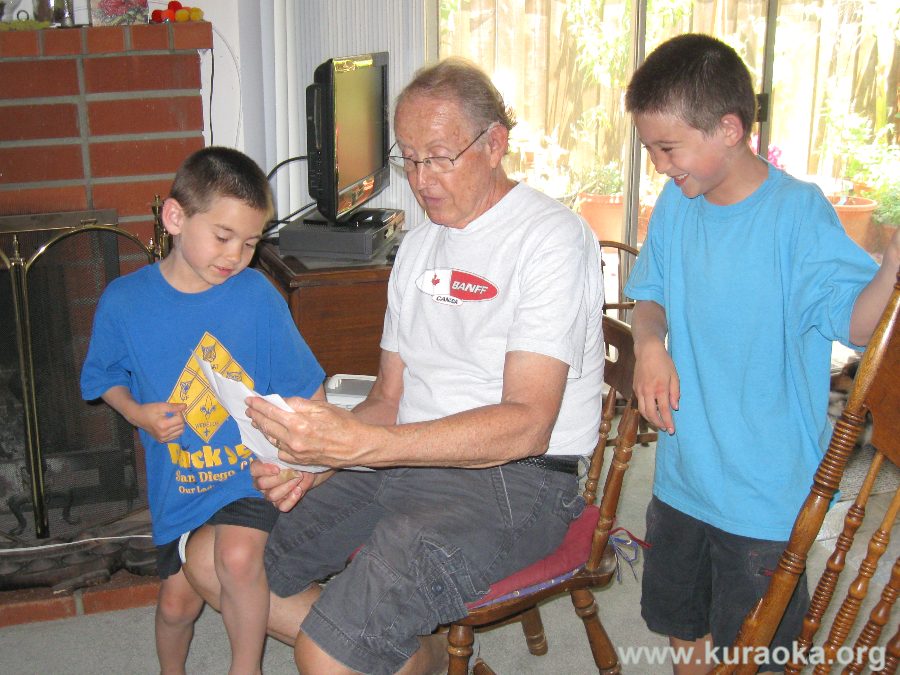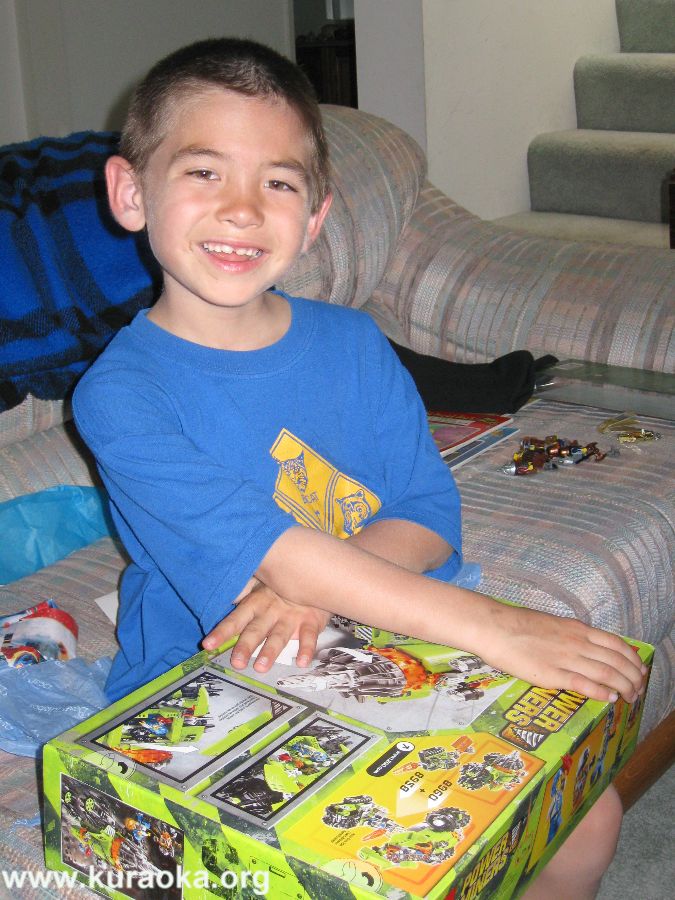 7-19-09: Lego building! Pool Party! What a busy day! Leo and Roy got busy well before dawn, building Leo's "Troll Mountain Fortress" Lego set that he picked out at Legoland for his birthday. Here are Leo proudly posing by the set, and then Roy and Leo with the set (Roy helped a lot with the building). Finally, the set itself. It has hinges and opens out in the back! The last two photos are from the Pack 951 Pool Party. The first photo shows a determined Leo preparing to lunge into a swim to the other edge of the pool, then Roy casually stepping off the diving board in the "smallest splash" contest.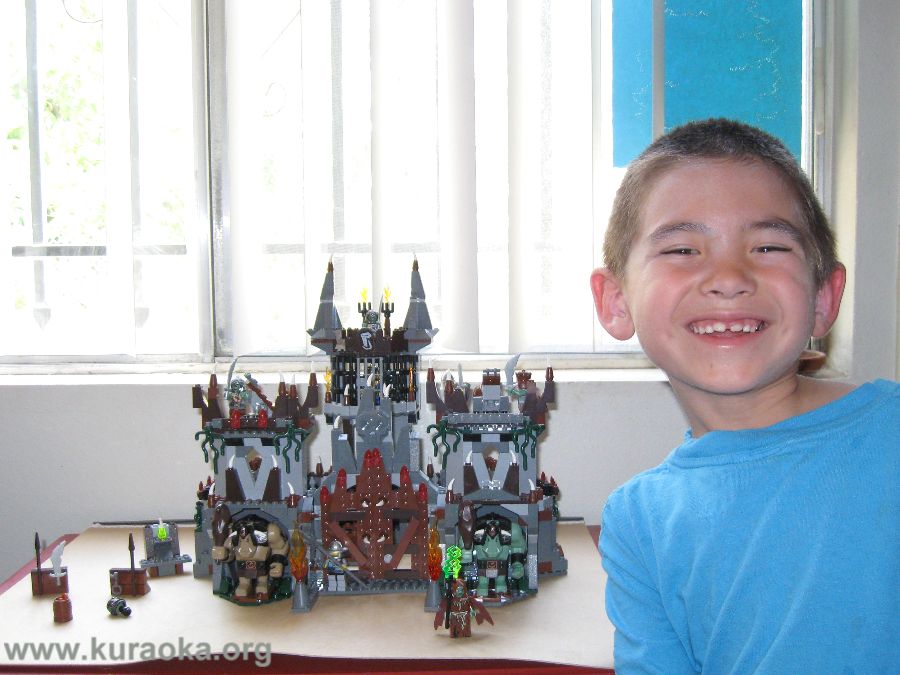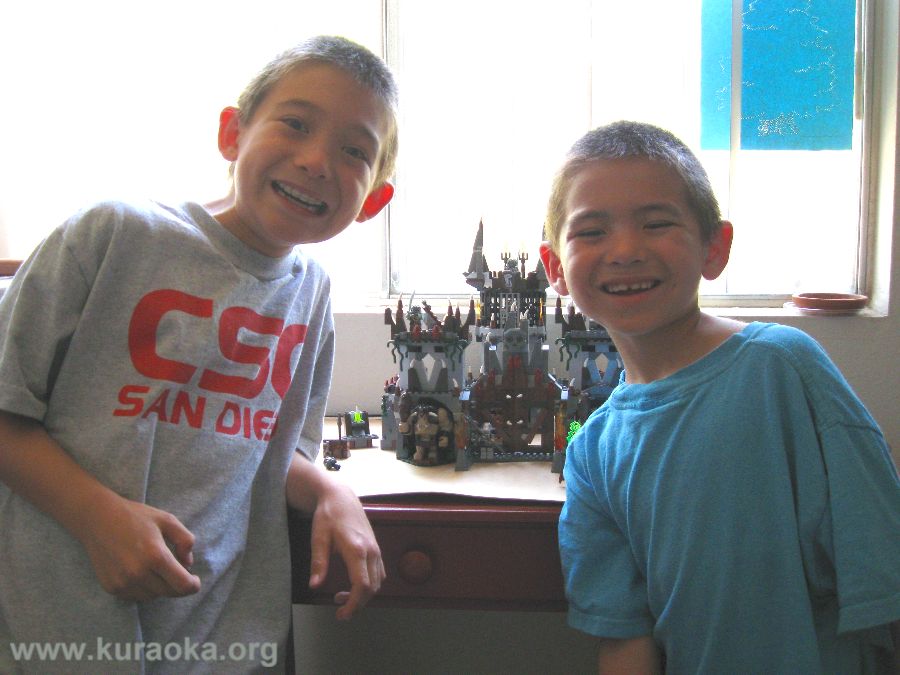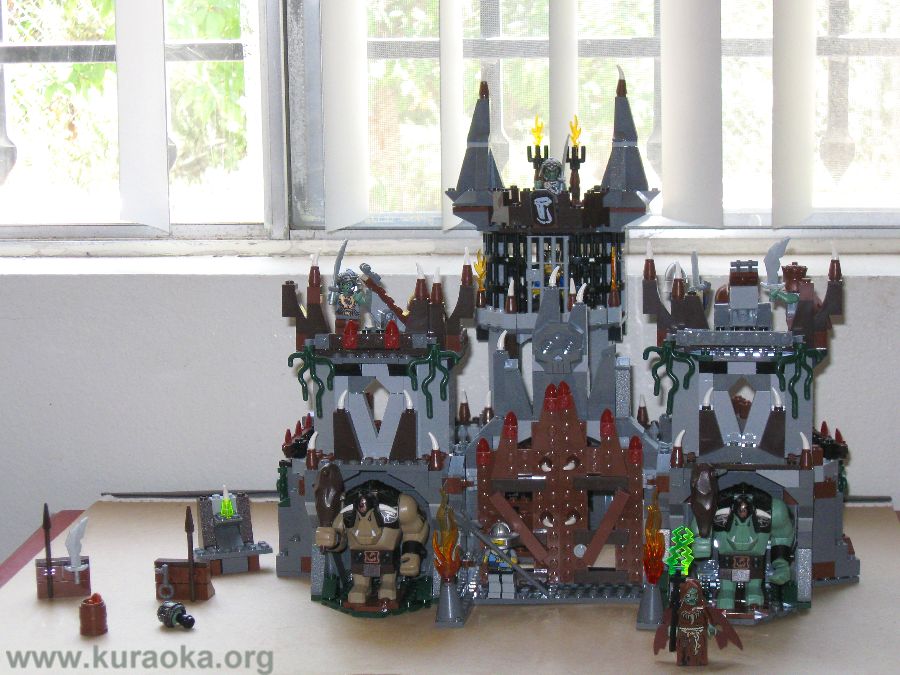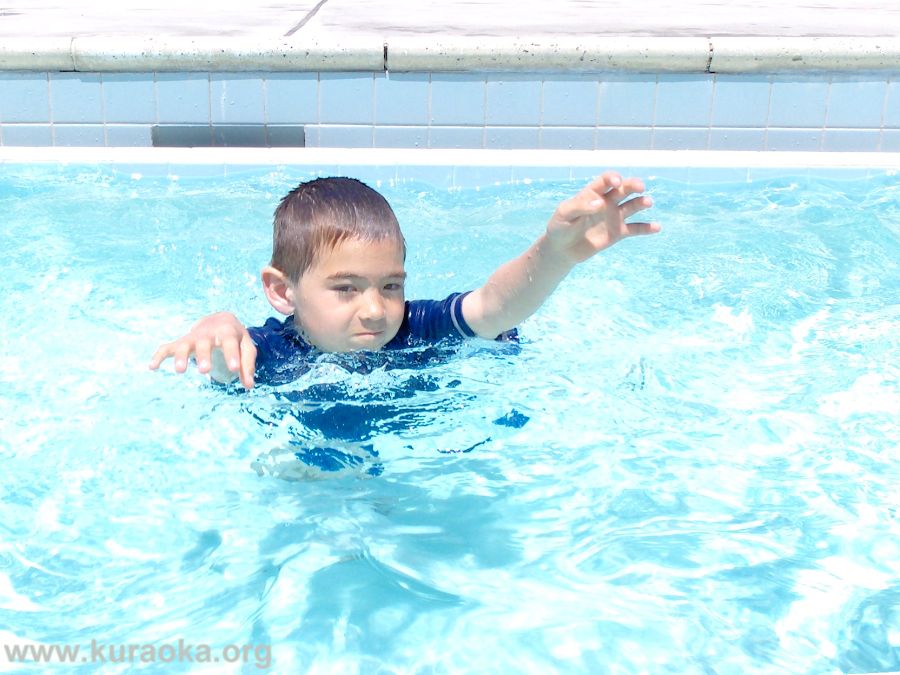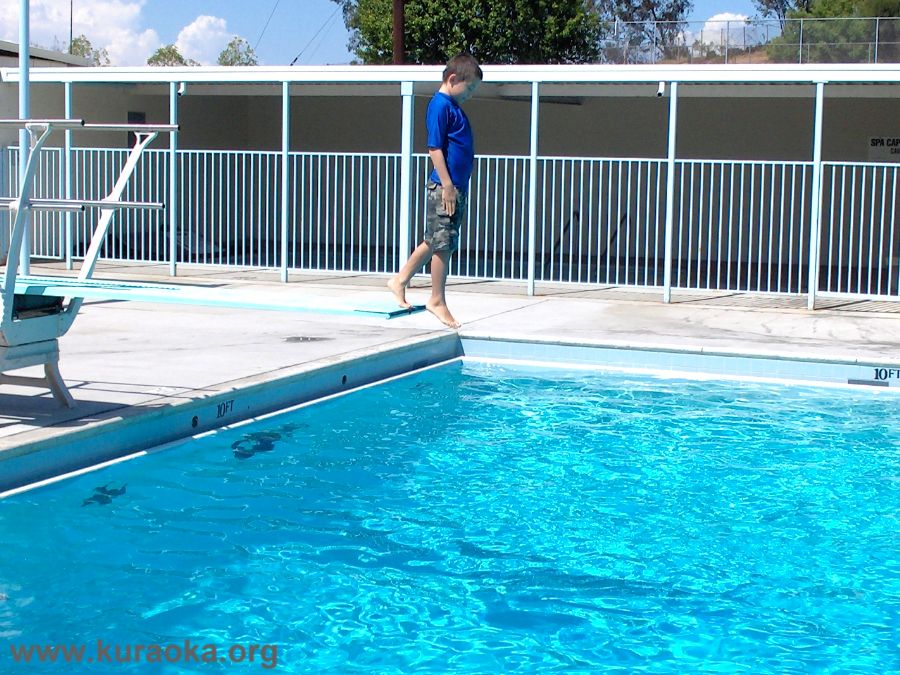 July 13-17, 2009: Art Camp! Roy and Leo took a half-day Art Camp all week at the La Mesa Rec Center. Here is a small sampling of their art, photos courtesy their teacher, Penny Quirk, the owner of Art Smarts. First up are two by Leo, then two by Roy.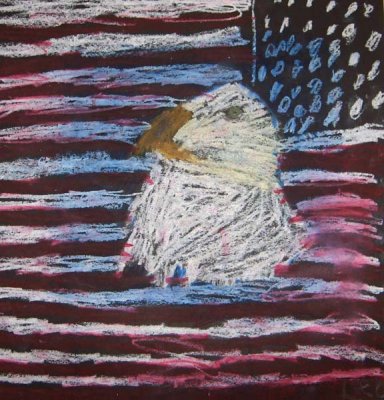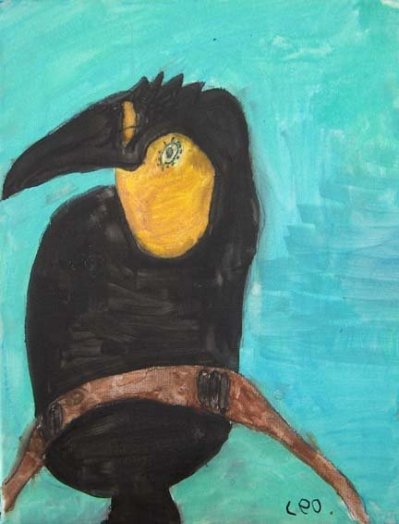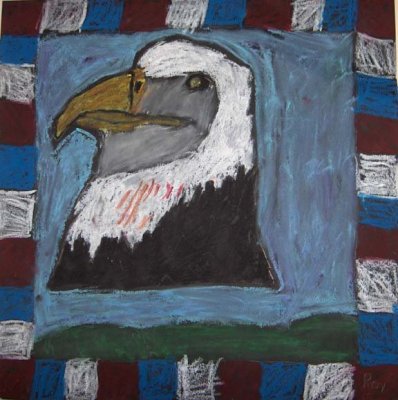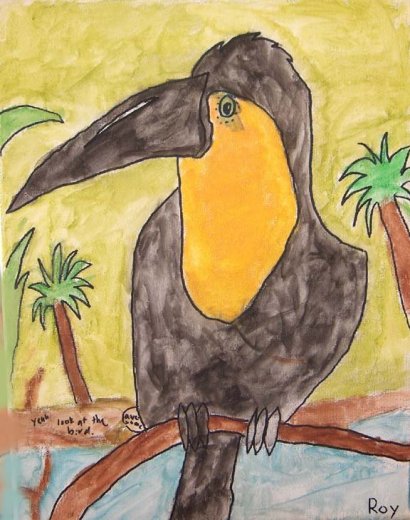 07-04-2009: Independence Day at the Del Mar Fair! Ondine performed a hula with the Pride of Polynesia Dance Review! The dance was at the SDG&E Showcase Stage, and was accompanied by live music and drumming! Here are a couple stills; Ondine is in the center. But, to really get a feel for the graceful movements, watch this video showing Ondine dancing the hula! We also have video of the boys going down a huge slide! Speaking of the kints, here are a couple shots of them, first on a giant monogrammed block – rather nice of the Fair to honor us that way – and then peering out the back window of a 1969 Crown school bus, an historical vehicle if you can believe it. Hey! John went to school in one of those!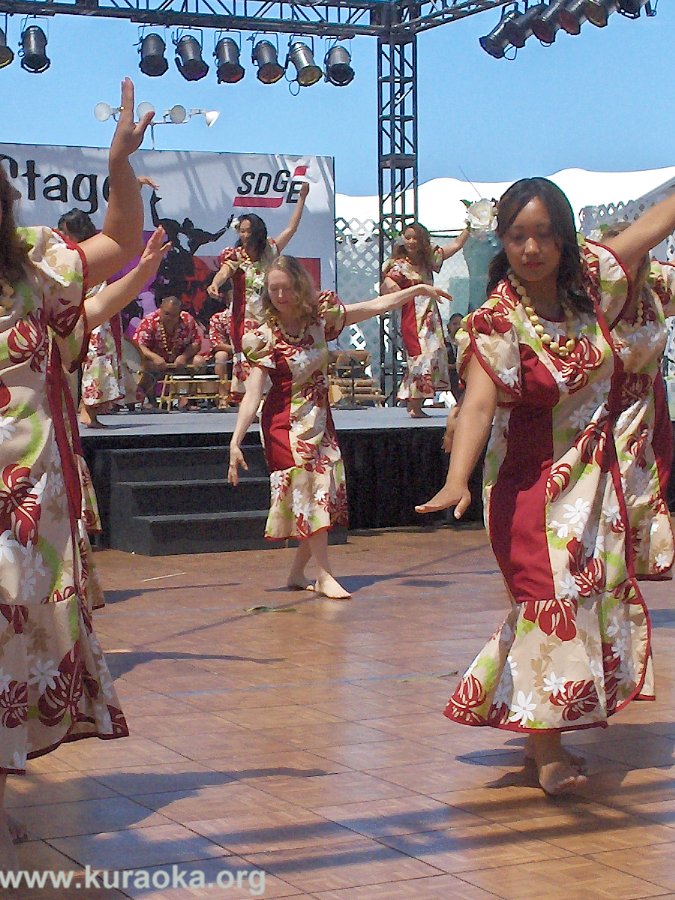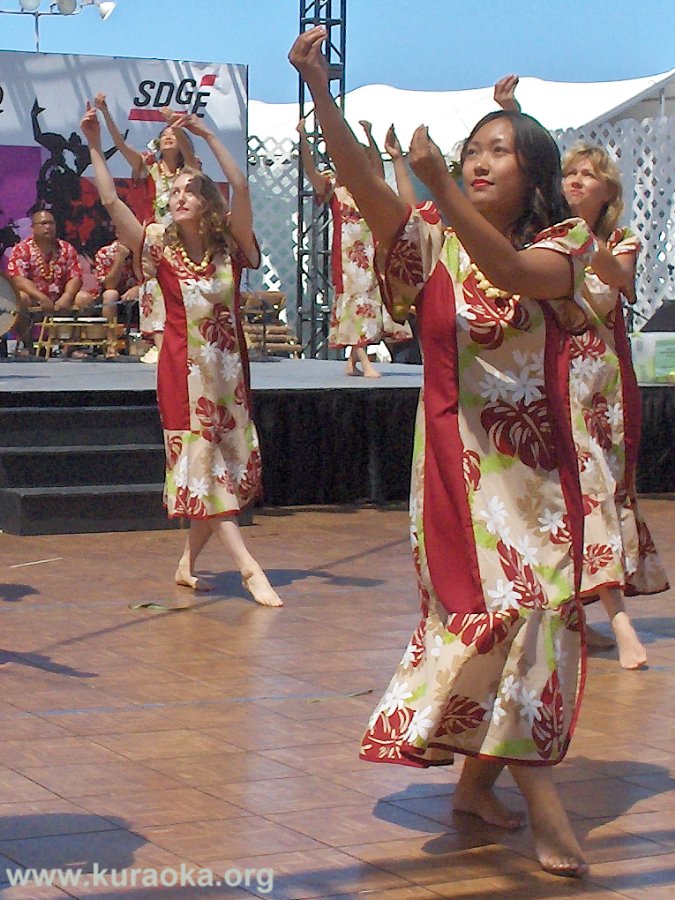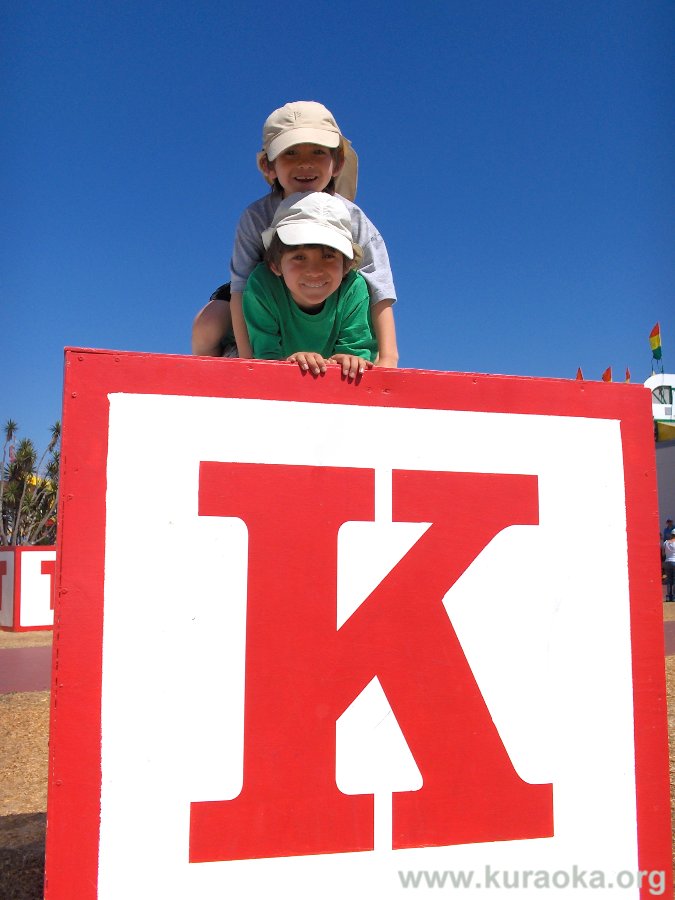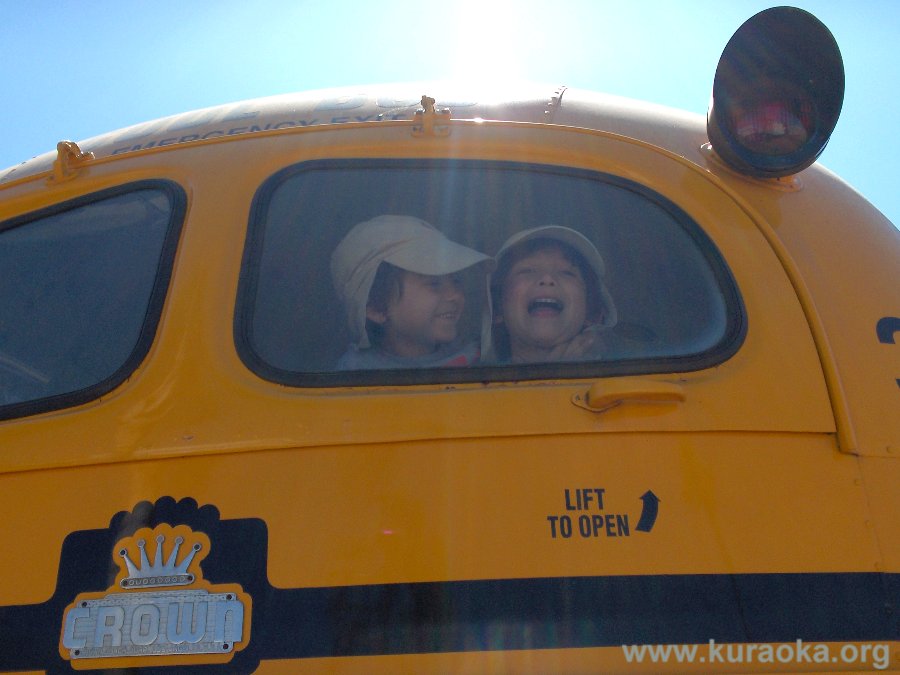 Video of Ondine dancing the hula (5 MB)
Video of the boys on the slide (4.4 MB)
06-30-2009: The Del Mar Fair! Our second attempt was the charm this time. The first photo shows the famous chocolate covered bacon. We all had a piece; the chocolate was excellent, but on the whole it needed more bacon. John liked it best dipped in salsa from Palapa Taco! The next photo shows our two winners from the recycled wearable art one-day contents! John took third place in the hat division for his hatband made from junk mail. Ondine won second prize in the jewelry division for her pendant! (Not only did our entries win ribbons, but they also got us into the Fair for free, plus it was a kids-get-in-free day. Plus, we parked for free off-site and took the free shuttle into the Fairgrounds.) A kindly passerby offered to take a photo of all of us – note Roy's mugging for the camera. Next we have Roy and Leo in a cage! Ha! We also watched a pie-eating contest, visited the gemstone exhibit (there was a great demonstration of grinding a stone into a sphere that fascinated all of us), dawdled through the barns and petting zoo, watched people getting shot high into the air in the Slingshot ride, and cheered on the racing pigs and racing trucks. We did a lot of walking! So, here we are having a family Footsie-Wootsie! One of our favorite rides at the Fair came at the very end, when we had the good luck to be first in line for this double-decker shuttle bus! We seized the front row seats on the top deck. Here are Roy and Leo, tired but thrilled at the view. The last thing we have for you, is an invitation to join us on the Ferris Wheel!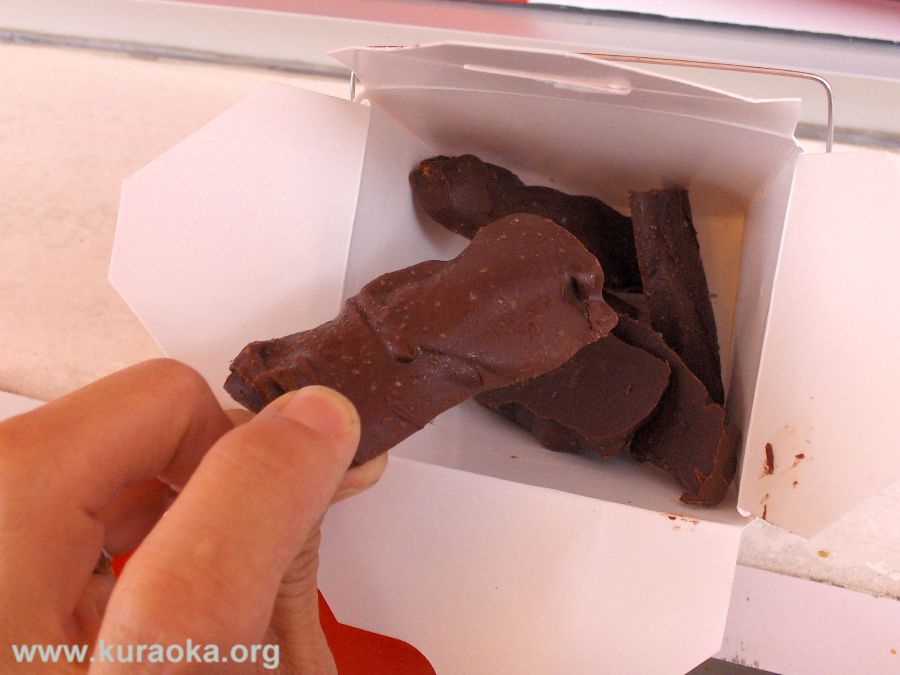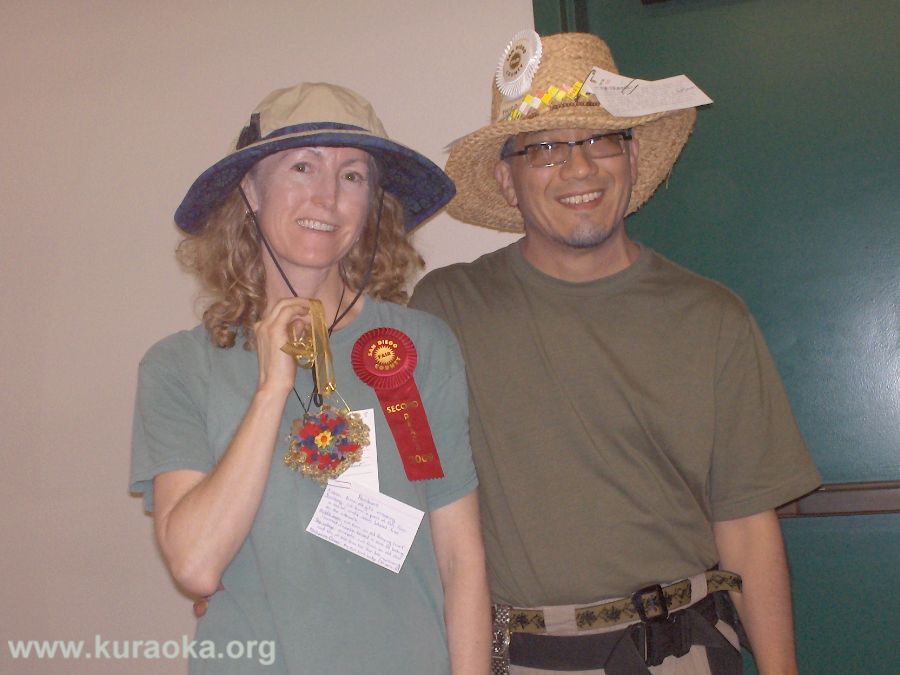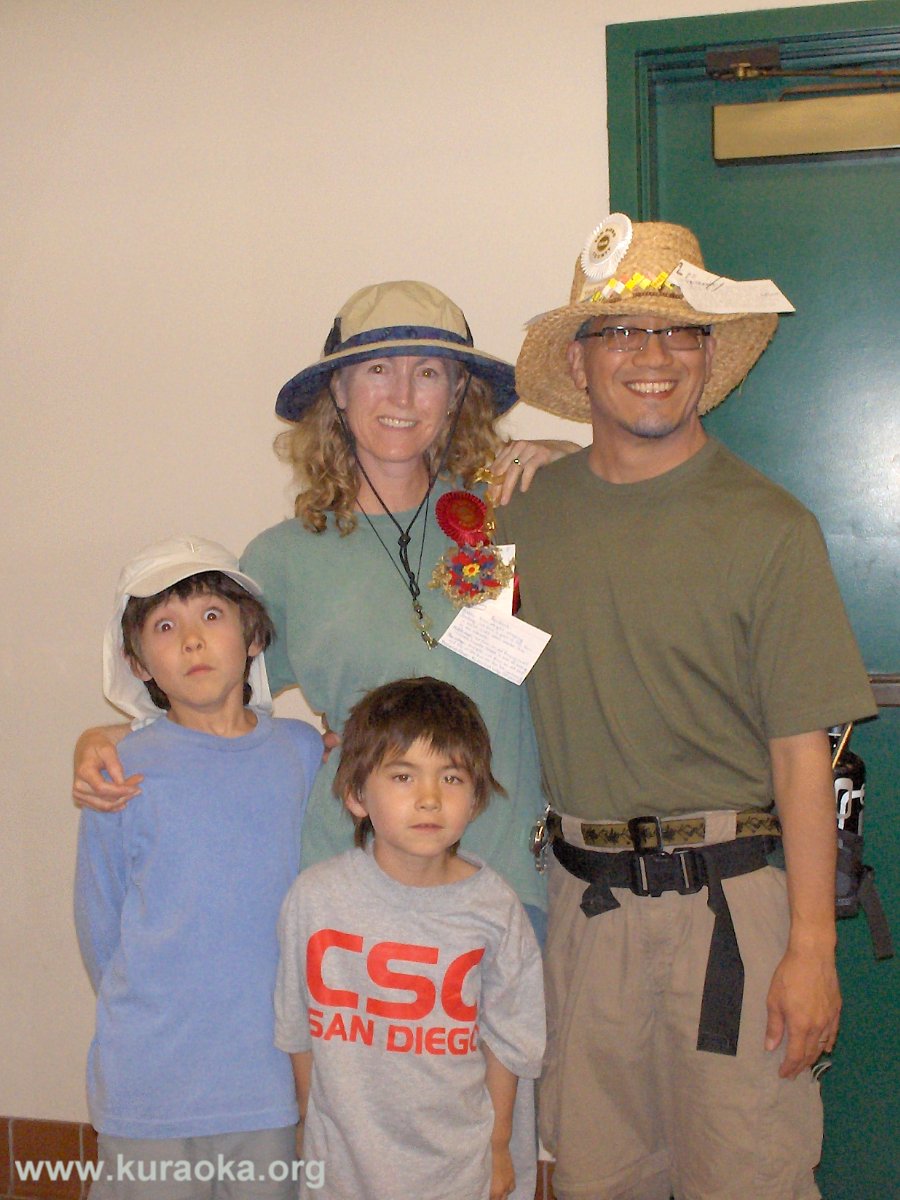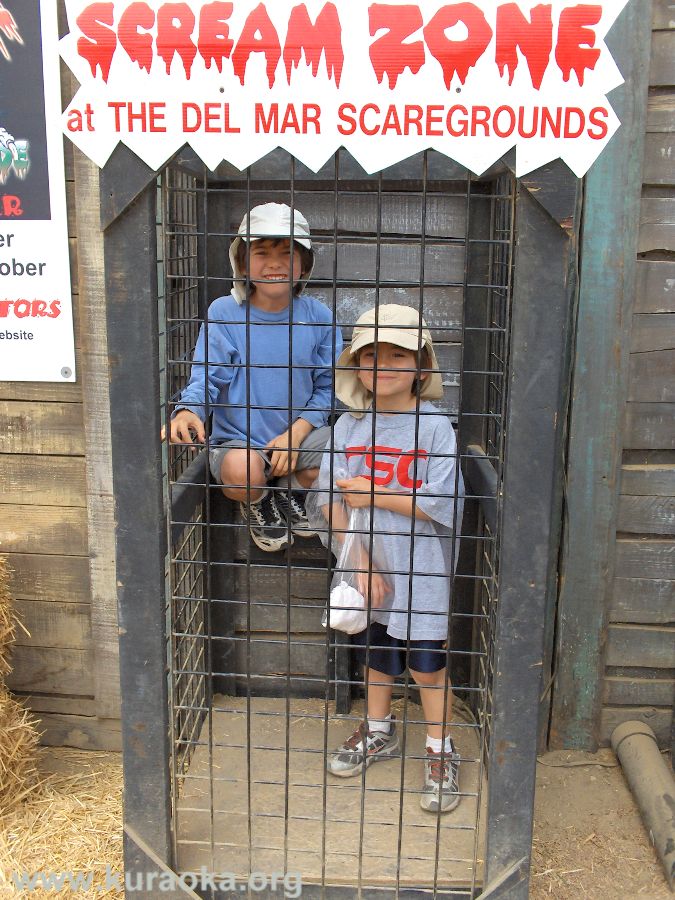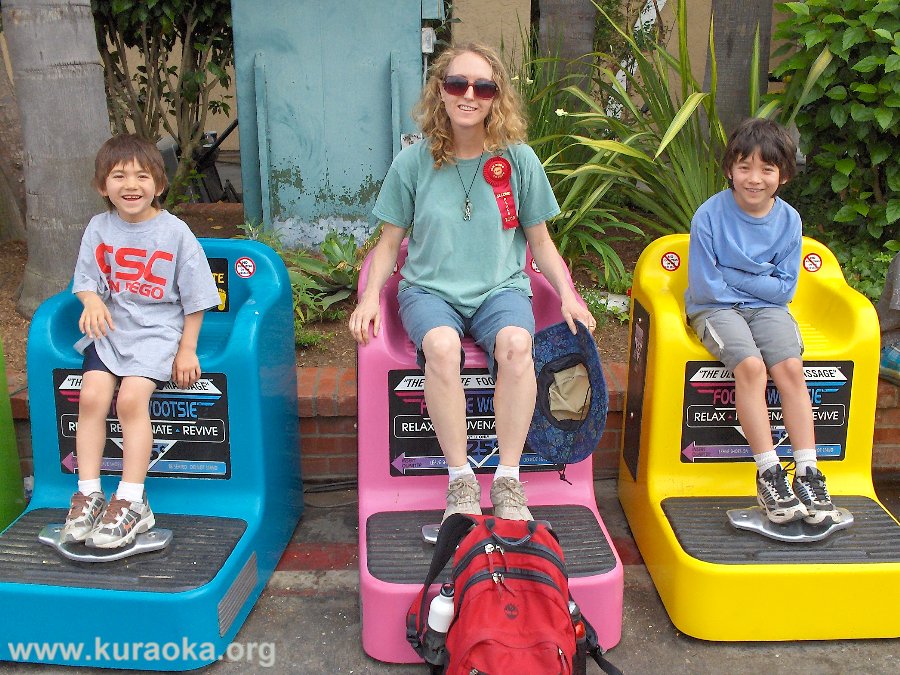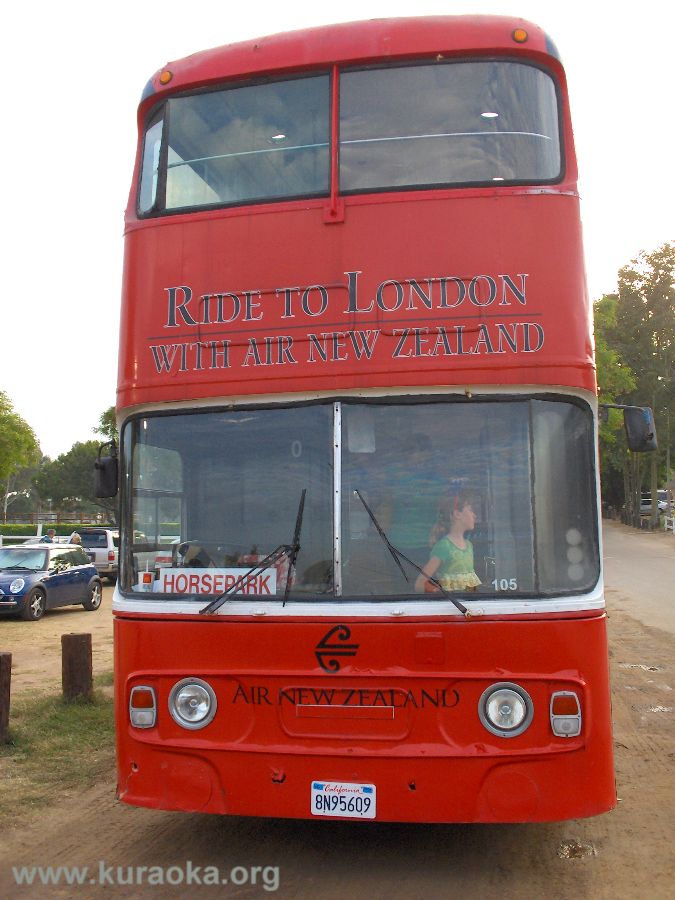 Join us on the Ferris Wheel! (9 MB video file, so don't even try it on dial-up)
06-21-2009: Roy and Buddy atop Cowles Mountain. We took a Father's Day hike up the mountain. Here are Roy and the doggo at the top.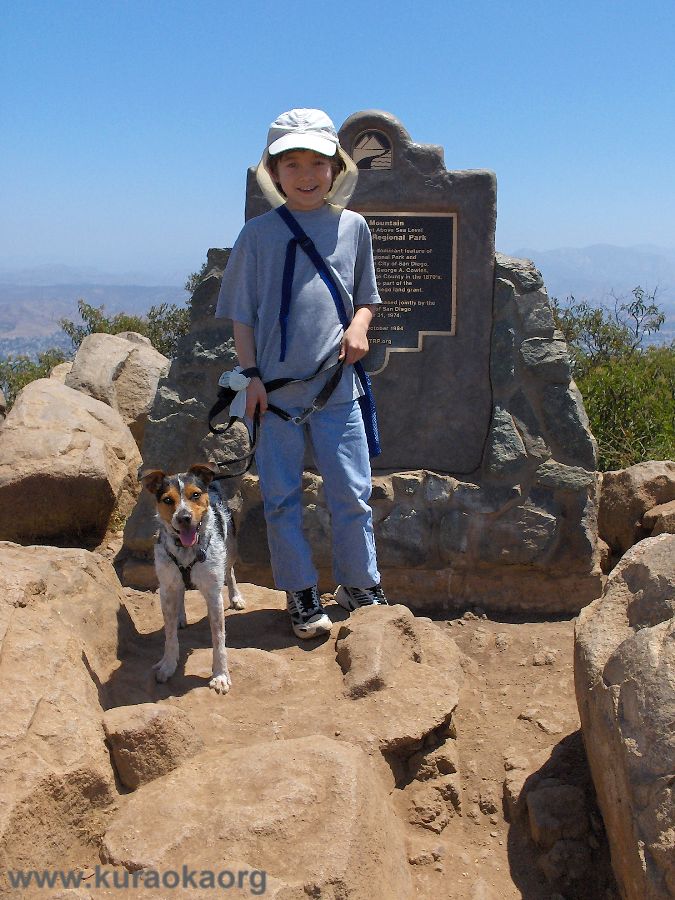 06-20-2009: Aunty Merry's moving! Those who could came to wish Aunty Merry well in colorado and send her off in a big way, with a nice bash! Here are the siblings: (front row, left to right) Aunty Merry, Aunty Maria, Uncle Leon; (back row, left to right) Uncle Mike, Aunty Grace, Frances.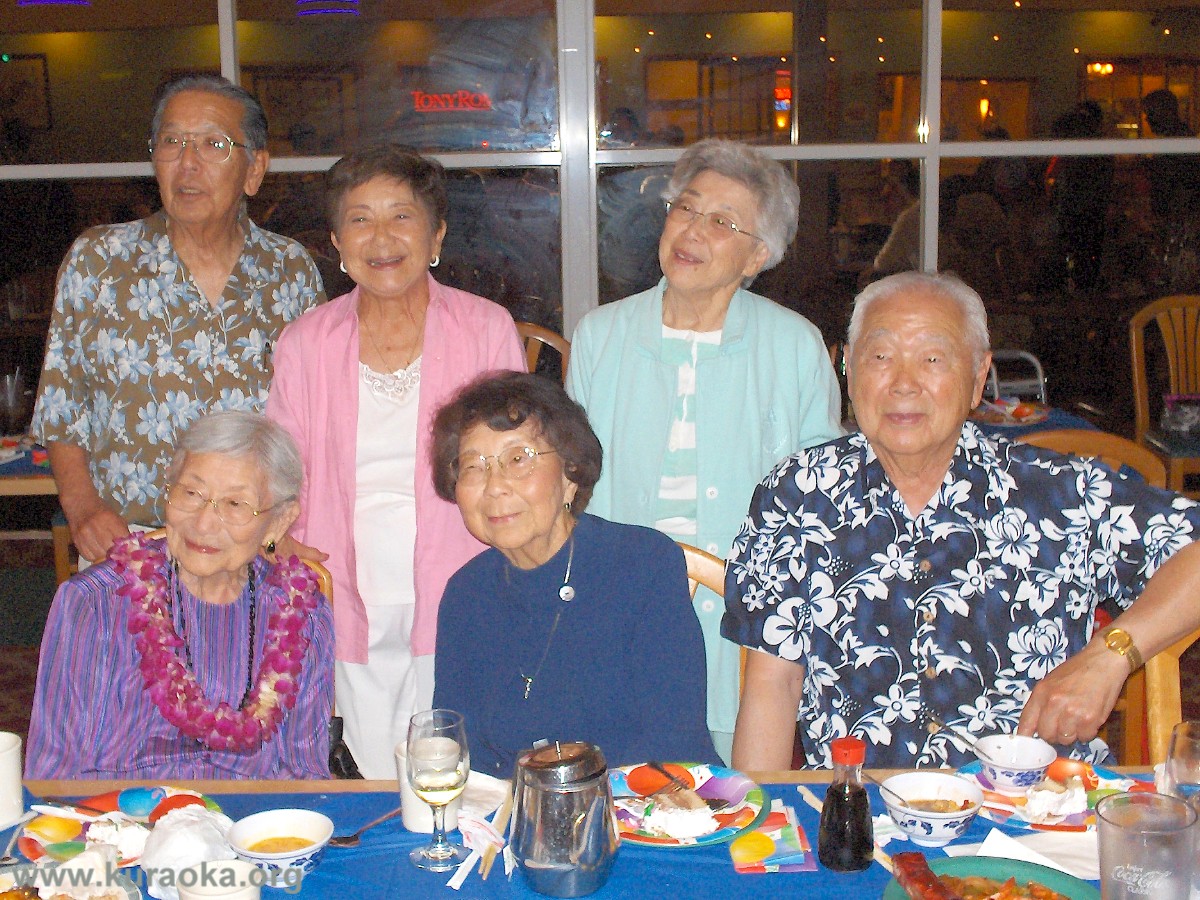 06-18-2009: Roy's Lego creation! Roy combined pieces from several different sets to create this adventure scenario, complete with vehicle. The poster behind him is of the Cologne cathedral – it was nearly five years ago that he climbed the stairs all the way to the top!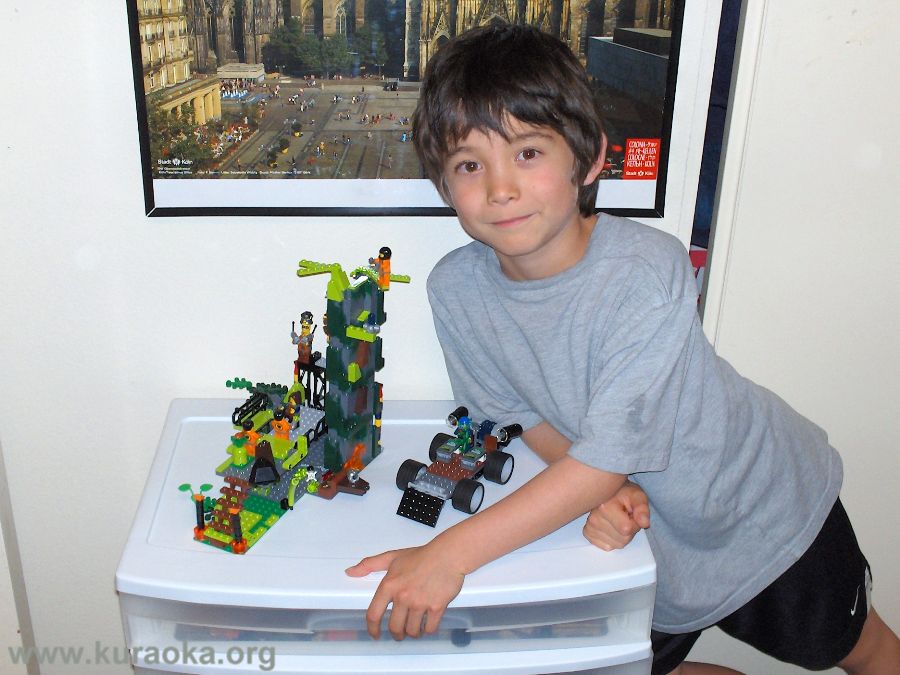 06-16-2009: Tip Top! We tried to get to the Del Mar Fair, taking advantage of $2 discount passes and a kids-get-in-free day. However, it seemed that all of San Diego had the same idea: the parking lots were full and traffic was backed up for miles. So, alternative plan: a German lunch at Tip Top Meats in Carlsbad! Roy is trying to play chameleon here, with no small success.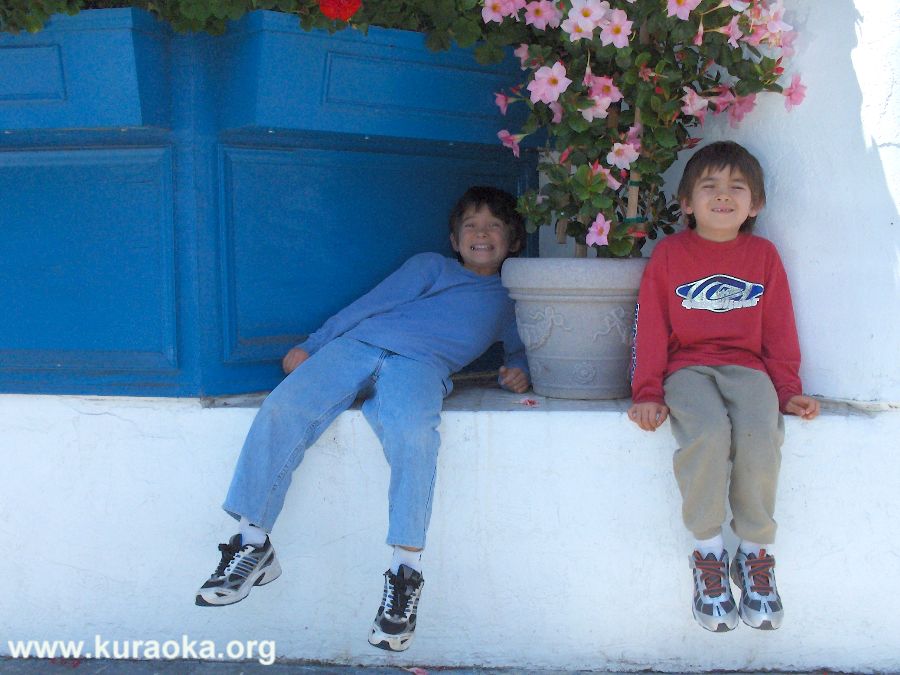 06-12-09 to 06-14-2009: Camp Balboa with Pack 951! A record turnout of 23 Cubs and Webelos and 20 adults made for a varied and fun-packed weekend! We drew the first slot for archery - there you see Leo. Leo also shot a BB gun, keeping all his BBs on target and scoring a respectable 49 - not bad for a first-time BB-gun shooter! Some kids went swimming, and in the afternoon a dozen Cubs took a hike to Balboa Park. Here you see one of the abandoned freeway onramps along the trail by the 163: this particular one is the Richmond Street Overcrossing, first looking up toward Richmond Street and then looking down the pine needle carpeted ramp to the 163 heading south, toward downtown. The third photo is all the Cubs who went on the hike. You can see Leo at the upper left and Roy at the lower right. The last thing we have for you is this video clip of more tent shenanigans (3 MB). That's Roy, Leo, and Michael under the tent.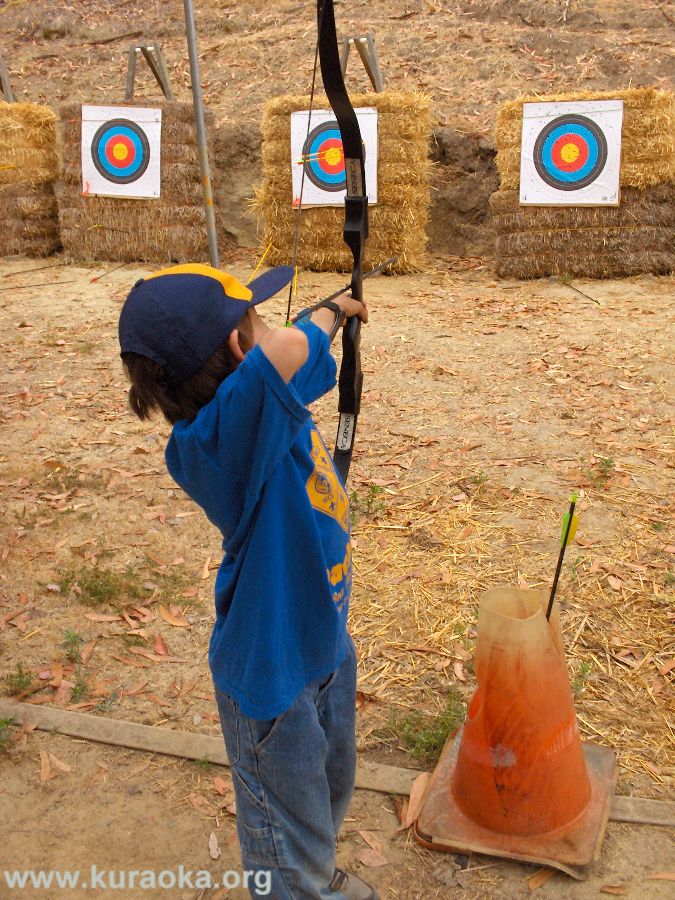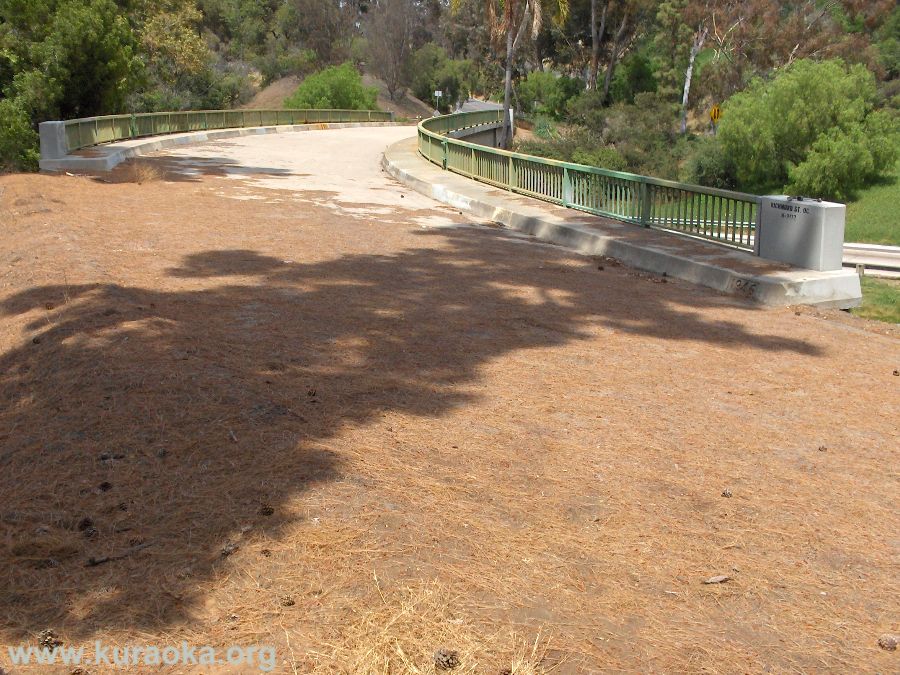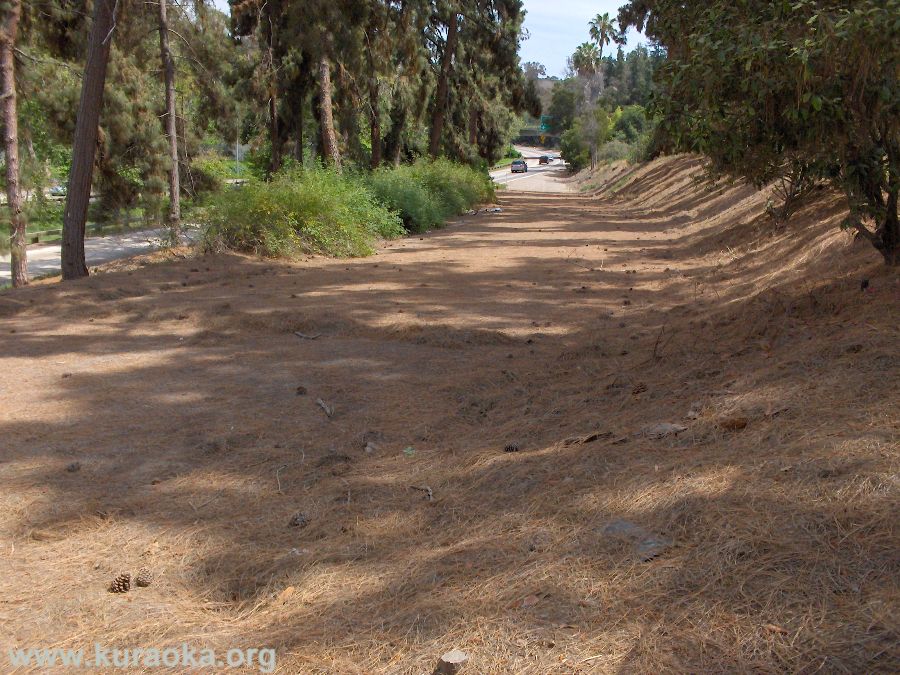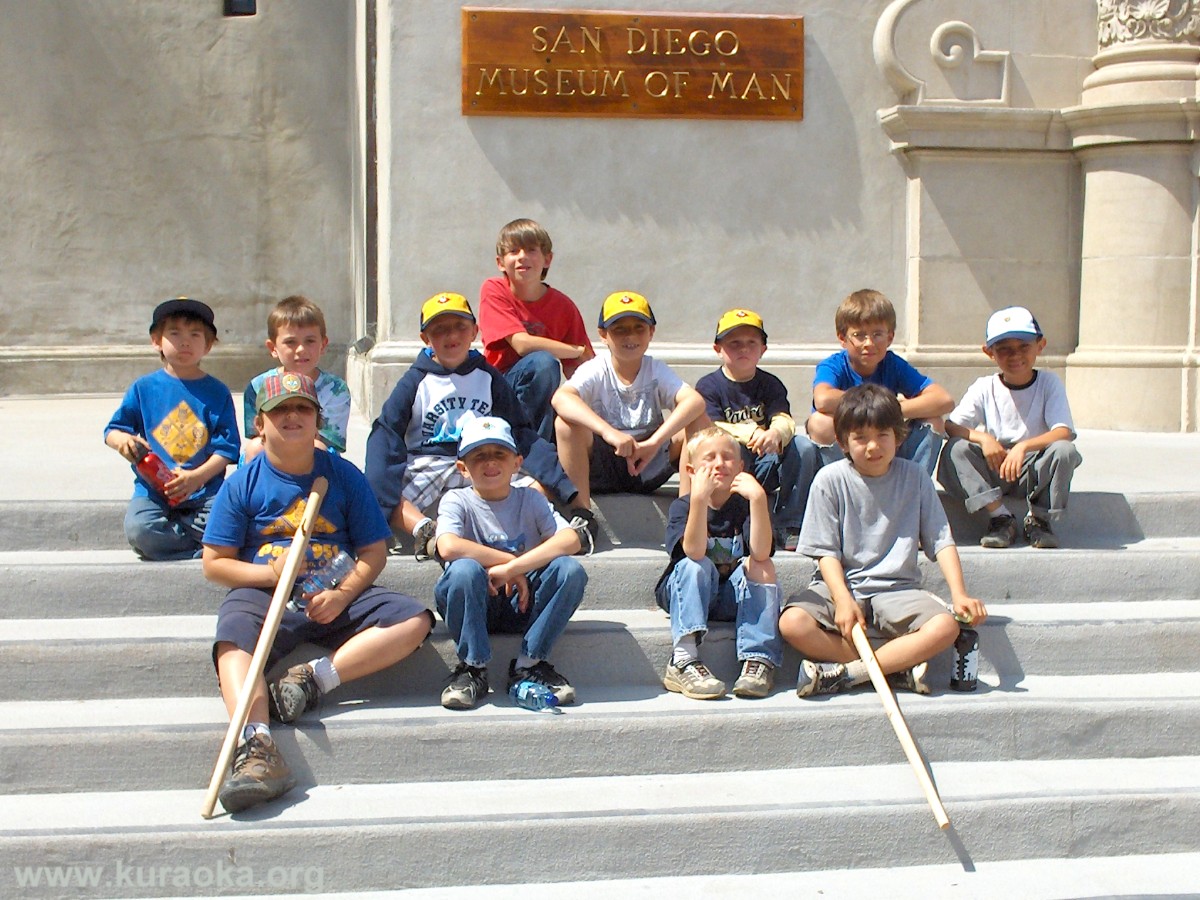 Video: Tent shenanigans! (3 MB)
06-10-09: Gage Elementary Running Club! This year, the kids at Gage ran 34,586.5 miles, beating last year by more than 4,000 miles! Here you see Roy with his certificate - one of the top ten runners at the school with 265 miles. And, Leo ran 175.25 miles! He's dressed in pajamas because it was "Read All Day In PJs" day. The last photo is a group shot of all the runners who made 150 miles or more. Leo is in the front row, just left of center. Roy is almost smack dab in the middle, peering over his certificate. Immediately to the right of Roy (or, to Roy's left) are Blake and Zackary, two other strong runners in Roy's classroom (they each ran more than 400 miles). On the far right are Roy's friends and Cub Scout denmates Stephen (standing) and Alexander (kneeling, blue shirt). And, in the front row, second from the far right is Leo's friend and classmate Jake, also in pajamas. Go Gage Gator Runners!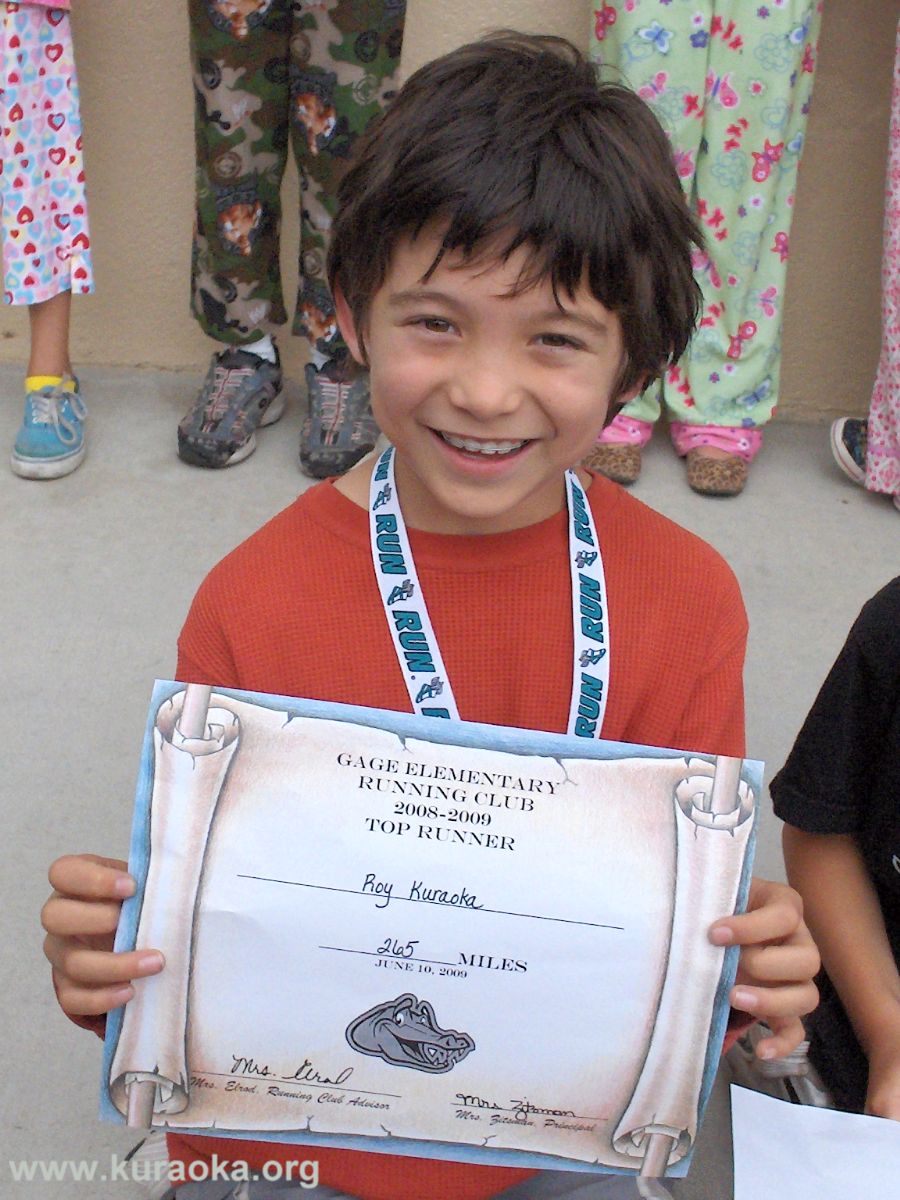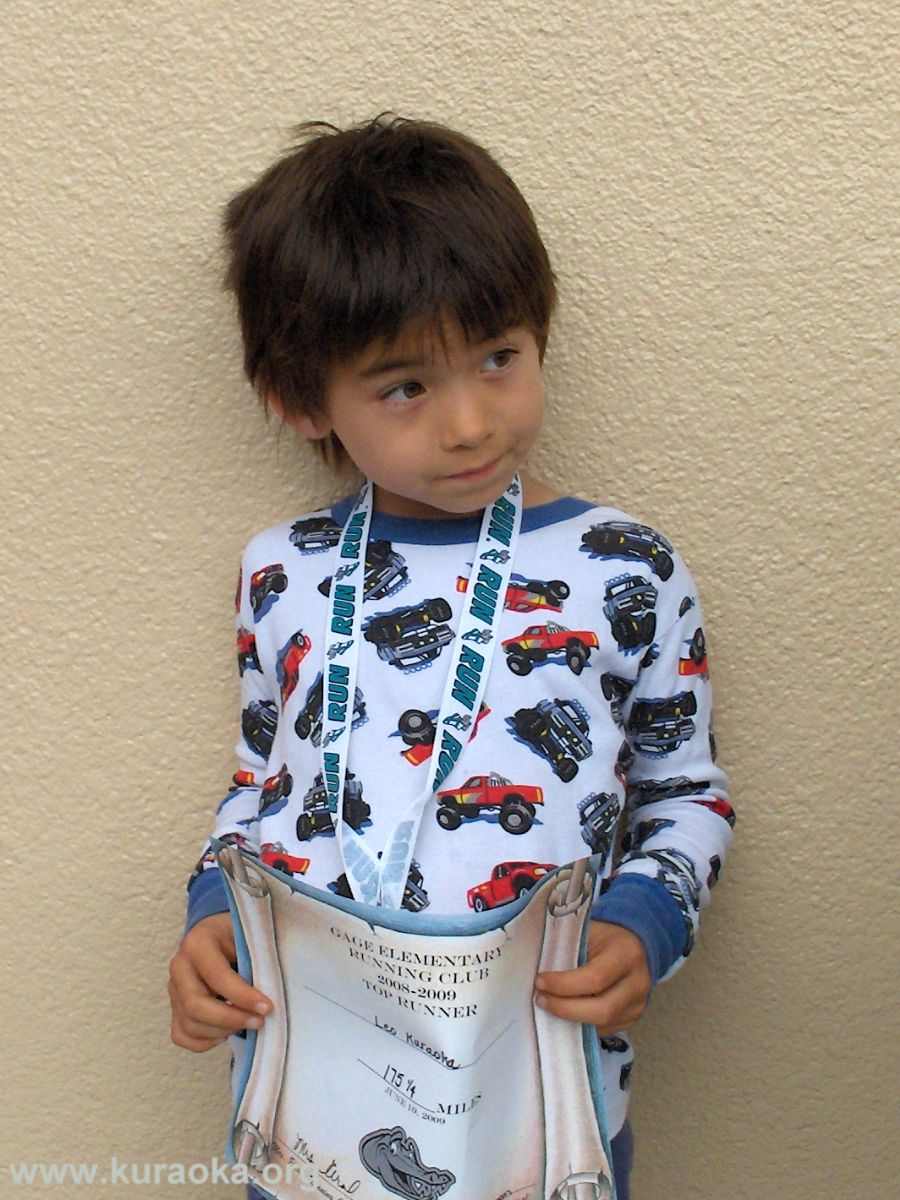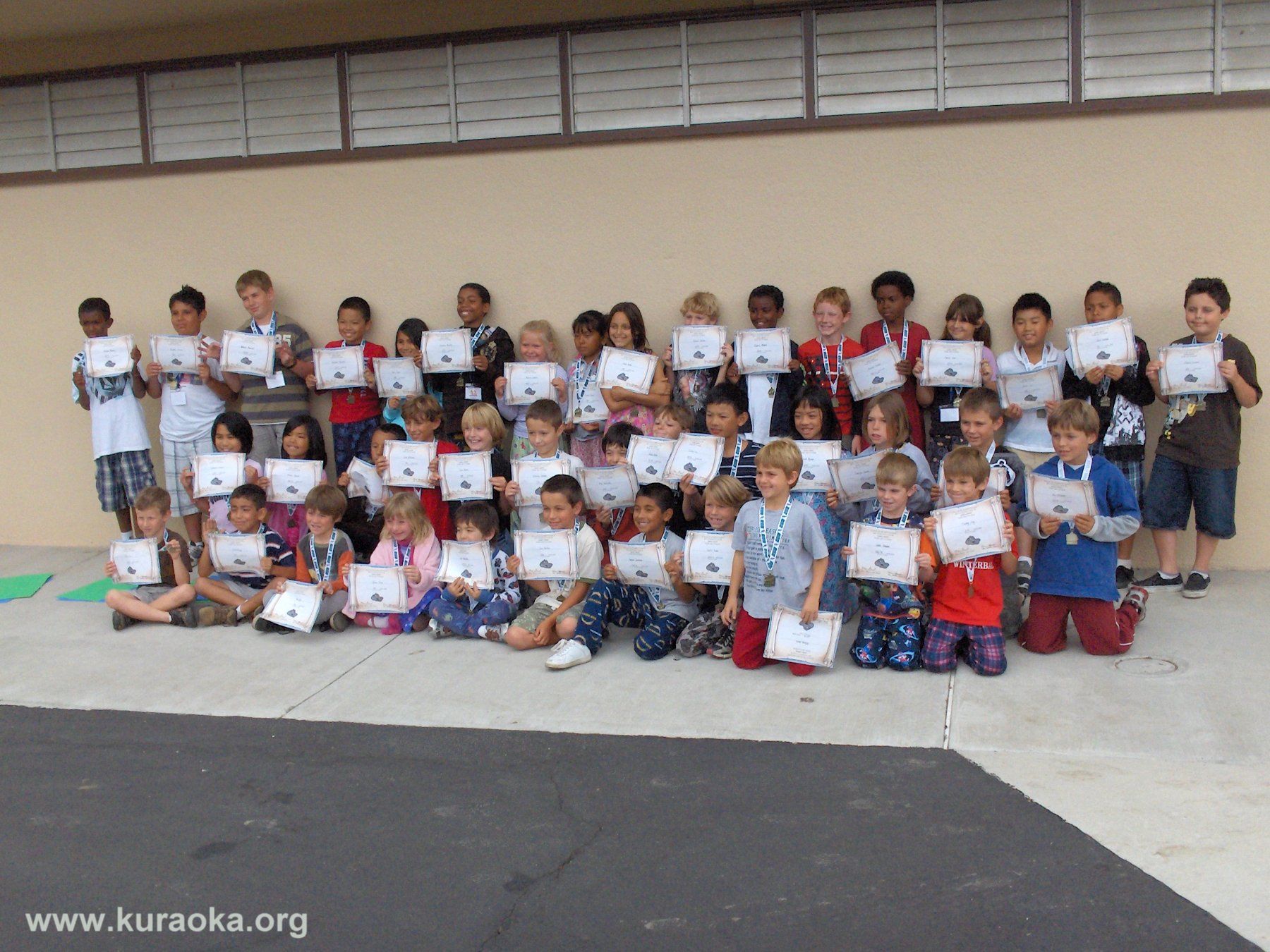 06-07-09: Legos! By early morning, Roy had built the two sets he got from Legoland. Here you see him with the Lego Power Miners "Crystal King" and "Titanium Command Rig" in two of its modes. The last photo shows Leo with his set from Legoland (bought with his own money), the Power Miners "Stone Chopper." By the way, the black spider you see on the table in that first photo is plastic (the dog in the background is real though). Oh, and in the background of the third photo, you can see Roy's presentation board for his animal report.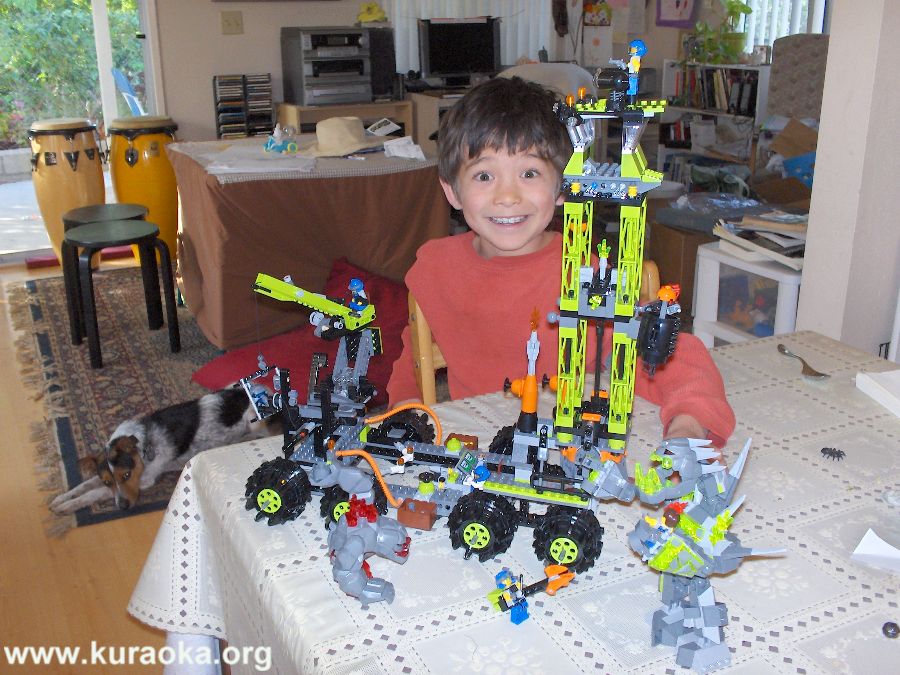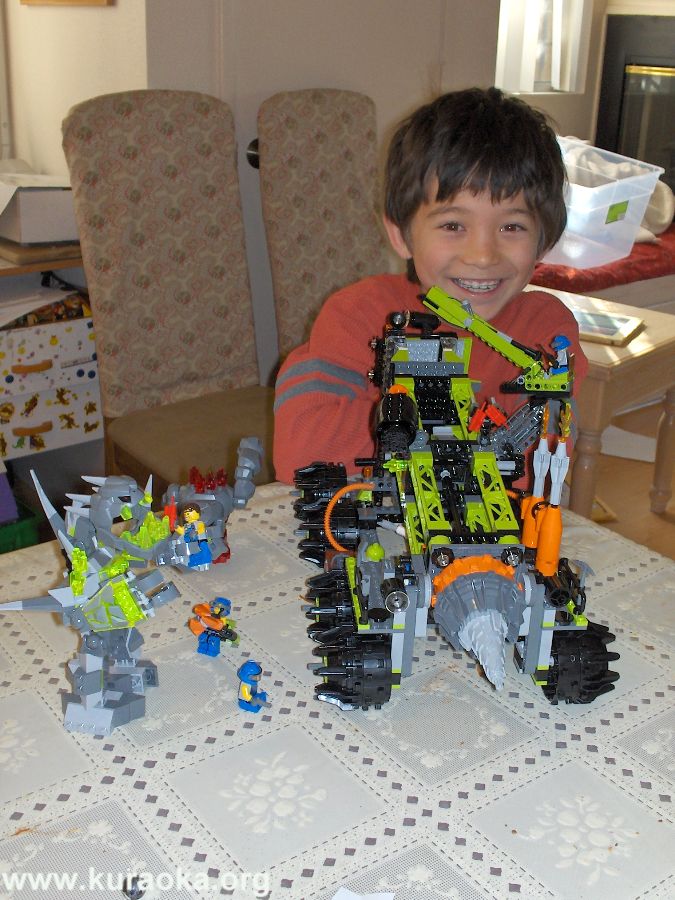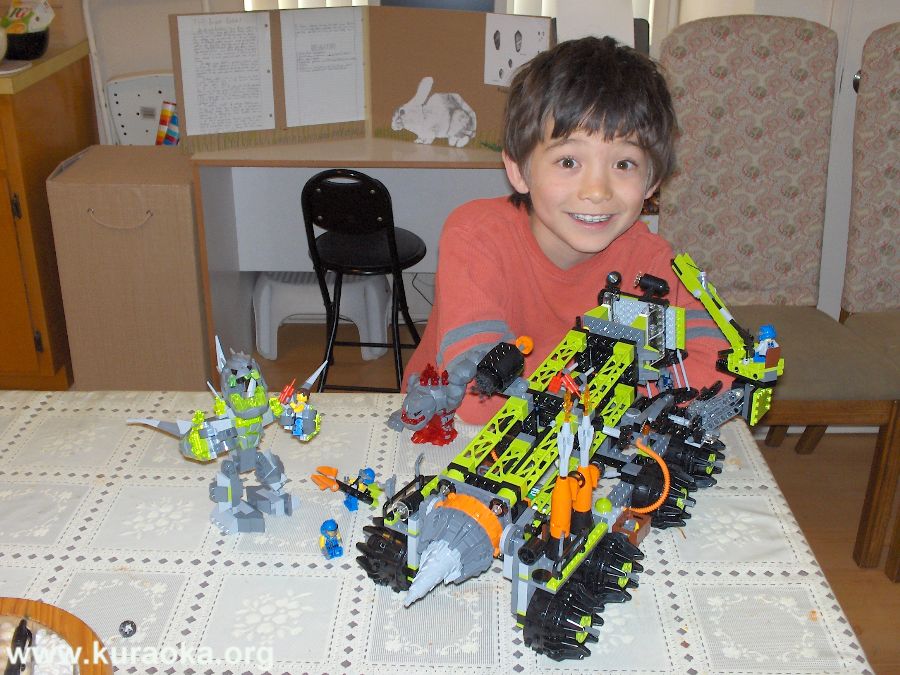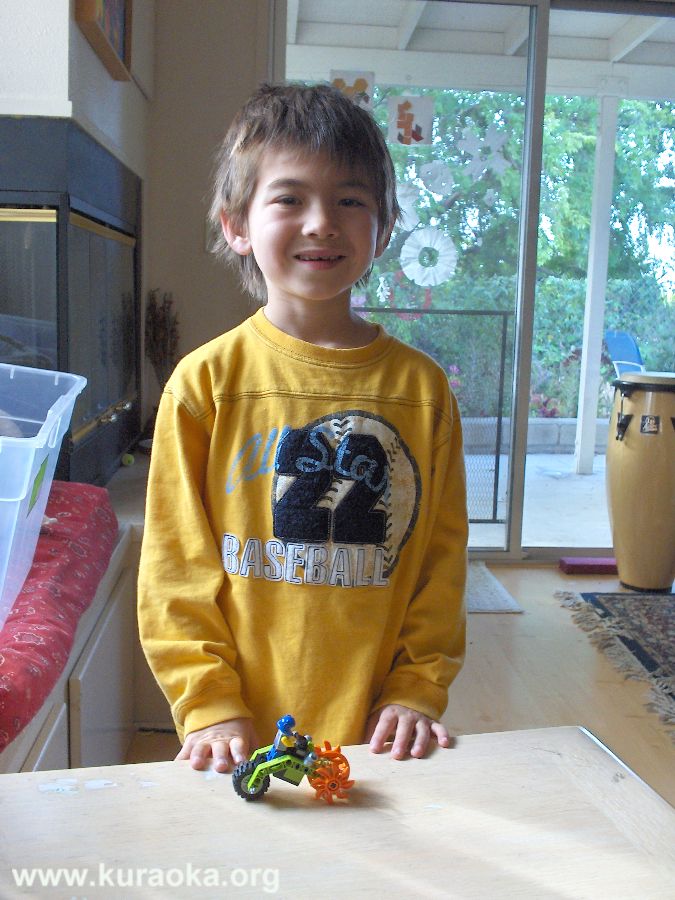 06-06-09: Legoland! We gave Roy the choice of a birthday party or a trip to Legoland to celebrate his ninth birthday, and he chose Legoland. First up are Leo and Roy manning a water cannon at Pirate Shores, spraying passers-by. Next are Leo and Roy mugging at the exit. Leo, you may notice, has changed clothes because he got soaked playing in the water. Roy is at an age when he doesn't want his picture taken, so these are all we have from the day, except a couple big birthday present Lego sets and lots of fun memories!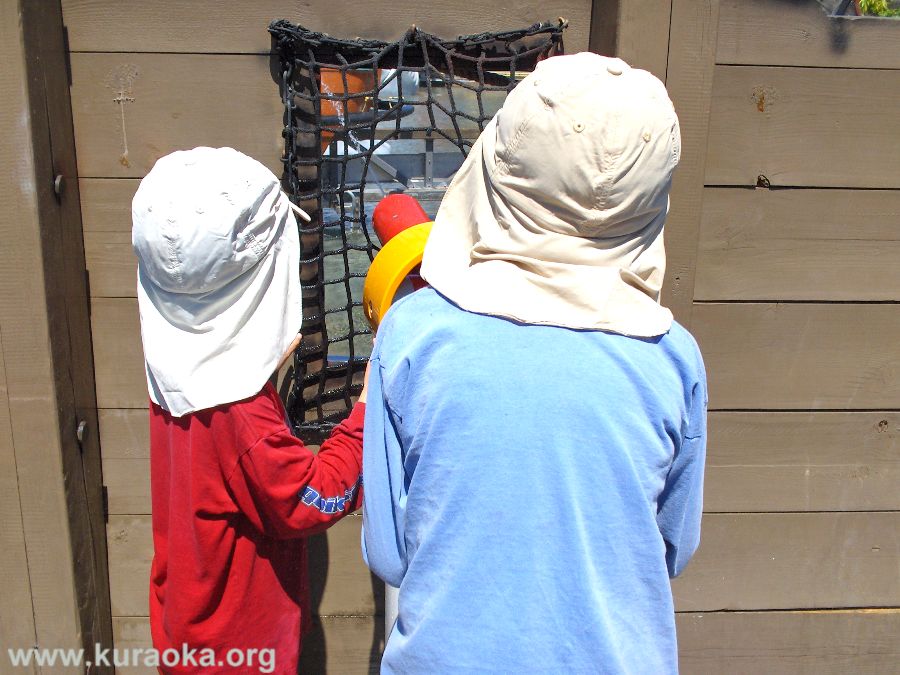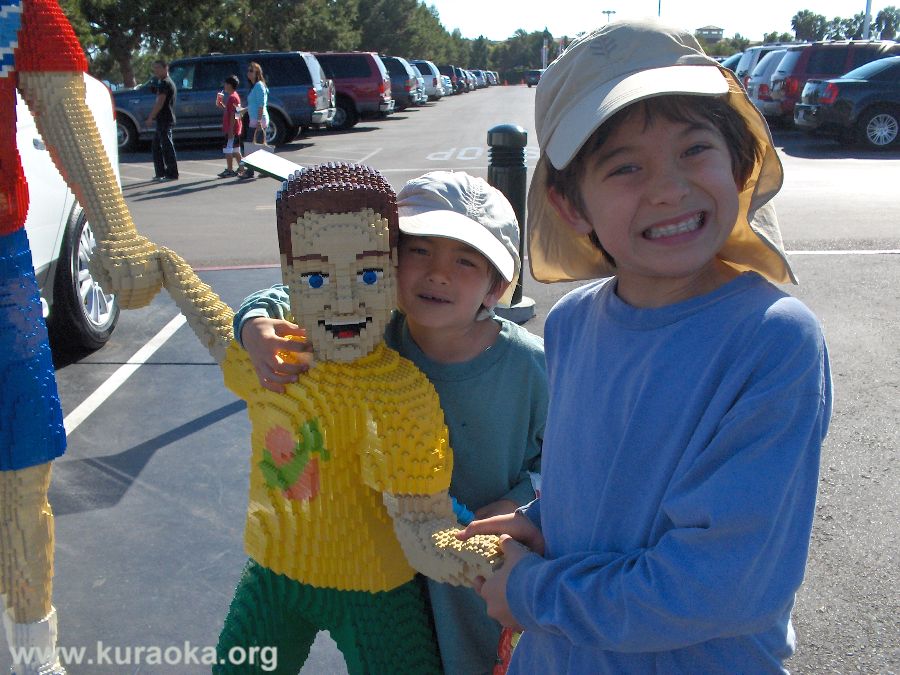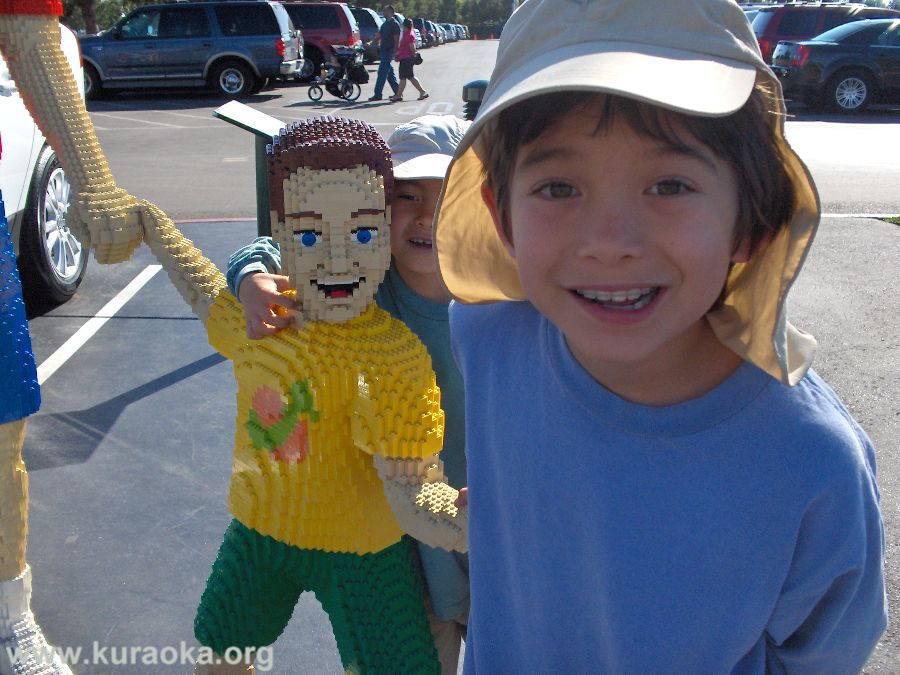 06-05-09: Pack 951 Meeting and Graduation Ceremony! The Tiger den performed the flag ceremony, which Leo participated in for his very first time. You see him with the rest of his den (still Tigers) and then receiving handshakes upon graduating to Wolf Cubs. It was Roy's birthday, and he graduated to Webelos, which is a two-year program. Finally, we have a sadly low-res photo of most of Pack 951. Roy is at the left in his new Webelos neckerchief. Leo is at the bottom row near the right. Roy's Den Leader, Chris, is the third adult from the left in the back row, and Leo's Den Leader, Jason, is the second adult from the right in front.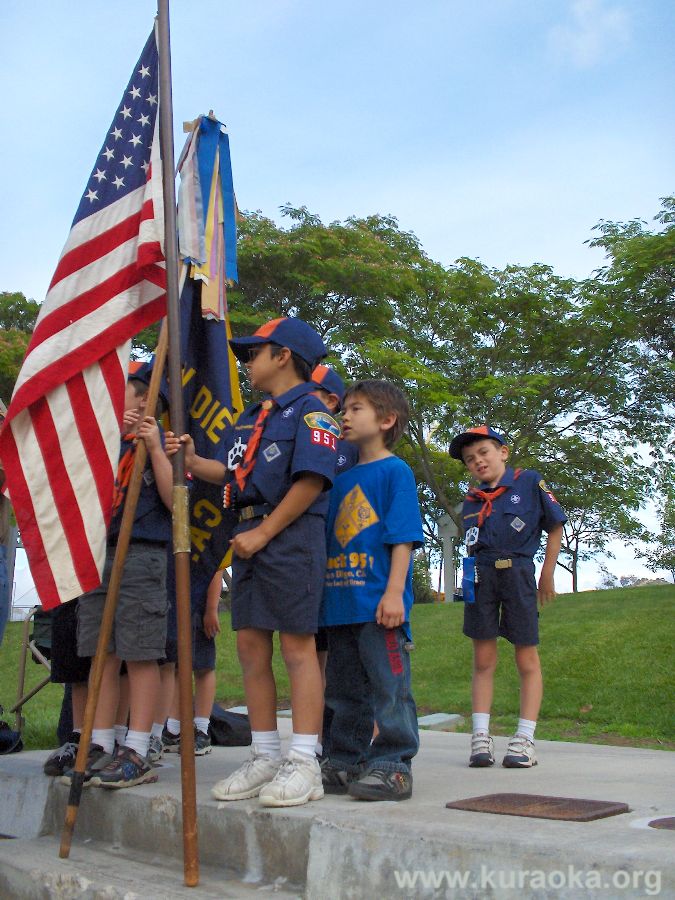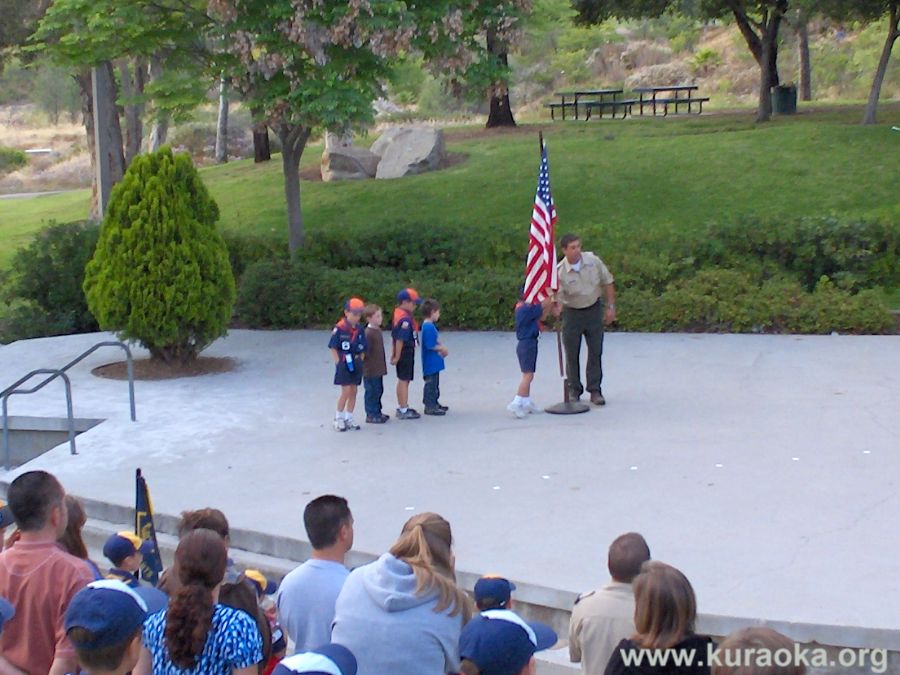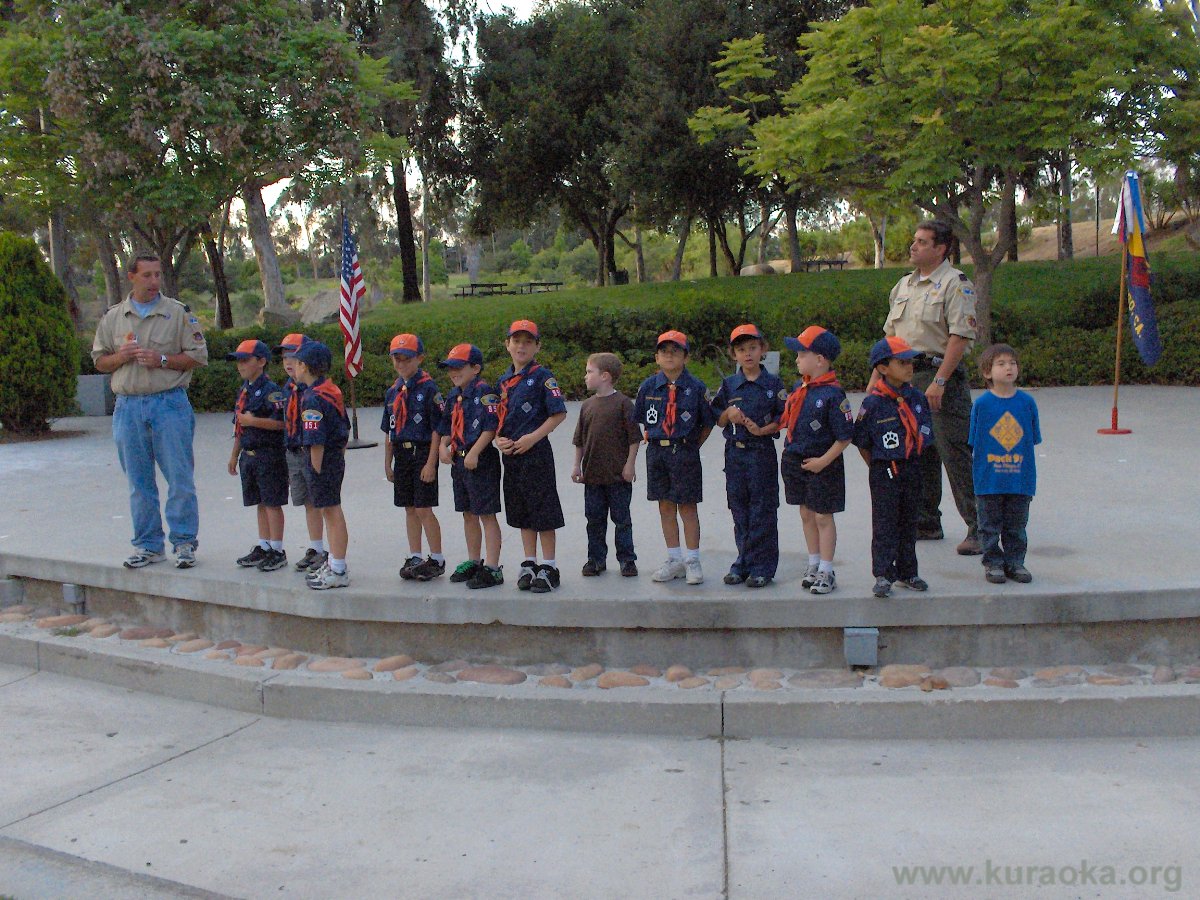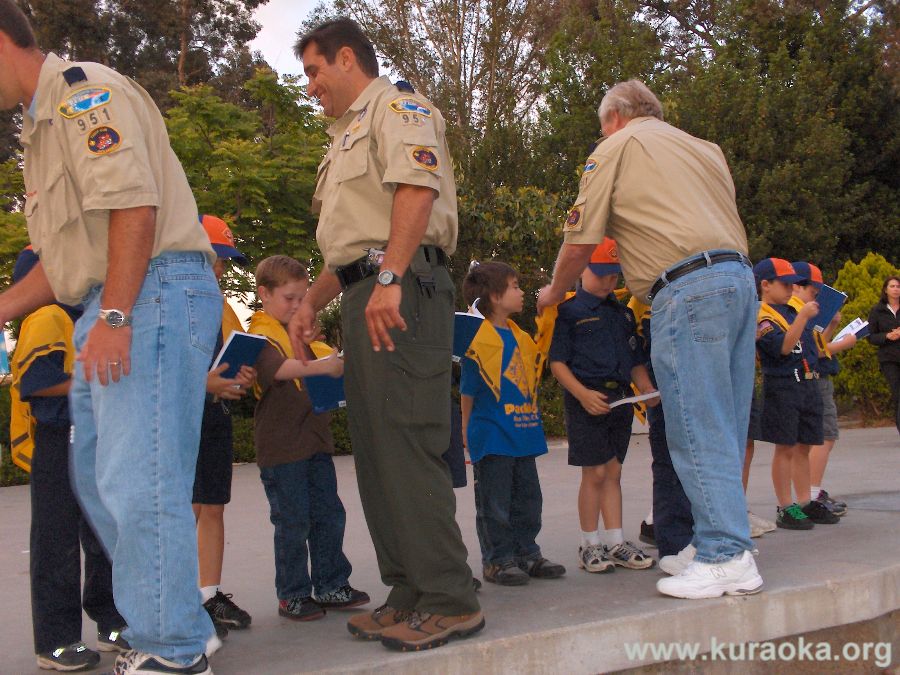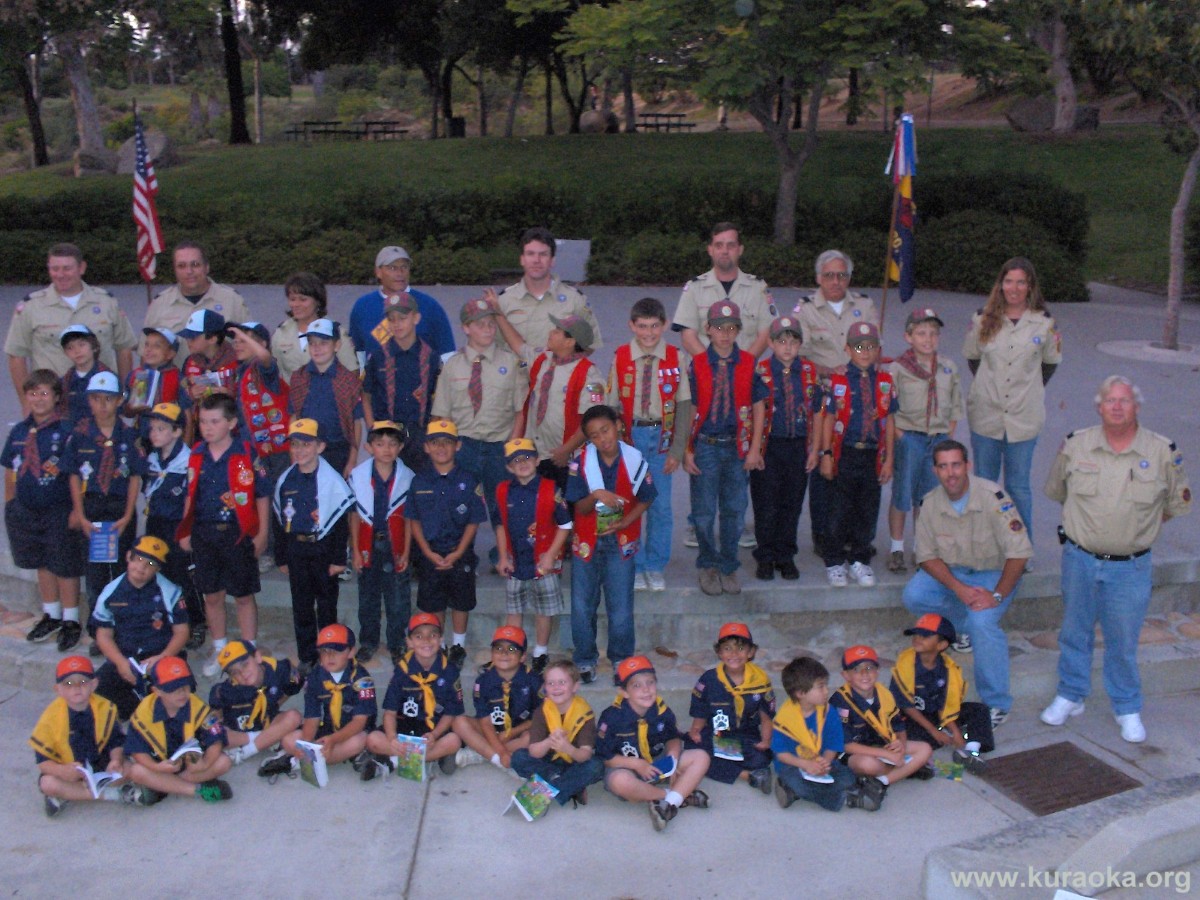 06-05-09: Bananas! Home-grown "French vanilla" bananas from Barbara and Bill's tree – an even dozen including that double one up front!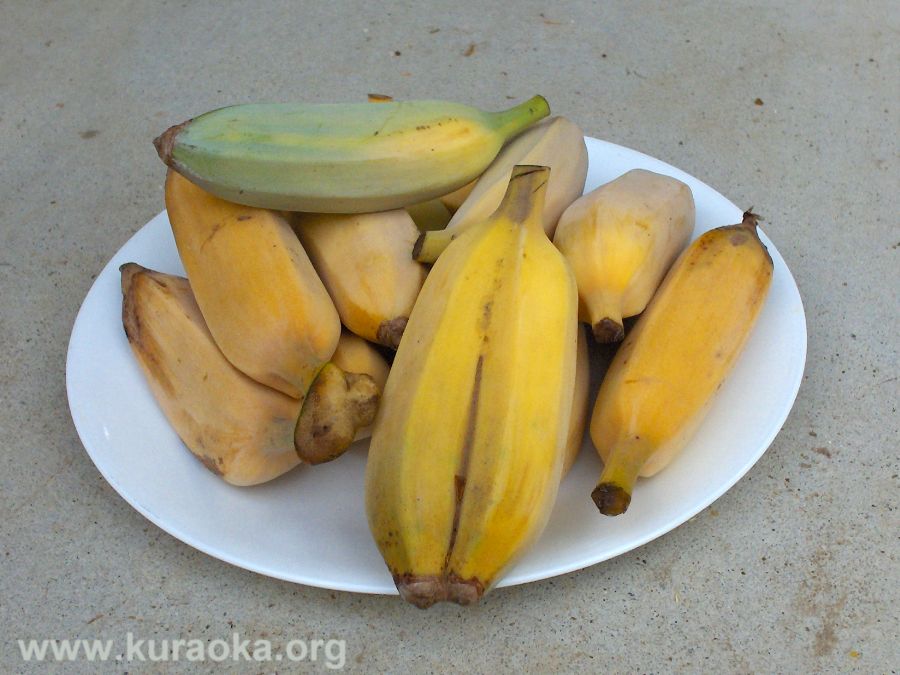 06-04-09: Happy Birthday to Bill and Roy! Check out the Lego presents ... and all the candles on that cake! We celebrated Roy's ninth birthday a day early because on his actual birthday, there's a Cub Scout meeting and graduation ceremony!

06-02-09: Leo gets a school award! Leo received a special recognition award from his teacher, Mrs. Ferris! Here they are, photographed from way in the back of a dark auditorium. Next, Leo and his certificate for "Excellence in Academics."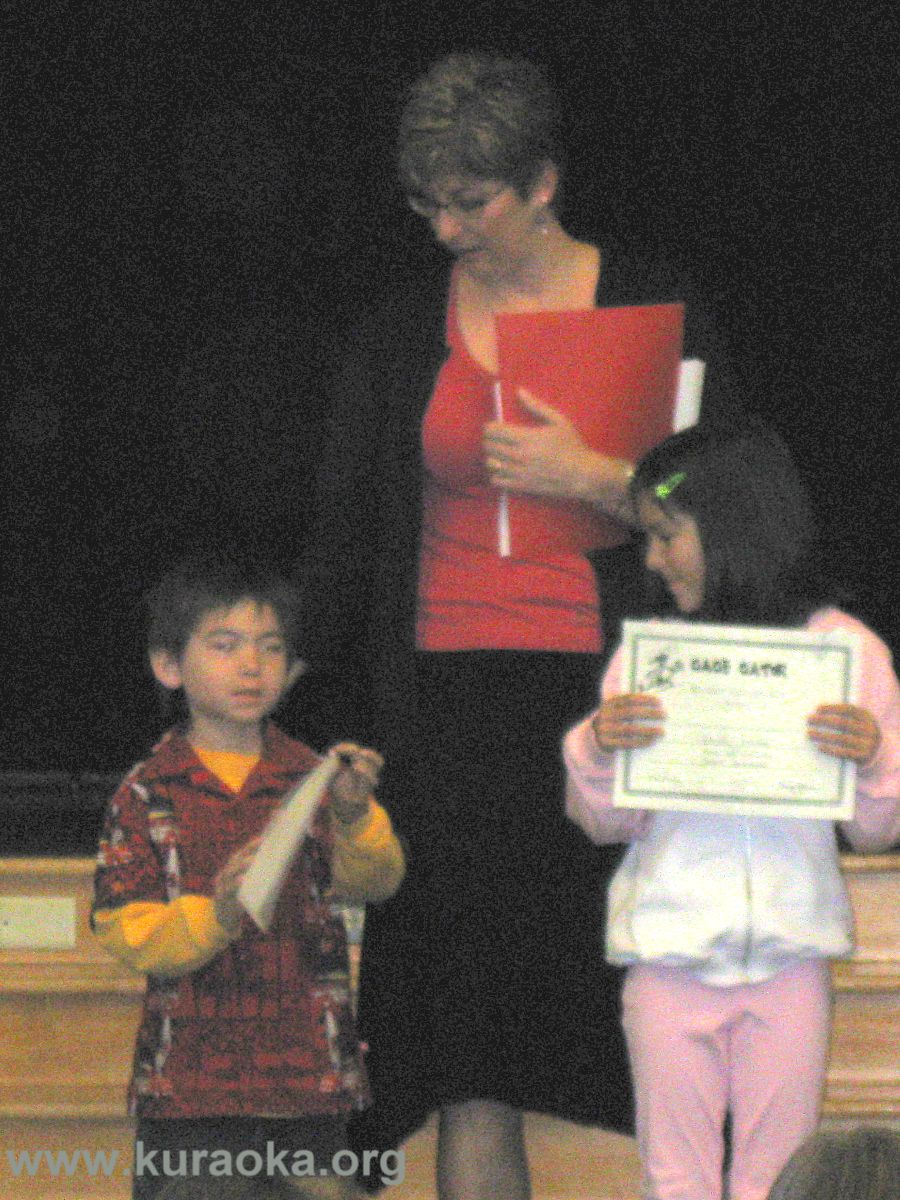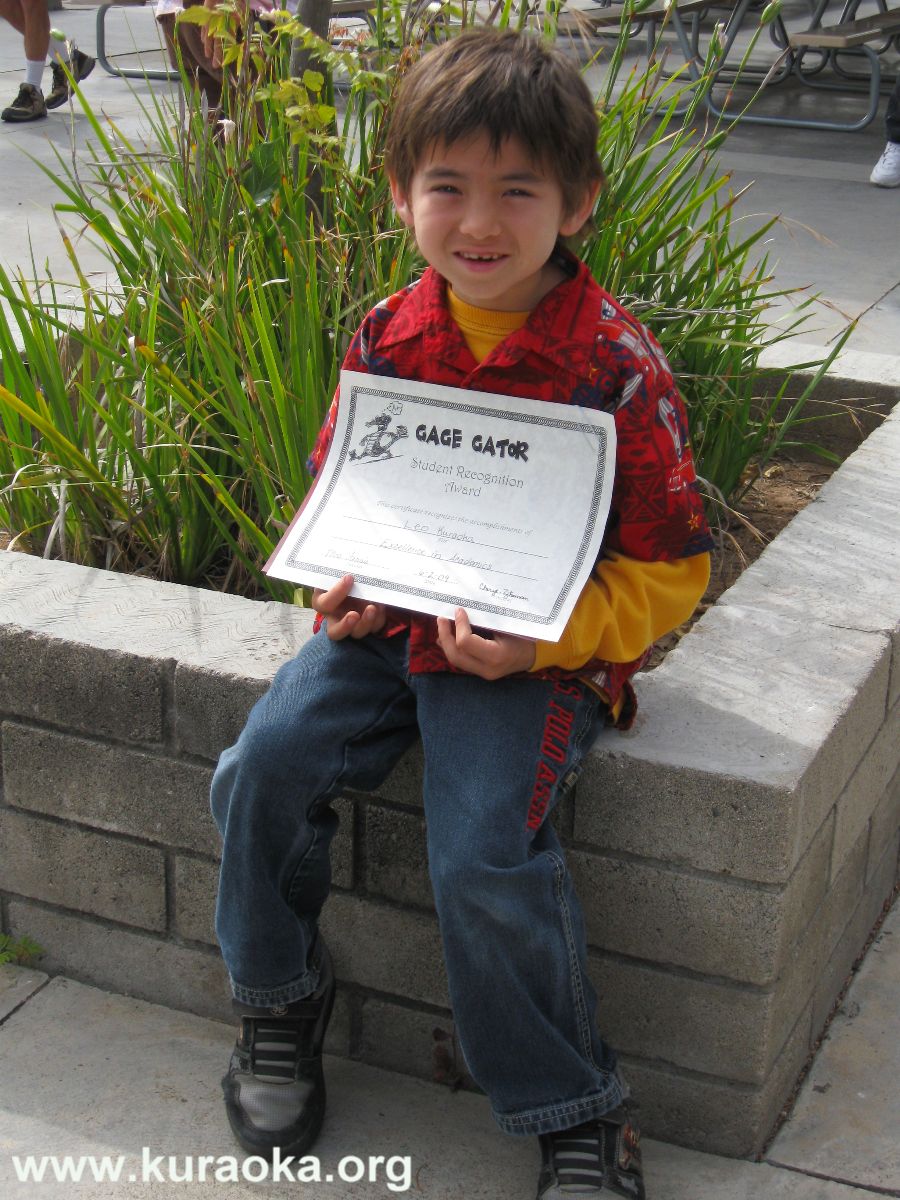 04-07-09: Spring break games. Leo and Roy enjoy a game of Dinosaur Dominoes with Ondine. And, of course, whatever the pack does, Buddy likes to be right in the middle of it.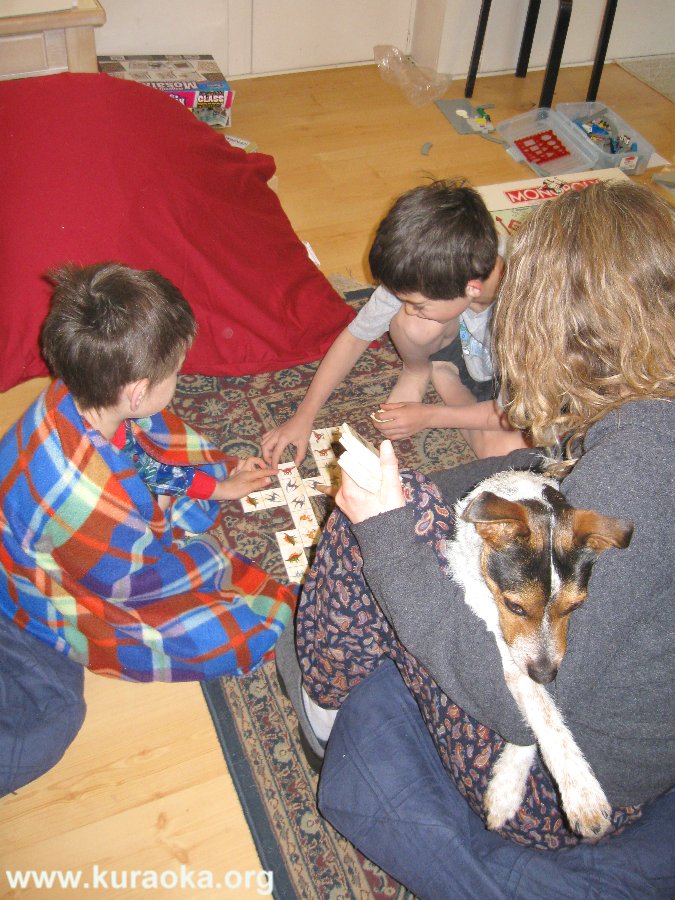 04-02-09: The first planting of the front garden! Roy and Leo (eating a loquat) help Ondine plant the first plant of the season, a tomato plant from Barbara and Bill! In the middle is most of us: Leo and Roy in front and Barbara, Bill, and Ondine in back. Last is Ondine and John and the freshly planted tomato plant! This last photo, by the way, was taken by Roy.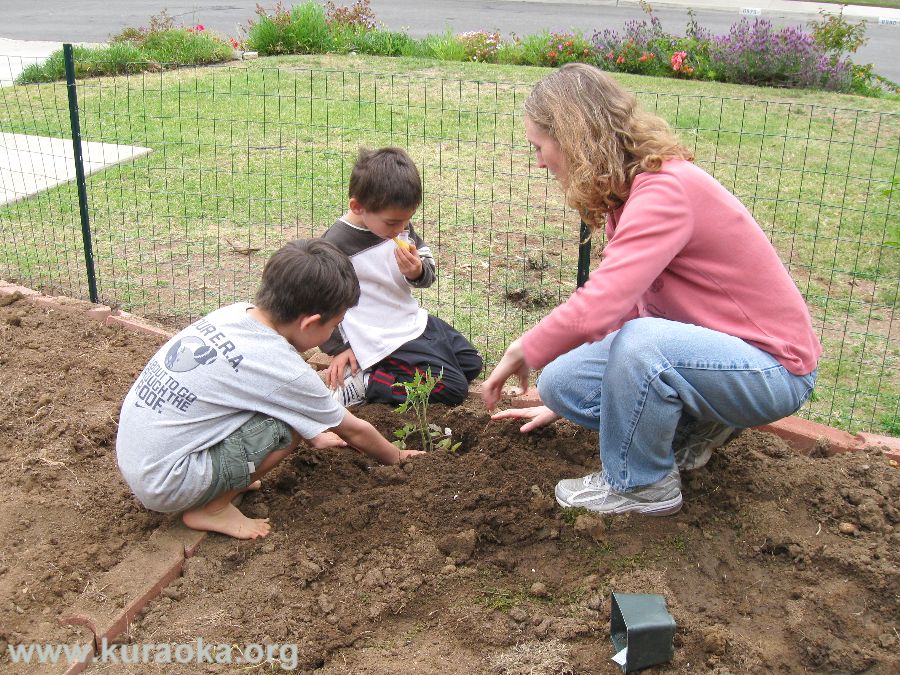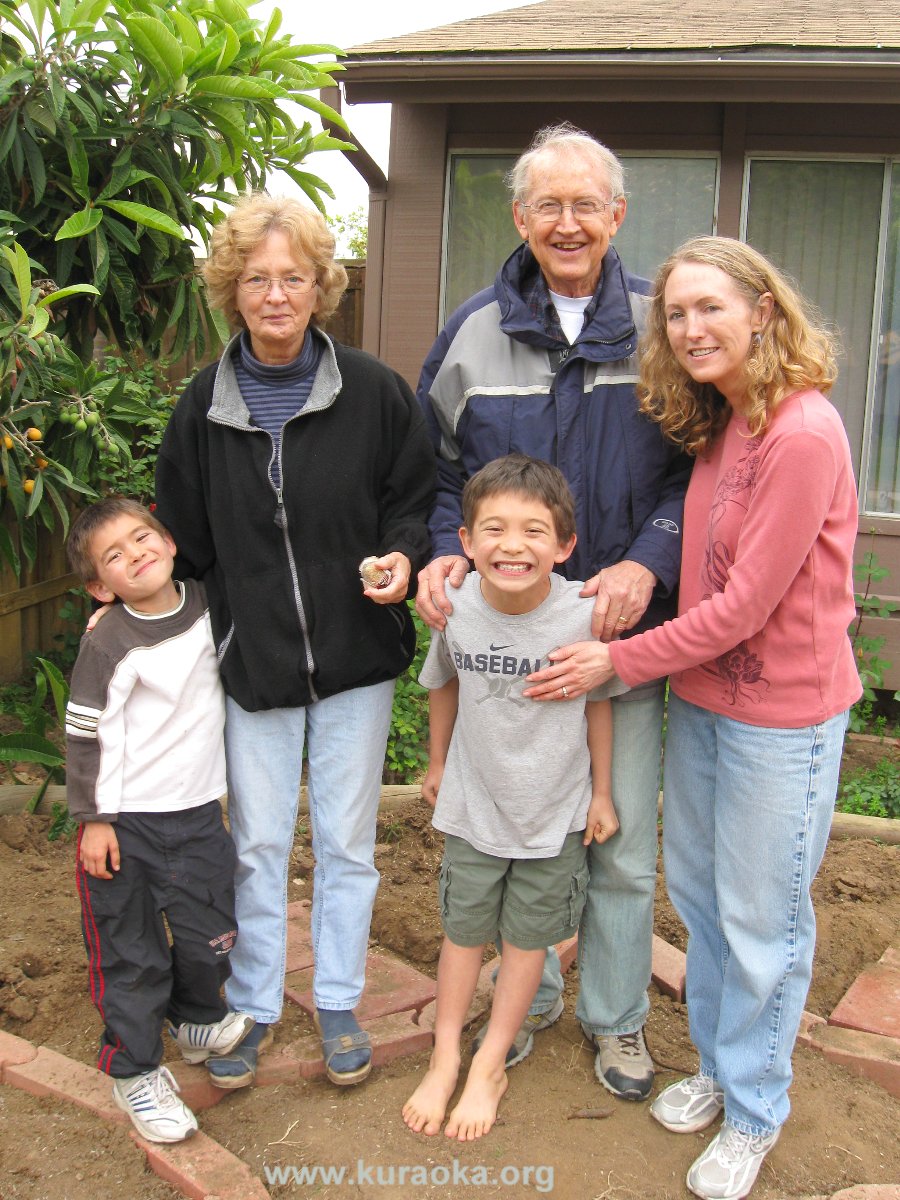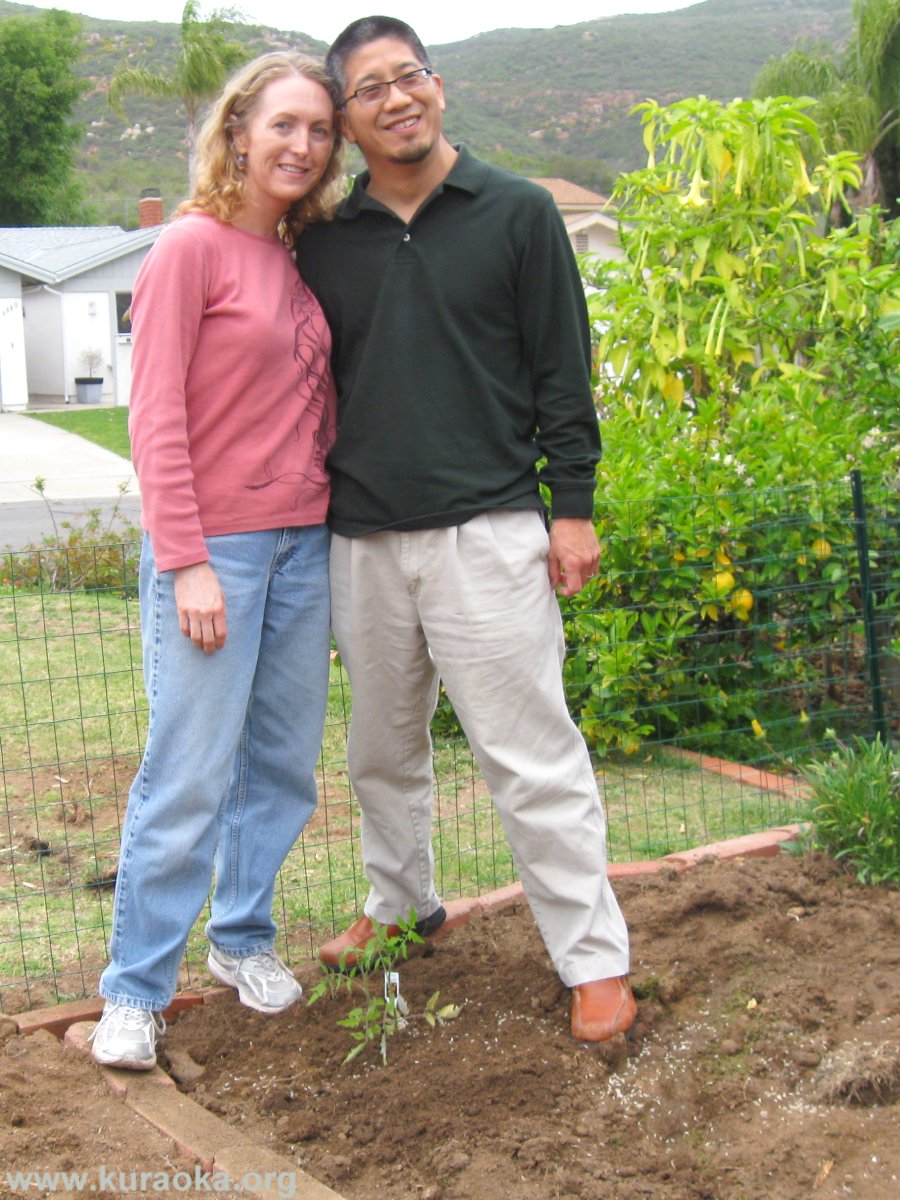 03-29-09: Ondine digs up some roots. Check out the big dead root she pried up from about two feet down! In Round 2, she dug out this big buried stump, probably the last of the original landscaping. In the second picture, Roy helps, or tries to, while Leo looks on. It was a dense, heavy thing! In the last photo, Ondine is recovering soil for the beds (behind her).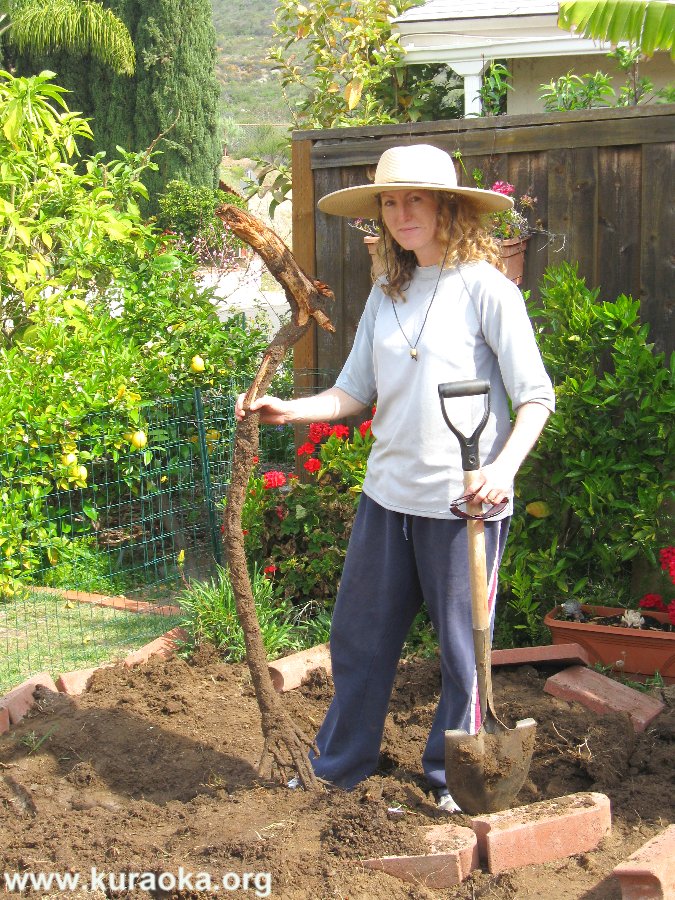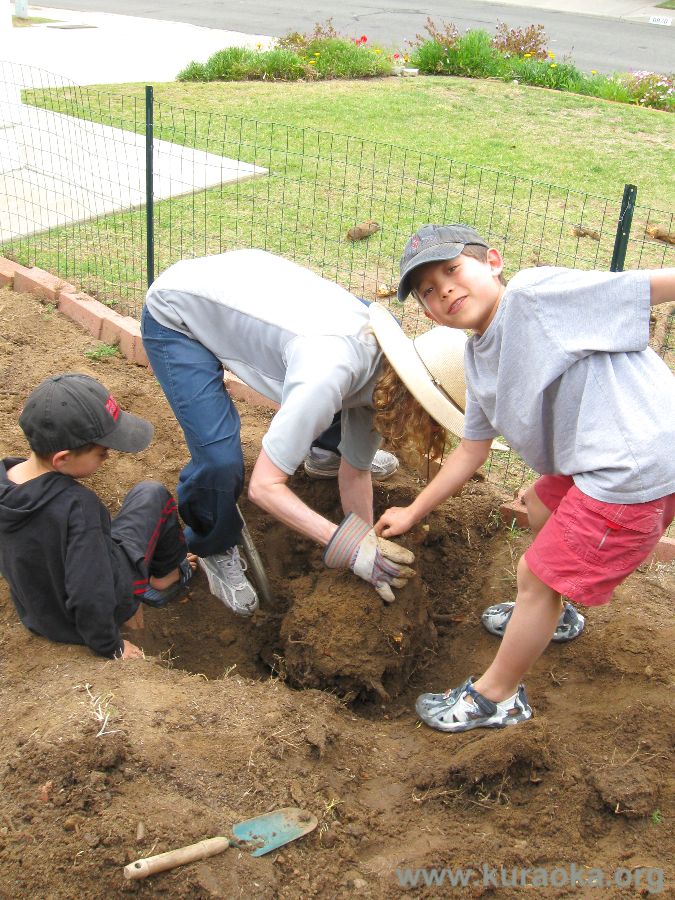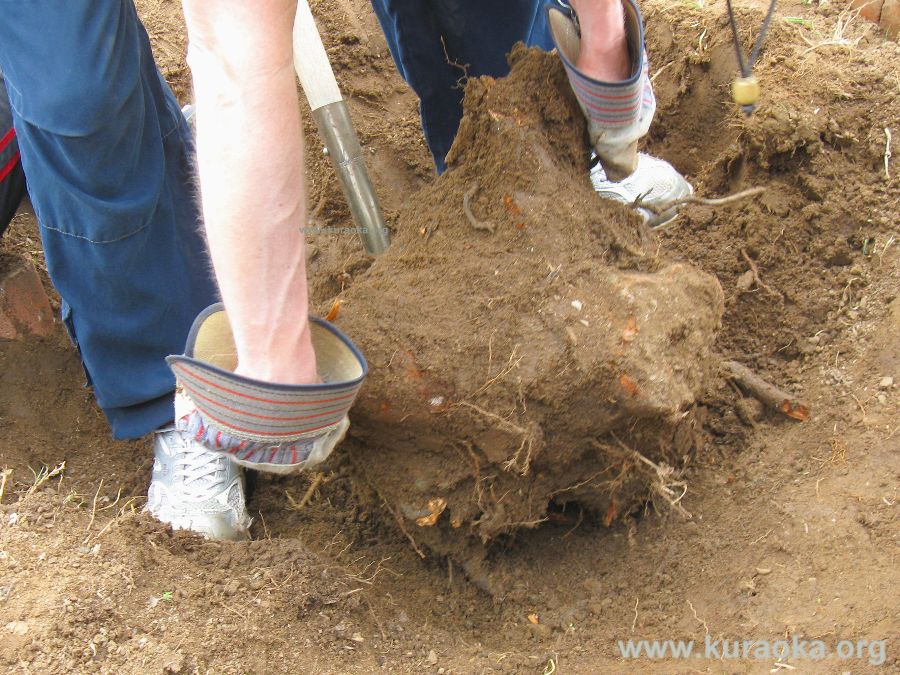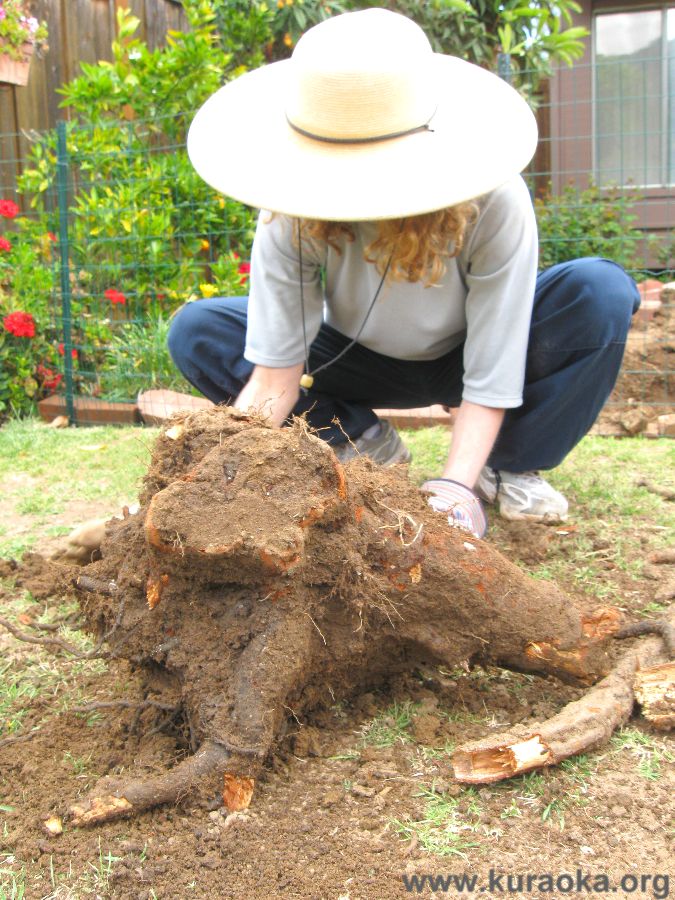 03-28-09: Haircuts! Twitterpics! Reading! First up is Leo getting a haircut - apparently, the clippers tickle. Next are two of our favorite portraits of Ondine, made for her new Twitter page (@mangopoetondine). The final photo shows our freshly shorn and bathed boys and Ondine reading the comic book Leo wrote and illustrated. It's obviously pretty funny!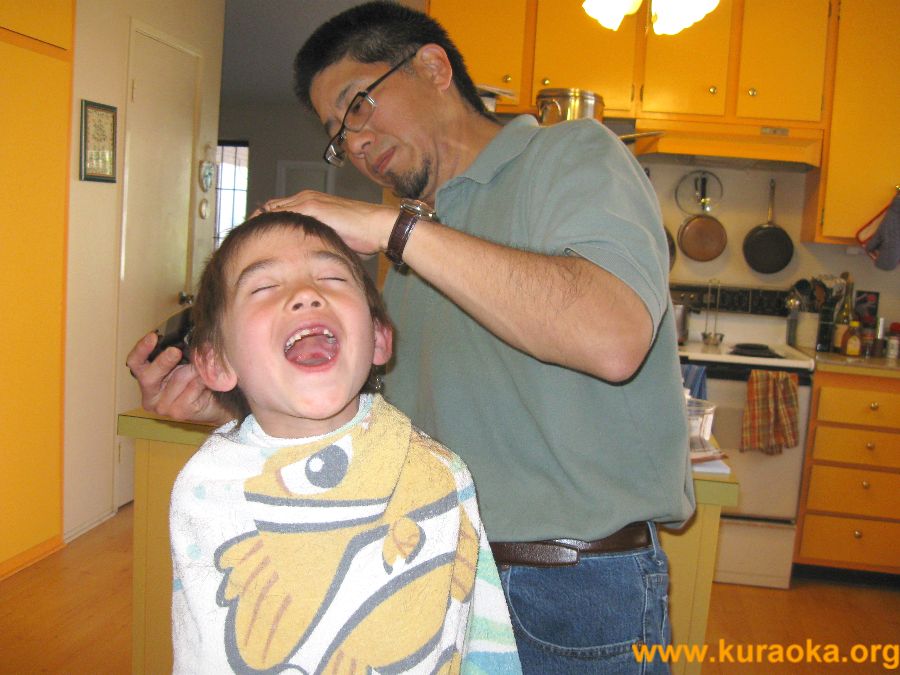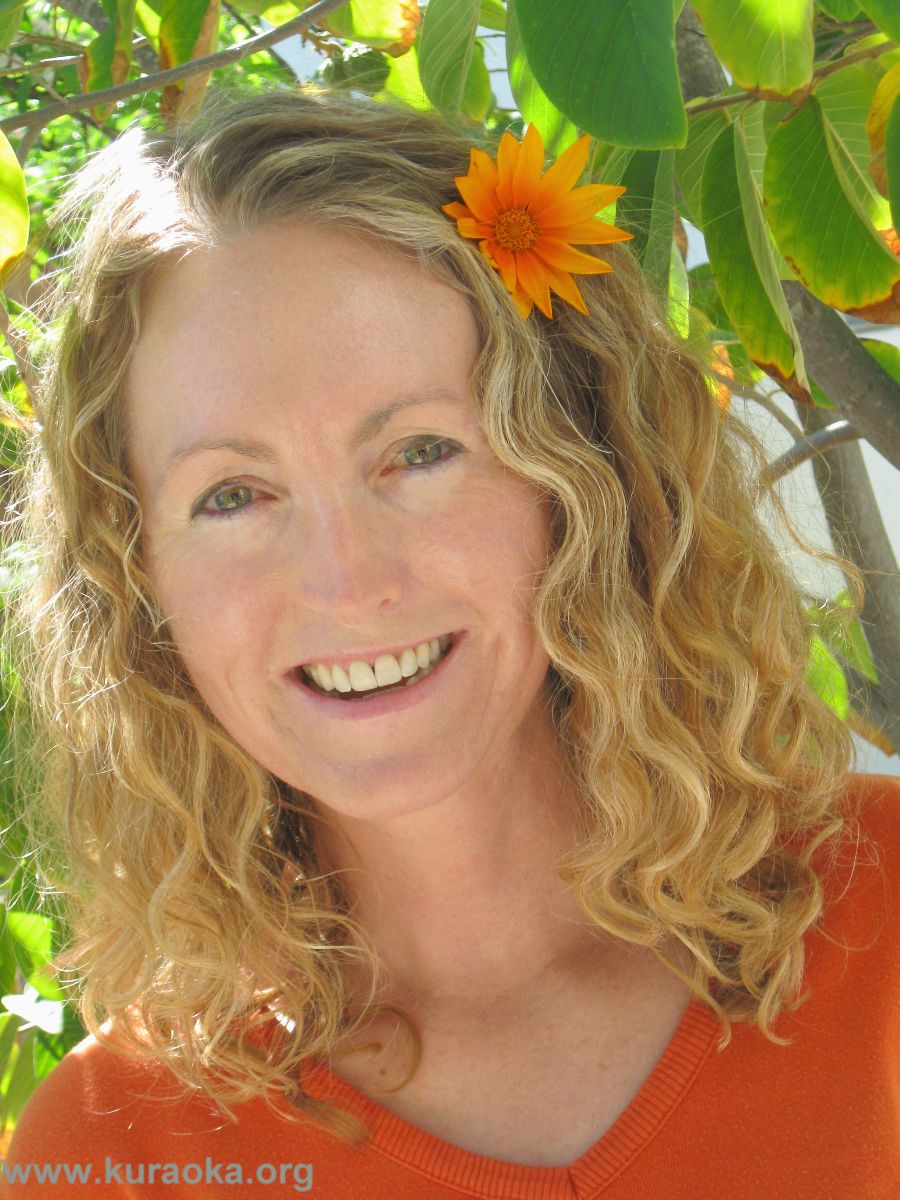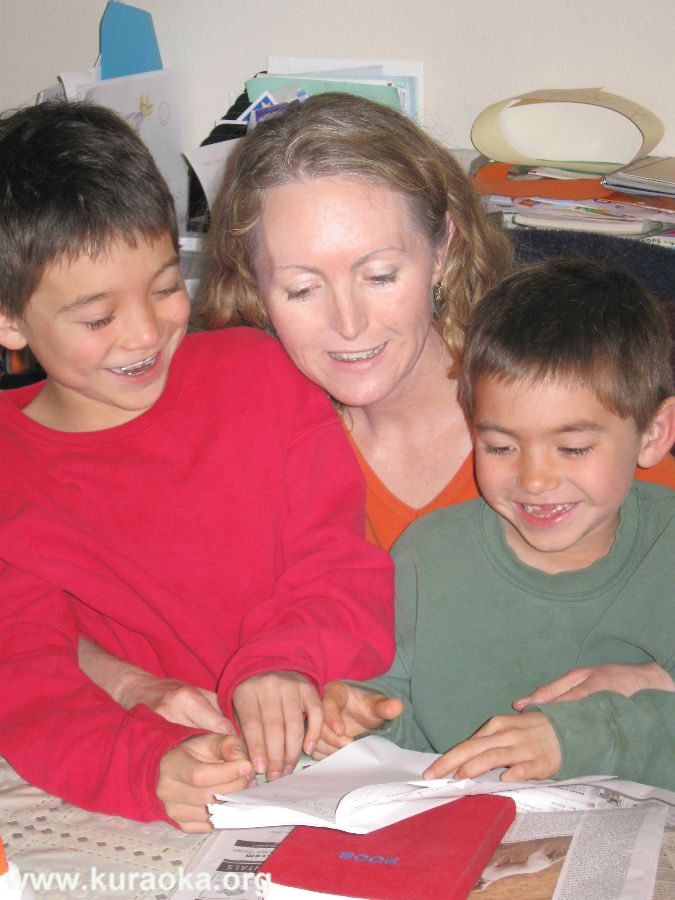 03-21-09: Legoland! First up is John, Roy, and Leo getting out of our car. Hoppla! Those are Lego people, except for the one on the far right. That's Leo. The big tip-off is the car. As if we'd drive an SUV. Ha! Speaking of SUVs, we spotted this dinosaur in the bushes. We went though Miniland USA: the middle photo is a view over Chinatown to San Francisco (it's more than a little disrespectful, though, that the Chinese characters in the display are just meaningless made-up squiggles but the English is correct). Next, a view of the inauguration, and a closer view of LegObama taking the oath of office.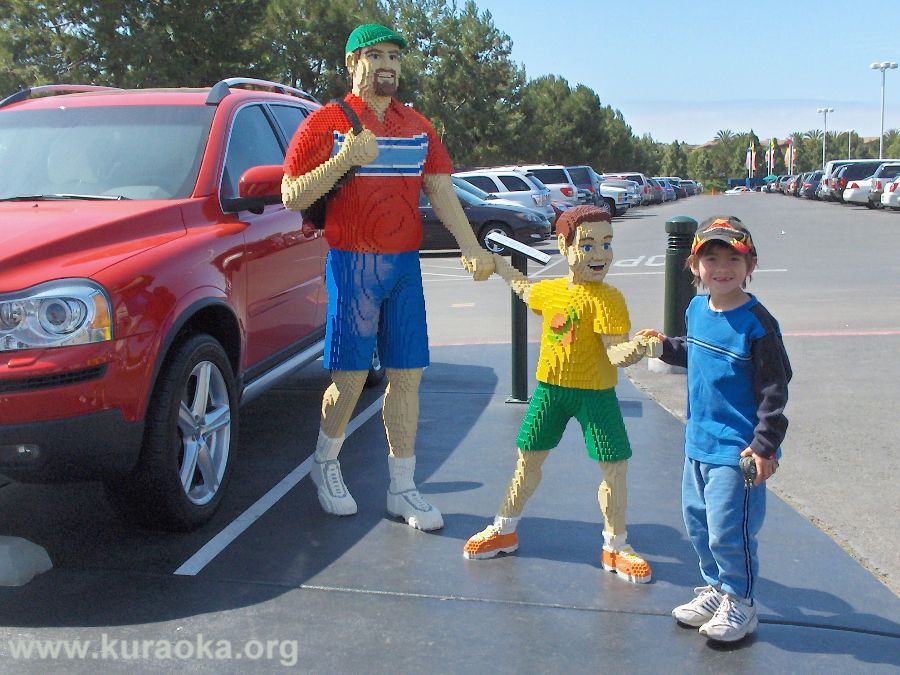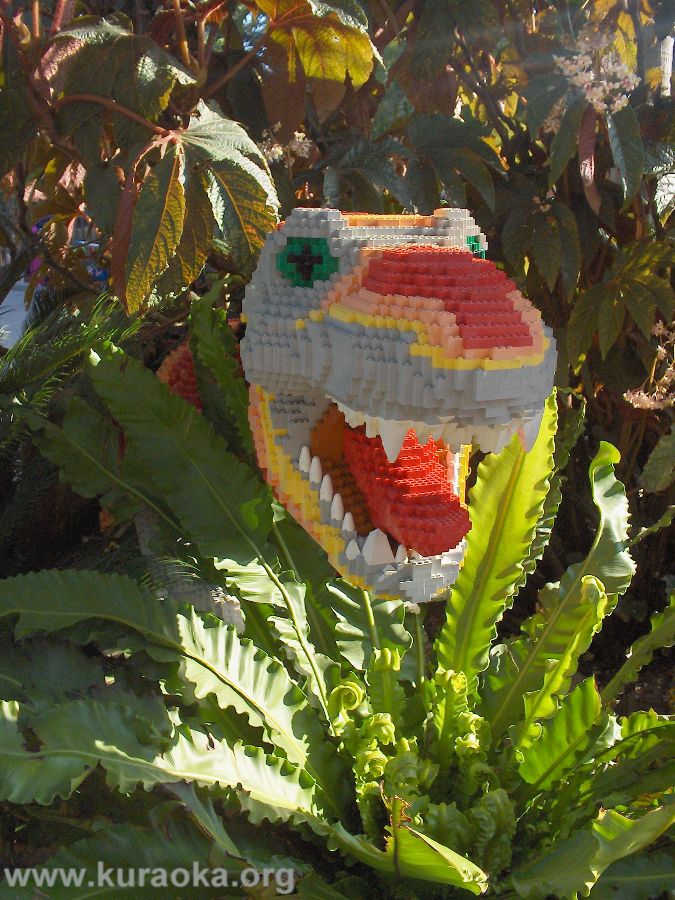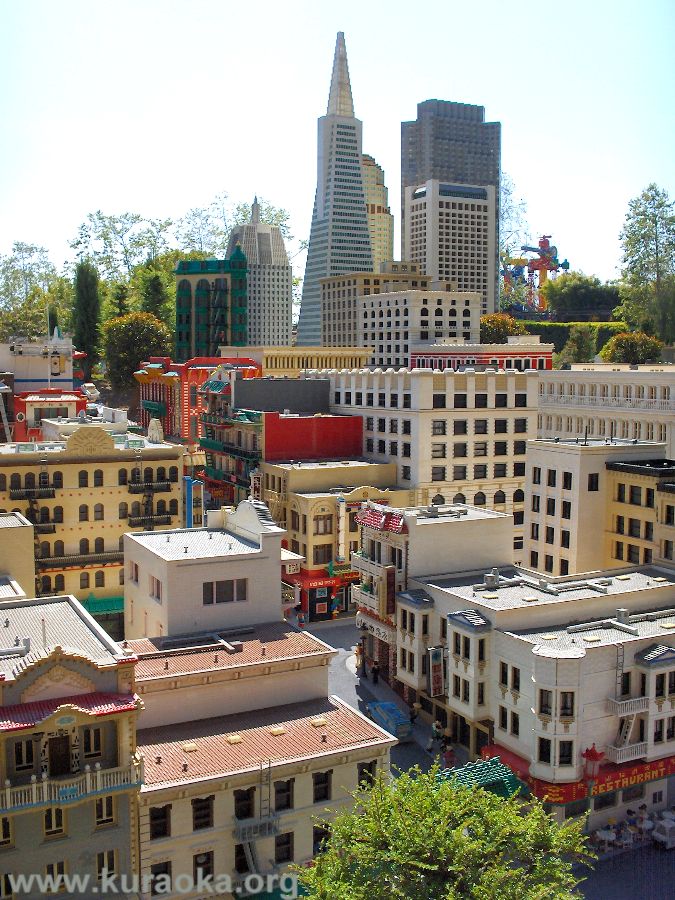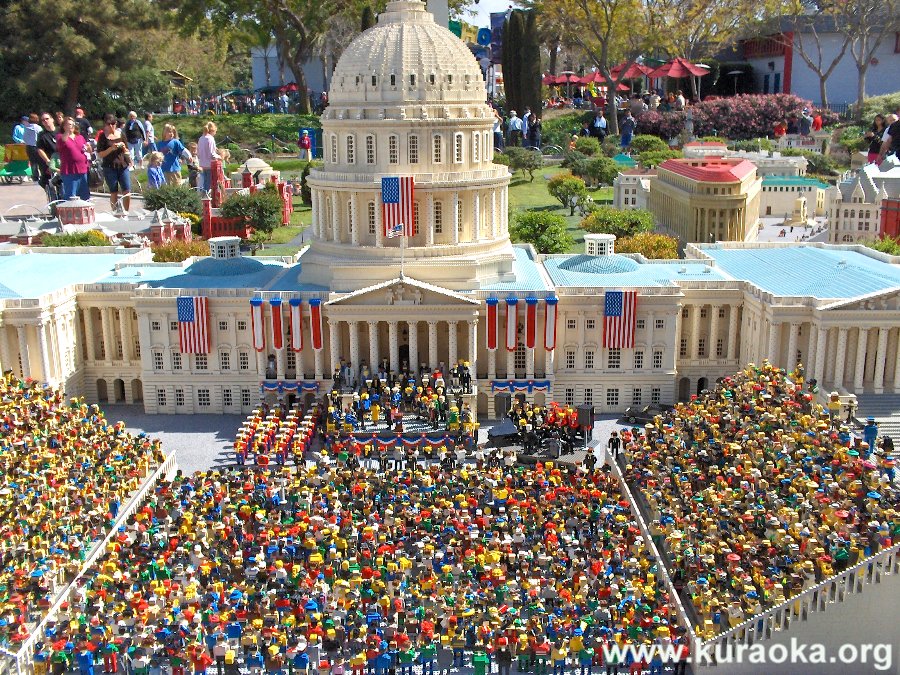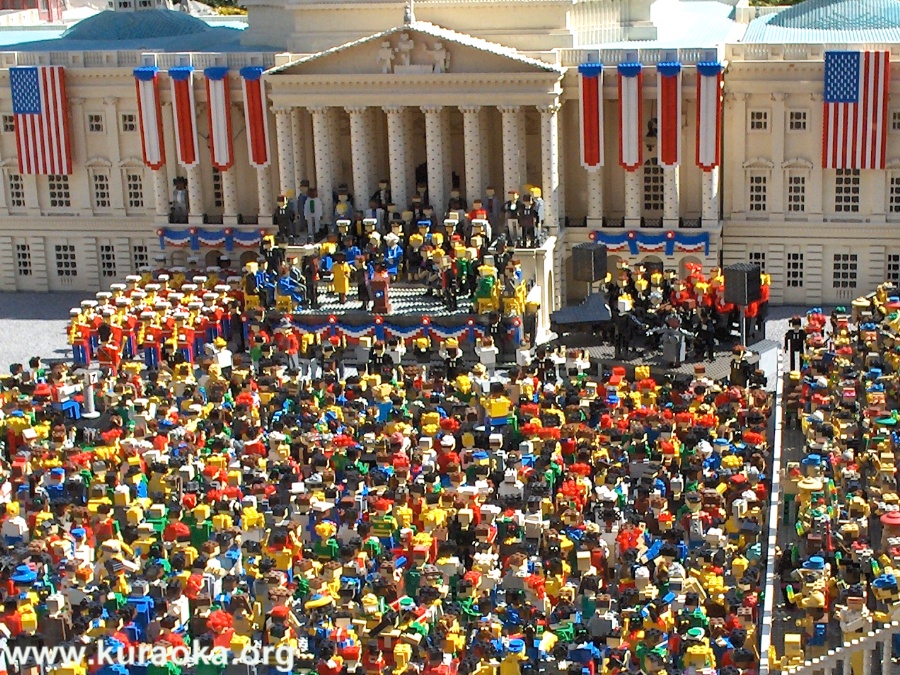 03-07-09: A wildlife encounter, and Roy paints his rocket! First up is a rat mother who scurried across the street carrying three babies! She had quite a haul over the curb by the Hanna's. Second is a Bear Cub Roy, posing with the rocket he made for the bottle rocket derby! Hey, that's not the Cub Scout salute ... evidently we have a Vulcan child.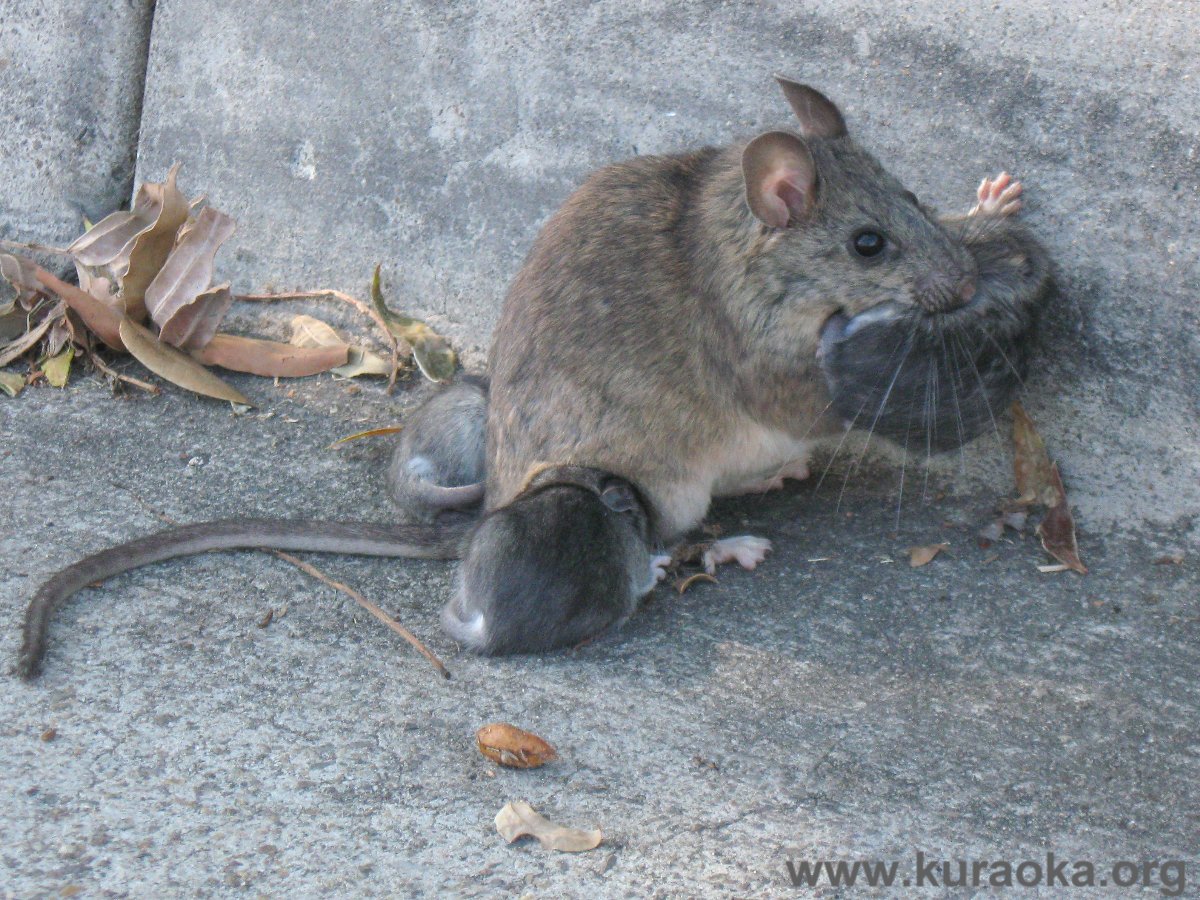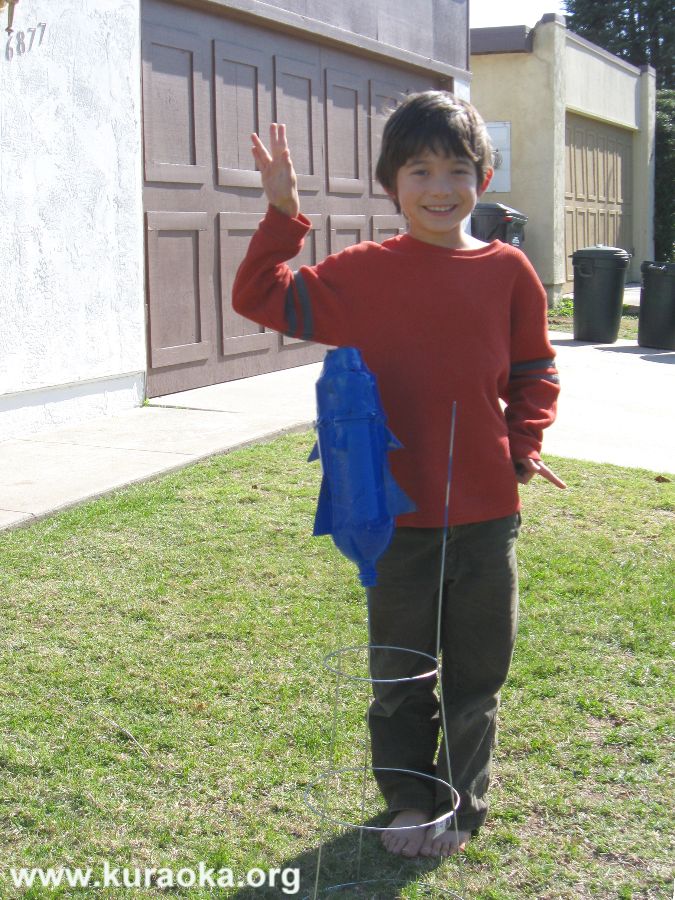 02-28-09: Happy Belated Valentine's Day! Leo and Roy made Valentines for Grammy, and gave them to her during our visit.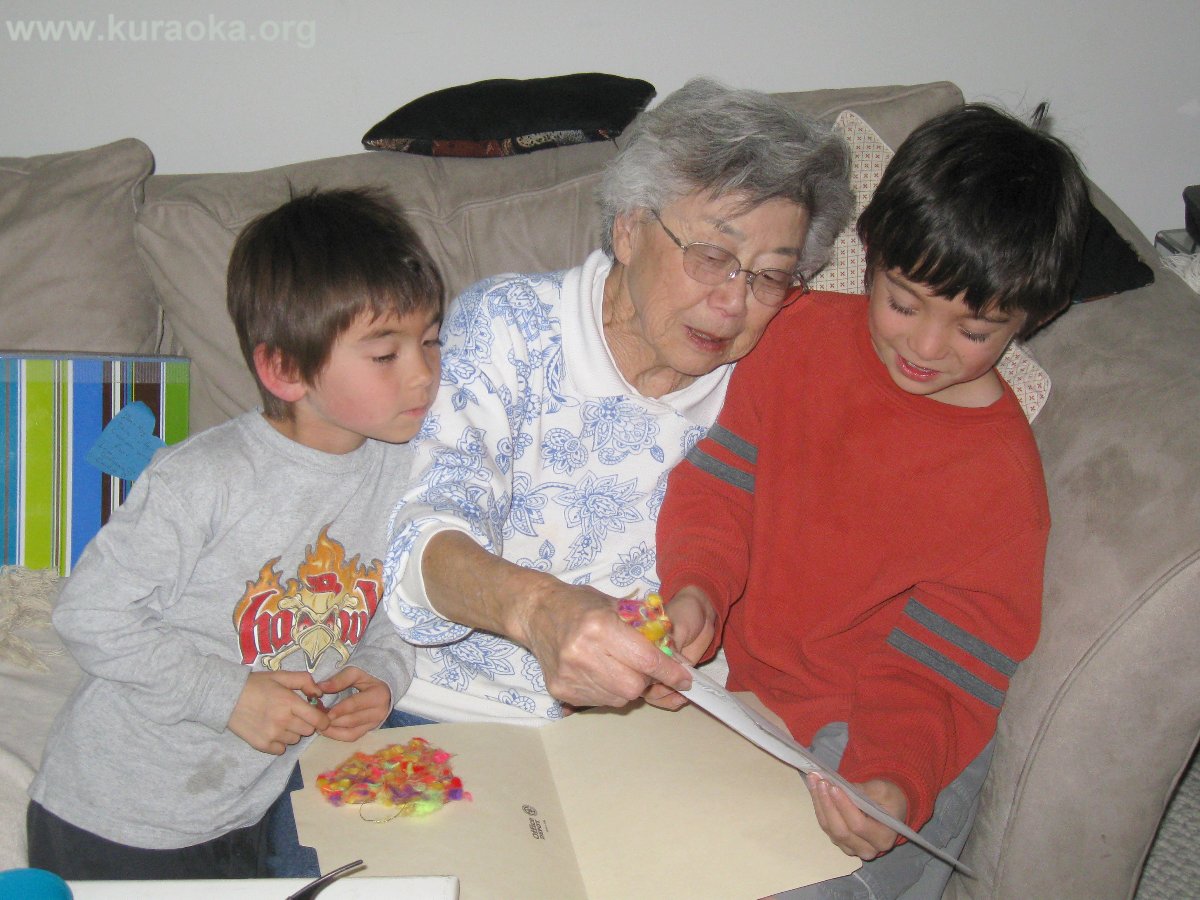 02-27-09: We went to Medieval Times! A surprise for the boys on our way up to Grammy's house for the weekend. After the show, only Leo wanted to pose next to our master of ceremonies, the Chancellor. That's a huge sword Leo's holding, and looking pretty serious about it too. Contrary to appearances, Leo was thrilled!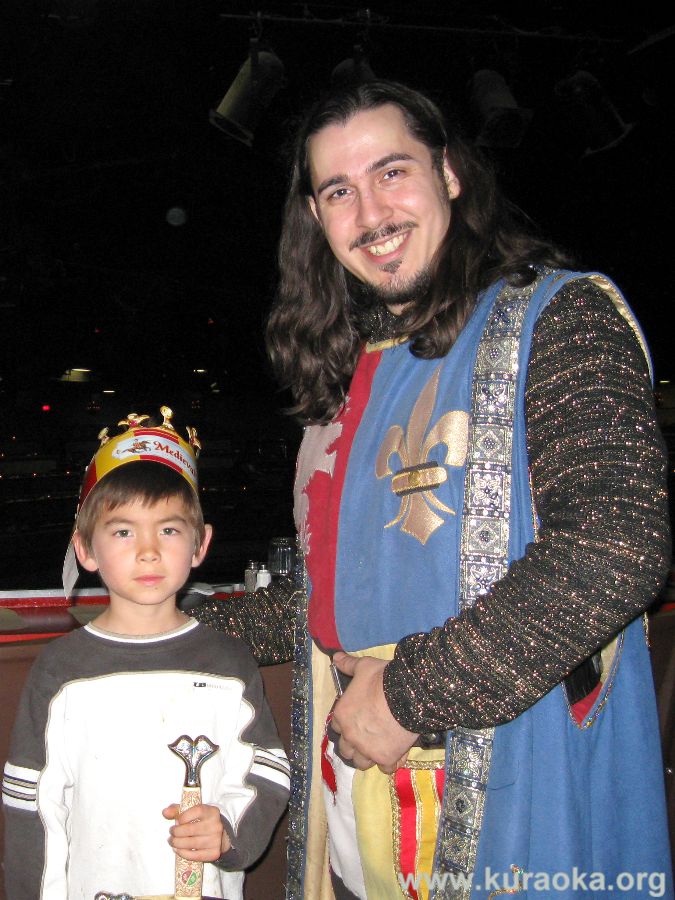 02-25-09: Ondine and Barbara enclose the victory garden. Ondine dug up part of our front lawn to put in a vegetable garden. To protect it from the local rabbits, she and Barbara put up this fence, trenched in several inches deep all the way round. Although the fence was meant to keep out rabbits, it's also very good at containing kints! (All three of them!) Anyway, from left to right: Ondine, Barbara, Leo, Roy, and Buddy the dog.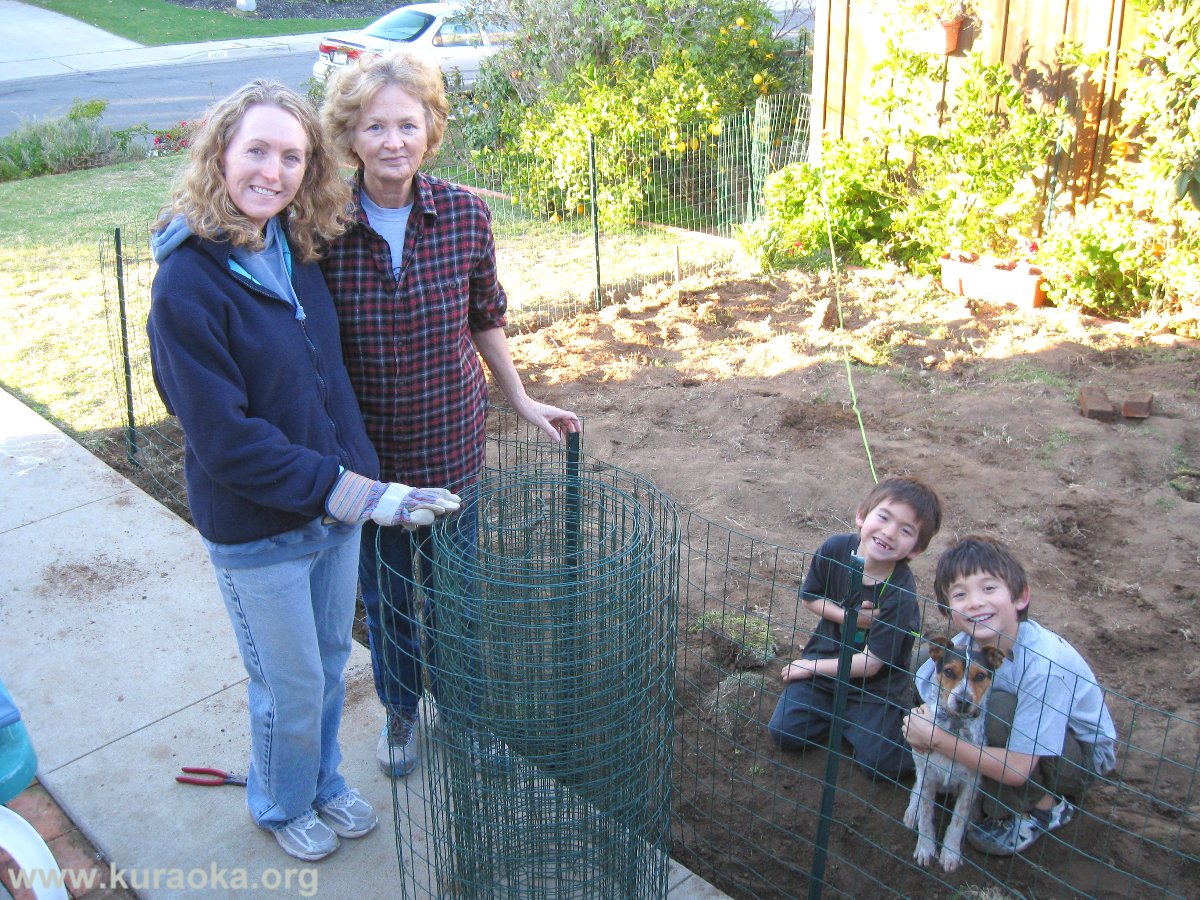 02-24-09: Roy wins an award at Gage Elementary. He was one of several kids singled out for recognition in his class for "Having Integrity," which they've been studying along with everything else. Here he is with his certificate, and here's the usual gang of fellow recognition-winners: (clockwise around the table from the lower left) Christina, Roy, Stephen, Zackary (standing up), Alexander, and Michael. That's Lucy behind Alex.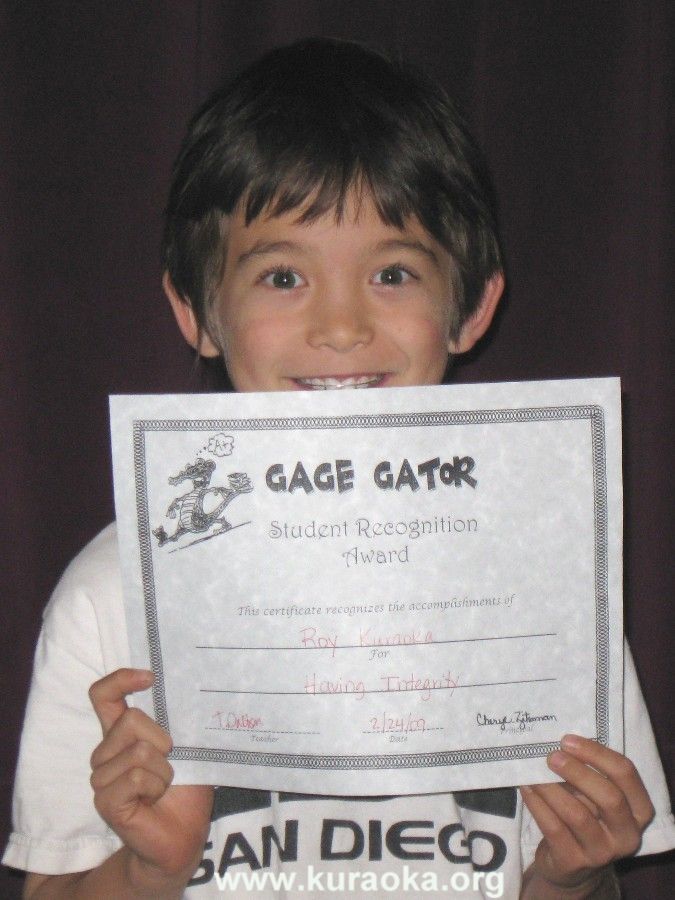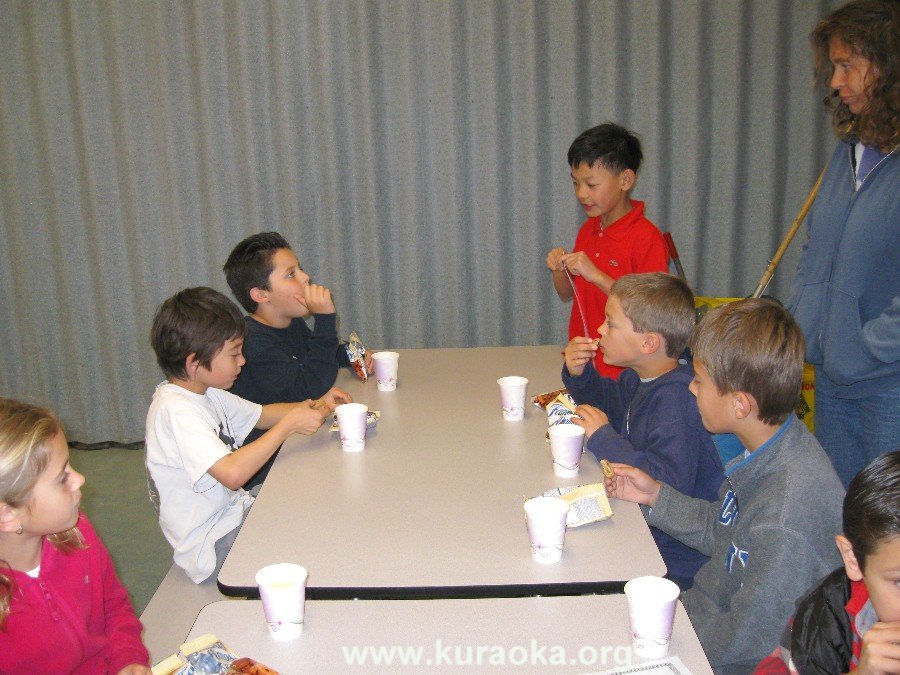 02-19-09: John's headshot. He's got a silly looking mug, doesn't he? This photo was taken in our back yard for a piece of ID for one of his clients.

02-17-09: Leo fast asleep. Isn't he cute? His bedroom is the coldest room in the house in the winter, and the hottest in summer. His Great-Aunt Cathy made him the knitted cap. The eye pillow is something he wore to humor Ondine, who had put him to bed, but as you can see as soon as she was out of the room he pushed it up off his eyes.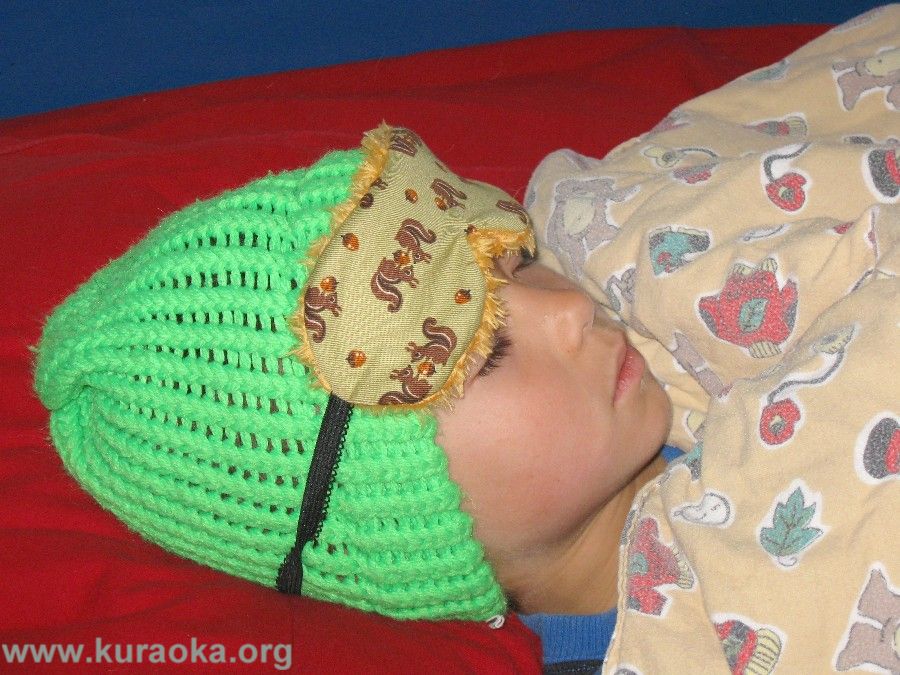 02-15-09: Leo and Roy on Cowles Mountain. On a cool Sunday morning, John took the boys and dog up the mountain. Here are Leo and Roy at the summit.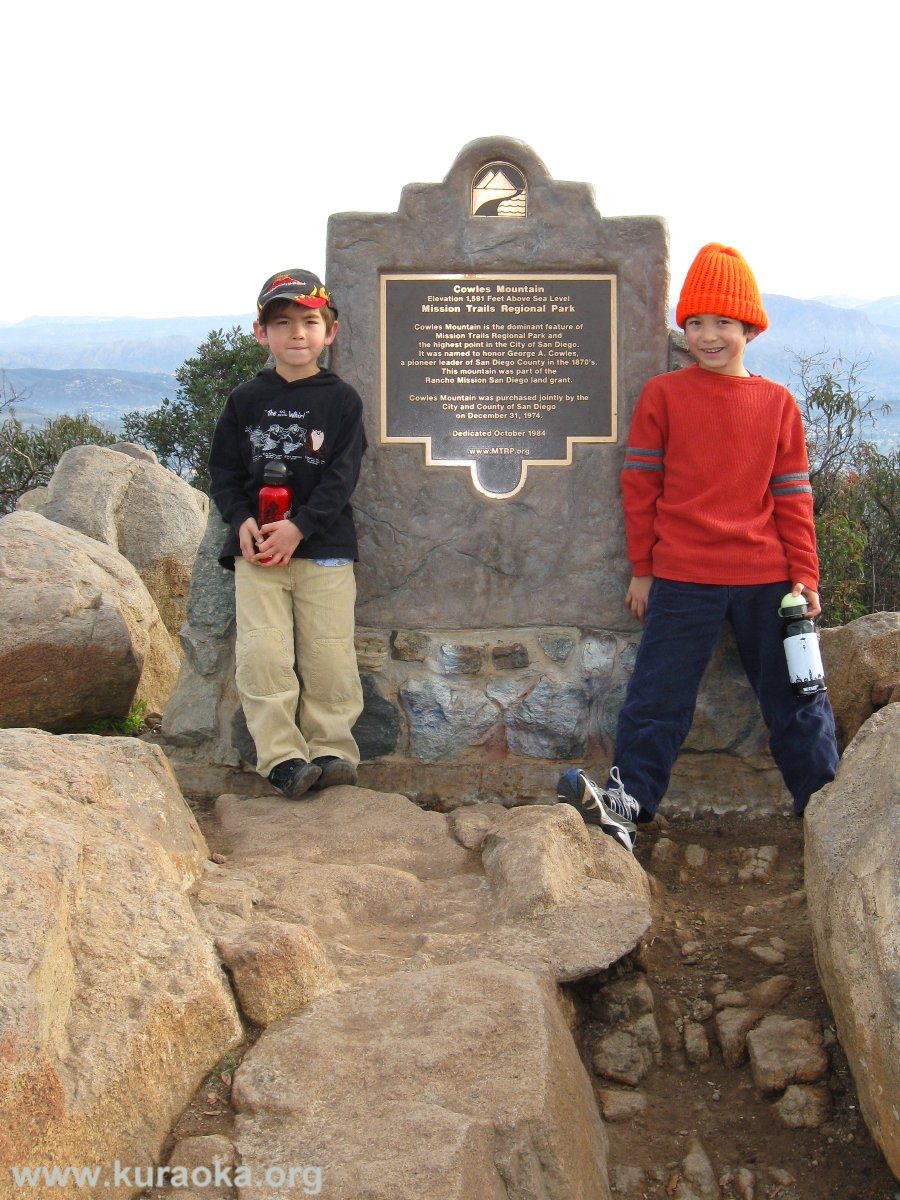 02-14-09: Happy Valentine's Day! Here's Leo after enjoying a Fun Dip treat, holding a tribble he made out of paper. There's Grandpa Bill. Do you like the felt decoration he's wearing? Ondine made it! (It wasn't really made as something to wear, but it just went so well with his sweater.) Finally, the boys and the grandparents. Awww, what a lot of love.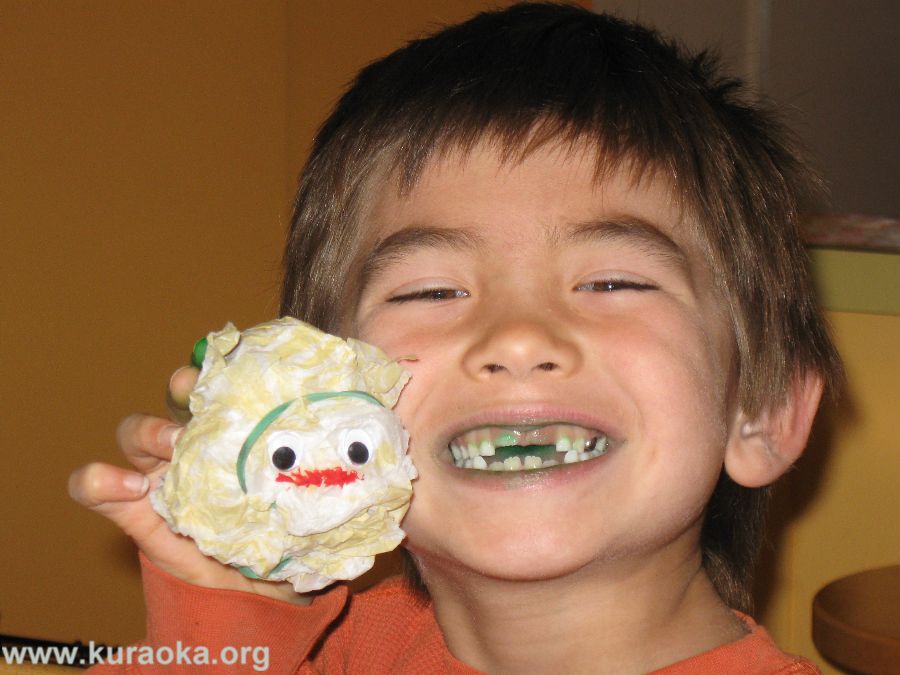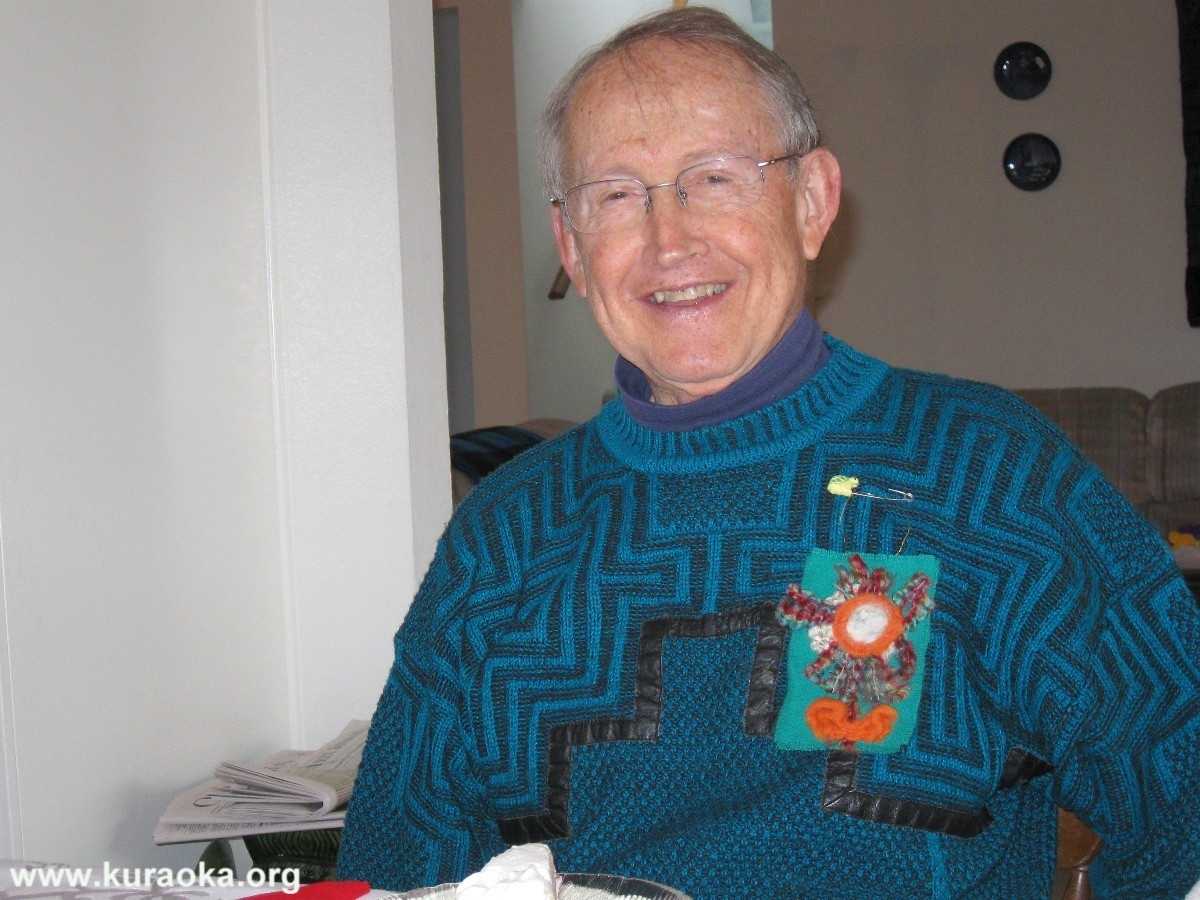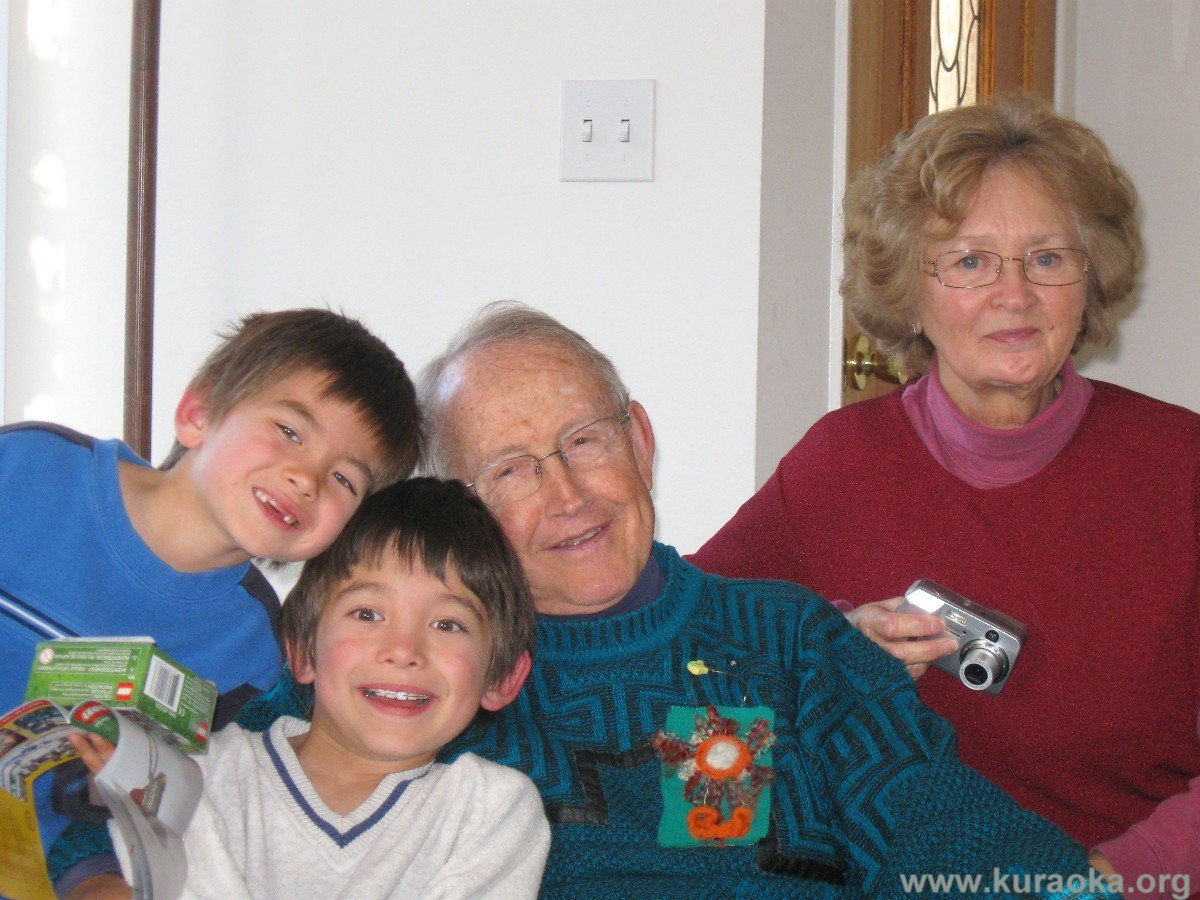 02-09-09: Roy earns his Bear badge. Here he is at Pack 951's "Blue & Gold Dinner," the award ceremony and big pack get-together.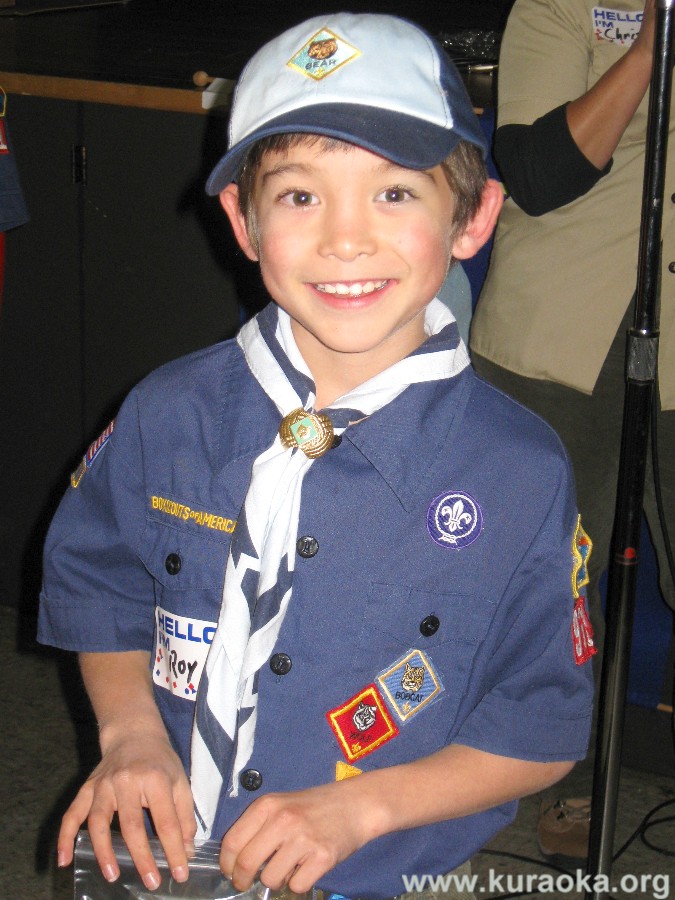 02-08-09: Roy bakes cupcakes. And check out the braces-free smile!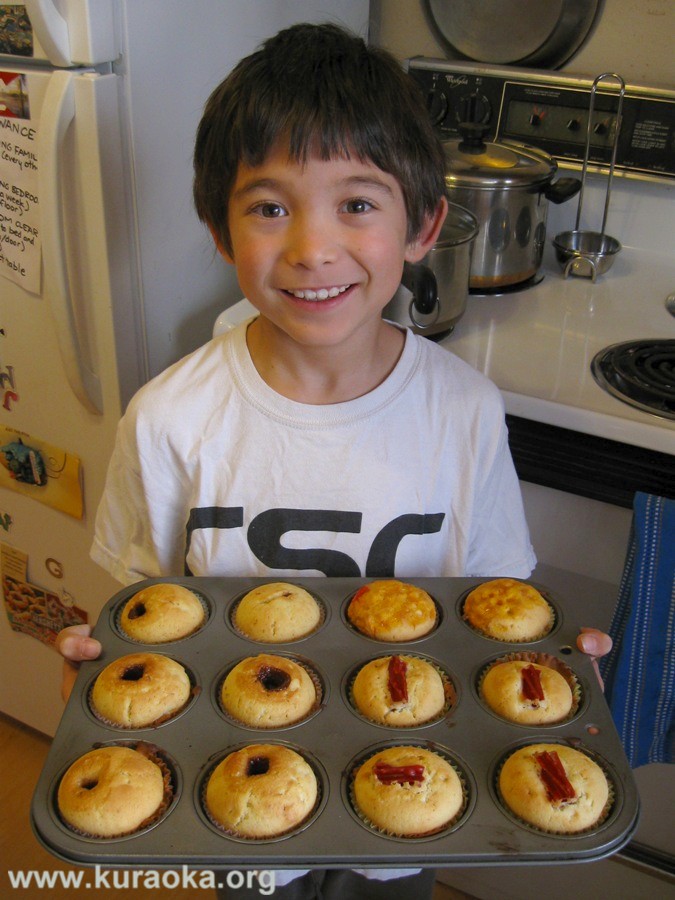 01-30-09: Athena and Jeff renewed their vows. Here they are visiting San Diego, 20 years of marriage and going strong! The next photo shows Alyssa, Athena's daughter, Athena, and Ondine.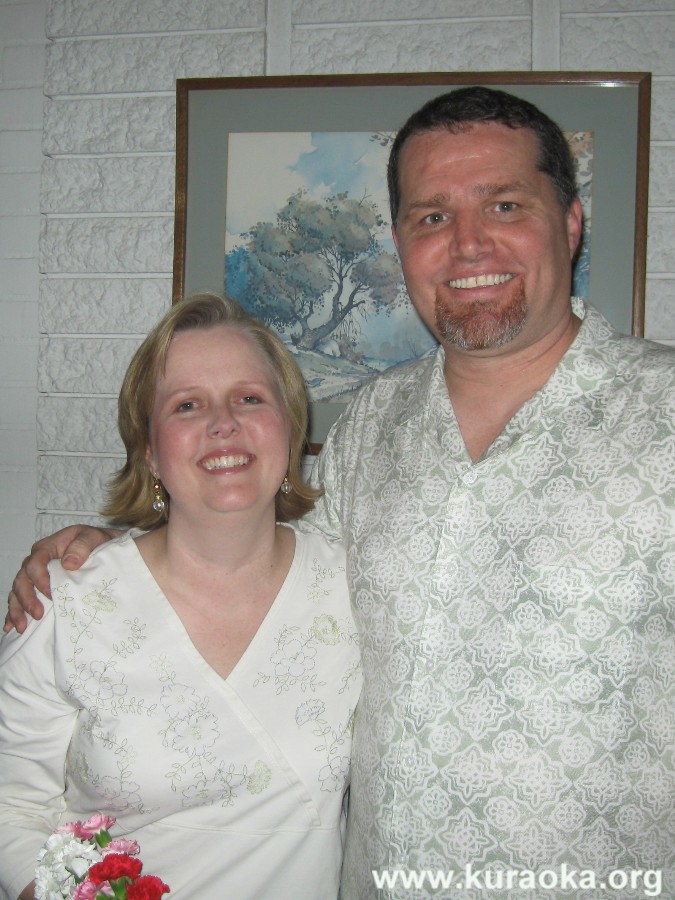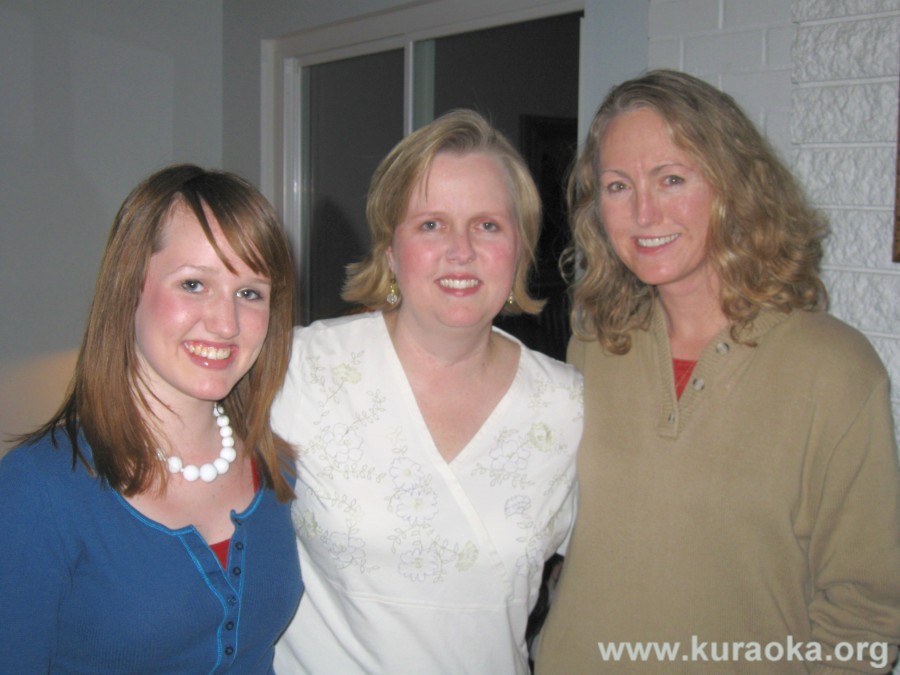 01-25-09: Grammy brought wooden models for the boys. The package said they were for ages 5+. Well, John is 5+40 (plus a bit more), and he had, well, more fun than he wanted to have building wooden models. Still, they are undoubtedly cool. First up, Leo's horse (because he was born in the Year of the Horse) and next, Roy's dragon (yup, he was born in the Year of the Dragon).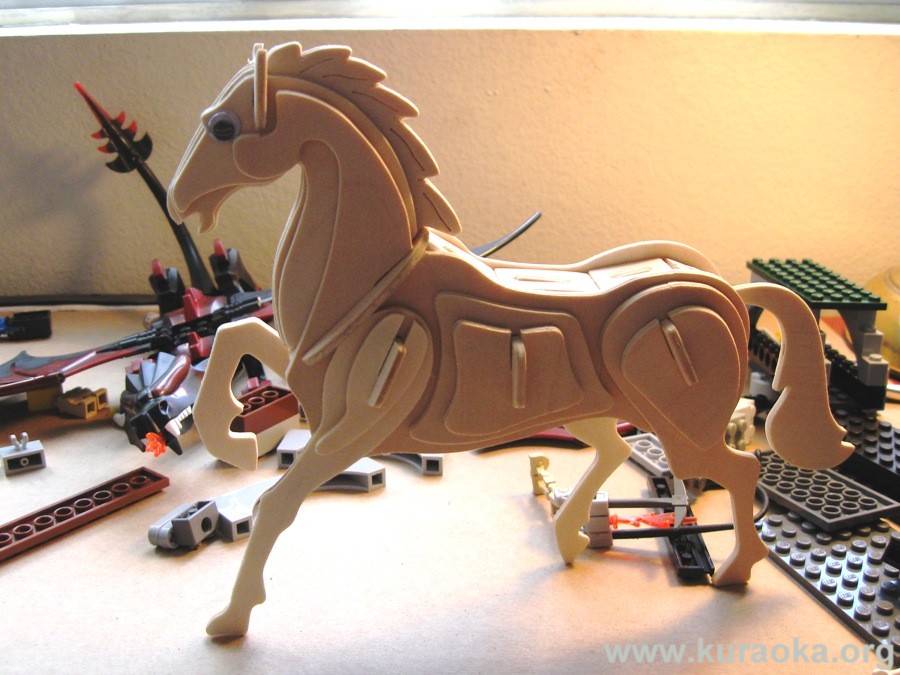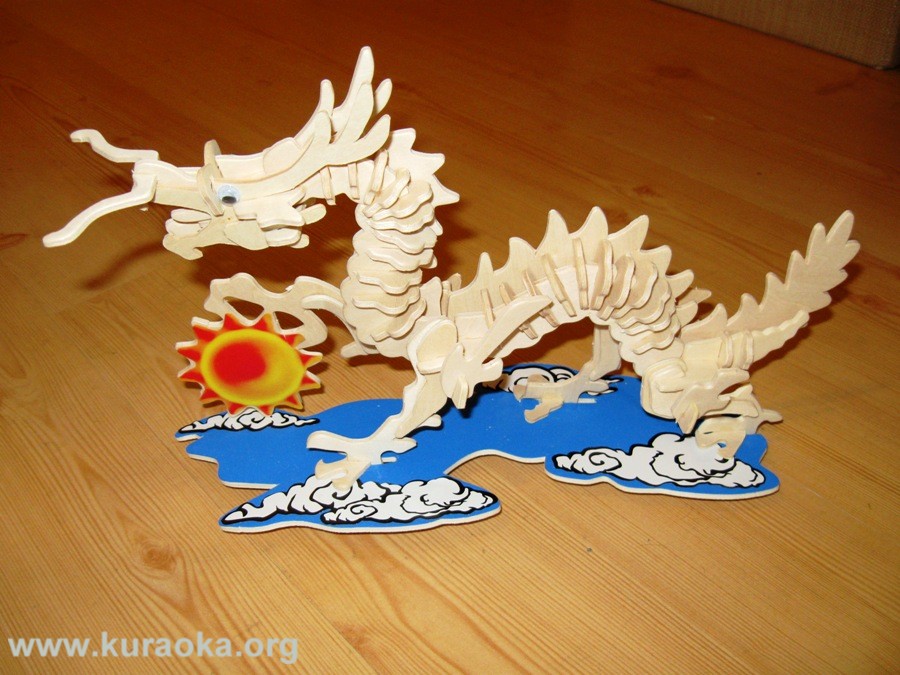 01-17-09: Roy goes fishing! Here are some photos from Ernesto, who took Roy and Alex out on the bay to fish. There's Roy with a fish (not big enough to keep, so they released it after the photo was taken), and Roy steering the boat with Alex keeping lookout!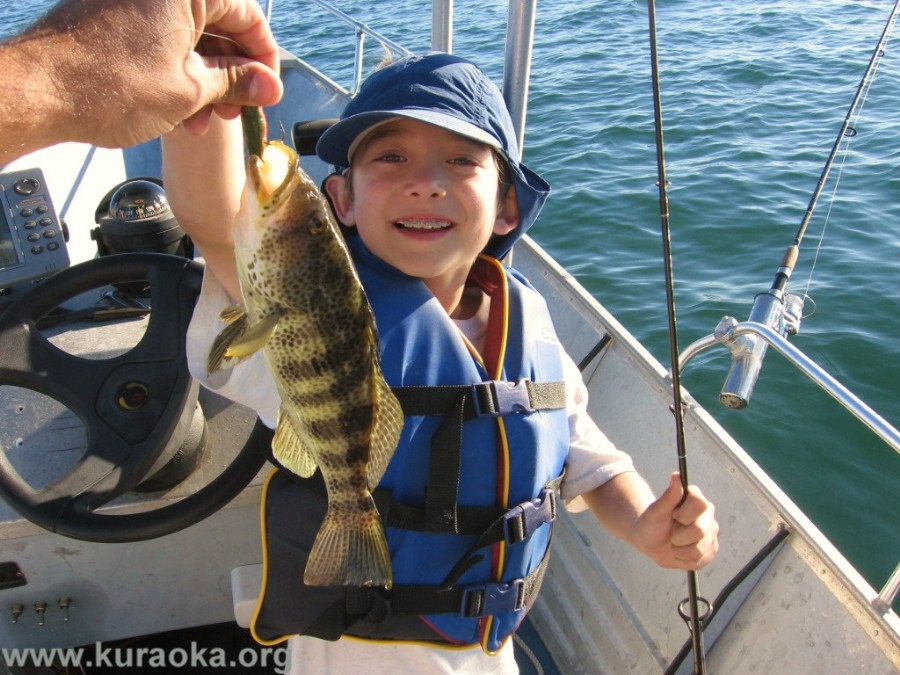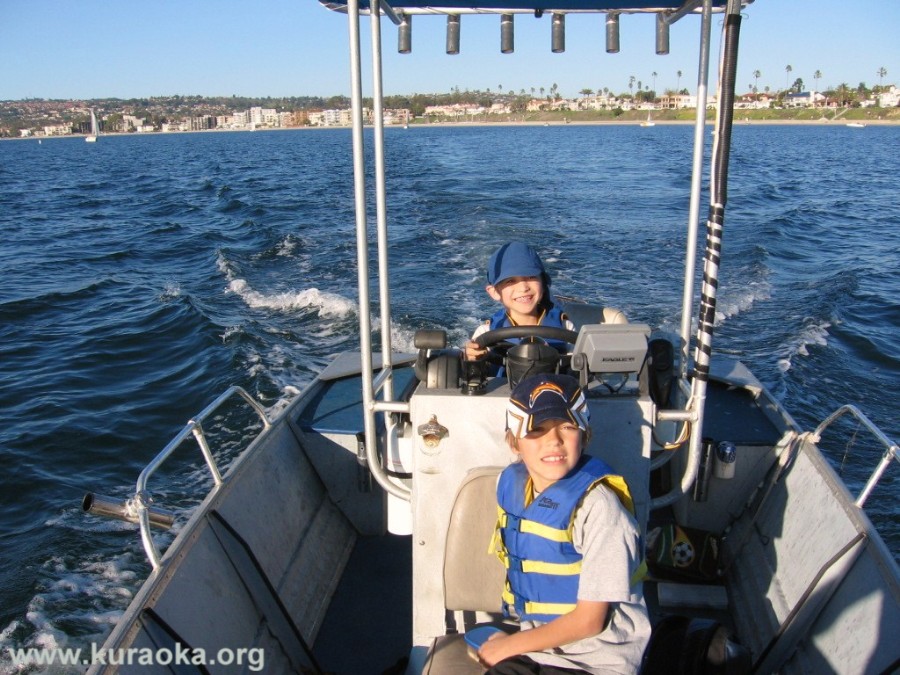 01-01-09: Happy New Year! This shot of the island doesn't include everything. But, starting at the lower left and working clockwise, there are tako (octopus) with a miso sauce, makizushi (the uncut rolls are stacked in clingfilm), kimpira gobo (burdock root), a seaweed salad, sushi rice (we used brown rice this year), teriyaki chicken, konyaku (a rather bland yam cake, sliced, twisted, and seasoned), and kuromame (sweet black beans, always a hit with the kids). In the middle are the "footballs," – agezushi. Not shown: a daikon-carrot salad, cucumber salad, sweet mochi, and the ozoni (a fish soup). Joining us this year, in addition to Barbara and Bill, were Lucy, Ernesto, Alex, and Carmen. Carmen is in the foreground, selecting her next piece of teriyaki chicken. Working clockwise from Carmen (in 3D) are our neighbor Zachary, Ondine, Roy, Alex, Lucy, and Leo (with his back to the camera).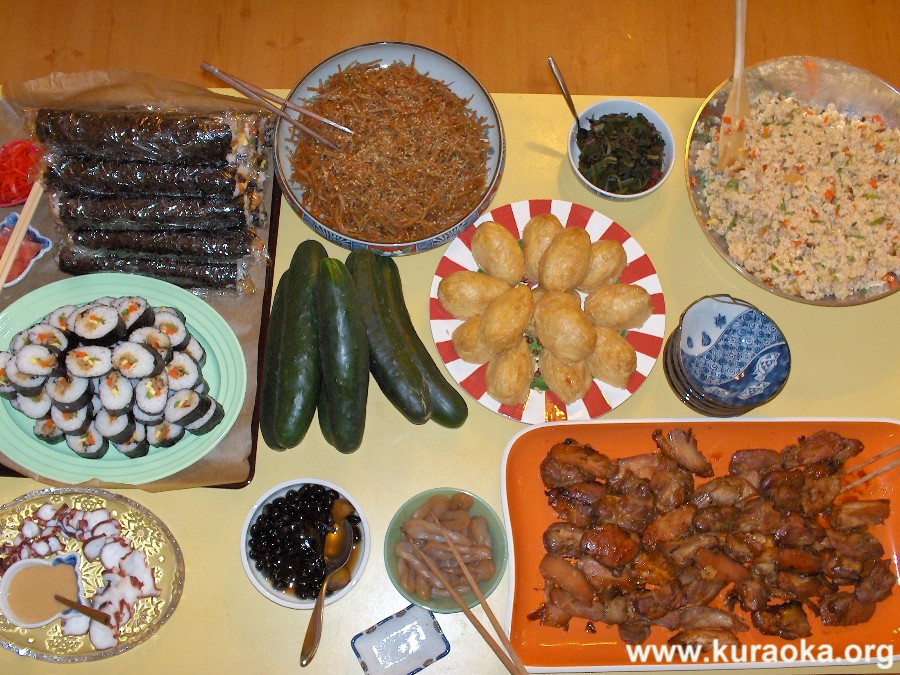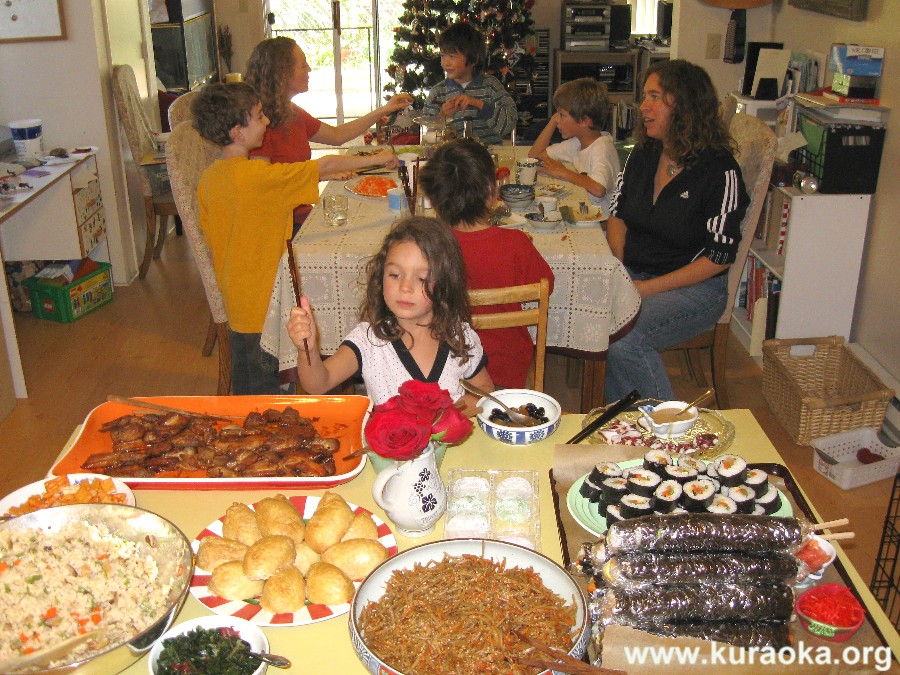 12-31-2008: Sushi Chefs Roy and Leo. Roy and Leo work on preparing the makizushi for the traditional Japanese New Year's Day feast. The thing Leo is holding is kampyo, which are dried gourd strips that are rehydrated and cooked in seasoning.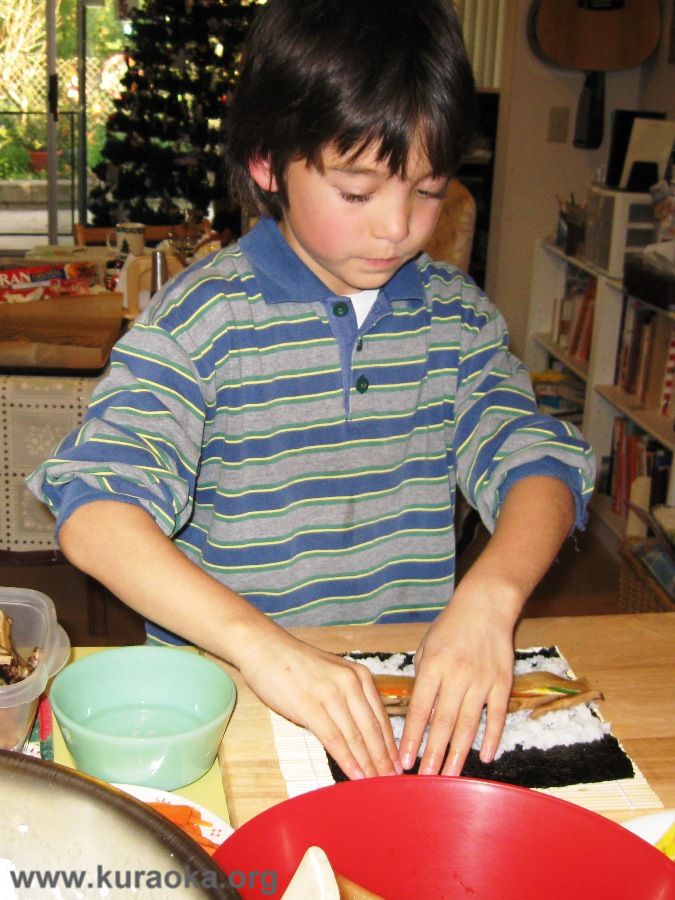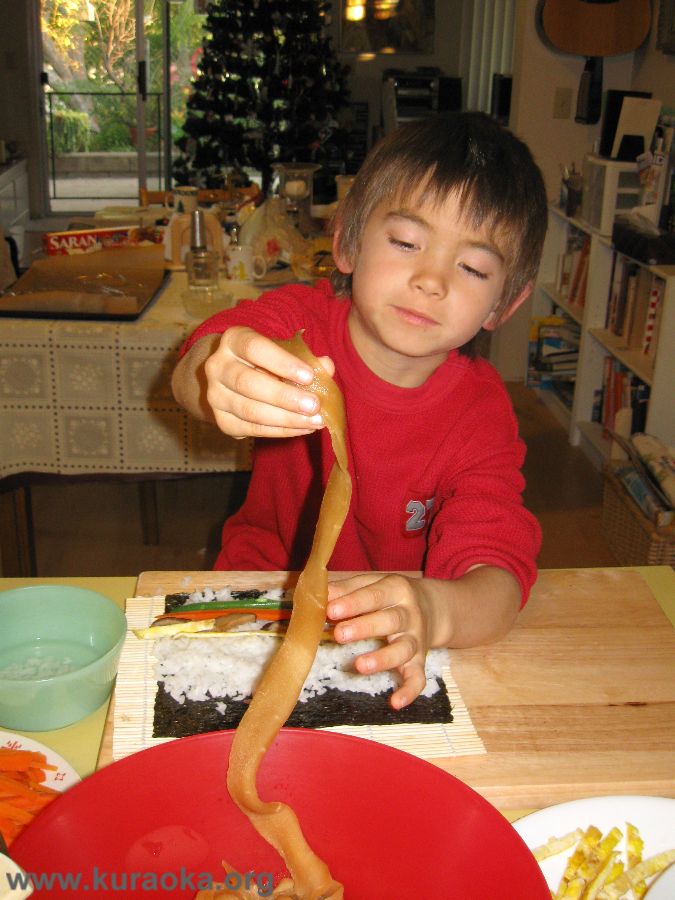 12-19-2008: Our Christmas card photo. Leo lost a second front tooth! Also, here's our favorite outtake, which seems to say so much.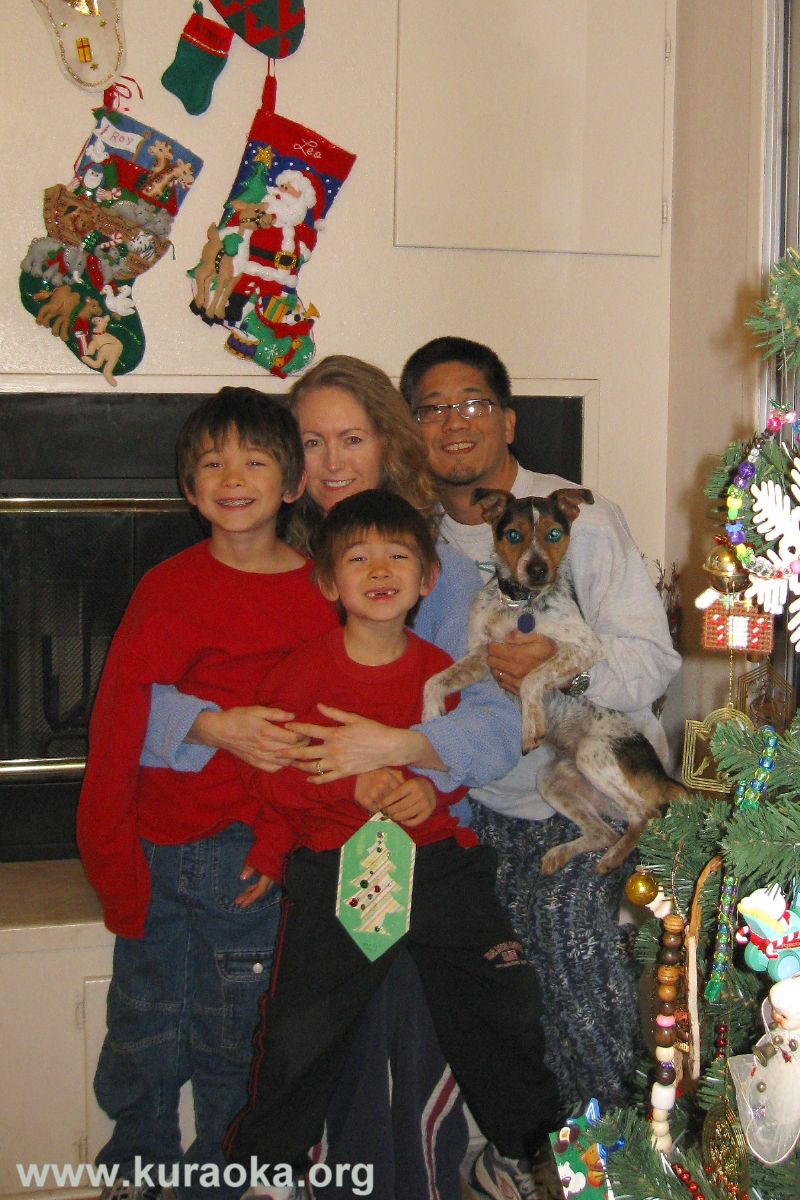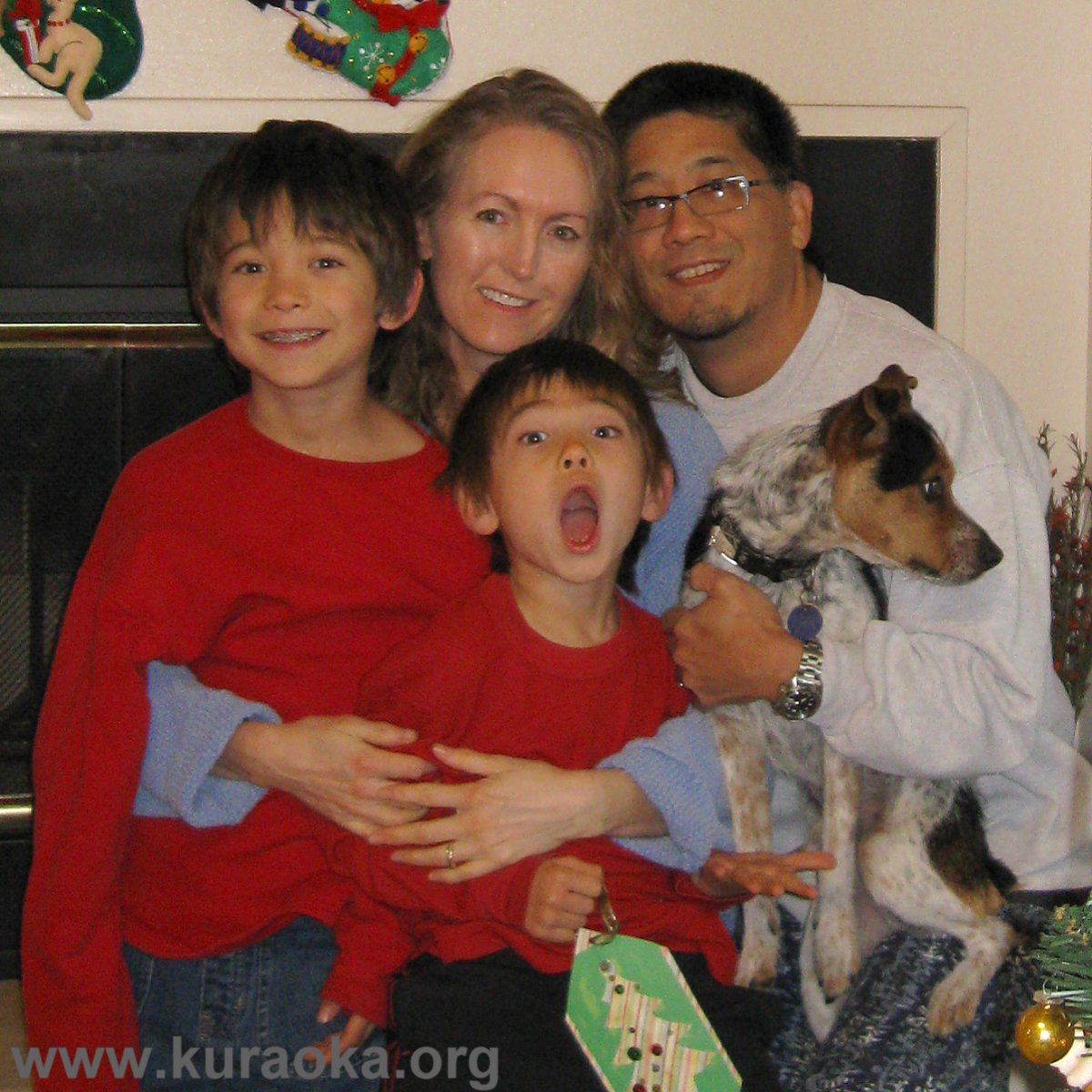 Archived Photos from 2008
Archived Photos from 2007
Archived Photos from 2006
Archived Photos from 2005
Archived Photos from 2004
Back to the Kuraoka Family main page