The Kuraoka Family at Indian Hills Camp
www.kuraoka.org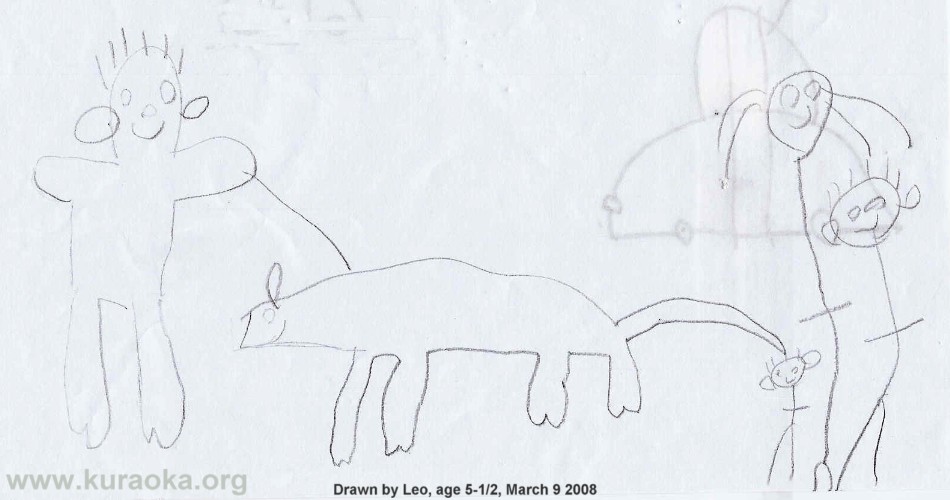 Family portrait by Leo (hurriedly), March 2008: John, Buddy, Leo, Ondine, Roy
May 9-11, 2008
John and the boys went on a Cub Scout weekend campout at Indian Hills Camp, in Jamul! Where was Ondine? Enjoying a quiet Mother's Day weekend at home by herself!
John packed Friday. Fortunately, with most of our camping gear pre-packed in two boxes, loading the car went quickly. But, two nights in Jamul requires nearly as much gear as a week at Sand Pond.
We left around 3:30, with Roy navigating by reading directions and mileage, and arrived at Indian Hills shortly after 4:00. Our travel distance from door-to-campsite was about 20 miles. When we checked in at the office, we learned that we were the first in the Pack to arrive! Once at the camping area, John turned Roy and Leo loose to pick a campsite – Pack 951's territory included sites 10-14. Roy and Leo immediately laid claim to site 14. It was across from the others, against a huge gray granite climbing and sliding rock and beneath an arching canopy of oak trees.
John and Roy set up the tents, and John got dinner on and fed the boys plus any strays that wandered by as Roy's Den mates and their families trickled in. Here are two photos of our campsite, which quickly became a common area because of that wonderful rock! The third photo, taken later, was taken from our campsite looking toward the far end of the Pack's designated area: it shows more of the camping area, and the ample supply of firewood contributed by various Pack members. That's our Wolf Den Leader Chris walking in the background.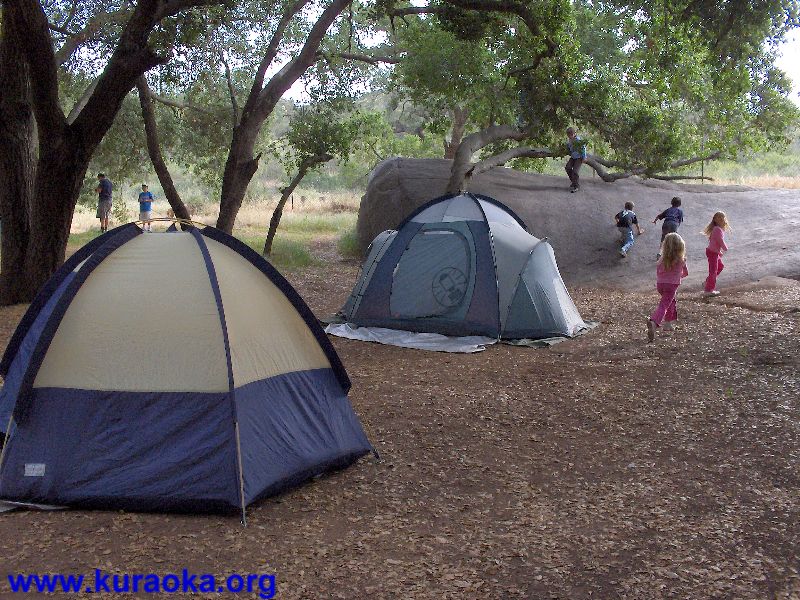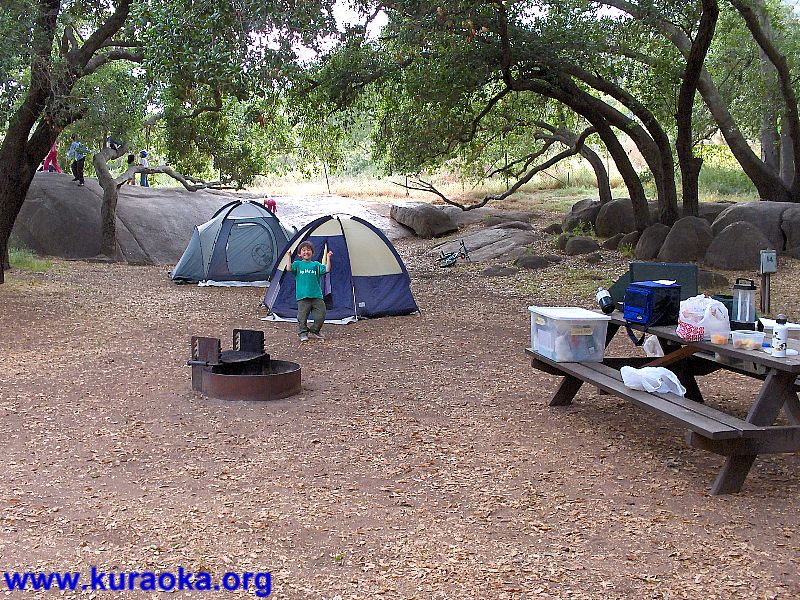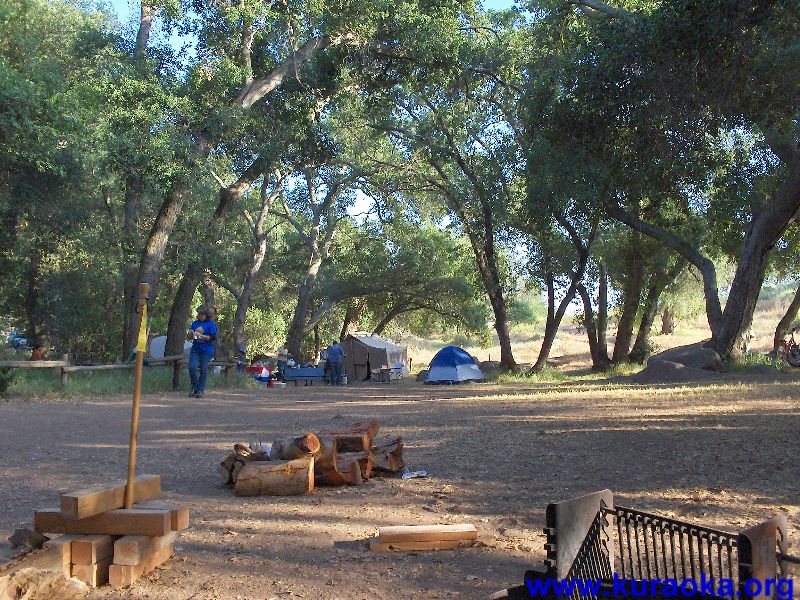 John lent a hand – and a mallet – here and there as people set up their campsites. Meanwhile, Roy and Leo's tent rapidly turned into The Party Tent because it was possibly the only kids-only tent in the camp. It was a wrestling ring, a secret lair, and a games room, and once John glanced over from his book and saw an impossibly long line of kids emerging from the tent one after another after another like clowns out of a Morris Mini. Check out this video from Friday afternoon! (About 3.9 MB, MPG file format.)
The kids quickly discovered the playground, one of the best playgrounds ever. It had ladders and ramps to tree houses, a high rope swing, and a long bumpy slide down a covered flume that emerged from a two-level wooden fort tucked high in an oak tree.
It was decided to have the Pack campfire at our site, so our site went from the kid's party site to the total party site. John, taking a leaf from Doc in Cannery Row, decided that people (kids) would be hungry, so he put a pot of water on for hot cocoa or tea, and laid out all the marshmallows, chocolate, and graham crackers that he'd packed, regretting not having laid in a larger stock. Once the campfire settled, the chocolate bar was gone in about five minutes; the marshmallows lasted about ten minutes; the last cracker was toasted over the fire (!) maybe 20 minutes after.
Roy retreated into his tent after a while, saying he was going to go to sleep, but he was drawn out by his friends who ran circles around the tent, thumping and hooting. He emerged, ready for more roughhousing. The fire crackled and burned low until about 10:30, when people staggered off to their tents. John put the fire dead out, checked on the sleeping boys, and turned in, savoring the peace of his own tent.
Saturday the boys were up bright and early. John got breakfast up, fed the boys, and settled down with a steaming cup of tea and Anthony Trollope's The Warden. A momentary silence settled. "Hey, over there, yeah, you with the glasses," big Stephen teased from across the way. "Keep it down!" The Cubs scattered for a trash pick-up project to earn their World Wildlife Conservation badge. The campground was so clean, filling their bags was a real challenge!
As the trash pick-up wound down, another party coalesced in Roy and Leo's tent. The tent rocked back and forth to screams and squeals. Suddenly there was a loud CRACK! and the whole tent tipped on its side. The giggling and squealing never stopped. "Do it again!" someone yelled. "Get off me!" someone else yelled. The tent drifted upright, crippled like an insect with a shattered leg. Check out the Party Tent Saturday Morning Show! (About 3.8 MB, MPG file format.)
The Cub Scout Pack had subsidized several group activities. The first activity was archery. Range master Brooklyn, a camp staff member, separated the kids into two flights, which alternated. The sun had come out bright and hot, and John went down the line of kids, spraying their necks with sunscreen. He also passed out some granola bars and apples he'd sliced up before.
Leo immediately recognized a kindred spirit in Donovan, two freewheeling loose cannons together. You can see them huddling up in the first photo. They had so much fun together! Leo was a bit overwhelmed with all the details of archery, but Roy steadily improved. That's Donovan in the foreground of the center photo with Roy, and the third photo shows Brooklyn helping Leo shoot.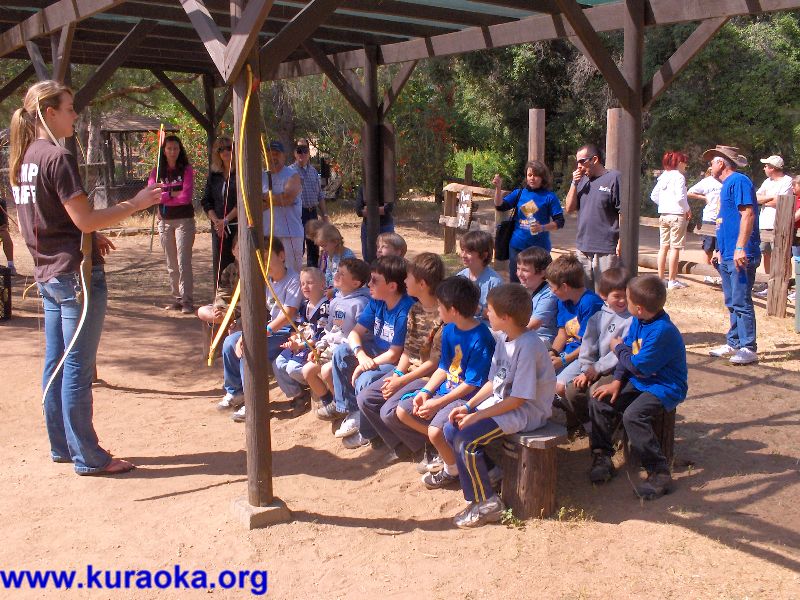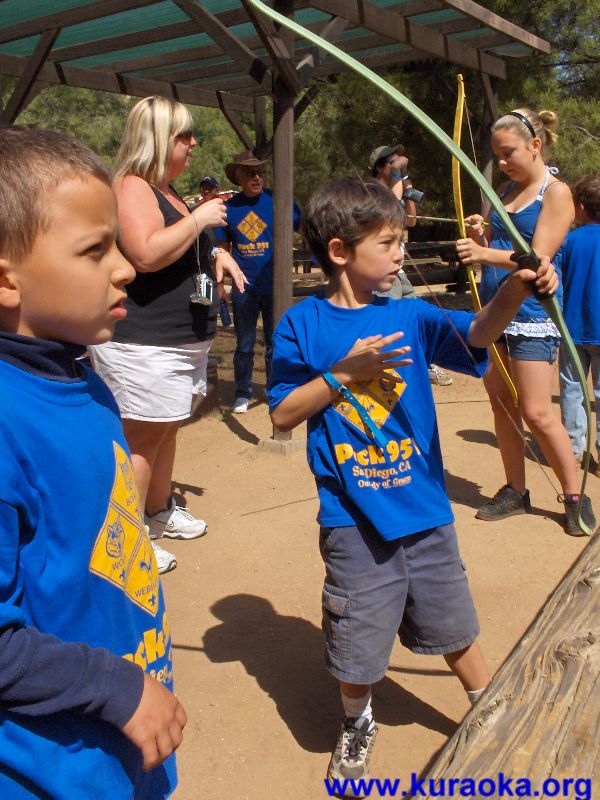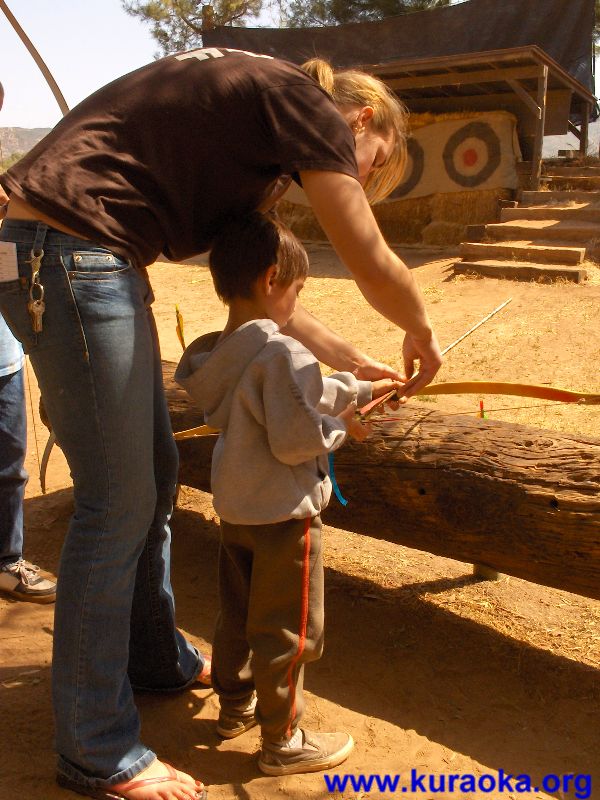 Then there was a parent's round! Here we see Jeremy, the Tiger Den Leader, at full draw, and Ernesto showing a silky smooth, practiced release. John, former collegiate archer, did what he could with a cute little child's bow and camp arrows, which wasn't much.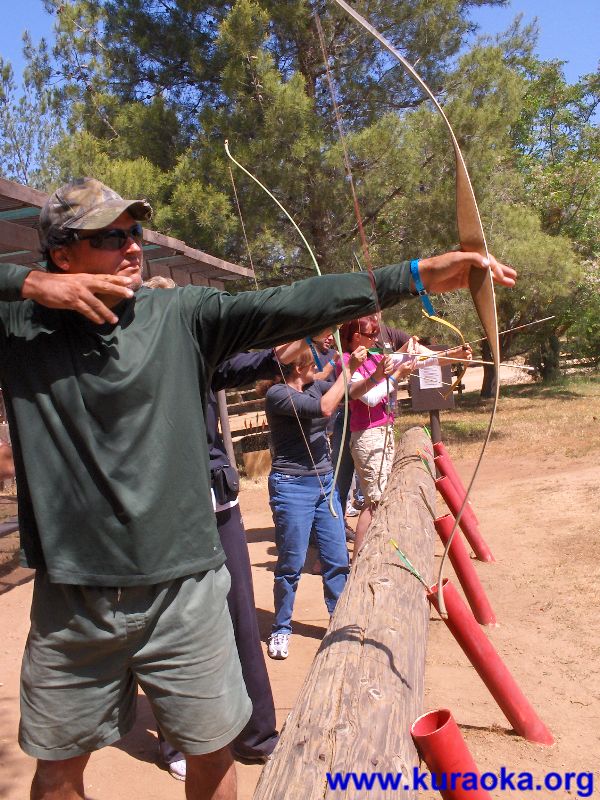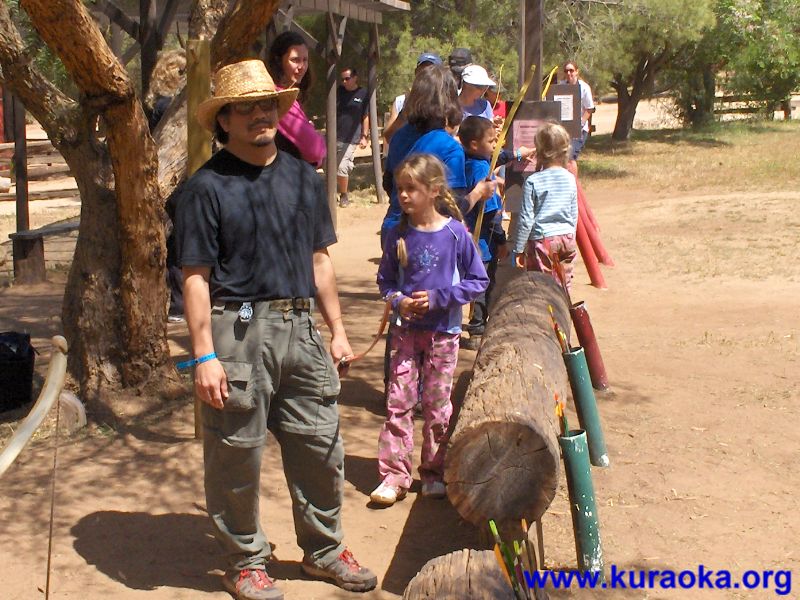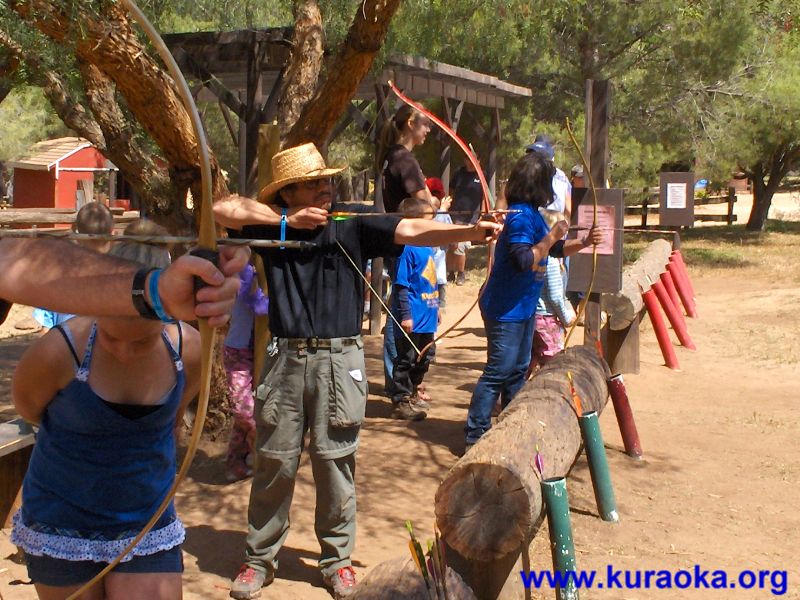 Then came the Zip Line! The boys strapped on harnesses, climbed an aluminum extension ladder to a raised platform at the top of a hill, clipped onto a rope hanging from overhead wheels that ran on a long cable, then leaped from the platform and went flying down the hill. This activity was lead by camp staff members Ocean and Yaya. It started to occur to John that these were camp names. He trotted back to camp and returned with a box of granola bars, which he handed out. Then he sprayed everyone's arms with sunscreen. Mr. Nurture, he is.
Leo opted out, but Roy and most of the Wolf Den did the Zip Line twice! Here is video of Roy's Zip Line flight! (About 4.8 MB, MPG file format.) That's Roy in the second photo, high up on the platform preparing to leap off. The third photo shows him towing the Zip Line back to the platform for his next run.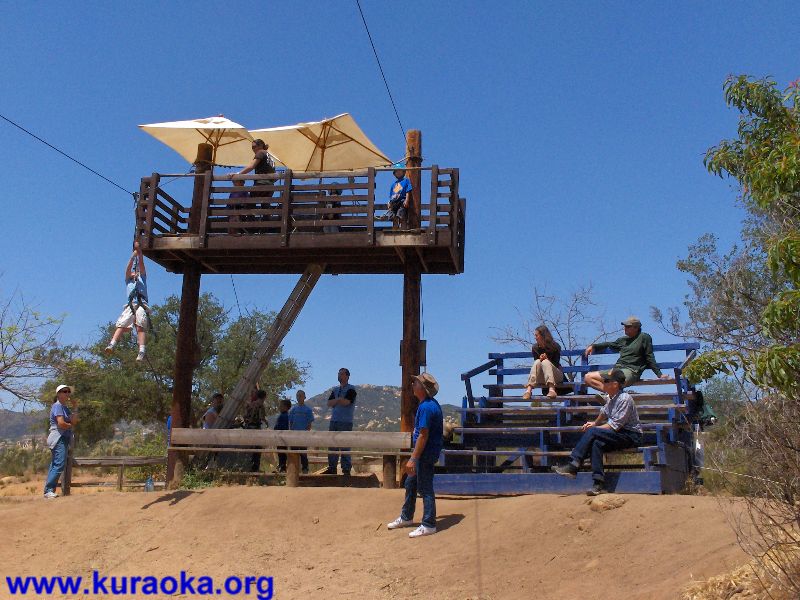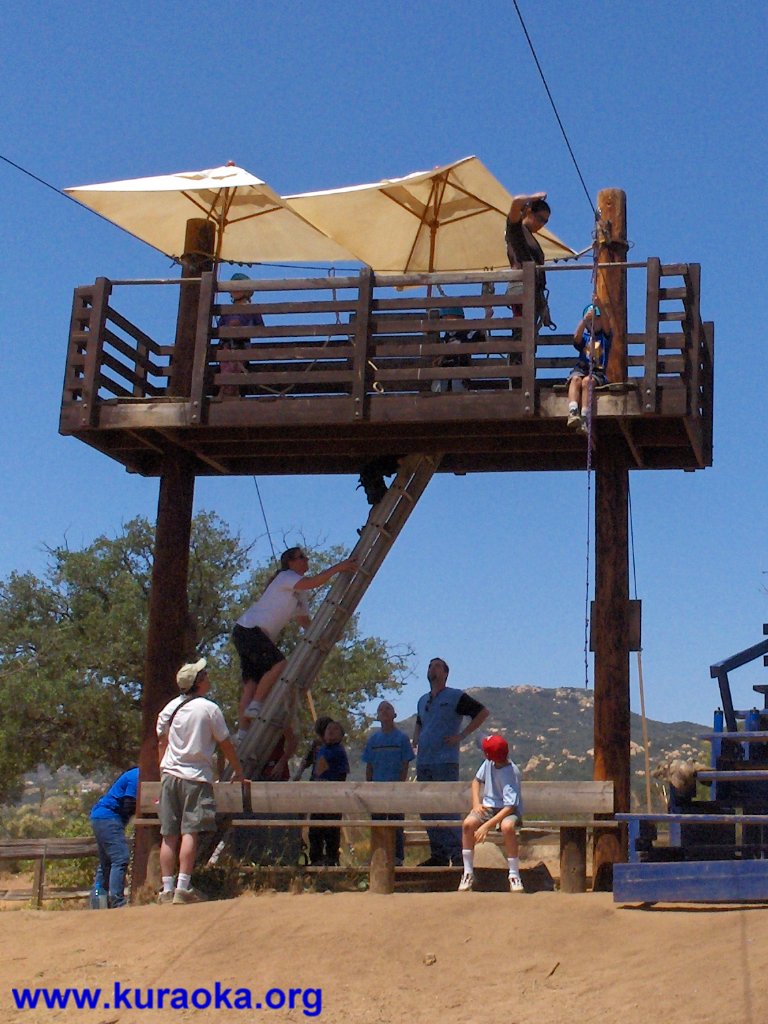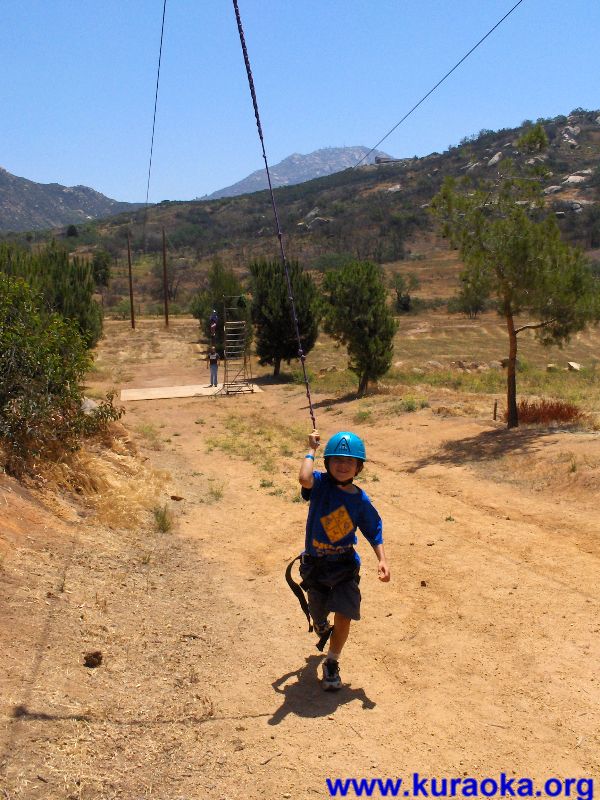 When all the kids had had their two turns on the Zip Line, it was the parents' turns! John opted out, and took the boys back to camp for lunch. On their way back to camp, they encountered Lucy, who had driven up with Carmen for the day.
After lunch, Roy and Leo wanted to go to the pool. John asked around, but found no other takers. So, John took Roy and Leo and found the pool deserted. The water was refreshingly cold! Roy remembered how to swim, and swam splashingly but adequately. Leo contented himself with walking back and forth on the steps. The pool was ideal for kids, 3-1/3 feet deep at the ends and 4-1/2 feet deep at the center. There was also a wading pool for little ones.
Then it was time for dessert: John took the boys back to camp, then over to the store for ice cream treats! Yum! They were gawked at as they entered the campsite; everyone wanted to know where'd you get ice cream! They ate as they walked to the "Red Rattler Gold Mine," the envy of one and all. John didn't make them change clothes, figuring that gold panning would be a wet and muddy activity, ideal for swim trunks, and he was right.
After a brief introduction to gold panning from Brooklyn, which included a bit about "gold fever" and how greed can ruin people's lives, the boys went at it. They were looking for tiny, gray lead balls, which are close to gold in density.
There was a contest to see who would find the most "gold." John helped Leo, then Roy, then, as pans became available, tried his hand and found two or three tiny lead balls the size of pinheads. Linda, Stephen's Mom, helped Leo for a while, and Den Leader Chris was with Roy for a spell. Then Leo was on his own, sitting in the dirt, methodically scratching through the mud in his pan and picking out tiny lead balls. With each find, he'd trundle over to Brooklyn, and very seriously hand her the ball and watch his find being recorded. Then, he'd return to his pan, plop down, and get back to work.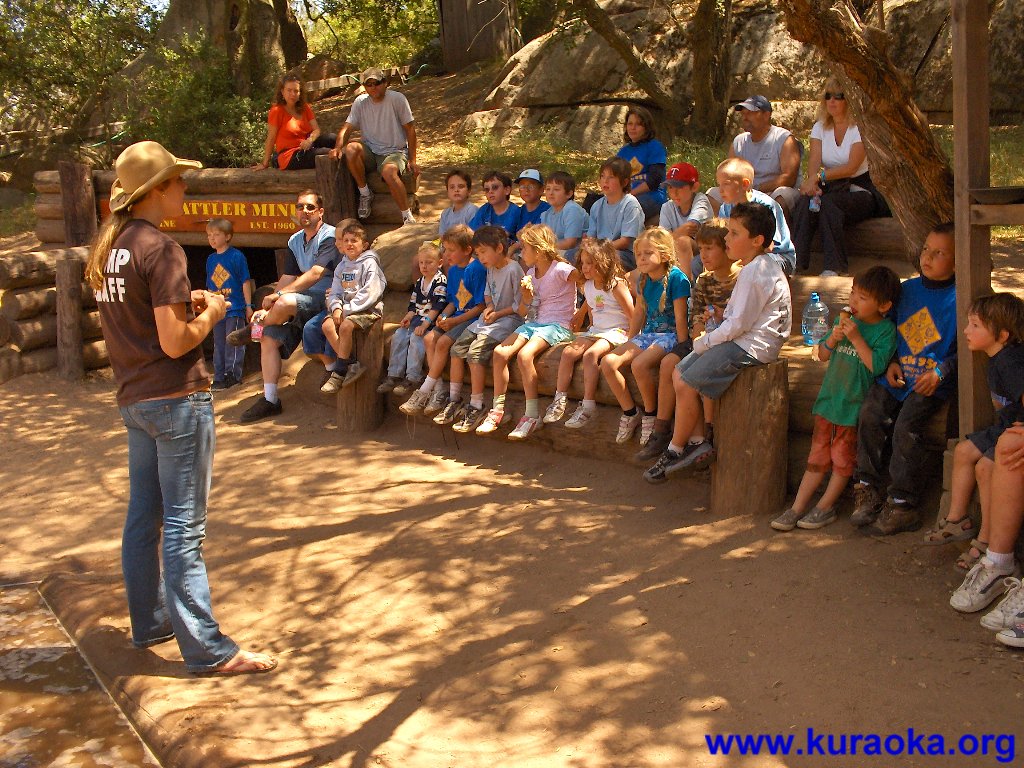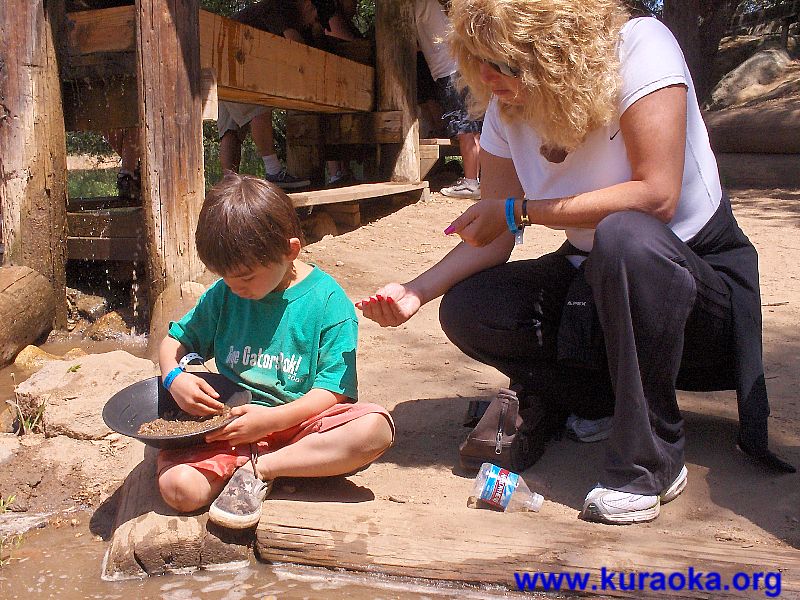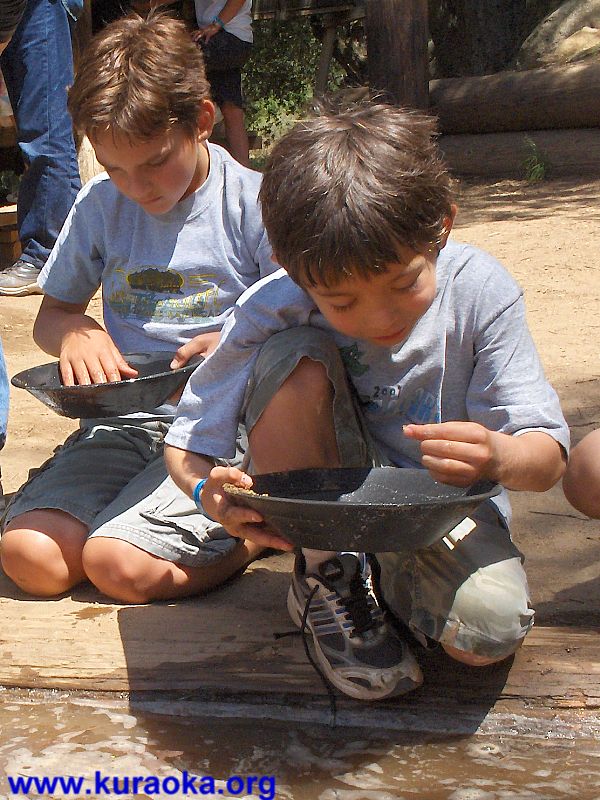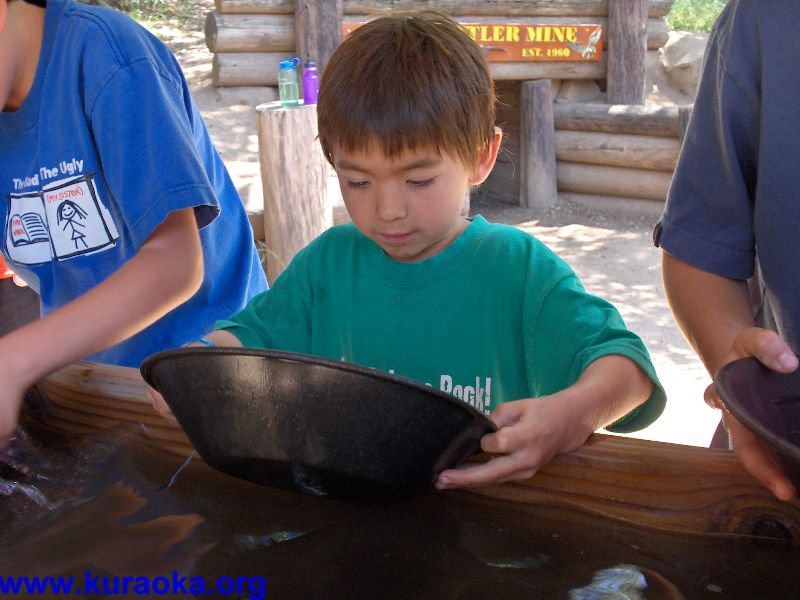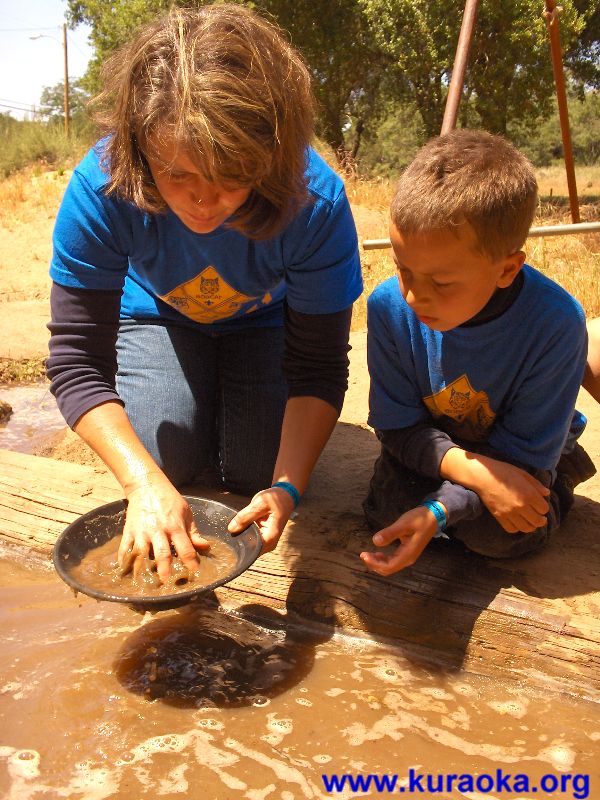 By the end, the winner was Michael with 41 nuggets – but they didn't know which Michael so Brooklyn declared it a tie! Stephen came in second, with 30-something. Donovan and Leo were singled out as honorable mentions! Leo found a lot of nuggets – more than Roy by a long shot because he had the patience to sit there staring into his pan.
After gold panning, we went to a different pool, with water slides. Leo quickly discovered, to his dismay, his limitations – and spent the rest of the hour sitting on the steps watching people. Roy took the plunge off the tall spiral water slide and splashed to the edge.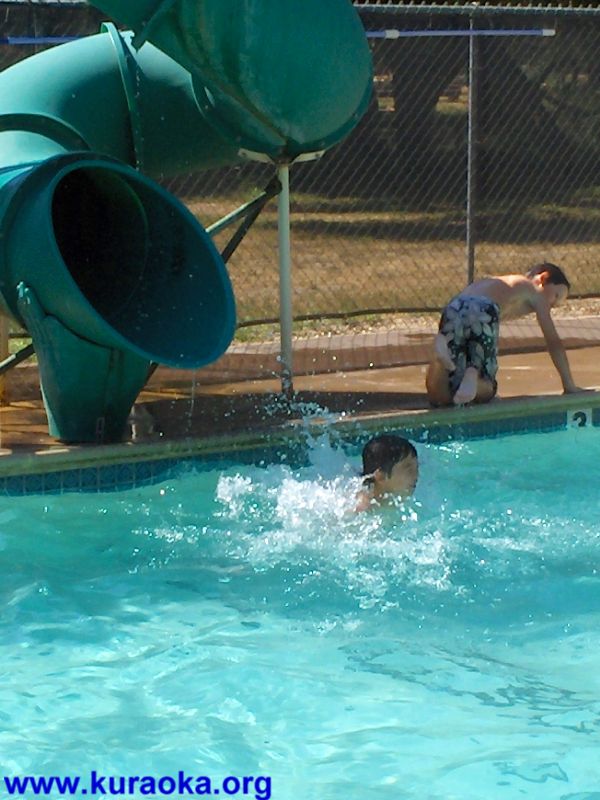 We returned to camp and Roy went to the BMX bike trail with Alexander and Michael. They rode, Roy ran. Leo stuck around camp playing on the big boulder.
After half of dinner, Lucy and Ernesto offered to take Roy and Leo with Alex and Carmen to the petting zoo. So, off they went! John sat with a cup of hot water, enjoying the quiet and reading Trollope. As it turned out, the petting zoo was closed, so the group went to the BMX track and the playground.
At 7:00, camp staff member Petra came by to lead us on a night hike! We stopped by some morteros, and visited both of the gold mines. Leo was thrilled to find more lead balls in the dirt. Then, we walked along an open field, pausing for a minute of silence to listen for animals. We walked by the Zip Line, and along a dirt road where a line of firefighters stopped the Harris Fire.
The campfire that evening was a big event, especially since many families were leaving that night. Several bags of marshmallows, chocolate bars, and graham crackers came out again, and the boys feasted on s'mores. John was the last at the fire, since it was in our campsite, and put the fire out before turning in.
Sunday morning, the boys were up at their usual time. John got breakfast on, and then started breaking camp. He got his tent down and packed by the time the boys had finished breakfast. Then, he put the boys to work clearing their tent and getting it ready to take down. They bagged their clothes, which had been strewn all around their tent, then swept it out. Then, Roy helped pull stakes and put them away, and they both helped pull out the poles and fold them up.
So, our camp was broken fairly early, leaving plenty of time for Roy, Leo, Alex, Michael, Christina, and Nina to rove freely. Here Roy and Leo are a totem pole!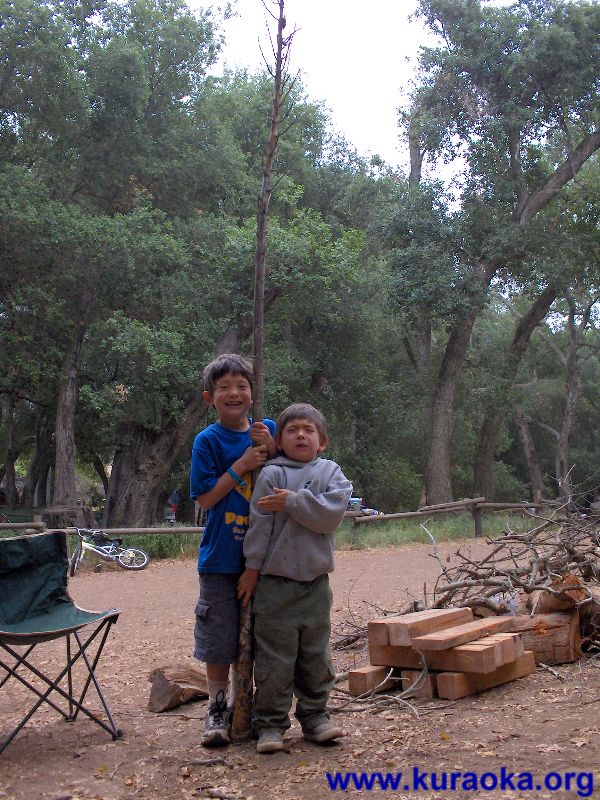 Our Packmaster Ian remained, with his boys. Christina found a toad, and that was one of the highlights of the weekend! The toad sat in her hands, blinking at the kids as they gathered around. It was a very experienced camp toad, it seemed, and it felt safe in Christina's hands.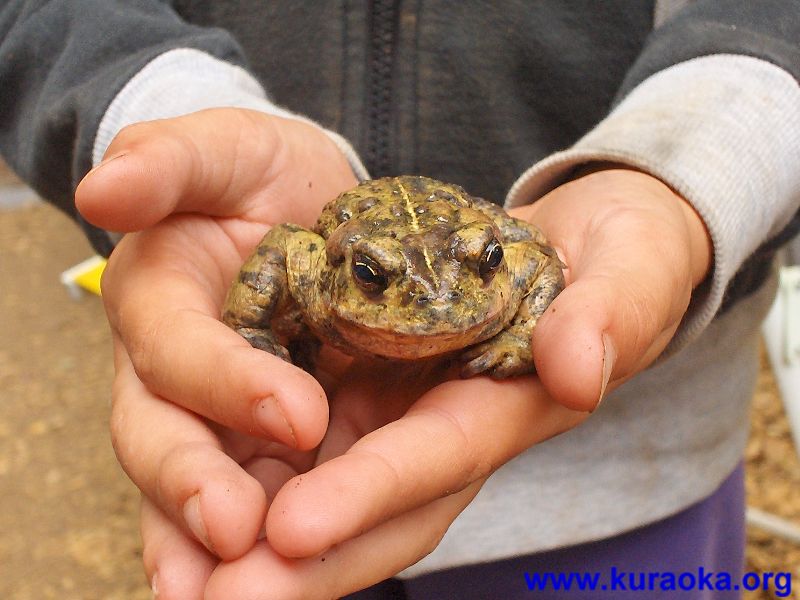 Another family discovered a small scorpion under their tent when they broke camp, and caught it in a plastic cup to show around. So, we had our own little camp menagerie!
While the kids played, John, Lucy, and Henrietta had a pleasant kaffeetrinken. The boys, particularly Leo, kept raiding Lucy's food bags for Cheddar Bunnies, and John broke out a bag of white cheddar puffs and a package of Soy-Um chocolate soymilk. We heated the chocolate soymilk and the kids drank it down, never suspecting that it wasn't hot chocolate. Lucy had some in her coffee! Yum! The kids wandered up and down a gully, checking in on Christina and the toad.
We were the very last people to leave, having run the time right up to closing time at noon. John had told the boys that if they were Perfectly Obedient Children, he would try to find Peter Piper Pizza since it seemed like it was close to one of the turns on the way in. The kids were good enough that he stopped. He got three individual pizzas and $10 in tokens, which bought him an hour or so with Trollope.
Leo fell fast asleep on the way home. When they got home, Ondine was with her Mom at an epiphyllum show! John unpacked, and threw a big load of laundry in for a first cleaning. Leo slept through John getting him undressed, so John just put him to bed. Roy took a bath, and John took a shower. Ahhh! It's always nice to come home!
NOTES
The Westsoy Enriched soymilk in aseptic packaging was very good. (John had looked for the VitaSoy we'd liked before, but couldn't find it.)
We need a new first aid kit in the camp boxes. DONE
Propane-fueled lanterns are bright, but seemed to be worrisome for those who had them. ("Be careful, it's hot!" "Don't run around the lantern!" etc.) John had pulled our propane lantern out of the camp box before this trip, and we'll probably leave it out until the kids are older; our battery-powered lantern was more than sufficient.
We went through exactly one propane canister for two nights, with heavy stove use.
Indian Hills Camp in Jamul is available to independent family campers as well as groups, but most of the paid activities require a minimum of 15 participants. You can get more information on the Indian Hills website. The 2008 rate for tent camping was $20 per person for two nights, with check-in starting Friday at 4:00 pm and check-out Sunday by noon. For those without tents or RVs, 9-person "tepee" and "covered wagon" rentals were available March through November at $38 per person for two nights. Seasonal discounts were available.
Day use was $6 per person, a bargain considering that you'd get full access to two pools, a fantastic playground, petting zoo, picnic area, restrooms and shower facilities, and (if you bring your own bikes and helmets) an extensive BMX dirt track with banked turns and jumps.
The playground at Indian Hills Camp is awesome.
The ice cream treats in the store are frozen solid – John's ice cream sandwich was the best he'd ever had! And, they're a relative bargain at $1.50 each. Well worth a visit! The store also rents equipment including bikes and helmets. Note that the store is closed on Sundays.
What are we up to now? Check out our Weekly Family Journal!
Back to the Kuraoka Family main page, with lots more stuff!