The Kuraoka Family Weekly Journal
Germany 2004
www.kuraoka.org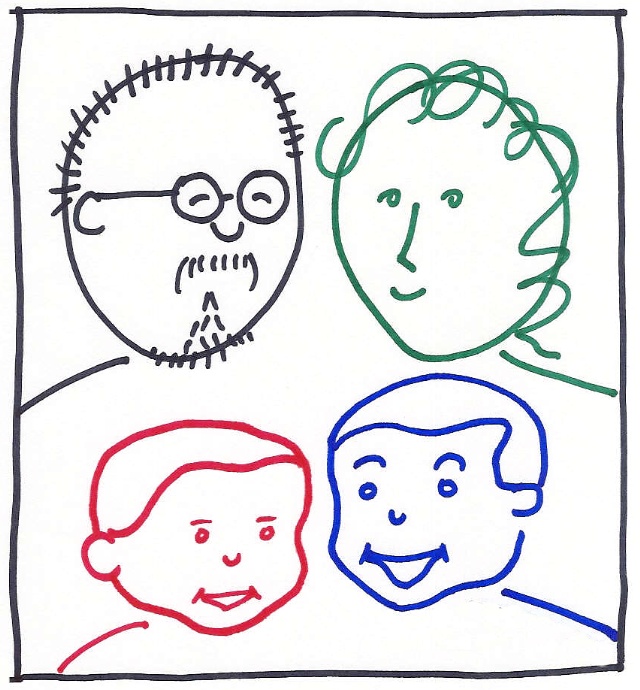 Us: John, Ondine, Leo (2), Roy (4)
Friday, 30 July 2004
Greusse aus Muelheim! We made it here, settled in with considerable help from Dax und Juergen, and are now dealing with daily life here at Langensiepenstrasse 5.
Last weekend we (or, really, Ondine) had a big job straightening up our house for the house swap! Ondine did most of the work, since John's work kept him busy. But, he managed to clear his office of two full recycling cans full of old papers. A huge thank-you goes out to Barbara, who came over Saturday and Sunday to help Ondine clean! John took the boys and most of the luggage to his Mom's house Sunday morning. That worked well -- John was able to manage a project or two while Ondine stayed home and organized the garage. Patty and Daryl came over to say goodbye, and Andrew and his girlfriend Ingrid came by just in time to save the day by clearing a virus off Frances' computer.
Monday morning was our last in California until September. It was actually a pretty busy work morning for John, since he had to manage a project for a client in Israel. We left Frances' house around 11:00.
On the drive, Leo said, quietly, "we won't fall off the plane." That comment merits some explanation. See, he knew we were flying to Germany on an airplane, the operative word being on. In his head, he'd apparently imagined us all atop the airplane, flying high in the sky, and then we would, of course, have to hold on tight to keep from falling off. "We won't fall off," he said again, as if to reassure himself. We explained that we'd be inside the airplane.
We parked John's car at Wally Park, which was a great tip from Elaine. The shuttle came right to the rooftop. At the curb, we rented a cart ($3) because we had the two car seats. We decided to check several pieces of luggage, including Roy's car seat. Just as John got to the front of the line, a flight crew came in with about 20 people and 25 pieces of luggage. They took priority, so John was stuck for about 40 minutes. When he finally got to pull his check-in luggage off the cart, his laptop bag fell with a sickening thump. His IBM ThinkPad T22 has a new scuff, and one latch doesn't work very well, but it still works -- hurray for IBM.
The plane was late getting into LAX, so we had an extra hour sitting at the gate. John took Roy and Leo exploring through the airport, and they watched airplanes and raced up and down the moving sidewalks. He took them out about three times before it was time to get on the bus. Even though we travel incredibly light, we had a tough time carrying everything onto the connecting bus and down the narrow airplane aisle. The car seat in particular was cumbersome, because it didn't really fit down the aisle.
Our flight went smoothly, though. The debate began over whether we will check or carry-on Leo's car seat. The side bolsters make it comfortable for him to sleep. But the added length makes it easy – almost unavoidable – for him to kick the seat in front.
We landed in Duesseldorf at about 3:30 in the afternoon, after a ten-hour flight, went through passport control where Roy and Leo got their first stamp in their passports. Then, we went off to get our checked bags. The carts in Germany are free. Juergen greeted us as we emerged from baggage claim; we wish we could show you the photo he took of us. We actually looked pretty good for two people who had spent 10 hours on a plane with two small children!
From there, we were swept along on a sea of kindness. Juergen drove us to their house where we met Dax. Then we were fed, and allowed to take naps. In the evening, we all went for a walk to a neighborhood park. The boys had a great time playing on different playground equipment. We turned in just after midnight.
We awoke at 3:30 to Leo crying. John went in, and found Juergen had already gotten up and was in the room calming Leo down.
Apparently, the boys woke up several times through the night. Once, Dax said, it was Roy who was crying. So, neither of them got much sleep, nor Dax or Juergen either. Ondine and John, meanwhile, lulled by the hum of John's CPAP machine and separated from the boy's room by a thick glass door, slept like dense, chunky pig-logs.
Wednesday morning, John got up at about 6:30, picked up his email, and did some work. (The day before, Juergen had been somewhat surprised to see John's laptop hook up to the Internet as automatically as it did.) The house came awake at about 9:00.
This was the first time we drove Dax and Juergen's cars, both stick shifts. Ondine went with Juergen, Roy, and Leo in Juergen's 1997 Volkswagen Passat. John went with Dax in her Nissan Micra. Off we went into the suburban German traffic, a-lurching and a-bumping. We went to Real,- which is the store where we will buy our groceries (and other goods). John and Juergen went around to the end of the store to buy beverages -- it's the same store, but a separate operation. Then, we switched drivers and John drove the Passat with Juergen, Roy, and Leo, to Darlington Park, a great park by the Schloss Broiche (Broiche Castle). It is an amazing park, with a water play area and a mud play area, plus a biergarten, educational center, and a host of other attractions. The area used to be an auto junkyard, but has been reclaimed and turned into a real jewel for the entire community. We went to a play area that had water flowing into a large sand area, where kids could build dikes and channels and dams. We'd never seen anything like it, but the boys took only a few minutes to dive right into the fun.
In the afternoon, Guido, Dax and Juergen's son, came over to help get the flat ready for a party.
That evening, John and Juergen went to the airport for the late night check-in at LTU. By the time they were done, John was feeling rather sleepy, and decided against driving back home. Juergen showed John where to park for the railway station.
They were a little late getting home for the party that Dax had scheduled for 6:00. She had invited a number of friends over for us to meet. We had a great time, and made lots of new friends. John was invited to see a soccer game with Erika in August! And Leo and a three-year-old girl (almost four), Veronica, chased each other around the flat.
John got the boys down without a fuss, and they slept through the later half of the party. After we went to bed, though, they apparently got up. We know this because …
Thursday morning, we found Roy sleeping in the living room with Dax, and Juergen was sleeping with Leo! That was the only way for everyone to get sleep.
Thursday morning, Michael (whom we met at the party) came to take Dax and Juergen to the airport. We spent the last hour before they left going over last-minute details about car insurances, driving directions, etc. Then, they were gone, off on their California adventure.
Patricia (a neighbor whom we also met at the party) called and asked us to the park with her daughter, Veronica. Well, of course we were happy to go! We were very grateful to have someone to follow to the park, since we'd only driven there once before. John drove there, and Ondine drove back. We went to the water-and-sand area again, where there were dozens of kids playing. Roy waded right into the crowd, but Leo held back, strolling through and then finding us again. Patricia is from Peru, and has lived in Germany for about 12 years. At the park, Patricia introduced us to Astrid, who has a four-year-old daughter named Emily. A wasp stung Emily – we saw several kids stung, and decided that we'd need to bring an ice pack or some AfterBite with us the next time we go
We had leftovers from the party for lunch and dinner -- Dax had ordered up a huge feast for the party the night before, so we'd have plenty to eat without having to cook. What a nice thing to do! We were indeed very grateful for a lunch and dinner that came together quickly and easily -- we just pulled out a dish and reheated!
We had a bit of trouble unlocking the front door, since the locks were unfamiliar. It will take us a bit of practice to get the hang of pulling the door slightly to unlock it. But, we were very glad we had gotten out immediately and plunged into things. It would have been easy to stay in, but this pushed us out onto the roads and out to the park, and with each trip out it becomes less of a stressful adventure and more of a fun outing.
The boys were both asleep when we got home, so we figured they'd have an early night right after dinner. But Ondine, agent of chaos, decided that it would be a good thing to let the boys sleep on the air mattress. Well, that invited lots of playing until we took it away, well after 11 pm. Sigh.
Friday morning, Roy was up bright and early at about 7:00. We woke Leo up a little after 8:30. Ondine, Roy, and Leo walked to the neighborhood park, while John worked. We received an email from Barbara saying that Dax and Juergen made it to our house okay. Later, we'll all go to Real,- for milch (milk) und obst (fruit) und whatever. John did several loads of laundry today. He had a laundry adventure, since all the controls are labeled in German. Once, on his way to the cellar, he met Herr Hocevar, who lives in the flat directly beneath us. John wanted to say "sorry about all our noise," but didn't know how. Later, Ondine, Roy, and Leo met Frau Hocevar, and Ondine apologized to her. Our two boys are very noisy.
Later, Patricia stopped by. But, Ondine wasn't home, so she and John had a brief, part-pantomimed discussion. John thinks she said that she can accompany us to the store for the milch und obst. We are very grateful to have so many people helping us feel at home!
Gas price comparison: in our part of San Diego, gas was about $2.19 per gallon for regular unleaded. In Los Angeles, we saw prices around $2.25 per gallon. In Muelheim, it's about 1.13 Euros per liter for Benzin, which is the regular (standard octane) fuel. There are a little less than four liters in a gallon, and a U.S. dollar exchanges at about 0.70-something Euro per dollar. The result is over $5 per gallon, more than twice what we pay in the U.S. There are no Hummers on the road here!
Read on ... continue to the next journal.
See the photo highlights ... on our Mülheim photo page.
Visit our current journal, updated at least once a week since 1998, right here.
Back to the Kuraoka Family main page, with lots more stuff, including photos!