The Kuraoka Family at Sand Pond
www.kuraoka.org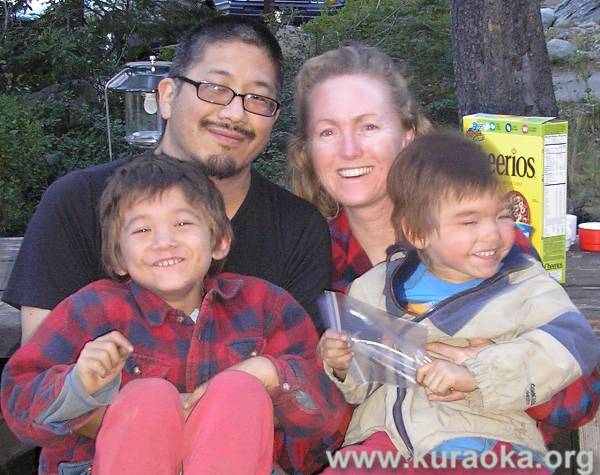 Us, 08/11/06: John, Ondine, Roy (6), Leo (4)
August 5-13 2006
We returned from our week at Sand Pond! And what a wonderful, relaxing week it was. We did no work, and little writing. And some reading: Ondine read The Secret Life of Bees by Sue Monk Kidd, and John re-read The Secret Agent by Joseph Conrad. Roy and Leo did a lot of journaling and drawing, and pond wading, and log paddling, and sand building, and rock piling. As for our dog Buddy, he got so many walks, he'd just lie down on the trail at every pause. He may have some Jack Russell Terrier energy in him, but he's a sprinter, not a marathoner.
Things were much easier this trip than our last trip to Sand Pond, two years ago. (Click here for a look back at that trip!) Back then, Leo was still in diapers and was learning to walk, which added a whole set of complications! Or, look ahead to our 2007 Sand Pond trip, which included visits to Gold Lake and the Kentucky Mine Museum!
We're going to do this a bit differently than we have in the past. We'll throw the photos and captions to the end of this page, so they have time to load up while you read. There are also movies to enjoy, depending on your connection speed. Click here to skip to the pictures.
The story really begins on Thursday August 3, when we stayed up until the wee hours of Friday morning packing up the Piggy Pack and the Mazda. Pre-packing he car was a wise move, because we got a good night's sleep Friday night.
We left Saturday, August 5 at about 8:45 a.m., followed shortly by Barbara and Bill in their mid-sized Mercury Mystique. Our compact Mazda Protegé (sic) was laden with gear. Our Piggy Pack held five bulky sleeping bags, three lightweight fleece bags, two tents, three groundcloths, a half-dozen beach towels, several air mattresses, three foam pads, and several heavy jackets. The trunk held two camp boxes (one kitchen, one camp), the Coleman propane stove, canned goods, food, supplies, more clothes, and Buddy's crate (folded down). Inside the car's cabin were nested our backpacks with clothes, road snacks, road toys, and plenty of bottles of water. Roy and Leo rode in their car seats, and we squeezed the dog bed between them for Buddy. Buddy was secured by threading the seatbelt through his harness.
It made for cramped quarters; thankfully the Mazda Protegé has a spacious back seat for its size! It handled the 1,462-mile round trip just fine. Even with the Piggy Pack packed full and tight and strapped to the roof, and even with freeway speeds exceeding 70 miles per hour in places, we averaged well over 27 miles per gallon for the trip. Not bad!
The drive to Santa Nella was punctuated by several stops. Near a McDonald's off Clinton Keith Road near Temecula, Buddy found his own special treat: a rotting mouse carcass in the gutter! He smooshed his face into it with gleeful dog bliss. John pulled him off, and glistening white maggots rose like spirits out of the mouse corpse. They were moist and fat; you could hear the weight of them as they plopped onto the sticky, hot blacktop. Gik. Gik. Pthhk.
What the heck. Buddy got strapped back in with the boys immediately after this episode, where he rested his recently demousemaggoted muzzle on their laps and accepted ear rubs. We weren't even camping yet, and standards had definitely fallen.
We reunited with Barbara and Bill at John's Mom's house in La Cañada, where we enjoyed a light lunch. The long drive ahead mandated a short visit: we arrived at about 12:20 and left at about 1:45.
At Wheeler Ridge we fueled up, and at our next rest stop after that we moved Buddy to Barbara and Bill's car so he could enjoy some time away from the boys and they could actually eat snacks.
We pulled in to the Holiday Inn Express in Santa Nella at 6:45 pm, so it took 10 hours to travel the 424 miles from San Diego. The Holiday Inn Express accepts pets. We settled into Room 128, unloading Buddy's crate and bed. He made himself right at home. Barbara and Bill took Roy and Leo to Pea Soup Andersen's, while we took Buddy to Subway and got sandwiches to go. Roy was very tired upon returning to the room, and promptly fell asleep. Leo, on the other hand, was wild-eyed and frisky, and we had to roll up the bedspread to form a barrier so he wouldn't bother Roy.
Sunday August 6, the boys were up bright and early despite the darkened hotel room. John took them to the free breakfast buffet – it's a pretty good buffet. Don't overlook the instant oatmeal by the tea and coffee! There are limited fresh fruits but plenty of them: oranges, bananas, and apples. Plus, cereal, juice, yogurt (the super-sugary kind, though), hard-boiled eggs, muffins, and donuts.
The room charge, including the $8 pet fee, was $109.15 plus tip. We fueled up at a Pilot station, and left Santa Nella around 9:40. The boys sang "I'm gonna go adventuring/And who knows what I'll find ..."
Leo was intrigued by the stories of gold strikes along the river and in the lakes. He is determined to find gold. Silver and gold. And diamonds. He's always looking for treasure. When you're four years old, stumbling across a cache of treasure is as realistic as any other way to make money.
As for us, we'd take our treasure wherever we found it. A guiding quote, from Anne Morrow Lindbergh's Gift from the Sea (1955): "To dig for treasure shows not only impatience and greed, but lack of faith."
We took numerous short breaks for the kids and dog to get out. At Donner Pass, we had a longer break to walk on boulders. This was where we discovered that Buddy had unclicked his seatbelt, carefully unthreaded it through his harness, and had been completely free for who knows how long! He had the sense, though, to stay in his bed, sandwiched between the boys. Actually, given how loaded the car was, he probably couldn't have moved anywhere anyway.
We fueled up just before Truckee so we wouldn't have to deal with the center of town. We also found a great McDonald's with three picnic tables on the dirt outside so Buddy could be tethered near us. Buddy immediately sniffed out all the French fries under the table, along with a few old pickles and the odd crumbly dollop of sun-hardened ketchup on dirt. Dog treasure! The boys' meals came with Hummer toys, just the things for going adventuring.
The first sighting of the Buttes came at 4:05 p.m., and by 4:10 we were pulling into Sardine Lake campground. So, it took about 7 hours to go about 259 miles. Total distance from San Diego: 687.7 miles.
We got campsite #25 and Barbara and Bill got campsite #24, right next to us. Sardine Lake campground charges $18 per night, so $90 for us. Next year they will introduce a reservation system, ending forever the era of trolling for campsites and negotiating with leavers. Something wonderfully spontaneous will be lost, and the whole experience will be diminished. One wonders if those Professional Campground Management Corporations are staffed by people who actually camp. It's not supposed to be like a hotel, folks. What's next, reservations for fish?
"Hello, I'd like to book two eight-inch Brookies and three six-inchers for the morning of the 14th."
"Your order is confirmed. Will you be paying in advance, or would you like that billed to your campsite?"
Geez.
Something else that's new in camp, are the brown steel bear boxes. Bear had been spotted in camp, but the bear-proof boxes also serve as Stellar Jay-proof boxes, ground squirrel-proof boxes, and mouse-proof boxes. And, they hold your food right by the table and kitchen area. We remember having to lug food from the car trunk to the kitchen and back, and really enjoyed the bear boxes.
The metal fire rings seemed fairly new too, with hinged grills that you could adjust to different levels should you want to cook over the coals. We mostly opened cans.
We had read on the Sierra City message board that the deerflies were especially bad this year, and packed an arsenal of bug repellant sprays, lotions, and bite creams. The bugs were nearly non-existent, and the temperature couldn't have been better all week long. Well, maybe it could've been a tad cooler during the heat of the day and a bit warmer in the middle of the night, but there's such a thing as asking too much, and that would have been it.
We spent most of our days at Sand Pond, wading in the shallows, or finding a log to paddle around in a lazy sort of fashion. People on inflatable air mattresses avoided the logs for fear of a puncture, so floating otter-like with a log is a good way to get some space too. The Professional Forest Management Corporation had installed a retaining wall around some of the sandy beaches and inlets around Sand Pond, the better to hold back the sand. In the past, there have been signs posted concerning erosion and loss of sand around the pond. The retaining walls would help preserve the shape of the pond.
However, no one liked the retaining walls, not even the local forest ranger. The walls created drop-offs and eliminated the warm, friendly shallows where small children could splash and play. One day, we watched the ranger and an ad hoc crew dismantle one wall and re-open a broad, sandy shallow area for small children and infants.
The wrong kind of frogs and illegal dogs.
The first day, we obeyed the signs that said no dogs within 100 feet of the water, leaving Buddy with Barbara and Bill back at camp. But, everyone else had brought their dogs, so we brought Buddy the next day and thereafter.
One morning we chatted to the ranger, Buddy (on a long tether) nosing around the edge of the pond in full view as other dogs barked and frolicked and splashed into the water retrieving sticks. The ranger seemed to not notice the dogs at all. And, all the dogs and dog owners were very well-behaved.
It wasn't until the very last day, a Friday (so a new weekend crowd), when someone must've complained. The ranger went around the pond with a reluctant, grumpy expression telling everyone that the dogs had to go. By that time, it was afternoon and the boys were ready to return to camp. So, the complainer probably enjoyed one dog-free afternoon before a fresh crowd descended … with their dogs!
We had shared with the ranger our delight at finding a burgeoning population of bullfrogs and polliwogs. He told us that someone higher up in land management was planning to try to eliminate the bullfrogs because Sand Pond is potentially a habitat for the endangered red and yellow striped frogs.
Thing is, Sand Pond is not a natural feature. It was formed by the removal of tailings from a gold mining operation. Even the surrounding small, pretty banks and rises are, at the bottom, man-made from tailings.
Anyway, one should cherish the bullfrogs while they last. Their cow-like mooing calls, even during the daytime, soon may be replaced by a natural, species-appropriate, habitat-appropriate dead silence.
We also went to Snag Lake. We put Buddy on his long tether close to the water, and threw a squeak football out for him to retrieve. Oh, how happy he was, leaping and chasing and shaking off the cold lake water.
John took Buddy, Roy, and Leo for walk that turned into a trek all the way around the lake. Snag Lake is not a lake that people walk all the way around; there are snags you know. Snags and logs and marshy shoreline, and brush growing close to the water, and no real trail.
We set off, Leo singing "I'm gonna go adventuring/And who knows what I'll find ..." over and over and over. At one point, we came to a place where the only way to go forward seemed to involve crossing a log high above the water's surface. John was about to herd everyone back the other way. But Roy scouted a low hole in the foliage, followed by Leo, followed by Buddy, followed (thwack! ow! thwack! ow! thwack! ow!) by John who was a bit too big for the hole.
Onward they forged, clambering over logs and stumps. Leo had picked up a stick to wave, and, later, a piece of broken glass ("treasure!"), and trundled along laden with his loot plus his water bottle, one item more than he really had hands for, especially when scrambling over the slick, mossy logs. About 50 minutes later, they arrived back where they started, tuckered out.
There is something very peaceful about the sound of water lapping against rocks. It's not so cosmic as the tides, and not so industrious as waves against boats or pier pilings. Just water, the rocks in the water, and enough wind to stir things up. Treasure is where you find it.
Another side trip was to Pete Lavezzola Fountain, which used to be a public drinking fountain built by Pete Lavezzola in his spare time. It is no longer a working fountain – the connections to the water have been severed and capped off. But, it's sited prettily, beneath a broad cascade of tumbling water.
We lingered for an hour or so, enjoying the ever-changing threads and sheets of water, and the constant passage of quick-stopping shutterbugs. A photograph won't capture the spot; you need the sound of the water falling and the feel of the spray. You need the rush of the Yuba River just across the road, the warmth of the sunlight and the cool of the shade. John told Roy that our time here was treasure, and he seemed to understand. Roy pointed out that the water flows in both directions from the falls, which we counted as even more treasure.
Another treasure was having a kid-free night and breakfast. Barbara and Bill took Roy and Leo for the night in their tent, giving us the chance to have a night uninterrupted by taking kids to the bushes to pee. And, we got to go out for breakfast, just the two of us. We drove into Downieville, but learned that the only place open for breakfast was Coyoteville. At first, we thought that was a restaurant in town, but it turned out to be a small roadside café along Highway 49, just outside of town. We lingered over a wonderful breakfast, (about $21 with several juices and teas, plus tip), then headed back to Downieville for a bit of shopping. Downieville Grocery still offers Internet access for $2.50 per 15 minutes, $10 per hour; we were on vacation, though, and didn't even bother to check in. Instead, we bought a Downieville Grocery tote bag for $3.99, a real bargain souvenir. We use our totes from Germany all the time.
Ondine's Aunt Ulli came to join us, bringing with her Diego, her one dog that is friendly toward children. Roy and Leo both remembered Diego from two years ago! Diego is a velvety soft and pudgy Chihuahua. Although Diego is fine with kids, he doesn't like other dogs, and thinks they should be moved on, the quicker the better, and here, let me help you find the exit. He and Buddy occasionally ignored each other, but at times there would come a furious snarling and snapping of tiny jaws with Buddy cheerfully beating a retreat only to return for more fun.
It was wonderful to spend some time with Ulli – we hadn't seen her since her last visit down to San Diego, which was some time ago.
Friday night (August 11), we had our final meal of the trip together, then returned to our campsite to put the boys to bed and have one last campfire. As the fire died down in the silence of the night, we listened for the faerie-like music of the coals – the quiet, high-pitched tinkling carrying a melody you couldn't quite catch, accompanied by bassy, breathy puffs of flame and percussive snaps and crackles. Waves of glowing orange pulsed across the blackness of the embers. Treasure.
Saturday August 12 we spent the morning packing. Most of the kids' games and toys we'd brought served only as momentary distractions and probably weren't worth the space – rocks and twigs and journals were always the preferred toy of choice. We brought too much of some kinds of food, and not enough of other stuff. We'd needed more fresh vegetables, crackers, soymilk, cereal, string cheese, and nuts and raisins. And less canned tuna (we'd brought 20 cans!) and peanut butter (untouched).
Ulli took Diego and the boys to Sand Pond for a last good-bye. Then, it was time to leave. The campers in the site across from us had already claimed our site – another reminder of how much friendly spontaneity will be lost with the looming reservation system. We left, en masse, at about 11:10 a.m., arriving at the Holiday Inn Express in Santa Nella at about 5:20.
We had the same room as before, #128. We held a dirty bathwater contest, which the boys won handily. The dog, Buddy, came in dead last. He was by far the cleanest of the five of us! And, after his bath, Buddy was fluffy and soft and sleek – in contrast to the rest of us, who all still looked grizzled and scruffy albeit clean(er).
John took Roy and Leo to Denny's for dinner, where he learned that kids eat free on Saturdays. So, their meal came to $10.50 plus tip. Ondine and Buddy went to Del Taco. Barbara and Bill, disappointed by Pea Soup Andersen's on the outbound trip, joined her at Del Taco.
Sunday morning we enjoyed the breakfast buffet and left Santa Nella at about 9:15 a.m. We'd had a rough night. John had been sleeping fine without his CPAP, but that was in a cold tent, where he tended to sleep on his side. In the warm hotel room, he tended to sleep on his back, causing lots of breathing stoppages and loud snoring – so Ondine didn't get much rest either! Next trip, the CPAP is a must. Anyway, we decided we couldn't make it all the way back to San Diego in one go, so we called John's Mom. Fortunately, she had no plans for the evening, and we invited ourselves to stay the night there at her house.
There was a large wildfire along the Grapevine, and the entire northbound side was stopped. We were heading south, though, and got through with no delay, arriving in La Canada around 3:15. Ahhh! Grammy's house!
Monday we lounged about, procrastinating on that final push for home. Ondine and John foisted the boys off on Grammy while they toddled off to the Bargain Box, a thrift store, and bought more stuff to load into the car.
We left La Canada around 4:00, and made it home around 7:00. After the boys went to bed, we went to work unloading the car and starting some laundry, finally tumbling into bed ourselves around midnight. Laundry occupied all the next day as well, about six loads, most of which had to be washed several times to get clean.
You can wash away dirt, but you can never remove the memories. Before we left, Roy and Leo remembered Sand Pond from two years ago. And now, they have more layers of memories to add on to those, building connections and taking on an ever-deeper luster, like a pearl.
Treasure.
What a wonderful trip! And the last bit of treasure? Coming around a slight bend in the road and seeing Cowles Mountain rise up, and knowing that we were almost home.
And now, the photos. You can click on any photo to see it larger. All photos copyright us.
First night in Santa Nella. They look so angelic, such perfect little kids ... when they're sleeping. Next, Roy, Leo, and John enjoy a hearty breakfast from the buffet.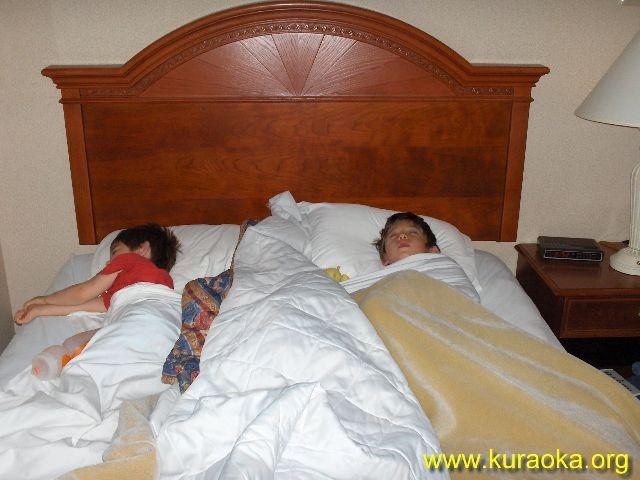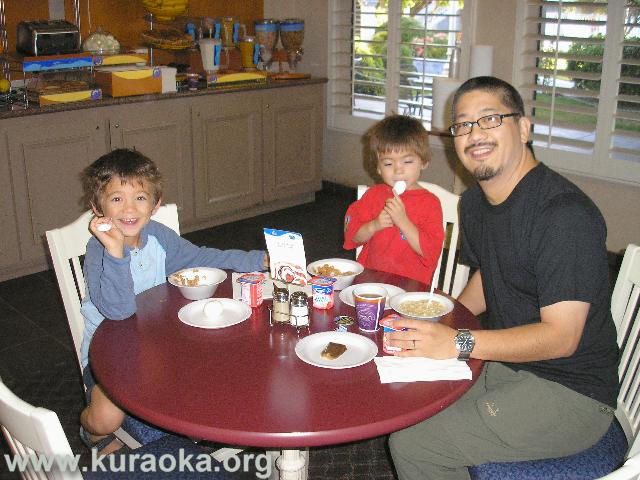 Our Donner party. This is where we all went boulder walking among the tall pines. Ondine dropped her sunglasses down the toilet, much to Leo's amusement.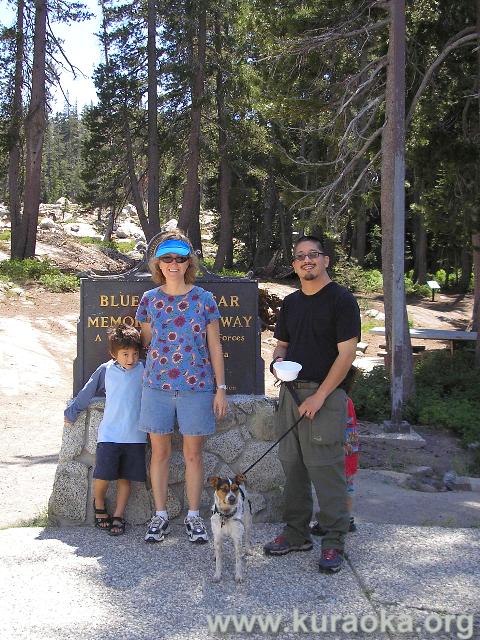 Our dinner party. Sardine Lake Campground is 687.7 miles from our San Diego home. After setting up camp, we had Barbara and Bill to dinner: baked beans and turkey Spam. Camp cooking!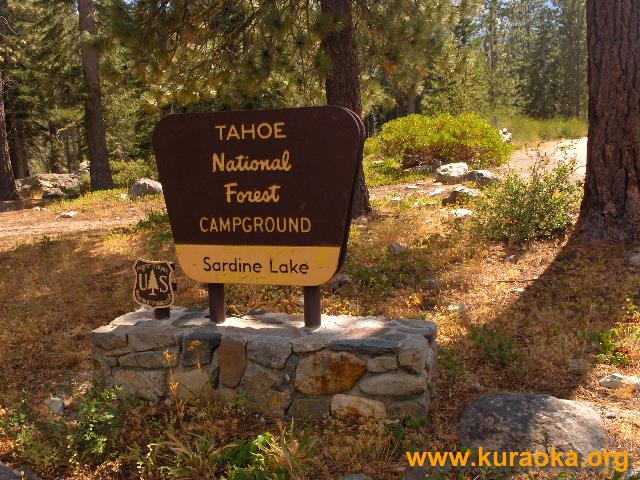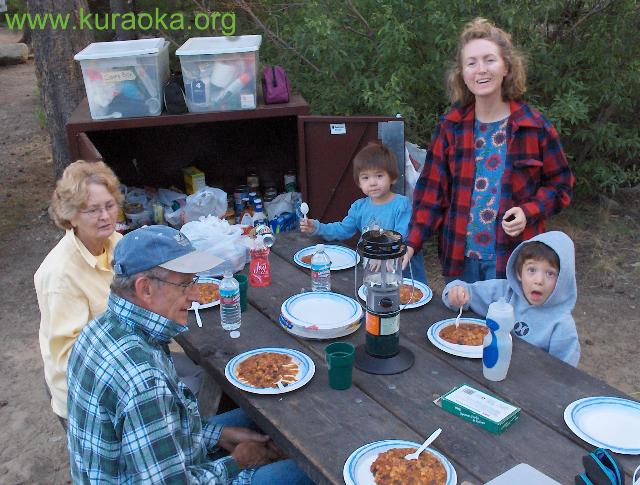 Sand Pond! Several views of Sand Pond, starting with the early morning and working toward late morning. And, a bit about the place.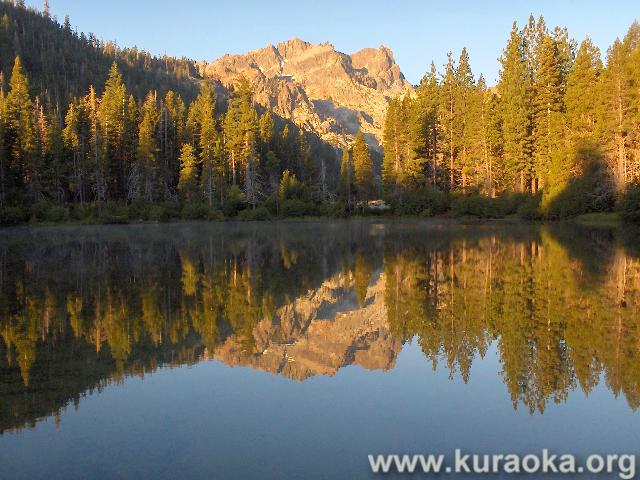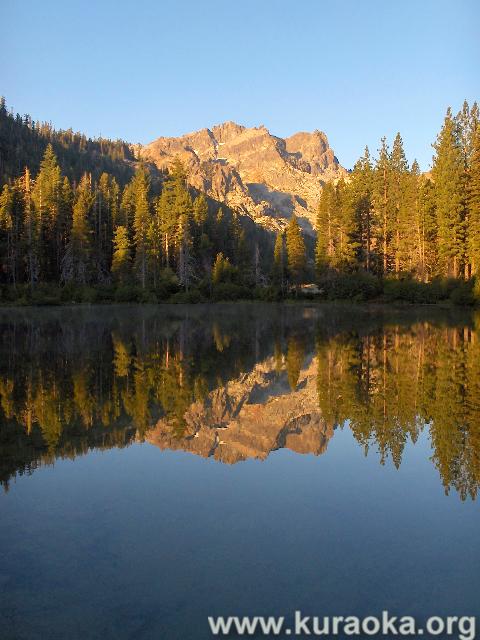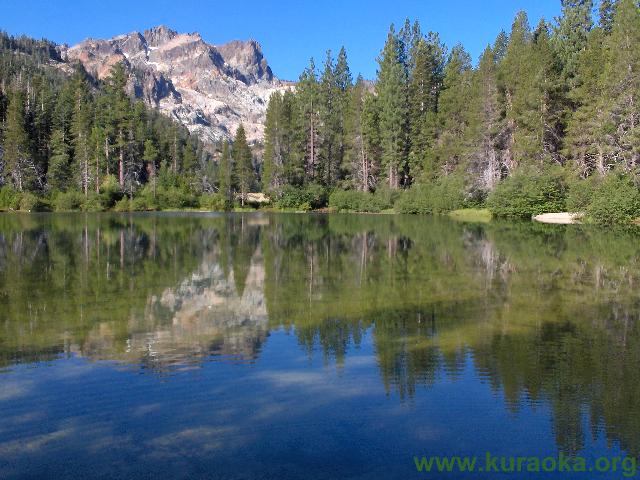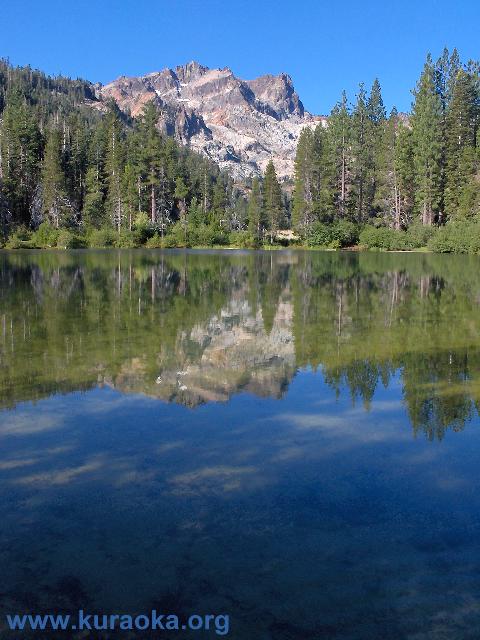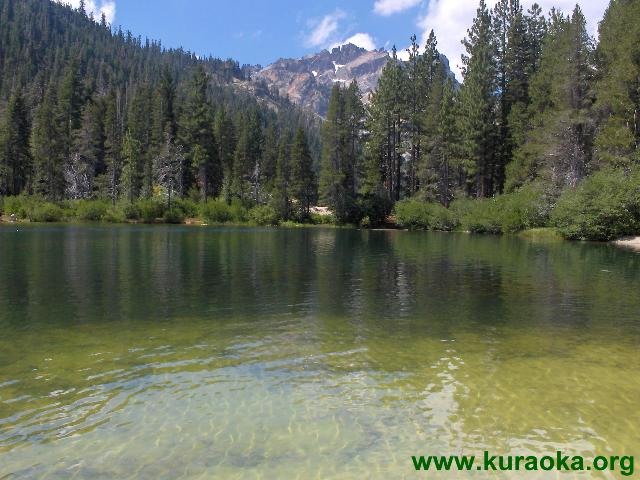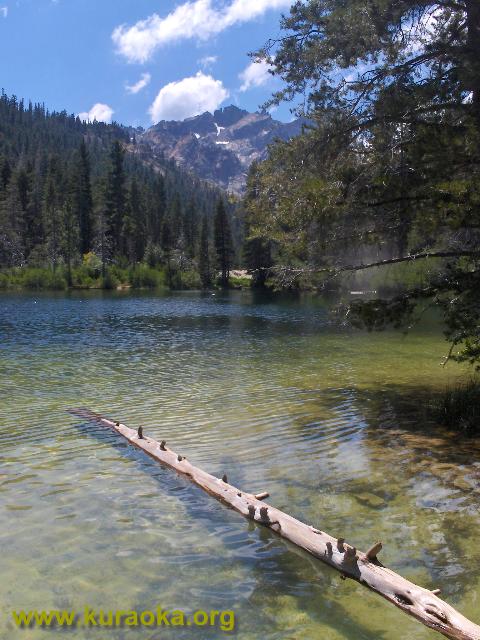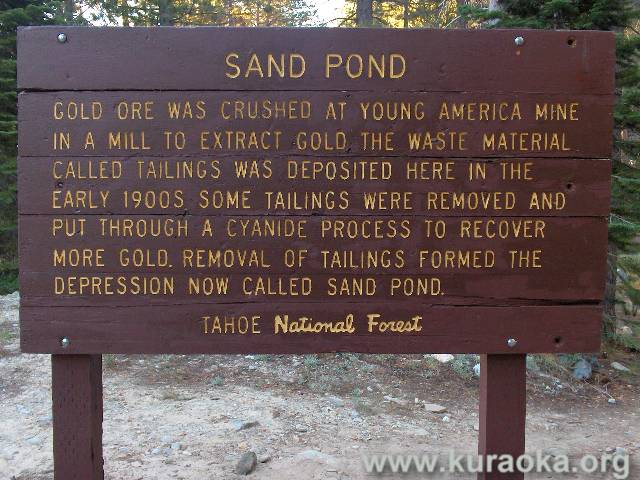 Sand Pond movies to take you there. The first is a low-res panorama (less than 1 meg), and the second is a higher-res view of the peak (more than 3 megs):
Low-res panorama (947 KB)
Sand Pond reflections (3.24 MB)
Us at Sand Pond. Various views of our activities spanning the week. Check out the size of the polliwog Roy is holding in the last photo.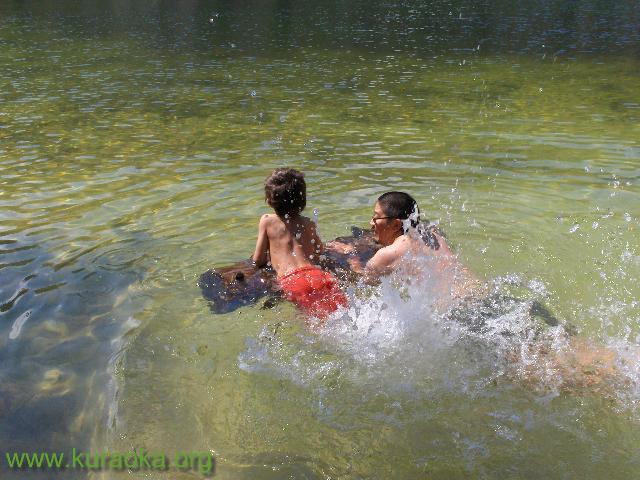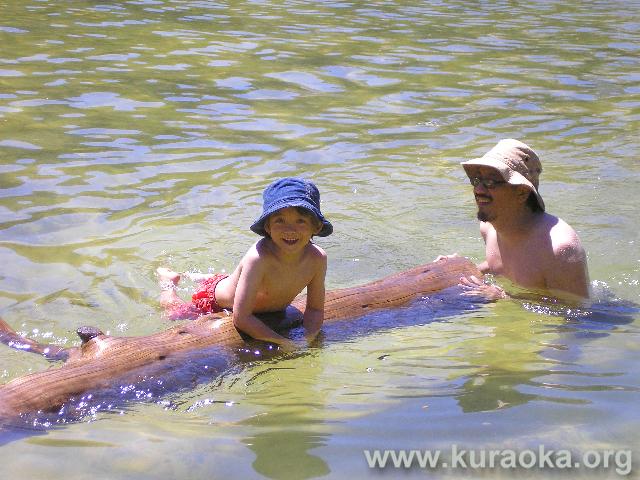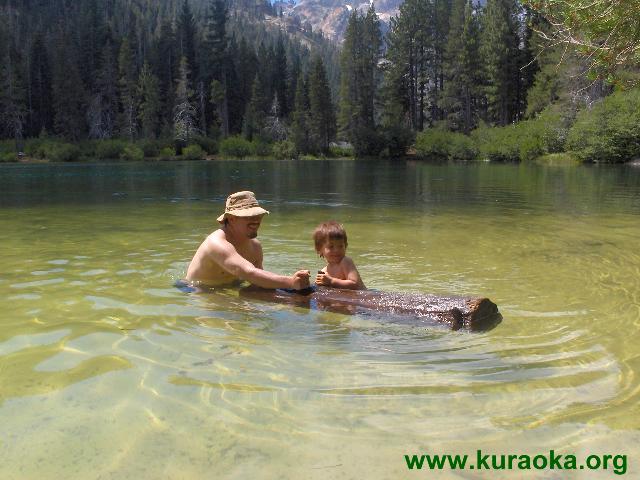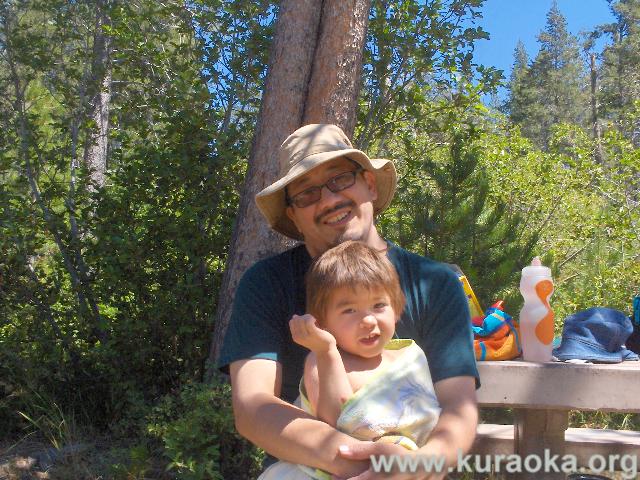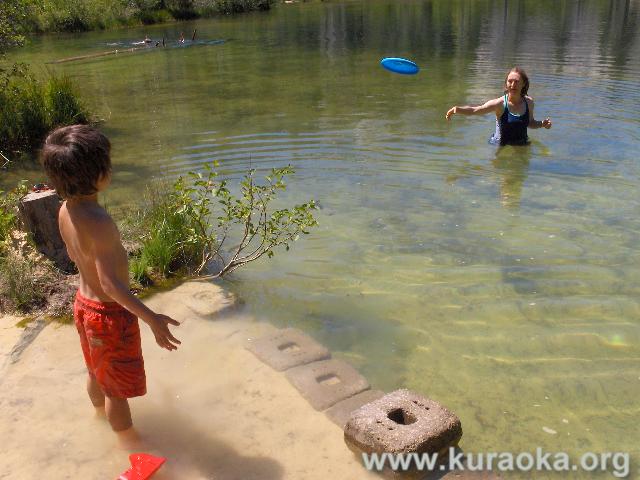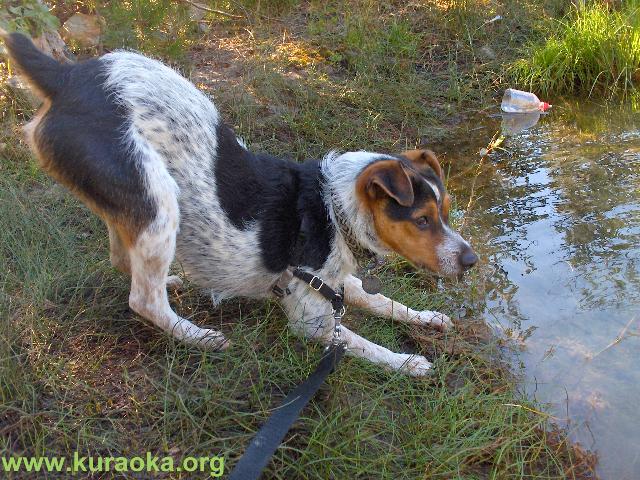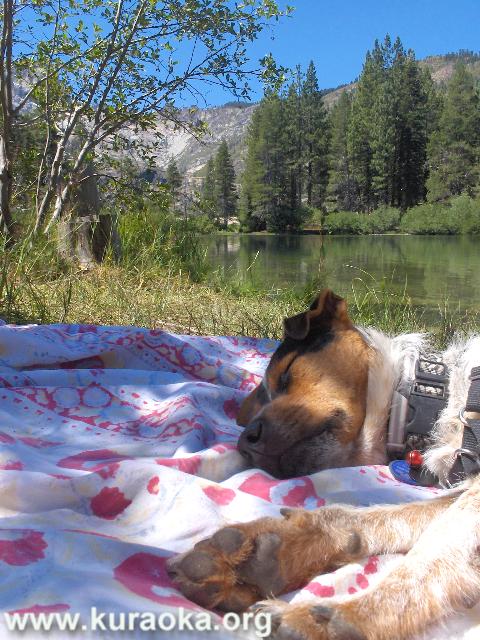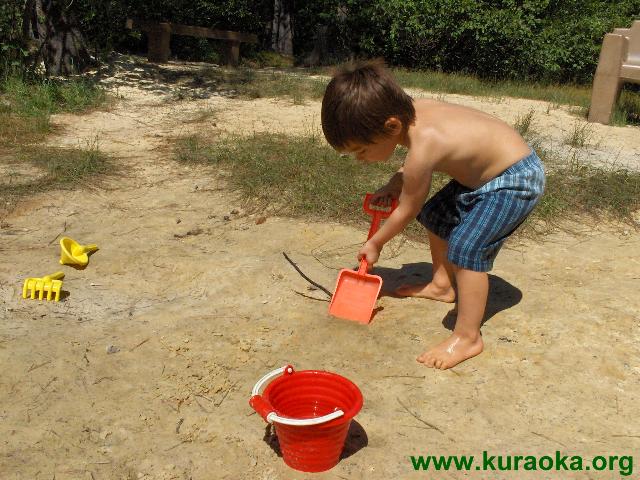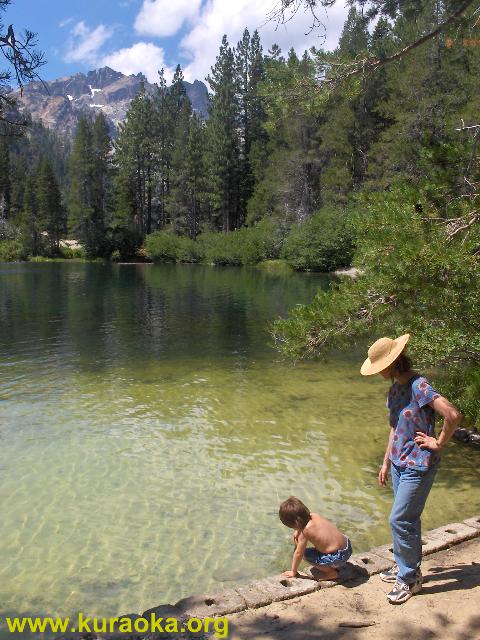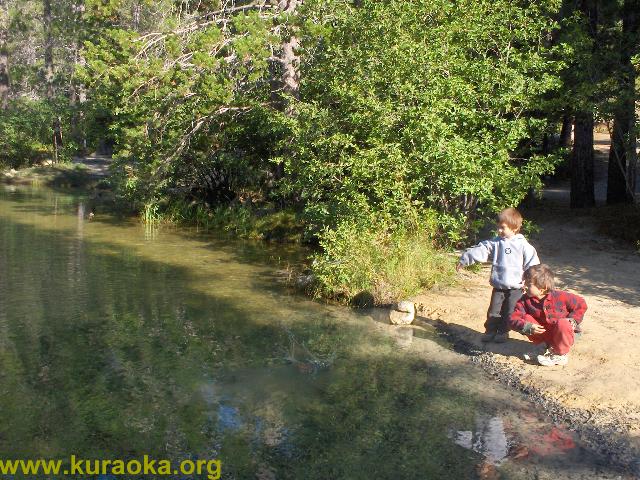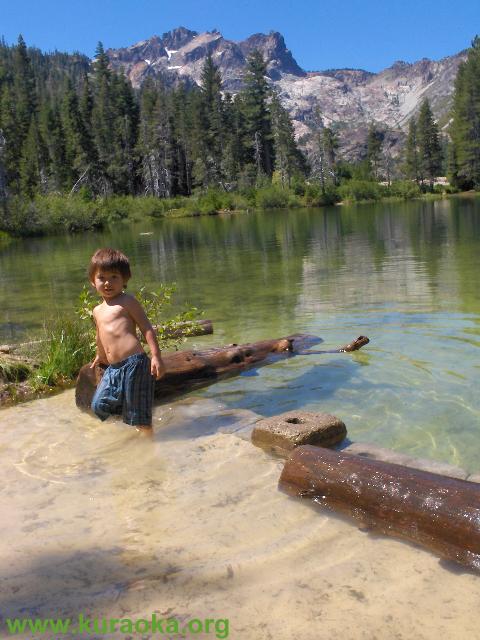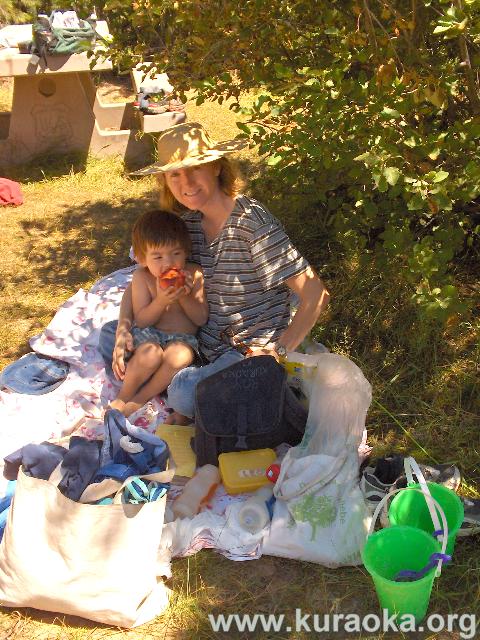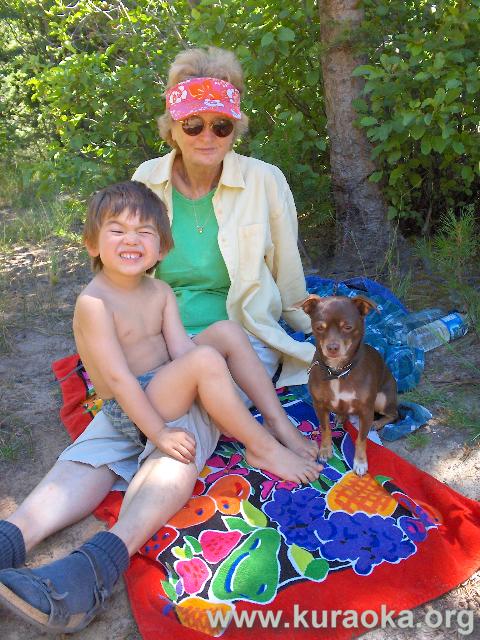 Other activities. First is the interpretive trail to Sand Pond, with a boardwalk through the beaver marsh. Then, Roy and Leo helped Barbara and Bill gather wood up Haskell Peak Road – here they are doing their Log Dance!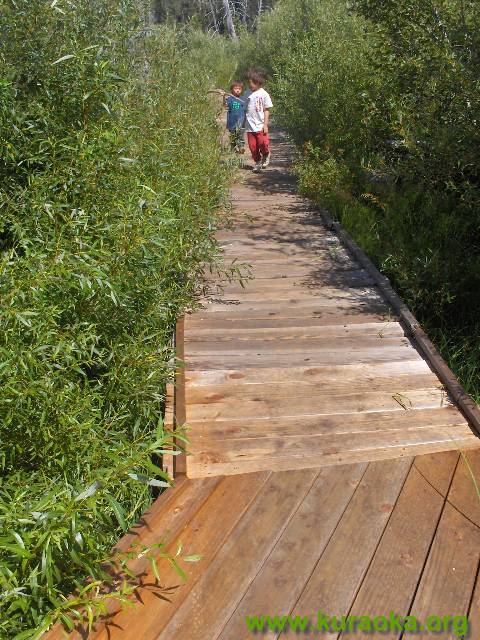 Campfires! What's camping without campfires?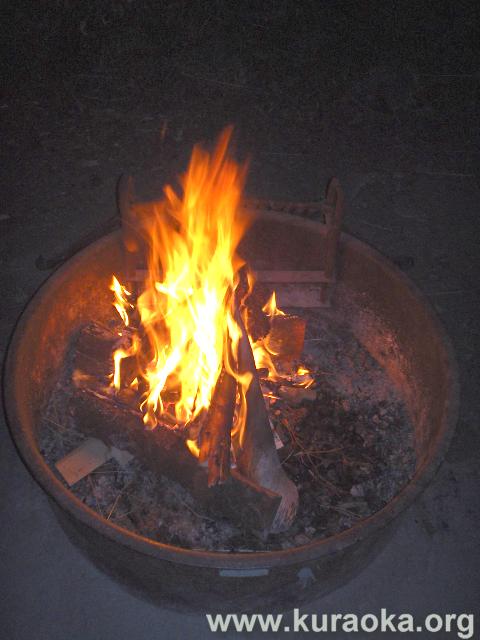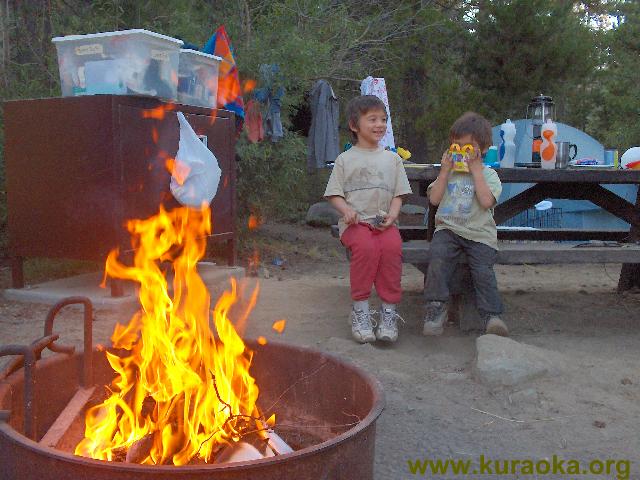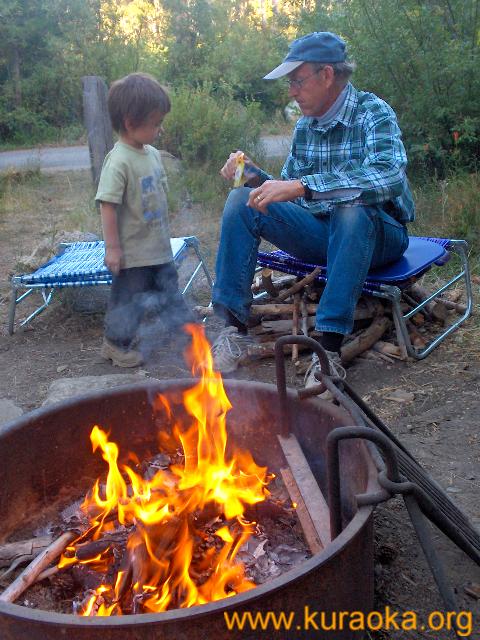 S'mores! And, what's a campfire without s'mores? Or flaming marshmallows?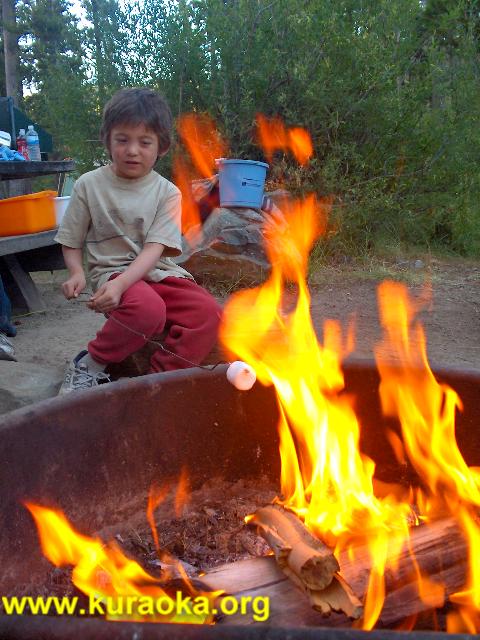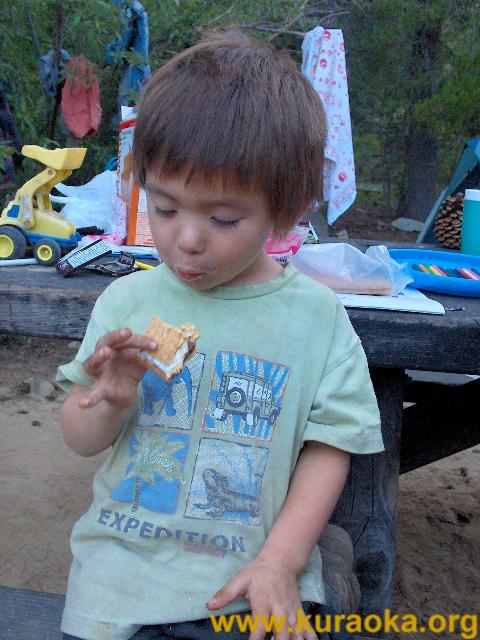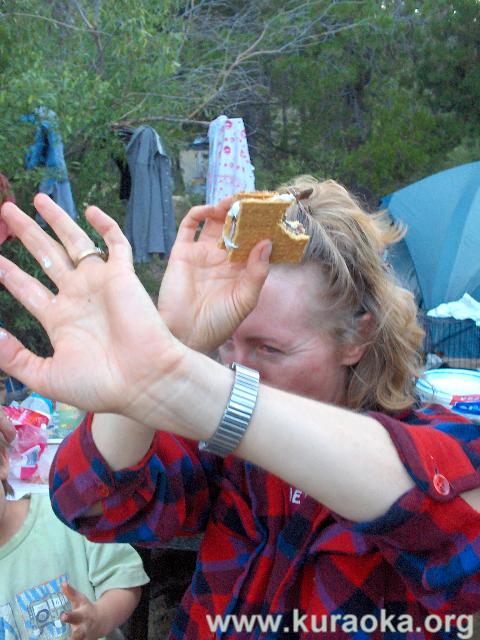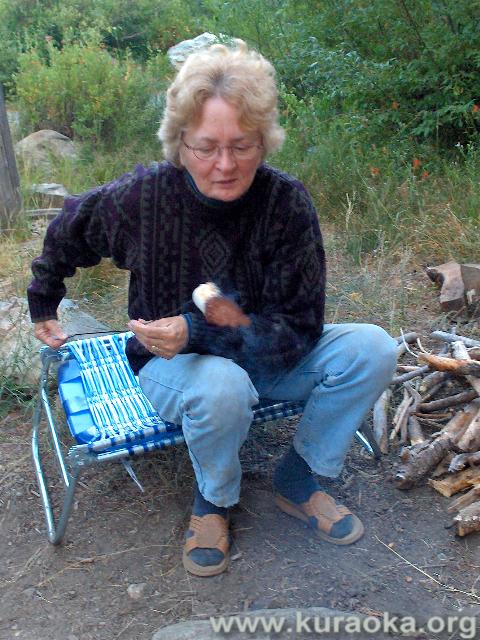 Around camp. A look around, and a look at us: Buddy's well-insulated crate, Barbara and Ondine, Ondine and John, our campsite, Ulli and Leo, Ulli and Roy and Diego, and all of us (our new family portrait).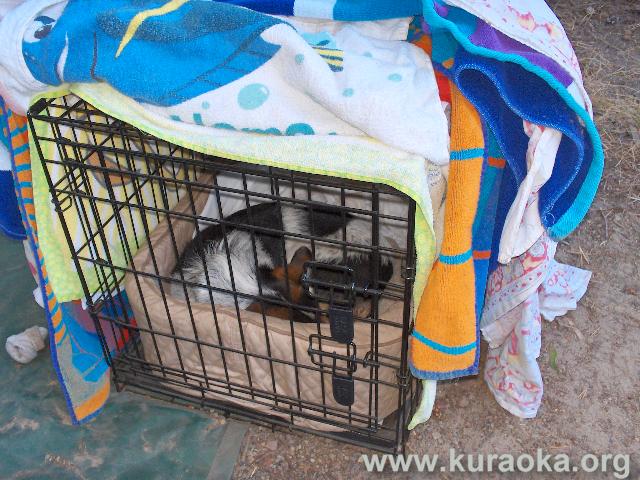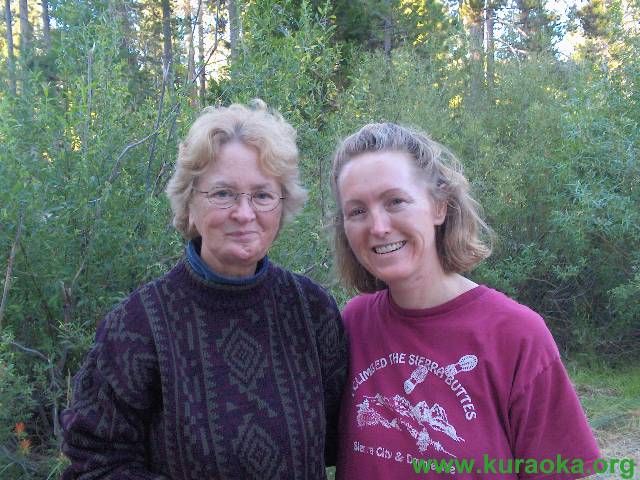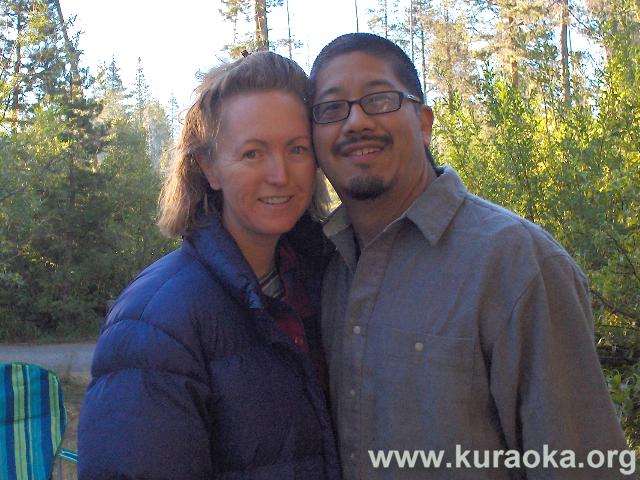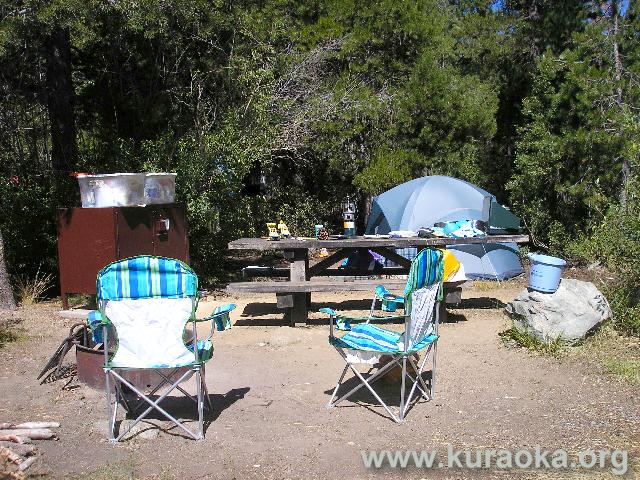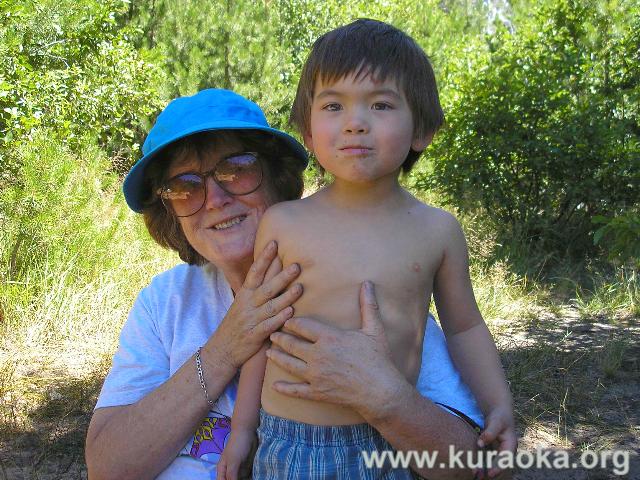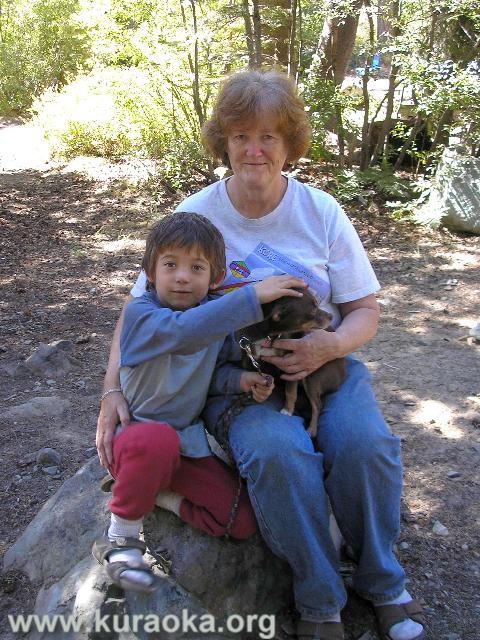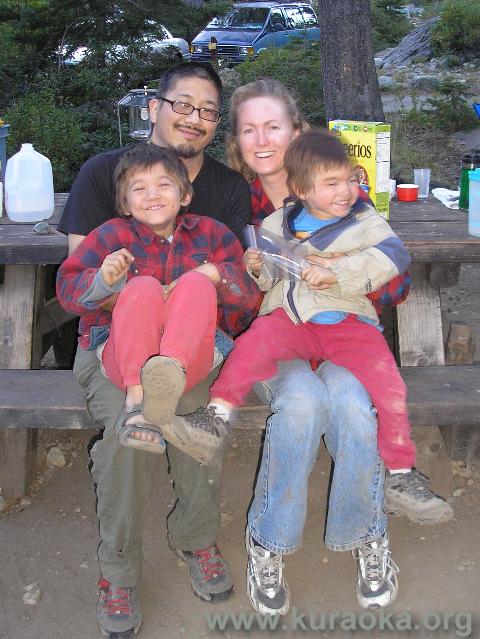 A kid-free breakfast. Thanks to Barbara and Bill and Ulli, who took the kids for a night and a morning, we enjoyed a kid-free night and breakfast in town, at the Coyoteville Cafe, just off Highway 49. Yum!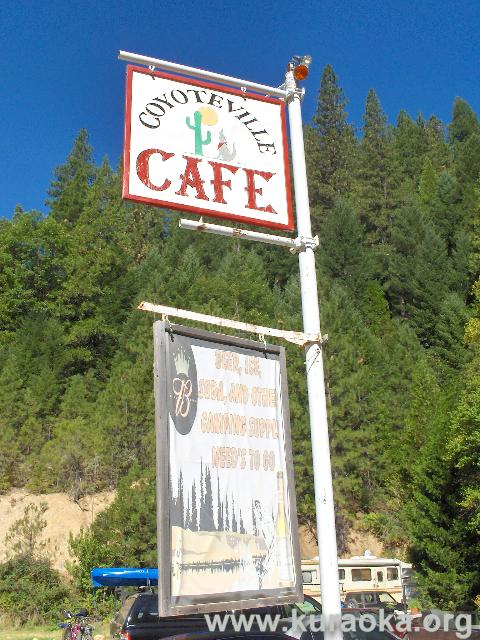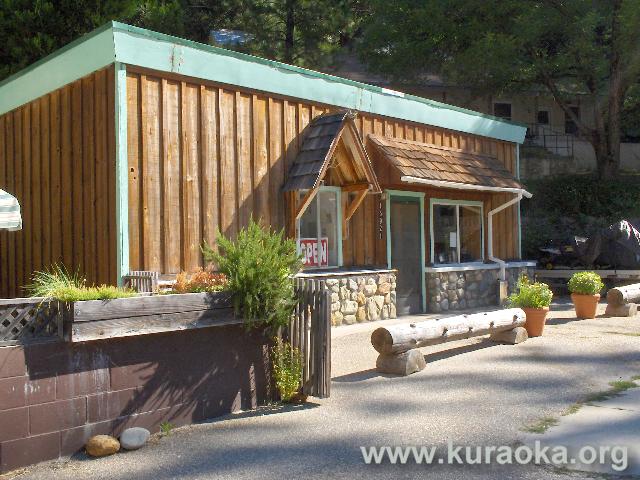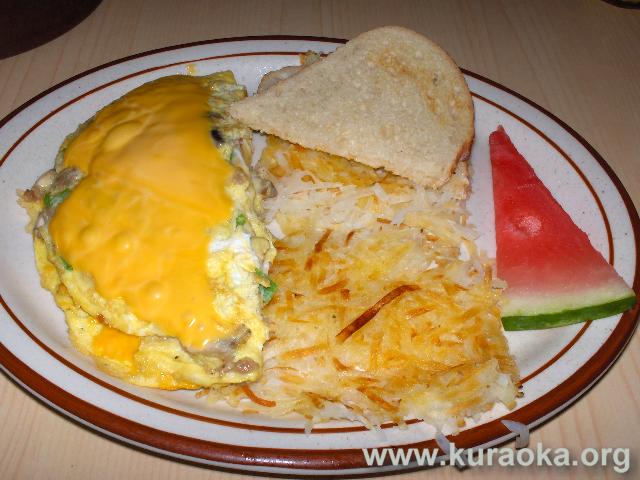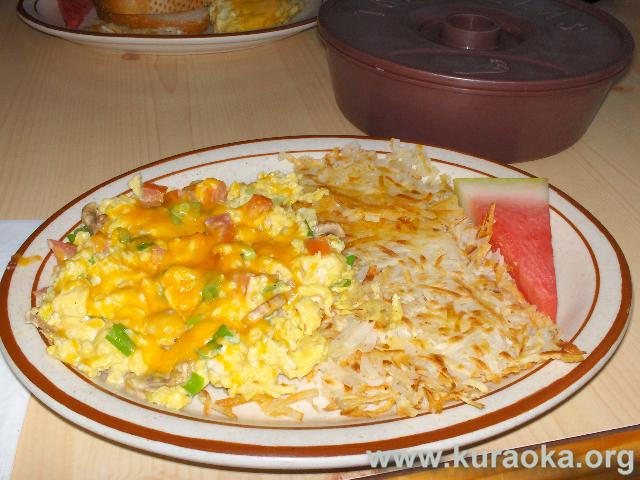 Snag Lake. John, Roy, Leo, and Buddy walked all the way around this wonderful, shallow lake.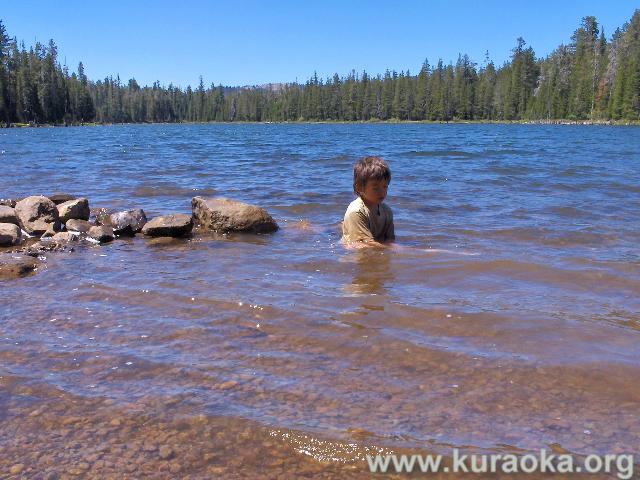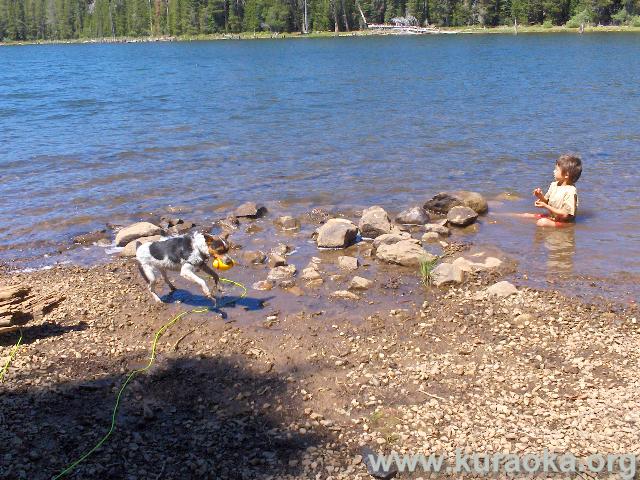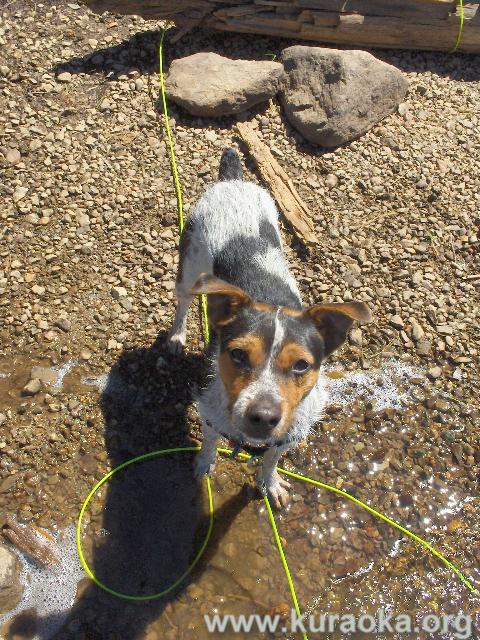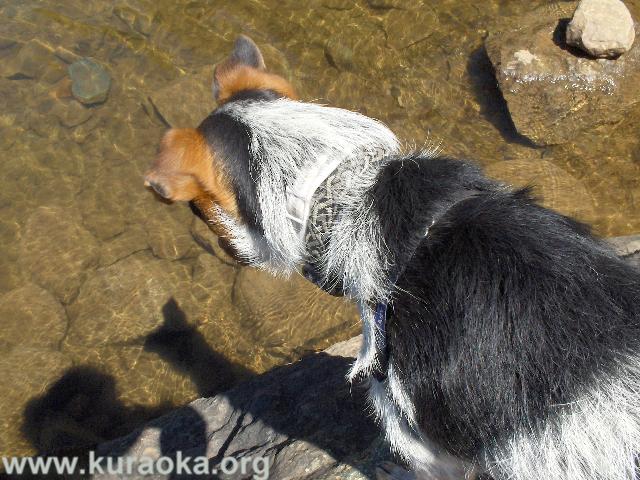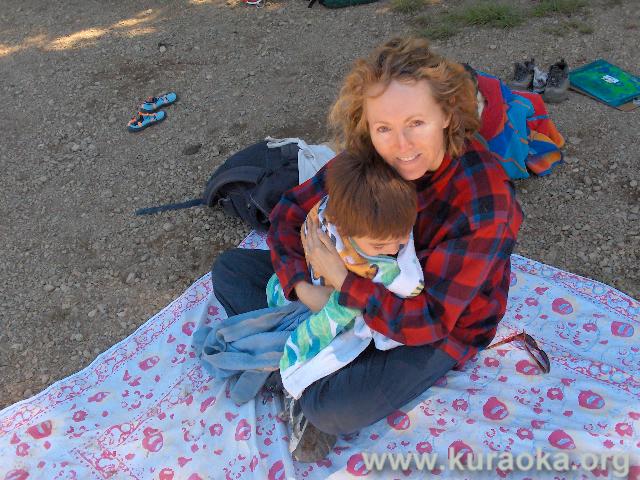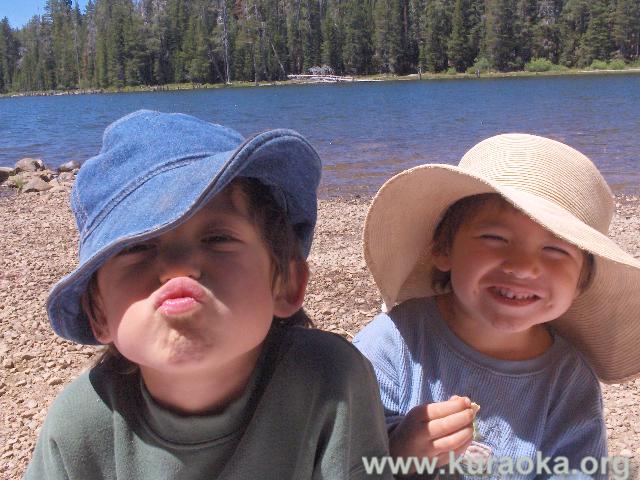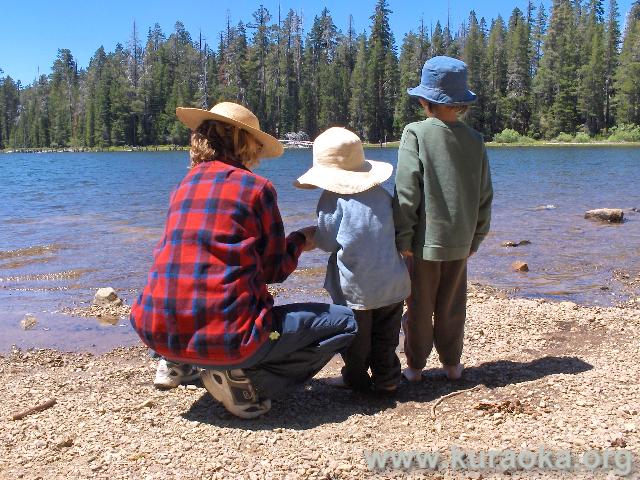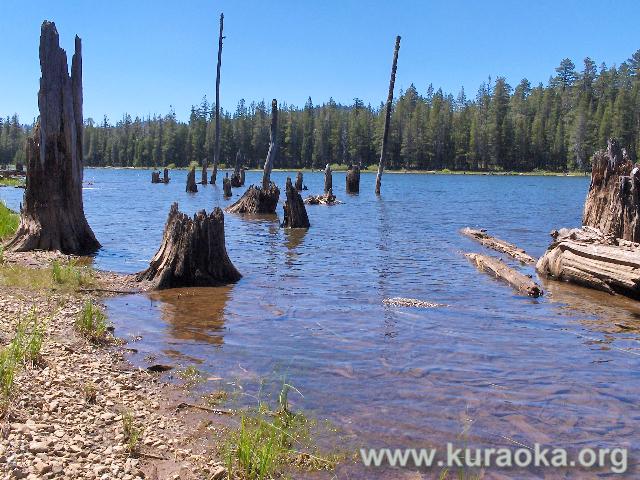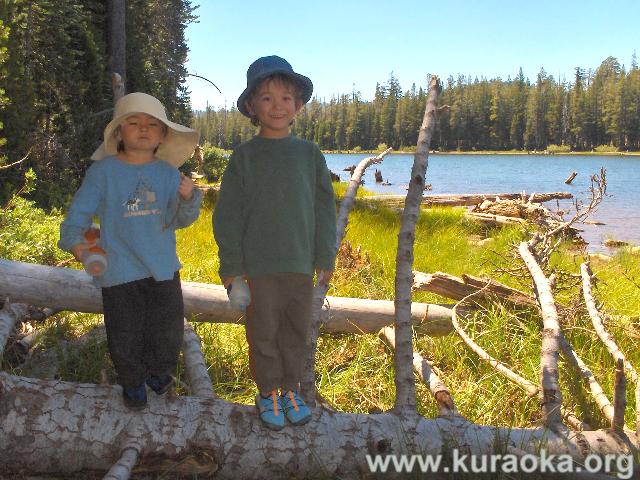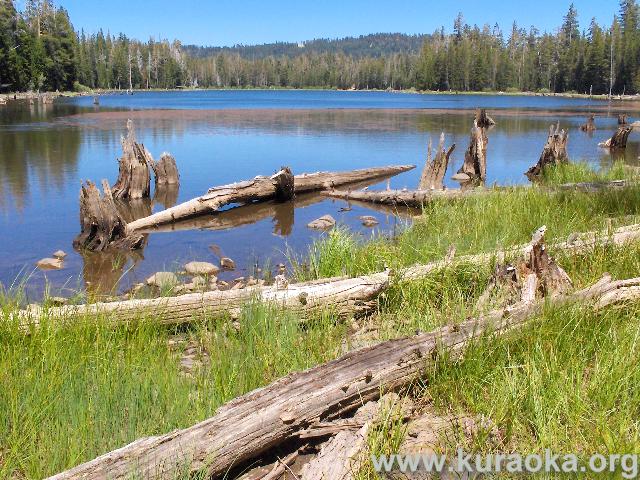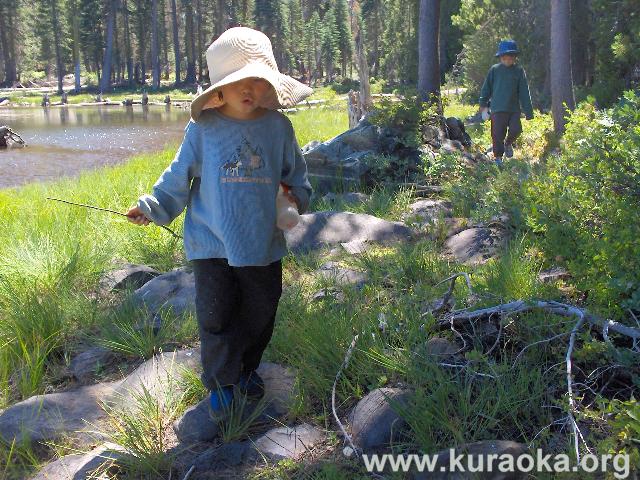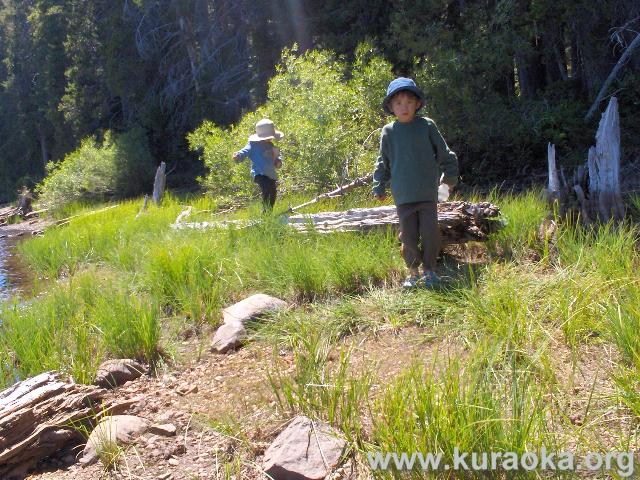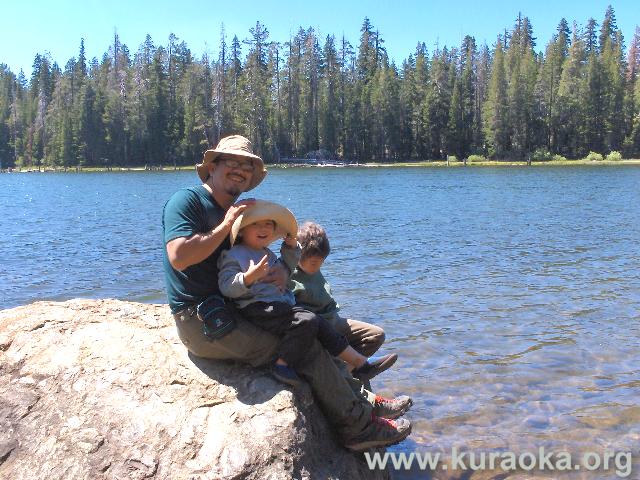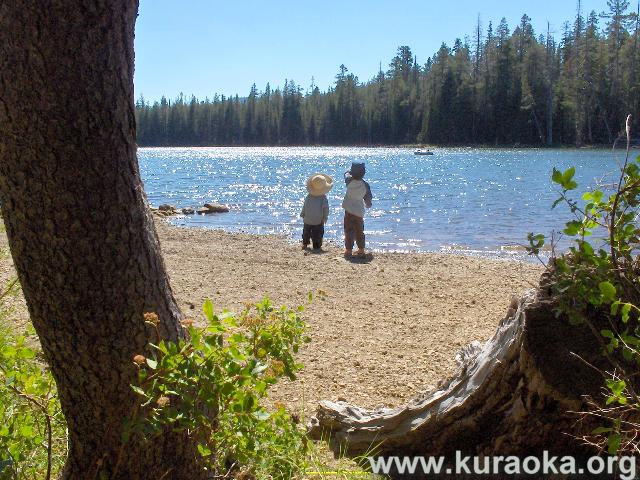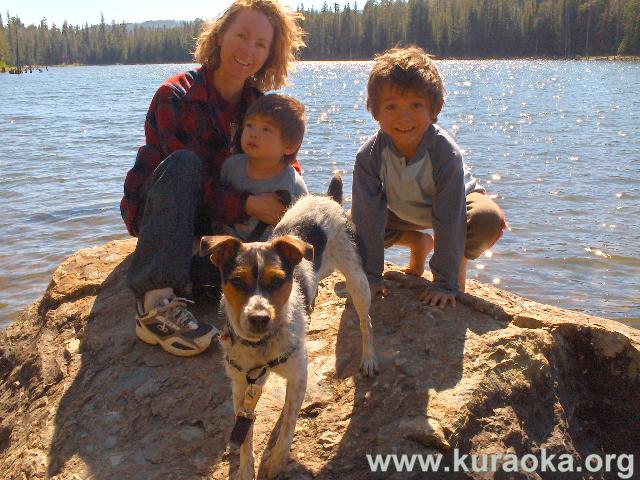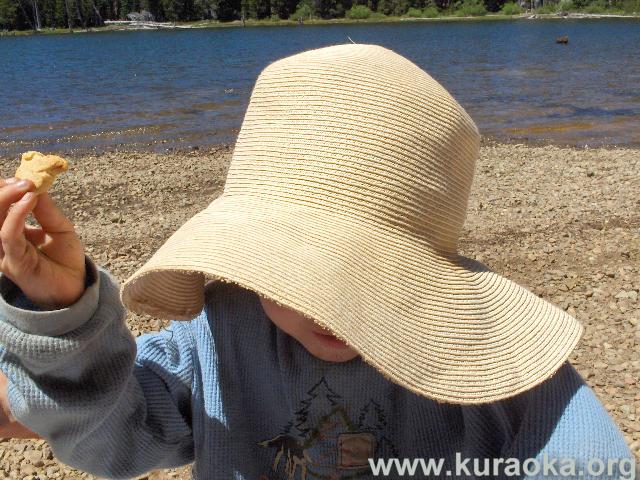 Pete Lavezzola Fountain. A nice pullout off Highway 49 with a wonderfully shaded cascade that feeds into the Yuba River. Leo was asleep in the car, but Roy really liked it. The movie is nearly 4 MB but takes you there more than any still photo could do.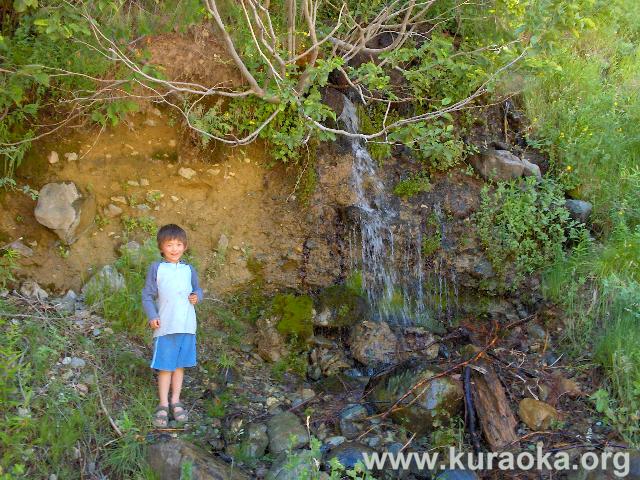 Pete Lavezzola Fountain and falls (3.87 MB)
All this relaxing is exhausting. Here's what things looked like, at least some of the times, in the back seat of the Mazda.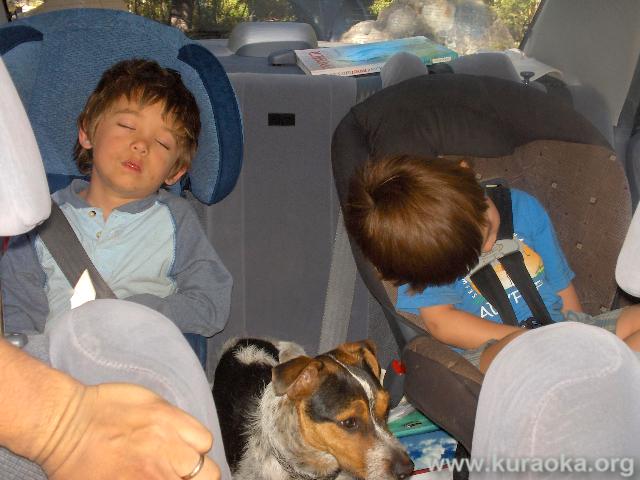 Almost packed up. Here's Ondine loading up the Mazda. The Piggy Pack is already packed and strapped to the roof.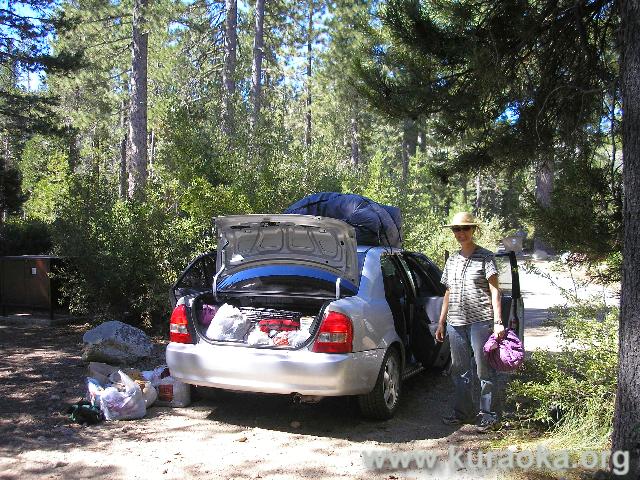 Welcome home! No matter where we go, it's always wonderful to come home to San Diego.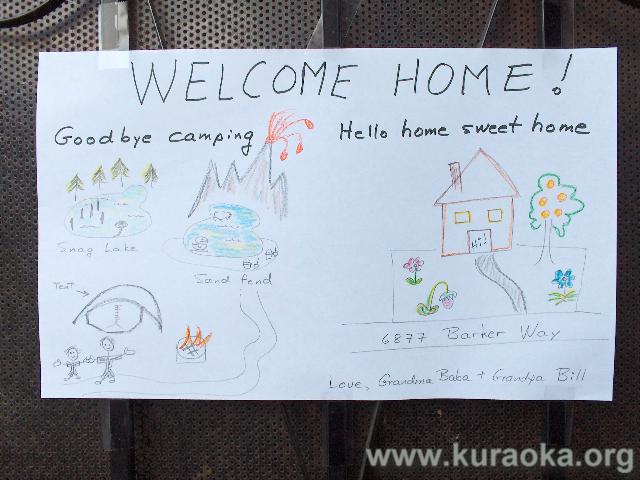 What are we up to now? Check out our weekly family journal, updated twice a week since 1998!
Back to the Kuraoka Family home page, with lots more stuff, including more travelogues and photos!