The Kuraoka Family Weekly Journal
www.kuraoka.org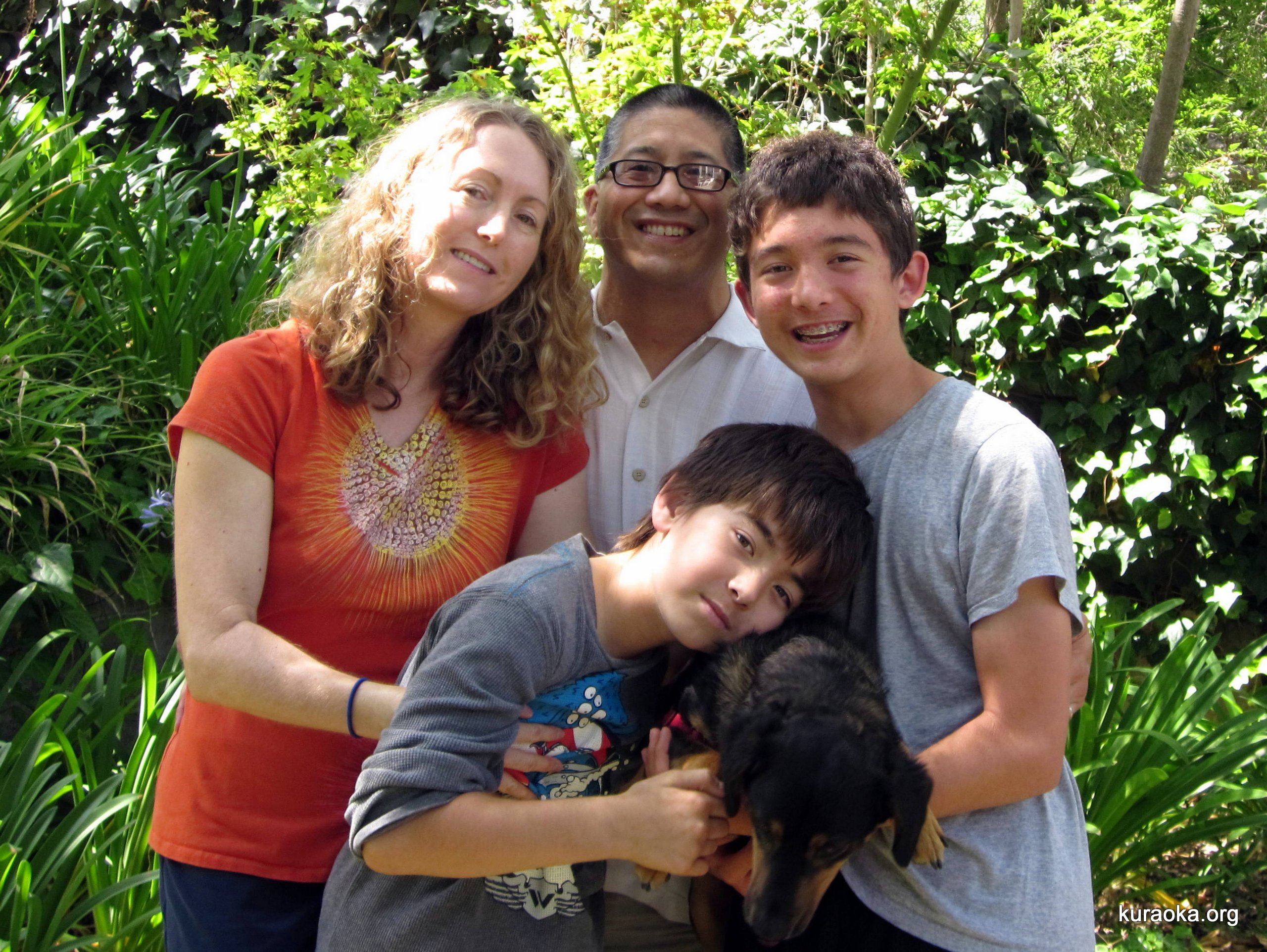 Us, June 16, 2014: Ondine, John, Roy, Leo, and Shadow
Friday, March 27, 2015
The two big stories this week here were saying goodbye to Hibiki, our exchange student from Japan who was with us for ten days, and Ondine passing the last exam to earn her LCSW. Yesterday we added a group photo from SeaWorld! Revisit the archived journal from Monday to see it in context (it's the first of the SeaWorld photos), or you can always keep up with the latest photos hanging on our virtual refrigerator door.
Monday was Hibiki's last full day in San Diego. There was a presentation at school, at least among the Japanese students and the Henry students learning Japanese. Both groups sang songs; Roy said the song his class sang was from Ponyo.
Hibiki seemed to really love hamburgers, and we didn't want his last hamburger with us to be the pathetic lukewarm pads of dry cowflesh from SeaWorld. We took him to Anny's Fine Burgers in Santee, following a recommendation from one of the employees at the Sprint store where John had bought his phone and tablet.
On the wall was a menu of some 35 varieties of burgers, including variations with veggie patties, grilled chicken, and fish in at least a couple forms. Hibiki chose a classic cheeseburger. Roy chose a bacon burger. John chose a "California," with fresh avocado and thick-cut bacon. Leo chose a "Sand Dune," piled high with thin onion rings. Ondine chose a Hawaiian, with crispy chicken substituting for the Angus beef patty. We ordered five different kinds of sides, too: regular fries, salt and pepper fries, Cajun fries, sweet potato fries, and onion rings. Wow!
Everything was delicious, and the generous portions meant we left stuffed! Here's a photo of John's California burger, and two pretty bad shots of Roy, Leo, and Hibiki. With those juicy burgers in front of us, no one wanted to pause for pictures! In that first shot, Leo had just taken a big bite of what he thought was ordinary seasoned fries but what was, in fact, the very spicy Cajun fries. Yow! They were really good, but you didn't want to be caught by surprise with that much heat!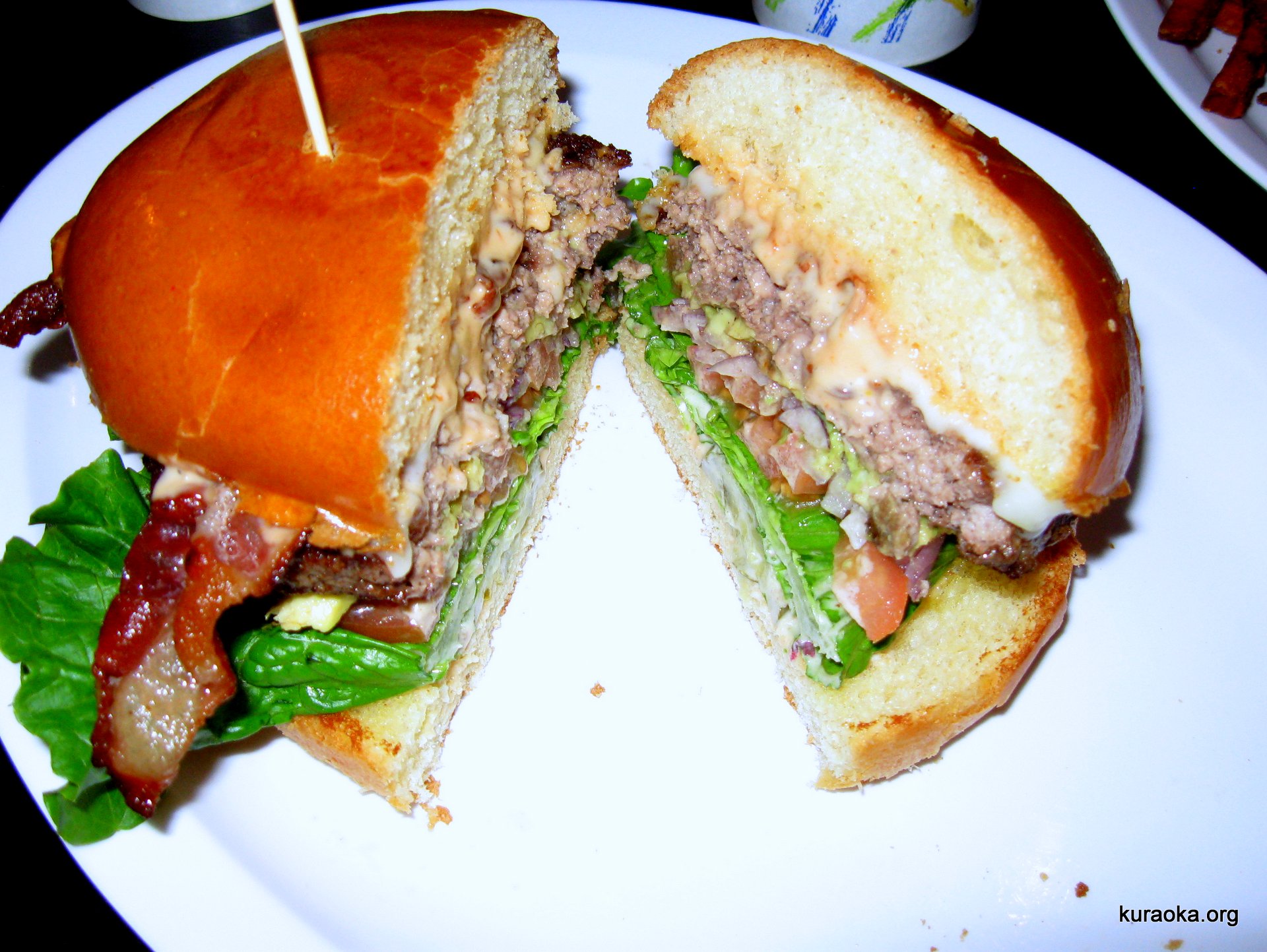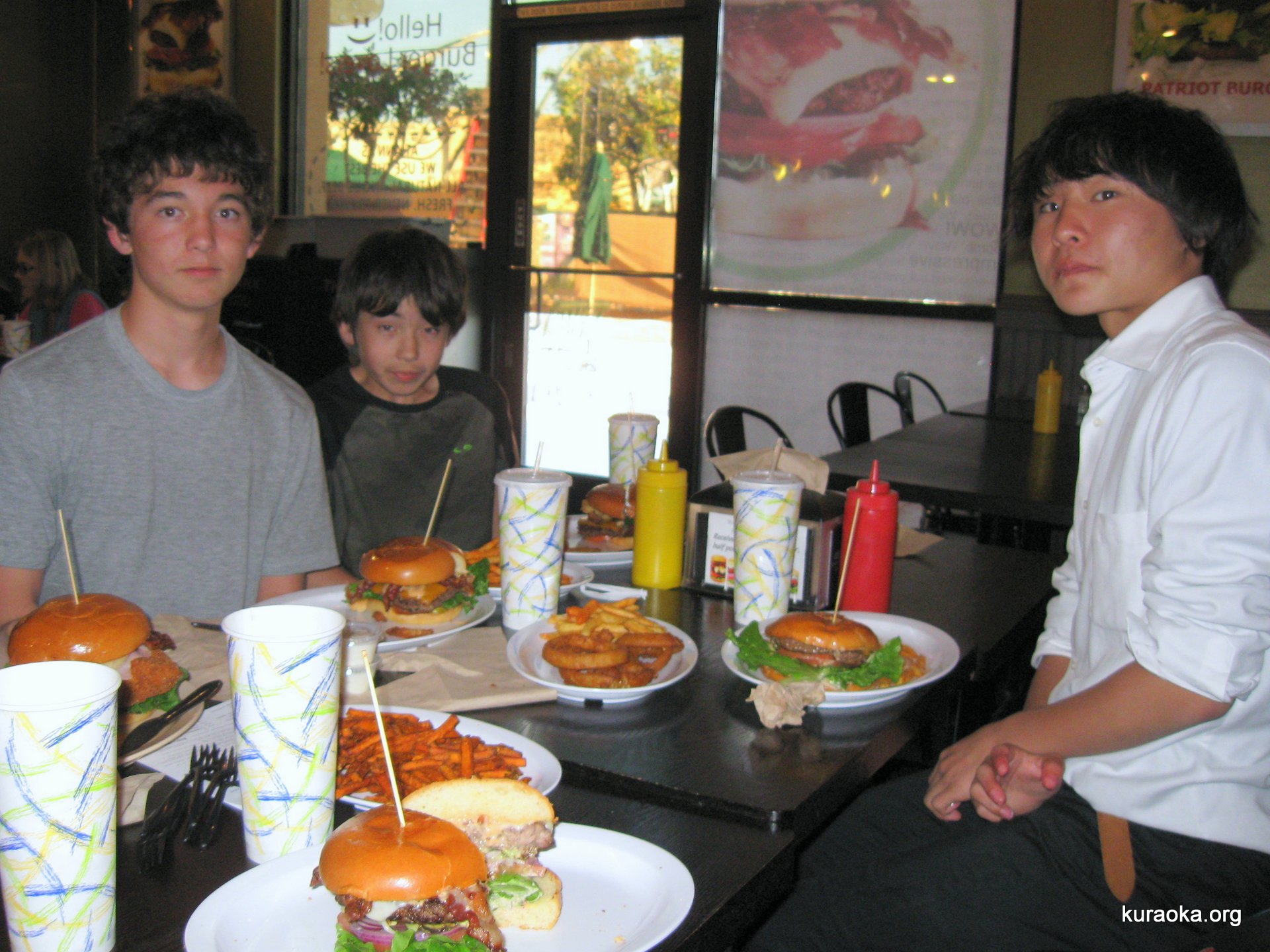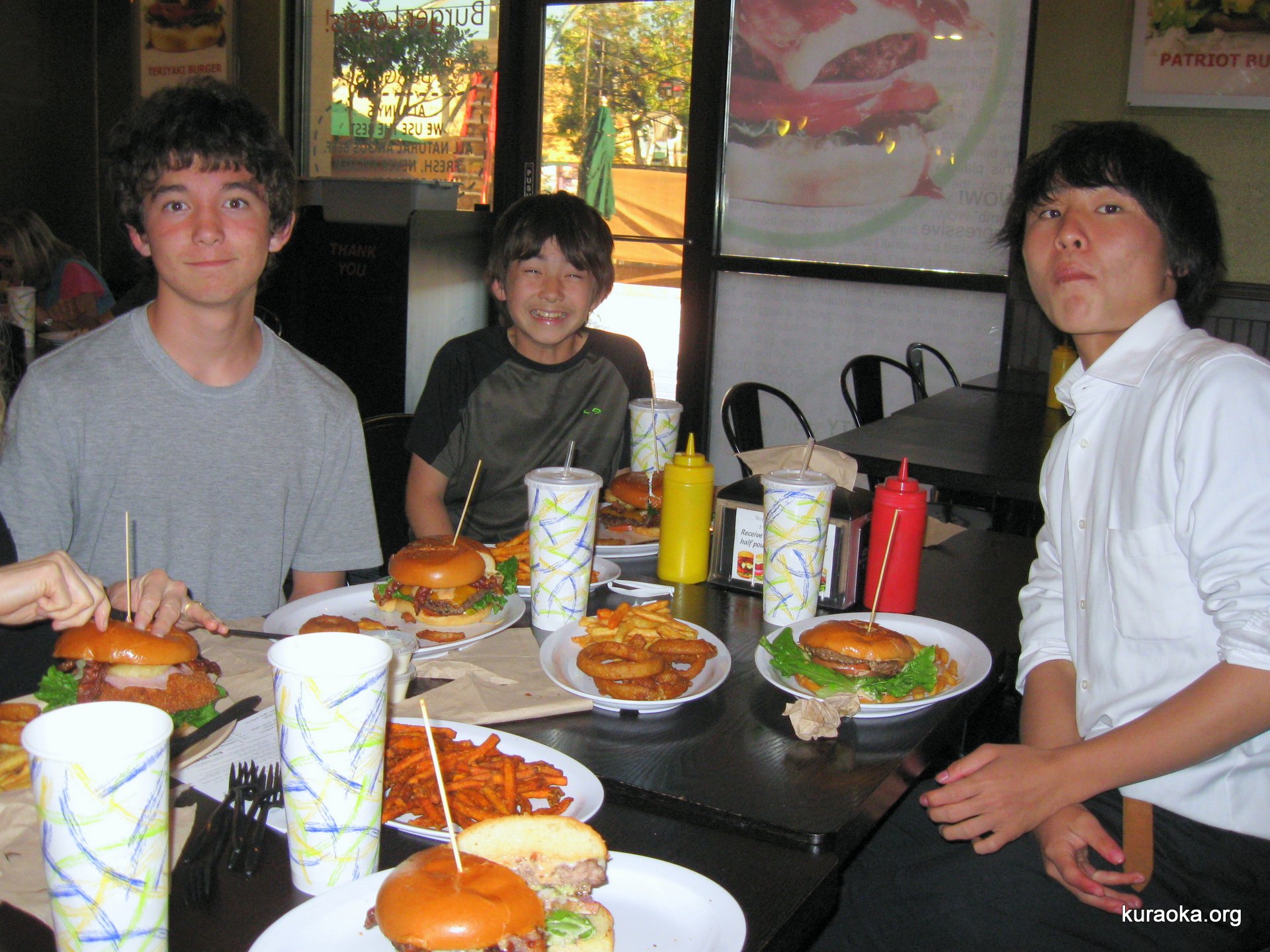 Tuesday morning we said sayonara to Hibiki, such a bittersweet feeling. John and the boys left early for school drop-offs because Hibiki needed to make his bus connection at 7:00. Ondine took the day off to study for her exam the next day. And John had a working lunch at Tea N More. Here are our farewell photos of Hibiki in the Patrick Henry High School parking lot.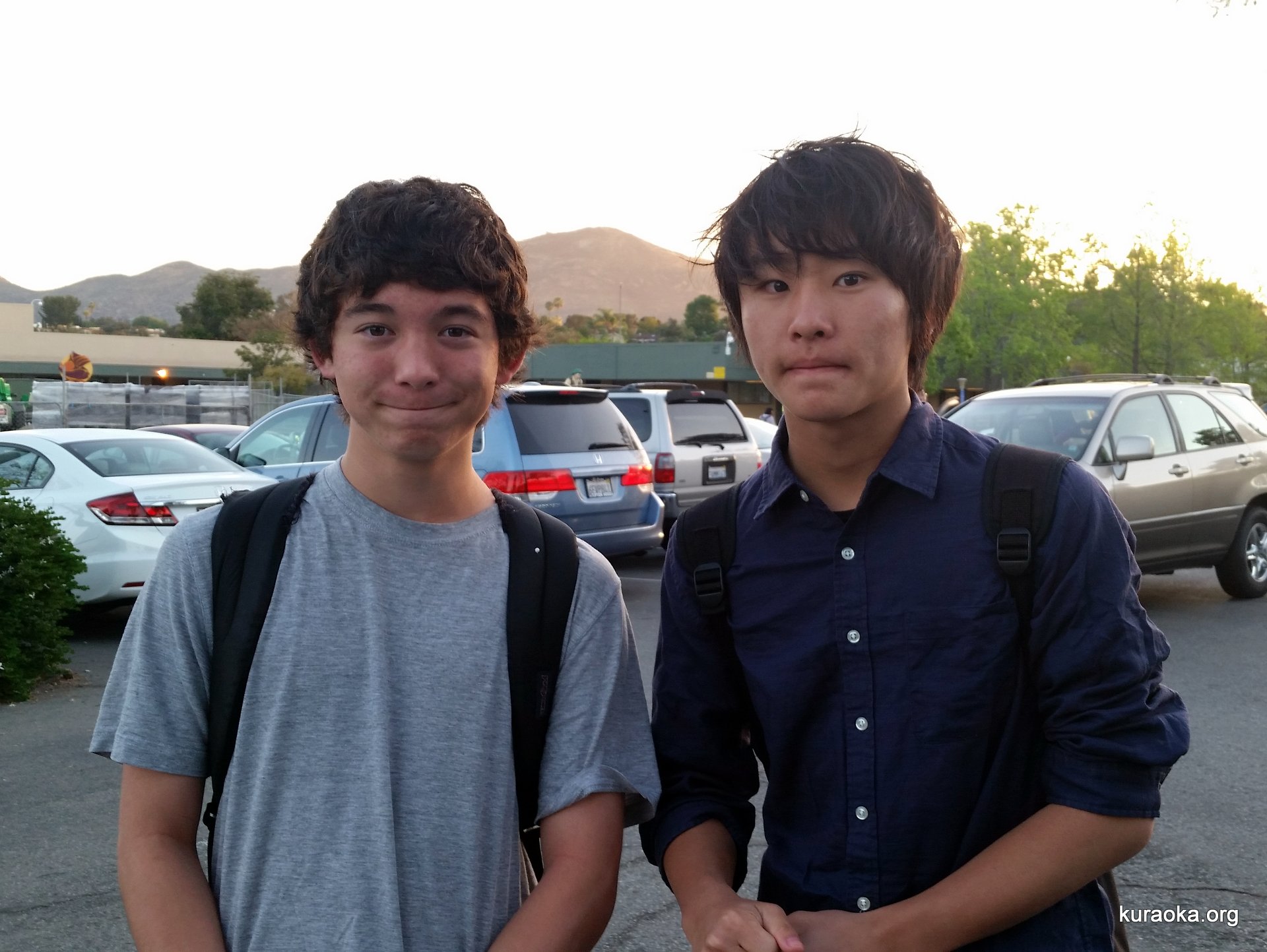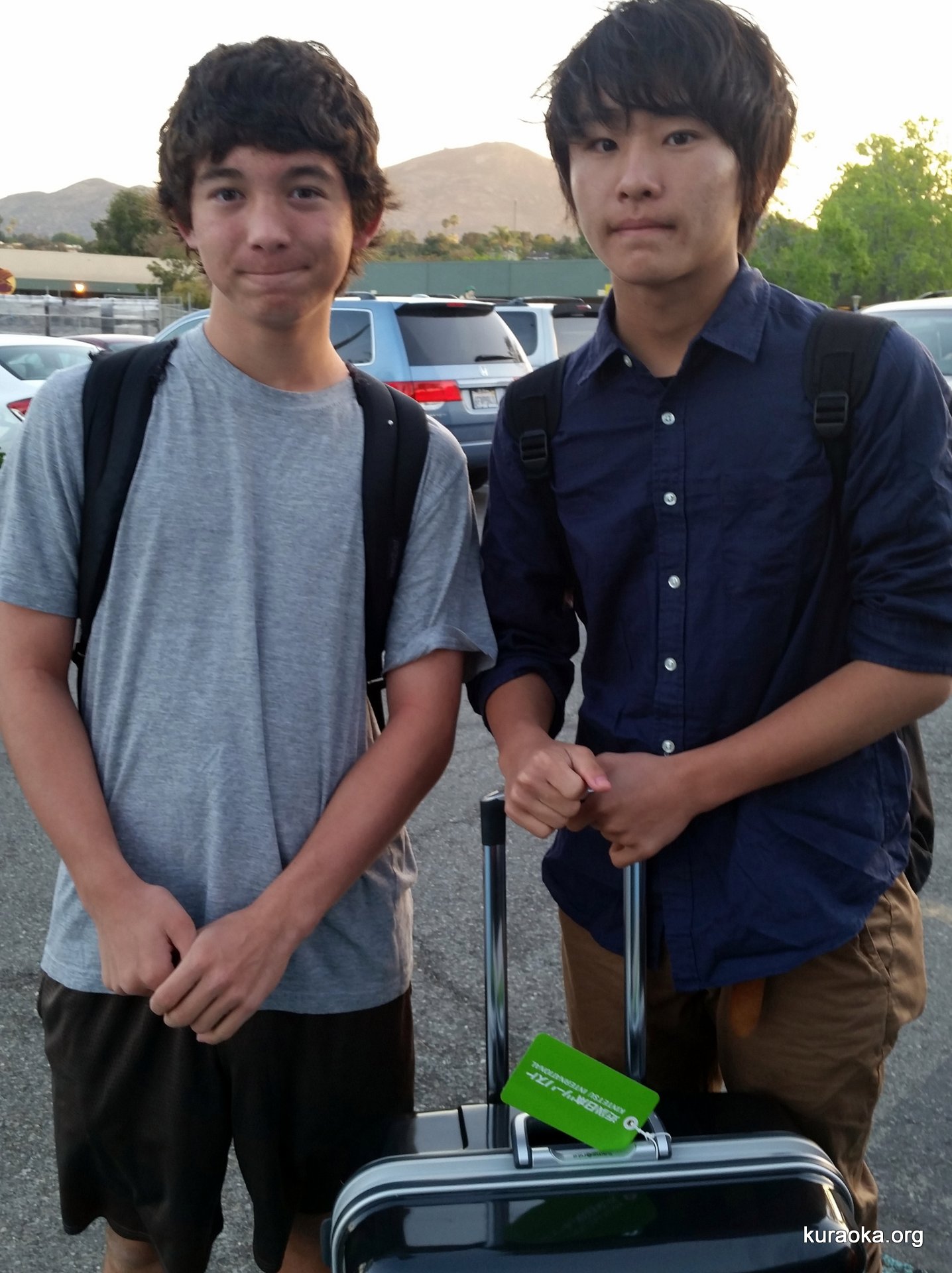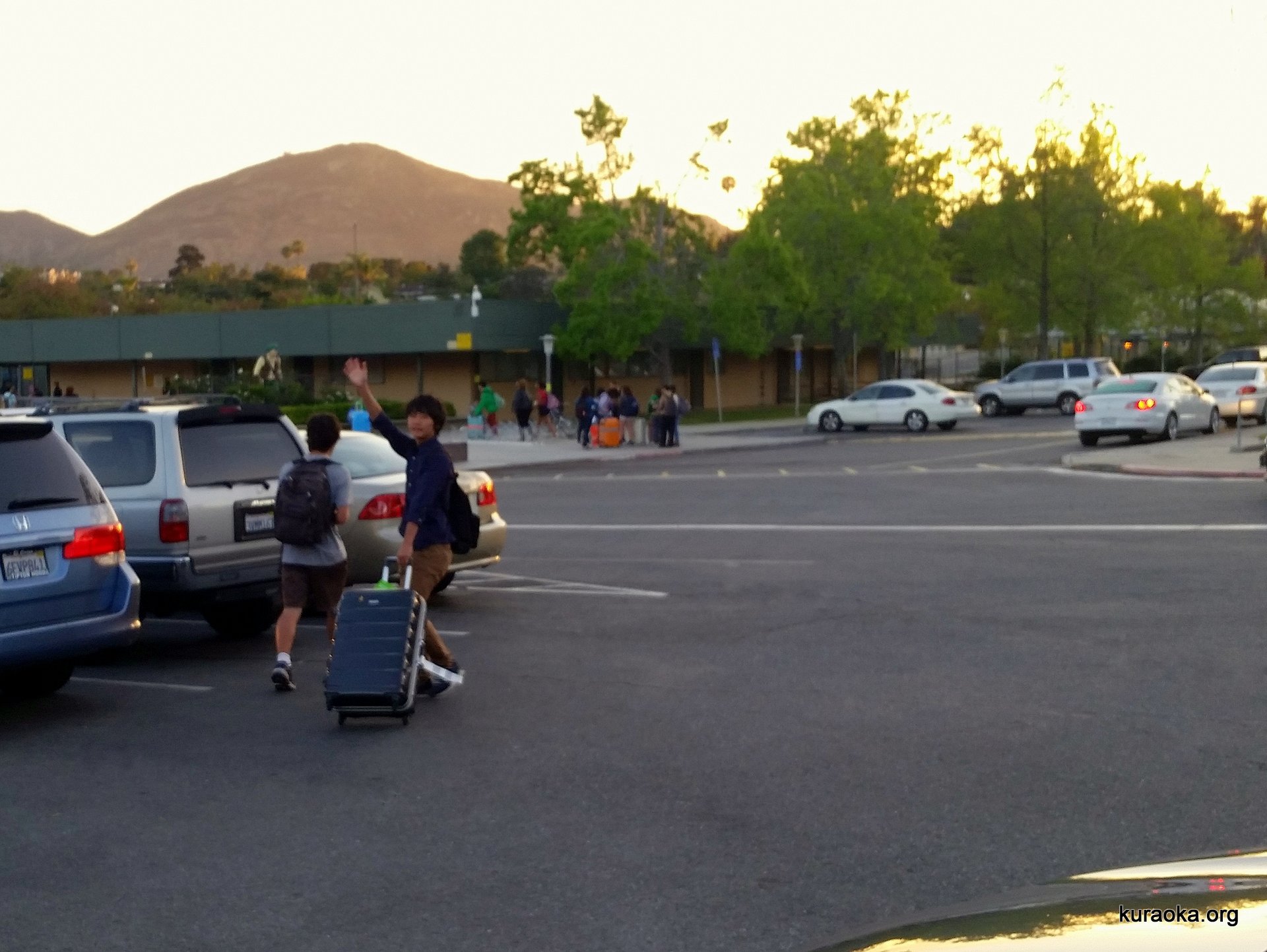 Wednesday Ondine took her clinical vignette exam, the last of two big exams for her LCSW. She left early in the morning, arriving in time to get a coffee and relax before going in.
Upon starting the exam, though, she was shocked to discover that her computer terminal keyboard lacked the keys she needed! It was the wrong keyboard! She had to raise her hand to call for help, which seemed a long time coming. Anyways, after the proctors tried and failed to fit the correct keyboard into her assigned workstation, they moved her to a different station, and she started the test. Fortunately, the timer started when the test started, so she still had the full two hours.
Leo had a minimum day, so John picked him up from school and took him to our local fish place, AJ's Fish Merchant, for a lunch to celebrate his recent pretty darn good grades on tests and homework in all his classes. But, it was closed! Leo opted to go to Shizuoka, a local Japanese restaurant that had recently changed ownership. John had the chicken teriyaki lunch deal, and Leo had nabeyaki udon. The teriyaki was OK, but the udon was terrific, as were the steamed gyoza.
Then, they picked up Roy and paused long enough for Roy to devour the Shizuoka leftovers, then they went to a Kaiser appointment. When they returned home, John dropped off the kids with Ondine (somewhere in there he'd already made dinner) and headed back out to go to the Lewis Middle School Open House, where he visited and spoke with each of Leo's teachers. A full day!
And as for Ondine? She passed her test! Woo-hoo! She just needs to send in one more form, and she'll receive her license to practice in California as a Licensed Clinical Social Worker!
Today is the last day of school until April 6, and the start of Spring Break! This weekend's plans include judo, quiet time for Ondine, and our wedding anniversary! Wow! After leaving us in San Diego, Hibiki spent a few days in San Francisco with his group, and we think he'll be heading back to Yokohama over the weekend. Roy and Leo both really miss him!
Neighborhood gas prices are still around $3.39 per gallon. But temperatures are soaring - it's expected to hit 95 or higher today and remain hot through Saturday at least.
Back to the Archives page
Back to the Kuraoka Family main page
Forward to the current Weekly Journal.