The Kuraoka Family Weekly Journal
Germany 2004
www.kuraoka.org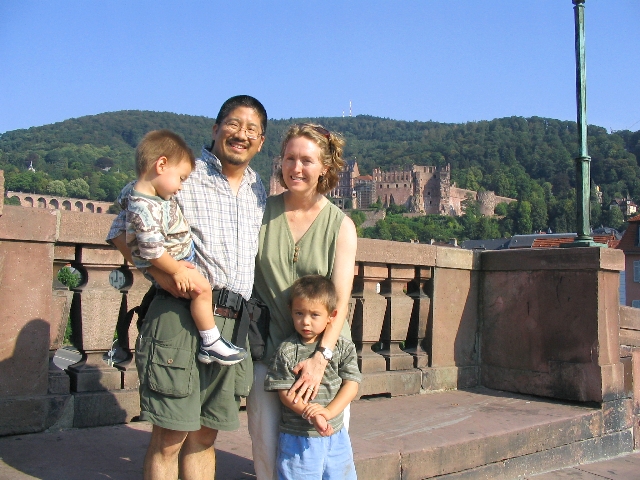 Us: John, Ondine, Leo (2), Roy (4)
Wednesday, 11 August 2004
A later update because we spent the weekend in Ladenburg, then came back to Mülheim to a serious backlog of chores and work. Plus, we uploaded photos.
The week of August 2 was a settling-in week. John celebrated his birthday, Roy and Leo started their classes, and we started getting around Mülheim better. We still get lost, but now we've been lost so many times that many of the streets are familiar and we can find our way home. John's work has continued surprisingly unabated, which is very good. In fact, he picked up a project for a company in the Netherlands (for which perhaps a visit might be in the cards?).
Friday afternoon was Roy and Leo's second class, this one a class involving experiential learning. The teacher's name was Ralf. He had a pool set up, with various water play toys, balls, and other practical-life type toys. This was Ondine's second solo drive, and her first time going to this class, in nearby Saarne.
Meanwhile, John did laundry in preparation for our weekend trip.
Dax und Jürgen's son, Guido, dropped by just as John had finished vacuuming. He needed to sort through the mail – the urgent item being a parking ticket for Dax! It cost 5 Euro, much less than a parking ticket in San Diego! He also needed to check his email. It's odd to see Windows in German! Everything is familiar, yet so very different.
As things turned out, we didn't leave Mülheim Friday night; we were just too tired. This caused a worried phone call from Patricia, who wanted to check that we were all okay since we hadn't left.
Saturday morning, we wanted to leave first thing. But, it was 8:30 by the time we had all the kids and their stuff gathered up. John drove and Ondine directed. It went very smoothly. We drove conservatively, by German standards, so it took about four hours (everyone told us it would take about three hours). We took the A3 to the A5, an easy drive. Driving the Autobahn was, compared to Los Angeles, a piece of cake. The key difference was that you could count on drivers on your right passing you and not just parking there in the passing lane. The weather forecast called for no rain, so of course we hit several rainstorms, one quite heavy, along with several small traffic jams with stop-and-go.
We pulled in at Desiree und Martin's house just after noon. They live in a beautiful old house on what used to be a tree nursery, right across from a horse-training corral and adjacent to a farm. As we drove in, down a narrow, cornfield-lined street, Leo asked "is this Desiree's corn?" Desiree and Martin's two boys, Paul and Till, were roaming barefoot and free when we pulled up to the gate. Their big, gold-colored dog, Seppl (a boy name for a girl dog), came out to greet us too, wagging her tail in that slow, gentle, old-dog way.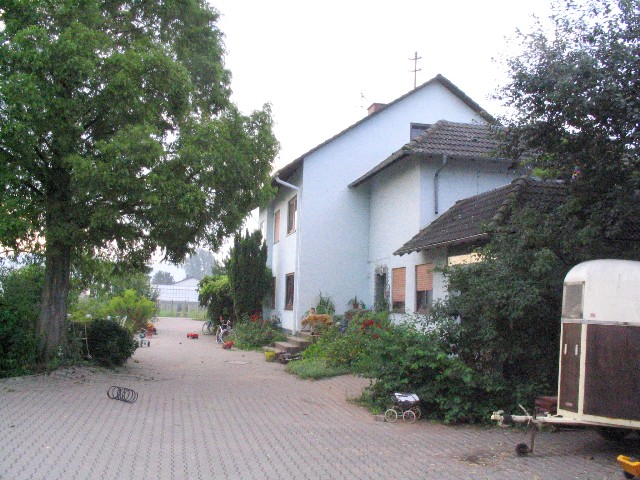 It was beautiful place, with acres of open space to run around in. The father of Desiree and Martin's landlord raises flowers, so there were a few plastic greenhouses and a large bed of roses being cultivated. There's also a pond in the back yard, where the father raises fish. The narrow lane in front of their house is lively with tractors, bicyclists, joggers, and vans shuttling Polish farm workers from field to field. Paul and Till have a vast collection of scrap metal that they've found: dashboard parts, old prams, and the toy of the moment, a large black coil spring.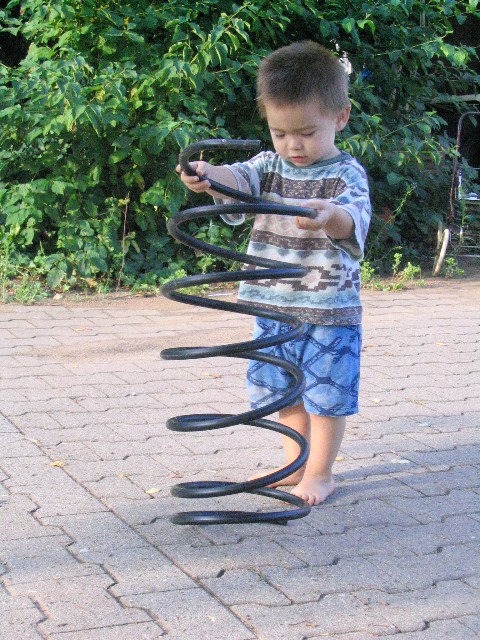 The big house is shared by at least two other families, each on their own floor. In addition to Paul and Till, there are some young girls on the second floor (one of whom plays drums), and two doctors on the floor below with two small children too. So, there were a lot of kids around, making it fun for Roy and Leo. Paul and Till were a blast to watch, as they created things from their collection of odd bits (Martin was thinning some of the inventory, tossing things into the back of a white Volkswagen Transporter crew-cab pickup) and playing demolition derby on pedal tractors. In the midst of it, the one-year-old son of the two doctors watched, in fascinated amazement. We watched too, enjoying the chaotic, free-form glee. Roy and Leo pretty much played in the sand box, although they both seized tractors when they could too. Roy could pedal his, but Leo could only push one around.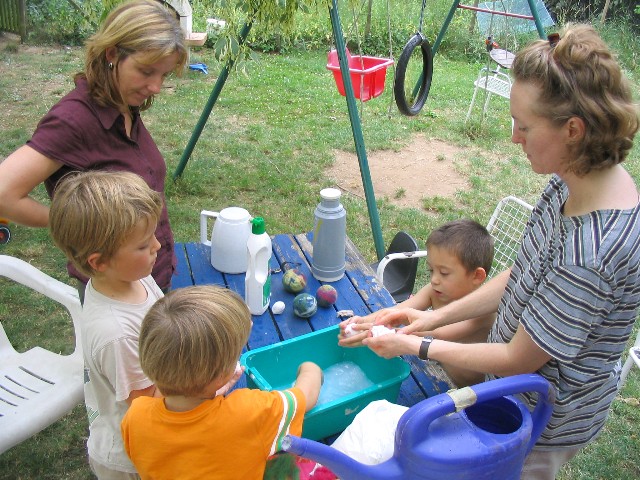 We made little woolen balls, brightly colored balls we smooshed together using wool. This was Desiree's demonstration project for a class. We made a core of cotton batting, and then wrapped thin stands of colorful wool around it. We rolled it with soap, and used hot water to shrink the wrapping tight. Several wrappings later, we had some small-ish woolen balls, ideal for tossing, juggling, and rolling around. The final step was to dry the balls in the dryer.
The thunder started in the late afternoon, and drew closer and closer. Seppl is scared of thunder, and usually hides in the bathtub, but today she stayed close to all her people. Roy was thrilled with the noise and the lightning, until it got very close and loud, where the thunder and lighting happened almost simultaneously and you could hear the crackling in the air as if it were happening inside your head. Then, he didn't like it at all. Leo was laughing, delighted, and trying to get closer to the sound. The rain started pouring down, and we retired to the warm, cozy house.
Martin had planned a barbeque, and was determined to grill the meat outdoors. So, he got soaked. "I'm a landscaper," he said, deadpan. "I'm supposed to be waterproof." Their New Year's Eve tradition includes an all-night campfire in the back yard and a barbecue, often with snow still on the ground. So, a little rain was nothing to Martin.
We put the boys down around 9:30, and then Desiree and Ondine went outside in the cool night air while Martin set up his laptop so John could check his email. Then, John joined the women outside looking at the stars – the clouds had cleared away. We turned in at close to midnight, John, Ondine, Roy, and Leo all in the front bedroom. We managed not to wake the boys, and Leo slept in his little bed on the floor until about 5, then he woke up, which woke us up, which woke Roy up.
So, early Sunday morning, we struggled a bit, even trying to pile everyone into our bed for more quiet time. But, at around 6, we decided we'd might as well get up. After breakfast, we punted the boys outside. Seppl slowly followed them.
Later, we went to Heidelberg. We parked under the Karlsplatz (with its great fountain and view of the castle) and walked a couple blocks to the bus stop near the Kornmarkt. The railway that went up to the Schloss (castle) was closed for reconstruction, so in the interim it is being replaced by a bus (3.50 Euro round trip).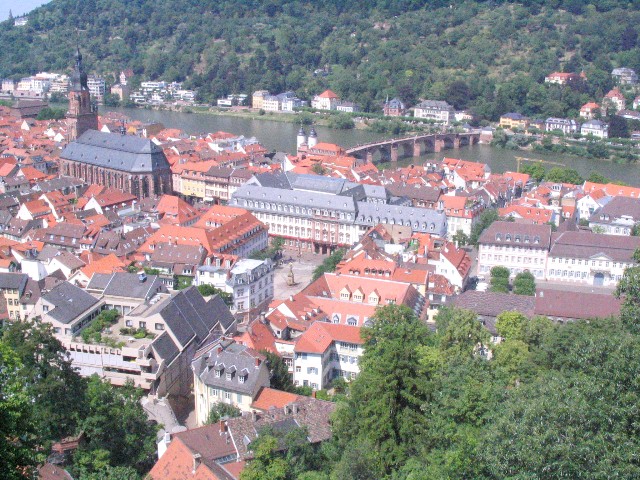 At Heidelberg Castle, we sat on the walls high above the city, and the boys tossed leaves over the side to watch them twirl down far below. We wandered around the open areas, then John, Martin, Paul and Till went into the castle while Ondine, Desiree, Roy, and Leo found a shady spot to have ice cream. John bought a guidebook (5 Euro).
In the castle we saw the grosse fass, a wine cask towering two, maybe three stories high, and the pharmaceutical museum. The museum had signs in German and English, but some of the apothecary displays were in German only, so John missed out on the significance of the mummy head. It was really neat to be inside the castle grounds. The last time we were here, we had no kids, it was sort of drizzly and gray, and we had only a few minutes at the castle (we ran all the way up the walkway from the bottom) before we had to run back down the hill to meet Desiree, who was pregnant with Till at the time. John had a great time looking around and making pictures.
Meanwhile, outside the castle, Ondine, Desiree, Roy, and Leo explored a pond with a salamander in it. That was great fun, until a wasp stung Roy. John had the foresight to bring the sting ointment, but not enough to give it to Ondine, so he had it with him inside the castle. Fortunately, a man leading a group of young students had a tube.
Roy and Leo had strawberry Cornettos; Paul und Till had ice cream dots, John and Ondine had Magnum bars.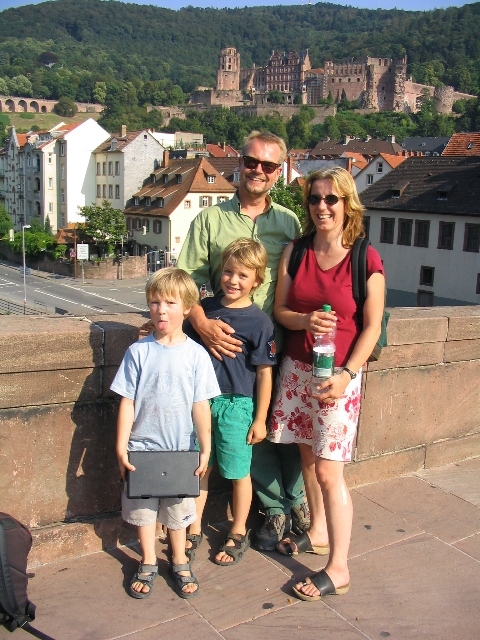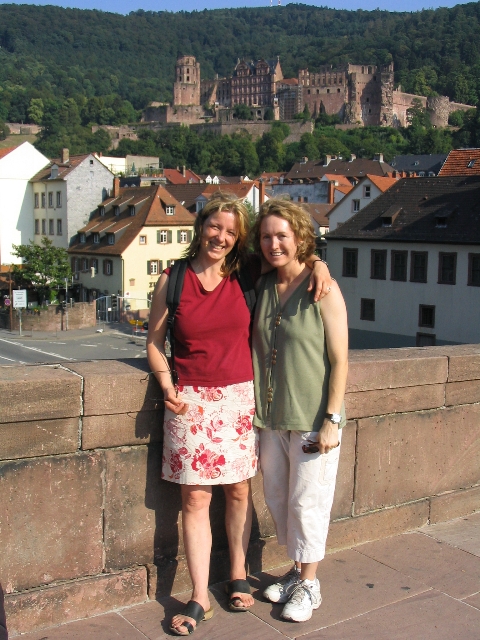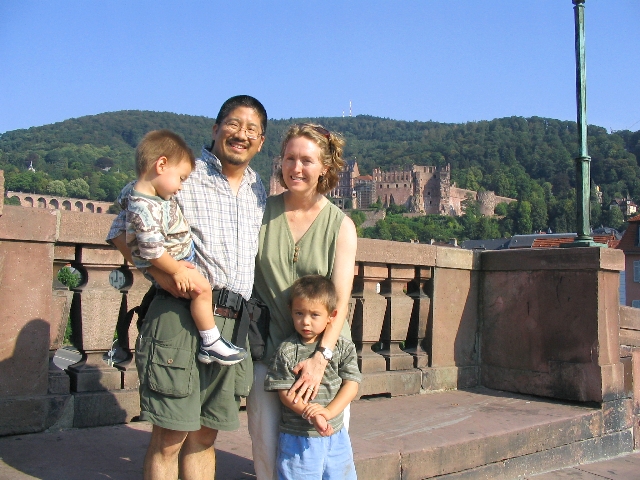 After a snack, we took the bus back down, and walked to the Alte Brucke (Old Bridge) and looked back toward Heidelberg Castle, a beautiful sight in the golden afternoon light.
We drove back to Desiree and Martin's, and watched a taped episode of Maus. It was a special Maus, all about the Olympics. John especially enjoyed seeing it, since he had watched some of the Maus cartoons on the Maus website (see the link on our main page). Then, we had dinner outside – a delicious meal in a lovely setting. Roy and Leo went to bed a bit earlier, so Ondine and Desiree went out to a club for a beer.
Monday Leo has loved the Muesli Desiree and Martin have. It has bits of chocolate in it! It's very funny to hear Leo say Muesli. "I want some mooz-el-ee," he says, in his hoarse little voice. "Mooz-el-ee." Both Roy and Leo enjoyed Seppl; so much so, that they decided to be Seppl. Roy was Black Seppl and Leo was Brown Seppl. And Seppl himself (or herself – it was always a little vague) they decided was Red Seppl.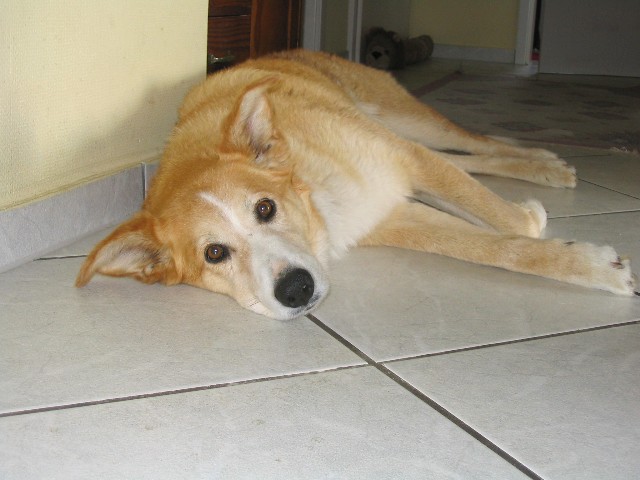 We got everything packed and said our goodbyes by late morning. We were very grateful to Desiree and Martin for hosting us for the weekend; we feel like we hit a place like ransacking locusts, eating and pillaging and leaving behind us a swath of dirty dishes, food wrappers, soiled diapers, and muddy footprints on the walls. Desiree gave us directions back to the Autobahn. "You can't miss it," she said. "No one can. Not even you."
Well, we did miss it, but we found it, in our usual fashion of driving around in circles. Once we found the Autobahn, it was fairly easy to take it in the direction of Frankfurt.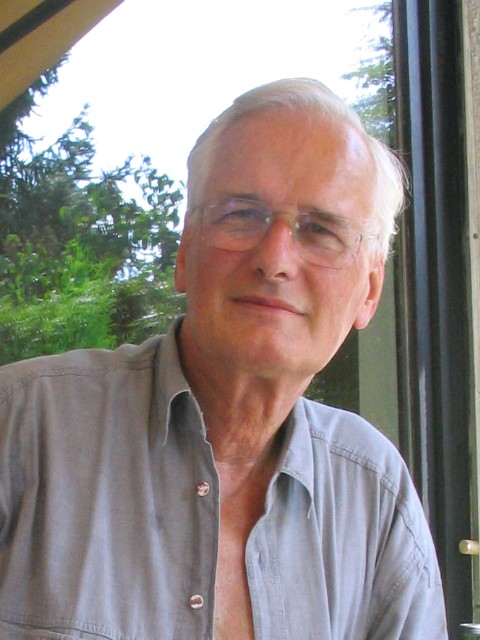 We stopped in Neu Isenburg, near Frankfurt, to visit Hansjochem (Jürgen's brother), his wife Ulla, and their daughters, Bille and Jule. We stopped to pick up Bille at her flower shop, and she got in our car and directed us to Hansjochem's house a few blocks away on Mainstrasse. We had lunch at a wonderful restaurant – a German restaurant owned by Croatians, with a small play area for the boys. Then, we went back to Hansjochem und Ulla's house, where the boys played in the back yard and we had a nice chat. Their back garden is a real showpiece, with a small pond and elegantly lush landscaping.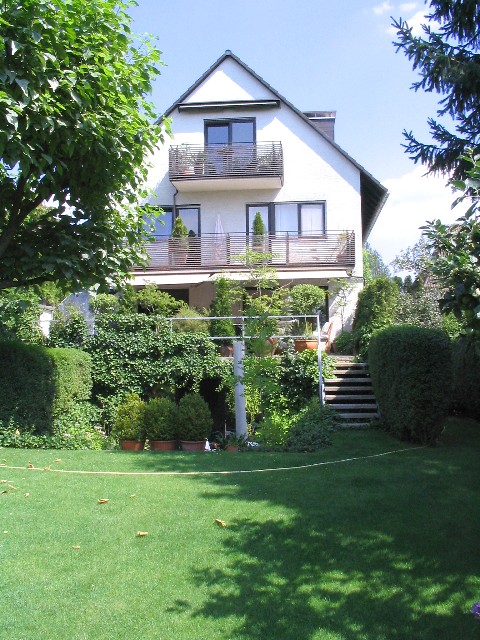 We left Frankfurt at about 4:30, but it took quite some time to find the Autobahn. Our route took us through downtown Frankfurt during rush hour, but we made it. We stopped a couple times on the way home, once for dinner at a rösthof in a pullout to the side. We made it back to Mülheim at around 8:00. Patricia, Gregor, and Veronica happened to be out on their front balcony, and saw us drive in.
John immediately threw in a load of laundry – otherwise, there would be nothing to wear to class Tuesday! We hadn't expected such a long stretch of warm and sunny weather – not that we're complaining! The weather has been generally beautiful. We may need to buy some inexpensive shorts and short-sleeved shirts for everyone.
Tuesday was the movement and music class. Roy really likes the circle-time songs; Leo is less sure. Ondine tried to escape for a kaffee right across the street with another Mom. Leo had a very hard time with that, but she went anyway figuring she'd might as well set the precedent so she can get a little bit of her own time.
During Roy's nap, Ondine and Leo went to Real for groceries. John worked and did laundry, trying to get caught up since tomorrow and the next day are the Hocevar's days to use the machines.
This evening was the surprise birthday party for Gregor. Fröhlich Geburtstag Gregor! But, alas, it was no longer a surprise. Patricia had to tell him, because he started to make his own plans for the afternoon! And, it was not held in the hof downstairs – it was at Gregor's mother's house in Oberhausen. Unfortunately, John was crashing on a project for a new client in The Netherlands, and couldn't make it. He considered joining the party by bus, but then it started raining so he decided not to. He is finding out that 8:00 is a busy time, because he can email both European clients and San Diego clients.
Ondine, Roy, and Leo made it back from the party at around 8:30. The boys had had lots of sweets, but no dinner yet, since it hadn't been served! Roy was quite disappointed, since it looked like a wonderful spread, but Ondine didn't want to get lost in the dark. The boys still did well, though, despite being sugared up, overtired, over-stimulated, and hungry. Leo fell asleep in the car, and Roy, fortunately, was very cooperative on the drive home. Ondine did get lost, and asked directions from various people who were out walking their dogs. She found herself on the Autobahn, and made her way home from there. Leo went straight from the car to bed, but it was close to 9:30 when Roy finished dinner here and went to bed.
Wednesday morning, the boys were awake at 5:00. We fed them cheese (figuring they were hungry since Leo missed dinner last night and Roy had just a small dinner), and put them back to bed. They stayed awake, but were at least quiet. They emerged at 6:30 sharp for breakfast. The weather today is cool and rainy, the first real rain we've seen since arriving in Germany. According to Jürgen's indoor-outdoor thermometer, it is 21 degrees C (about 70 degrees F) on the patio and about 24 degrees C (about 75 degrees F) in the living room. It's quite a bit warmer in the dining area and bedrooms, so we're all still wearing shorts.
We took a stroll down to the bäckerei for fresh sweets, and came back laden with an apple-something, a strawberry something, and a sugared something else. And some little bread somethings, 10 for 1 Euro. The woman behind the counter gave Roy and Leo a lollipop each. She had spent six years in the U.S.; had been married in Las Vegas and loves visiting every year. This year, though, she wasn't sure it would be safe to travel in America.
On the walk back, Leo didn't quite know how to eat his lollipop. "Is it not working?" he asked. Two years old, and he doesn't know how to eat a lollipop, that's the kind of parents we are. We had the strawberry something and the sugared something after a hearty lunch of bratwurst, carrots, and gnocci. Later this afternoon, Roy and Leo have a play date at the home of one of the other kids in the class.
Random Thoughts Department. There are roll-down metal blinds on the windows, which Ondine called something that sounds like "Remoulade," but that's something else. Rolodex? No … Rolen … Roul … nah. Never mind. Them metal roll-up blind thangs. They make the room very dark, but they also hold in the heat. So, the boys' room gets very warm at night. German windows have two ways of opening: turn the handle one way, and they tip open at the top, turn the handle the other way and they open like a door.
We're getting used to the wasps; Ondine and Leo more than John or Roy. They're just a daily part of our meals now, house-wasps. One hung around the kitchen window for several days; it was practically a pet (Leo wanted to feed the wasps).
We absolutely love the brotchen. Ilka asked us why we don't eat the healthier vollcorn (whole wheat). Ondine replied that we do at home, but the brotchen is such a treat. We'd been looking forward to brotchen for five years now. There is just nothing like it in the States: a crisp (not hard) crust surrounding a light, chewy roll.
We're acquiring a taste for water "mit gass," carbonated mineral water. John still drinks mostly Mülheim tap water, though, which comes from the river Ruhr.
Everyone in Germany, it seems, turns on the television from 8:00 in the evening to 8:15, to get the news wrap-up. John went looking for it, and found, instead, an old episode of Hogan's Heroes in dubbed German. It was a very strange thing to see. He also saw part of an episode of the animated Mr. Bean while he searched for CNN. He needs to find out when Maus airs, because he'd like to see more of that children's show.
What with all the kid's stuff, particularly the two car seats, we didn't have room in our luggage for John's 35mm camera (it's not the camera that's bulky; it's the film to feed it), so all we have is our point-and-shoot digital. That has been wonderfully convenient, but the widest setting on its zoom lens is equivalent to a 35mm lens (in 35mm format), which isn't very wide. All through this trip, John has been mourning his 20/3.5 and 24/2 lenses, sitting at home in their cases, and the brick of E-100VS in the freezer.
By the way, here's a picture of Dax und Jürgen's flat on Langensiepenstrasse. The flat is the one on the top floor, three floors up, but called the second floor because the second floor is the first floor and the first floor is the ground floor.


We are having quite the rigorously sociable life here. It's exhaustingly wonderful to have so many people welcoming us into their lives. Thursday, we're going to visit an ancient German city with Patricia, Gregor, and Veronica.
Rouladen. That's them metal roll-up blind thangs. Rouladens.
Read on ... continue to the next journal.
See the photo highlights ... on our Mülheim photo page.
Visit our current journal, updated at least once a week since 1998, right here.
Back to the Kuraoka Family main page, with lots more stuff, including photos!