The Kuraoka Family Weekly Journal
Germany 2004
www.kuraoka.org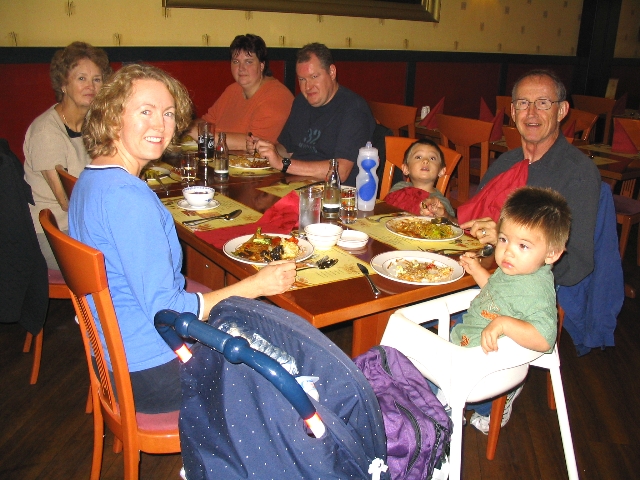 Almost all of us: Ondine, Barbara, Michaela, Guido, Roy, Bill, Leo
Tuesday, 24 August 2004
It has been a full three days since the last update. Barbara and Bill came into Mülheim Friday afternoon. John took Roy and Leo to their class with teacher Ralf. Ondine dropped them off at the class, then picked up Barbara and Bill at the Duisburg Hauptbahnhof, dropped them off at the Hotel Sassenhof in Mülheim, then went back to pick up John, Roy, and Leo in Saarne. While they waited for Ondine, Roy pointed out the little shop across the street. "They have eis there," he mentioned, casually.
One of the things Barbara and Bill brought from home, was John's F3/T, a brick of film, and a brace of lenses. John was very happy to see a real camera.
Saturday morning, Roy did this amazing funny trick. It was so amazing, we had to make a video clip of it, which you can see by clicking here. (And remember, there are lots more video clips and photos on our Mülheim page.)
Then, John walked over to the Hotel Sassenhof to walk Barbara and Bill back to the flat. But first, they sat and had a pleasant chat about happenings on Barker Way. The traffic from LAX to San Diego was horrible, and the drive down took them nearly seven hours! Yuck! Especially after getting off a 10-hour flight. They missed the welcoming party Barbara and Bill threw for them, but the rest of Barker Way partied on even without the guests of honor. It has been some time since there was a bang-up Barker Way get-together. Everyone was there, from the sound of things. And, after Dax und Jürgen arrived, everyone seems to have turned out to pay their respects to one of the more-exciting things to happen on the cul-de-sac. Barry and Ann-Marie really took a shine to Dax und Jürgen, and vice versa, and they've been going non-stop together. Barry took Jürgen out to a Padres baseball game at our new stadium, Petco Park. (Neither Bill nor John have been to Petco Park.) At one point, they (B&B) said it got up to about 100 degrees. Dax loved it, and was out on the patio sunbathing and reveling in the heat. Among the places they went: Balboa Park, the Hotel Del, the beach, La Jolla, and, of course, up Cowles Mountain. The Hannas, we understand, had Dax und Jürgen to dinner. So, we're proud of our good old neighborhood!
As for us, here on Langensiepenstrasse, we couldn't ask for more supportive and welcoming neighbors. It has been truly wonderful!
After a short visit, John walked Barbara and Bill back to the flat, just about three bocks away. Roy and Leo were surprised and thrilled to find Barbara and Bill here at our "Germany Home." Leo couldn't quite believe it.
Bill had not had enough bratwurst yet, even after a week (it seems the locals don't find wurst as wonderful as we do). So, we had bratwurst for lunch, after which Barbara and Bill offered to watch Roy and Leo, giving us time to go out, kid-free, to the Forum to shop for a birthday gift for Veronica. It was great to get out on our own for the first time in about a month. It was pouring rain, but the Forum shops are inside as well as outside.
Sunday morning, the guys watched Maus while Ondine took a walk. Later, we drove over to the Sassenhof and dropped the boys off with Barbara and Bill. Then, we headed over to Schloss Broich for the Broicher Ritterspiele, a medieval re-enactment. Although we have similar fairs in the States, there is something especially authentic about seeing one on real castle grounds, and hearing it in German too. (Middle English had a strong German influence – Chaucer, for instance.) We parked underneath the Stadthalle, having been meanly pipped for a free parking space by a woman who deliberately cut us off. The parking fee downstairs turned out to be 3.50 Euro.
We paid about 6 Euro each for admission (admission for a family was 15 or 16 Euro). And, we had a great time walking around watching various acts. The kids might have enjoyed some of the acts for a few minutes, but probably wouldn't have enjoyed staying for entire performances. We watched a young woman who juggled and walked a tightrope. Ondine got a bean and meat bowl, and John got a grilled slab of meat on a slice of bread. Yum! The Ritterturnier, the tournament, featured a medievalesque competition for a princess' hand. There was a slicing and dicing contest from horseback, and a contest to see who could make a dummy on a swivel spin the most times by hitting it with a lance. Of course, then the trouble "broke out," with the evil competitor's sidekick fixing one of the games and getting into a fight that drew in the principals. (There was a side story involving a funny little guy on a pony, whom we thought would be the eventual winner, but that plotline was dropped after the "fighting" got underway.) The show would probably have alternately worried and bored our boys. We did hear one little boy repeat, over and over (in German), "He's not really hurt, they're just pretending." You can download a very large video clip on our Mülheim page. Here are a few sample photos: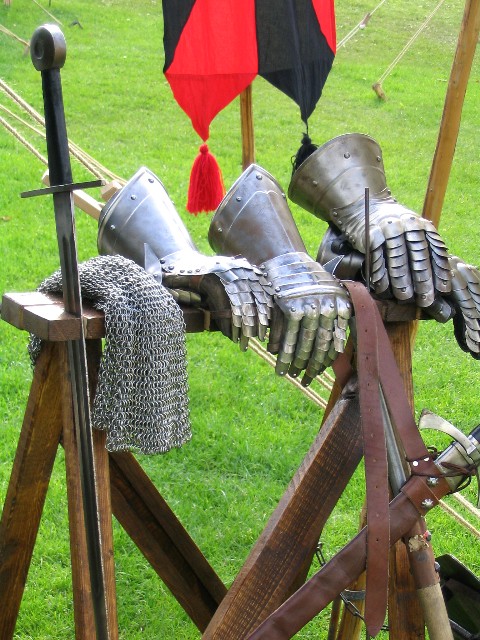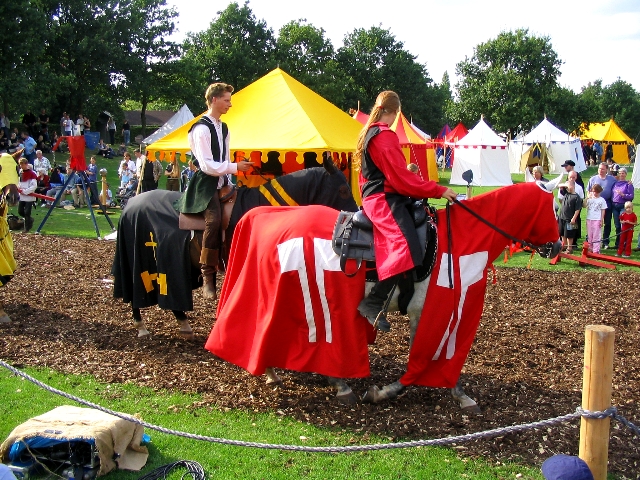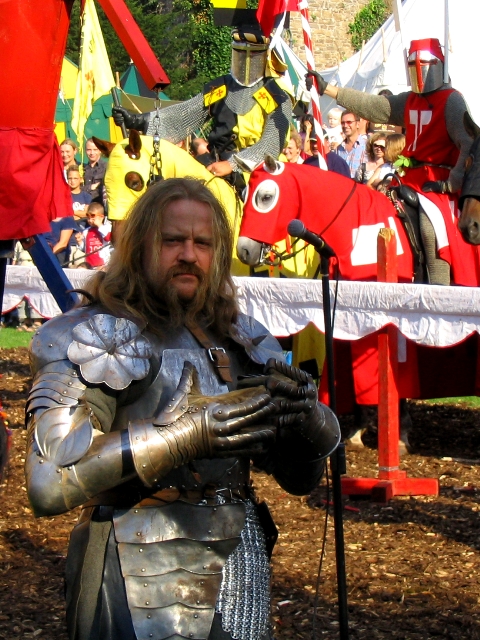 It was around 6:30 when we picked up Roy and Leo. They had had a full day going out and picking up sticks and acorns.
Monday Guido und Michaela and Barbara und Bill came over, and we all went to the CentrO in Oberhausen, which is a big shopping mall. There is the Gasometer there, with the Breitling balloon that went around the world, and also a TeatrO and a large aquarium exhibit called SeaLife. Admission to SeaLife is quite pricey, though, especially considering that we have annual passes to Sea World in San Diego. The Gasometer, though, is something we'd like to see. Anyway, we did some window-shopping, then went out to lunch at a delicious Chinese buffet. The buffet had more interesting items than what we see in the States. Here we all are! From Ondine, going clockwise, there's Ondine, Barbara, John's empty chair, Michaela, Guido, Roy, Bill, and, in front, Leo.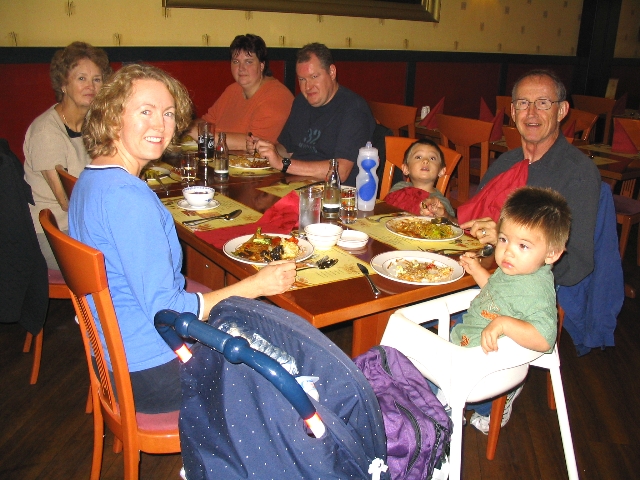 After that, we went into the mall to look at toy cars; Barbara and Bill treated Roy to a müllauto (garbage truck) and Leo to a traktor mit anhanger (farm tractor with a trailer).
Then, everyone came over to the flat, where we sat and chatted until early evening. We learned more about Michaela, and Patricia came over for a nice visit too. Here's a photo of Patricia und Ondine: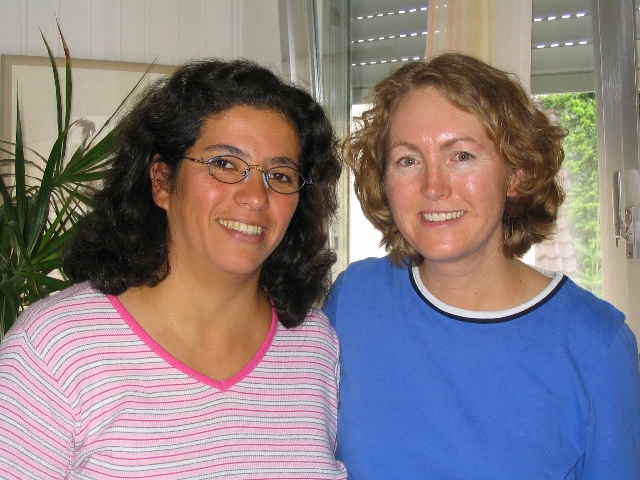 Tuesday morning was class again. The Tuesday class last week was cancelled due to the original teacher having some sort of operation, according to the teacher's mother, who called us to tell us that there would be no class last week. Anyway, the new teacher's name was Nicole. They did some different songs. Roy and Leo missed not singing the hello song (which they had started singing on their own), but they did enjoy the new goodbye song. All the other Moms except Ondine dropped their kids off and left, leaving Nicole with her hands full. Ondine stayed to help. (John's comment: "so, next time, you'll have to sneak out earlier.")
We swapped Monday to the Hocevars for laundry, since we were gone all that day. In return, we got Thursday. And, of course, today (Tuesday) is one of our regular days, so John has had the machines running almost constantly. He still won't get to the kid's sheets.
We had a bit of gevitter this afternoon, with about ten minutes of thunder, lightning, and a squall of rain coming down in sheets. Then, the sun came out. It's cloudy and coolish now, with a bright gray sky and occasional sun coming out to make the raindrops sparkle on the windows. This afternoon is Veronica's birthday party, which was to be in the hof, but now will be in their flat.
FROELICHE GEBURTSTAG to John's Mom, Frances (Friday), and Breanna (Saturday)! And, today, to Veronica!
Random Thoughts Department
Cars: one car brand John forgot to mention in last journal's list is SEAT. There are quite a few small SEATs around, looking a bit primitive but efficient in a Yugo-like way. He also neglected to mention the Swedish imports, Volvo and Saab.
Maus: Based on his interpretation of popular stickers and the website, keeping in mind that he can't read German, John was under the impression that Maus was an animated show. He saw his first real Maus at Desiree und Martin's house a couple weeks ago, and his second Maus this past Sunday. It is mostly live-action educational segments with presenters discussing a topic and showing interesting things about it. Sometimes, they have funny skits demonstrating various things. This week's Maus featured a break-down of how to train for pole-vaulting. Did you know that there are several distinct parts of a pole vault, each of which requires specific exercises? In between were animated sequences, including the story of King Midas, the history and development of badminton, a Kapitän Blau Bär cartoon episode about health (John thinks), and several Maus shorts.
German keyboards: have the y and z keys swapped. And, they have a few other characters.
Postcards: we have been very bad about sending out postcards, and we do feel guilty about it. But, we really feel like we haven't had the few minutes to pick out postcards, let alone write them and mail them, what with everything else we've been doing! One thing this isn't, is a leisurely vacation sort of thing. It's everyday life and then some! So, apologies to all, but you're probably not going to get postcards. You'll just have to keep up with us online!
More photos and video clips are posted on our Mülheim page. And, previous journals from this trip can be found on our Archive page.
Read on ... continue to the next journal.
See the photo highlights ... on our Mülheim photo page.
Visit our current journal, updated at least once a week since 1998, right here.
Back to the Kuraoka Family main page, with lots more stuff, including photos!