The Kuraoka Family Weekly Journal
Germany 2004
www.kuraoka.org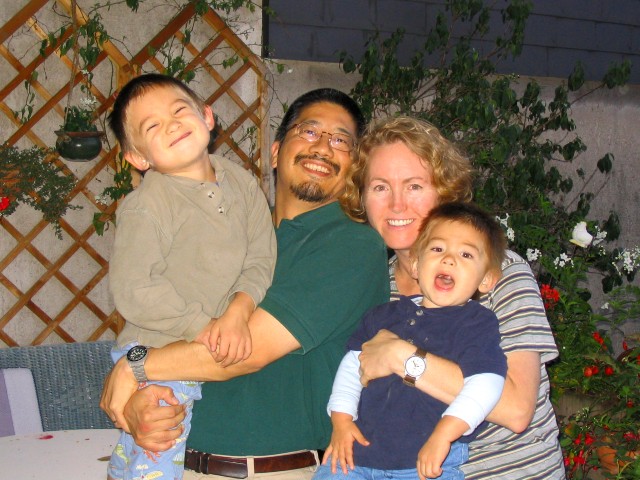 John, holding Roy (4); Ondine, holding Leo (2)
Friday, 27 August 2004
Another full three days to report. We might have been terribly neglectful about mailing postcards, but at least we've kept up this journal!
Let's see, where did we leave off on Tuesday? Oh yes, gevitter followed by bright gray skies followed by rain followed by sun followed by clouds followed by more rain. Patricia had planned Veronika's fourth birthday party for the hof, the outdoor courtyard, but rain drove everyone indoors and into their flat at Langensiepenstrasse 3! So, Patricia und Gregor had a full house of kids. Roy and Leo had a great time – Leo liked Veronica's wooden banana, and found it funny to ask people to peel it for him. Roy had schokolade cake und erdebeere cake, and Leo steady ate an entire piece of the schokolade. Oooo.
The boys came home all caked up, which made Leo run around in wild circles, falling down, scrambling up and reeling around the flat.
After putting the boys to bed, we sat down and figured out, or tried to, how to get everyone to Kettwig to meet with the relatives Wednesday morning. Kettwig is about a half-hour away by car. The Passat seats five. We have six people: four adults and two kids in car seats.
There are buses, but they don't run out here in the 'burbs at convenient times. There is also the Weisse Flotte, the "white boats" that we had planned to take down to Kettwig in the first place. But, we knew Ondine and Barbara would want to visit with their relatives after lunch, right when Roy and Leo would be tired, bored, and cranky. So, the puzzle was to juggle the car, buses, and boat in such a way as to extract the boys right after lunch, leaving Barbara and Ondine free to visit without distractions. We pored over the boat schedule and bus schedules and various bus and road maps, also considering that we have two people (Barbara and Ondine) who speak German and can navigate the streets. The kids turn cranky at about 2 p.m.; the boat leaves the Wasserbahnhof at 11:00 and gets into Kettwig about an hour later; lunch reservations were for around 12-ish. The bus from Kettwig to Mülheim Stadtmitte ran either at 2:44 (not enough time) or 4:44 (too long), and then we'd have to transfer to another bus which ran only starting at about 6-ish. We considered and cogitated and pondered and pointed out and puffed up.
Finally, we developed a plan whereby John would take Bill and Ondine and Roy and Leo to the Wasserbahnhof (John drives, Ondine navigates), drop them off, drive back sans navigator, pick up Barbara, and drive to Kettwig (John drives, Barbara navigates). Ondine, Bill, Roy, and Leo would take the Weisse Flotte boat to Kettwig. With us so far?
Now, everyone miraculously meets up near the Wasserbahn stop there. We go to lunch. Then, after lunch, Ondine and Barbara would continue on, by bus, to Christoph und Marianne's home, while John and Bill and Roy and Leo would drive back to Mülheim (John drives, Bill navigates, no one speaks German). Ondine and Barbara would take the bus home in the early evening. The fox would eat the chicken, and the sack of grain would be in the trunk of the Passat.
That was the plan. Now, as to reality …
Wednesday morning, Barbara and Bill came to the flat at 8:30. The weather was gray and cool, with intermittent rain forecast. We went over our plan, and John and Bill shared a bratwurst. Barbara made several calls to find out where to park for the Unterwasser Halterskellar (sp?) which translates roughly into "under-water stop." The stop wasn't exactly under water, but it was under a bridge, and no one seemed to be able to tell Barbara exactly how to drive there let alone join up with a group. The nearest parking was across the river. Under a bridge, or near it.
While Barbara continued to make phone calls, we implemented the first shuttle, John driving, Ondine navigating, and Bill, Roy, and Leo along for the ride. John dropped them off at the Wasserbahnhof, then drove back to the flat alone. He stopped at Real for milch, bananen, Rice Krispies (there are no Cheerios here), joghurt, eire, brot, und kaffee. He then picked up Barbara at the flat, who had had a nice chat with Frau Hocevar, our downstairs neighbor. Then, they drove to Kettwig.
They drove directly to the designated parking area, a tiny one-way frontage street, with no wrong turns at all! They even got the last available parking space, which involved John having to parallel park on the left side of the street – no problem there either! Wow!
John and Barbara went looking for the ship, and found Bill, Christoph, und Marianne waiting by the street. We walked to the restaurant together, down a pedestrian alley and around a couple corners. It was a good thing they kept a lookout for us, otherwise we'd never have found the restaurant (not that we knew which restaurant to look for). The restaurant was called the Bonner Hof, which Ondine had kept hearing as the "Bahnhof," so she was wondering how we'd all unite at the train station.
Ondine, Roy, Leo, Ursula (Ullun), Konrad (Konni), and Barbara (Ullun und Konni's daughter, who was named after Barbara) were waiting at the restaurant. Ullun is Barbara's father's sister – her Aunt, making Barbara Barbara's cousin. Got that? Christoph is Ullun (and Opa's) cousin – Christoph's mother and Opa and Ullun's mother (Barbara's grandmother) were sisters.
Here are (from left to right) Ullun, Konni und Ullun, Barbara with a photo of her husband Eberhart, Christoph, and Christoph und Marianne. Remember, you can click on any photo to see it full-screen. There's more on our Mülheim page including food shots and a video clip that'll give you a seat at the table!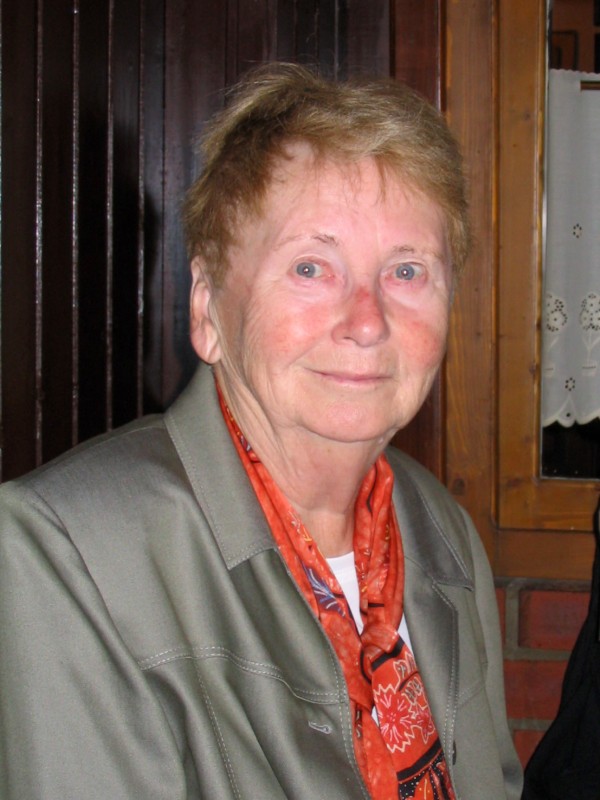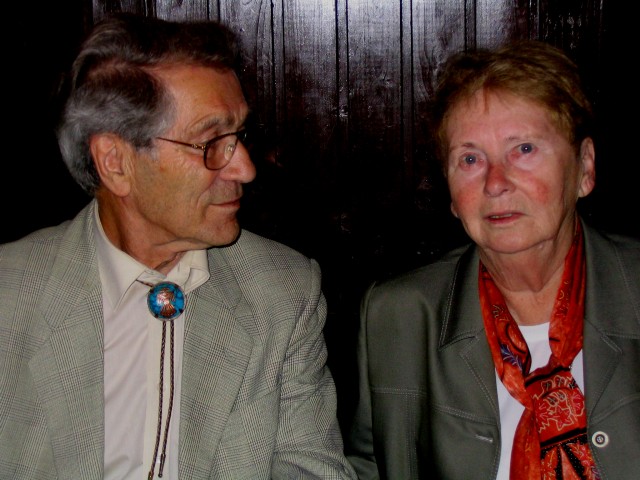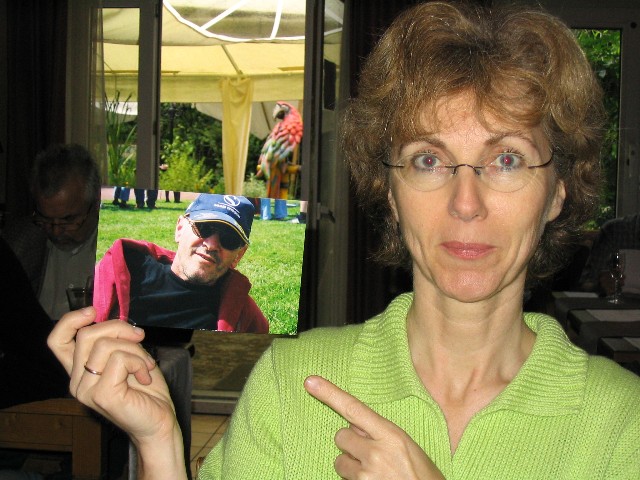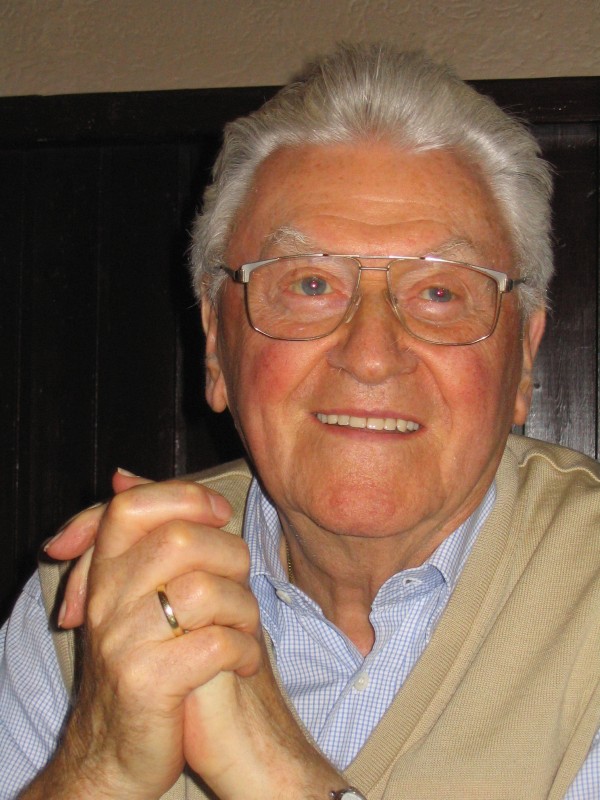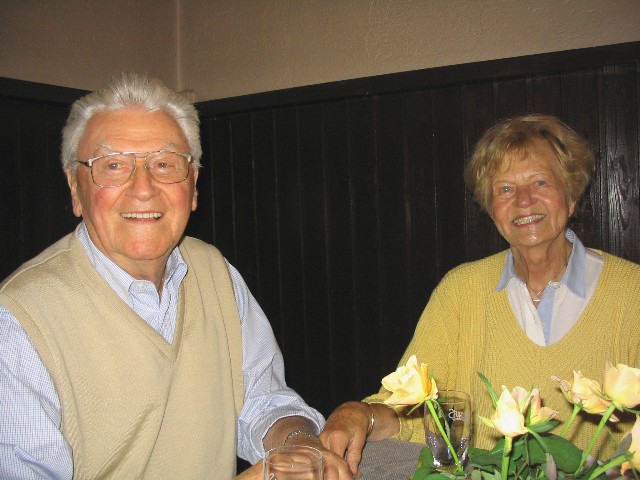 Most of the conversation was in German, but Barbara (Barbara's cousin) talked to John and Bill in English, even though she said her French is better. She lived for some time in Switzerland. Barbara was highly critical of the German educational system, saying the U.S. schools are better, with more variety and greater challenges. Her two teenagers are in private boarding schools, since the public schools were not challenging them enough. That was interesting, since we tend to think of European schools as being somehow better than U.S. public schools. It's probably a grass-is-greener sort of thing, but many parents we've met have said that they think the U.S. educational system is better than their own. Or maybe they're just being polite?
This was the first time in at least 16 years everyone had seen each other! In fact, it had been even longer for Christoph und Marianne and Ullun und Konni.
After a delicious meal, John, Bill, Roy, and Leo headed back to the car. After they buckled everyone in and prepared to back out of the parking spot, who should show up but Barbara with Ullun and Konni! They were parked … right in front of us! How's that for an amazing coincidence?
John, Bill, and the boys drove back to the flat in one smooth motion, with no wrong turns. Wow! The boys fell asleep in the back over the half-hour drive, but perked up when we got back into the flat. Bill stayed for a while, playing with the boys. Later, he walked back to the hotel room.
After dinner, John gave the boys baths then put them to bed. John worked until Ondine returned home at about 8:30; she and Barbara had taken the bus back. She said that they had a very pleasant visit at Christoph und Marianne's house. It was the first time Ullun und Konni had been to their house too. Here are photos from Christoph und Marianne's house; there are more on our Mülheim page. The first photo shows the living room, the second shows Ondine, Barbara, Ullun, and Barbara.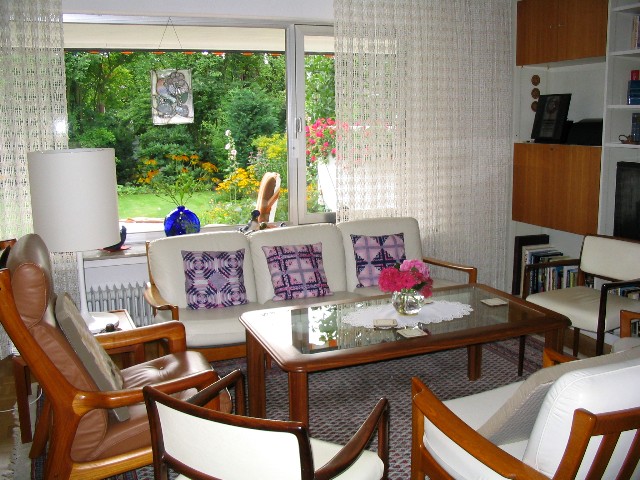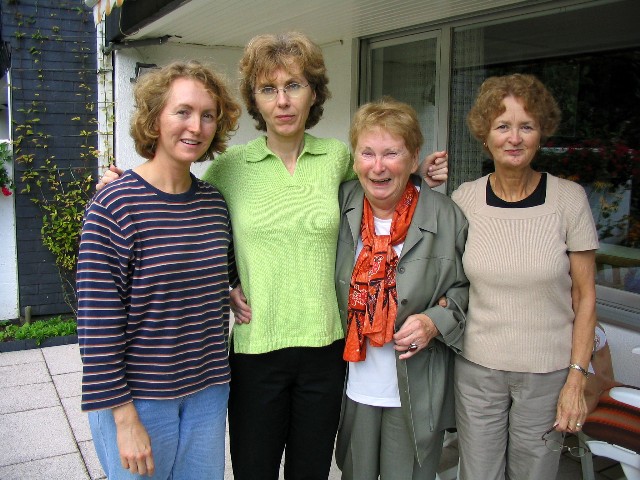 Thursday John worked and did laundry. Barbara und Bill came over at around 10:30, planning to go to the matsch spielplatz. But, it started raining, and Roy and Leo and Bill were having so much fun playing in the living room. So, we stayed in and had a big lunch together. Barbara investigated getting to the airport hotel on Friday, and along the way found that we should simply take a taxi when it's our turn.
Barbara, Bill, Ondine, Roy, and Leo went to MüGa and played in the matsch. John, here in Mülheim Speldorf, had a spell of gevitter – a sudden, heavy rain with wind and lightning. But, over in Mülheim Broich, in the MüGa, the clouds just stayed dark and gray, and it didn't rain at all. Guido came over to check his email, and he and John had a nice chat. He is signing the contract for his new job next week, and starts soon after. He'll be a security person at CentrO, the big shopping, restaurant, and attraction mall in Oberhausen. John asked if he'd heard from Dax und Jürgen, and he said he hadn't in two weeks.
John made mashed potatoes, and everyone stopped at Real for groceries, so we finally had Barbara and Bill to dinner on their last evening here in Mülheim. We had, in addition to mashed potatoes, two kinds of sausage (currywurst and rostbrat), sauerkraut, and a green salad with krautsalat. Delicious! The currywurst was like a regular frankfurter, with a hint of curry. The rostbrat was more like a classic bratwurst. It was amazing how easy it was to prepare a meal with Roy and Leo kept occupied away from the kitchen by Barbara and Bill!
After Barbara and Bill left to walk back to their hotel, we put the boys to bed. We had a phone call from Dax und Jürgen's friend, Peter. He and his wife offered to show us the Gasometer in Oberhausen next week, and also the Aquarius water museum in the MüGa next Monday. Both of those were things we had planned to see; all the better to see them with someone who knows their way around!
Friday morning, Barbara and Bill will come over for a breakfast of dampfnudeln, a sweet, steamed bun served with vanilla sauce or berries.
Later today, Barbara und Bill will begin their journey back to San Diego. They're staying in a hotel by the airport tonight, then have an early morning flight Saturday. Ondine will drive them to the Duisburg Hauptbahnhof; from there they'll catch a train to Düsseldorf where they'll stay at the Holiday Inn.
This afternoon is Roy und Leo's class with teacher Ralf.
Random Thoughts Department
Grocery shopping is somewhat different. There are no coupons (or double coupons) here, but there are weekly specials (Angebot!). The stores are all closed on Sunday. You weigh and price your own fruits and vegetables, except for the pre-packaged produce or items priced per stück (piece). The cheese selection is extensive, but there is no Monterey Jack or Cheddar. (The boys have been enjoying the Gouda, though.) There is a whole refrigerated aisle of various kinds of sausages, plus a case of fresh sausages. The store we've been going to, Real (pronounced Ray-al), is like a Wal-Mart in that it has a large grocery store plus other household items including small appliances, clothing, electronics, and home and garden stuff. There is a separate drinks store at one end. Almost everybody here drinks mineral water, with or without "gas" – carbonation. There are even various degrees of gas, from a little to a lot. You bring your own cloth bags, pile your groceries into your cart after paying, then go to a bagging table to bag them up.
Laundry we've sort of mentioned. The building has a cellar with machines; Dax und Jürgen have the two Miele machines and we don't know to whom the other machines belong. We used one of them once. Our allotted laundry days are Monday and Tuesday; the Hocevars downstairs have Wednesday and Thursday, and the rest of the days are first-come first-served. You use a plastic key over the electrical meter to activate the electricity to the machines and select which flat is paying for the power. The washing machines are high-efficiency front-loading units of smaller capacity than our high-efficiency front-loading Frigidaire at home. They have very long wash cycles, typically an hour and a half to two hours. However, you can open the door at any point during the wash cycle just by pushing the orange button marked tur (door): one of the many little freedoms that come from living in a place where things are not expected to be foolproof. The dryer takes about an hour, but there are also clotheslines in the cellar. The washer and dryer are also unique, in that they have on-off switches.
Public transportation is a challenge with small children, because you really need to travel on the kids' schedule. We found that bus service, for example, was geared for commuters – several buses in the early morning and evenings, but often nothing from late morning until late afternoon. Rail service, while wonderful, requires getting to the Bahnhof – which usually means driving. We were very thankful to have Jürgen's Passat to use, and would urge anyone traveling with small children to rent a car.
The weather has been wonderful: cloudy and cool with occasional showers. We've been enjoying the break from Southern California heat. The sunny, warm weather when we arrived was quite unusual; this weather, which is like San Diego in the winter, is more typical. In San Diego, though, it seems like the weather systems settle in a lot longer. For instance, when we get rain in San Diego it usually rains pretty much all day for a day or two or more, and when we get a heatwave, it usually sticks for a week or longer. Here in Mülheim, the weather changes constantly. You can experience heat and sunshine and wind and rain and clouds and thunder and sunshine again, all in the space of a few hours. Usually, there's enough sunshine – or at least a period of no rain – to get out and do something during the day.
Trash is separated into many different types: green glass from brown glass from clear glass, paper from plastic, biol (biodegradable organic matter) from trash. But, we have a bit of gossip: we think we're the only ones separating biol in the building! Every time we look in the biol bin, ours is the only biol bag inside, except sometimes there are leaves.
More photos and video clips are posted on our Mülheim page. And, previous journals from this trip can be found on our Archive page.
Read on ... continue to the next journal.
See the photo highlights ... on our Mülheim photo page.
Visit our current journal, updated at least once a week since 1998, right here.
Back to the Kuraoka Family main page, with lots more stuff, including photos!