The Kuraoka Family Weekly Journal
Germany 2004
www.kuraoka.org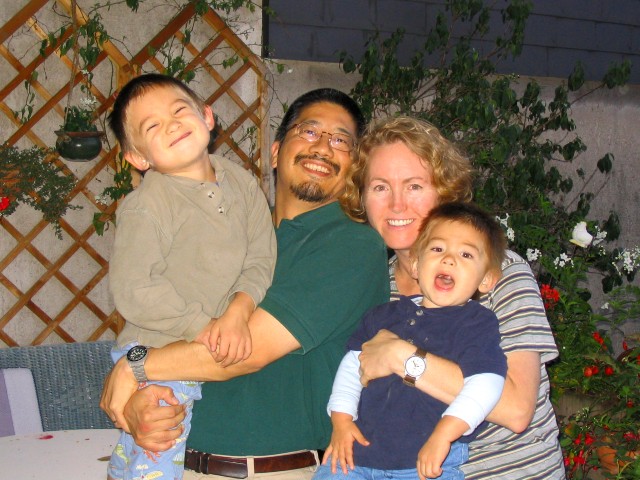 John, holding Roy (4); Ondine, holding Leo (2)
Monday, 30 August 2004
Last week the big news was our trip to Kettwig to visit Christoph und Marianne, Ullun und Konni, and Barbara. Ullun is Barbara's aunt; Christoph is Ullun's cousin, and Barbara is Barbara's cousin. Confused yet? Photos and a video clip, and perhaps a clearer explanation of the relationships, are on our Mülheim page. Bill, Ondine, Roy, and Leo went to Kettwig by boat, on the Weisse Flotte. John and Barbara drove to Kettwig. After lunch at der Bonner Hof, our party split up with John driving Bill, Roy, and Leo back to the flat and Barbara and Ondine moving on by bus to Christoph und Marianne's house to visit with them, Ullun, Konni, and Barbara.
Friday morning, Barbara and Bill came over for a breakfast of dampfnudeln, a slightly sweet, steamed bun. Bill was very excited to find them at Real the day before. These had a filling of sweet heidelbeere. Yum!
Ondine went down to the corner shop to pick up some hair color. Flaming orange? Punk magenta? Goth black? Mrs. Slocombe blue? No, just a reddish highlight.
Around noon, Ondine drove Barbara and Bill to the Duisburg Hauptbahnhof, to begin their journey back to San Diego. They took the train to their hotel near the airport in Düsseldorf.
In the afternoon, Roy und Leo had their class with teacher Ralf. The project this time was papier maché. Ralf brought a snack – chocolate-covered wafer cookies! We feel a little bad for Ralf, though, because the class has really shrunk. A lot of people have dropped out. This Friday, it was the same little girl, Annie, as last week, with the mom and a baby. We wonder why the other moms and kids aren't showing up. School has started, but these classes are for pre-schoolers. A lot of parents paid their 70 Euros for naught. And this really is a good little class, offered through AWO.
In the evening, Ondine colored her hair. We took a before and after photo, but what with automatic exposure and auto-white-balance, it's hard to tell which is which. The effect is very subtle, a sort of evening out and highlighting. It looks good!
While she did that, John backfilled some video clips and photos on our Mülheim page, including posting some photos of Dax und Jürgen (taken by them in San Diego).
Saturday morning we had steady rain, the steadiest we've seen yet. We made plans to go to the Forum, an indoor mall, with the MüGa or the Stadtmitte being back-up plans in case the sun popped out. By the time we got going, the rain had stopped and everyone was out running errands. We parked at the Forum, then walked out into the Stadtmitte, the pedestrian mall, lined with shops and cafes (imagine connecting Parkway Plaza with Grossmont Center, with a train and trolley stop underneath, and that's what it's like, only with office building and apartments too.)
We picked up a few souvenirs, and had eis. Eis, by the way, is one of the real bargains in Germany. It costs about 1.60 Euro for two scoops of eis, in whatever flavors you want. The eis is not heavy like ice cream, but it's very richly flavored. This time, Roy chose vanilla und erdebeere, John chose shokolade und waldmeister, Leo got erdebeere und blaubeere, and Ondine got an iced shokolade. We have no idea what the Waldmeister was that John got; some sort of fruit eis that tasted somewhat citrus-y berry-ish. It was a light green in color. It could have been kiwi. We could have asked what it was, but we opted to leave it a mystery. Whatever it was, it was good!
We walked around and the boys stopped at each fountain. We ate a bit of lunch near the postal museum, which had a terrific multi-colored fountain, but the museum itself was closed. Oddly, it's open on Sunday. Here's a photo of the fountain, and also a video clip of the boys playing in it.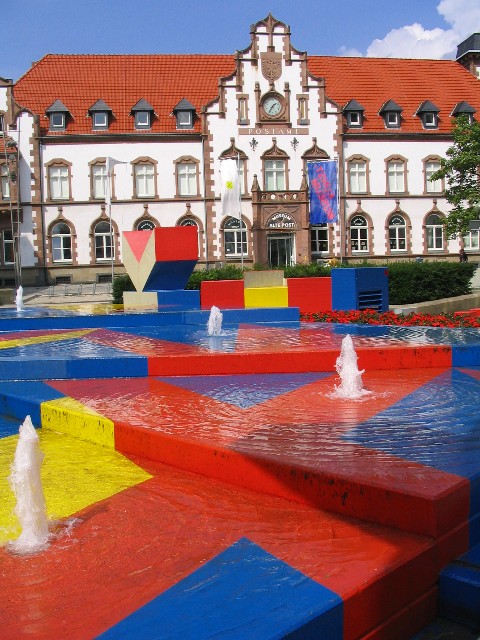 Click here to see Roy and Leo playing in the fountain. (2.68 MB)
As we walked around, the boys stopped to visit each fountain or interactive sculpture, so they had a busy and active day.
At one point, Ondine wanted to go to a yarn shop, so John took the boys with him to look at the Strassenbahn stop. The Strassenbahn is the small, inner city light rail system, similar to the San Diego trolleys. Actually, the Strassenbahn trains looked smaller than the trolleys, because they were usually only two or three cars connected together. But, they run more frequently. We watched three trains pull in and leave, in the space of just a few minutes.
We got home and put the boys to bed. Then, Ondine went out to a movie with Patricia: The Stepford Wives. A good movie to see in dubbed German. John stayed home and did dishes and laundry. Ondine came in well after midnight.
Sunday morning Leo was up at about 5. John channeled Jürgen to get him quieted down, and he slept until about 6:15.
Sunday at 11:30, we watched Maus, a children's show. John really enjoys it. In this one, we learned how pencils are made.
With just a little more than a week left in Germany, we still have five travel days on the family railpass we bought before we left San Diego. So, Ondine did some research online to see where we might be able to go on some short day-trips. The Die Bahn website wasn't especially helpful, so she typed "Muelheim train schedule Germany" into a Google search. And the #1 result was … our family website! That just goes to show the search value of a regularly updated website.
We'll probably try to get to Köln again. And, maybe someplace else, for a total of two more travel days. We won't use all our travel days, so Die Bahn reaped a bit extra from us.
A bit about railpasses and travel with kids. When we bought the pass, we figured on about one rail travel day per week: a daytrip once a week, or an overnight trip every two weeks. Although we've done a fair amount of traveling around, we've found it much simpler to use the car. If our next trip to Europe happens when the kids are little, we'll rent a car. The thing is, when you're traveling as a couple and you get to the Bahnhof and find out that the next train isn't for an hour, that's fine. You can just people-watch over a cup of kaffee and have a great time. But, with small kids, that hour's wait could spell the difference between a good trip and a bad one. And, dealing with bus and train schedules is no less stressful with two small children in tow than navigating the roads.
Sunday evening, Peter's friends Horst und Klaus (Peter is Dax und Jürgen's friend) came to the flat to pick up John. Then, they went to pick up Peter at Peter und Conny's house. Their flat is on the ground floor, with a patio that looks out over a small pond to open farmland. What a view! Horst, Klaus, Peter, und John drove to Köln in Horst's green Audi A6, to be part of the live audience for Sport im Westen, a 45-minute sports news program that airs live Sunday night at 21:45 (9:45 pm) on WDR (Westdeutscher Rundfunk or West Germany Broadcasting). Horst gave everyone lovely tin boxes with small bottles of Underberg, an herb liquor that is good for the digestion. He is thinking of retiring this year, a big change.
Peter lived in Köln for 17 years. He pointed out his very first flat in Köln, across the street from the Zurich insurance building in which he worked. Peter directed Horst to a parking area near the Dom and the WDR studio. It was funny to walk around the area we walked around before with the kids. It's also amazing how much ground you can cover when you're not stopping every few steps to look at a weed or a cobblestone or a puddle of water. Peter asked if we had gone into the Dom, and John said yes. He asked if we had gone up the Dom towers, and John said no. He asked if we had been downstairs to see the gems, and John said no. Some day we will!
We had dinner at a traditional Köln brewery restaurant, with waiters with blue aprons and, according to Peter, a unique attitude. Peter told John that sometimes they'd disagree with you over your order, and bring you something else instead. Our waiter had no issues with our orders (John had the frische Bratwurst, Kartoffeln, und Gemüse Salat), but scolded us over our choice of table. Our table outside lacked an umbrella, and we were told it could rain. It didn't rain, and John enjoyed the meal and two Früh bieres mit dinner. The inside of the restaurant holds some 1,200-1,500 people in various rooms, a big restaurant. The first photo shows Horst, Klaus, and Peter at the restaurant, and the second shows John's delicious meal!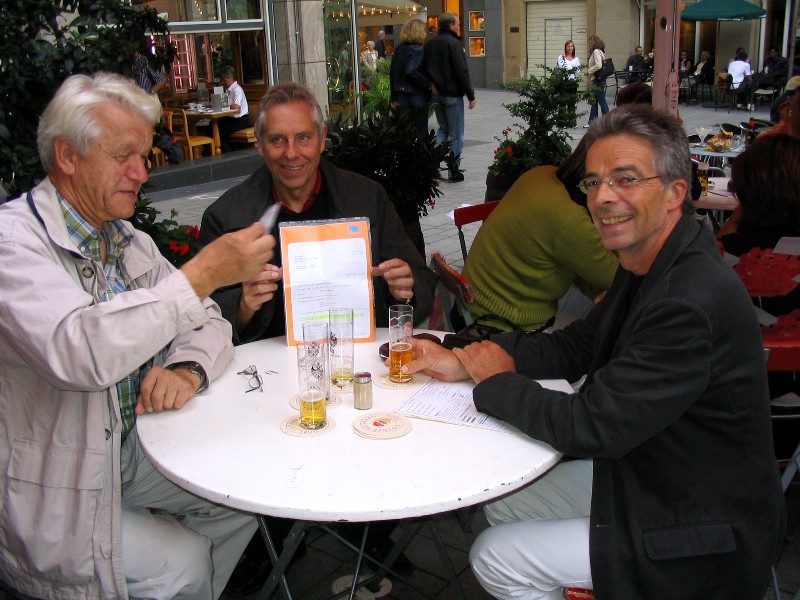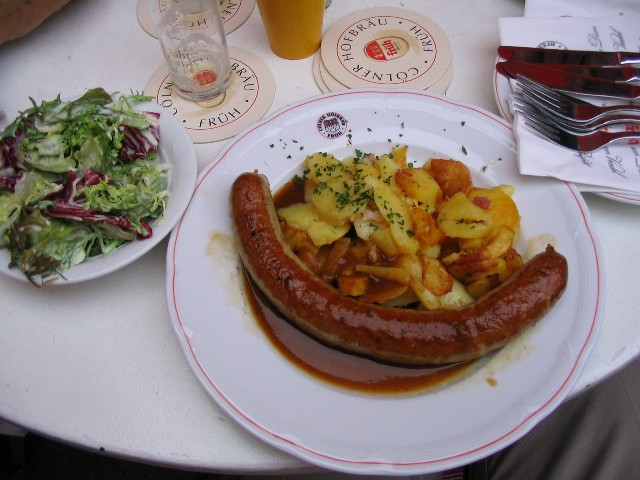 Click here to join Horst, Klaus und Peter at the table. If you listen to Peter at the end, you can hear him telling the others that John is taking a video. (980 KB - very short)
After dinner (for which Horst waved away John's attempt to pay for his meal - vielen danke!), everyone walked down to the Rhine. Peter explained that in winter the river sometimes overflows its banks, and water flows through the streets. We walked past the birthplace of 4711, a well-known German perfume. It got its name from the Napoleonic Army, which occupied the area for a time and gave each house a number. 4711 was the number assigned to the house where the perfume was originally made.
We walked to the WDR studio and joined the line of people, many in football club colors. (John noticed only one man with a Schalke 04 scarf, but then, Schalke lost its last game. It turned out that the man was a colleague of Peter's from a while ago.) After going in and signing a release form, we went down a stairwell, four floors down from ground level, to the soundstage. Sport im Westen is produced with three cameras, Peter Großman (the pleasant-looking host), and a small set in oranges and blues with the audience as background. The special guests were two Olympic medalists from the German team: Christian Ahlmann, a gold-medalist in Springreiten (steeplechase?) and Silke Rottenberg, the goalkeeper from the bronze-medal-winning women's fußball team.
Ondine watched the show on WDR at the flat, and got a glimpse of Peter, Horst, Klaus, and John on TV! First, at the very beginning of the show, and then toward the end. Peter's wife, Conny, taped the show so we may have some video captures on our Mülheim page later.
John got back around midnight, so another late night for us!
Monday morning, Peter came to the flat, and will take Ondine, Roy, and Leo to the Irrland, an amusement park made of corn! There's a maize labyrinth with various fountains scattered around it, a corn kernel pool, and more. Sounds like fun! John will stay at the flat and work and do laundry. By early afternoon, it was raining a bit in Mülheim, with occasional strong gusts of wind howling through the windows. Hope it was pleasant at Irrland!
More photos and video clips are posted on our Mülheim page. And, previous journals from this trip can be found on our Archive page.
Read on ... continue to the next journal.
Visit our current journal, updated at least once a week since 1998, right here.
Back to the Kuraoka Family main page, with lots more stuff, including photos!