The Kuraoka Family Weekly Journal
Germany 2004
www.kuraoka.org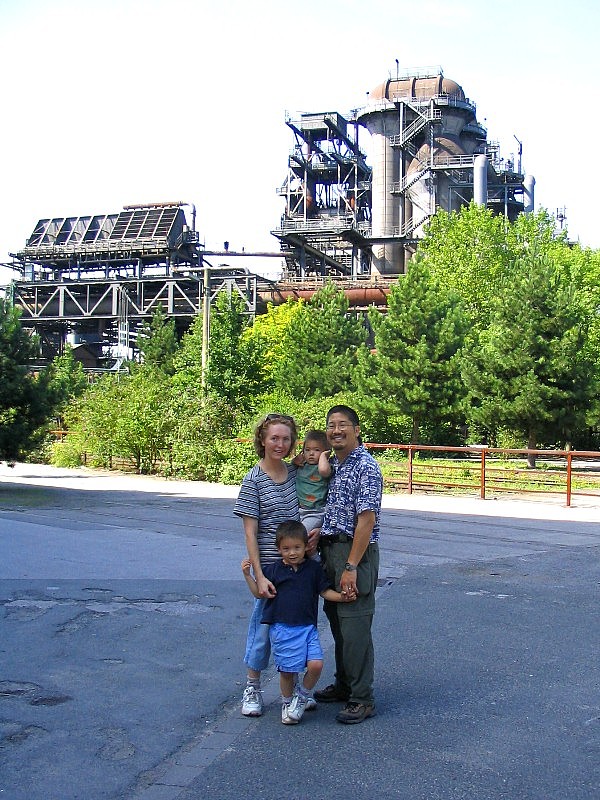 John, Ondine, Roy (4), Leo (2)
Friday, 03 September 2004
Wow, our final week has arrived. We can hardly believe it, and are already sad about leaving Mülheim and our newfound friends.
Last weekend we said goodbye to Barbara and Bill, who returned to San Diego. We went to the Stadtmitte, where the boys roamed around and enjoyed the fountains. We all had eis there. And, Sunday night John was treated to a special evening, joining Peter, Horst, und Klaus in the audience of Sport im Westen, a live 45-minute sports news show. Ondine watched the show at the flat, and spotted John in the audience! Yes, John was on TV here in Germany.
Monday morning, Peter came to the flat, and accompanied Ondine, Roy, and Leo to Irrland, an amusement park made of corn! Irrland was near Twisteden, a short drive to the northwest, in an area called the Niederrhein. The theme for 2004 seemed to be something about the pyramids.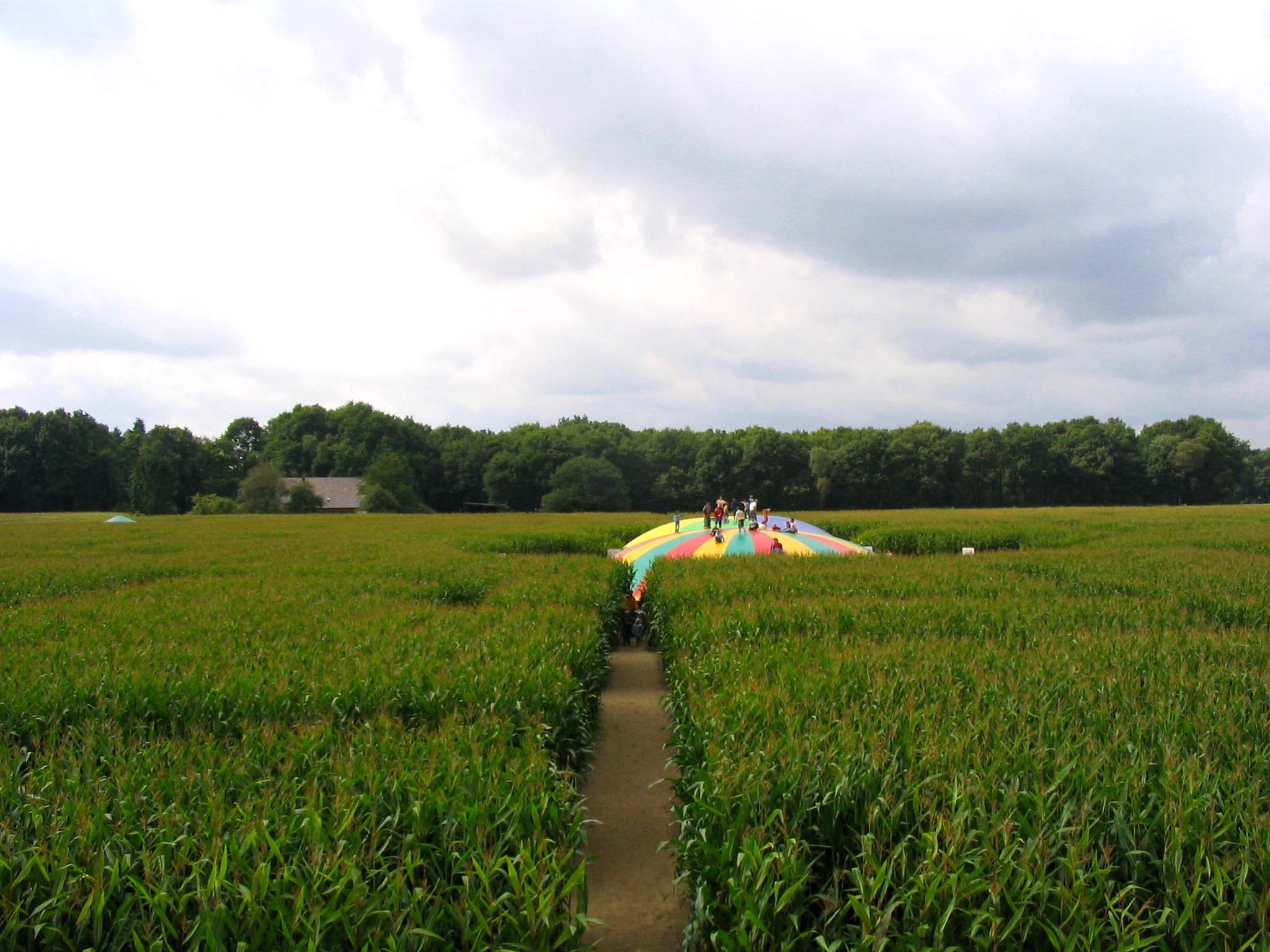 Irrland was incredible, one wildly huge spielplatz. There were no electronic doodads or motorized passive rides, just huge activity areas packed with fun things to do. Ondine's comment: "there was something amazing around very corner." There was a huge maize labyrinth with various play areas scattered through it, massive trampoline mounds as tall as houses, a corn kernel pool the size of a good sized warehouse, big chessmen, a steep speed hill with soapbox racer-like tractors, pedal tractors that you could drive around or wash or race, climbing things, spinning things, a huge building the size of a gymnasium filled with thousands upon thousands of colorful wooden blocks of all shapes and sizes, and more. Peter drove Roy around on a two-seat pedal-cart race. Then, they wandered around the corn maze to some huge trampoline mounds; one required Peter at the top and Ondine at the bottom to push Roy up, it was so smooth and slick. Kids were bouncing around on the tops of the inflatable bouncy mounds, maybe 15-20 feet high. Roy and Leo liked playing in the sand next to the trampolines, too.
The corn pool was amazing, like a warehouse filled with corn kernels a foot and a half deep. There were tubes and scoops for kids to play with, and Roy and Leo had lots of fun there. At one point, Leo was so tired he was practically falling-over right there in the corn, a little sleepy corn child.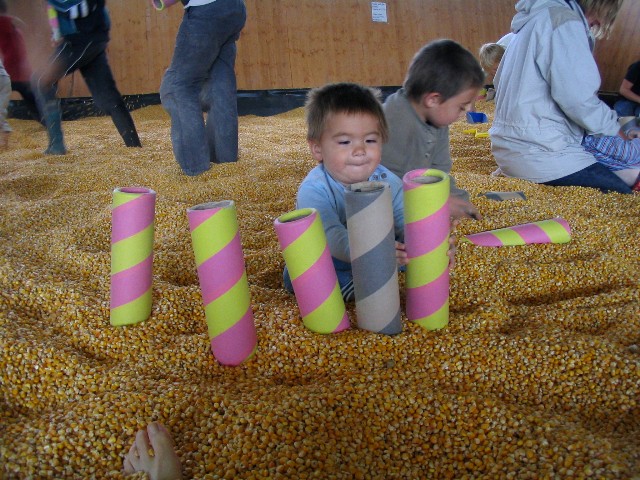 Click here for a long video clip showing the incredible corn pool at Irrland! (4.65 MB)
Roy also got to ride down the speed hill, steering his own cart down the track. Wow!
All this cost a mere 3 Euro per adult and 2.50 Euro per walking child, so 11 Euro total for an all-day adventure. They saw maybe ¾ of what was there to see, too. And, Irrland encourages families to bring a picnic lunch, which is what Ondine did! It would be hard to find a more fun, family-friendly, and inexpensive place to spend a day than Irrland.
John stayed at the flat, did laundry, and worked on projects for Red Army Vodka and Money Mailer. Plus, he did some website updates and worked on an article to upload. And, he had to deal with a major website issue: our family website was running out of disk space! He needed to upgrade our hosting package.
It was cloudy and cool during the day in Mülheim, but by afternoon the rain started coming down, accompanied by howling gusts of wind. By early evening, the rain had stopped, and there was a spectacular rainbow out the back balcony. At Irrland, they had rain, but it always came at times when they were inside a building; whenever they were outside it stayed dry. Sometimes it was sunny. And other times, the wind would whip up.
Ondine got to chat with Peter during the day, and found out that he's a social worker too! He works with some pretty challenging situations with women and children, so he's happy to be working half time. He works 20 hours, Tuesday through Thursday, and takes off Friday through Monday. His wife, Conny, is a sociologist. Peter is connected with AWO, which is the organization through which Roy and Leo are taking their classes. And, he even knows Nichole, the substitute teacher for Tuesday's class! Small world.
Anyway, everyone had a fantastic time, and came home in the early evening happily exhausted. Leo stayed awake humming in the back seat all the way home. So, after a bath and a quick dinner (John fed them some of dinner in the bath, for expediency's sake), it was time for bed. As a bedtime story, John showed them the videos and photos on the digital camera, and they talked quietly about all the wonderful things they saw and did.
Tuesday morning was class with teacher Nichole. Nichole had her two-year-old son with her, in addition to the class, so she had her hands full.
After class, Ondine dropped the boys off at the flat and went to Real for groceries (a big run, 130 Euros). Then, after coming back she went out again with Gabi (Jonas' mom) to do some shopping. What a busy day!
Tuesday evening, after the boys had gone to bed, Erika und Paul came over to show us their video of their trip to Moscow and St. Petersburg! But first, they showed us one of Paul's finished videos, of Chicago, which was very professionally done. What we saw of Russia was the raw footage, unedited, which we enjoyed a lot. It was fun seeing that the surreptitious filming was done surreptitiously! Paul told us that he and Jürgen had gone in together on the presentation equipment, an LCD projector that let us see the video on a big screen and a Bose Acoustic Wave stereo for sound. We really felt privileged to see the uncut video, which gave us a real desire to go to Russia! From Mülheim, Russia is just a two-hour flight away. Wow!
Wednesday we had a somewhat quiet morning at home, gathering our strength for a hectic pace next week as we try to squeeze in all the important goodbye visits and all the sights we want to see.
In the afternoon, we went to the Witthausbusch, a petting zoo, park, and spielplatz. Patricia und Veronica led the way; we met up with Gabi, Jonas, und Luka (Jonas' cousin) there. Witthausbusch has a free petting zoo with goats, sheep, chickens, pigeons, guinea pigs, and rabbits. The kids fed the animals, and then we went to the spielplatz. There was lots of play equipment around a huge wooded meadow.
One of the things Ondine has wanted to do is eat pommes frites (French fries) with mayonnaise. So, she asked Patricia for her recommendation for the best pommes frites in town, and Patricia recommended Erika's, in the city. Gabi knew about Erika's too, so we all decided to go there for dinner. Erika's is a hole-in-the-wall local's treasure. It used to be famous for its huge portions, but recently also acquired a reputation for the great-tasting pommes frites. In fact, it recently earned the only five-star ranking for pommes frites in Mülheim. Sometimes the line of customers stretches out the door and down the street; we got lucky and had no line at all. Gabi's husband called her on her cell phone (called a "handy" here) to ask her to bring him back an order. We ordered a currywurst, a Holland wurst, a small order of pommes frites for the boys to share, and a large order of the special pommes frites, with onions, mayonnaise, and the special sauce.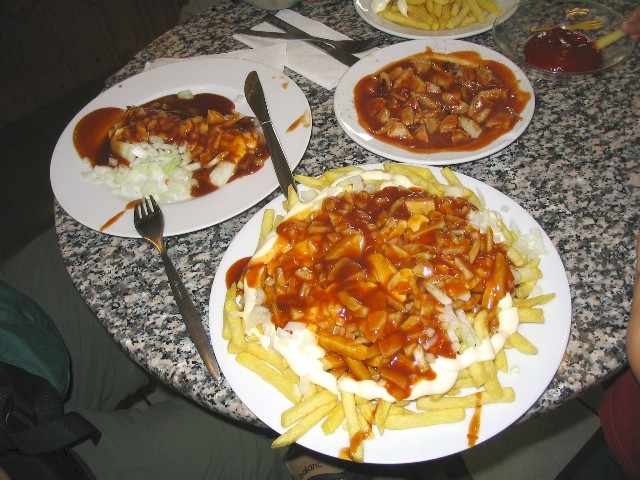 The pommes frites were rich and satisfying. The currywurst and Holland wurst were both swimming in Erika's special sauce, very tasty. Roy and Leo ate most of their pommes frites plain or with ketchup, which we had to ask for separately.
We came home and put the boys to bed. But, feeling the effects of such a rich, heavy meal, we decided to break open one of the tiny bottles of Underberg that Horst gave us. Underberg is a digestive bitter, a sort of herbal liqueur. John downed his in one gulp, and enjoyed the warm feeling spreading inside; Ondine sipped hers. It was just the thing to set us right; we felt much better after the Underberg.
Thursday we went to the Landschaftspark with Erika und Paul. They brought with them a CD of Russian folk music, which they bought on their tour last week. Vielen Danke, Erika und Paul! We went in two cars, with Paul and Ondine in the lead car and John, Erika, Roy, und Leo in Jürgen's Passat.
The Landschaftspark (Landscape Park), in Duisburg Nord, is a monument to the industrial heritage of the Ruhrgebiet. The heart of the Landschaftspark is the former Meiderich Eisenhütte (ironworks), which closed in 1985. The whole thing has been turned into a local attraction and event venue. The bunkers have been turned into vast climbing walls with hundreds of routes; the gasometer (gas tank) was filled with water to be used as a diving center. At night, they light the structures with colored lights in a massive work of public performance art by British artist Jonathan Park.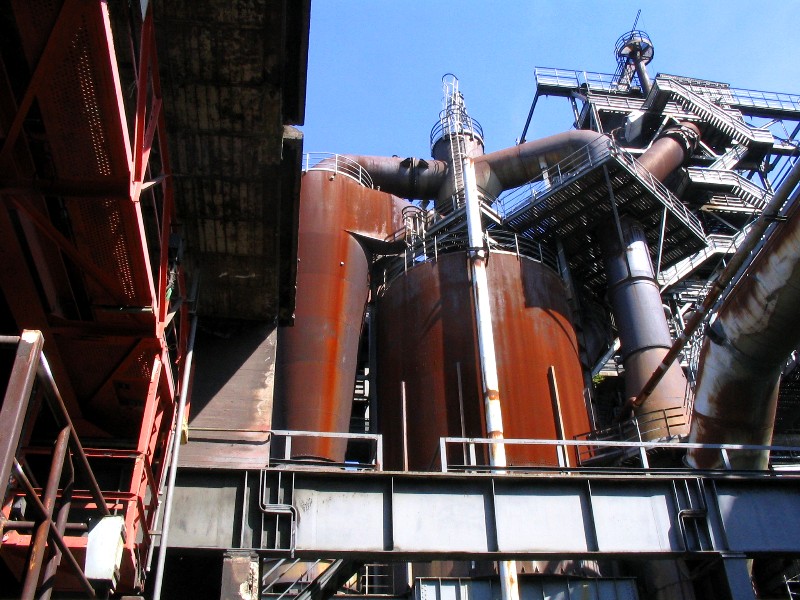 John went up Blast Furnace Number 5 with Paul. This blast furnace was built in 1973, and despite appearances was a very modern, environmentally controlled system. It was shut down in 1985, along with the closing of the ironworks themselves, due to European steel production quotas. The climb up was a thrill in itself, with open steel mesh stairways suspended by thin steel braces high over the Ruhr. You could look straight down and all around at a landscape of brick and steel, a labyrinth of pipes and valves and chutes and beams. Along the way, the route wound through the innards of the furnace, including a floor ringed with valves and another filled with the gaping steel mouths of what appeared to be furnace vents. All the interpretive signs were in German. At the top, the wind whipped around and you got a 360-degree panorama overlooking the Ruhrgebiet. Off in the distance, we could see the Gasometer at Oberhausen, and the dim outlines of downtown Mülheim.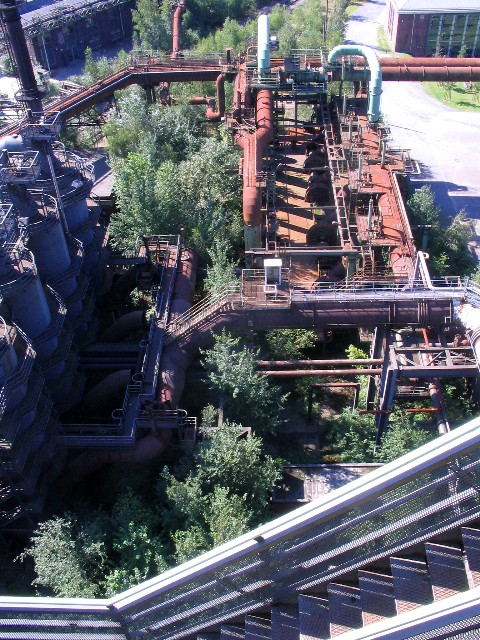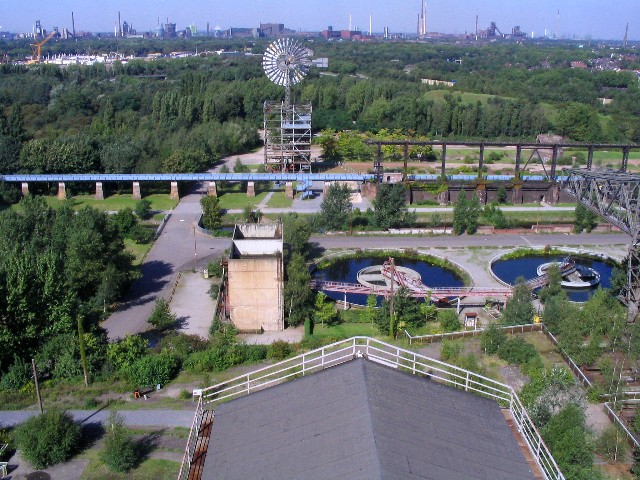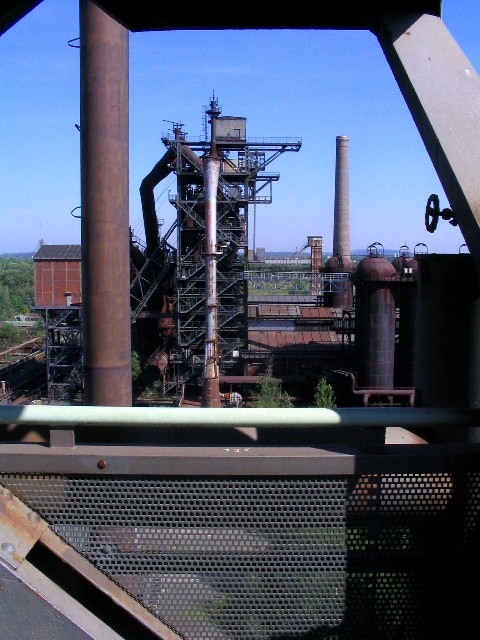 When John came down, Ondine went up with Erika. We traded off the kids, who played in a play area in the bunkers, and watched climbers scale the walls. Ondine and Roy went down a very tall steel chute slide! It started at the top of the bunker wall, maybe three floors high, swung way out in midair and back again through the wall. When Ondine went off with Erika, John took Leo down the slide, much to Roy's amazement. Roy chose to walk down the stairs instead, and made his way back down and around on his own.
After reuniting our little group, we said goodbye to Paul und Erika there, because they had plans for the afternoon. We thought about leaving, actually, but decided to explore a bit more, especially as the boys seemed excited by the place. We ate the snacks we brought for lunch, finding a shady stairwell on the gasometer/diving tank. We saw some people going up; it costs 1 Euro to go up and look around the tank. But, John offered to take Roy up the blast furnace. "We might not go all the way up," John told Roy, "but we'll go as high as you want to go." We figured he'd really like to see the big track-mounted cart about two flights up, and we knew he'd enjoy the room with all the valves about four or five flights up.
Roy surprised us all by climbing all the way up to the top of the blast furnace with no help from John! He'd pause to look at this or that, but then he'd say "I want to keep going up," and off they'd go, up, up, up to the top. If looking straight down through the mesh stairs was unnerving, imagine being less than four feet tall and looking straight out through the spaces between the steps! The space was large enough for John to stick his whole foot through (he tried, just to make sure), so a small child could conceivably slip through. Roy seemed more amazed than frightened by the view, though. "Look how far we've come up," he said. "We were way down there!"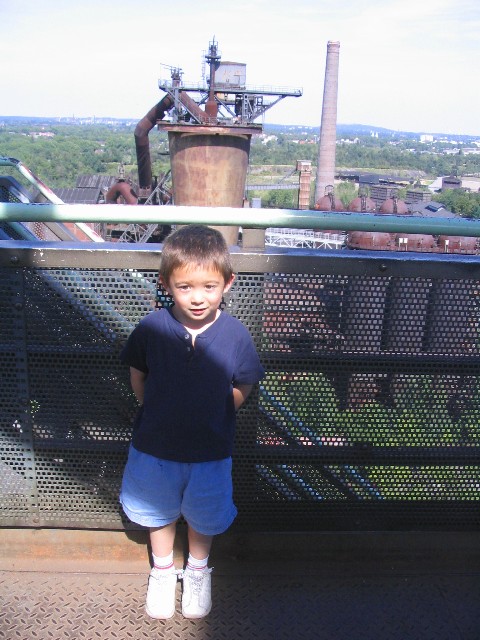 Click here to join us climbing to the top of the blast furnace. We'll climb a lot of stairs, walk through the innards of the blast furnace, clamber up and around the outside edge on steel-mesh stairways suspended in mid-air, then emerge on top with stunning panoramas. (6.76 MB, a big file for a minute-and-a-half tour)
John and Roy encountered a German family at the top who saw Roy climbing up the last flight of stairs and asked how old he was. They were impressed when John answered "four" and maybe even more impressed when Roy corrected him "vier." John and they had a little chat, them speaking in (mostly) German and John answering in (mostly) English. It's amazing how much of a conversation one can have that way!
John and Roy came down and met up with Ondine and Leo at the spielplatz in the bunkers. We watched the climbers go up the wall, and did a little bouldering. Roy is turning out to be quite a climber. Then, we chatted with an old-time climber, dressed in red. He had a casual, careful climbing style that we admired, sure-footedly picking his way up the walls on a self-belay. His name was Emanuel Hiecke, and he was 75 years old. He worked 40 years in the local coalmines, making his home in nearby Dinslaken.
By the time we got home, it was pretty late and everyone was exhausted. After a spaghetti dinner, we put the kids to bed.
Friday morning, Ondine is running several errands. We are very busy all the time! John is home with the boys, working and doing laundry.
Friday afternoon is the experiential/experimental class with teacher Ralf. In the early evening, we're going to a grilling with Jörg und Catalina, friends of Patricia und Gregor's.
Weekend Preview: includes a Spanish film for Ondine mit Patricia, a nighttime trip to Landschaftspark for John and Ondine mit Patricia (and Erika watching the boys – vielen danke, Erika!), and a day at the Gasometer, a big museum with the Breitling balloon in Oberhausen, with Peter und Conny. Monday we hope to get an early start out to make another quick trip to Köln one last time before we leave. Yup, we're only going to use two travel days of the six we bought on the rail pass. It's hard to believe we have less than a week left! It's time to start cleaning and packing!
Random Thoughts Department
We love the sausages here. So far, each one has been a little different from the last, and every one as been good. Bratwursts, of course, are delicious. Probably the closest thing available in the States is the fresh bratwurst at Windmill Farms, which is also excellent. We were somewhat surprised that German frankfurters taste a lot like American hot dogs – which was more of a surprise than it should have been if you think about it. The currywurst, which is many peoples' favorite, is a lot like a frankfurter. We had some sliced cervelatwurst (sp?), which was like a really good bologna. The weisswurst is excellent, almost creamy-smooth inside with a subtle flavor. We've had a couple kinds of rostbrats too, which seem to have smoother insides than the coarser-ground brats. We have some "Die Thüringer" bratwursts, which were slightly smoother than regular bratwursts, and very buttery. And, we still have a package of landjäger, a hard, salami-like sausage. You just can't go wrong with the wurst!
We love the brot, too. All kinds of breads are great, from the very dark, dense, nutty vollkorn (whole wheat) loaves to the crispy-on-the-outside-chewy-on-the-inside brotchen. The kuchens (cakes, which we'd probably call tarts in the States) have been universally good too, much less sweet than the American fruit tart. The cake itself is heavier and chewier, and the fruit toppings are often quite tart. The pflaumenkuchen (plum cake) is just wonderful, with a real eye-opening combination of sweet and sour.
Sahne is a topping that is sometimes offered with desserts. It looks and tastes like unsweetened whipped cream, but it's denser and less-stiff. The boys didn't care for it, although they loved how it looked. We liked it better on some things than others. For example, it makes a great, sort of leavening combination with very sweet things like eis, and kicks up the richness of shokolade.
The 8 pm news wrap-up on several TV channels is called Tagesschau, which translates roughly into "day show." It really does seem like everyone watches Tagesschau. It runs from 20:00 to 20:15, just 15 minutes. We tried to get into the habit, but regular television viewing is so unlike us that we usually missed it. Through almost superhuman effort on John's part, we managed to see, in seven weekends, exactly three Maus programs.
More photos and video clips are posted on our Mülheim page. And, previous journals from this trip can be found on our Archive page.
Read on ... continue to the next journal.
Visit our current journal, updated at least once a week since 1998, right here.
Back to the Kuraoka Family main page, with lots more stuff, including photos!