The Kuraoka Family Weekly Journal
Germany 2004
www.kuraoka.org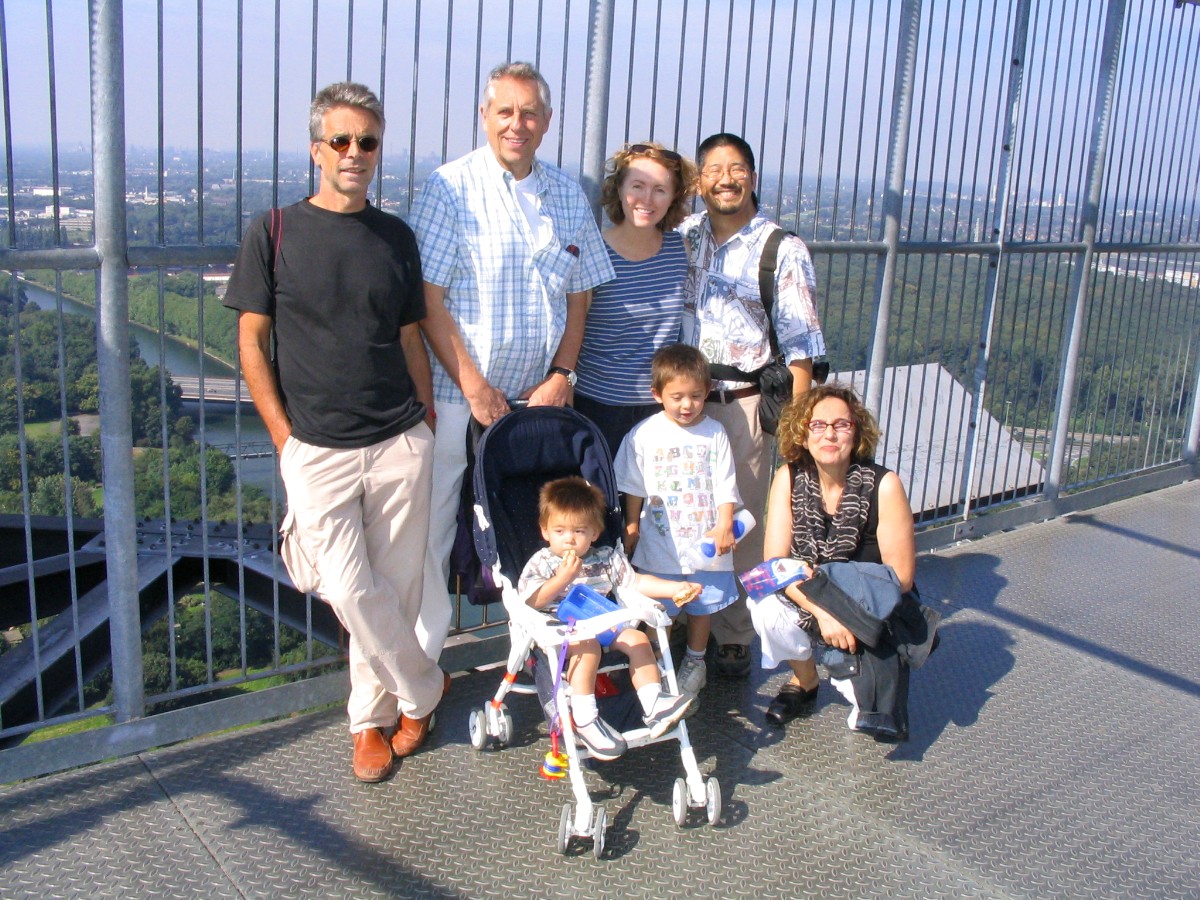 (Back) Peter, Klaus, Ondine, John. (Front) Leo (2), Roy (4), Marlies
Tuesday, 07 September 2004
This is it – our final two days in Germany! Our next journal entry will be made from California. We're feeling wistful, because we will miss the wonderful friends we made, the great spielplatzes, the delicious food, and the ever-changing weather. But, as a distraction from being prematurely sad, we have a lot to do before we leave!
Last week was amazing, with trips to Irrland with Peter; Witthausbusch with Patricia, Veronica, Gabi, Jonas, und Luka; and Landschaftspark with Erika und Paul, where Roy climbed the stairs all the way to the top of the blast furnace.
Friday was our very last Friday in Germany. In the morning, Ondine ran errands while John stayed home with boys working and doing laundry.
Friday afternoon was the last experiential/experimental class with teacher Ralf. The boys painted papier-mache tulips.
In the early evening, we went going to a grillen (barbecue) at Catalina und Jörg's house. Catalina is from Colombia, and is Patricia's good friend. Catalina und Jörg have two daughters, Sophie and Lara. So, it was a gaggle of kids: Roy, Leo, Veronica, Sophie, and Lara! The back yard was incredibly deep, with lots of play things and a neatly manicured, lush lawn. We actually met Jörg a few days after we arrived, when we walked to Edeka Markt with Patricia und Veronica. Jörg was riding his bike back from the hair salon just around the corner from the flat. We had chatted then, and he had invited us to a barbecue; it wasn't until now that we could fit a get-together into everyone's schedules.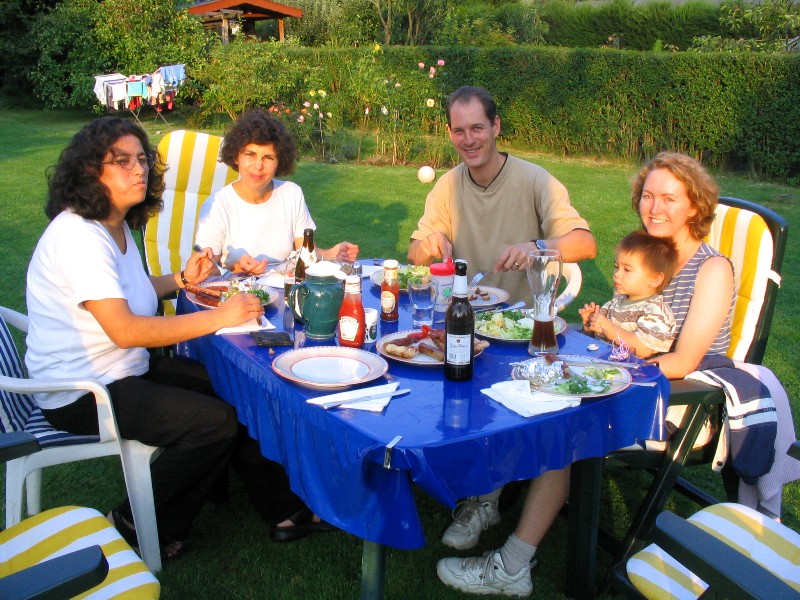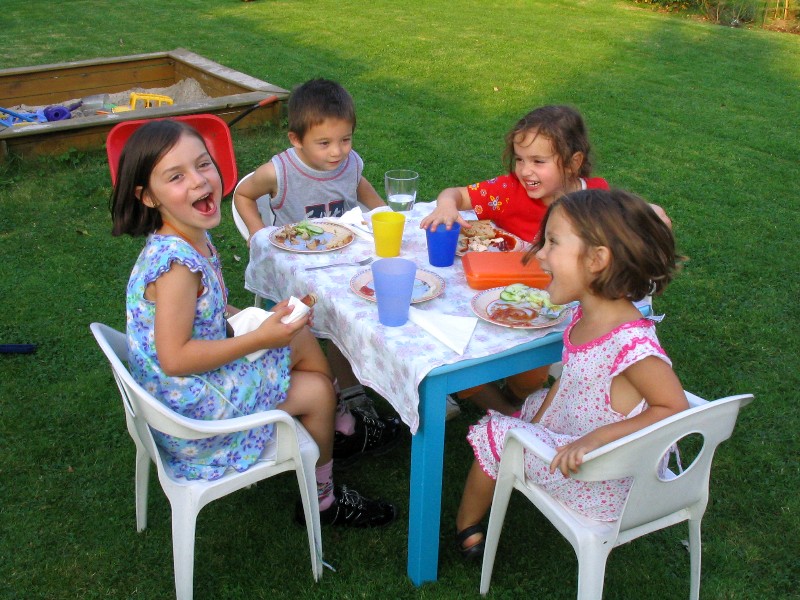 Saturday morning we made a special trip to a toy car store (that's all it sold: miniature cars) to find a Herpa Passat for John. He found a burgundy one, and a little blue Fiat Cinquecento mini, and a nice yellow Skoda Fabia (a four-door Czechoslovakian import about the size of a VW Golf). John really wanted a silver Passat like Jürgen's, which we've been driving, so Ondine suggested he go back and ask for one. John did, and the man found one on a shelf behind a door! So he now has the two cars he wanted, a silver Passat and a Skoda.
In the late afternoon, Ondine went to see a Spanish film with Patricia und Catalina.
Then, after we put the boys to bed, Erika came over to watch them while we enjoyed a kid-free night trip back to Landschaftspark with Patricia und Gregor, to view the illuminations designed by British artist Jonathan Parks. What a treat! We went to the top of the blast furnace and enjoyed the show of lights combining with the lights of the cities and steel mills. At one point, we even saw fireworks in the distance. We could also see the Gasometer at Oberhausen, where we'd be going the next day. Patricia and Gregor told us that they had their first kiss at the Gasometer! So, it's a very special place for them.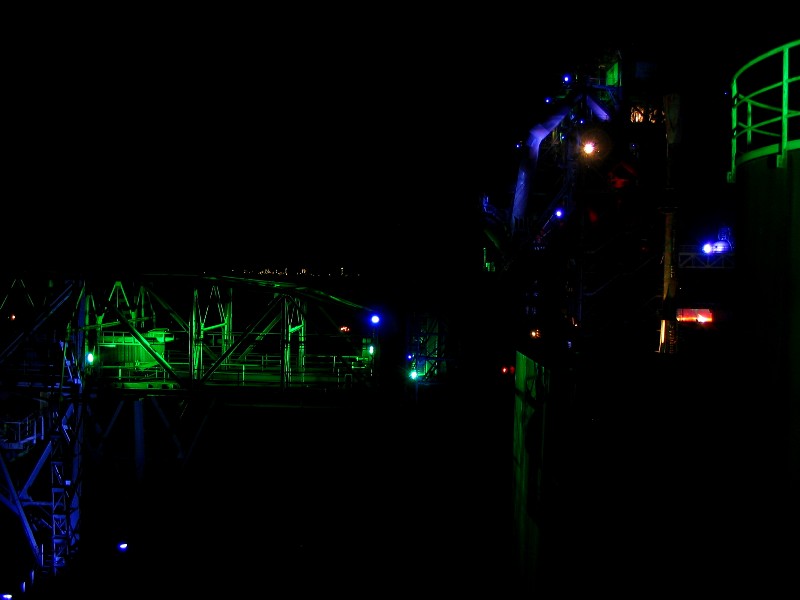 We got home just before midnight. Erika reported that the kids slept right through, so they never even knew we were gone! It occurred to us that this was our first and only night out as a couple during our six-week stay. Thank you, Erika, Patricia, und Gregor (and Gregor's parents, who watched Veronica)!
Sunday we went to the Gasometer in Oberhausen with Peter and Klaus und Marlies. The Gasometer is a former gas storage tank that is now used for exhibitions; the current show, "Winds of Hope," featured the Breitling Orbiter 3 balloon that successfully went around the world.
Peter came to the flat at about 10:00, to go with us so he could direct us there. We met Klaus und Marlies at the Gasometer, and joined a tour (in German). Klaus sidled up to John and translated the key points of the presentation. The Gasometer was built in 1929. Amazingly, it escaped the bombings during WWII, but almost burned down in 1945 when they tried to use it again. Recently, it was almost torn down, but it was decided to spend a very limited amount of money to convert it. It opened as a unique exhibition space in 1994. Like Landschaftspark, the Gasometer has become an iconic landmark in the Ruhrgebiet.
The Gasometer stands 117.5 meters tall (over 385 feet) and is 67 meters in diameter (about 220 feet). The blast furnace at Landschaftspark would pretty much fit inside it with room to spare. The steel walls are only 5 mm thick, though, so it gets very hot inside during the summer and very cold in the winter. In the photo, you can see a slender green chute; this houses the maintenance elevator, which fits two men. There is another elevator in the middle of the steel staircase outside, and a glass elevator to an observation area inside. The original roof floated up and down with the level of the liquid inside; this roof has been fixed at a level about one floor up, making both a unique ceiling for the ground level and a floor for a central stage-like area with overlooking walkways and a small café. A new roof has been fitted to the top. Previous exhibits have included a work by Christo using hundreds of brightly painted oil drums.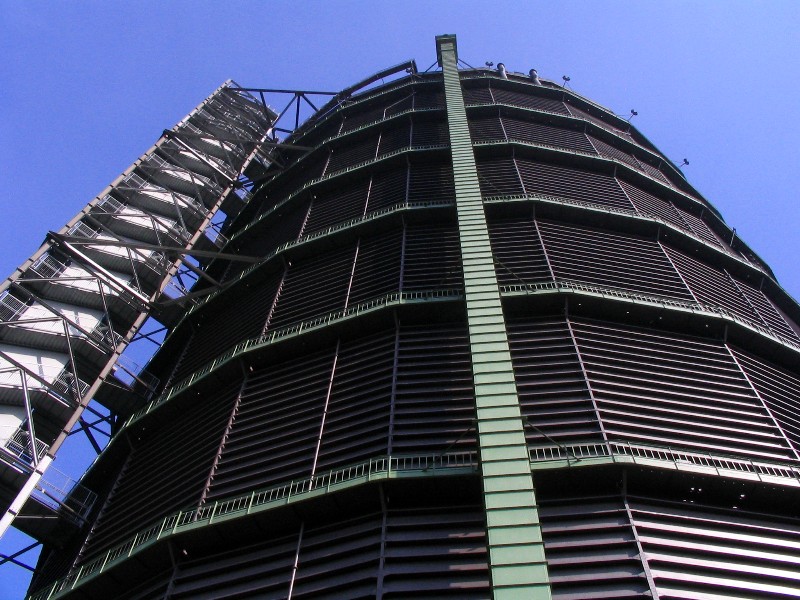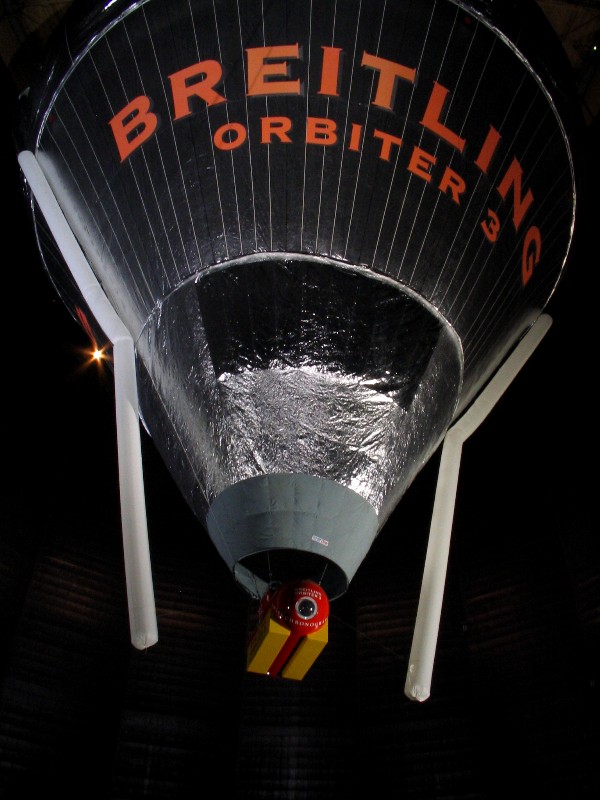 Roy loved the glass elevator that went to an observation deck over the top of the balloon. He got to go on it twice; once with John and Peter and again with Marlies. He couldn't quite believe that when he went down in the elevator, the balloon was not soaring up. It was an exciting optical illusion, and he couldn't get enough of it. Leo loved looking up at the balloon from a lower walkway that went around the inside of the Gasometer. He also became very attached to Peter. "Where's Peter," he would ask. Then, when we left, he said goodbye to the balloon.
John and Peter ascended a couple times, once walking up 592 steel plate steps to the top, 117.5 meters up. John ended up walking half-way down to find Ondine, Roy, Leo, and Klaus, only to see Klaus' face through a tiny window, going up in the outer elevator. John then ran back up the stairs to the top, encountering everyone as they headed back down in the glass elevator inside! So, he had a workout.
Click here to join John and Peter climbing to the top of the Gasometer. (5.73 MB, about a one-minute trip to the top)
Here we are at the top: Peter, Klaus, Ondine, John; Leo, Roy, and Marlies. The view from the rooftop is spectacular. Caged catwalks lead from a central circular cage to outlying cages on the edges. From the cage near the elevator and stairs, you could see Schloss Oberhausen, the local castle, and, beyond, the works of the current Meiderich furnace with its tall smokestack. Meiderich is the company that had operated the furnace at Landschaftspark.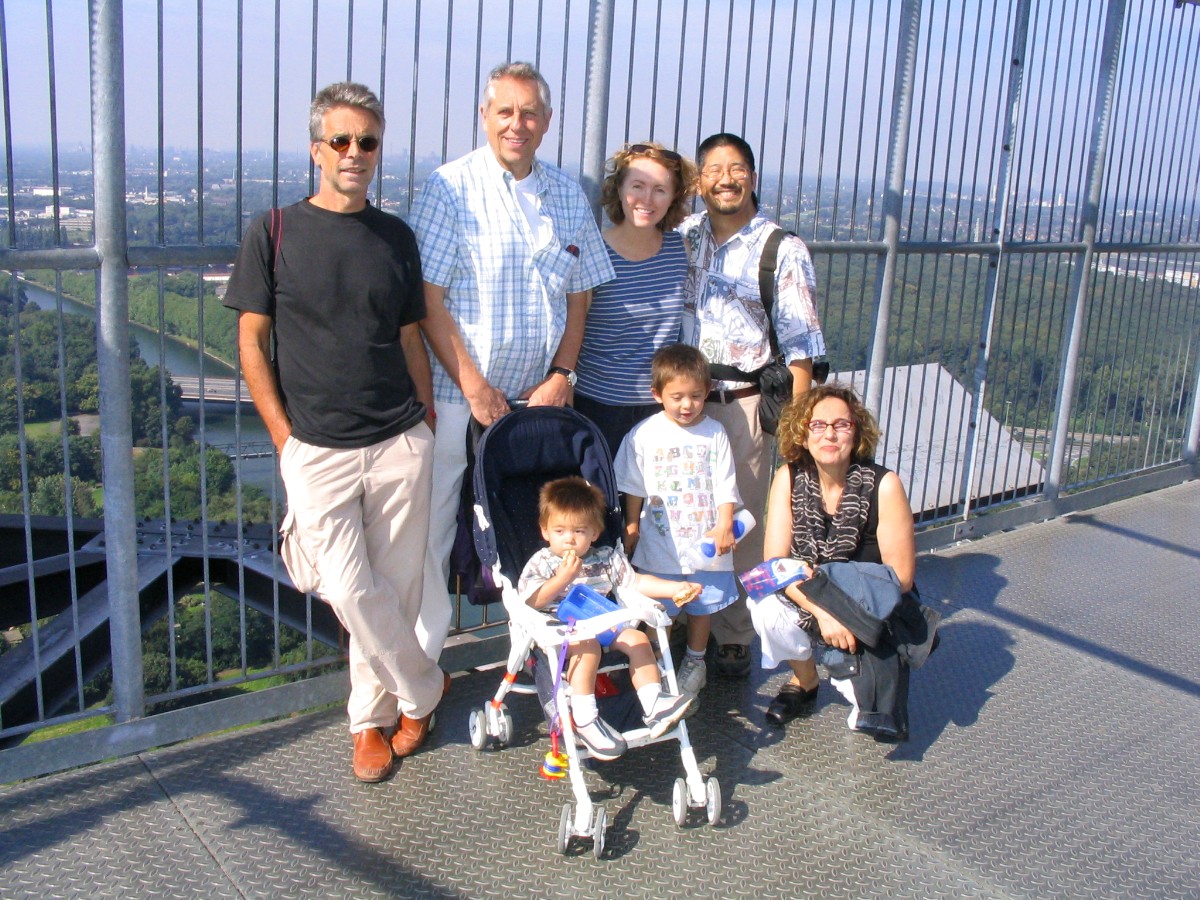 Oh, on the drive over, we chatted with Peter about Landschaftspark, and learned that Peter not only climbs at the park, but also knows Emanuel, the 75-year-old climber we chatted with! Now, wait a second! When John went to WDR with Horst, Klaus, and Peter, Peter knew a man in the crowd. Peter also knew the substitute teacher for Roy and Leo's Tuesday class, Nikole, through his work with AWO. And, now, we find he knows Emanuel. Could Peter be the best-connected man in Mülheim?
And, could Renault Twingos be the most-common car in Germany? John was chatting to Peter about the different cars here. Peter seemed surprised that we don't have Skoda (a Czech brand now owned by VW) in the U.S. John mentioned his observation about the ubiquitous-ness of the Renault Twingo, which we also don't have in the States. The Twingo is about the size of a VW Polo, which is about a half-size down from a Golf. It has an efficient, roomy design and smiling, half-moon headlights which appealed to us on our first trip to Germany together, in 1998; back then, John started his little Herpa car collection with a tiny blue Twingo and a red Opel Estate. At any given time, there are between two and four Twingos parked on Langensiepenstrasse, that's how common they are. Anyway, when we went back to the parking lot, we found that Klaus und Marlies drive a black Twingo! See, Twingos really are everywhere.
We had a wonderful time at the Gasometer; we could have stayed and stared at the balloon for hours. Or, at least, John, Ondine, and Leo could have; Roy would have been content to ride the elevator continuously. And, we really enjoyed the company of Klaus, Marlies, and Peter.
Monday we got an early start and drove to Duisburg Hauptbahnhof to catch the train to Köln. We pulled into a parking lot, only to realize too late that it cost 10 Euro per day to park there! We considered pulling out and looking harder for a street-side spot, which costs only 3.50-4 Euro per day, but it would have cost us 1 Euro just to get back out of the lot, so we decided to stay. That was a smart decision, since we were able to walk into the bahnhof and right onto an ICE (Inter City Express) train to Köln. The ICE trains are much faster and smoother than the regular trains.
We got to Köln and immediately went into the Dom. John offered to take Roy up the cathedral tower as high as he wanted to go. Roy was game. "I'm going to go until the top," he said. So off John and Roy went, up the Southern Tower. It cost 2 Euro to go up.
It is 509 steps to the top, 97.25 meters (319 feet) above street level. The very tip-top of the Southern Tower is 151.31 meters (496 ½ feet) high; the Northern Tower is 7 cm, or about 2 ¾ inches, higher. When the cathedral was completed, in 1880, it was the tallest building in the world. It took 632 years to complete, from plans first drawn up back in the 13th Century.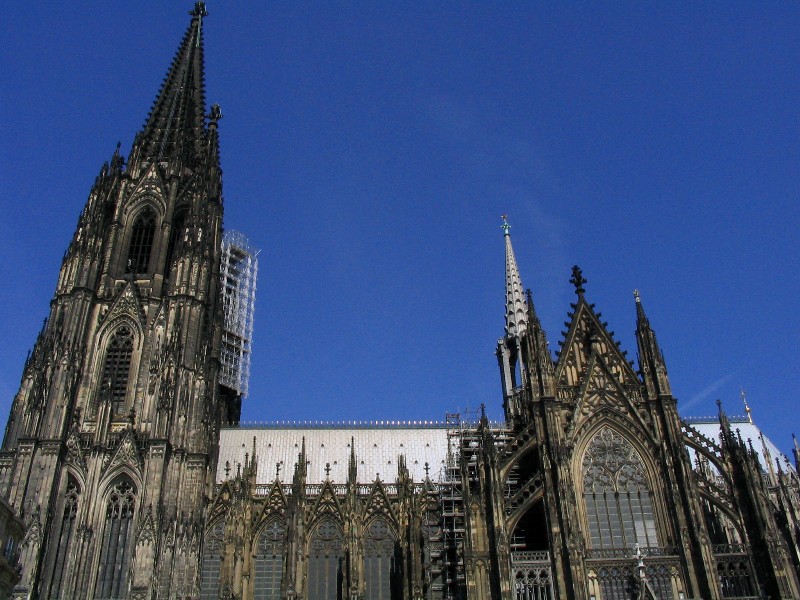 Up John and Roy went, up a tight, twisting stone stairway. They emerged in the bell room, with eight bells ranging in size from the St. Peter's Bell (24,000 kg, or 59,000 pounds, 1923), the world's largest free-swinging bell, to the diminutive Ave Bell (830 kg, or 1,830 pounds, 1911). Suddenly, the bells struck 11:30 with two loud bongs! It was really loud, being in the same room with that! Roy's eyes got really big, and soon as we were out he said he wanted to go back to hear it chime 12:00. John thought that was a good idea. Roy went on to describe the bell chiming to John: "there was a motor and a hammer, and the motor went (makes spinning motion with hands) and the hammer went (makes a punching motion with his hand)." The thing is, that's exactly how it happens; a small electric motor activates the hammer (probably winding and triggering). Now, when the bells are going off it's impossible to locate the exact source of the sound because it's so loud, but that's exactly the way the bell goes off. So, Roy must've been looking straight at the motor and hammer when it struck! What good fortune!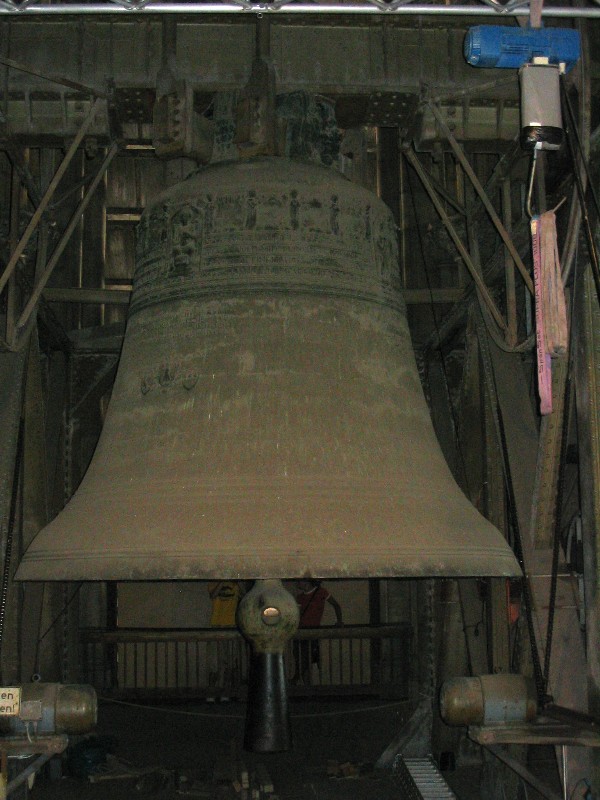 They continued all the way up, and when they thought they had reached the top, there was still more stairs, this time a slender steel plate staircase. Roy went partway up on his own, then decided to be a cat and continued on all fours. We came out at the very top, as high as we could go, to a huge circular gallery going around the spire. We could look up and see the top of the spire, and we could look way, way down and see the trains pull in and out of the Köln Hauptbahnhof. John bought Roy a postcard from the top, and Roy chose a nice one showing a view of the cathedral from across the Rhine. John chose a nighttime shot. He also bought a small pamphlet, from which most of the facts about the cathedral were cribbed.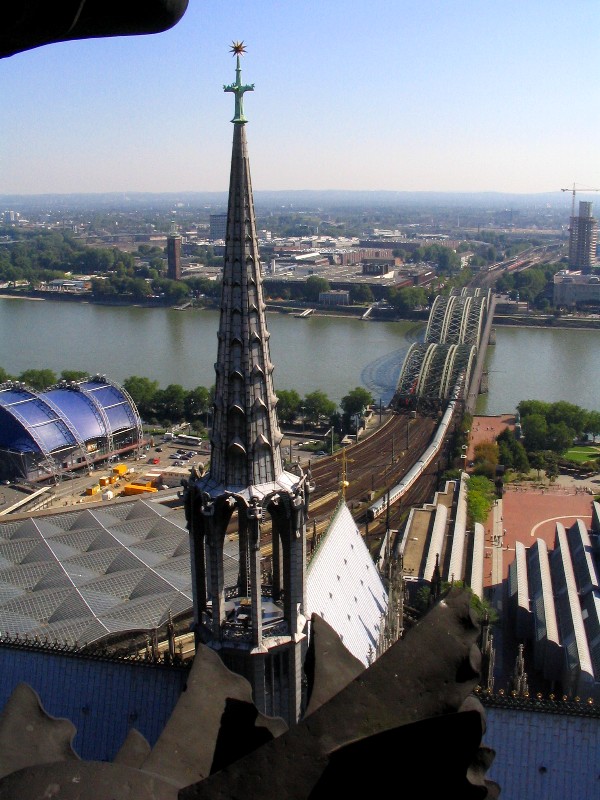 Click here to join John and Roy climbing to the top of the south tower (4.21 MB)
They headed back down hoping to catch the 12:00 chimes, but miscalculated how long it would take. So, the chimes started while they were still in a narrow spiral staircase just outside and above the bells – and they were loud too! Roy looked at John, and said, "I'm sure glad we weren't in the room with the bells!" It was a real treat, though, to be in the spire during the noon bells! On the trip down, they encountered several busloads of tourists going up, including a large group of German students, so they were very happy to have beaten the crowds to the top. If you go to Köln, head up the tower right away.
Meanwhile, down below, Ondine and Leo walked around the inside of the Dom. Leo explored the mosaics on the floor, and loved the candles. "Flicker, flicker," Ondine said to Leo, pointing out the tiny candle flames. Leo tried to say "flicker, flicker," but what came out sounded, well, vulgar and highly inappropriate for a church. Delighted with his new phrase, he told it to everyone who came by to light candles, much to Ondine's horror.
We had lunch at Früh, the same former brewpub that John went to with Horst, Klaus, and Peter the night he was on TV. We ate outside, splitting a grosse salat with brot and the boys splitting a bockwurst and pommes frites. We also enjoyed a glass each of the house beer. For dessert, we had an order of homemade rote gruze! Yum! Ondine then Roy took the 20-cent tour inside the restaurant, in search of the toiletten. The interior is a rambling warren of stone and wood-paneled rooms, up steps, down stairs, and behind carved wooden screens.
We went to the shade outside the Romische-Germanisches (Roman-German) Museum, which was closed, and the kids played on the outside displays. We also looked down at the section of original Roman road that ran through Köln, which is part of the sidewalk going down to the street. Roy and Ondine walked on it.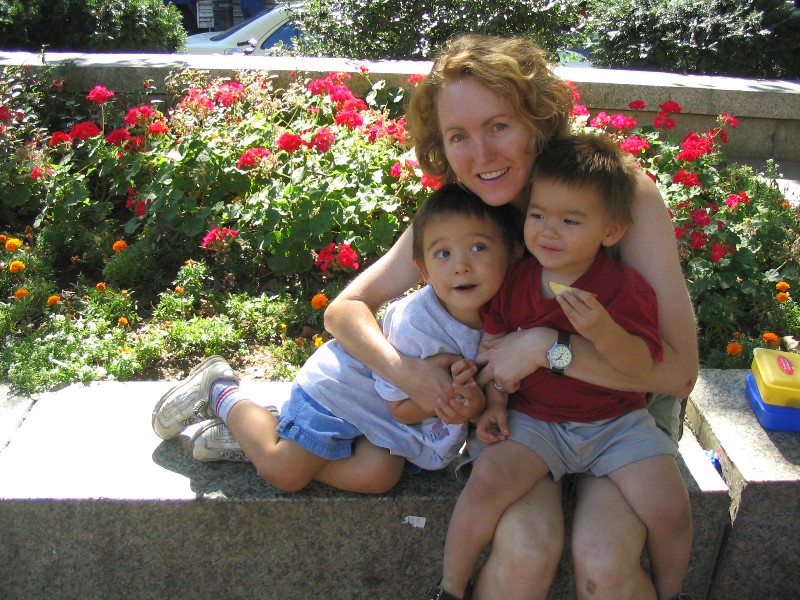 The return trip was on a non-ICE train, which we wouldn't recommend. An ICE travels fast enough that you can get on a later train and still pass the earlier regular trains. And, this particular regular train had problems, from non-functioning air conditioning to some sort of mechanical breakdown that locked us in the hot train car with two tired children, no food, no water, no air conditioning or even fresh air, and no openable windows. ICE is the only way to go.
We used only two of the six travel days we bought on our rail pass, making our two outings to Köln the most-expensive short railroad trips ever. The parking at the parking lot, though, was only 7 Euro.
It has been fascinating watching Roy process all the new sights through Legos. After we went to Heidelberg, he was building castles. After going to Köln the first time, he was building cathedrals. After Landschaftspark, he built blast furnaces and pipelines. Now, he's building bells, including the largest free-swinging bell in the world, and the hammer mechanism.
Tuesday morning, Ondine took Roy and Leo to the wasser-spielplatz in the MüGa. They'll meet Gabi und Jonas at the matsch, then (the plan is) go over to the wasser. It has been impossible to tear the boys away from the matsch, it's so much fun. So, if they make it to the wasser-spielplatz, this will be Roy and Leo's first time there. And, Gabi und Jonas' first time there too! John is staying at the flat, doing laundry and cleaning.
Today is the first day of school for many children, so we see lots of elementary-school-age kids walking to school carrying schultüte: colorful cones of back-to-school gifts. We've seen pre-packed cones in the malls, usually at the candy shops. According to Patricia, some parents go all-out with extravagant cones laden with presents and treats; other parents put school supplies and a few small treats in their kids' cones. Ha! That would be us!
This afternoon, Guido und Michaela are coming over for kaffee trinken (only without the kaffee since neither of them drink it).
It's hard to believe we have only two days left! It's time to start cleaning and packing for our flight on LTU, which leaves Thursday morning at 11:55 from Düsseldorf. Guido kindly offered to drive us there, and Klaus (who also offered to drive us) advised us to get there very early and expect long waits at the security checkpoints. We hear that LAX was shut down for a time the other day. The plan is for John's sister, Patty, to meet us at LAX for the drive back to Frances' house, where we left Ondine's Mazda back in July. Frances has been periodically driving it to keep it in shape for the drive back to San Diego.
According to Frances, it is very hot in Pasadena, reaching up to 98 degrees. Meanwhile, in Carlsbad and Oceanside yesterday, the temperature hit 100 degrees (and that's by the coast)! The weather forecast for San Diego calls for a hot and dry Labor Day weekend, with increased fire danger due to gusting winds. Ugh. We will definitely miss Mülheim's delightfully moderate, cool, ever-changing weather! Our next update will be from San Diego!
Vielen Danke Department
As we turn our thoughts toward leaving Mülheim, our hearts are filled with deep gratitude to so many people who welcomed us and made our stay in Mülheim both easy and memorable!
Our neighbors Patricia and Gregor and Veronica were wonderful; when we had questions about this and that, we always turned to them for answers, and they always had them! And, we couldn't have asked for nicer downstairs neighbors than the Hocevars. The boys adored them almost immediately, which is a rare thing.
Guido und Michaela were always there for us too, helping us find our way around and taking us to CentrO. Congratulations on the new job, Guido!
We also owe many thanks to all of Dax und Jürgen's friends, who took us into their lives and treated us to so many exciting experiences: Erika und Paul, Ilka und Hendrix, Peter und Conny, Klaus und Marlies, Horst (whose wife Erika, it dawns on us at last, is "E. Rutert," the creator of many of the original works of art in Dax und Jürgen's flat), the list just goes on and on. We simply cannot thank you enough! And, huge thanks to Dax und Jürgen for organizing everything for us!
Then, there's Gabi, who's boy Jonas was Roy and Leo's friend through the Tuesday music/movement class.
Speaking of which, thanks to the teachers for the boys' classes through AWO: Martina (whom we hope is well after her operation), Nikol, und Ralf. The boys love singing the "Hello hello" song Martina taught them.
There's also Jörg und Catalina, and their daughters Sophie und Lara, who had us over to their park-like yard for a grillen.
Special thanks to Desiree, Martin, Paul, und Till, who put us up for a wonderful weekend in Ladenburg (Roy was just talking about Paul und Till, just today, and Leo talks about Seppl almost daily).
Finally, there's family, with whom we enjoyed visits that were much too-short. Hans Jochen, Ulla, Bille, und Jule; Ullun und Konni, Barbara, Christoph und Marianne.
And, we owe a huge debt of thanks to Dax und Jürgen, who let us use their flat these past six weeks! We can only hope their stay in the States was as enjoyable as ours in Germany!
We hope we haven't overlooked anyone, because we are truly grateful to everyone. Auf Wiedersehen, and Vielen Danke!
More photos and video clips are posted on our Mülheim page. And, previous journals from this trip can be found on our Archive page.
Read on ... continue to the next journal.
Visit our current journal, updated at least once a week since 1998, right here.
Back to the Kuraoka Family main page, with lots more stuff, including photos!