The Kuraoka Family Weekly Journal
www.kuraoka.org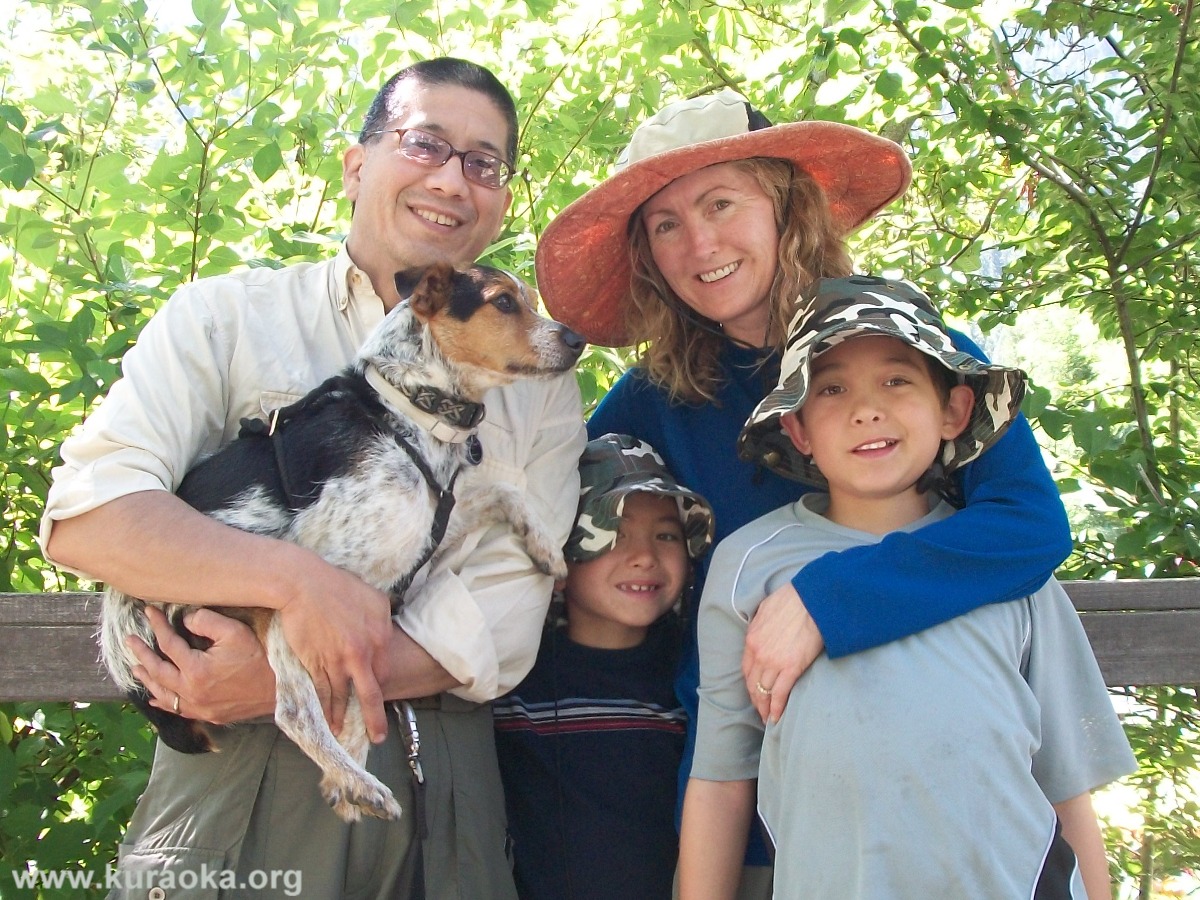 Us, August 11, 2010 (clockwise): John, Ondine, Roy, Leo, Buddy
Friday 31 December 2010
Here it is, our annual Kuraoka Family Year-In-Review! And what a year it's been! Here are our photos from 2010.
Globally, the economy continued to dominate the news. Signs of recovery have waxed and waned. Ash plumes from the eruption of the Eyjafjallajoekull volcano in Iceland in mid-April stopped almost all air traffic to and from Europe. Plus, John and Roy worked at it until they could pronounce "Eyjafjallajoekull." (It's "aya fya pla yerkel") Closer to home, the explosion of the Deepwater Horizons oil drilling platform in the Gulf of Mexico the same month resulted in 11 workers killed and one of the worst oil spills in history. Cleanup efforts continue. Britain got a new Prime Minister, conservative David Cameron, taking over from Gordon Brown (Labour). Poland's president Lech Kaczynski was killed when his plane crashed on landing. North Korea grew increasingly militant, firing into South Korea and even torpedoing and sinking a South Korean destroyer.
A bright spot was the rescue of 33 Chilean miners after being trapped underground for more than two months. Also, the Winter Olympic Games were held in Vancouver, British Columbia.
In the U.S., president Barack Obama delivered on his campaign pledge to create a universal health care plan, an event that caused an immediate conservative backlash and fueled the rise of the "Tea Party" movement. In the Winter Olympic Games, the U.S. brought home 37 medals including nine gold. Automaker Toyota recalled more vehicles. Ford ended the Mercury nameplate.
The Dow Jones Industrial Average started the year at just under 10,500, and is now a bit over 11,500, although that growth has been unsteady with several drops below 10,000.
In California, voters elected Jerry Brown as Governor, defeating Republican Meg Whitman, former eBay CEO, in the most-expensive gubernatorial race ever. Brown takes over from Arnold Schwarzenegger, who reached the end of his term limits. It was a tough election cycle for former CEOs; Senator Barbara Boxer retained her seat against former HP CEO Carly Fiorina.
Here in San Diego, voters rejected a temporary sales-tax increase and a temporary added property tax fee, leaving the city strapped to a very tight budget. Long-time city councilmember and perennial mayoral candidate Donna Frye retired from the council. We retained Comic-Con after Anaheim tried to poach it. Housing crawled upward, and then apparently stalled. Last year our application to have our property tax reduced was turned down; this year the City Assessor automatically reduced our property tax! We had a magnitude 5.7 earthquake centered just east of San Diego that shook the house, and a few months later a 5.4. Despite the house shaking, the boys barely paused in their activities.
Roy is now 10-1/2 years old. He grew over two inches to 54-3/4" tall, and weighs over 75 pounds by our bathroom scale. He's in his final year at Gage Elementary, with Ms. Skaar (pronounced "score"). He was on the Science Field Day Team in fourth grade, and made the team again in fifth grade – Ms. Skaar is the Science Field Day team coordinator. Roy is on Safety Patrol, an extracurricular activity, and also helps out with the Gage Gardening Club (headed by our dear friend Lucy).
Roy and his friends did a cool thing over the summer – they sold lemonade at the corner by the trailhead to raise money for a pizza party to welcome Michael back from a long stay in Slovakia. They raised more than $100, enough for pizzas and drinks at Mountain Mike's Pizza for everyone!
Roy is in the Webelos in Pack 951, and is preparing to join Boy Scout Troop 950 with his buddies Alex and Michael. With his friend Alex, Roy co-created "Toddler Wars," a story/card game that Roy put online in the Fall with his second website. His first is the one he co-creates with Leo, RoyandLeo.com.
Roy got a digital camera of his own, and his first mobile phone – a pre-paid T-Mobile.
At our trip to Sand Pond, Roy made his first trip up the Sierra Buttes!
Leo is now 8-1/2 years old. He grew two inches to 48-1/4" tall, and weighs about 53 pounds by our bathroom scale. Leo had a lot of big news this year, from starting medication (Metadate) for ADD (which is now called "ADHD/Inattentive Type") to testing into the school system's GATE Seminar program and starting at a new school, Hearst Elementary in Del Cerro.
His third grade teacher at Hearst is Mr. Guadarrama. The classroom is high-tech and interconnected; many lessons and tests are delivered over the net and each child has an assigned laptop. There are also guitars lining the walls, and couches instead of desks. Although we thought long and hard about moving Leo from Gage, for him it was the right decision! Leo was happy that Hearst has a Running Club, even though he's sometimes lax about turning in his Running Club lap tickets.
Leo got a massive Sony stereo system this year, which he loves. He likes listening to music!
Leo is in the Bear den in Pack 951, and in 2011 will become a first-year Webelos Scout. Wow!
2010 was the year the kids discovered (with John's help) Mr. Bean. They set up their first website, with some initial help from John. And, they started judo at Unidos Judo Club!
Buddy the dog is now about 6-1/2 years old. He had a couple traumas this year. He gouged his eye, perhaps on a bush or maybe he got stung. We put a cone collar on him for a day, and eventually the swelling went down. The more-dramatic incident was that he got his hind leg caught on a dangling hook by the fire hydrant on the corner! It took two men plus Ondine to lift him off the hook. He was shaking all day long, in shock, but was soon better. We carefully washed out the puncture wound, but we were unable to treat it beyond that. It healed on its own.
In other news, Buddy killed a rat and a snake, and countless lizards. He got to spend a week at Grammy's house while the rest of the family went on a cruise (more about that later).
Ondine saw a surge of new business writing travel and tourism guides! She's been working with Boutique Hotel Magazines, a publisher of branded magazines for upscale hotels. She writes advertiser profiles and location features. She's also been writing travel guides for an agency that contracts with tourism departments all over the U.S. So, she's gotten to write for Lake George, New York, Bryan-College Station, Texas, Beloit, Wisconsin, and Summersville, West Virginia. Of course, all those places sound very appealing – and even more so when she writes about them! Thanks to those projects, there were a couple months in which she out-earned John! Woo hoo! (He's looking forward to being a kept man.)
She got a mouth guard to keep from pressing her teeth together too hard when she sleeps
John just keeps plugging along. His HP laser printer died, but he repaired it by baking the circuit board! He acquired a 400-day clock at a garage sale in April, and is still trying to fix it, with the help of Verlyn Kuhlmann, one of Chapter 59's experts on 400-day clocks. He thinks it's called a 400-day clock because it takes 400 days to fix it. He got a new prescription for glasses at Wal-Mart, and then got a pair of glasses at JC Penney. He later got another pair of glasses through eyebuydirect.com.
His work has thankfully continued – he has a long list of clients he's worked with for many years, including AutoTec, Link It, Barona, and several ad agencies. He did another Sheriff's Department annual report this year, and did several projects for SDG&E. New clients include Telos Systems, Lusardi Construction, and Gerawan Farming.
Barbara's cousin Barbara came from Hannover, Germany, for a nice visit in June. They worked on genealogy projects. Later in 2010, Hannover Barbara was ordained as a Buddhist nun!
The Travel Section: We did a lot in 2010, more than we'd have thought. We went camping with the Fernandez family at Cibbets Flat in the Lagunas. We went beach camping at Leo Carrillo. We went camping at Sand Pond; a trip marked by a wonderful "drive a locomotive" experience thanks to Liz and Les, and Roy's first ascent of the Sierra Buttes. Ondine took the boys beach camping at San Elijo toward the end of summer. But the Really Amazing Trip of the Year was a wonderful 7-day cruise to Mexico, thanks to Barbara and Bill! We had a terrific time visiting Cabo San Lucas, La Paz, Mazatlan, and several colonial villages including Malpica, Concordia, and Copala.
Smaller getaways included celebrating our 12th wedding anniversary by going out to a desert garden tour in Anza Borrego, kid-free thanks to Barbara and Bill! We went to Disneyland for free, our reward for volunteering a day of service in Disney's "Give a Day Get a Day" promotion. We went to Legoland several times. We took a Hornblower Adventure Cruise all around the bay. We joined the San Diego Museum of Art and the San Diego Museum of Man – ideal places for quick little outings with or without the kints.
Next door, Barbara and Bill enjoyed a cruise to Mexico in the spring, which they enjoyed so much they repeated it with us in December! They also went to Sand Pond – or, actually, Lower Sardine Lake, and stayed at the lodge there. A very different experience from their usual camping!
Home Improvements! We had our master bathroom renovated by Timberwolf Construction. They did a great job! Ondine and Frances reupholstered the dining room chairs, and Frances made some new seat back covers!
Family & Friends Dept. John's niece Amanda got married in Thailand! Bill's son Jason got married! Congratulations Amanda and Joe and Jason and Wren! Kaleb is at sea on the Bunker Hill, a guided missile cruiser. Neena is at UC Davis. Jennifer (Breeana's mom) just got married – congratulations Jen and Rob!
Acquisitions in 2010 included a new region-free DVD player (replacing the old one, which died). It was a big year for major car repair. The Mazda got new brakes. The Infiniti got a new fender liner, CV joint, alternator, and battery. Both cars continue to run just great – in fact, John's car recently got over 40 mpg on a drive to L.A.!
Ch-ch-ch-changes Dept. We will be starting 2011 with a different Kaiser health plan. Our old plan was no longer affordable, so we had to make a move. The new plan has a bit less coverage, but it still allows us to be grandfathered in, and it will save us over $300 a month. Also, John (fed up with AT&T's constant plan changes and fee increases) switched from AT&T to Cox, which will save even more. Also partly a cost-cutting move: we stopped participating in the CSA, planning instead to put that money toward creating our own garden in the front yard for vegetables and fruit.
Neighborhood gas prices started at $3.01 per gallon and stayed pretty much at close to the $3-per-gallon mark, dropping as low as $2.89. Currently, a gallon of regular unleaded goes for $3.37.
This journal started the year with about 31,400 visitors logged and ended with over 33,000, for about 1,600 unique visitors over the year.
Remember, photos from 2010 can be seen on our 2010 photos page. To see what we're up to now, visit our regularly updated weekly journal!
Back to the Archives page
Back to the Kuraoka Family main page
Forward to the current Weekly Journal.