Click on any photo to see it full-size. All photos copyright John or Ondine Kuraoka, Roy Kuraoka, Barbara Brooks, Bill Nutter, or Frances Kuraoka, or as noted.
12-19-10 to 12-26-10: We take a 7-day cruise to Mexico with Barbara and Bill! Here we are ready to embark on a wonderful trip! To see more, including about 200 photos, visit our Family Cruise to Mexico pages! While we were gone, Buddy stayed with John's Mom, Frances.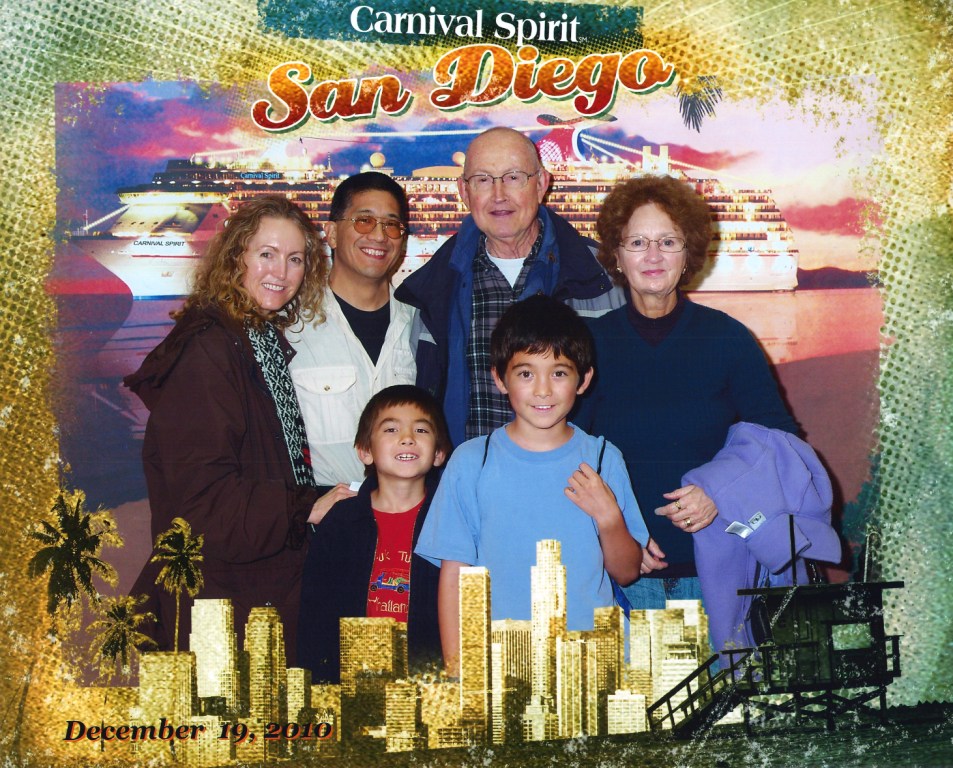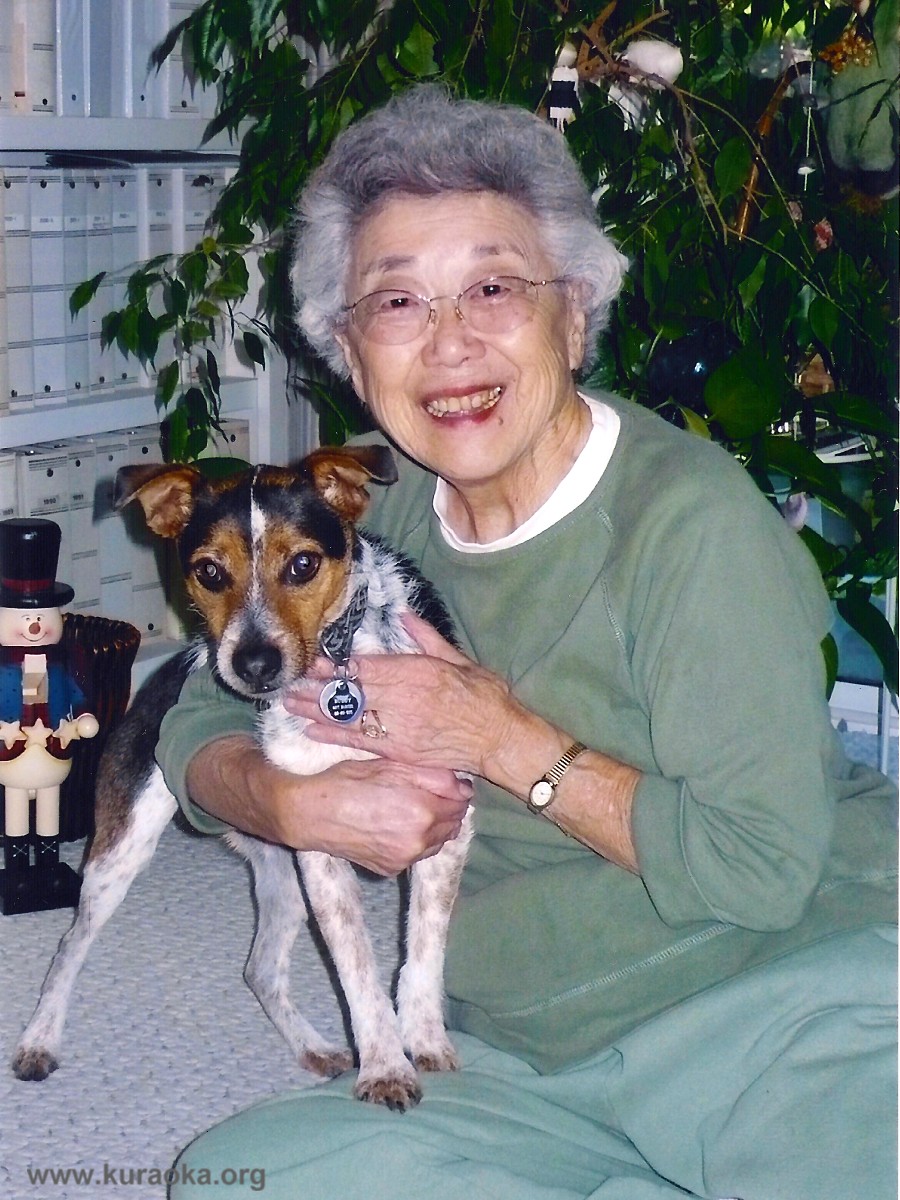 12-16-10: Leo reads his personal narrative in class. All the parents were invited, and Mr. Guadarrama's third-grade class shared their writing. Leo wrote about the trip we took to Germany, when he was two.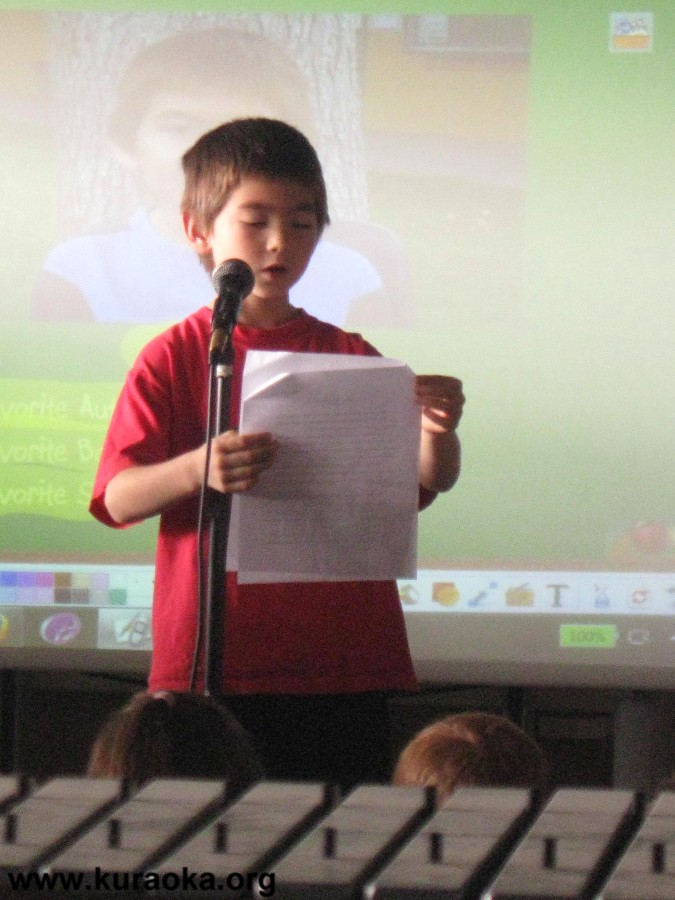 12-12-10: Third Advent. We went next door to Barbara and Bill's to celebrate. That's Barbara, Roy, Bill, Leo, and John around the table.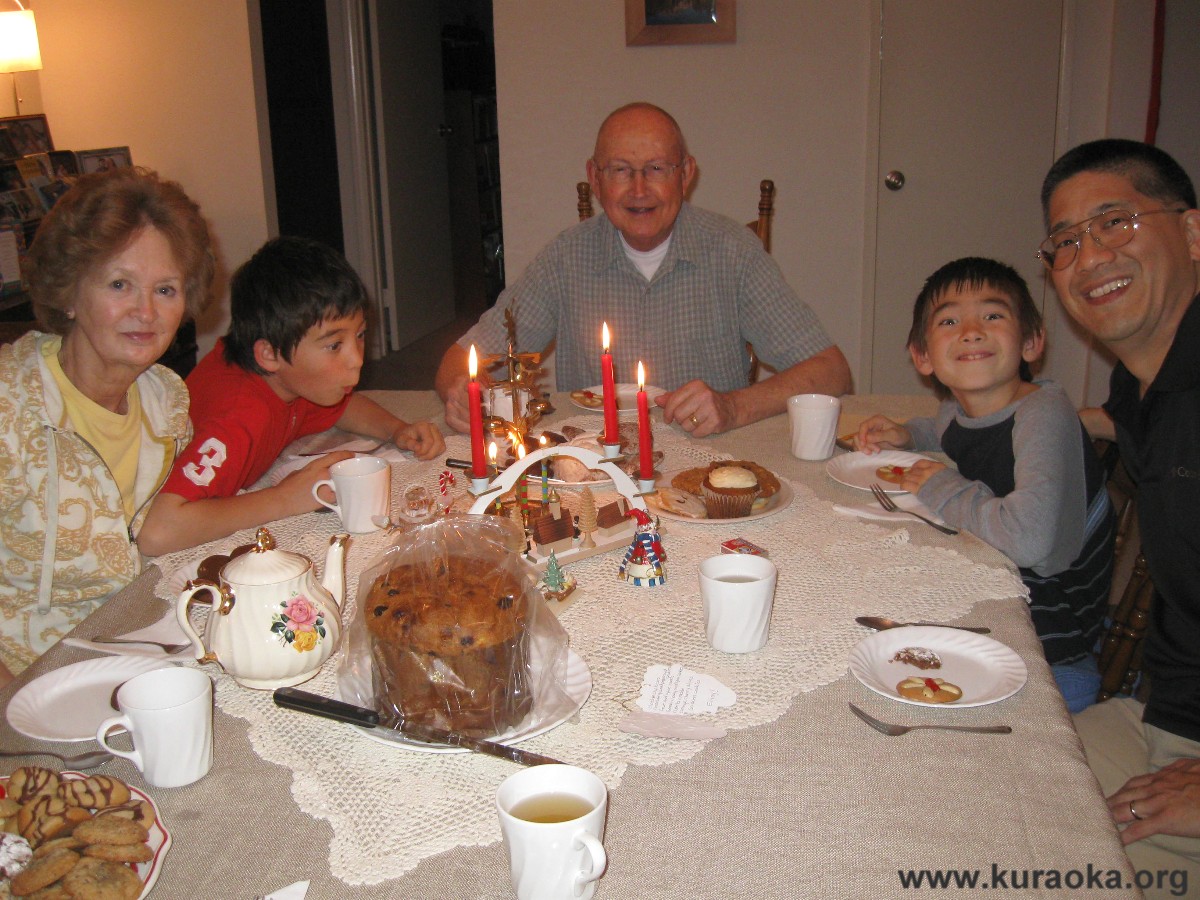 12-10-10: Gage Elementary student recognition. Roy was publicly recognized as an academic achiever and co-creator (with Alex) of "Toddler Wars!" Alex, Stephen, Michael, and Christina also received awards! Hooray! The first photo of Roy was taken from the back row of a dimly lit auditorium, which is why it's blurry – and also why his smile looks genuine. The next photo shows the gang: Alex, Stephen, Michael, and, um, Roy. (See?)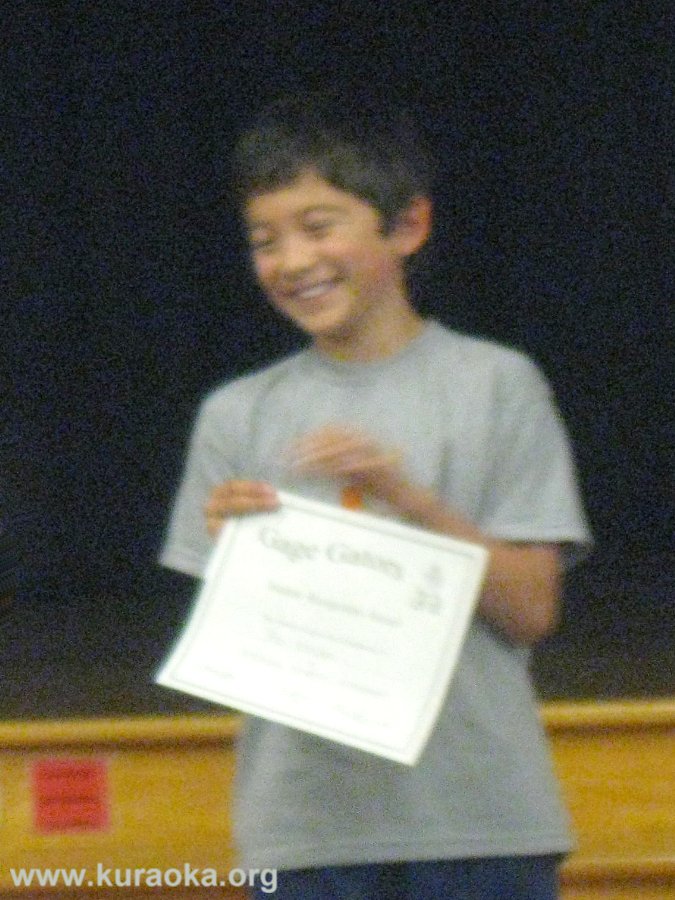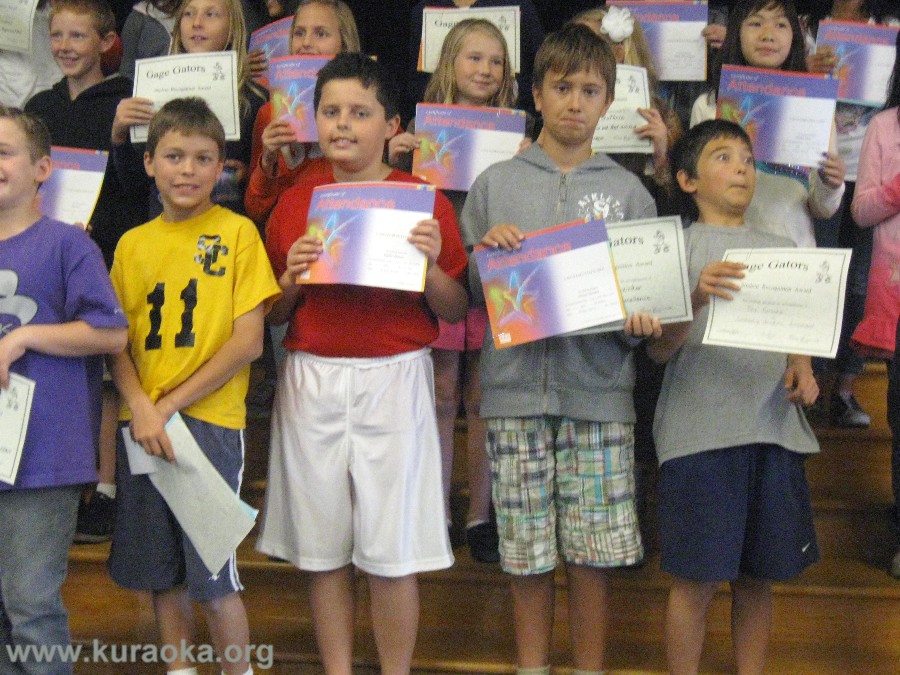 12-05-10: Making bead ornaments and Second Advent. A brief moment of peace and cooperation whilst rooting through the bead bins. Then, Second Advent kaffeetrinken! That's Roy, Barbara, Bill, Ondine, and Leo.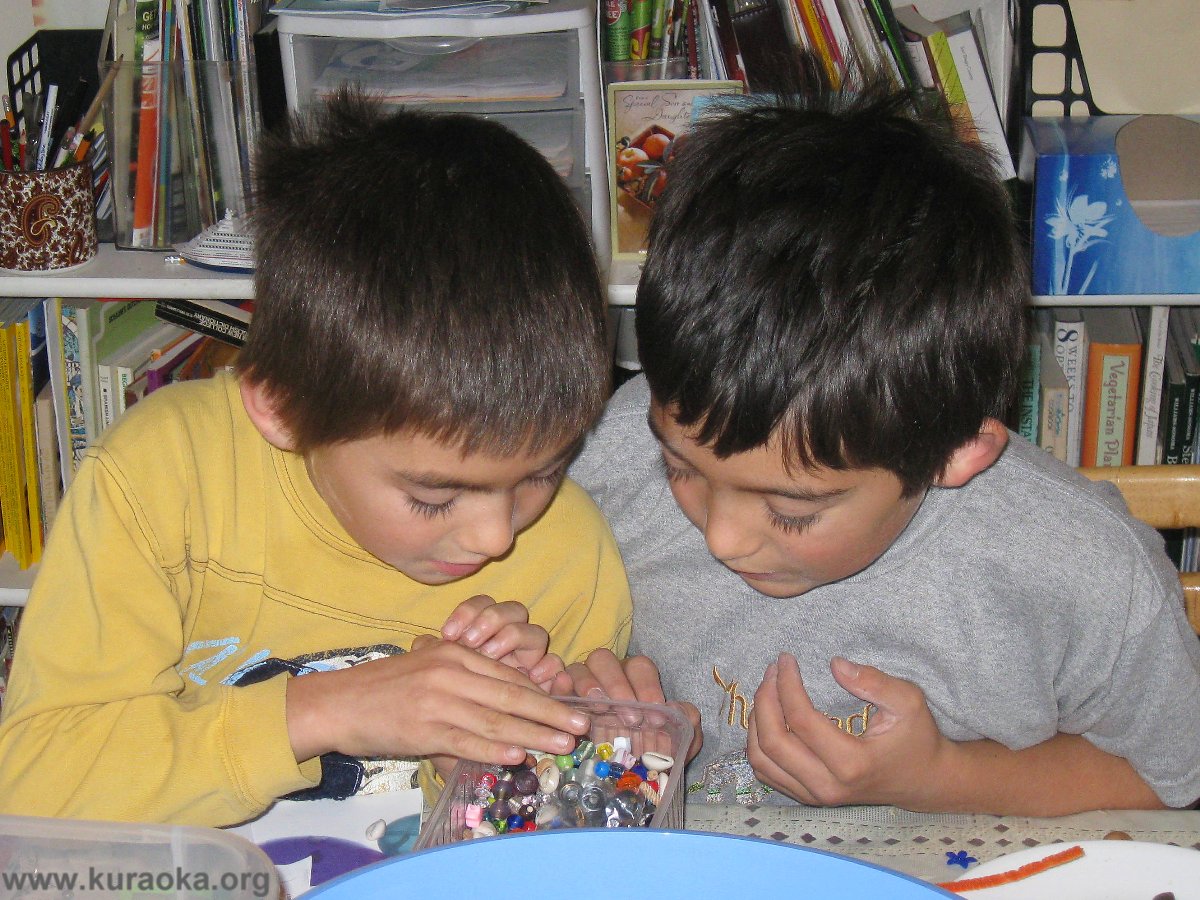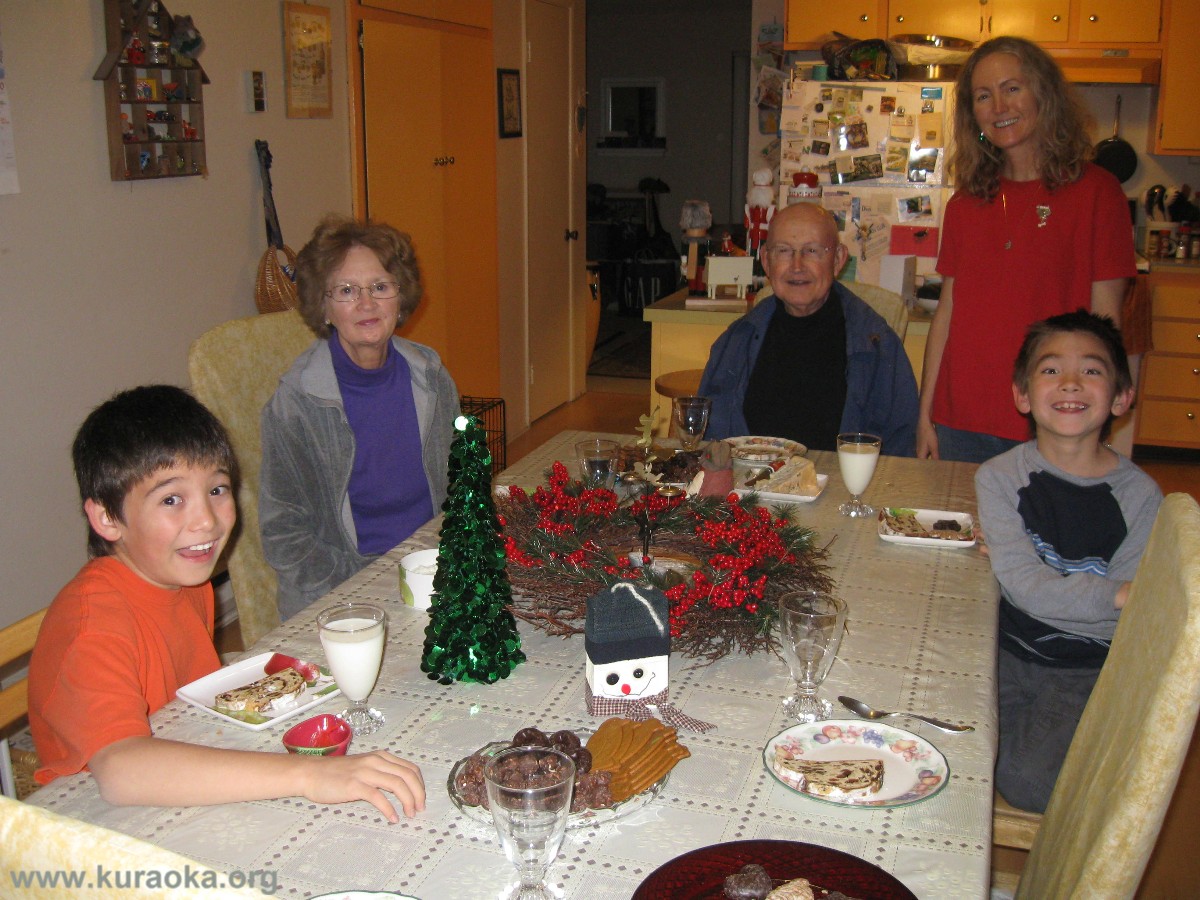 11-28-10: First Advent! We went next door to Barbara and Bill's for First Advent. Here are Bill and Ondine!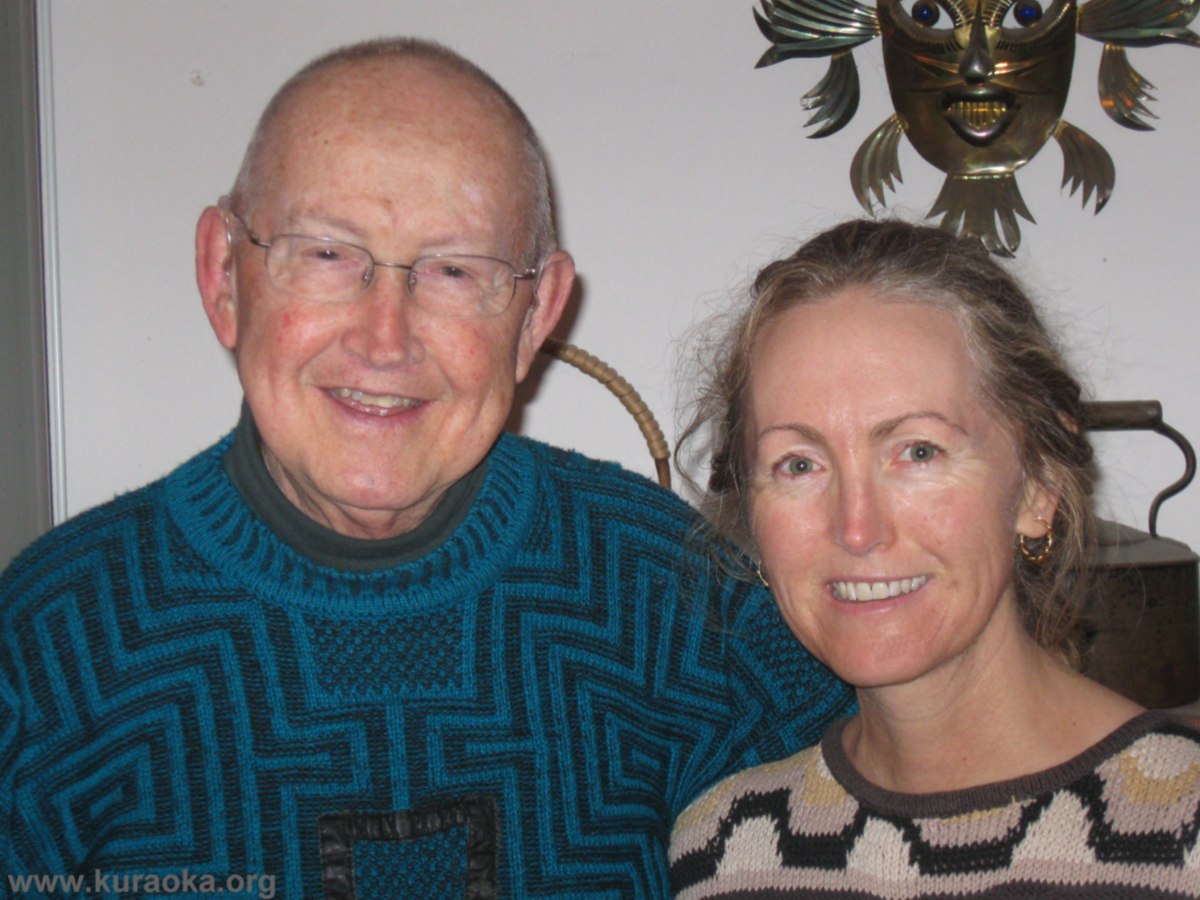 11-27-10: KidSpace! We visited Grammy in La Cañada. Here we are at KidSpace, where the boys wrote science reports for points to trade for cool rocks and minerals and stuff. That's Roy, Grammy, and Leo. John is in the background. Next, we have Grammy's photo from graduating UCLA.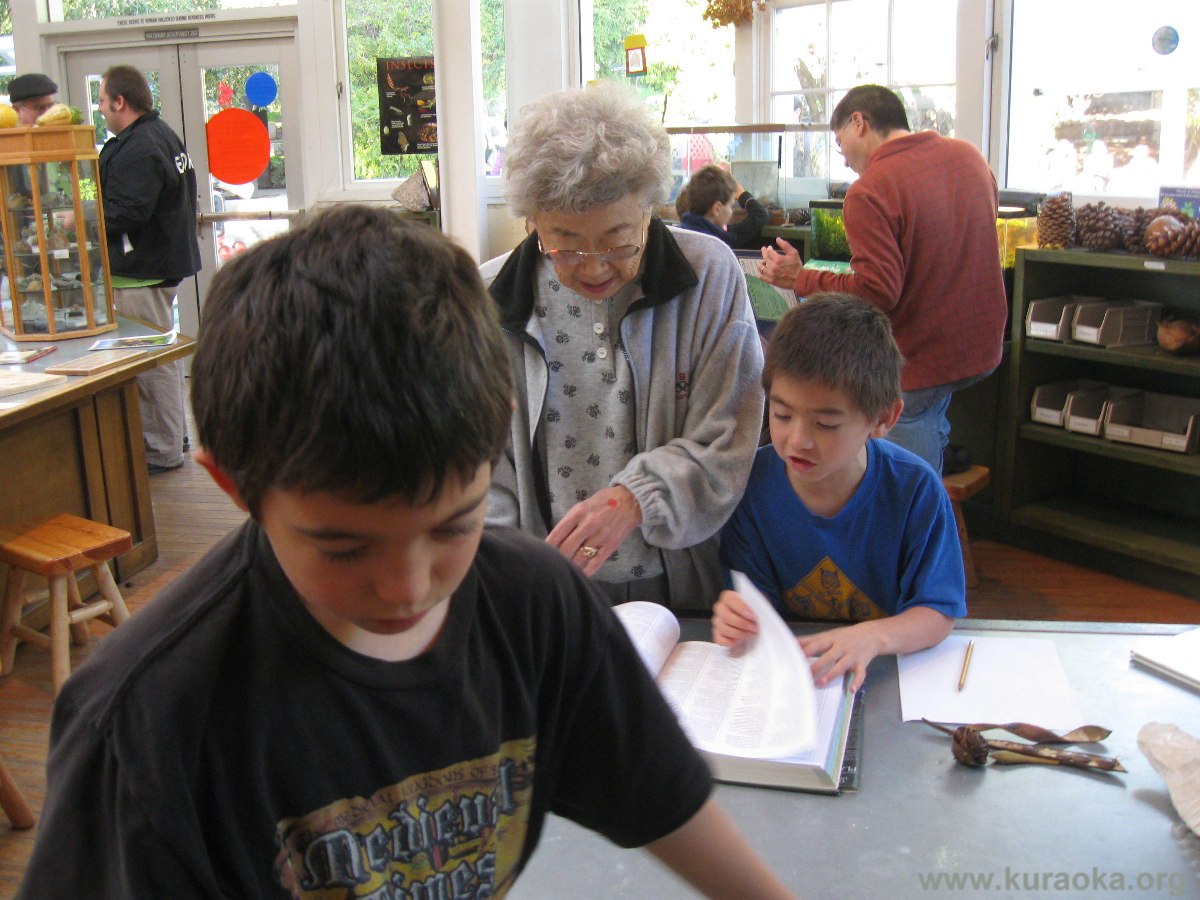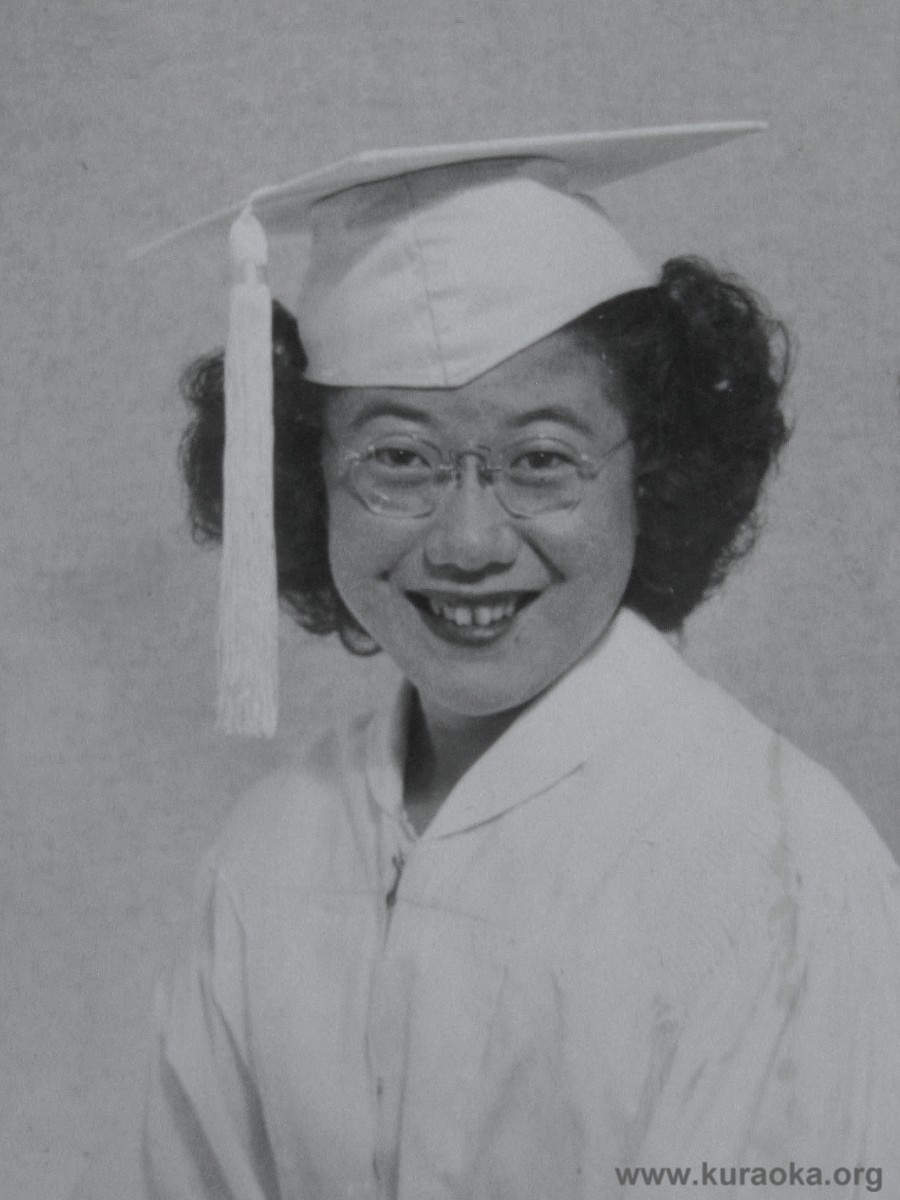 11-25-10: Thanksgiving! We are always thankful for family, and here are some of them! That's Kaleb, Neena, and Winter on the sofa. The second photo shows the turkey. (Yeah, which one?) The third photo shows many of us around the table. Clockwise from the lower left, we have Kaleb, Leo, Winter, Neena (looking away), Michelle (standing), Ellie, Autumn, Jeffrey David, Barbara (standing), Roy, and Bill. The next three were taken by Barbara. There's an iPhone photo of Jeffrey David and Roy. A photo of Autumn and Ellie. And, last, Michelle and the kids in Barbara and Bill's living room. From left to right, that's Winter atop everyone, Michelle, Ellie on Neena, Jeffrey David, Kaleb, and Autumn.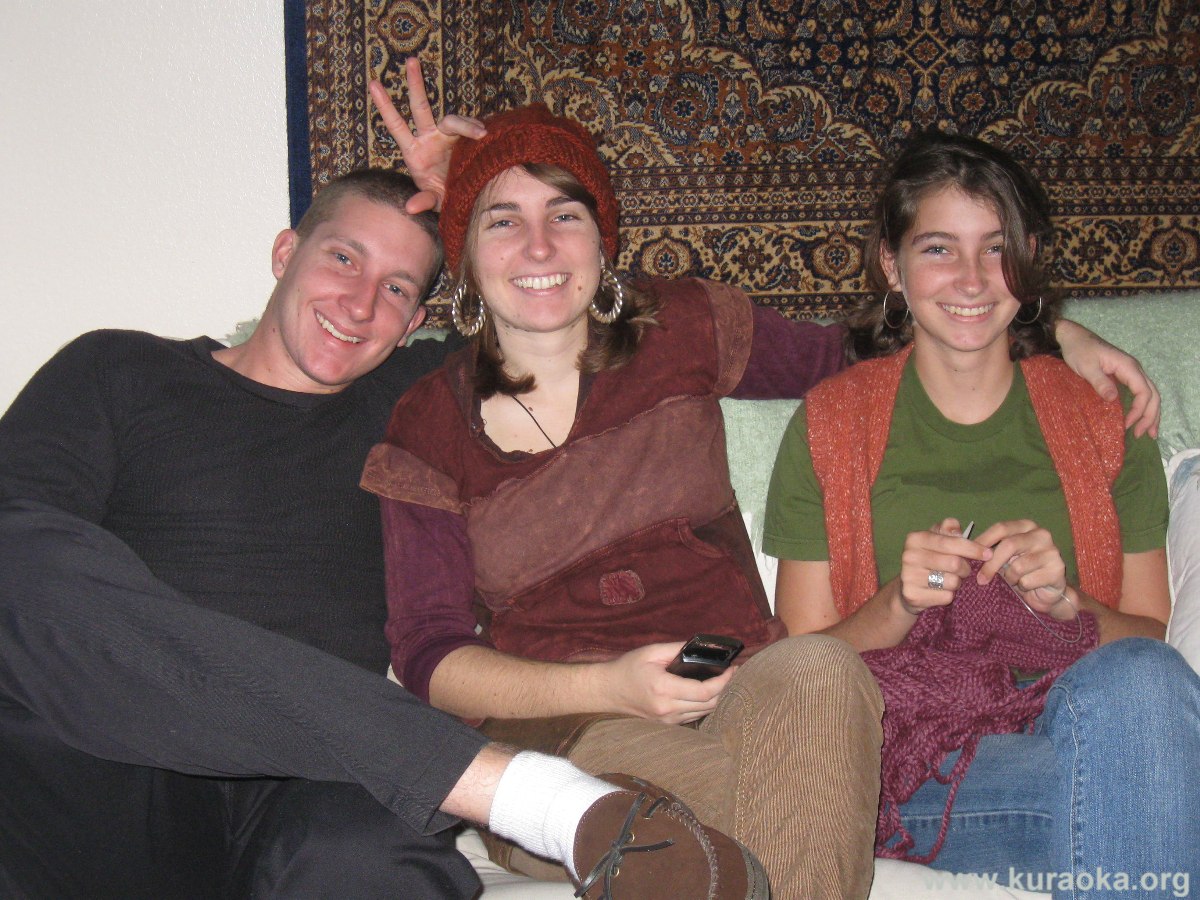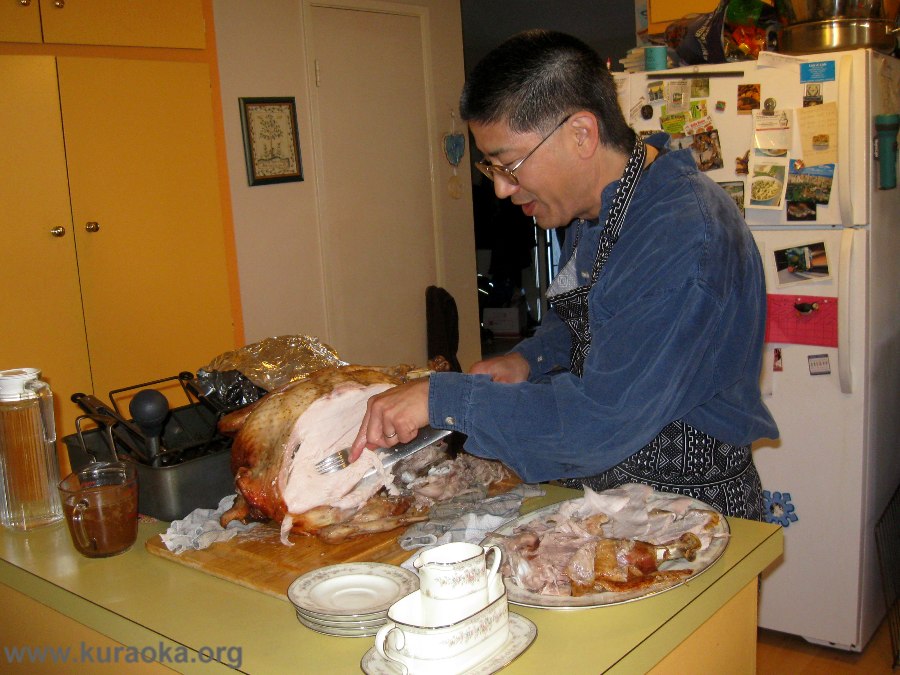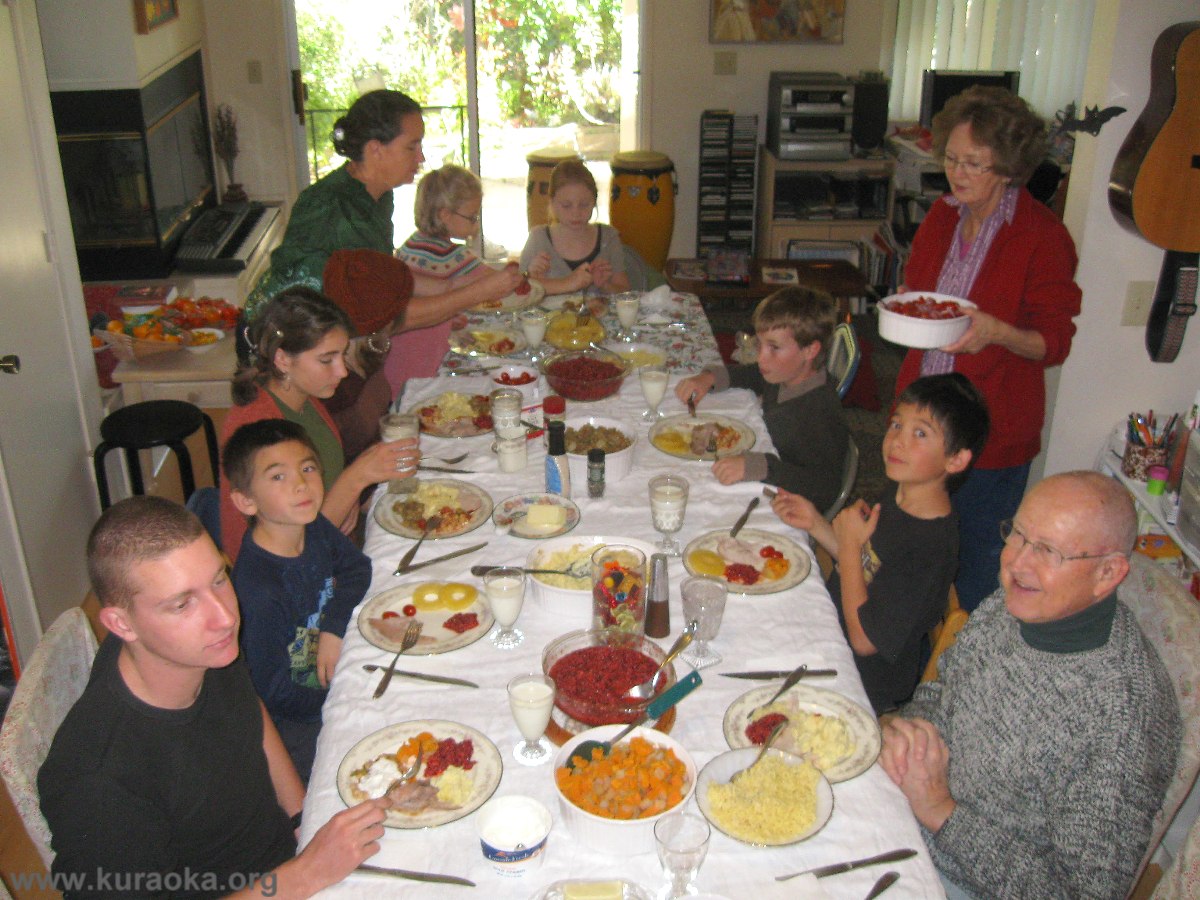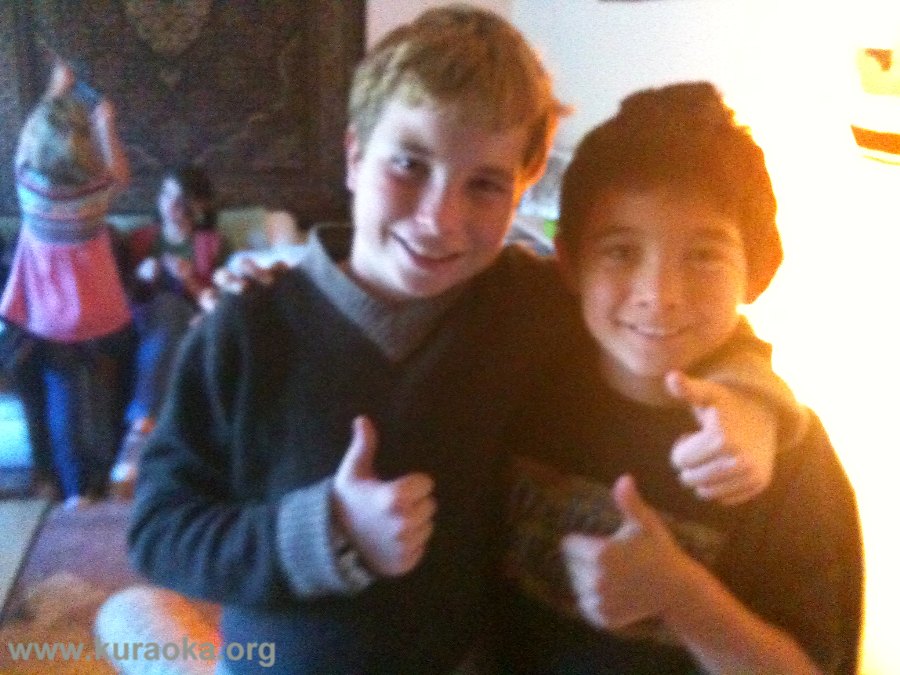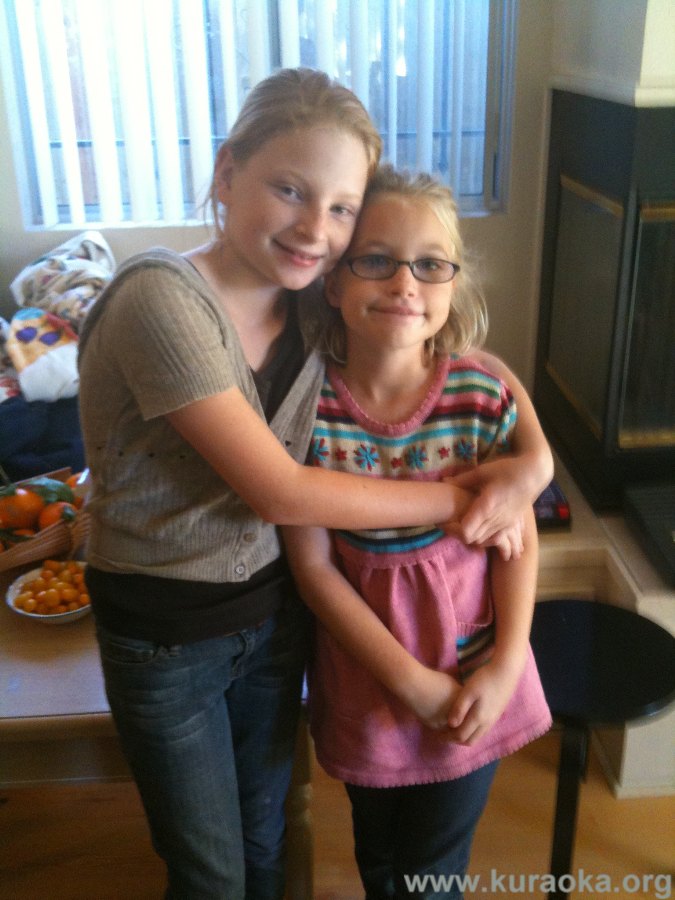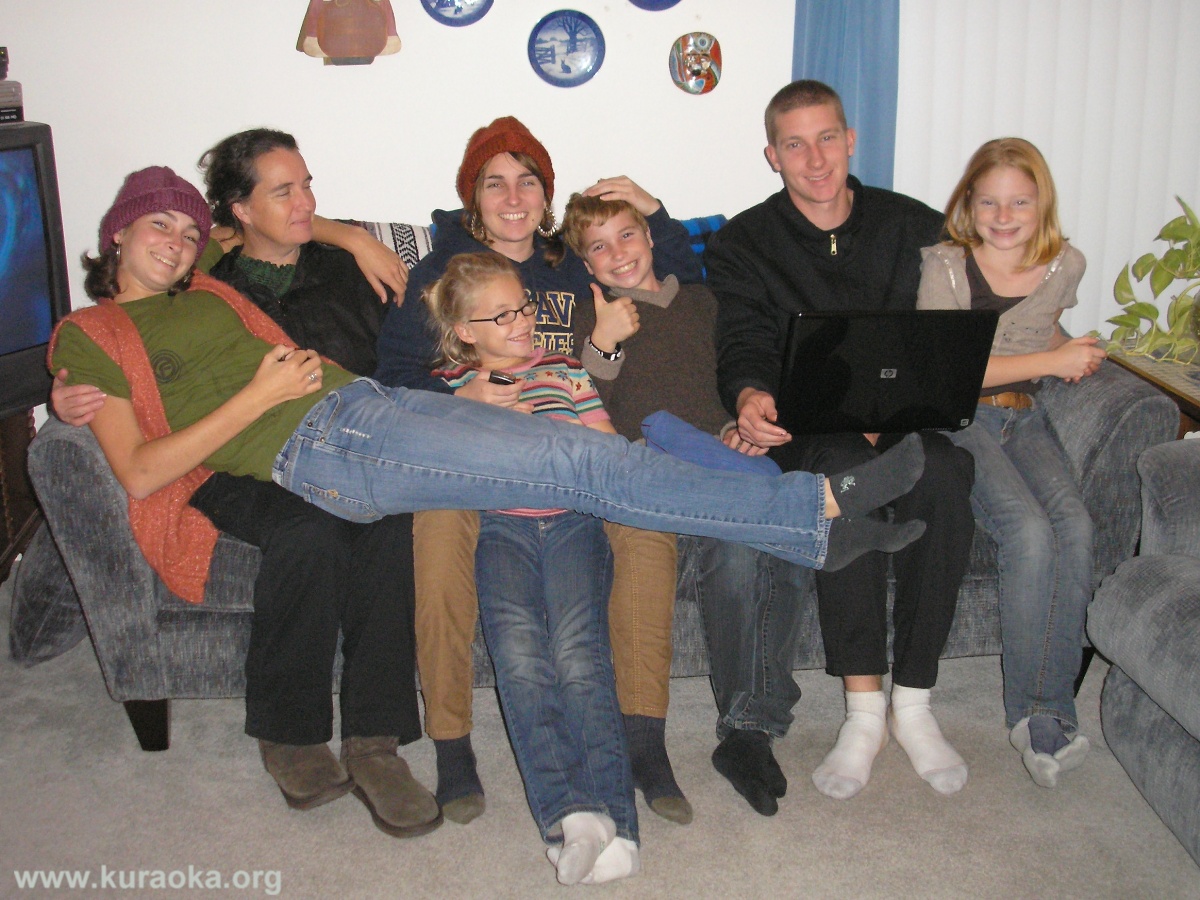 11-13-10: Sea World! John took the boys to Sea World! Here they are in Wild Arctic, and then later by themselves riding Shipwreck Rapids!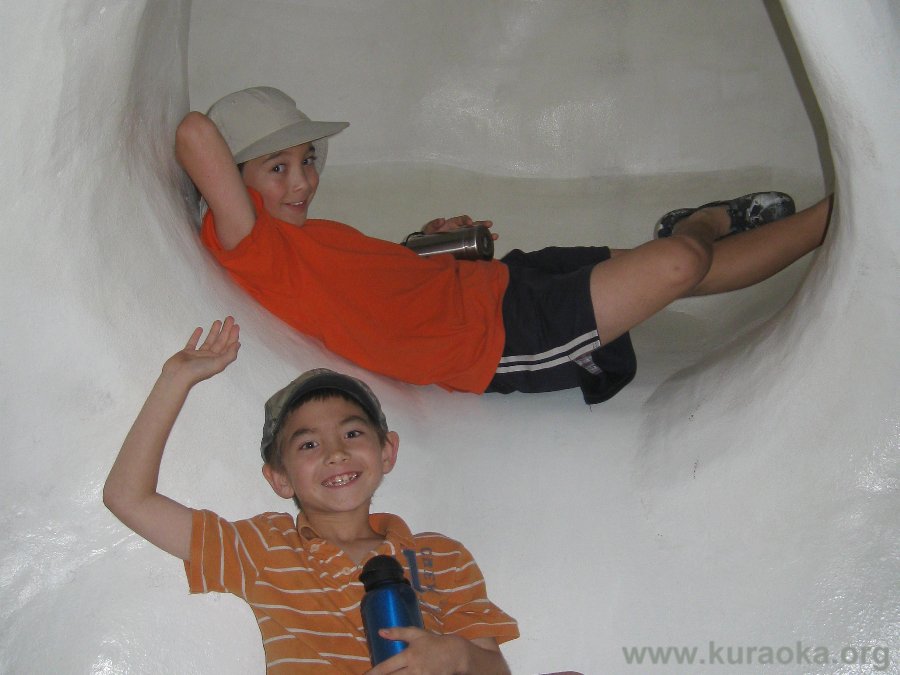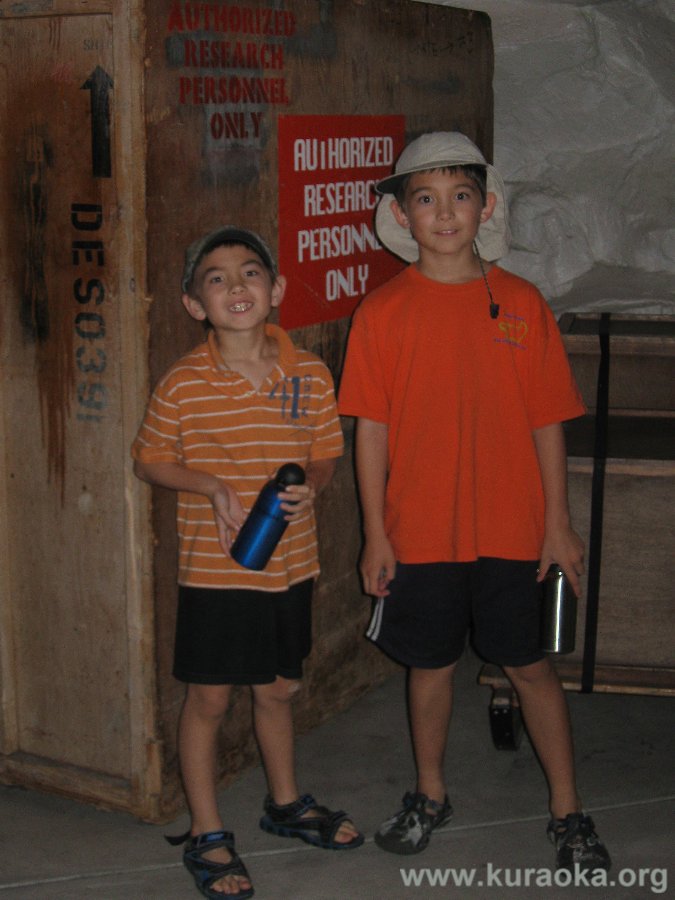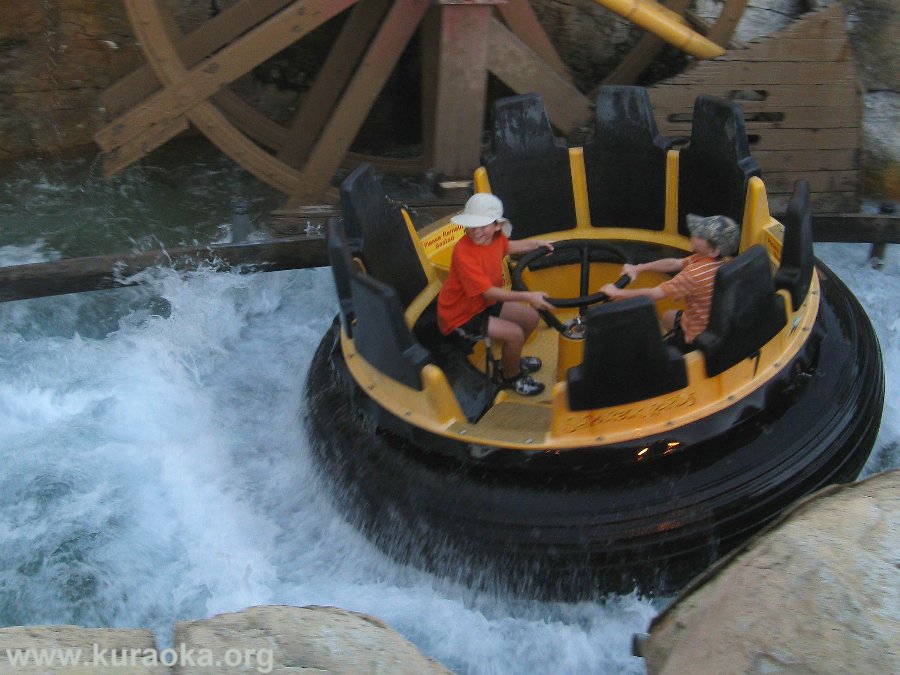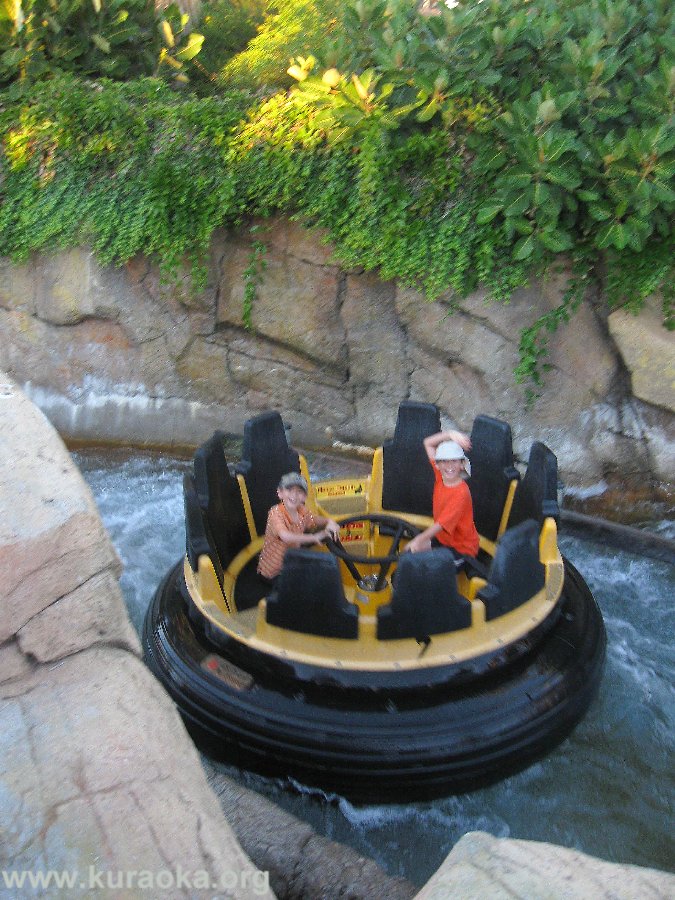 10-31-10: Halloween! On the bench are our perennial visitor Jack, Roy, Leo, Barbara, and Bill (standing). In the next photo, we have the gang trick-or-treating! From left to right, that's angel Christina, witch Carmen (with Roy's staff blocking her smile), princess Nina, skeleton Michael (you can't see his bony costume), scary chrome-skull guy with axe Alex, safety patrol staff Roy, werewolf Stephen, and pirate skeleton wizard warrior Leo.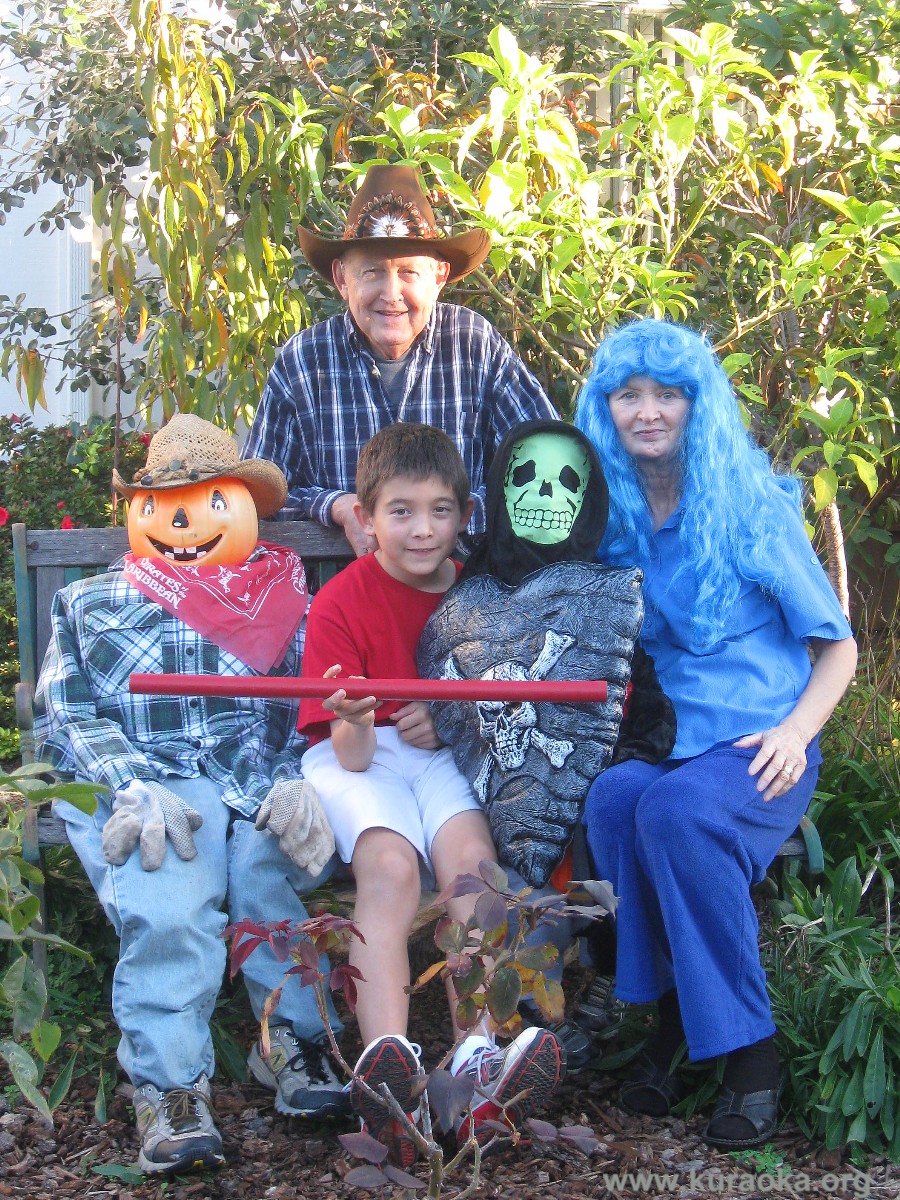 10-23-10: Pumpkin Patch outing! Here are Leo and Grammy Frances in the hay bale maze at Oma's Pumpkin Patch, an annual outing with Pack 951.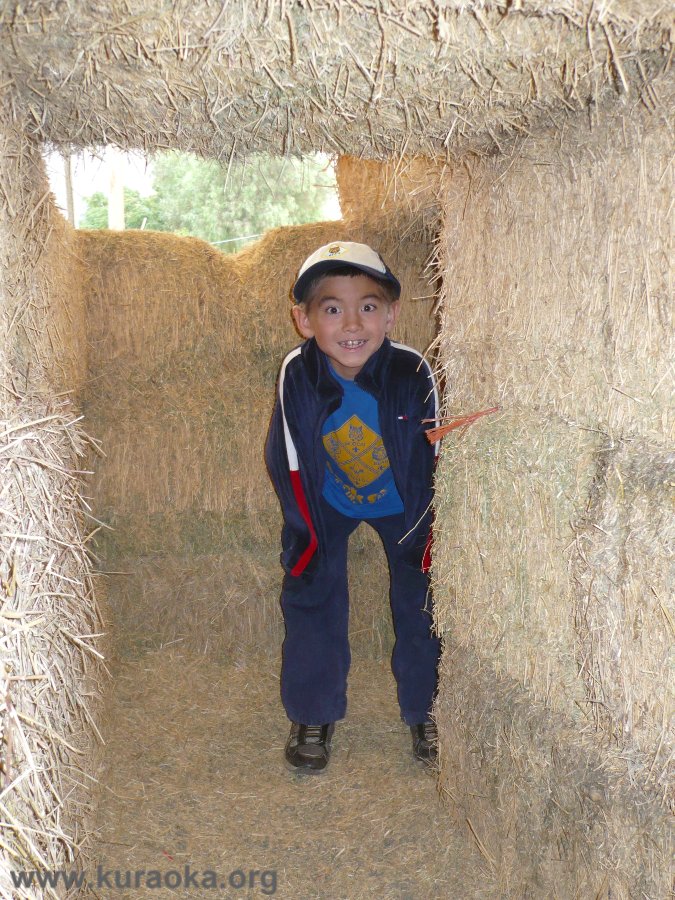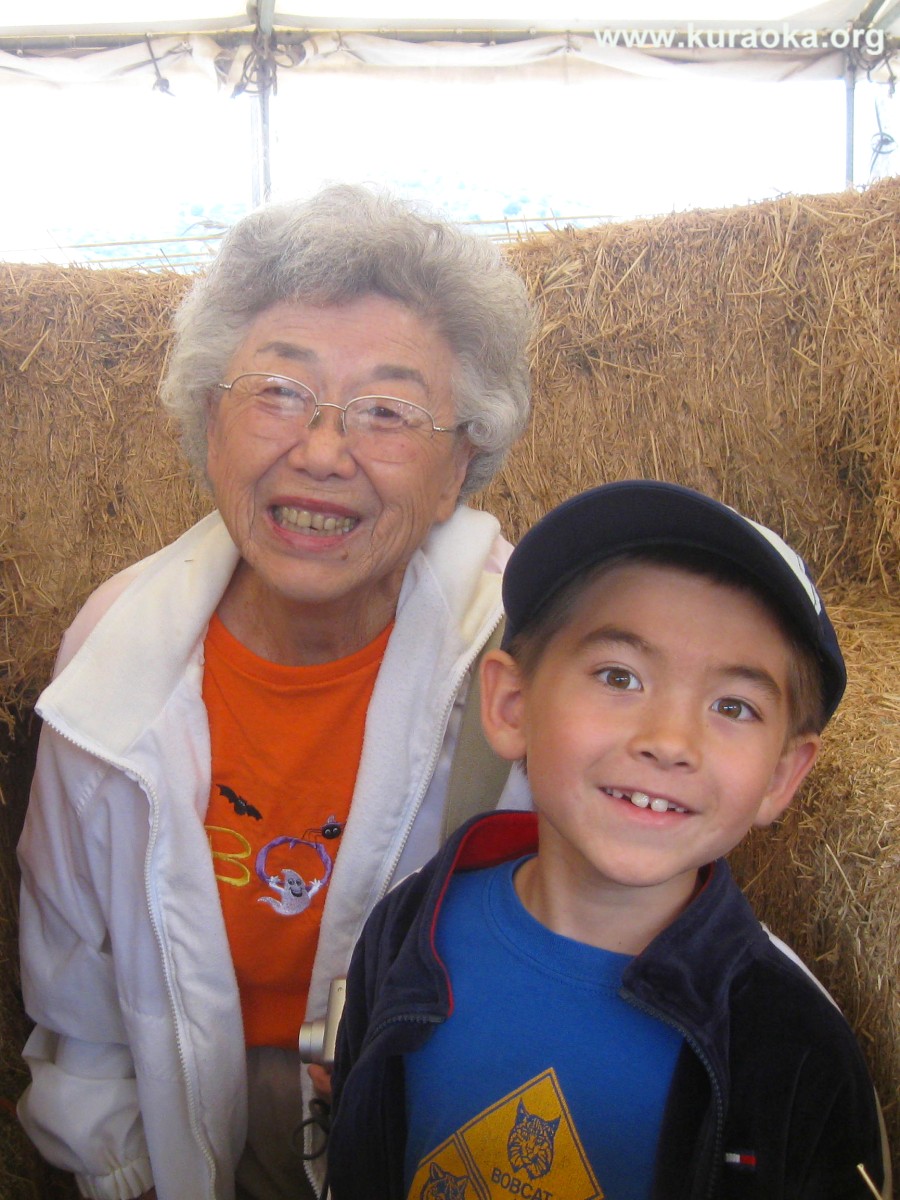 10-15-10: Chef Seiku! Chef Seiku prepared us all a wonderful meal at Barbara and Bill's! Here, Roy and Leo show off the raw fruit cake they helped Chef Seiku prepare. Yum!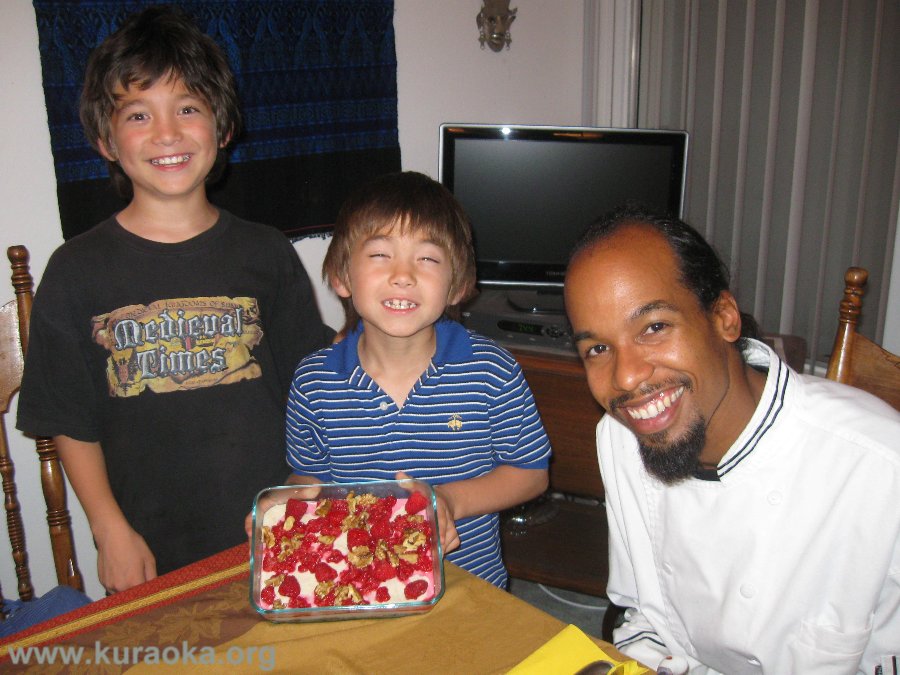 09-18-10: Model A Fords at Balboa Park! While Roy was at Michael's birthday party, the rest of us went to Balboa Park, where we picked out our favorites from a Model A Ford club. Here are Leo's pick, a dark red panel van, and Ondine's pick, a deep blue pickup.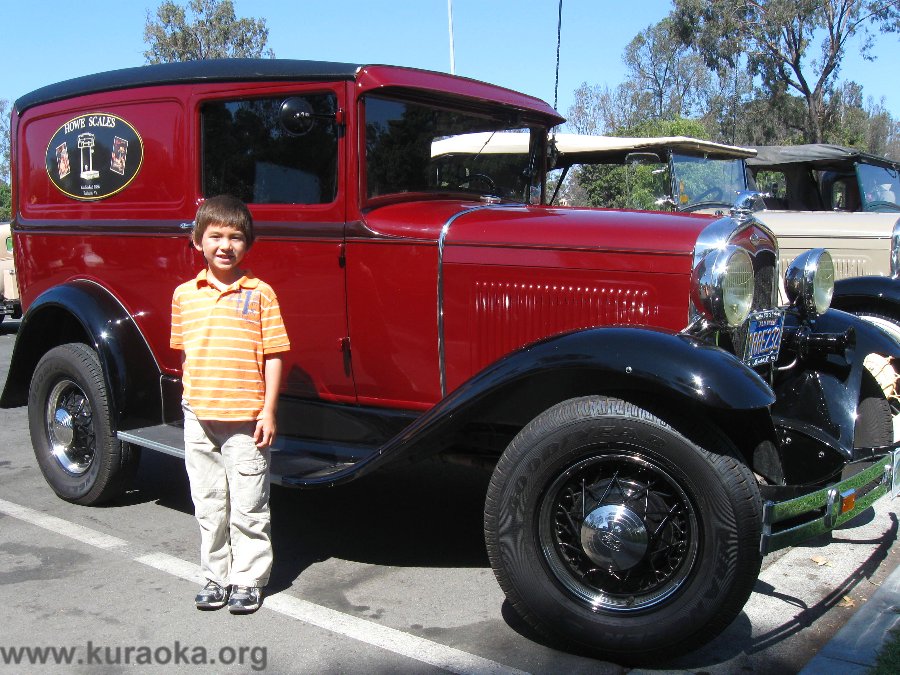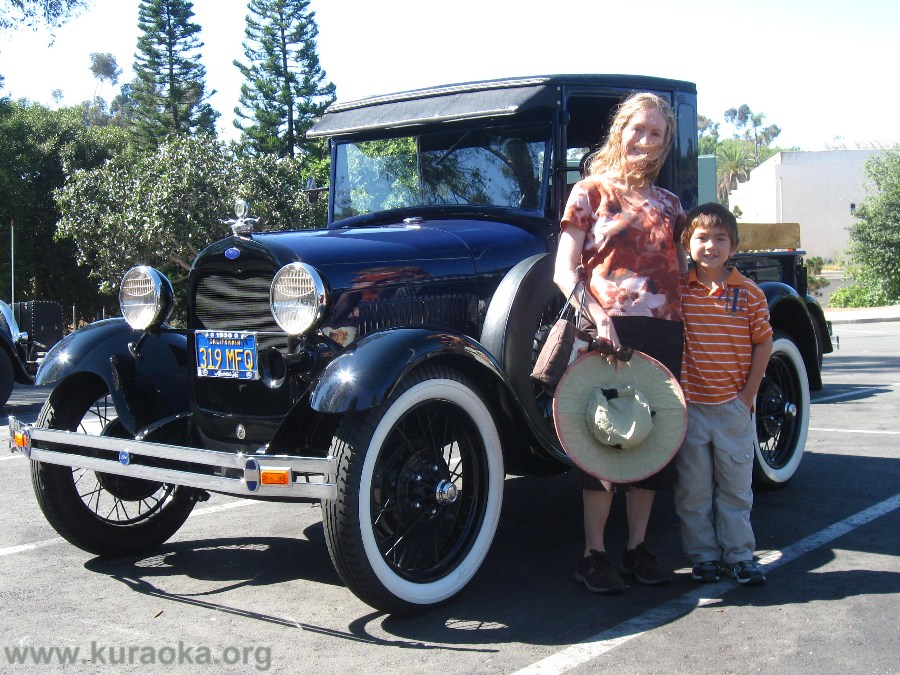 09-07-10: Back to school! Here are the boys, ready to go with their Schultüten. Leo was understandably nervous about starting a new school, Hearst, but was right at home with the Running Club!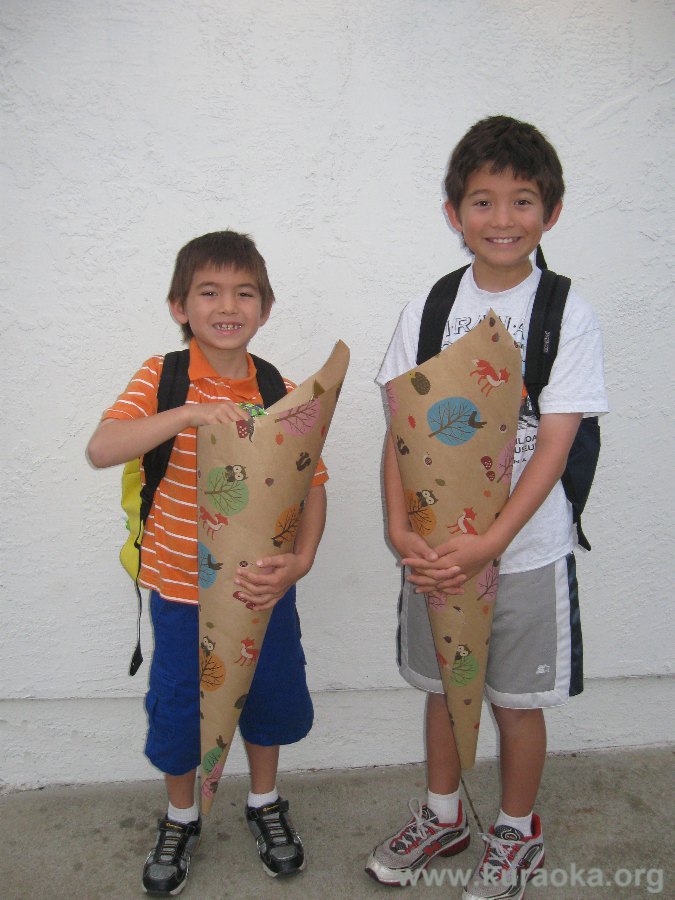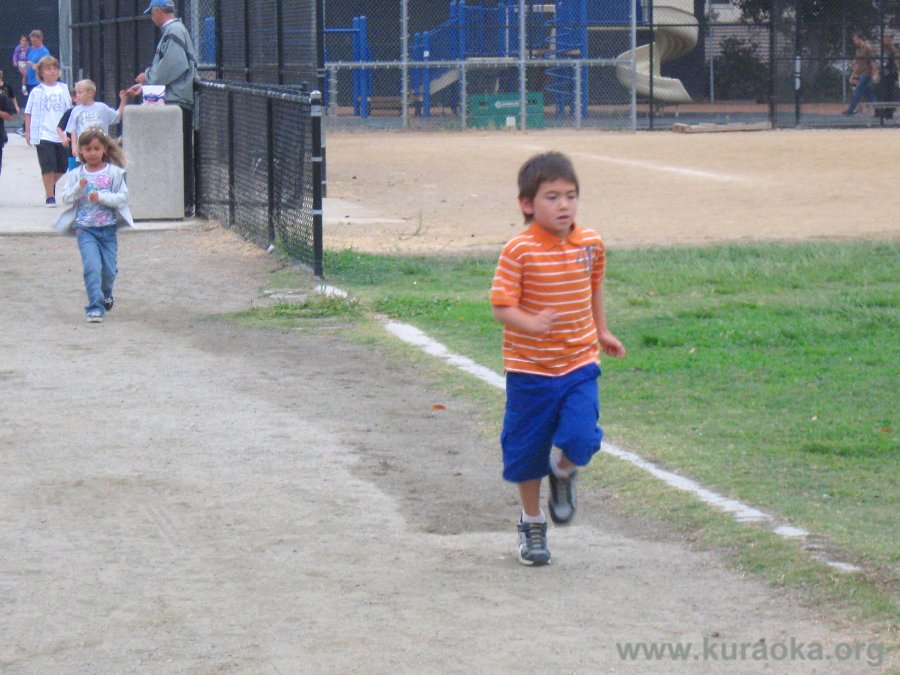 08-28-10: La Brea Tar Pits! Here are some people sorting, cleaning, and piecing together tar pit finds. Then, we have a family of Saber-tooths (a few of which have goofy looking mugs) and us in an ice age forest.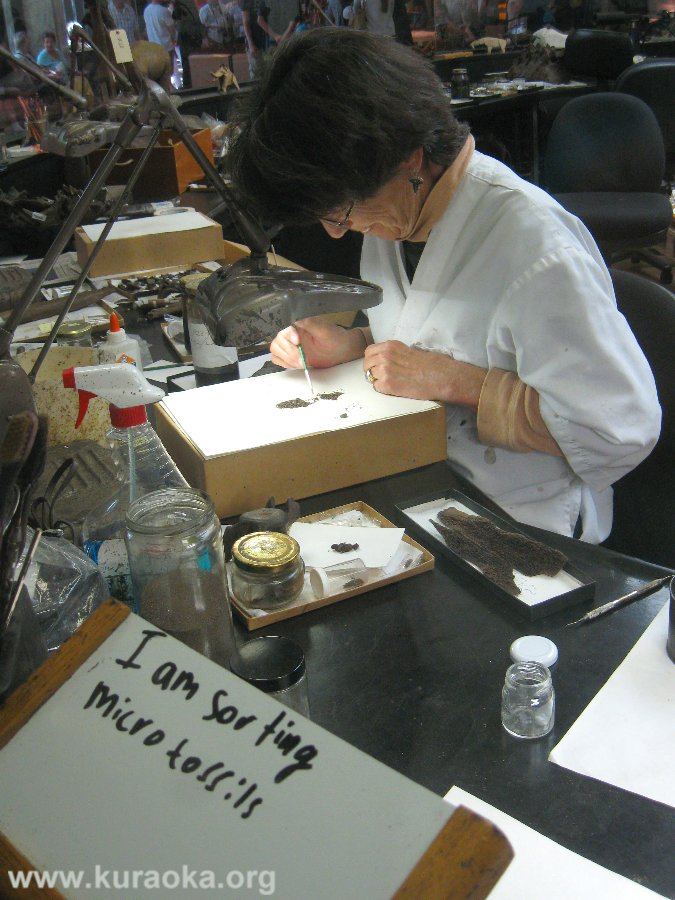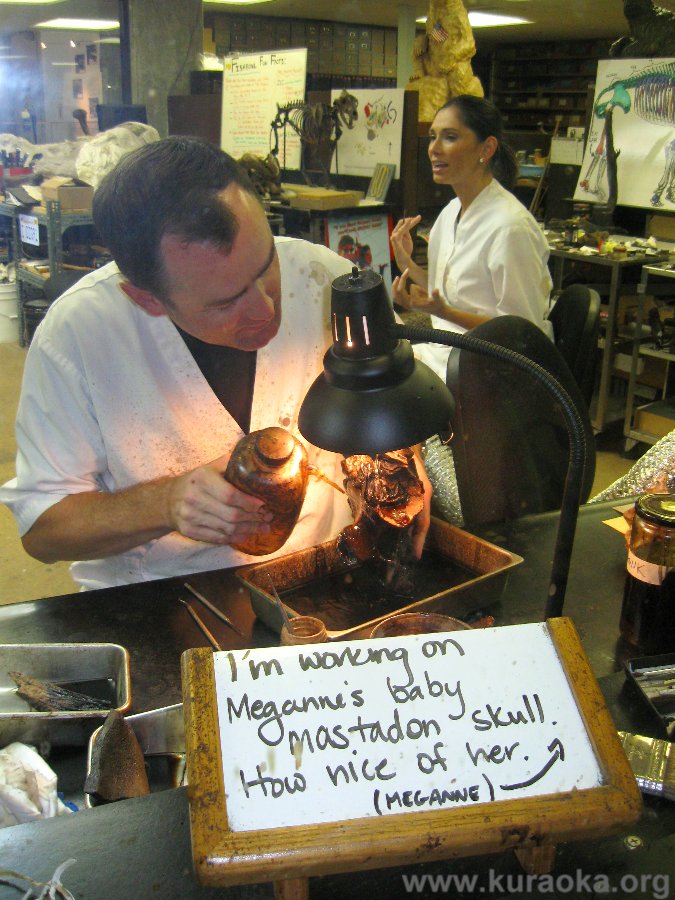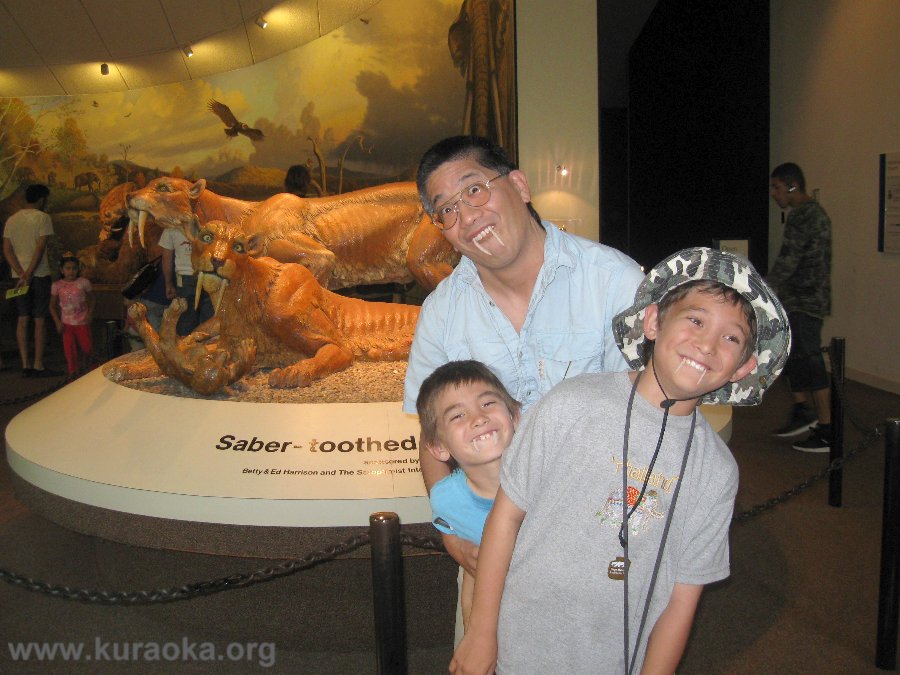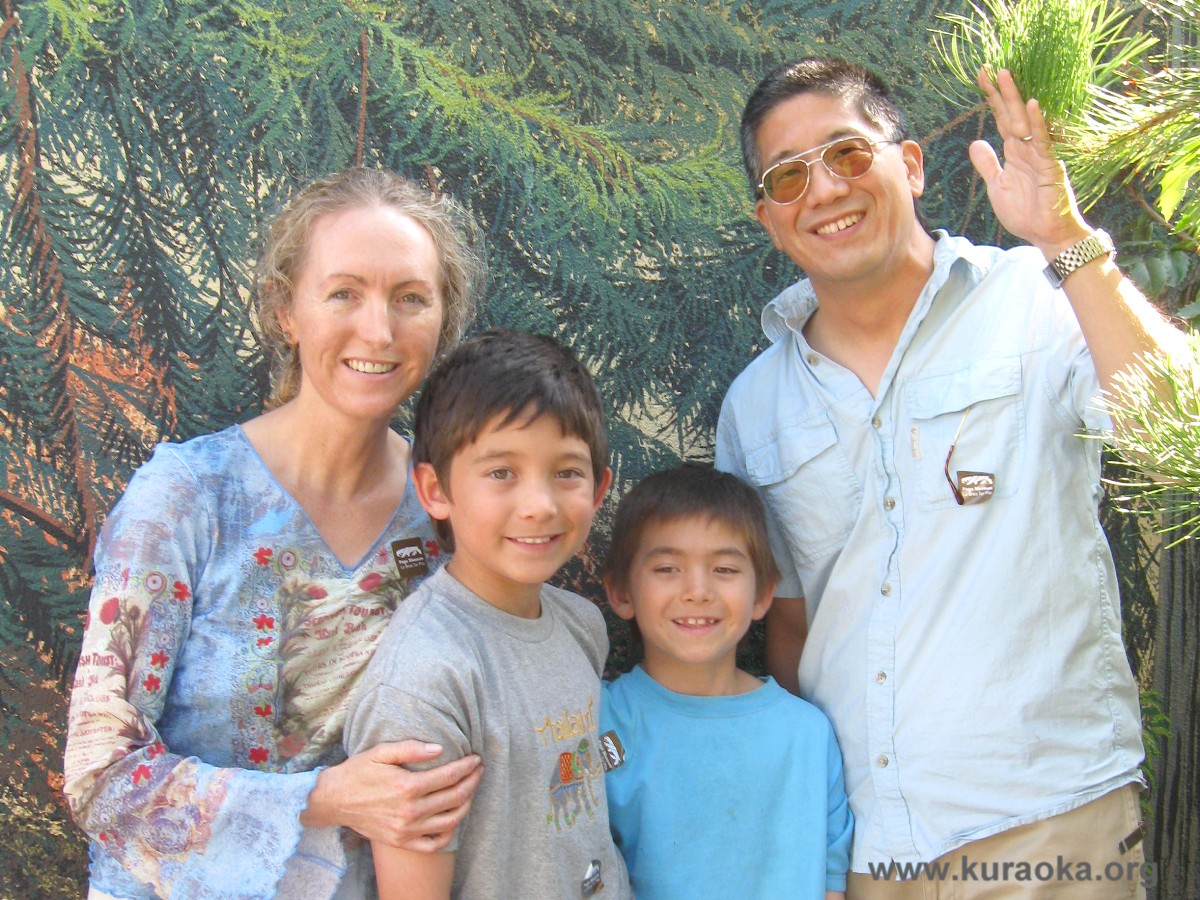 08-22-10: Craft day! We played with clay, and this is John's creation, a blue Reliant Regal Supervan III inspired by a scrap of leftover clay and Mr. Bean's vehicular nemesis.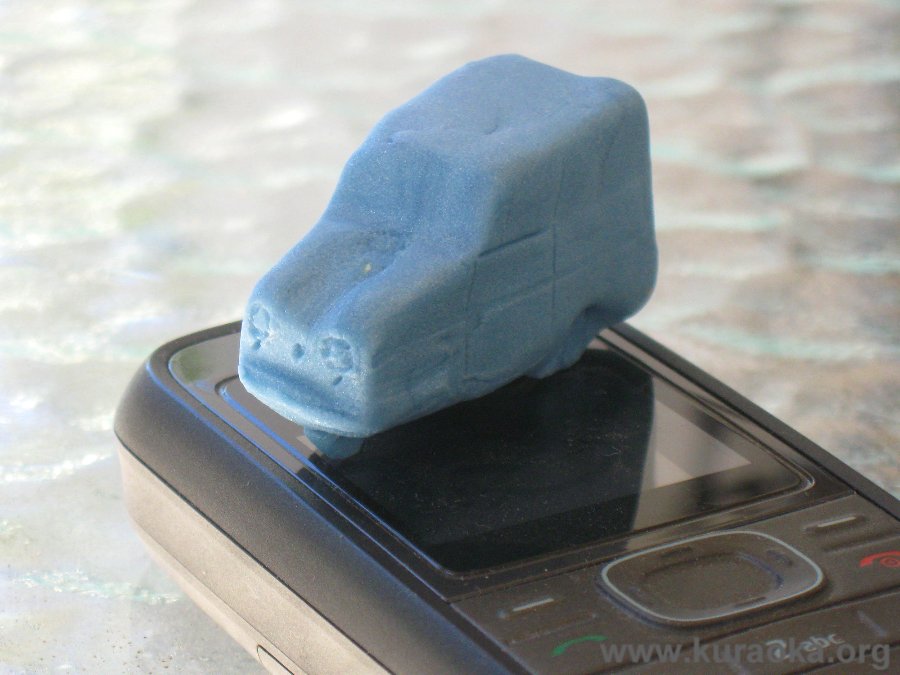 08-06-10 to 08-15-10: Sand Pond! Here's the usual shot of the Sierra Buttes from Sand Pond. That's the original version of our new family portrait, taken at the Mountain Creek Restaurant in Sierra City. Then we have Roy and Leo at the controls of an EMD TR-6 diesel switching locomotive, also shown, which we all got to actually run up and down a stretch of track! Last we have Leo and Buddy at Snag Lake, Ondine and Ulli at the overlook on the Buttes, and Roy and Ondine at the top!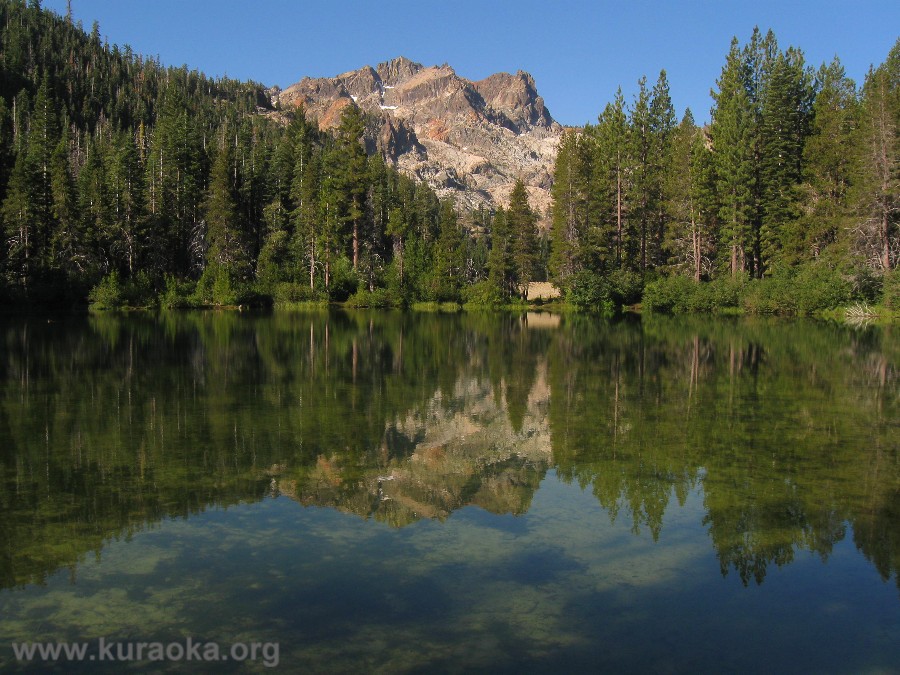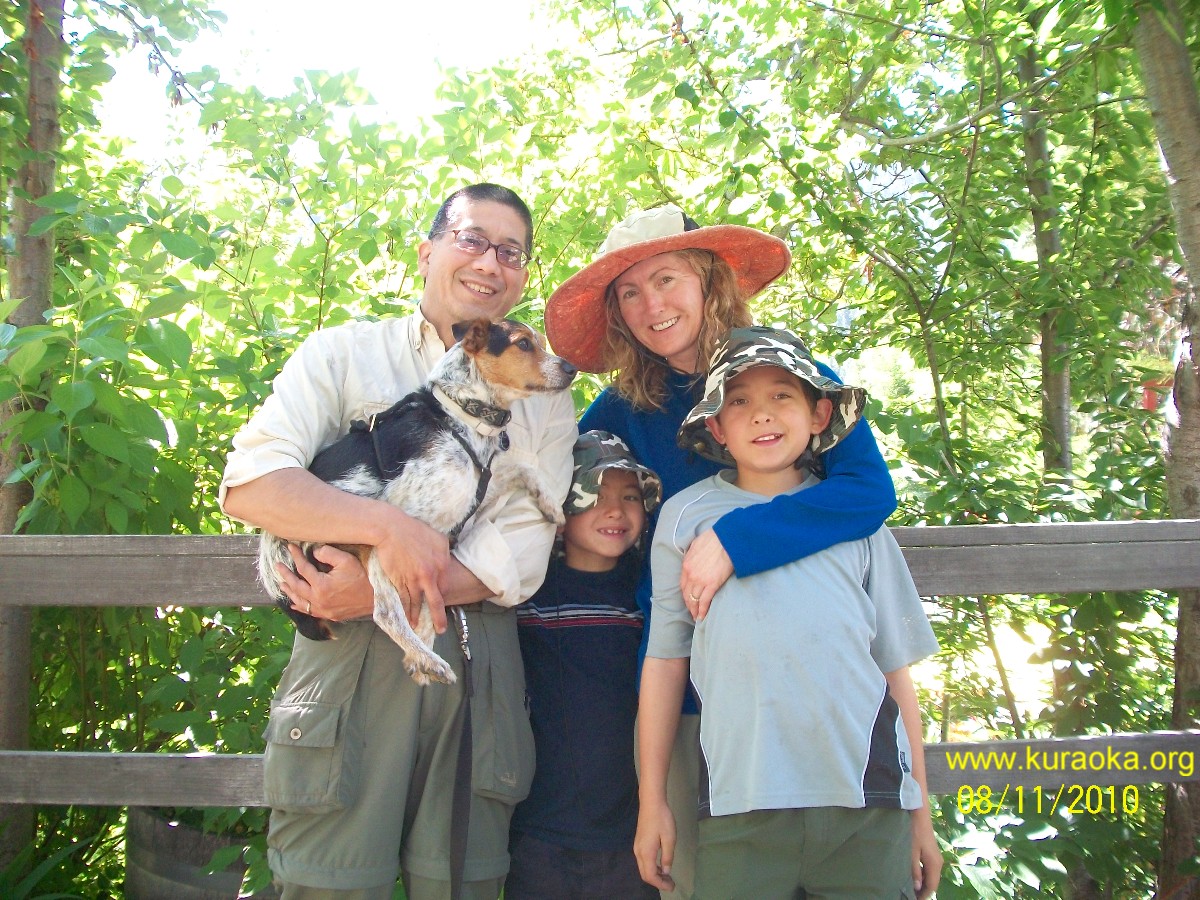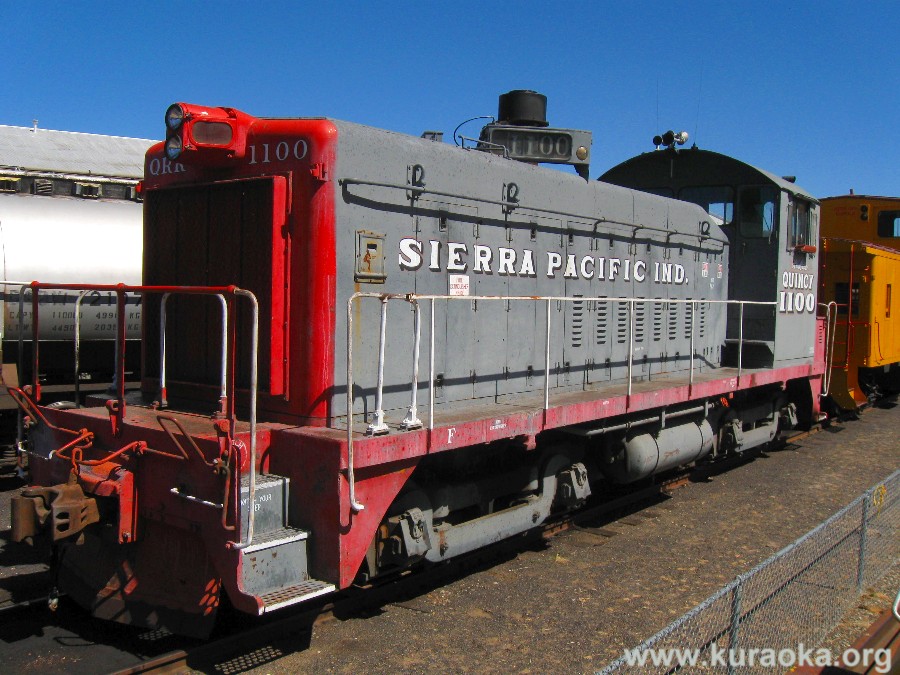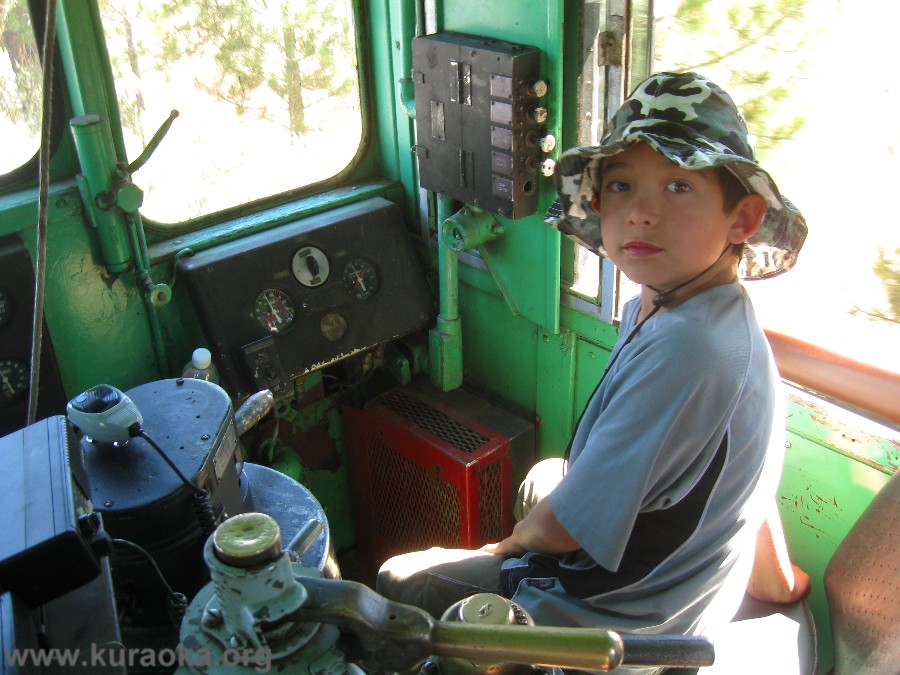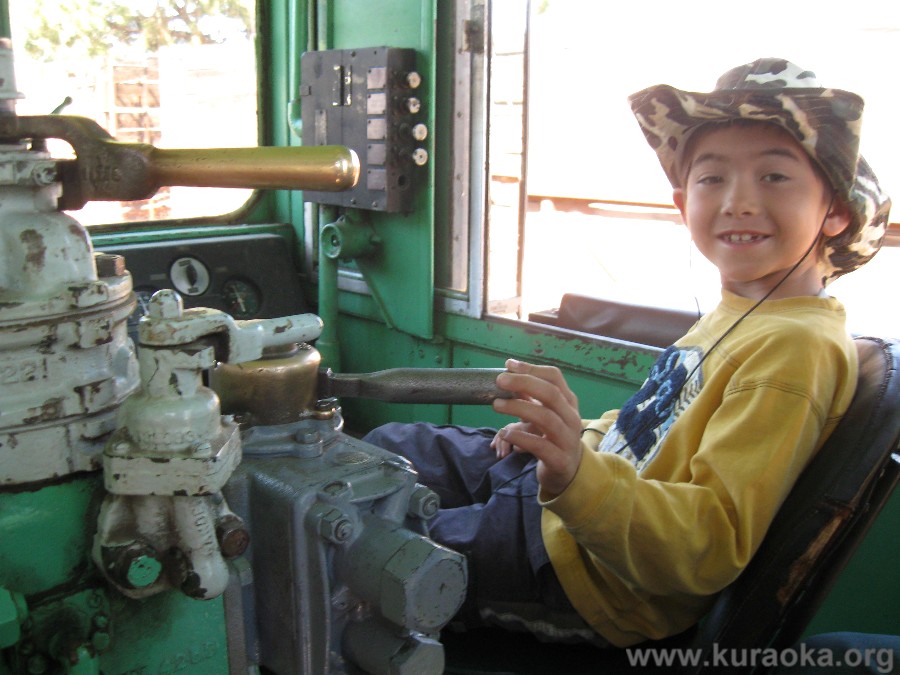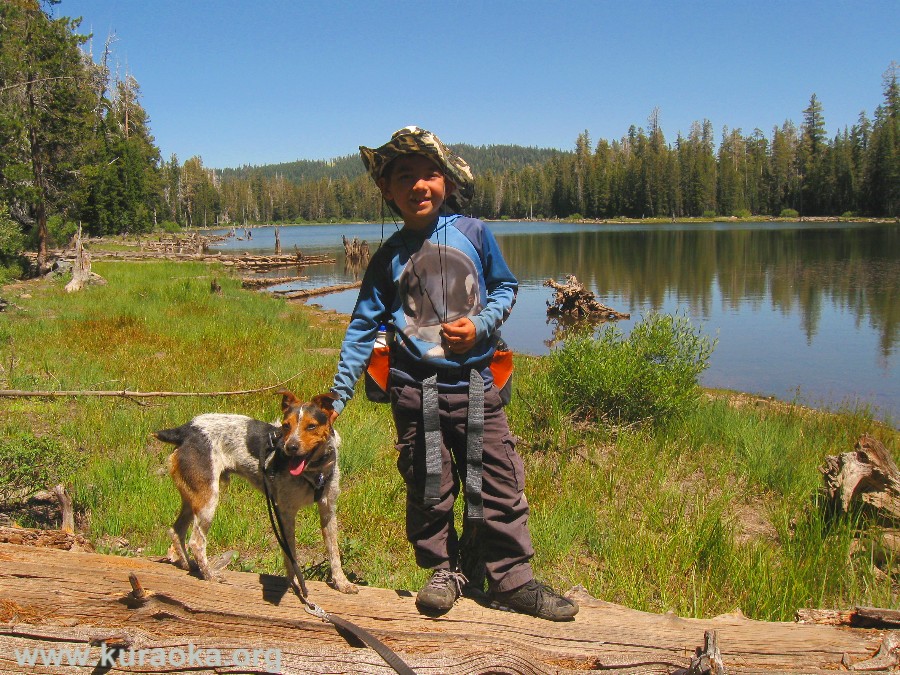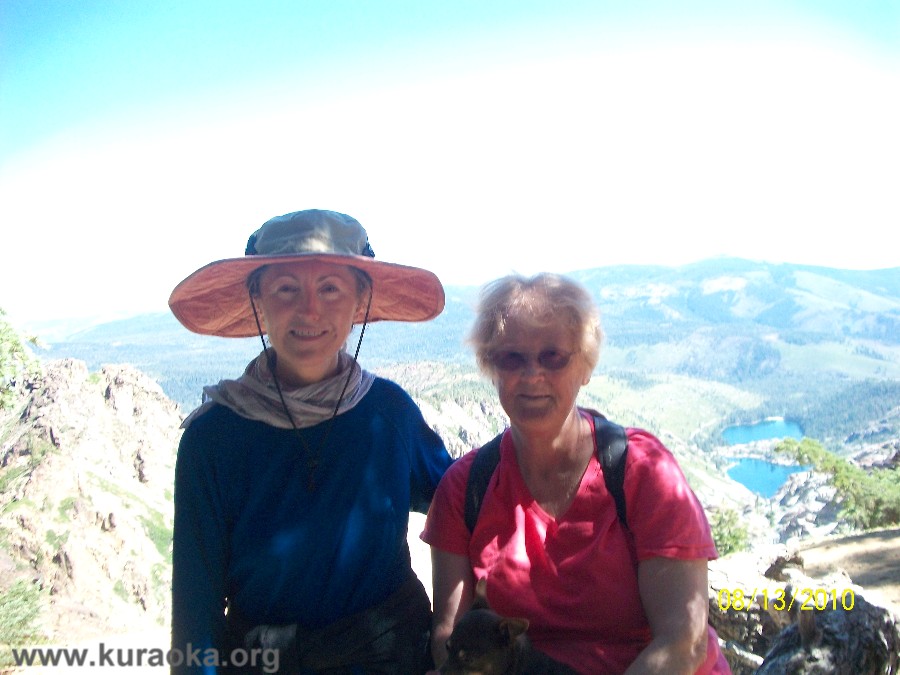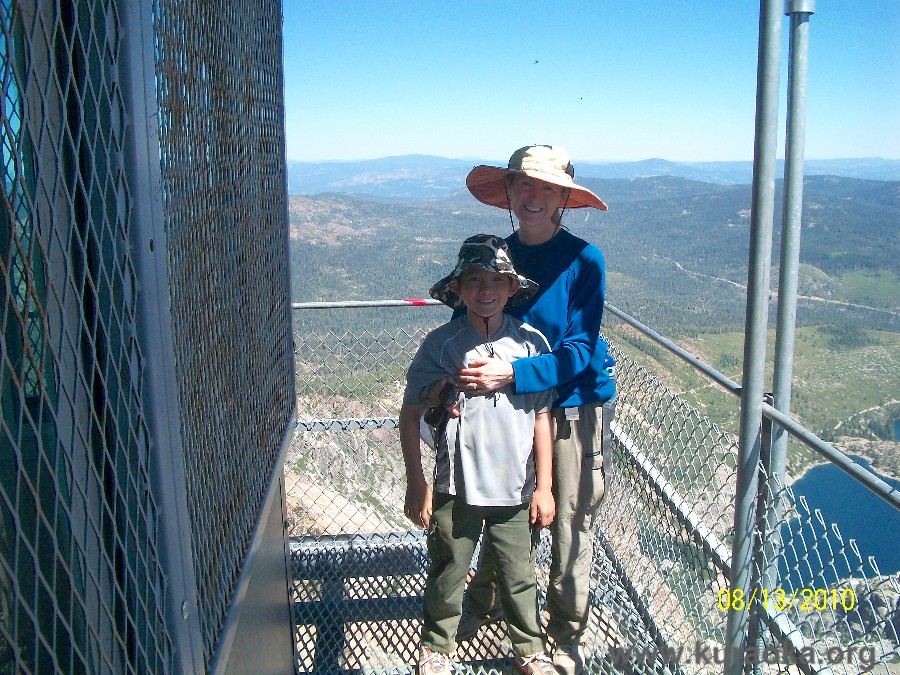 08-01-10: John turns older. Here we are with ice cream cake! Clockwise around the table: Roy, Barbara, Leo, Bill, John. John got the first "Get Fuzzy" collection, about which Roy seems especially thrilled.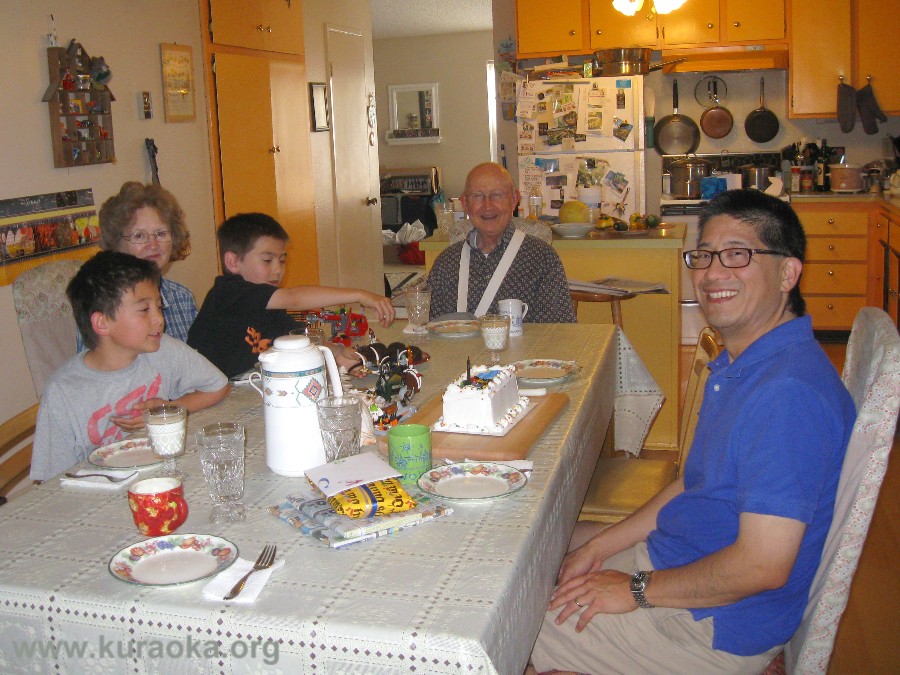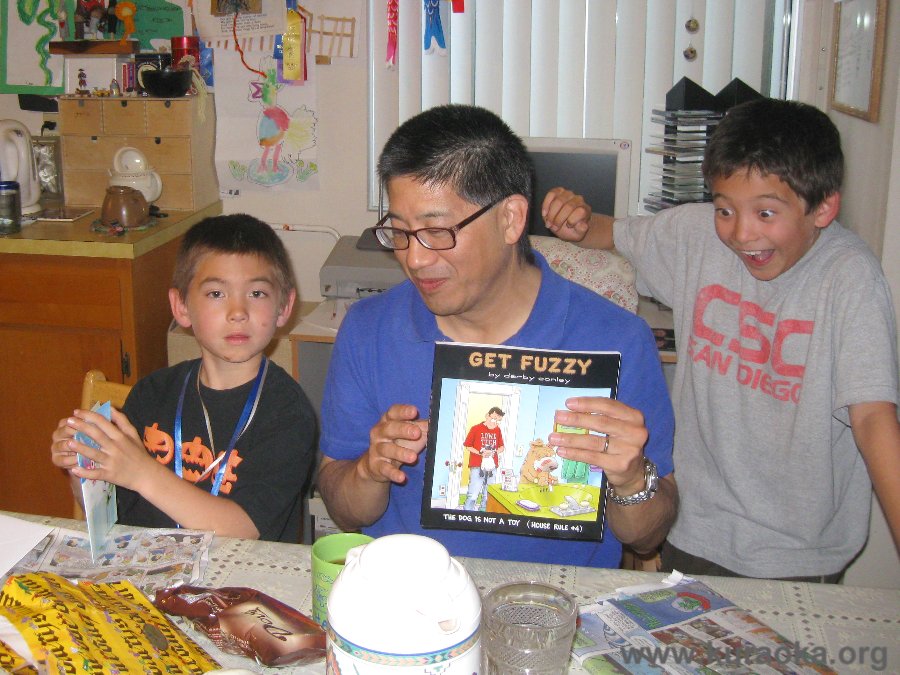 07-31-10: Zackary's birthday party at Ski Beach. Roy, shown here with Stephen and Zackary's "crazy uncle," says he went for an 80 mph ride on the Jet Ski. And loved it!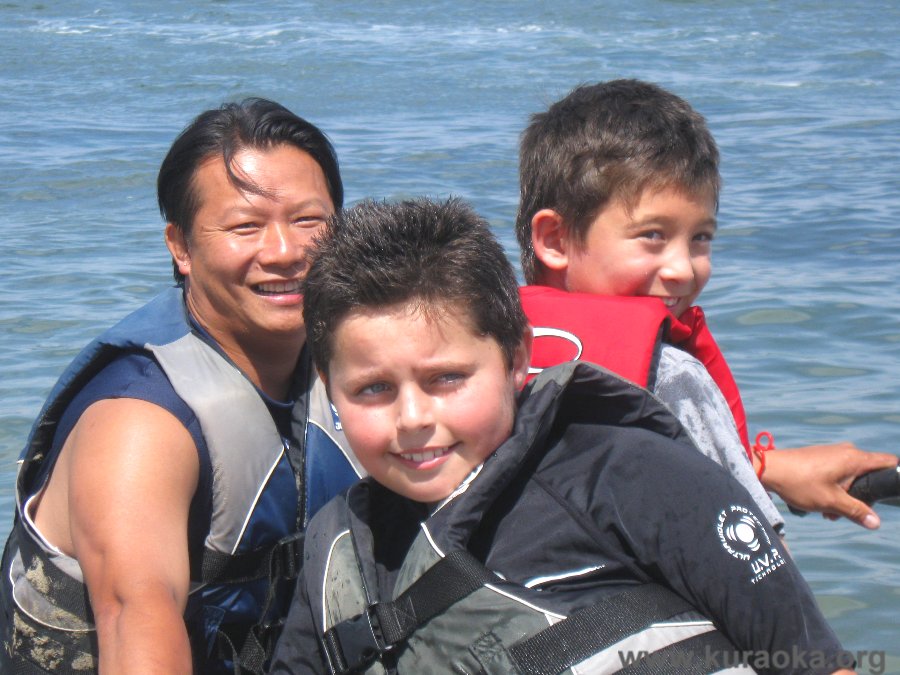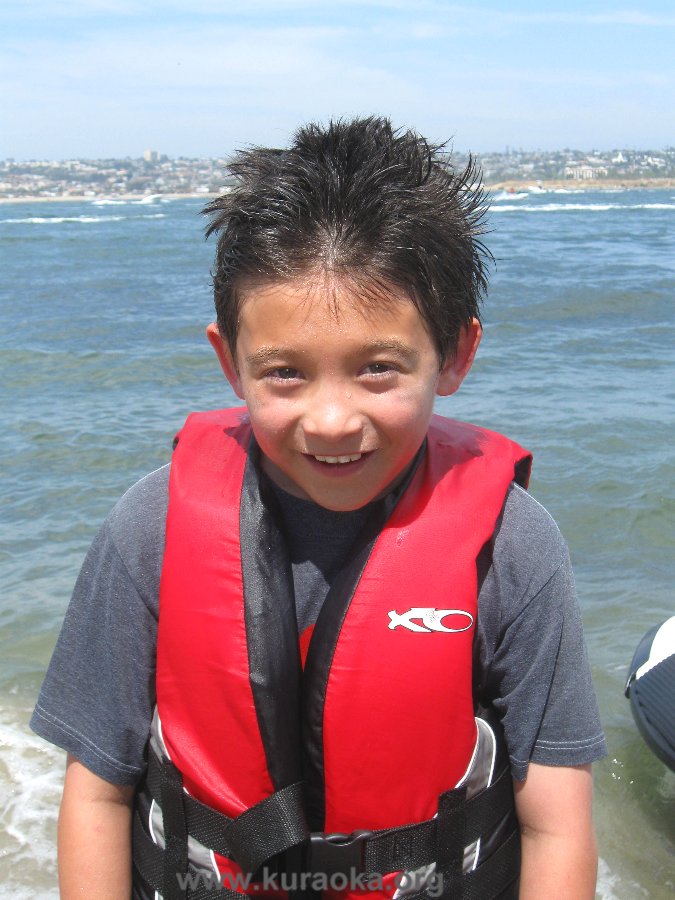 07-25-10: Leo and Ondine go to Old Town. They visited the Whaley House and wandered around a bit. Here are a couple shots of Leo around Old Town.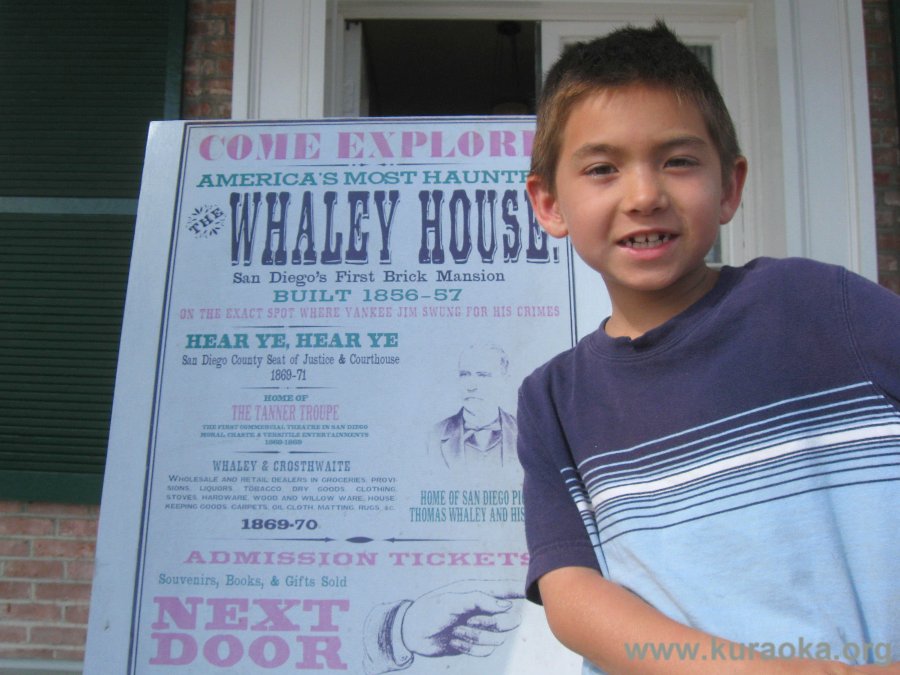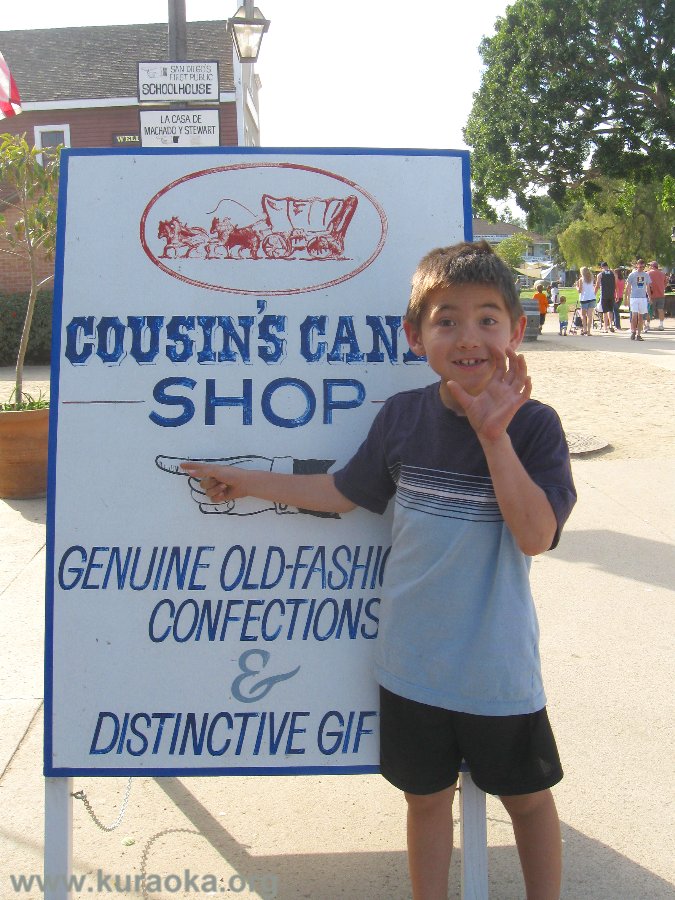 07-24-10: Leo's Birthday Beach Bash! The pirate flag marked the spot, by Tower 13 in Mission Beach. Leo's guests worked hard to put his name in sand! That's his good friend and classmate Elise – many of these photos are from Elise's Mom. Of course, the boys hit the water. From left to right, you see Leo, James, Roy, John Carlos, and Robbie. Then it was time for the treasure hunt. Going clockwise from Roy in the left foreground, there's Colin, John Carlos, James (orange shorts), Trevor (yellow slicker), Elise, and Leo. The last photo shows (going clockwise from Trevor in the yellow slicker) Elise, Leo, James, Jeffrey, John Carlos, and Colin, with Robbie sort of cut off in the near foreground. What a gorgeous day at the beach!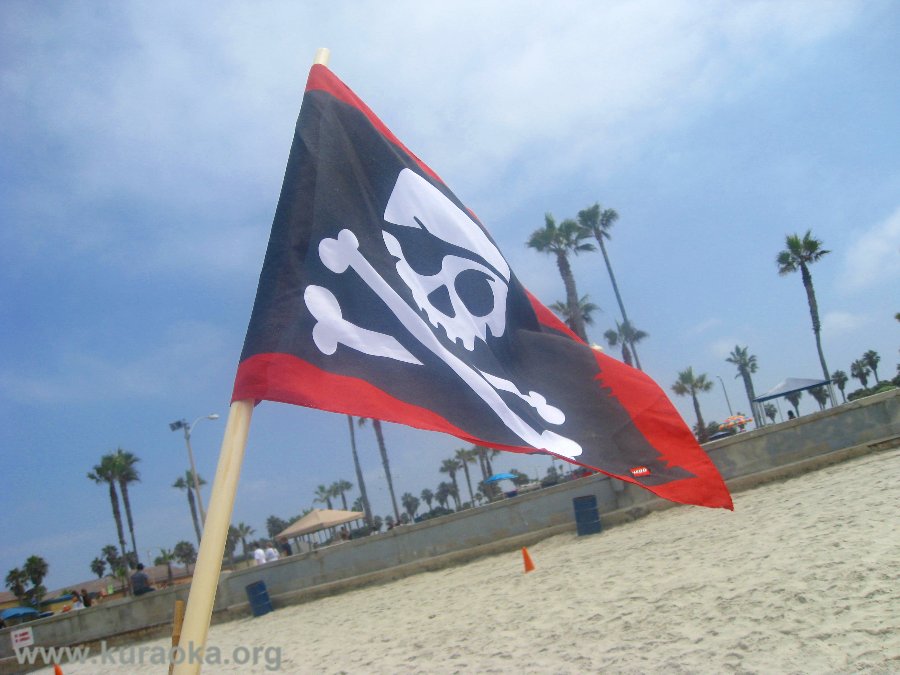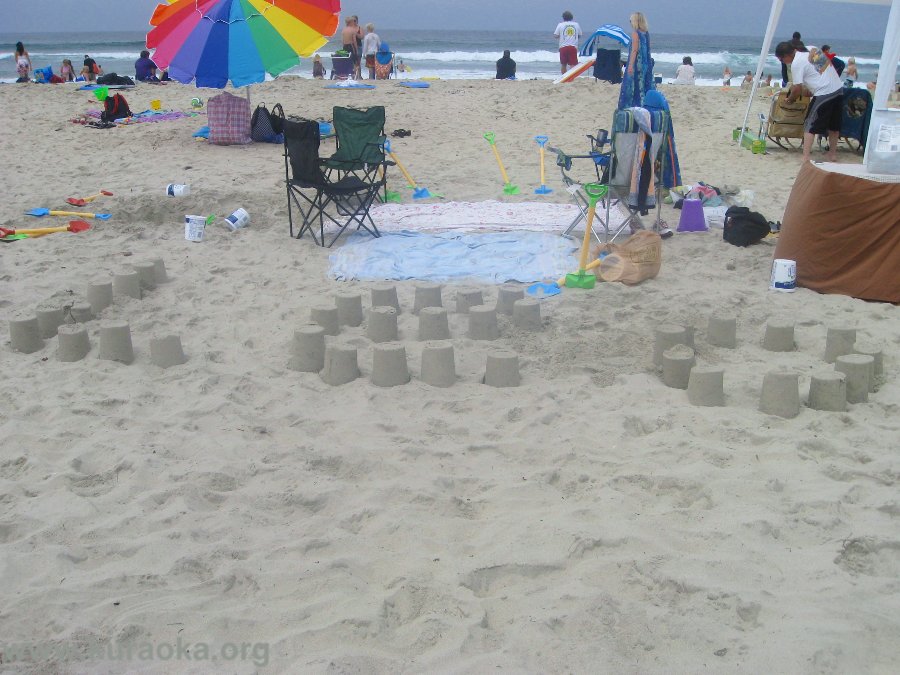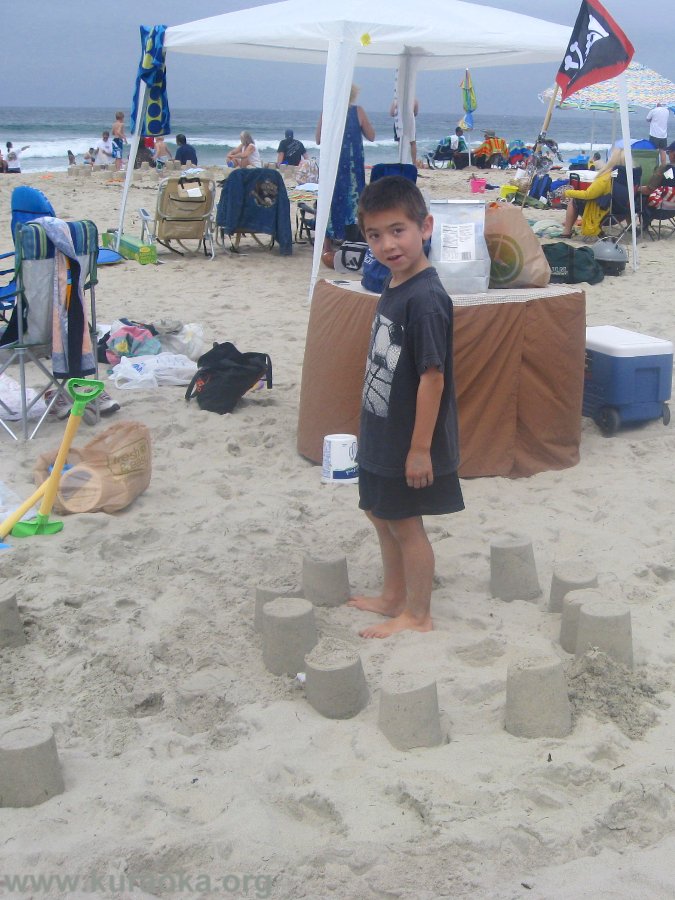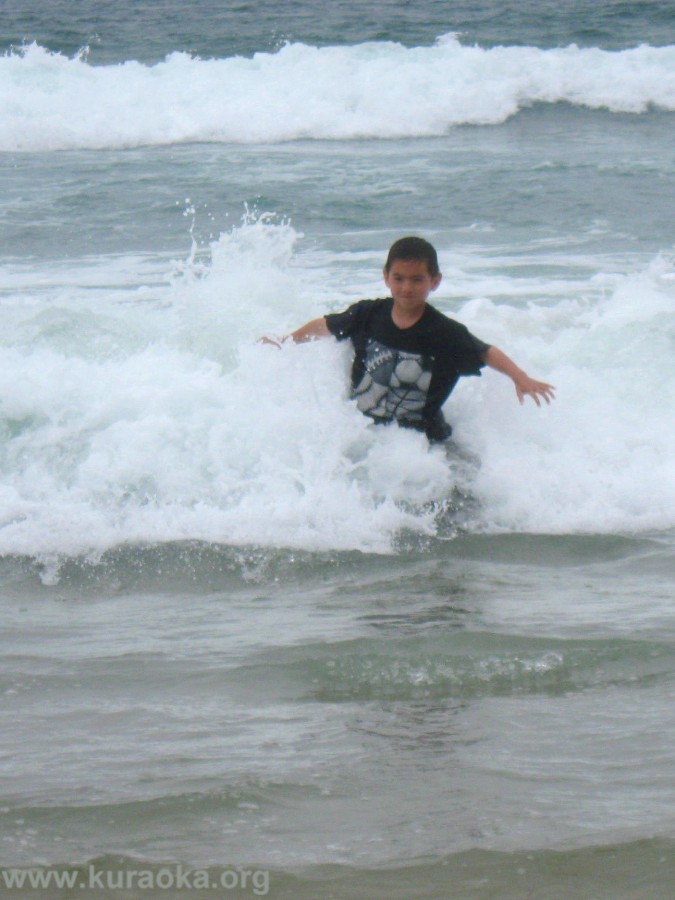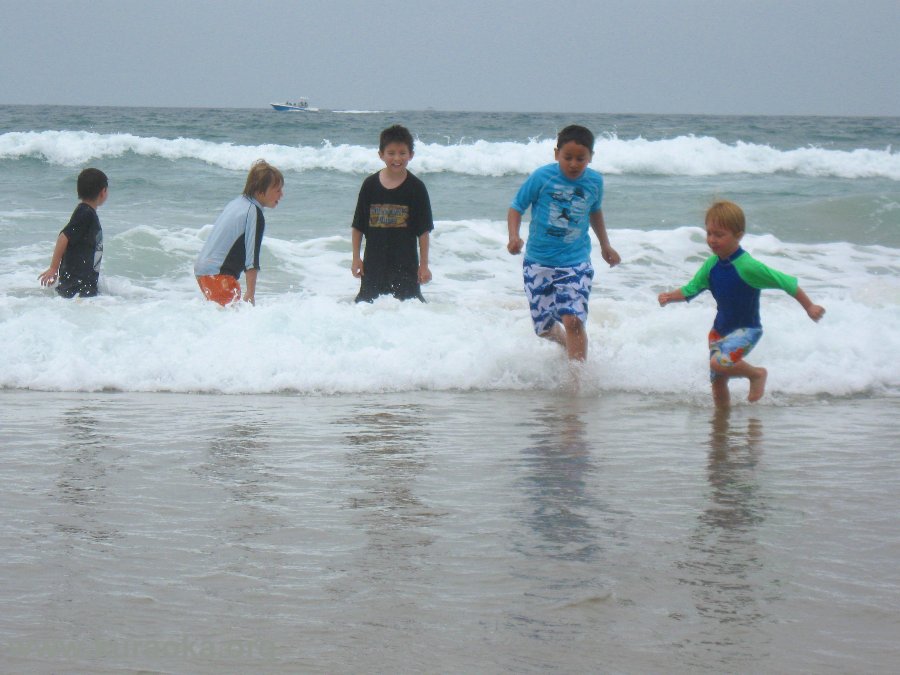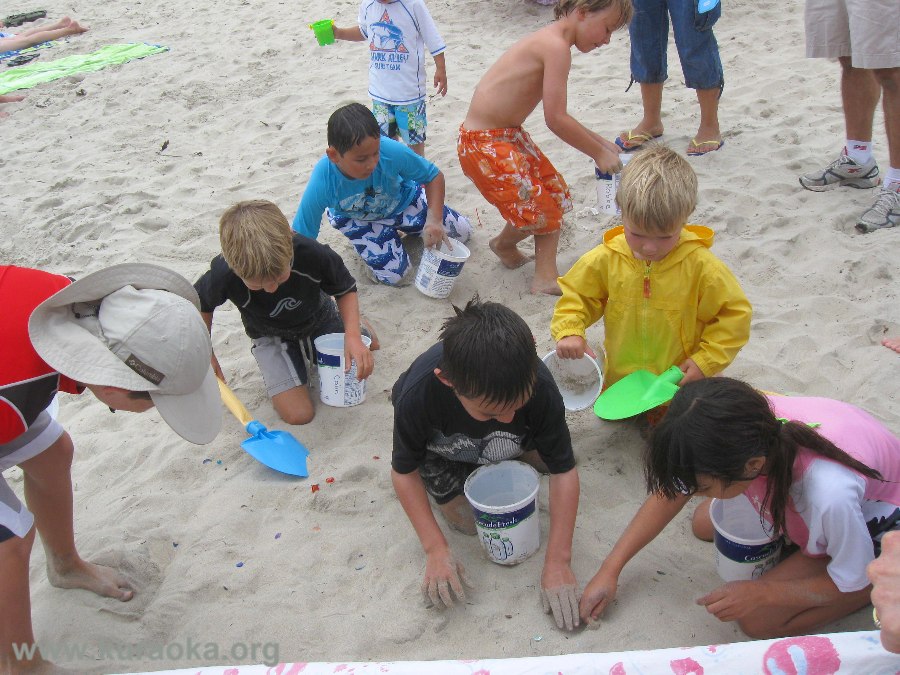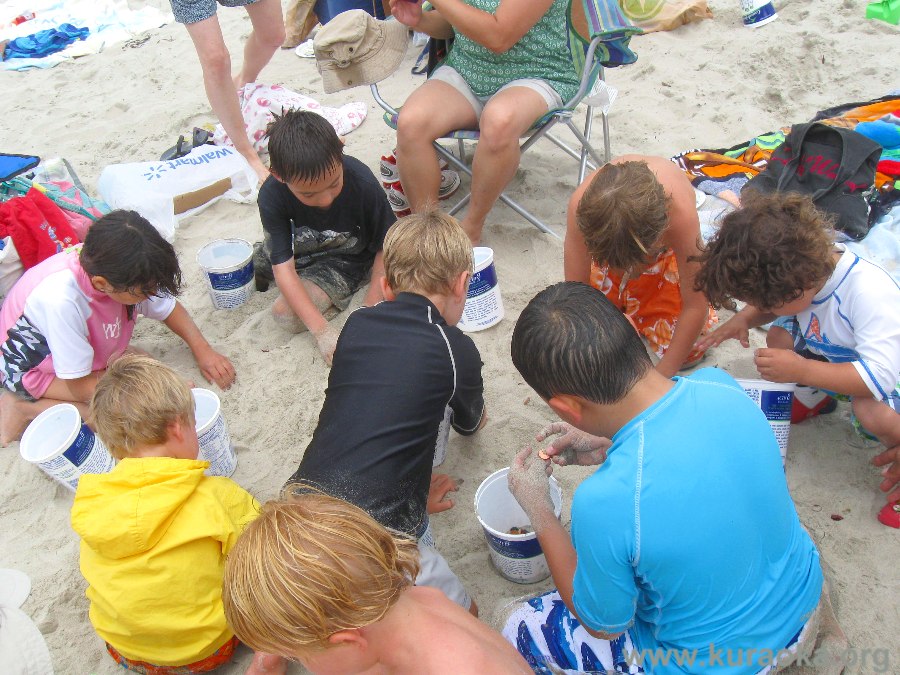 07-20-10: Leo turns eight! Here he is at his at-home birthday celebration, with ice cream cake from Baskin-Robbins (rainbow sherbet and mint chocolate chip ice cream on chocolate cake). Then, opening presents!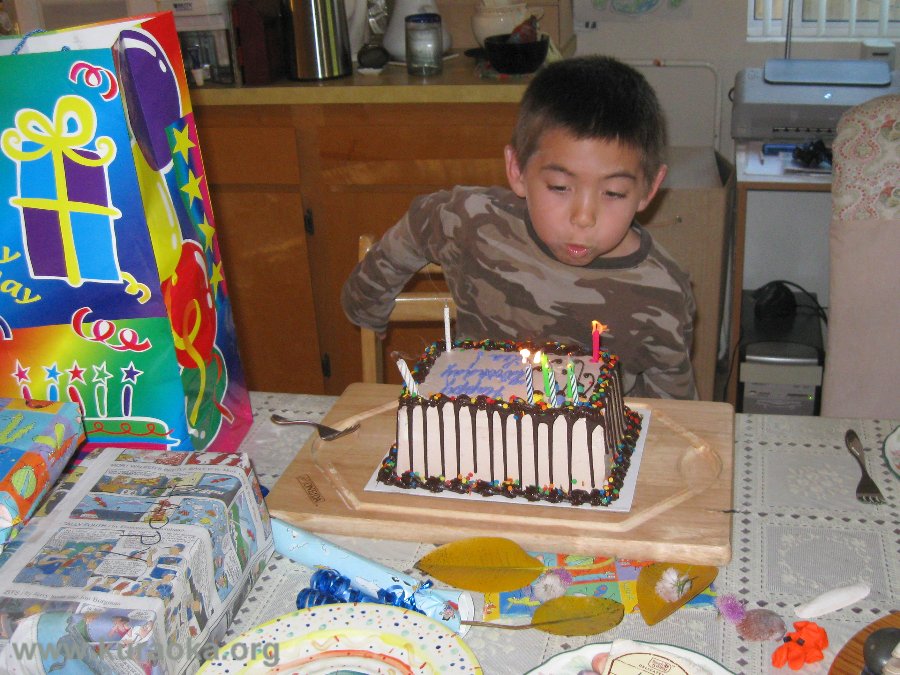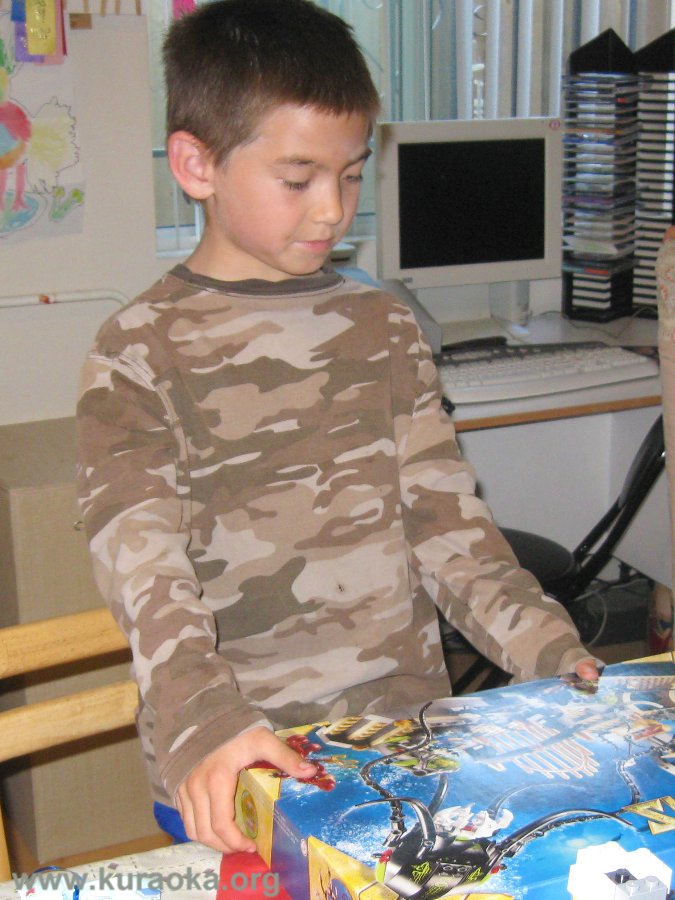 07-11-10: Legoland! We went to Legoland with Michael. Here you see the boys planning their day. Then, Michael and Roy and Ondine and Leo rode the Aquazone Wave Racers several times. Michael and Roy did the Splash Battle ride in Pirate Shores, and got soaked! They also moved on to the water area there and got more soaked! We looked at Miniland – here Leo, Michael, and Roy watch the cannon battle at the Mini-Treasure Island in Mini-Las Vegas. Other rides they did were The Dragon roller coaster, Captain Cranky's challenge, Project X Technic roller coaster (Roy's favorite), and Lost Kingdom Adventure (which John went on). We wrapped up the day with dinner at the Garden Restaurant, with a view overlooking all of Miniland.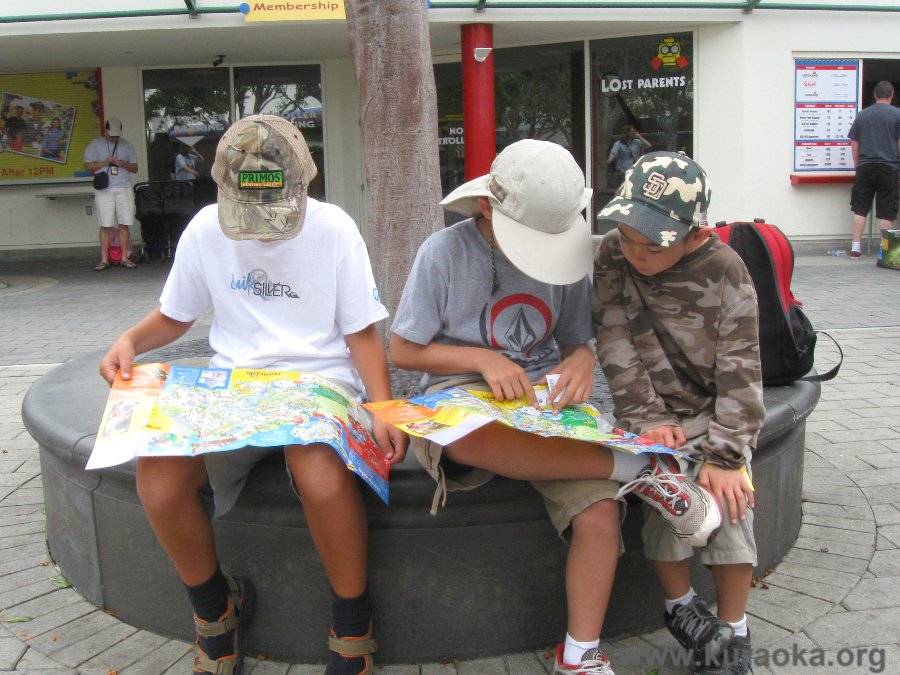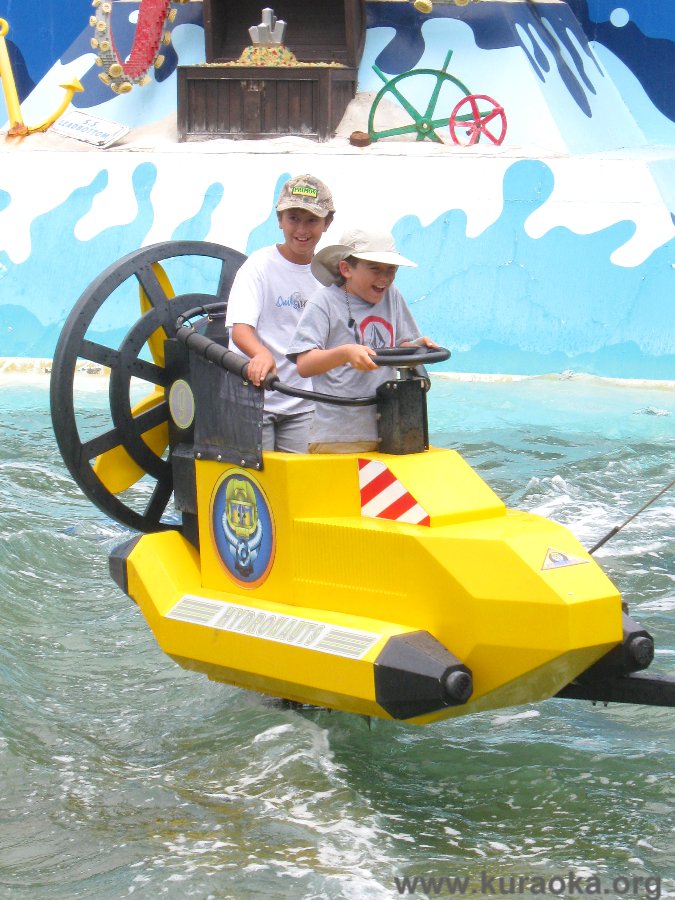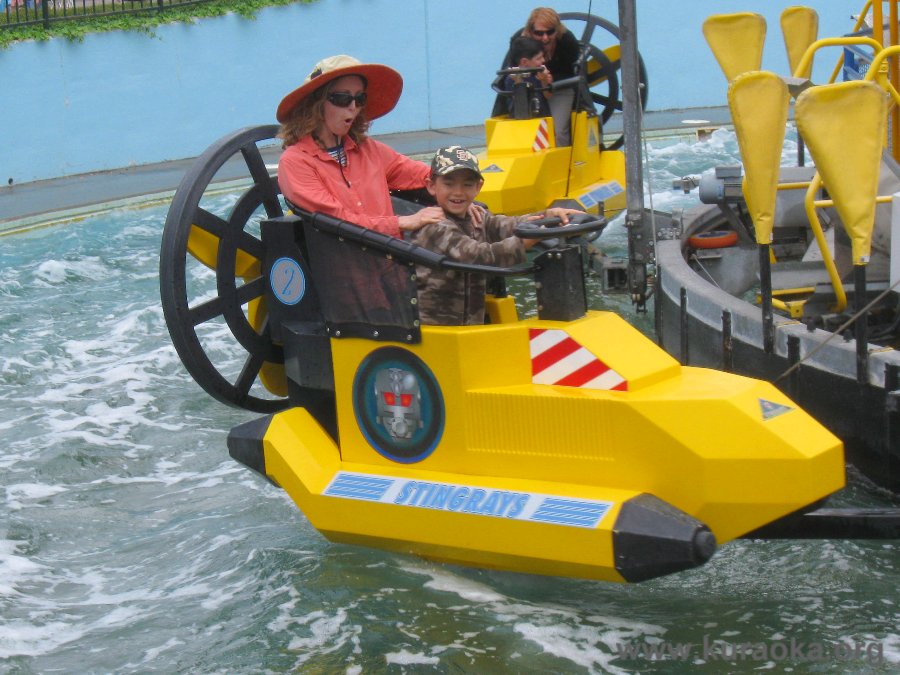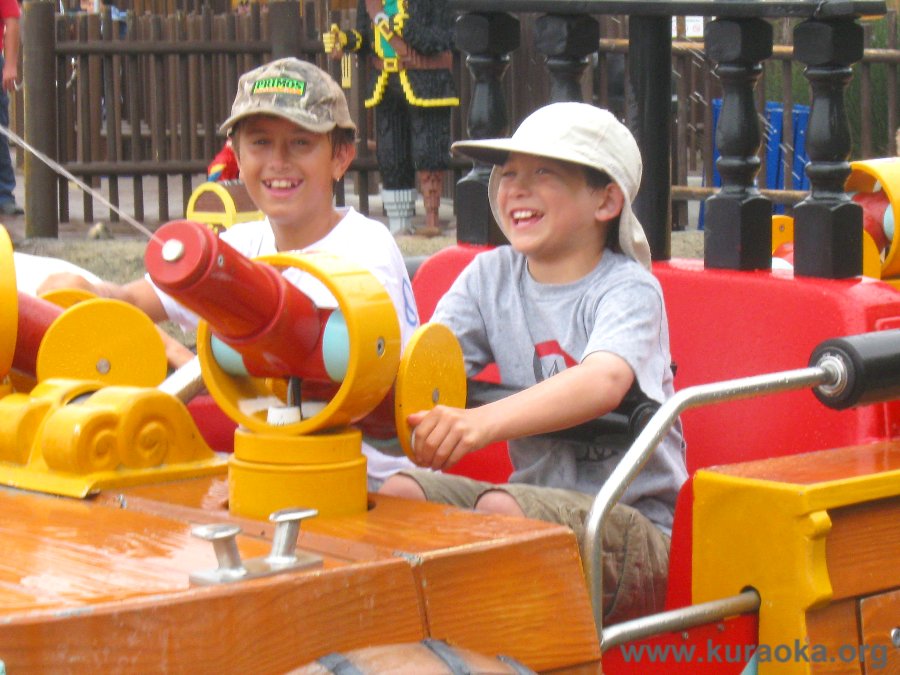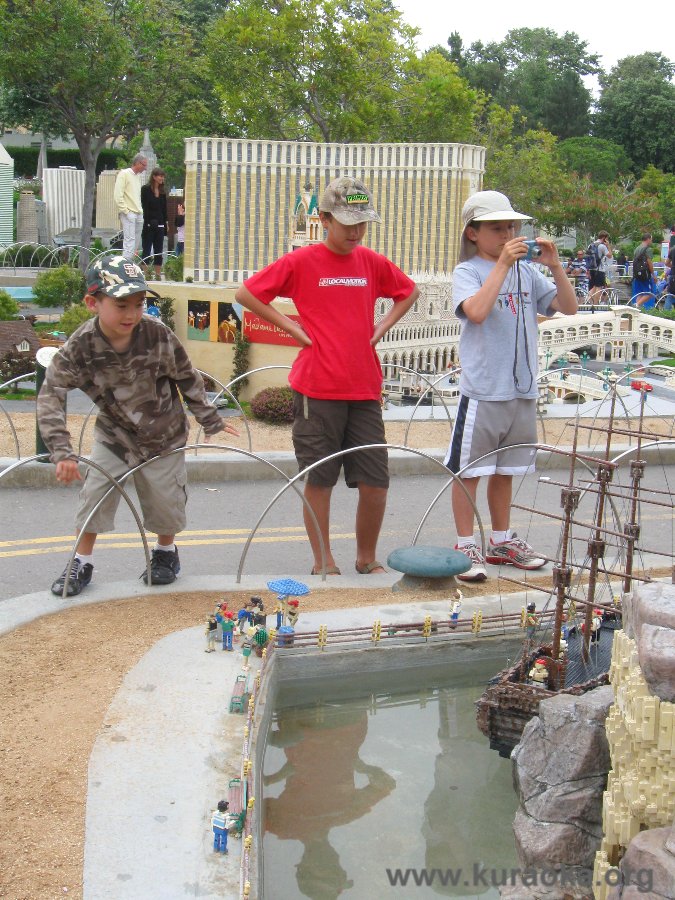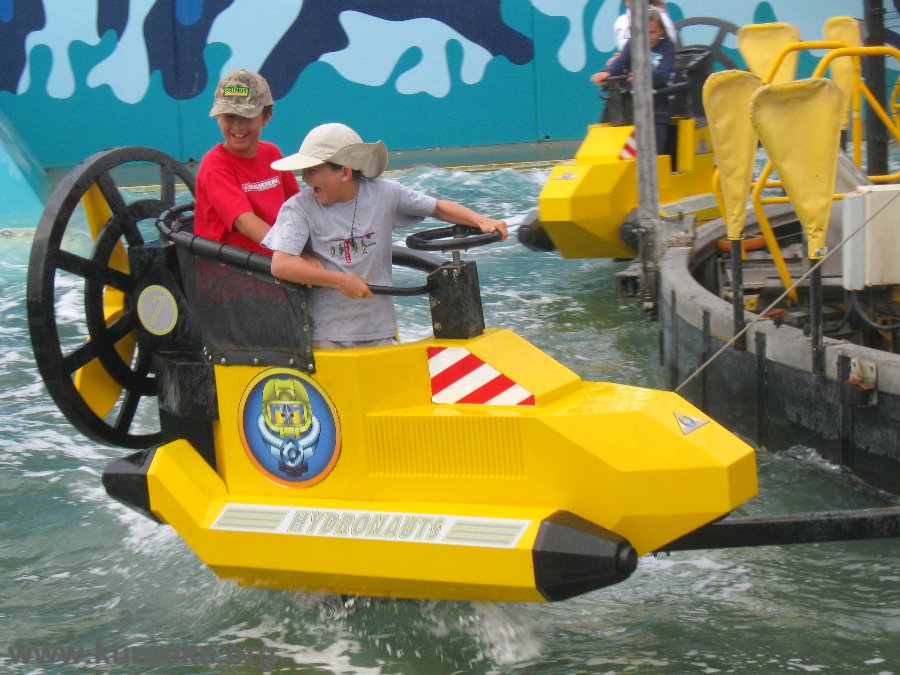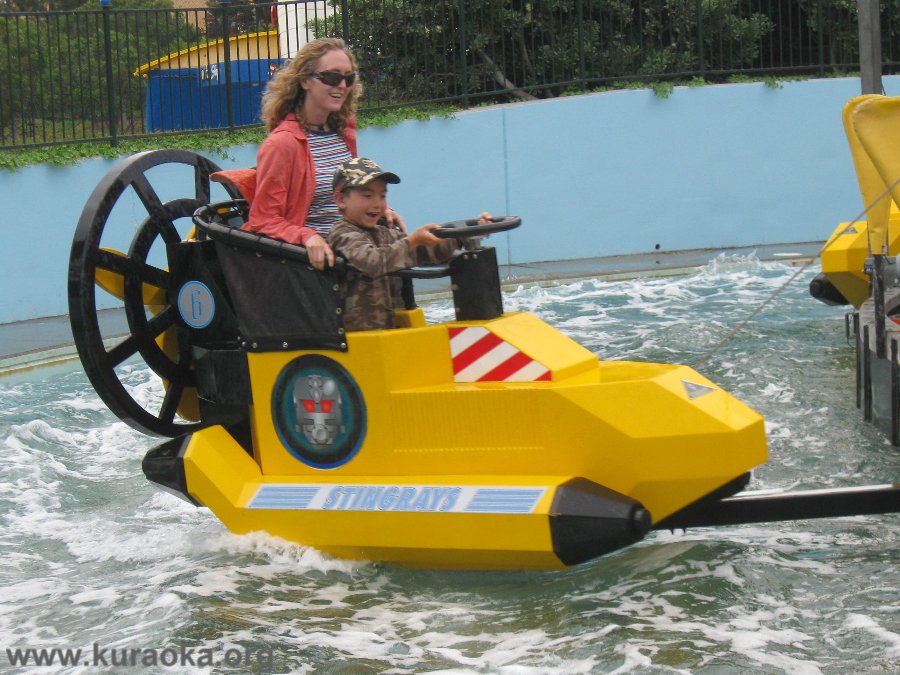 07-04-10: Independence Day on Cowles Mountain. We began what may become a tradition: hiking up Cowles Mountain to watch the fireworks all over the county. This is Roy's shot of the smaller fireworks, set against the city lights.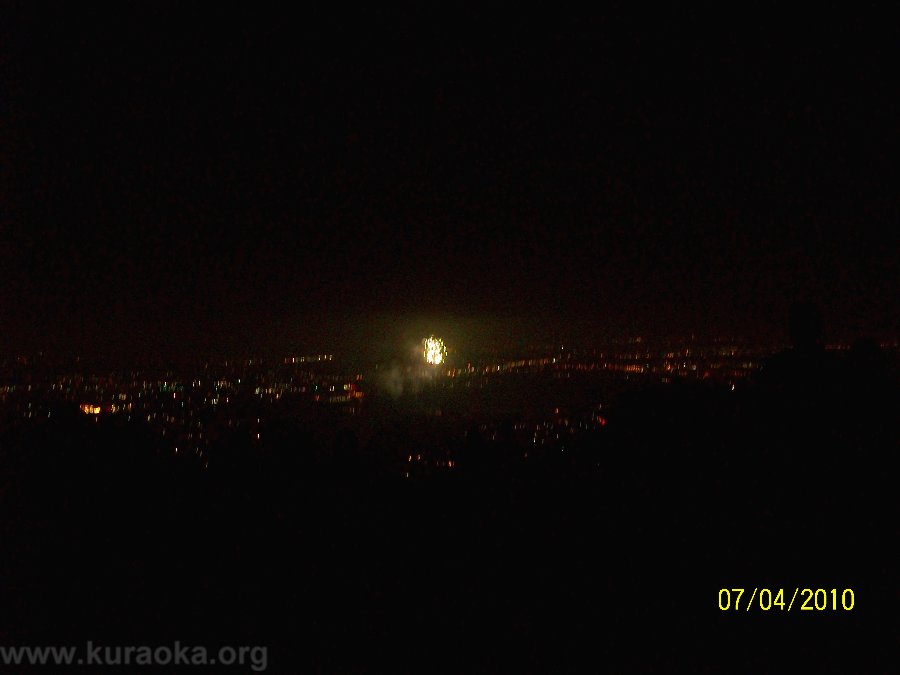 06-28-10: Auf Wiedersehen to Hannover Barbara! San Diego Barbara and Hannover Barbara worked relentlessky on the family geneology project, with few breaks for tourist stuff. This was Hannover Barbara's last full day in San Diego. We will miss her!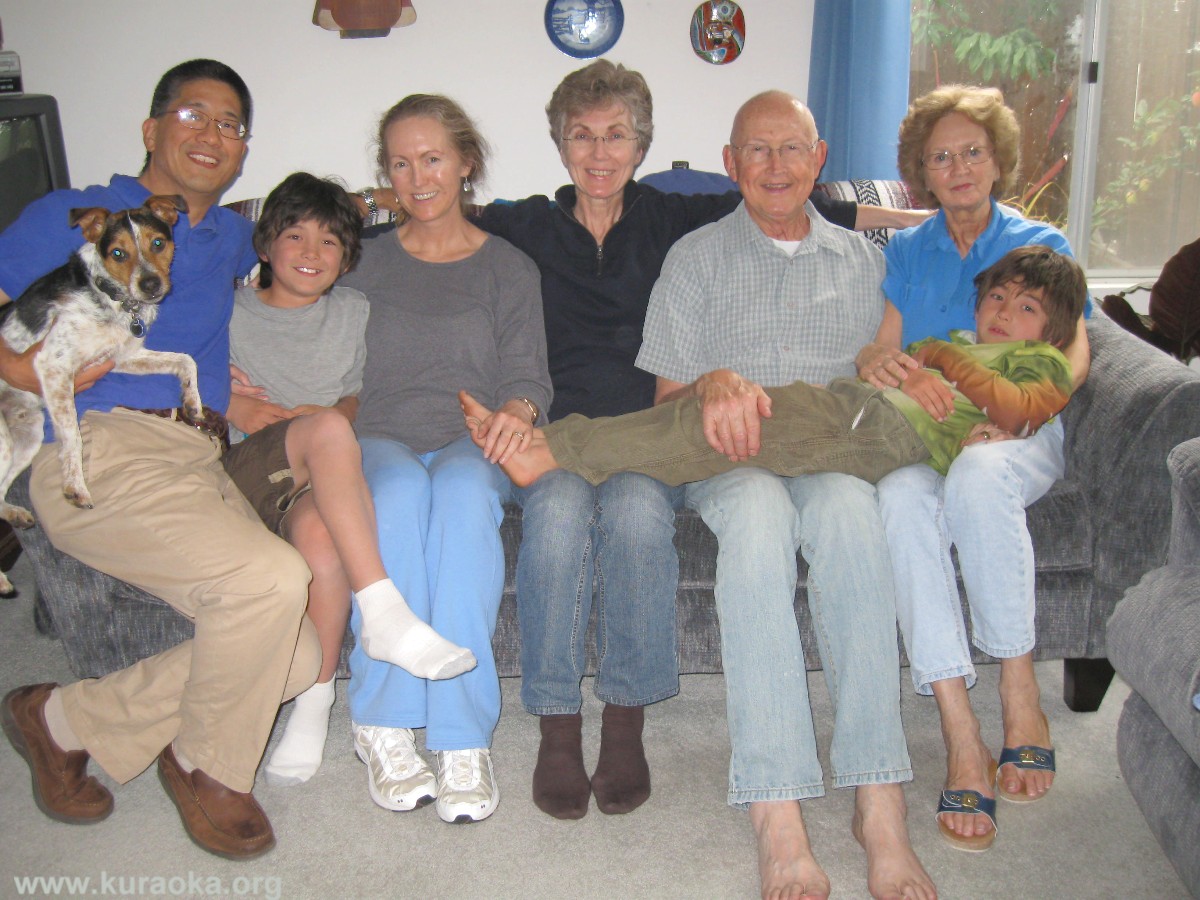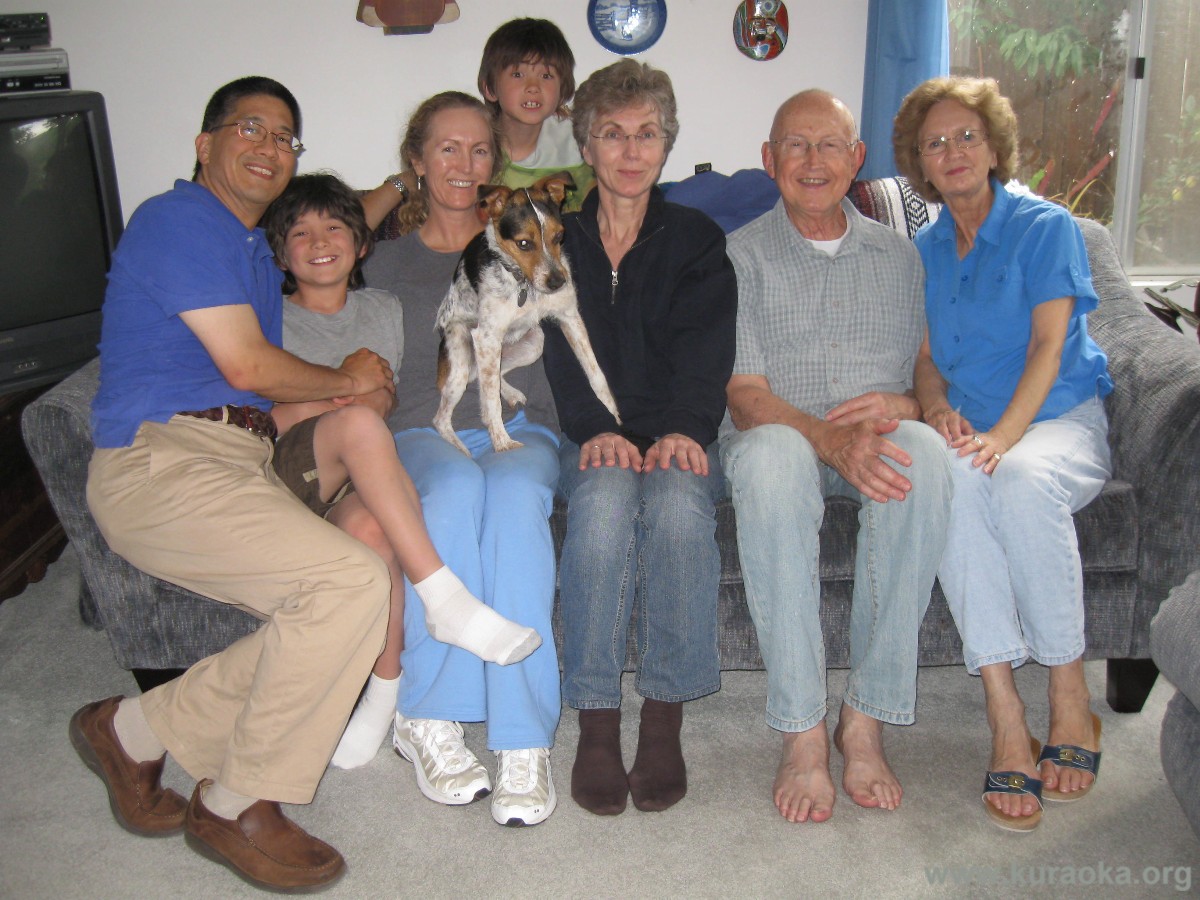 06-27-10: Hornblower Adventure Cruise in the Big Bay! Here we are enjoying a two hour cruise ... A two hour cruise. The boys got to steer the boat, under the watchful eye of Hornblower Captain Steve. Then we celebrated Barbara and Bill's 25th wedding anniversary with lunch at the Olive Garden! We gave them a set of Japanese bowls.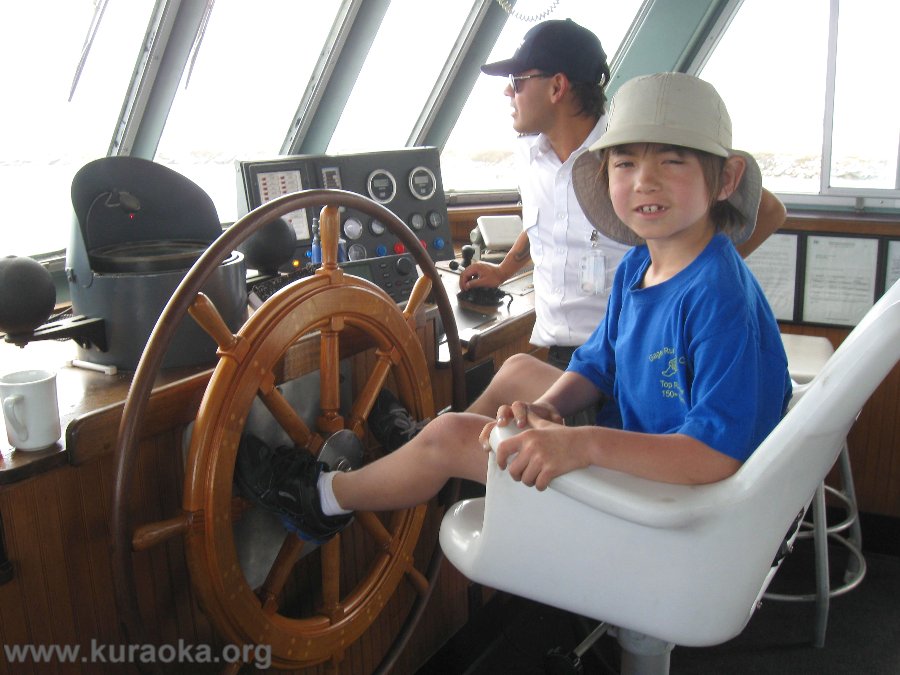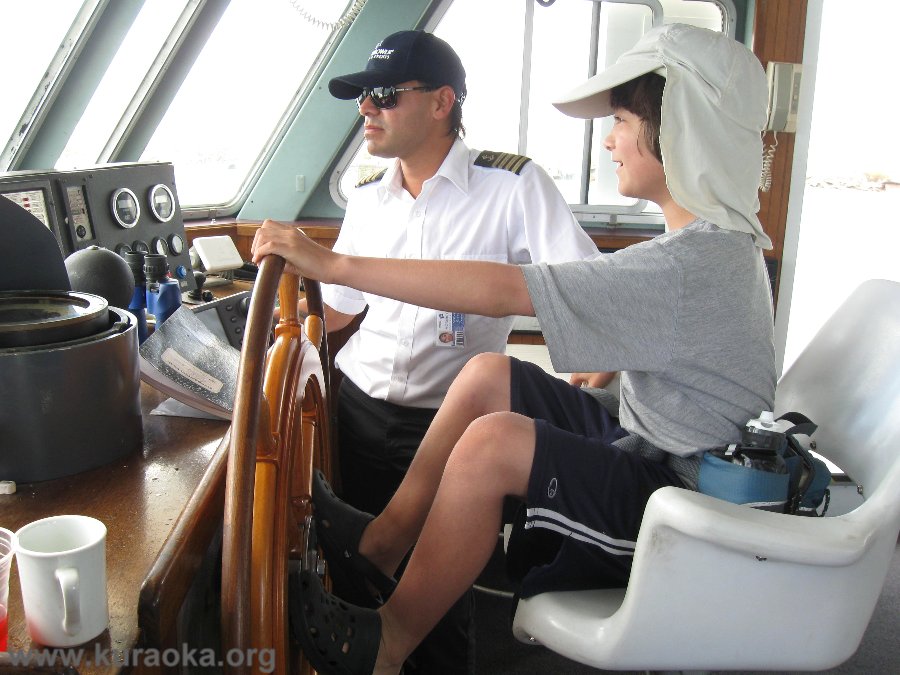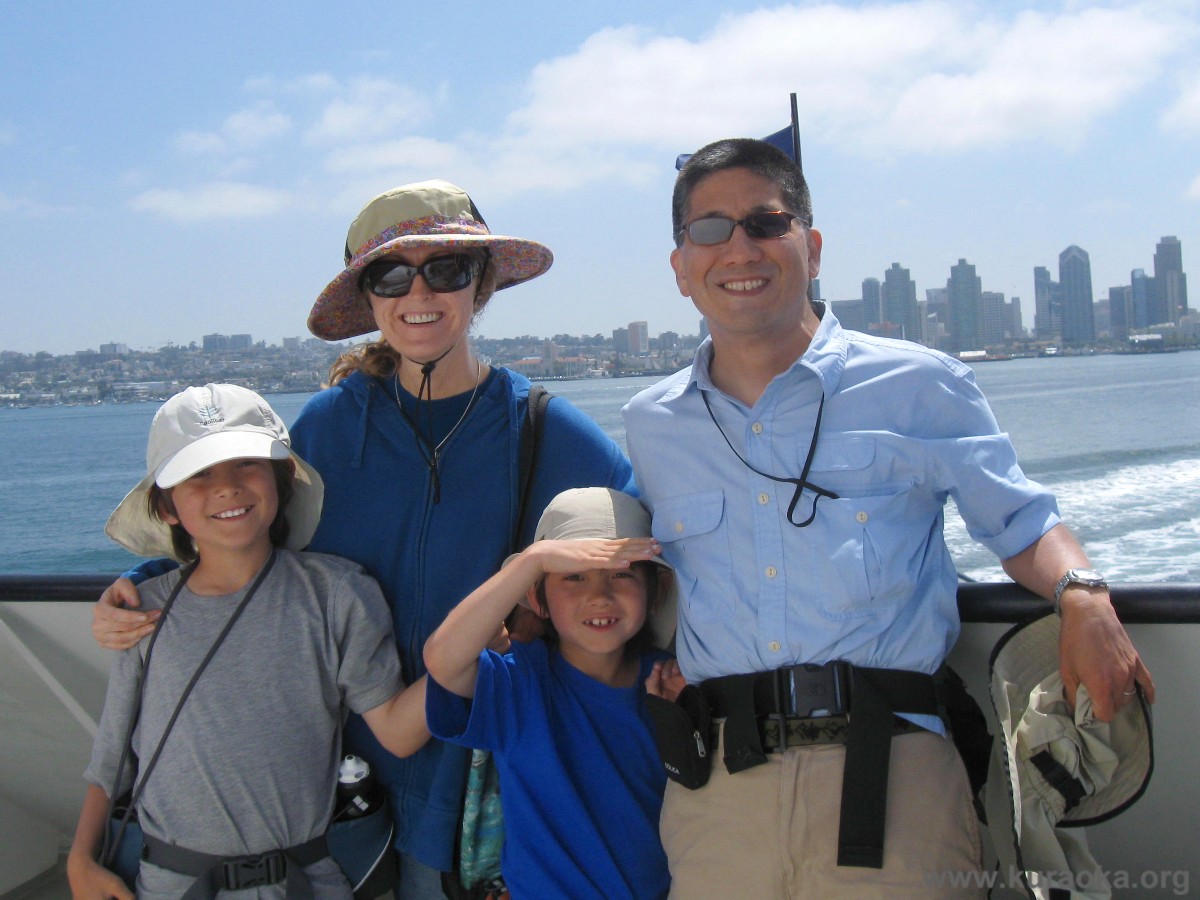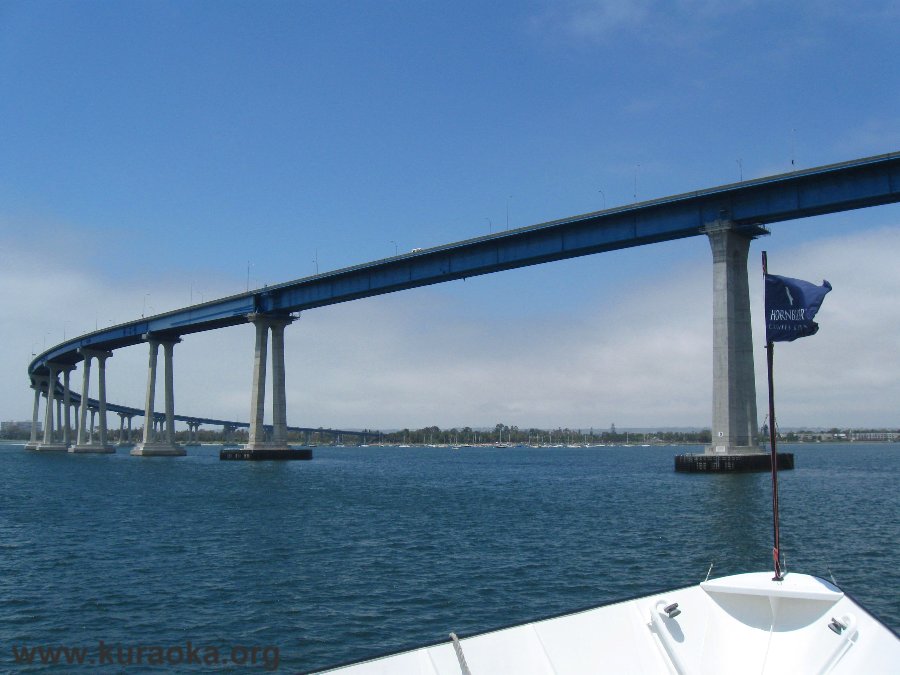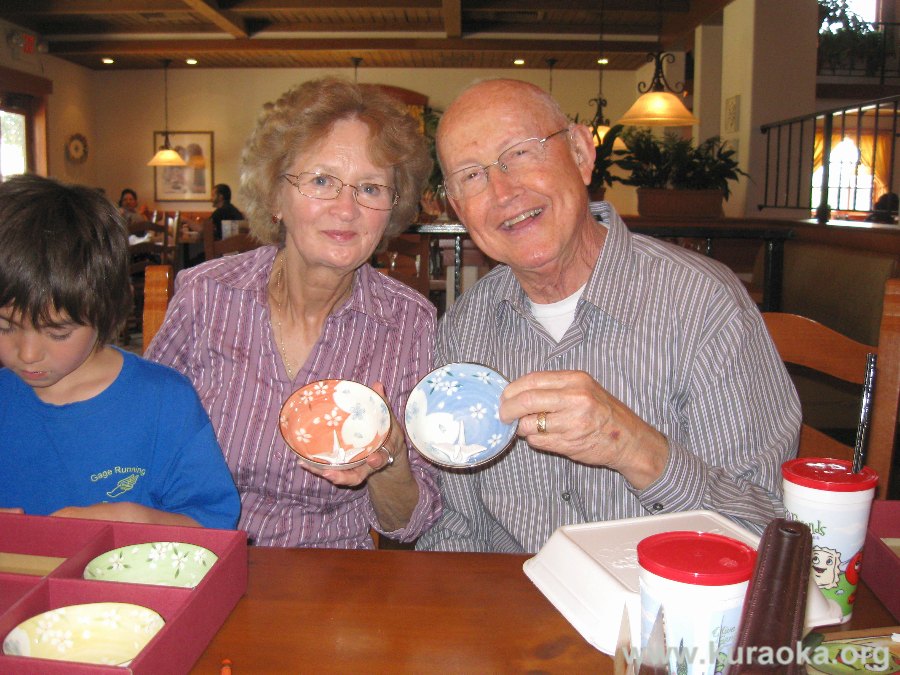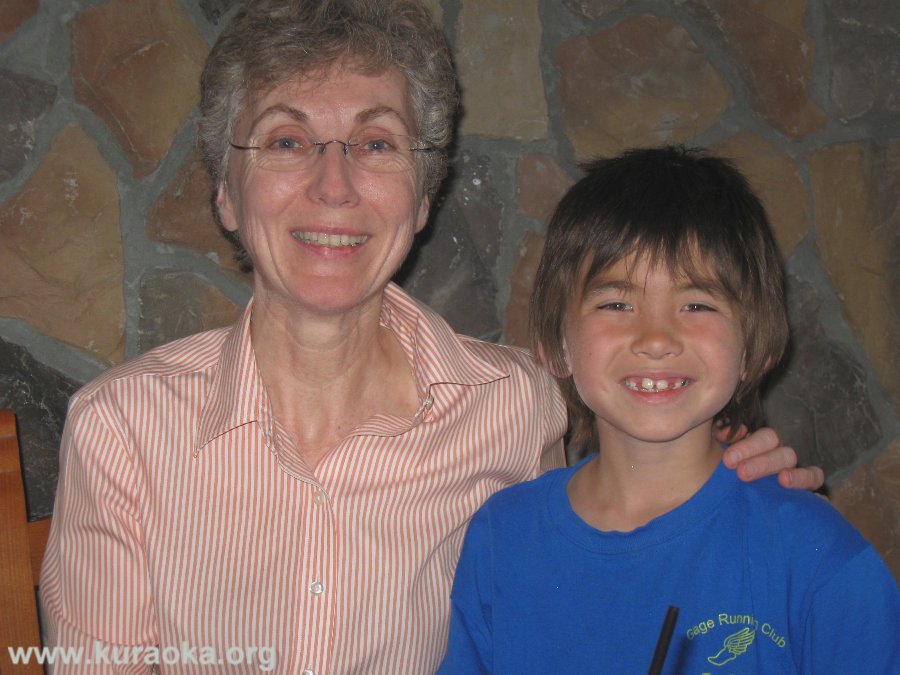 06-22-10 to 06-24-10: Camping at Leo Carrillo State Beach. Here we are enjoying a few days at the beach near Malibu. There are more photos from this trip on our journal from Leo Carrillo State Beach.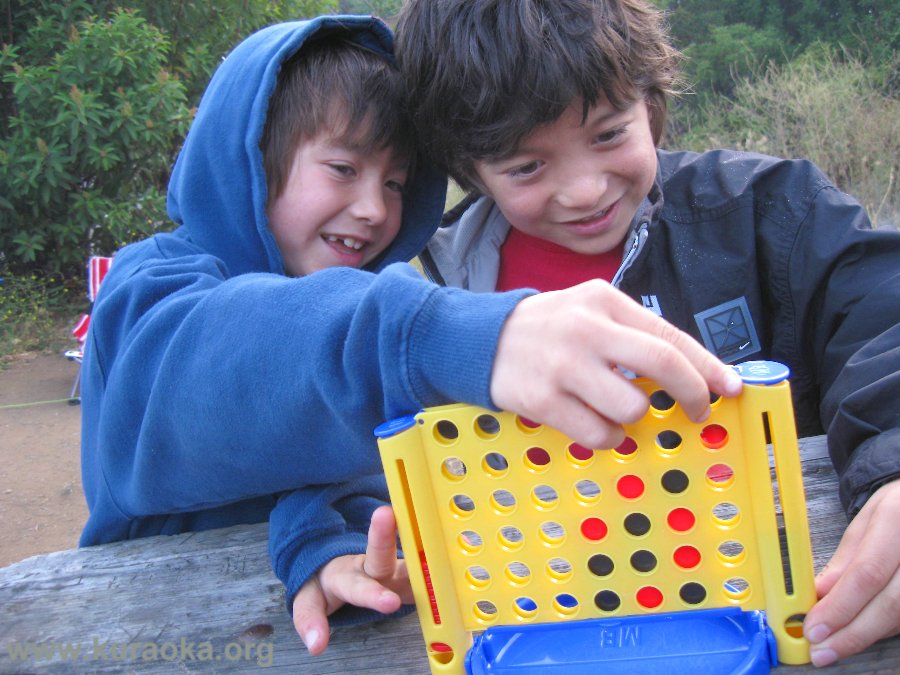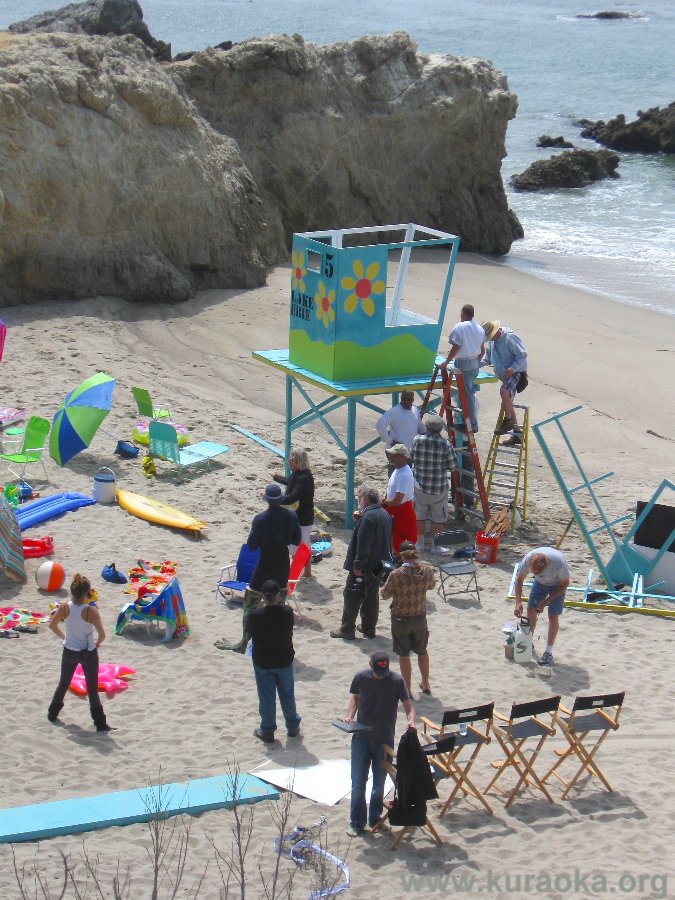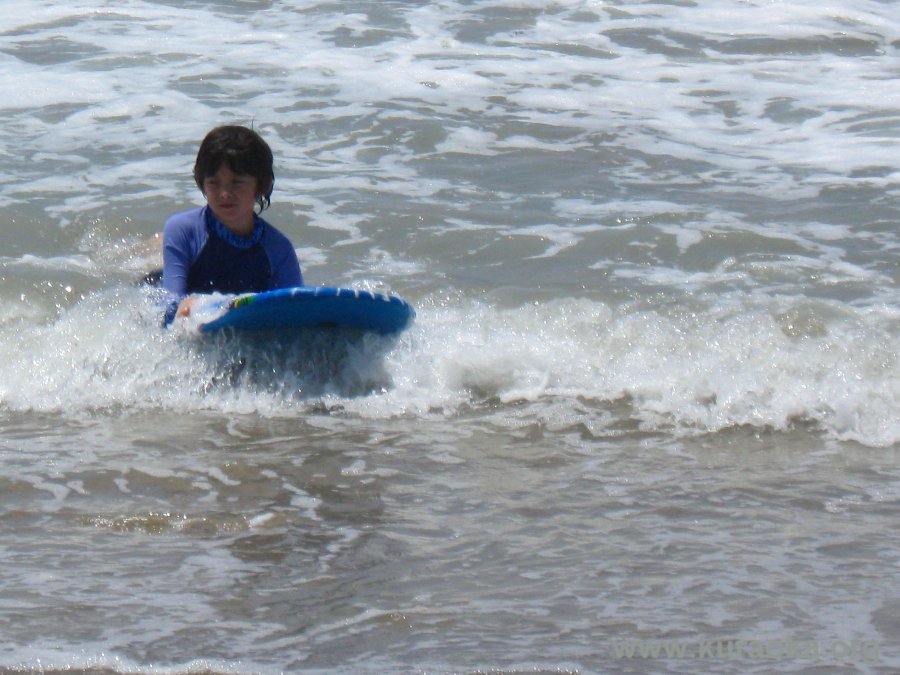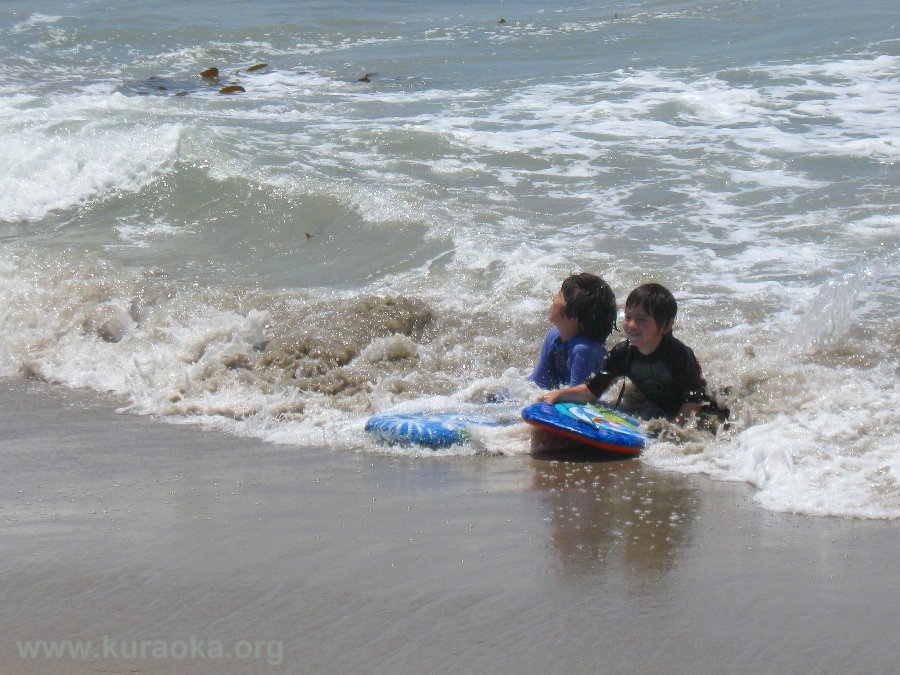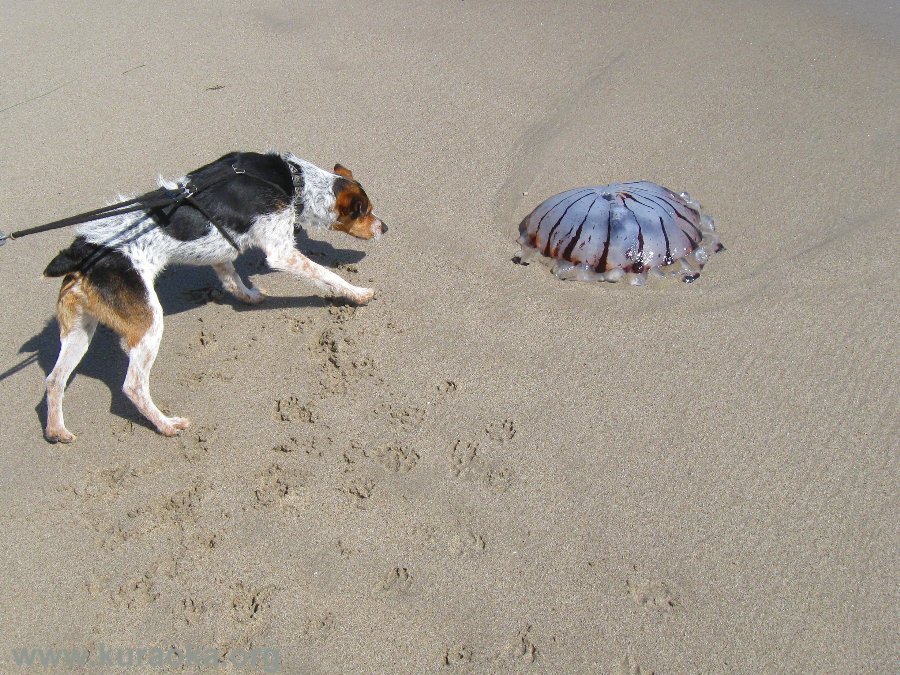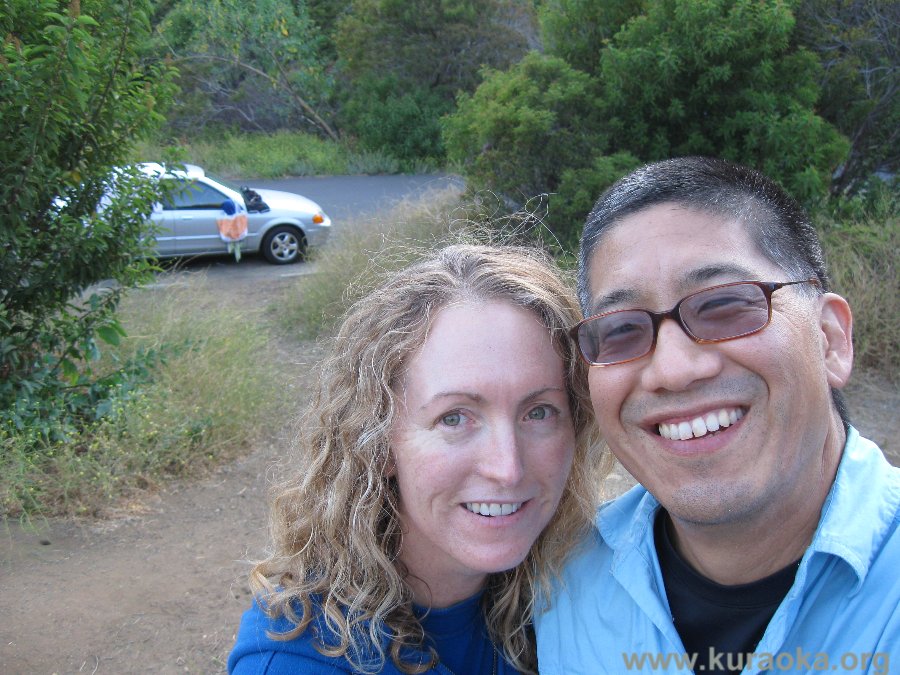 06-21-10: Balboa Park with Hannover Barbara. This is San Diego Barbara's cousin, Hannover Barbara, in front of the Botanical Building in Balboa Park, where she spent some time with Ondine.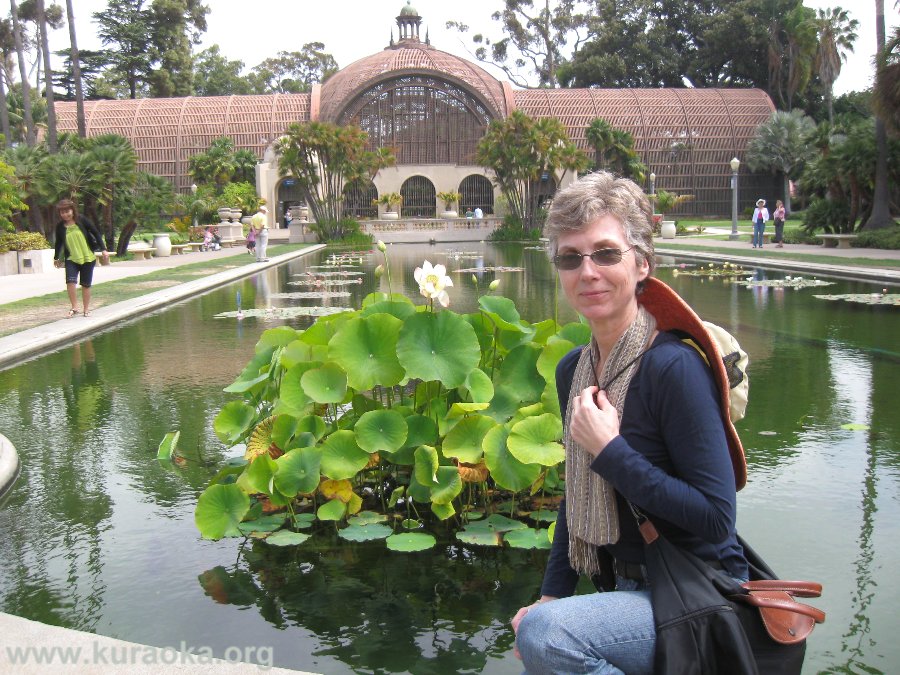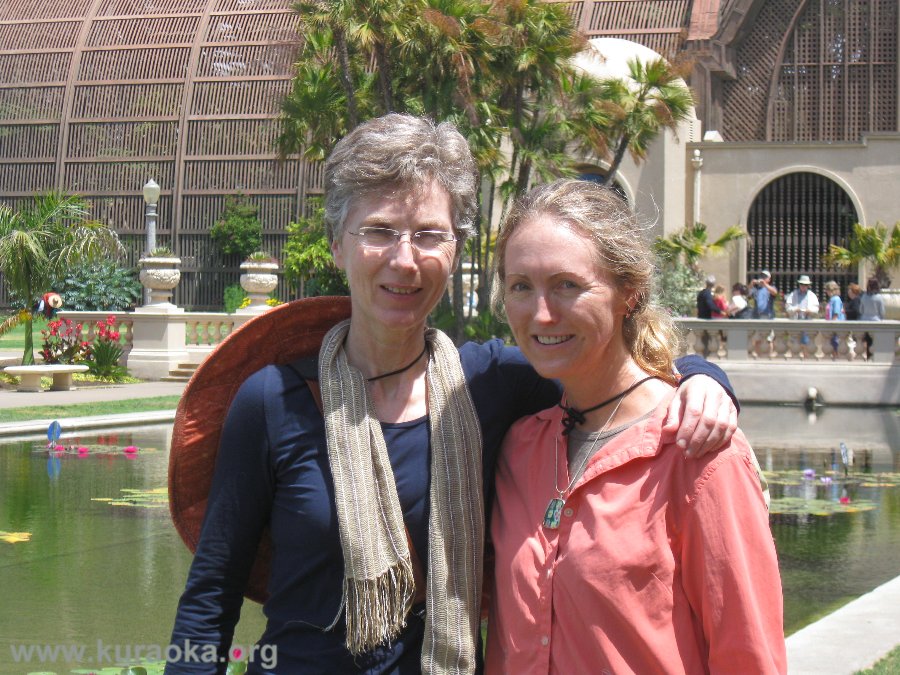 06-18-10: Running Club Awards! The Gage Elementary School Running Club ran 31,505.75 miles this school year, of which Leo ran 250.75 miles and Roy ran 238.75 miles. They were both well into the top ten runners in the whole school!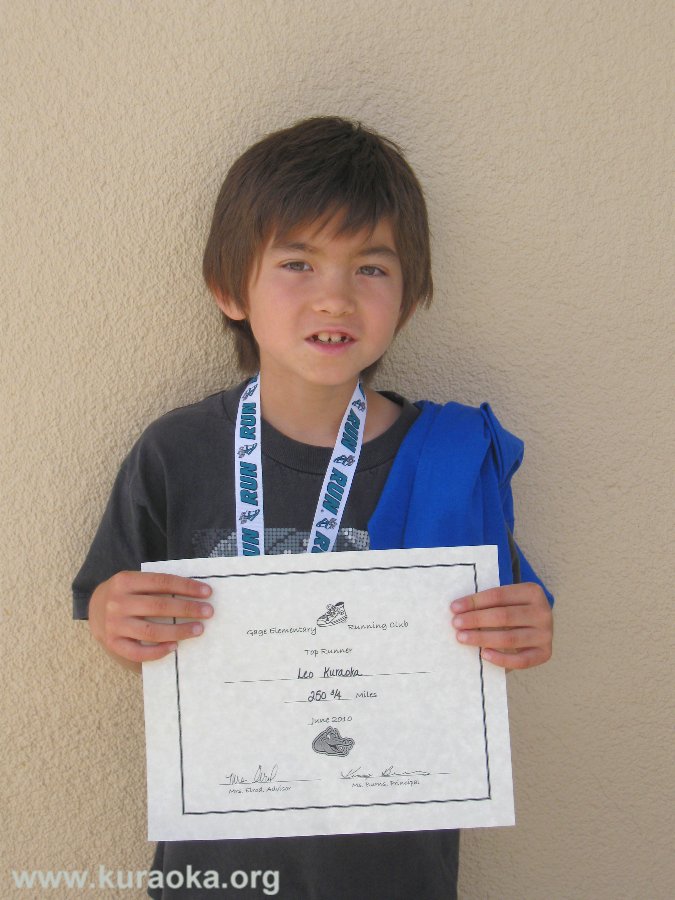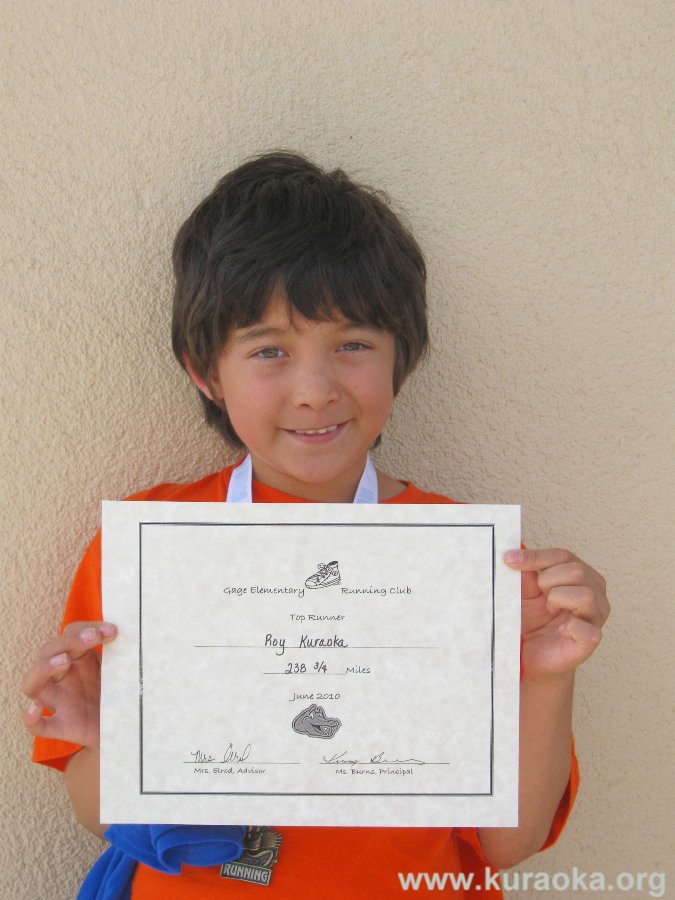 06-11-10 to 06-13-10: Camp Balboa with Pack 951! That's Roy on the archery range Saturday. Then we broke up into three teams for a Suvivor challenge! Here are Leo's team, the White Skulls, and Roy's team, the Blue Spinach. Leo joined Roy and the Webelos for a 2.2-mile dayhike past some redwoods (!) into Balboa Park.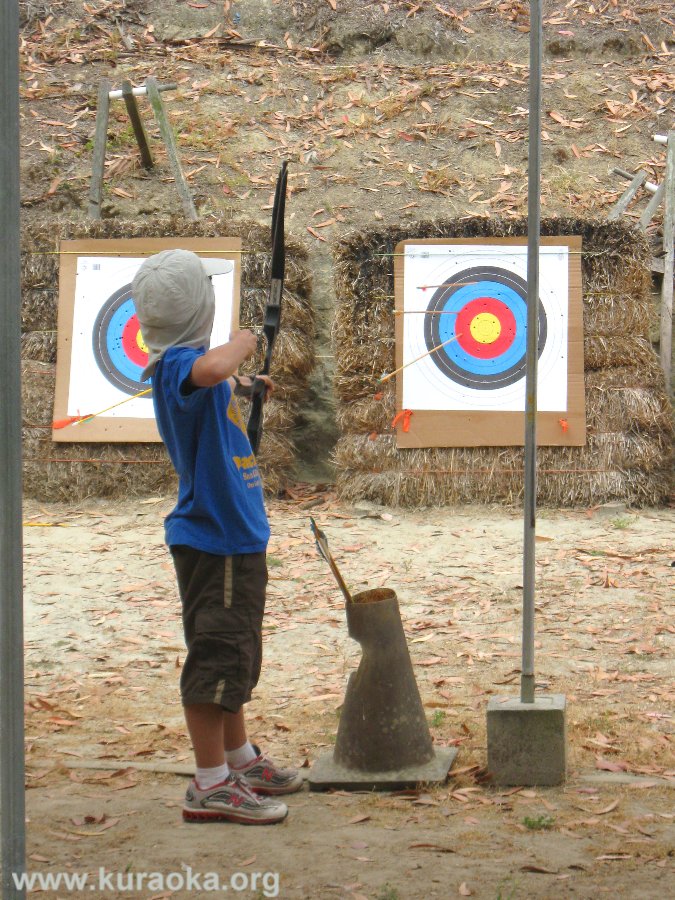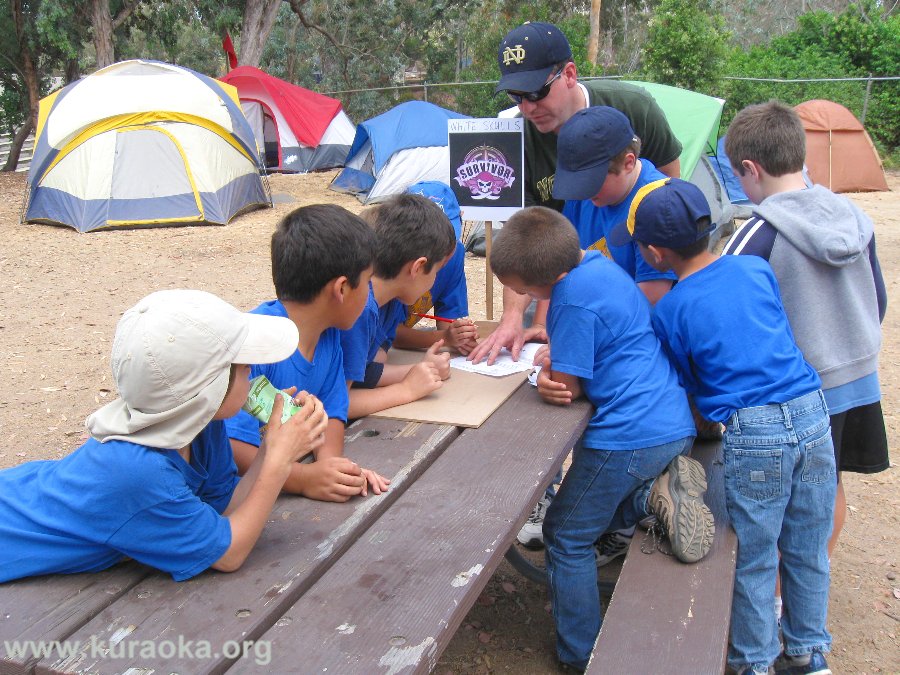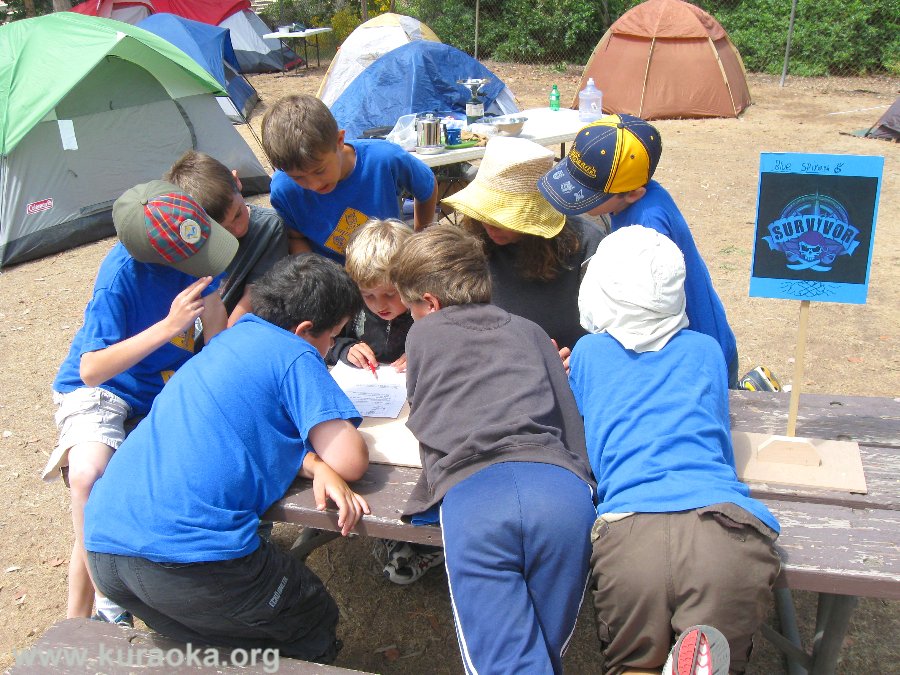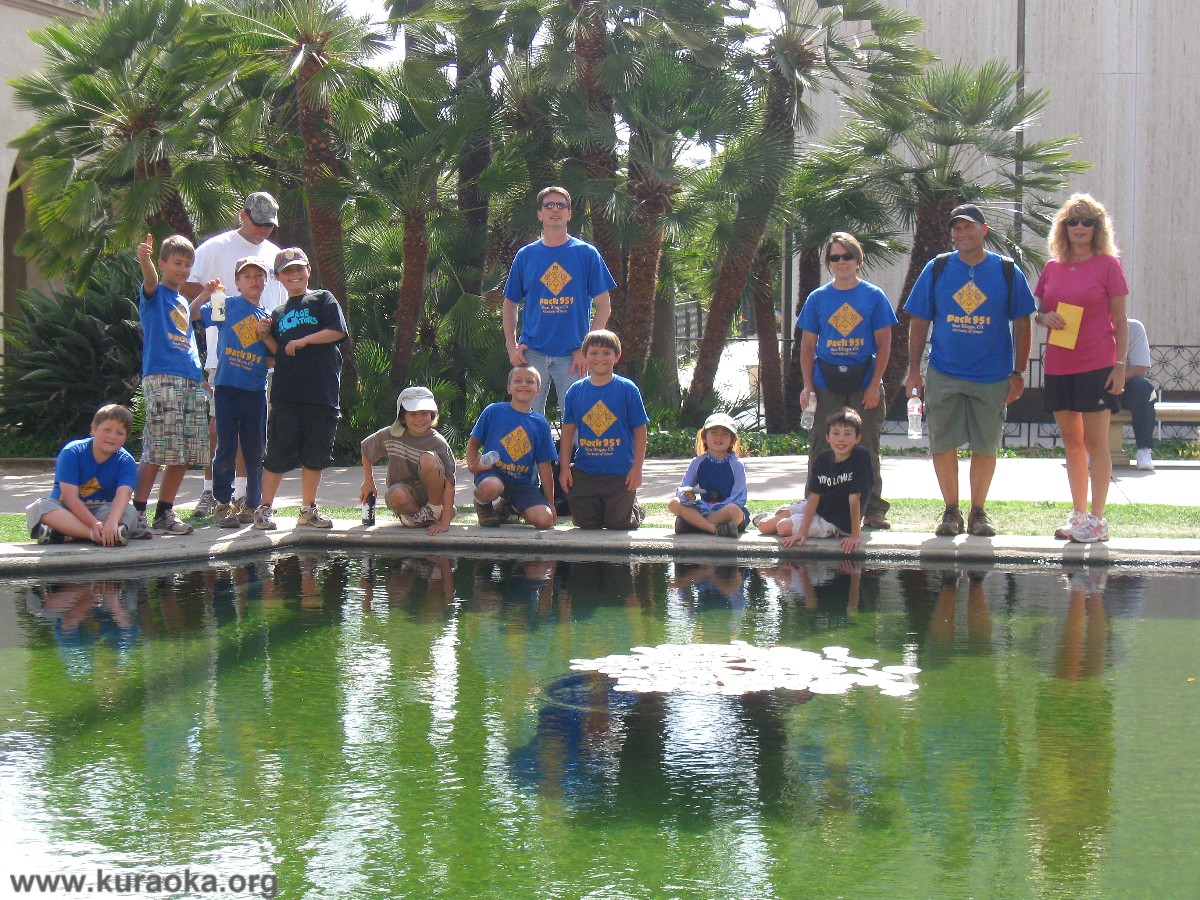 06-06-10: Celebrating Roy and Bill's birthdays! First up, presents! Ondine made these wonderful wild creatures especially for Bill and Roy. Then, cake! Here are Bill and Roy, ready to partake!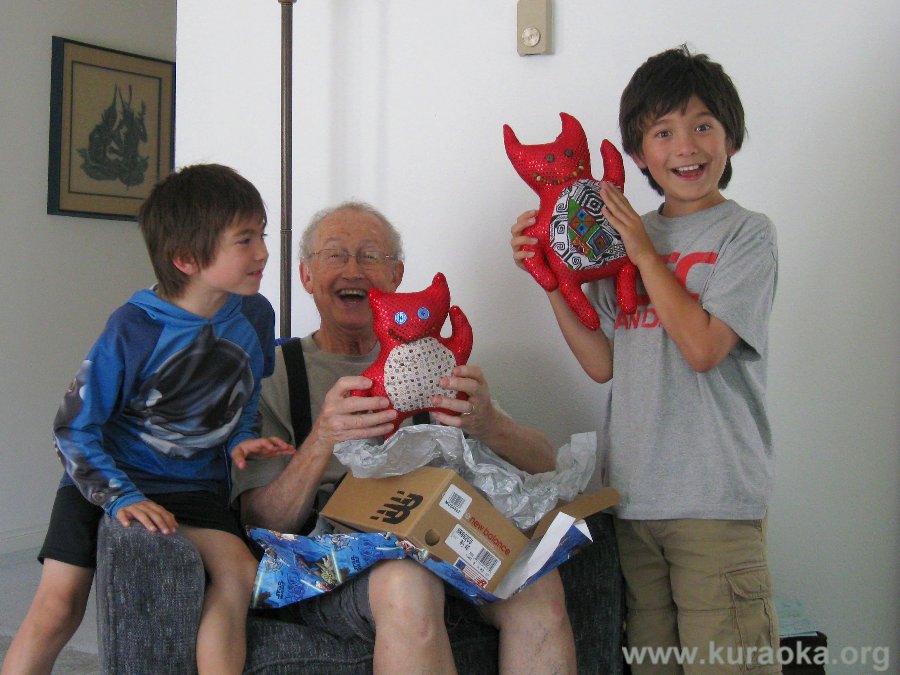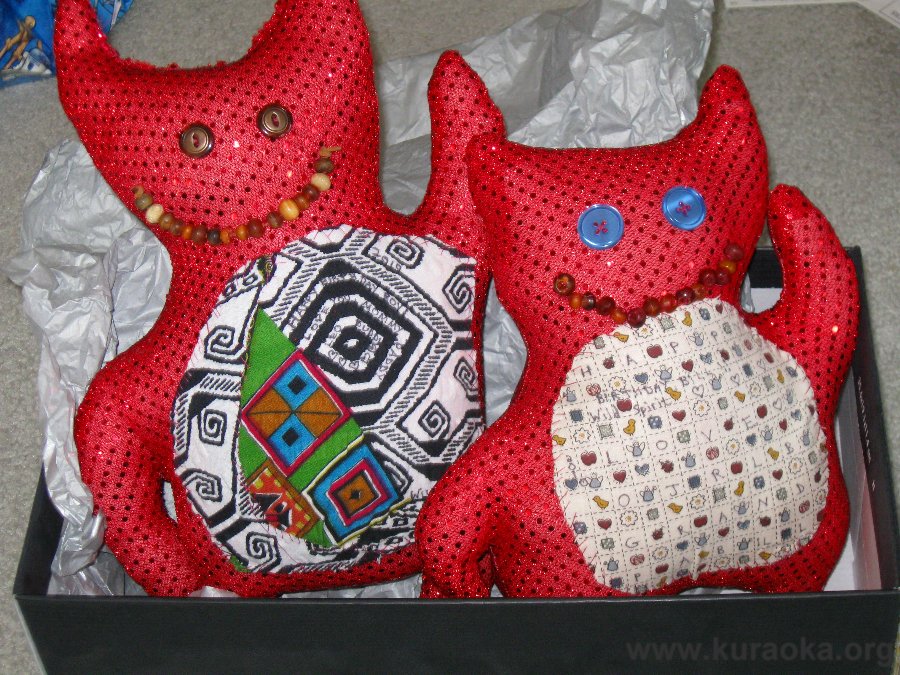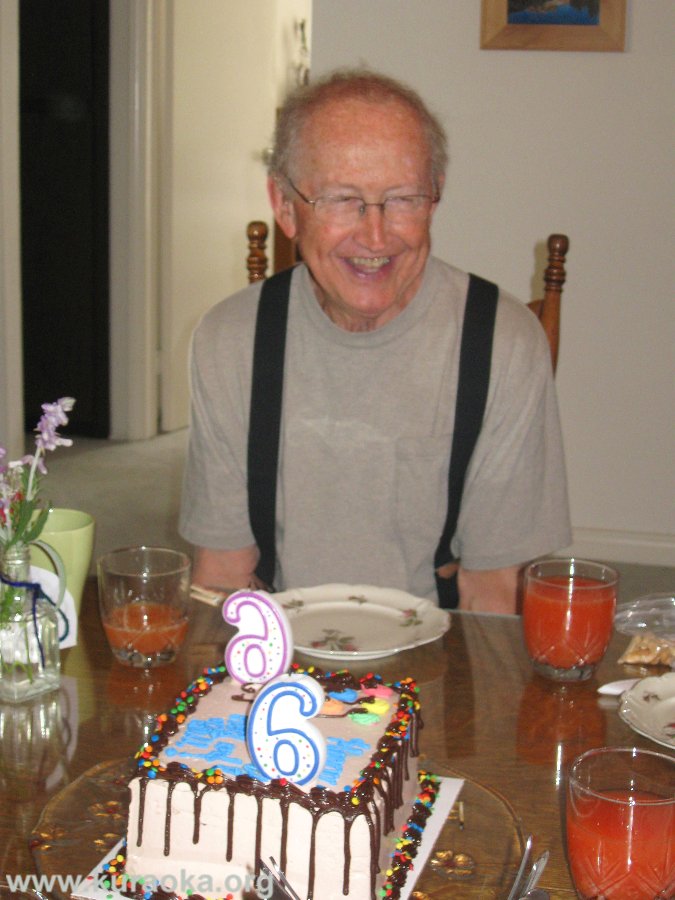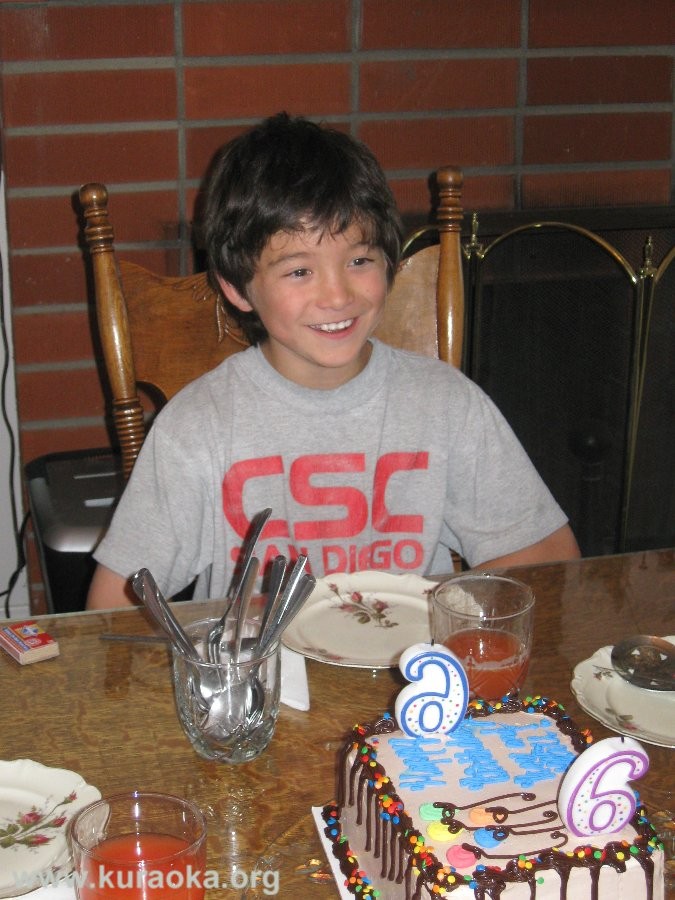 06-05-10: Roy is ten years old! Here's his birthday party! First, we played disc golf at Sun Valley Golf Course in La Mesa. Here's the gang (from left to right): James, Stephen, Leo (in the back), Michael, Alex (standing), Roy. The first photo shows them lined up at the tee, patiently waiting for the golfers on the green to be clear. Then ... fire at will! Charge! We wrapped up the festivities at Mountain Mike's Pizza on Jackson Drive (between Keil's and San Carlos Hardware – excellent pizza, by the way). Here's Roy with his becandled cupcake, and a final photo of the kids. Clockwise around the table starting from the far left: James, Michael, Alex, Roy, Stephen, Michael's sisters Christina and Nina (who joined us at Mountain Mike's), and Leo. Happy Birthday, Roy!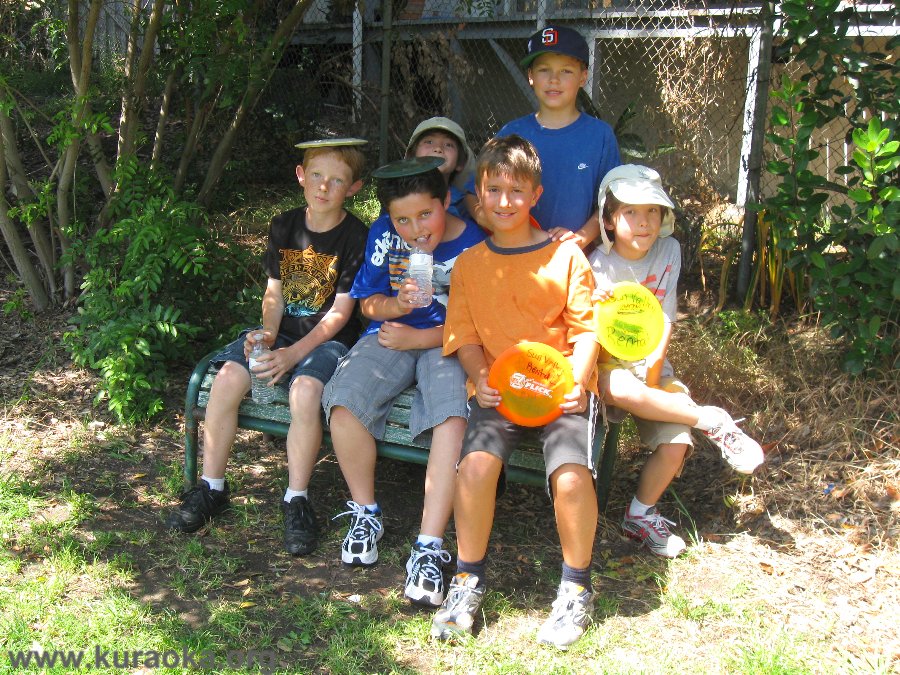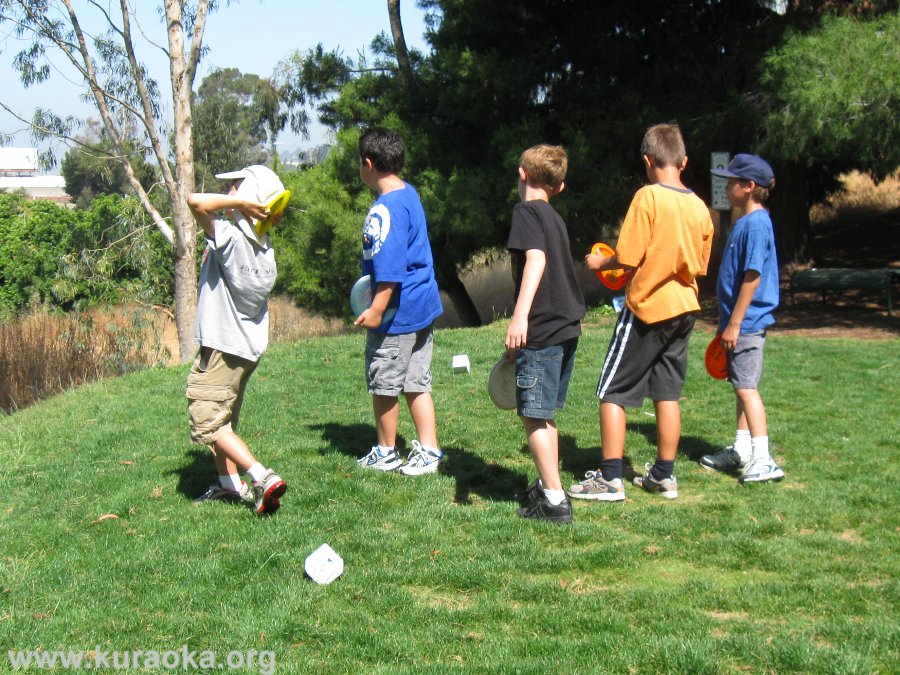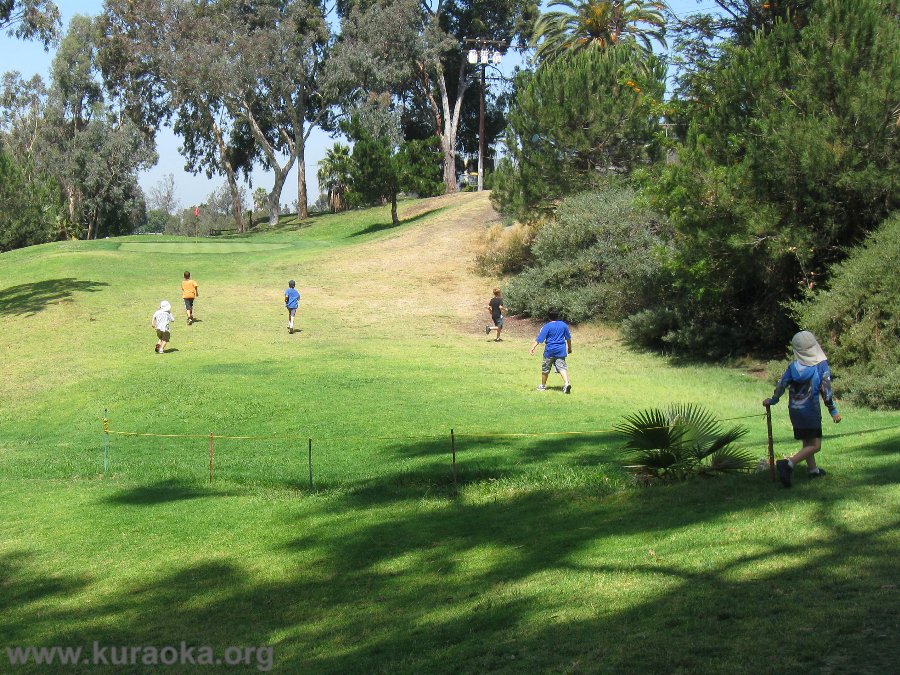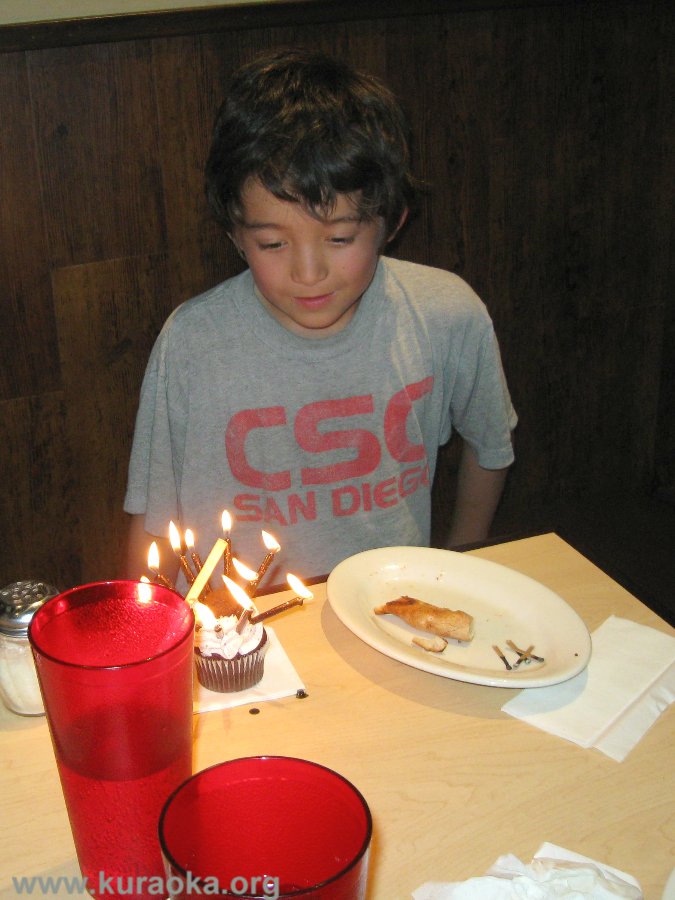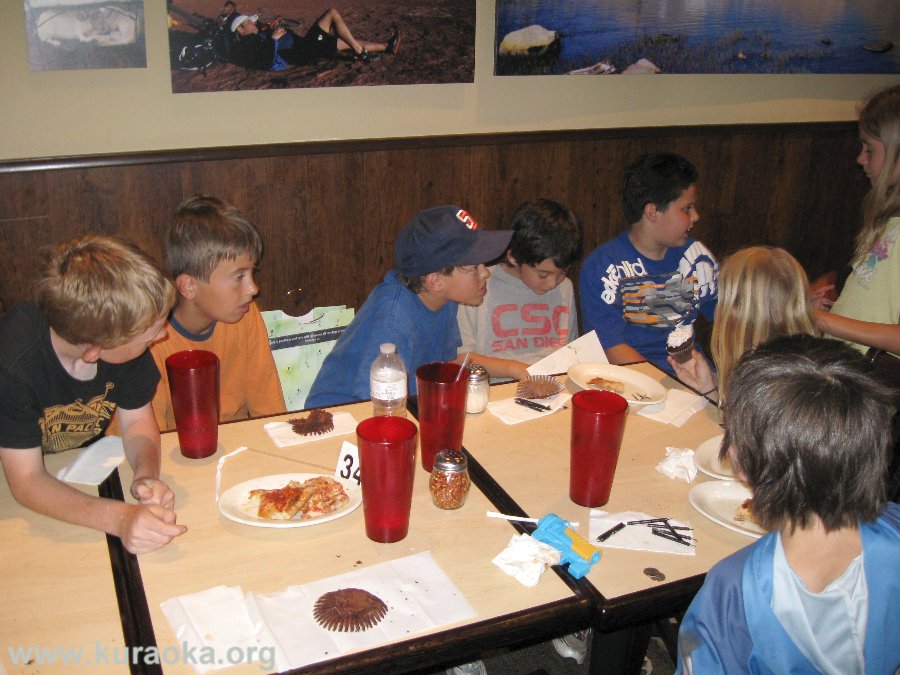 06-04-10: Leo is now a Bear cub. Here he is in Pack 951's advancement ceremony, receiving his new Bear neckerchief from Cubmaster Jeremy Aujero. Roy and the rest of the Webelos didn't have a ceremony, but they're now considered Webelos 2.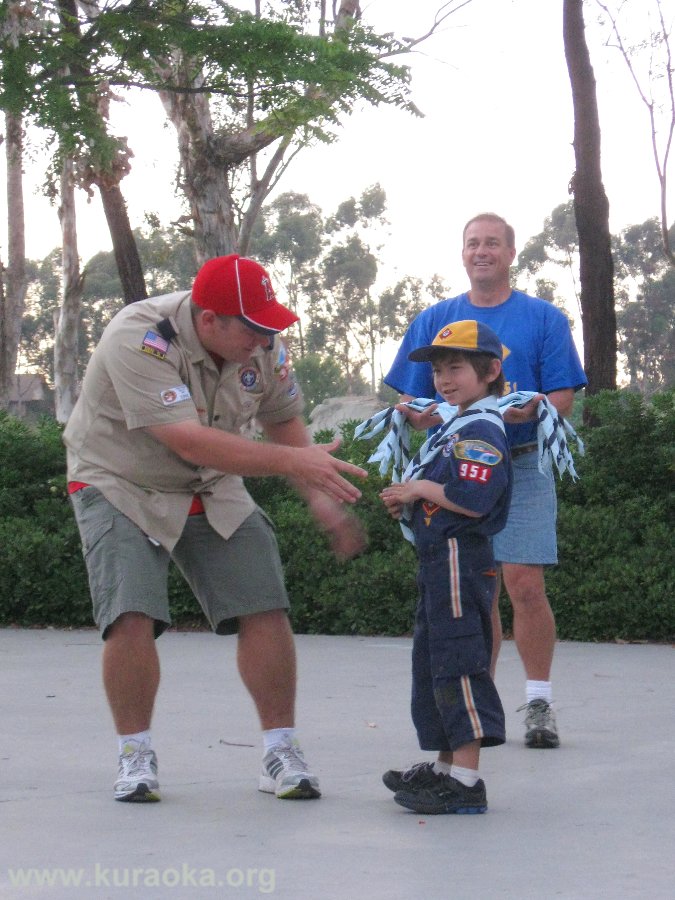 06-03-10: Leo's school awards! Leo earned an Award of Excellence from Mrs. Roseman for "Academics and Effort" and his second "Perfect Attendance" award from Gage. Here he is receiving his award from Mrs. Roseman and enjoying the fruit (juice + cookies) of his efforts.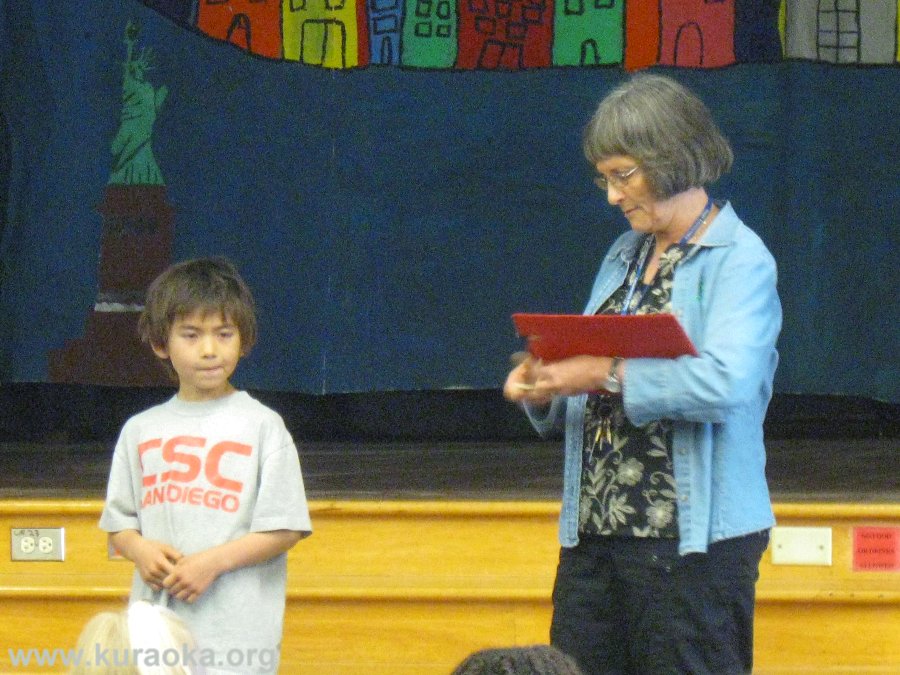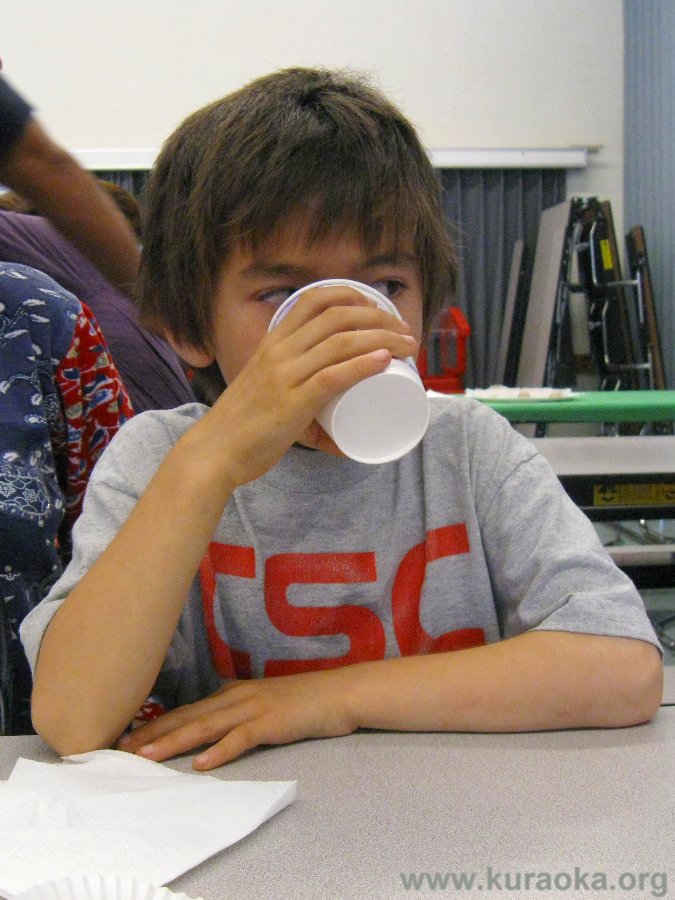 06-01-10: Gage Running Club! Here are Leo and Roy on the field! They each have run more than 200 miles so far this school year.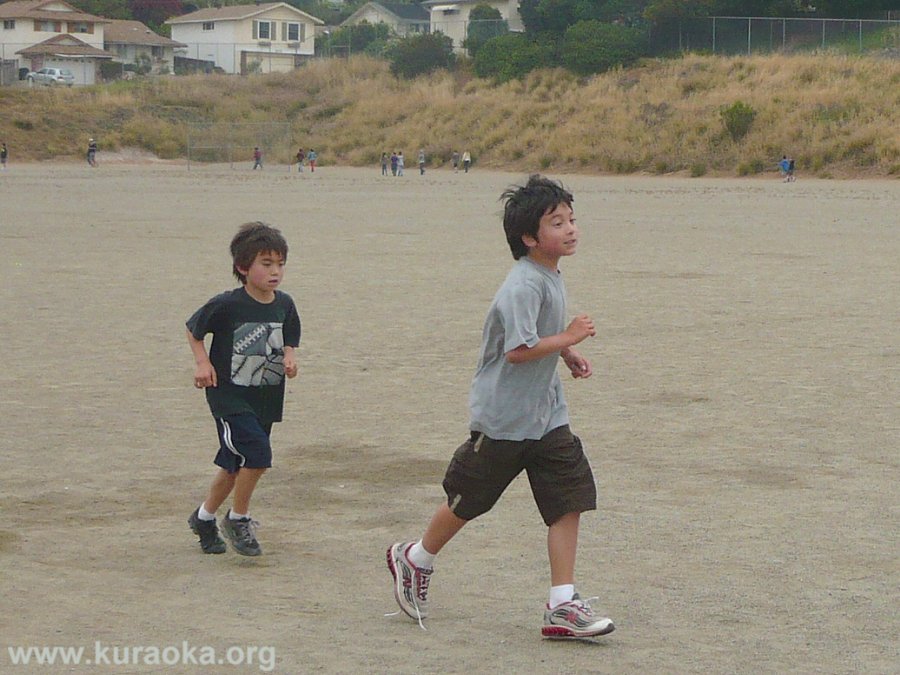 05-30-10: Lunch and Fern Street Circus. Here we all are at Olive Garden. Clockwise from the left bottom, there's Roy, John, Barbara, Frances, Leo, and Bill. The next photo has Roy, John, Ondine, Barbara, Leo, and Bill. The last photo shoes us getting our tickets at the Fern Street Circus in Balboa Park.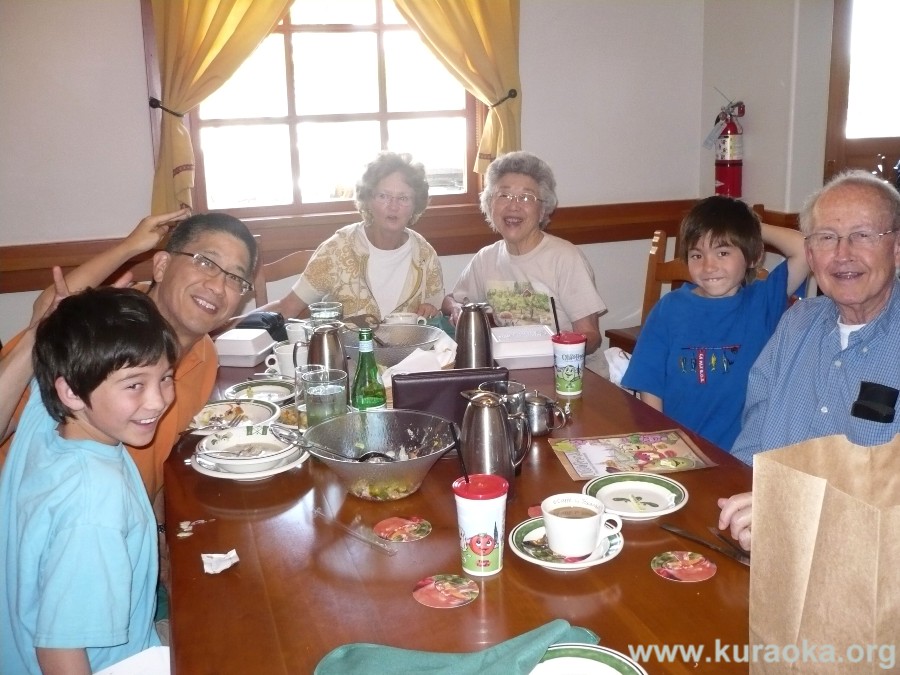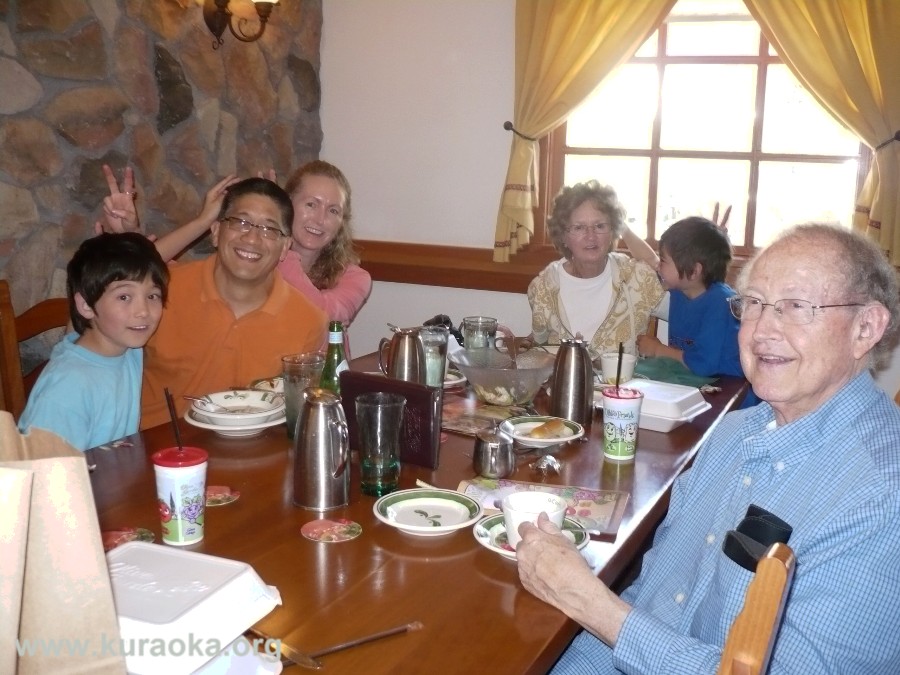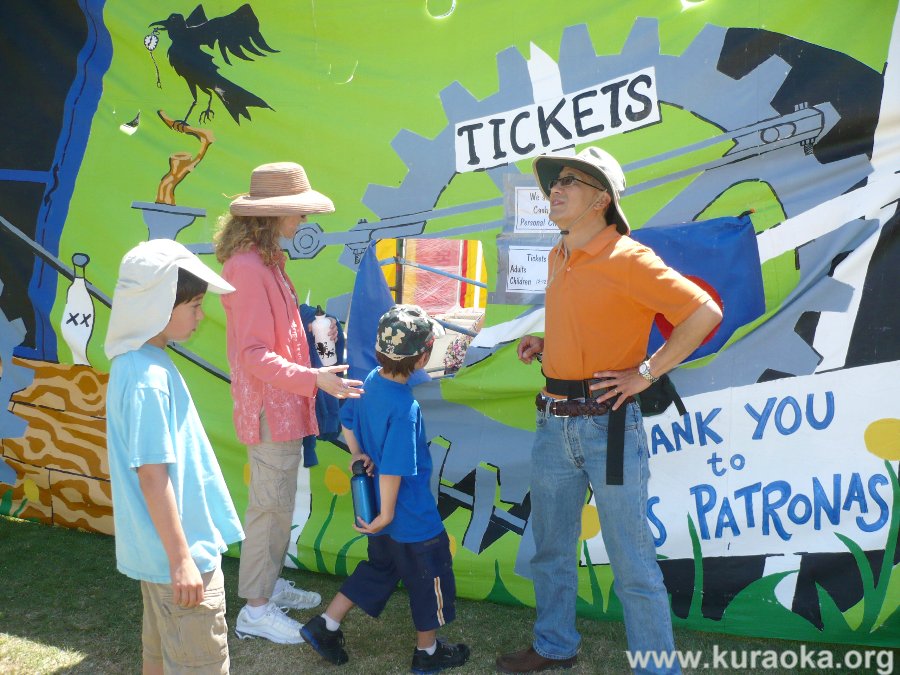 05-29-10: New dining room seat covers! Here's a before-and-after.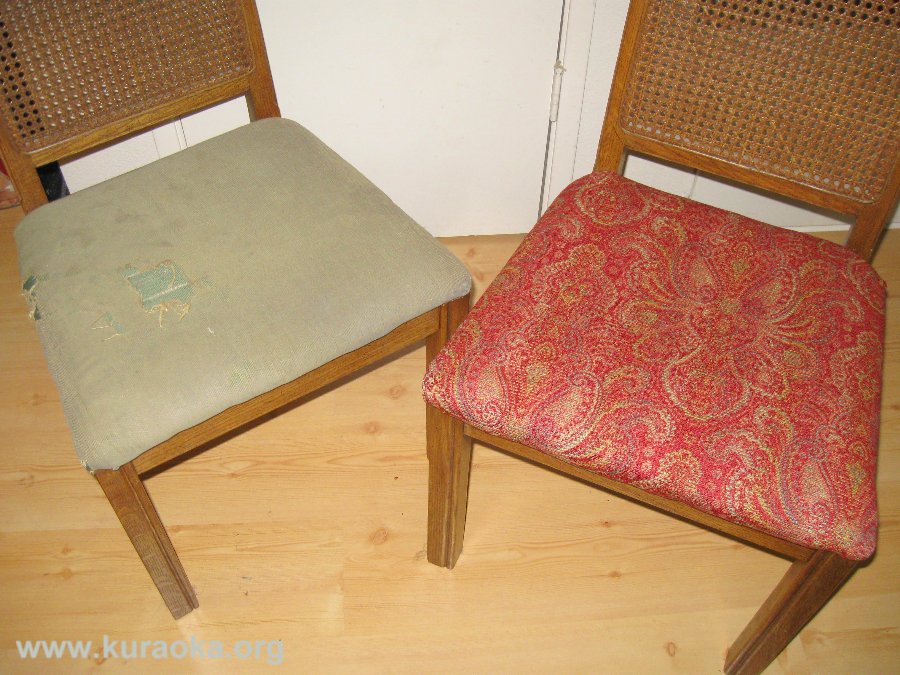 05-21-10 to 05-23-10: Camping with the Fernandez family! Here are a bunch of photos from a fabulous weekend camping at Cibbets Flat with Lucy, Ernesto, Alex, and Carmen. We had a great time! In less than 24 hours, the boys went from frolicking shirtless in the creek to shivering in the snow. Yes, snow! In late May! By the way, that photo second from the last shows the official christening of our new camping tent. It's a four-person ALPS Mountaineering "Neptune." Buddy's crate is on one side and the boys in their Coleman Fossil Creek are on the other. That last photo, taken by Roy, shows the snowfall!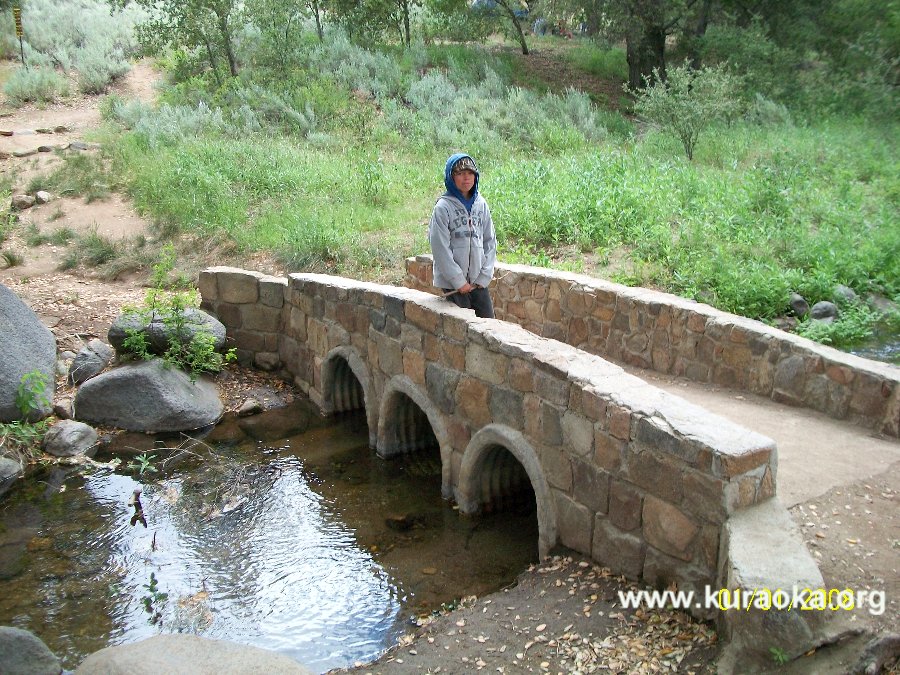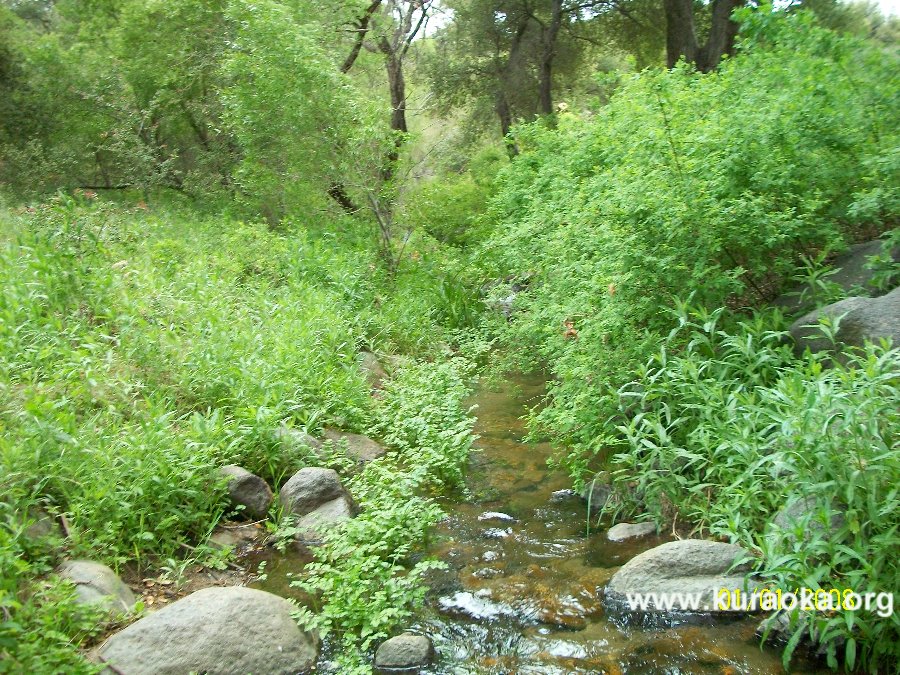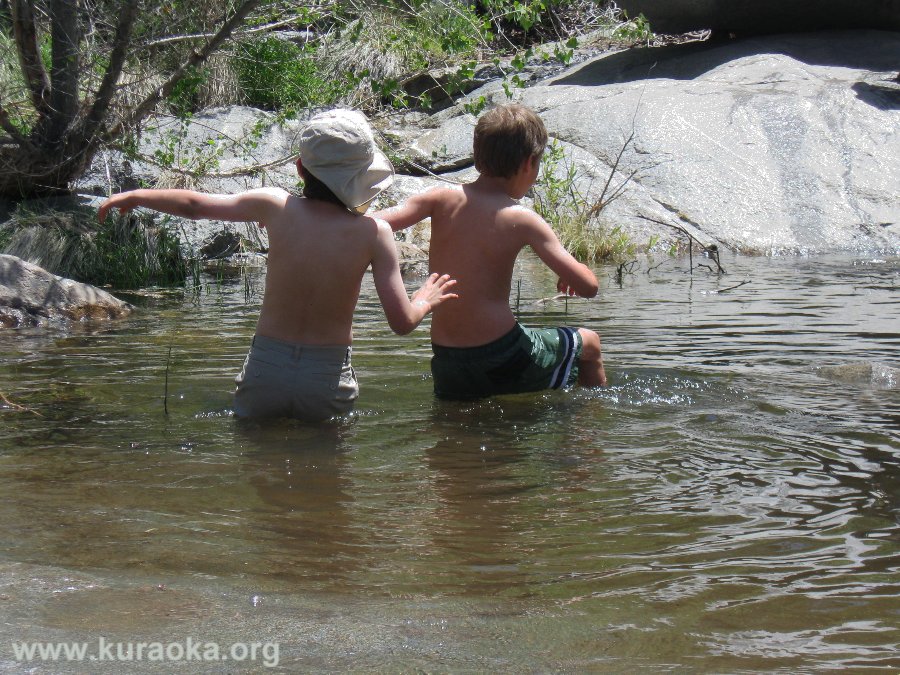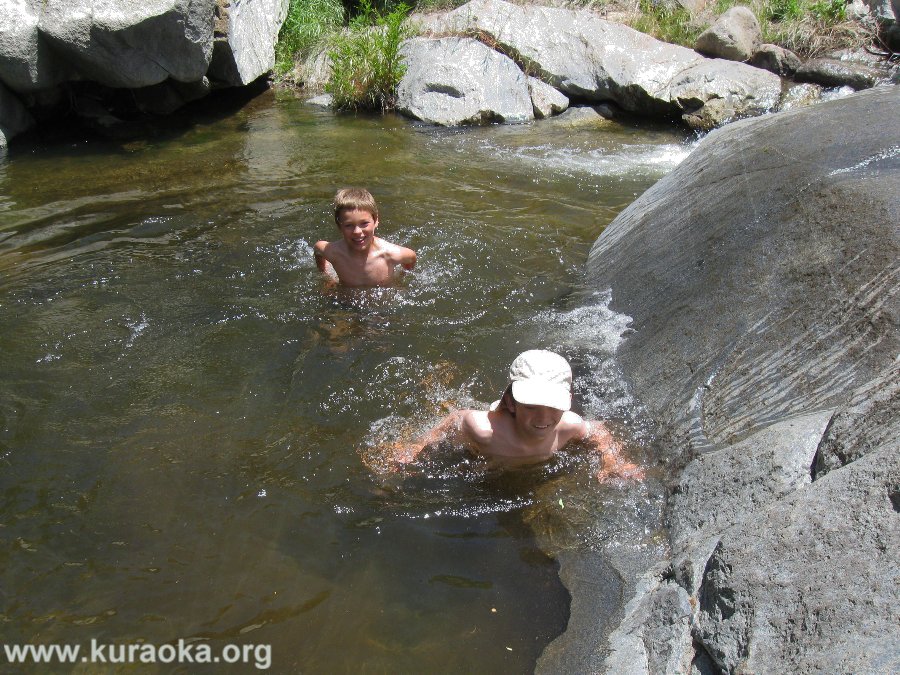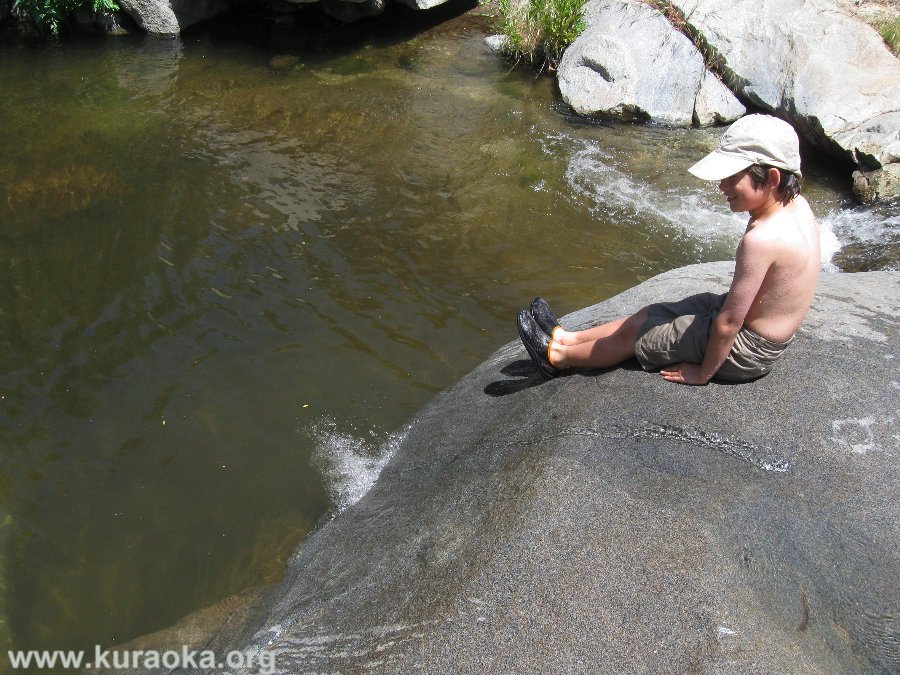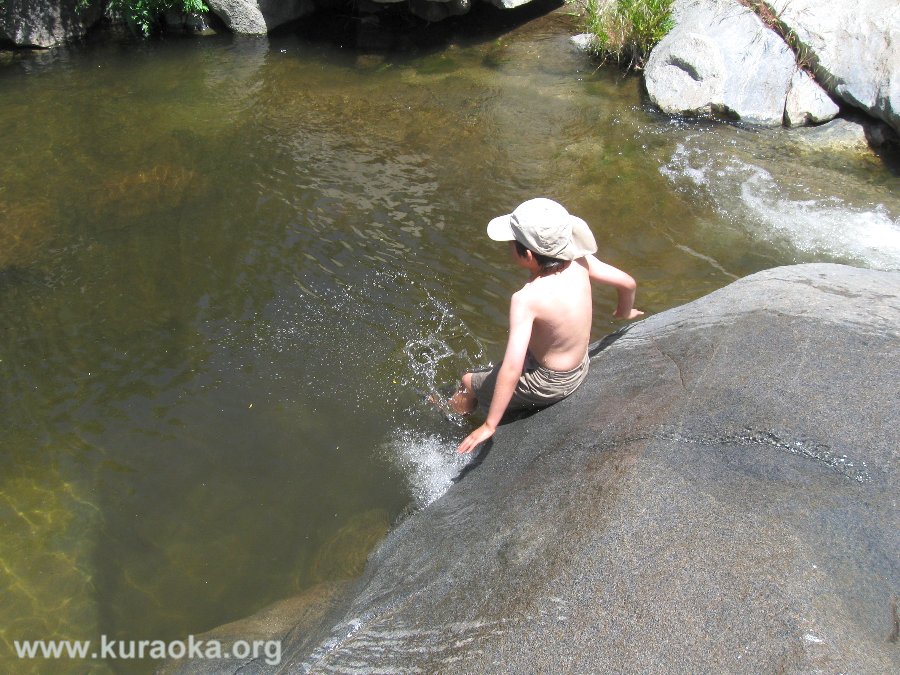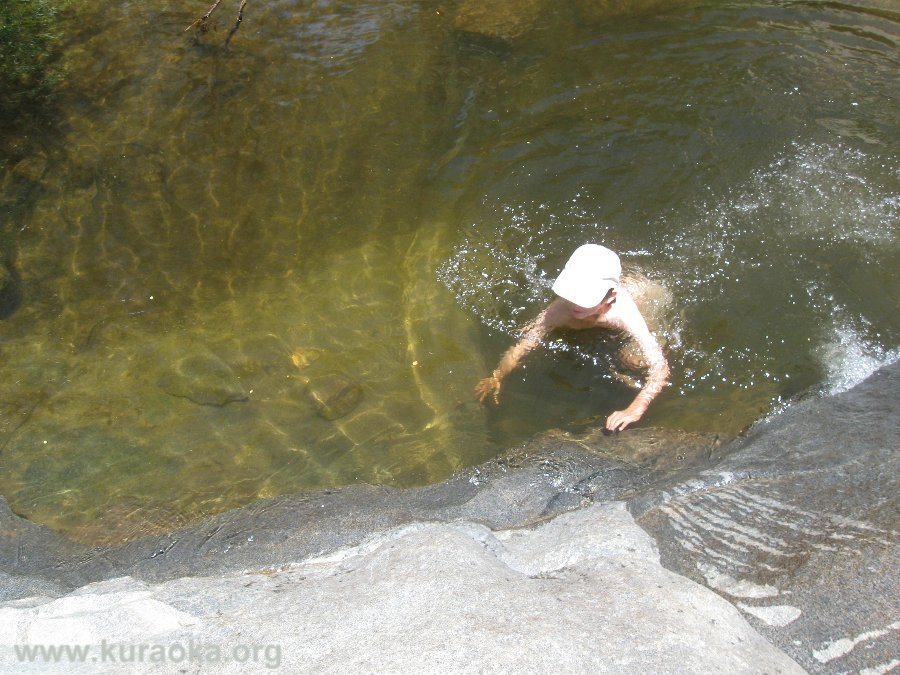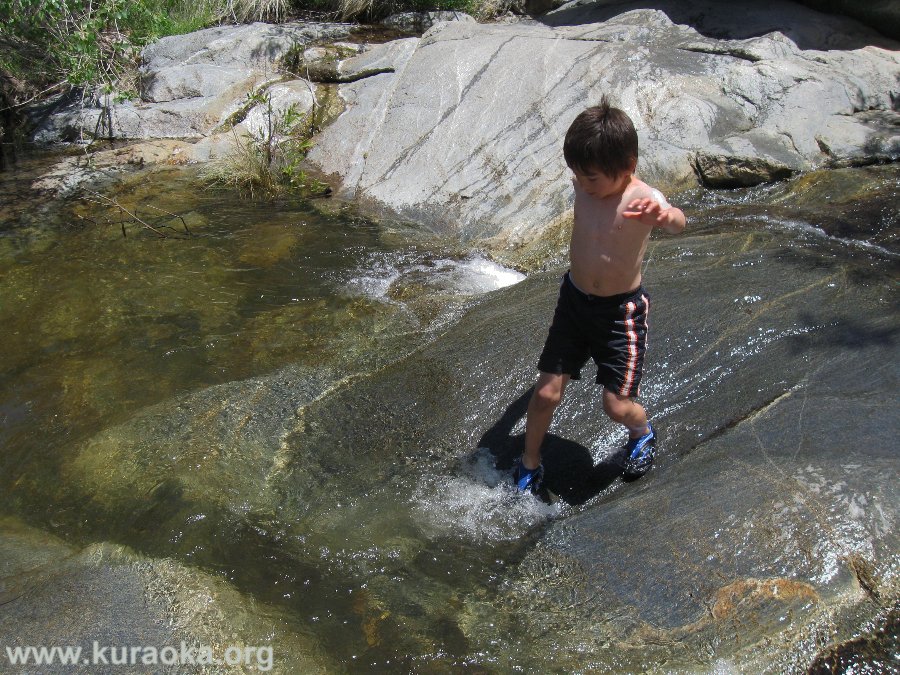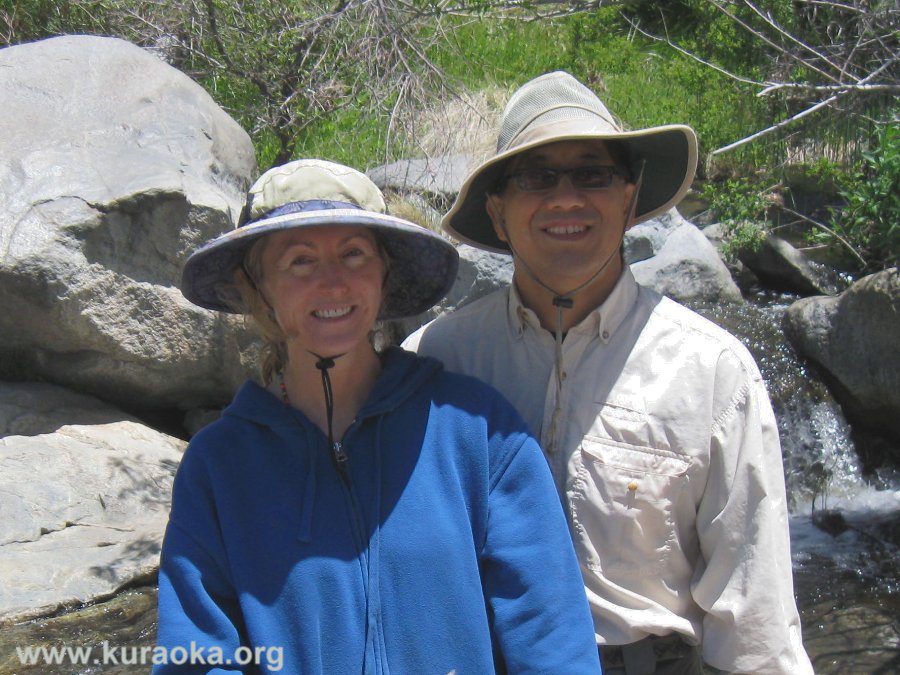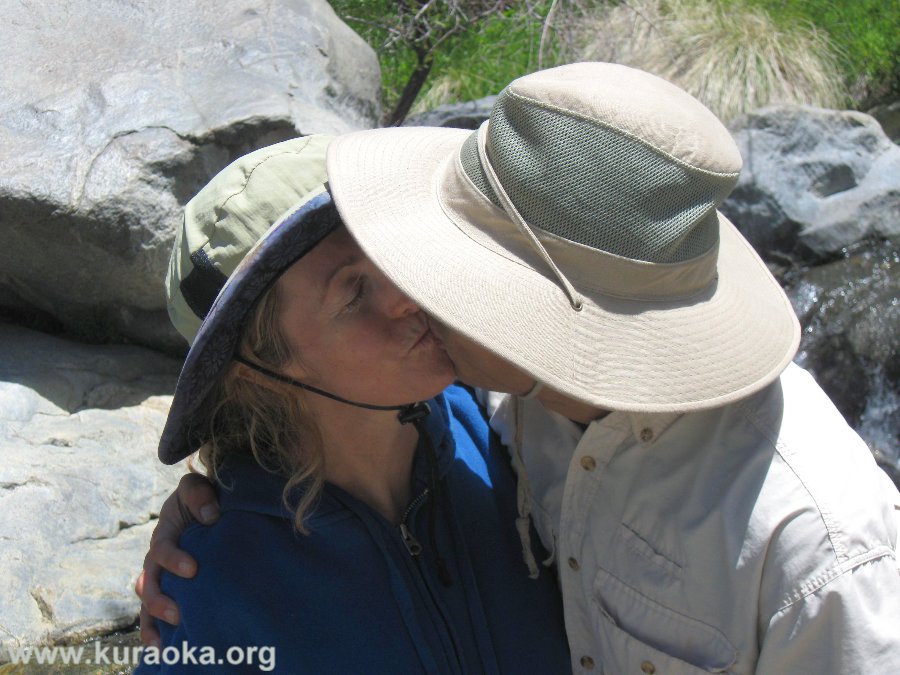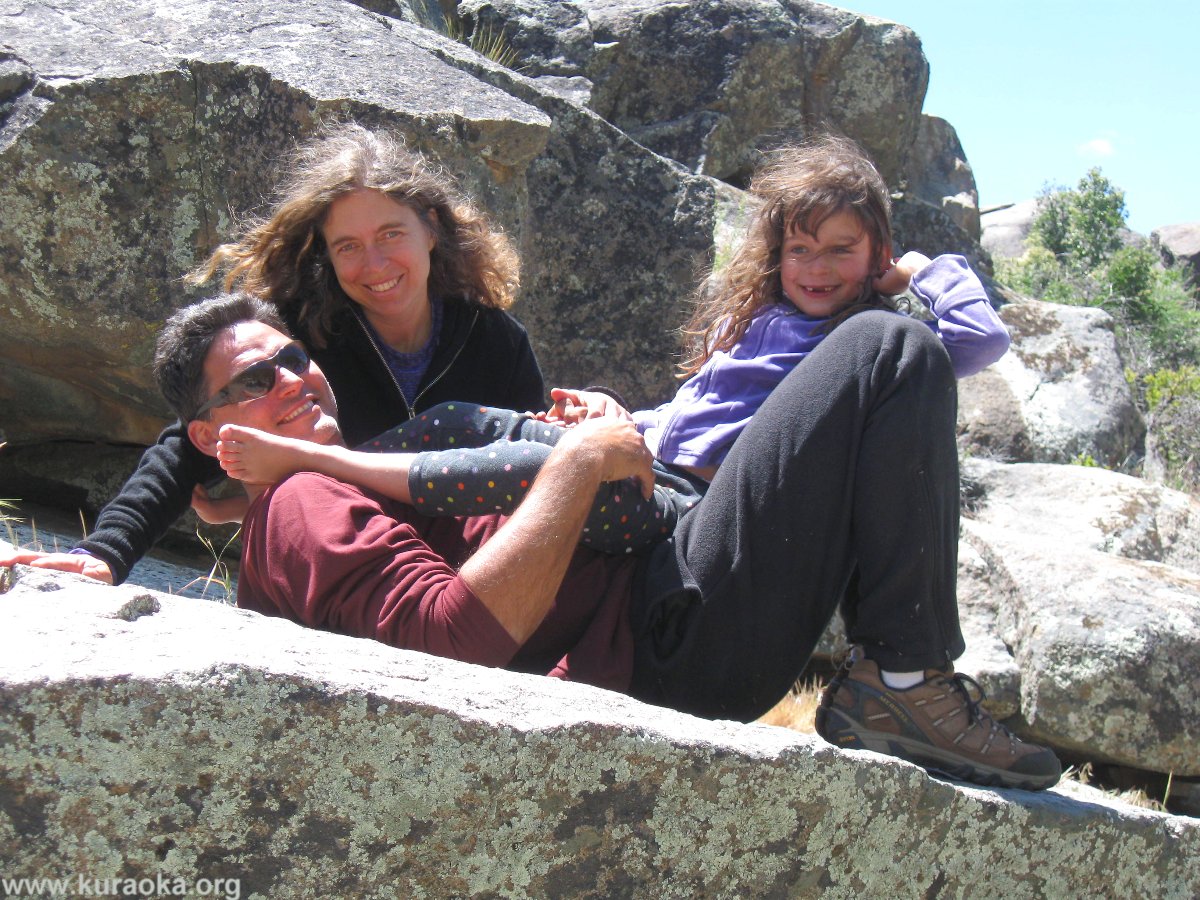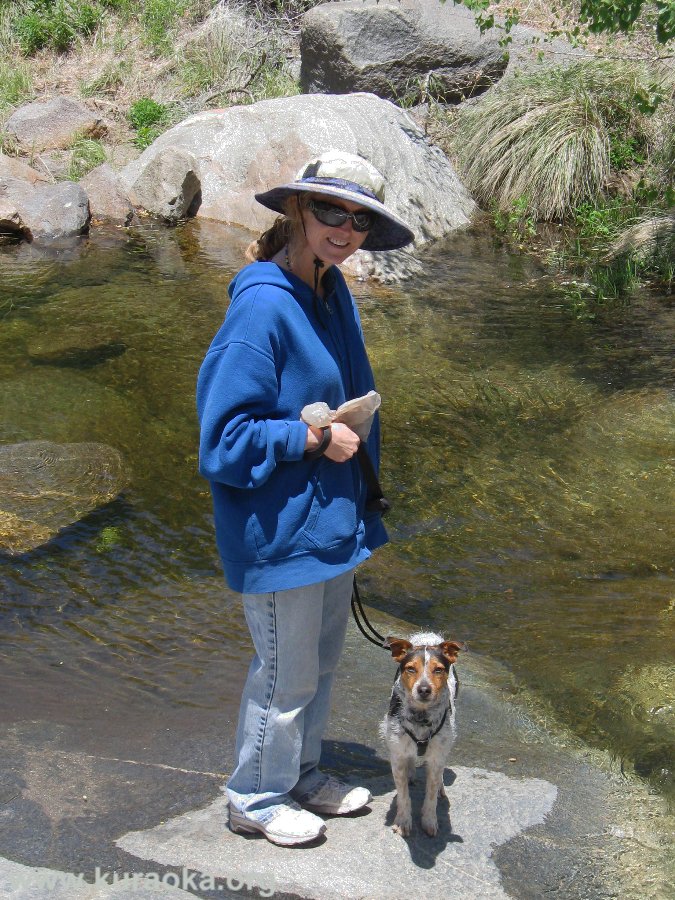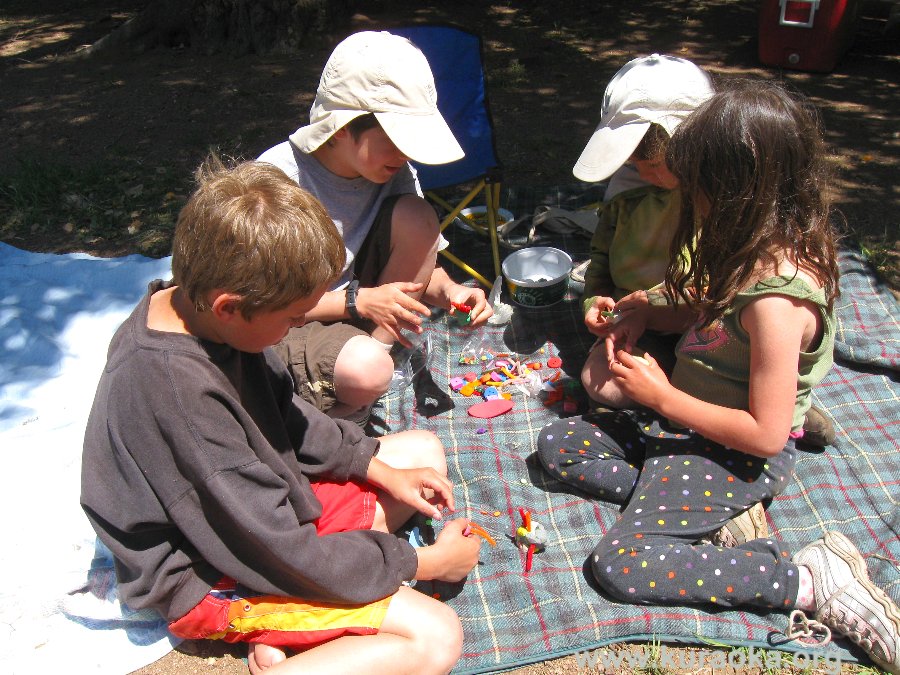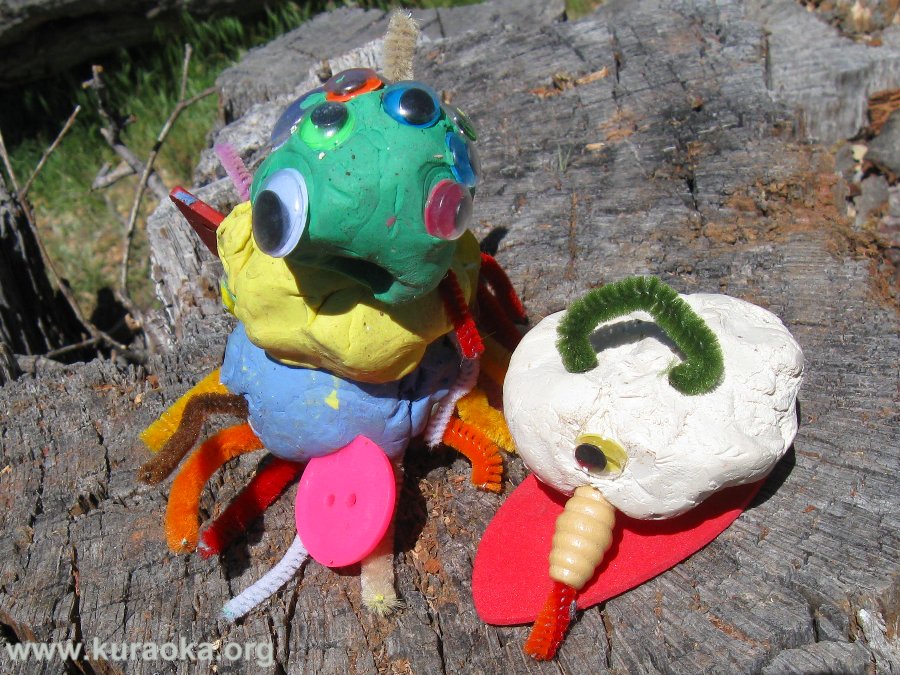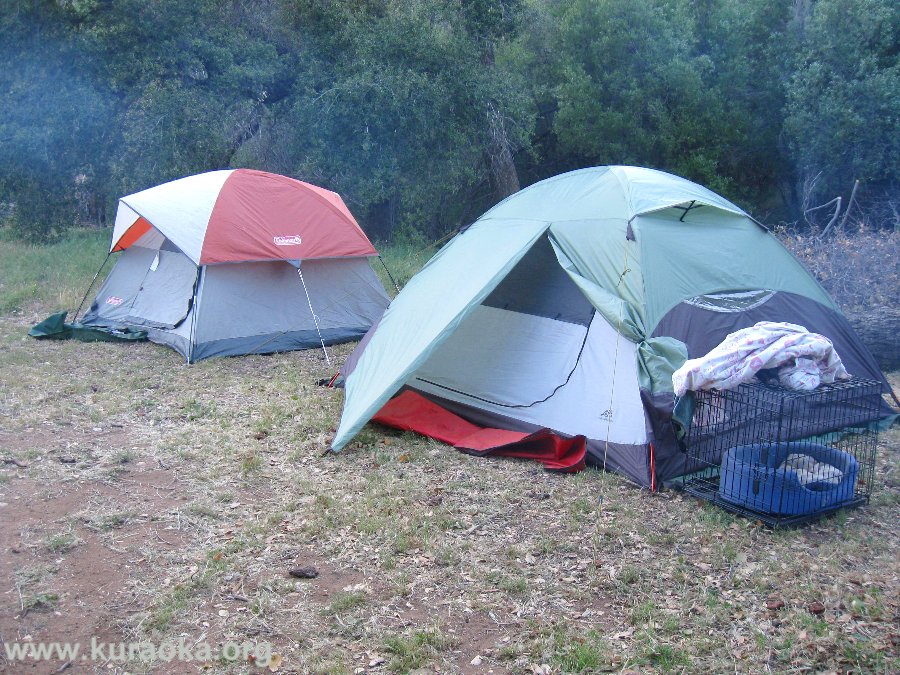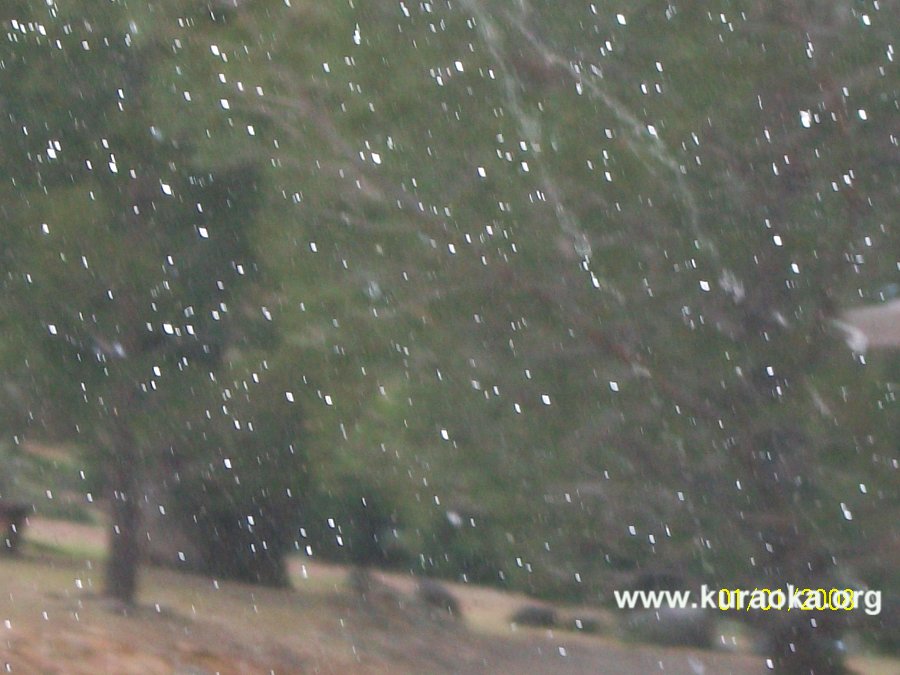 05-16-10: Bruvvas! Here are Roy and Leo enjoying some together time.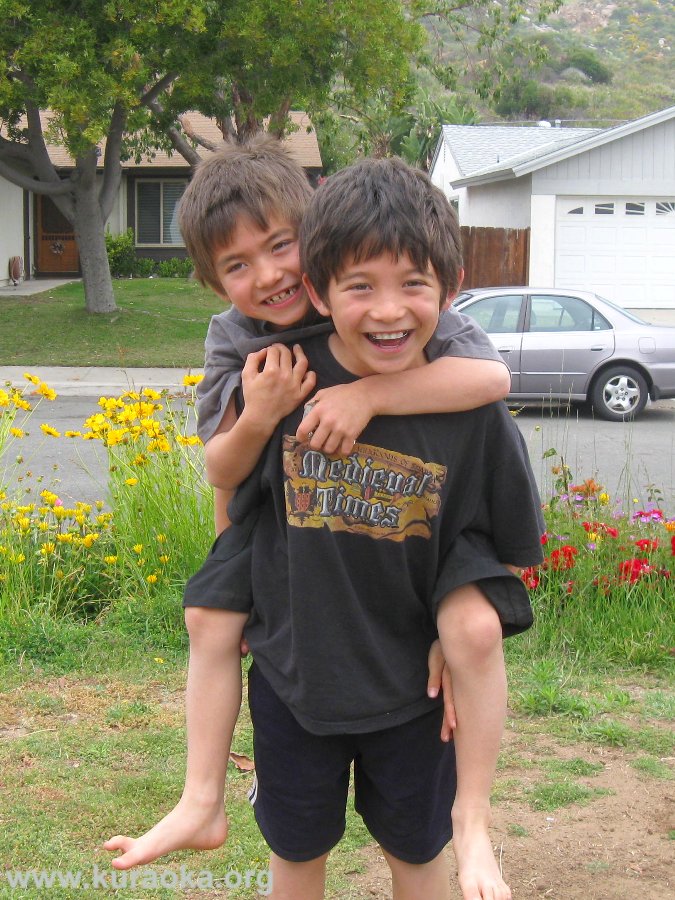 05-02-10: Balboa Park. Here are a bunch of plants and flowers, and one of our favorites from the Sculpture Garden, "Tumbleweed," with the California Tower. Next is Leo in front of the Museum of Art – "Hi-yo Bronzer, away!" Last, here we all are in the House of Sweden. We only wish our house was this tidy!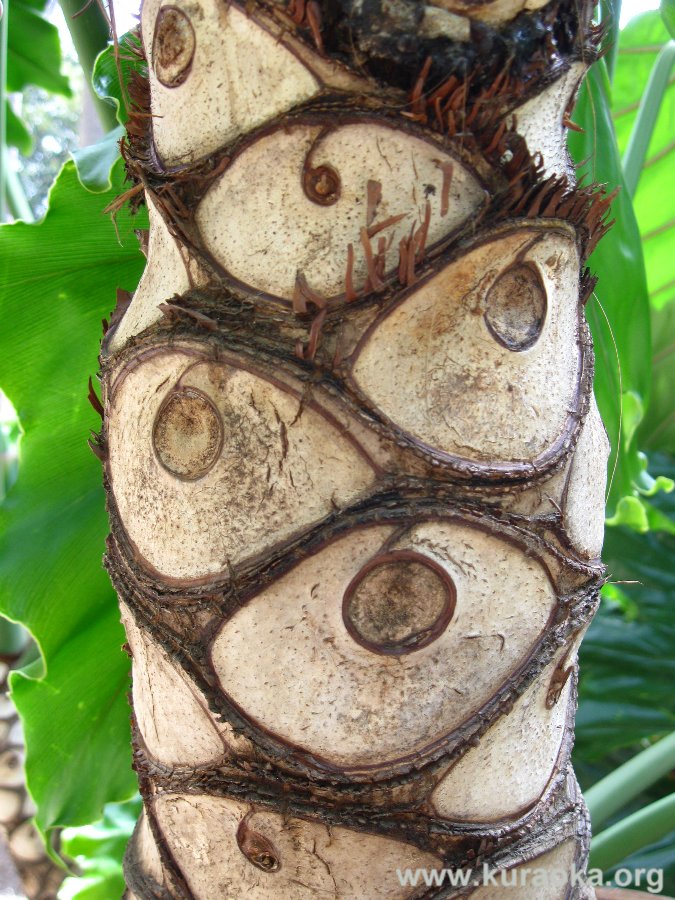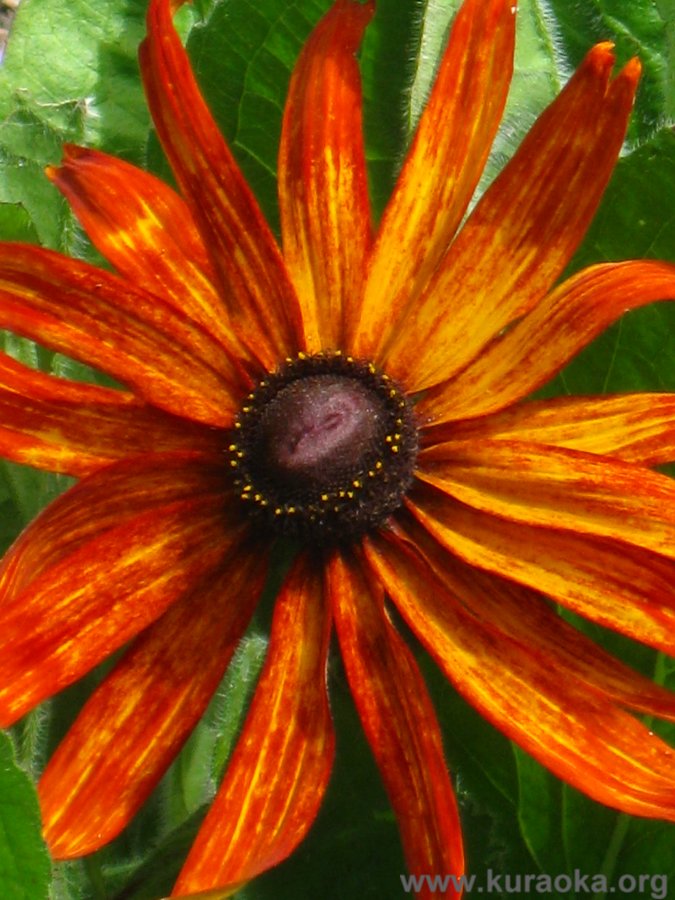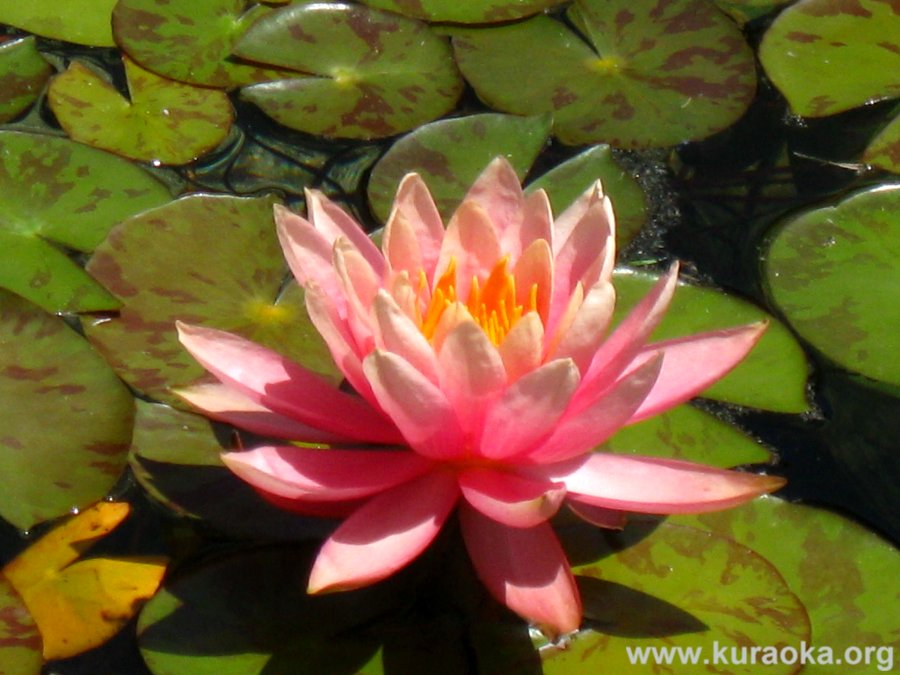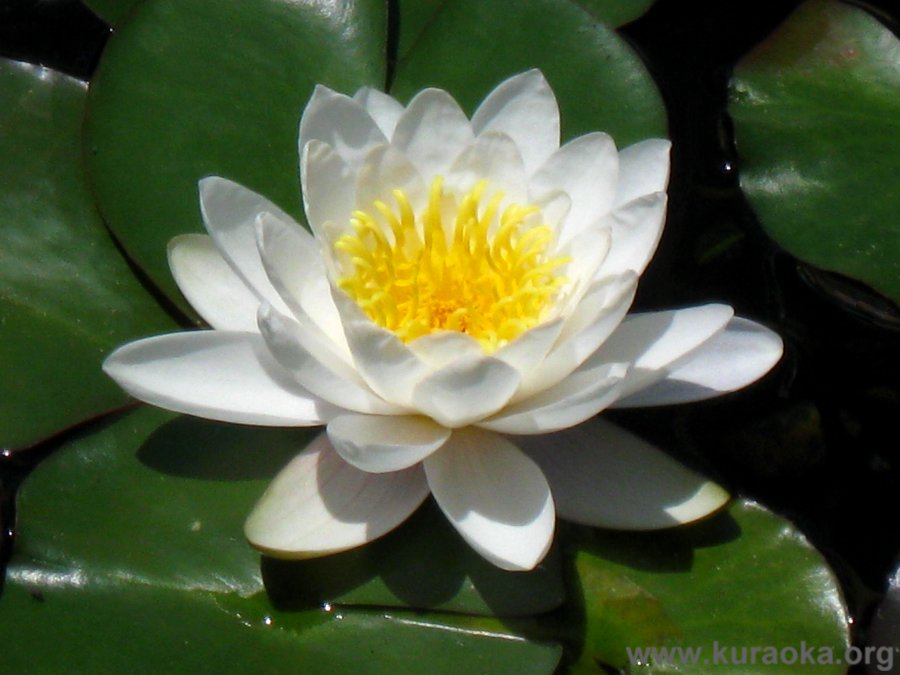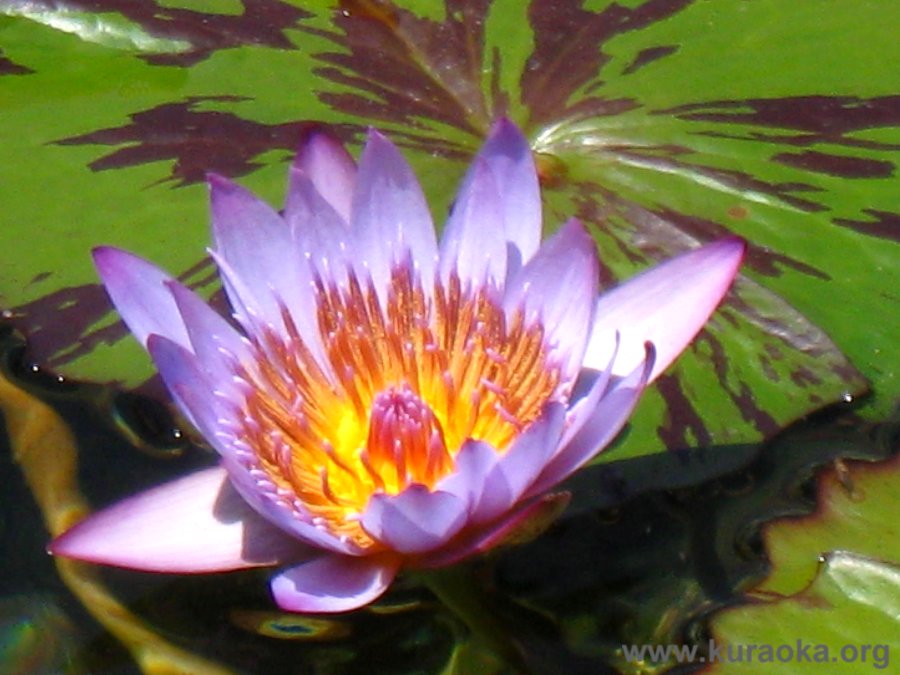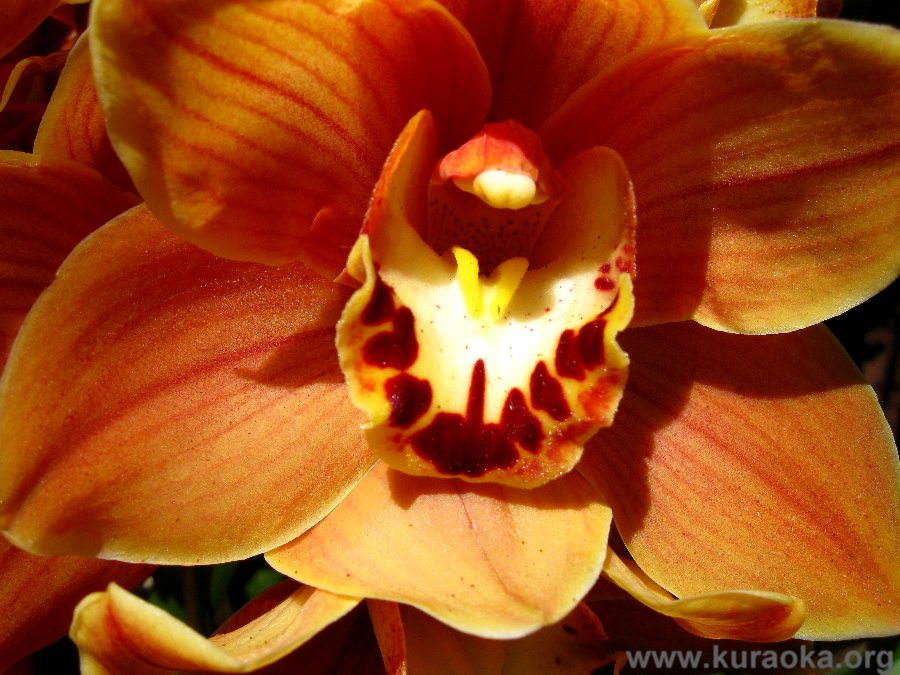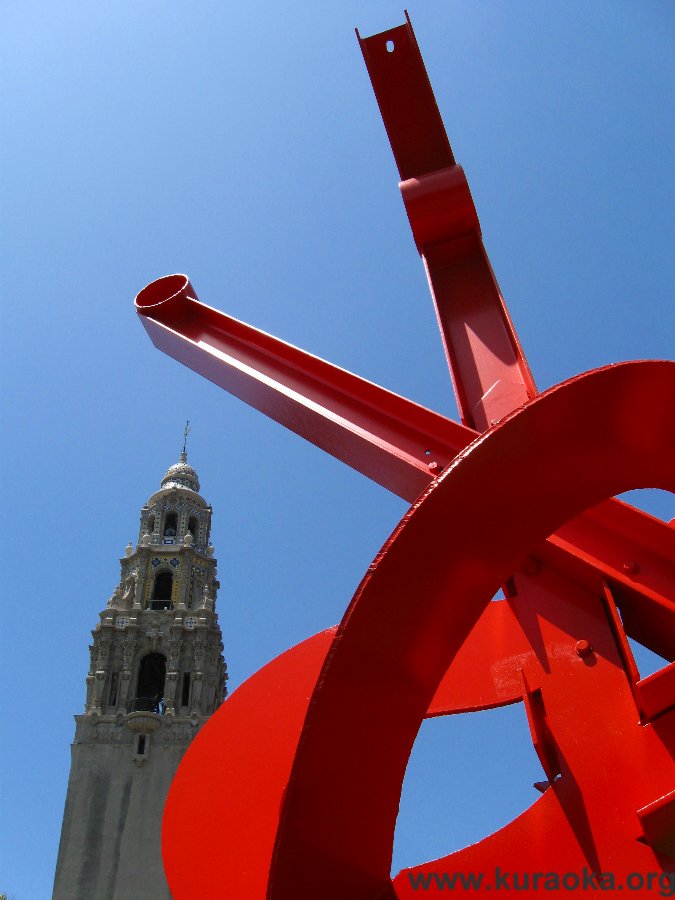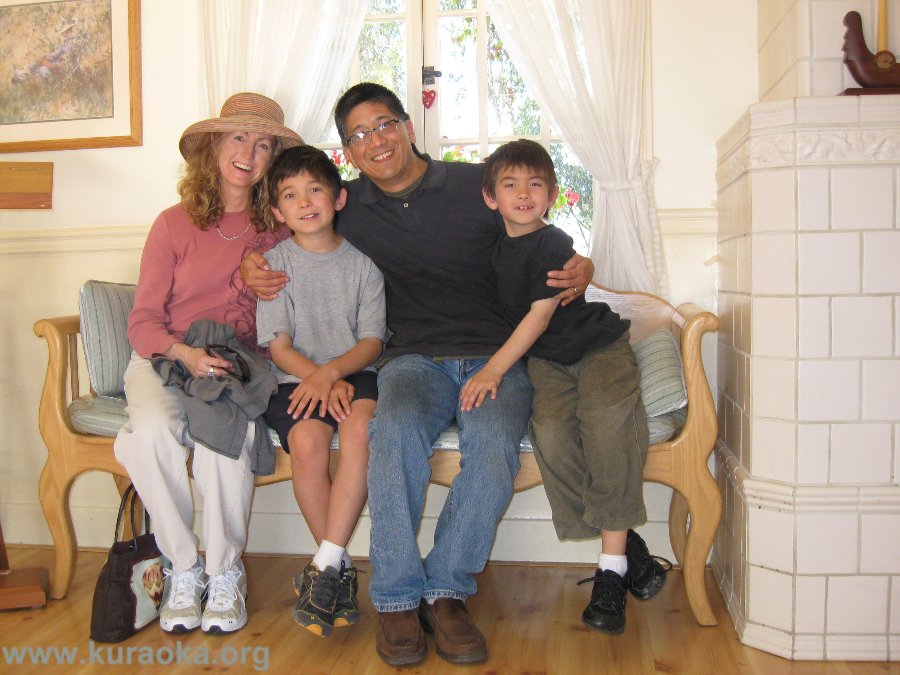 04-25-10: Pack 951 Bottle Rocket Shoot! Here's Leo launching his very first bottle rocket, made from a 2-liter soda bottle.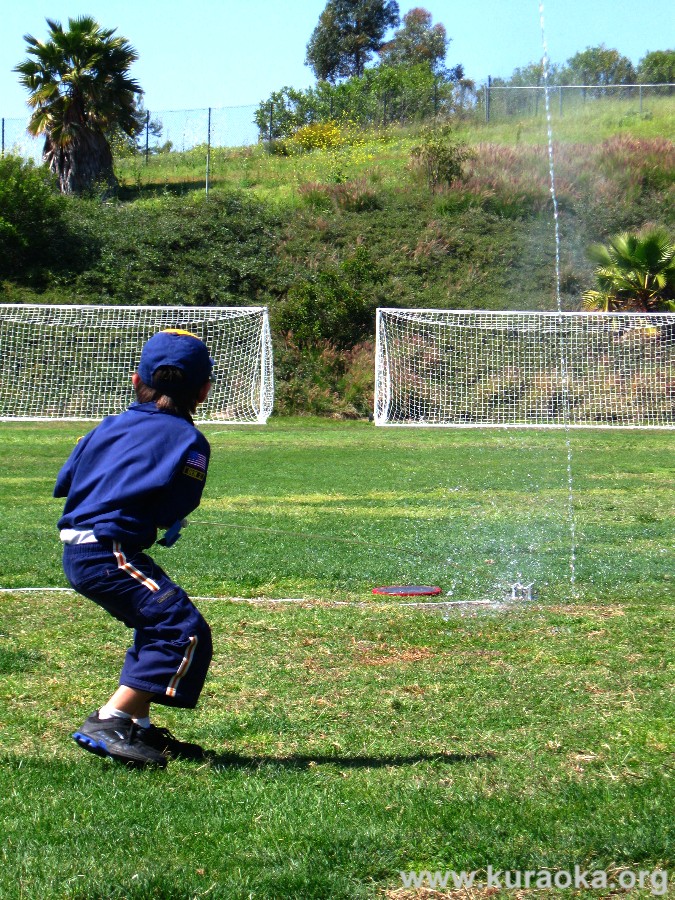 04-24-10: John's new clock. A few views of the Haller 400-day clock John bought at a garage sale for $2.00.The dial is marked Haller, West Germany. The movement is marked S. Haller, Simonswald, no (0) jewels, unadjusted, Germany. It appears complete, except that it needs a new suspension spring.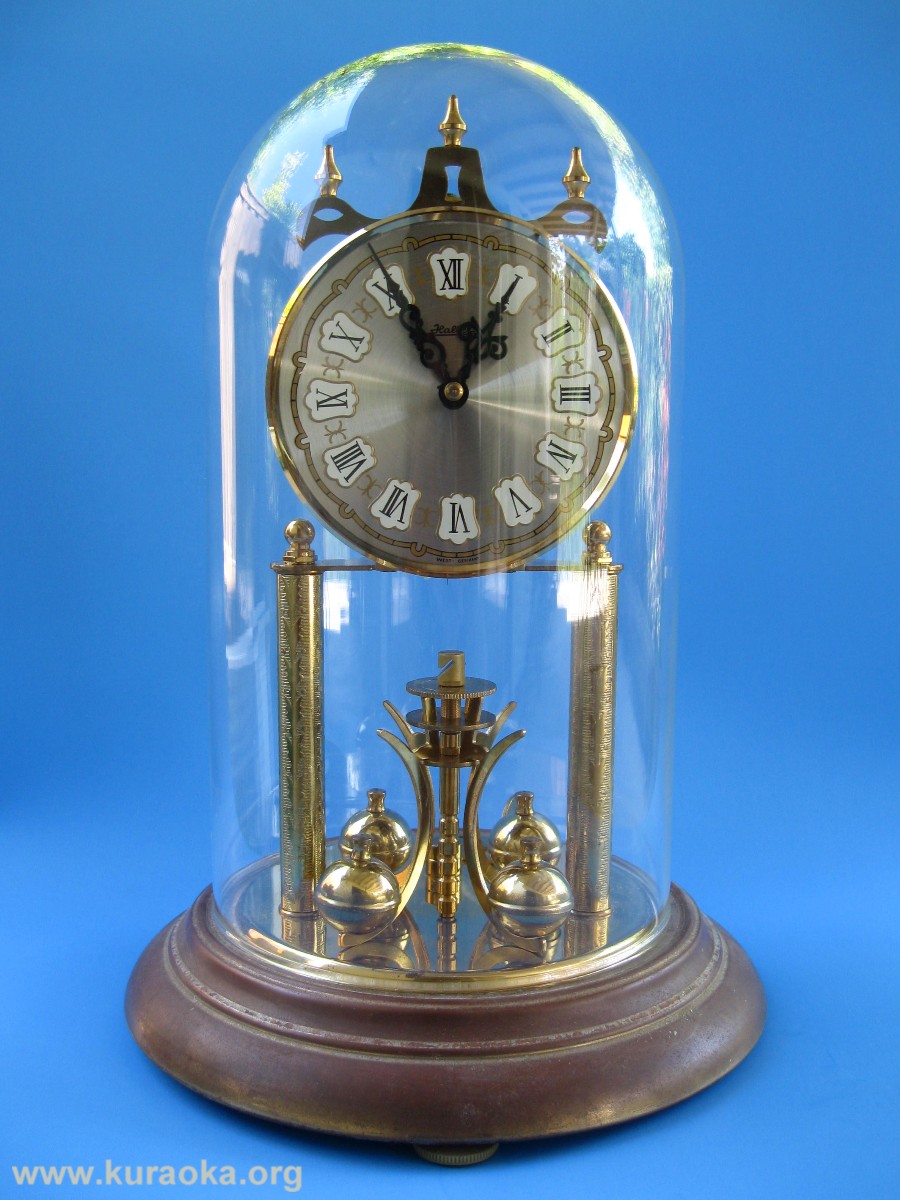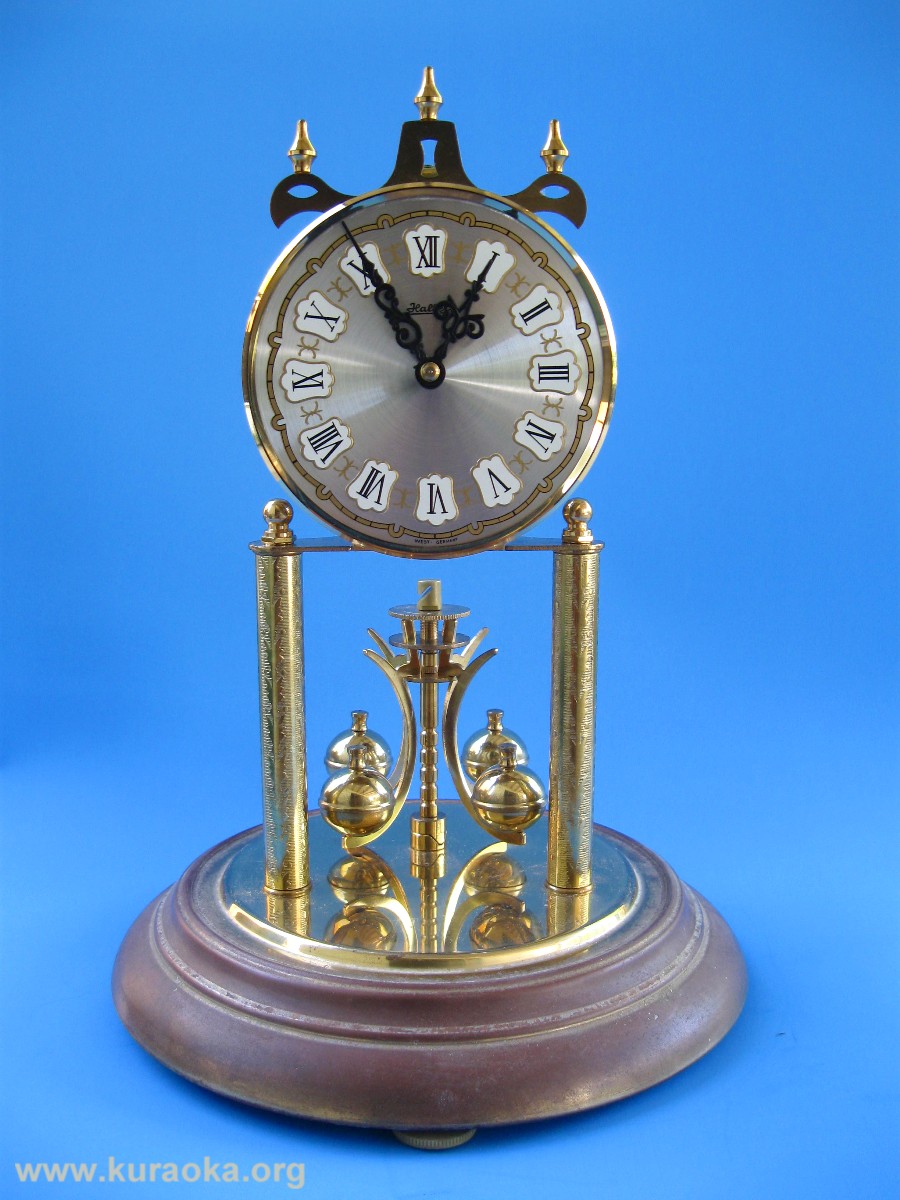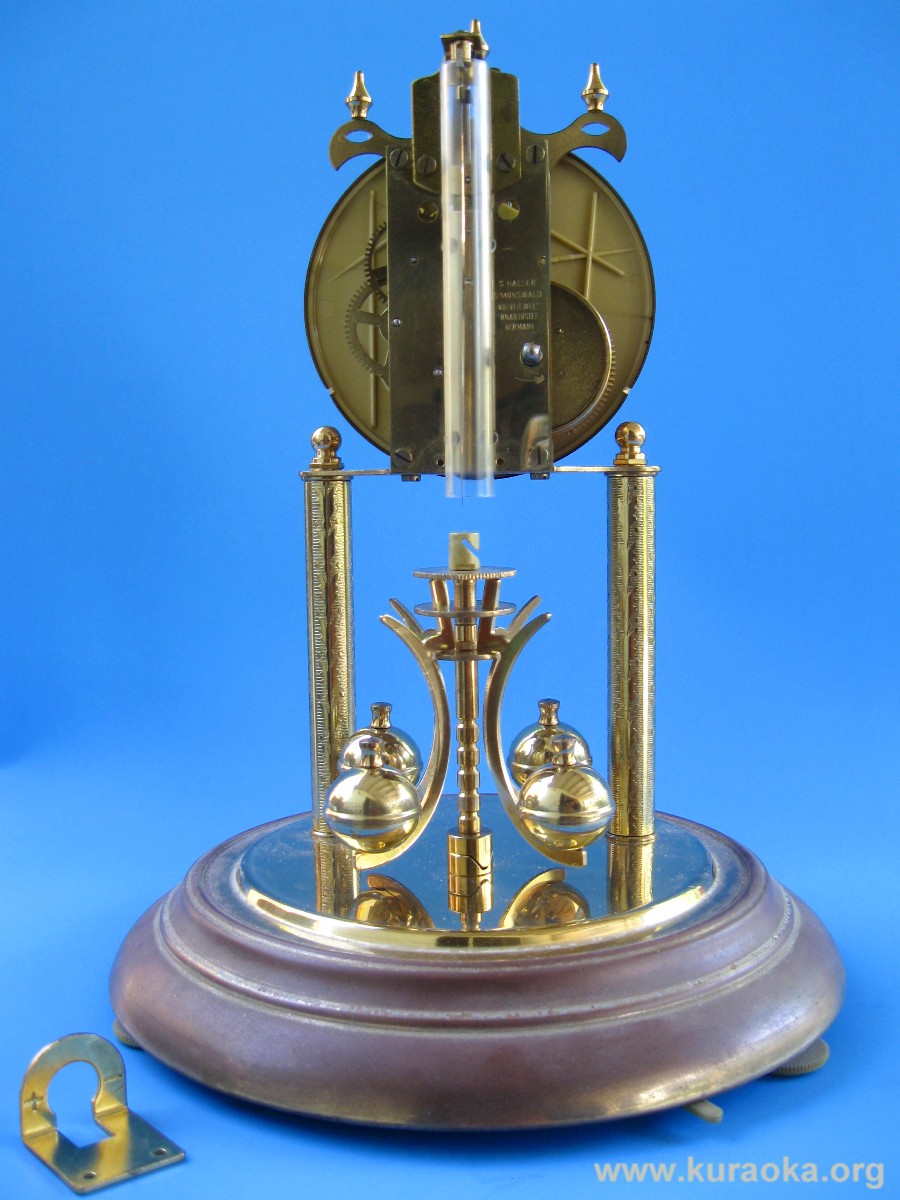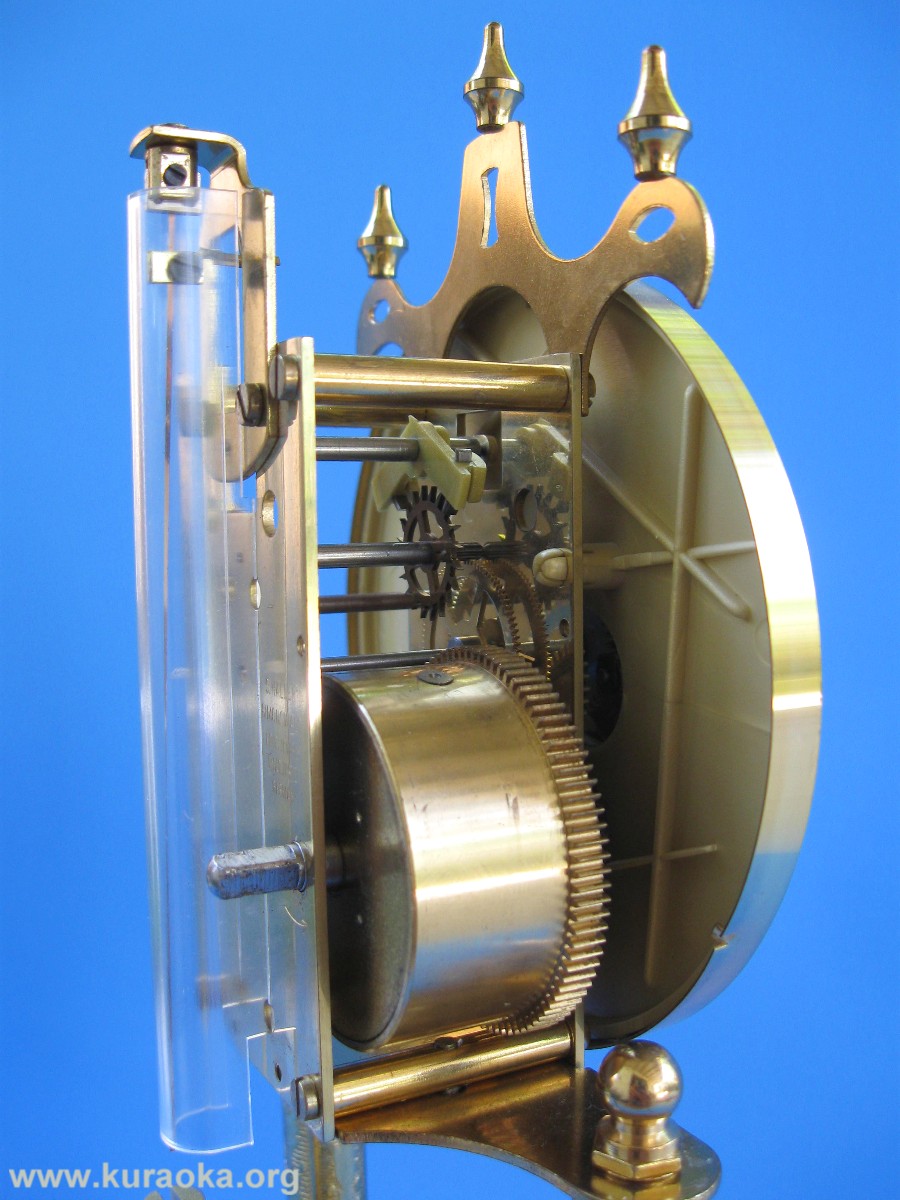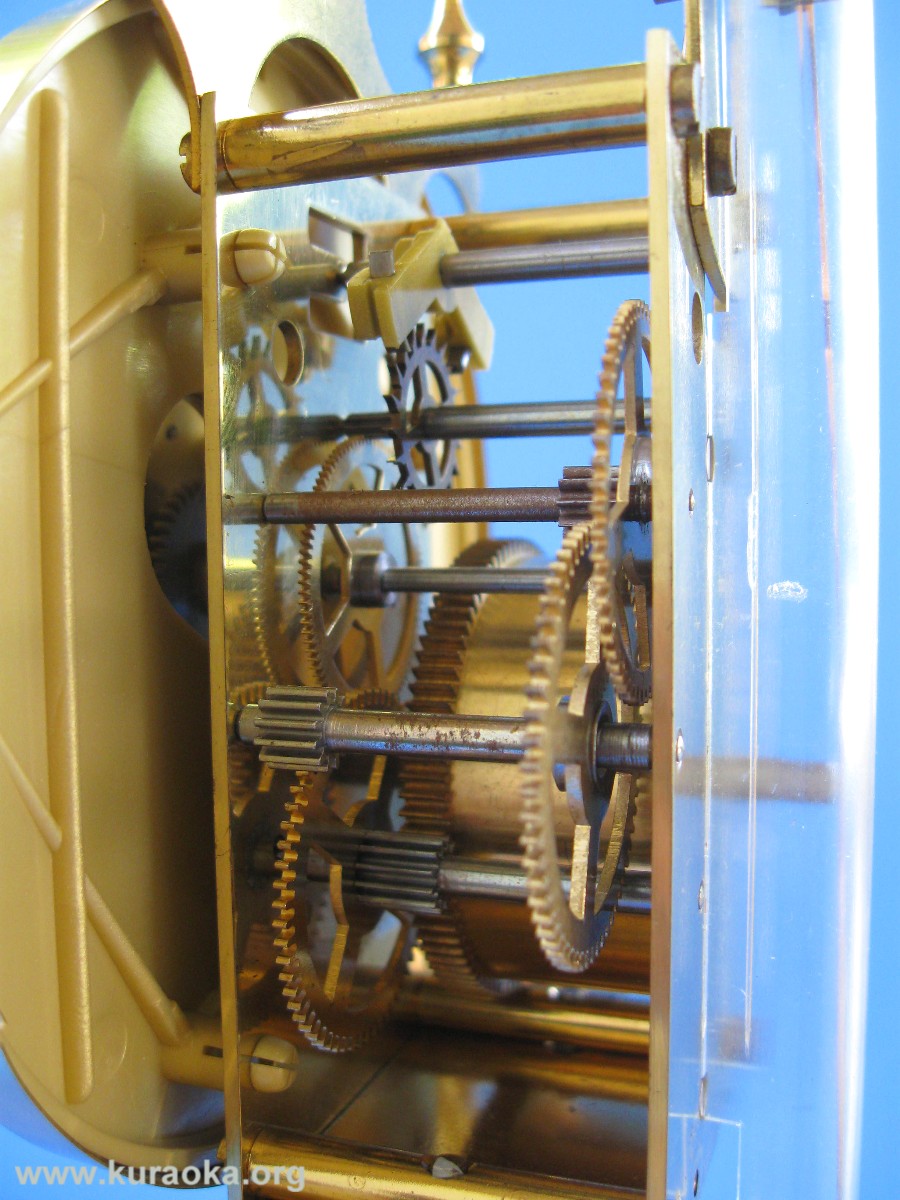 03-28-10: Our Anniversary! We spent a delightful, kid-free day in the Anza Borrego Desert, enjoying a garden tour and a nice quiet meal. The first two photos show a wonderful garden influenced by Southeast Asia and nature. The middle photo shows us by one of our favorite desert blooms, the Apricot Mallow. Then there's Ondine amid the bougainvillea, and John up a tree.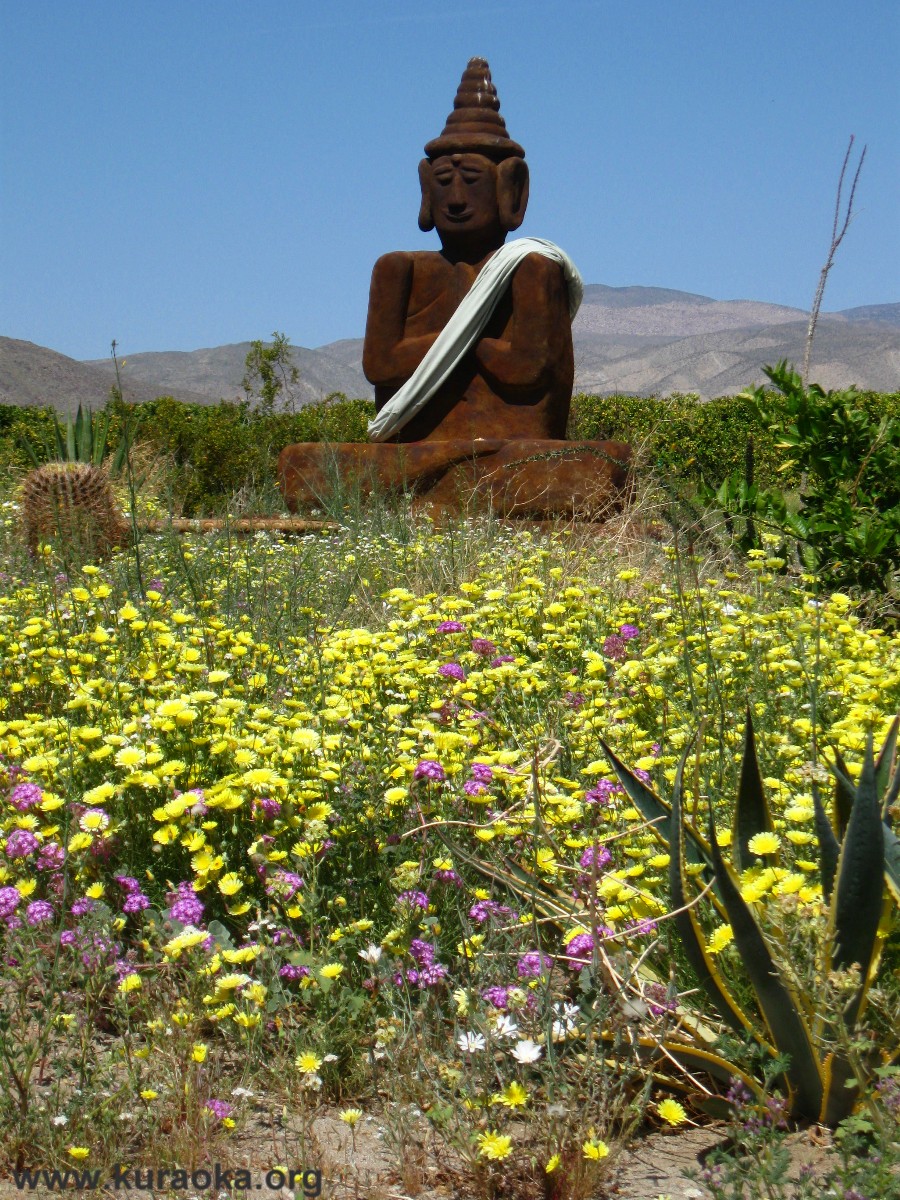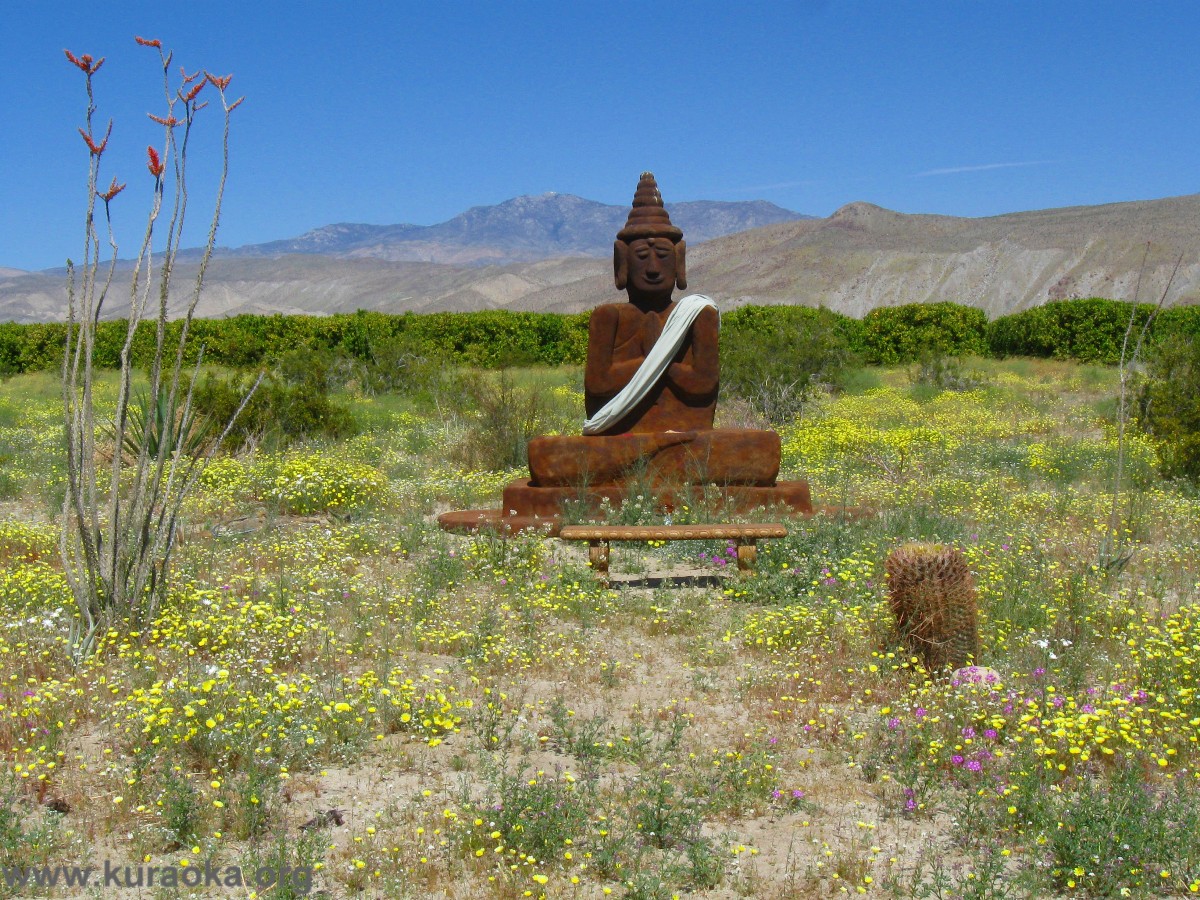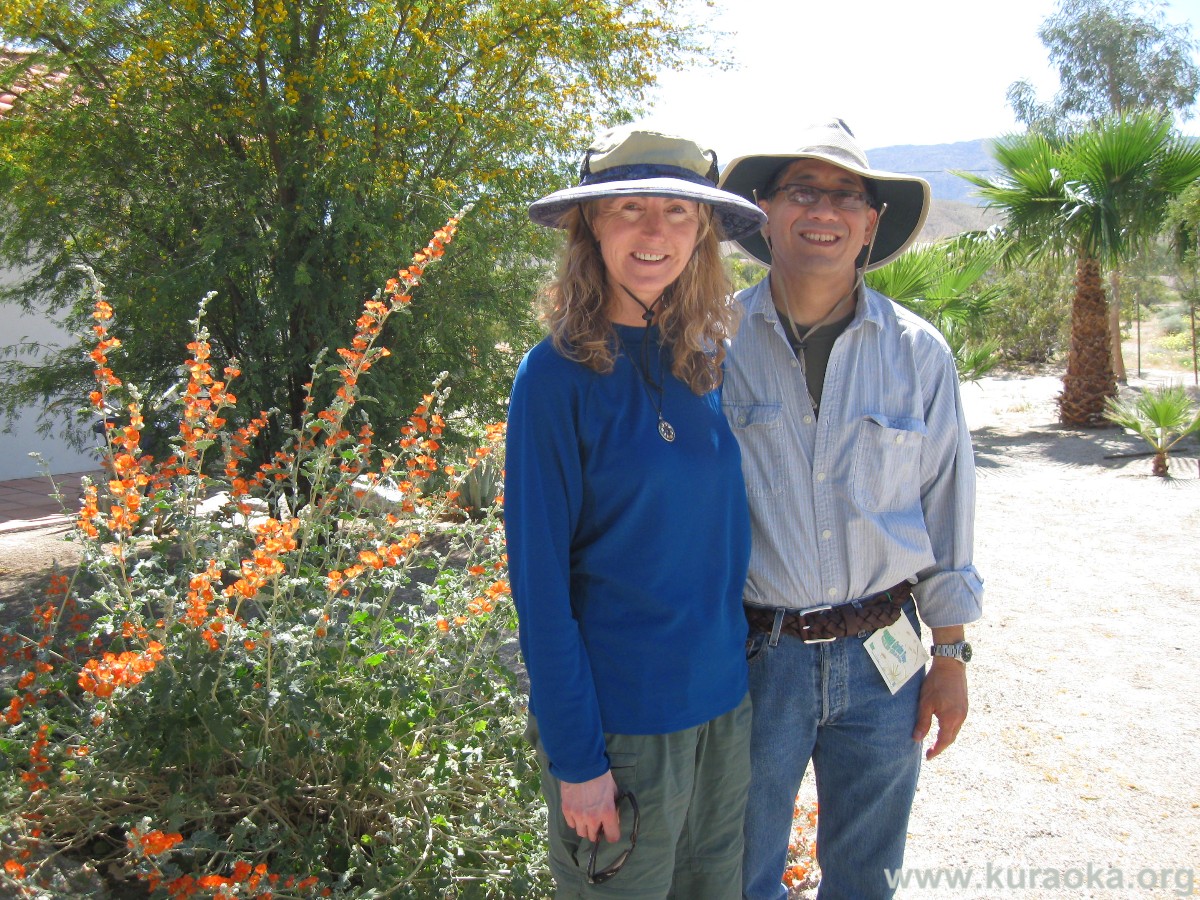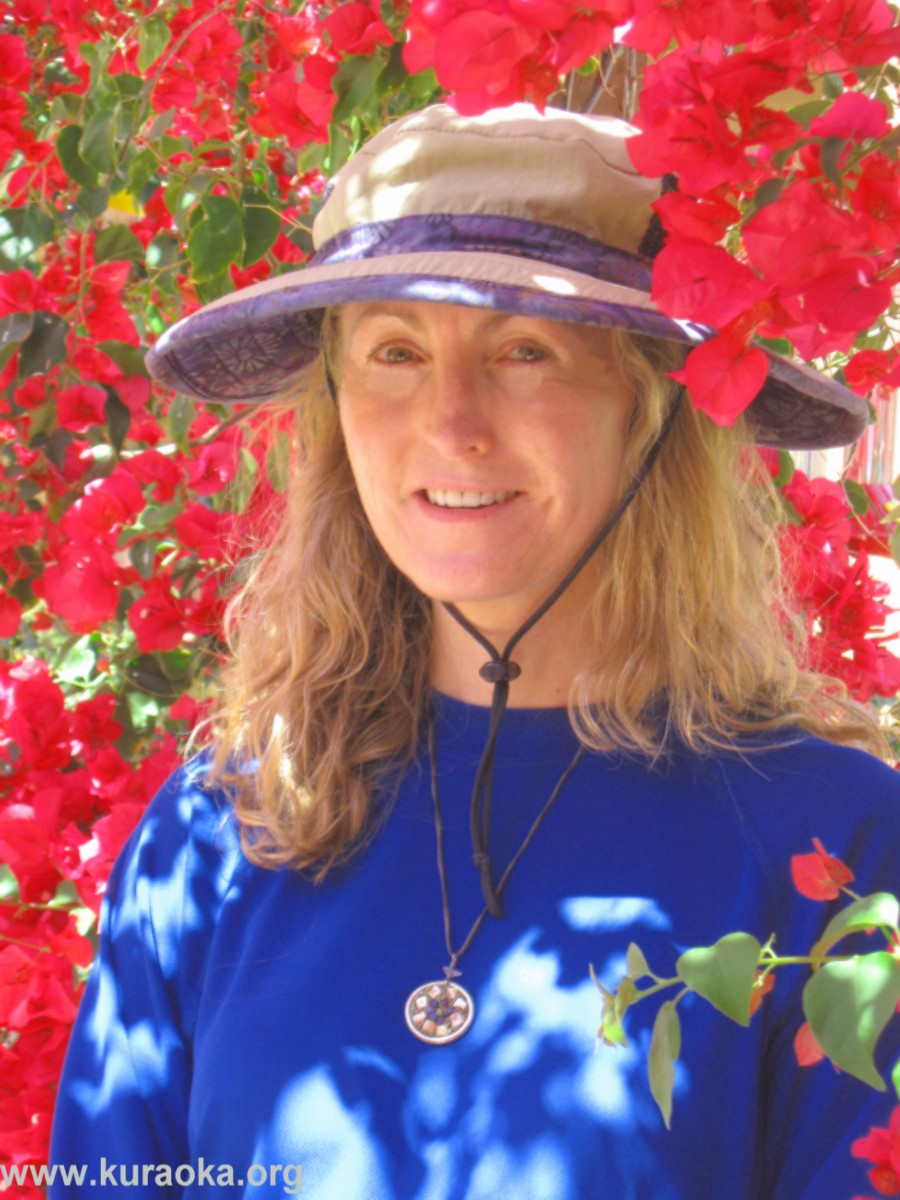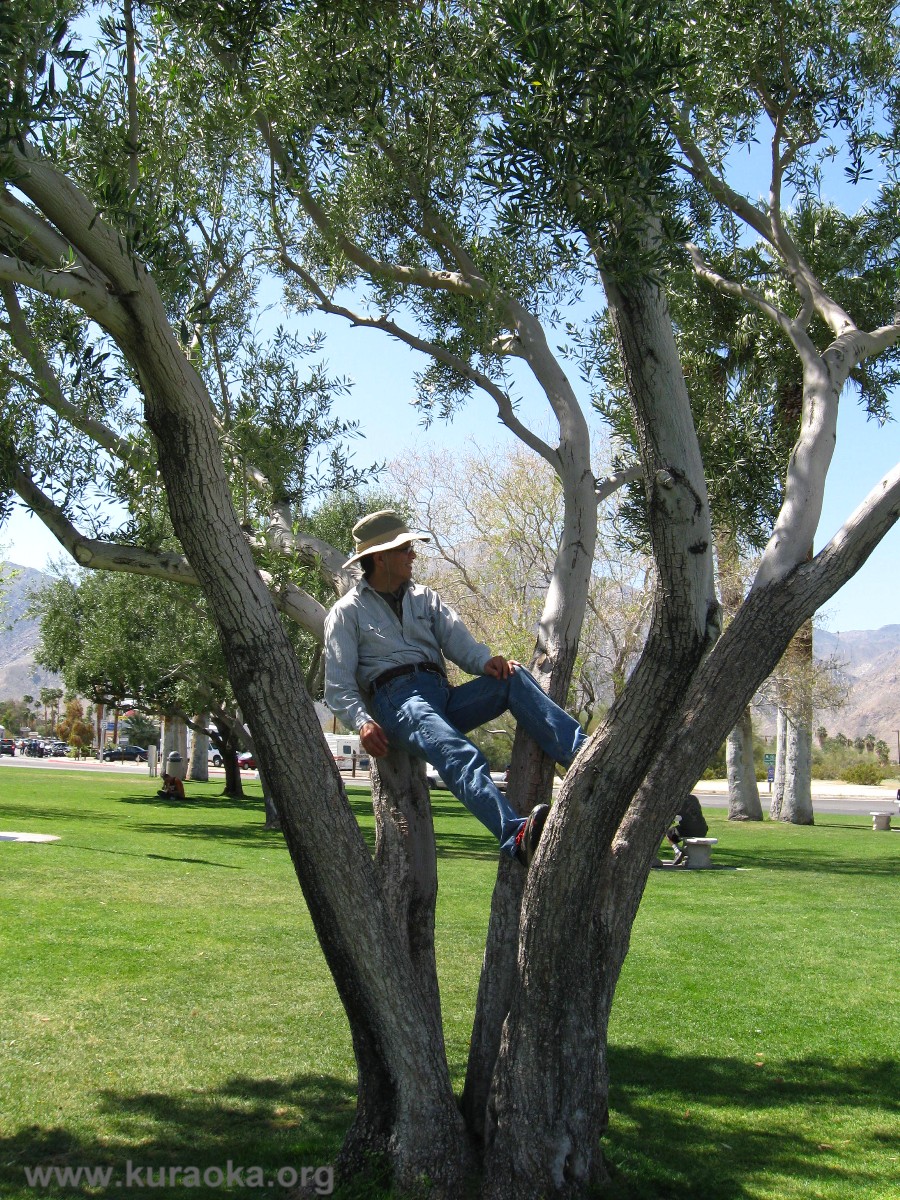 02-28-10: Leo, Ondine, and Roy at the Birch Aquarium. What a glorious day after the rain!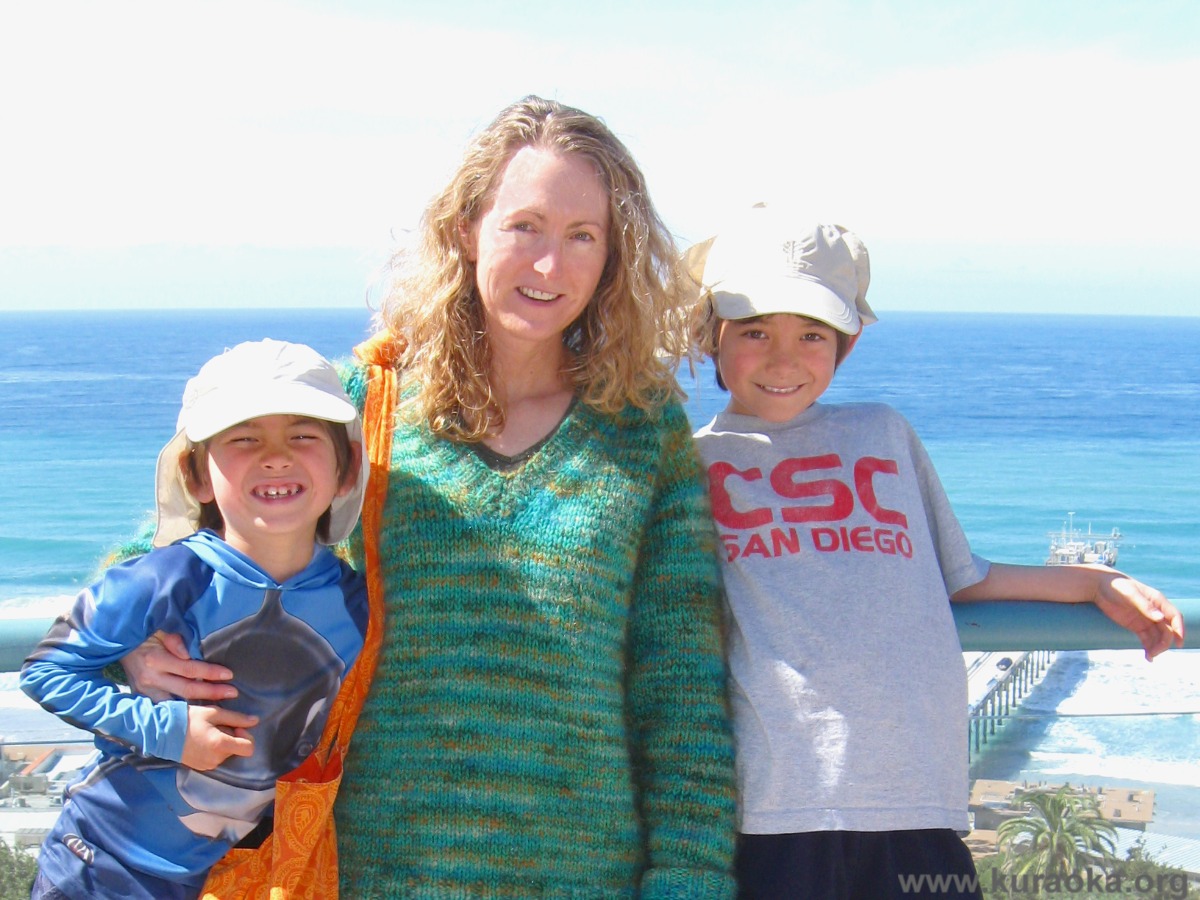 02-27-10: Roy baked us all cupcakes, entirely from scratch, no less! He used black licorice and mini marshmallows for decorations. They were good! Here he is with them before we demolished the platter.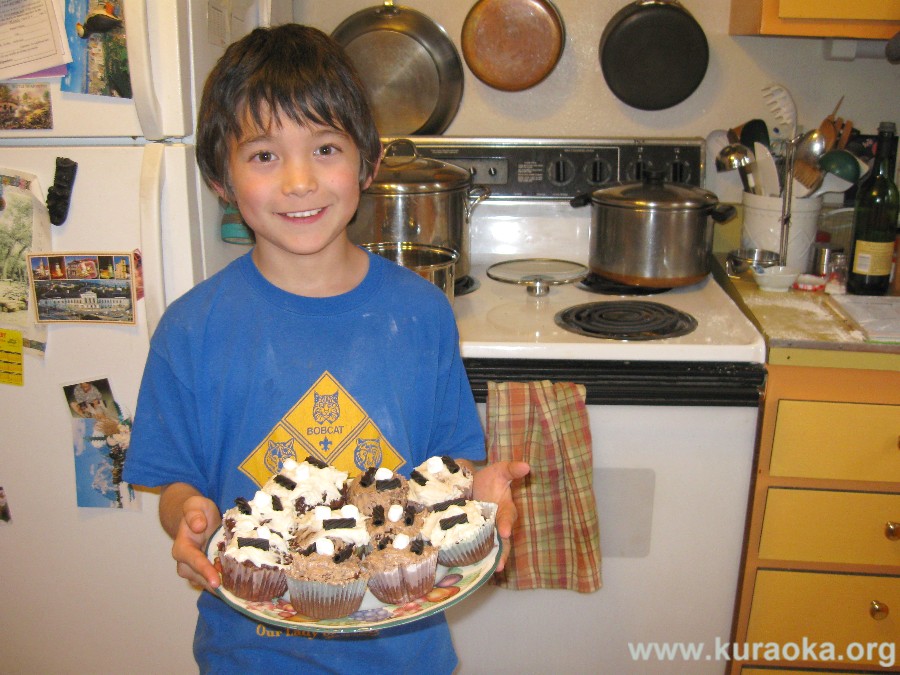 02-25-10: Leo got a Perfect Attendance award for not missing a day of school this half-term.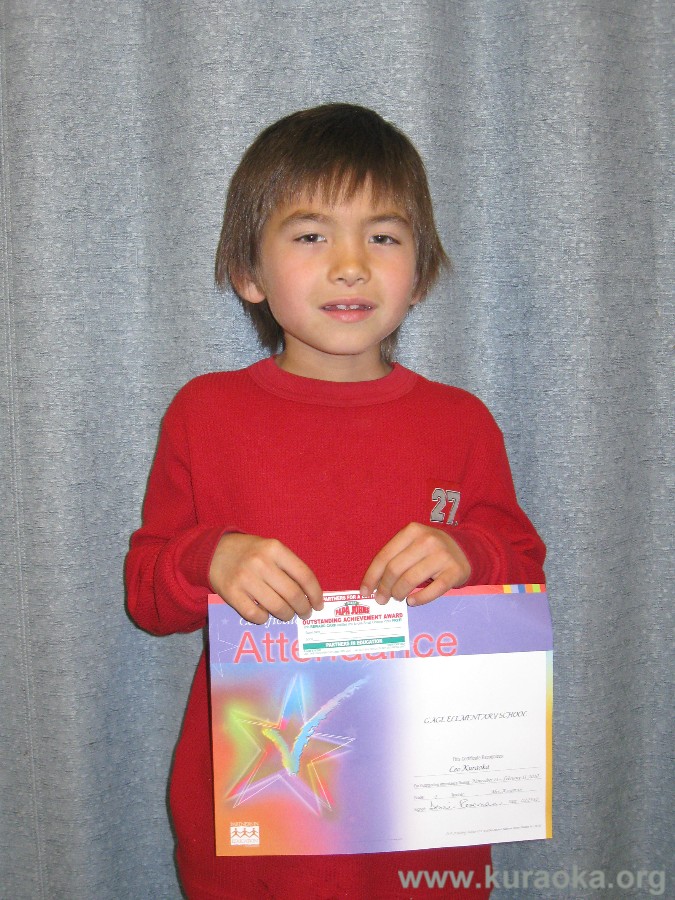 02-15-10: Pack 951 Fishing Derby! Roy and Leo both got skunked, as did all the other scouts. But they had a great time at Santee Lakes, so much so that they kept fishing long after the derby had ended and everyone else had gone home. Roy looks very intent. Leo has a more relaxed fishin' style.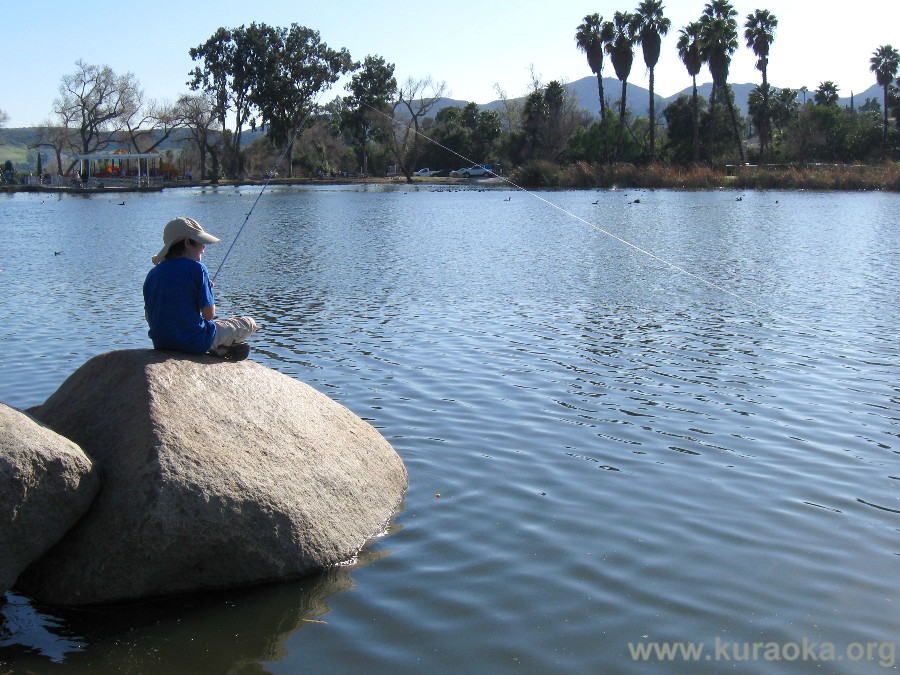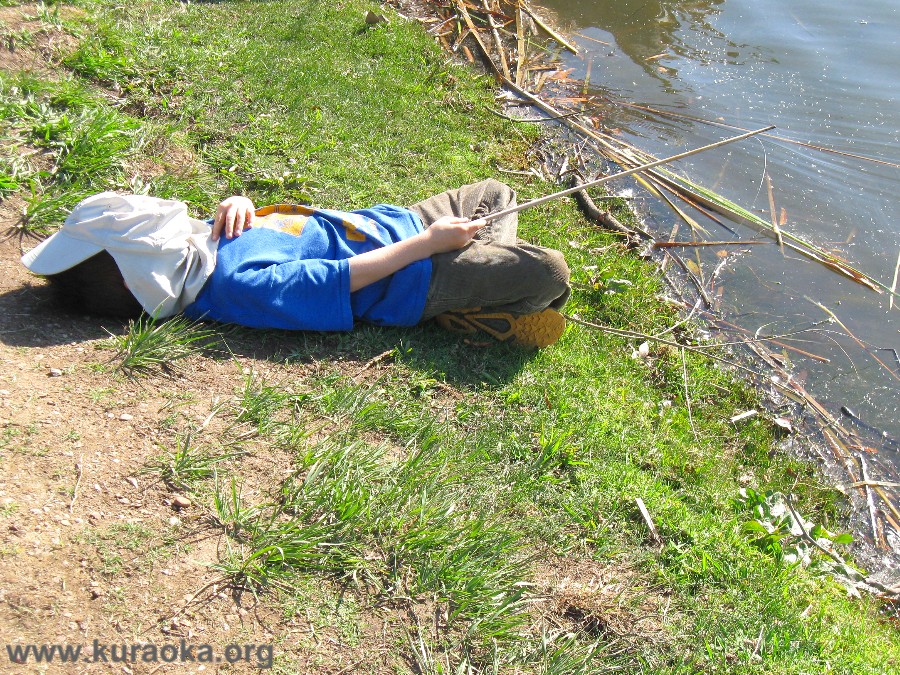 02-13-10: Friends on Cowles Mountain. Here are Roy with Stephen and Michael at the top of Cowles Mountain. Leo brought some reading material to the top. And, in the contest of panoramic view vs. Lego catalog, there's no contest at all!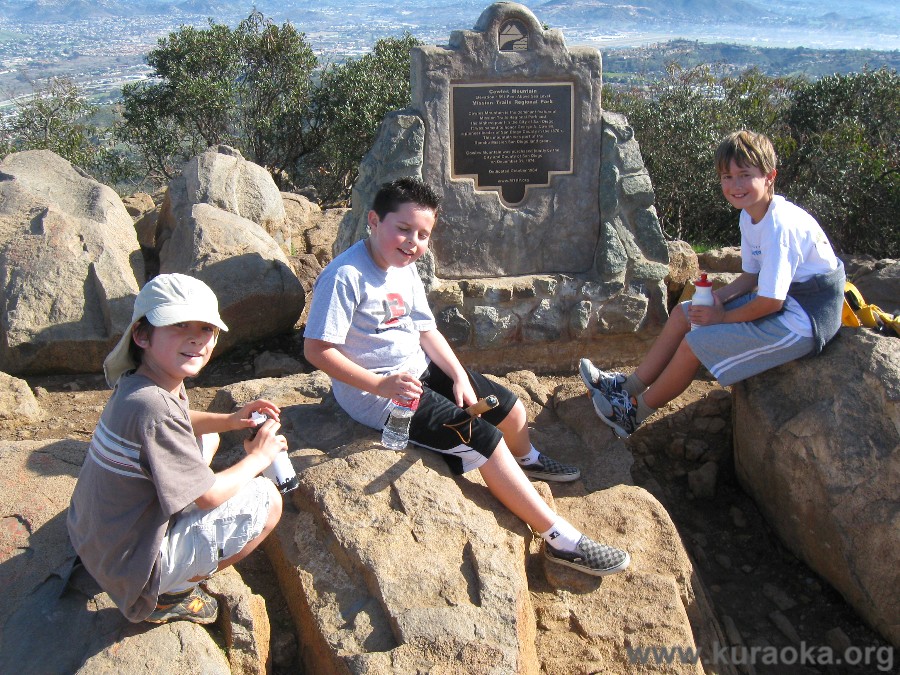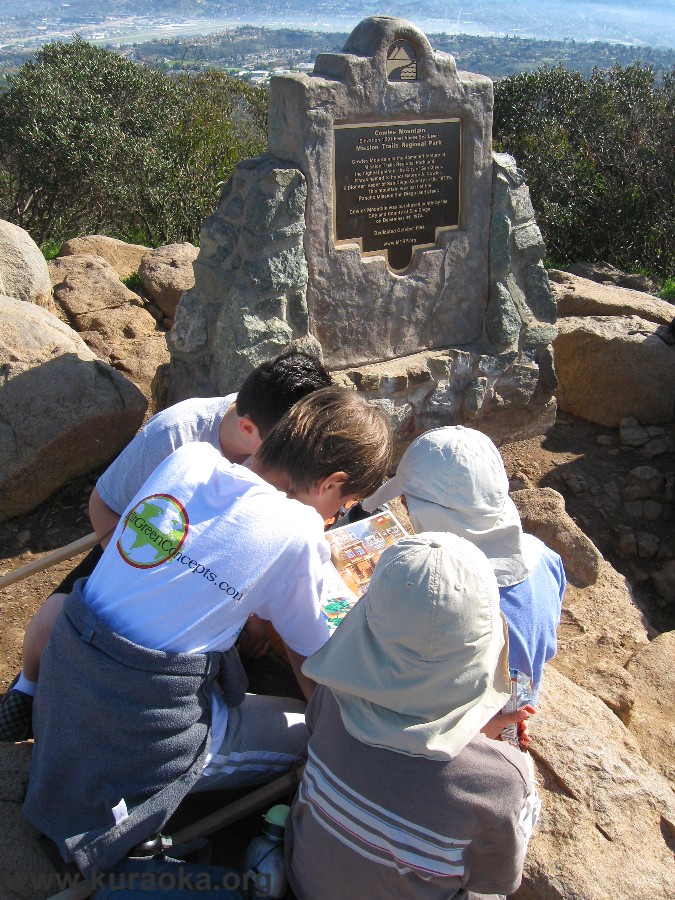 02-07-10: Leo has his own way of making his bed in the morning. He kind of rips his bed apart at night, and, since he's still too little to flip all the sheets and blankets flat, he just rolls each item individually. Notice the nested stuffed creatures. At least it's neat, until someone bounces on it.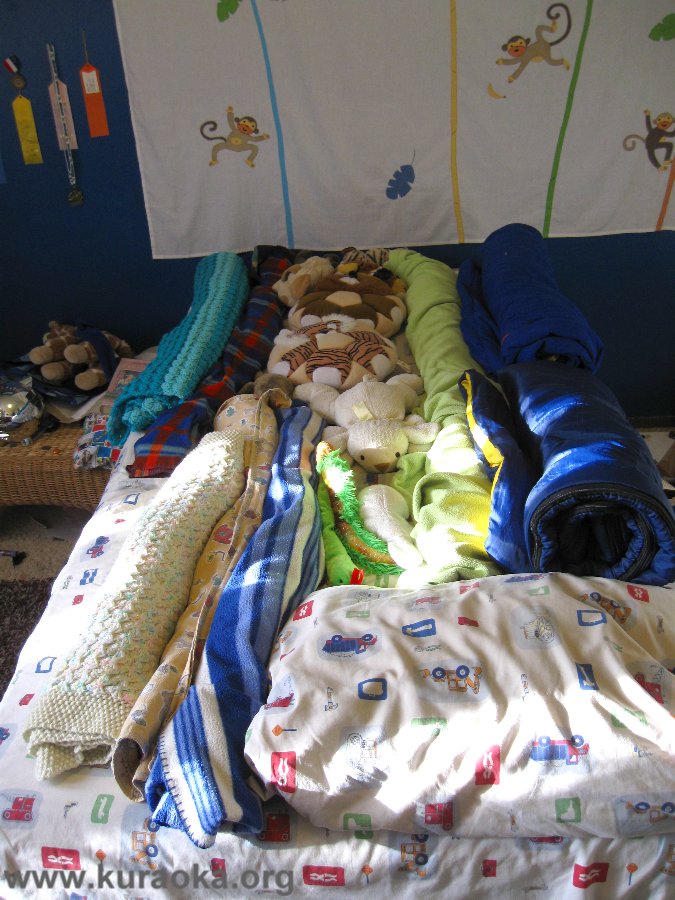 01-31-10: Roy and Leo, Kids At Large. They went out front to play hide-and-seek. But, first, they got their disguises on.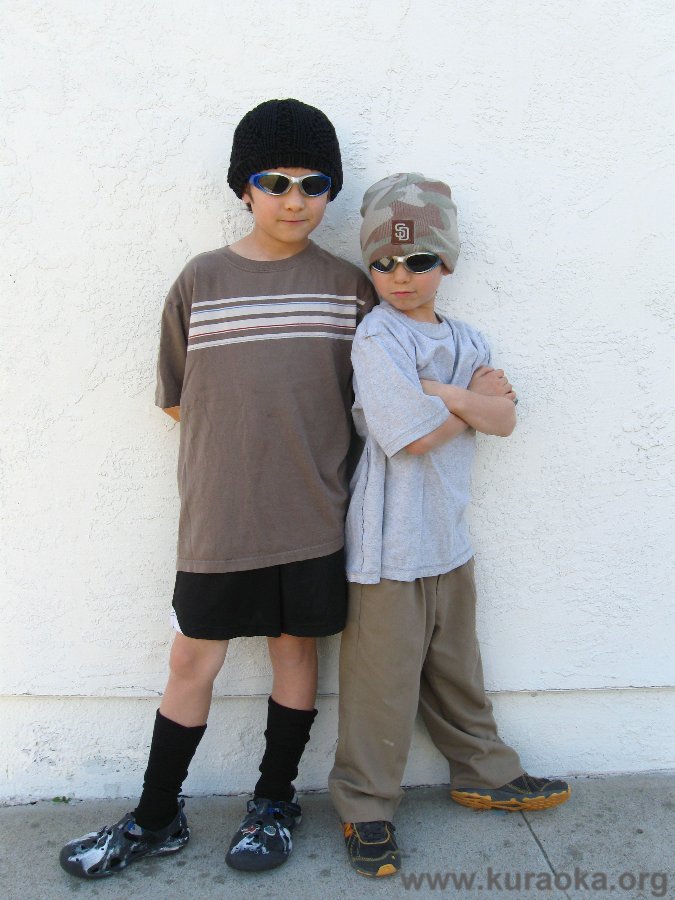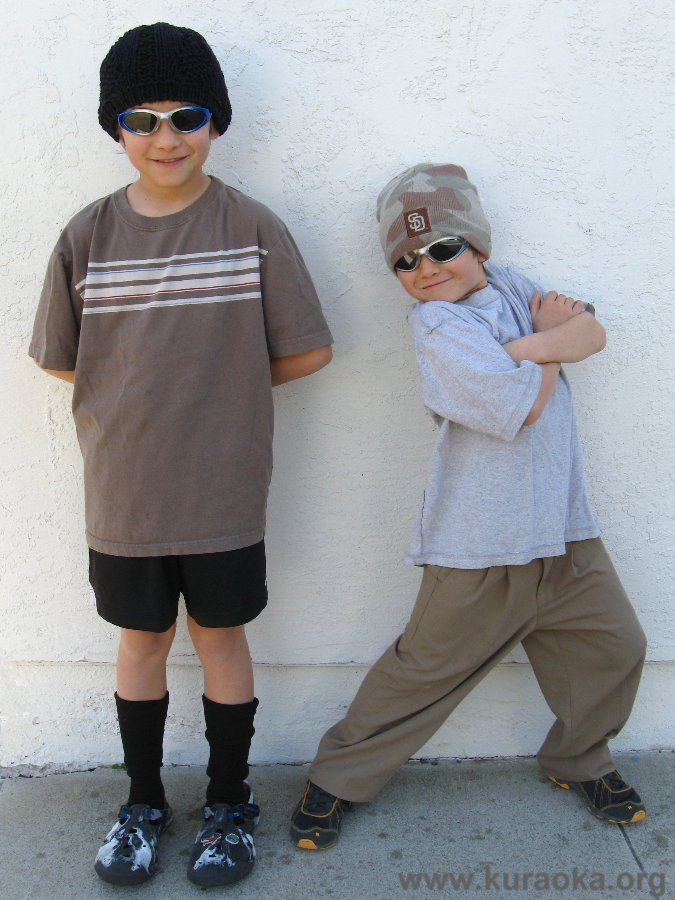 01-23-10: Cowles Mountain after the rains. John, Roy, Leo, and Buddy went to the top, so here are Leo and Roy at the monument at the summit. On the way back, John led them on an unprecedented (and illicit) side trip to the waterfall, which was running – a very rare treat. Others were there too, all looking a bit sheepish but delighted beyond sheepishness by the delicious sight and sound of fresh water running through our chaparral. Click here for the video.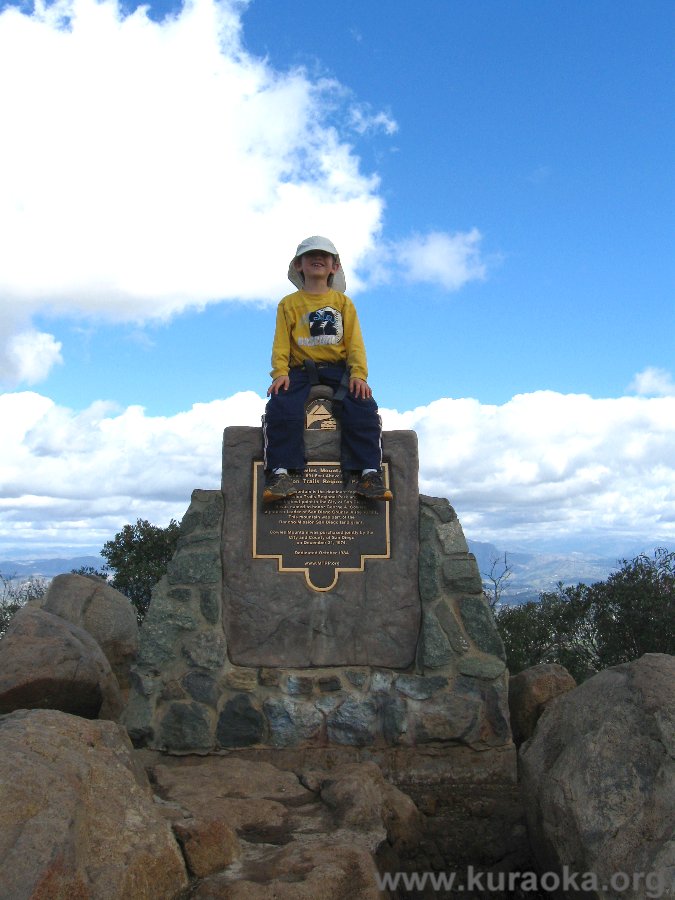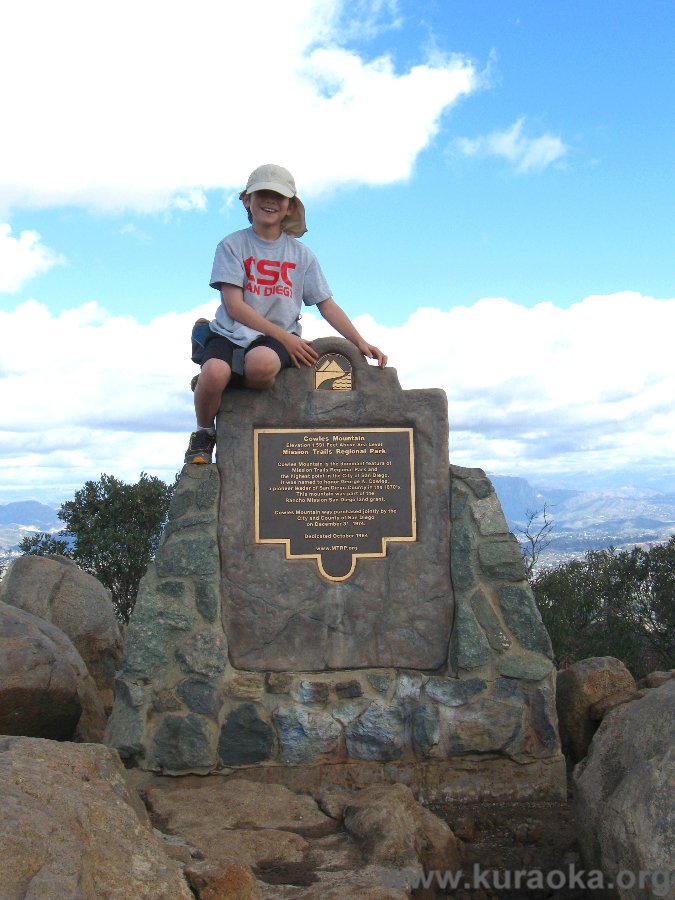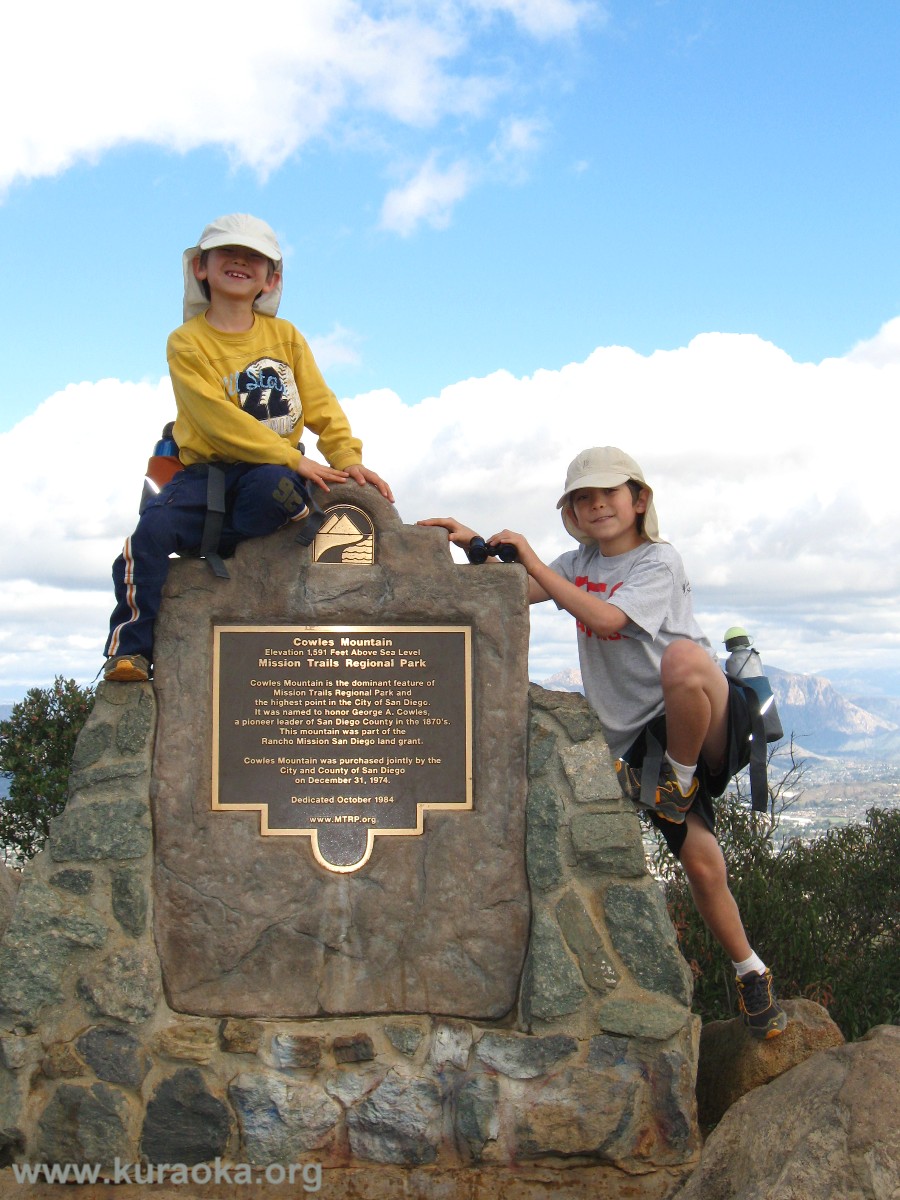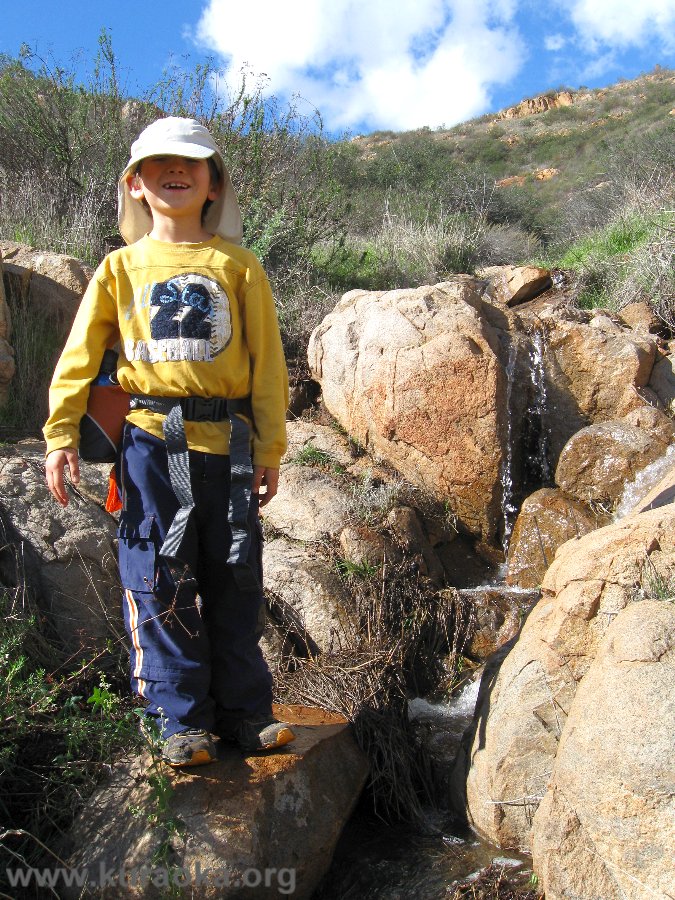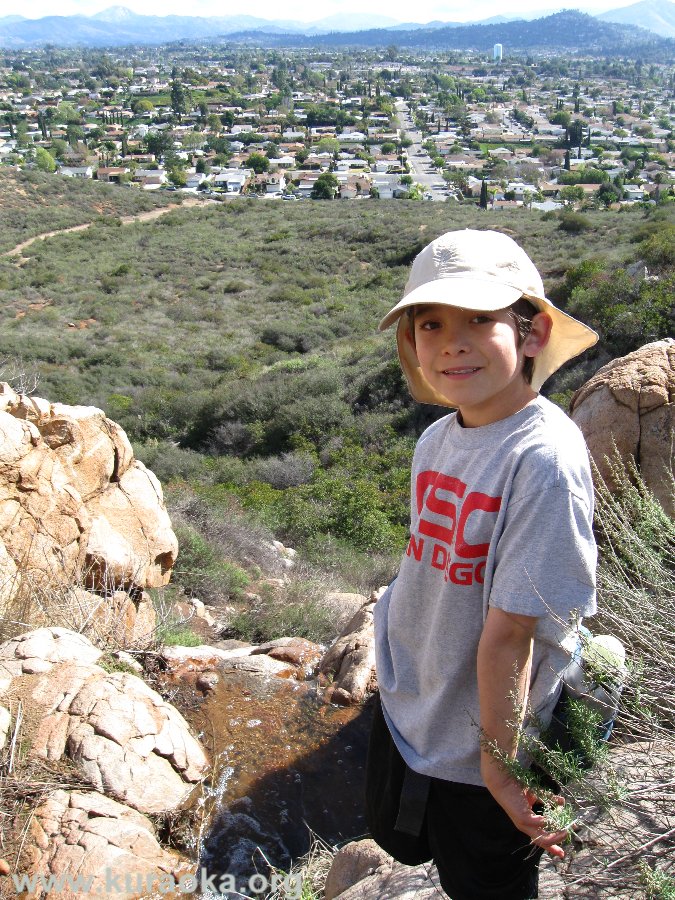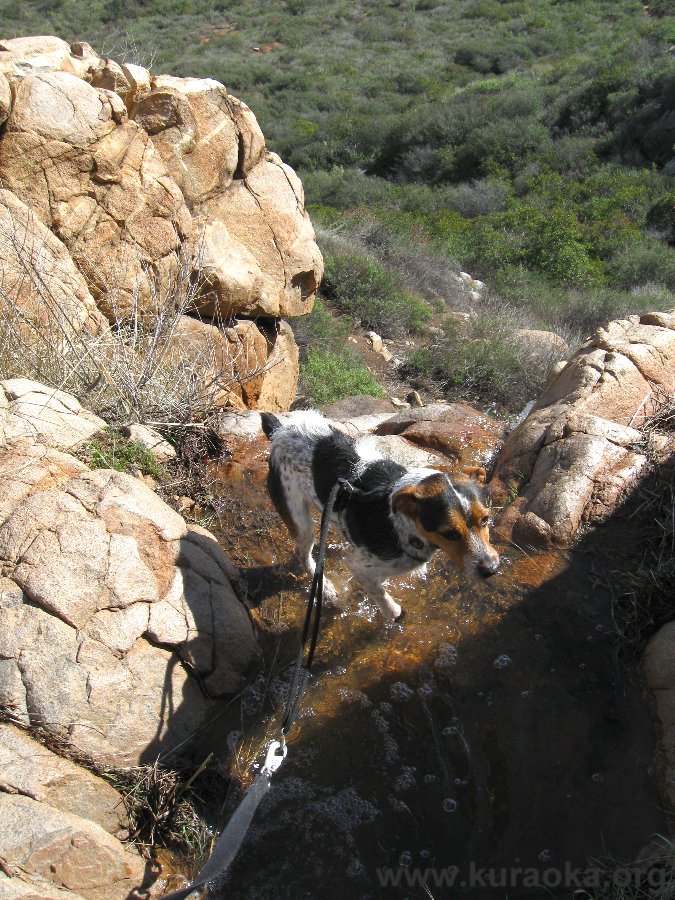 01-16-10: Questhaven weekend getaway! Ondine and her friends Lucy and Deanna went for a weekend retreat in the hills near Escondido. Three women, one cabin, one car. Here Lucy surveys her car; keep in mind that one more person and her stuff has to fit in here!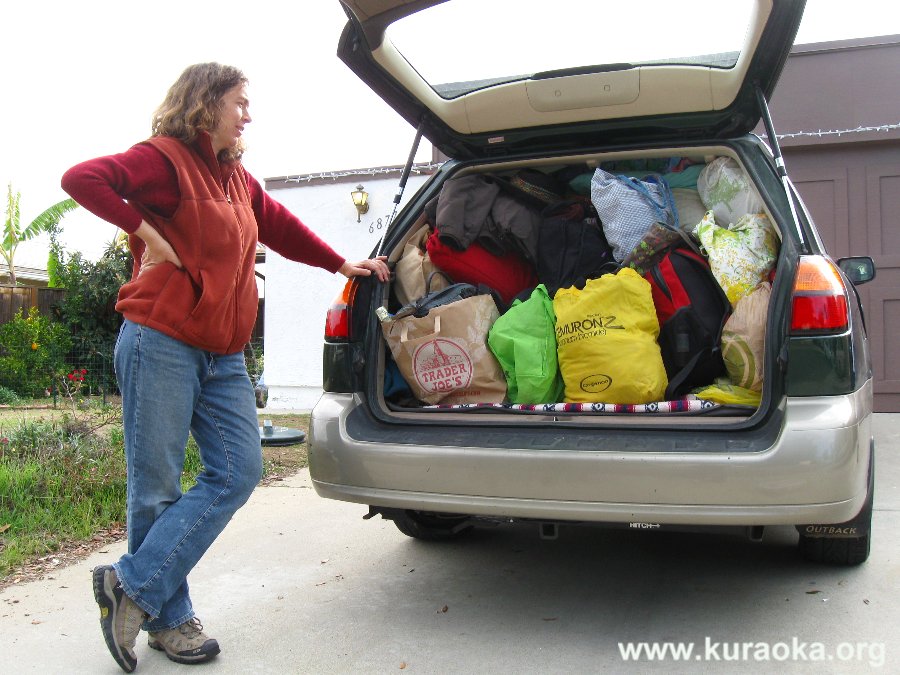 01-03-10: Grandparents and Grandkids! Here is Frances, Barbara, and Bill, with Roy and Leo.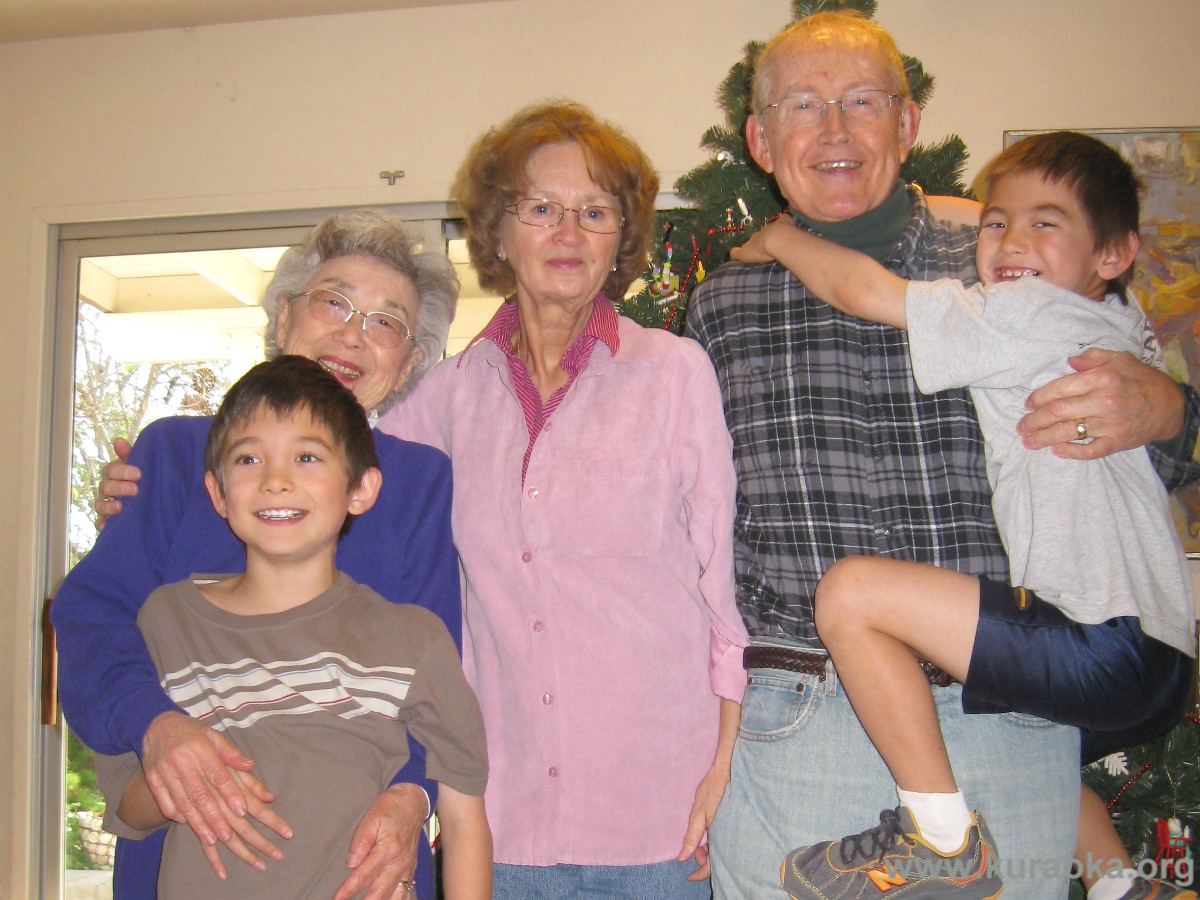 01-02-10: Us at Balboa Park, where we went to the model railroad train museum and saw the Lego train exhibit.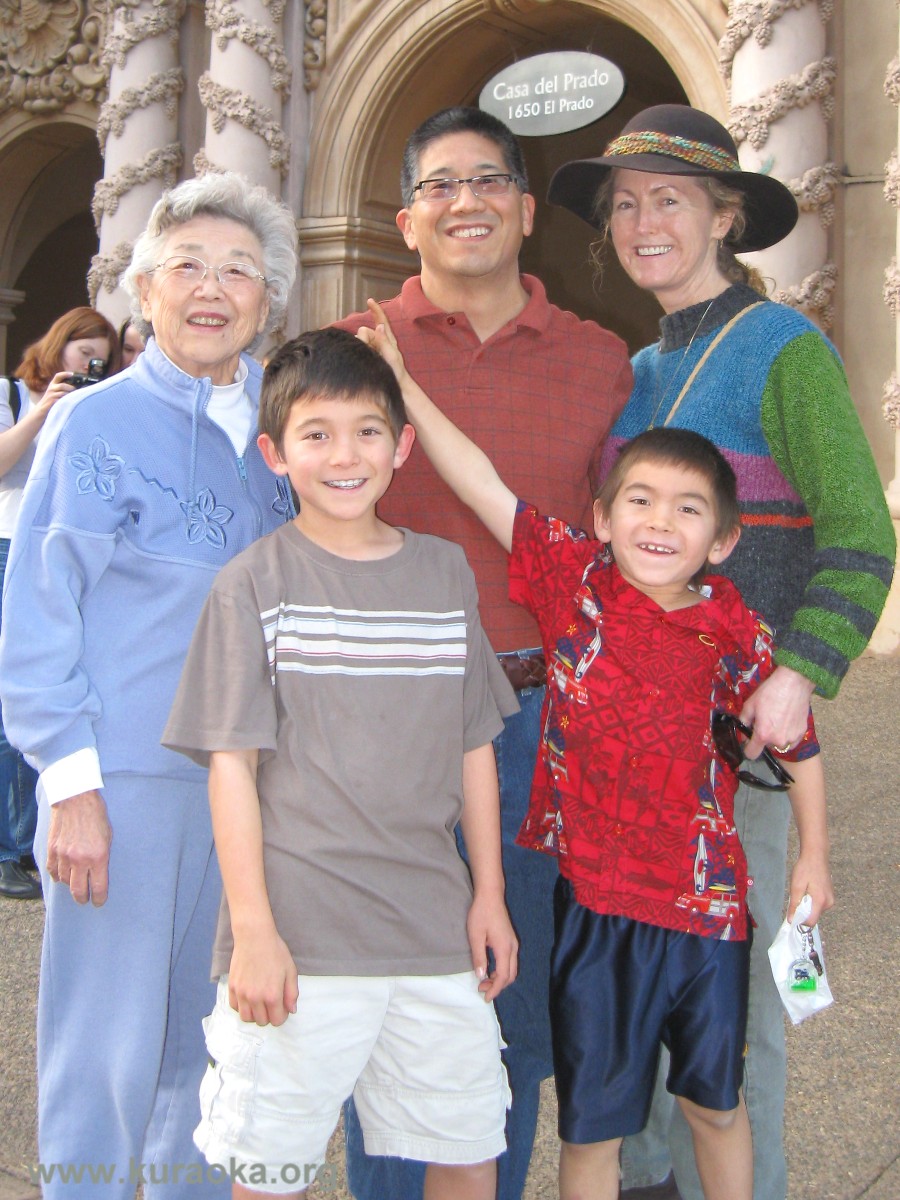 01-01-10: Oshogatsu (New Year's Day) feast! (Also called Osechi). Here are several views of the kitchen island. First is a top-down overview. Next, we're walking around the island clockwise starting from the lower left on the overview shot. First you see the inarizushi, or "footballs" (although when John was little, he called them "turtles") and the sliced makizushi that Roy and Leo made the day before. Next is a renkon (lotus root) and carrot salad and tako (octopus) with a miso dressing. Next up is what Grammy called our "pickle section." Some of the things you see there are umeboshi (pickled baby plums, the little red balls), takuan (pickled radish, the yellow stuff), and shiba zuke (pickled eggplant, the purple stuff). The green stringy stuff is a really tasty seaweed thing we'd never had before, called Chuka Salada (somehow it doesn't sound Japanese, but it fit right in). The big bowl of brown slivers is kimpira gobo (sauteed gobo root) topped with ground roasted sesame seeds. Next is the main platter of teriyaki chicken, satoimo (taro root, the brown things that look like tiny potatoes), renkon (lotus root), shiitake mushrooms, green beans, konyaku (yam cakes, the twisty things) and bamboo shoots. You can see our roasted sesame seed grinder too, the red thing. The last food photo has the daikon-carrot salad, kuromame (sweet black beans), a fresh seaweed salad, and cooked dried icefish. Last up is a photo of Bill and Barbara!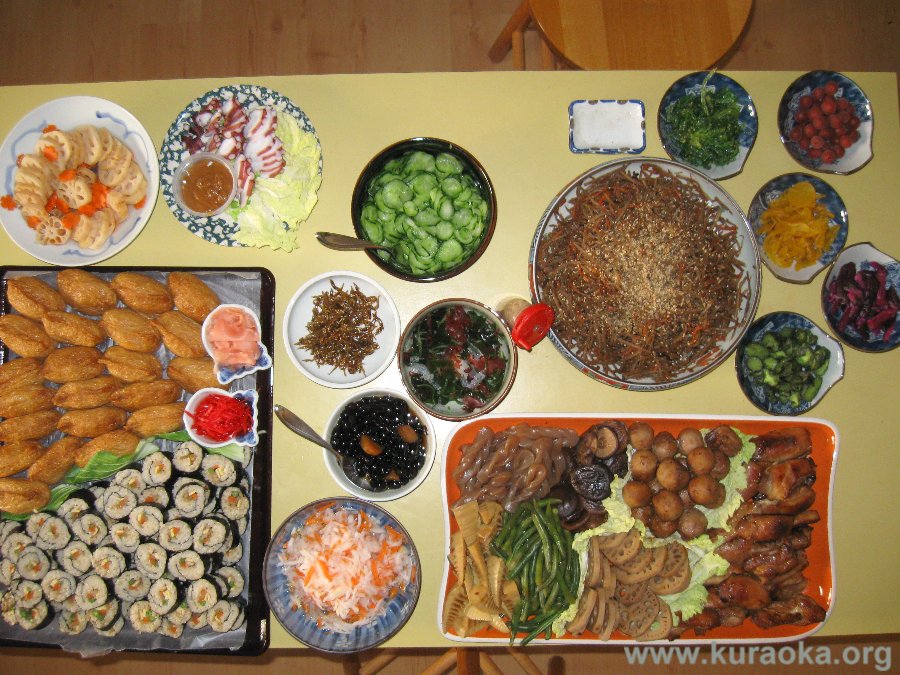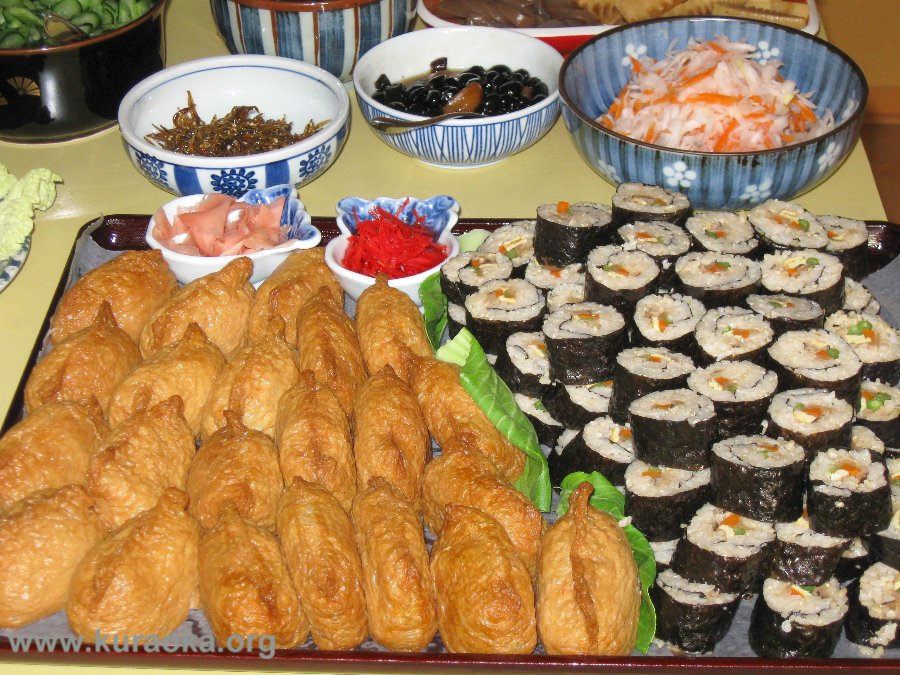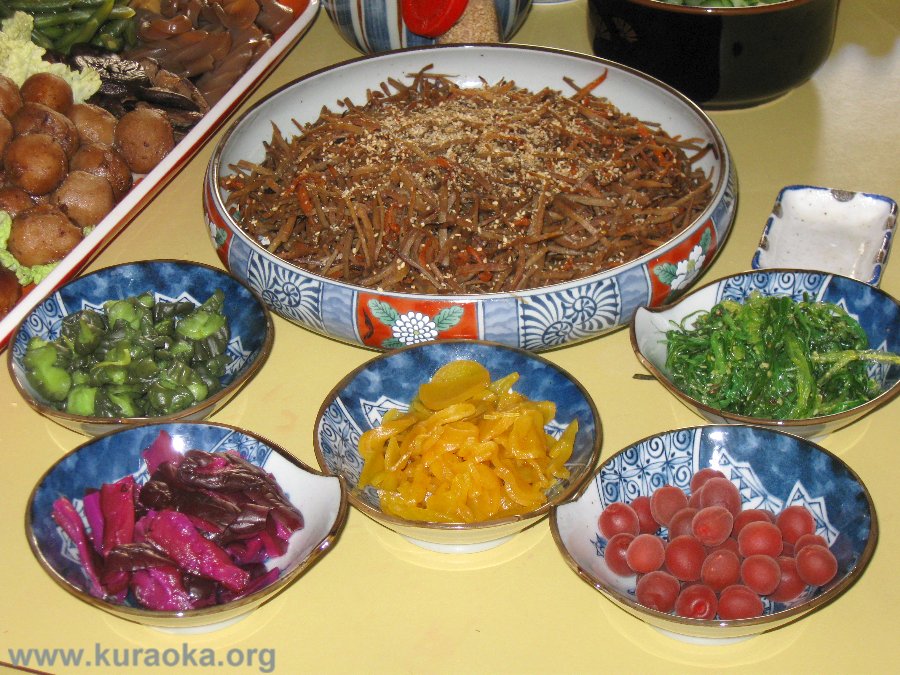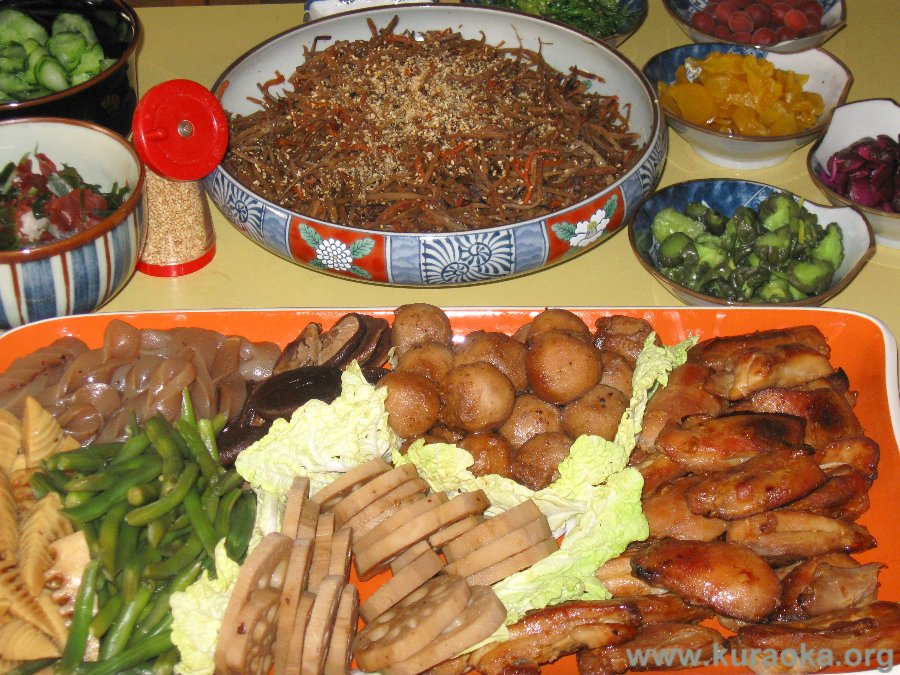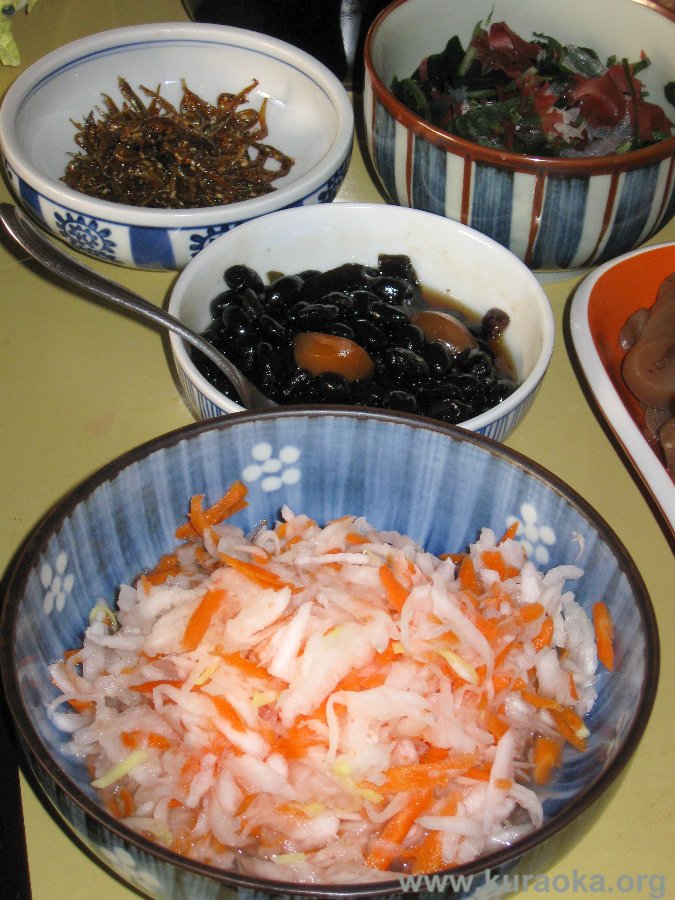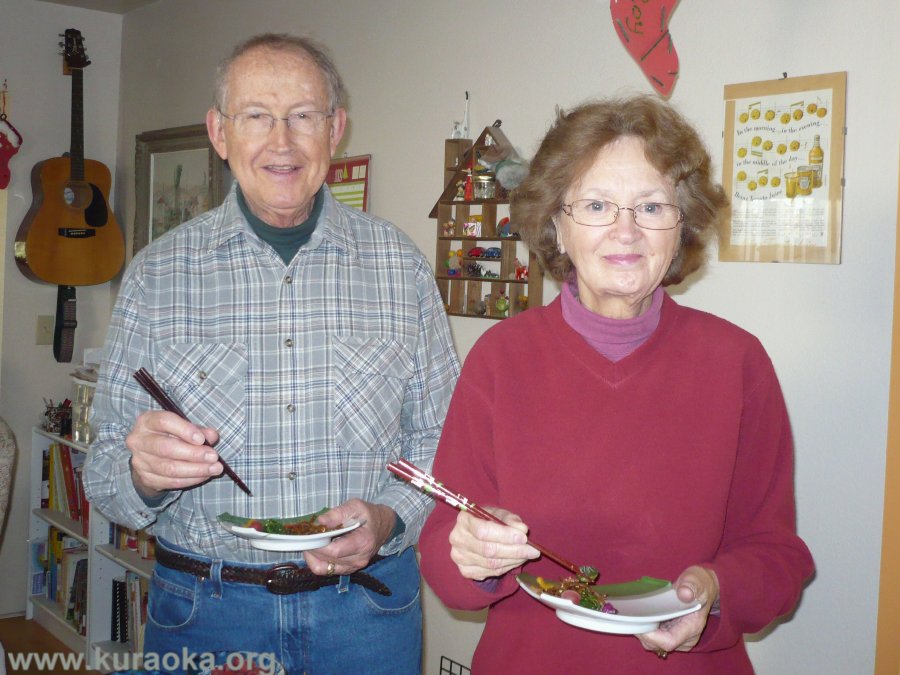 12-31-09: Makizushi chefs! Roy and Leo both enjoy making makizushi, or sushi rolls, for our Oshogatsu New Year's day feast. Here you see Roy starting to dampen the outer edge of the nori, and Leo rolling one up. Each roll is filled with five ingredients, each cooked and seasoned separately and sliced into thin strips: Kampyo (gourd strips), egg, carrots, green beans, and Shiitake mushrooms. Meanwhile, Grammy keeps prepping ingredients and dishes. Later, during the New Year's Eve festivities next door, Roy and Buddy prove to be two peas in a pod.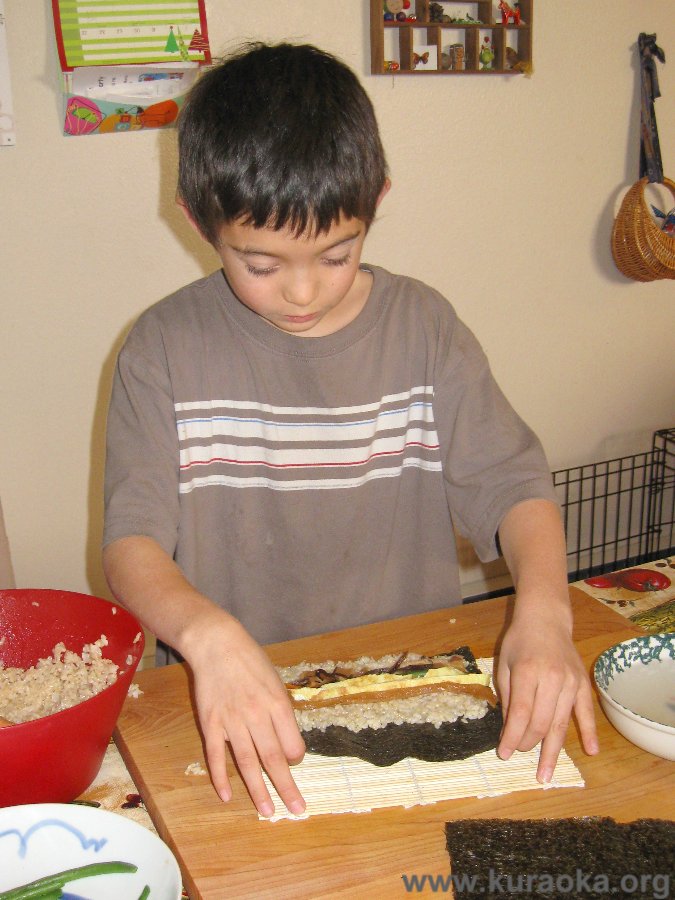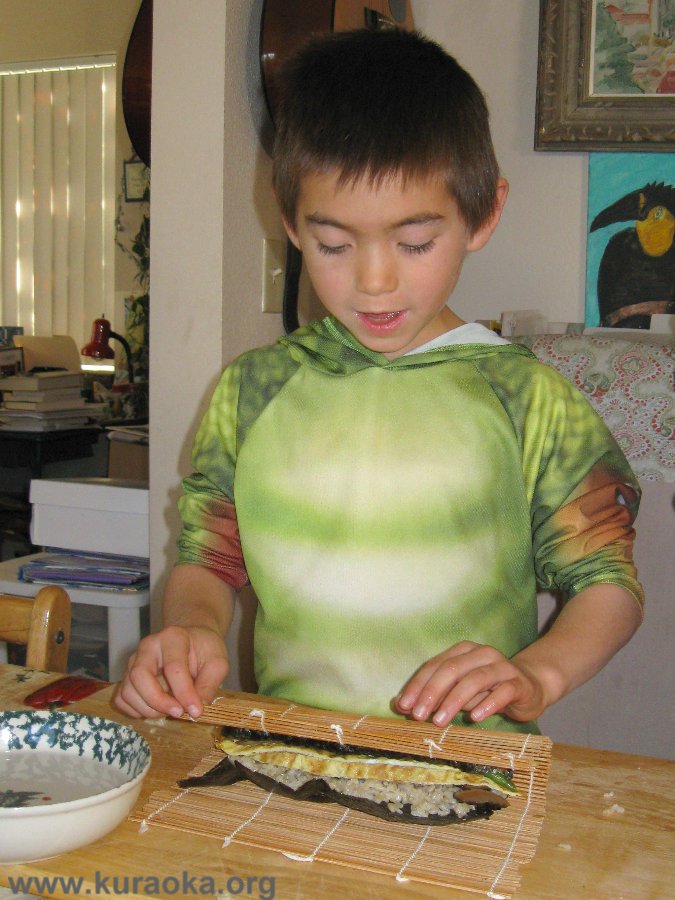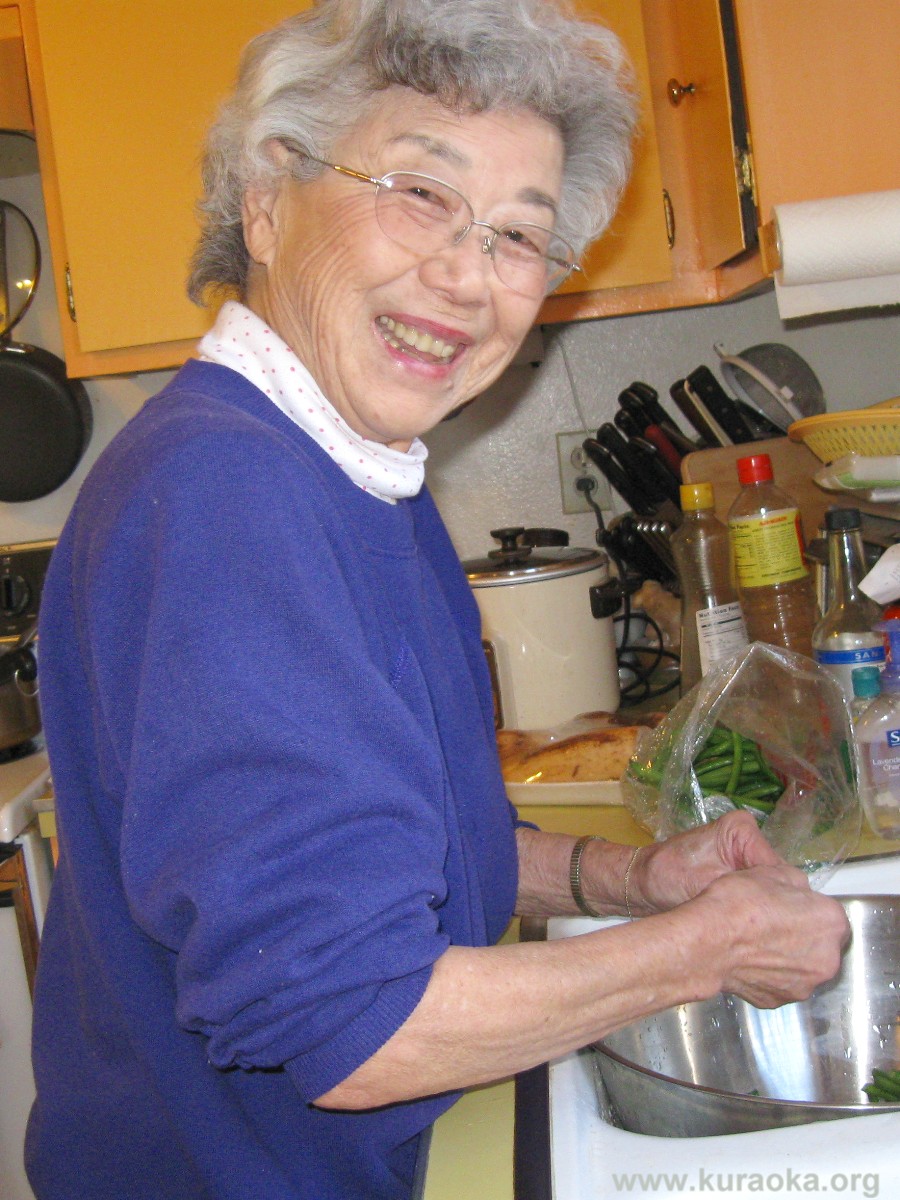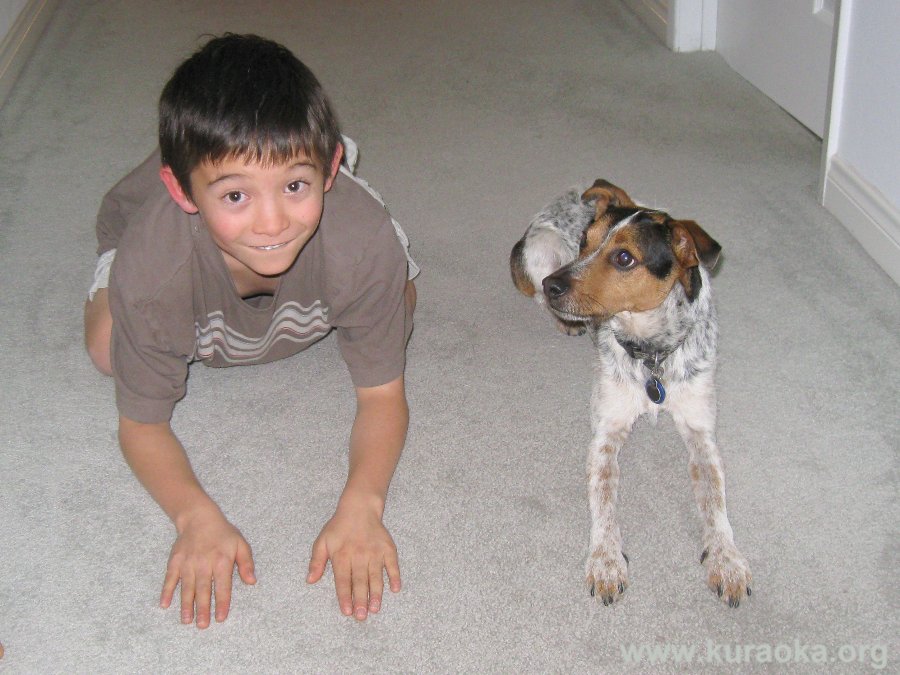 Archived Photos from 2009
Archived Photos from 2008
Archived Photos from 2007
Archived Photos from 2006
Archived Photos from 2005
Archived Photos from 2004
Back to the Kuraoka Family main page