The Kuraoka Family Weekly Journal
www.kuraoka.org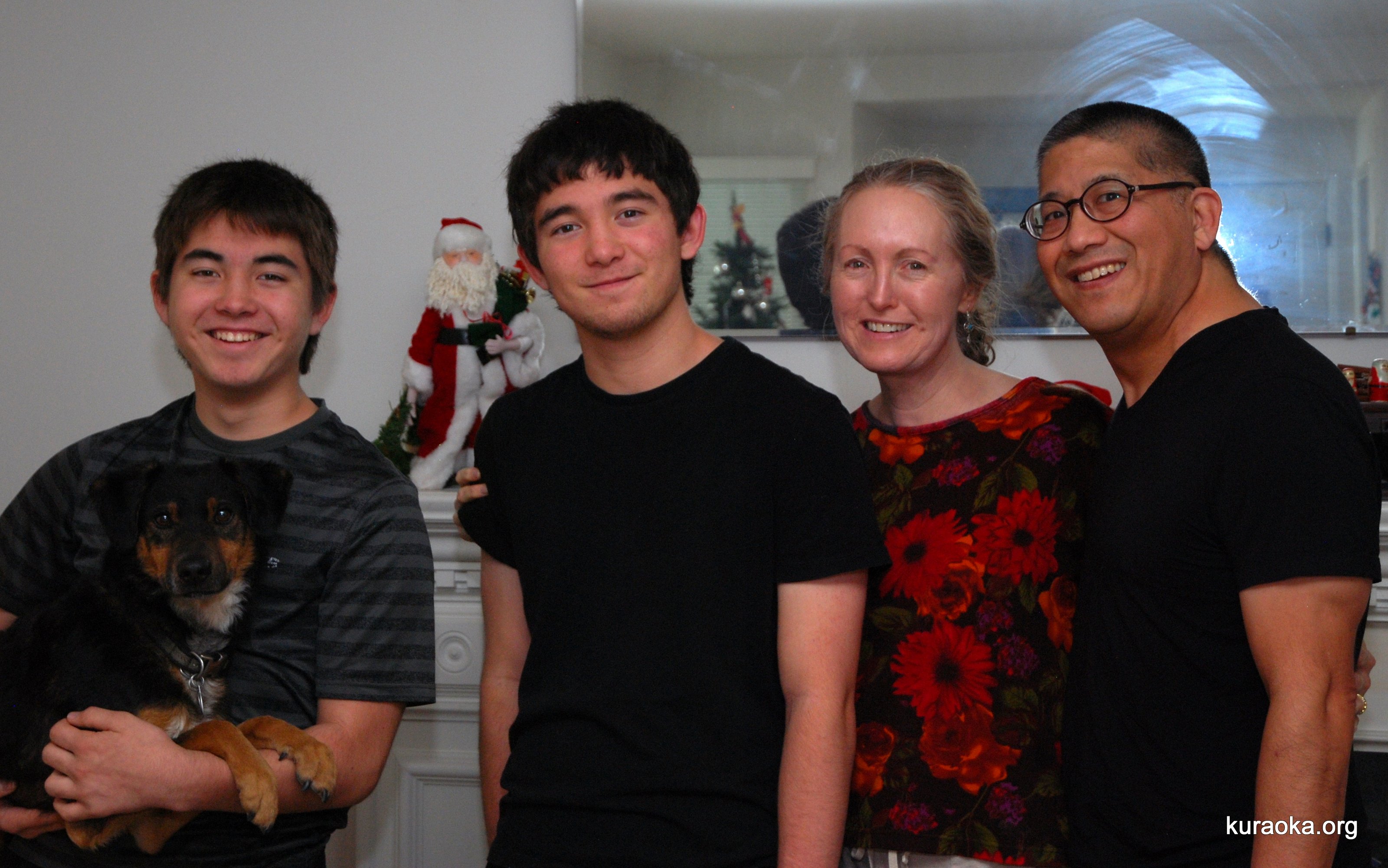 Us, December 26, 2017: Leo, Shadow, Roy, Ondine, John
Sunday, December 31, 2017
HAPPY NEW YEAR and welcome to the Kuraoka family year in review! (Fun fact: January 1, 2018 is the only day ever when every adult was born in the 1900s and every minor was born in the 2000s!)
Trips in 2017 included an outing to Magic Mountain, the boys' first time there! They loved all the roller coasters; John happily sat in the shade and read. We went to the desert a couple times, daytrips and a camping trip that Ondine did with Roy and Leo and Lucy and the gang that ended with her going to the emergency room for dehydration! In June, Ondine, Roy, Leo, and Barbara went to Oregon for Sam & Jess' wedding.
Last August we went camping in the Sierras, near Sand Pond. This time, we stayed at Salmon Creek Campground instead of our usual Sardine Lake. We liked it better, it was quieter. It rained quite a bit our first few days, but turned lovely for the rest of our stay.
Ondine went to Ensenada by herself several weekends for a Spanish language immersion program at the Pacific Language Institute. She took the trolley to the border, then a bus into Ensenada. In May, she passed her Interpreter Level 2 exams so she's back to having a bilingual workload. She participated in The Women's March and the Alzheimer's Walk.
John has been on a Medieval to Early Modern Literature and History kick all year, reflected in his new-this-year MidLifeLit blog. He won two prizes on Twitter, the novel If We Were Villains by M.L. Rio and a set of the brand-new Arden Shakespeare Performance Editions! He had his first solo trip since we got married, winging off to Las Vegas for a reunion with some of his friends from Camp Whitsett in the 1980s. He had a great time reconnecting!
Roy is a senior at Patrick Henry high school. His accomplishments this year include holding straight As, working tech and running lights for several productions in the new PHAME building including The Little Mermaid, and earning his sankyu in judo. His big event in 2017 was taking a trip to Japan on his own, where he stayed with a host family in Yokohama! His flight was delayed, so he missed his connection and spent a night in the airport in San Francisco. But, he had a great time with the Iuchis, his host family, and the other American students! Also, over winter break, he had his wisdom teeth out.
Leo is a sophomore at Patrick Henry high school. His accomplishments this year include several online music collaborations with professional composers. He went to Camp DeBenneville Pines for a week this summer.
Barbara just completed an 18-month commitment working with prisoners at Ironwood Prison in Blythe. She flew out to Muelheim for her cousin Juergen's birthday and recently enjoyed a week-long cruise along the Mexican Riviera. And, she's a volunteer ESL teacher working with refugees from the Middle East.
Frances went to Santa Fe with Patty, and Hawaii with Elaine and Patty and their families.
Projects in 2017 included painting the kitchen and replacing all the knobs, and getting the house painted. We're going retrofutura, with an light turquoise blue house with white trim and a coral door. As for the kitchen, it's a pale yellow and aqua blue with steel trim.
Plays we saw in 2017 included The Little Mermaid (Patrick Henry), Red Velvet (John, at The Old Globe), The Taming of the Shrew (Grossmont College), Annie Get Your Gun (Glendale Centre Theatre), Much Ado About Nothing (Coronado Playhouse), Richard II (The Old Globe, Ondine and John), An American in Paris (San Diego Civic), The Little Mermaid (San Diego Civic, Ondine and Roy), The Bully Plays (Patrick Henry), A Midsummer Night's Dream (City College), Twelfth Night (Globe for All), Romeo and Juliet (The Old Globe and USD MFA Program), Is He Dead? (Glendale Centre Theatre), and A Christmas Carol (Glendale Centre Theatre). Wow, that's 14 plays, six of which were Shakespeare! In addition, we're all going to see Hamilton this weekend!
Movies included La La Land, The Great Wall (Leo), Guardians of the Galaxy Volume 2 (on opening weekend no less), Despicable Me 3 (Roy & friends), In This Corner of the World, Loving Vincent, Happy Death Day (Leo), Murder on the Orient Express (Ondine and John), Justice League (Roy and Leo), and Star Wars: The Last Jedi (on opening weekend).
New acquisitions include a small Farberware coffeemaker replacing a Black & Decker that died, a Black & Decker microwave to replace a Haier that died, a used Nikon 55-200mm lens and Makala Waterman ukulele for John, who also got a new mechanical switch computer keyboard, and a laundry drying rack. We also canceled our Hulu streaming TV/movies service in favor of BritBox, which shows UK-based programming. So now, John has gotten back into Eastenders! Our other streaming services are Amazon Prime (for Star Trek and The Grand Tour) and Acorn TV (for Midsomer Murders).
Passages: Our former next-door neighbor Robbie Golub died. He'd been in a skilled nursing facility for some time; we hadn't seen him in years. Still, we think of him. John formed a friendship with him, and enjoyed listening to his stories. He was in Paris on VE Day, and in the surge and swirl of celebrants had to leap on top of a car in an attempt to direct traffic. The man driving the car didn't like that, though, and kept trying to sweep him off with a rolled-up umbrella!
In San Diego, we had record-breaking rain and record-breaking heat! (On separate days, of course.) The county declared an emergency over a hepatitis outbreak that ripped through the homeless population then spread into the community. In December, the Lilac Fire burned some 4,100 acres in North County. And, there were a lot of sports stories through the year, mostly about the Chargers (who are long gone to L.A.) and the stadium in Mission Valley, but we don't follow them.
In California, the drought officially ended, an announcement that was followed months later by the largest wildfire in state history, the Thomas Fire, which burned 281,900 acres.
In national news, the biggest stories have been widespread sexual predation scandals taking down prominent celebrities and politicians including Hollywood mega-producer Harvey Weinstein and Minnesota senator Al Franken, and the effects of Donald Trump's first year as president. For a much-derided president carrying consistently low approval ratings, Trump has been dazzlingly effective at implementing his agenda: the Affordable Care Act is essentially defunded and gutted, a $1.5 trillion tax overhaul has been signed into law, and environmental protections have been rolled back. In four weeks in August and September, Hurricanes Harvey, Irma, and Maria hit Texas, the southeastern U.S., and Puerto Rico; Puerto Rico is still largely without power. And, the aging economic recovery has gathered fresh strength, fueled by low unemployment rates, projected lower taxes, pro-business government policies, and massive deregulation.
Across the border, Mexico City was hit by a 7.1 earthquake. And, on the border itself, prototypes of wall segments have gone up for testing and review.
Globally, terror attacks are on the rise, North Korea is an even more dangerous loose cannon, the UK struggles with implementing Brexit, and the U.S. has abandoned its position of leadership in protection treaties, trade agreements, and climate change science leaving much of the world looking to Angela Merkel of Germany and Emmanuel Macron of France.
Neighborhood gas prices started at about $3.05 per gallon and ended at about $3.19 per gallon.
This journal started out the year with 44,210 visits on the counter and ended with about 45,625, for roughly 1,415 visitors through 2017. Thank you for joining us through the year, and we hope to see you again!
Remember, photos from 2017 can be seen on our 2017 photos page. To see what we're up to now, visit our regularly updated weekly journal!
Back to the Archives page
Back to the Kuraoka Family main page
Forward to the current Weekly Journal.