Our Virtual Refrigerator Door 2017
www.kuraoka.org
Just odds and ends that we had to post.

01-01-18: Oshogatsu! And, Happy New Year! The dog looks hopeful as we prep the lunch plate. The little twisty things are konyaku (yam cake, which is sliced, twisted, then cooked and seasoned). We started with ozoni and the Rose Parade (livestreamed from KTLA naturally), then later in the day moved on to this spread. You can see the teriyaki chicken and lots of goodies on a tray, and the sushi on a separate tray. There's also tako (octopus), two kinds of kinpira gobo (the made-from-fresh has a better crunch and takes seasonings better), daikon-carrot salad, various sunomonos and tsukimonos, and kuromame (sweet black beans). As we understand it, the gobo and the daikon-carrot salad represent deep family roots, the renkon (lotus root, which is the stuff with holes in them) represents foresight or seeing into the future, the octopus tentacle represents stick-to-it-iveness, the kuromame represents hearty good health, and the sheer abundance of the spread represents wealth - all wishes for the upcoming year.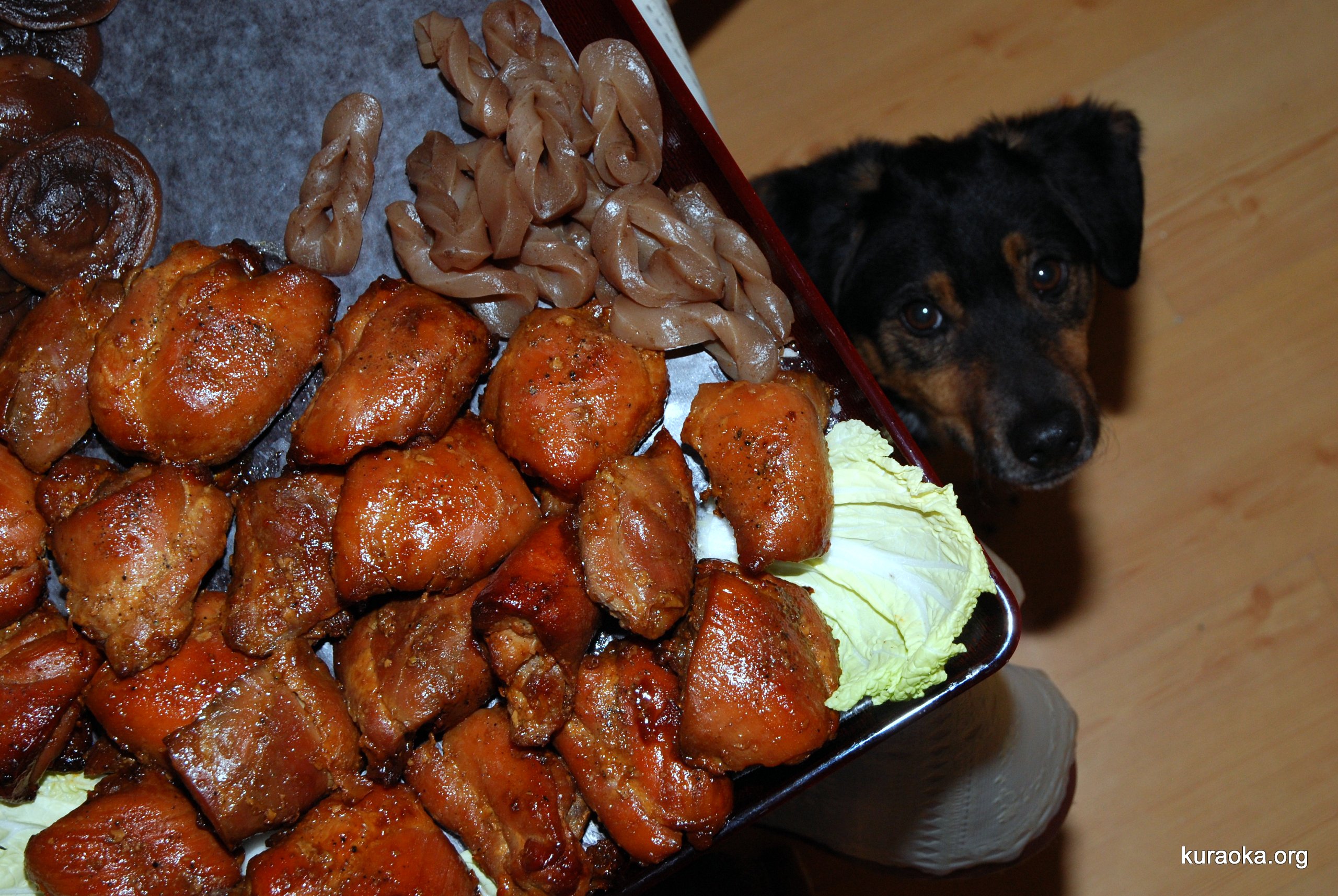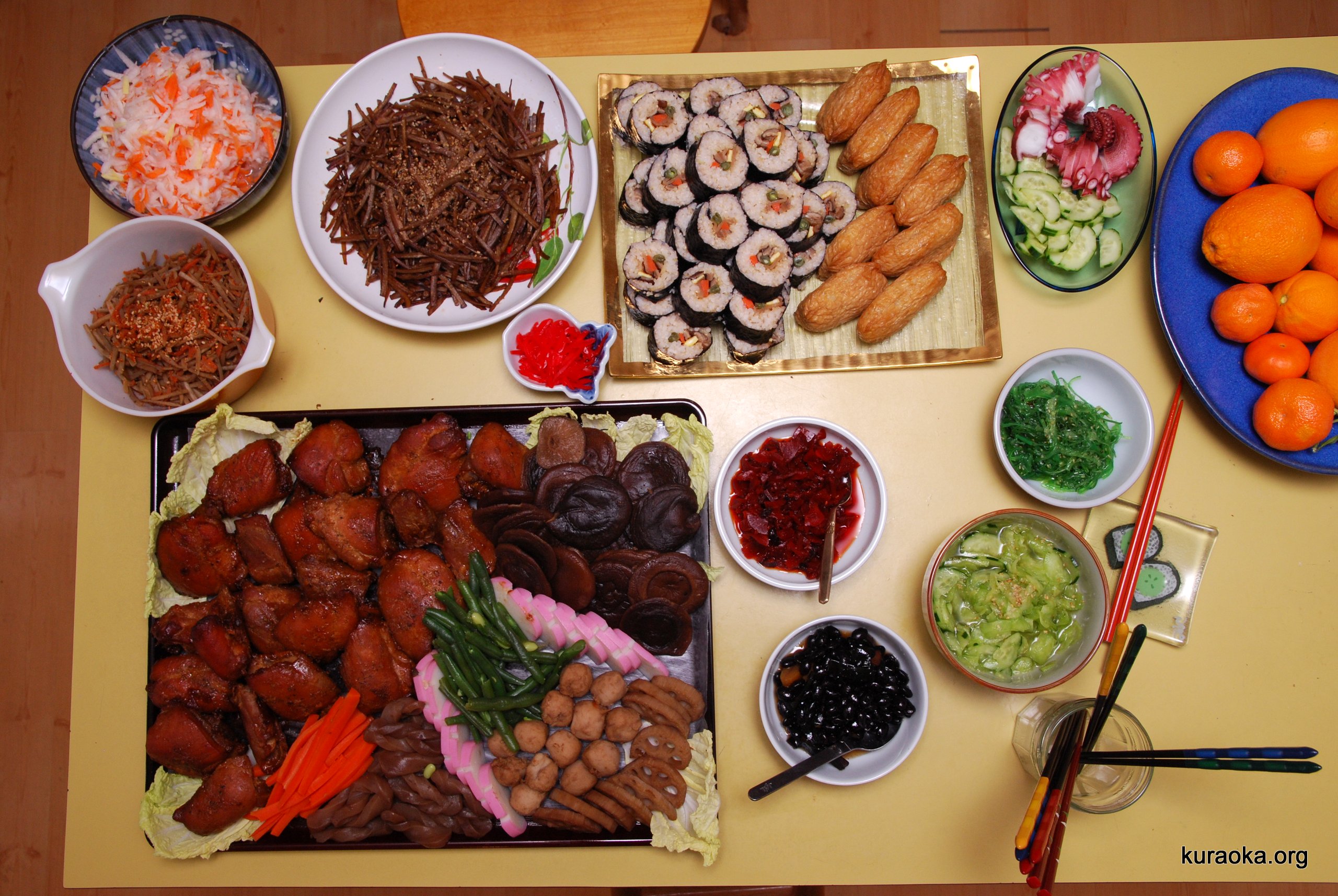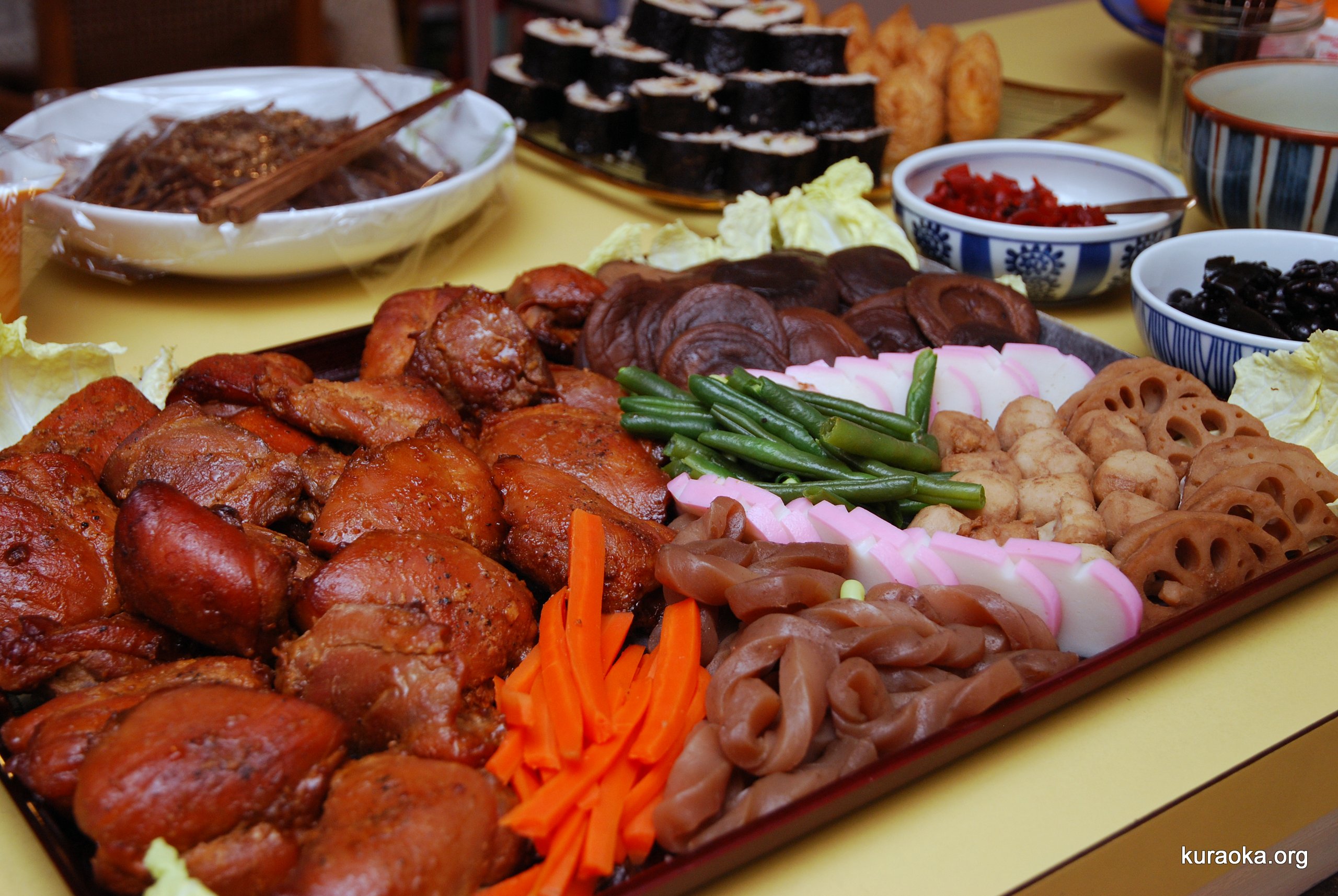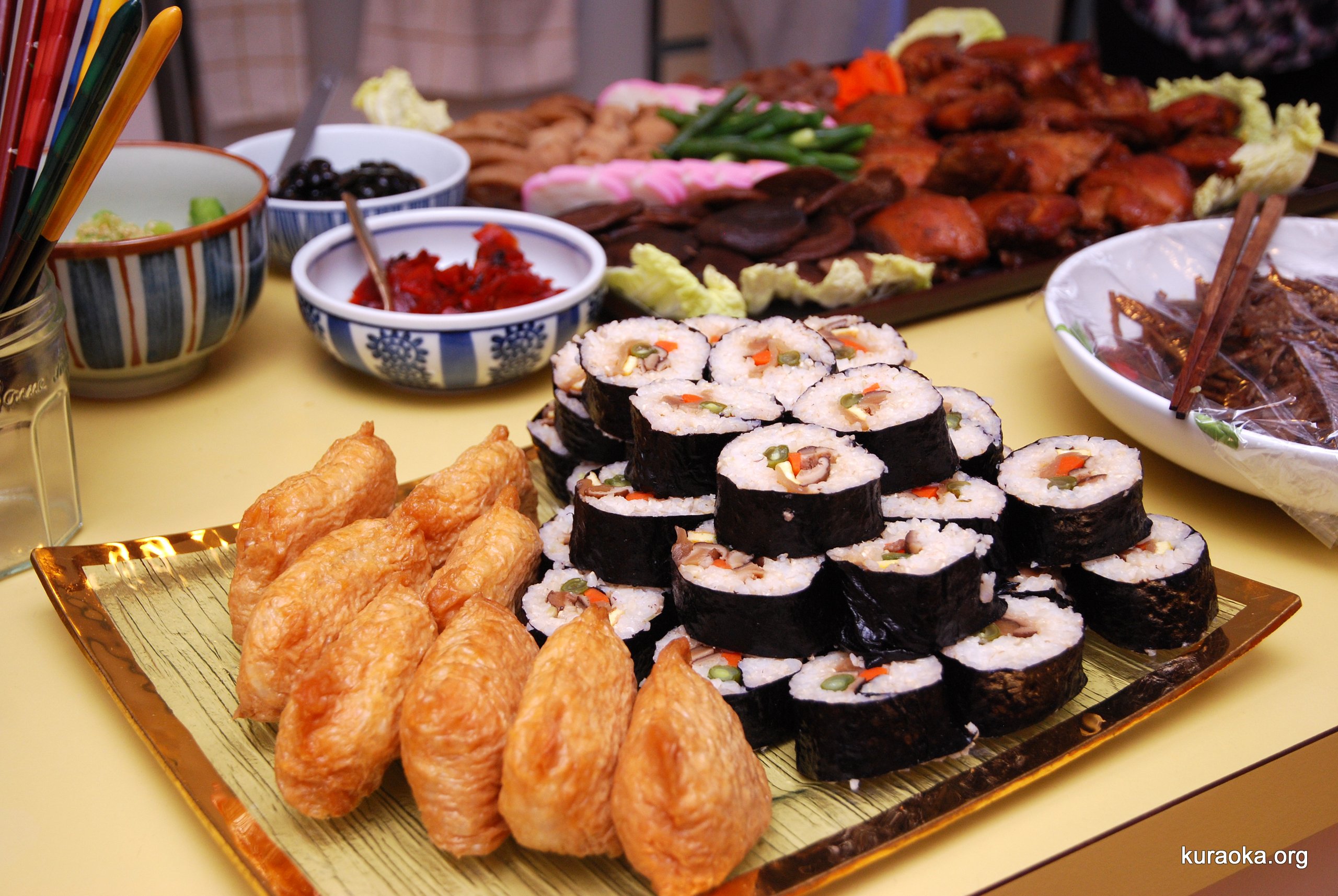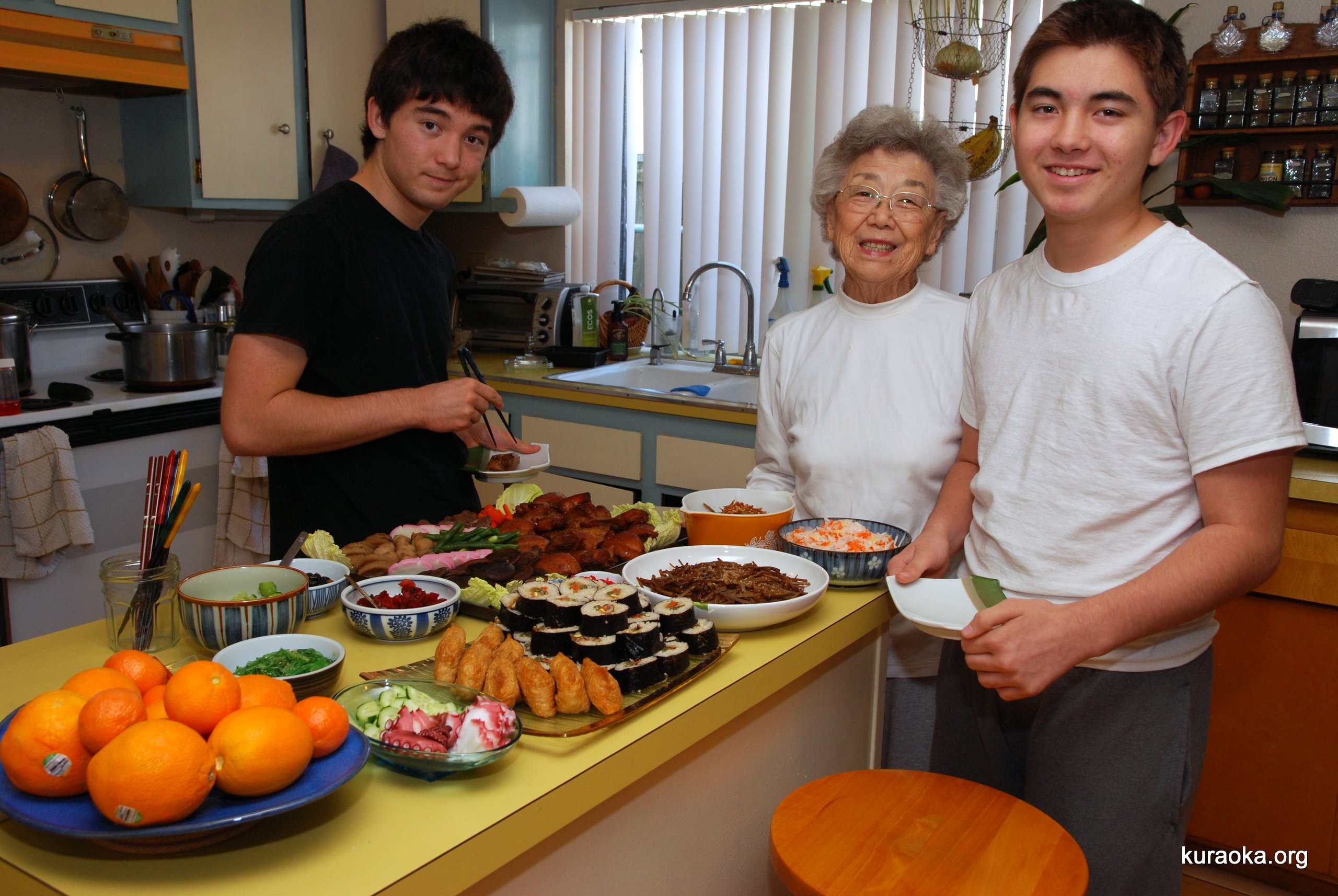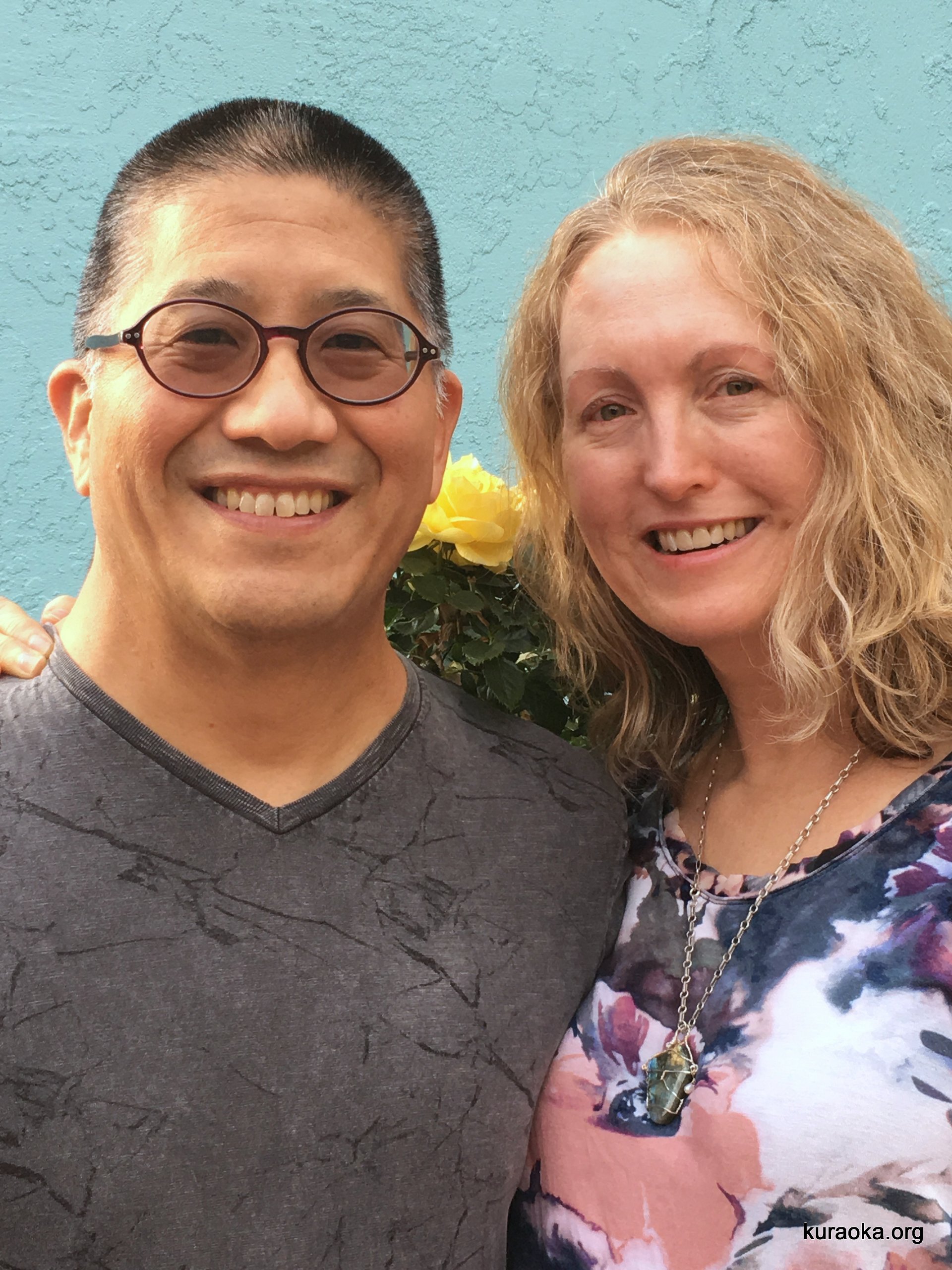 12-31-17: Oshogatsu prep day 2 and New Year's Eve! Grammy already started cooking the kampyo and shiitake mushrooms in seasoning (mostly tamari and dashi with some salt and sugar). The kampyo are dried gourd strips which have to be rinsed in water and rehydrated a bit before cooking. (You don't want them too rehydrated, or the seasonings won't soak through.) Kampyo is used in strips in the makizushi; the shiitake is sliced into strips for the same purpose. We also used parboiled green beans, carrots, and scrambled egg, making five ingredients total in the sushi. You can see Roy cooling the seasoned rice with a blow dryer. Roy and Leo rolled the makizushi while we filled a few agesushi (footballs). Age (pronounced with two syllables and a hard G: "ah-geh") is fried bean curd. Then we went next door for our traditional German New Year's Eve feast (which is actually both the Christmas and New Year's Eve feasts in one). That meal includes landjaeger with bohnensuppe, poached carp, weissworst mit kartoffeln, obst, herringsalat und kartoffelsalat, and, on the stroke of midnight, barbecue potato chips and onion dip, accompanied by lots of banging of pots and pans to shoo away the old year and herald in the new! No one goes hungry here!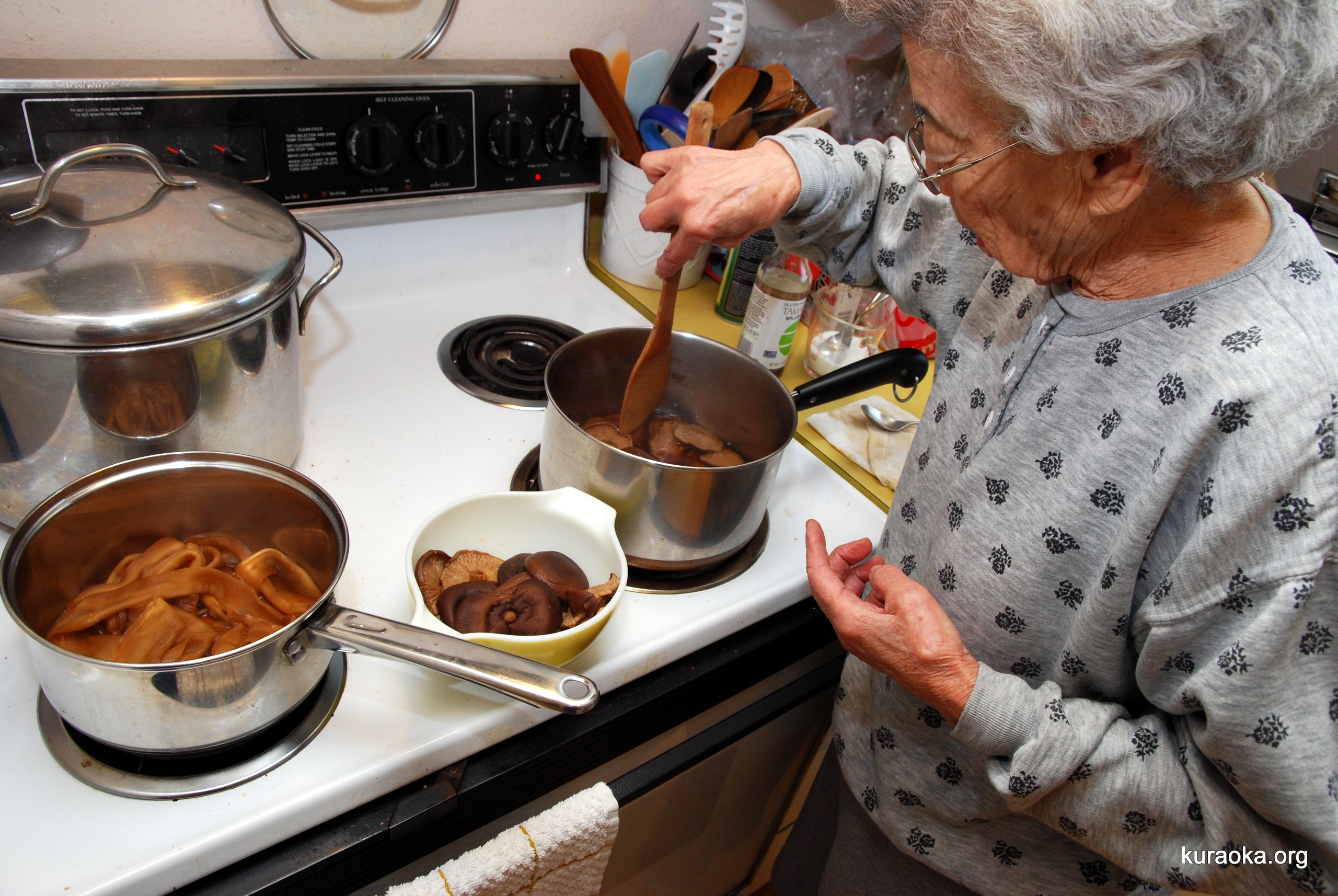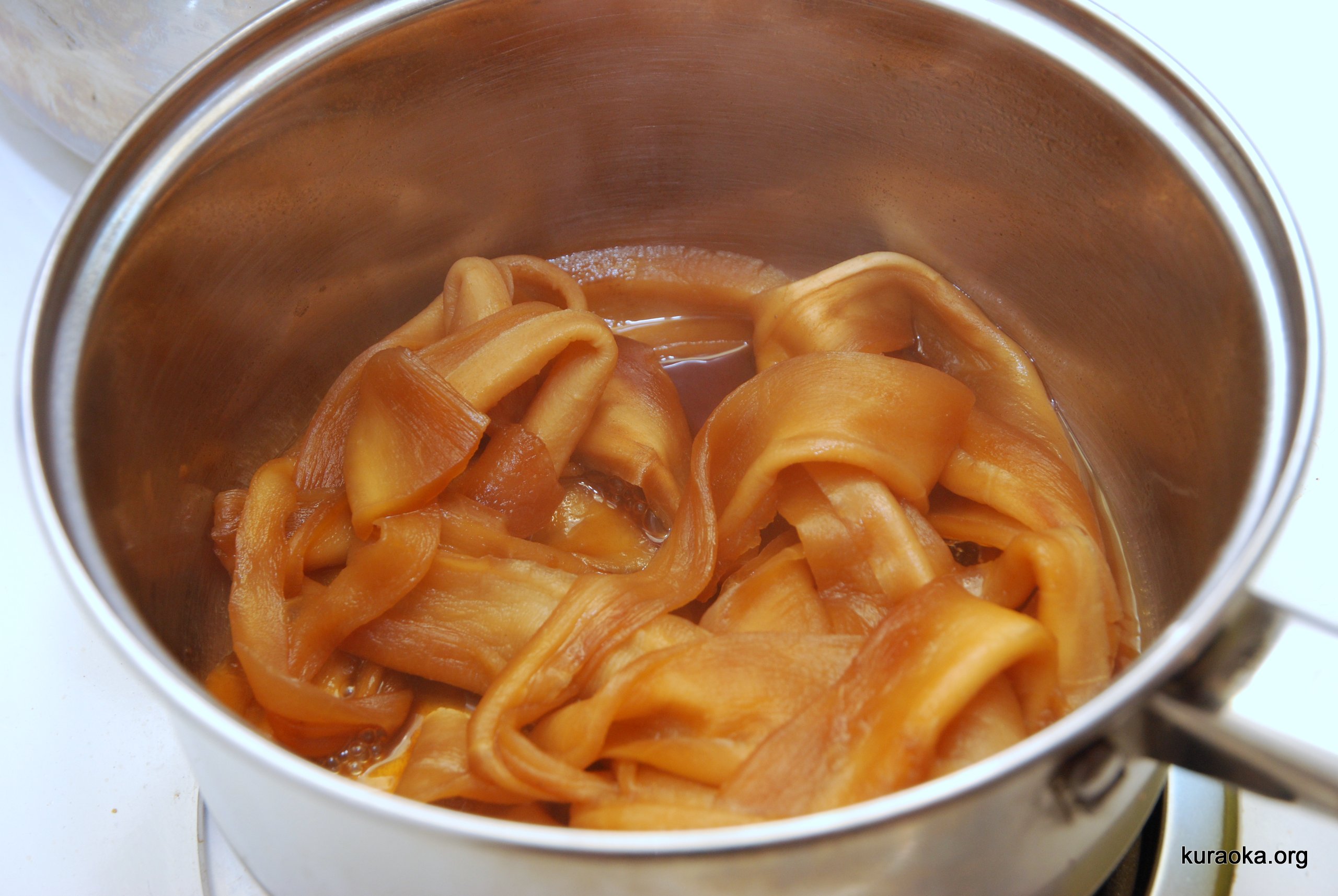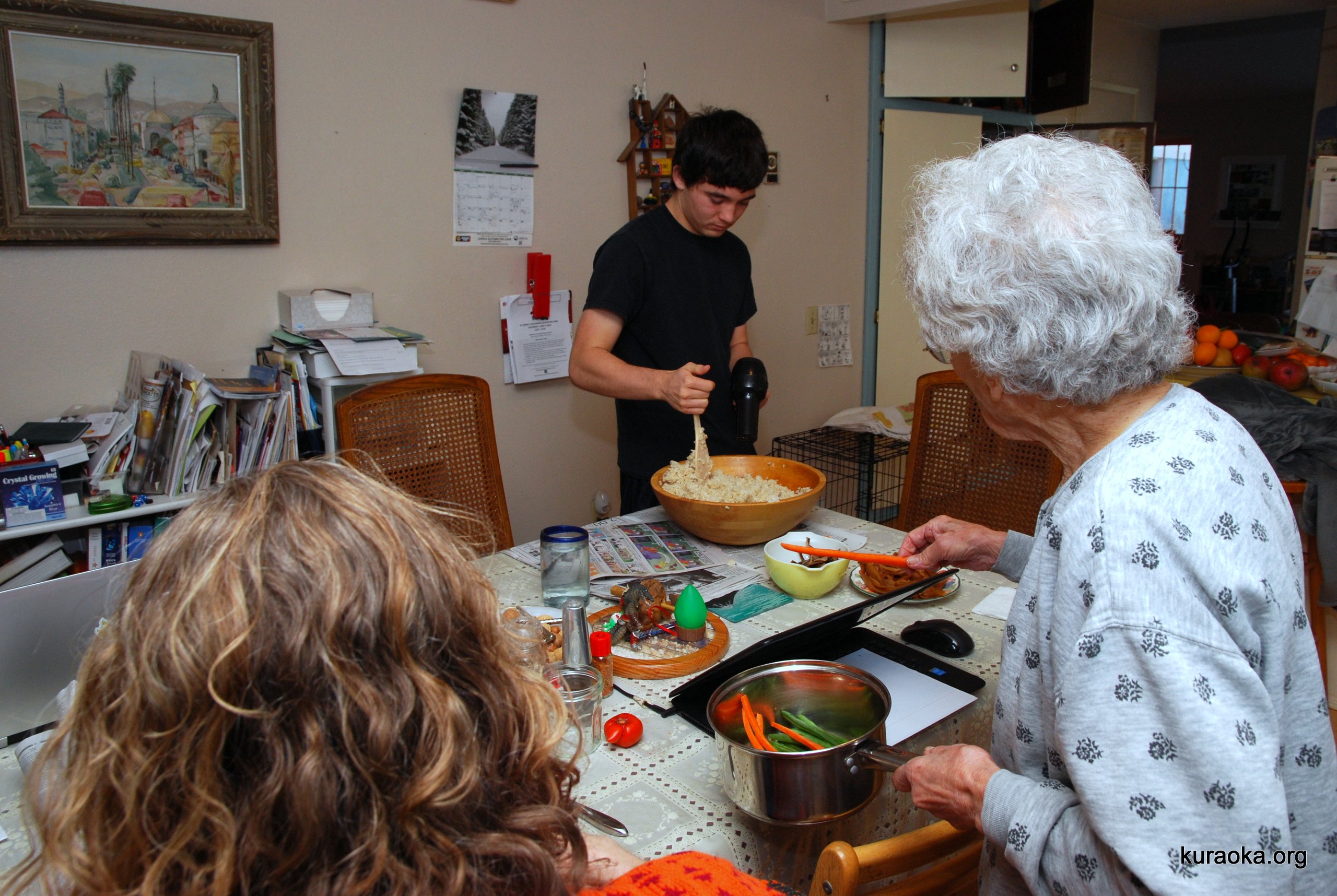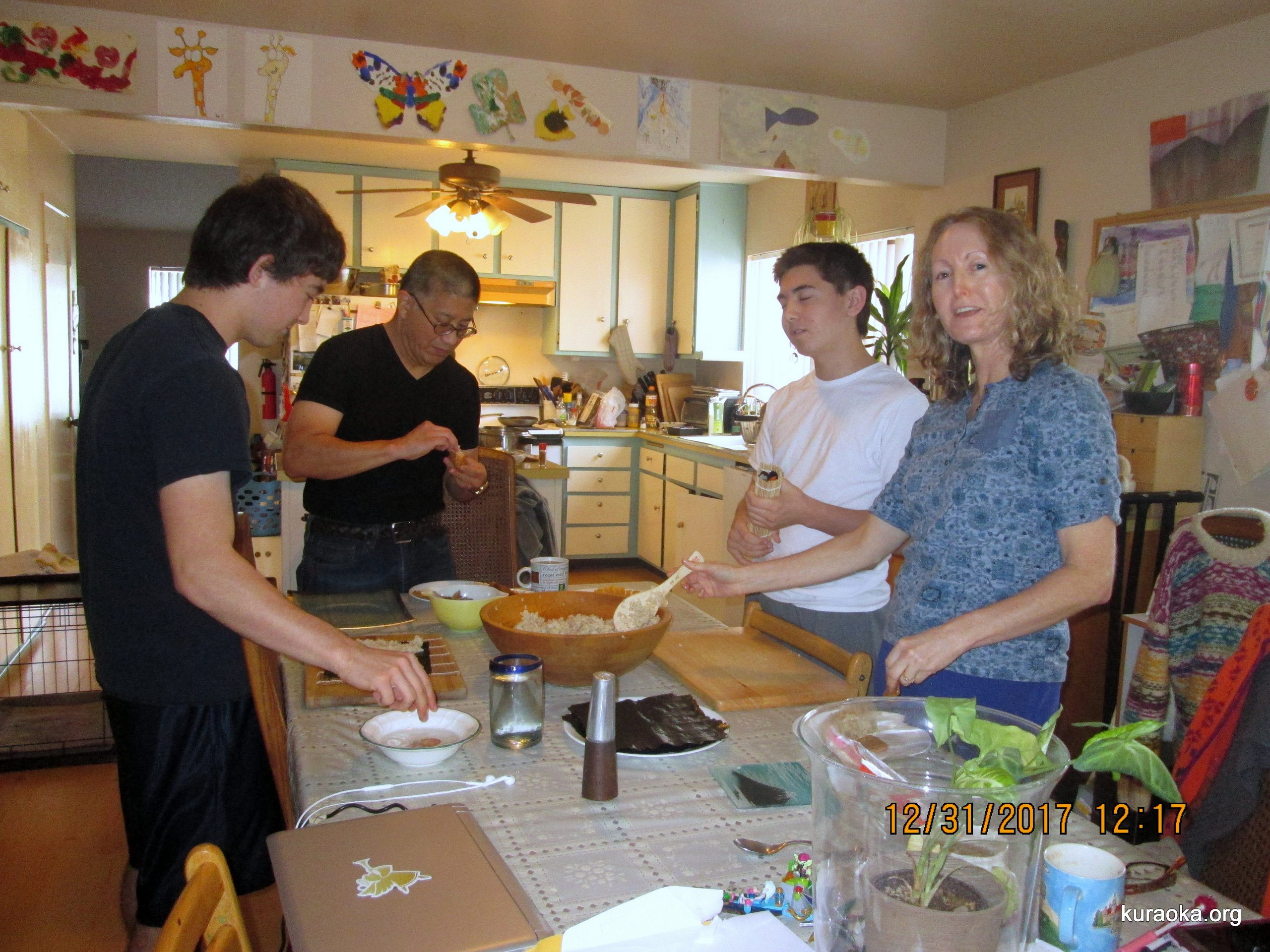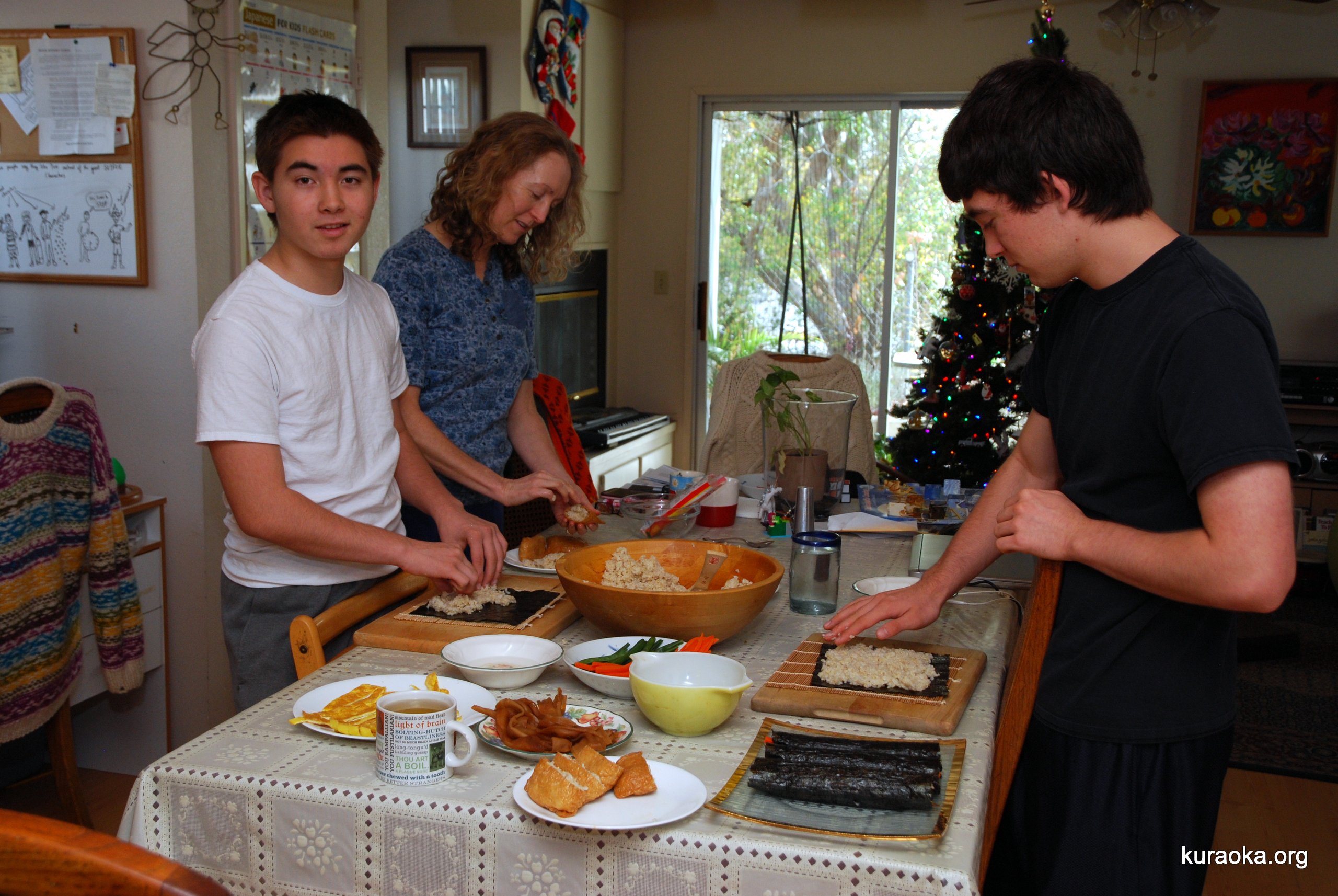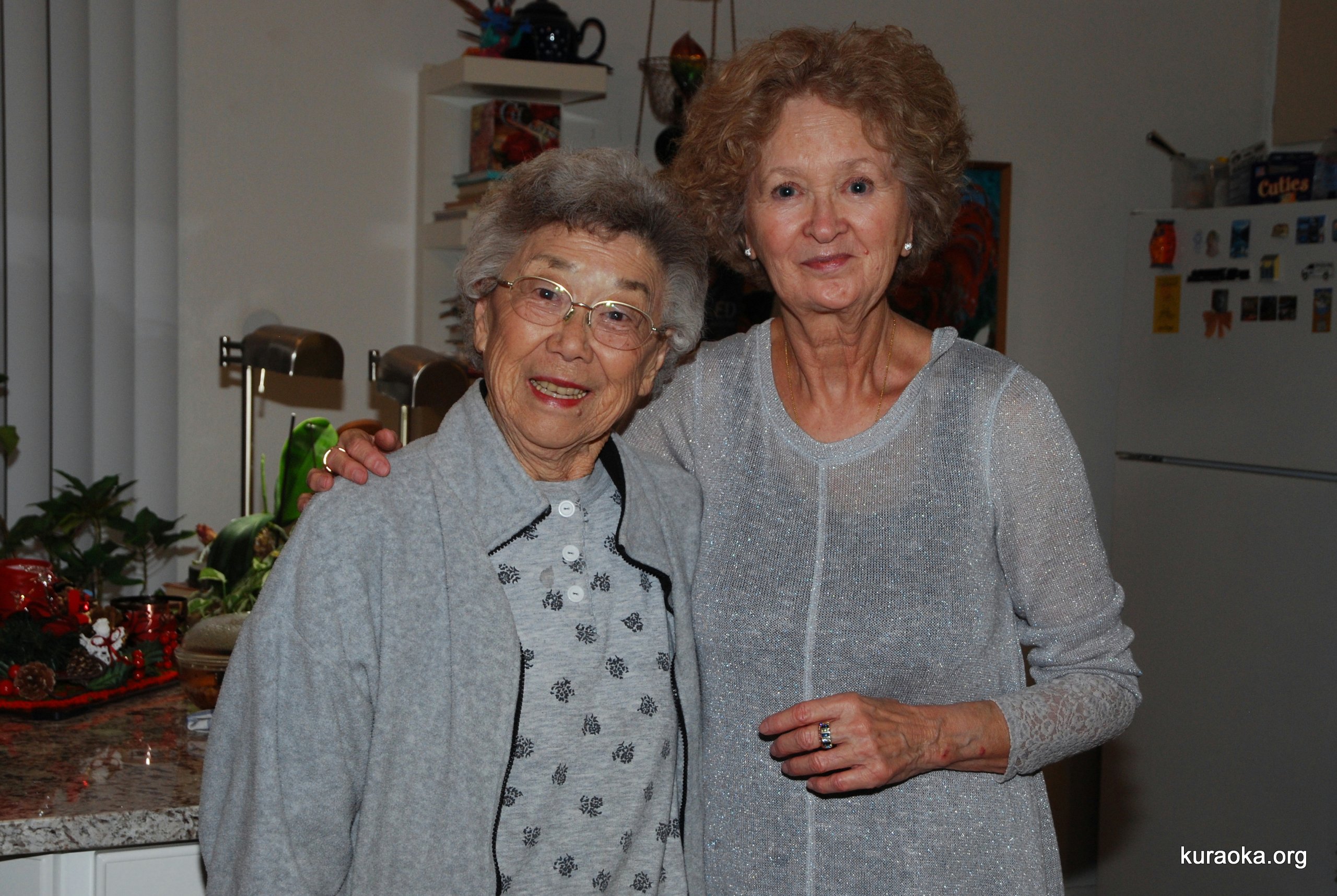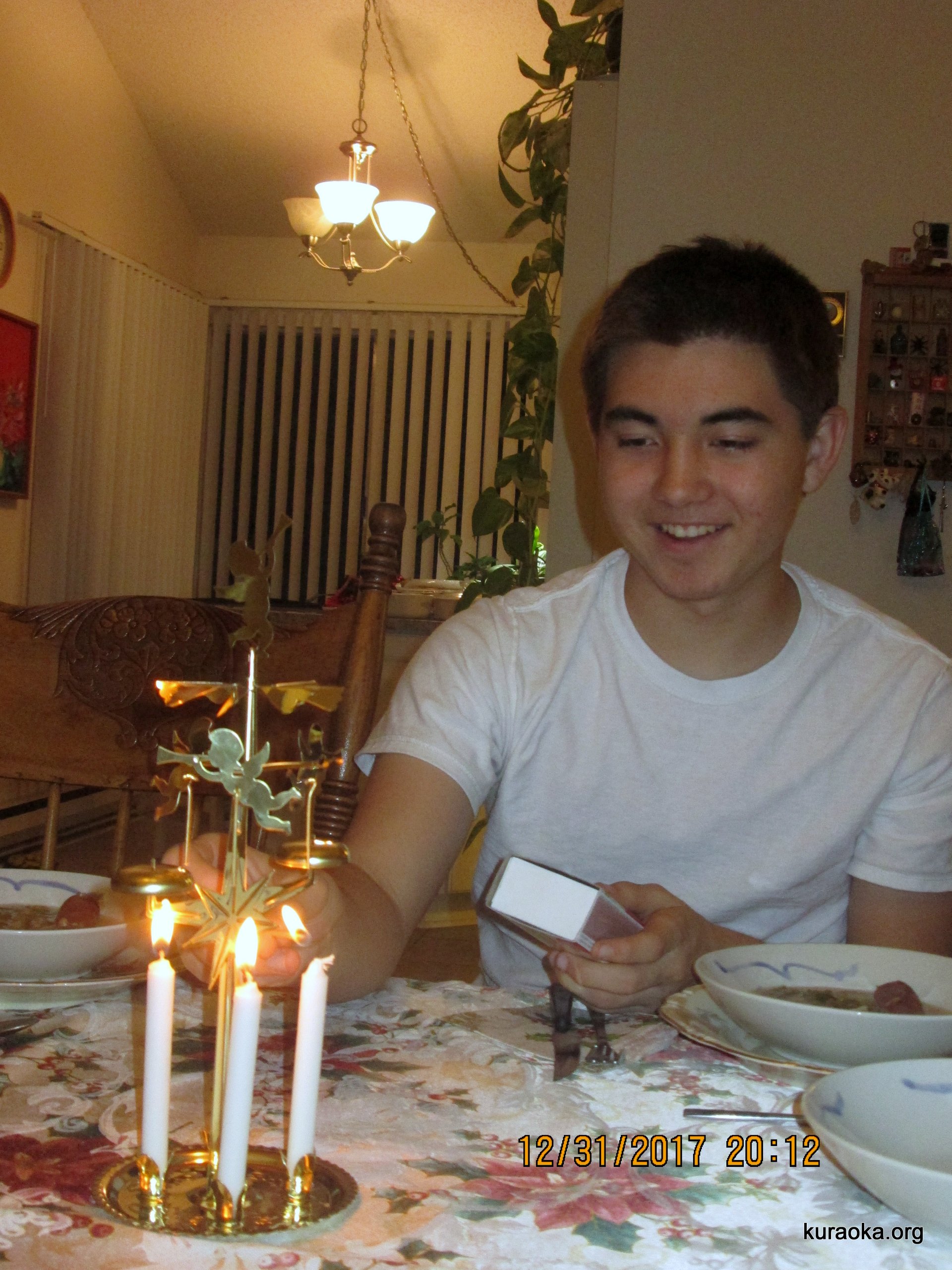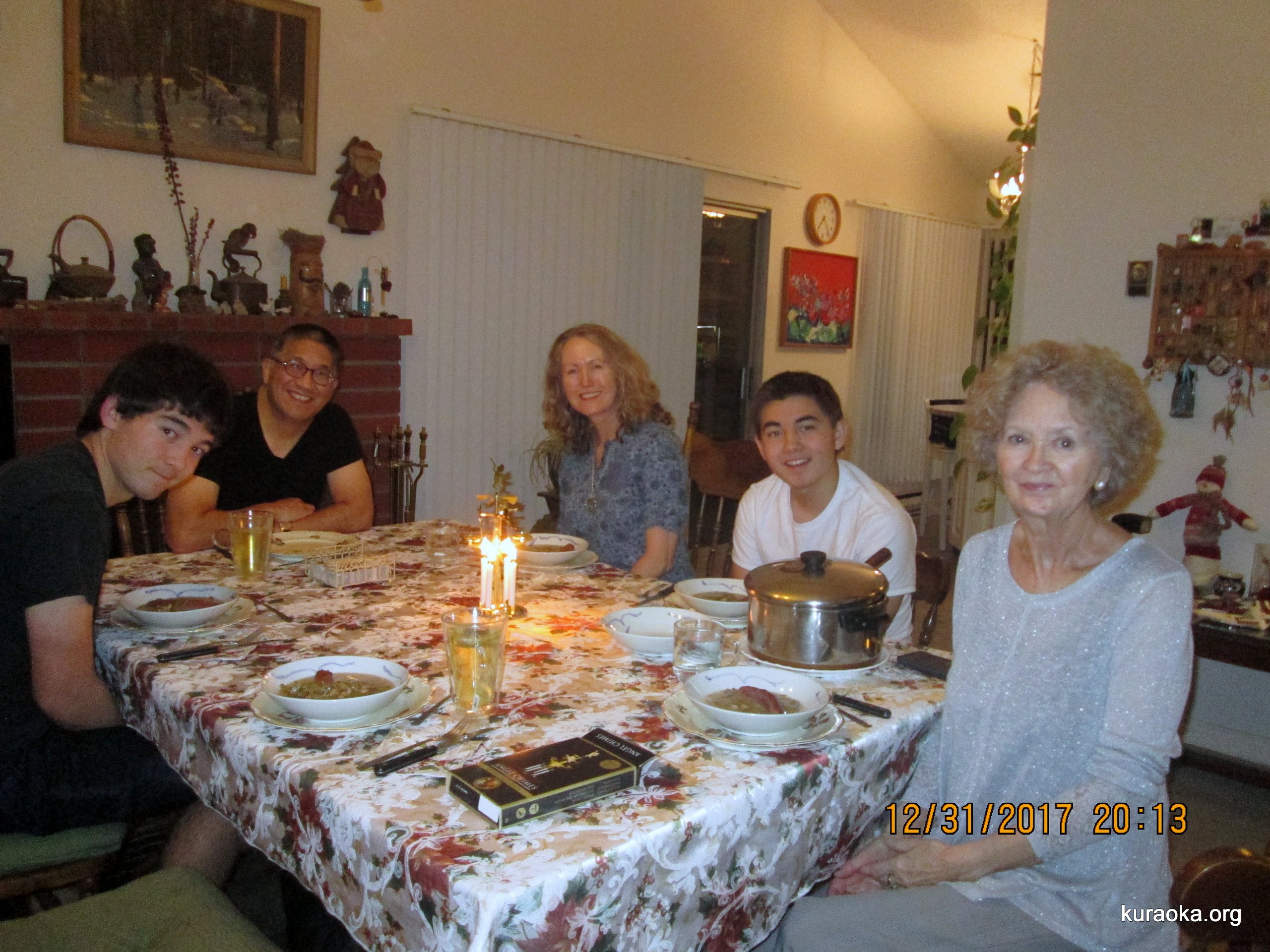 12-30-17: Oshogatsu prep day 1. This is gobo (burdock root). We bought four of them and probably could have used more because we also ended up using a bag of the frozen stuff, which doesn't cook up as crunchy. Anyways, the root is scraped clean, then cut into matchstick-sized pieces. The pieces are rinsed and then soaked in warm water for a few hours to remove the astringency, changing the water every now and then. Some people put lemon or vinegar in the water, but we just use plain water.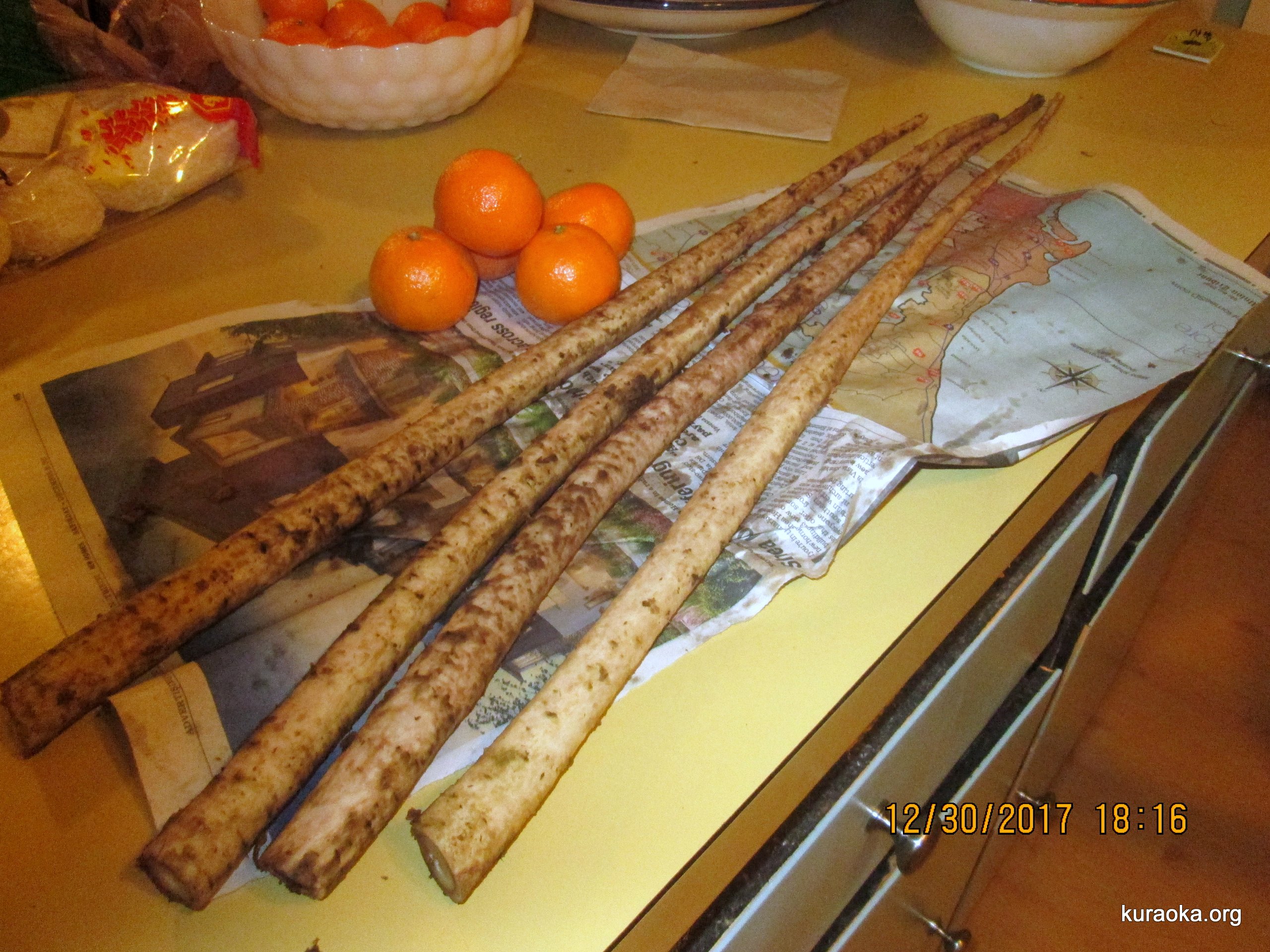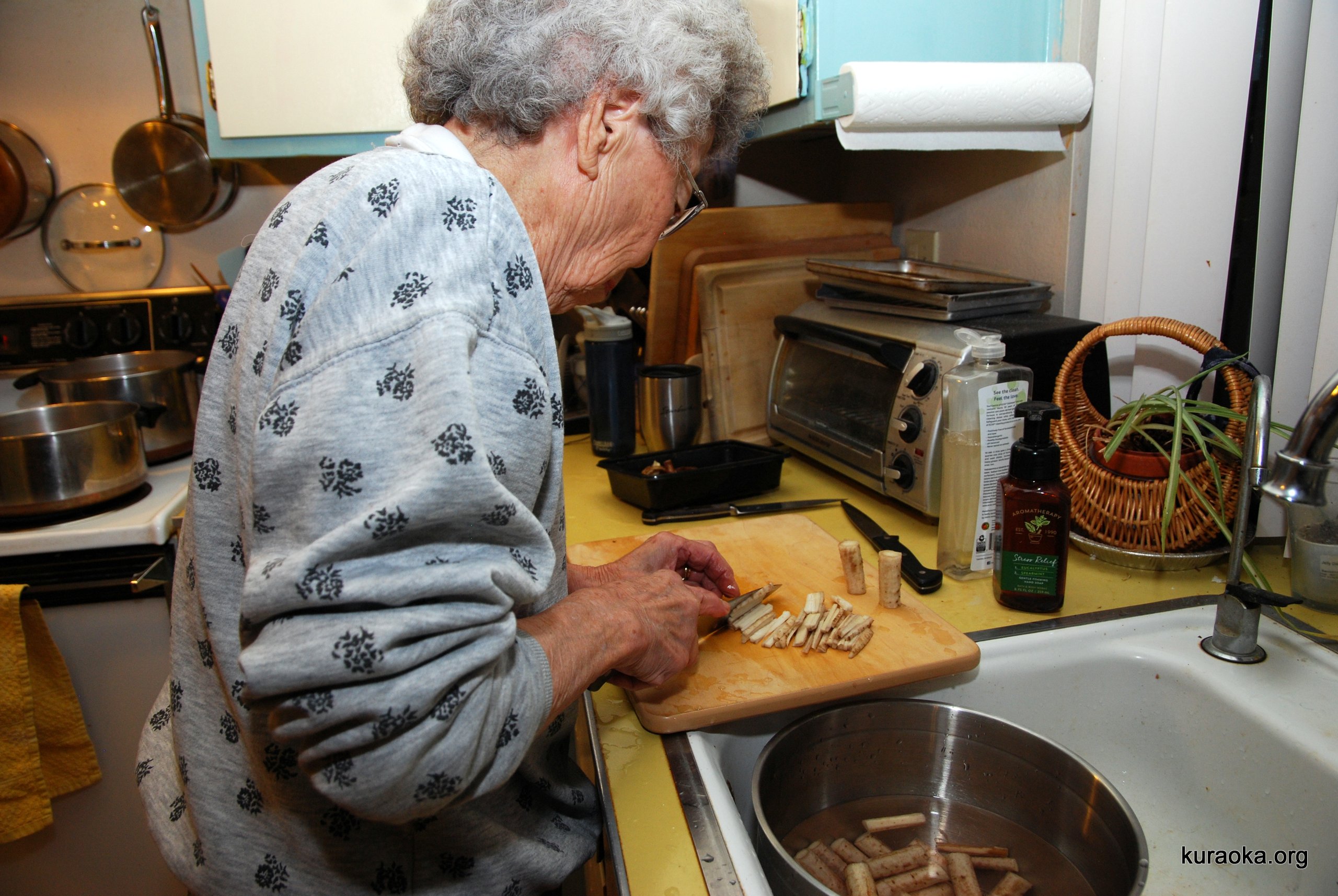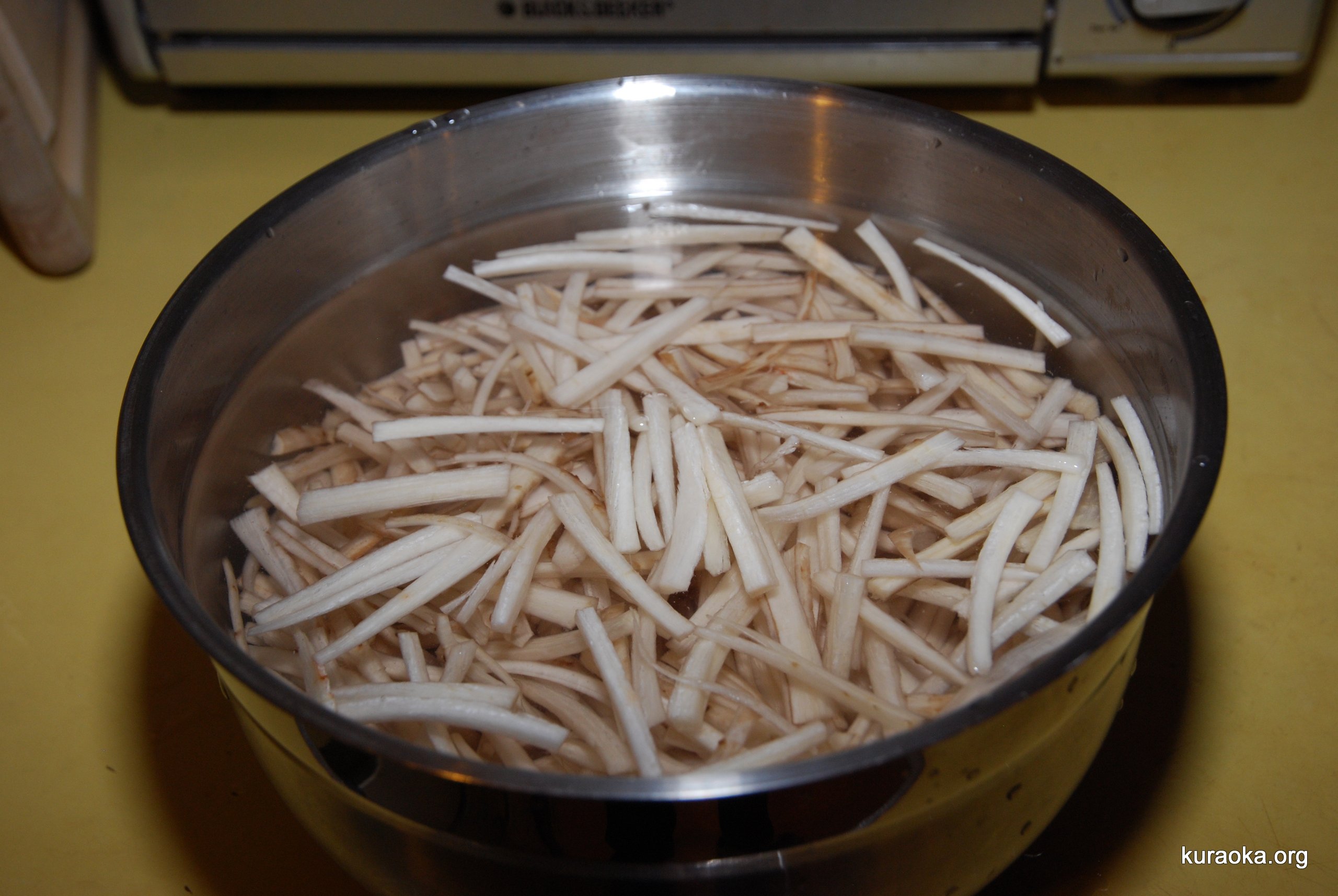 12-26-17: Boxing Day. Before we hit the road back home, we took some group shots. John's Mom's camera is the one that puts a date on the photos. And that last shot is our new family portrait!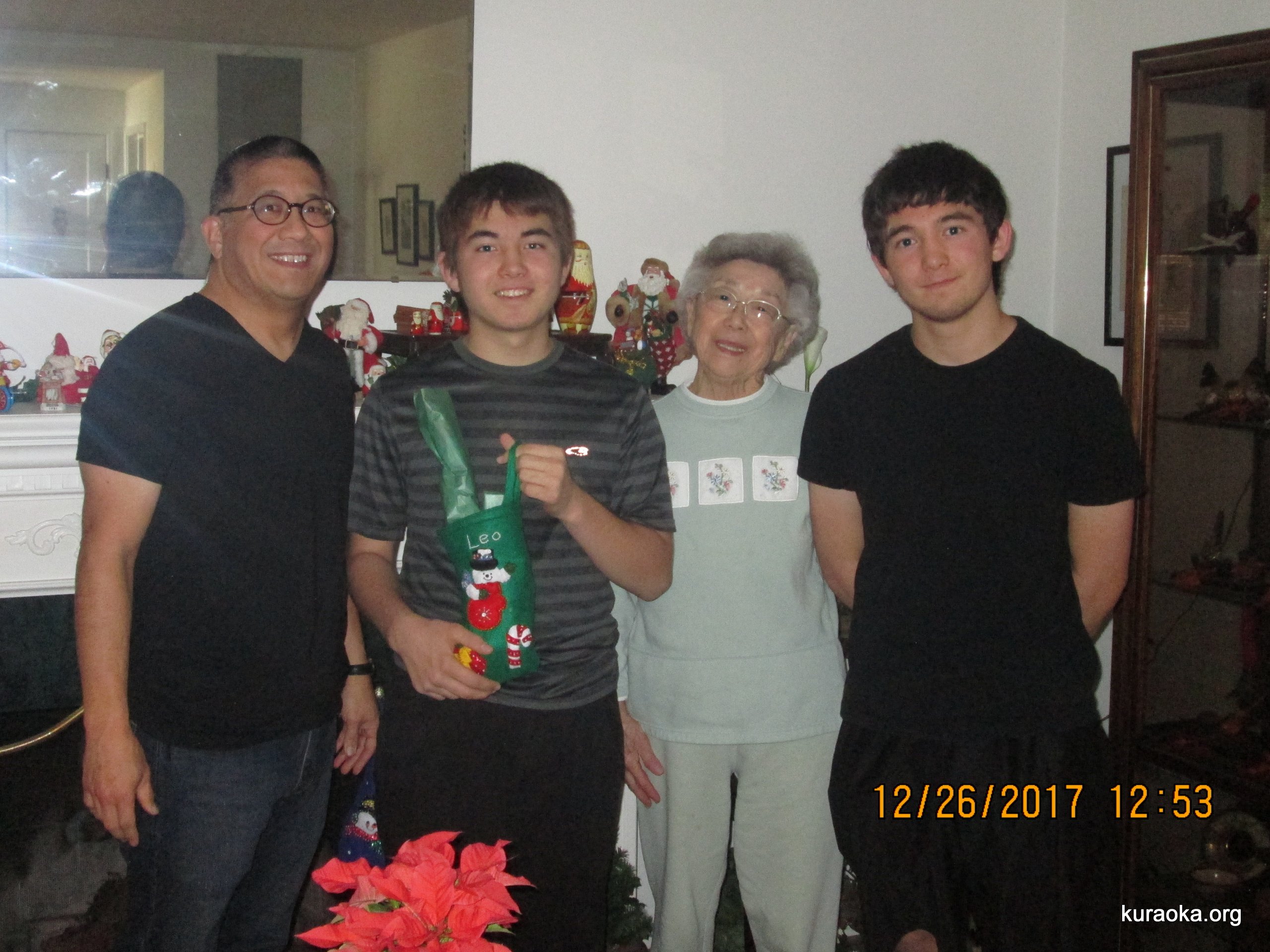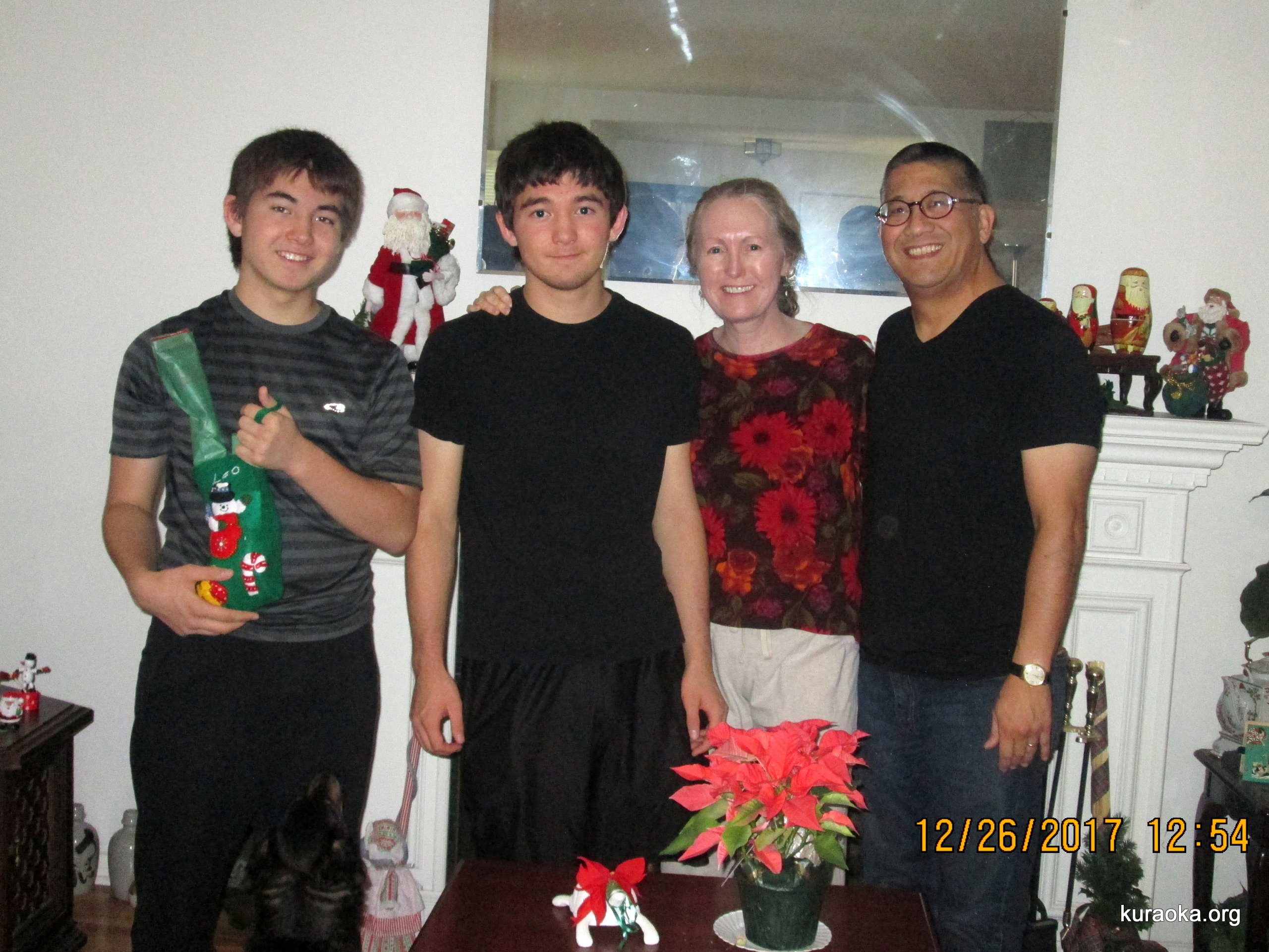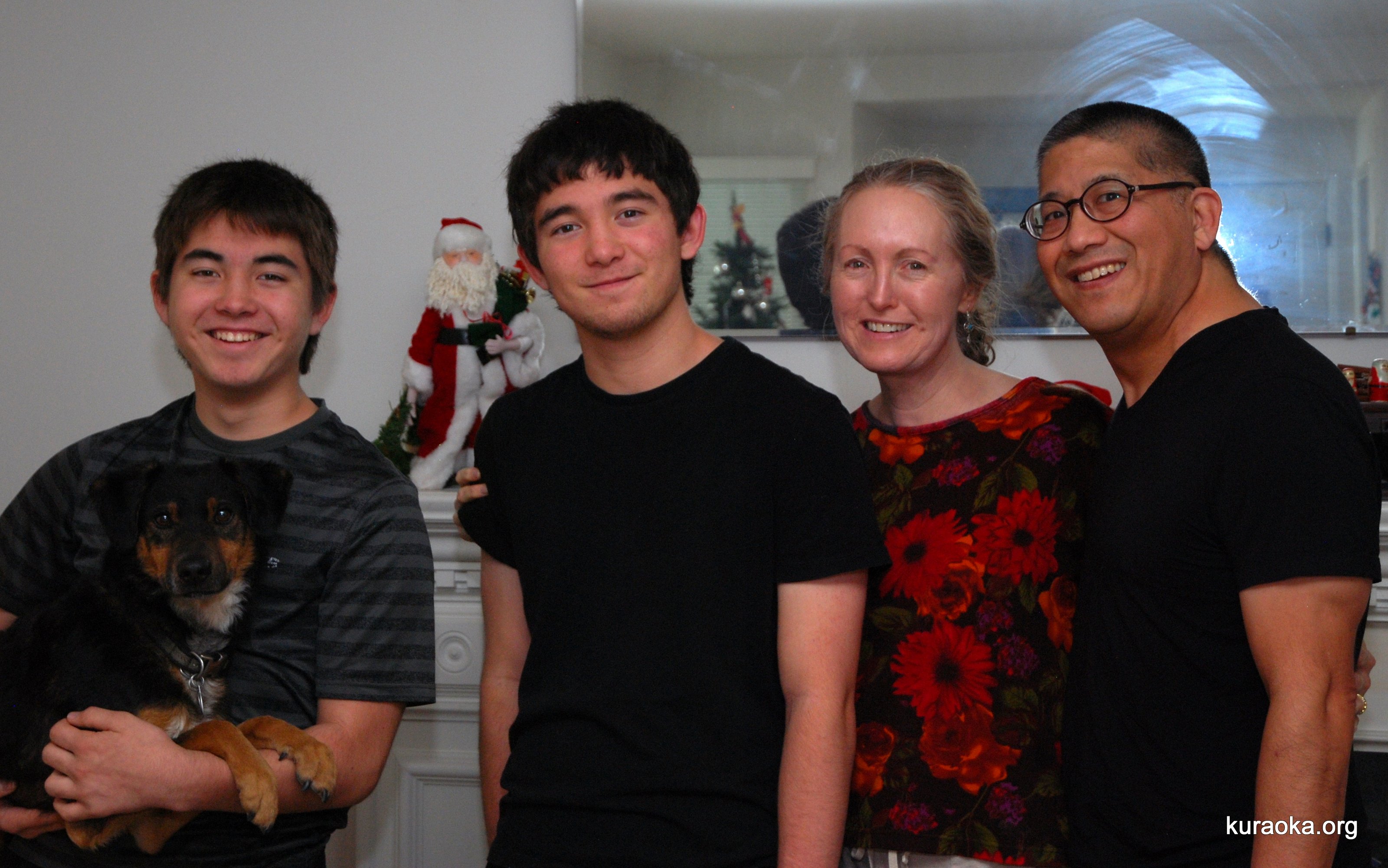 12-25-17: Christmas Day. Here we are Christmas morning at Grammy's house, then later that afternoon and evening at John's sister Elaine's house. You can see Eric and Trista and her kids Ethan and Caleb, then Andrew and Salome. What a wonderful feast we had!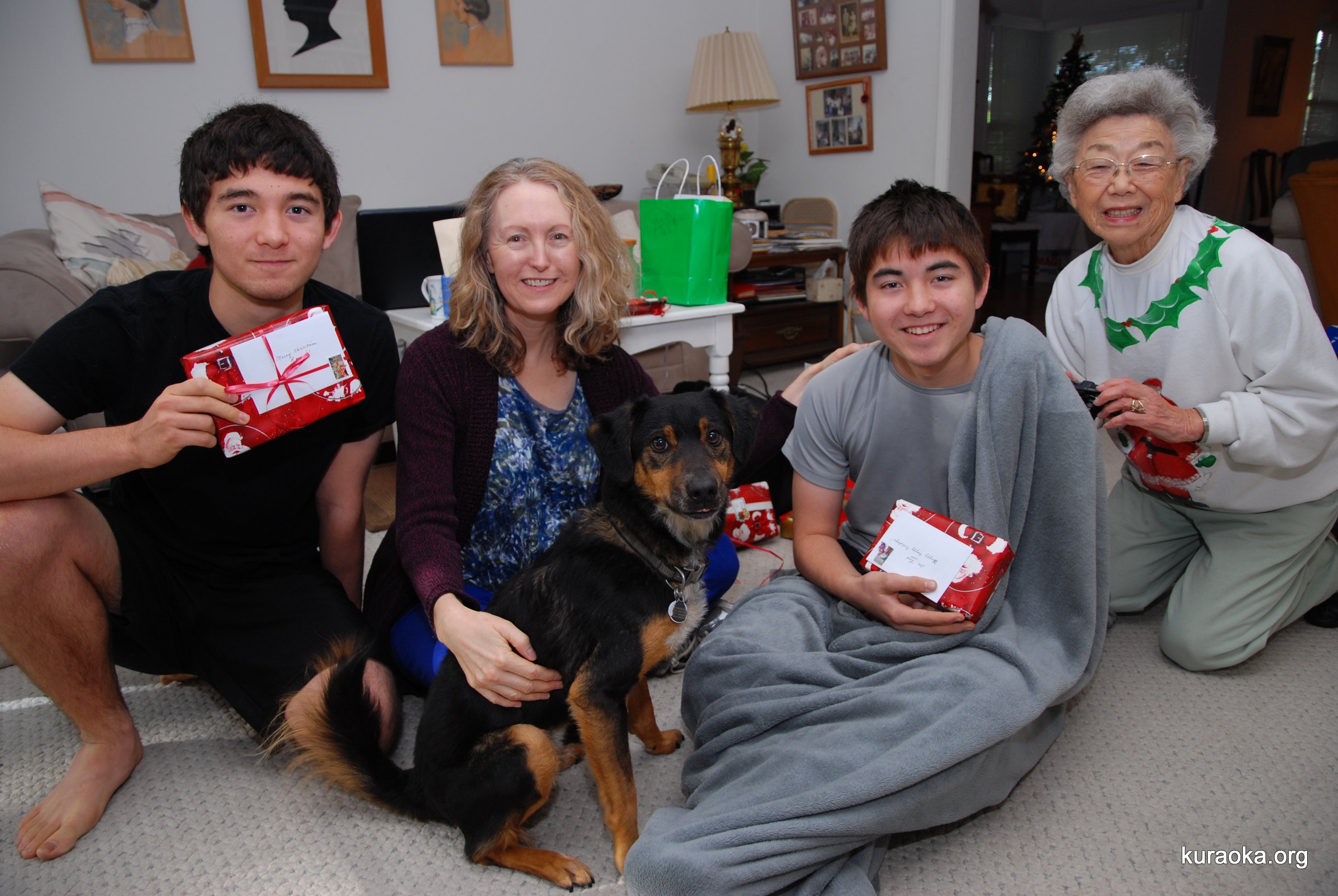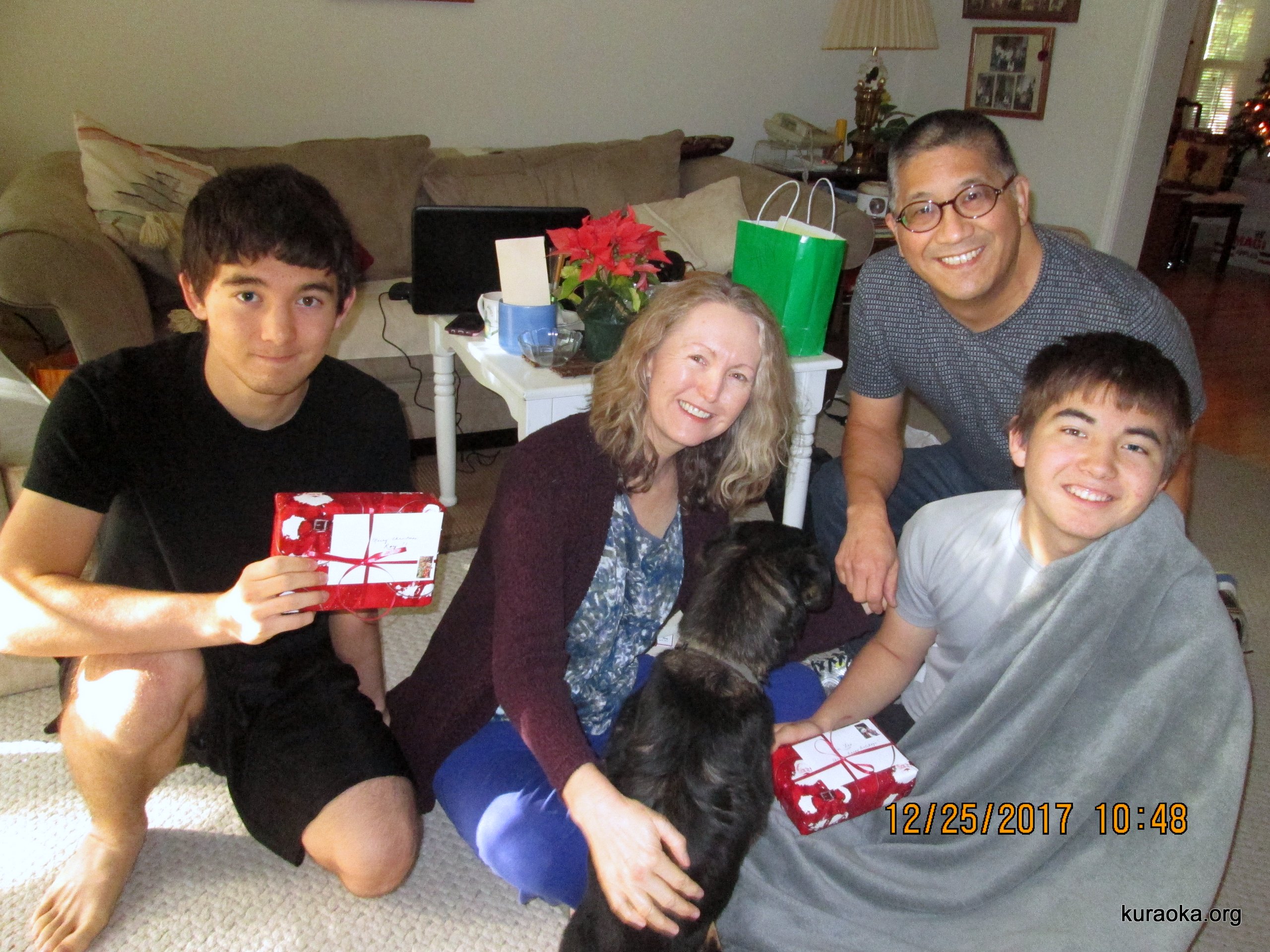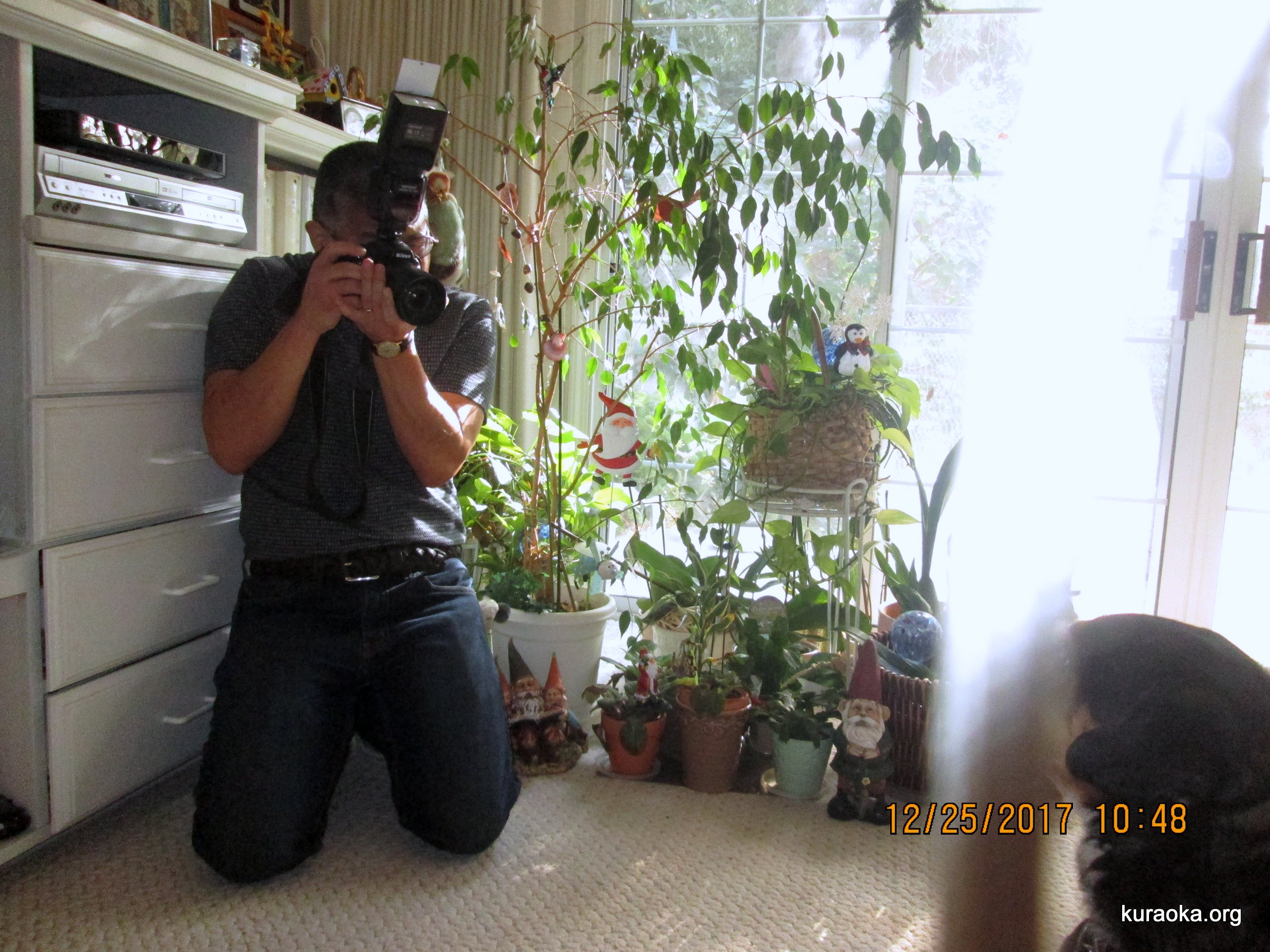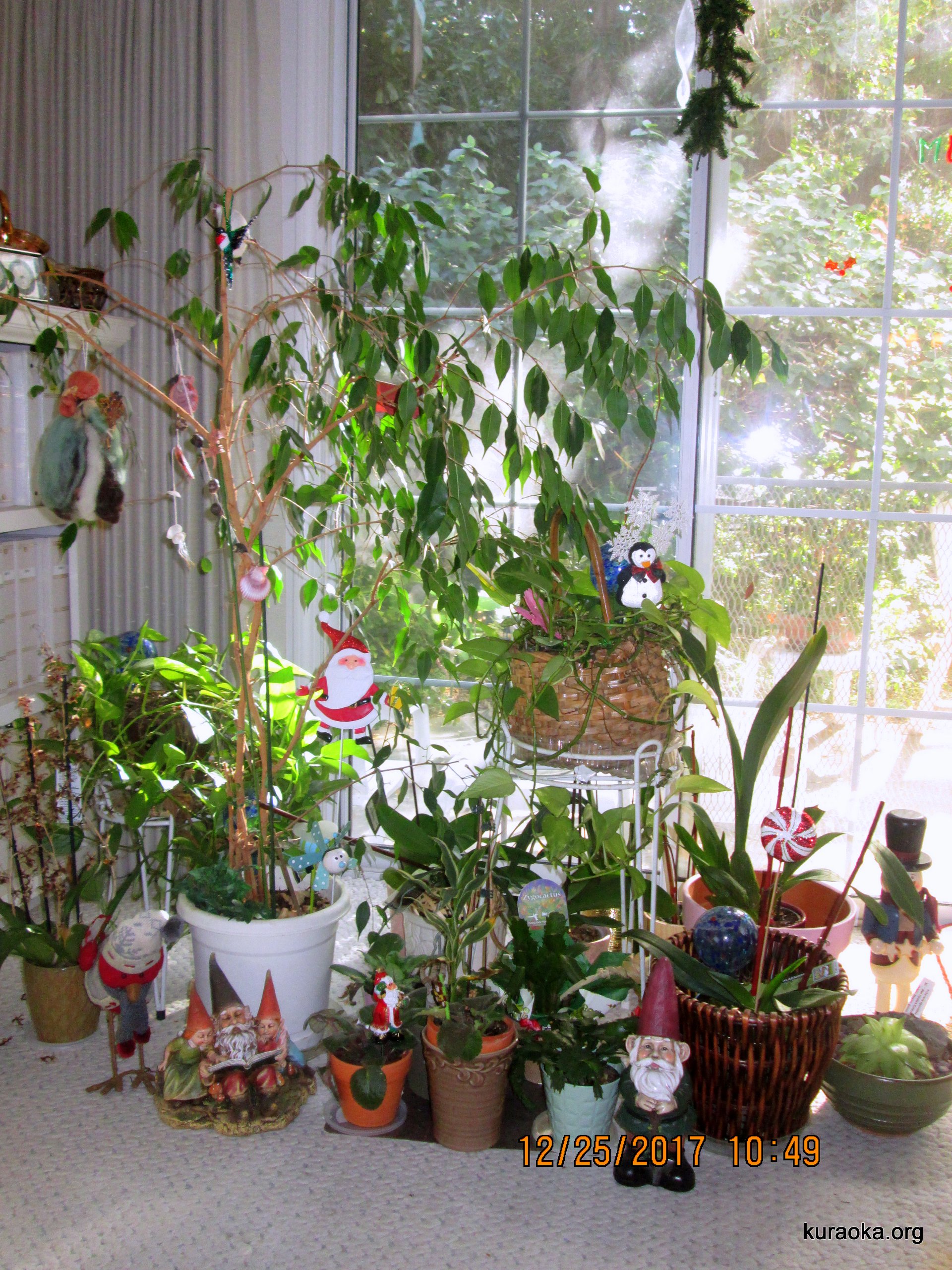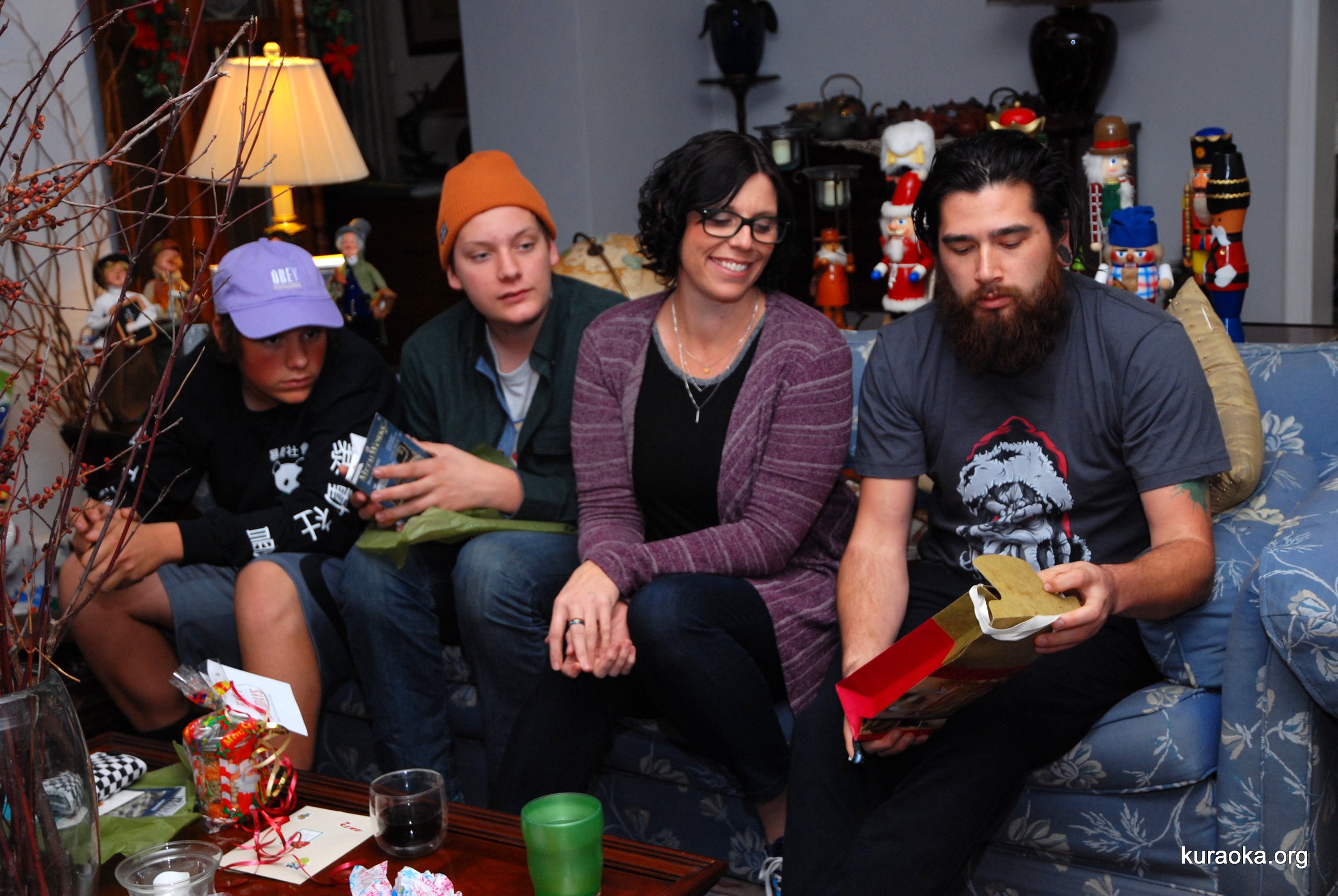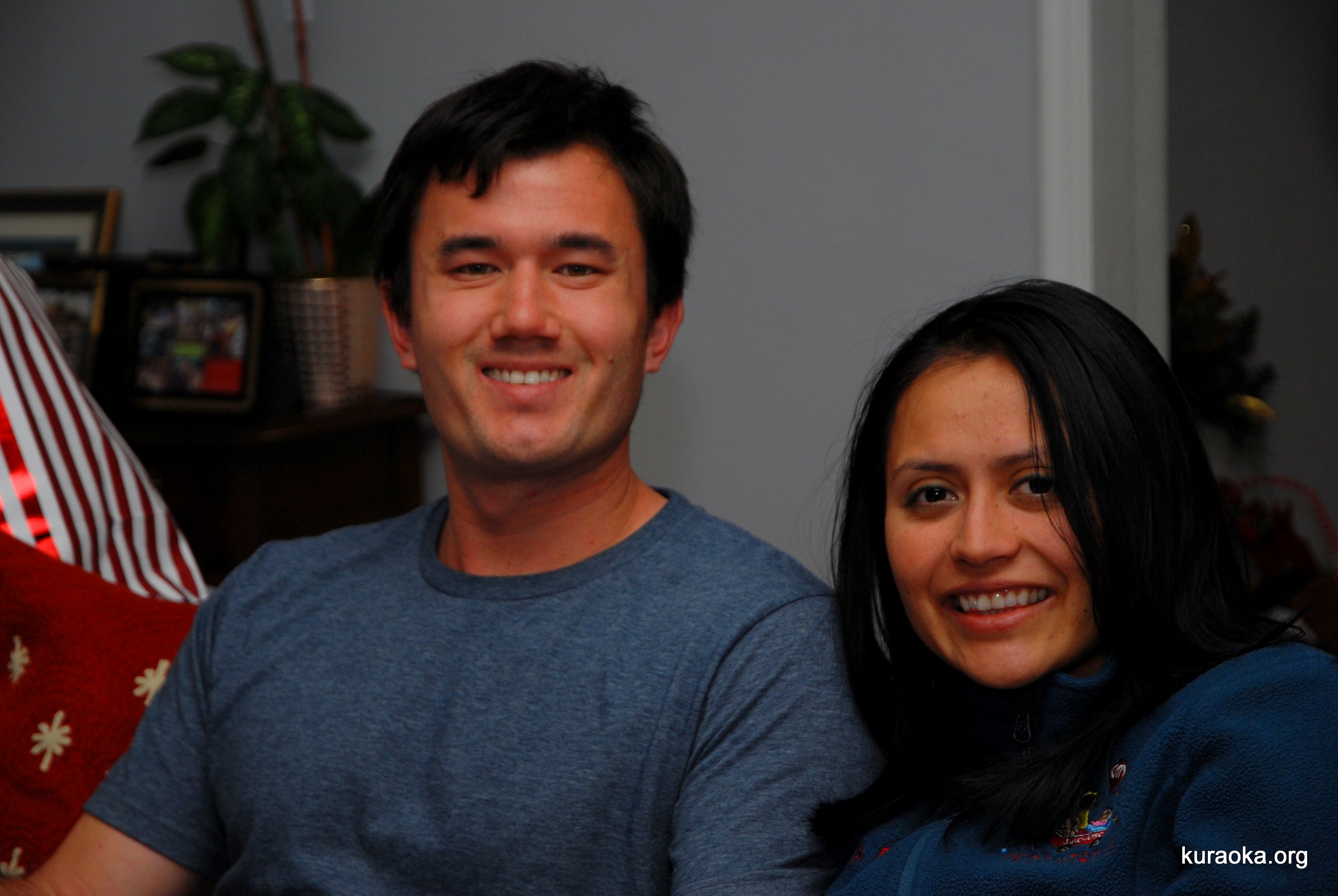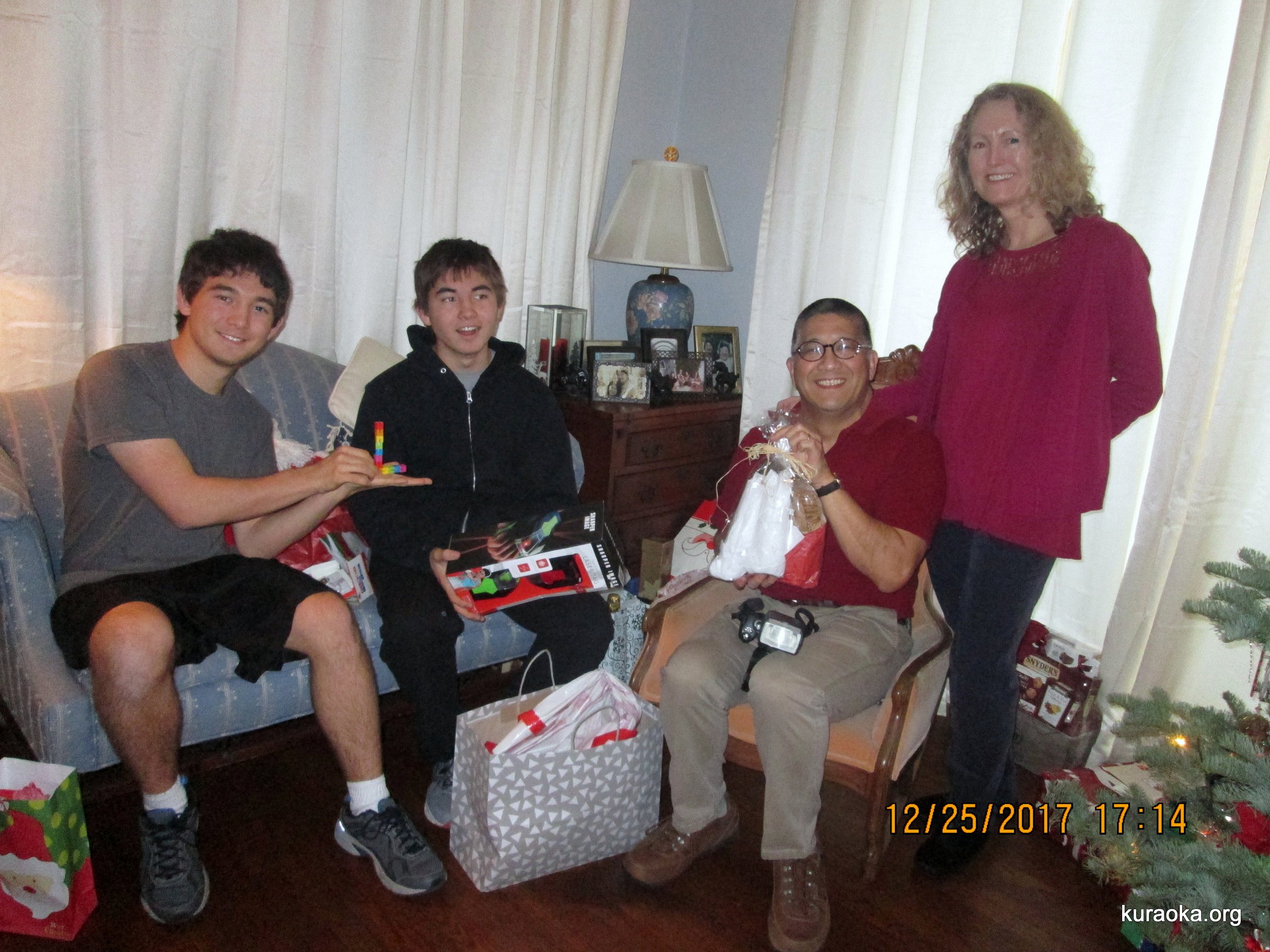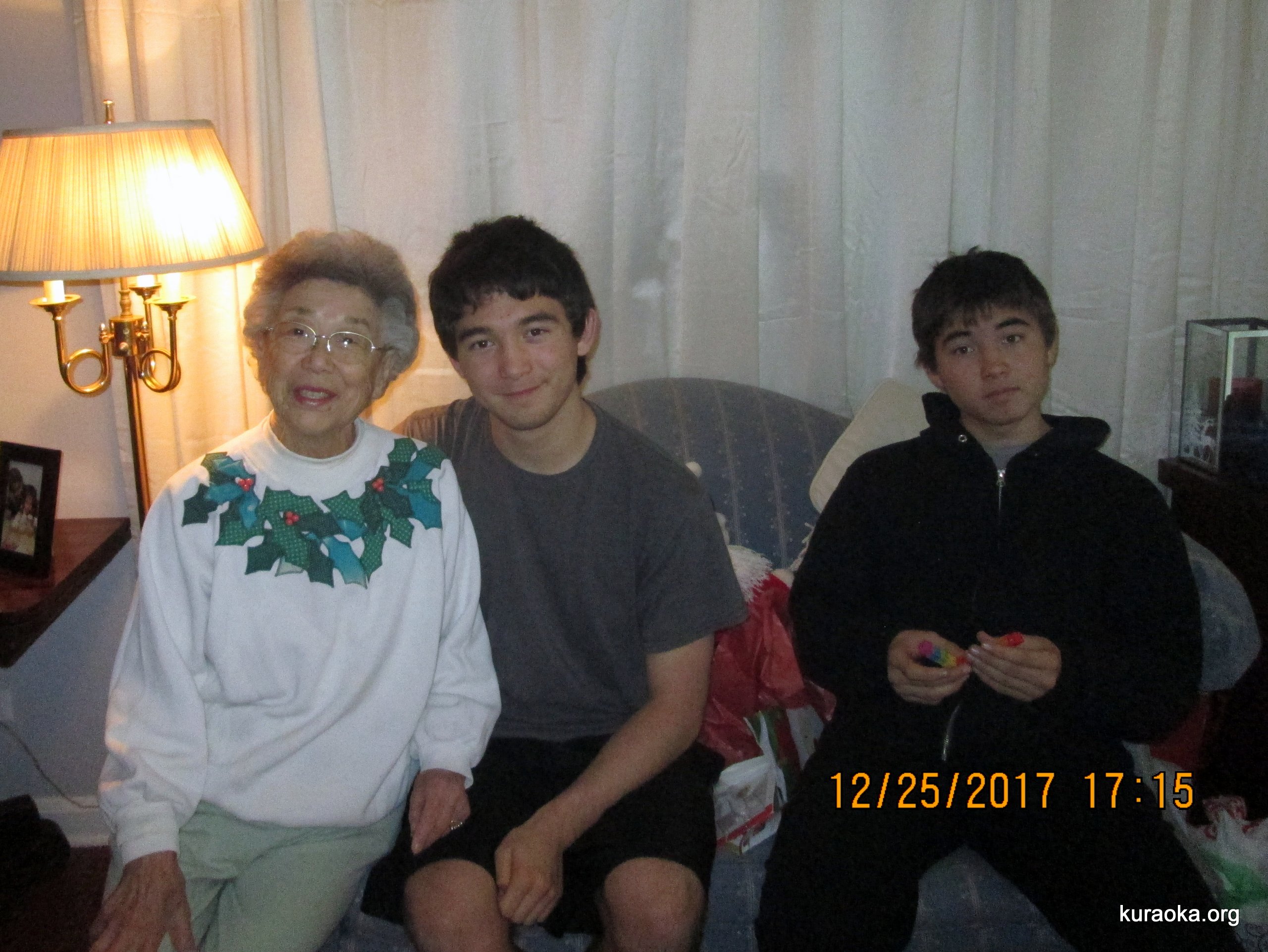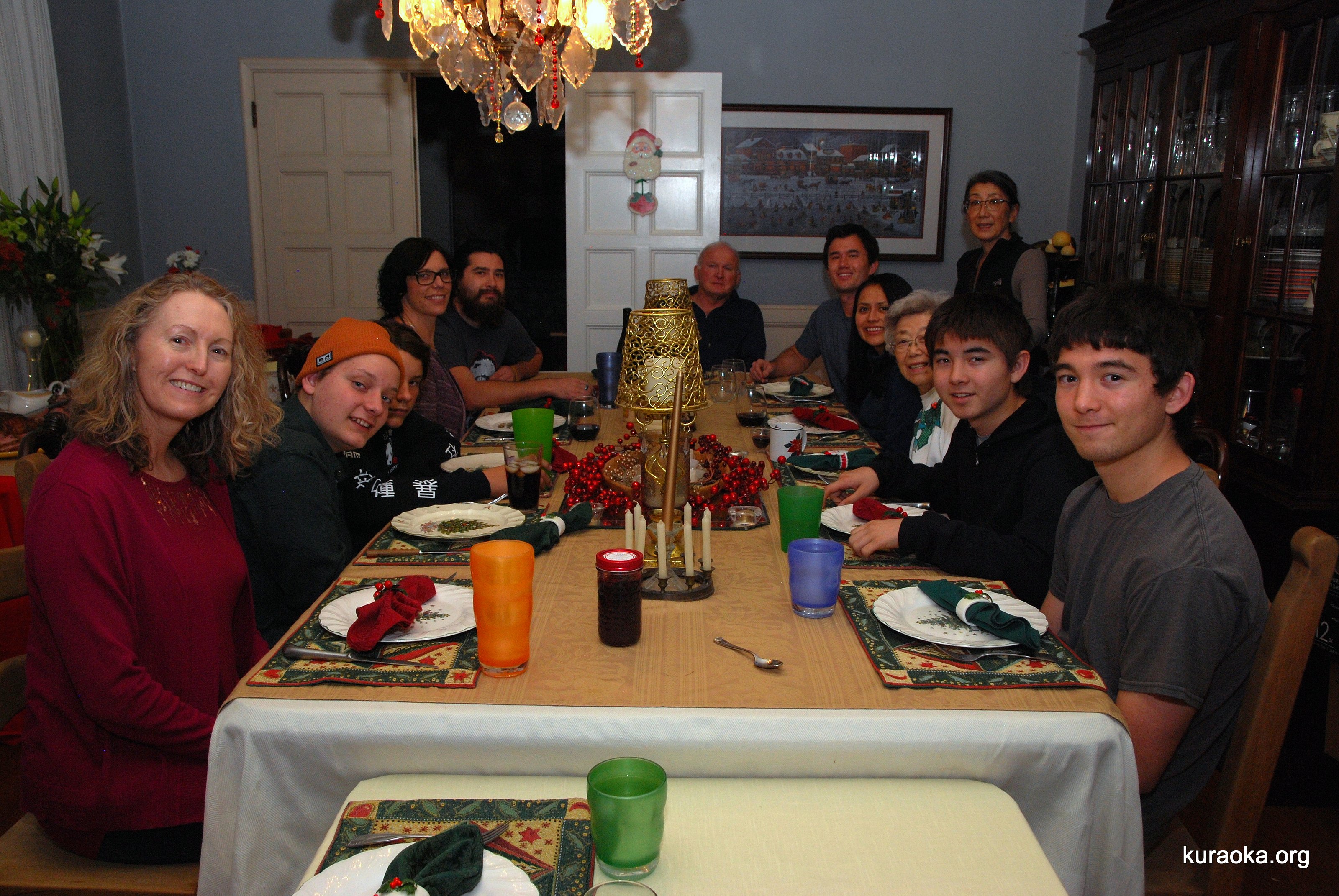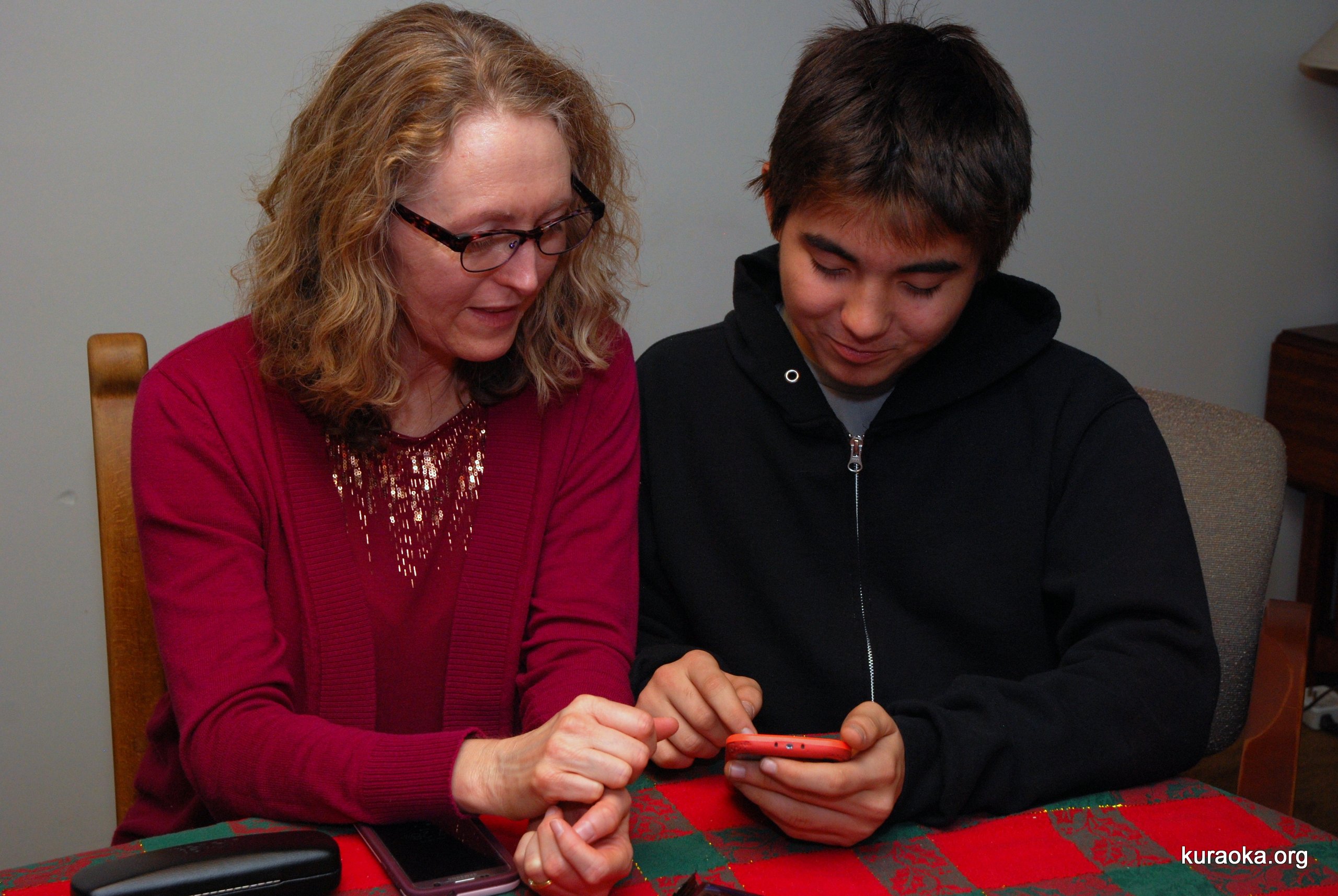 12-23-17: A Christmas Carol at Glendale Centre Theatre. This has become something of a family tradition. It's always different, which keeps it fresh. Below is this year's photo, and you can click here to see the same photo from two years ago.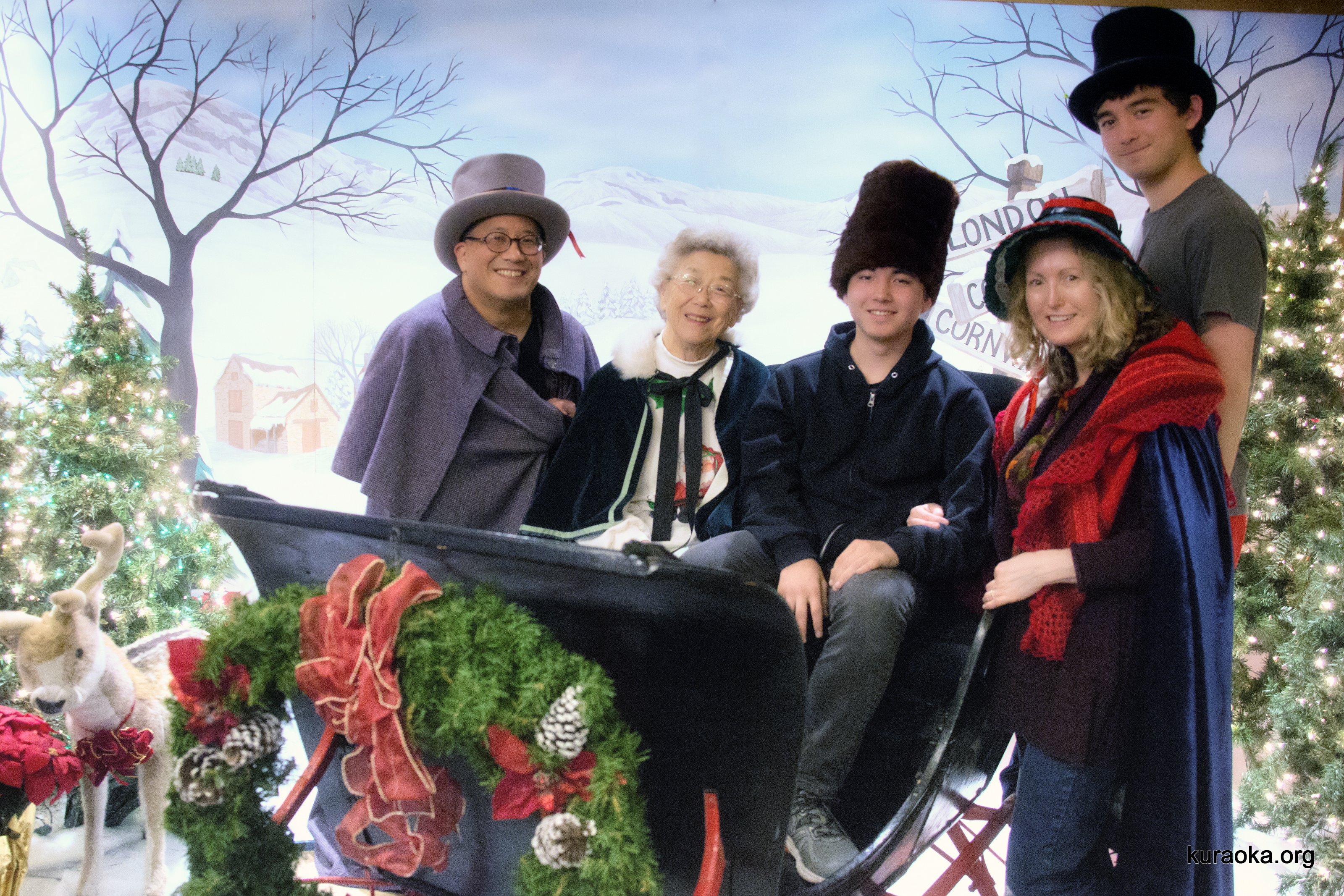 12-18-17: Playing with a whirligig. The hit stocking stuffers were these colorful plastic whirligigs. Here Leo gives his a spin. These things are fun!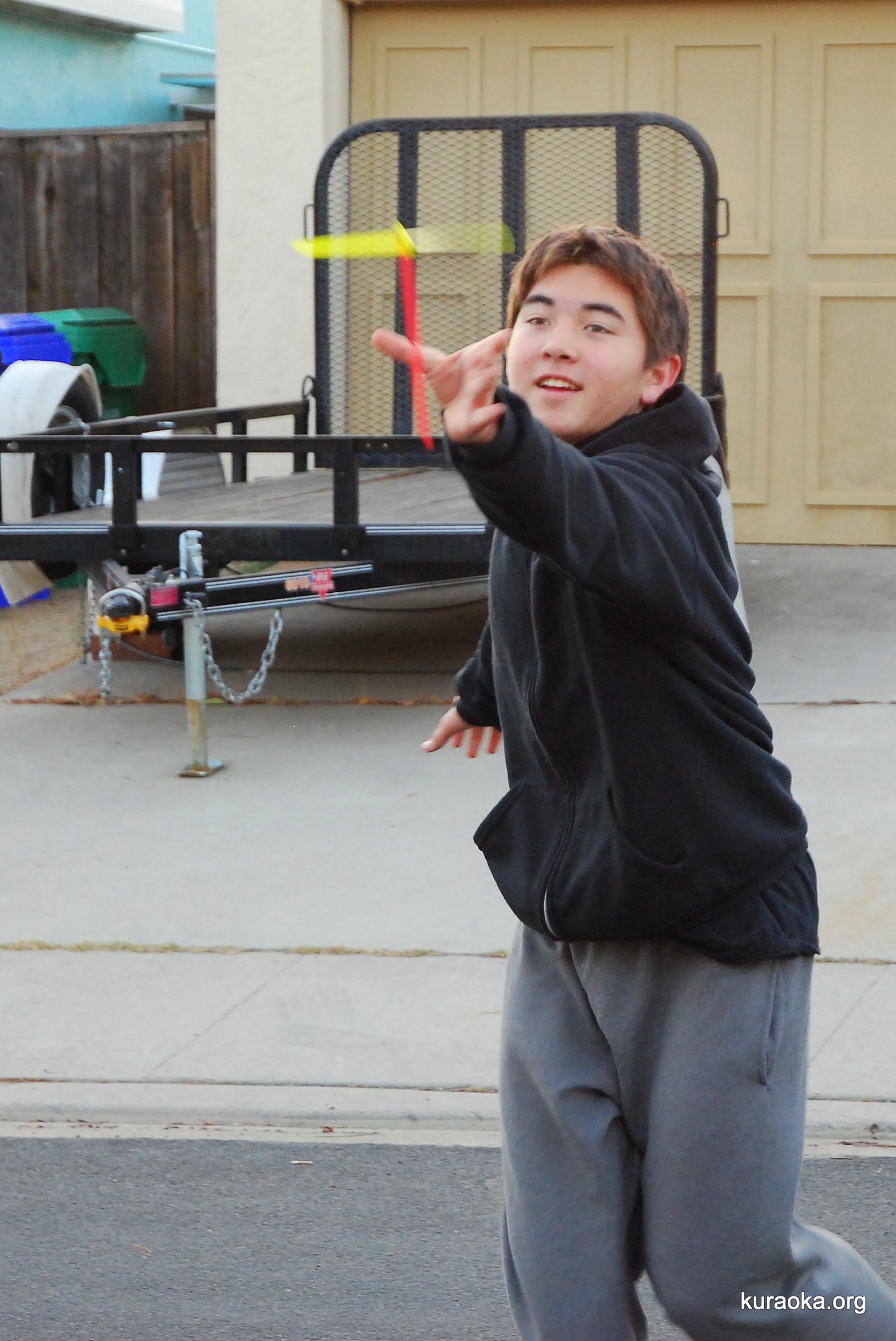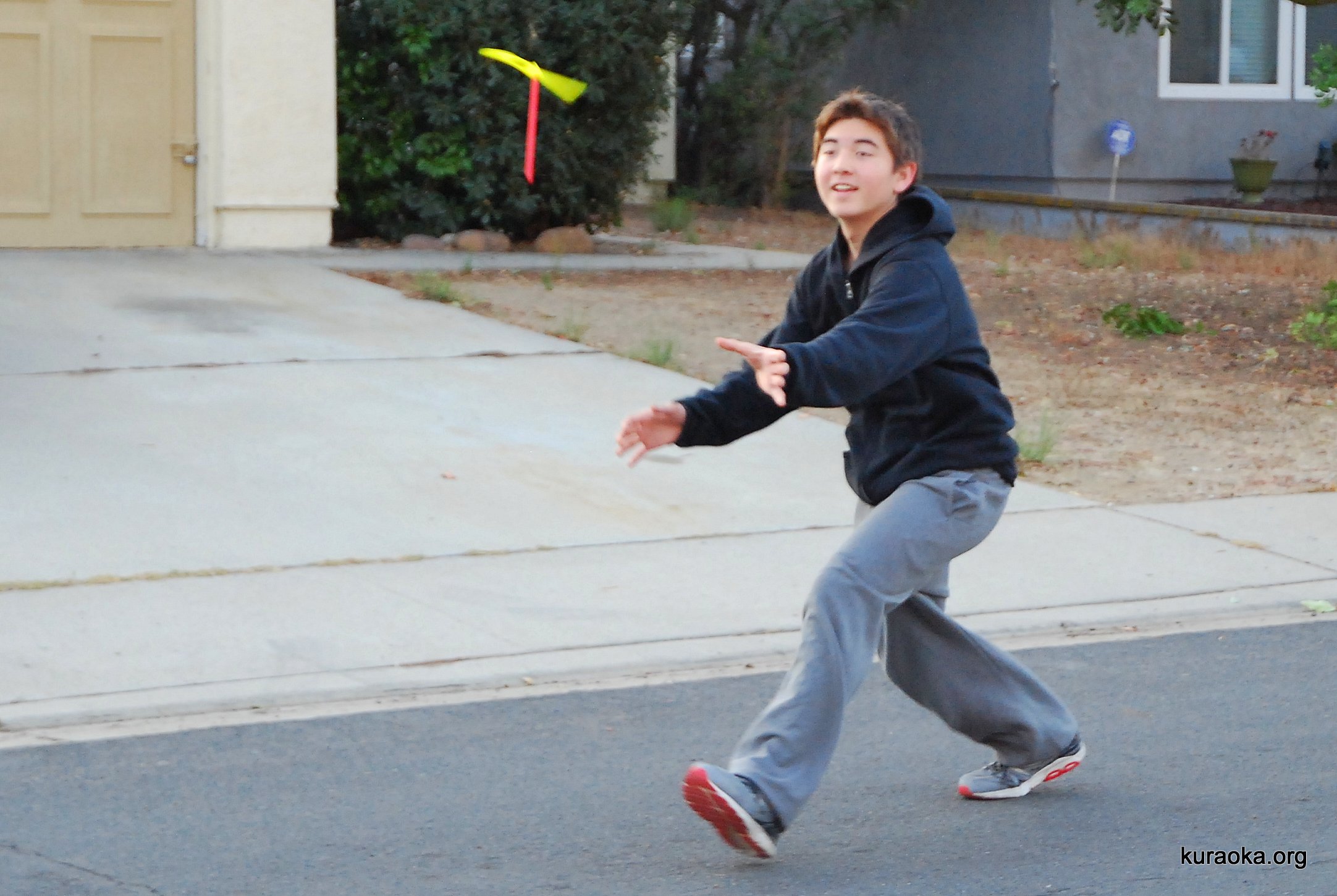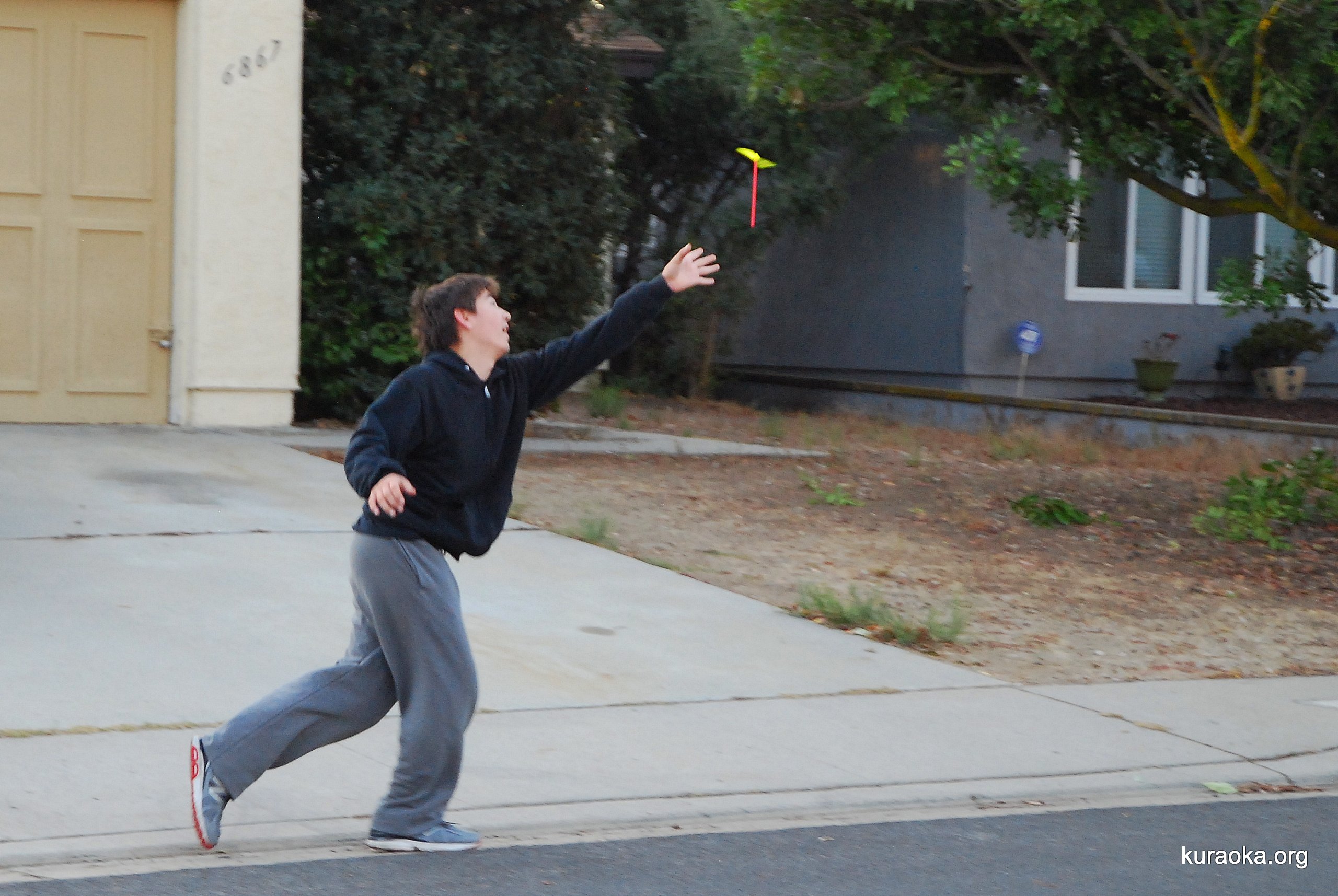 12-17-17: At-Home Christmas! Our at-home Christmas was also moved up to accommodate Roy's impending wisdom teeth surgery. Here are Roy and Leo with t-shirts from Baba. Like the shirts? The proceeds support the Forest Service.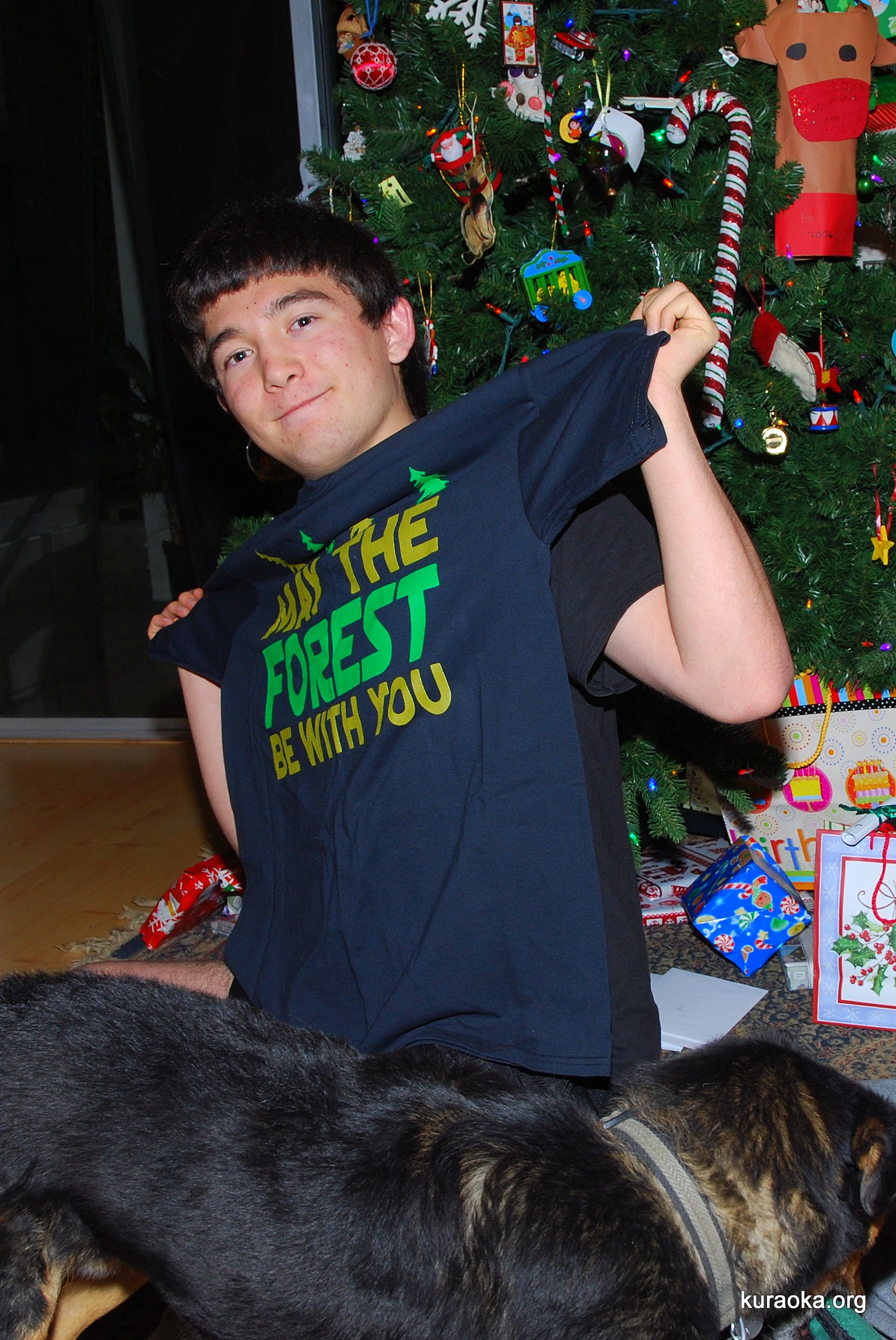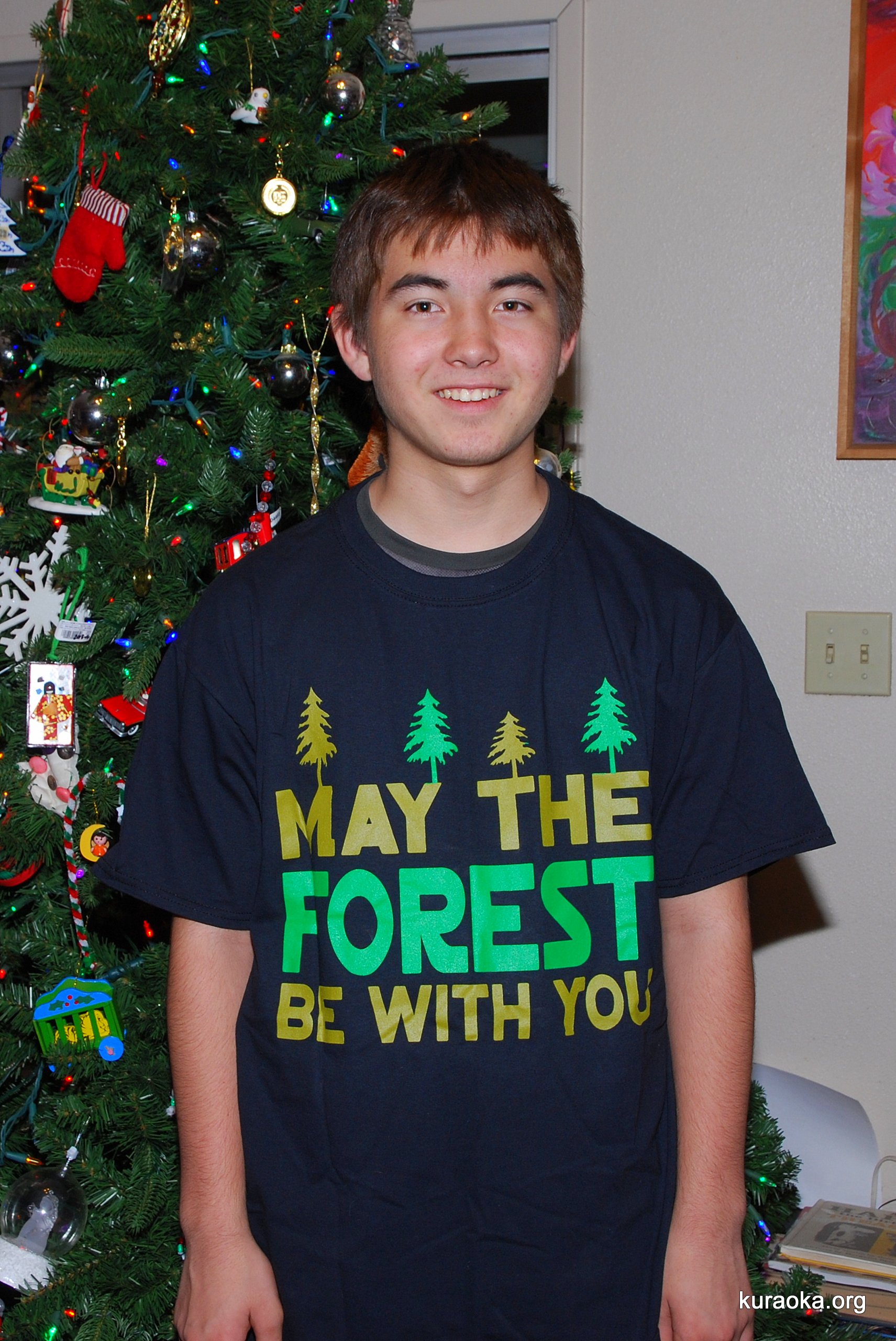 12-10-17: Third Advent, an explanation, and a hawk. Our Advent celebrations are coming early this year because Roy is scheduled to have his wisdom teeth extracted and he doesn't want to miss any of this. Also, a hawk in the tree behind our house.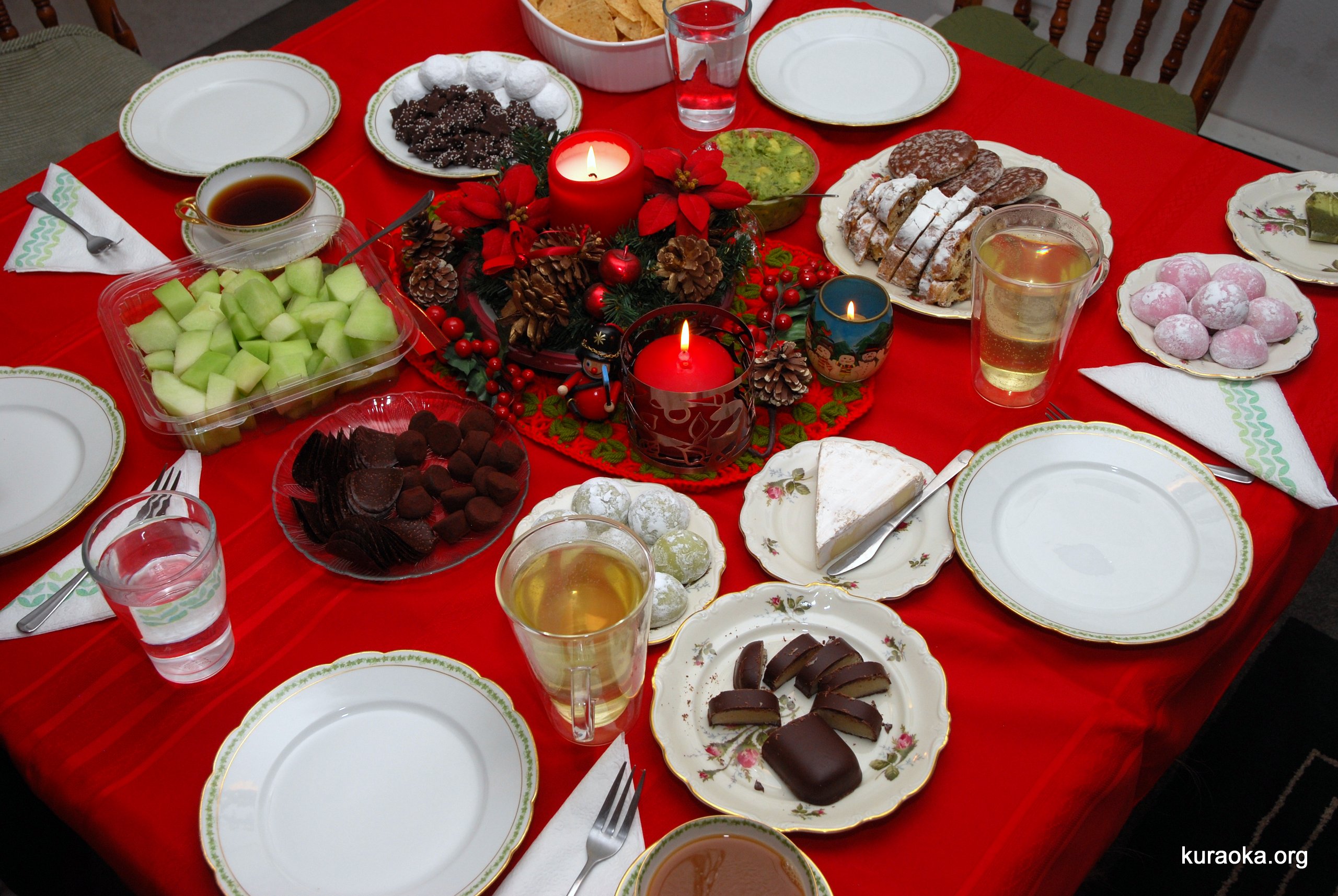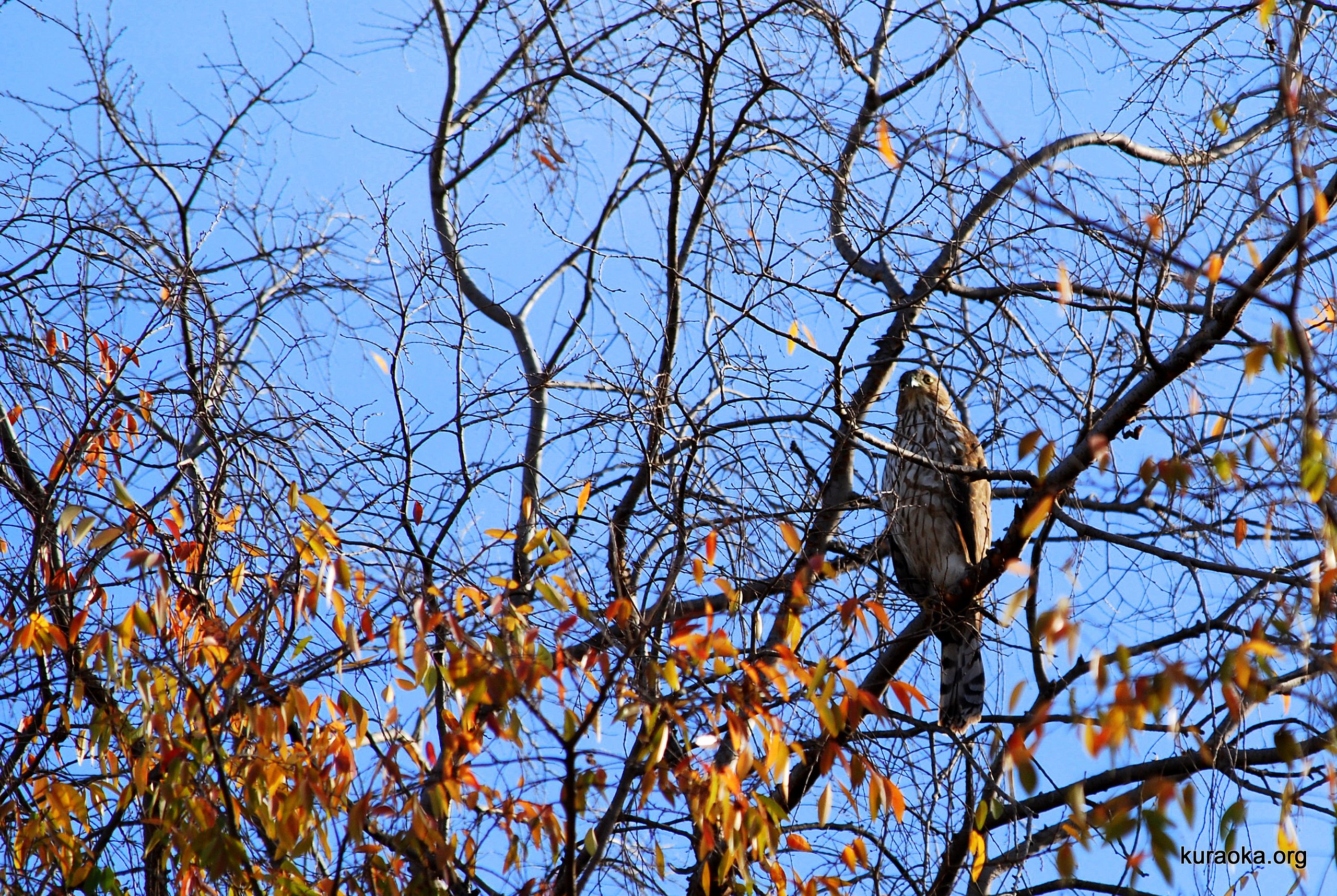 12-06-17: St. Nicholas' Day. Our stockings were hung by the chimney with care. Here's Leo taking down his fully laden stocking. They were well-packed! Then, Leo and Roy enjoy a moment of online shopping before heading off to school.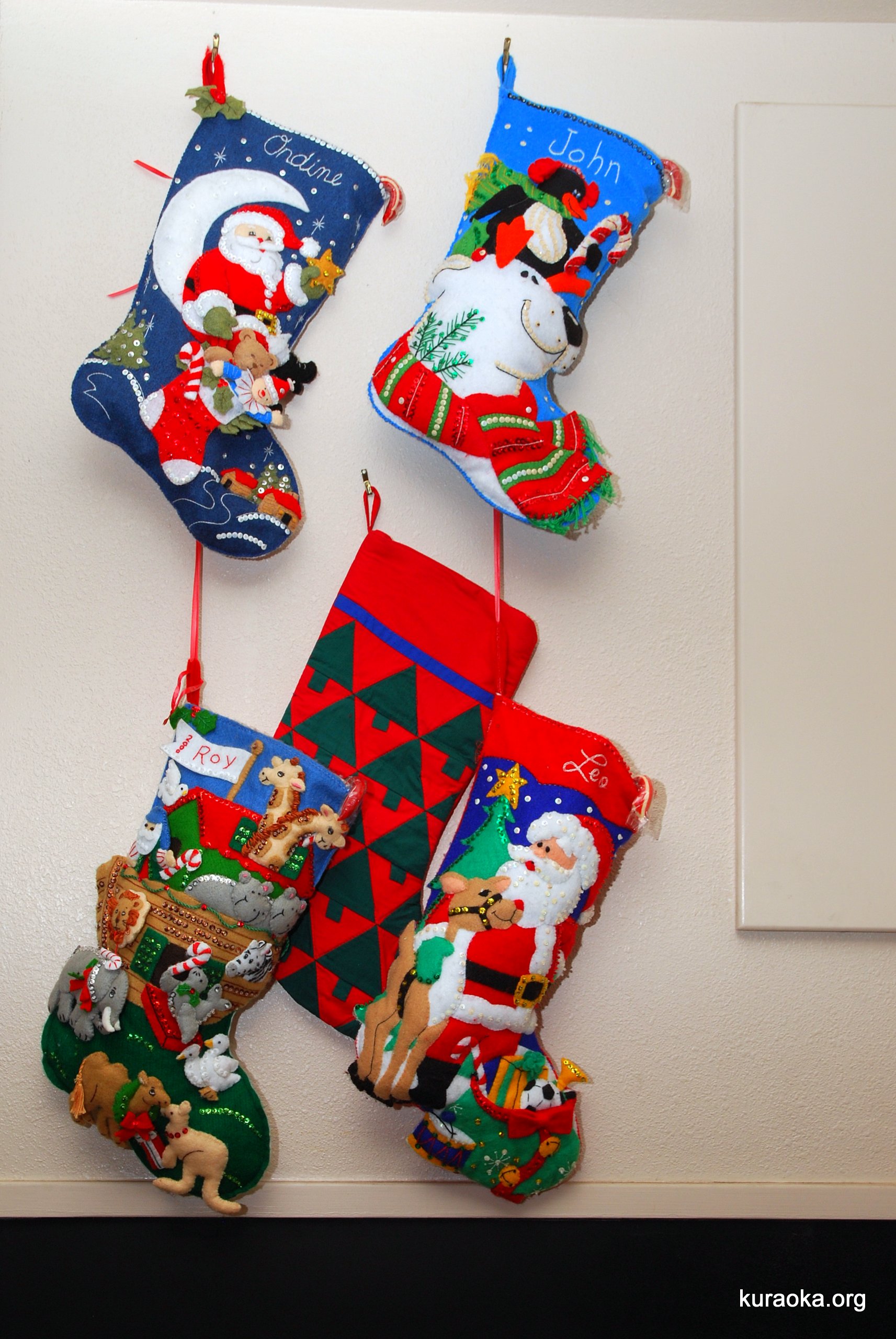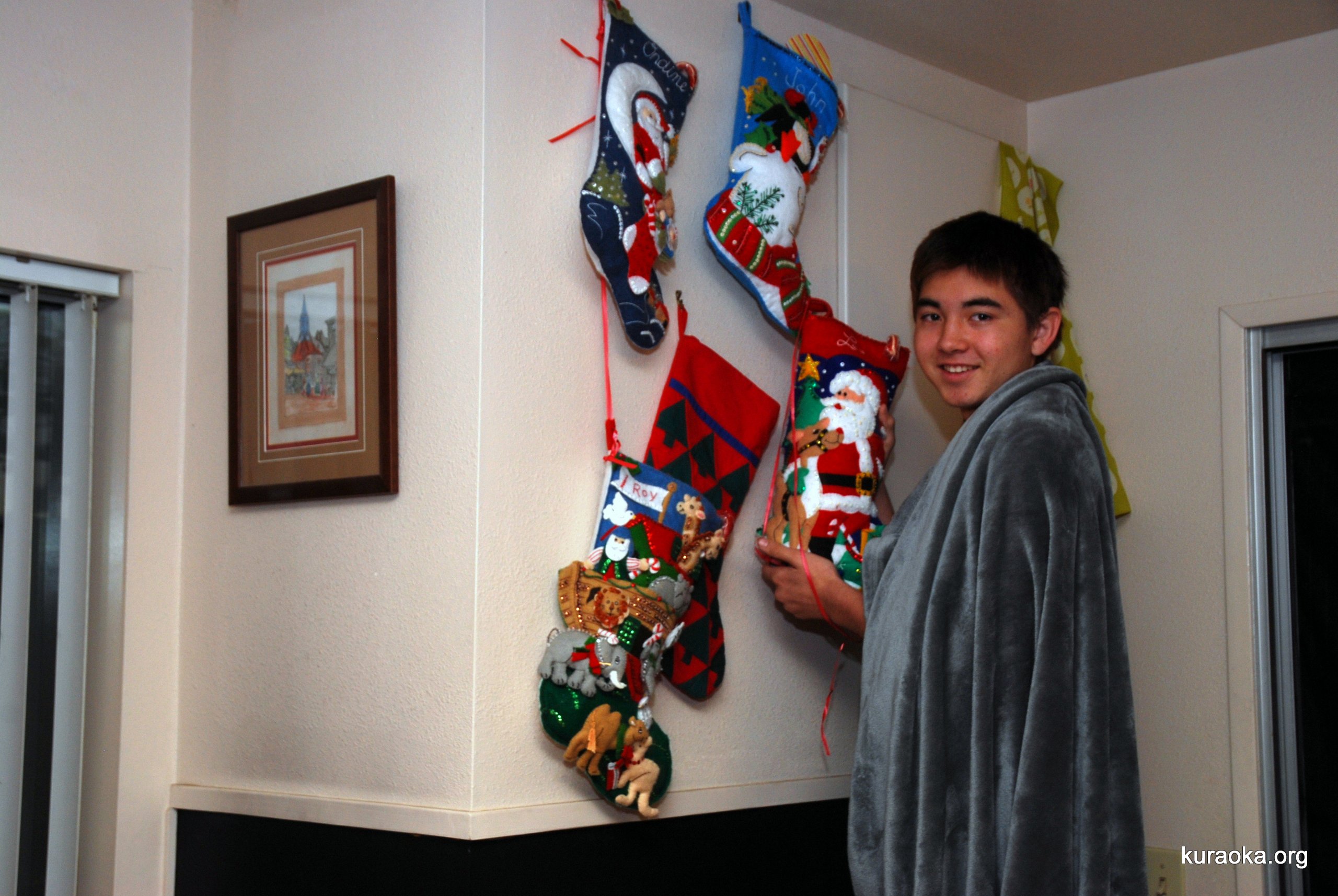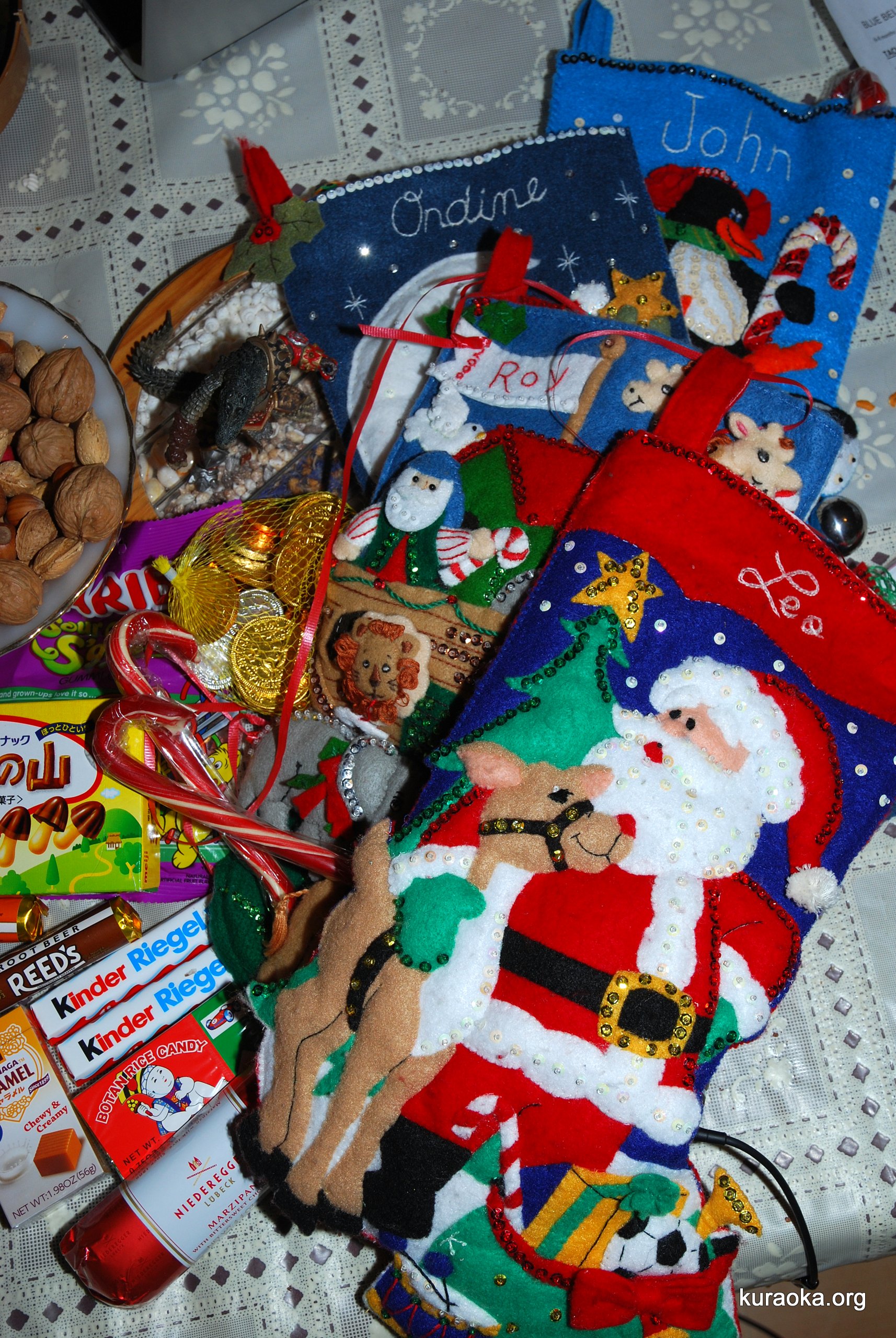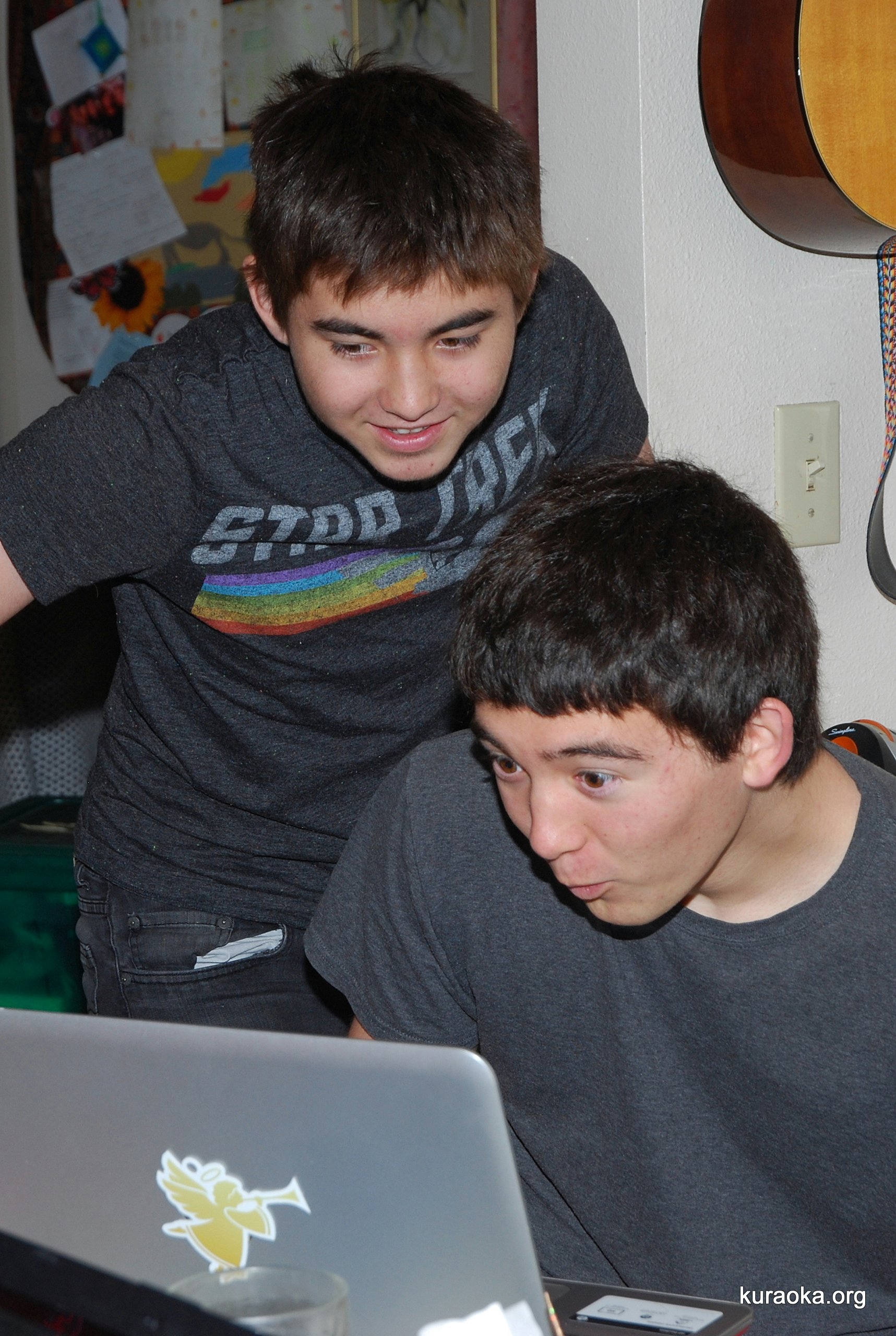 12-04-17: A misty Monday morning. We love it when the mist rolls in and suddenly we feel transported to another place.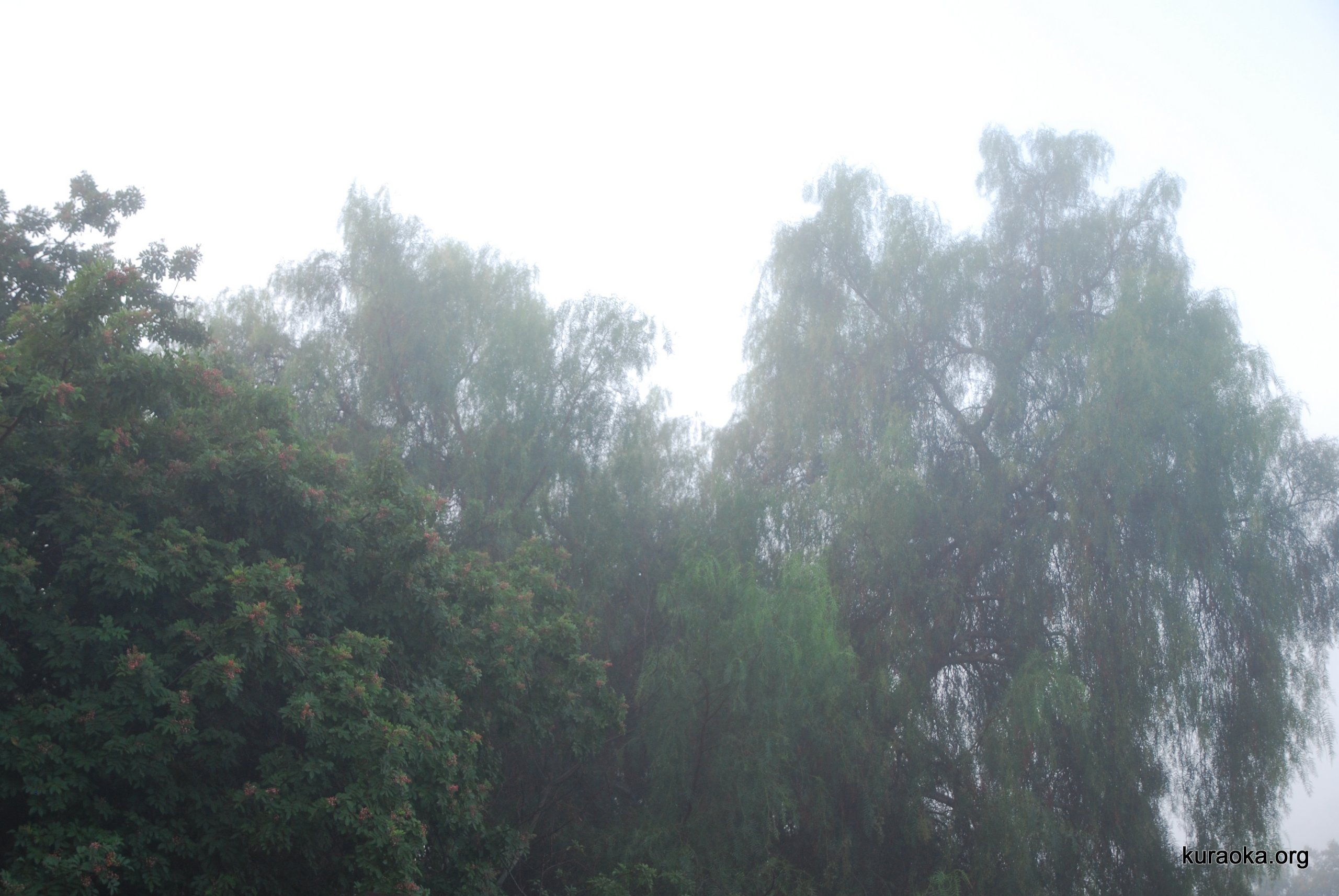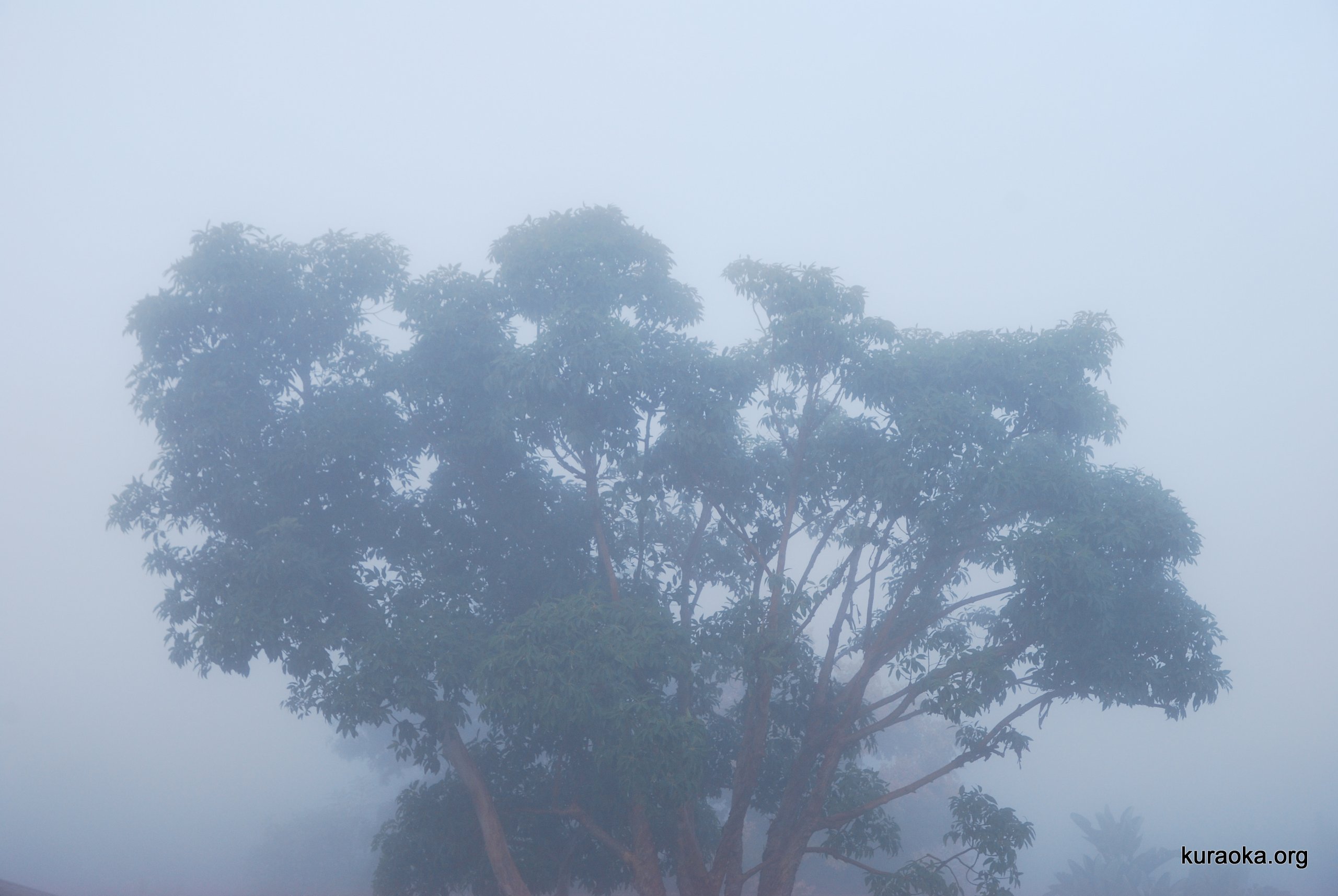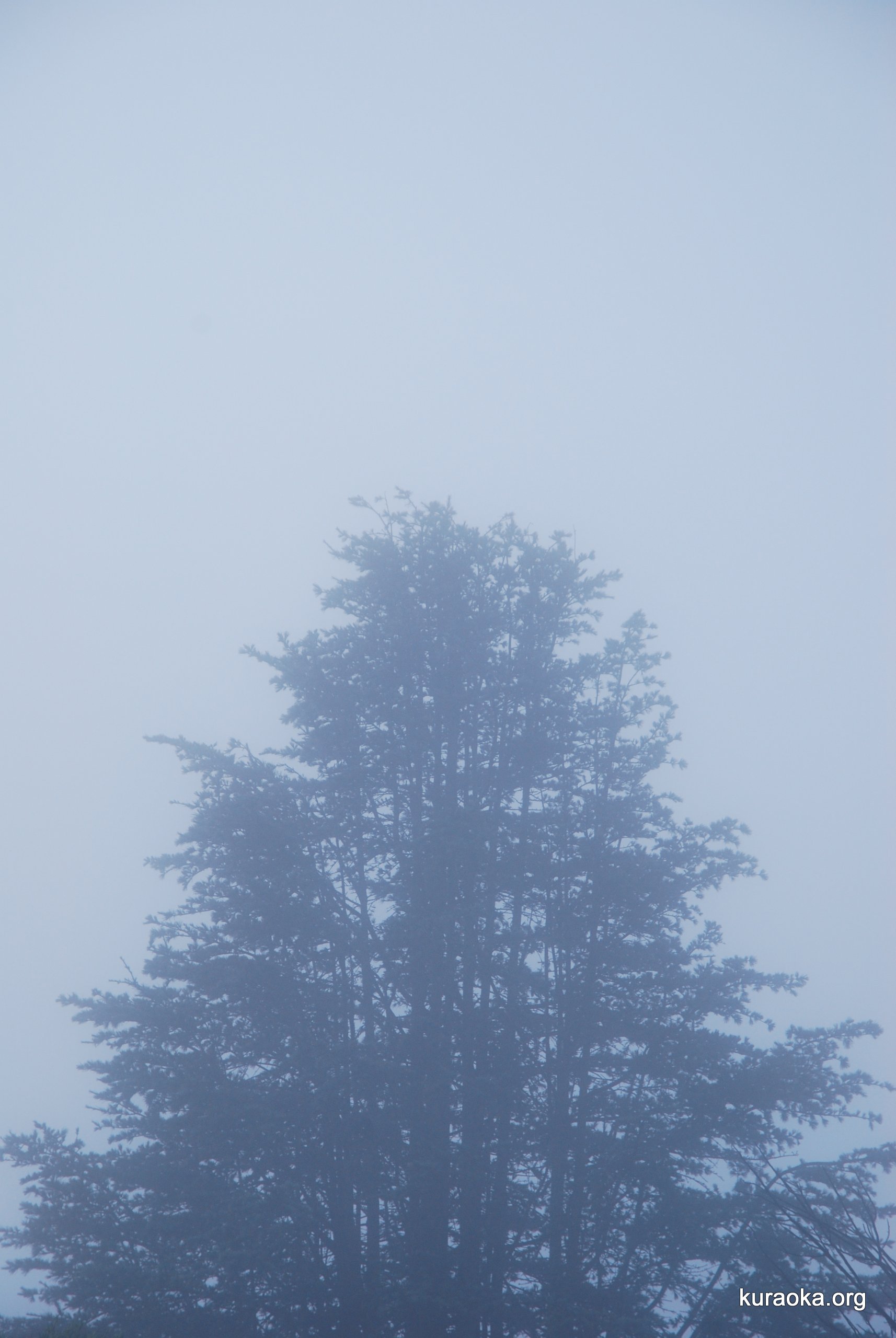 11-28-17: Teens making shopping lists. Leo seems to think the shopping list has magical powers like suddenly making John stock the pantry with Twinkies and Jolly Ranchers.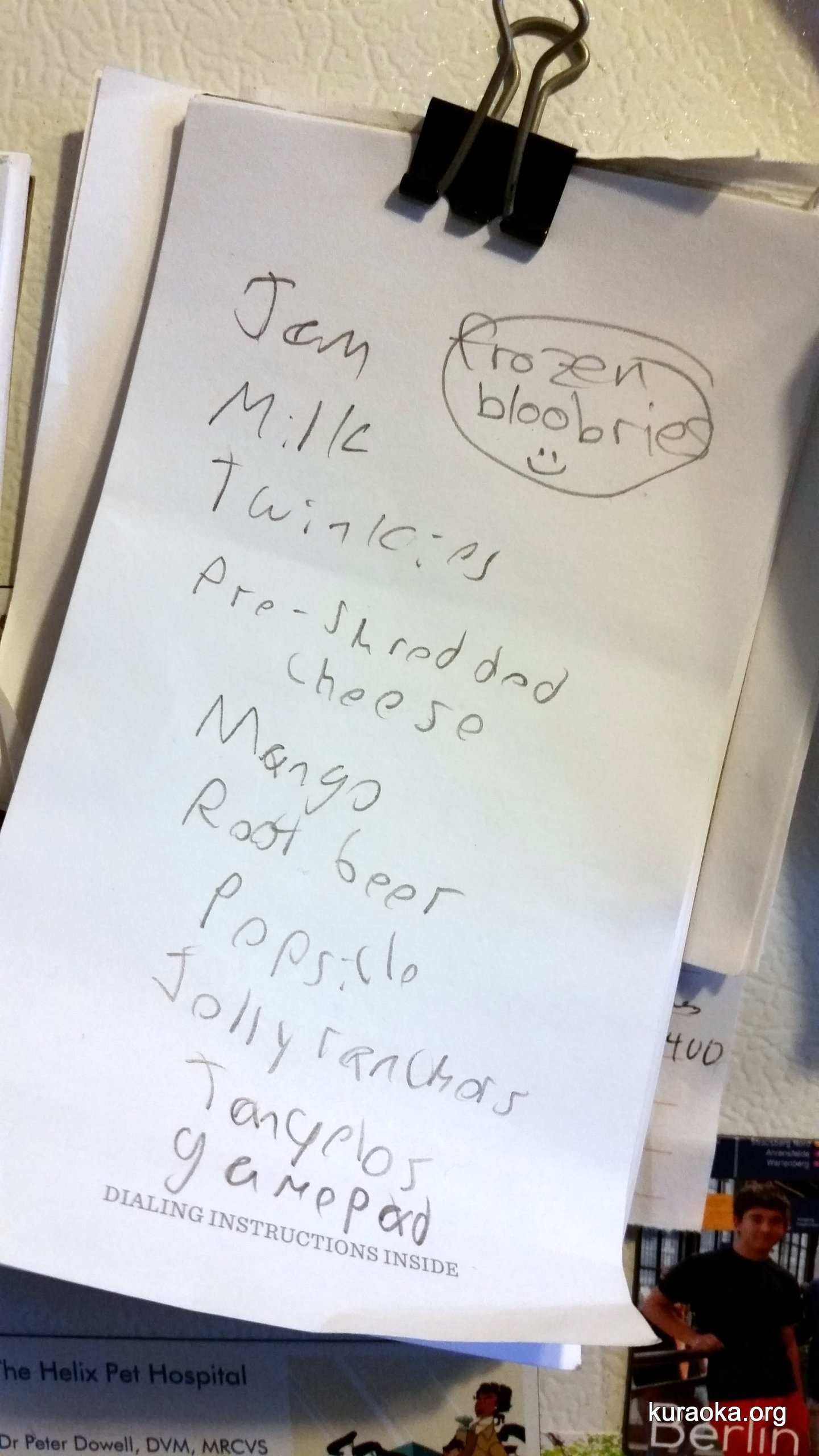 11-24-17: Tiger gets washed. The kids have been doing their own laundry for a few years now. It's good to see teens developing solid laundry skills, like knowing how to protect delicates.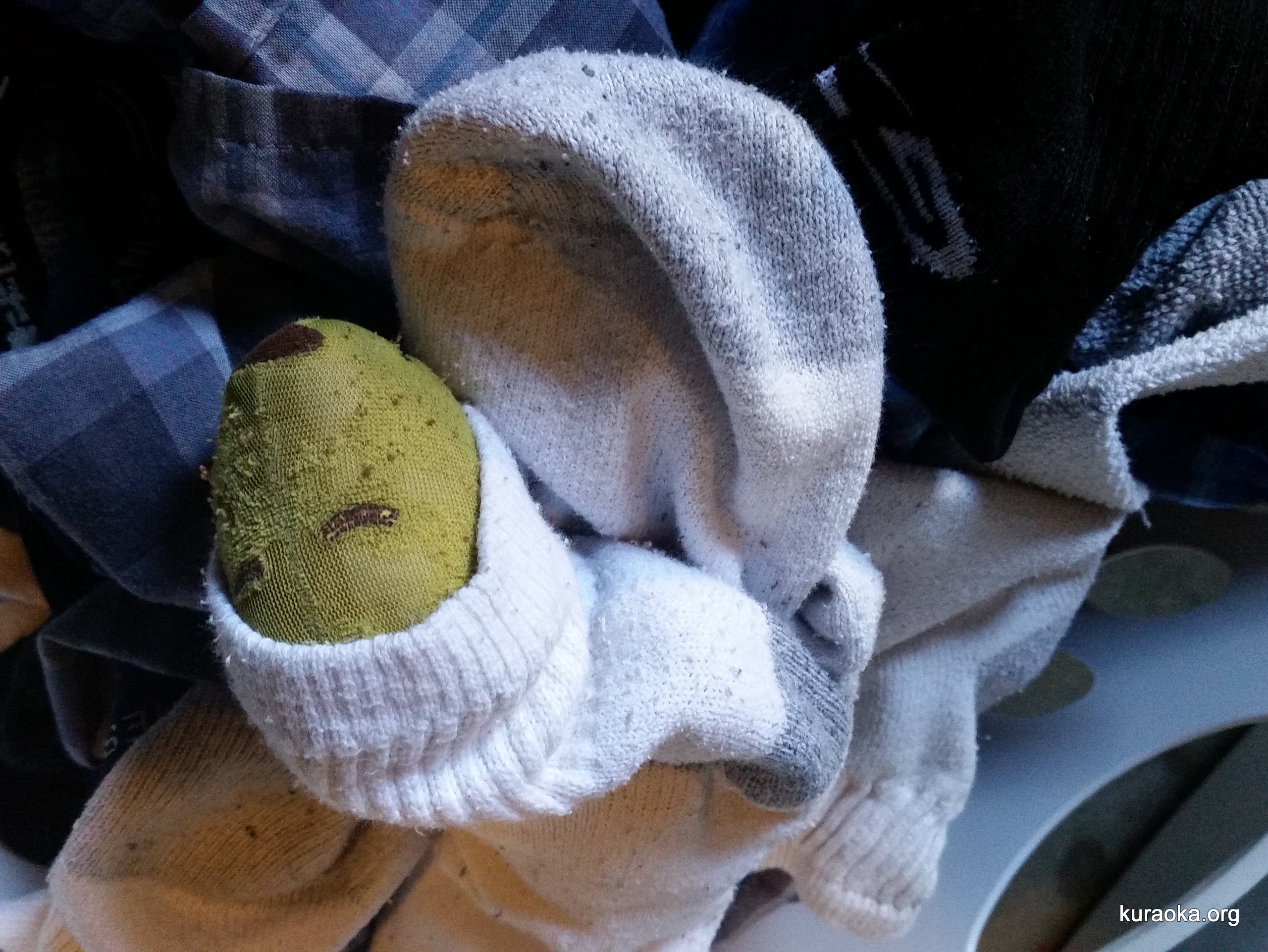 11-24-17: Peepsimmon! Check out this persimmon from Barbara's tree! Doesn't it look like a Marshmallow Peep?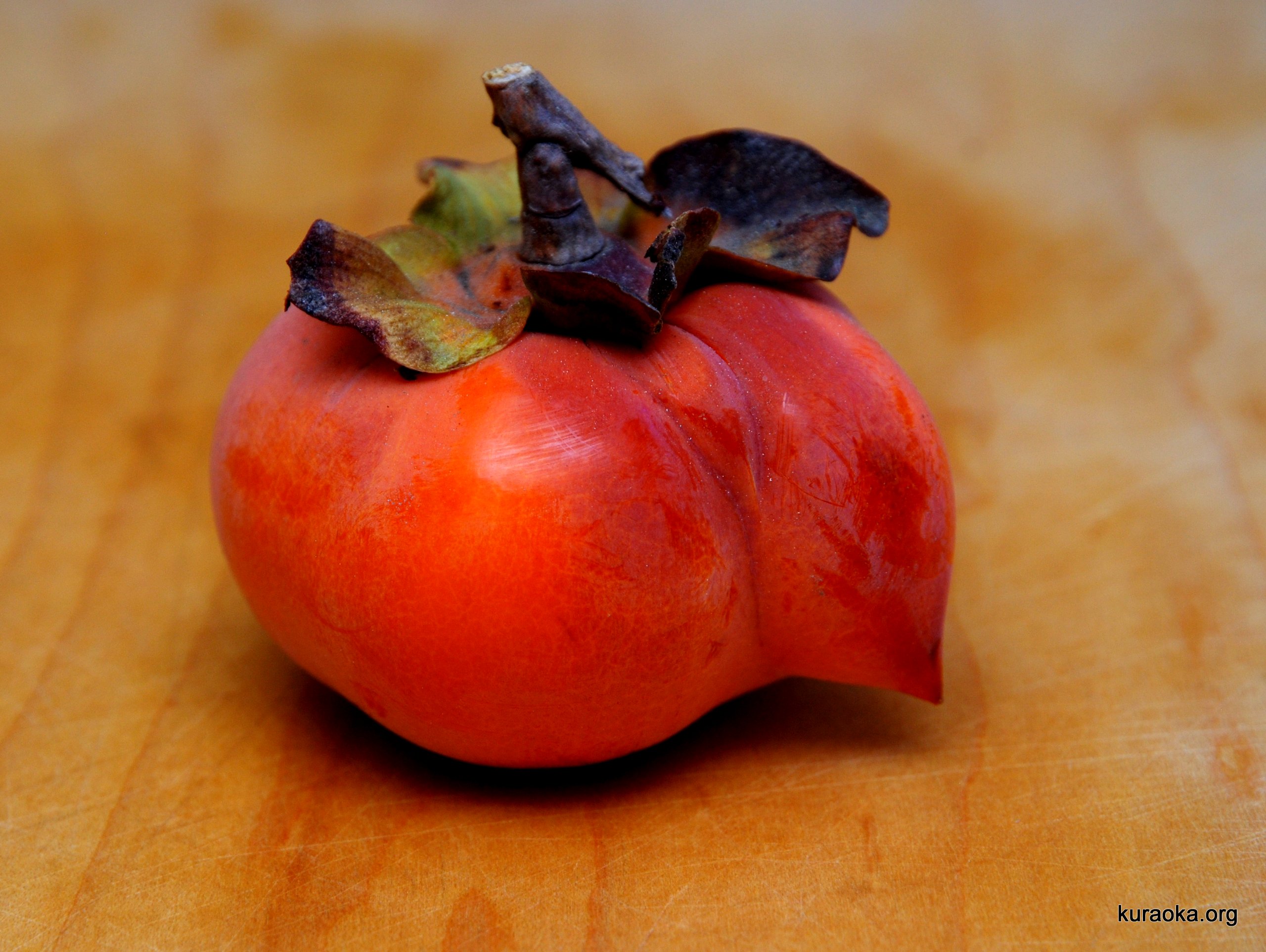 11-23-17: Happy Thanksgiving! Here are Leo, Ondine, Roy, and Barbara around the table, and the mandatory plate shot with roasted brussels sprouts, candied yams, stuffing, potatoes au gratin, fresh cranberry relish, and a bit of turkey.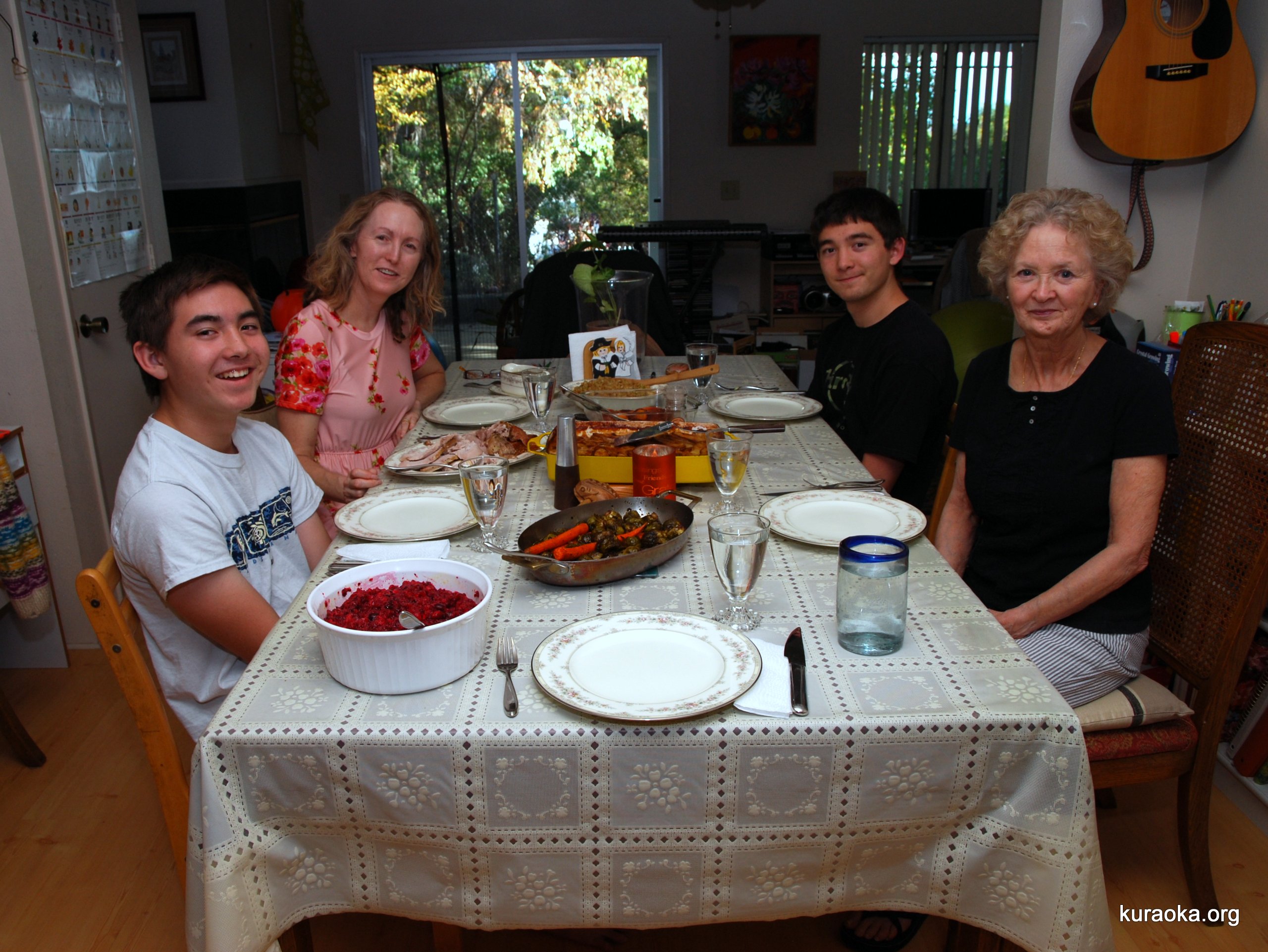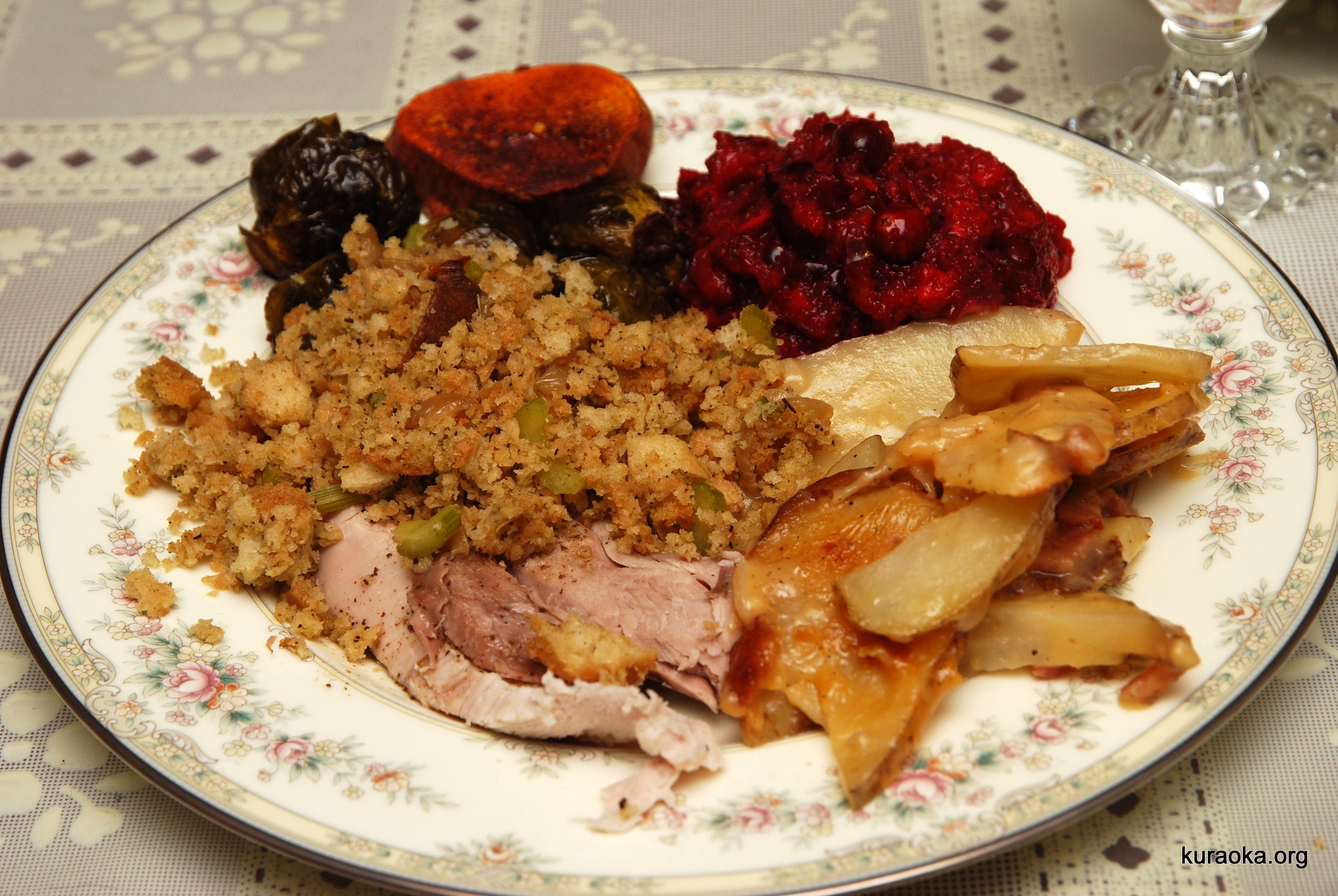 11-20-17: Santa Monica with Grammy. Ondine came home Sunday (the family photo was taken the day before), but John and the boys and dog stayed an extra day and a half. They went to Santa Monica, had a picnic on the beach, then walked around the pier.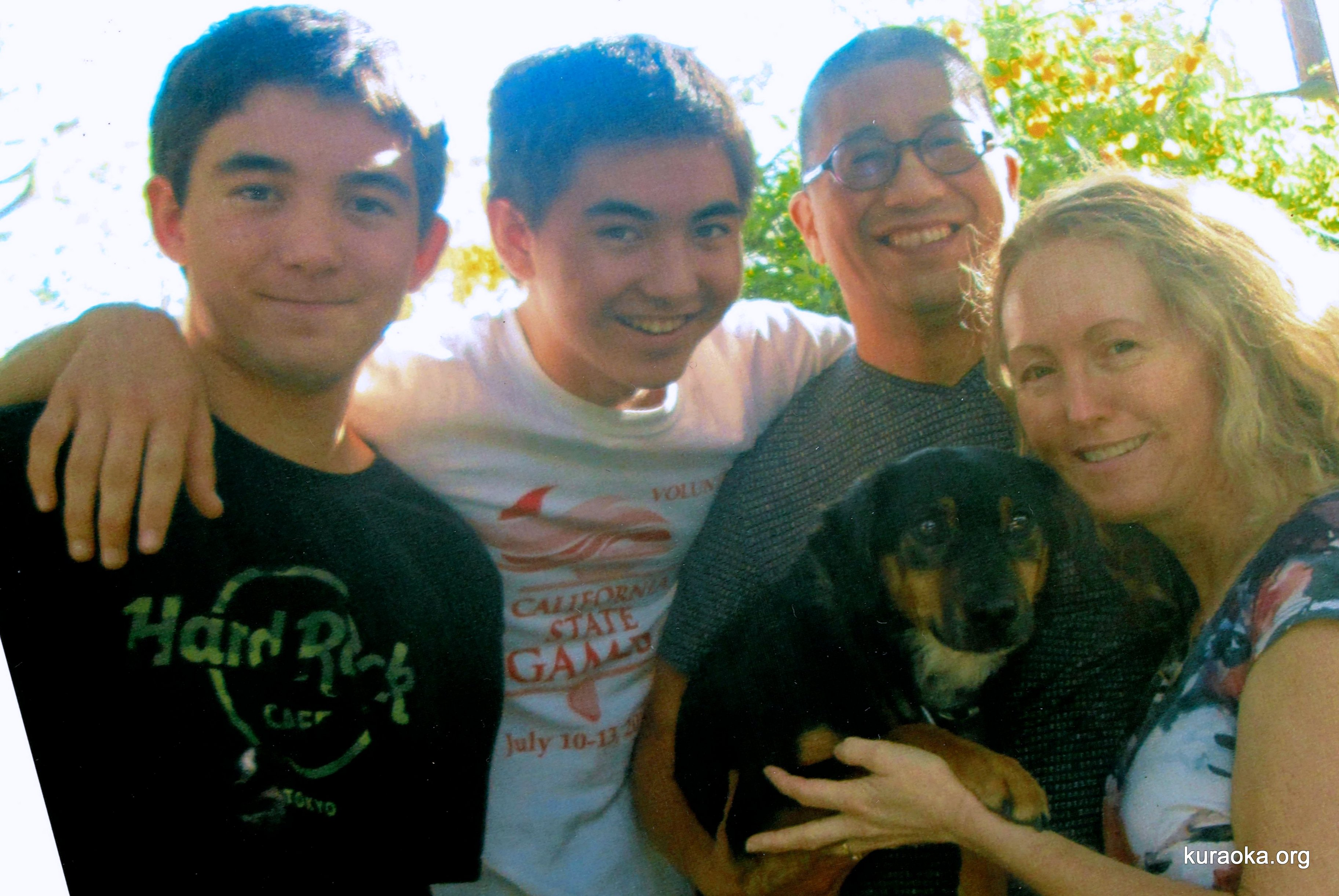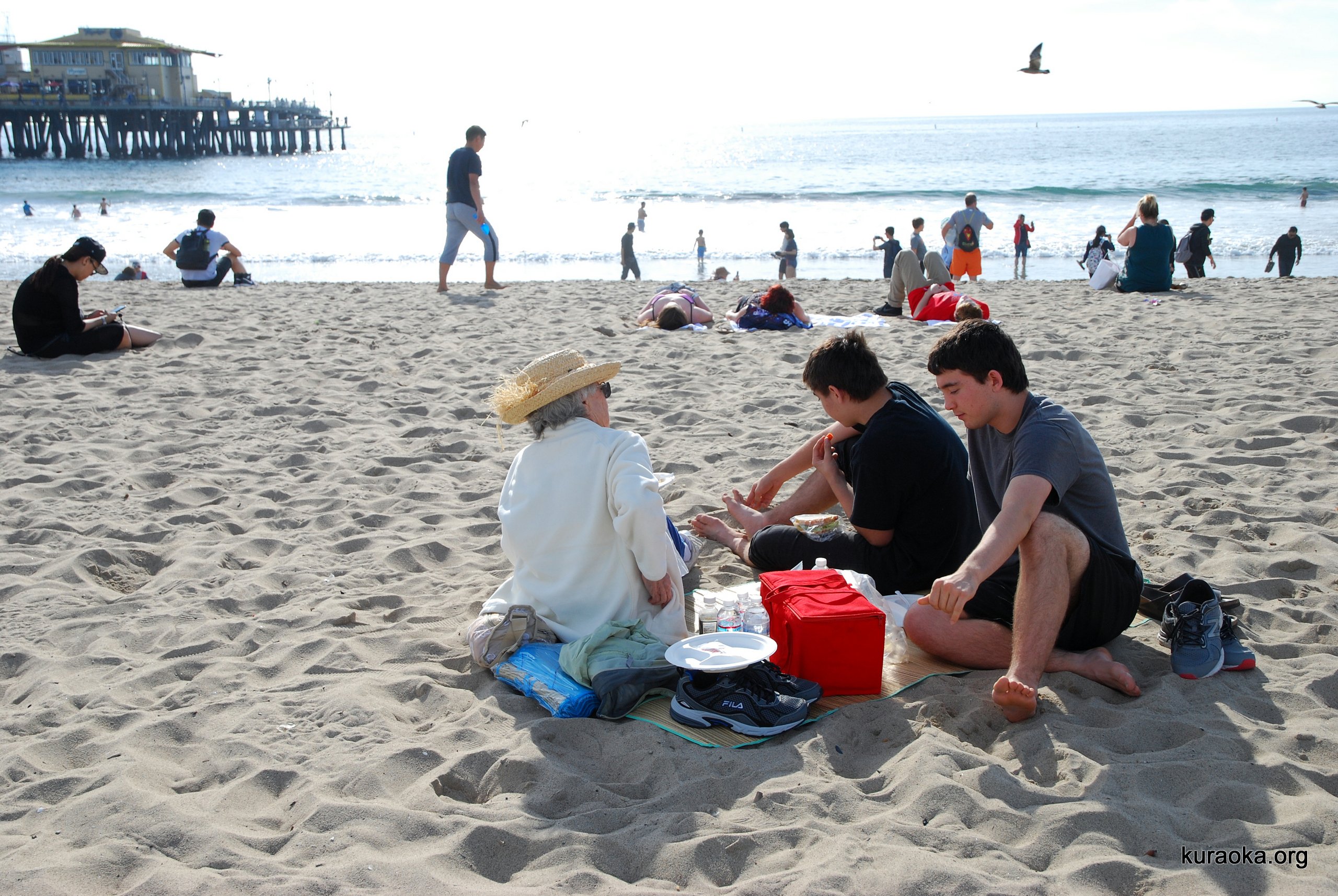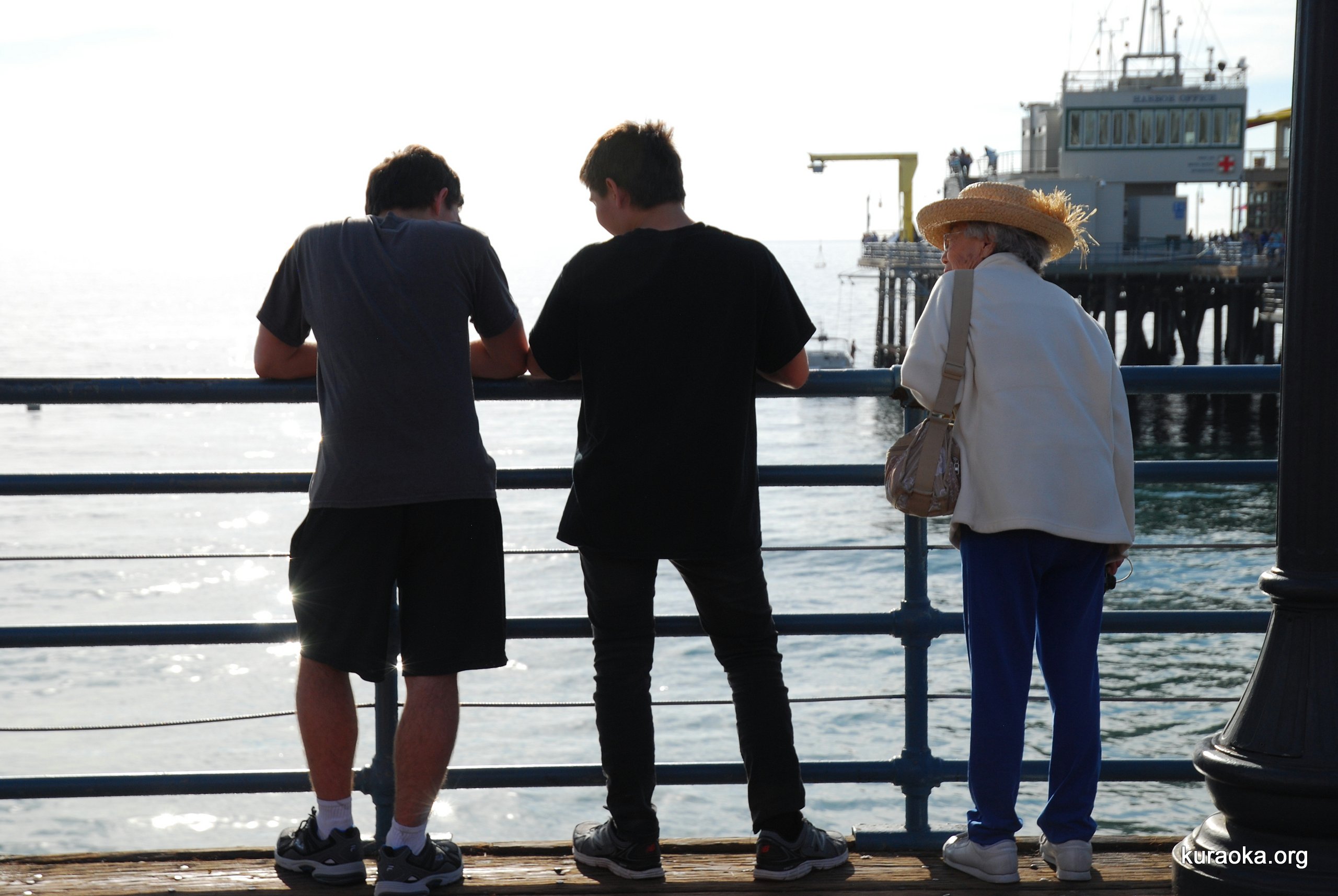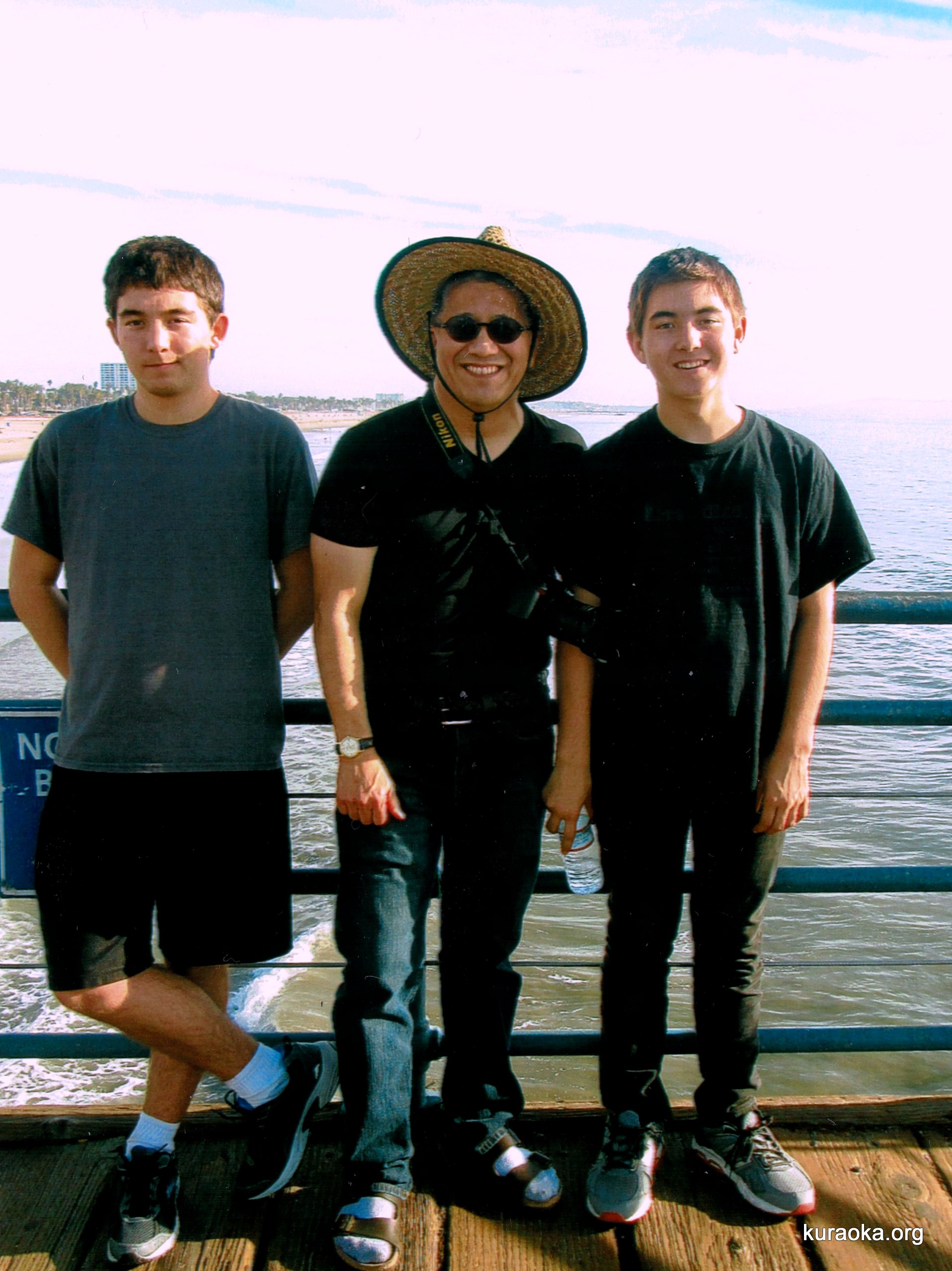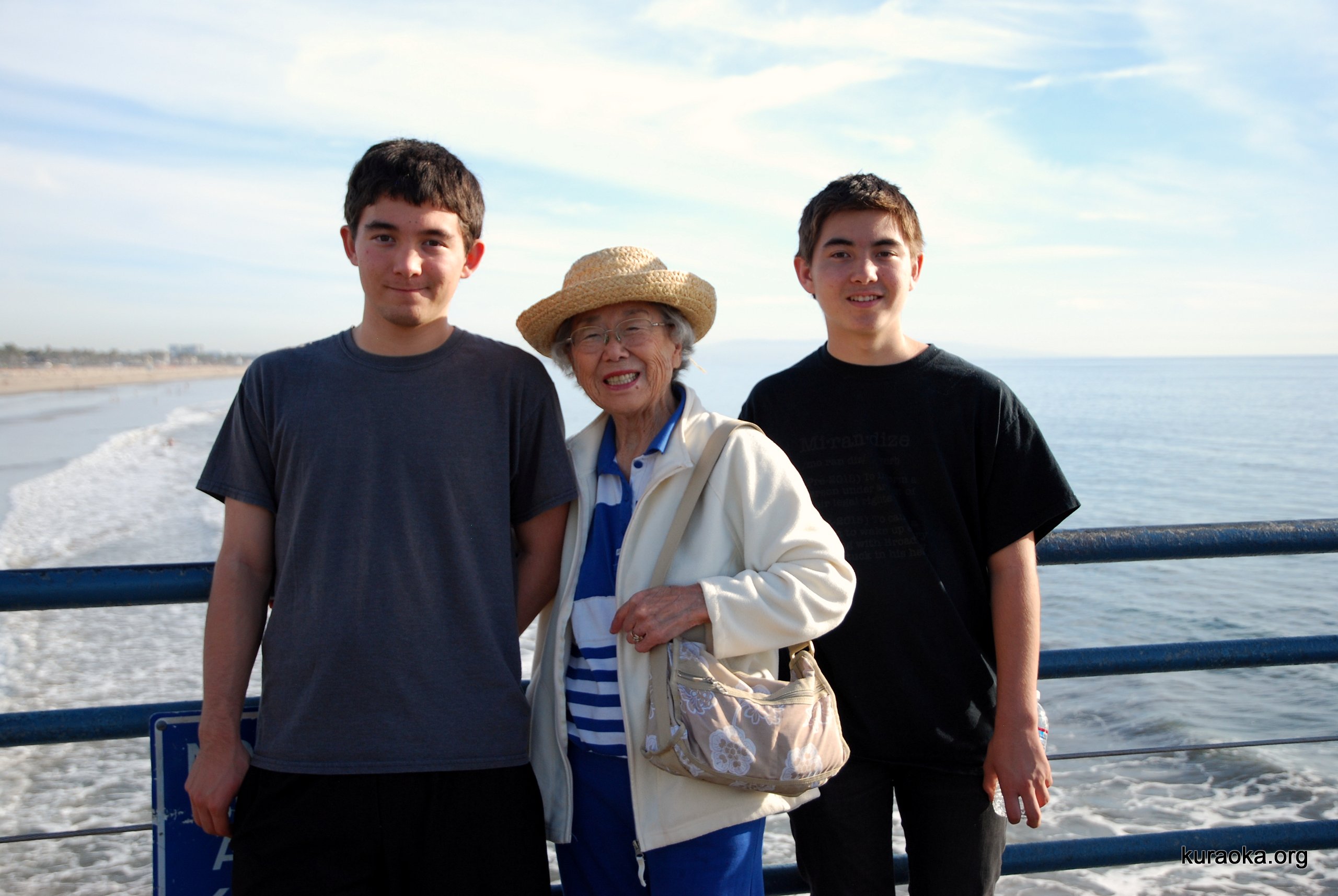 11-15-17: Date night! We were back at The Old Globe to see Romeo and Juliet on our own!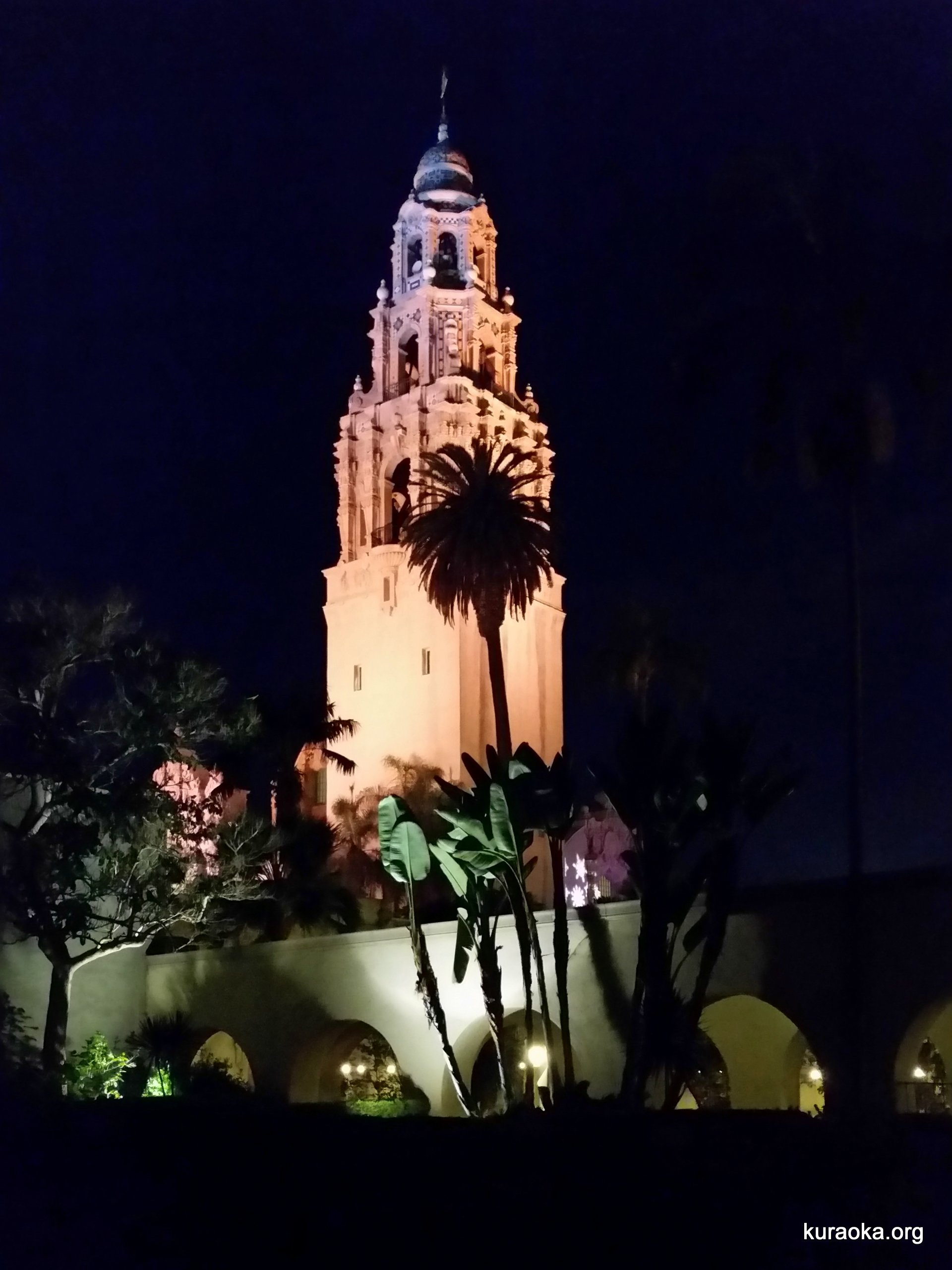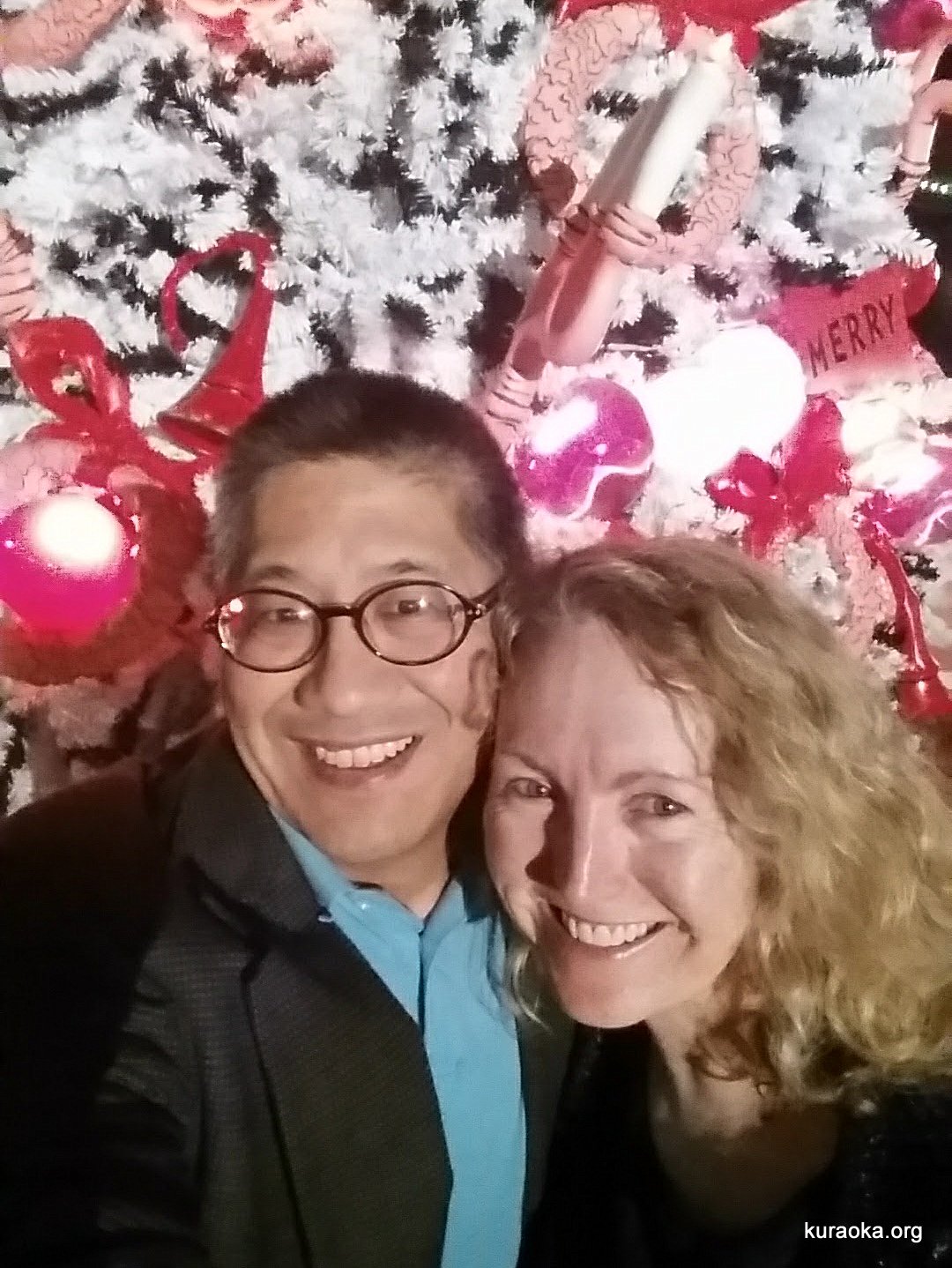 11-14-17: The Old Globe. Roy went to a theatre job fair at The Old Globe, and The Grinch was playing too.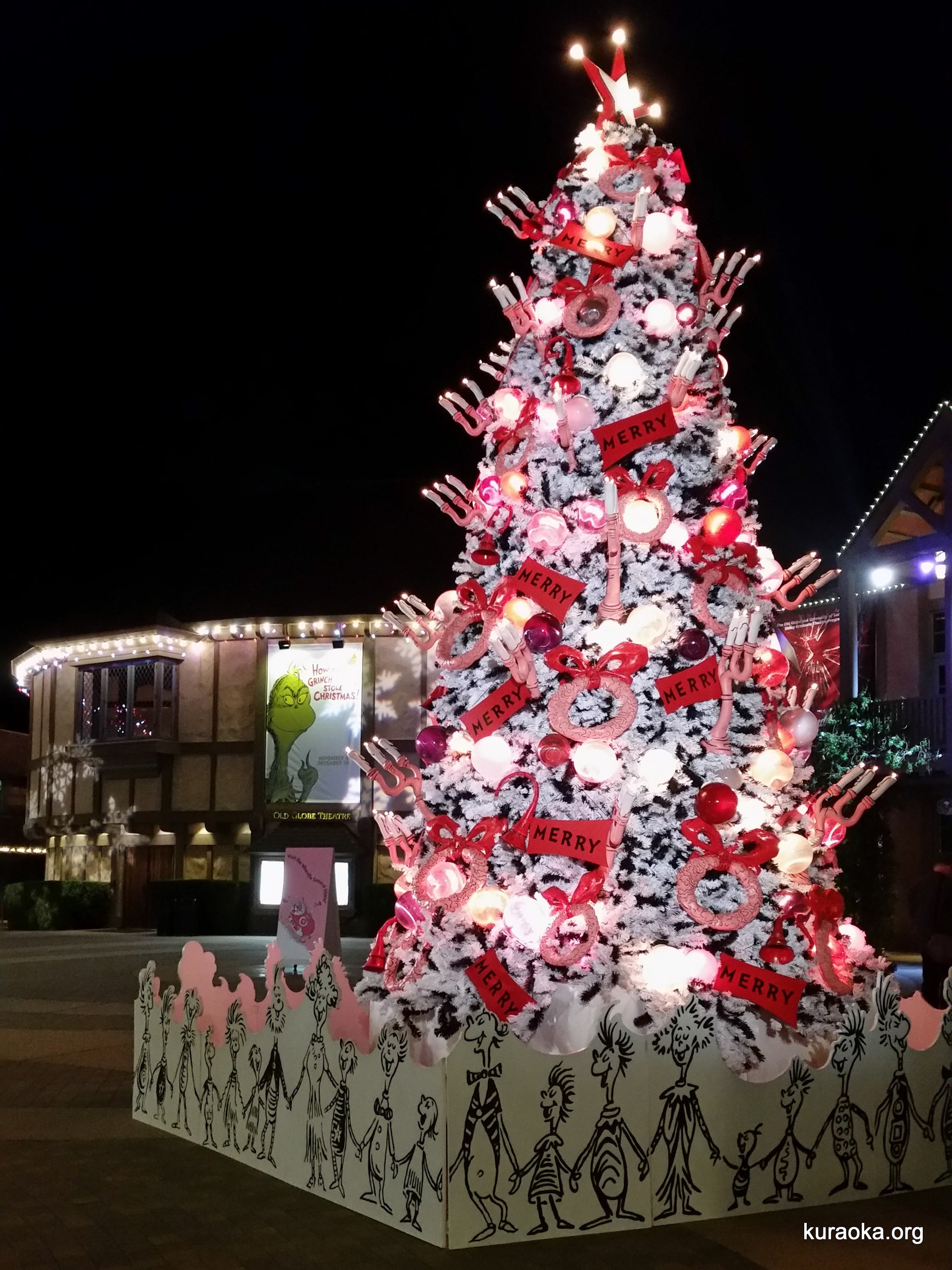 11-03-17: Another photo of our freshly painted house. The lighting looks a bit more accurate on this shot than the other ones of the front.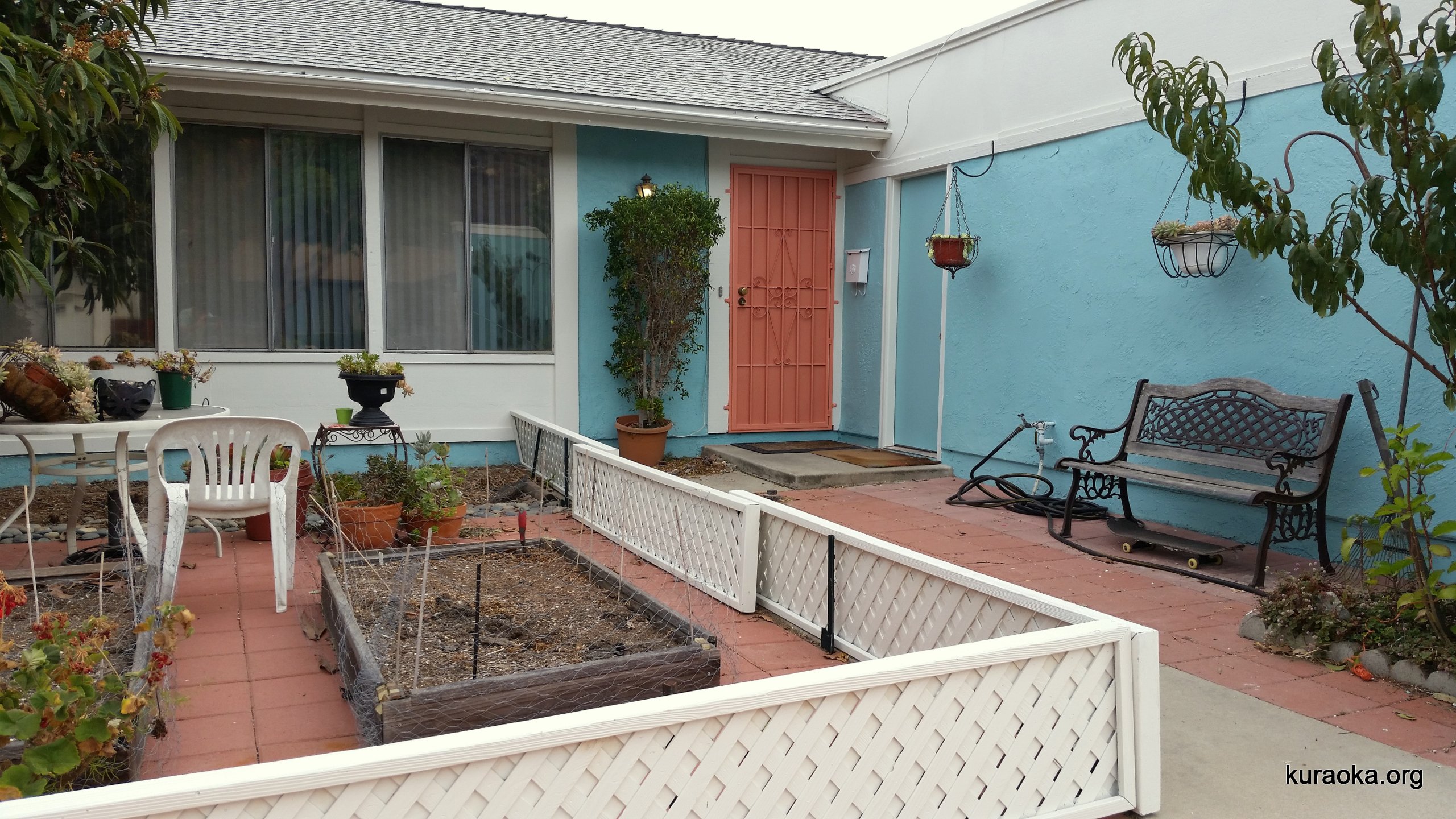 11-03-17: Hamilton tickets! Look what came in the mail! This isn't a set of four, it's two sets of two, both in binoculars-required sections. But ... we're all going to see Hamilton when it comes to San Diego! And here is ... My Shot.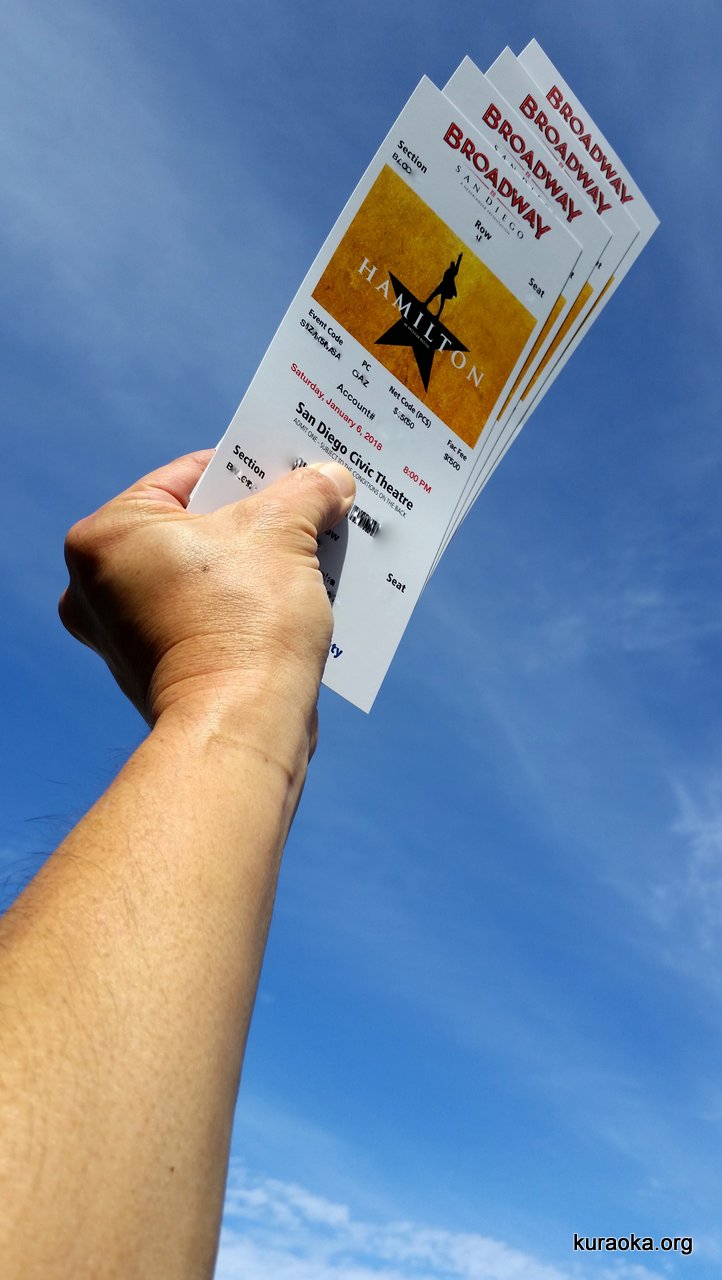 11-01-17: Freshly painted house! We were very happy with Stokeys Painting (Jaime Stokey, (619) 890-0706). And we love our fresh new colors! For the record, the body of the house is Sherwin Williams Pensive Blue (HGSW2326) in semi-gloss, the trim is Rare & Radiant (HGSW4061) in gloss, and the pop color is Modern Coral (HGSW1085) in gloss. None of them are in the Sherwin Williams online visualizer database. The blue is most accurately depicted in the middle photo of the back patio; the other two make the house look bluer than it does in real life. Next project: landscaping!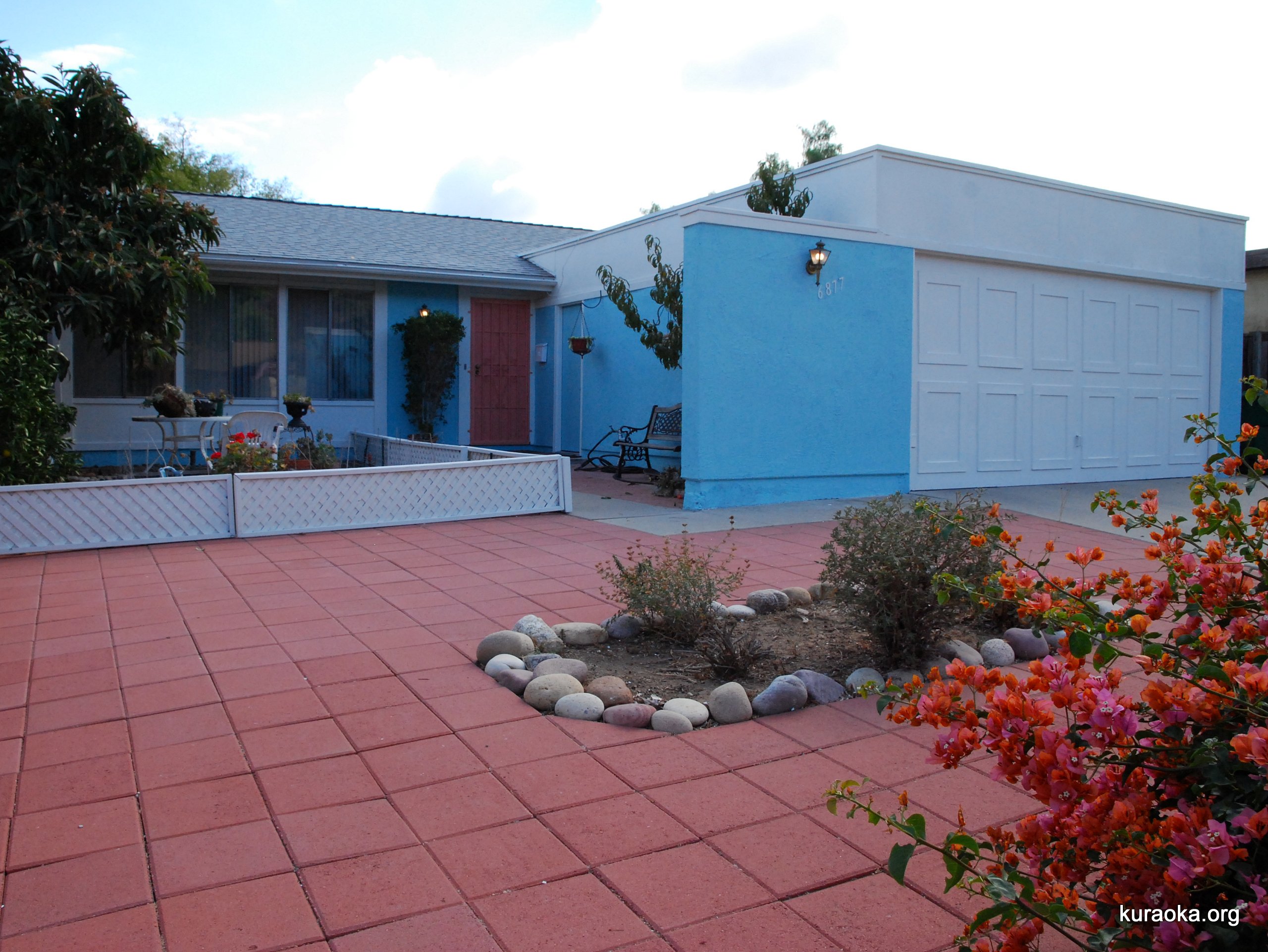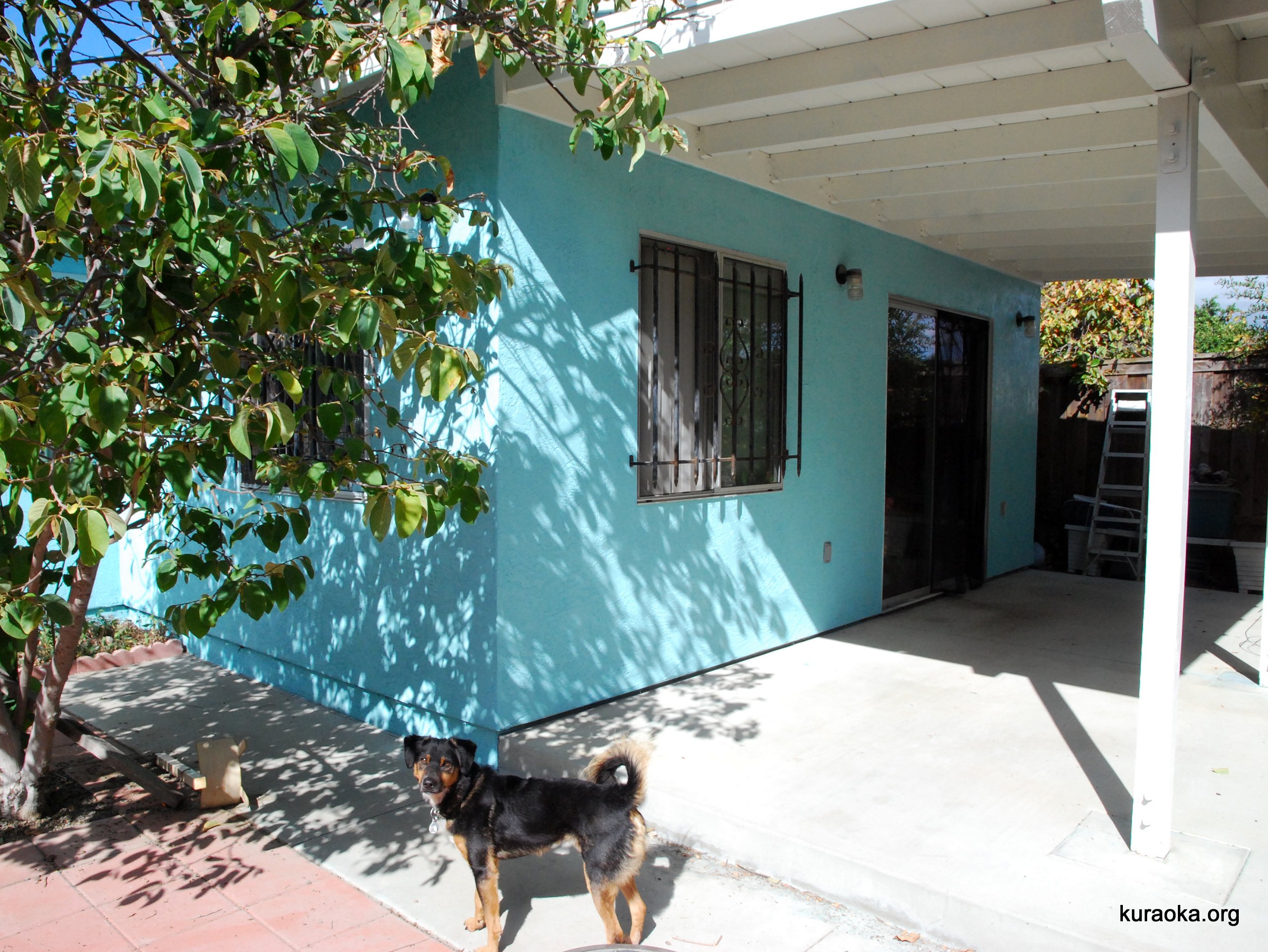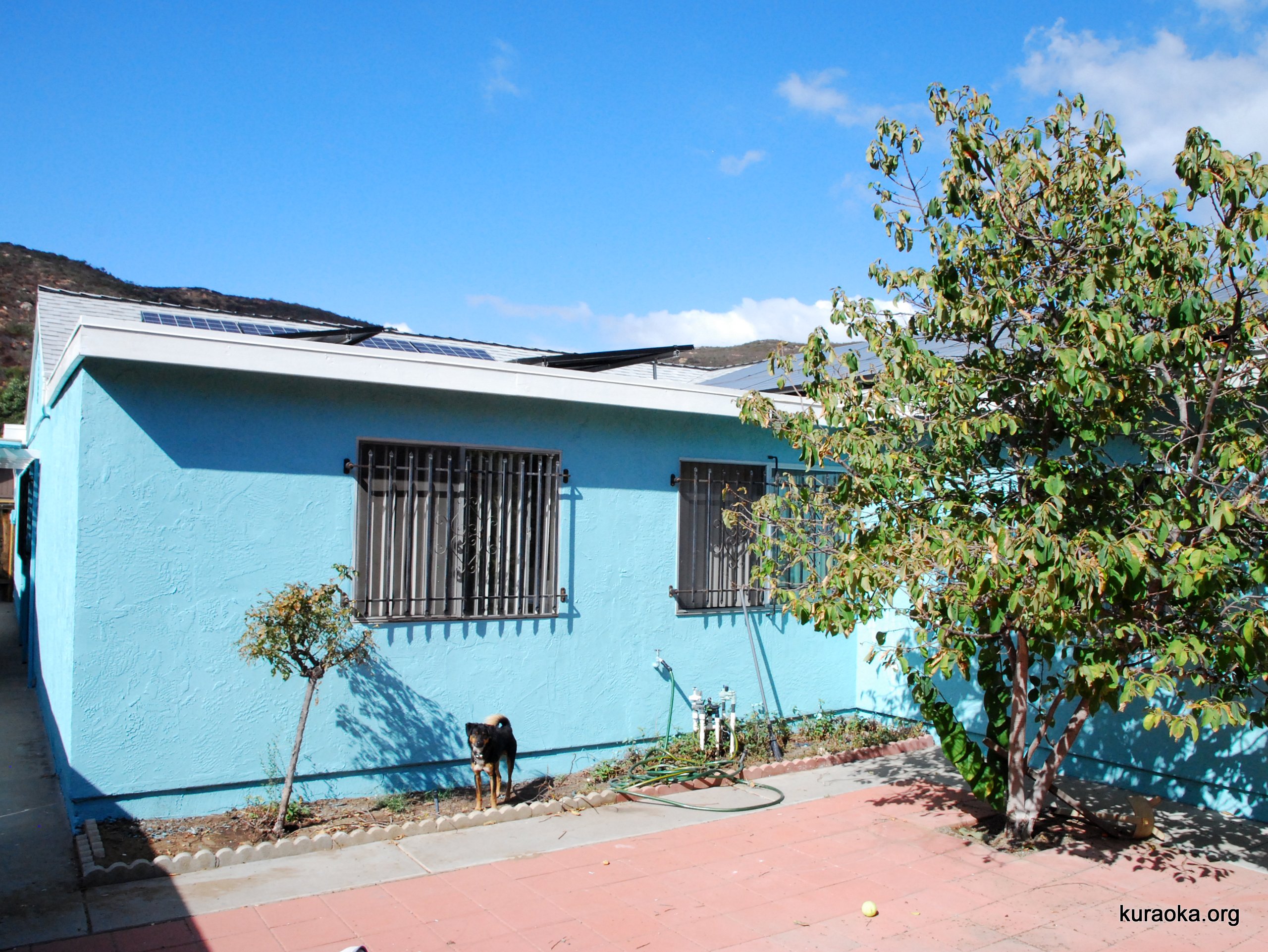 11-01-17: Leo's Halloween haul! Leo went out trick-or-treating with his friend John, and returned with quite a load of loot.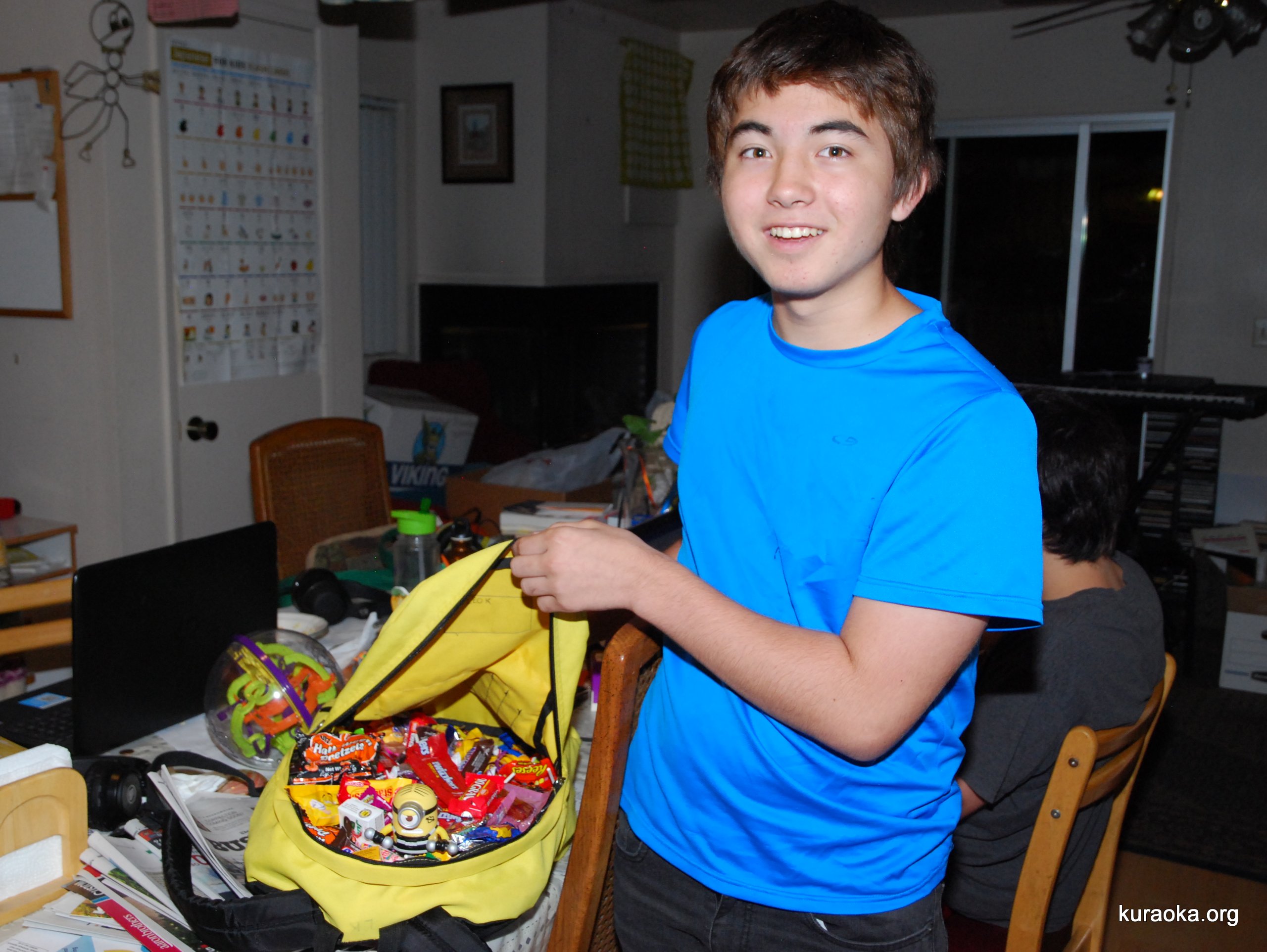 10-28-17: Jack's back! Leo helped Barbara set up Jack. That's Jack with Frances. Then Ondine, Frances, and Leo carved apple heads to shrink.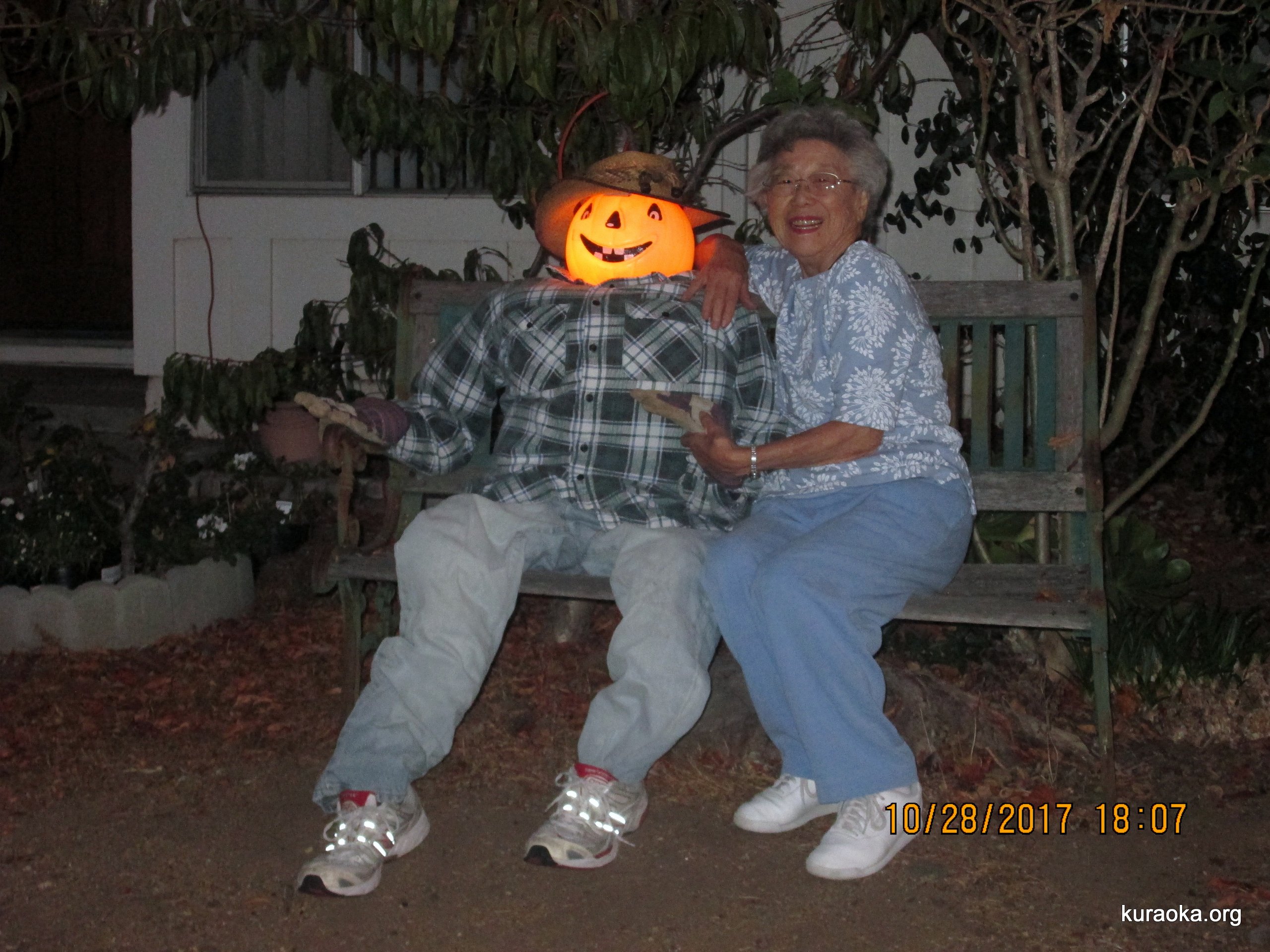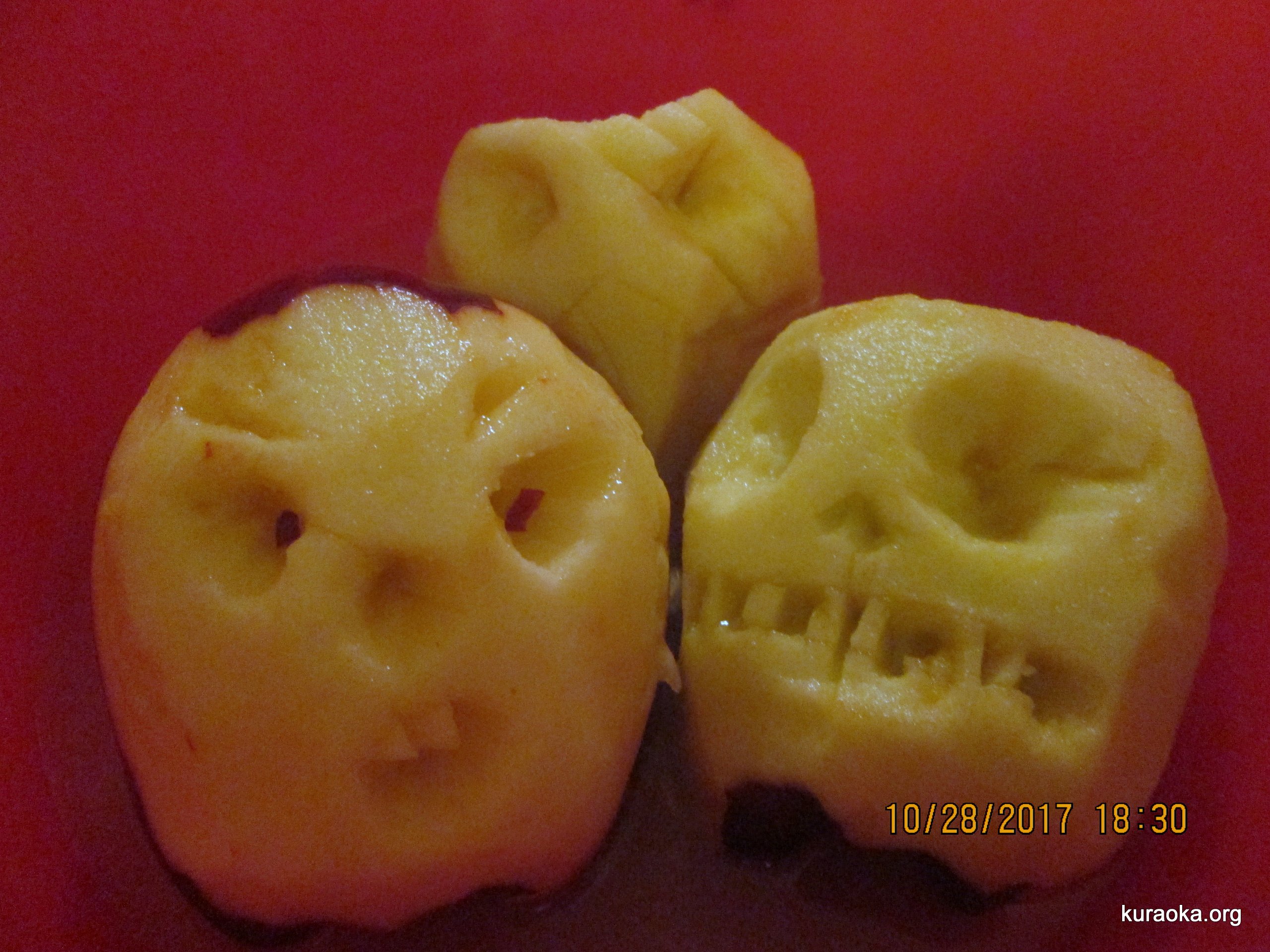 10-27-17: Family outing to the theater! Frances was visiting, and Barbara joined us going to dinner at Marieta's and then to see A Midsummer Night's Dream at San Diego City College!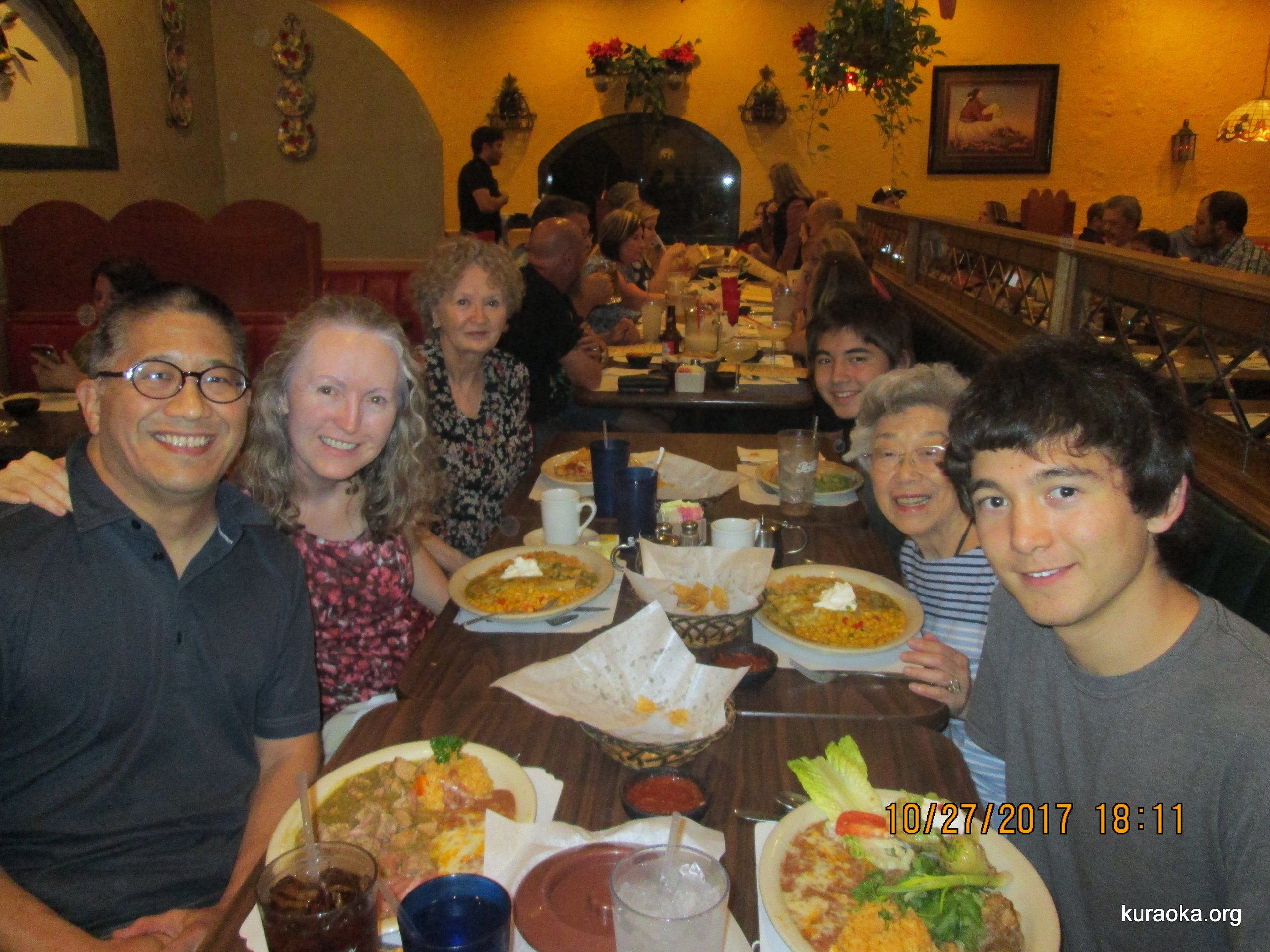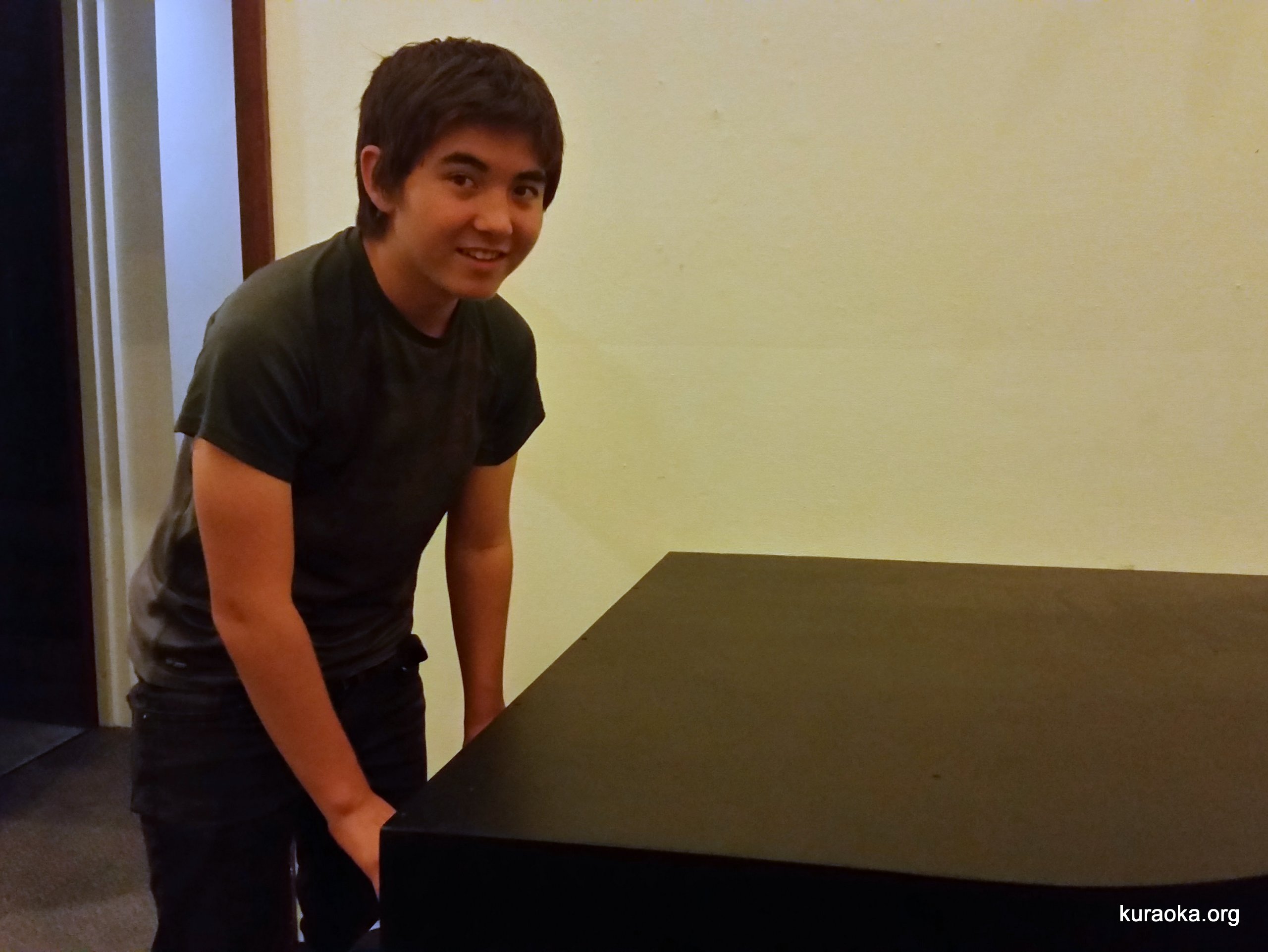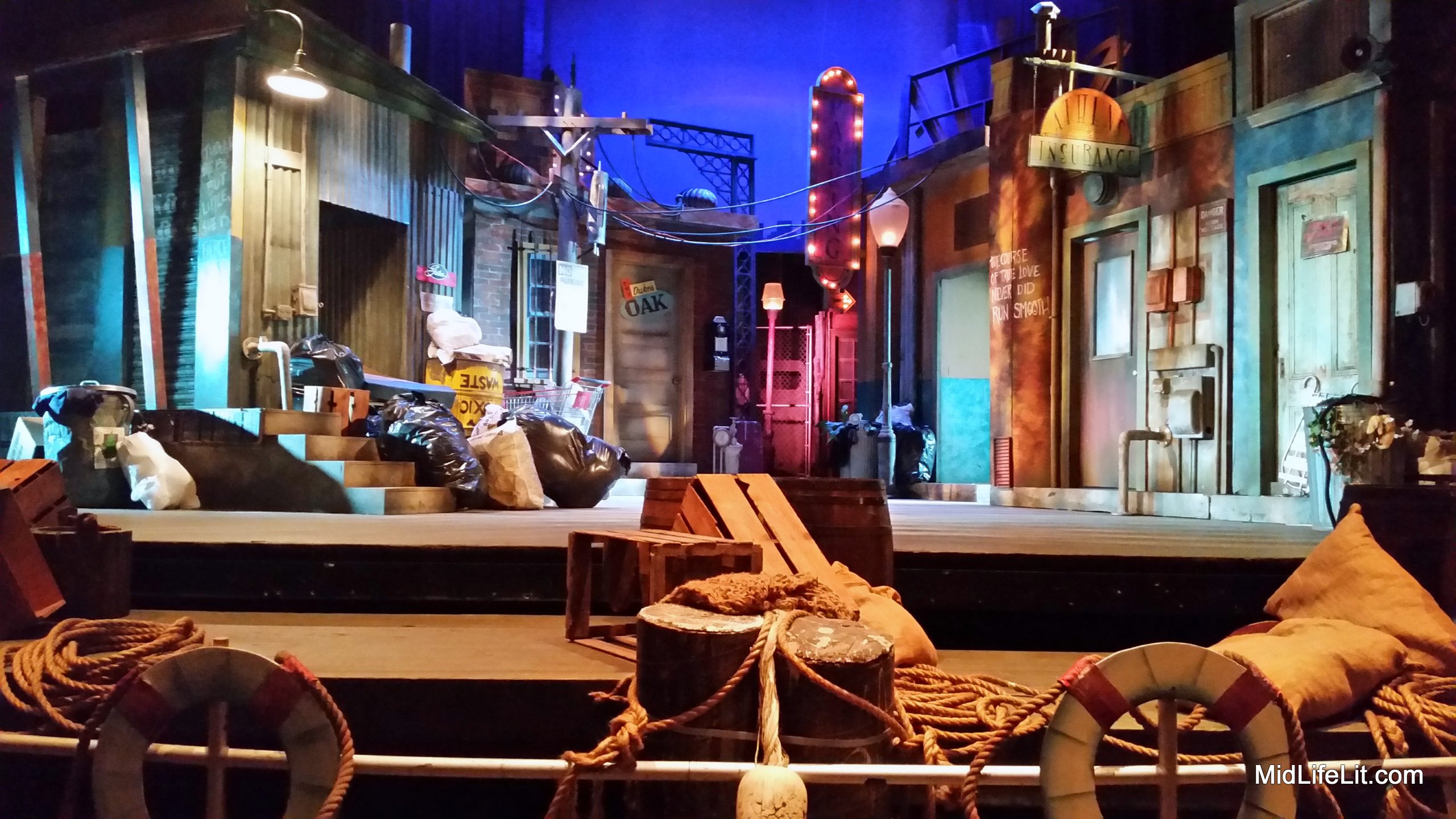 09-22-17 to 09-24-17: Camp Whitsett Staff Reunion in Las Vegas! John connected with a bunch of great friends from his Boy Scout camp staff days. It's been 35 years since he'd seen most of them, yet he felt as close as ever, closer, even. A wonderful weekend! Here are John's photos, plus two terrific group shots taken by Chuck. In the fleet: Chuck & Pat, Lee & Jean, Bruce & his son Tommy, Jeff & Susan, Steve & Adam, Mike & Gary, Scott & Matthew, Peter, Mark, Glen, and John. Not shown: Dave, who dropped by with his son while we waited in line for one of the many meals we shared! The vertical photo on Fremont Street shows the Troop 345 people, Peter, Mike, John, and Mark, all former SPLs!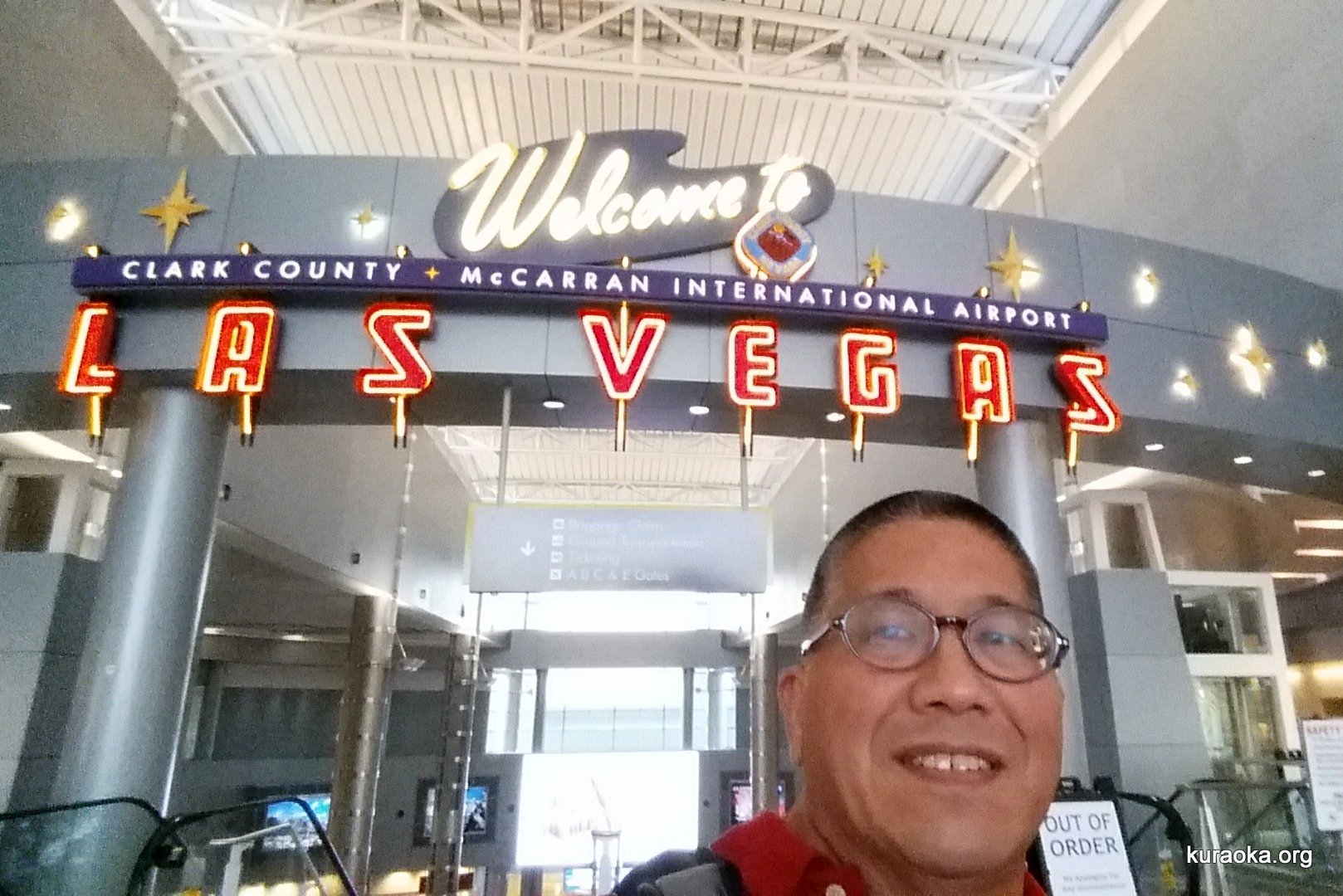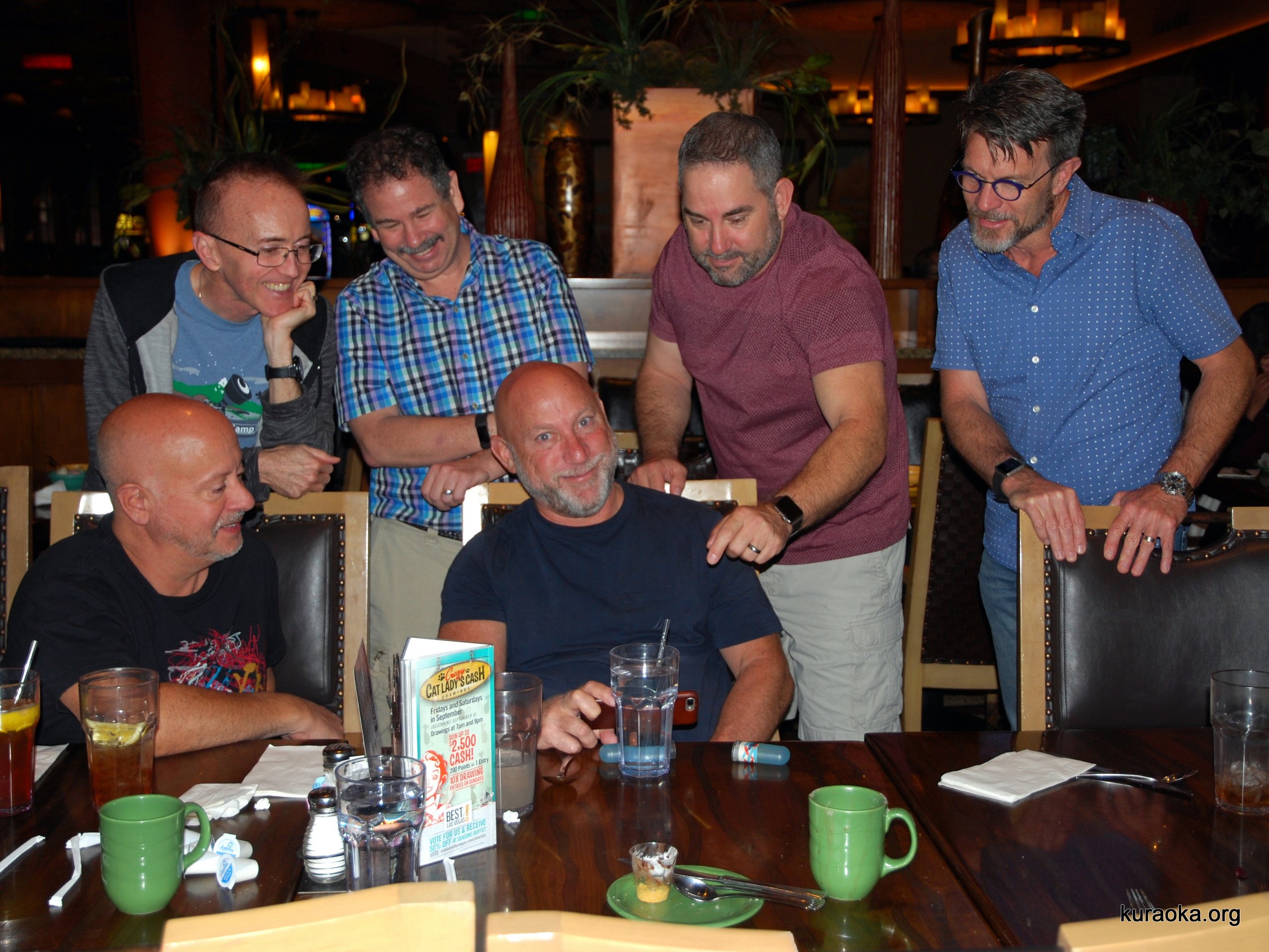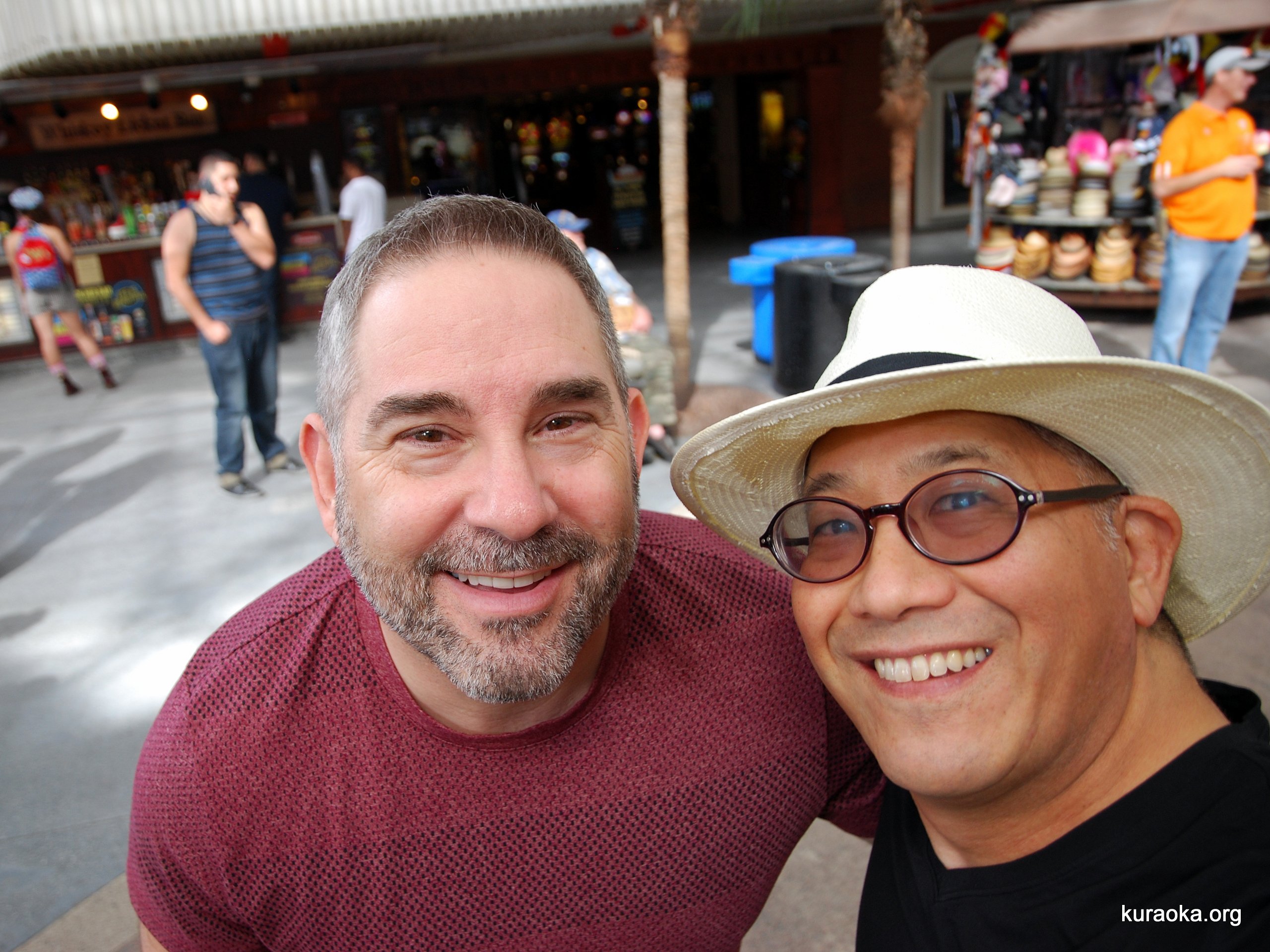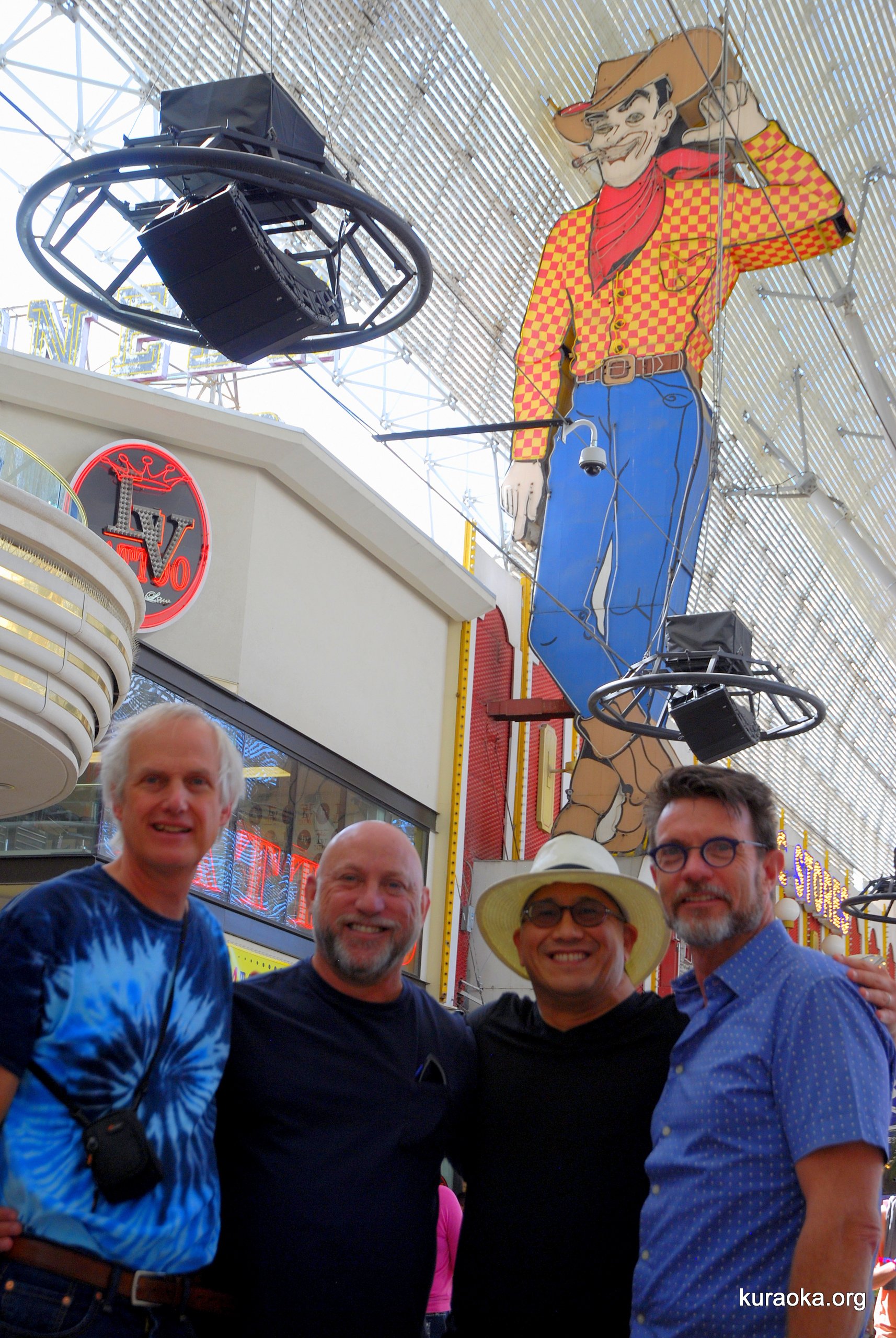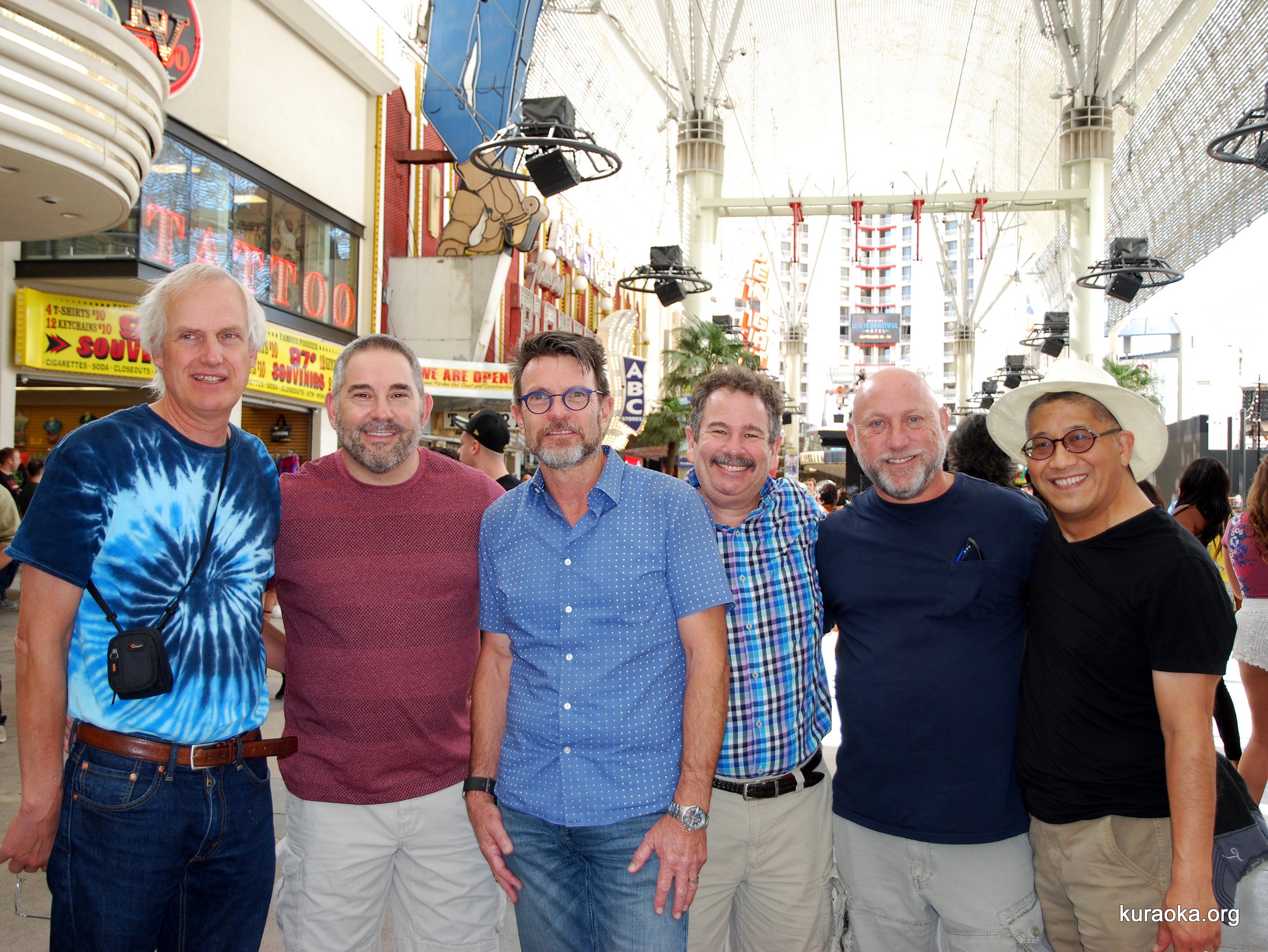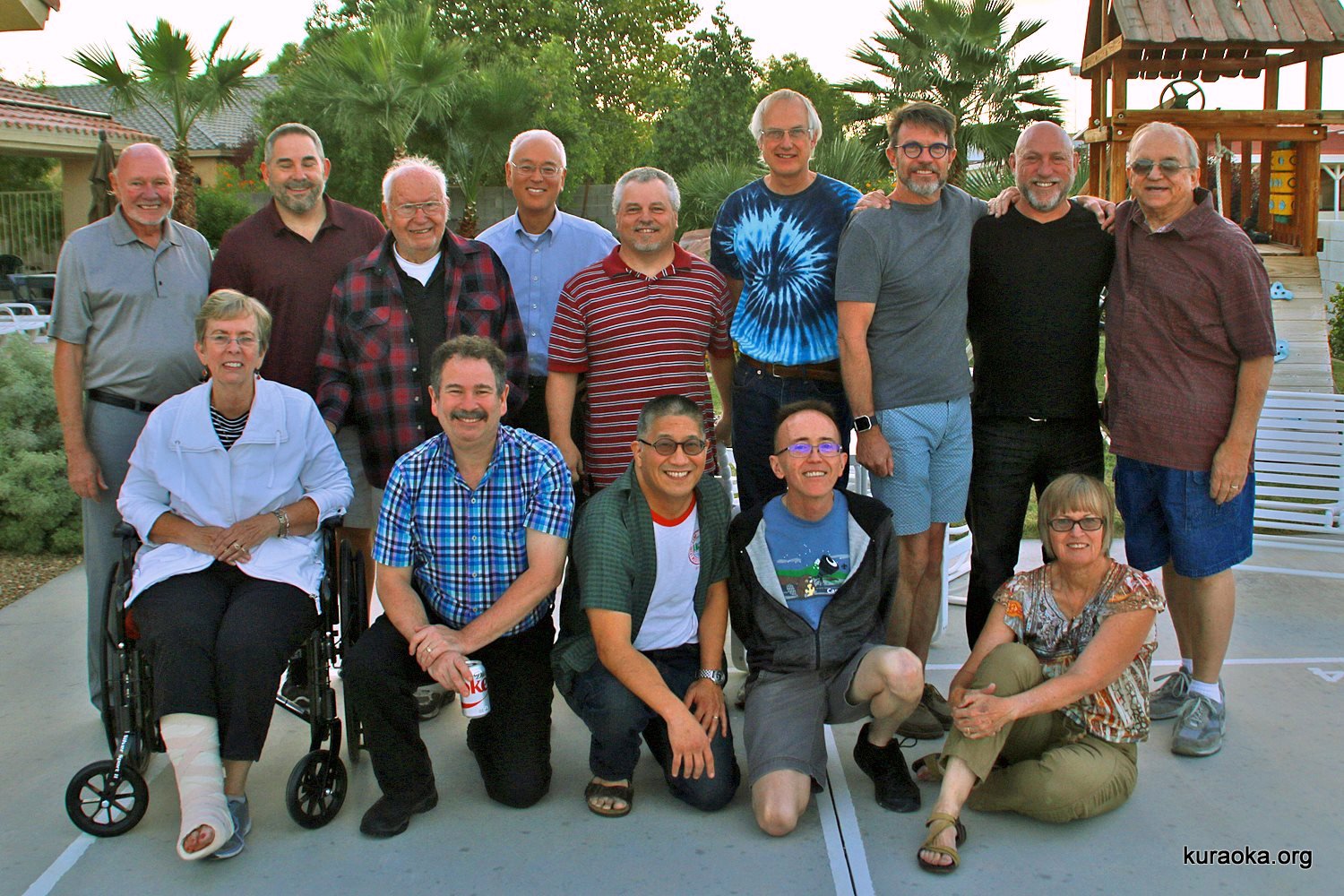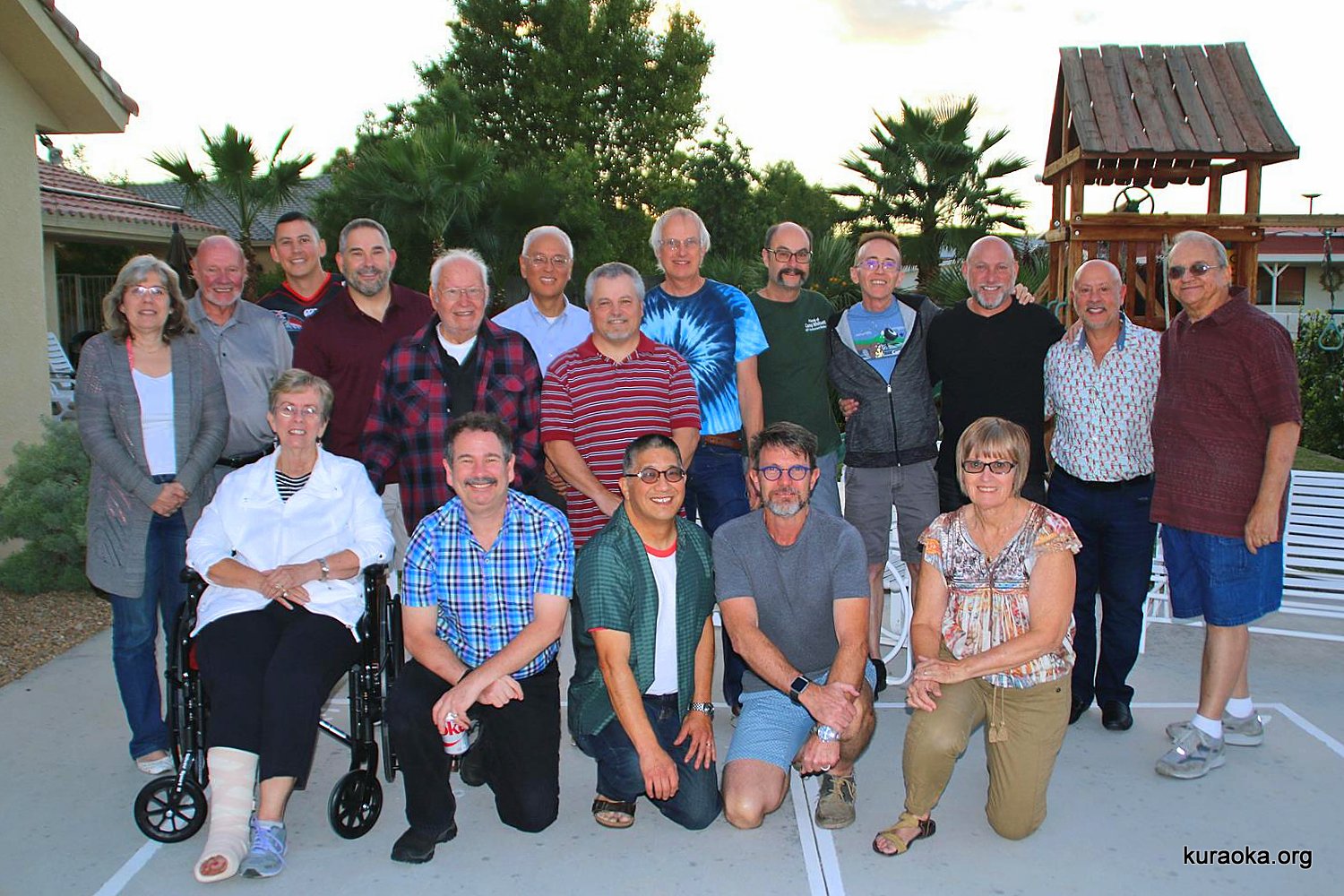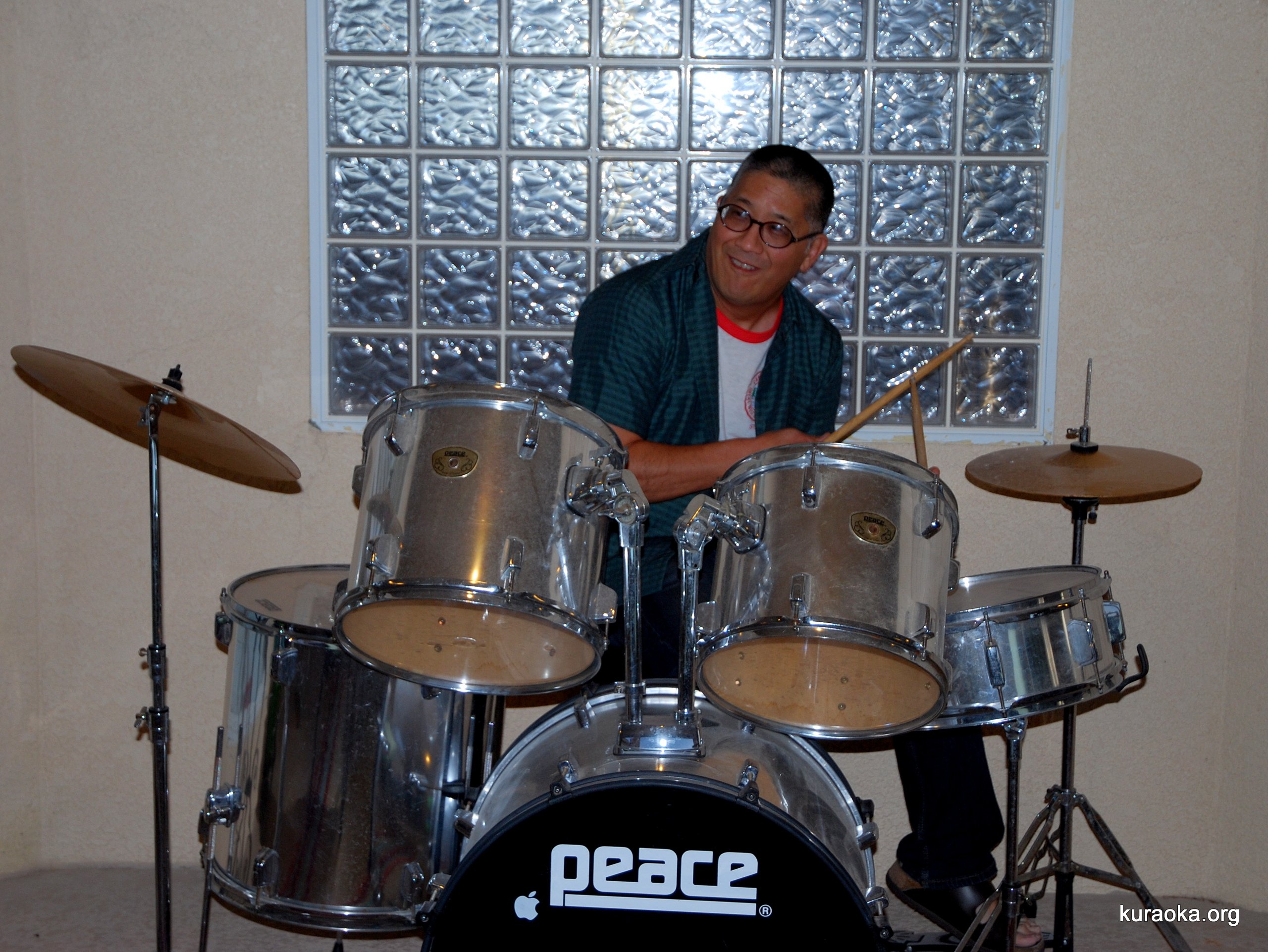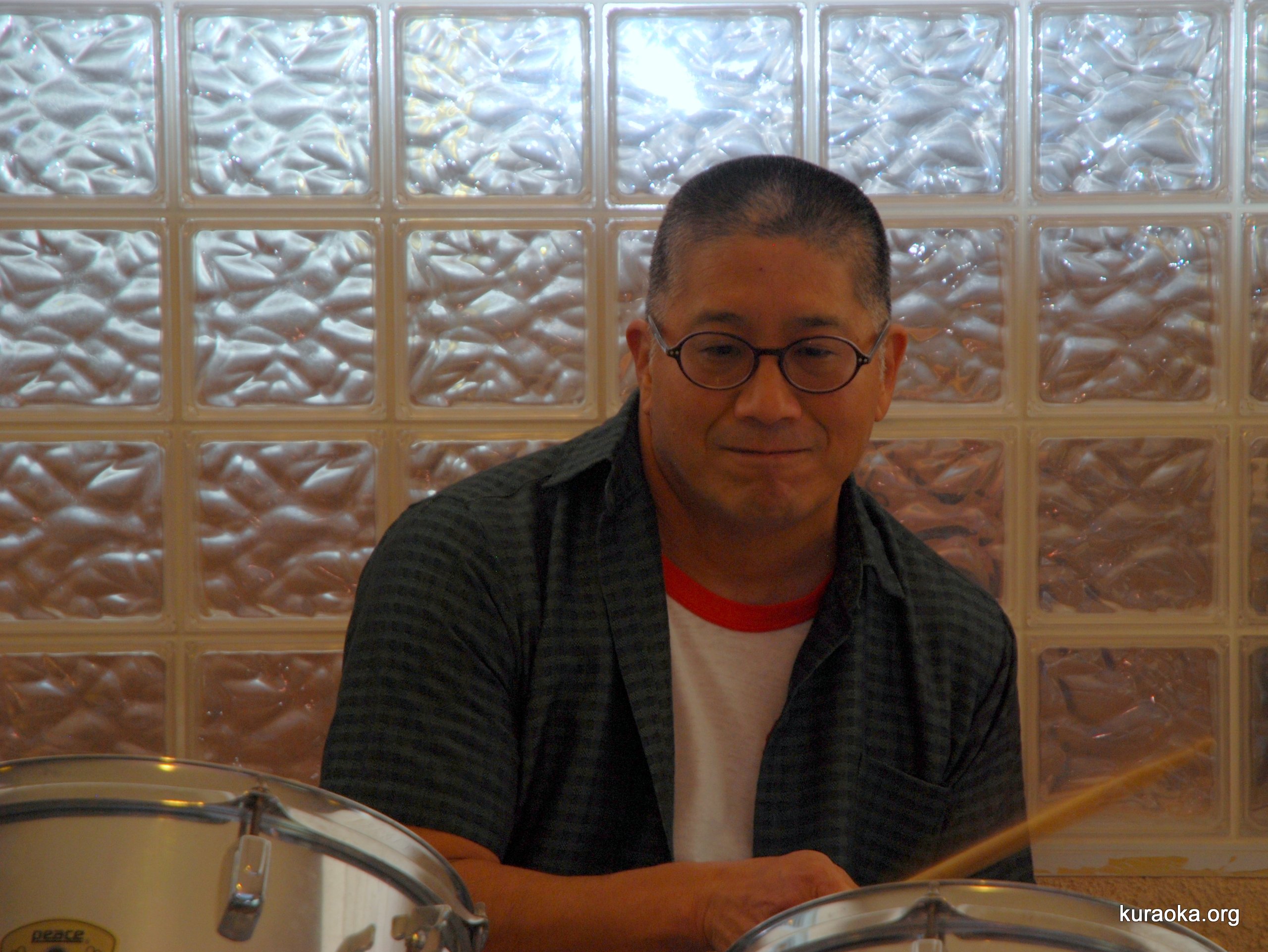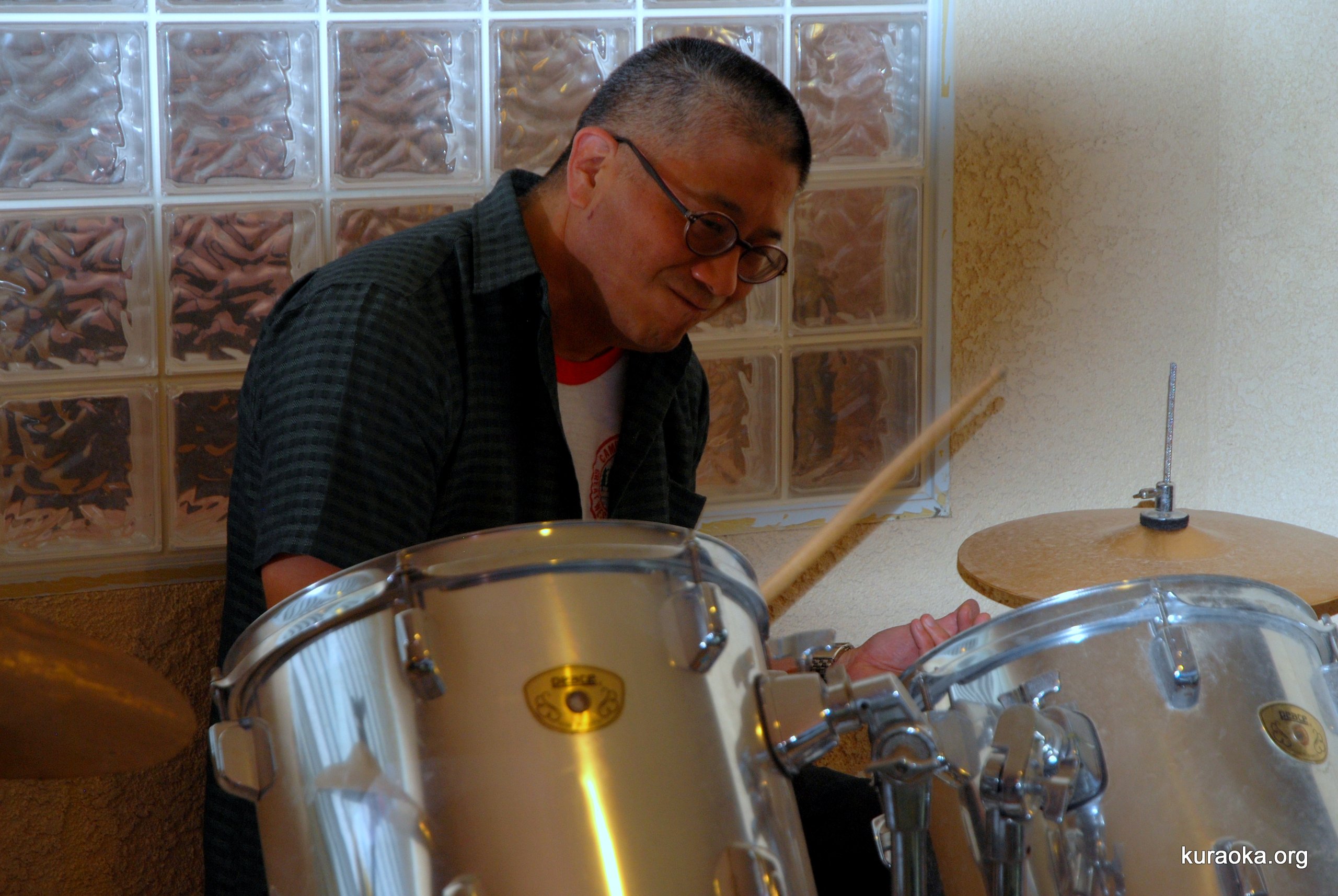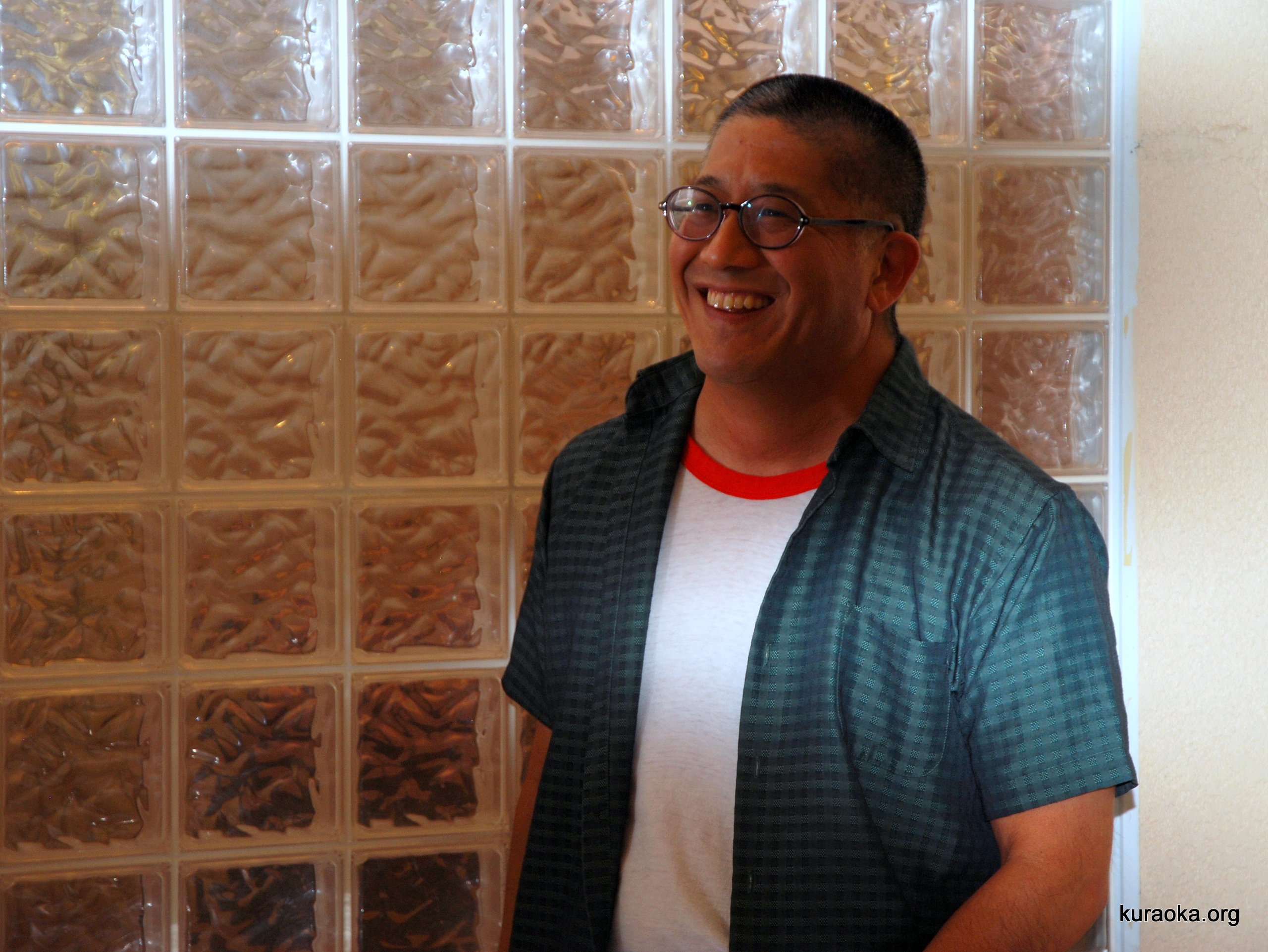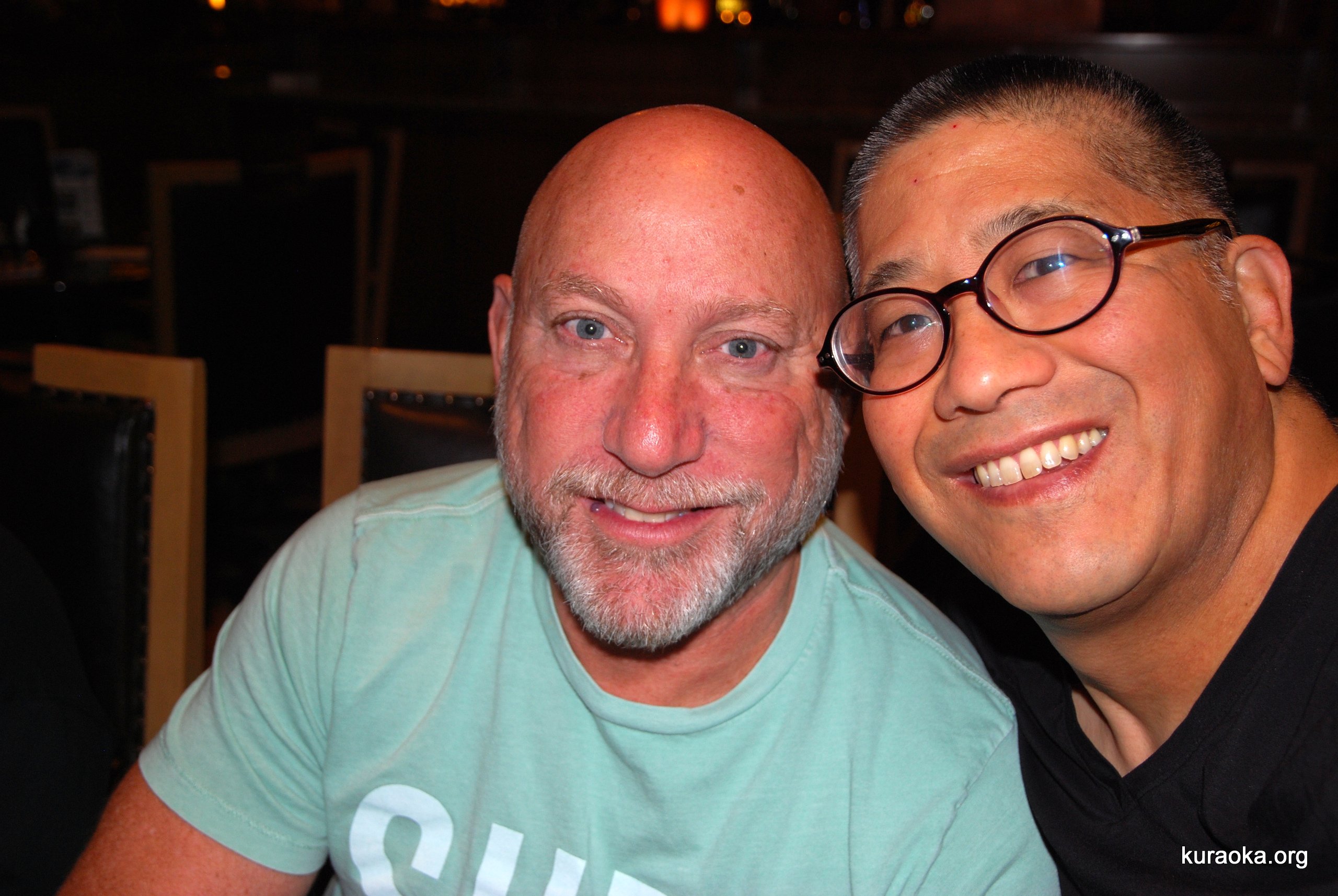 09-17-17: Sea World! Roy didn't join us, but the rest of us went to Sea World, where we pet the friendly bat rays.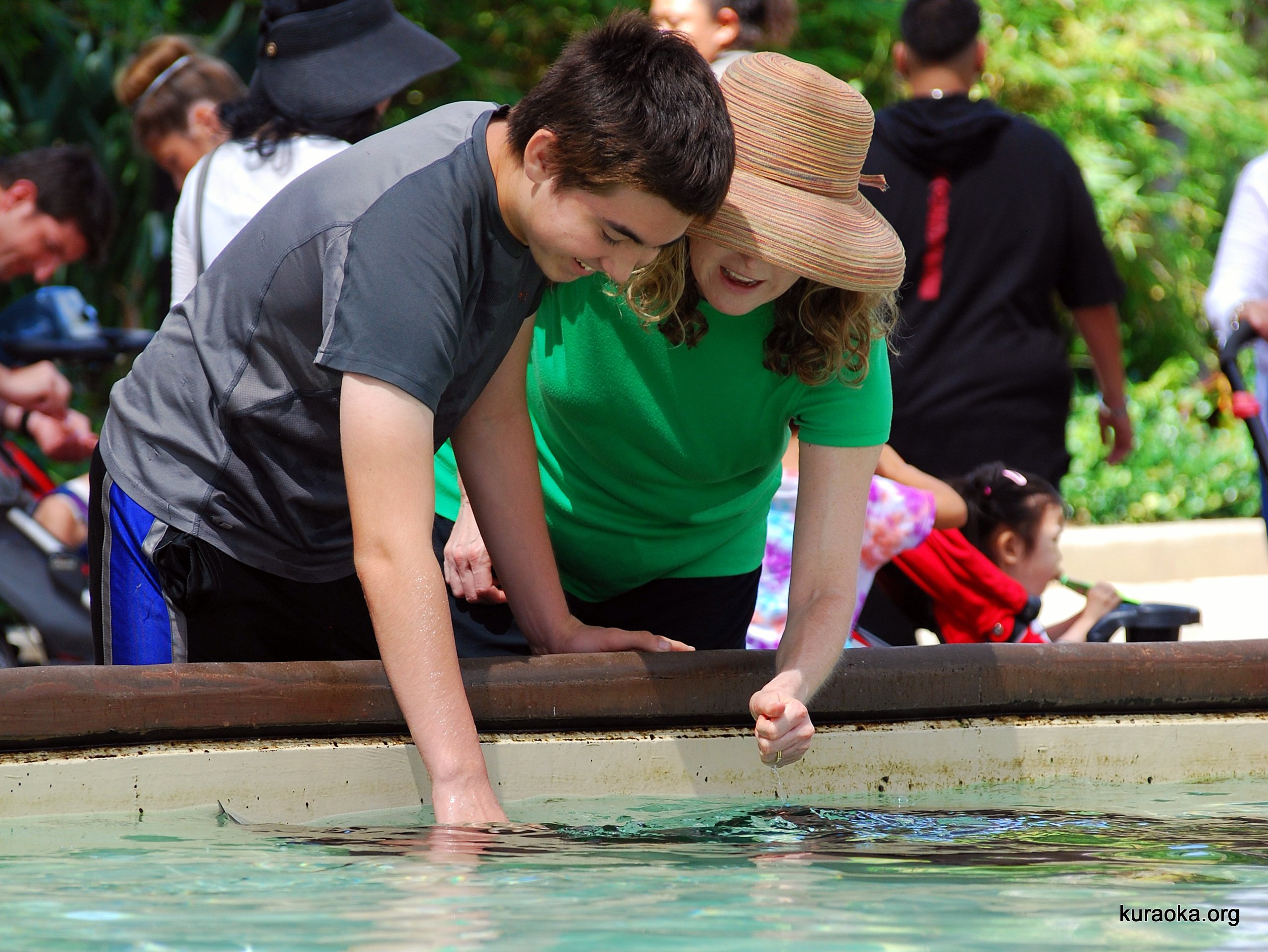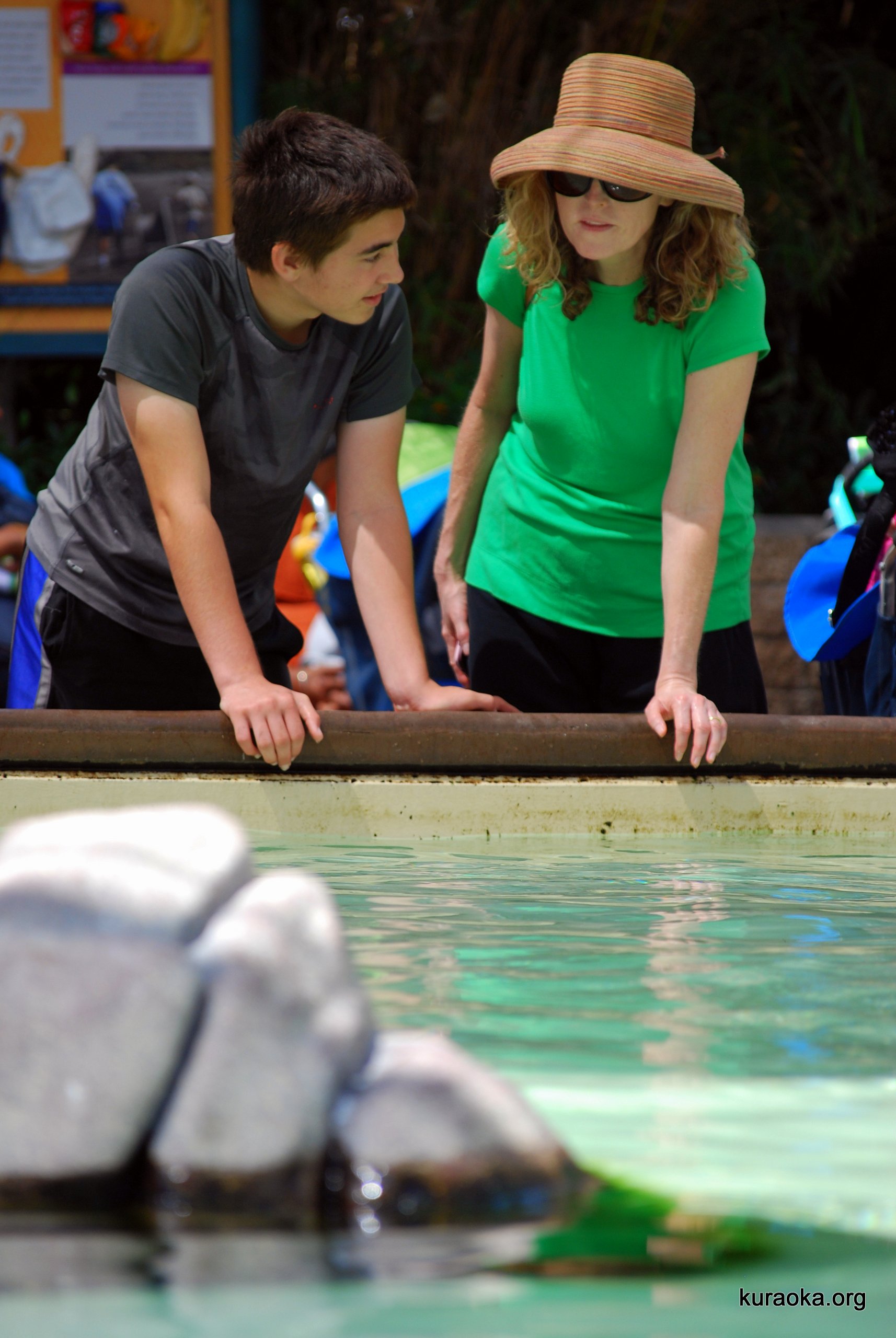 09-09-17: Leo is promoted! At judo, Leo was promoted to junior sixth degree.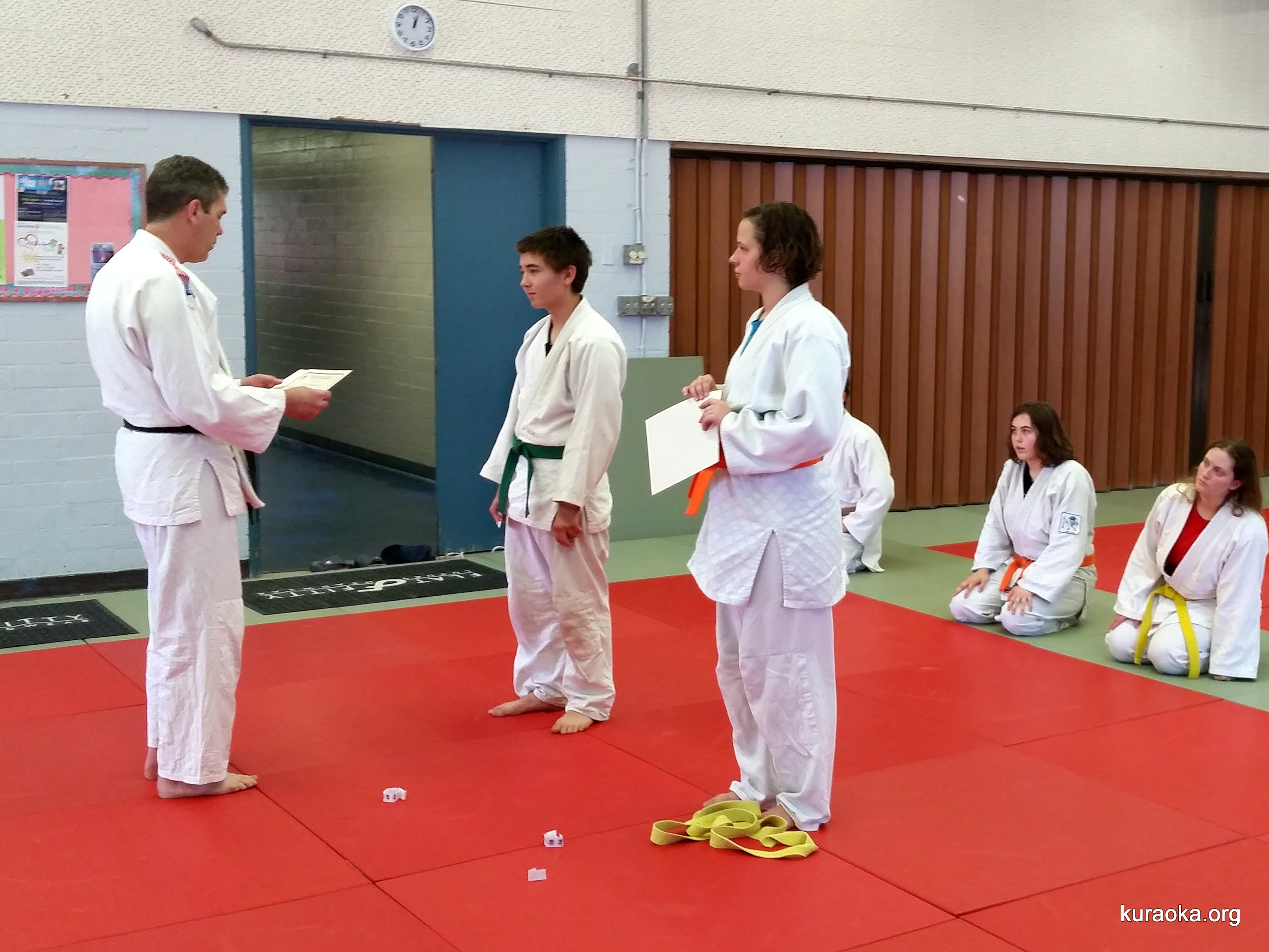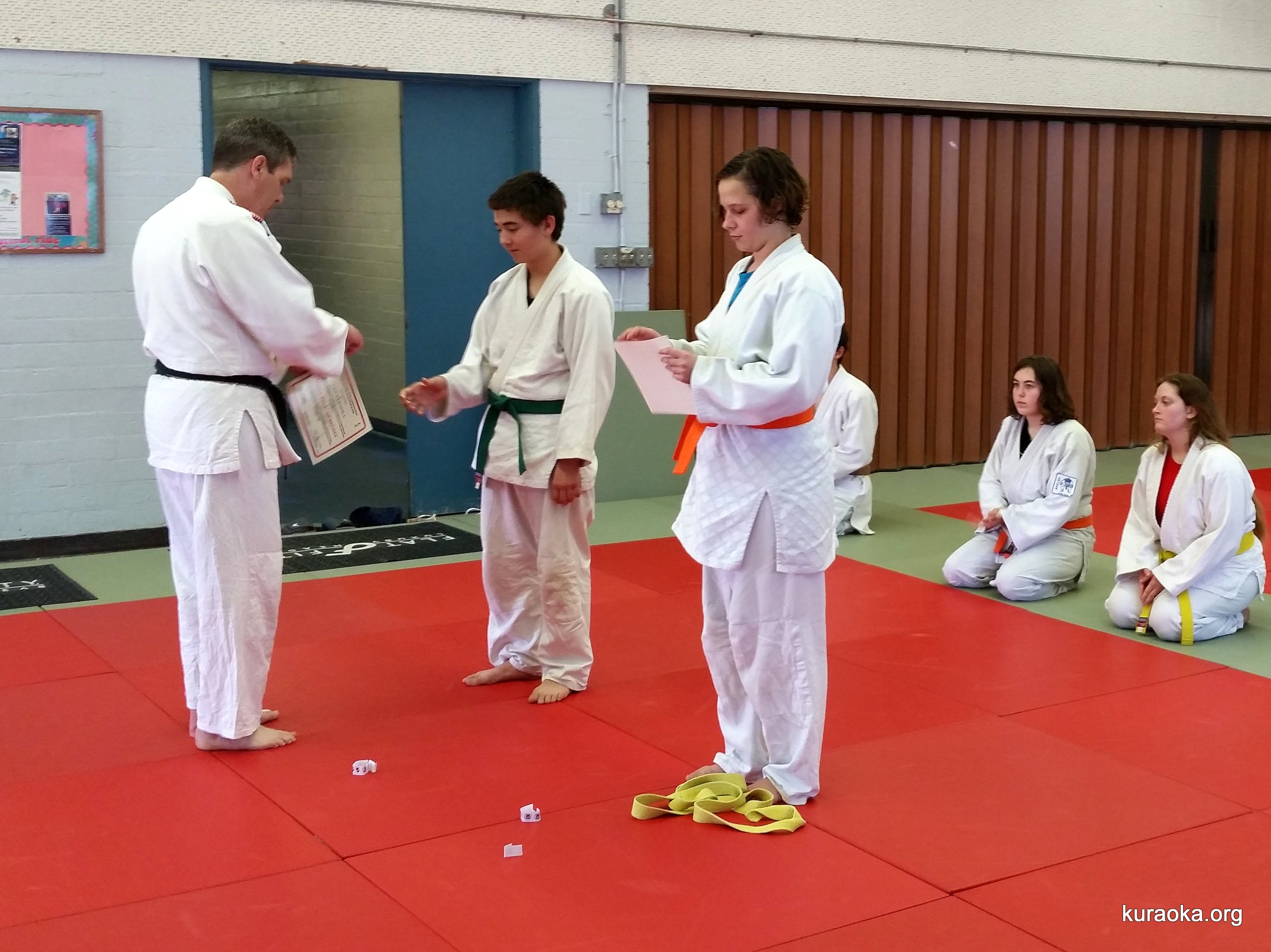 09-03-17: Rain! The light was amazing this morning. Later, it rained for a few minutes, and you can tell the dog is a reluctant participant in our habitual rain hootenanny. He'd really rather be indoors! Later we went to celebrate Roy's sankyu promotion with dinner at Marieta's, after which Barbara brought her home-grown dragonfruit over to share! Yum!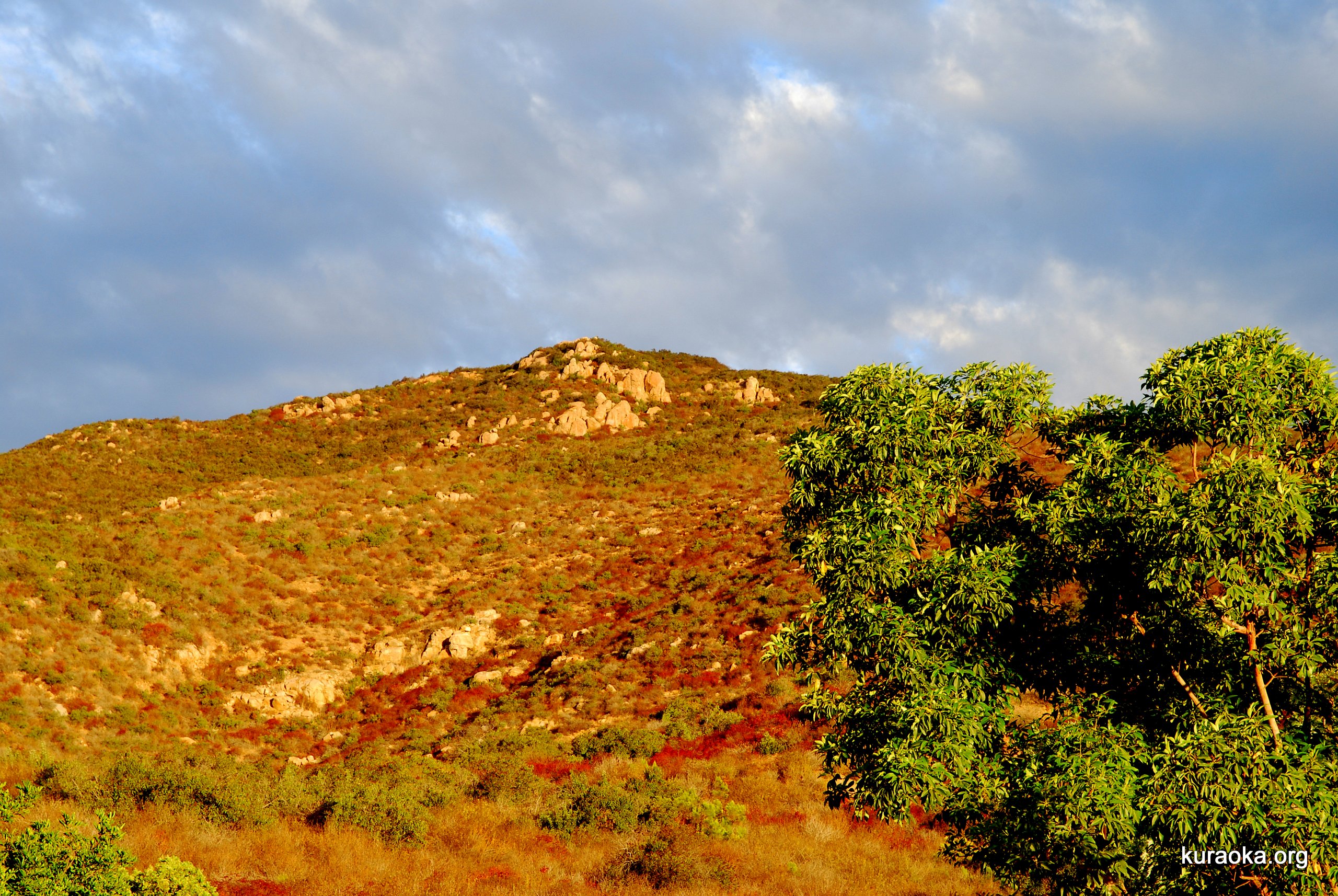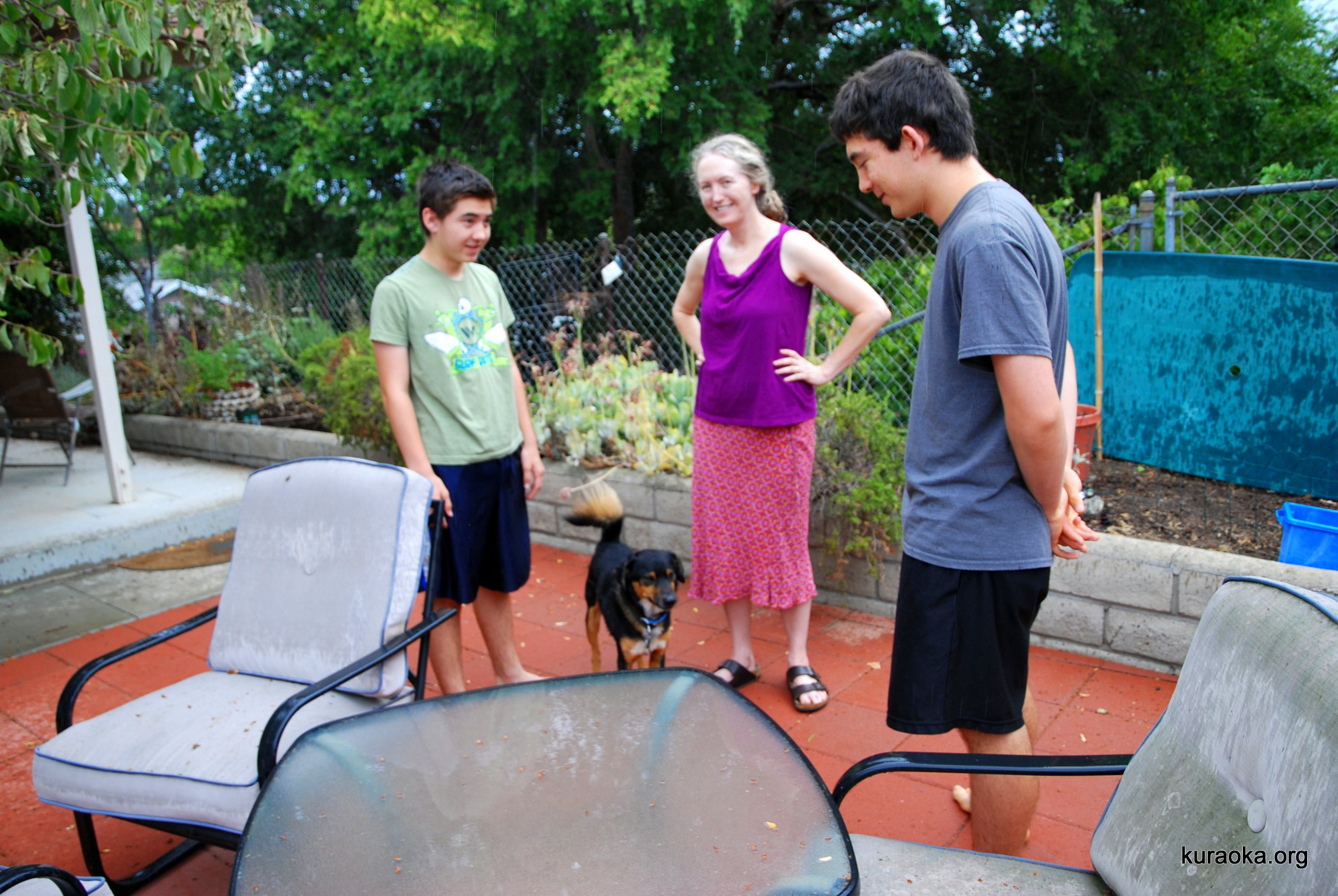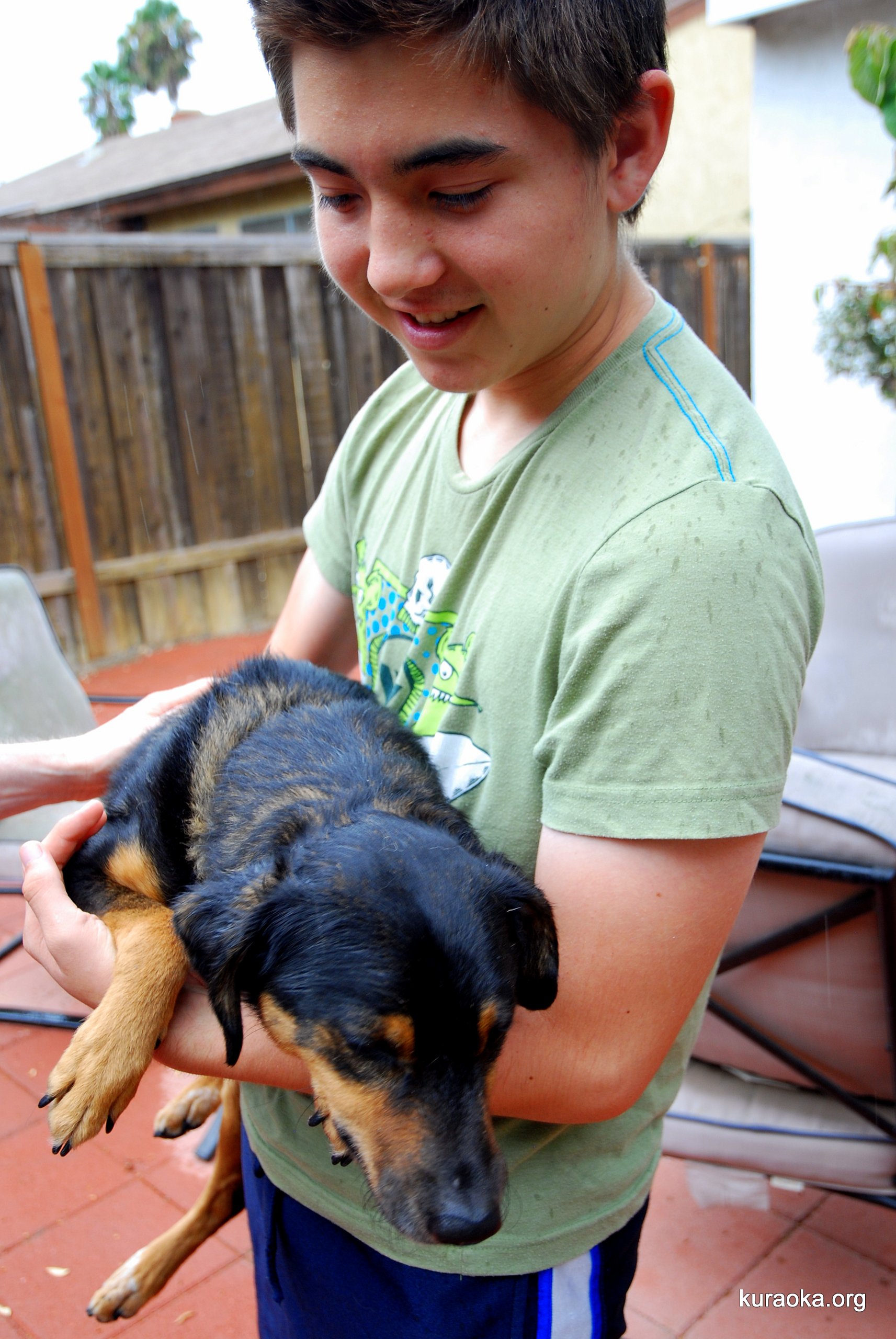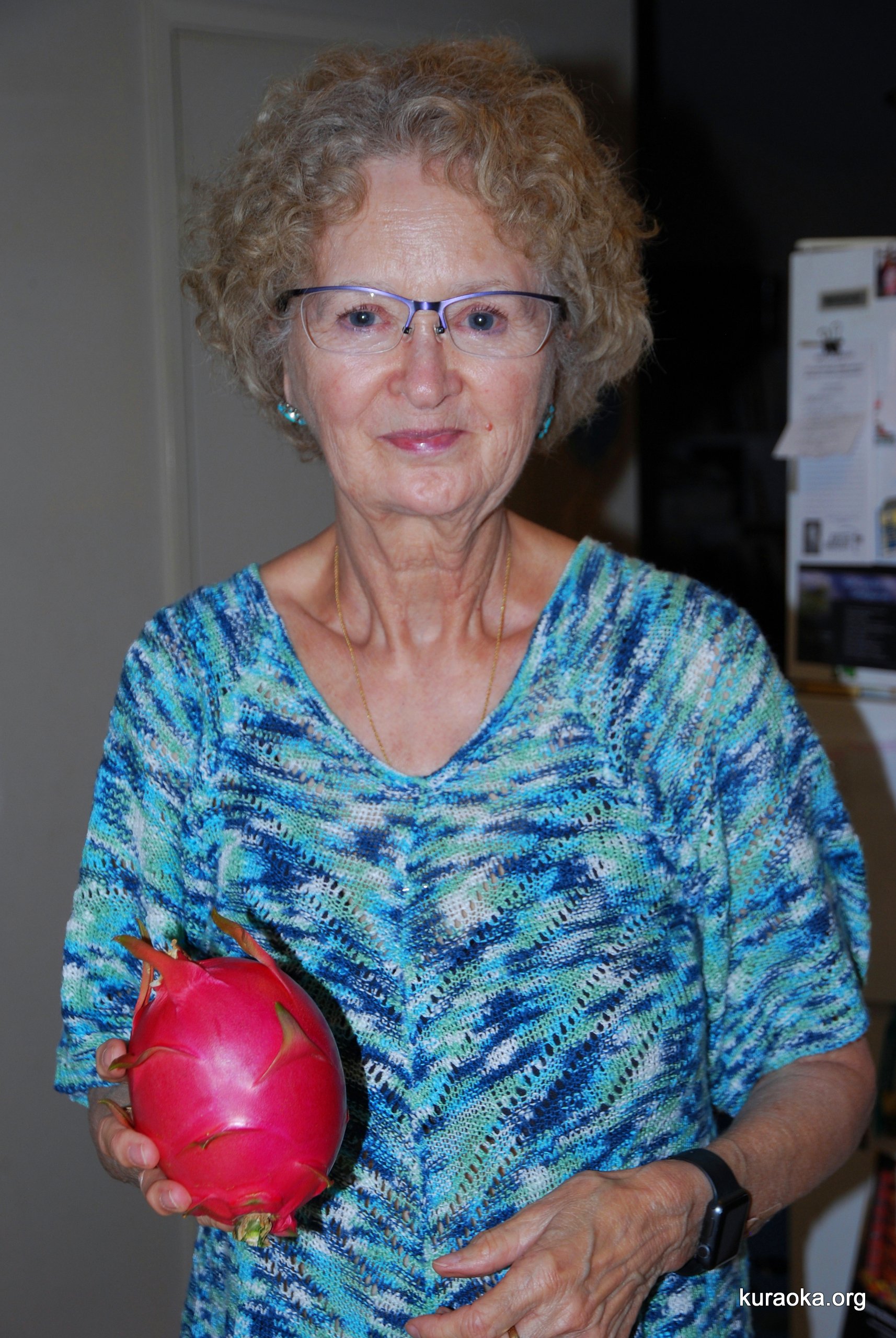 08-28-17: BACK TO SCHOOL! Here are Roy and Leo with their schultuete filled with school goodies. Like pencils. And Haribos. This is Roy's last schultuete. For the record, here's his first schultuete from his first day at Kindergarten at Gage Elementary, dug up from the archive for 2005. And, in the interests of equal bandwidth, here's Leo's first schultuete, with Roy, from 2007. Leo was entering Kindergarten and Roy, second grade. Now Roy is a senior and Leo a sophomore!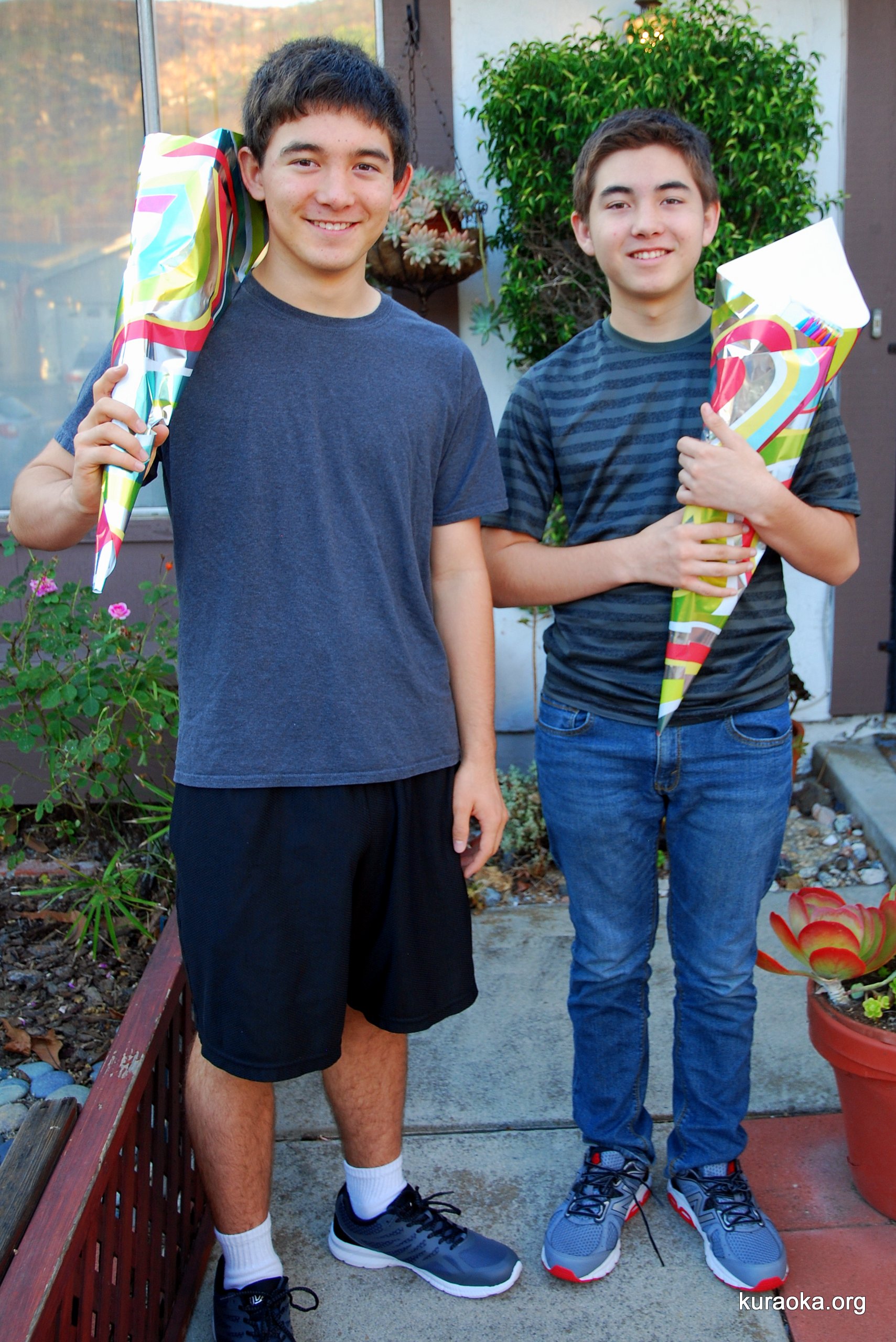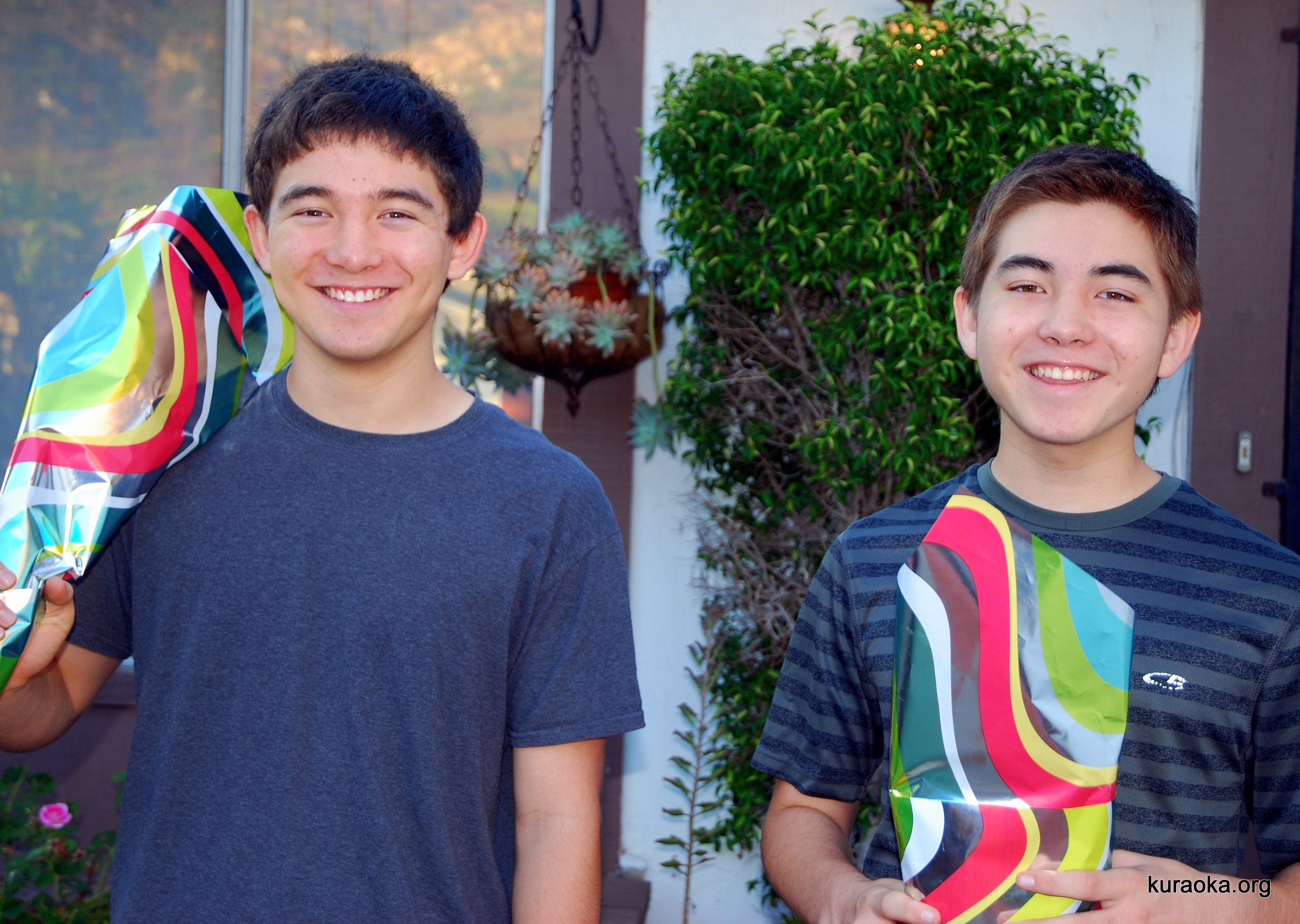 08-16-17: Sand Pond camping trip! This year we stayed at Salmon Creek Campground instead of Sardine Lake, and we liked it better. Here are samples, but you can see all 80+ photos and read all about it by visiting our 2017 Sand Pond journal. Like that first photo? It's a re-enactment of this one, taken almost exactly ten years before.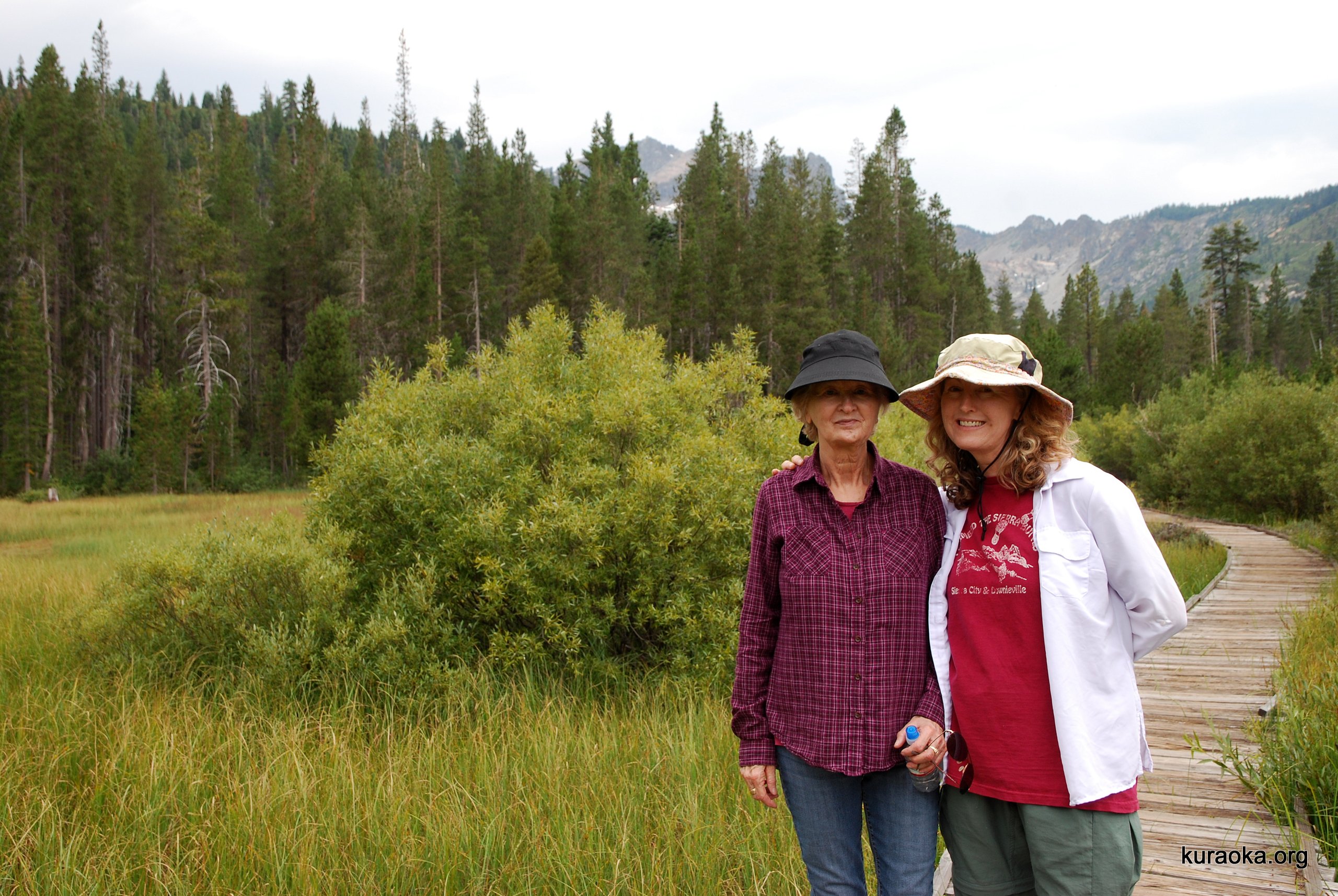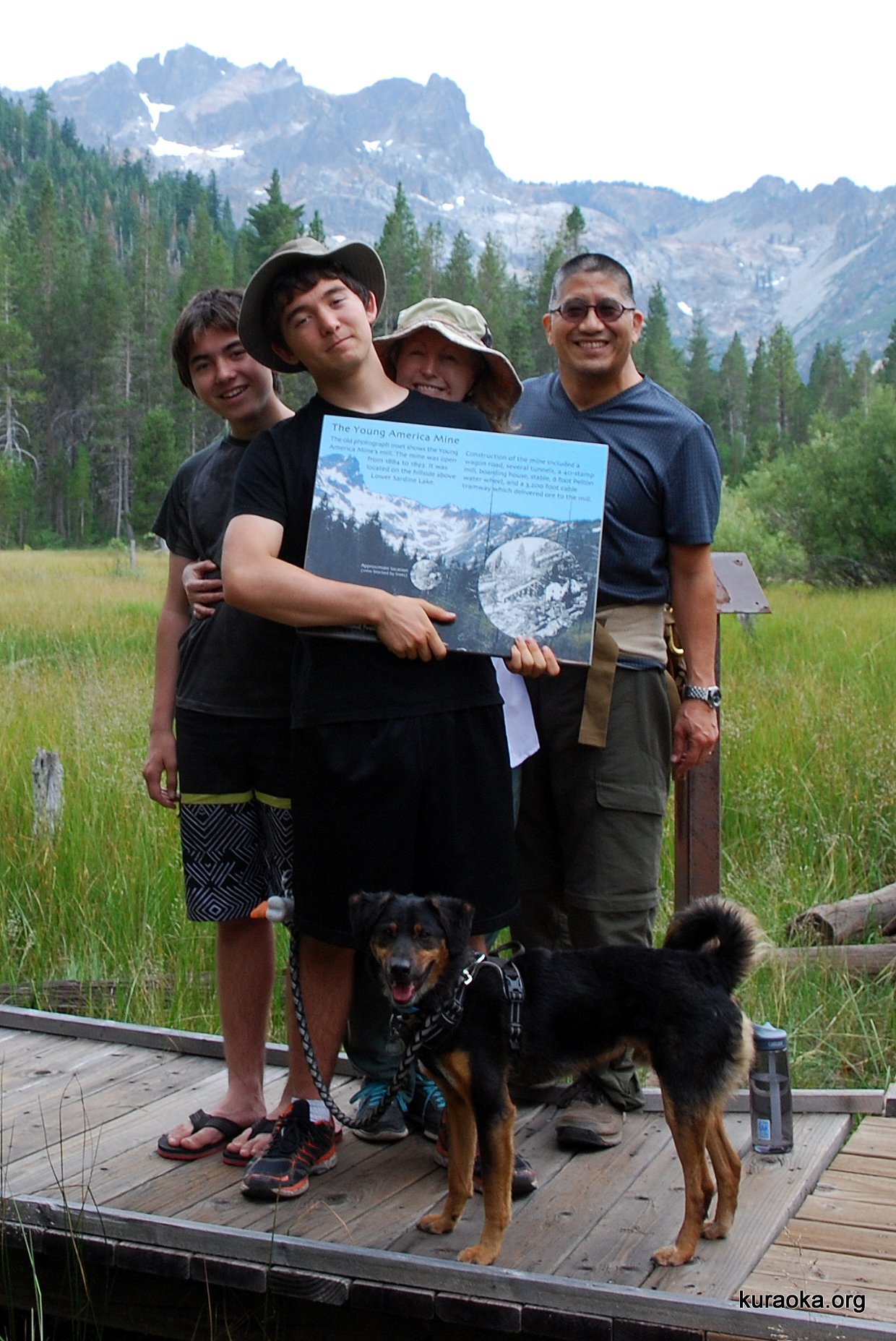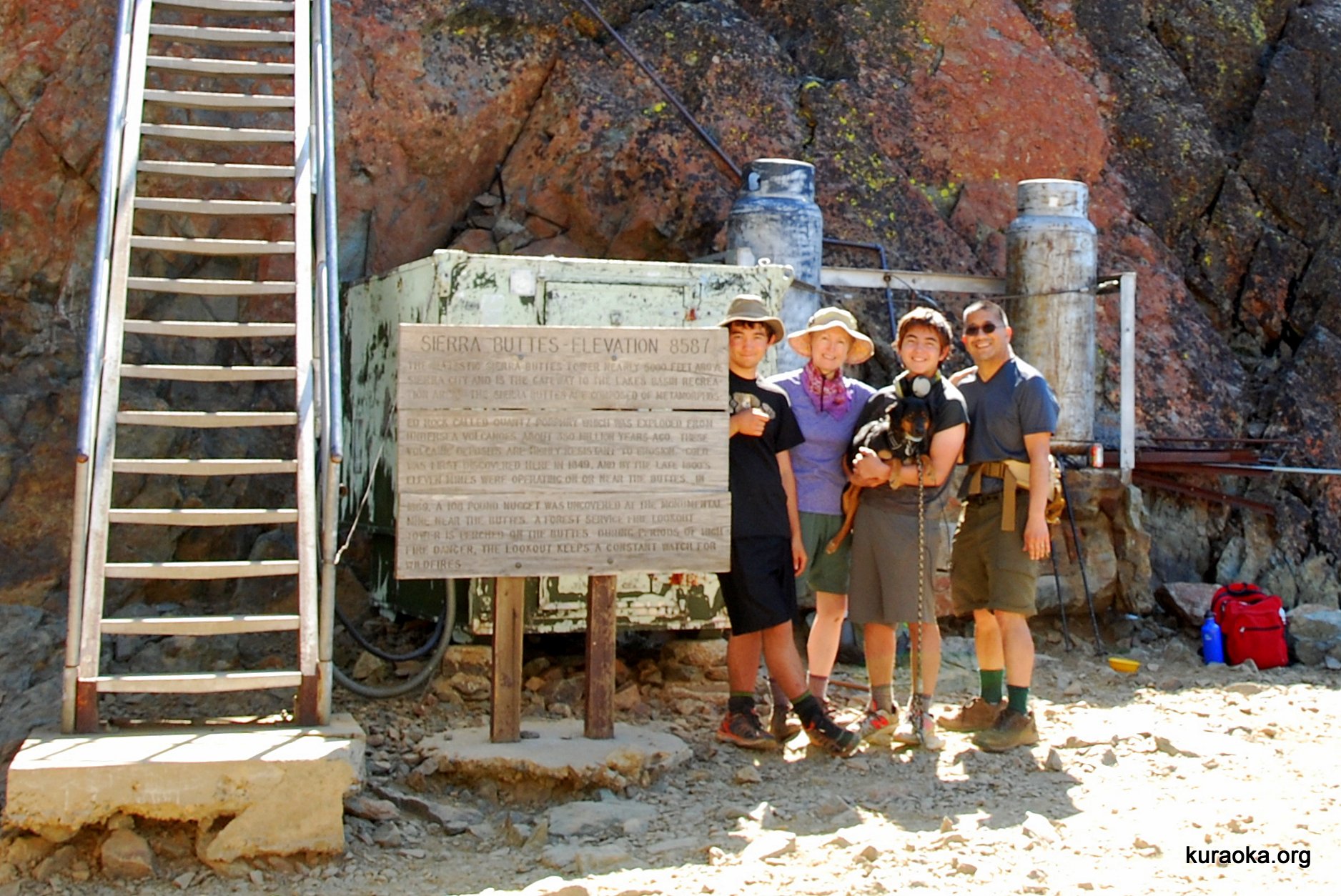 07-30-17: Much Ado About Nothing at the Coronado Playhouse! The Coronado Playhouse puts on an annual free performance, this time a high-energy dancin' romantic Shakespearean romp.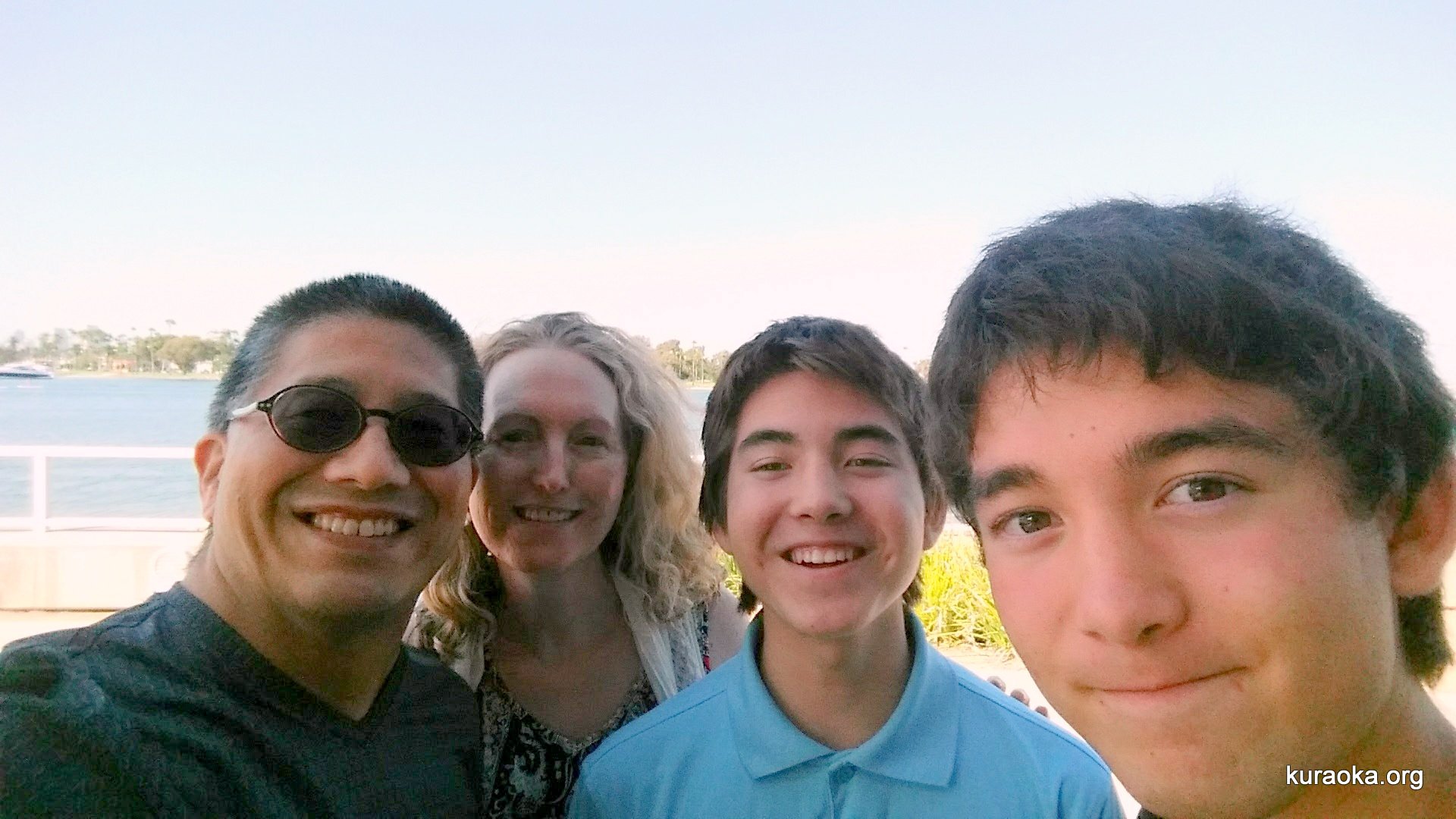 07-29-17: Roy is promoted to brown belt! Roy's junior blue belt translates into a senior brown belt now that he's over 17. Still, Sensei Mark made him demonstrate the entire sankyu test in front of the whole class!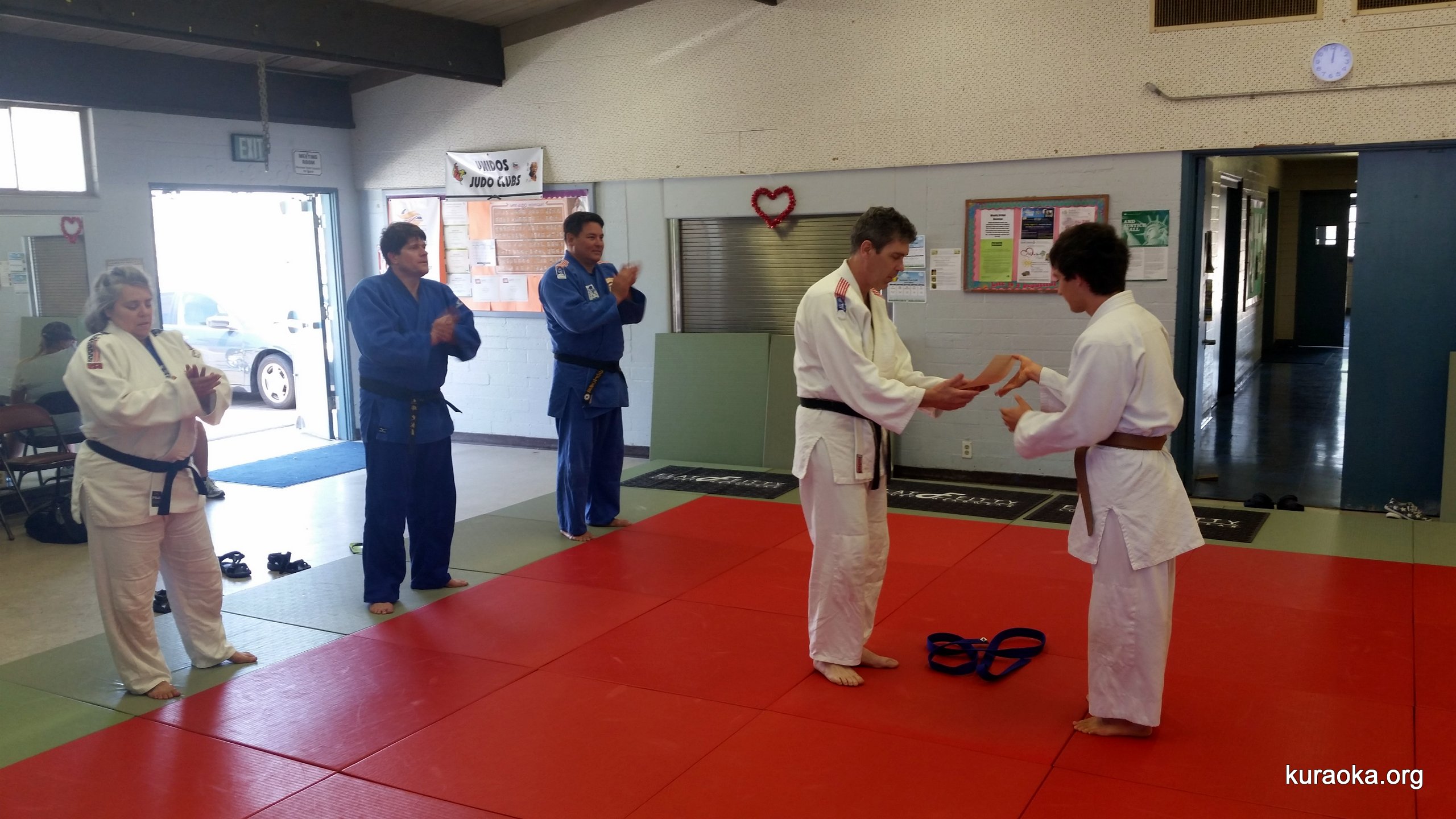 07-22-17: Photos from Roy's host family! Here are a photo of Roy with the Iuchis and their inu, and a photo of Roy in a yukata having fun with fireworks. Want to see more photos? Click on Roy's Japan trip 2017!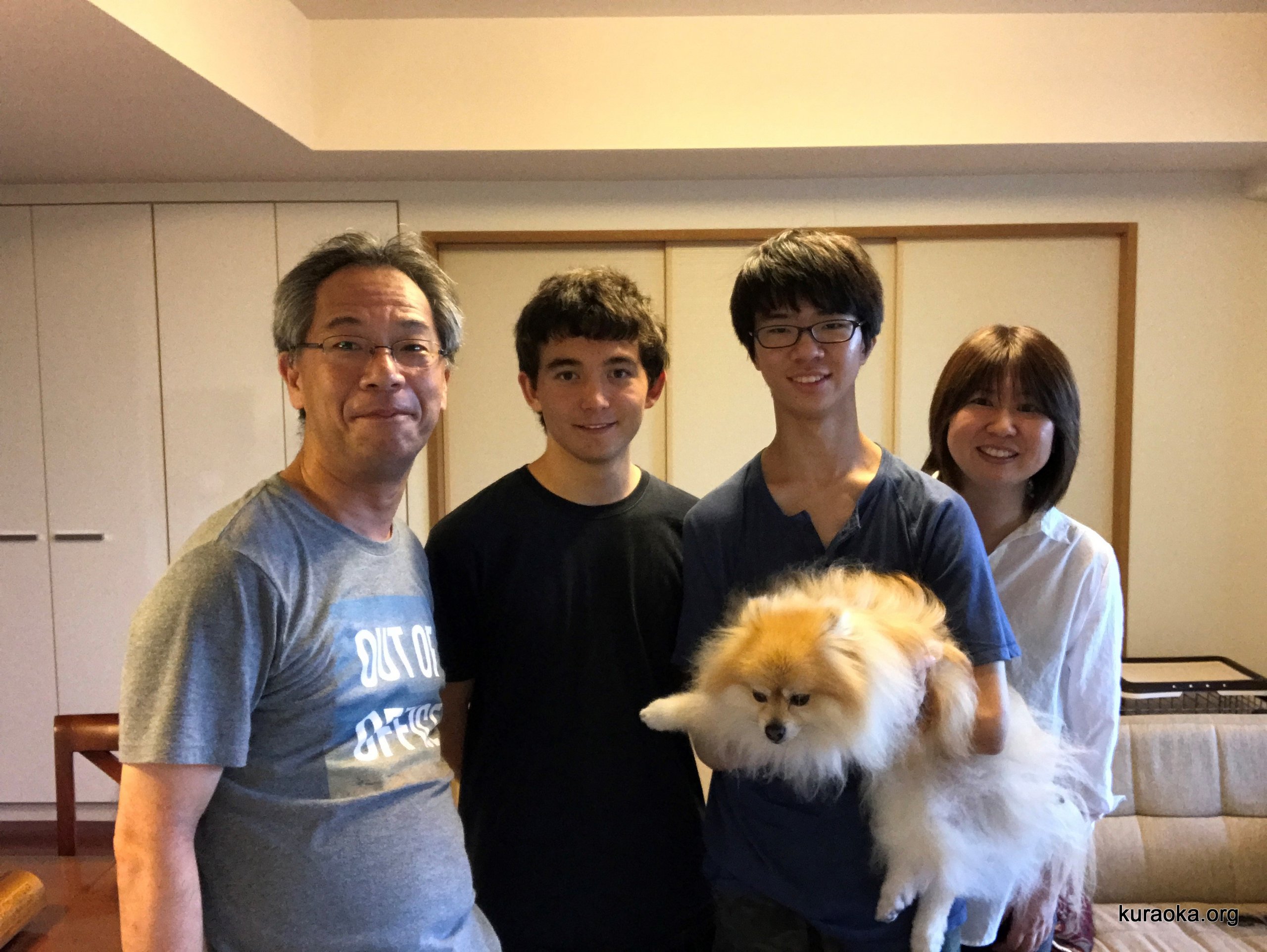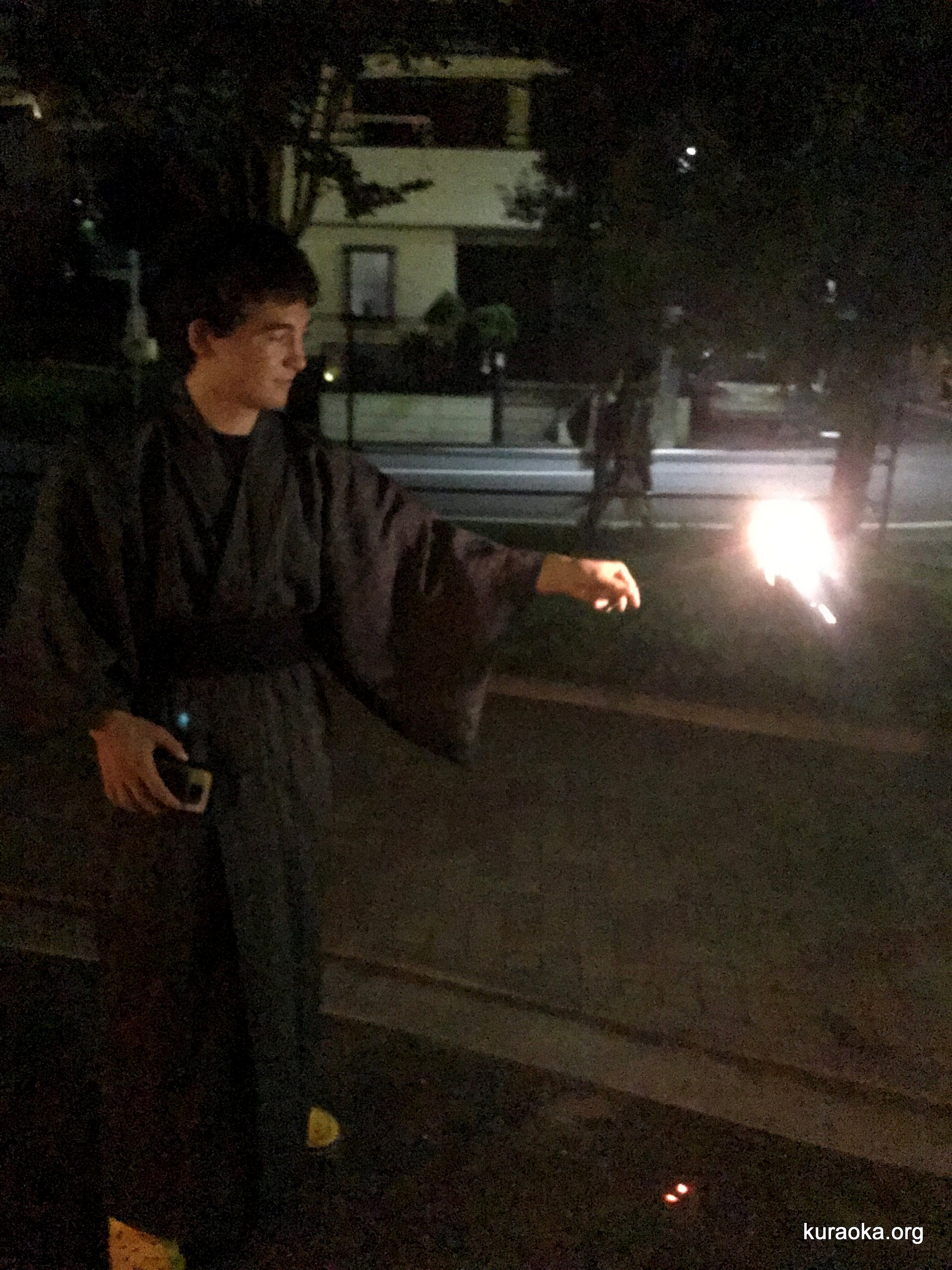 07-15-17: Roy arrives in Japan! Thanks to United Airlines, Roy reached Japan a day late and at the wrong airport, but all worked out well thanks to his host family in Yokohama, the Iuchis. That's Roy on arrival at the airport with Naoya and Homma Sensei, who is in charge of the exchange program at Yokohama International School. The next photo shows the two teens having lunch, and that's Mrs. Iuchi.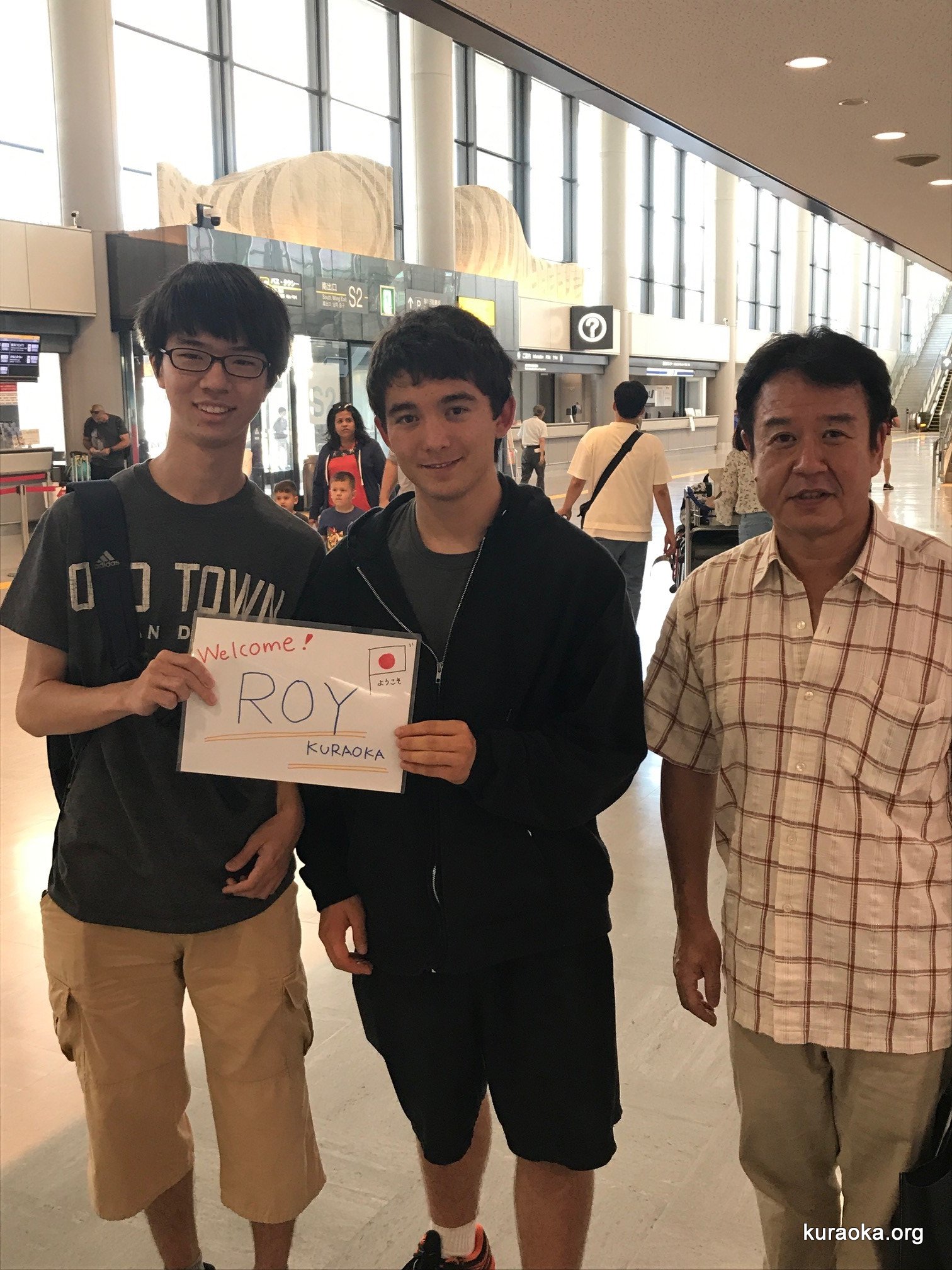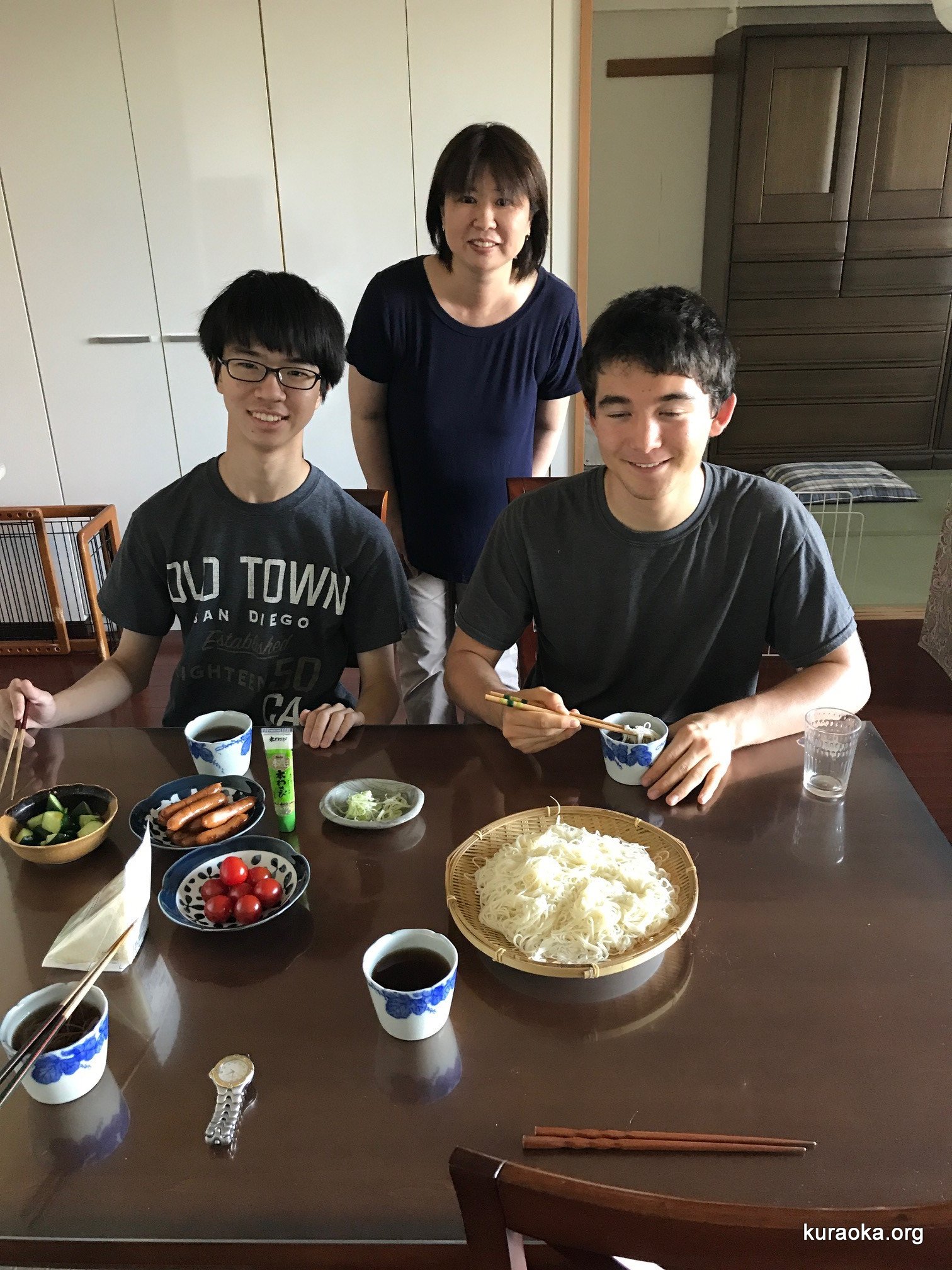 07-14-17: Meanwhile, at home ... Here we are!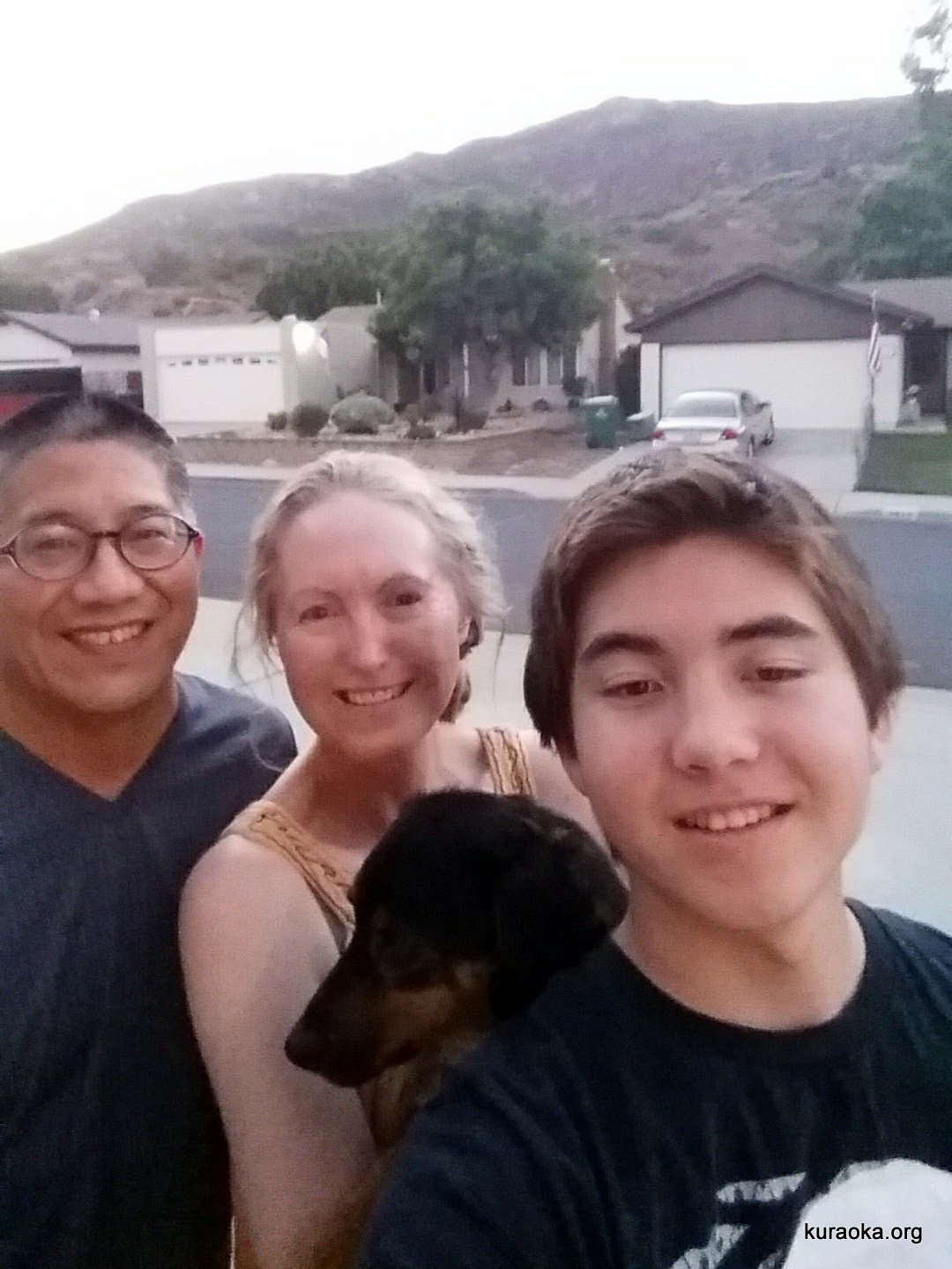 07-13-17: Roy sets off to Japan! Here we are at the airport sending Roy off on his own to Japan! Delays caused his getting there to become more of an adventure than we'd like, but it's a story he'll be telling for the rest of his life!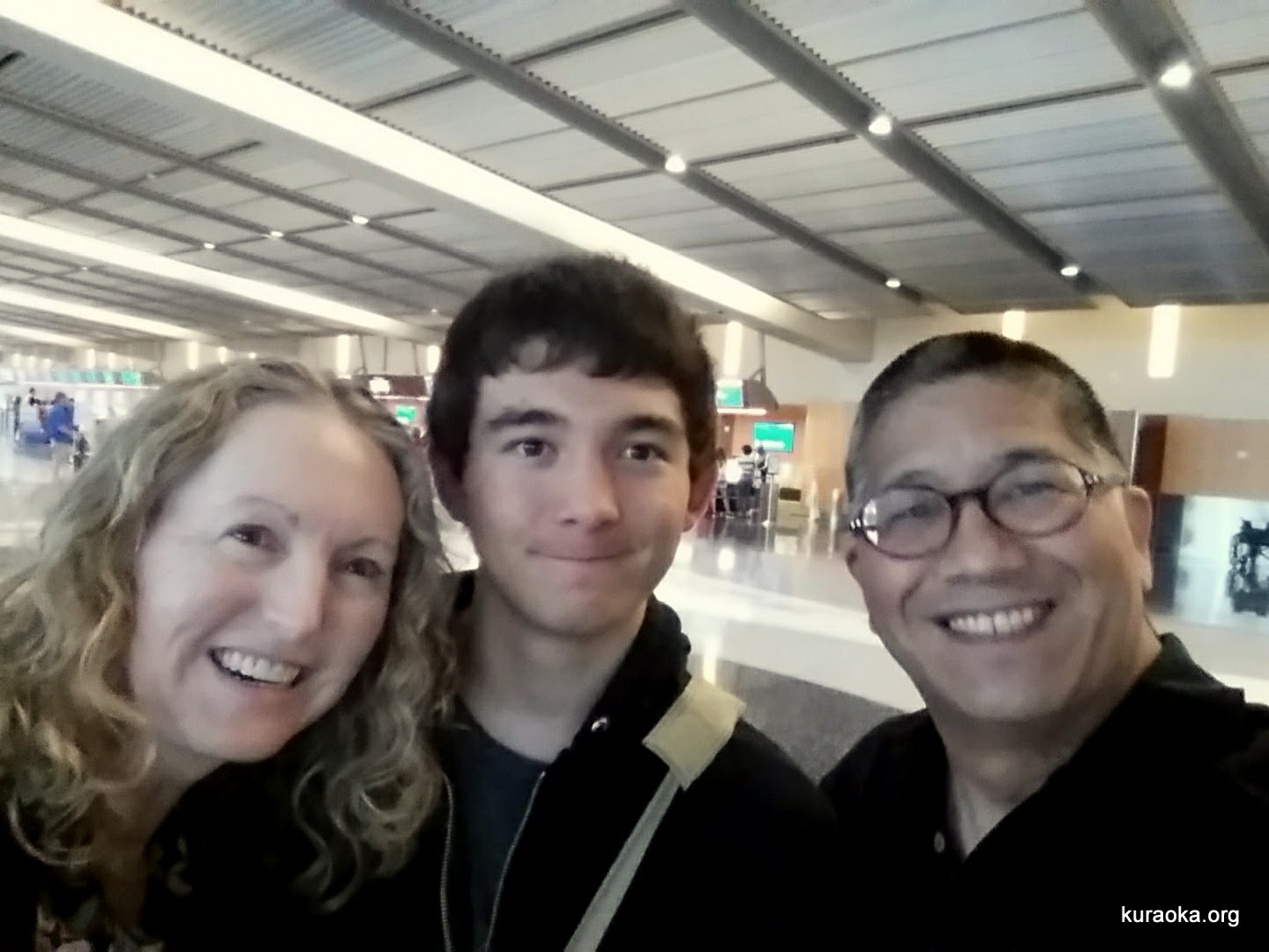 07-09-17: Date night! As an early birthday treat for John, we got tickets to see Richard II at The Old Globe. Here are two photos of us sans kints in Balboa Park, and a bunny.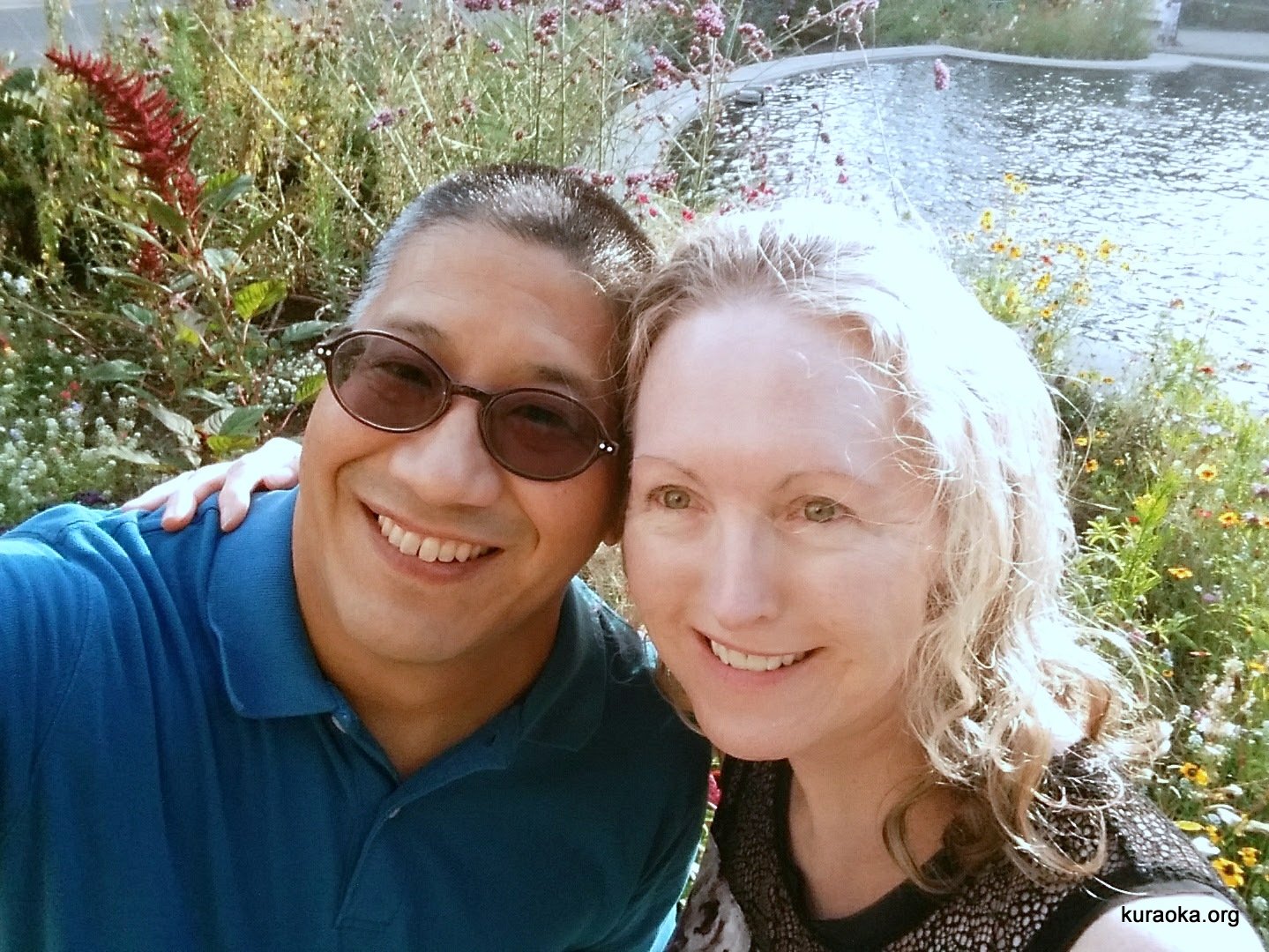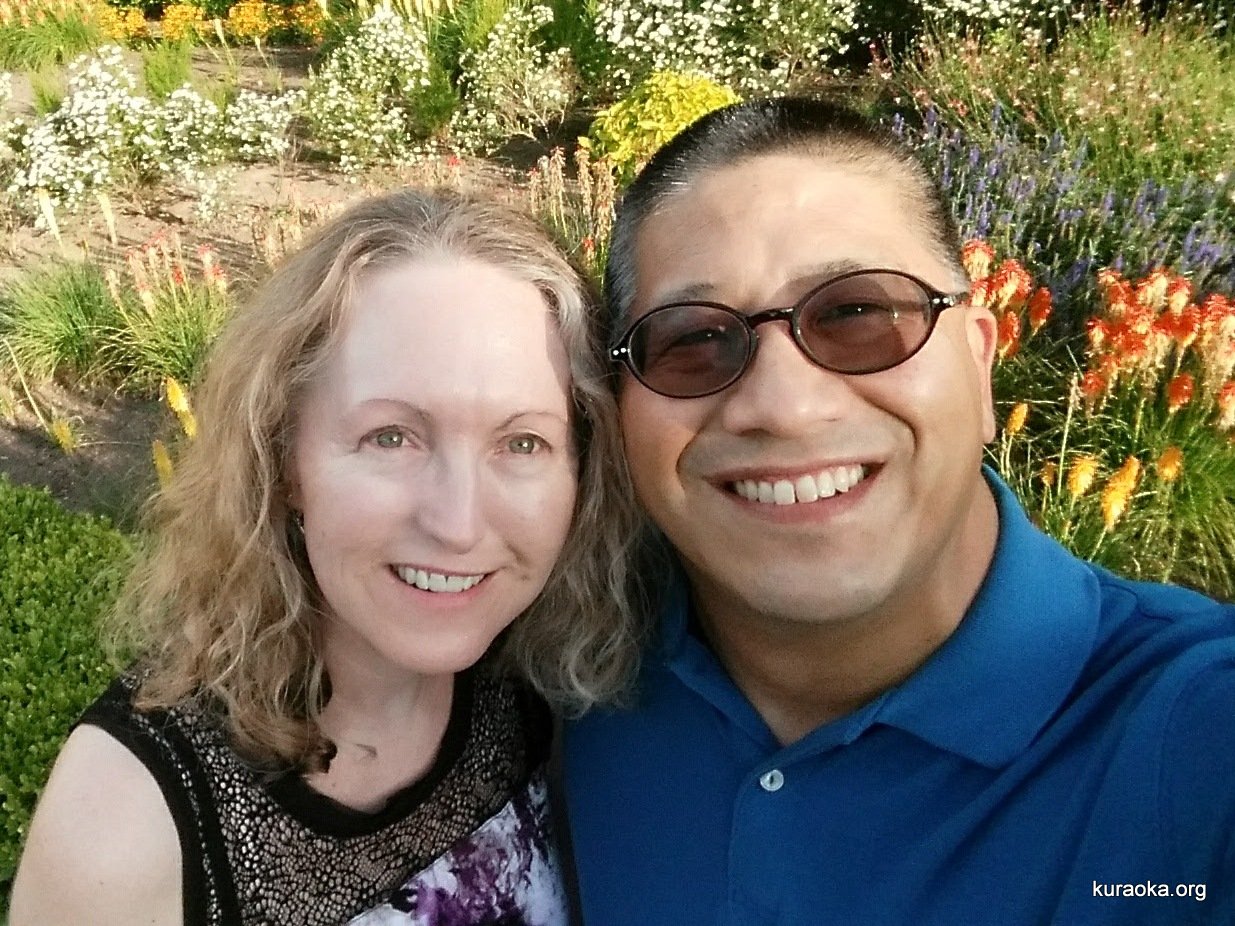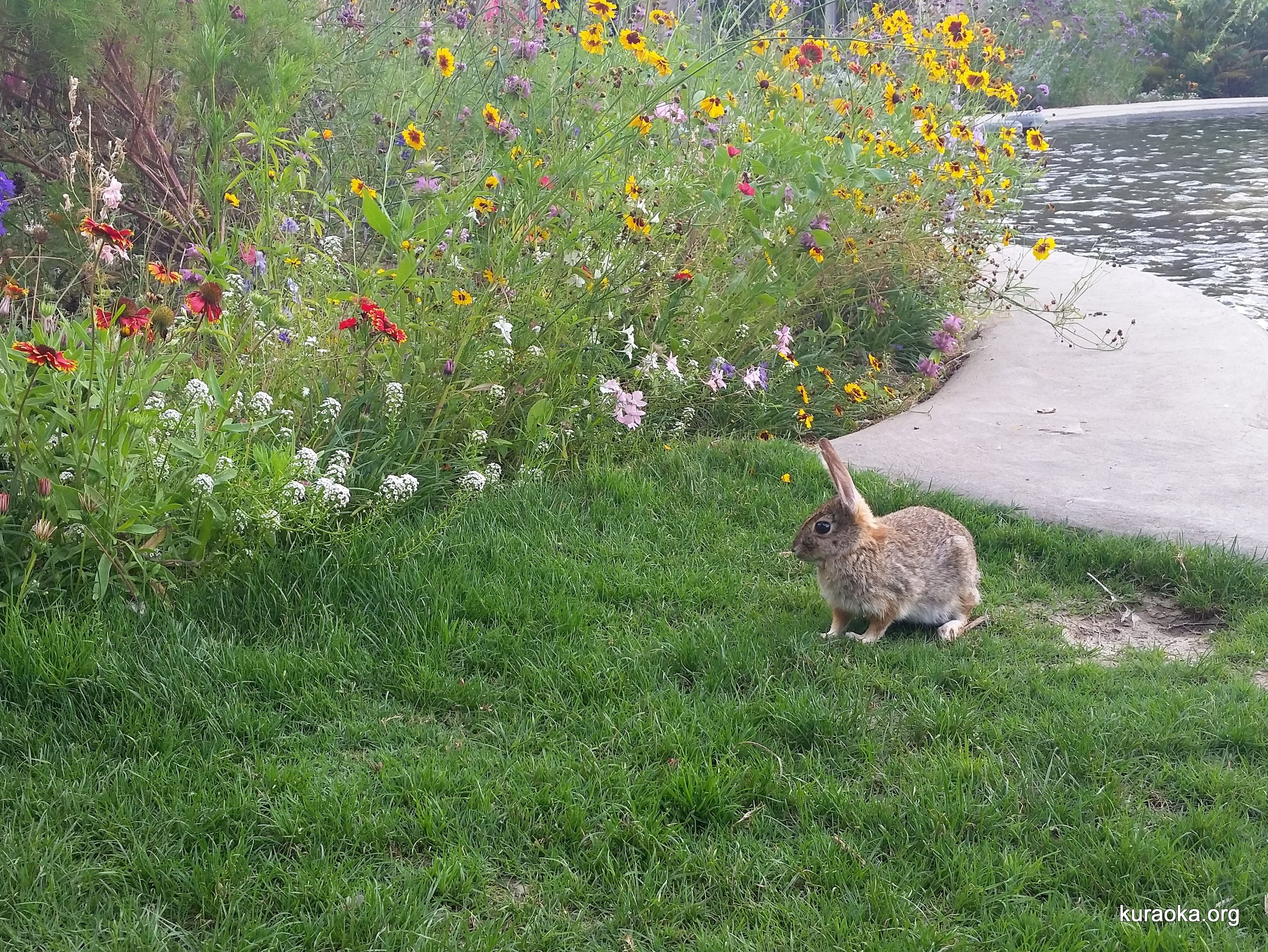 07-02-17: Pizza party! For Roy's birthday (almost a month afterwards), he and his buddies saw Despicable Me 3, which they then roasted over dinner at Mountain Mike's. Clockwise around the table starting with Roy on the far left, are Alex, Stephen, Vincent, and Michael.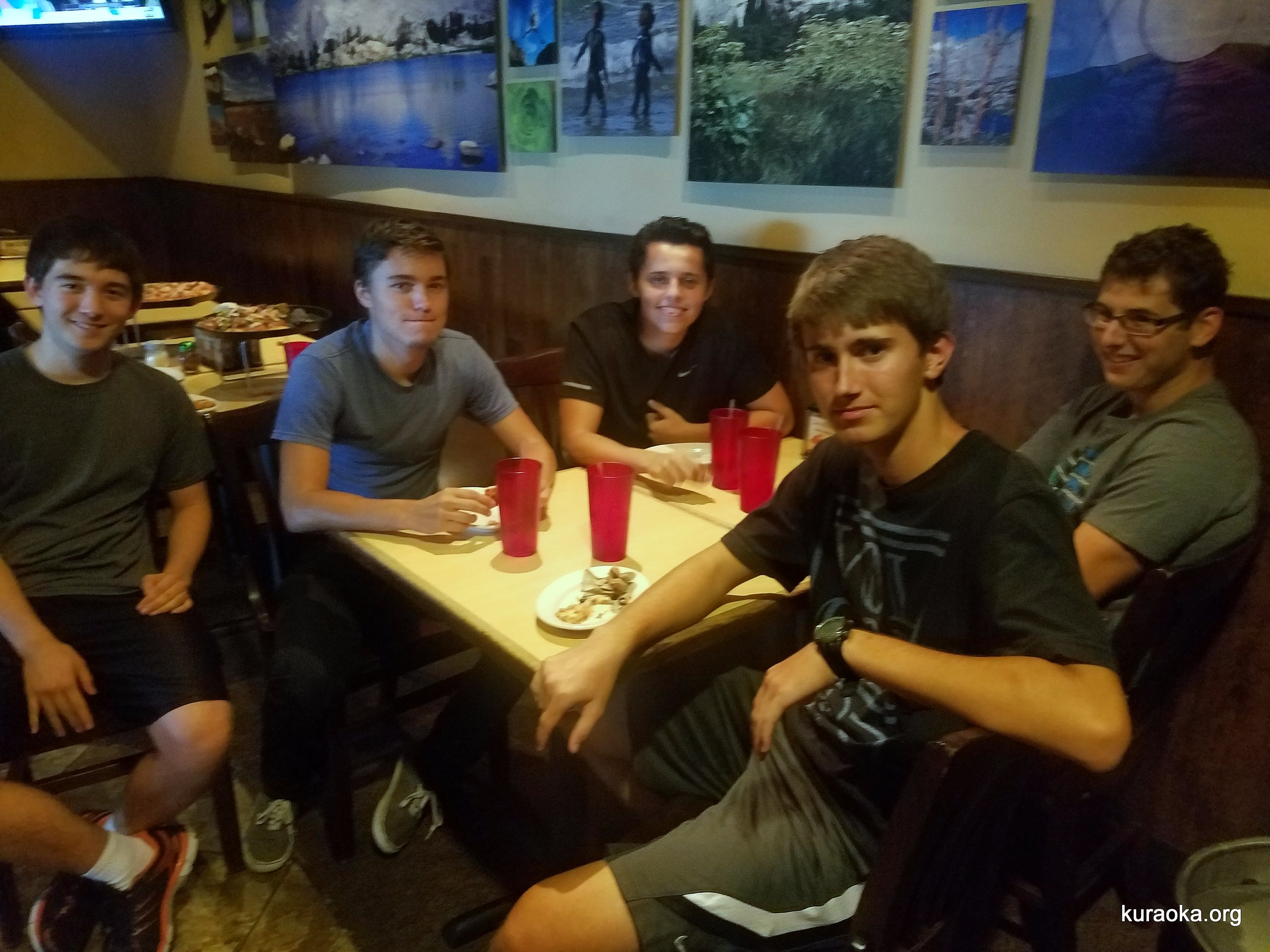 06-09-17: Harvest time! The first tomatoes of the season, and they're yellow pears!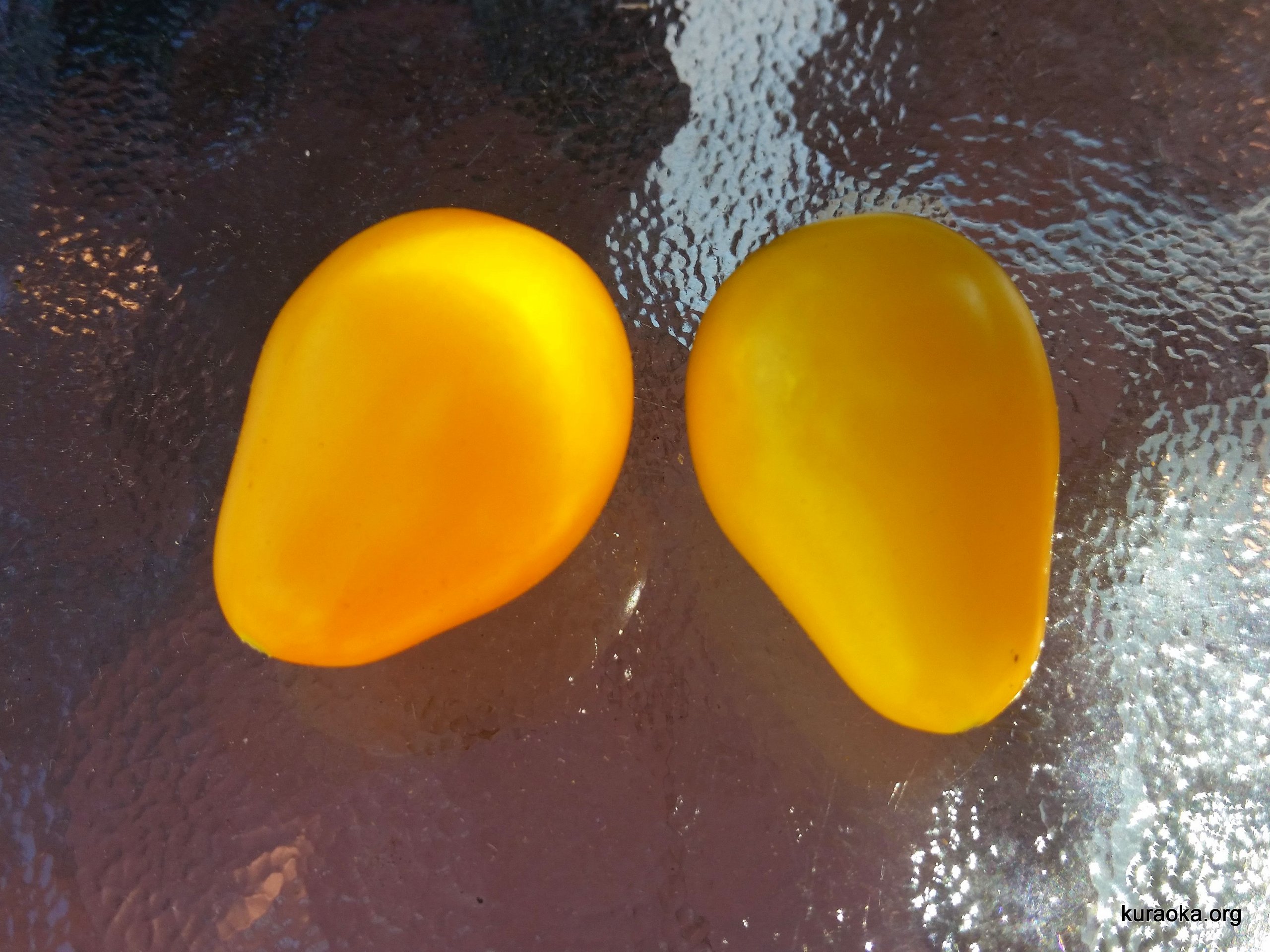 06-06-17: Wedding roses! Our rose tree is in bloom again!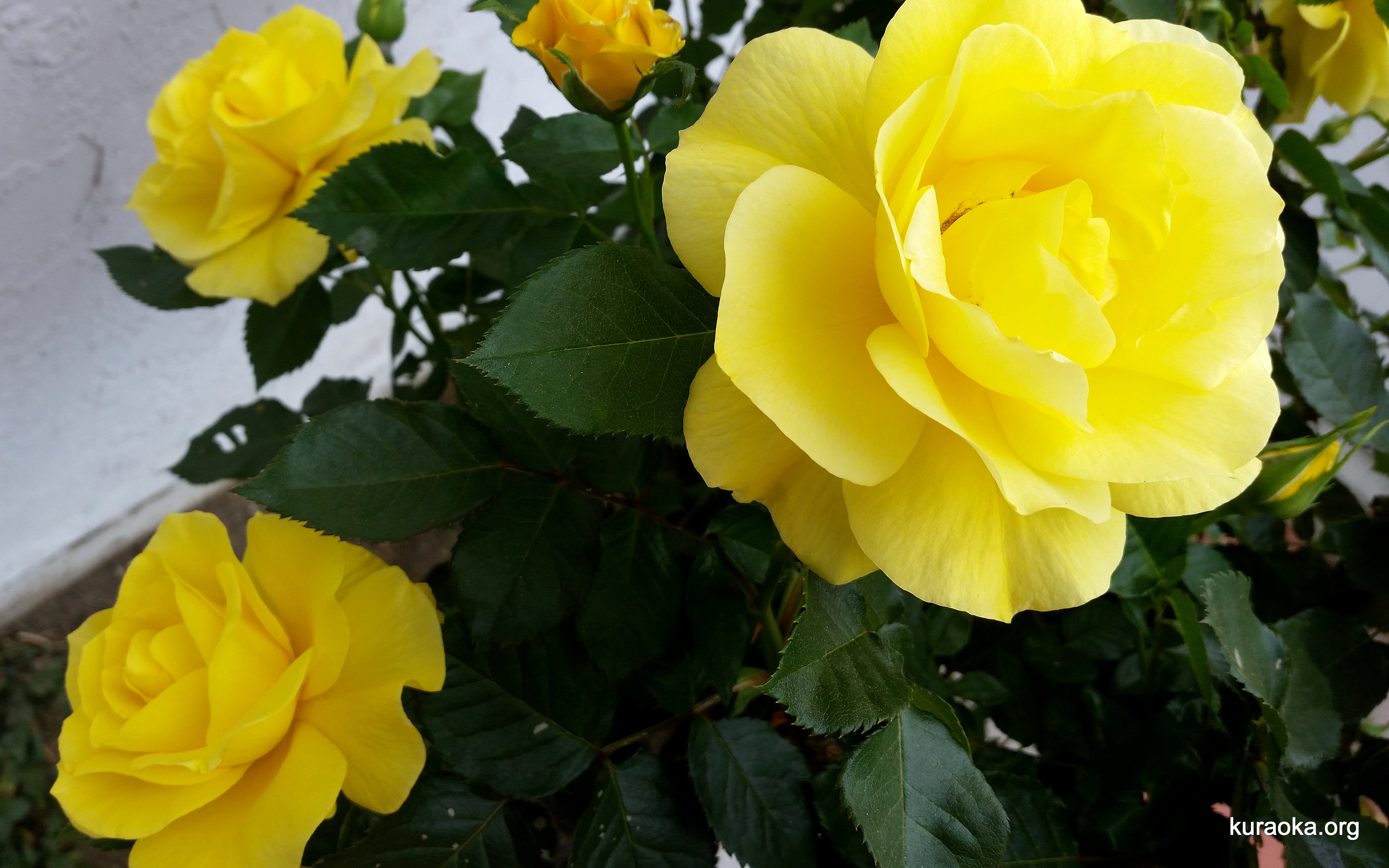 06-05-17: Letting a sleeping dog lie in the flower bed. Shadow likes to bask in the soft soil of the flower bed.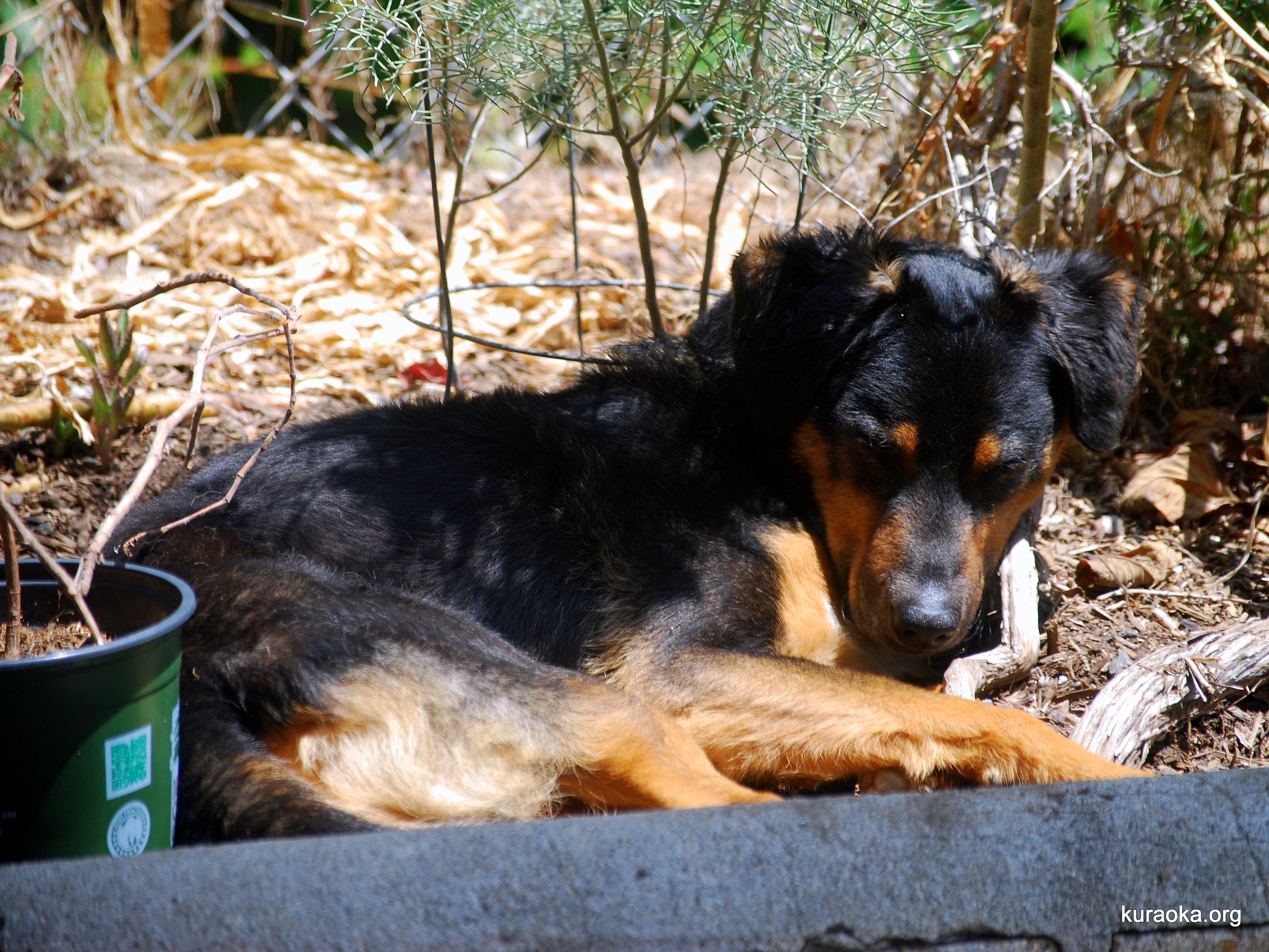 06-04-17: Roy's at-home birthday celebration! It was a busy weekend, but we managed to get together for kaffeetrinken and ice cream cake. Here's a group selfie!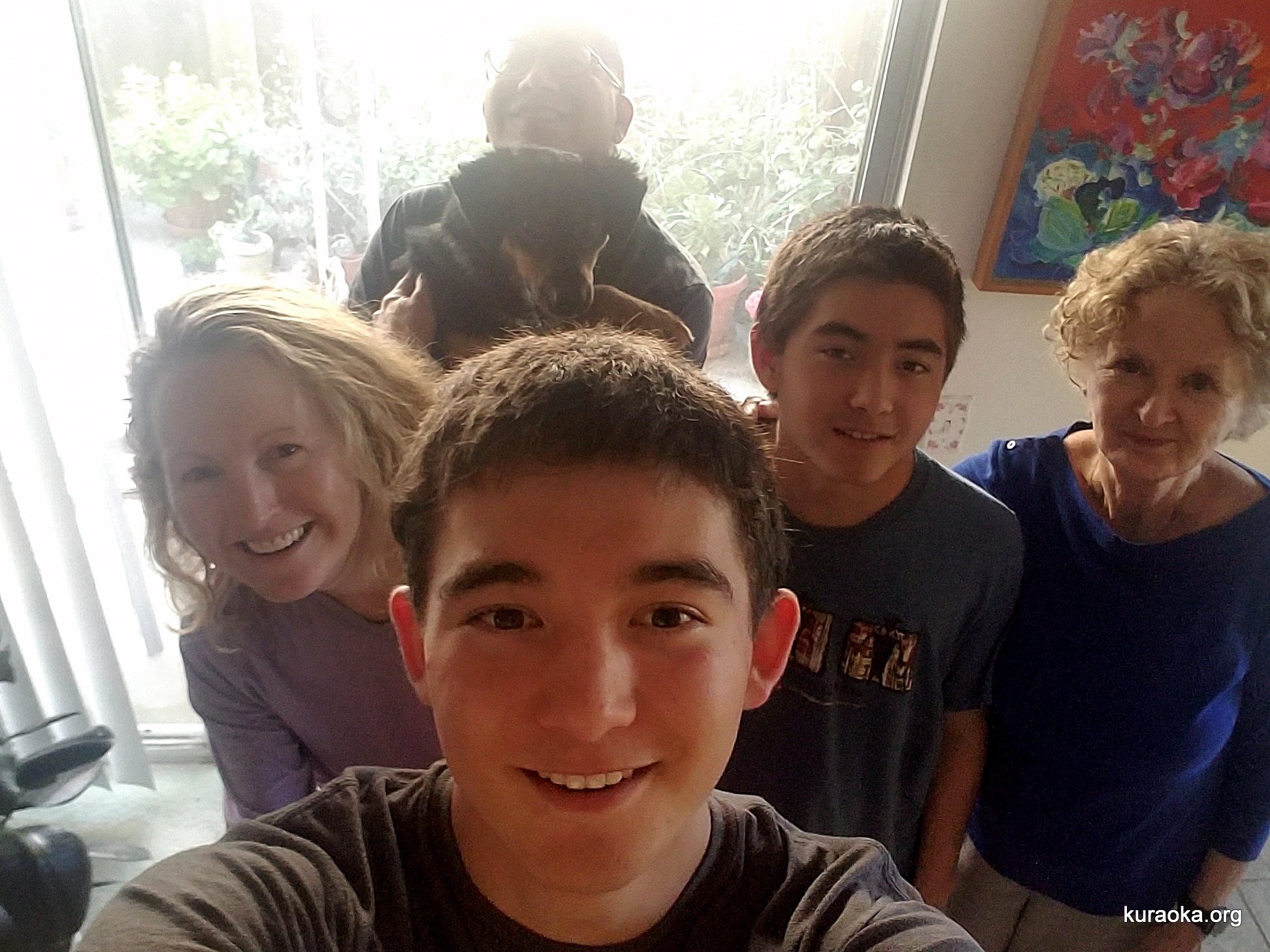 05-28-17: Memorial Day weekend. John took the boys to visit Grammy. They saw a play (Annie Get Your Gun), visited Grandpa Mas and Mike at Rose Hills, and went to the Barnharts for bocce, bbq, and Triple Yahtzee.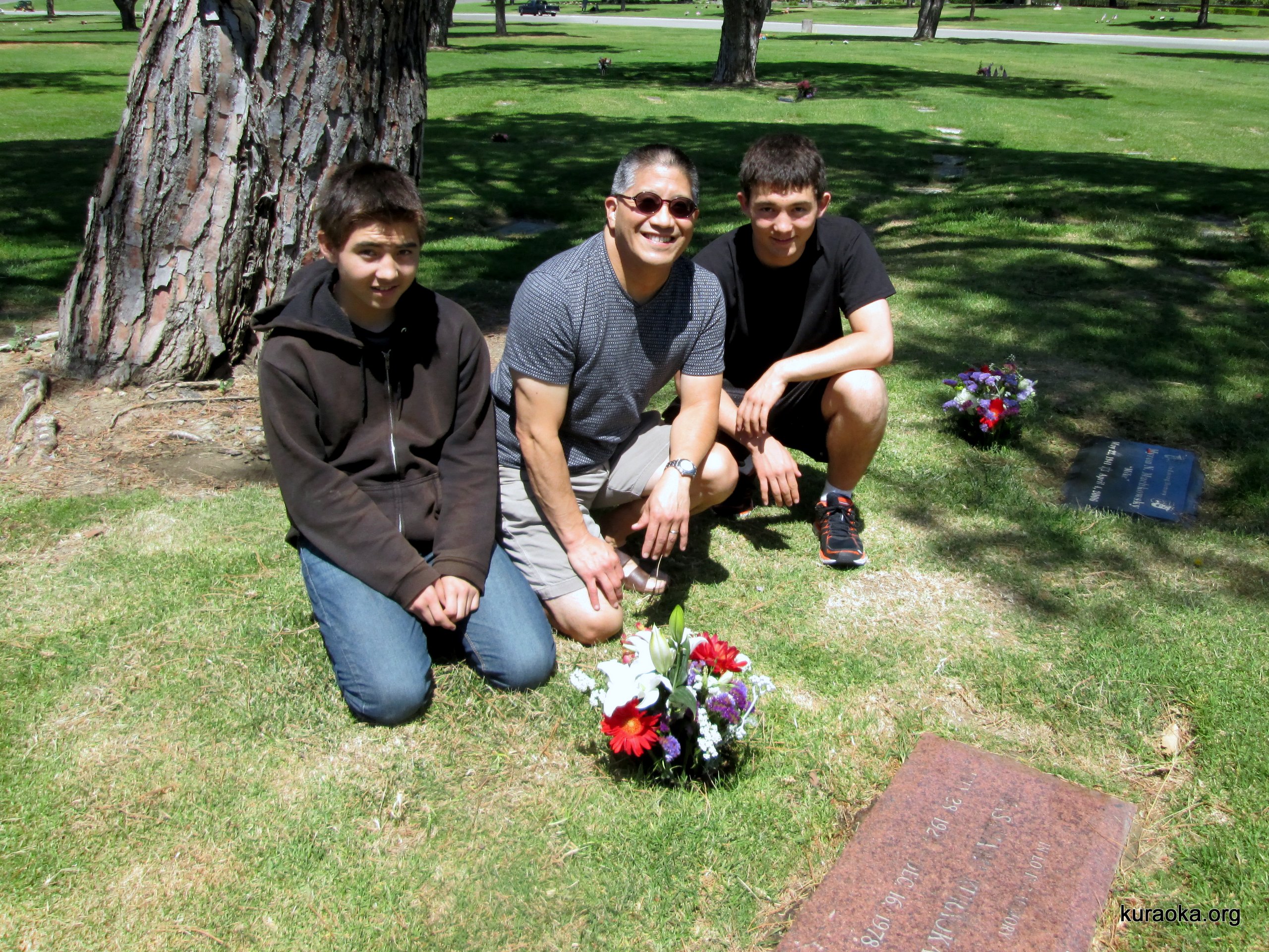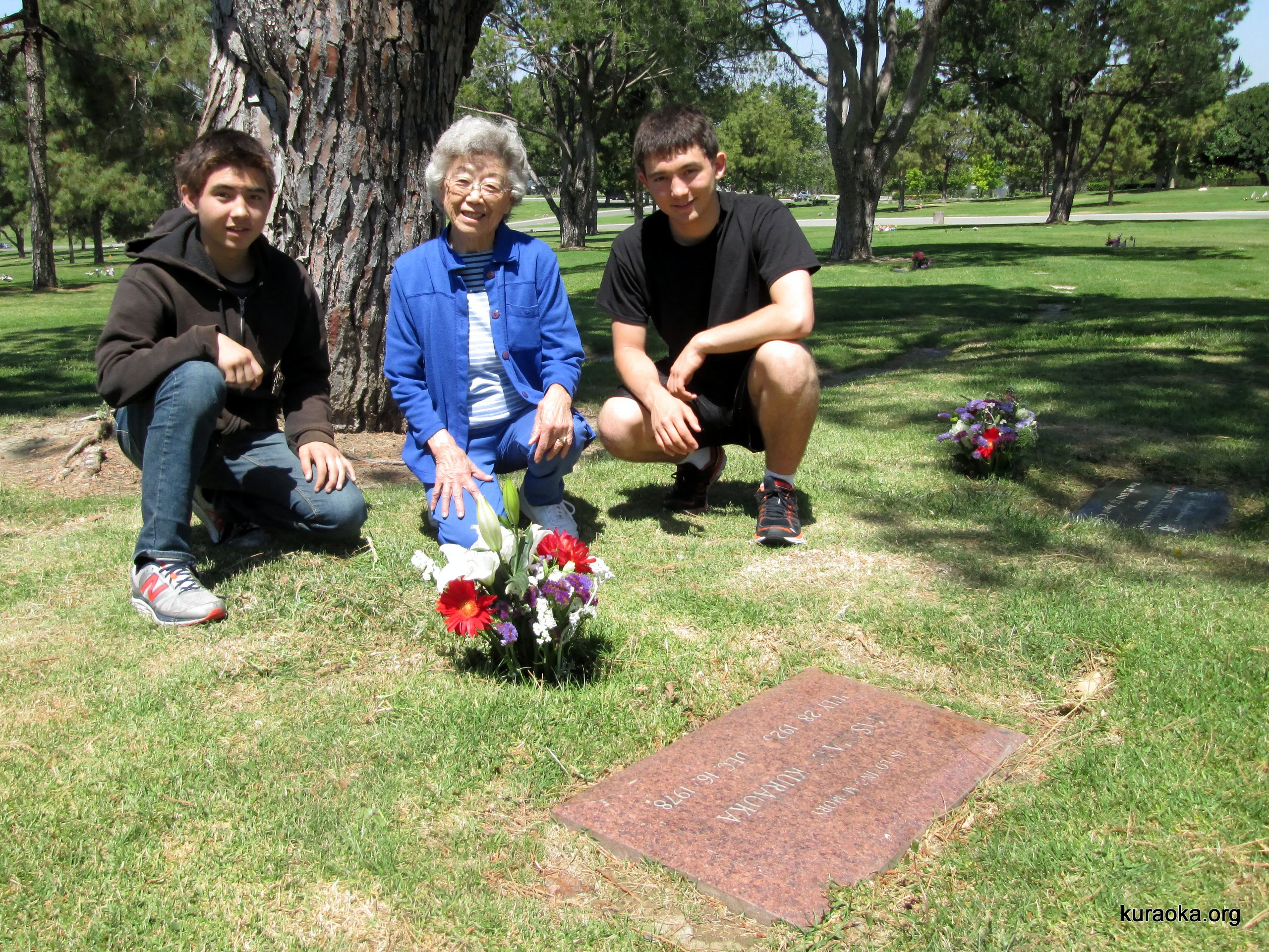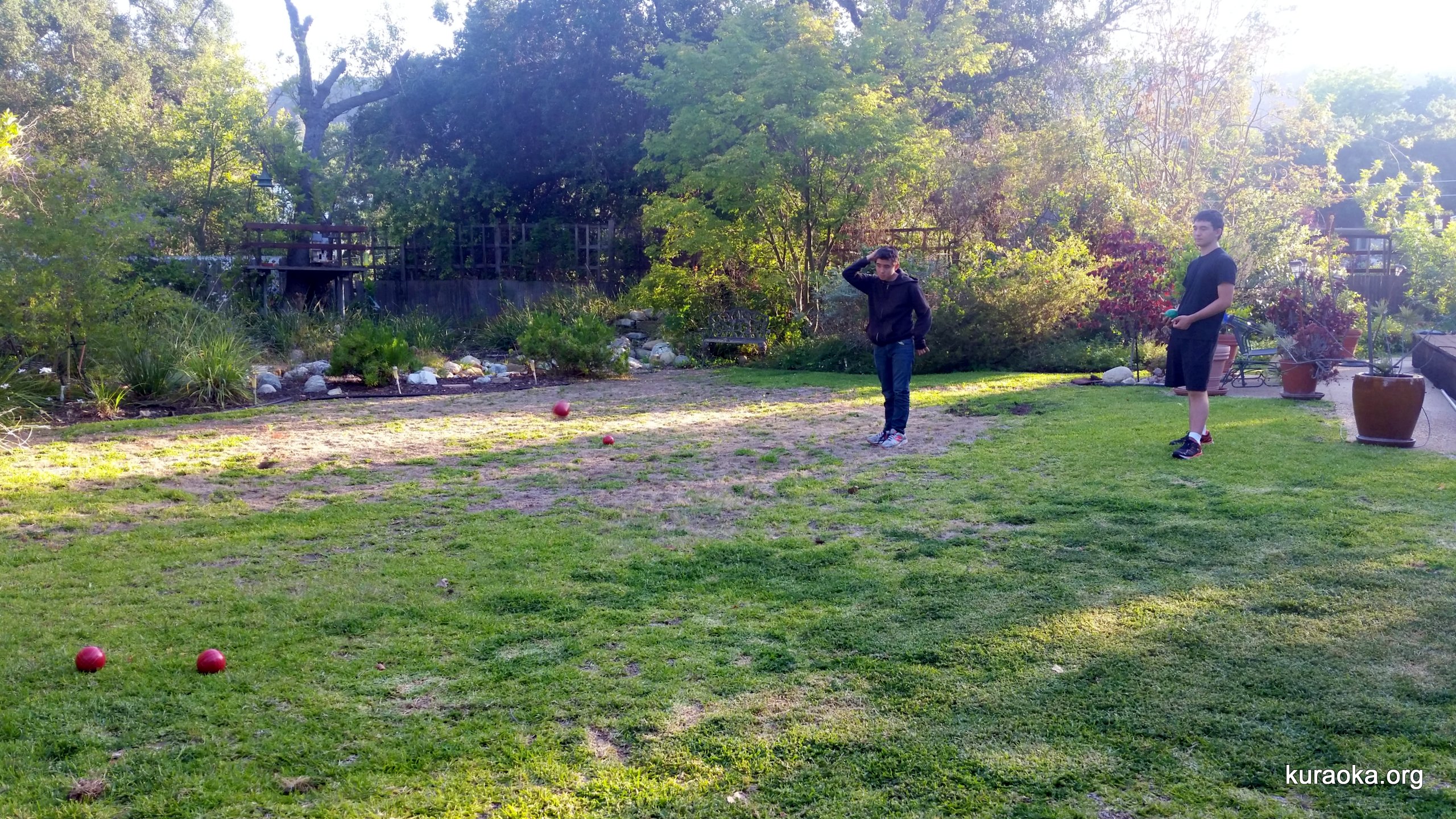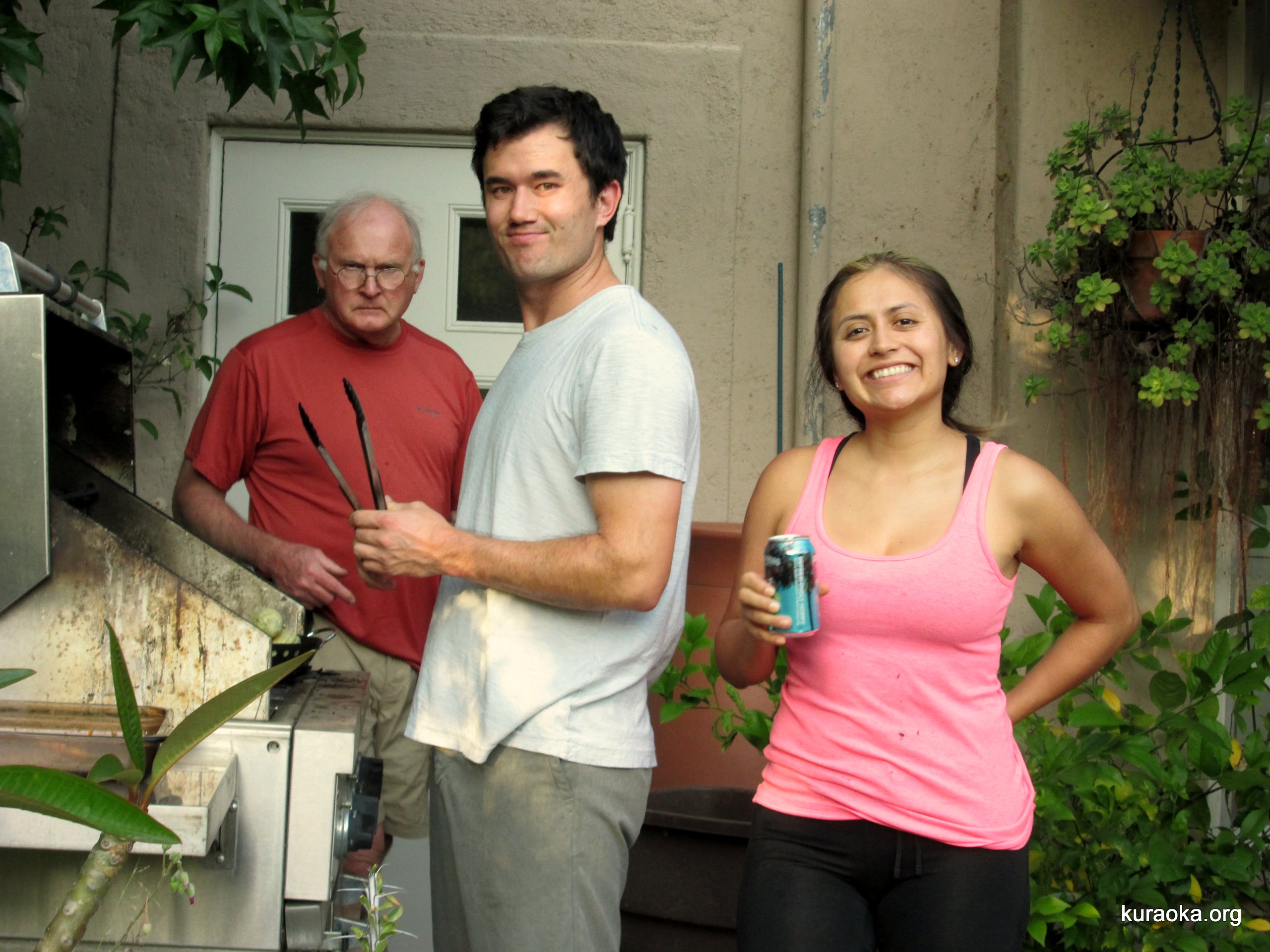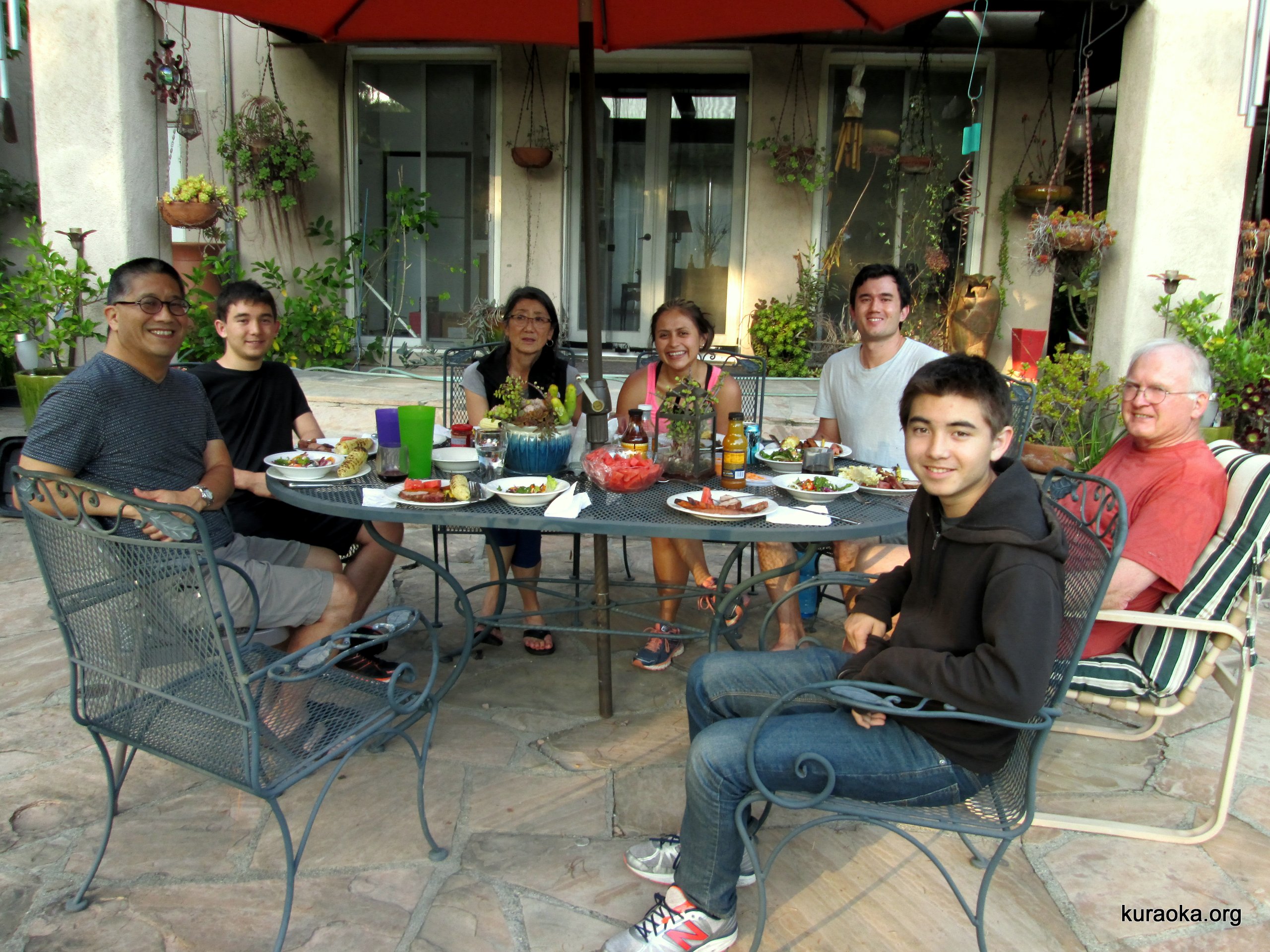 05-19-17: The Taming of the Shrew at Grossmont College. Here we are, a fuzzy, raccoon-eyed selfie from our seats near the stage, set up as a friendly brew pub that served as a meta-setting-cum-Induction.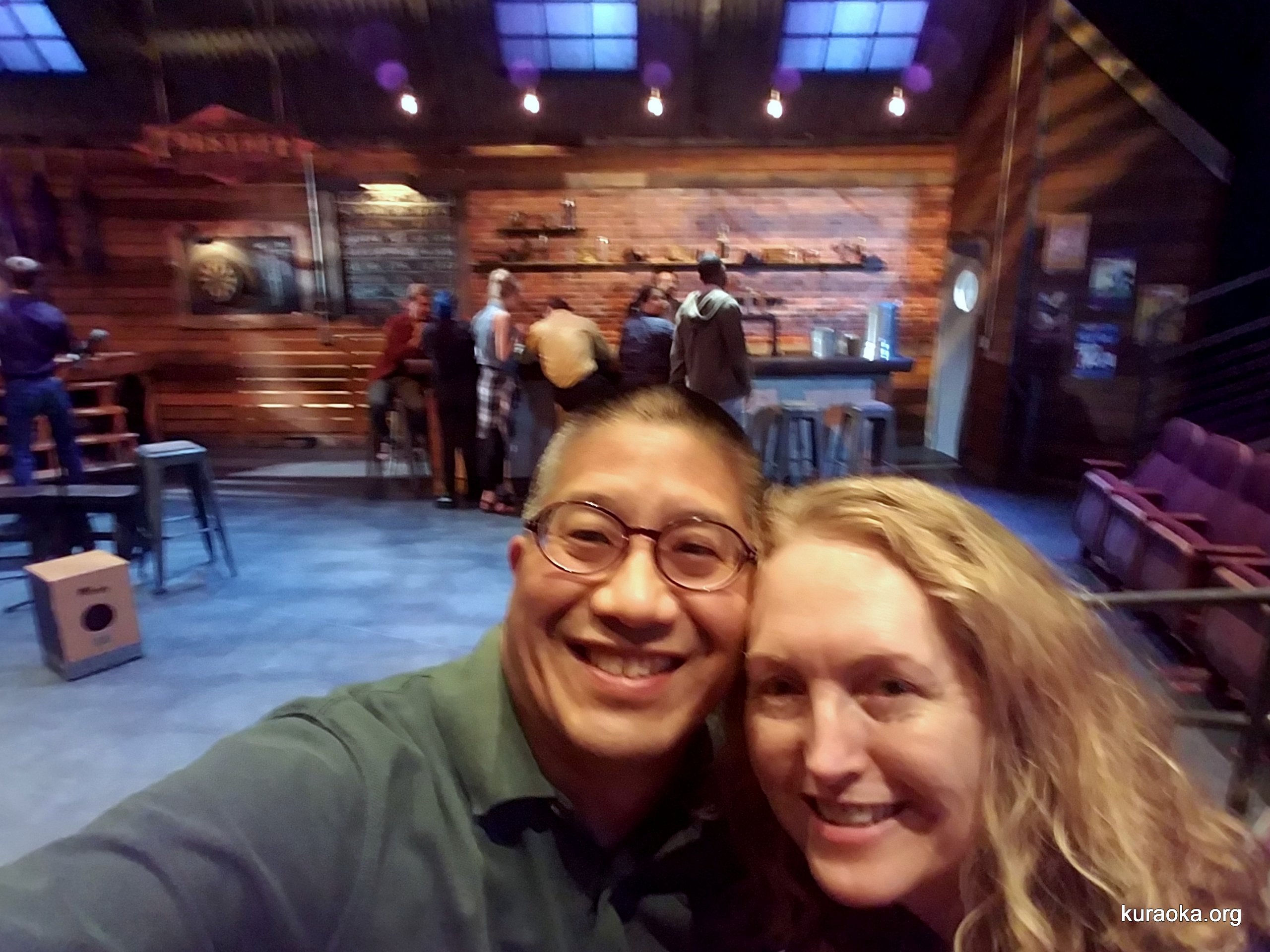 05-09-17: Roy dressed to run lights at a formal event. Like the look? He's in blackout, as befits a lighting tech, but dressed for the occasion.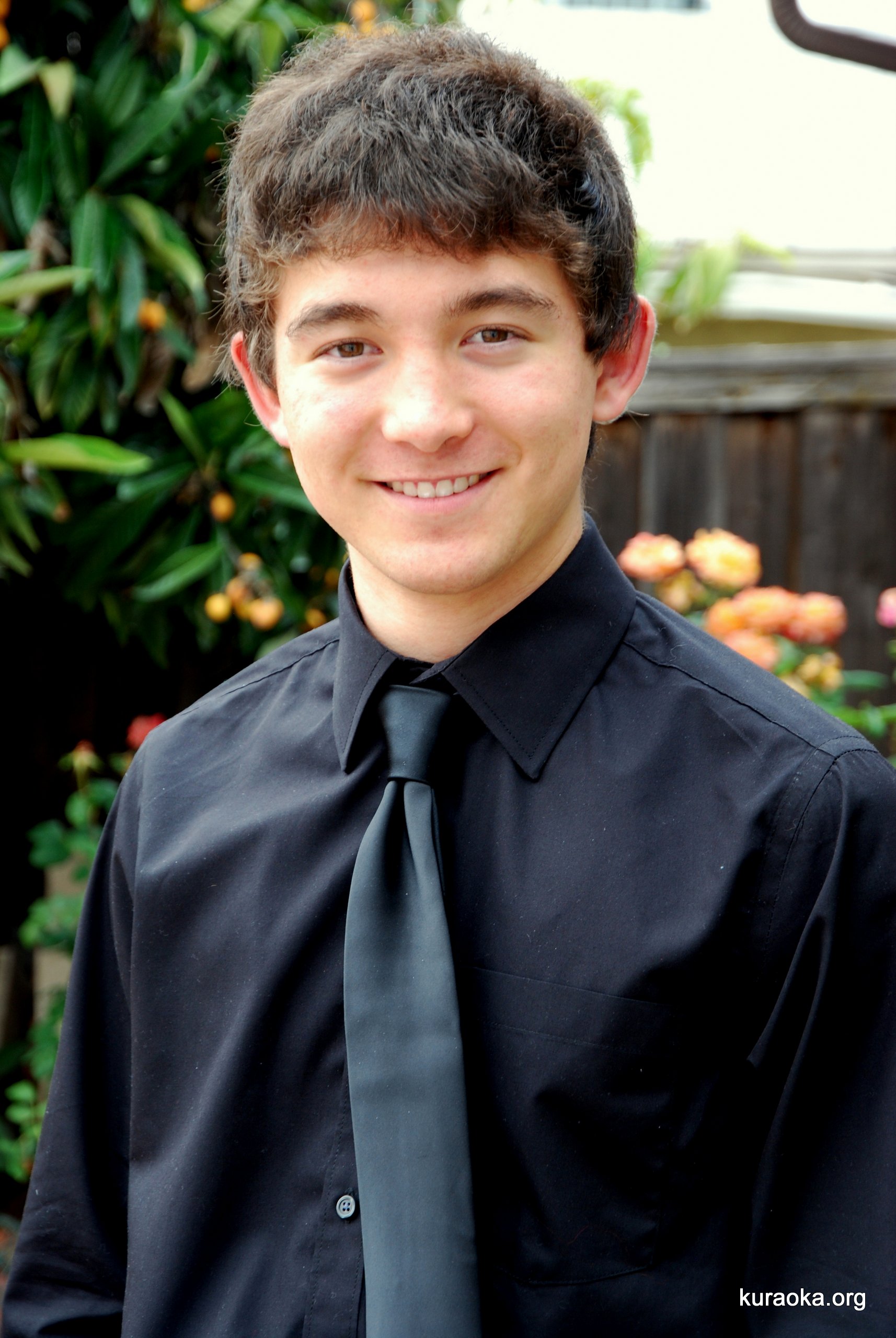 04-29-17: Shadow in the shade-o. Shadow is more willing to be photographed than Roy or Leo.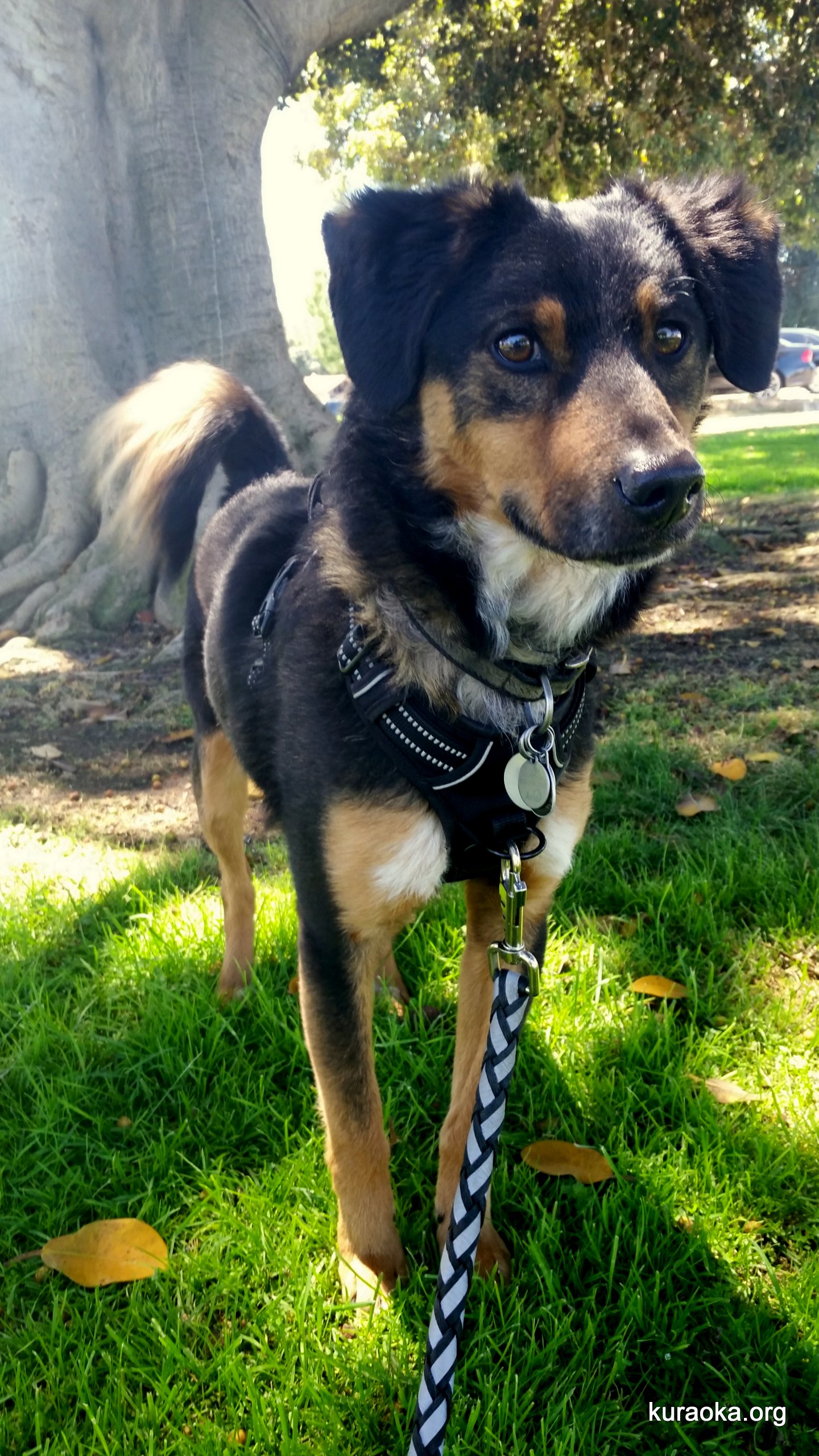 04-24-17: John's new campin' ukulele. Here's John's new plastic Makala Waterman ukulele in a discontinued body color of Orange Swirl. Groovy! The photos were taken after a couple days of ownership.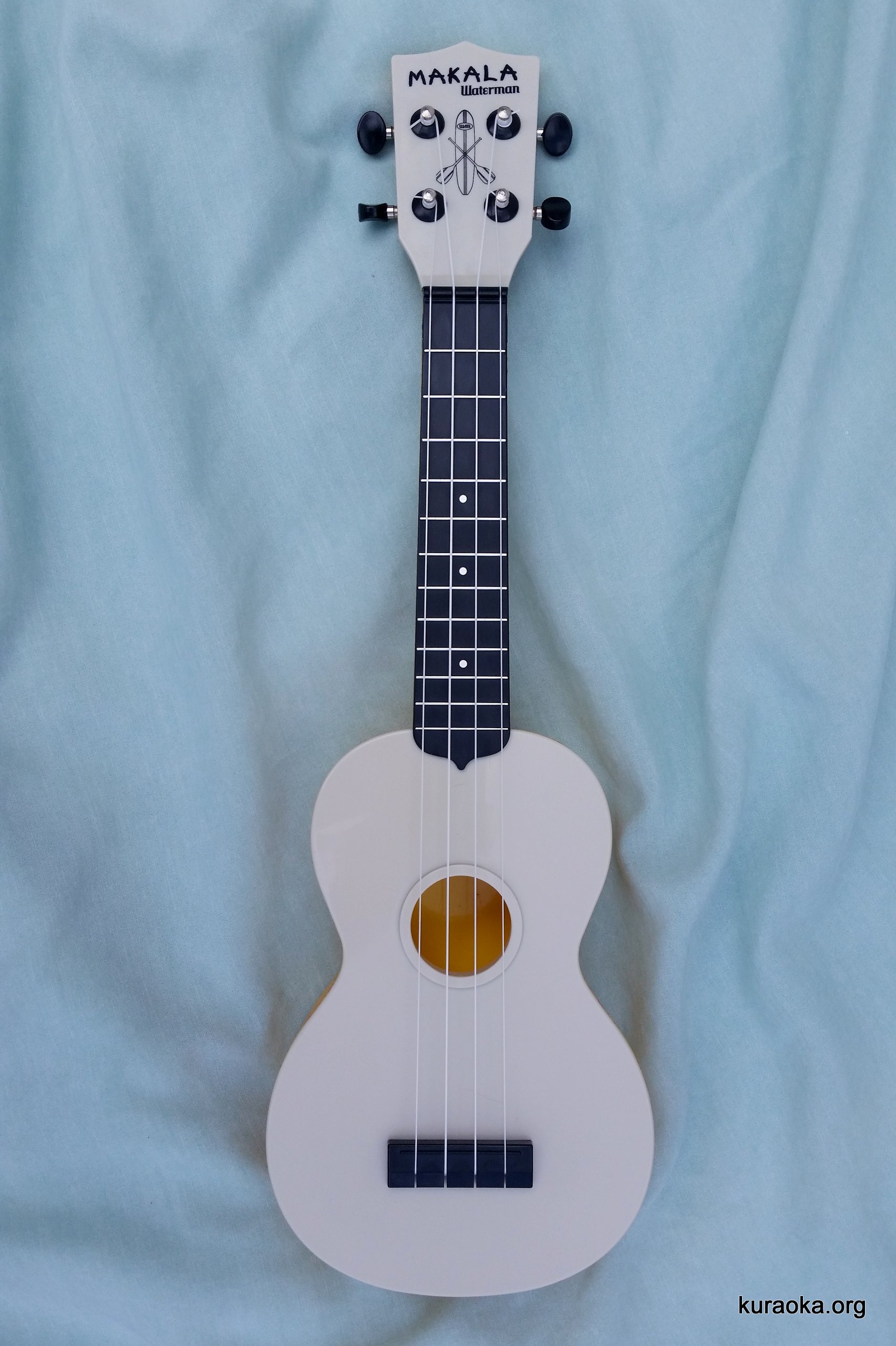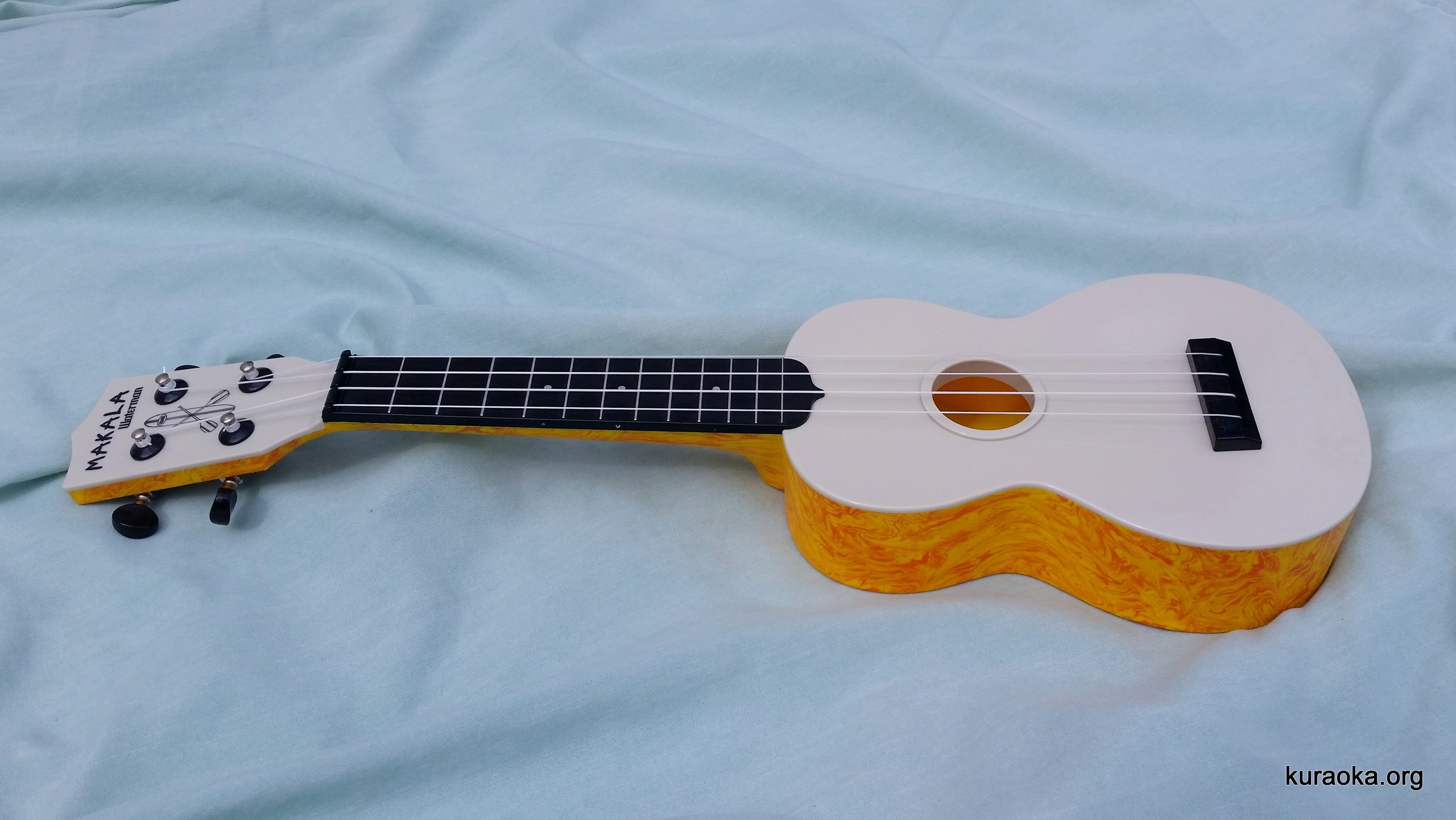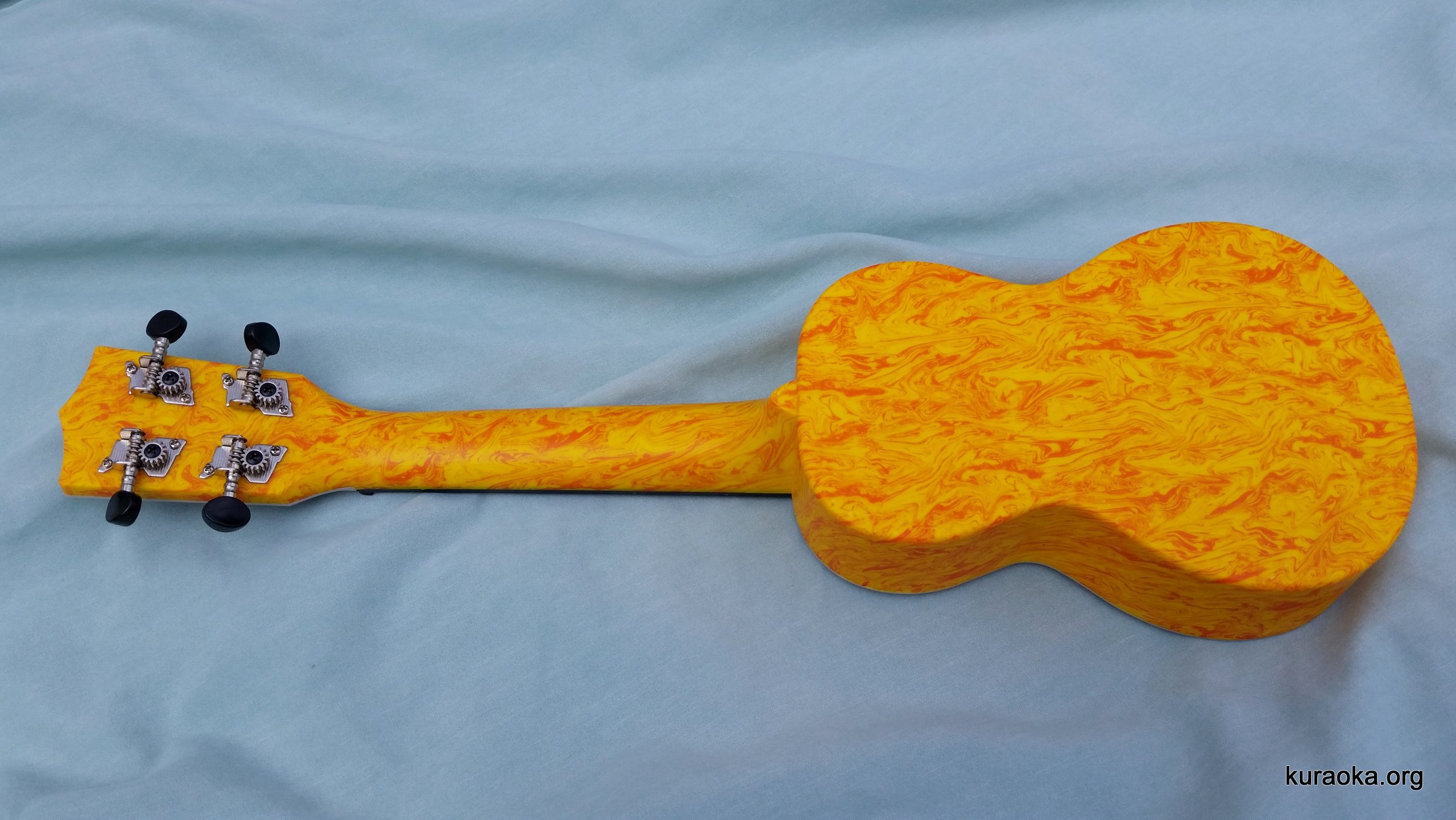 04-03-17: Shadow at the Balboa Park off-leash dog park. He's wearing his new harness, which fits much better than the old one because, well, it's actually the proper size.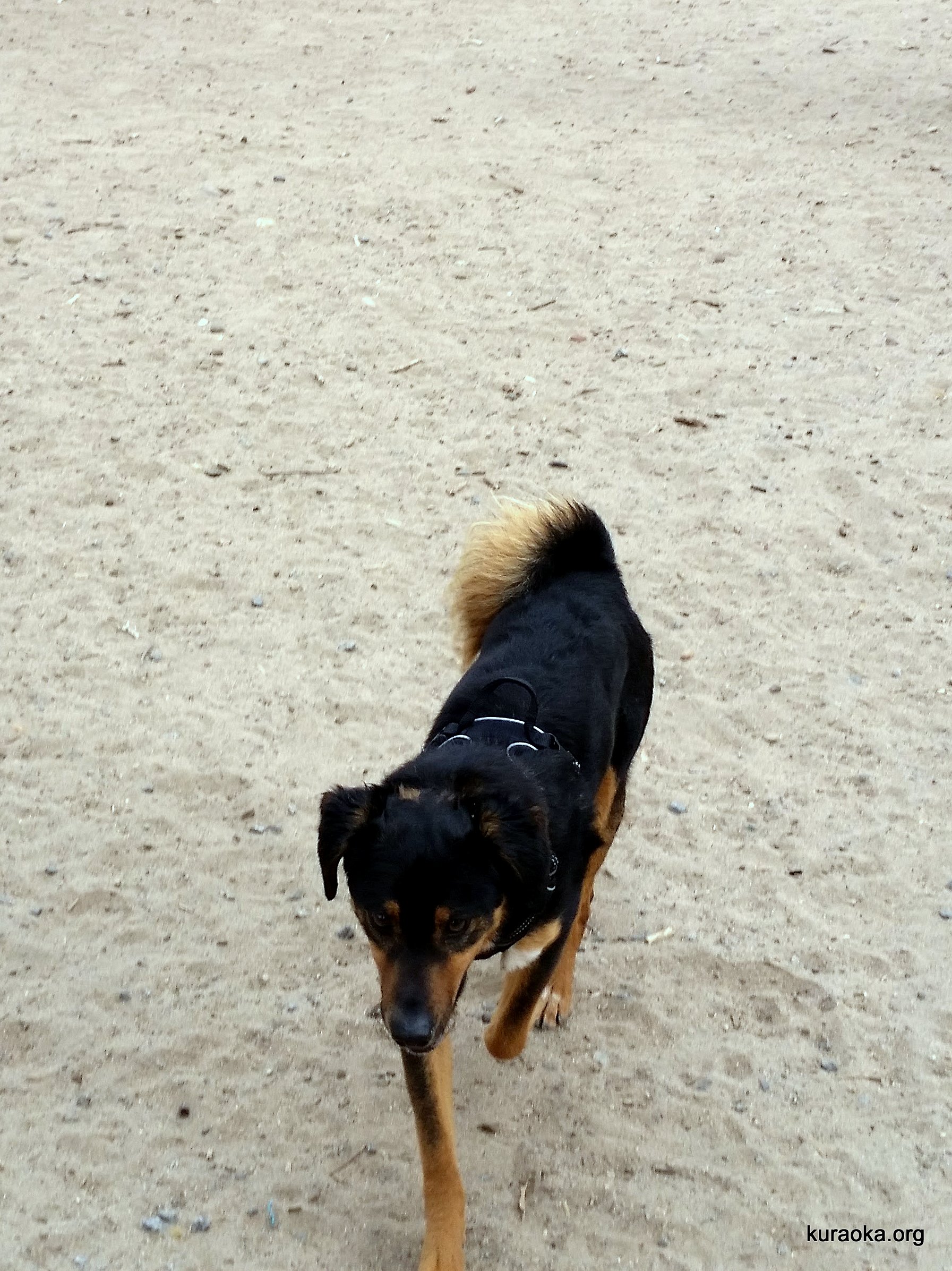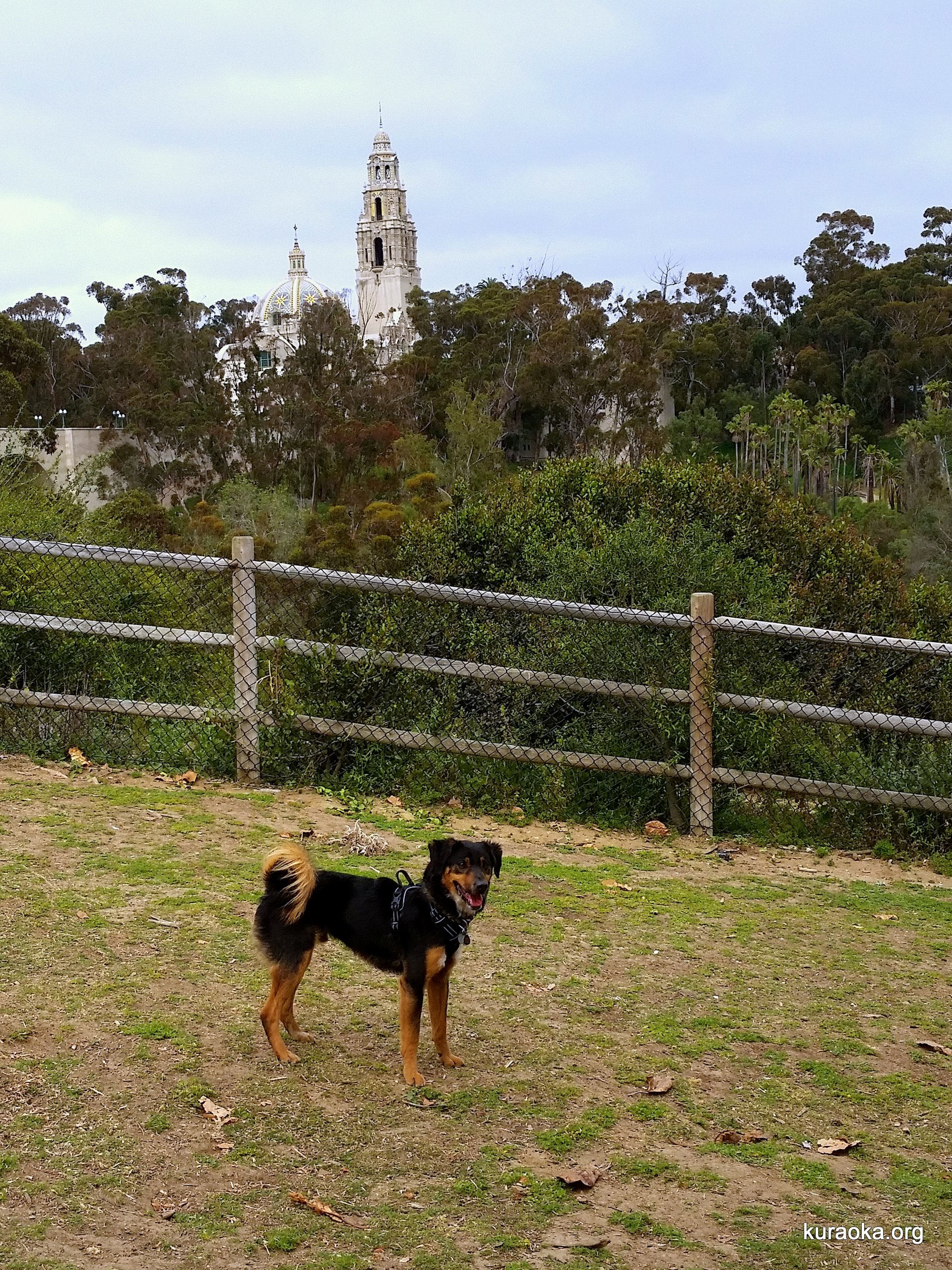 04-02-17: Desert wildflowers. The winter rains brought some rare desert flowers out of their long dormancy. We arrived too late for peak bloom, but the desert was still abuzz with life and ablaze with color.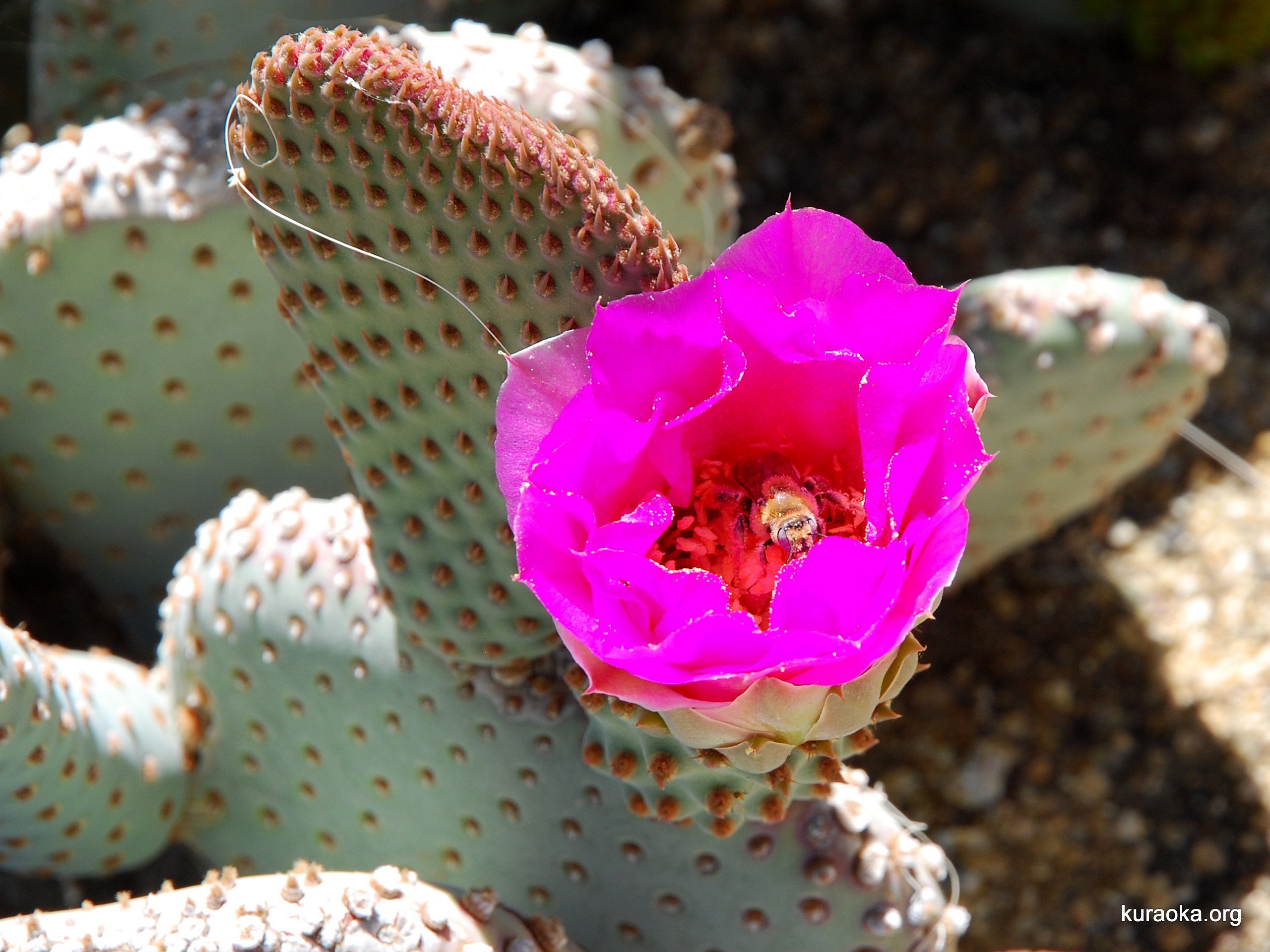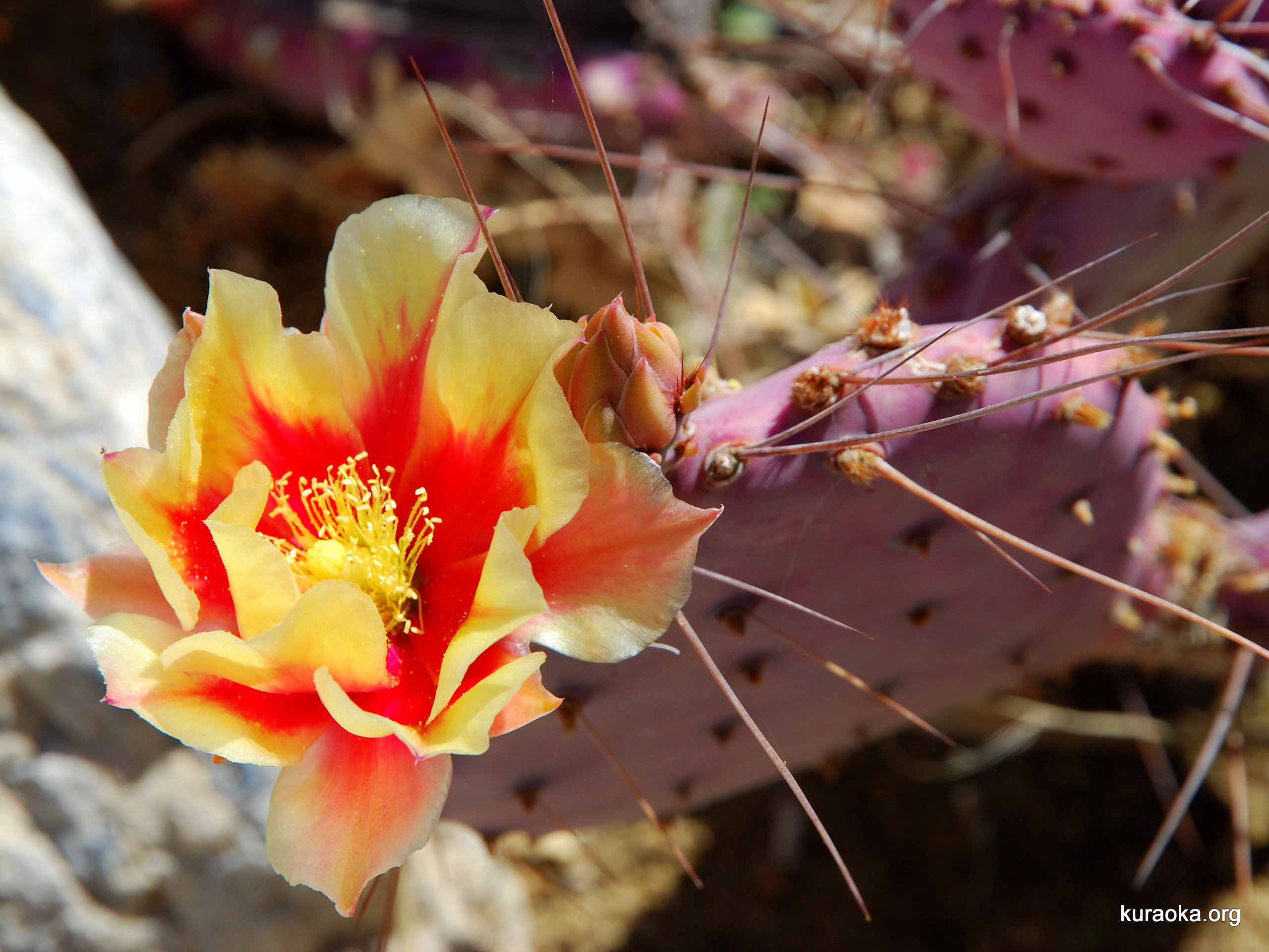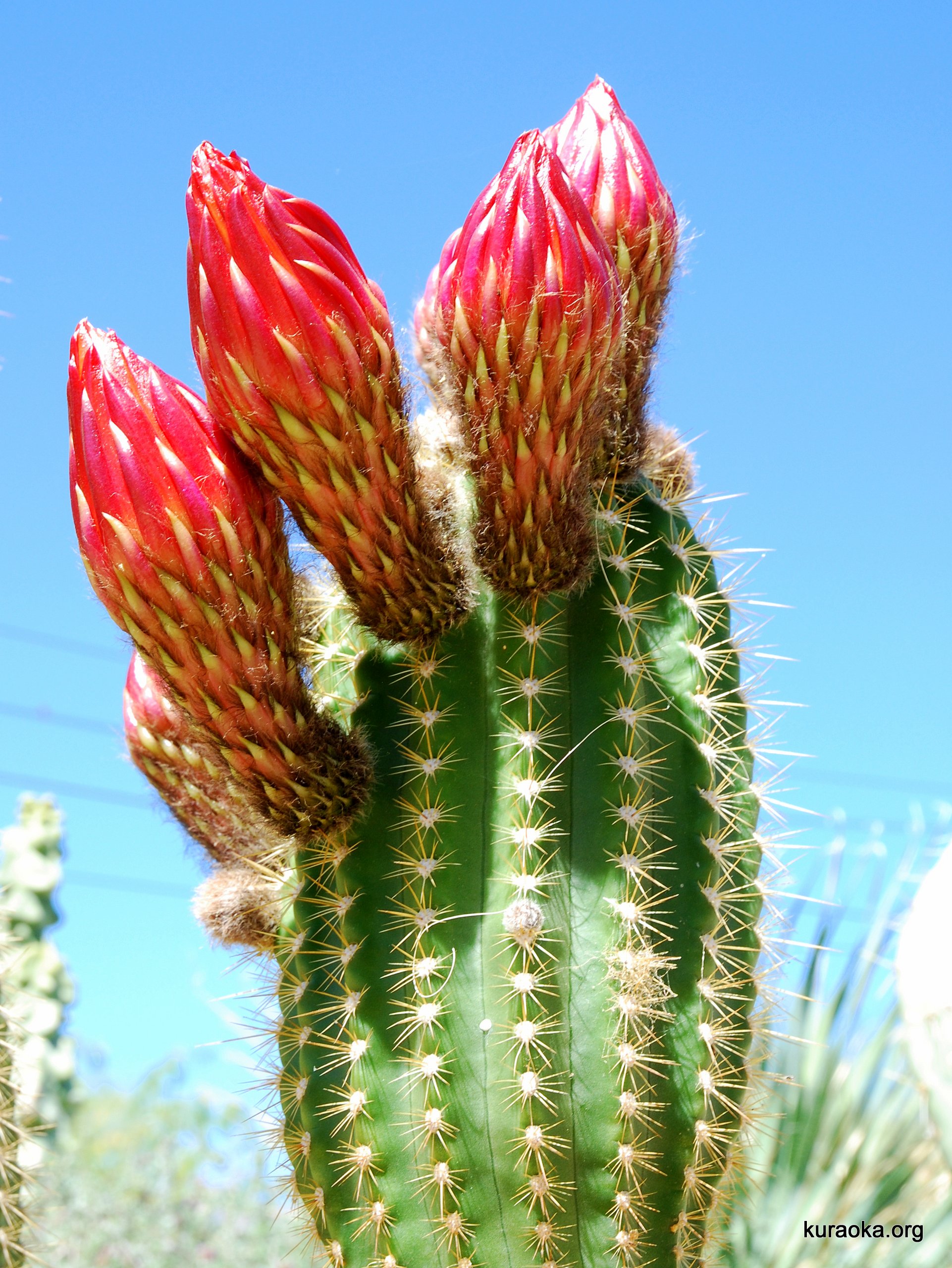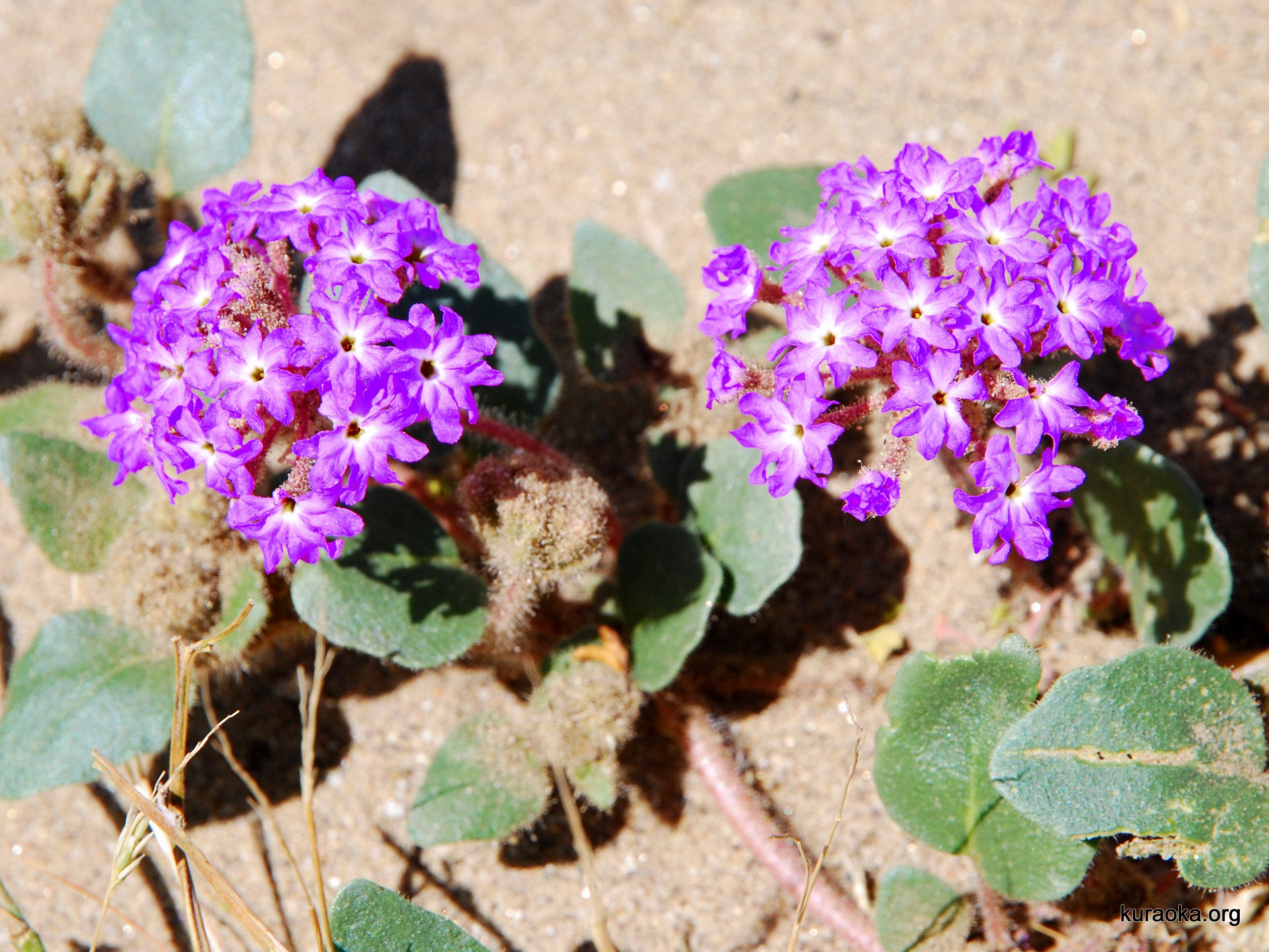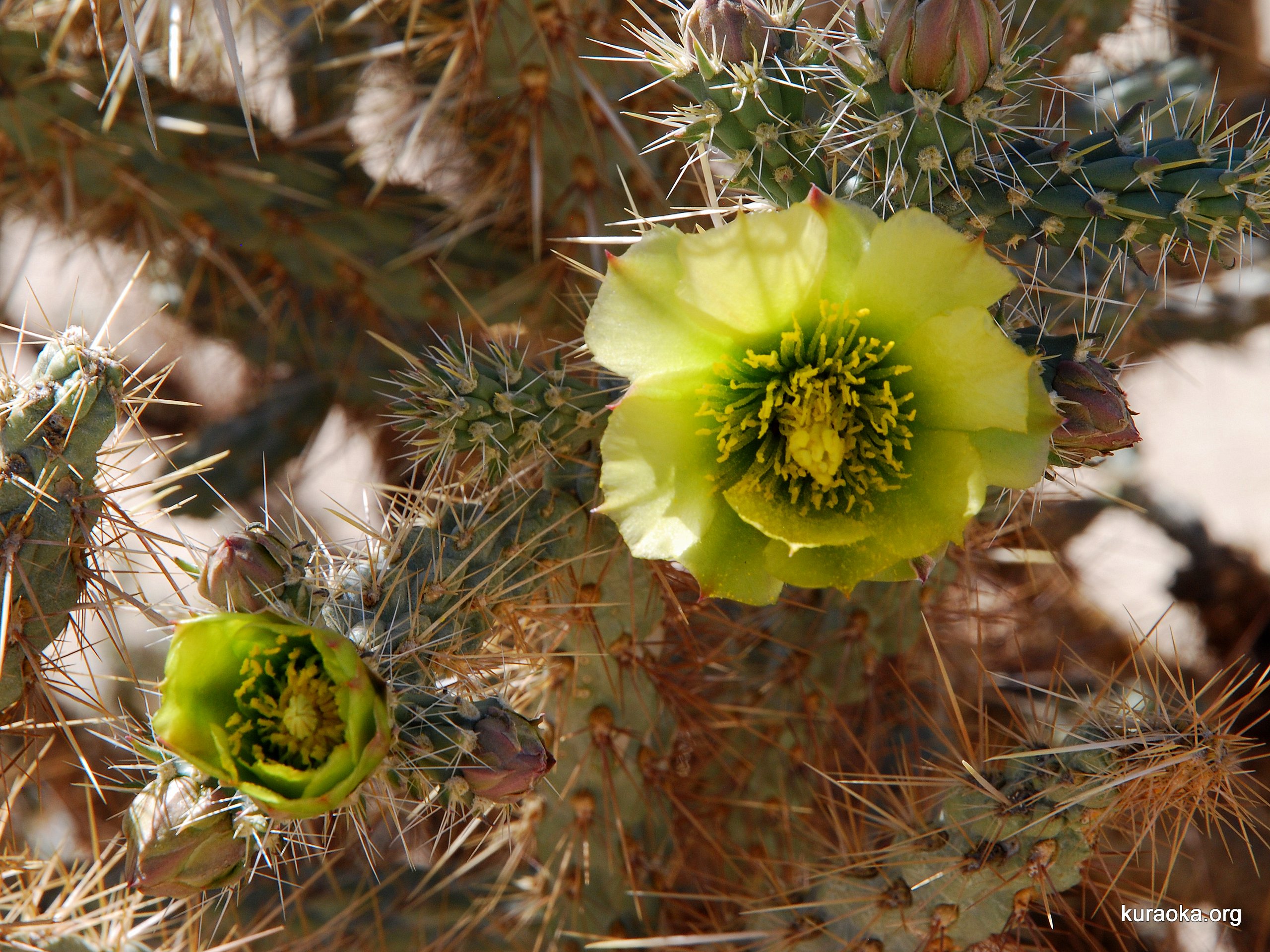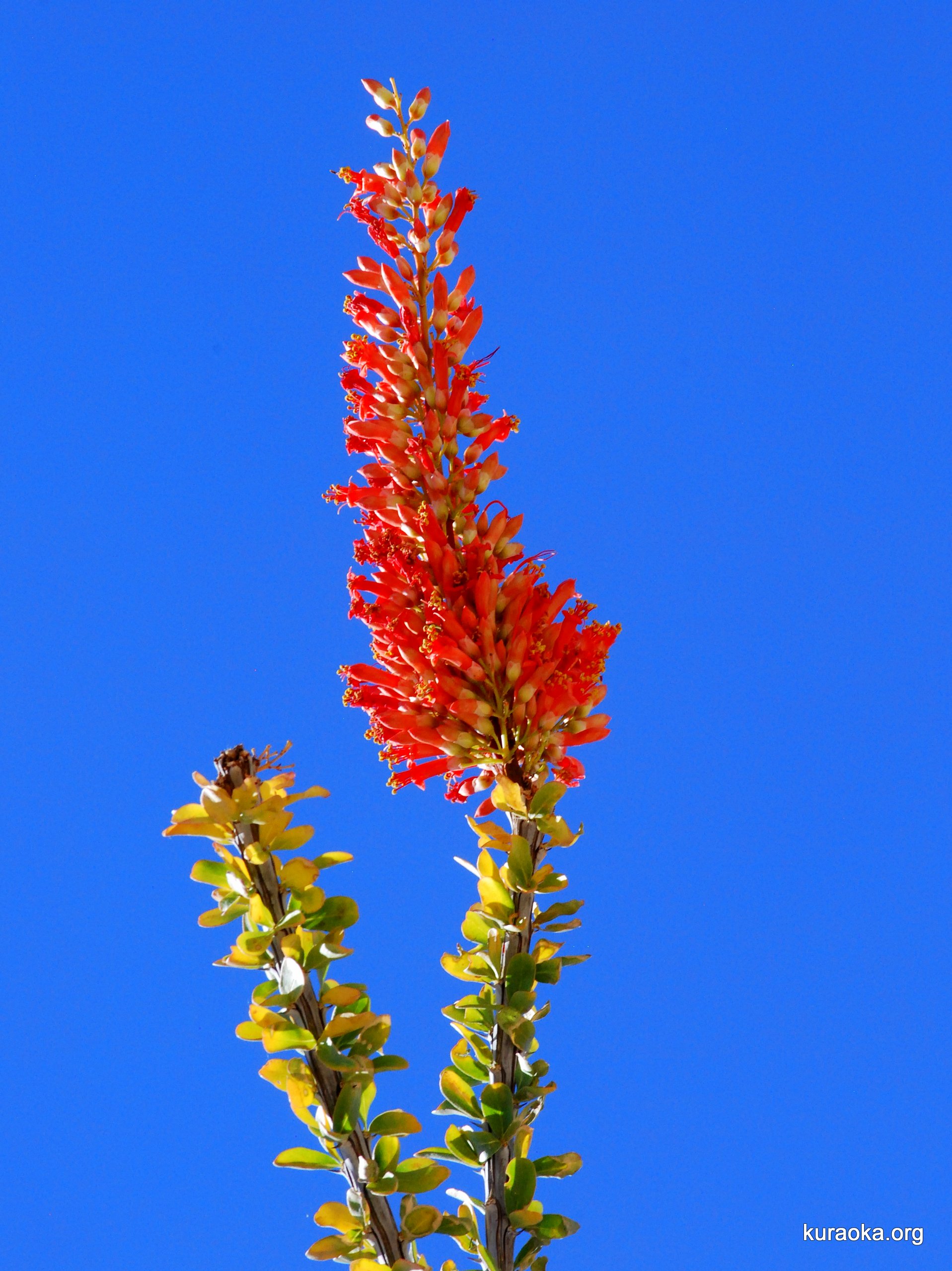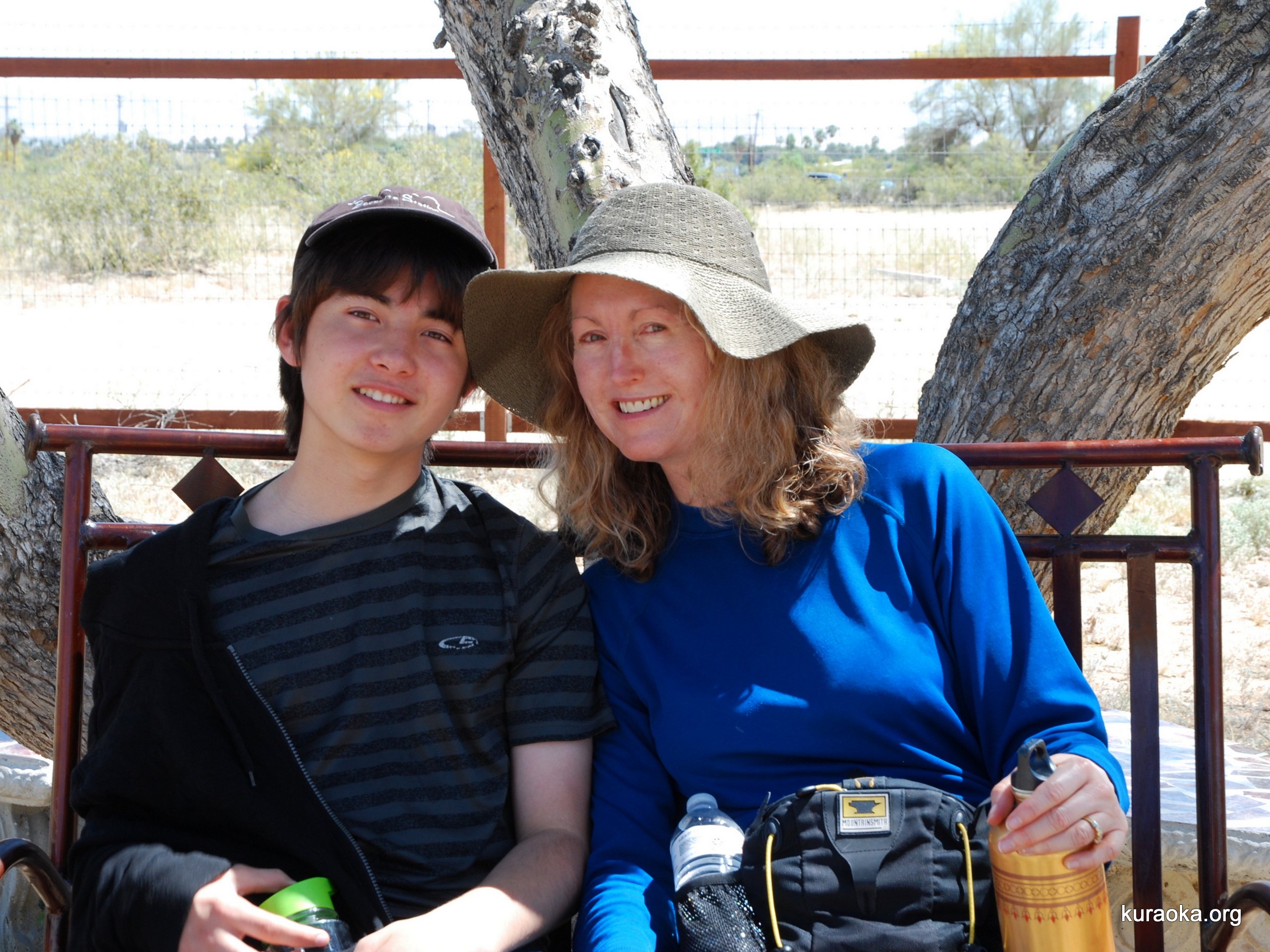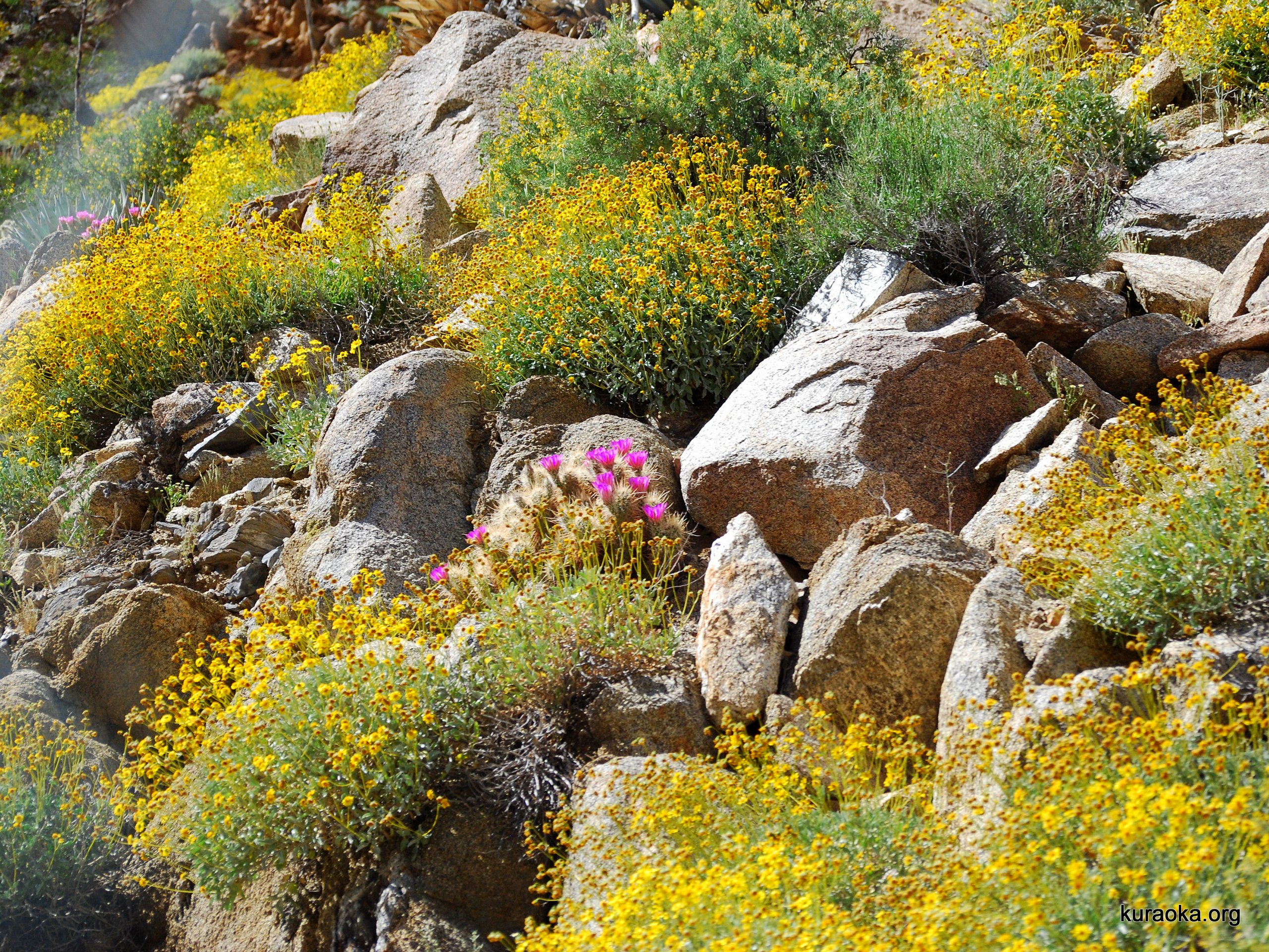 03-26-17: Jasmine and Girl's Day! Here's Jasmine with the Girl's Day display Grammy set up. Also, Roy and Leo and Jasmine, parallel play! That's Roy on the left with the bag o' Lincoln Logs and Amanda on the right. Then, Jasmine and Grammy. The last photo shows Grammy, Jasmine, Leo in the back with the blocks, and Ondine.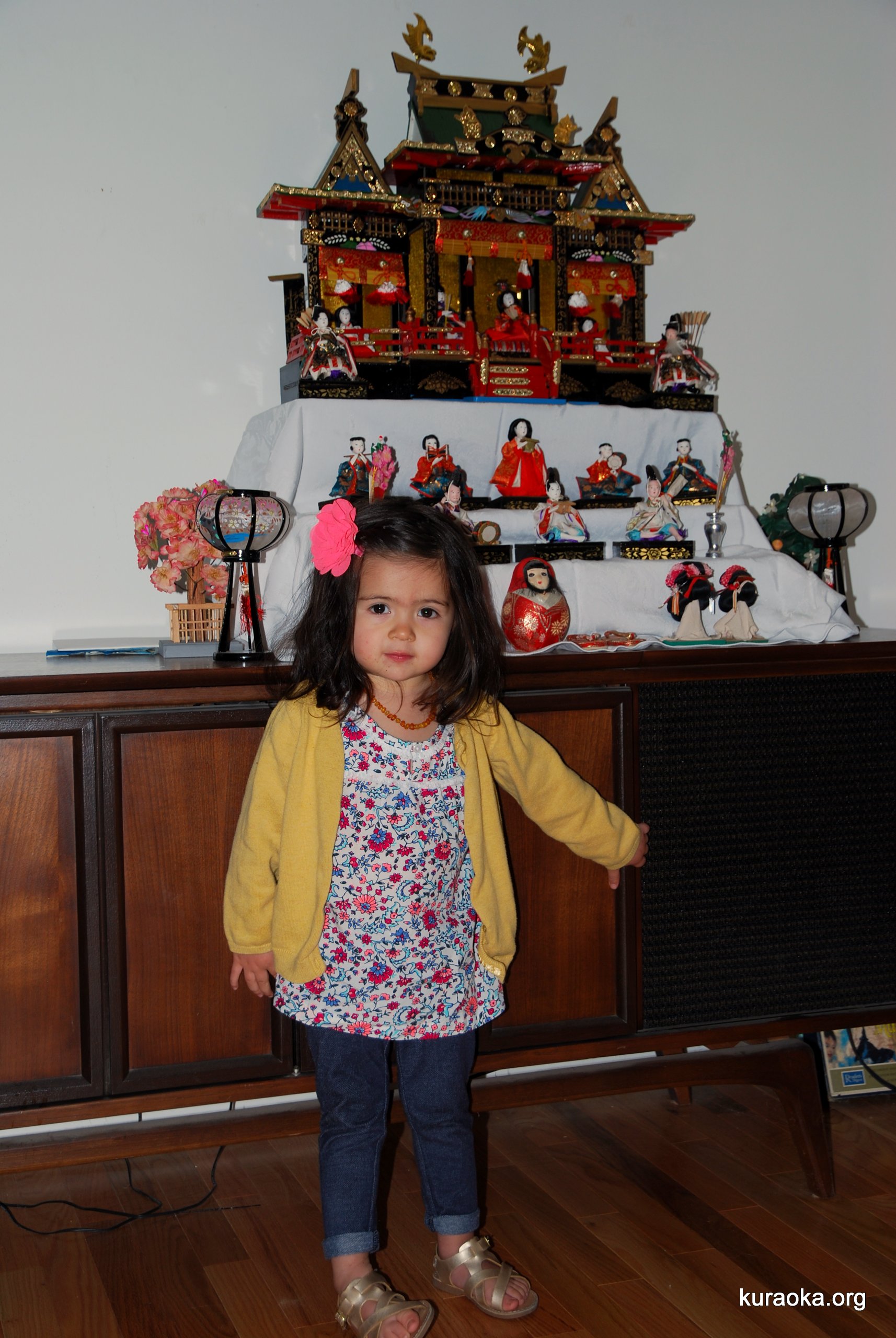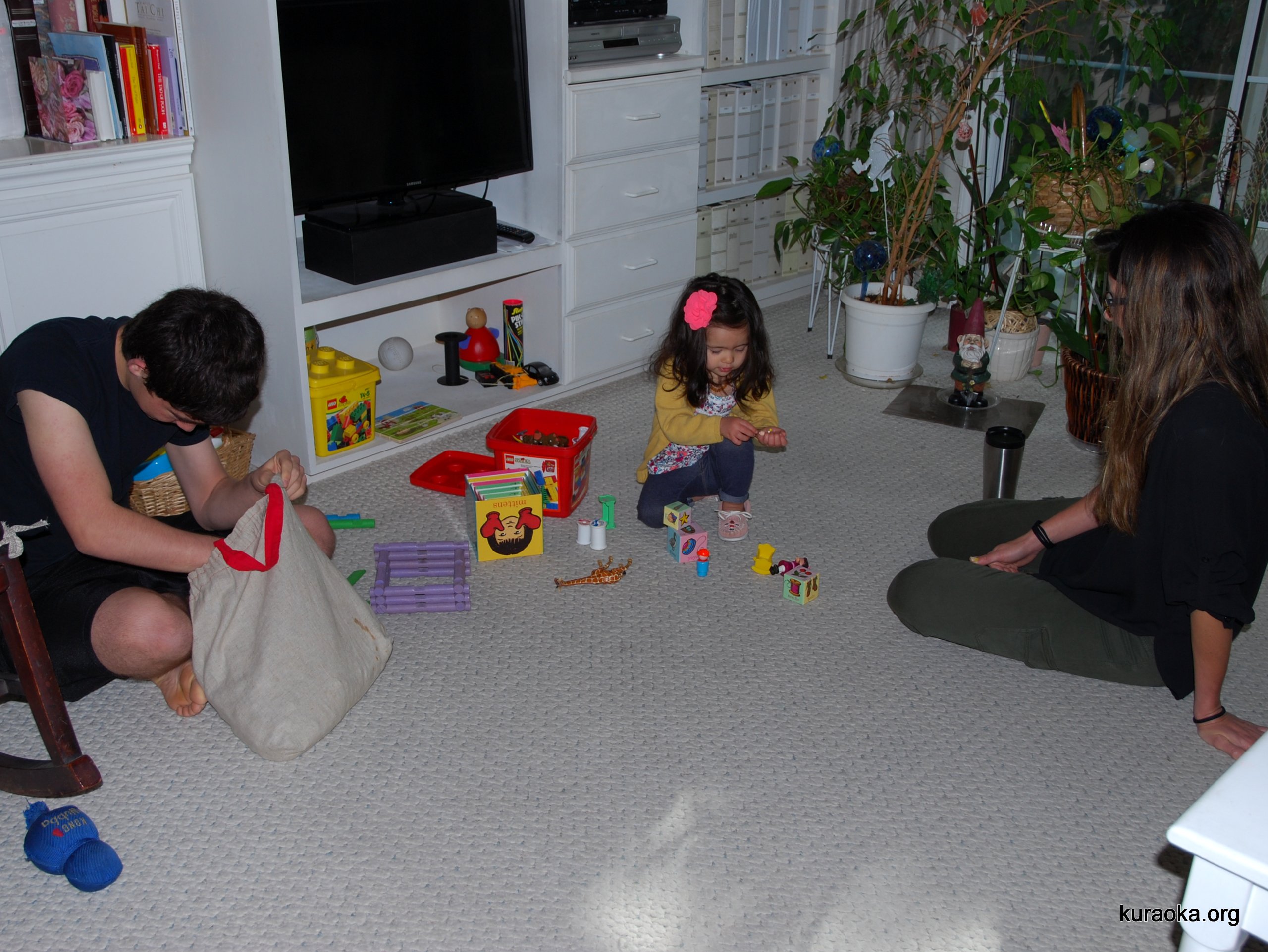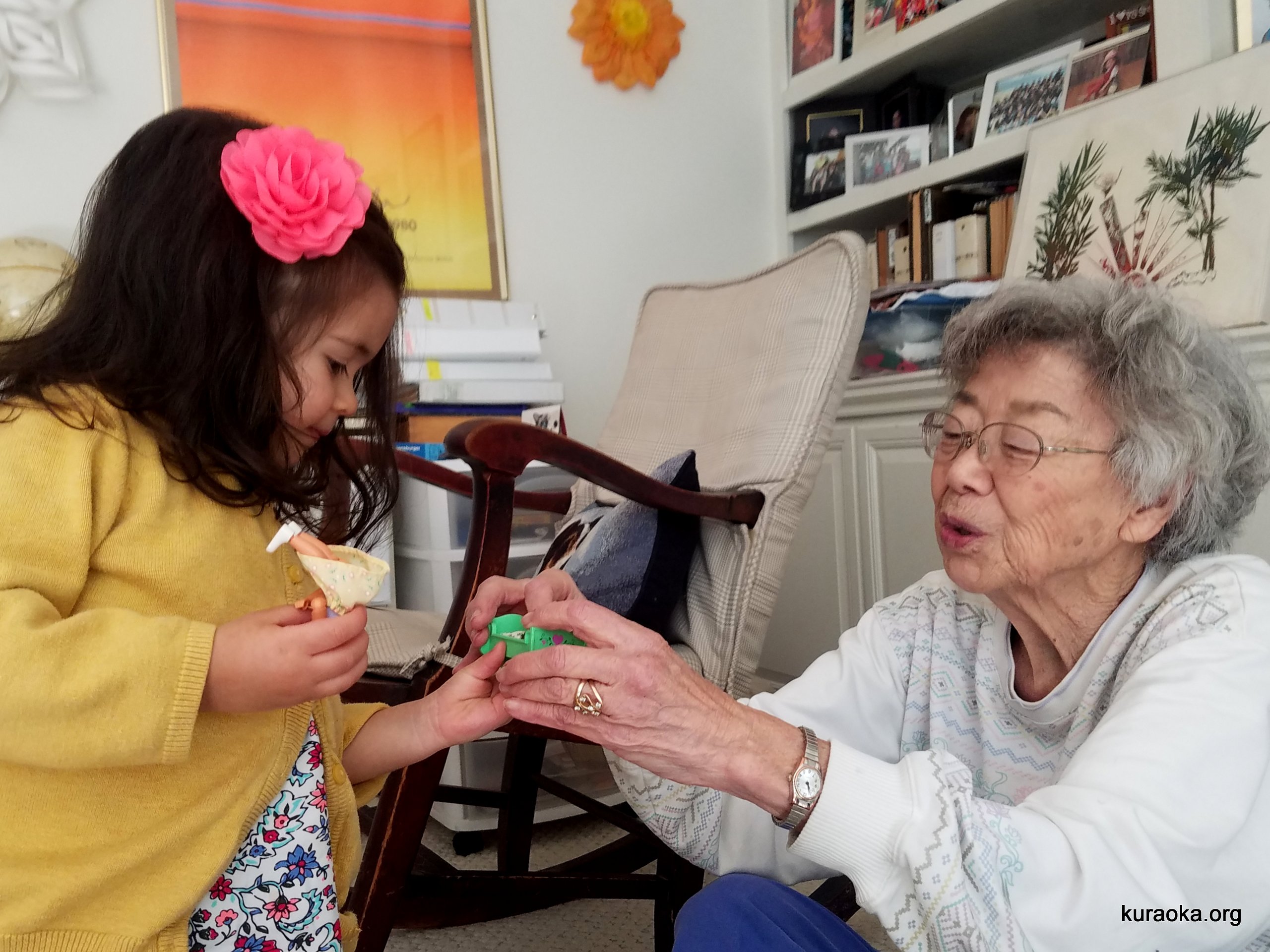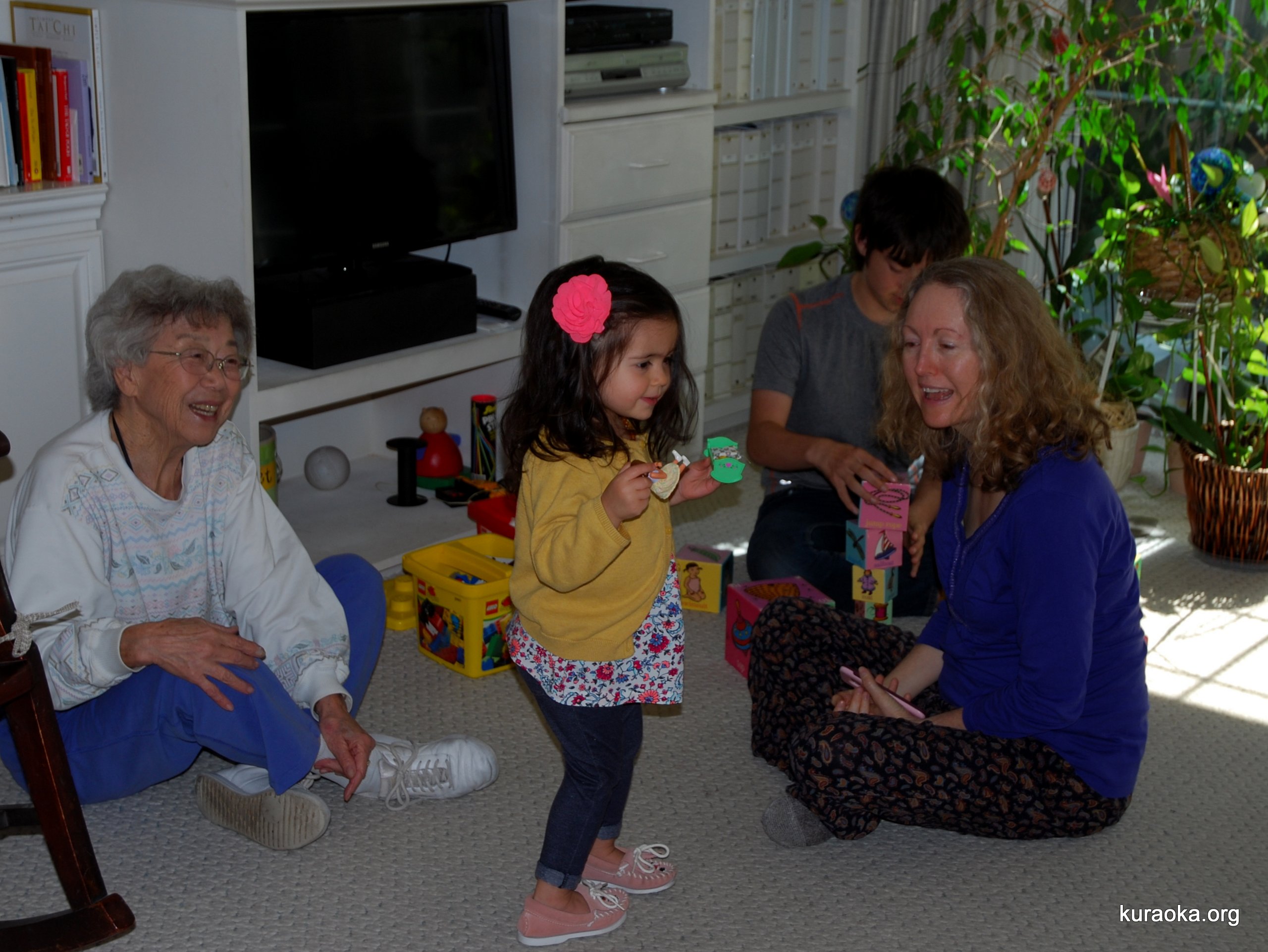 03-25-17: Magic Mountain! We went to Magic Mountain, where the boys rode Twisted Colossus, Scream, Goliath, Viper, and New Revolution, most several times. Ondine rode Twisted Colossus once and that was about enough for her. John sat and read Thinking Shakespeare. Here are Leo and Roy and us after lunch (they're heading off to ride Viper for a few rounds). Then Leo and Roy after over an hour in line for the New Revolution; they're to the right. Note the most excellent photo bomb by the two young men just left of center! The last photo is all of us closing down the park.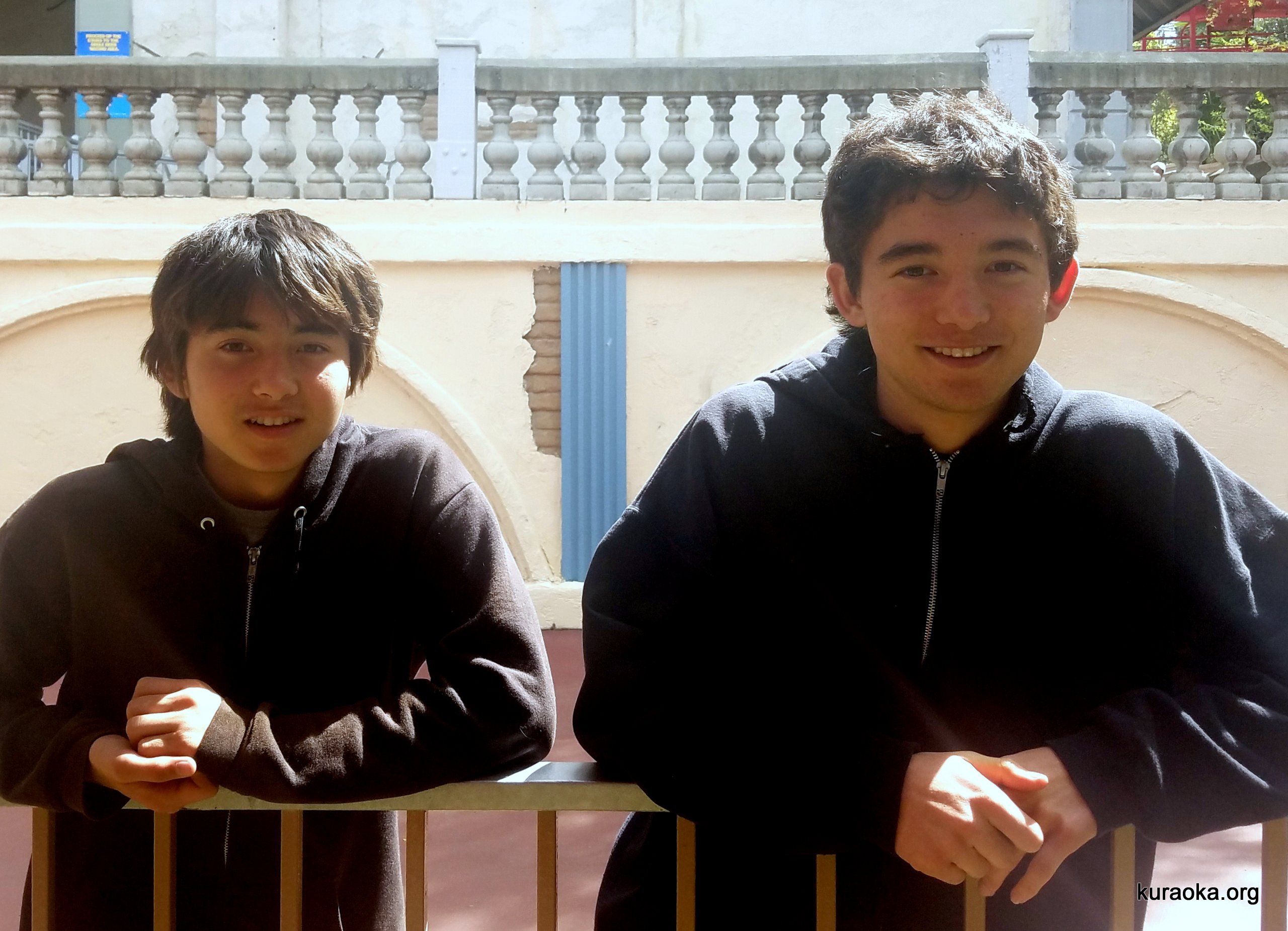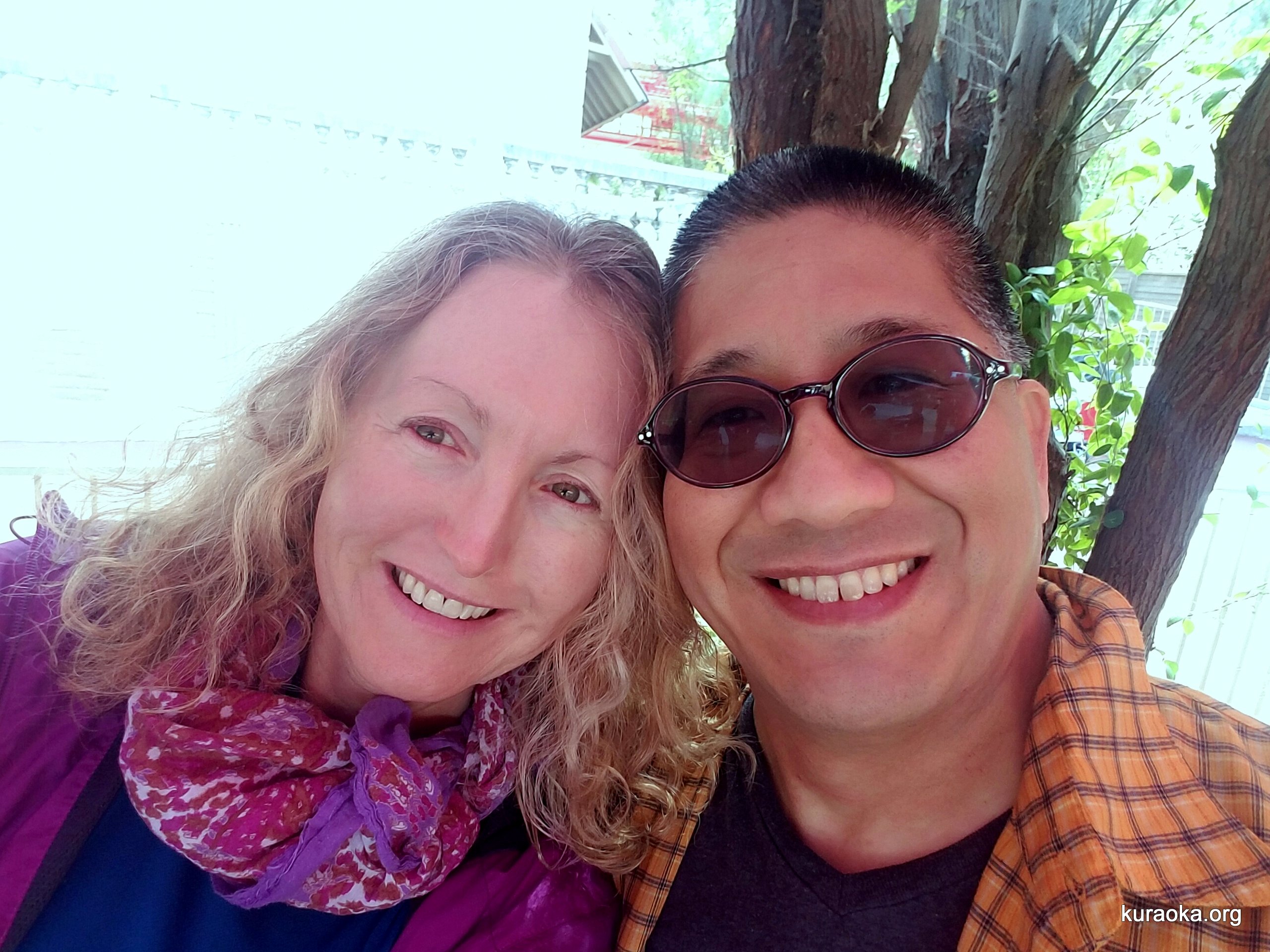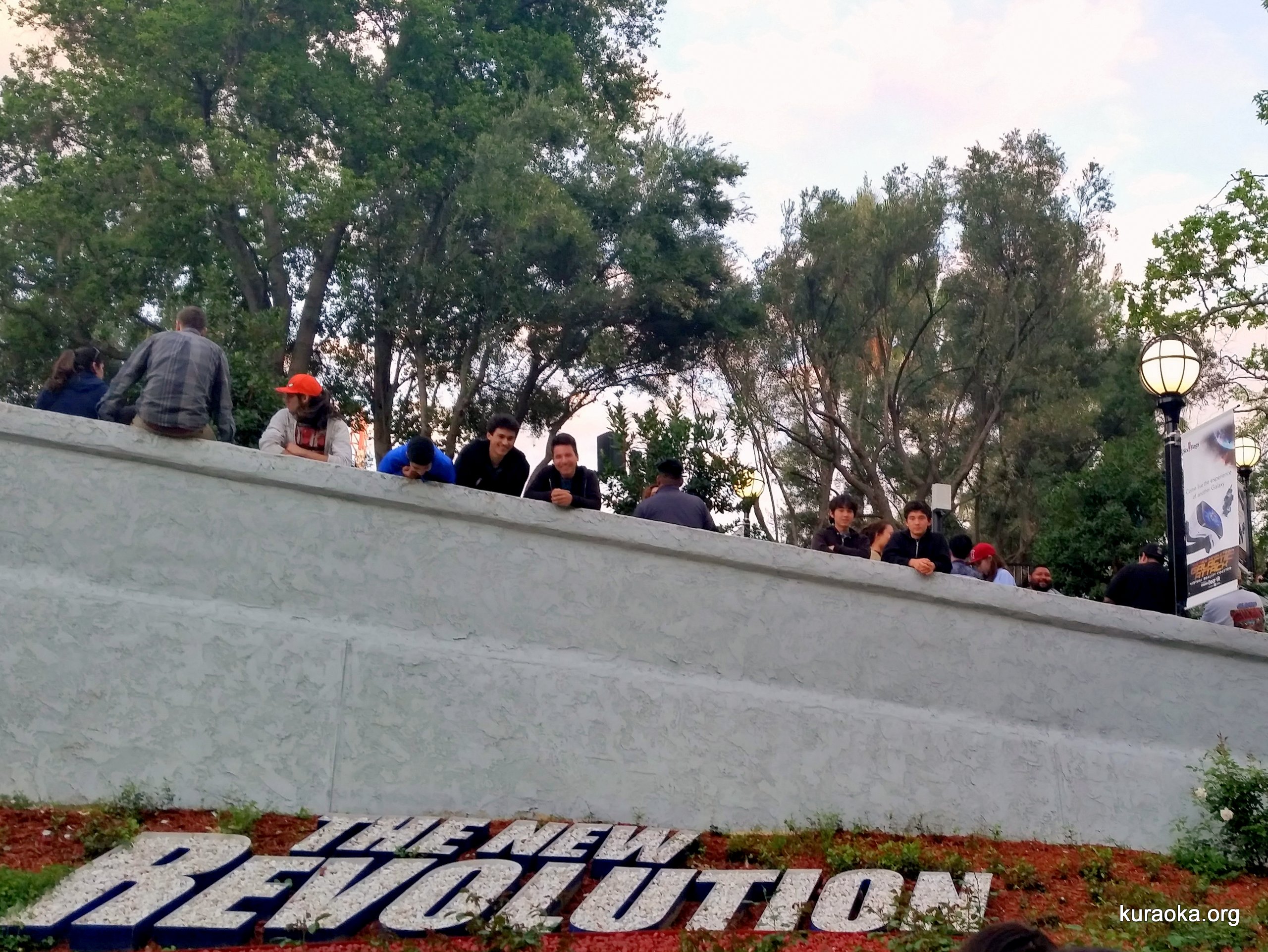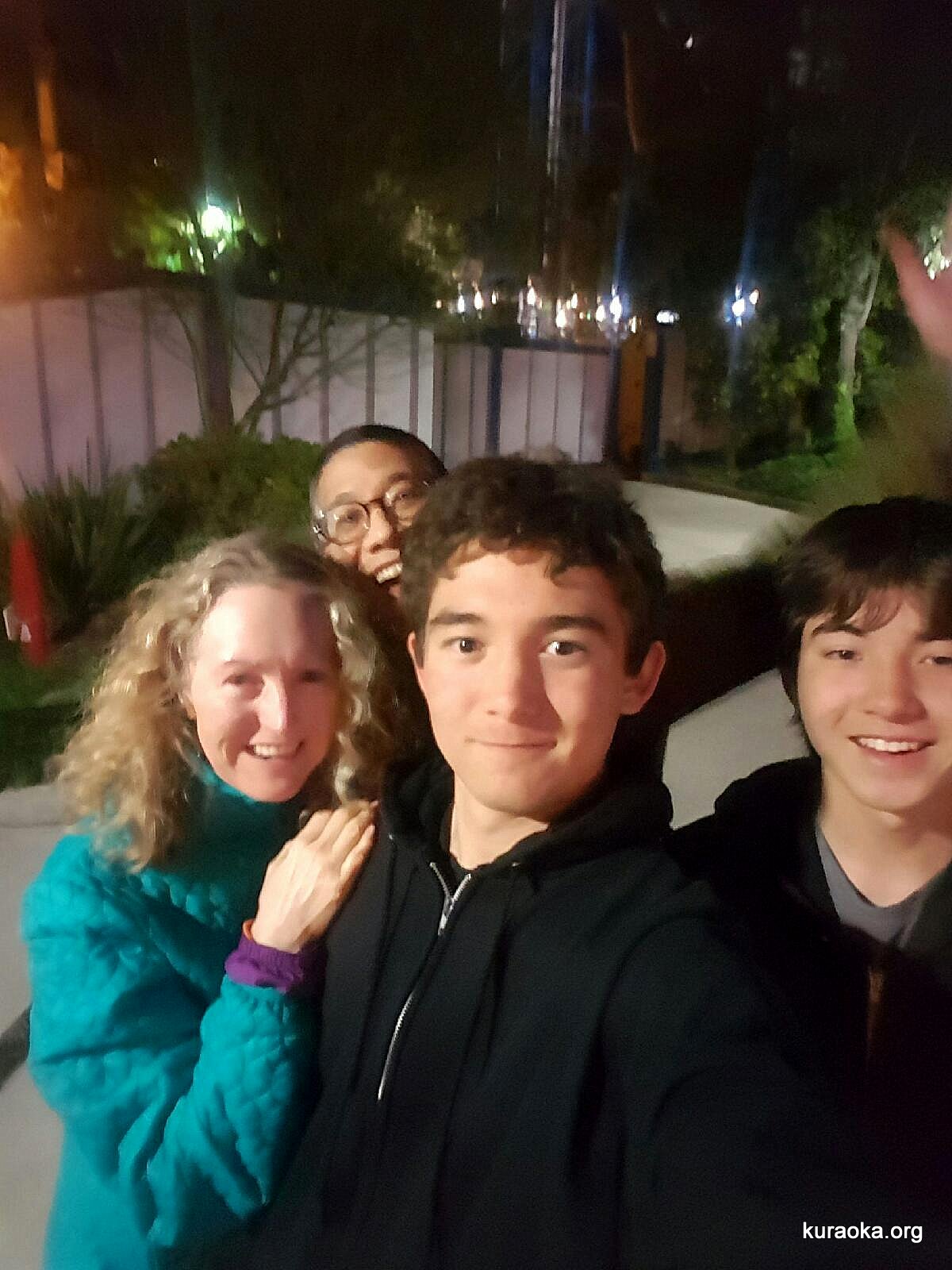 03-20-17: Nikon 55-200 4-5.6G ED VR II test shot. Just a quick photo of a garden event to test a new camera lens. It seems to work.

03-19-17: The Little Mermaid at the new Patrick Henry Performing Arts Center. The paloverde in front of the building were in bloom, a novel sight in the city. And, here are two views up toward the lighting booth. You can see Roy in there at the lighting board and wearing a headset.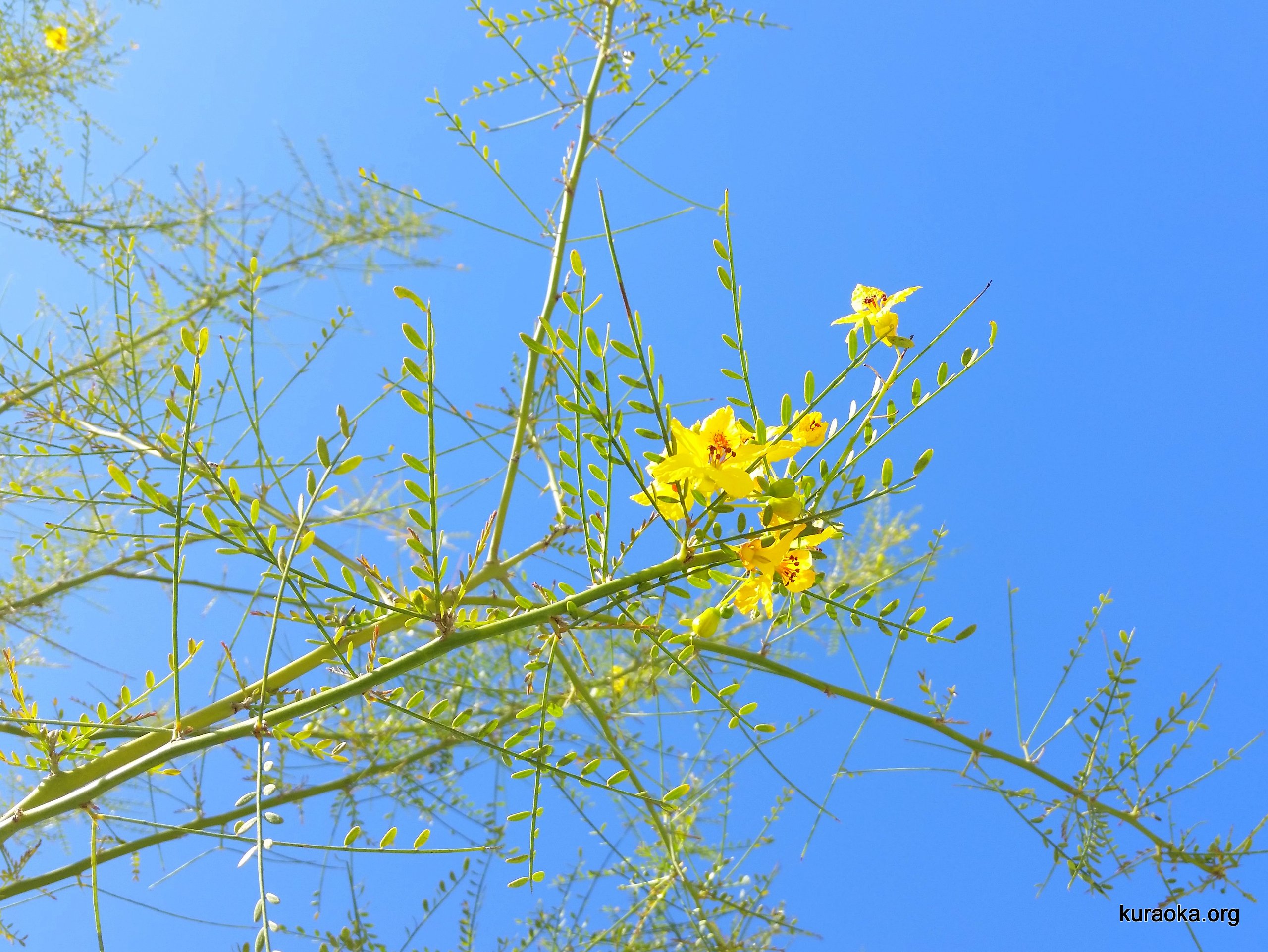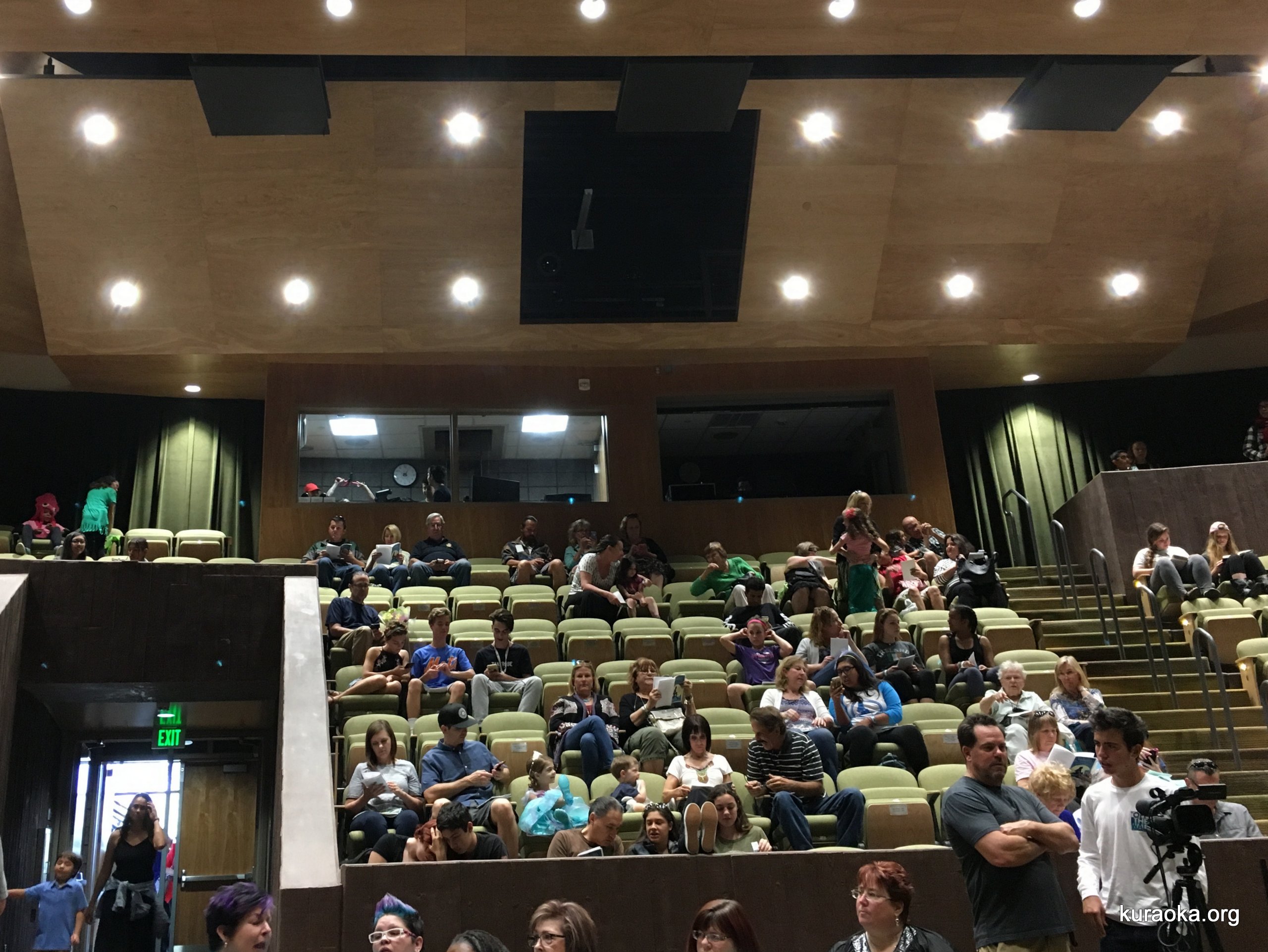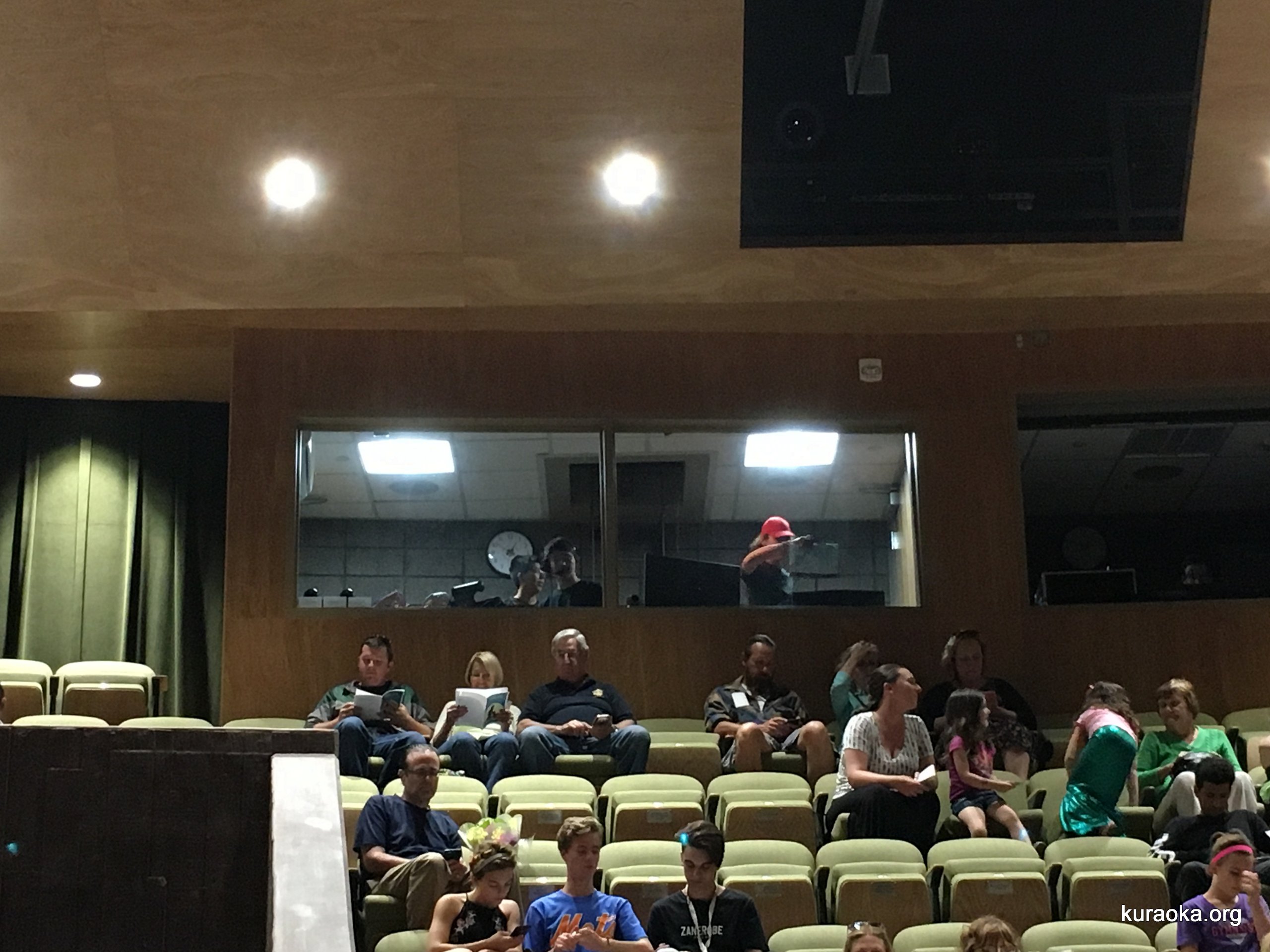 03-02-17: The waterfall on Cowles Mountain. This is a phone photo showing the view from our front windows. At night we can hear the rushing water and frogs croaking in Polliwog Pond. It lasts only a couple days, and then it's over, so it's really precious when it occurs.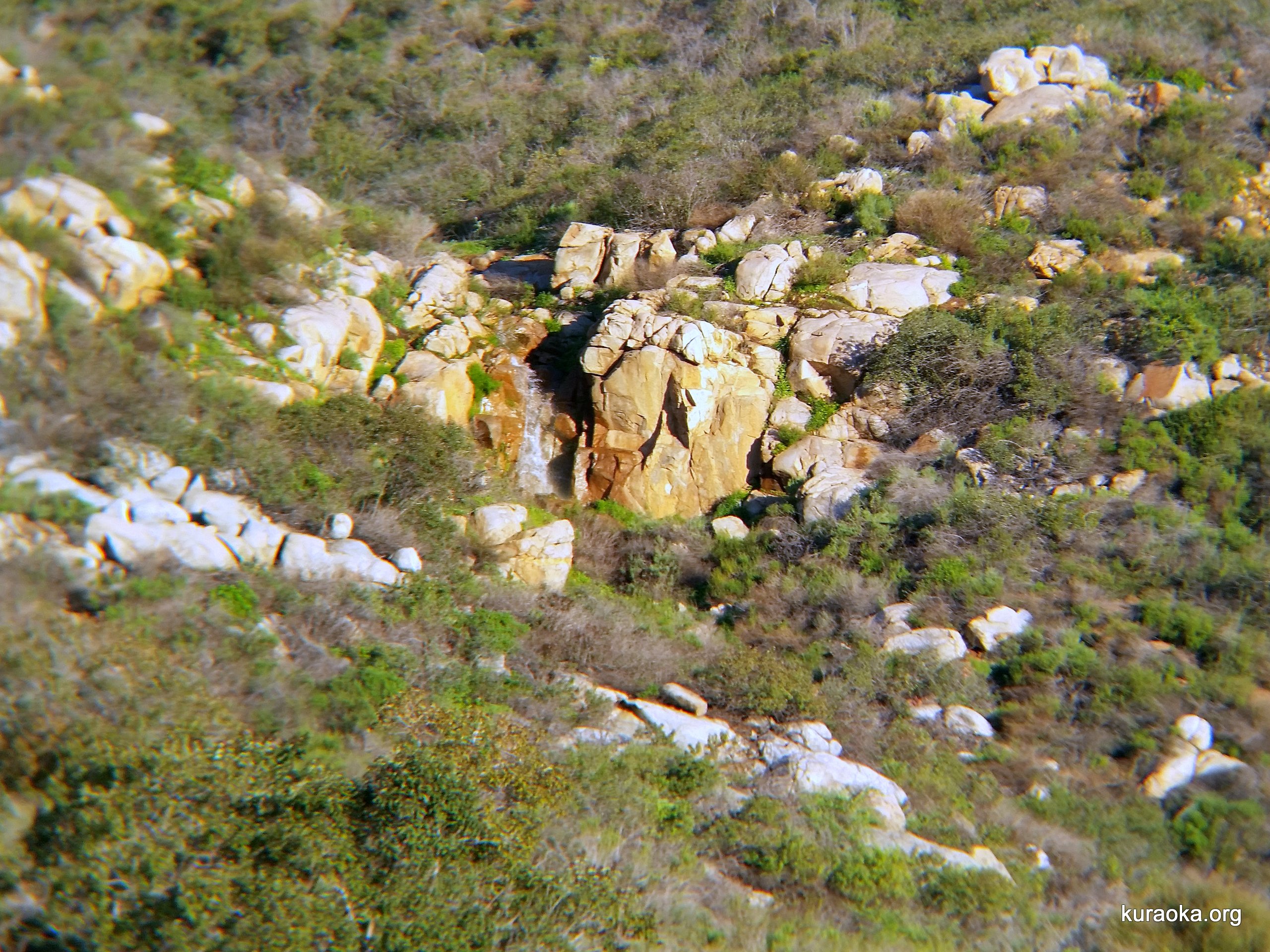 02-20-17: Leo and Roy in Multi Relax mode. Like the t-shirts? Desiree gave them to the boys in Berlin. Her boyfriend designed them. Cool!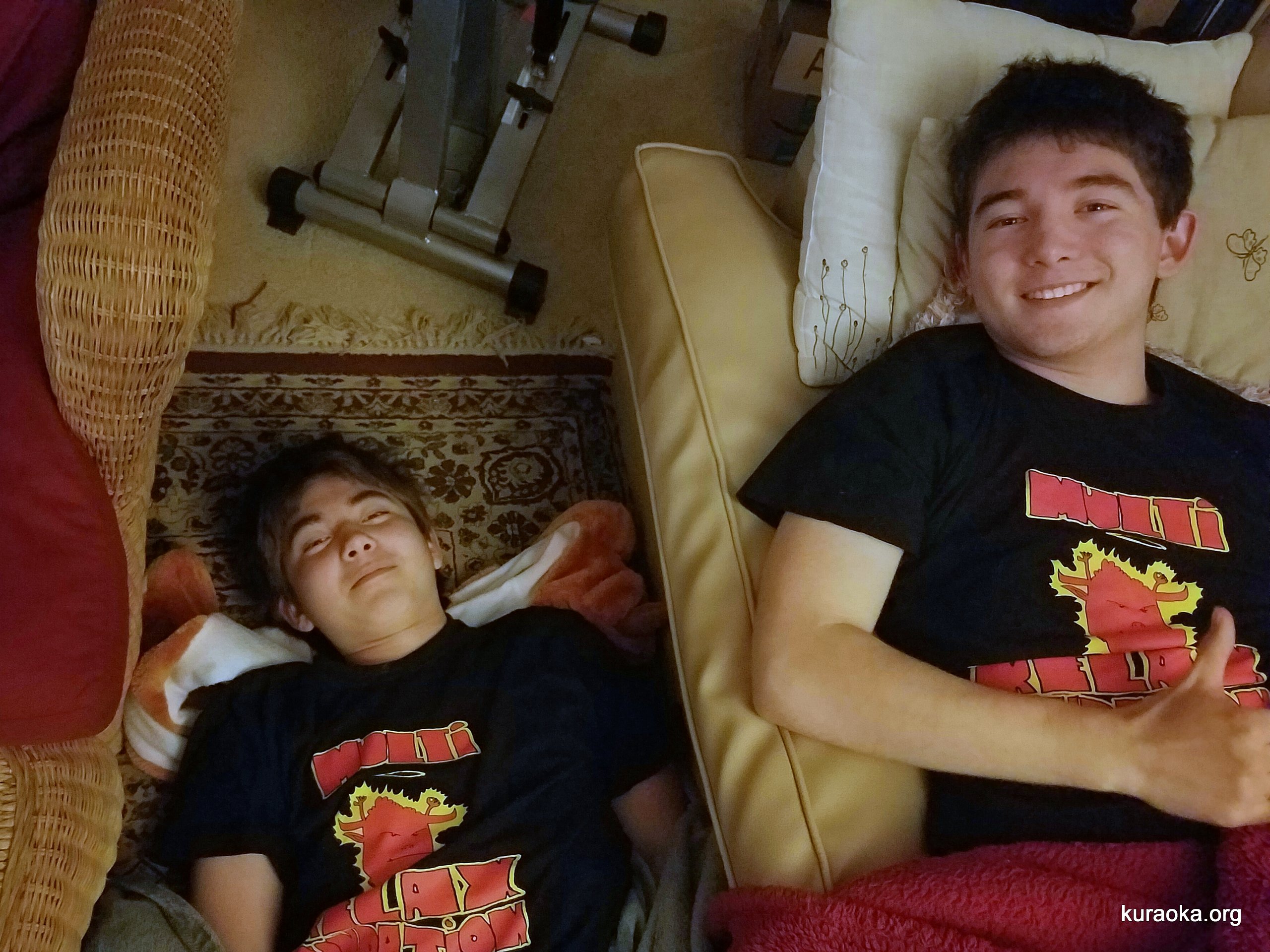 02-19-17: Ondine and Shadow on the mountain after the rains. The water was flowing and the wildflowers were blooming. Note the slight misting on Shadow's fur. The last photo shows them near Bill and Buddy.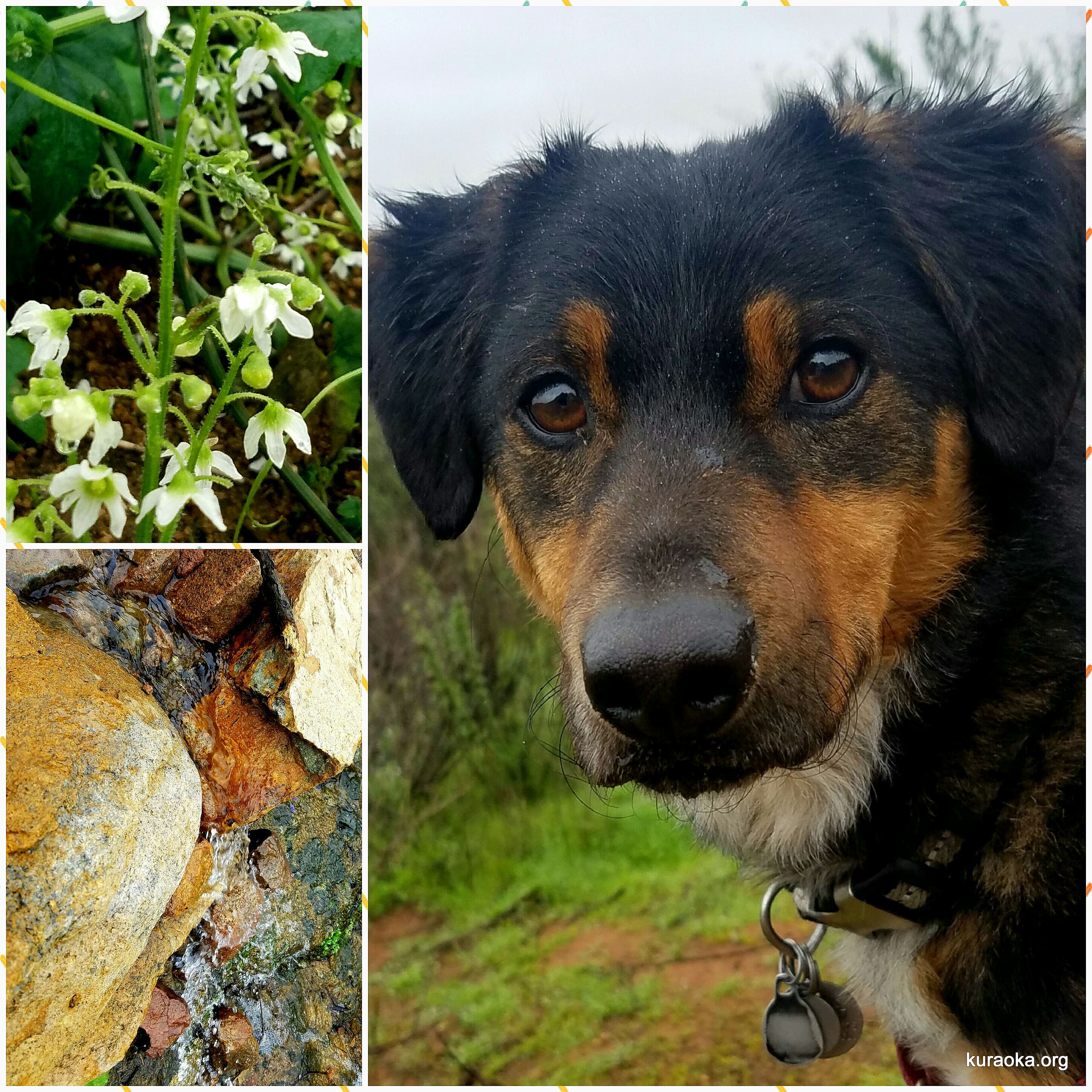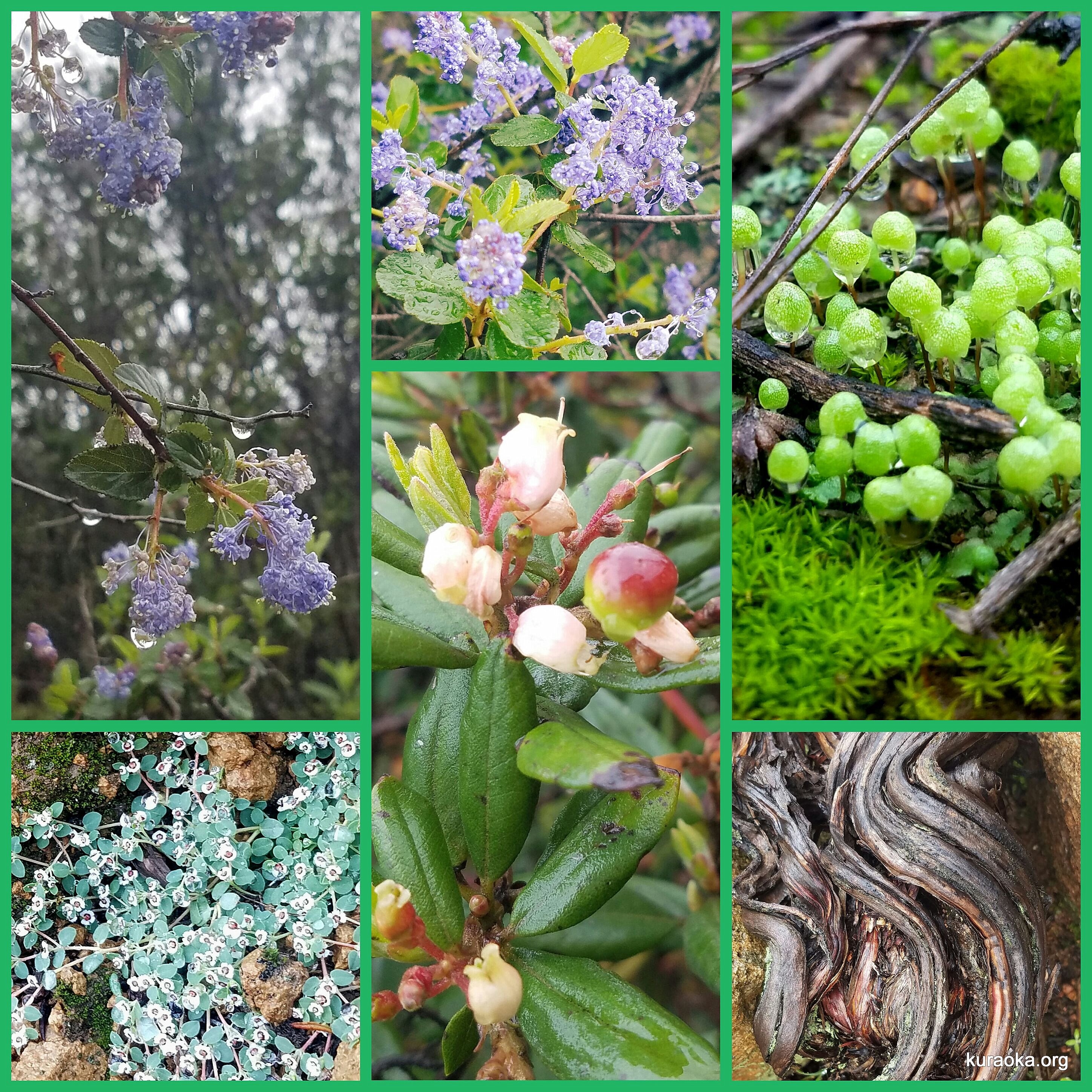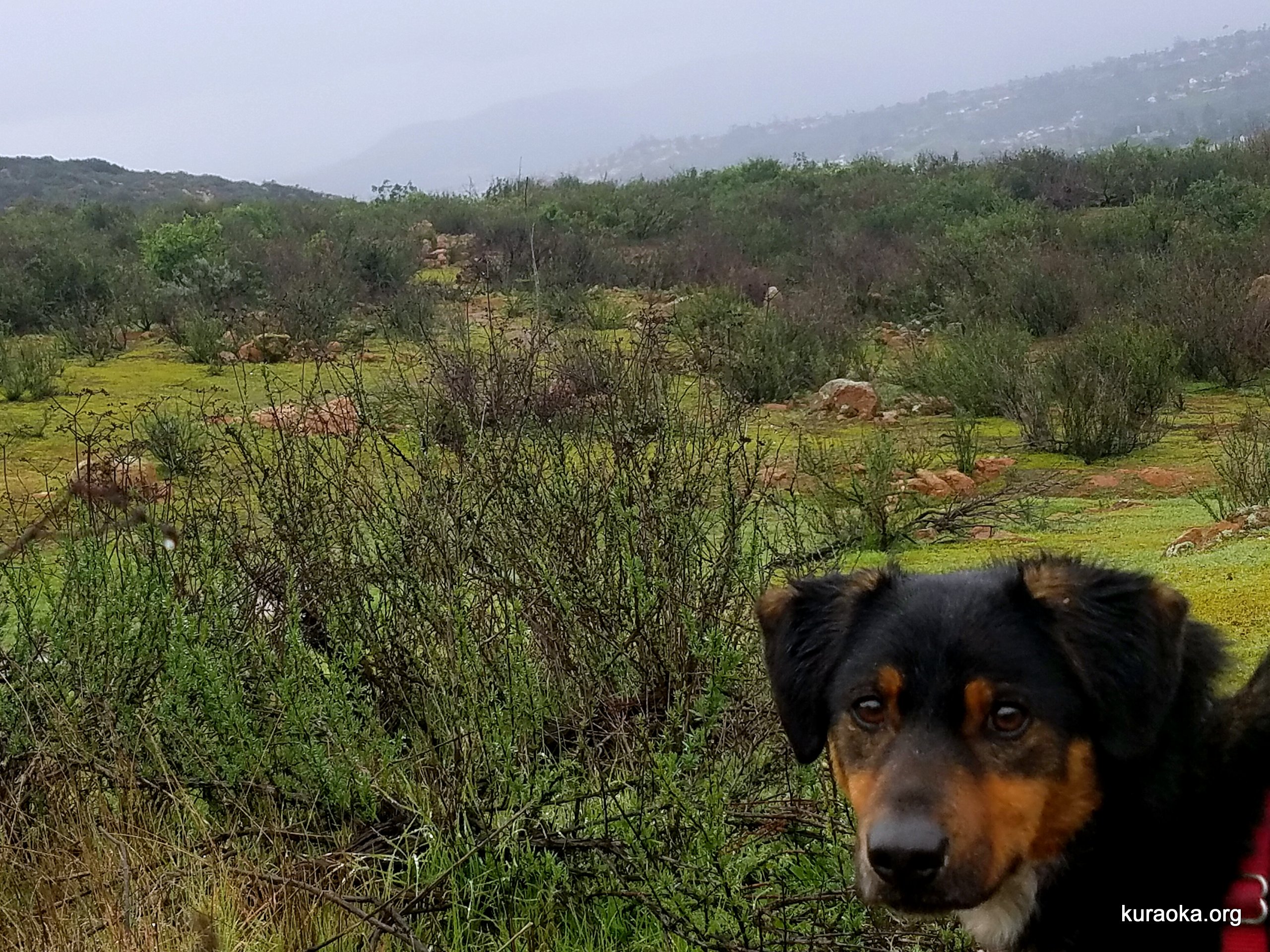 02-12-17: Ondine cleared and planted the back garden bed. She removed a lot of overgrown stuff, turned the soil, and planted four lavenders. You can see the two types, and the two additional lavender plants we bought.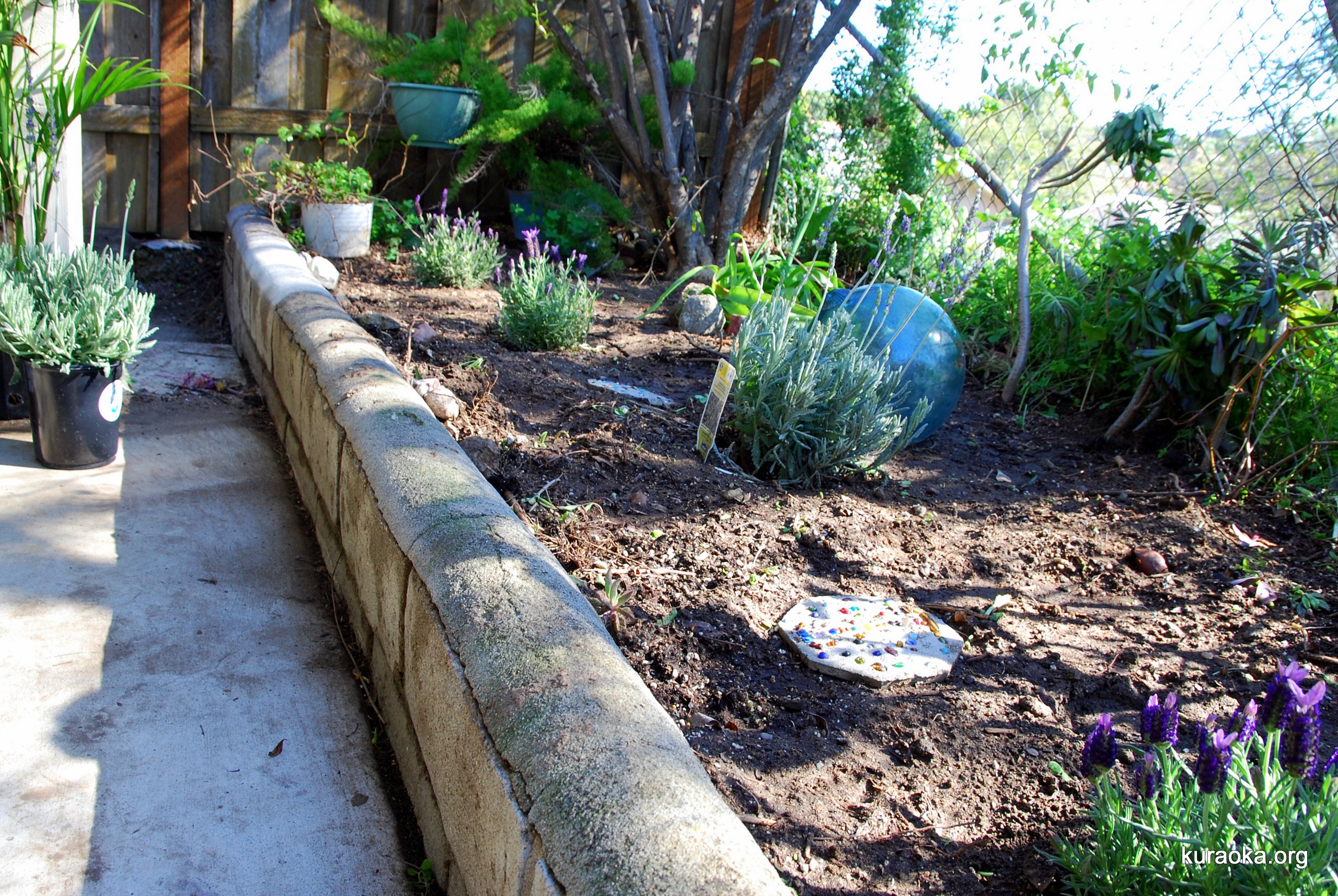 02-05-17: Anita and family are back in town! We visited Ondine's cousin Anita and Rennolds and family at their new home in San Clemente. The wall behind us reveals that they're in the midst of renovations. The back row shows, left to right, John, Roy, Case, and Rennolds. And in the front are Leo, Anita, Ondine, and Katrina. Reid is away at college.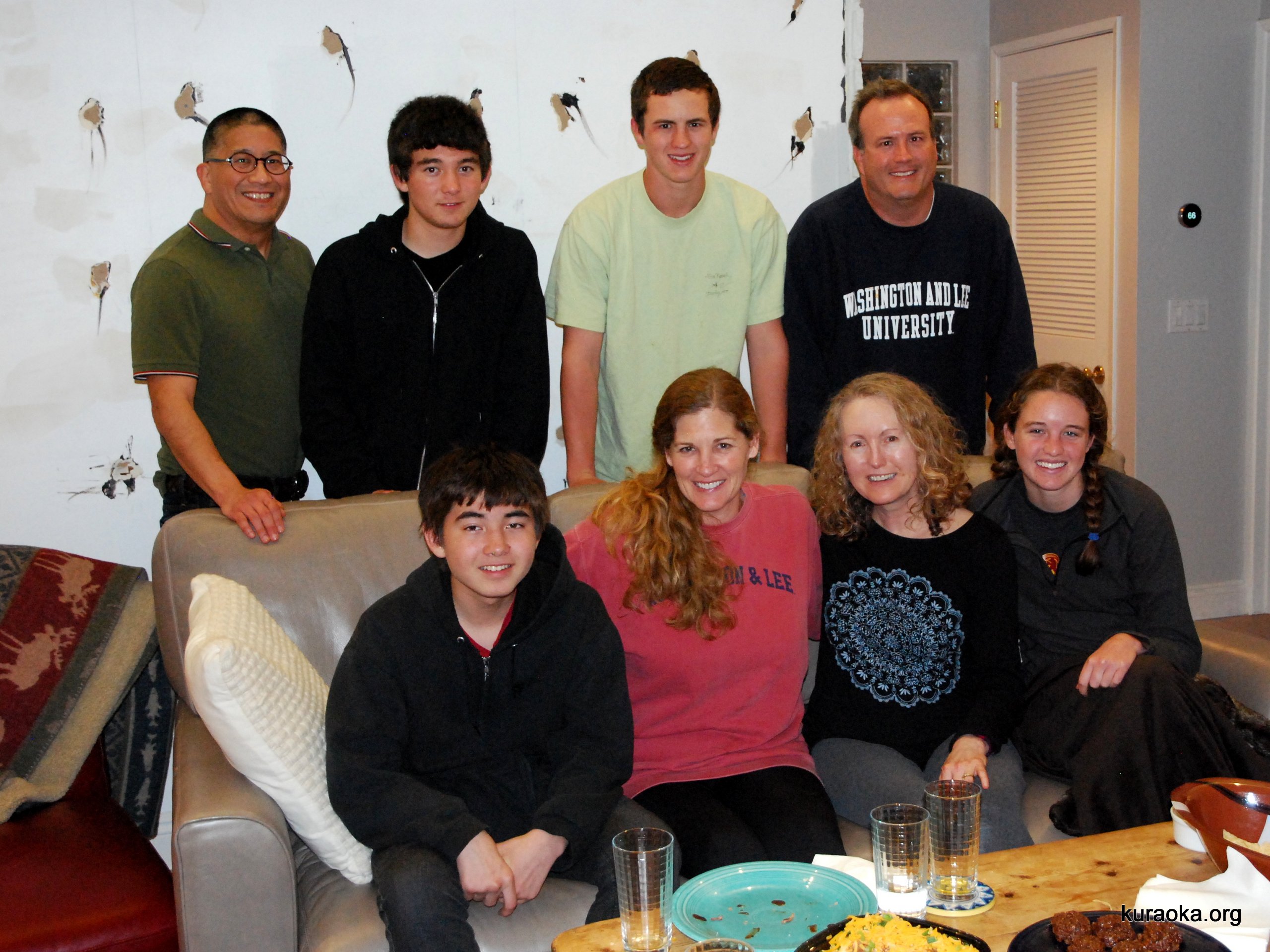 01-29-17: Bears in the kitchen! Leo wanted French toast. Roy wanted pancakes. The kitchen may recover in time for Oshogatsu 2018.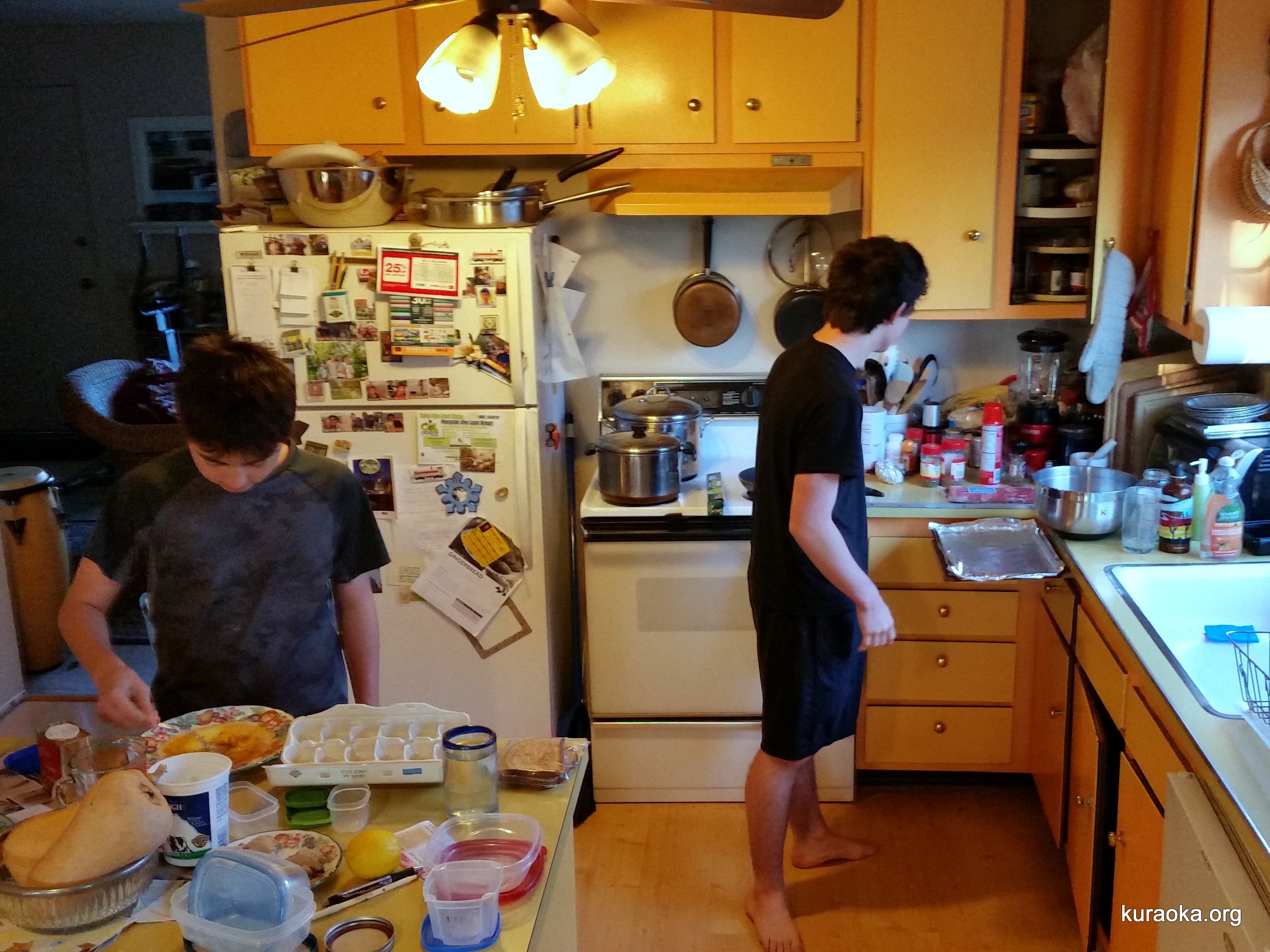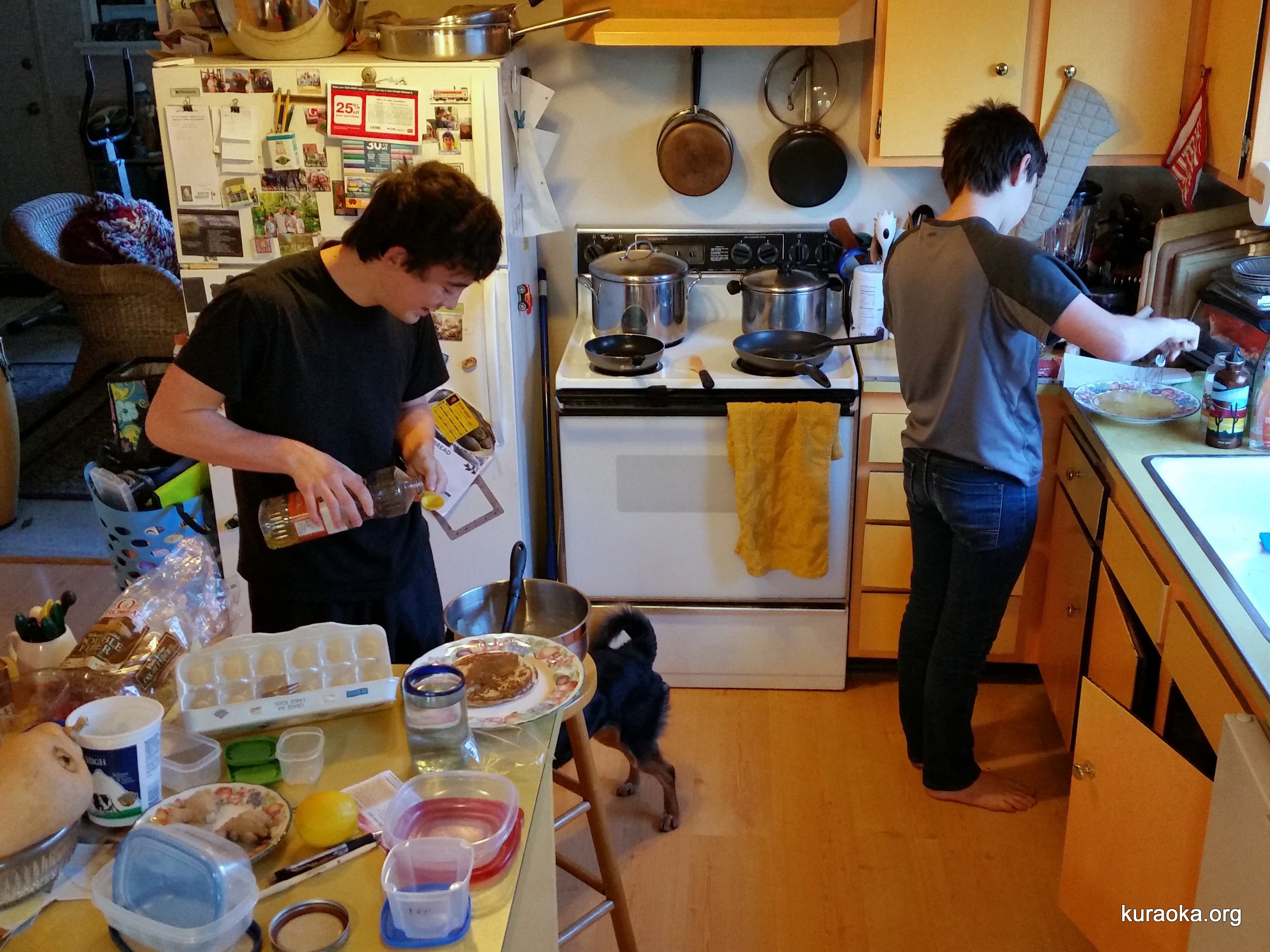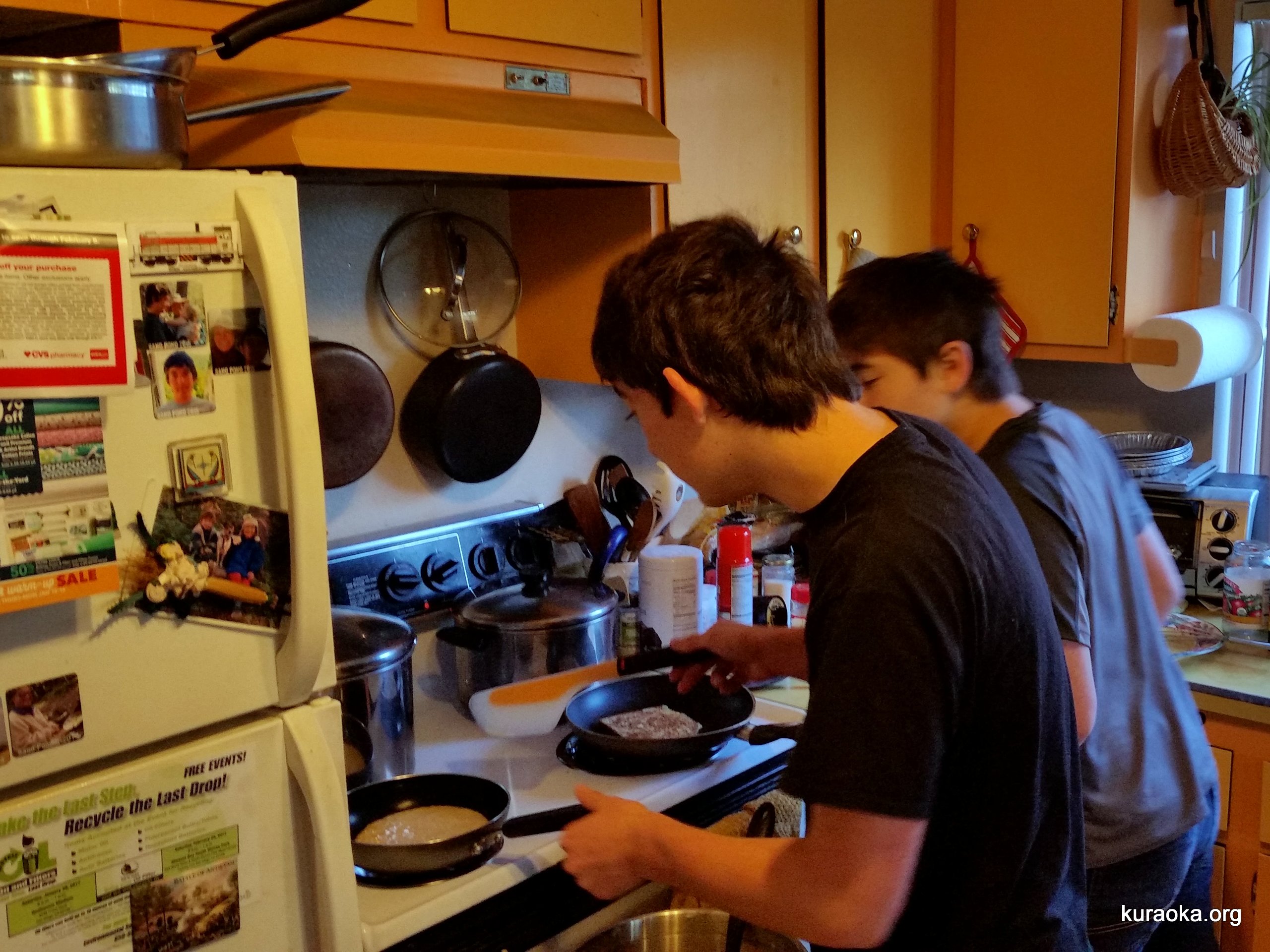 01-24-17: A double rainbow! After the rains, this is what greeted us in our front yard, soaring over the mountain.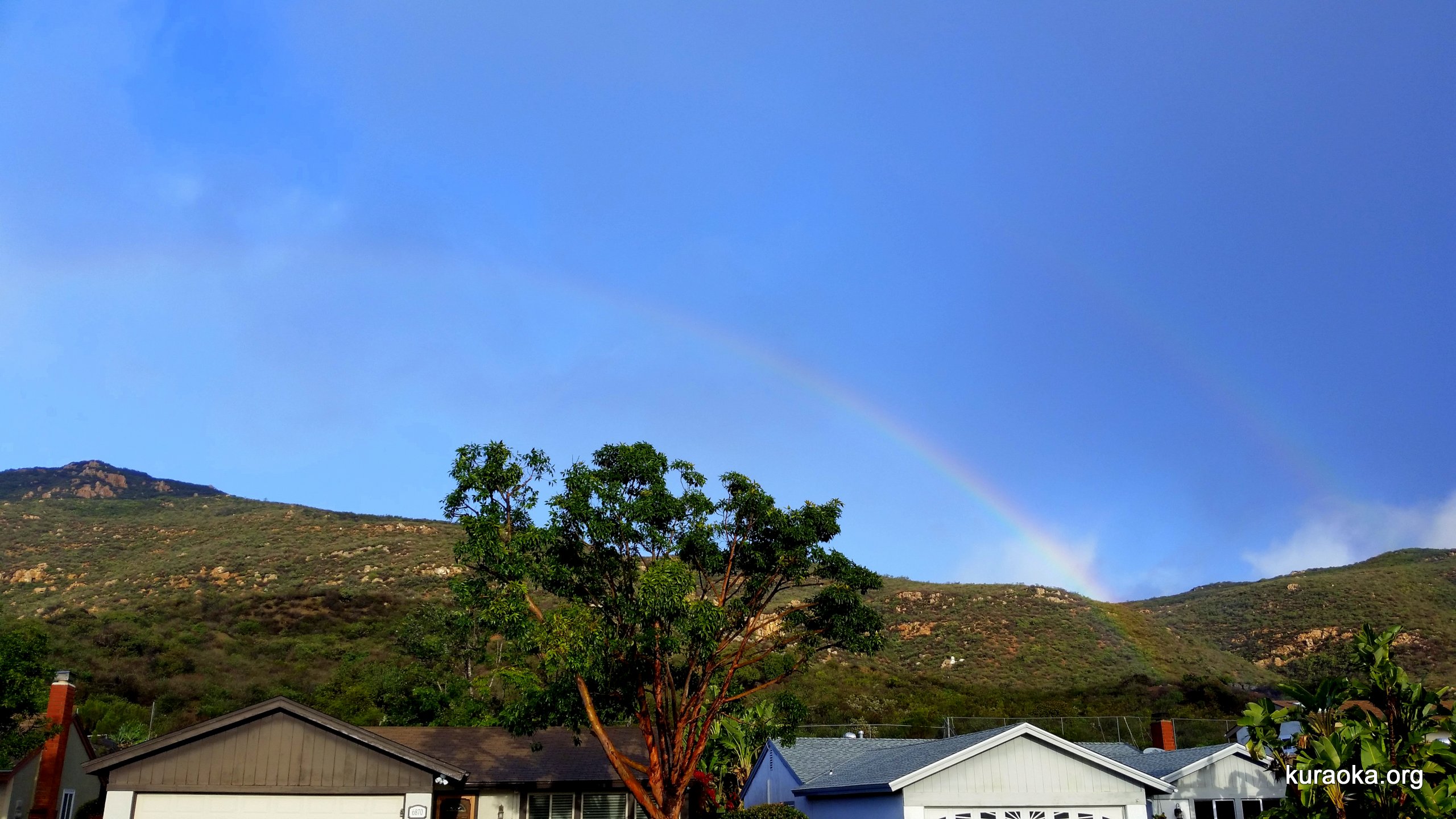 01-07-17: Our front vegetable beds. Ondine did some planting, putting in two variety packs of lettuces and spinach.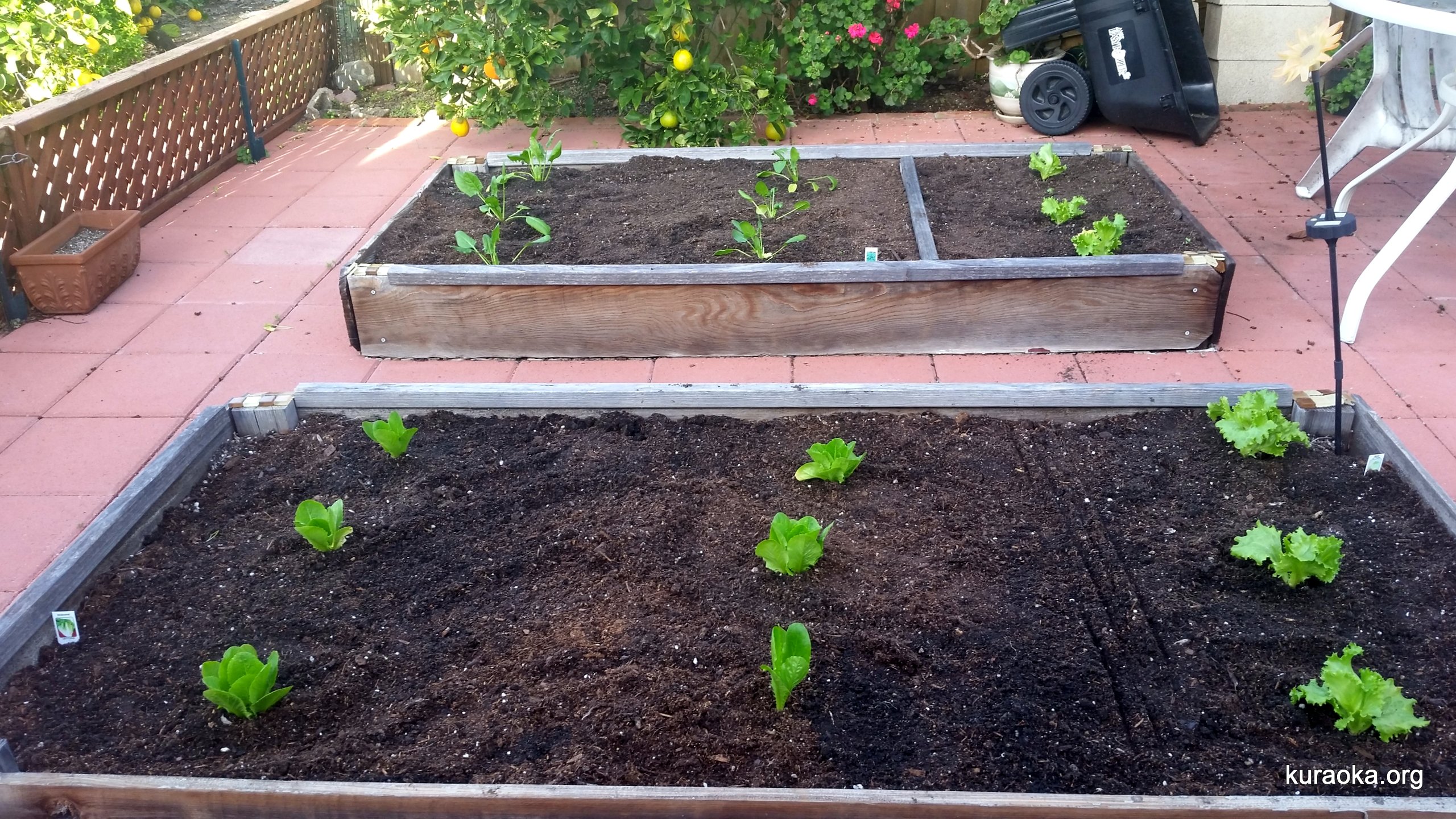 01-01-17: Oshogatsu. Here's our traditional Japanese New Year's Day feast. We had ozoni (soup with mochi) in the morning and this was lunch. The idea is to make enough that you don't have to cook for seveal days.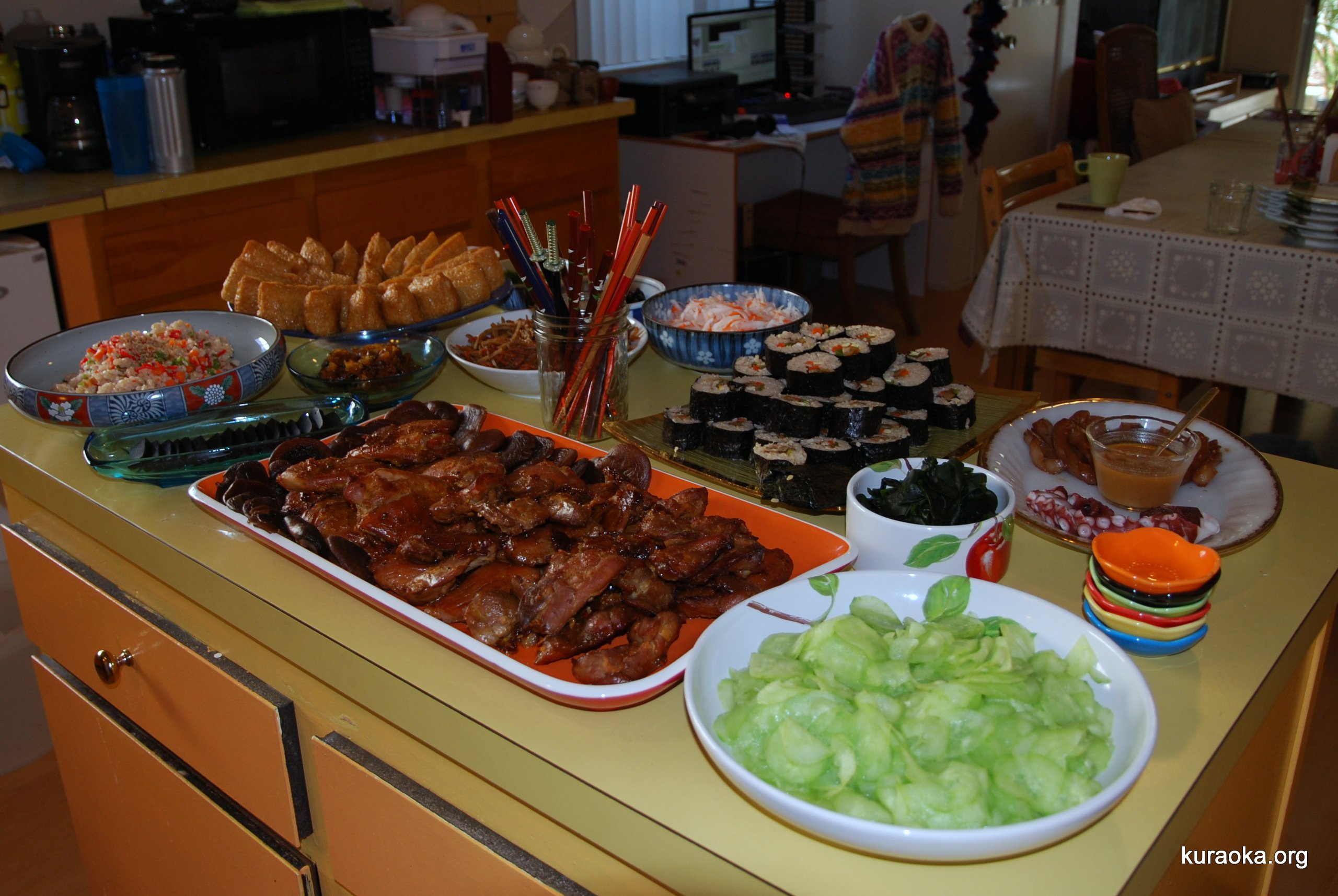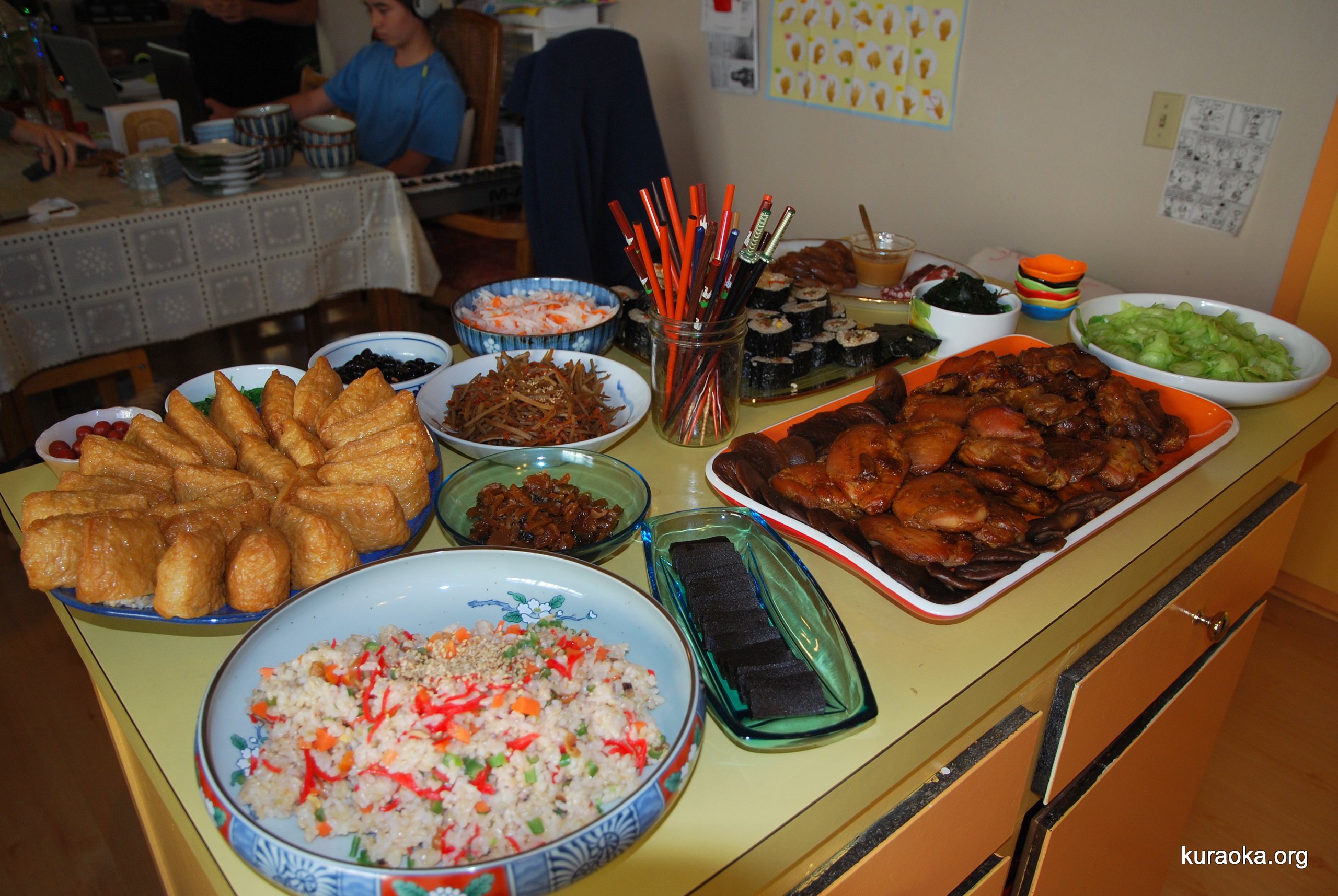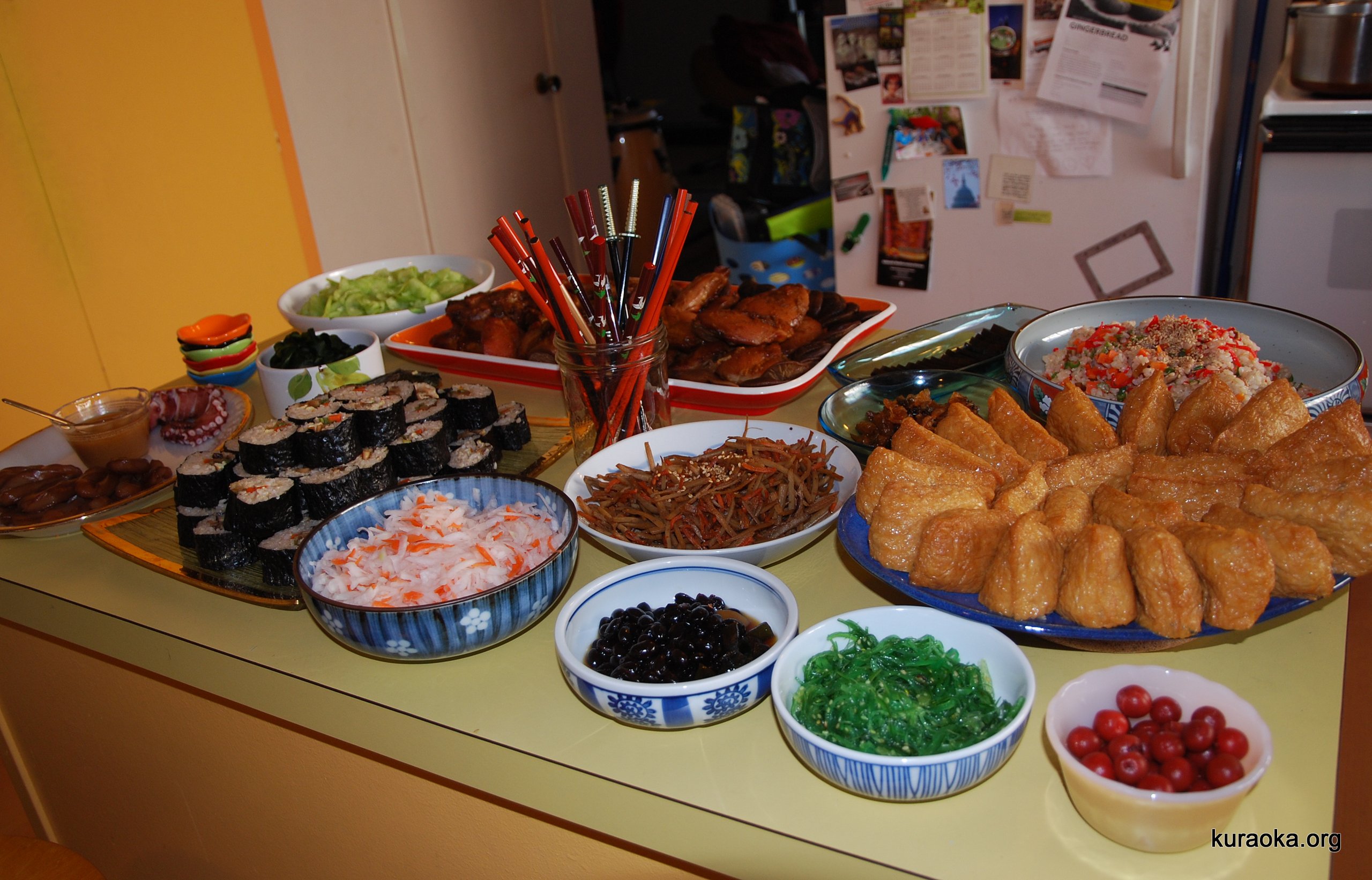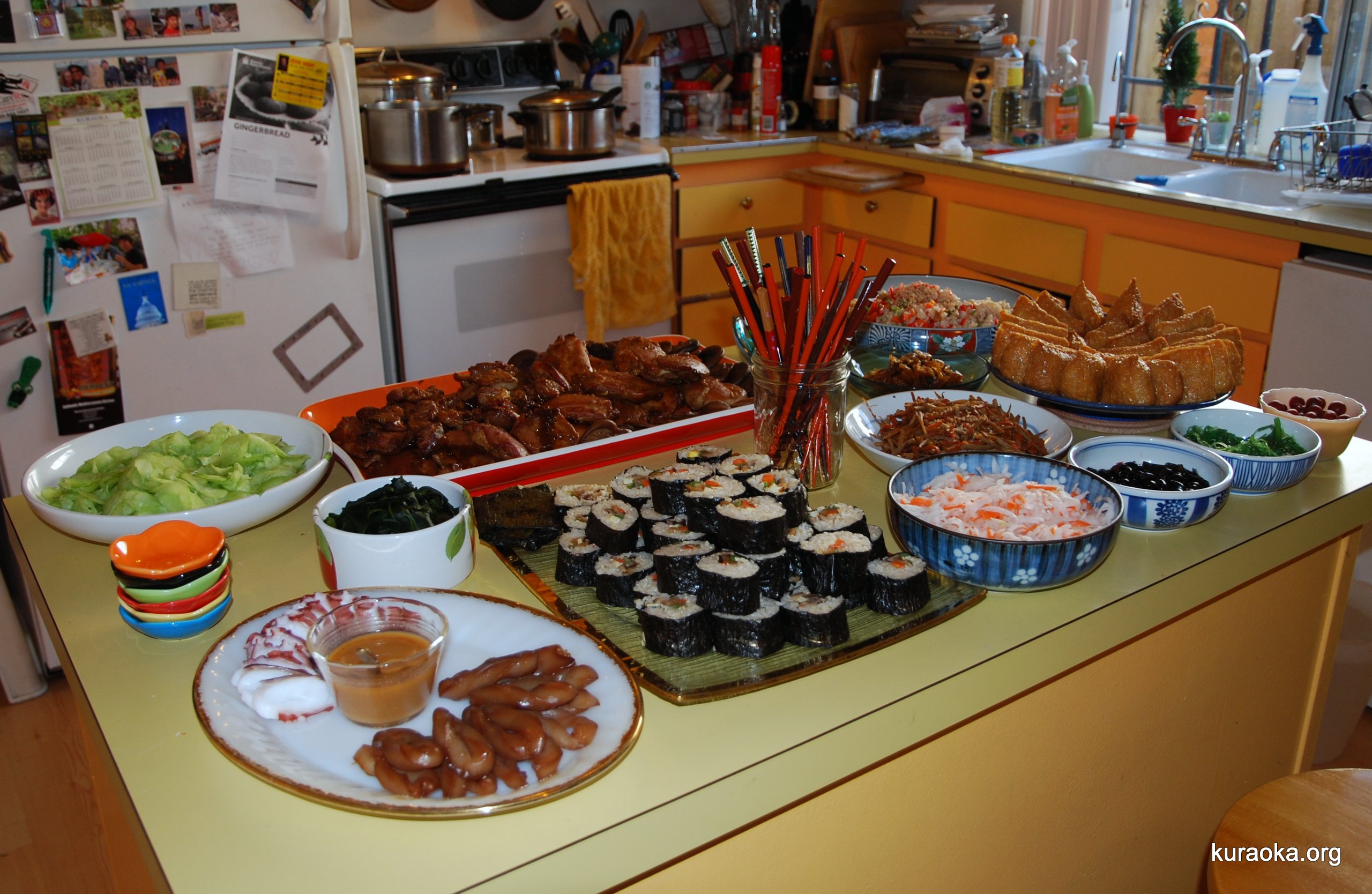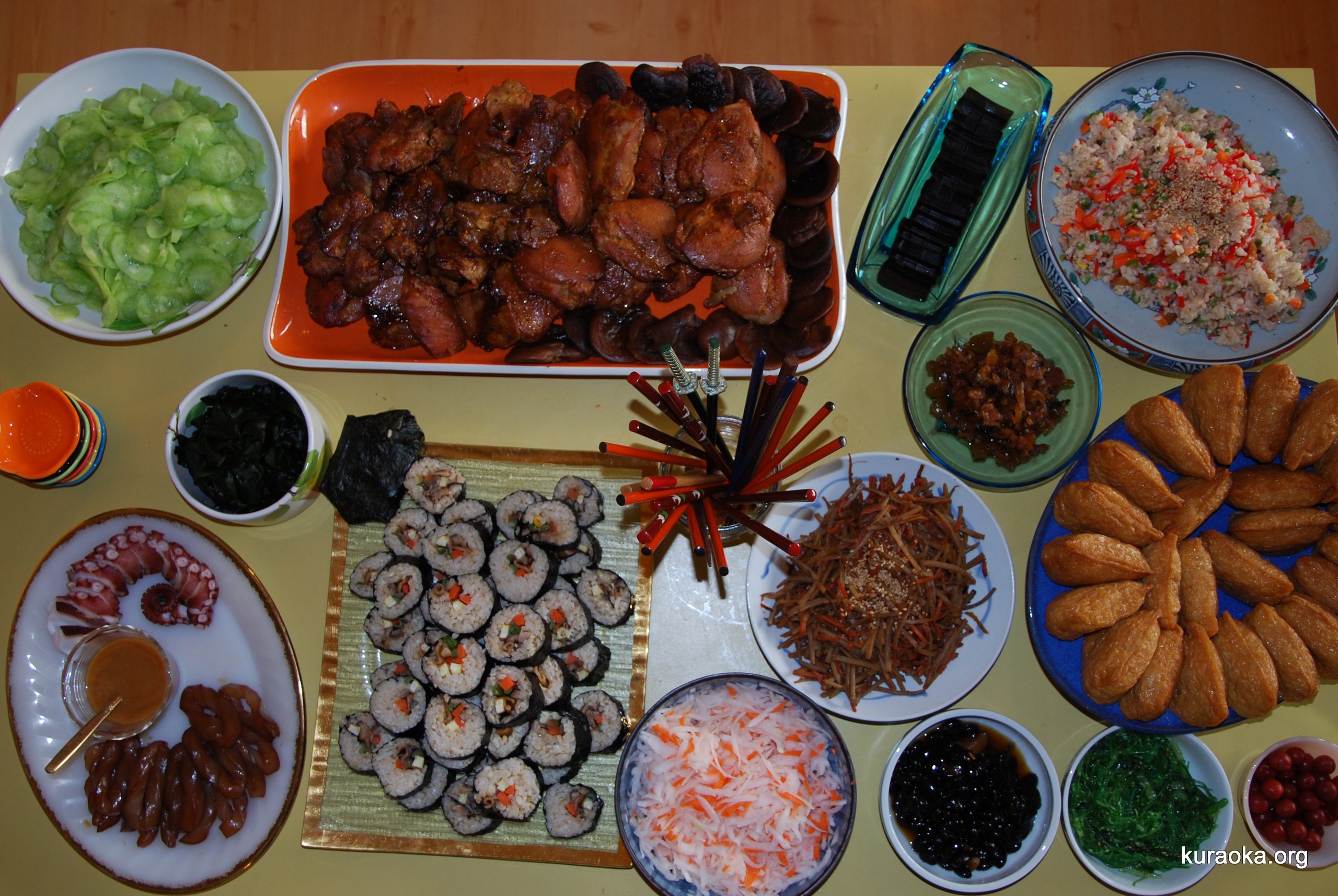 Archived Photos from 2016
Archived Photos from 2015
Archived Photos from 2014
Archived Photos from 2013
Archived Photos from 2012
Archived Photos from 2011
Archived Photos from 2010
Archived Photos from 2009
Archived Photos from 2008
Archived Photos from 2007
Archived Photos from 2006
Archived Photos from 2005
Archived Photos from 2004
Back to the Kuraoka Family main page