The Kuraoka Family Weekly Journal
Sand Pond Edition
www.kuraoka.org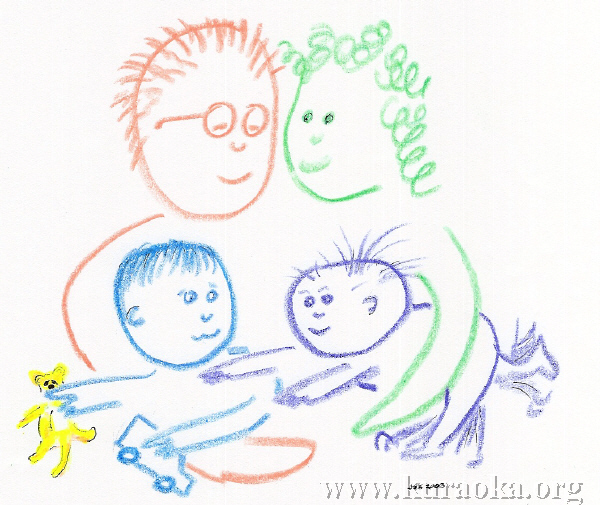 Us: John (41!), Ondine, Roy (3), Leo (13 months)
Monday, August 11, 2003
Okay, this is going to be a massively long journal, because it encompasses ten days, including a week-long family camping trip. Eventually, what is here will be rewritten as a travelogue with photos, but hey, we got home less than 18 hours ago.
UPDATES May 2004: We scanned some photos for an article Ondine wrote, and included them here. More remain to be scanned, though, especially pictures of us! July 2005: updated second-hand information about gluten-free dining at Pea Soup Andersen's. August 2006: Two years later we returned to Sand Pond. The kids were older, but now we had a dog! Click here for our 2006 Sand Pond trip, with lots more photos and updated information. August 2007: Another trip with kids and dog to Sand Pond, including side trips to Gold Lake and the Kentucky Mine Museum. Click here for our 2007 Sand Pond trip.
The first of August, Friday, was a work day for John, while Ondine packed the boys' stuff. We packed up the Piggy Pack and secured it to the roof of the Mazda.
Saturday was John's birthday, and our first travel day - about a nine-hour drive. We planned to leave at 6 am sharp, but ended up leaving at about 8:30. Multiple fast-food stops along the way gave the kids time to romp around. We stayed at the Holiday Inn Express in Santa Nella. We had dinner at Pea Soup Andersen's. For John's birthday, Barbara and Bill gave him the latest edition of Rick Steves' Europe Through The Back Door.
Leo slept in a crib. He was exhausted, and howled for about 30 seconds before abruptly falling asleep. Roy slept in his own queen-sized bed, and did great. He sang to himself for a while, but shortly fell asleep.
Sunday John tried to get online with his laptop, and finally succeeded using a Modesto access number. He wasn't able to use his calling card, though, so we don't know how much the call cost. Everyone else enjoyed the free breakfast buffet. We left Santa Nella at about 10:30. We made it to Sardine Lake Campground at about 4:00. The Mazda did great with the loaded Piggy Pack, gobs of power and about 24 mpg for the trip.
At Sardine, we immediately grabbed site #1, right by the entrance but large and amply shaded. Then, we toured around and grabbed site #27, the last site on the roundabout, right next to site #1! So, we had adjoining sites with Barbara and Bill. And, our site was immediately across from the bathrooms - slightly smelly at times but not bad and certainly convenient for Roy.
Cathy (Hans' ex-wife - Hans is Barbara's brother) had saved us a couple sites over at Salmon, which is where the family usually camps. Ondine made a last-second decision, though, to check out Sardine first because it's within walking distance to Sand Pond. Cathy came looking for us, and brought us a load of firewood and some toys for the kids. Hans had just left, but was planning to be back.
We set up the tents while Leo set out to destroy the tents. A four-season backpacking tent is no match for a one-year-old. John set up our new Coleman "Eagle Rock" family camping tent ("with WeatherTEC"), and his ancient Moss double-hoop wing tent. He took the Moss so he'd be certain of having one weathertight tent. As it turned out, we arrived on the first clear day after a solid week of rain. Leo grubbed around in the moist, barky, rocky soil and within ten minutes of our arrival was completely black.
Sunday night, it took about two and a half hours to get everyone ready for bed. Leo had to be cleaned up and completely moisturized. Of course, immediately after getting him ready he had a massive poo. Roy, meanwhile, lingered fireside with Barbara and Bill until past 10:00.
Suddenly, who should come out of the darkness but Barbara's sister Ulli, with her three little dogs, Diego, Bruno, and Kimba straining at their leashes! She was camped in site #18.
We finally got everyone cleaned up and into bed at about 10:30.
Then Leo started complaining. He howled and screamed and fed all night long, so Ondine got no sleep at all. At one point she considered pulling up stakes and going back home. It was a very rough night.
Roy, though, slept fine, waking up once because he had rolled out of his sleeping bag and gotten too cold.
Monday morning things seemed better, although everyone was still pretty tired and disorganized. Cathy dropped by again, and her son Erich came by after fishing with his friend Alex. Ulli came for a visit too, and we saw Barbara's youngest brother, Michael, driving by. John and Bill set up the screen house and Barbara organized. A little later, Ondine and Leo took a short nap.
John took a stroll around the campground to peek at other sites, but he decided to check out Sand Pond instead. Sand Pond is a tailings pond created by a long-closed gold mining operation. He ran into Ulli, who was walking Diego, Kimba, and Bruno. After a chat. He walked to Sand Pond on the road, and returned via the interpretive trail which goes through woods and by old beaver dams. Part of the trail is a wooden boardwalk over swampy terrain. One of the signs on the trail mentions how the old wooden flume "disintegrated" over time. Ulli shared later that in the old days, the family actually actively dismantled the flume for benches and firewood. That was back in the pre-campground days, more than 40 years ago, when the whole family would camp on the shores of Sand Pond for three months at a time. Ha! So now you know the truth.
After John returned to camp, we all went to Sand Pond. Ulli and Cathy were there too, and Erich and Alex. Roy, John, Ondine, Barbara, and Ulli waded in a shallow, sandy section while Leo napped and Bill watched from a grassy spot. Cathy went in for a swim. The water was warmer than usual, which was nice. We hung out at Sand Pond while Barbara and Bill made a run into Sierra City to get ingredients for dinner.
Ulli joined us for a spaghetti dinner. We made lots and lots of food, perhaps because we were really very hungry. Two pounds of spaghetti (Bill had actually bought three, but the last package wouldn't fit into our pot), about a pound and a half of ground beef, and three jars of spaghetti sauce. Plus, we had salad and rice (for Barbara and Leo). Leo refused food from us until he saw Barbara eating, then all he wanted was her dinner.
After dinner, we had a fire, thanks to wood provided by Ulli. We put Leo down by himself in the tent, and let him howl himself to sleep. That boy has lungs and stamina. We bundled him up in a puffy yellow marshmallow man suit, so he'd be warm without us. Cathy came by with Erich and Alex, and they all got to hear Leo scream. Cathy gave Barbara, Ulli, and Ondine some earrings she had made.
When Leo finally did go to sleep, his little, puffy, yellow self was crumpled in a little, puffy, yellow heap against the tent door. He was taking no chances that we would sneak in without him knowing. He later moved, so we could get in without waking him.
Letting Leo cry it out, hard as it was, was the right call because we enjoyed a much better night's sleep. He stayed asleep while we climbed into our sleeping bags, and slept almost until early morning when he started his constant feeding frenzy. Roy slept great again, and is turning into a happy camper.
Tuesday we got up and had leftover spaghetti and meat sauce. Roy got to see a woodpecker. Ulli dropped by with her dogs, and left Diego with Roy while she took Kimba and Bruno back to her campsite. Later, Ondine, Roy, Barbara, Ulli, Cathy, and a few others went to visit the Aqualina's, old family friends, at Salmon Lake Campground, while John, Leo, and Bill stayed in camp. In the afternoon, John, Ondine, and Leo went to Downieville (the fifth largest city in California in 1850, and the one and only Internet access in the area in 2003) to pick up email and ingredients for dinner. While John shopped, Ondine and Leo found a grassy patch near the visitor's center. Next to the grassy area was a rocky area. Leo preferred walking on the rough, rocky area to the smooth, grassy area. A man went over and tried to engage Leo, but Leo wanted nothing to do with him. "Come away, Buzz," the man's wife told him, "he's not impressed with your cow noises." The man reluctantly followed his wife away, with Leo staring blankly after him.
While John, Ondine, and Leo were in Downieville, Roy, Barbara, and Bill went gathering firewood.
Dinner was pork chops with sage wrapped in bacon, with walnut rice, raspberry apple sauce, and a green salad.
We put Leo down shortly after dinner, and he did much better this time. He probably only screamed, intermittently, for maybe a half hour before falling asleep. Meanwhile, Ulli came for a visit and we all toasted marshmallows.
Leo had a rough night, partly because we misjudged the temperature and had him bundled up plus the tent battened down. It had seemed, when we went to sleep, that the winds were picking up. Instead, the winds died down shortly after moonrise, and the tent got a bit warm inside. So, Leo woke up warm; Ondine stripped a layer off and fed him; he woke up again and she stripped another layer off and fed him, and by that time the pattern was established. He was up pretty much constantly from then on.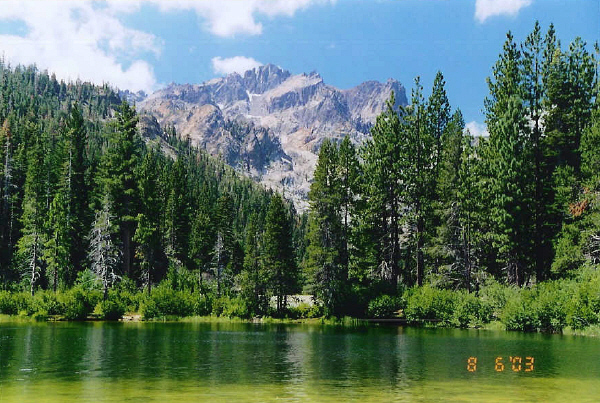 Wednesday we had gluten-free pancakes and sausage for breakfast. Afterwards, John and Roy walked to Sand Pond via the interpretive trail. They learned about the different trees (Lodgepole Pines, White Firs, and Jeffrey Pines), saw two iridescent blue dragonflies and one big frog, and got to Sand Pond in time to claim some prime sandy area in the shade. Roy went in, while John rolled up his blue jeans and waded. After a while, Ondine arrived with Leo, bringing trunks for John so he went in for a swim. Roy was having a melt-down of sorts by this time, being very tired (having walked nearly a mile to Sand Pond on the trail plus having swam and waded in the cold water). So, John and Roy went back to camp for naps and Ondine and Leo hung out at Sand Pond.
Bill prepared green beans and Spam for dinner - Leo's first taste of Spam, which he loved. Silently, without comment, he shoveled chunk after chunk into his mouth. He also ate green beans and rice and black beans.
Thursday morning, John took an early walk, trying to make pictures of Sand Pond and Lower Sardine Lake. The sun was coming up, illuminating the Buttes, and a mist was rising across the top of the lakes. We'll see if the photos captured the scene. John and Leo went to Sand Pond around noon to grab a spot. The "beach" wasn't available, but a quiet little nook nearby was. Leo slept in the stroller and John just sat until Ulli showed up. John mentioned that he couldn't get the sandy area, and Ulli told him that the little nook was also a traditional family spot. It used to have a lot more sand, apparently. As it was, there was a great little shallow miniature bay for Leo to splash around in.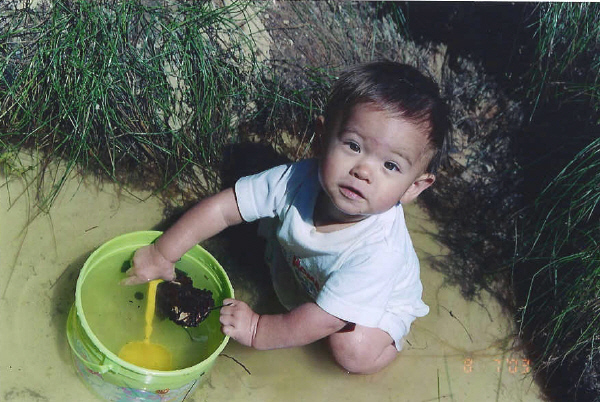 Soon, Roy arrived with Barbara and Bill. (Ondine was running errands at Bassett's.) Roy waded over to the beachy area with Bill; Leo worked on moving sand into a bucket in his little bay under John's watchful eye; Ulli worked on her Irish chain sewing project. After Ondine arrived, John went in for a swim. The water was cold, especially in the deeper spots, but felt good once you got used to it. He swam around for a bit, washing off the camp dust. When he got out, Roy was wrapped in a warm towel eating. Leo was eating too. Ulli got to feed the little Of Bird, one of Roy's creations. Roy would tuck himself into the towel, then make peeping noises and stick his head out, waiting for someone to hold out a handful of Peanut Butter Panda Puffs for him to nibble, sweetly, like a little creature. After lunch, John went in for a second swim, and this time grabbed hold of one of the many floating logs and used it as a float to kick all the way to the other side of Sand Pond and back. Then Ondine went in for a swim.
We were going to go up to Lower Sardine Lake to look at Hans' boat, but Roy fell asleep almost immediately upon sitting in the double stroller, so we returned to camp and started dinner: red beans and rice with sausage.
Roy got to spend the night with Barbara and Bill, as a treat, in their campsite #1. Meanwhile, in #27, Leo made up for Roy's absence by crying and complaining and thrashing around pretty much from midnight until daybreak, one of our roughest nights.
Friday morning, John and Roy went to Downieville to pick up email and groceries. They also had ice cream - a rare treat. John was very happy with Downieville Grocery. Because of all the backpackers (the PCT crosses nearby), Downieville Grocery carries a fair assortment of organic, gluten-free, dairy-free, vegan, and low-sodium food products. And, the groceries were fairly priced: 99 cents for a hefty head of lettuce, cucumbers two for 99 cents, red and golden delicious apples 99 cents a pound, a huge can of low-sodium red beans for $1.59. Downieville Grocery also offers Internet access at $2.50 per 15 minutes. John picked out salmon burgers for dinner.
Meanwhile, Barbara gave Ondine a haircut.
After lunch and naps (or, nap-time anyway), we went to Lower Sardine Lake to look at Hans' boat. We went to the lodge at Lower Sardine, mixing with the well-dressed and well-heeled, squeaky clean cabin renters. Noses were turned up at us; not surprising when you consider that it had been a good five days since any of us had a shower. We bought some postcards, then went to Sand Pond for a final splash.
Ulli joined us for dinner: salmon burgers topped with lettuce, cucumbers, and green bell peppers. She brought a cantaloupe for dessert.
That night was our last night in camp. We had a big fire. For the first time, we got both kids into bed at once, so we were able to linger over the fire. John watched for satellites, but didn't see one. However, at Leo's 2:30 am diaper change, he dawdled in the cold night air while taking the poopy dirty diaper to the dumpster, and got a glimpse of a shooting star.
Saturday we packed up and headed down the mountain to Santa Nella. Ulli and Cathy came over to pitch in and help us by entertaining Roy and Leo. Hans dropped by with his boys, too, to say goodbye. We left Sand Pond at about 12:30; made Santa Nella around 7:00 with stops. We learned, to our dismay, that Pea Soup Andersen's does not accommodate people with celiac disease. Although larger and more-enlightened chains are familiar with the dietary requirements of people with various ailments, many smaller chains, including Pea Soup Andersen's, are not and fail to offer adequate substitutions on menu items. (UPDATE JULY 2005: thanks to reader Maureen, who emailed us to say she had been in contact with Pea Soup Anderson's management in her search for celiac meals. Whomever she was in contact with was less than helpful at first, but did eventually tell her that Pea Soup Andersen's soups and French fries are not gluten-free.) At any rate, we enjoyed our meals and checked into the Holiday Inn Express in Santa Nella at about 8:30. We gave Roy and Leo baths, then took showers ourselves. John washed a pair of blue jeans for the drive home. We bathed the boys, and put them to bed; then, we showered and finally turned in at 10:30.
Sunday we rose early to hit the continental breakfast buffet before beginning the nine-hour drive home. John got online with his laptop to check email and take care of a few online chores. We left Santa Nella at about 10:00 and got home at around 8:30, absolutely fed up with fast food. At a Carls Jr., we horrified a group of young men by changing Leo's poopy diaper in a booth. That made it sort of fun for us. It felt good to be in our own beds at last, but we missed the cold nights and campfires. We were very lucky that we had wonderful weather all week long, and never once had to put on insect repellant - the bugs were practically non-existent.
Monday it is back to work. John is doing about five loads of laundry, each of which needs to be washed at least twice. Compared to the mountains, the weather is hot and muggy.
Leo started this camping trip with a crawling:walking ratio of about 85:15 indoors and 50:50 outdoors. It is now about 8:92 indoors and 1:99 outdoors. He seems to prefer the irregular surface of rocks, dirt, and twigs to a nice carpeted floor, though, and seems to be looking for rocks and twigs amongst the toys in his toy bins.
Roy reached a new level of dog-ness at camp, thanks to Diego. He enjoyed having Diego around. He slept well, and liked the pit toilets since they had no noisy flushers to startle him. He talked about going to the top of the Buttes one day, when he is bigger. And, he loved wading around in Sand Pond.
Ondine enjoyed being within walking distance of Sand Pond. On the drive home, we discussed other possible camping trips. Now, though, she is dealing single-handed with the boys, who have had a solid week of almost constant attention. That, plus all the things there to do, makes for a rough day today.
John went the week without shaving, and is considering continuing to not shave. The question is, will covering his face improve it? One would think that it might, but is facial hair a good alternative to, say, a paper bag? Or even a plastic ("not a toy!") one? Roy thinks he should keep his whiskers. Ondine thinks it's worth a look. Hmmm. Well, we'll see how this experiment goes.
Back to the Archives page
Back to the Kuraoka Family main page
Forward to our 2006 Sand Pond trip, with more photos
Forward to the current Weekly Journal, updated twice a week since 1998