The Kuraoka Family Weekly Journal
www.kuraoka.org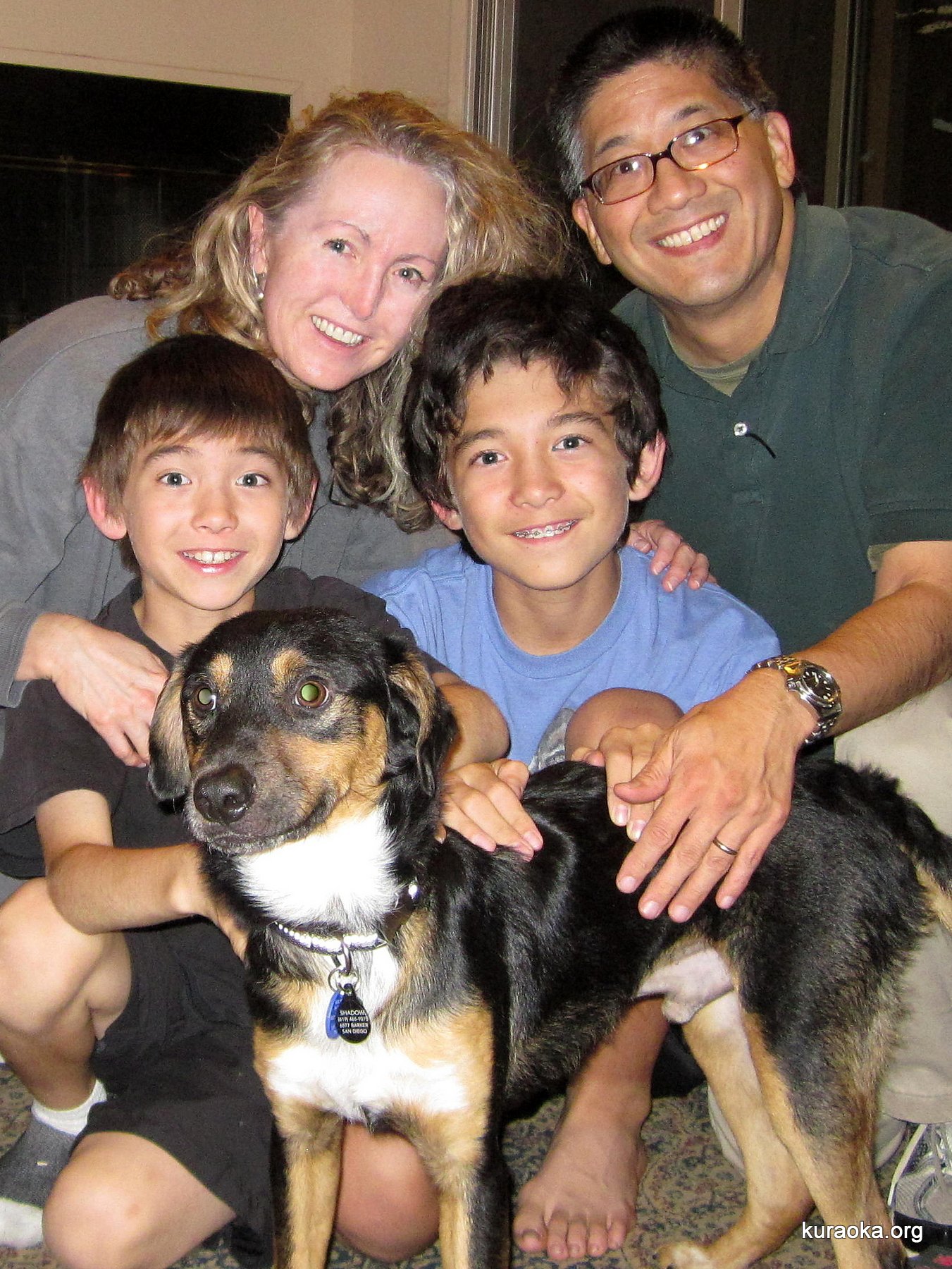 Us, November 16, 2012: Ondine, John, Leo, Roy, and Shadow
Monday, December 31 2012
Happy New Year! It's time once again for our annual Kuraoka Family Year In Review, starting from the outside and working our way in.
In Solar System news, NASA and JPL successfully landed the Curiosity Rover, otherwise known as the Mars Science Laboratory, on Mars. It is the largest rover to date, and landed successfully in Gale Crater on August 6 after "seven minutes of terror" - the official name for the entry, descent, and landing phase.
In international news, the Eurozone financial crisis continued, and Greece teetered on the edge of insolvency before massive bailouts secured by promises of major and highly unpopular changes in the Greek economy. North Korea launched its first long-range missile, and China deployed its first aircraft carrier. On a positive note, South Korean writer/performer PSY created the first video to surpass one billion YouTube downloads with his irrepressibly upbeat music video "Gangnam Style." And, the 2012 Olympic Games were held in London, and included the first American gold medal in judo by female judoka Kayla Harrison.
In the U.S., Barack Obama was re-elected, defeating Republican Mitt Romney and ensuring that "ObamaCare," the Affordable Health Care Act, would continue to go into effect. Congress passed a new fiscal plan, averting, by mere hours, the "Fiscal Cliff," a pre-negotiated fiscal plan that would have brought equal pain to all parties.
Here in San Diego, Democrat Bob Filner was narrowly elected Mayor in a near-sweep that gave Democrats a majority on the "non-partisan" City Council and signaled an earth-shaking shift to the left. The "Big Bay Boom" Fourth of July fireworks display became the "Big Bust" when a malfunction triggered all the fireworks at once, an instant YouTube sensation. And, politically conservative local developer Doug Manchester bought the San Diego Union-Tribune and the North County Times.
In our neighborhood, a Farmer's Market started at Pershing Middle School. It is on hiatus through the Fall as those involved develop ways to get attendance and sales up. Most of the streets got re-slurried, sealed, and striped. And, a huge water main rejuvenation project started along Jackson Drive near the library; it will continue well into 2013.
Entering the Kuraoka world, we enjoyed a week-long summer trip to Washington, DC, where we connected with Ondine's cousin Jason and visited many of the Smithsonian Museums. Our White House tour was canceled because it was the day the U.S. Supreme Court handed down its decision upholding key provisions of "Obamacare." Highlights included an amphibious "Duck Tour" (during which Roy, Leo, and Ondine got to drive the Duck), a "Memorials by Moonlight" tour, a Congressional tour (courtesy of our Congressman, Duncan Hunter, and his staff), and tours of the U.S. Bureau of Engraving and Printing (where we saw currency being printed and engraved), getting around on the Metro, and more! Typical high points included the Lincoln Memorial twice (the Washington Memorial was closed), Ford's Theater, and the Spy Museum, where the kids did an interactive "mission." Less-typical high points included touching a piece of the moon at the Air & Space, attending a phenomenal lecture, "The Road to Emancipation," at the African American Civil War Museum, the Memorial to Japanese American Patriotism in World War II, and being in town for the "derecho," a hurricane-like windstorm that knocked out power to huge parts of the city for days.
Other trips included a weekend camping trip in the Lagunas with friends, and Roy and Leo went to Lawrence Welk and Coronado Island with Grandma Baba. Grammy joined them for the Coronado weekend! And, the last week of December we took the boys to Legoland and Sea Life.
Barbara enjoyed several trips in 2012, including Germany, Sand Pond, and China! And, she had her house treated with orange oil for termites.
Frances also took several trips, including going to Colorado with her sibs and a couple road trips around the Southwest with Patty and Daryl. She recently had her house painted.
The biggest news for us, is that our dog Buddy unexpectedly died in late October. We adopted our new dog, Shadow, from a rescue shelter in El Cajon, at the start of Thanksgiving break.
Other life passages include Barbara's Aunt Ullun in Germany, Mary Lee Steffensen, John's Uncle Johnny, and John's Auntie Merry. Aunty Merry spoke at our wedding all those years ago, and her funeral and burial service was the first Roy and Leo attended.
Leo started the year with braces to correct a crossbite; those were removed in January. His school field trips included BizTown and overnight trips to Indian Hills, the Californian, and the Star of India! He's now in fifth grade with Mrs. Vasquez at Hearst Elementary. He started taking violin, and has continued with the after-school Piano Keyboard Club. He has also continued with an after-school Spanish program, plus he's taken a chess class. His summer activities in 2012 included Mission Day Camp with the Webelos, Camp Invention, and Media Arts Camp. He participated in the California State Games, winning a silver medal in judo.
Roy went to sixth-grade camp, a week-long trip to Camp Cuyamaca in the local mountains. He also worked tech crew for two stage productions, "Grease" and "Joseph and the Amazing Technicolor Dreamcoat." He is in seventh grade at Pershing Middle School. Summer activities included Scout camp at Emerald Bay on Catalina Island and Media Arts Camp. He earned his First Class rank in Scouts. He participated in the California State Games, bringing home a bronze medal in judo.
Ondine continues enjoying her work at Silverado Hospice, where in 2012 they earned a coveted gold certification from JAHCO. She attended the Southern California Writer's Conference in February, and participated in the Murrieta Mud Run 5K with a small team from Silverado. She got prescription reading glasses and a smart phone!
John continues freelancing, although at a lesser pace than before because he's now the primary caregiver for the kids. Which may be why in 2012 he began falling apart! He has a new APAP with prescribed settings that can be used to blow leaves from driveways (they're so high that they may have blown out two Respironics APAP units; he's now on a third, upgraded, unit from ResMed). In his eyes, his vitreous gel is shrinking, causing floaters, and he started on prescription eye drops for high eyeball pressure. And, plantar fasciitis put a stop to his running for a while; he got a pair of night splints, though, that seem to help. He's a real sight to see, though, when he goes to bed! APAP mask, night splints, eye drops, ha! Poor Ondine.
Buddy died in late October at the age of about eight years old, but not before having his first doggy day camp experience at PetSmart in El Cajon over the summer when John and the boys were away. He apparently had a great time, and the staff loved him! During the summer, after dropping off Leo at Mission Day Camp, John took Buddy to Balboa Park where they took long morning walks and then went to the dog park for some off-leash play!
Shadow joined the family in mid-November, and had his first road trip, to Grammy's house over the Christmas holidays. He did great! The vet thinks he's about two years old.
Other major new acquisitions included sets of tires for both cars and new front and rear brakes on the Mazda, an Orion 90mm Mak-Cas telescope (a Christmas 2011 gift from Grammy that arrived in 2012), a wide-angle high-power eyepiece (ES 11mm 80-degree) and a 3-element doubler (used Orion Shorty Plus) for the telescope, Kindle Keyboards for all of us (very handy for traveling), family memberships in the San Diego Zoo and the Midway Museum, a Lodge Dutch oven for camping, a ukelele, a larger toaster oven, and an outdoor gas firepit. The kids got a new computer in the dining room matched to John's old 19" LCD monitor, and the whole family is benefiting from a faster home wifi network. John upgraded his office with a new Brother laser printer, a 20" Acer LED monitor, a 14" Dell Vostro laptop, and a 10.1" Acer Iconia Tab A500 32 GB tablet computer. We got our front and back yards completely re-done in June with pavers and planting beds, including two raised planter beds in the front yard in which we're raising vegetables. And, we got four new rolling suitcases for our trip to DC, two for us and two for the kids. Wow, that's a lot of stuff!
Neighborhood gas prices began 2012 at about $3.75 per gallon, and, after some serious ups and downs, they're about $3.69 per gallon right now.
This journal began the year with about 35,000 on the counter, a number now just over 38,300 for about 3,300 unique visits over the year.
Remember, photos from 2012 can be seen on our 2012 photos page. To see what we're up to now, visit our regularly updated weekly journal!
Back to the Archives page
Back to the Kuraoka Family main page
Forward to the current Weekly Journal.