Click on any photo to see it full-size. All photos copyrighted.
12-30-12 Legoland! We went to Legoland!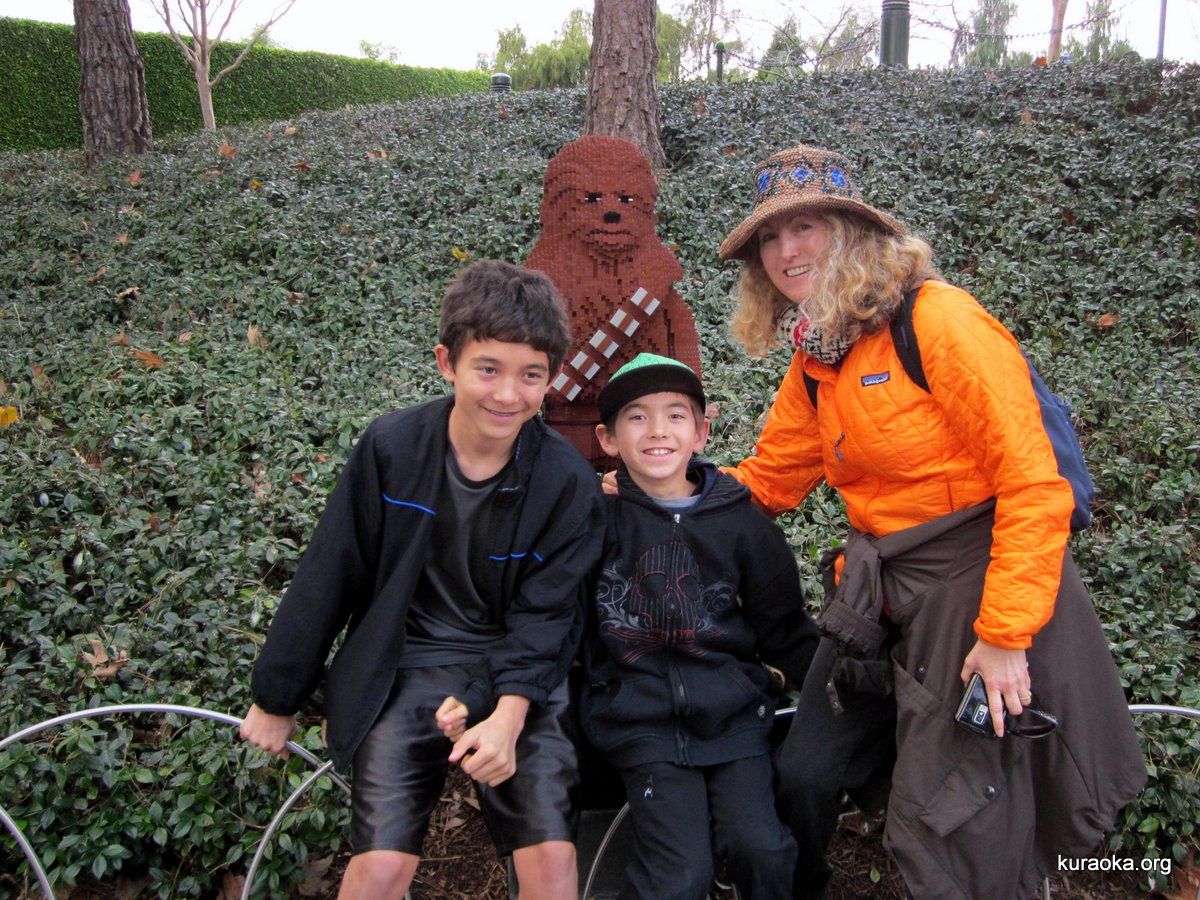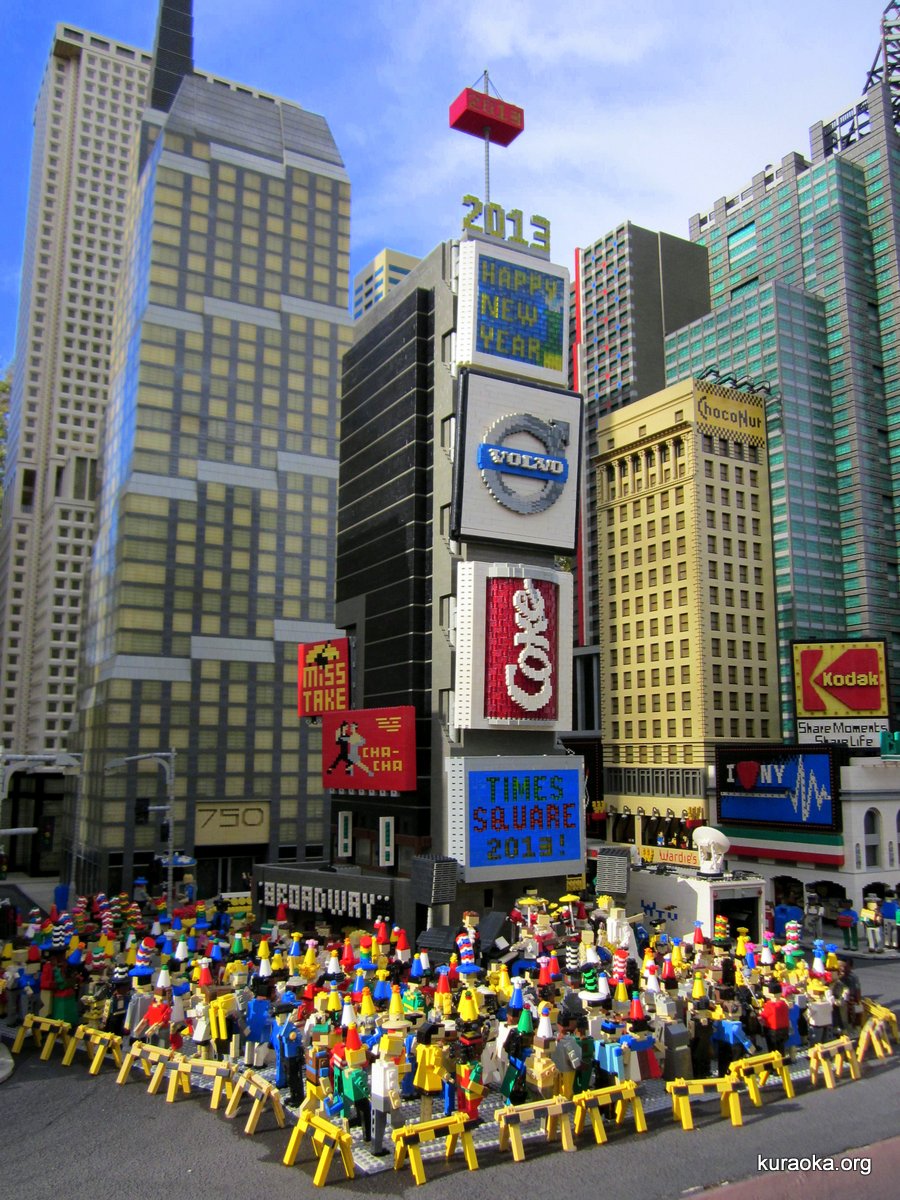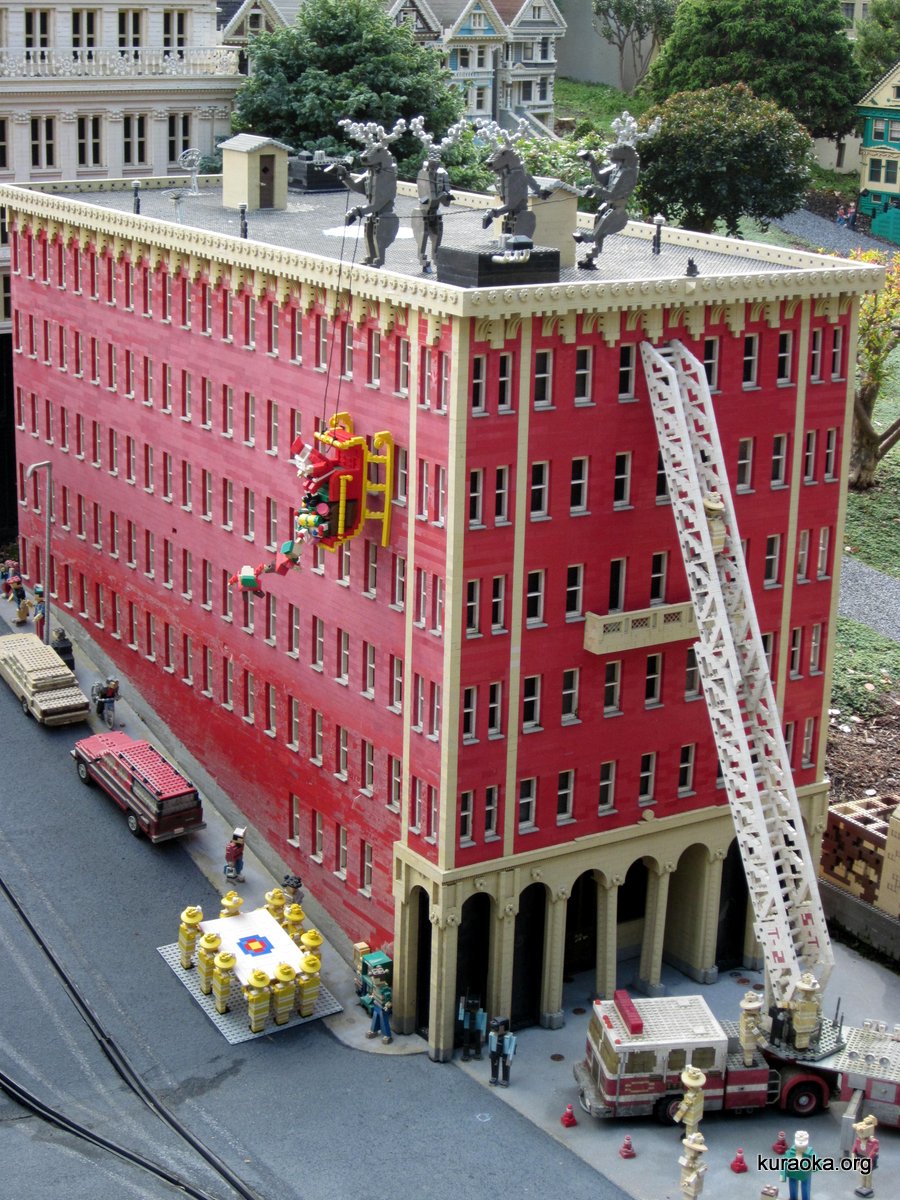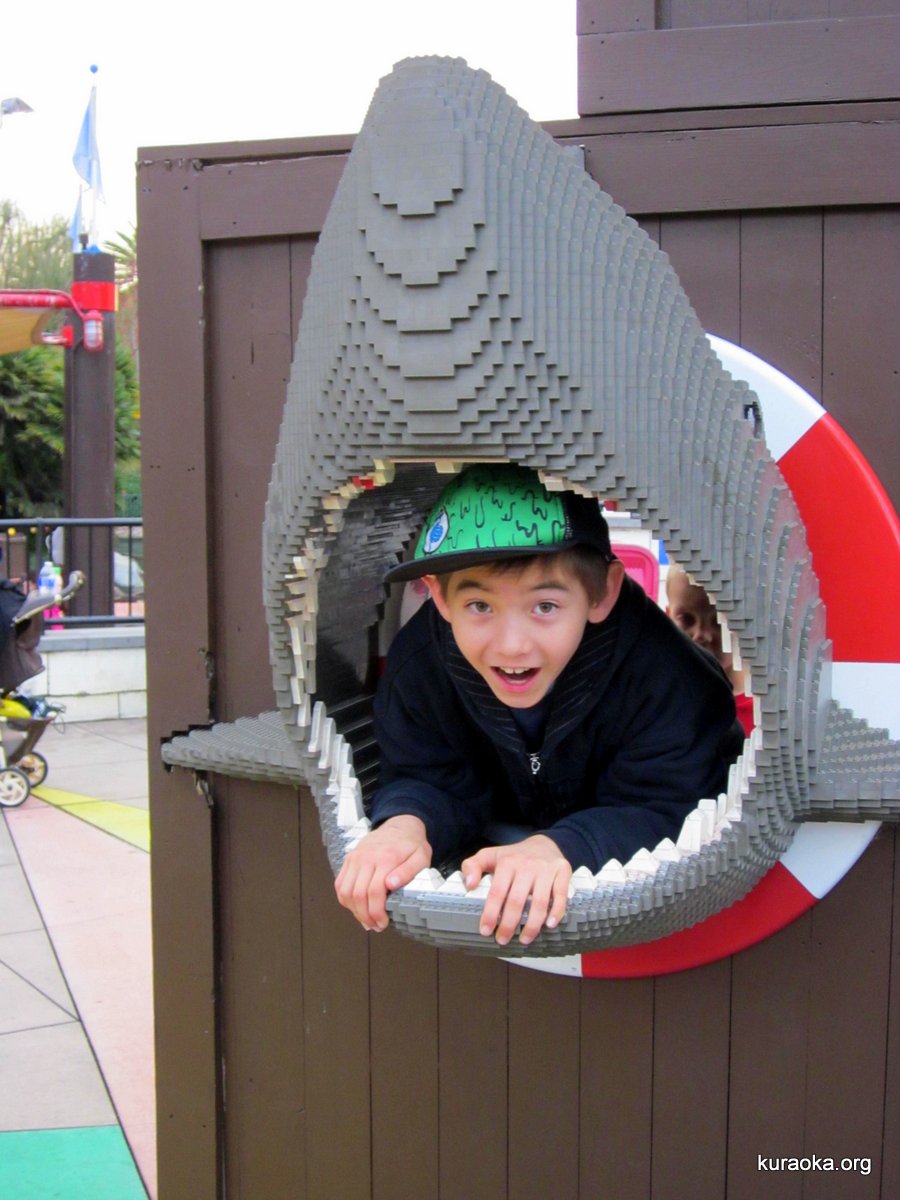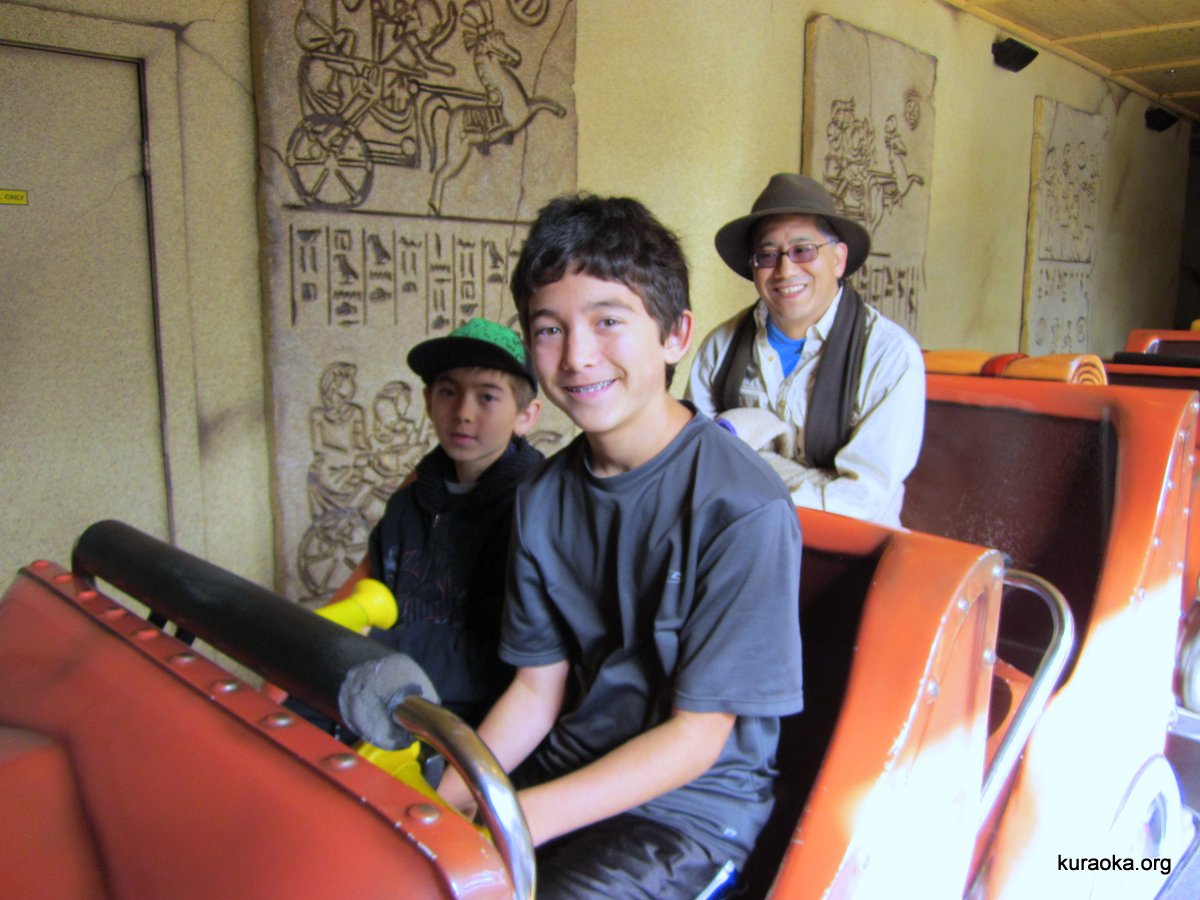 12-25-12 John with his tiger. John's sister Patty washed and re-stuffed John's old tiger.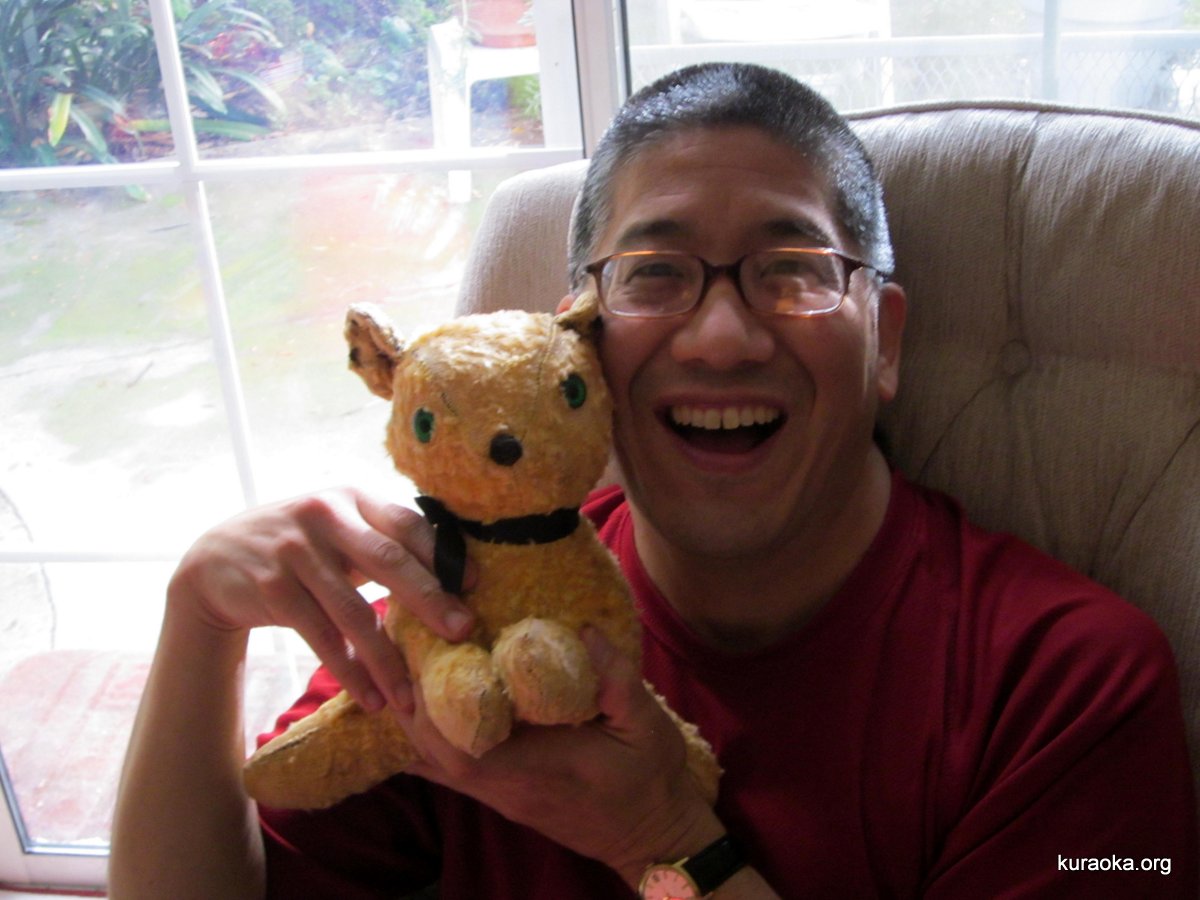 12-21-12 At-home Christmas. Baba behind Roy with his stuffed unicorn, and Leo opening a present.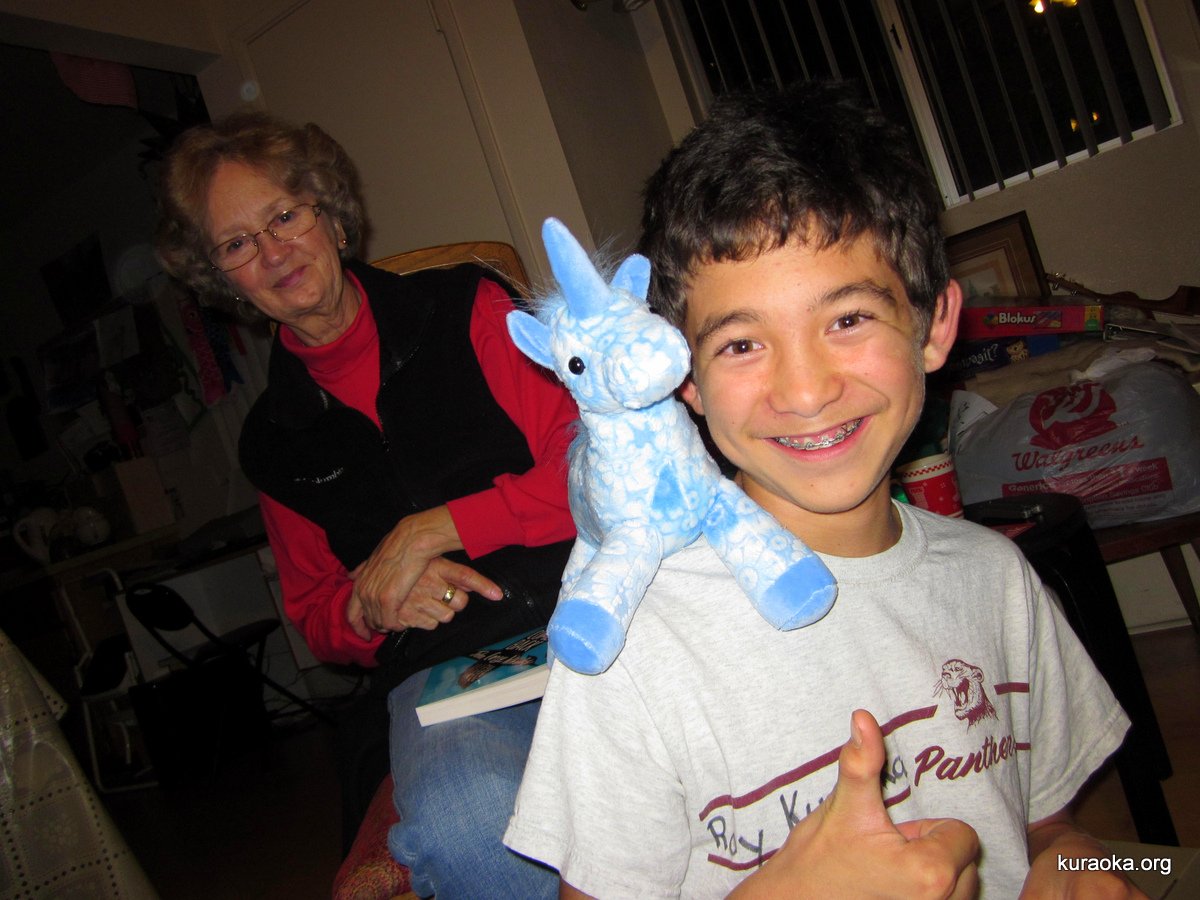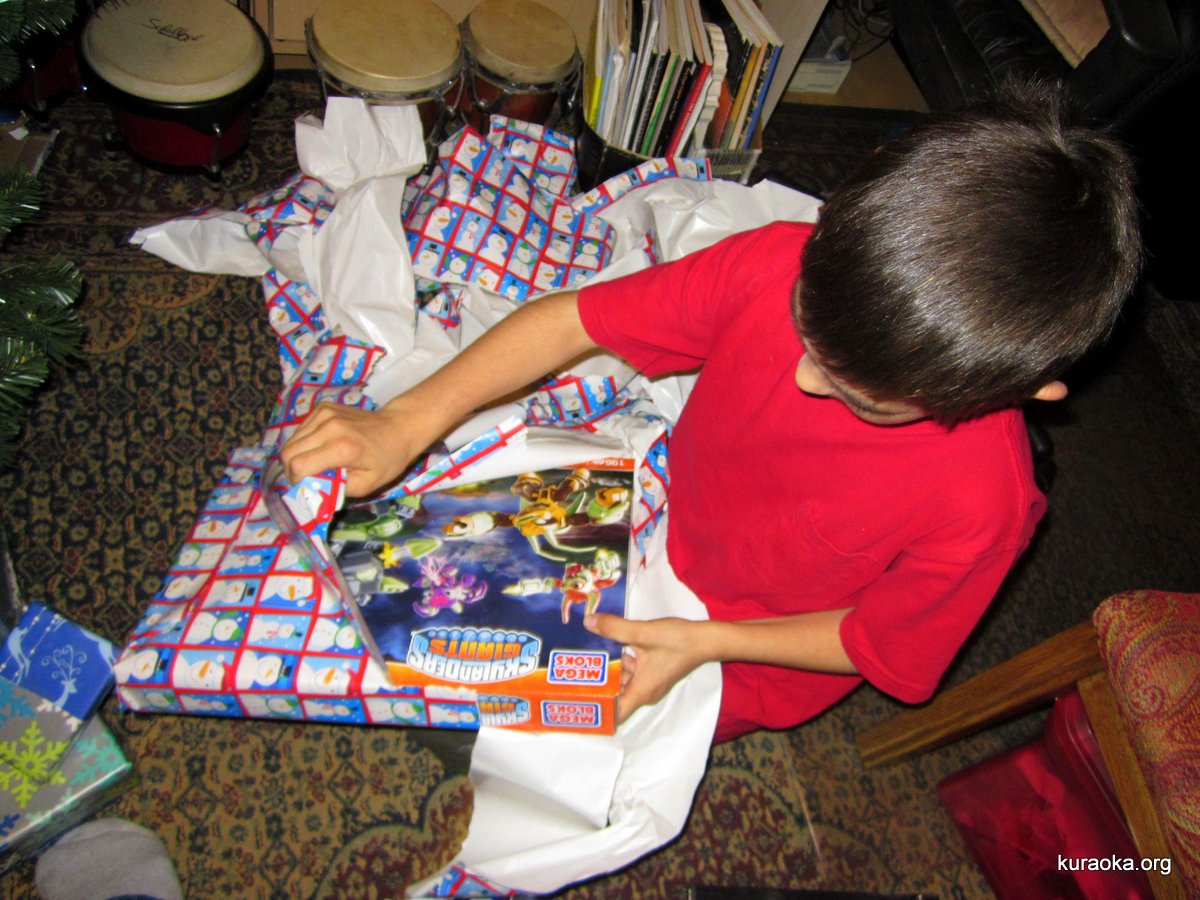 12-18-12 Leo performs his song. The Piano Keyboard Club held its recital, and Leo performed the song he'd composed.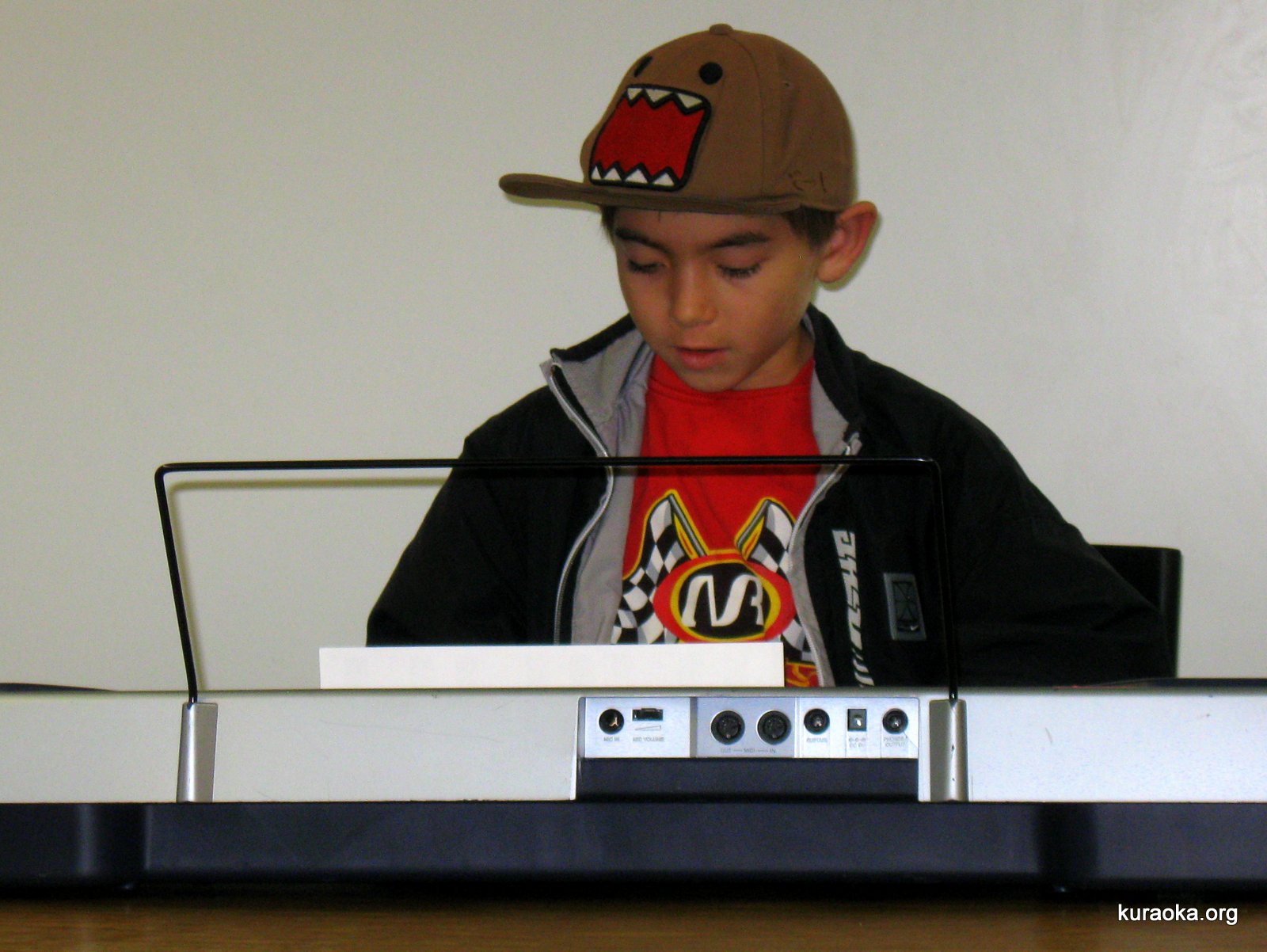 12-09-12 Second Advent. Check out the great kaffeetrinken goodies! And, Roy on the stairs with Shadow.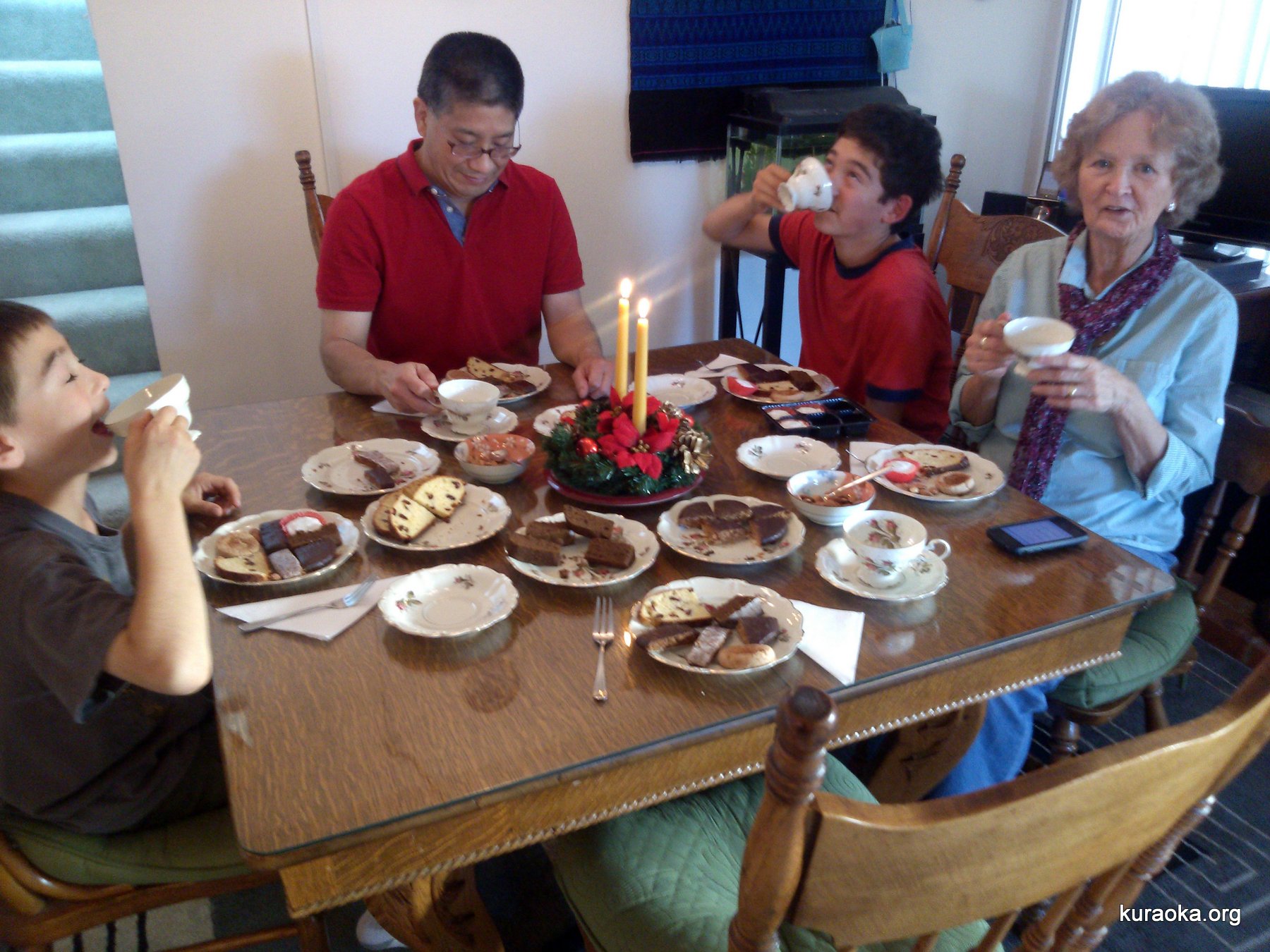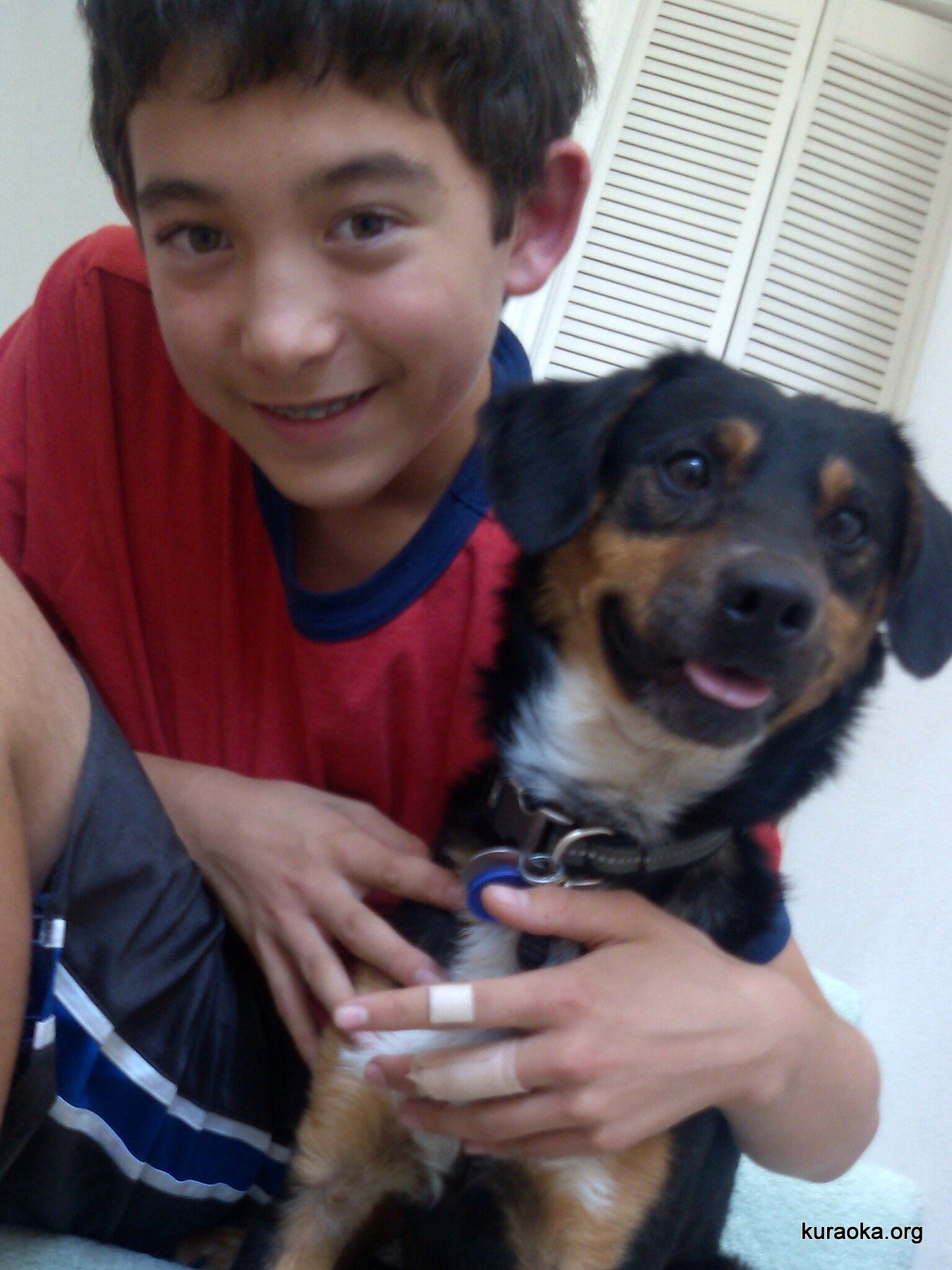 12-08-12 Aunty Merry's memorial service and reception. Here are some quick phone photos. First, Leo with his dessert, one of many marshmallows dredged in the chocolate fountain. Next, second cousins - the kids of Ishida clan cousins!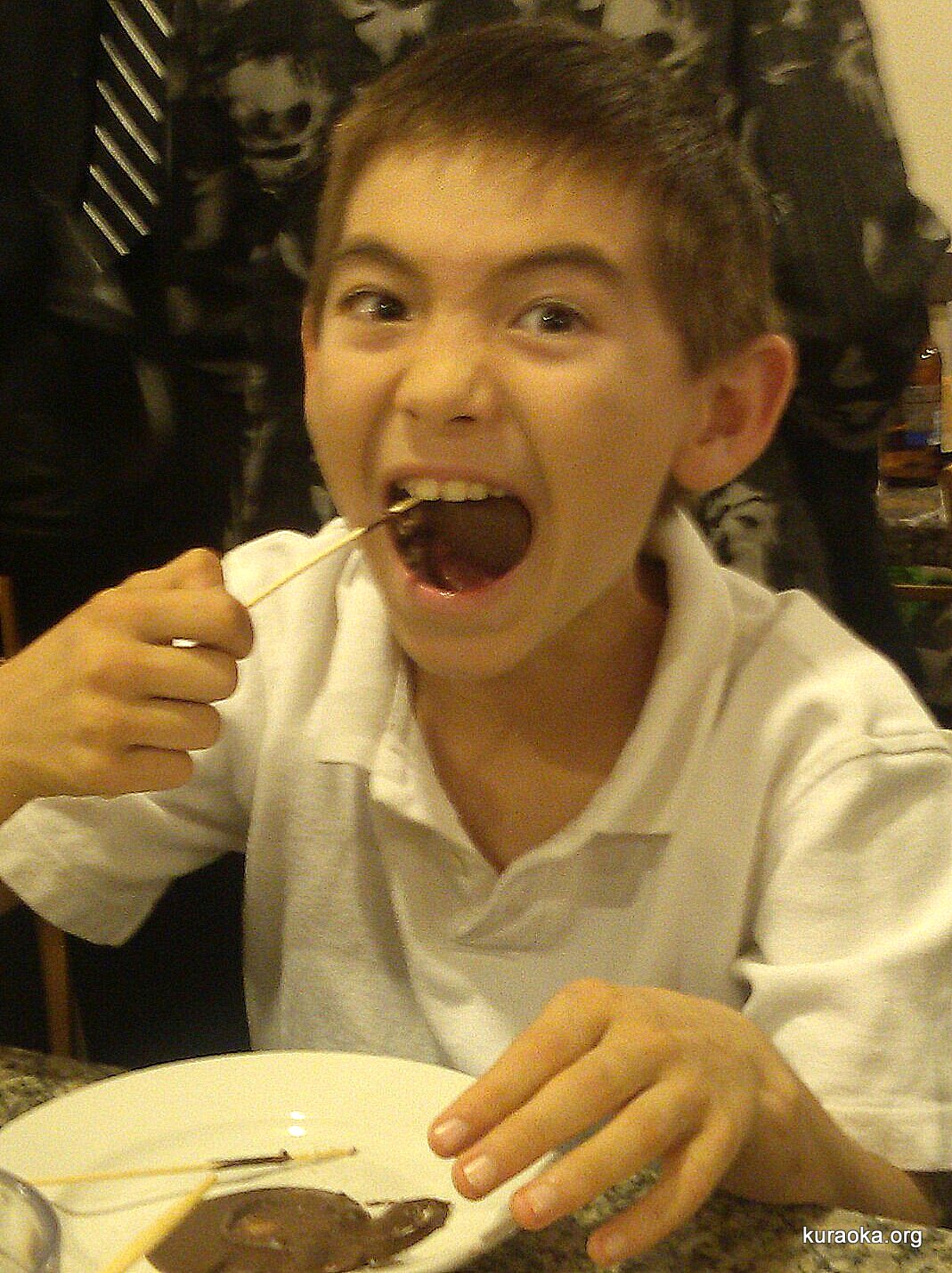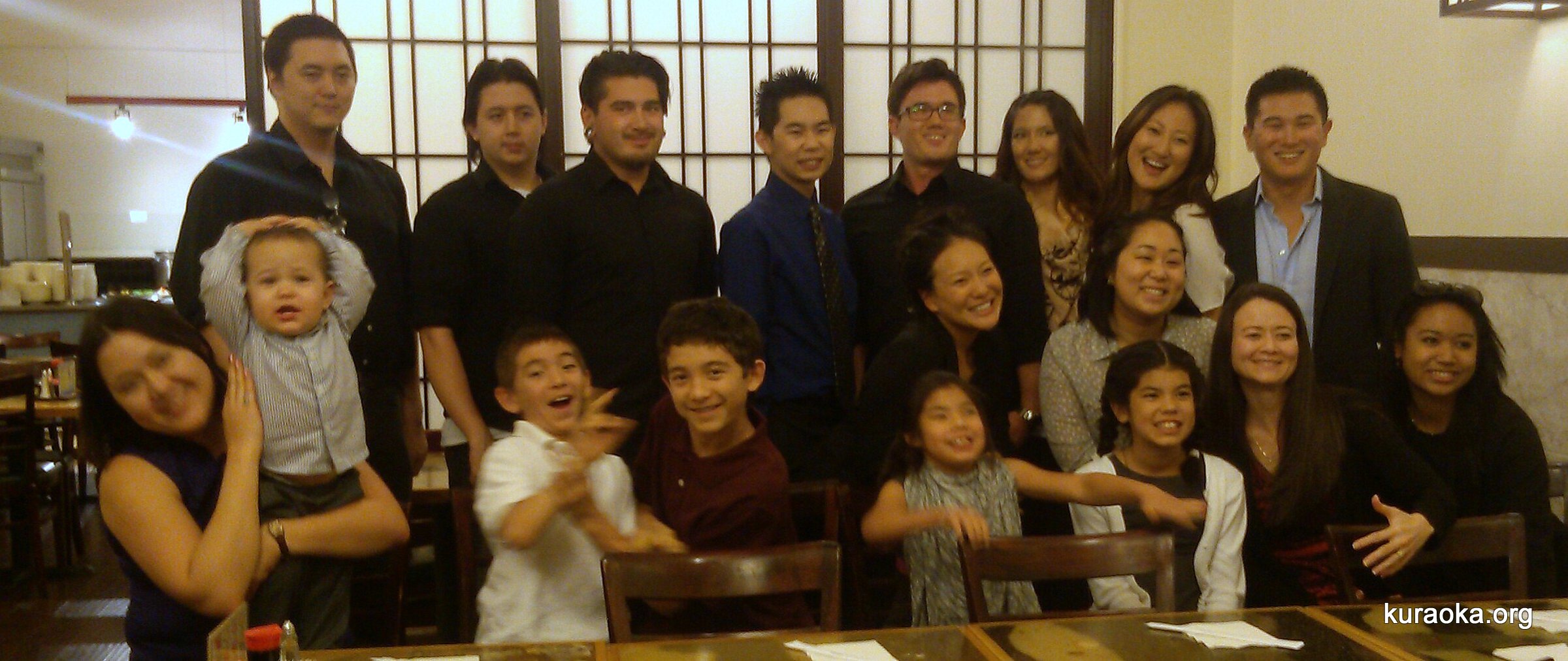 12-06-12 St. Nicholas' Day. In the morning, the boys found that St. Nick had visited, leaving gifts in their stockings! In the afternoon, John, Barbara, Leo, and Shadow went up the mountain to visit Bill on his one-year memorial. Shadow was very pleased to get home to Yucky Ducky!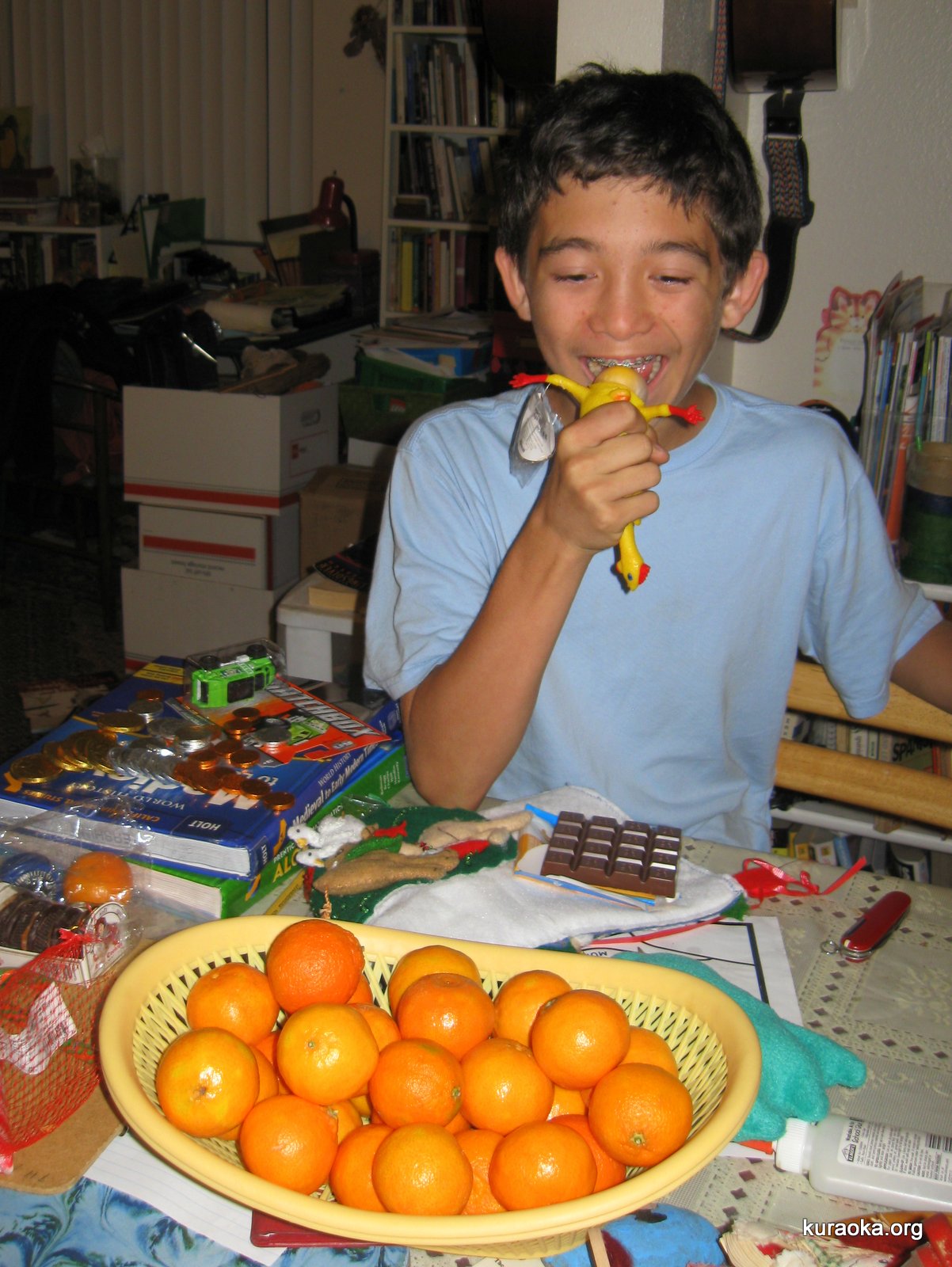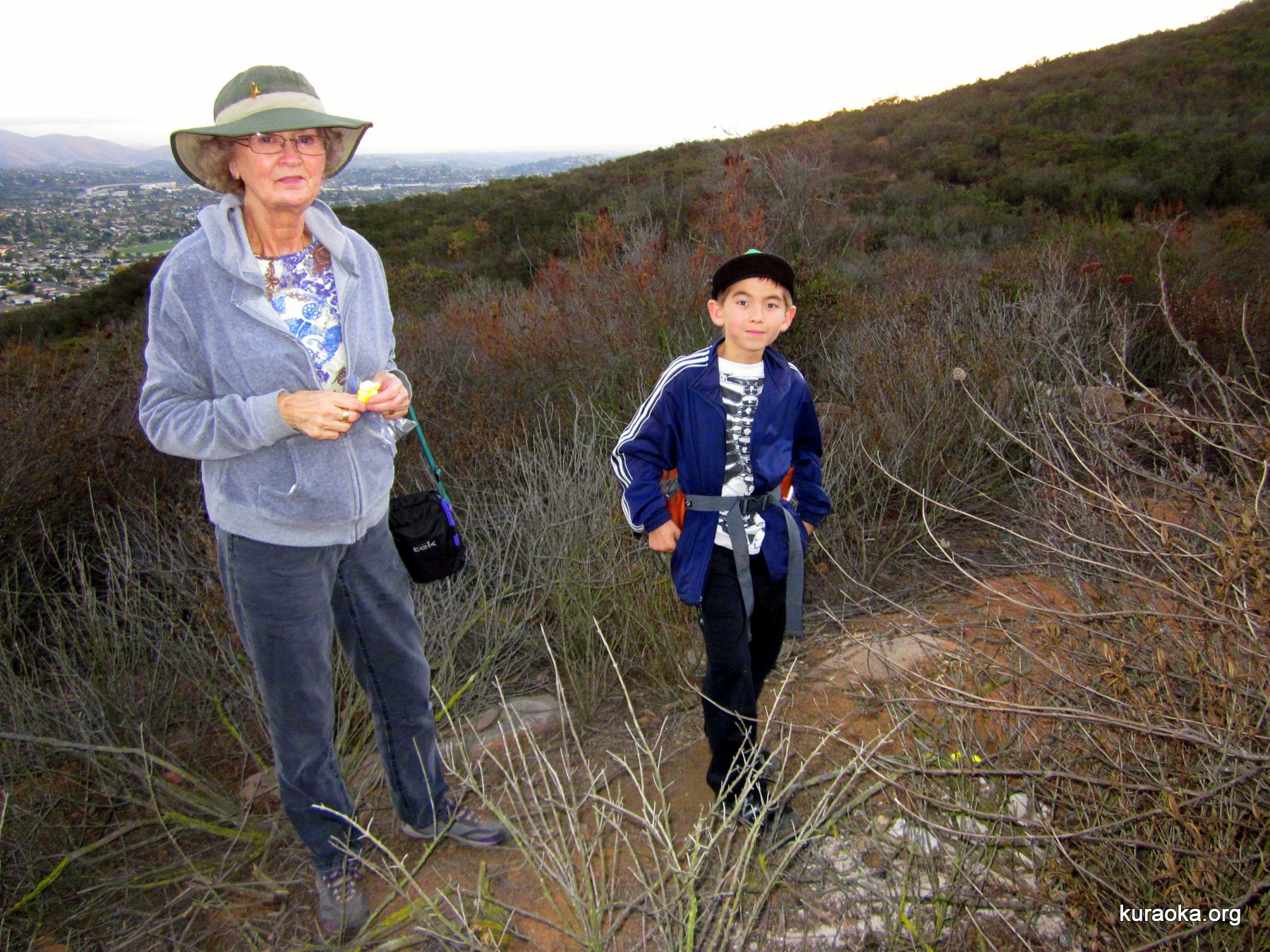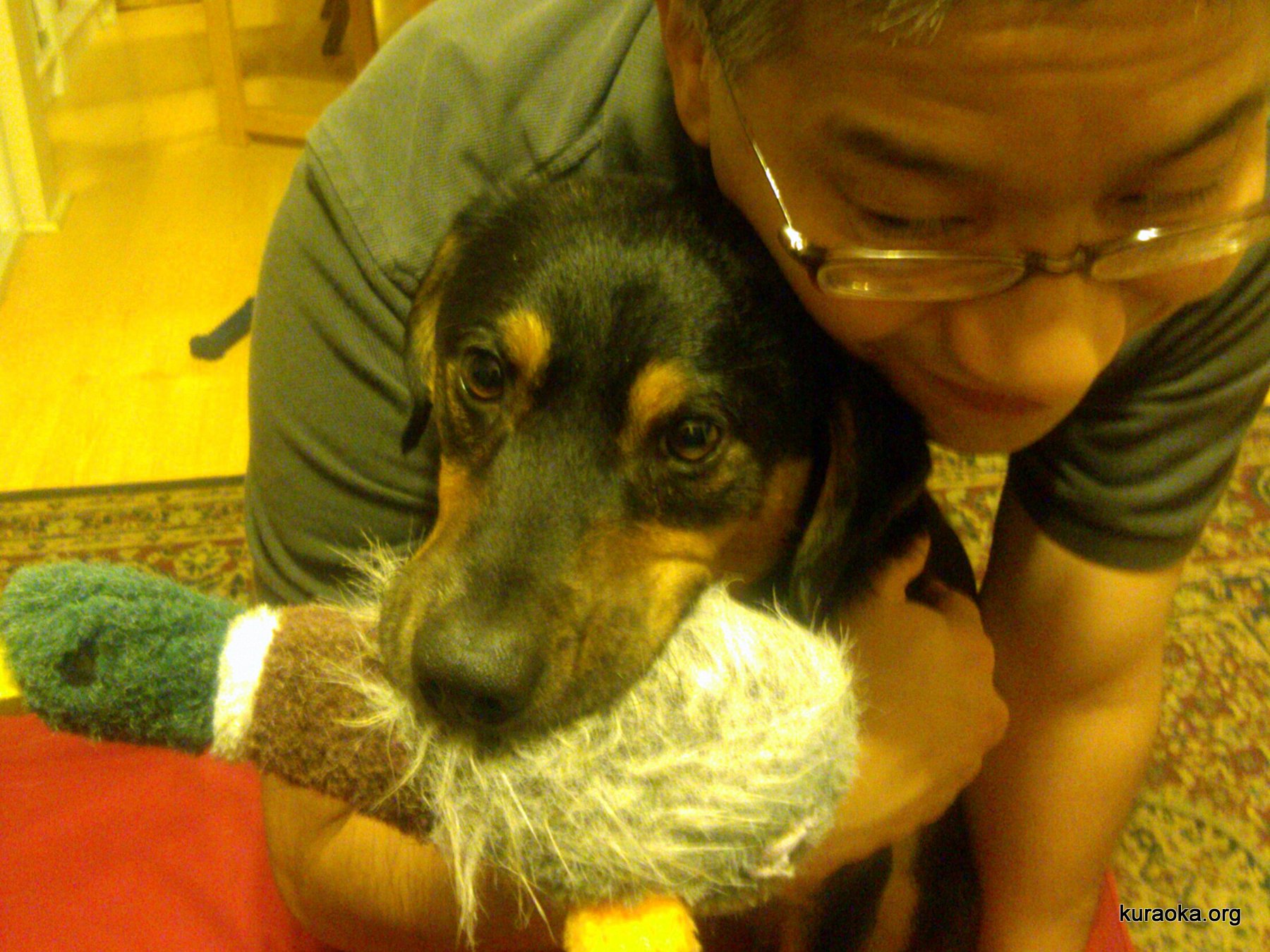 12-01-12 Roy, Leo, and Shadow on Cowles Mountain. This was Shadow's very first trip up the mountain with us, and he did great!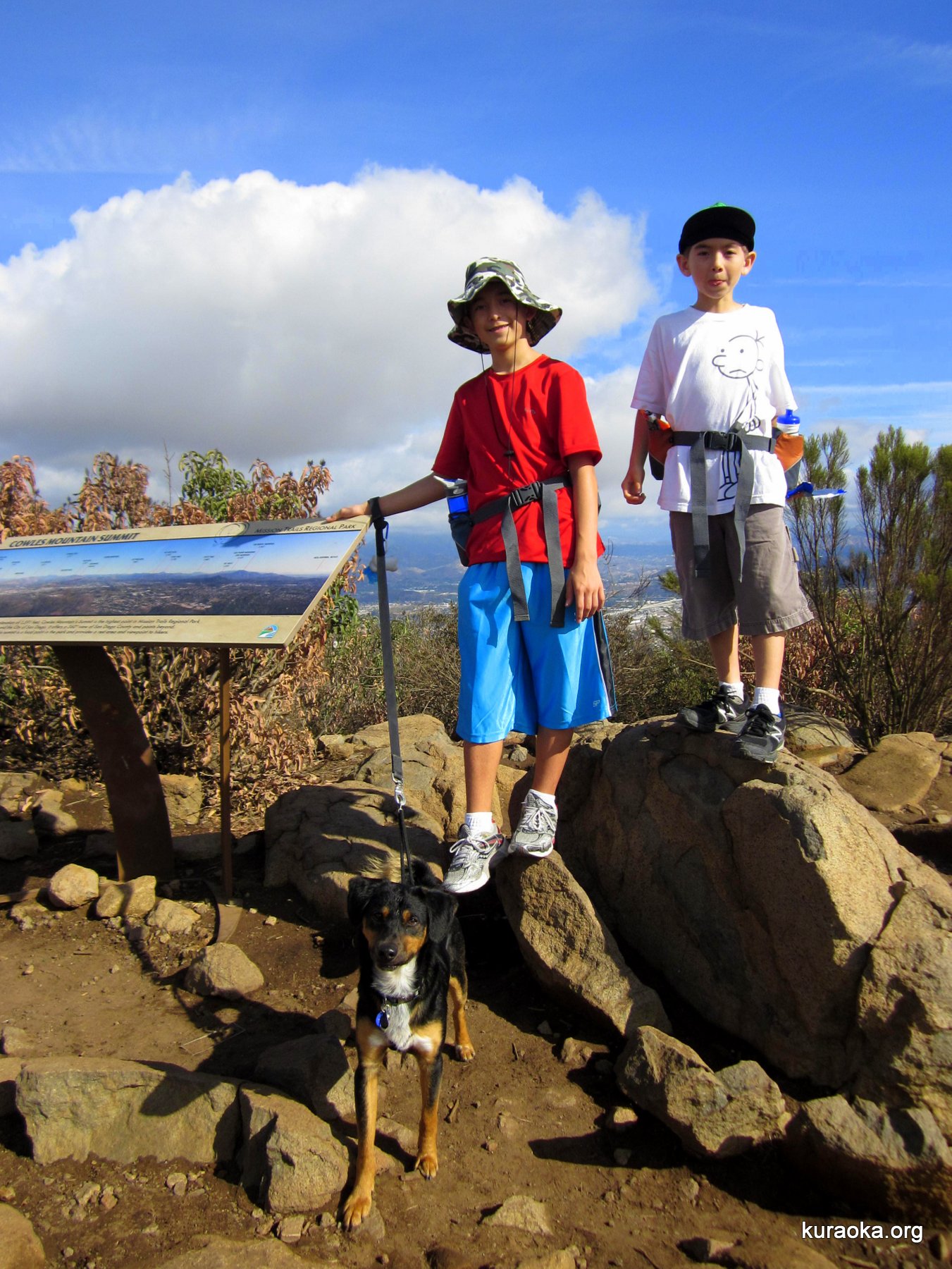 11-28-12 Shadow with Ducky! Shadow loves his new stuffed duck, and likes to carry it with him everywhere.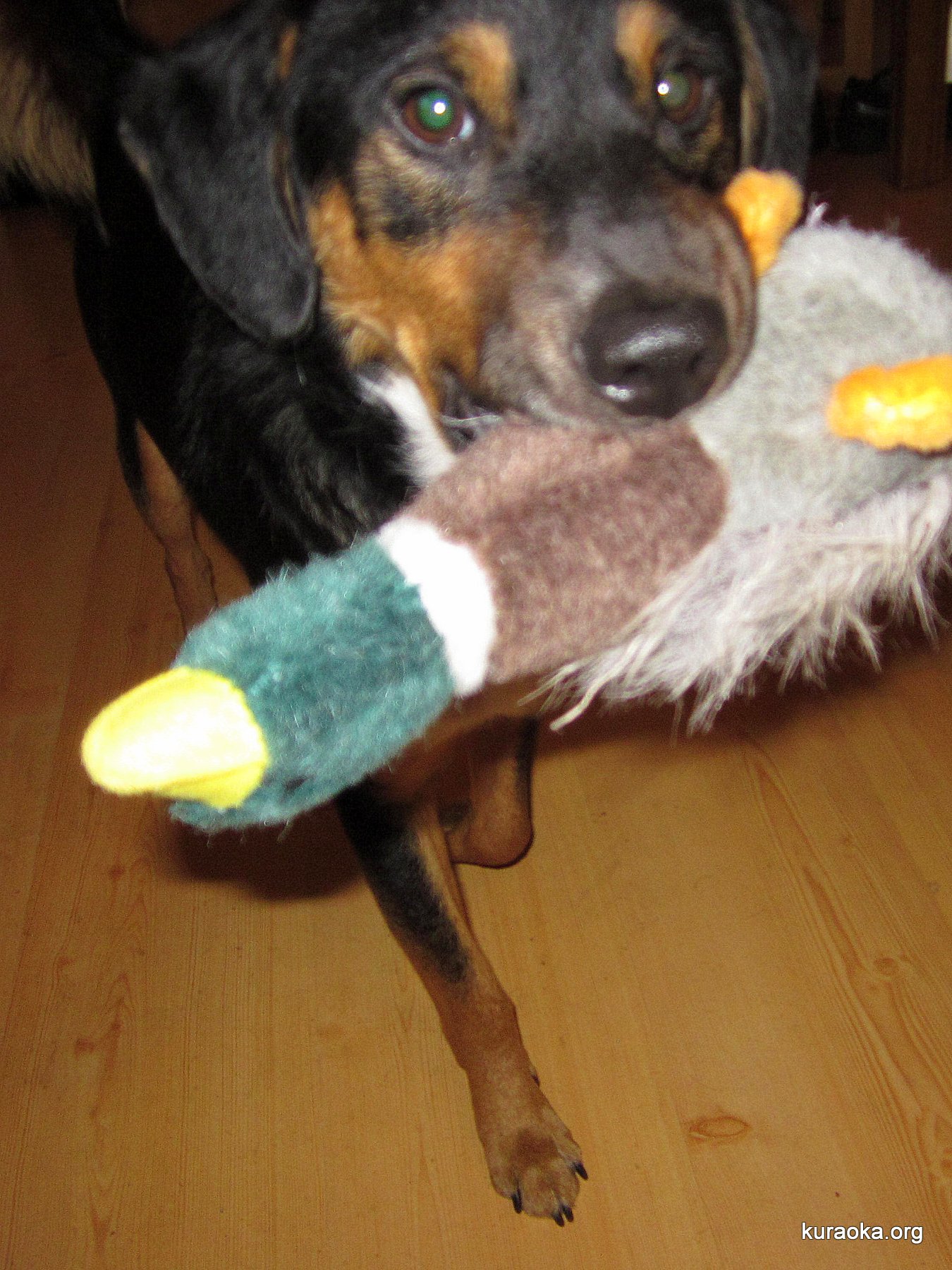 11-22-12 Thanksgiving feasting! We were a small, intimate group this Thanksgiving.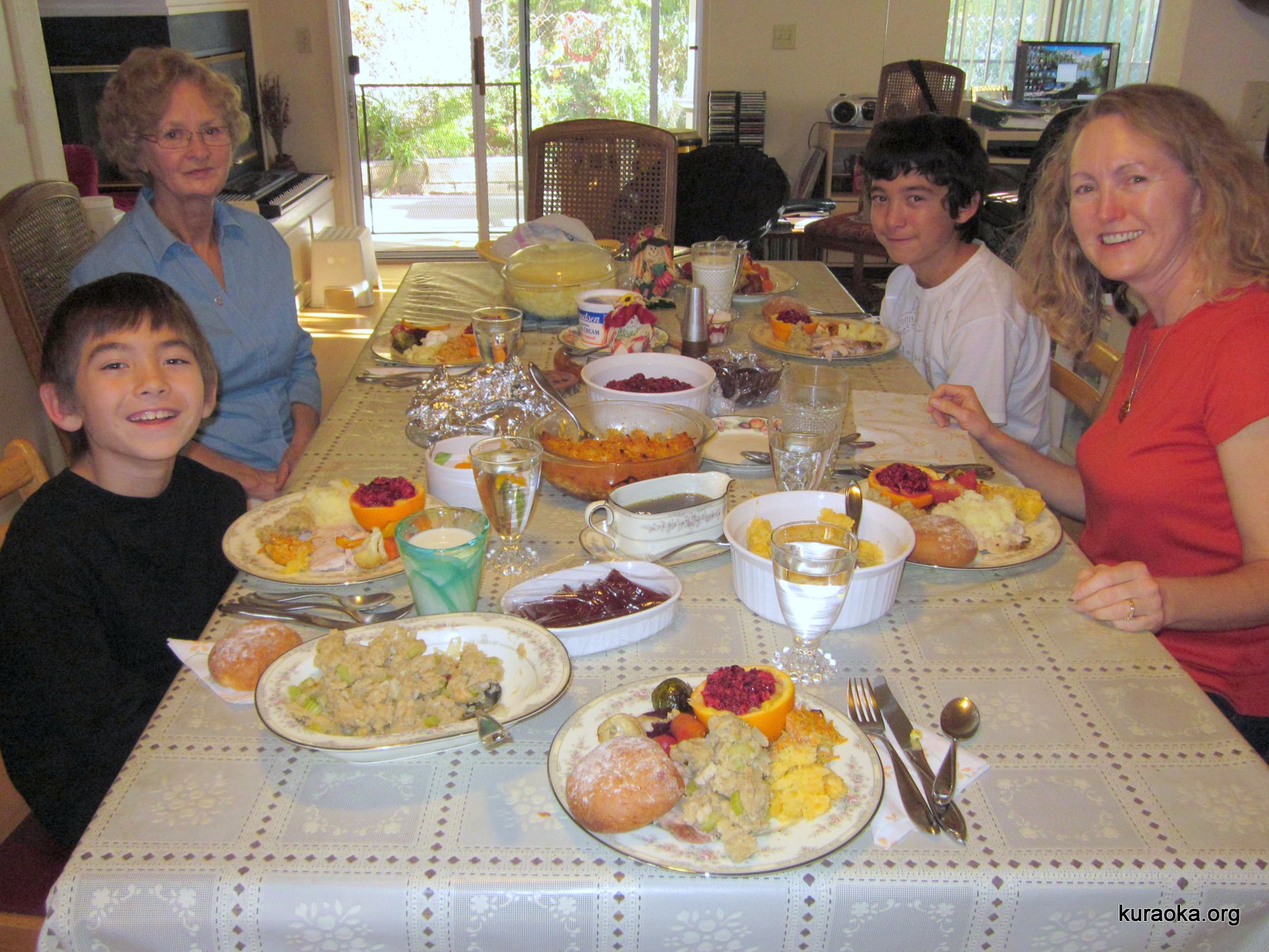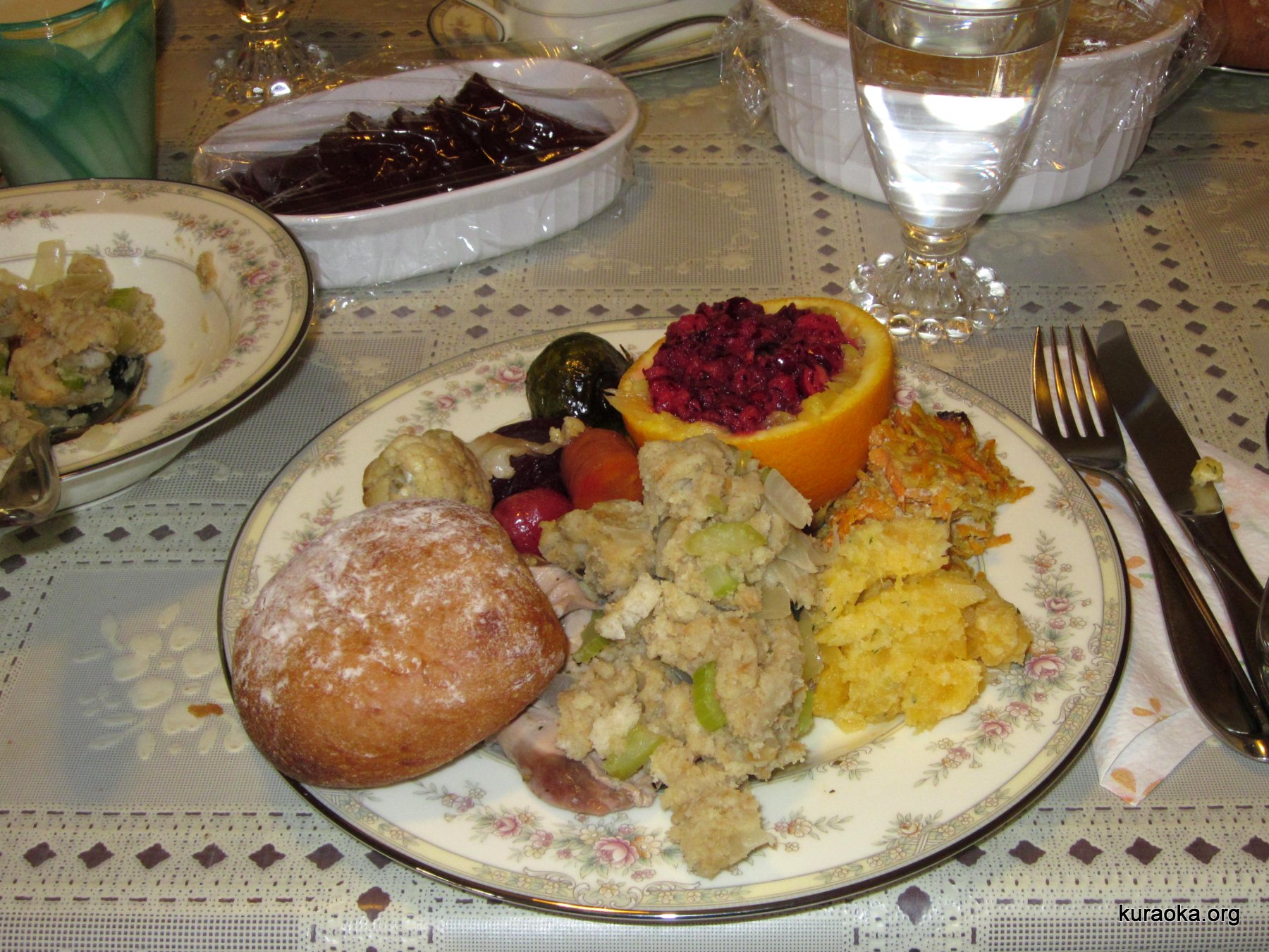 11-18-12 Garden Shadow. Ondine got this shot with her phone to post on her Facebook page.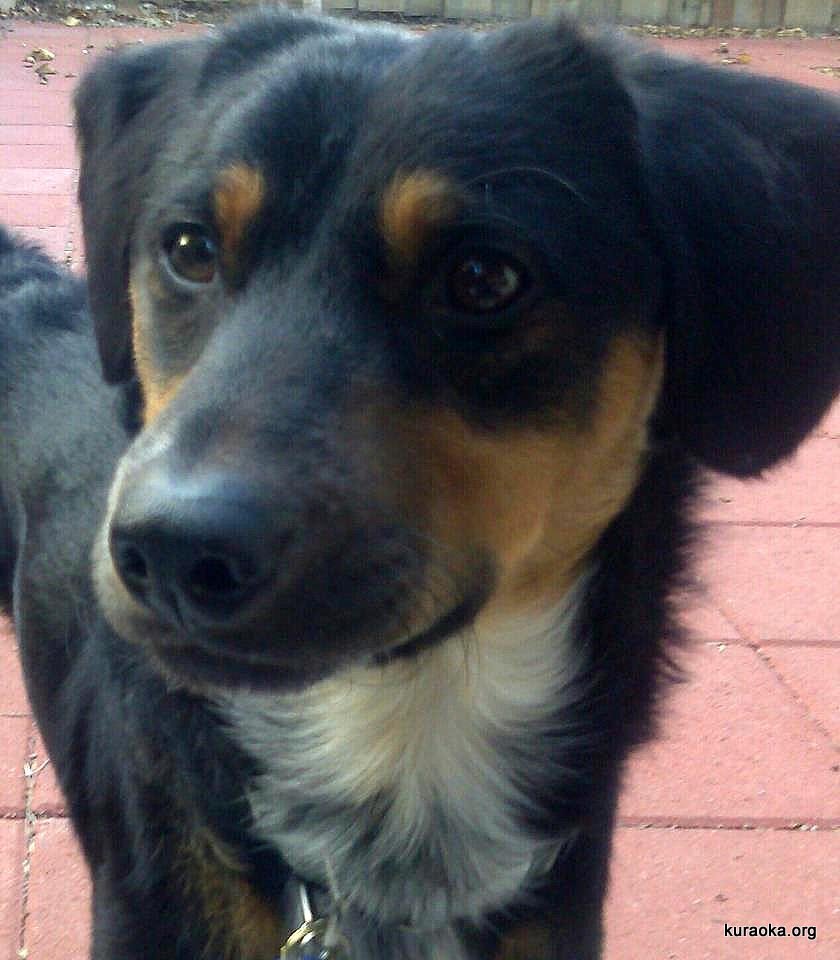 11-16-12 Shadow joins the family! Here we are with Shadow, our newly adopted dog from The Barking Lot, a rescue shelter in El Cajon!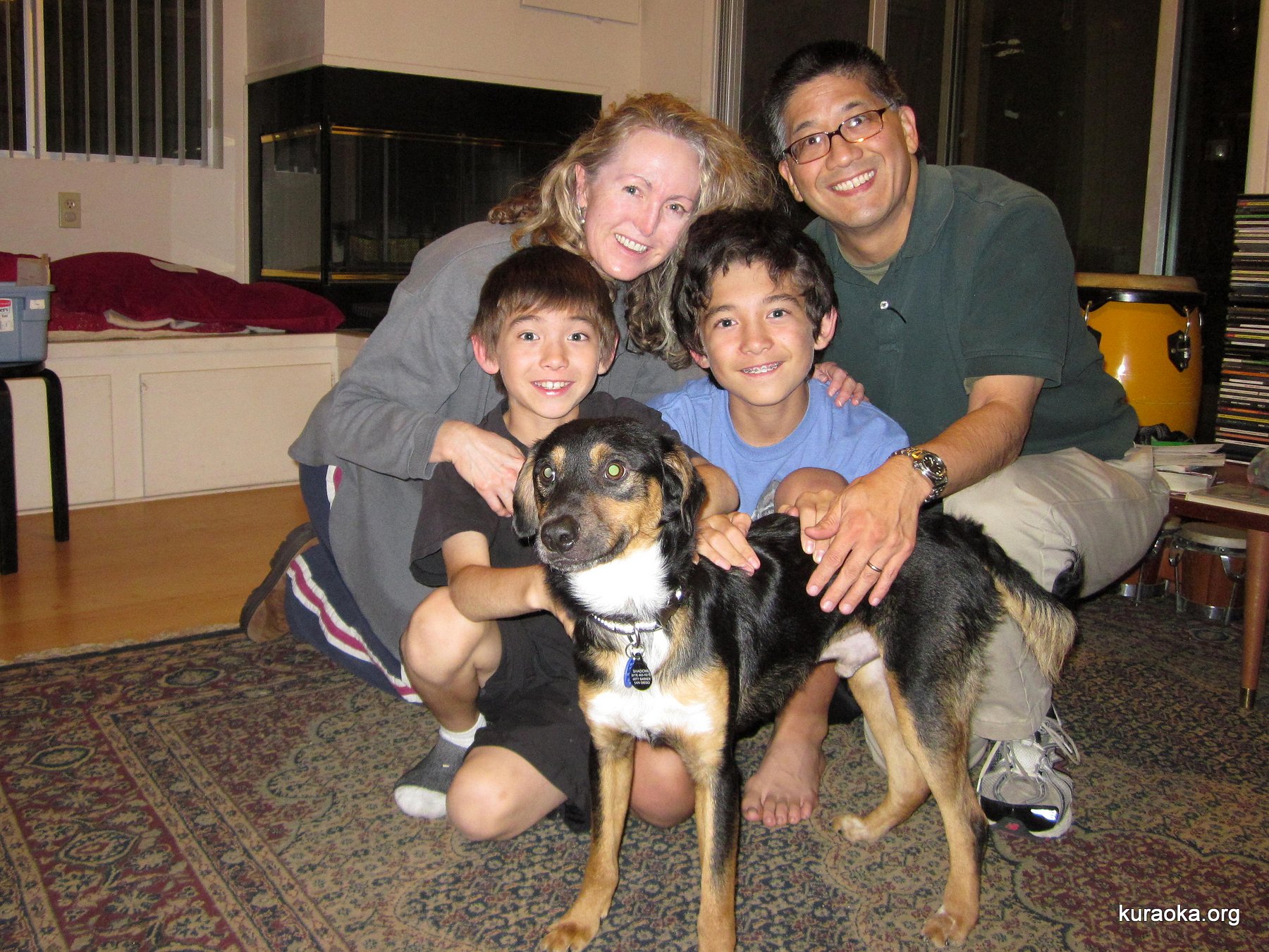 11-11-12 Remembering Buddy, a good dog. We scattered Buddy's ashes in our back yard, Barbara's back yard, and up on Cowles Mountain with Bill. We also kept some to spread at Sand Pond and at Grammy's house. Here we are on the mountain! We all jingled Buddy's collar, just to hear the familiar jingle of his tags and little bell. It was a beautiful, cool, clear day.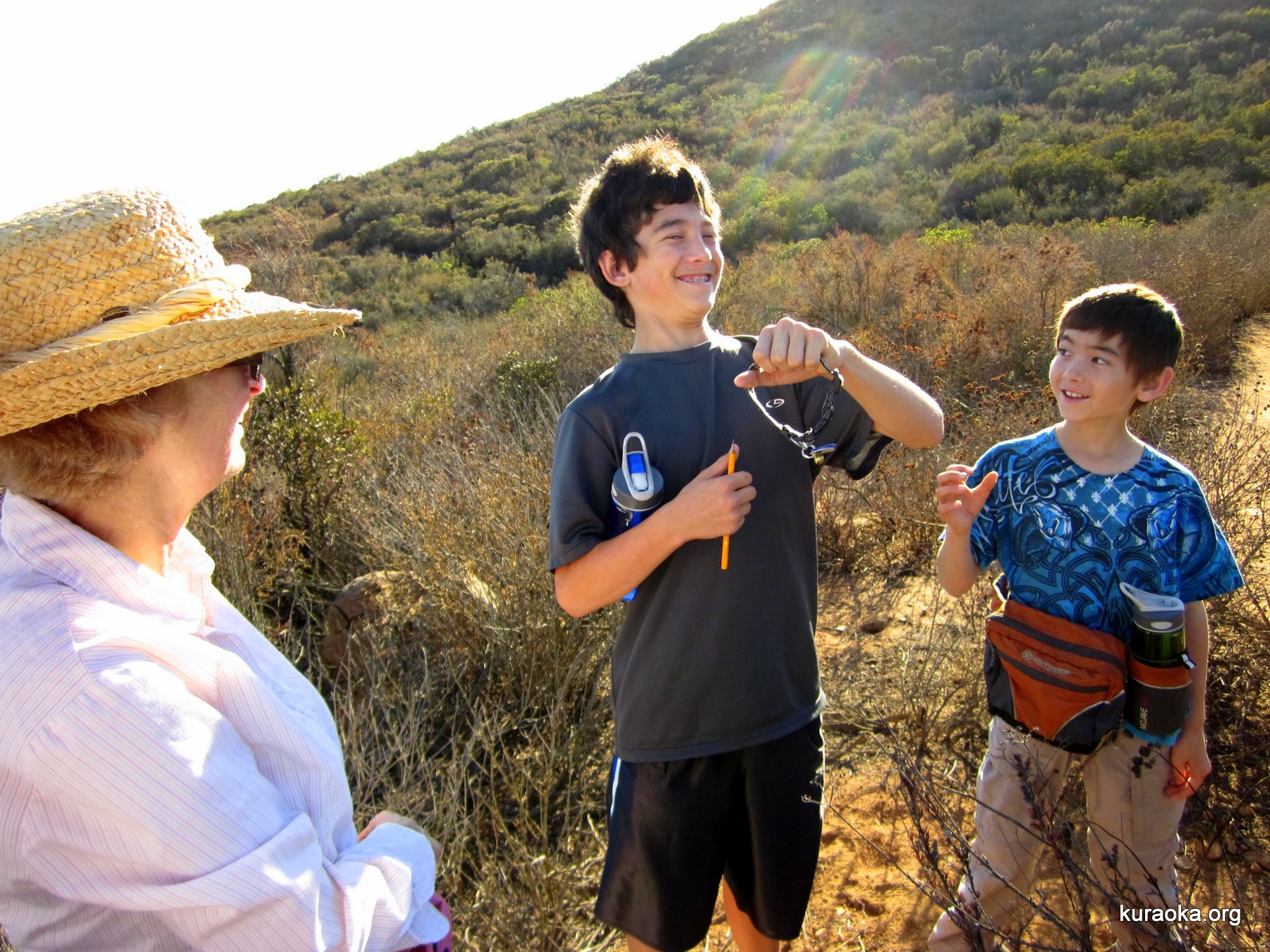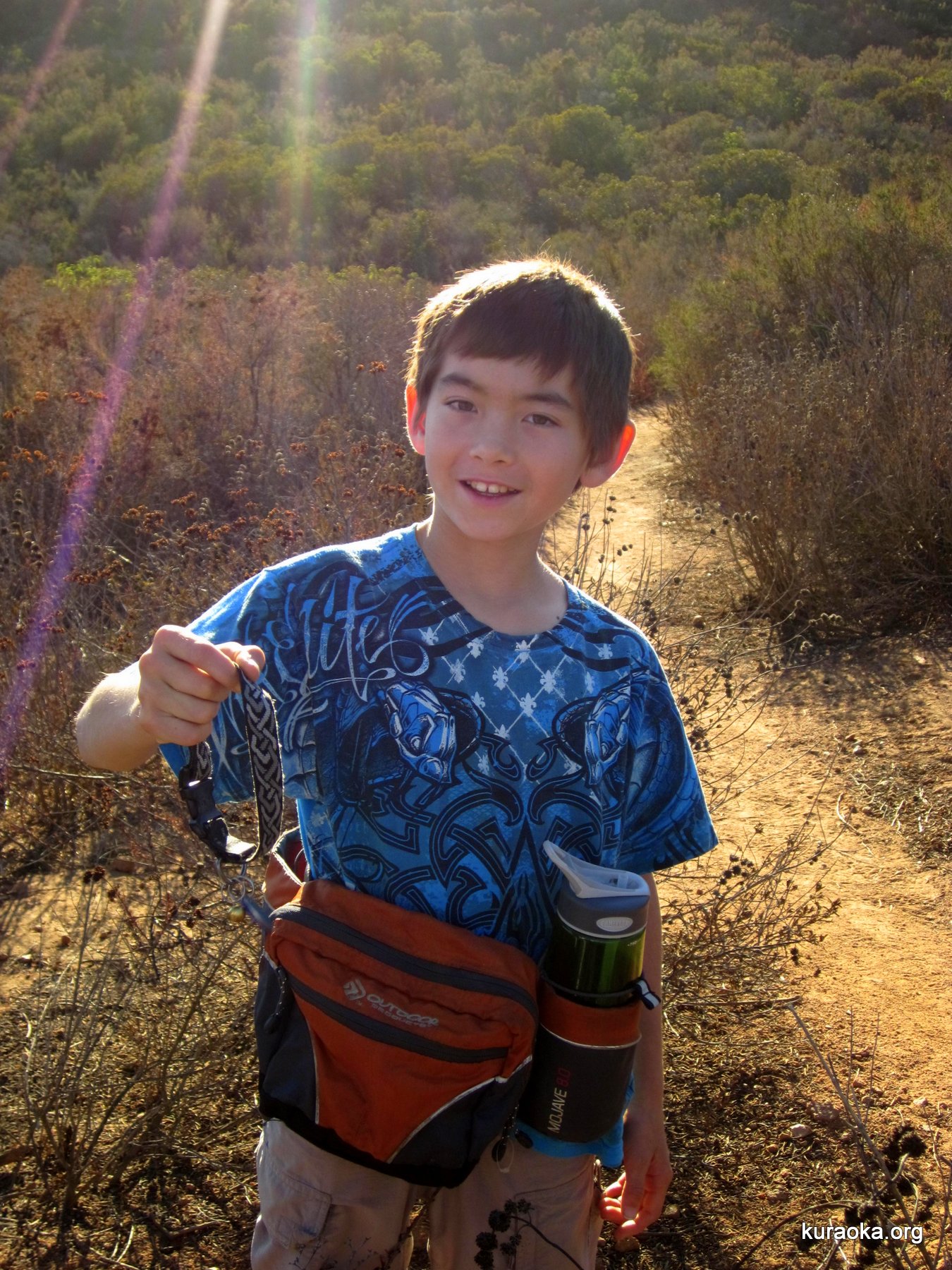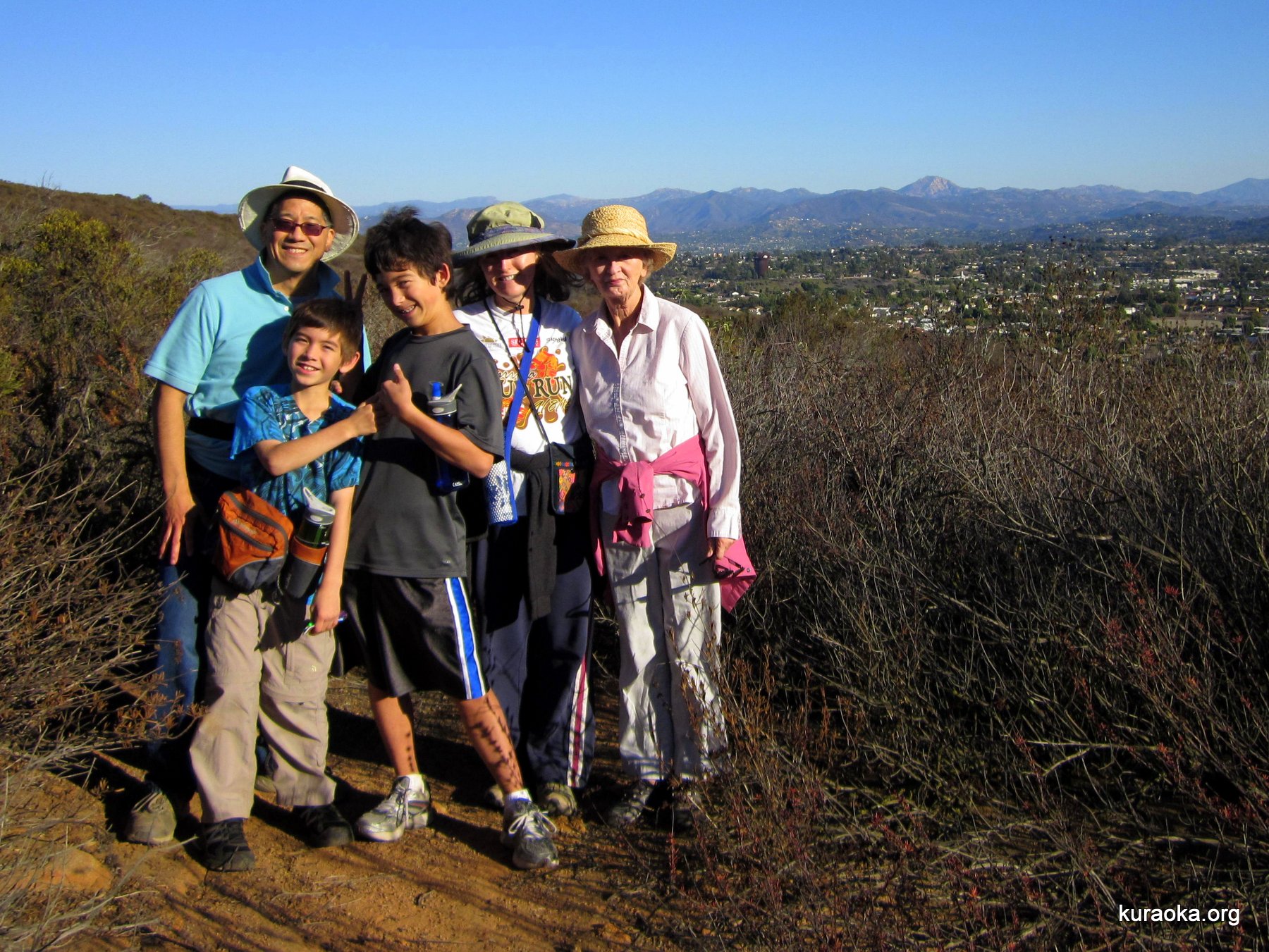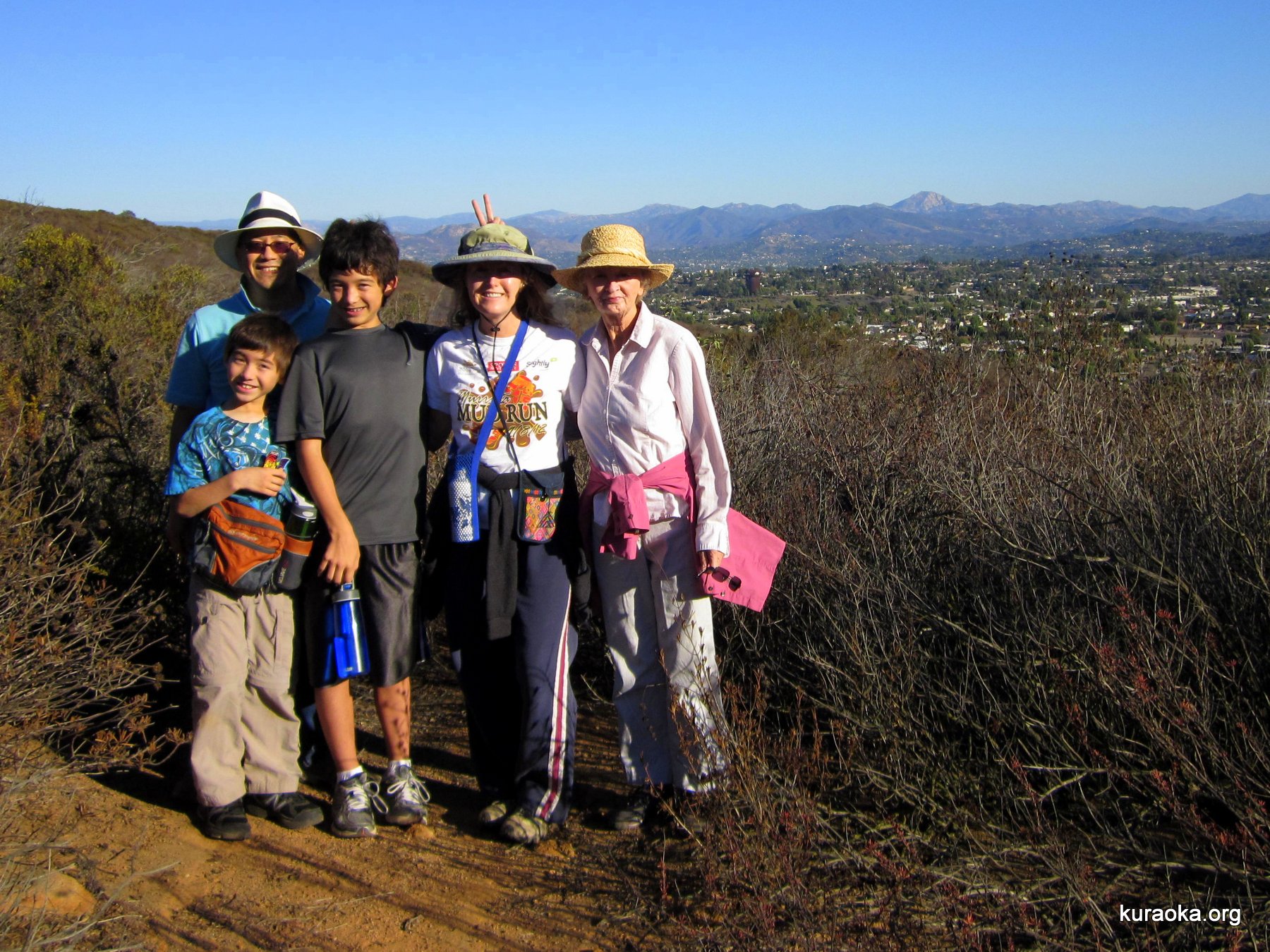 11-10-12 Our new dog? We went to The Barking Lot in El Cajon to look at adoptable dogs. This guy was the first they brought out. We looked at others, but bonded most with him, so we applied to adopt him. He was so new to the rescue shelter that he hadn't been named - so he's the first dog we'll name as a family! On the short list: Rolly, Oliver, Duessel, Maguffin, Shadow, and Tugboat.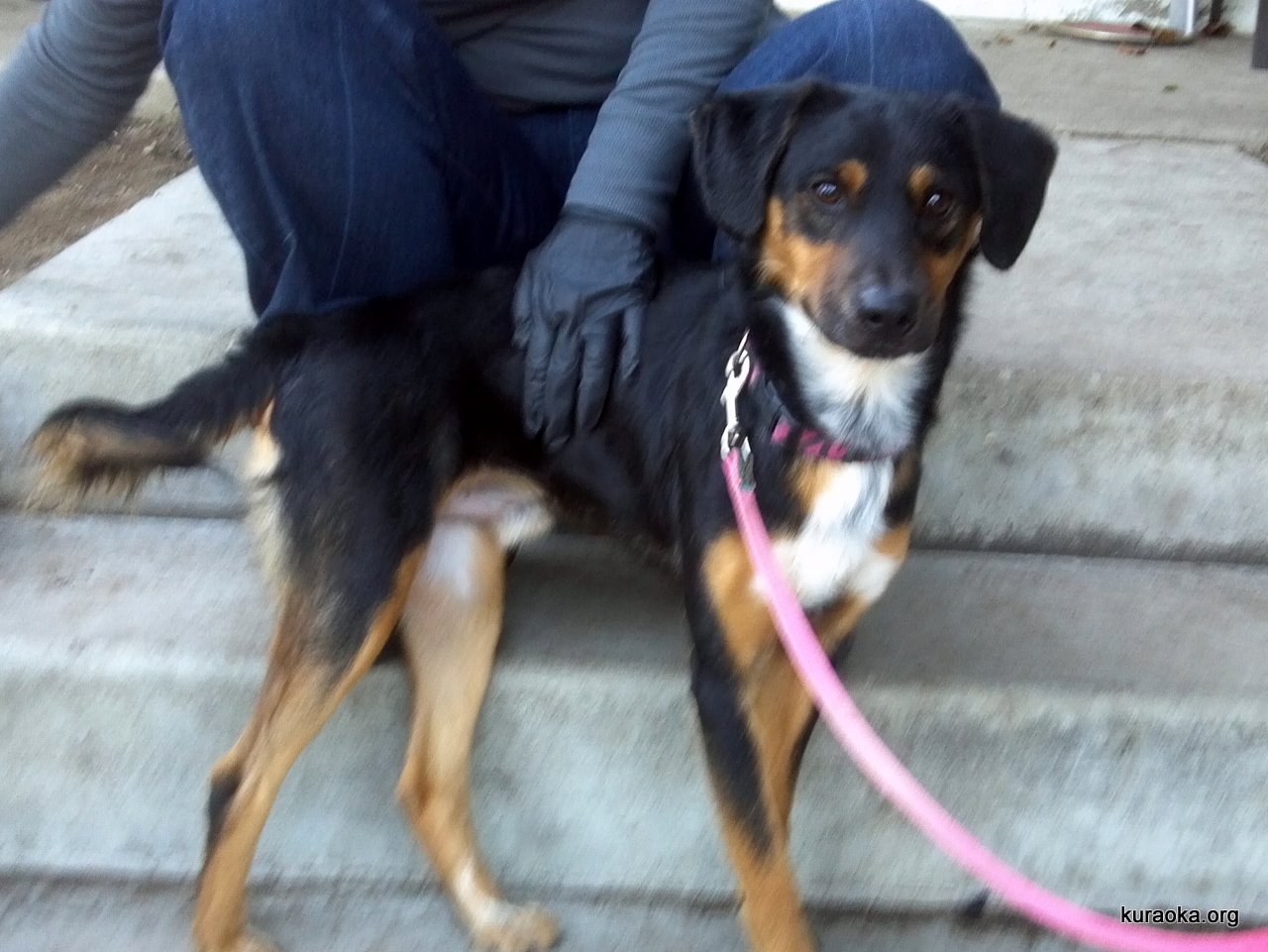 11-07-12 Buddy comes home. "Peaceful Paws" hand-delivered a lovely cedar box with Buddy's cremains, along with a clay imprint of his paw, an engraved nametag, and a blooming paper decoration. Not to be inappropriate, but heck, Bill didn't have such ... packaging ... when he came home. Well, it's a fancy box for a fancy mutt!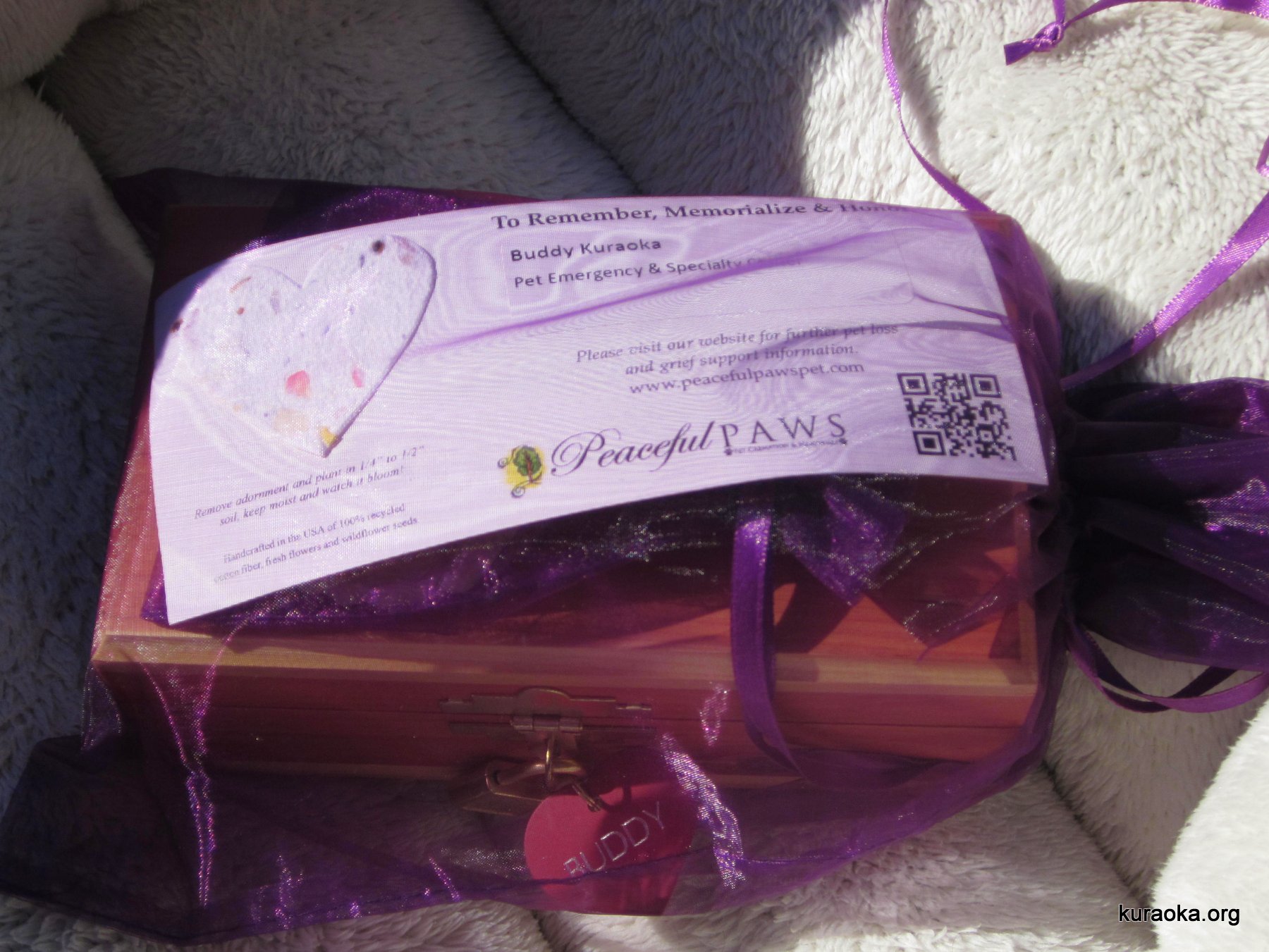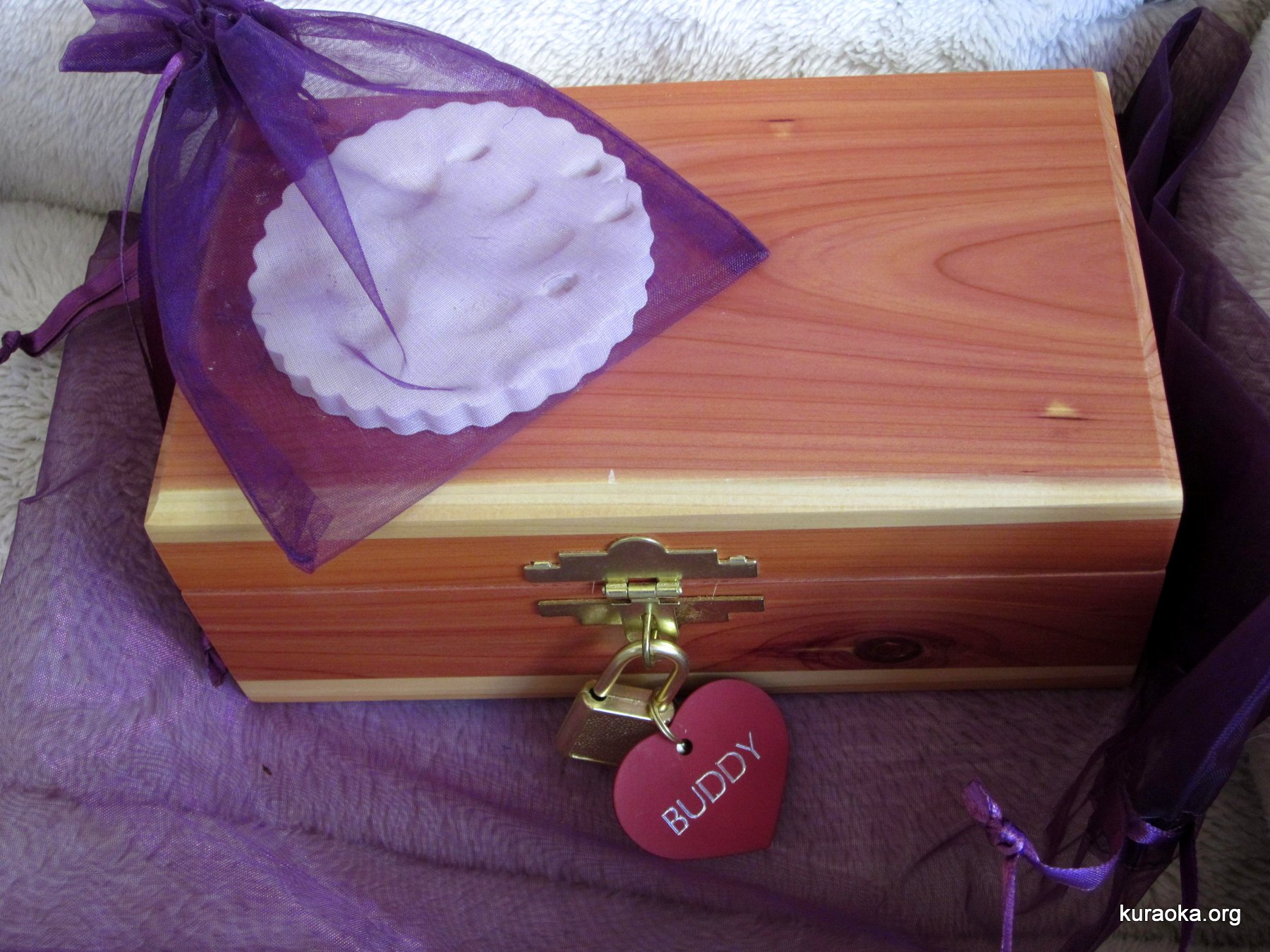 10-31-12 Happy Halloween! Here are Barbara, Leo (in the "Scream" mask), Roy, and Ondine, out trick or treating!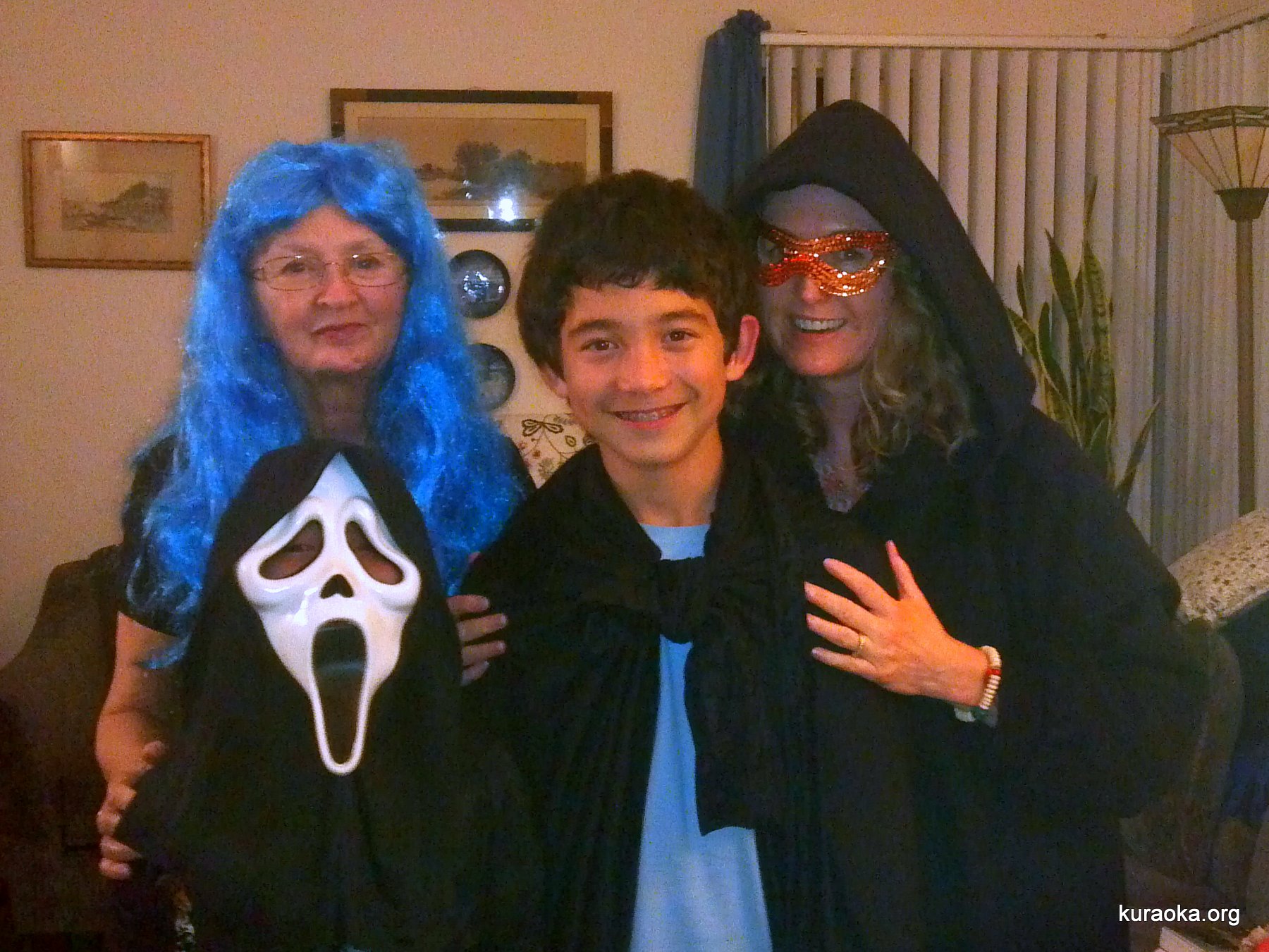 10-28-12 Buddy died Sunday morning. The drawing, by Roy, had hung on Roy's bedroom wall for about a year. When Buddy died, Roy took it down and brought it out. We placed it in Buddy's crate, and as we walk by it's almost as if he's still here. And our dear friend Lucy mourned with us, leaving a lovely memorial display on our front step.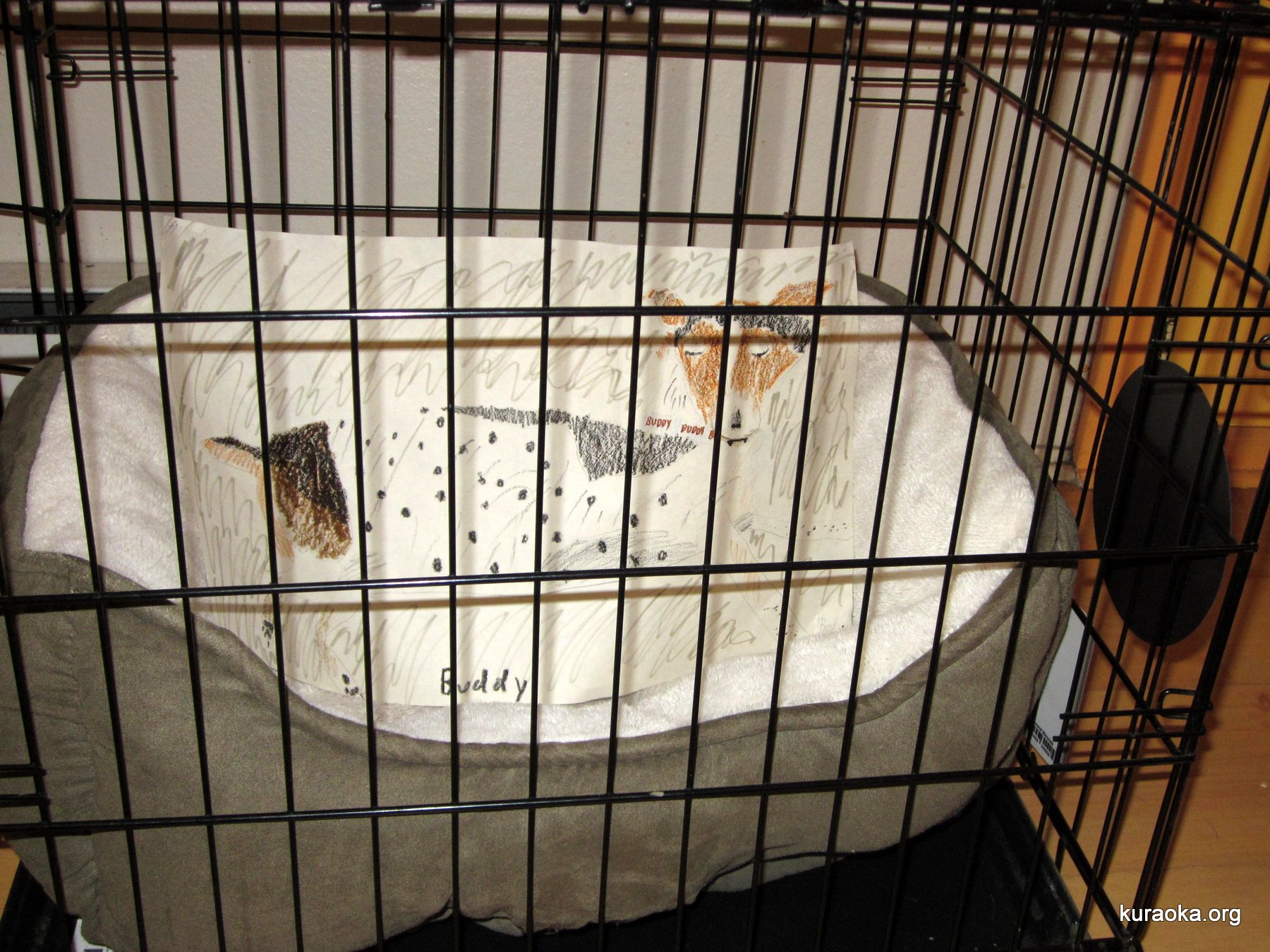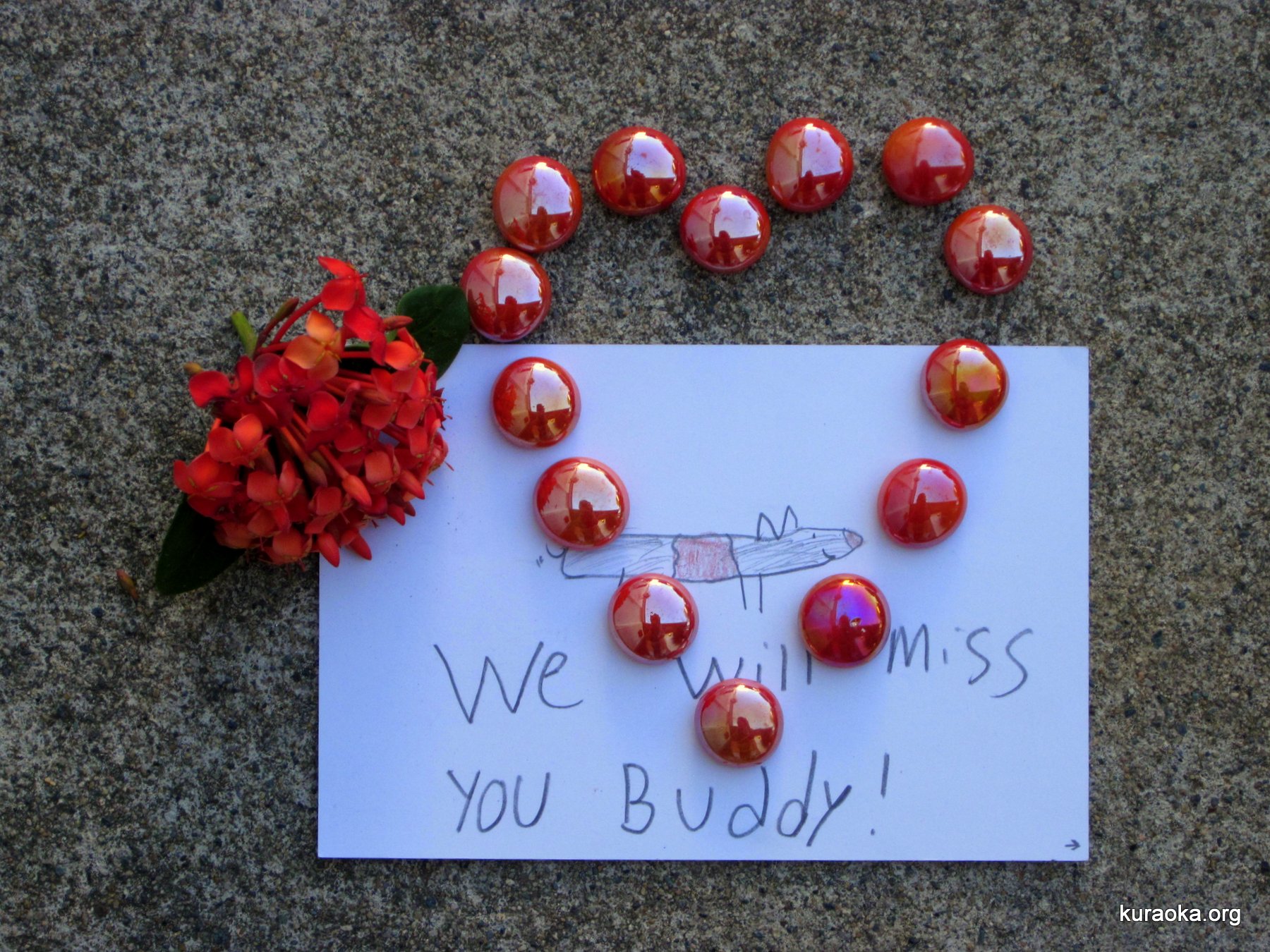 10-23-12 Leo's keyboard recital. We managed a quick grab shot from the back of the room. Here is Leo, playing "Crazy Frogs."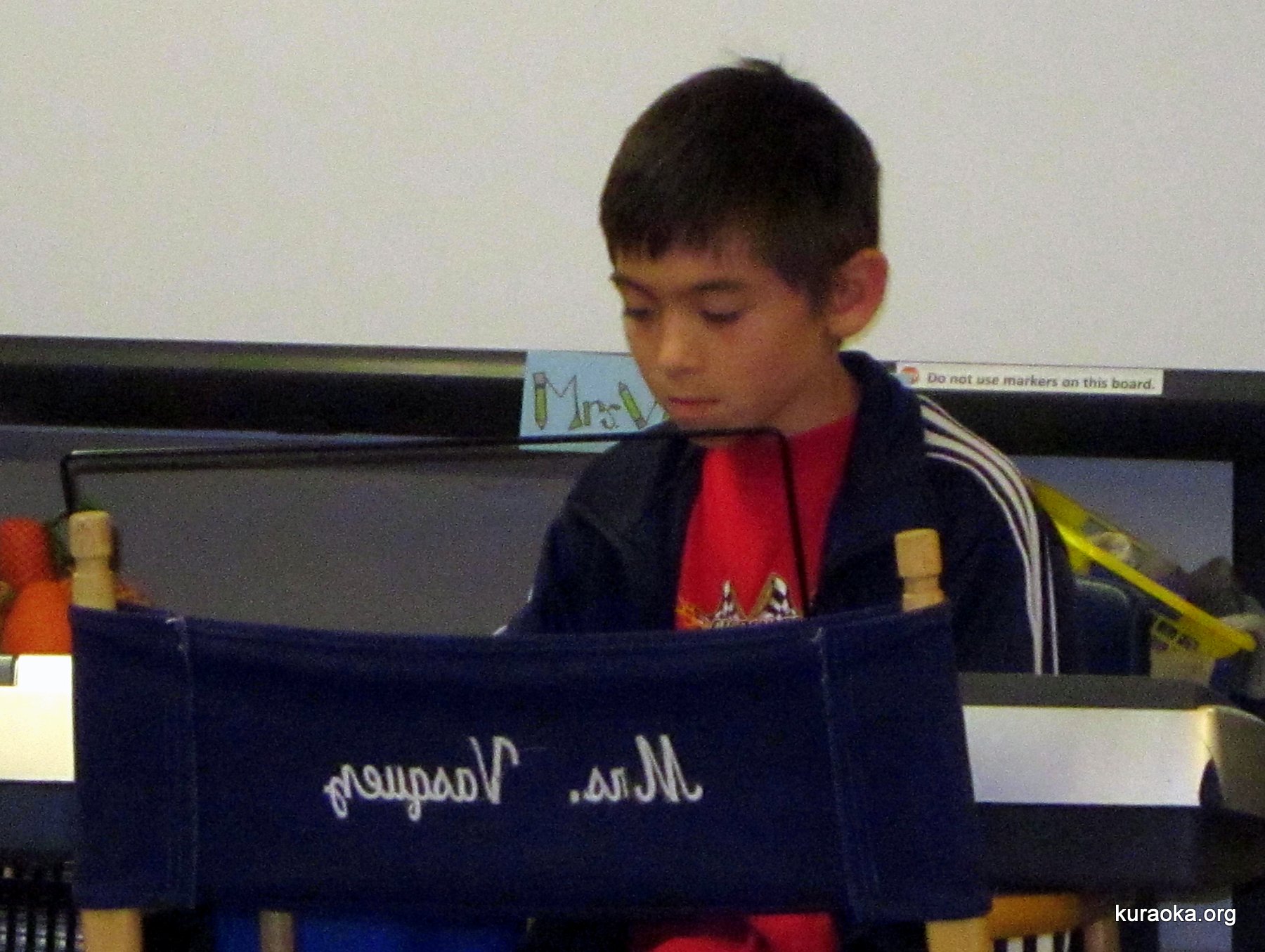 10-22-12 Public Safety Day. And injured Buddy. Check out the two big helicopters that landed on the Hearst lower field for Public Safety Day, a day complete with presentations from city and county agencies. On the playground, there are firetrucks, ambulances, police cars and motorcycles, the Highway Patrol, Sheriff's Department vehicles, and the SWAT "Bearcat" armored vehicle! Next up we have Buddy, recuperating in John's office. He tweaked his neck quite badly, so John is keeping him company while he (John, not Buddy) works.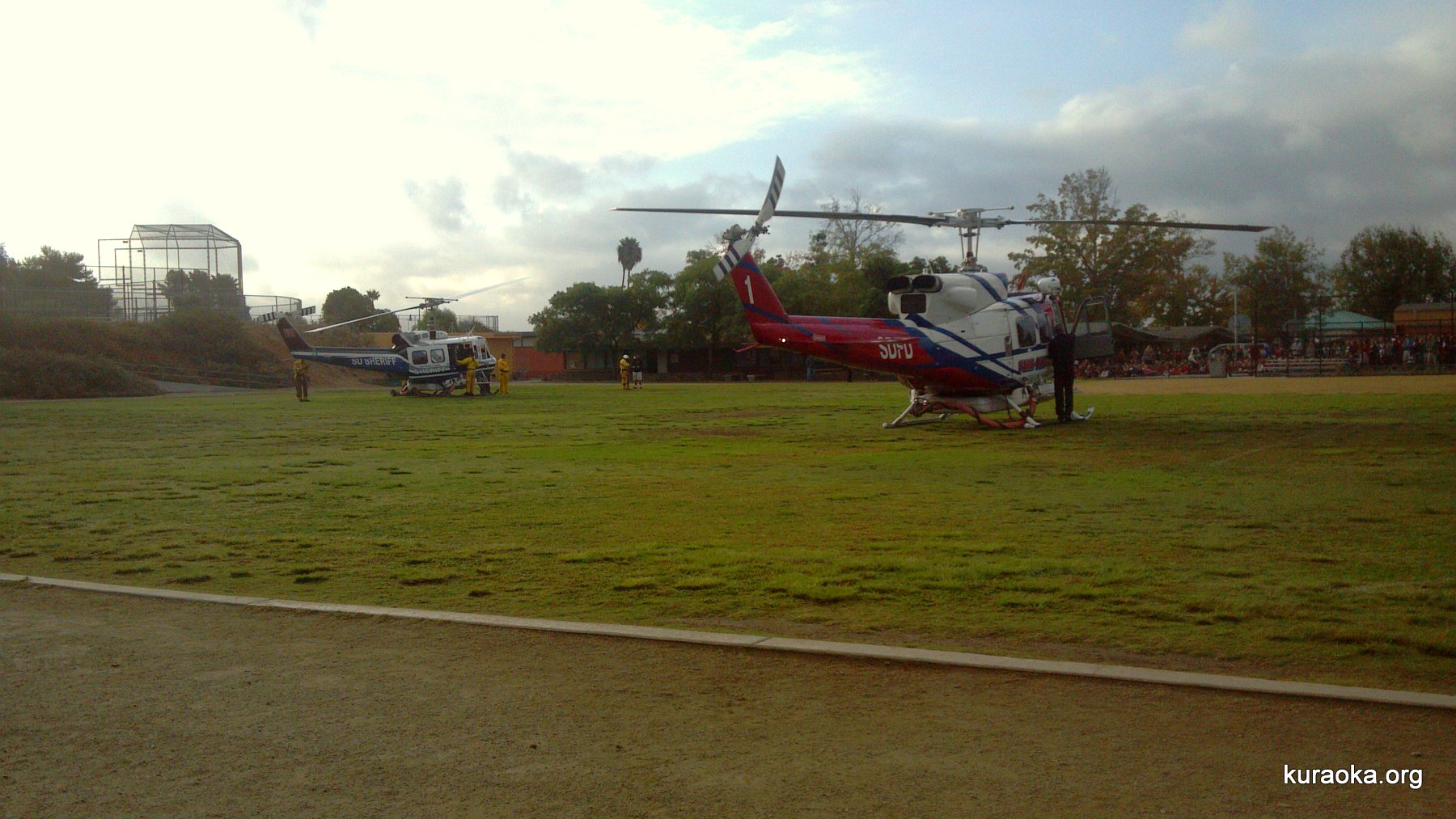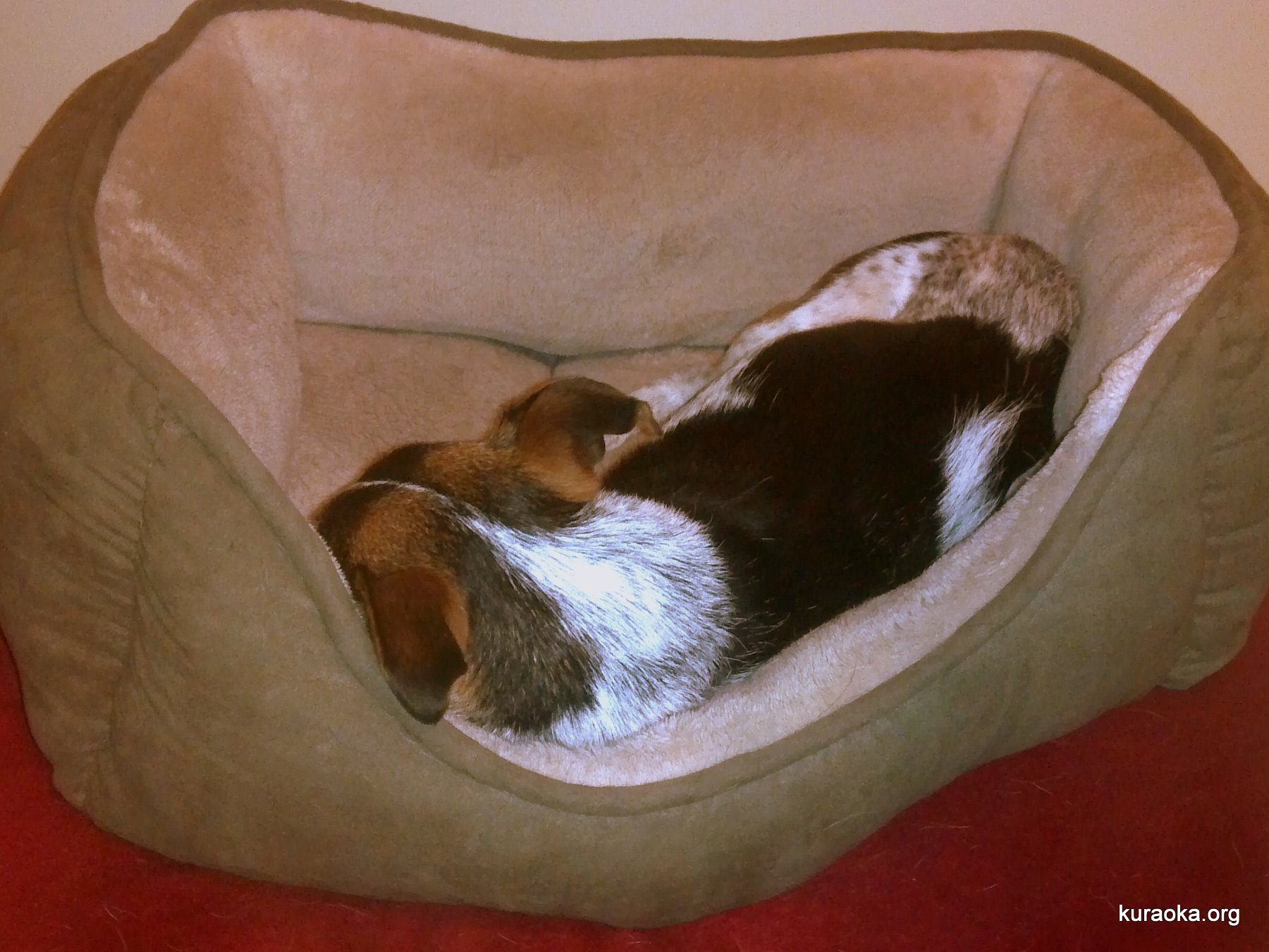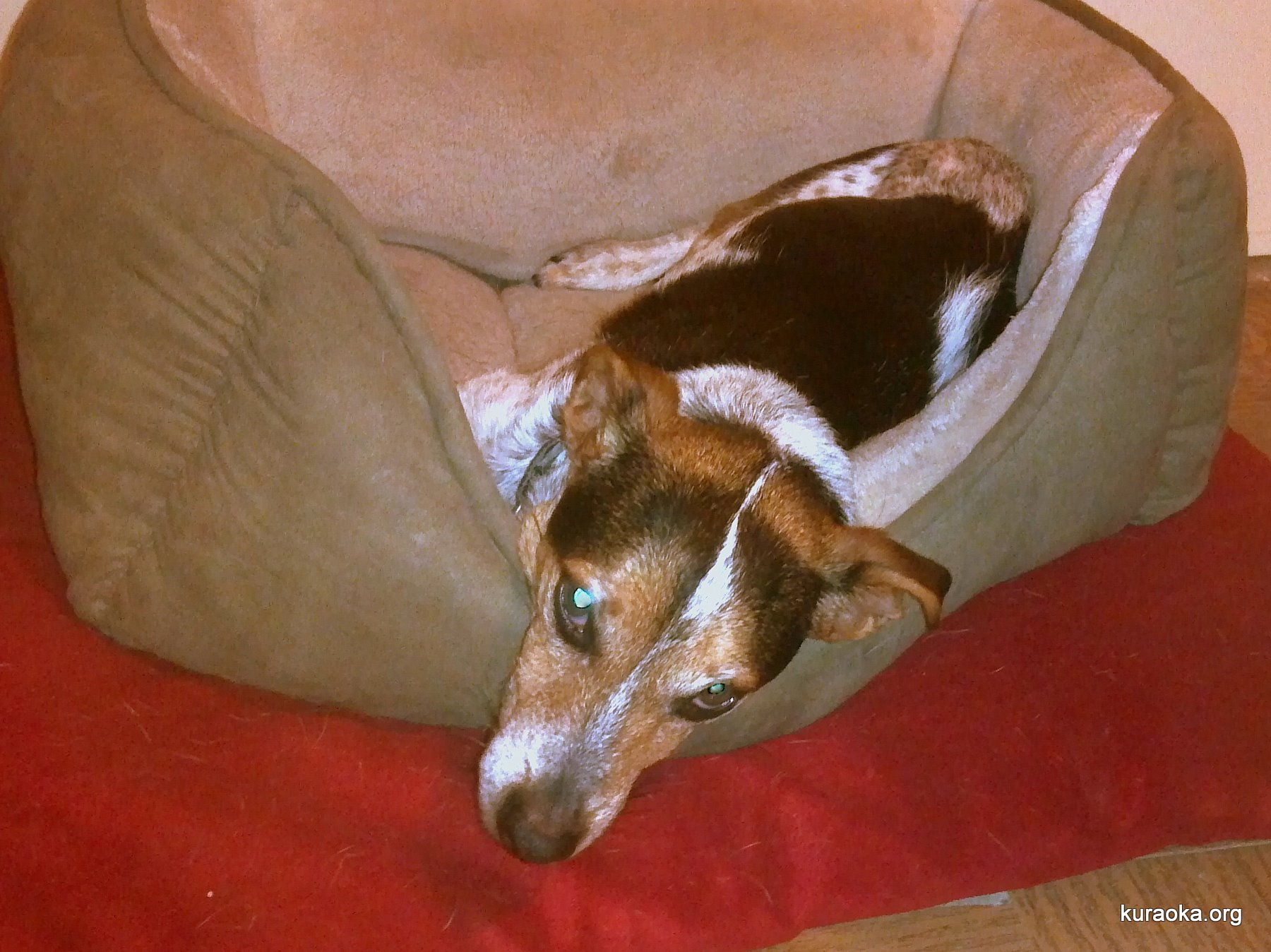 10-11-12 Rain! This is the back yard. You can't see it, but hail sliced down in sheets during this wonderful thunderstorm, the first rain of Fall. Buddy went nuts attacking the hailstones and raindrops, until they pelted him back to cover!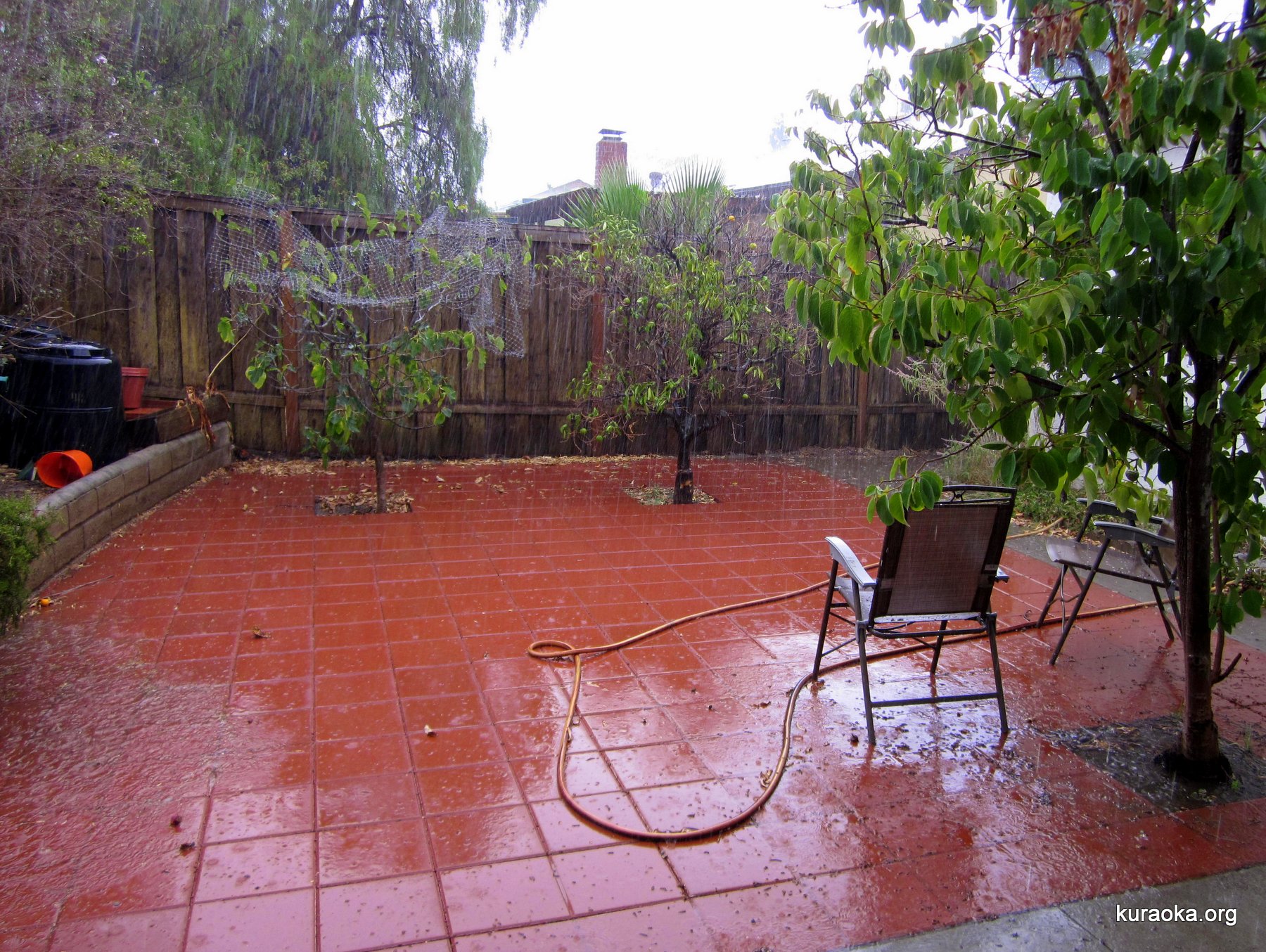 10-07-12 Family Allegiance. Both grandmothers joined us as we took the boys to see Allegiance at The Old Globe, a play about the Japanese American internment. Grammy shared some of her memories of camp - her father, because he was considered a civic/business leader, and his family was among the first to be rounded up and "evacuated" to Poston, Camp 1. Most of the play took place at Heart Mountain, which is where John's father was interned. The second photo is part of The Tag Project, an art installation by Wendy Maruyama. The tags are duplicates of those worn by internees as they were shipped off to camp. More than 120,000 tags bear the hand-written names of each internee, along with his or her ID number and destination camp. Hanging from the theater's vaulted ceiling we see three camps worth of tags: Tule Lake, Heart Mountain, and Poston. Somewhere in that middle cascade is John's father's name, and somewhere in the closest are the names of John's Mom, her sisters, brother, and parents.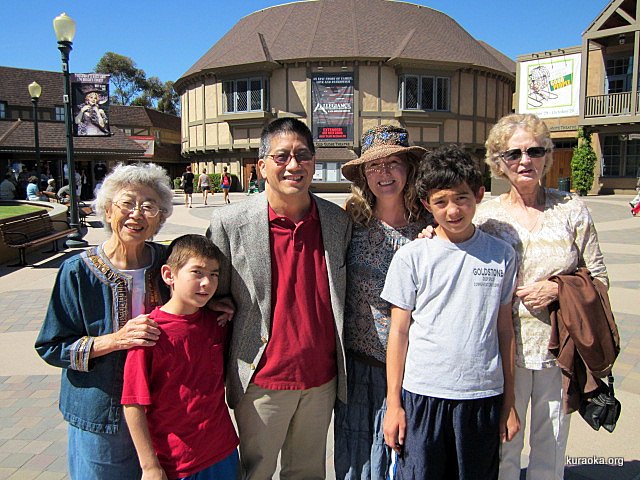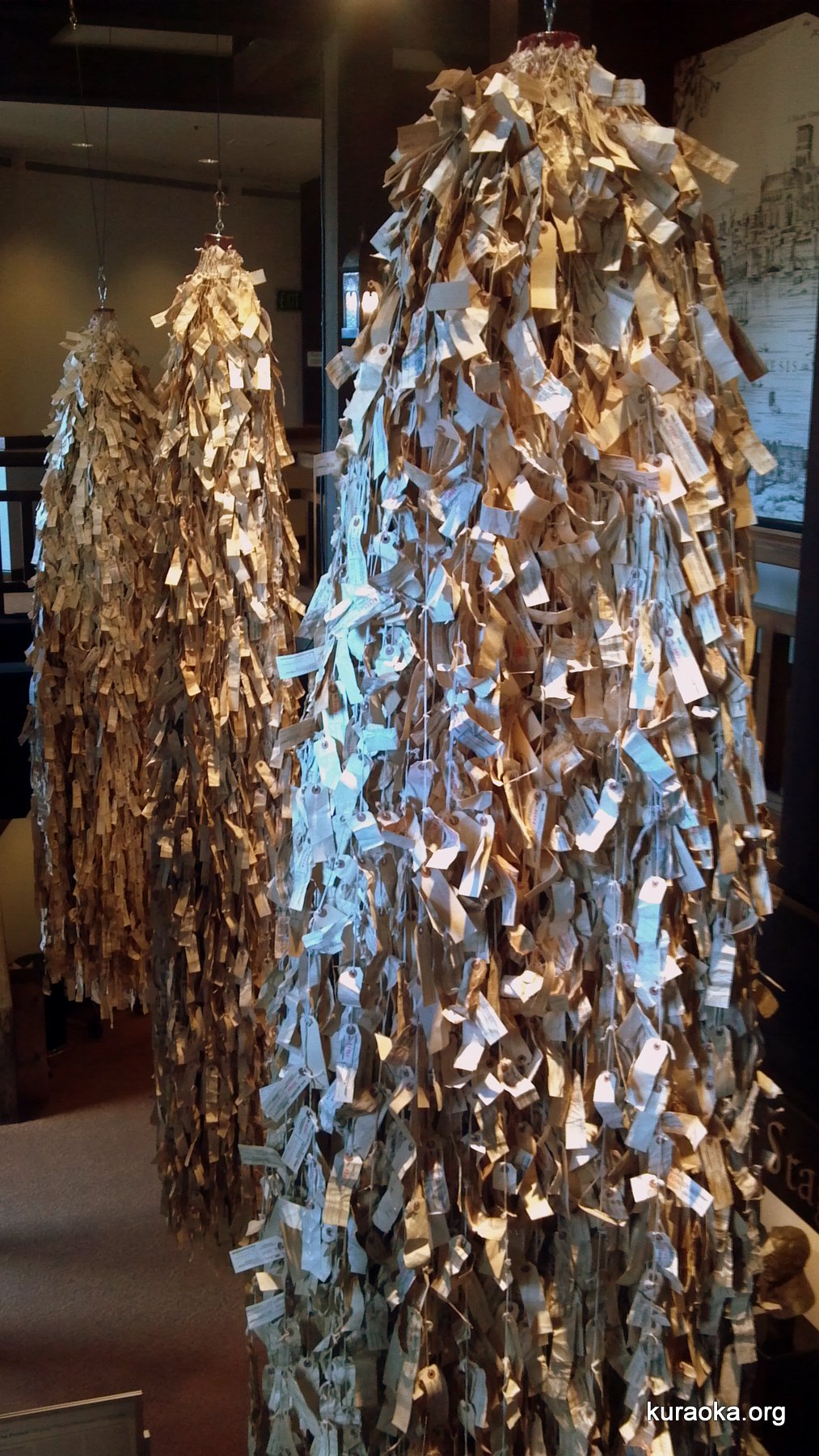 10-06-12 Coronado with both Grandmothers! It was treats galore in Coronado, as the boys crammed a full weekend's worth of traditions into one afternoon: Fort Feather and Featherland, Moo Time Creamery, the beach, the toy store, and lots more! The photos are small because they're from Grammy's camera.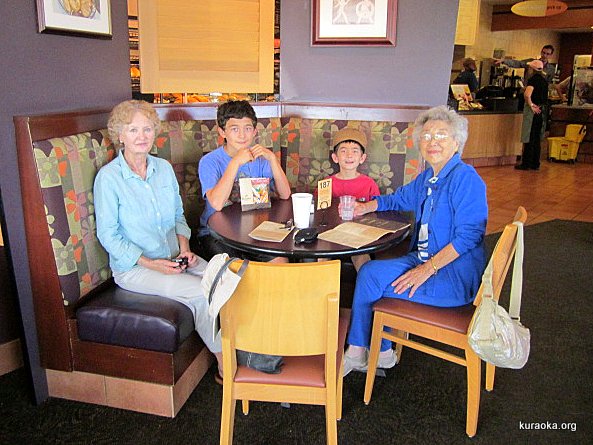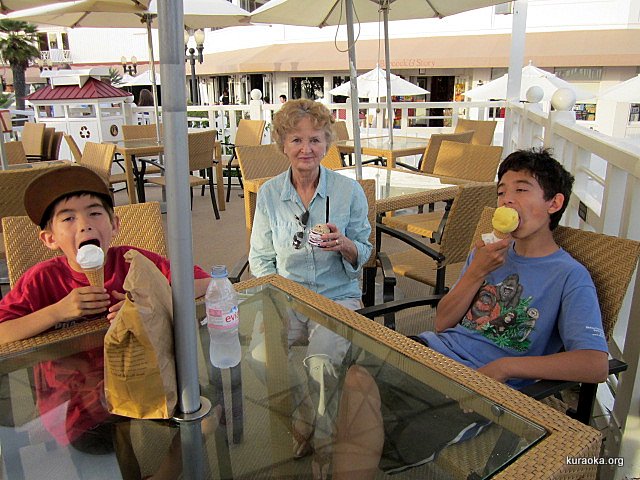 09-23-12 Sea World! Here are Ondine, Leo, and Roy in the Sea World Tower, heading up. Then, here's the Manta roller coaster ride! You can see Ondine (in purple) and, in the row in front of her, Roy (in blue). Leo is in the seat next to Roy, directly in front of Ondine, but you can't see him.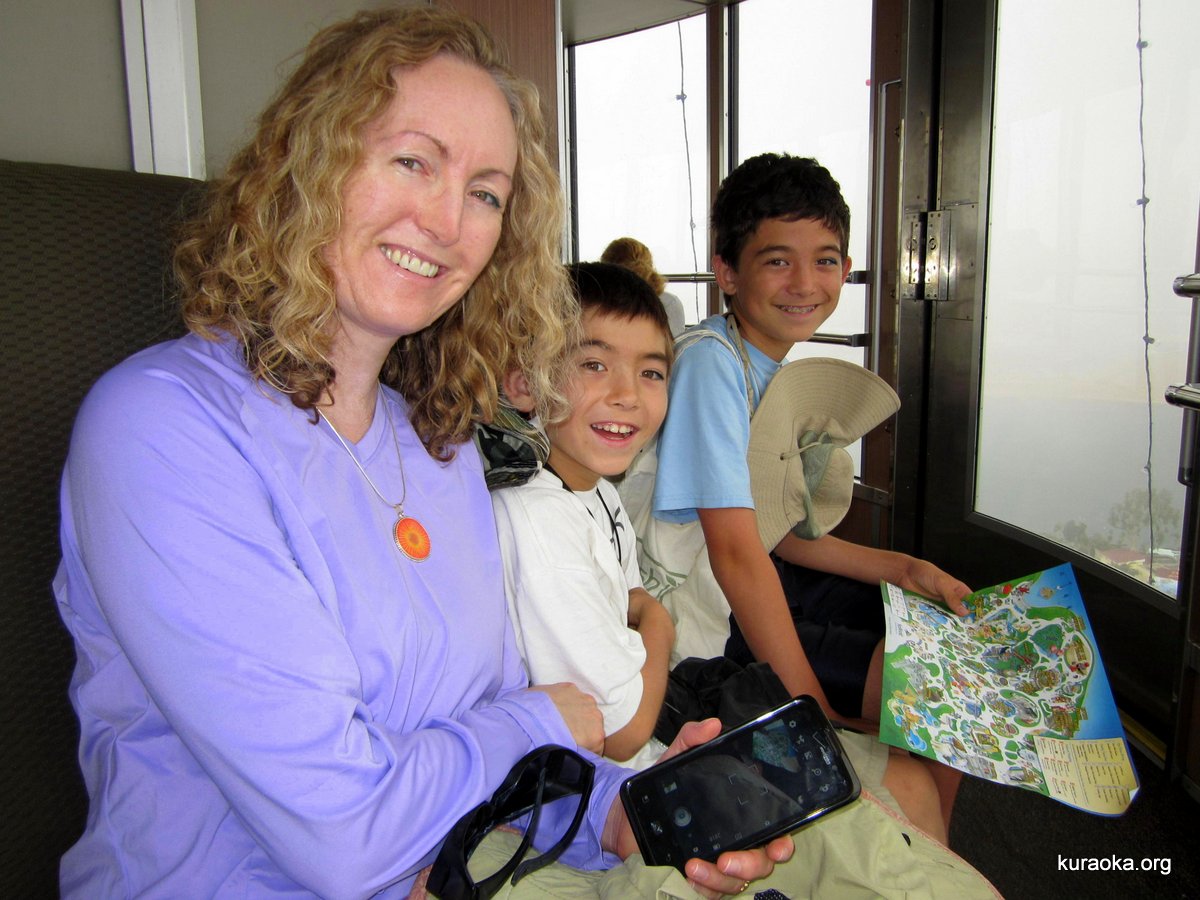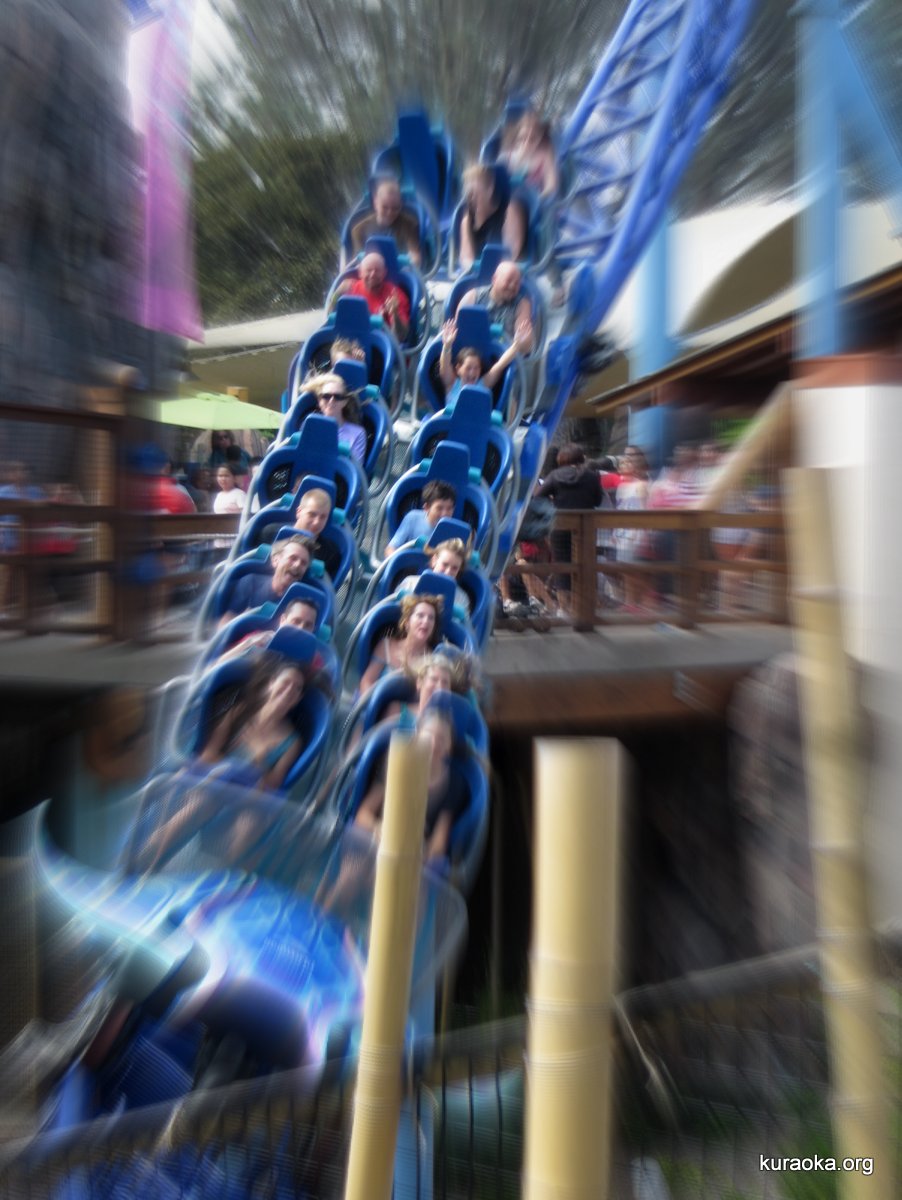 09-09-12 Sunday morning. This is the kind of leisurely morning Ondine envisioned when she had the front yard done. Barbara joined us for a few minutes. And, it being Sunday, we found a Praying Mantis hard at work preying. John grabbed these shots with his phone.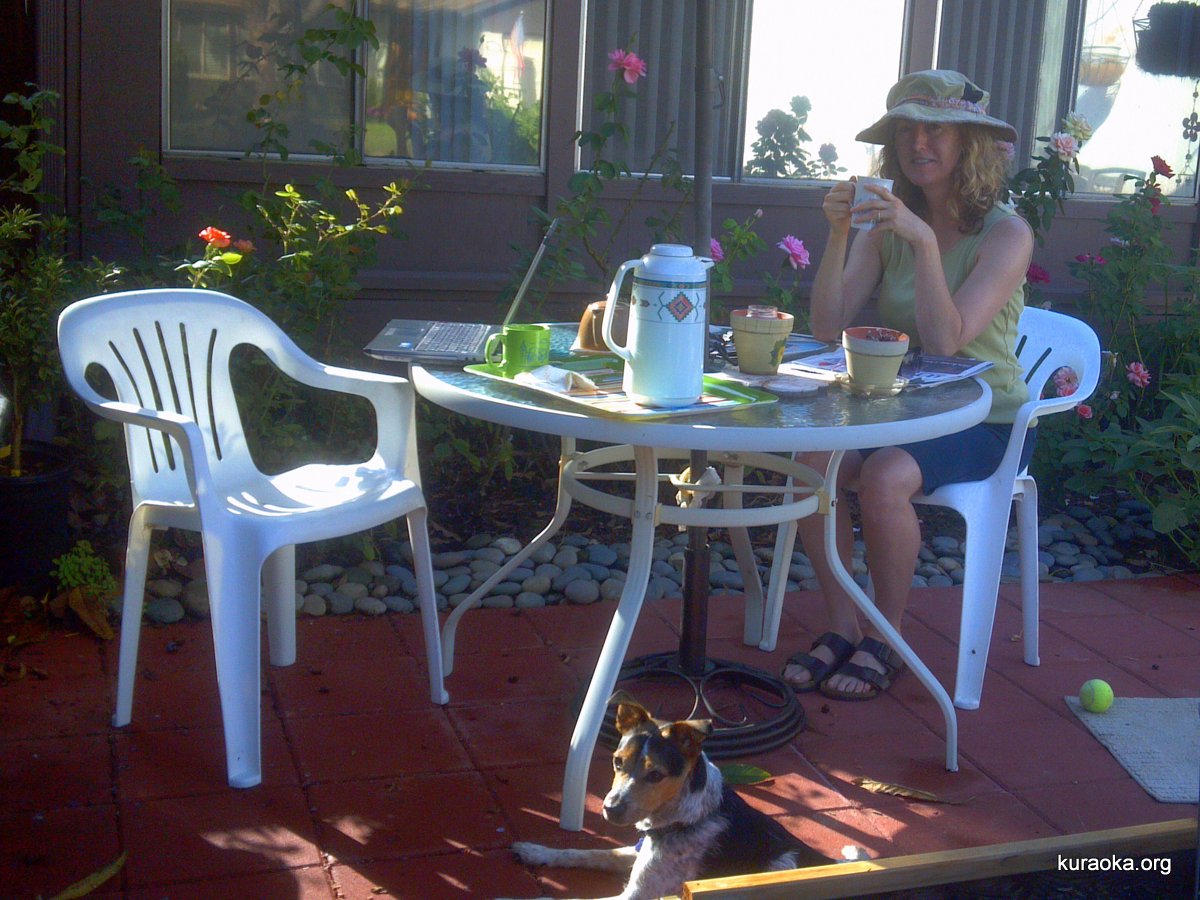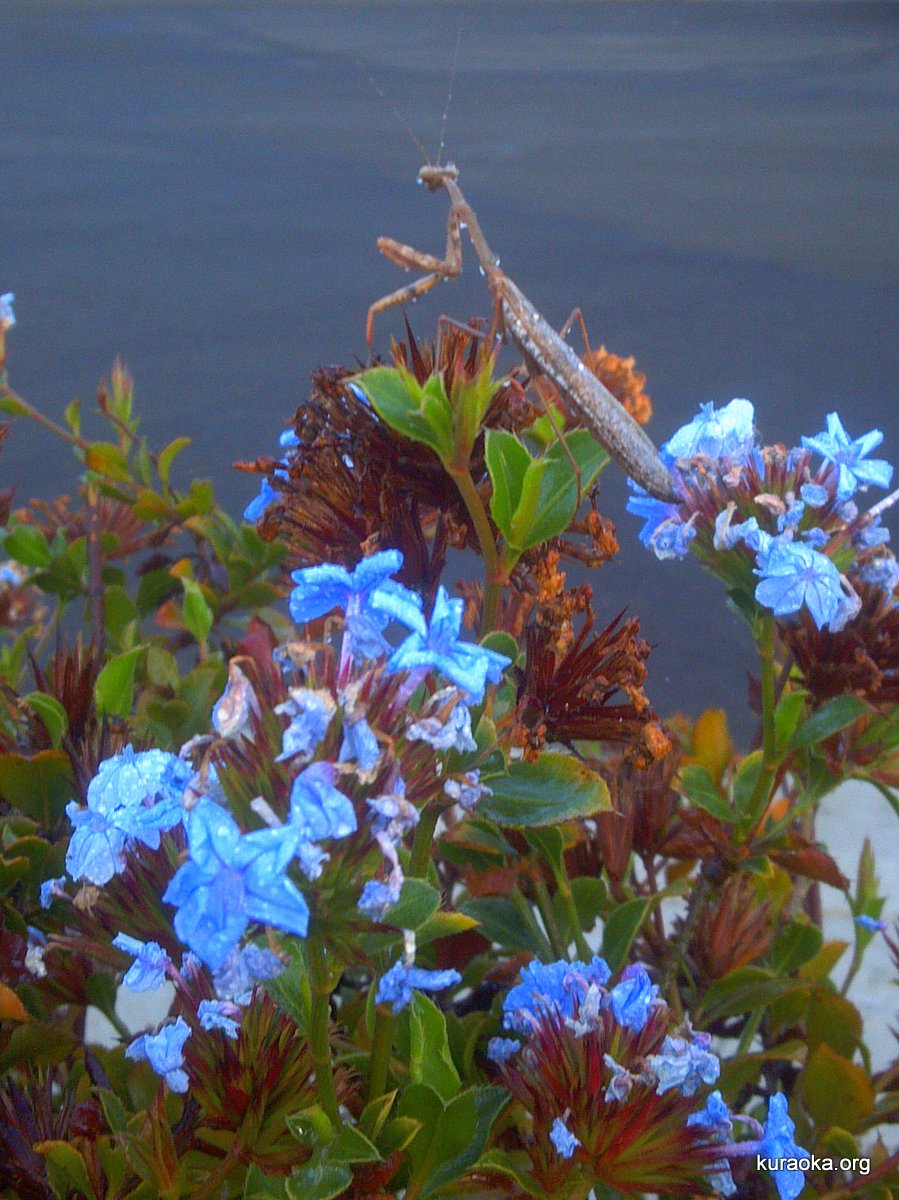 09-04-12 Back to school! Here are Roy and Leo in the front yard with their schultueten filled with school supplies and treats, and one quick phone grab of Leo disappearing into the classroom. That's his teacher, Mrs. Vasquez, on the far left.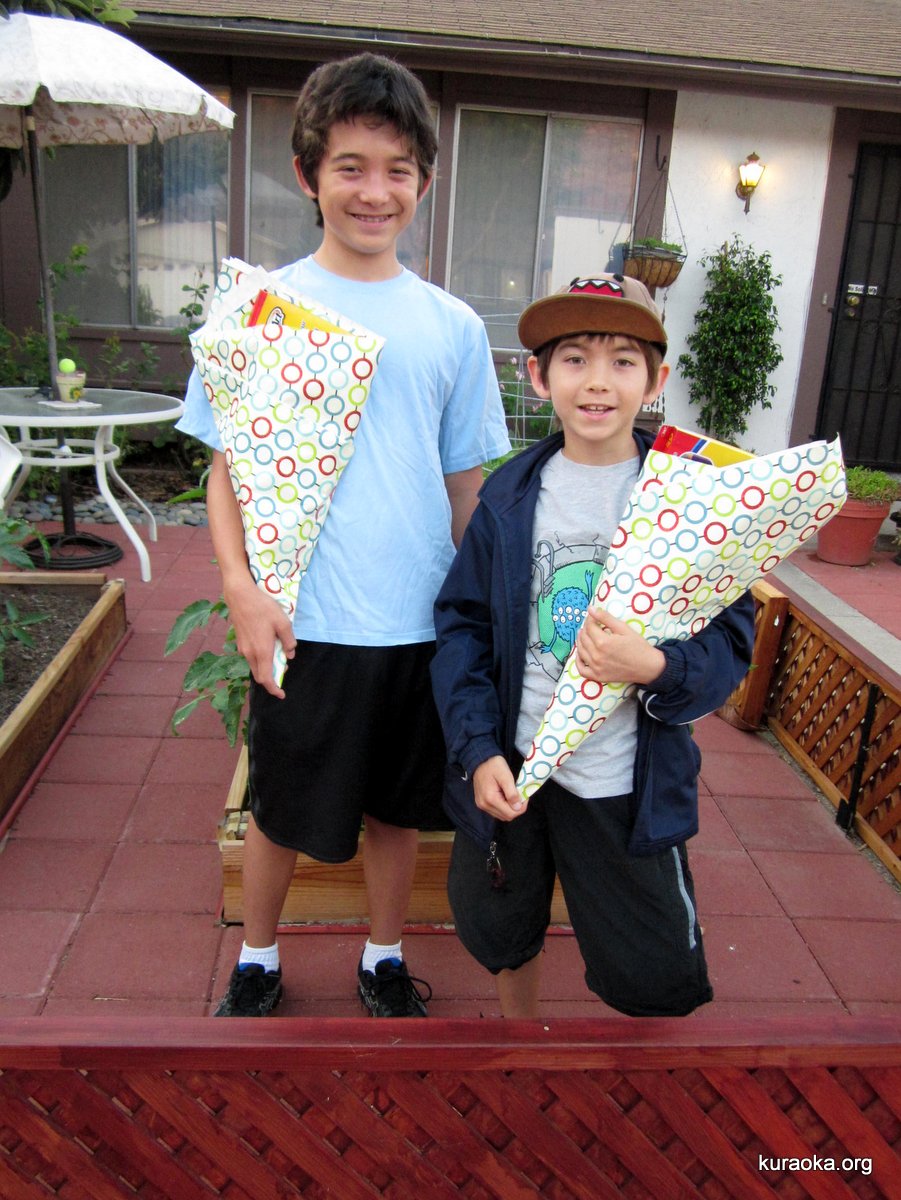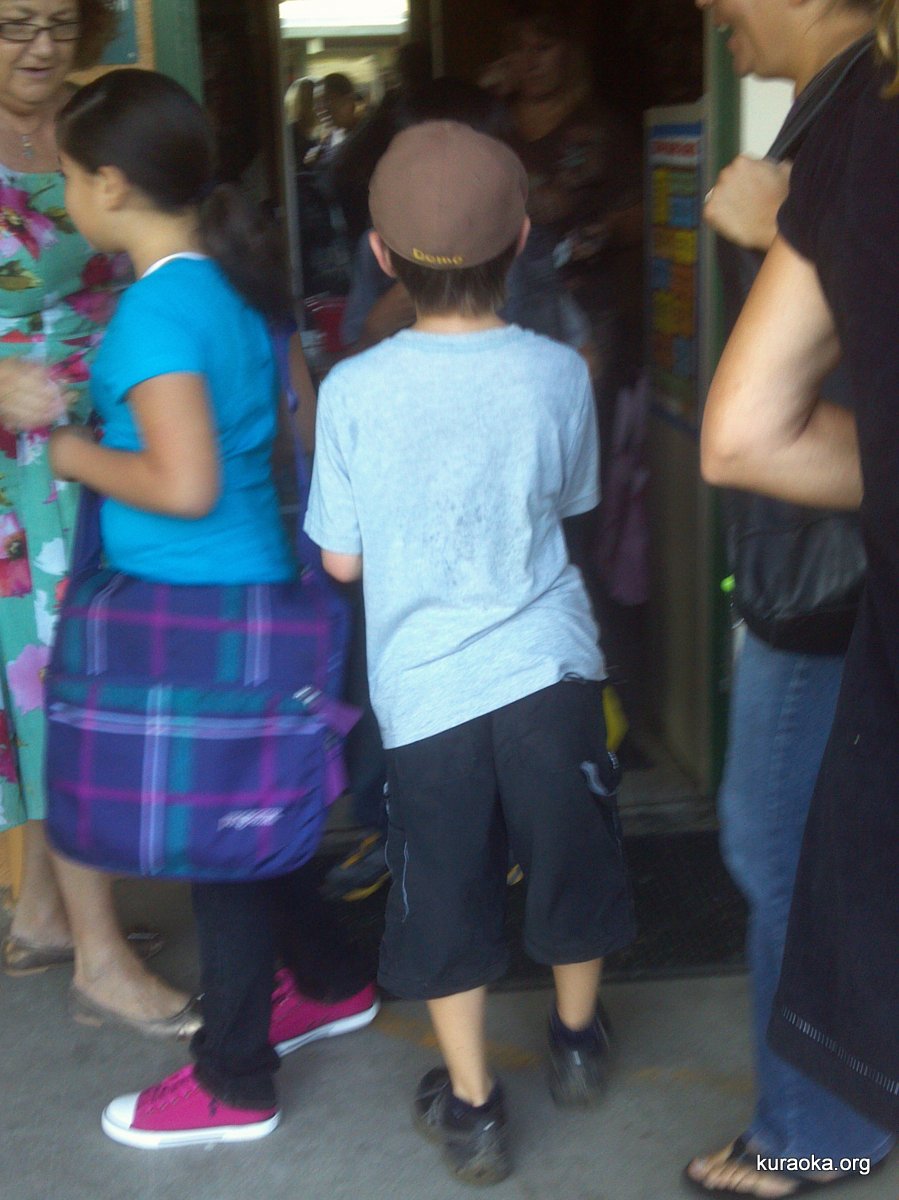 08-20-12 Los Angeles County Museum of Natural History! We were amazed to discover that this somewhat local museum is bigger and more spectacular than even the Smithsonian's Natural History Museum in DC, which we visited this summer. The Butterfly Pavilion was worth the upcharge for entry, the gems and minerals section is massive, and the food in the cafe was pretty good too. Note the world's only T-Rex mounting showing specimens of three different ages from very young to near-adult. That's Roy in the blue and Leo in the red.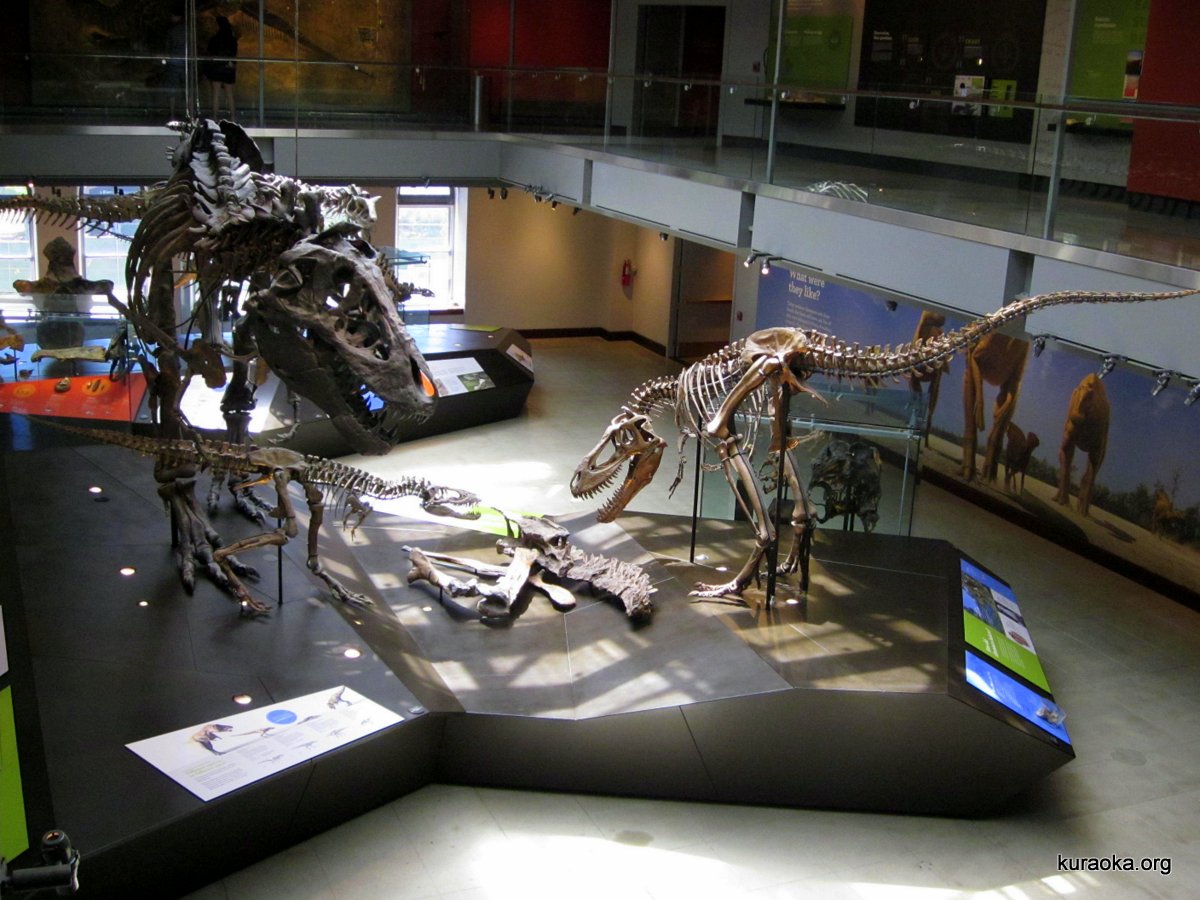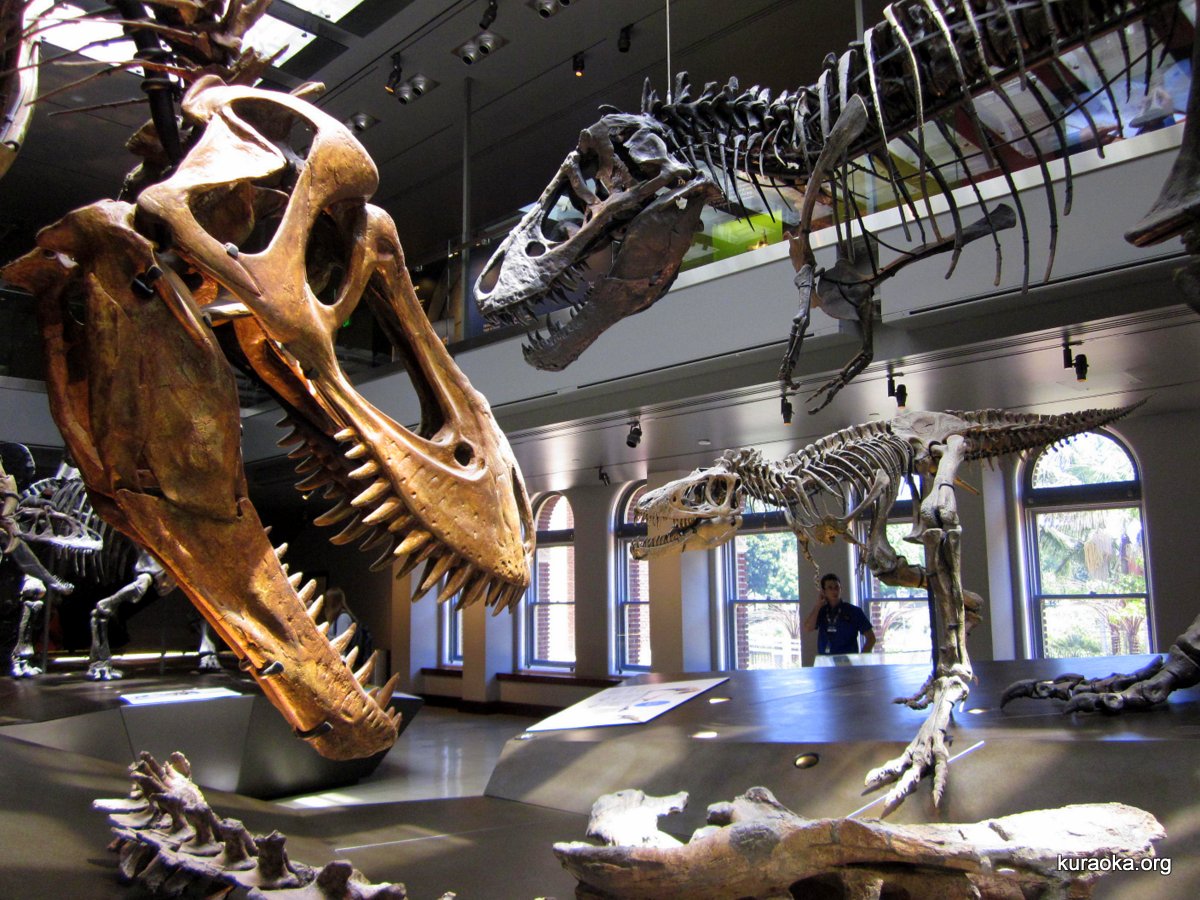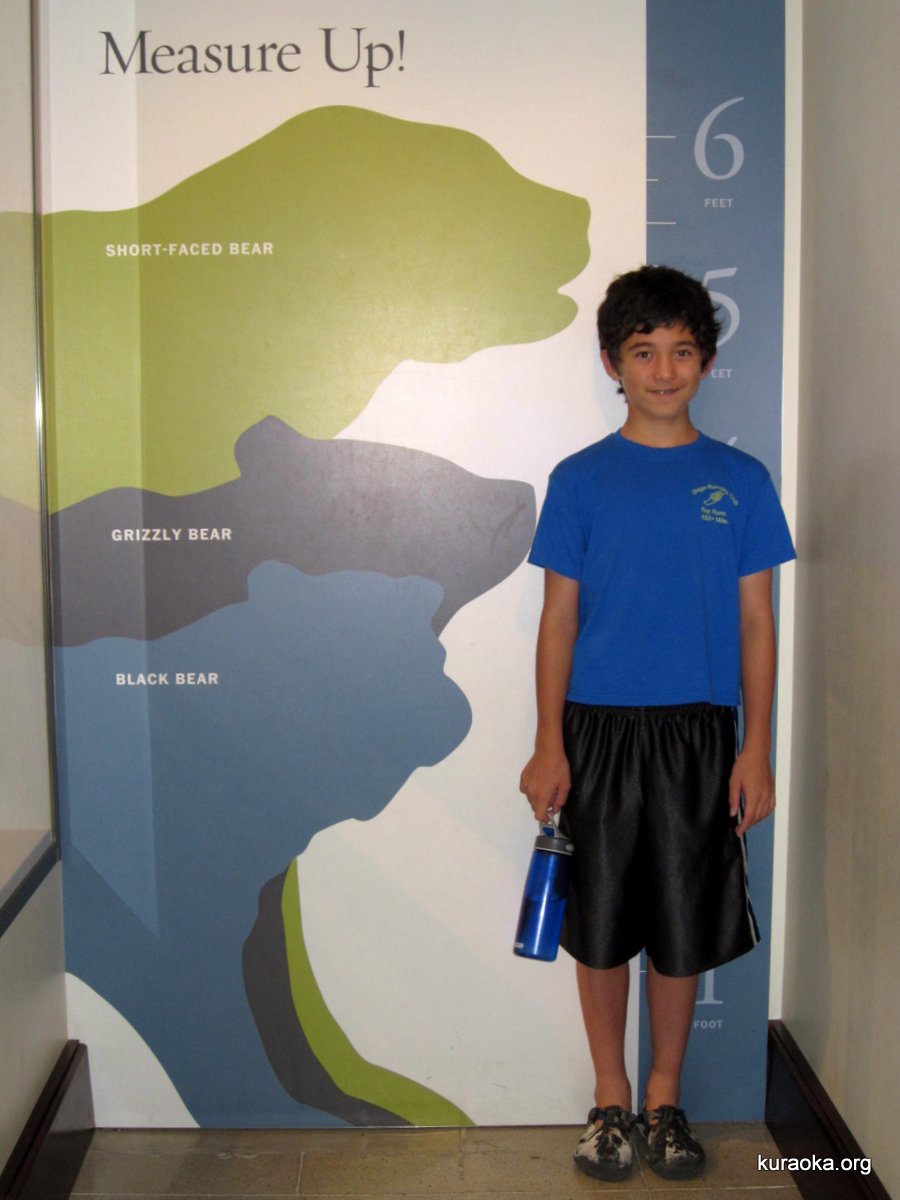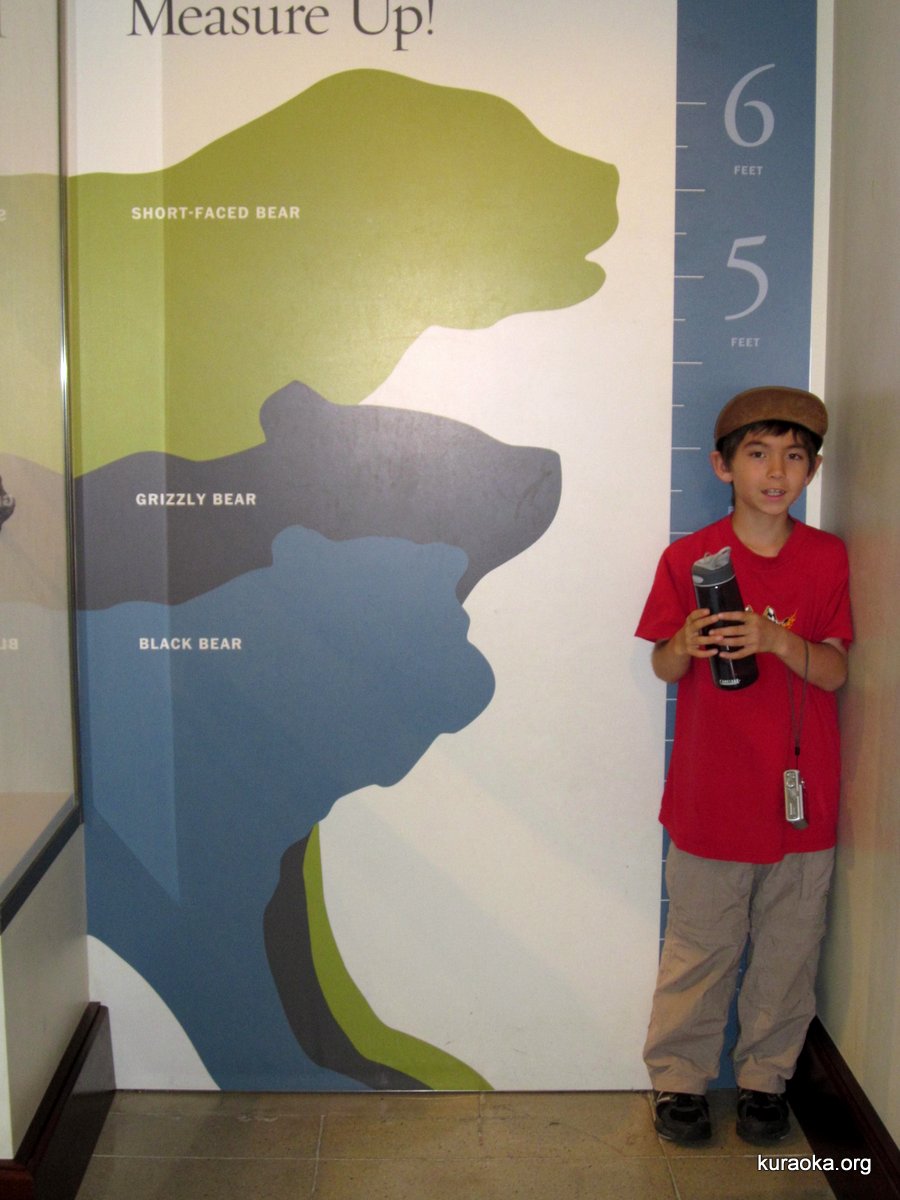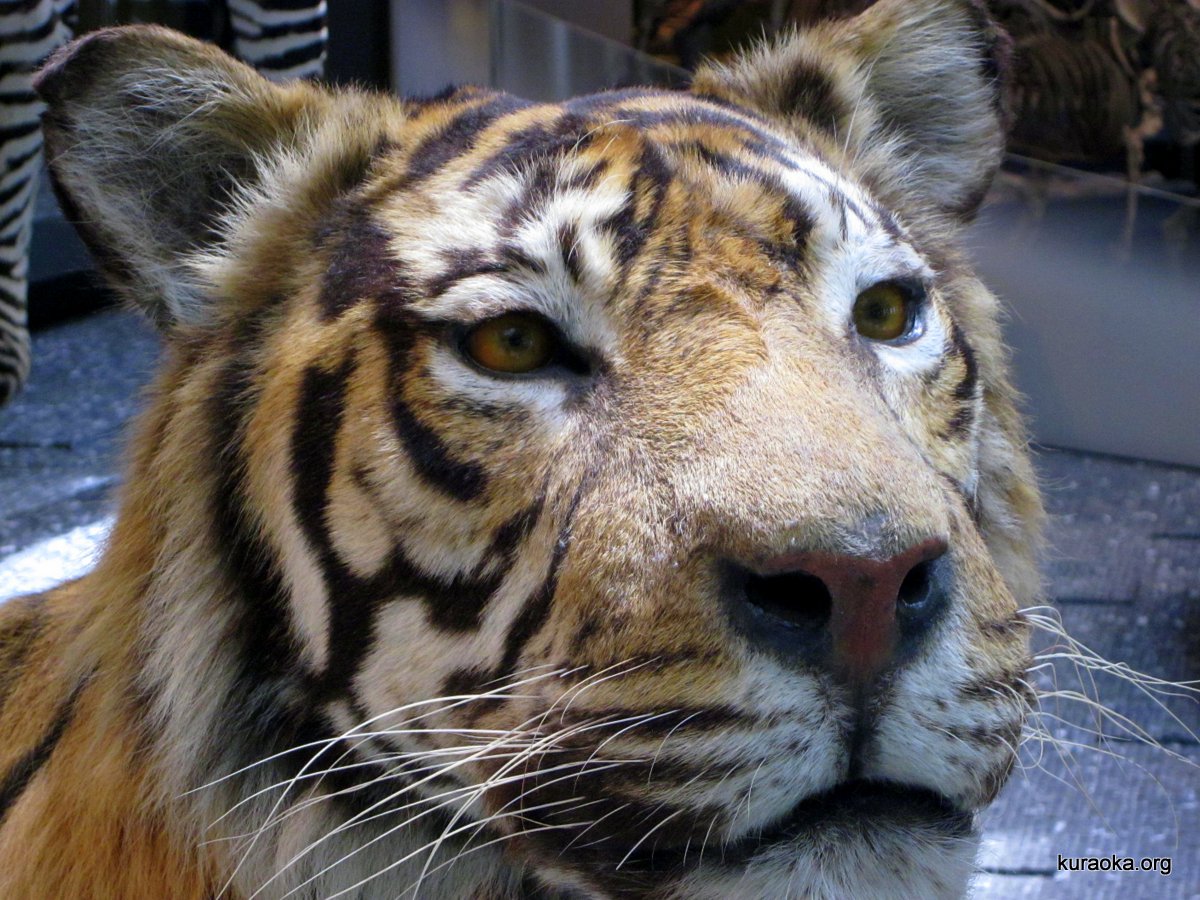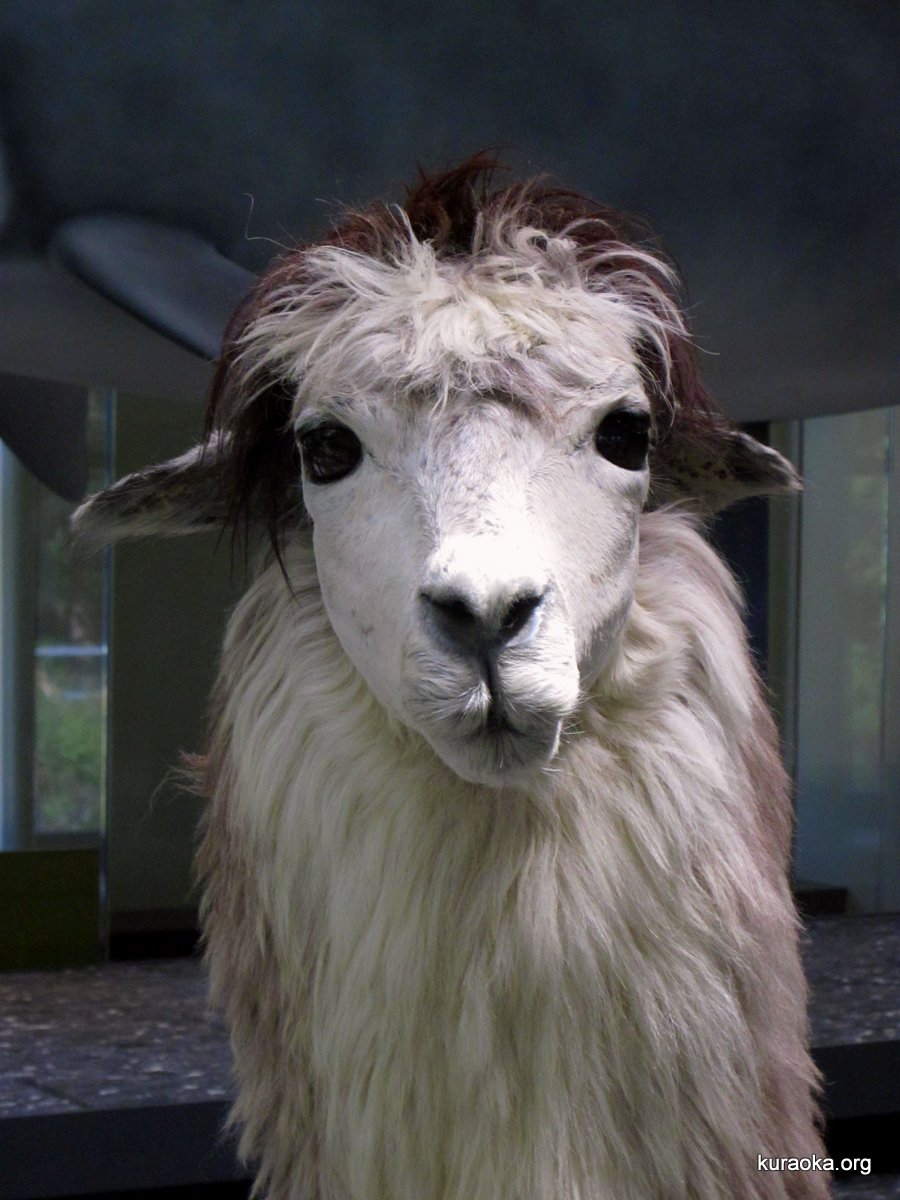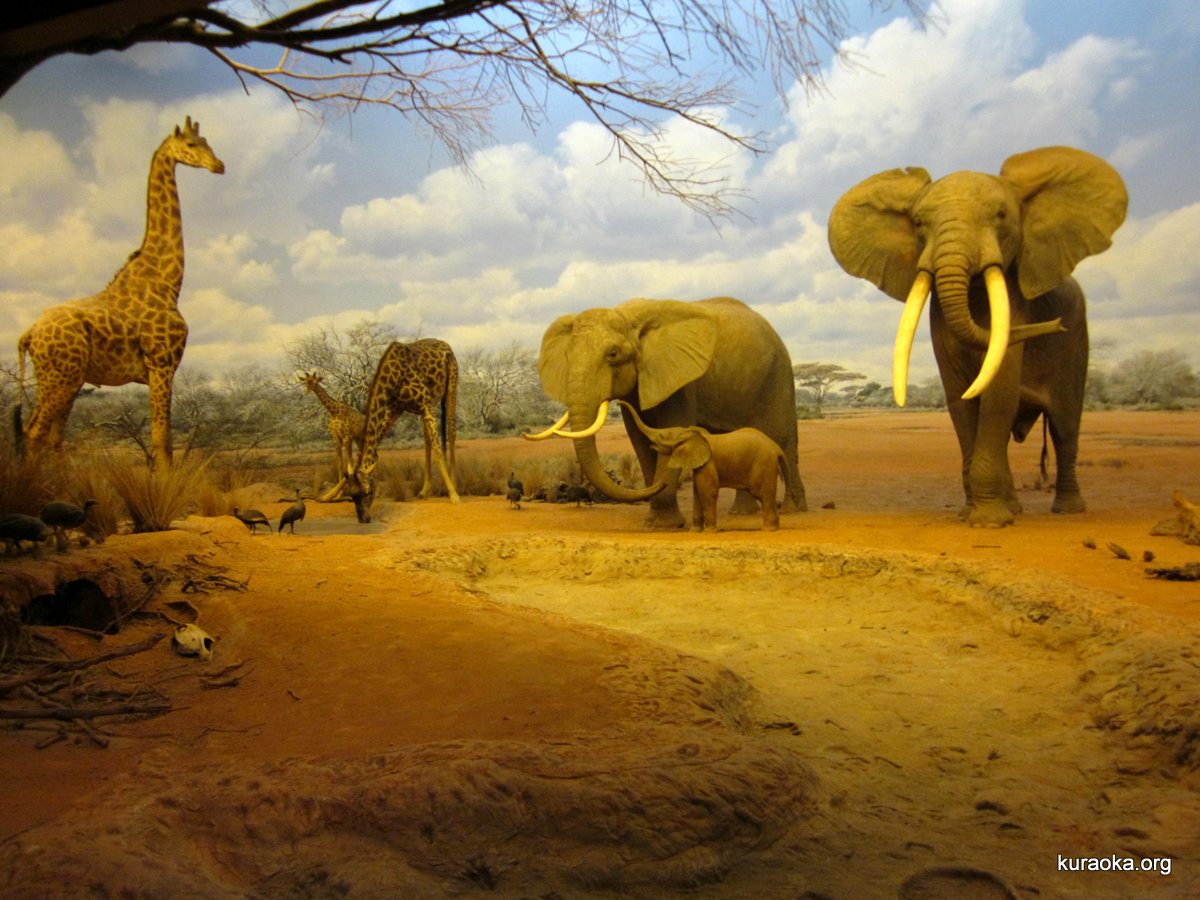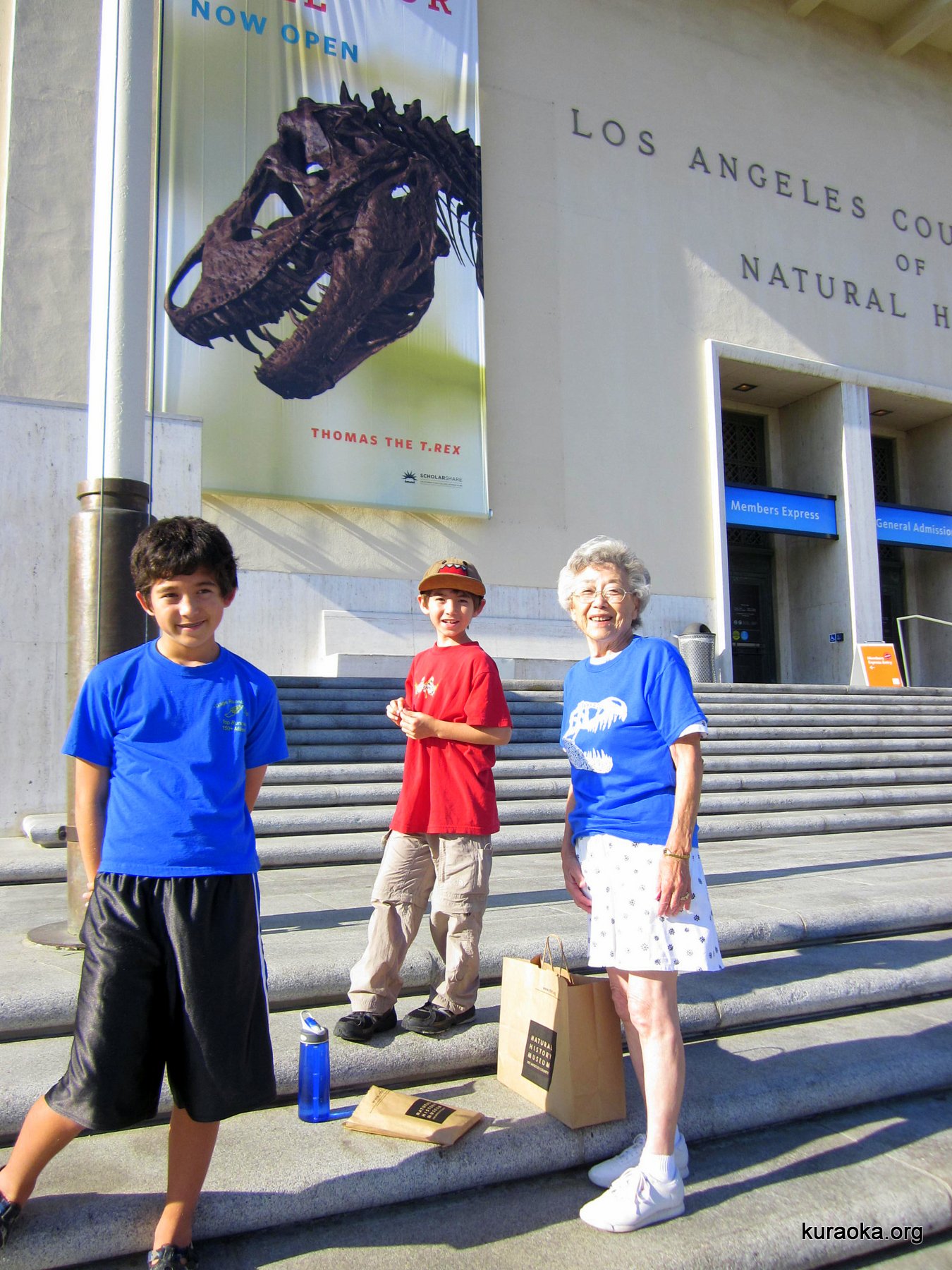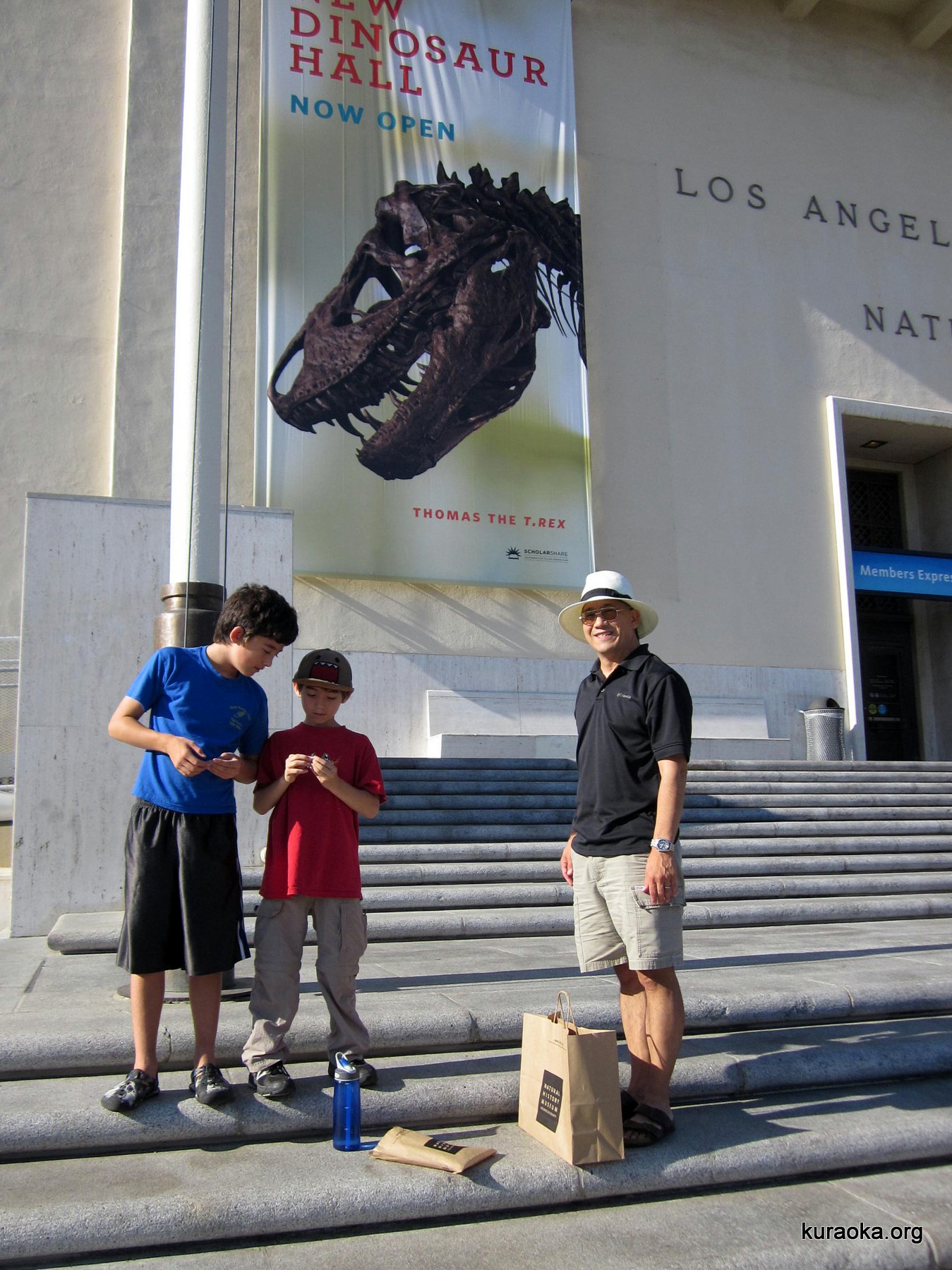 08-19-12 Celebrating Grammy's birthday! Yeah, it's a day early but here's Grammy with grandsons Roy (left) and Leo (right).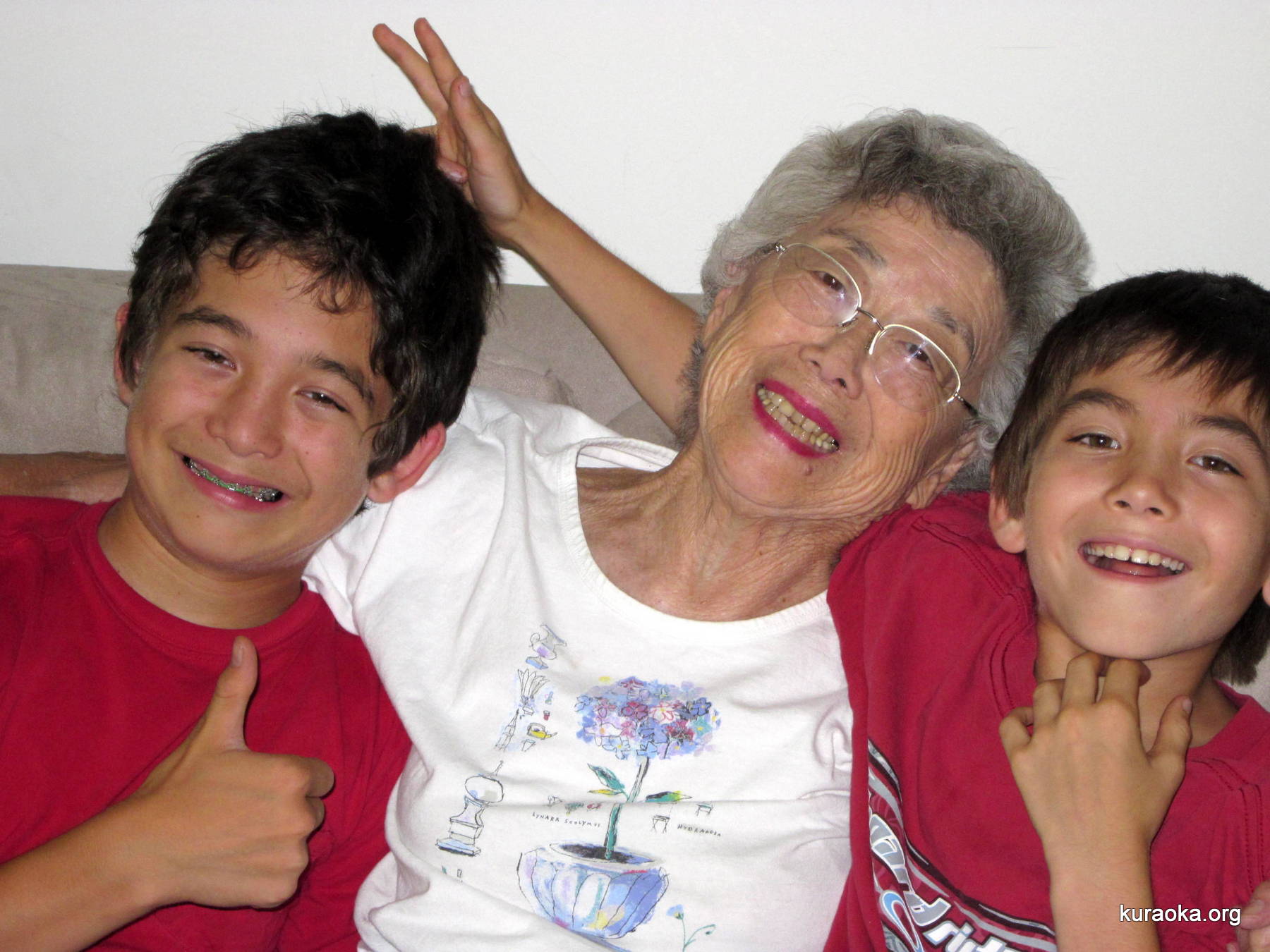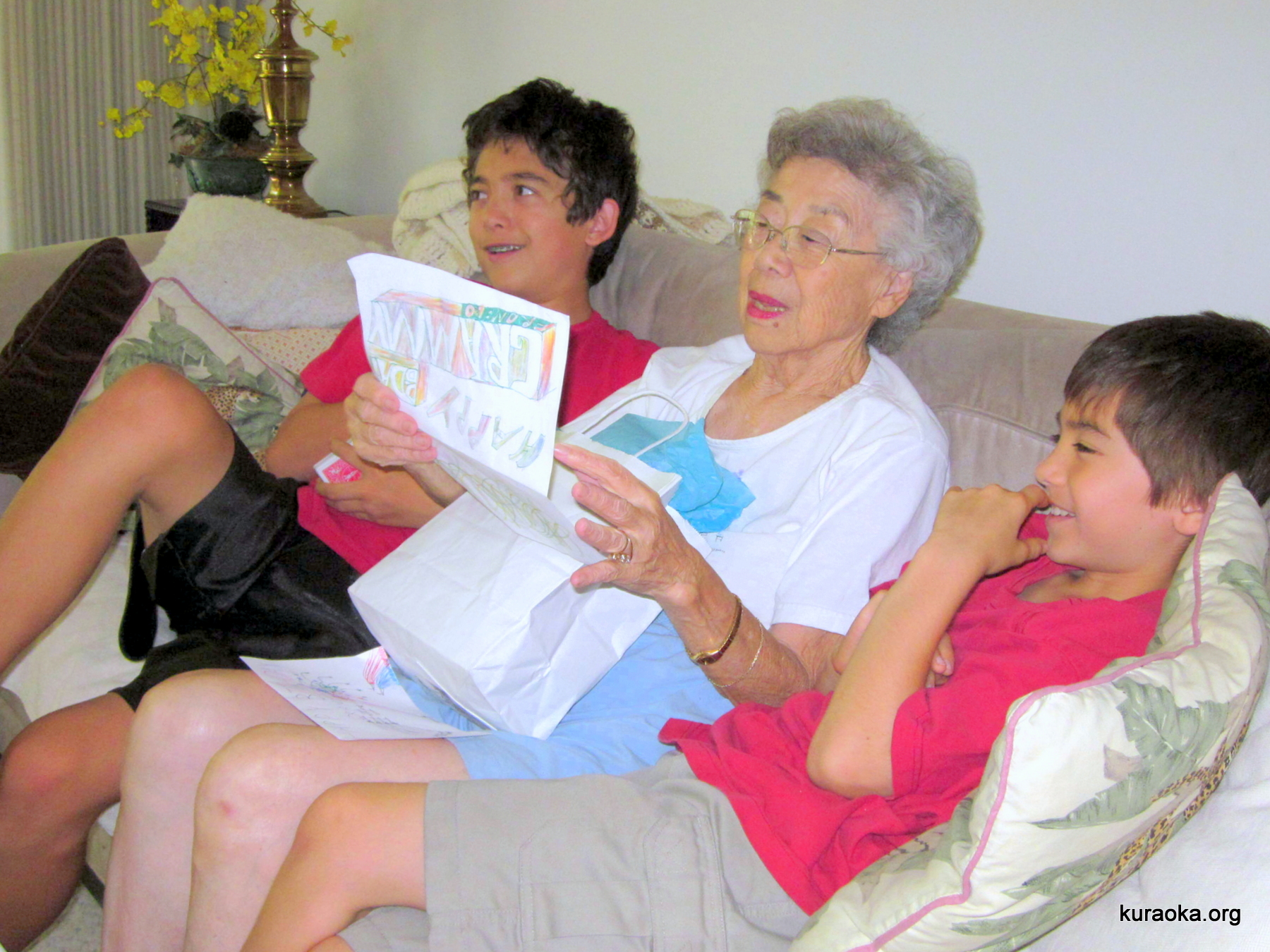 08-16-12 Midway Magic! John took Roy, Leo, and Roy's friend Michael to the USS Midway Museum. They did the island tour, and checked out the planes and helicopters on the flight deck and hangar deck. After lunch, they explored the decks below and Roy and Michael flew a flight simulator!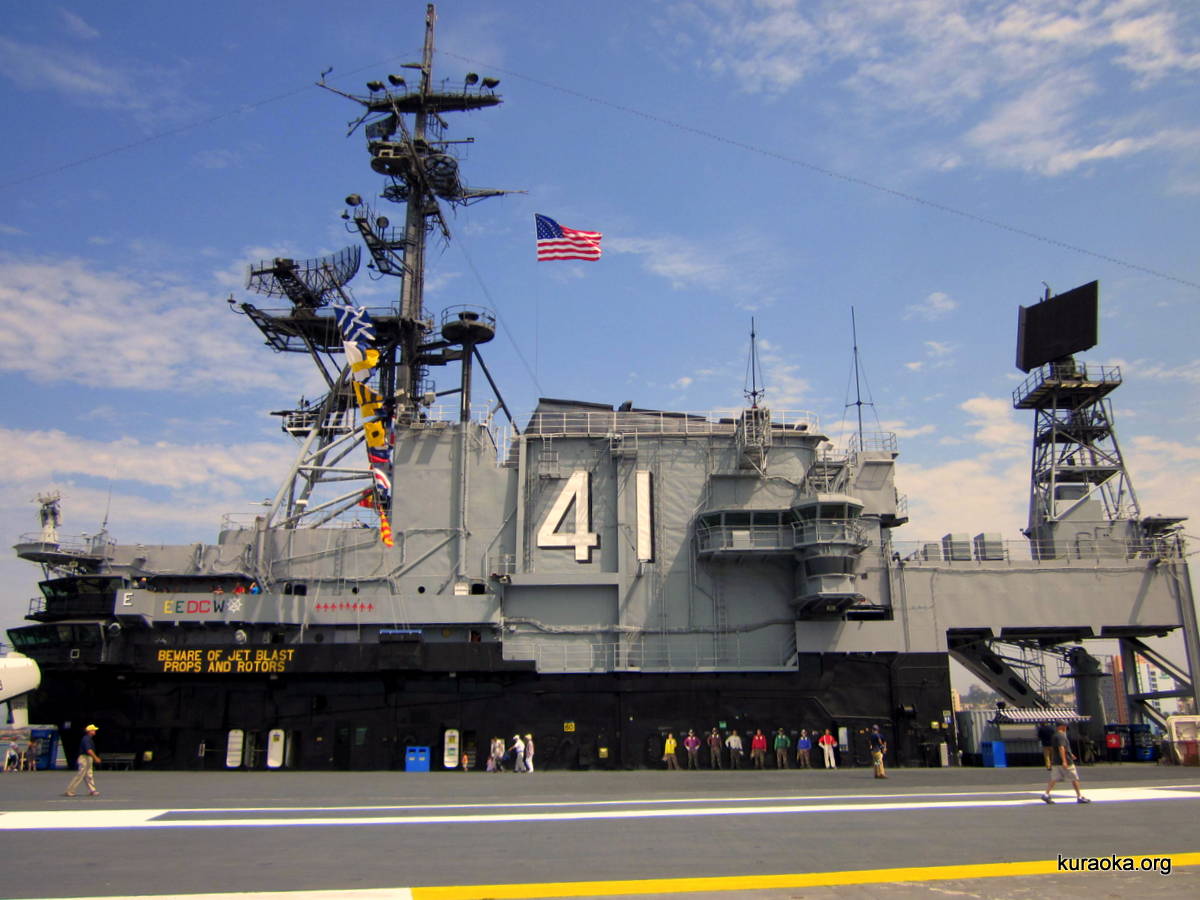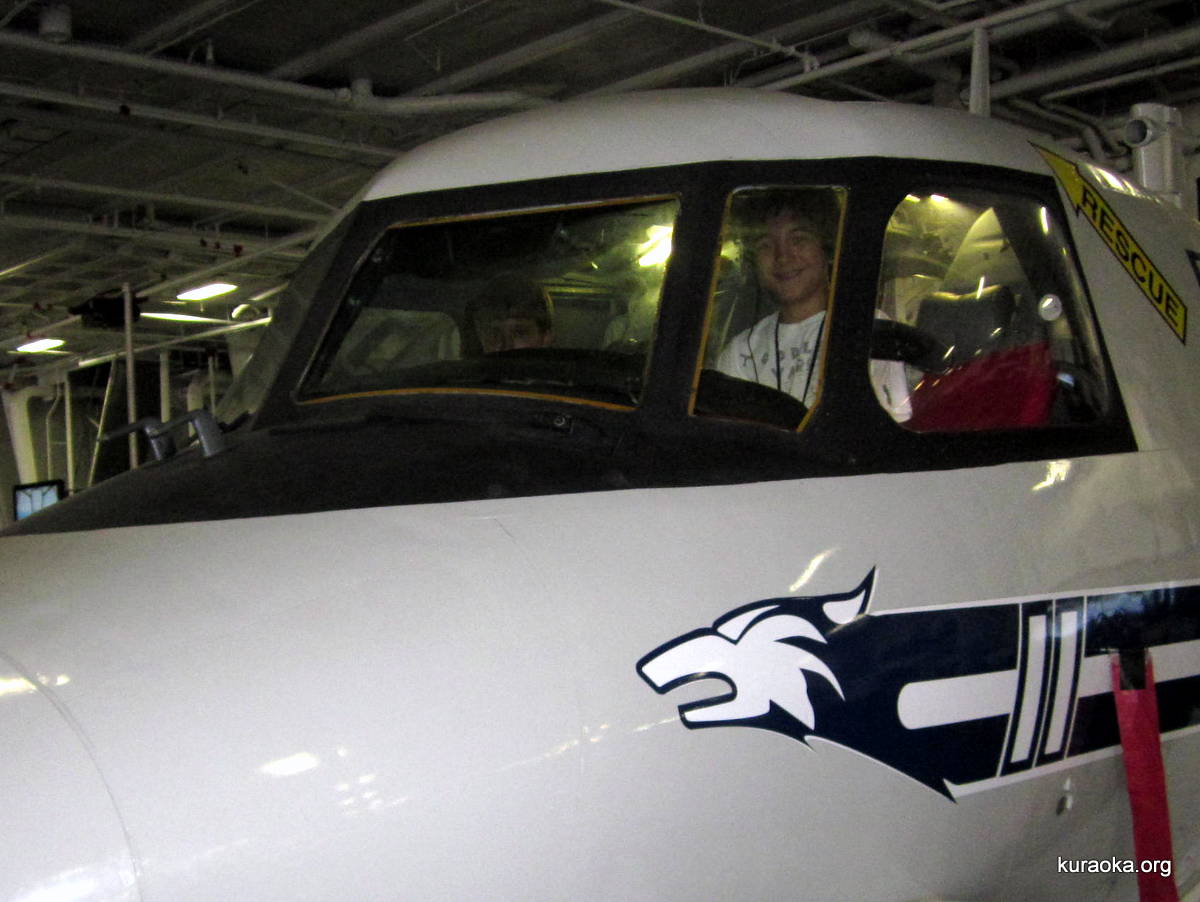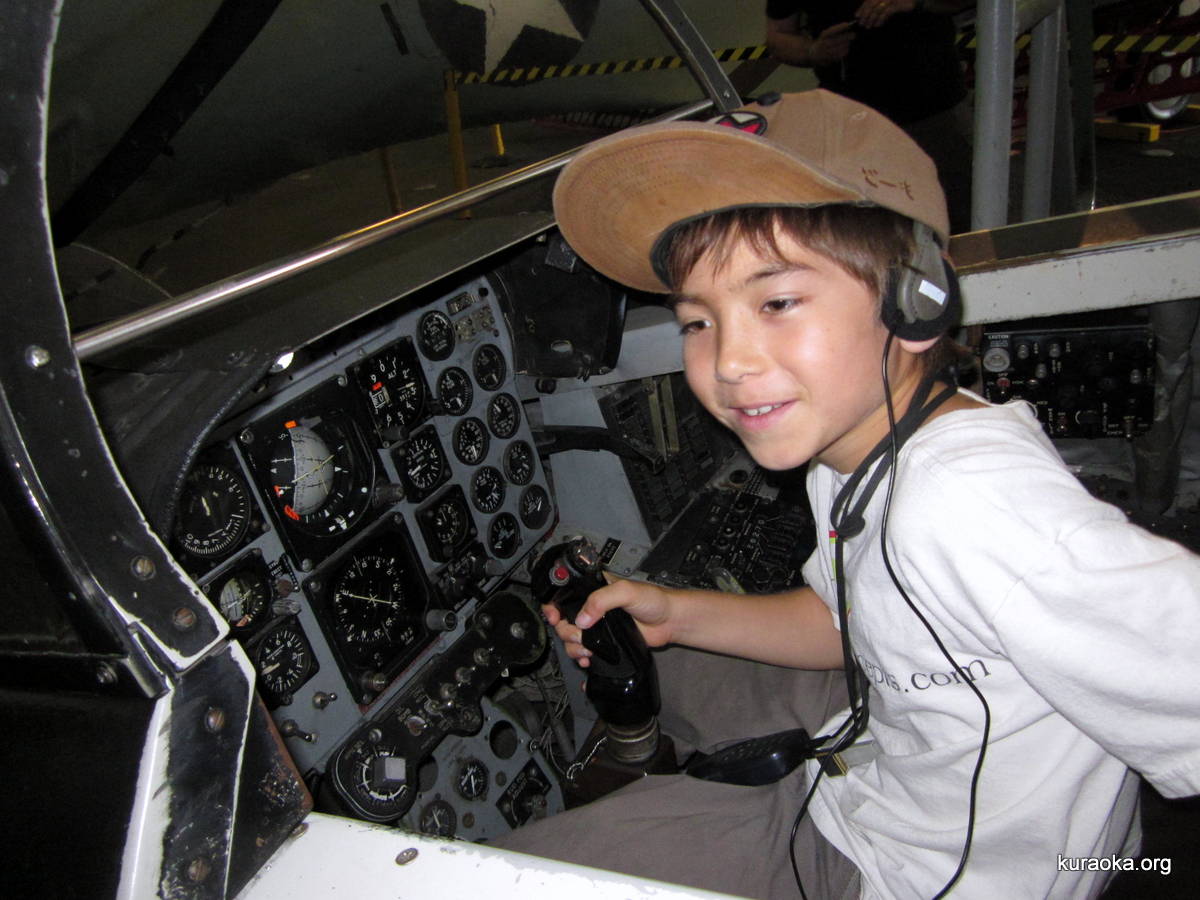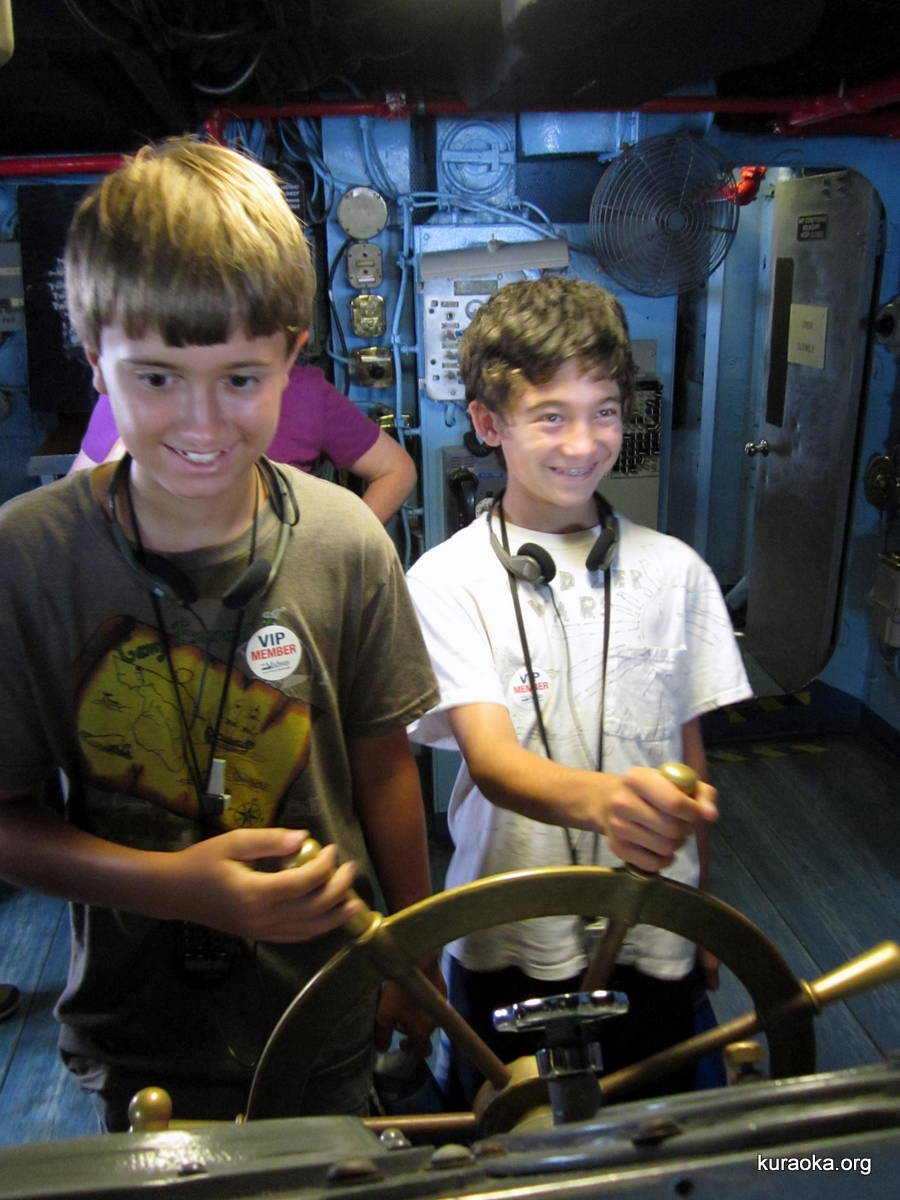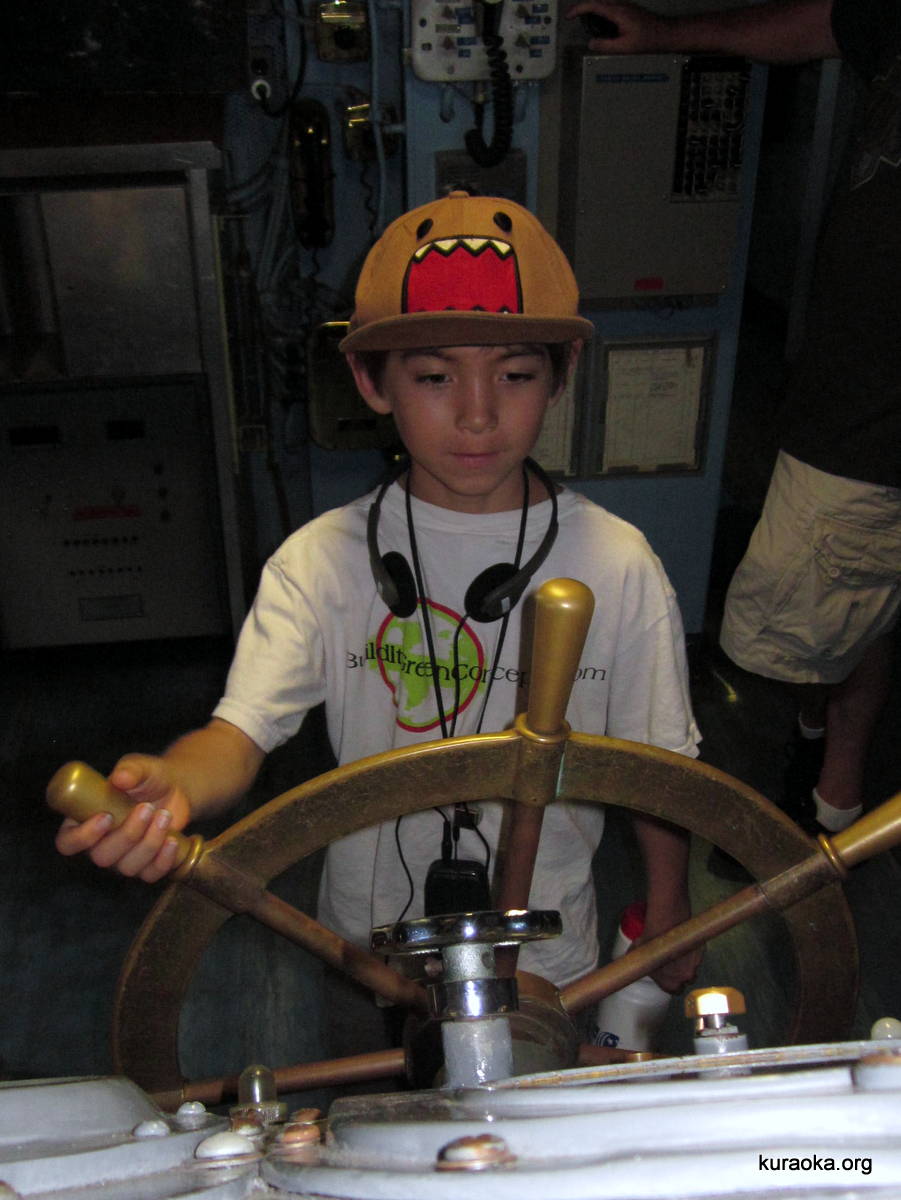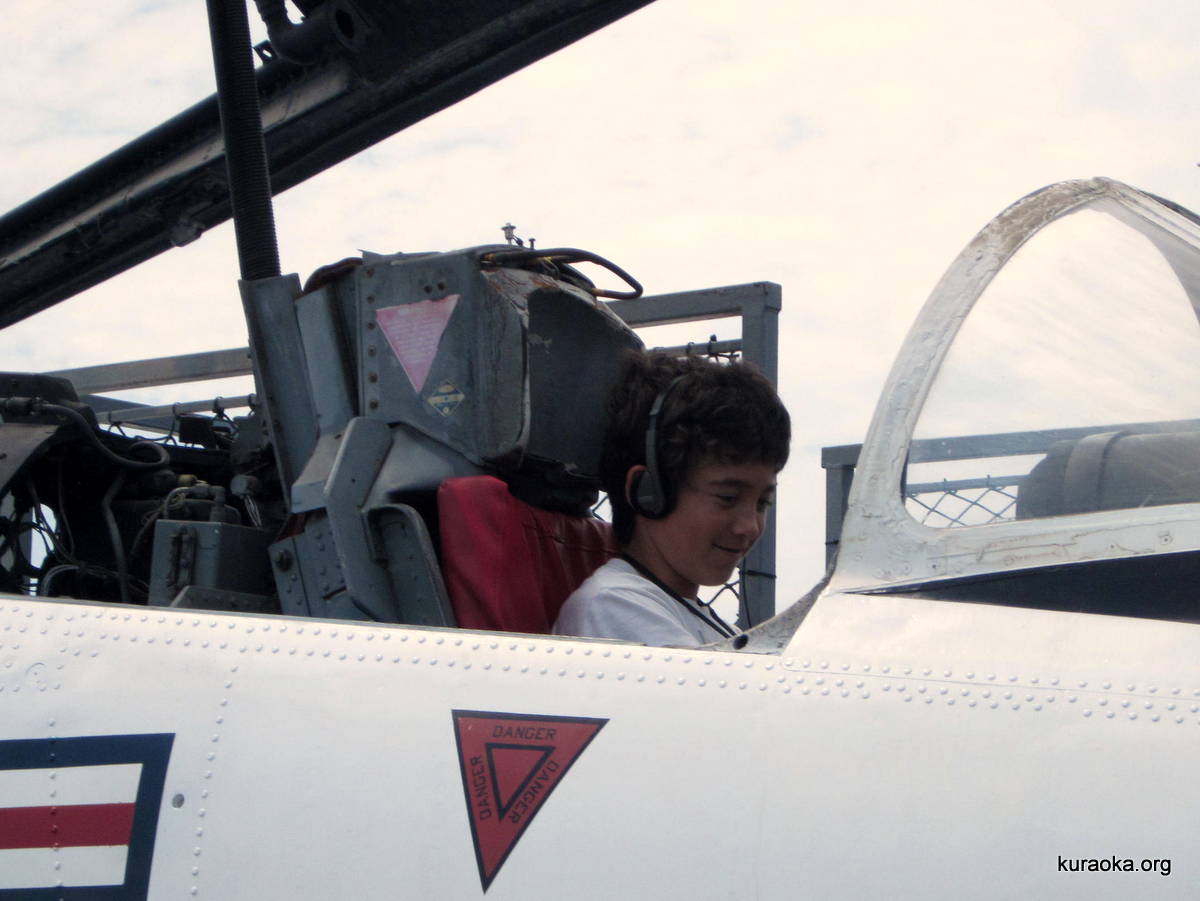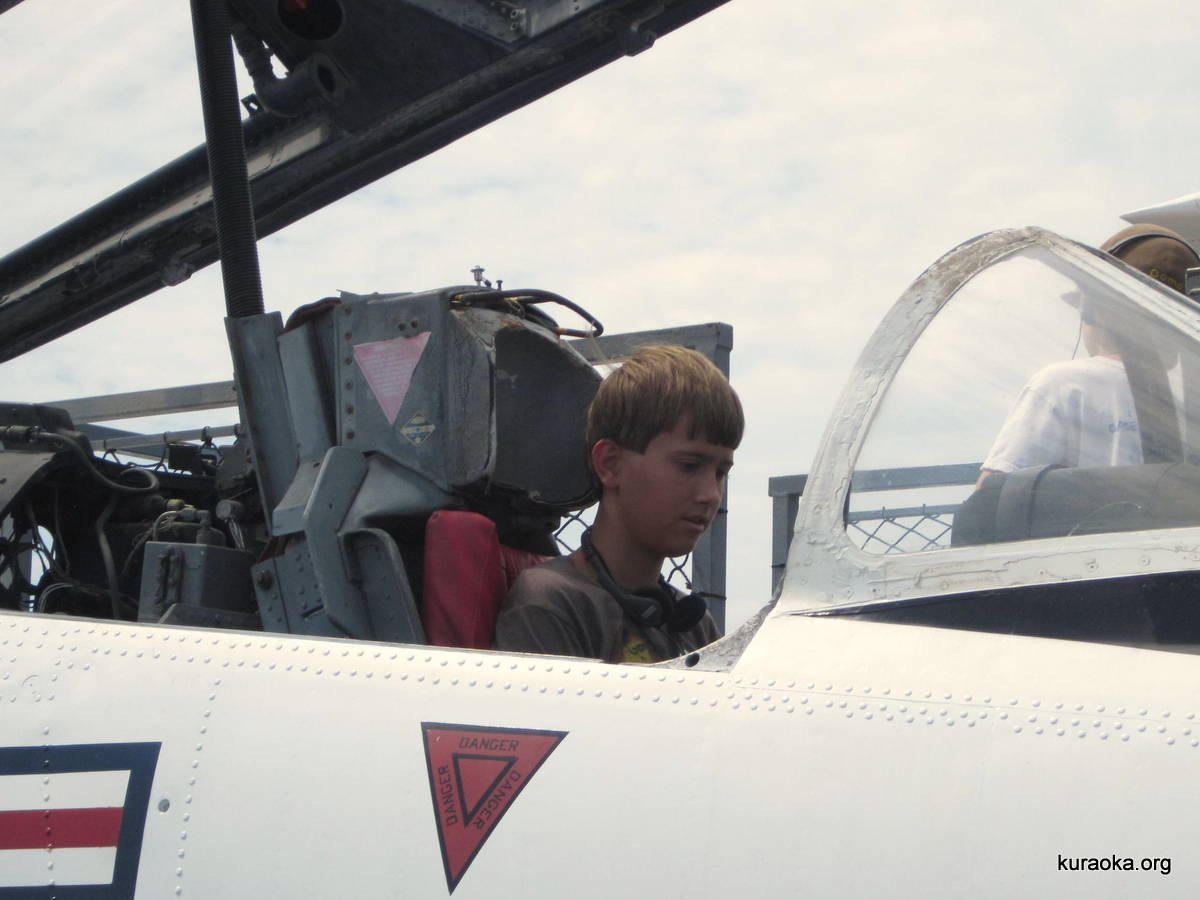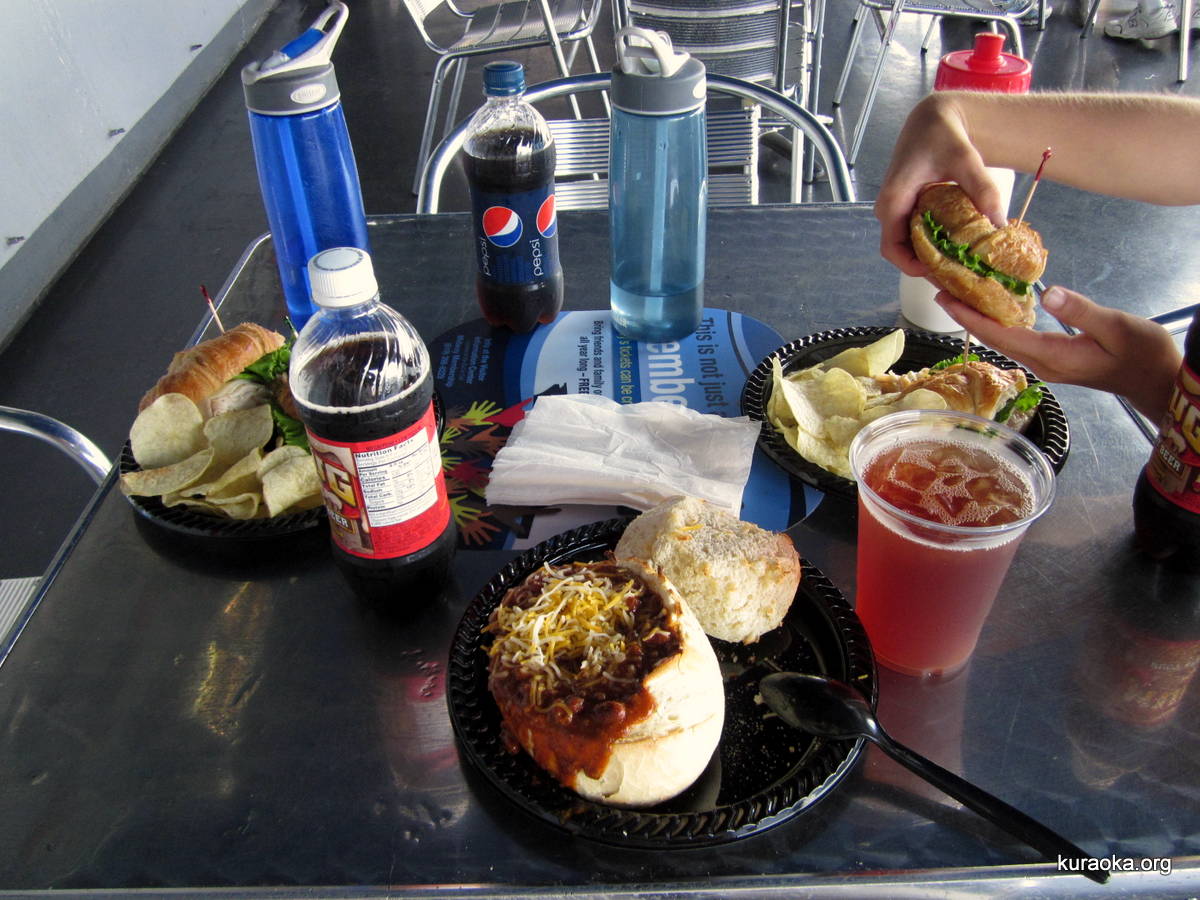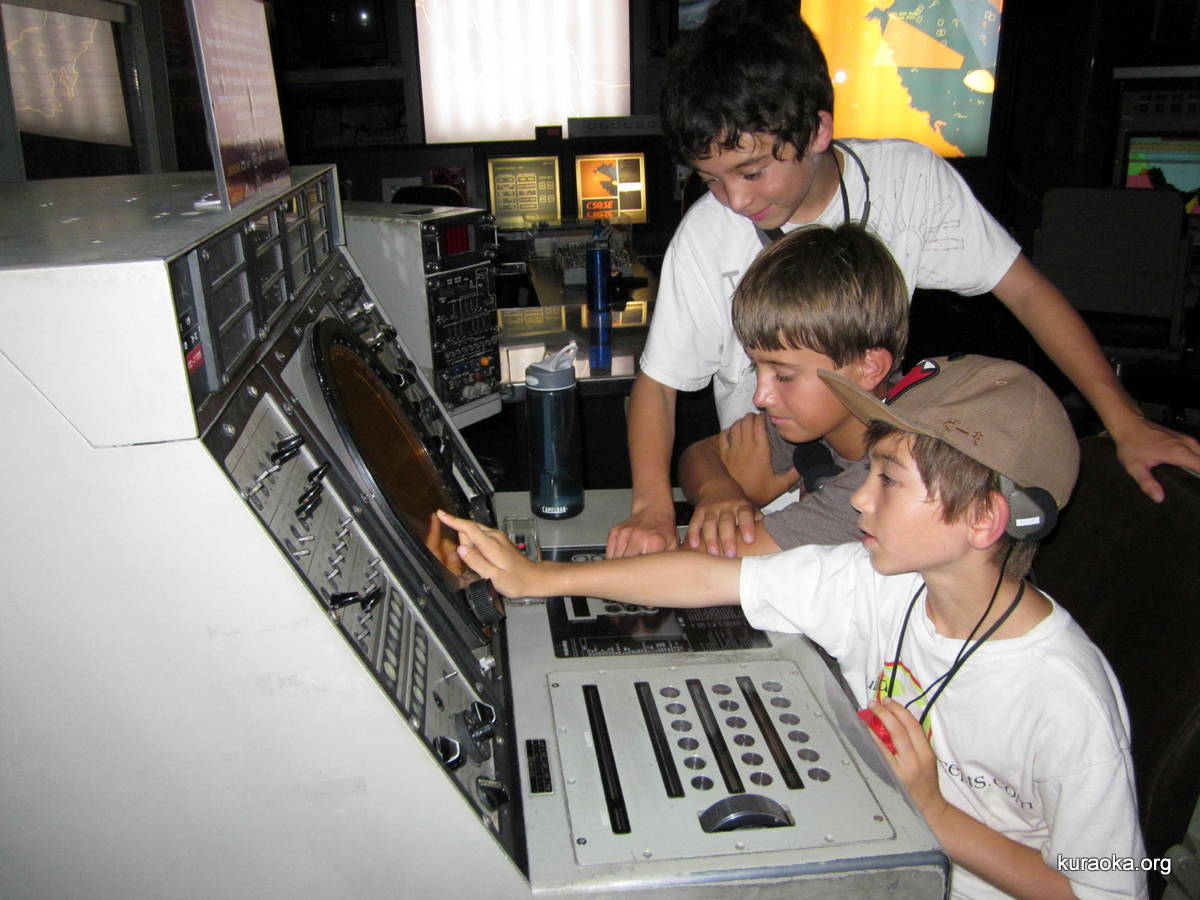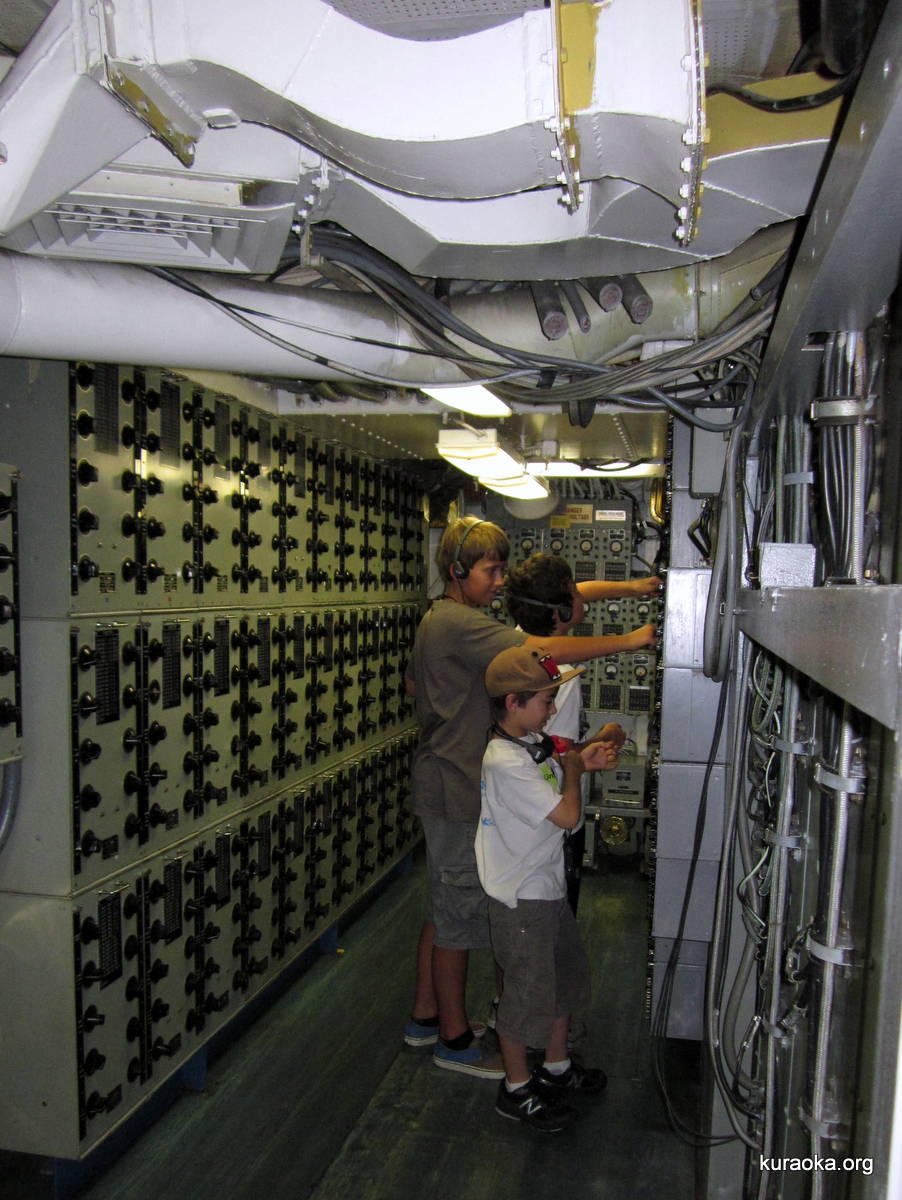 08-13-12 The San Diego Automotive Museum! John and the boys checked out the steampunk exhibit - here are Leo, Roy, and John in front of their favorite steampunk vehicles. But the car the boys really loved, was the postwar-punk 1947 Cadillac a local businessman modified to drive cross-country, non-stop (as in not stopping for gas, restrooms, or tire changes).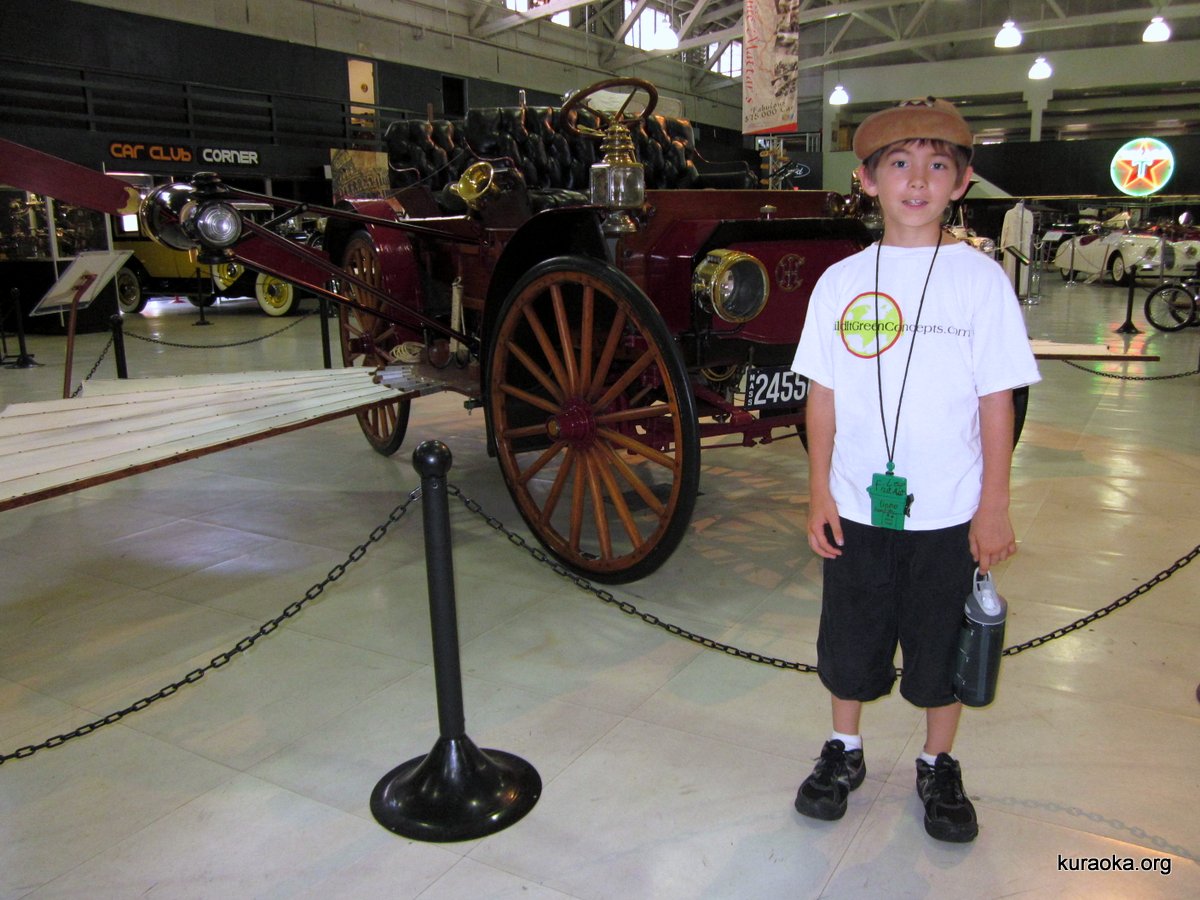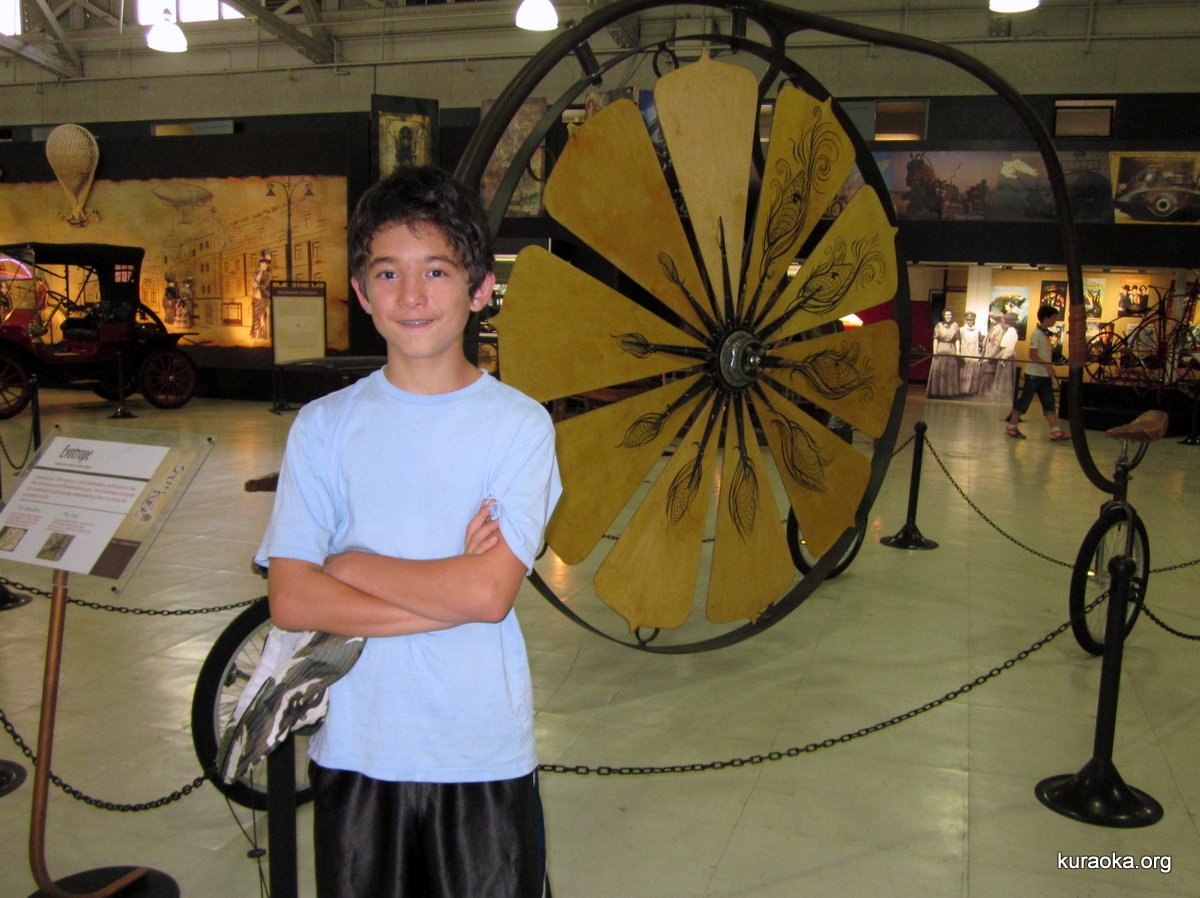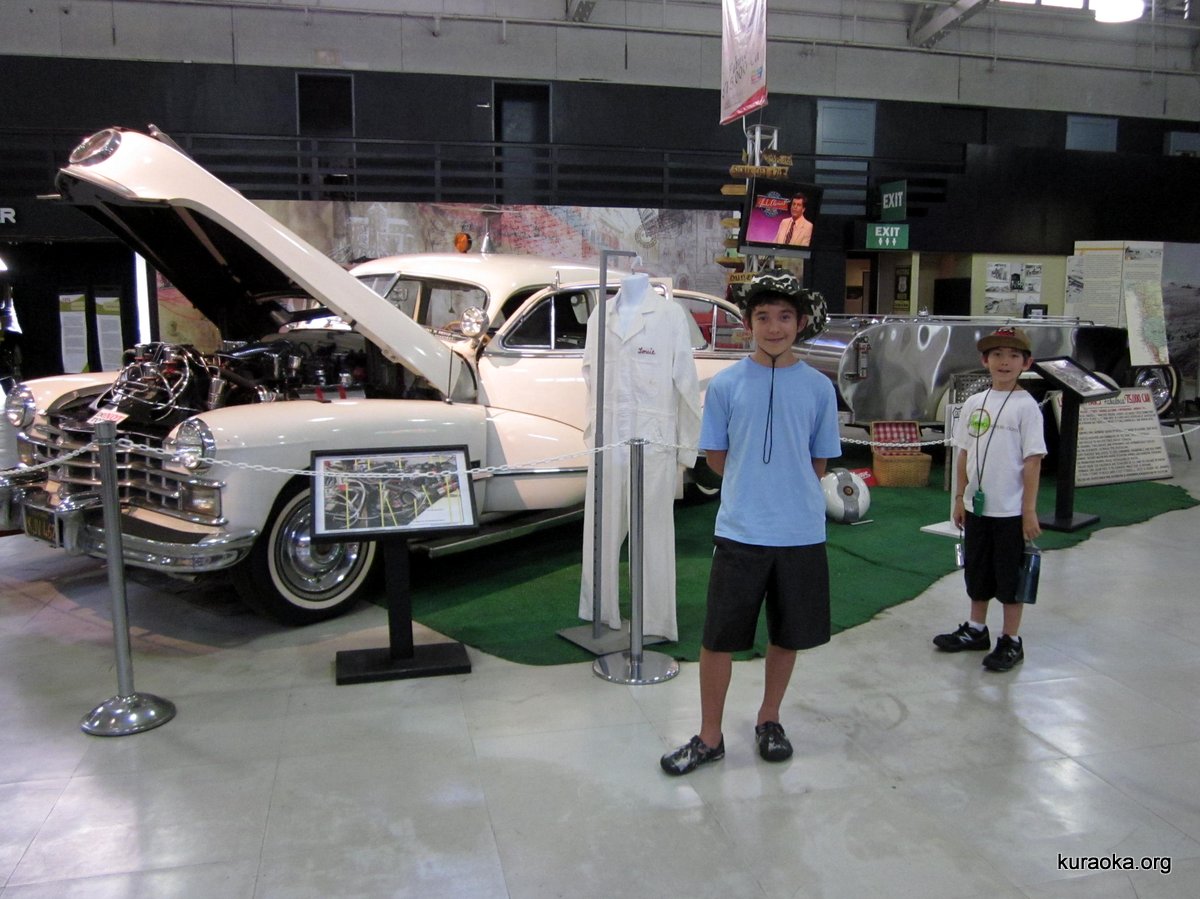 08-12-12 The Museum of Making Music! What a great museum. Here Ondine takes a whack at the drum set, while Leo mans the sound controls.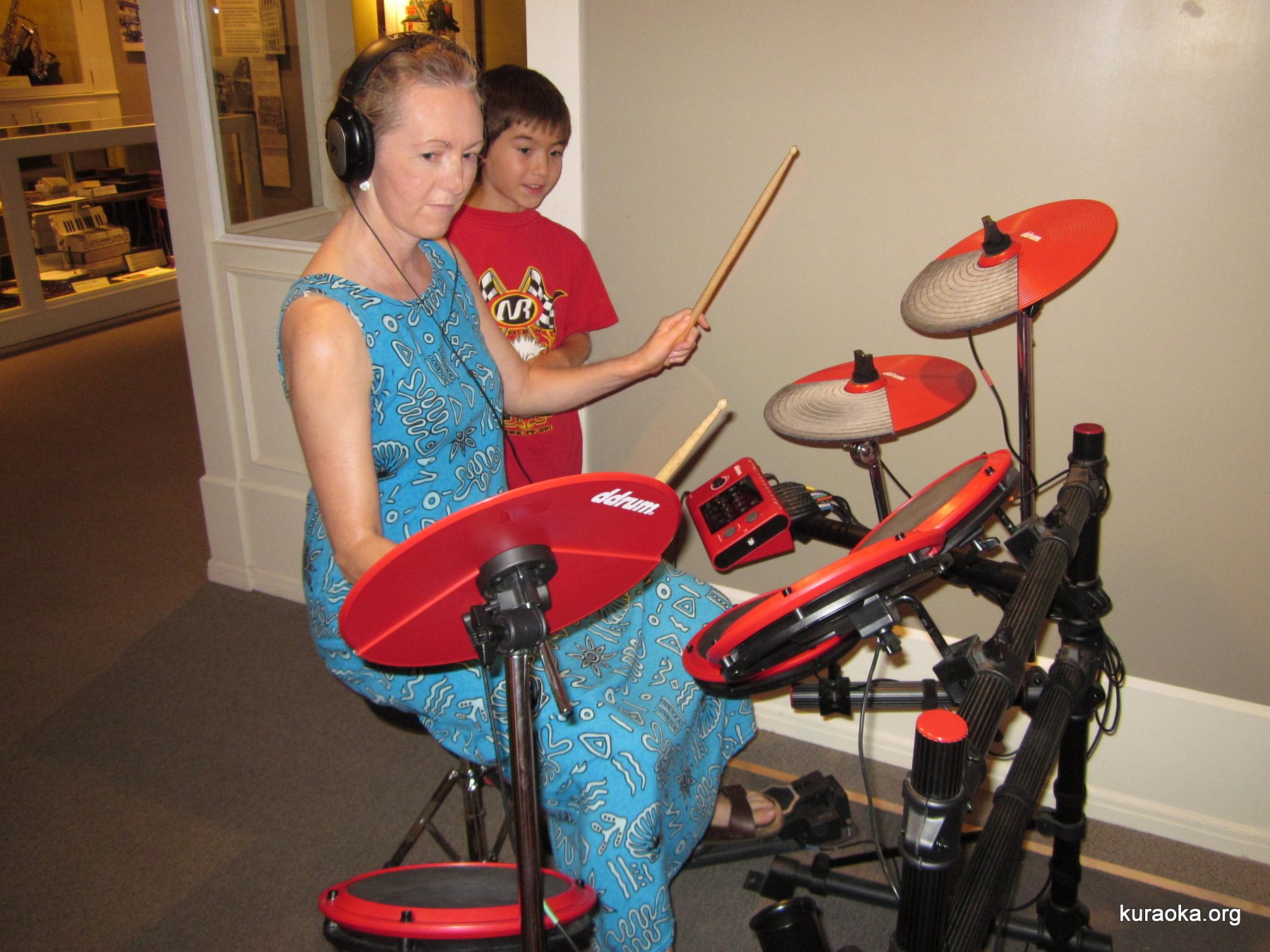 08-11-12 Roy and Leo at Spanish Landing. Caught these shots of them before they could mug or hide. The first one, with both, was taken with a phone.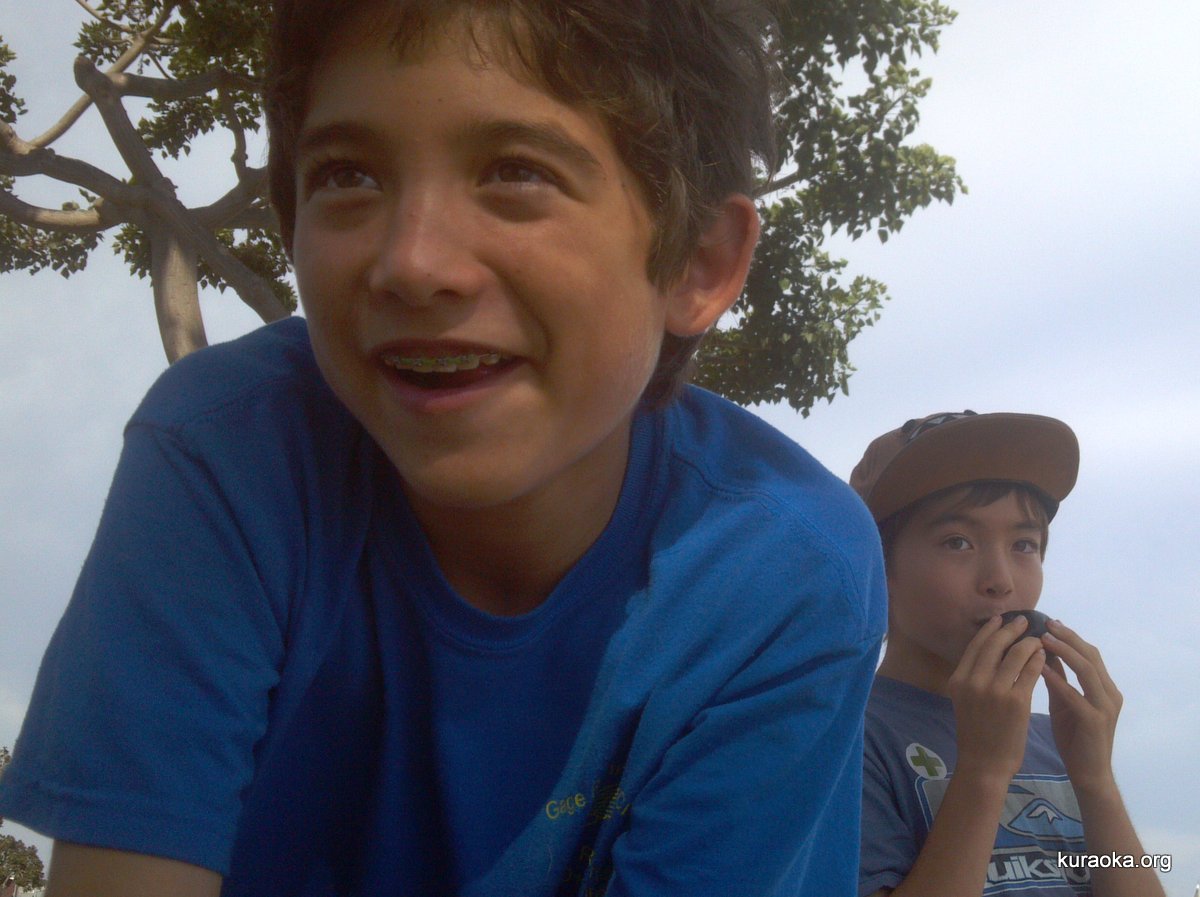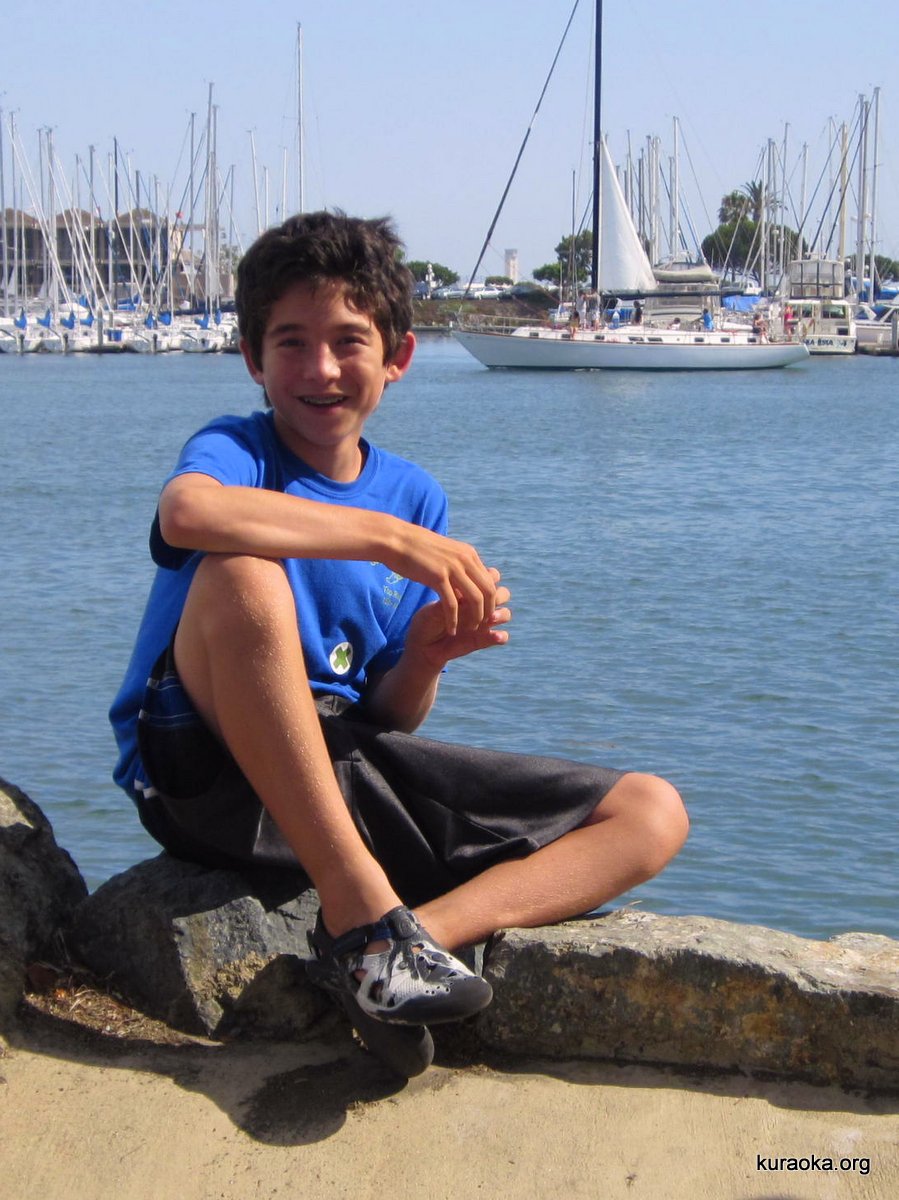 08-05-12 Ghirardelli! Barbara joined us in celebrating John's birthday at Ghirardelli downtown. Here's Leo with a double scoop of his first Ghirardelli chocolate ice cream ever!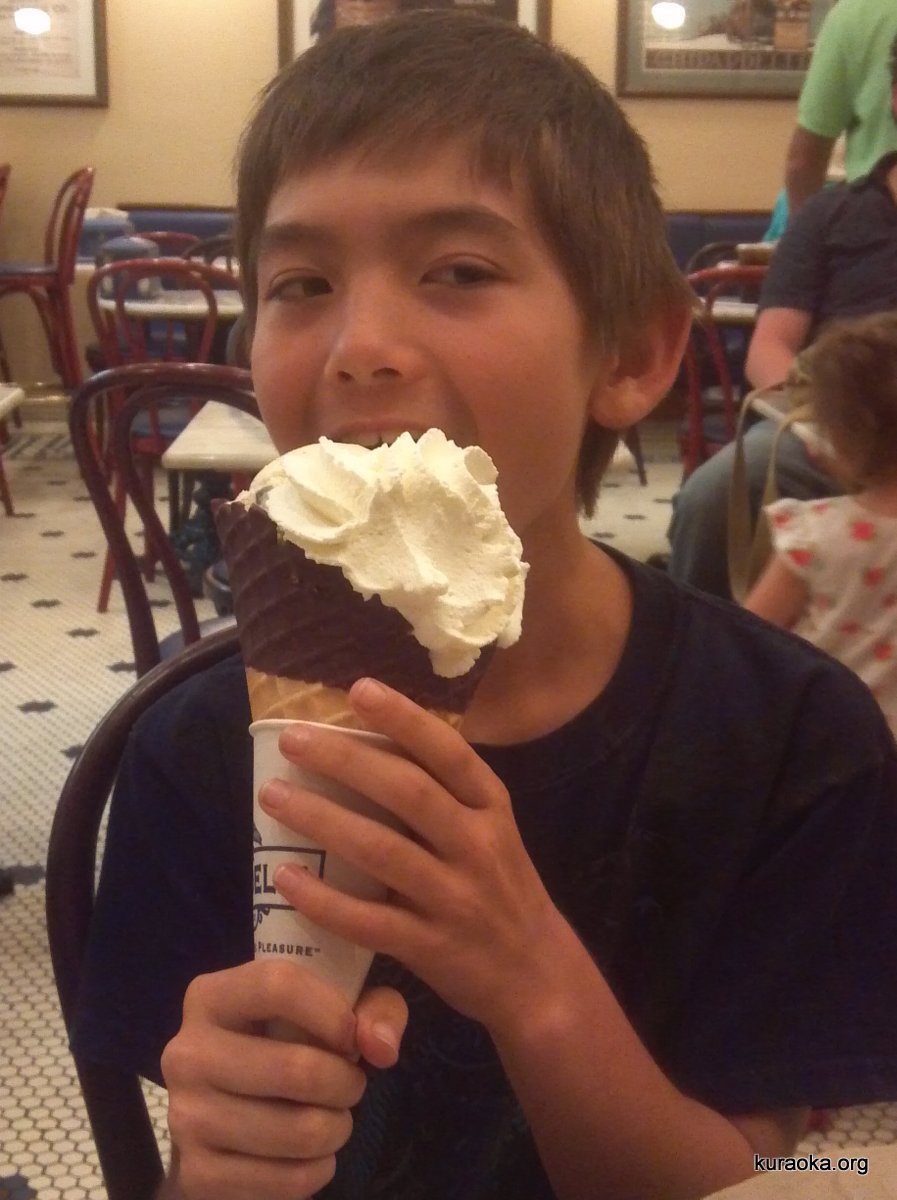 08-04-12 Staining the fence. Ondine, Barbara, and Leo tackle staining the fence around the planter boxes.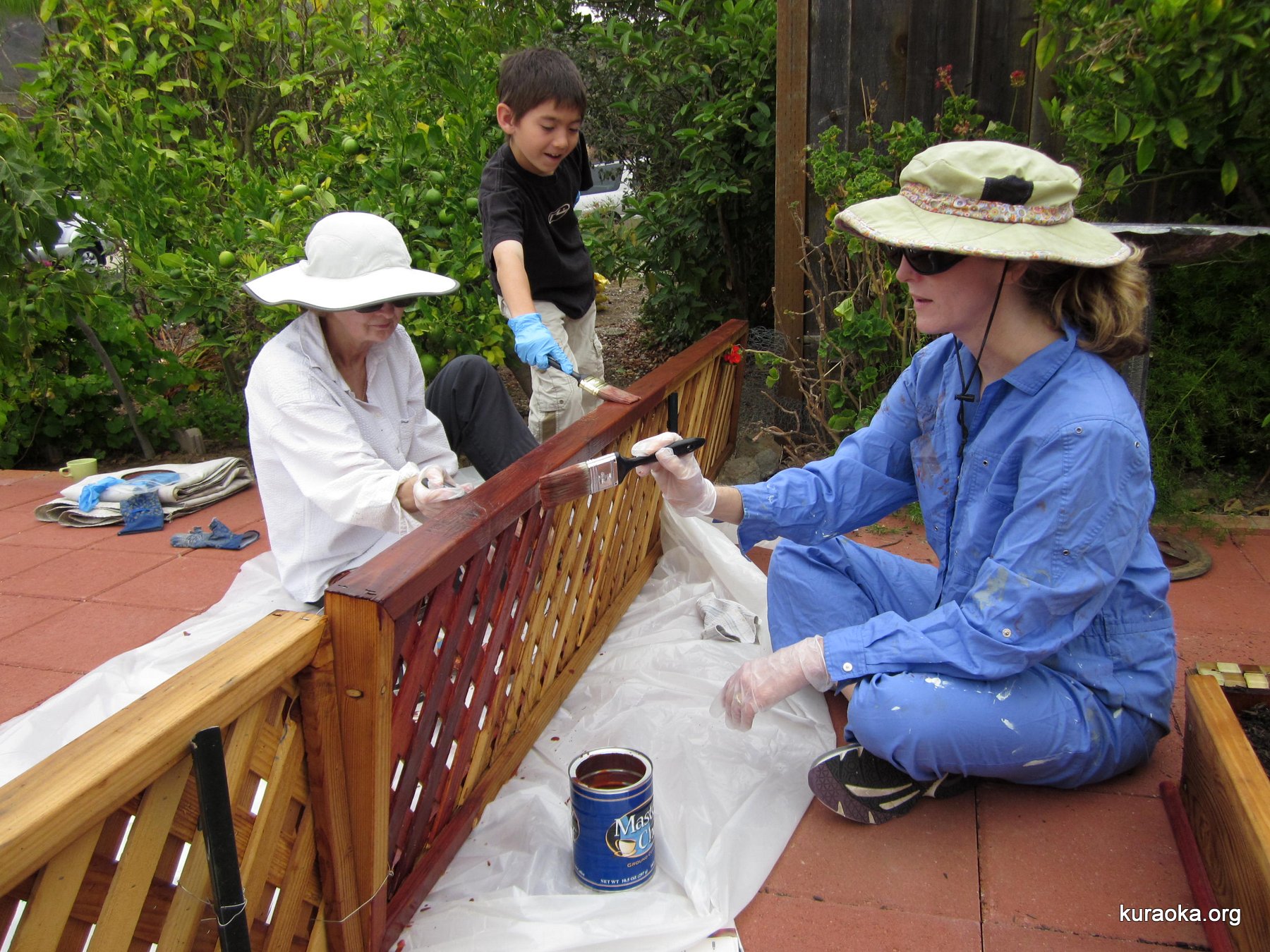 08-03-12 Buddy takes a walk! Here is Buddy in the redwoods. Then, Buddy off-leash! And yes, both photos were taken in beautiful Balboa Park.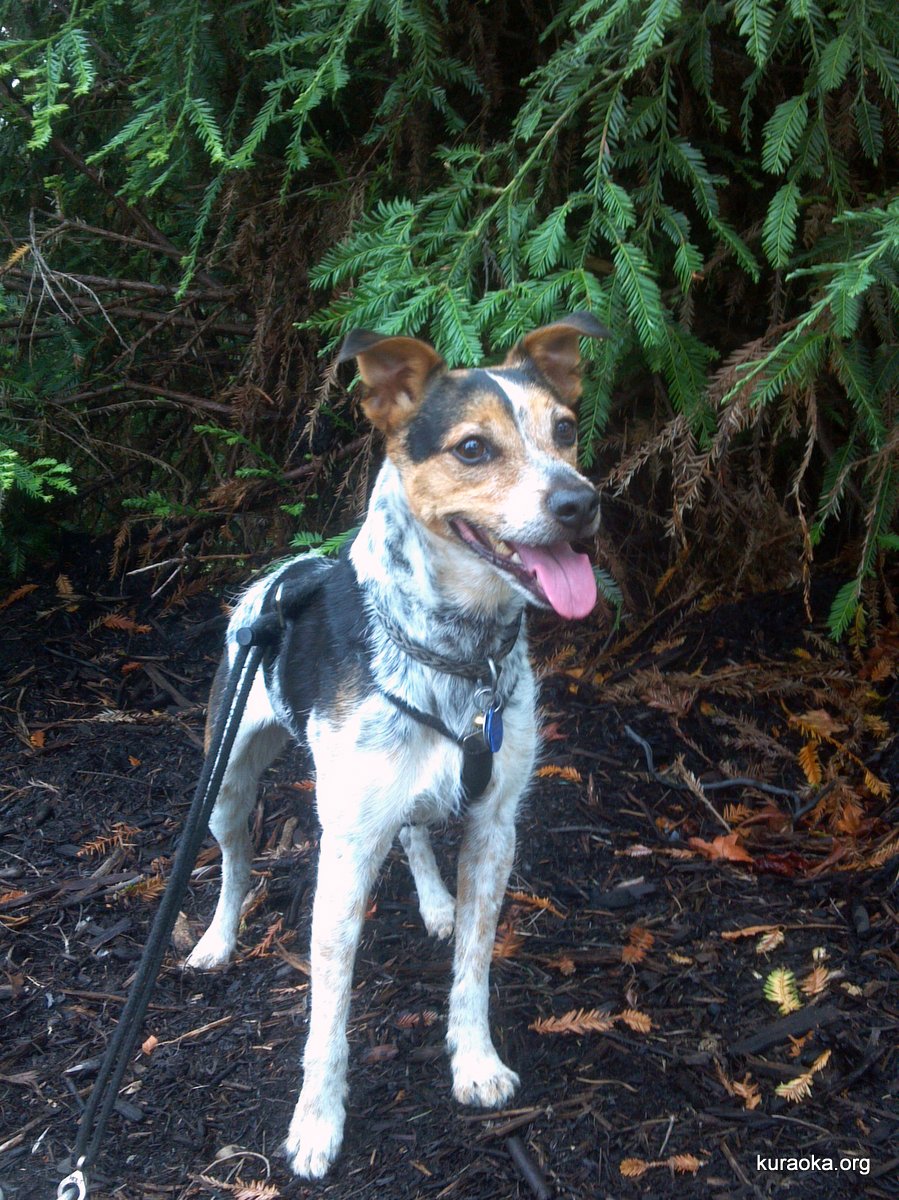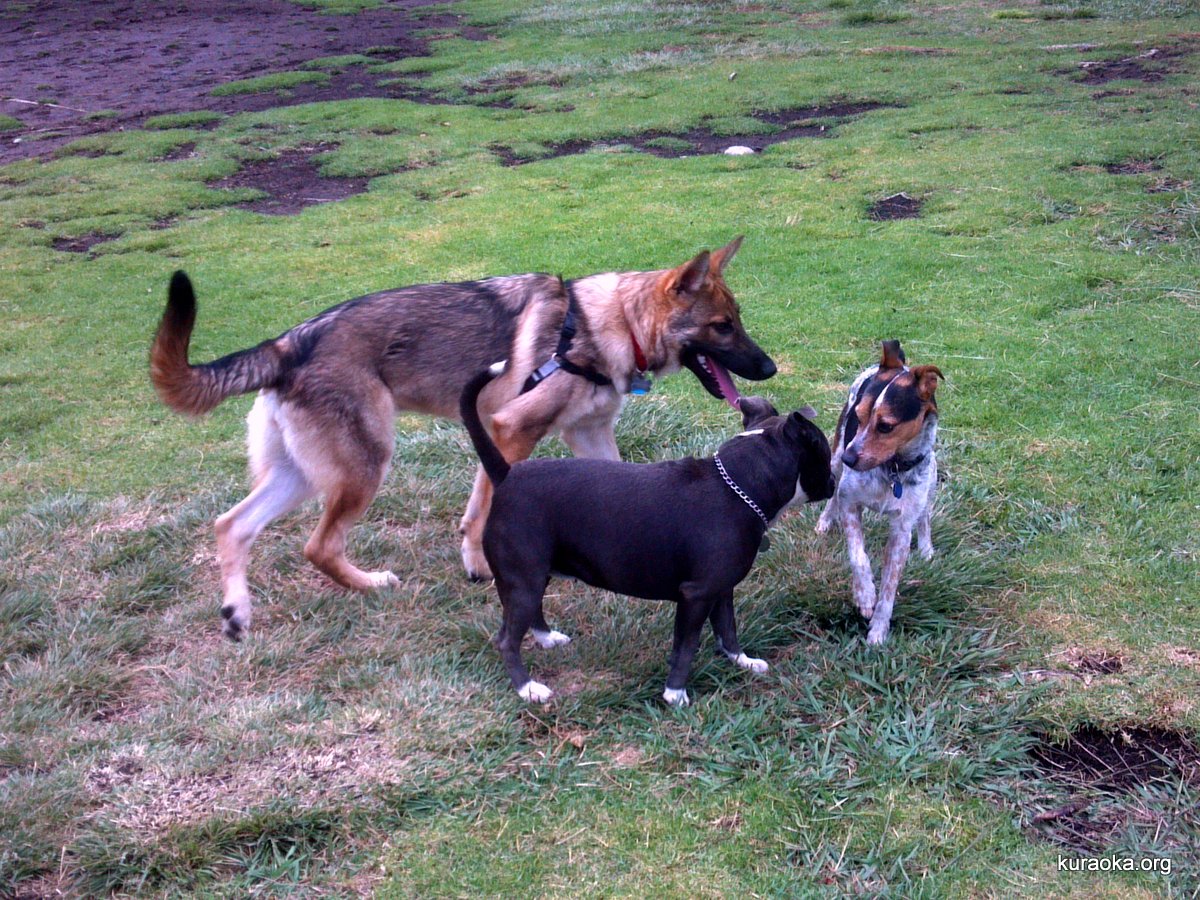 07-22-12 California State Games judo medallists! Grammy and Grandma Baba joined us in cheering on Leo and Roy competing in the California State Games, a statewide, multi-sport amateur athletic competition connected to the US Olympic Committee. Leo placed second in his division, for the silver medal, and Roy came in third in his division for the bronze! Congratulations!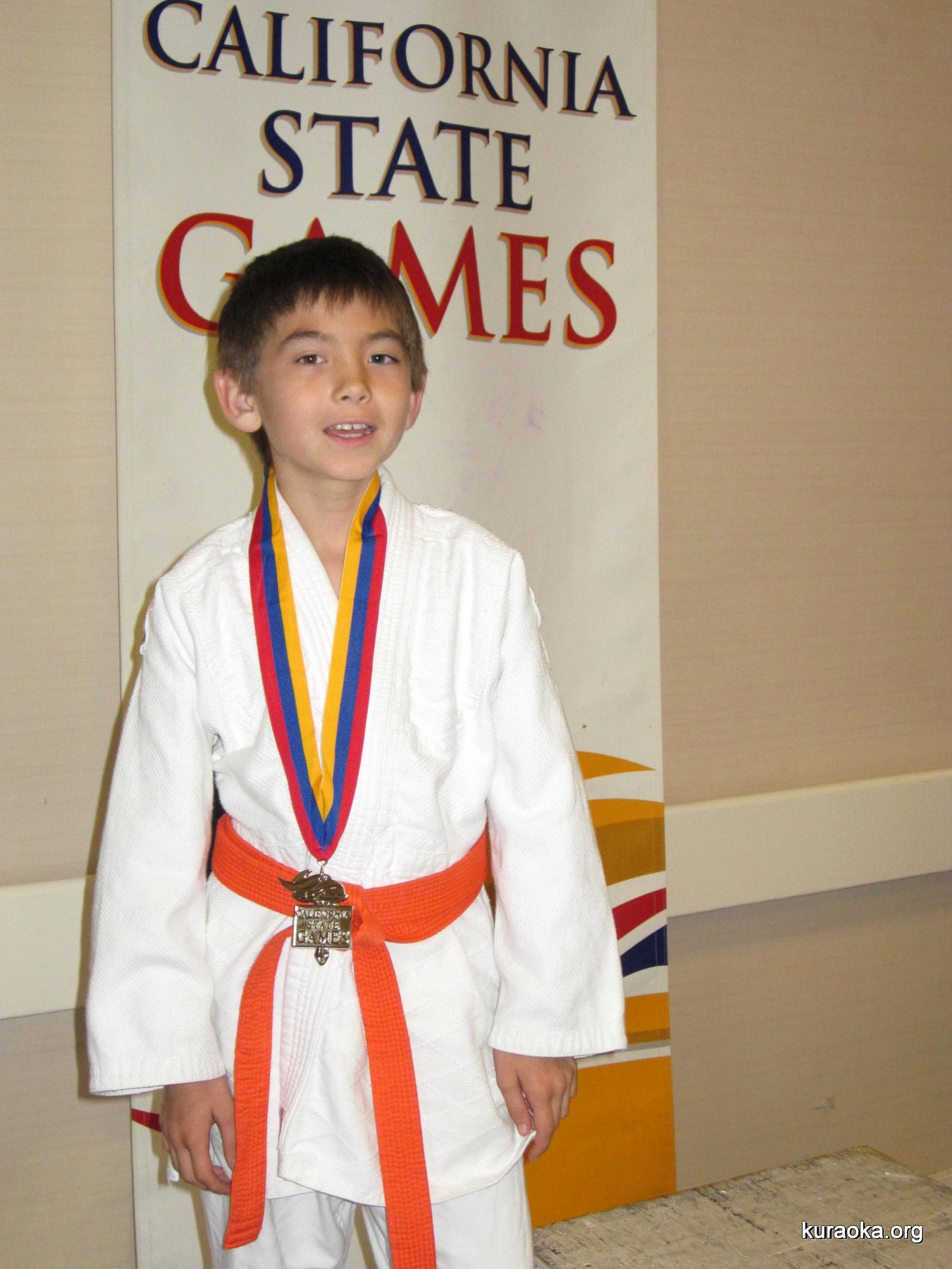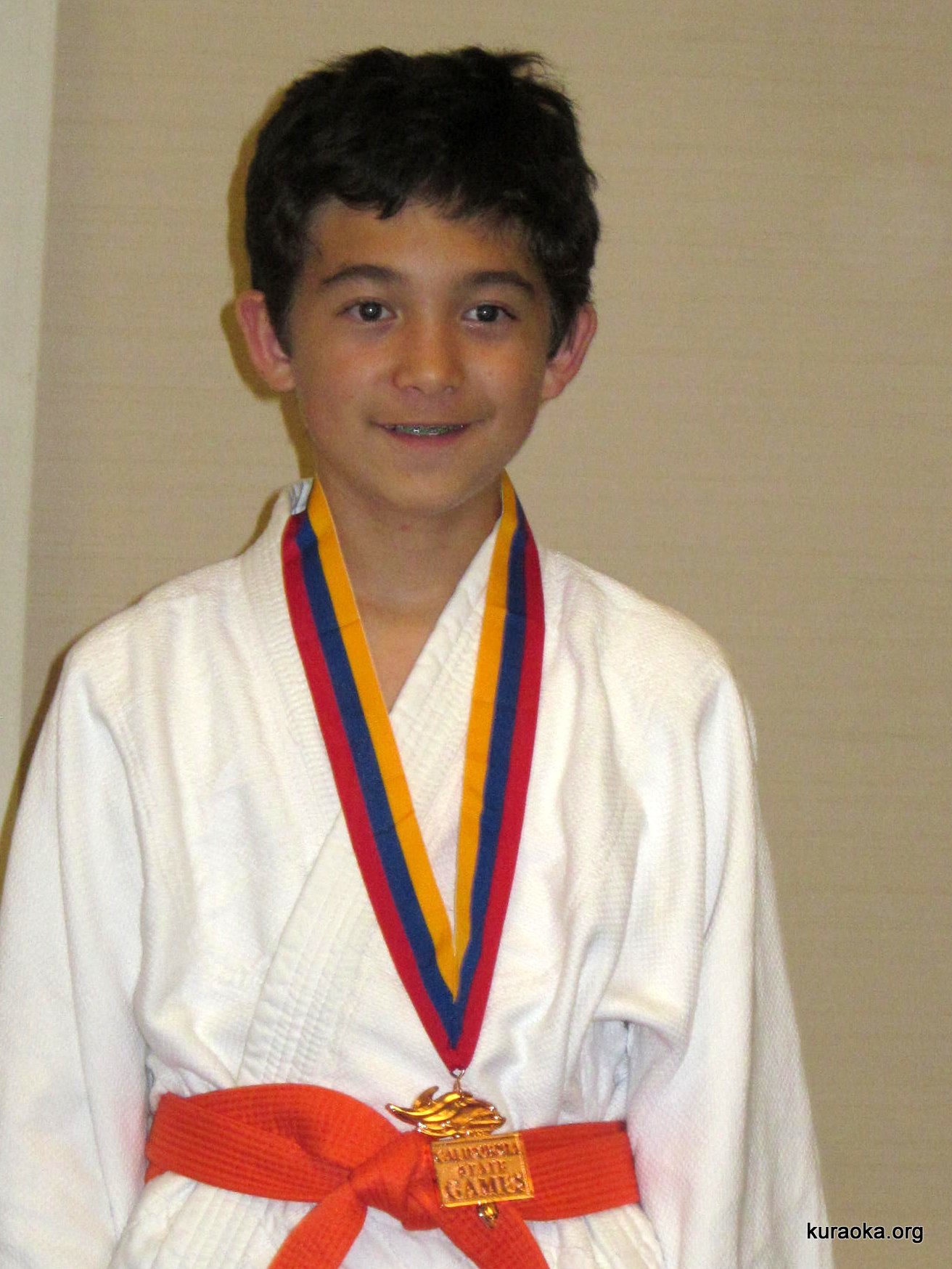 07-20-12 Happy Birthday to Leo! Here's our freshly minted ten-year-old with his ice cream cake! (It was strawberry and mint chocolate chip over devil's food, with lots of confetti sprinkles!)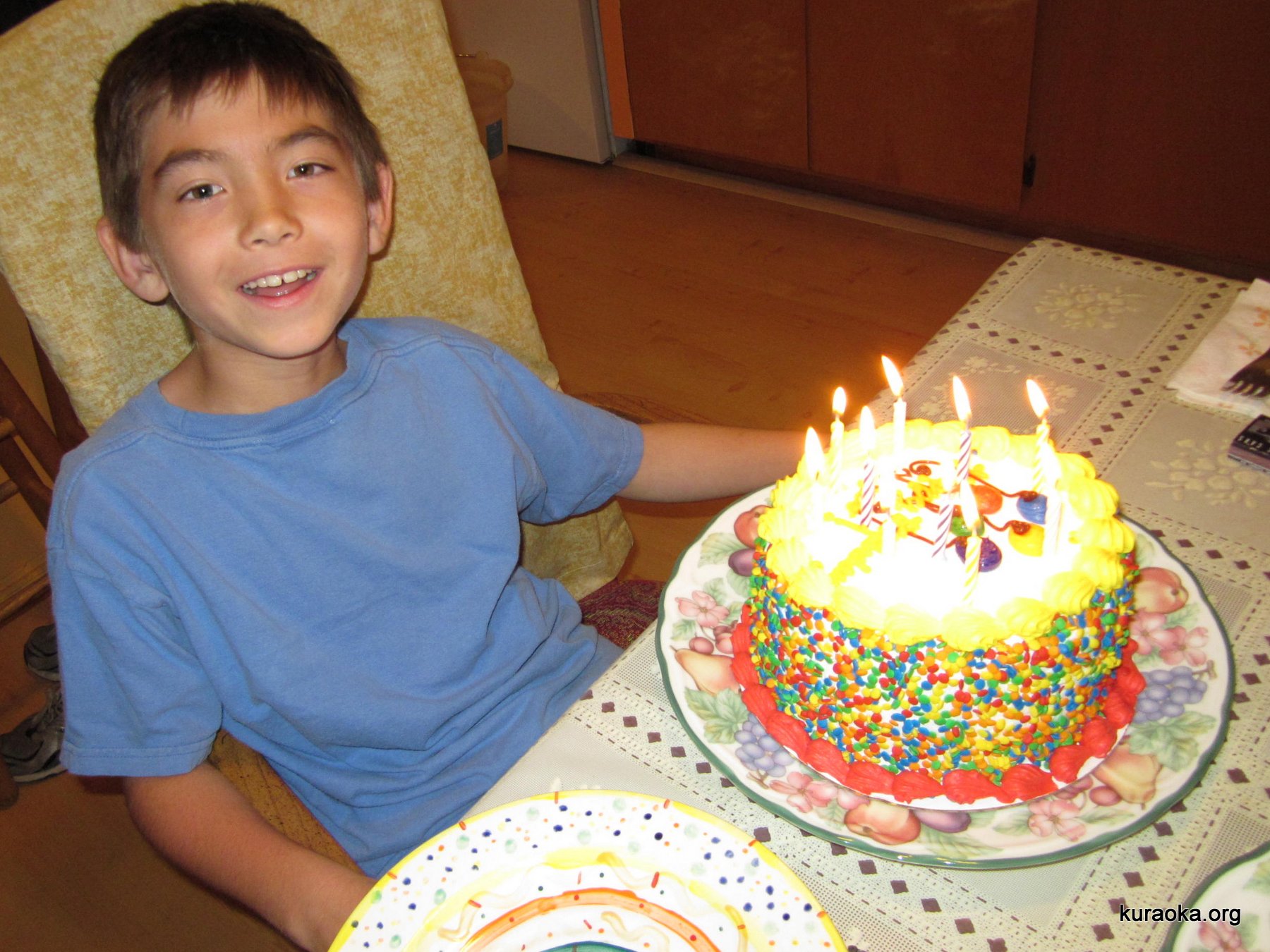 06-15-12 Unique Kindle Keyboards! Because our Kindle Keyboards came with identical black leather cases, John bought some paint pens and he and the boys decorated theirs so we can tell them apart. Here are the fronts and backs. From left to right, that's Leo's (with the Domo characters), Roy's (featuring Toddler Wars), and John's (with the Doctor's TARDIS).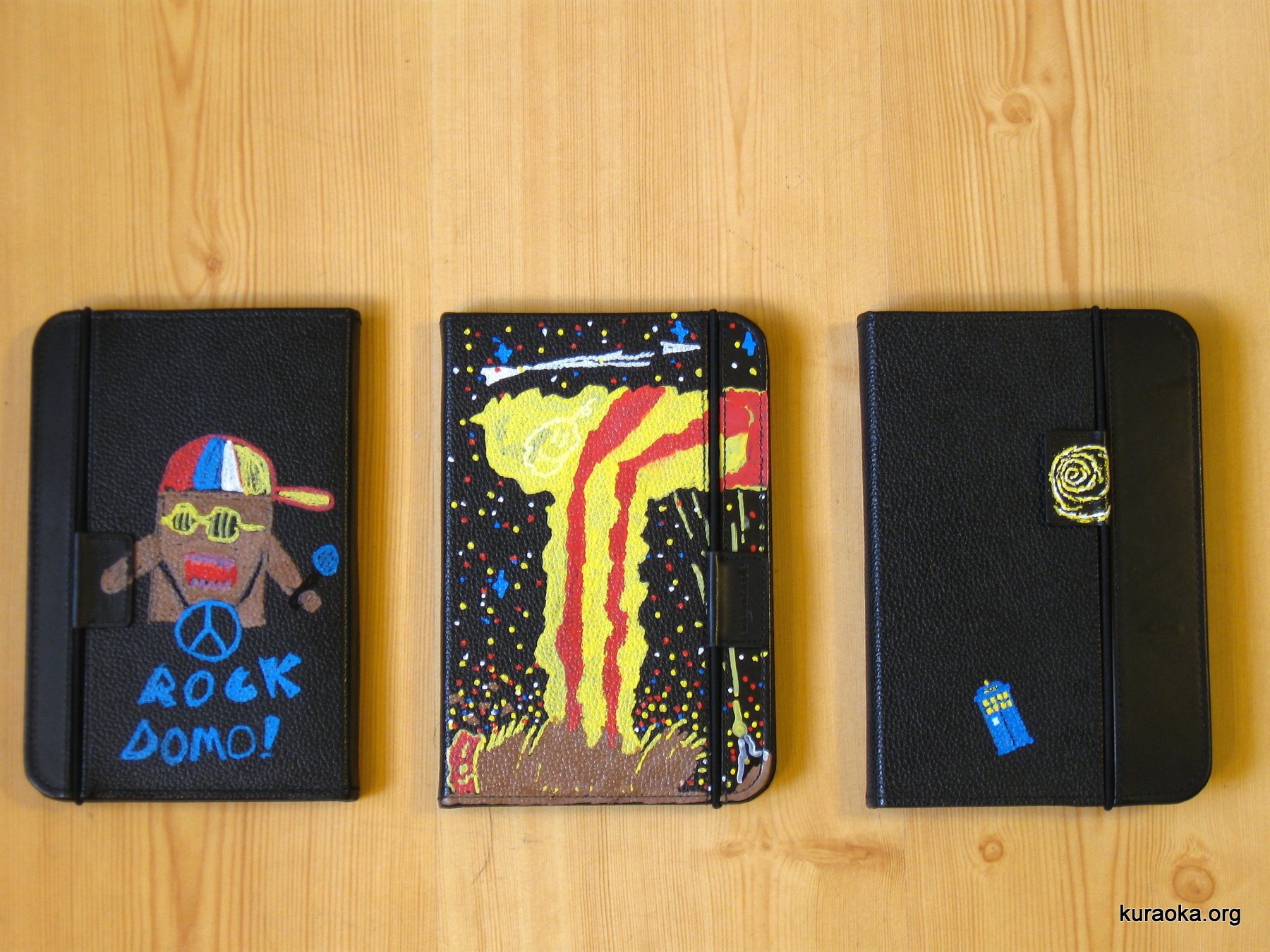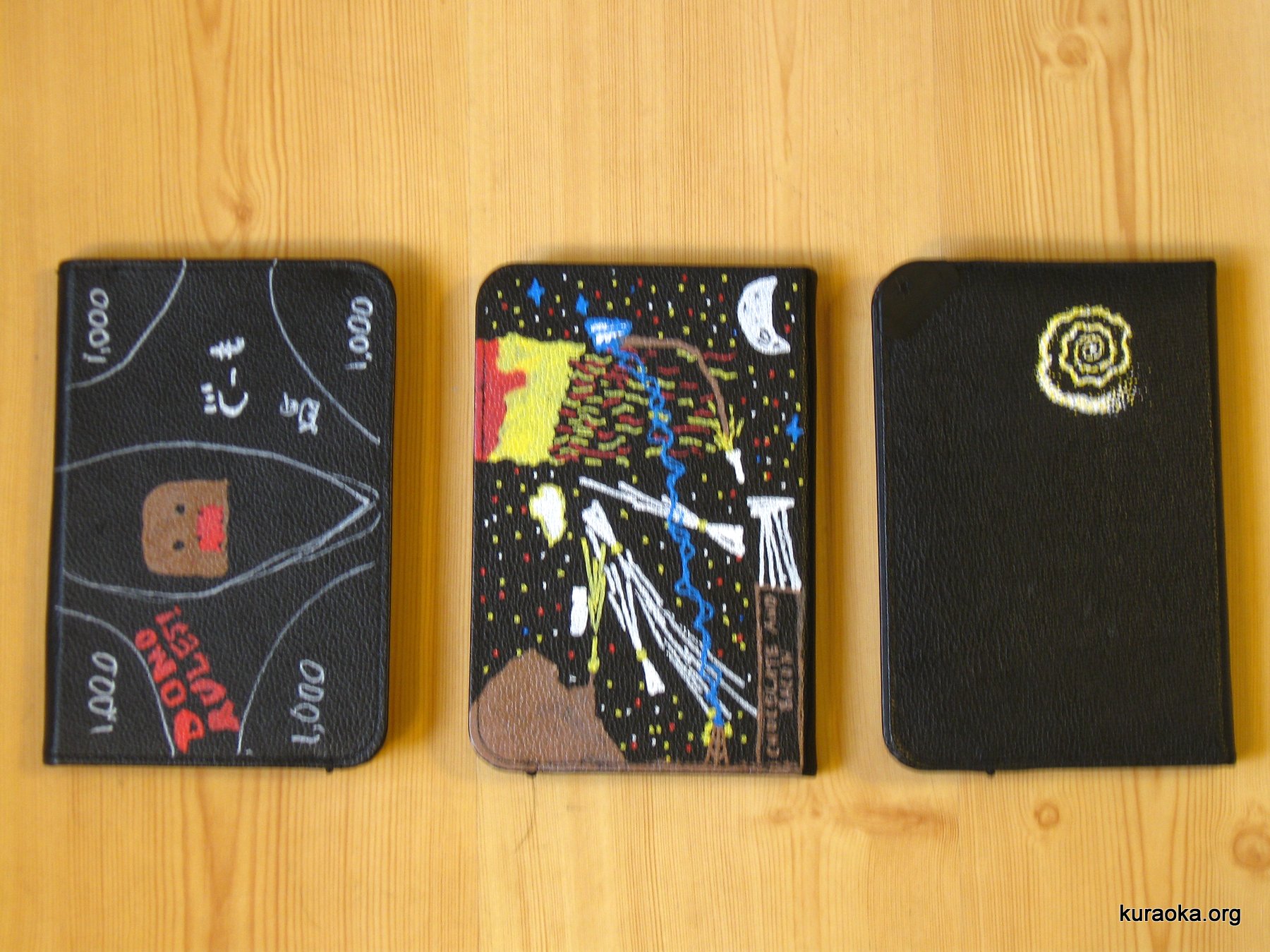 06-09-12 JPL Open House ... in 3-D! John, Roy, and Leo went with Grammy to the JPL Open House. Here you see the guys watching a 3-D website presentation. Get your 3-D glasses on for the next two shots, the Curiosity rover in 3-D and Grammy, John, Roy, and Leo on the surface of Mars with the Curiosity rover! Last is Roy and Leo, in 2-D.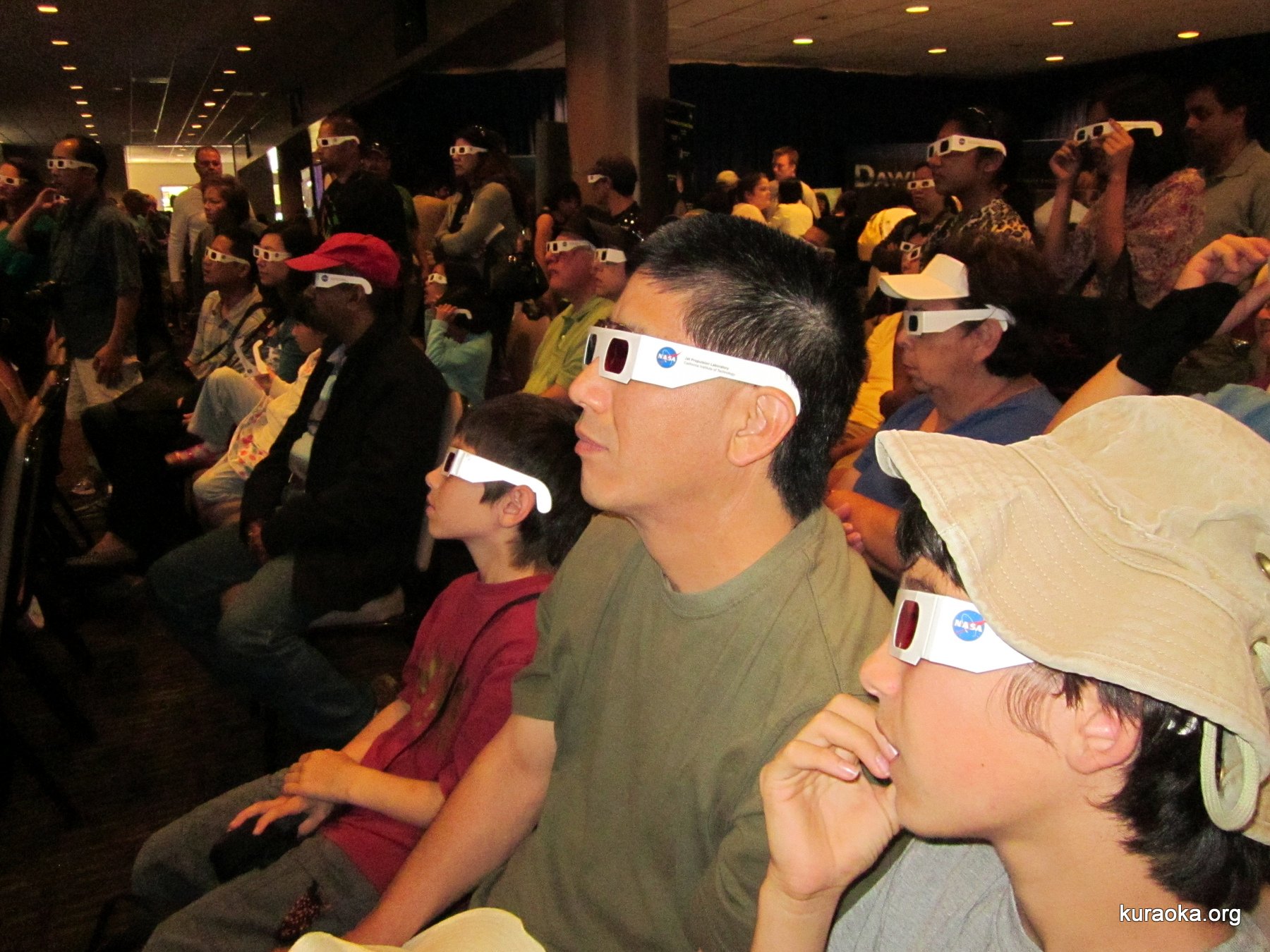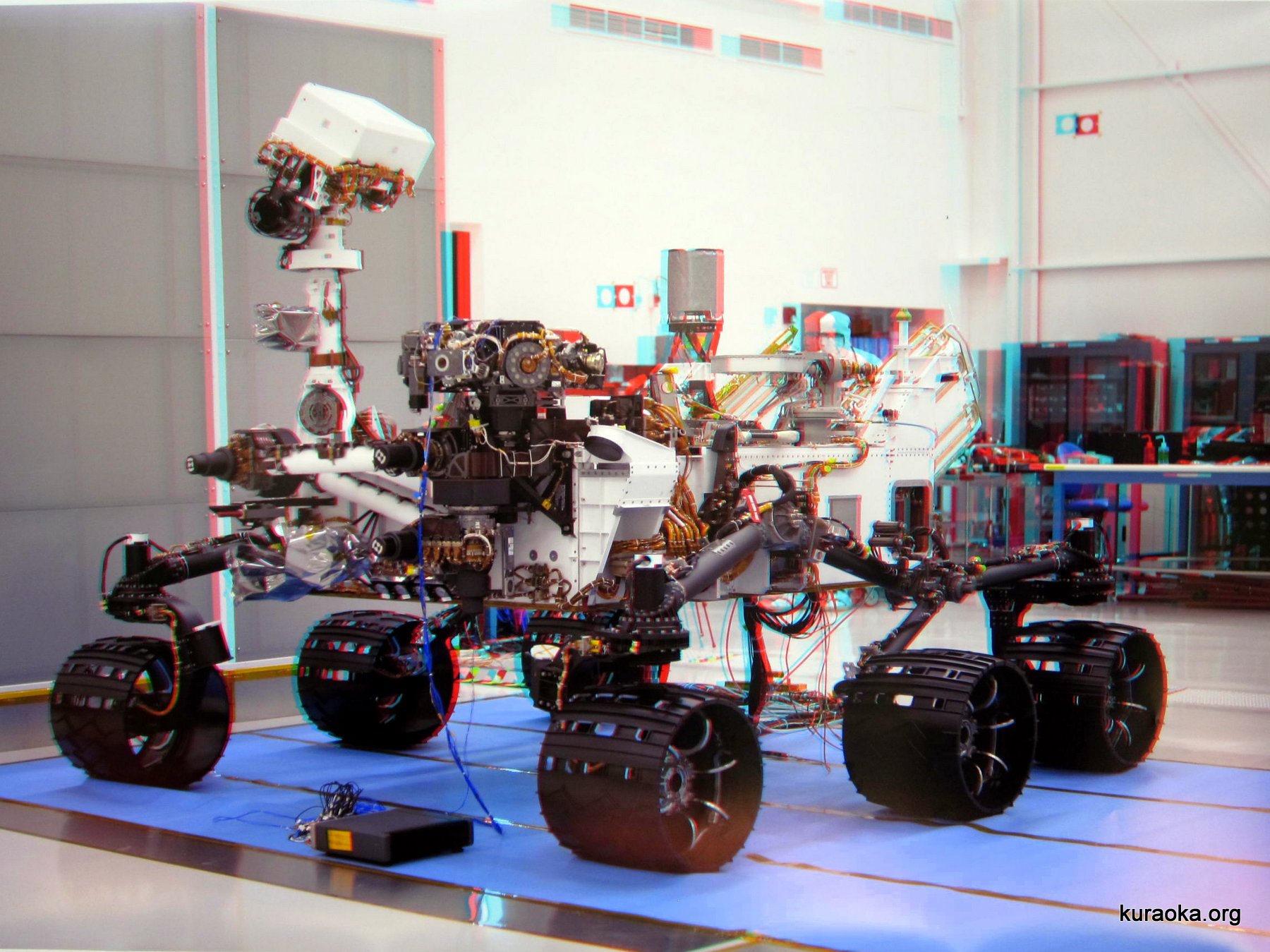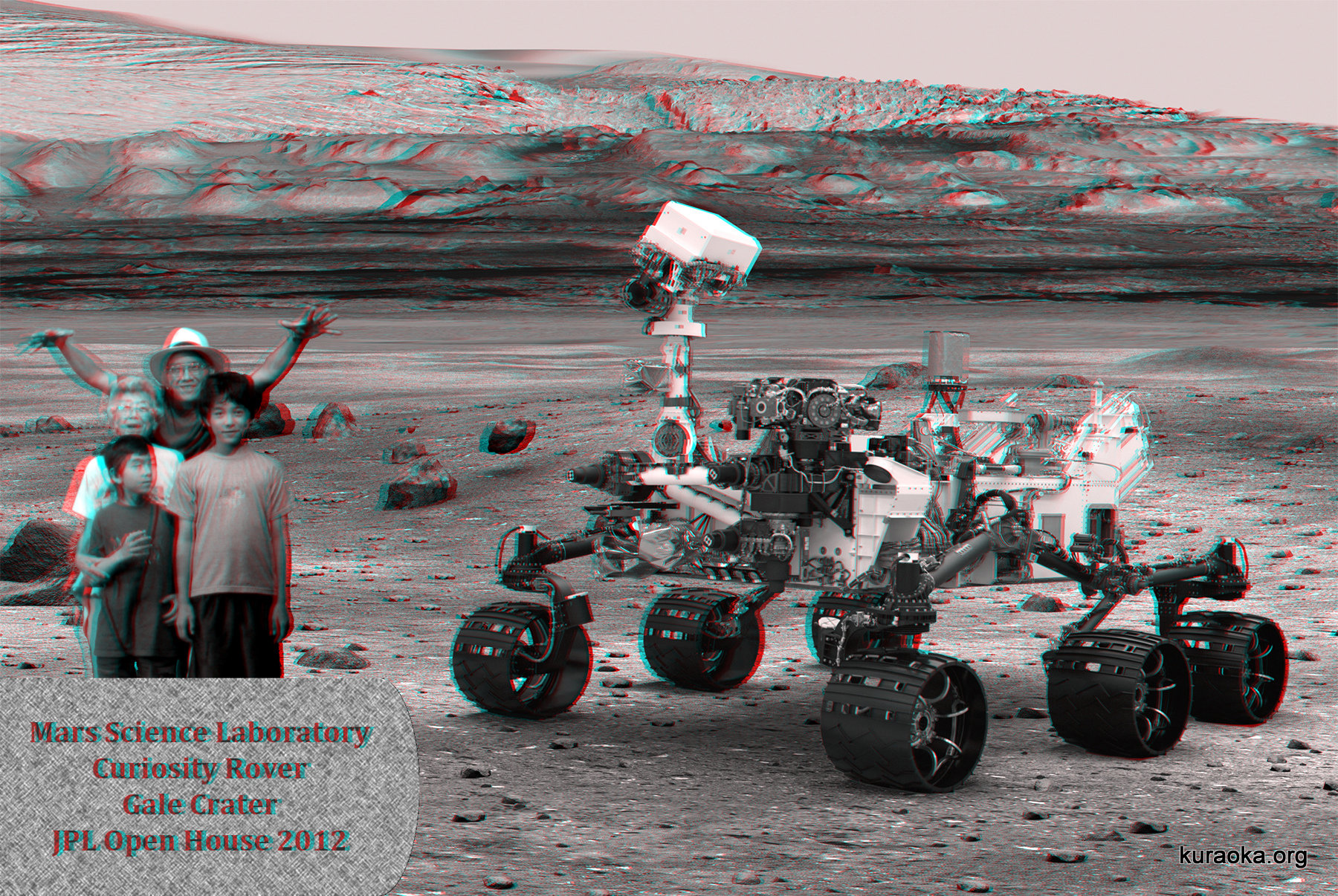 06-07-12 Finished yards! Here are our brand spankin' new front and back yards! Small refinements to note on the front: the open planting area was slightly rounded off at the corners so as to look less grave-like, the other side of the walkway was redone and finished to match the rest of the yard, and the automatic sprinkler control valves were removed.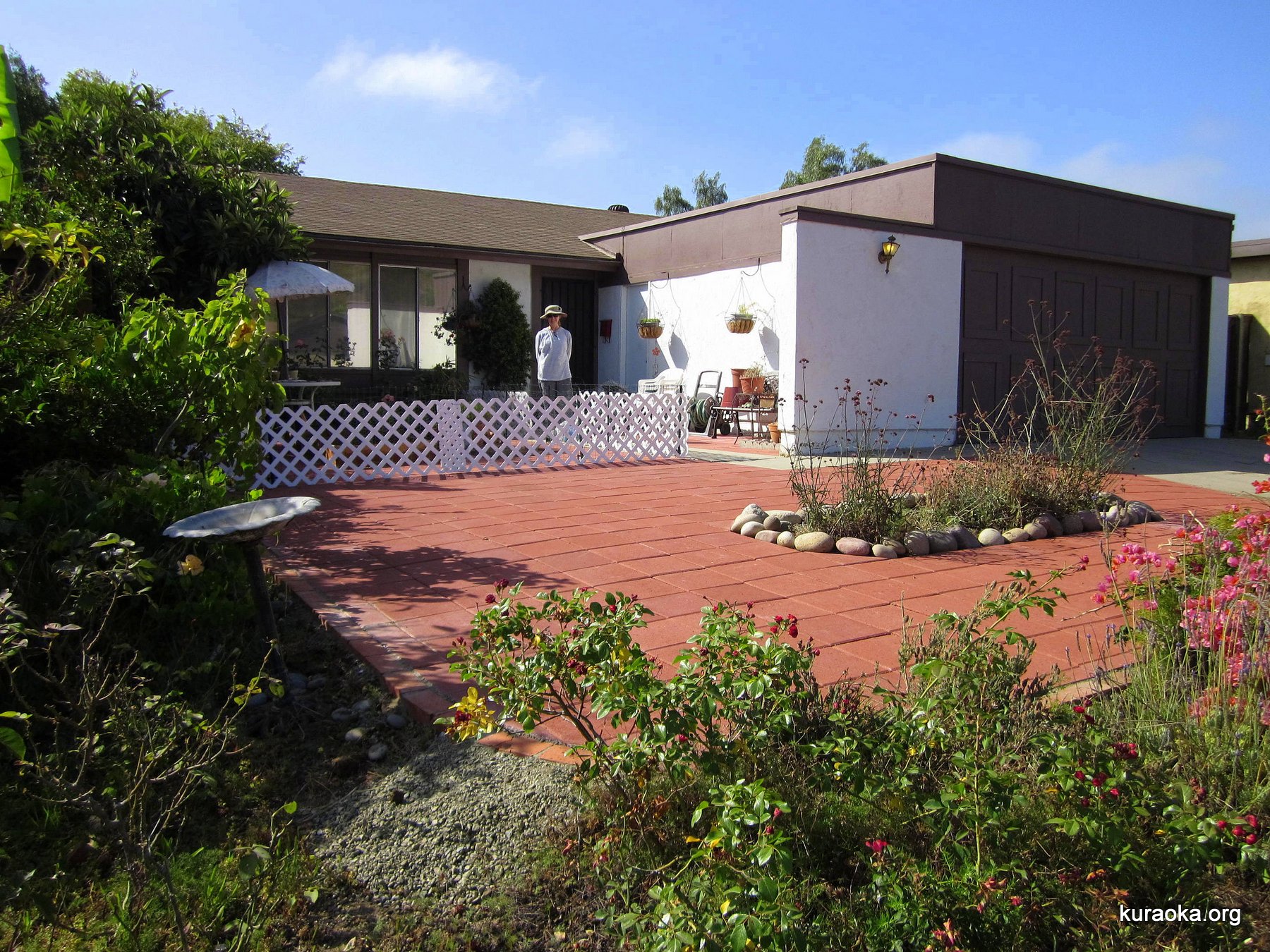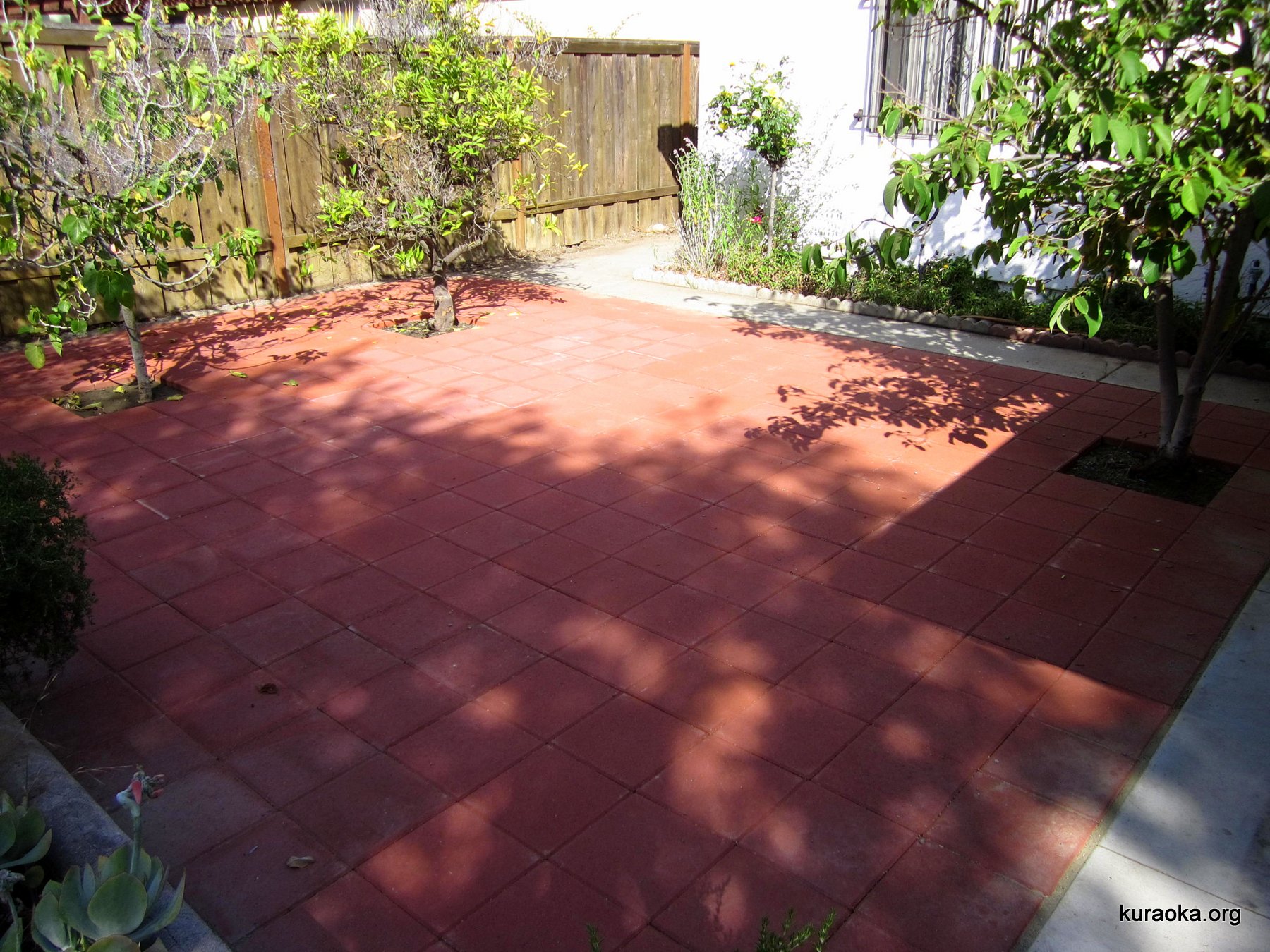 06-06-12 Progress update on the yards! Here's the front yard, nearly completed! Note, too, our newly slurry-sealed street - it really does look that black!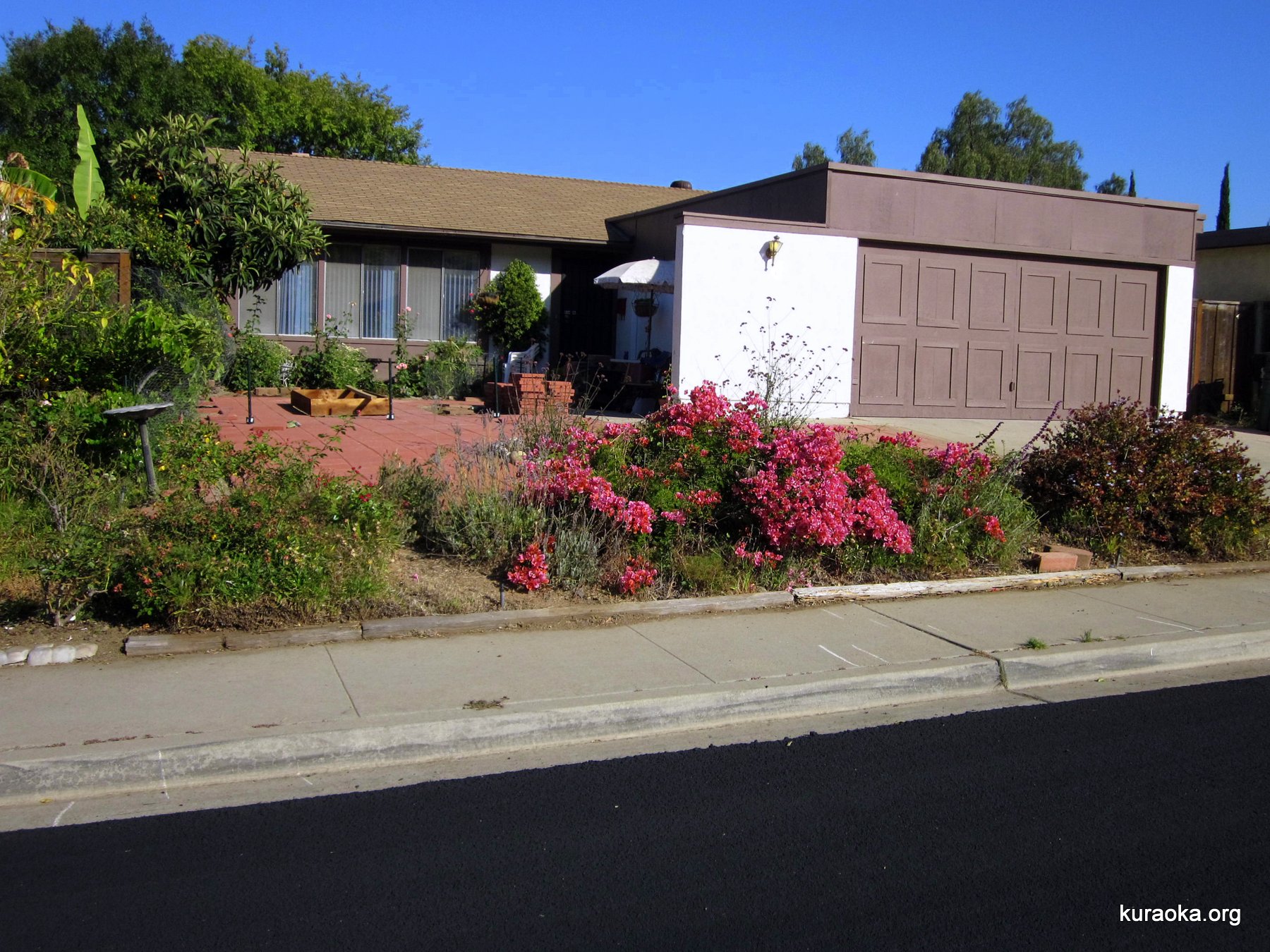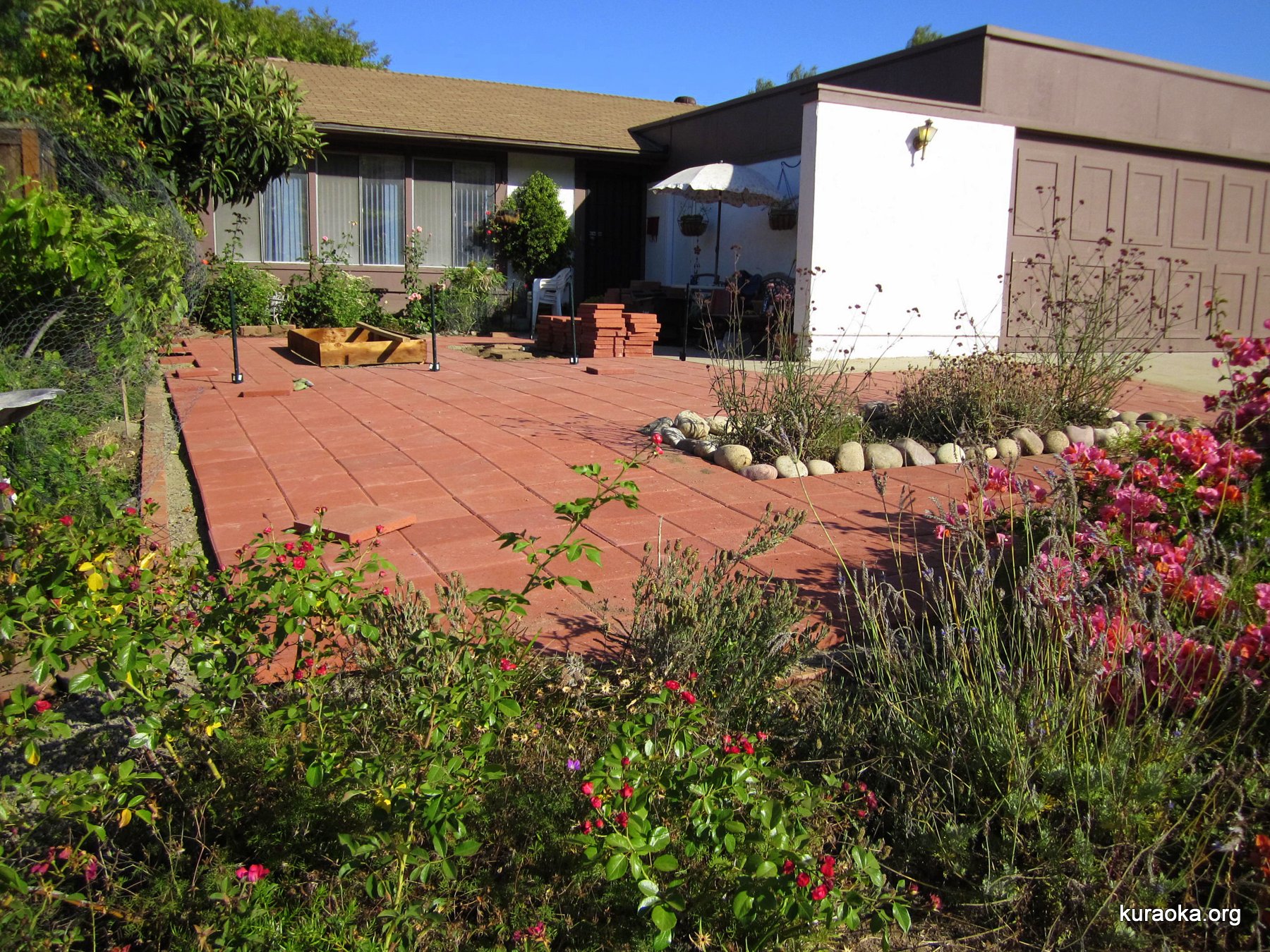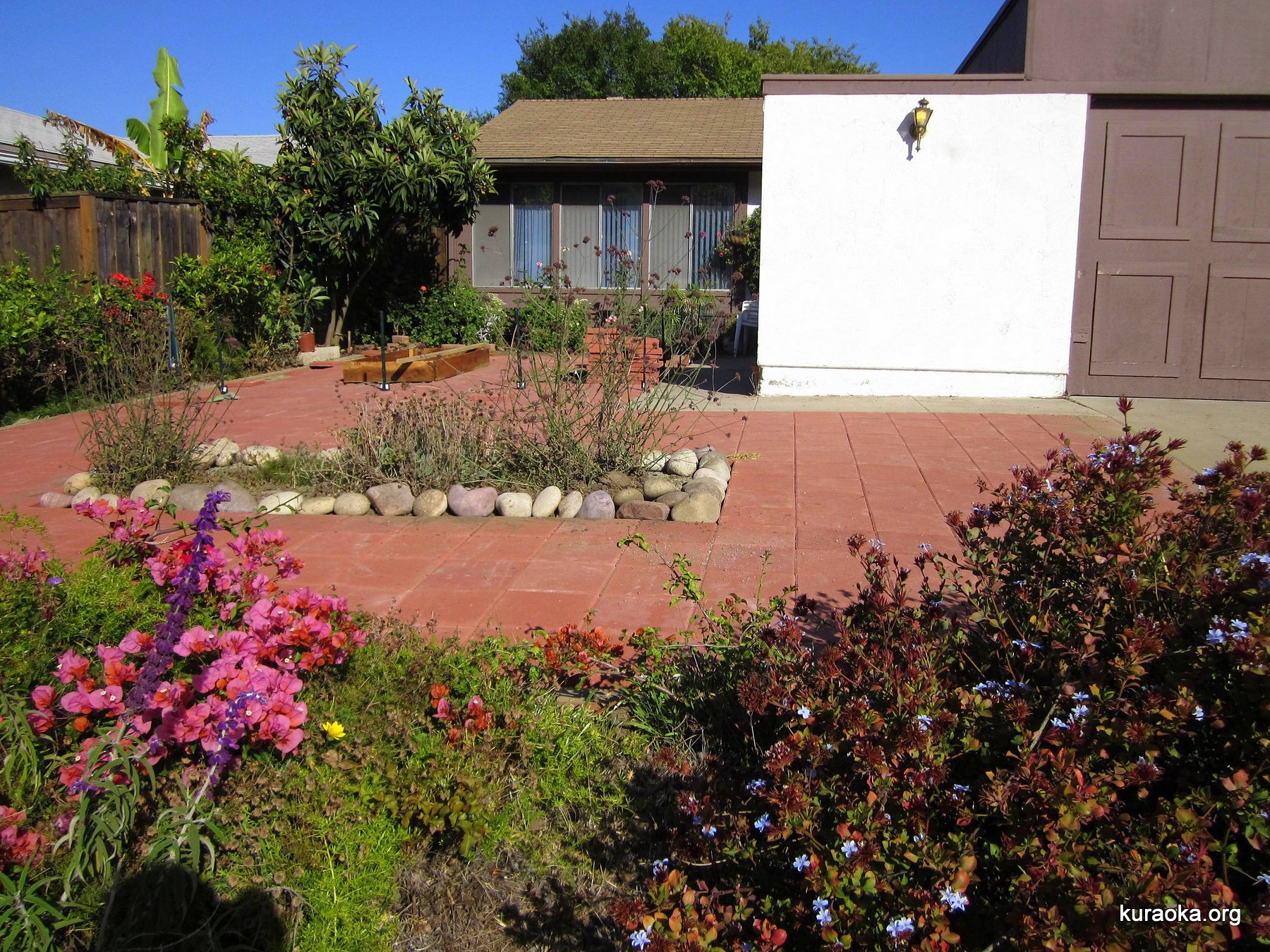 06-05-12 Roy's sixth-grade awards on his birthday! The awards ceremony was held on his birthday! Roy earned the Learning Upgrade Certificate in Math, Outstanding Performance in Technical Theatre, and Honor Roll 3.5! After dinner, we had a little at-home celebration with apple pie, ice cream, and a Hostess Cupcake!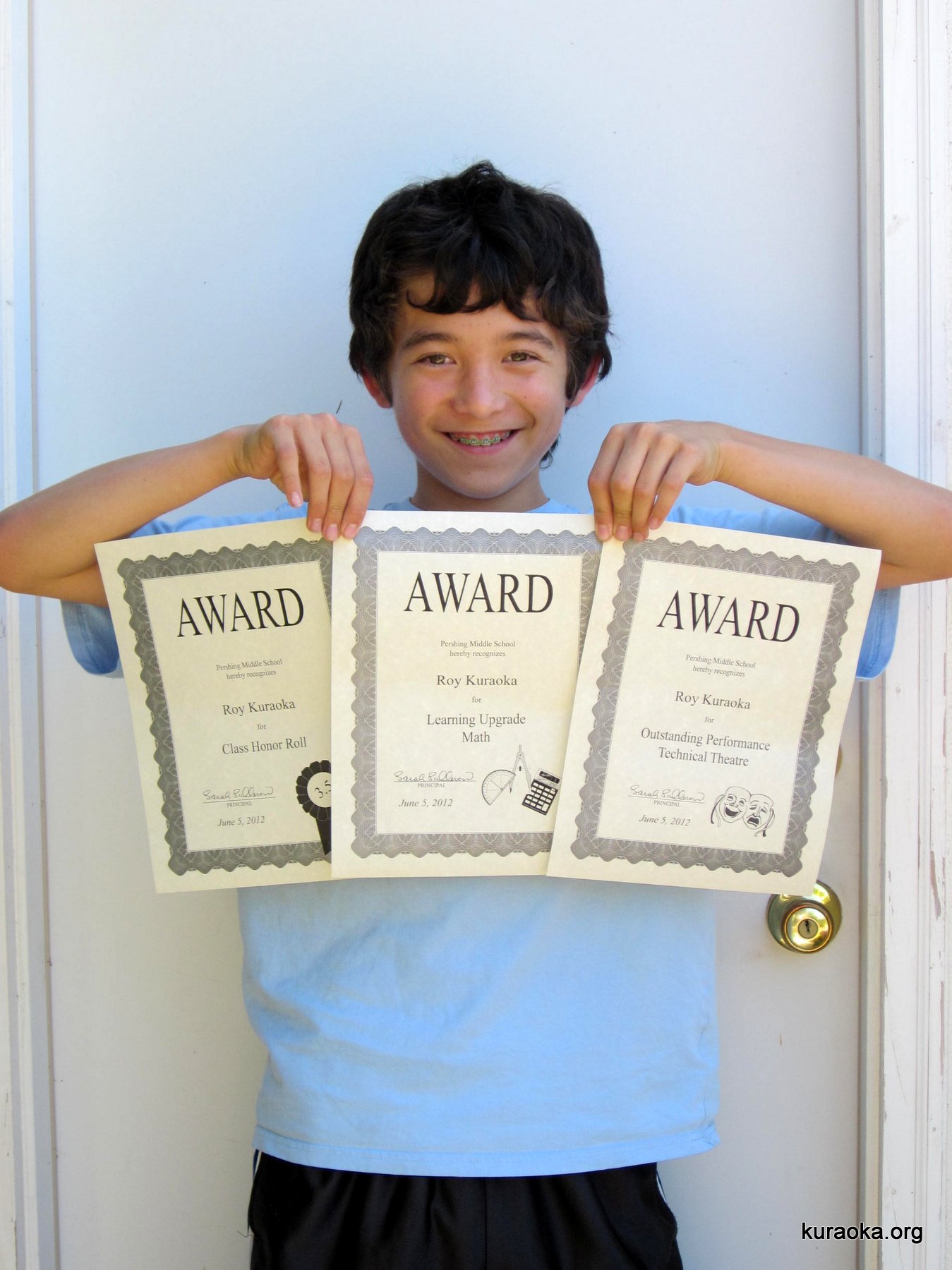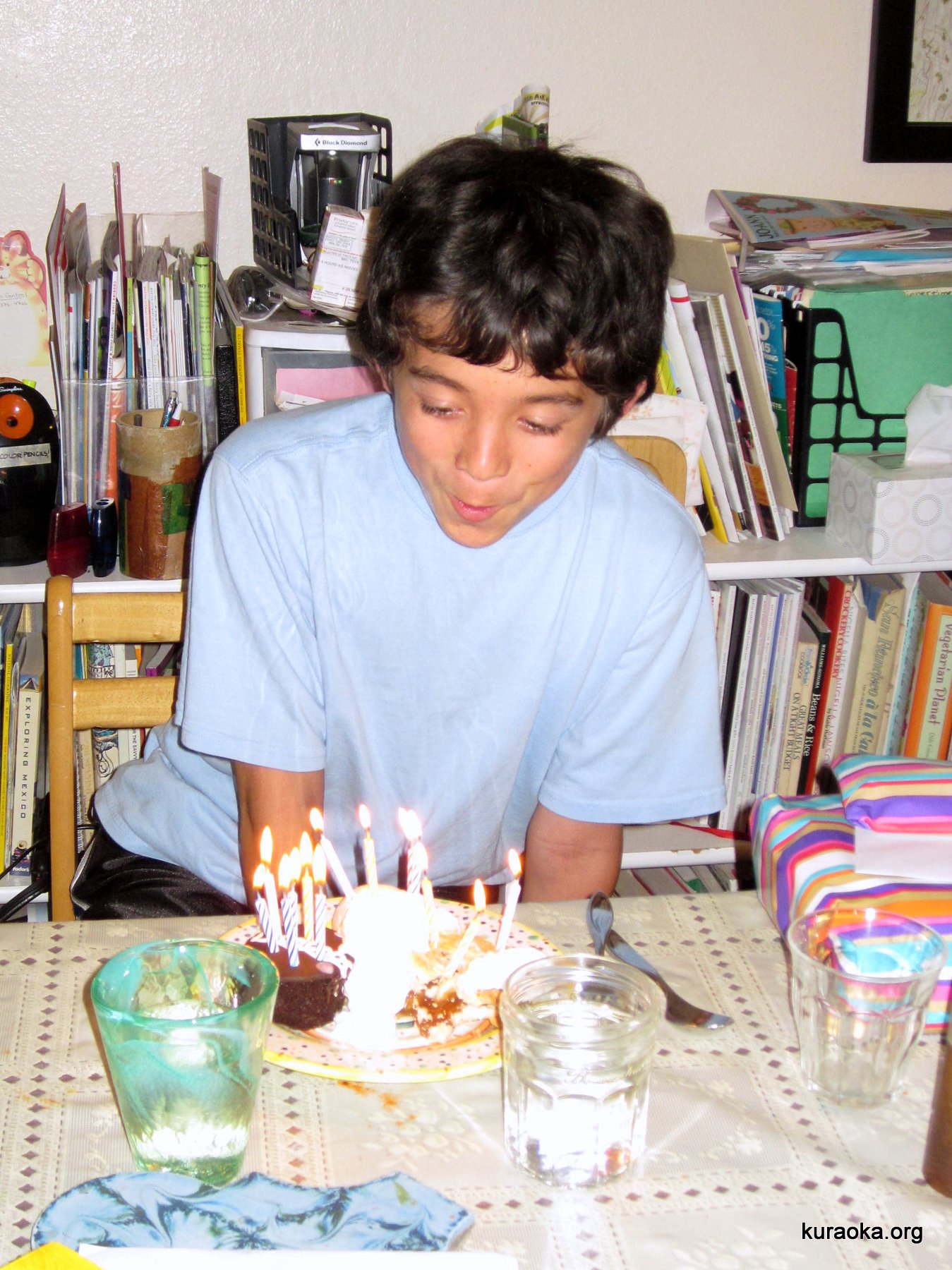 06-05-12 Garden progress! Here's how the front and back yards look now! The back yard is 99% finished; the front yard is leveled and almost ready for the pavers.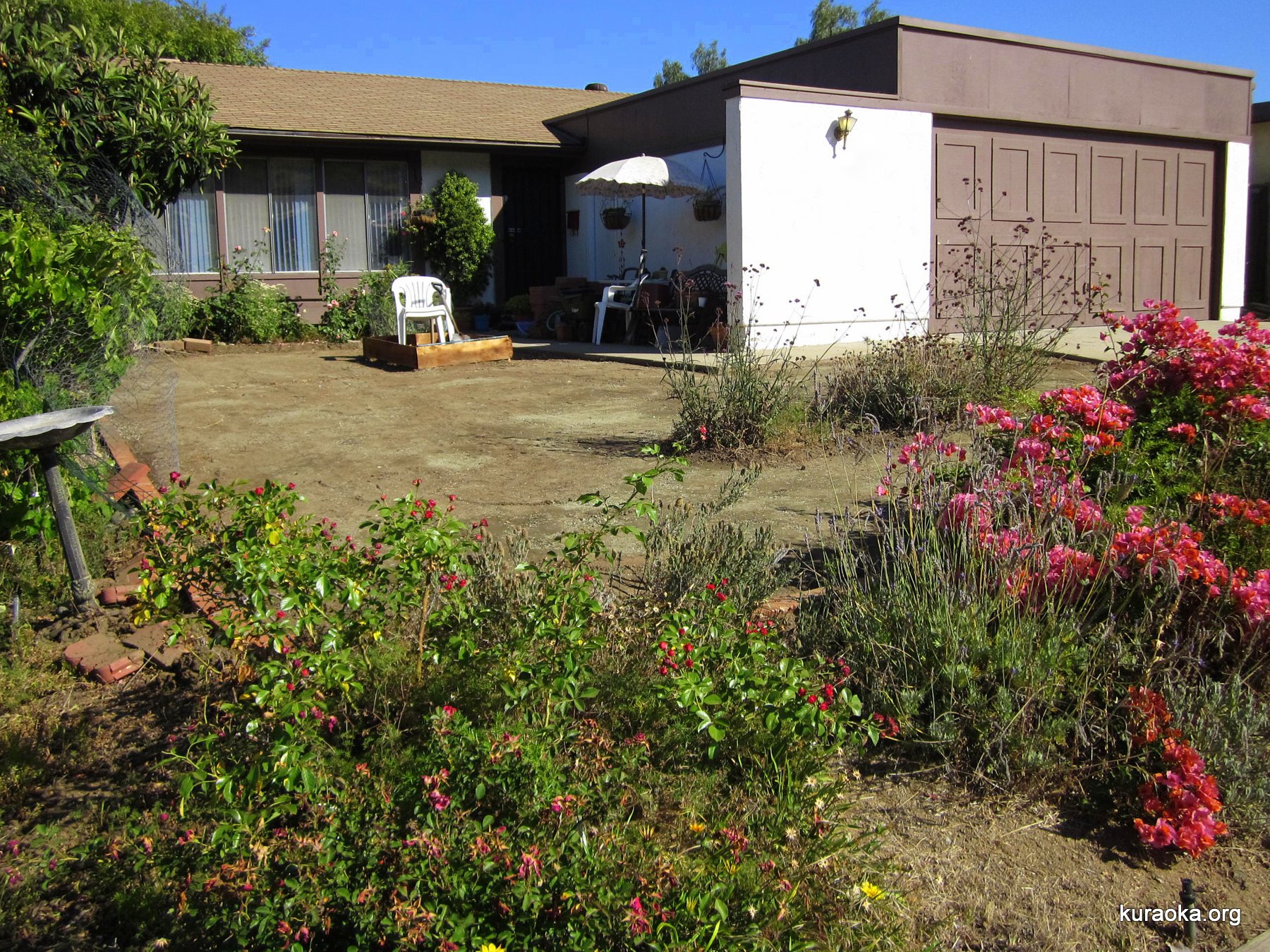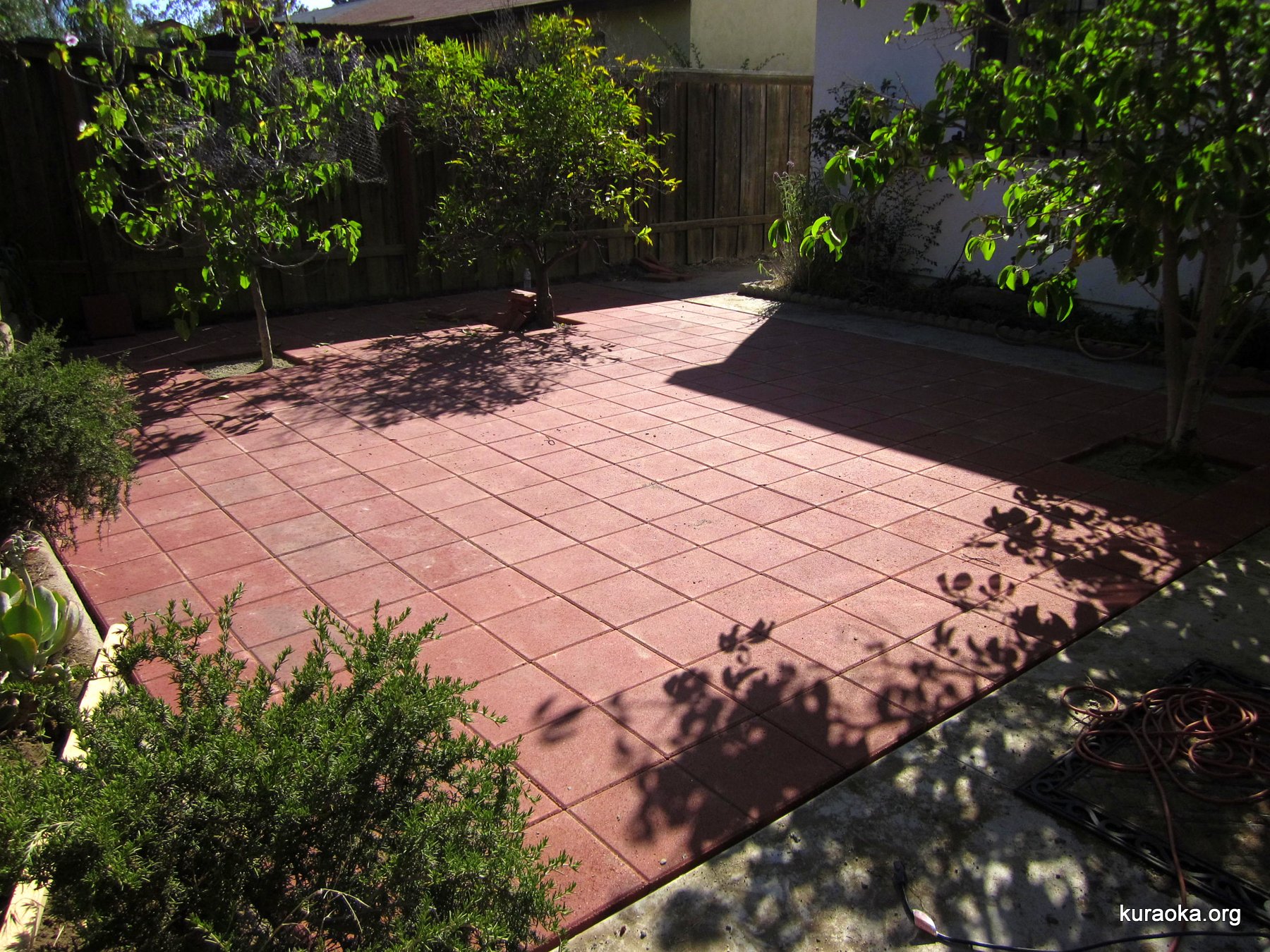 06-03-12 Roy's Birthday Party! Alex, Michael, and Stephen spent the night to celebrate Roy's birthday. Here they are in the morning, bright and early and most musical! That's Michael on bongos, Leo on keyboard, Alex on the ukelele, Roy on the congas, and Stephen on kazoo. Then, Roy blowing out the 12 candles on his Birthday Bagel. Then, opening presents ... including a "puberty kit" complete with a razor and shaving cream!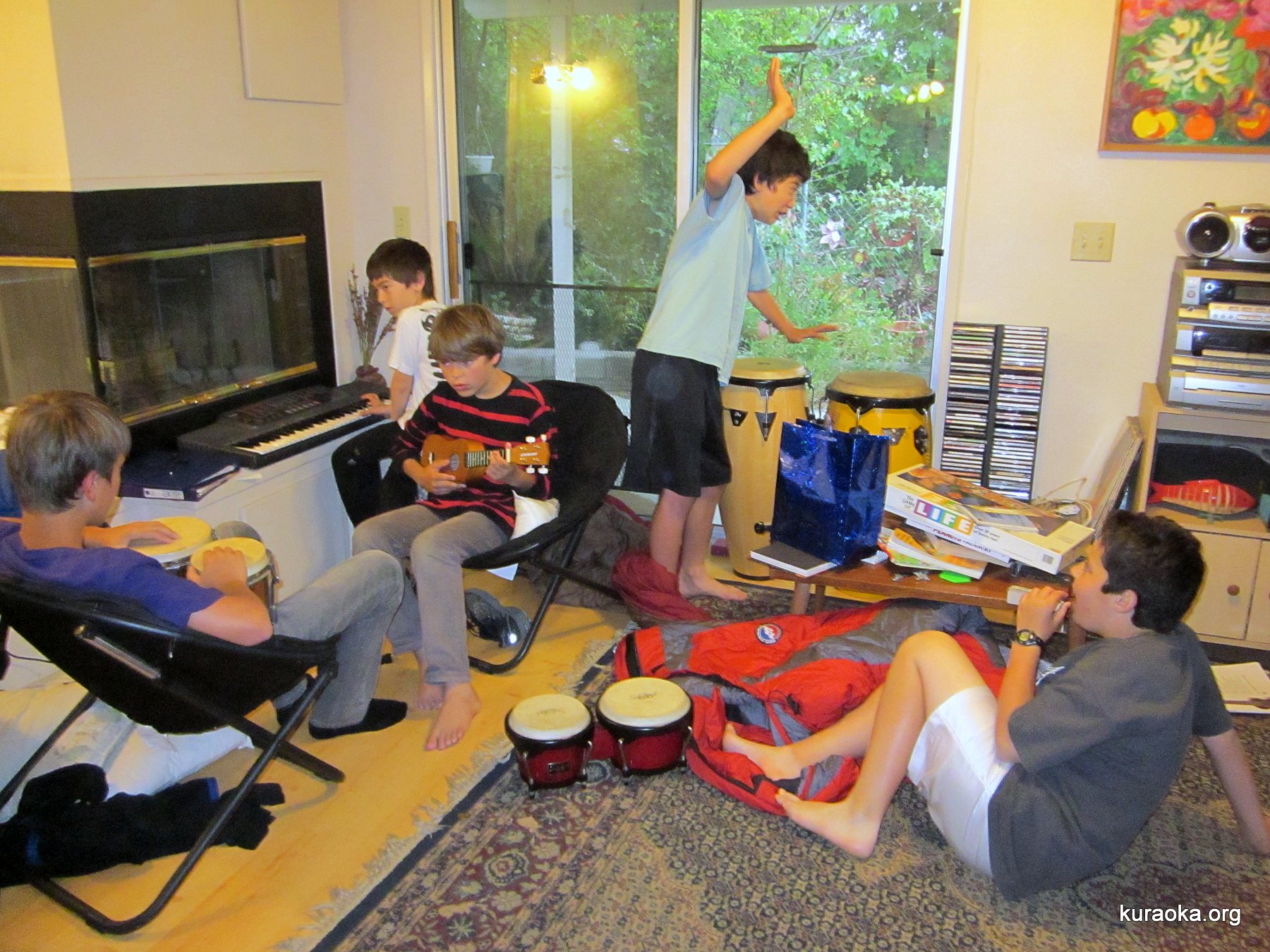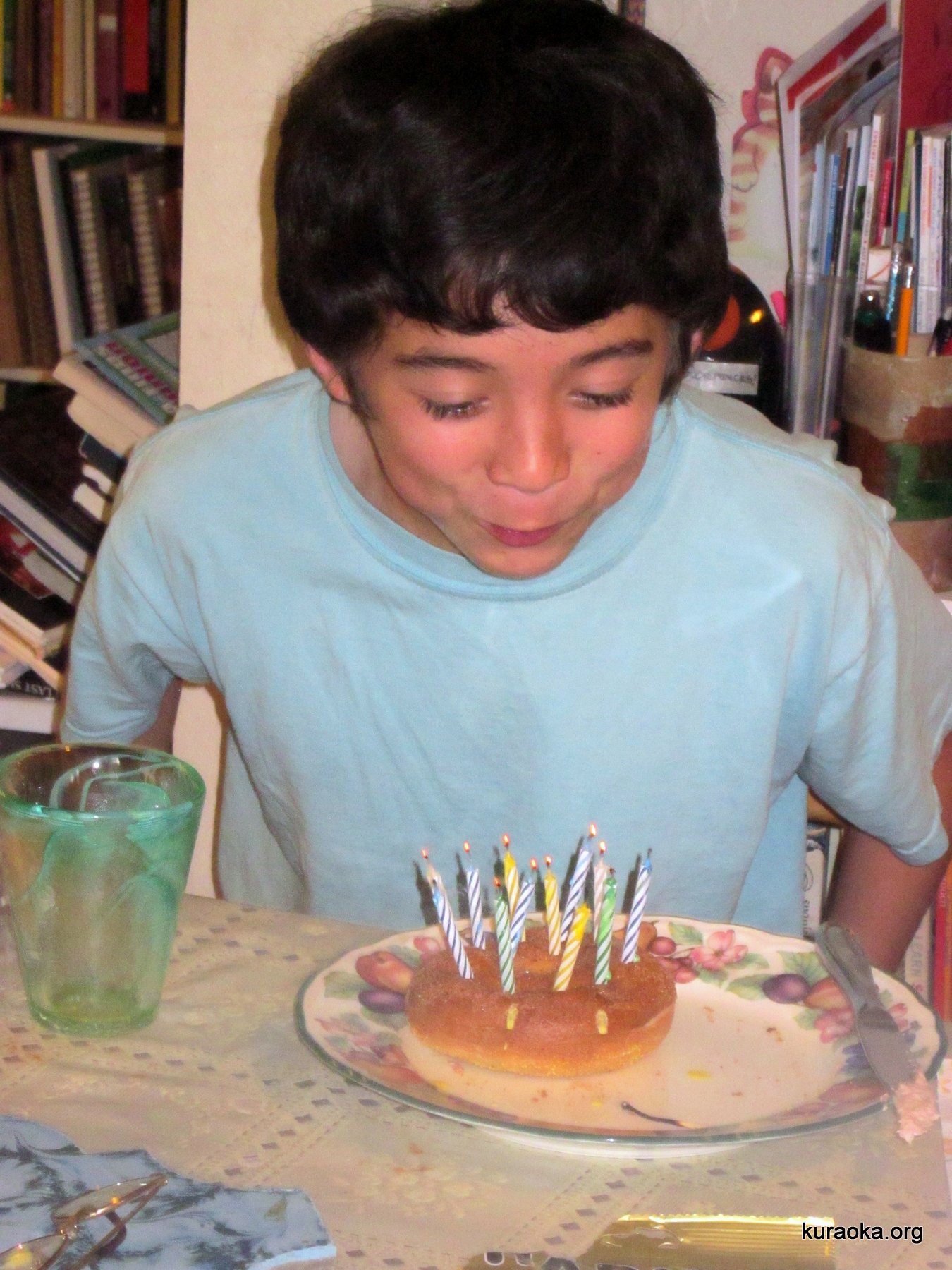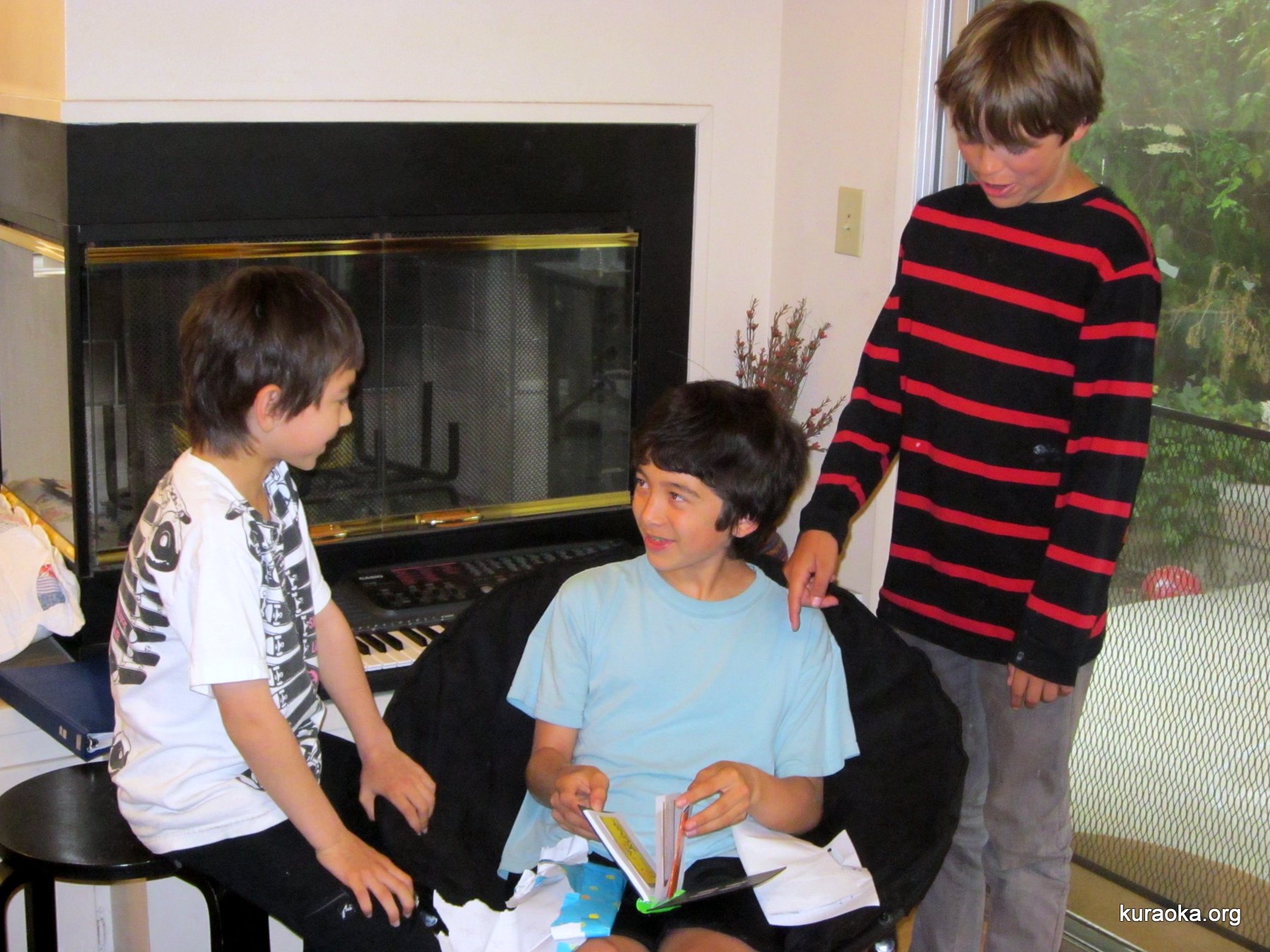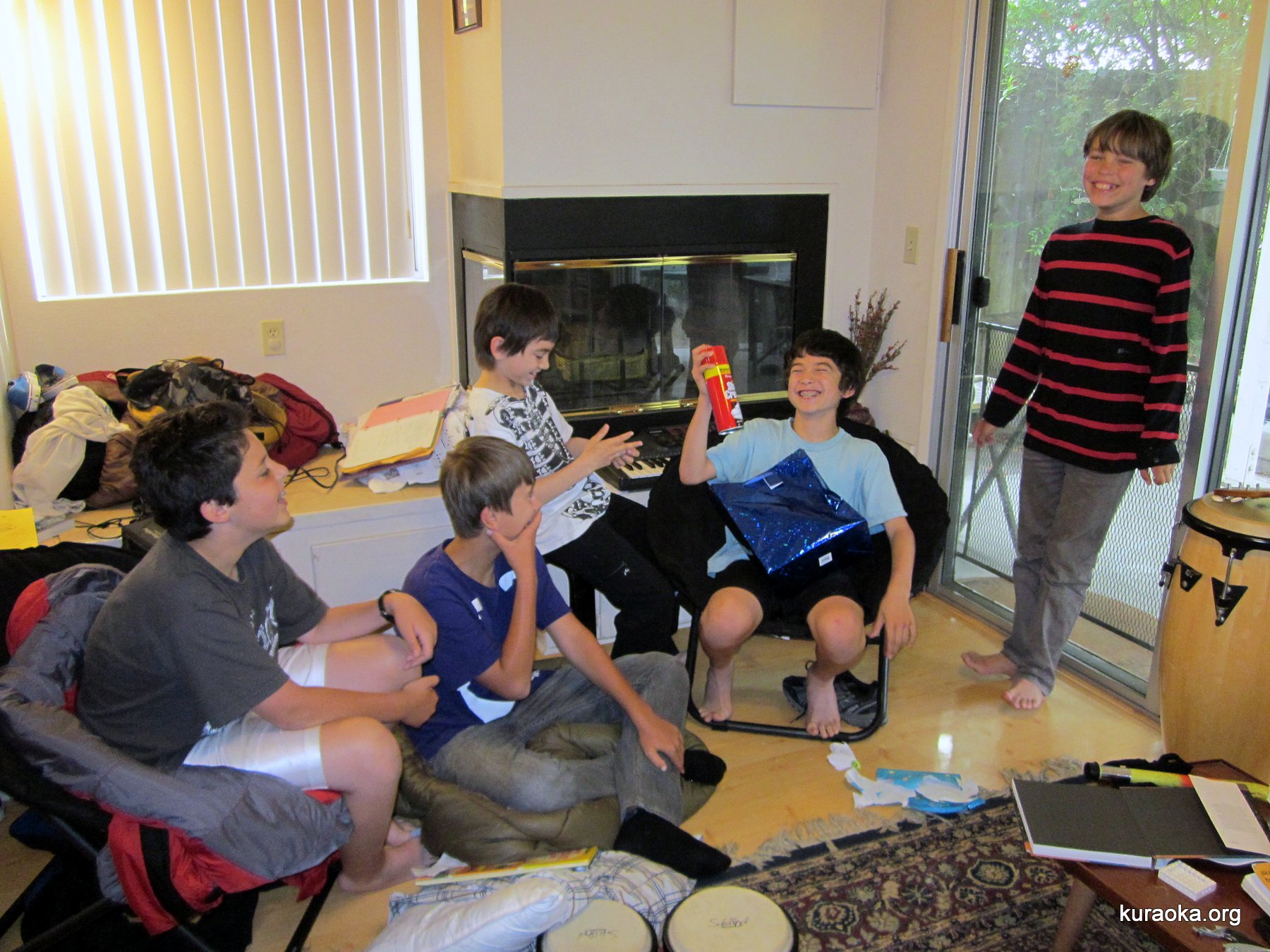 06-02-12 Foam animal slayers! Our friend Ernesto took Roy, Alex, and Michael to a 3-D archery shoot put on by a local archery club. Here's Roy, drawing a bead on some foam animals at unmarked ranges. Photos from Ernesto.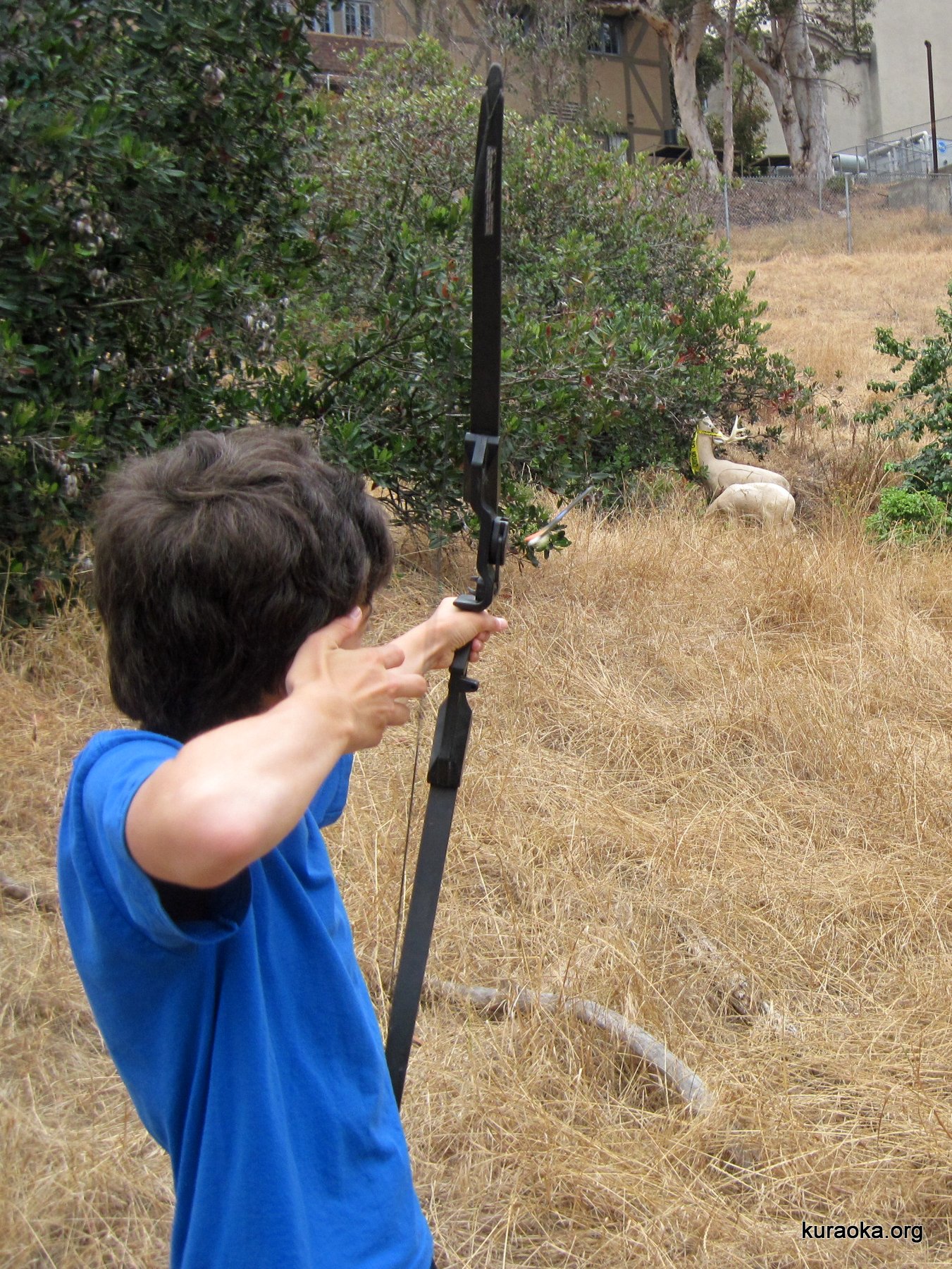 06-01-12 Landscaping! Ondine hired a landscaper to redo the front and back yard with low-maintenance, drought-proof pavers. Here's a look at the bare ground, before leveling and laying down the pavers.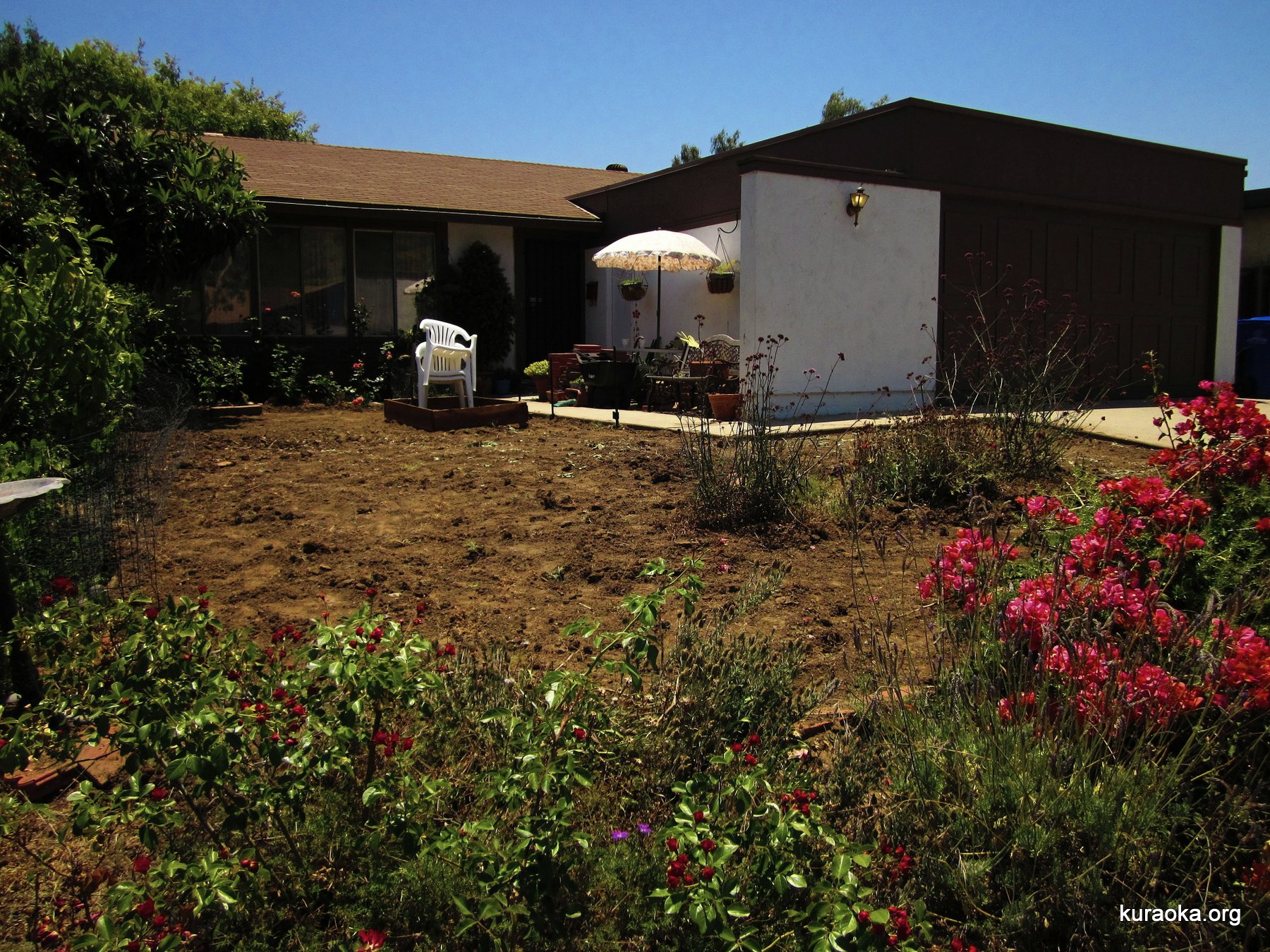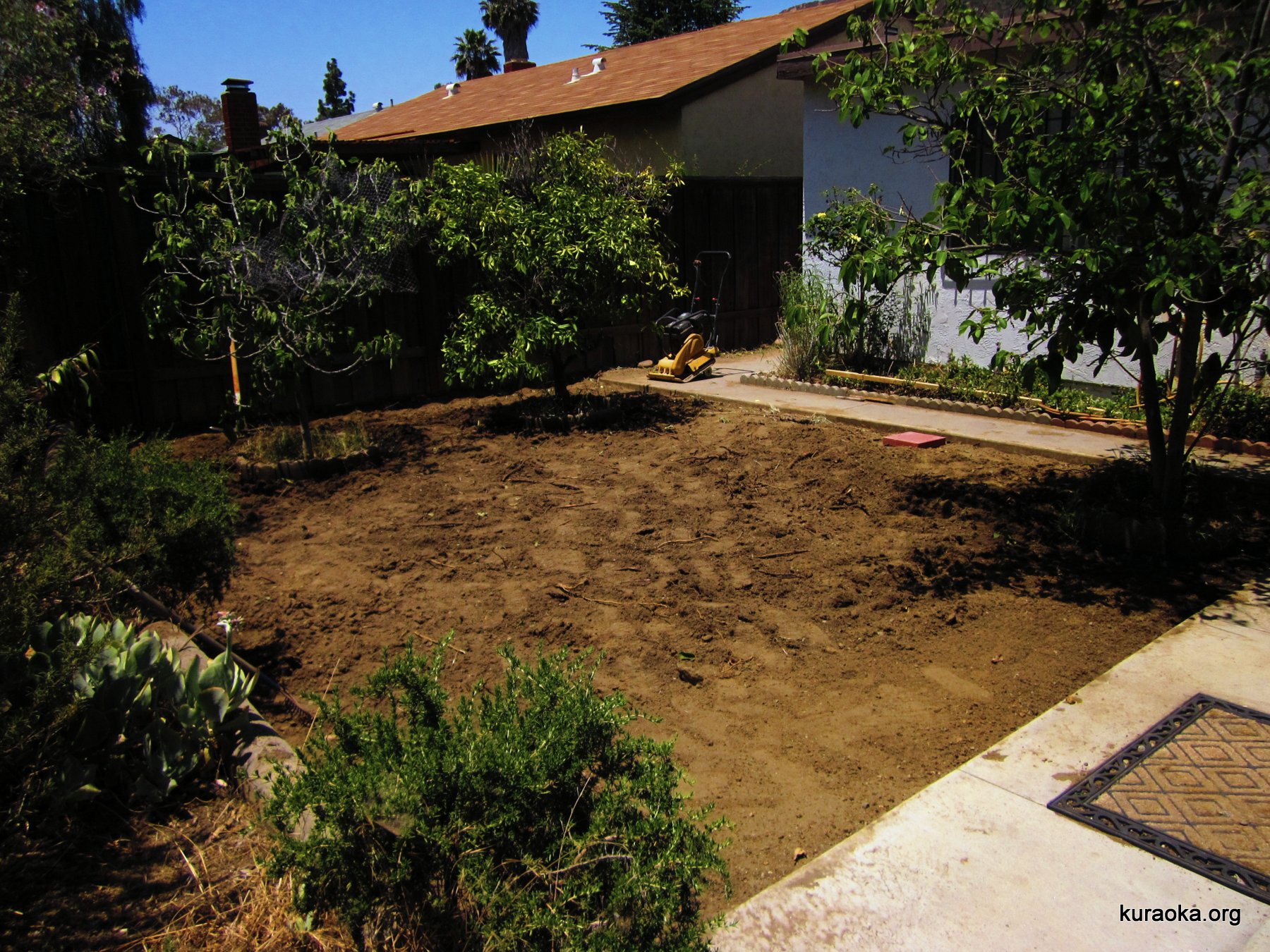 05-28-12 The San Diego Zoo! We went to the zoo on Memorial Day. The tigers and pandas were especially visible, a rare treat, as was Roy!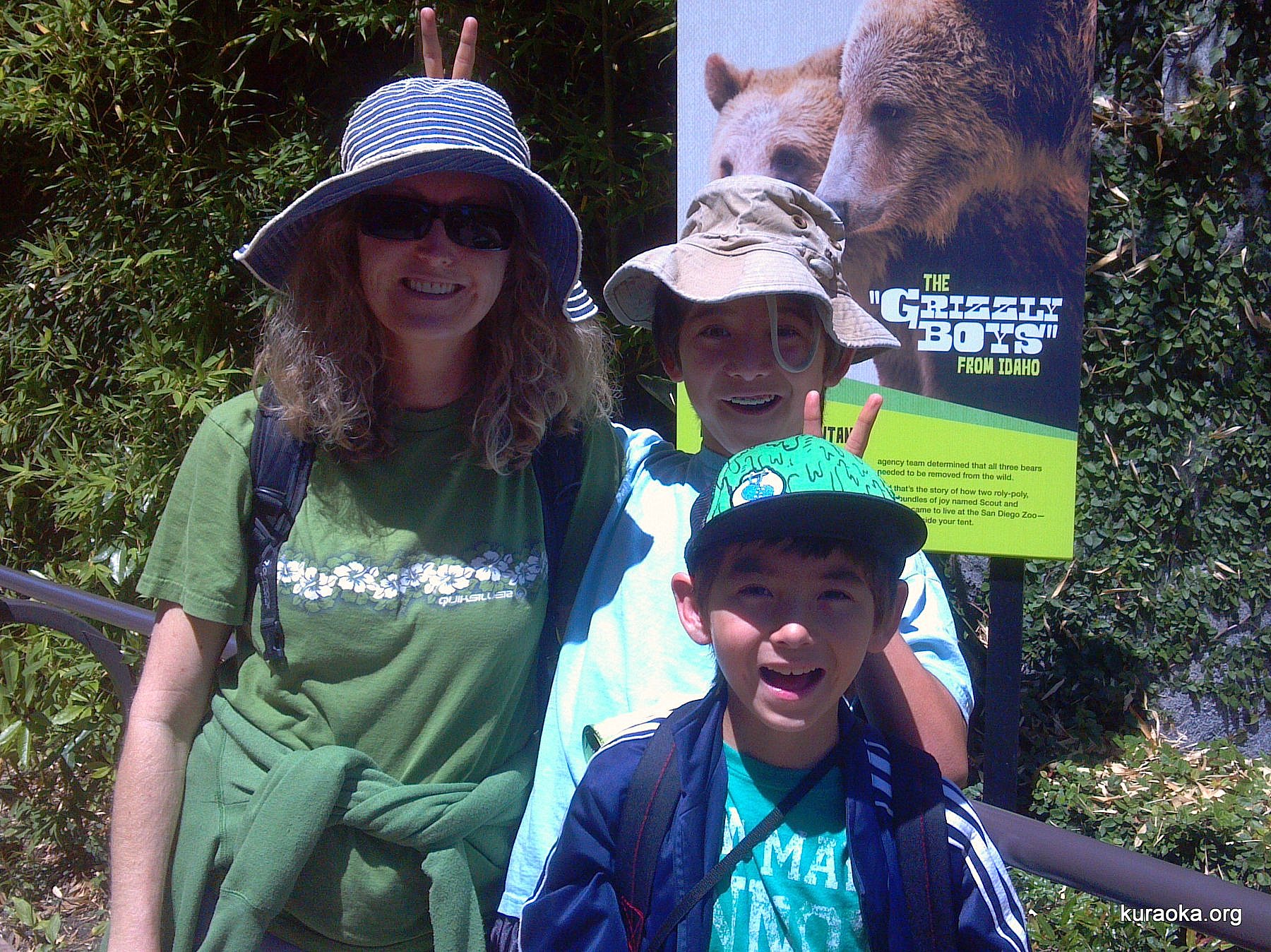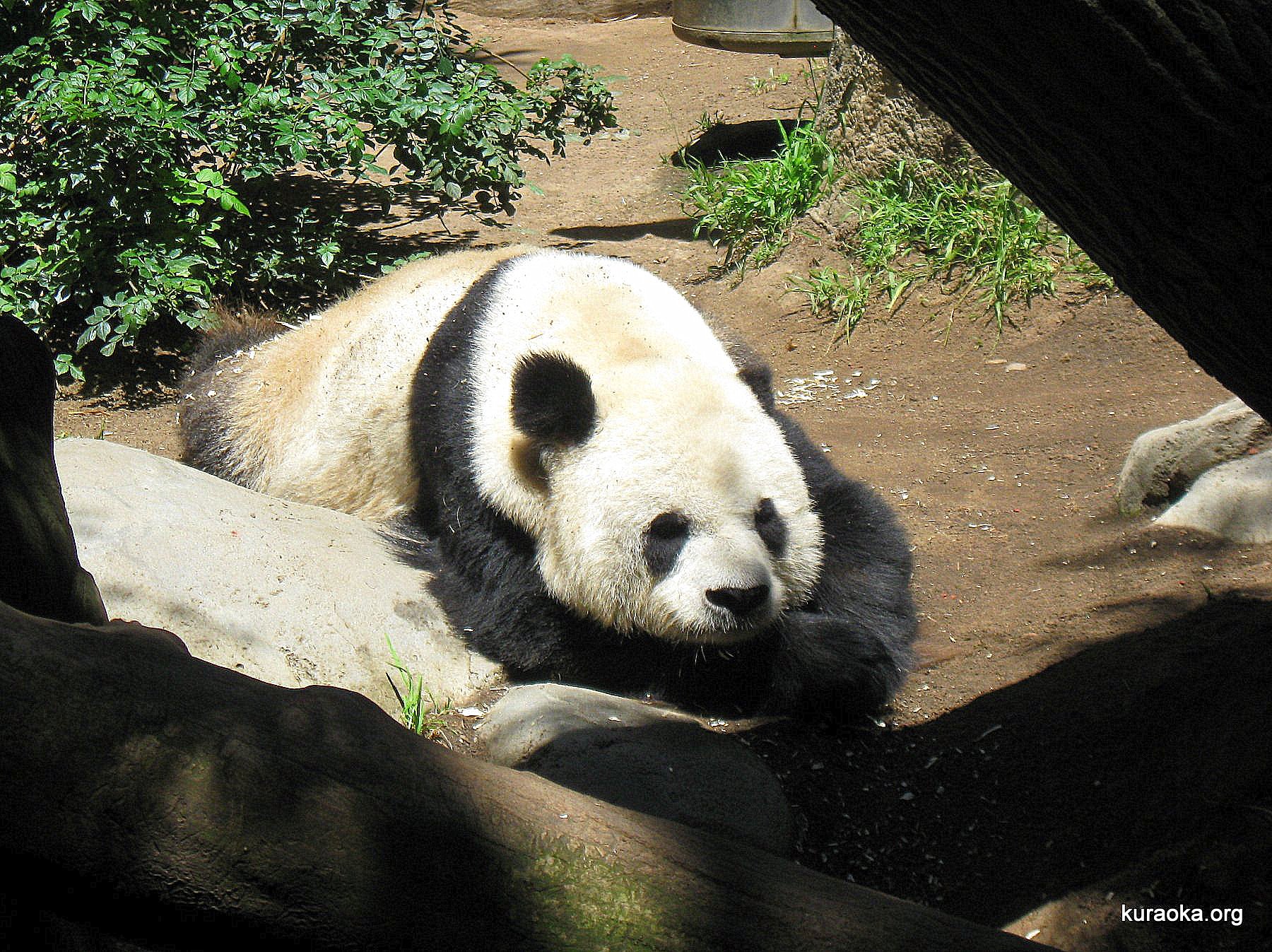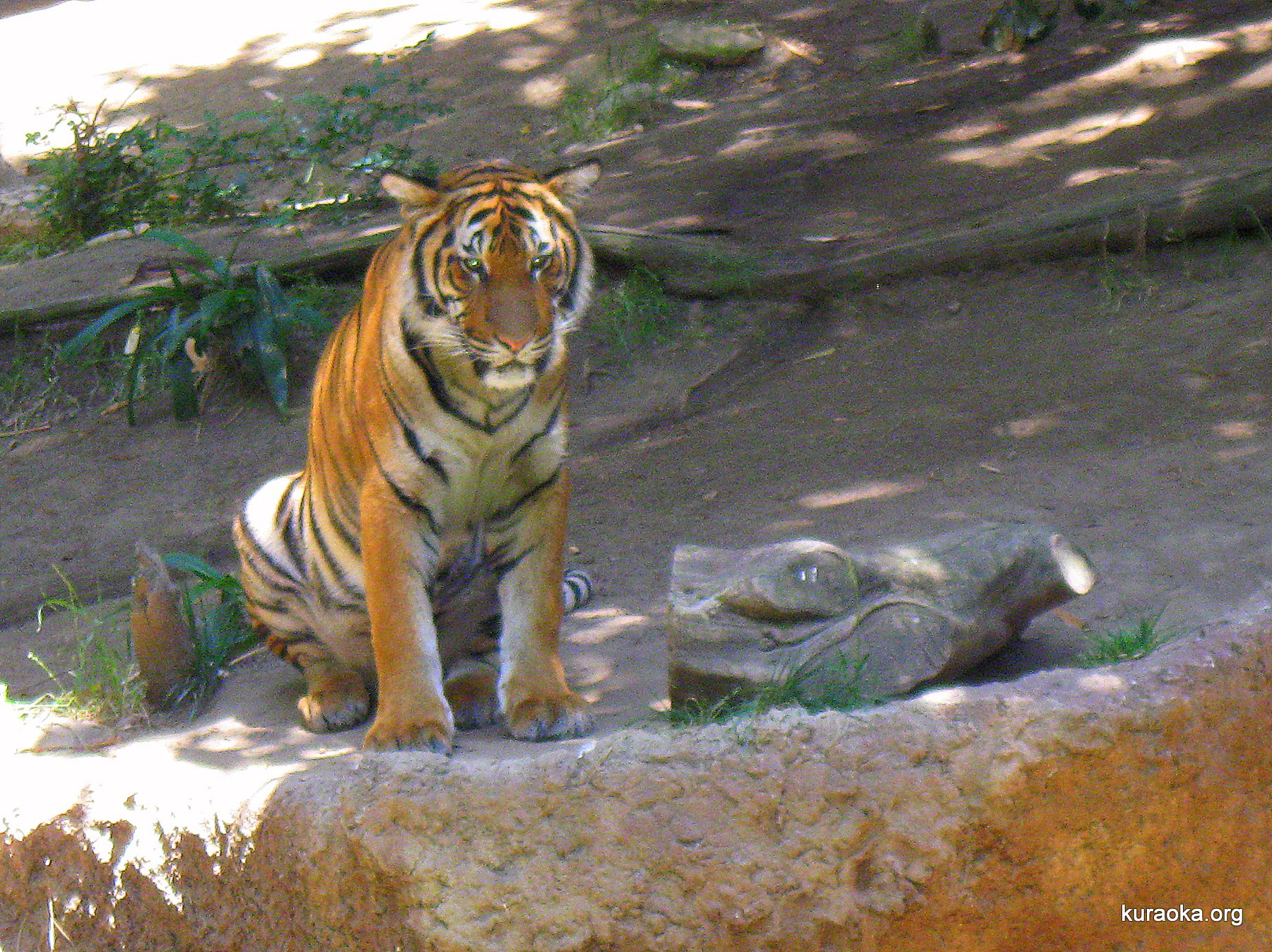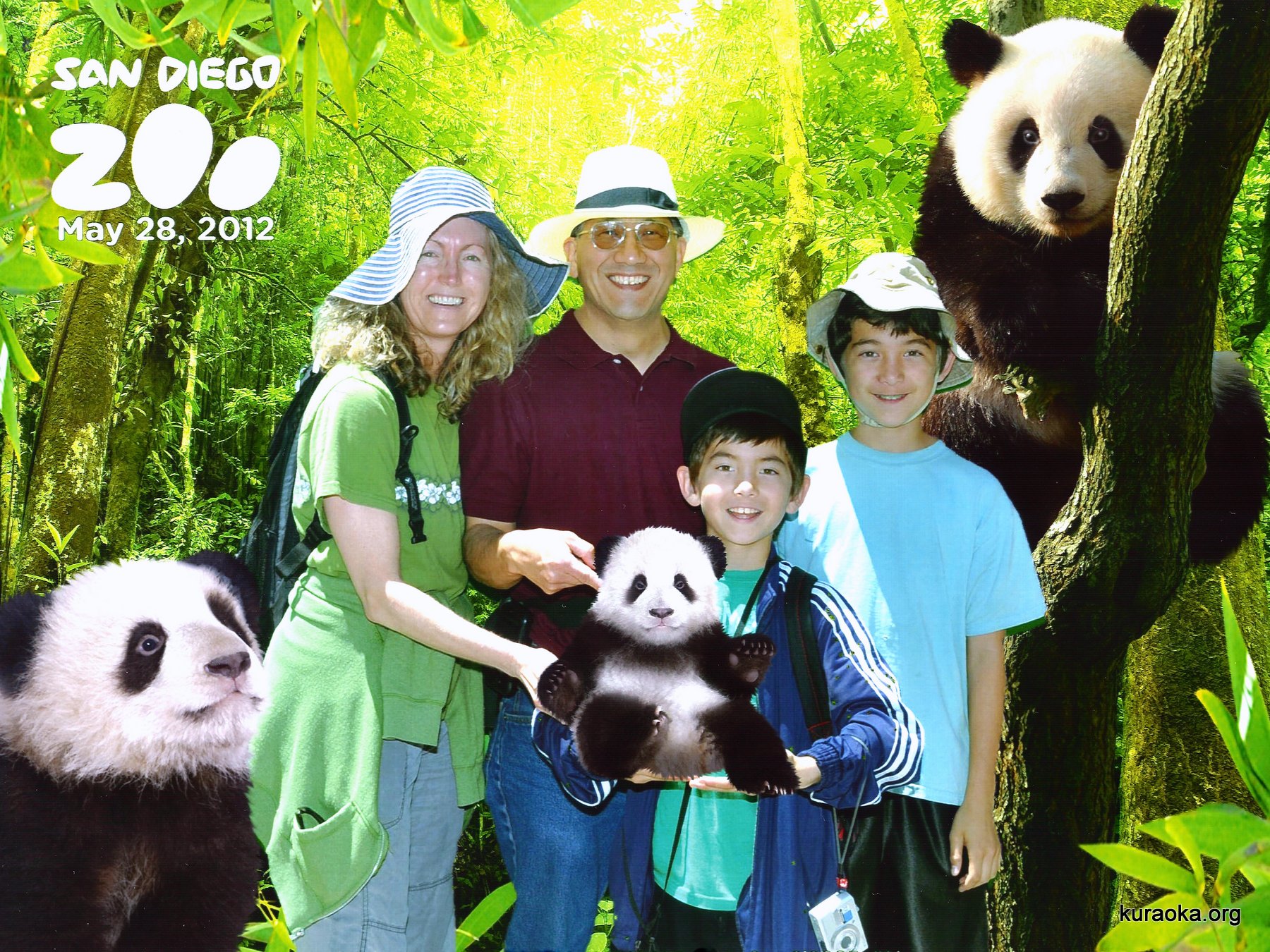 05-22-12 Leo's Recital! The Piano Keyboard Club had its last recital of the school year. Here's Leo playing "I Believe I Can Fly" or "Clocks" under the watchful eye of the music teacher.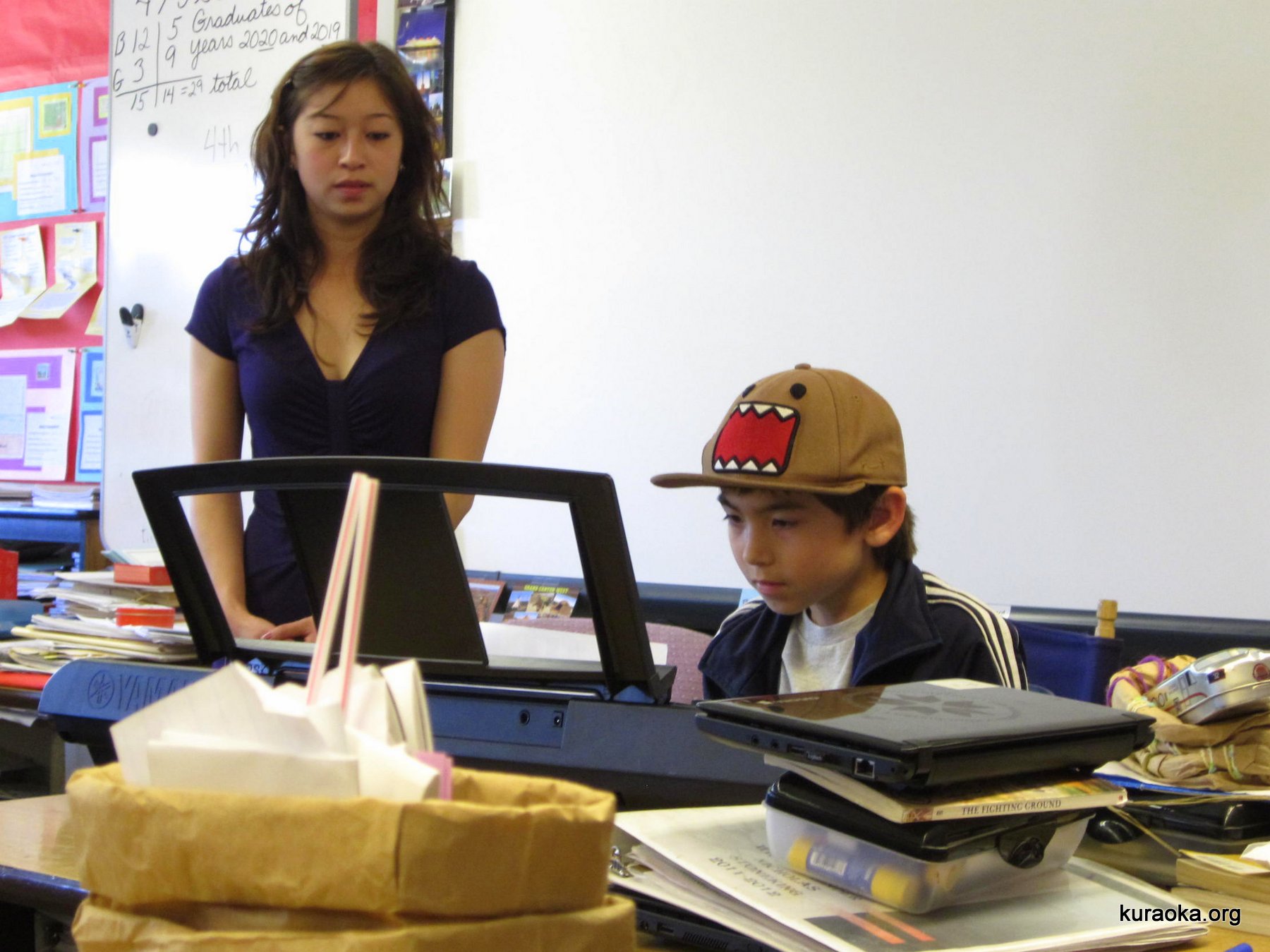 05-20-12 Annular Eclipse! We viewed the annular eclipse, first via a pinhole in some cardboard projecting an image onto a sheet of white paper, and then by using binoculars to again focus an image onto a sheet of paper. Here you see the image from the pinhole, then Leo adjusting the binocular setup, and Leo and Ondine enjoying the sunset. (Roy was exhausted from a Scout campout, so he watched for a bit and then went in.) The sun dropped below the mountain before the full event.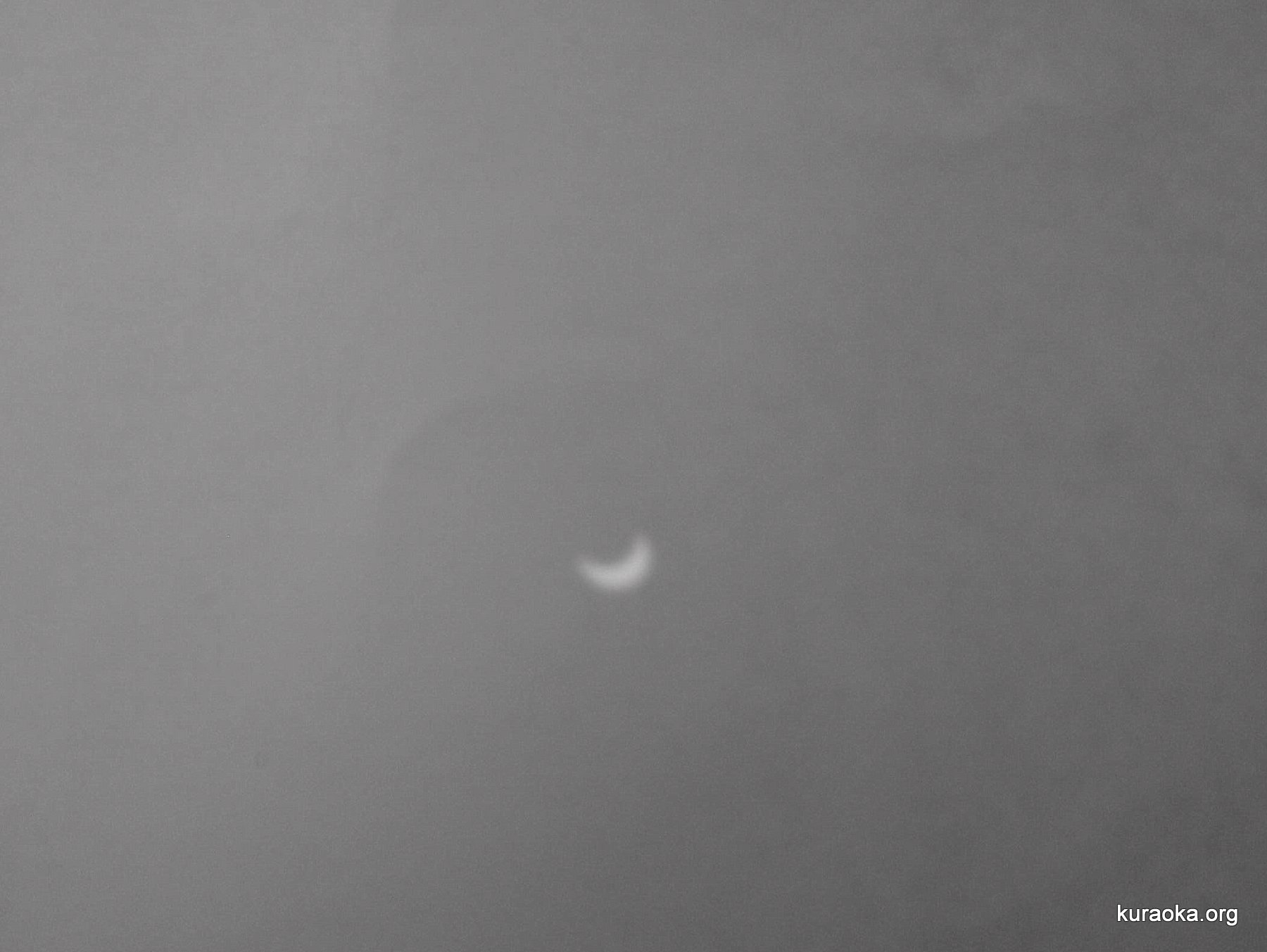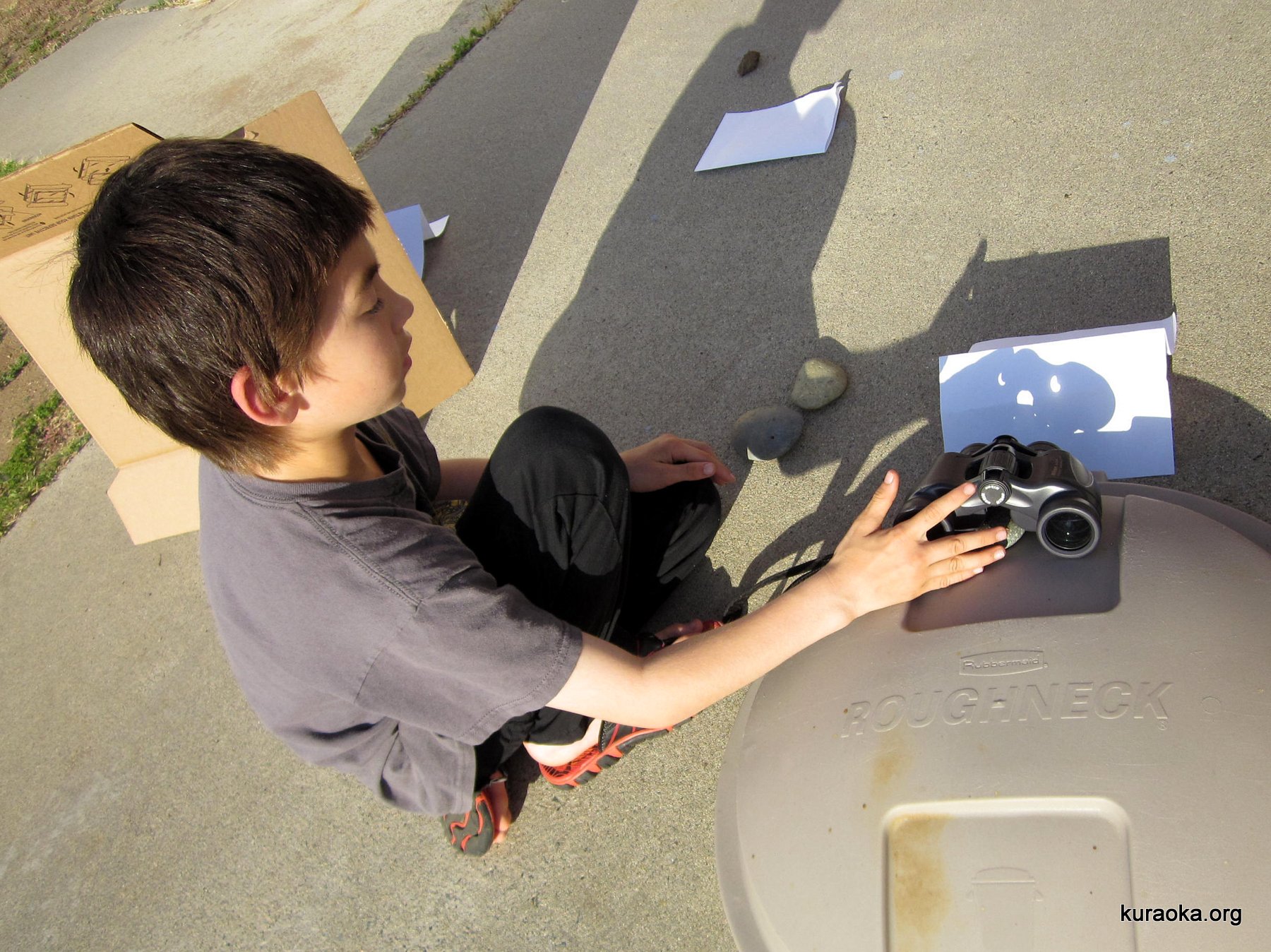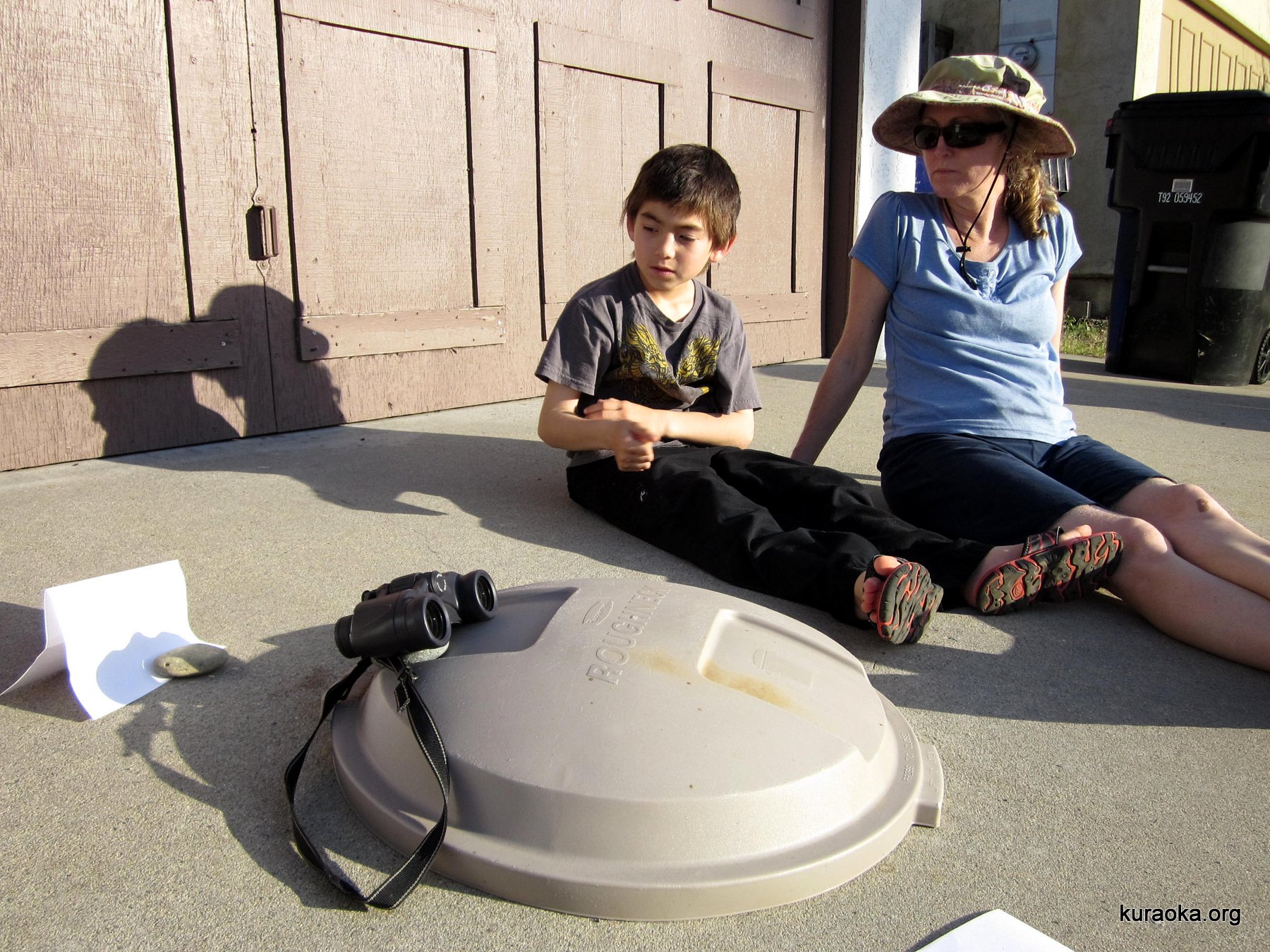 05-17-12 Leo at Colonial Days! Hearst Elementary fourth- and fifth-graders had their Colonial Day, and all the kids dressed up in Colonial-era togs. Here's Leo in his general's uniform.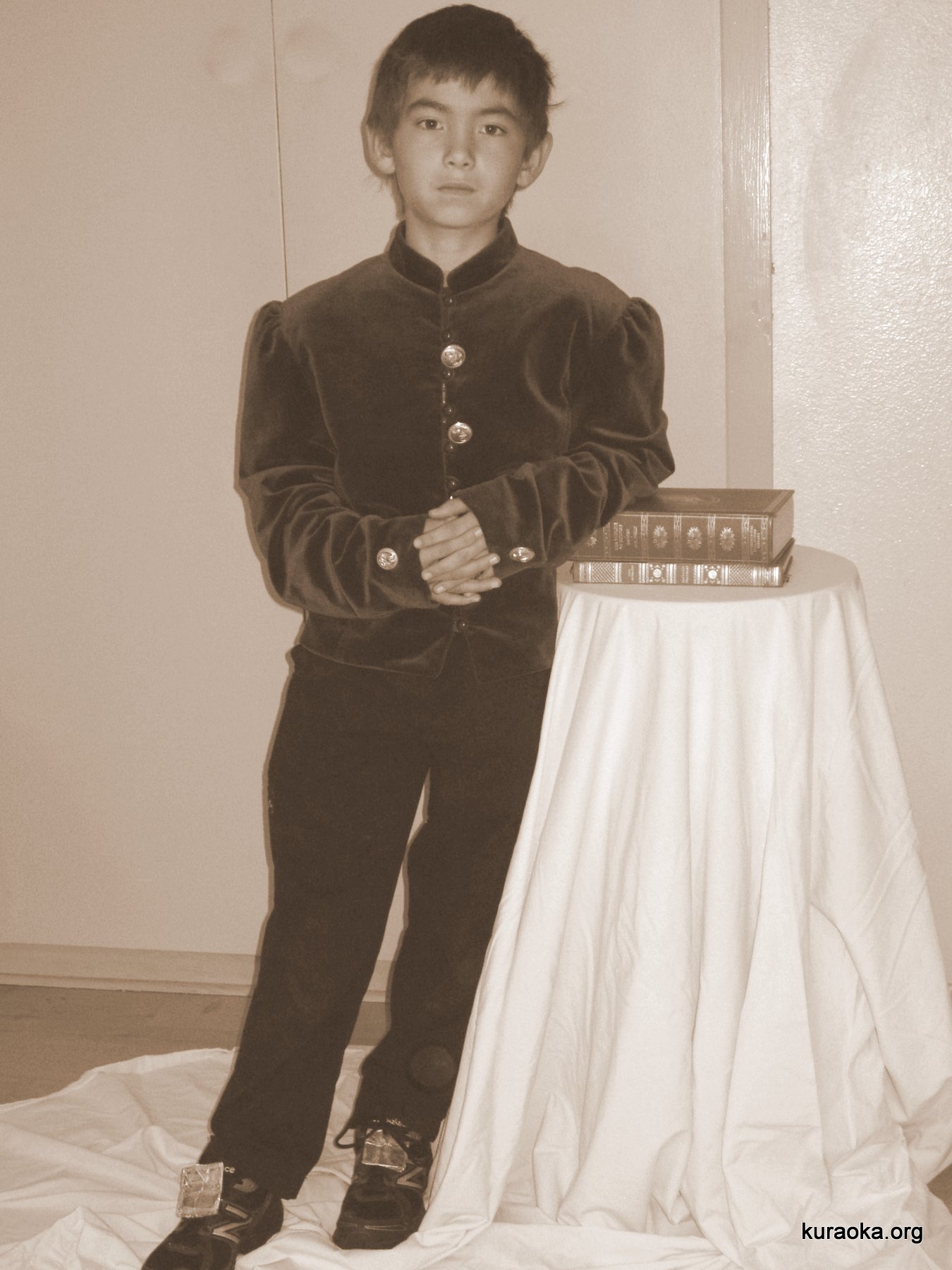 05-05-12 Griffith Observatory! We went to Griffith Observatory with Grammy! Here we see the entrance to the exhibit halls, a sundial and the Hollywood sign, Leo in front of the Hollywood sign, one of the promenades with panoramic views, and Leo with Einstein. Roy for the most part evaded the cameras.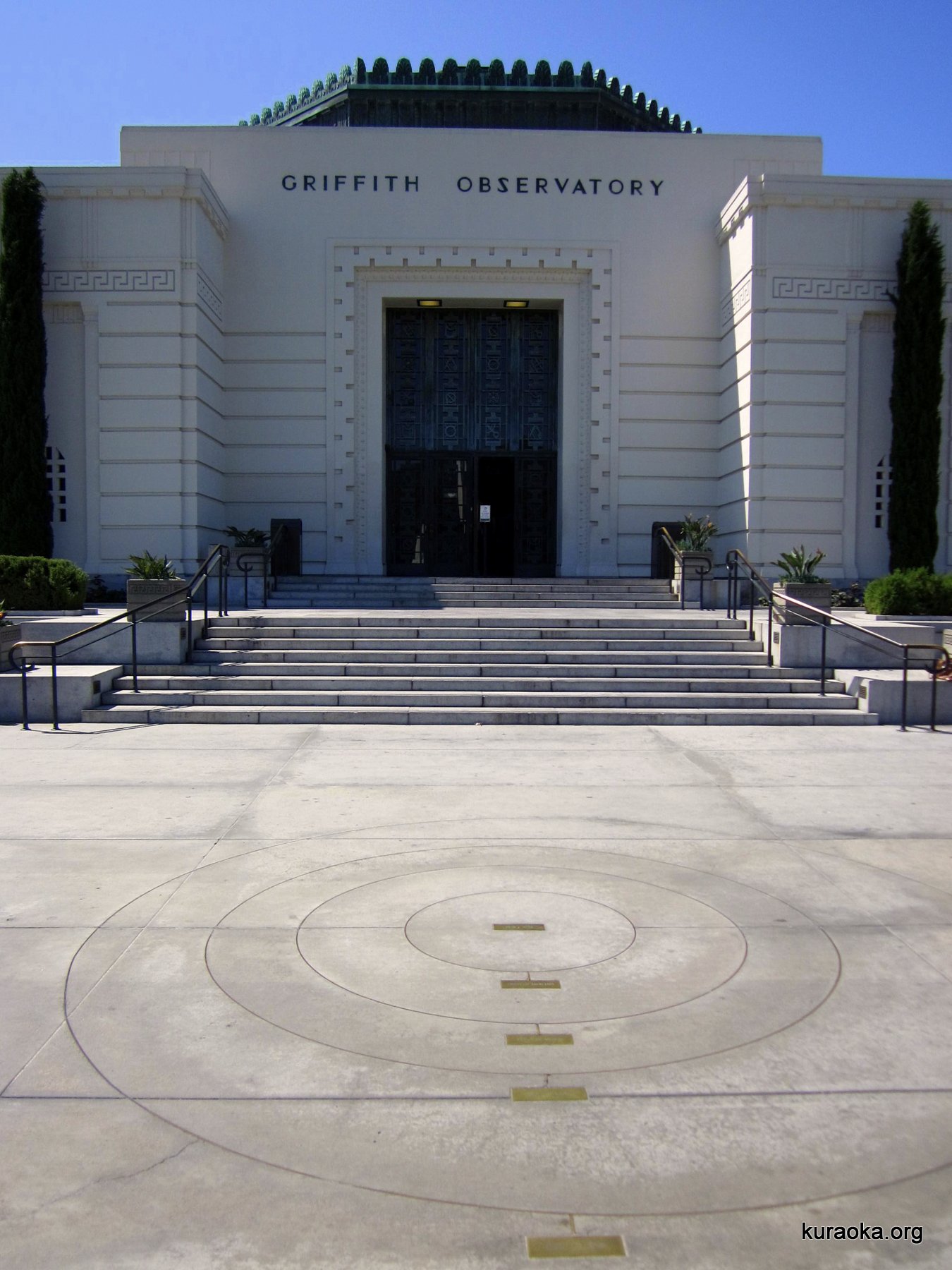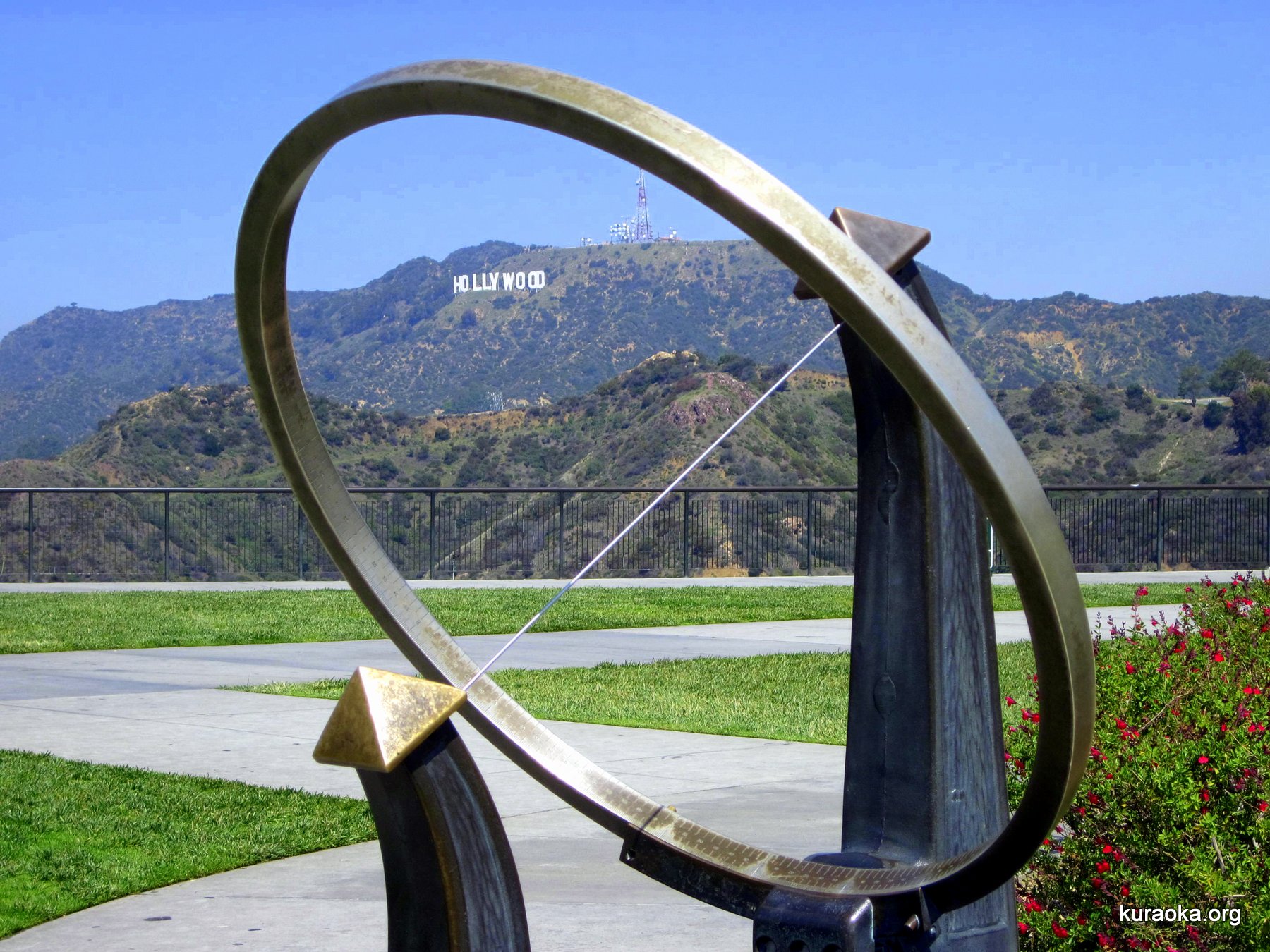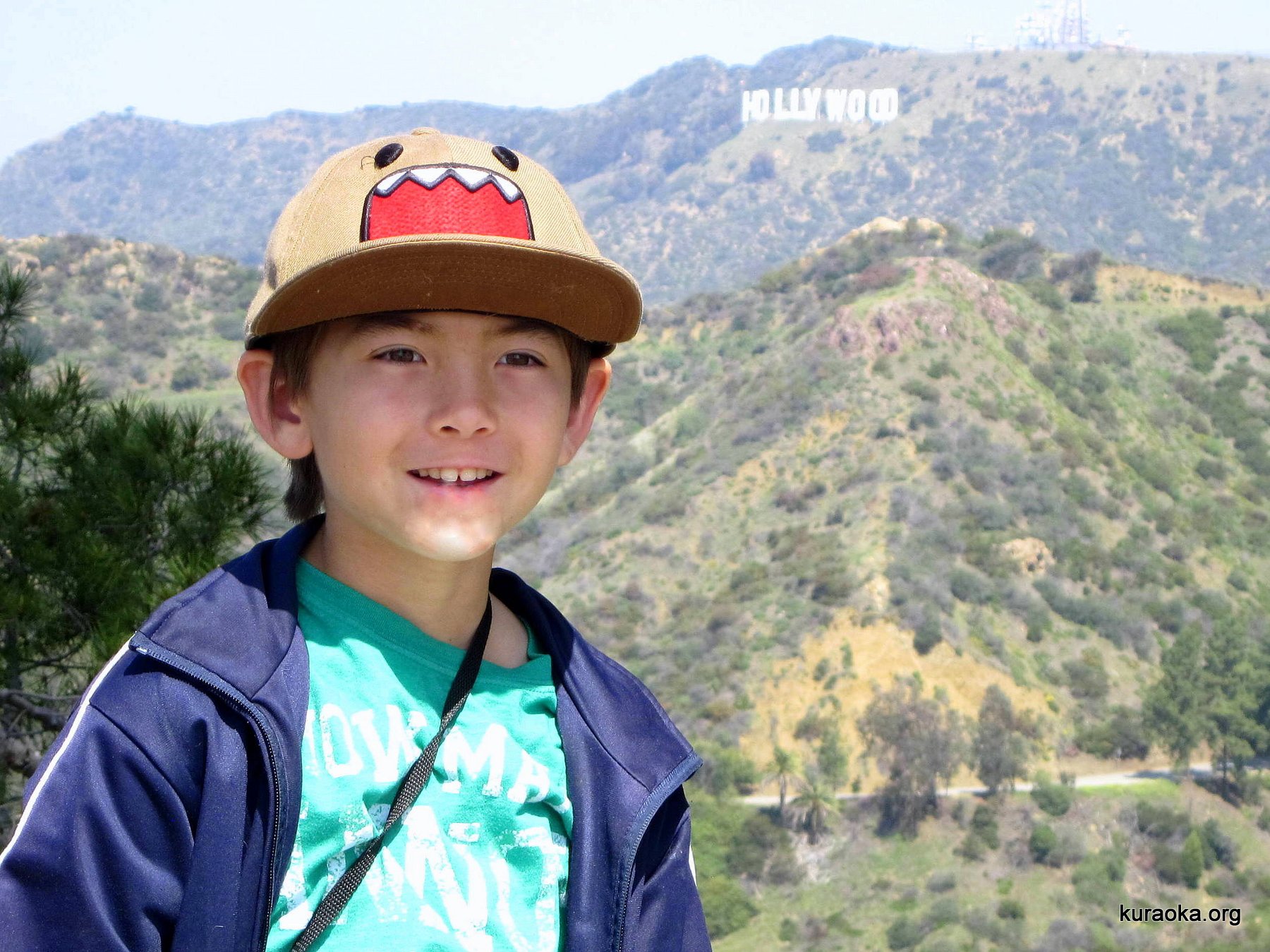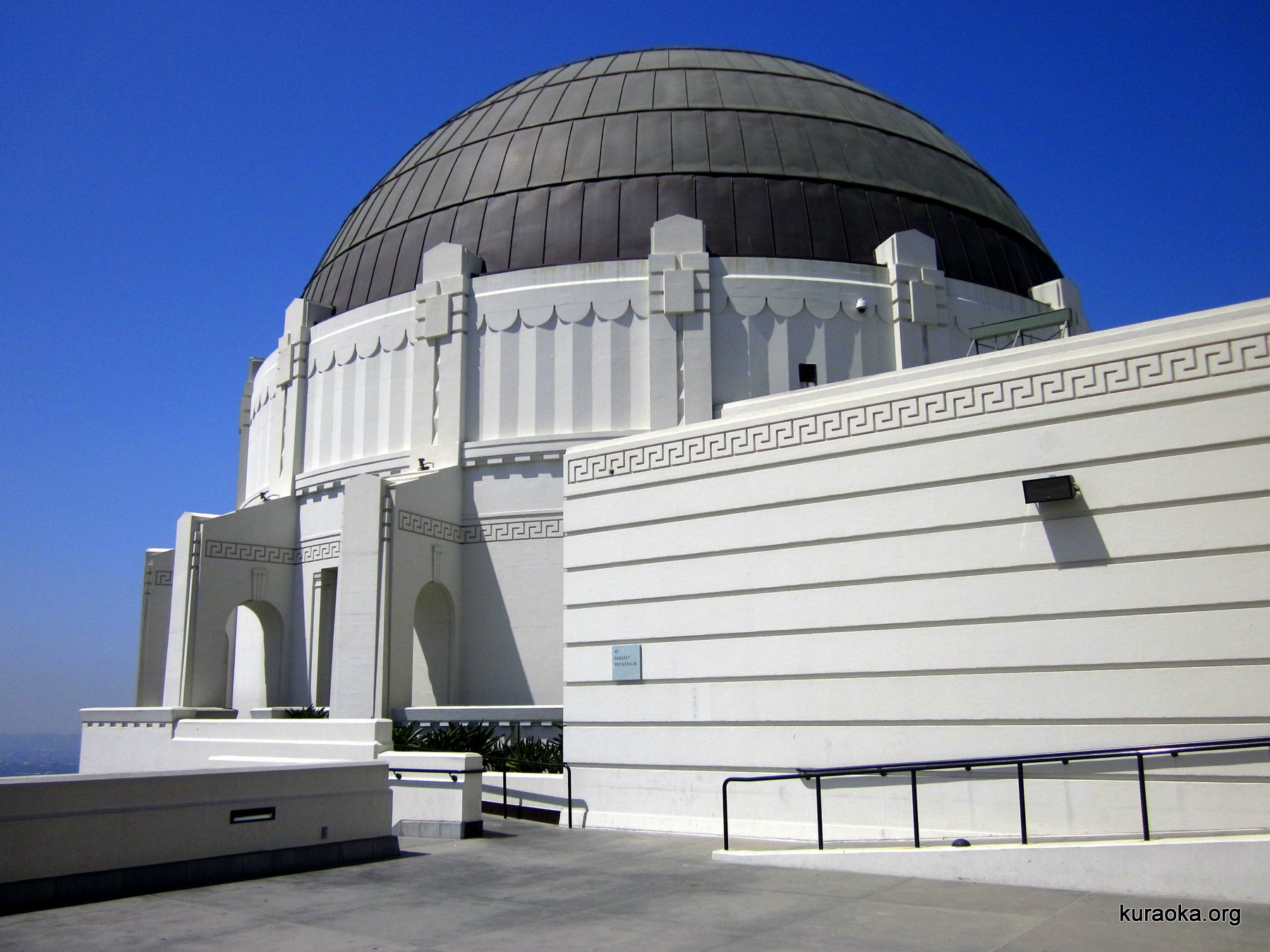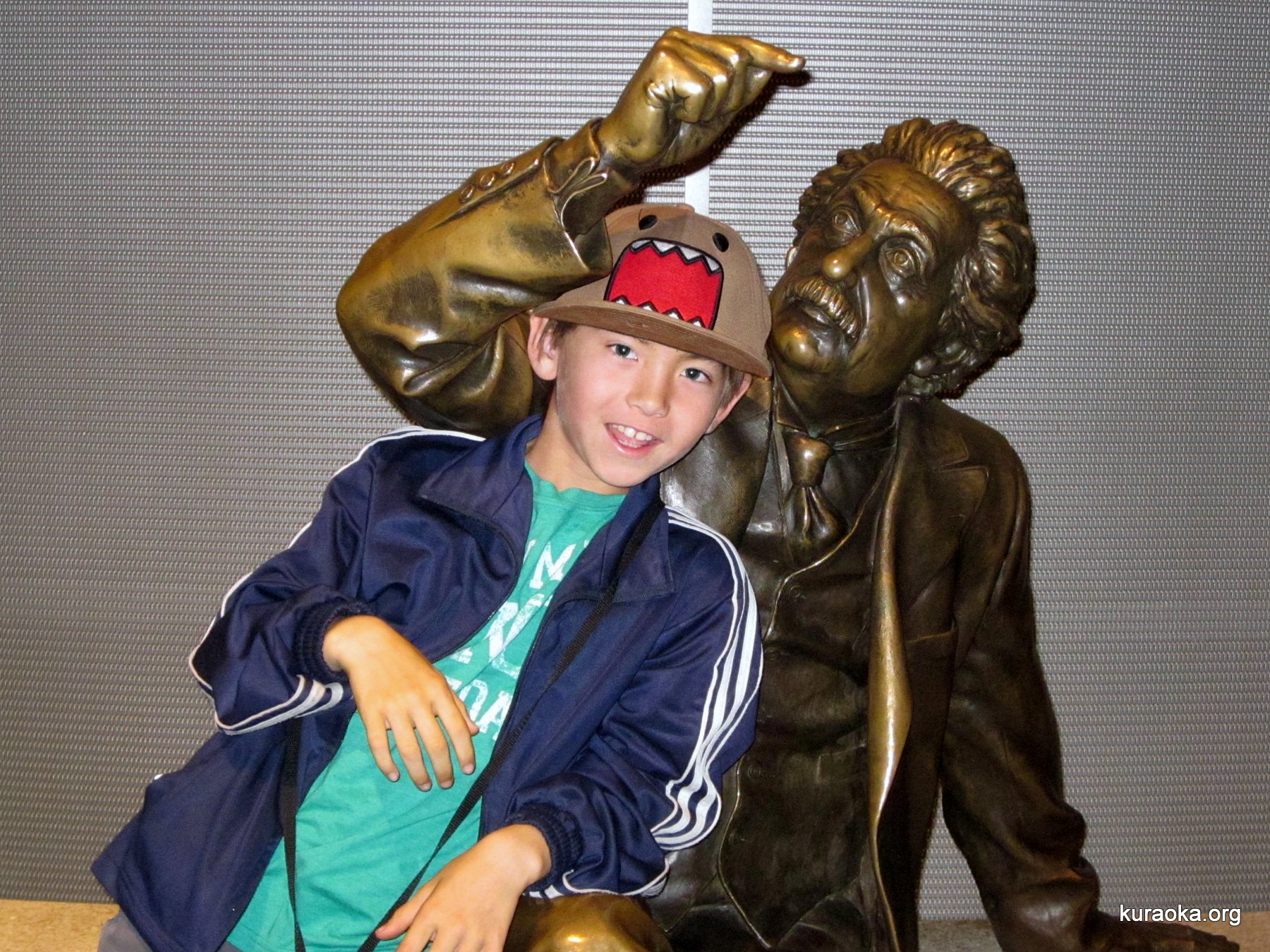 04-29-12 Remembering Bill. Our dear friend Lucy joined us as we hiked up and placed Bill where he wanted to be, amid the lilacs and the sage, beneath the open sky and soaring red-tailed hawks. We toasted his memory with circus peanuts and chocolate chip cookies.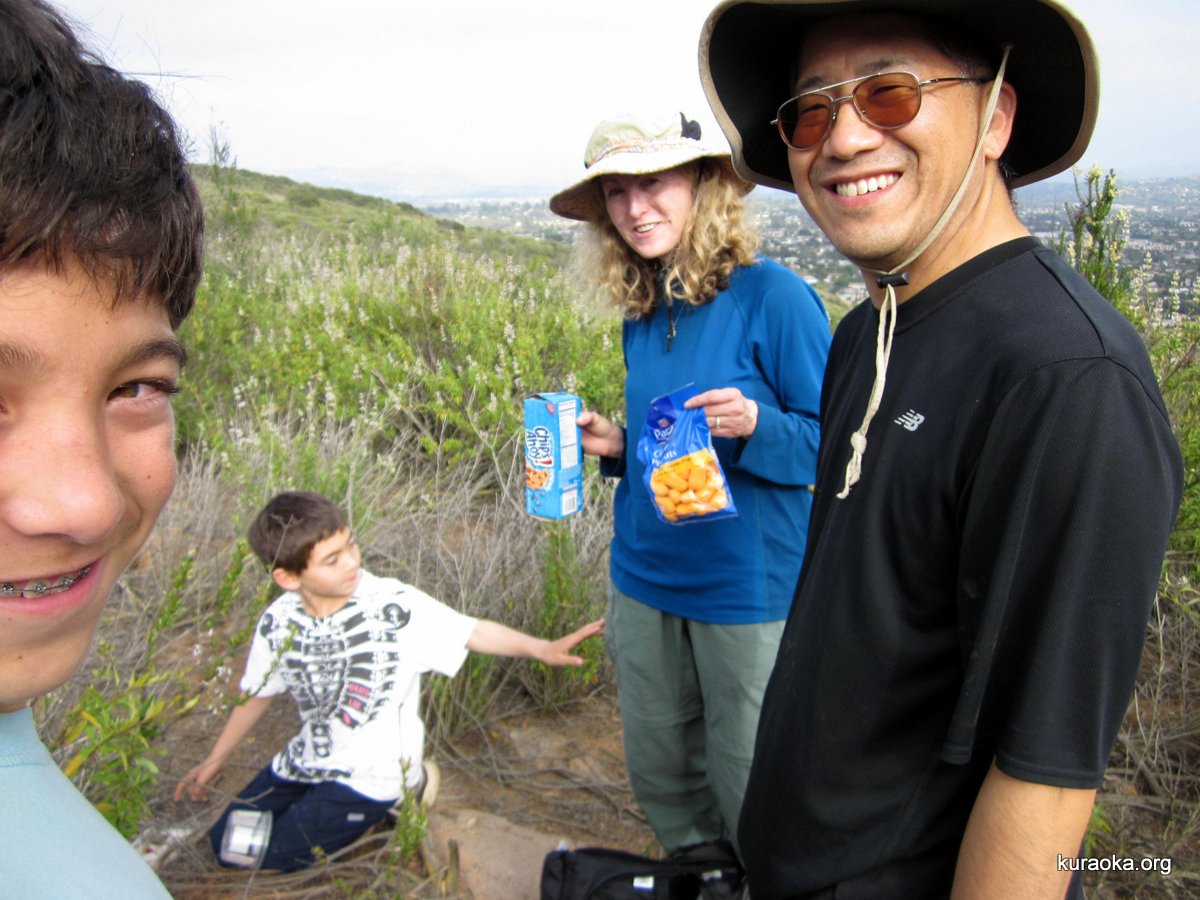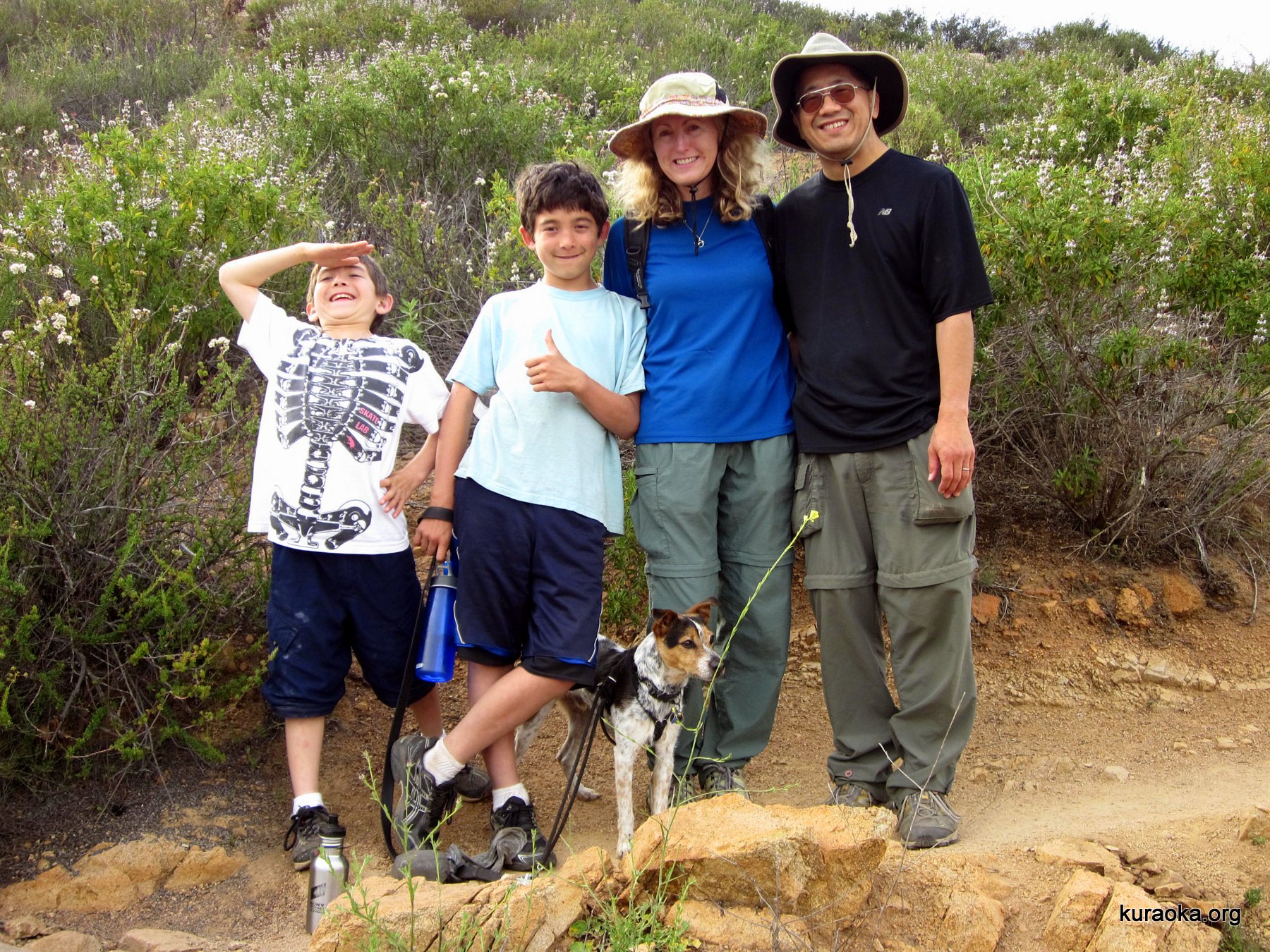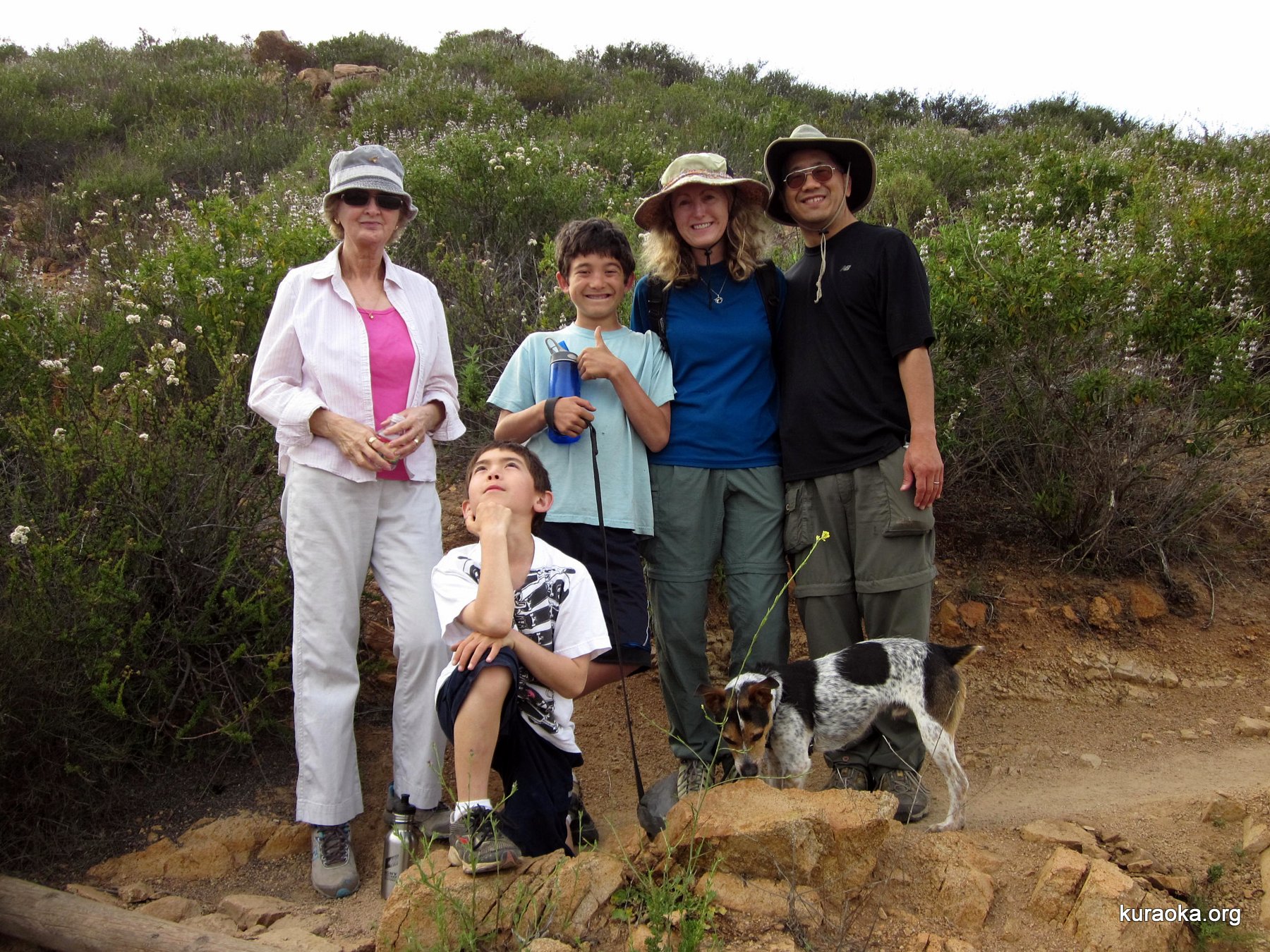 04-28-12 Camping at Laguna with friends! John and the boys (and Michael) went up Friday after school; Ondine and Buddy joined Saturday afternoon. The whole gang was there: Lucy, Ernesto, Alex, and Carmen; Henrieta, Vlado, Michael, Christina, and Nina; Deanna, Kiko, Mandy, Colin, Trevor, and Mandy's friend; plus Stephen, Linda, and Stephen came up for the day Saturday with Stephen staying the night! John broke in our new Dutch oven with a breakfast frittata, chicken dinner, and peach cobbler.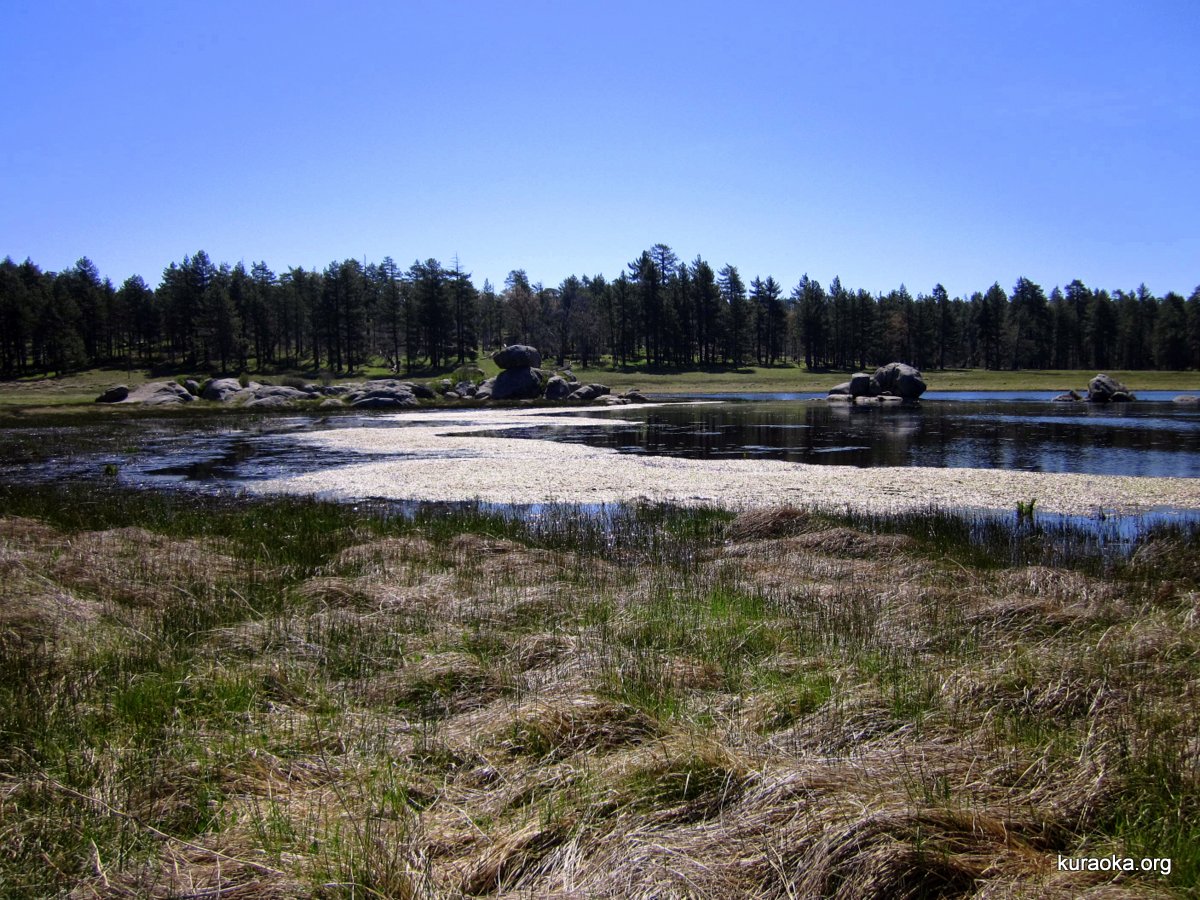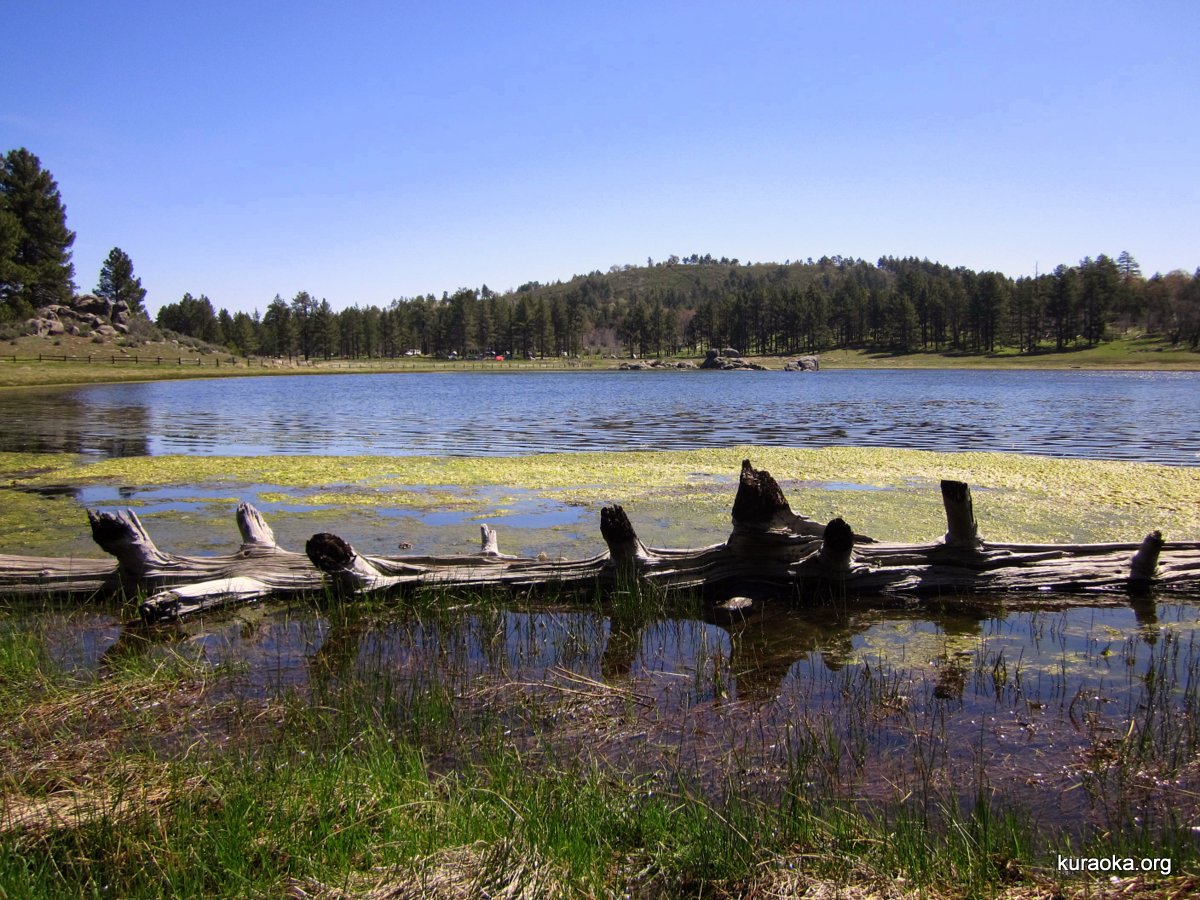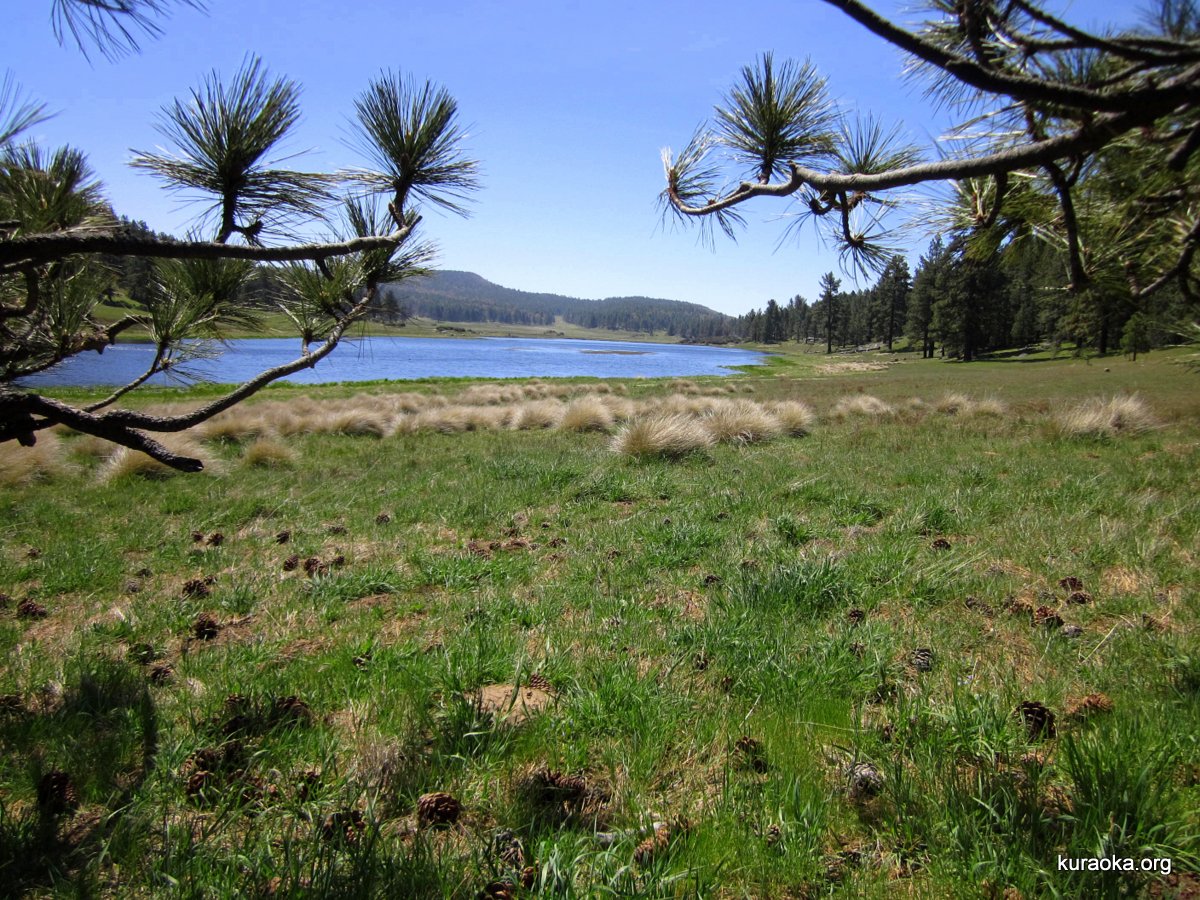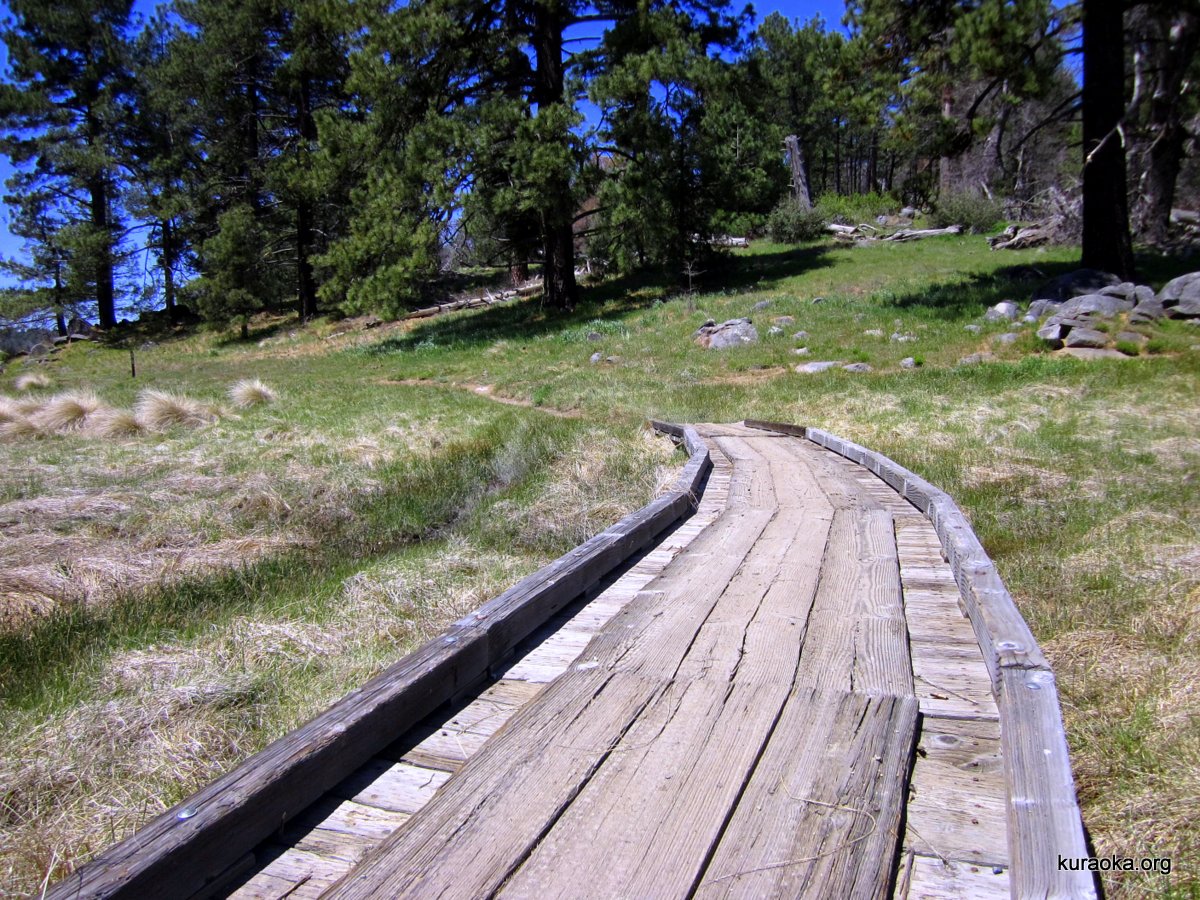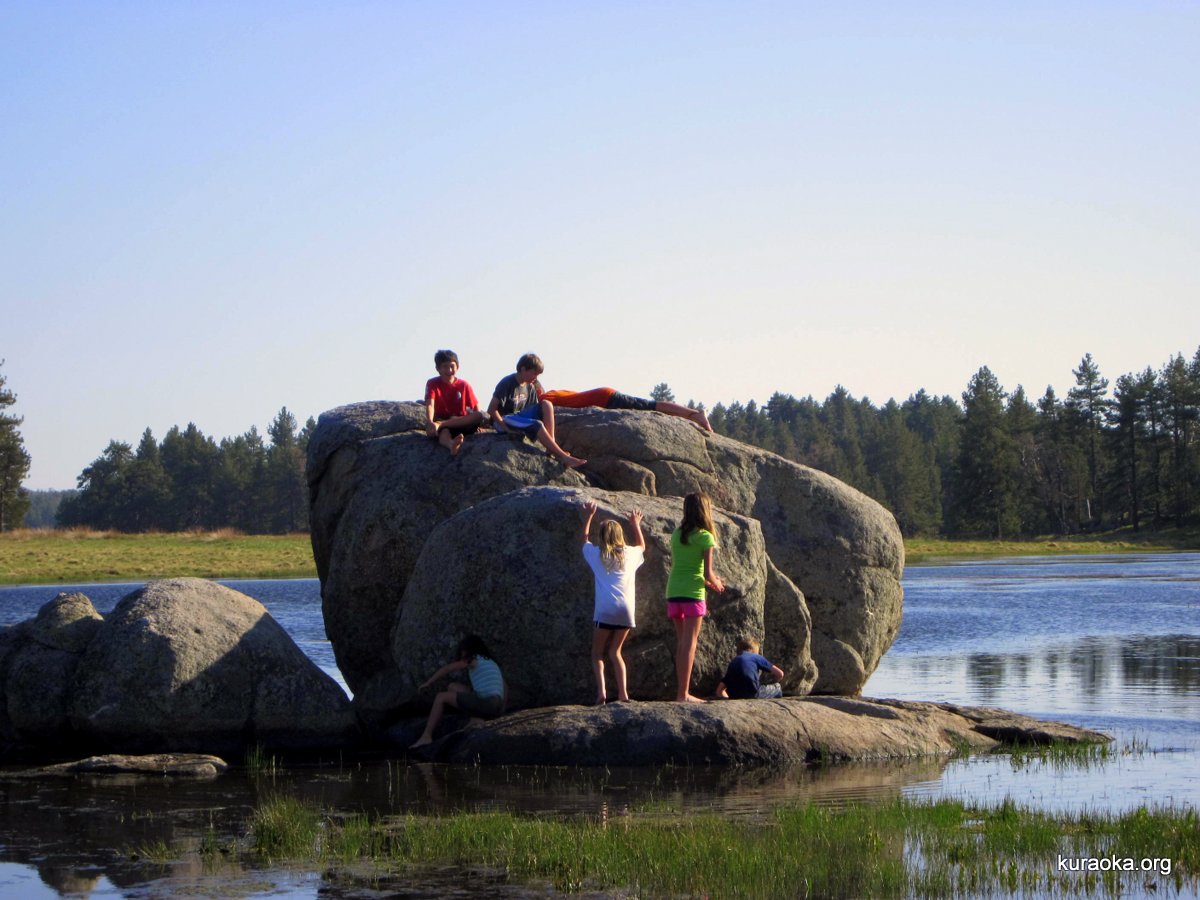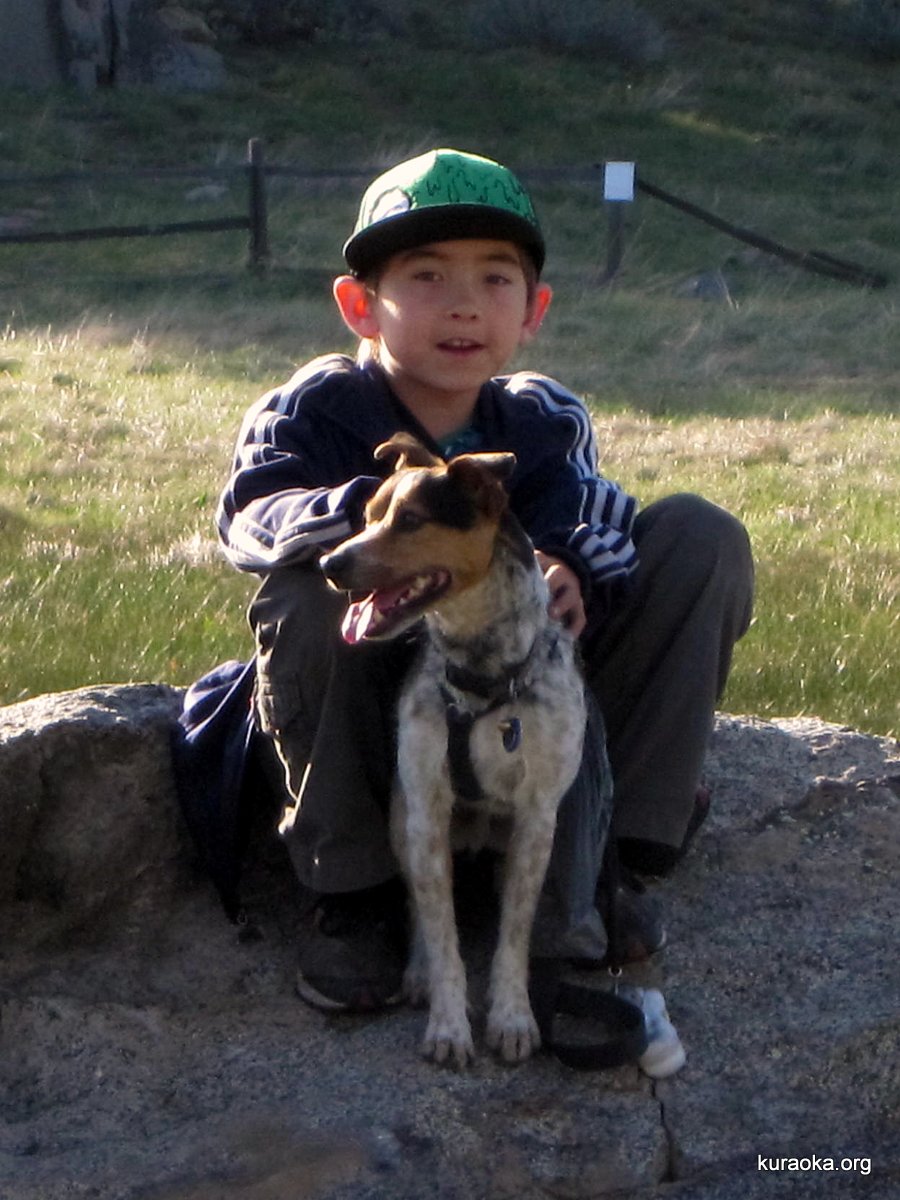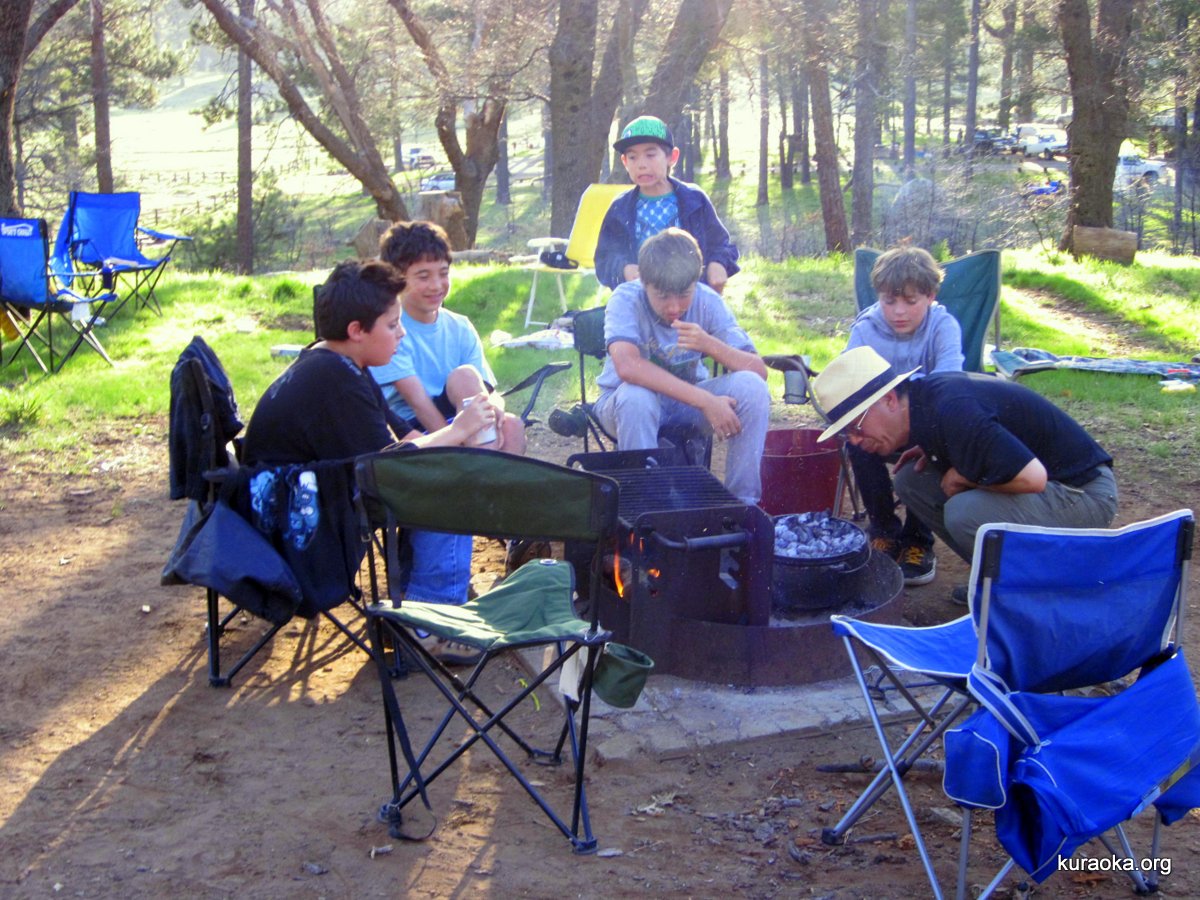 04-21-12 Happy Birthdays! We went to a Greek restaurant in Pacific Beach, where Ondine gave Barbara a sweater she'd hand-knitted over the past two years or so. Here's one side, then the other - two looks!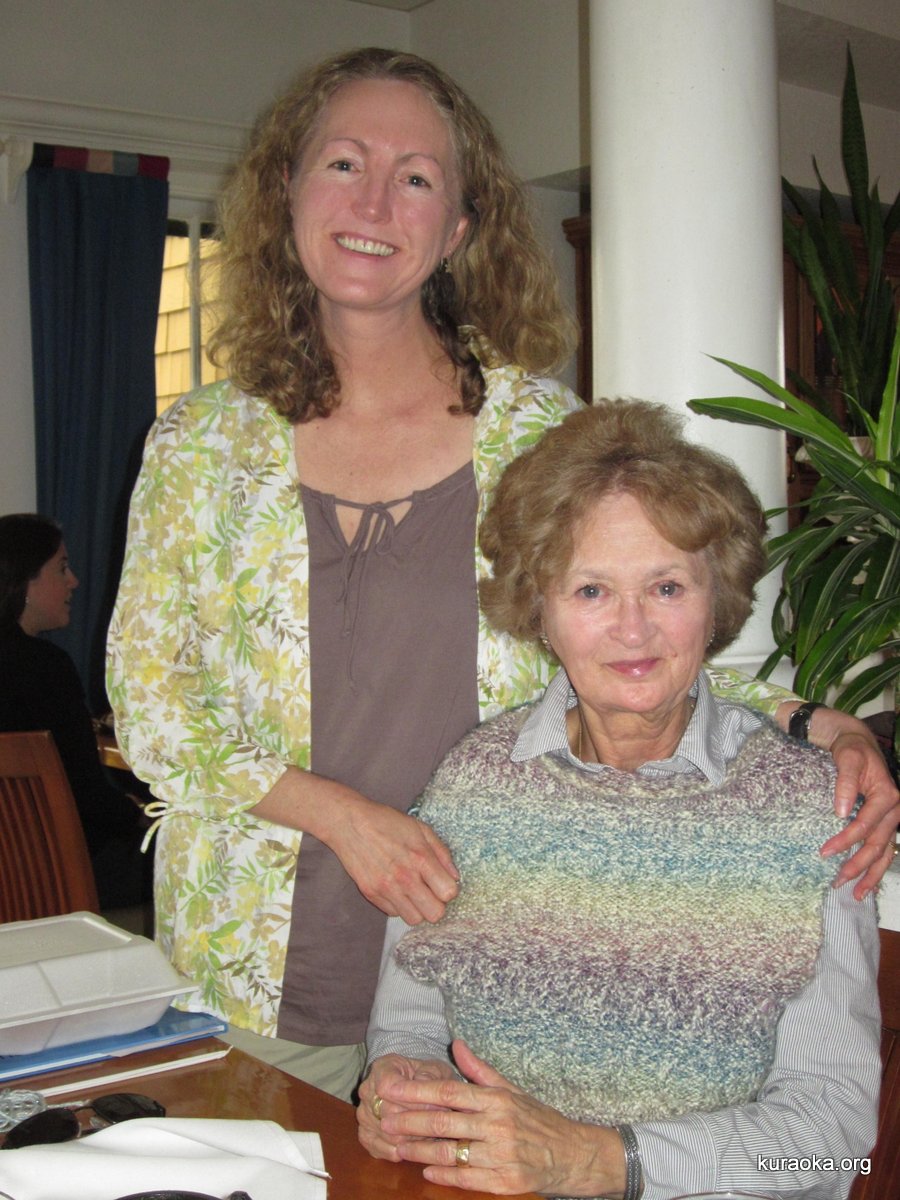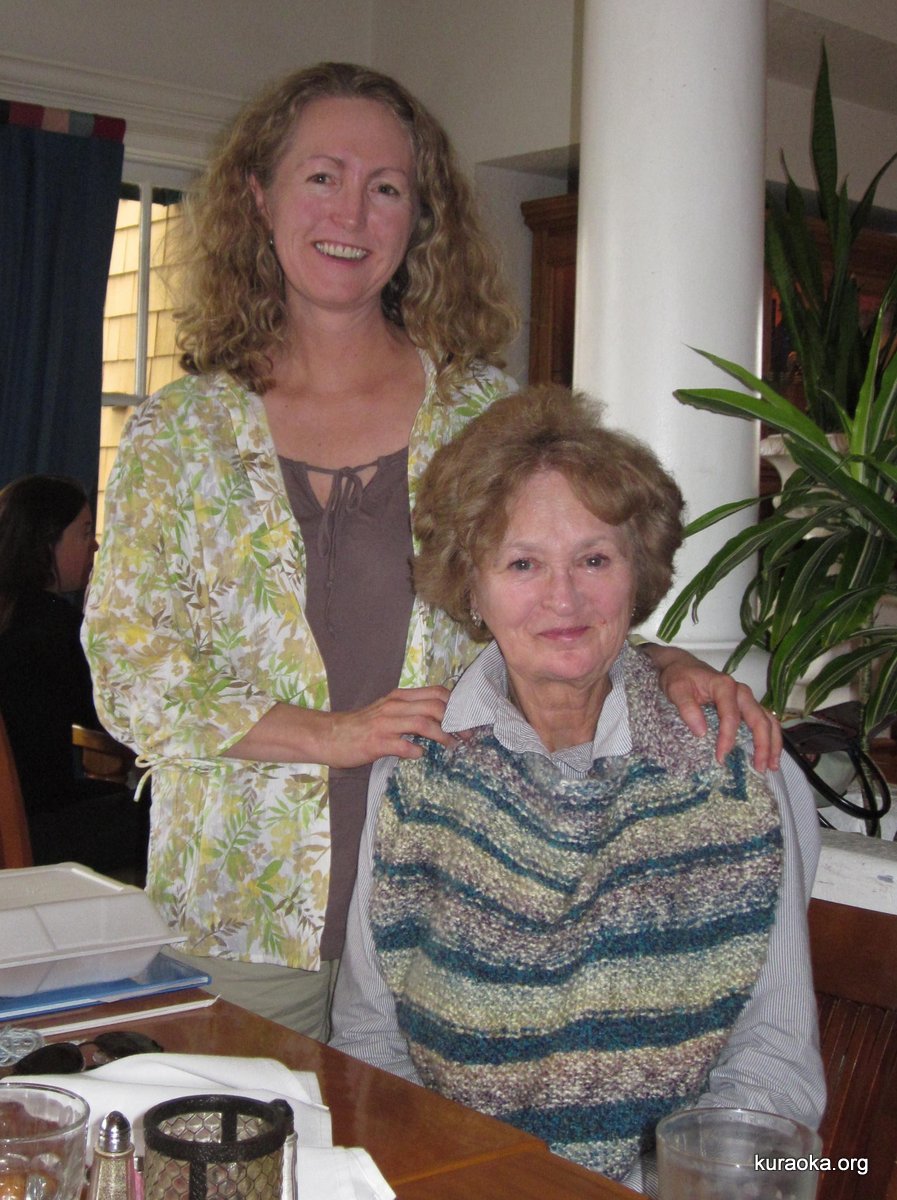 04-14-12 Travel Town USA! We visited Grammy and went to Travel Town, where John and the boys tried to look like they were being threatened by trains. Silly boys!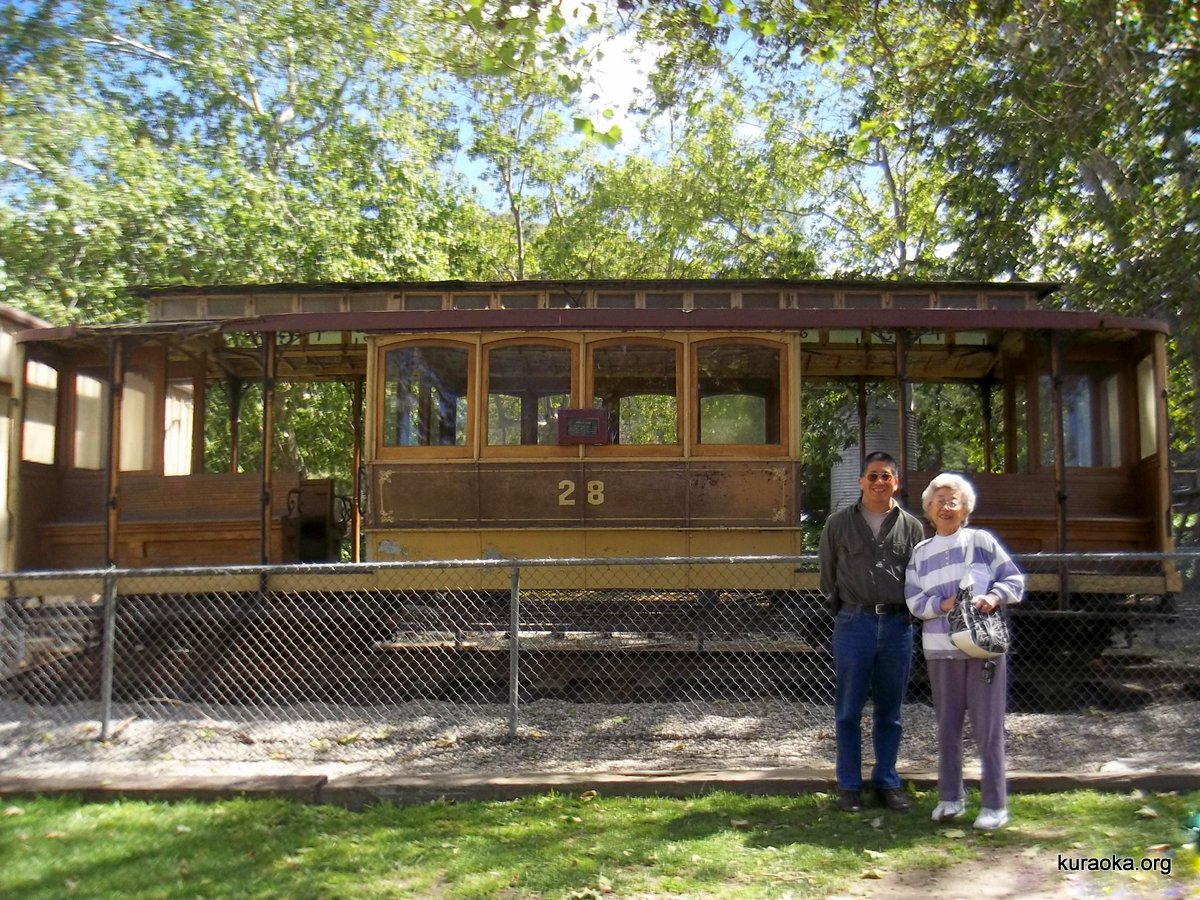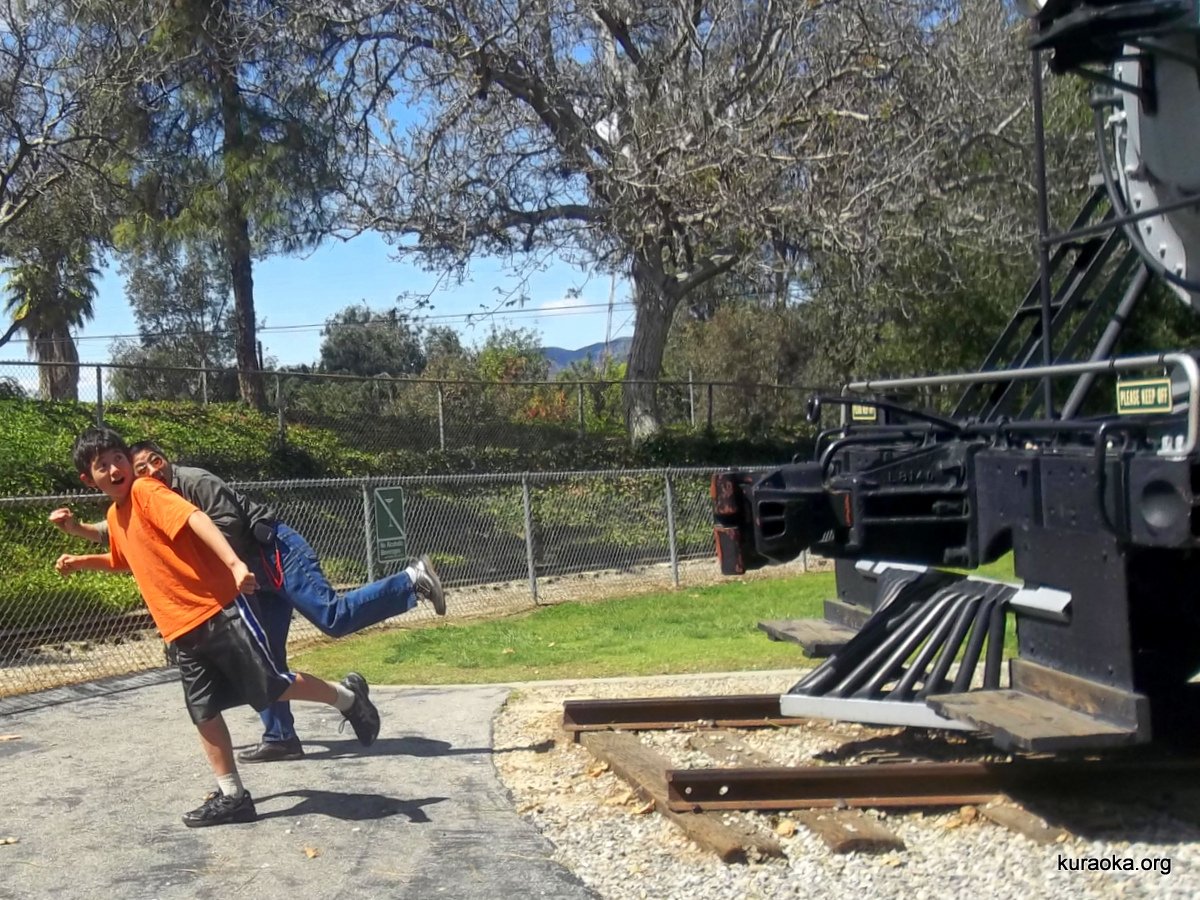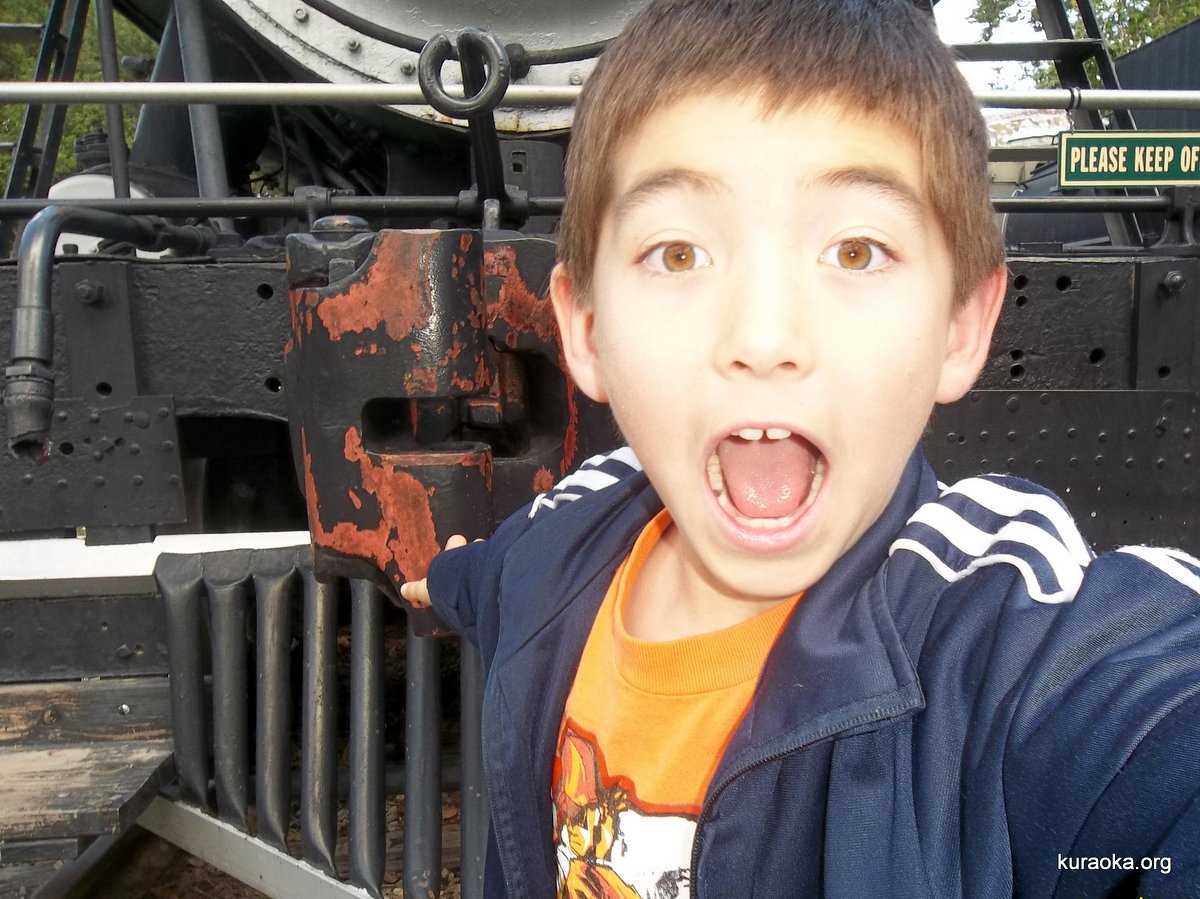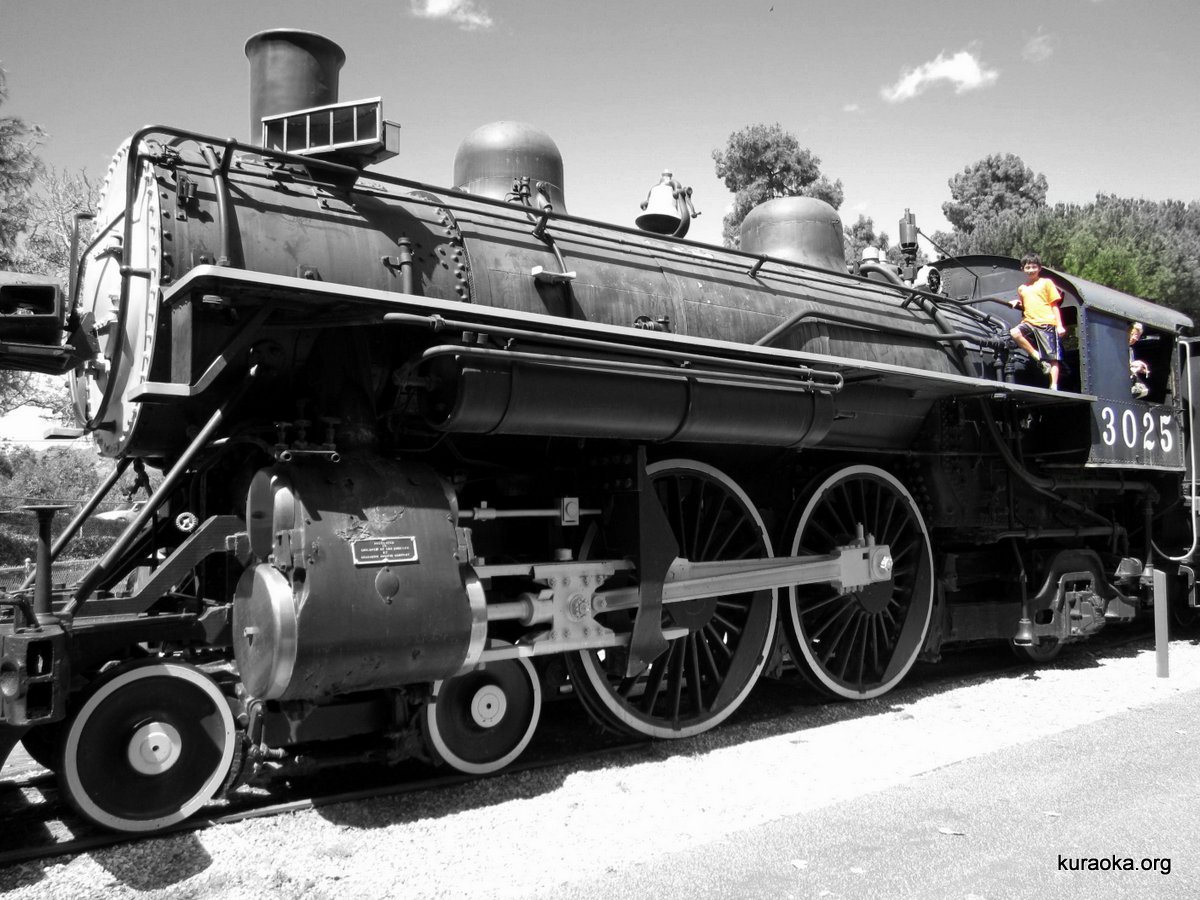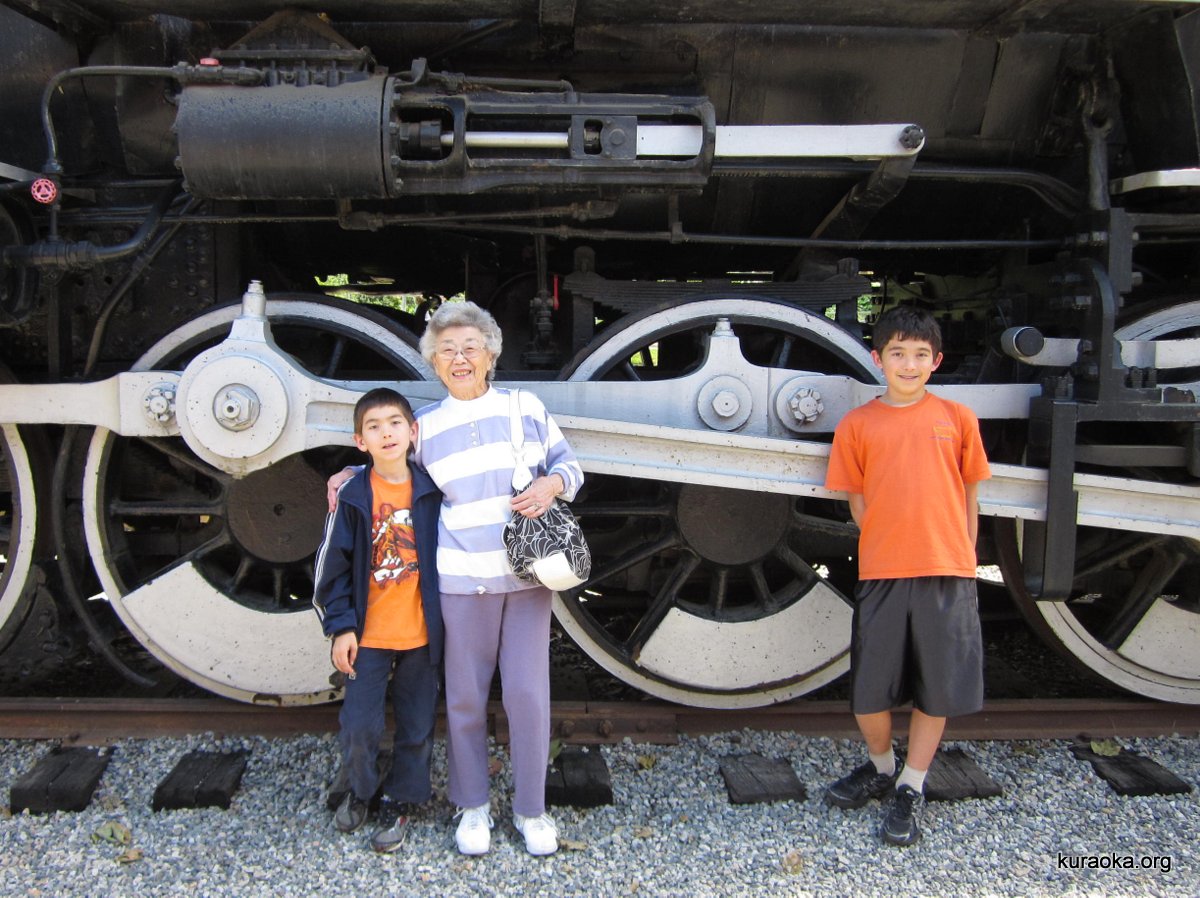 04-08-12 Easter Sunday! The boys dyed eggs and had lots of treats from their Easter baskets. Grammy even sent a treat to Buddy! (Note Buddy's new bed.)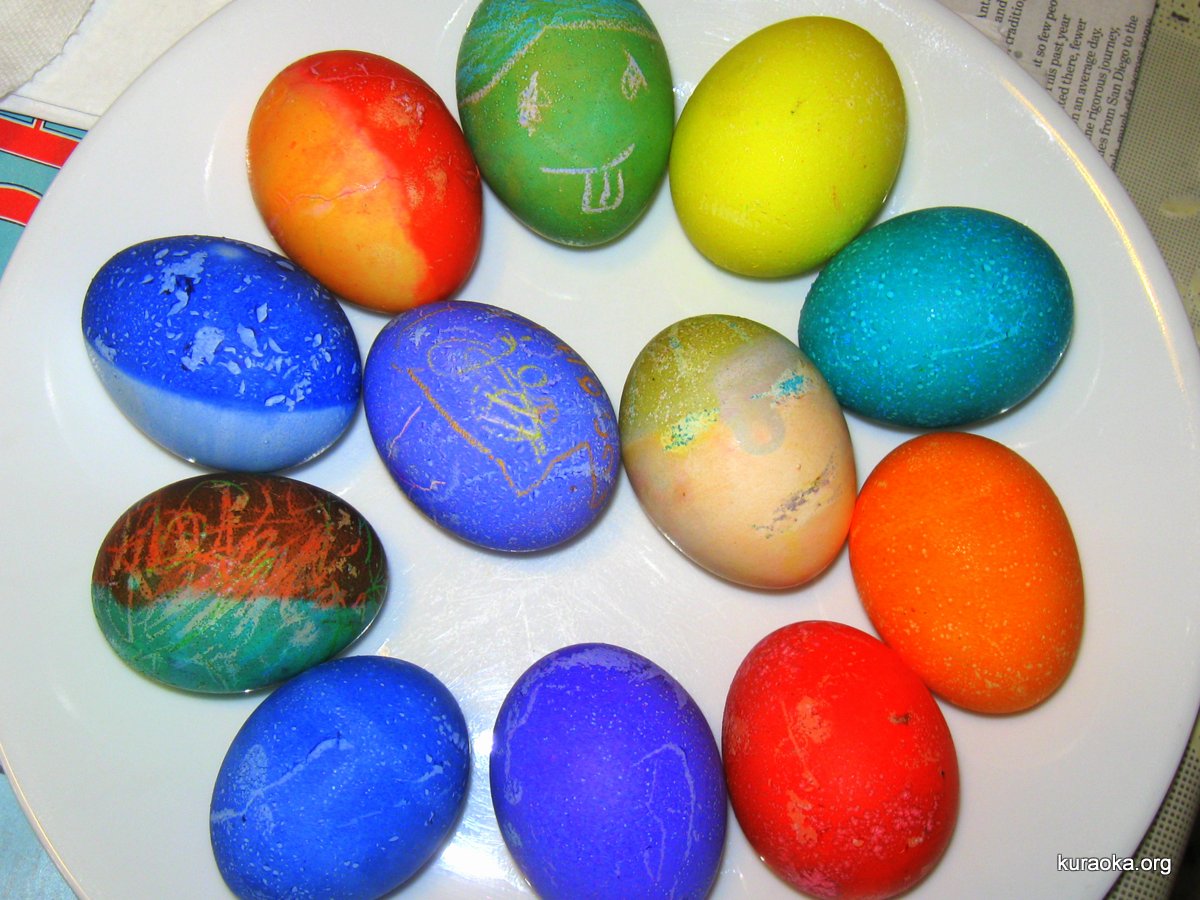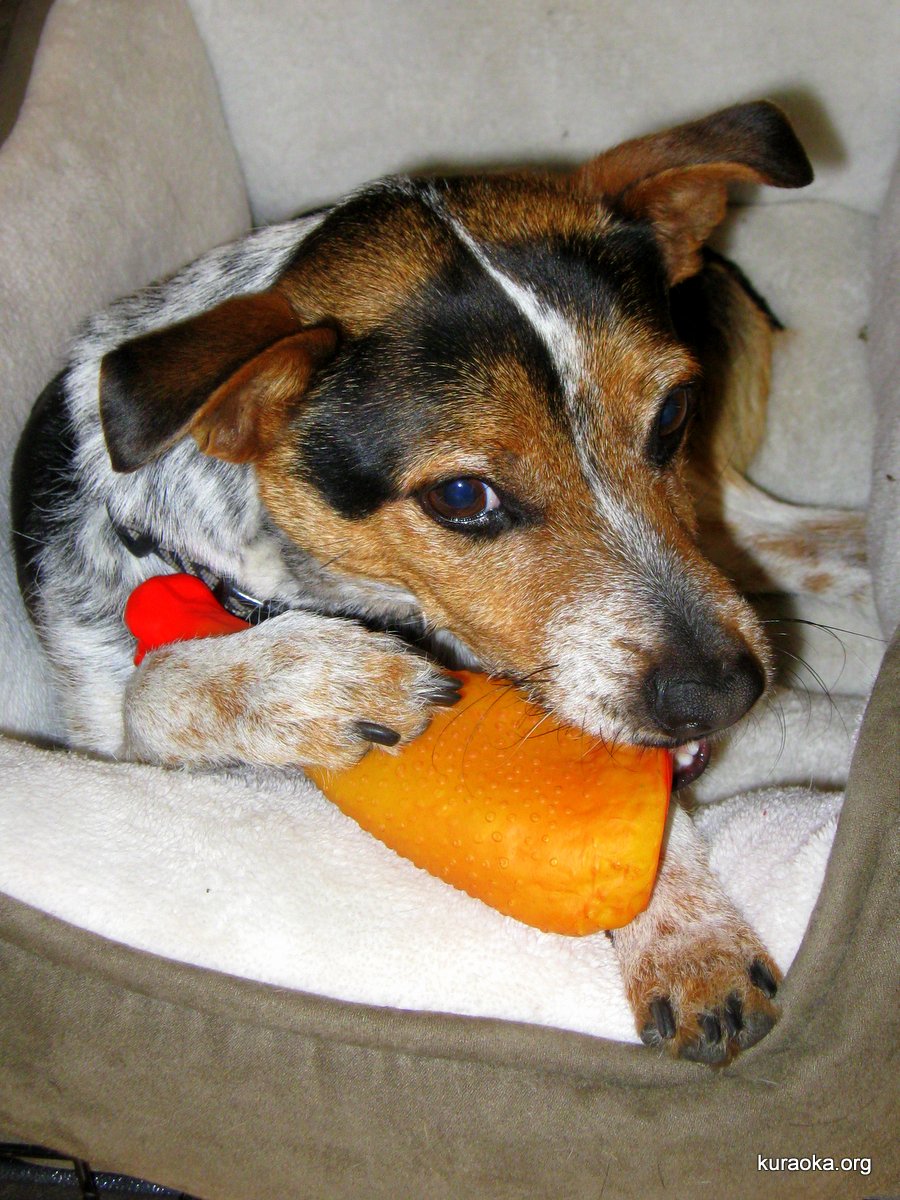 03-28-12 Leo gets a Principal's Award! You can't make out the writing on the certificate, but it says he received the award for "making progress toward taking a bigger part in classroom participation, excellence in performing his classroom job," and "being curious and eager to learn."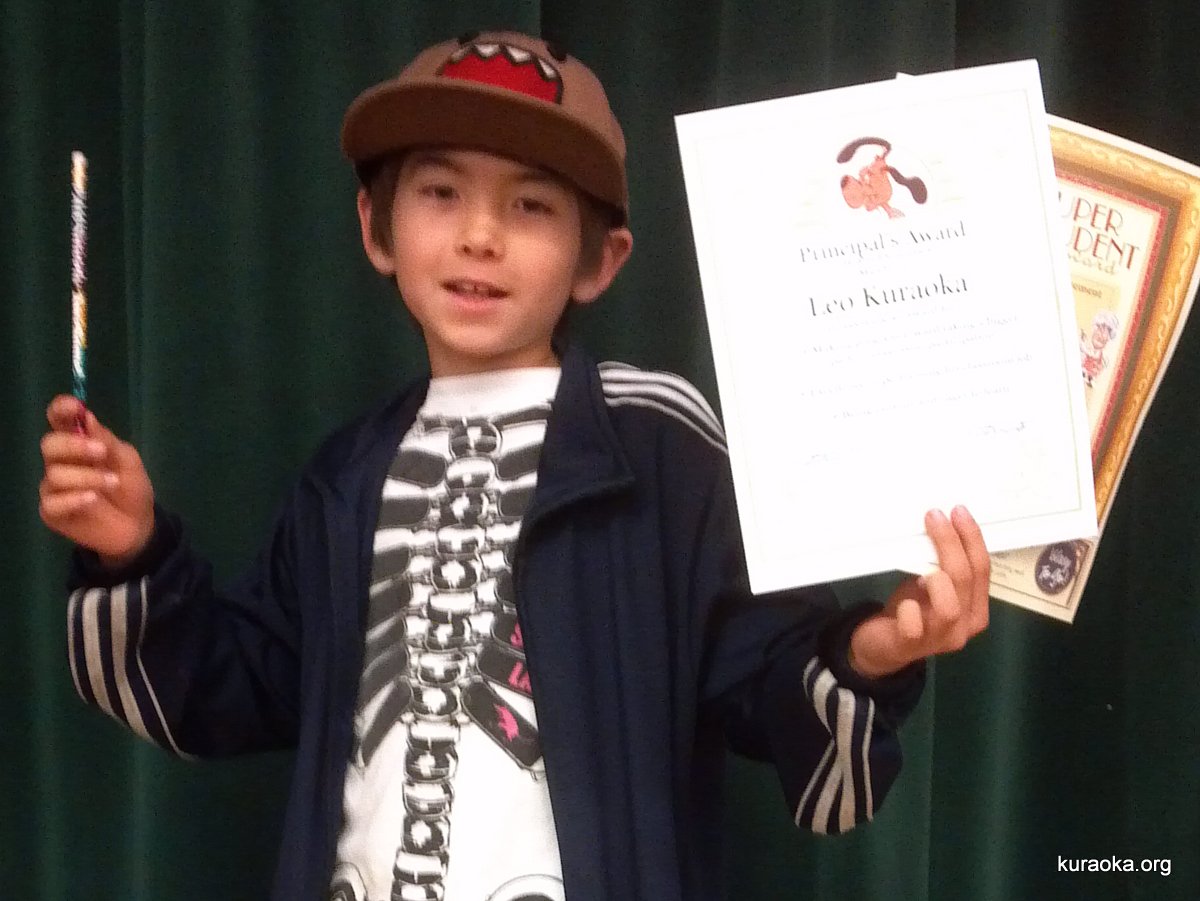 02-18-12 Hiking Henninger Flats. Grammy wanted to go to Henninger Flats - where John's father died. She stopped about half-way up at a bench, but John, Roy, Leo, and Buddy hiked to the campground.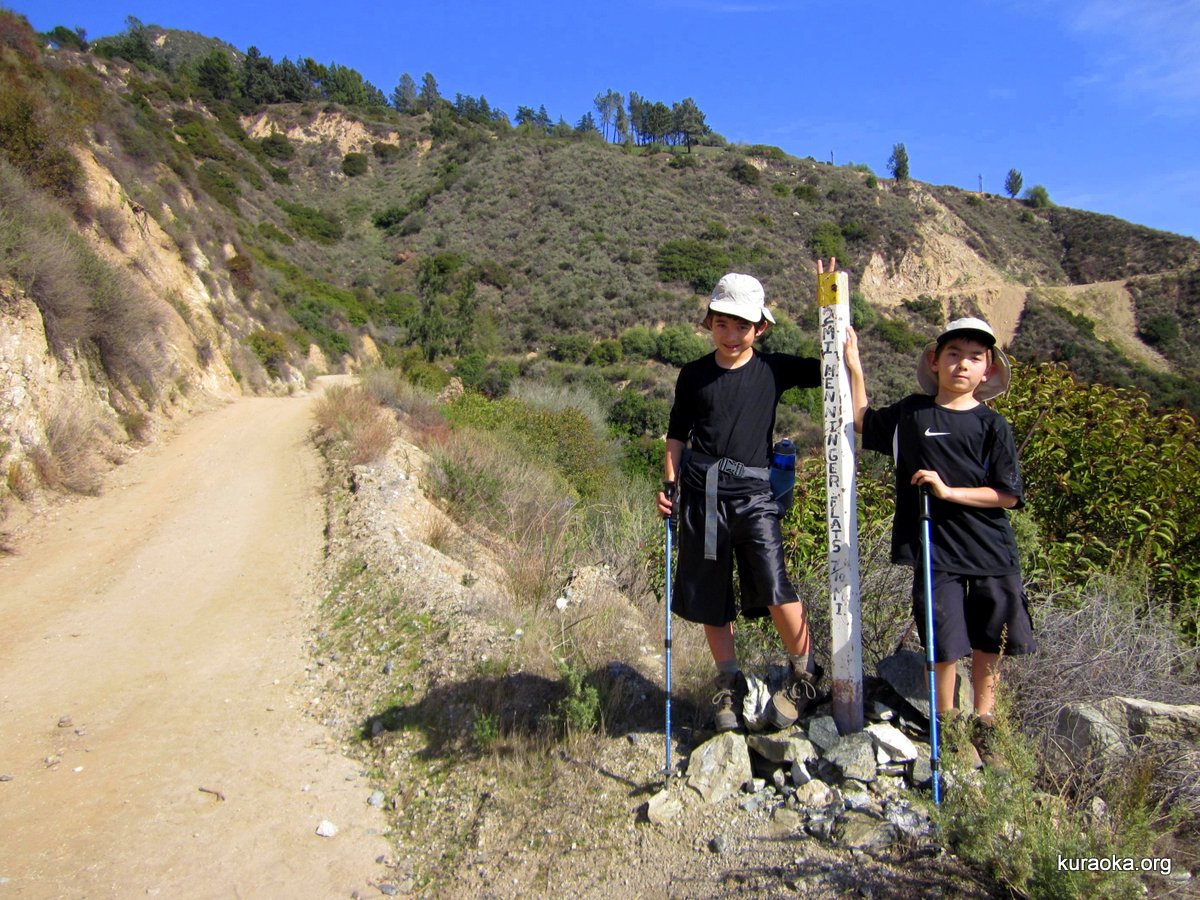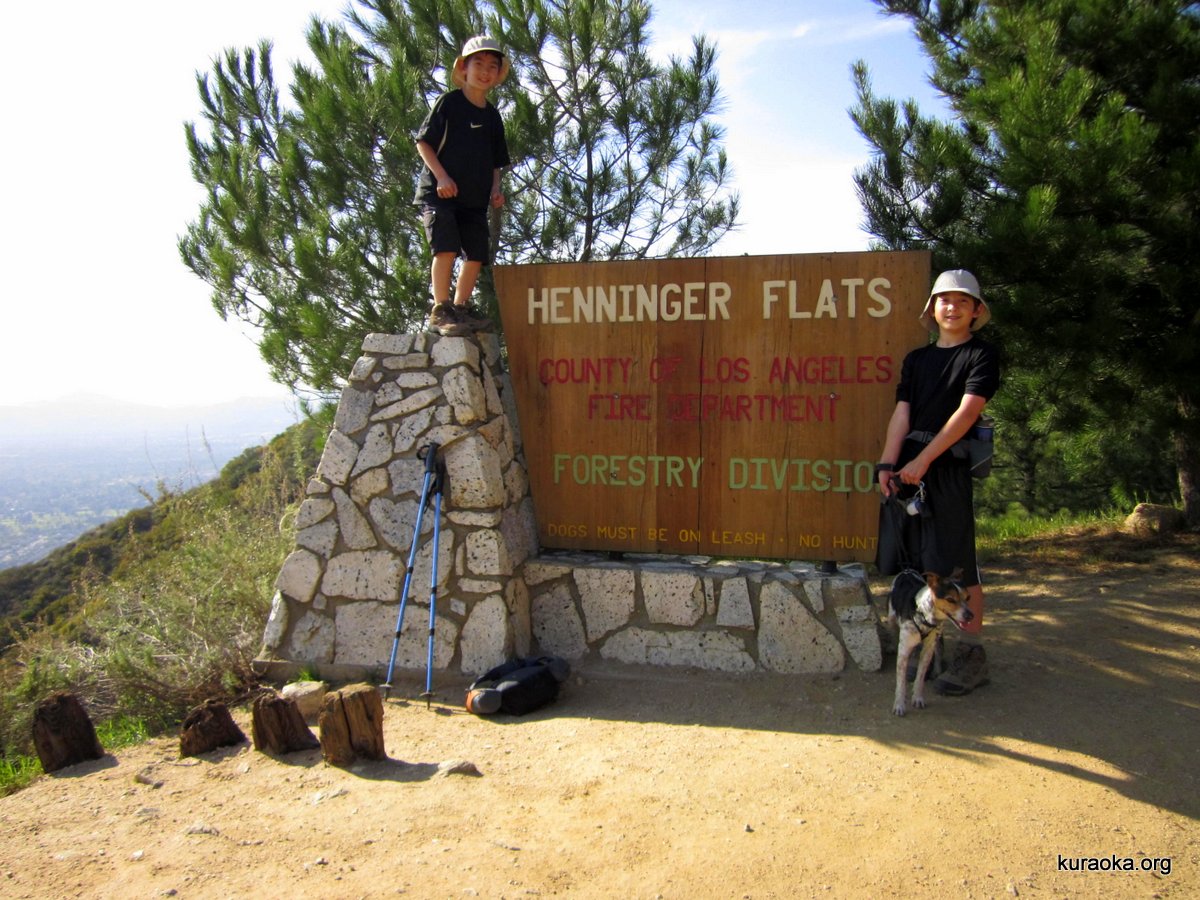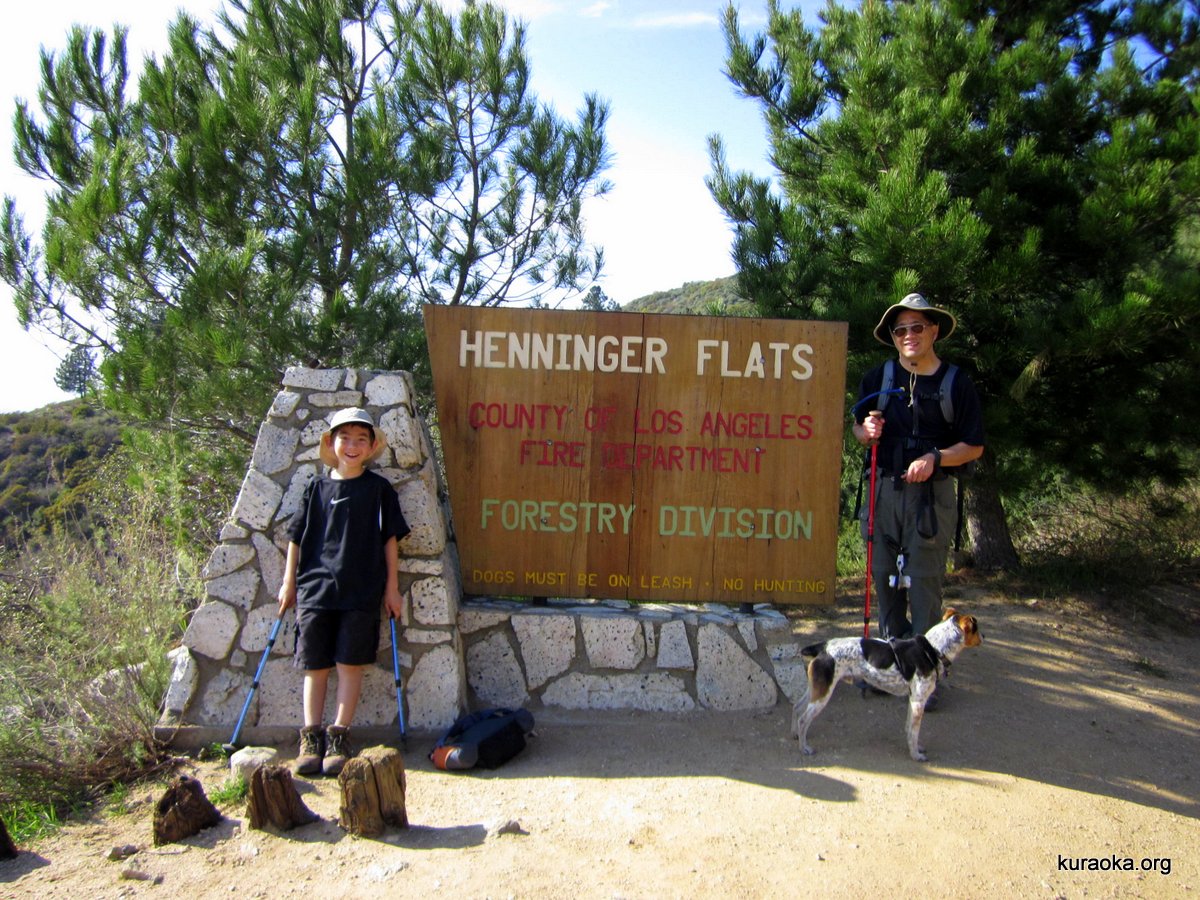 02-14-12 Find the dog! On cold days, Buddy likes to be warm and cozy in a pillow burrow.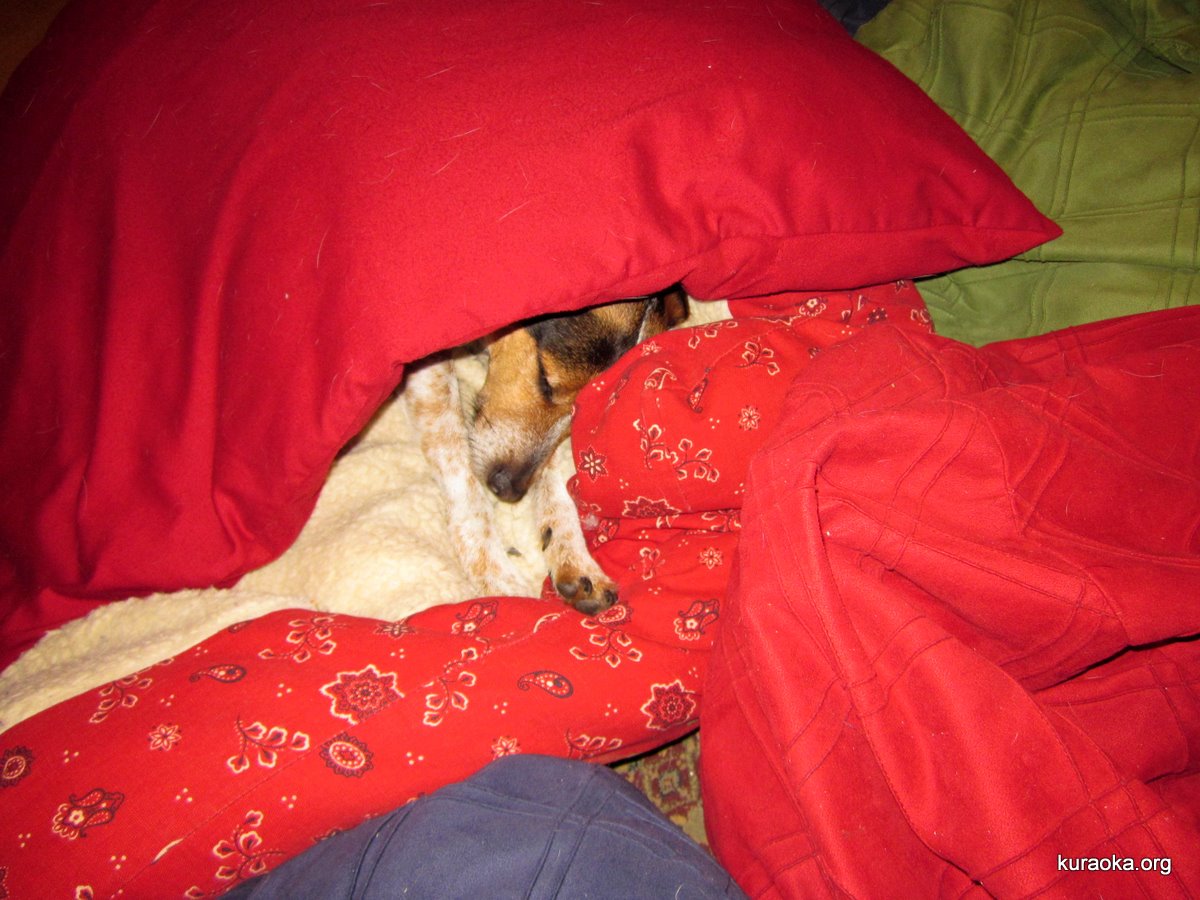 02-13-12 Buddy wants to be fed! He's not begging, he's just asking.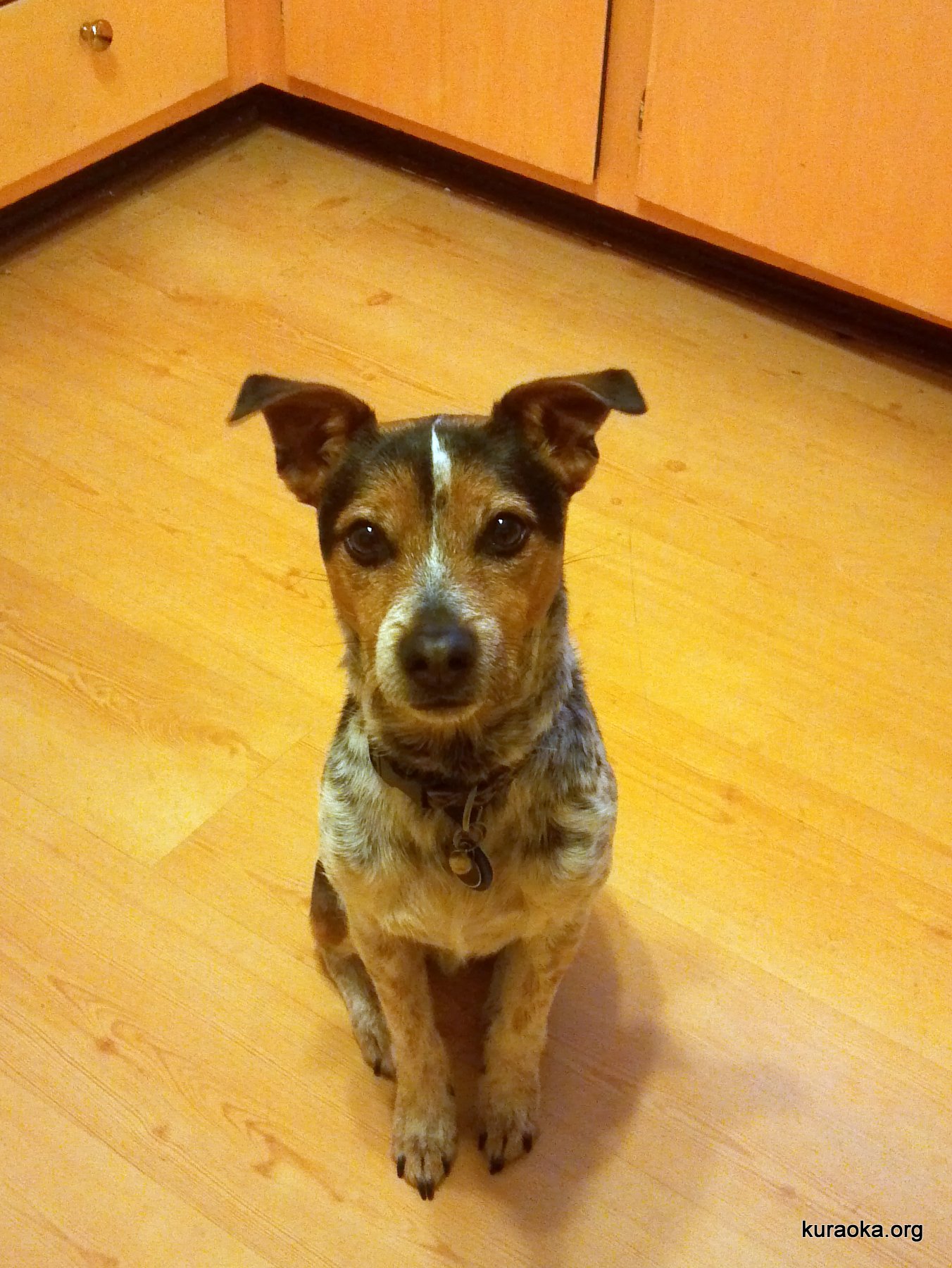 02-12-12 Judo demonstration for Scouts. Leo and Roy performed in a judo demonstration for the Pack 959 Blue and Gold dinner. That's Leo demonstrating a throw (it looks like ogoshi or ukigoshi) and Roy demonstrating a hold-down (yoko-shiho).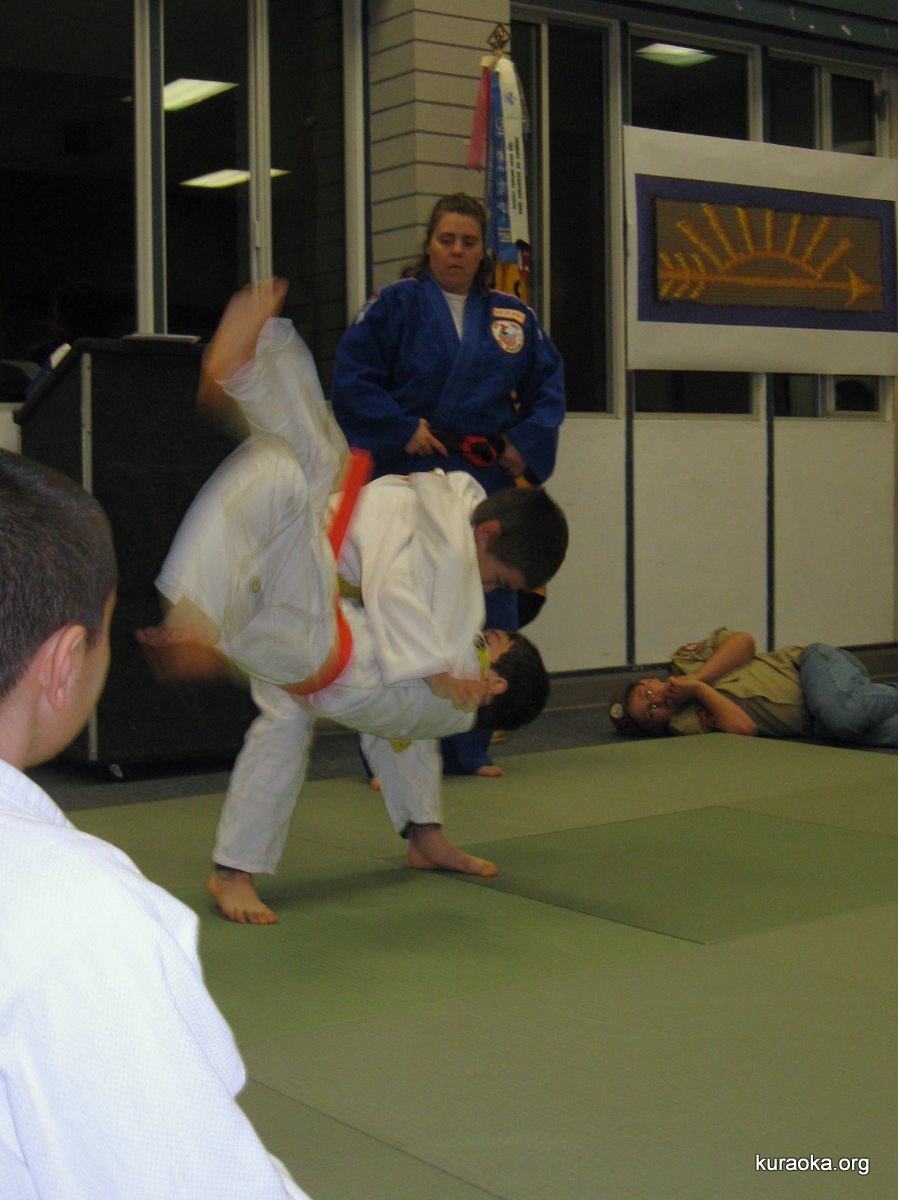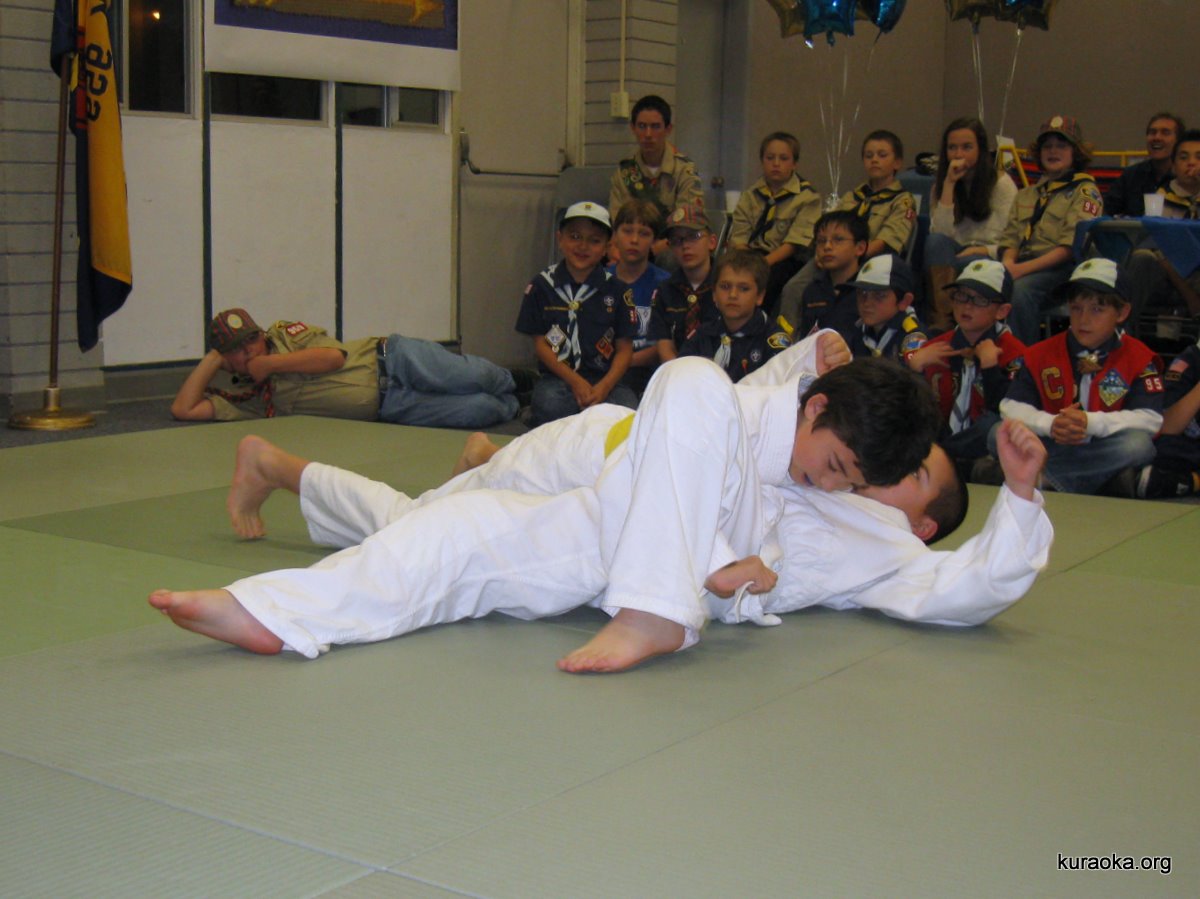 01-22-12 Buddy at Ocean Beach. Ondine and Leo took Buddy to Ocean Beach, where Leo got this shot with his new camera.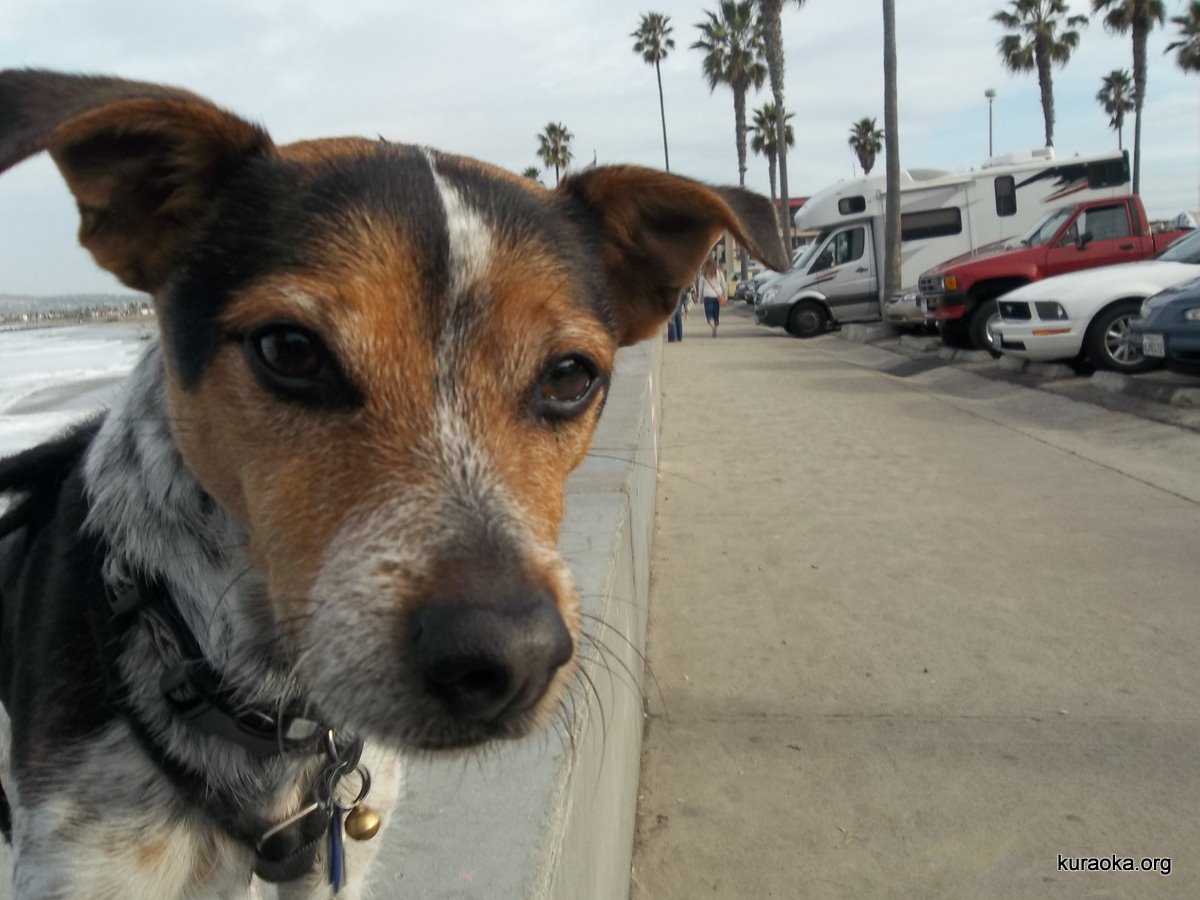 01-21-12 Troop 950 Rocket Shoot! Here's Roy with his three rockets. The second photo shows him launching the Tomahawk cruise missile. The last one shows his dependable golden Toddler Wars rocket blasting off, with Alex filming.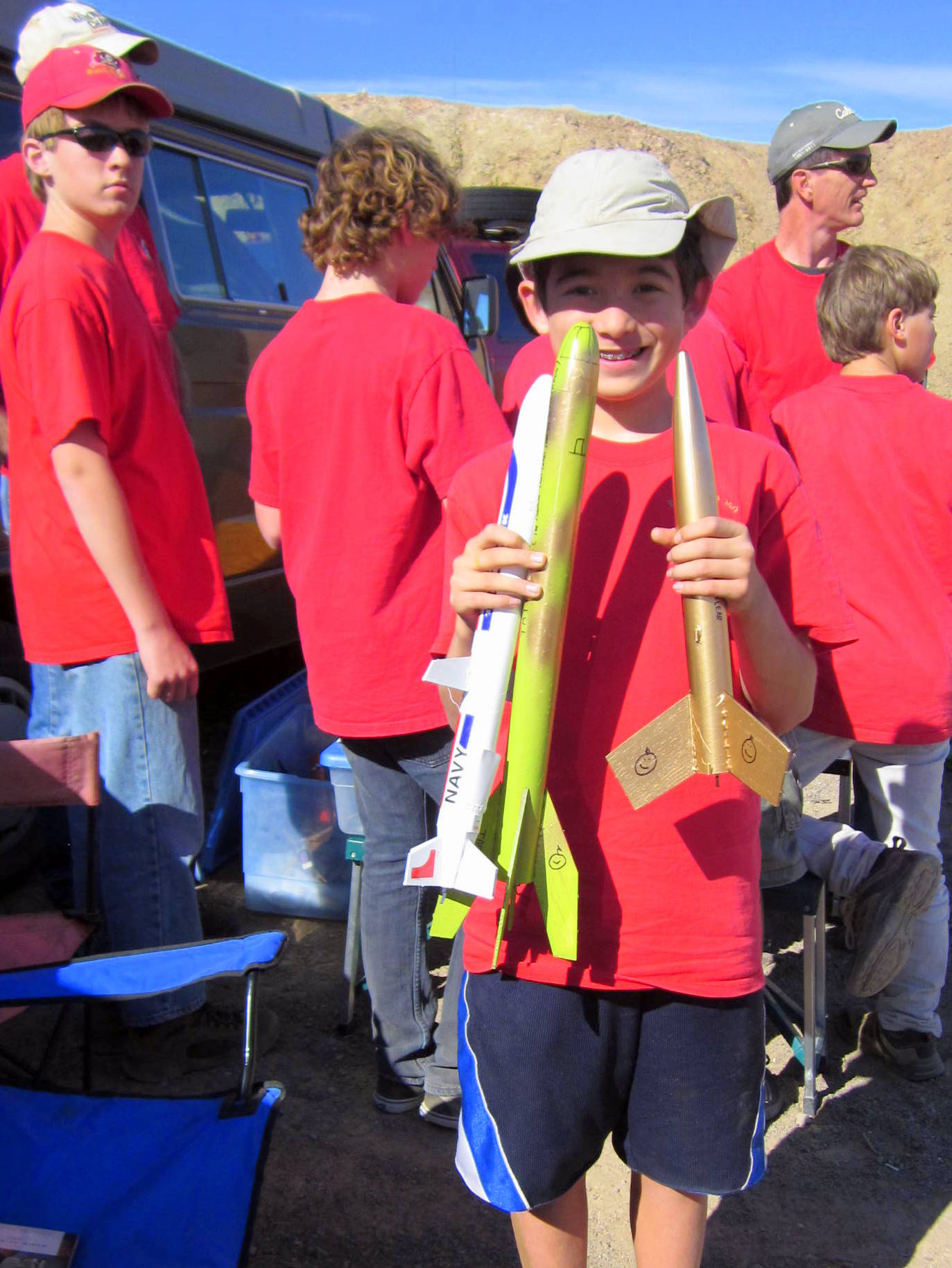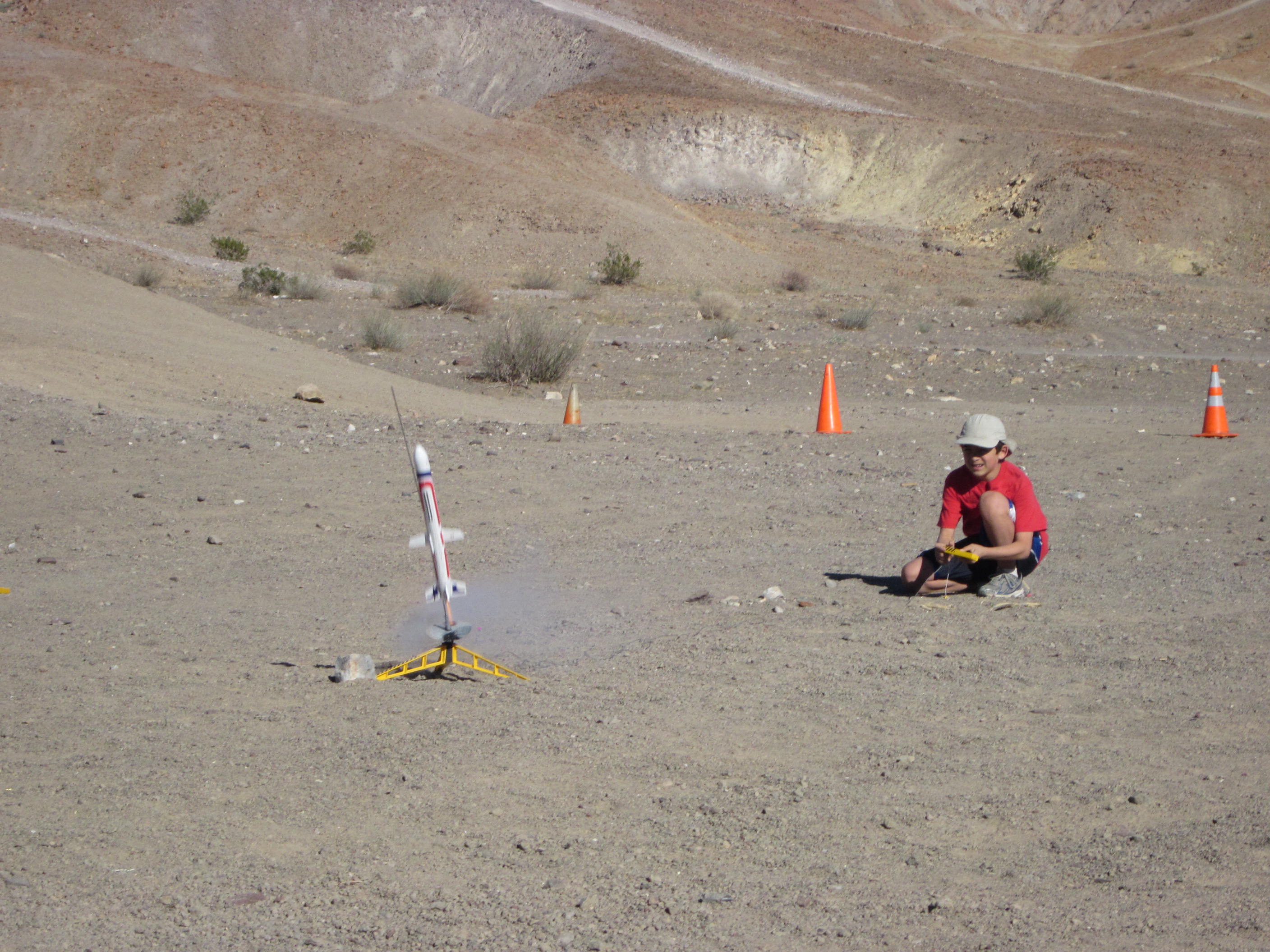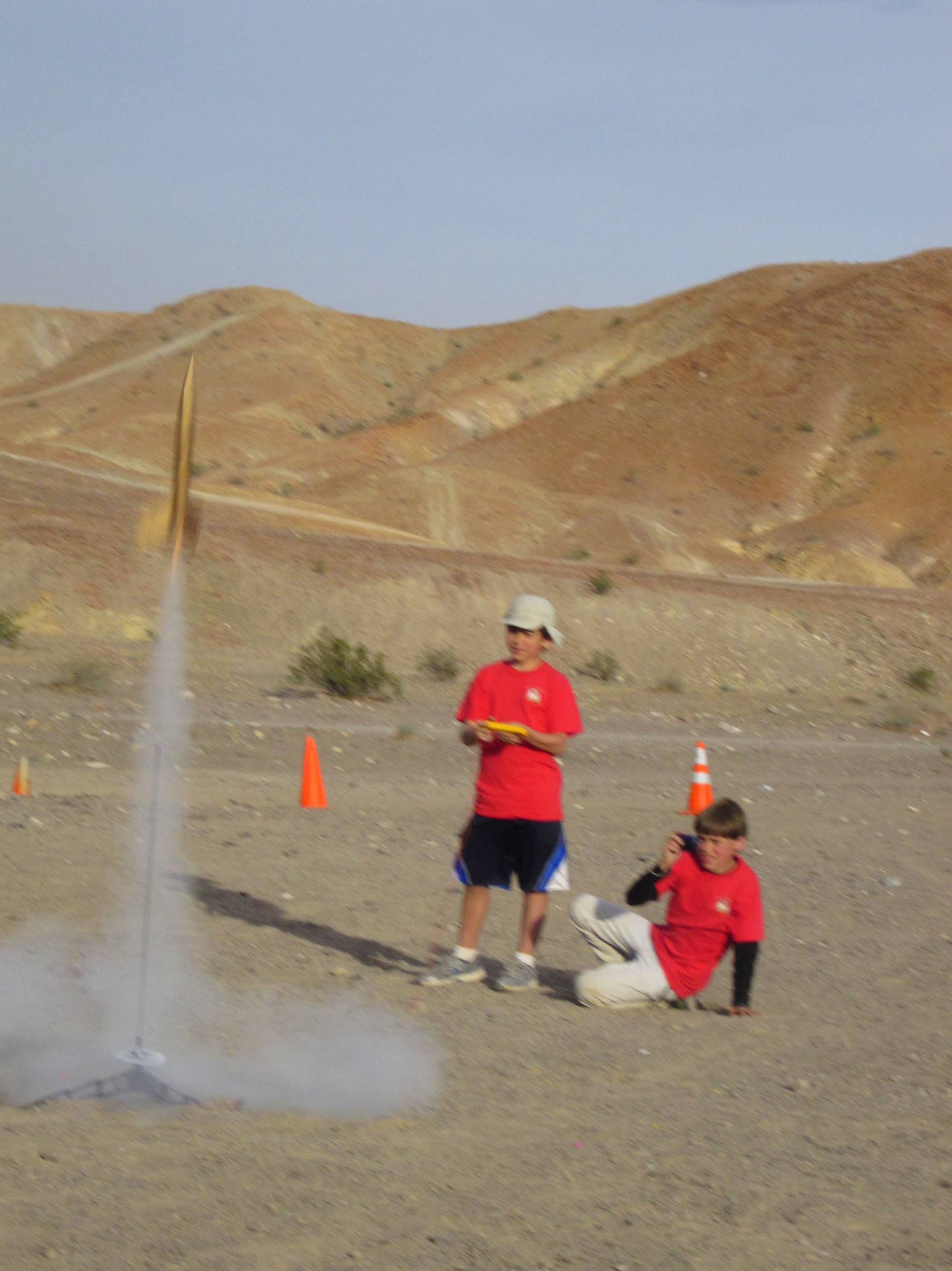 01-17-12 Leo's Piano/Keyboard recital! Here he is being introduced by his teacher and then playing a song he'd memorized, "I Gotta Feeling" by the Black Eyed Peas.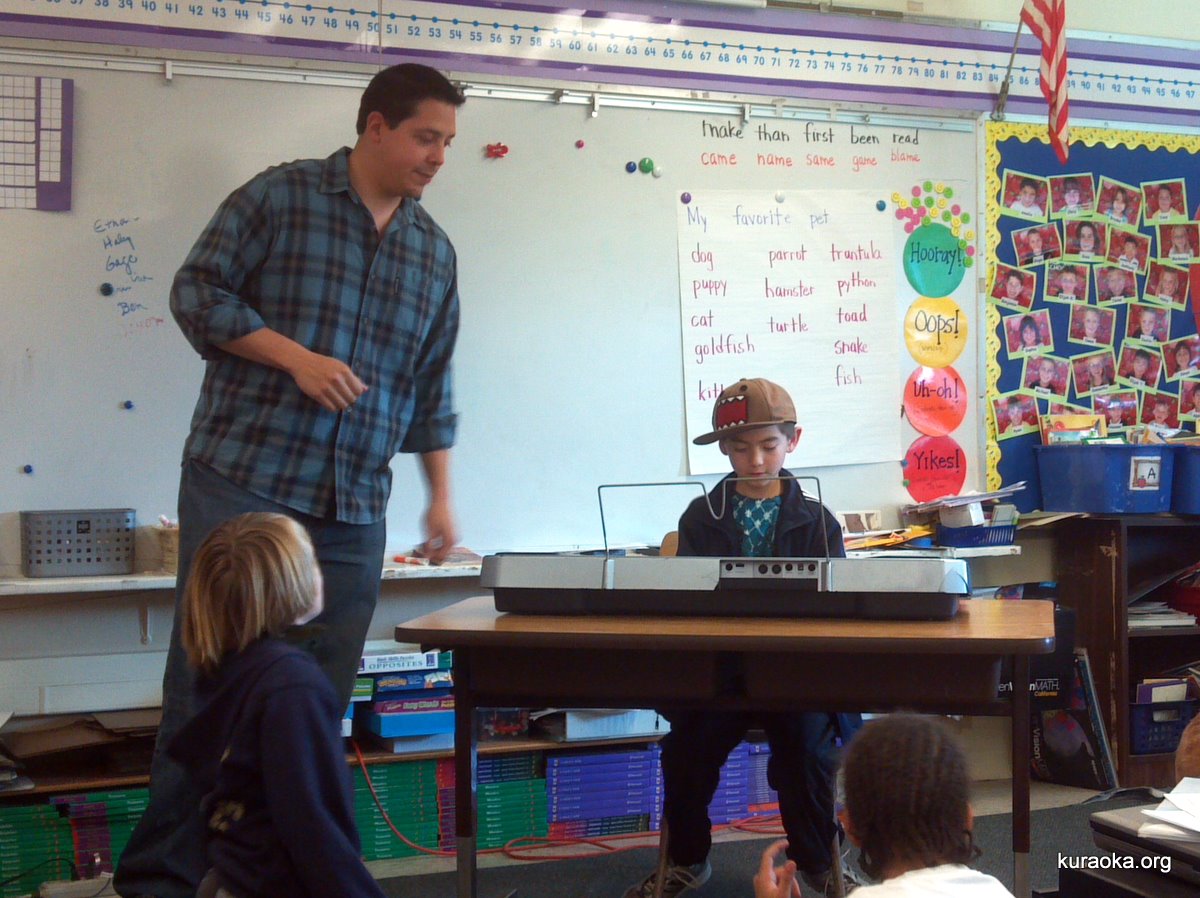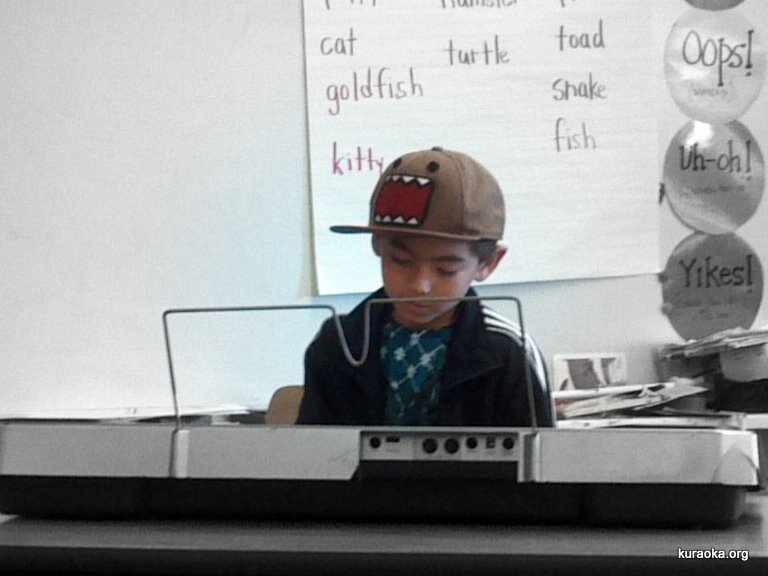 01-01-12 Happy New Year! Here's our version of the traditional Japanese oshogatsu feast!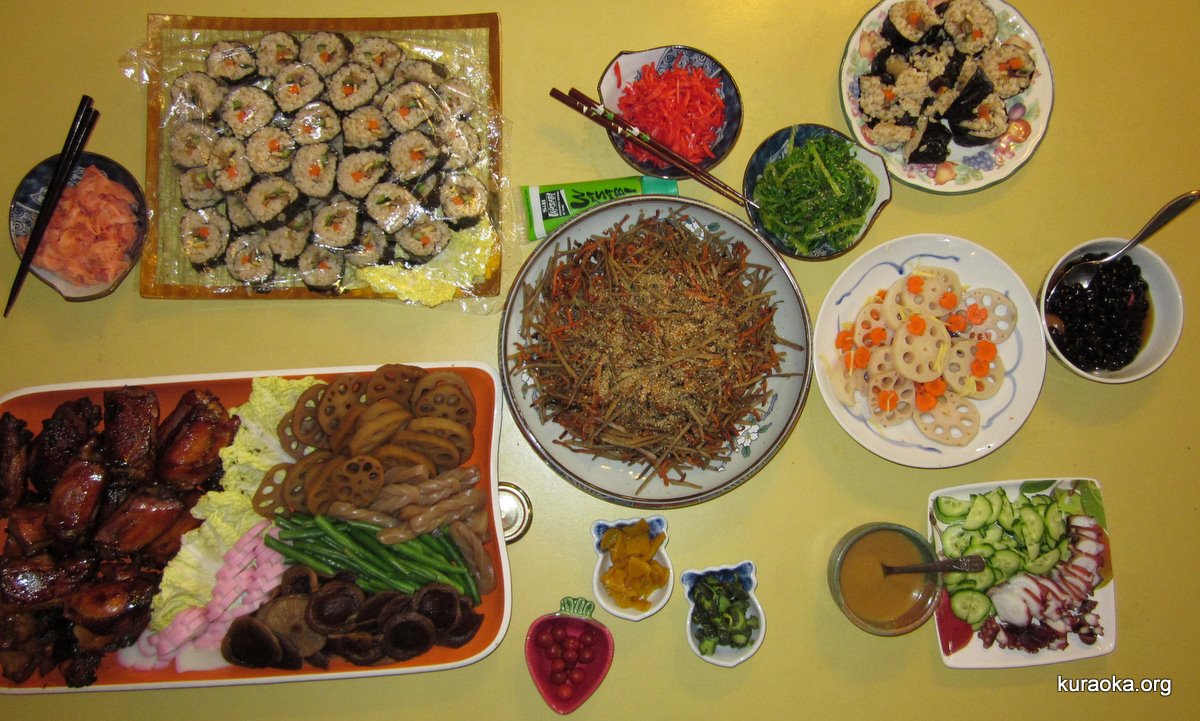 Archived Photos from 2011
Archived Photos from 2010
Archived Photos from 2009
Archived Photos from 2008
Archived Photos from 2007
Archived Photos from 2006
Archived Photos from 2005
Archived Photos from 2004
Back to the Kuraoka Family main page