The Kuraoka Family Year in Review 2014
www.kuraoka.org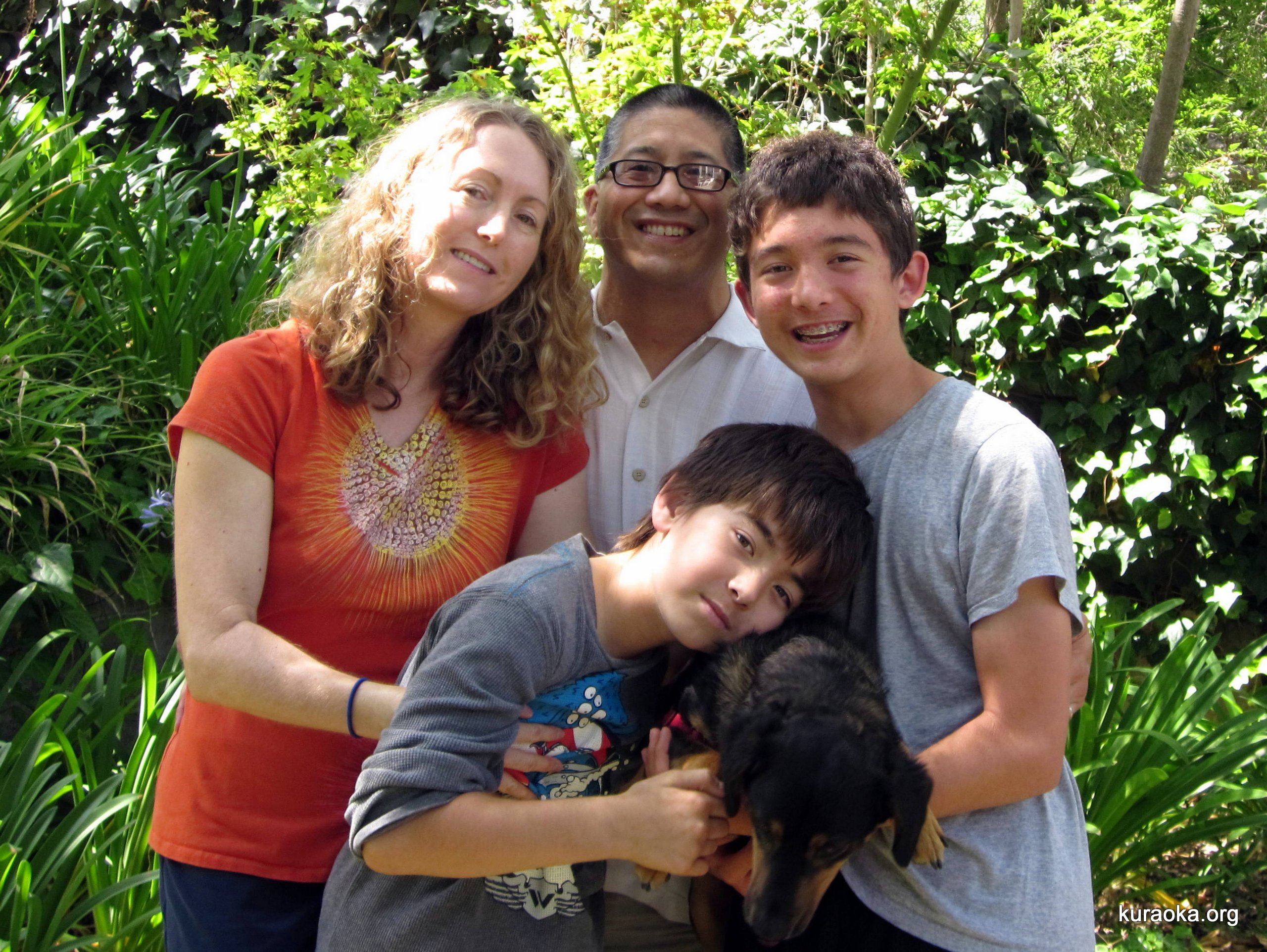 Us, June 16, 2014: Ondine, John, Roy, Leo, and Shadow
Wednesday, December 31, 2014
It's time for our Family Year In Review! And it's hard to top 2014, which kicked off with our fabulous trip to Japan with Barbara and Frances! We visited family on John's mother's side (Ishida, in Amagi near Fukuoka) and his father's side (Kuraoka, in Shiwa near Hiroshima), stayed in Fukuoka, Amagi, Kyoto, Hiroshima, and Tokyo, and enjoyed a native New Year's Day Osechi!
Our Sand Pond trip this summer was marked by heavy rain and a car breakdown! So, John's car got a new alternator and radiator in Truckee, and we enjoyed an unusually empty campground for several days because most of the other campers fled the storms. Despite the weather gremlins, we made our usual hike up the Sierra Buttes (Shadow's second trek up) and panned for gold. Plus, in whiling away the hours beneath plastic tarps strung between trees, we taught the boys how to play poker.
Other trips this year included several weekend getaways John took with the boys, visiting his Mom in La Canada. They went to Pacific Park, the California Science Center (where they saw the ISS and Pompeii exhibits), the Nethercutt Museum, and the LA County Museum of Art, where they saw an exhibit of samurai armor. Ondine joined the crew once for a Pacific Park outing.
We saw a lot of plays in 2014! We treated ourselves to a three-play series at the Old Globe in Balboa Park: The Winter's Tale, Time and the Conways, and Vanya and Sonya and Masha and Spike. At The Winter's Tale, there was a post-show discussion with The Old Globe's new artistic director, Barry Edelstein. We also went to the Coronado Playhouse to see Romeo and Juliet and Monty Python's Spamalot - at the latter performance, Roy got pulled onstage for a song and a dance because they found the Holy Grail under his seat! Wow!
Ondine hired a professional organizer in May, who spent a few days helping organize various rooms. She helped Ondine with her office area, Leo with his bedroom, and John with his office. Roy refused assistance. In all, we got rid of several cubic yards of stuff, more than enough to fill a rubbish skip or even a room. It's amazing how much junk we'd held onto.
Leo is now 12 years old. He's in 7th grade at Lewis Middle School. He's in the Accelerated Math class, and Seminar English and World History classes. His elective is Art.
Roy is 14 years old, and taller than us by a small but ever-increasing fraction of an inch. He started at Patrick Henry high school this year, 9th grade. His electives are Technical Theater and Japanese. He earned his fifth degree green belt in judo.
Shadow the dog is now about four years old. He's developed into a great little traveler, snuggling into a nest between the boys on long car trips.
Over the summer, Roy volunteered at various places, including Mission Trails Regional Park and the local branch library. He built and manned a "Tardis Toss" bean bag game during the San Carlos branch library's "40 and Fabulous Free Family Fun Fair." Leo went to Media Arts Camp and a couple half-day water sports camps at Mission Bay. Leo also did a session of UU youth camp on Sunday mornings, drawn by the theme of "Doctor WhUU."
Ondine has been working at Silverado Hospice San Diego for over three years now, making her the social worker who has been there the longest. One major change this year has been the transition to electronic records, so instead of paperwork she has a company-issued iPad. On another front, her hours were approved, and she's scheduled to take the first LCSW licensure exam in January! She's working her way through an exam prep course.
John has been busy with the kids. The big change for him was his office! He benefited considerably from the professional organizer Ondine hired in spring, with the result that his office went from being a cave of clutter to a haven of order! He judged the 2014 EVVY student advertising awards for Emerson College, closed an old bank account, and consolidated a bunch of his websites under a new hosting plan. And, he completed online courses on Hamlet and Hadrian's Wall.
New acquisitions include home workout equipment for John to wrangle himself back into shape now that he can no longer run: a Schwinn 126 exercise bike (from Craigslist), a pull-up bar (from Amazon), a SpaceMate stepper (handed down from Barbara), and, this very week, an exercise ball to use as a desk chair. We also started buying houseplants, the tide starting with a potted "money plant" Ondine won from John's Automotive in January! John celebrated his office clear-out by buying a mobile laptop desk, a teleconferencing backdrop, and several small houseplants. Minor acquisitions include a nice Citizen wall clock for the dining room. Ondine got a new personal cell phone (a Motorola Moto X) and John got new glasses.
Discards include our old jammed VCR, so we're a DVD and streaming-only household. John got rid of about 20 linear feet of books, several pairs of brand-new shoes that no longer fit his brand new-sized feet, and all his old photographic lighting equipment. Ondine cleared out about 20 bags of stuff.
New family and friends! In Japan, around June, Masataka's daughter Yurika and her husband Hirofumi had a second daughter, Fumishi. Ondine's cousin Sam and Jess had a baby girl, Avery, in August. John's niece Amanda and Joe had a baby girl, Jasmine, in December.
PASSAGES: John's Mom's close friend Jeannie died in April. Unidos Judo Clubs founder Jesse Jones died in July, right after directing the California State Games judo tournament. And John's Aunty Yochi died December 31. Yochi was married to John's Uncle Henry Ishida; they had a son, Rick, and four daughters, Phyllis, Kathy, Joyce, and Nancy.
Big San Diego events of 2014 included the death of Hall of Fame Padres slugger Tony Gwynn, the return of the Miramar Air Show, and the election of Kevin Faulconer as mayor. We also have our first female police chief, Shelley Zimmerman, and - on a state level - our first hometown Speaker of the Assembly, Toni Atkins, who also happens to be the first openly lesbian Speaker. In sports, locally trained racehorse California Chrome came close to winning the Triple Crown.
In California, the drought worsened and Governor Jerry Brown easily won re-election, making this his record fourth term as governor (1975-1983 and 2011-present). In September, Brown signed a major package of bipartisan legislation aimed at ensuring California's long-term water sustainability. The mid-term election also saw a water bond measure pass, along with a state "rainy day fund" budget measure. California became the first state to ban plastic shopping bags. The California Superior Court declared unconstitutional certain union-supported teacher employment protections. Finally, in a bit of odd news, in late July California had four governors in four days when out-of-state trips and engagements led to the duties being handed first from Governor Brown to Lt. Gov. Gavin Newsom, then to State Senate President Pro Tem Darrell Steinberg, then to California State Assembly Speaker Toni Atkins (go San Diego!), then back to Brown.
National news included a Republican sweep in the mid-term elections, putting that party in firm control of both houses of Congress by a significant majority. Racial tensions flared into days of violence after a spate of police shootings of unarmed young Black men. NASA launched its first flight test of the "Orion" spacecraft, which is designed to take people to Mars. The first flight was a short hop from Ft. Lauderdale to the Pacific Ocean via two Earth orbits. Janet Yellen became the first woman to head the embattled US Federal Reserve.
The big global news included an Ebola epidemic and the rise of global terrorism on many fronts, including the Internet. US and British troops began withdrawing from Afghanistan, which elected a new president, Ashraf Ghani. Spain has a new king after the abdication of Juan Carlos I for his son, now King Felipe VI. And, in the UK, there's a new royal baby on the way. Speaking of the UK, Scotland voted, narrowly, to remain part of it. The Winter Olympic Games were held in Sochi, Russia, amidst ramped-up security. Russia annexed the Ukrainian Crimean peninsula. At the World Cup Games in Rio de Janiero, Brazil, American goalkeeper Tim Howard set a record for the most number of saves in a single game (16, against Belgium, in a game we lost, 2-1), and Germany defeated Argentina in the final. And, official US-Cuba relations were opened a bit.
Extending beyond the planet, the European Space Agency put a lander on a moving comet, and the Curiosity rover detected signs of methane on Mars. Kepler 186f was discovered, the first Earth-sized planet in a possibly habitable zone, orbiting the red dwarf Kepler 186. It's estimated to be 10% larger than Earth, and lies 490 light-years away. A controversial capture of "an echo of the Big Bang" is undergoing further analysis and testing. Dark matter may have been detected for the first time, and a gaseous thread of the "cosmic web" was observed for the first time, stretching between two galaxies.
Neighborhood gas prices started at about $3.75 per gallon and ended well over a dollar lower at $2.59, peaking over summer vacation at about $4.29 per gallon.
This journal started the year at around 40,000 and ended at around 41,325, indicating approximately 1,325 unique visitors through 2014.
Remember, photos from 2014 can be seen on our 2014 photos page. To see what we're up to now, visit our regularly updated weekly journal!
Back to the Archives page
Back to the Kuraoka Family main page
Forward to the current Weekly Journal.