The Kuraoka Family Weekly Journal
www.kuraoka.org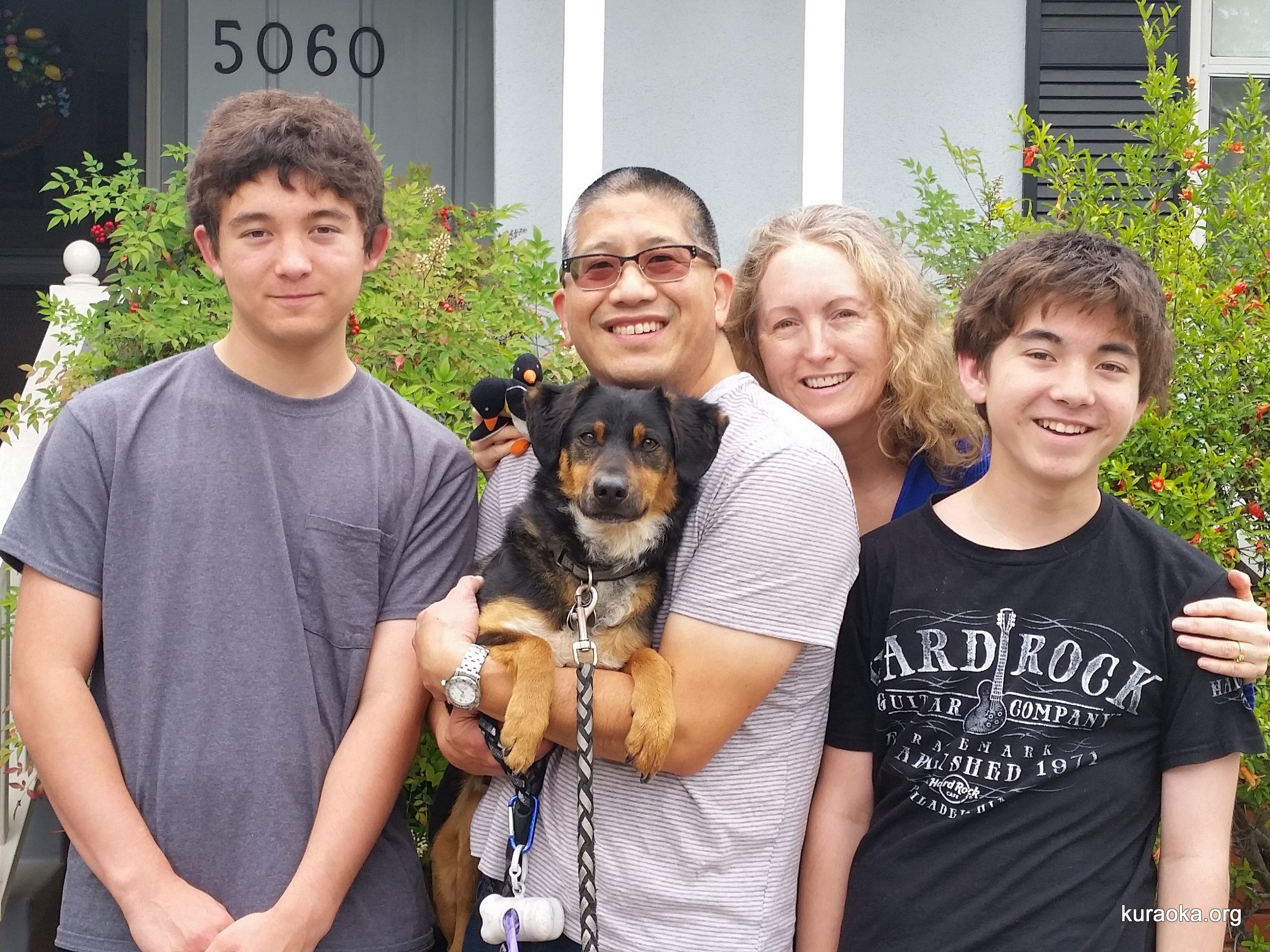 Us, May 8, 2016: Roy, Shadow, John, Ondine, Leo
Saturday, December 31, 2016
HAPPY OLD YEAR'S DAY and welcome to the Kuraoka family year in review!
Our biggest event in 2016 was going to Berlin and Paris over the summer! In Berlin, we joined Barbara and stayed at the Westin Grand. It was great to connect with Dax und Juergen and kleine Barbara and Ulrich.
Dax und Juergen met us at the airport and shepherded us to the hotel. John immediately went off on his own to a ukulele stammtisch while everyone else went to a little outdoor jazz festival. One big outing, the focal point of the trip, was to see our Barbara's childhood home in Altglienicke, on the outskirts of Berlin.
Other highlights included thoroughly enjoying a live performance of The Merry Wives of Windsor in German, an evening walkabout with Ulrich (recently retired political editor of Die Welt and a definite Berlin insider), the Berlin Spy Museum and its laser parkour, the Wall, going up the Berlin TV Tower and the Victory Column (featured in Wings of Desire), wandering through the darkly looming monoliths of the Holocaust Memorial, and, throughout the city, finding little brass sidewalk plaques marking the former homes of mostly Jewish families that had been displaced by the Nazis. John especially enjoyed shopping like a native Berliner at the Galeria to replace some stuff he lost when his pack was stolen (his rain jacket is his favorite souvenir). Ondine connected with her friend from her Heidelberg days, Desiree, and we all took a short river tour together. And we joined Barbara for a terrific meal at Berlin's oldest restaurant, Zur letzen Instanz, which began operations in 1621. We sat in a corner booth right next to the big cast iron heater where (some say) Napoleon used to sit!
Barbara stayed in Berlin for another week, but we flew from Berlin to Paris. There we stayed at the Pullman Montparnasse, where we'd been upgraded from a quad room to a magnificent suite! That absolutely made the trip for us because the boys had one room and we had the other. The location was perfect, across the street from the massive Gare Montparnasse (the setting for the book The Invention of Hugo Cabret).
Highlights in Paris included climbing up the stairs as high as we could until an elevator took us to the top of the Eiffel Tower, hanging out with the gargoyles and grotesques atop Ste. Chappelle and Notre Dame, a visit to Shakespeare and Company, and a Fat Tire bike tour. The low in cuisine was a highly rated creperie which served up greasy, rubbery crepes with overcooked toppings for princely sums. But, we found an excellent, reasonably priced Italian place (Il Gigolo) in the Latin Quarter to which we returned a few times for meals. And the breakfasts included at the hotel were sumptuous spreads. John and the boys toured the Catacombs, leaving Ondine enjoying an hour or so of cafe life on the surface. A special treat was leaving the kids at the hotel and getting away on our own to Montmartre, Sacre Coeur, and Renoir's Gardens, with lunch at Hope Cafe, a small, organic eaterie along Rue Lamarck.
Other travels included a Memorial Day weekend in Big Bear with John's extended family. We stayed at Shore Acres Lodge, where each family had its own cabin. We went up the mountain on the chairlift, John strummed a bit on the ukulele, and we joined the clan for dinners together. What a great time!
Thanks to Barbara, we had a getaway sans kints to the Lawrence Welk Resort, where we enjoyed one of the few wet weekends we've had so far this season!
Barbara went to Japan for a couple weeks and also went to the Grand Canyon. Frances went to South Dakota with Patty and Daryl.
We hosted Takumi, a student from Japan. We took him to Belmont Park, Coronado, and even to John's clan Easter gathering. One special memory from Takumi's stay was when he cooked us a delicious dinner of oyakodon and a dish he created!
Ondine has been at Kaiser for over a year, and she's still really loving the job and the teams she works with. She had a scary attack of diverticulitis that sent her to the ER and knocked her off work for a week, but that's over and she's back to her usual high-fiber diet. She's now more conscious of staying well hydrated. She participated in the Alzheimer's Walk with the Kaiser team. And, she took the big Spanish interpreter certification exam; now she knows what to expect next time (she can try two more times).
John took up the ukulele, joined a ukulele meetup (the Sneaky Tikis), and even went to a ukulele stammtisch in Berlin! He judged the EVVY Awards and took online courses in marketing, social media, Shakespeare, history, and archaeology. He's gotten into Shakespeare's history plays. And, he received a Jita-Kyoei award from Unidos Judo Clubs and the PSJA for his support.
Roy is 16 years old and a junior at Patrick Henry High School. He took the SAT in December and scored in the 98th percentile. Now he's starting to look seriously at college creative writing programs. He ran lights for several school productions and concerts, and earned his sixth degree in judo. He got a new passport for our Berlin-Paris trip. And, Roy is finally out of braces!
Leo is 14 years old and a freshman at Patrick Henry, so he just started high school. He's taking three advanced level classes: Seminar English, Advanced Physics, and Advanced Integrated Math 2 (in which nearly all his classmates are sophomores). He's also taking American Sign Language and Music Production. A tough schedule! Leo also got a new passport for our Berlin-Paris trip.
This is the first year since 2010 that both kids have attended the same school! The last school to have them enrolled simultaneously was Gage Elementary, when Leo was seven years old and in second grade, and Roy was nine years old and in fourth grade. After that, Leo changed to Hearst Elementary and then went to Lewis Middle School while Roy stayed at Gage and went on to Pershing Middle School. Anyways, they're now both at Patrick Henry High School.
Shadow had an uneventful year. He had a two-week stay at the Petsmart Pet Hotel while we were in Berlin and Paris, which he seems to love. His projects include making nests in the back plant bed, from where he can keep watch over the embankment.
Speaking of the garden, John has three avocados growing from seed, and replaced an Australian plant in the front bed with a native Coyote Brush. Also, he has a batch of persimmon seeds in the refrigerator until early spring.
Plays: At Patrick Henry we saw Love Letters, Arsenic and Old Lace, and An Evening of One Act Comedies. At Glendale Centre Theatre we saw Catch Me If You Can. At the Monbijou Theater in Berlin, we saw Die Lustige Weiber von Windsor (The Merry Wives of Windsor), in German, no less. At the Coronado Playhouse, we saw Hamlet. At the OB Playhouse & Theatre Company we saw Avenue Q. And, at the downtown library we saw a Shakespeare For All performance of Measure for Measure.
Movies: In 2016, we saw Star Wars: The Force Awakens, Hail Caesar, Deadpool (Roy and Ondine), Captain America: Civil War (Roy and his birthday buddies), Star Trek: Beyond, Fantastic Beasts and Where to Find Them, Edge of Seventeen, Rogue One: A Star Wars Story, and Passengers.
Concerts: Roy attended many of the concerts at Patrick Henry working lights. But we went to see Sarah Maisel and Craig Chee perform at a free ukulele concert held at St. Dunstan's, right across from Patrick Henry.
New acquisitions: The two biggest purchases this year were a new car and a new roof and solar power system. In July, Ondine got a deep blue Prius Two Eco, replacing her faithful 16-year-old silver Mazda Protege. And in November we got a solar power system from Secure Roofing and Solar, which included a free roof. The new roof is an Energy Star-rated Certainteed composite shingle, and the new solar power system consists of 20 Kyocera panels in the back of the house that should produce about 8,900 KWh per year.
The boys got new laptops as rewards for great grades last year: Roy got an HP 14" and Leo got an HP 15". We got a new pre-lit 7.5' Christmas tree. And we've acquired three ukuleles this year, all off Craigslist: John's Vineyard, Ondine's Makala, and John's Kala tenor.
Most of the new stuff we got this year were replacements for things that died, including a new kitchen faucet, Liftmaster garage door opener, a new (open box) Whirlpool Duet WED72HEDW high-efficiency dryer, a new Haier microwave, and a new Brother MFC-J480DW wireless scanner/printer/copier/fax. Ondine got a new (used) desktop computer. In his office, John got a new LED desk lamp, a Brother 2320D laser printer, and a used Nikon DSLR (a D40x) and 18-140mm lens. A used Nikon 16-85 3.5-5.6G ED VR lens replaced the lens that got stolen in Berlin after the travel insurance reimbursement came through. And, John bought a new Neewer flash unit.
Lightening the load: The two biggest discards of 2016 were Ondine's Mazda Protege and several layers of old roof shingles and fascia boards. Ondine got rid of a bunch of vinyl records (John is clinging to his). We got rid of several loads of aging or dead electronics at electronics recycling events, including Ondine's old desktop computer (which used to be John's main desktop). John unwillingly lightened his load in Berlin, but almost all of that's been replaced except the tiny Langenscheit German-English dictionary.
Hot TV shows for us this year include Midsomer Murders, Detectorists, Time Team, The Grand Tour (Jeremy Clarkson, Richard Hammond, and James May's new car-based show on Amazon Prime), Cradle to Grave (based on Danny Baker's books about growing up in South London in the 1970s), Raised by Wolves (based on Caitlin Moran's books and essays about growing up home-schooled in Wolverhampton), Fleabag, Transparent, and, for John, Britain's Bloodiest Dynasty and Britain's Bloody Crown, two series based on historian Dan Jones' books dovetailing neatly into Shakespeare's history plays.
Turning to things beyond our own house, the biggest news of the year was probably the rise of the alt-right and the election of Donald Trump as president of the United States, defeating Hillary Clinton in what was widely considered an upset victory. That followed another huge international news story, "Brexit:" Britain voting to leave the European Union.
All over the globe, globalization seems be the enemy du jour. Except Russia, which seems focused on extending its hegemony; its support of Syrian dictator Bashar Assad against an uncoordinated blend of self-proclaimed Islamic militants, democratic freedom fighters, and a U.S.-led coalition has triumphed, crushing out the last gasp of the dying Arab Spring movement.
Meanwhile, terror attacks against ordinary people have increased, including using trucks to plow into crowds at public gatherings in Nice, France and Berlin, Germany (at the Gedaechtniskirche).
In the U.S., attacks against police officers are on the rise in the U.S., following years of increasing police shootings of unarmed civilians, often ethnic minorities. Home-grown sociopolitical terrorism is also on the rise, with mass shootings in schools, shopping malls, and nightclubs. Politically motivated hacking attacks are increasing in scope, one of the most influential of the year being the release of private Democratic National Commitee emails by WikiLeaks. And, fake news stories spread confusion on a global scale, playing a major role in splintering public opinion and maybe even influencing the US presidential campaigns.
Financially, the U.S. dollar hit a 14-year high against the Euro. Unemployment figures continued to drop, falling to 4.6%, the lowest since August 2007 and a number some economists are calling full employment. Inflation held at about 1.7%, but retail grocery prices fell for the first time since the 1960s, dropping about 1%. And, Donald Trump's election kicked off a stock market rally late in the year, with the market reaching toward, but not quite hitting, Dow 20,000.
On the downside, a massive Wells Fargo banking scandal saw over 5,000 employees fired after fraudulent, unauthorized credit accounts were added to millions of real customers.
Conservative Supreme Court Justice Antonin Scalia died, leaving a vacancy that went unfilled because congress, in a partisan political gambit, refused to hold confirmation hearings for the outgoing president's nominee, Merrick Garland. The Supreme Court has been running on eight justices since.
On entirely another note, the first Super Bowl to use Arabic numerals was this year, Super Bowl 50. It was presumably thought people wouldn't understand "Super Bowl L." The Denver Broncos beat the Carolina Panthers. And in other sports news, the Chicago Cubs broke a 107-year drought by beating the Cleveland Indians to win the World Series. (The Indians now have the longest Championship drought in baseball, but it's a mere 68 years.)
San Diego joined other cities in establishing a $10.50 minimum wage, set to climb to $11.50 on January 1, 2017. And, San Diego home prices rose some 6% over the previous year.
Here in our neighborhood, Cowles Mountain Blvd was resurfaced and restriped, temporarily smoothing over some potholes. A new two-story OSH (Orchard Supply Hardware) opened in the space next to the empty Fresh & Easy, and something else is being built out in the former Fresh & Easy space. And, at Patrick Henry high school, the new performing arts center is at last open. Roy worked tech crew for the grand opening performance!
Neighborhood gas prices started the year around $3.25 per gallon and ended at about $3.05.
On a household level, our hoard of plastic grocery bags we use as kitchen trash bags is dwindling, since California voters passed a measure upholding their ban and stores charge 10 cents each for them. We've been using cotton shopping bags since our trip to Muelheim, in 2004, but we did come to rely on the plastic ones for trash. Sometime in 2017, we'll use the last one and have to actually buy trash bags!
Since getting solar in December, we've enjoyed occasionally watching our energy use go backwards. That'll happen more often in the summer.
This journal started the year with 42,755 visits and ended with about 44,205, for roughly 1,450 unique visitors through 2016. Thank you for joining us through the year, and we hope to see you again!
Remember, photos from 2016 can be seen on our 2016 photos page. To see what we're up to now, visit our regularly updated weekly journal!
Back to the Archives page
Back to the Kuraoka Family main page
Forward to the current Weekly Journal.