12-25-16: Christmas Day. We were in La Canada at Grammy's for Christmas Eve and Christmas Day, with dinner at the Barnhart's.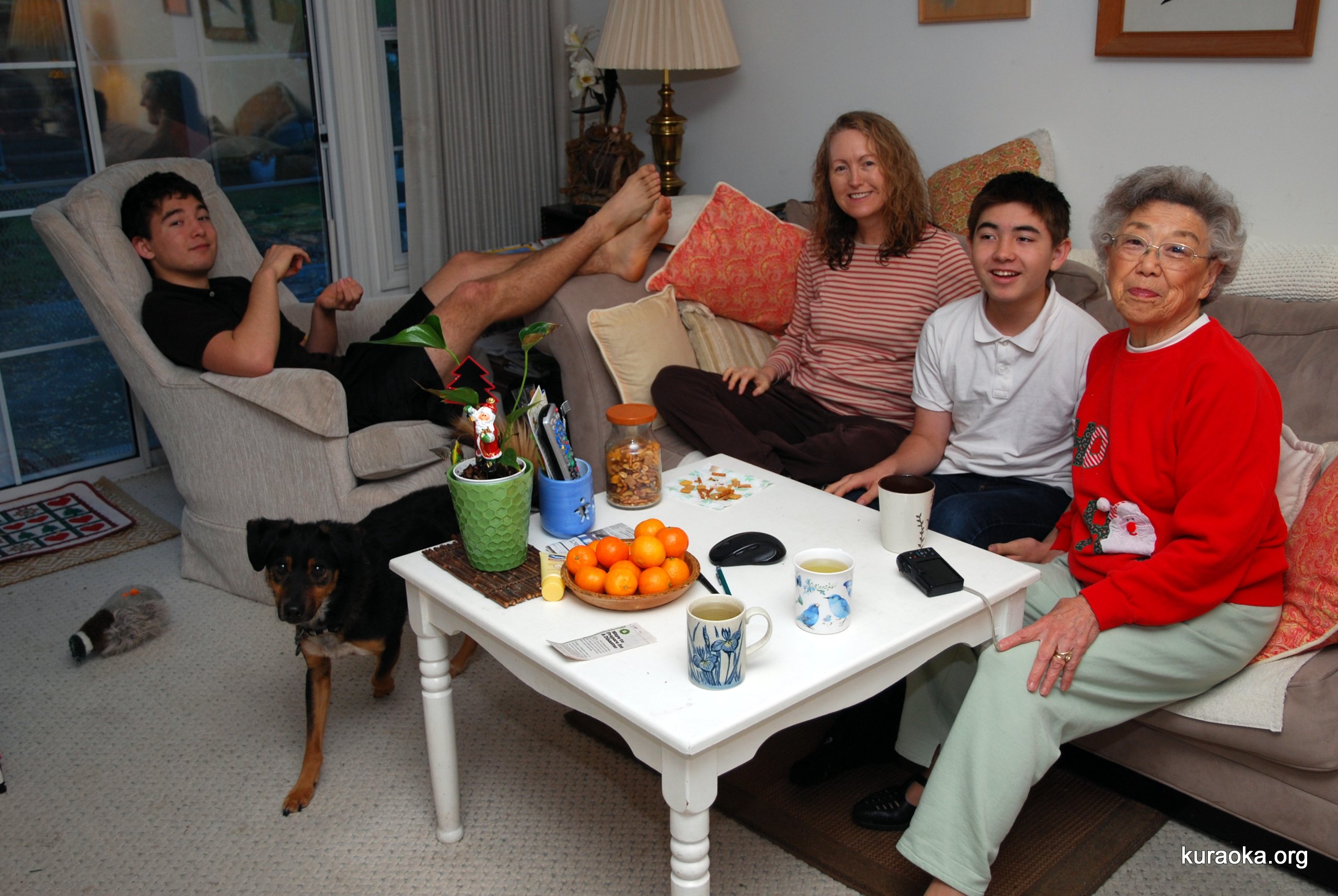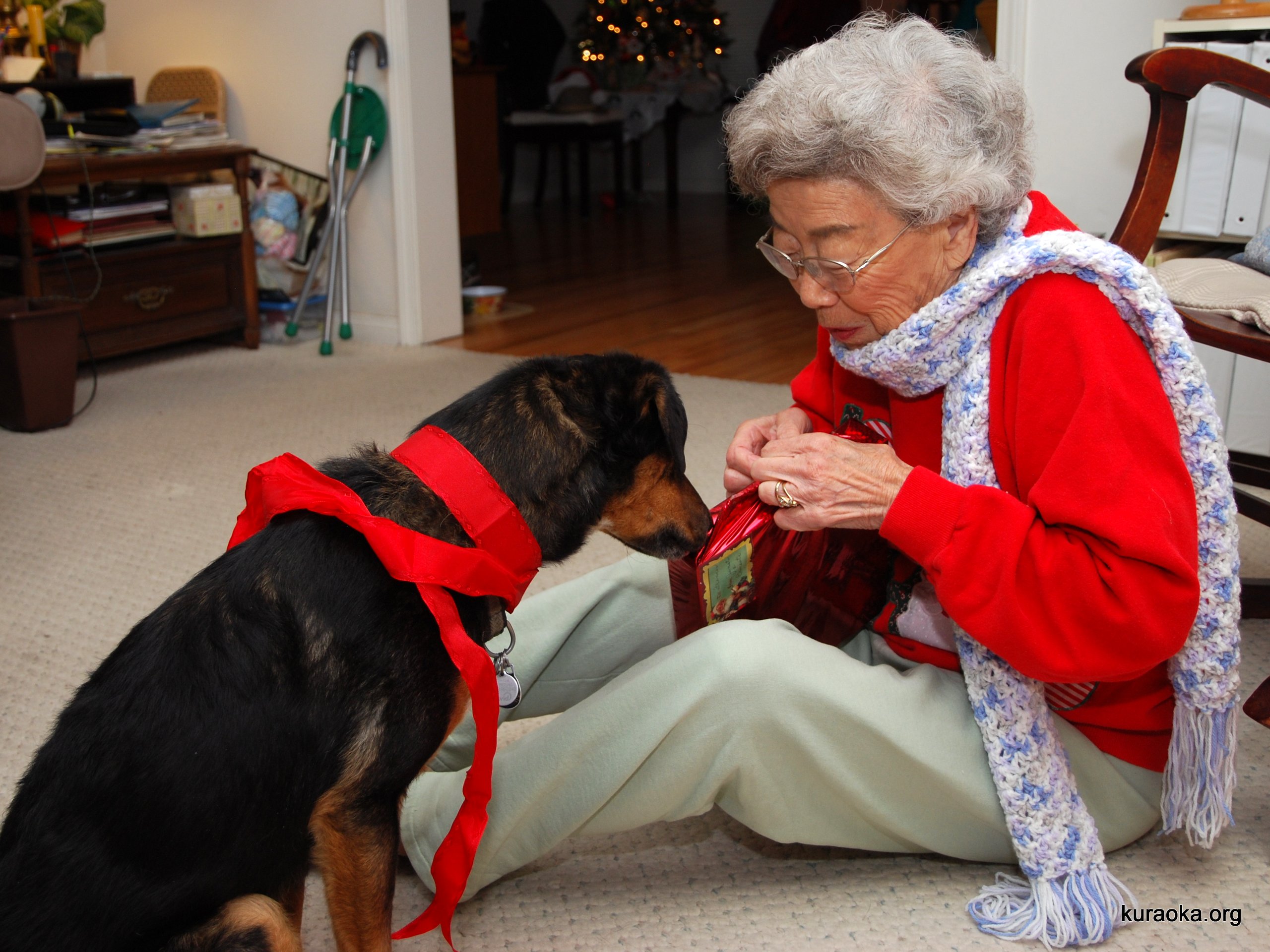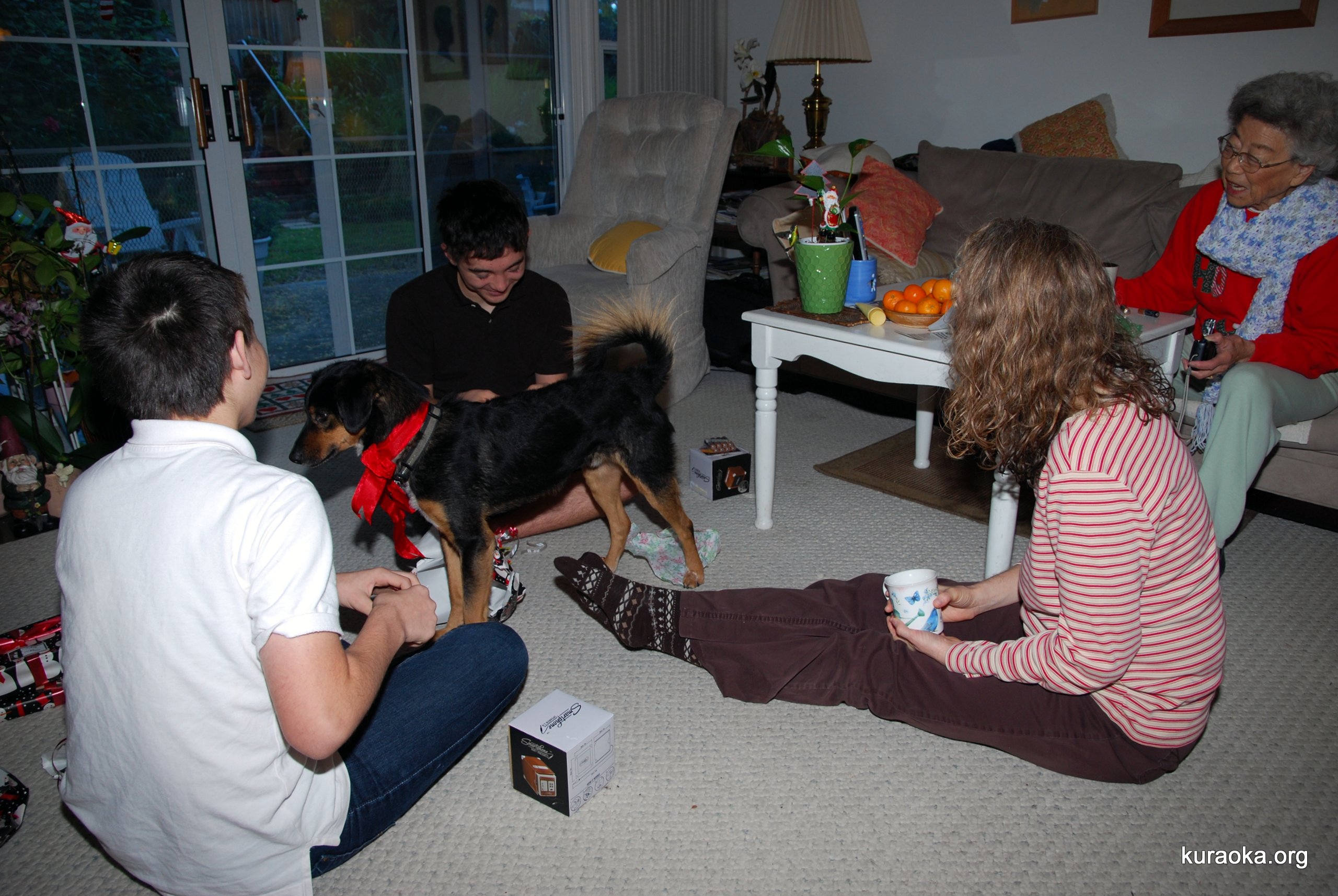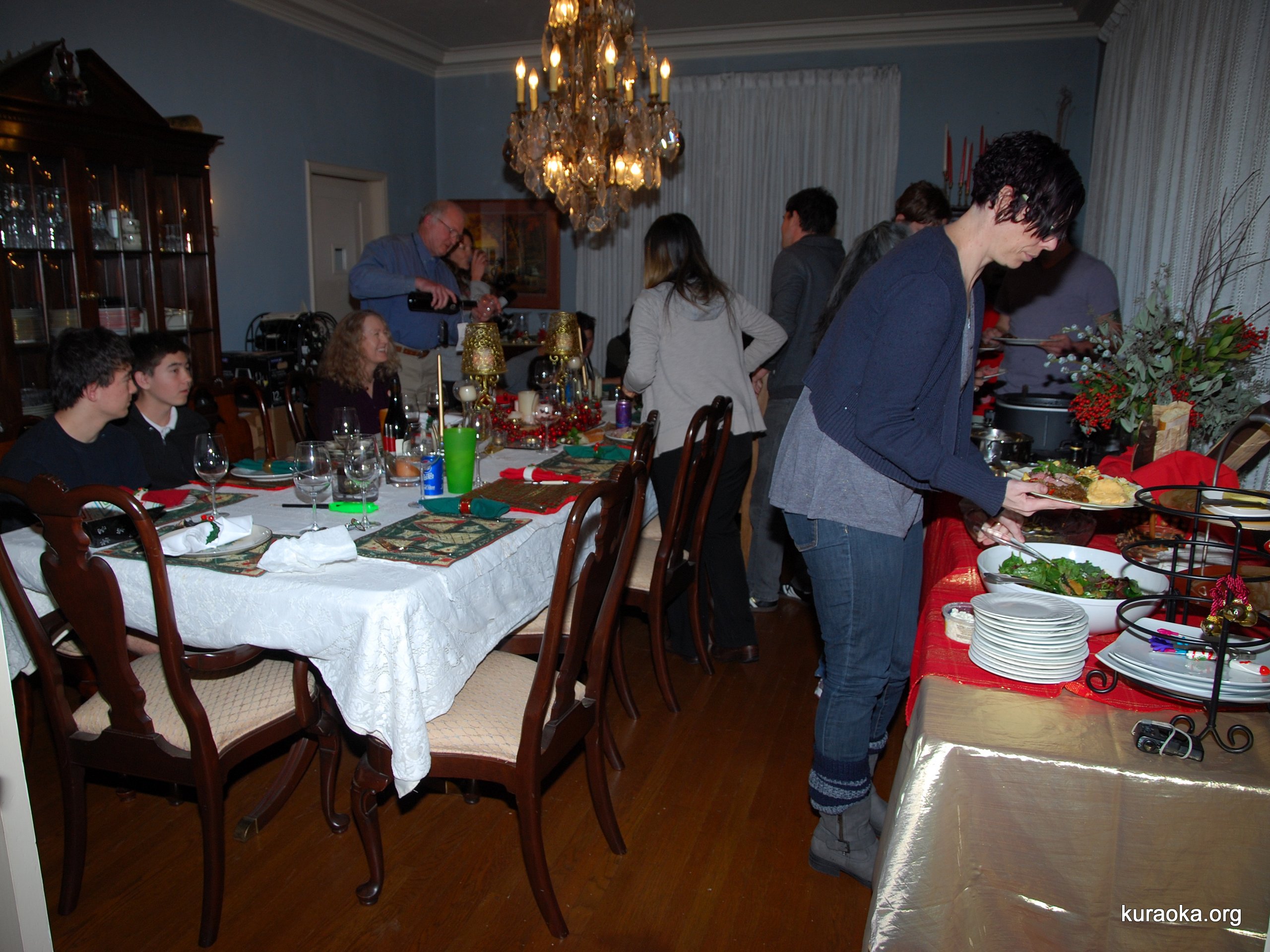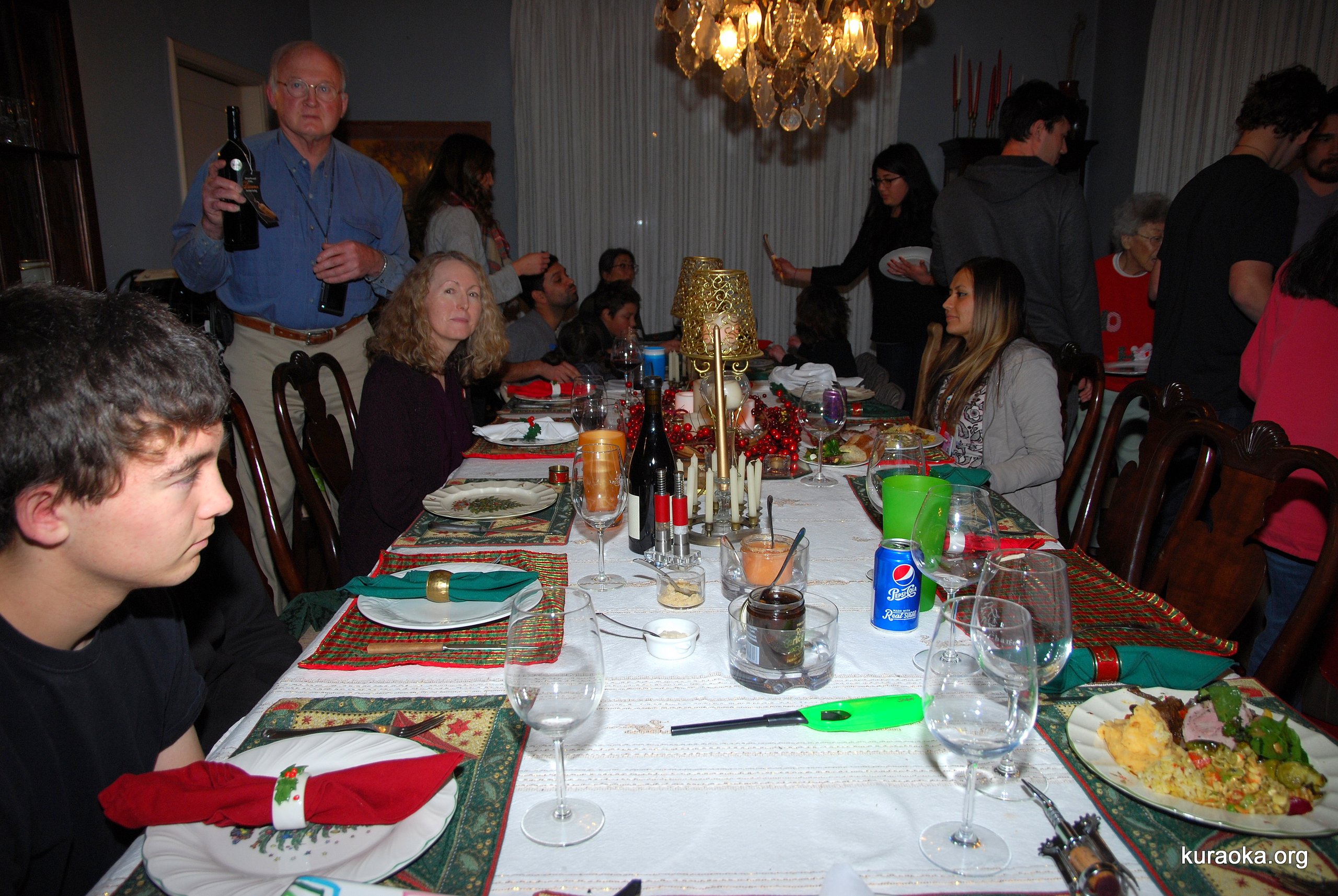 12-24-16: Christmas Eve Day. Here we are in a joint selfie at Grammy's. Also, Leo, Grammy, and Roy working on a gingerbread house kit. Finally, Claire and John playing their ukuleles at a Christmas Eve singalong. That's John's cousin Lynne, Claire's mom, singing on the left.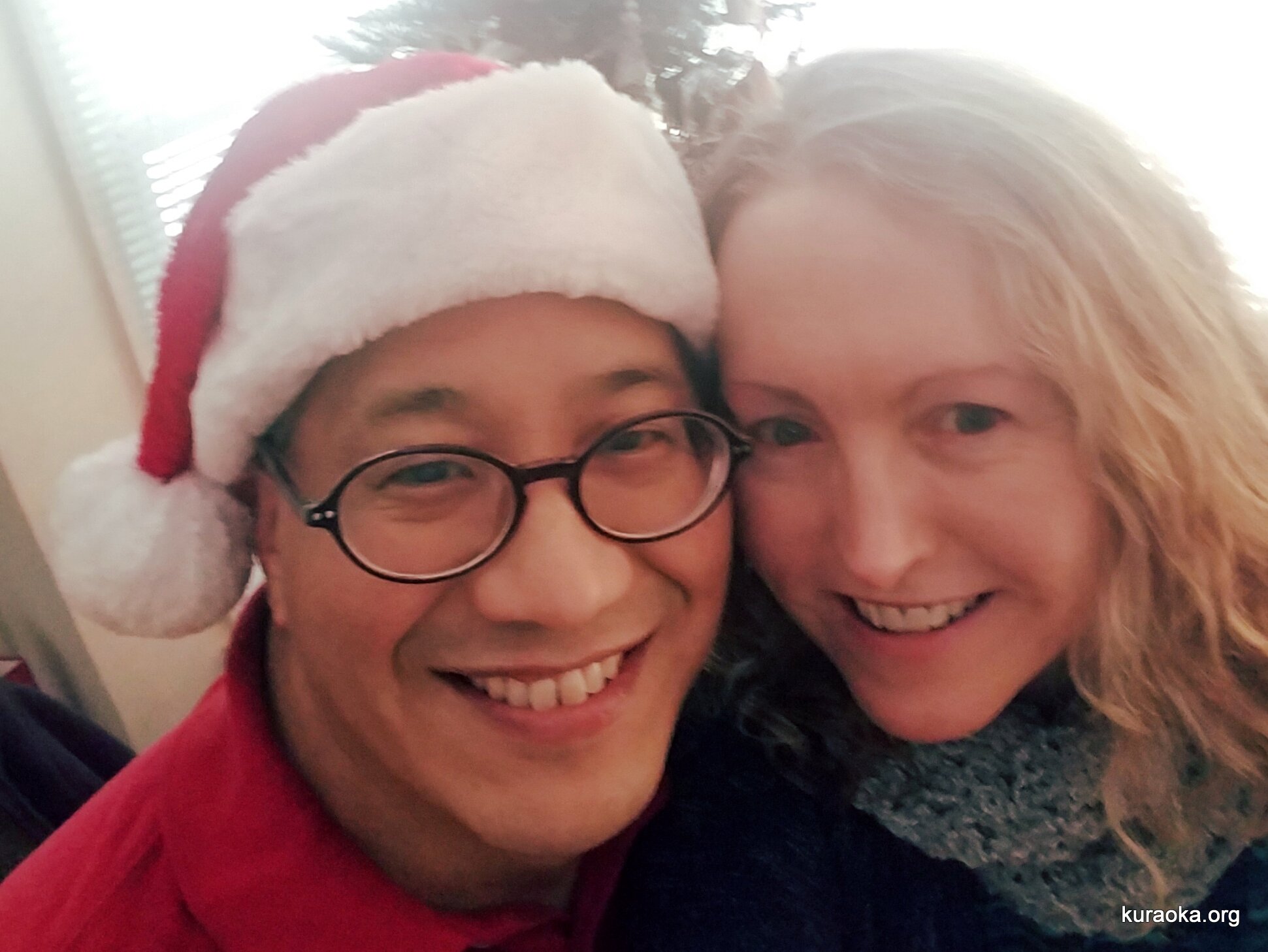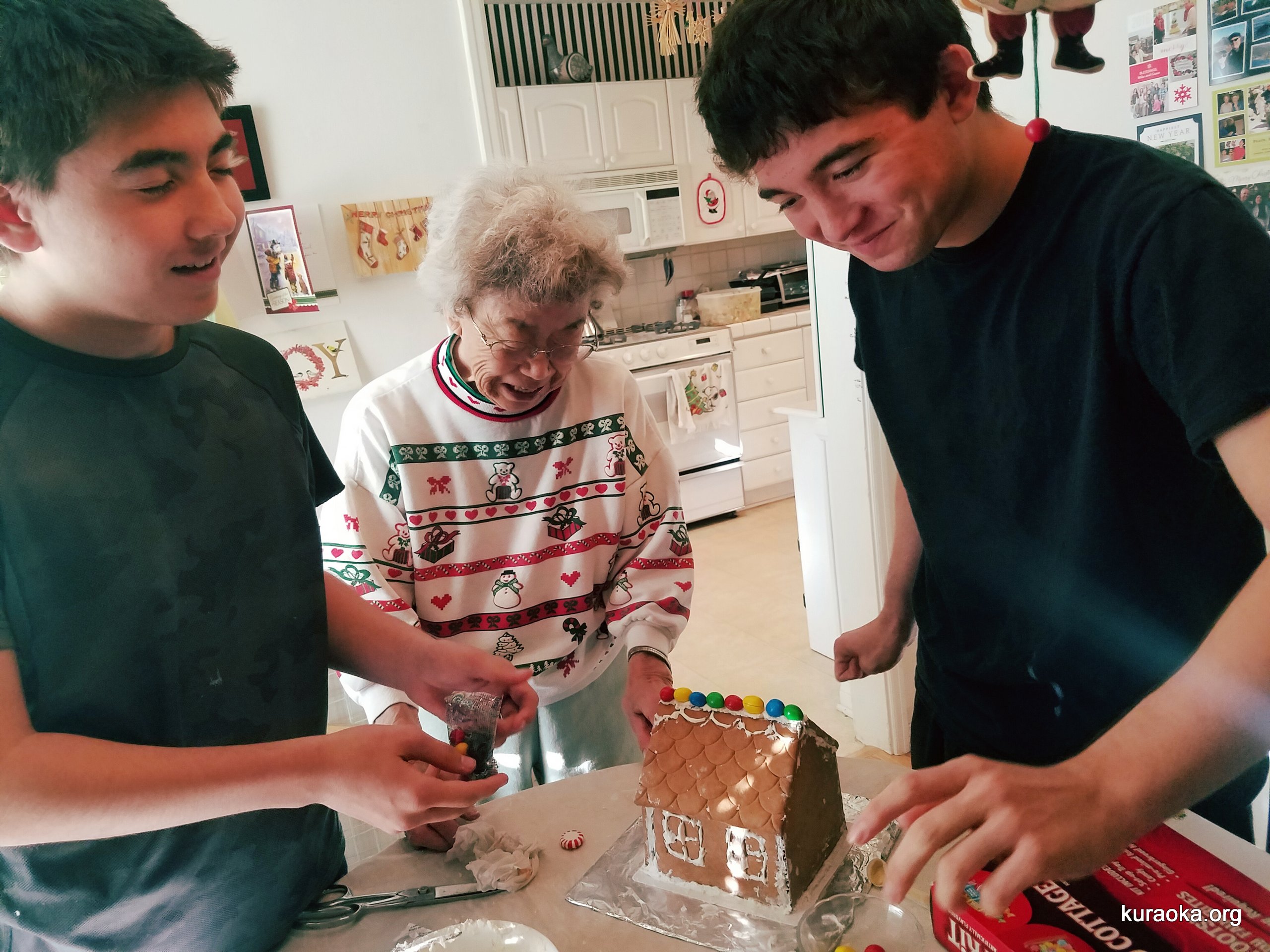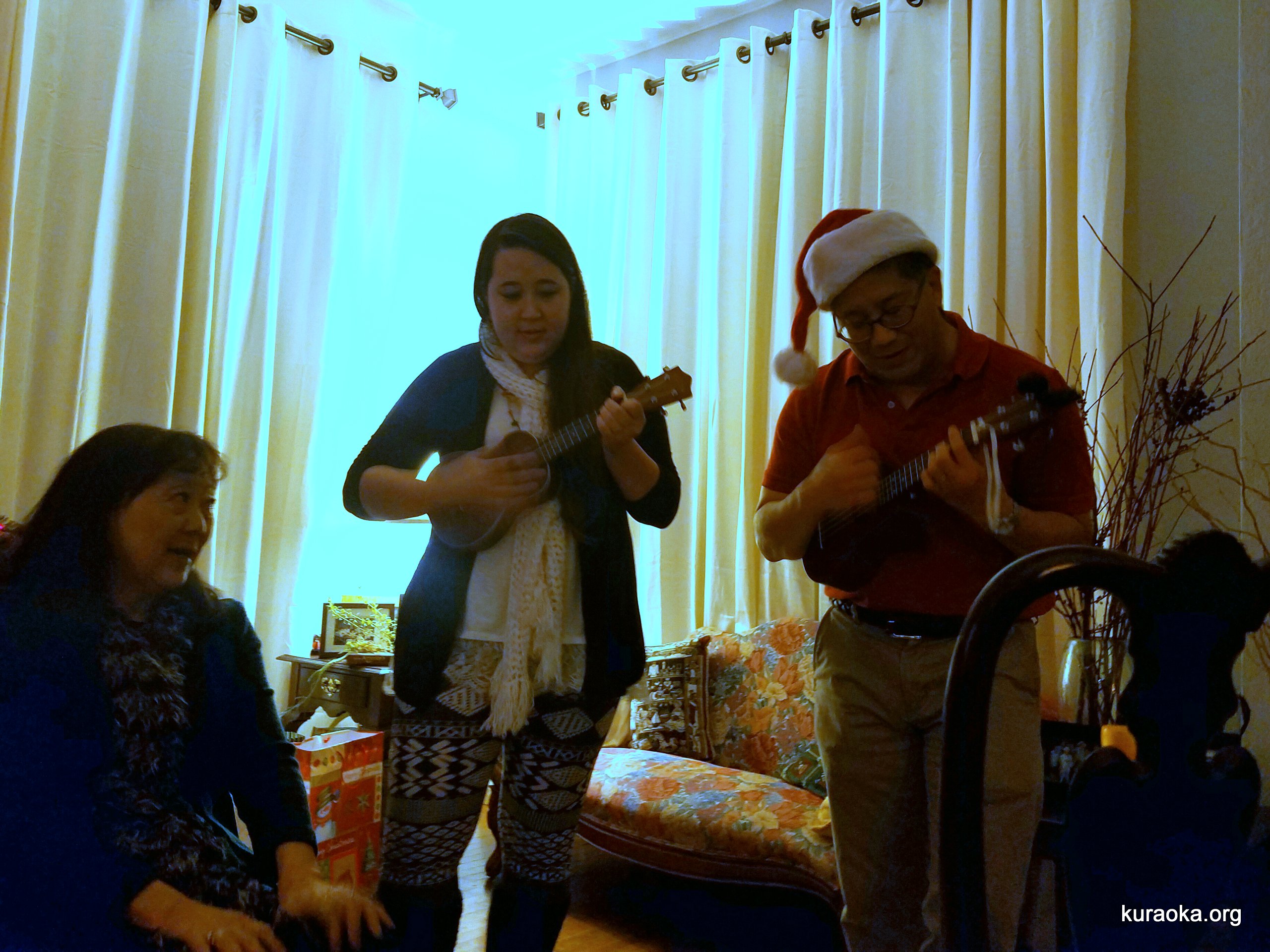 12-20-16: Shadow gets a new duck! We had our at-home Christmas early. Shadow was thrilled with his new mallard duck.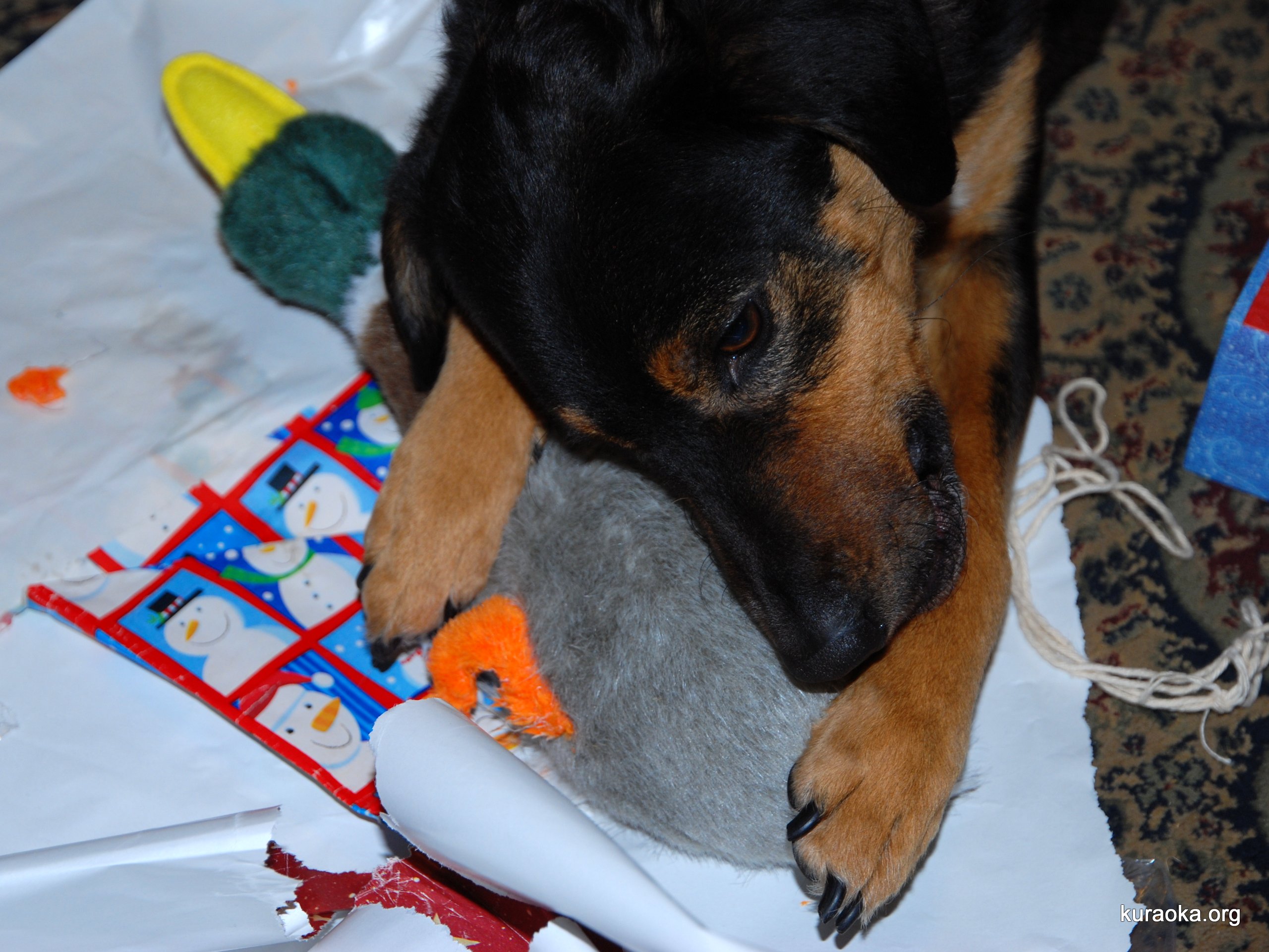 12-18-16: Leo, before and after a haircut. Here's shaggy Leo and trimmed Leo, a few hours apart.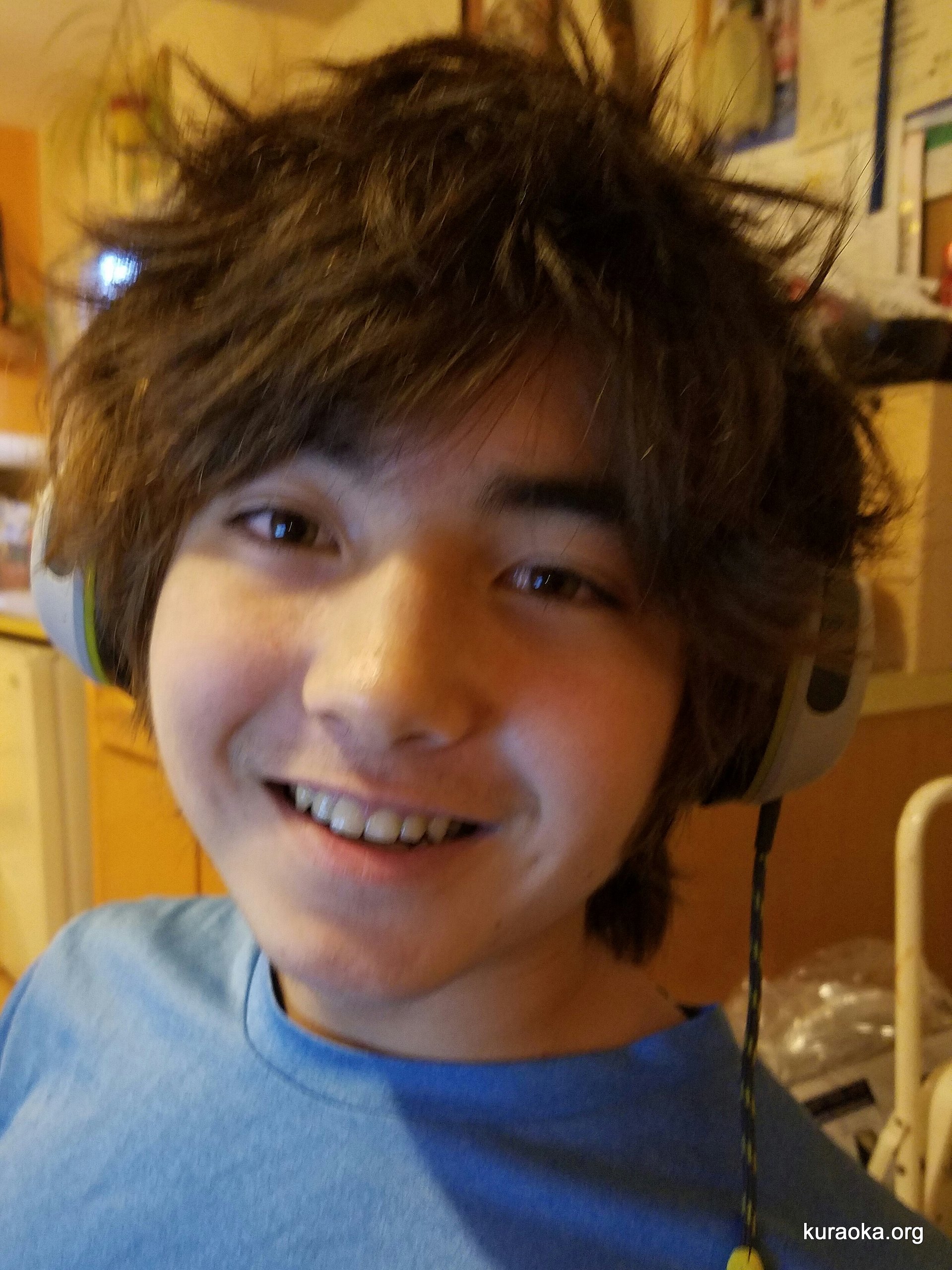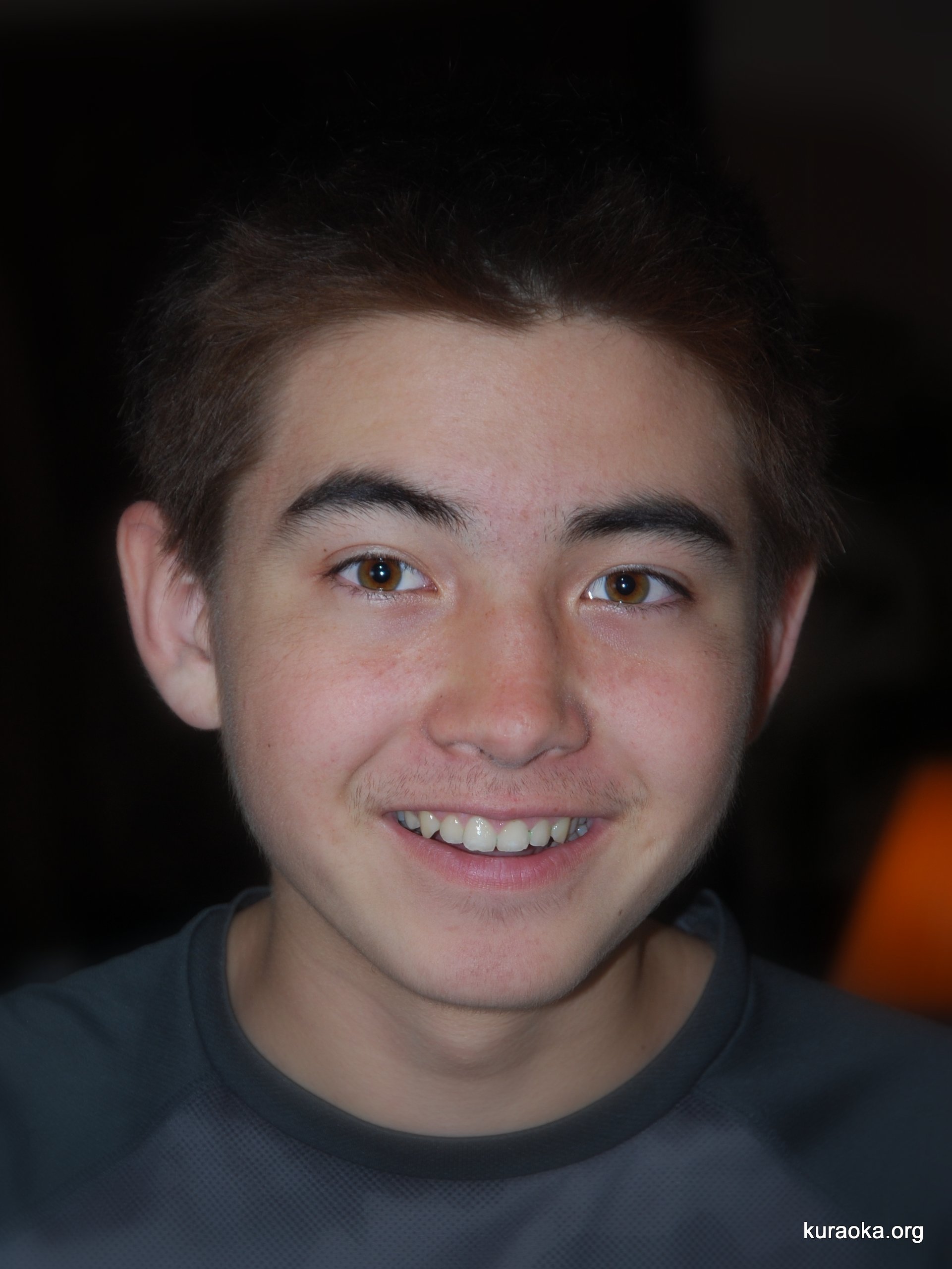 12-16-16: Finally, we have a dryer again! This open-box unit from the Best Buy in La Mesa missed two delivery dates before finally coming to us, via Chino and Poway.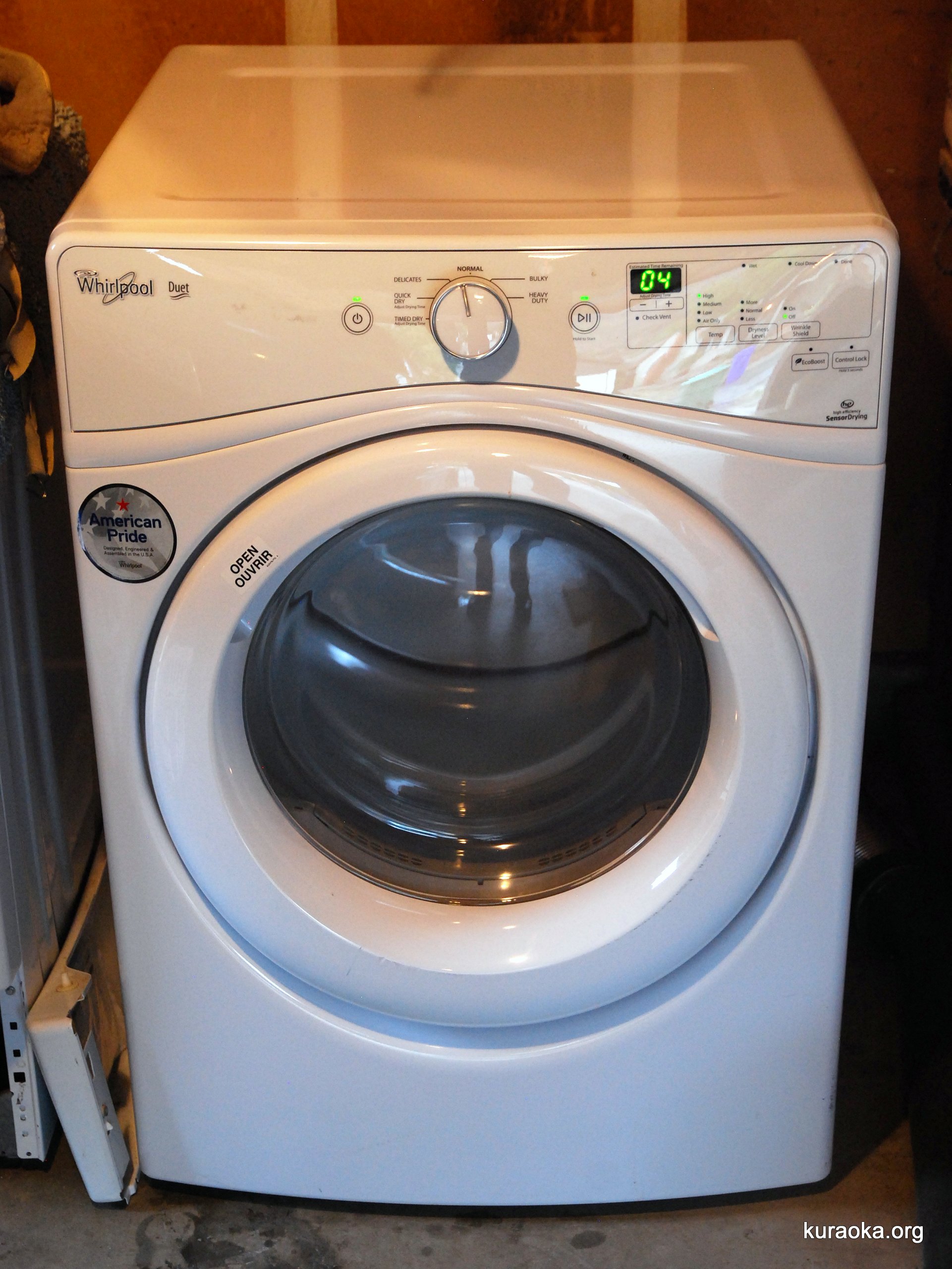 12-14-16: A new microwave. Our dilapidated old microwave quit with a slight pop, so we got a brand-new, in-the-box, clearance-priced unit from Lowe's.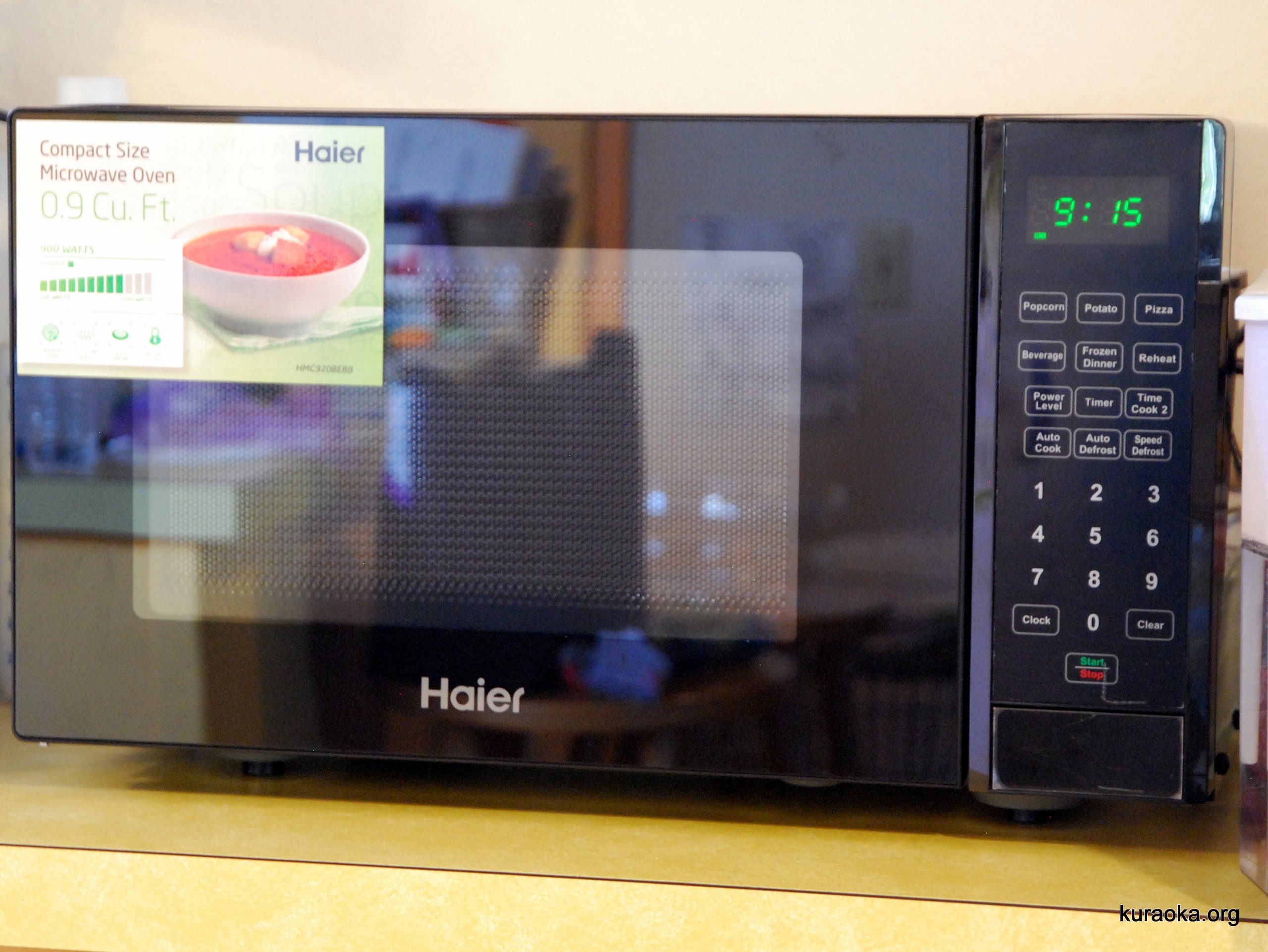 12-11-16: John's ukulele. John rebuilt the tuners on his ukulele and restrung it. It also has a fairly new compensated bone saddle, which he adjusted for better fit. Here's what it looked like when he bought it (used). Not the standard Vineyard UK-55G!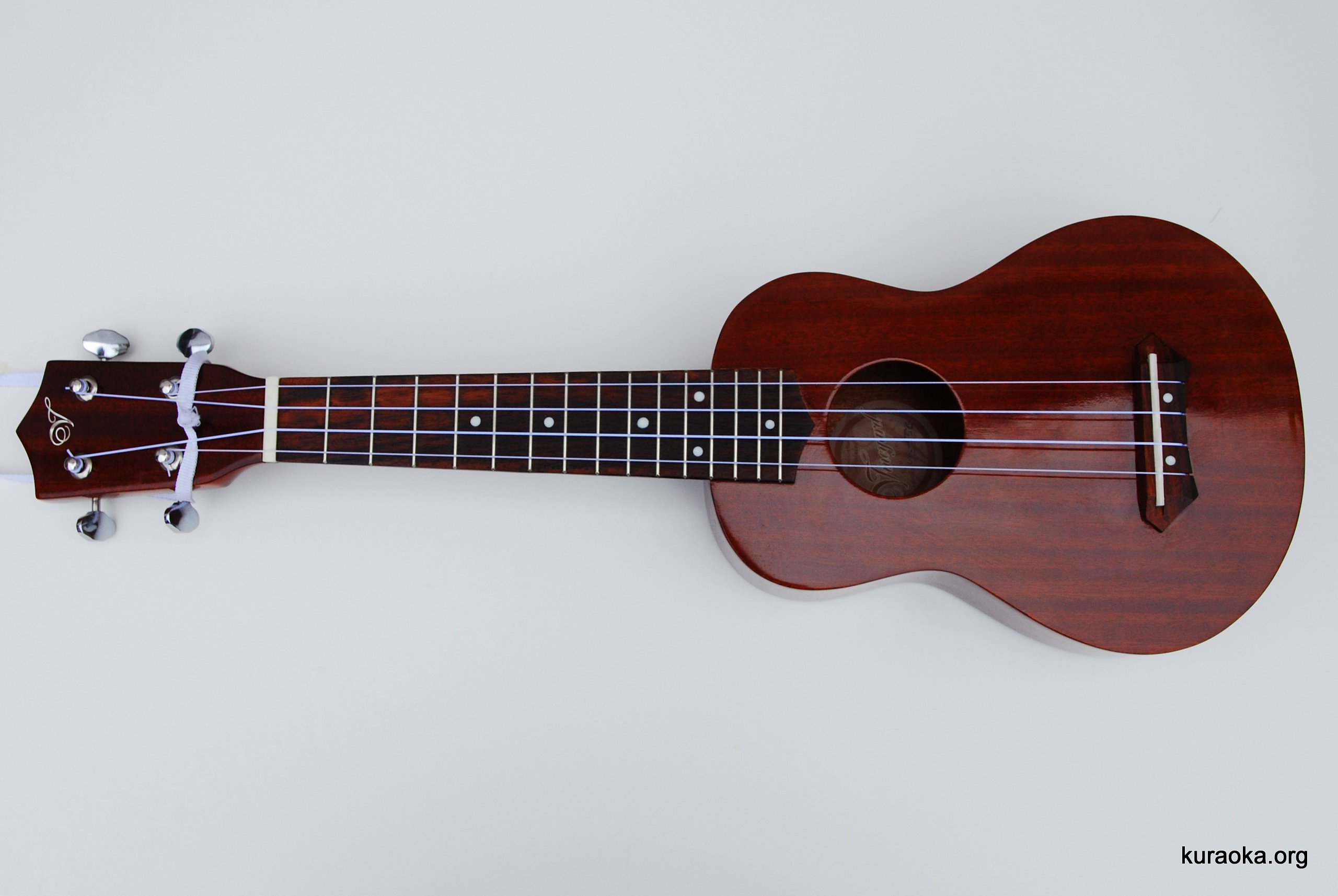 12-11-16: Decorating our new tree. Somehow, our two primary boxes of decorations were filled with less-favorite ornaments, and our most-treasured ones were MIA. The tree still looks festive, though!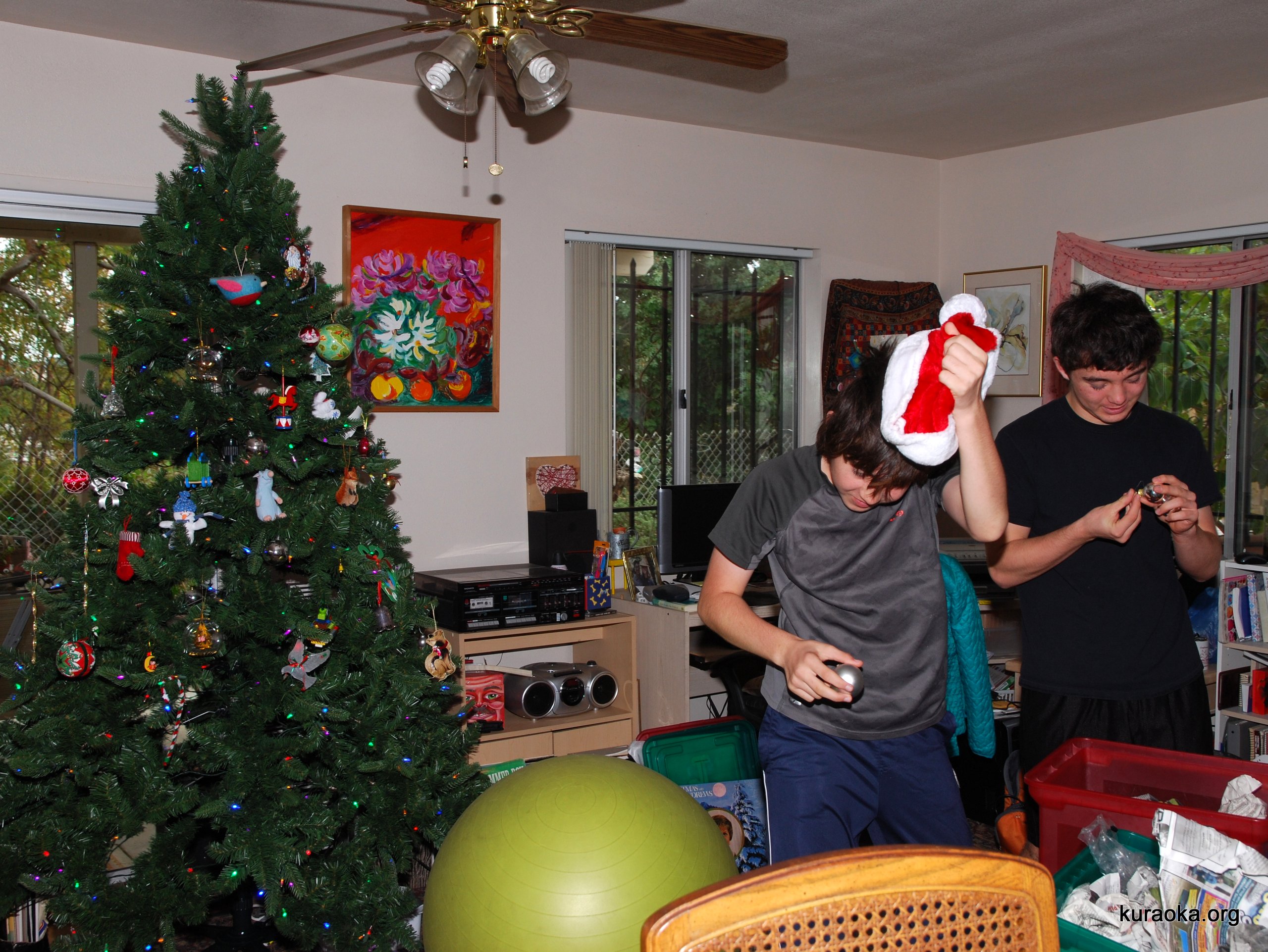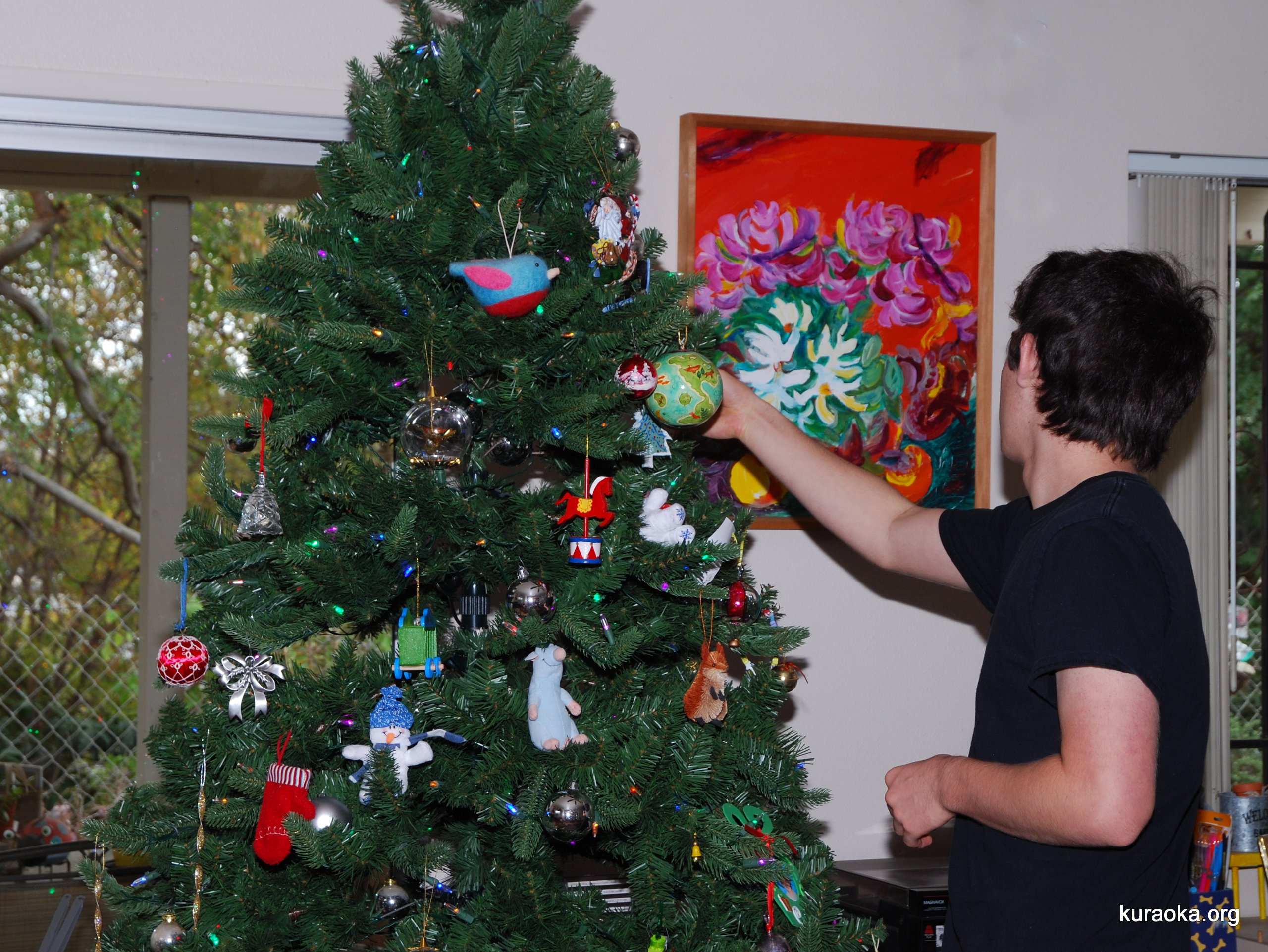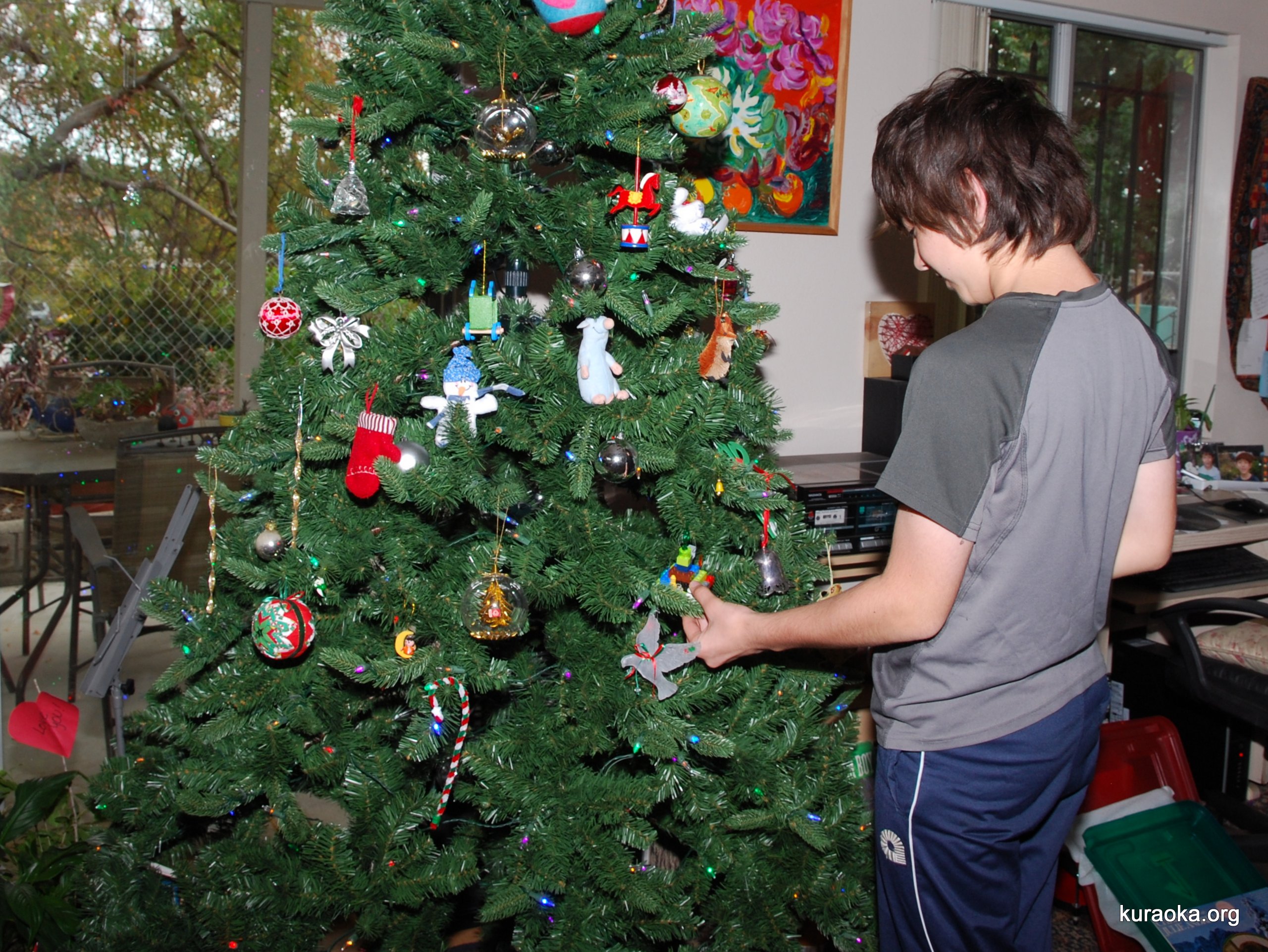 12-06-16: St. Nicholas' Day! Before leaving for school, the boys spilled out the contents of their stockings. Yay!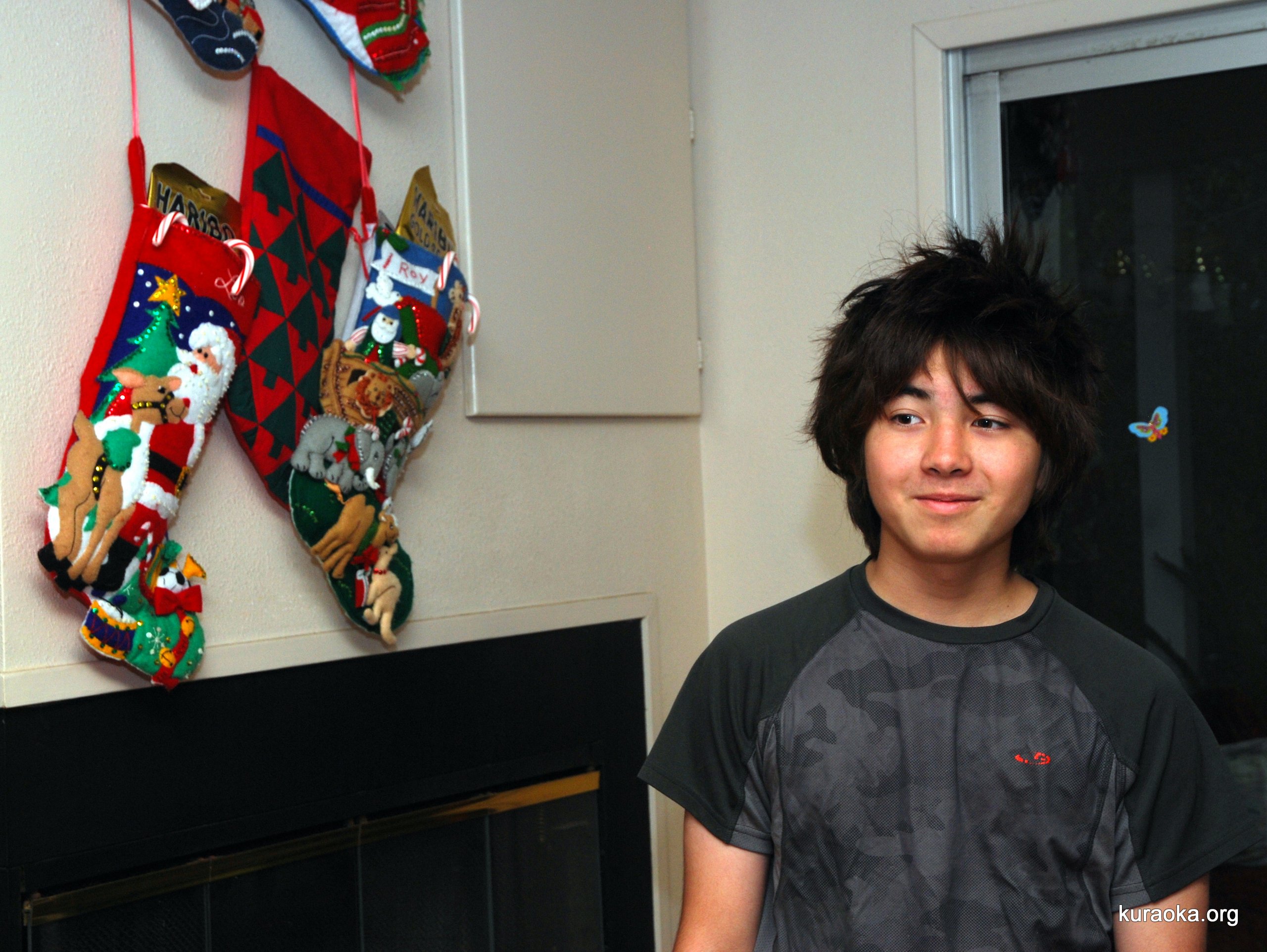 12-05-16: St. Nick visits! Here are our stockings, hung with great care, already laden with treats we can share!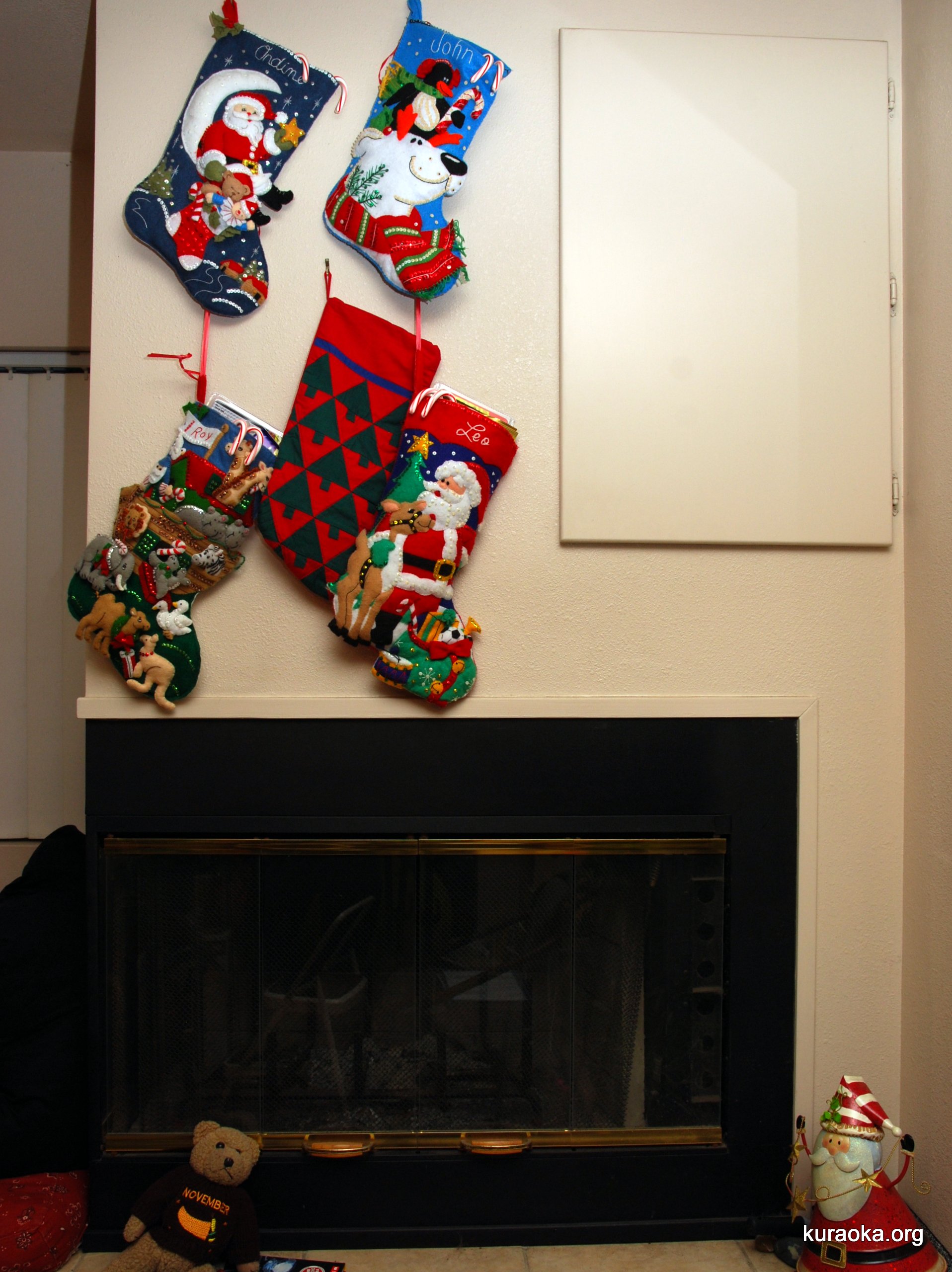 12-04-16: Our new dryer-to-be. A mate for our older Whirlpool Duet HT Sport washer will be delivered and installed Friday. Note the open box deal from Best Buy.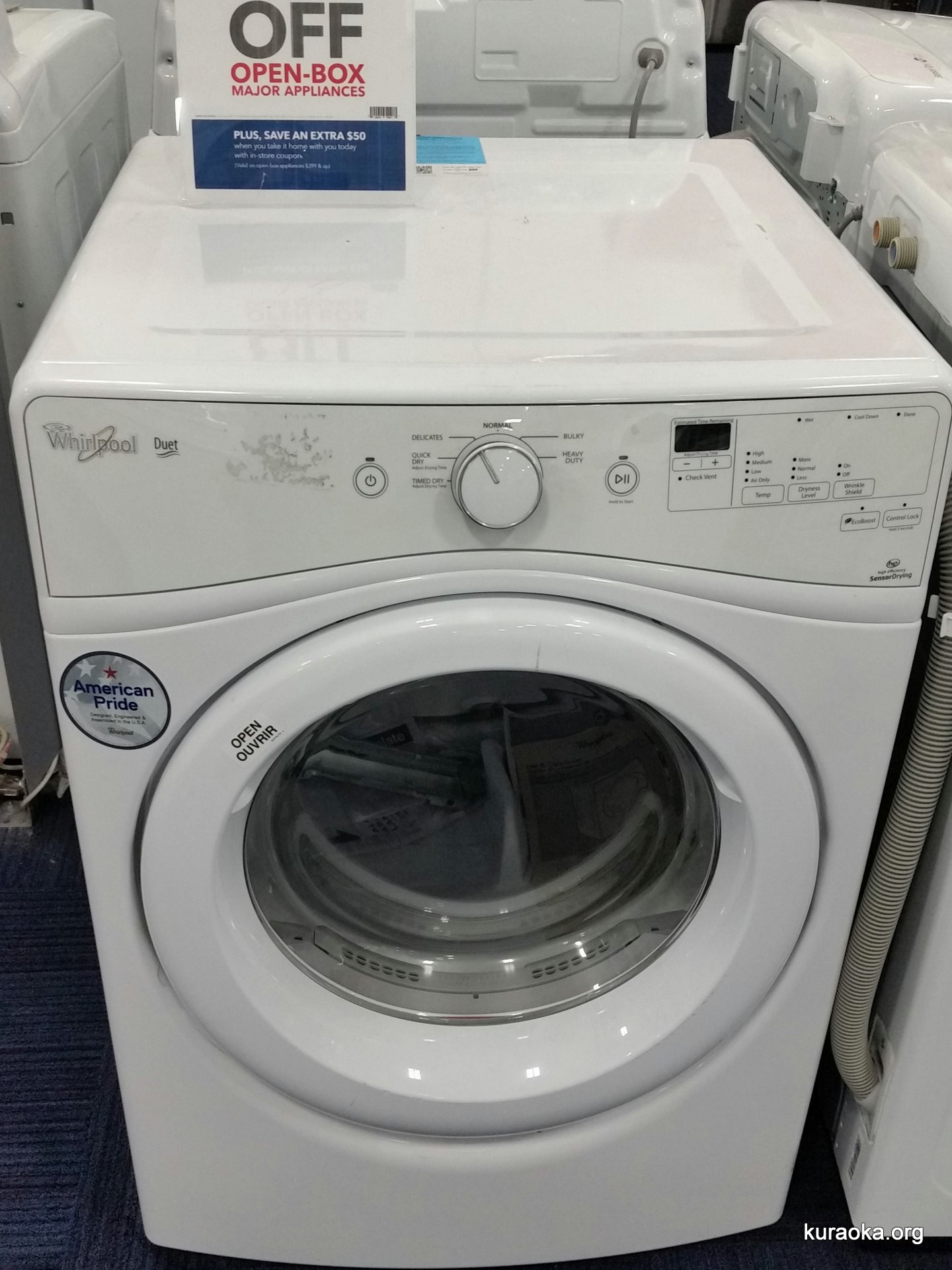 11-28-16: A gift basket from Secure Roofing and Solar! Our project manager came by with a beautiful gift basket filled with treats for us!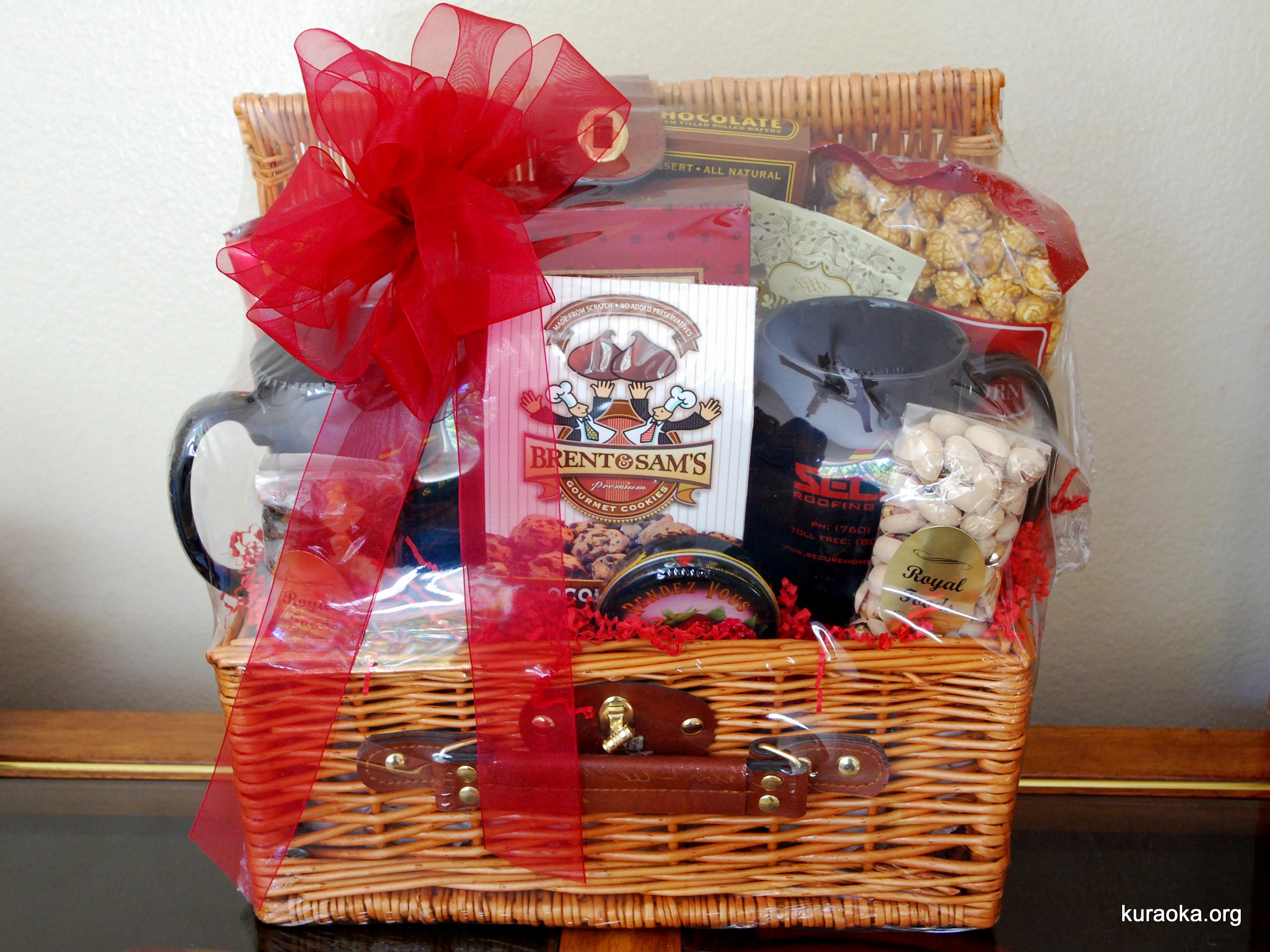 11-26-16 to 11-27-16: A weekend getaway to Lawrence Welk Resort. Thanks to Barbara, we enjoyed a kid-free getaway to the Lawrence Welk Resort just up the I-15. Here's our lunch at Nishiki Ramen Saturday afternoon. And, a couple views out our balcony Sunday morning, an early rainbow, then showers. And, a view looking up at our unit on the second floor. Ahh, rain!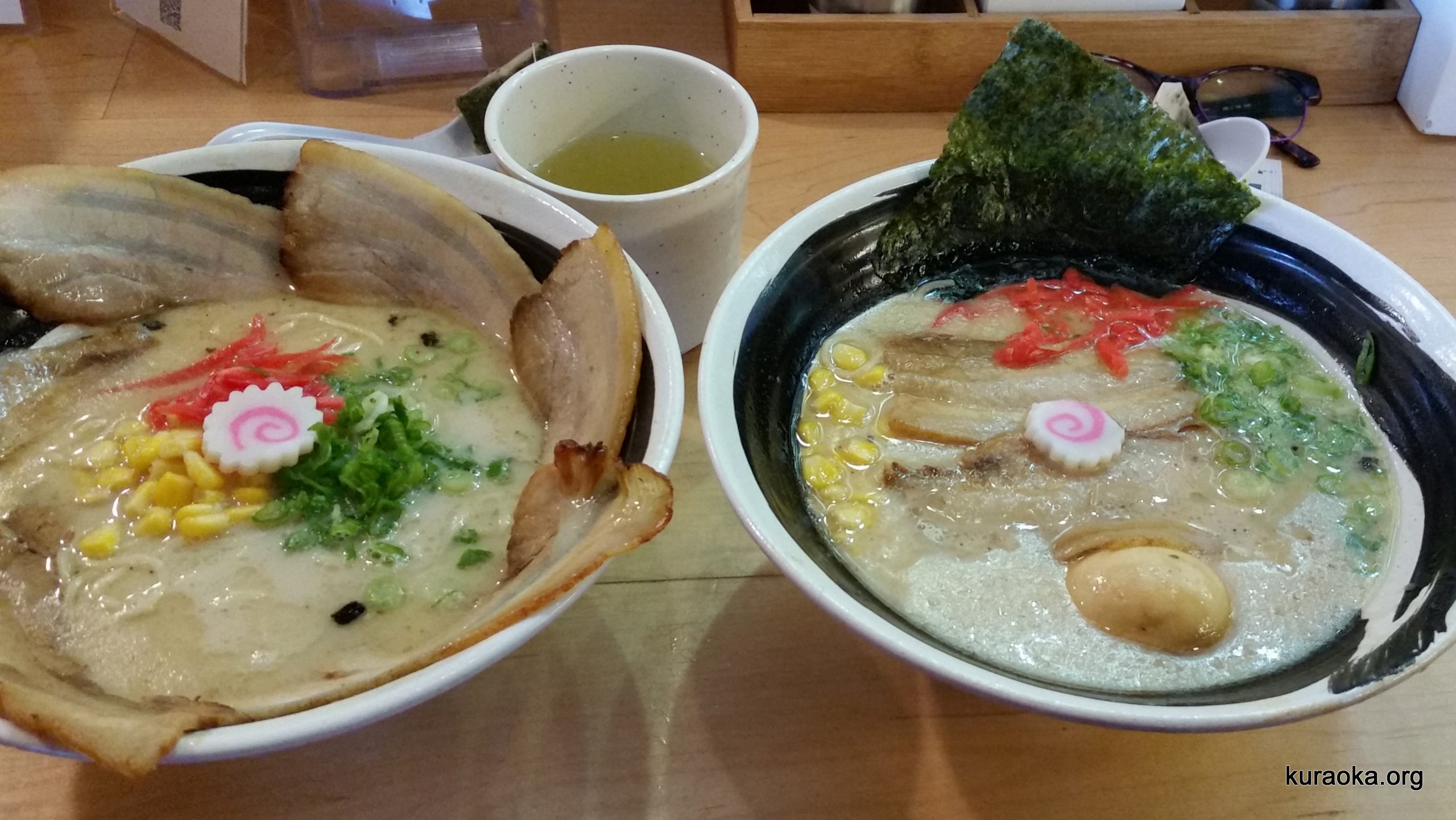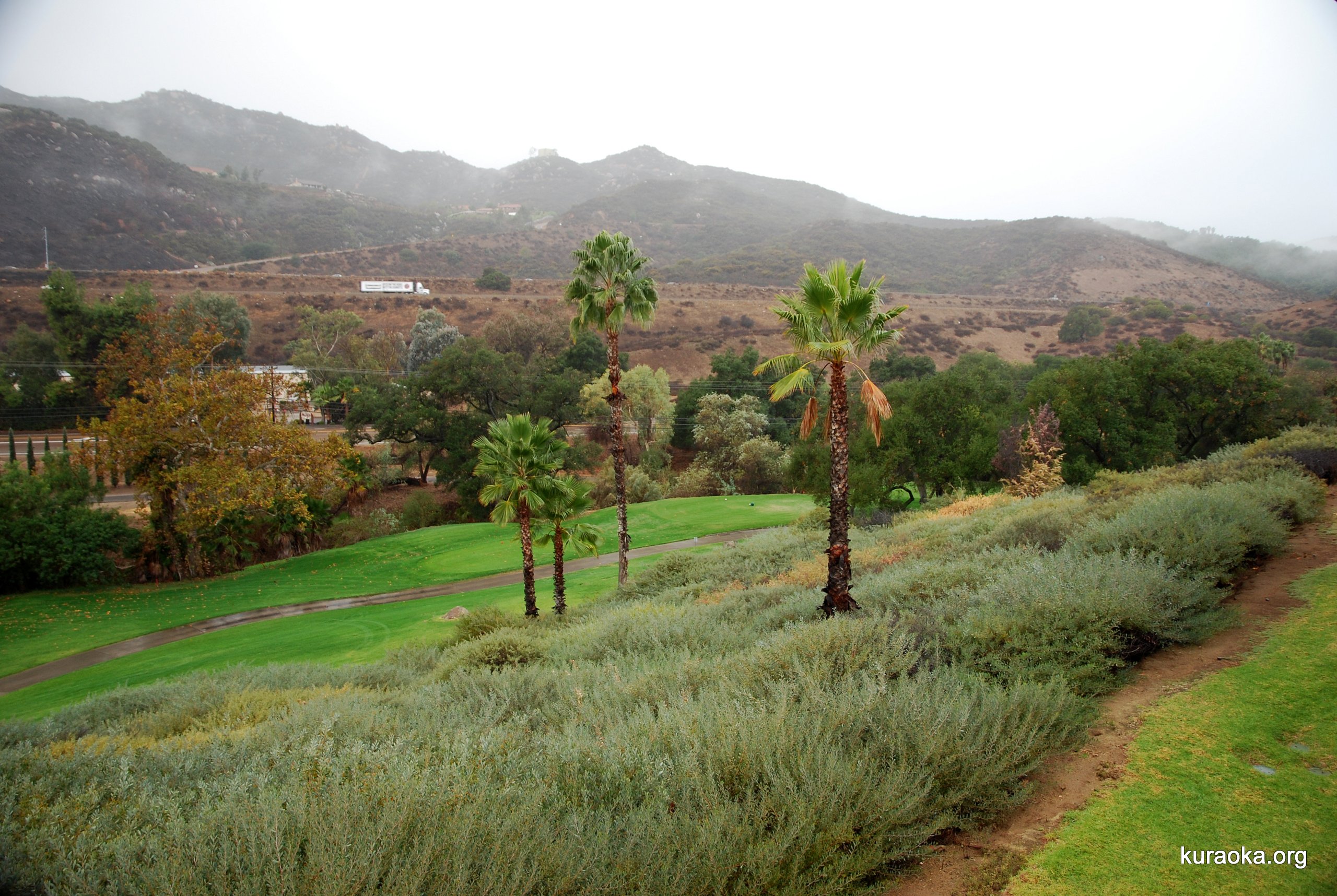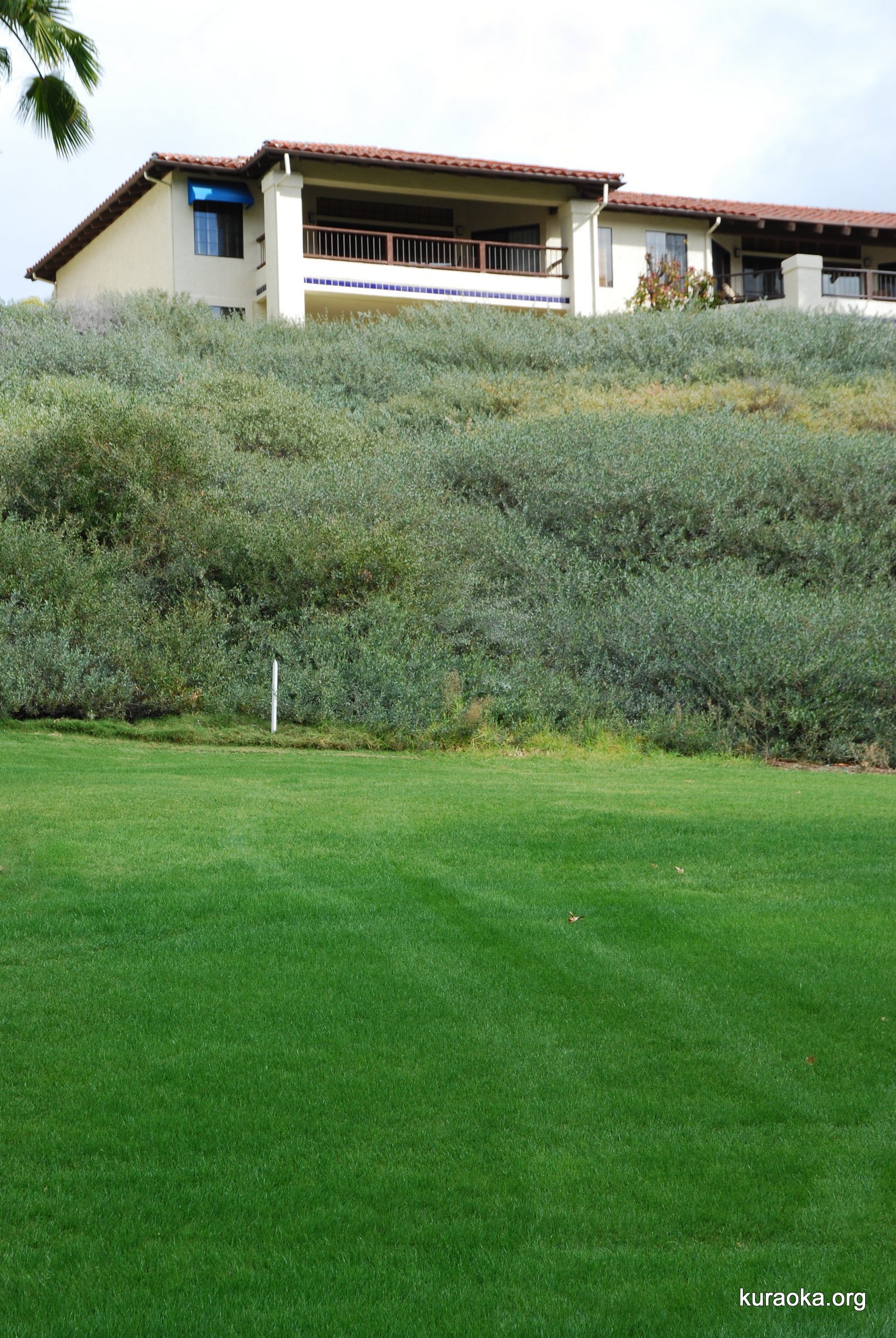 11-24-16: Happy Thanksgiving! Here are Leo, Roy, and Ondine doing some prep work. Then, Leo again, and our table: Leo, Ondine, Roy, and Barbara, and Shadow at the back door peering in. That's John's plate o'plenty. Afterwards, we went next door for pie and our annual viewing of Christmas Vacation.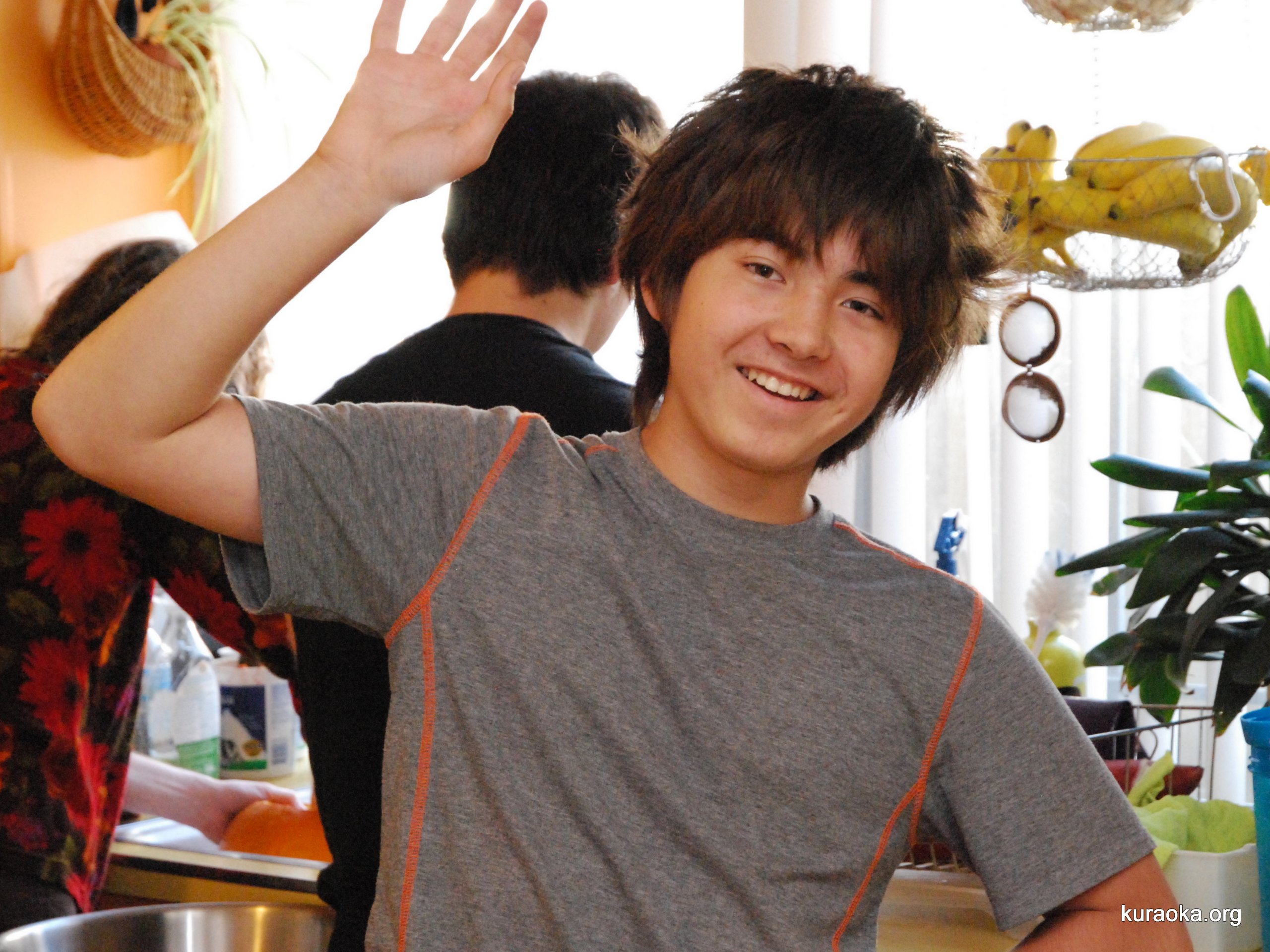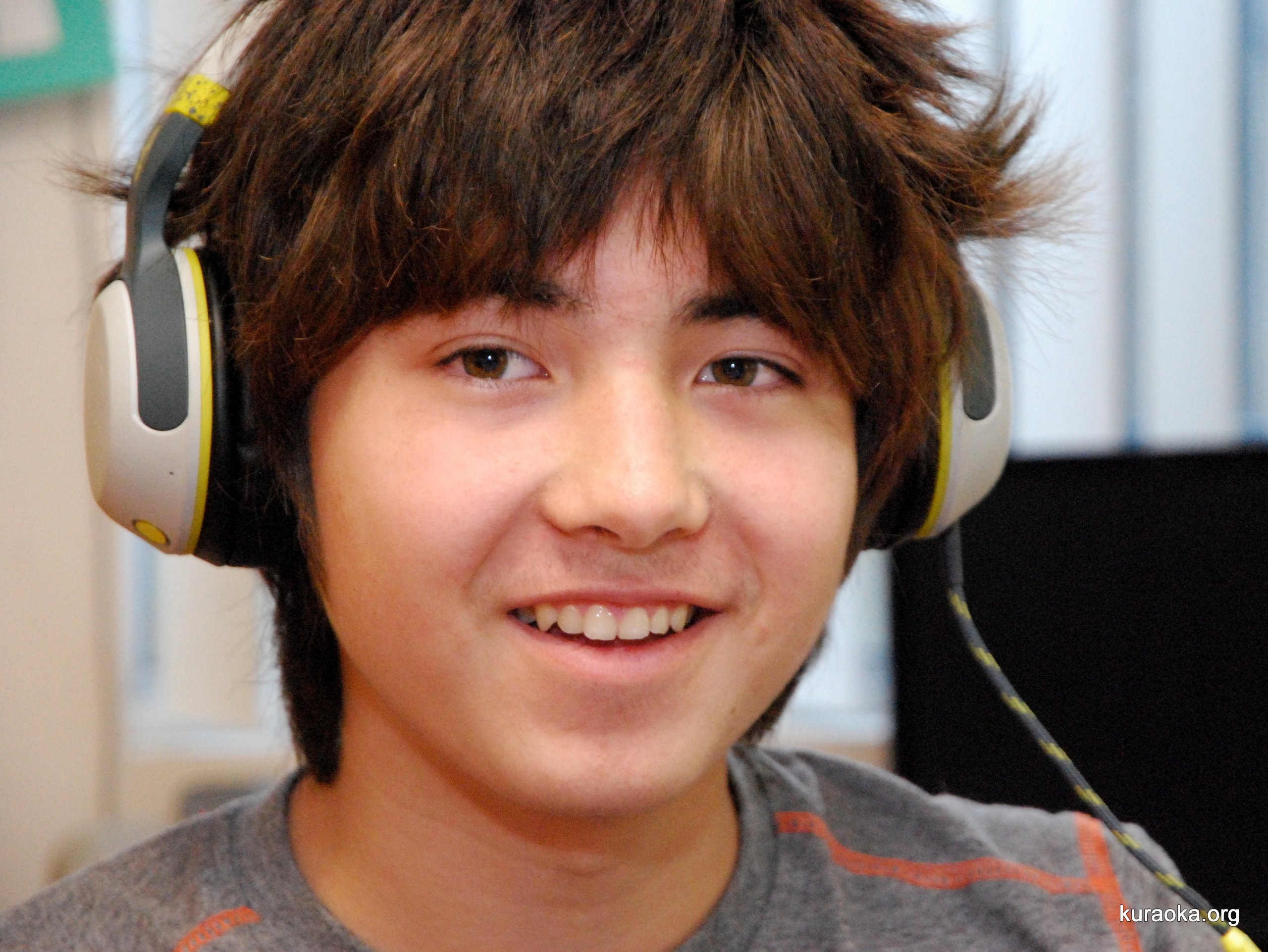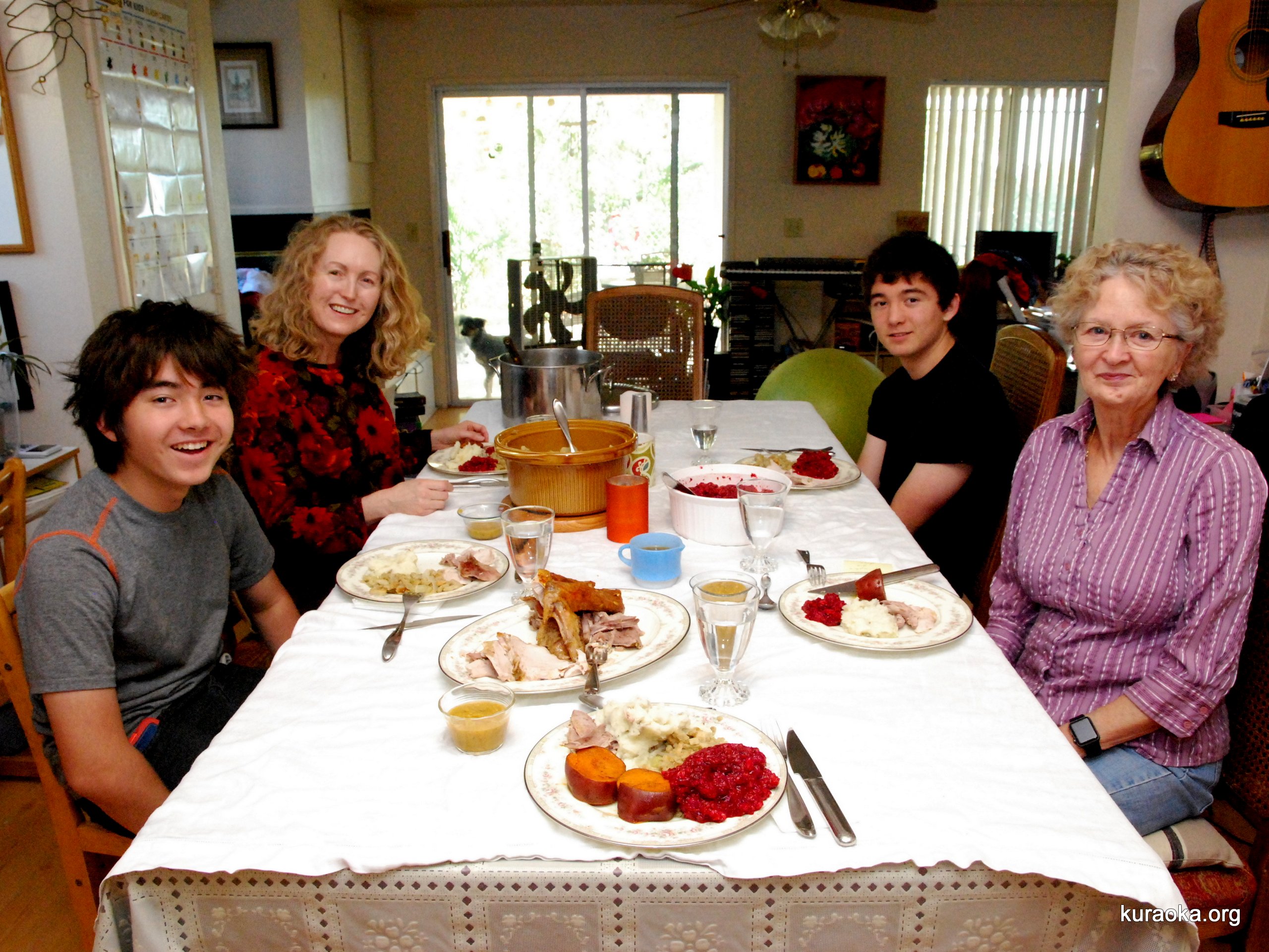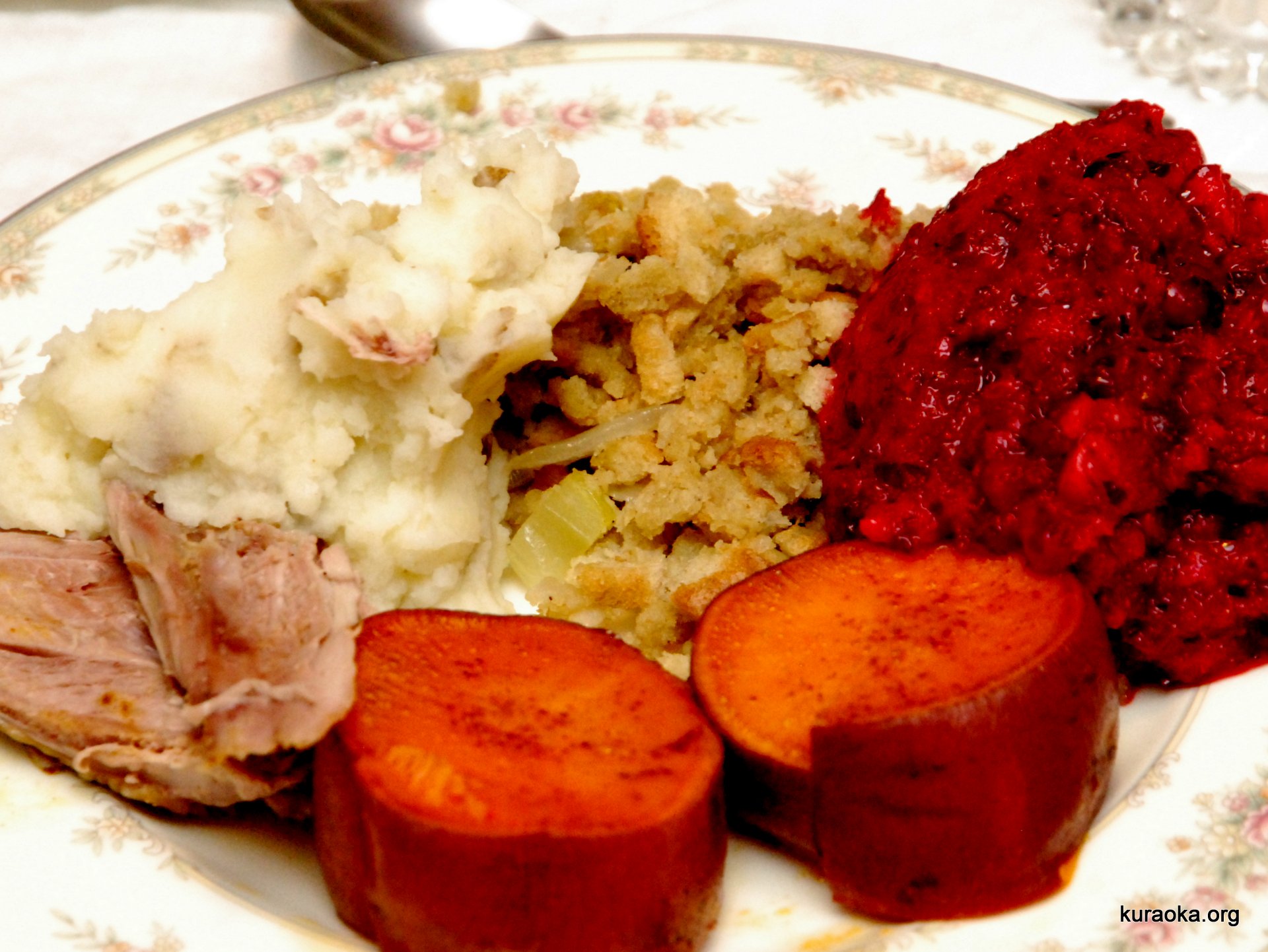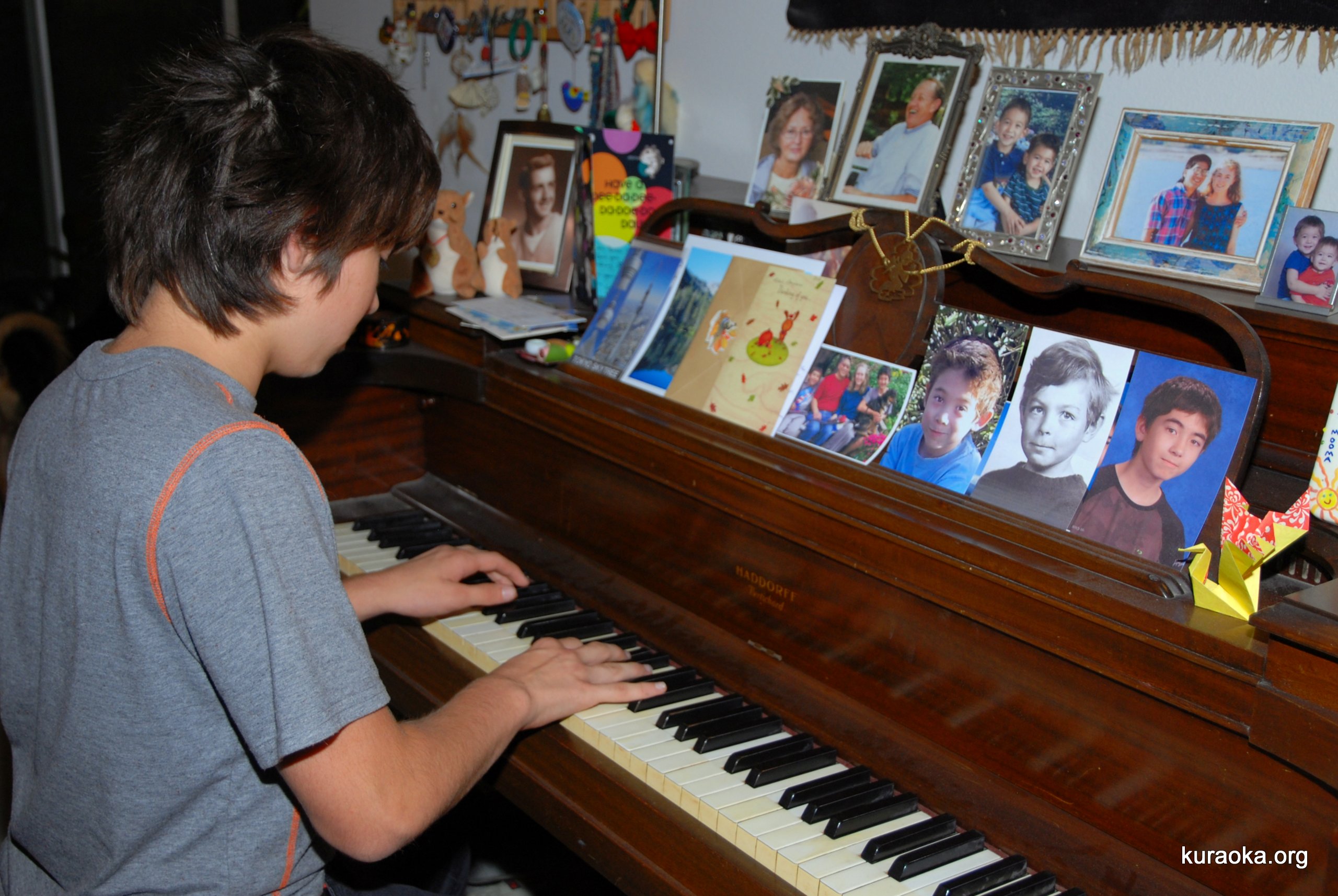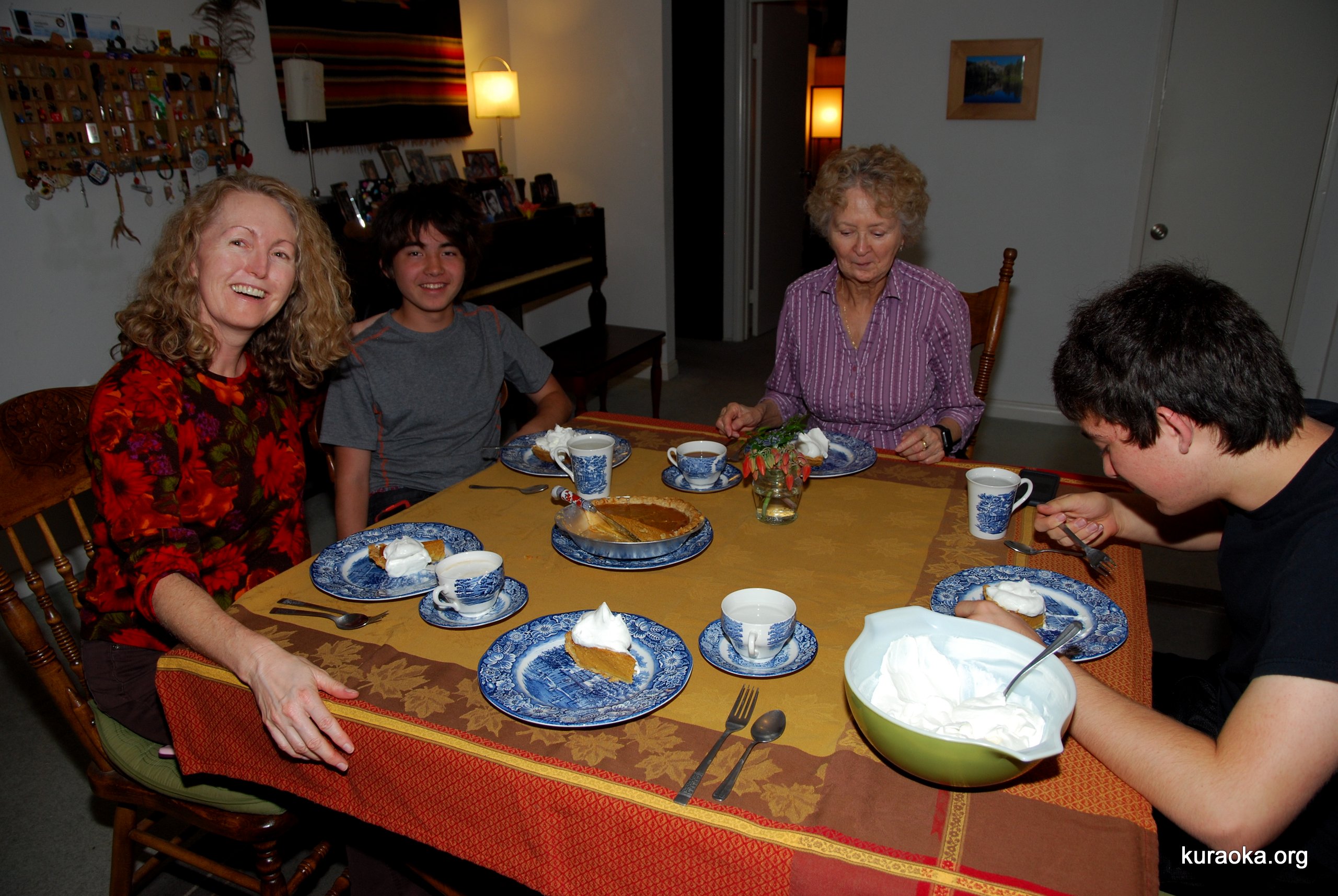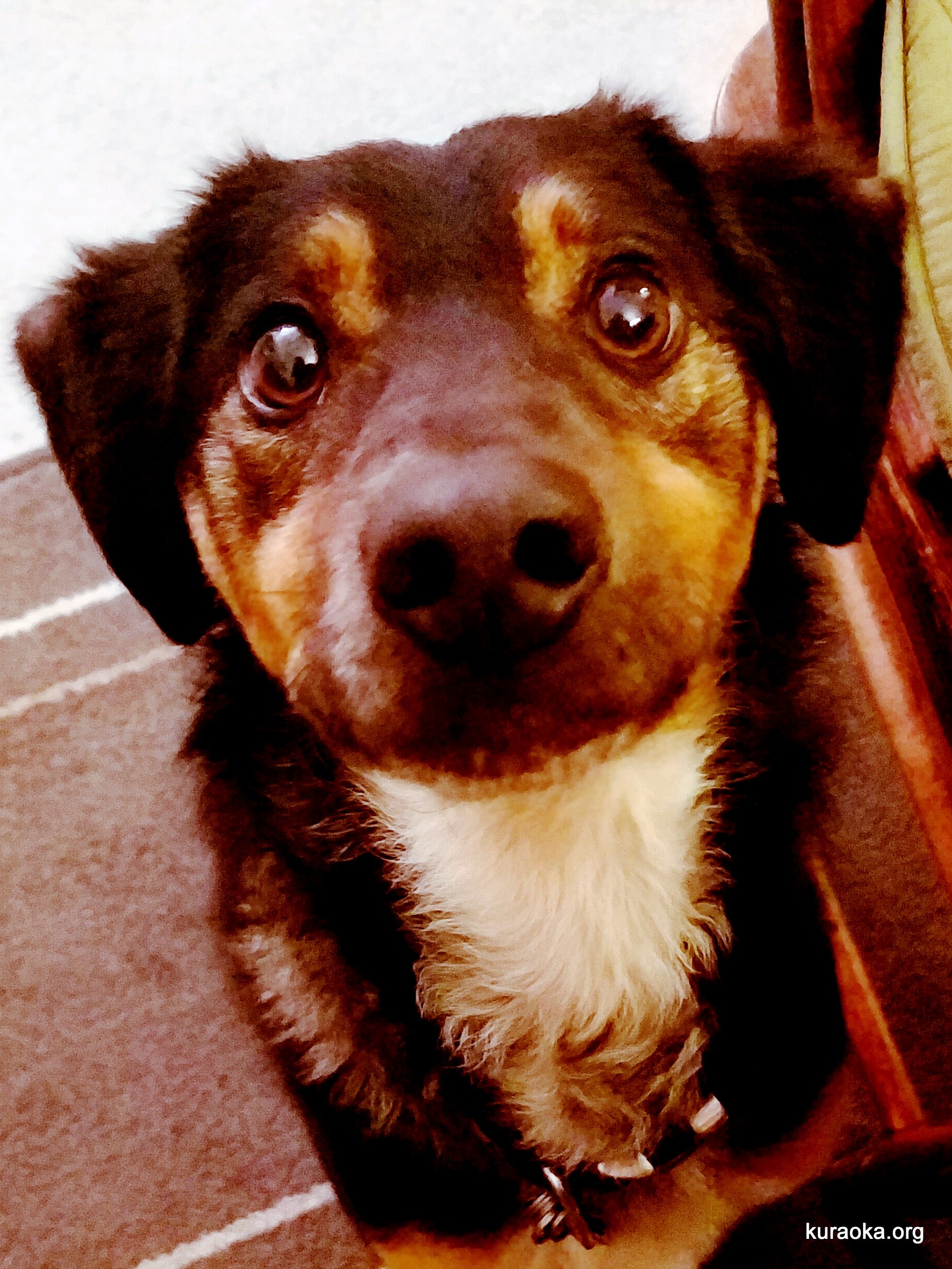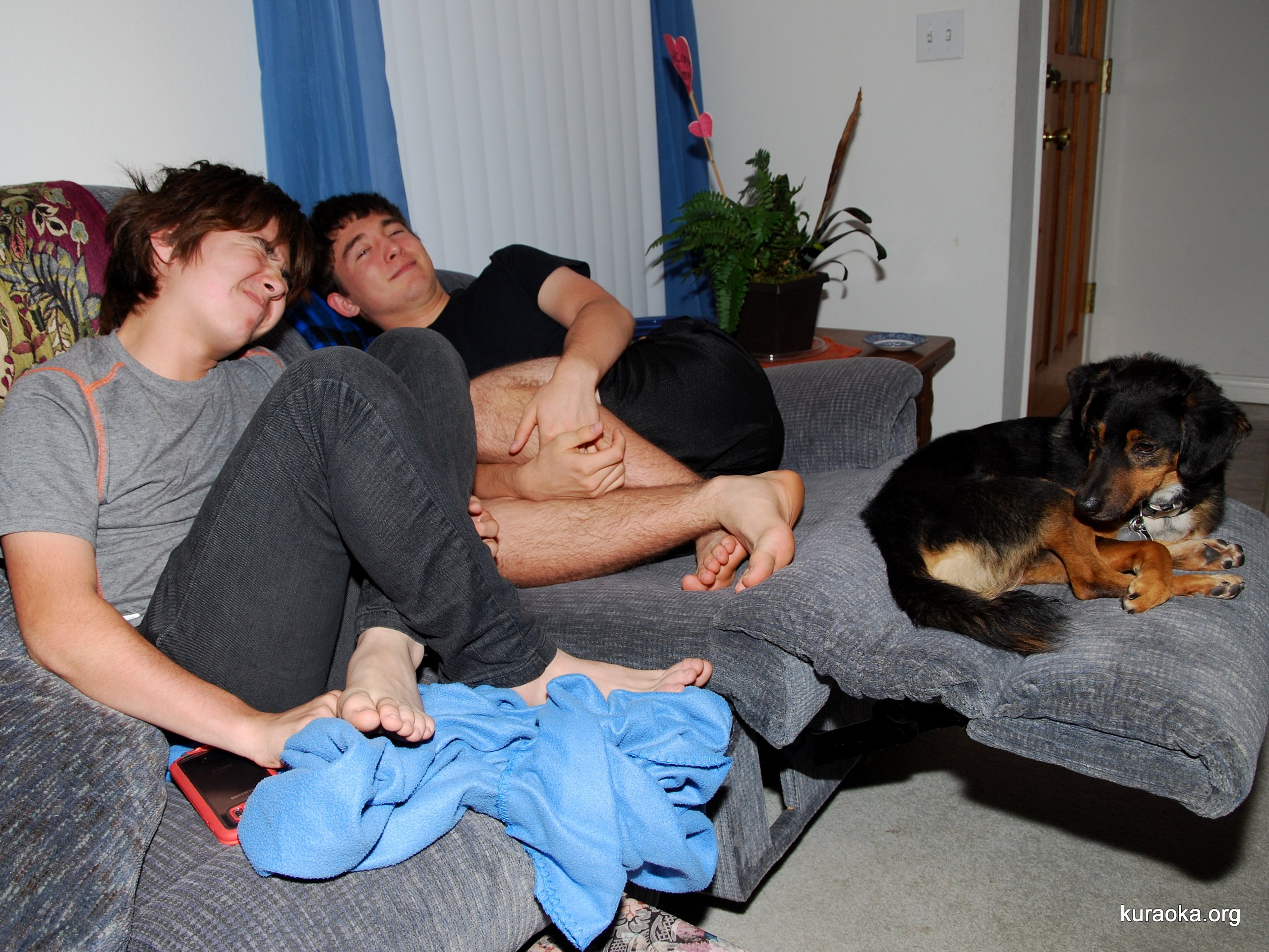 11-21-16: Solar system approval! Our new solar system just passed approval. It's up and running now, and has been over the weekend. Here's a detail of our meter. See the tiny triangular arrow indicator? If it points left we're using solar, if it points right we're using power from the grid. See? We're on solar! Also note the negative number indicating electricity use. Woo hoo!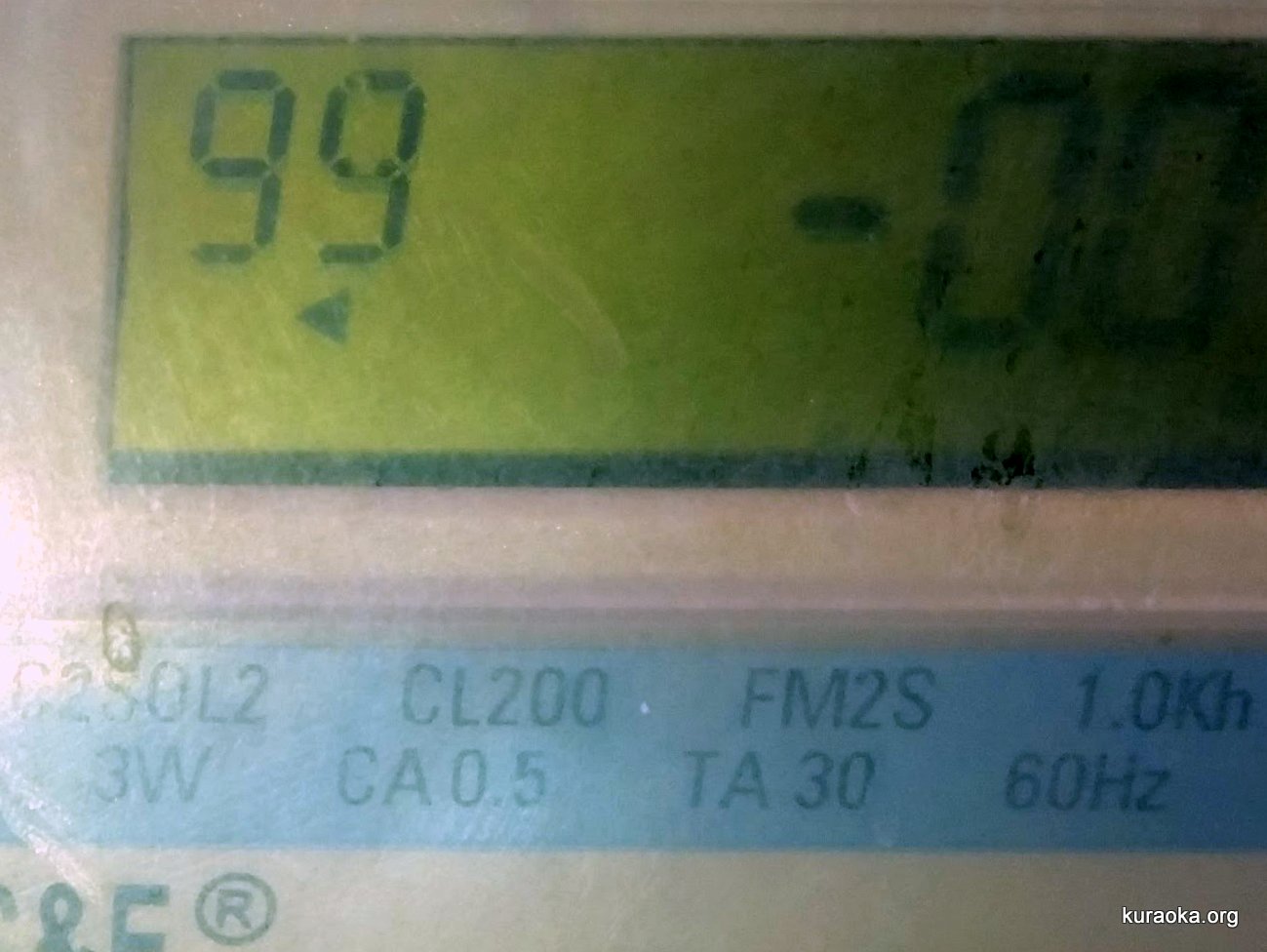 11-20-16: Family dinner at Ajisen Ramen! Here are John's Spicy Pork Ramen, Roy's BBQ Pork Ramen, Ondine's Curry Ramen, and Leo's Seafood Ramen. Ondine's meal included tonkatsu (breaded pork cutlet). Barbara got salmon teriyaki. We also shared an order of gyoza and mochi tempura. If some of the dishes look a bit, well, used, that's because most of us started digging in immediately so the photos show somewhat partially devoured bowls. Everything was sehr oishii! Here we all are in a corner booth.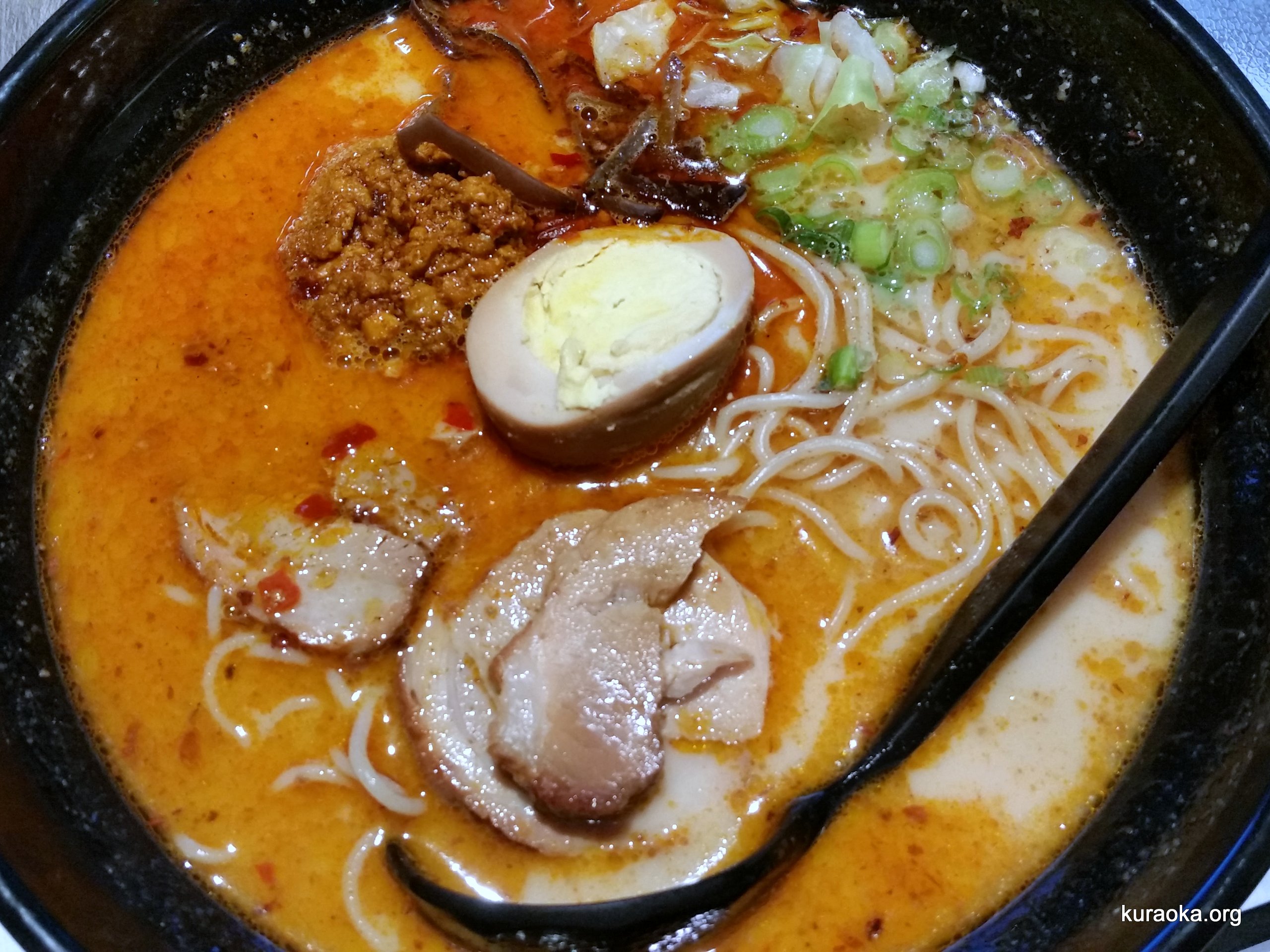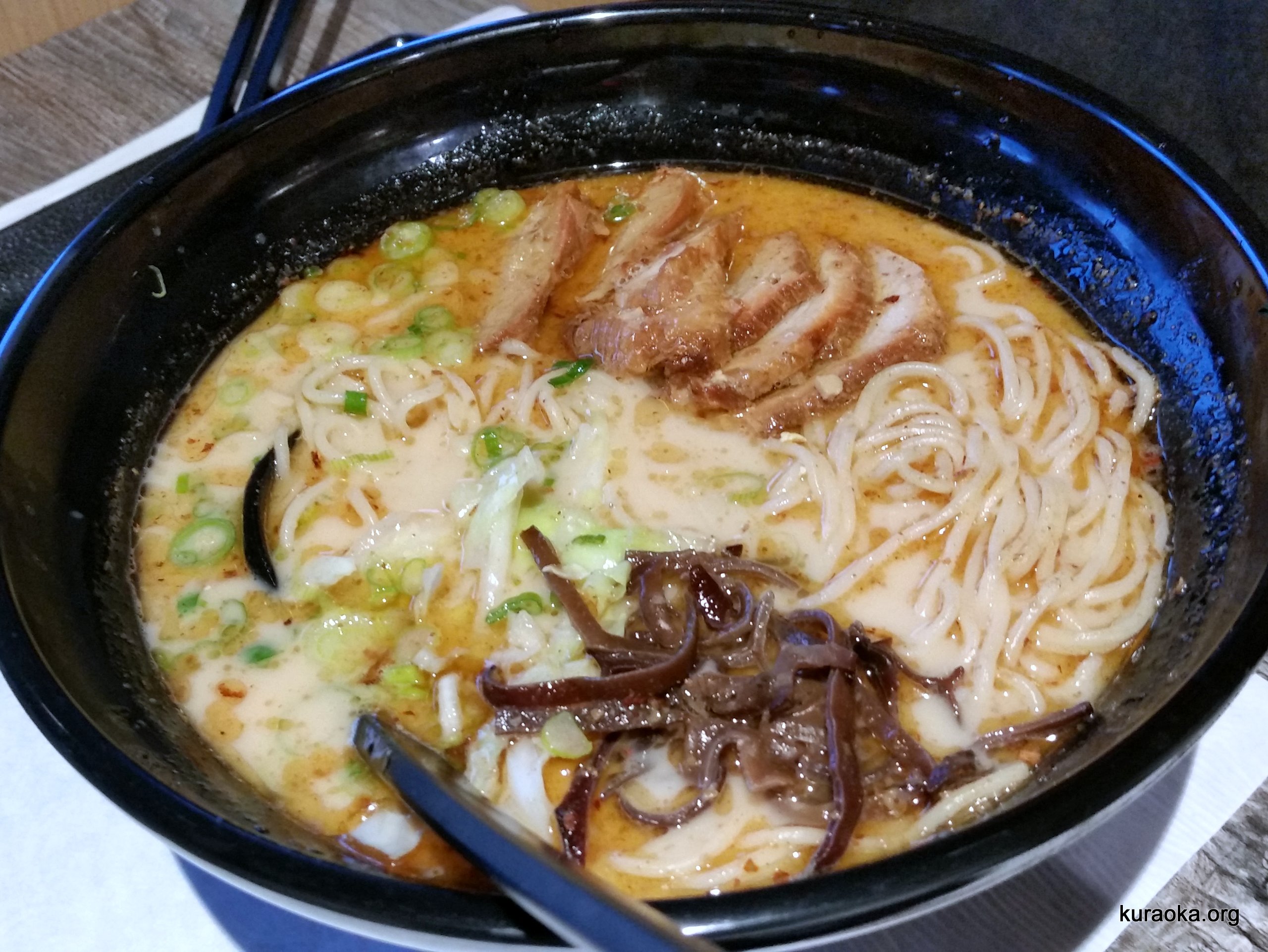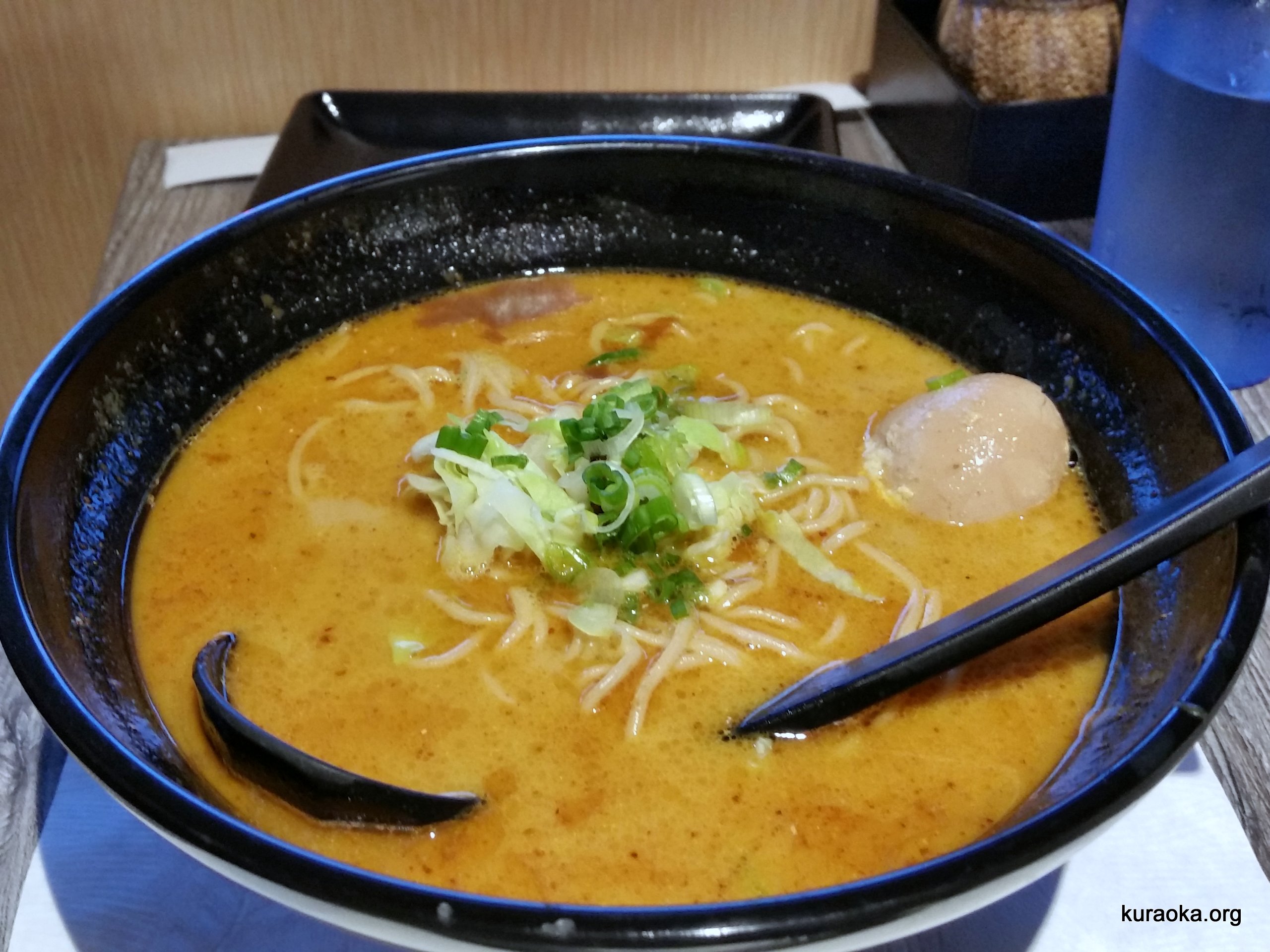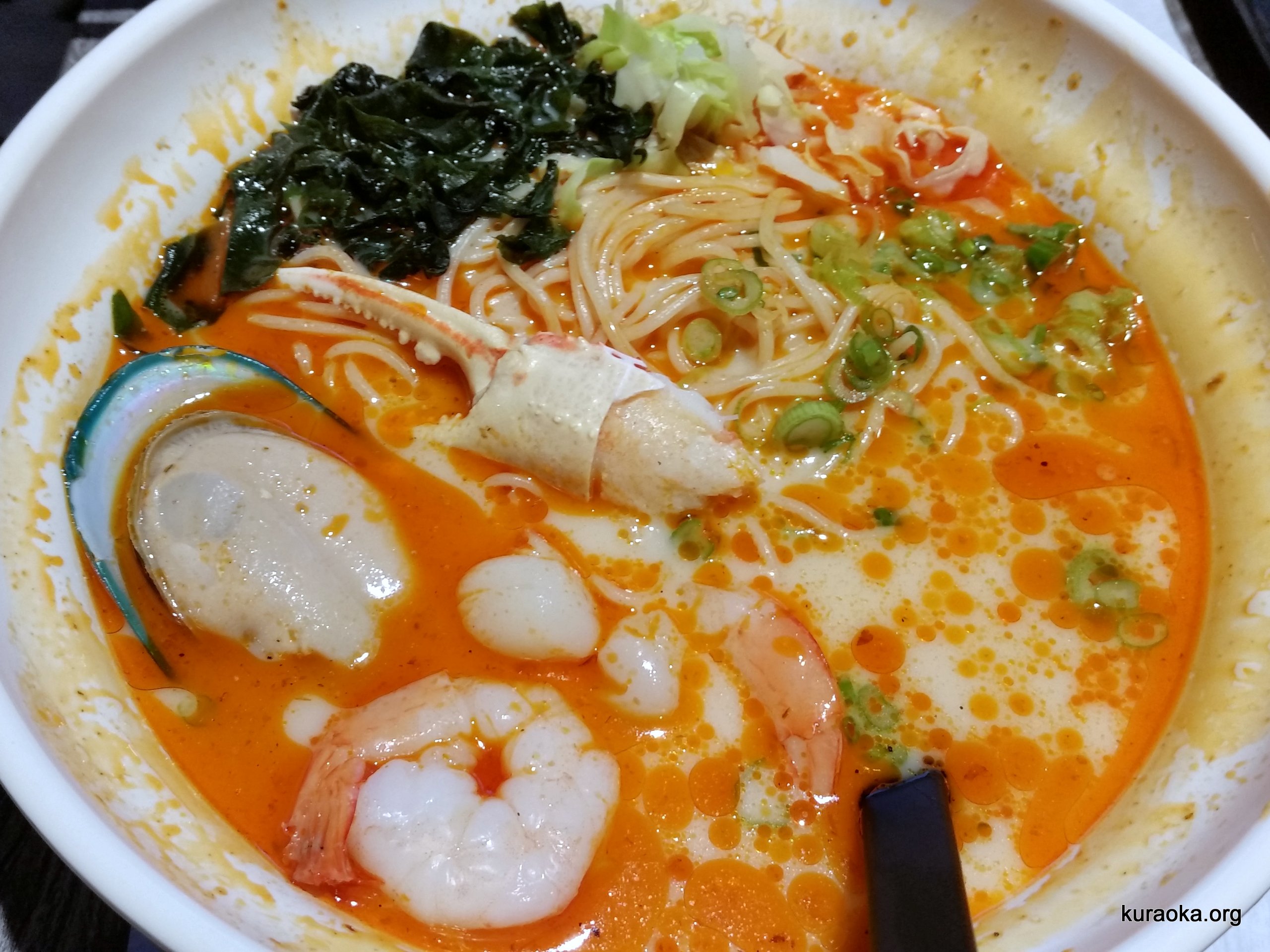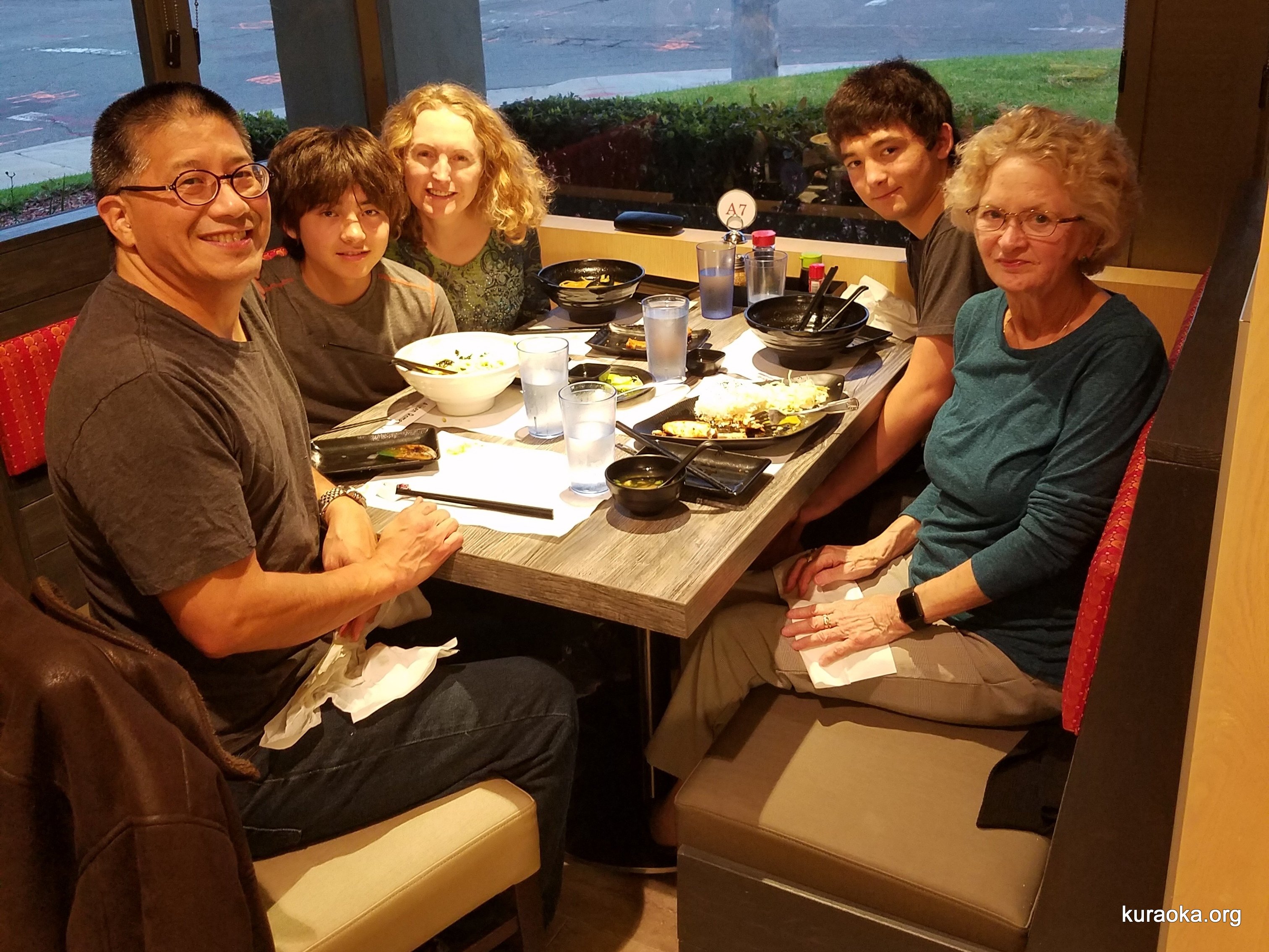 11-16-16: Roy's first look at the new Performing Arts Center at Patrick Henry High School! Students aren't allowed in, but Roy was given special access because he's running the lights for the Grand Opening Show. Here's his selfie high above the stage and seats, and a shot of the brand spankin' new light board in the booth!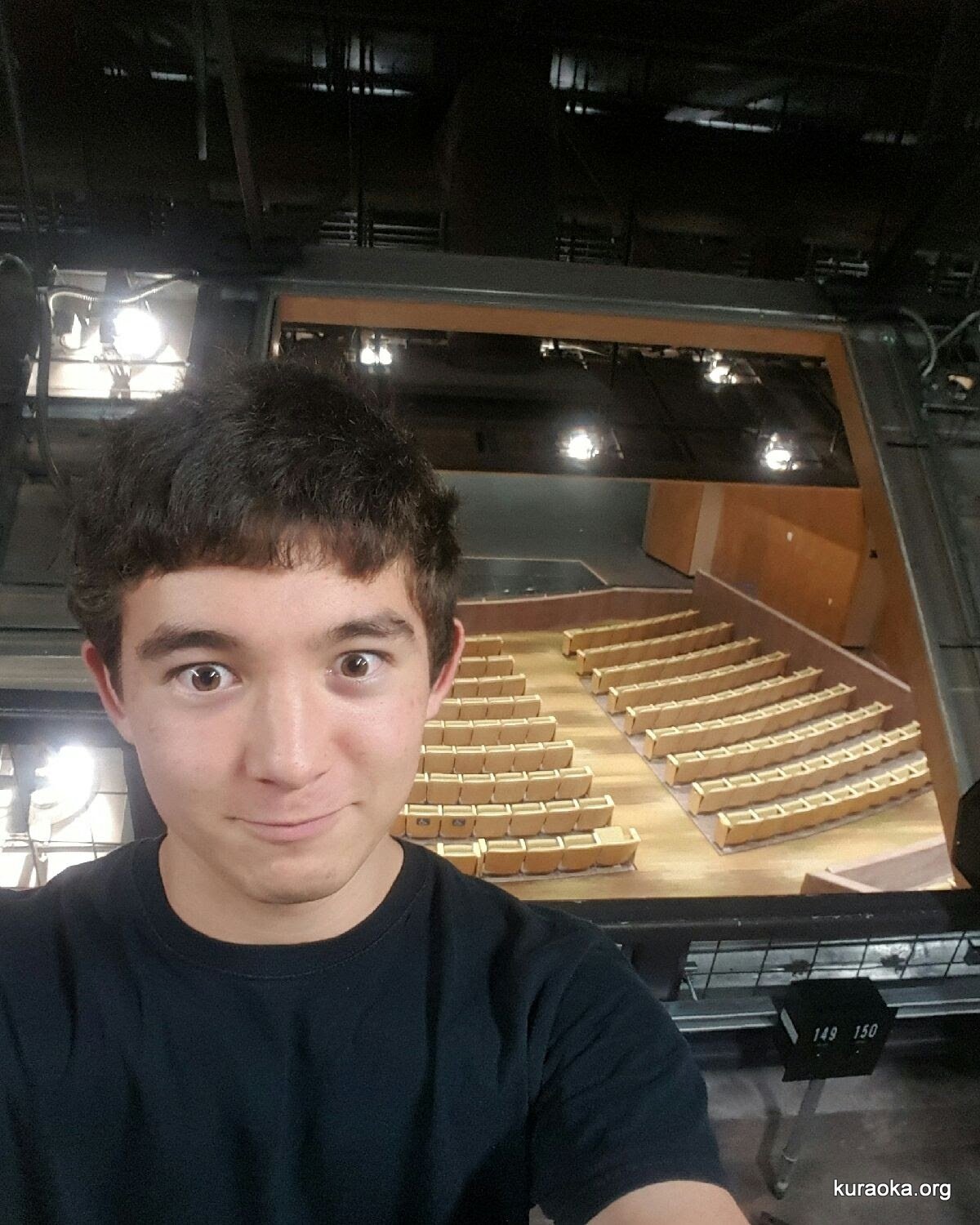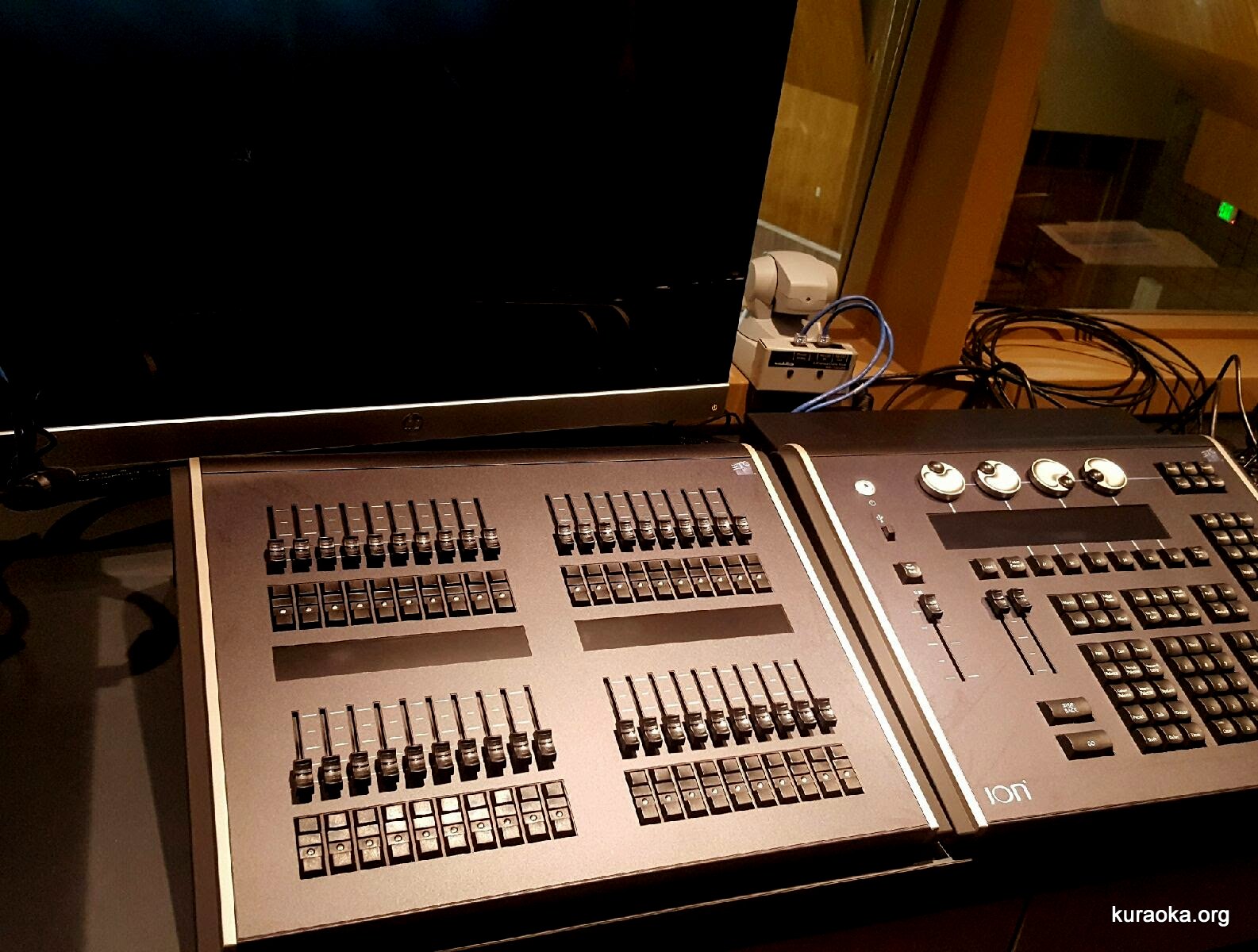 11-15-16: A fault in John's office. The electricians traced the problem to the least-accessible outlet in John's office, behind two massively laden bookshelves. Here's his dismantled office and the guilty outlet.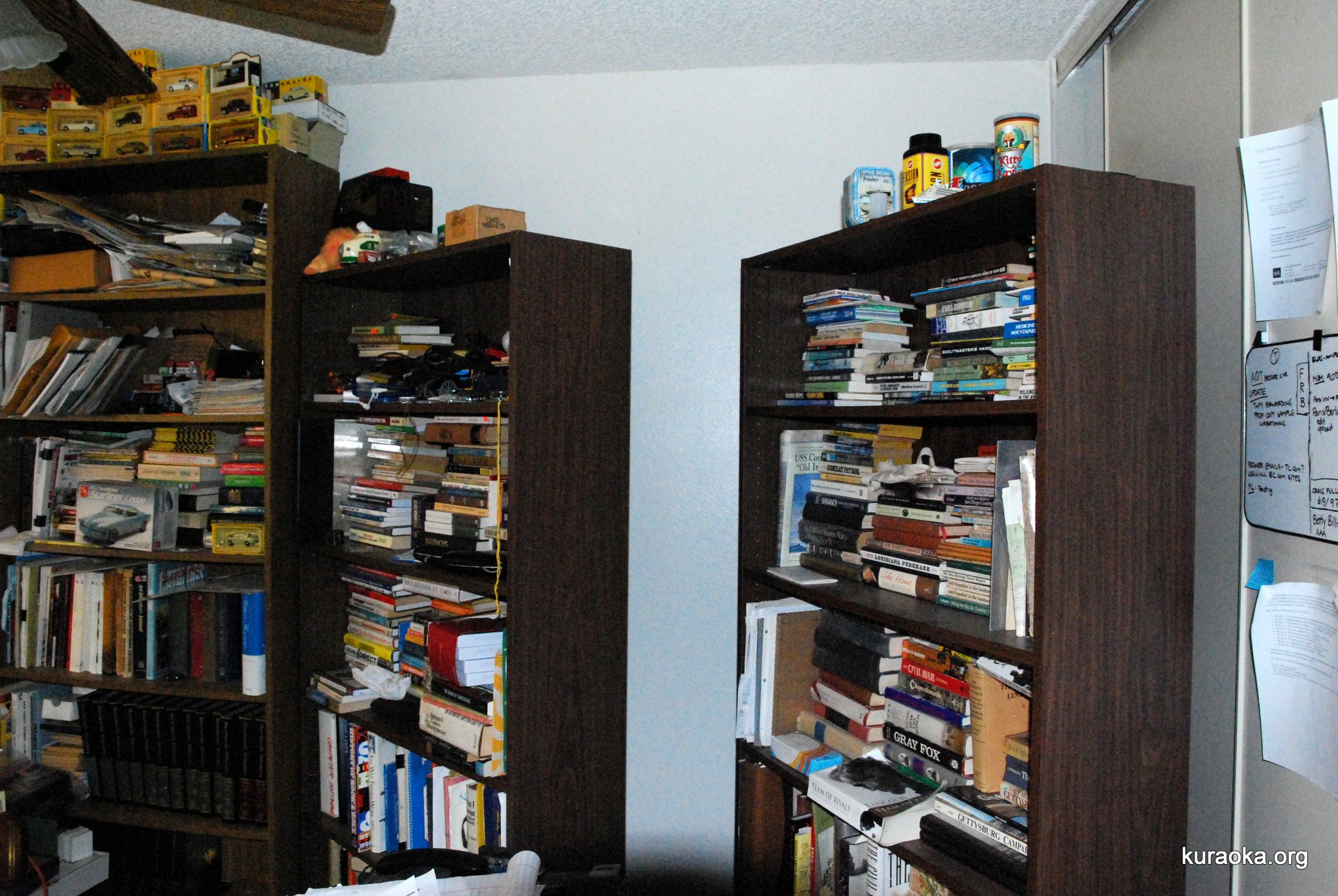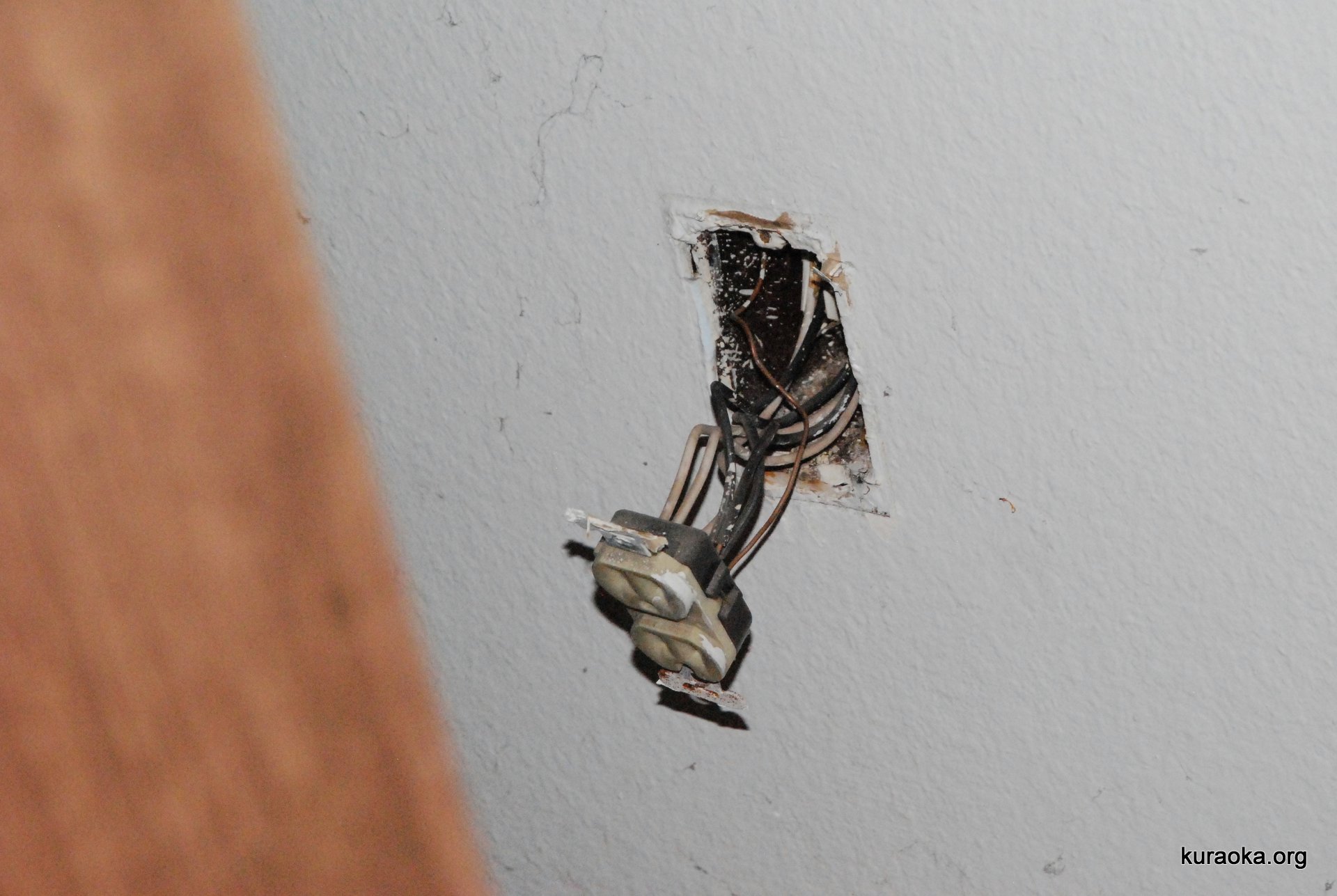 11-11-16: Surge protectors really work! Here's the Belkin protector that self-immolated to keep the previous day's massive power spike from toasting our TV, cable box, DVD player, Roku, and Amazon Fire stick. Most of the other household surge protectors, GFIs, and uninterruptible power supplies kicked off, but were able to be reset.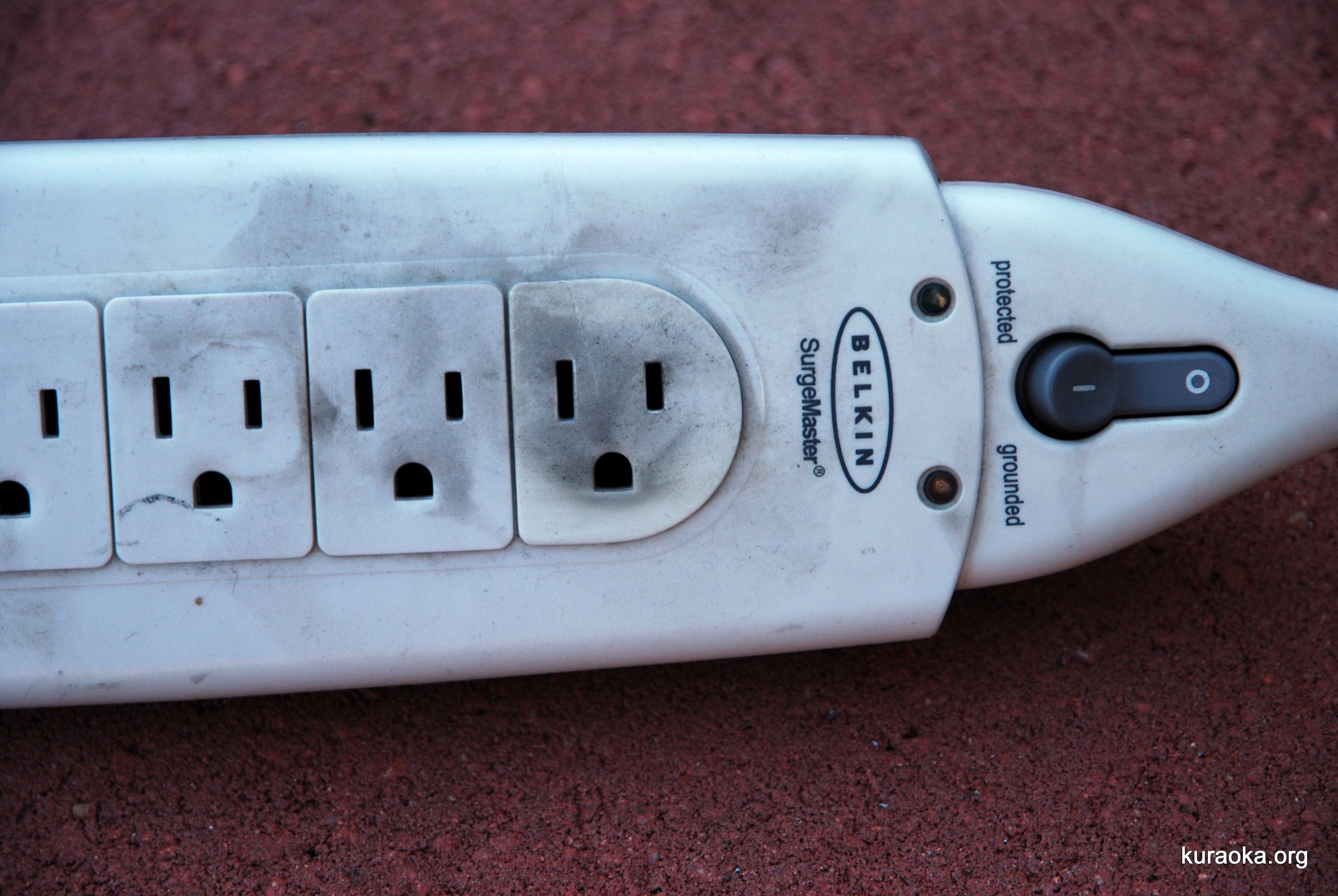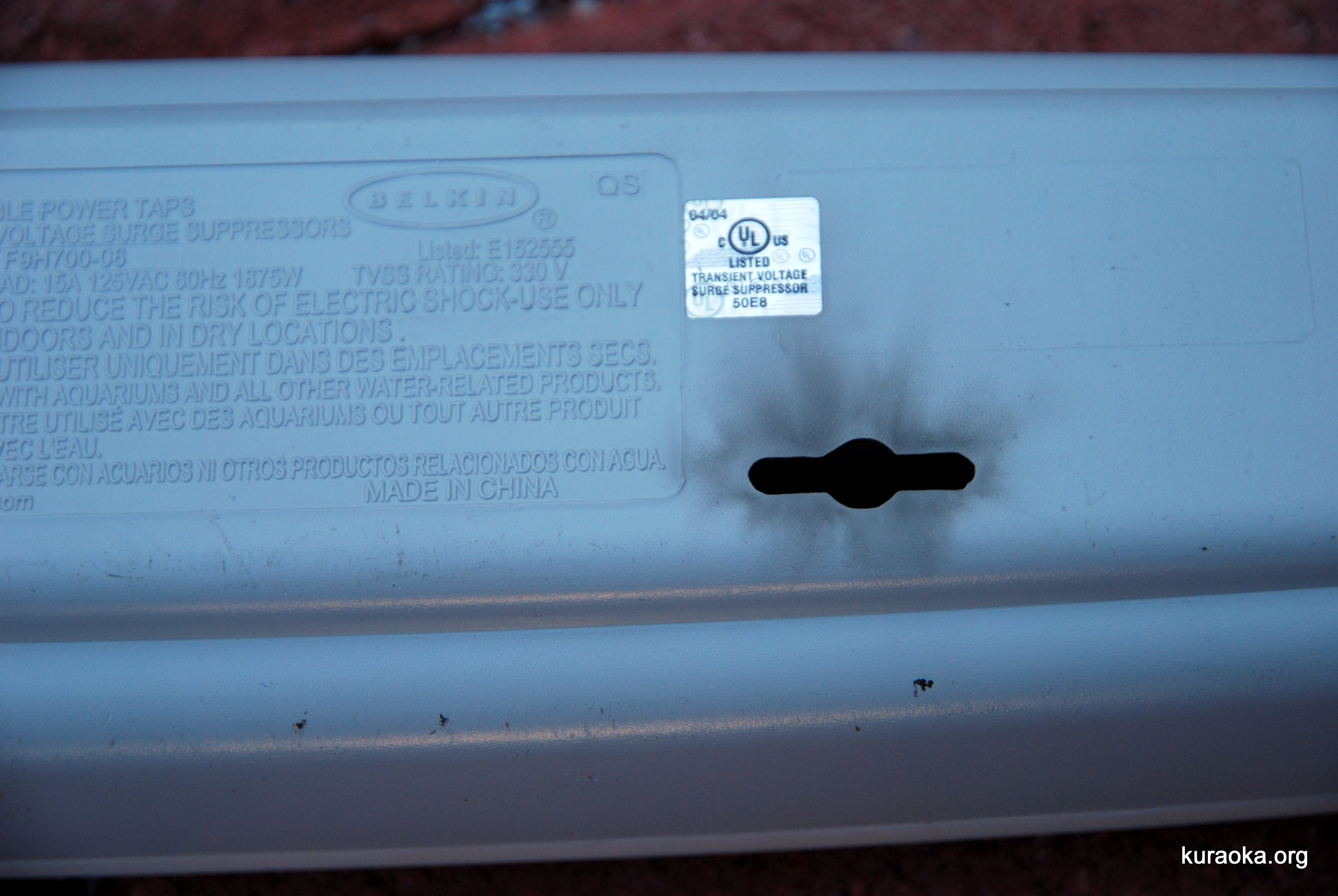 11-10-16: Solar project progress: installation and an outage! Everything was going along swimmingly until a grounding rod struck and shorted the mains. Here you can see our bank of 20 Kyocera panels on the roof. And then, the bustle that ensued after the mains got fried. SDG&E rolled four trucks and crews to get power back to the house. Some inside circuits are still not working, including the garage door opener, most of John's office, and part of Roy's bedroom. Secure is taking care of fixing all that, and the next day rolled their own electricians plus a separate electrical contractor to look at the problem. Cox also came out the next day to replace the burned cable connection and restore our internet, TV, and phone service.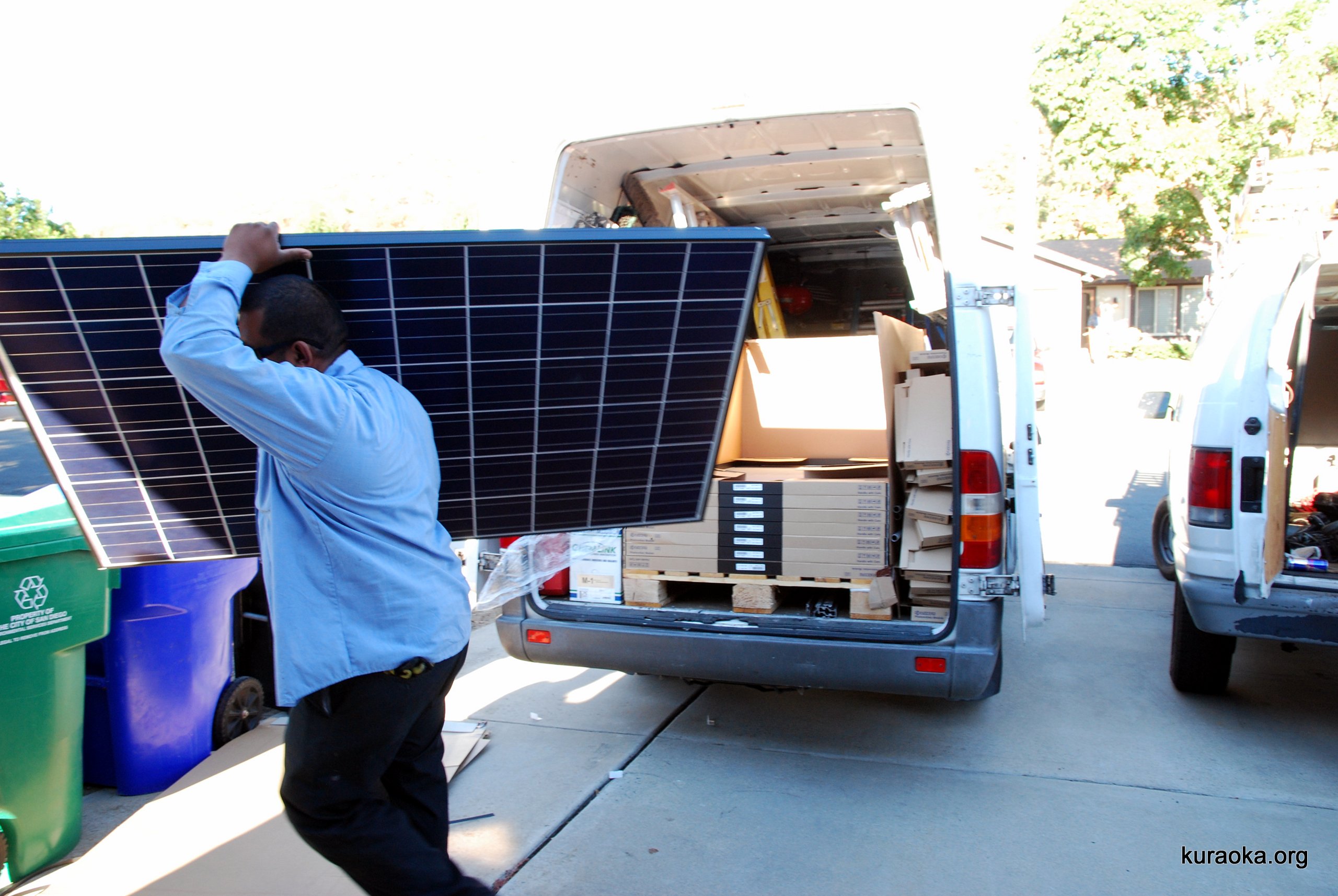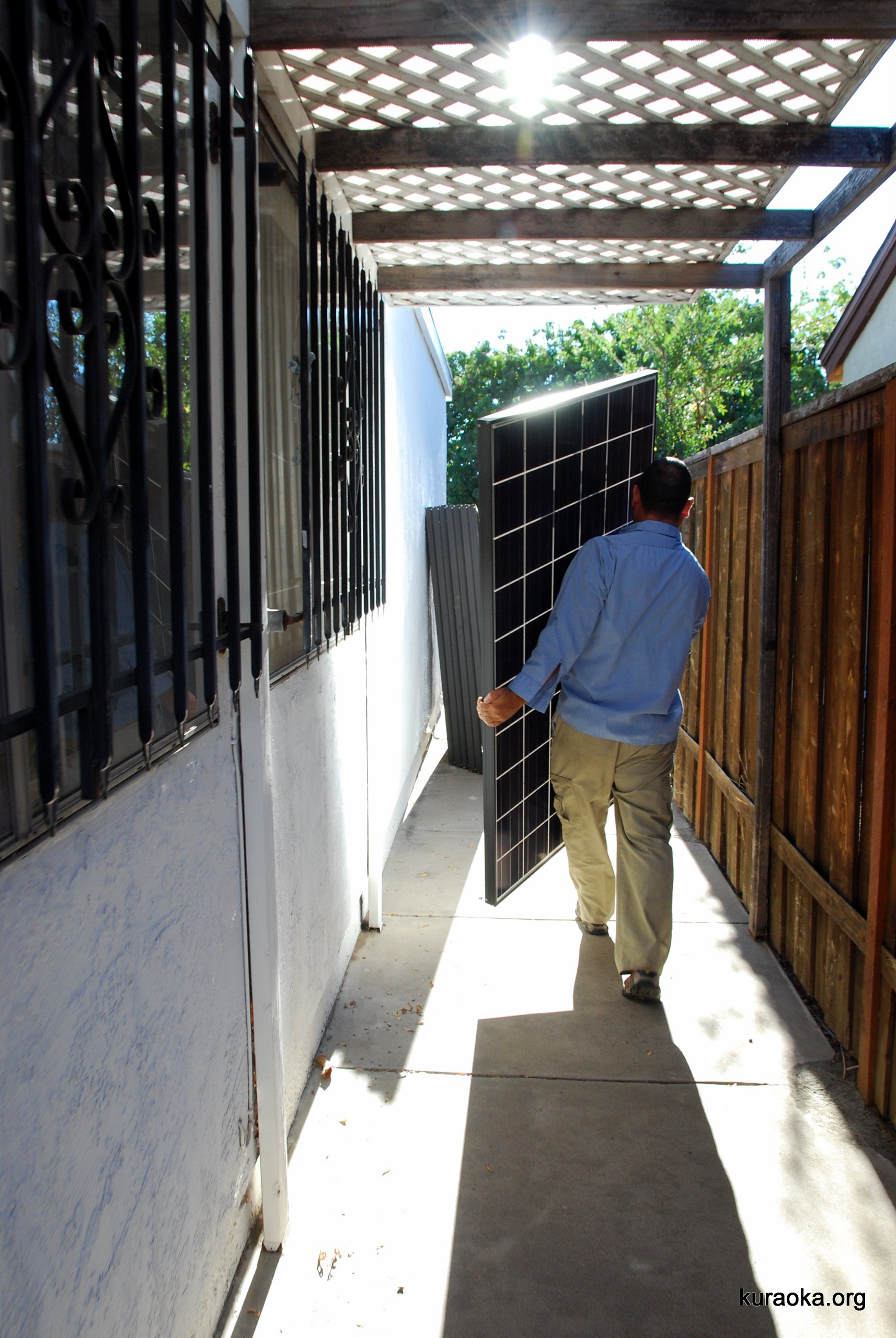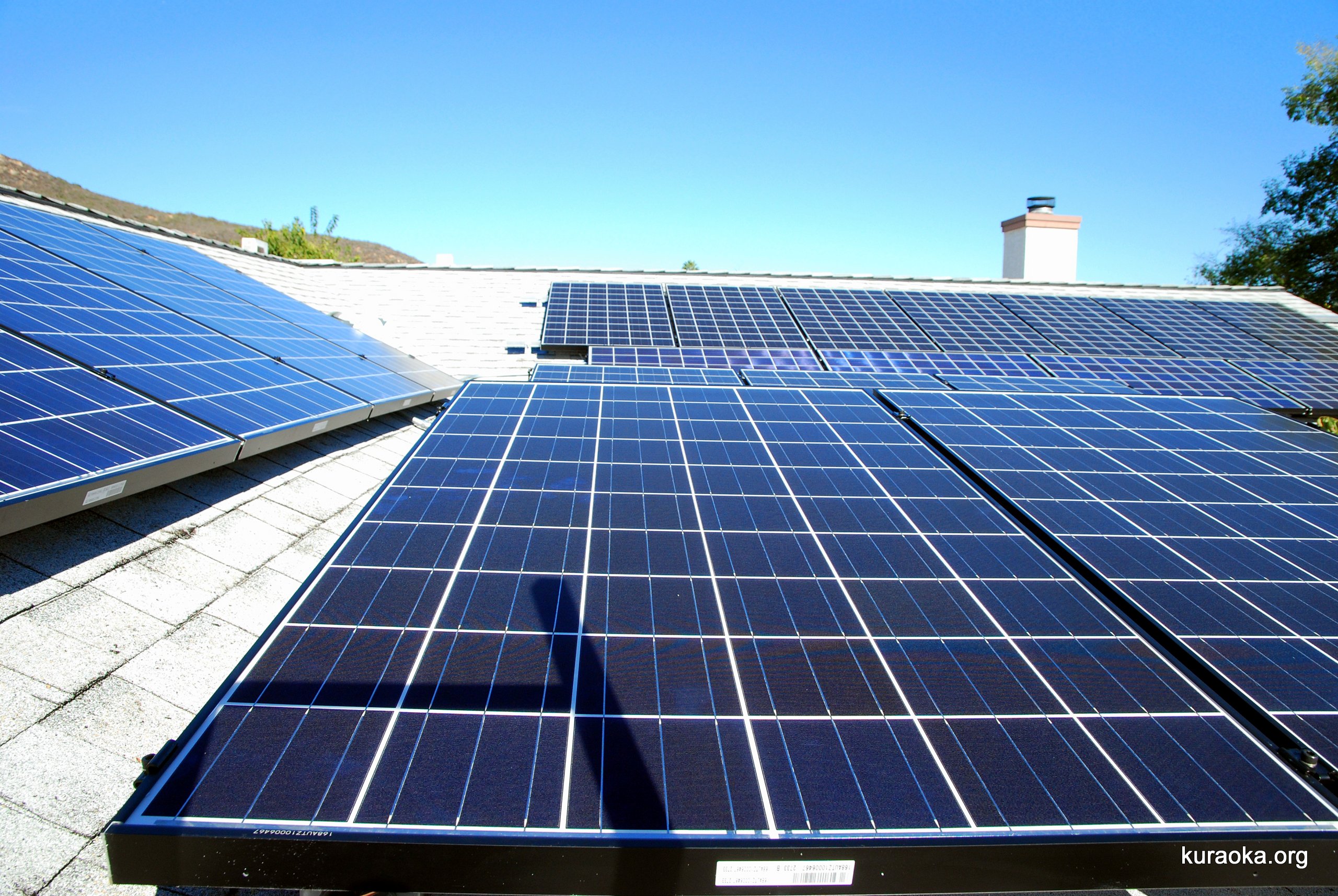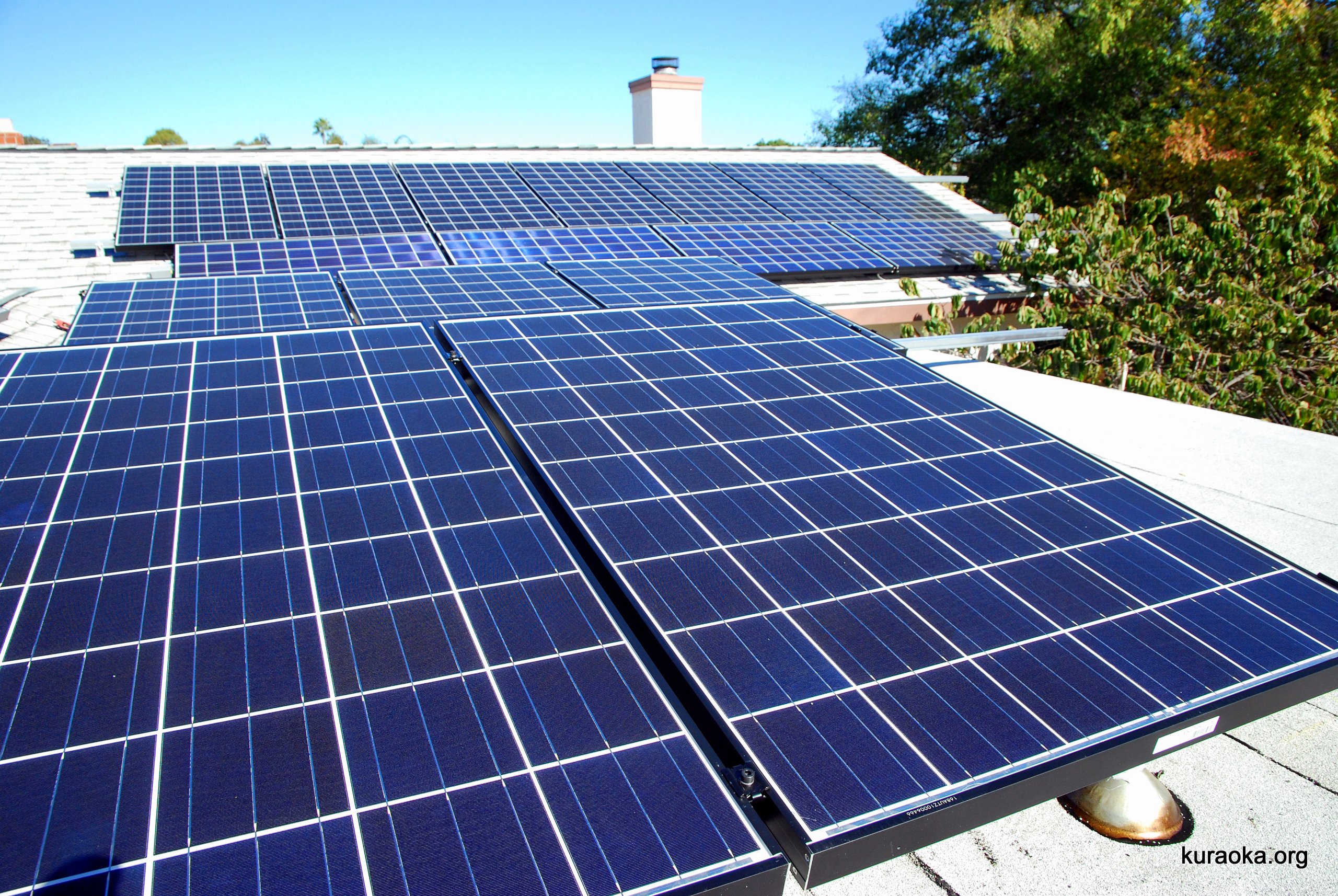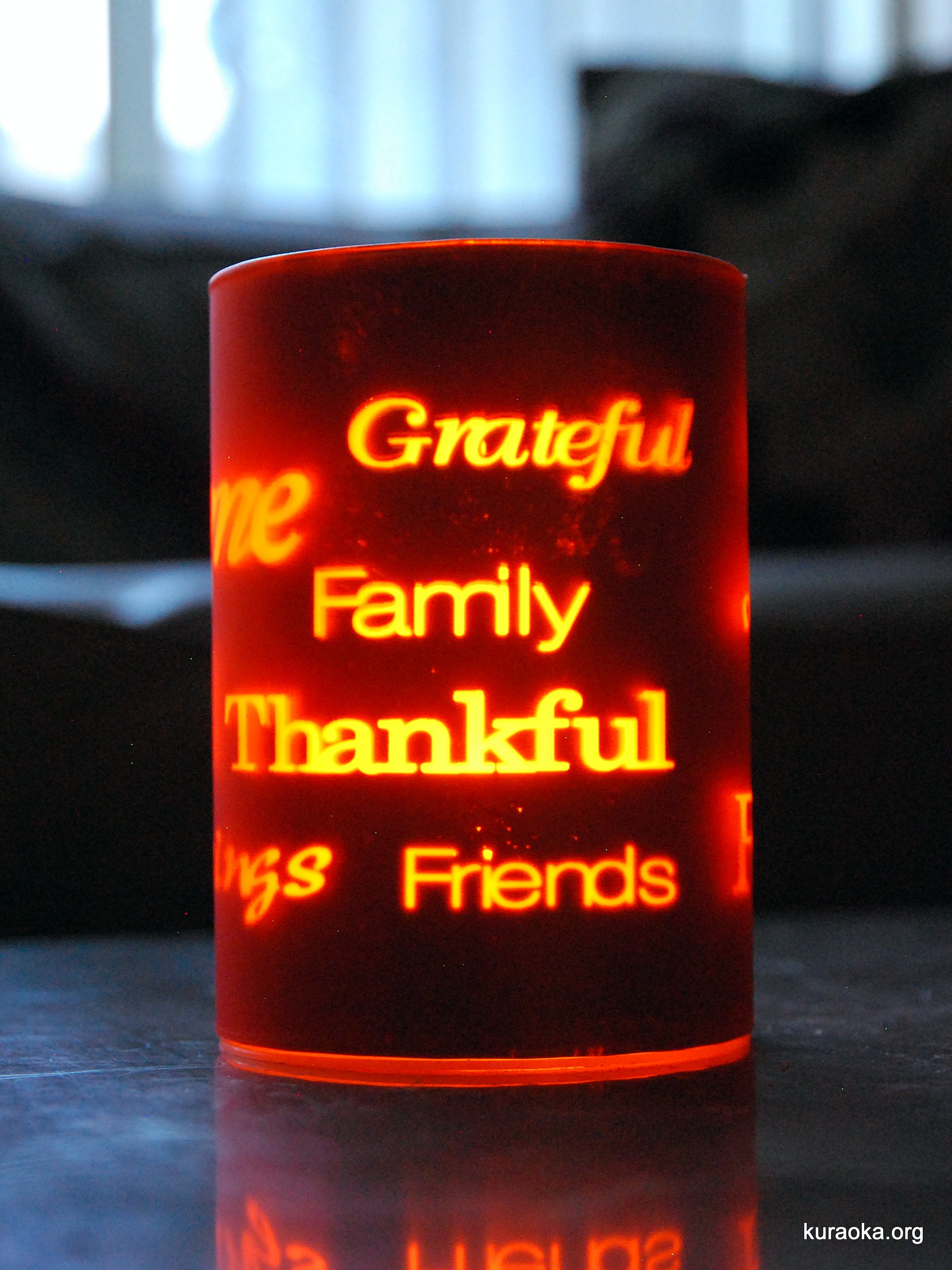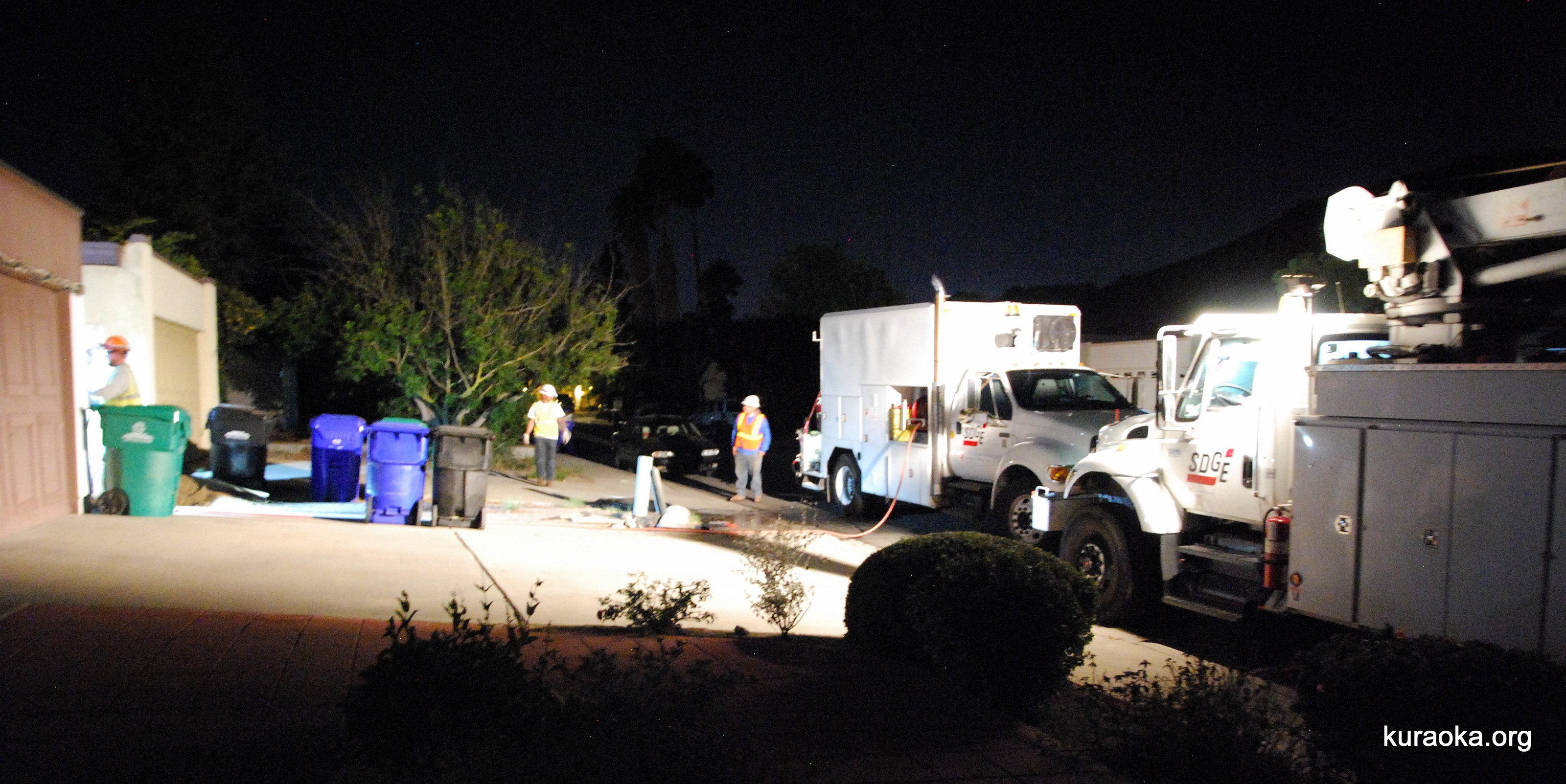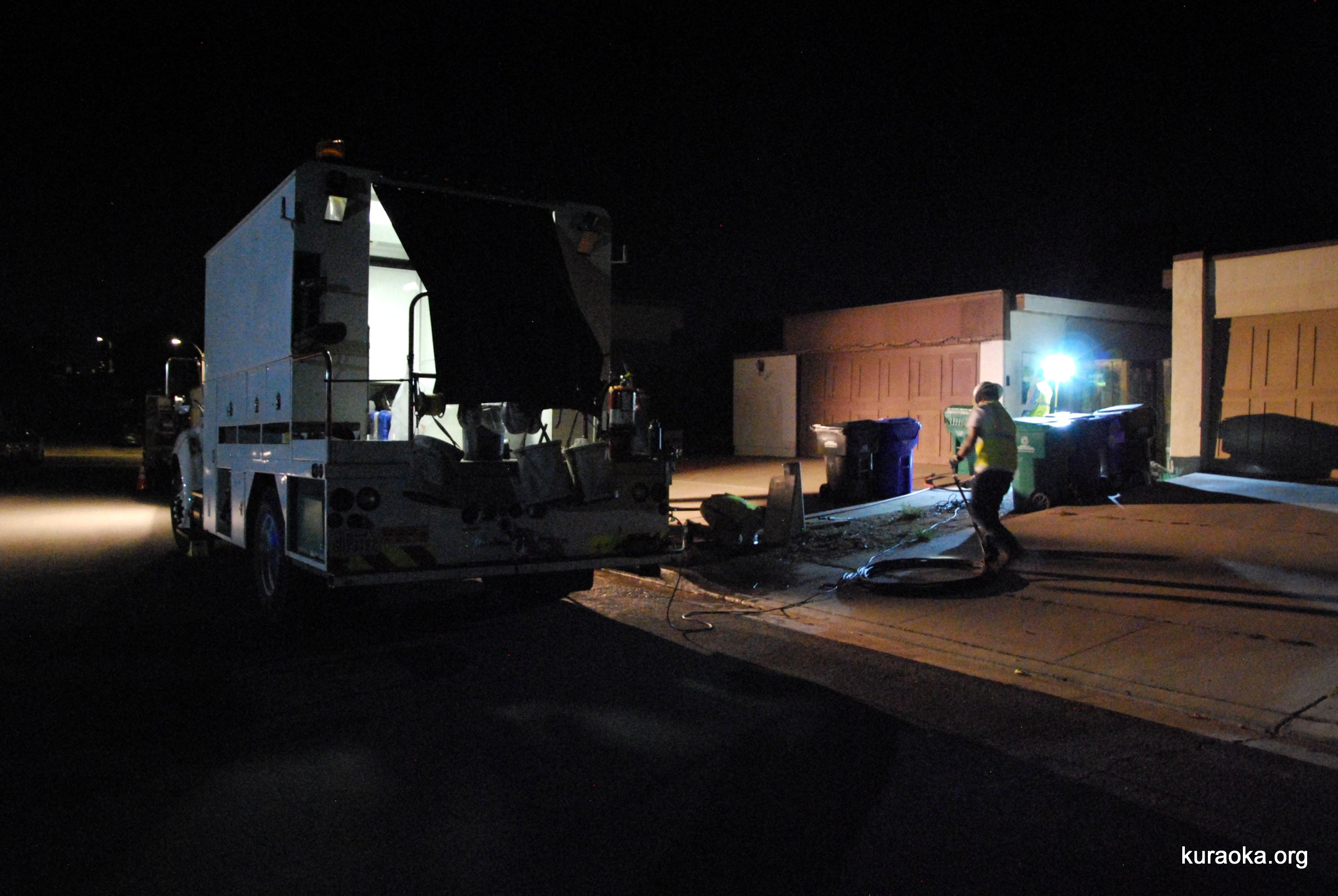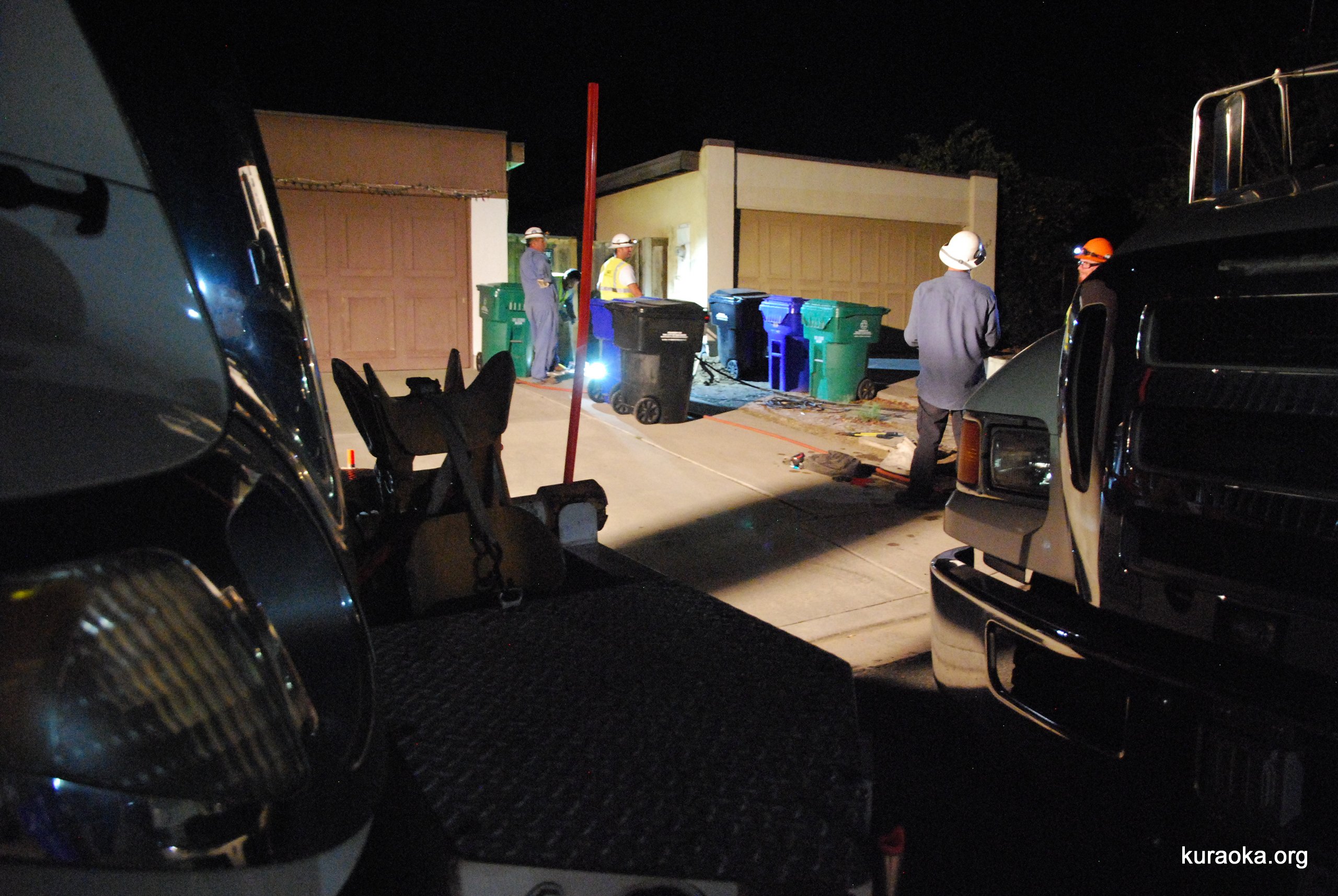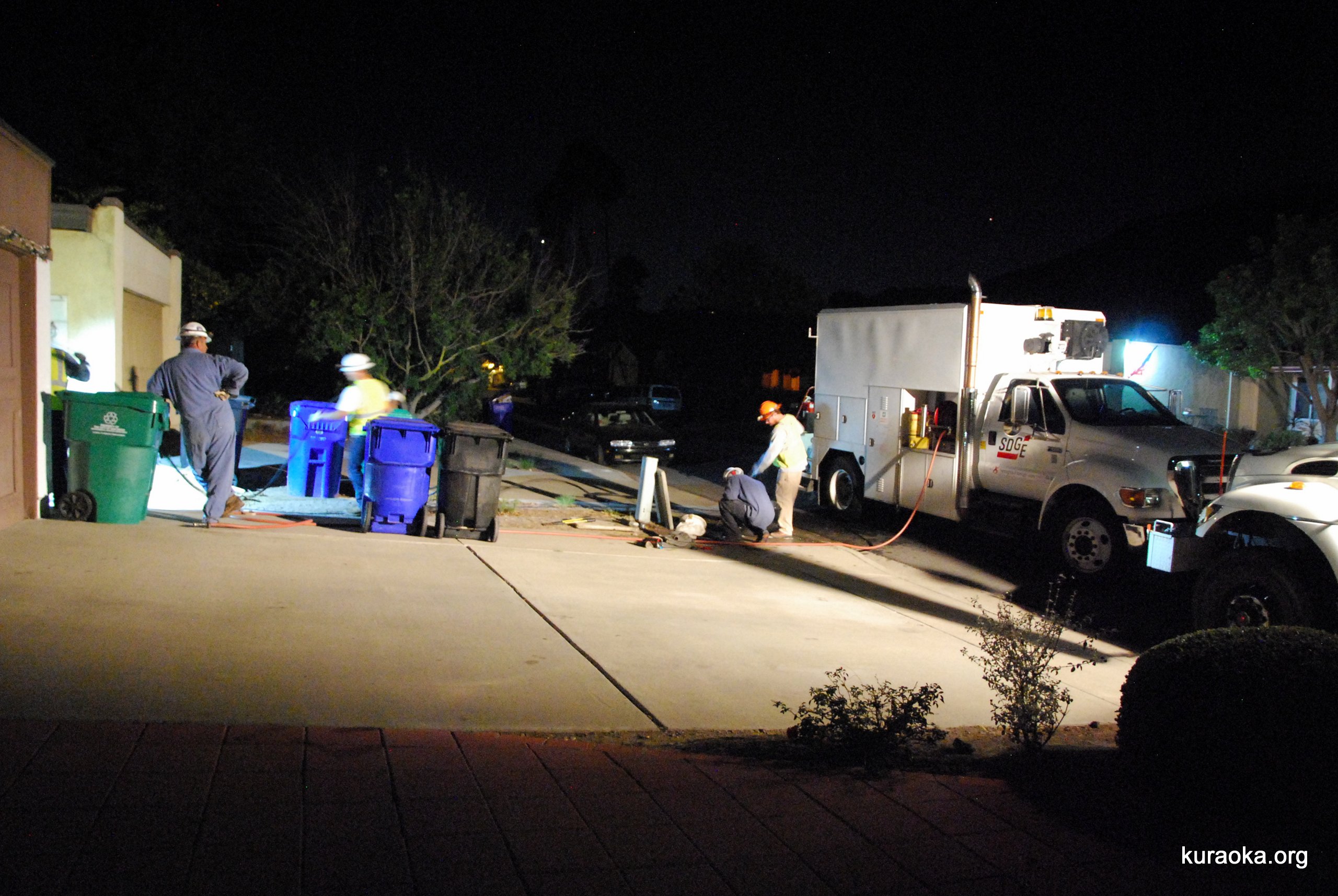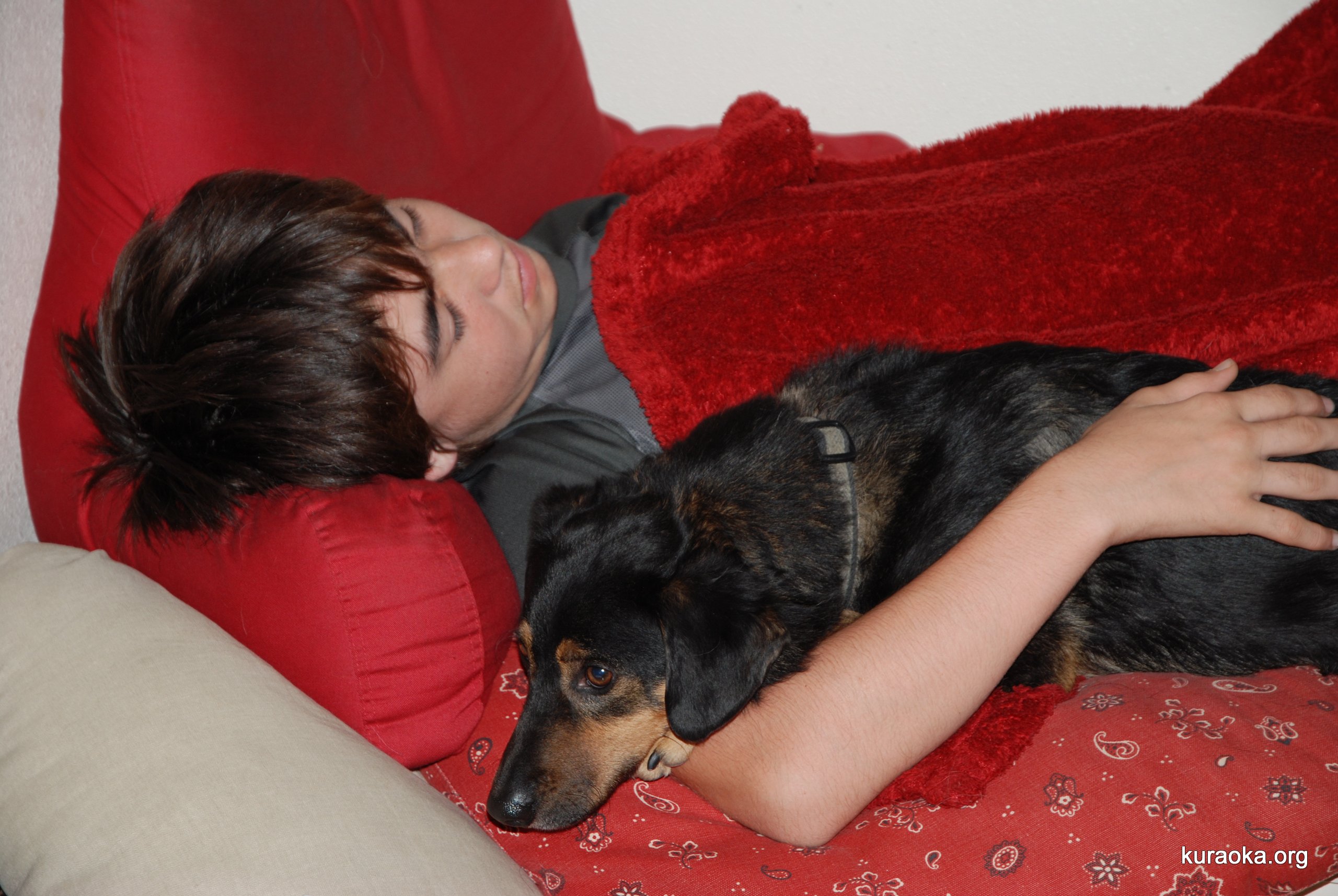 11-06-16: Measure for Measure at the downtown library. We saw an excellent Globe For All presentation of Shakespeare's Measure for Measure. Here Leo enjoys one of the perks of playgoing.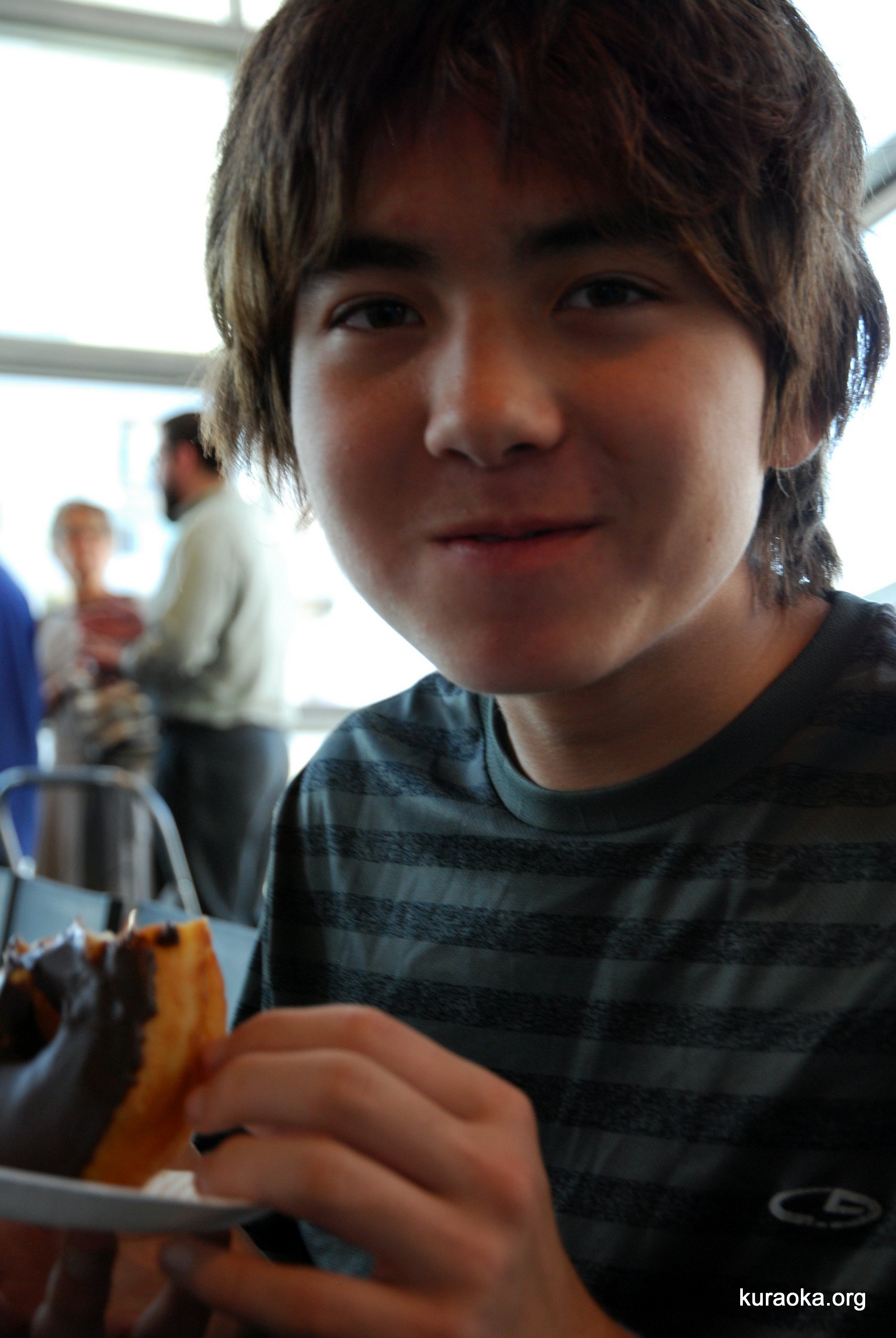 11-05-16: La Tuna Canyon Detention Center exhibit. Grammy came down and we all went to check out the traveling exhibit about the La Tuna Canyon Detention Center, where Japanese American community leaders were imprisoned temporarily, prior to being tranferred to one of the big internment camps. The exhibit is at Balboa Park. The first shot shows the Granada Room, the original chapel, where we were married. The second shows Junzo Ishida's name on the roll of internees. The last shows John's Mom pointing to her mangled name on the display honoring those who gave interviews.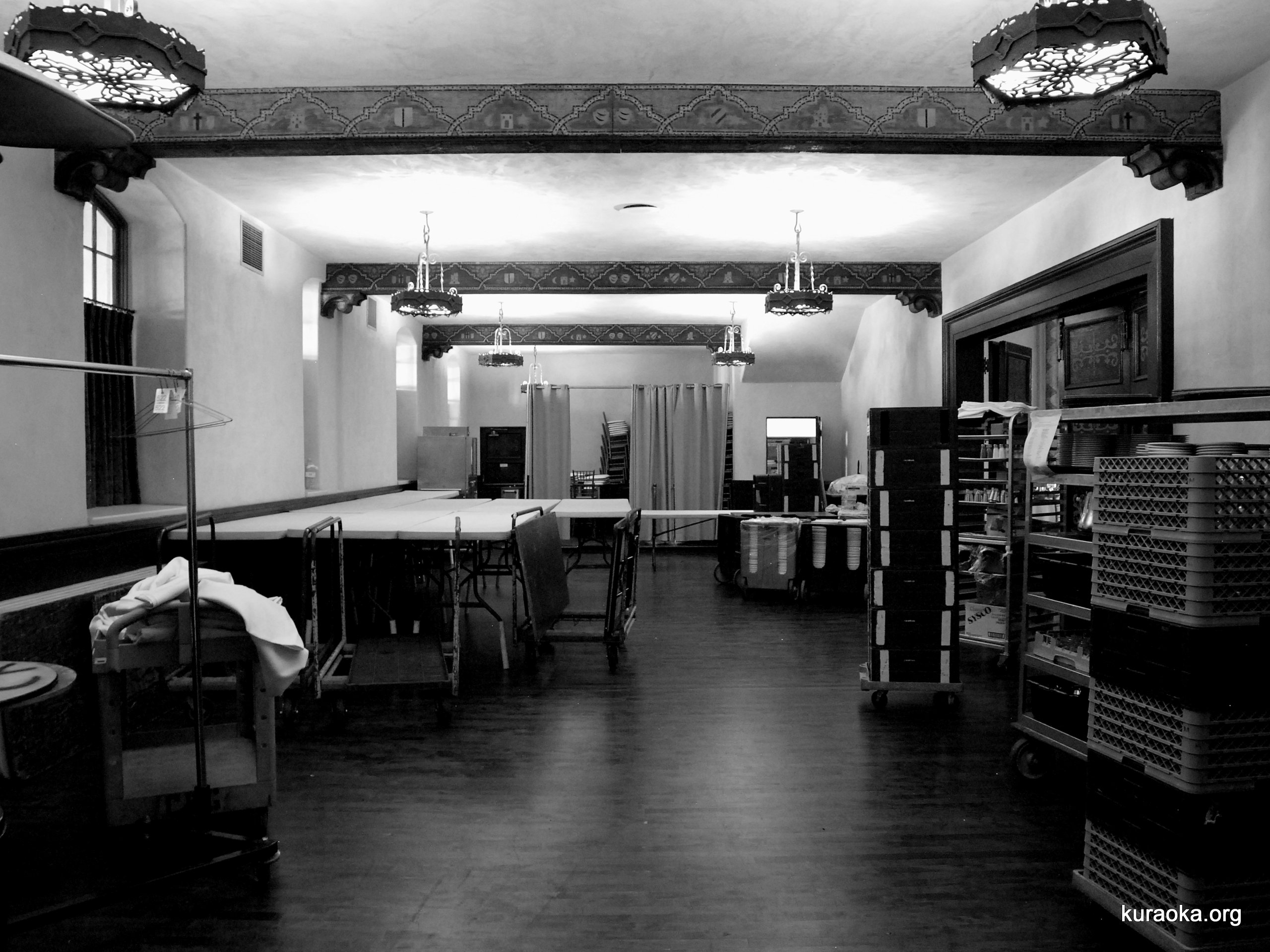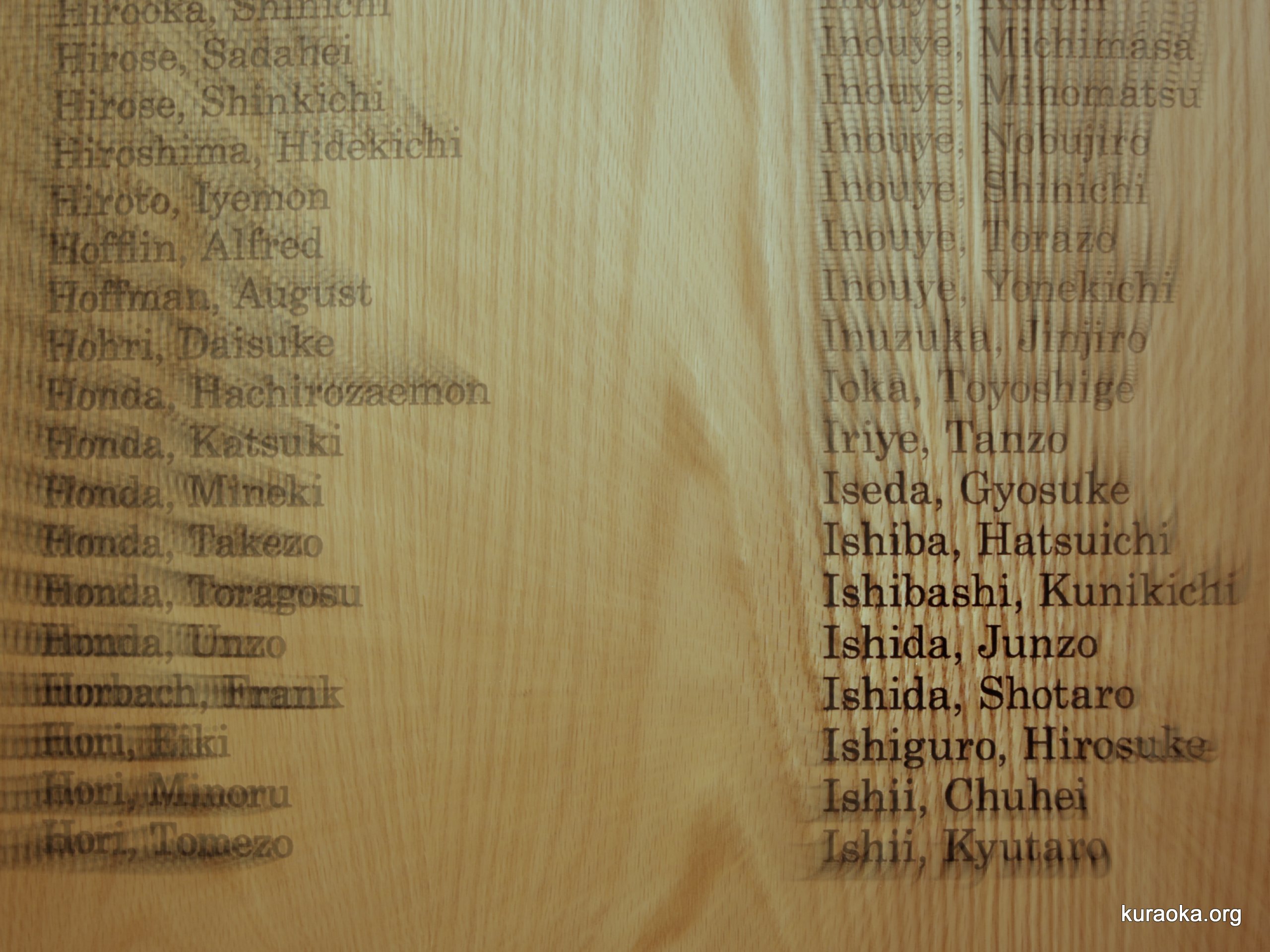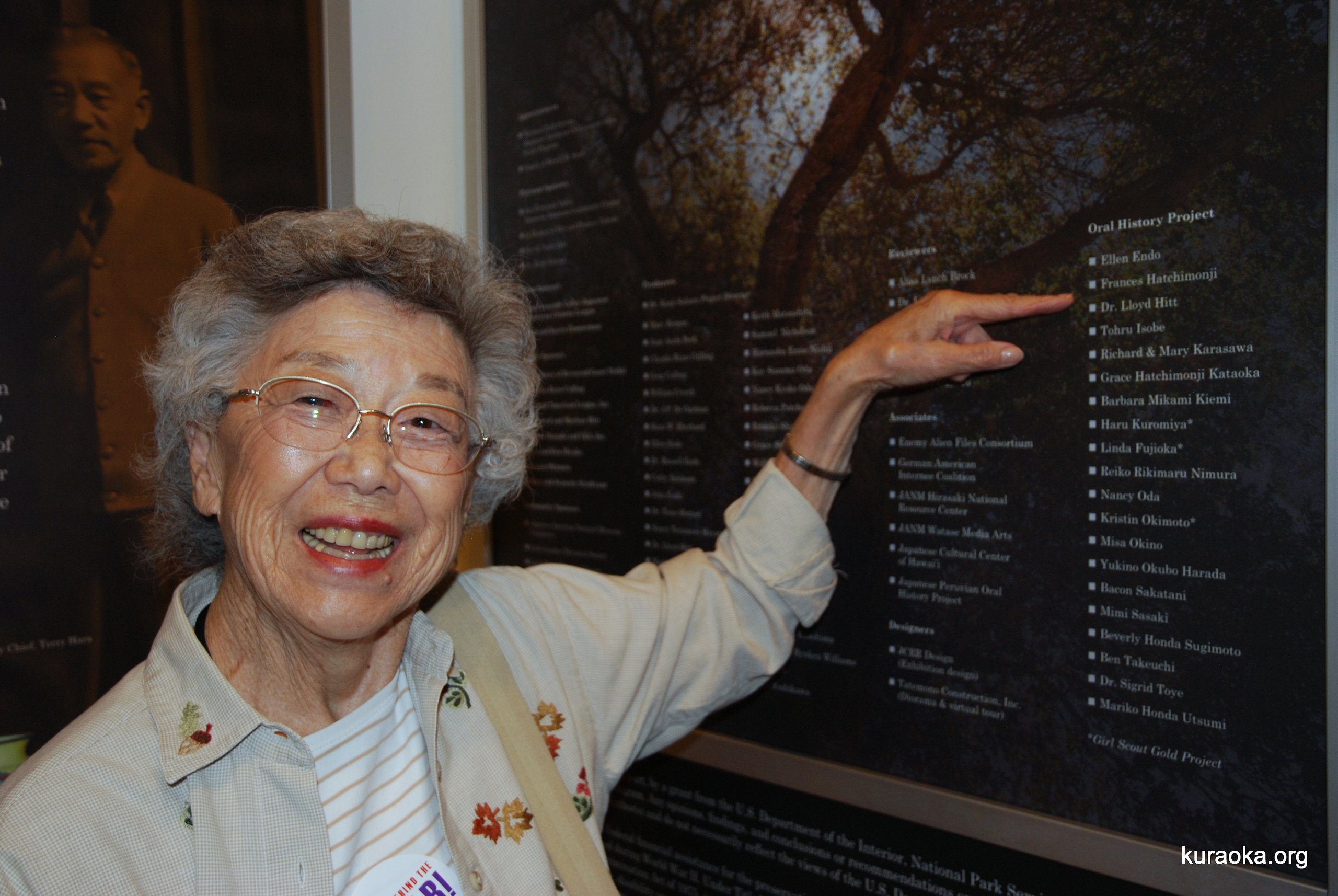 11-04-16: Solar project progress: roof complete! Two shots taken during the day, and a walk-around after completion. Despite the dust and noise, we will miss the roofers: they seemed a jovial crew, often breaking into song up on the roof. That's the back of the house, the closer shot shows one of the O'Hagin vents and the ridge vent along the top, and the front of the house. The roofers left our yards cleaner than our gardeners do!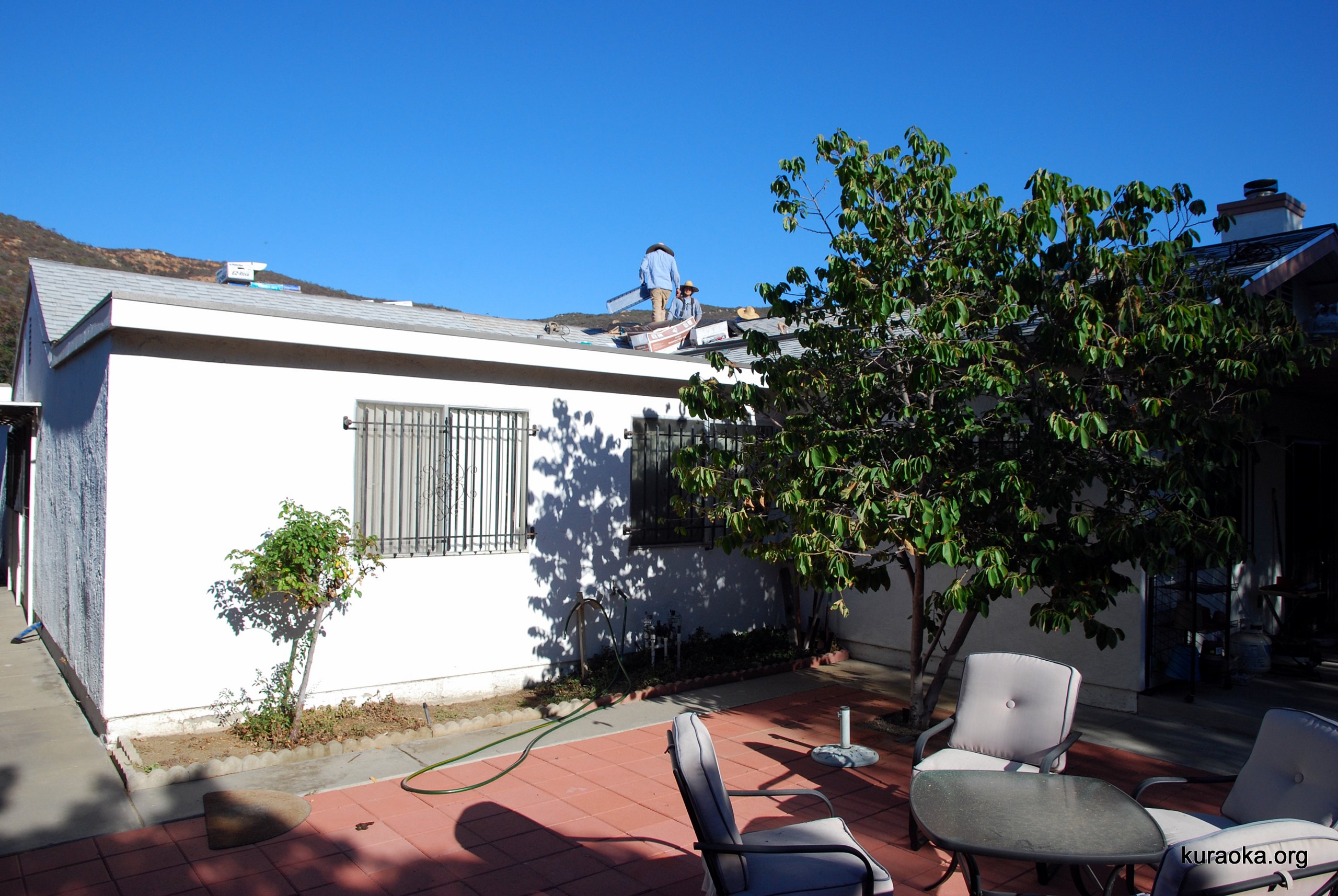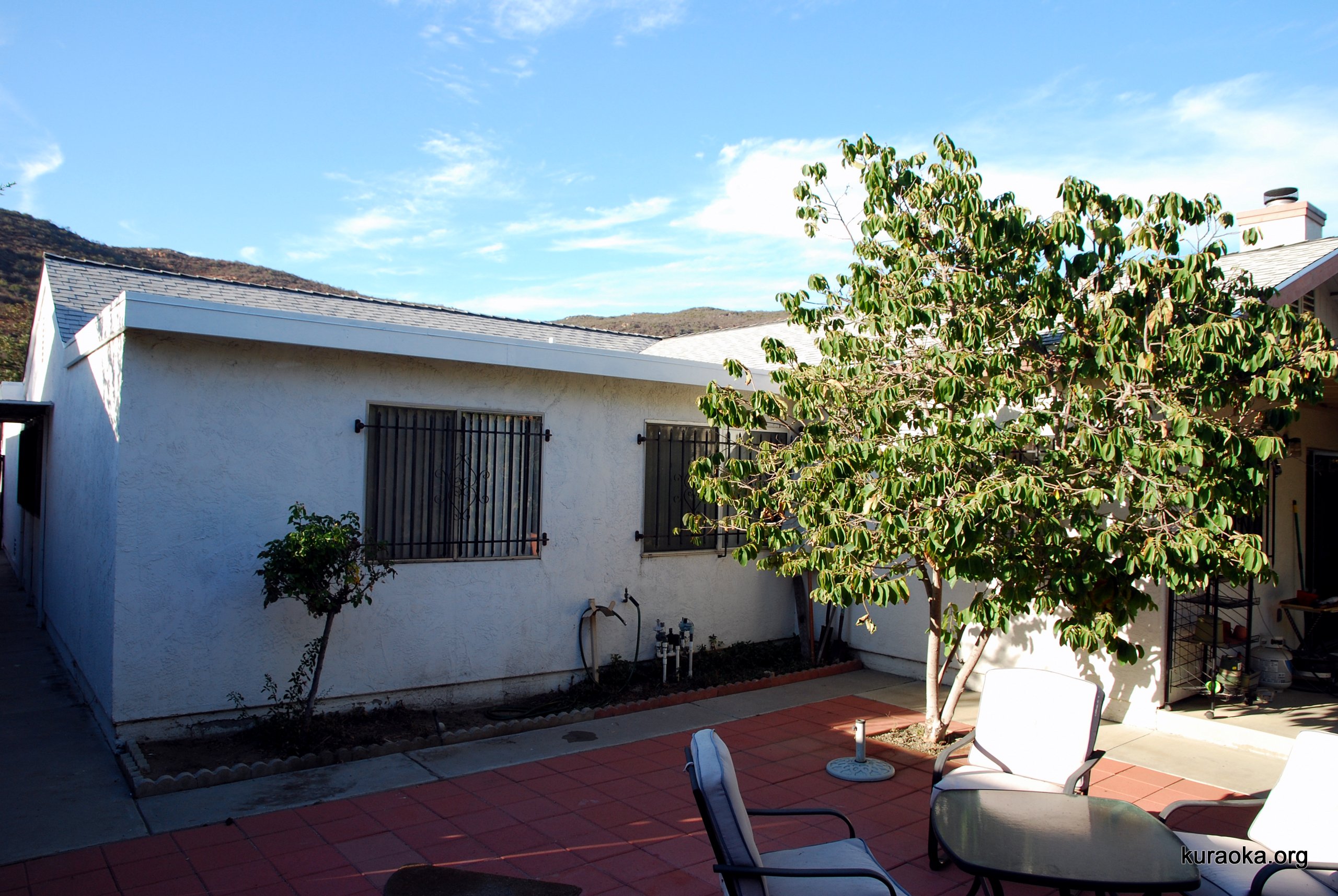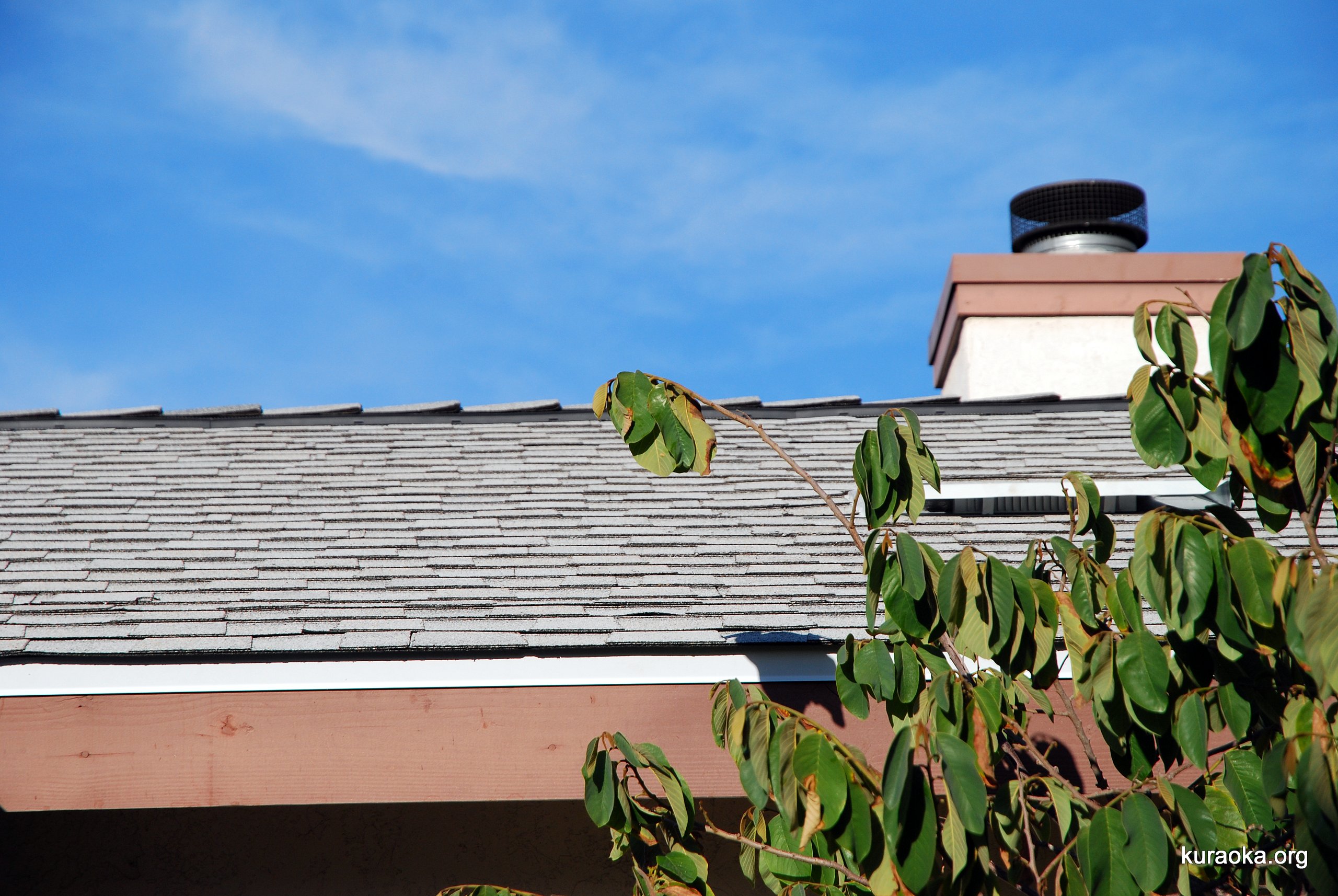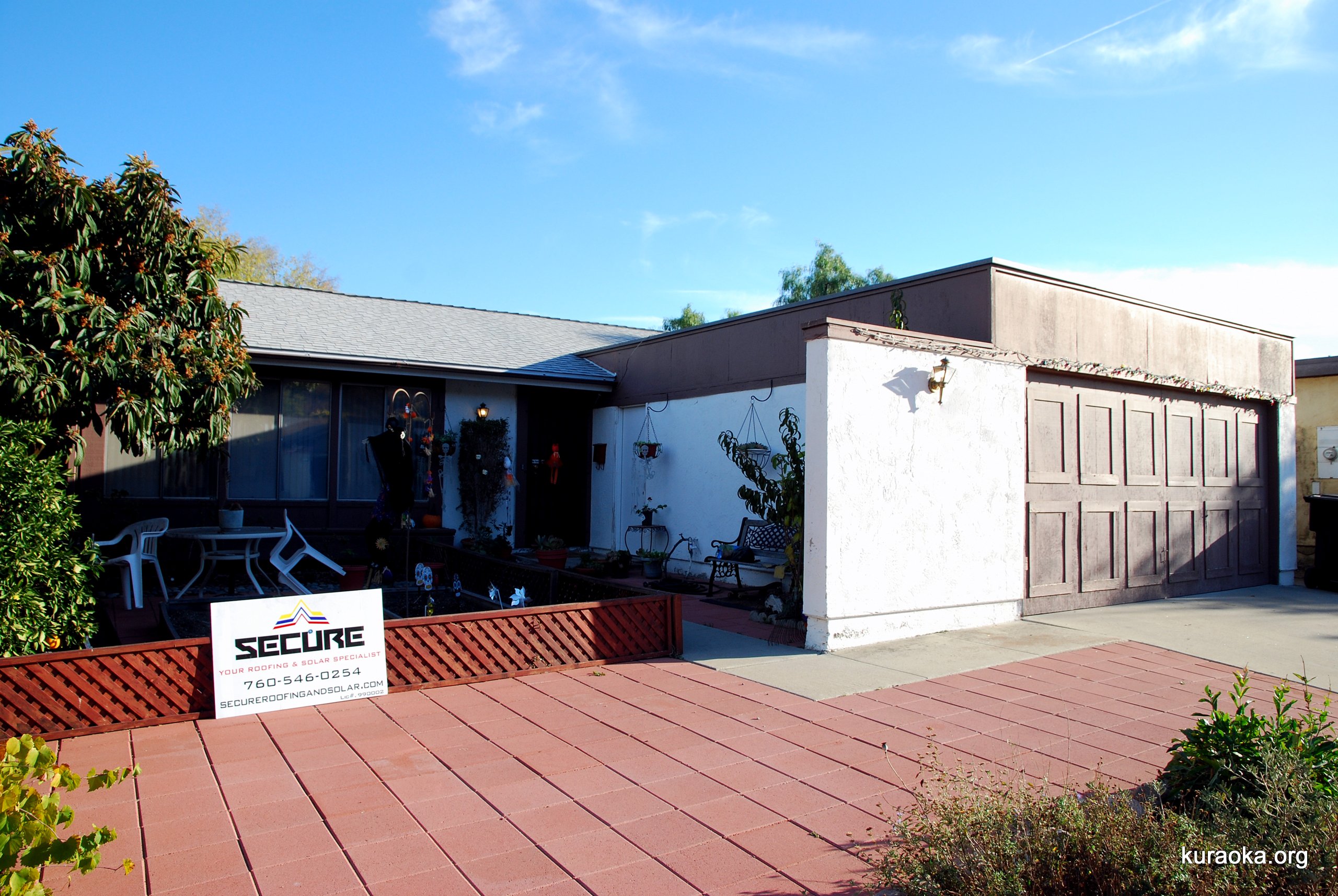 11-03-16: Solar project progress. Work continues. You can see progress on the shingles.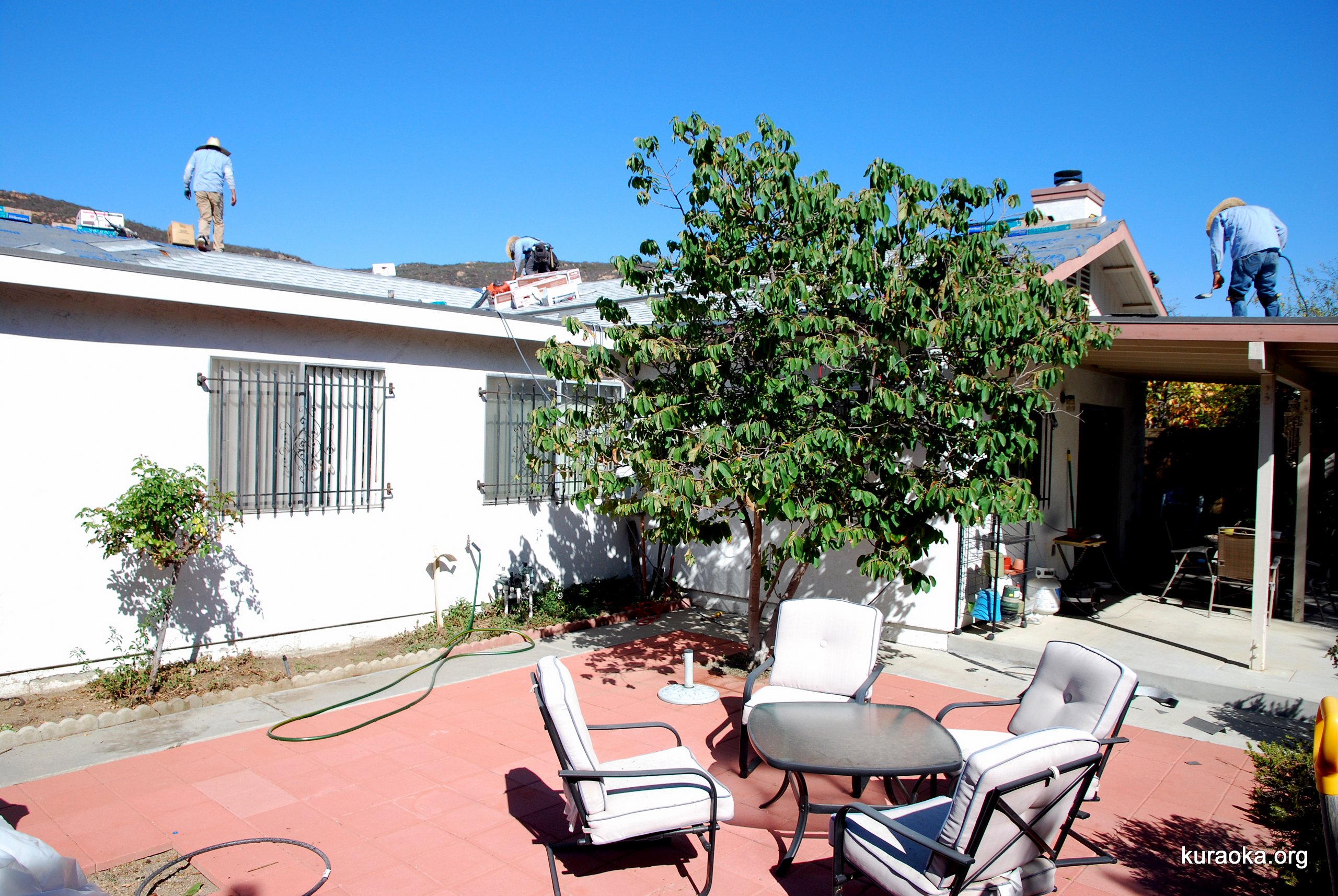 11-02-16: Solar project progress. Repairs were completed on the flat roof in the back of the house, and work began in earnest, including cutting the ridge vent openings.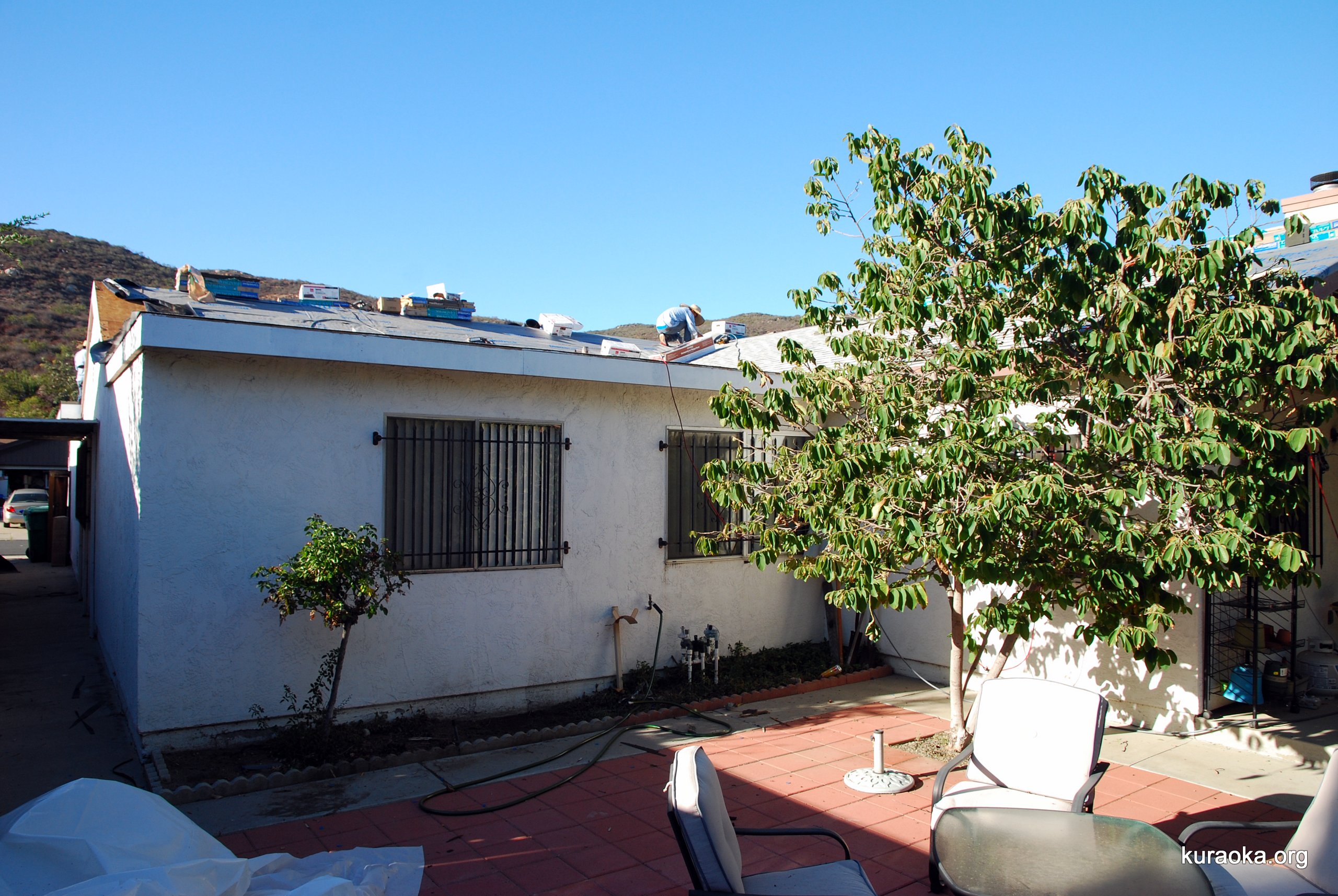 11-01-16: Solar project progress. Materials arrived for the flat parts of the roof, and repair work started there first. We approved a change order for various repairs discovered upon revealing what was under the old shingles and paper. In the late afternoon, the shingles arrived and were moved to the roof on a mobile conveyor belt.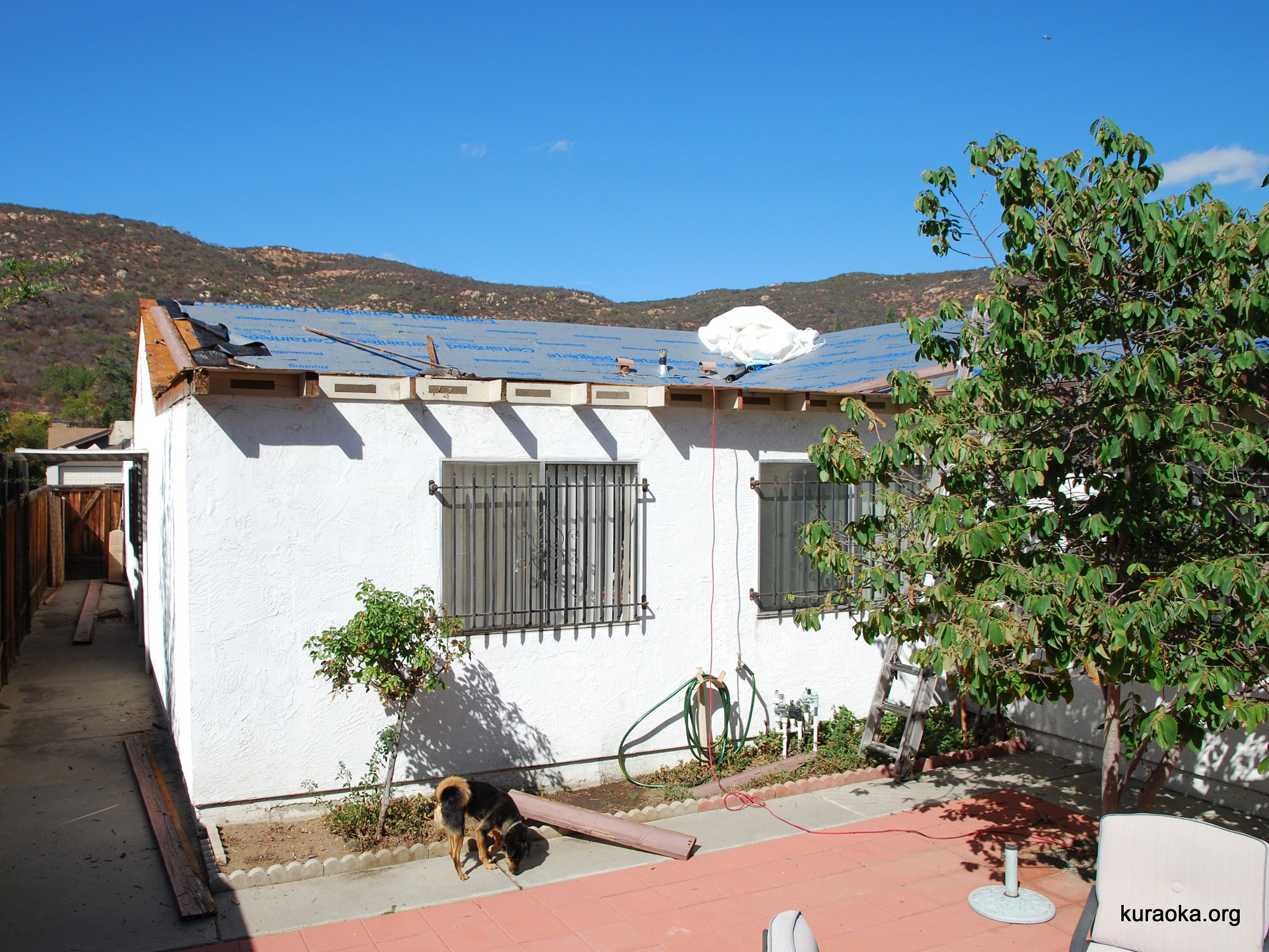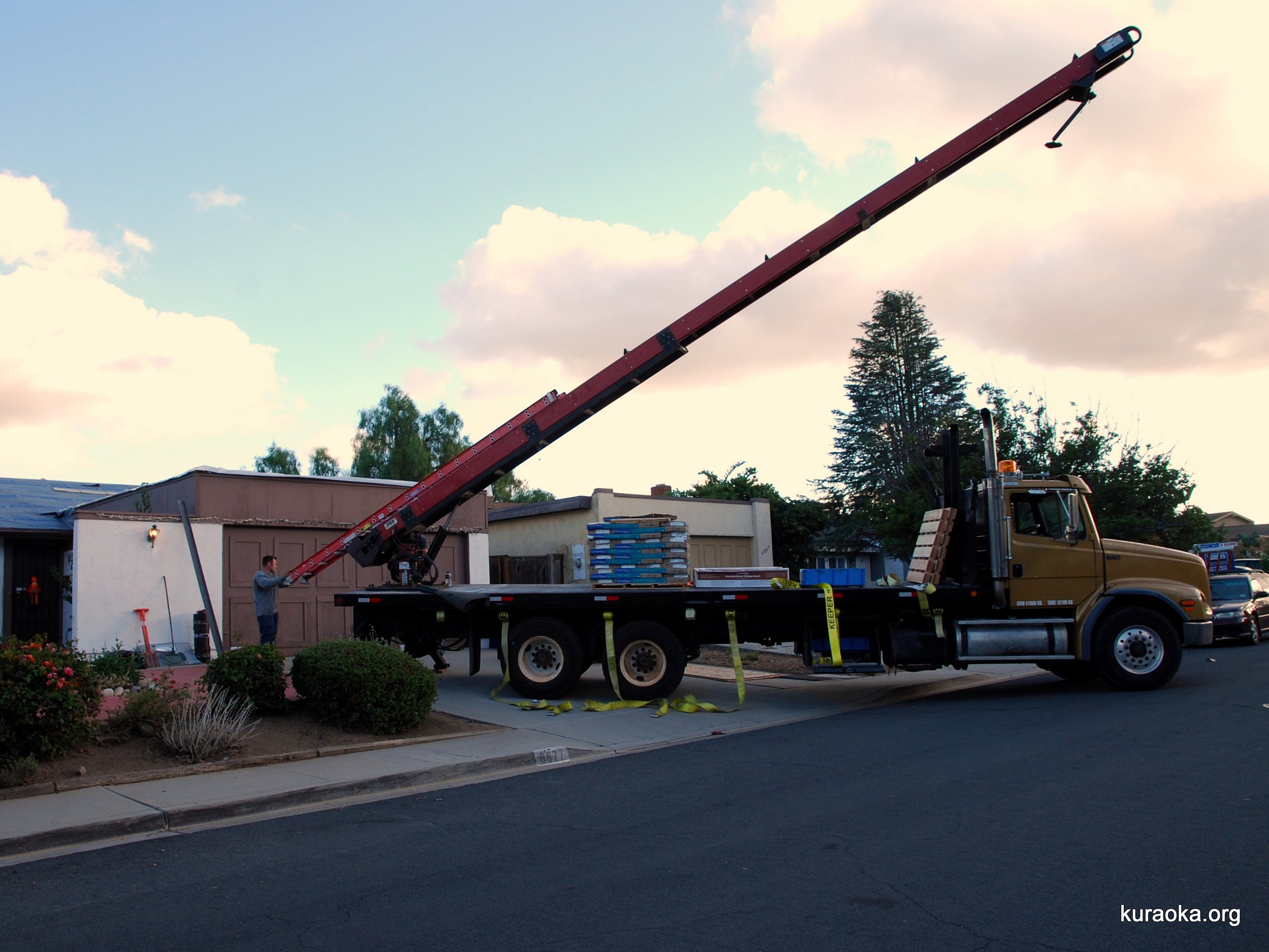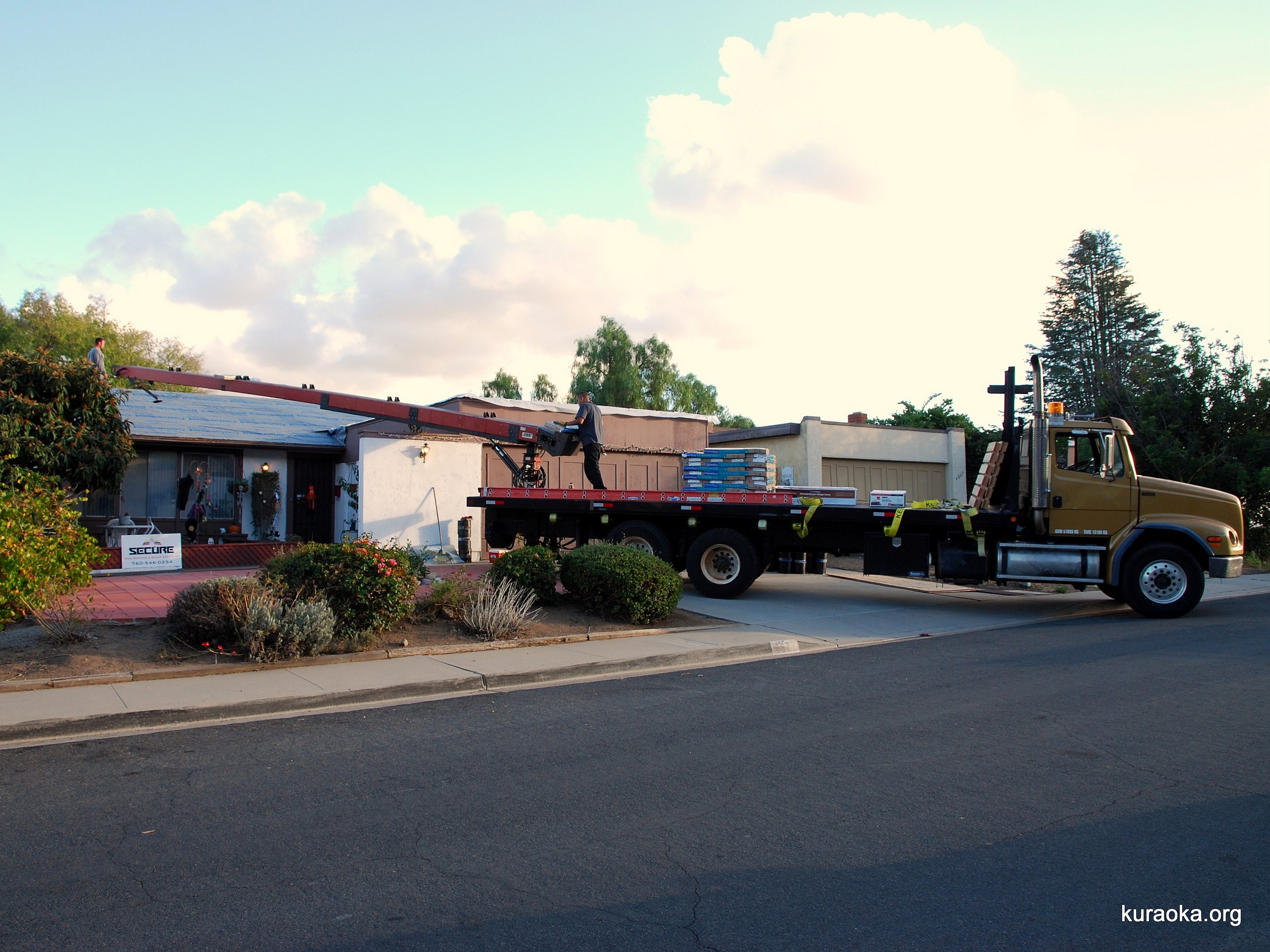 10-31-16: HALLOWEEN! Leo went trick-or-treating around the neighborhood with his friend John. Leo is in the werewolf mask. The other two are John's sisters, who accompanied them as they made the rounds. Leo got quite a haul!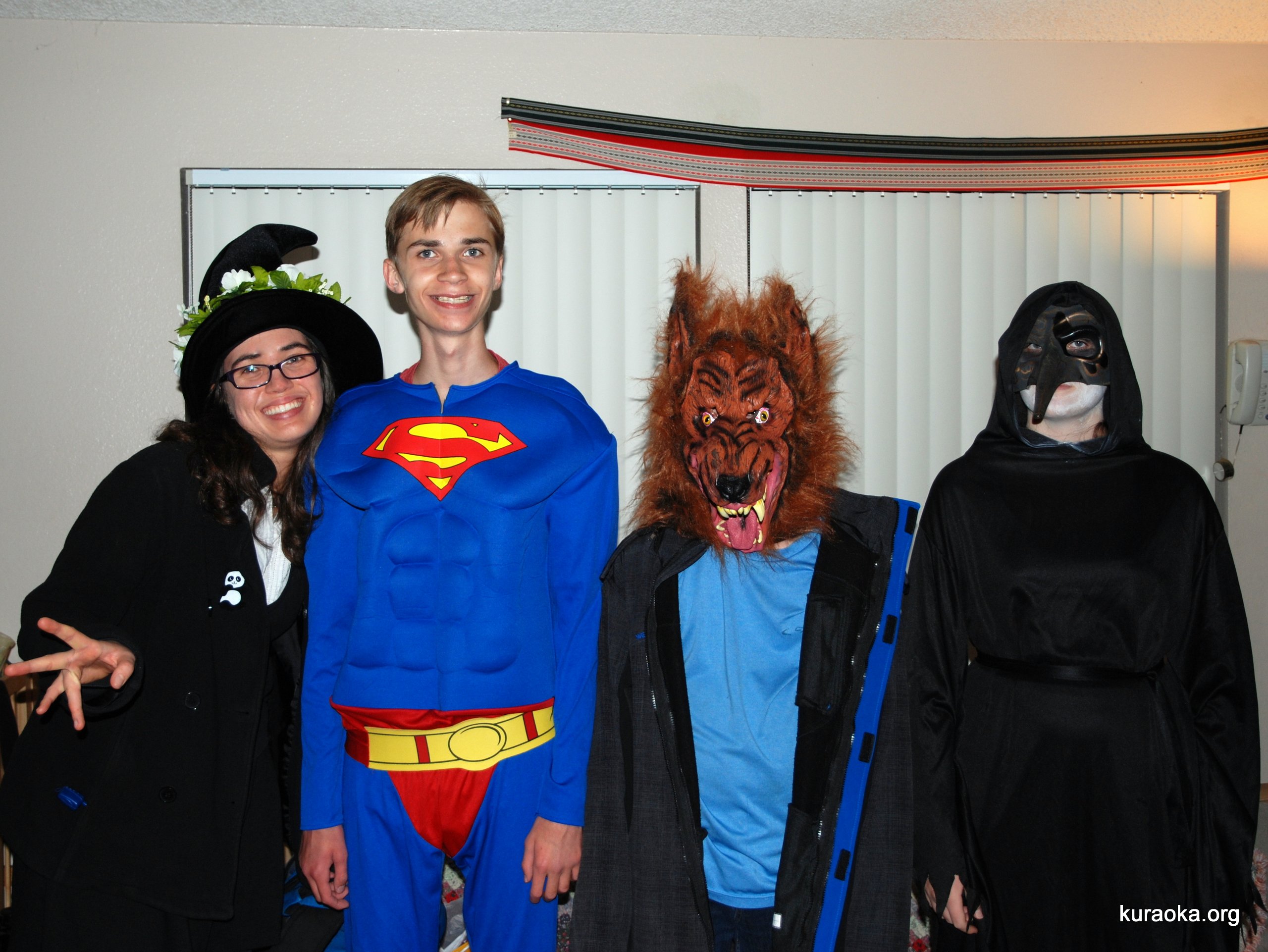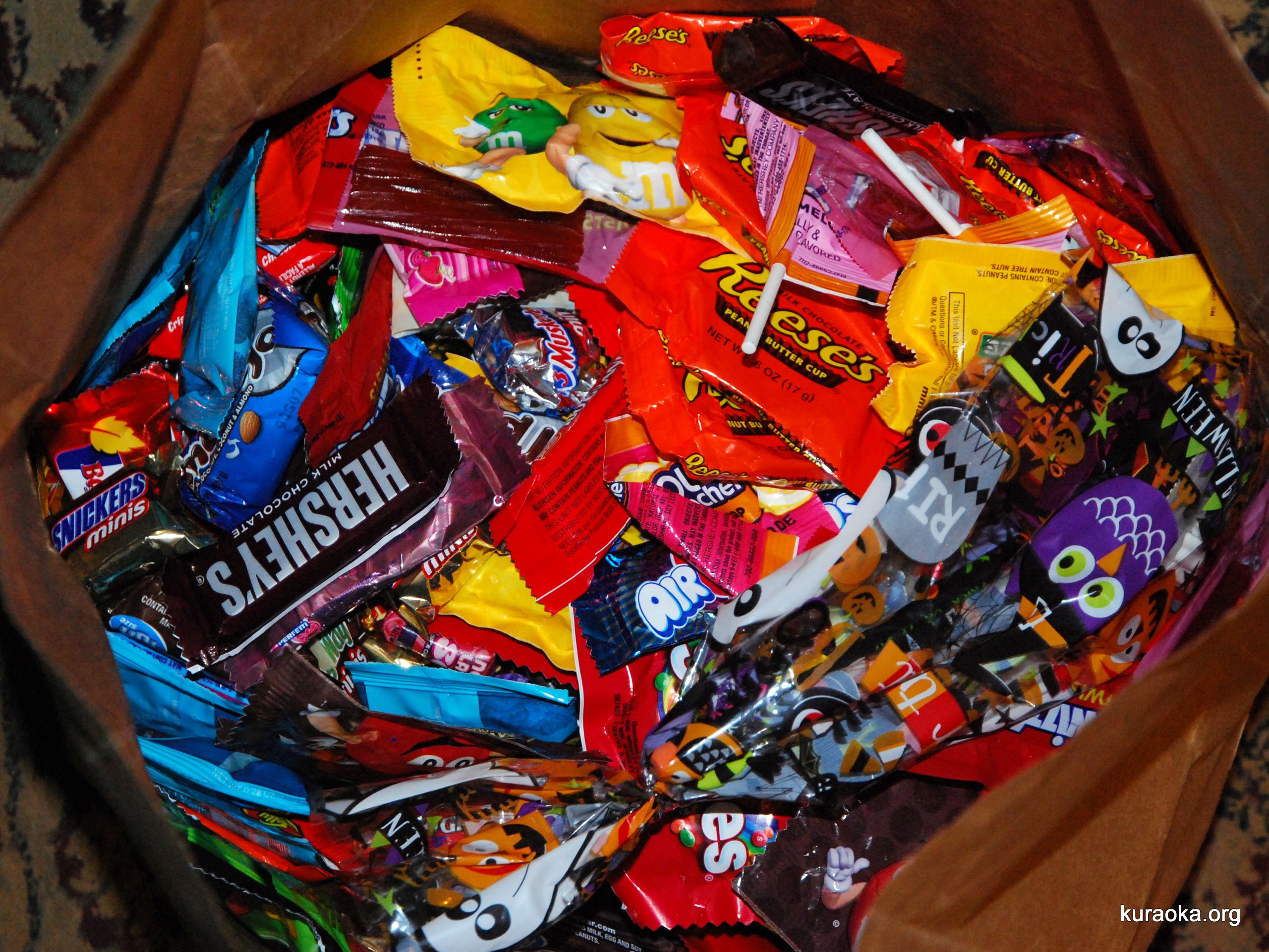 10-31-16: Solar project kicks off! The first step was stripping off the old roof. The crew from Secure Roofing and Solar arrived promptly at 9 am and started stripping off the layers of old shingles almost before we could snap a photo. About two hours later, the roof was down to probably 40-year-old paper. Then that came off, everything was inspected, and a protective layer was tacked down. The crew left the yards, front and back, very clean.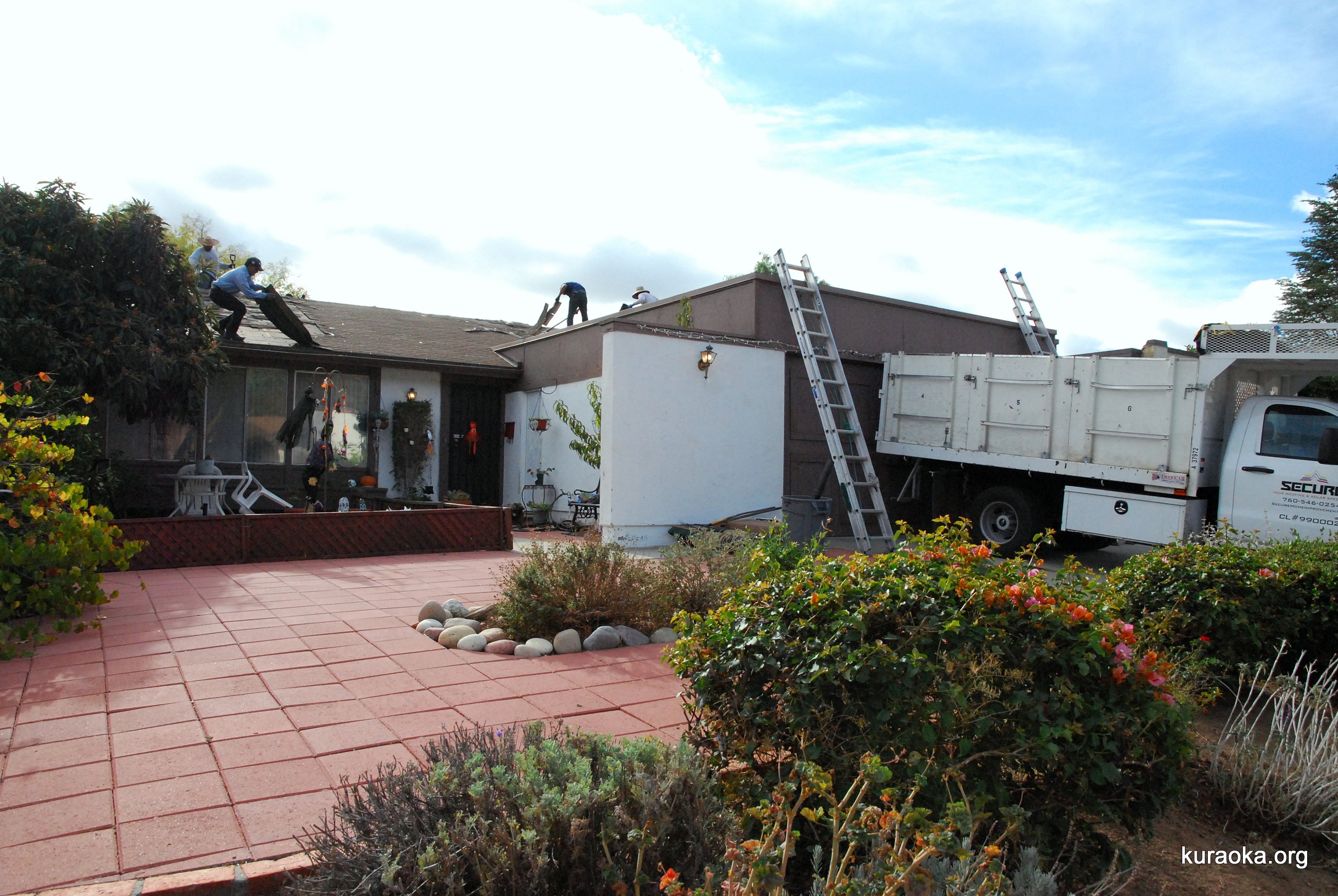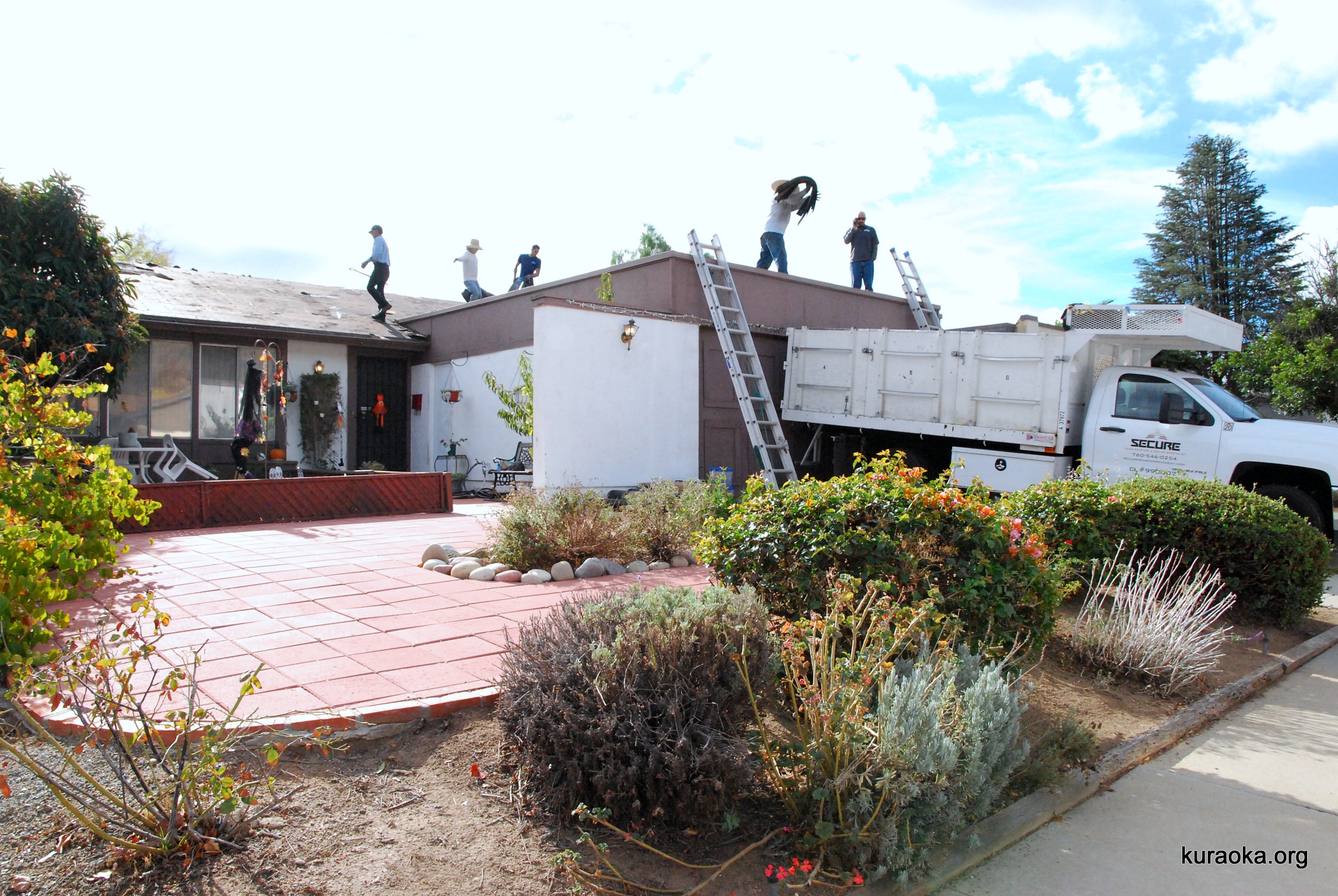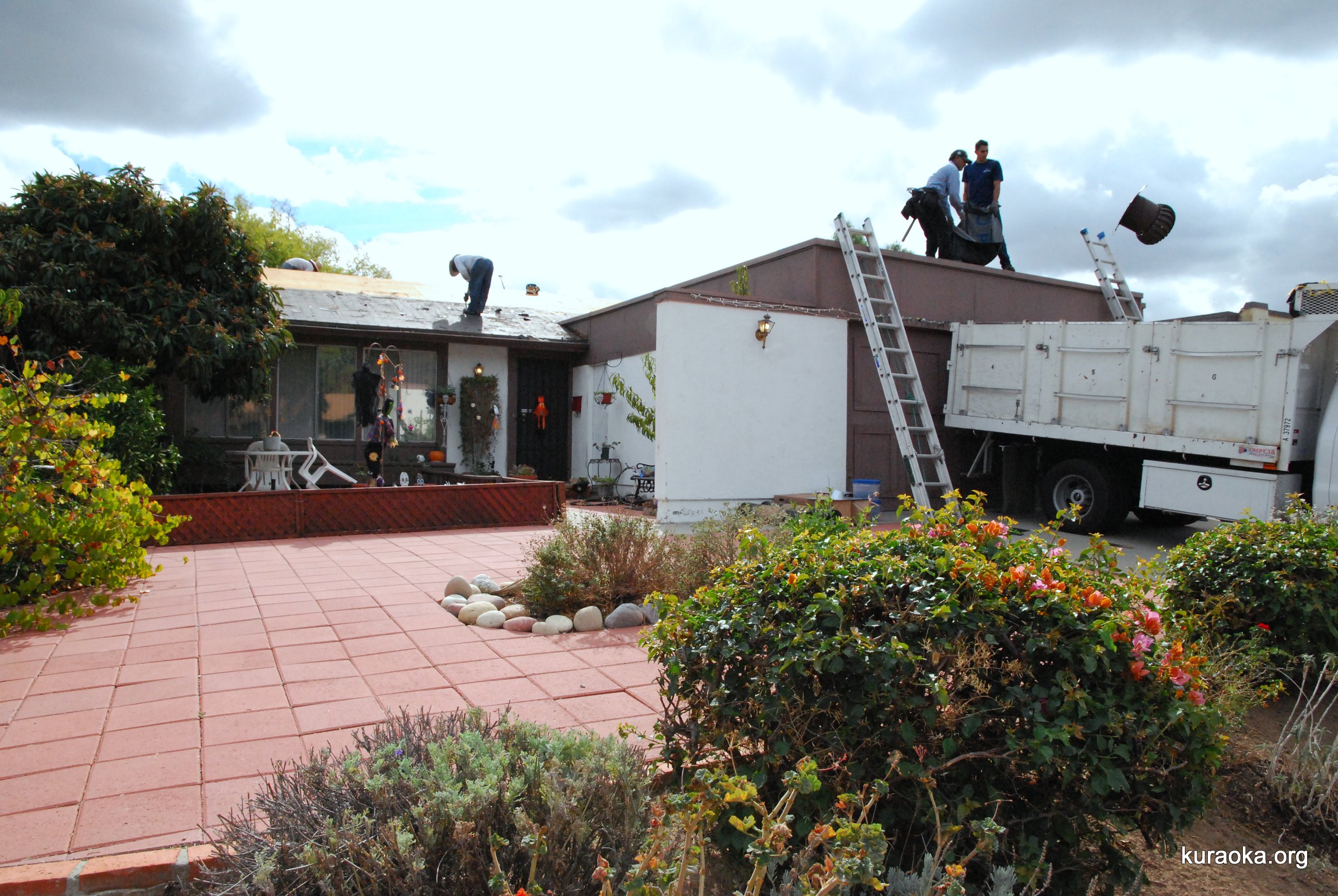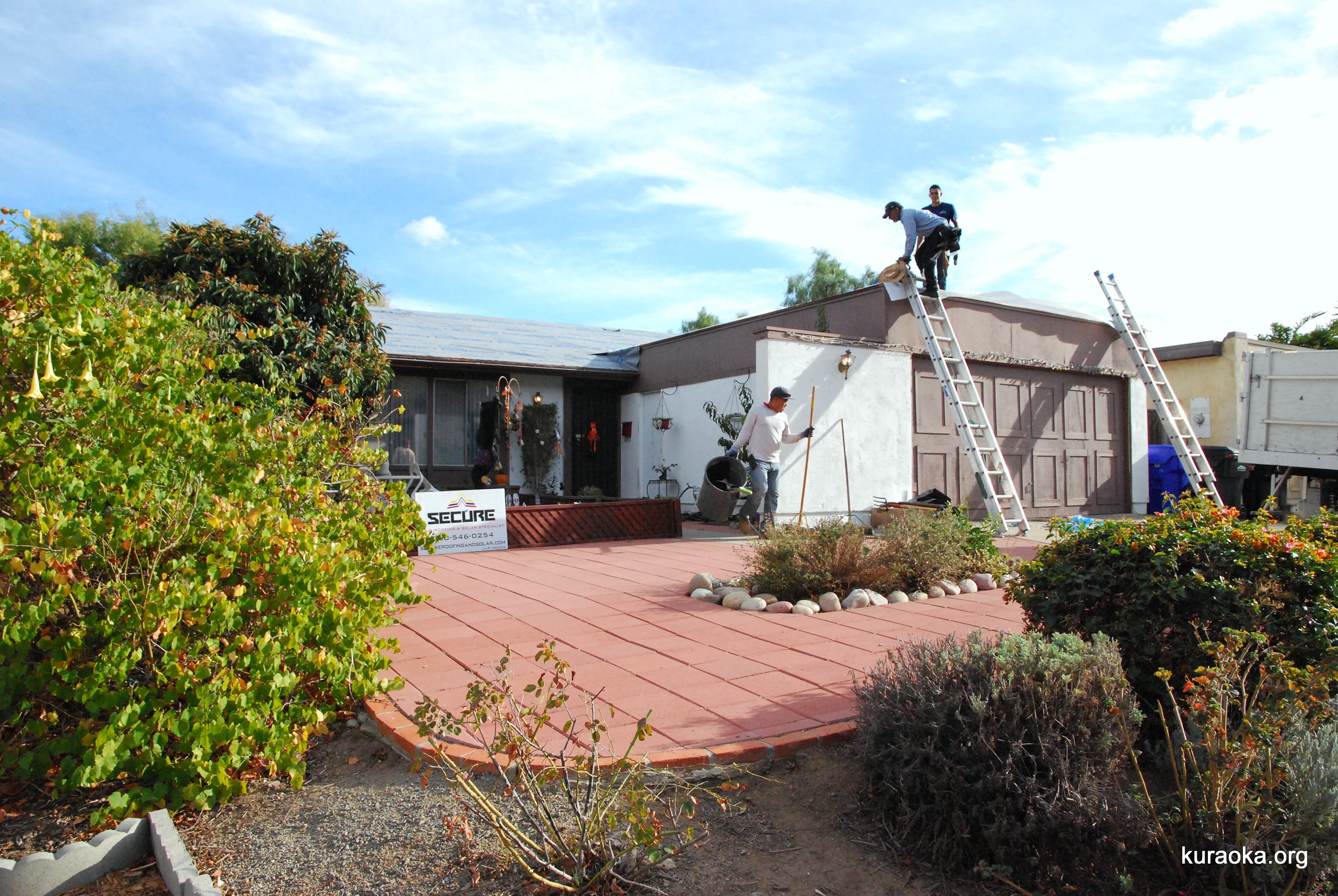 10-30-16: Sunday. Leo and Ondine made pancakes. Roy hung out. Just another typical Sunday.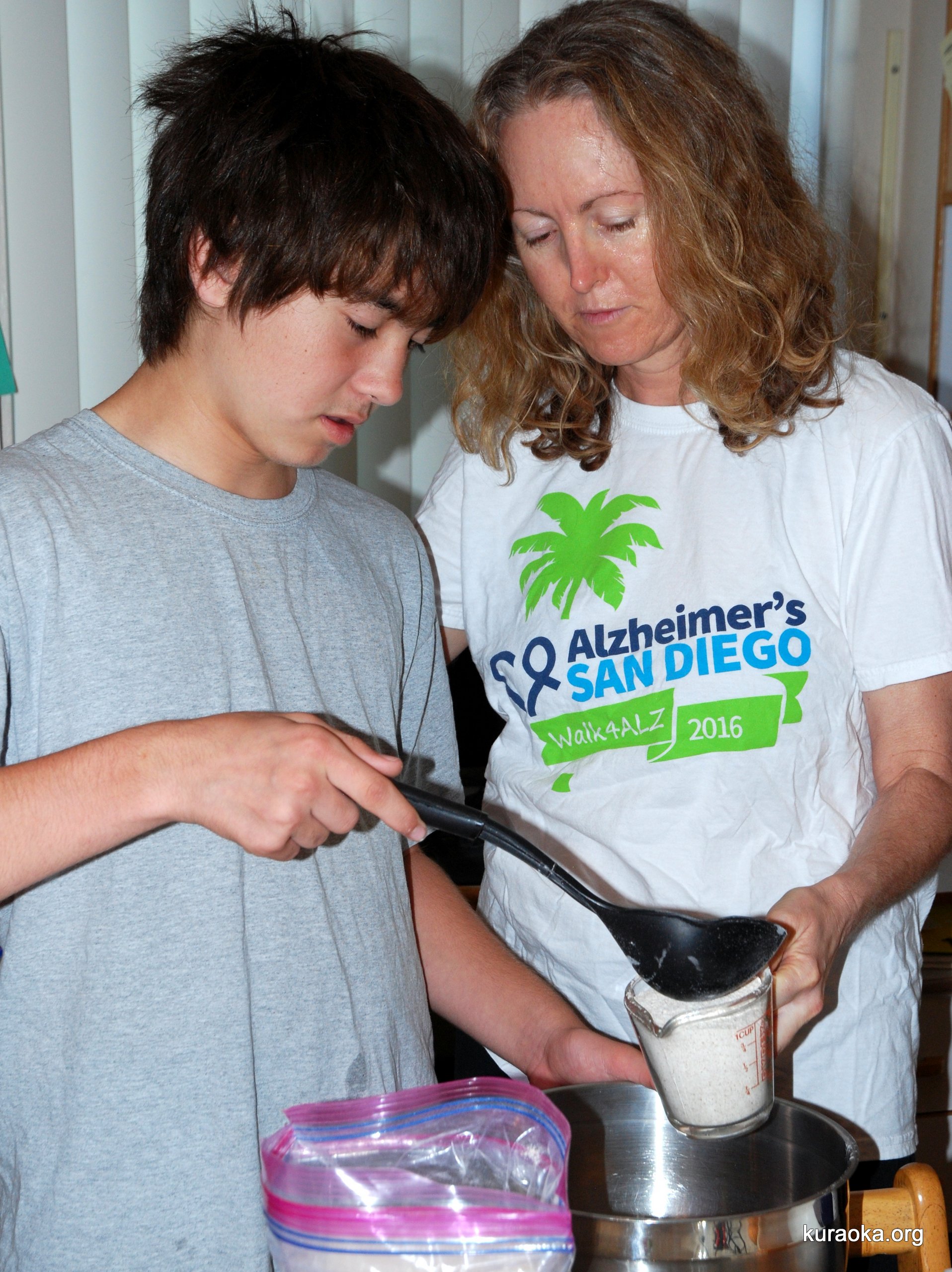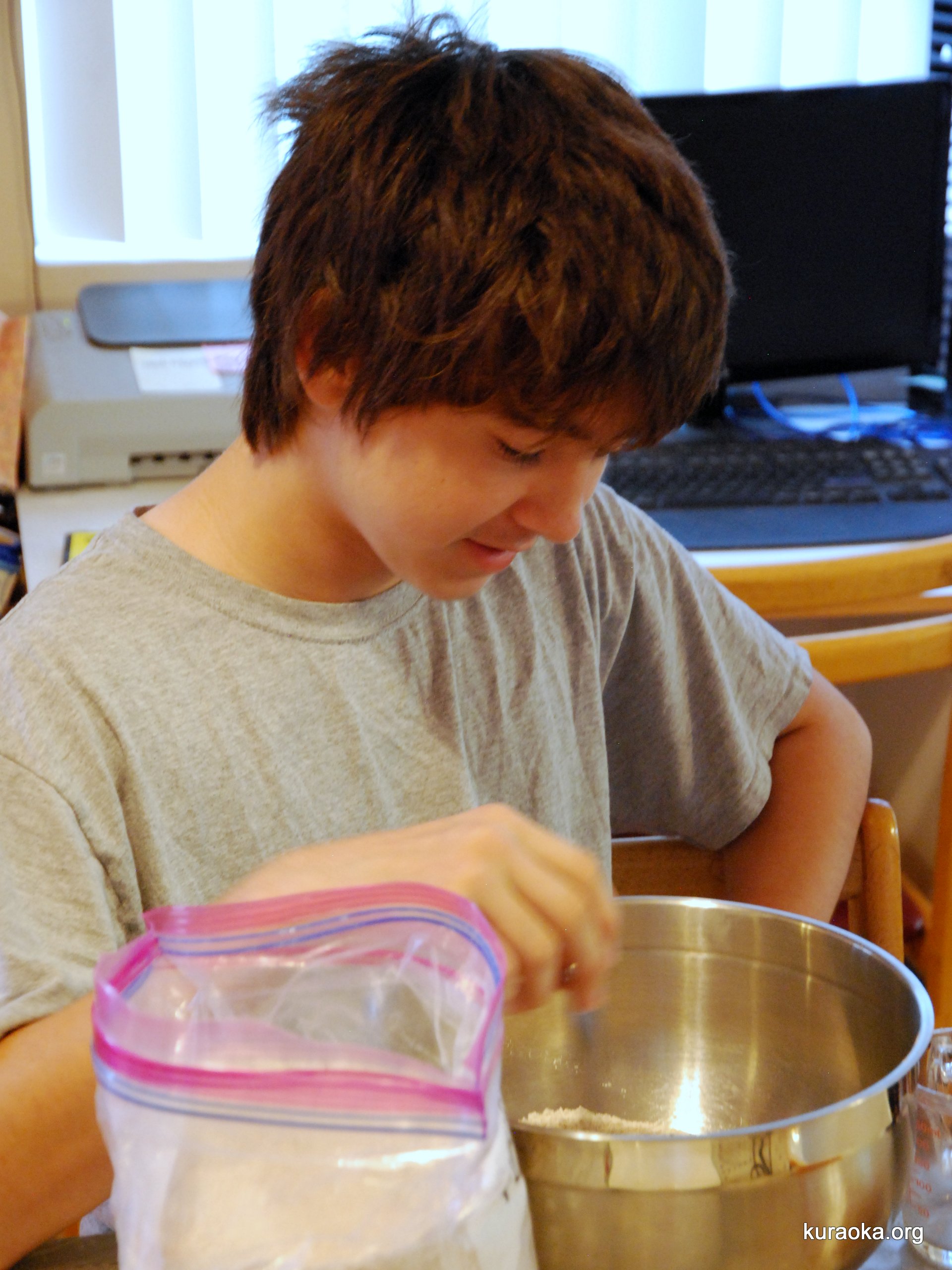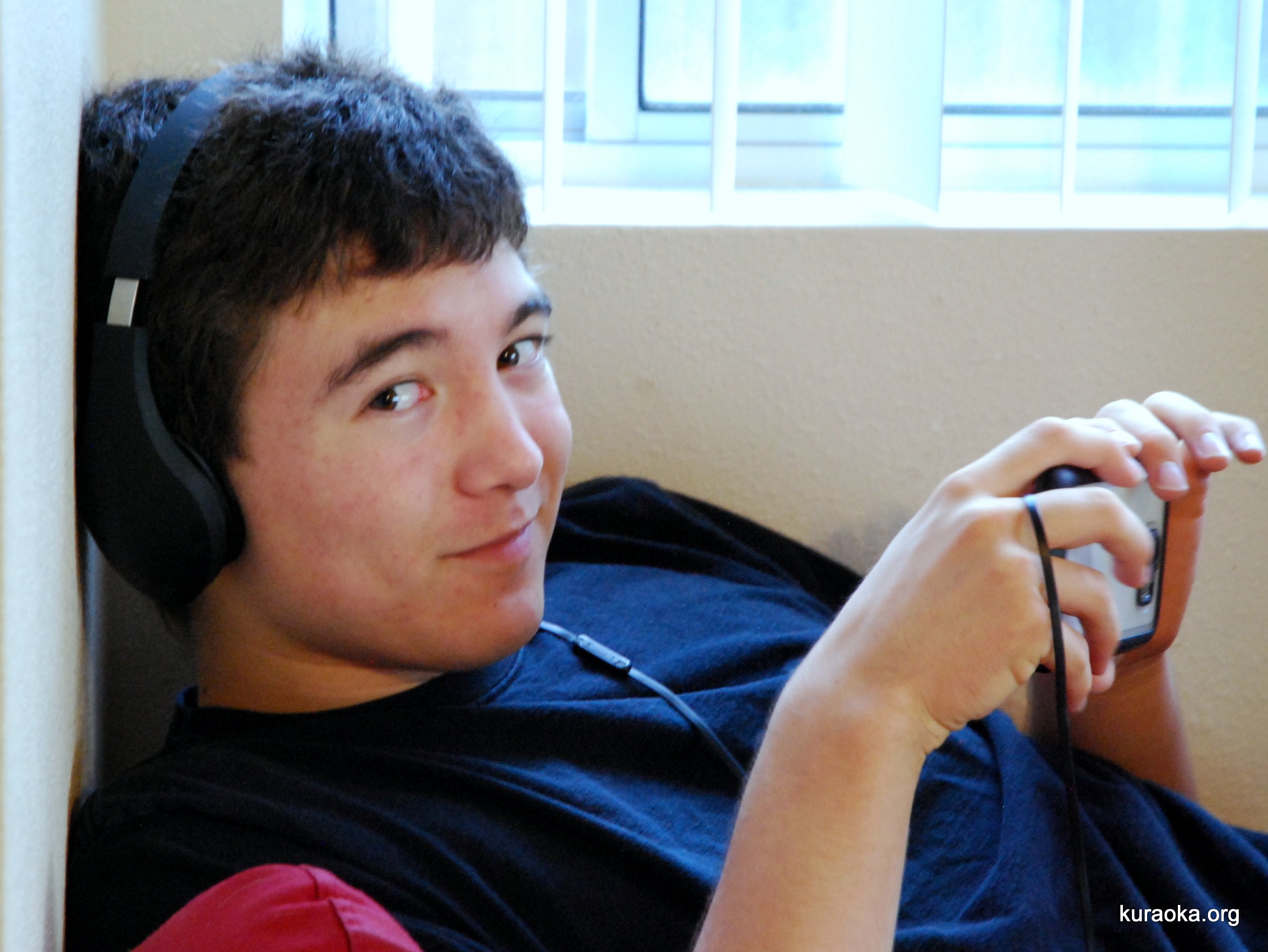 10-23-16: Witchy Woman. Ondine enlisted everyone's help to make a picture. Here are Roy and Leo at Baba's, where we took the photo. Then, Ondine getting ready. Then, the photo! (It's the really skinny one.) Afterwards, Barbara, Ondine, and the dog relaxed on Barbara's couch.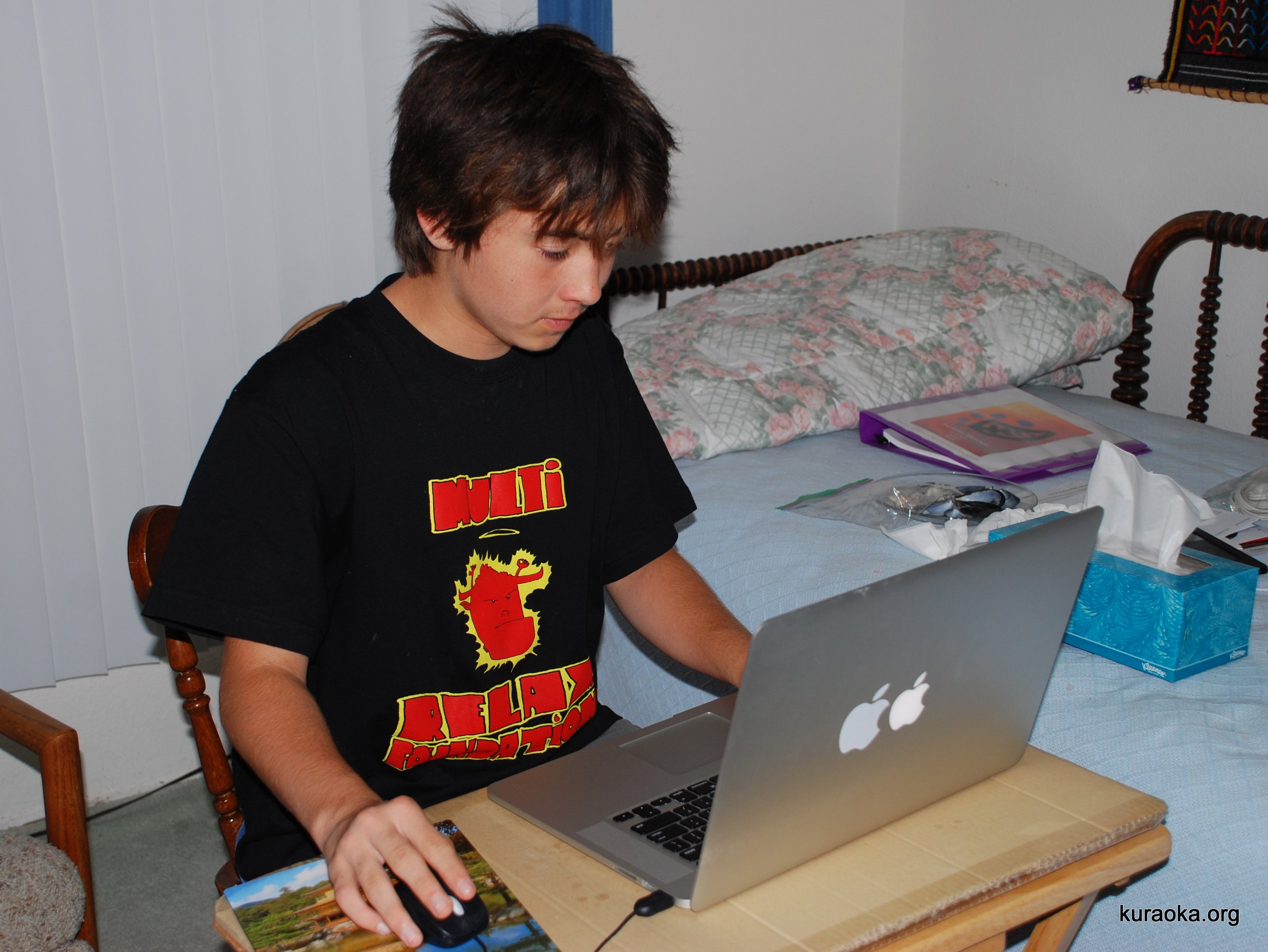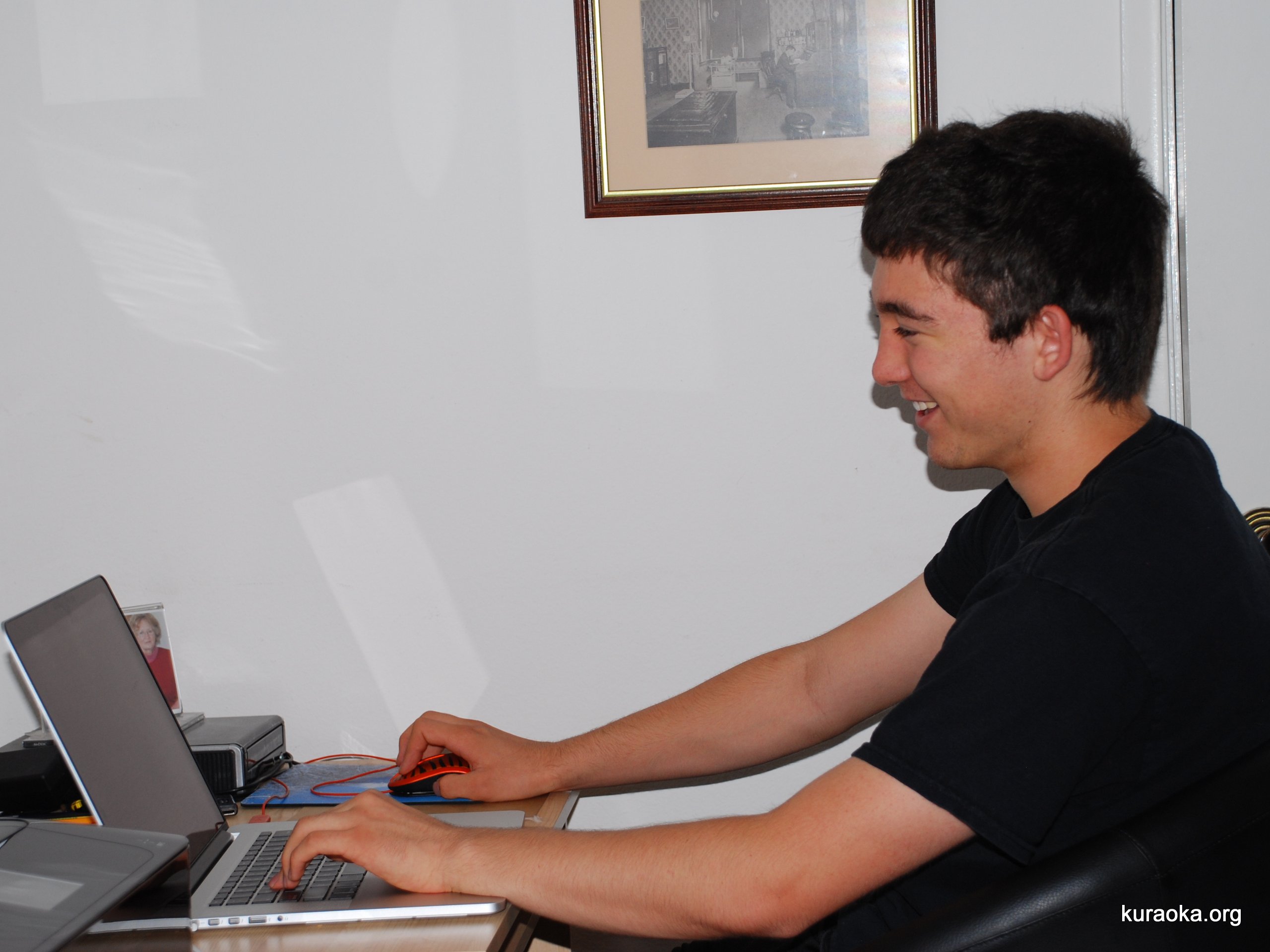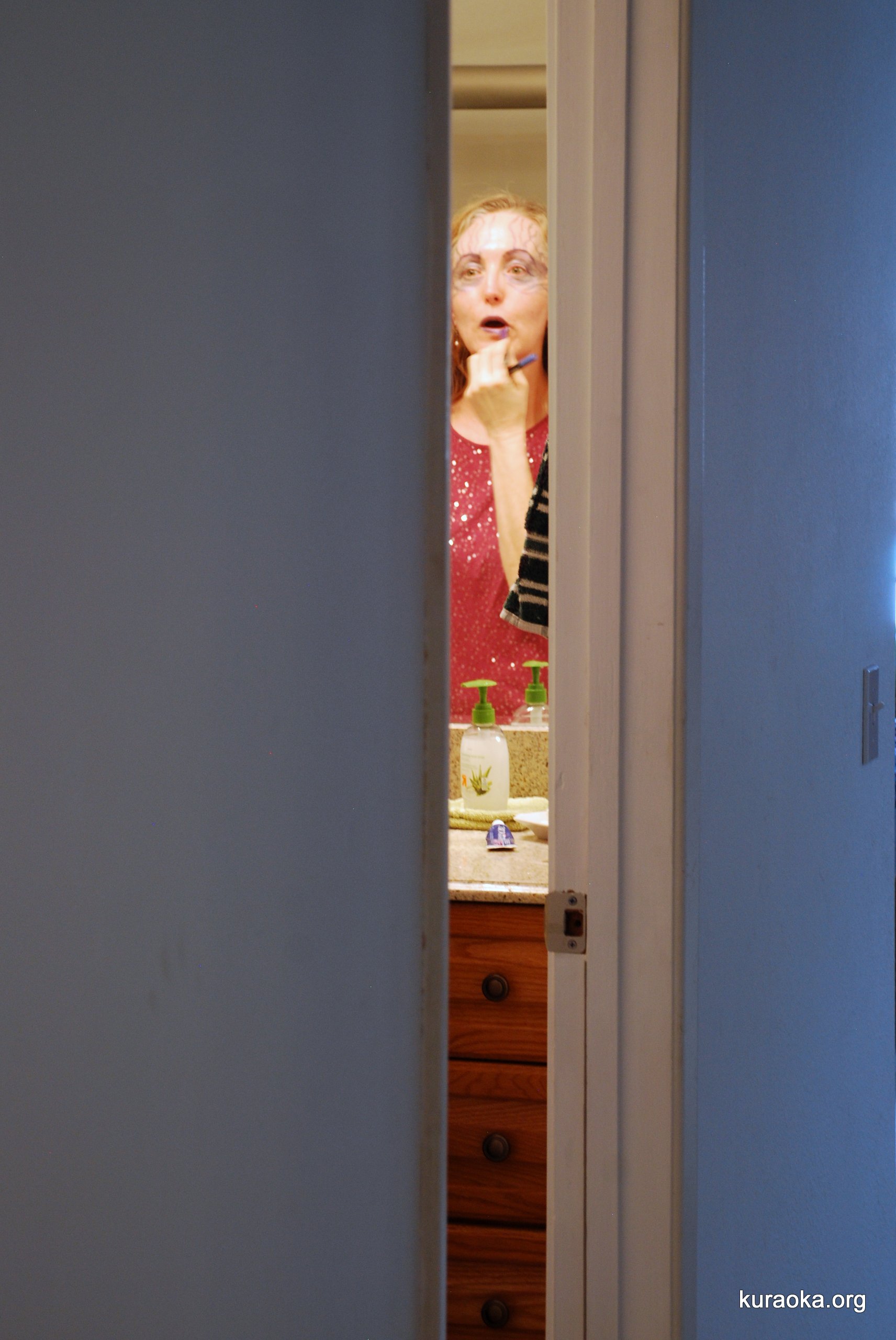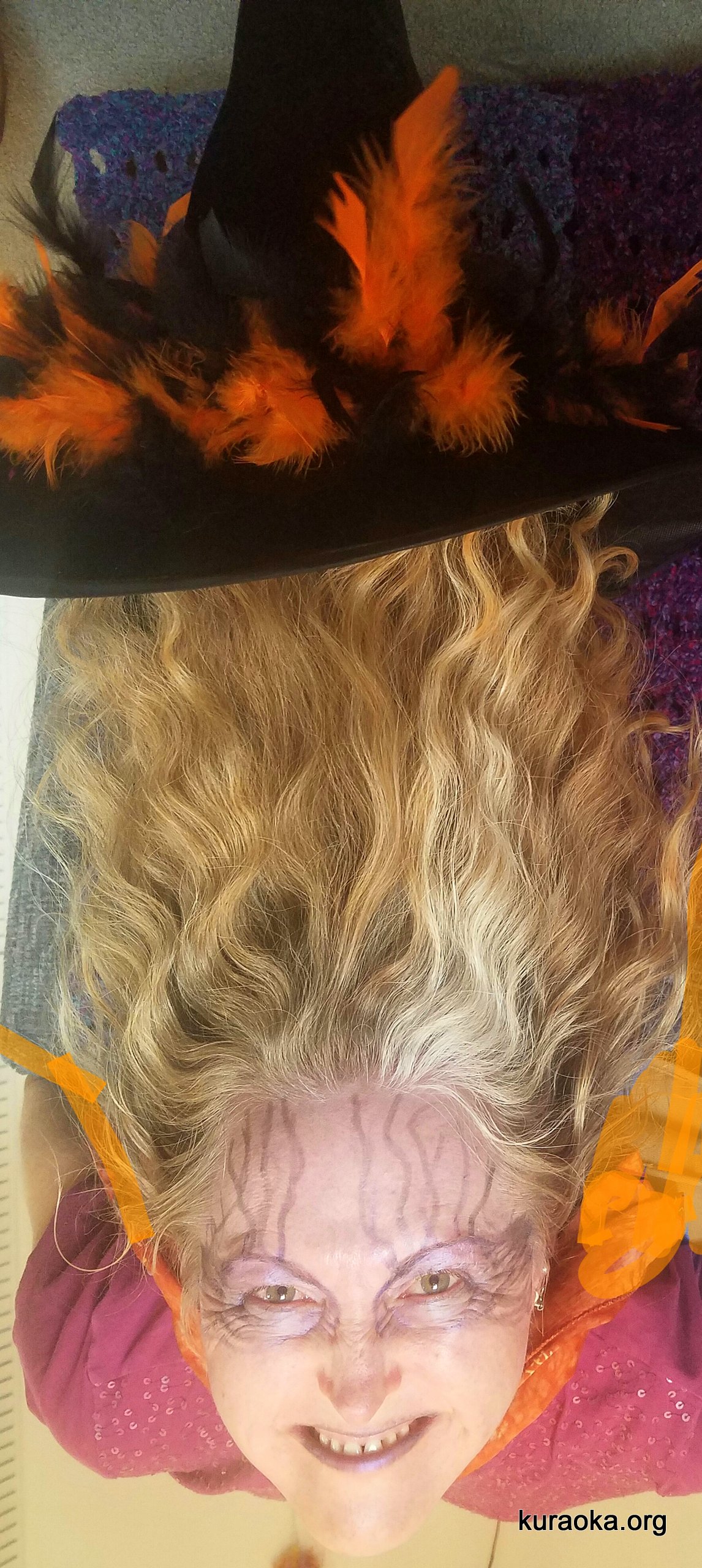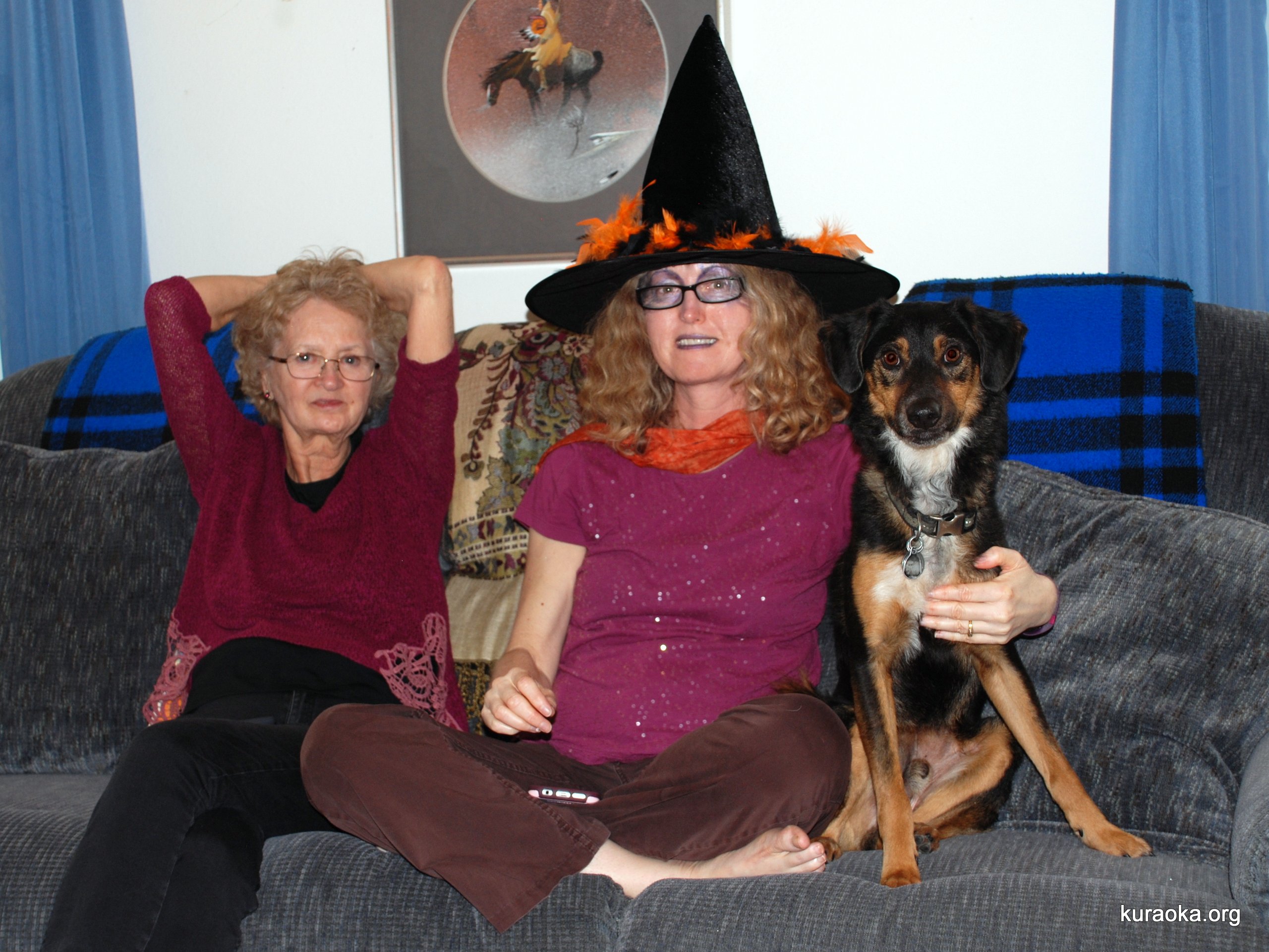 10-08-16: Shadow in Coronado. Here's Shadow enjoying some off-leash time at the dog beach in Coronado, prior to picking up the boys at Barbara's timeshare.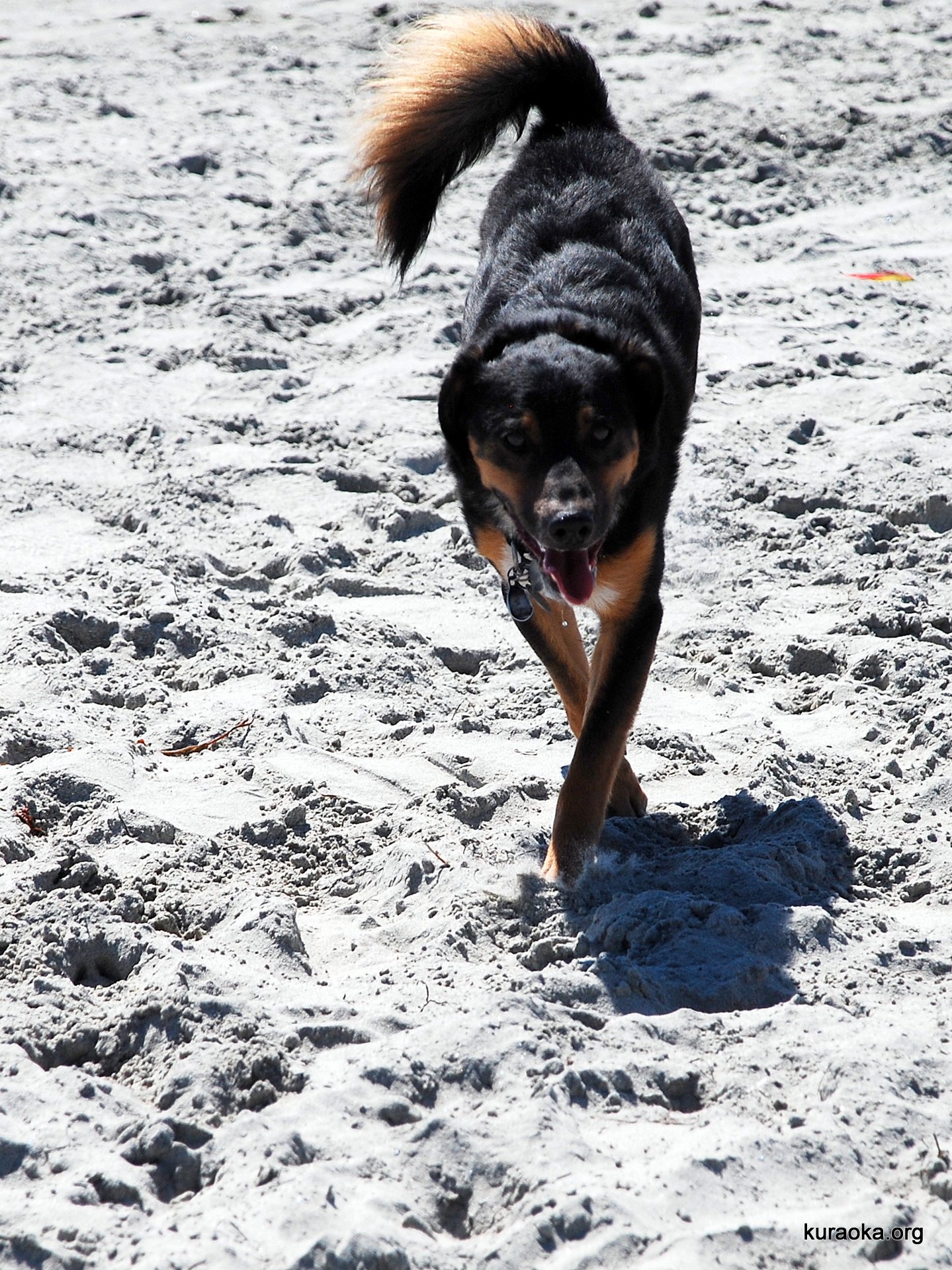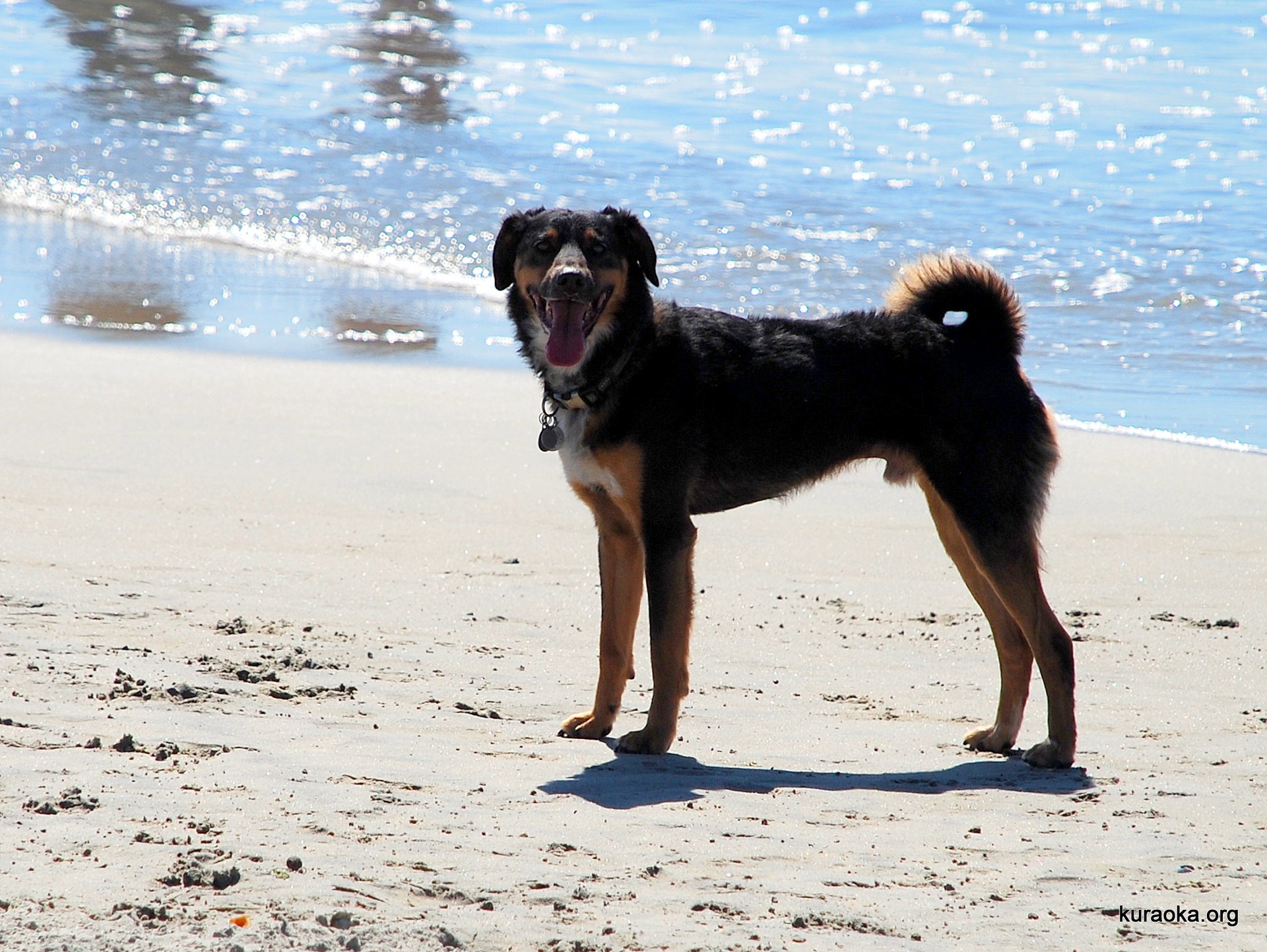 09-24-16: Shadow. Ondine was away on a course, so John took Shadow with him when he took the boys to judo.

09-17-16: Fixing a gate and enjoying a dinner out. Roy and Leo worked with our neighbor Mr. Hanna to rebuild our gate, which was falling apart. Afterwards, we took the boys to Tea N More for dinner. They love mango boba smoothies!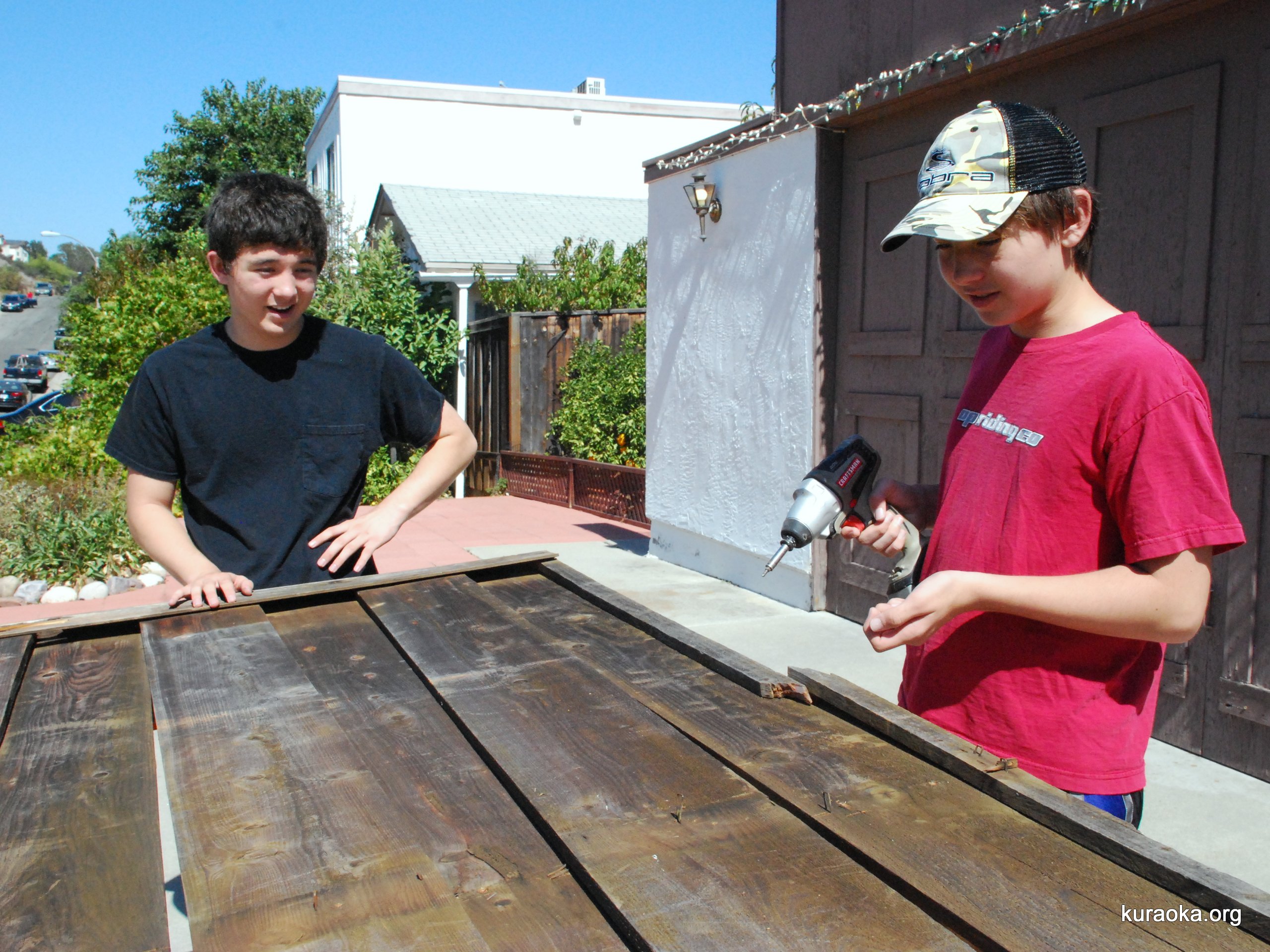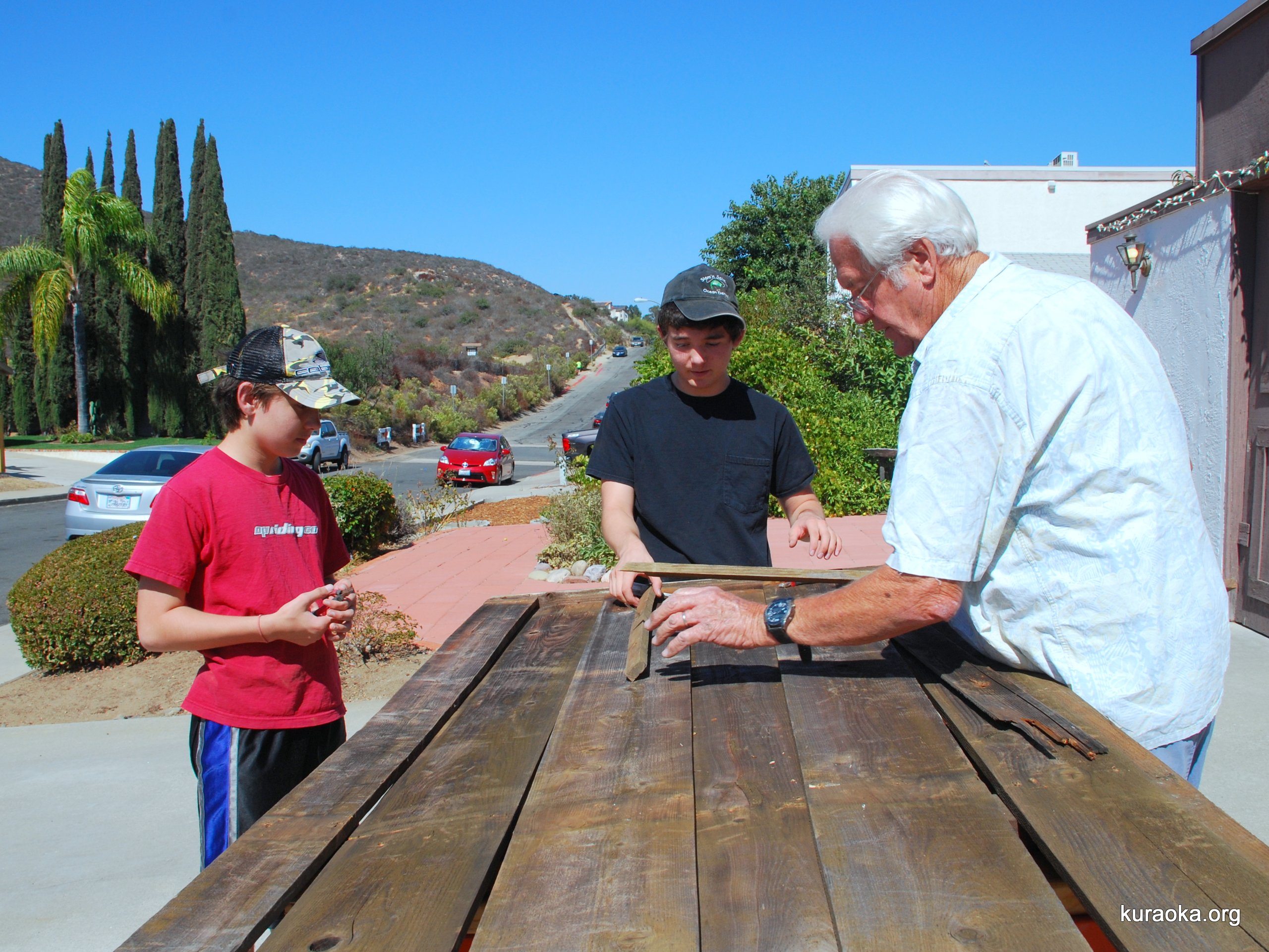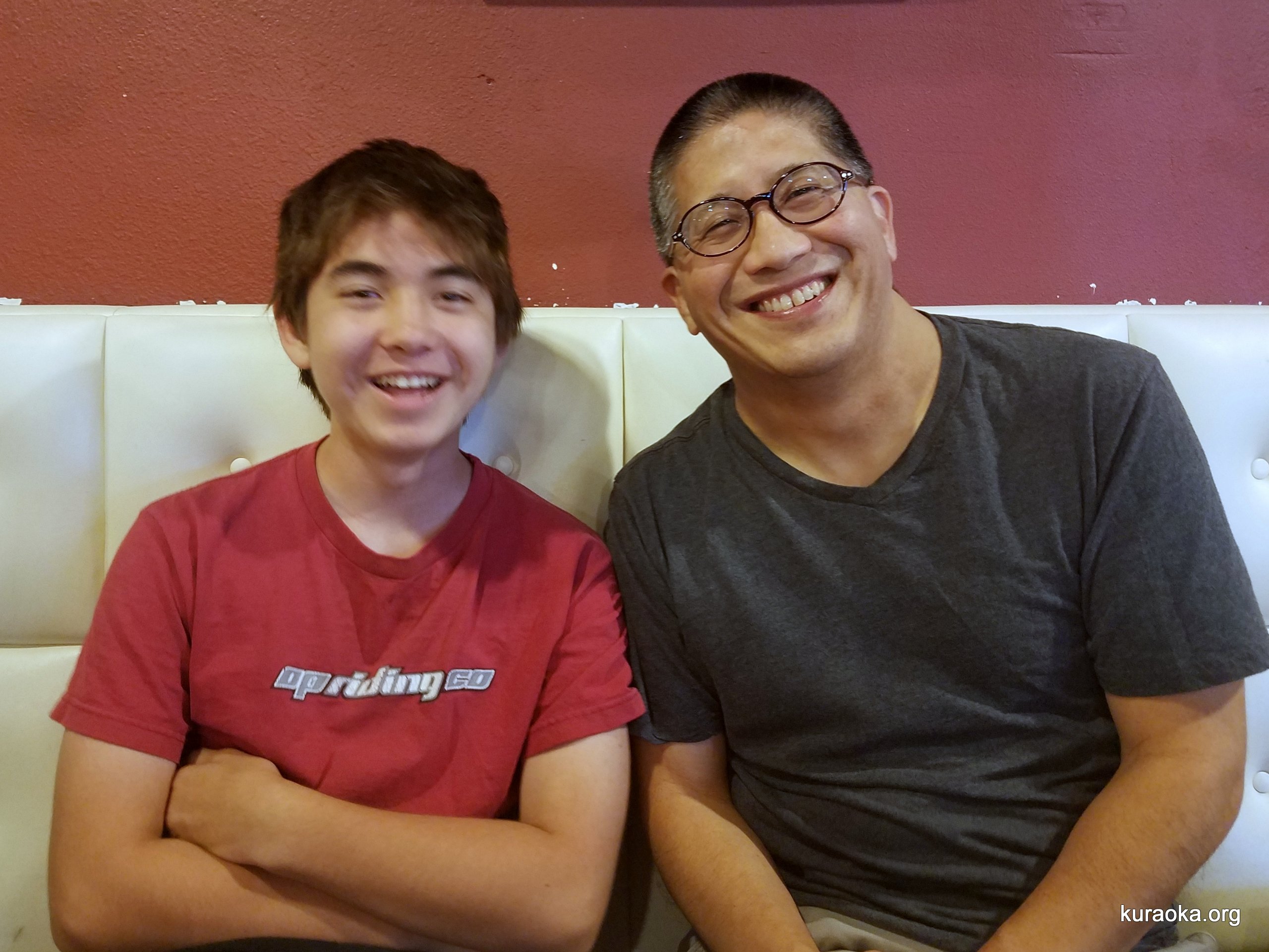 09-01-16: Frances with Daryl (and Patty) at Mount Rushmore! John's sister and mom take a trip together to South Dakota.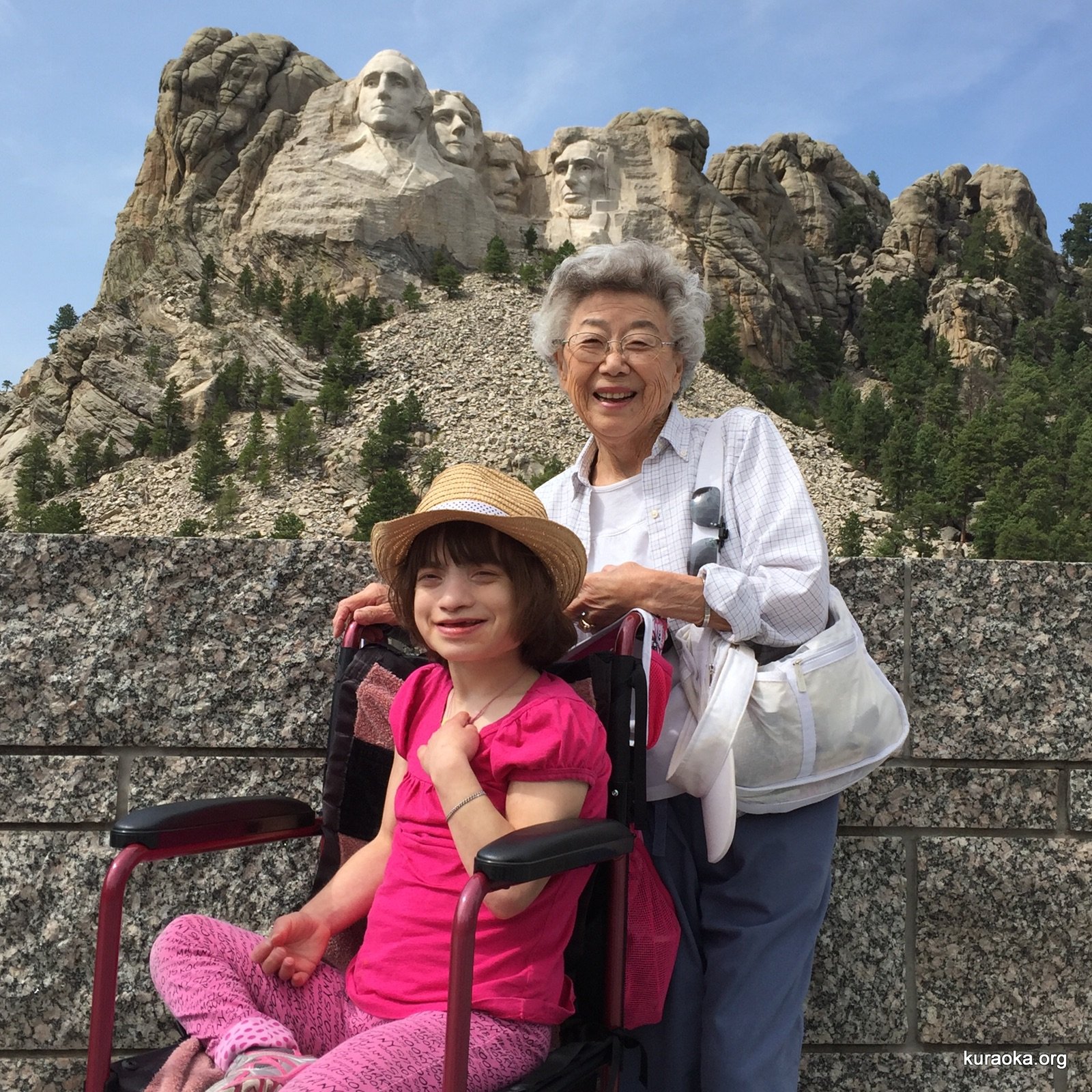 08-29-16: Back to school! Here are Roy and Leo with their schultuette bright and early Monday morning, ready to start school. And, that's a quick snapshot out the windshield on a slightly foggy morning. They're off! Ahhhh!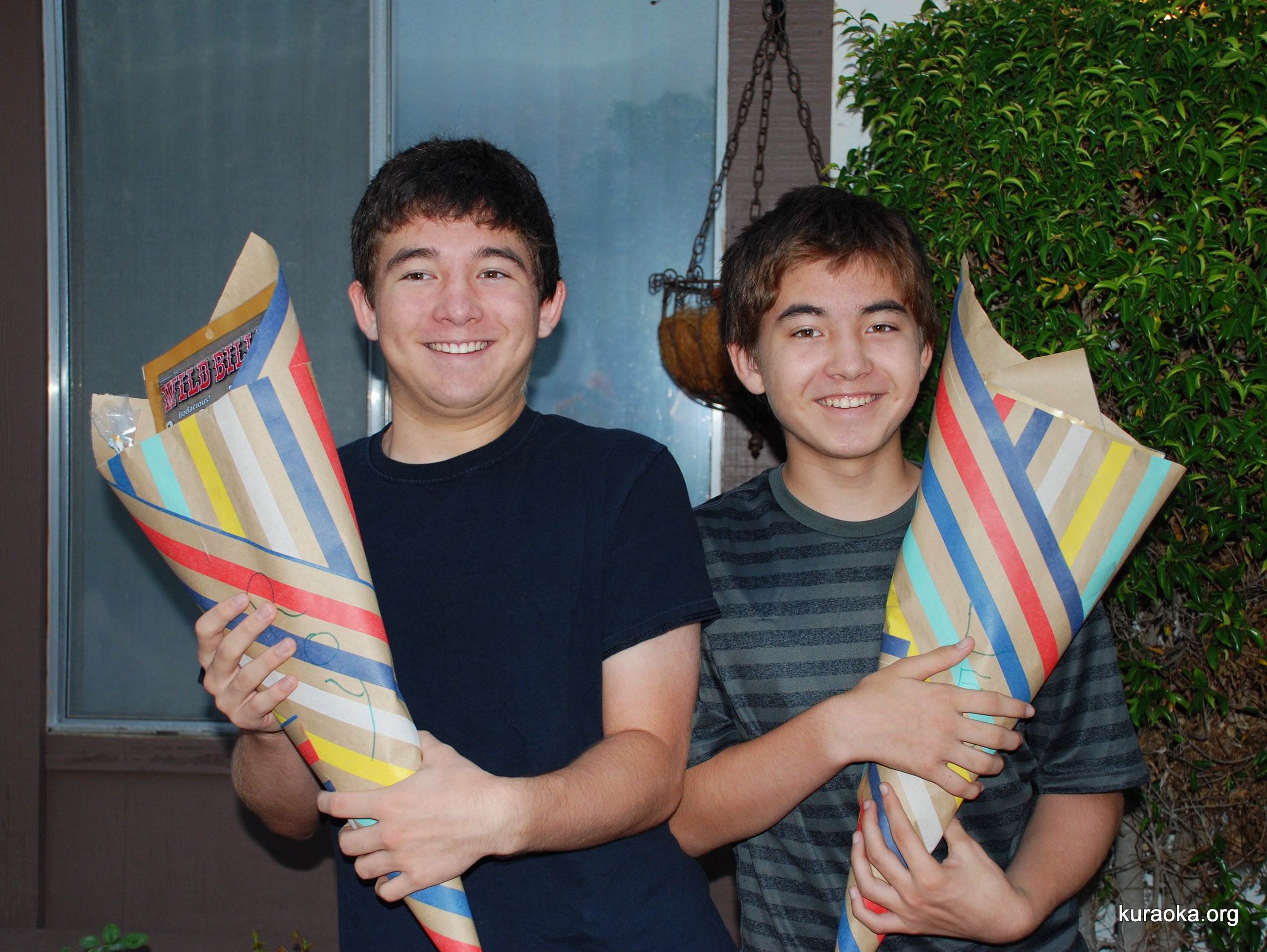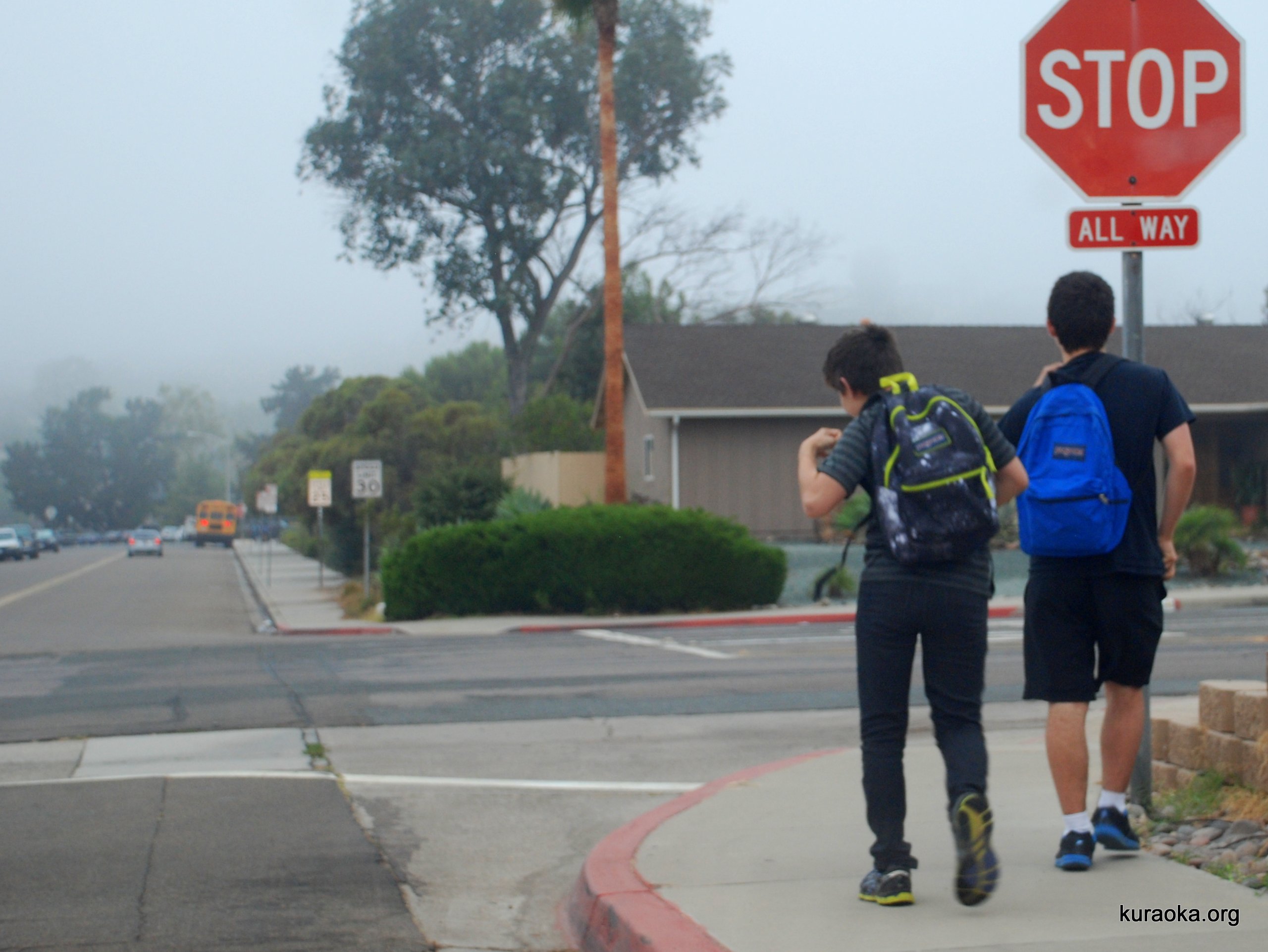 08-28-16: Omiyage from the L.A. Zoo. Frances got Barbara this fuzzy souvenir from the L.A. Zoo, an almost perfect double for the real thing! (That's the real one, from a few days ago, on the far right.)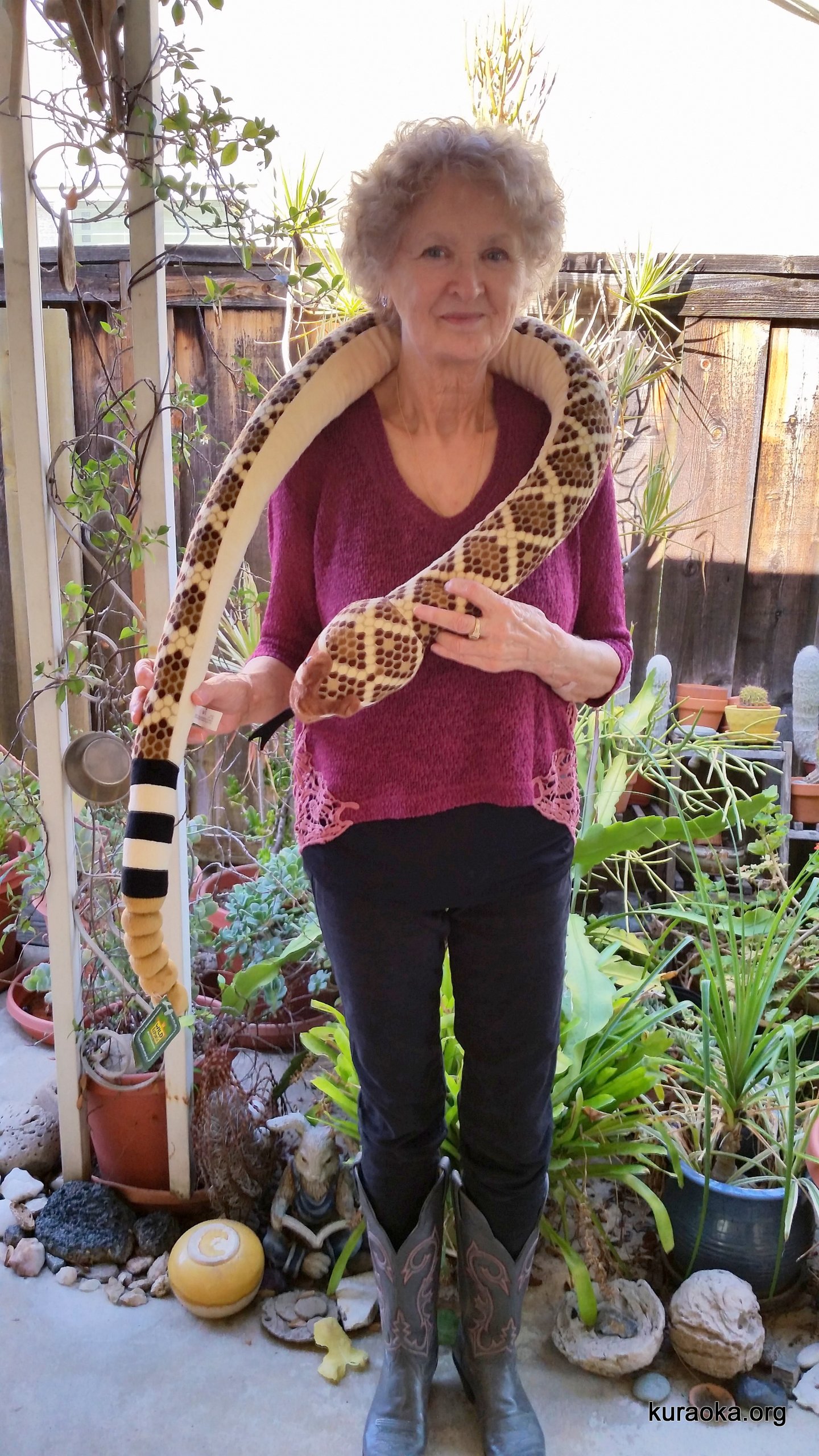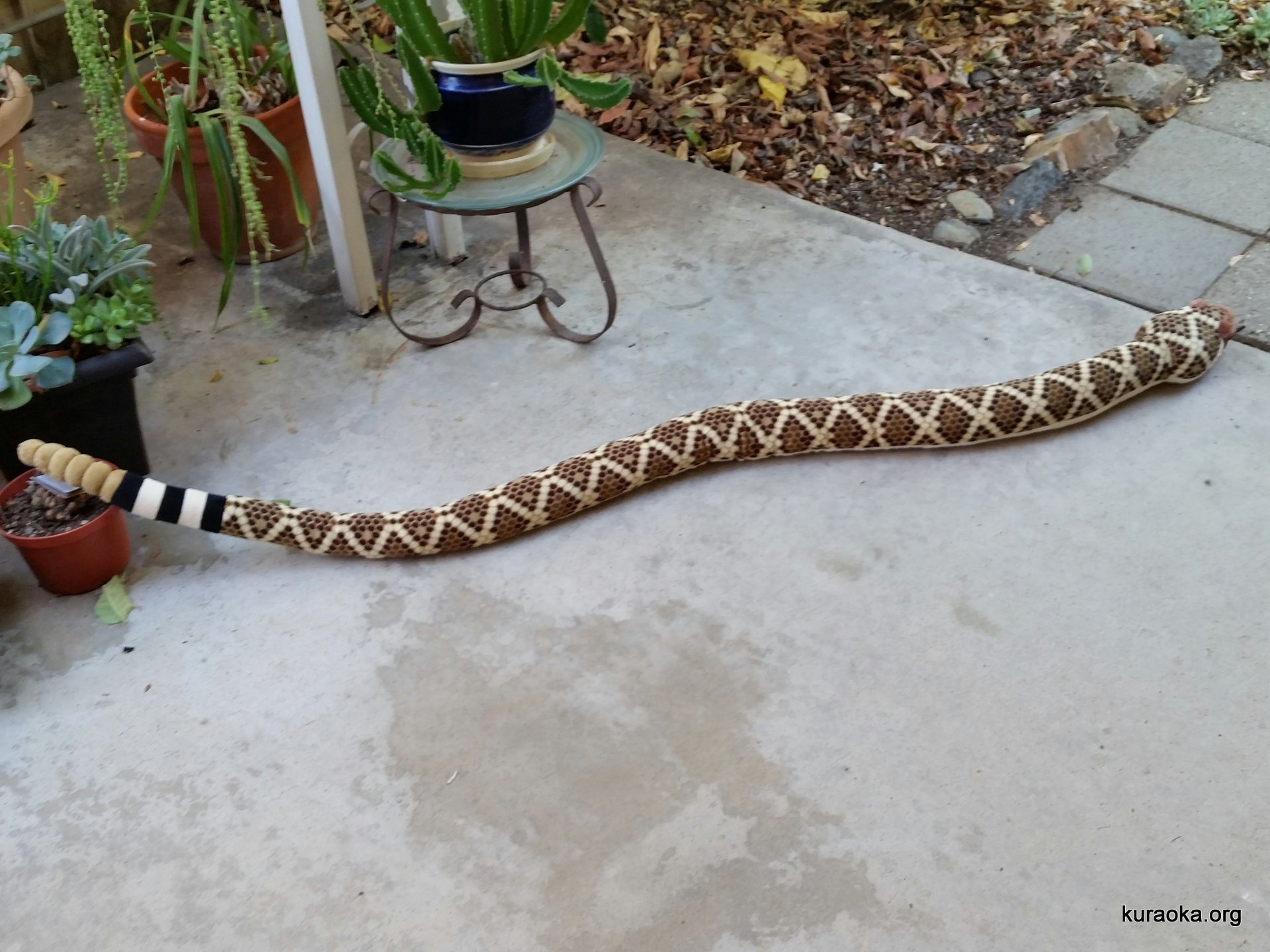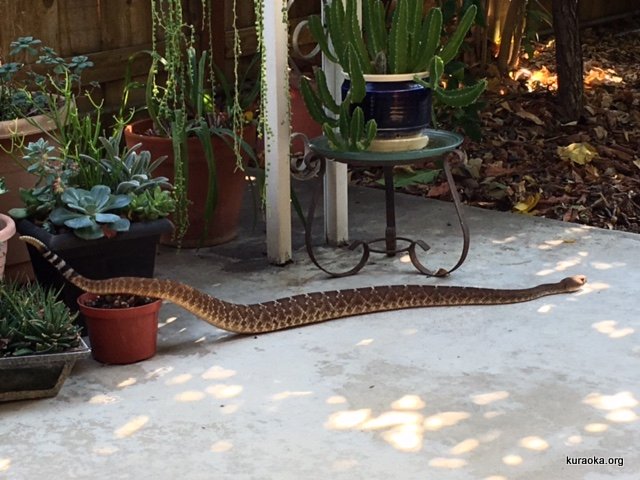 08-25-16: Roy beats everyone at Scrabble! John has usually been our Scrabble champion, but this evening, for the first time, he was dethroned by Roy, who came out on top by a significant margin! Woo hoo!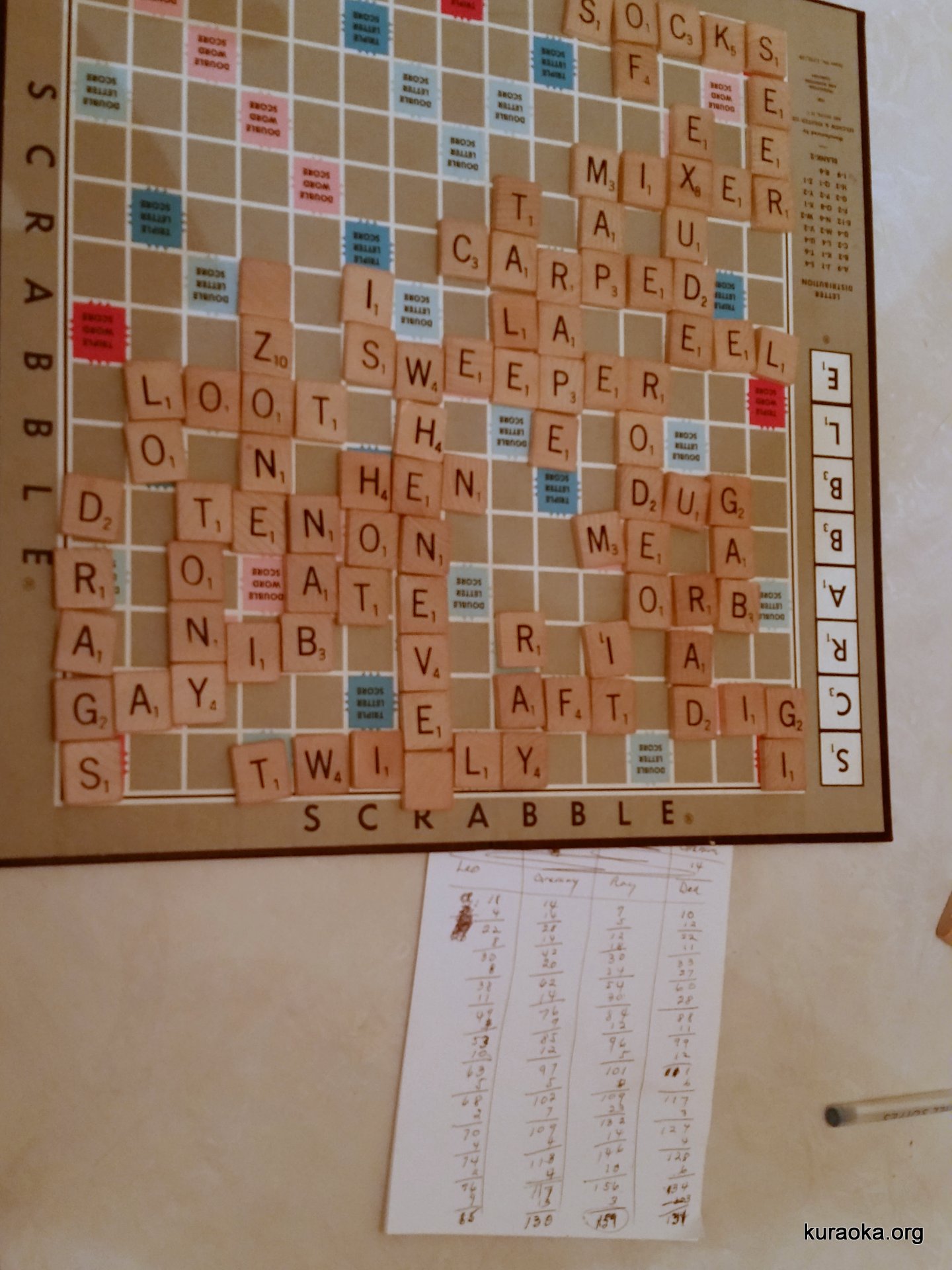 08-25-16: Dinosaurs at the L.A. Zoo with Grammy! We went for a mid-week visit with Grammy, and ended up at the L.A. Zoo for the "Doinosaurs Unextinct" exhibit. The animatronic dinos were very cool; in certain spots they definitely seemed to move to make eye contact. Then we went through the zoo, but with the heat this meerkat definitely had the better idea.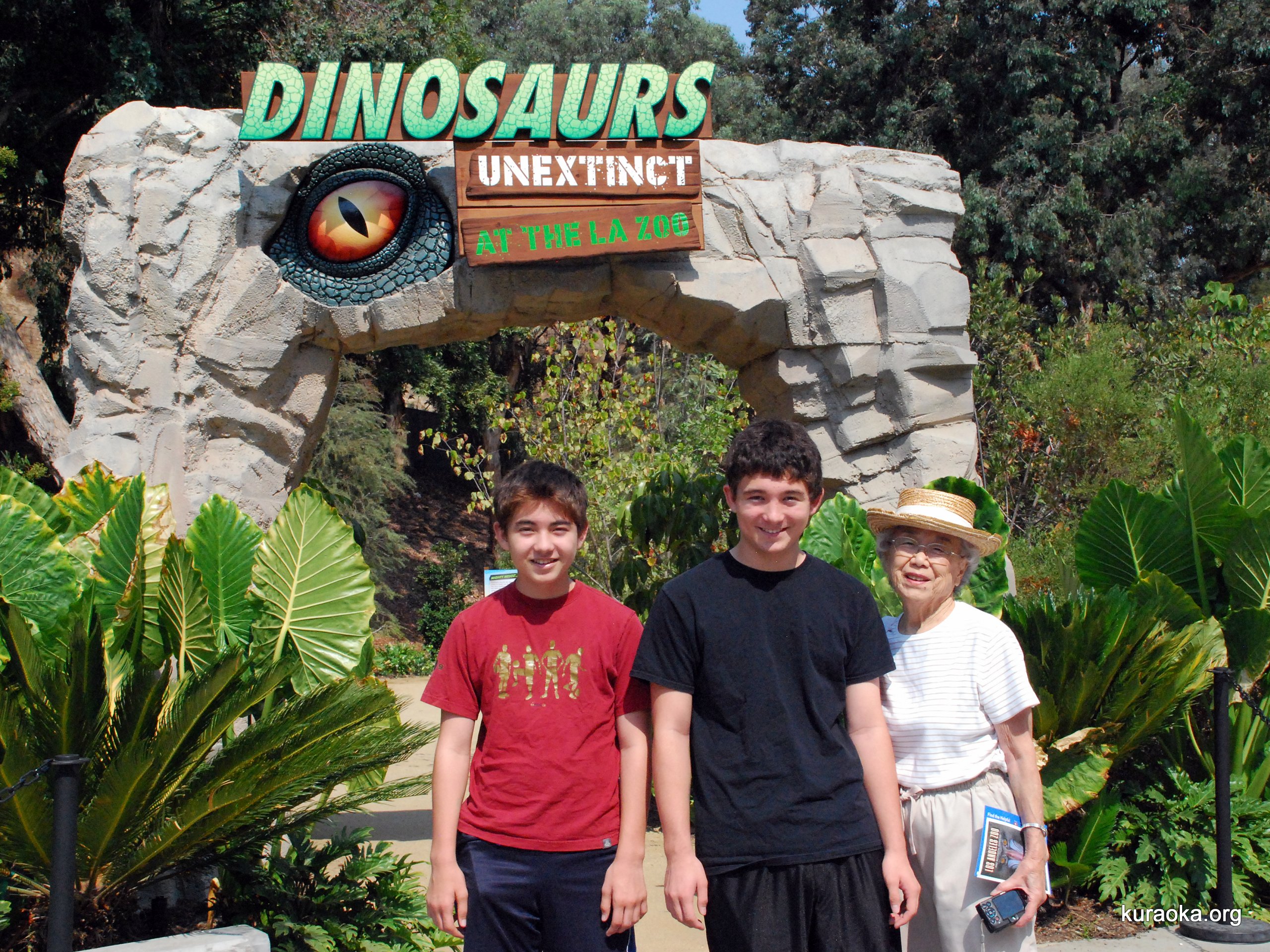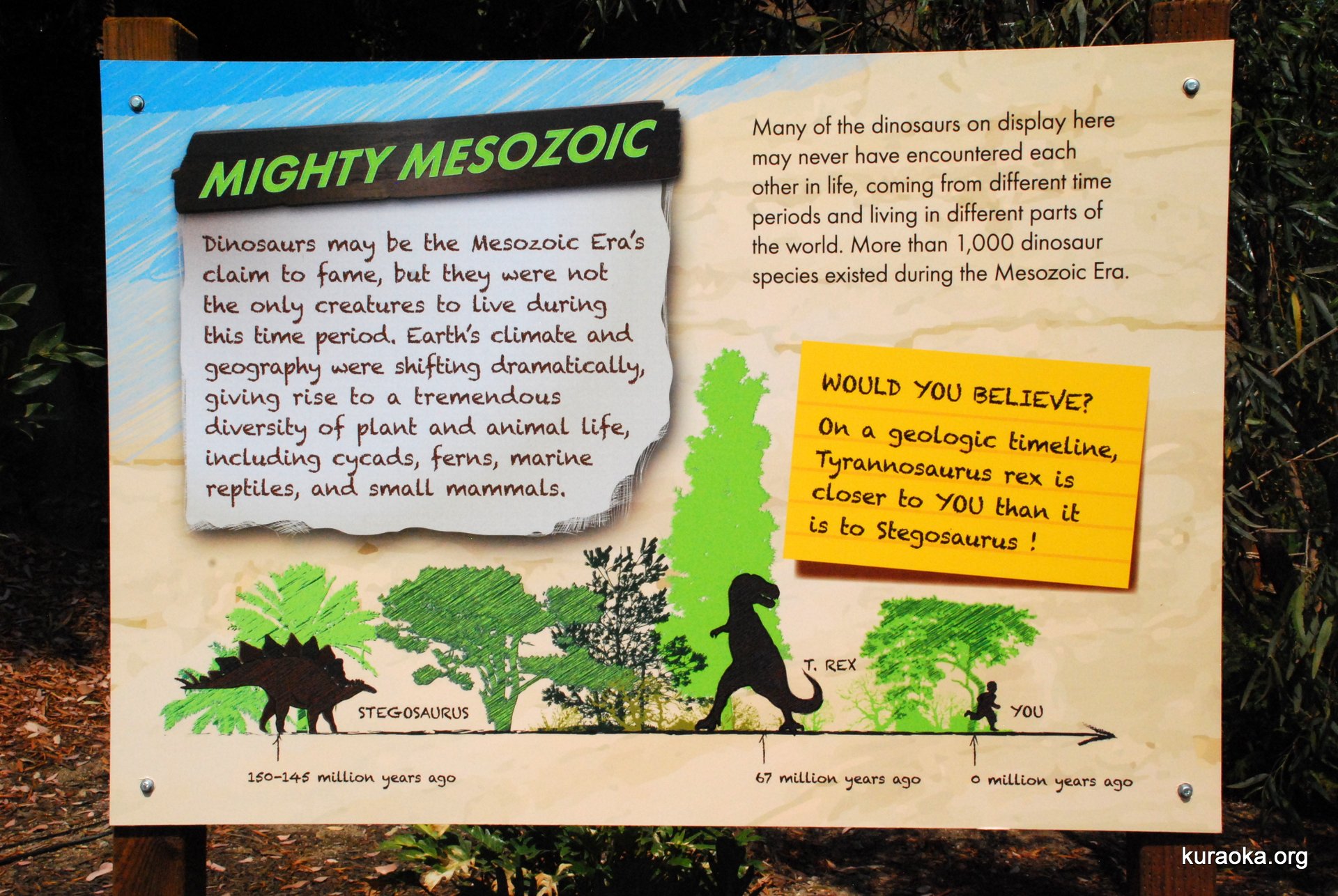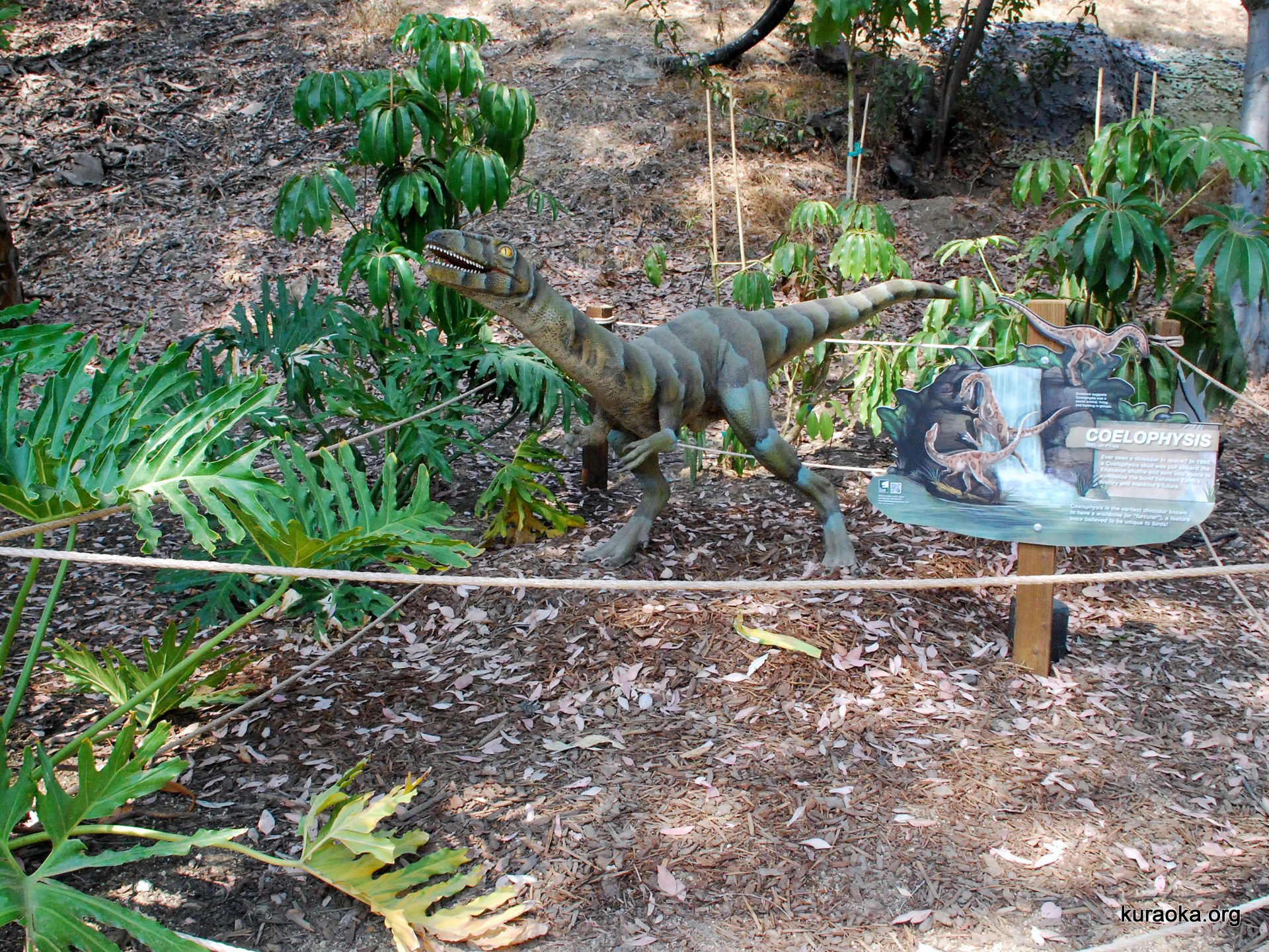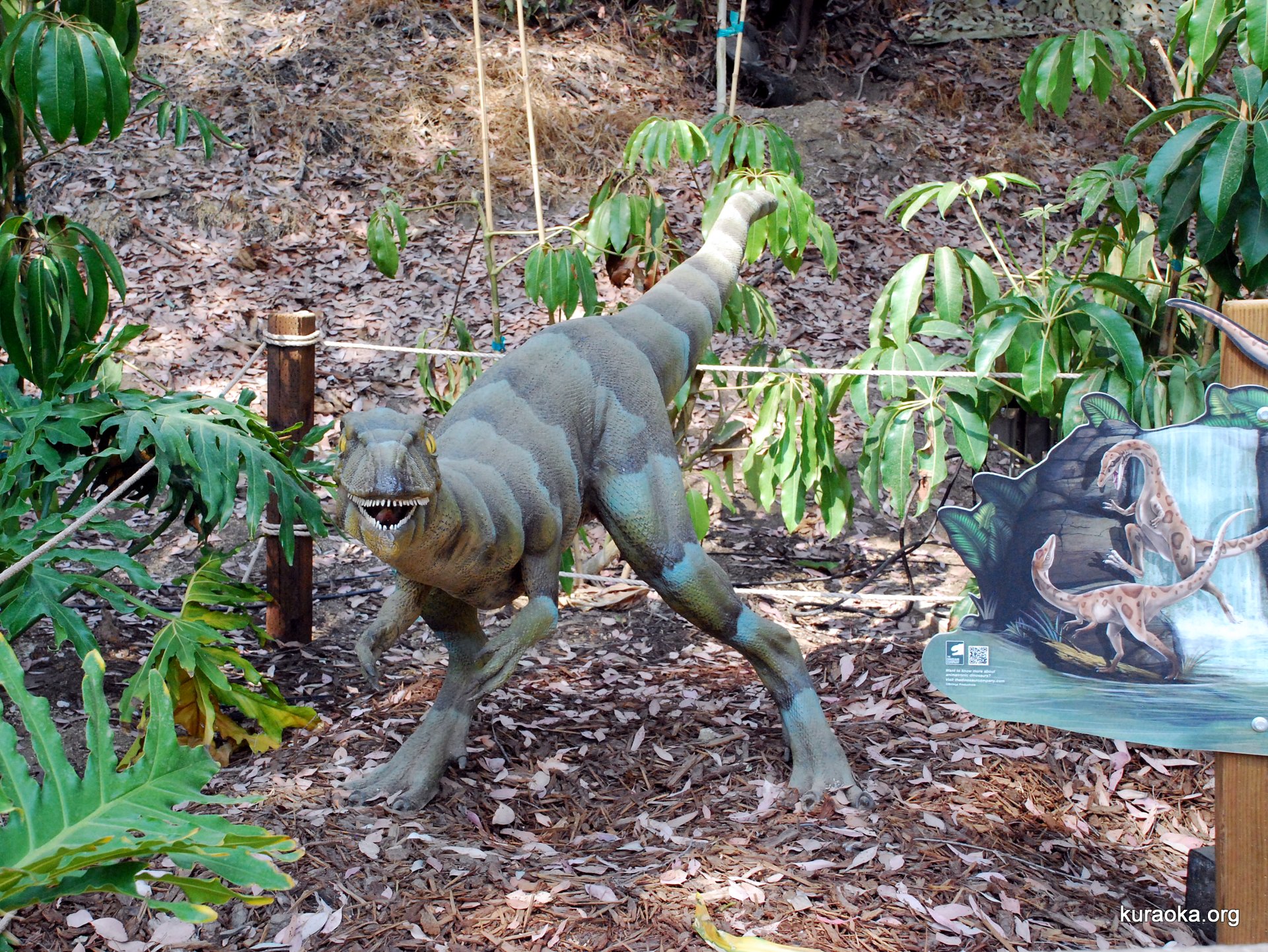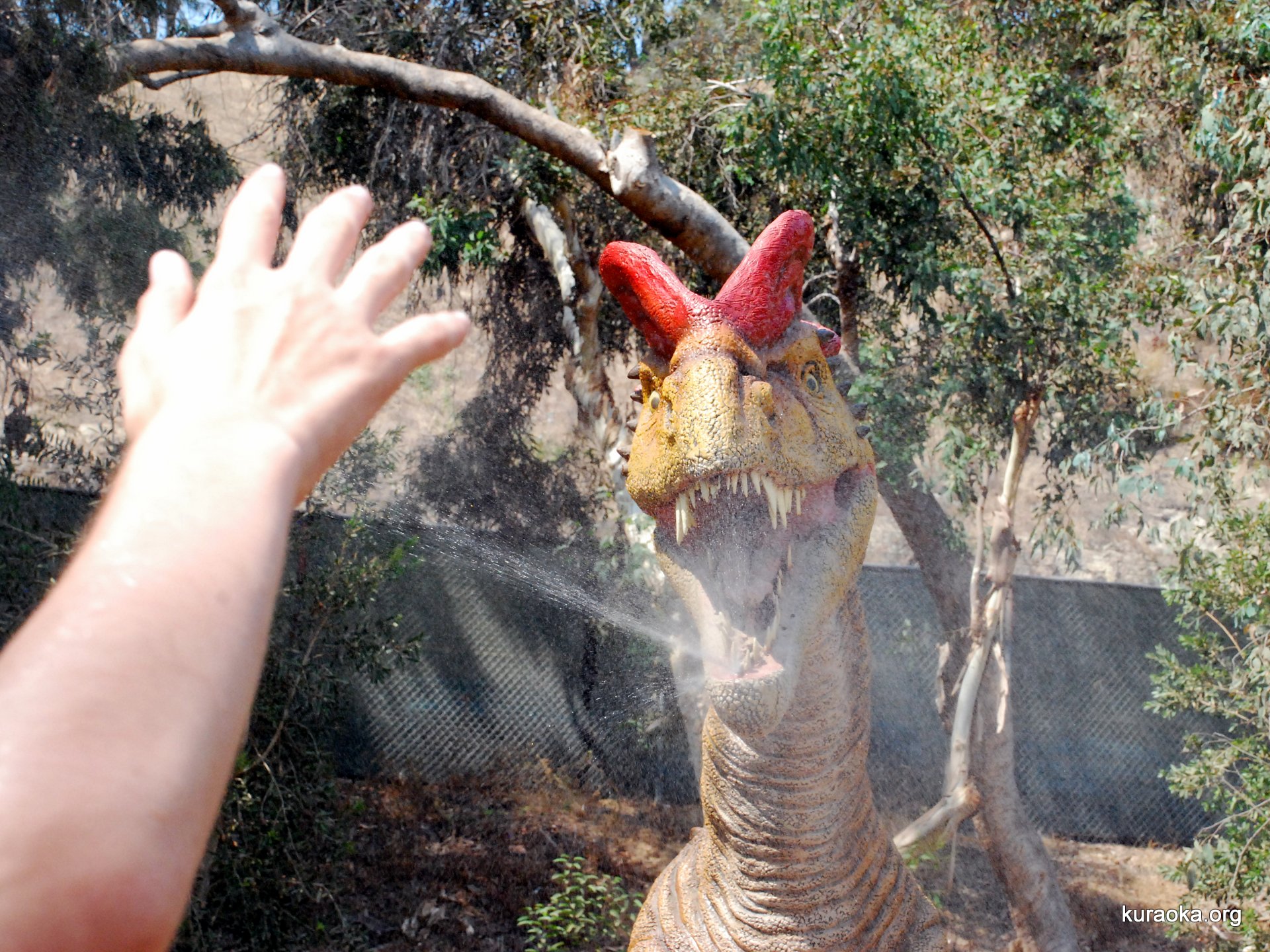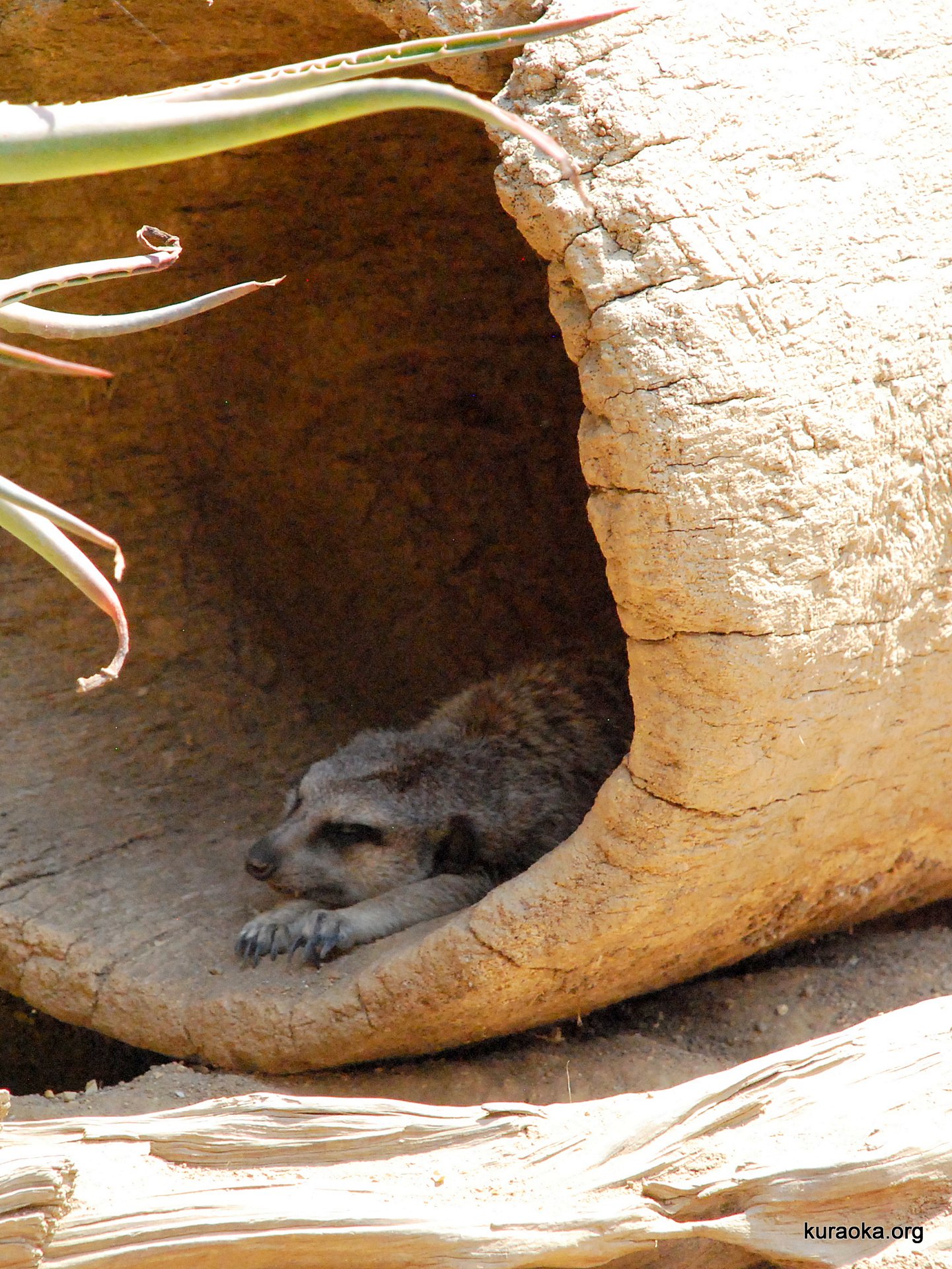 08-24-16: Neighborly critter. Barbara spotted this handsopme fellow gliding through her patio!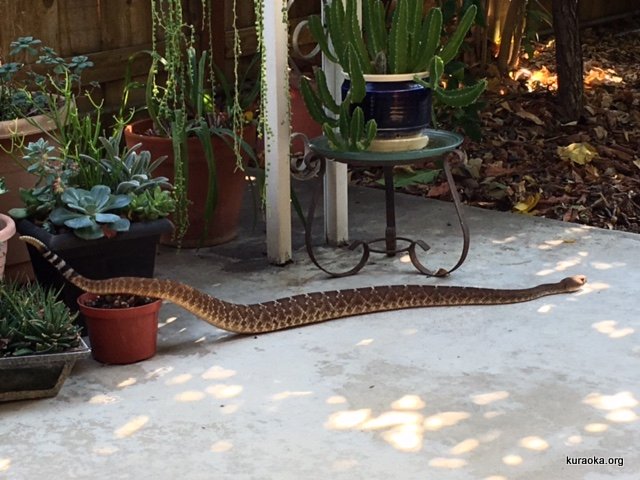 07-25-16: First commute! It's a little nerve-wracking because it's so different from the car she drove for 16 years.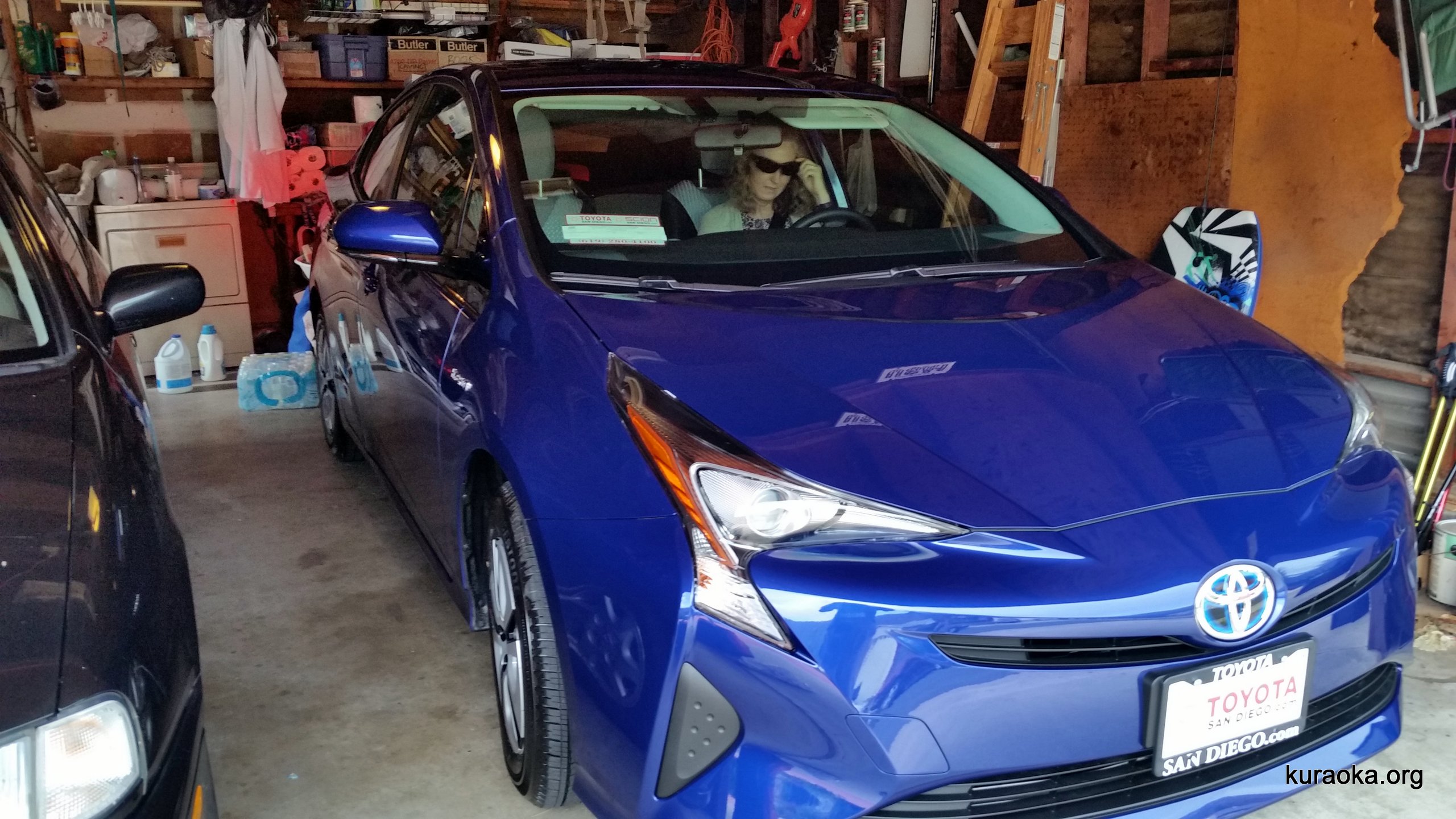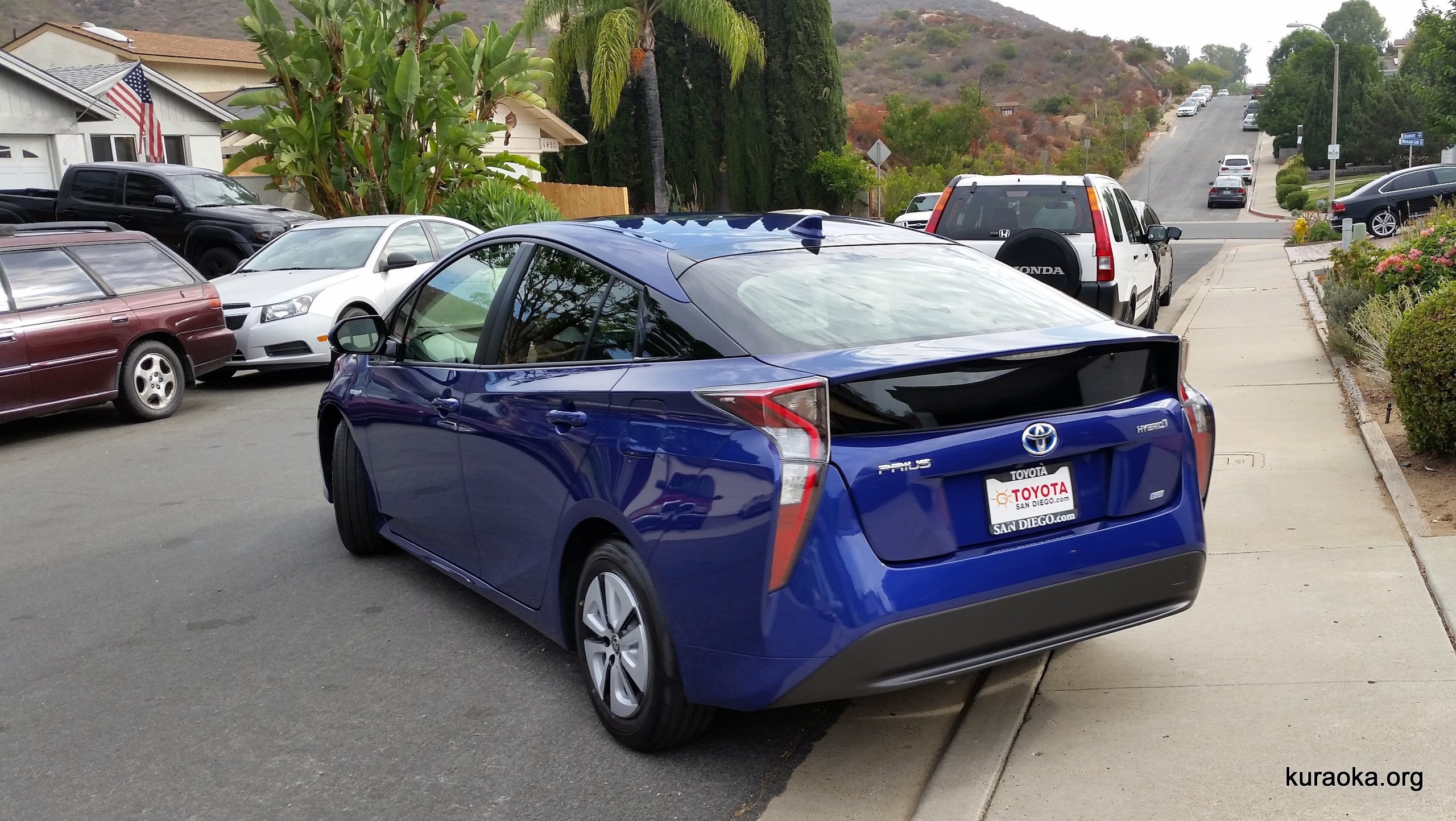 07-24-16: Ondine's new car! Here's Ondine and her brand spankin' new 2016 Toyota Prius Two Eco in Blue Crush Mertallic with a Moonstone interior, bought from Toyota San Diego. Goodbye Mazda Protege (it was a great car), hello Toyota Prius!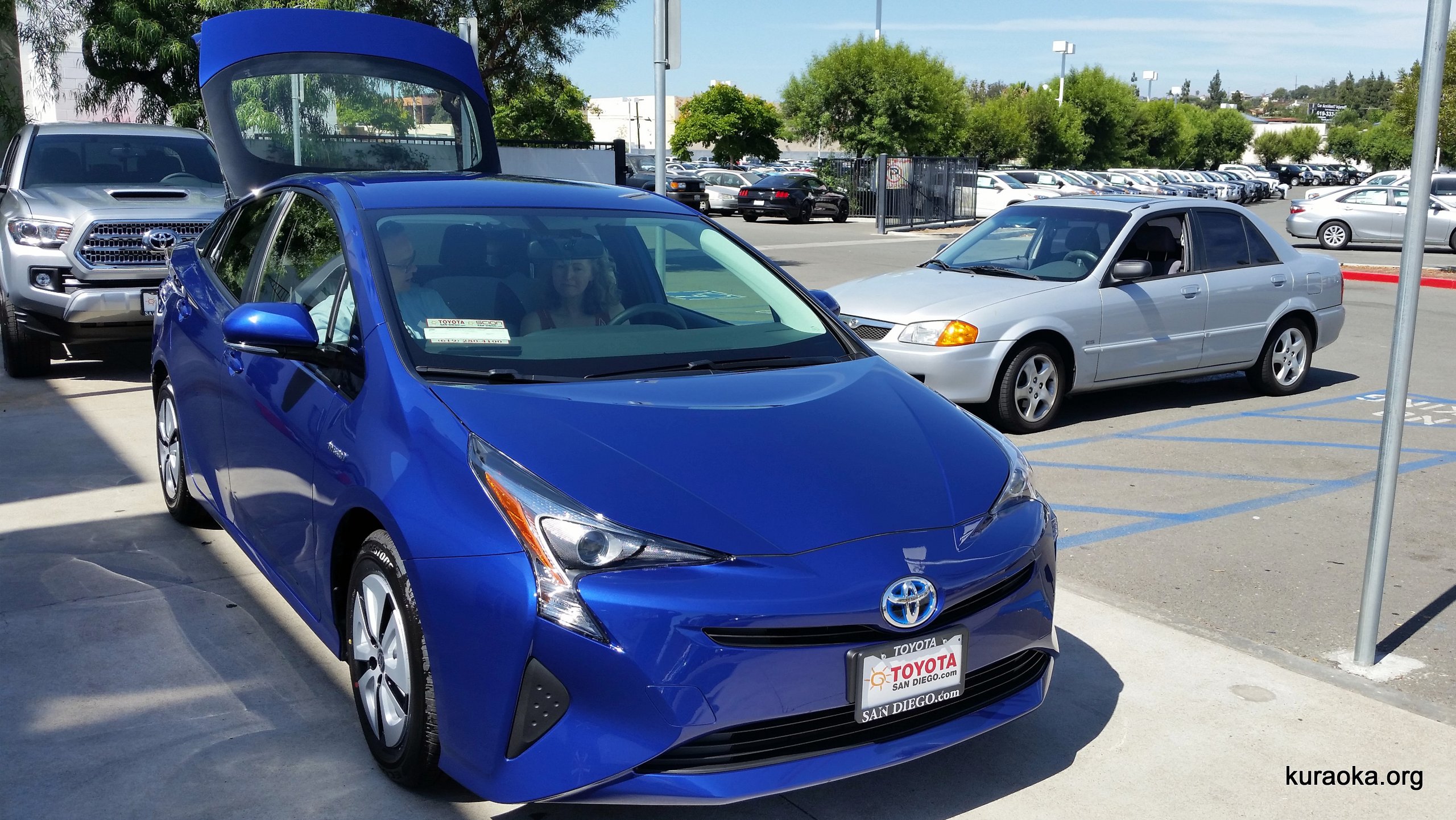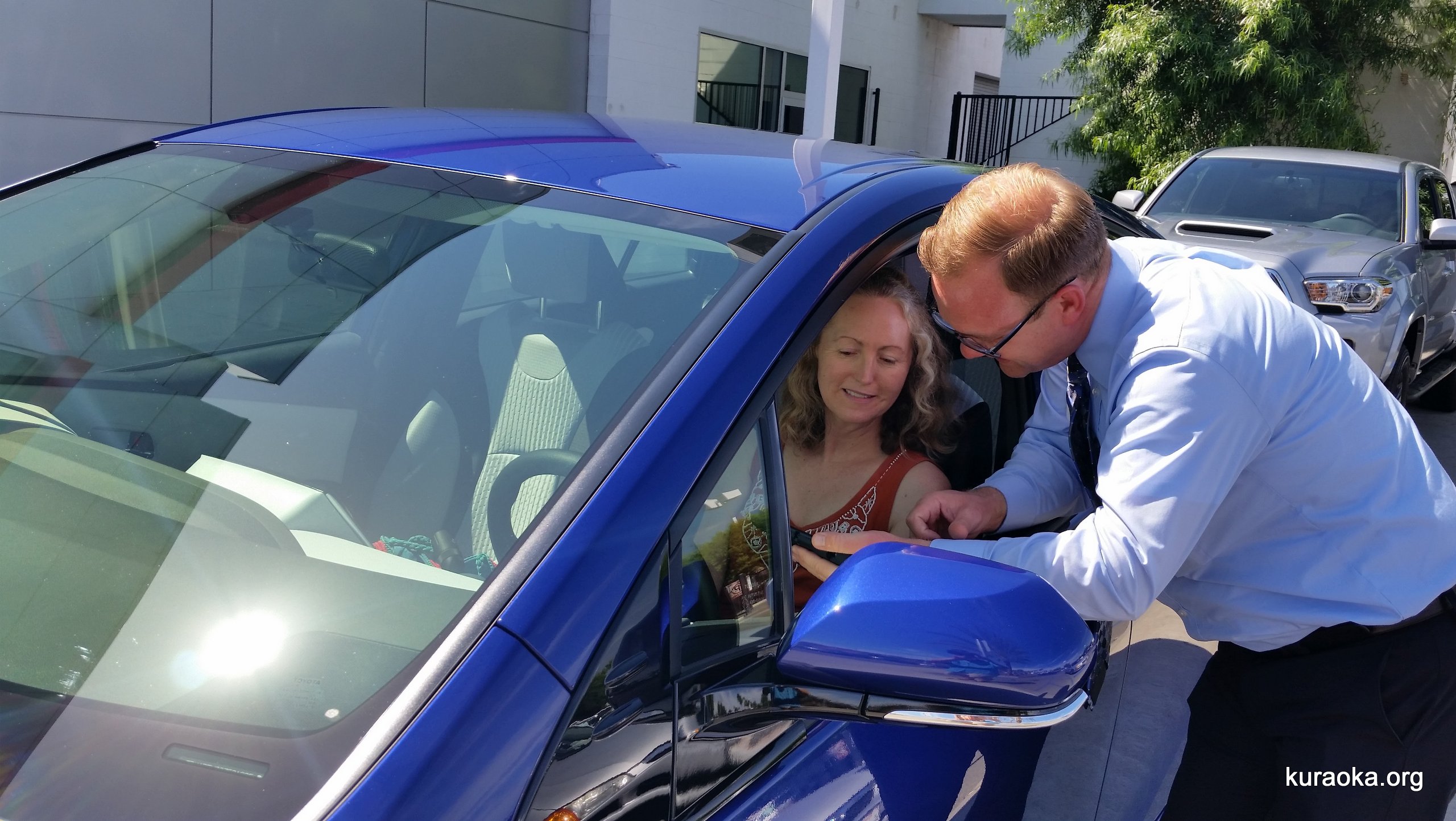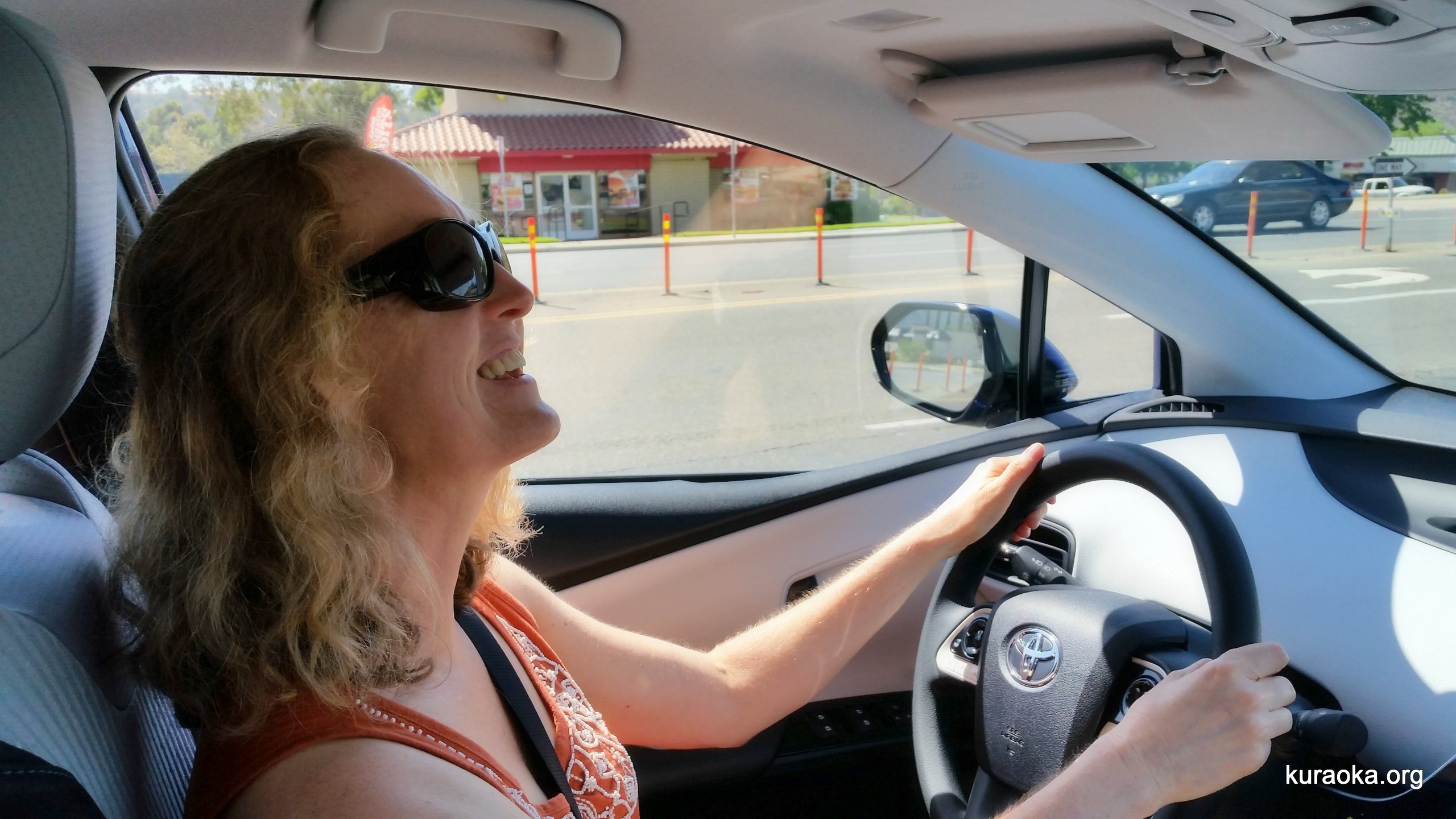 07-23-16: Leo at Belmont Park with Garrett! Leo celebrated his birthday with lots of rides and ice cream at Belmont Park with his buddy Garrett.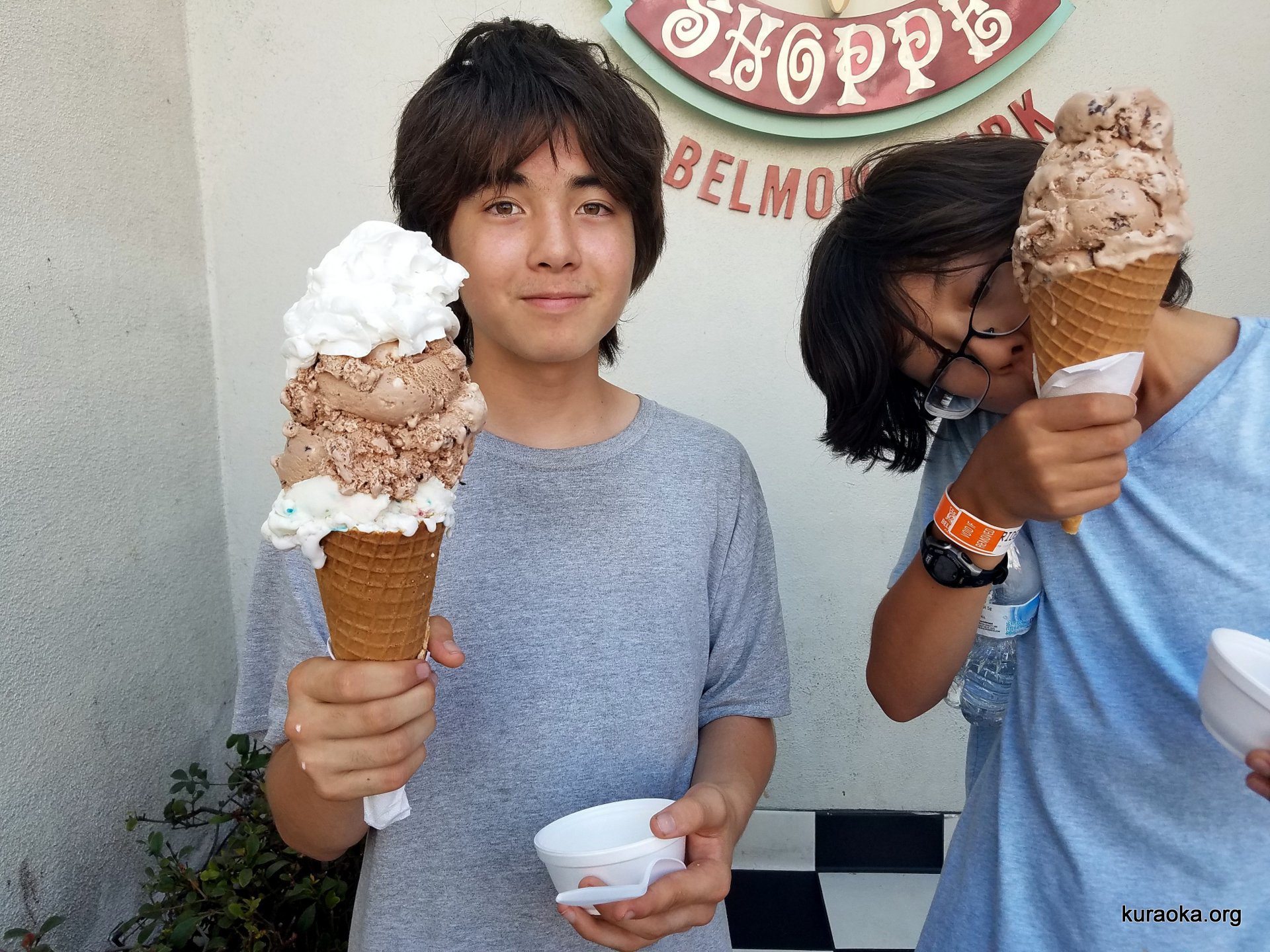 06-21-16: Leo's 8th grade promotion! Here's Leo in the morning, and then after the ceremony with his buddy Garrett. The third photo shows John, Leo, and Ondine, and the last photo shows Leo with his certificate of promotion. Good-bye Lewis Middle School, hello Patrick Henry High School!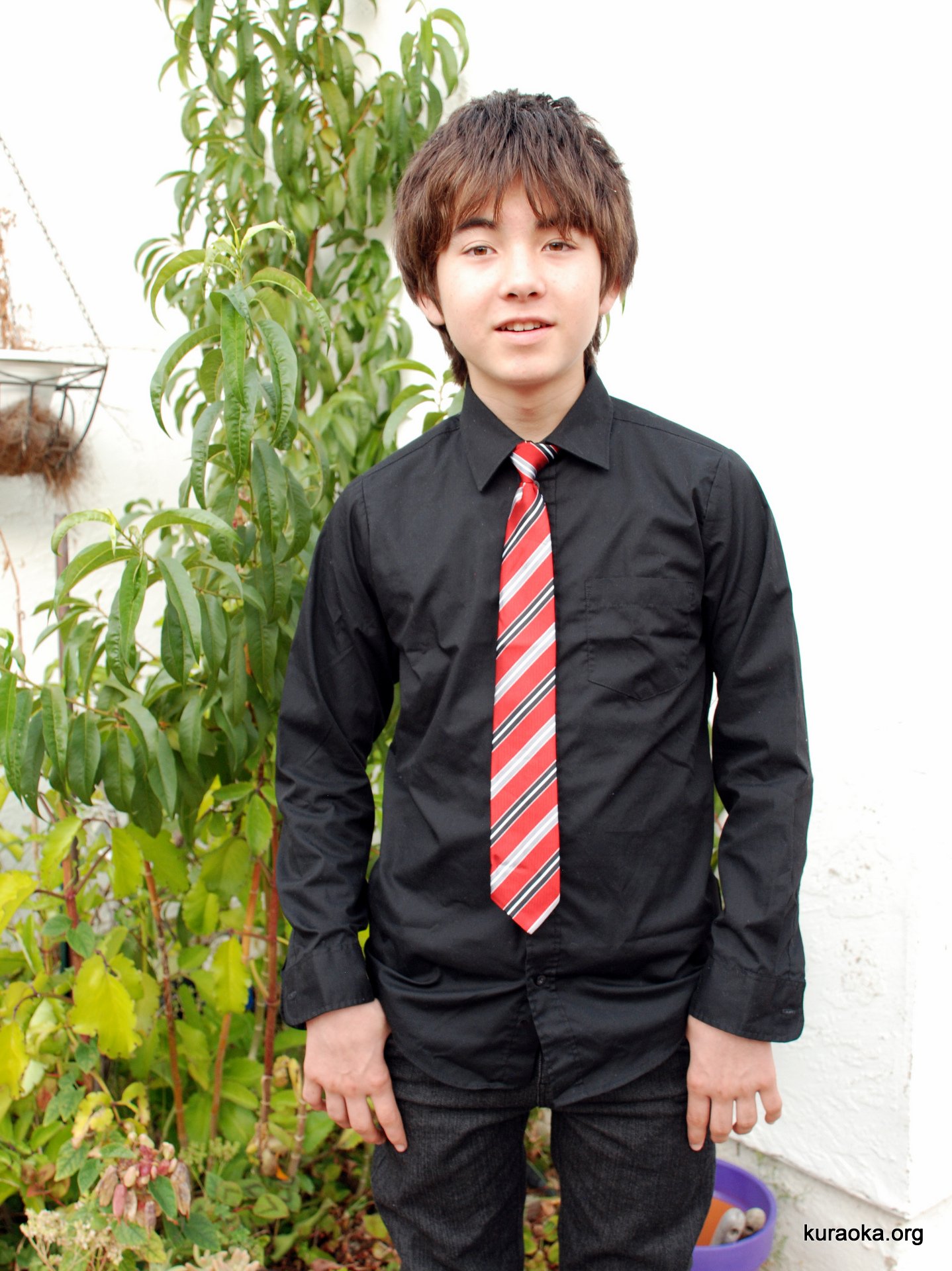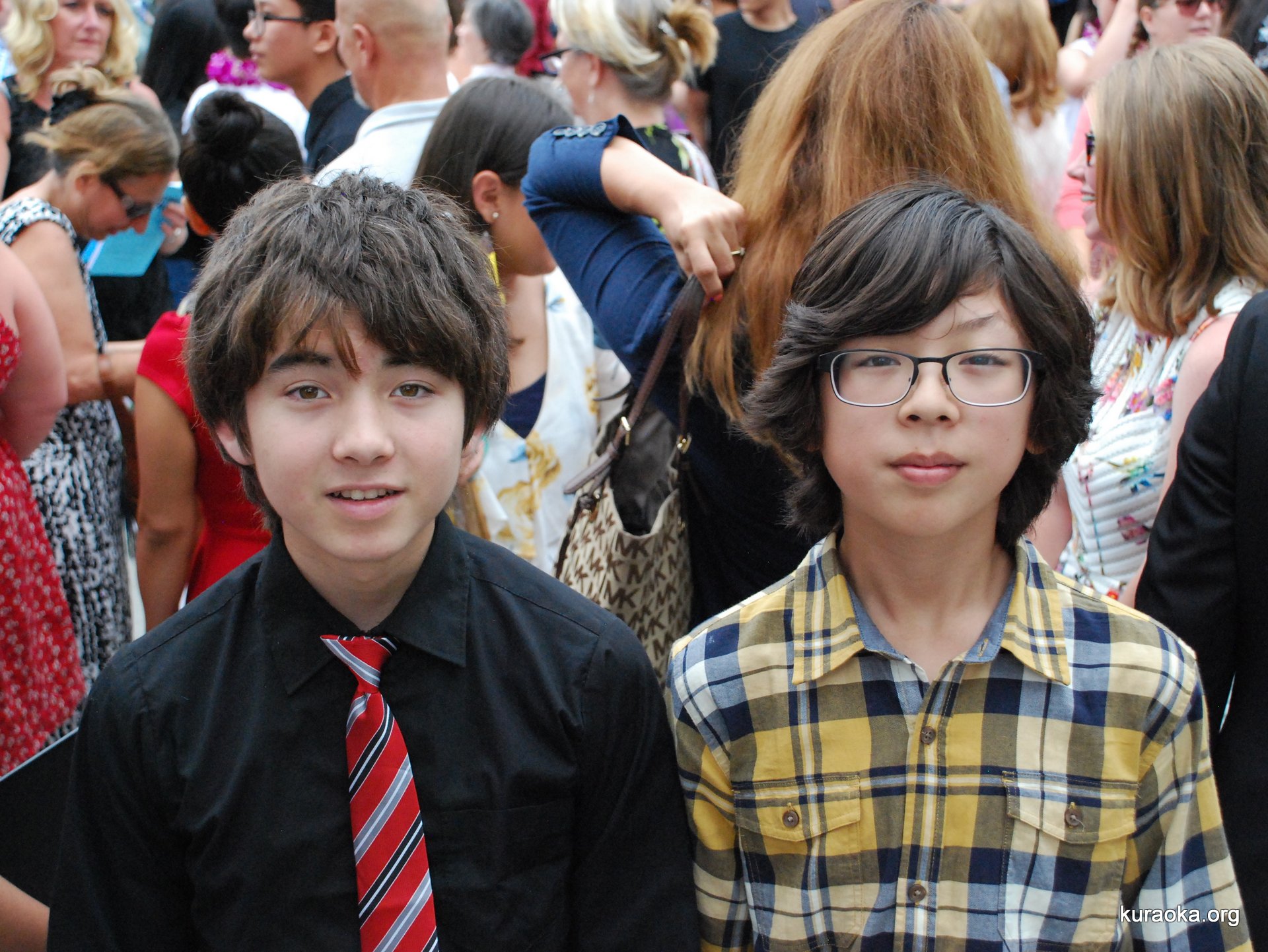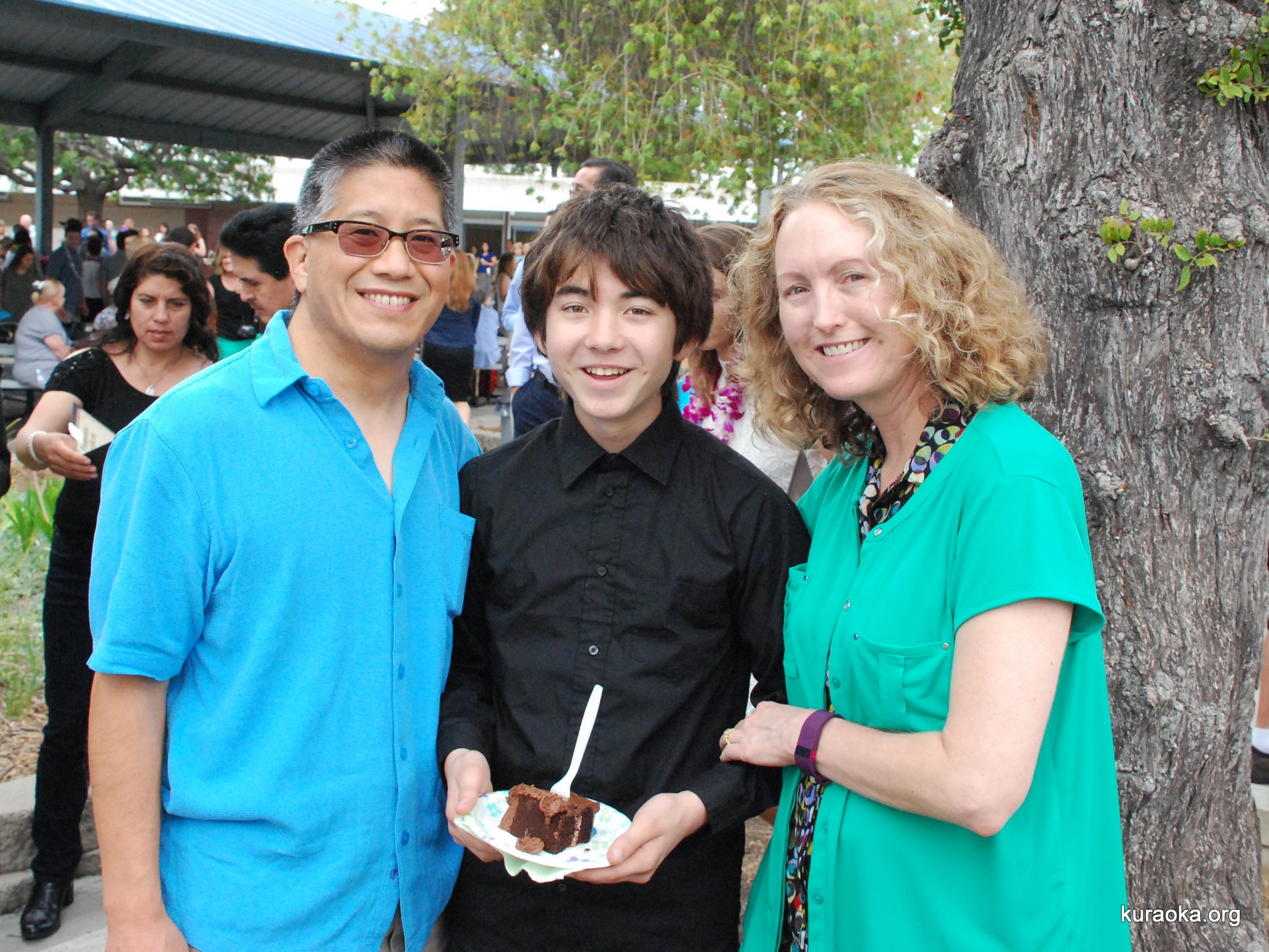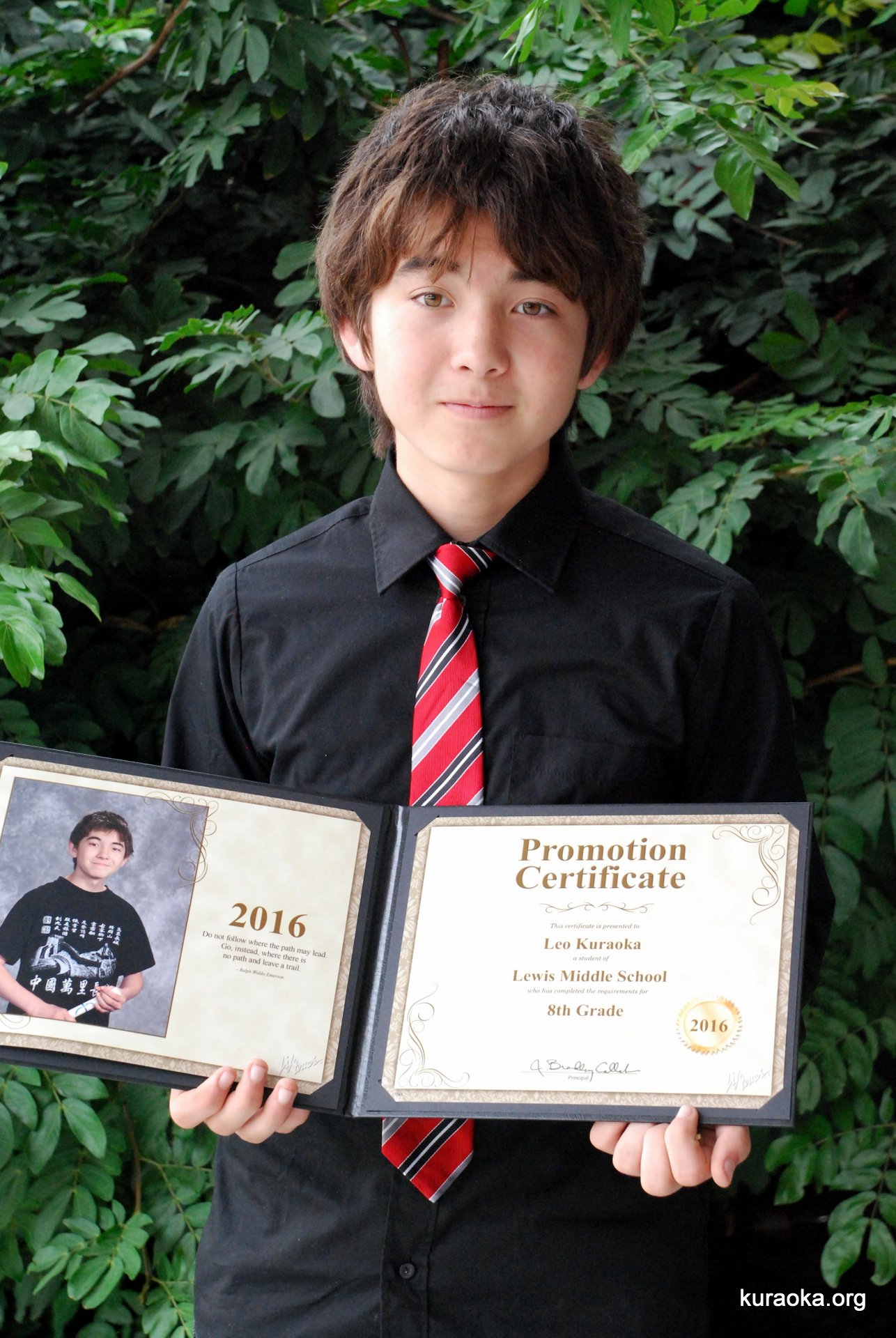 06-20-16: Roy dresses up! Roy had a speech to deliver in his English class, so here's a very rare photo of him heading to school in a shirt, tie, and long pants.

06-18-16: Roy with his buddies. To celebrate Roy's birthday, he and his buddies went to see Captain America: Civil War and then out for pizza at Mountain Mike's. Here's the gang (clockwise around the table starting at the front left): Alex, Michael, Roy, and Stephen.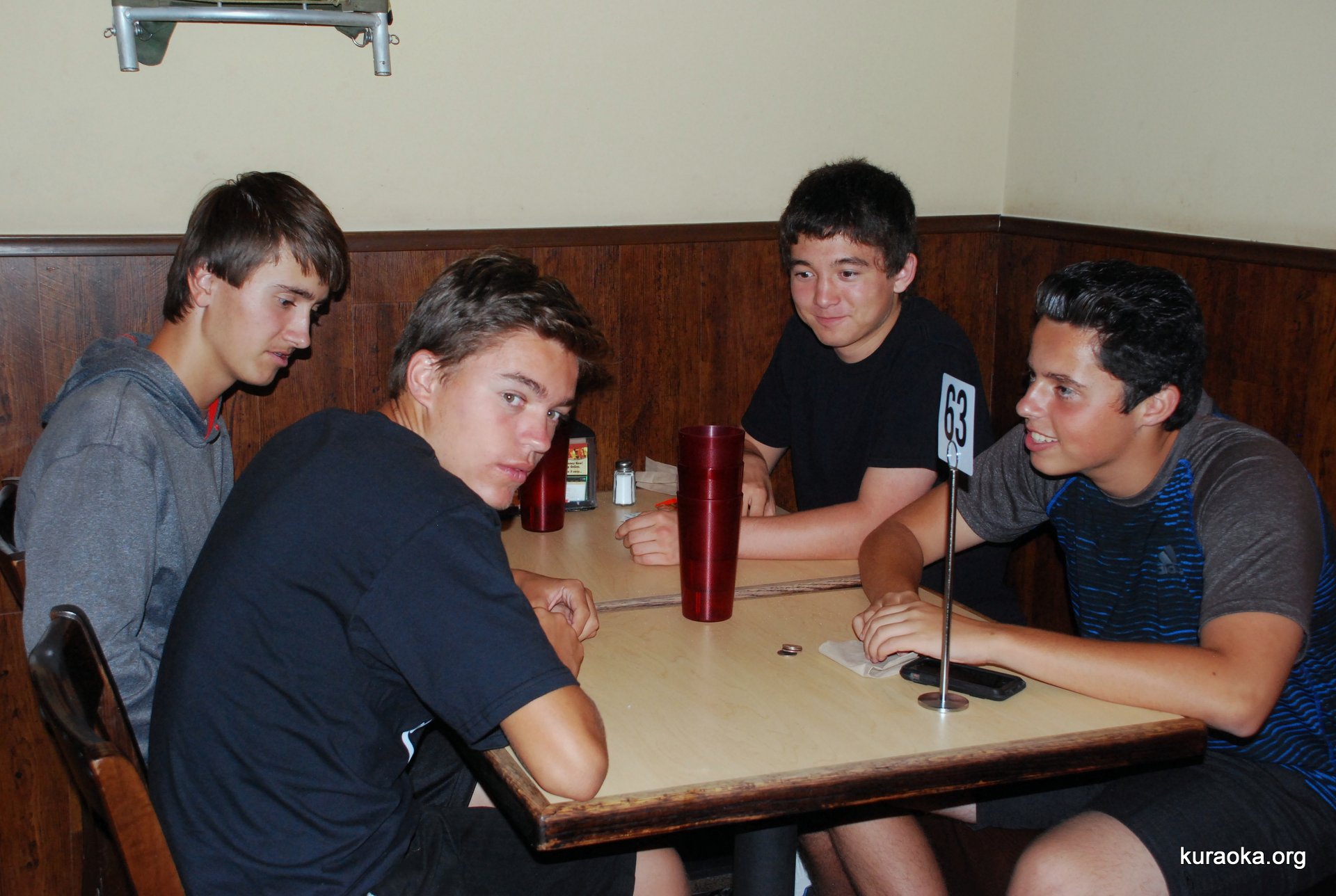 06-17-16: Leo received an award from school! The Lewis Middle School awards ceremony was a few days ago, but (a) Leo didn't know he was receiving an award so we didn't attend and (b) he only got round to picking up his certificate a day or two after the event and (c) we didn't take a photo until today. It's for computer coding, from his teacher, Mr. Royal.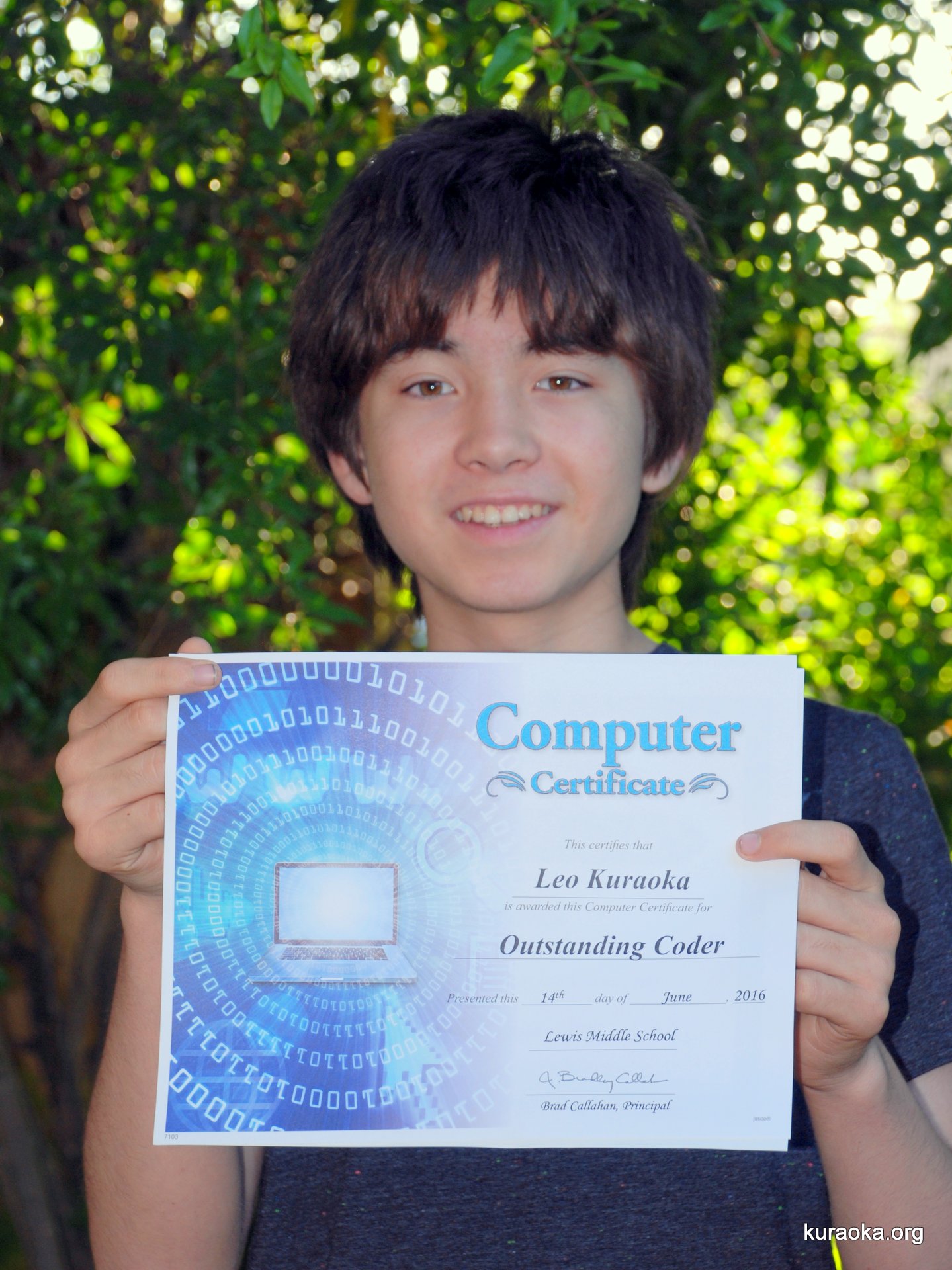 06-17-16: Yet another ukulele! John thinks our ukuleles, being such joyful instruments, are merely demonstrating their natural concupiscence through rapid reproduction. That's his explanation for this Kala KA-T tenor ukulele, scored off Craigslist. He cleaned it up, adjusted the action, and it's singing nicely. (Scroll down to the first of the month to see the rest of our ukulele herd.)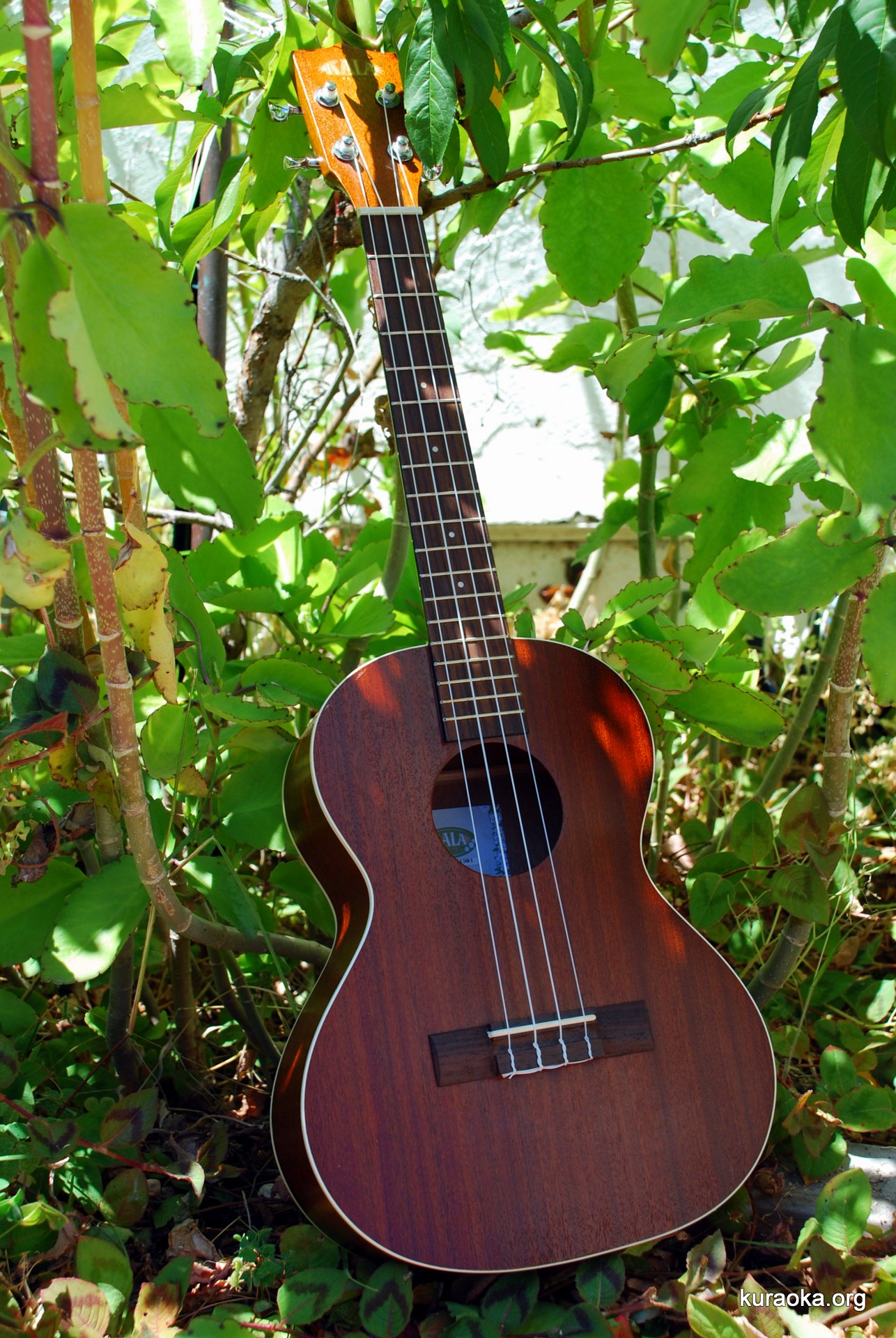 06-12-16: The First Folio exhibit! We went to the central library downtown to see the First Folio on exhibit. It also had props, annoted scripts, designs, and costumes from Old Globe productions.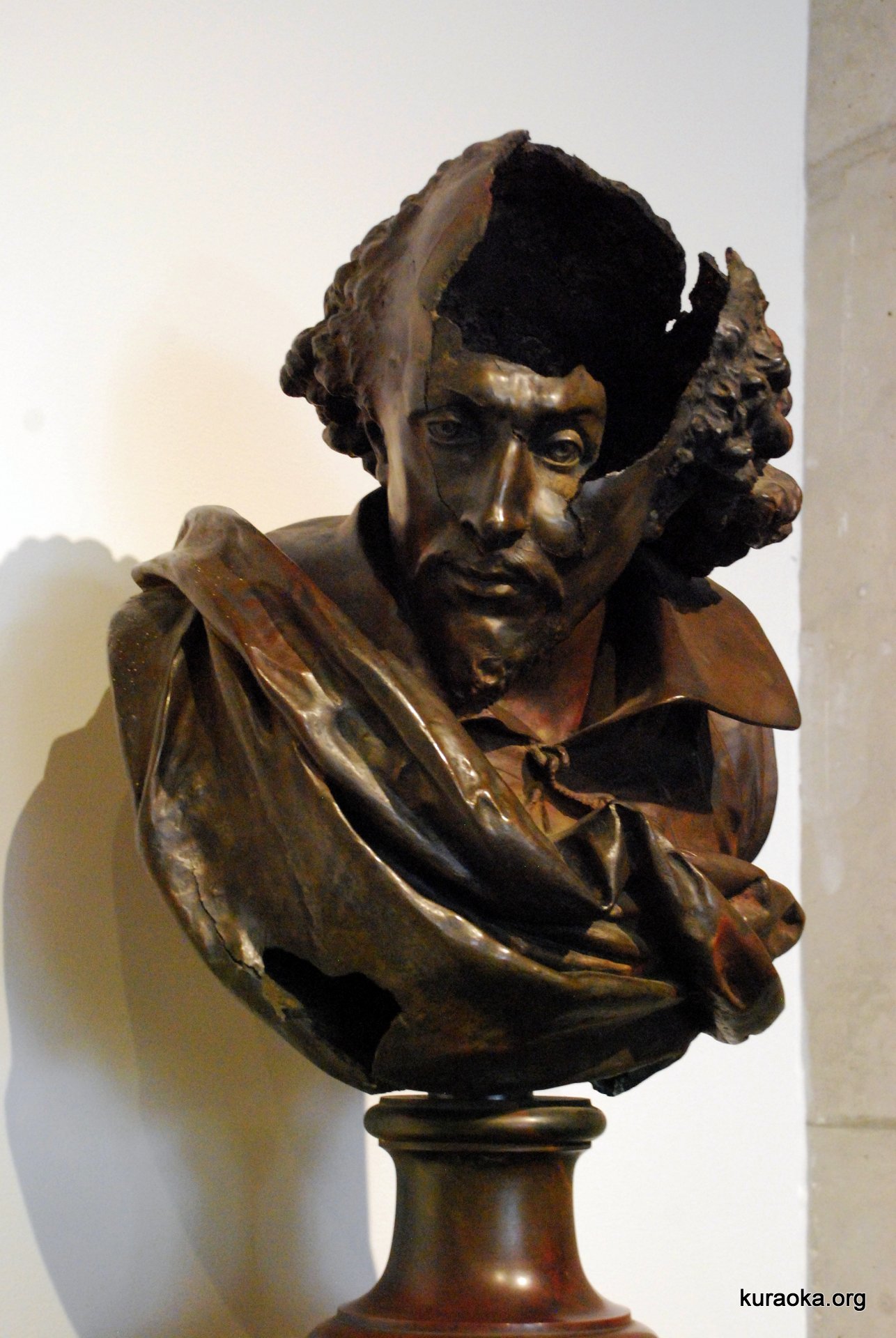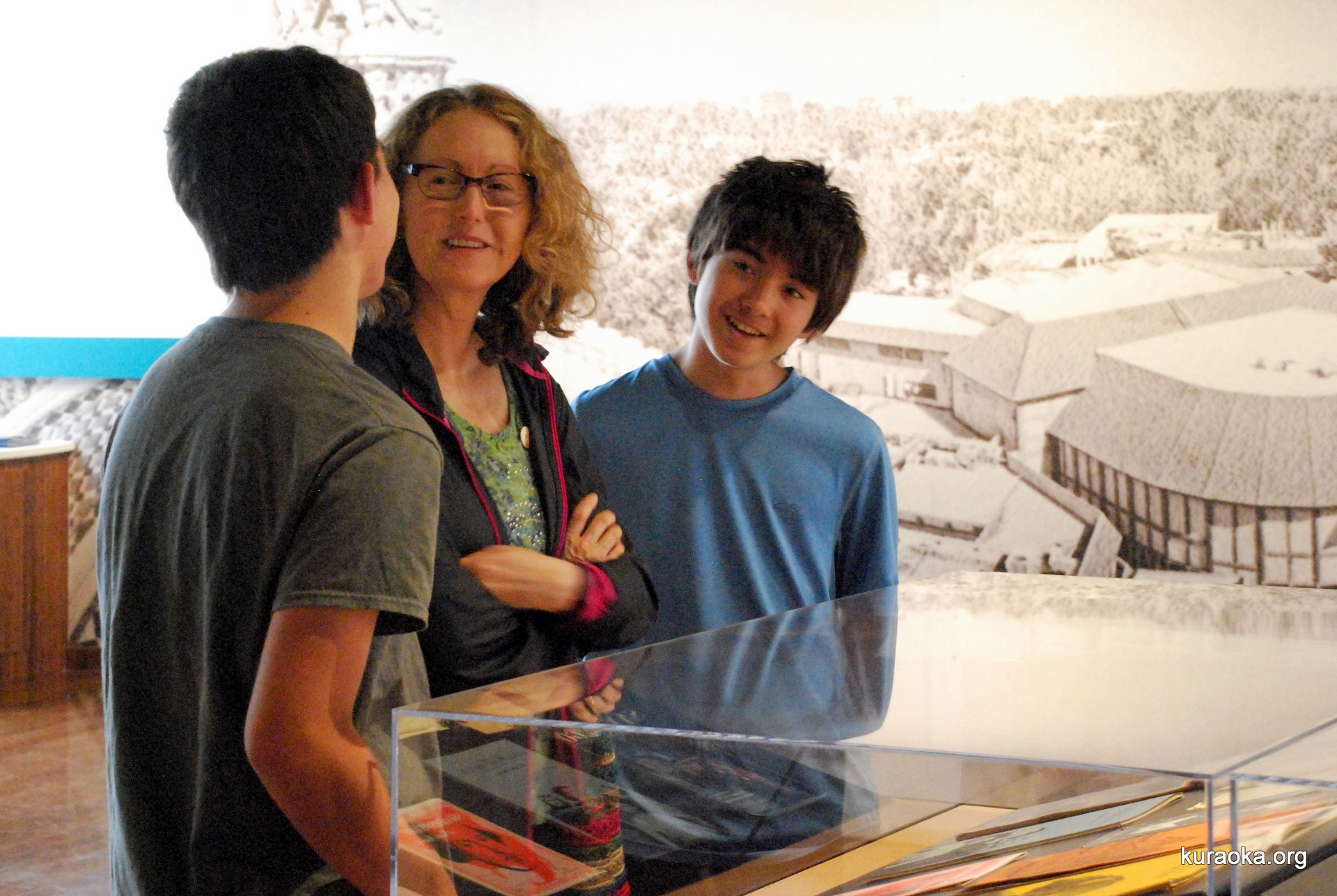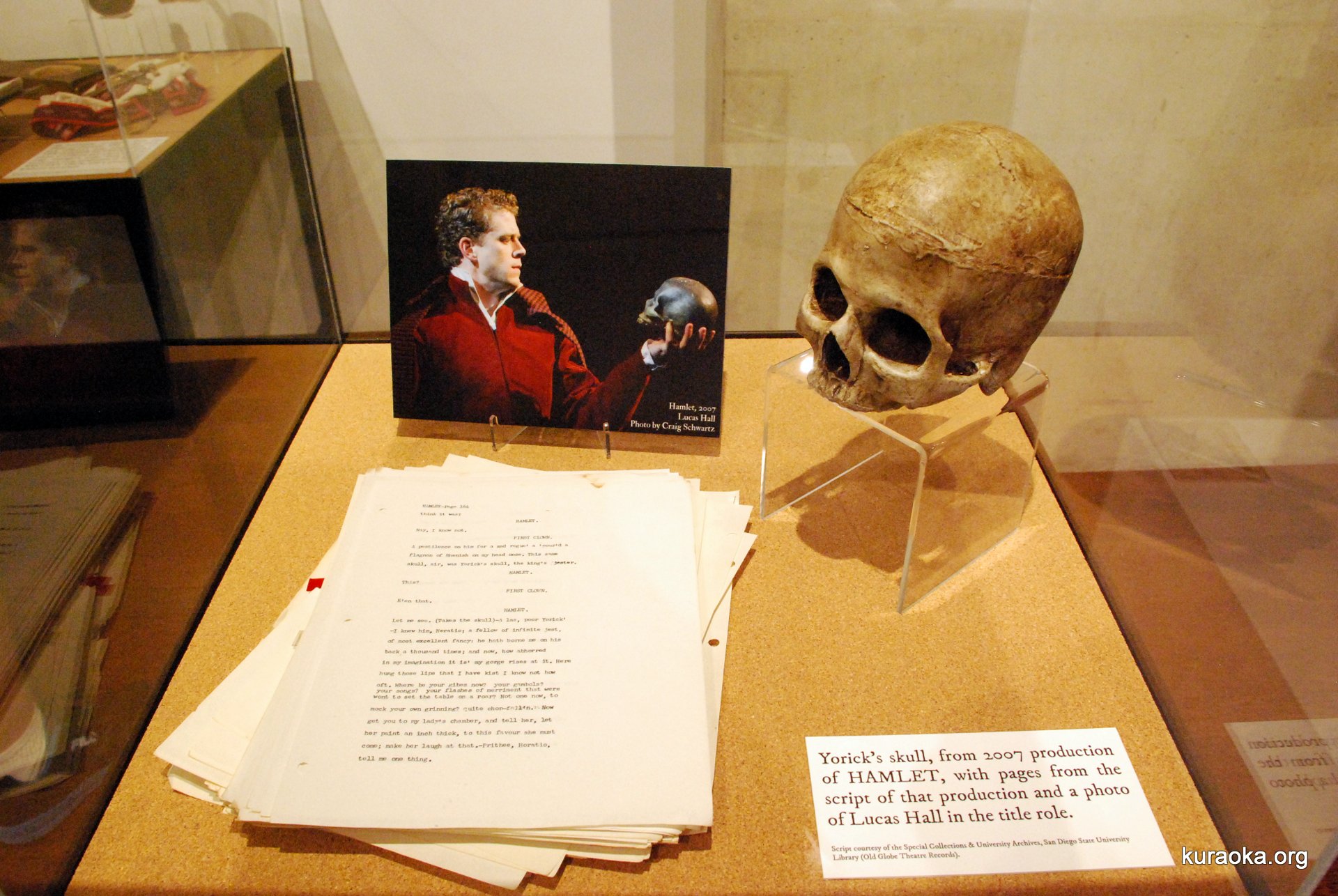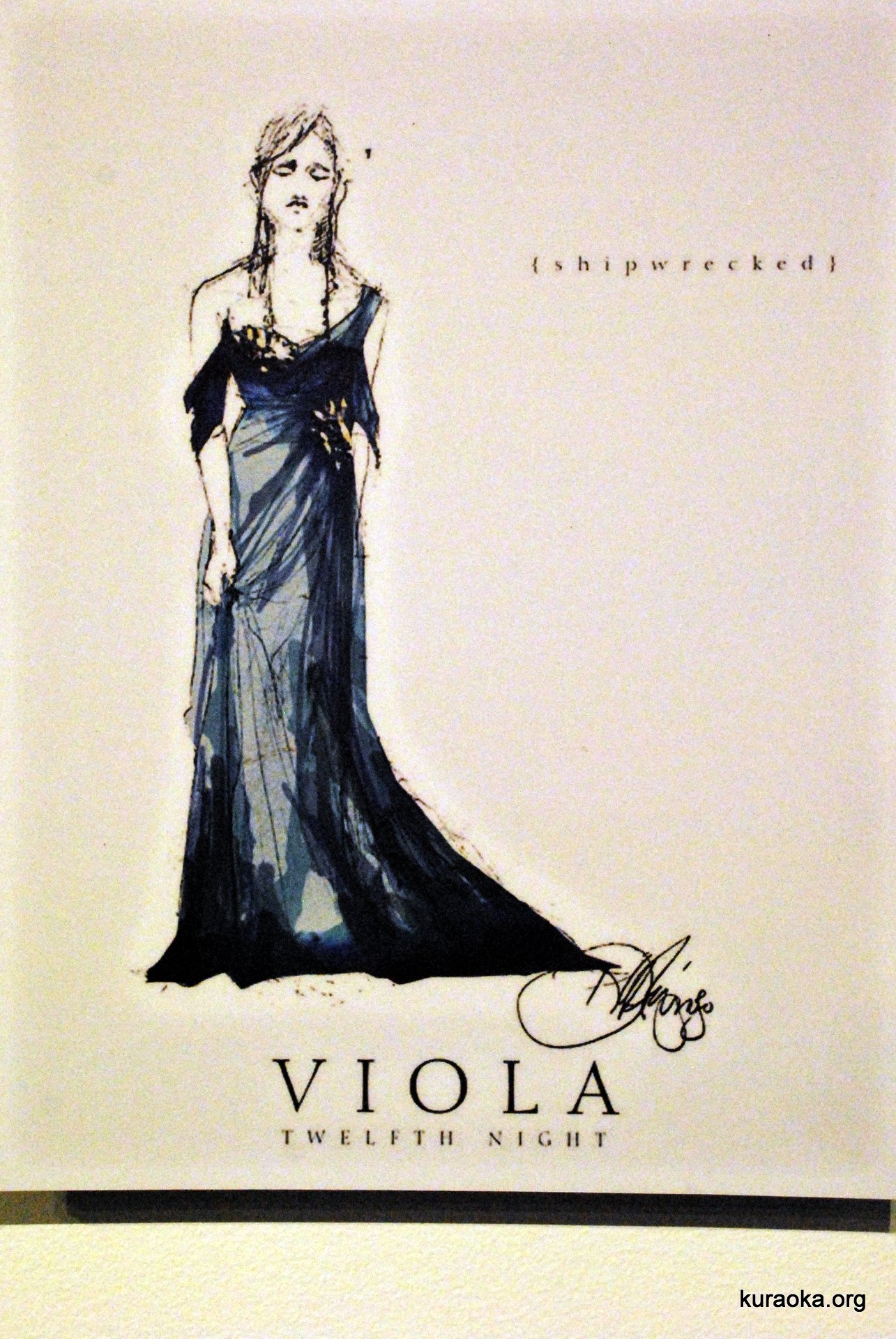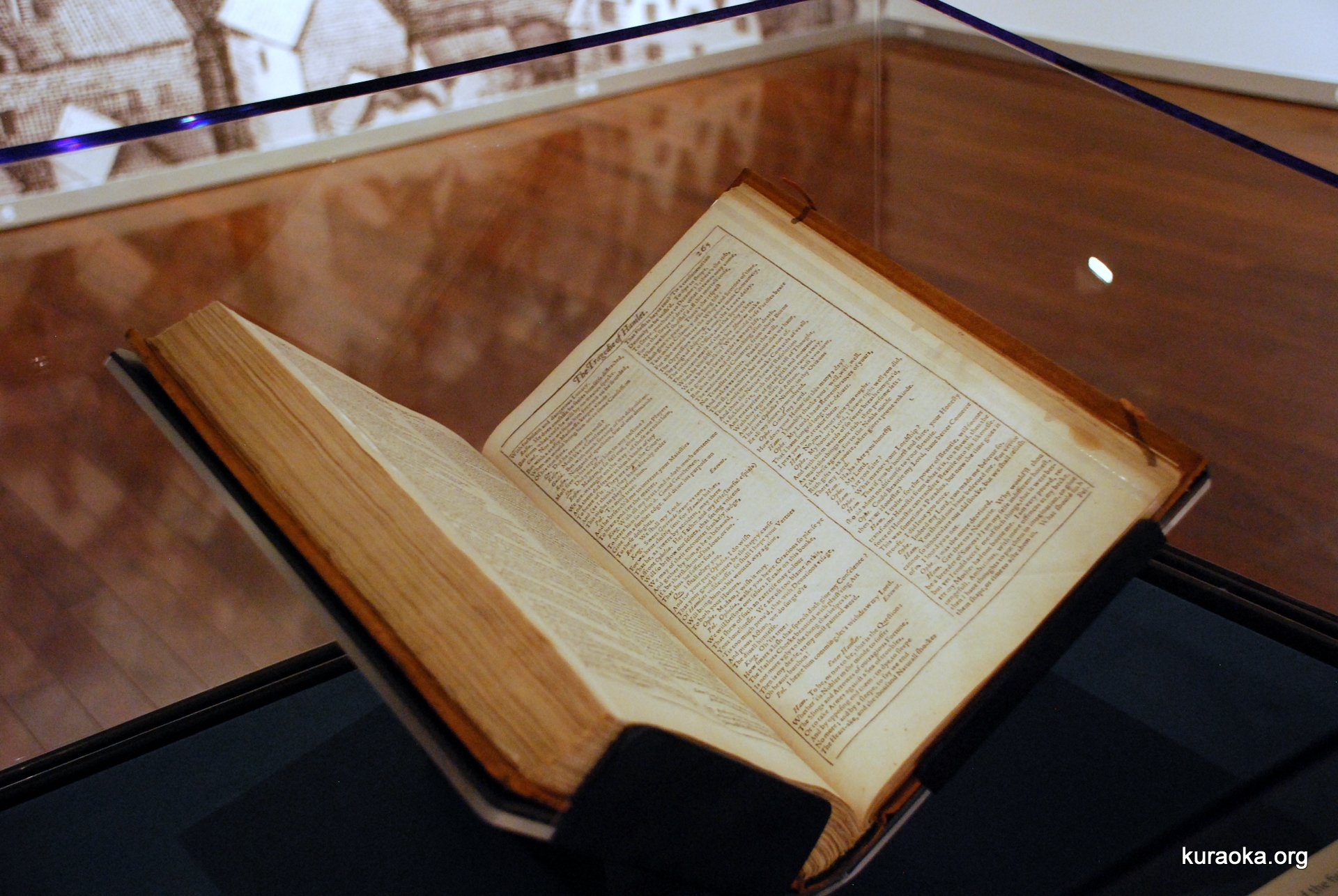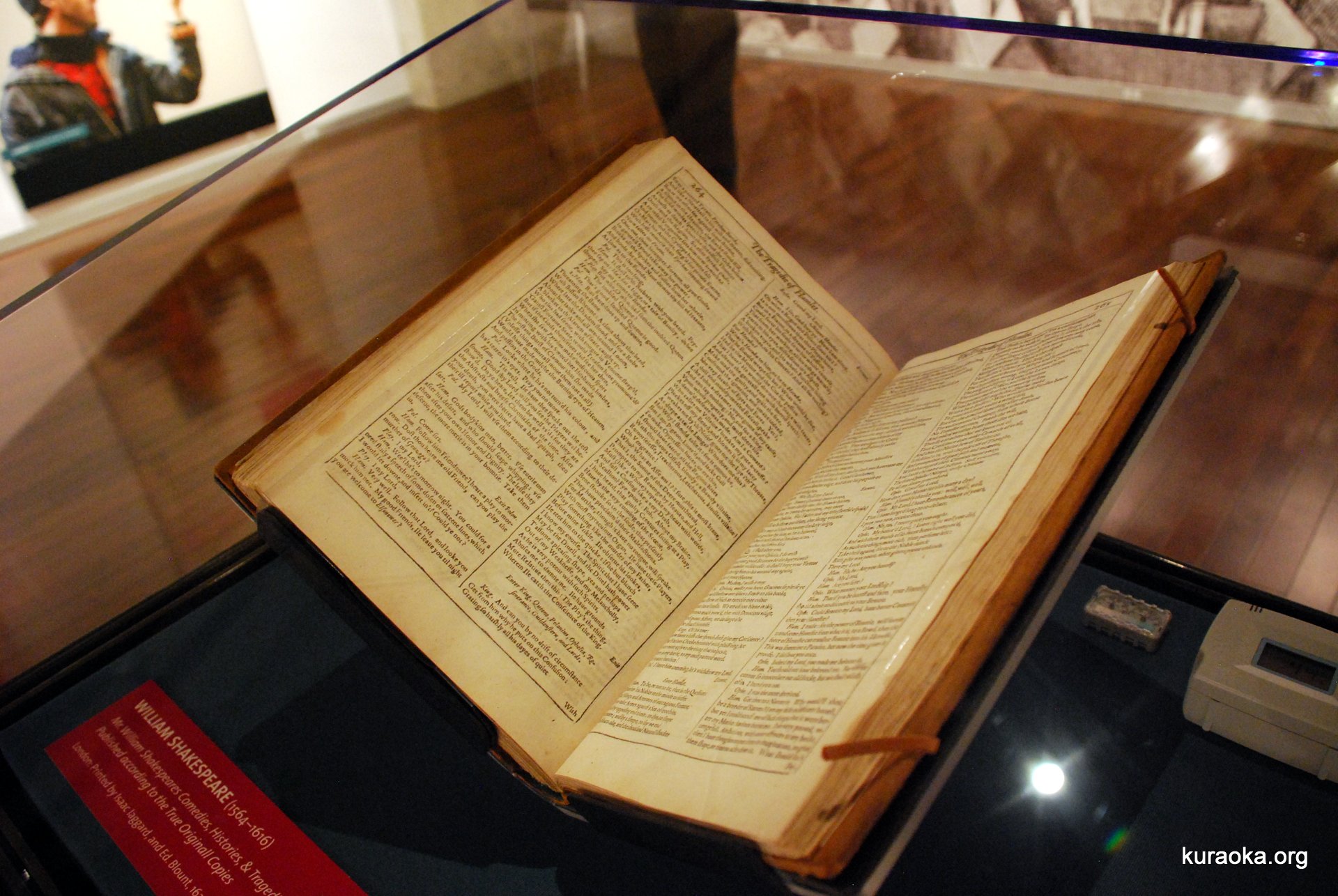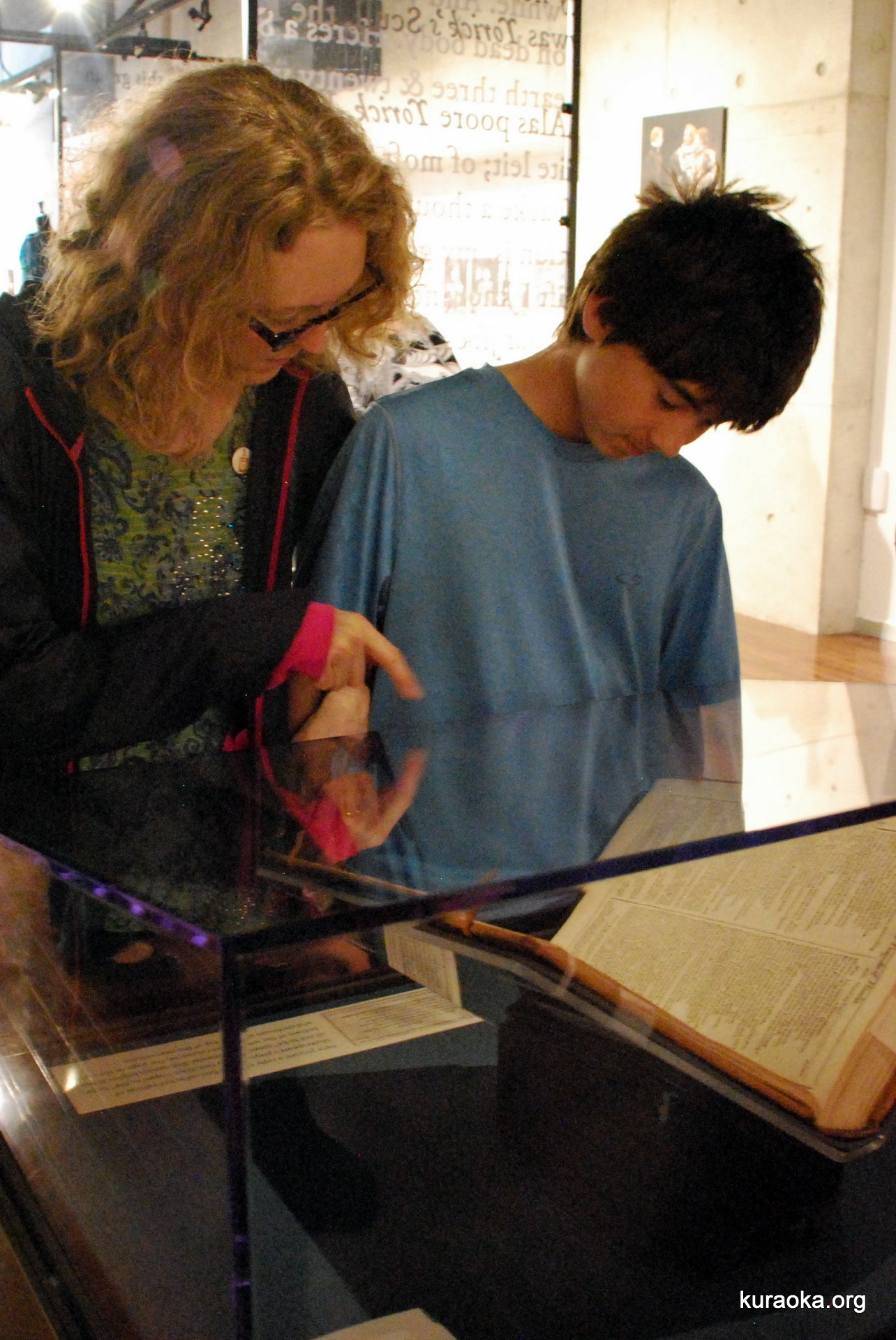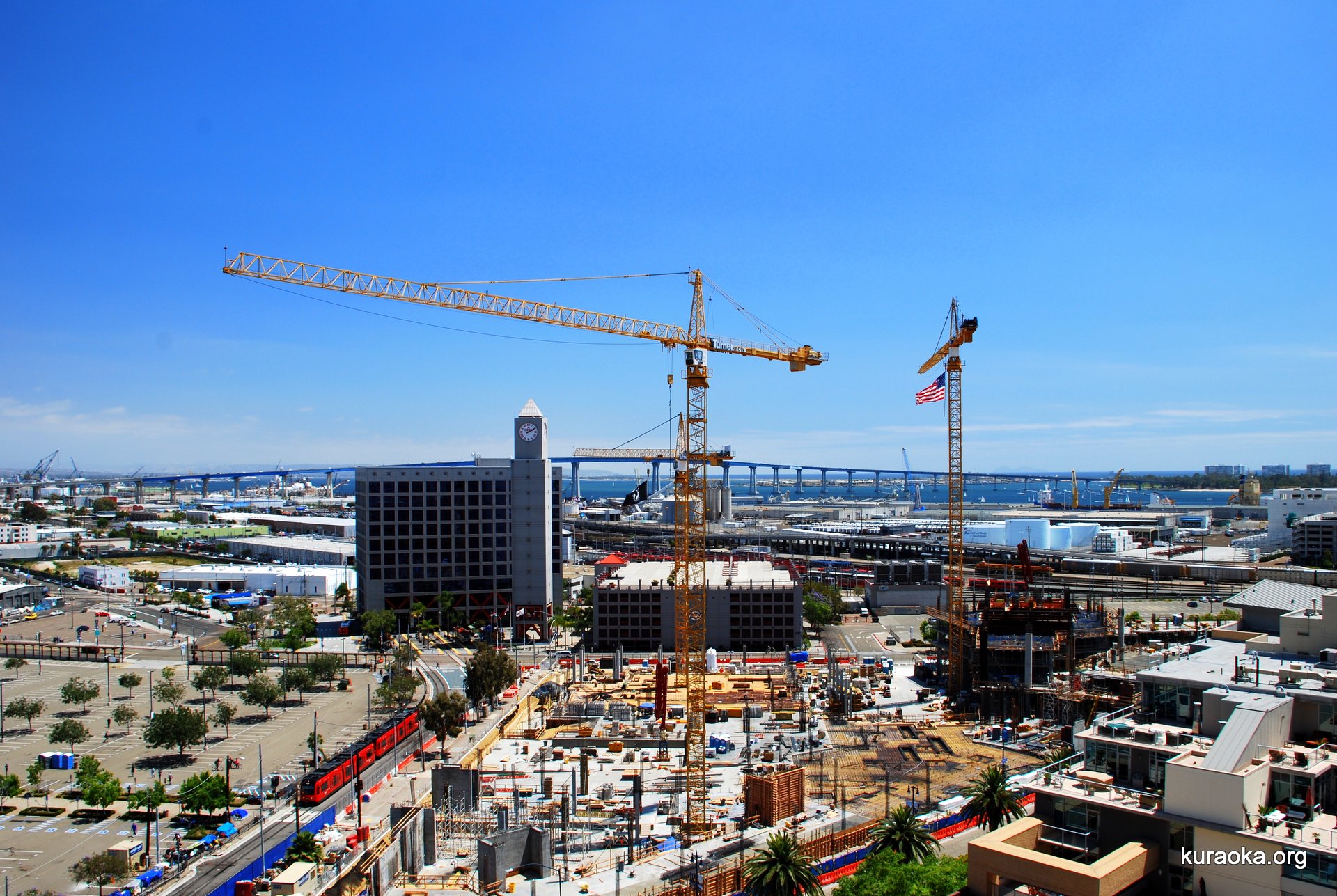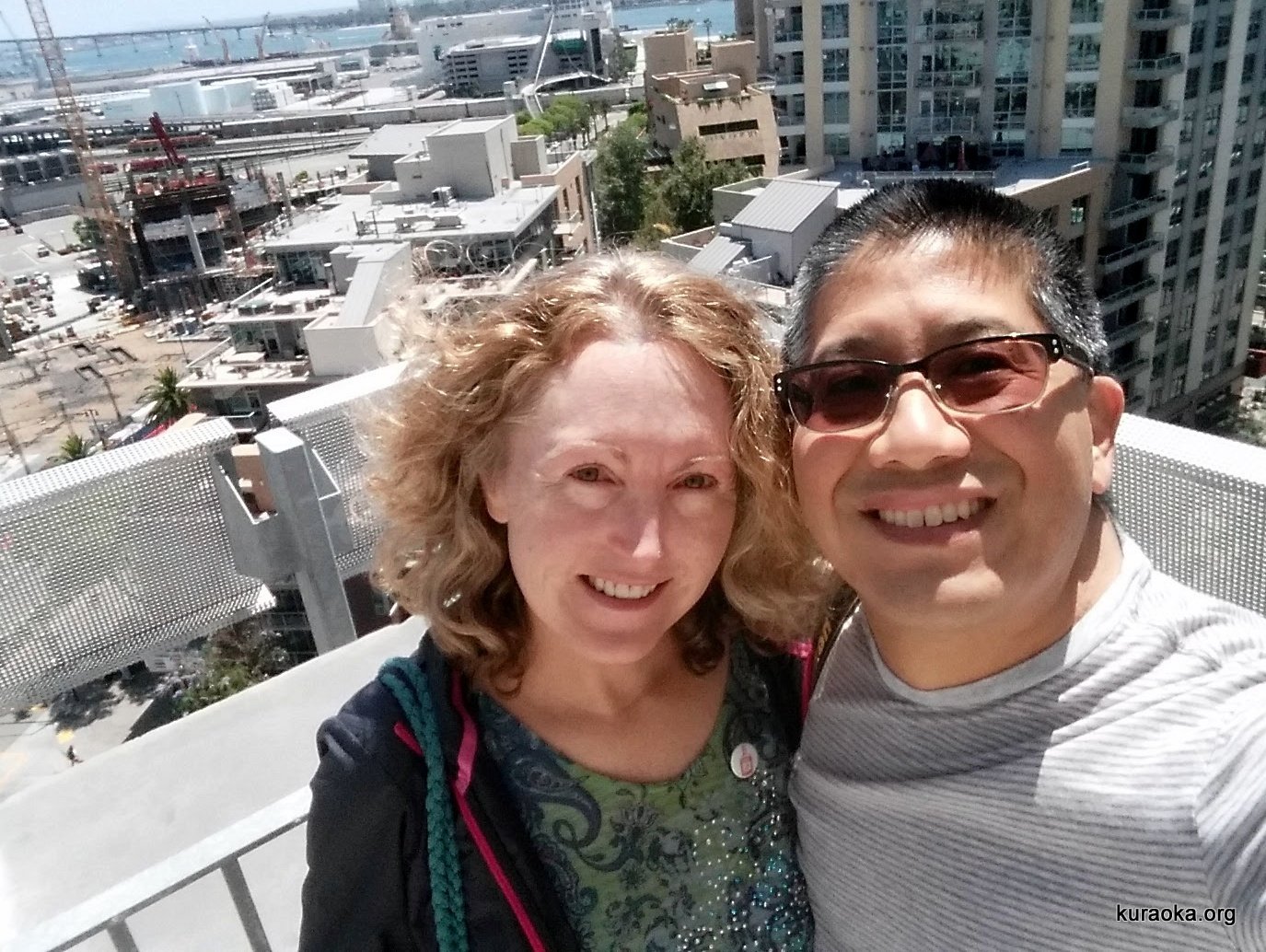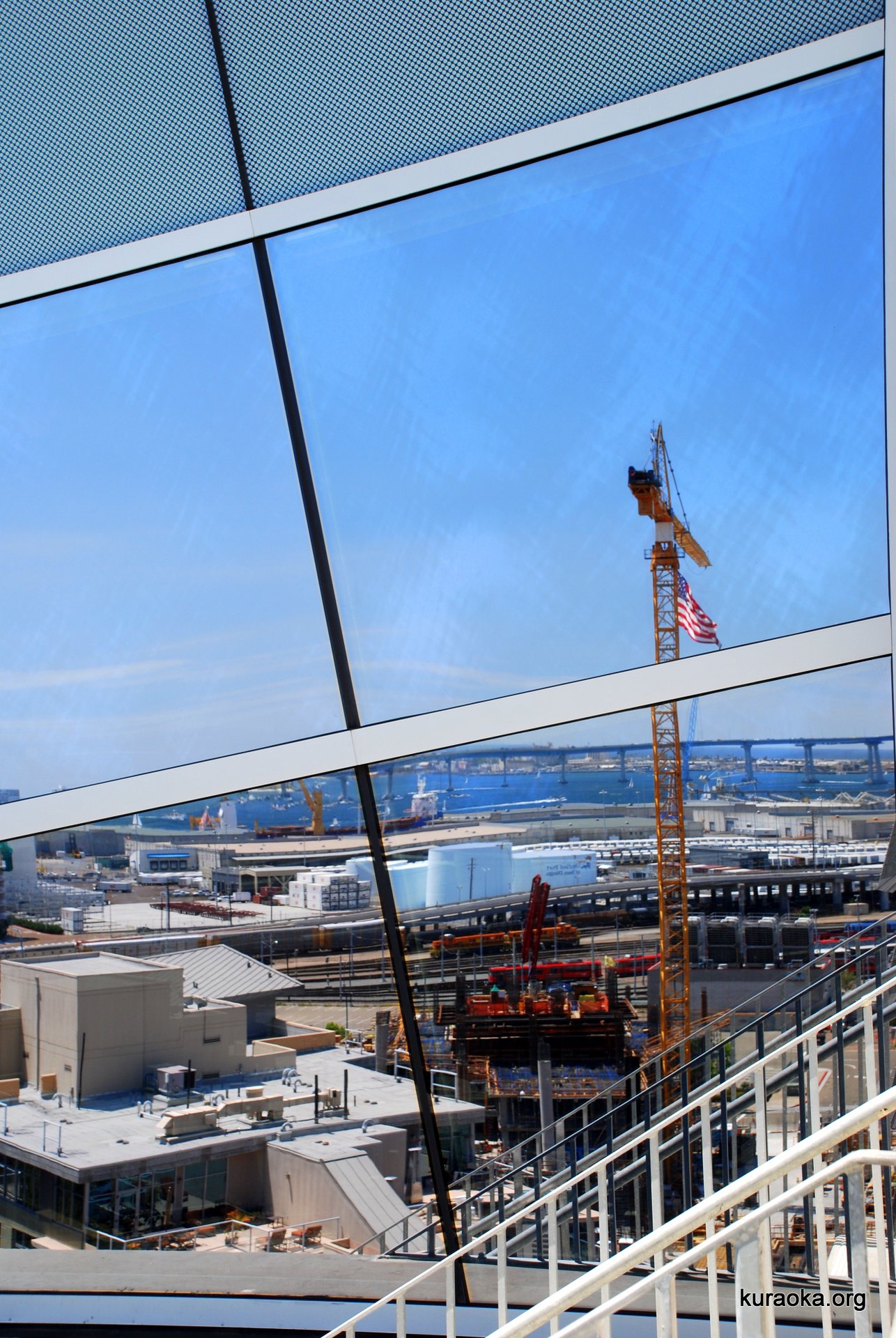 06-06-16: Happy Birthday Roy! Roy chose The Olive Garden for dinner. Here we are celebrating! After dinner (and dessert) we moved to Barbara's for ice cream cake (more dessert!) and even more presents, like the blanket Ondine knitted!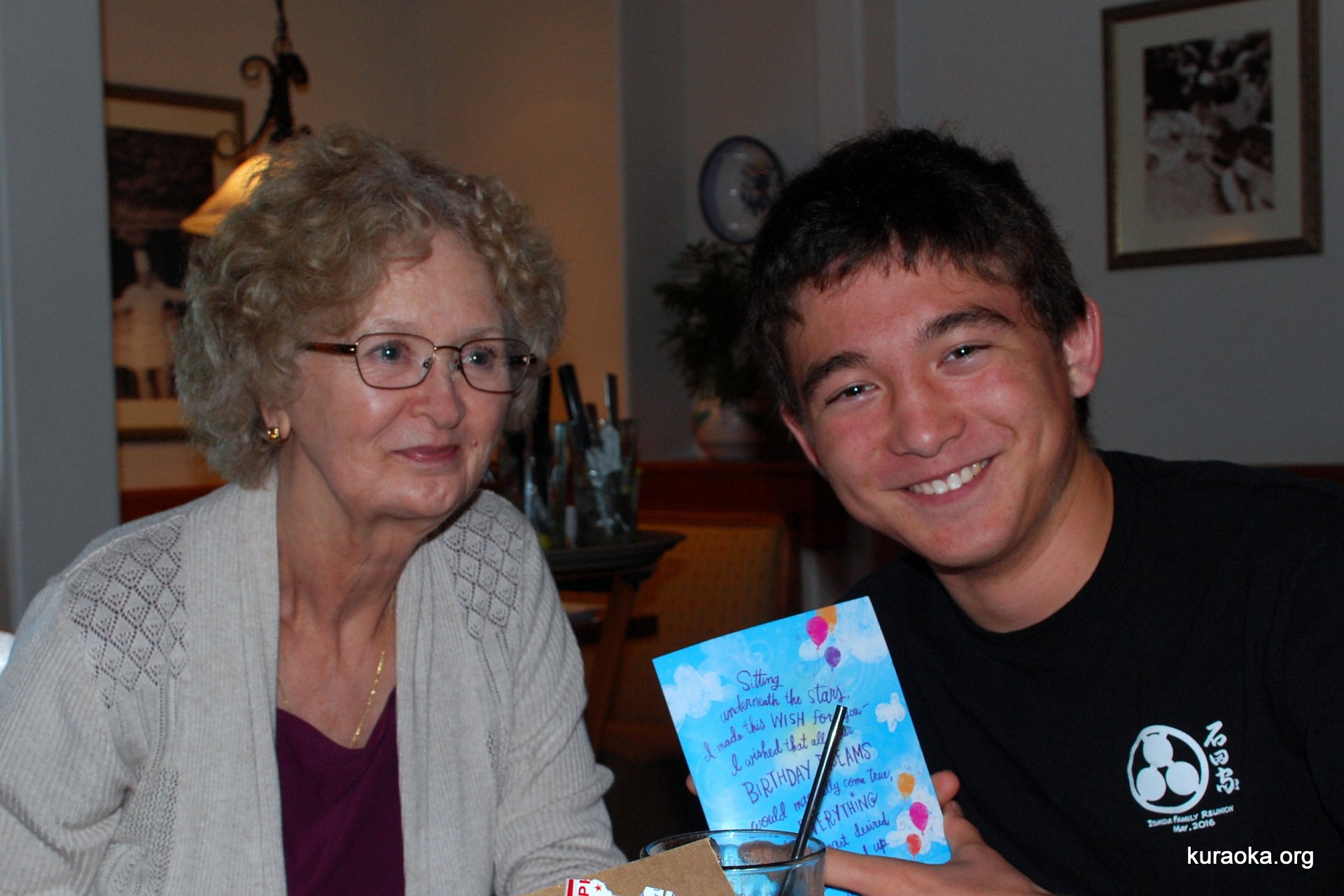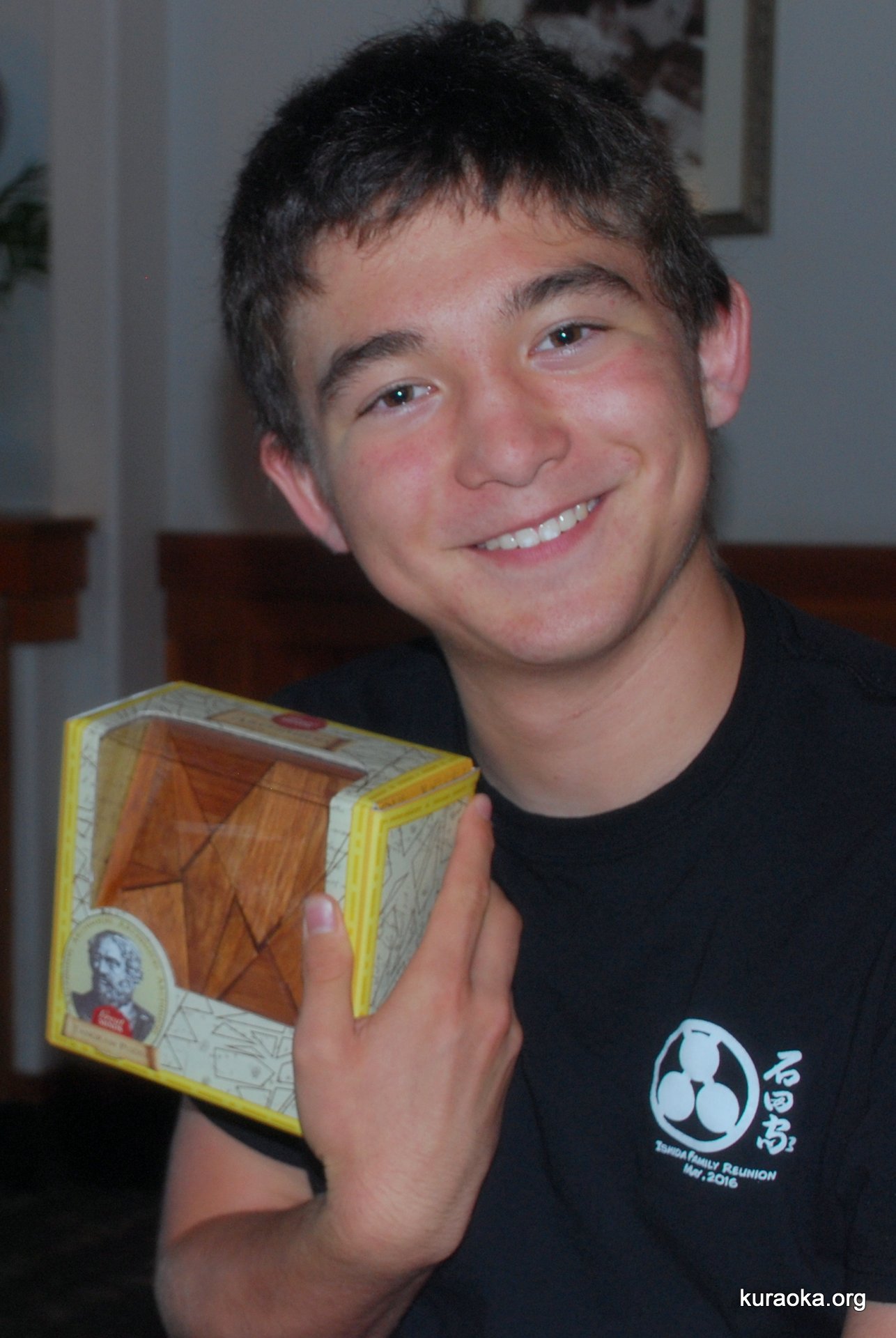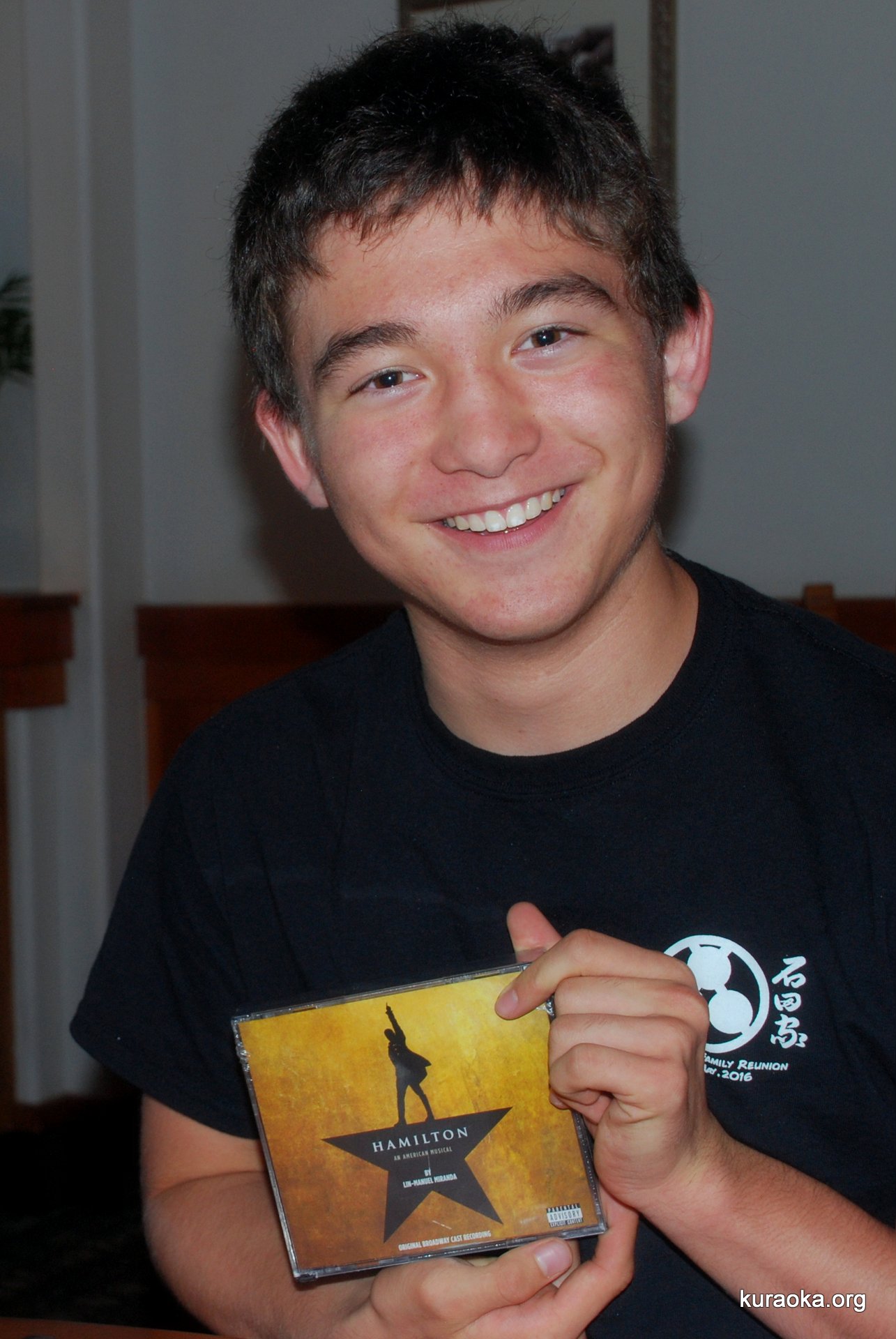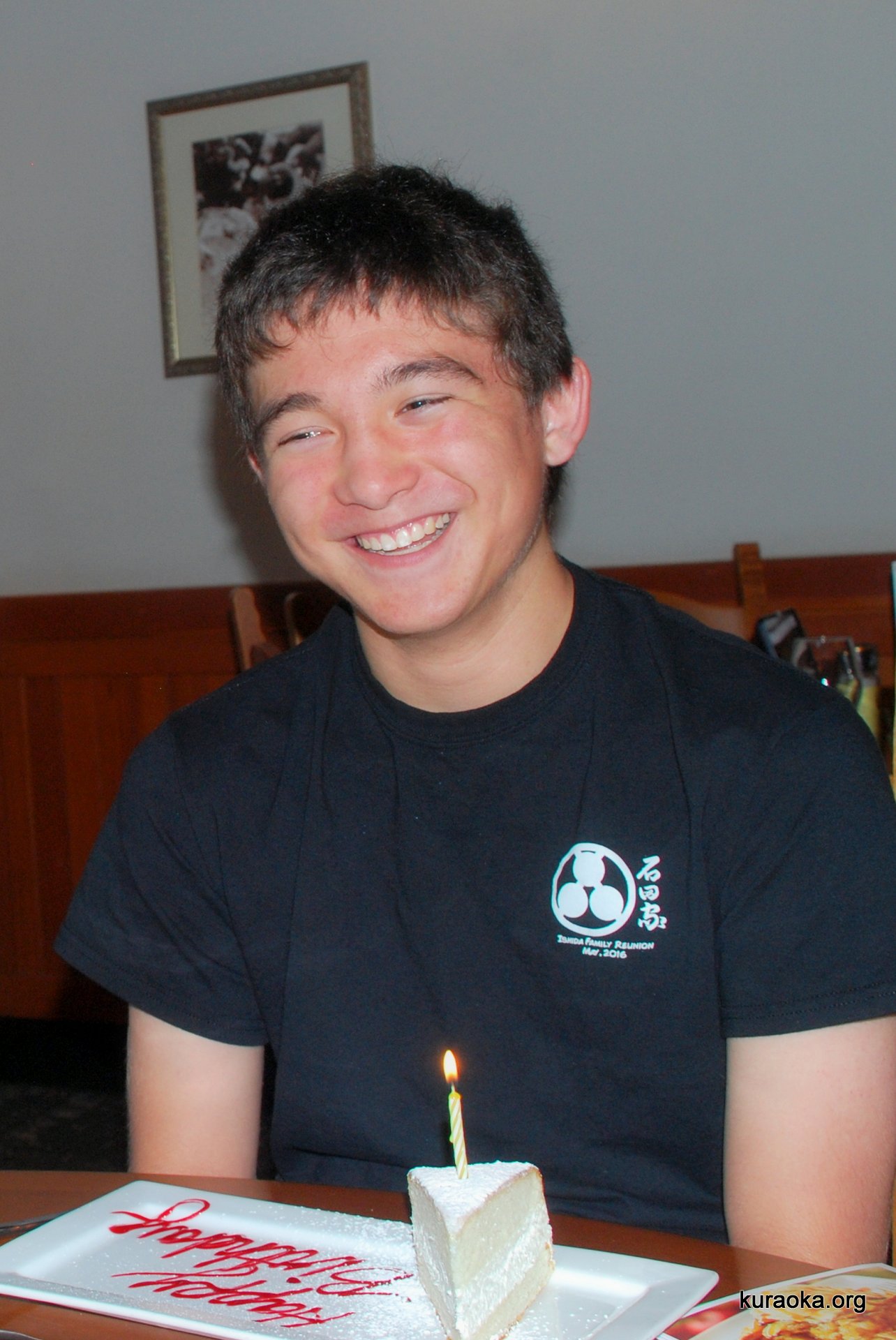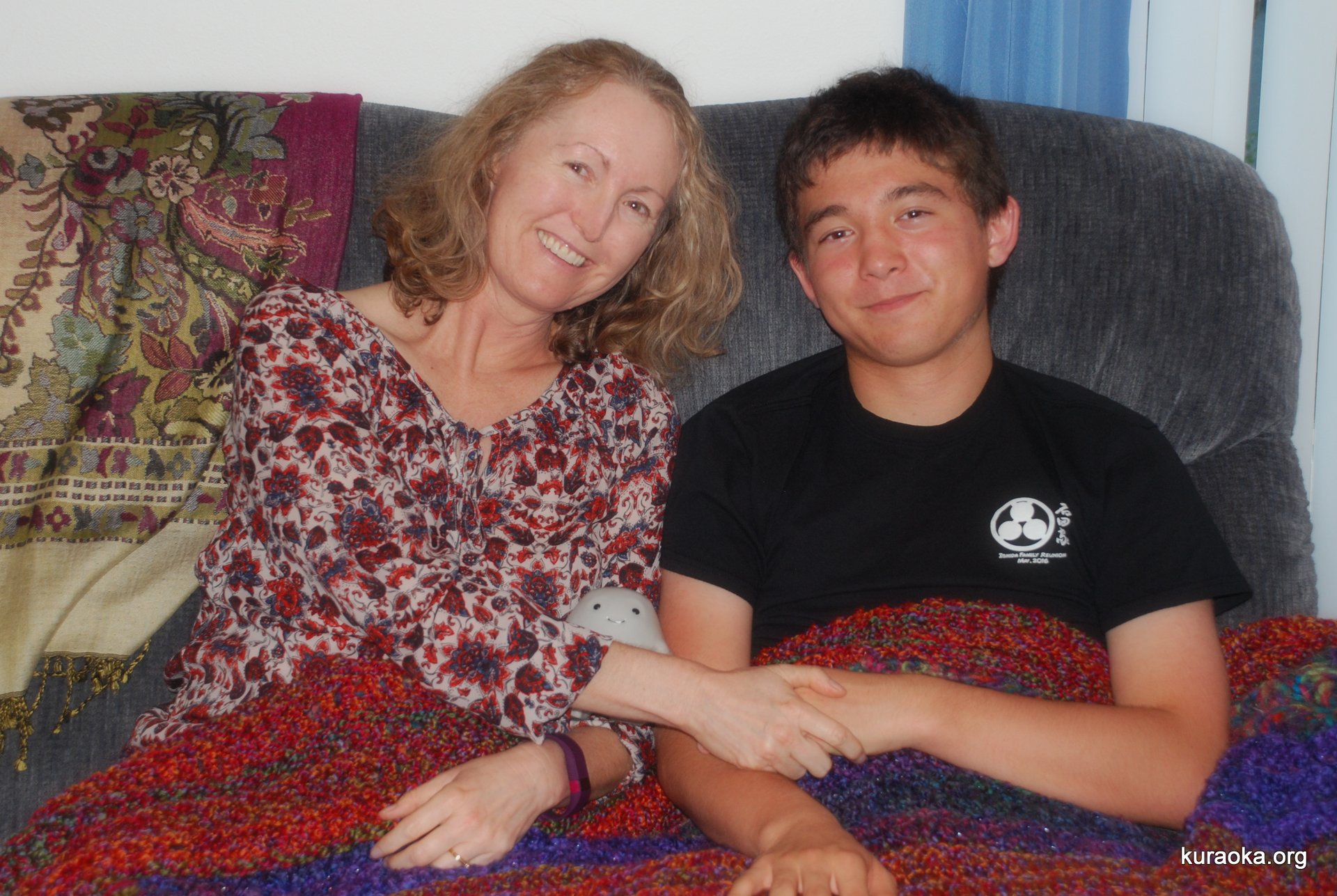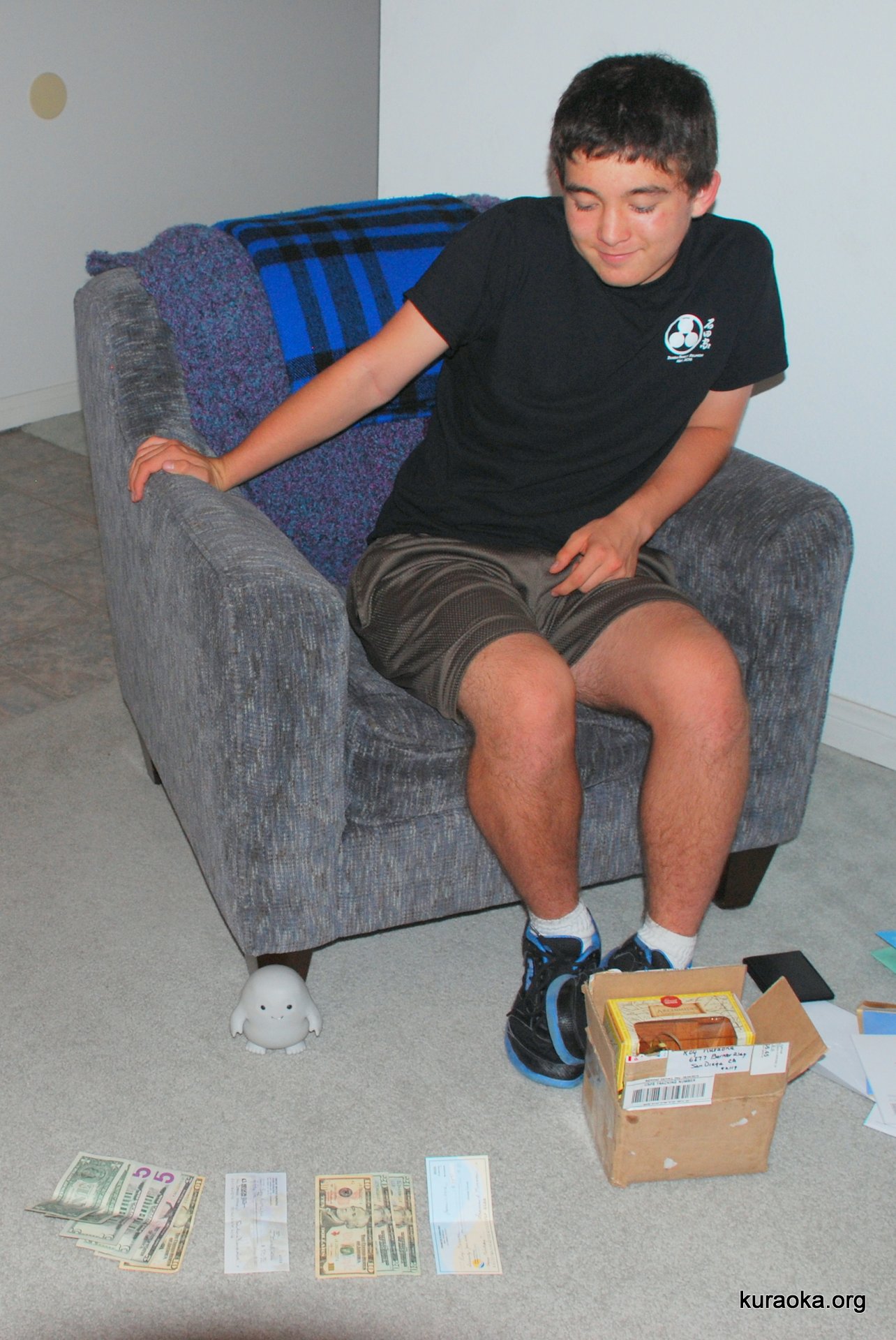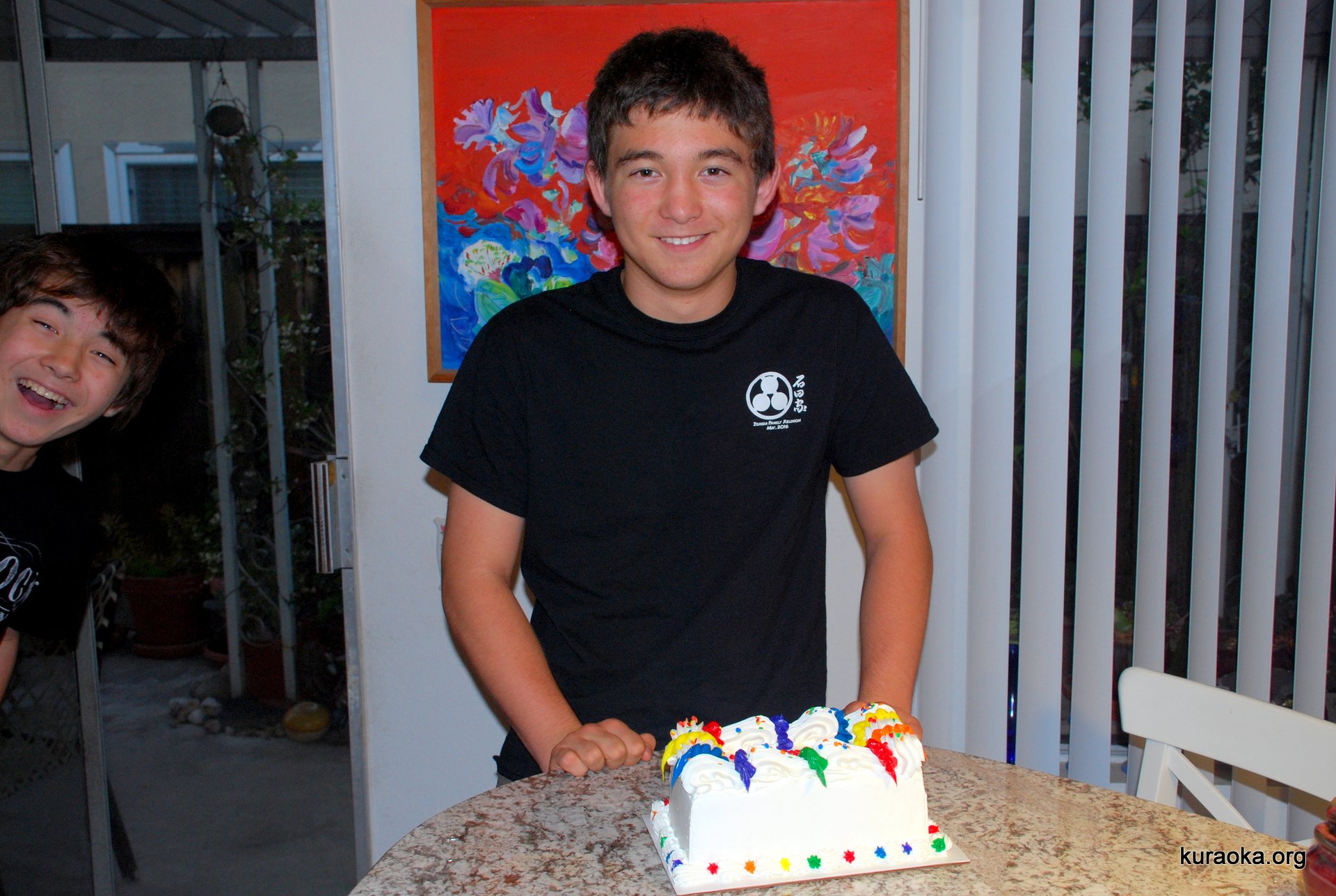 06-01-16: Multiplying ukuleles! John couldn't pass up a screaming deal on Craigslist for a ukulele upgrade for Ondine. So here is her new uke, a Makala MK-S. Also, John's Vineyard UK-55G. And, the ukulele that started it all, the Firebrand from the Alfred's "Teach Yourself to Play Ukulele" kit.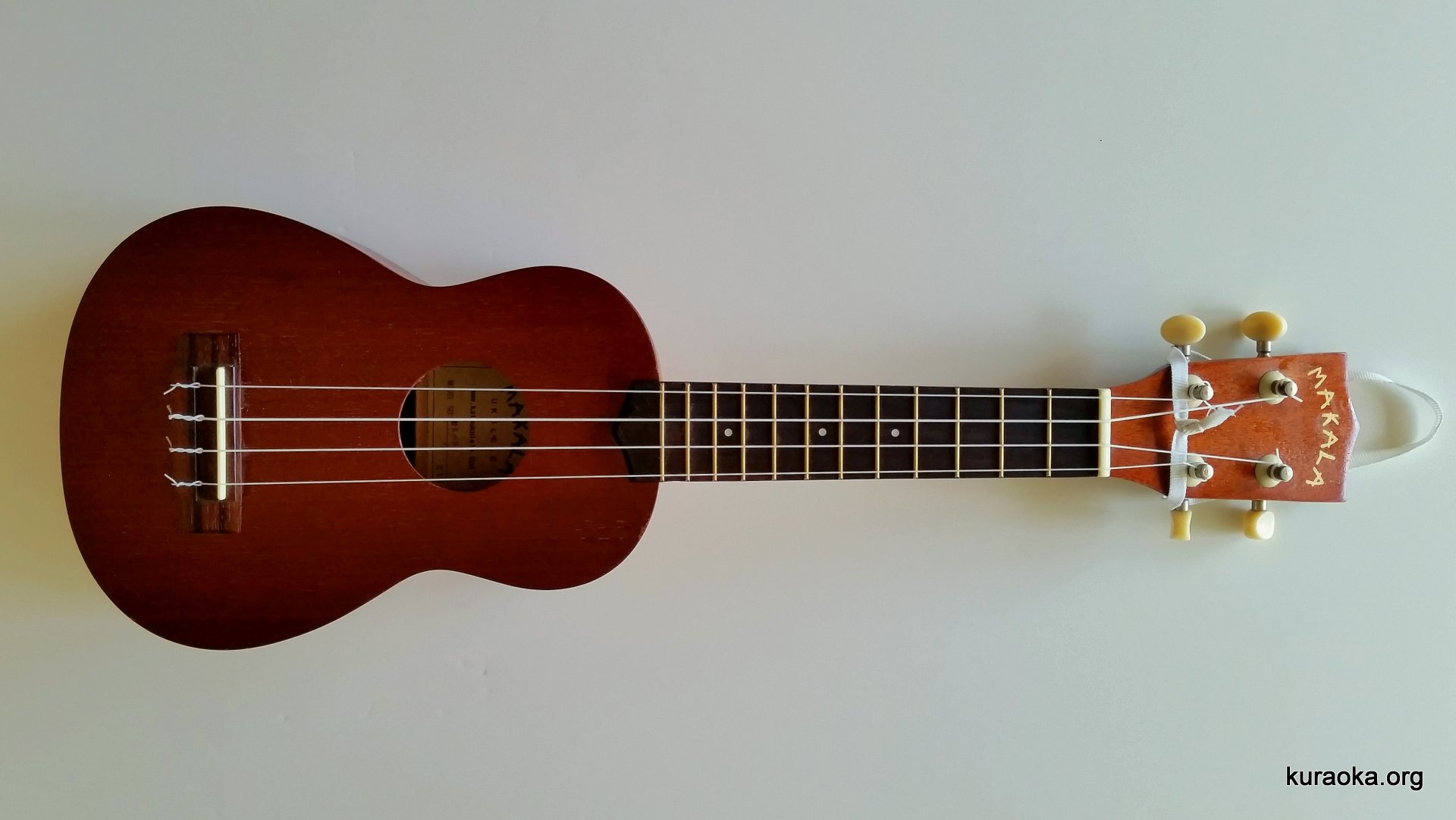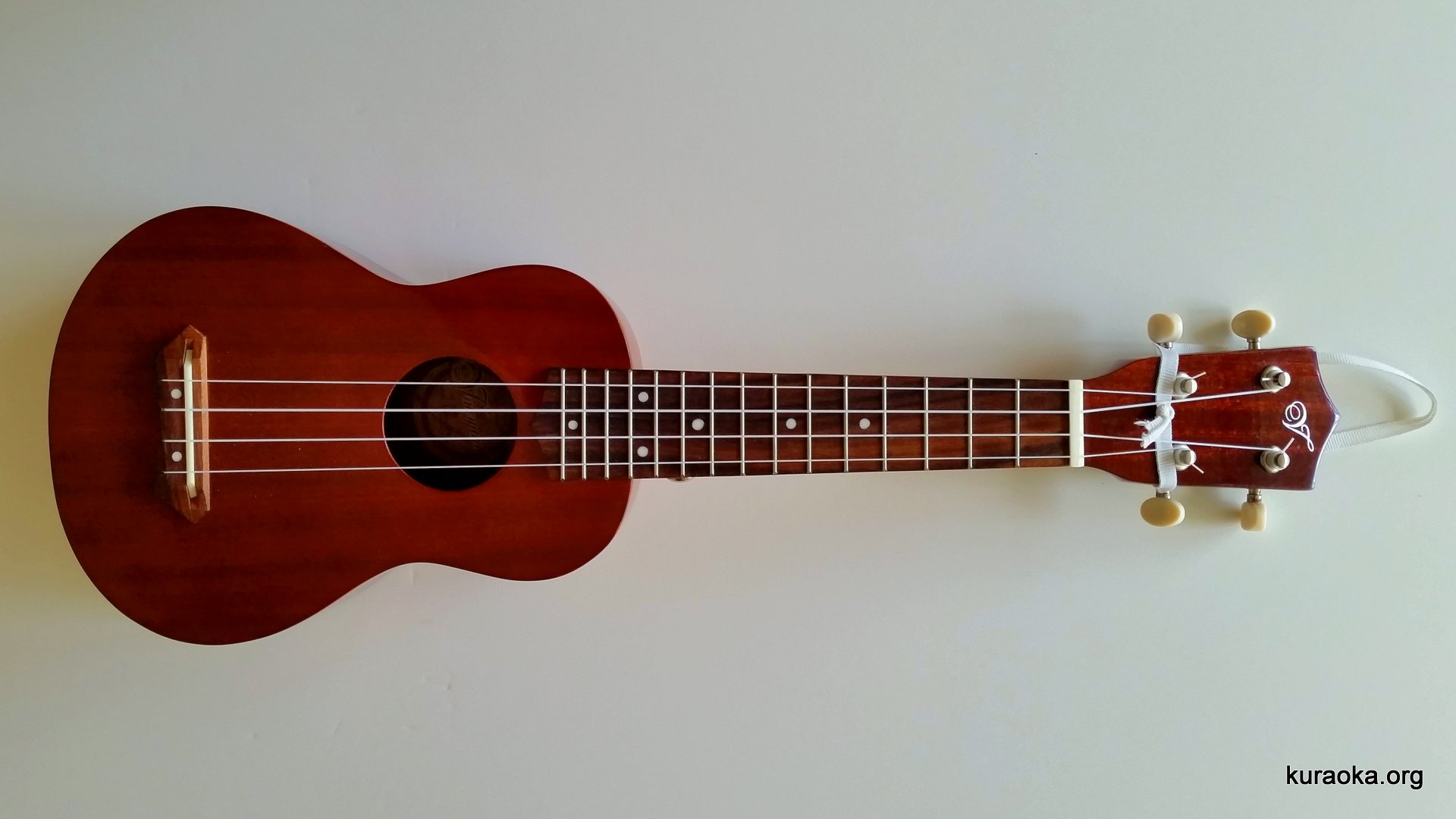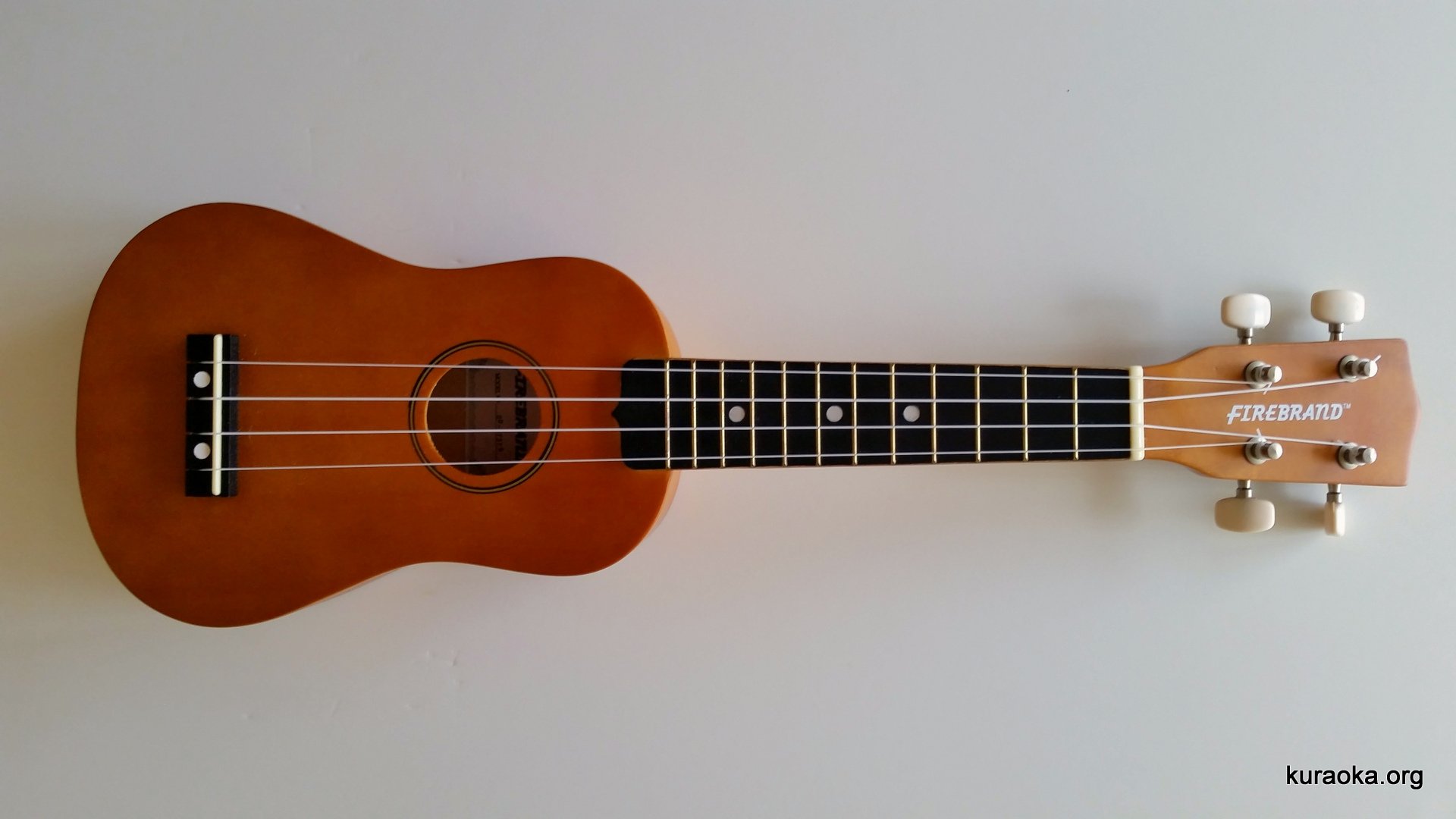 05-31-16: Nikon D40x and a non-AI lens. John was amazed to learn that his newly acquired D40x will accept non-AI manual focus lenses from his Dad's Nikon F! Here it is with an unmodified Nikkor 5.8cm f/1.4 (circa 1962), and some quickie test shots. That clock is the first photo through that lens in over 20 years, a wild guess at exposure in full manual mode and adjusted later with Picasa, as were the next two. He had trouble focusing with the plain matte screen, but the lens and camera combination worked great!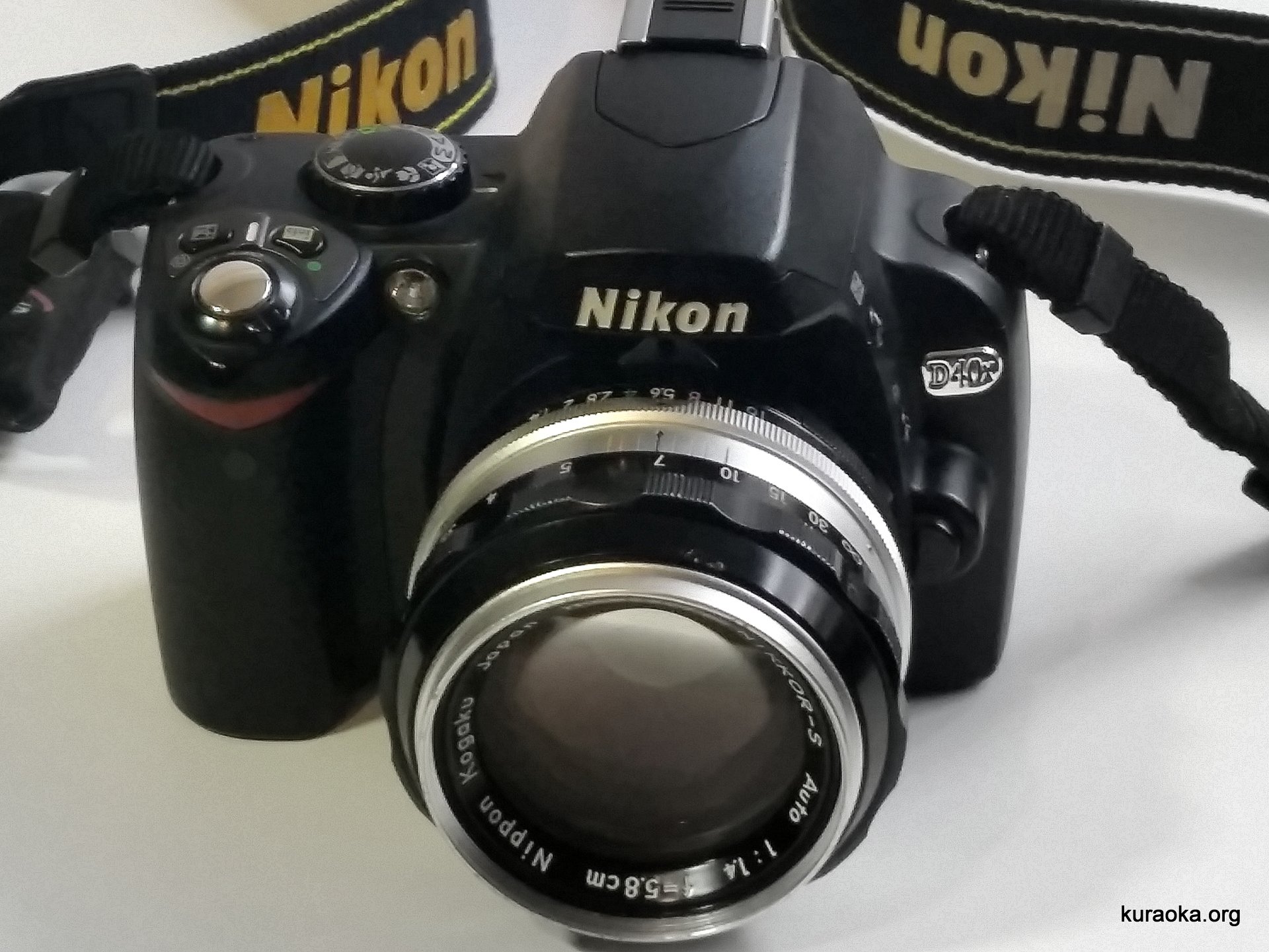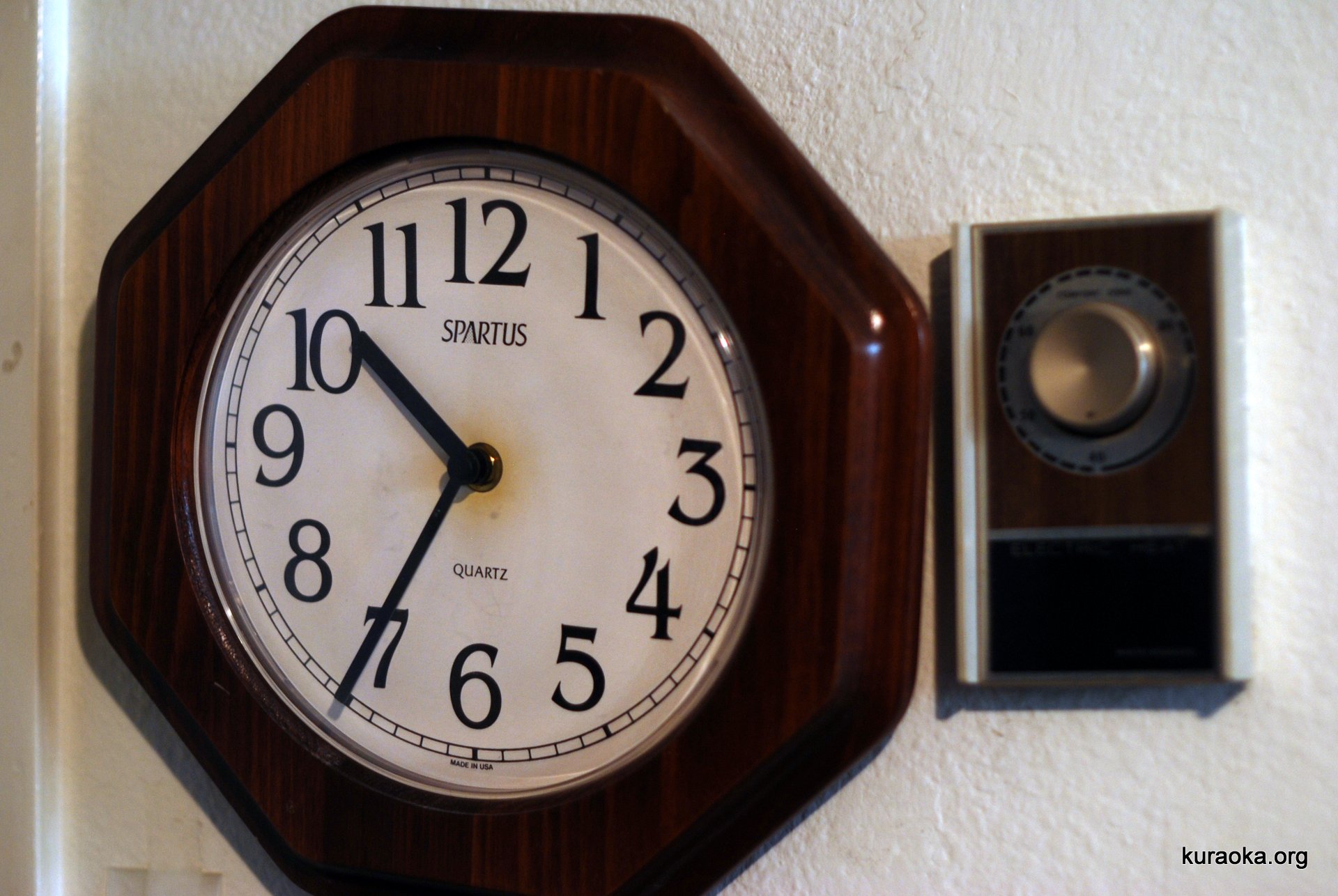 05-27-16 to 05-30-16: Ishida Clan reunion in Big Bear! Thanks to the efforts of John's sister Elaine, the clan gathered at Shore Acres Lodge in Big Bear for a terrific family get-together! Here are a few photos, but click here for the archived journal with all the photos.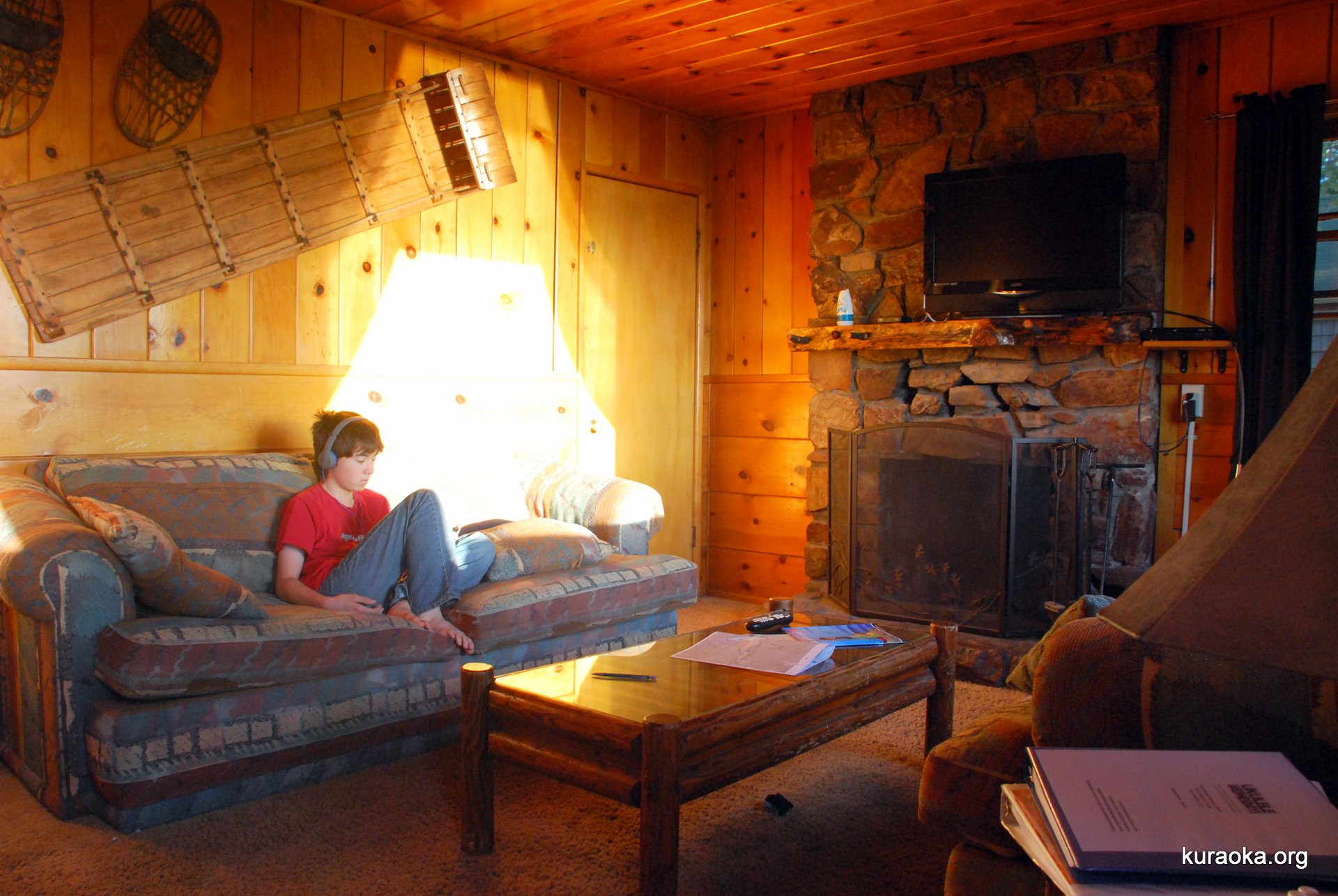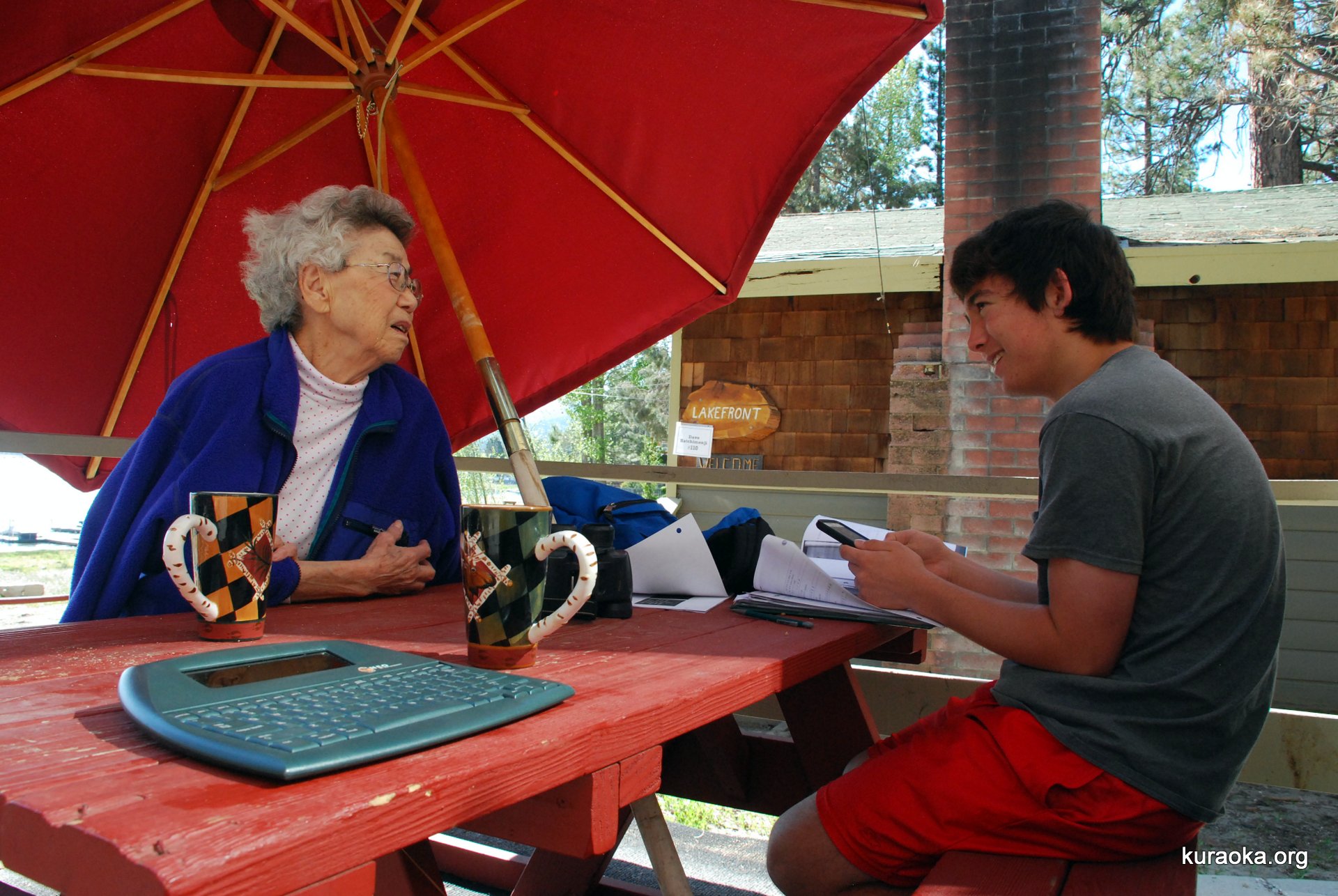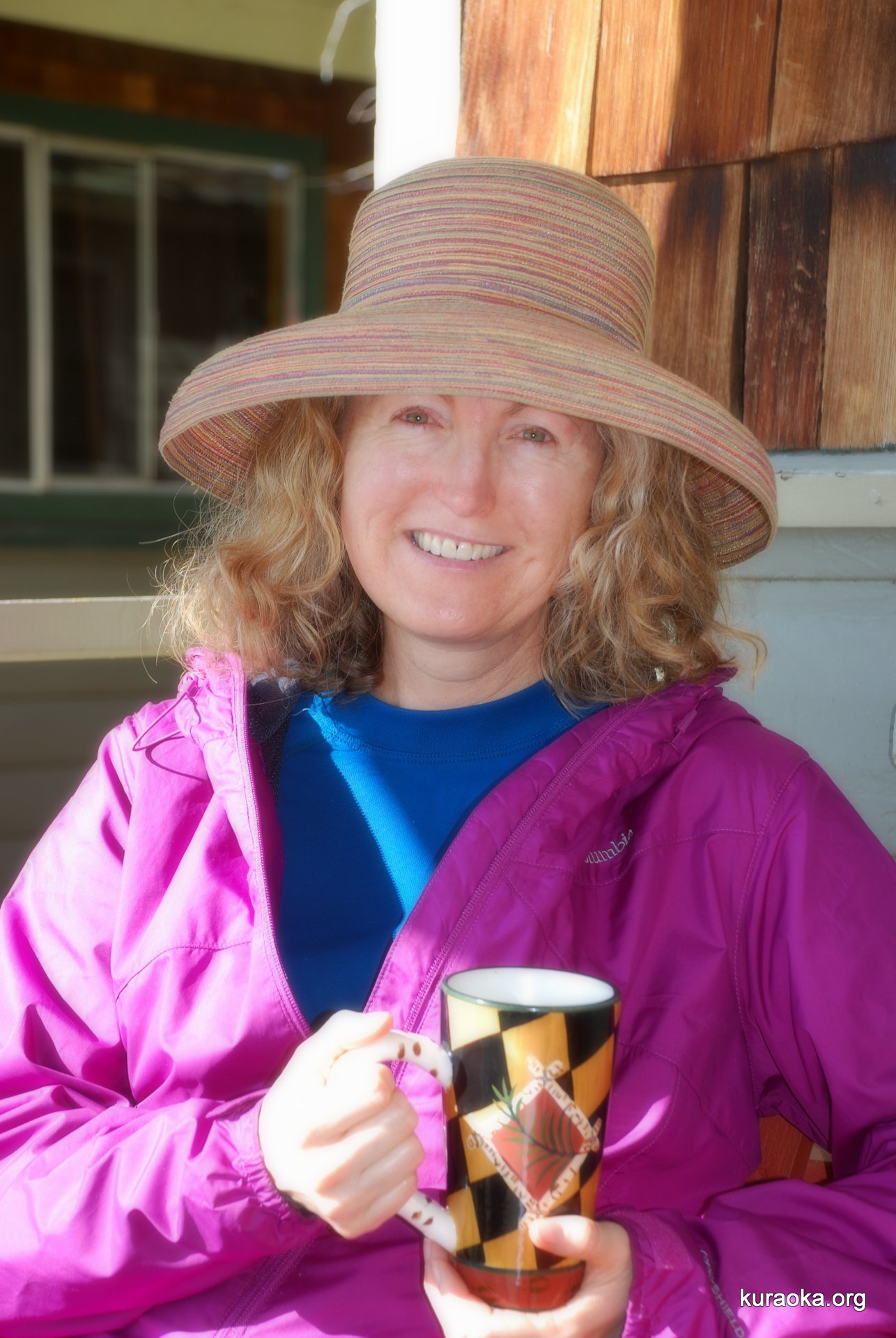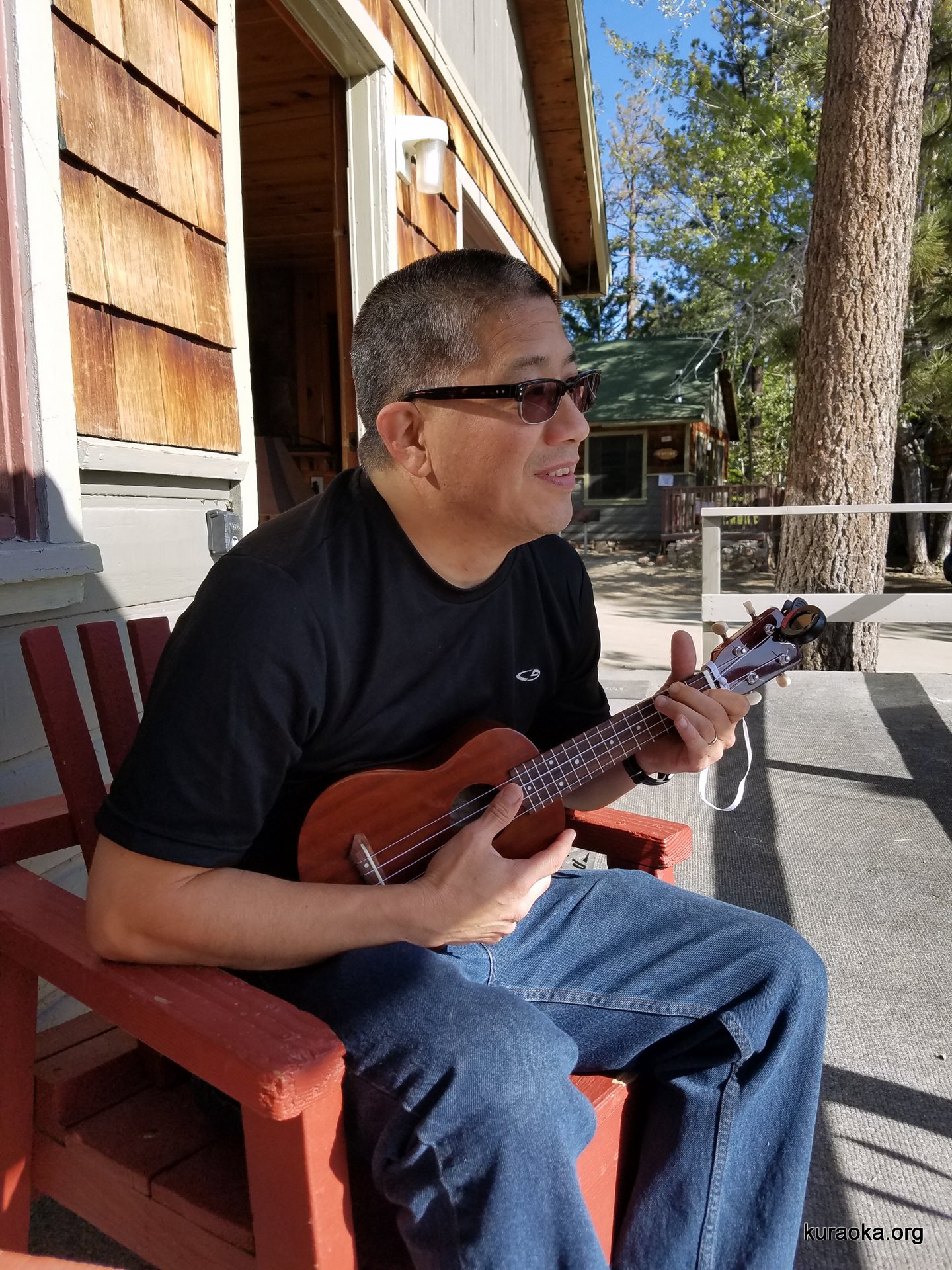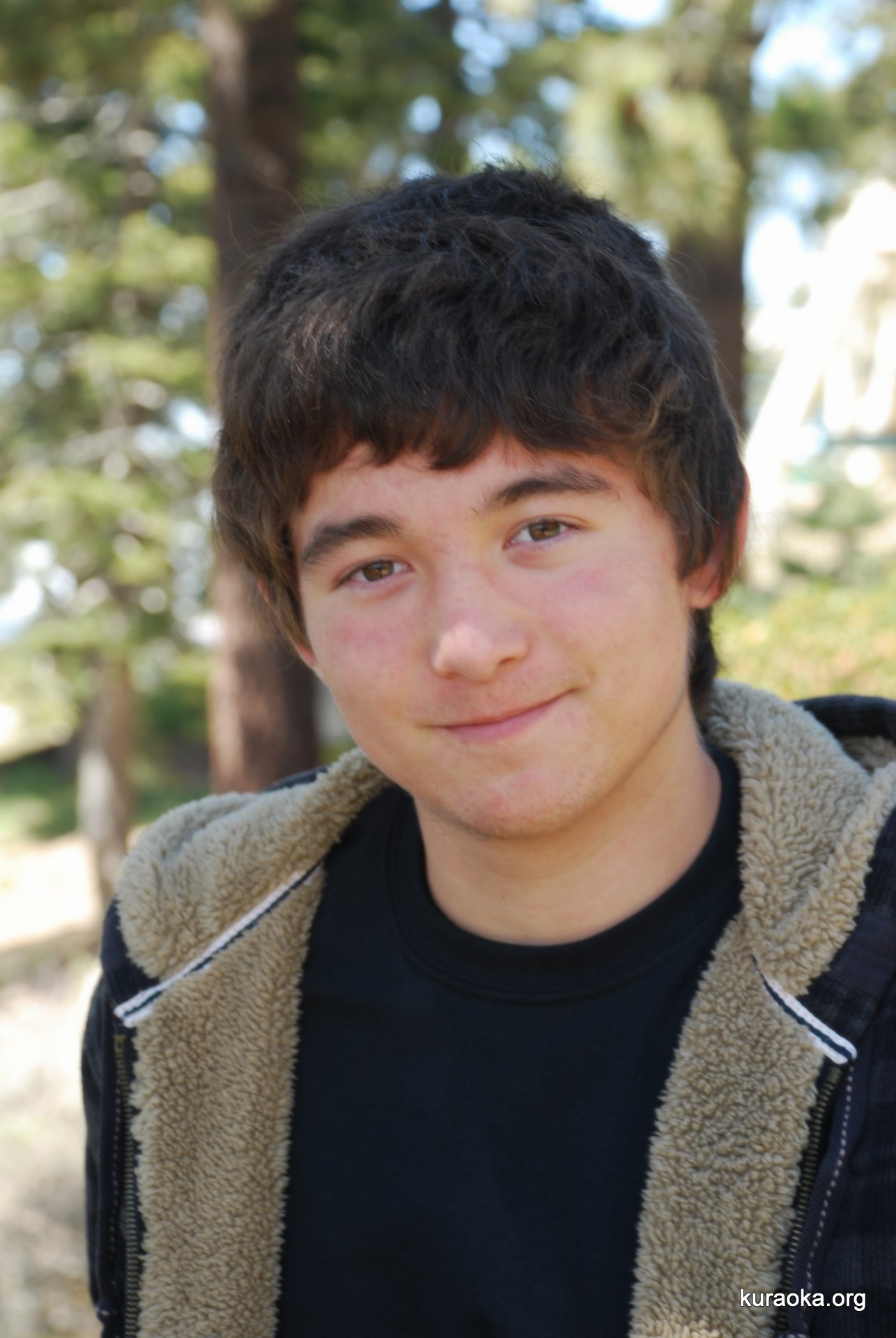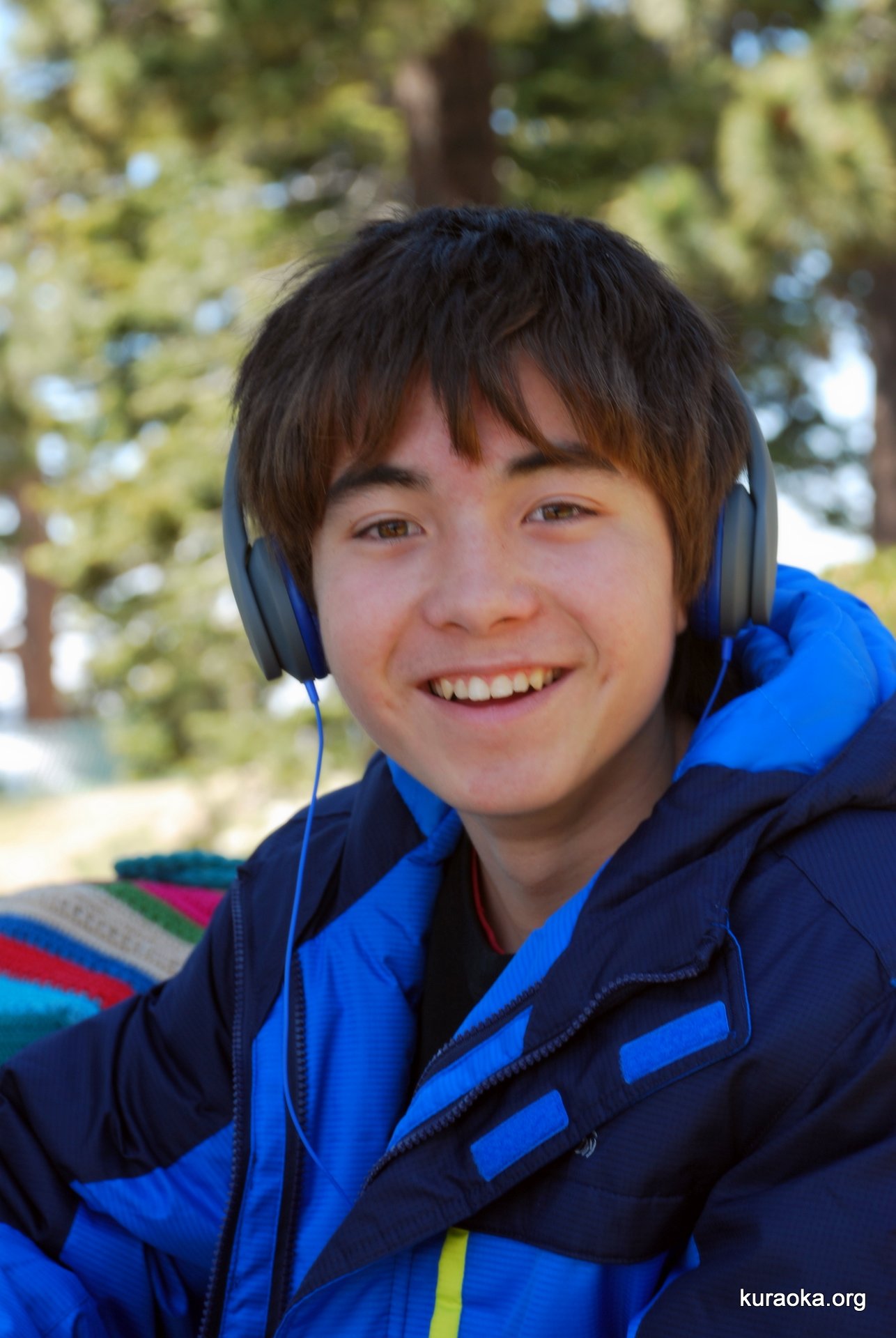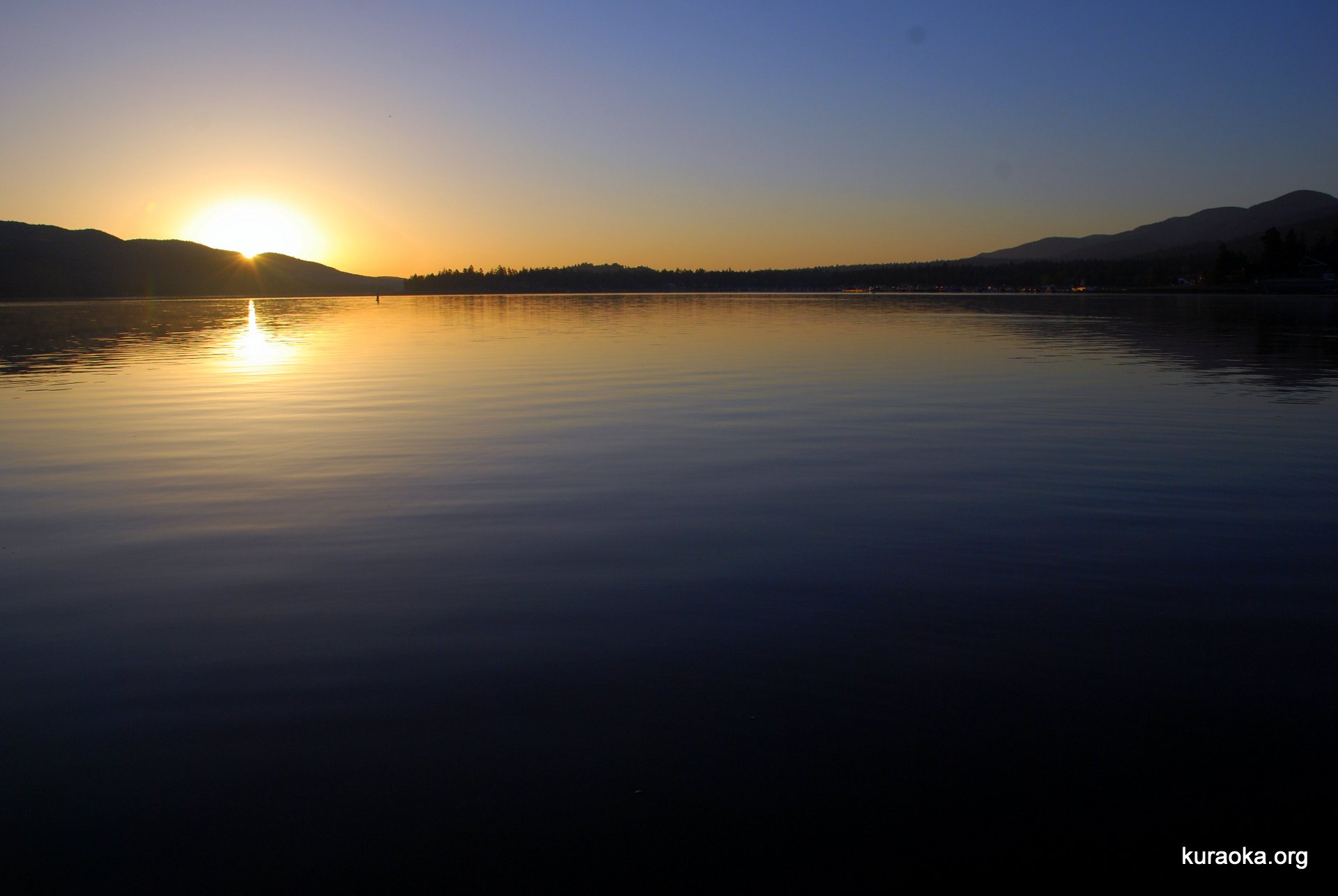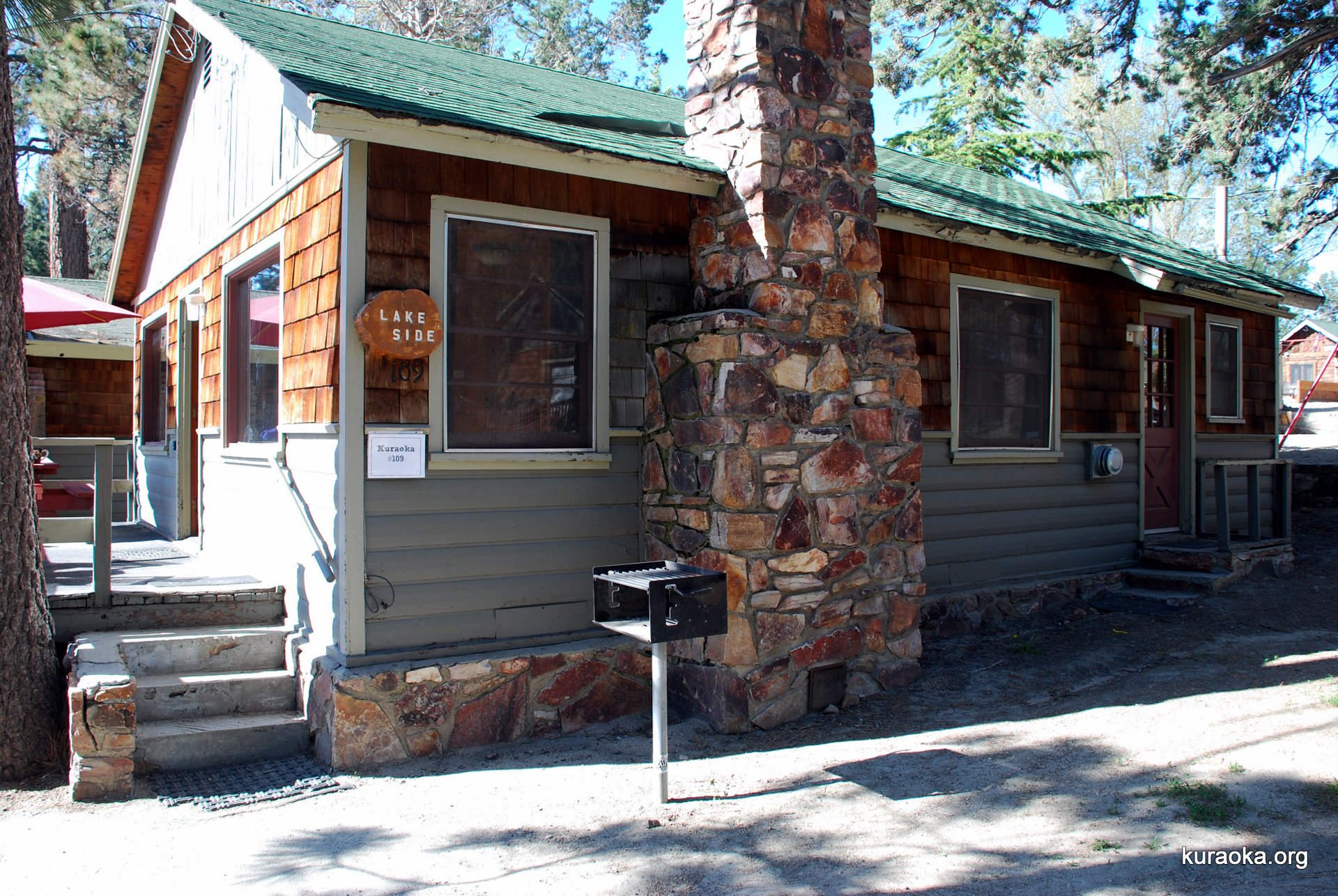 05-26-16: A new-to-us Nikon D40x. John is relieved and excited to be back in the world of SLR photography! He bought this lightly used Nikon D40x with an AF-S Nikkor 18-135 3.5-5.6G IF-ED zoom lens, a spare battery, charger, manuals, cables, and bag off Craigslist.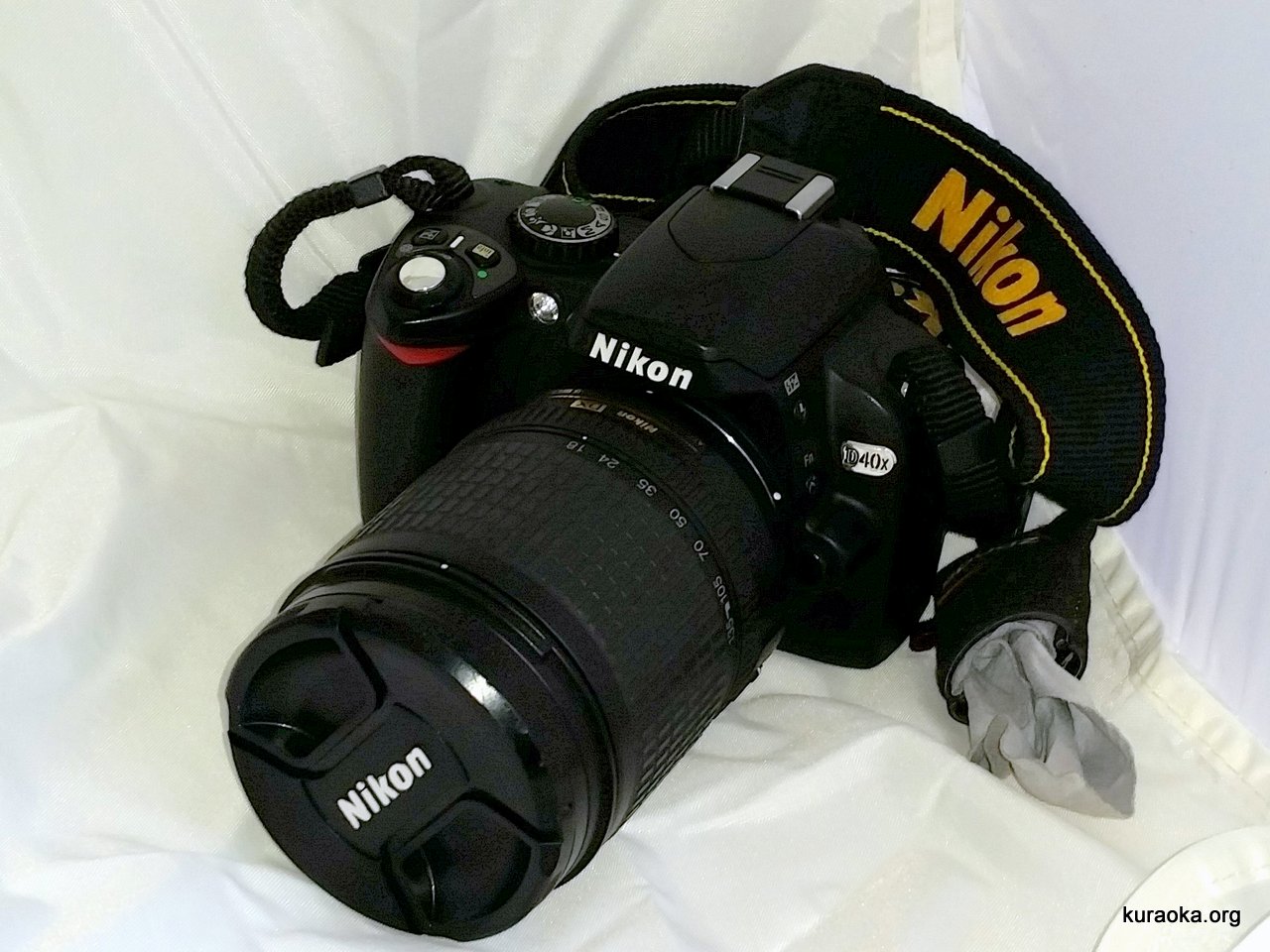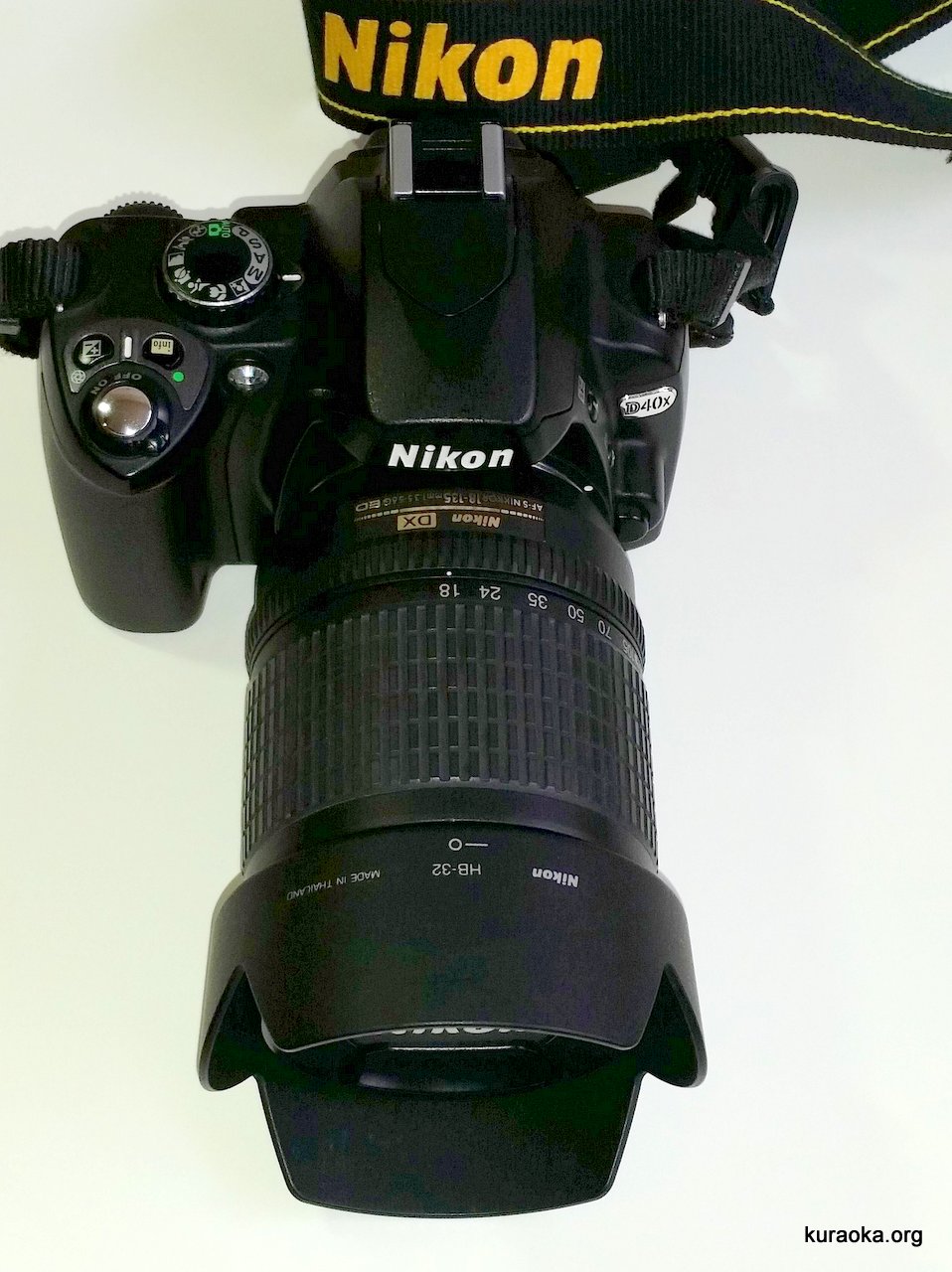 05-22-16: A Katsu Cafe celebration. Roy earned his sixth degree in judo, so we went out to Katsu Cafe to celebrate. Yum!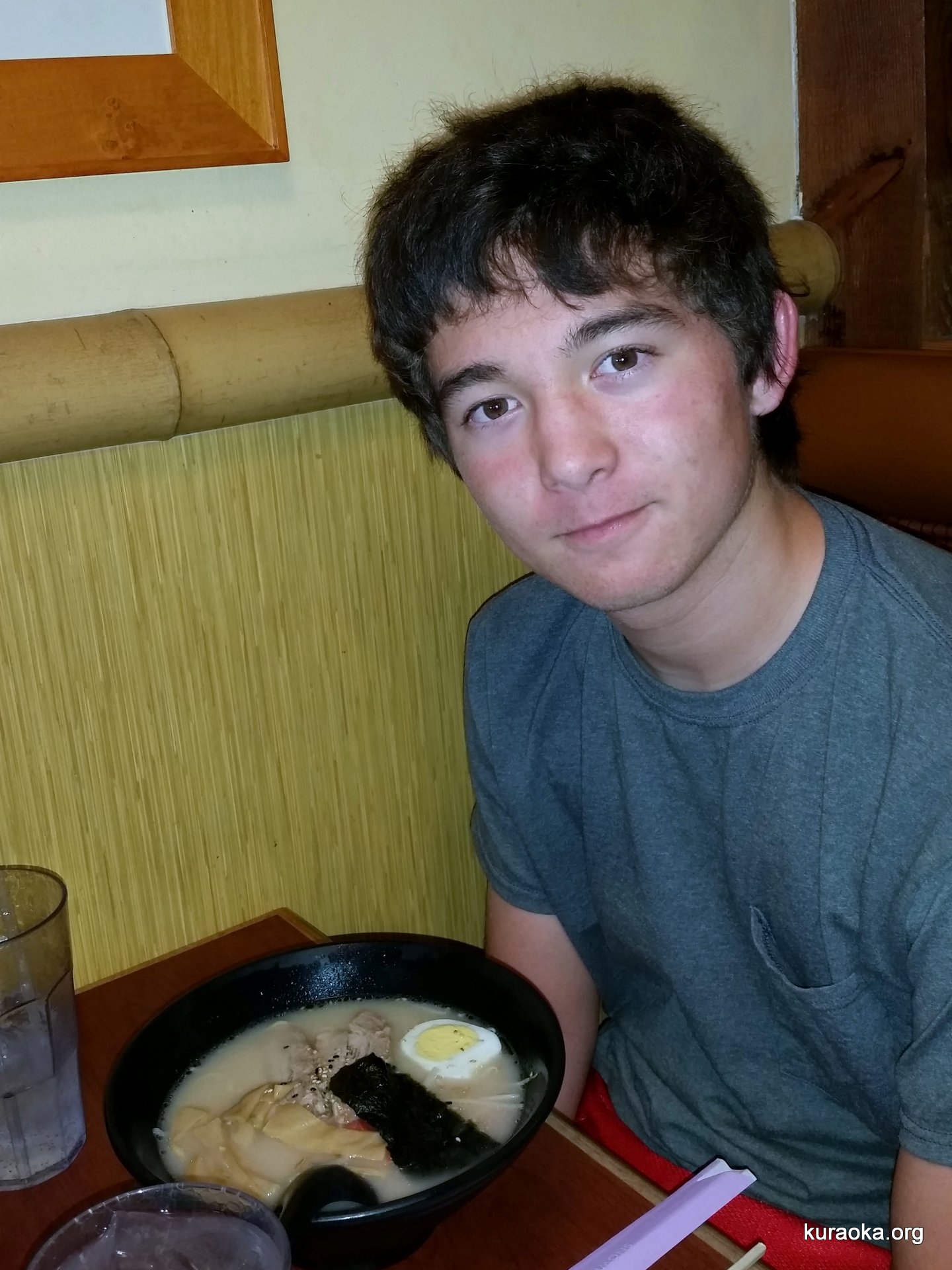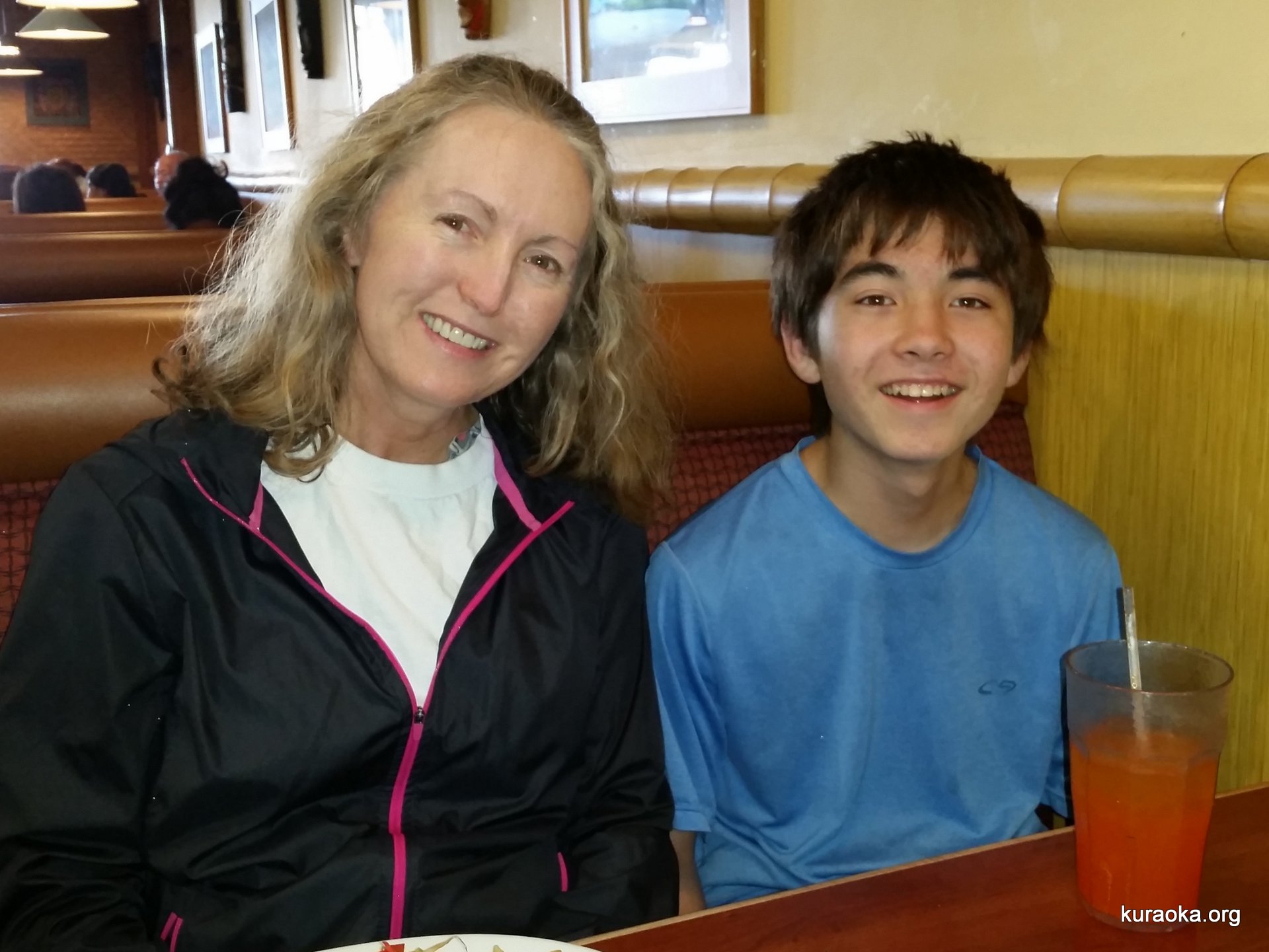 05-18-16: Sneaky Tiki birthday cake. John went to a Sneaky Tiki meetup, and it was Stray Cat Pat's birthday! The ukulele is vanilla with lemon cream, and the tiki is chocolate with chocolate cream. John won a copy of Ukulele magazine as a raffle prize!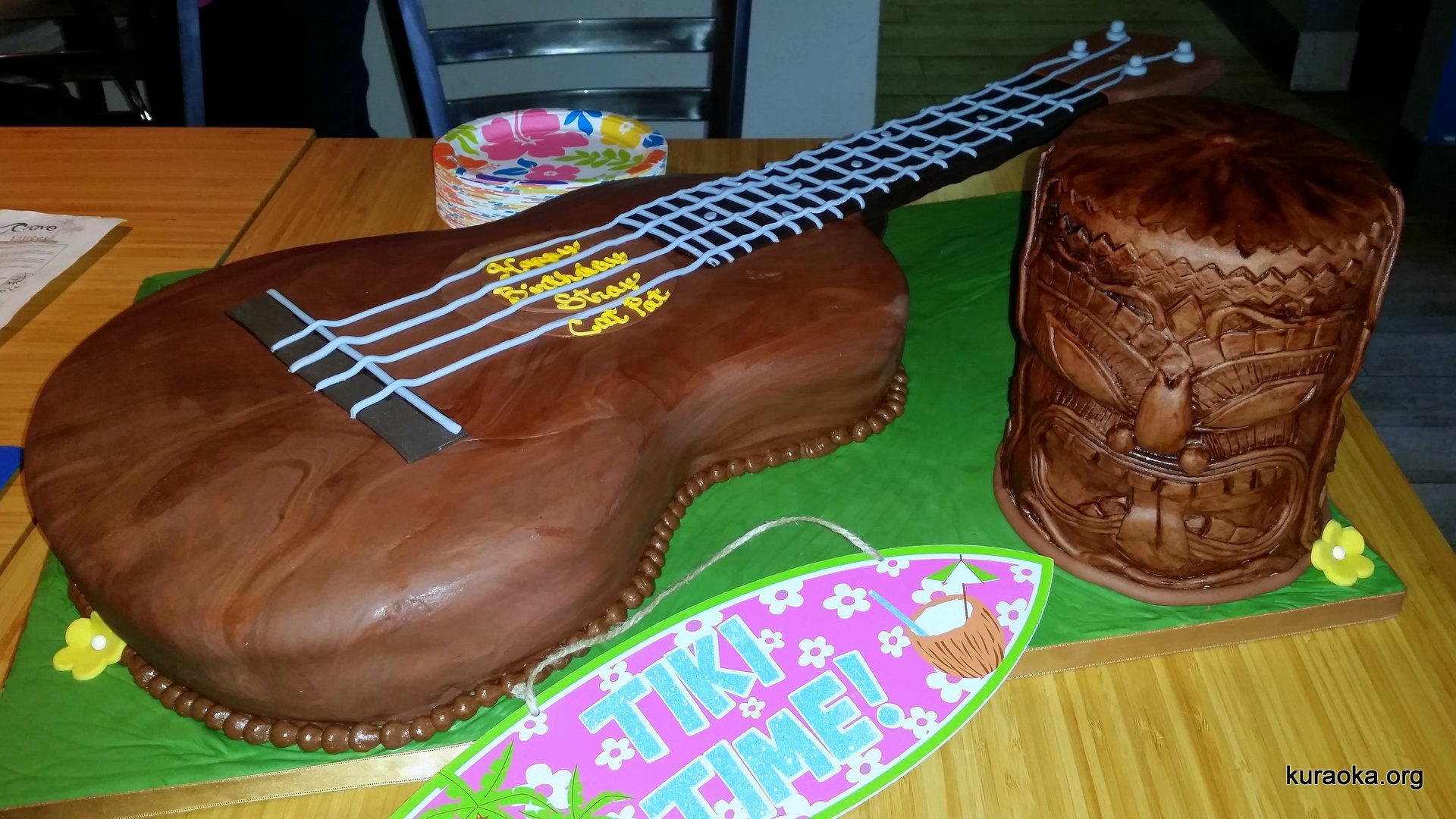 05-10-16: A tiny praying mantis. John was gathering dried leaves for the compost bin when he spied this teensy praying mantis clinging to a bit of leaf litter.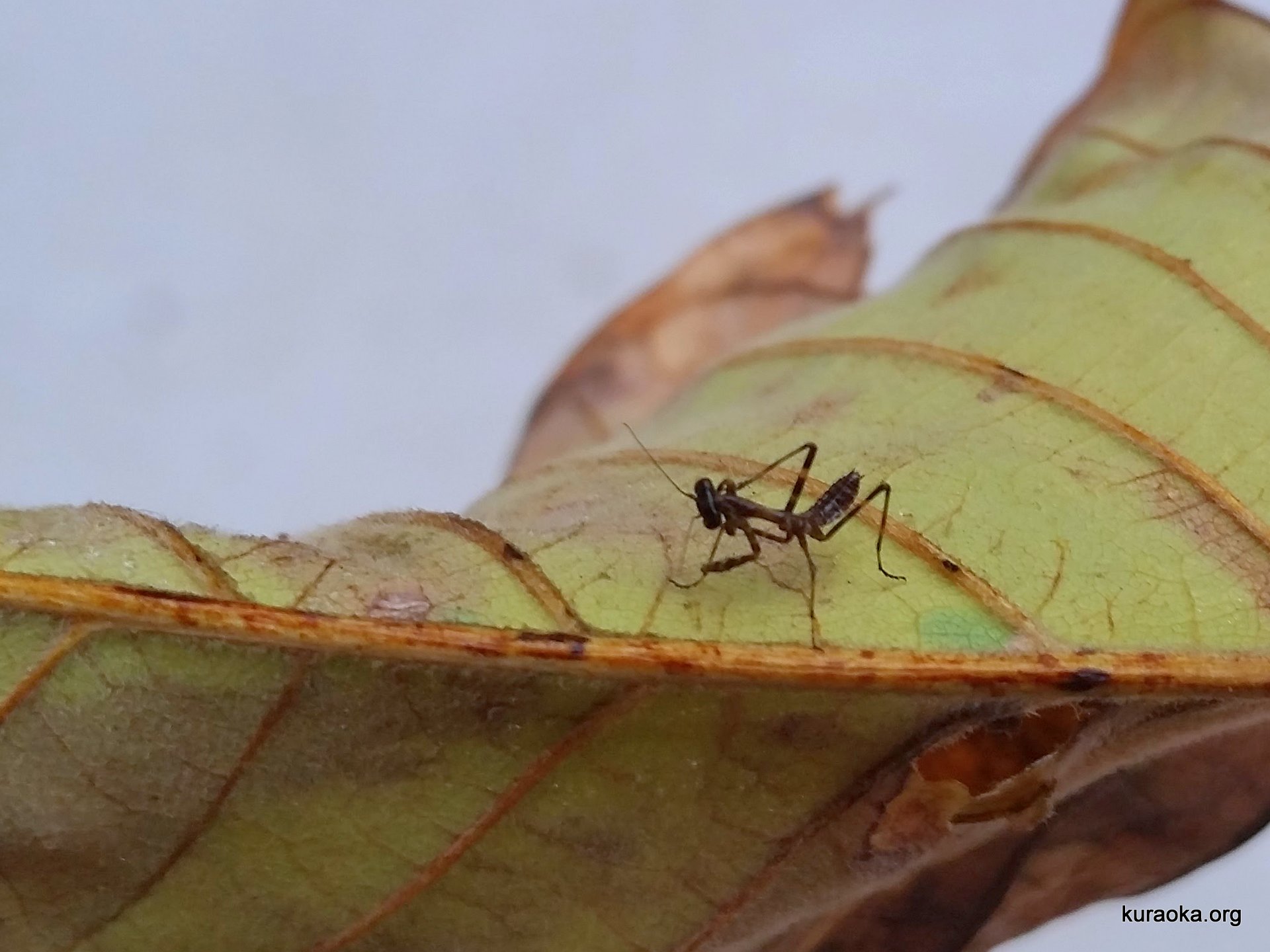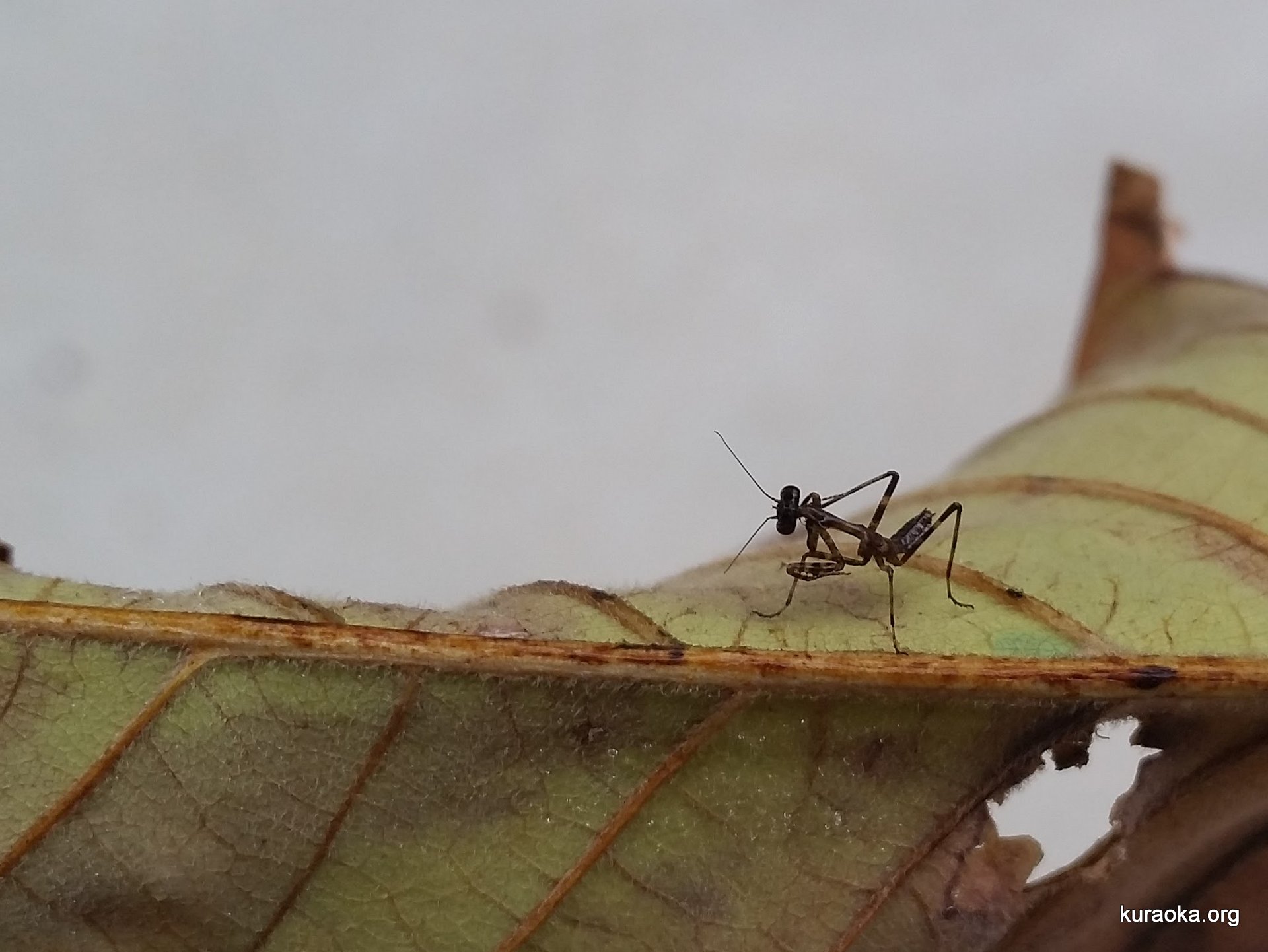 05-08-16: Mother's Day with Frances. We visited John's Mom. Here's a photo of Frances with her son and grandsons (even the furry one), and our new family portrait! Plus, one shot by Roy in selfie mode.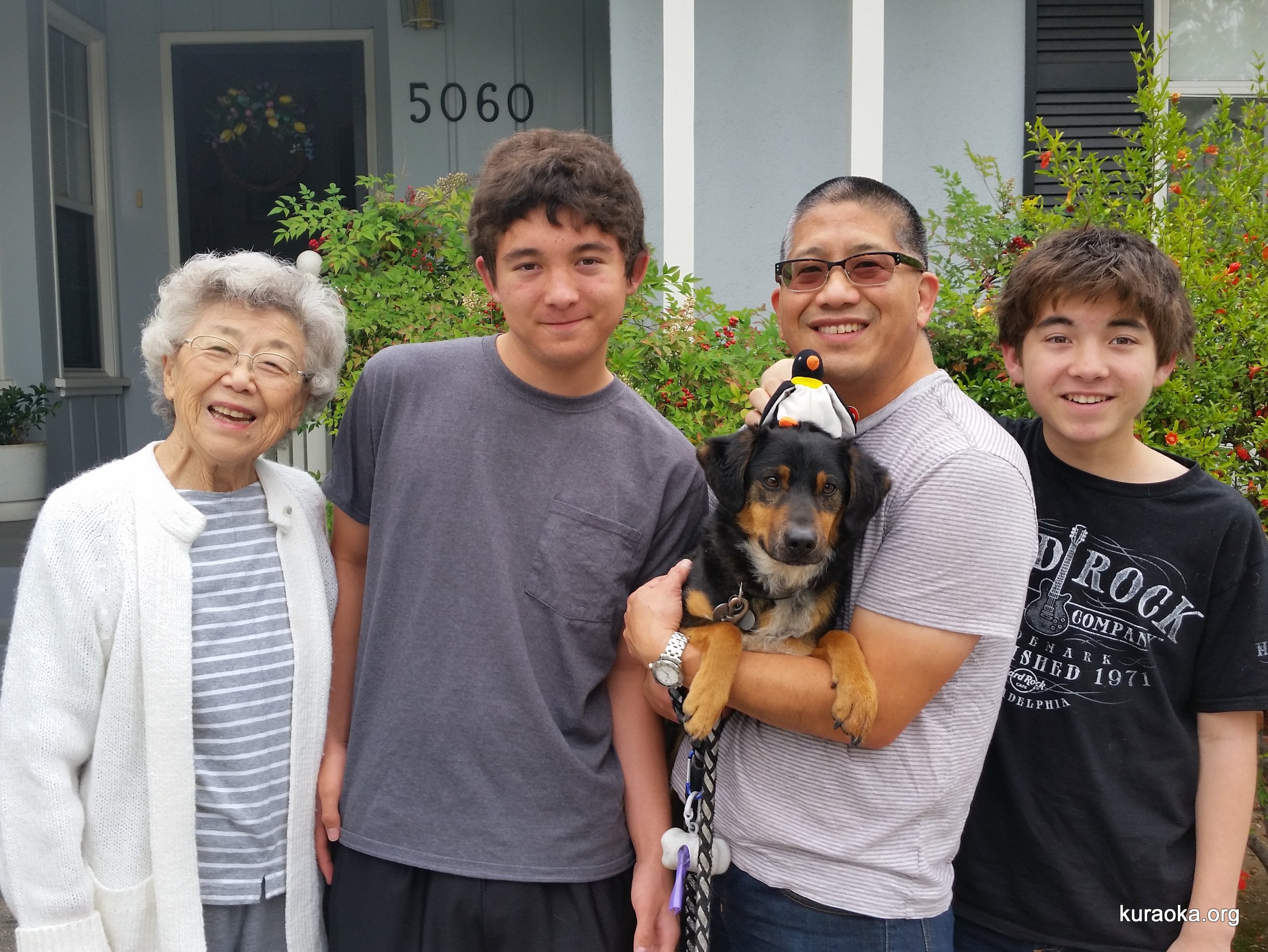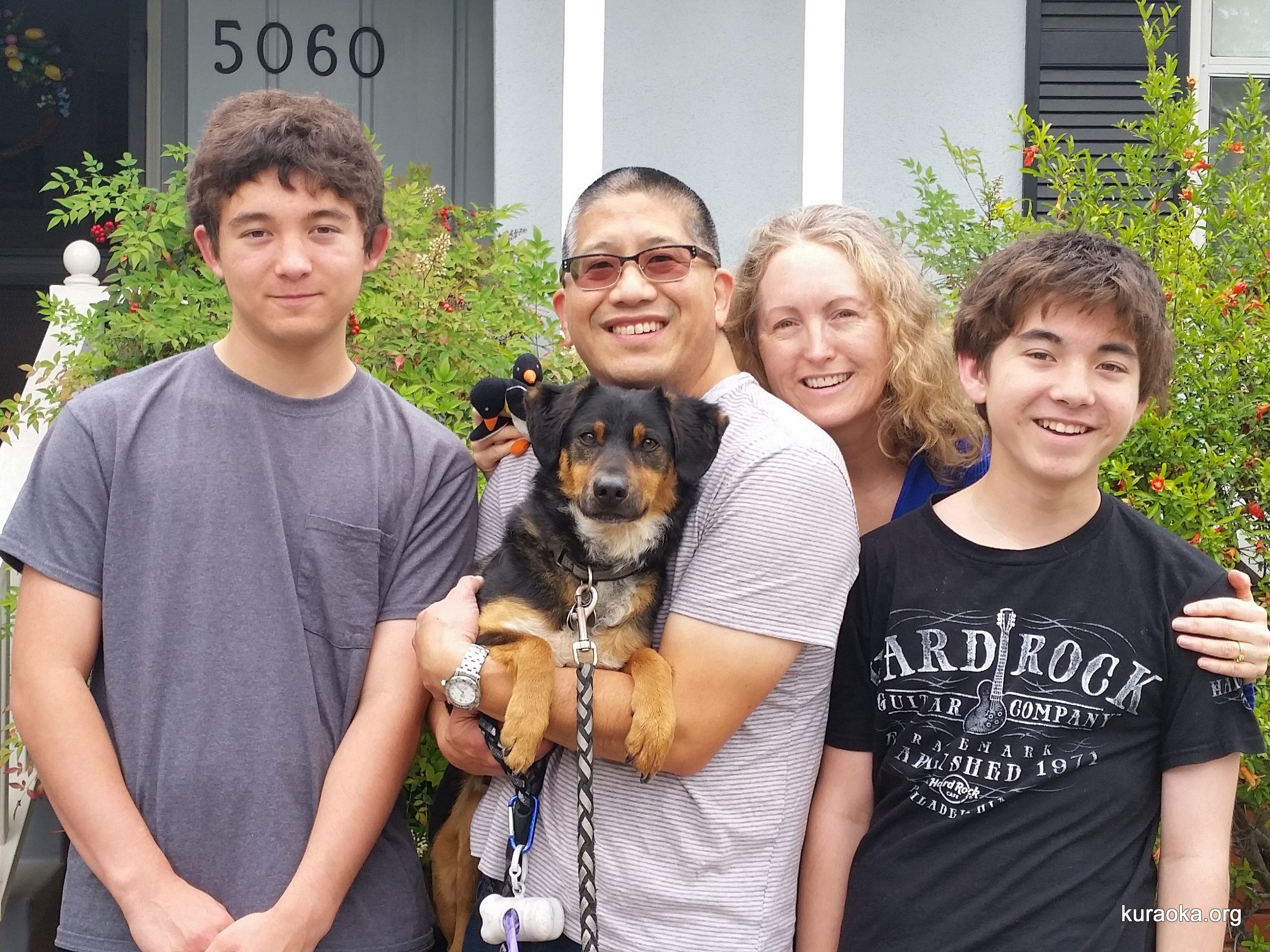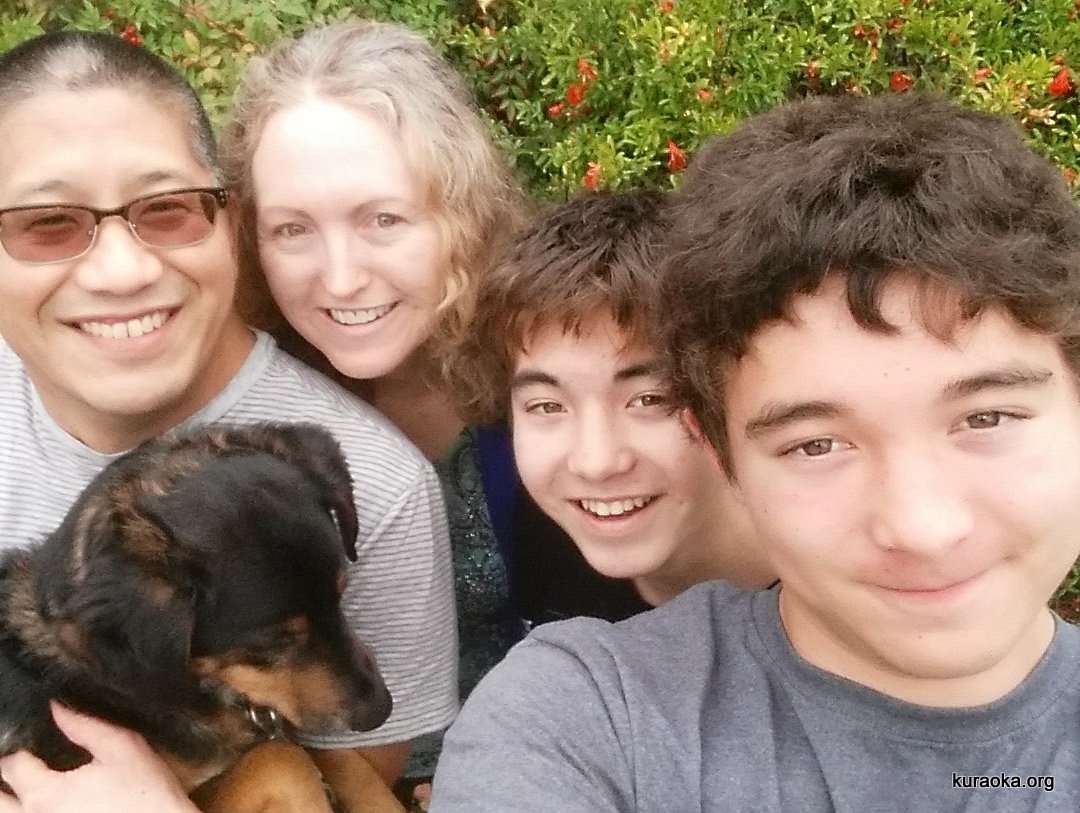 05-04-16: John joins the "Sneaky Tikis." Yes, he actually went and joined a ukulele meet-up at Coastal Crave in South Clairemont, where he joined about 25 others in an evening of playing ukulele. This is his meal, an excellent burger and superb fries.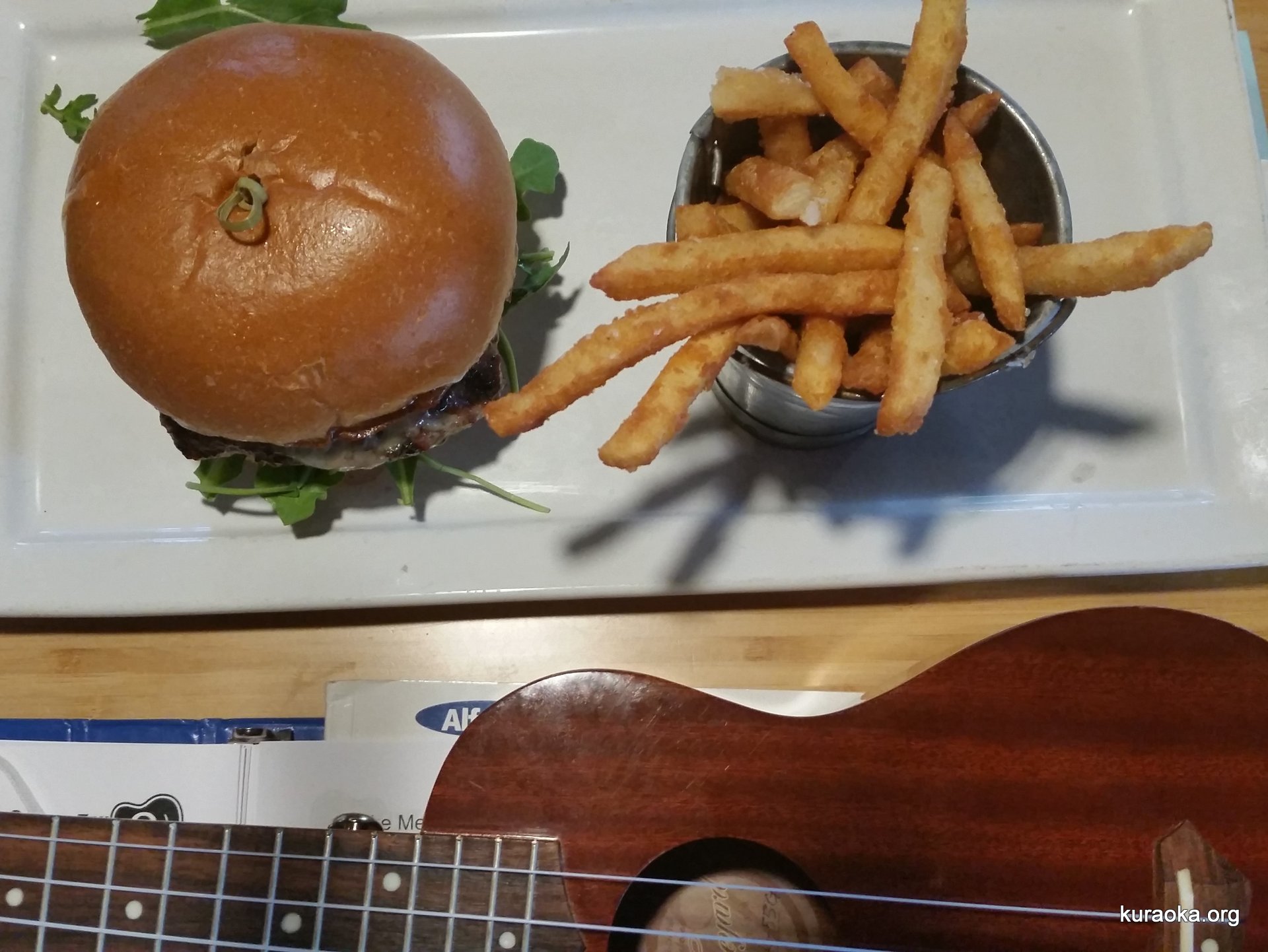 04-23-16: Shadow howls. Taken at South Clairemont Rec Center. Aroooo!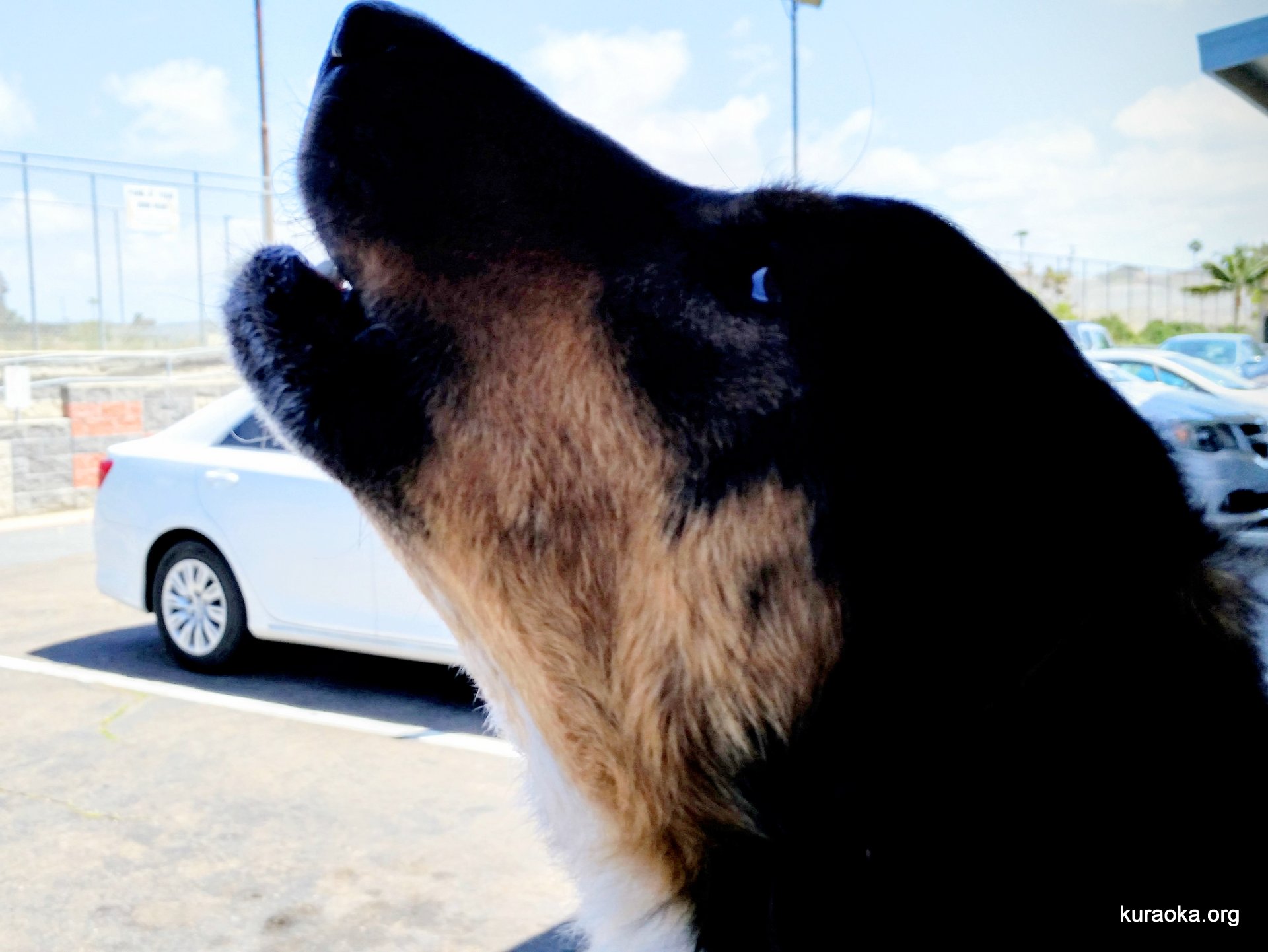 04-23-16: John's new (used) ukulele. After learning a bit of ukulele while his guitar was in the shop, John treated himself to a better ukulele off Craigslist. This is a Vineyard UK-55G soprano ukulele named "Mitzi" by its former owner, a much more advanced ukulele player named Tom. It's laminated construction, mostly mahogany with a solid rosewood bridge and fingerboard and a rosewood veneer over the headstock. John liked it because it's very different from the usual Kala and Lanikai starter ukes. It came with a sturdy foam case too. It shows a fair amount of wear, but still has lots of life in it. The ribbon over the headstock is what we use to hang it on the wall for easy access.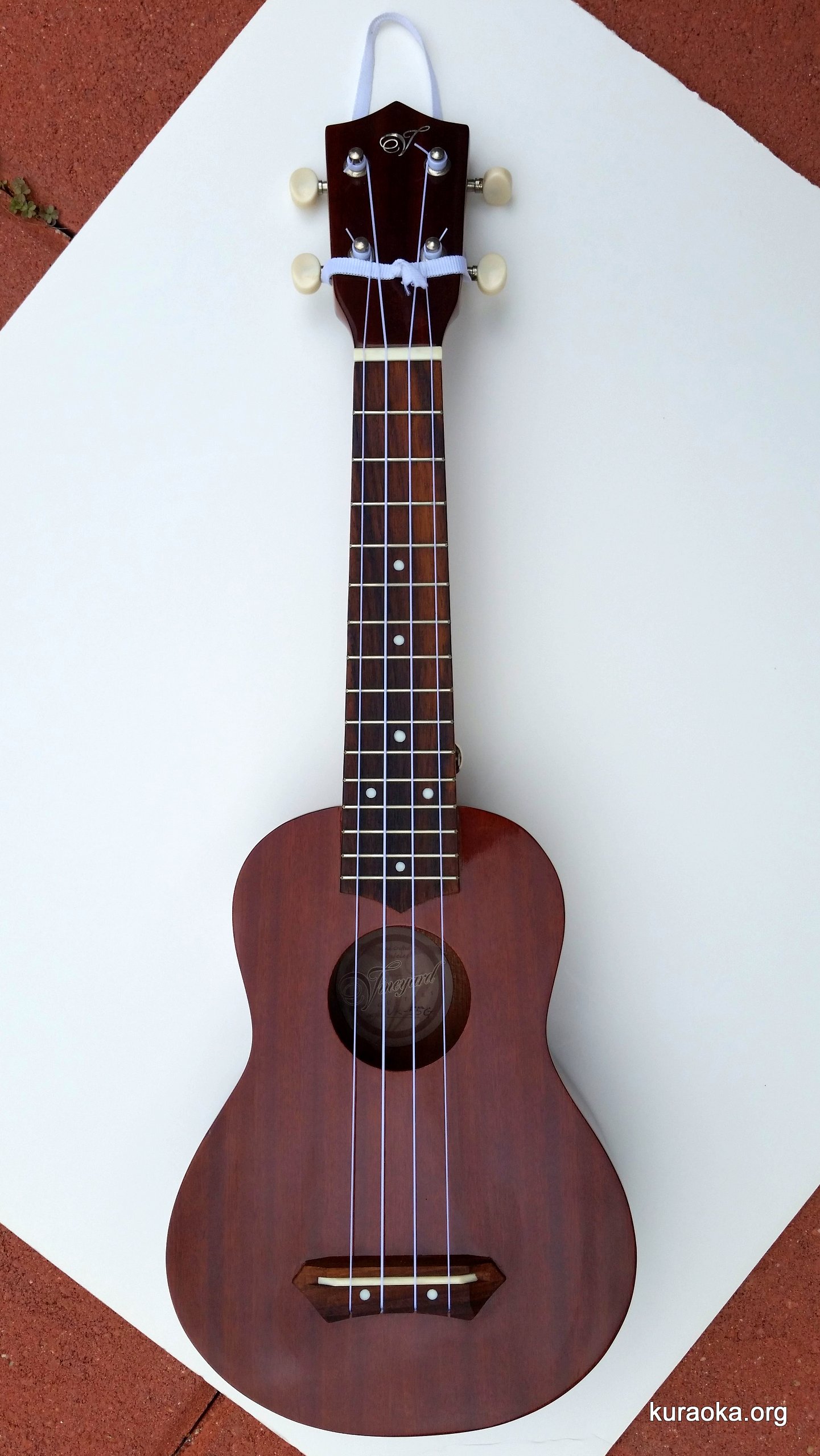 03-31-16: A braces-free smile! It's been seven long years, but here, at last, is Roy without braces!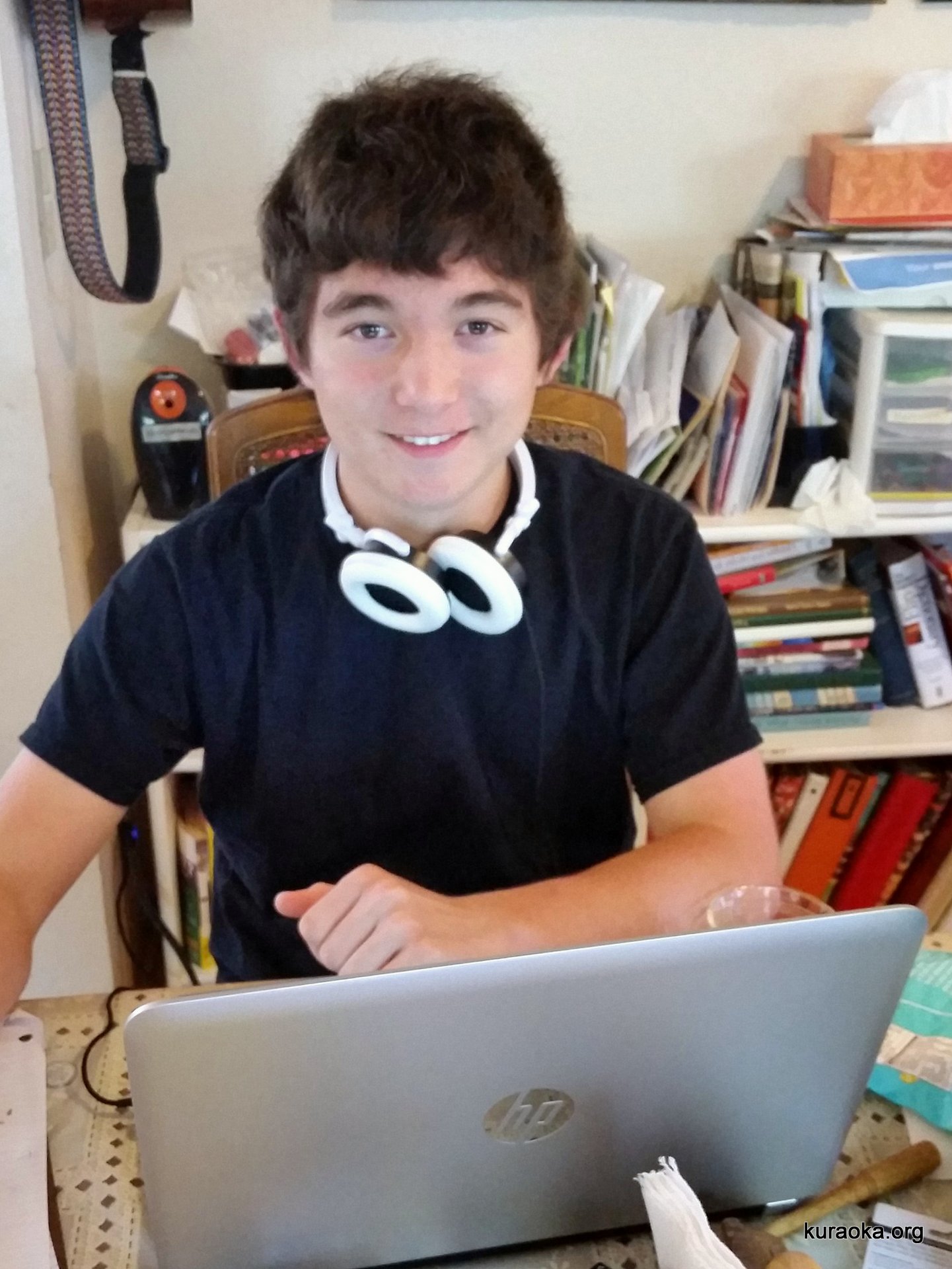 03-29-16: Barbara puts the boys to work! They're helping her dig out unwanted weeds and rose bushes.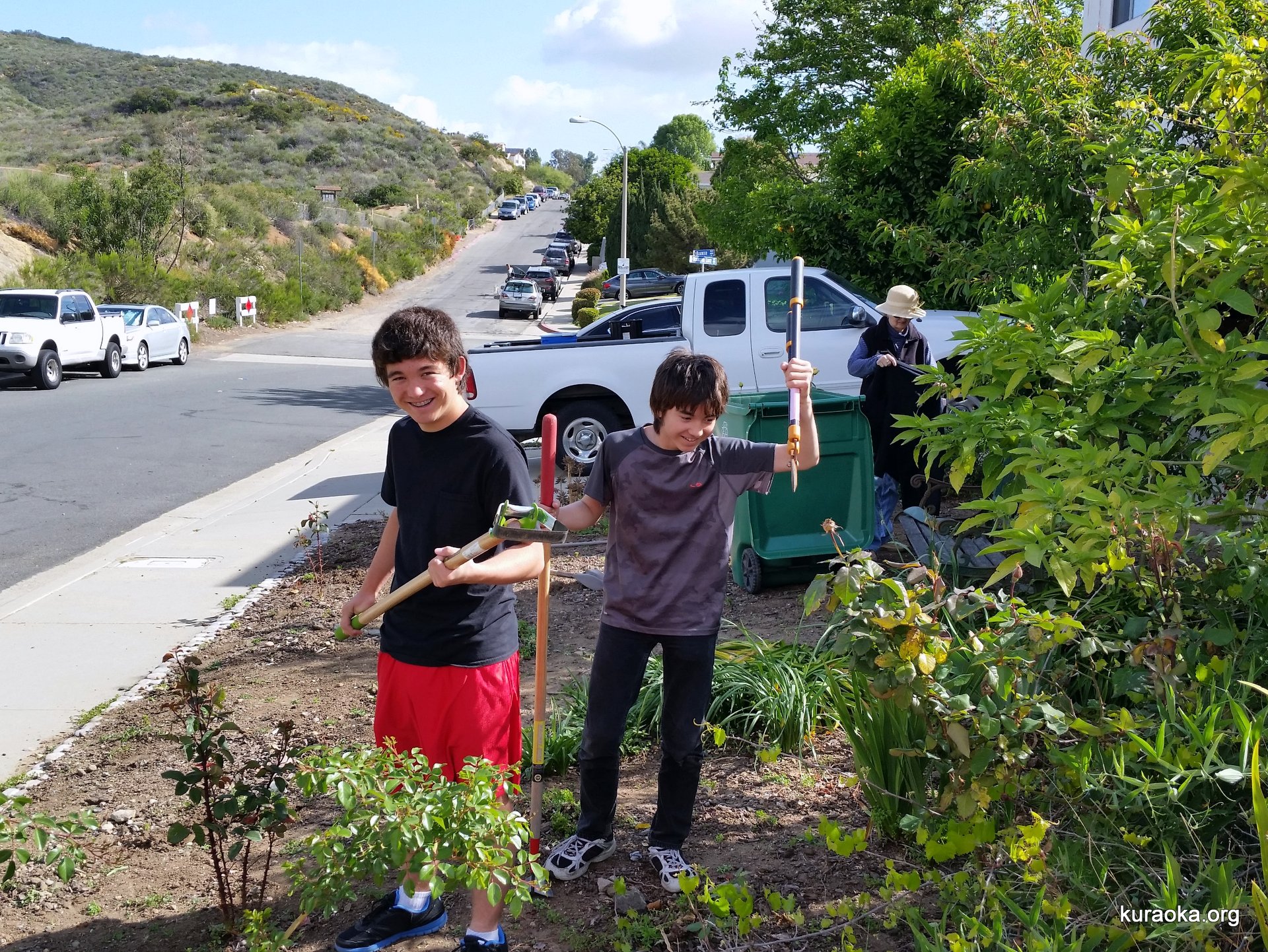 03-28-16: Farewell to Takumi! Takumi left via bus early Monday morning, the start of Spring Break for Roy and Leo. And, our wedding anniversary! So here is one final photo of Roy and Takumi waiting for the bus, then a shot of our lovely wedding rose bush, a gift from Art and Judy Fink, in full bloom to celebrate the occasion.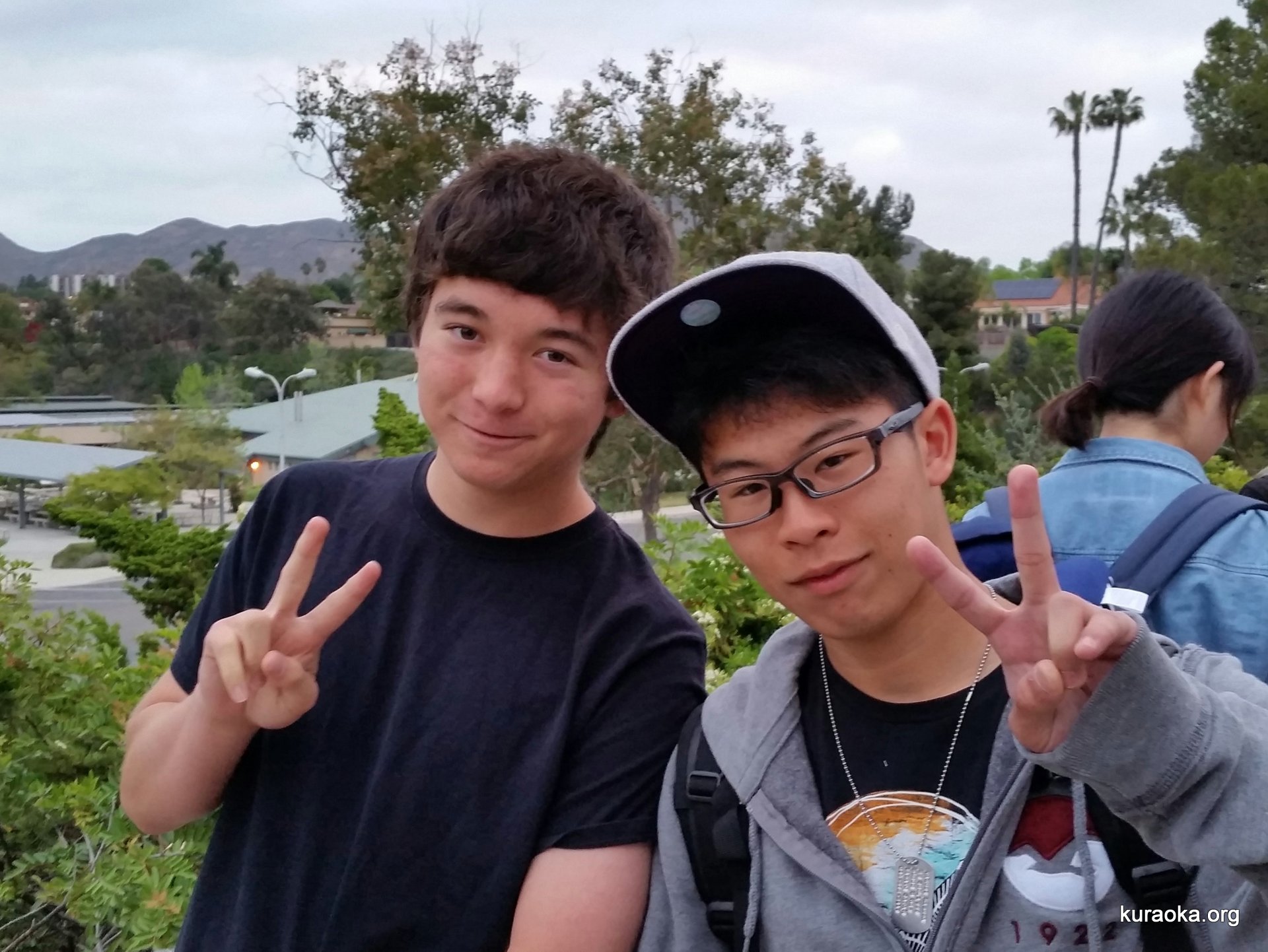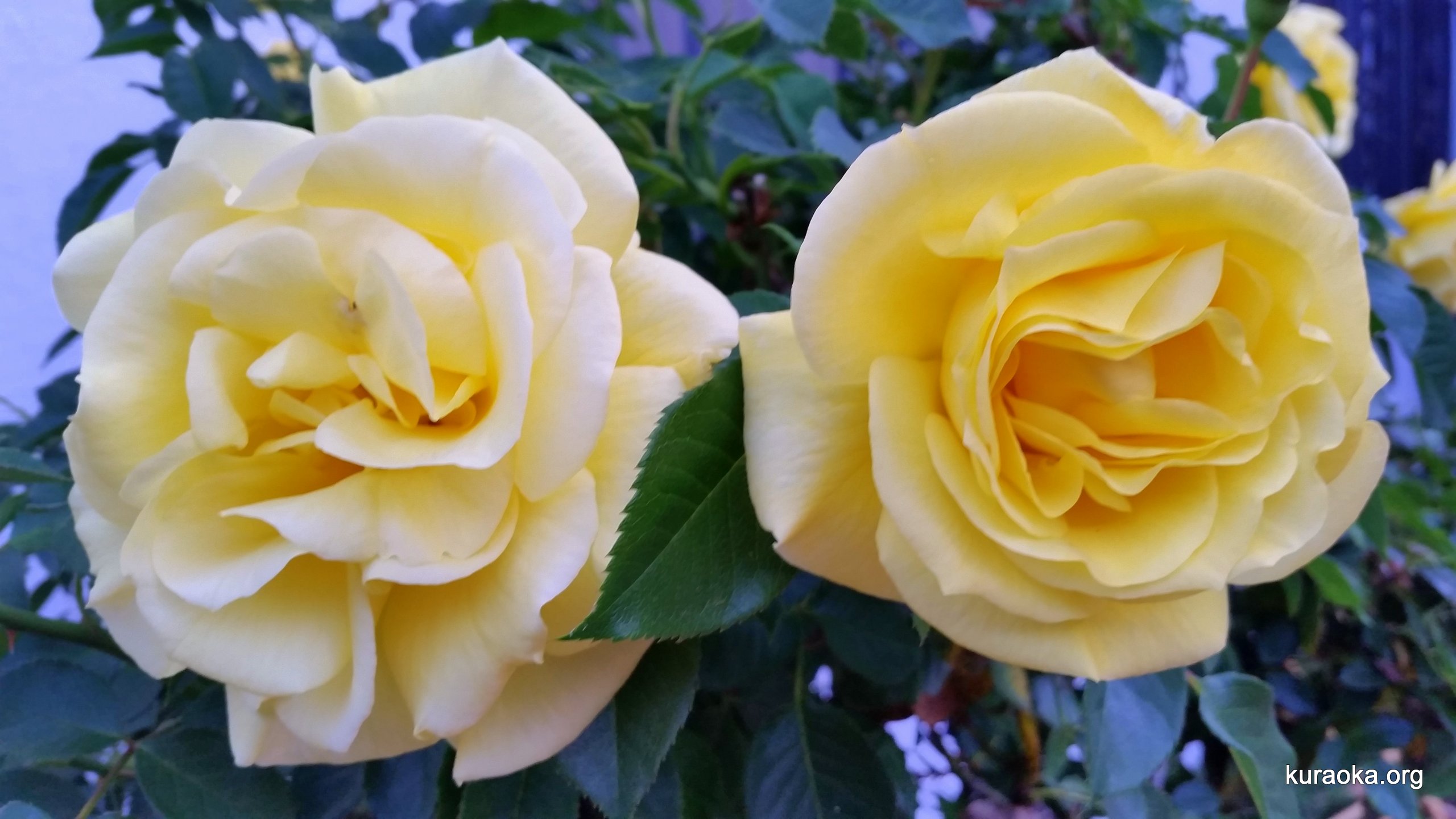 03-27-16: Easter Sunday. Takumi joined us at John's family's big clan Easter get-together at his Mom's. On the way home, we stopped for burgers at The Habit, our new favorite fast food chain. Seated are Takumi, Roy, Ondine, and Leo.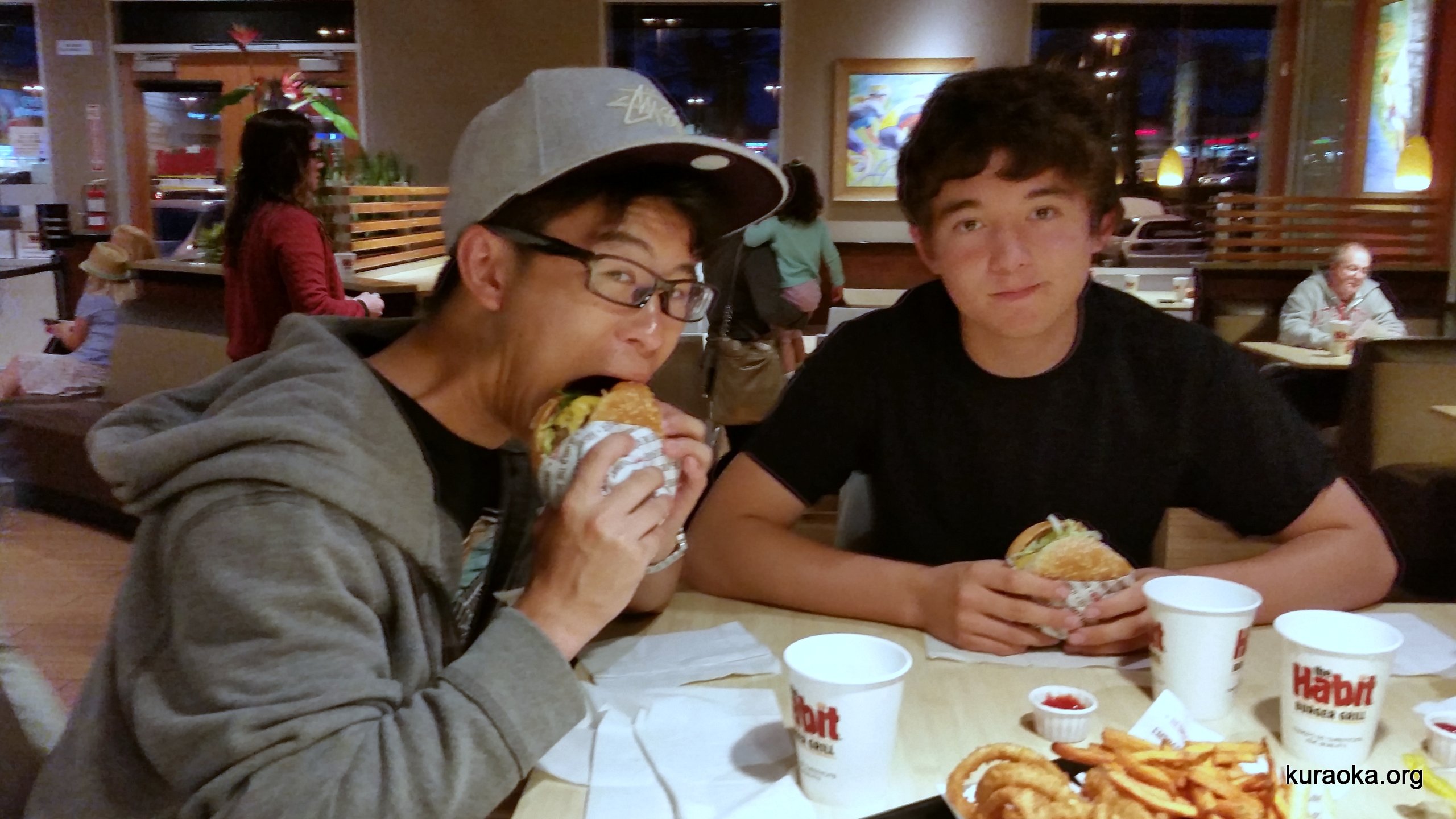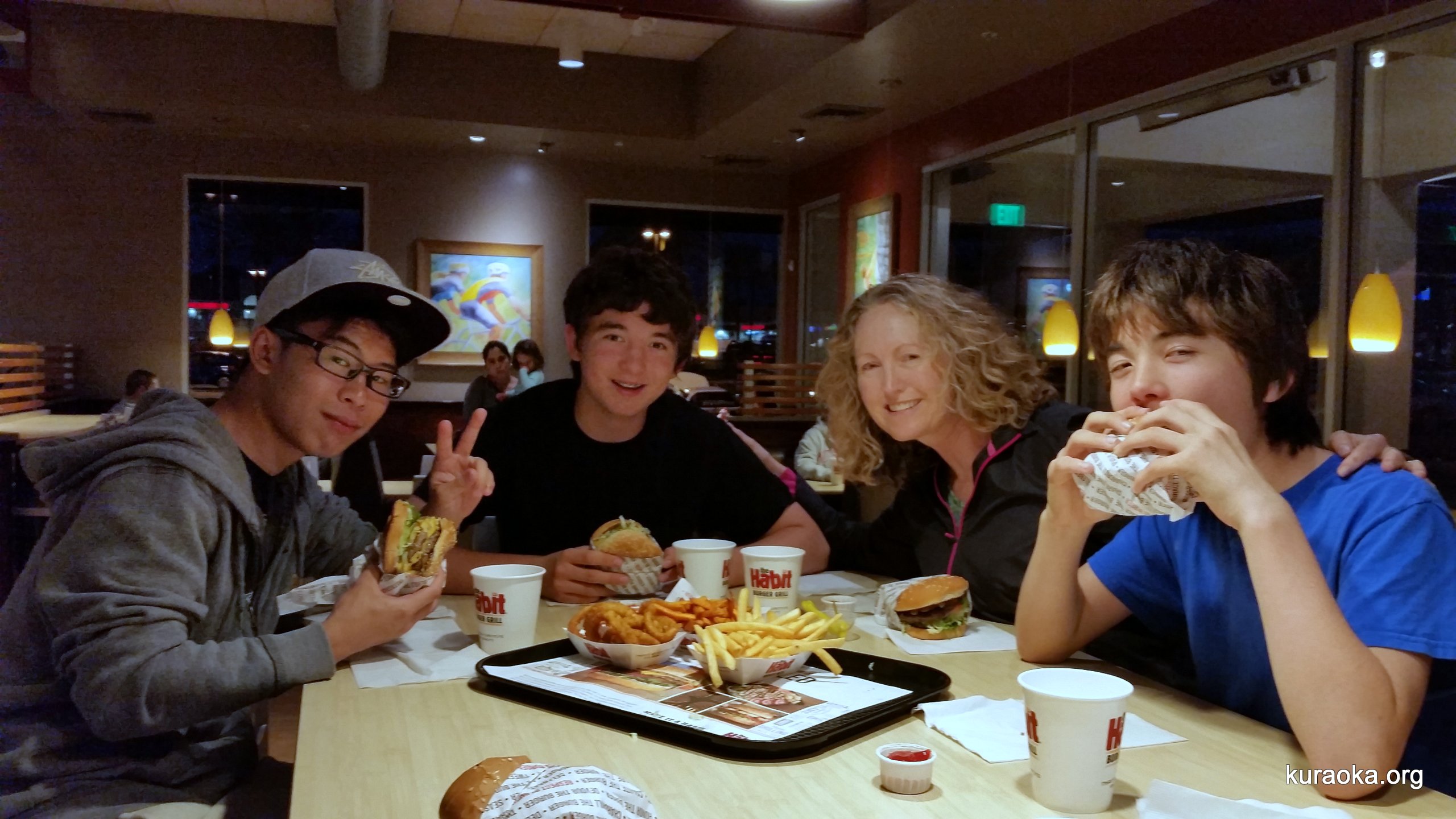 03-26-16: At-Home Easter with Takumi. Here's Takumi on Saturday with his Easter backet of treats. And the dog, who has a definite sweet tooth. In the afternoon, there was a farewell potluck in which the students entertained. And Takumi got a t-shirt, which we all helped decorate.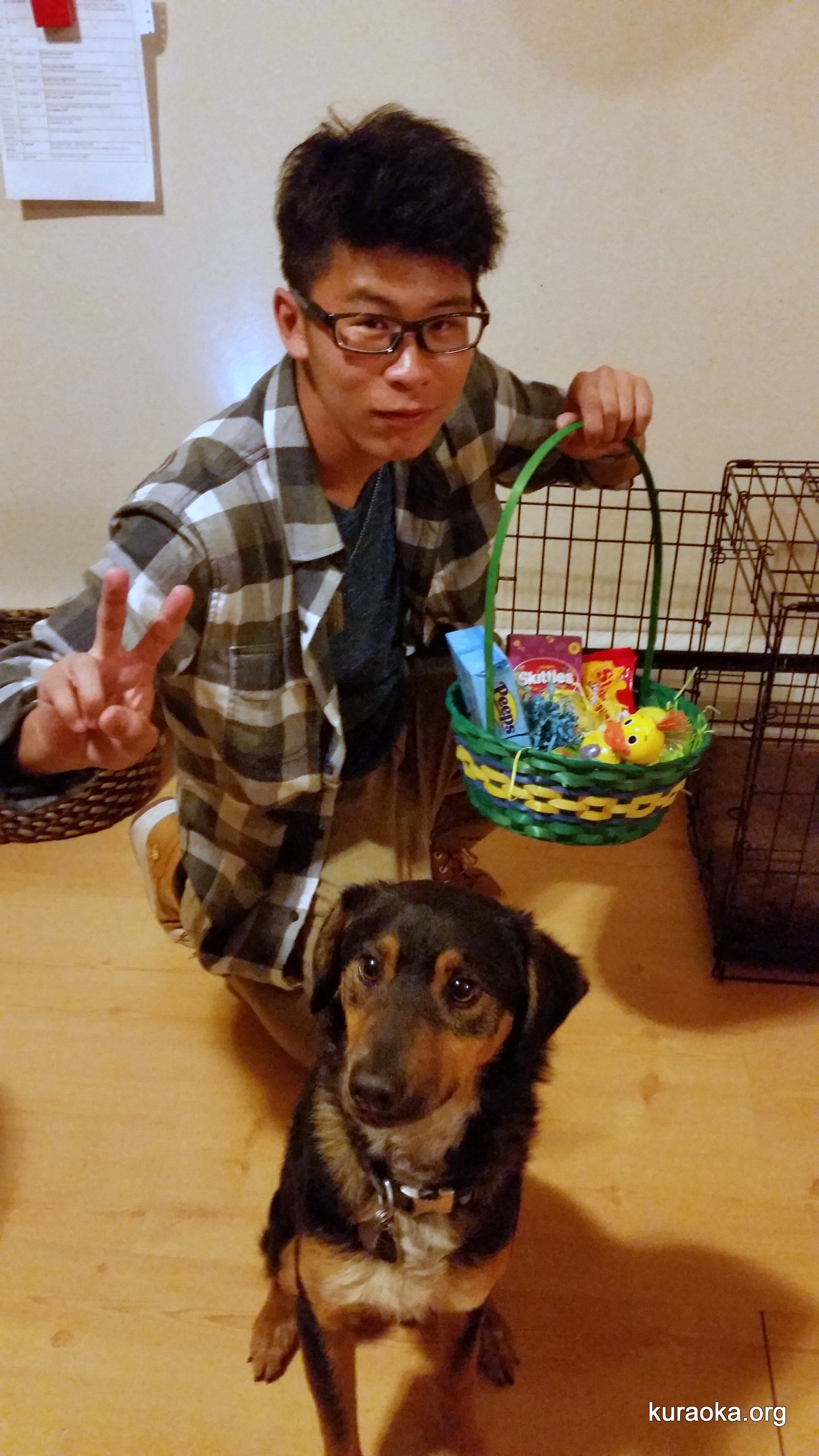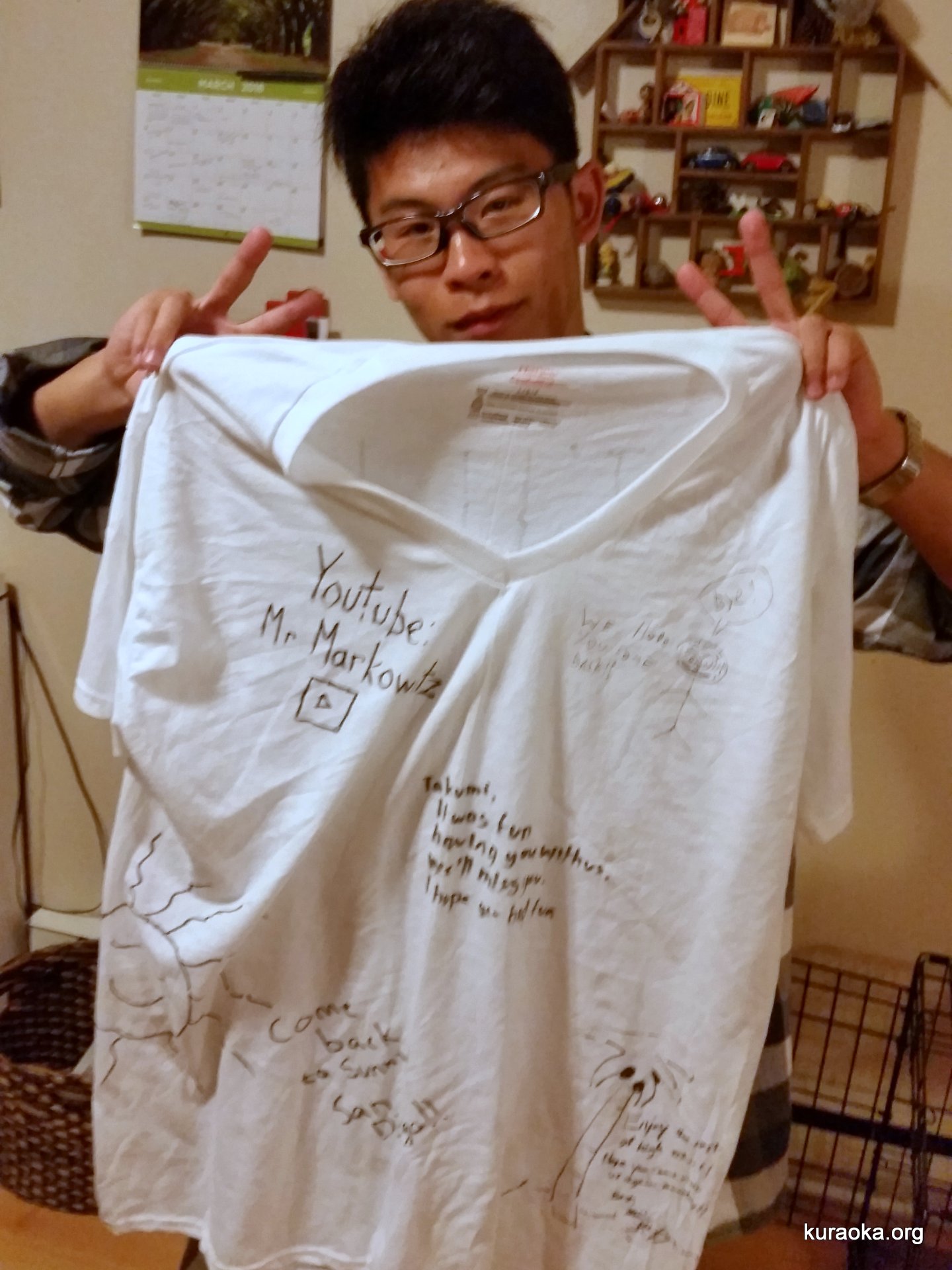 03-20-16: Coronado Island with Takumi. Sunday we took Takumi to Coronado Island, to the dog beach, and shopped our way down the main drag to the Hotel Del Coronado, where the boys enjoyed a treat from MooTime Creamery!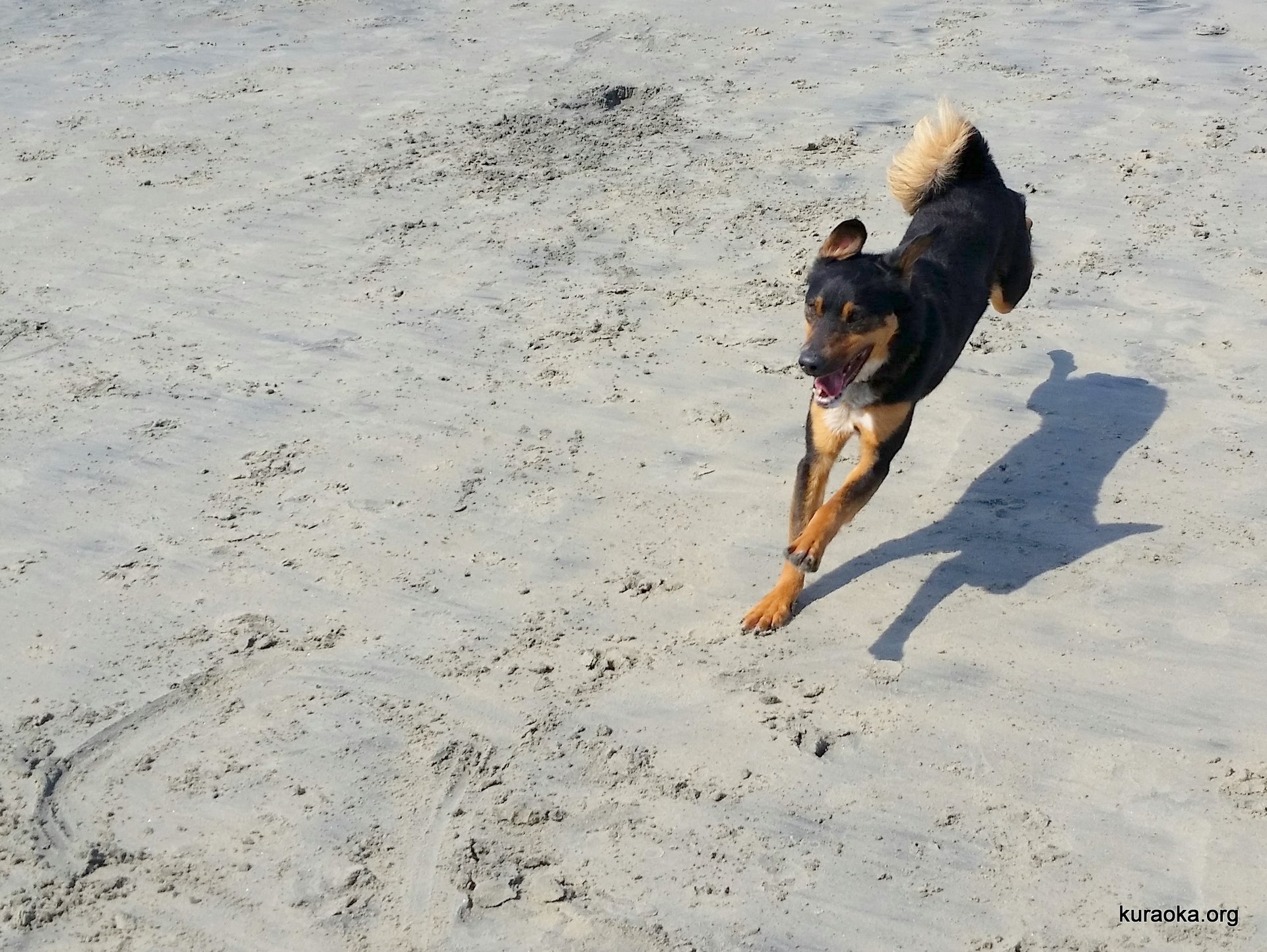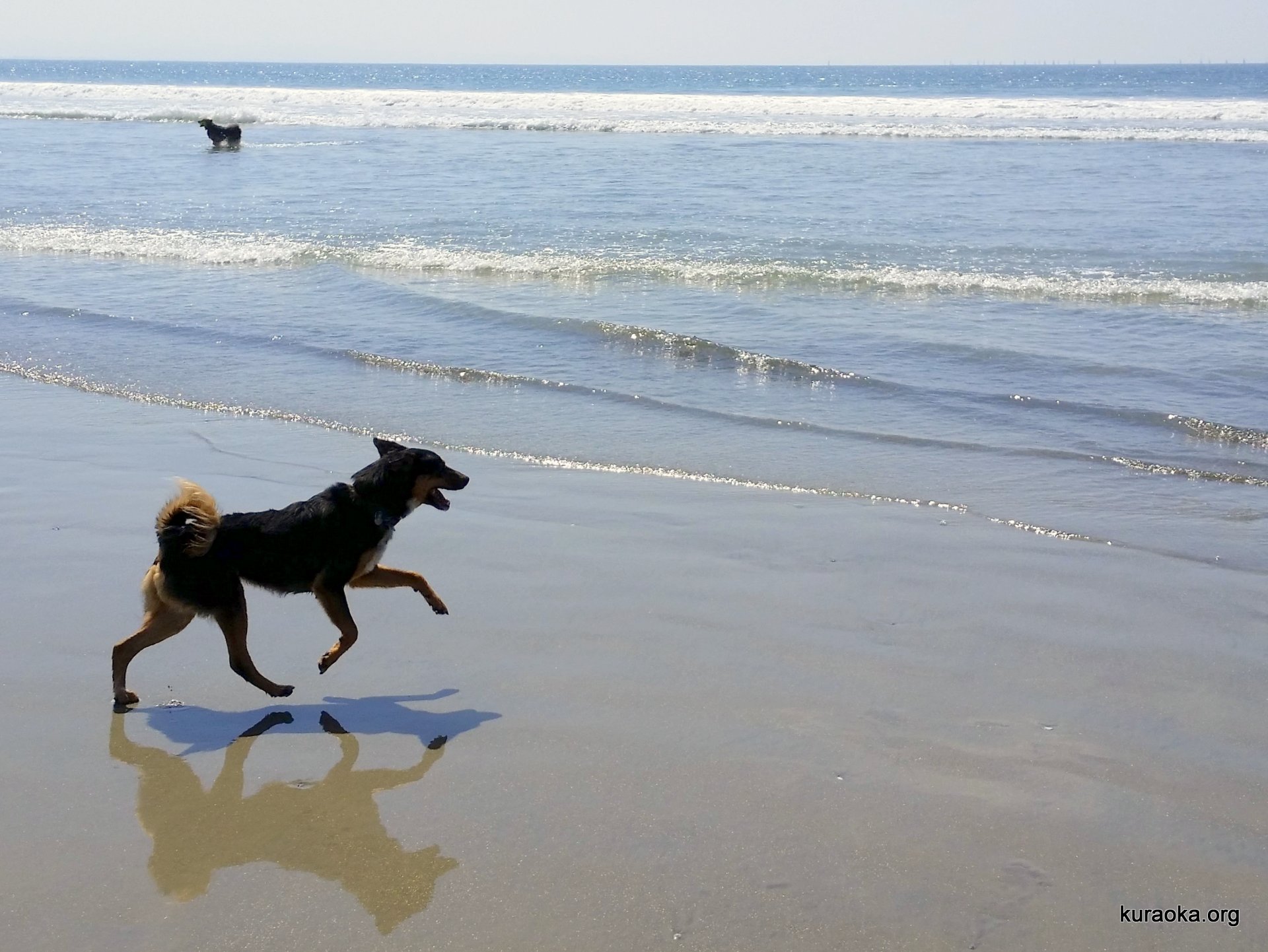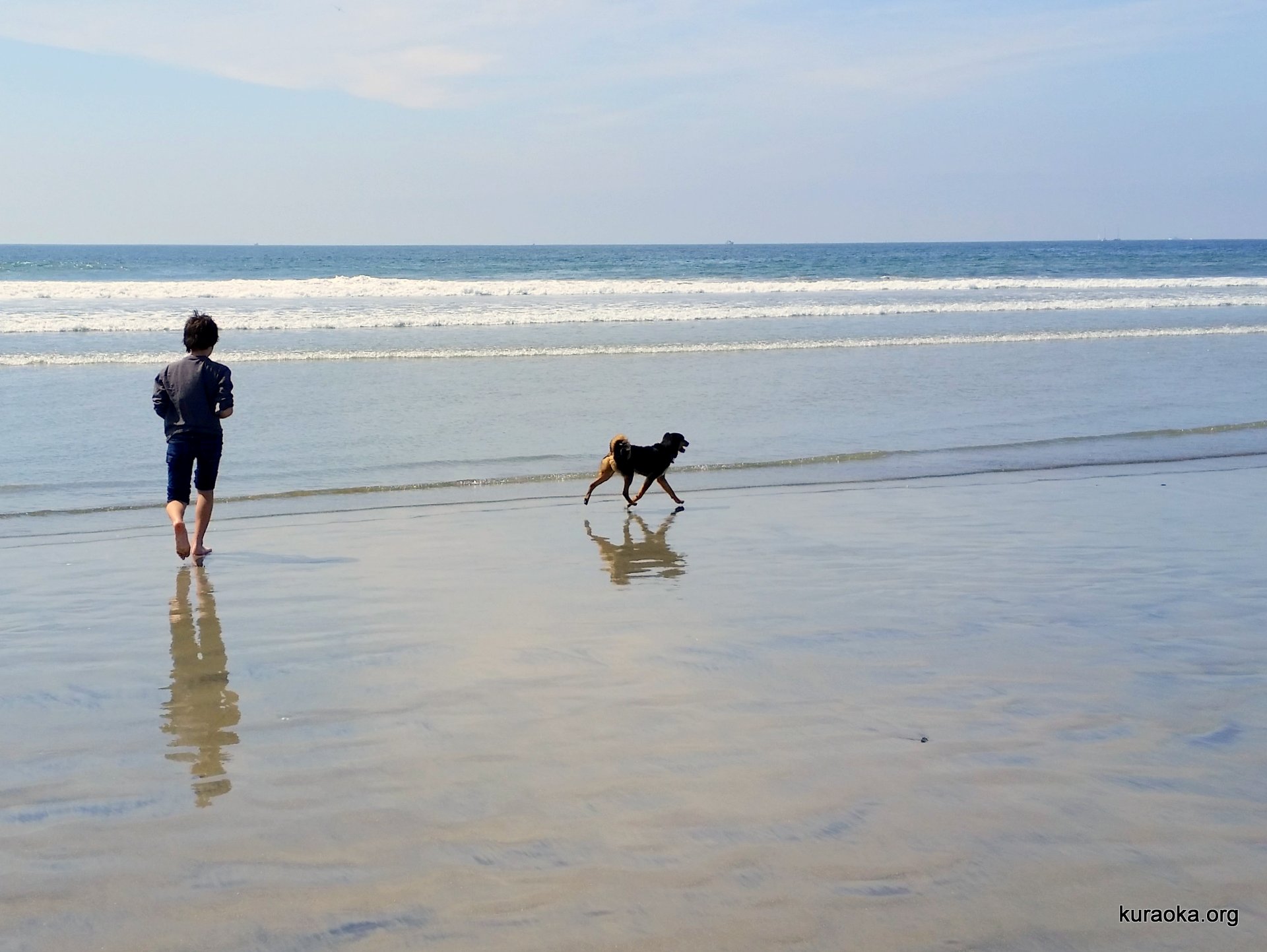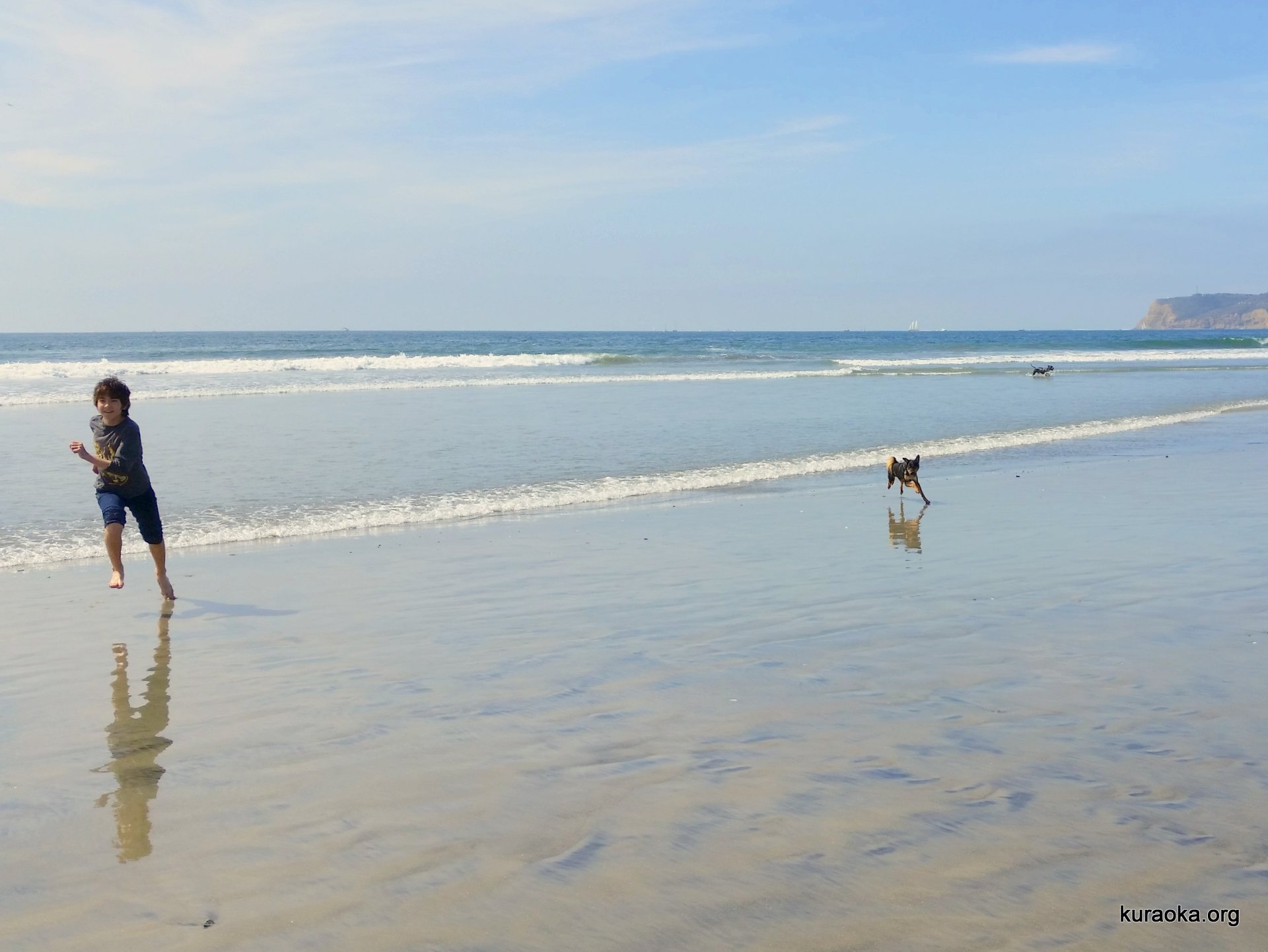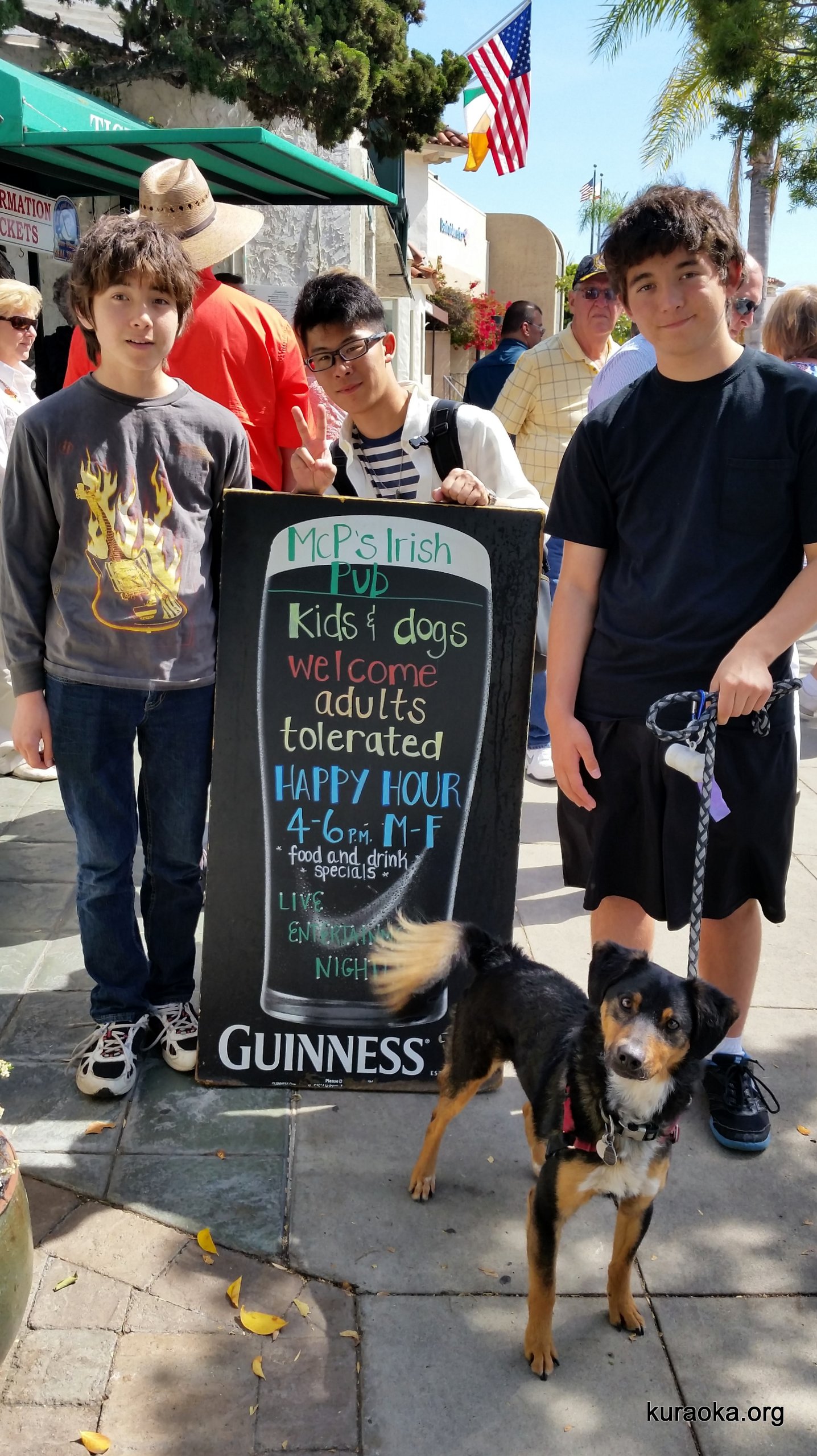 03-19-16: To Mission Beach with Takumi. Takumi, our guest student from Yokohama International High School, arrived Friday evening. Saturday, we took him to Belmont Park in Mission Beach to ride the iconic San Diego roller coaster, and then walked along the beach to lunch at The Mission Cafe.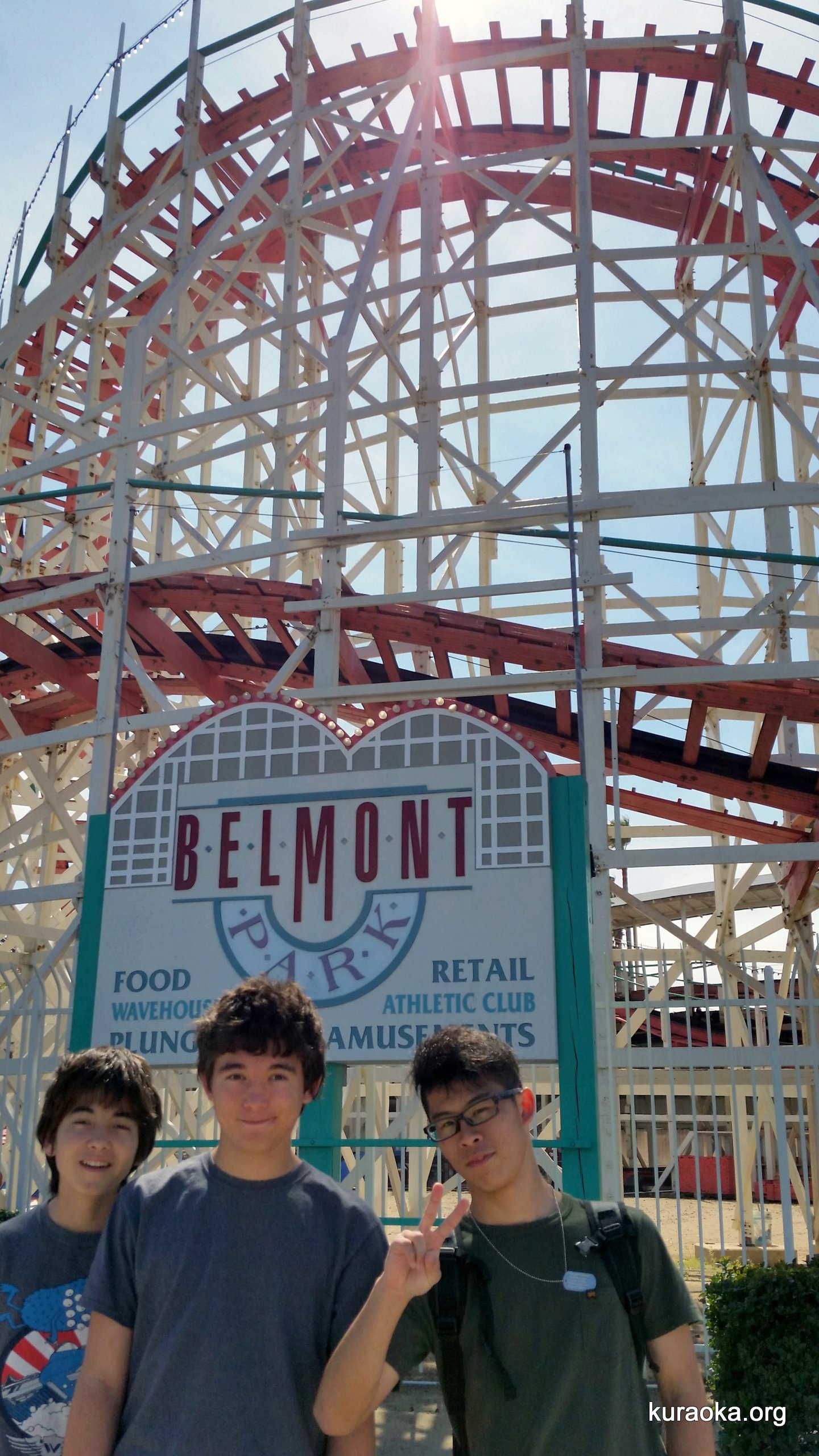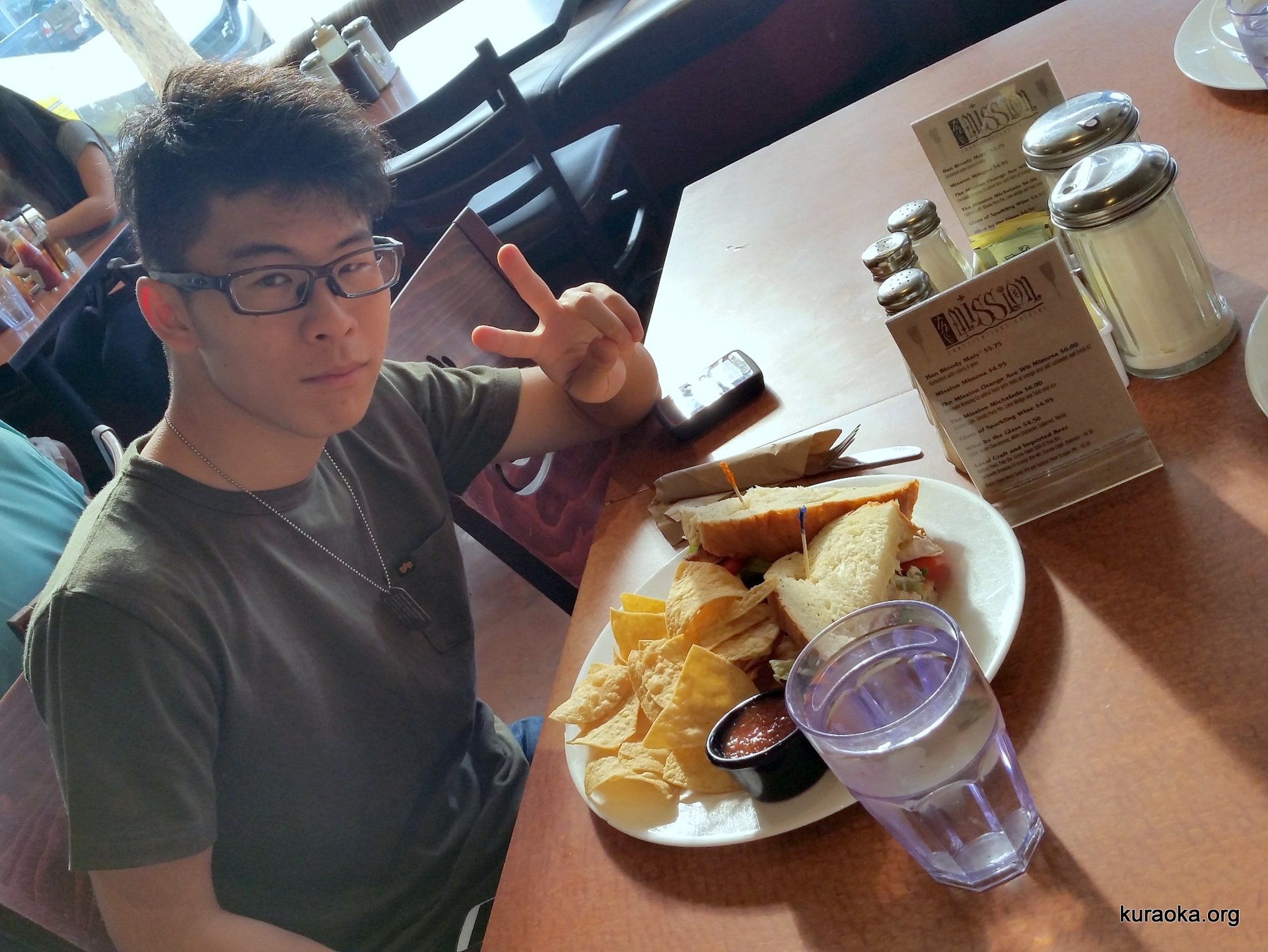 03-16-16: Arsenic and Old Lace. And lights. Roy ran the lights for Patrick Henry High School's production of Arsenic and Old Lace. The show was excellent!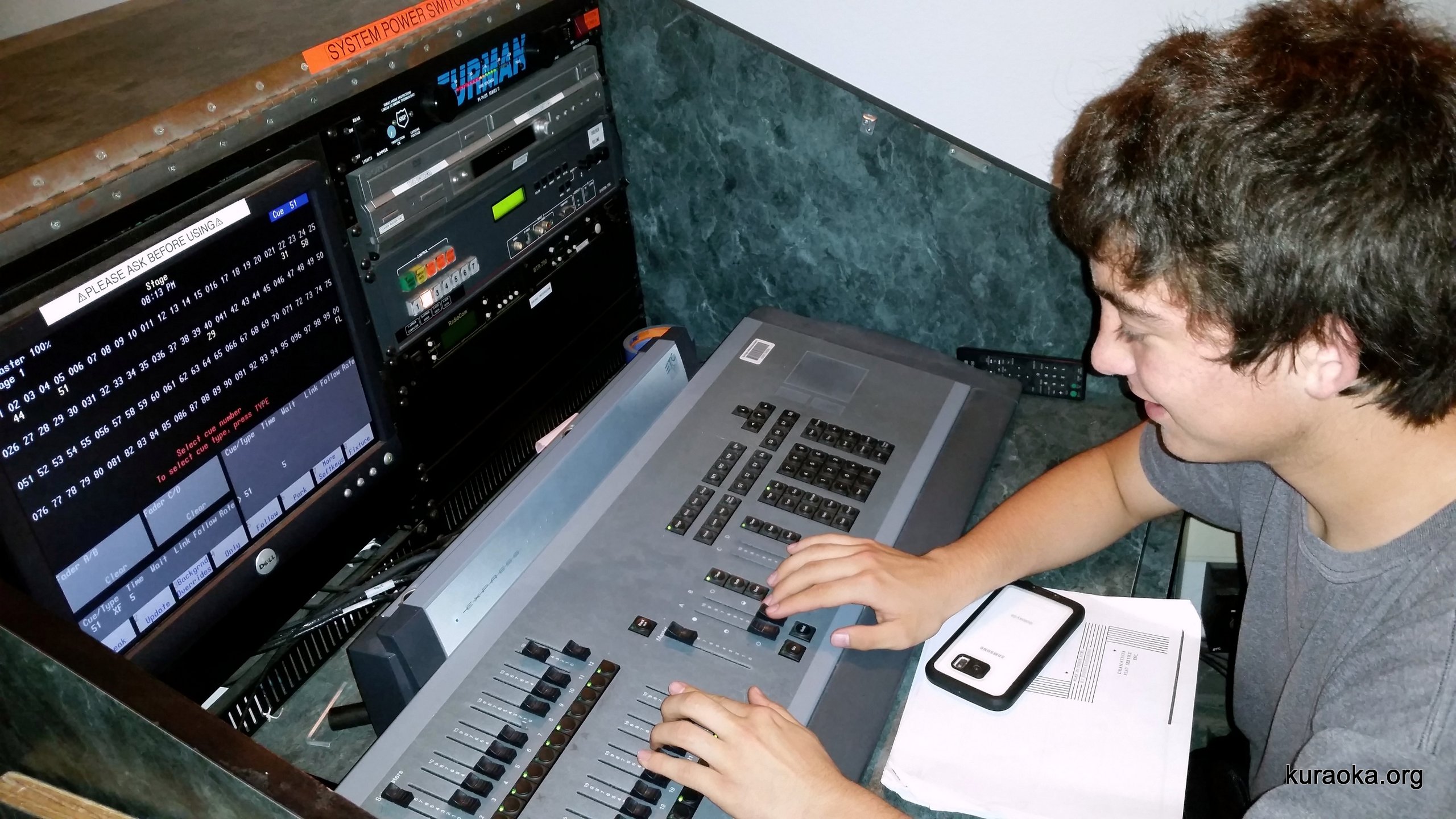 02-28-16: Sea World. Roy and Leo mostly rode "Manta," but here they are at "Base Station Wild Arctic" in one of the underwater viewing areas.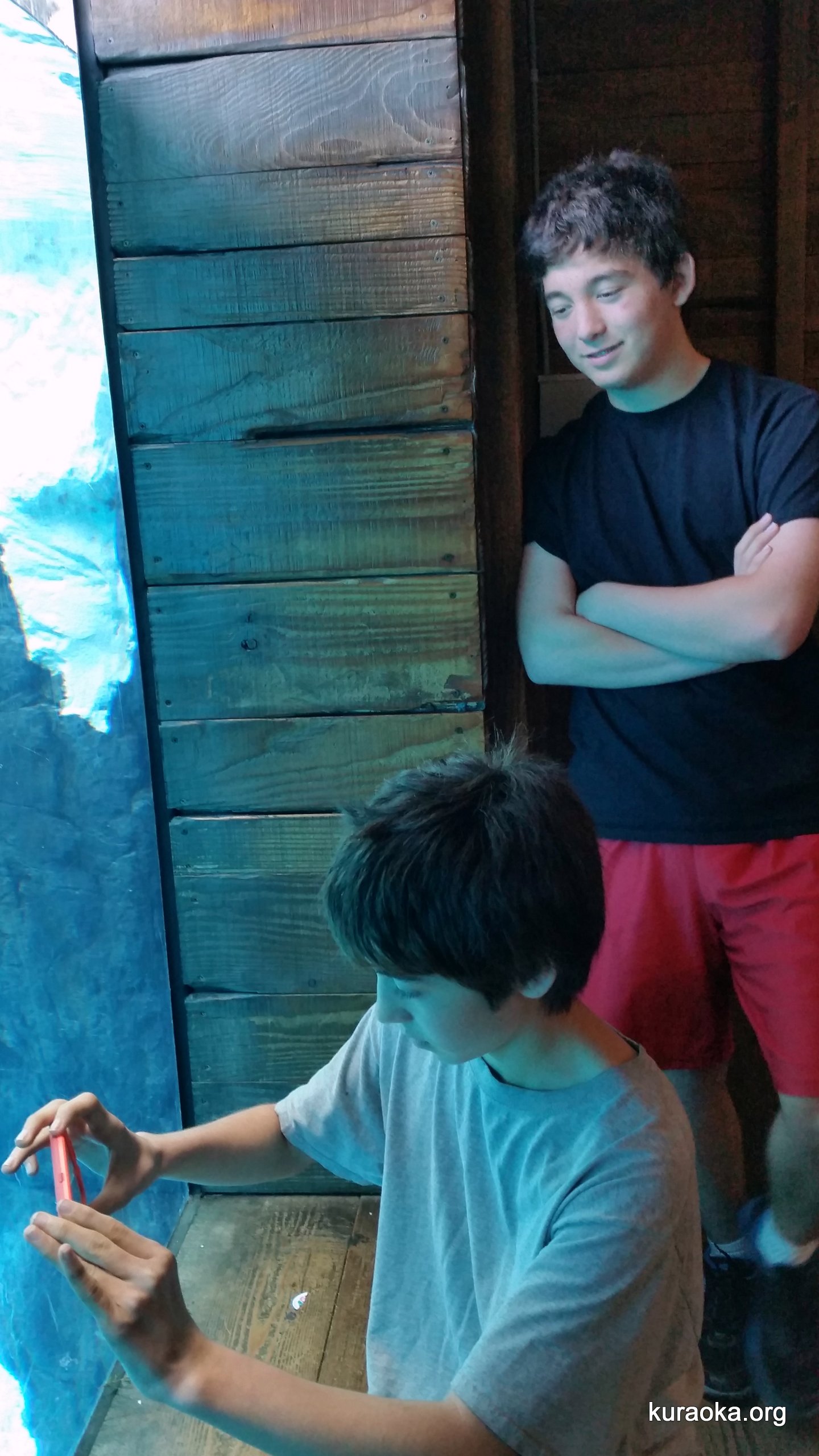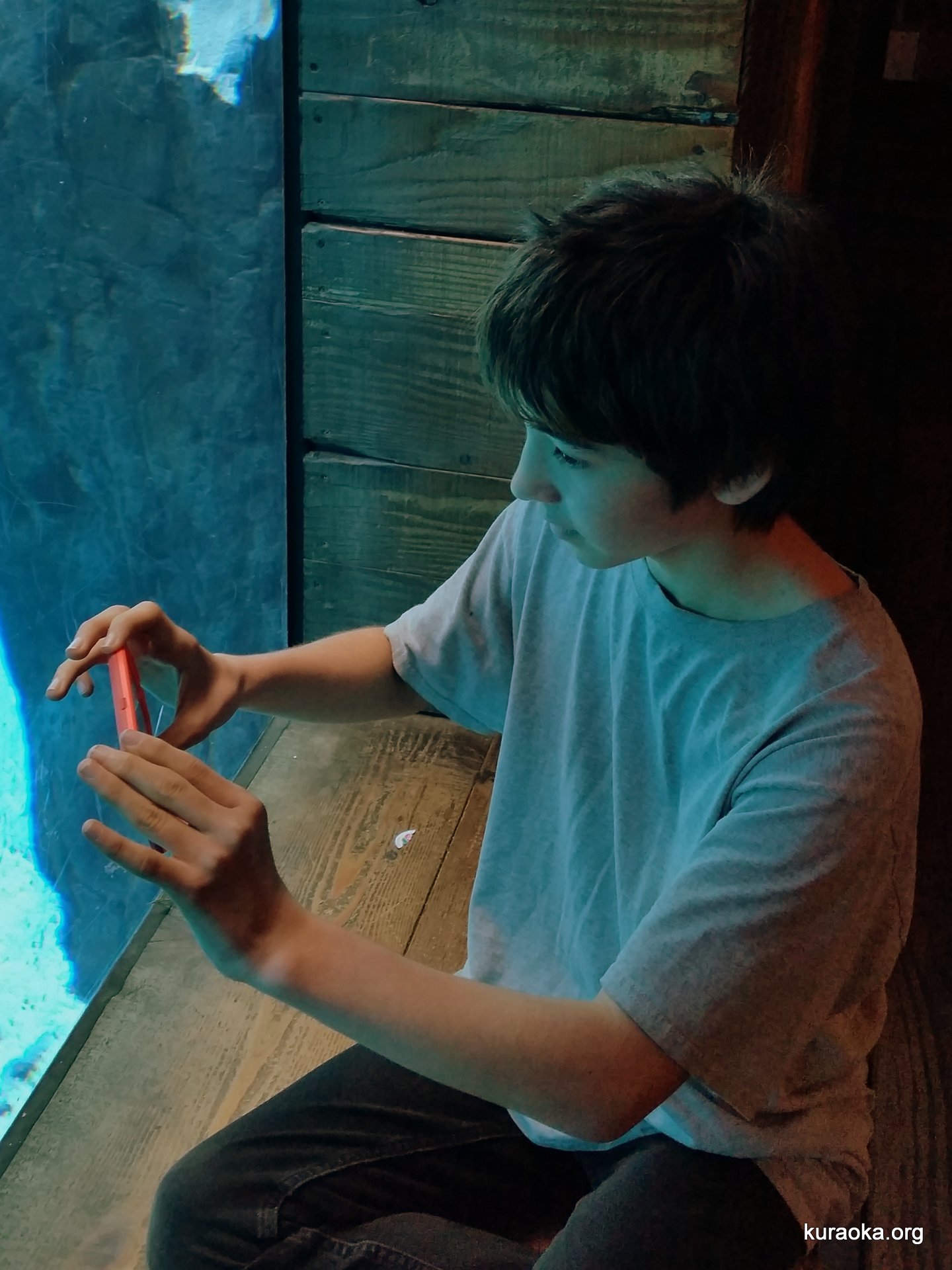 02-21-16: We took Shadow to Dog Beach! He had such a fun time running full-tilt, playing with other dogs, and frolicking! Here's also a series of Shadow and Leo, clearly brothers under the skin/fur.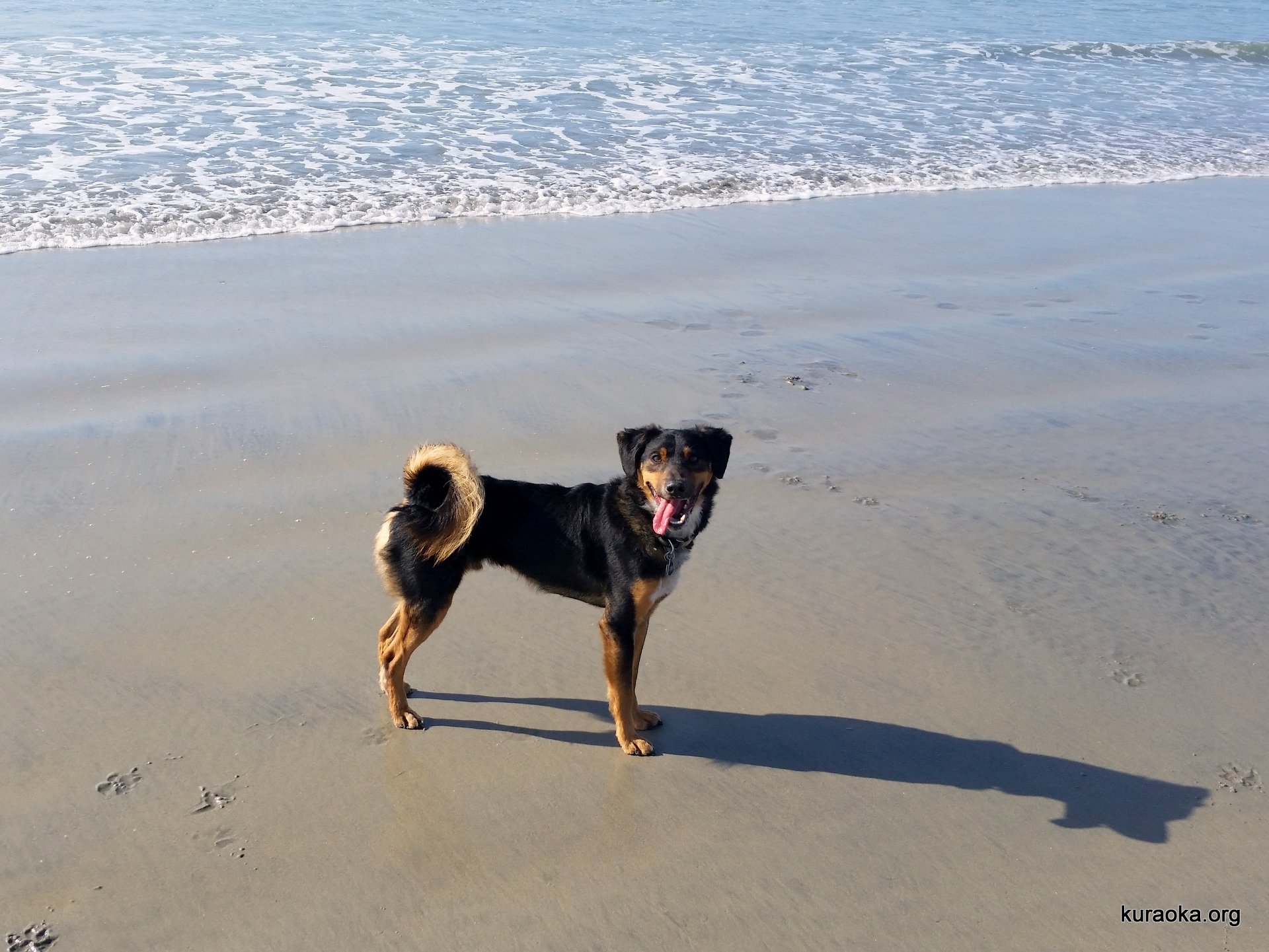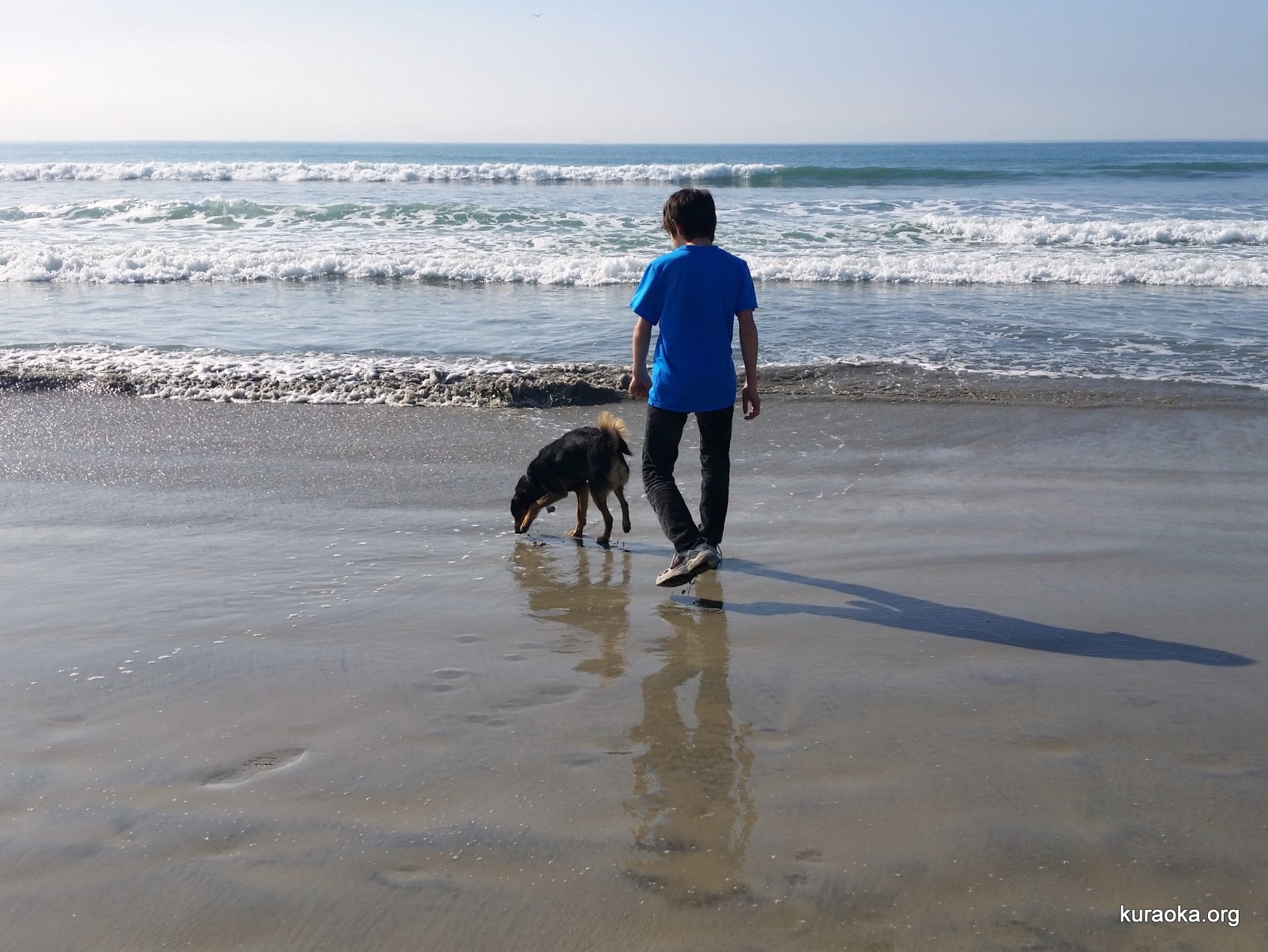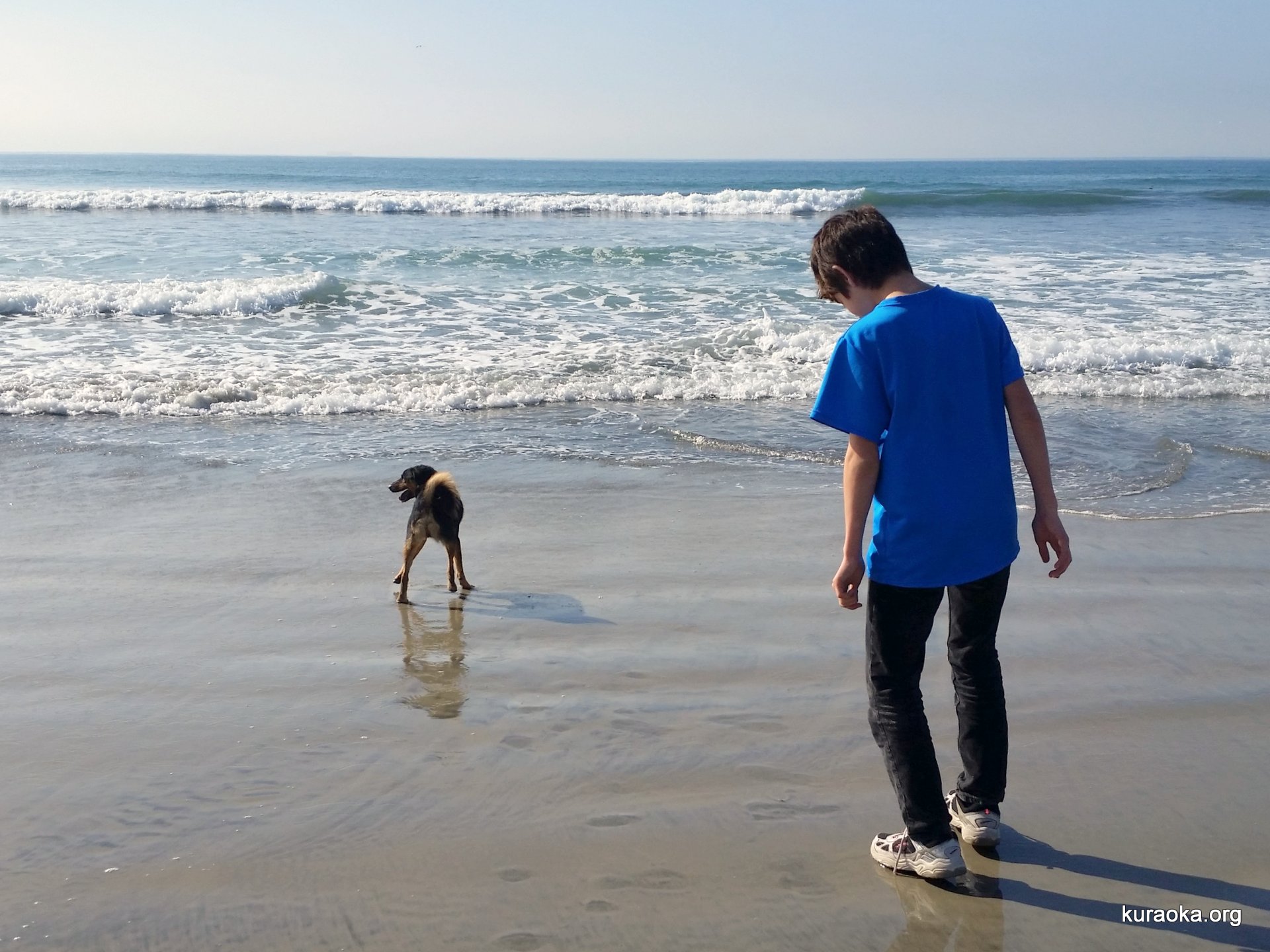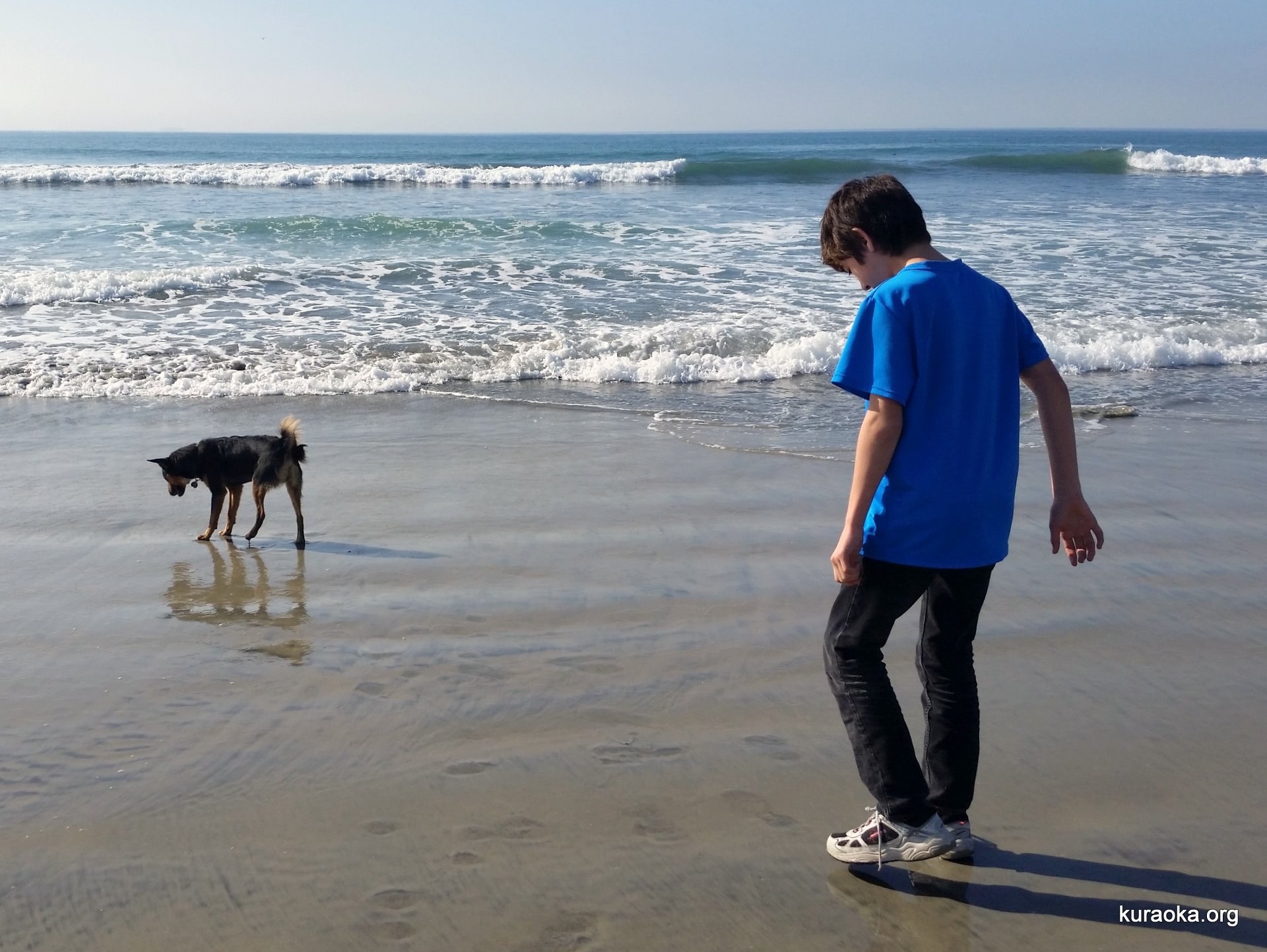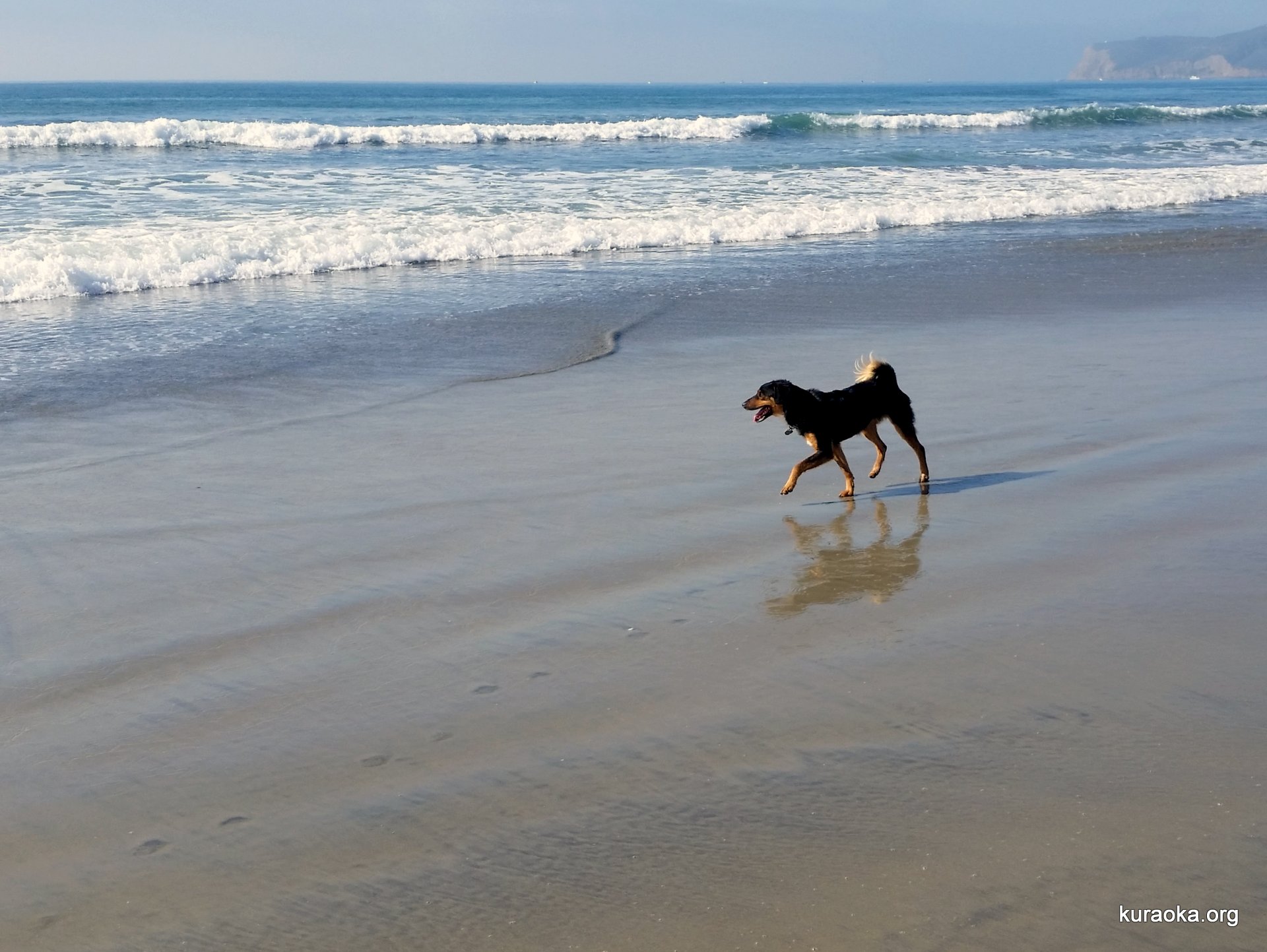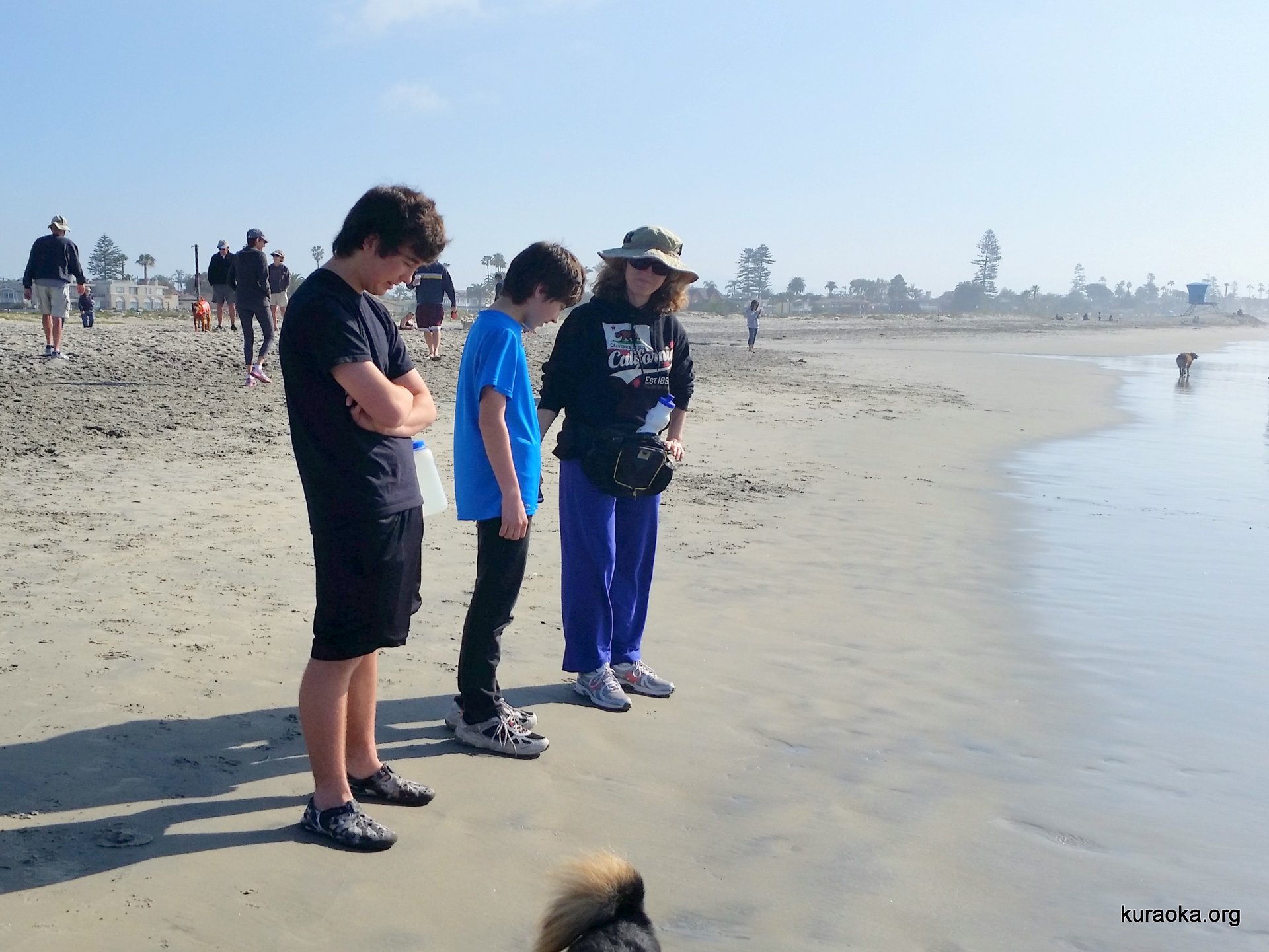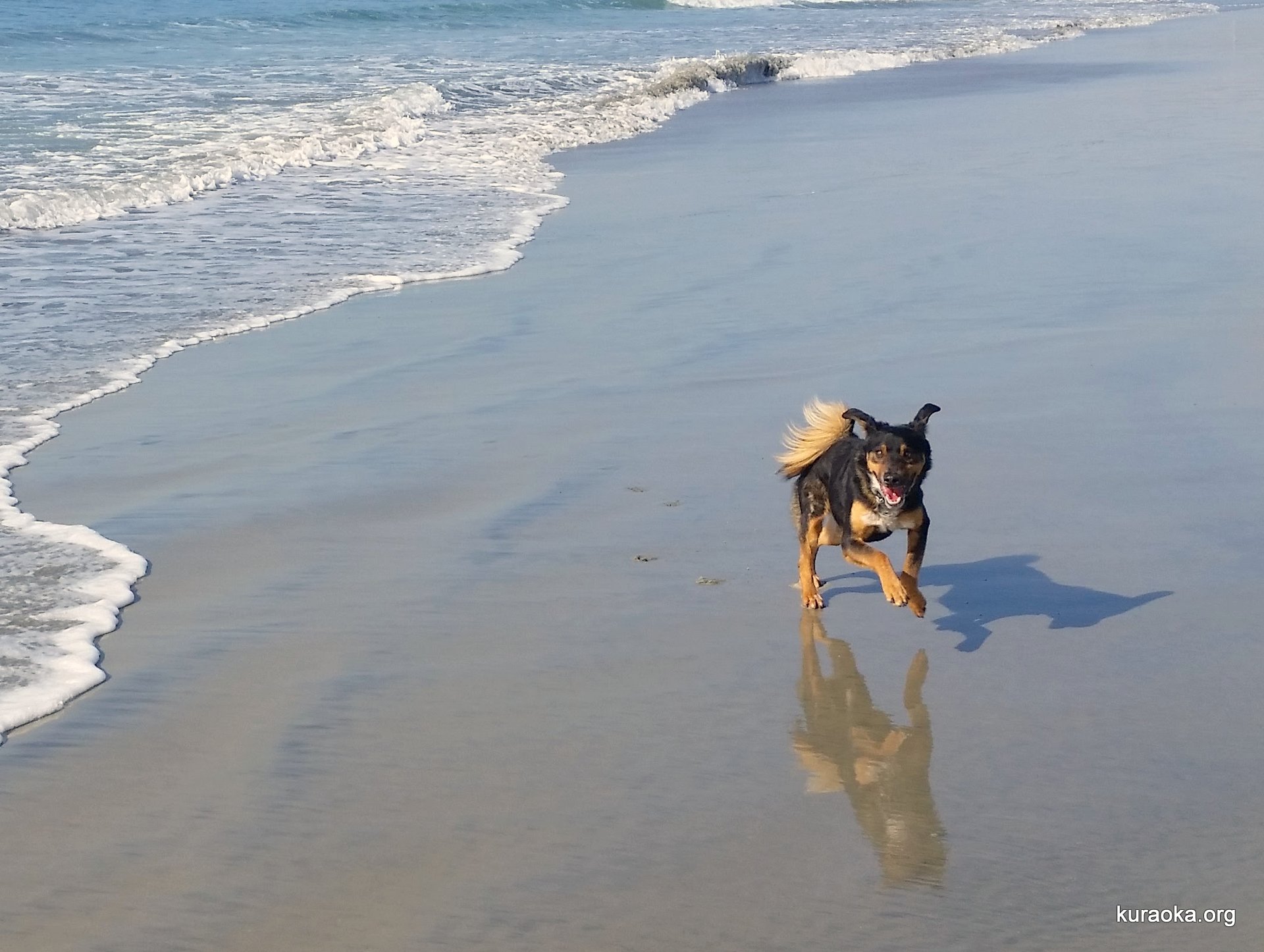 02-15-16: Roy, Grammy, and Leo. Here's Grammy with two grandsons!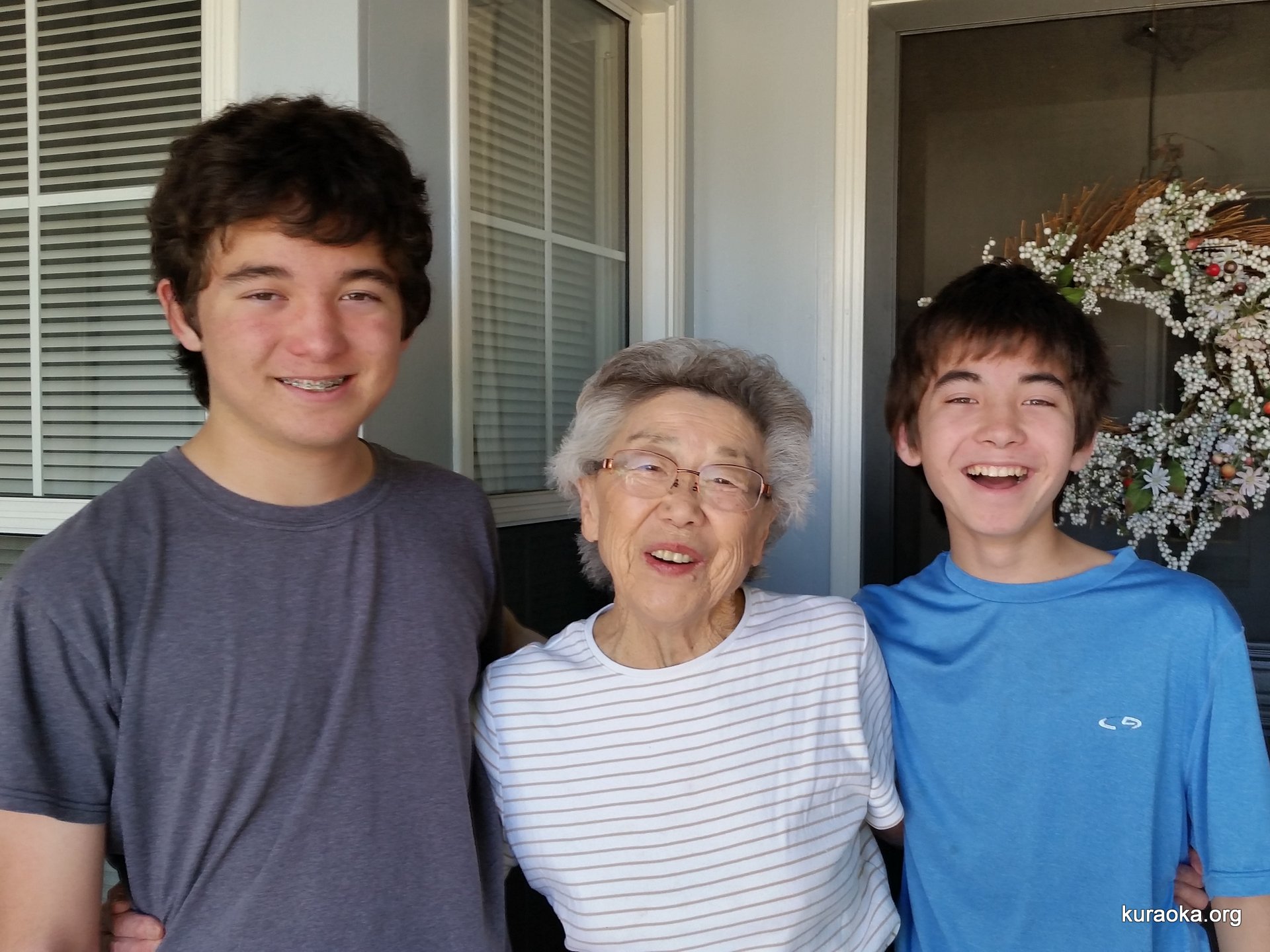 02-14-16: Valentine's Day at Grammy's. It's also Eric's birthday, but we did give Grammy this cute little daffodil pot with a card the kids made.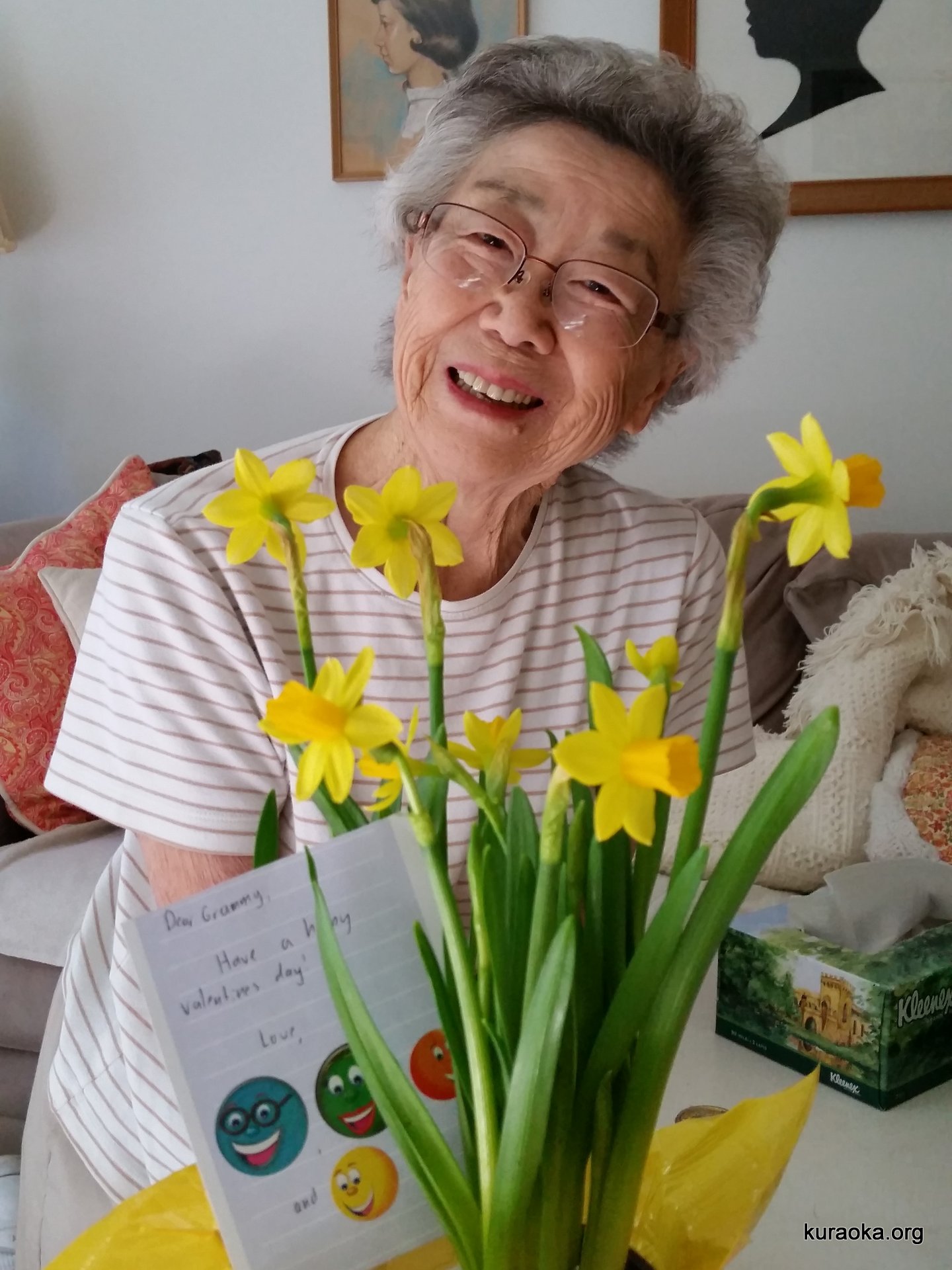 02-13-16: Pacific Park! We went to Pacific Park on the Santa Monica Pier. After a picnic on the beach, the boys rode rides while Grammy and John sat and talked or read. Here are the photos.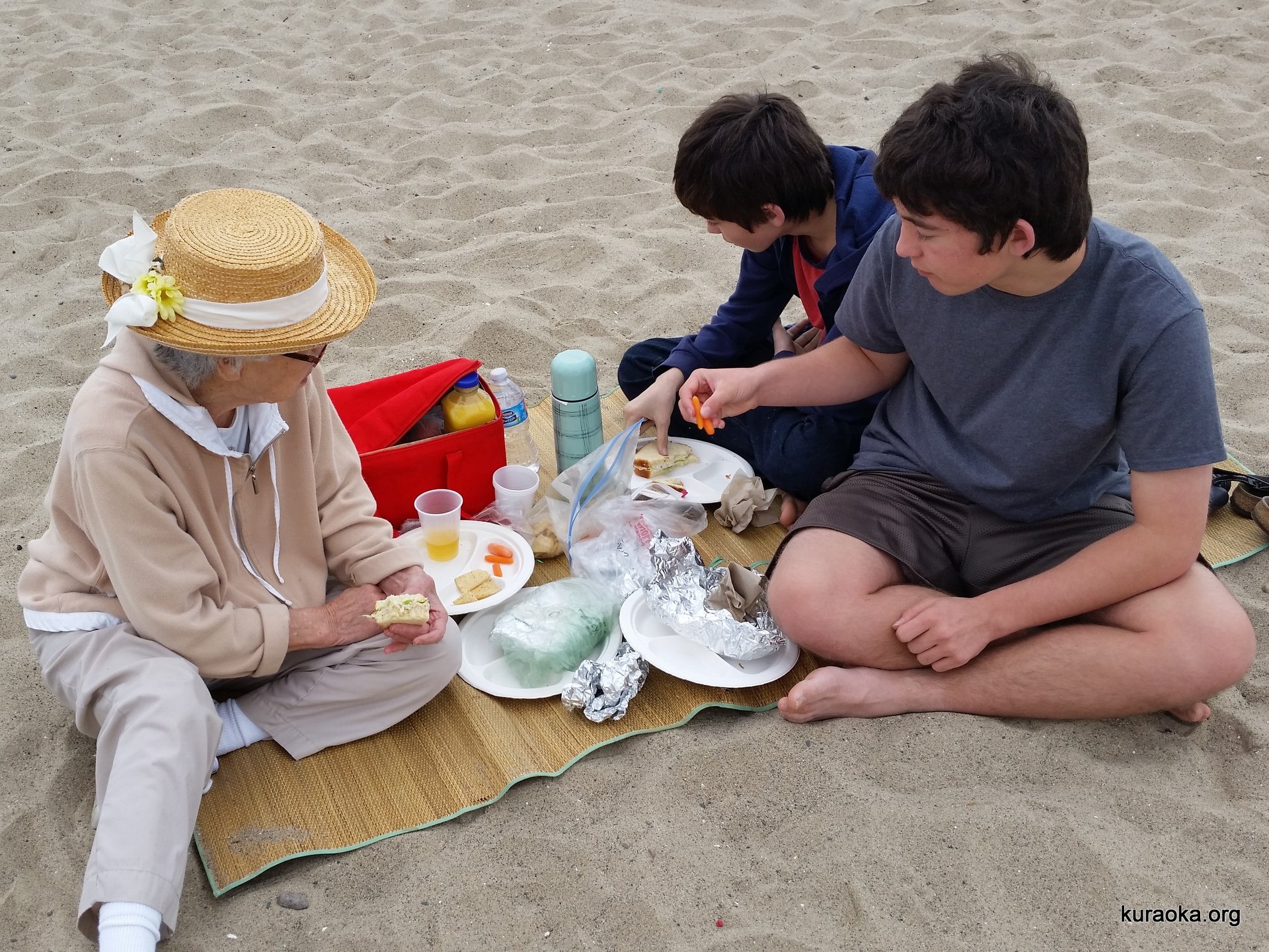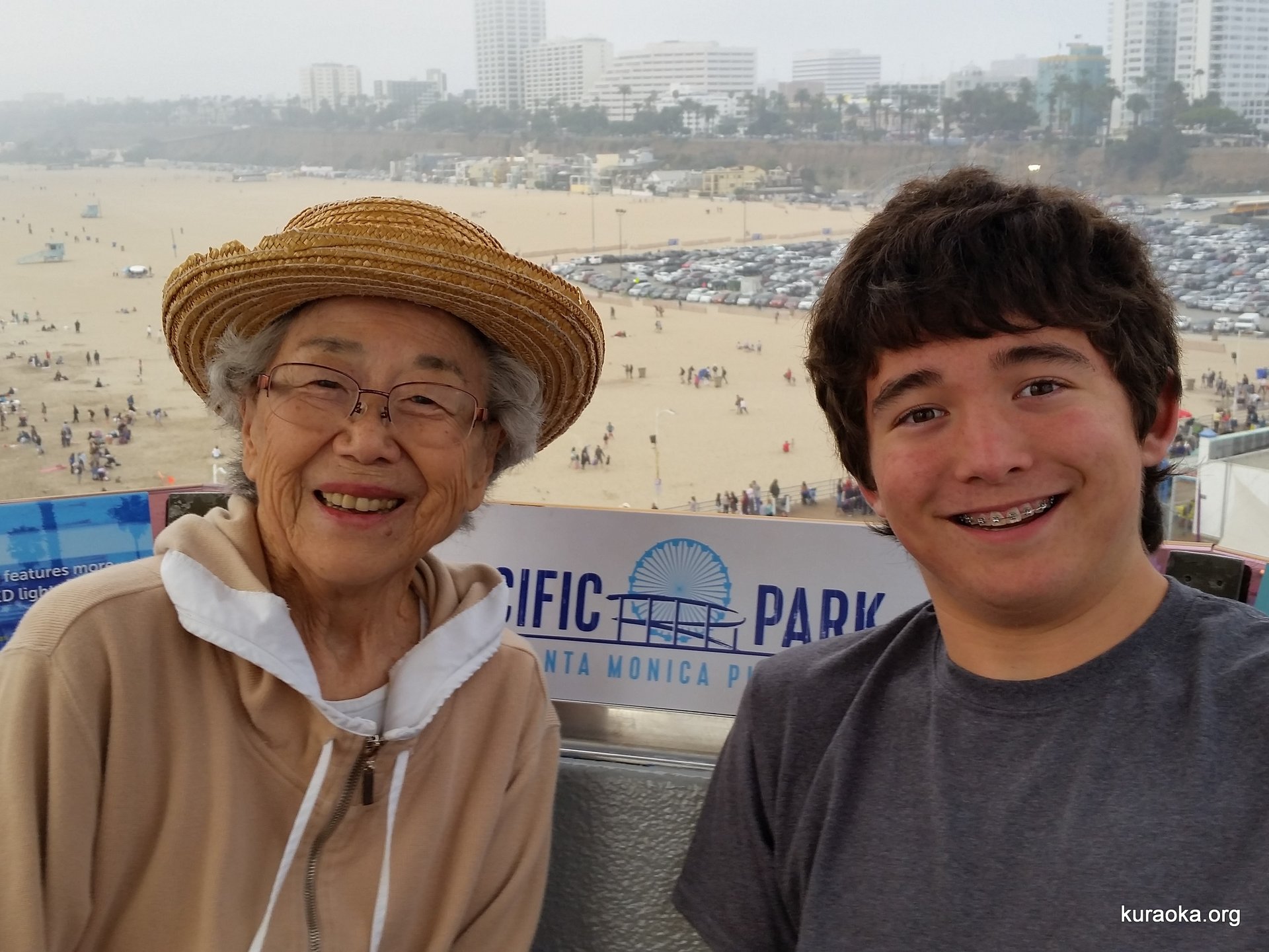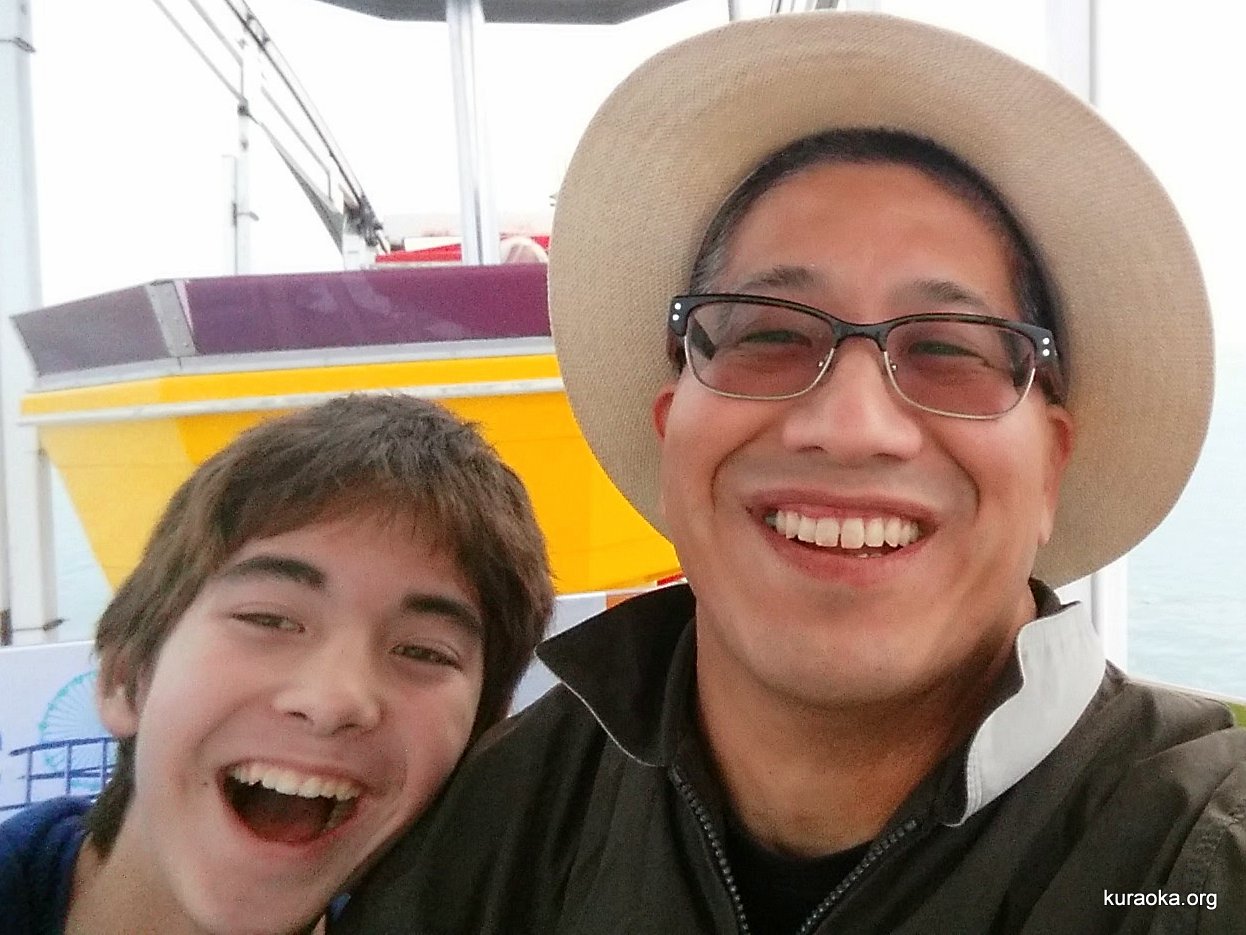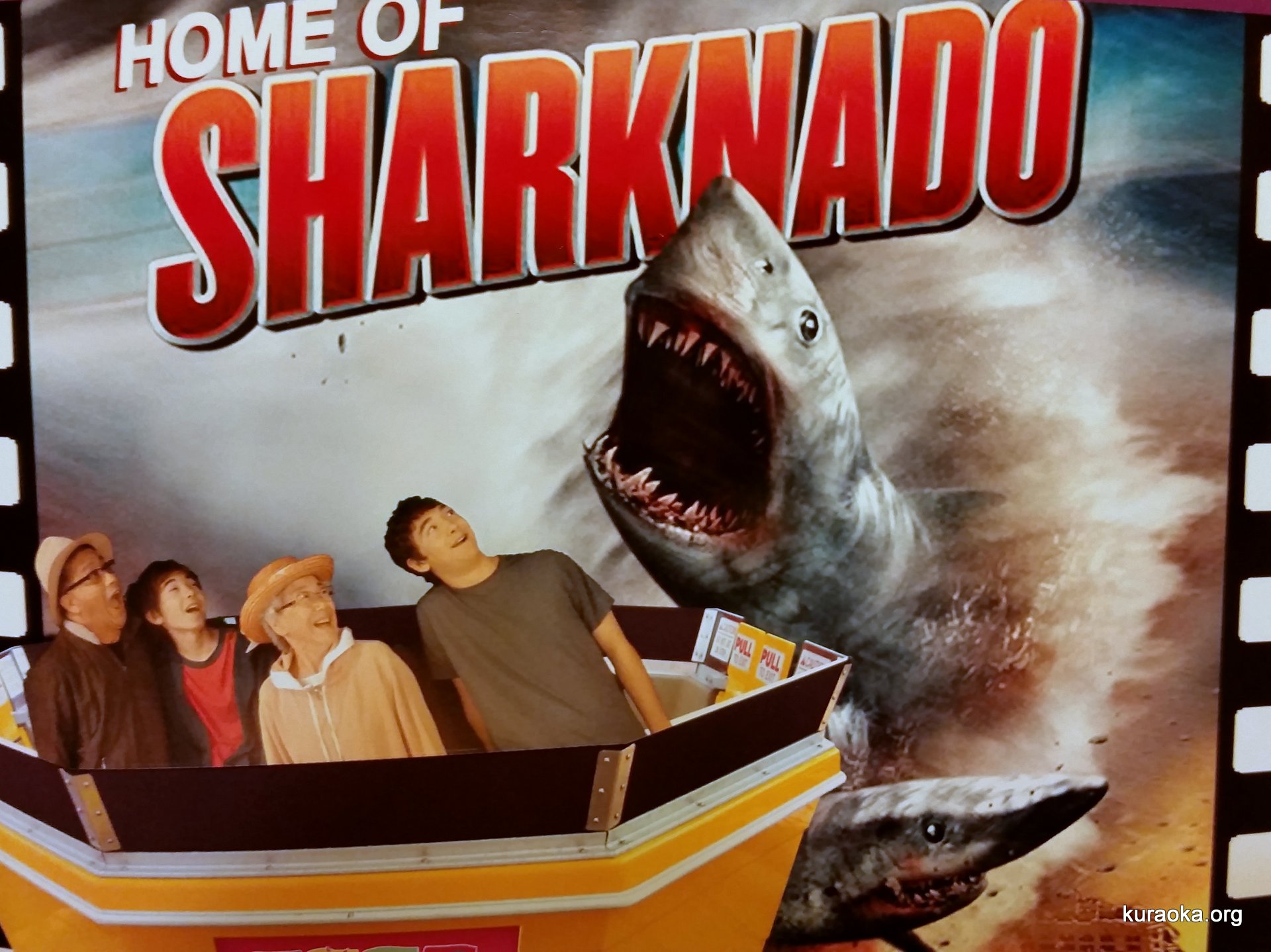 02-09-16: Love Letters at Patrick Henry High School. The drama department staged three showings of Love Letters, and Roy worked lights for all of them. We made the second show, and it was excellent! Here are Roy at the light board and the bare-bones stage in the drama classroom.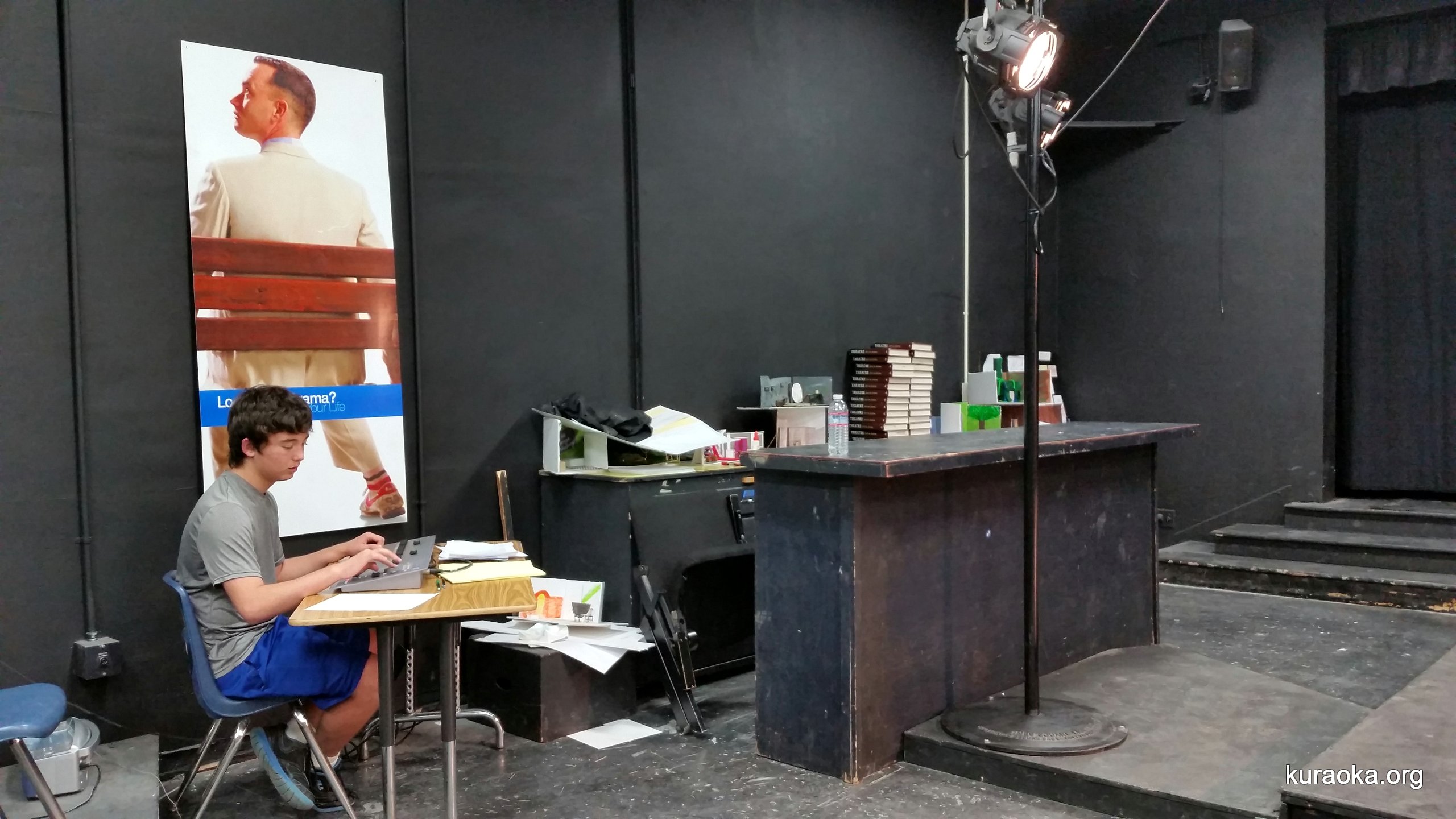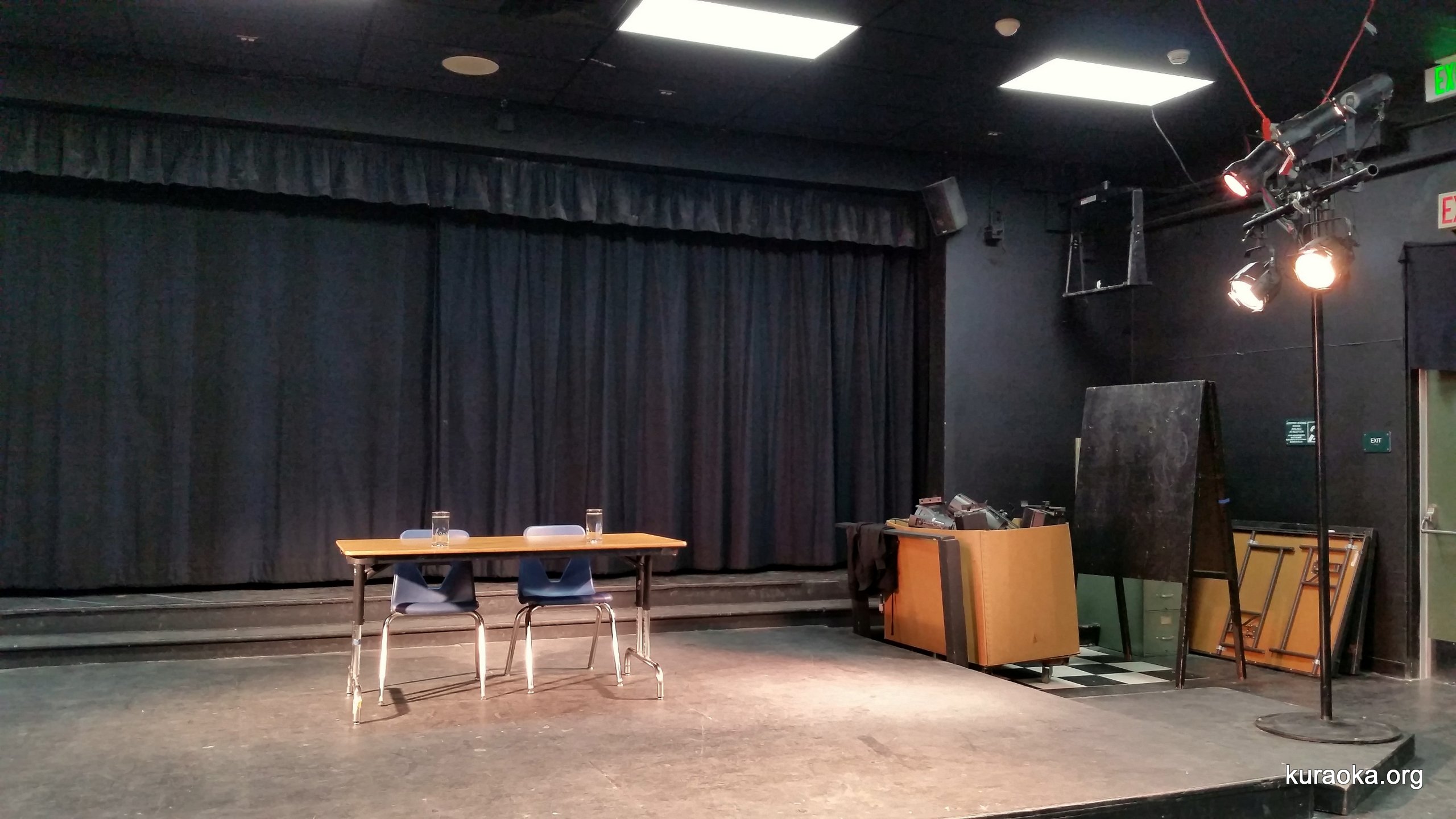 01-01-16: Oshogatsu! Here's our traditional Japanese New Year's Day osechi! Grammy did a lot of the cooking, but Leo rolled most of the makizushi and John made the teriyaki chicken and ozoni (not shown). Afterwards, Ondine and John headed for the mountain for a late afternoon stroll.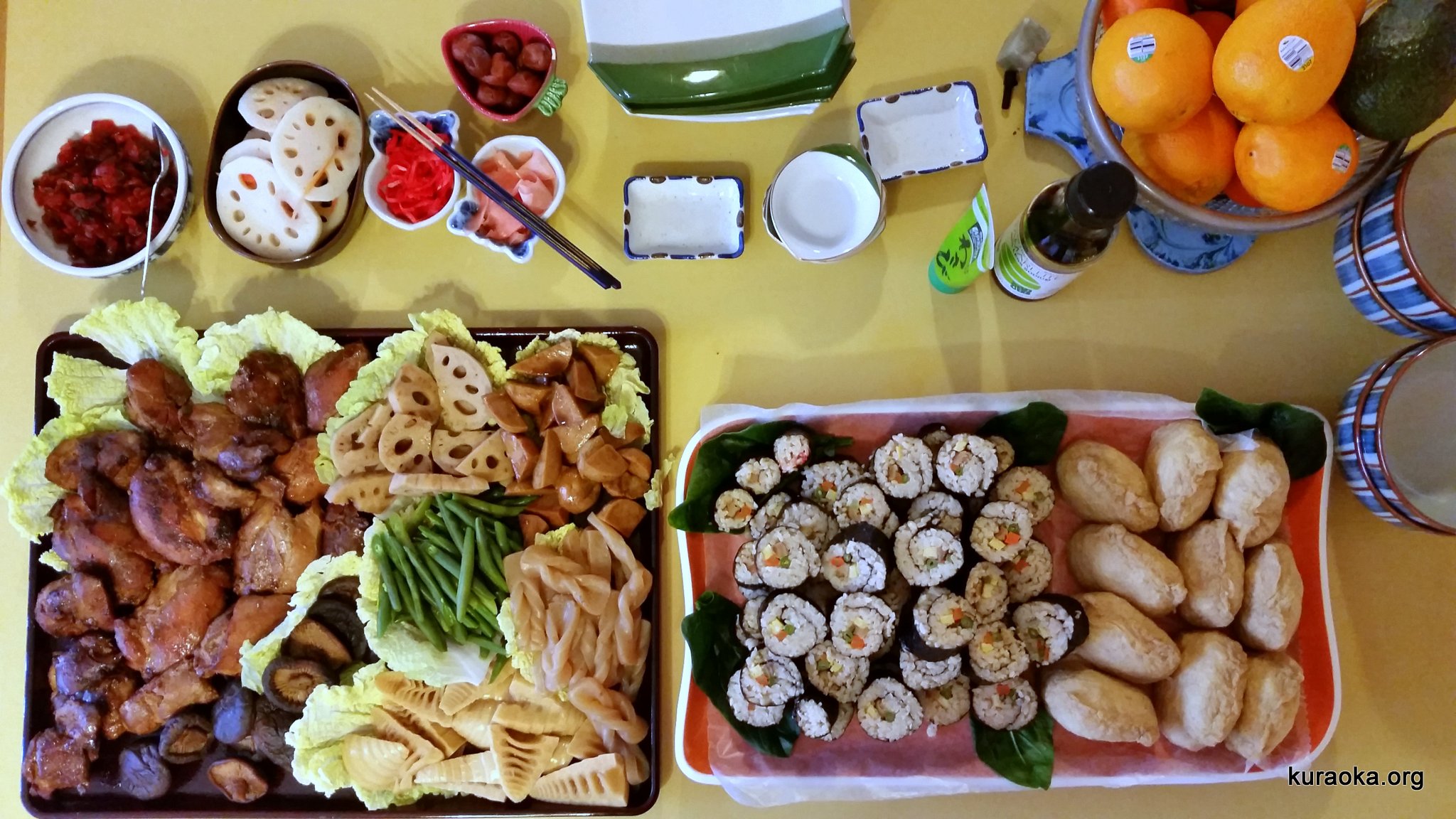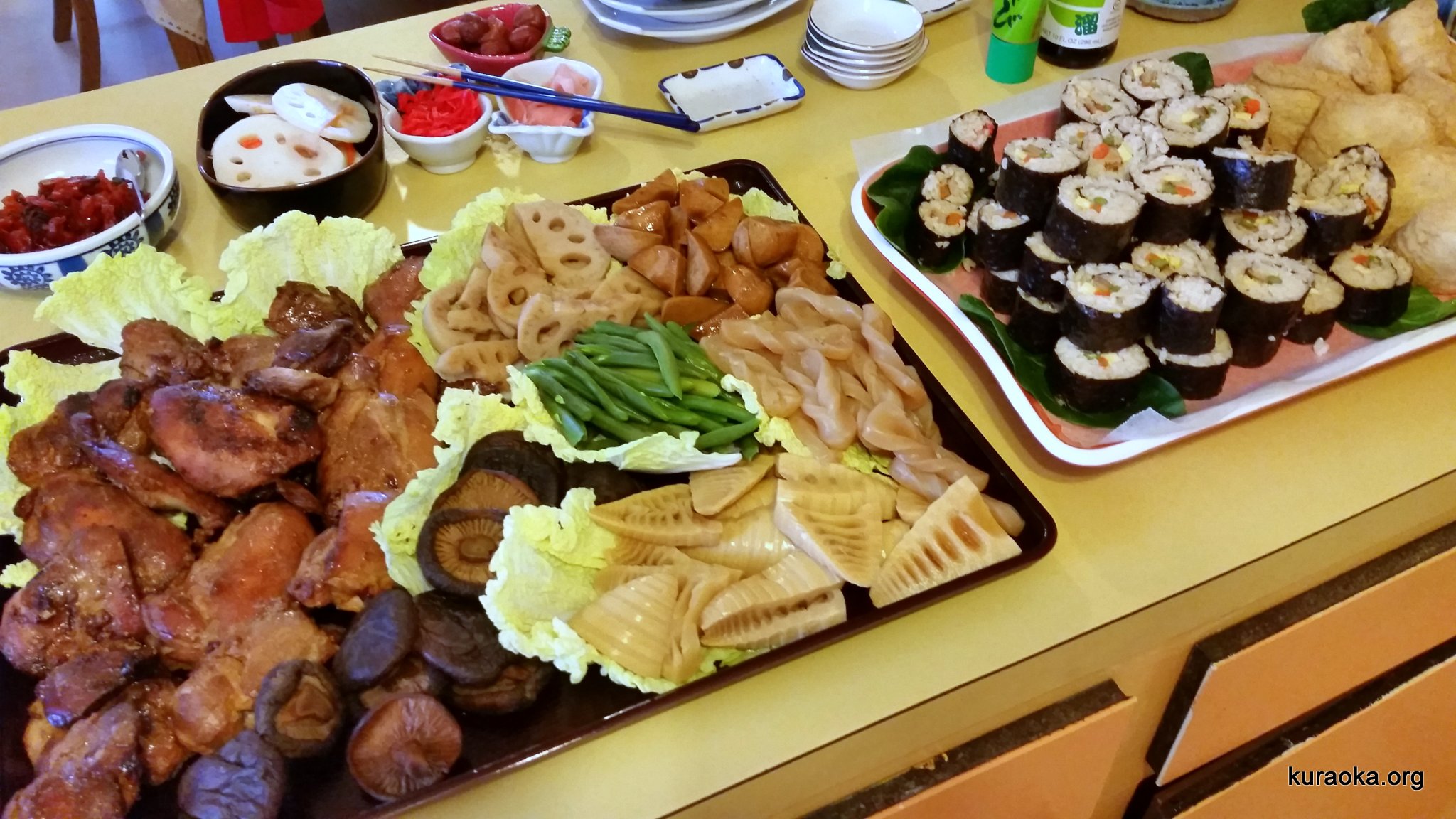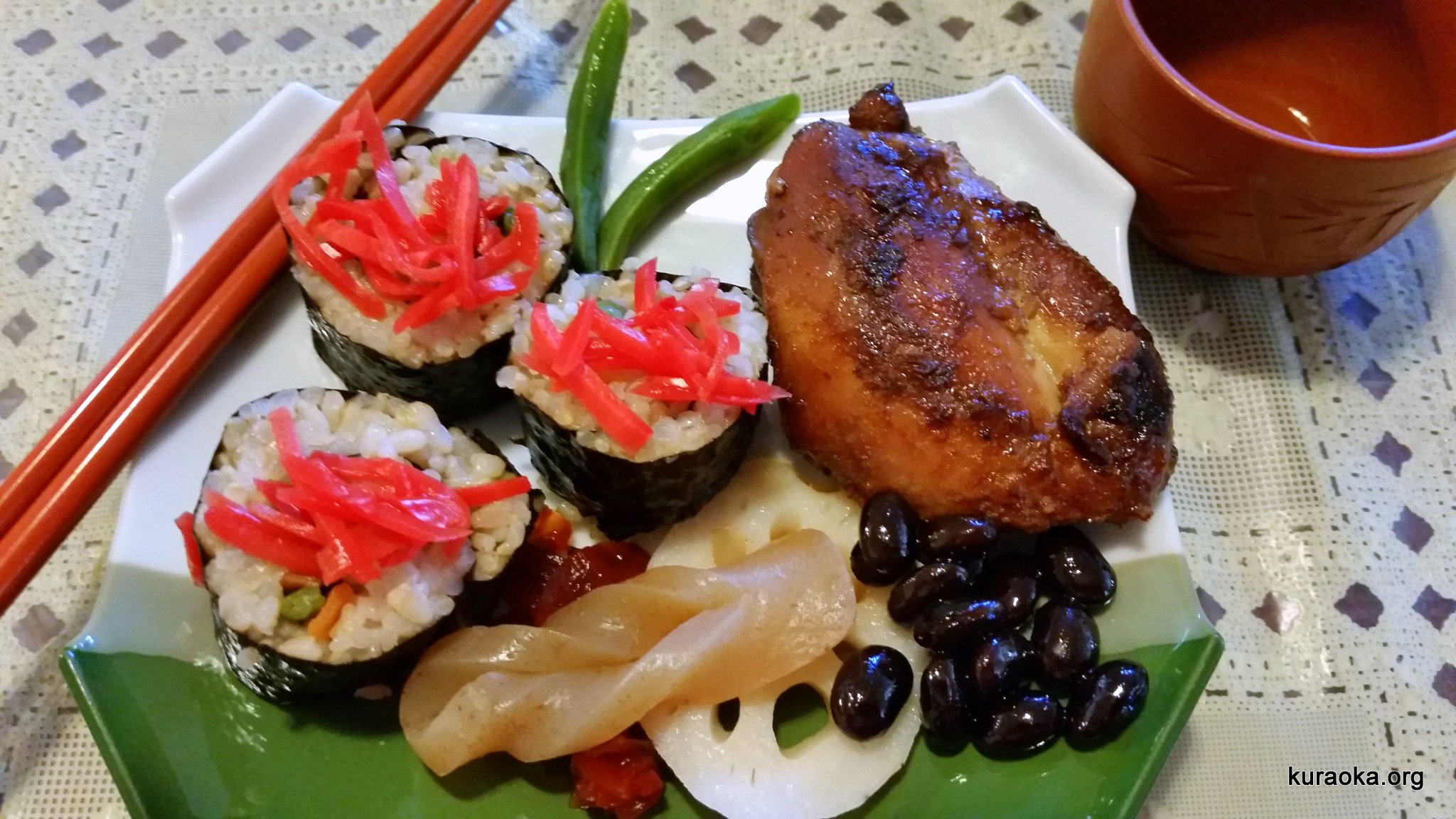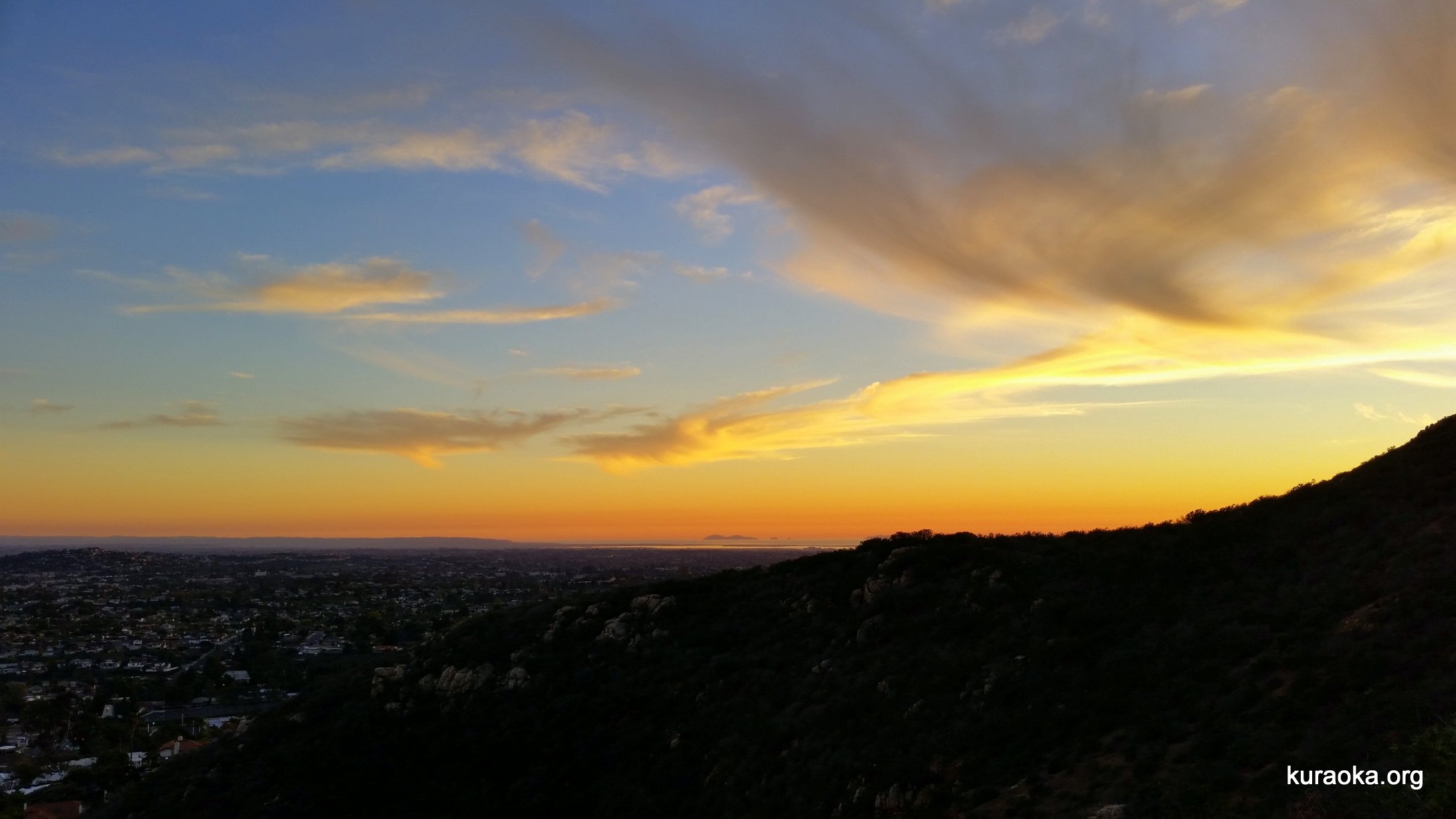 Archived Photos from 2015
Archived Photos from 2014
Archived Photos from 2013
Archived Photos from 2012
Archived Photos from 2011
Archived Photos from 2010
Archived Photos from 2009
Archived Photos from 2008
Archived Photos from 2007
Archived Photos from 2006
Archived Photos from 2005
Archived Photos from 2004
Back to the Kuraoka Family main page