The Kuraoka Family 2006 Year in Review
www.kuraoka.org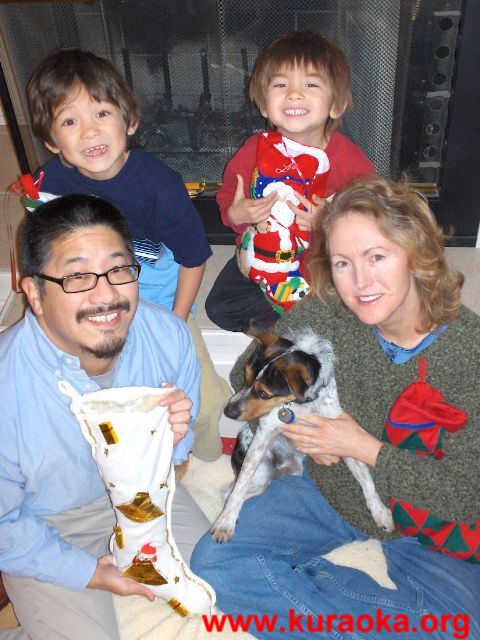 Front: John, Ondine (holding Buddy). Back: Roy (6-1/2), Leo (4-1/2)
Monday, 01 January 2007
Happy New Year! And here's our annual Kuraoka Family Year-In-Review!
The big San Diego stories were that our San Diego Chargers won the AFC West championship, setting them up for the Super Bowl play-offs. The median price of a house in San Diego County had its biggest year-over-year drop in history, down 6.95% from November 2005 (which marked an all-time high) to November 2006. The previous biggest drop was 5.7% in 1992. The current overall median price, including both new and resale condos and homes, is $482,000. Sales, meanwhile, dropped nearly 25%. A smaller story with much more impact on our lives, was that Gage Elementary School got a new principal, Cheryl Zitsman.
National news this year included the elections in which the Democrats took control of both houses, ending years of Republican control. Nancy Pelosi of California will become the first woman Speaker of the House, putting her higher in the line of presidential succession than any woman before. Speaking of the presidency and succession, the only unelected president in American history, Gerald Ford, died at the age of 93.
International news included the World Cup Games in Germany. Many of the games were played in our old stomping ground around Mülheim. John especially enjoyed watching a game that was played in Arena Auf Schalke. Also, Iraq's former leader Saddam Hussein was put on trial in Iraq for crimes against humanity, found guilty, and executed.
The solar system shrunk in 2006, with Pluto losing its planetary status. It is now classified as a dwarf planet, along with its moon and several other objects. The Mars Exploration Rovers kept cranking along.
We've had a great year. We managed two week-long trips: Sedona in April and Sand Pond in August. We also went whale-watching, participated in the Race for Literacy, and took a daytrip downtown. And, right before Christmas, we took the boys to Disneyland for two days! It was their first time there; we stayed in a nearby hotel and got passes through the teacher's association. Their very first ride was "Pirates of the Caribbean," which became one of their favorites. Roy turned out to be a roller coaster fan, while Leo loved the Haunted Mansion.
Our family grew by one in July 2006, when we adopted our dog, Buddy! He's a tri-color Jack Russell-ish Beaglish mix, and was a bit over a year old when we got him (so, about 1-1/2 now). Standing, he's about 26" long from nose to nub-tail and about 16-1/2" tall at the shoulder, and weighs 18.9 pounds. Shortly after we took him in, we went for a dog school session. Buddy went camping with us at Sand Pond and accompanied us on weekend trips to Grammy's house. And, when we were at Disneyland, he got to stay with Barbara and Bill!
Roy is now 6-1/2. He stands 46-1/2" tall, and weighs about 48 pounds on our old bathroom scale. He started first grade at Gage Elementary; his teacher is Mrs. Litchfield. He won a "special recognition award" for his "writing skill and his smile!" We've especially enjoyed seeing his writing develop. He has enjoyed the Gage Running Club again, racking up over 100 miles so far (he got his 100-mile ribbon before winter break). He played his first season of soccer in 2006; his team was the Sea Wolves.
Leo is now 4-1/2. He stands 39" tall, and weighs about 33 pounds according to our old bathroom scale. He played a season of soccer with the Crusaders Soccer Club – his team was the yellow Fire Rockets. This was his second experience playing soccer. He got totally into Halloween in 2006 and has yet to come out! Yes, even Santa Claus was just a momentary celebrity next to ghosts, monsters, and witches. He was in Zan's circle at Montessori Discovery School, and will be moving up to Mrs. Dunn's circle.
Ondine had her most-profitable year yet as a freelance writer, and in fact brought in the household's biggest single check of the year (a web writing project for the new Ford Edge and MSN)! She has a new freelance writing website. She attended a FranklinCovey workshop, and received the FranklinCovey system as part of it, so she has a new approach to organizing.
John was included in a book about small business management. He had a very good year, picking up a few new clients, and launching a website for San Diego-based freelance writers. He gave up coffee overnight, to the stunned amazement of friends and relations. He now drinks green tea by the gallon.
Passages in 2006 included John's brother-in-law Mike, who died of cancer in April. Also, we learned that Ondine's dear friend Robin died in late 2005.
New friends in 2005 included Faith Elizabeth (Jill and Eric's daughter), Allison (Felicia and Greg's daughter and Emma's little sister), Henry (Greg and Sara's son and Lily's little brother), and Jack (David and Diane's adopted one-year-old boy).
Major acquisitions in 2006 included a fresh coat of paint for the entire house exterior, a used computer for the boys (1.0 GHz with 512 MB of RAM and an LCD monitor), an oak and glass sofa table for our bedroom, a big teapot, a used Toca yellow fiberglass conga, a used Casio keyboard, a used desk chair for John and a new one for Ondine (about time, considering the hours they log in them), significant repairs on our dryer, a new battery and two new alternators for John's car (the first alternator having been defective), a new vacuum cleaner (the top-rated Kenmore upright), and a new HP Photosmart M22 digital camera (replacing the Canon PowerShot A70 that John dropped in the water near Sedona).
Major discards included John's old desk chair, several loads of clothing, our old vacuum cleaner, and a deceased Canon A70 digital camera. Oh, and trash, of all things. John filled a trash can from his office two weeks in a row, and Ondine filled six bags from our bedroom.
Our weekly journal started the year with about 21,000 visits and ended with over 24,500, so we had about 3,500 visitors through 2006. Thank you for joining us!
Looking ahead to 2007, we have a family trip to Hawaii planned! This Fall, Roy will enter second grade and Leo will enter Kindergarten. We're looking forward to another great year! To see what we're up to now, visit our regularly updated weekly journal!
Back to the Archives page
Back to the Kuraoka Family main page
Forward to the current Weekly Journal.