The Kuraoka Family Year in Review 2015
www.kuraoka.org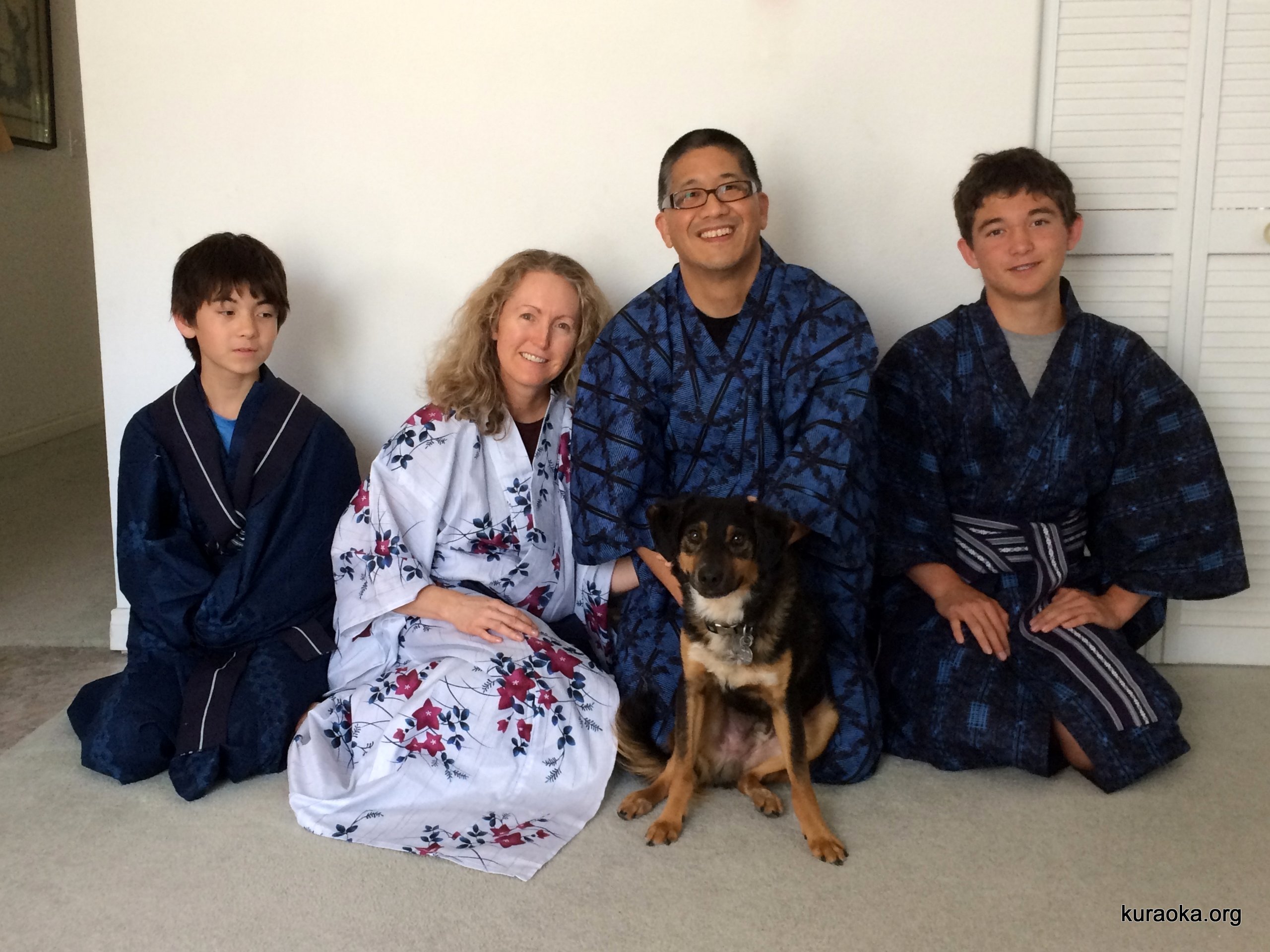 Us, June 7, 2015: Leo, Ondine, John, Roy, and Shadow
Thursday, December 31, 2015
It's time for our annual Kuraoka Family Year in Review!
Our 2015 Sand Pond trip was marked by our entire rooftop carrier being stolen from the hotel parking lot in Santa Nella! In it were all our clothes, jackets, sleeping bags, tents, and other stuffable equipment. The act was captured on the CCTV, but there's no hope of catching the crook or recovering our stolen gear. Thankfully, Walmart saved the day; between Walmart togs and mild weather, our trip continued. It was also the year of spectacular lightning and epic traffic jams! We spent one night in the car at the Donner Summit rest area. Once we got to Sand Pond we had a fabulous time as always. We went up the Buttes, panned for gold at Wild Plum Creek, and paddled across Sand Pond on logs.
In March we hosted Hibiki Jo, an exchange student from Yokohama, Japan! It was really fun having him around for a couple weeks. We went to the Midway Museum, Cotija Taco Shop, Summit UU Fellowship's Interfaith Homeless Shelter, Mountain Mike's, Anza Borrego Desert State Park, Sea World, and Anny's Fine Burgers. You can read about those weeks here: beginning, middle, and end.
Reunions: We got together with the old playgroup for the first time in years - it was neat to see how great everyone is doing! And, John got together with an old friend from Scouting, Peter DeHaan!
Plays this year included the Patrick Henry production of Amadeus, Cabaret at the Lawrence Welk Resort Theatre, 9 to 5, Arsenic and Old Lace, and A Christmas Carol at the Glendale Centre Theatre, and Much Ado About Nothing at the Central Library.
Movies over the past year included Selma, Home, Mall Cop II, The Avengers: Age of Ultron (the boys saw that while we enjoyed a date lunch at the Himalayan restaurant for Mother's Day), Spy, Interstellar, Victoria (a date night movie, shot in one continuous take in Berlin), and The Martian.
We introduced the boys to Reaper, a cult TV show, Buffy the Vampire Slayer, QI, a British quiz show, and Time Team, a British archaeological show.
Other outings this year included trips to Pacific Park, Balboa Park, the Japanese American National Museum, a full moon harbor cruise with UU folk sans kints, a walking ghost tour in Old Town, and Medieval Times!
Ondine passed her LCSW exams, the first in January and the second in March. In August, immediately after we returned from Sand Pond, she started a new job at Kaiser Permanente, in the Department of Continuing Care!
Leo is now 13 years old, so we have two teens in the house. He's in 8th grade at Lewis Middle School, his final year there. He's in Accelerated Math and Seminar English and U.S. History classes, with Coding as his elective. He earned his 5th degree green belt in judo this year! During the summer, he did some camps at Mission Bay Sportcenter and a week-long UU camp at De Benneville Pines, which he really enjoyed!
Roy is now 15 years old, a sophomore at Patrick Henry High School. His electives are Technical Theater and Japanese, and he's also taking Physics and Pre-Calculus.
Shadow the dog is now about five years old.
John judged the EVVYs again last year. It's the student advertising awards program for Emerson College. In other accomplishments, he completed online FutureLearn courses on Much Ado About Nothing, the battle of Agincourt (1415), and Shakespeare and His World, and Udemy courses on Beijing and the Battle of the Crater. Another accomplishment was racking up enough points at Tea N More to bag a T-shirt, which got him a 15% discount. That promotion, though, ended today.
Barbara went to Japan for a one-month language immersion program through Coto Academy. Click here for her notes from Japan! Also, she went to Philadelphia to visit her cousin Baerbel.
Garden news includes several new plants, twice! Ondine planted a bunch of drought-tolerant plants in the back yard, but between the summer heat and the dog they died. John later replaced them with various drought-tolerant plants from the Lowe's clearance racks. He also erected some low, roll-out fencing to keep the dog at bay. He cut down and removed a massive dead bush in the back yard, and later dug out and removed another interloper tree, replacing it with a pineapple guava. His potted bauhinia project is continuing, although the plants are little more than tiny green sticks. In the front yard, John finally pruned the native plant garden, and introduced a new plant from Australia that seems to be taking well. And, he rescued a two-pronged plant hanger from a trash can and has that in the front yard.
New acquisitions included new glasses for Ondine and John (spending down our healthcare FSA money), an Amazon Fire TV stick, streaming subscriptions to Acorn TV and Hulu, a new low-flow toilet (Toto Entrada with an astonishingly effective 1.2-gallon "E-Max" flush) in the main bathroom, a Heys Crown III rolling business case for Leo to use for school, yukata from Japan (thank you Barbara!), an IKEA rolling shelf for Roy's room, new sleeping bags and jackets to replace the ones stolen in Santa Nella, a new APAP for John (identical to his old one, which died), a new garbage disposal (an Insinkerator Badger 5), we replaced all the blinds in the living room, a keyboard stand, a Philips wake-up light alarm clock, and Bill's old 12-bar Oscar Schmidt autoharp,
Roy bought a camcorder (Canon HDR-CX405) and green screen.
John's office got several new office plants, mostly rescued from the clearance rack at Lowe's. He also got a new desktop computer, a refurbished HP 500-314 with an AMD A8-7600 quad-core 3.1 GHz processor and 8 GB of RAM. It was updated to Windows 10 along with his laptop and most of the other computers in the house. His old computer got handed down to Ondine. His old 10" Acer Iconia 500 tablet died and was replaced by a Samsung Galaxy Tab 3 7" with limited 3G data.
New phones for the guys! John got a gold Samsung Galaxy S5 in January (and another in March), and in late November the boys each earned, through excellent grades, a Samsung Galaxy S6! Roy's is white in a black Lifeproof case and Leo's is black in a red Lifeproof case.
Discards include lots and lots of old clothes and shoes, an old desktop computer, several boxes of electronic waste and document shredding, and most of the furniture from Roy's bedroom,
Our cars, Ondine's 2000 Mazda Protege and John's 1996 Infiniti G20, continue to motor along. The Mazda got new CV boots, motor mounts, alternator, starter, and battery. The Infiniti got new front tires, a battery, and motor mounts.
Neighborhood gas prices started at about $2.59 per gallon and are now about $3.25 per gallon.
Local news includes the end of the Chargers as a San Diego-based team, the end of local ownership of the San Diego Union-Tribune (now part of the national media group that also owns the Los Angeles Times), record-setting rain in July (1.03" in one day), record-setting heat and rain in September, the closure of restaurant chain Coco's, local resturant AJ's Fish Merchant, and grocery chains Haggen and Fresh & Easy, and the end of Orca shows at Sea World.
The schools have had at least 3 lockdowns in the past 12 months.
Also, and perhaps this is regional news, this Rose Parade broadcast on KTLA will be the last for Bob Eubanks and Stephanie Edwards. Disneyland permanently closed four Big Thunder-themed attractions to make way for a new Star Wars-themed area. Six other attractions, mostly on or around the river, will be closed during construction.
California news included continued drought conditions despite the promise of a hard-hitting El Nino storm season as wet as the last major El Nino, which was the year we were married!
National news included Donald Trump's rise as a Republican presidential candidate, more police shootings (1,125 in 2015 by one count), almost countless mass shootings, and a general uptick in divisive dogmatism. Pope Francis visited the U.S. in September. The U.S. Supreme Court ruled in favor of same-sex marriage, giving rise to a massive but short-lived "Love Wins" meme. And, the U.S. Women's Soccer Team won the Women's World Cup for the third time.
Global news included an exodus of well over a million refugees fleeing wars and oppression in the Middle East and Africa overwhelming Western borders and straining resources. Terrorist attacks increased, including several in Paris. Relations between the U.S. and Cuba continue to warm. VW surpassed Toyota as the world's largest automaker in early 2015, and months later was caught using hidden software to rig emissions control tests in its diesel engines. And, automotive airbag maker Takata had to recall some 34 million vehicles for faulty switches, the largest single product recall in history. China's economy slowed, as did Japan's. Russia's Vladimir Putin seemed to gain the upper hand in supporting the Assad regime in Syria. Greece elected left-wing anti-austerity Alex Tsipras, who later shepherded through the austerity measures needed to meet bailout requirements and stay in the Eurozone. In the UK, David Cameron and the Conservative party won a surprise victory in the general election. Myanmar held its first open election in 25 years. And Spanish-language variety show Sabado Gigante ended its 53-year run in September.
Astronomical news included a rare super blood moon eclipse in late September. And, speaking of the moon, Yutu ("Jade Rabbit"), a Chinese lunar rover that landed on the moon two years ago and almost immediately became immobilized, discovered a new kind of volcanic rock, as well as evidence of lunar rock layers. Two private companies, SpaceX (funded by Elon Musk) and Blue Origin (funded by Jeff Bezos) sent reusable rockets to space and landed them safely, vertically, and on-target on Earth. Water was discovered on Mars, and a global ocean may be circulating somewhere on Saturn's moon Enceladus. And, Kuiper Belt Object (yeah, right) Pluto got some respect when it was discovered to have a blue atmosphere.
This journal started the year at around 41,325 and ended around 42,755, for roughly 1,430 unique visitors through 2015.
Remember, photos from 2015 can be seen on our 2015 photos page. To see what we're up to now, visit our regularly updated weekly journal!
Back to the Archives page
Back to the Kuraoka Family main page
Forward to the current Weekly Journal.