Click on any photo to see it full-size. All photos copyright John or Ondine Kuraoka, Barbara Brooks, Bill Nutter, or Frances Kuraoka, or as noted.
12-31-2008: Sushi Chefs Roy and Leo. Roy and Leo work on preparing the makizushi for the traditional Japanese New Year's Day feast. The thing Leo is holding is kampyo, which are dried gourd strips that are rehydrated and cooked in seasoning.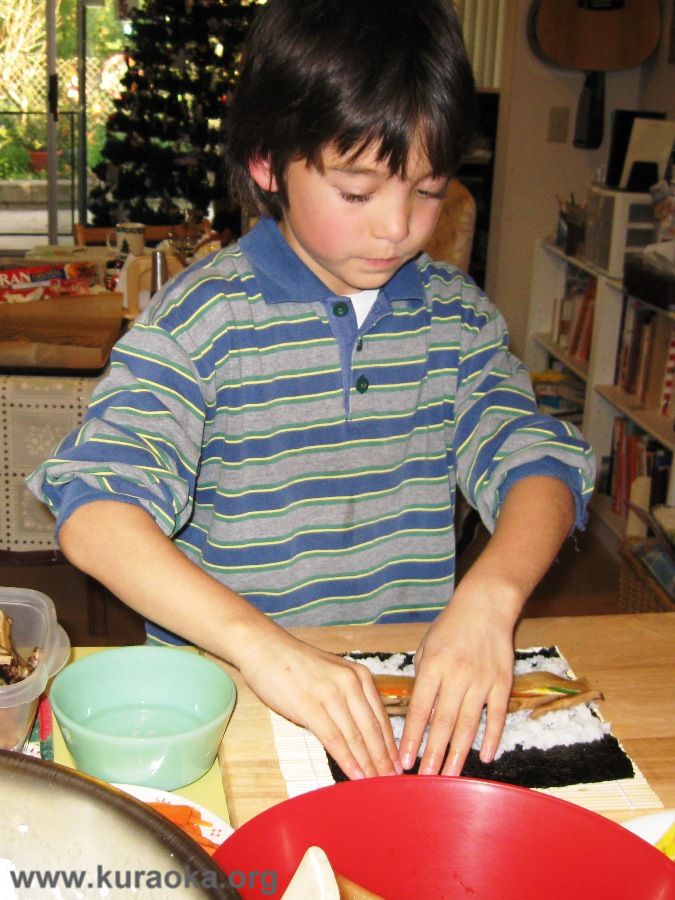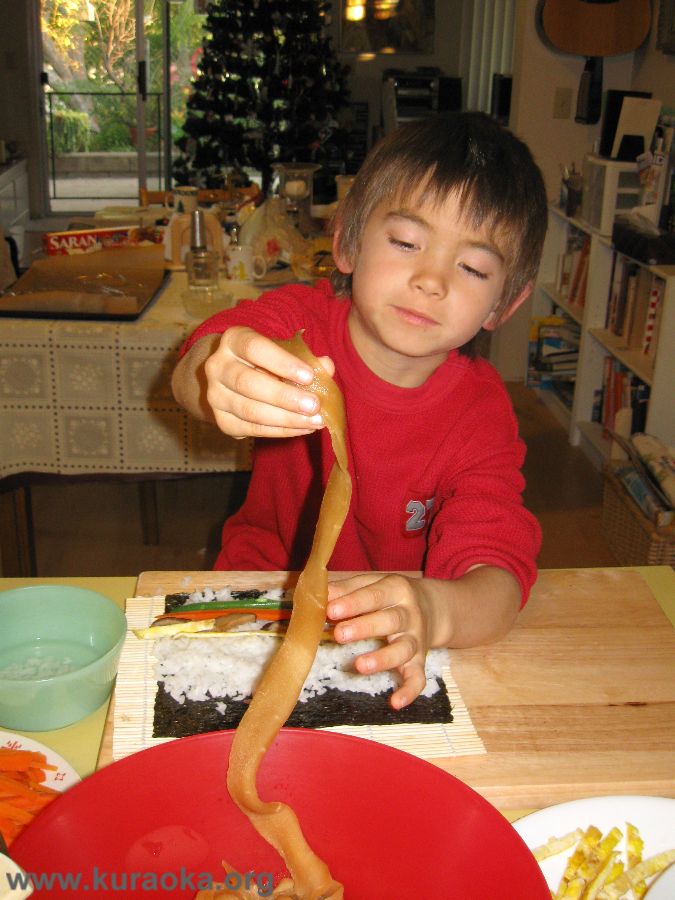 12-19-2008: Our Christmas card photo. Leo lost a second front tooth! Also, here's our favorite outtake, which seems to say so much.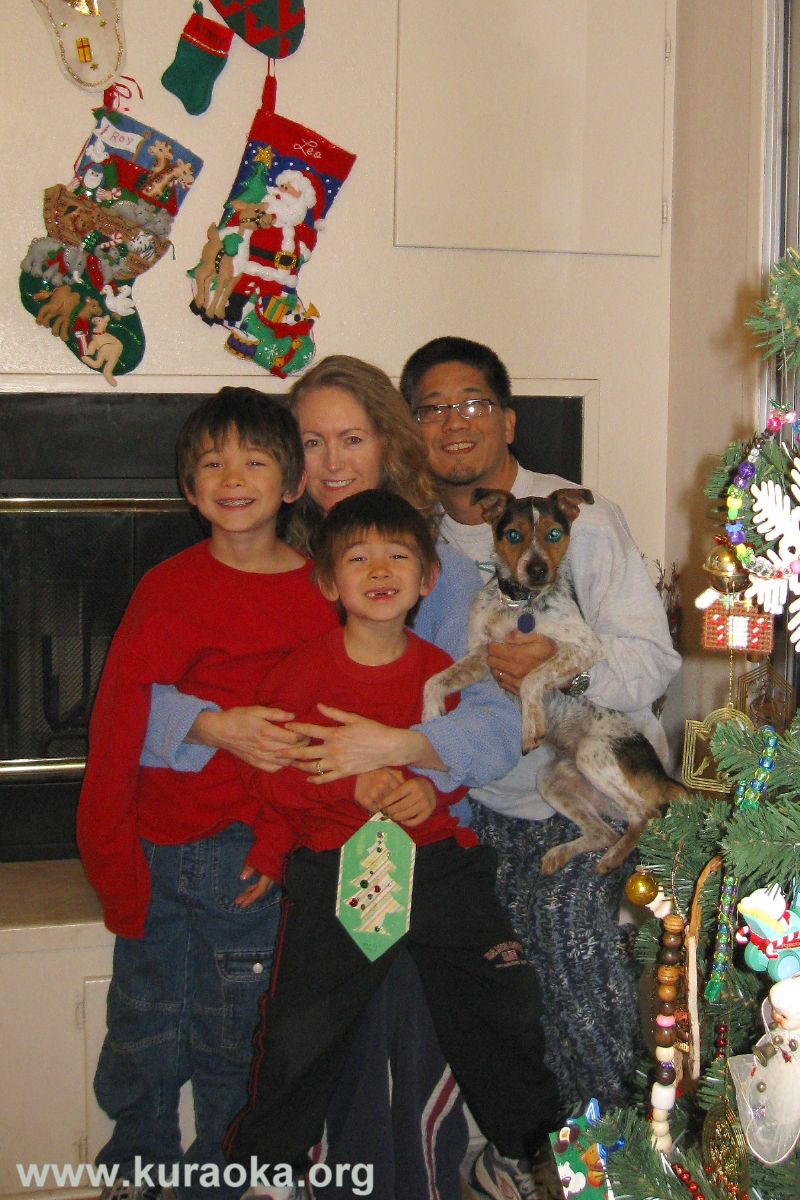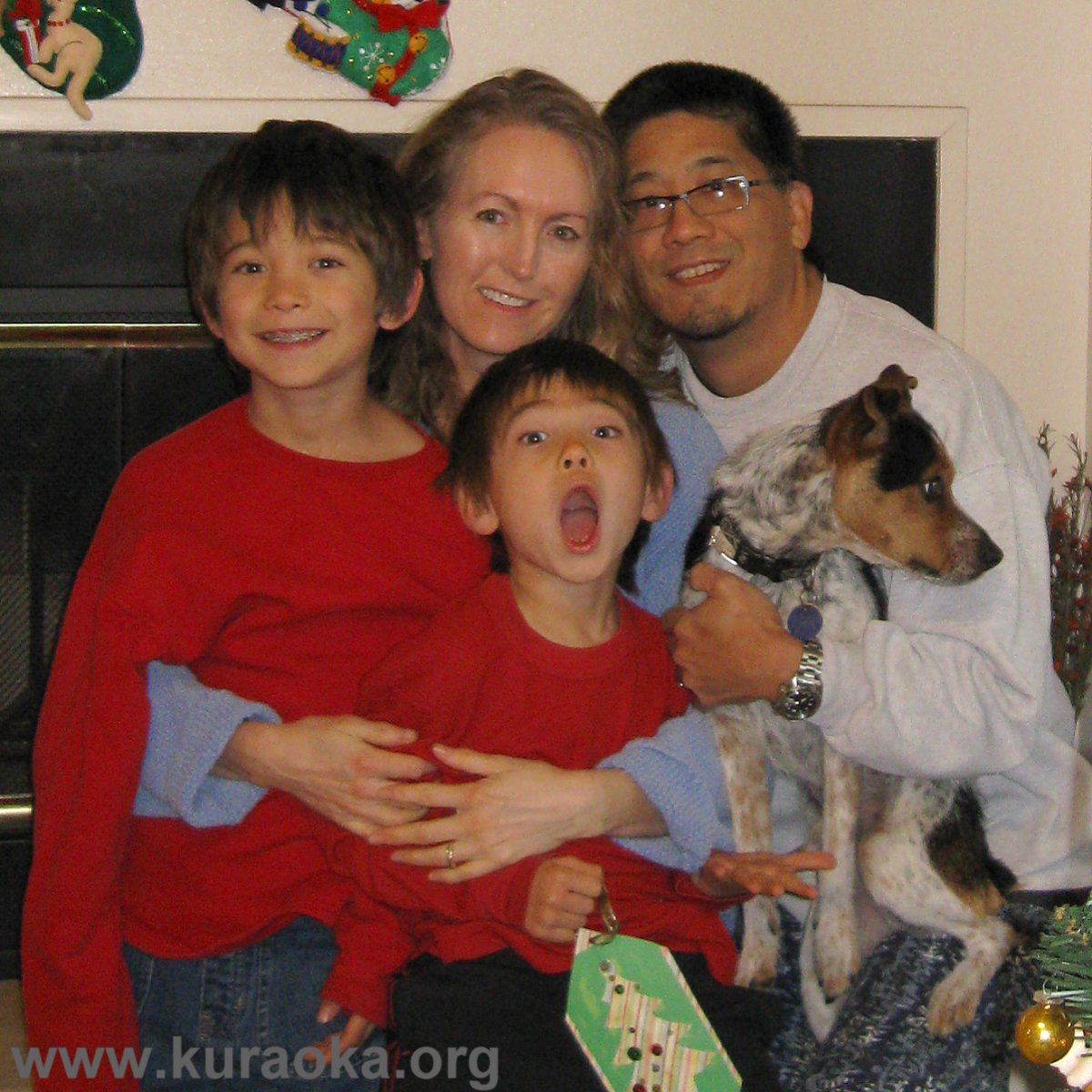 12-17-2008: Bill atop Cowles Mountain! Barbara sent us some photos Bill took over the past few weeks of his trips up Cowles Mountain. Here's our favorite!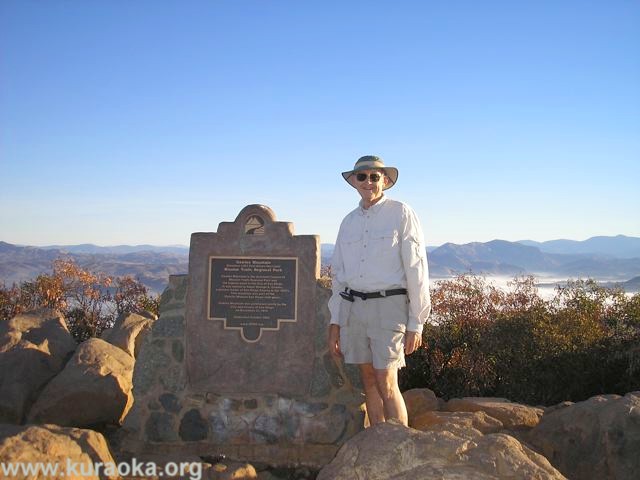 11-29-2008: Roy and Leo and the Pomegranates. Look at Leo's gap-toothed grin!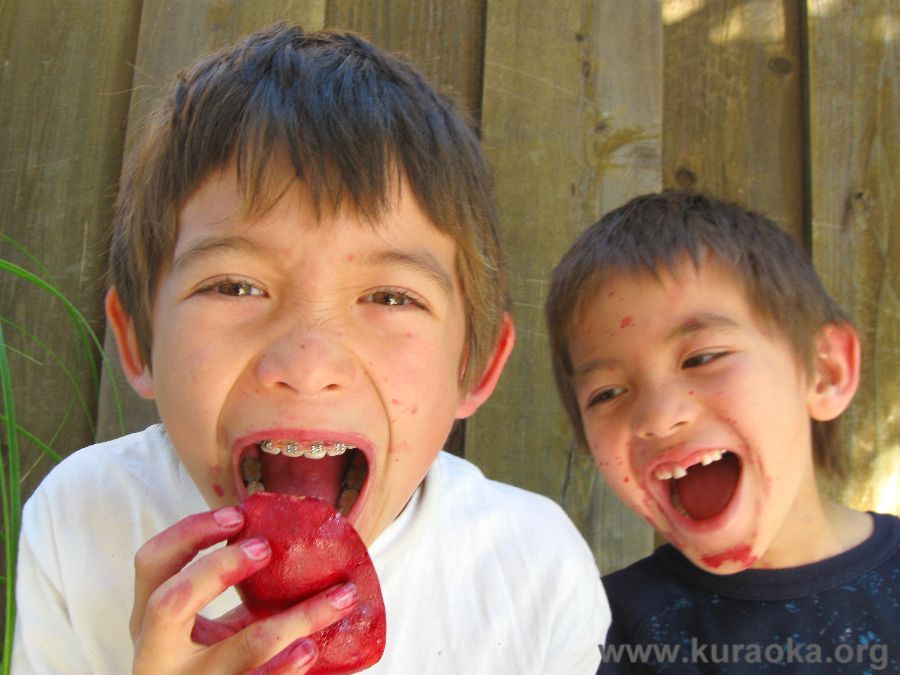 11-28-2008: Sea World Soak Zone Victim! Lauren took Leo down to the Soak Zone at the Shamu show. And they got, well, soaked. There's Leo in the first photo, and Lauren in the next, with Ondine's cousin Larry, Lauren's dad, looking on cheerily.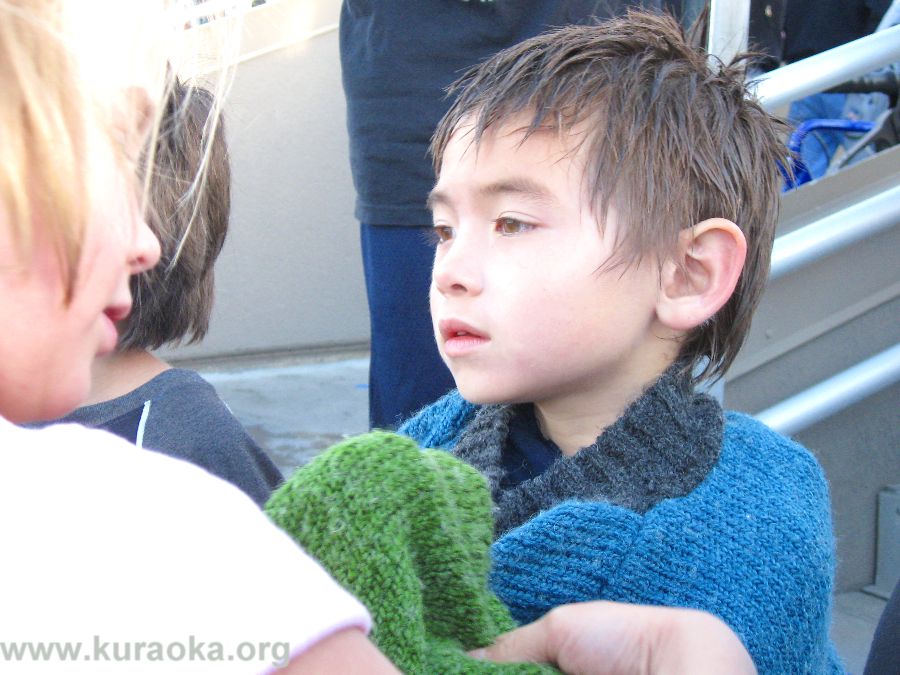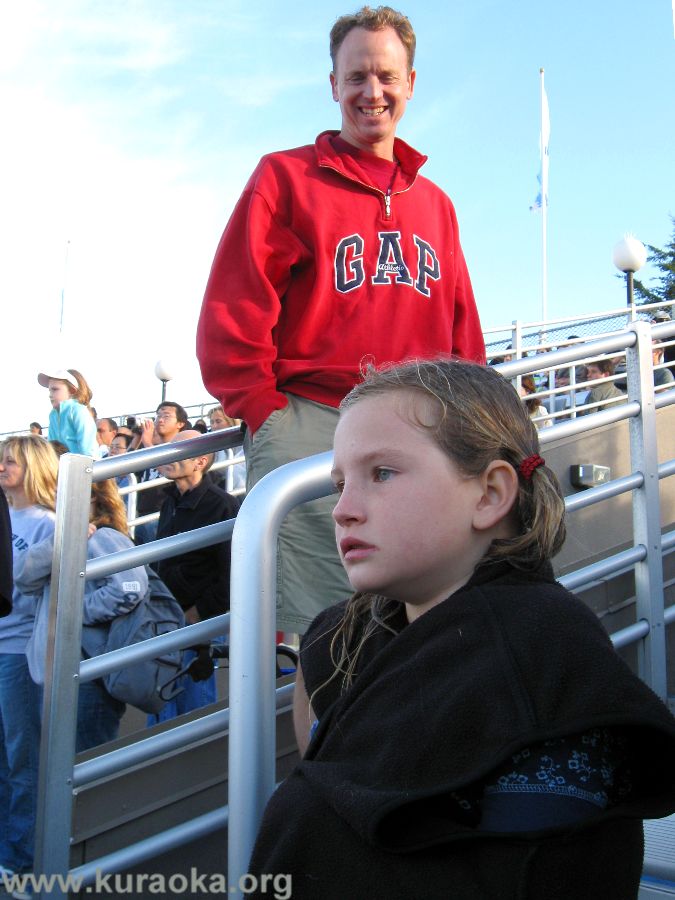 11-23-2008: Roy is in the Mother Goose Parade! Here you see the Mother Goose balloon queued up on a side street. Grammy, Leo, and Ondine (and John) waited on that side street until we realized that the parade was not passing us by! We moved to a different street, where Leo camped out by an abandoned video store looking like a street urchin. It was also the wrong place, so we moved again, fearing we'd missed Pack 951. But no, here they come! And there, in the blue and light blue hats, are the bears. Roy is partially hidden, but you can see his denmates Alexander, Donovan (in the red vest), Michael, and Stephen. Hurray!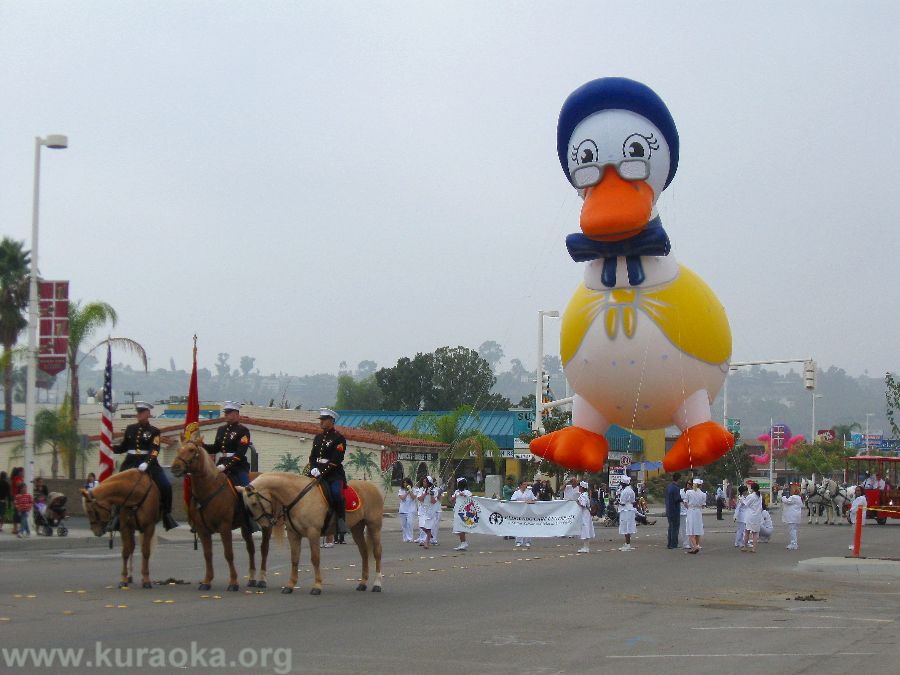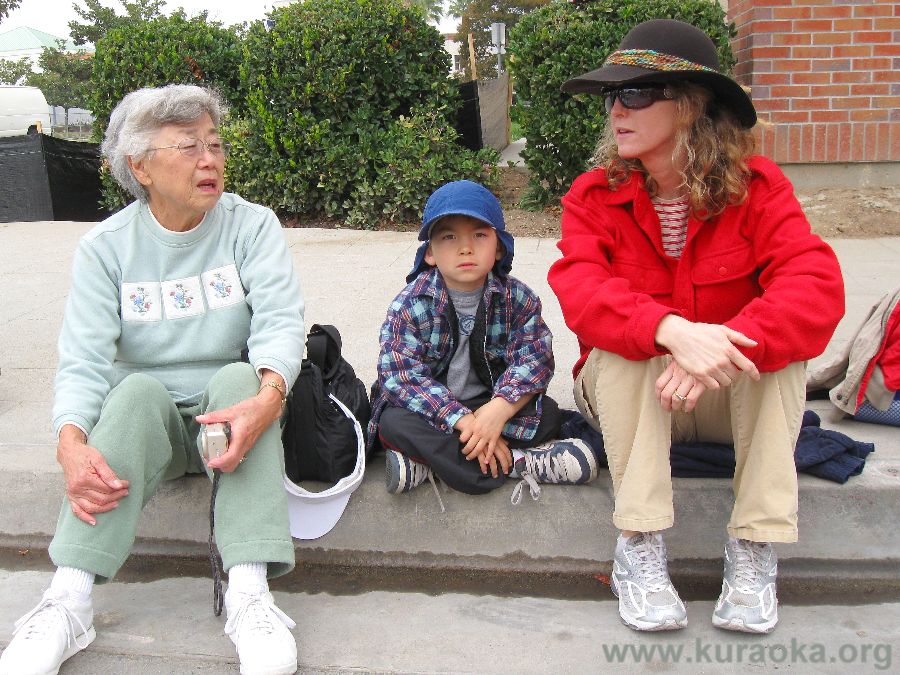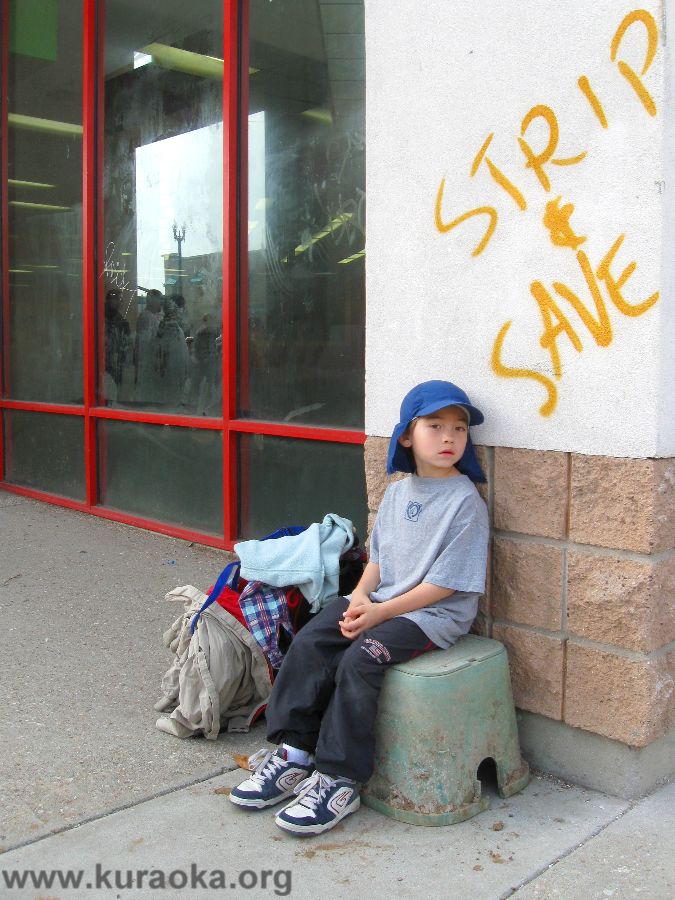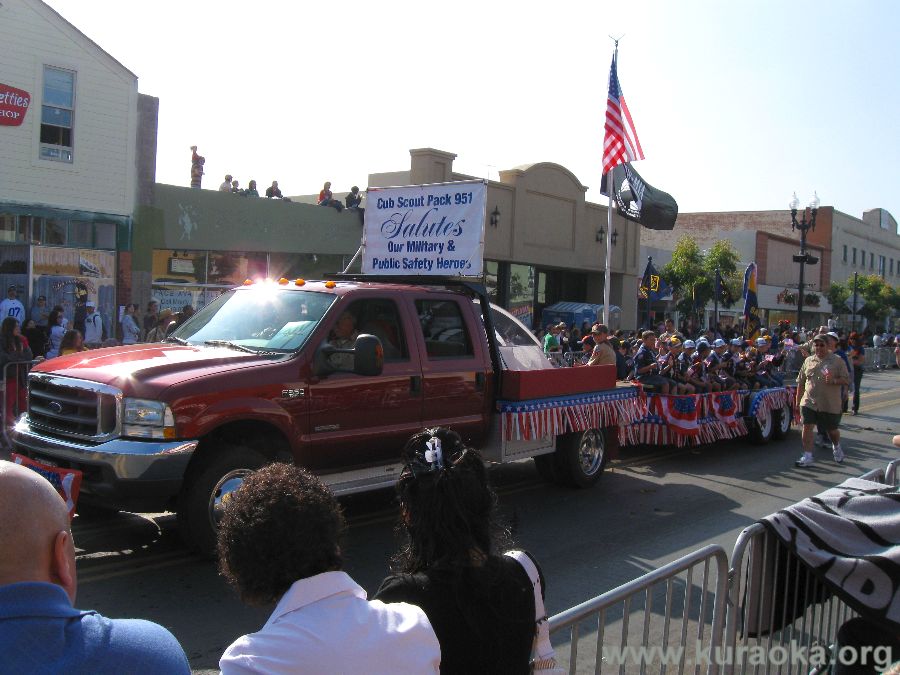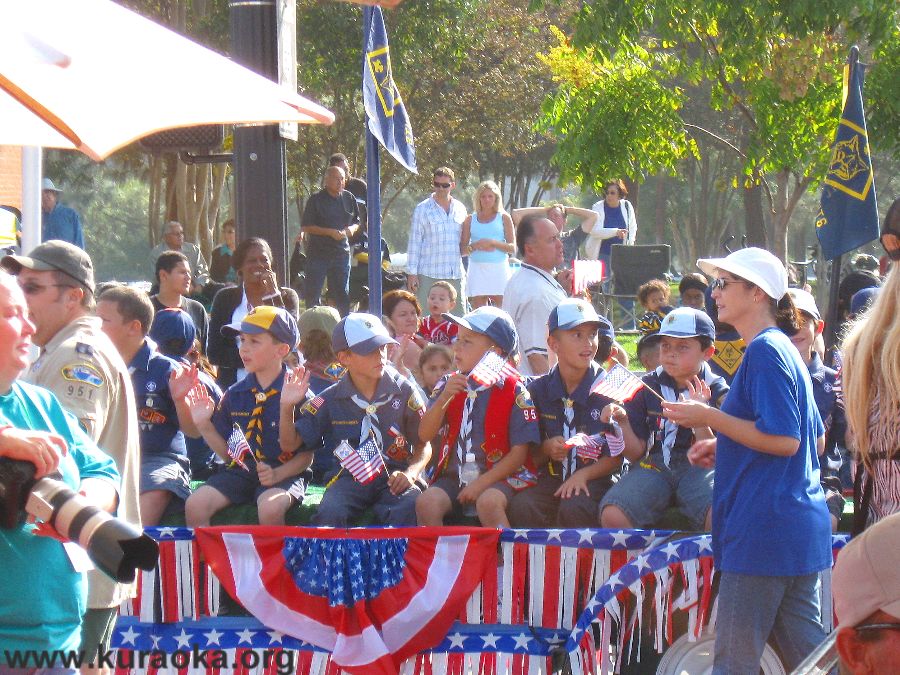 11-08-2008: Indian Hills Camp! First is a photo Saturday of the Bear Den boys and sibs huddling up over lunch and a Bakugan game. Then we see Roy the archer, Roy on the zipline, and Leo watching Roy on the zipline. You can read about it – and the rainstorm that hit early the next morning – on this archived weekly journal.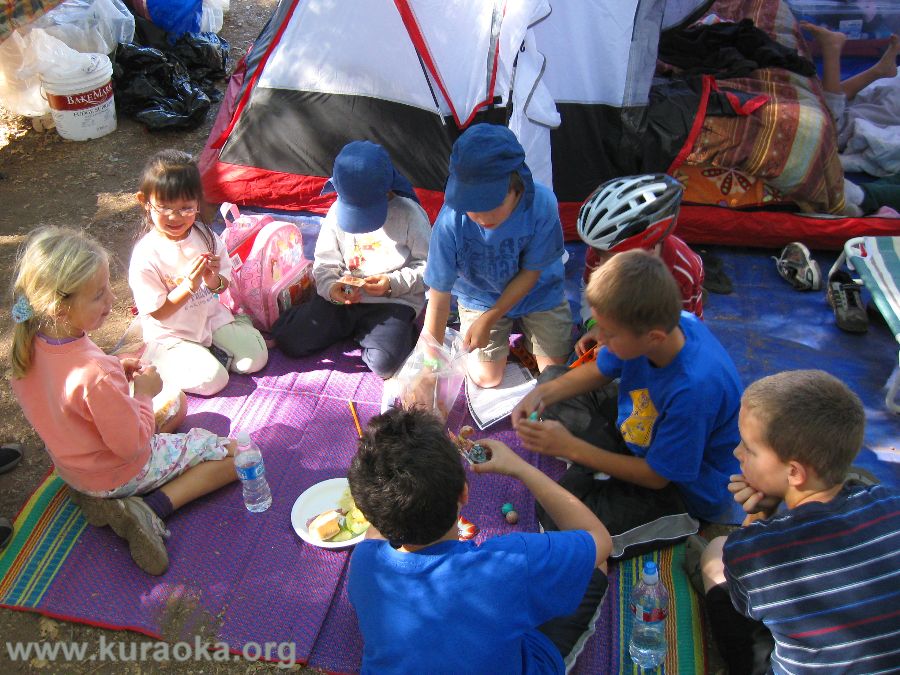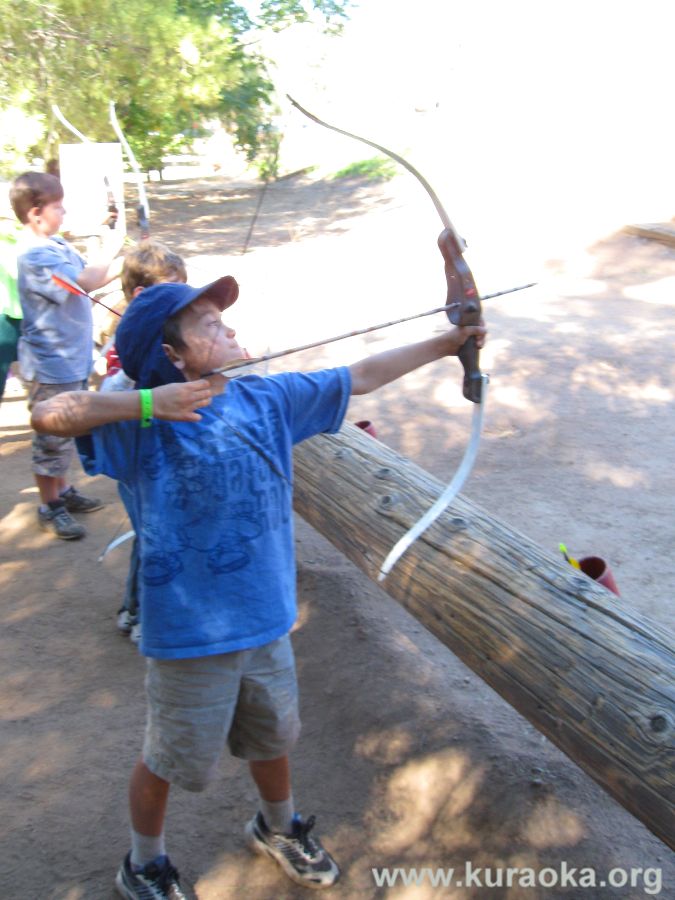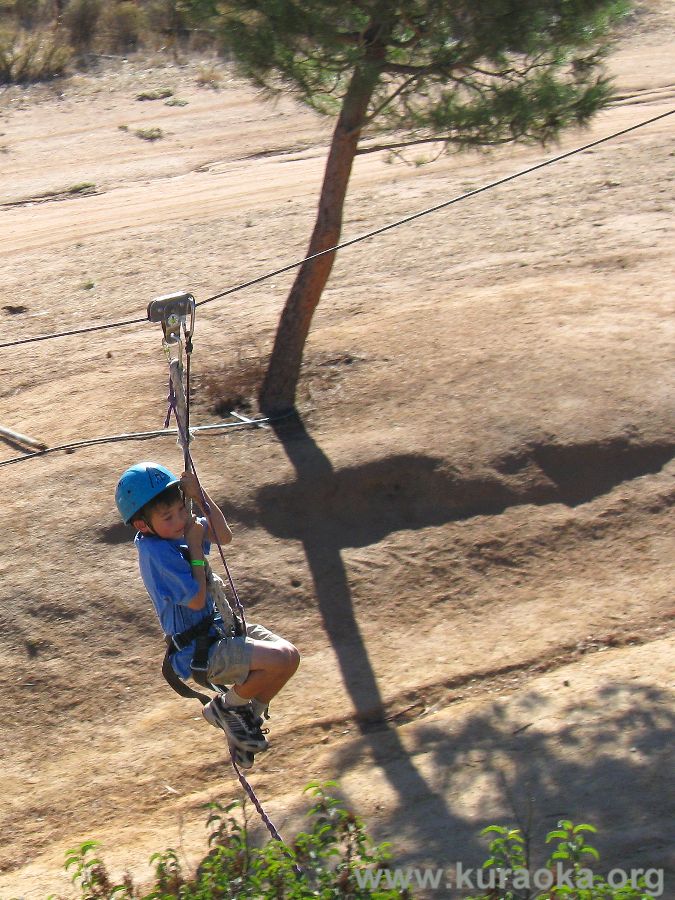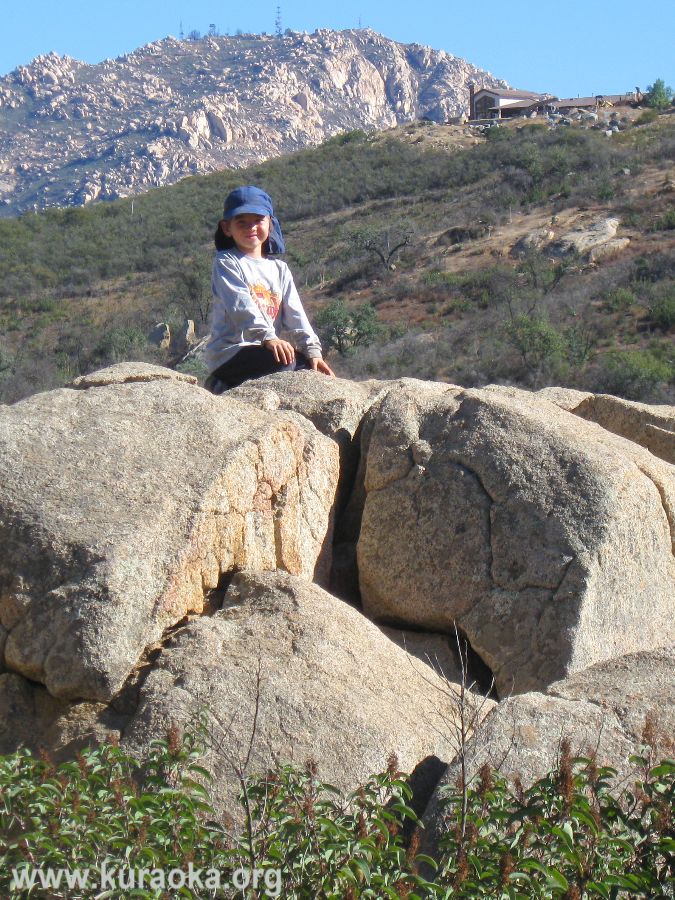 11-07-2008: Ondine paints the kitchen. And Roy's room. And Leo's room. Look at her go! Here, she preps some cabinet doors as John and the boys head out on a weekend camping trip.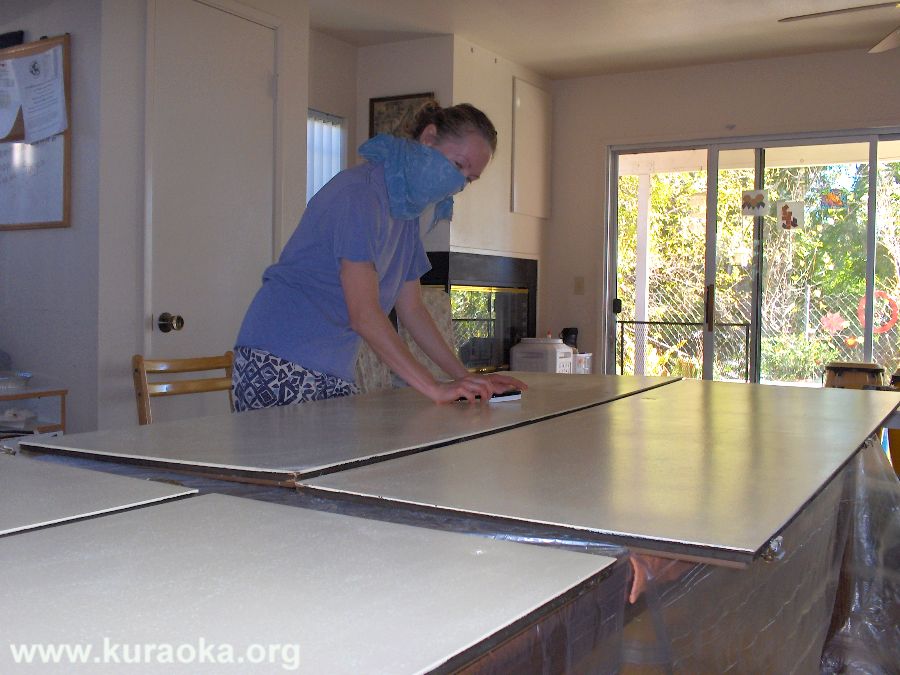 10-31-2008: Happy Halloween! Here we all are: Roy, Jack (floating in the back row), Ondine, Leo (we think that's Leo), and John (who seems to be dressed up as a sofa).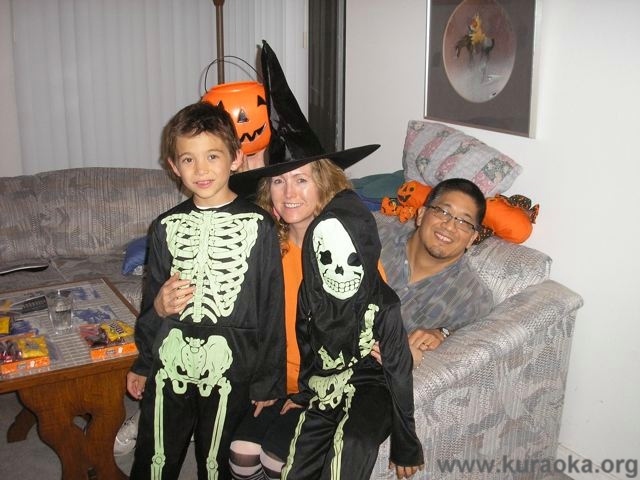 10-25-2008: Leo fights for the ball! Leo might not be the biggest player on his soccer team, or even the most skilled. But he sure enjoys getting into the middle of things!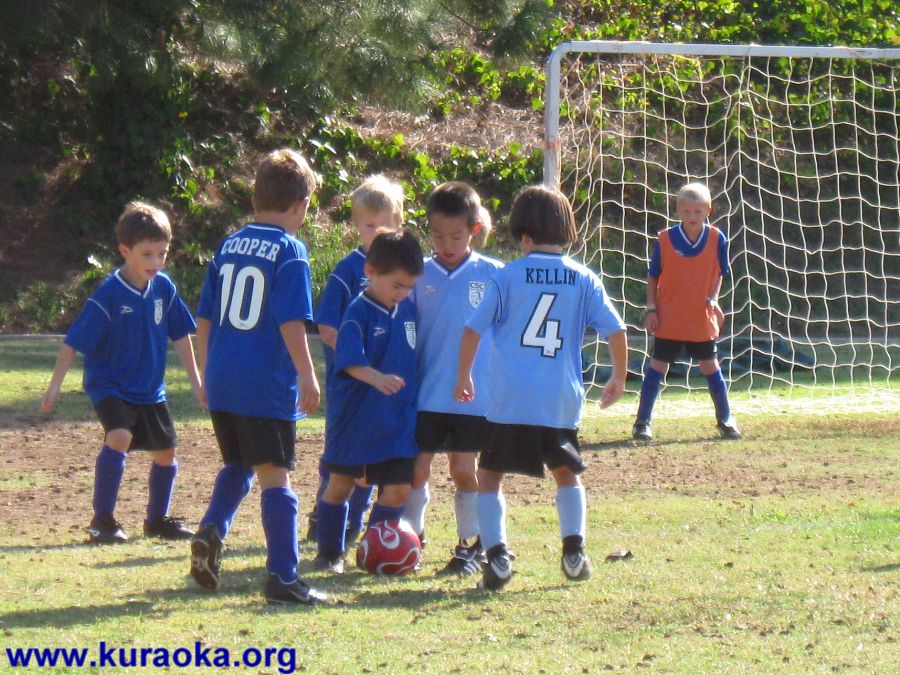 10-22-2008: Halloween is coming. Next door, Barbara and Bill set up Jack, and Leo decided to read to him.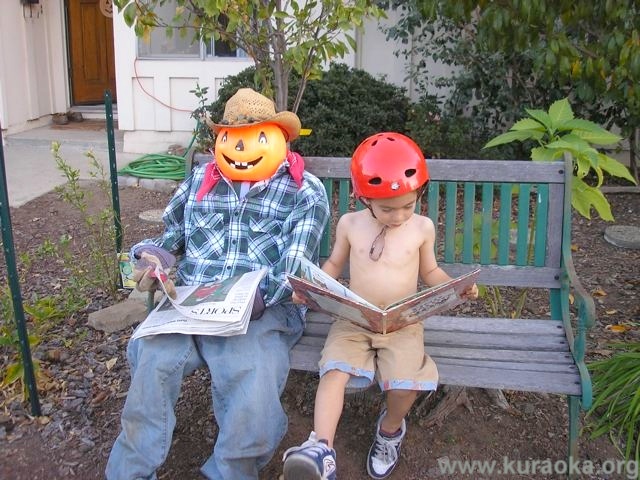 10-18-2008: Oma's Pumpkin Patch with Pack 951. First we have Roy, Stephen, and Michael finding their way through the hay maze. Leo, Alexander, and Zackary are in there, somewhere. Next we have Leo sledding down the cottonseed mountain. The third photo from the left is Roy doing some off-roading. No, that four-wheeler didn't move. Likewise with the bulldozer, on which are (from left to right) Roy, Zackary, Stephen, and Michael. That didn't keep the boys from trying – that's Roy in the driver's seat with Alex and Michael, looking for the starter button.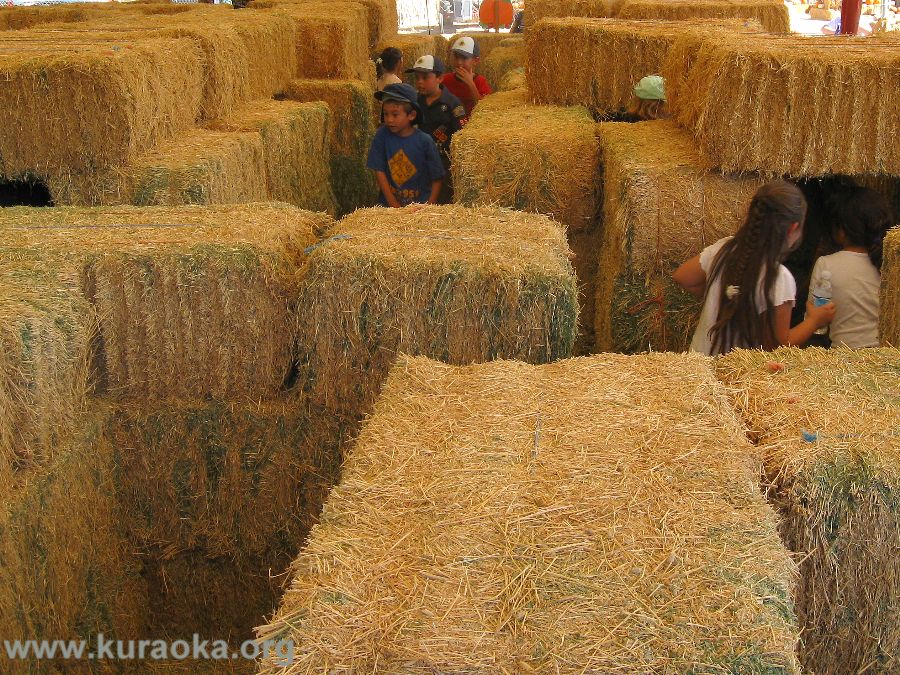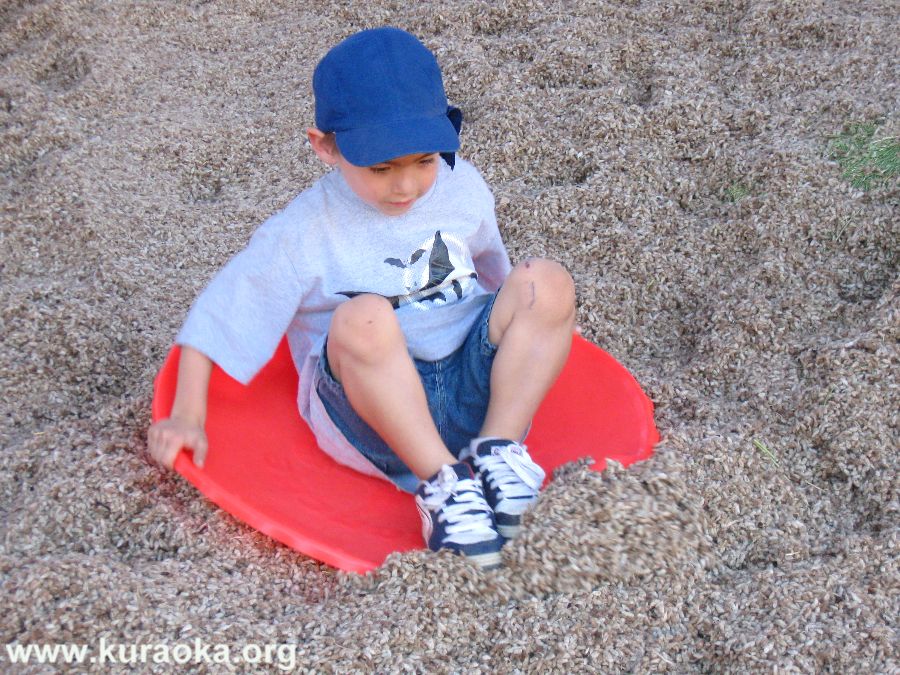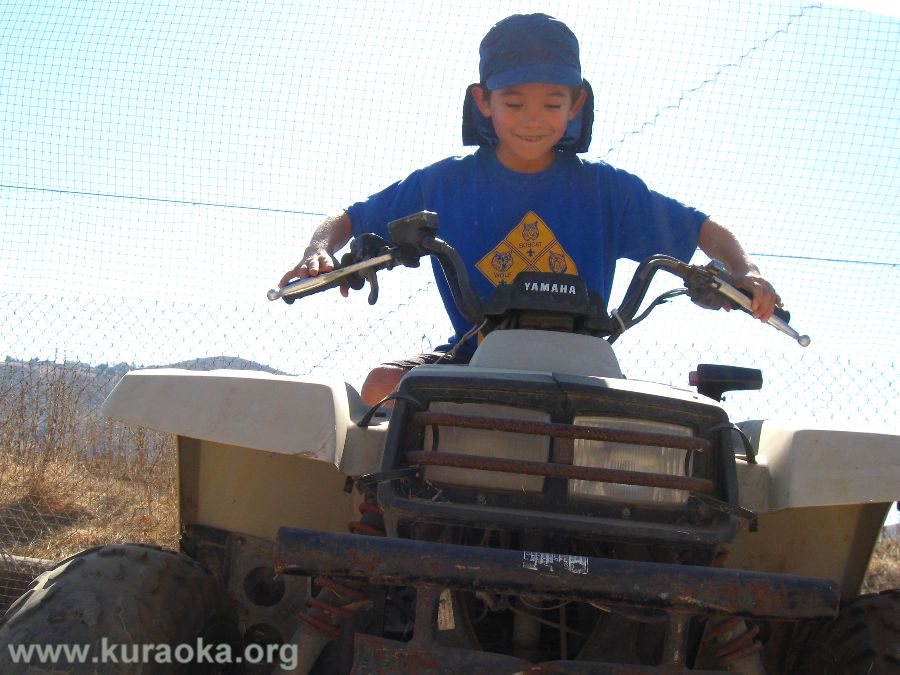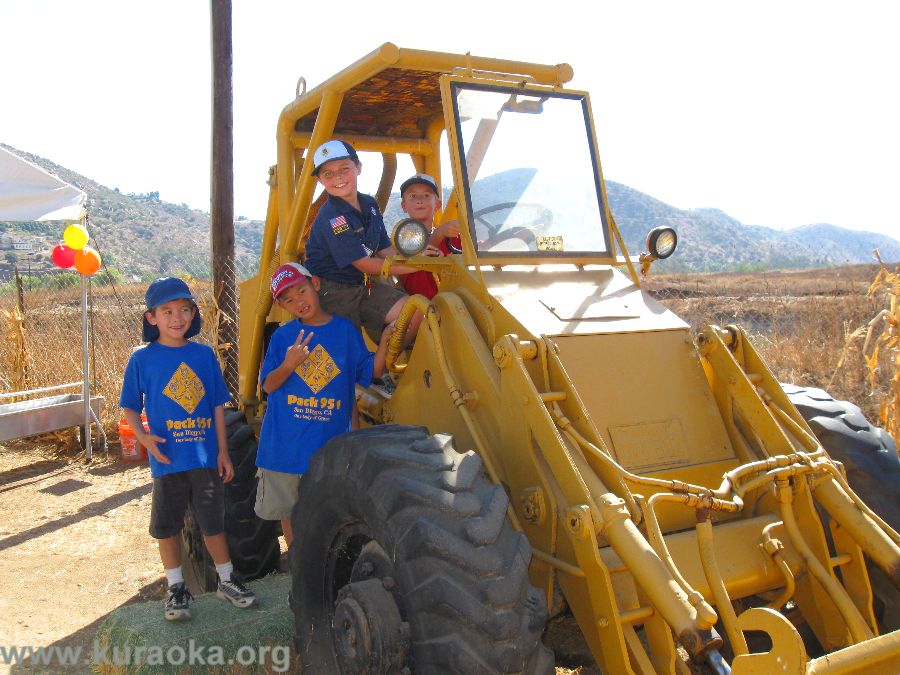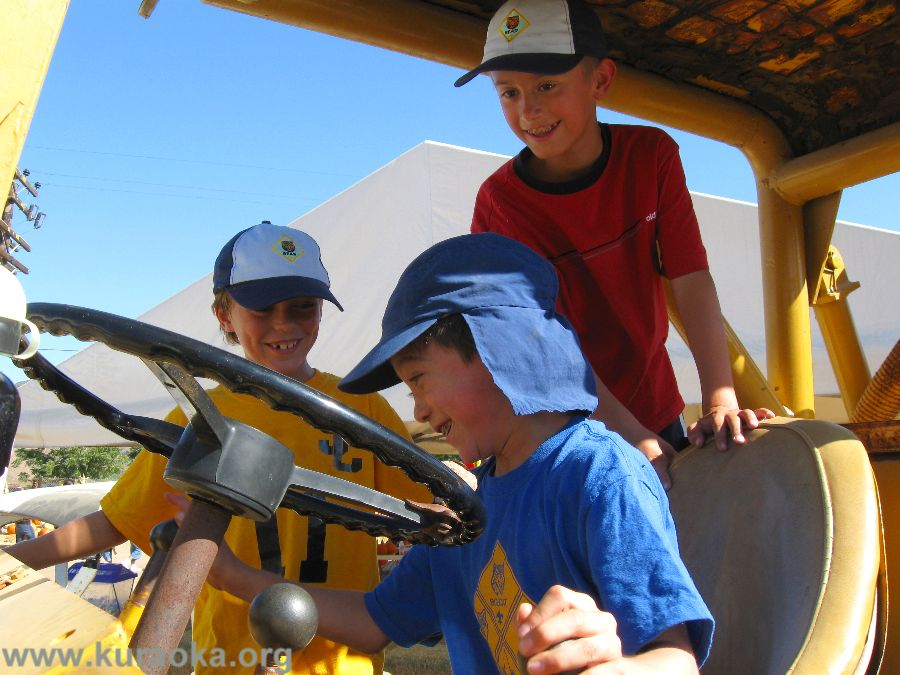 10-11-2008: John's lucky night! John won this tin of homemade candy bar fudge at the watch and clock club meeting, for guessing how a particular clock fit the Show & Tell theme. And he won the Show & Tell drawing, too, for a Show & Tell sweep! No wonder he looks so smug in this photo, from Cathy Edgar (who also made the yummy fudge!).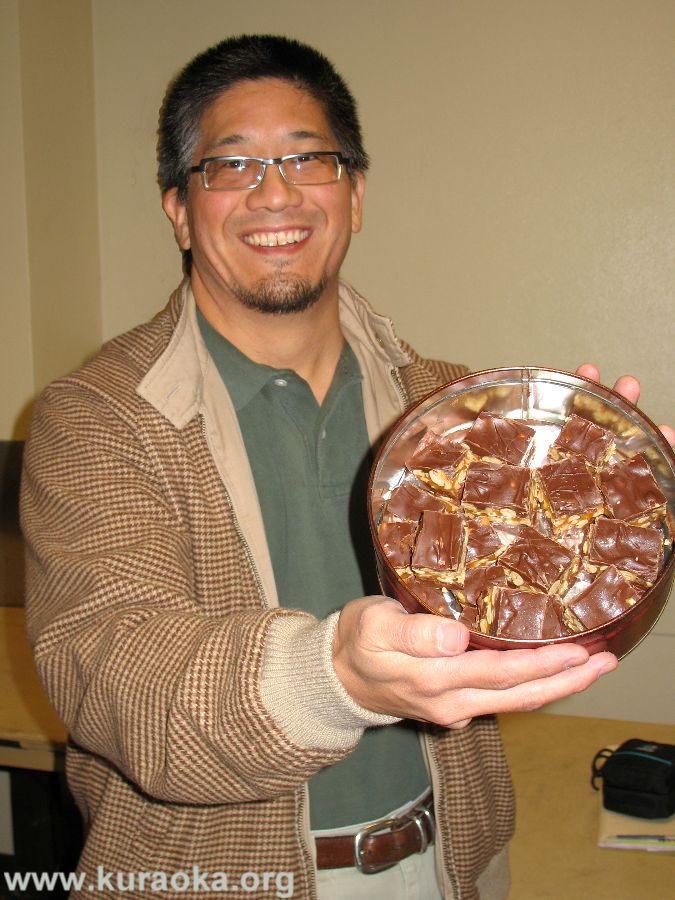 10-04-2008: Roy's soccer game! These were taken from quite far away on the opposite sideline, hence the fuzziness. Still, that's Roy in red #4. The first photo shows him racing to the push the ball forward, the second shows him wide open, dribbling the ball forward and looking for a pass.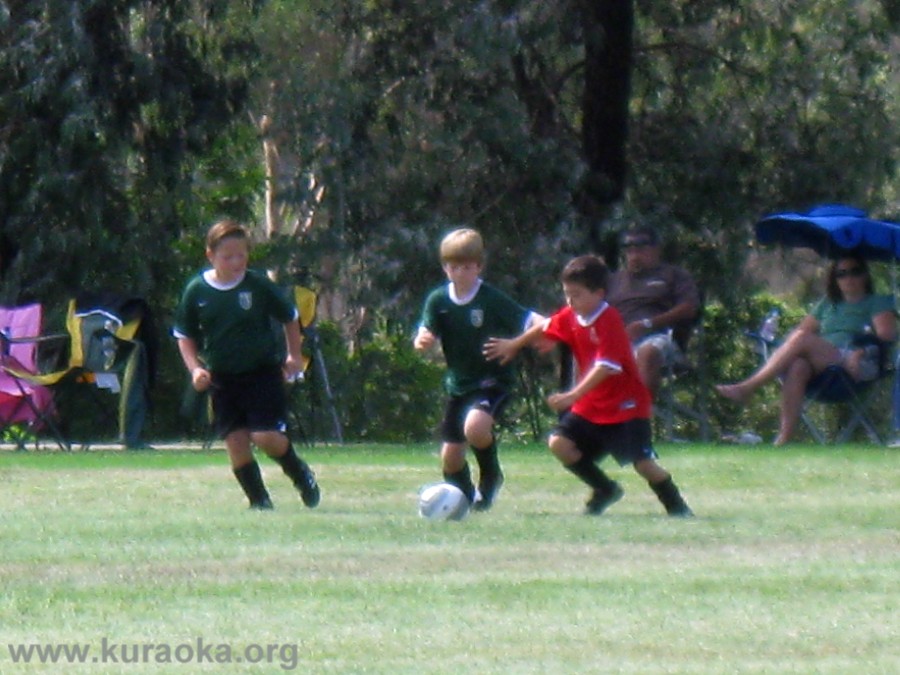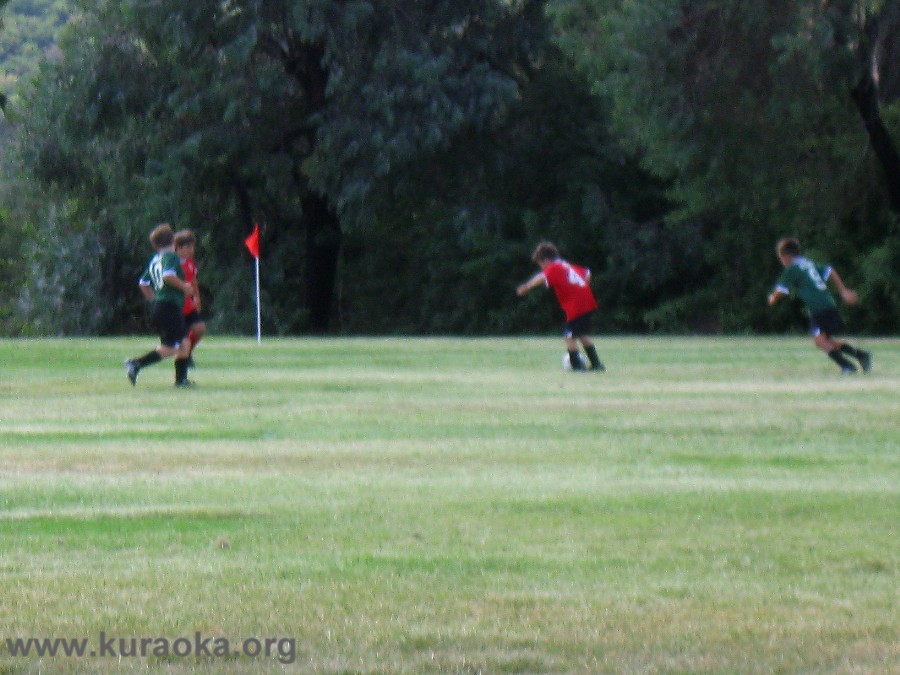 09-29-2008: Ondine's great-grandparents (and Barbara's grandparents), photos from Jürgen and Dax. On the left is Mathilde Schneider Wittmann and on the right is August Wittmann, who was a successful architect. These photos may have been taken in the late-1910s to mid-1920s. One day we will start a family history page, and compile more of these in one place; for the time being, though, here they are hanging on our virtual refrigerator door.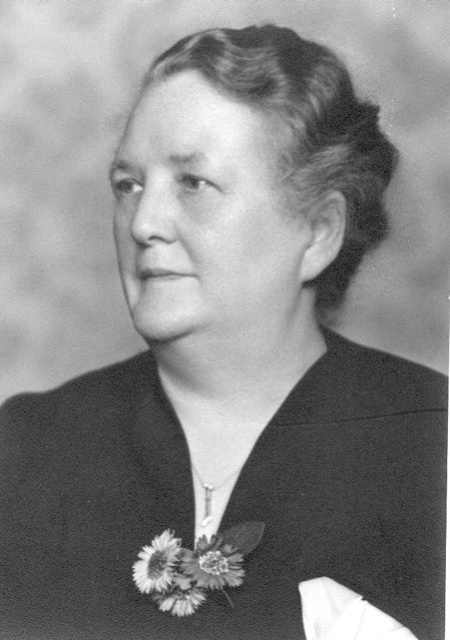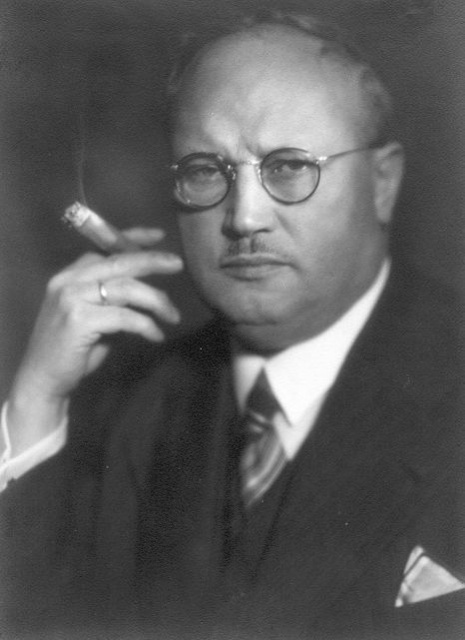 09-21-2008: Leo's gap-toothed grin. These smiles are so precious!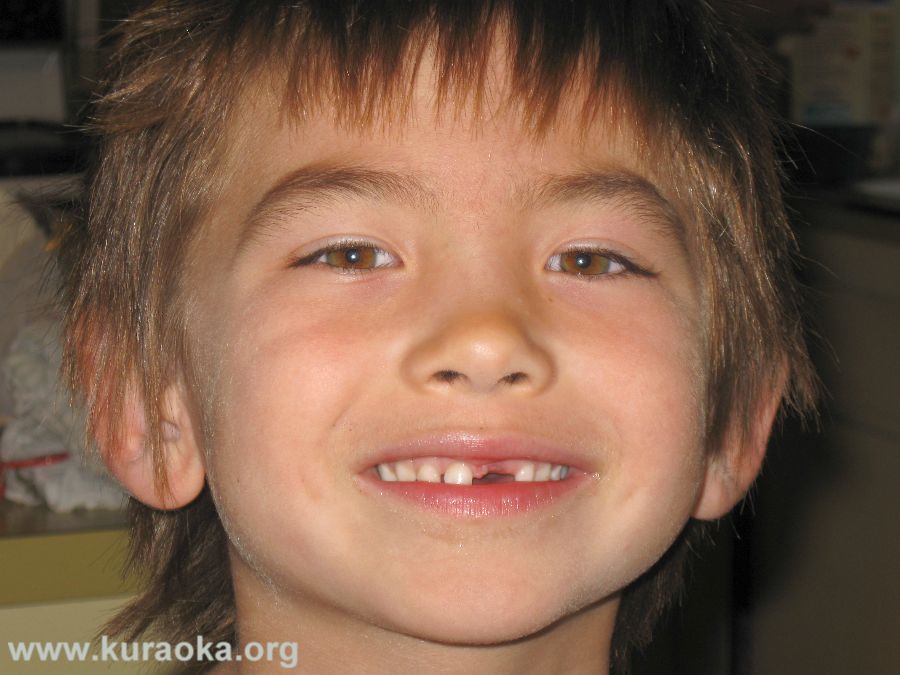 09-17-2008: John's new laptop ... and visible proof of one compelling reason to buy refurbished electronics: less packaging. The ad guy in John appreciated the line on the cover of the box.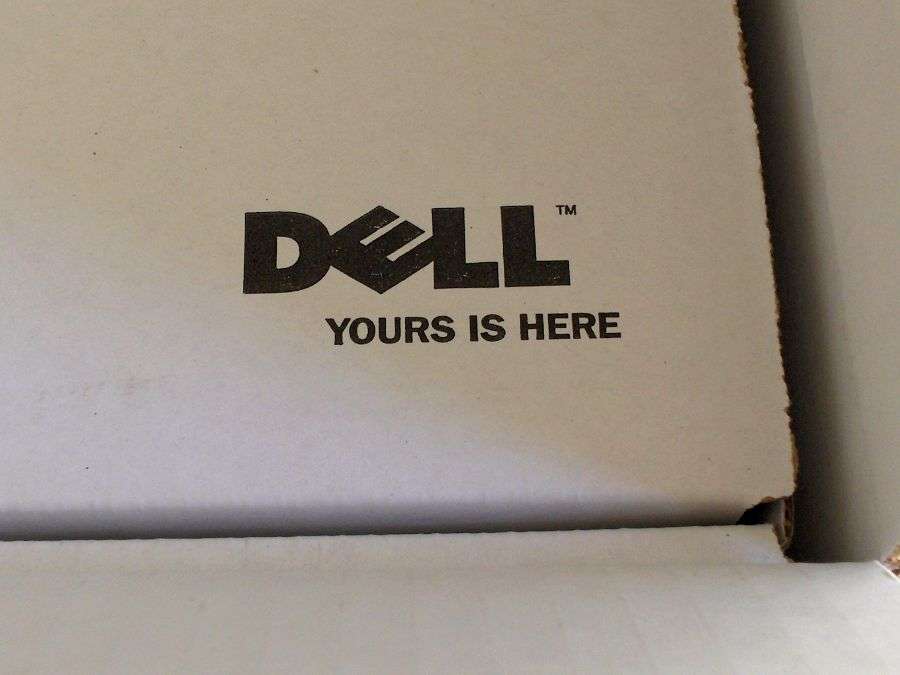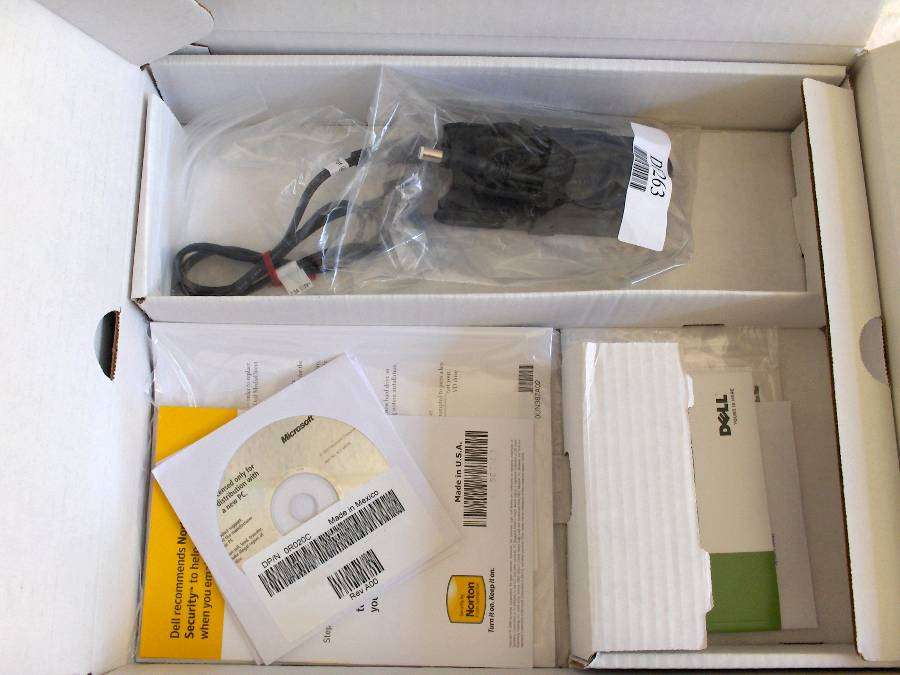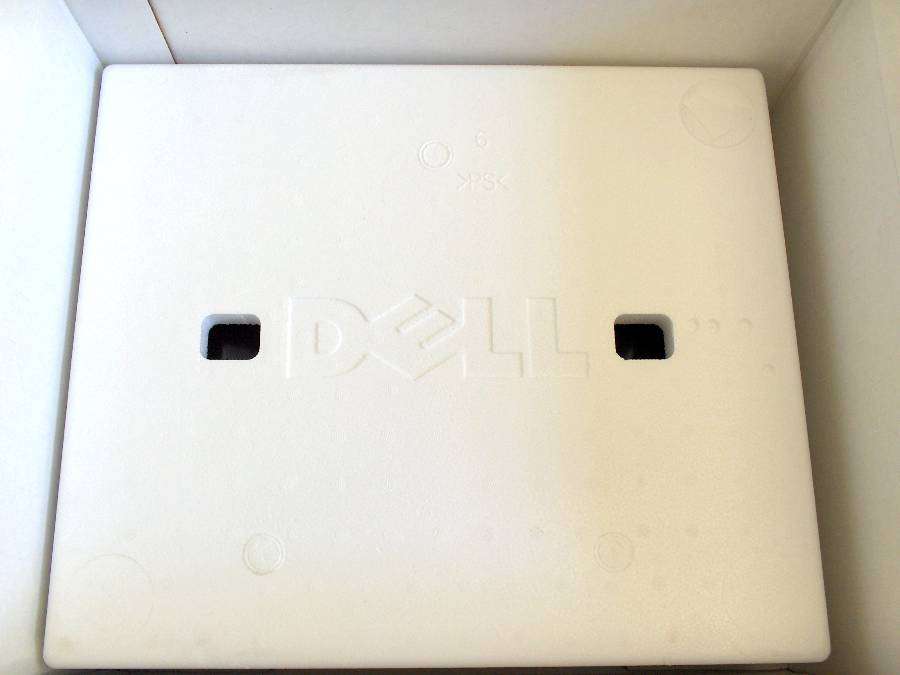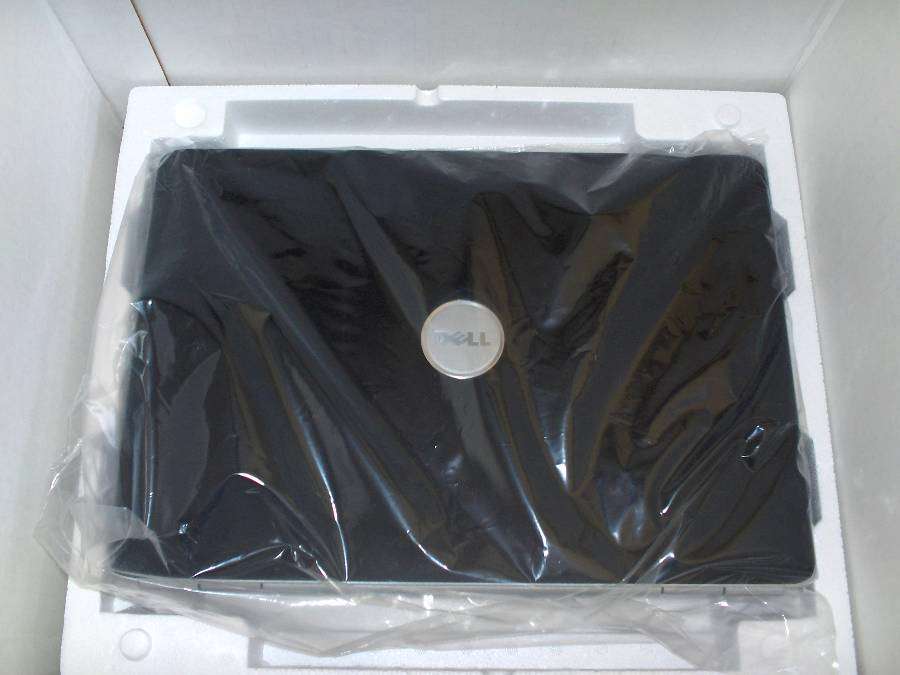 09-02-2008: Back to School! Here are the boys, eager to set off with their new backpacks and their Schultüte filled with new supplies and a few surprises.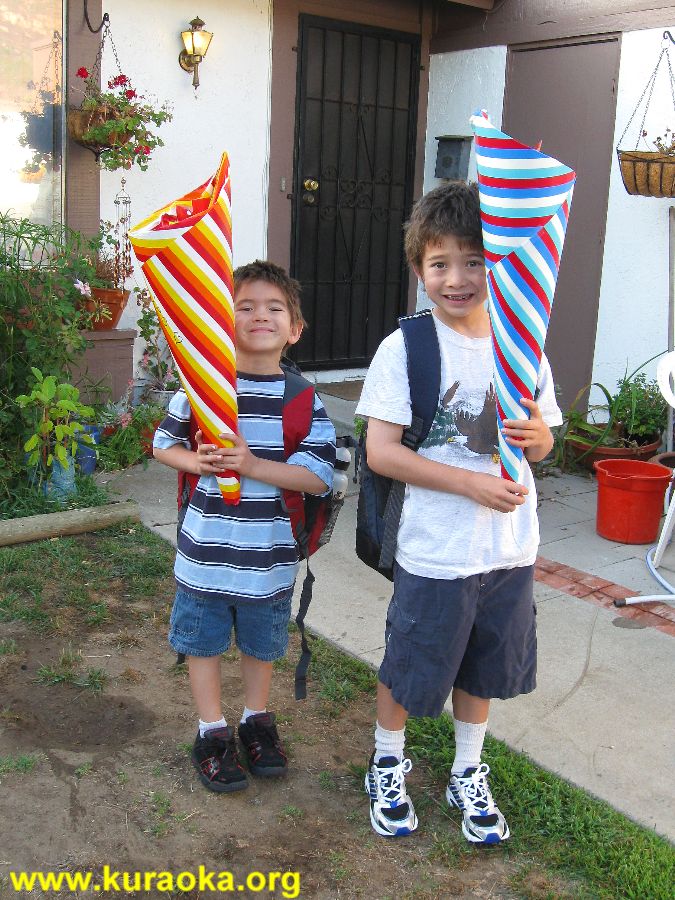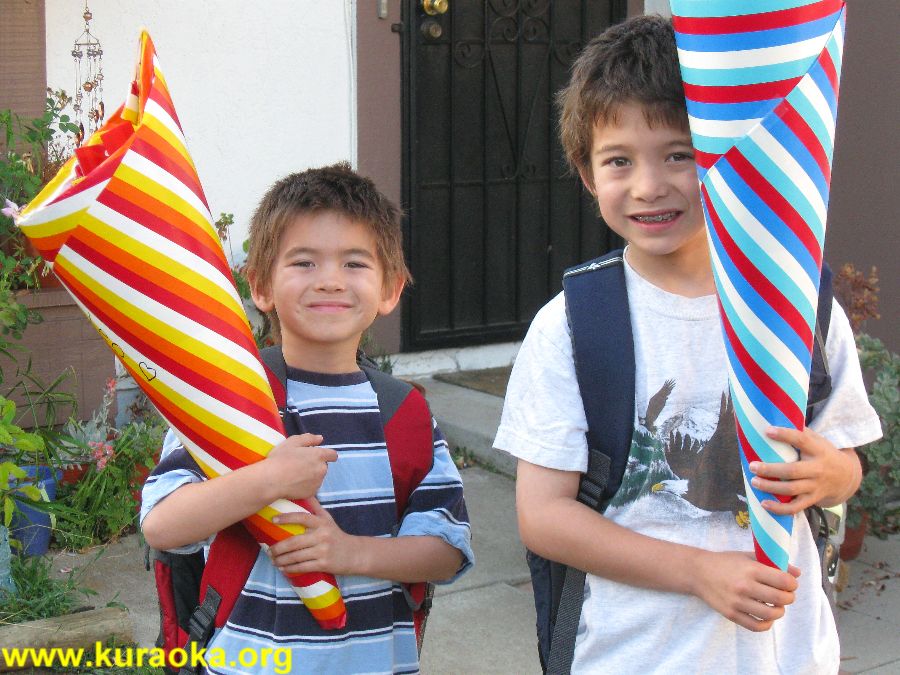 07-27-2008: Pool Party! We went to Robbie's birthday party at the Santee YMCA pool. Here we see a tired Leo taking a brief break in the sun, and a gleeful Roy plunging full-tilt down the huge water slide.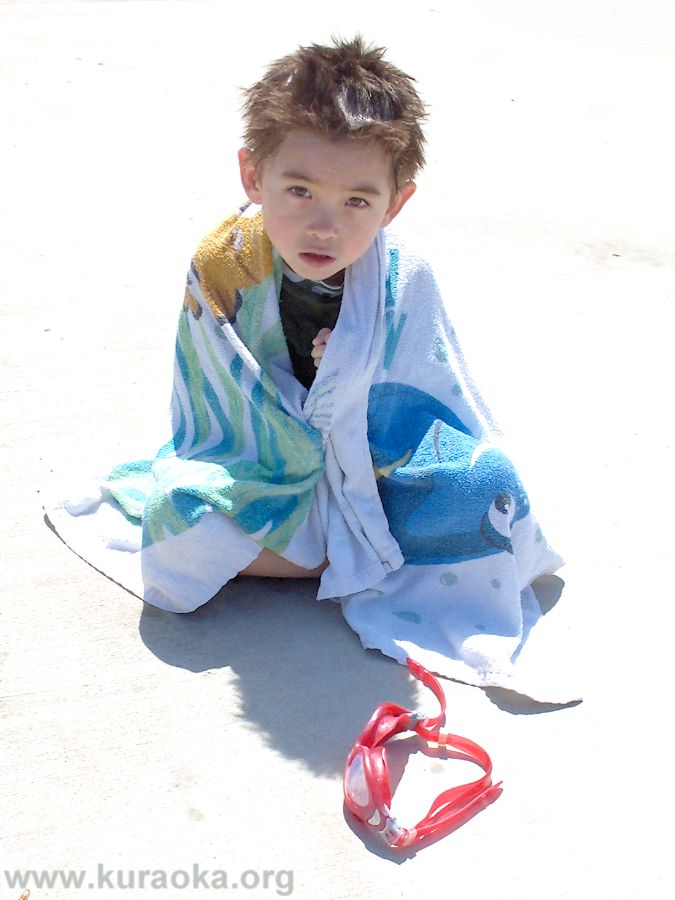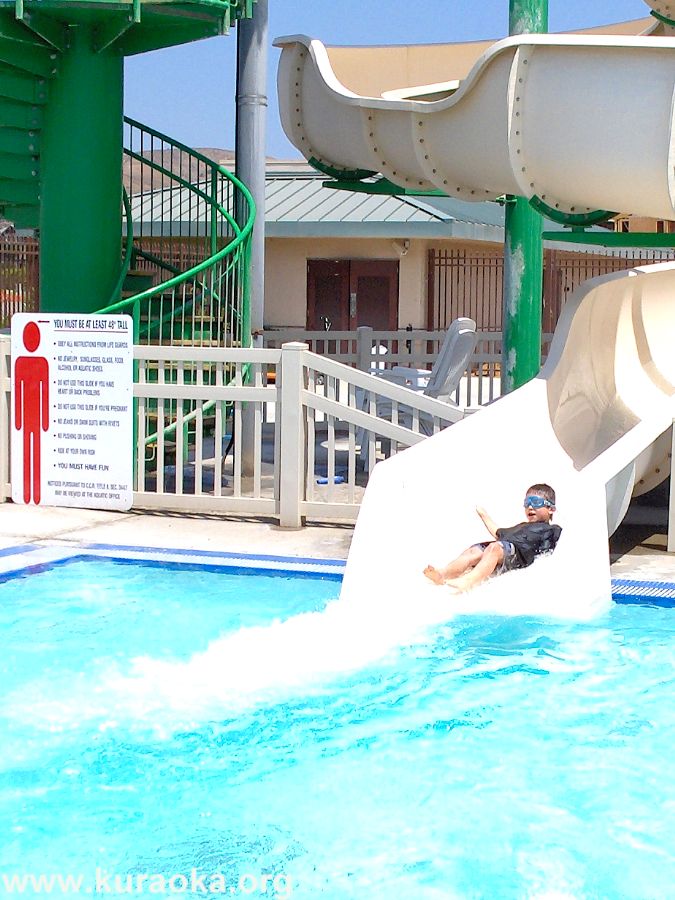 07-22-2008: Ondine's college wear. Ondine started sifting the boxes in the garage, and discovered a small cache of clothes from her junior year in Germany! This shirt may have been painted by a former boyfriend of her roommate, Desiree (or so Ondine says). Also found: a leather wallet containing money! It pays to de-clutter!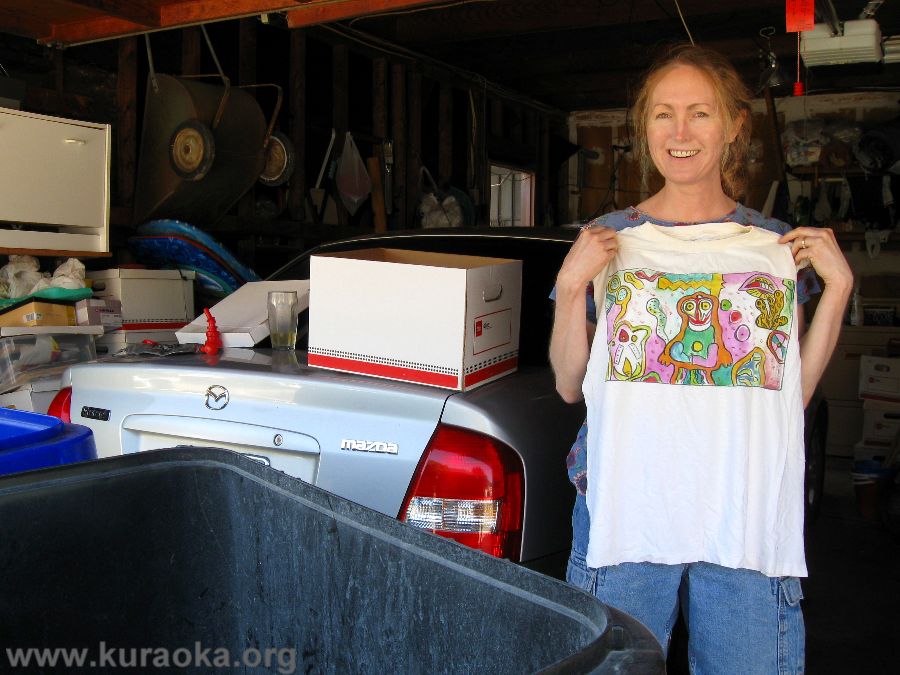 07-20-2008: Leo's Beach Birthday Party! First up is the treasure hunt! Starting from Leo, who is in dark blue front and center, and working clockwise we have Leo's "other brother" Antonio, actual brother Roy (in blue), Jayden, Gia, Susan (Jayden and Gia's Mom), Jake, and Heather (Jake's Mom). Then, we have Leo, James, and Roy sharing out booty on a Boogie Board. Next, we have Leo as King of the Seaweed. Whee! Roy, meanwhile, is a Boogie Board Dude.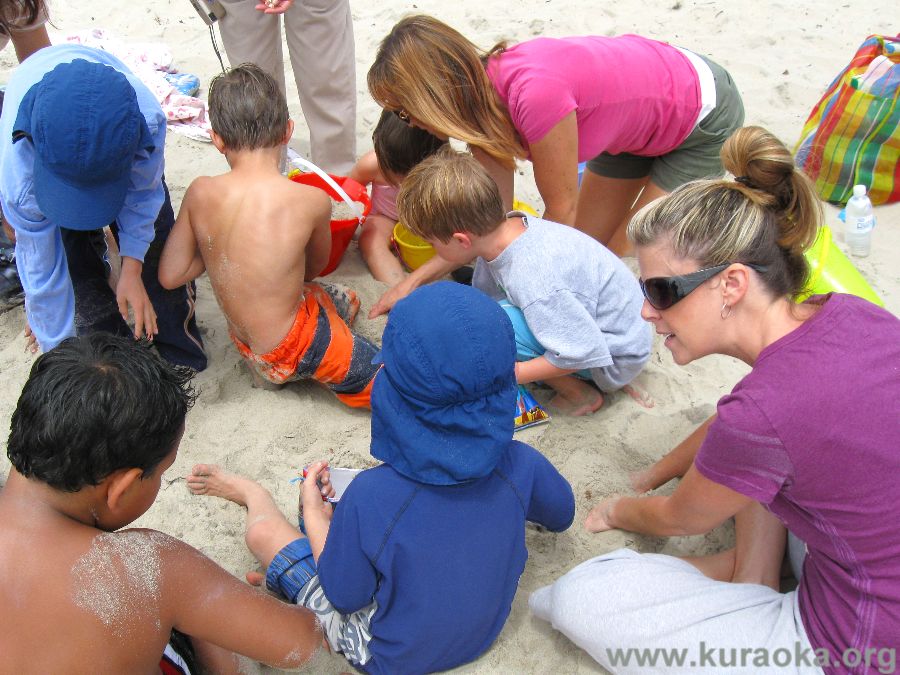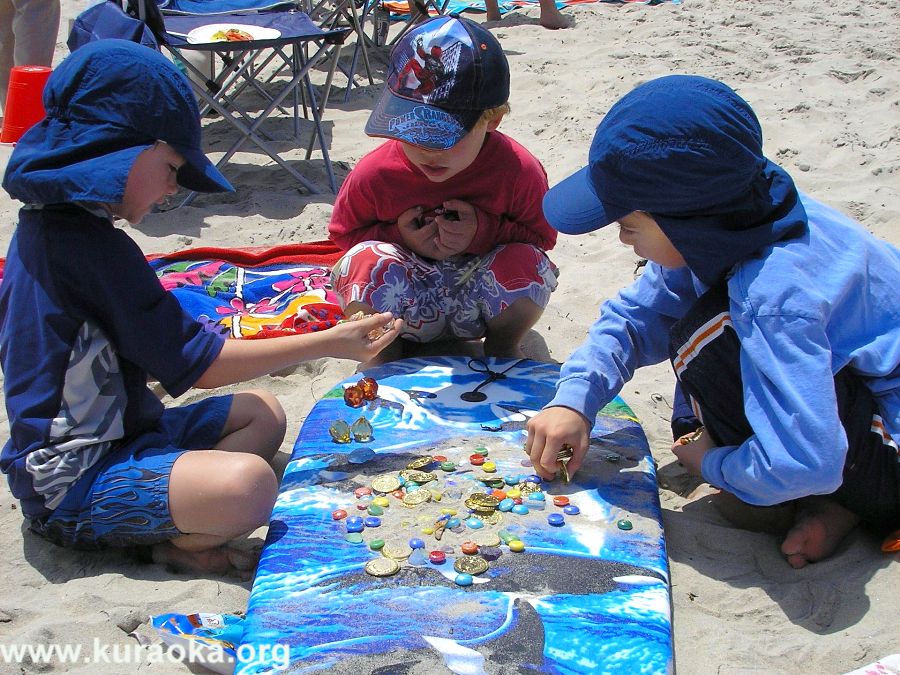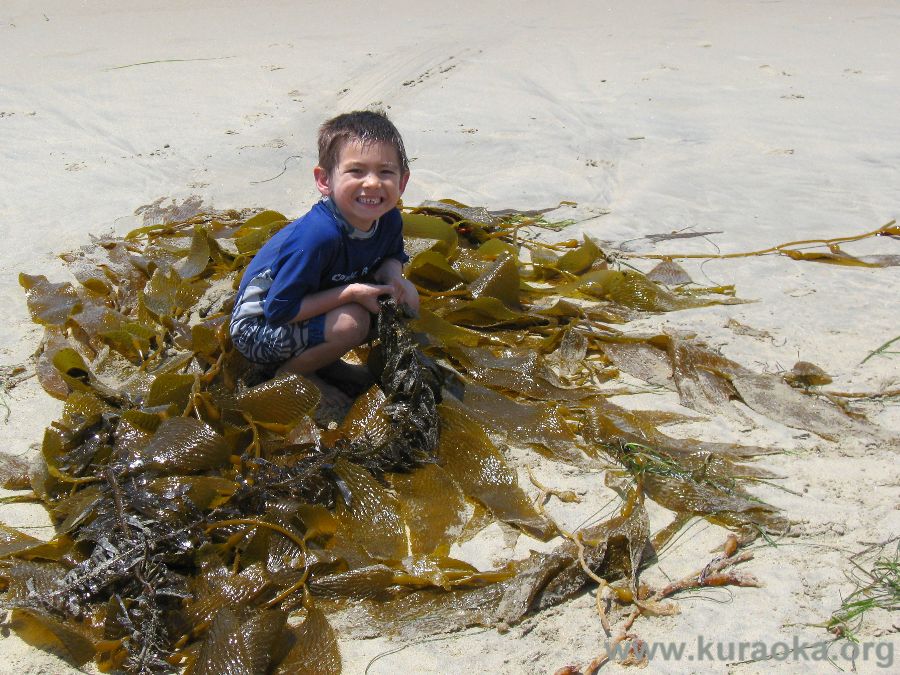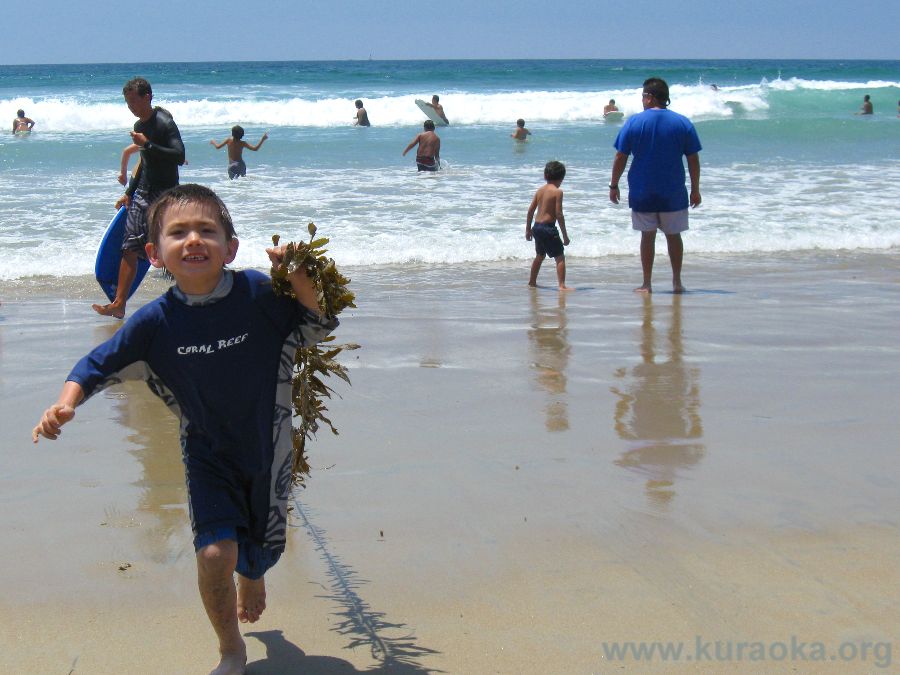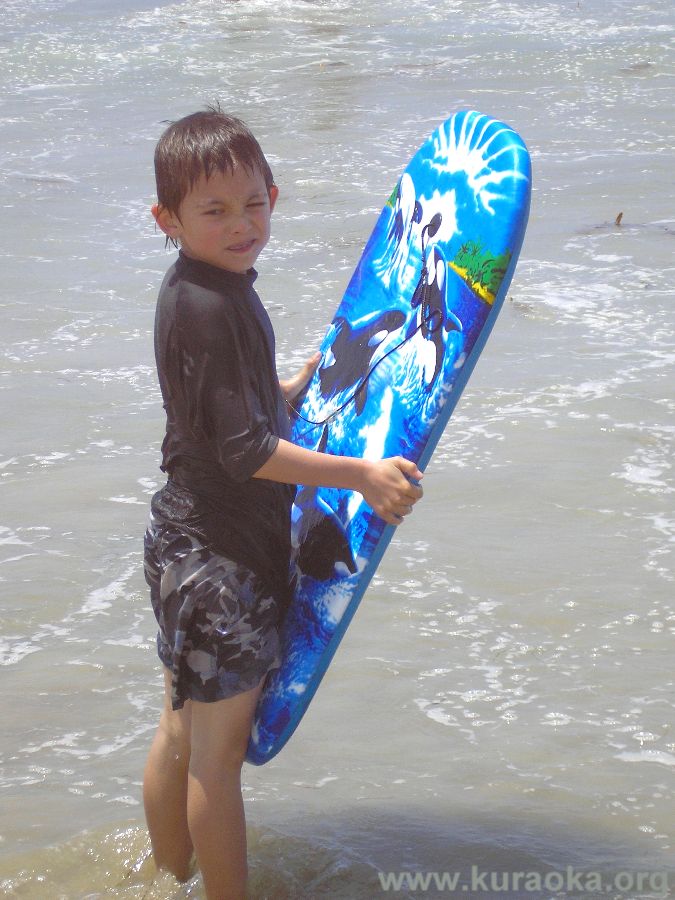 07-19-2008: Roy and Leo build a T-Rex! Roy is a good big brudda, and offers to assemble the 50-piece T-Rex skeleton Leo received for his birthday. It took a lot of patience, but the result is spectacular - bigger than the dog! Roar! And, Ondine turns a pair of Leo's pants into shorts for the summer, with Frances' help.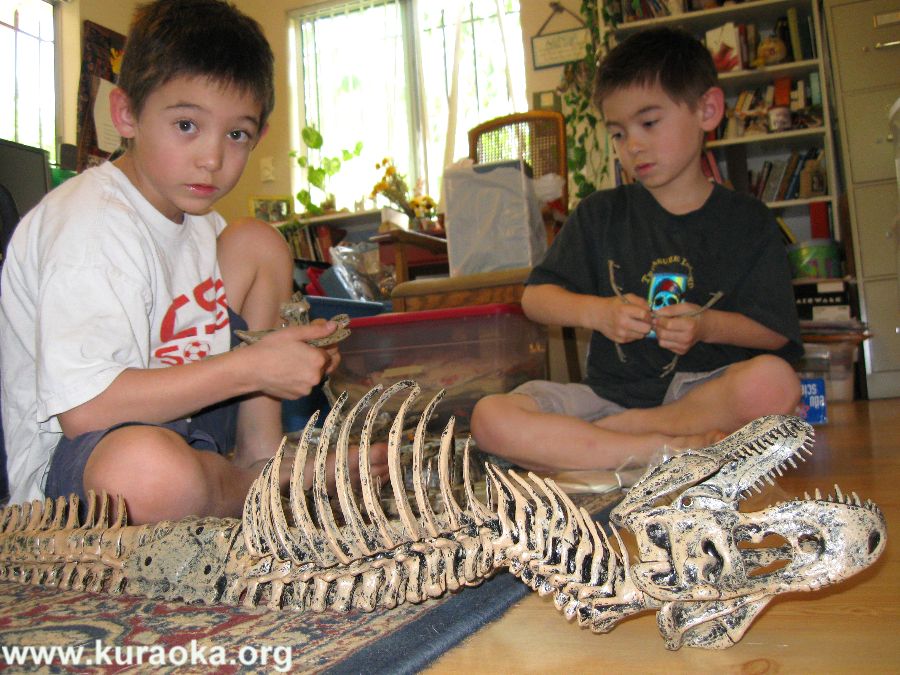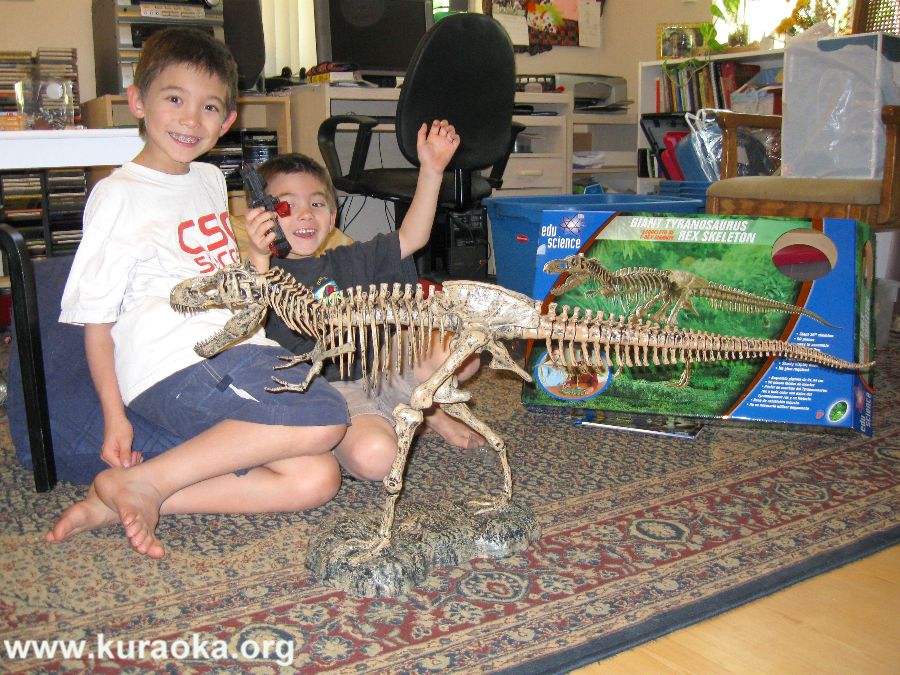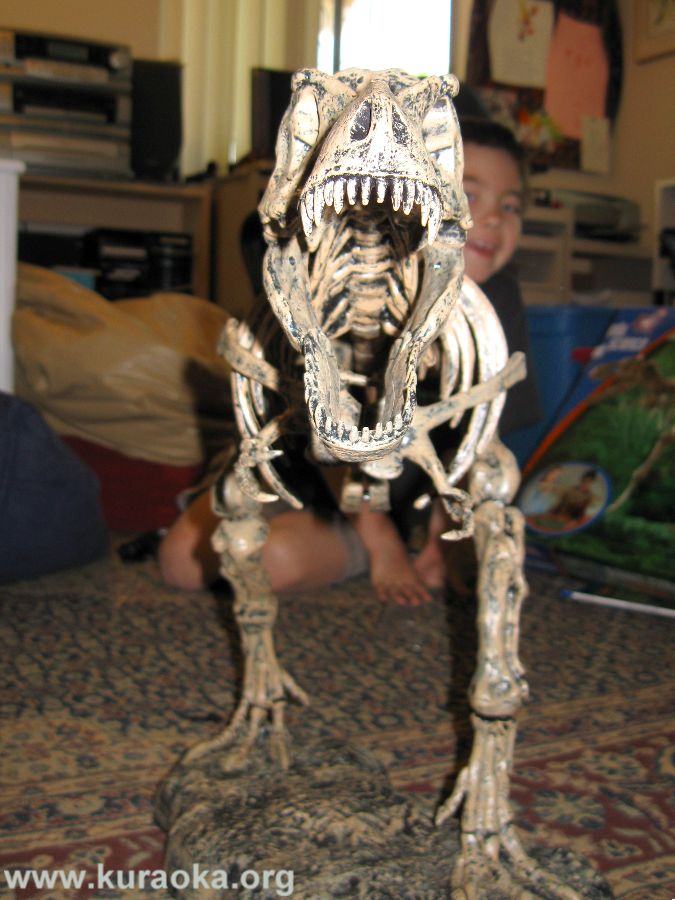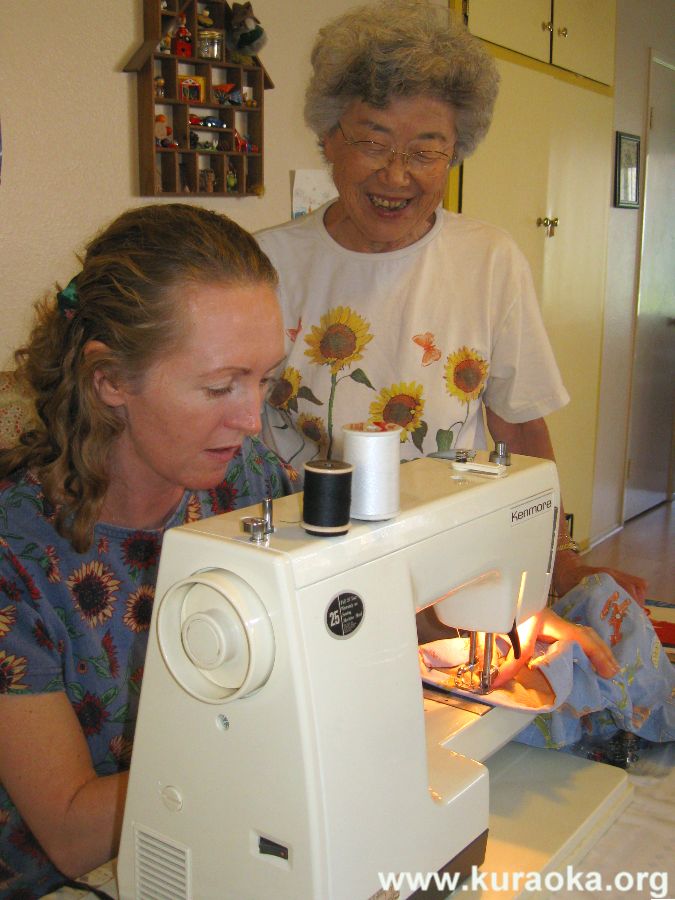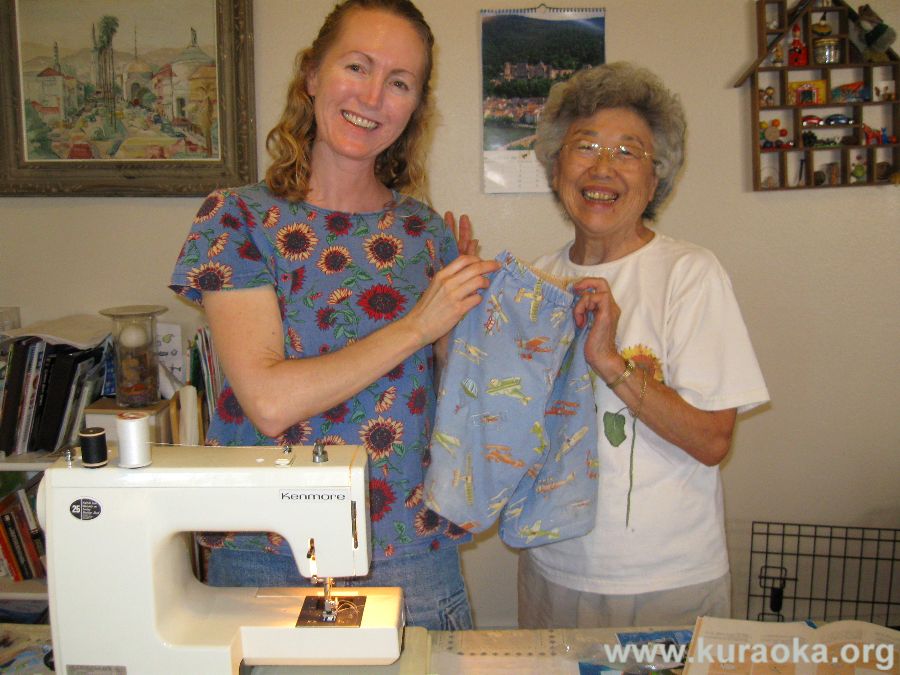 07-18-2008: Leo's At-Home Birthday! Barbara and Bill and Grammy came over to celebrate Leo's birthday! First, we see Leo very happy with his ice cream cake (courtesy of Barbara and Bill). In the third photo, Leo shows his grandparents the search-and-find book he wrote and illustrated, "The Grat Bole of Tofooo Srtch." Tofu? Note the tiny yellow happy face stickers on everyone's shirts. Next, we all gather round to play with Leo's presents. Grammy settles in with a search-and-find book. Barbara and Bill doggedly assemble a Neo Shifter ("For Ages 6 and Up"). It took three grown-ups (our combined ages: about 180 - so definitely on the up side of six) to put the thing together, which merited the victory photo.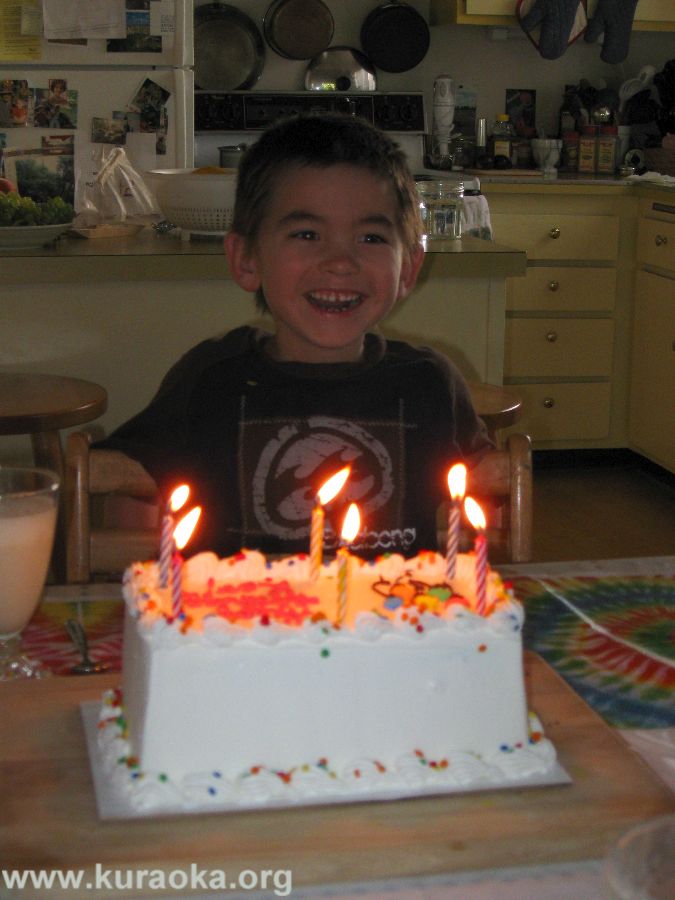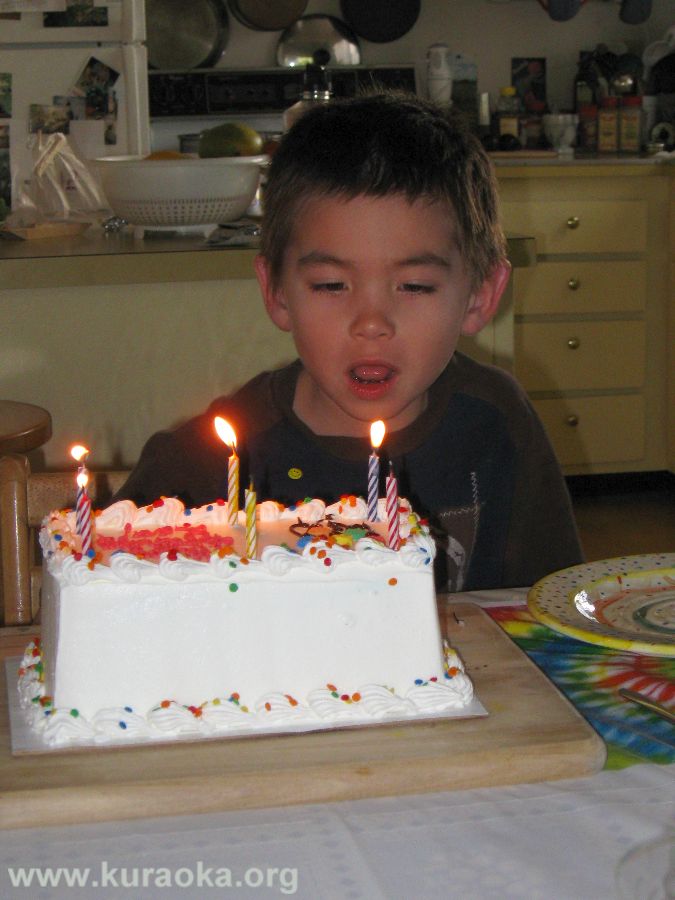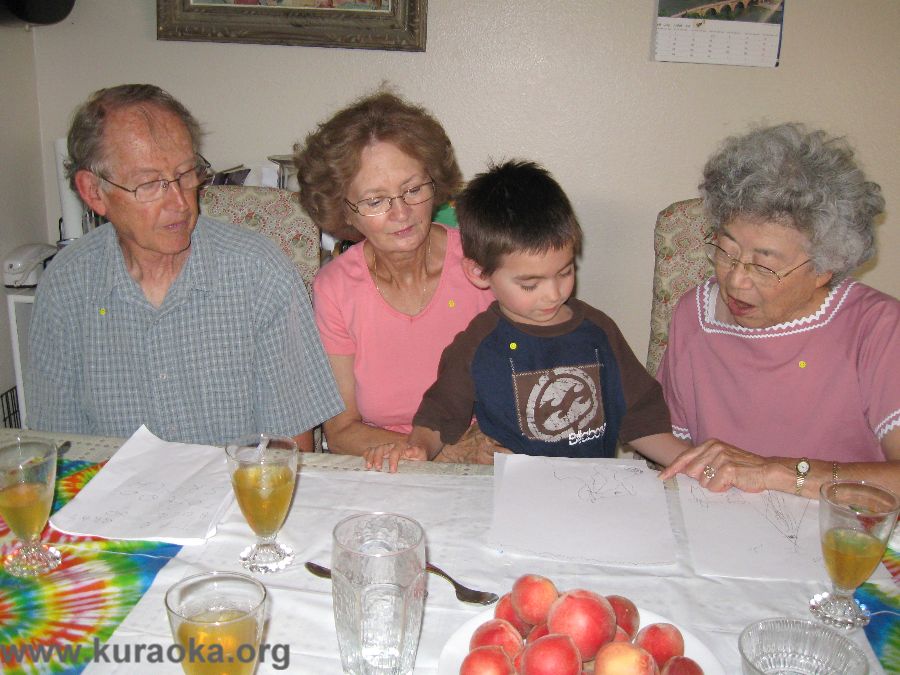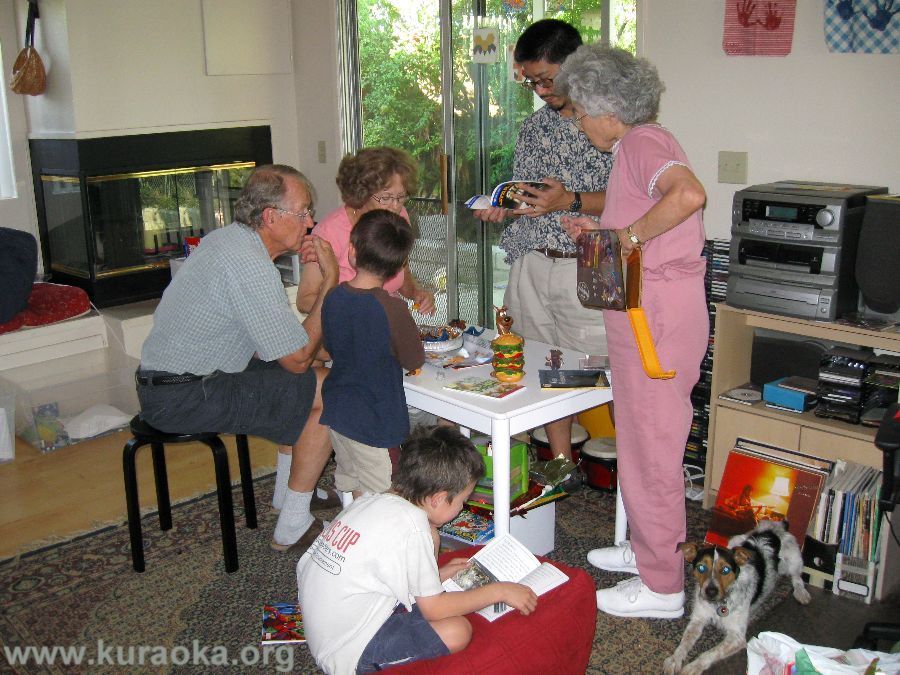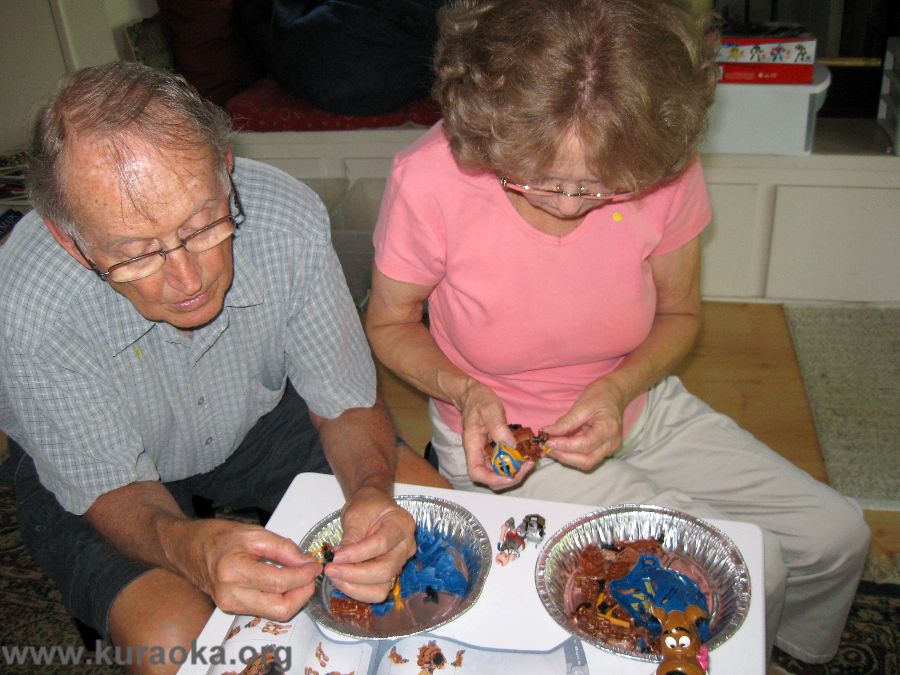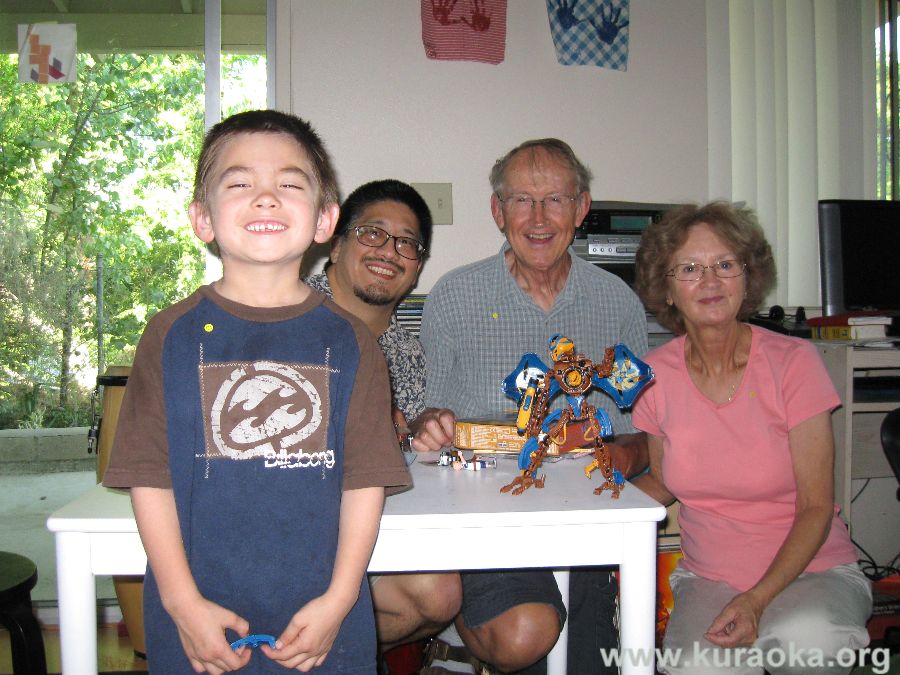 07-03-2008: "Refrigerator Fishing." Here are Leo and Buddy, two peas in a pod, looking for whatever they can find beneath the refrigerator. Atop the white footstool to the left, you can see that Leo has recovered a car and an airplane. Buddy, though, is hoping for a bit of old food.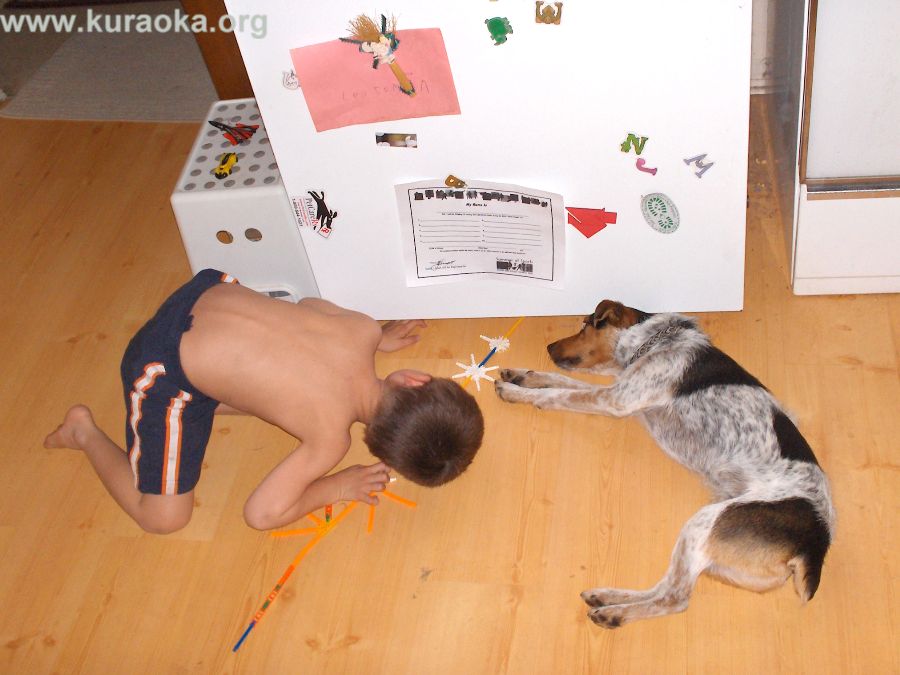 07-01-2008: The Del Mar Fair! We rode the big Ferris wheel, a thrilling view from the very top! First up is John and Leo, then Ondine and Roy. Note John's colorful hat band: it got him into the Fair for free because it was his "recycled wearable art." He made it the day before, from junk mail. Ondine made a hair decoration out of a plastic bottle and vegetable netting. The boys got free Fair admission because it was kids-get-in-free day. The third photo shows Leo exploring a fun car in the Fun Zone. Leo rode a carousel (video, 1.33 MB), while Roy went rock climbing for the very first time! At the end of the day, the Footsie-Wootise is the best bargain at the Fair, an invigorating foot massage for just two bits (check out Leo's expression of bliss).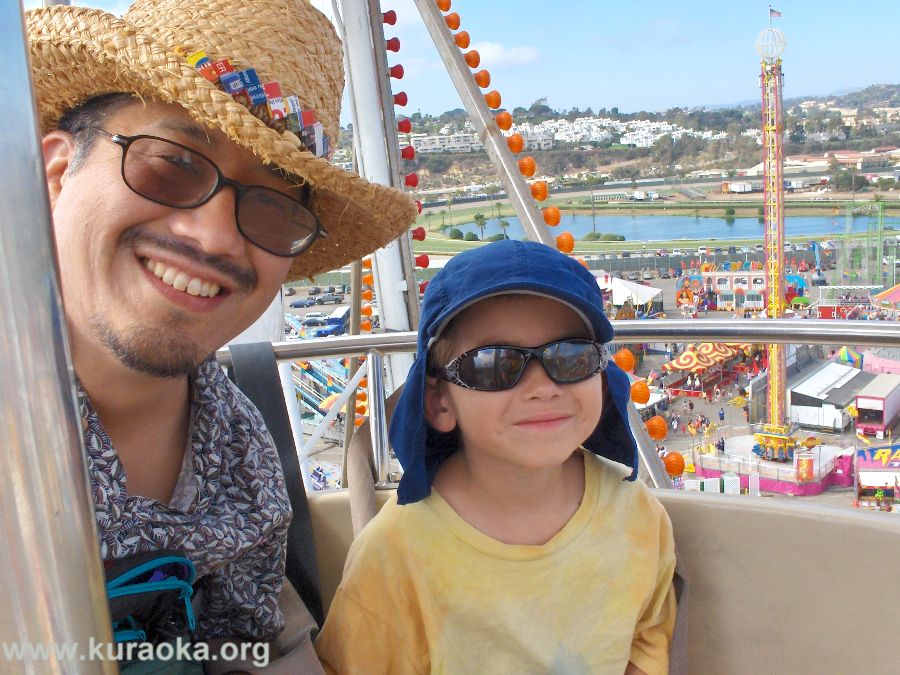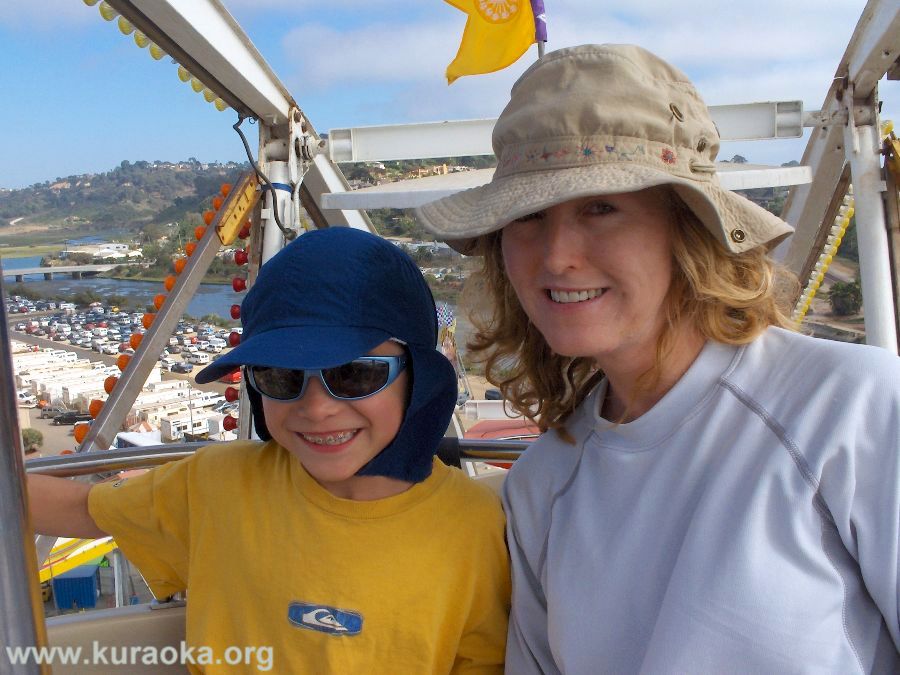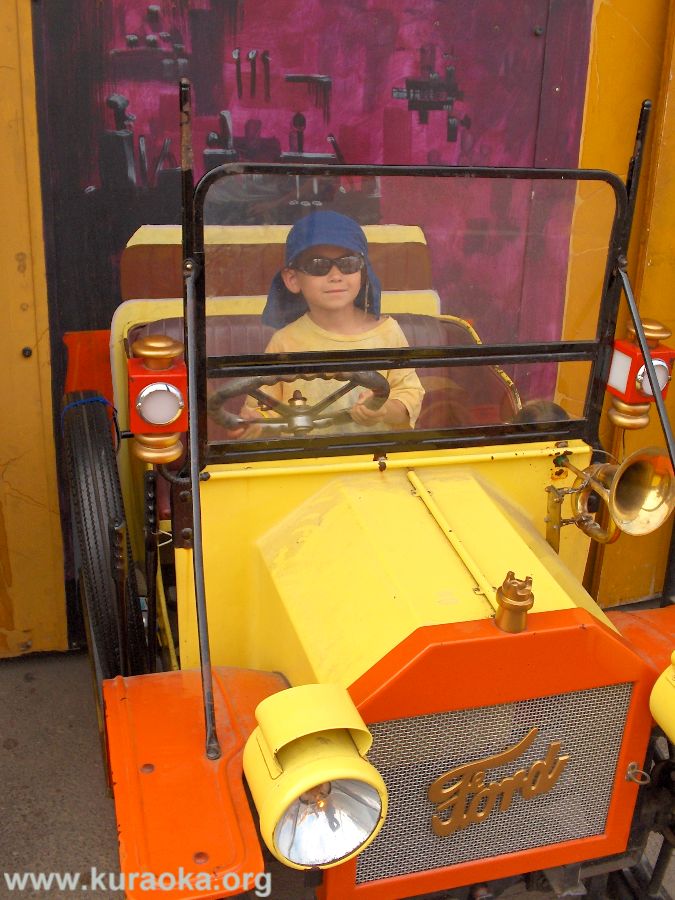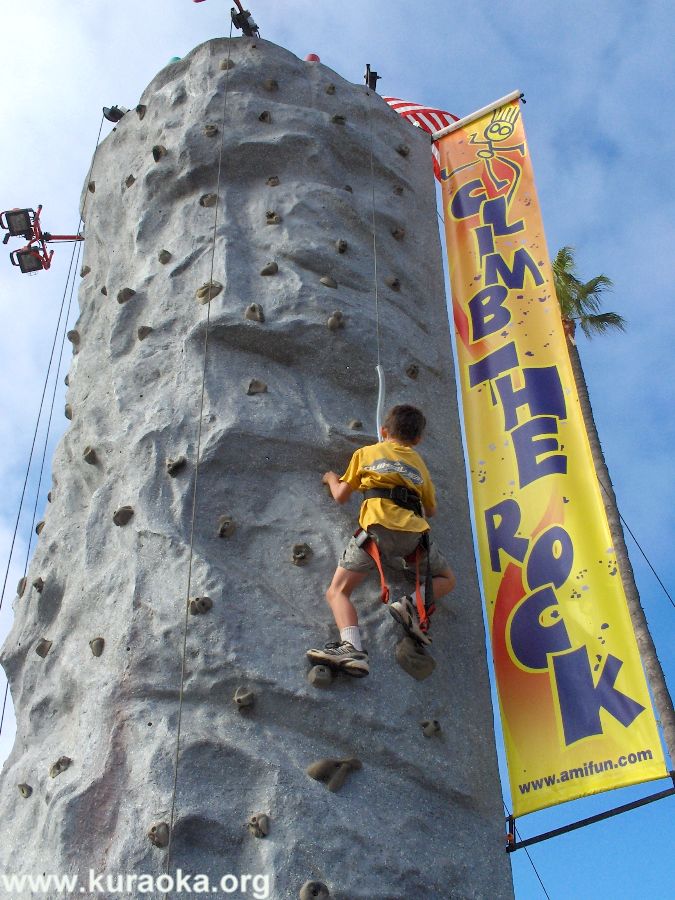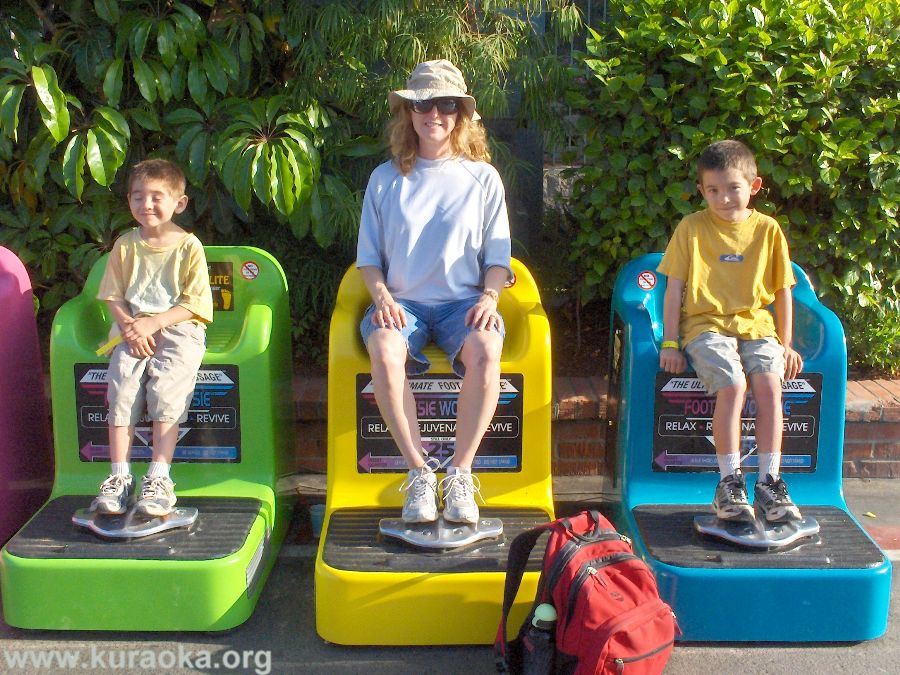 06-22-08: "YAARD SAA-ALE!" Leo hawks his wares, at the top of his lungs but to an empty street, at the boys' yard sale. Check out the video! (2.22 MB - Turn up your speakers though, because he was shouting away from the camera. It was a lot louder on a quiet morning in real life!)
06-16-2008: Leo's Kindergarten promotion ceremony! You can see Leo's class, first sitting and singing, then standing and dancing. Leo, in the dark blue and light blue shirt in the front row, is Dance Security, keeping an eye on the spectators while everyone else rocks out around him. The third photo shows Leo with his teacher, the wonderful Mrs. Youngman. The fourth photo is Leo with his "other brother" Antonio. Finally, a photo of Ondine with Mrs. Youngman.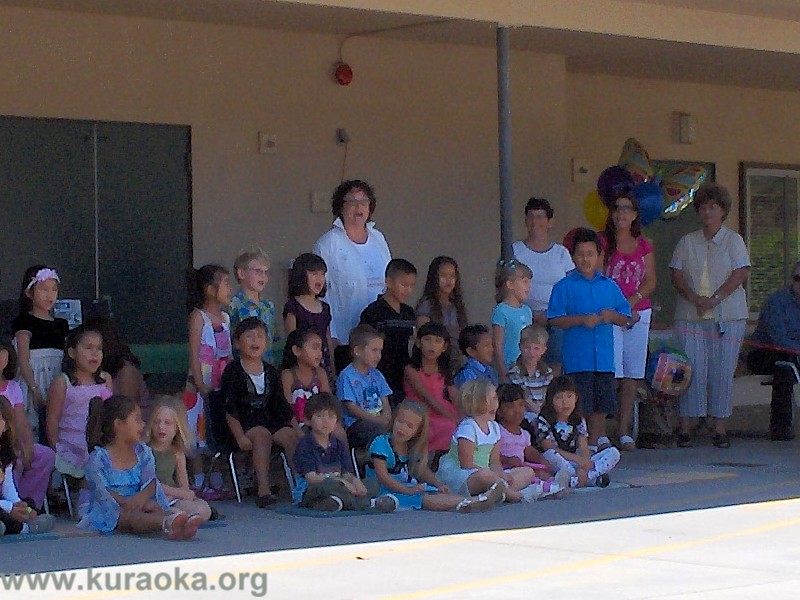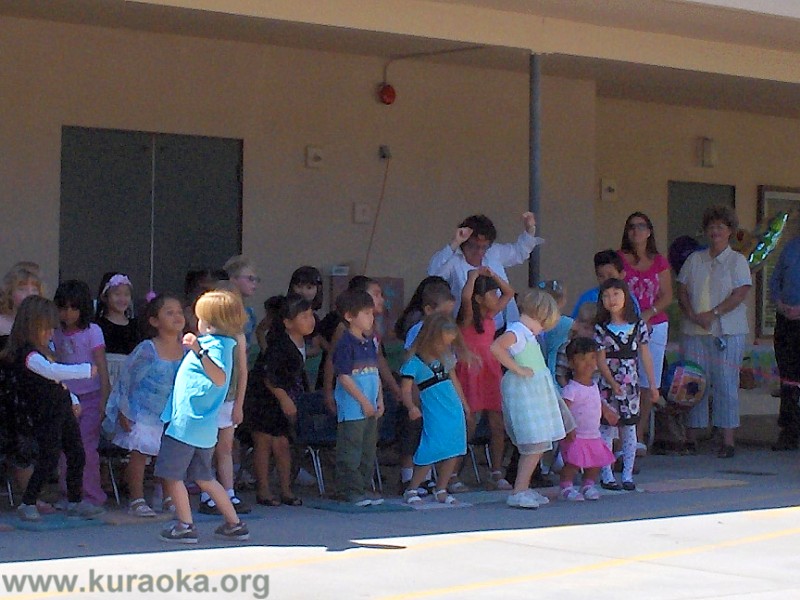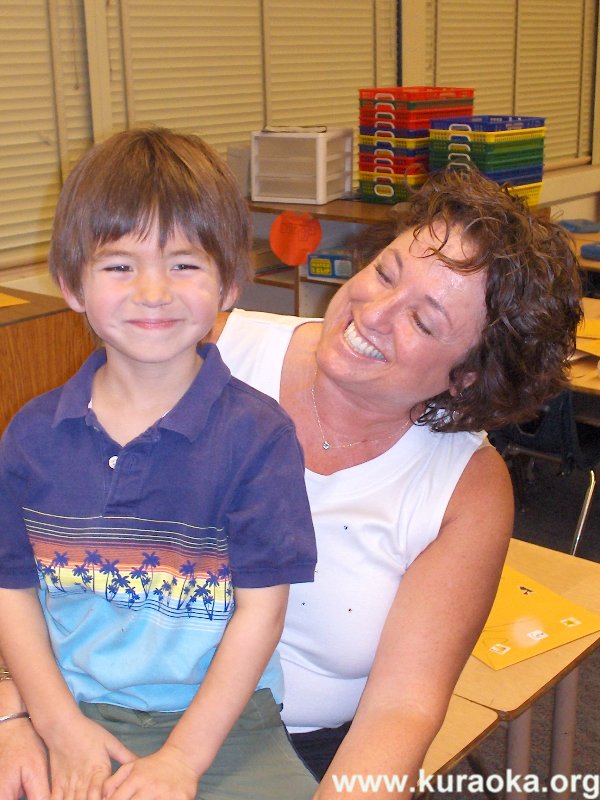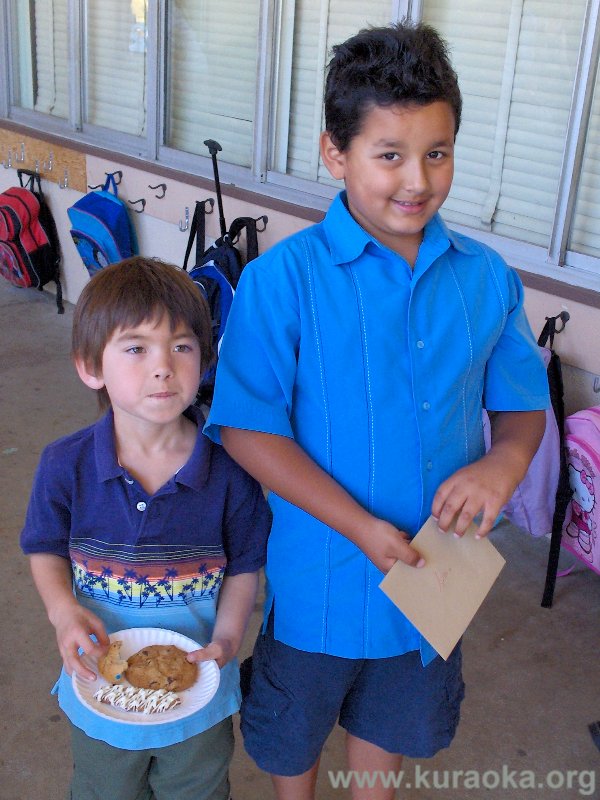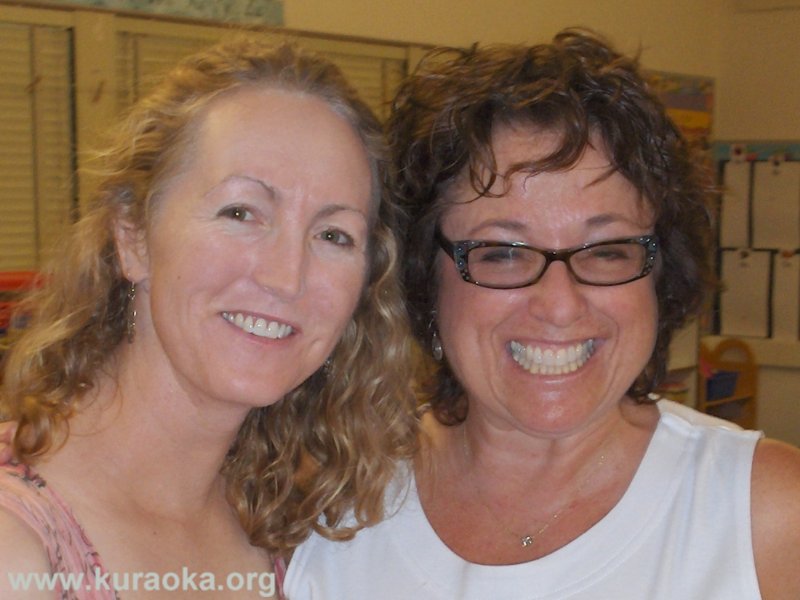 06-14-2008: Roy at Camp Balboa with the Cub Scouts! First up, we have Roy's first experience shooting a gun (a BB gun) on the shooting range. Next, the Cubs made rope. Behind Roy is Alexander; in front of Roy are Stephen, Michael, and (barely) Donovan. The Cubs went to the pool, which was cold, but no one turned down ice cream afterwards! The fourth photo shows all our Cubs up a tree: (on the branches) Donovan, Alex, Roy (lounging), Stephen, and Michael. On the ground: (front) Alexander, (back) Evan. The Bear Cub den did some foil cooking for dinner: here you see Roy, Big Stephen and Stephen, Alexander, and Ernesto. The last photo shows the entire Pack performing a skit for the big Saturday night campfire! From left to right: Michael, Edward (who arrived that evening), Donovan, Roy, Evan, Alex, Stephen, Alexander. Read more about the campout in our archived journal from June 16 2008.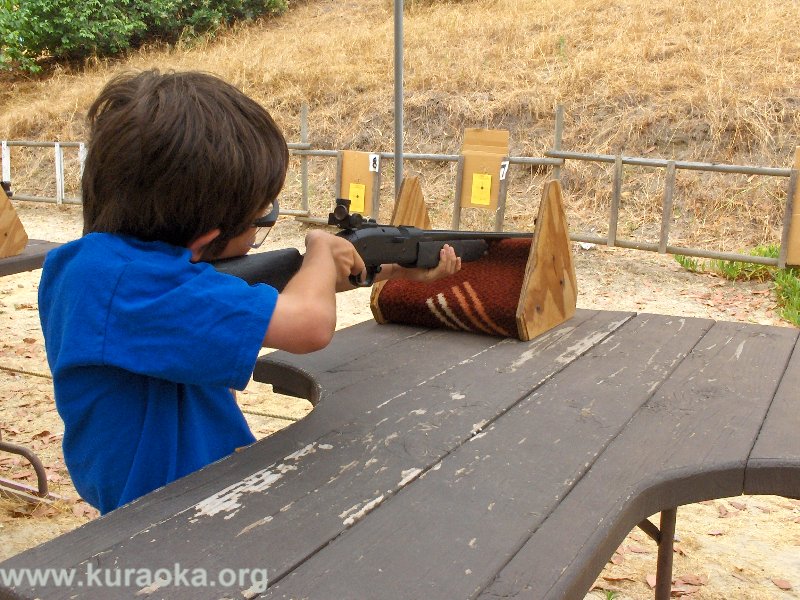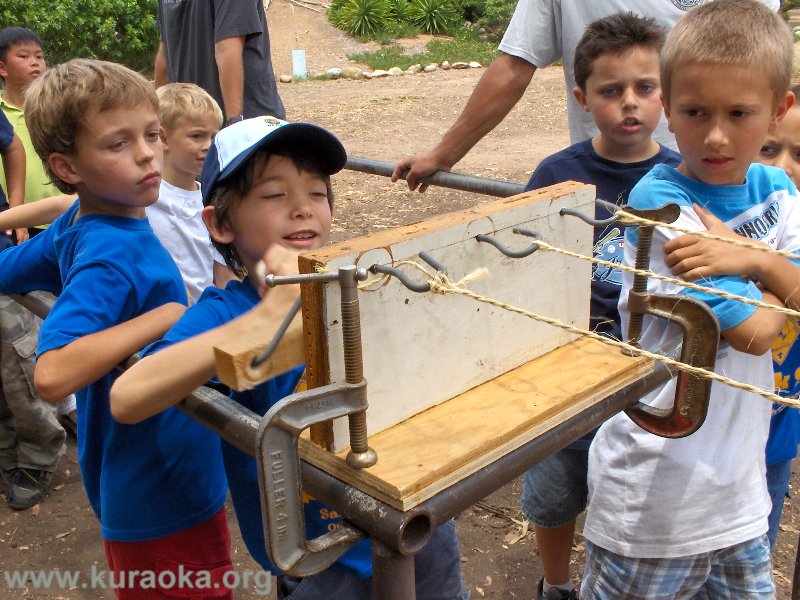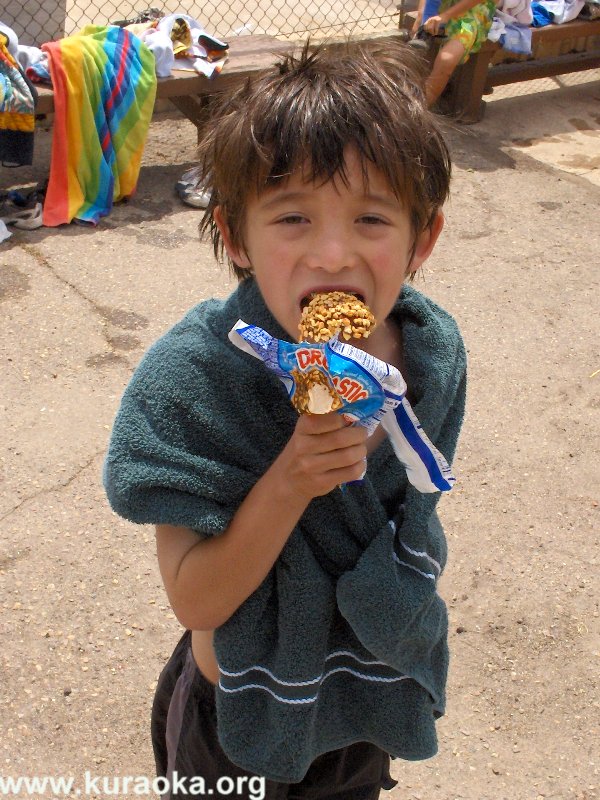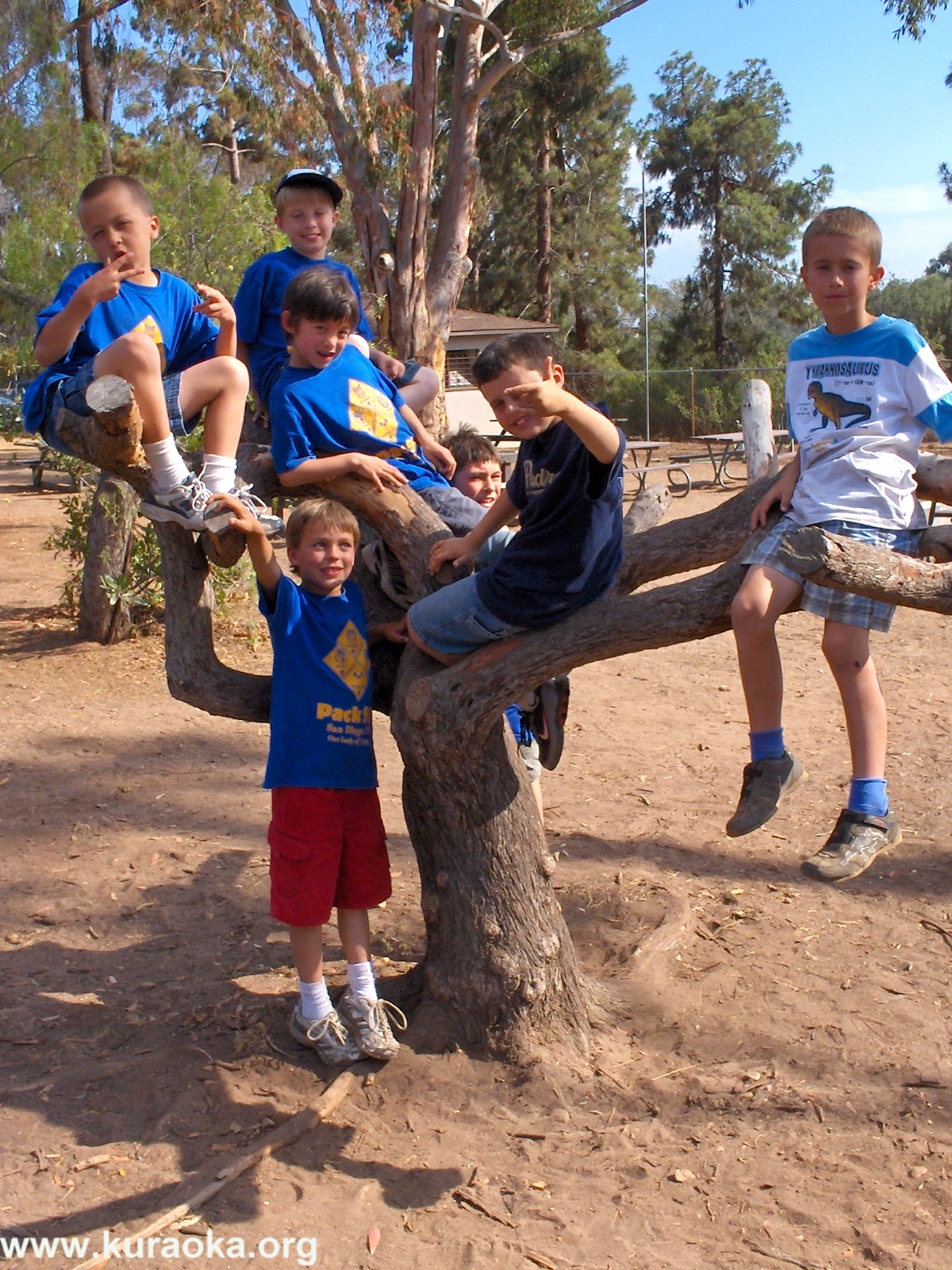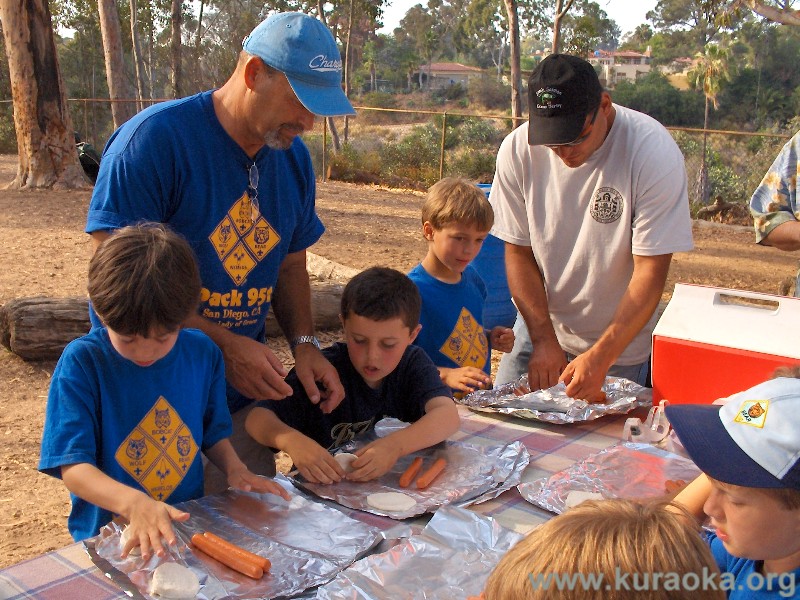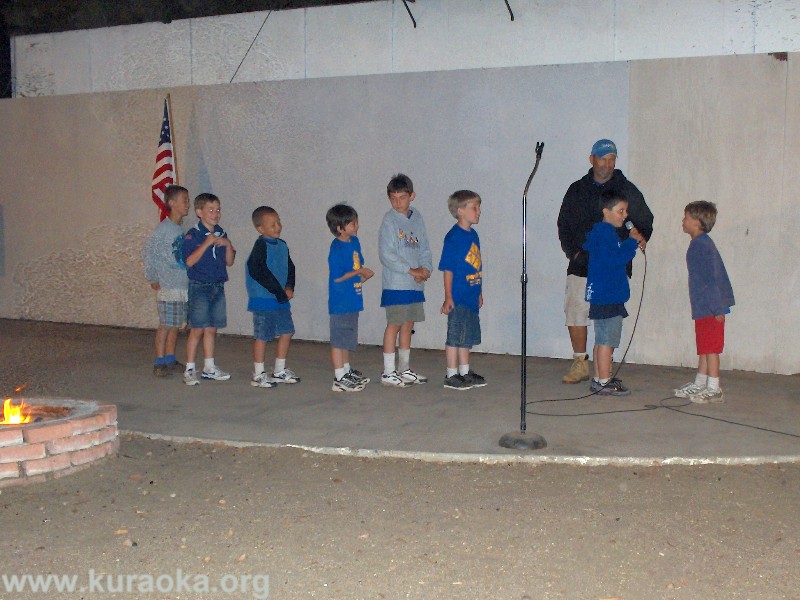 06-11-2008: Running Club awards! Leo was the Top Kindergarten Runner, with 130 miles! And Roy was the #3 runner in the whole school, with 303 miles! You can see some of the other top Gage Running Club runners in the group photo. Flanking Roy are his Room 4 classmate Michelle (#2 with 312 miles) and Room 13 classmate Zackary (#1 with 355 miles). Roy's friend Stephen is next to Zackary.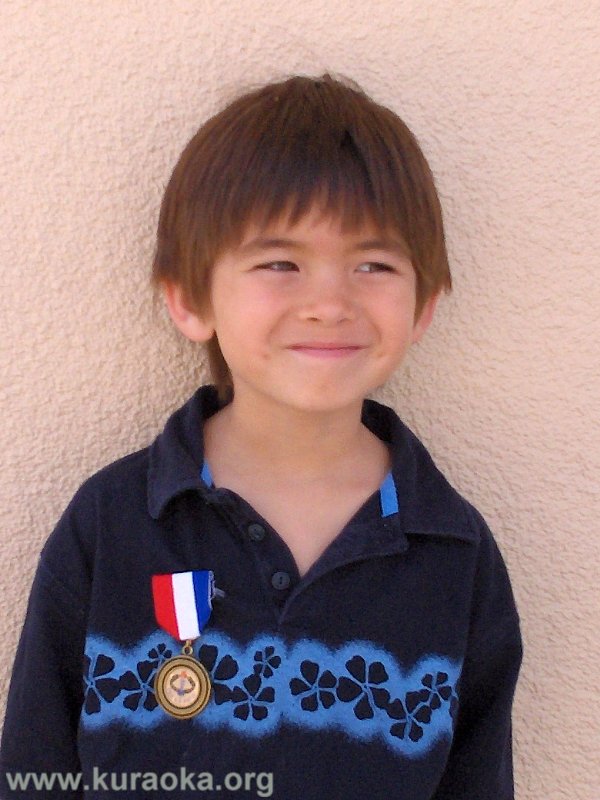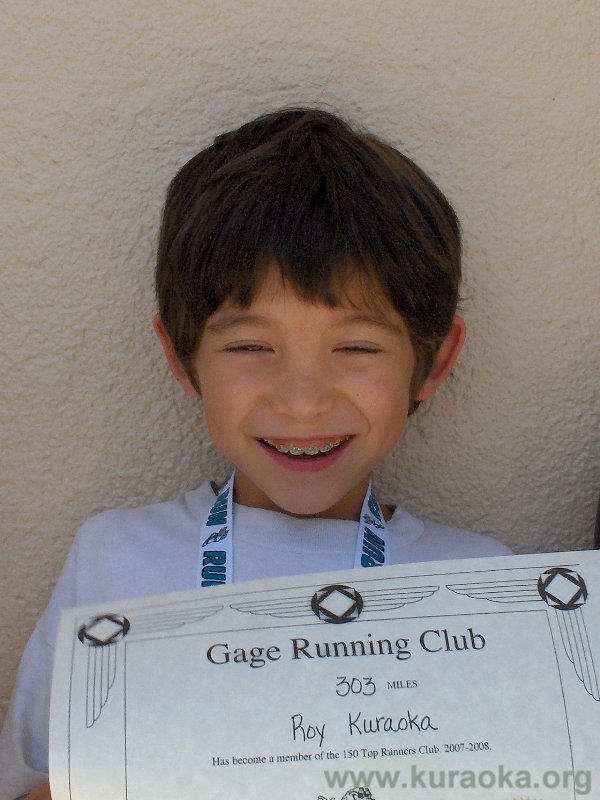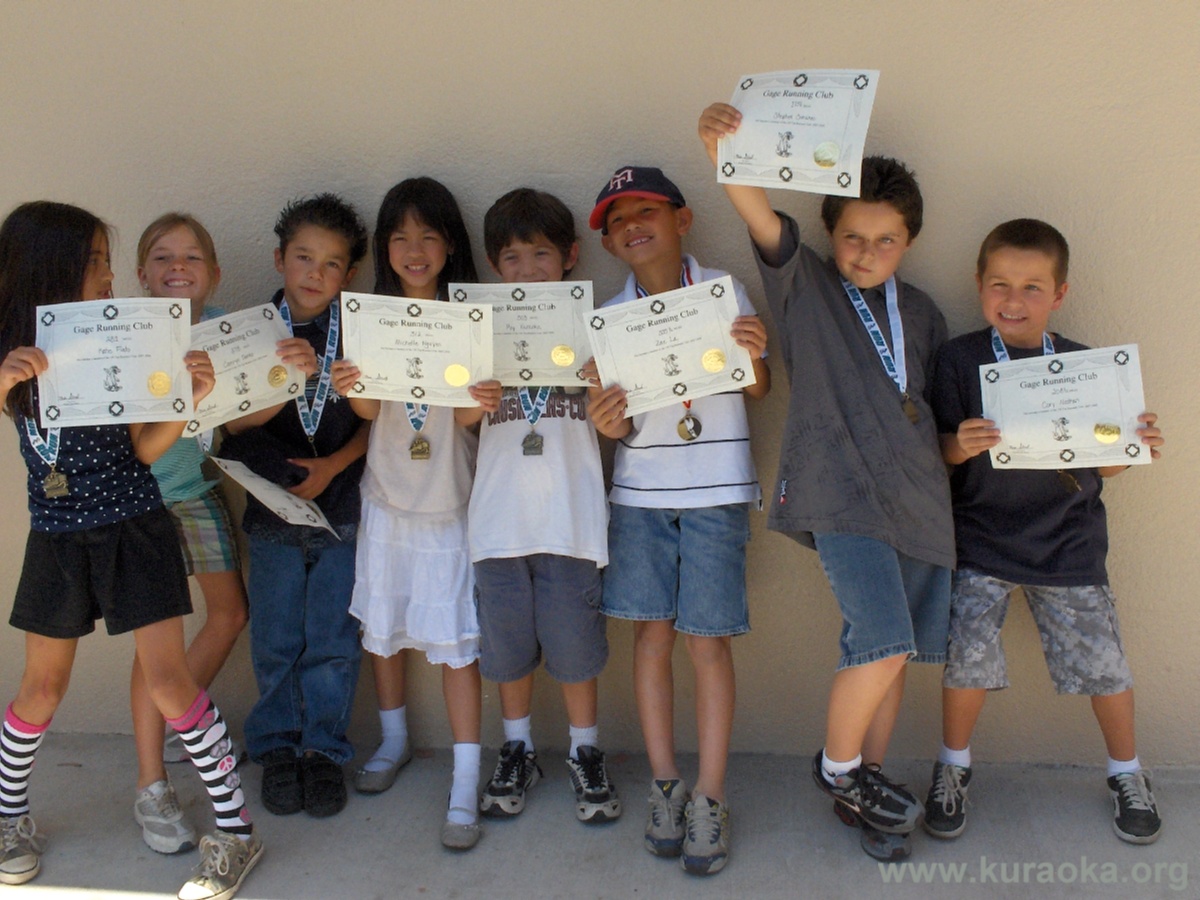 06-07-2008: Roy's birthday beach party! Clockwise from the far left: Grammy, Leo (in the orange, swinging seaweed), Ondine, and a cluster of boys including Stephen, Alexander, and Roy. Next, the boys buried Roy!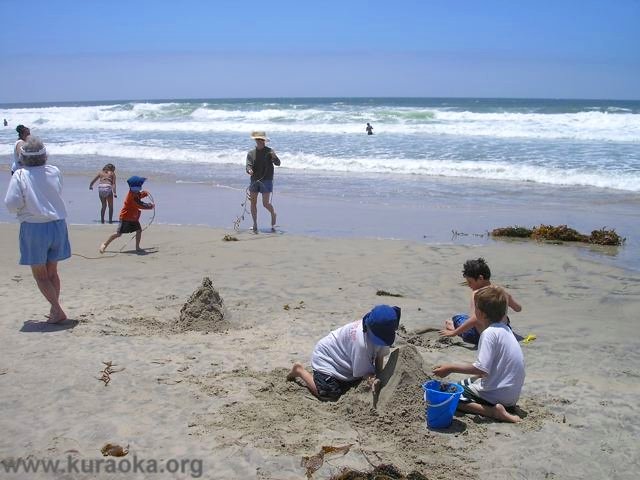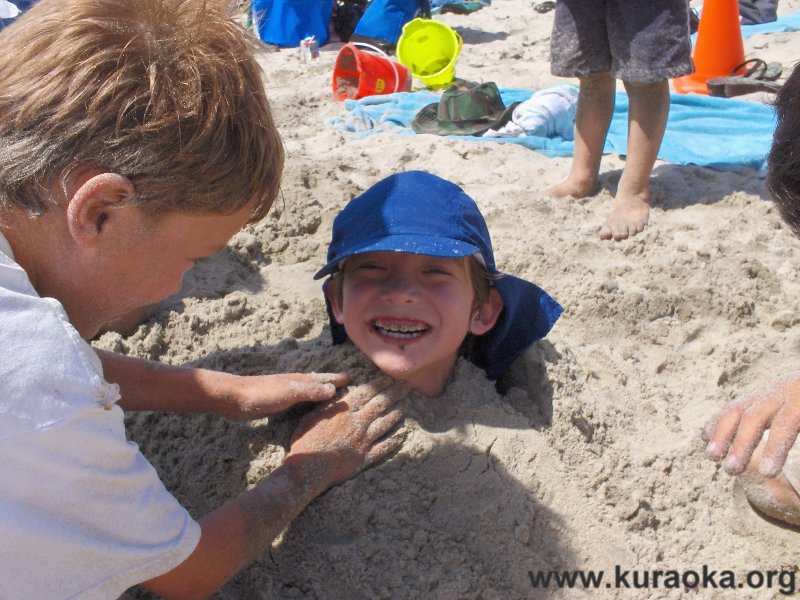 06-06-2008: Leo gets a student achievement award. Here he is, looking pleased with himself. He made it! The other photo shows Mrs. Youngman's Kindergarten cohort – all these kids are moving together through second grade. Leo is very attached to his cohort.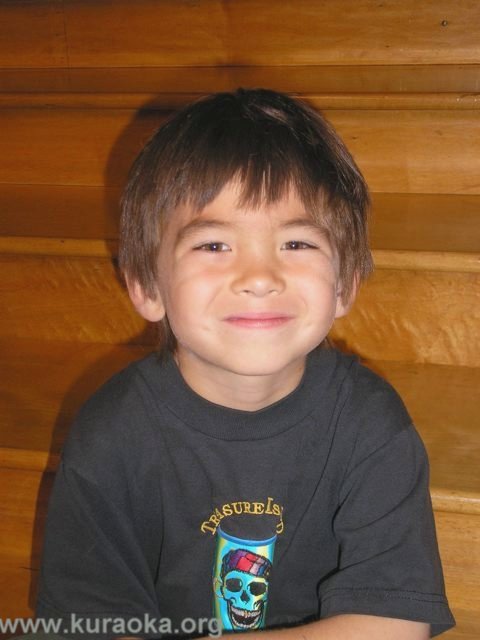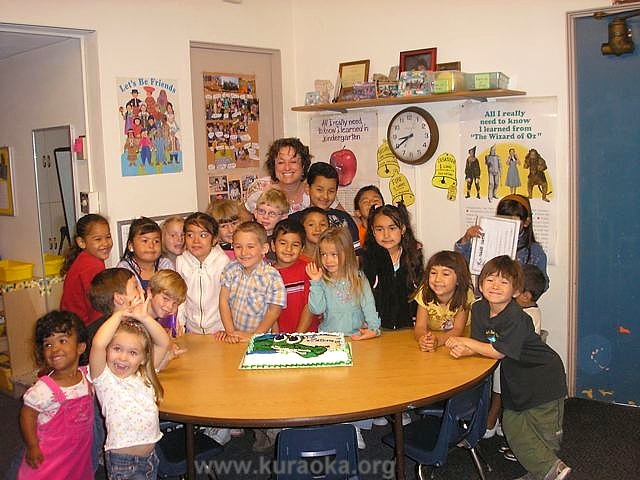 05-23 to 05-25-2008: Barbara and Bill and the Boys at Big Bear! Here are Roy and Leo at the top of the chair lift. For more photos, visit our B&B&tB@BB page!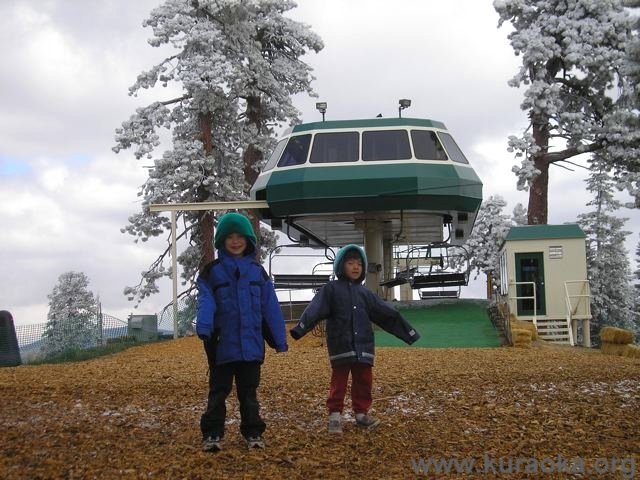 05-09 to 05-11-2008: John, Roy, and Leo at a Cub Scout campout! The first photo shows Leo near the tent in our campsite at Indian Hills Camp. The next is Roy way up on the Zipline, ready to make the leap. The last photo shows the boys being a totem pole. For lots more photos and video, visit Indian Hills Campout 2008.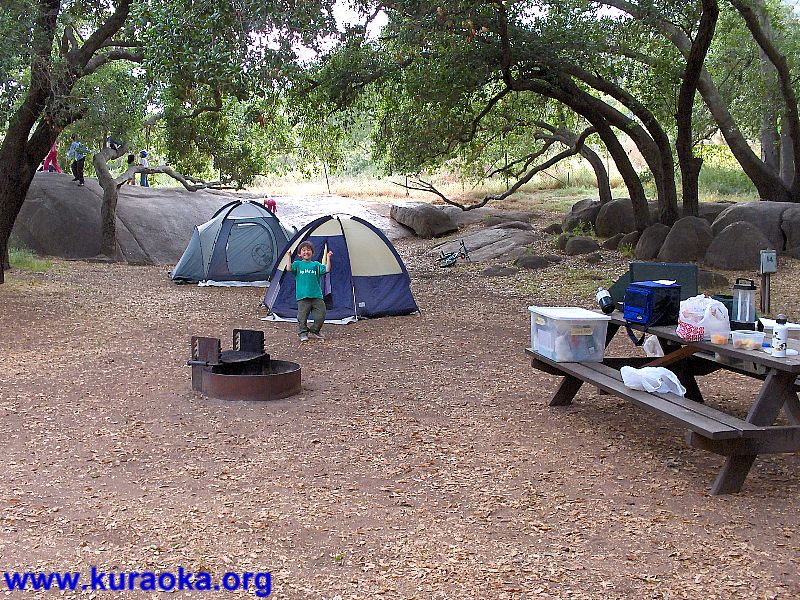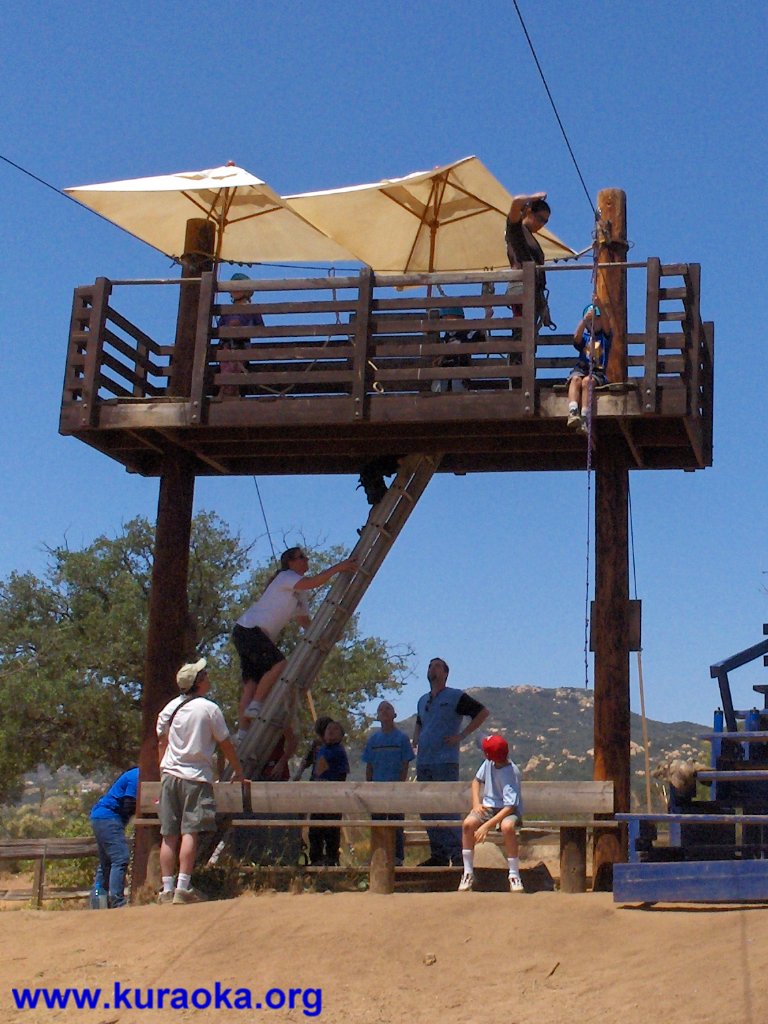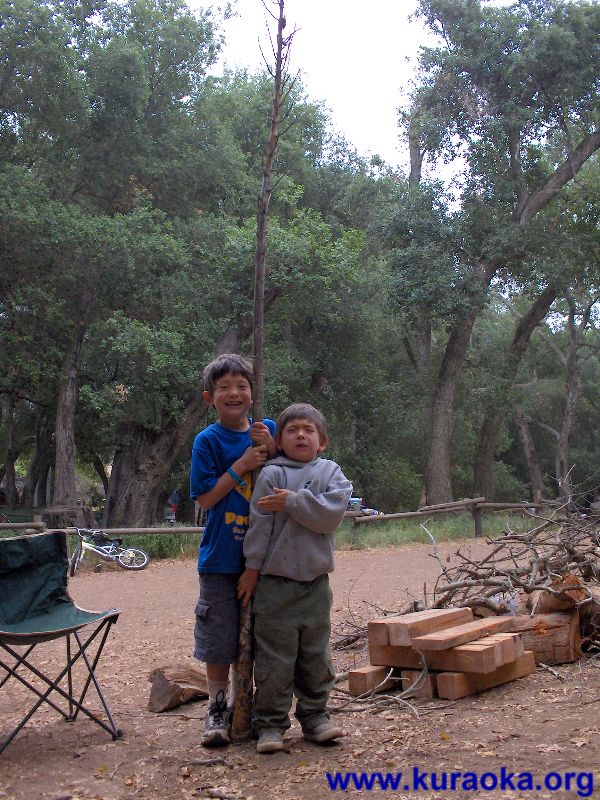 04-12-2008: Roy is a mud zombie and Leo is a mud chef. Obviously, Roy is feeling silly and Leo is feeling better. What a difference a day makes!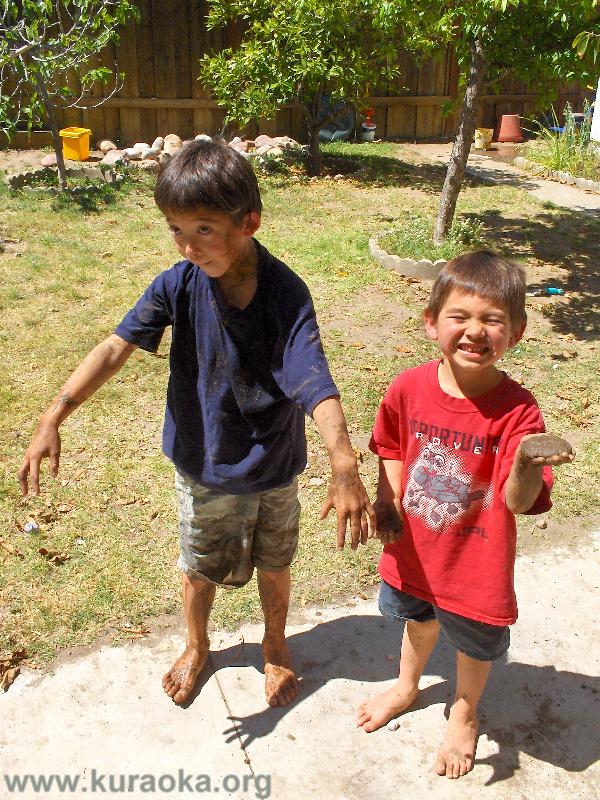 04-11-2008: Leo is sick. And Buddy is concerned. We think it's funny that Buddy is mirroring Leo's slightly downcast look in the second photo.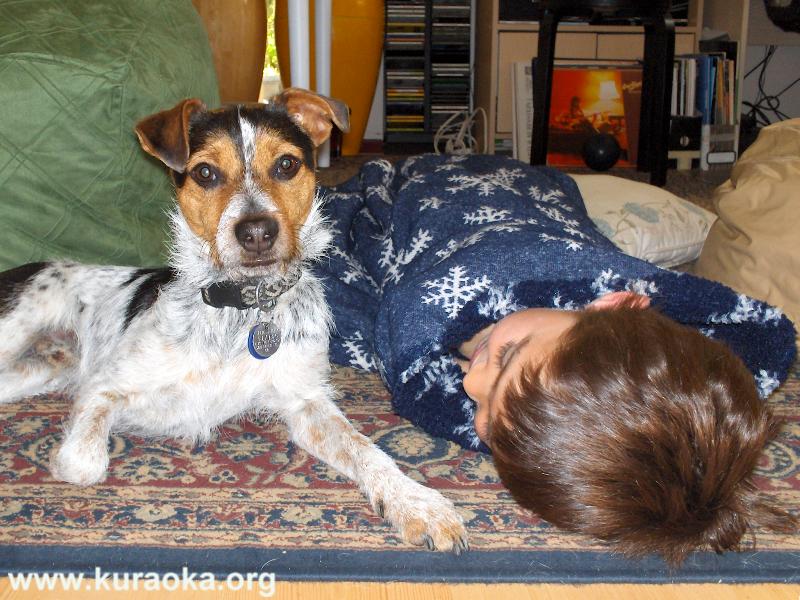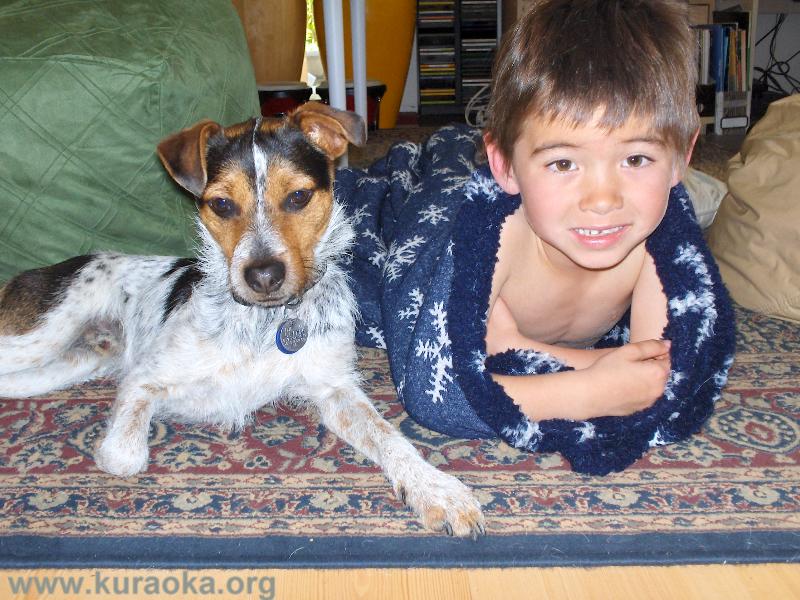 04-06-2008: Anita & kids at La Jolla Shores. Rennolds came to town for a convention, so Anita, Reid, Katrina, and Case came along to get back in touch with their San Diego roots! First up you see Anita and Ondine. Then there's Katrina spinning and making herself dizzy. Roy and Leo did some boogie-boarding (as did Reid, but he went in too far to get a photo). So, basically, everyone went in. The last three photos are group shots: first gathering the group, then the group getting ready ... then the fer-real group shot. In front, you see Leo, Roy, and Case. In back, Ondine, Reid, Anita, and Katrina. What a great visit!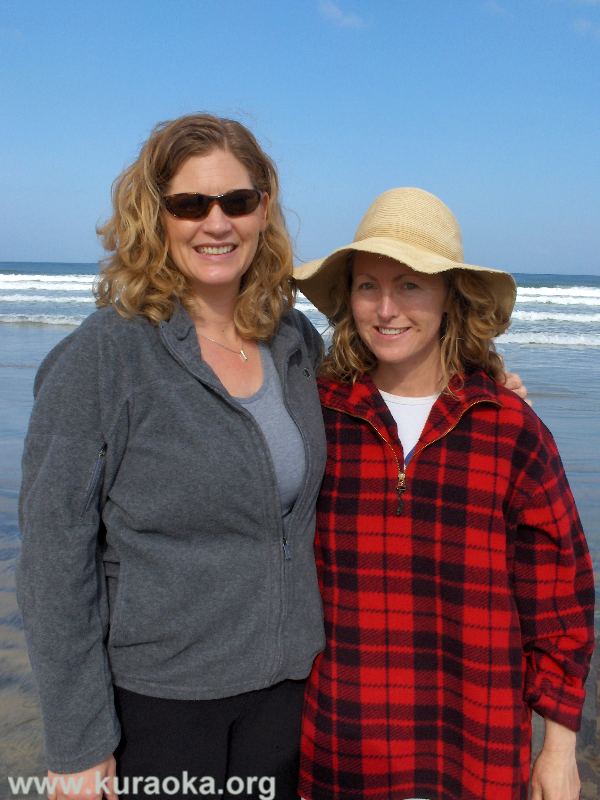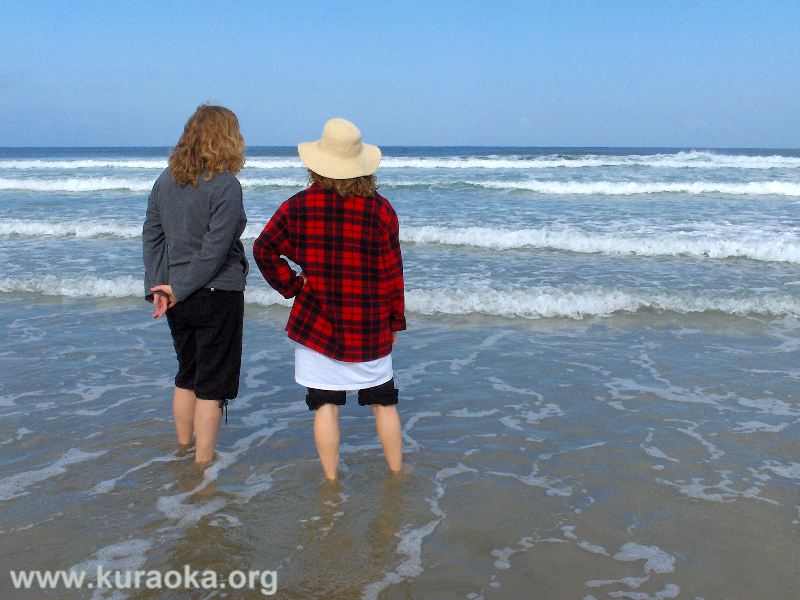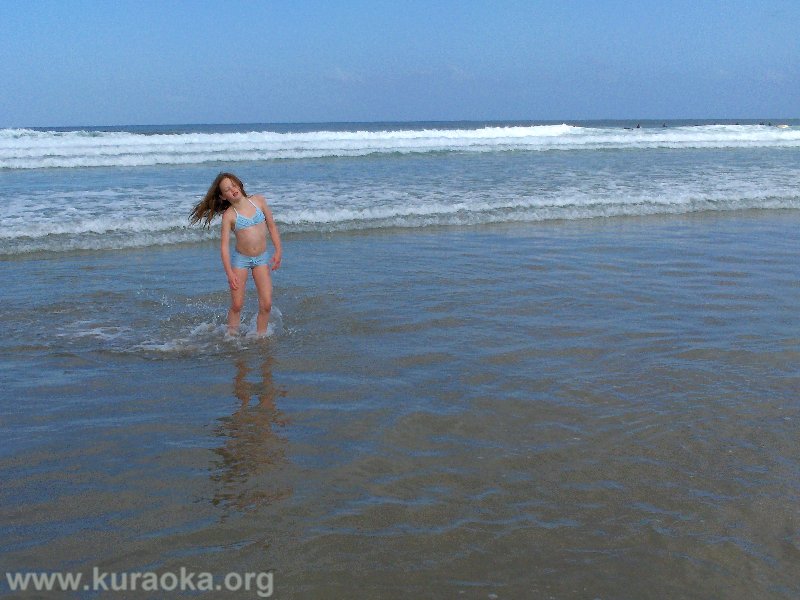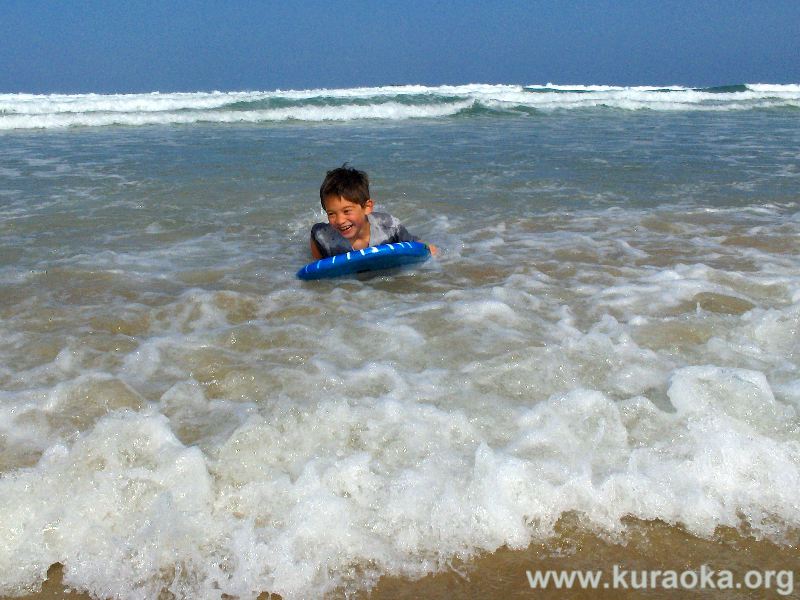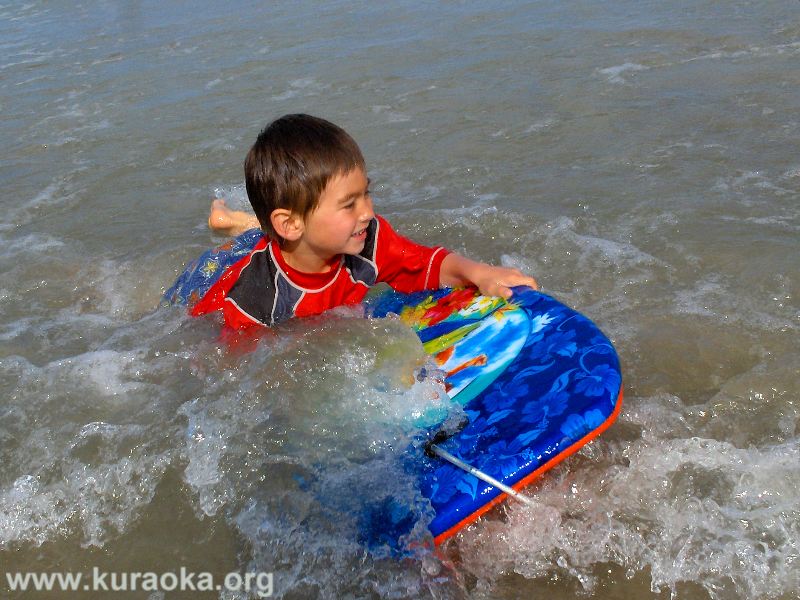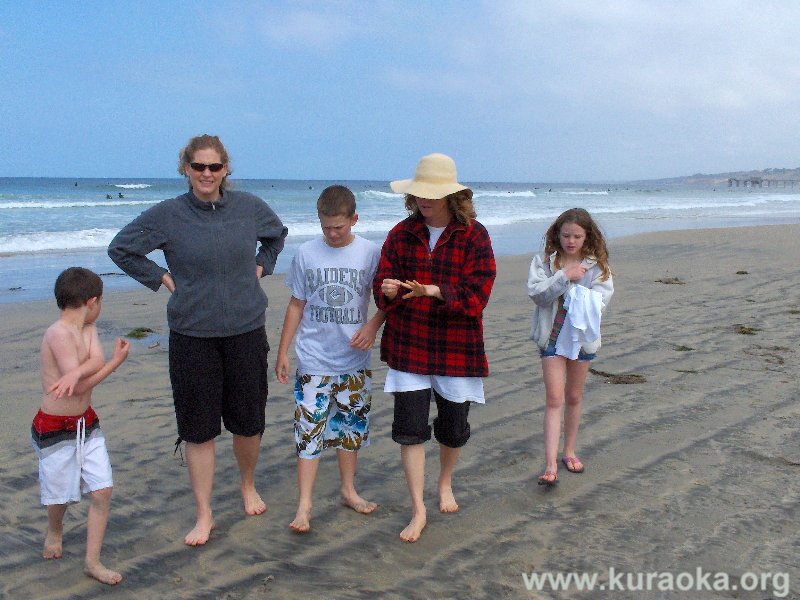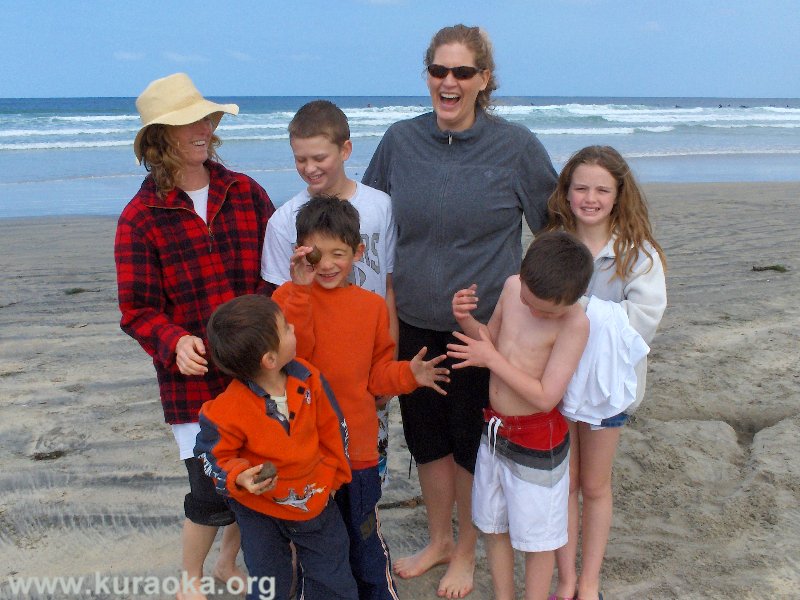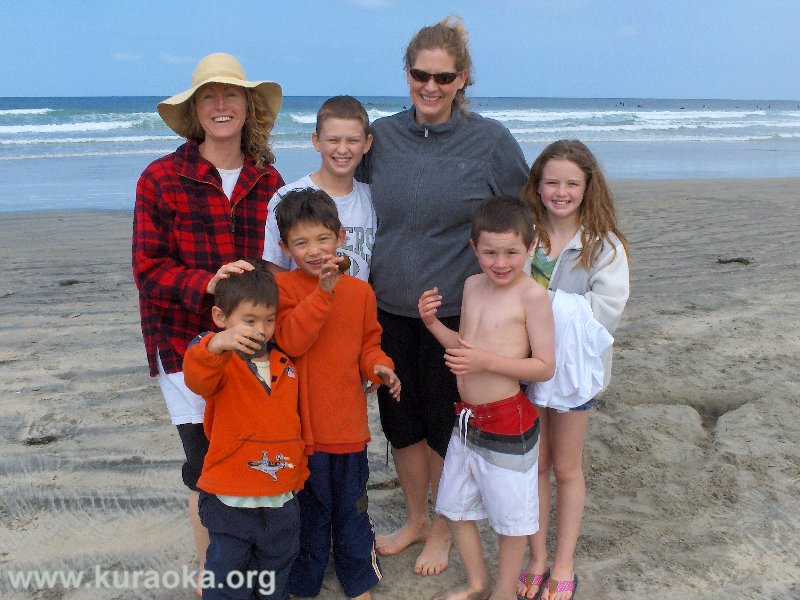 04-05-2008: Barbara & the Boys. The boys enjoy some time next door, just outside the clubhouse formerly known as the chicken coop.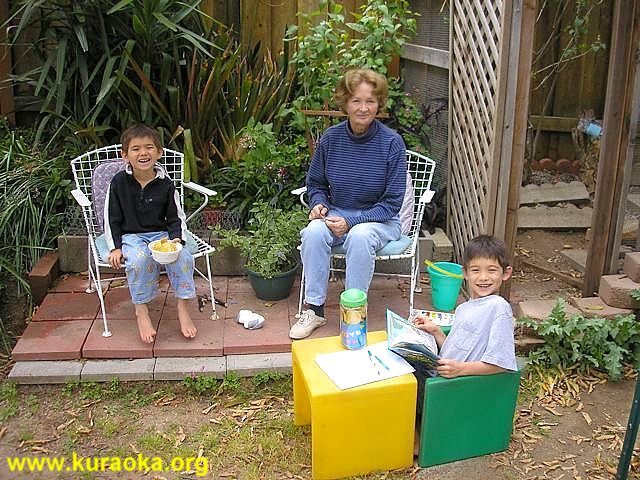 03-23-2008: Easter Sunday. The Clan Easter get-together was at Nancy and Jay's house. Here you see Roy and Leo hanging our by the pool and sunbathing (actually, they're drying off). The third photo shows them after the Easter egg hunt, along with their cousins (second-cousins?) behind them: Holly, Amanda, and Cooper. Leo was a real dessert hound, and there were lots of desserts! The sixth photo shows John's Mom with Auntie Merry - auntie Merry spoke at our wedding. Last up is all the sisters having a chat (from bottom left clockwise): Auntie Merry, Auntie Maria, Frances (standing, fiddling with camera), Sharon (Jim's wife), Auntie Grace, Auntie Yochi.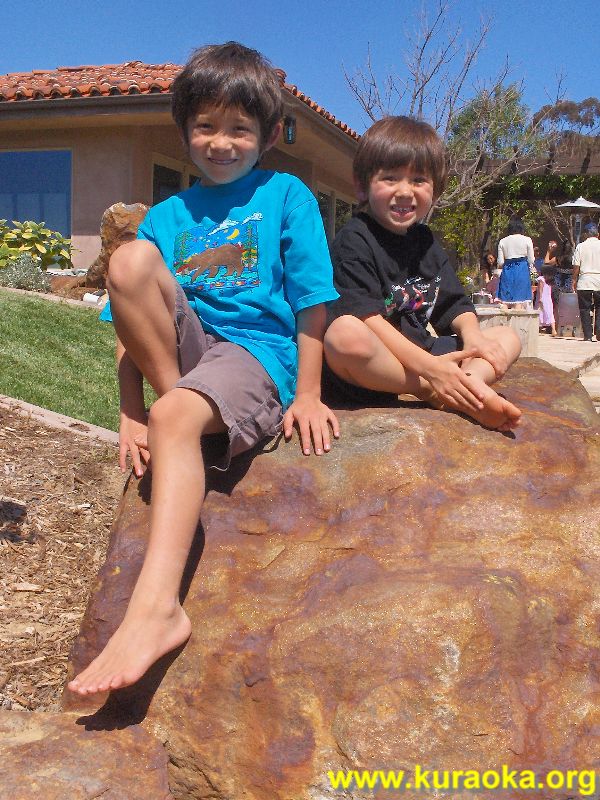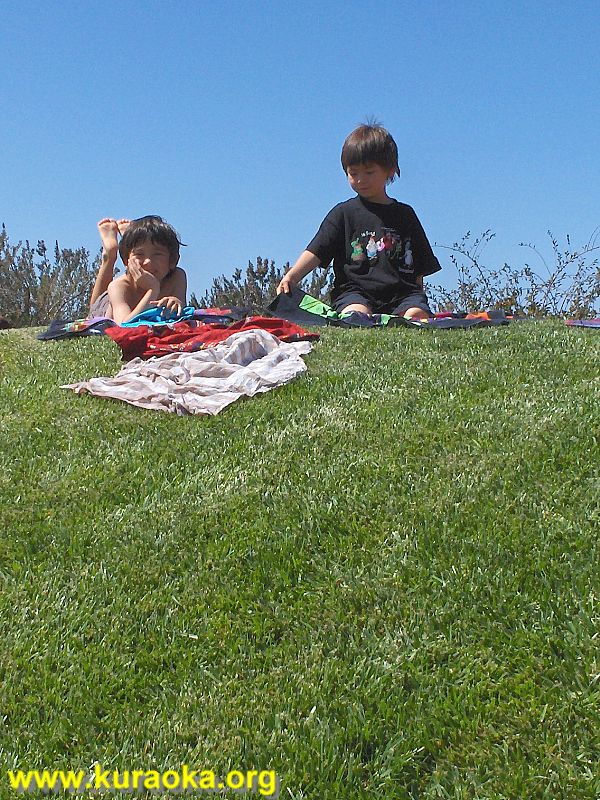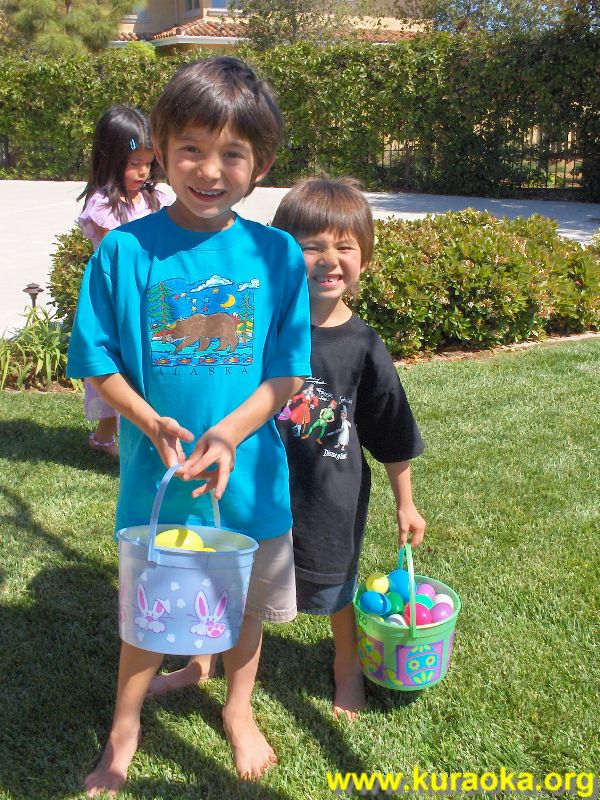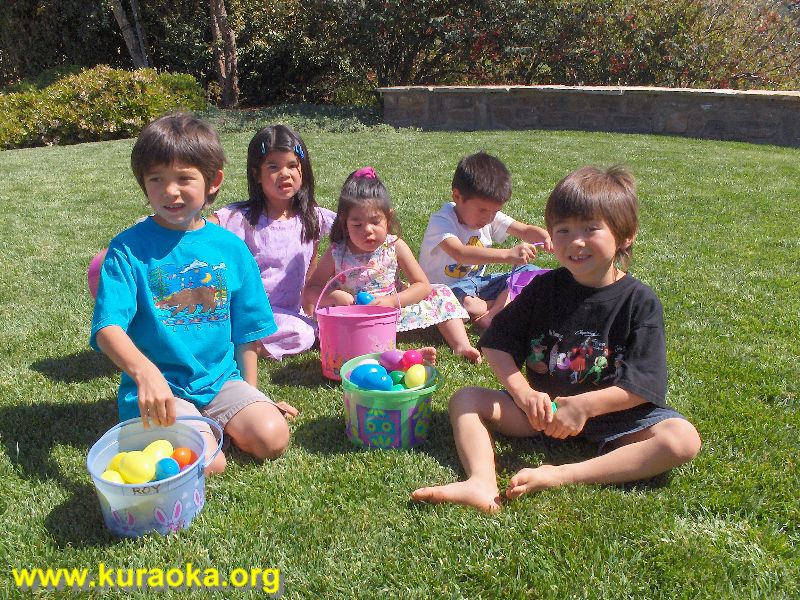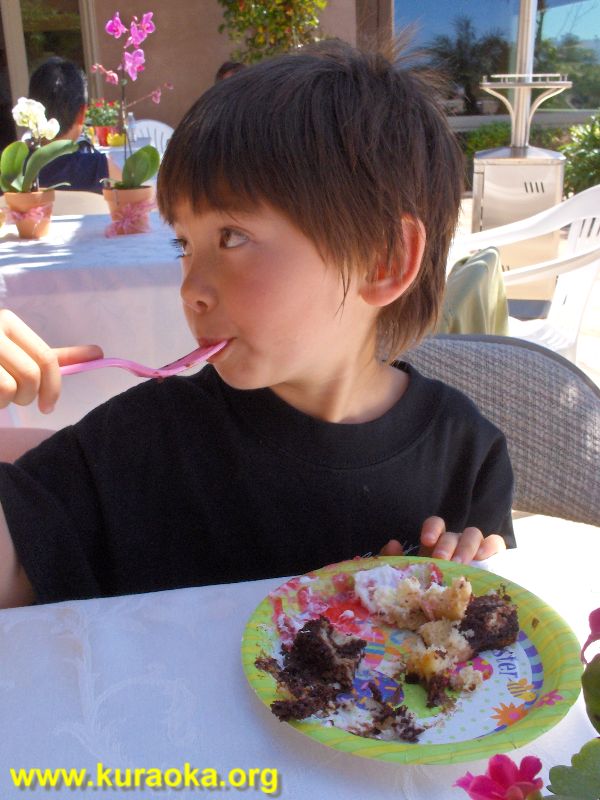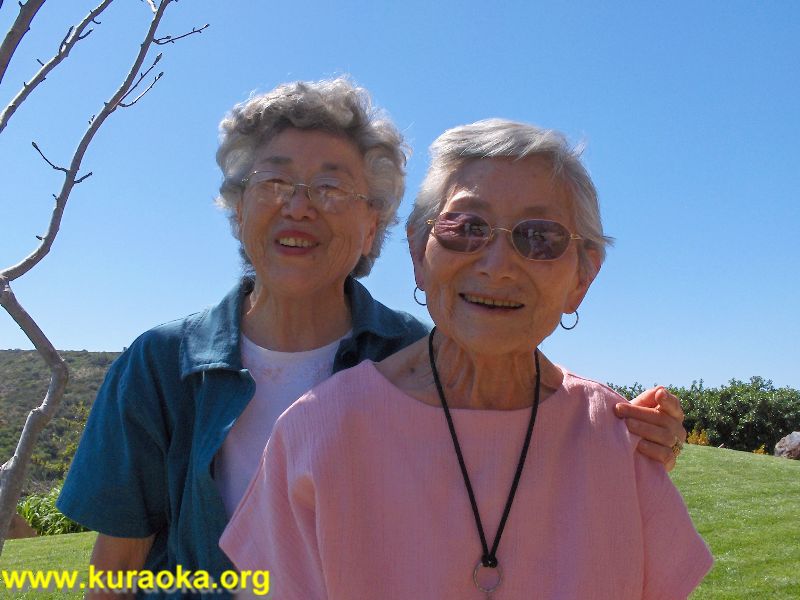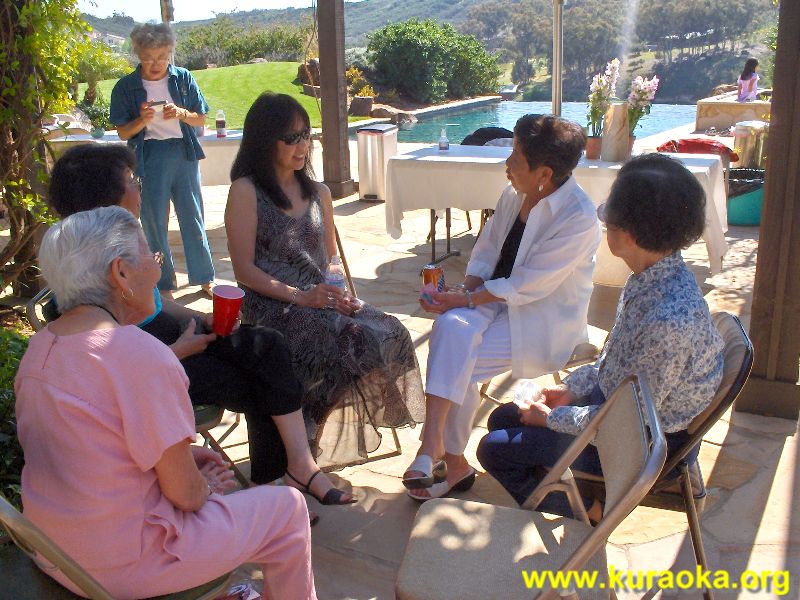 03-22-2008: Our At-Home Easter. Check out the spread the Easter Bunny left in the morning! We persuaded Leo to wear the Easter Bunny hat he made in K-2 for the hunt. Roy gathered as many jelly beans as he could scoop up! Plus, there were chocolate bunnies in the trees, a chalk set, bouncing chicks, peeps, and, hoo boy, lots and lots more!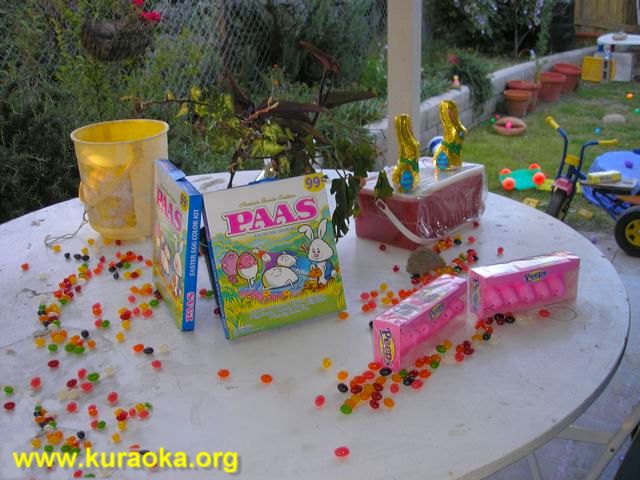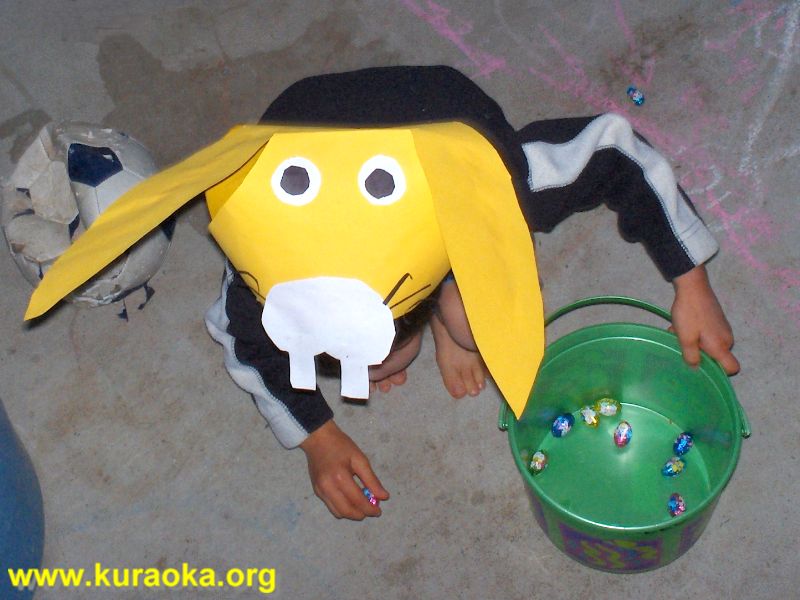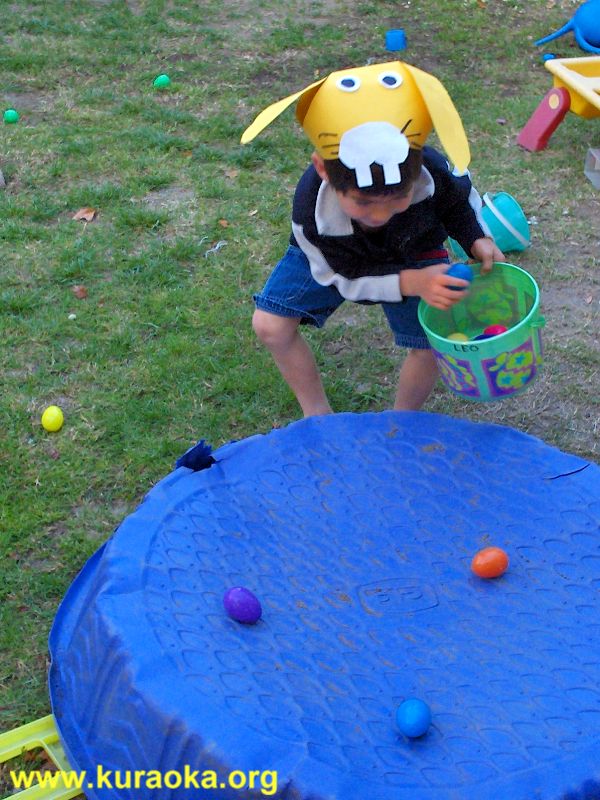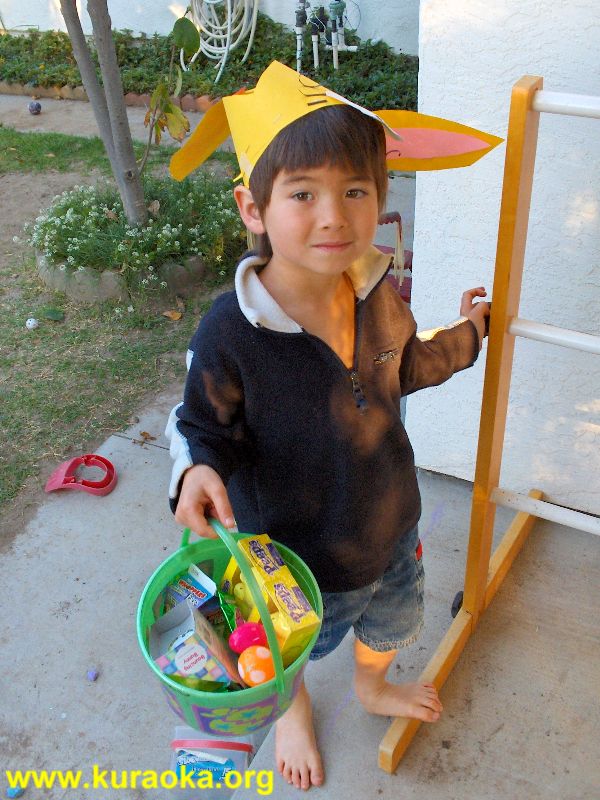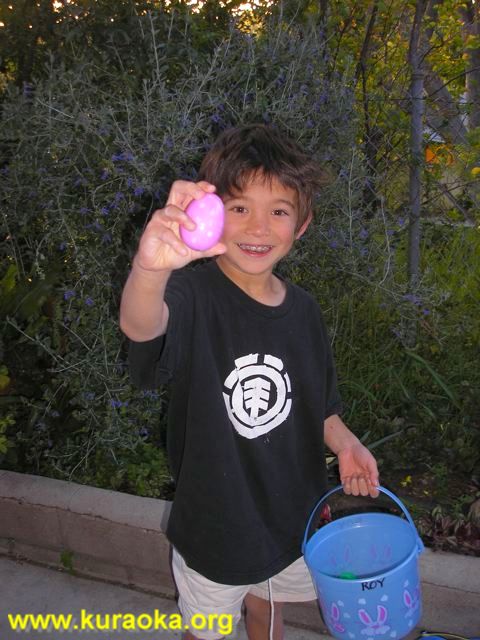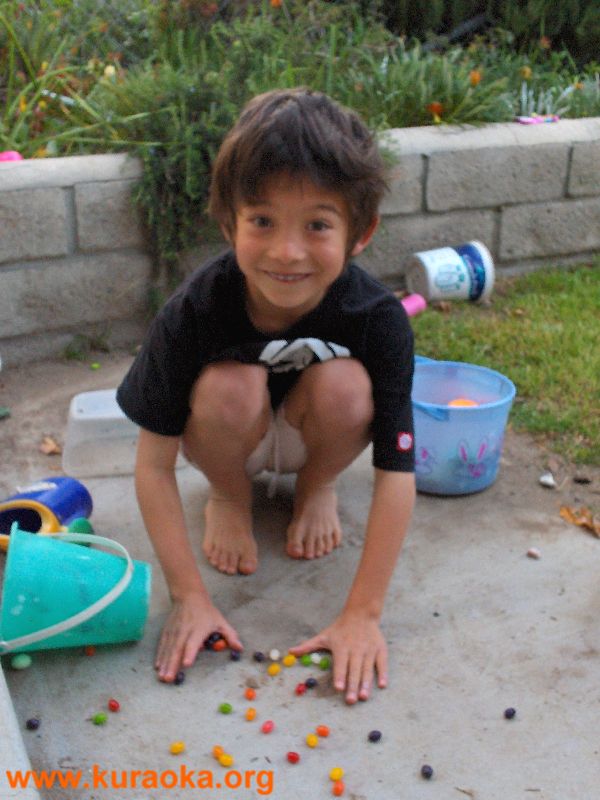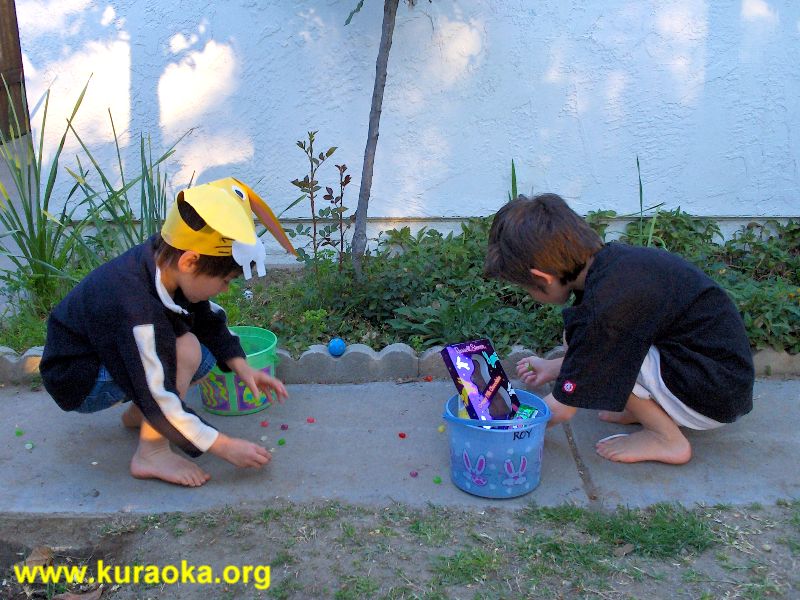 03-18-2008: Happy Leo. Grammy visits and Leo mugs for the camera.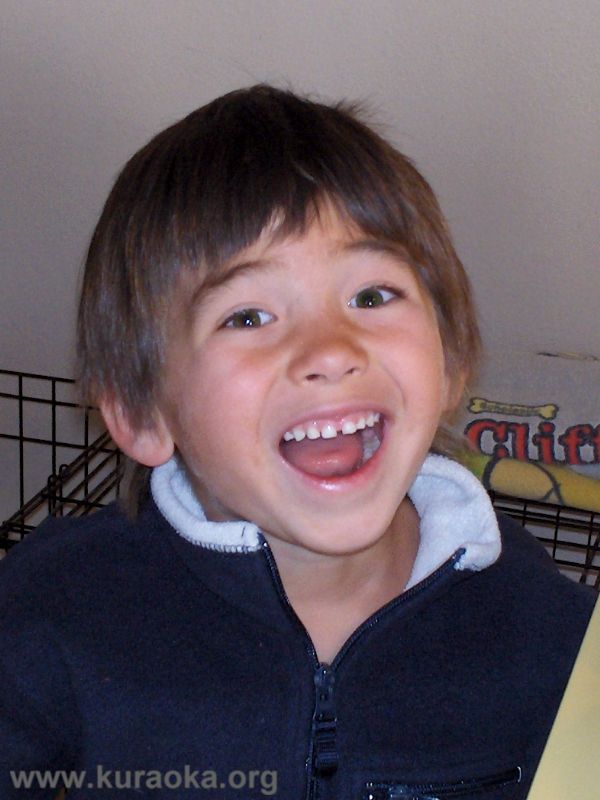 03-15-2008: Hail! The boys (and dog) frolicked gleefully while hail pelted down on them, whacking their heads and stinging their necks. For a brief moment, the front lawn gleamed icy white. And then, it was over.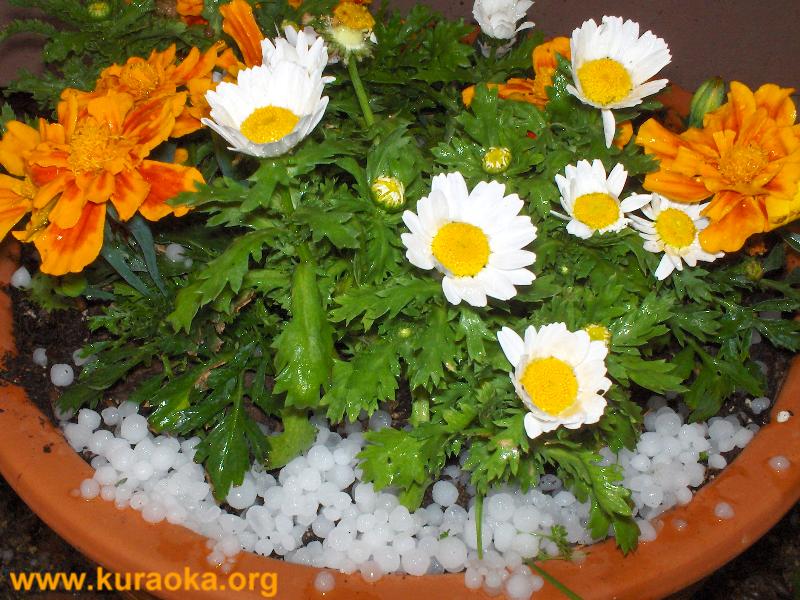 03-12-2008: Science Night at Gage Elementary. Leo peers through a microscope, one of several at the biology table. This was a fun event!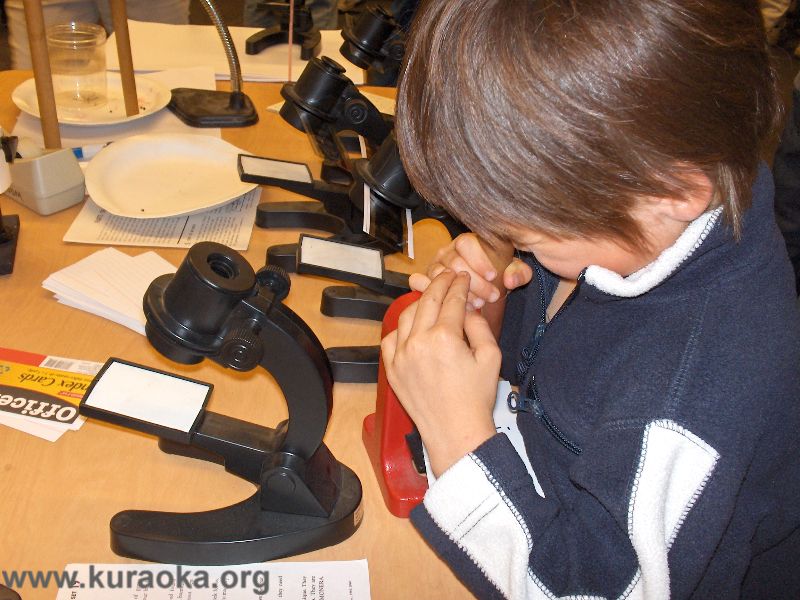 03-09-08: The Pack 951 Water Rocket Derby! There were at least two dozen competitors in two divisions: non-parachute and parachute. Roy's rocket was in the non-parachute division. You can see Roy and his water rocket in the first photo. It's built from a 2-liter soda bottle and two small plastic containers, with fins made of cardboard, all assembled with duct tape. Judging from the rocket's slightly compacted nose, this photo was taken after its flight. The second photo shows Roy preparing to launch – the rocket is about 1/3 filled with water, and the bottle in the foreground contains compressed air which is used to charge the rocket. Roy's holding the ripcord which releases the rocket. He had a great flight, timed at 5.87 seconds from launch to hitting the ground, good enough to win third place! The last photo shows him receiving his third-place medal. Want to see the flight? Click here to watch the water rocket launch video! (15 seconds, mpg format, 2.85 MB)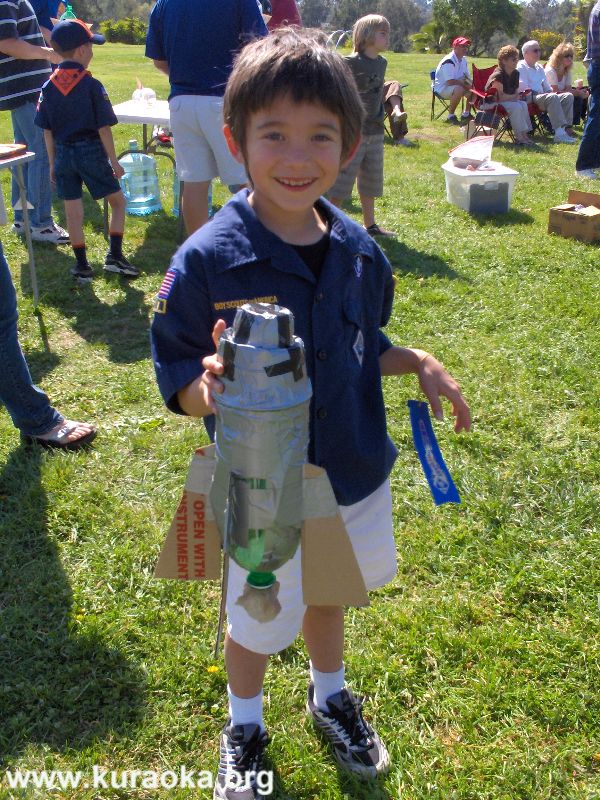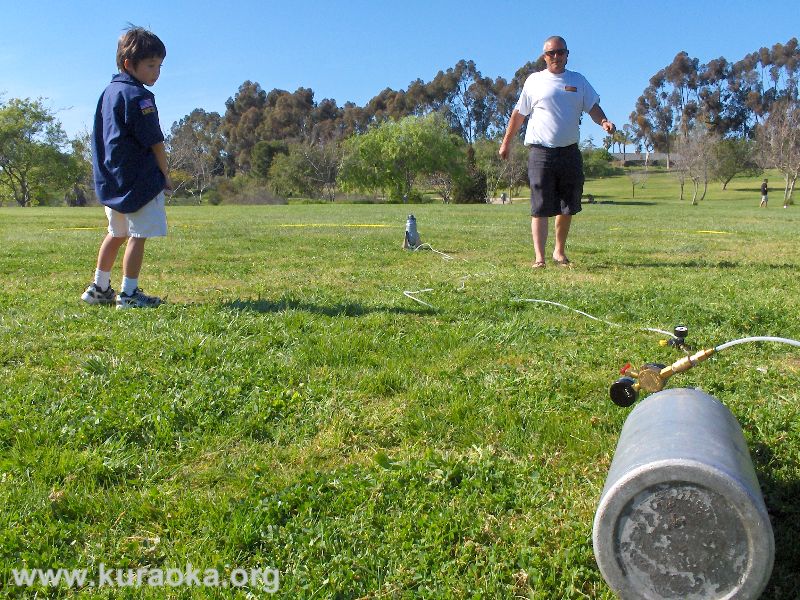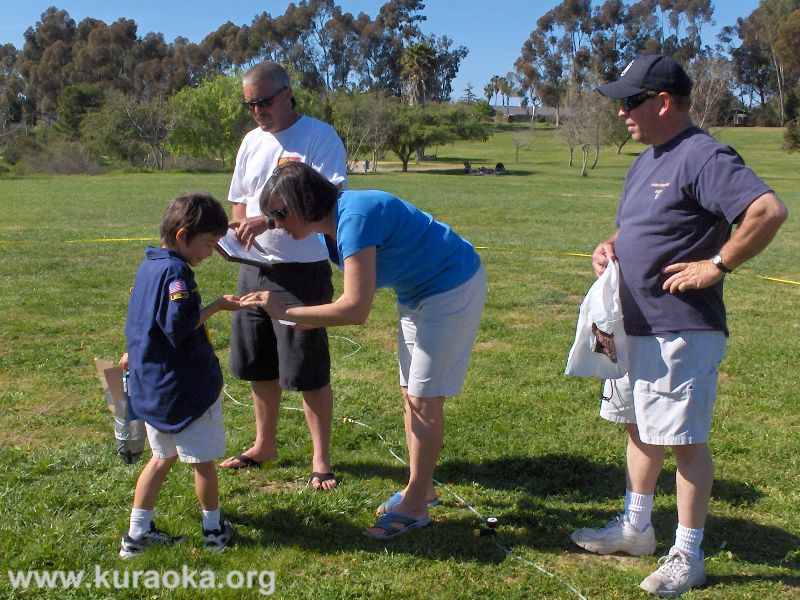 03-09-2008: The Club House! Roy and Leo enjoy some time in their special clubhouse next door, formerly known as the chicken coop. They built a secret entrance through the fence from our yard!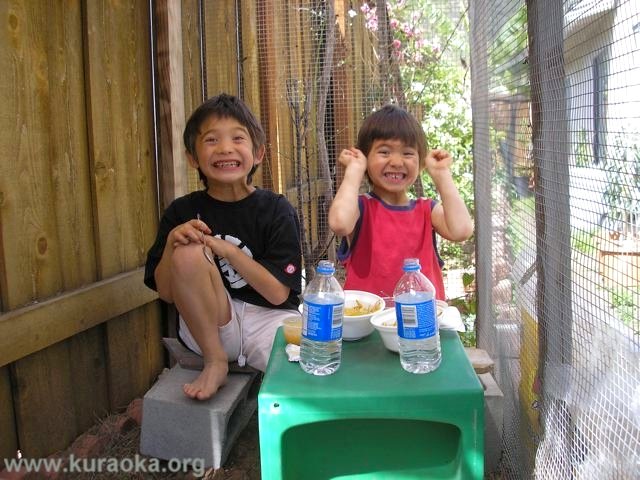 03-02-2008: Apple Pie at Julian. Roy gets goofy, mugging for the camera in John's raffia hat after having a big slice of apple pie.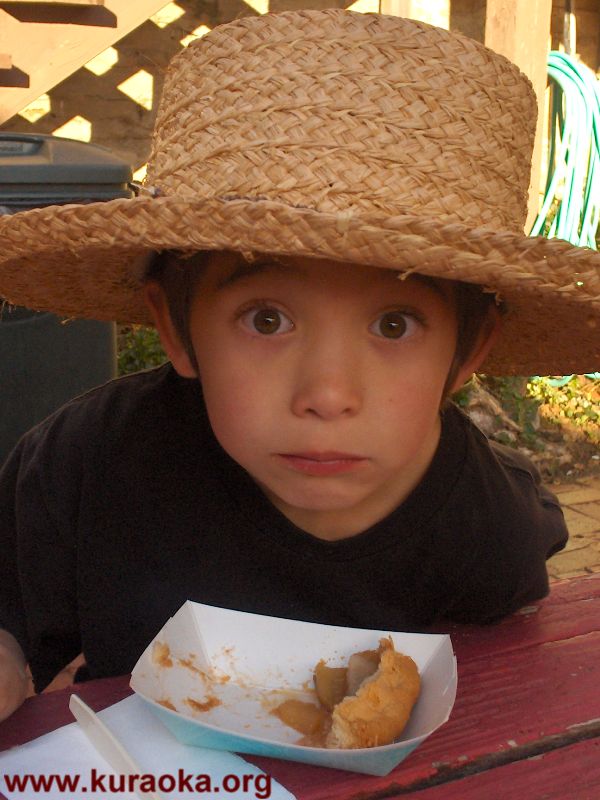 03-01-2008: Baking mud cookies and cakes! Leo has big plans to sell these at a yard sale to make lots of money. Buddy isn't so sure.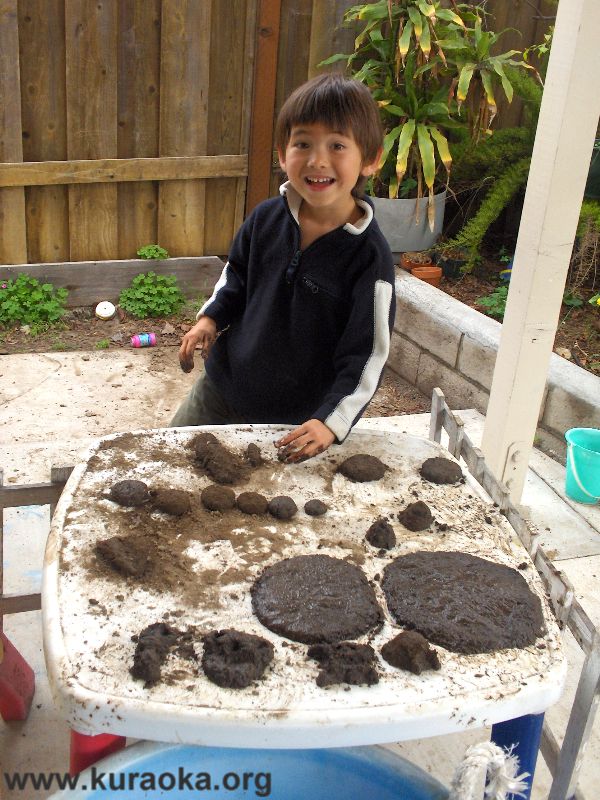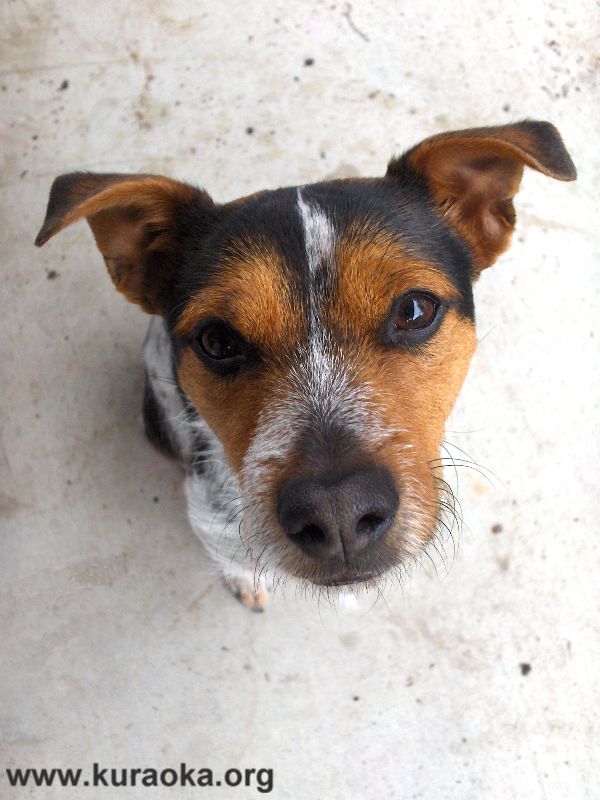 02-29-2008: Leap Rock Day! Ondine got the boys their very own rock pile! Yup: rocks, sticks, dirt, water. The four basic ultimate toys.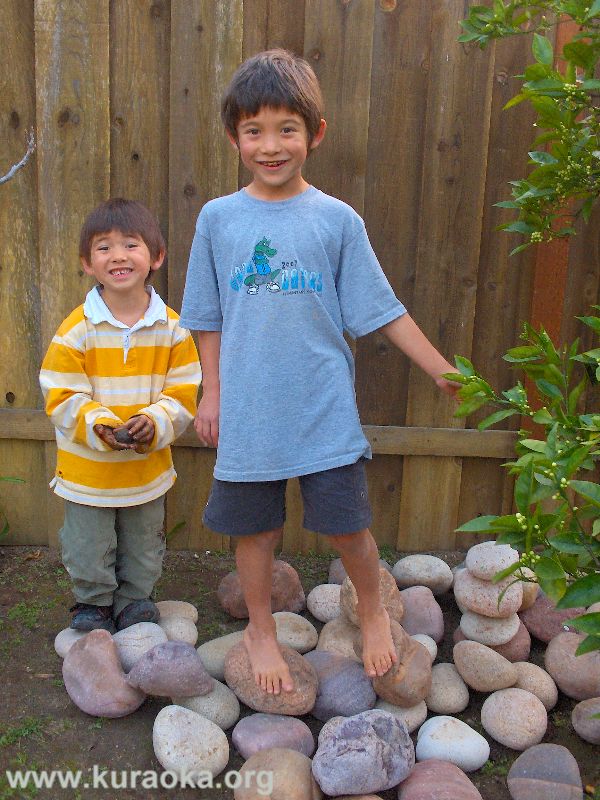 02-26-2008: Roy gets a prize. Roy is recognized for his "Excellent Effort and Participation" at a school assembly. Sorry about the spooky eyes and low-res photo – this was the best we could do from the back of the auditorium.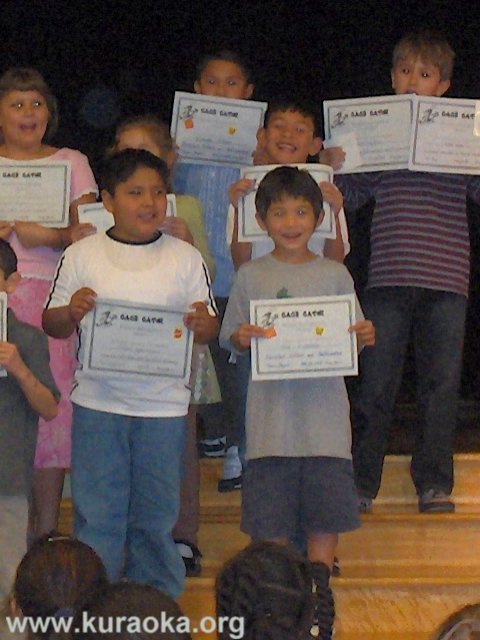 02-14-2008: Valentine's Day! Leo's Kindergarten class put on a show, and Leo sang into the microphone! Here he is at home, in his Sweetheart get-up. Awww.!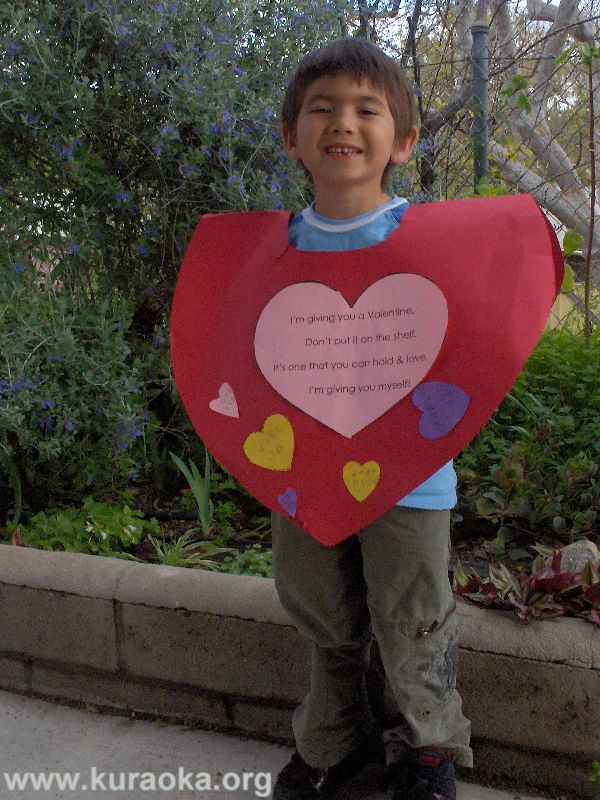 01-01-2008: Happy 2008! Here we are! John (holding Buddy), Ondine (holding kints), Leo, and Roy.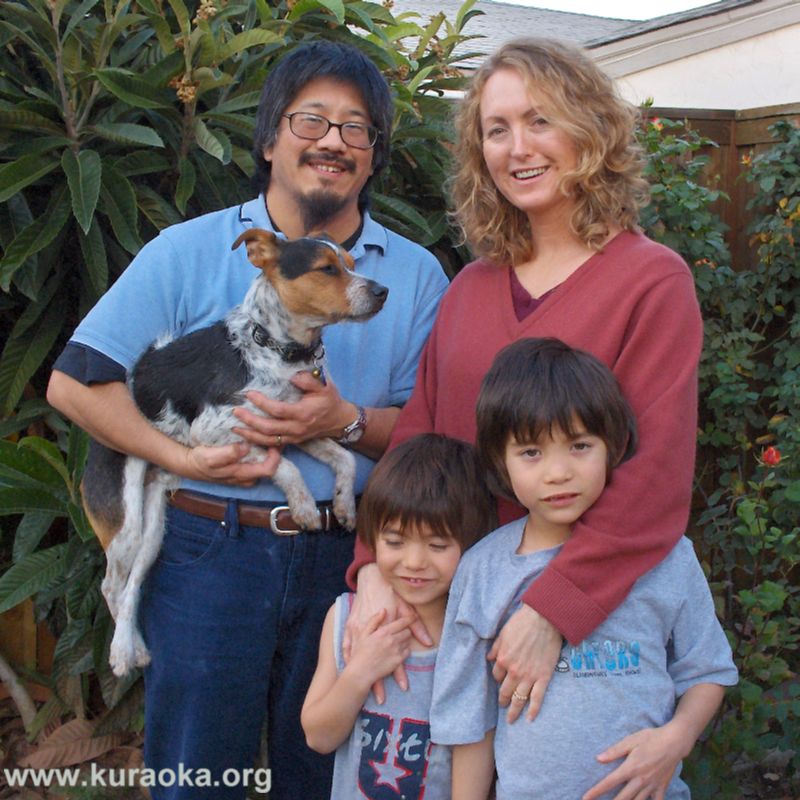 01-01-2008: New Year's Day! Our oshogatsu spread. See the rolls in pink in the first photo? That's all the uncut makizushi Roy and Leo made the day before!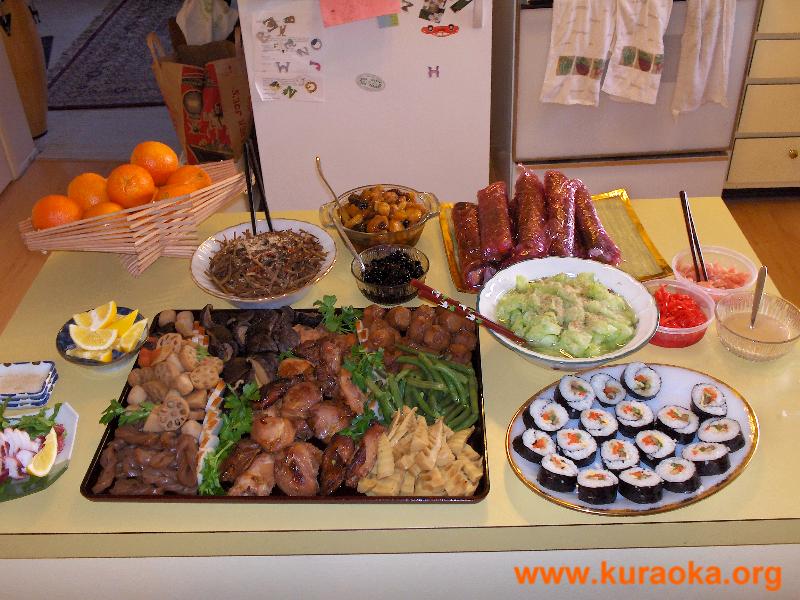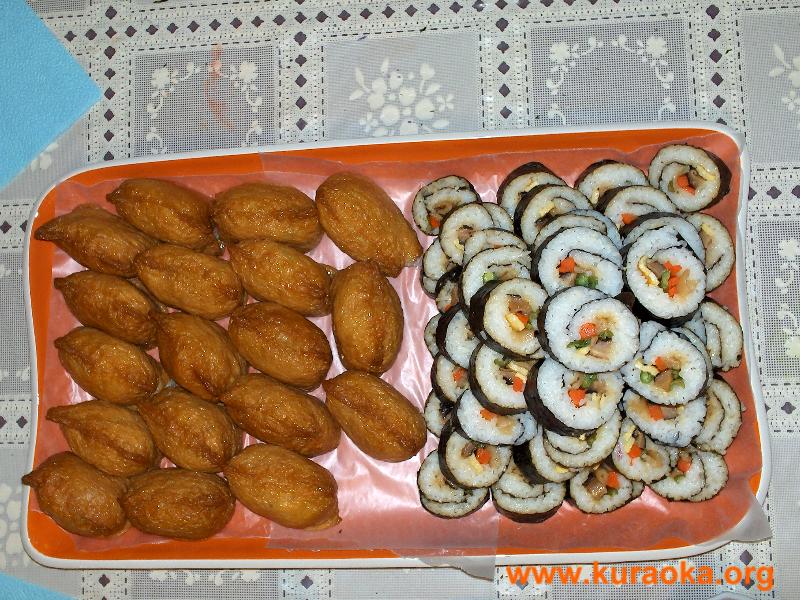 12-31-2007: New Year's Eve! First up, you see Grammy and Roy making makizushi. Then, Roy and Leo soloing. They made a lot of makizushi!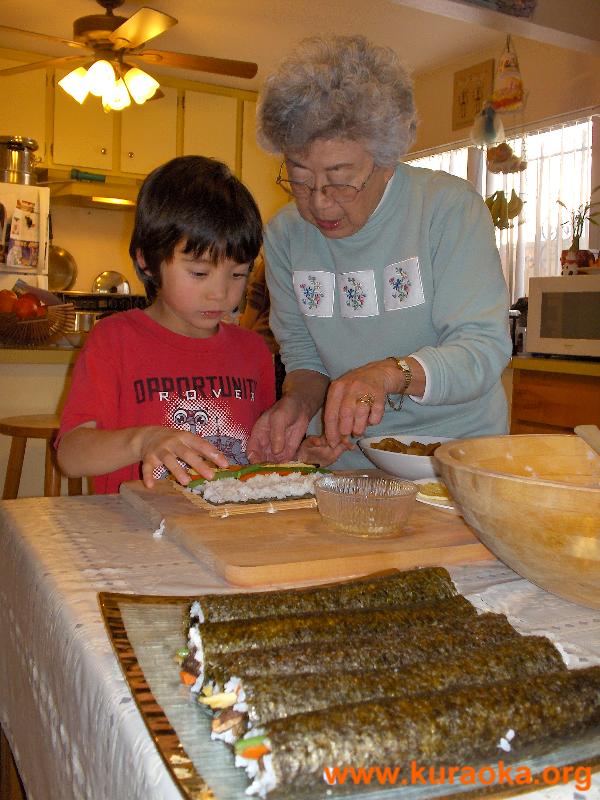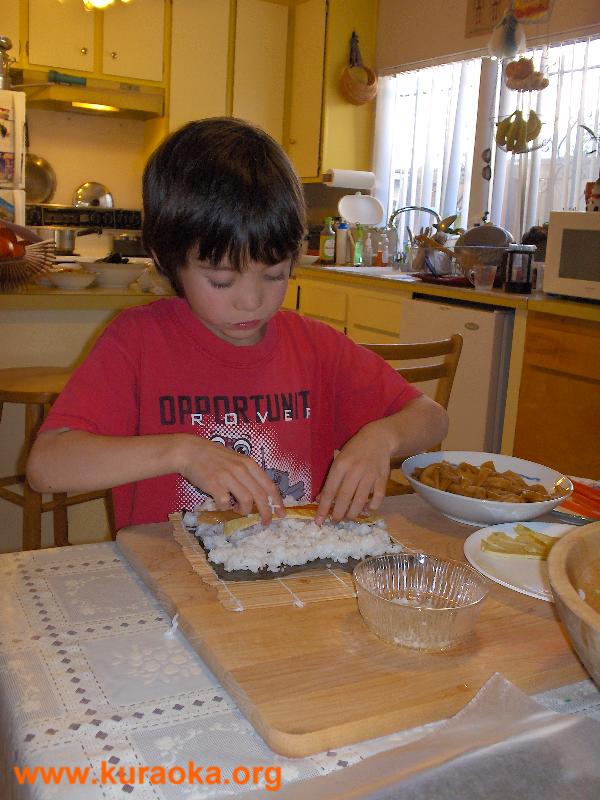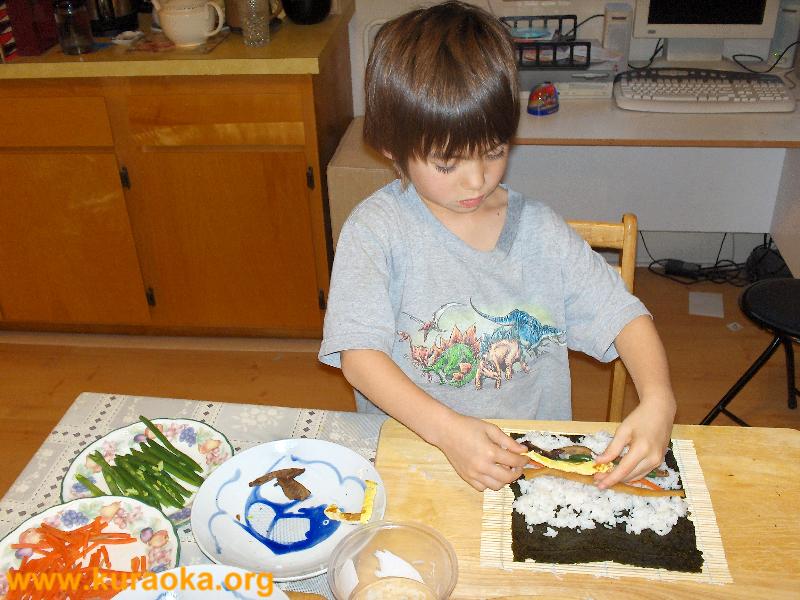 Archived Photos from 2007
Archived Photos from 2006
Archived Photos from 2005
Archived Photos from 2004
Back to the Kuraoka Family main page