Click on any photo to see it full-size. All photos copyrighted.
12-21-13 to 01-05-14: Three-generation, two-week trip to Japan! This is something of a placeholder until we get the full journal posted. But, meanwhile, here are some photos! They include the Iwataya clan founder's grave marker (that's John's mother's side); John's mother and her cousins Masataka and Shigemi in front of the temple the family built in Amagi; all of us dressed in yakuta in the family room of our hotel in Asakura-shi; the A-Bomb Dome in Hiroshima; the US and Japanese branches of the Kuraoka clan united in front of the community center Tamiya Anan, John's step-grandfather, built - that's Tadaaki Kuraoka next to John's Mom at center left, and his daughters Fumie and Yasue and their families; Sakuichi Kuraoka's (right)and Tamiya Anan's (left) grave markers; all of us in Miyajima; Fujisan; and all of us in front of Mt. Fuji (more visible in real life than in the digital pic). The weather was wonderfully mild (we were lucky), and we had an absolutely fantastic time connecting with relatives and something of the spirit of Japan!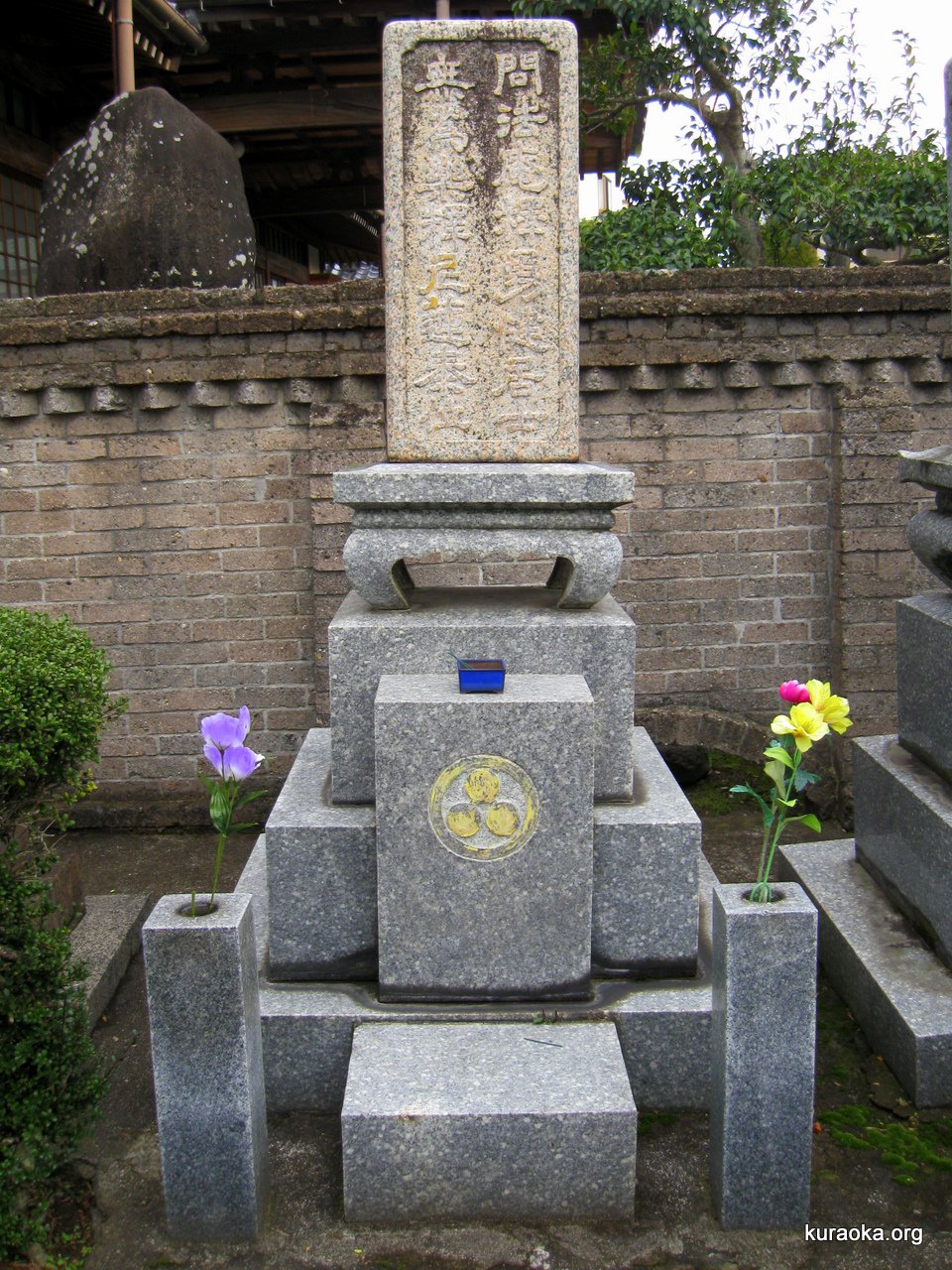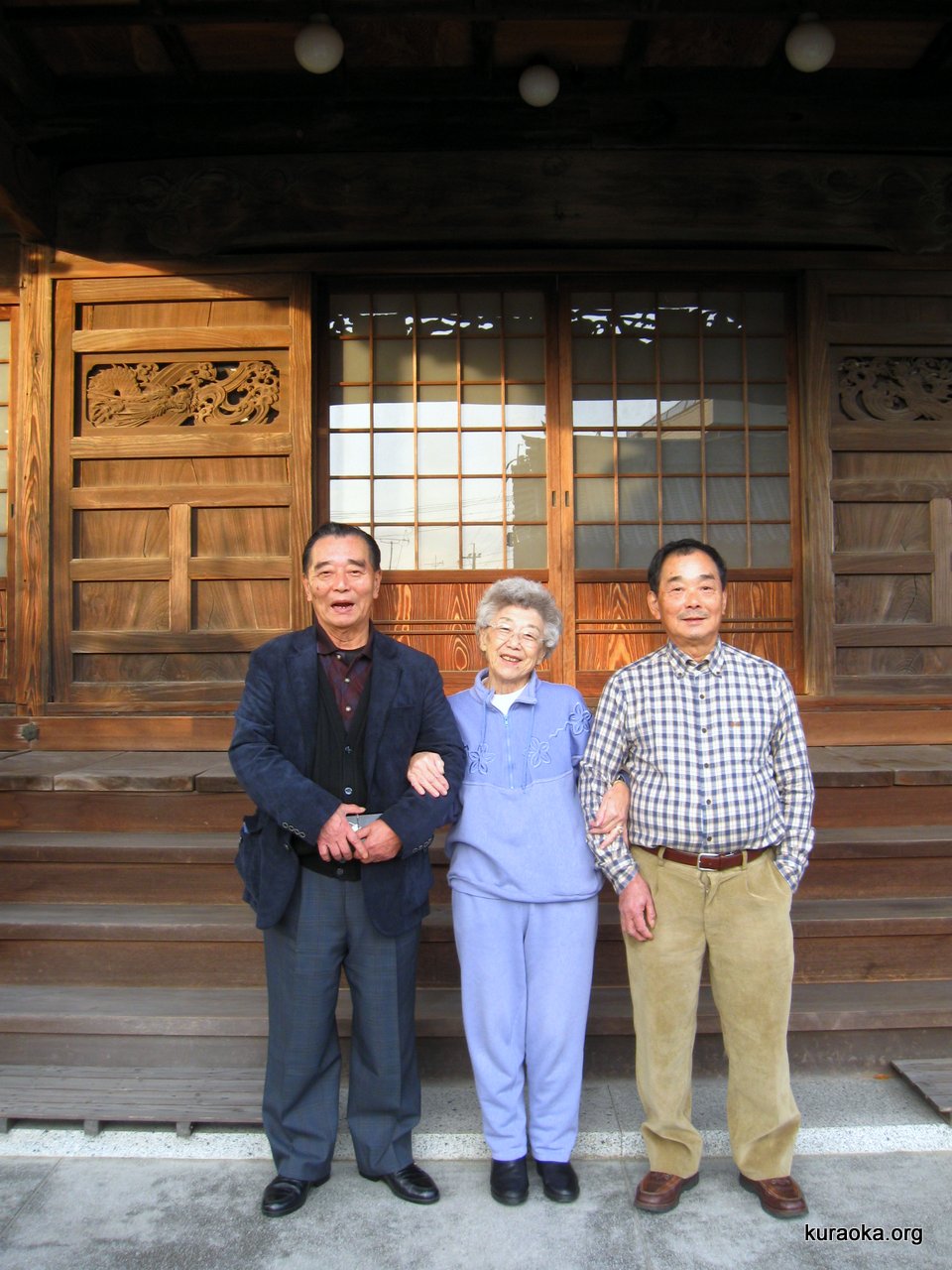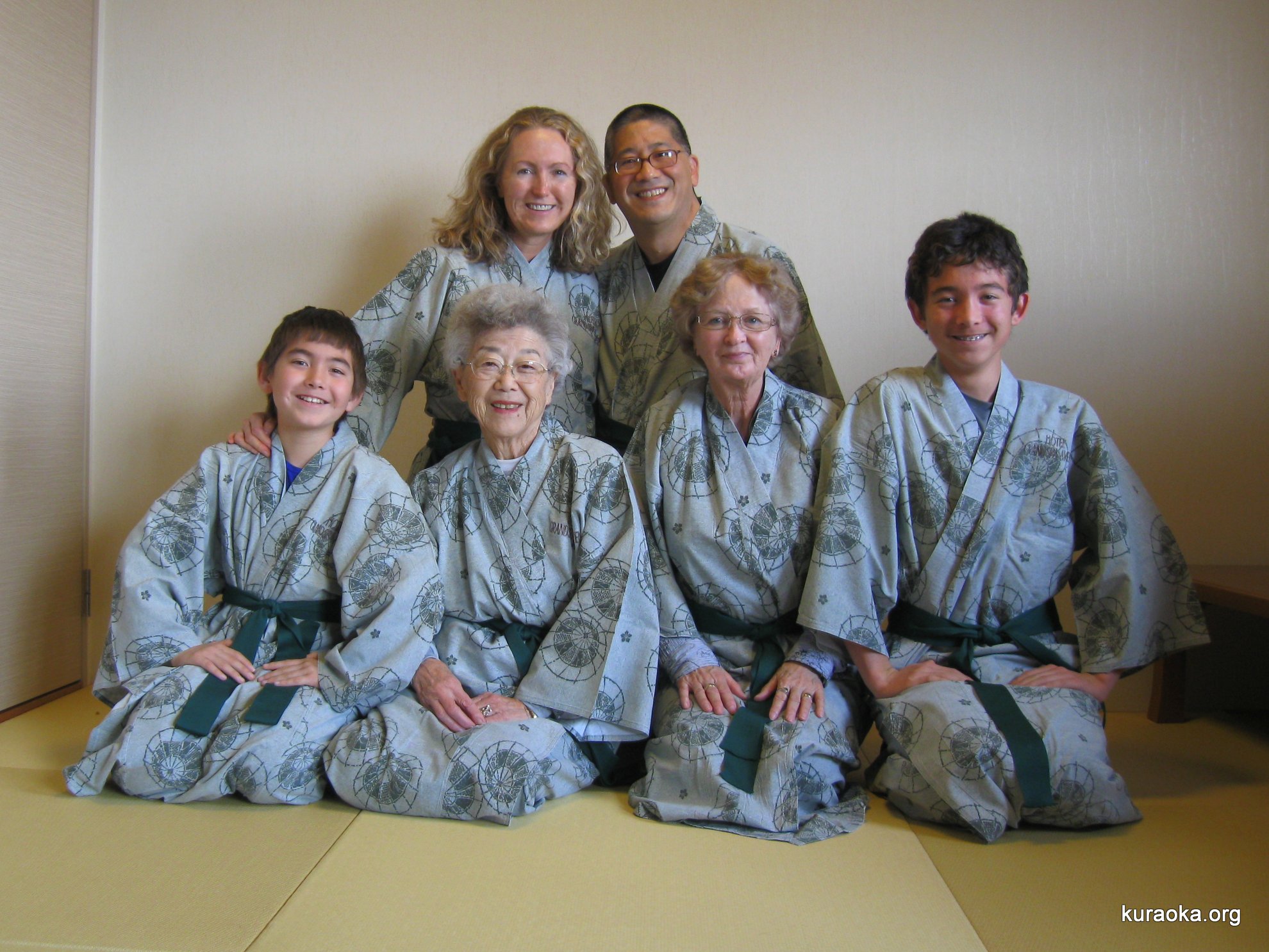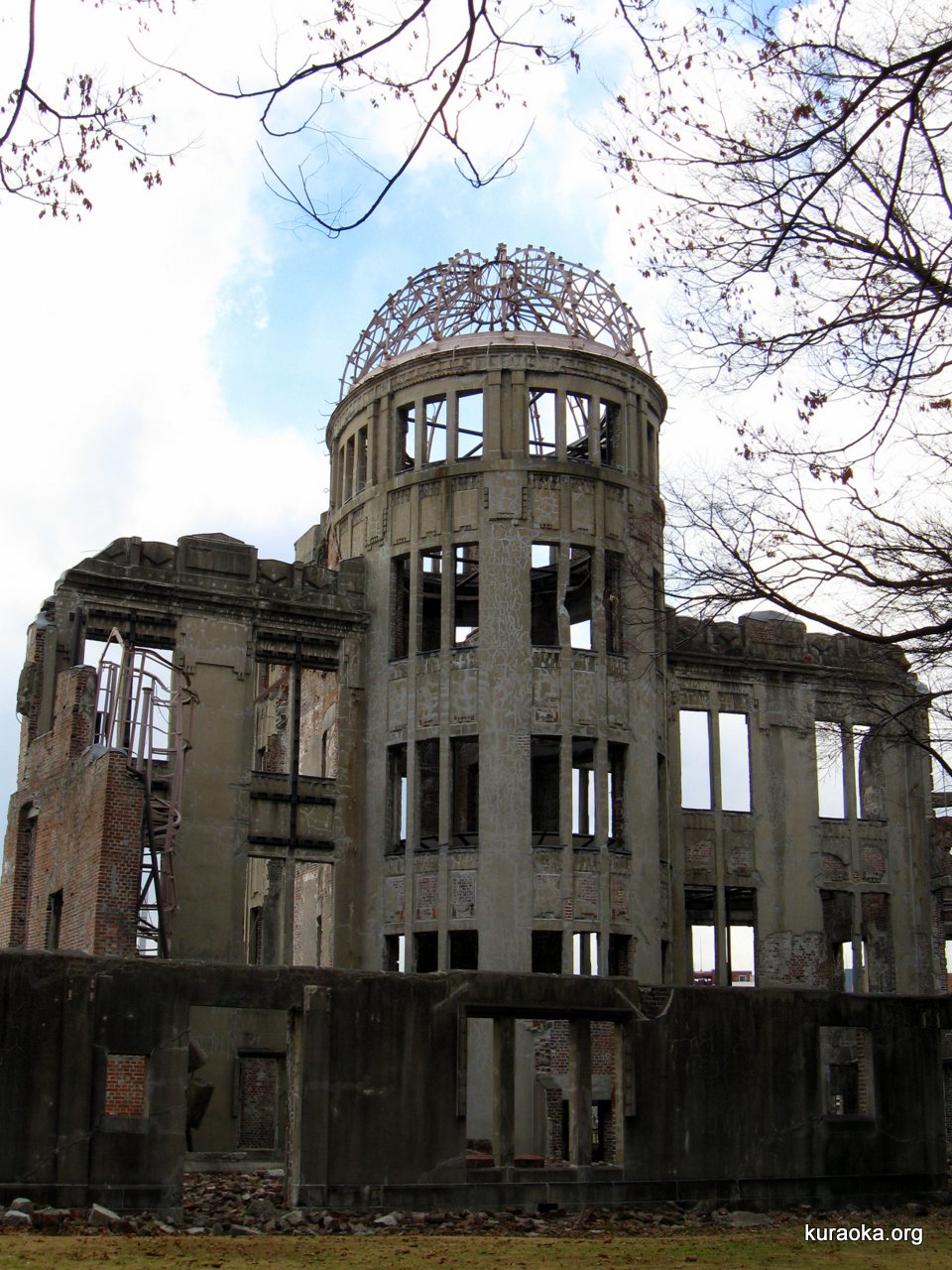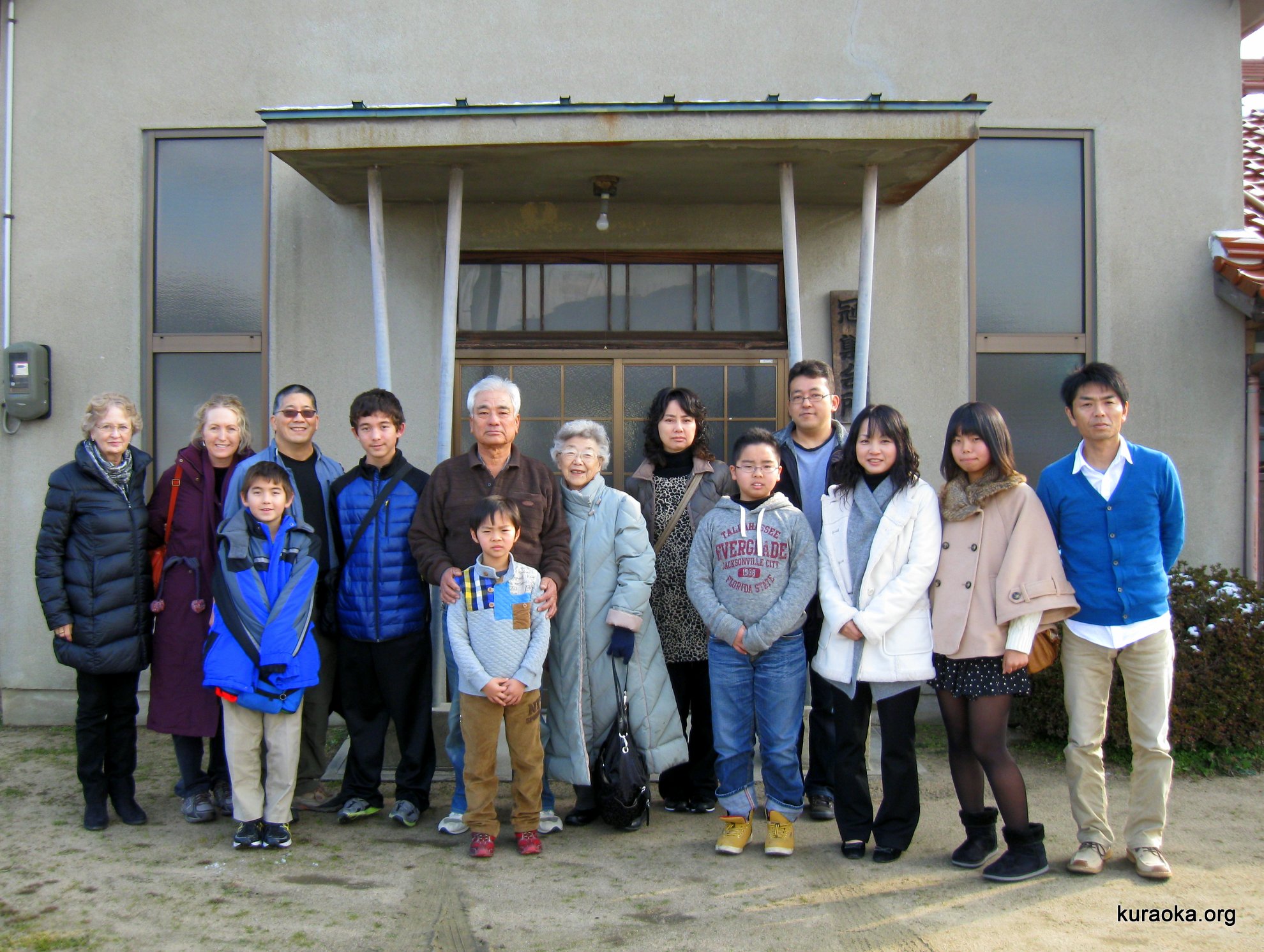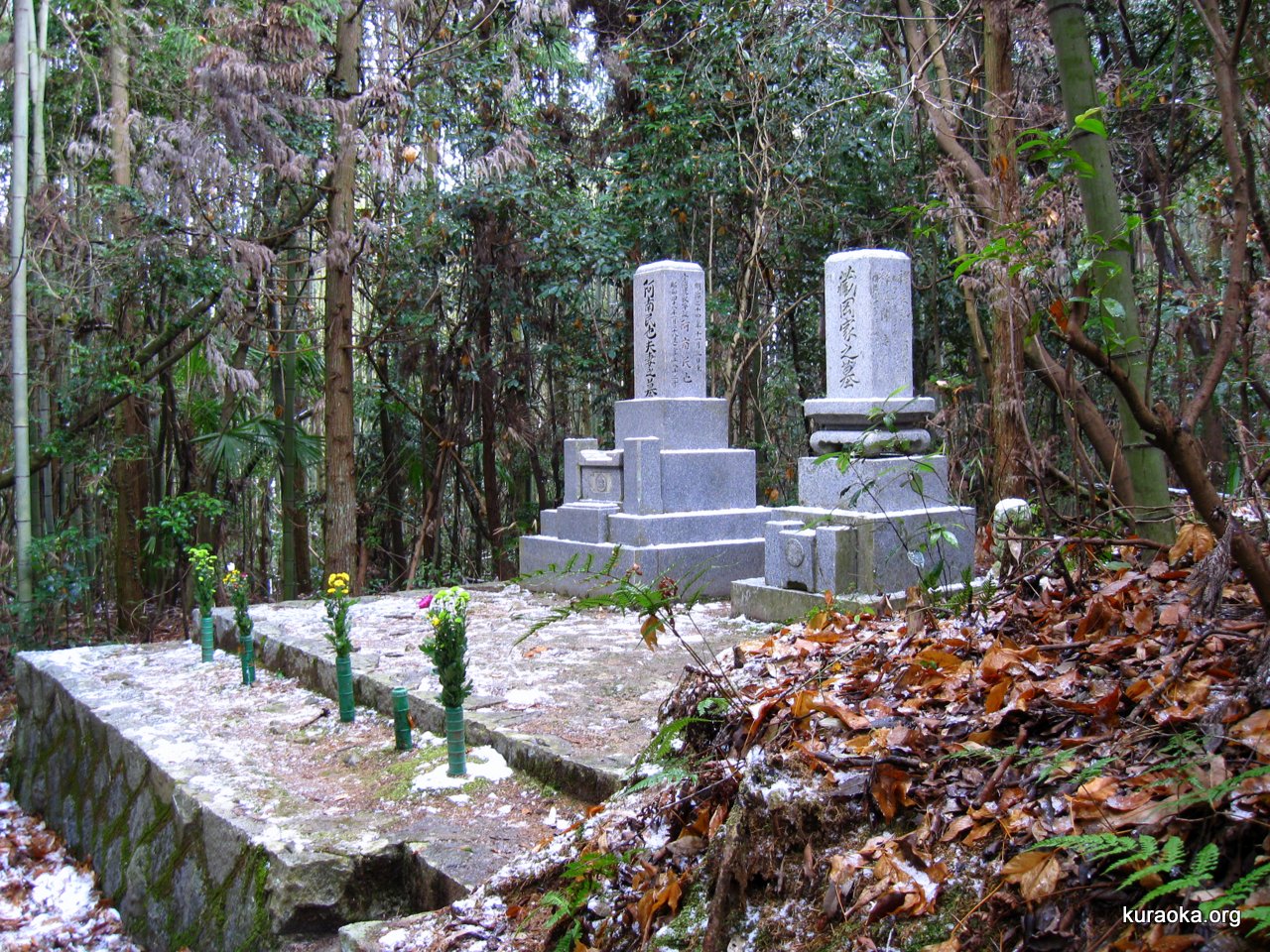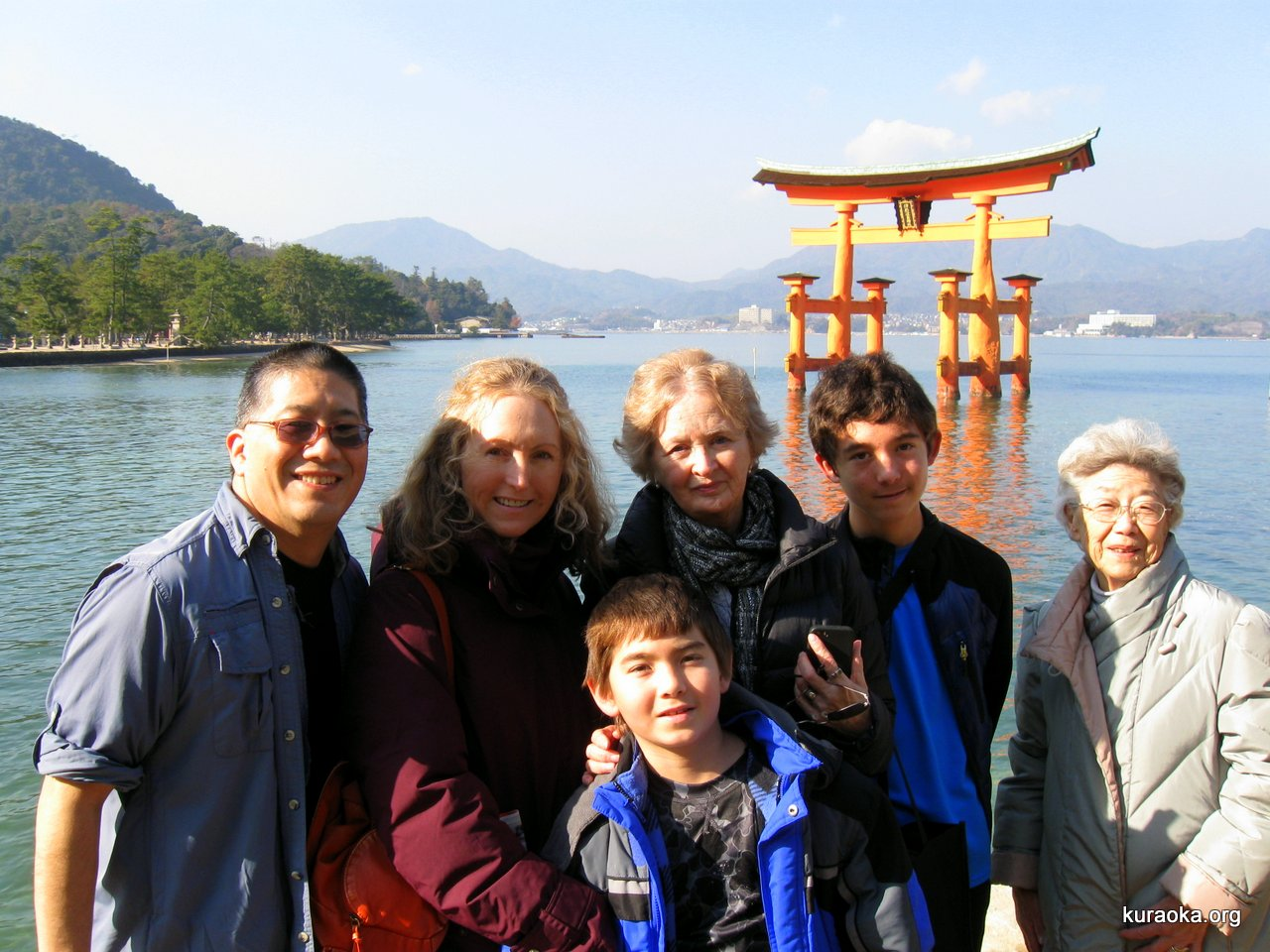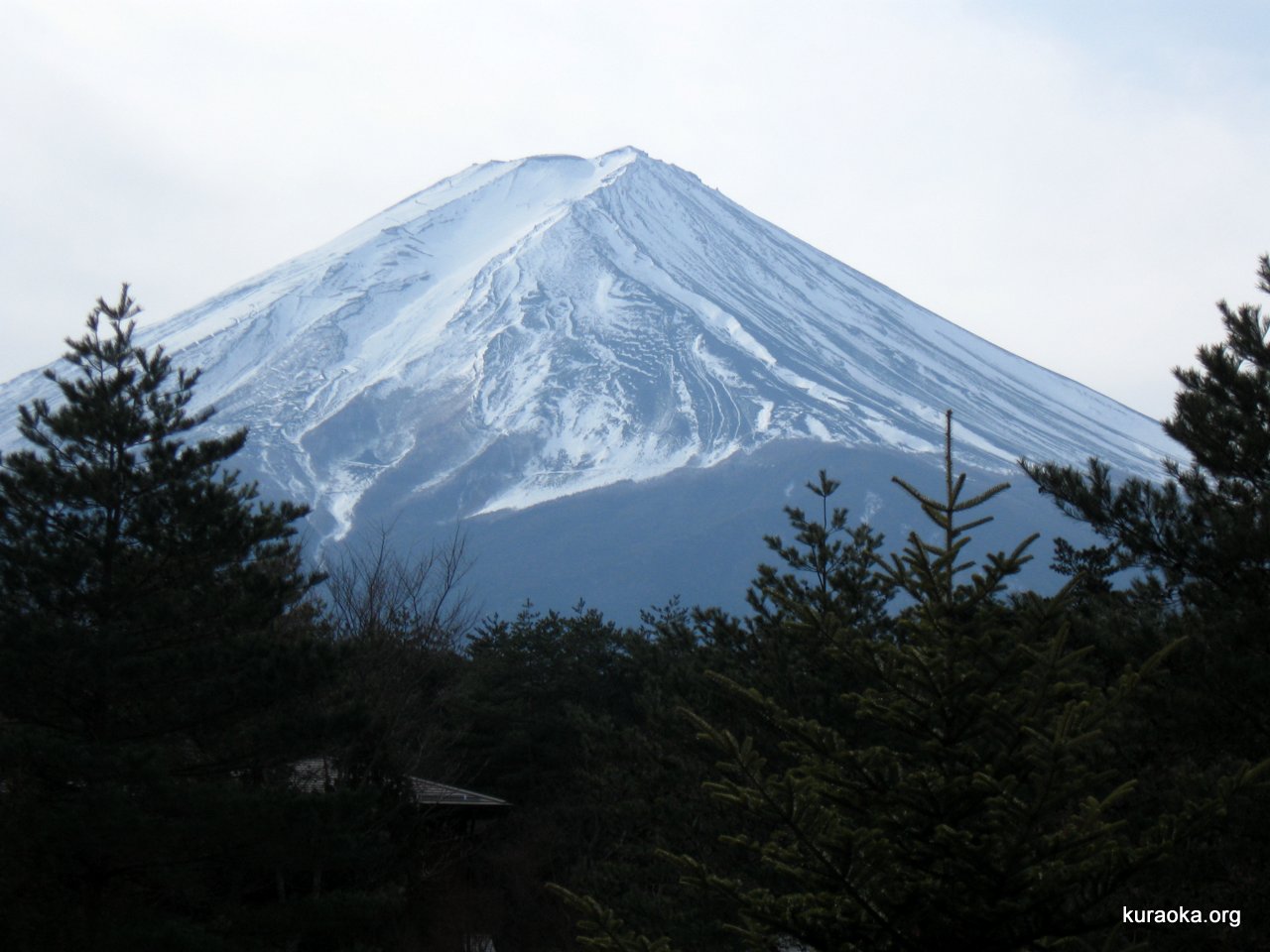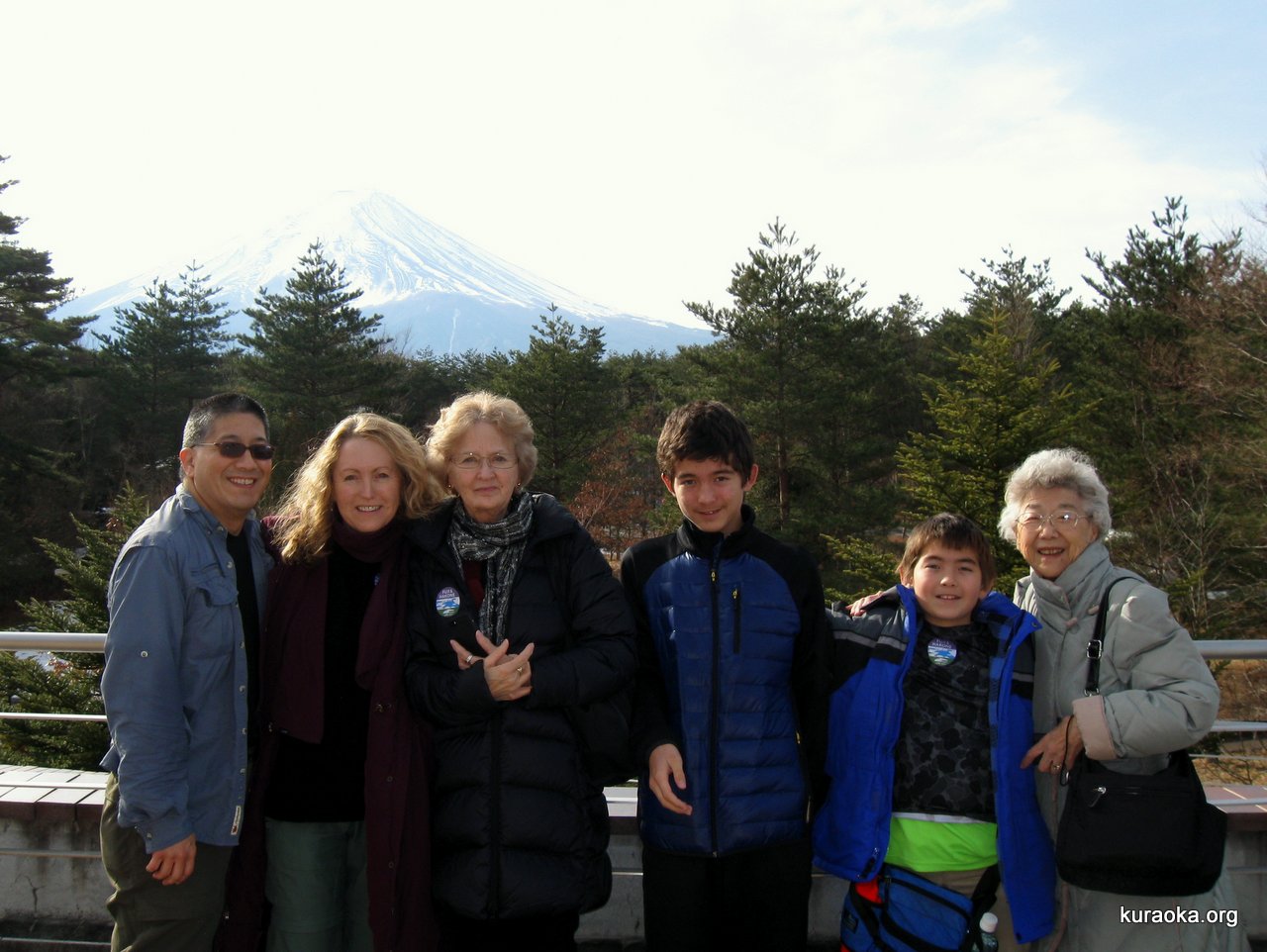 12-05-13: St. Nicholas' Day Eve! Barbara and Ondine met Sam and David (Aunt Liz' younger sons and Ondine's cousins), who had come all the way from Oregon, in San Clemente for dinner. Meanwhile, at home, the boys set out milk and cookies for St. Nick.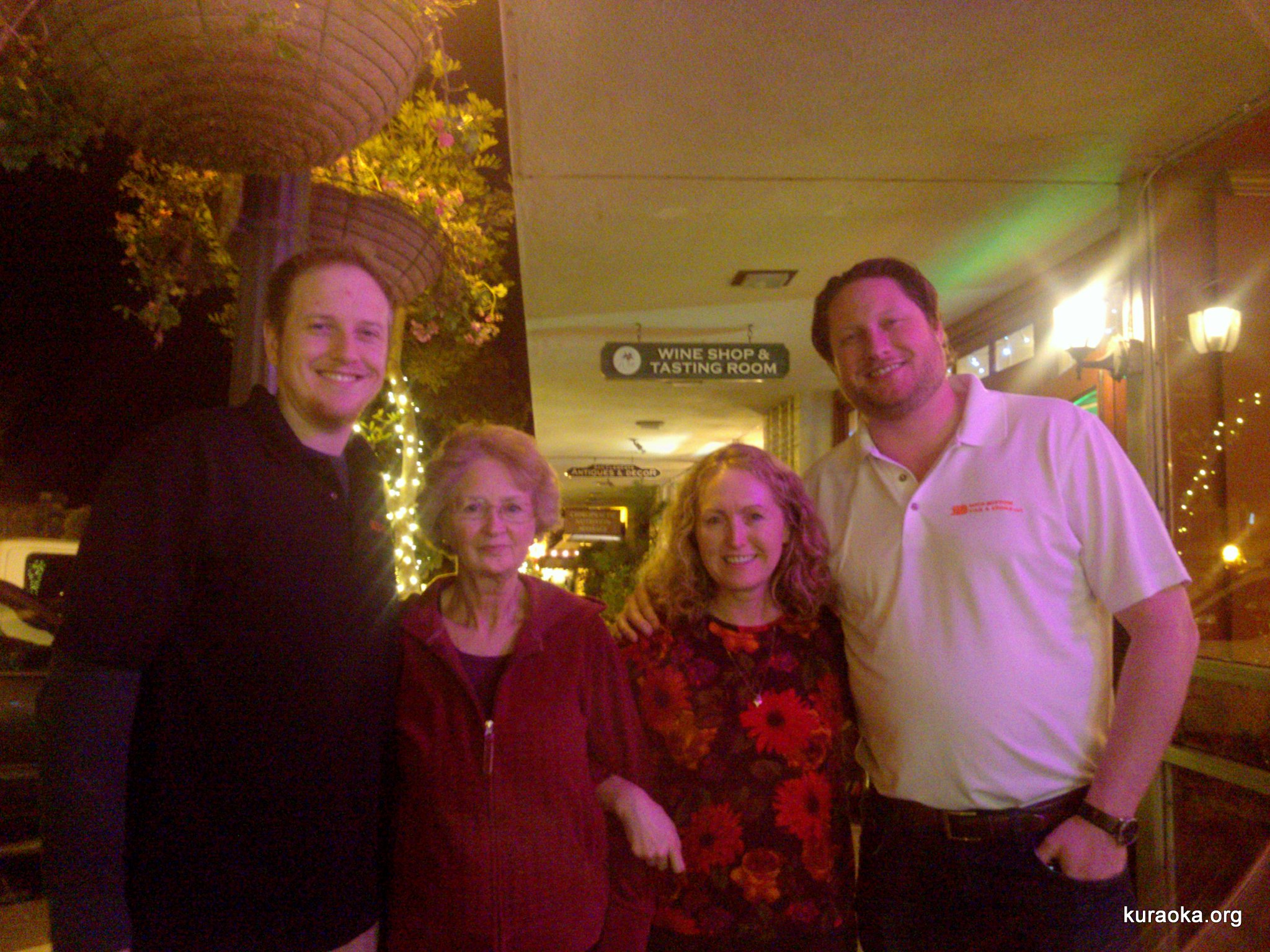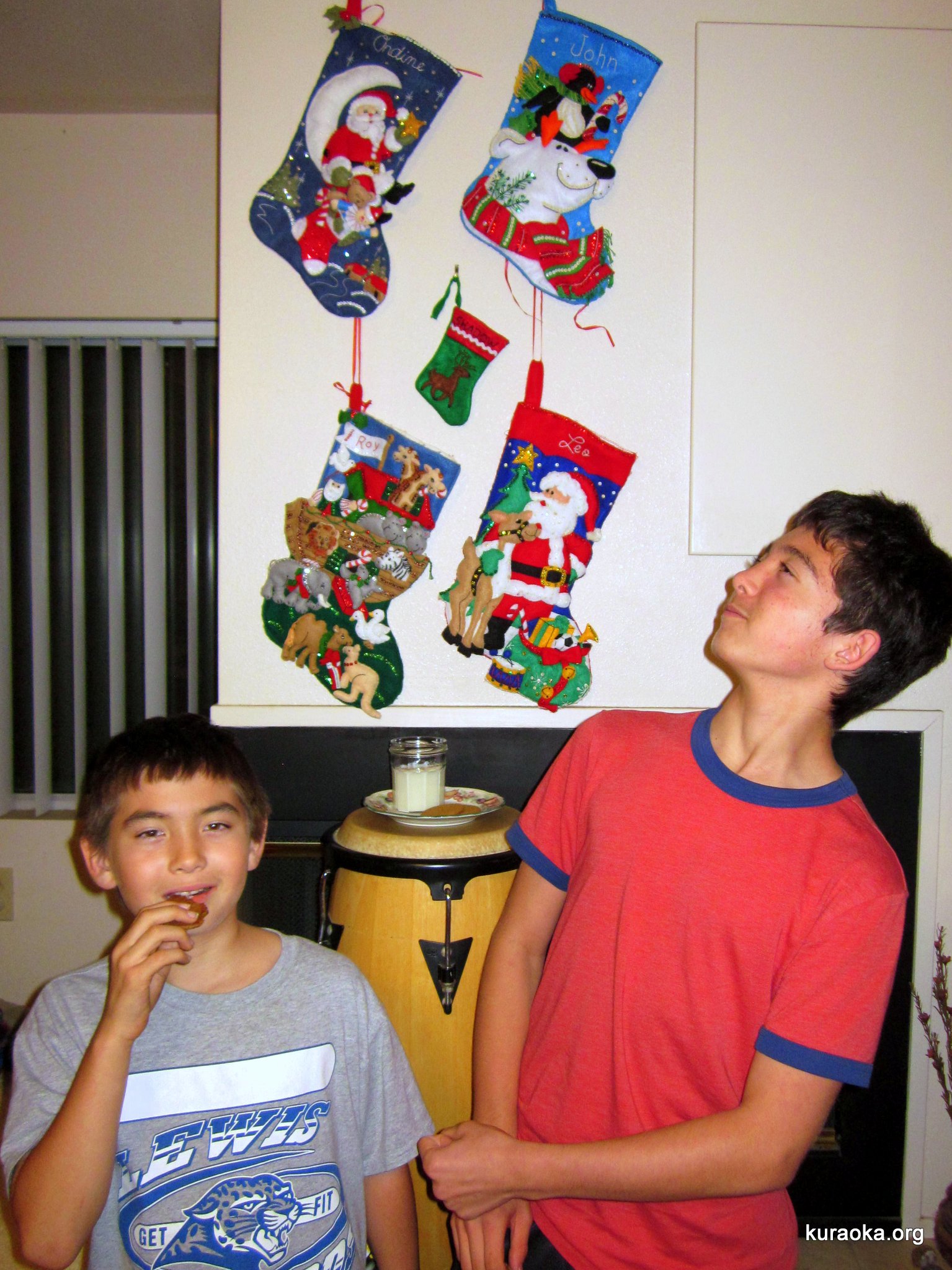 11-28-13: Thanksgiving! We were joined for Thanksgiving dinner by Ulli, Martin (mostly hidden in the photo), and our neighbors Kathy and Ron. What a joy to have a full table! After dinner, we went next door for dessert.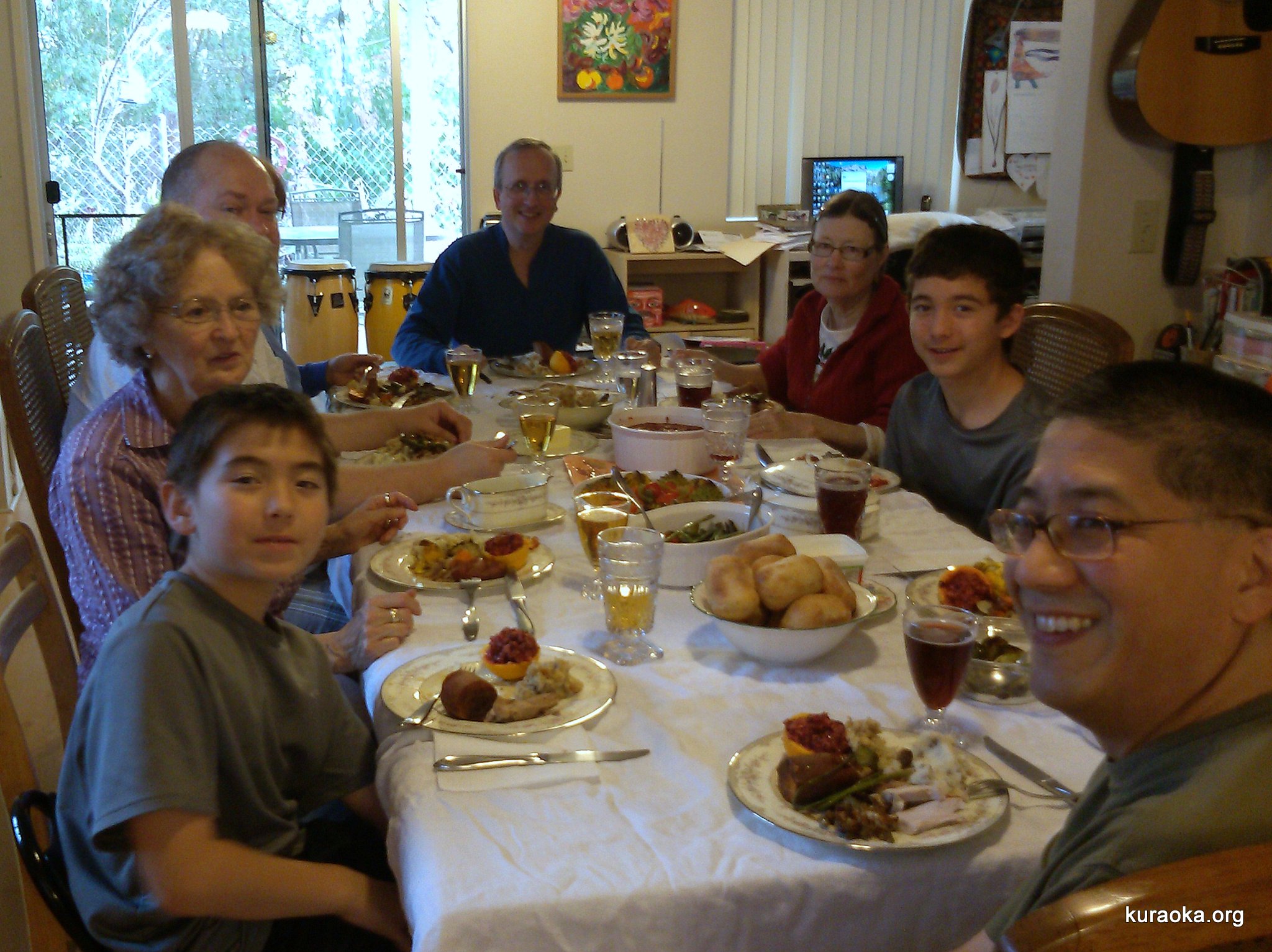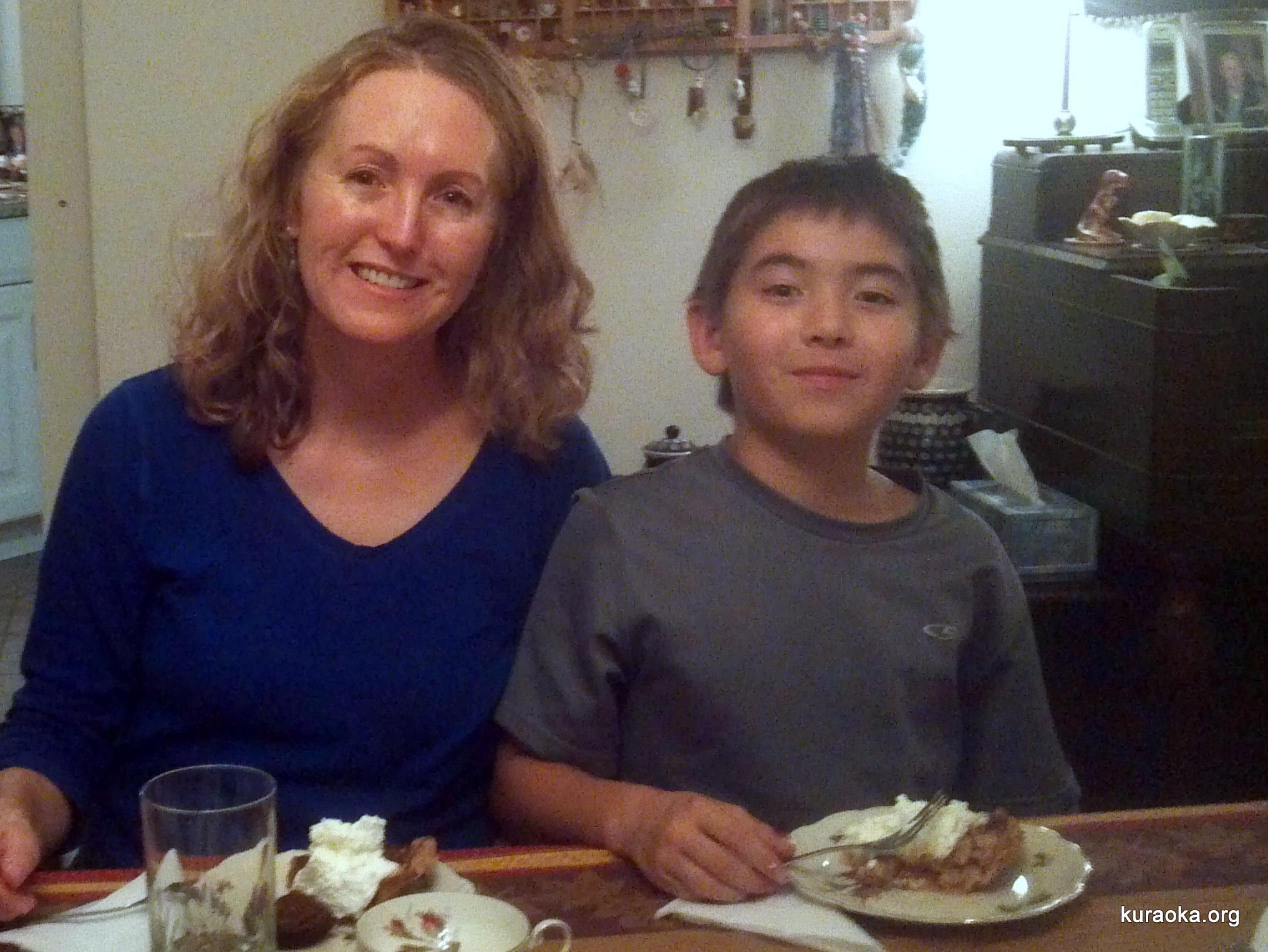 11-10-13: HapiFish! After a judo tournament in Vista (Leo placed second in his division; Roy and John helped out on the mats), we stopped at HapiFish, Justin's restaurant in Encinitas. wow, was it delicious! Here we are - that's Justin in the middle next to Grammy.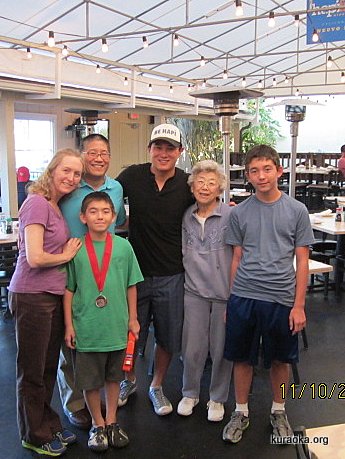 11-02-13: Dia de las Muertos. Ondine and Leo went to the Dia de las Muertos festival at Greenwood Cemetery. Here's Leo making an altar for Grandpa Bill, which was left with the others in a special area.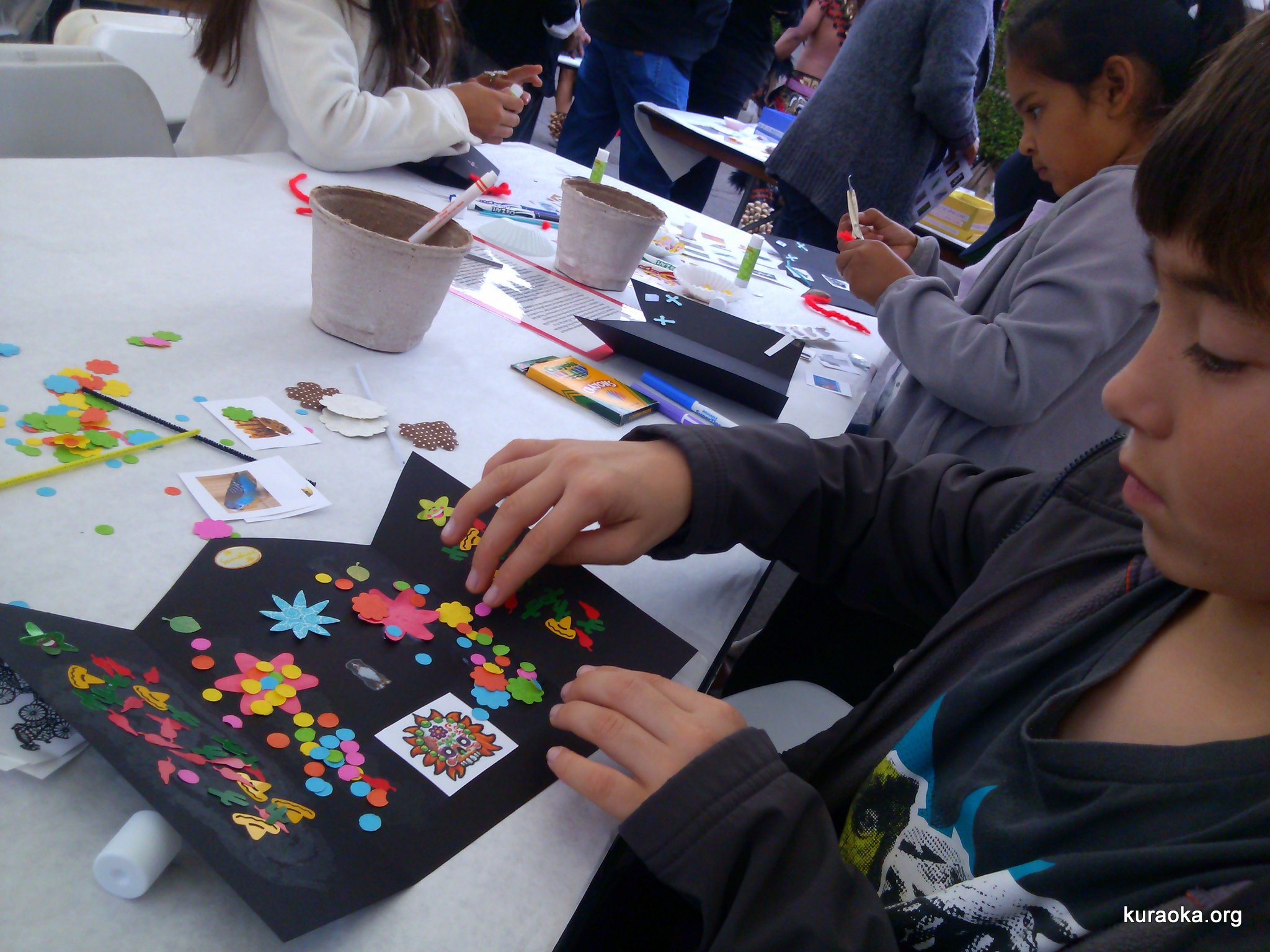 10-31-13: Happy Halloween! Here's Roy dressed up as a refrigerator, although he later changed his story to a "white minivan." Then there's Ondine, Barbara, and Leo at Baba's. And finally, a mysterious photo of Leo posing with his mask ... but what's that apparition entering through the door?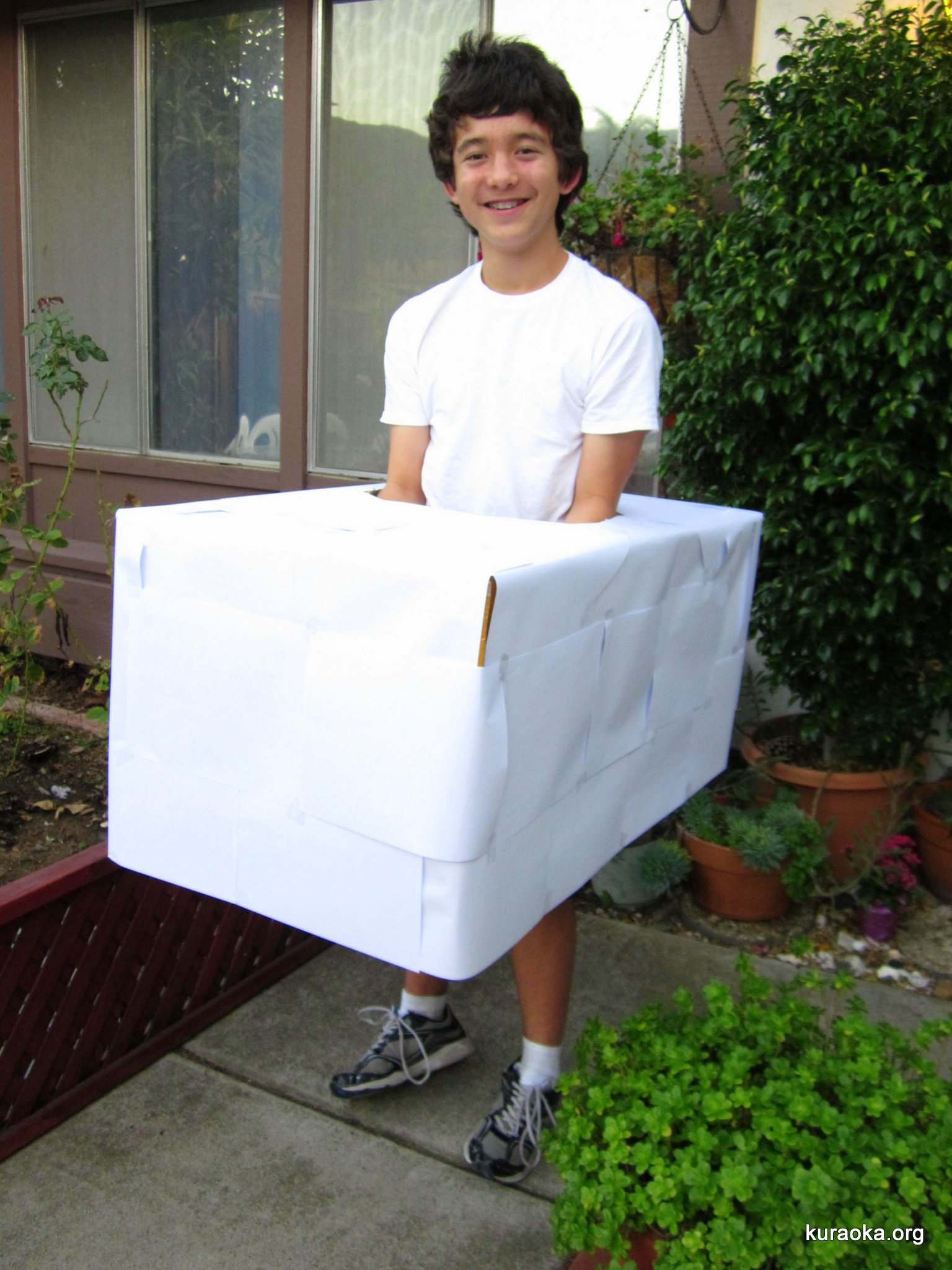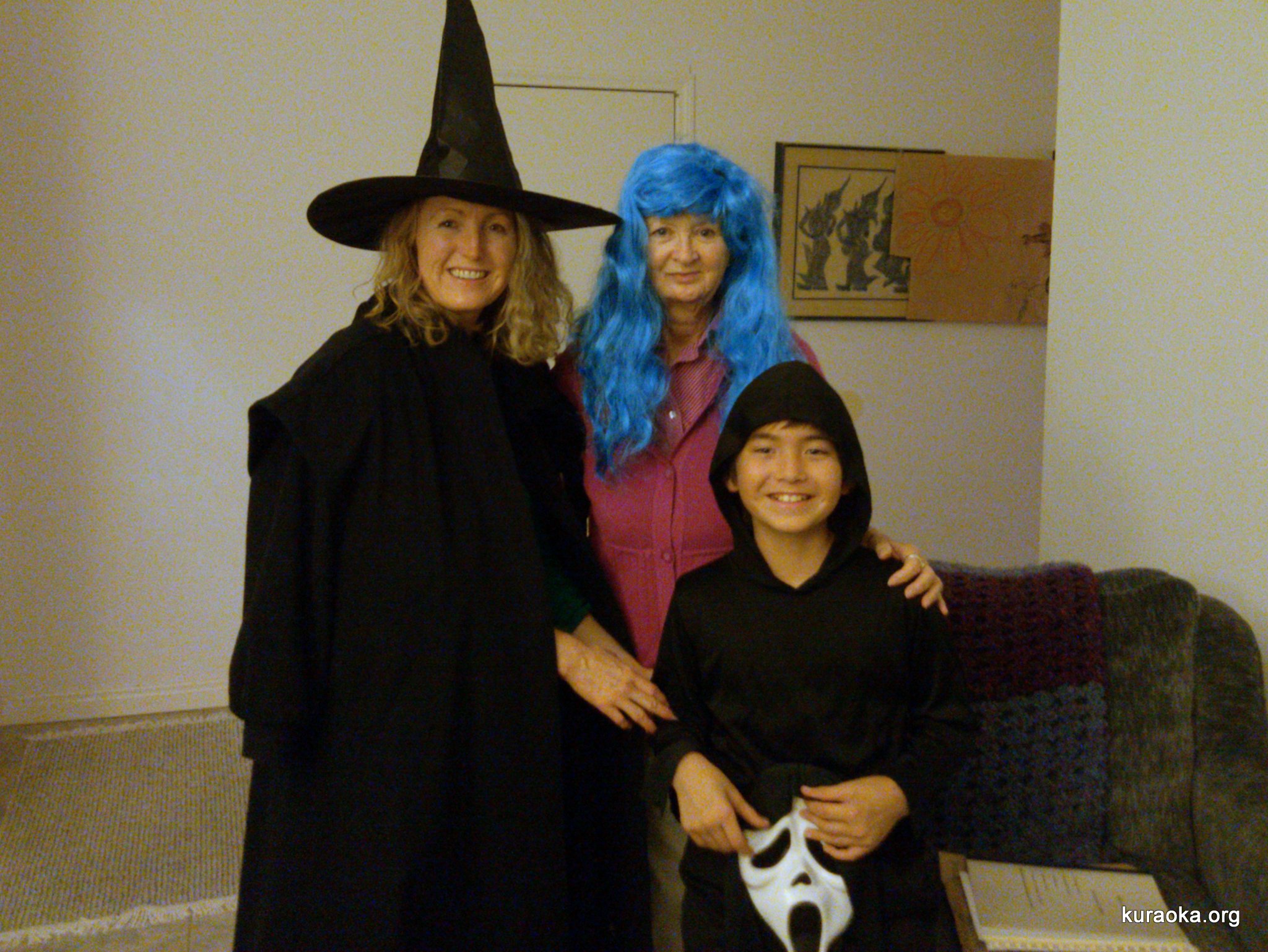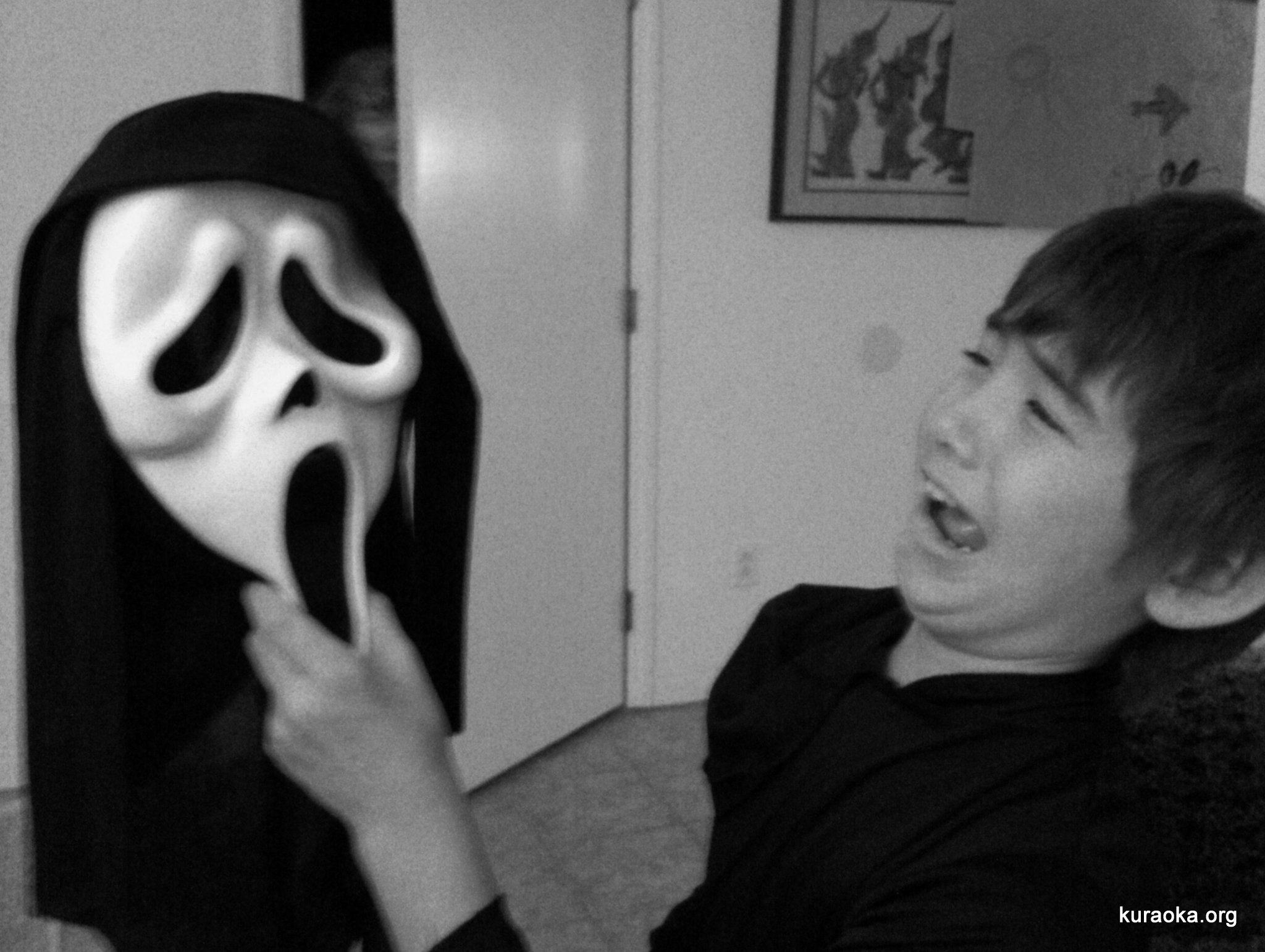 10-27-13: Roy demanded that Leo fetch him a donut from the breakfast buffet. One with chocolate frosting and sprinkles. This is what Leo brought him. It's a generic Froot Loop topped with the chocolate and sprinkles from an actual donut. Foiled!

10-26-13: Disneyland! There'd be more photos, but Roy actively avoided the camera and besides, we were busy.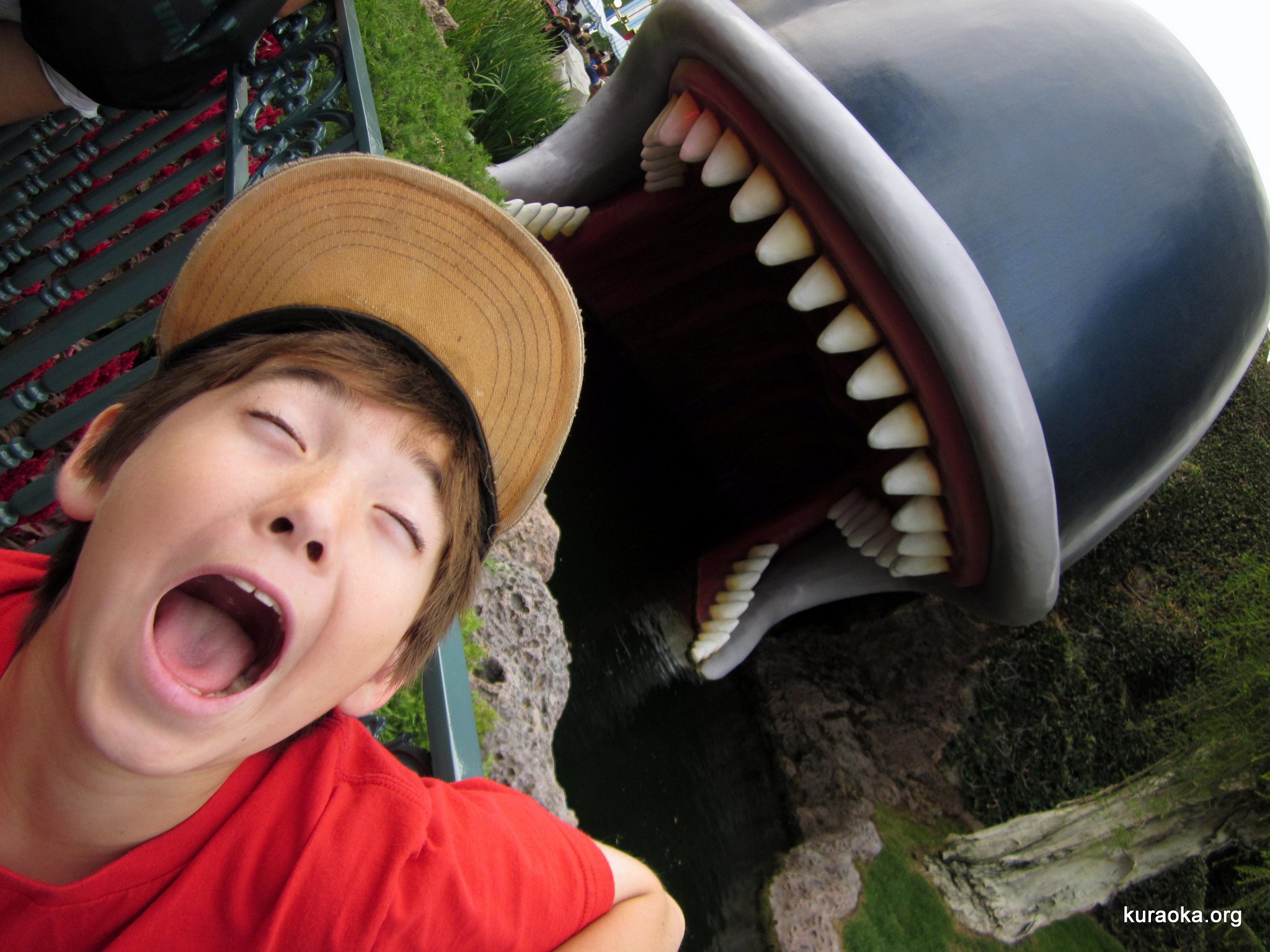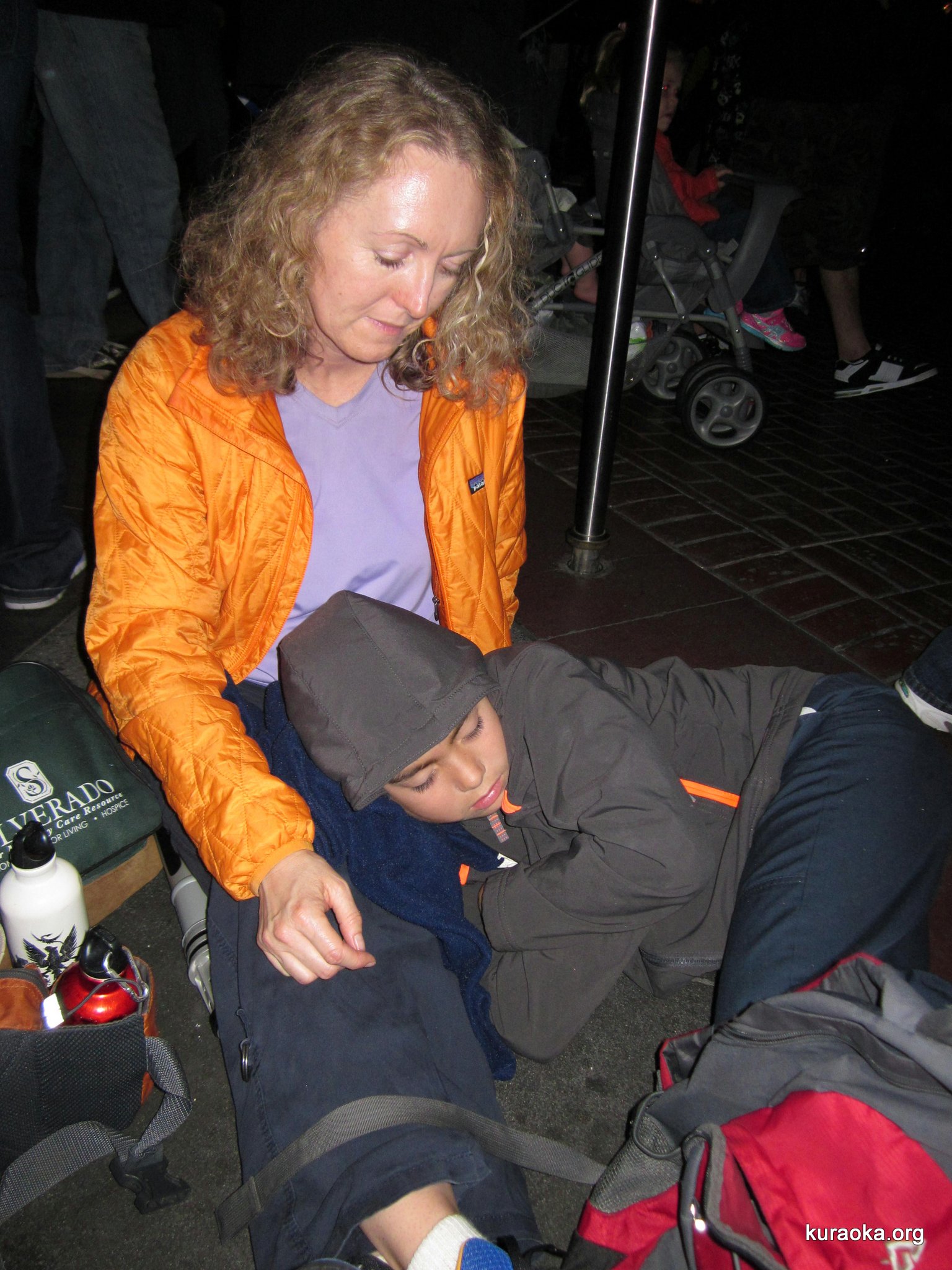 10-22-13: Roy participates in Pershing's breast cancer awareness day. The student body was asked to wear pink. So Roy made his own T-shirt.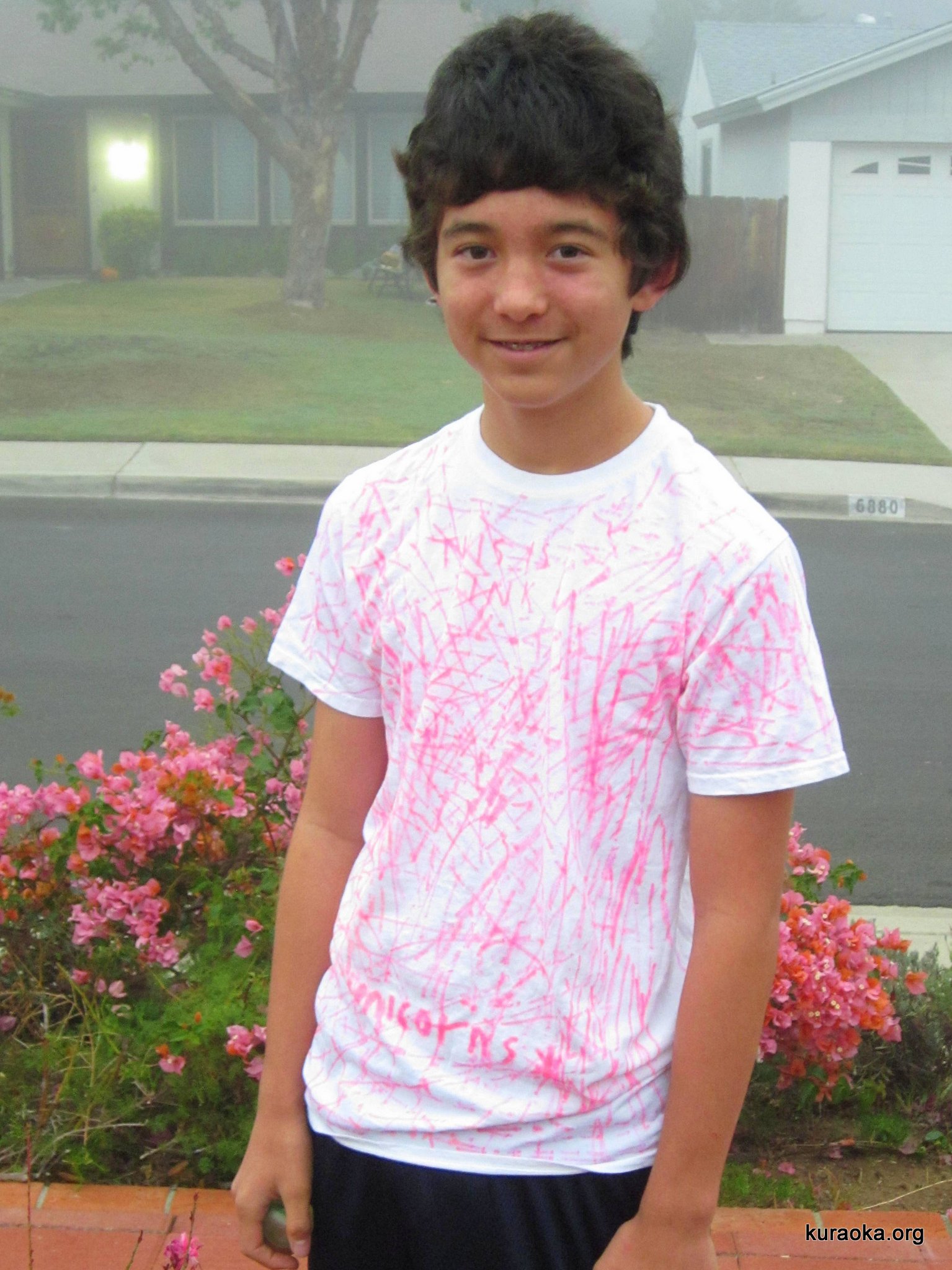 10-16-13: The front vegetable beds. Ondine pulled out the tomatoes and basil, and planted new basil, bok choy, chives, sweet peas, strawberries, and Asian greens.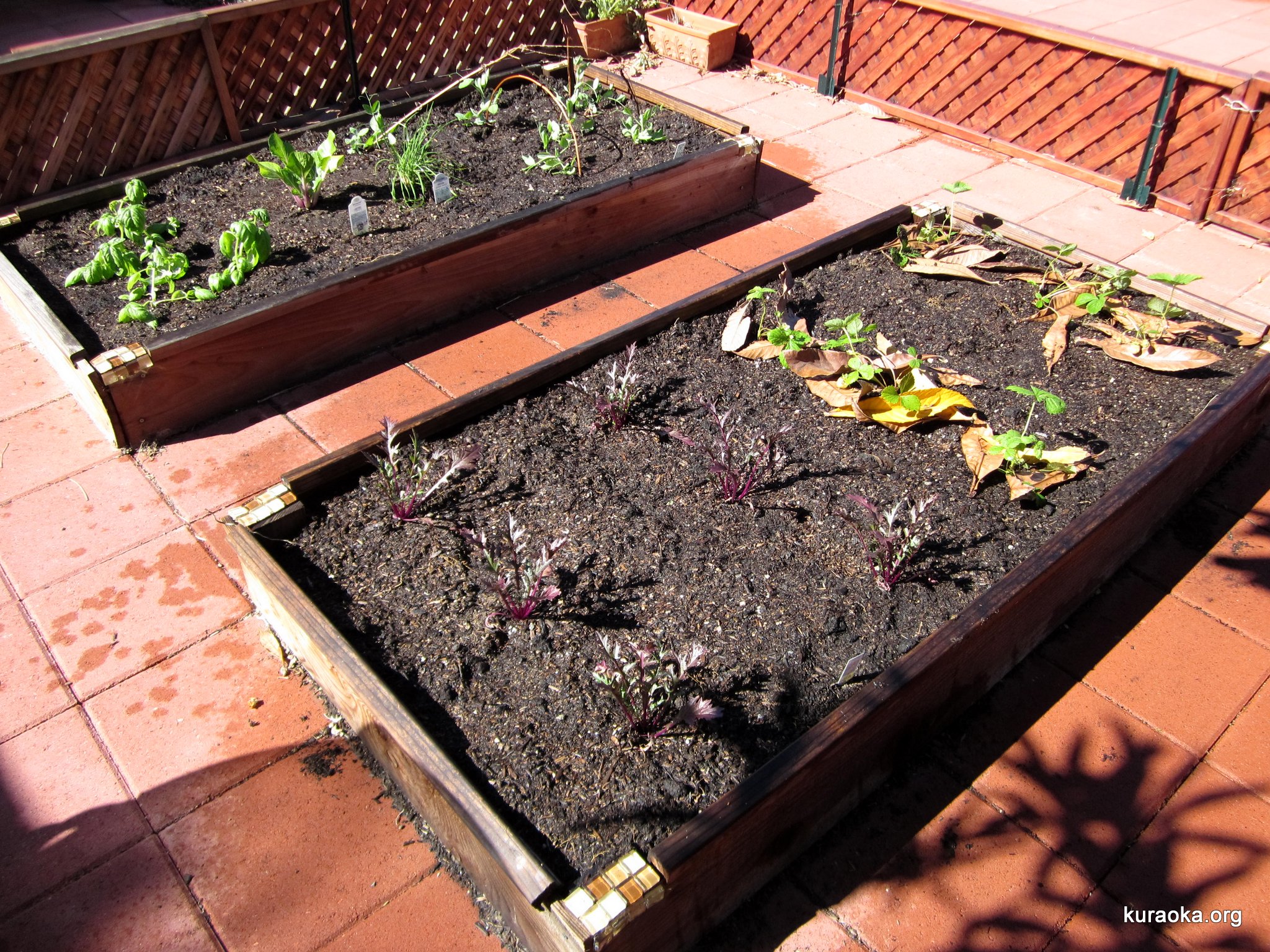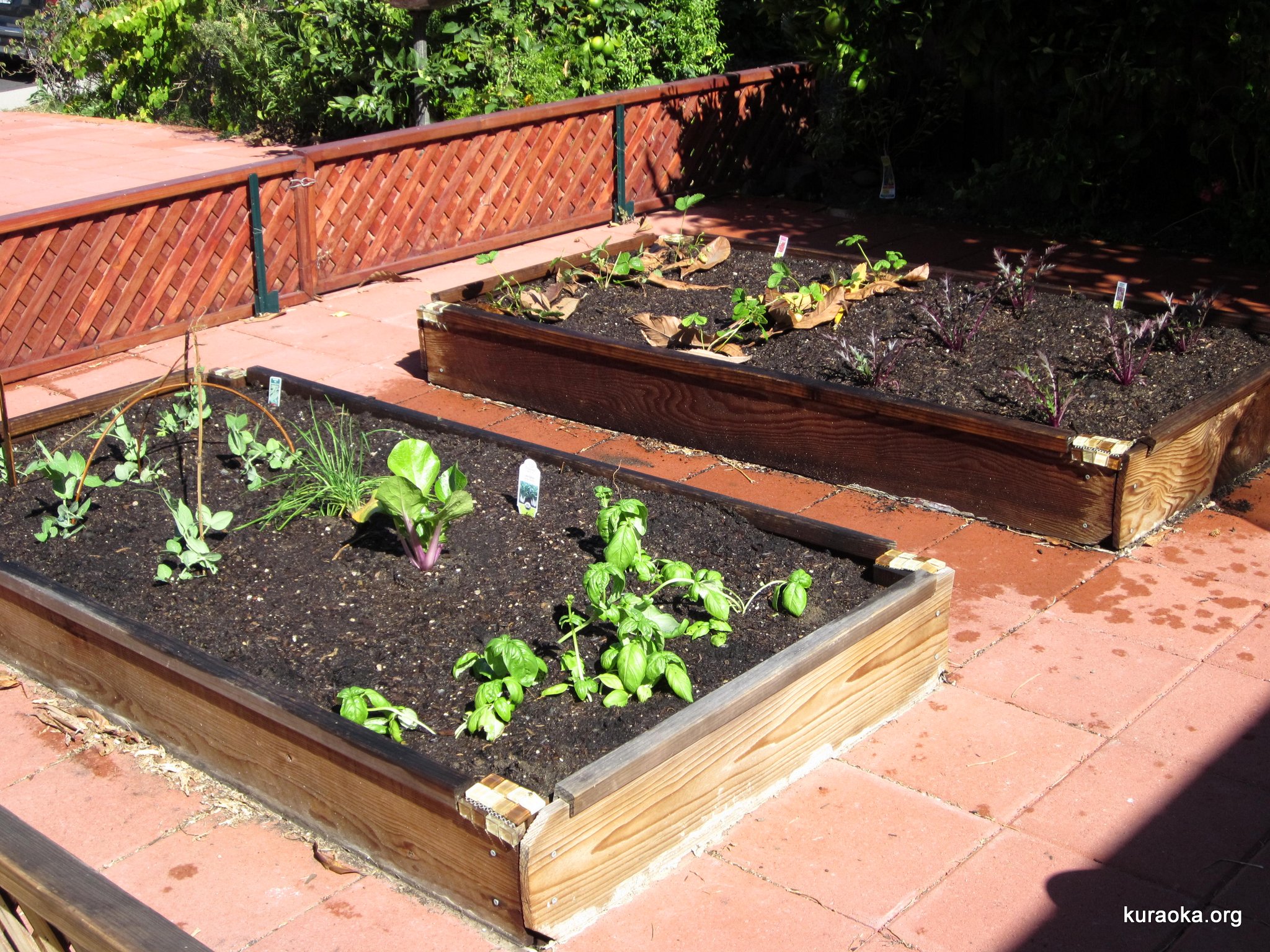 09-14-13: Off leash! We took Shadow for a long walk through Balboa Park, enjoying some kid-free time while they were at a Scout campout. We even cut Shadow loose in the dog park, where he frolicked and made friends! Here he and John climb a tree.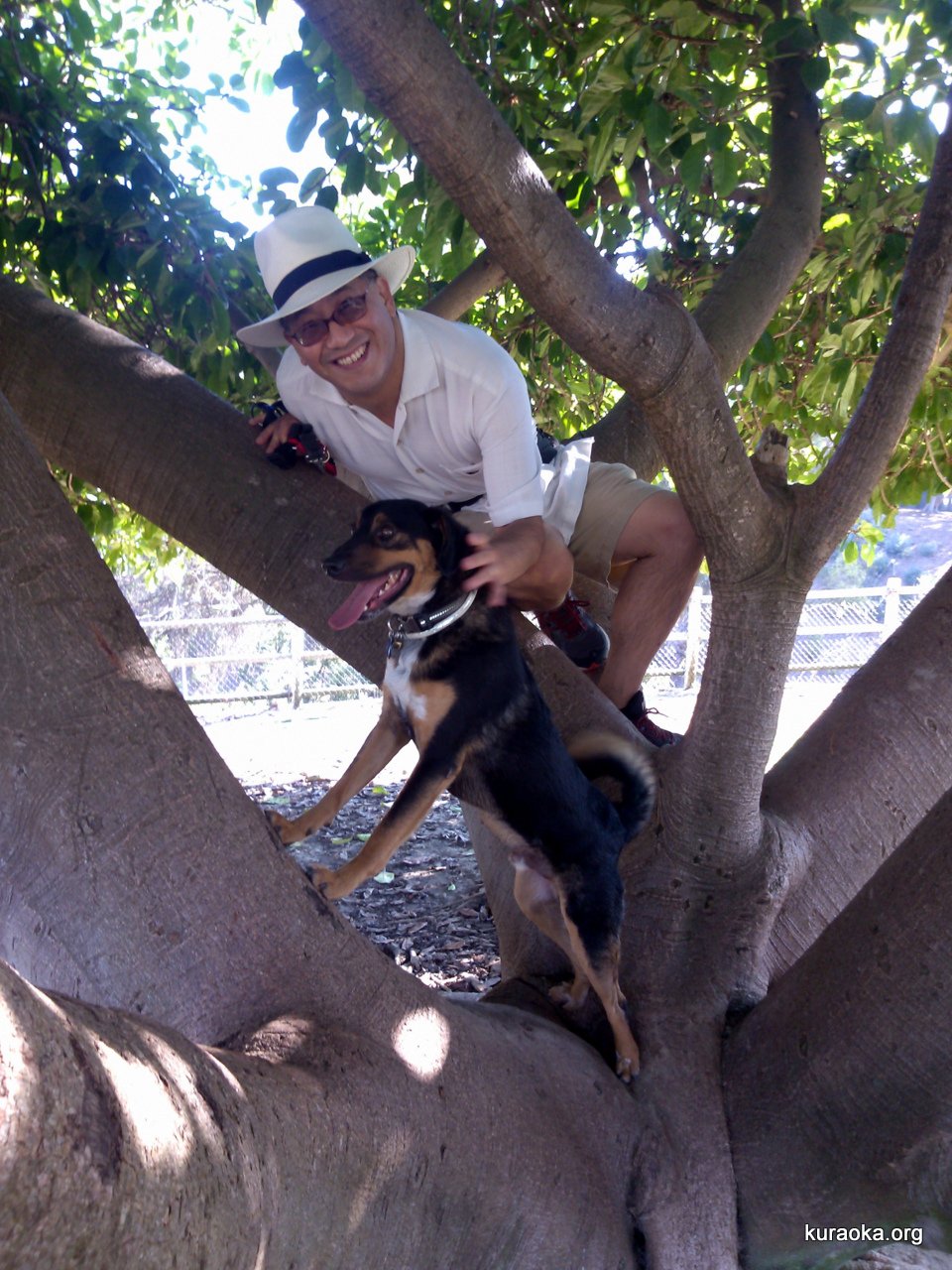 09-08-13: In Coronado. We went to the Coronado Playhouse for a matinee production of The Tempest. Here are Roy and Leo clowning around before the show, and here we are enjoying the breeze afterwards!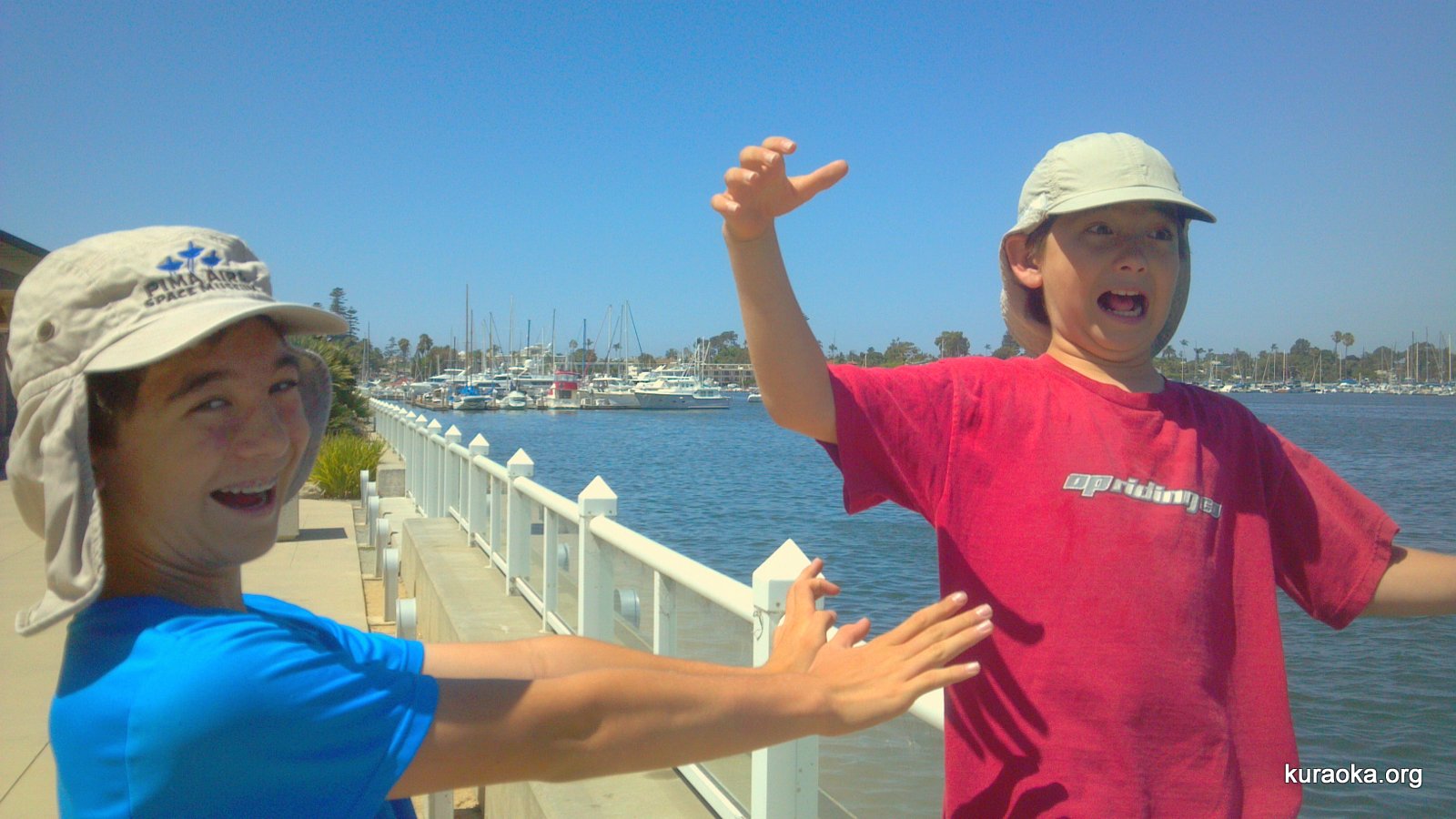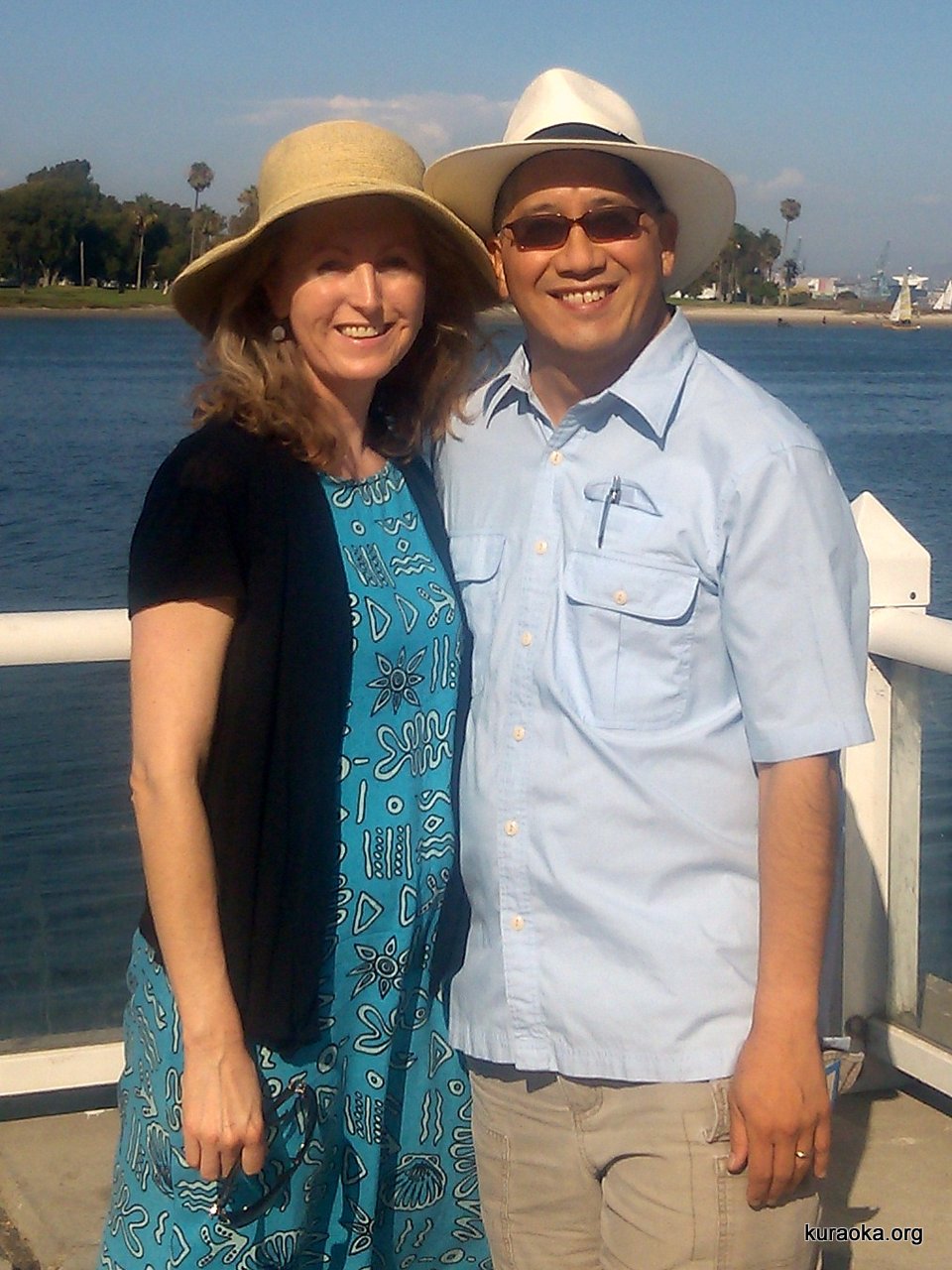 09-03-13: Back to school! Here are Roy and Leo with their schultueten filled with fresh school supplies and treats! And, Leo in the Lewis Middle School auditorium with his friends, waiting for his name to be called and looking pretty relaxed!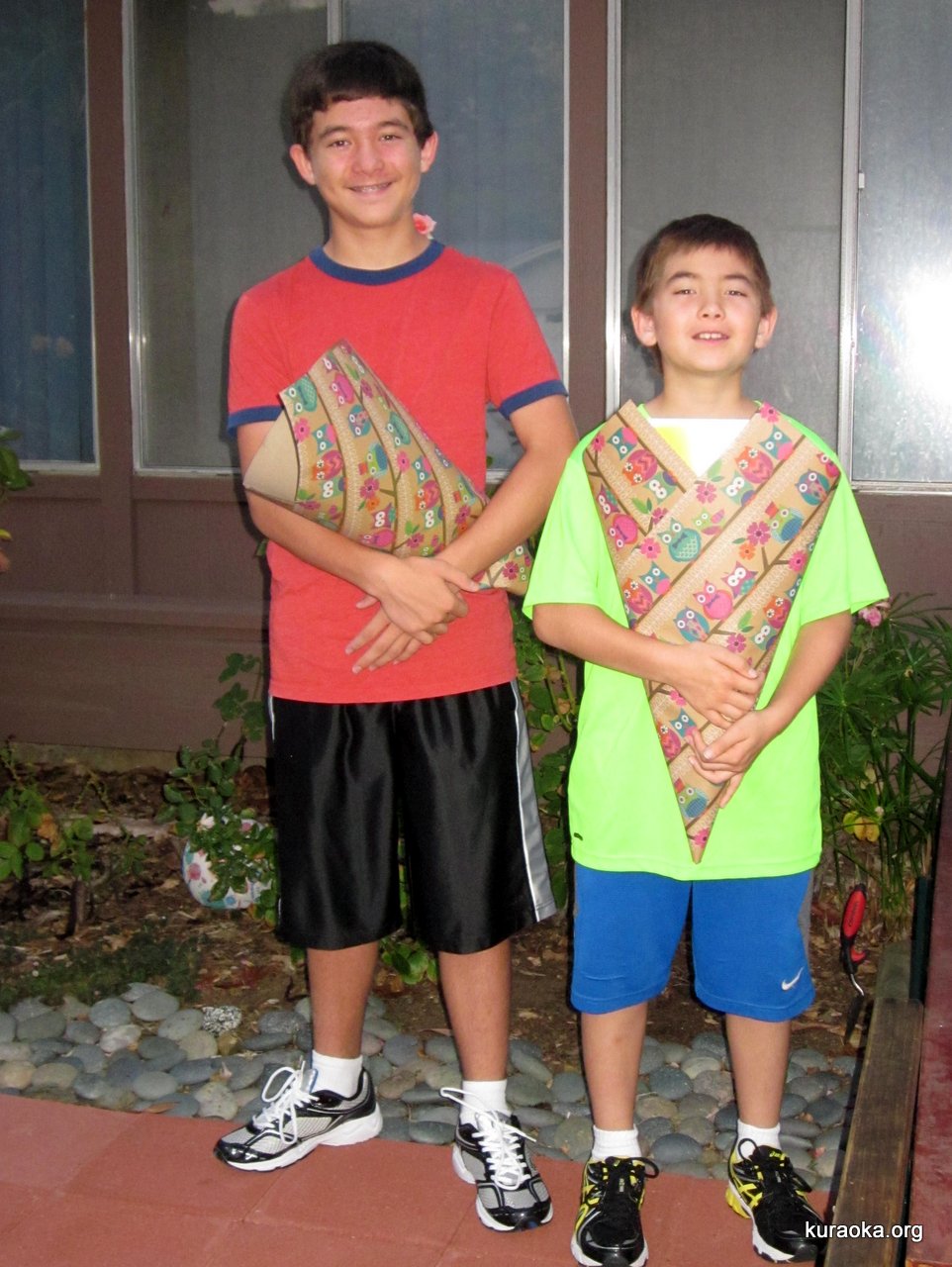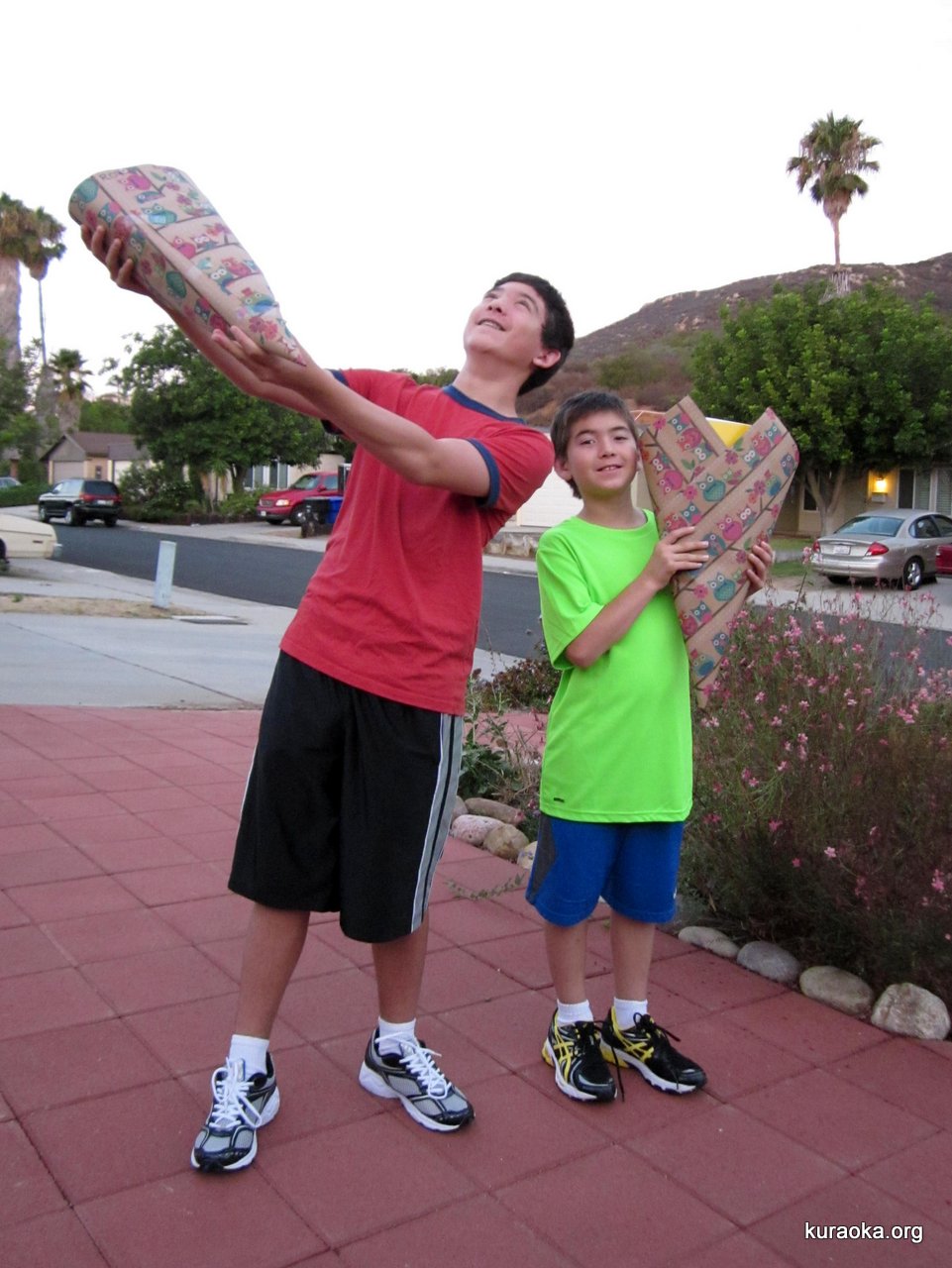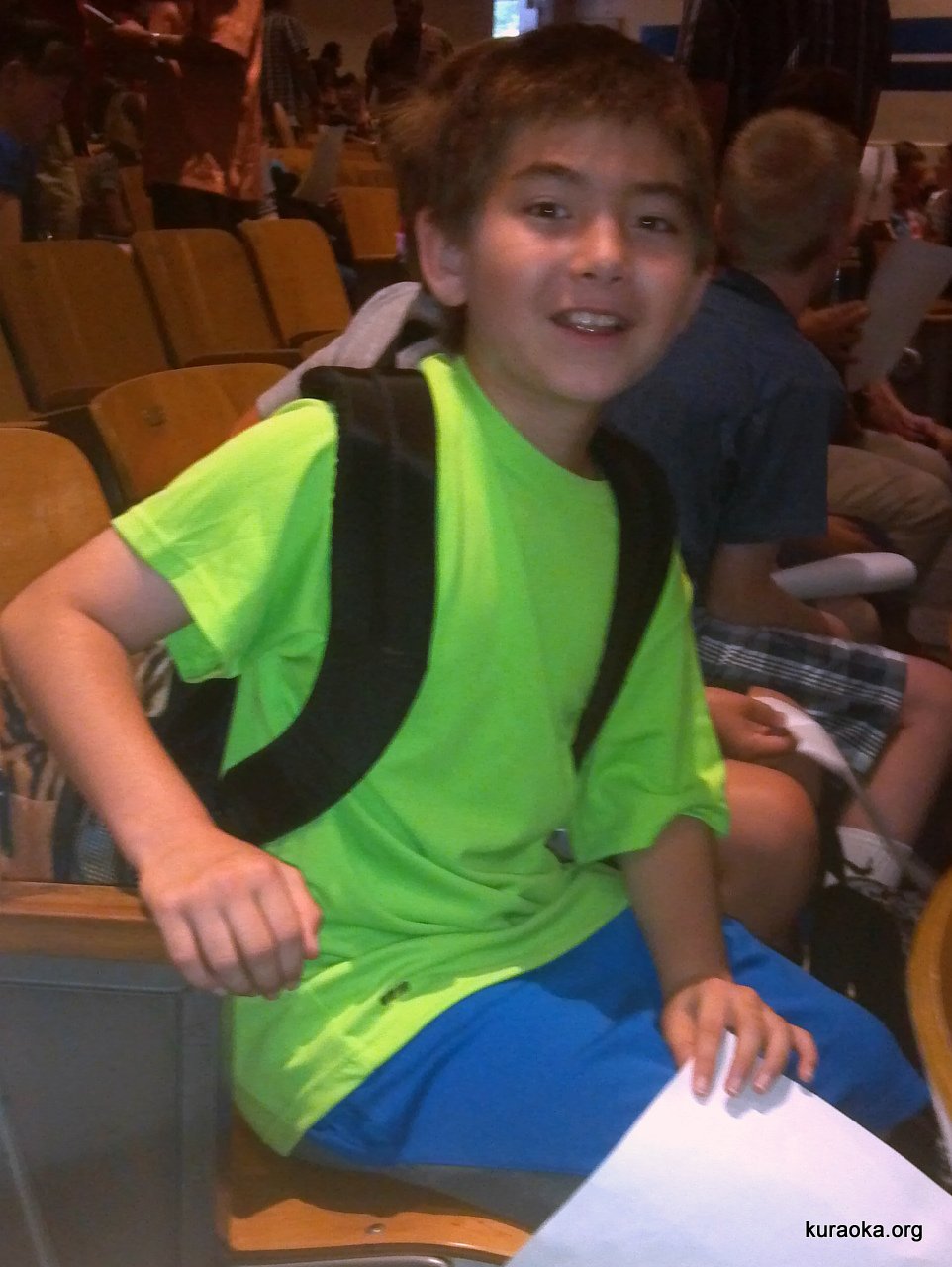 08-24-13: Some beach near San Elijo. Roy and Leo made drip castles on the beach. Not quite the beach they'd meant to be on, but that didn't affect their fun!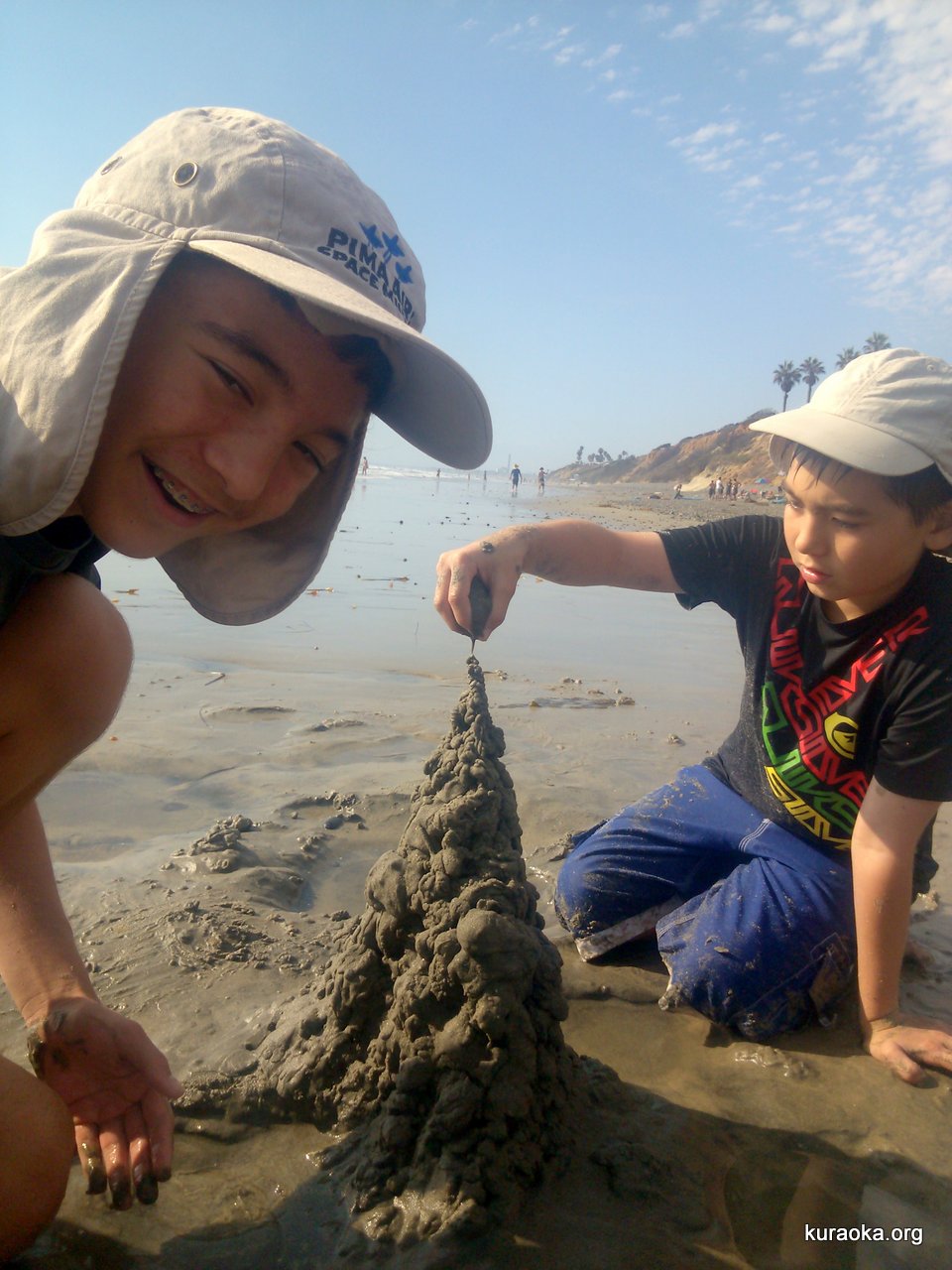 08-13-13: LA County Museum of Natural History. We discovered whole new sections this trip. Here are the boys looking temporarily quiet.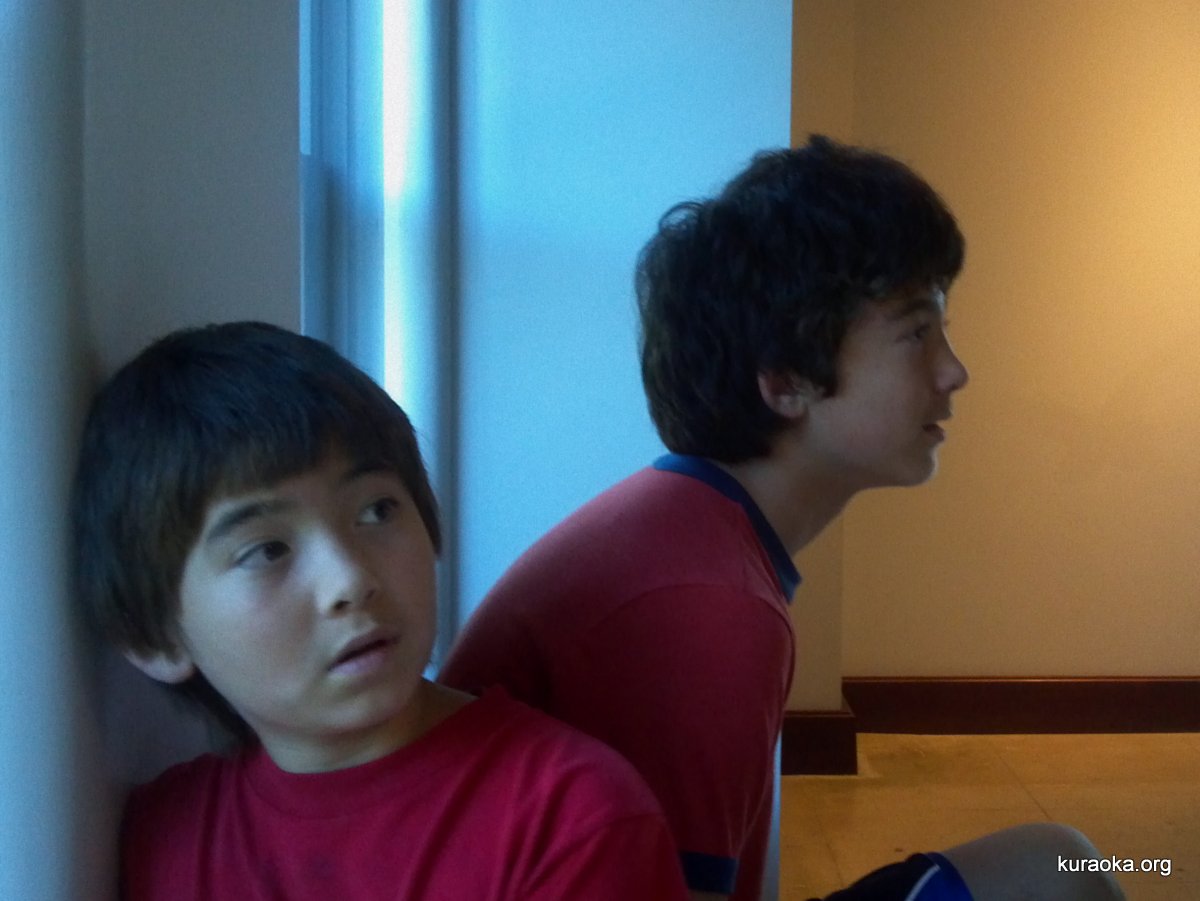 08-12-13: Santa Monica Pier and Pacific Park. This time the boys went on the Dragon Boat (again and again), and pronounced it their favorite ride.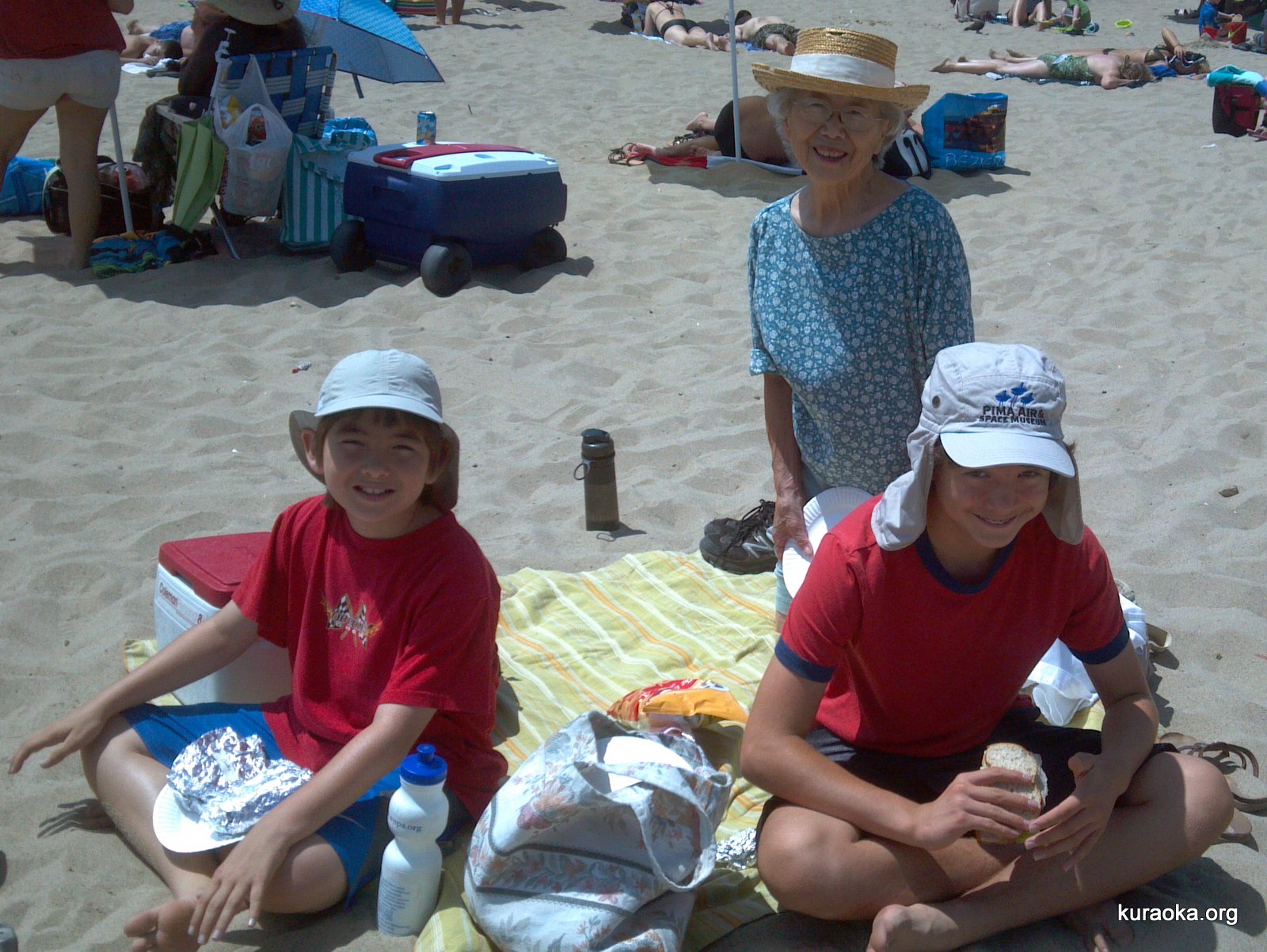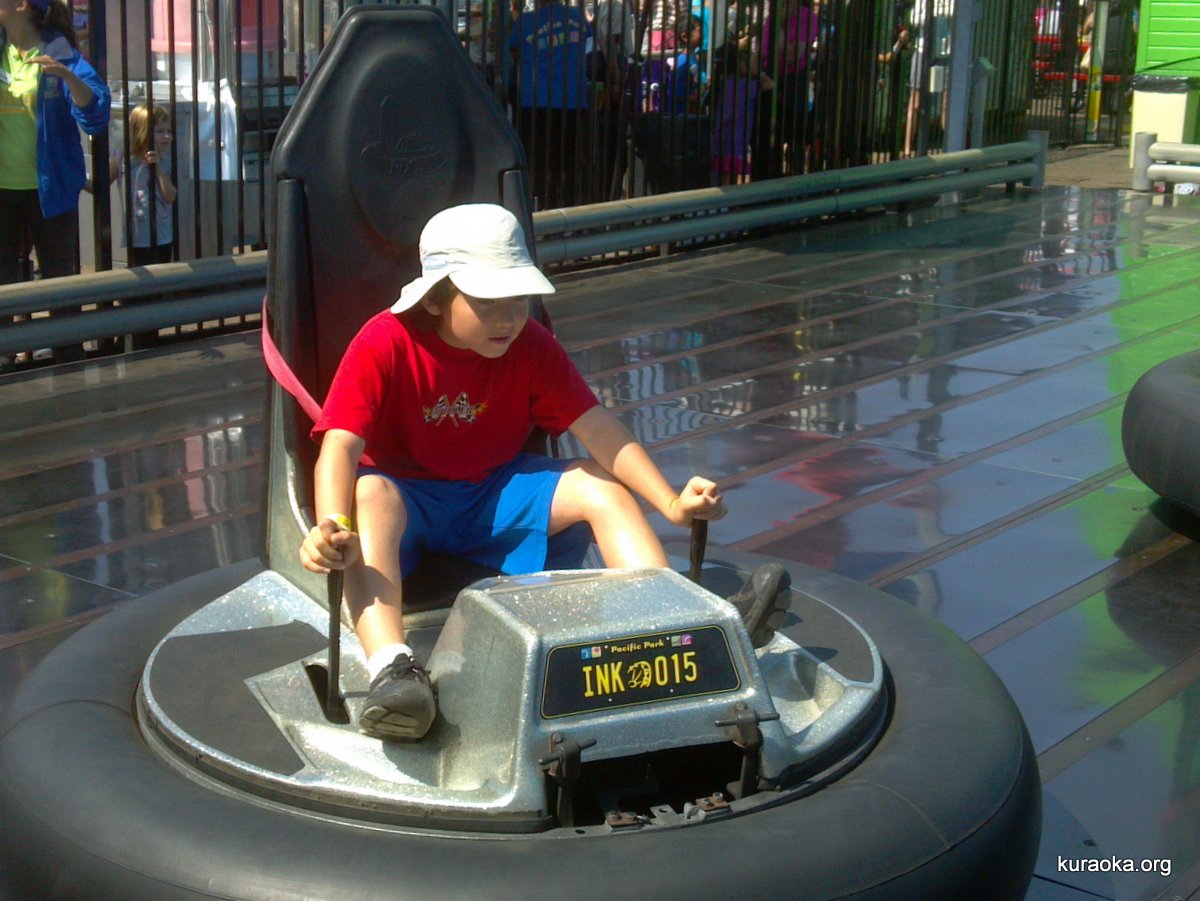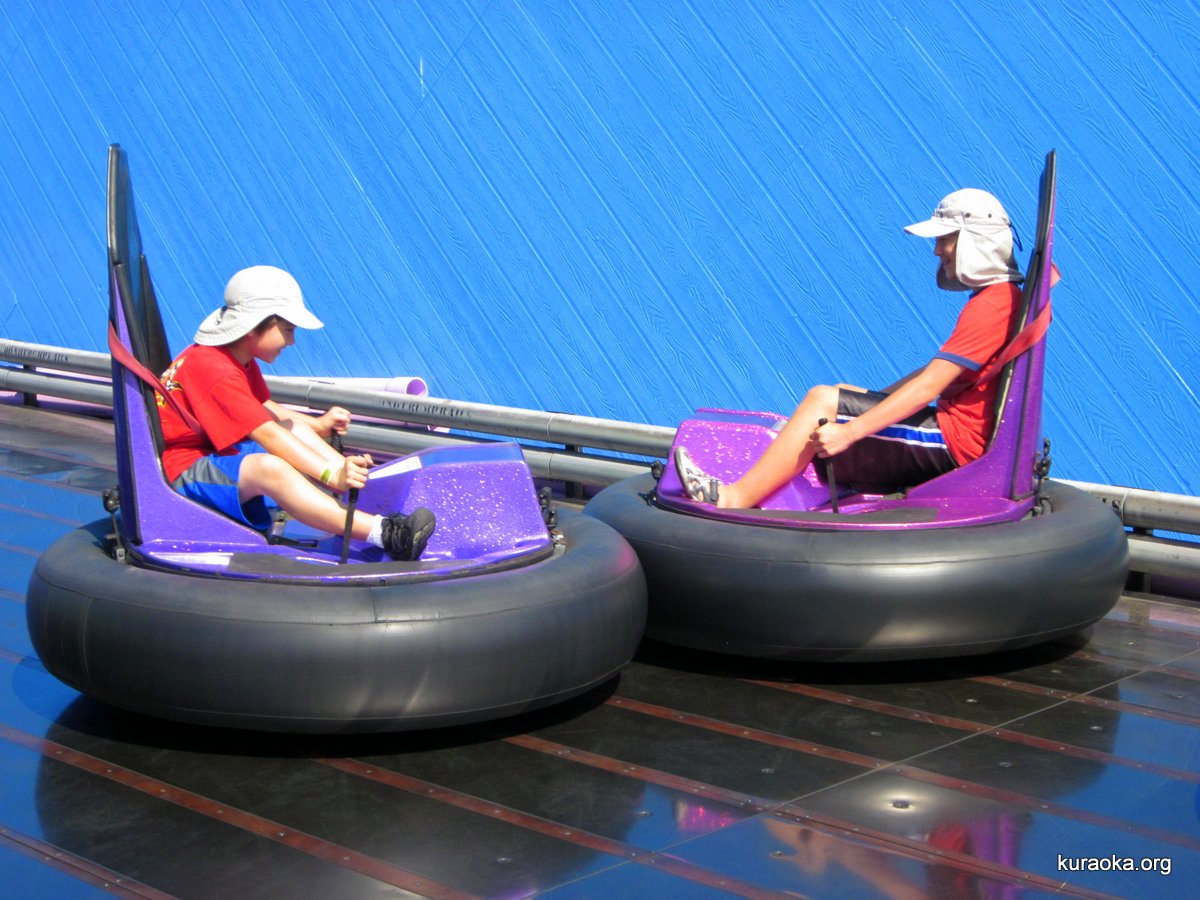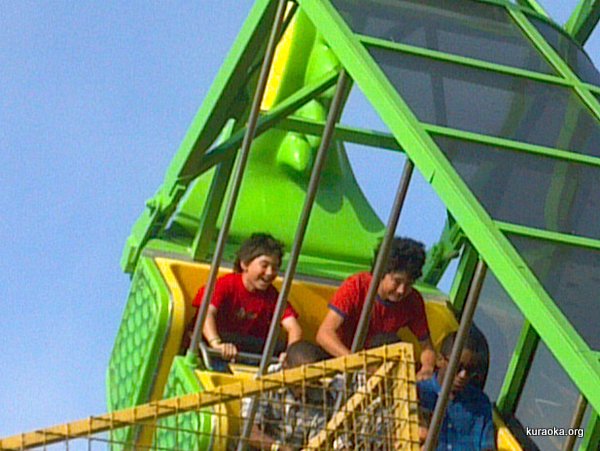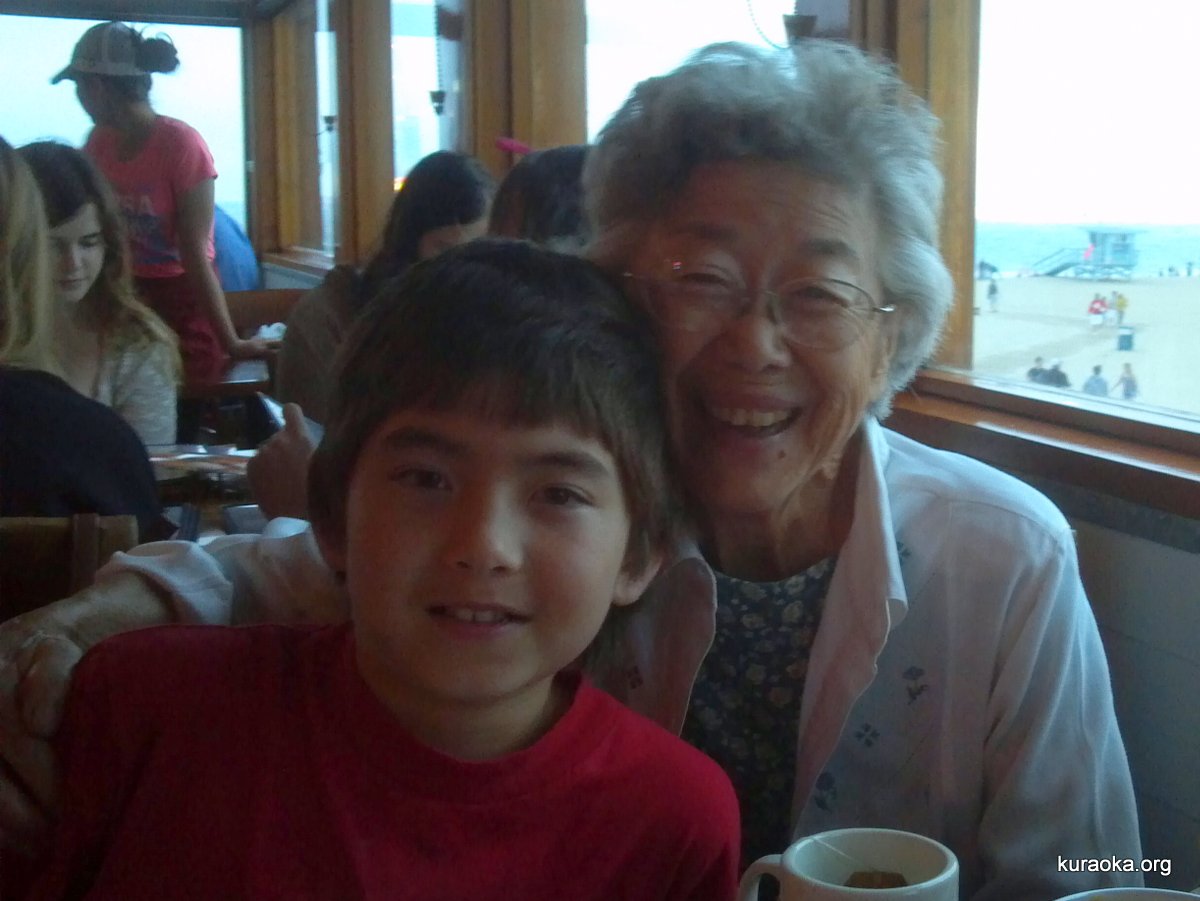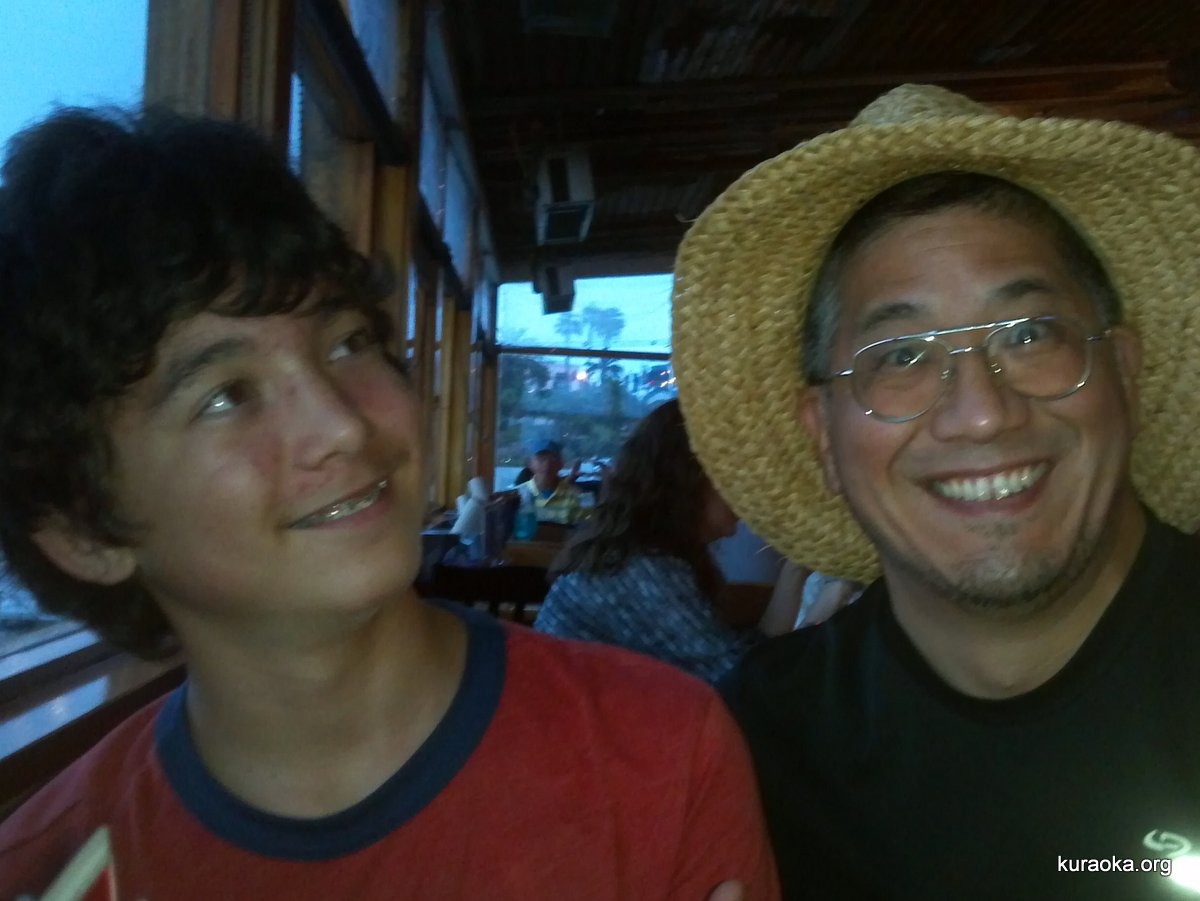 08-02-13 to 08-10-13: Sand Pond! For the whole scoop, including more than 60 photos, visit our Sand Pond 2013 journal!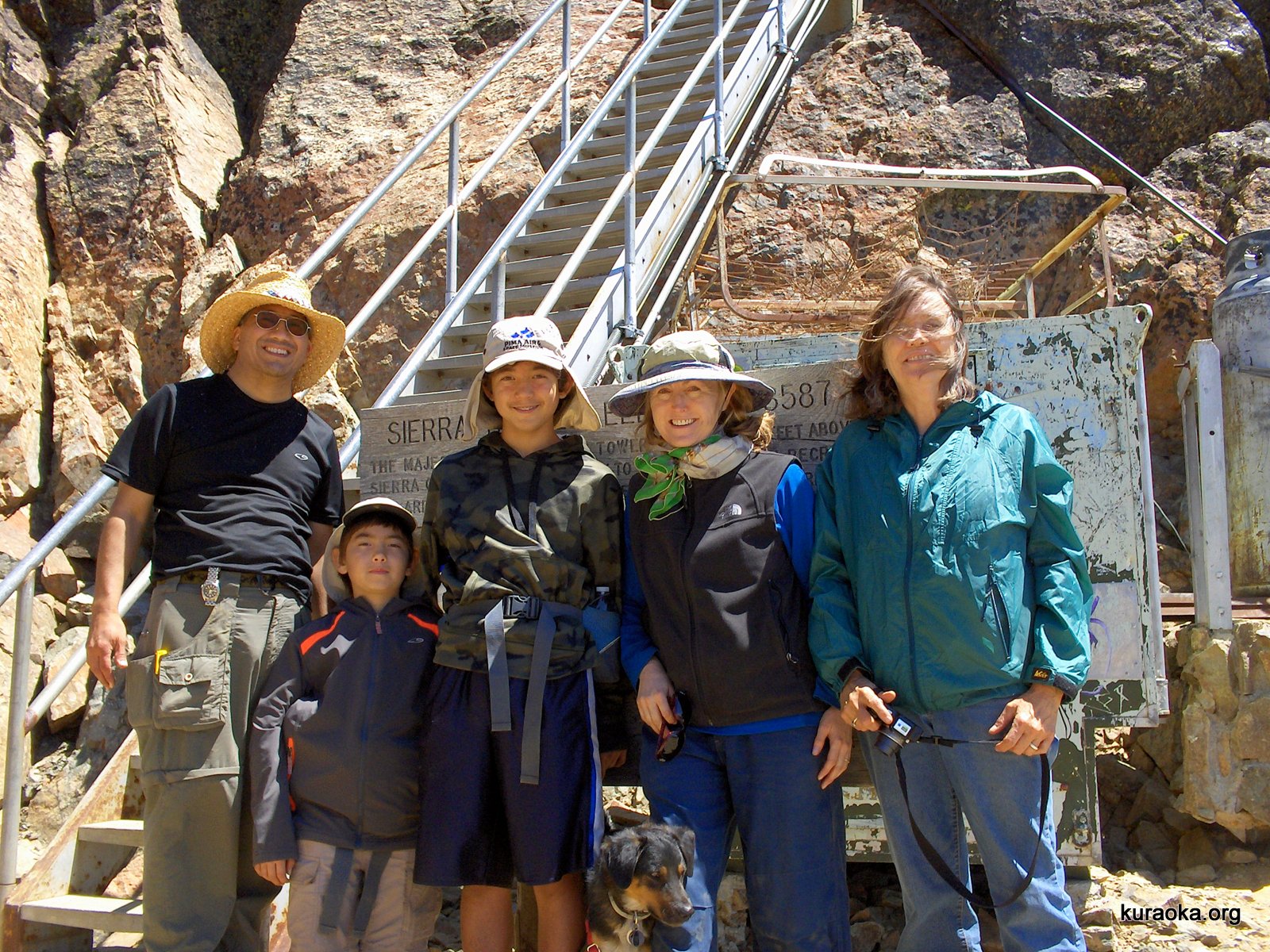 07-29-13: Leo on his birthday skateboard. Here's Leo trying out his new skateboard for the very first time!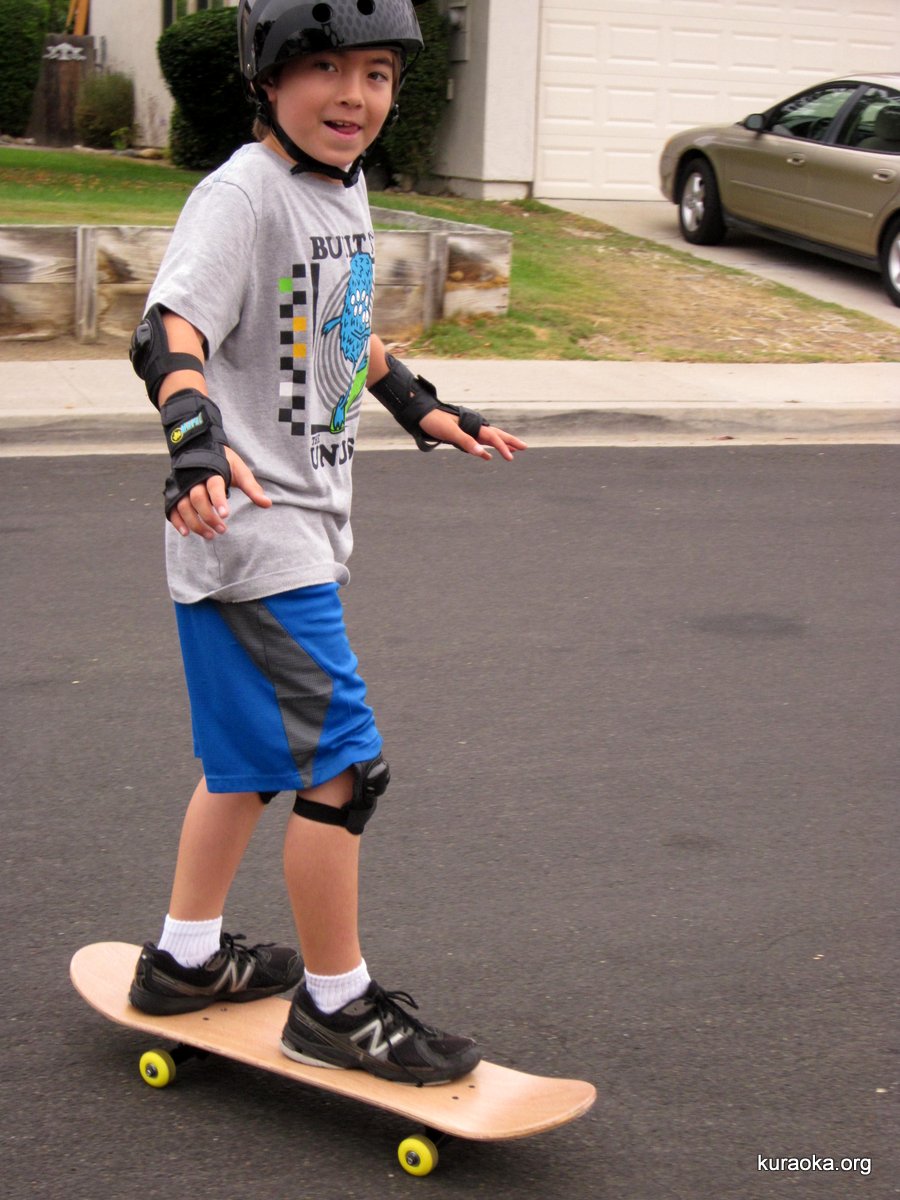 07-14-13: Early birthday presents from Grammy for Leo. Here's Leo and Grammy!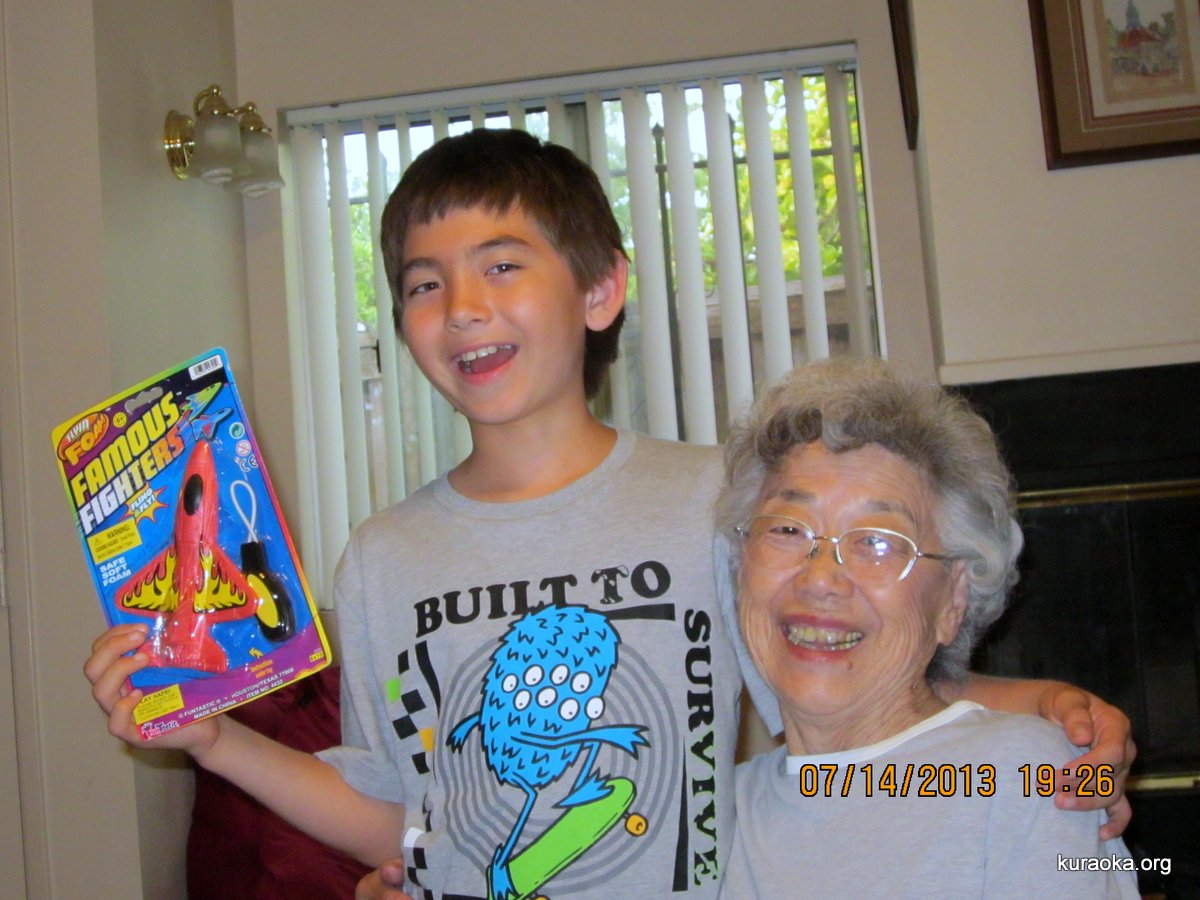 07-14-13: California State Games judo tournament. Roy placed third in his (very strong) division.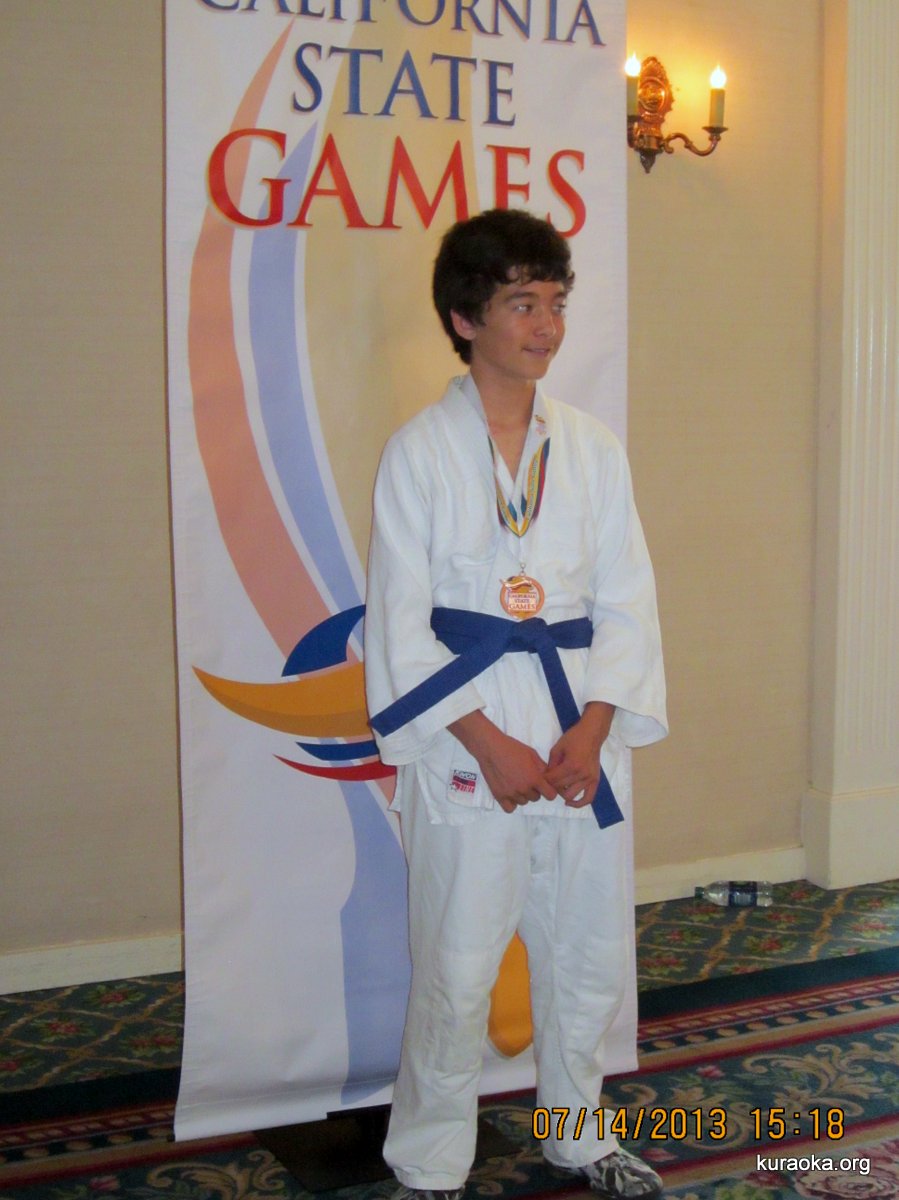 06-30-13: Leo and Shadow. We went swimming next door, and learned that Shadow really has it in for foam noodles! Leo tried to wrest this one away, but Shadow is surprisingly strong and, with four wide paws, very hard to drag.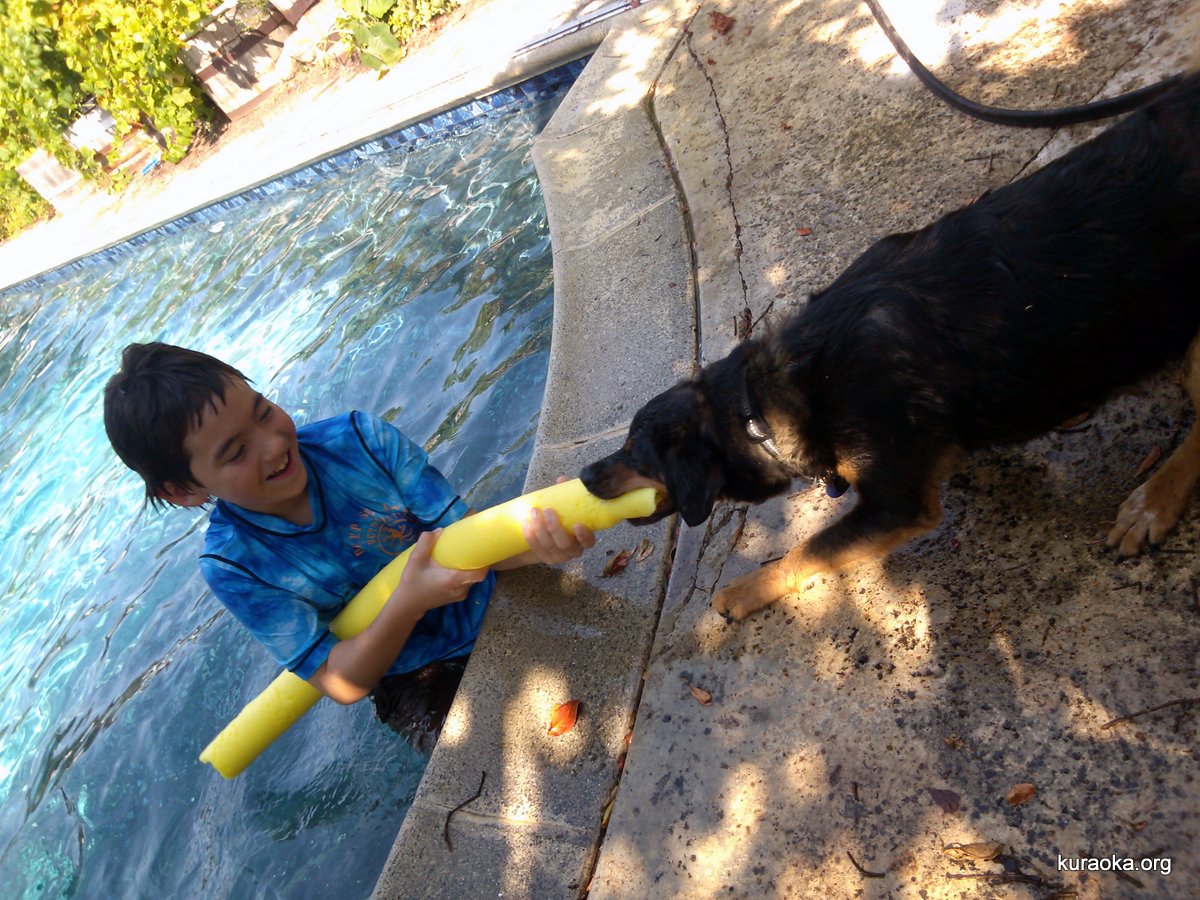 06-13-13: On the Midway! John took the boys to the U.S.S. Midway Museum, and Ondine happened to drive by and spot them having lunch on the fantail! So she stopped in for lunch!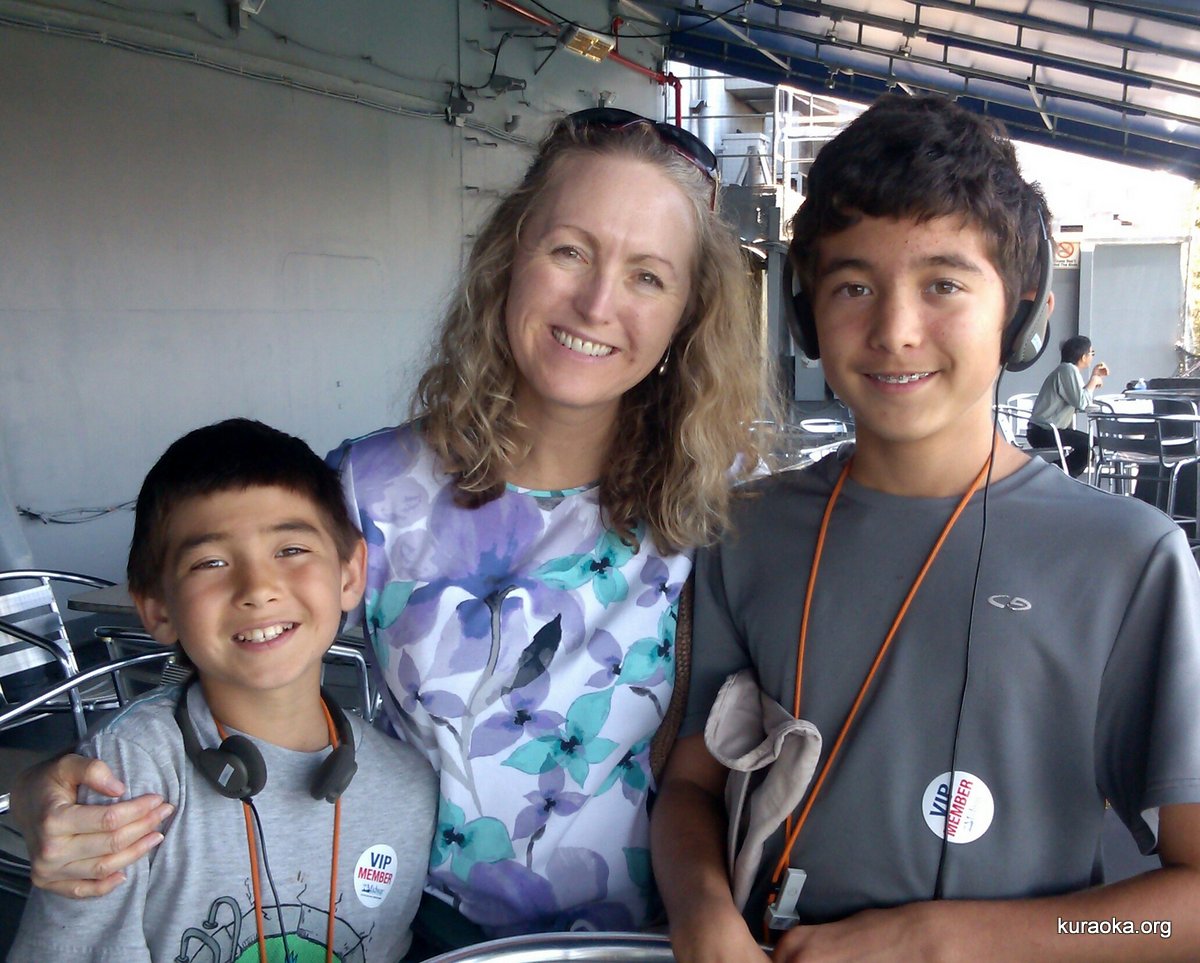 06-11-13: Leo's fifth-grade graduation. Here's Leo graduating from Hearst Elementary, receiving his promotion certificate from his teacher, Mrs. Vasquez. Afterwards, we celebrated Leo's promotion at Sunrise Buffet! Here's Leo with Grammy and the harmonica she gave him, Roy ducking a photo, Barbara and Frances, Roy (after many attempts), and a newly minted sixth-grader and his proud parents!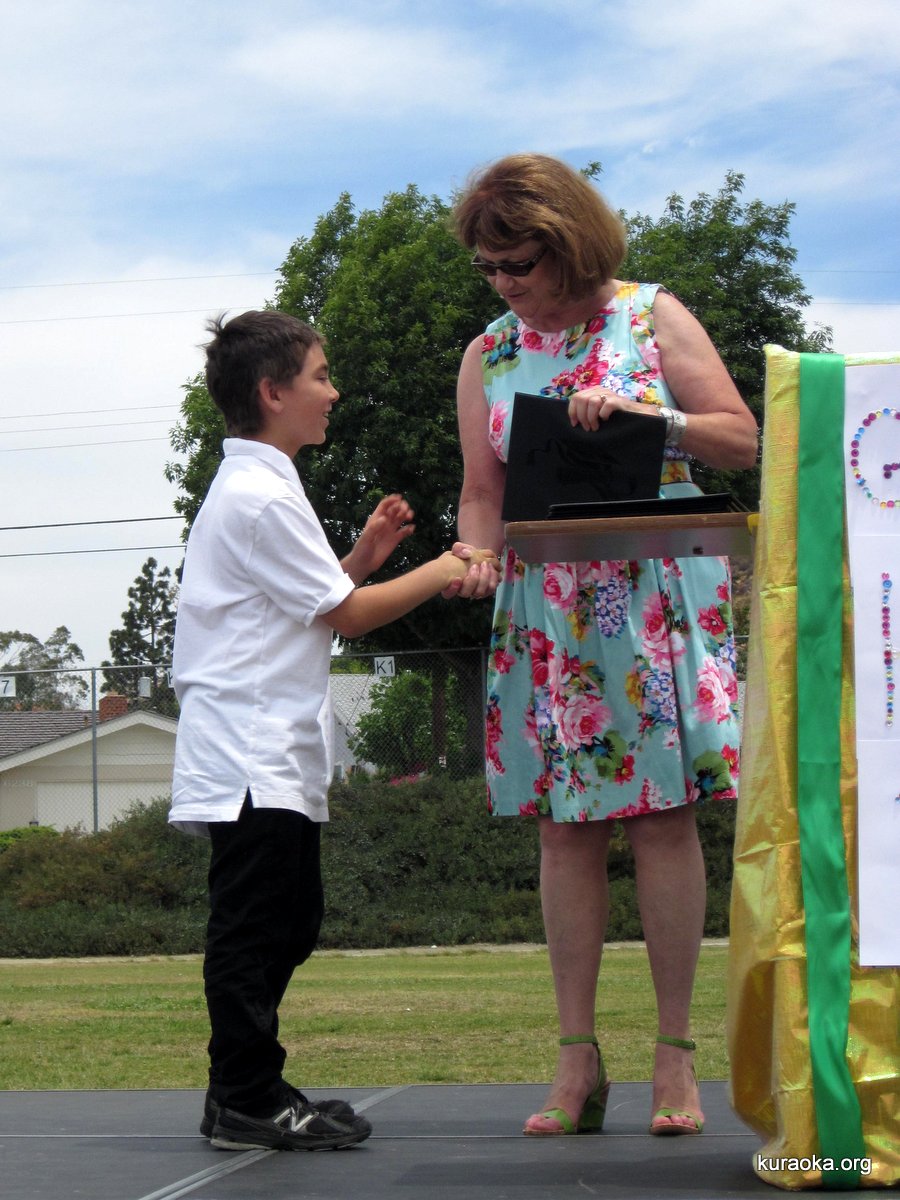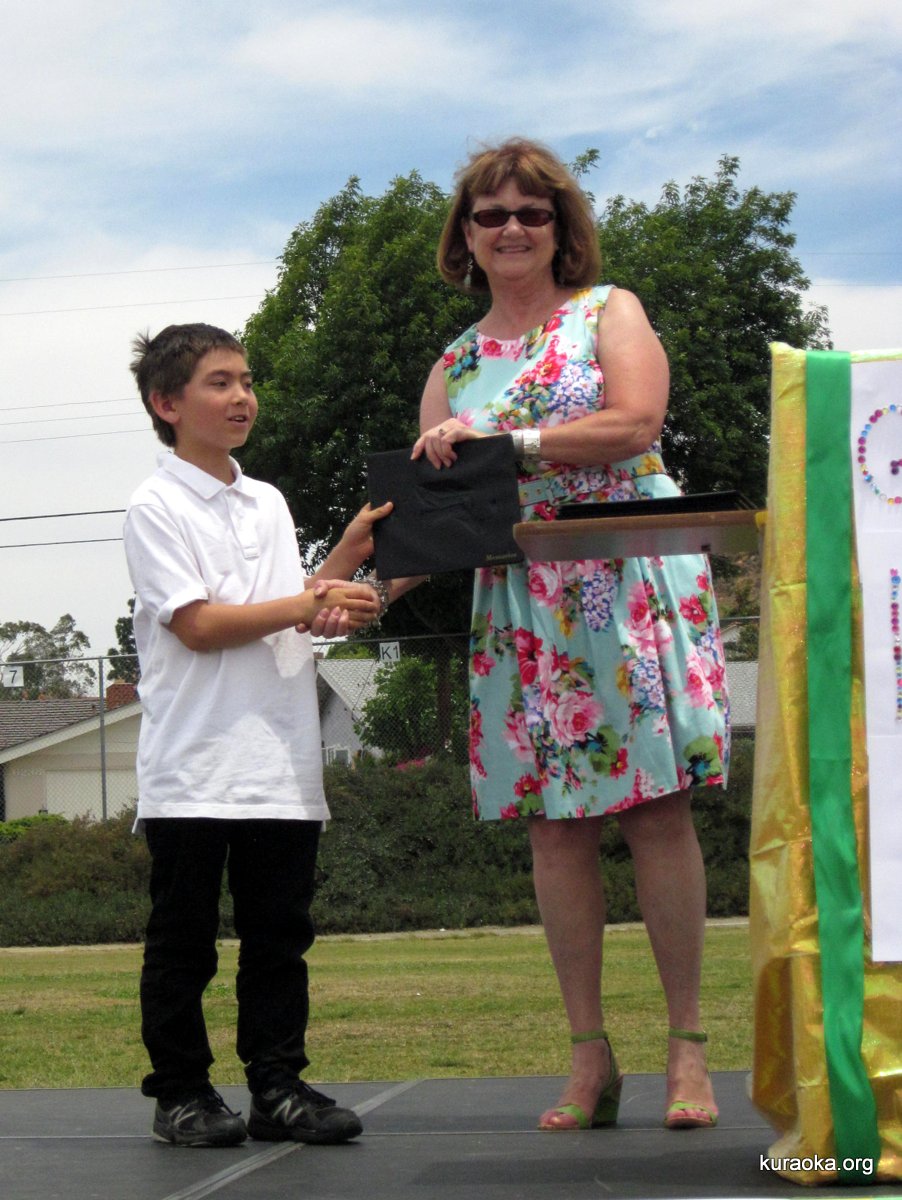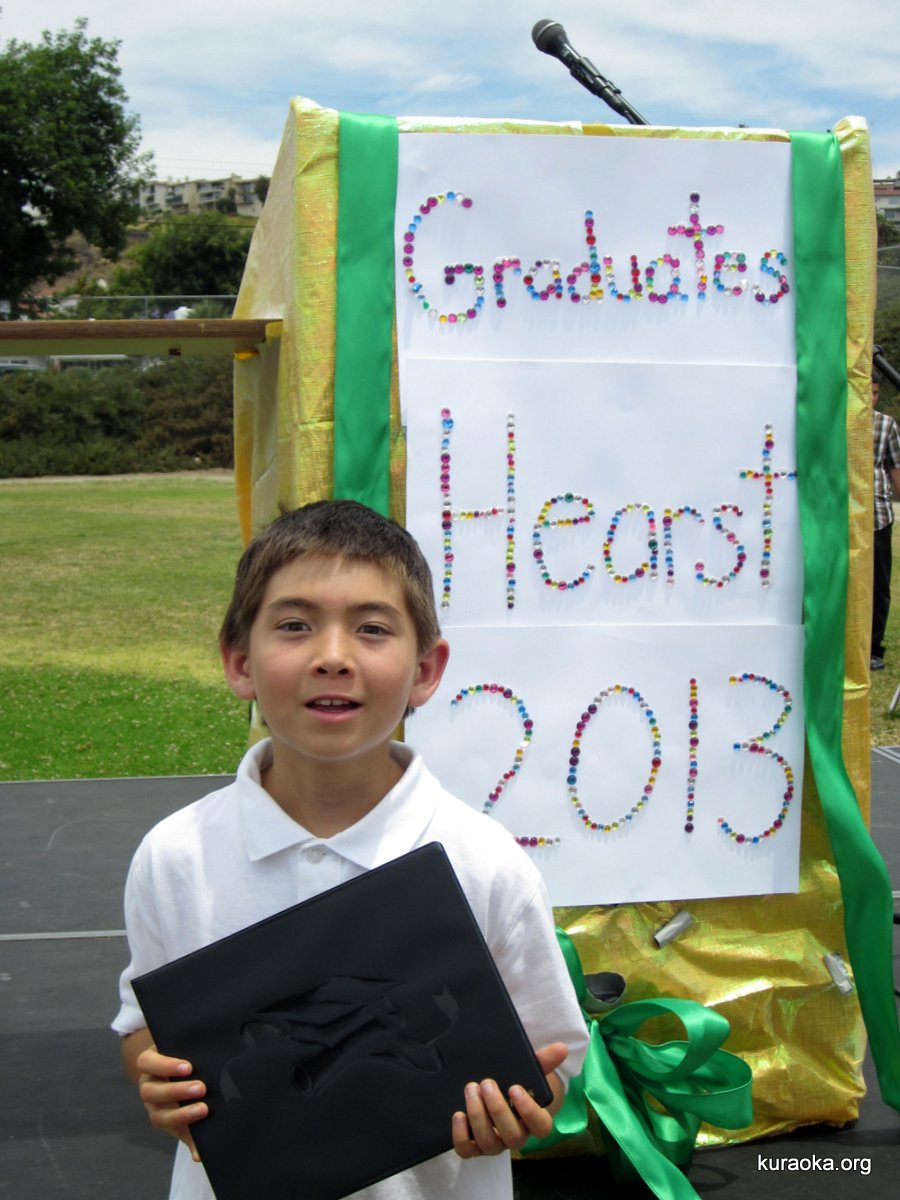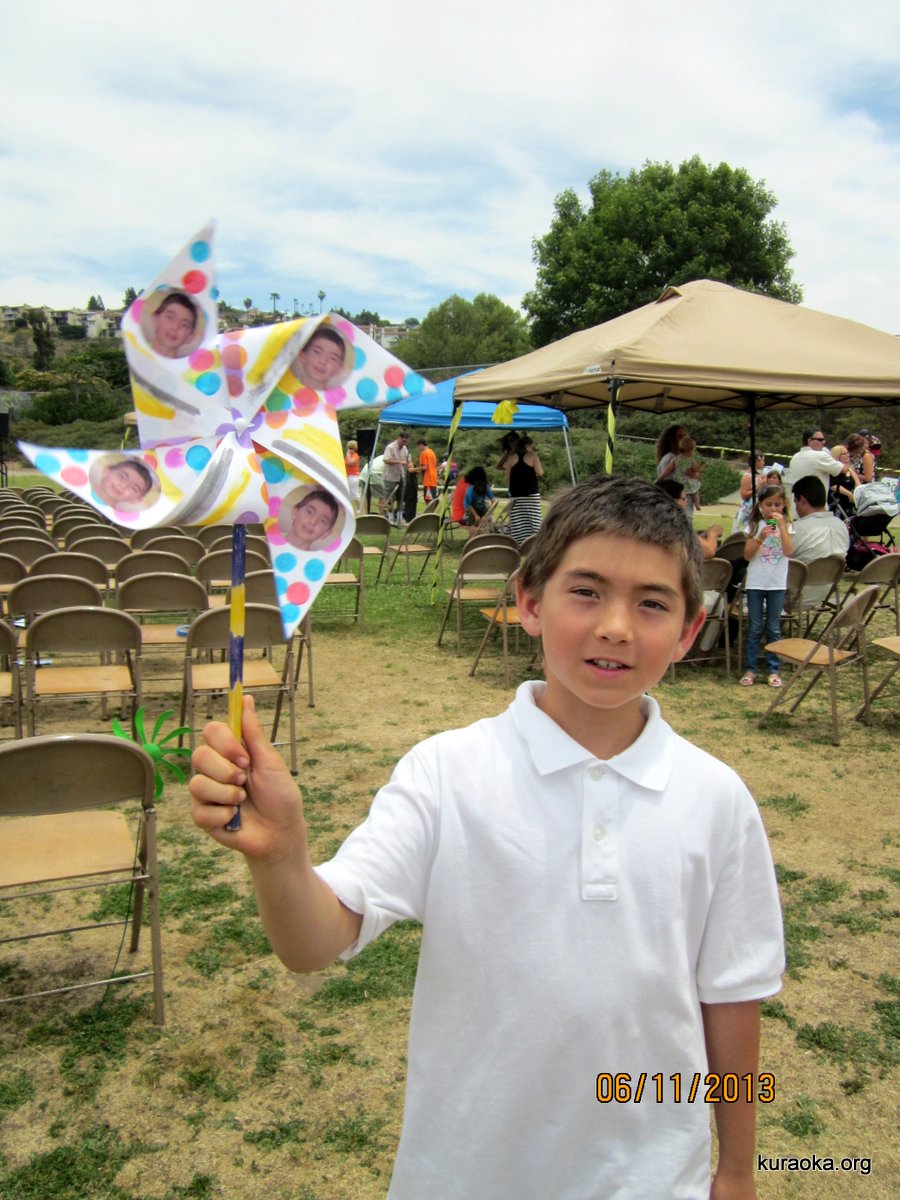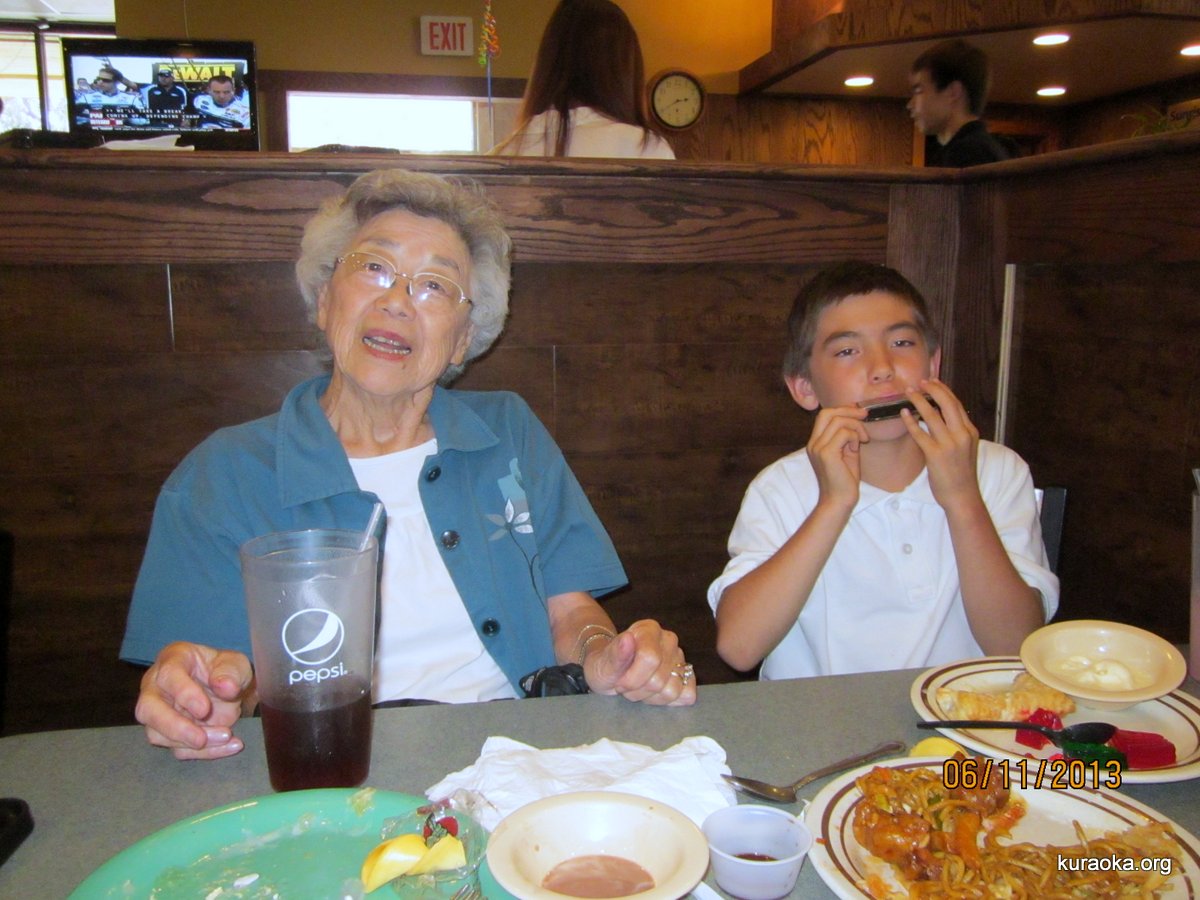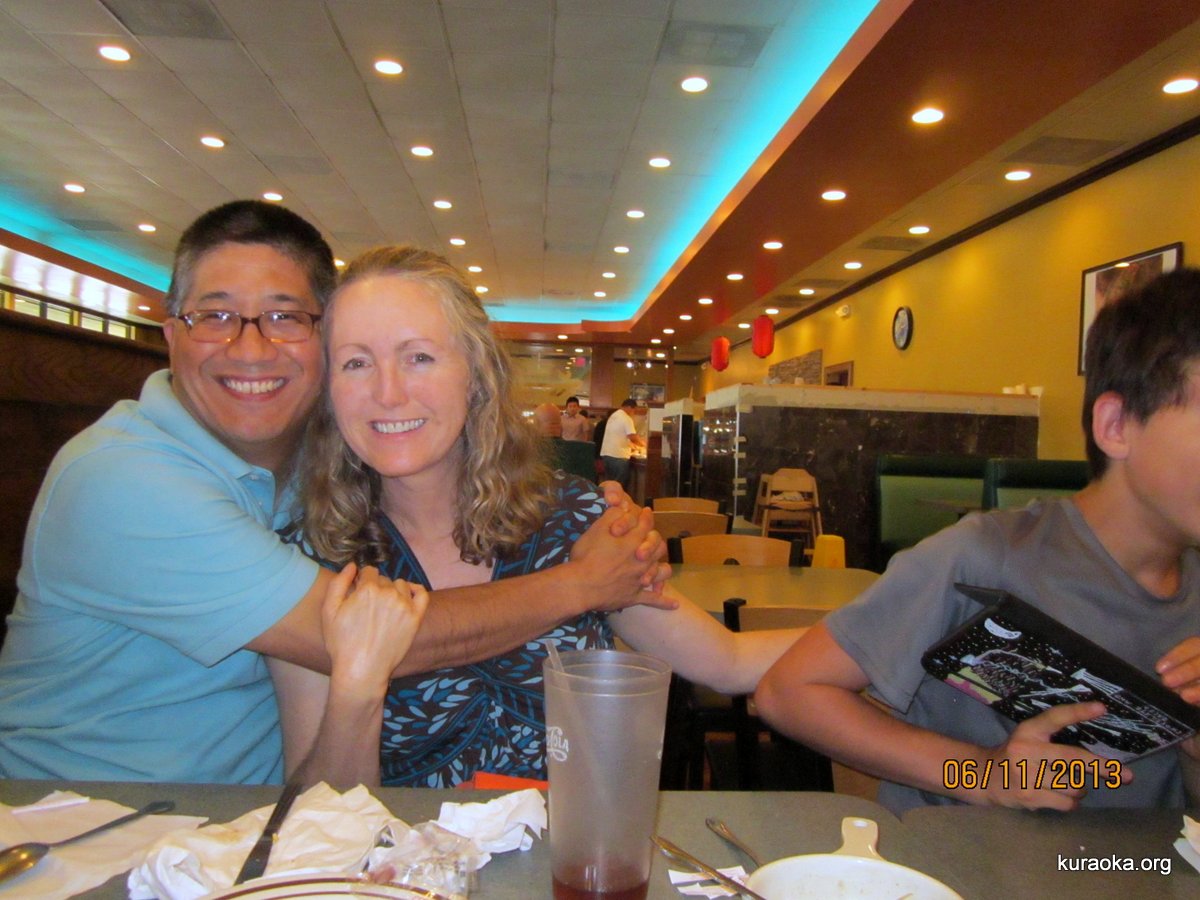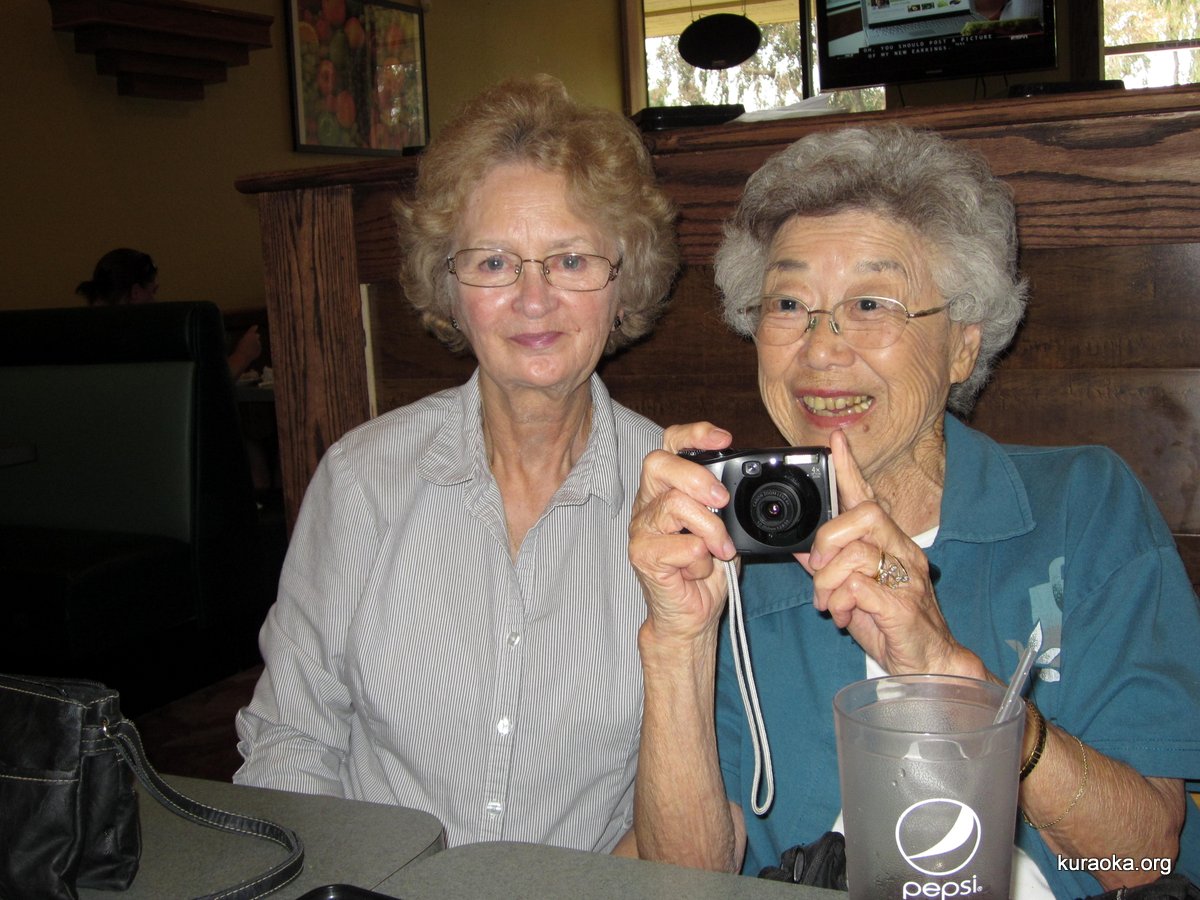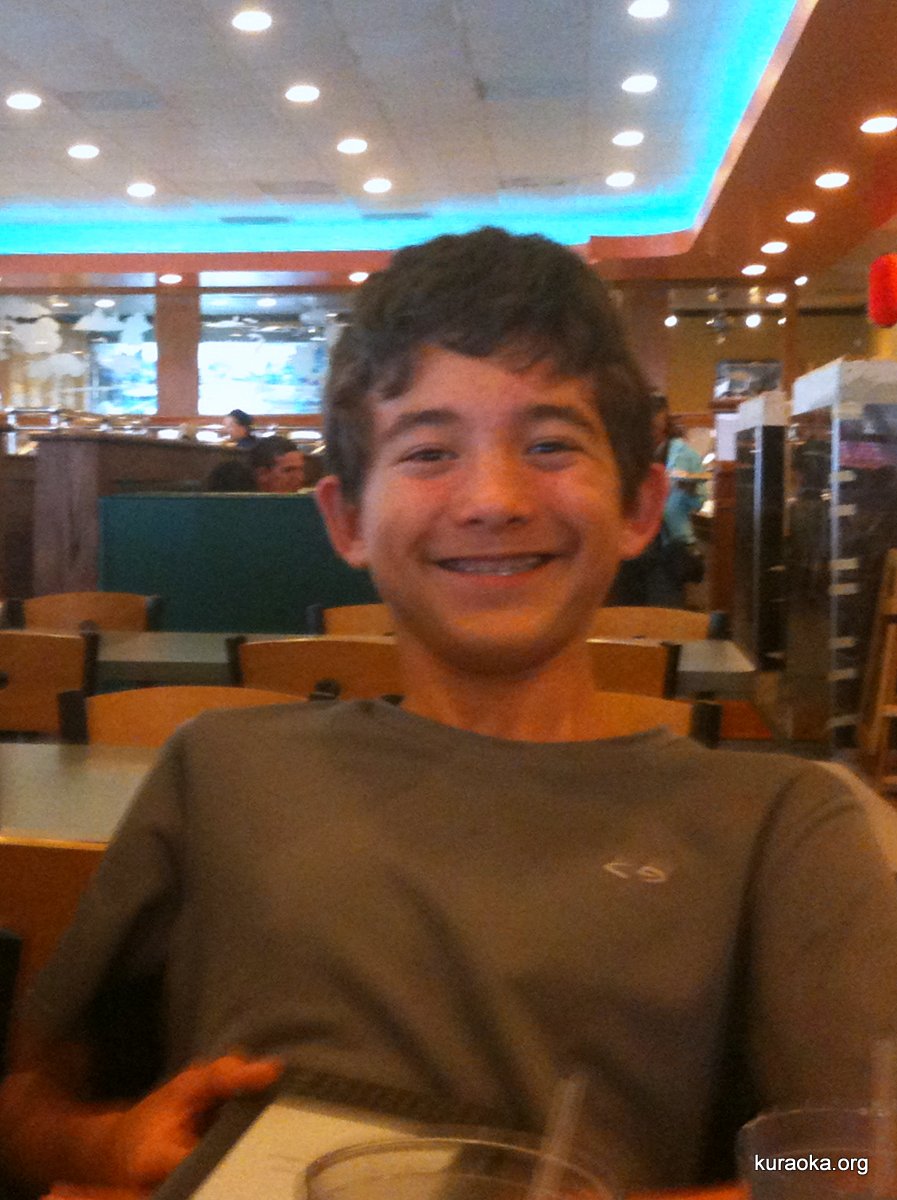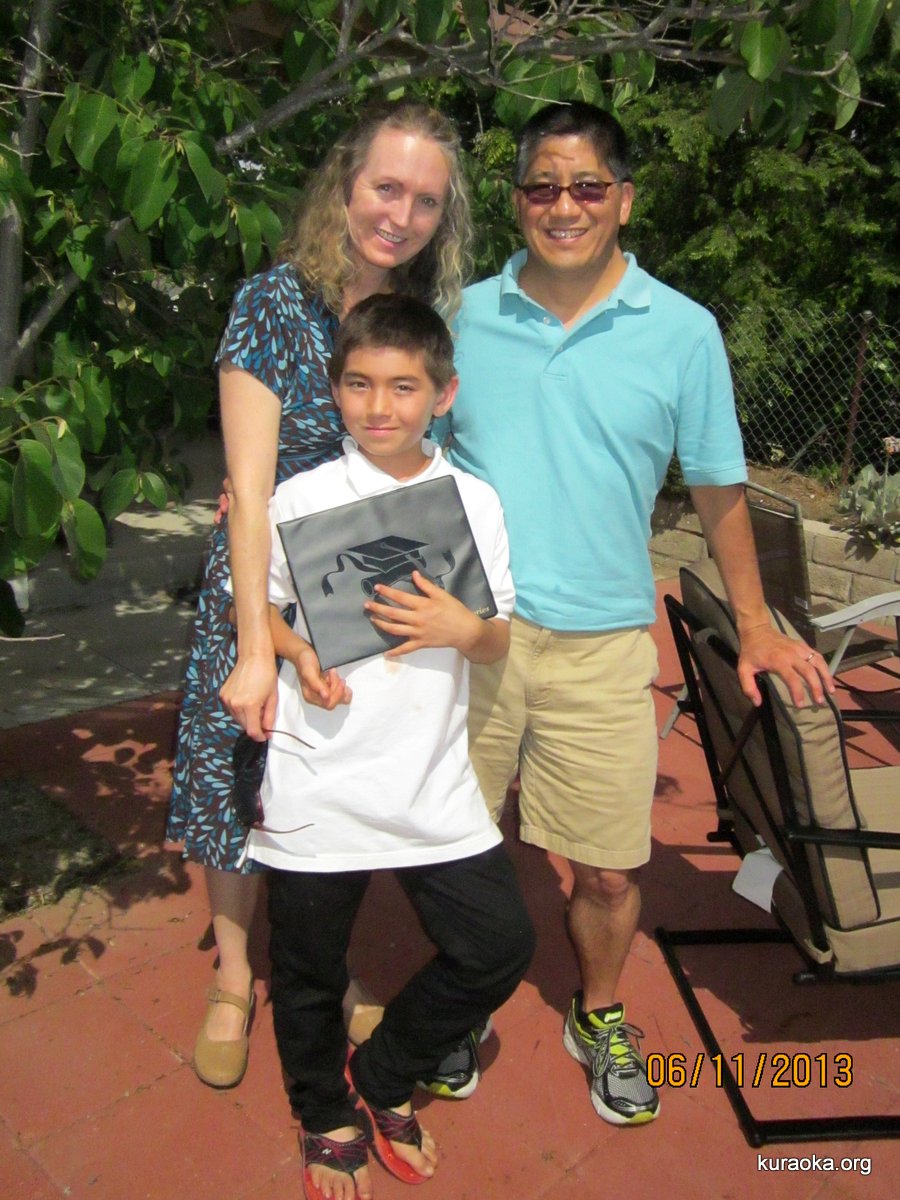 06-09-13: Roy rests after his slumber party! Roy stayed up all night to prank his buddies, so he was pretty tired by the time everyone else got up! Here are Michael, Roy (on the window bed), Stephen, and Alex, looking pretty bright-eyed for guys who got only a couple hours of sleep.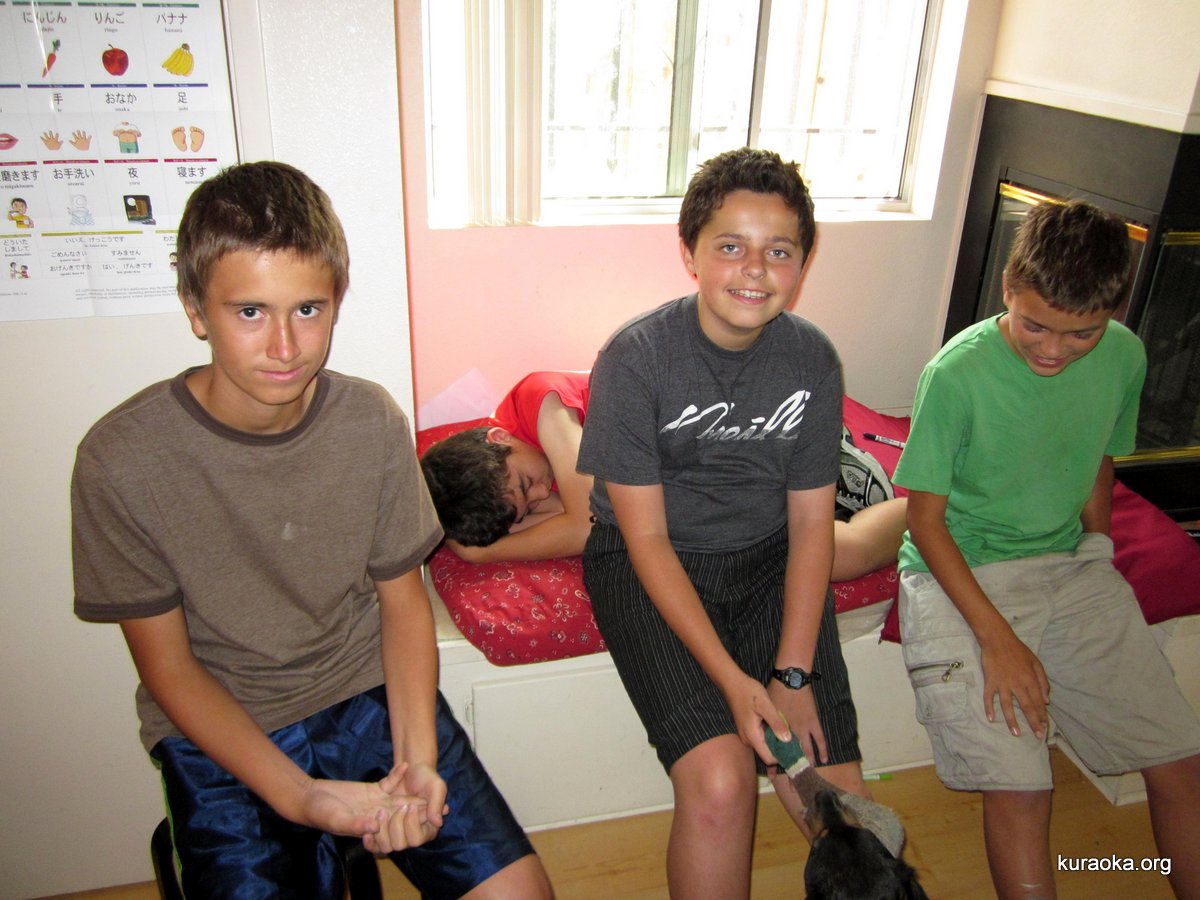 06-06-13: Leo's awards. Leo was recognized at Hearst Elementary's year-end assembly for his daily service to Safety Patrol. He also received the President's Education Award for Outstanding Academic Excellence, the top scholastic award for those scoring at least "Advanced" in at least five out of eight standardized national benchmark tests covering various subjects. With the certificate is a letter signed by President Obama! Oh, and Shadow.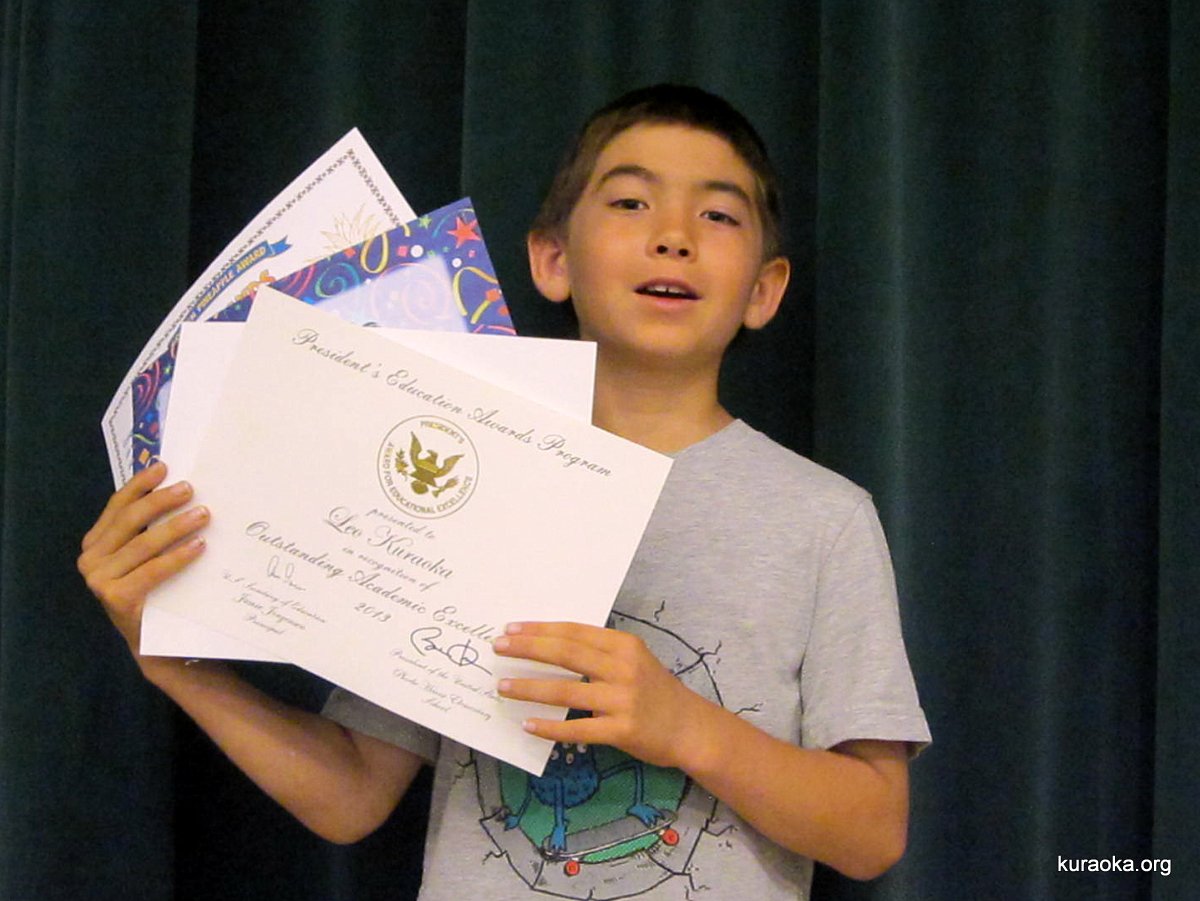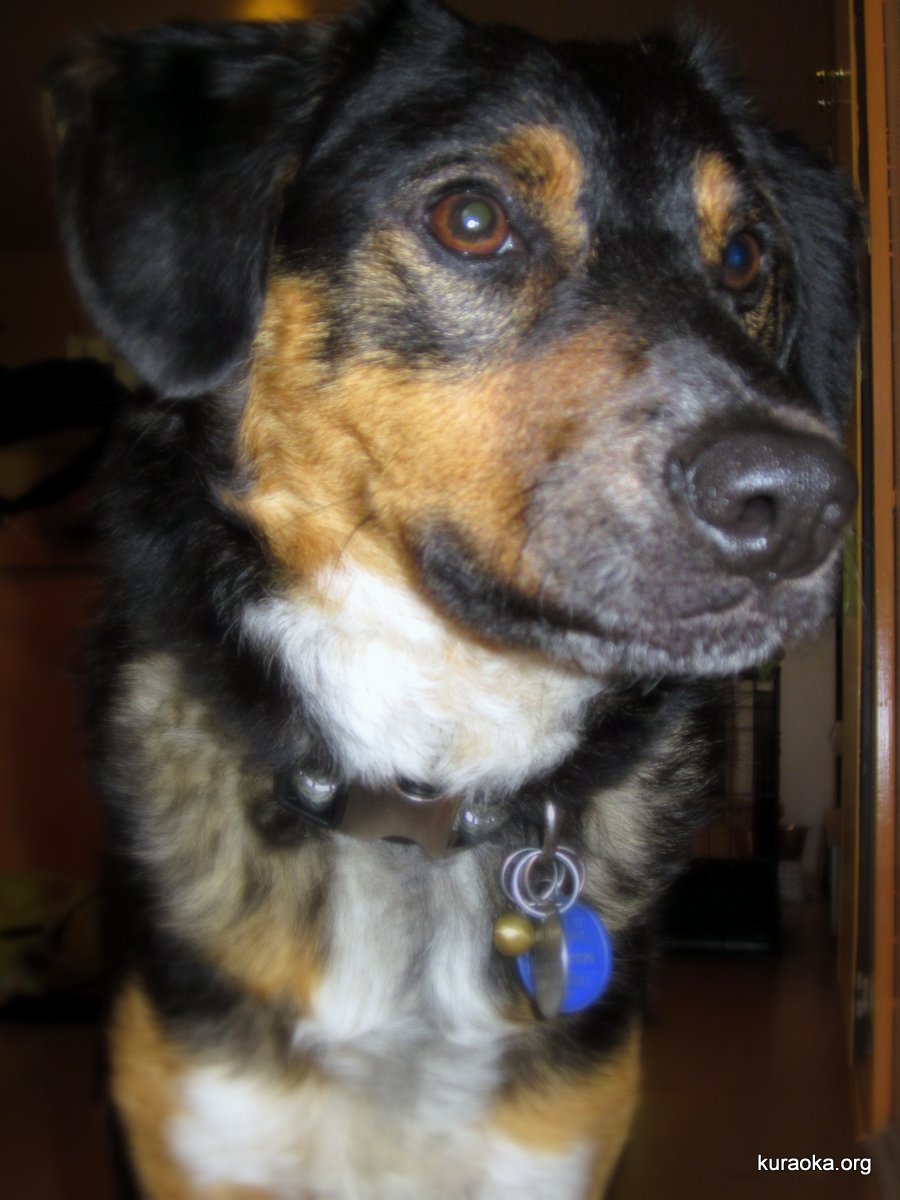 06-04-13: Roy's awards and Leo's piano finale. Roy was recognized at Pershing's 7th Grade Award assembly for Honor Roll (3.5+), Citizenship, and Outstanding Performance in Technical Theater. Leo played two songs at his final piano/keyboard recital: The Pink Panther theme and a composition of his own.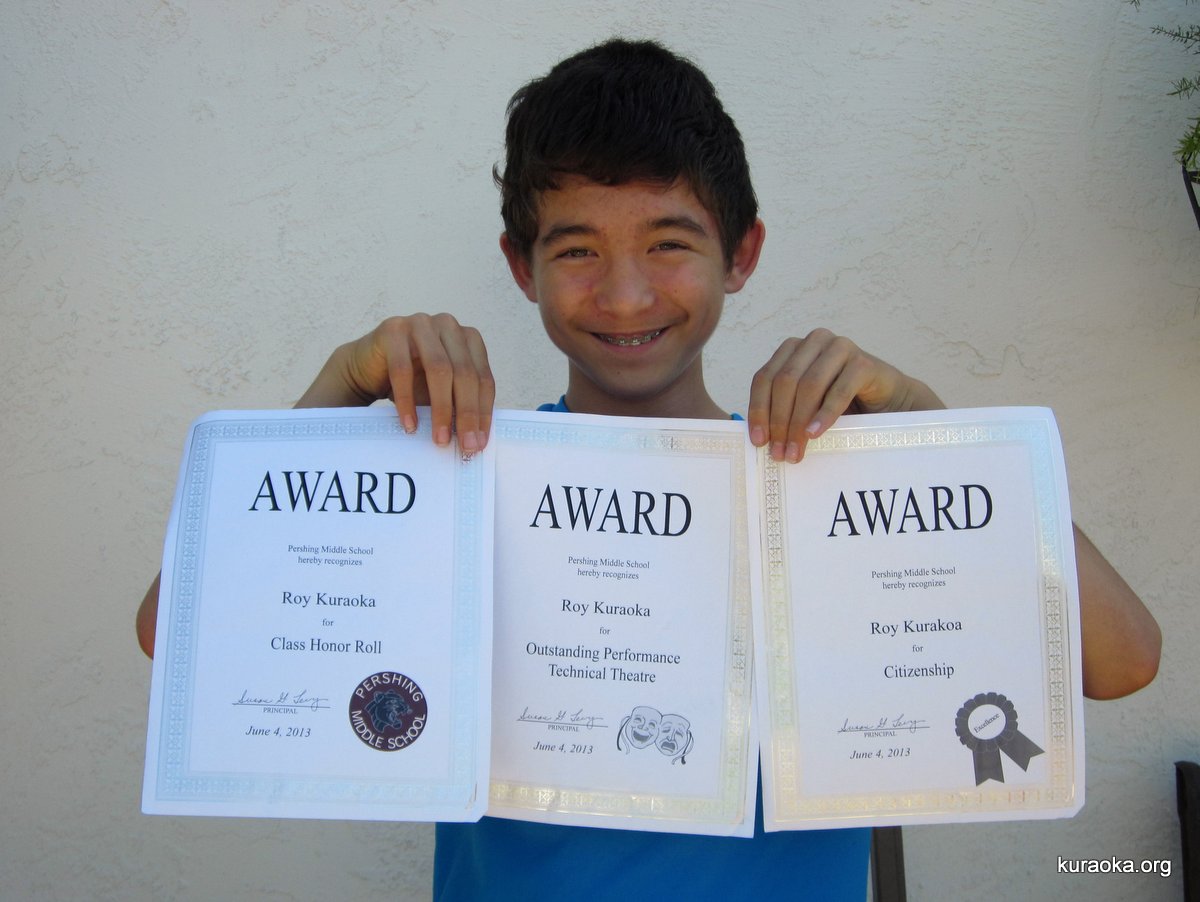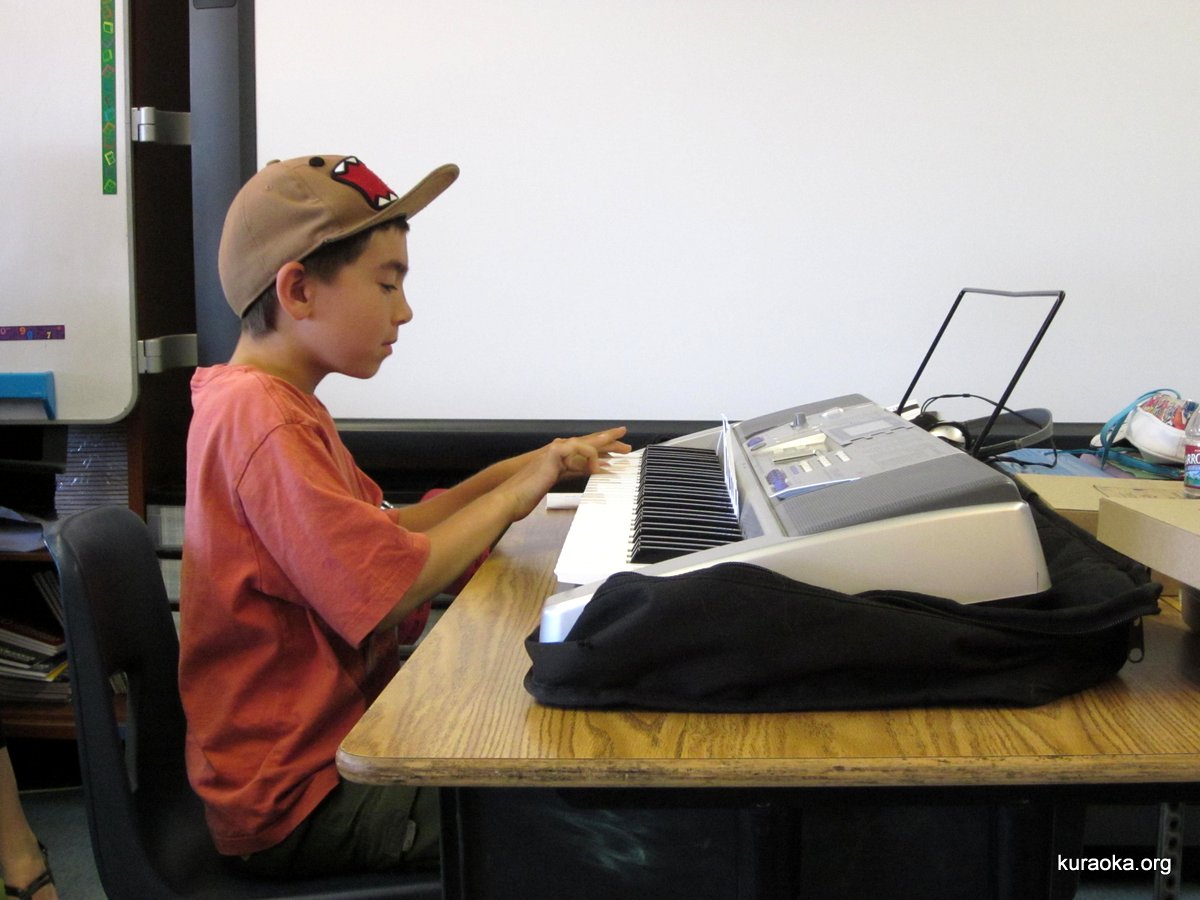 06-03-13: Violin finale. Leo played his rented violin for us one last time before it went back to the music store.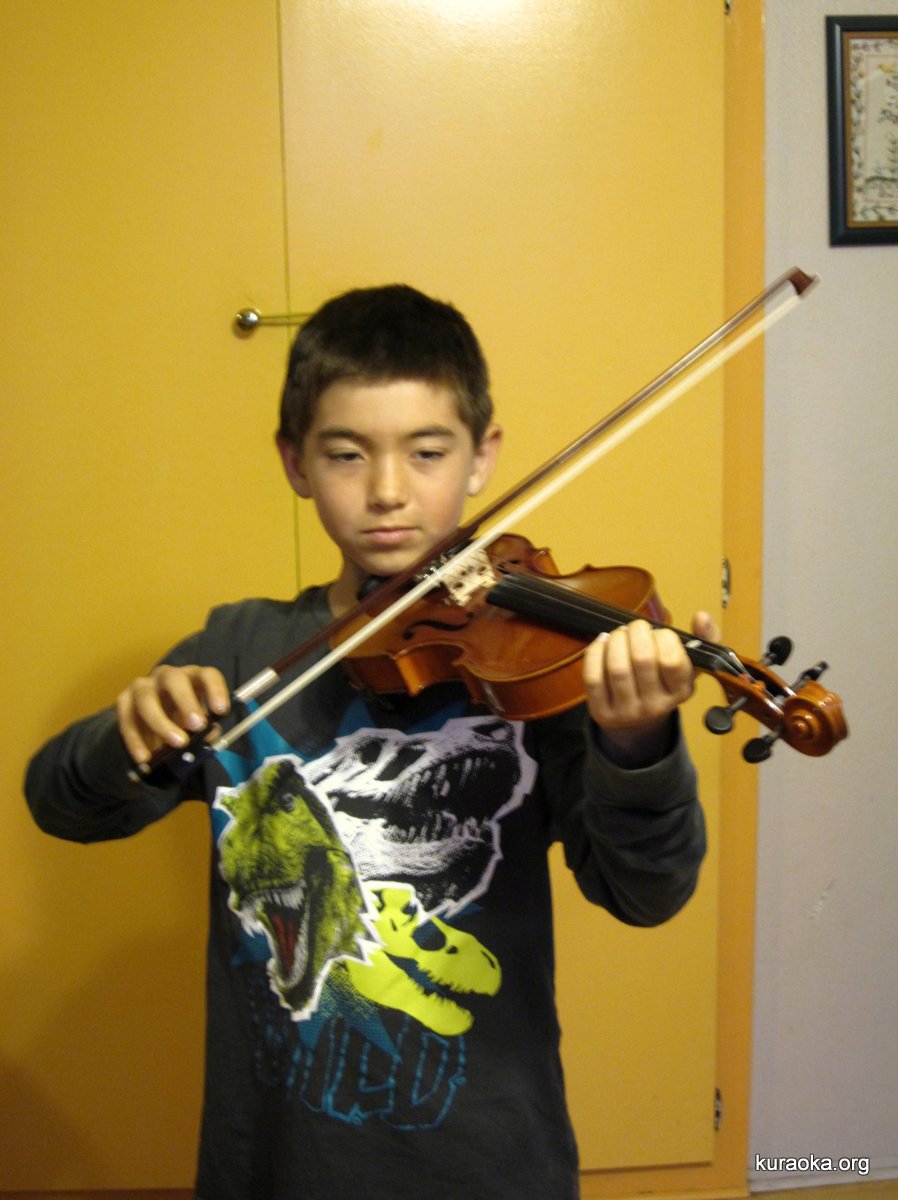 05-29-13: Leo's orchestra concert. Leo played the violin in the final orchestra concert.

05-27-13: Visiting Grandpa Mas at Rose Hills. We visited two cemeteries this trip: Green Hills and Rose Hills. Click here for our trip journal.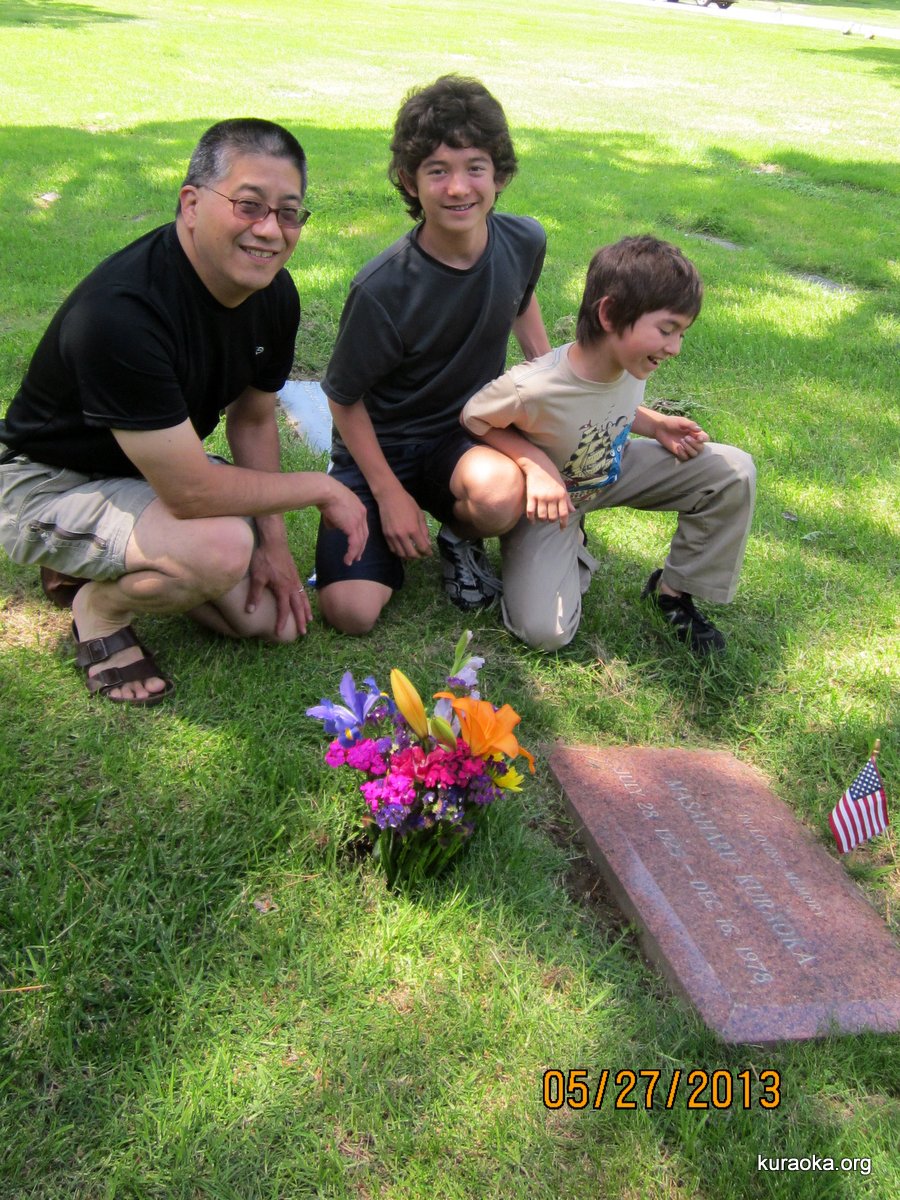 05-26-13: Santa Monica Pier. John, Roy, Leo, and Grammy went to the Santa Monica Pier, where the boys drove the bumper cars six or seven times, rode the roller coaster twice, and, after a picnic lunch on the beach, we all went on the Ferris wheel. Click here for our trip journal.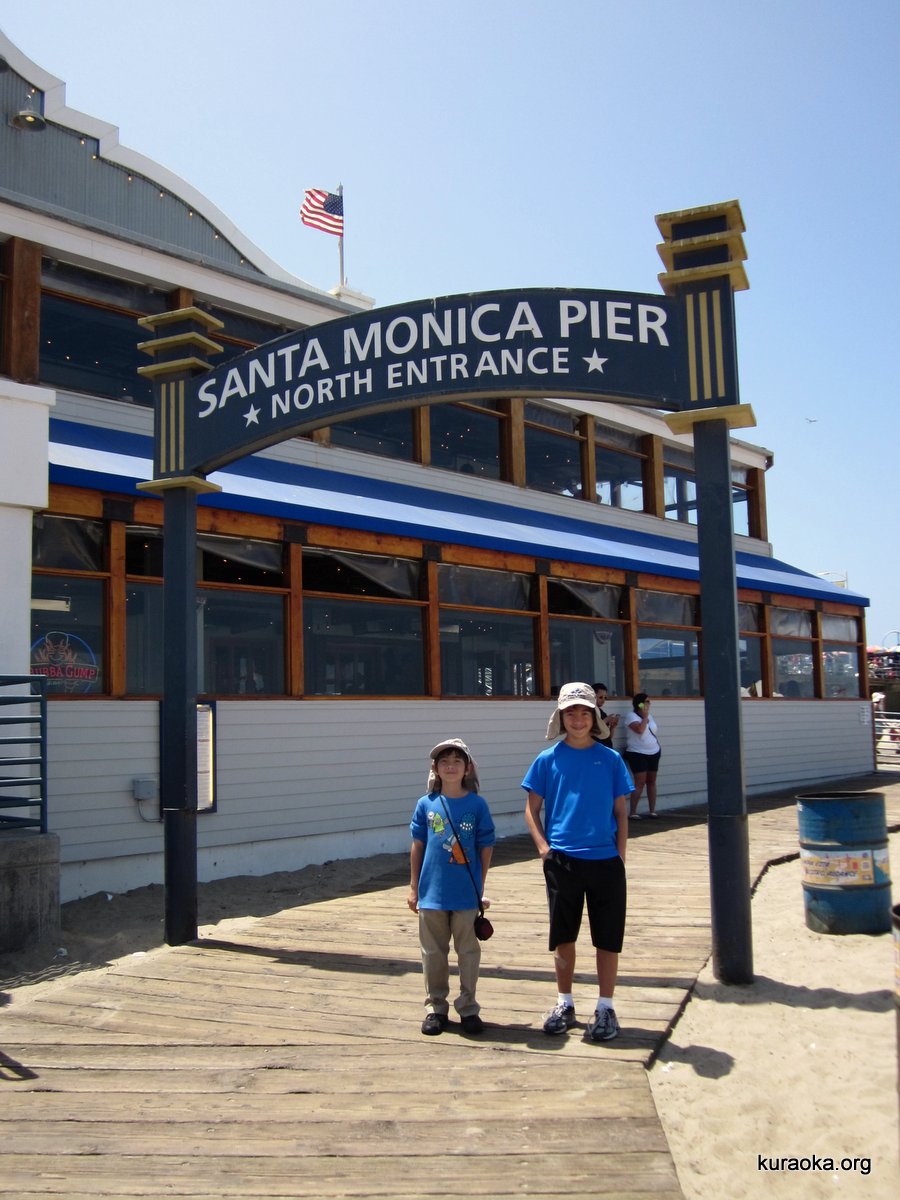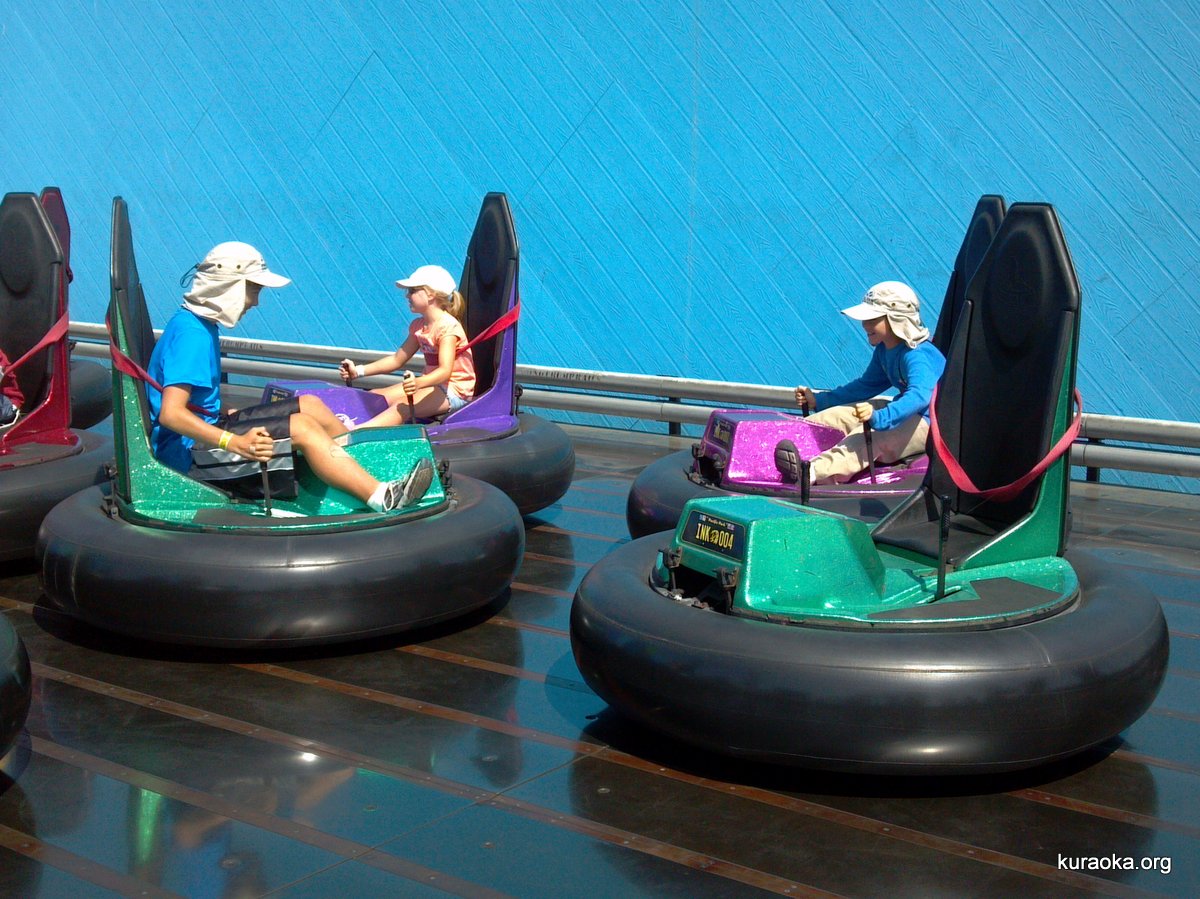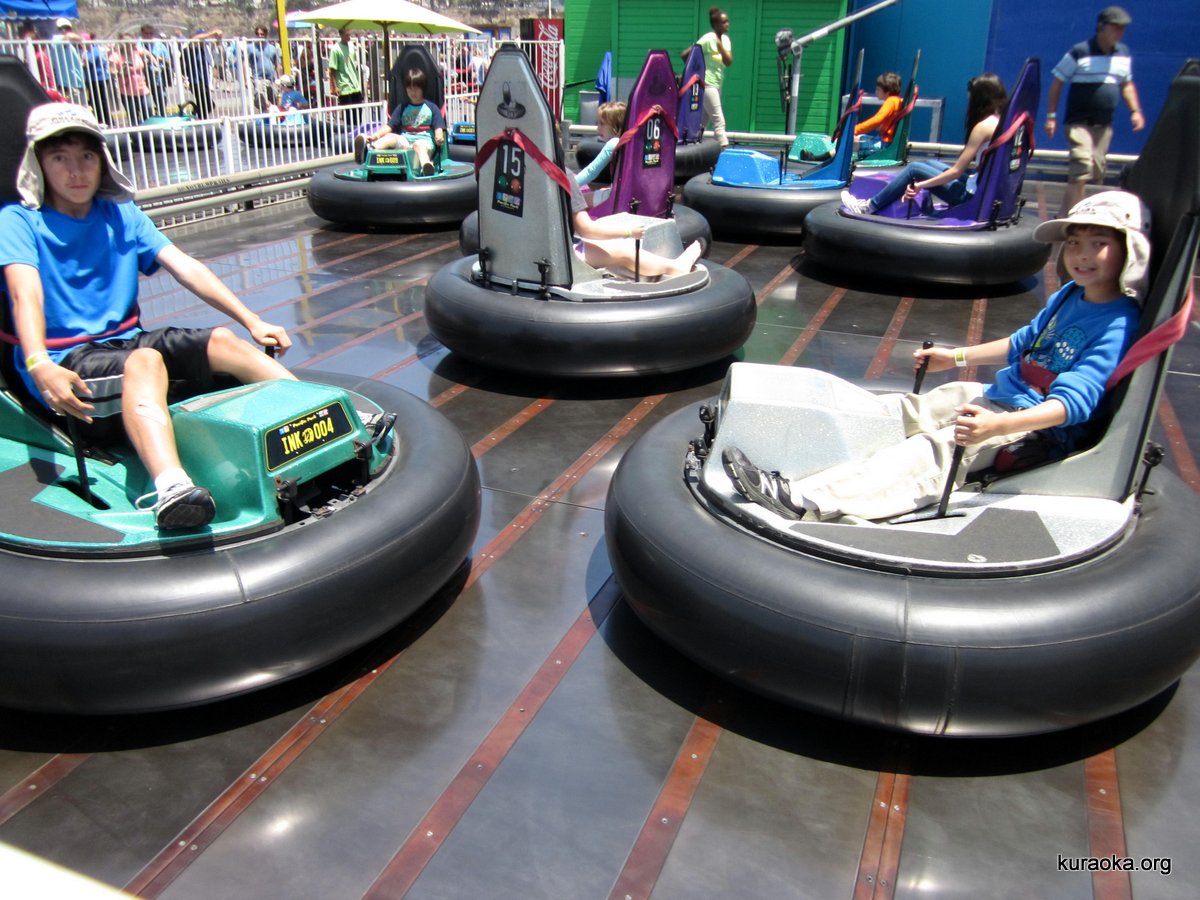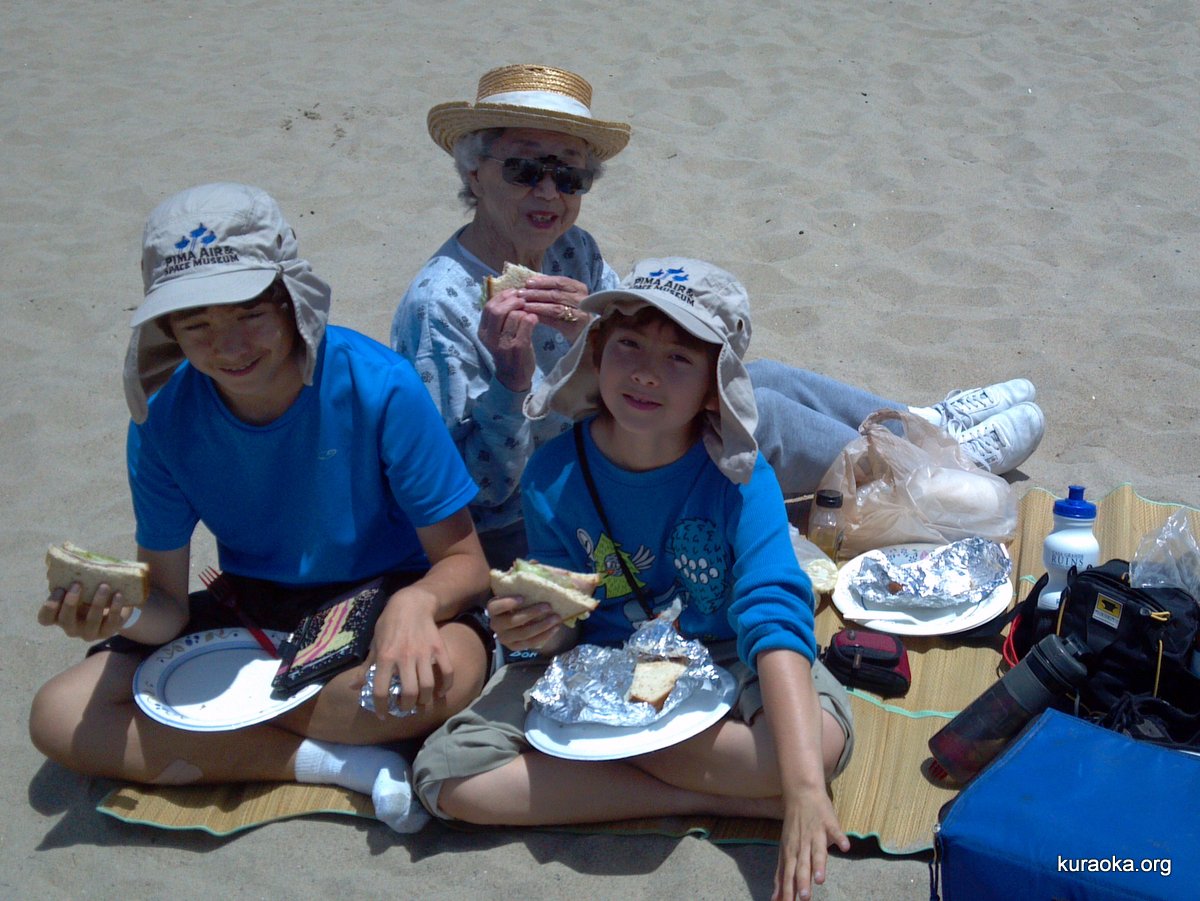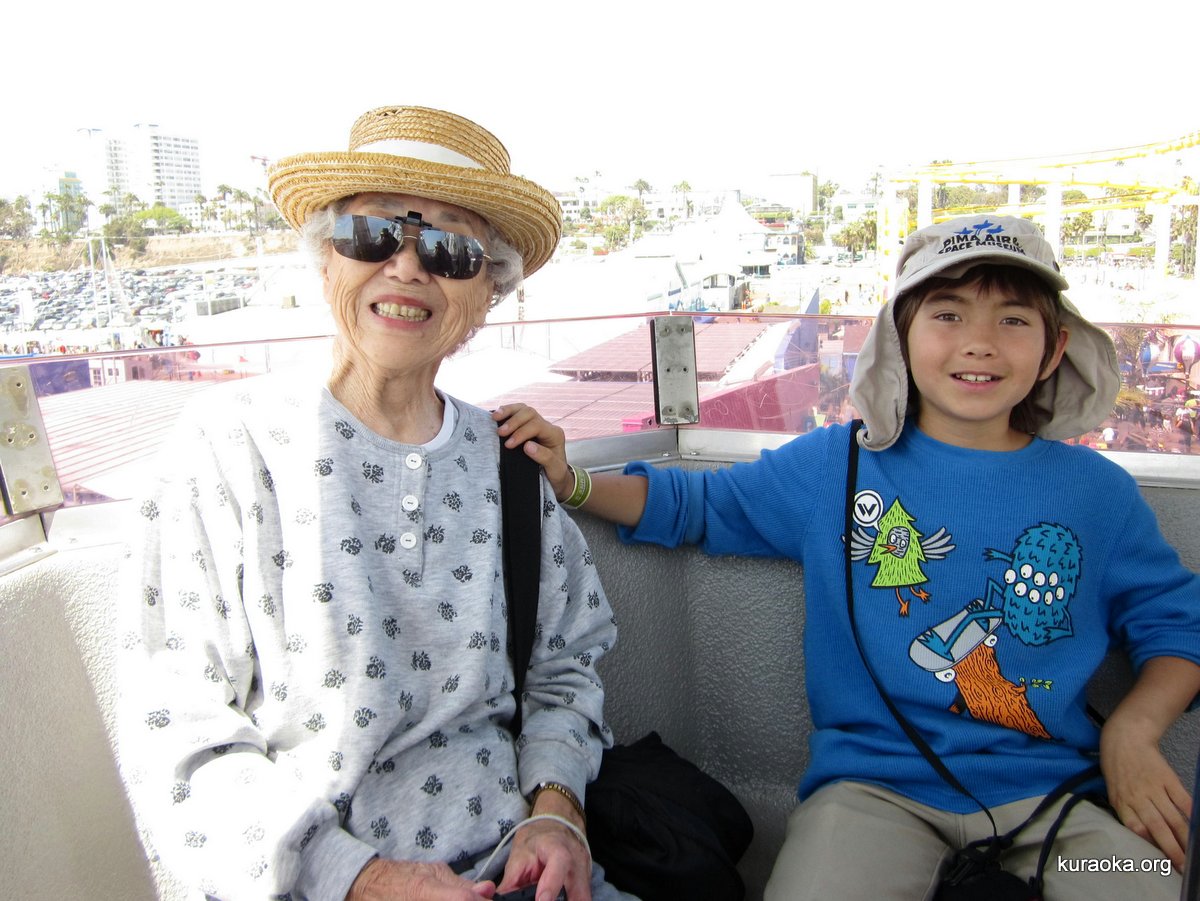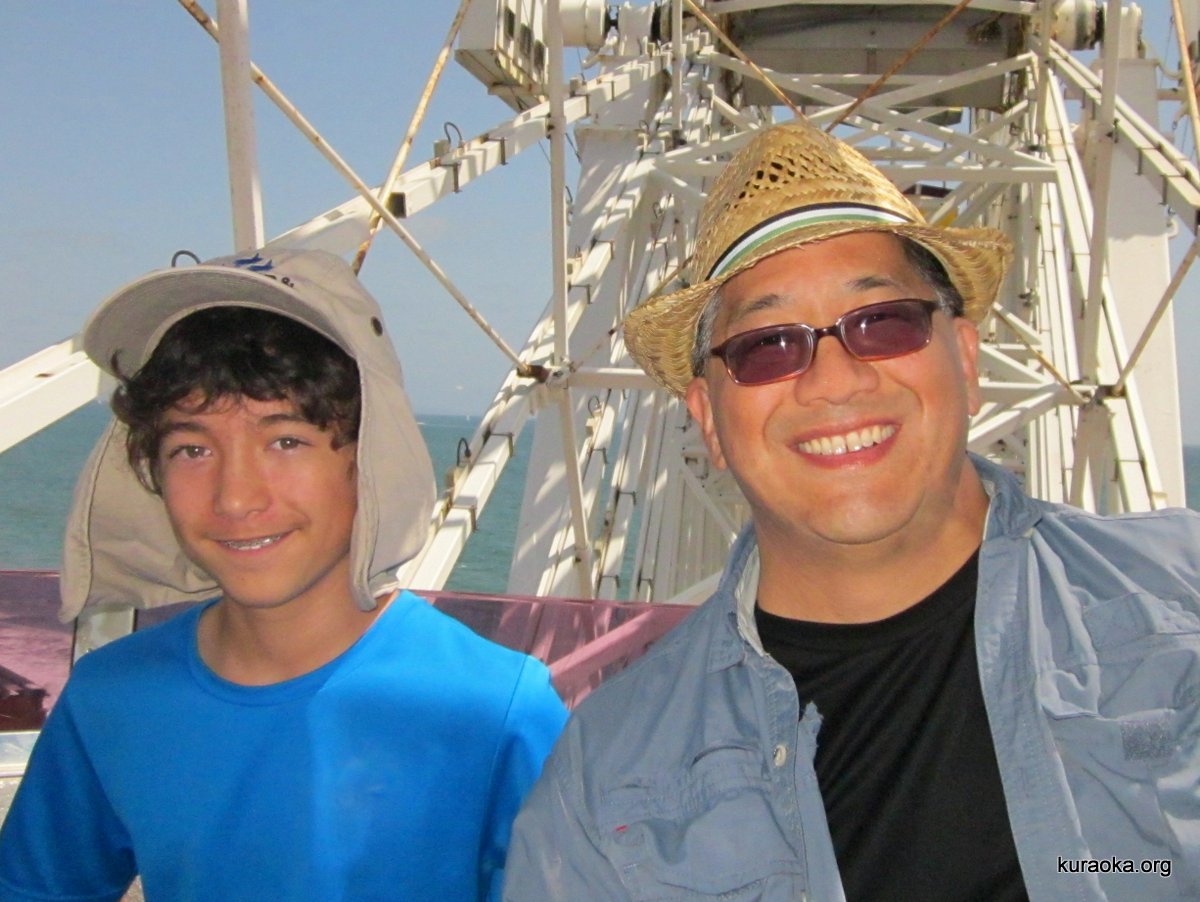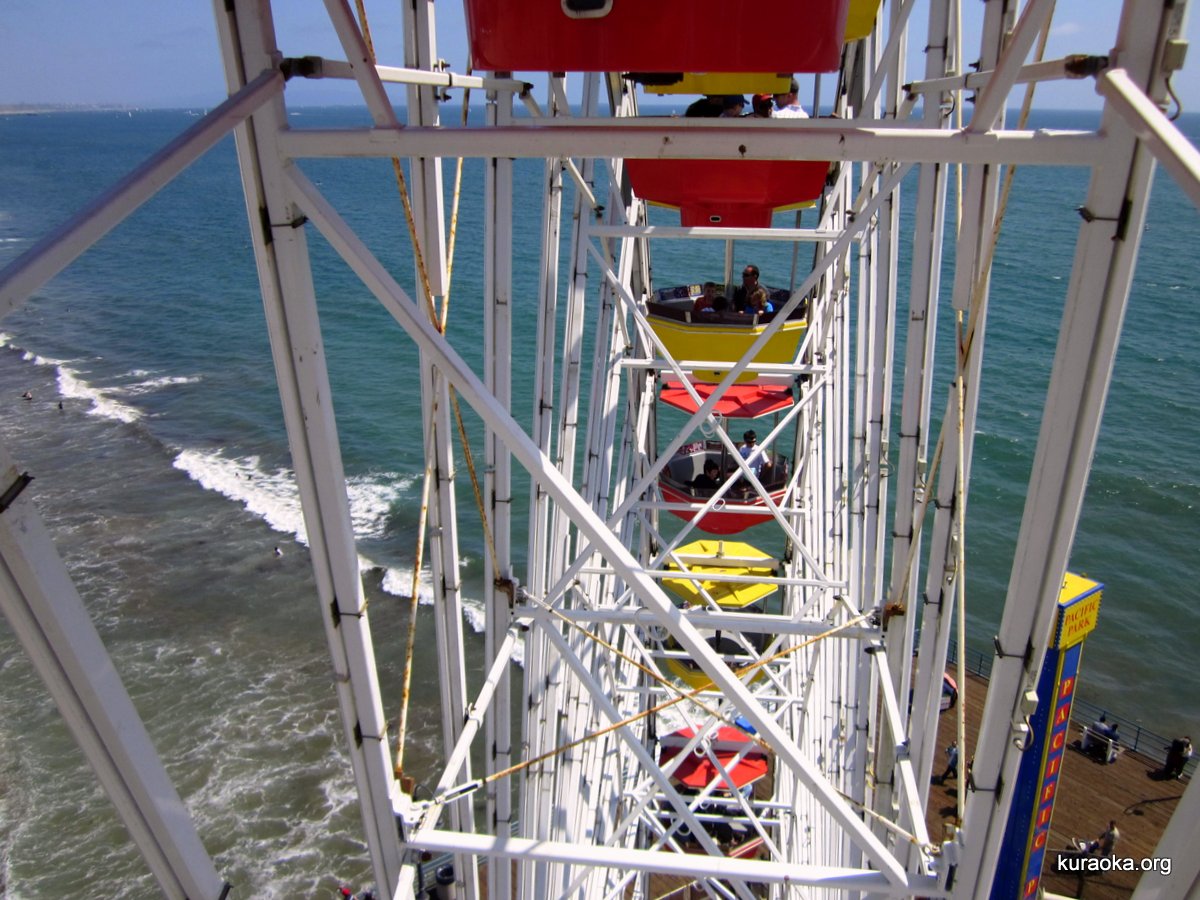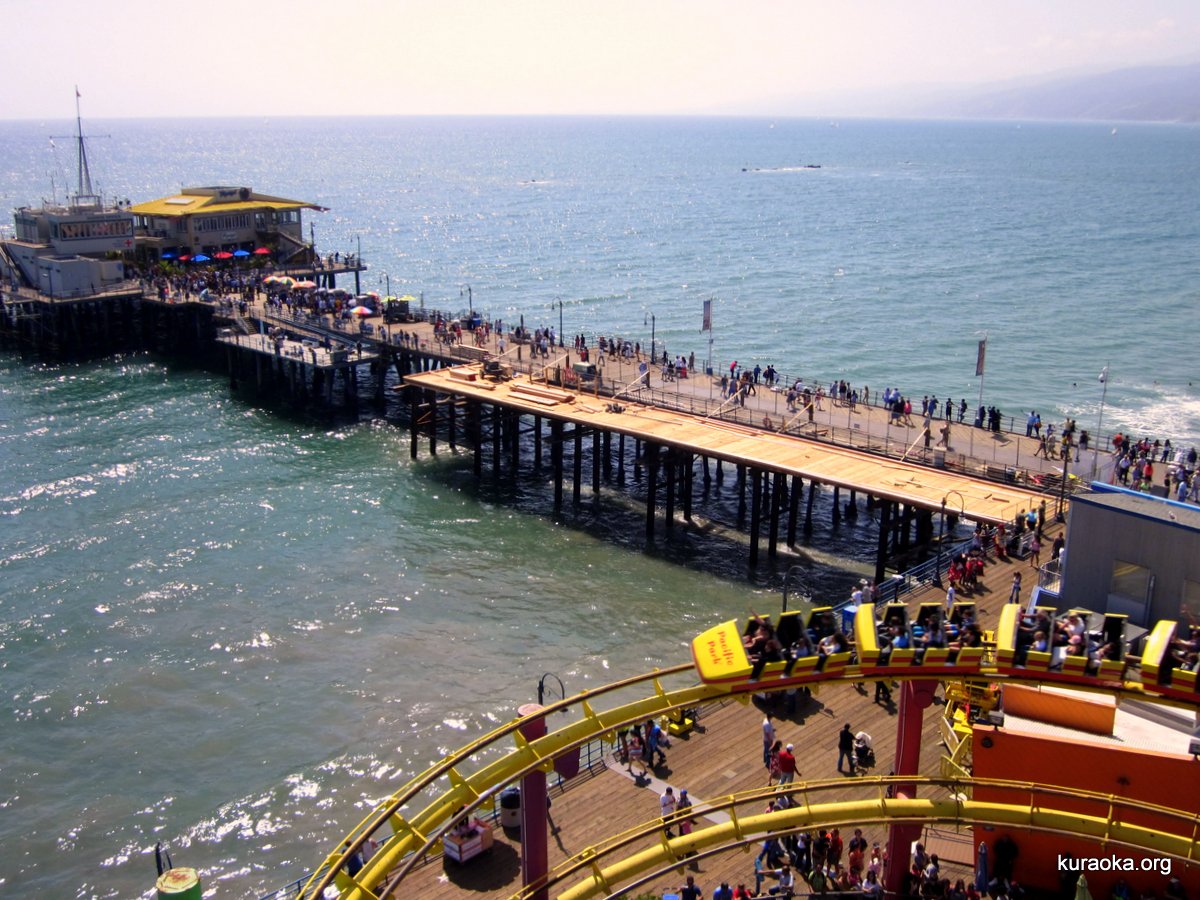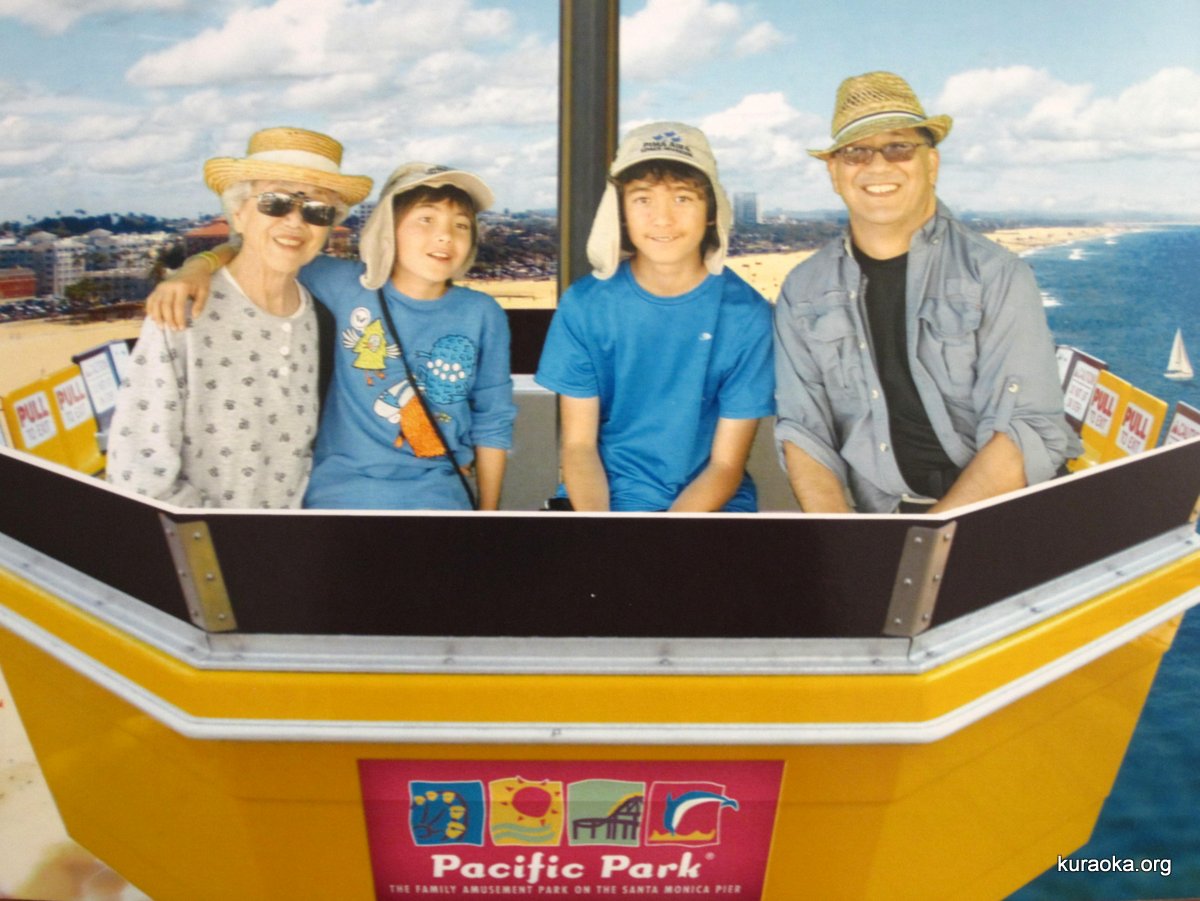 05-25-13: U.S.S. Iowa. John, Roy, Leo, and Grammy went to San Pedro and toured the battleship Iowa. Here you see a 16" gun turret, the captain's in-port cabin, the only bathtub ever installed in a U.S. battleship (for FDR), the heavily armored conning tower, and a snack in the mess hall. Afterwards, they went to Ports O' Call. Click here for our trip journal.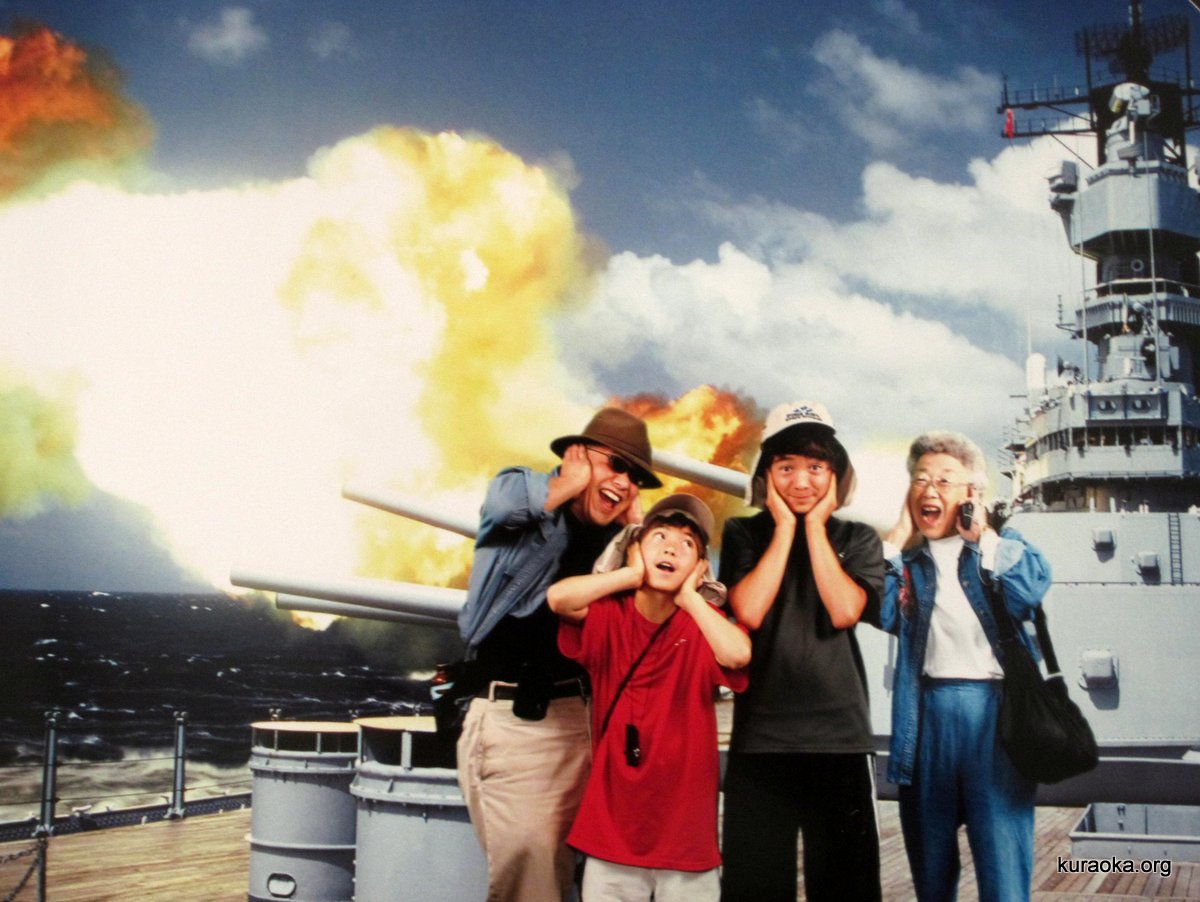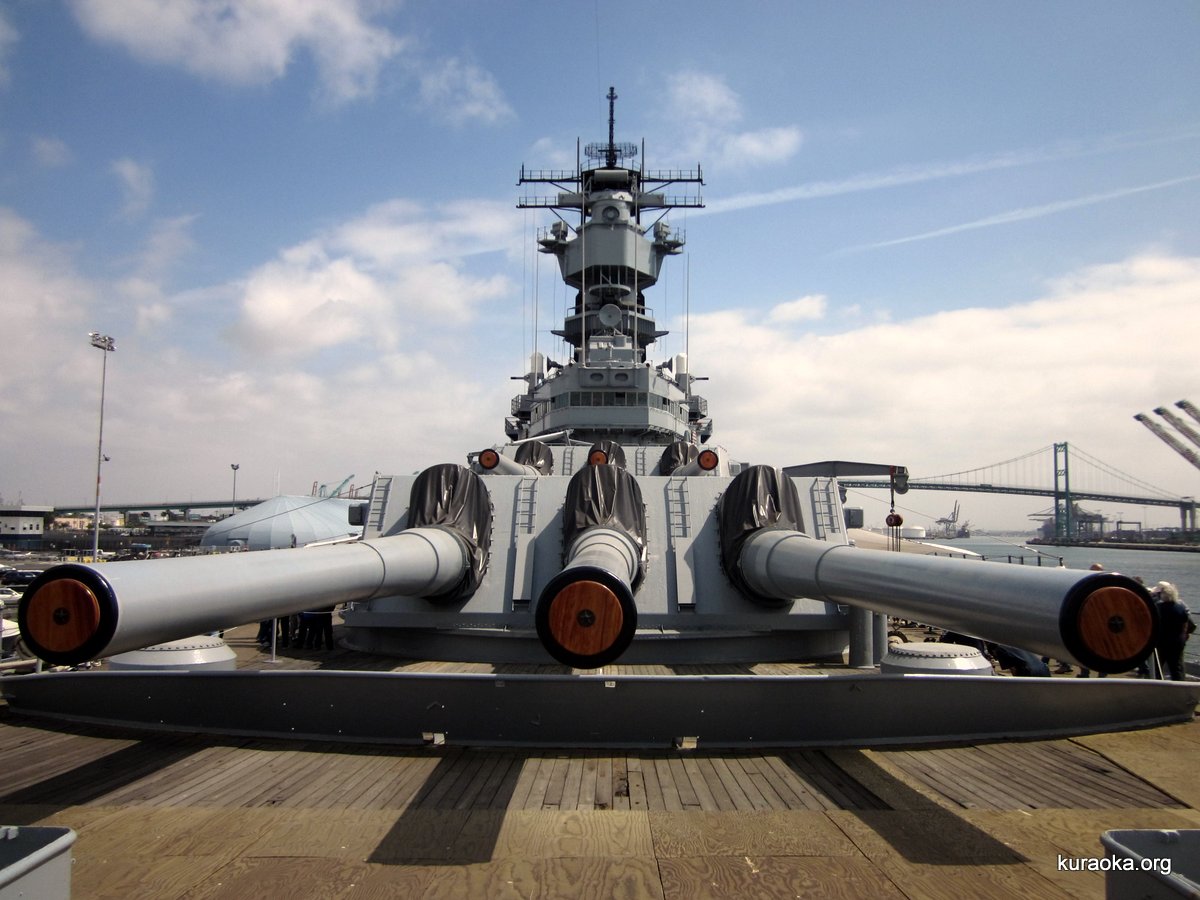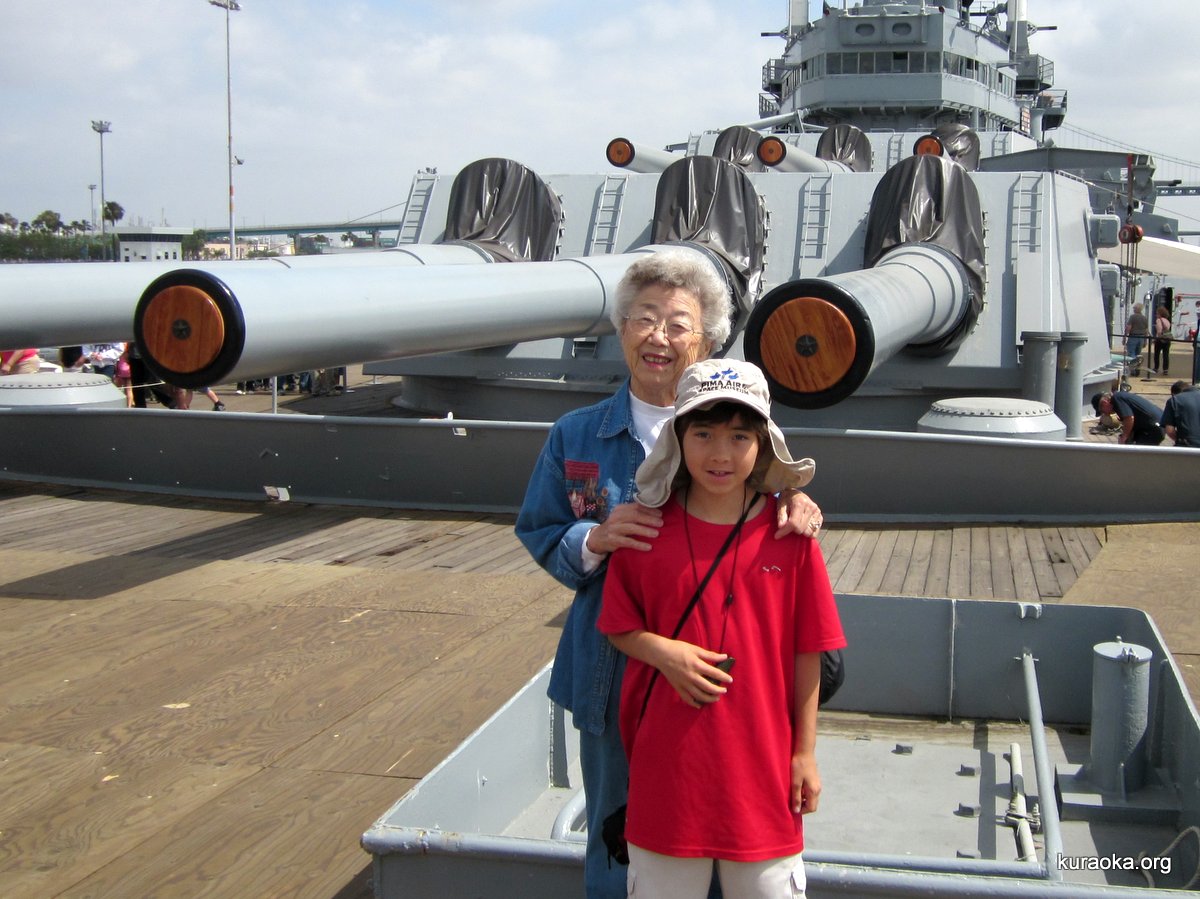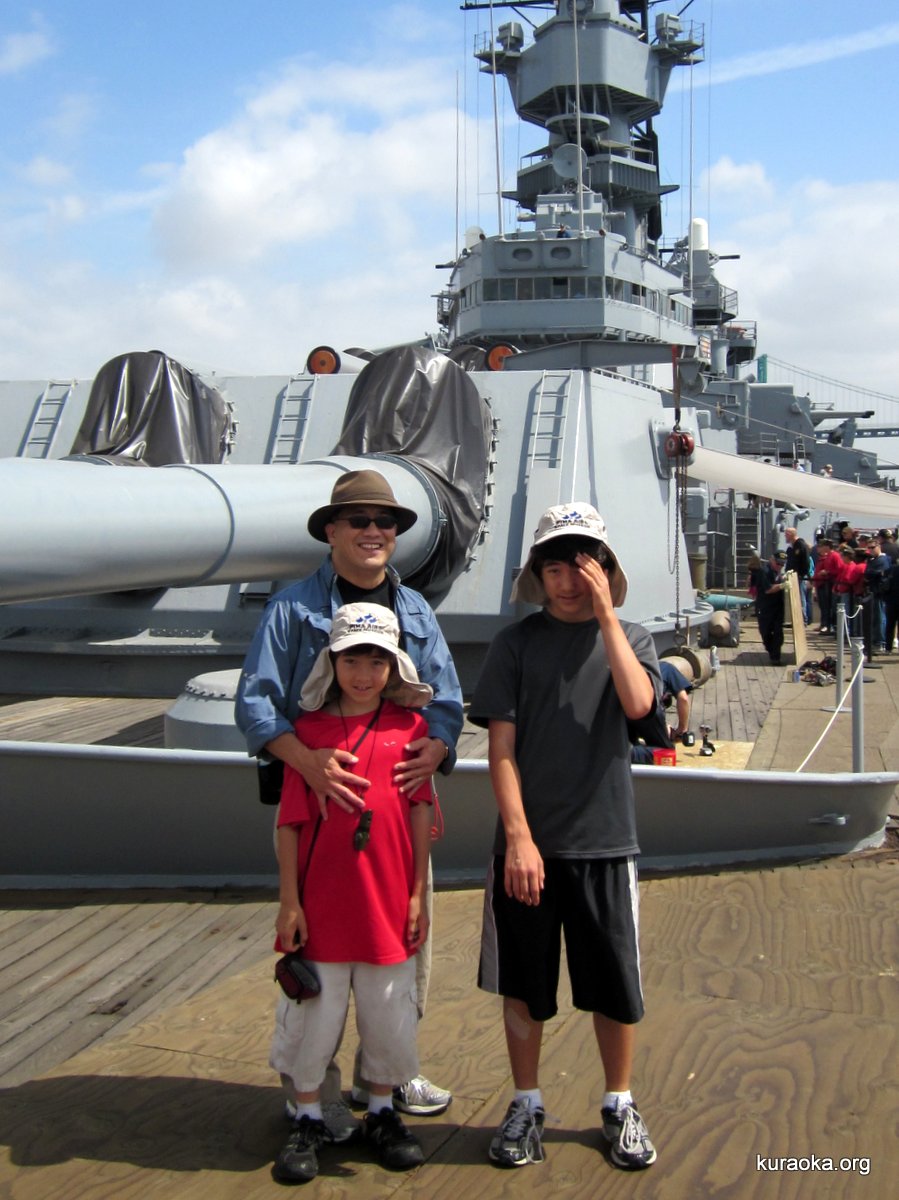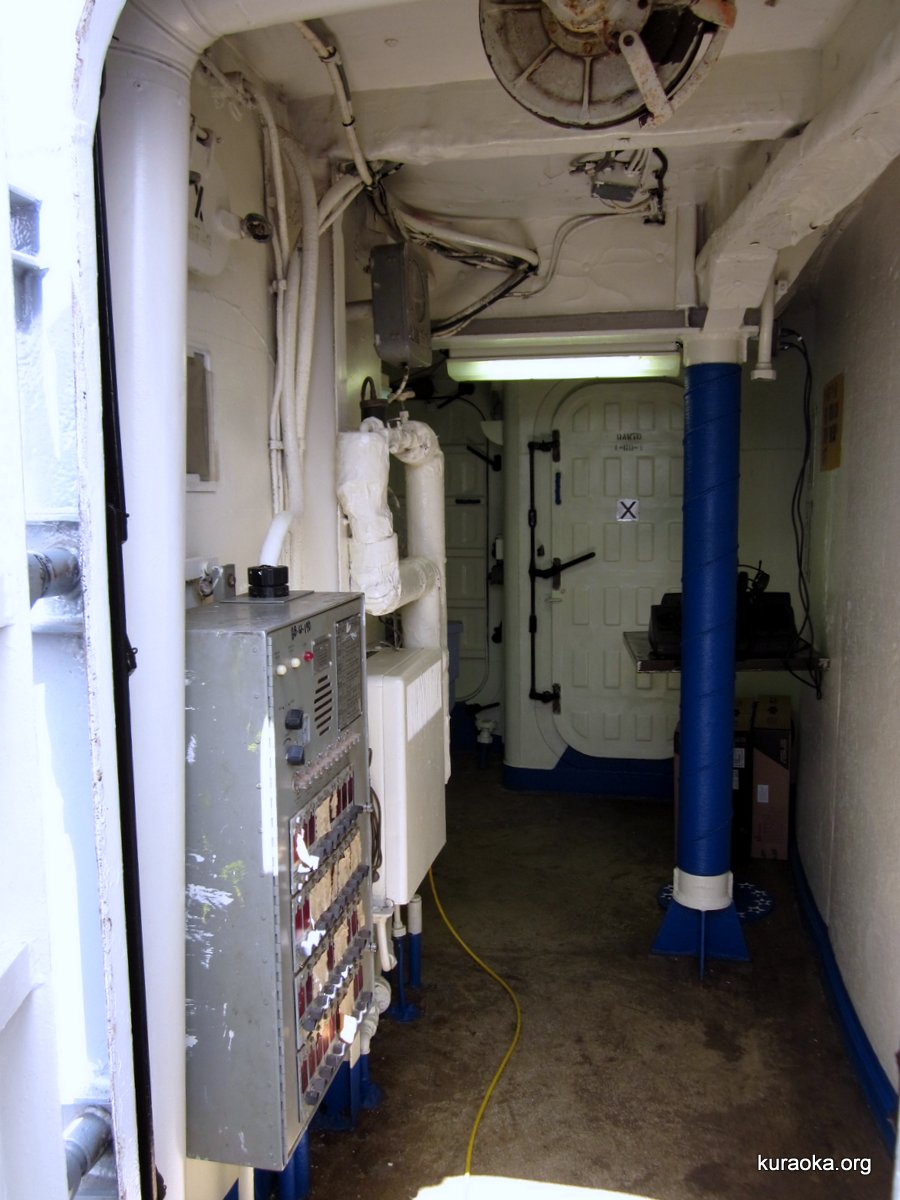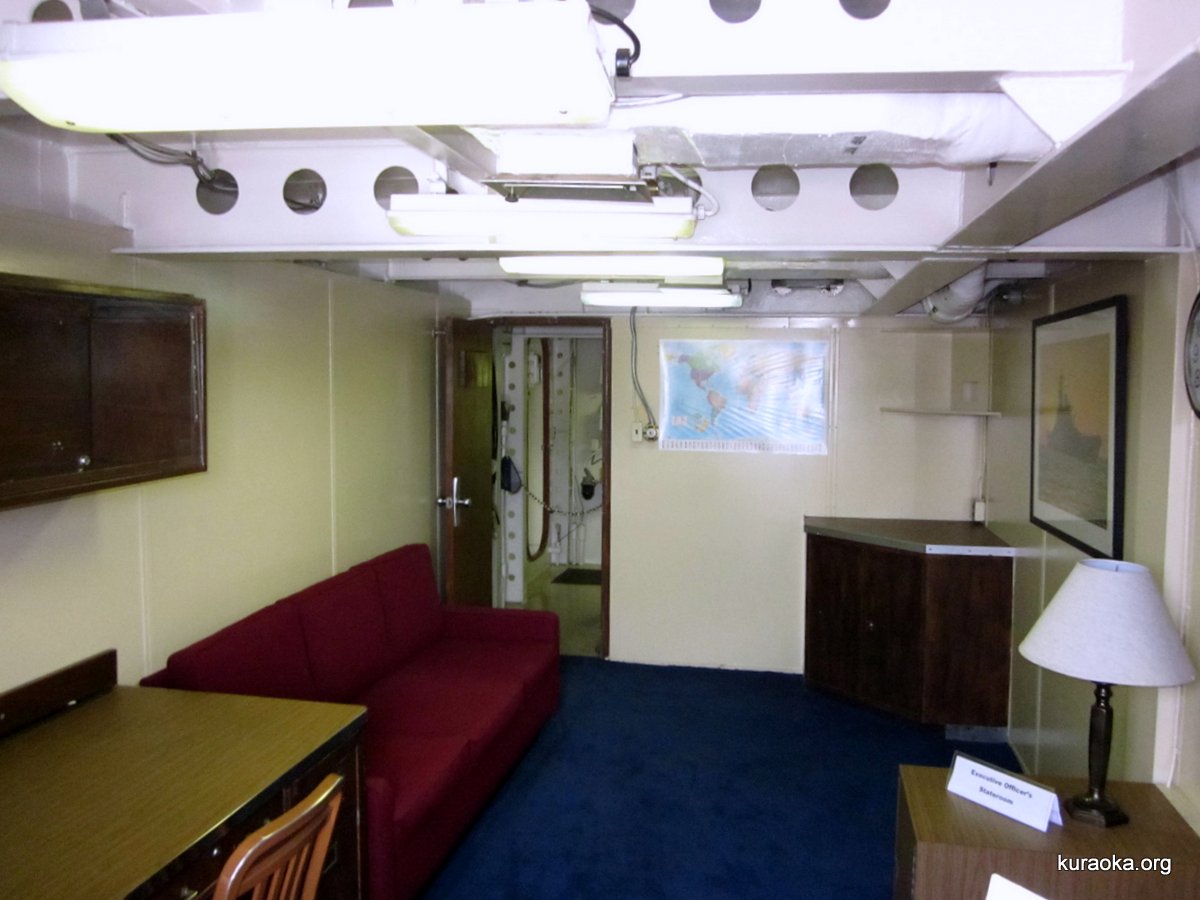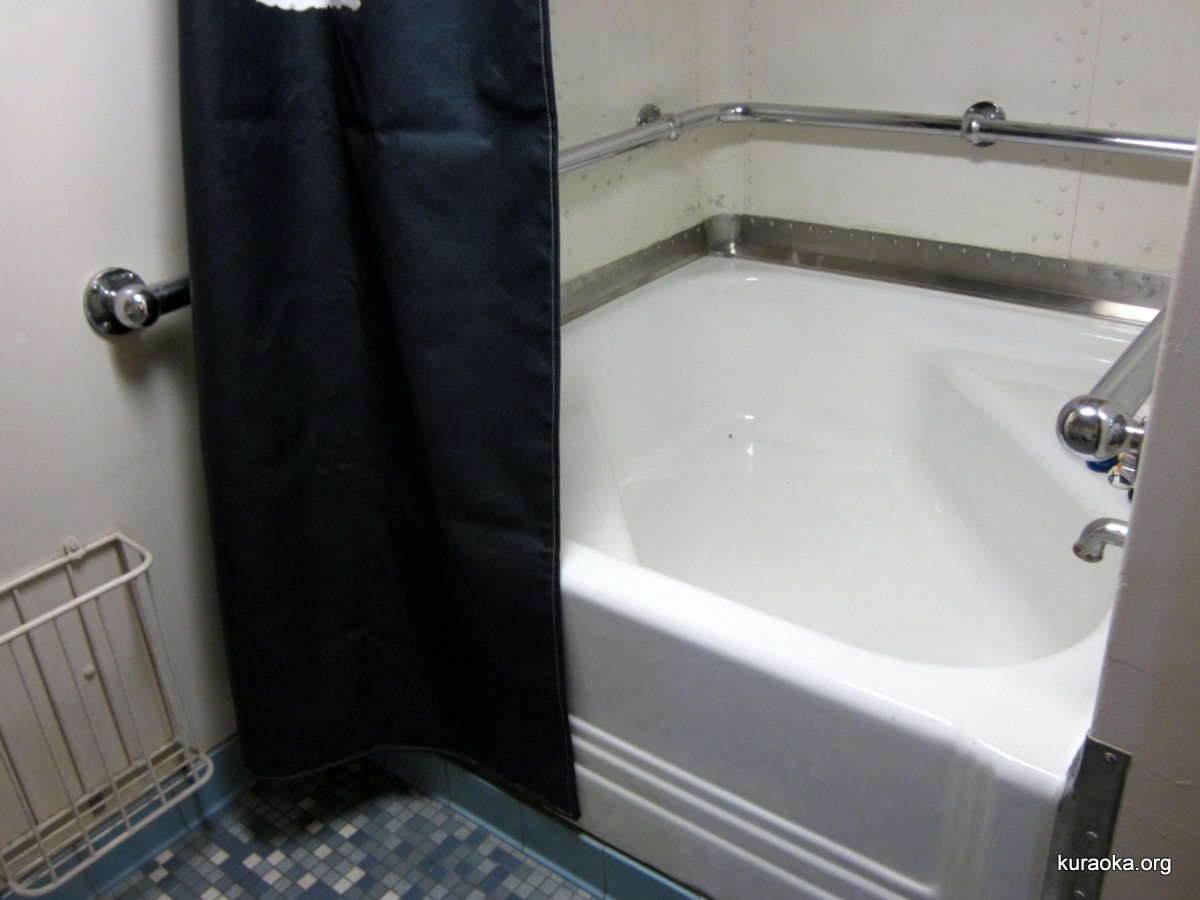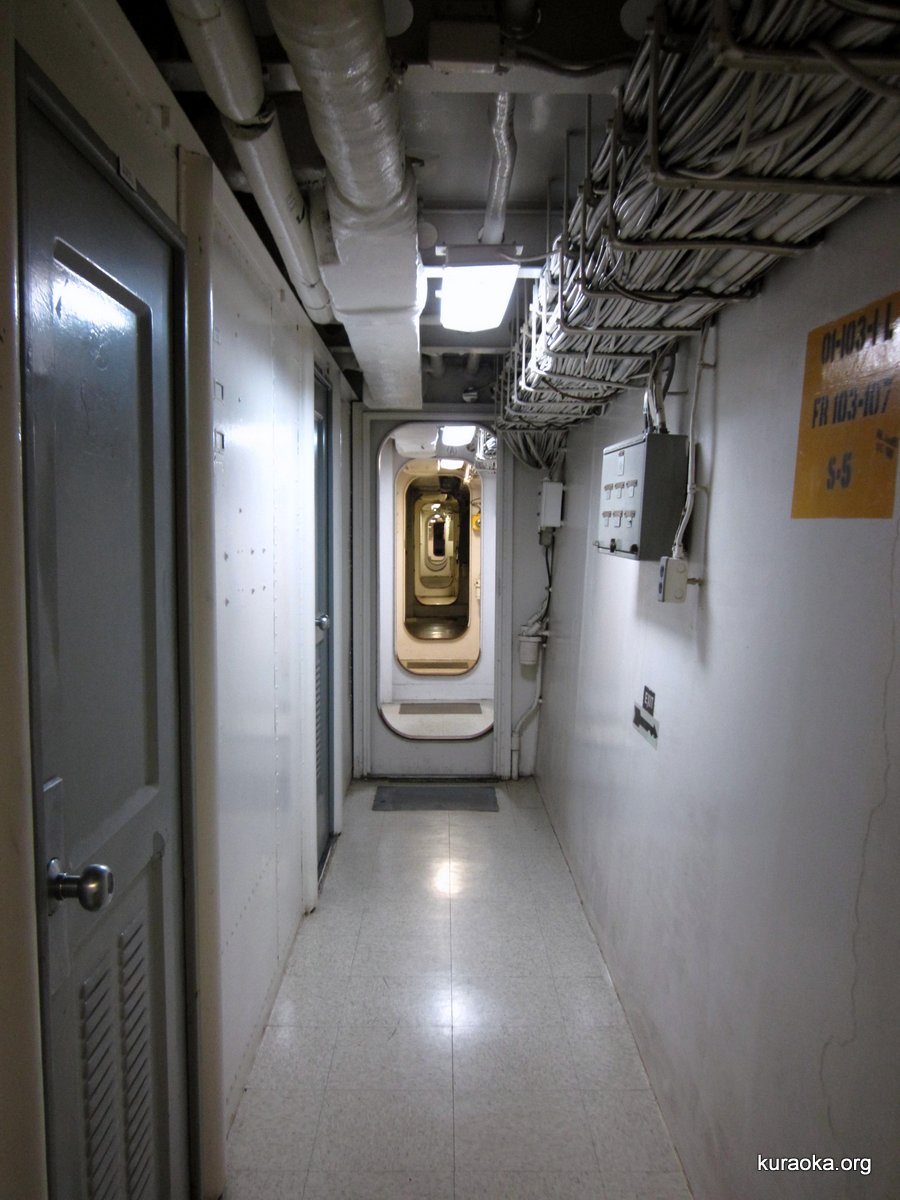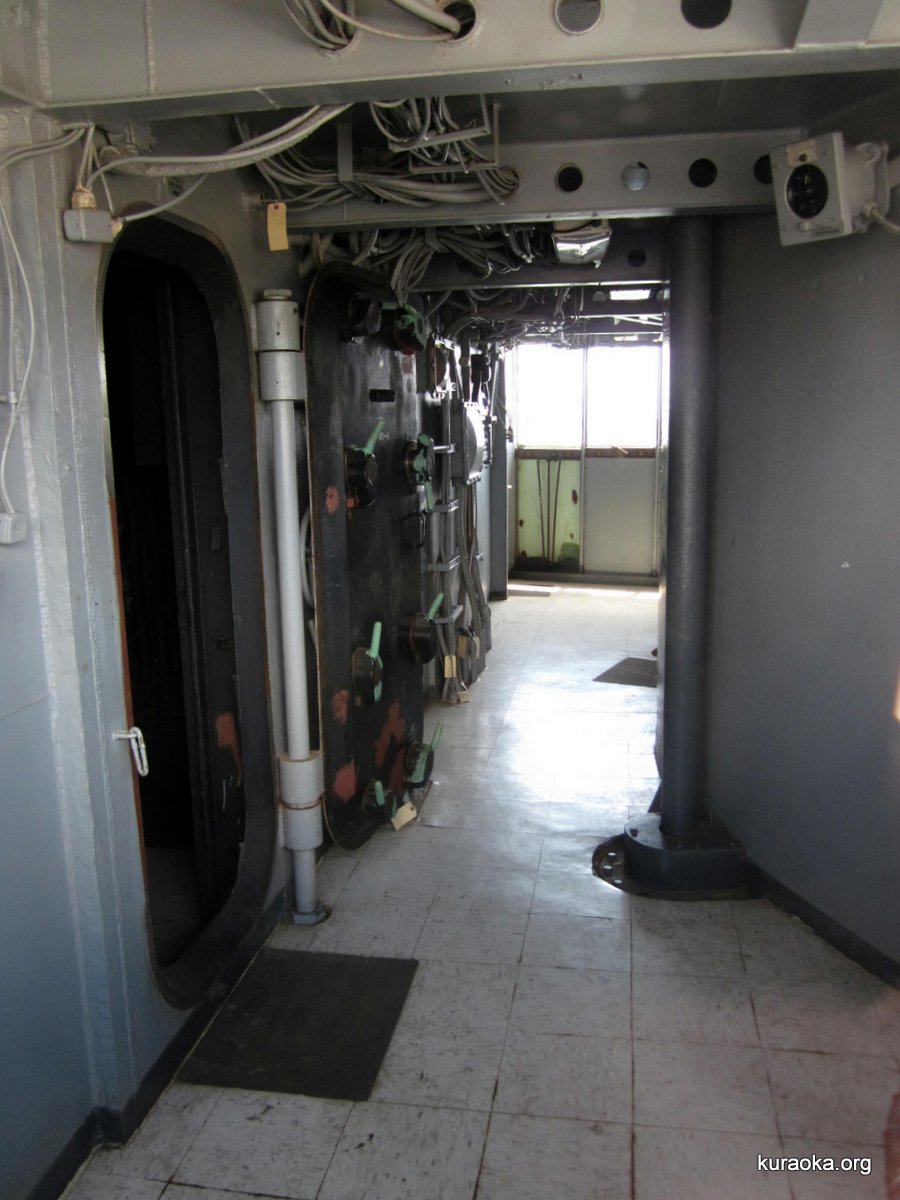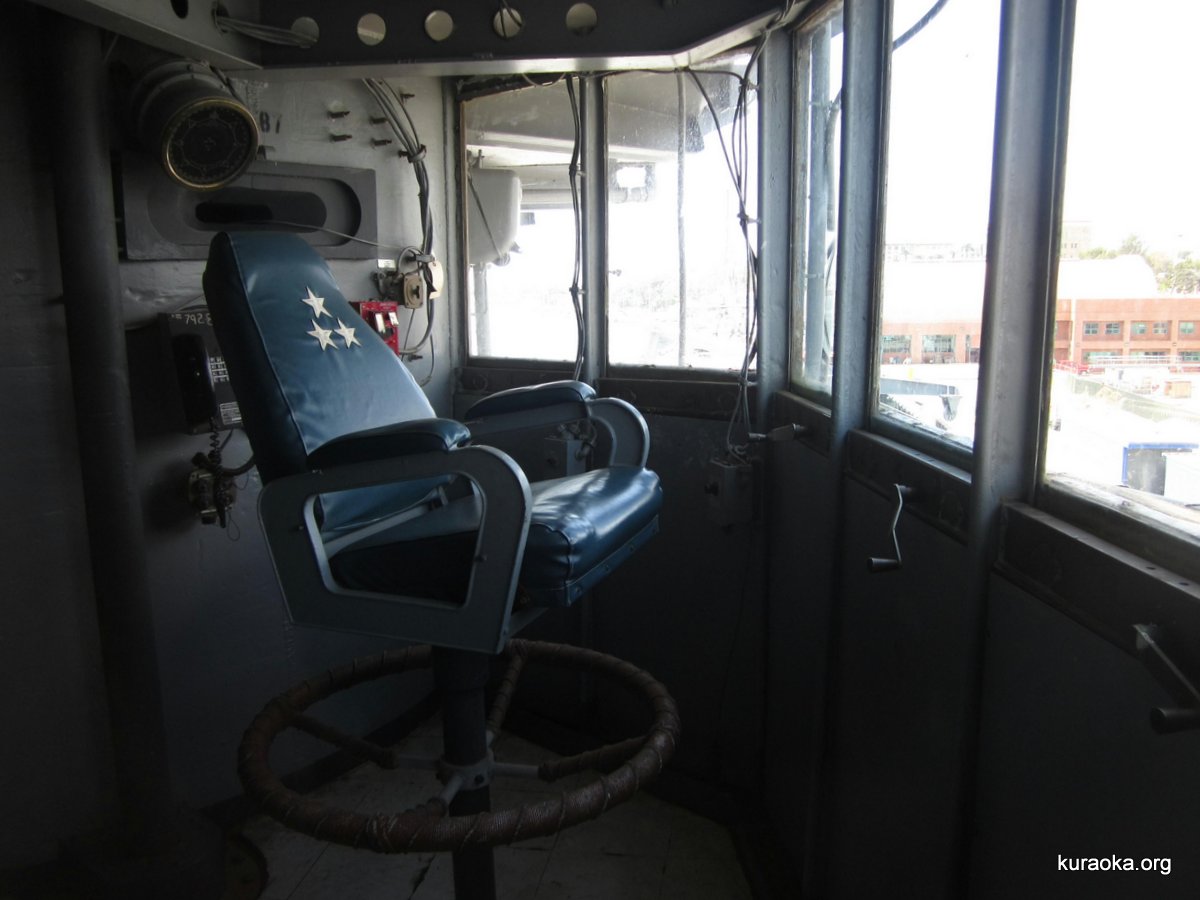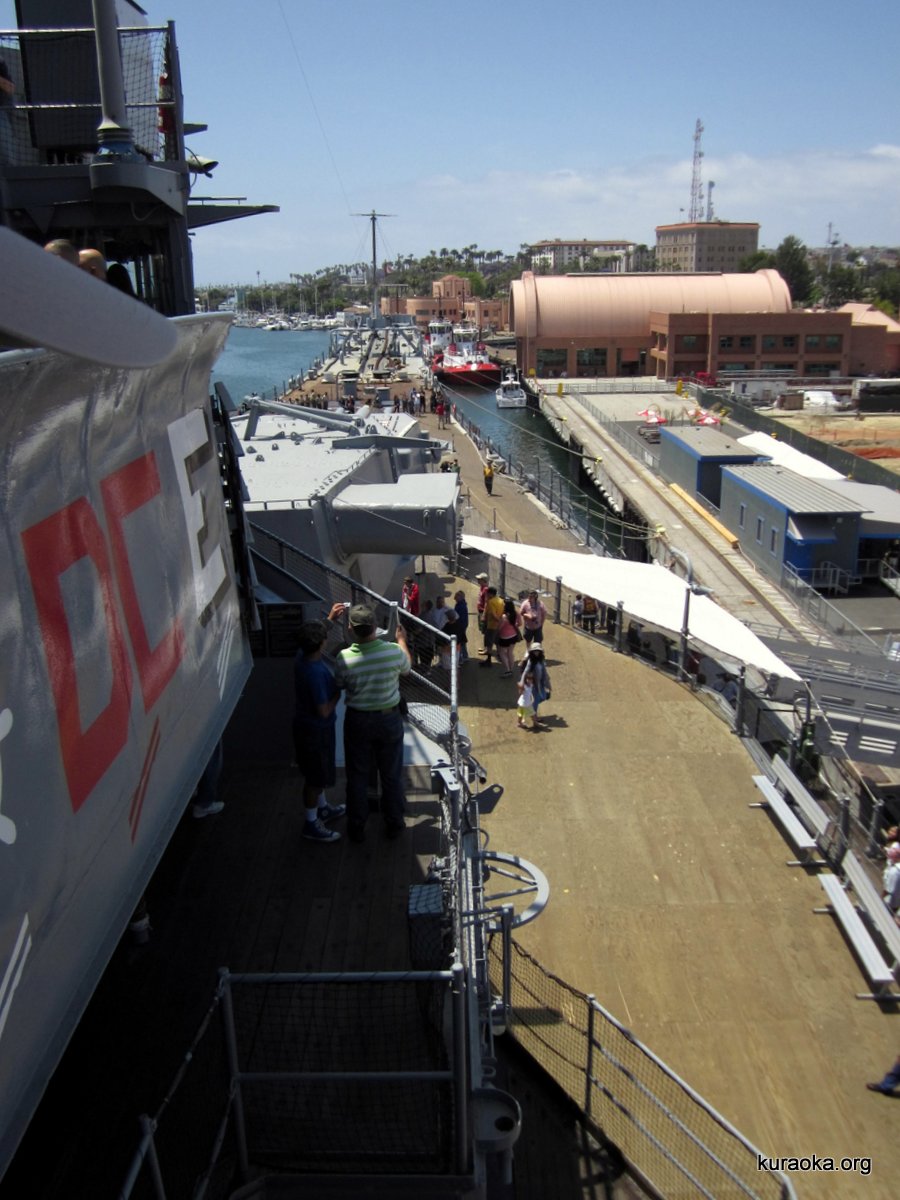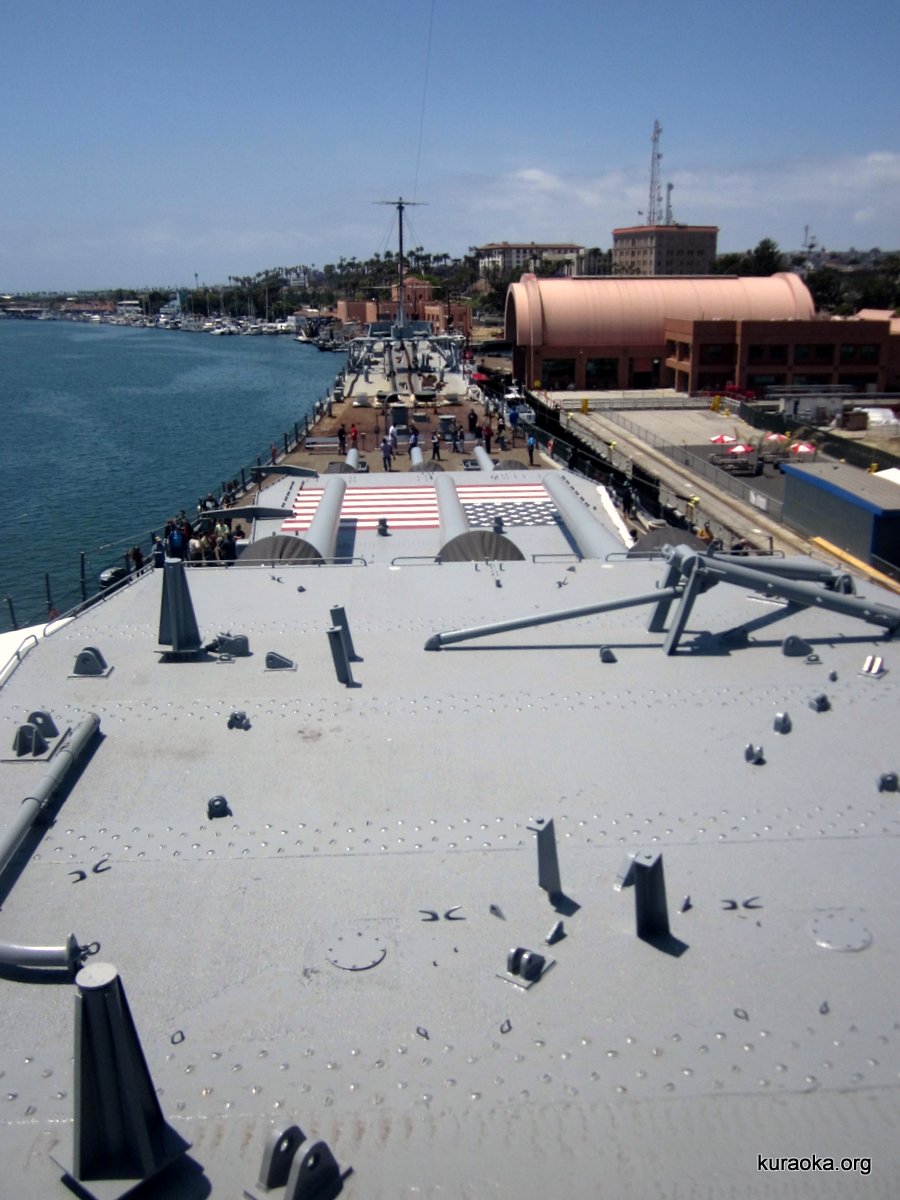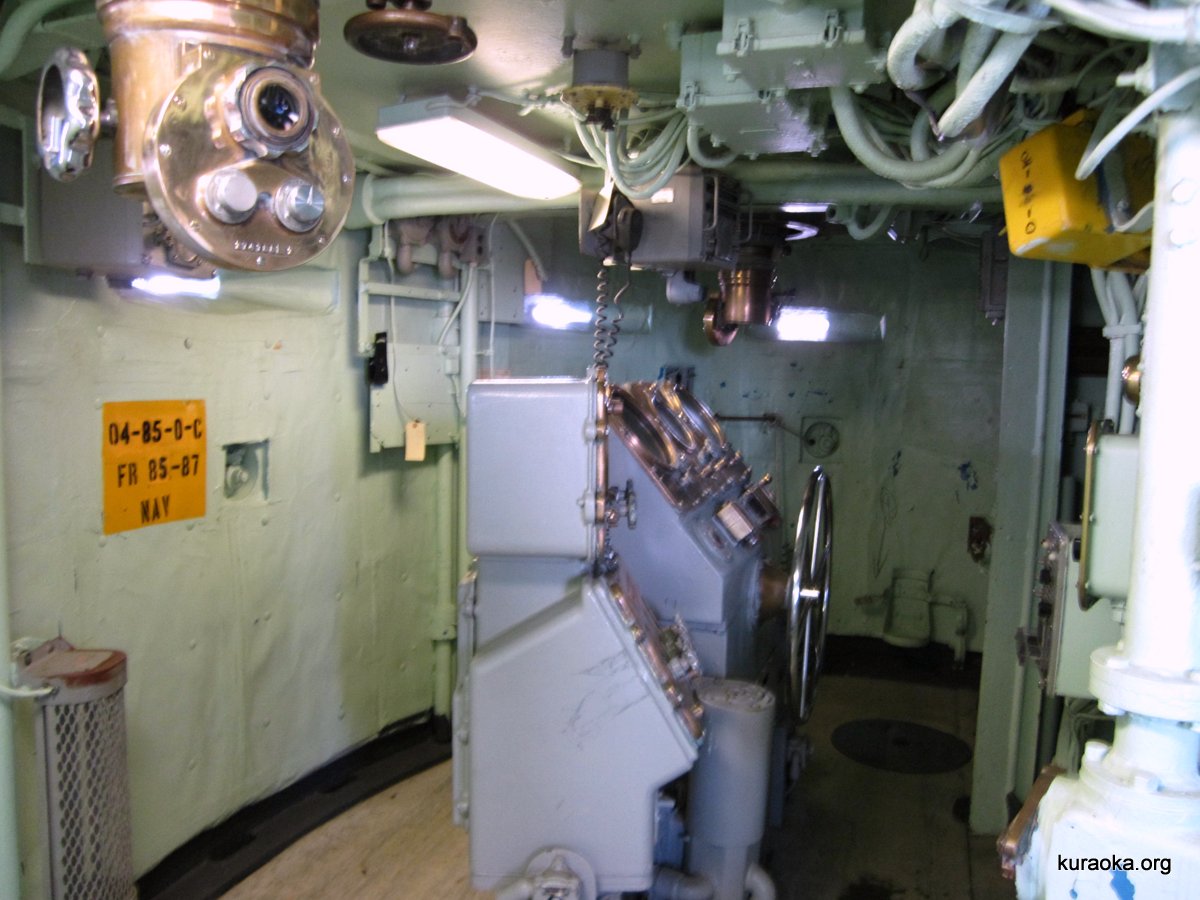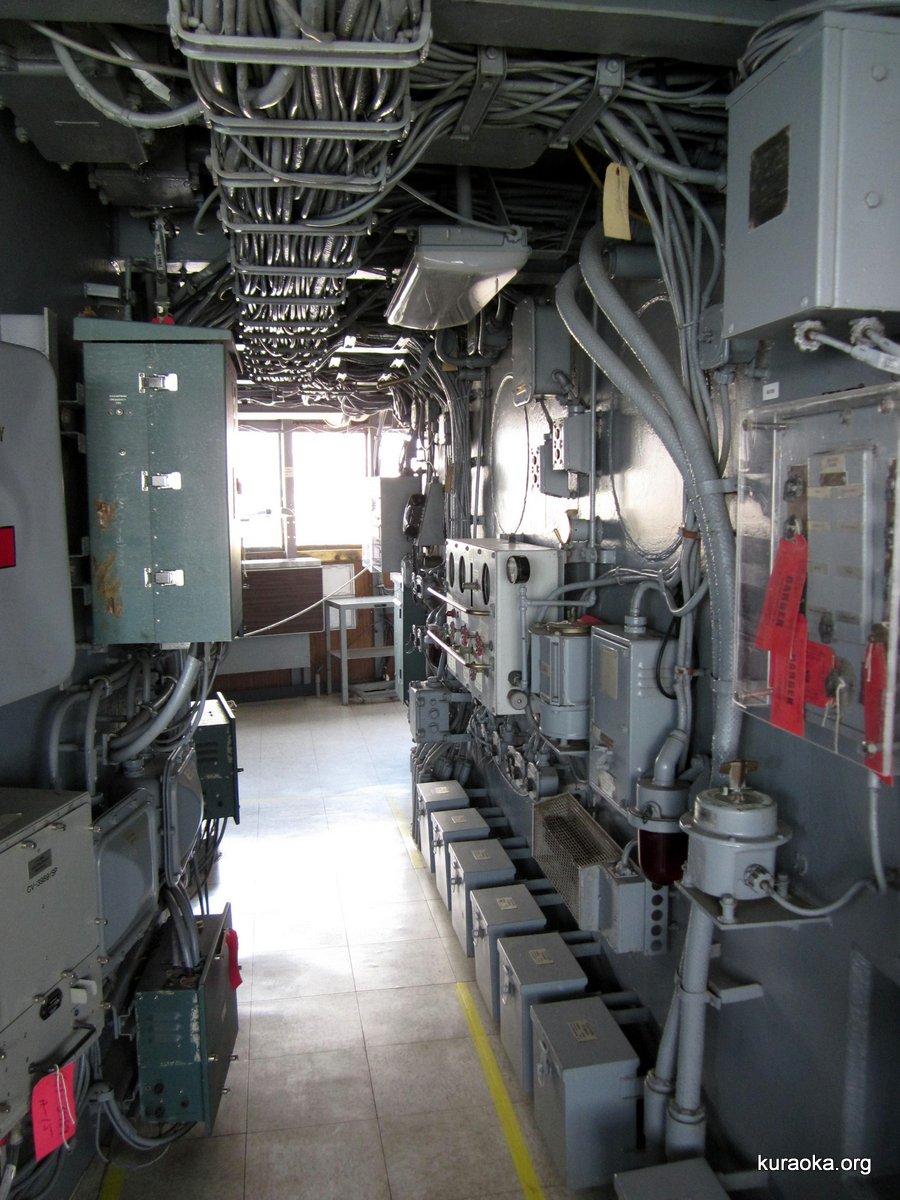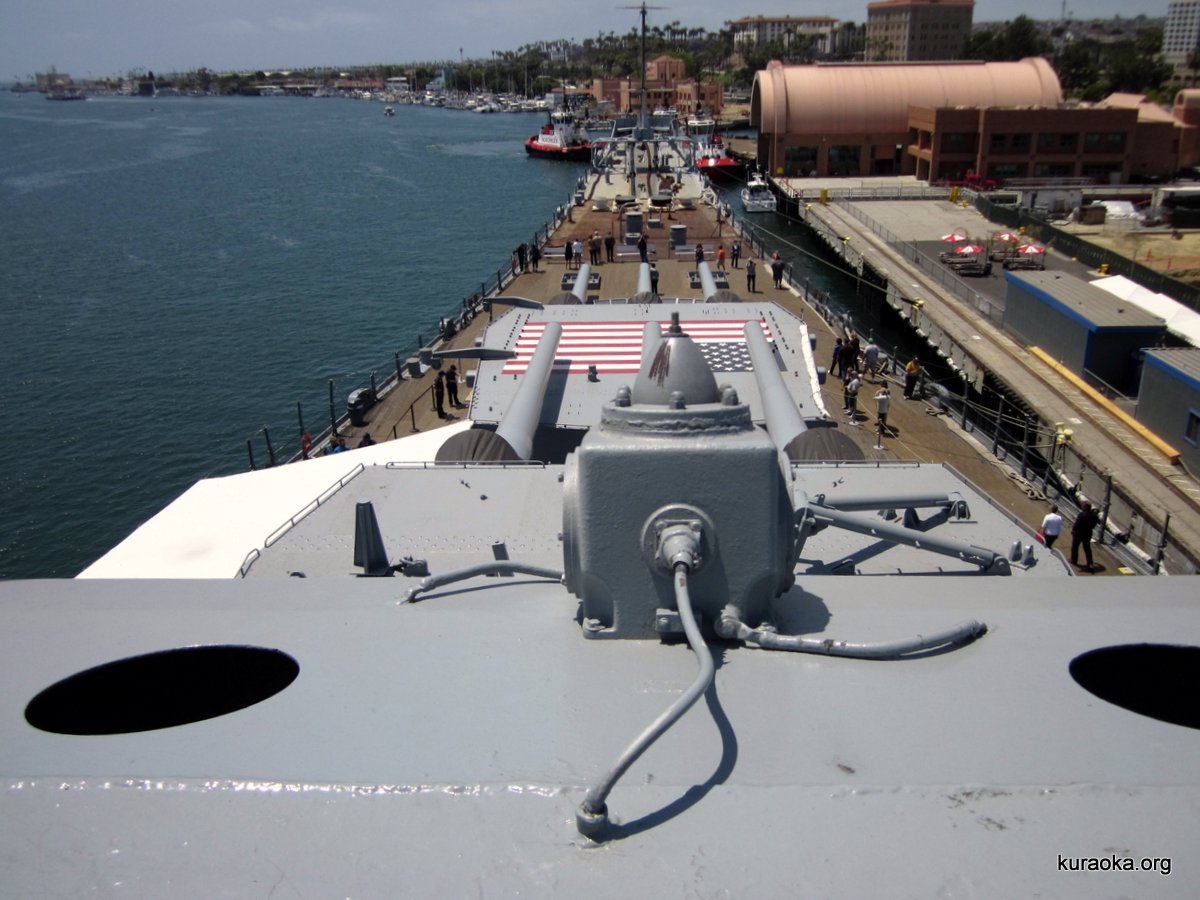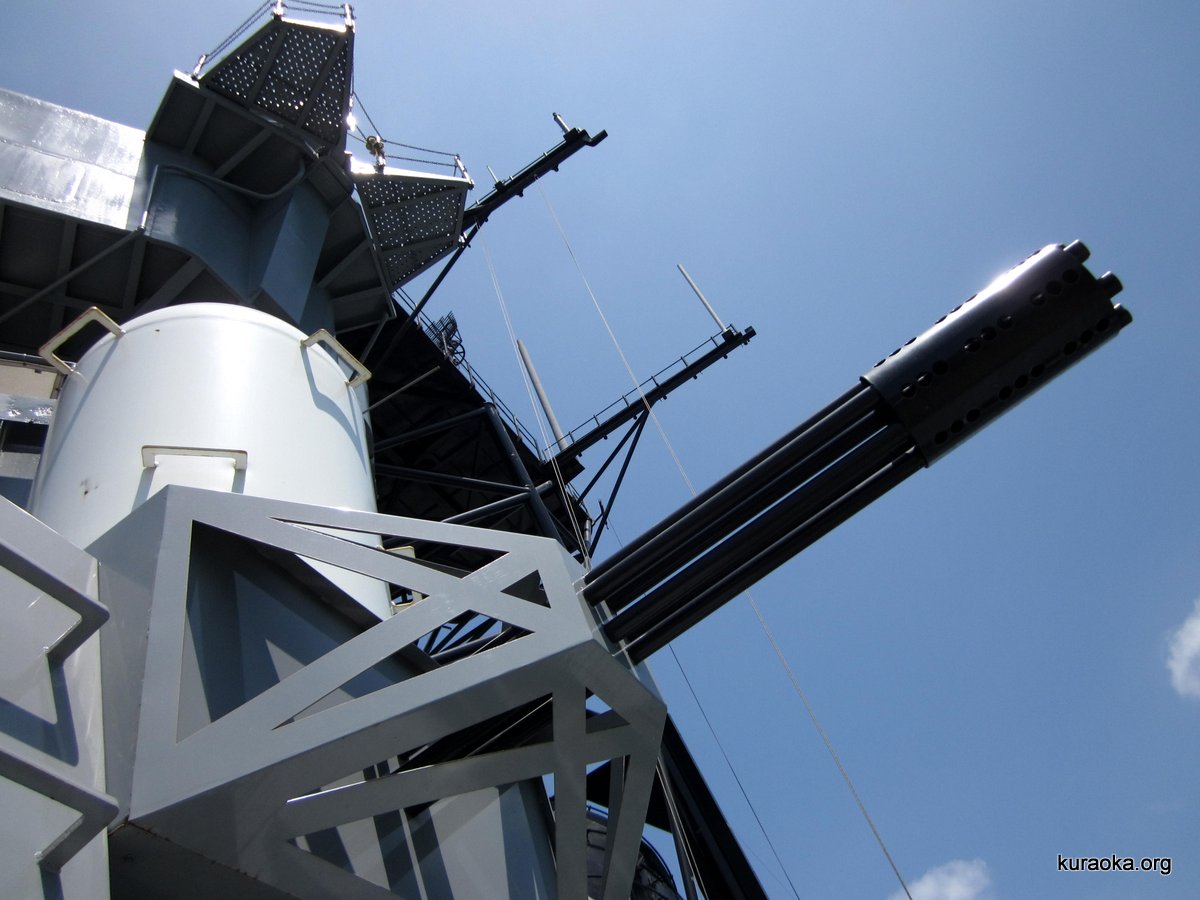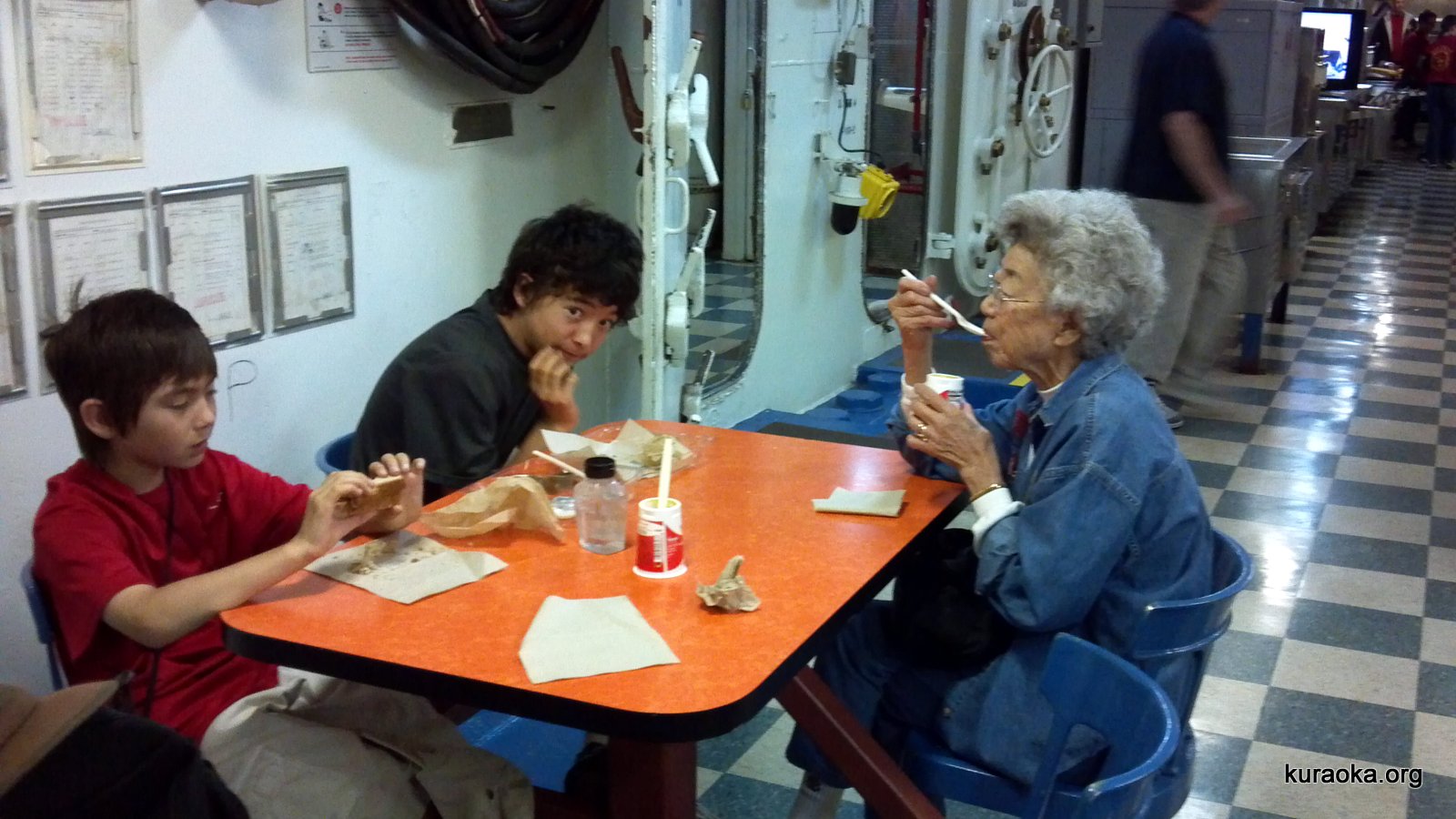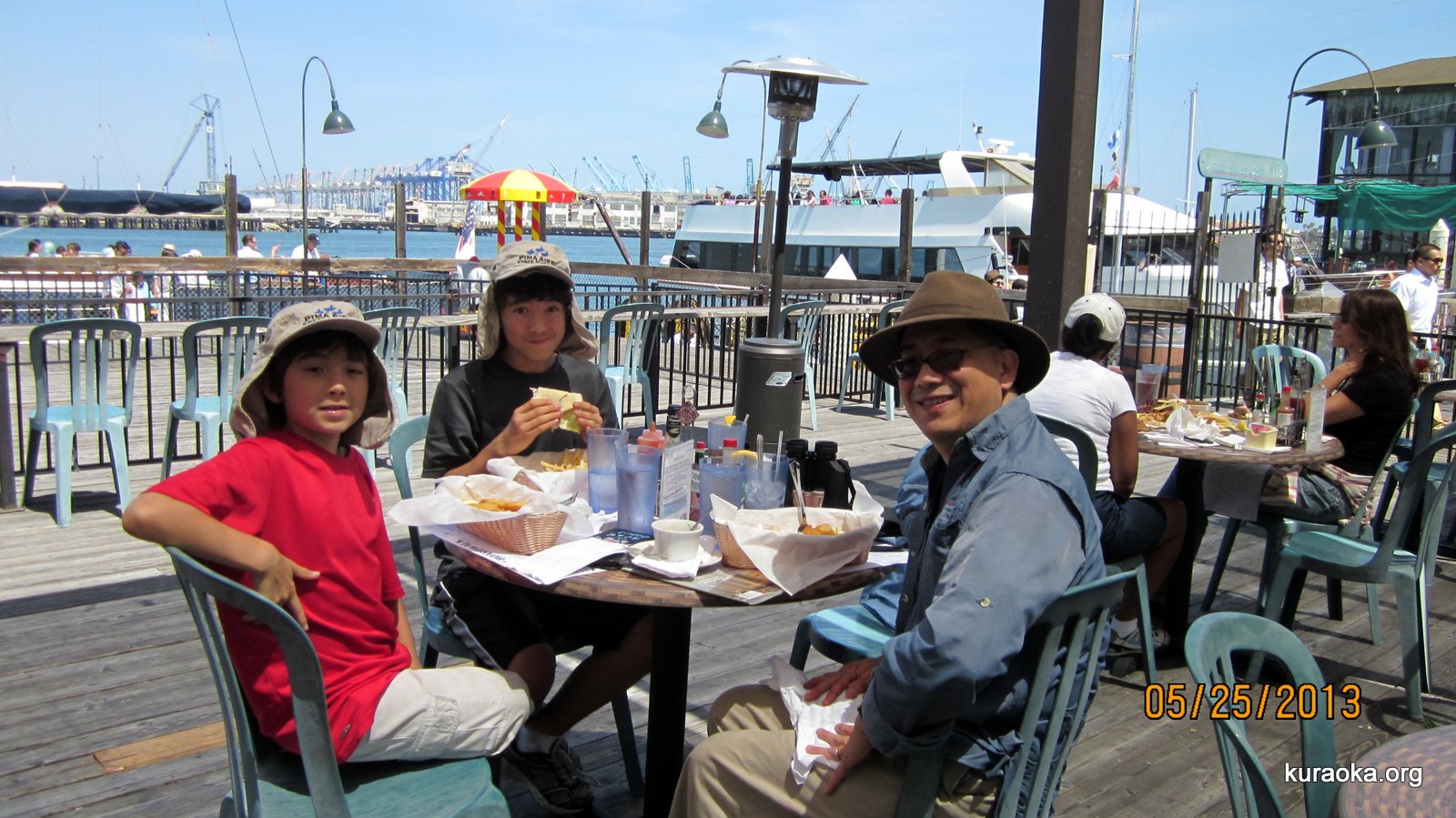 05-24-13: Leo is a "tacky tourist." It was "Tacky Tourist Day" for Hearst Elementary fifth-graders. Here's Leo!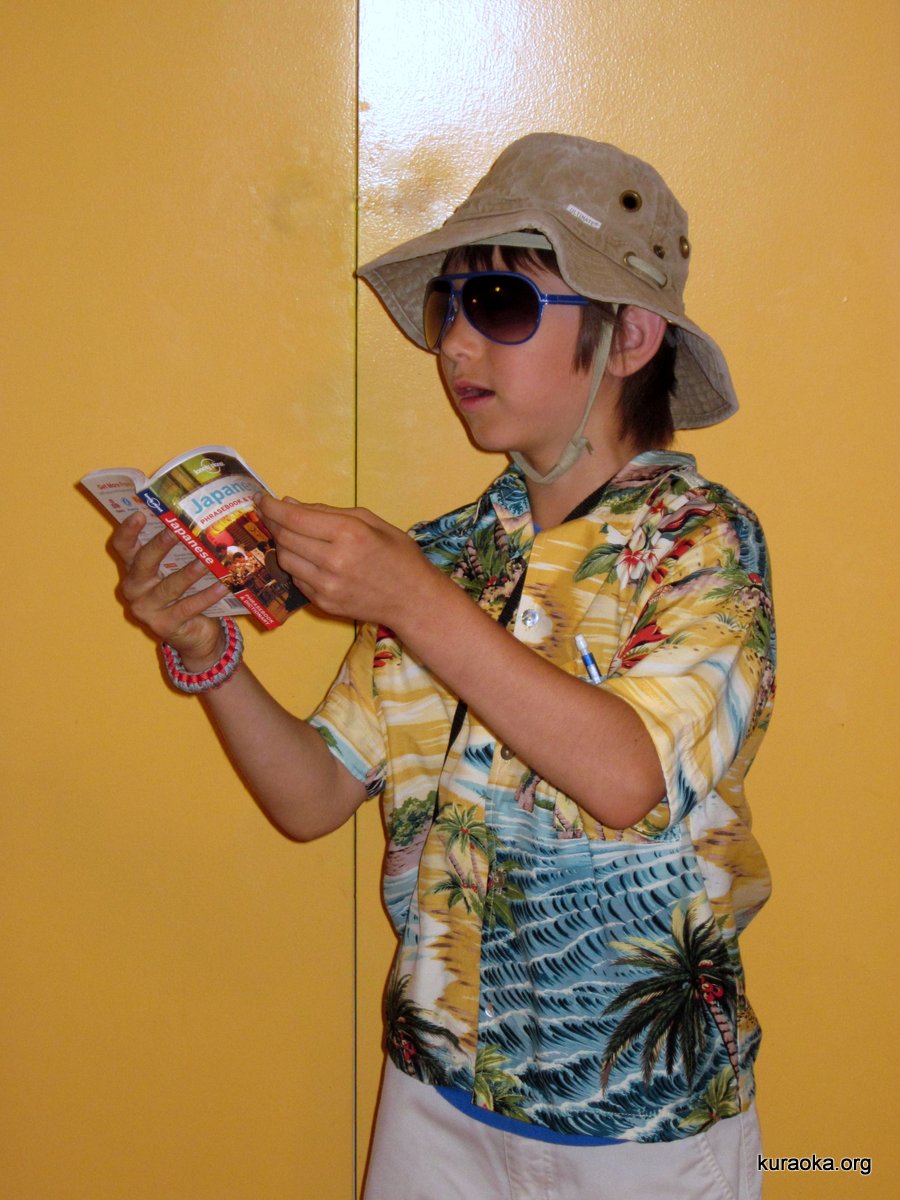 05-23-13: Roy takes his bow. Here's Roy walking across the stage with the tech crew in Pershing Middle School's production of Bye Bye Birdie.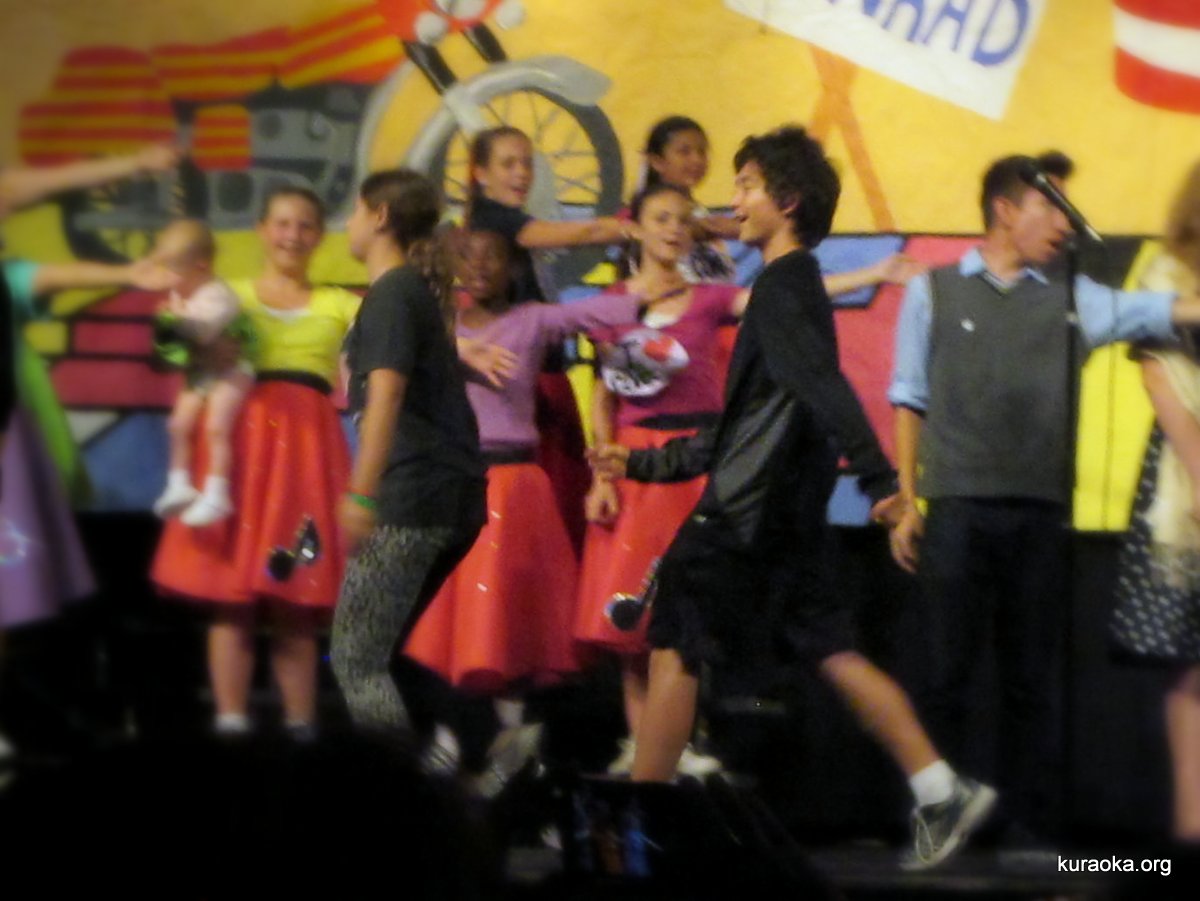 05-22-13: Our new stop sign! Maybe this will make crossing the street en route to school safer for neighborhood kids, including ours. You can see the second sign on the other side of the street was still being installed; the rectangular sign was a posted notice that the stop signs were coming.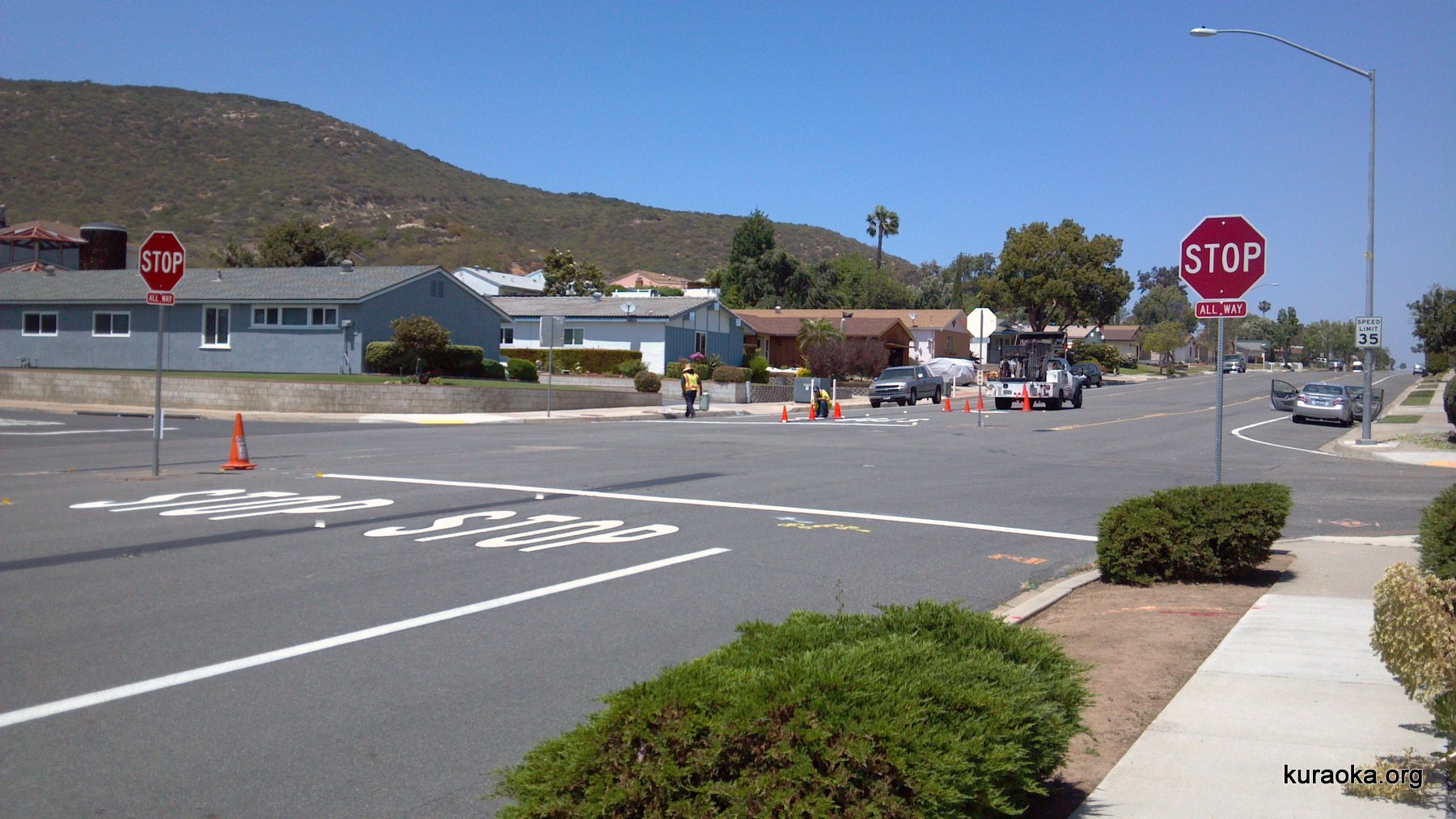 05-18-13 to 05-19-13: Leo's first backpacking trip! Here's Leo on his first Boy Scout backpacking trip to Granite Springs. Roy was there too, but he must've successfully evaded the photographer.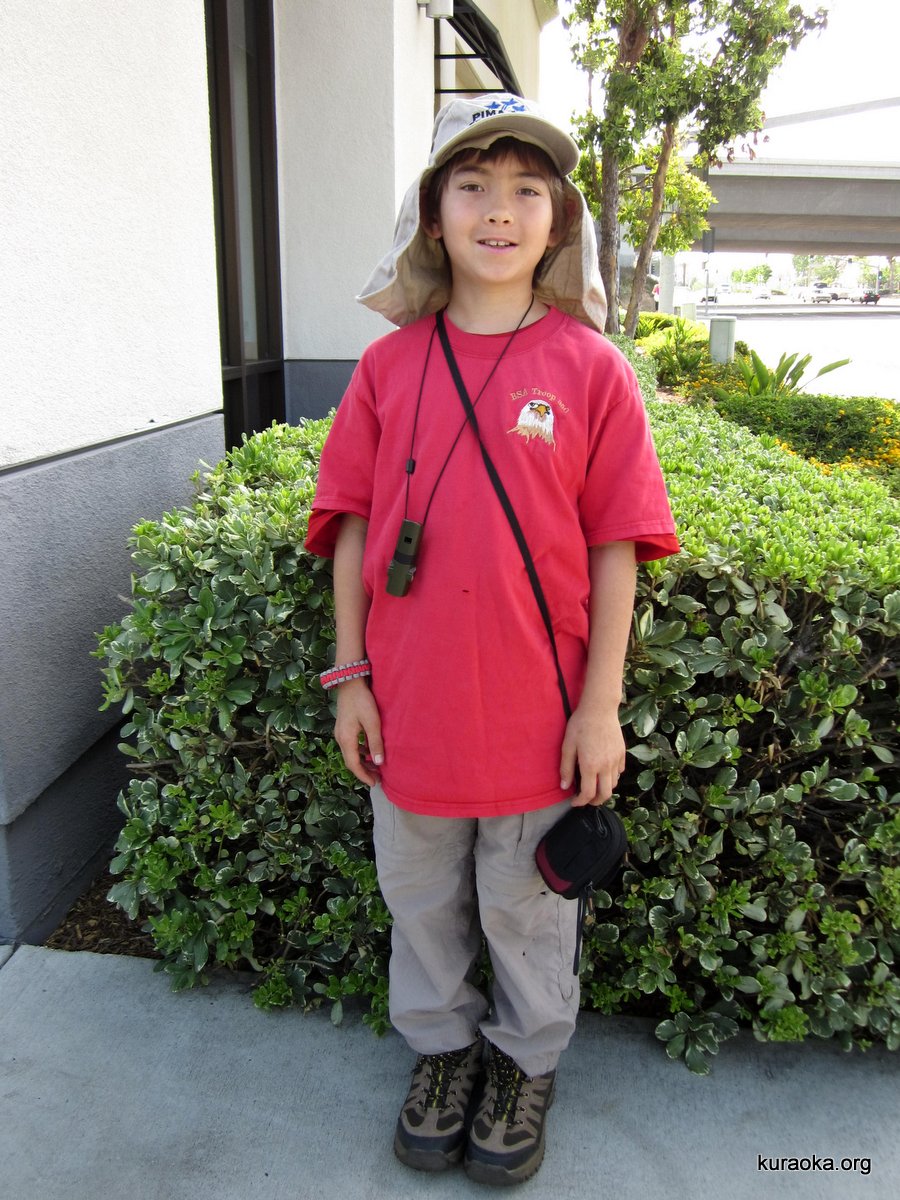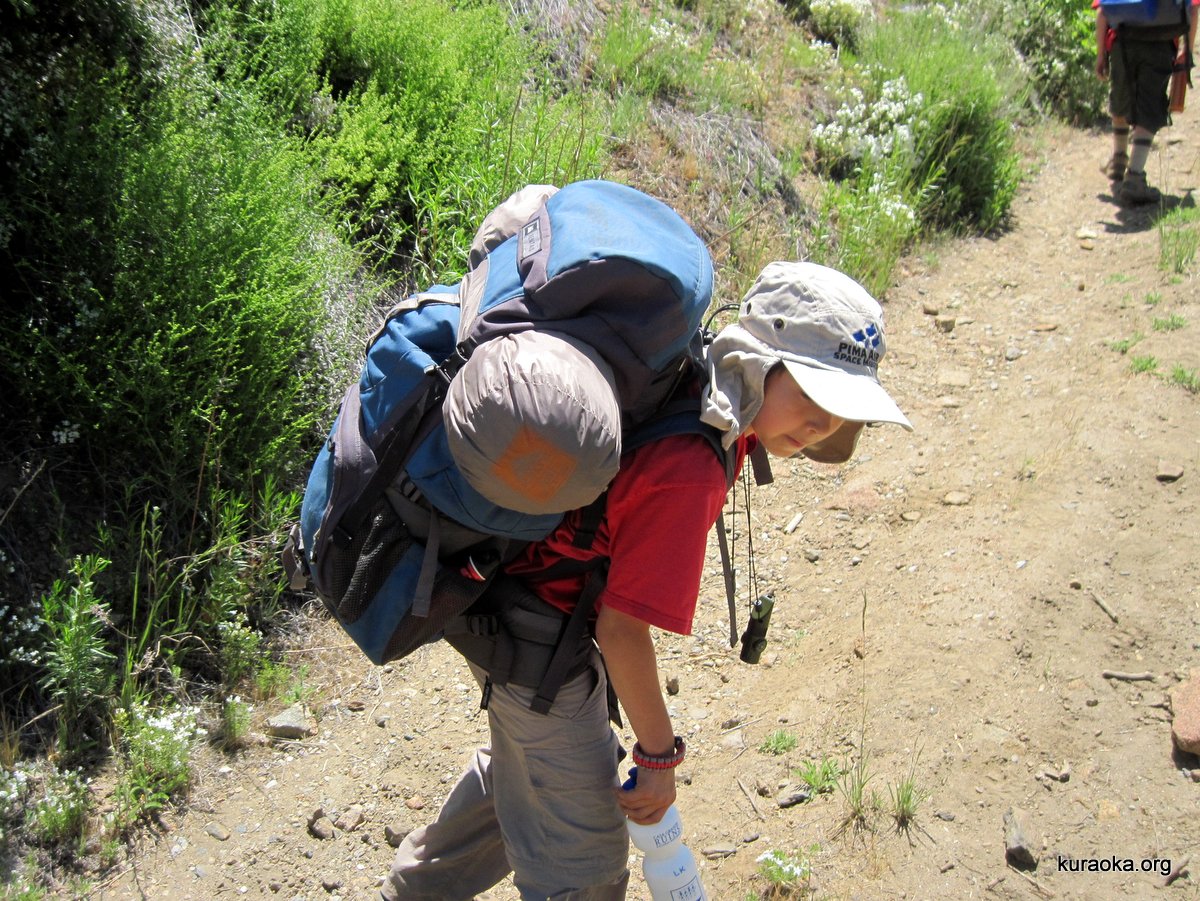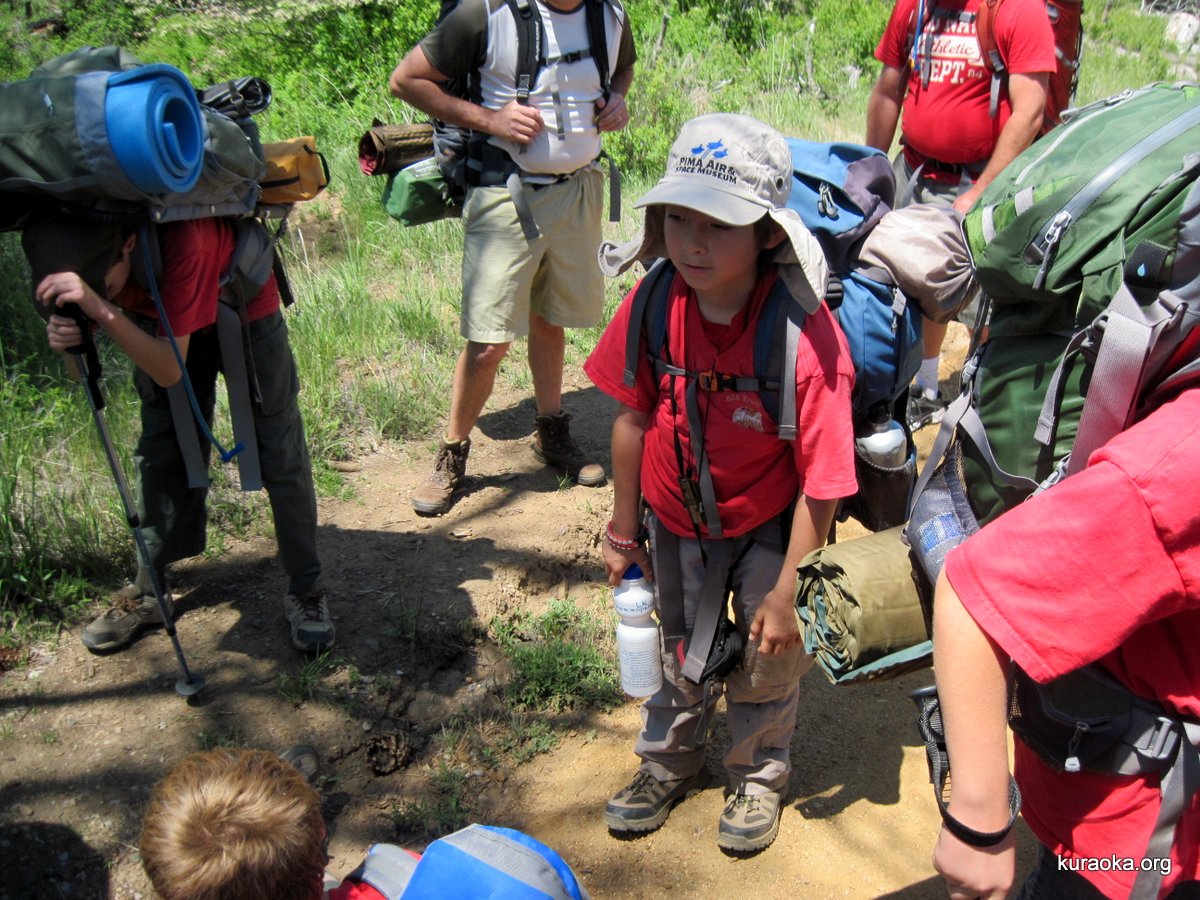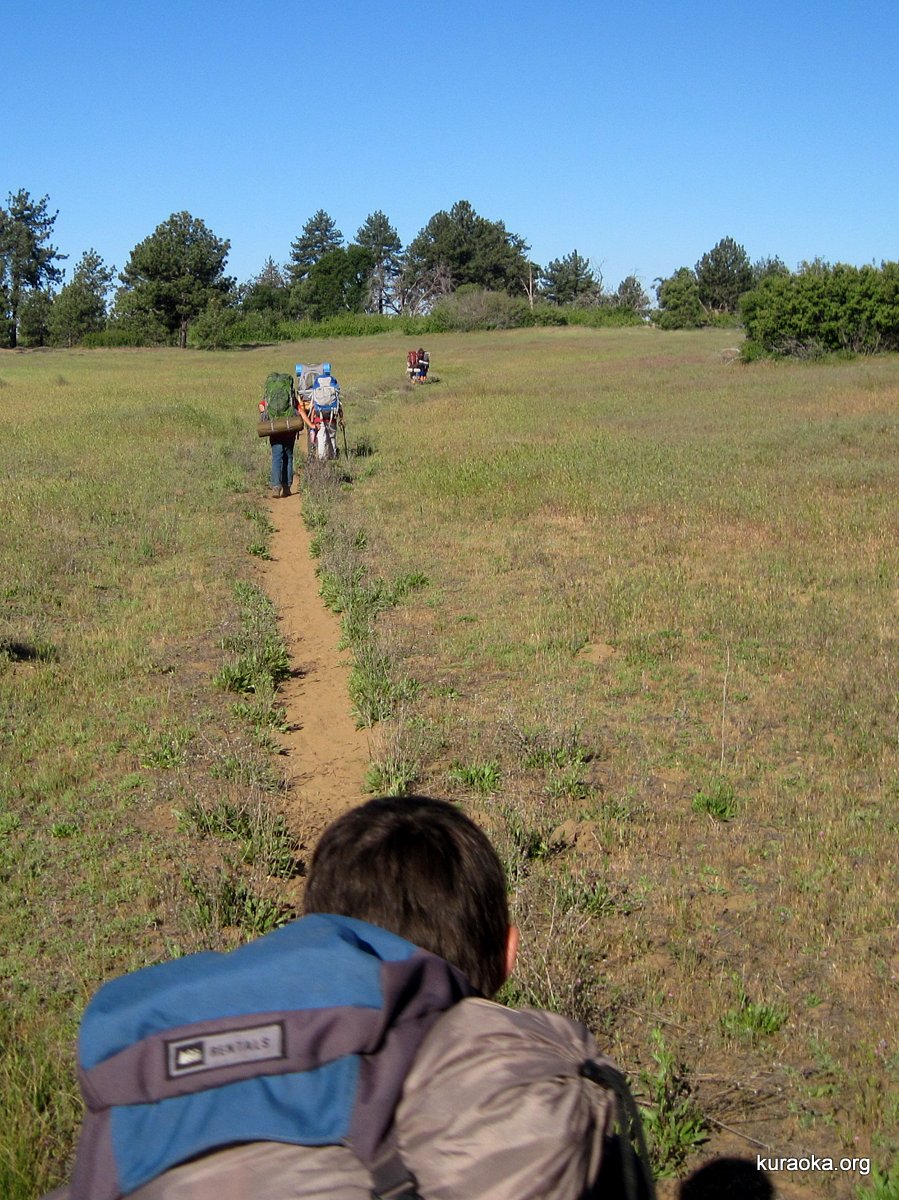 05-12-13: Leo's horse sculpture. Here's Leo and the horse bust he made with some re-moldable claymation clay.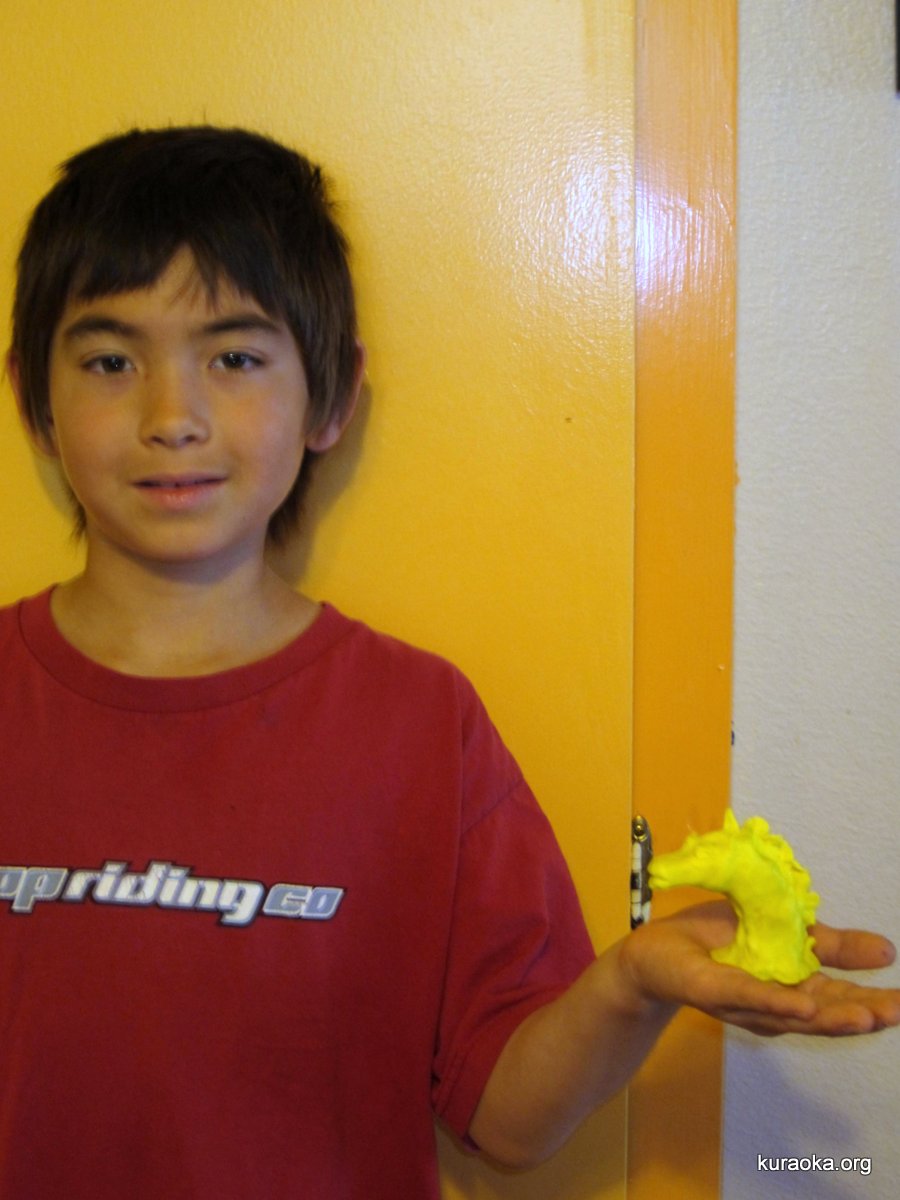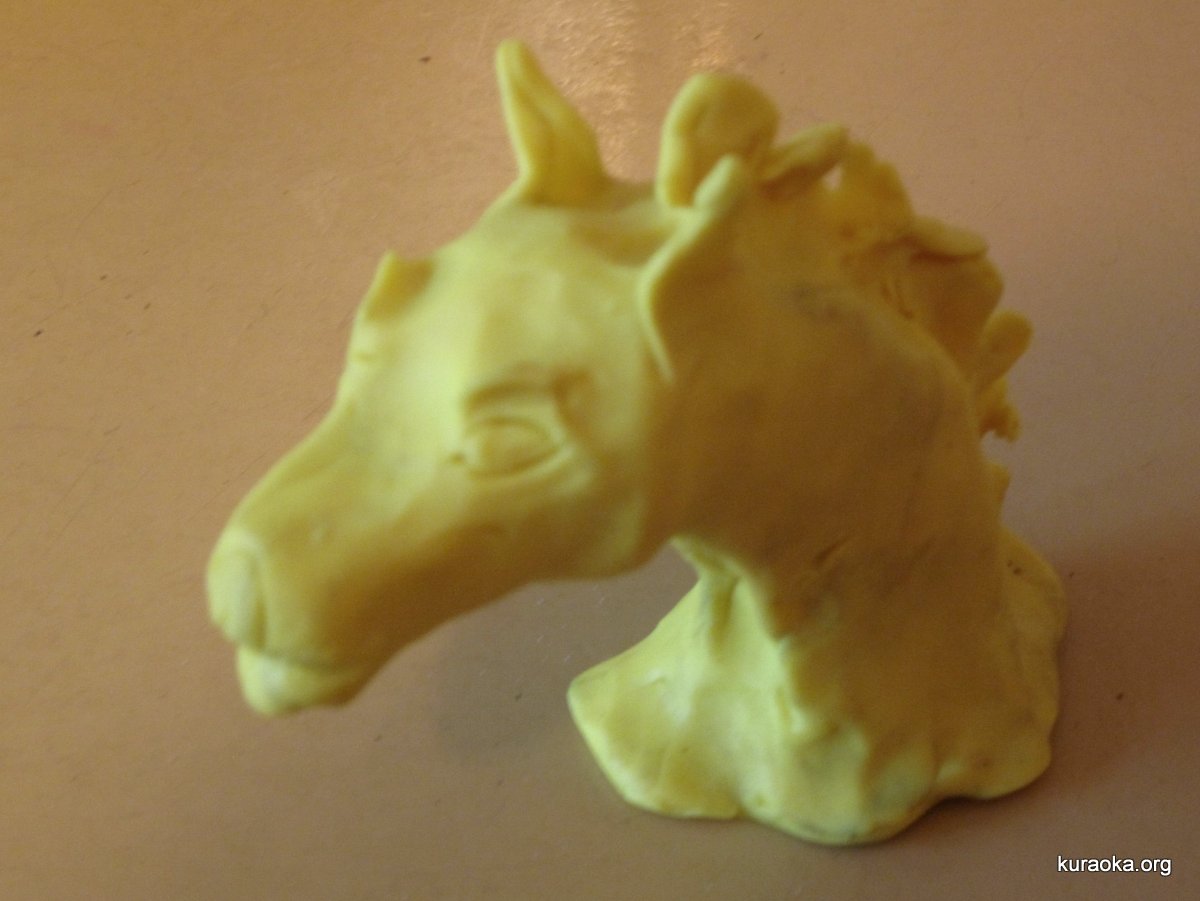 04-27-13: Two Grandmothers! Barbara and Frances pore over plans for Japan.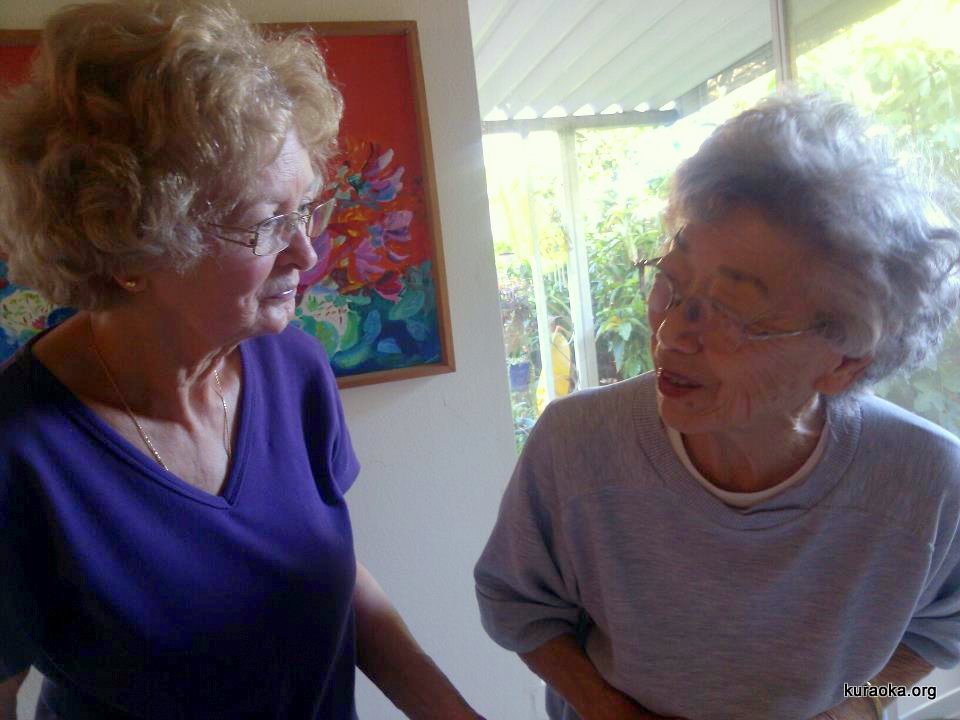 04-26-13: Leo Dances! Hearst Elementary has an EduDance program for its fifth-graders. Here's Leo dancing with his partner at the dance showcase! He danced five dances: the waltz, merengue, tango, swing, and rumba!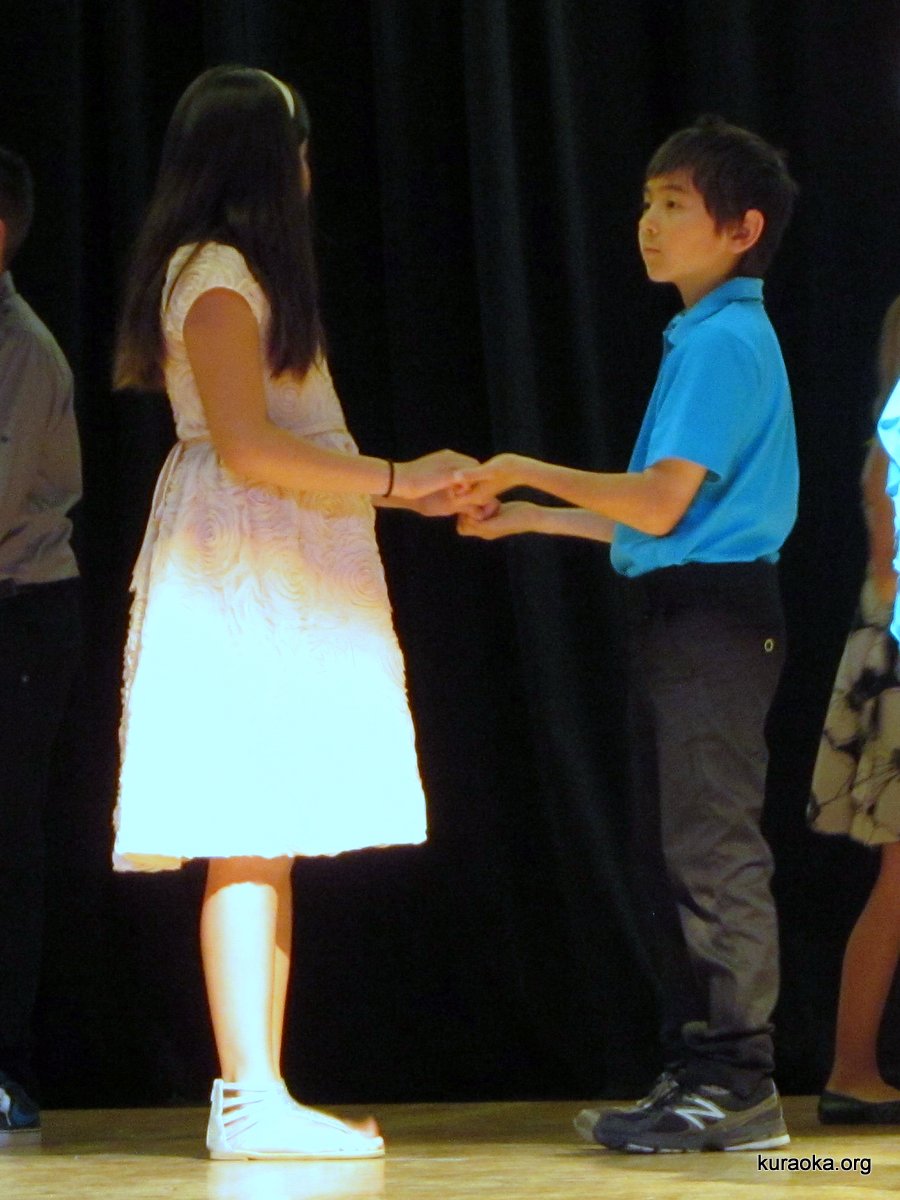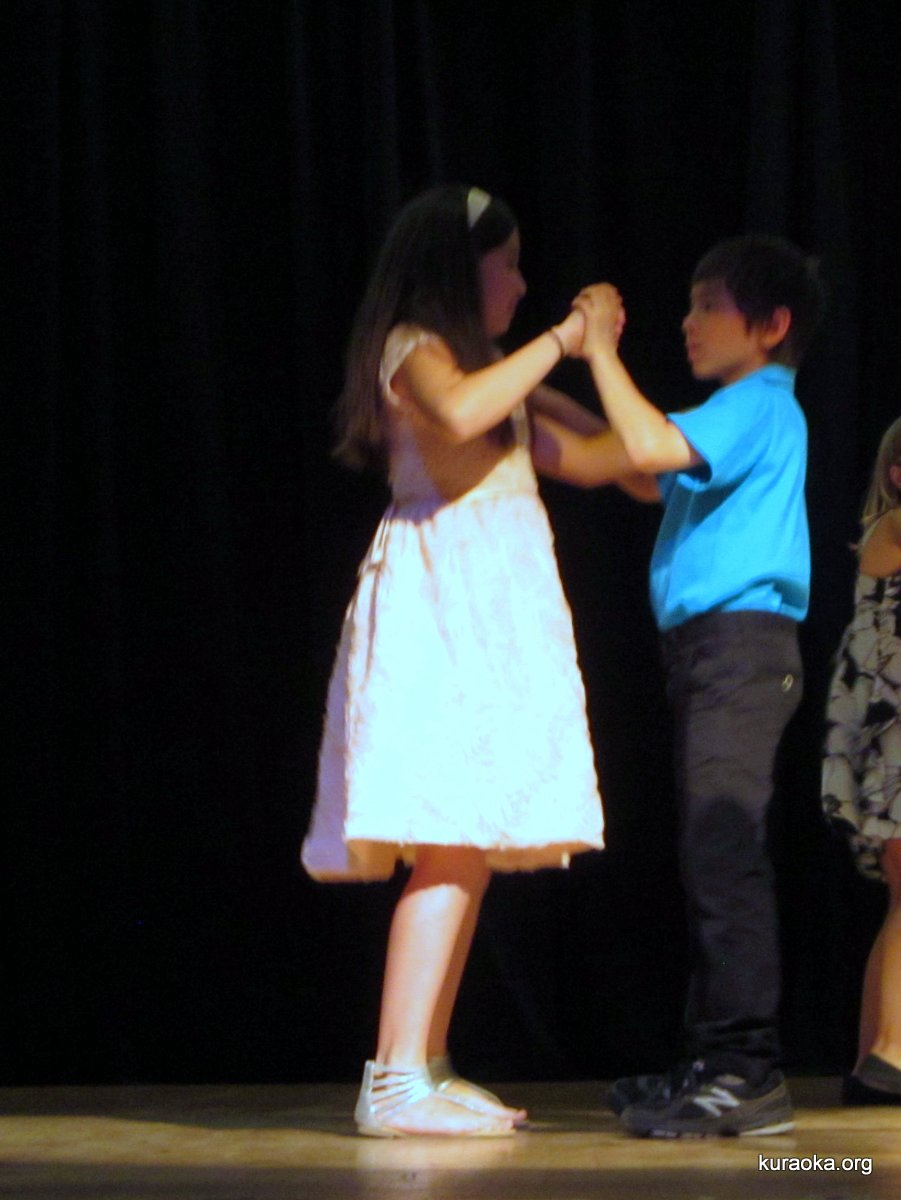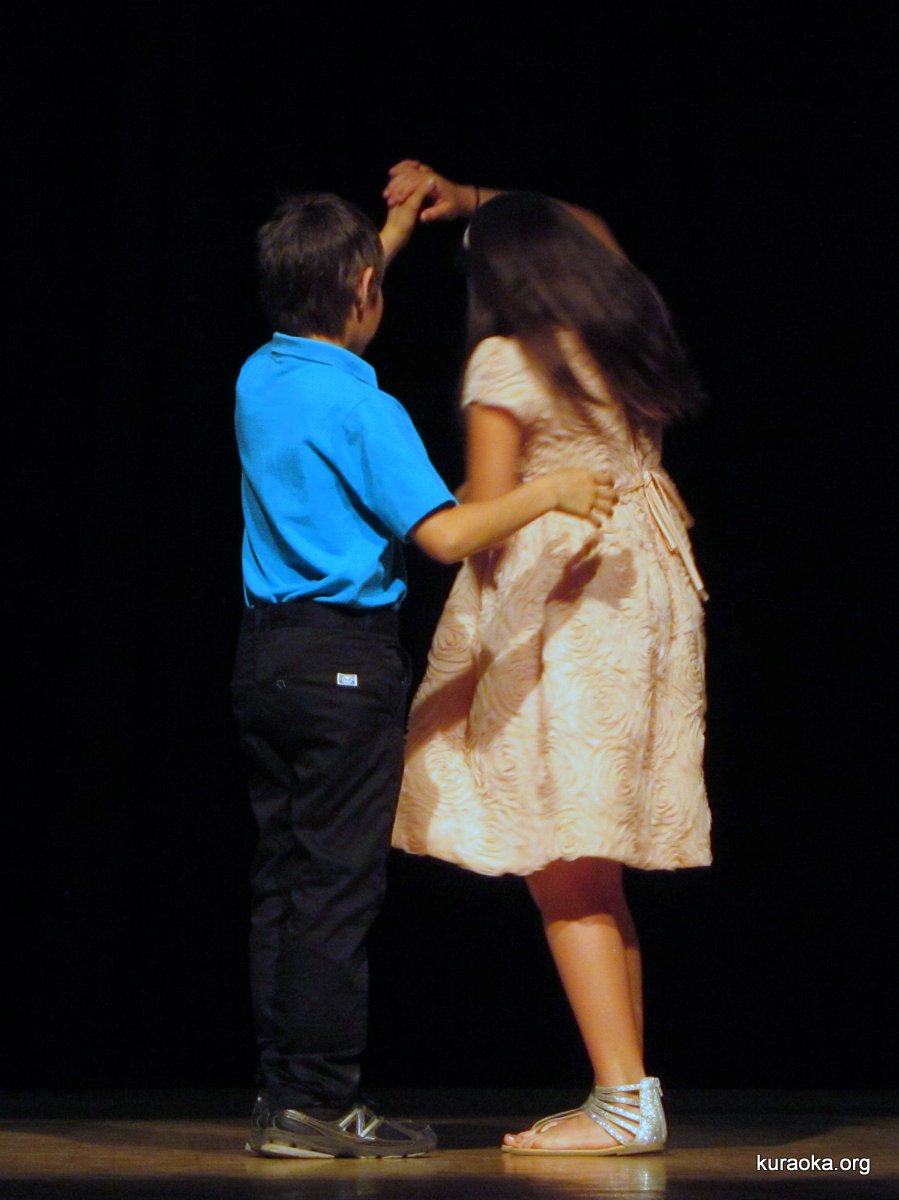 04-21-13: HAPPY BIRTHDAYS! We celebrated Barbara's and Ondine's birthdays with lunch at Native Foods in Encinitas and an ice cream cake from Baskin-Robbins!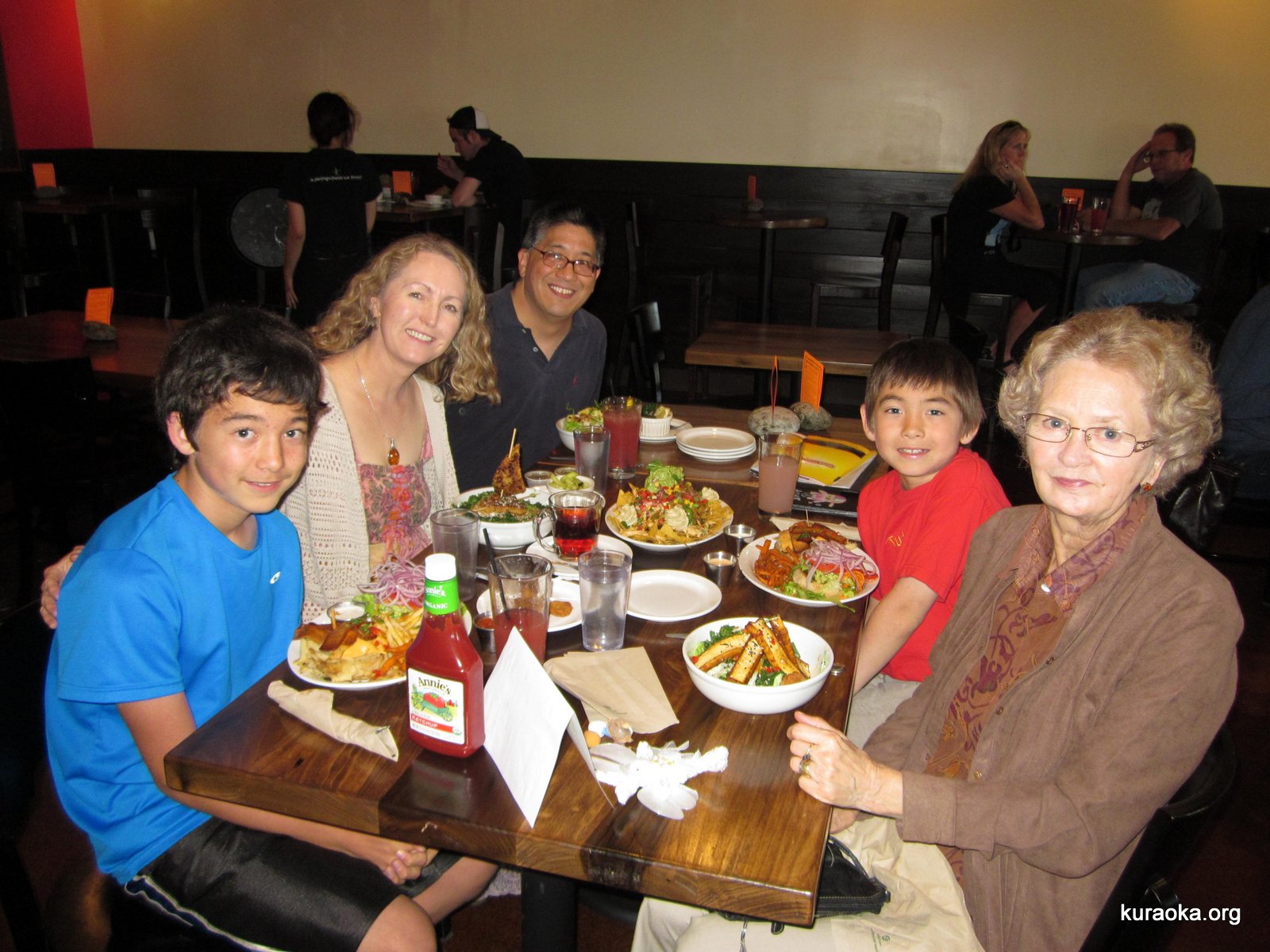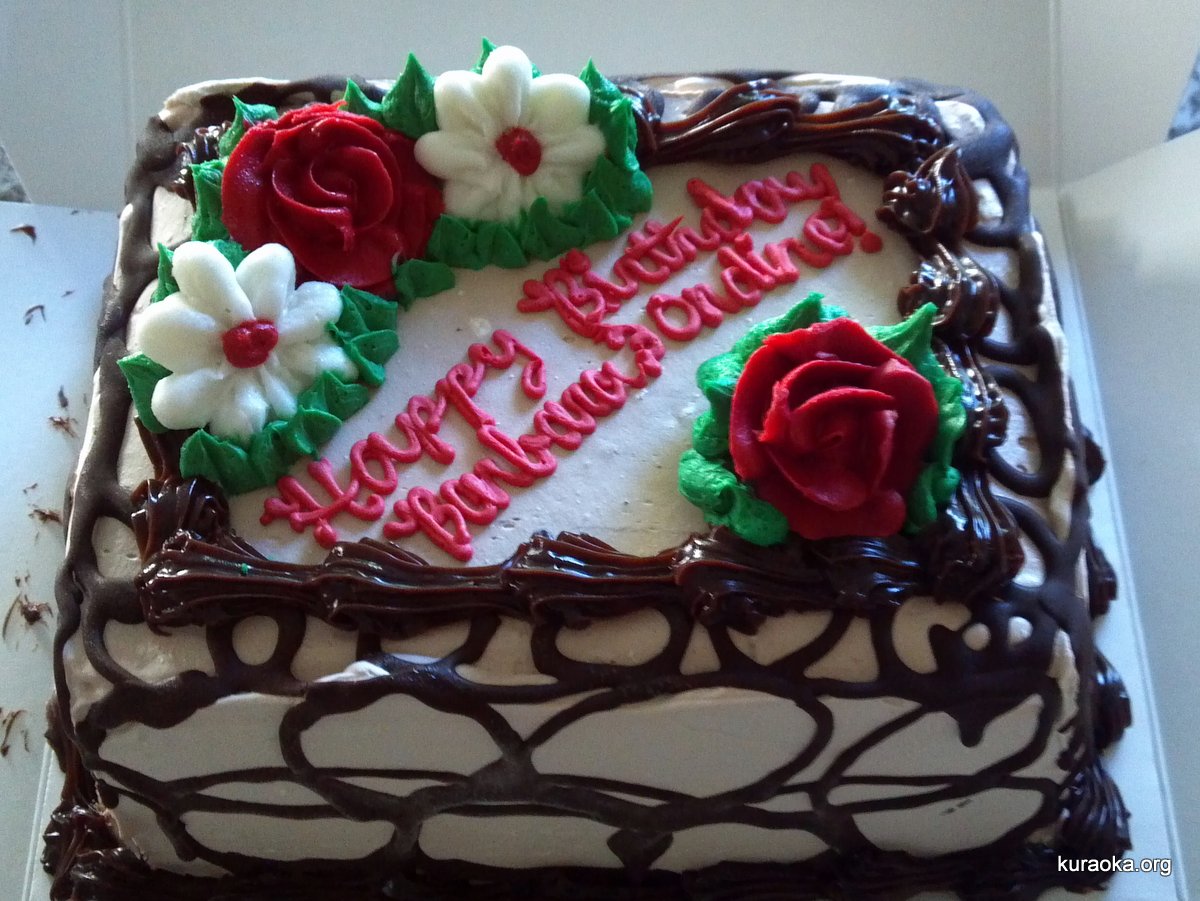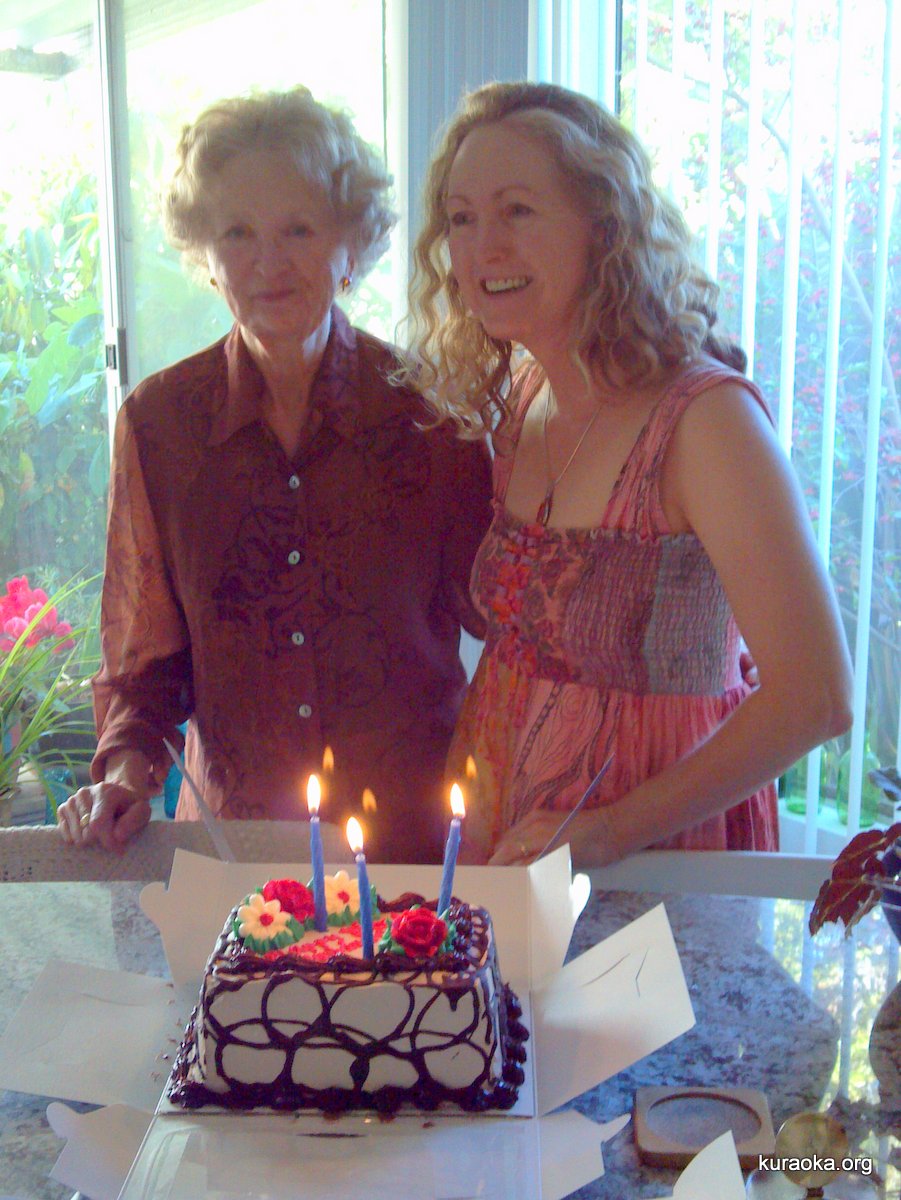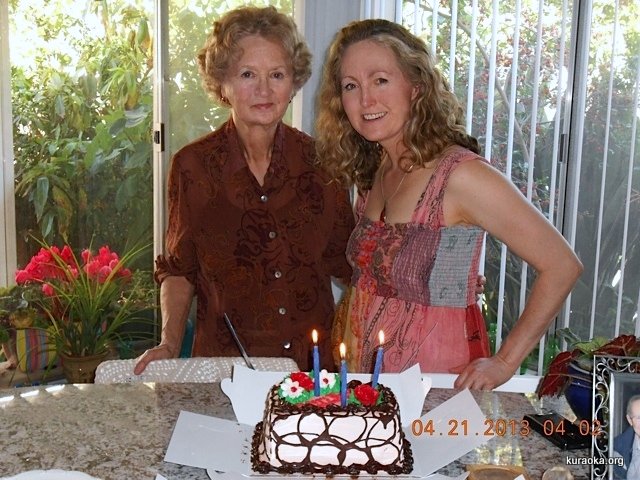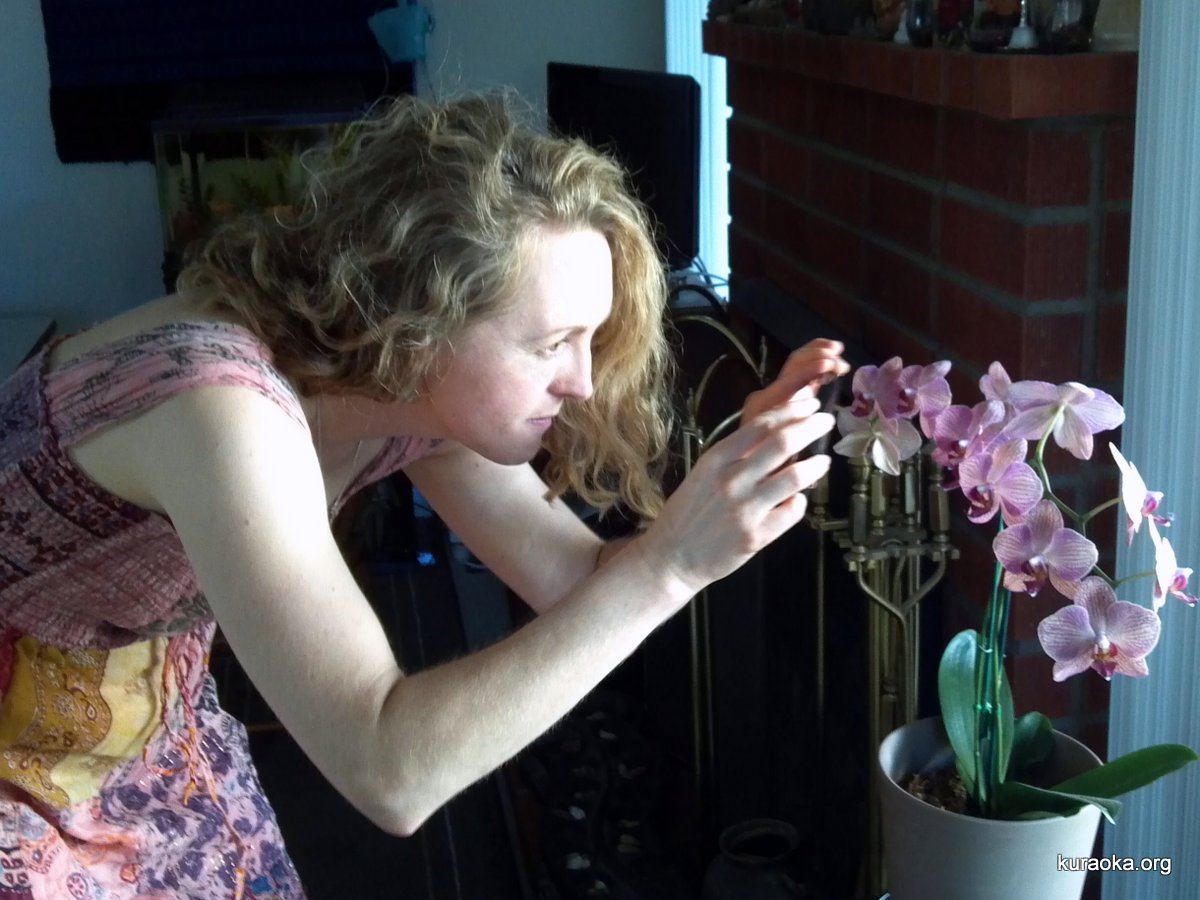 04-14-13: Big Laguna Meadow dayhike! This 10.5-mile hike was Leo's first outing with the Boy Scout troop, and Roy's first hike carrying his new 3,900 cubic inch backpack! Leo took the photos of the nut storage tree and meadow.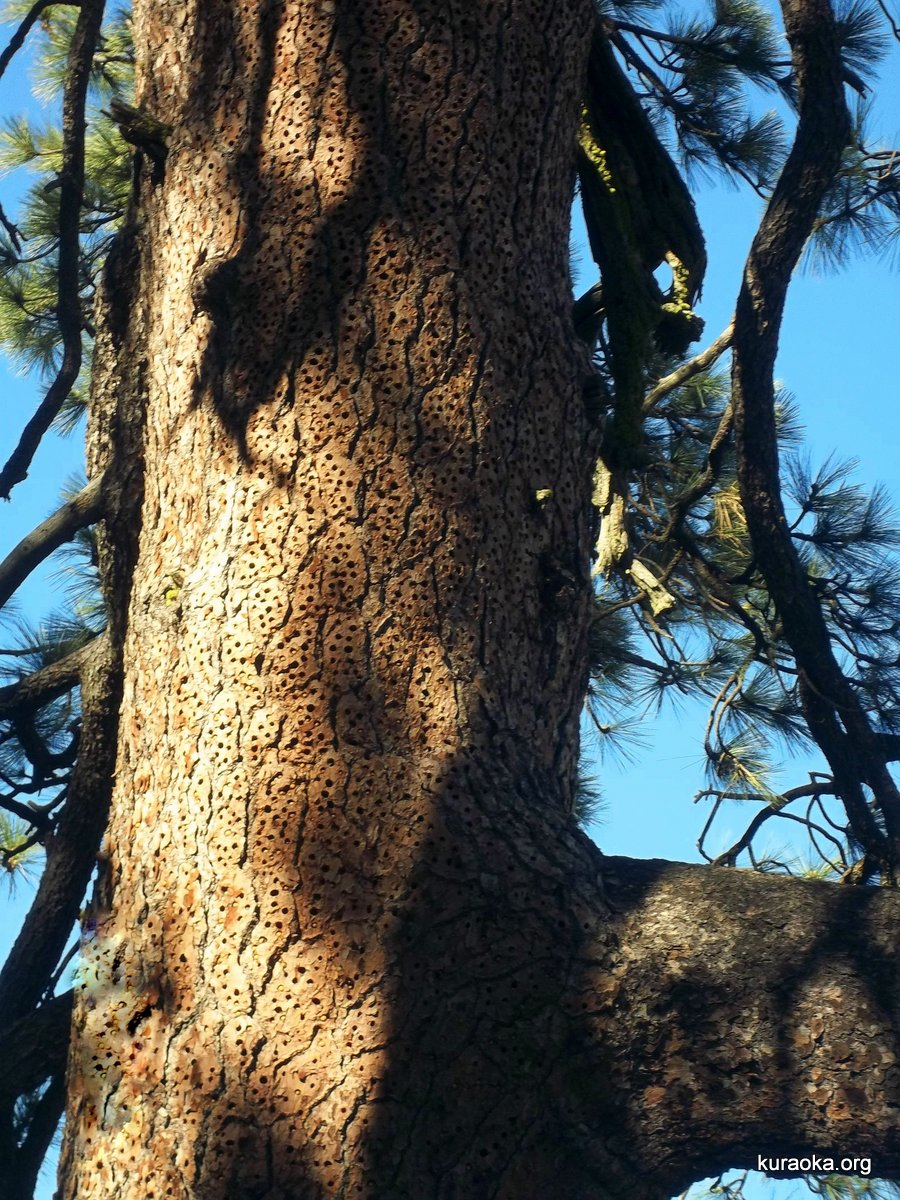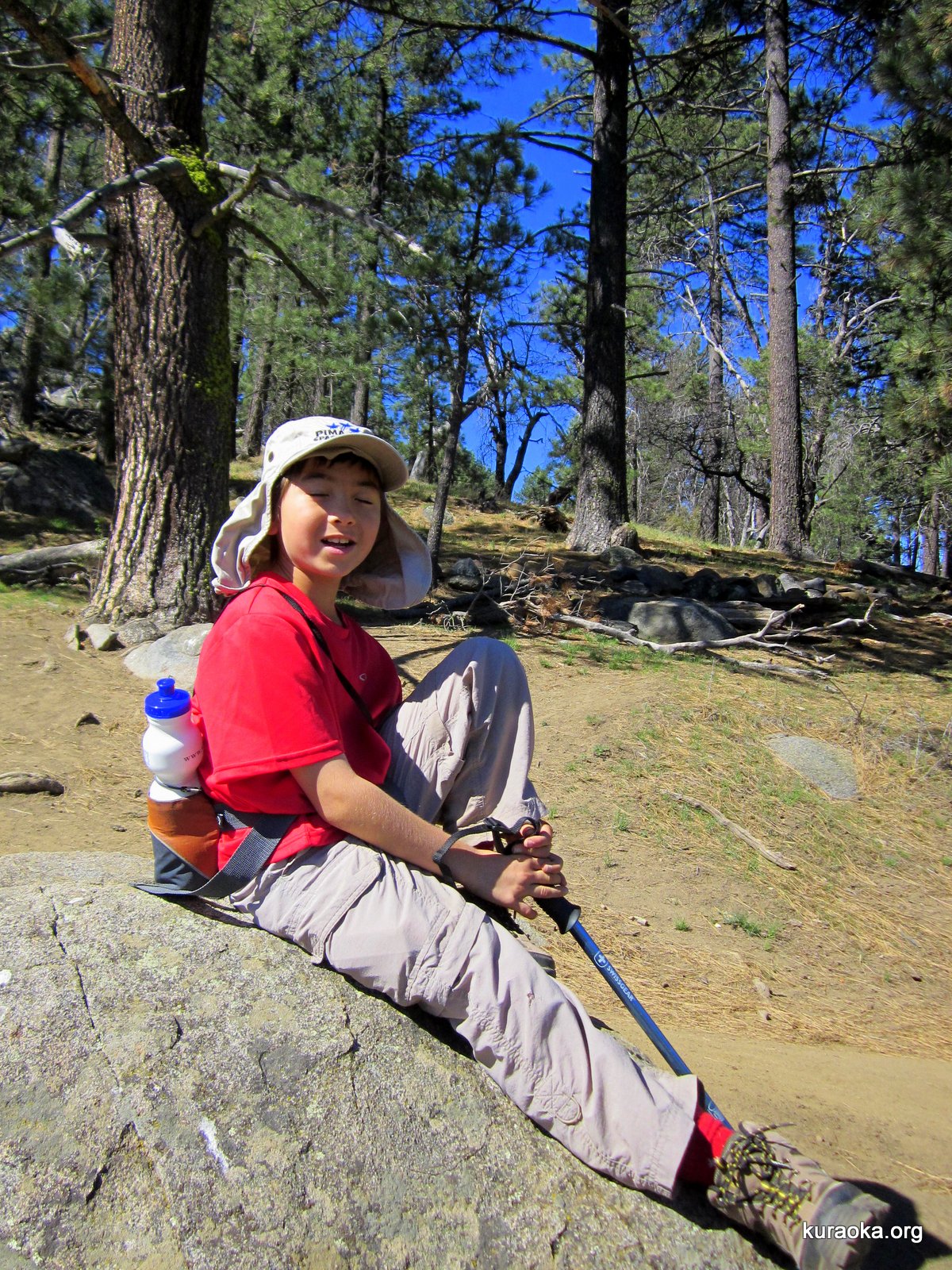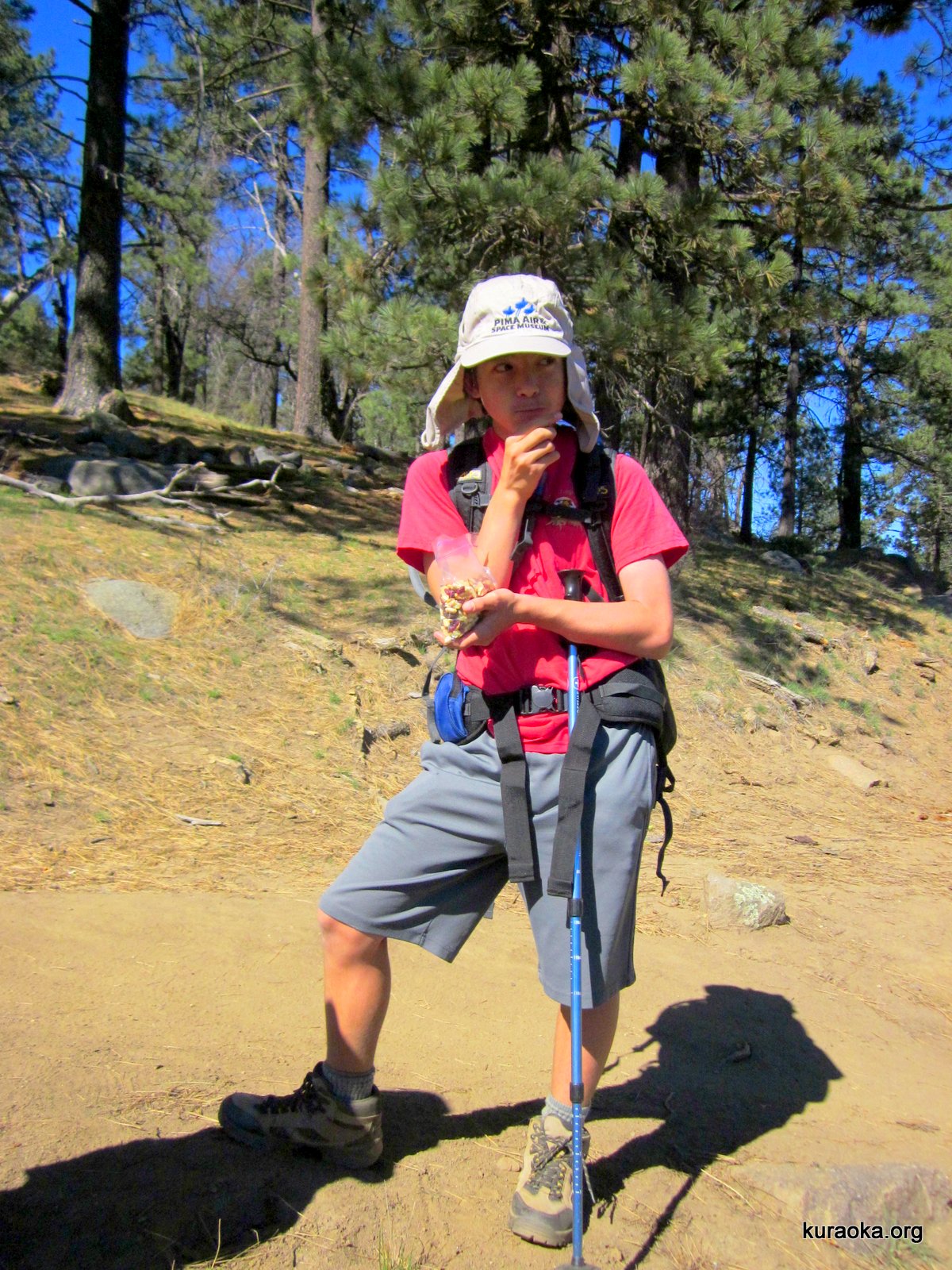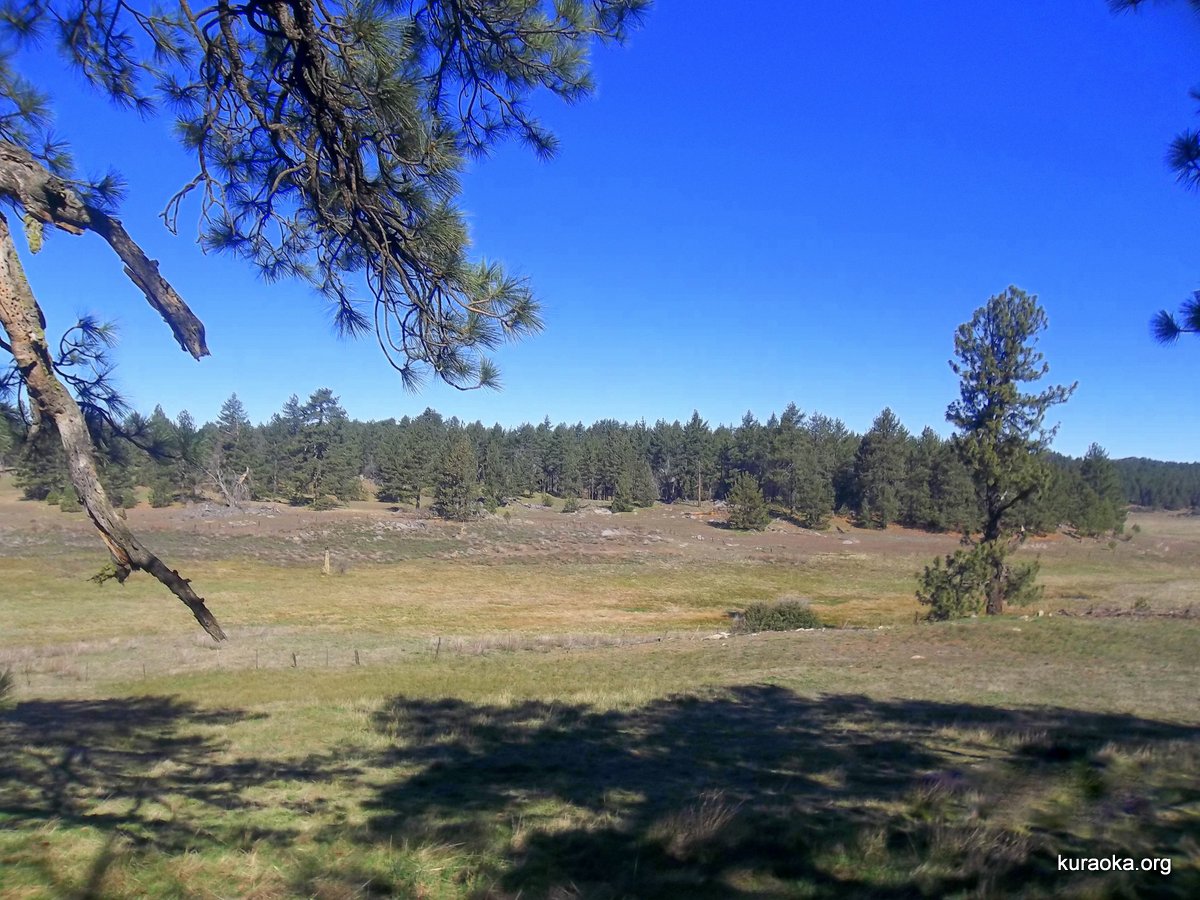 04-05-13 to 04-07-13: Borrego Palm Canyon weekend! We went camping in the desert with friends over the last three days of Spring Break. We saw plenty of Peninsular Bighorn Sheep - can you find the ewe in the first photo? The second photo shows Leo Sunday morning.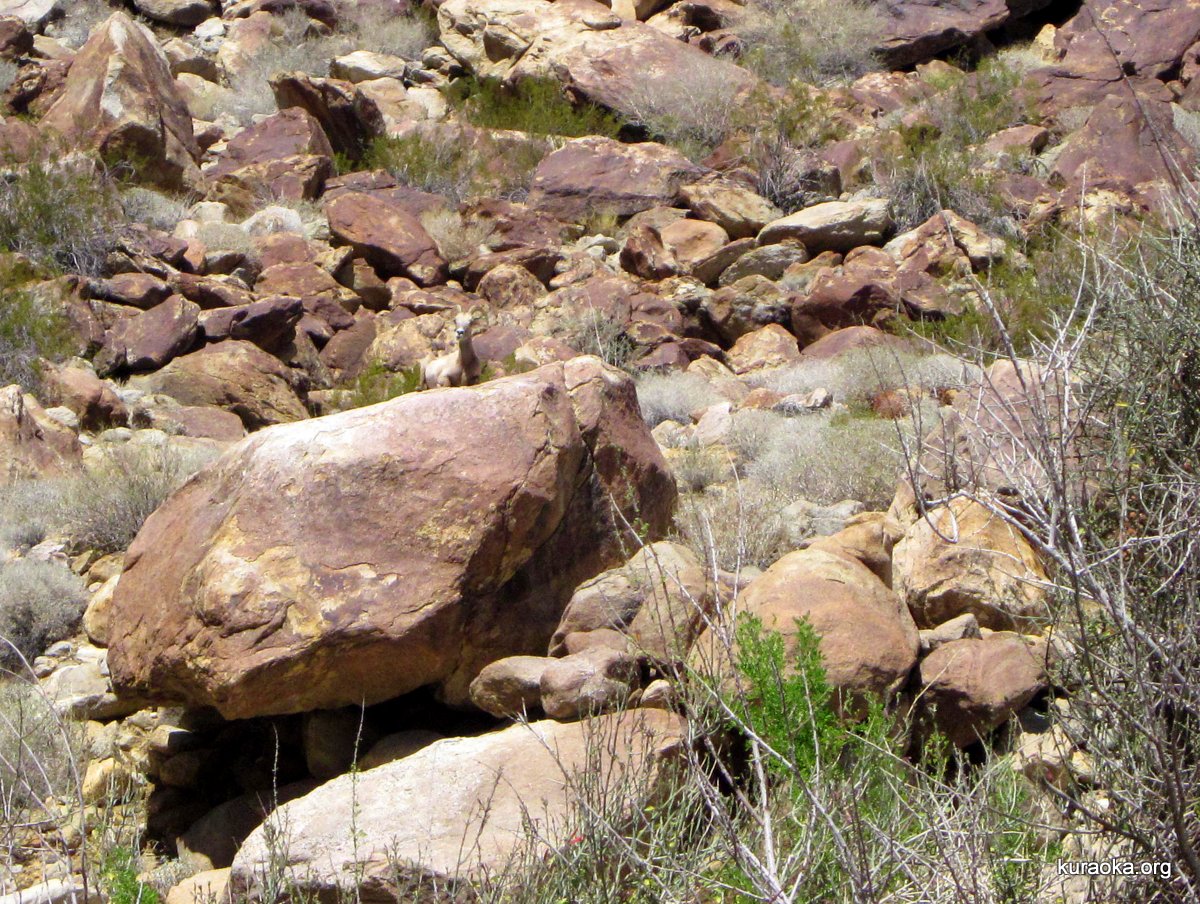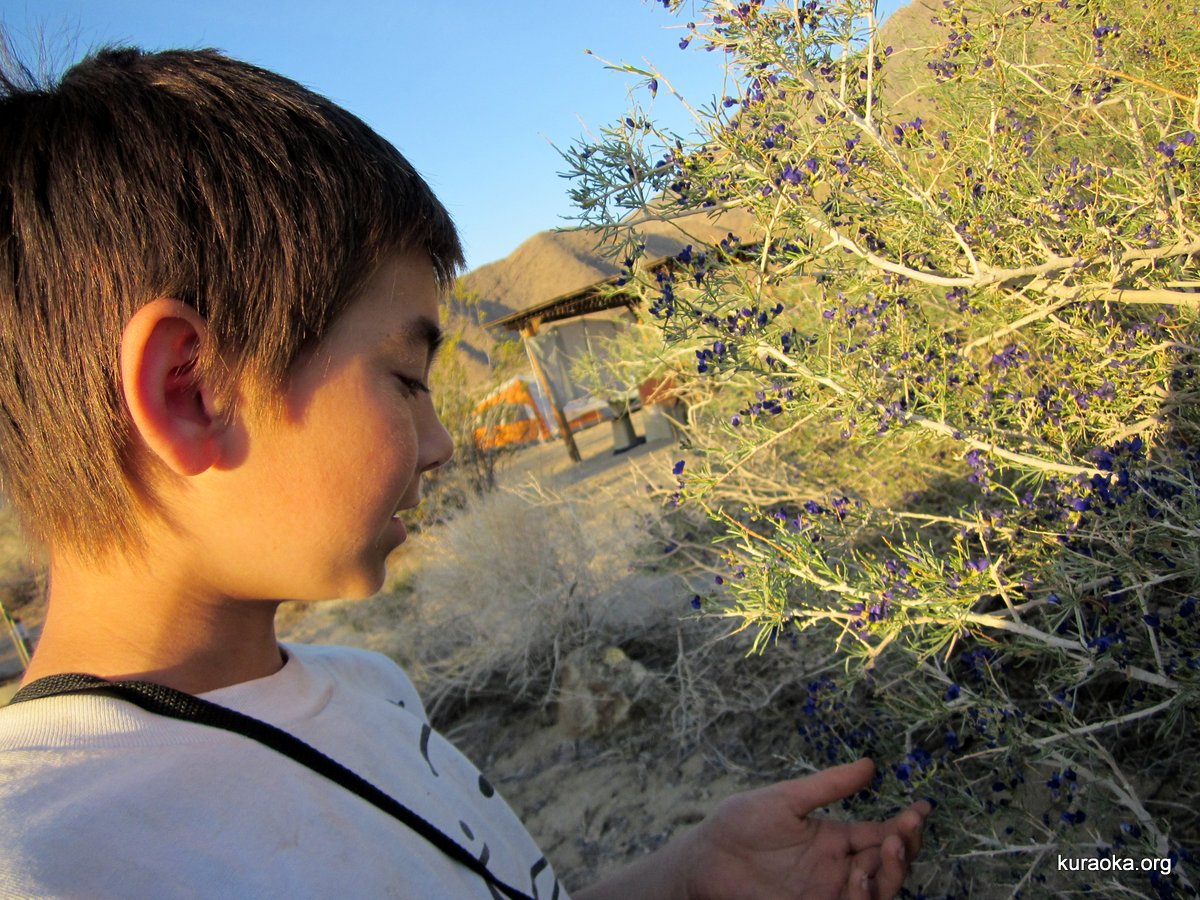 04-02-13 California ScienCenter and the Endeavour! John and Grammy took the boys to the California ScienCenter in Los Angeles, with timed tickets to see the space shuttle Endeavour on display and IMAX tickets to see the Hubble. You can read about it on the second half of this page.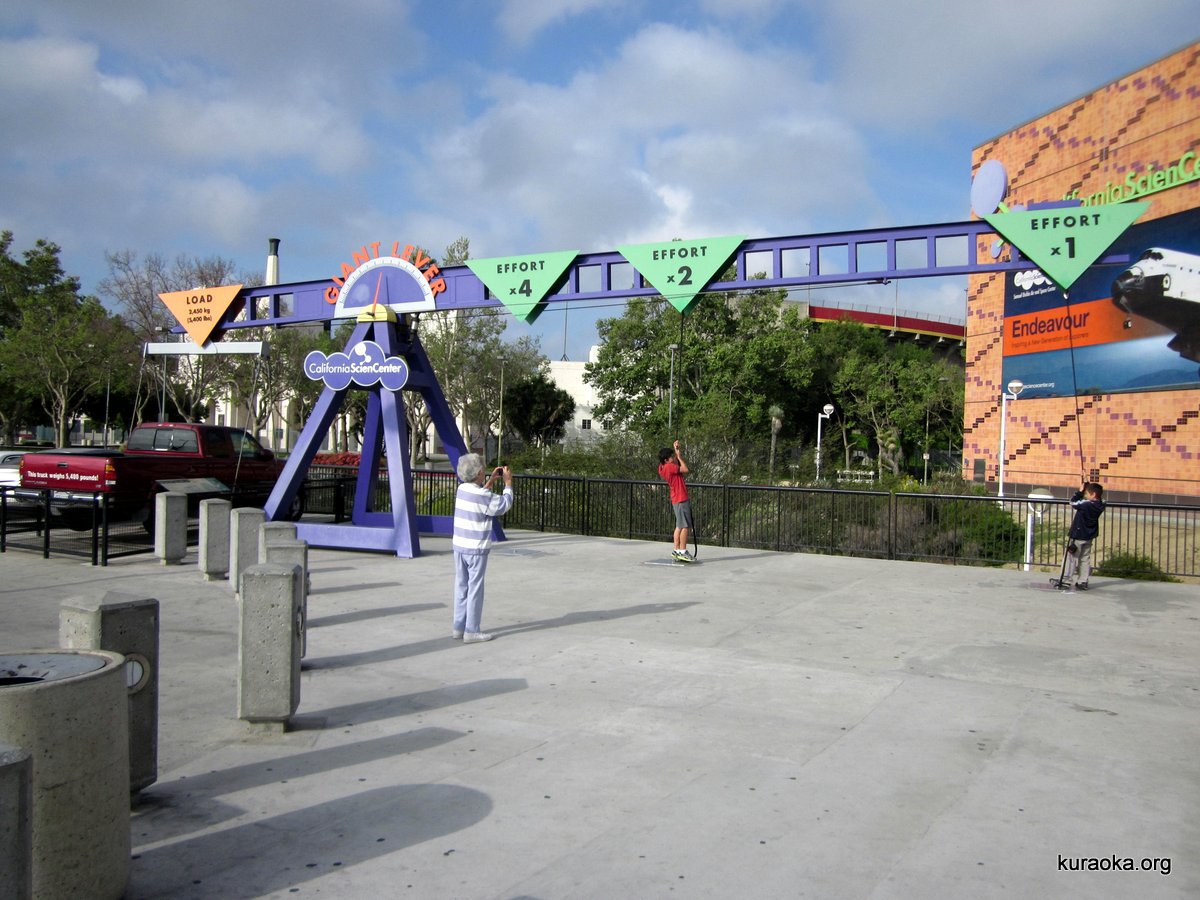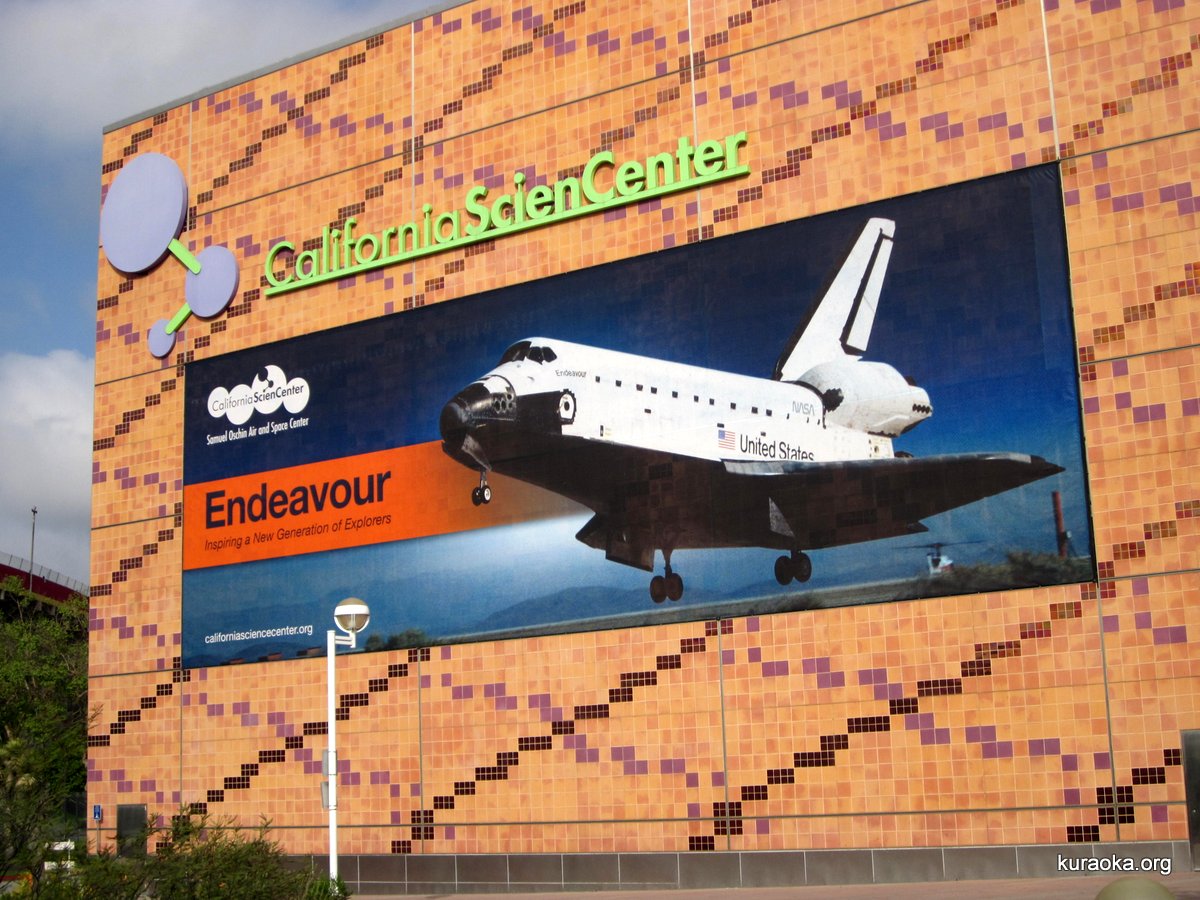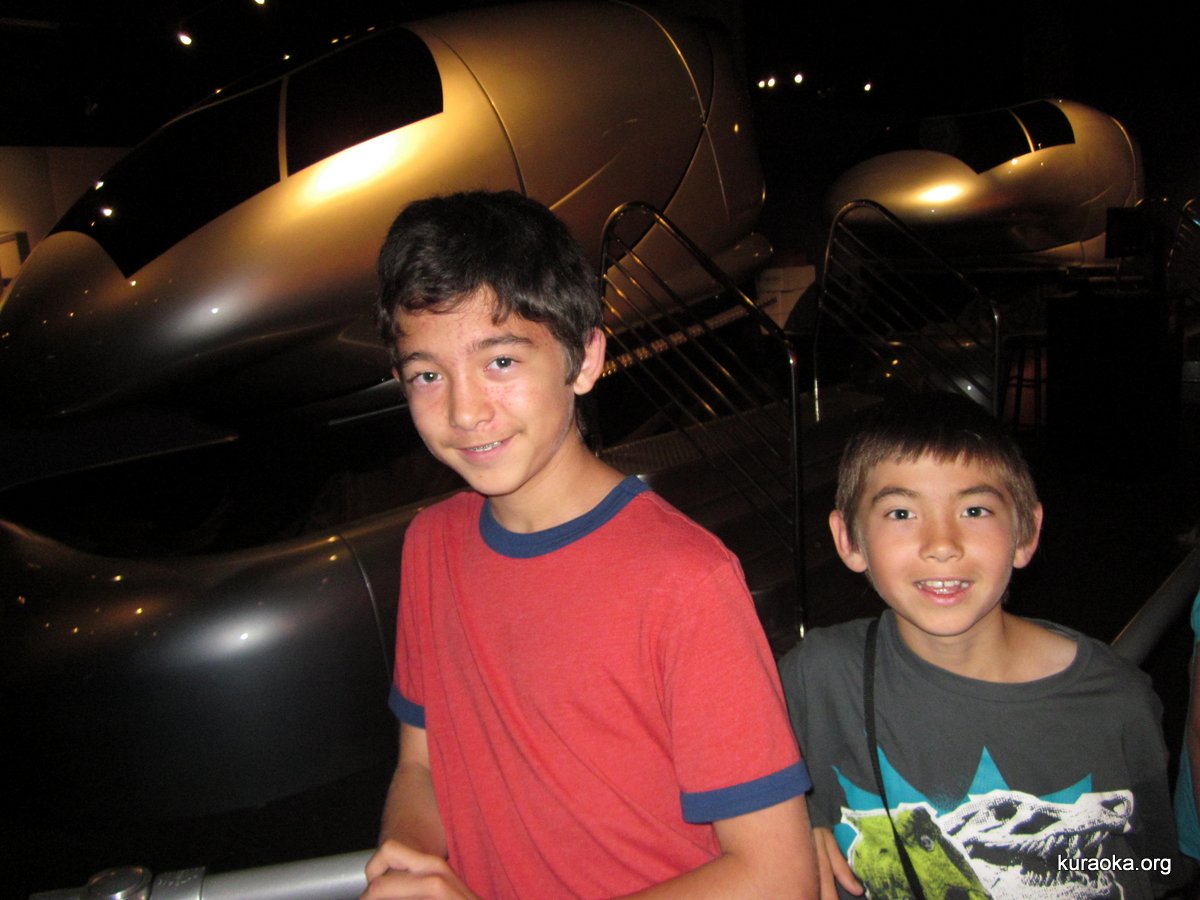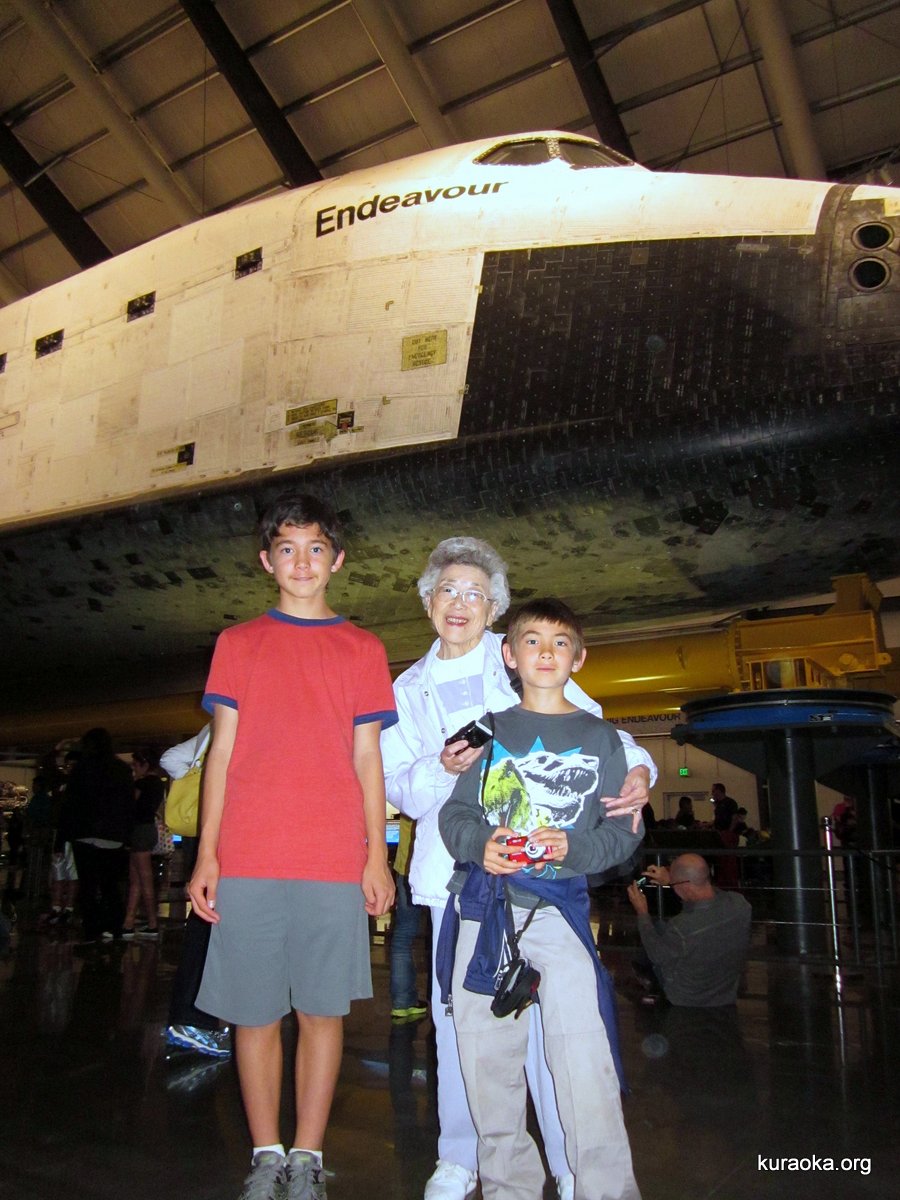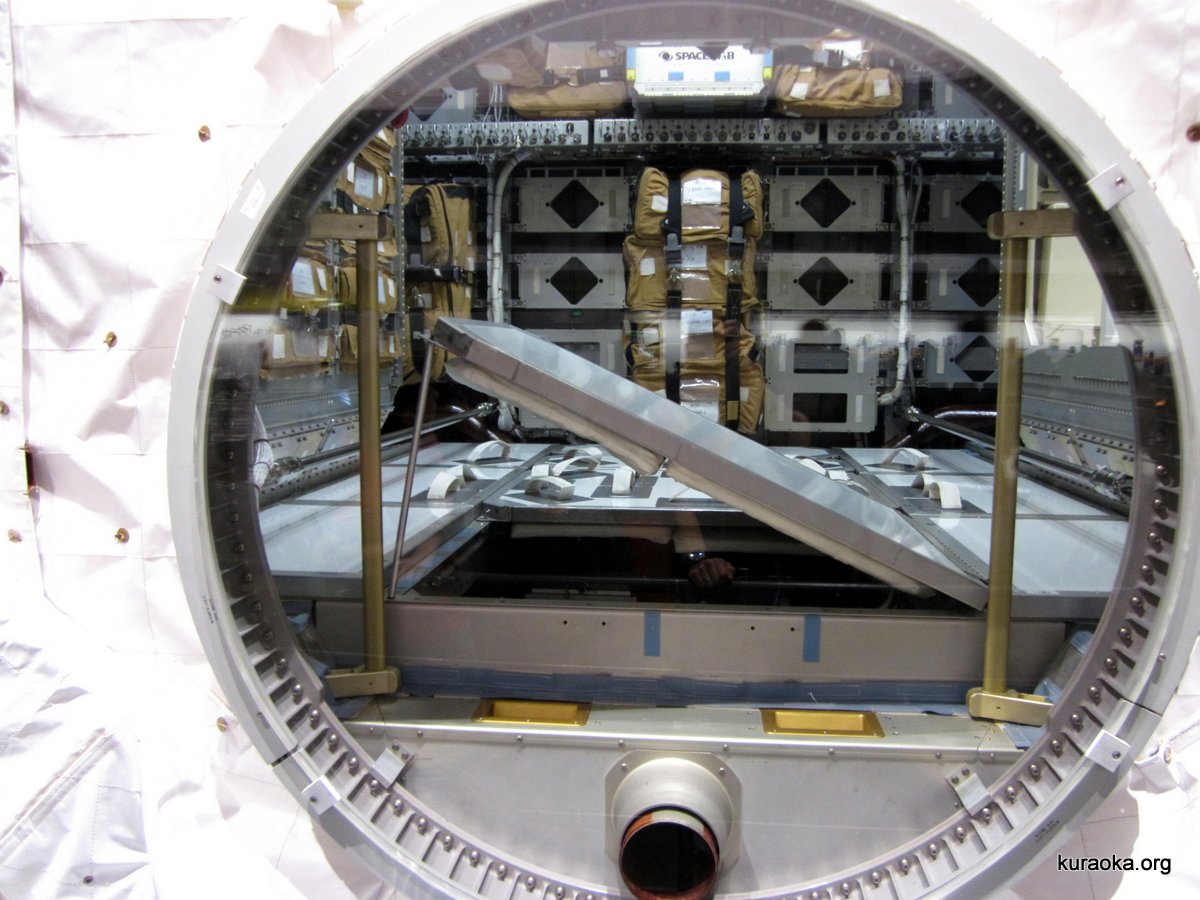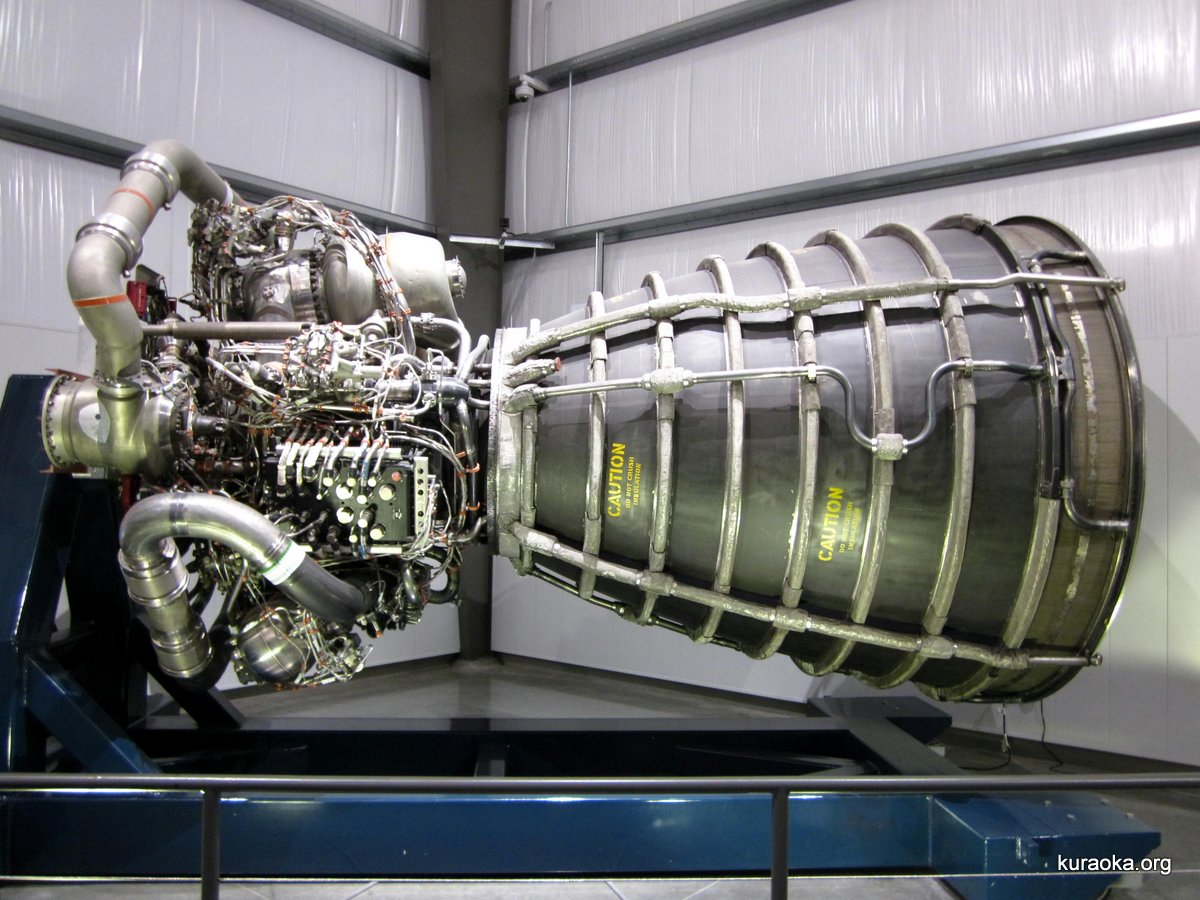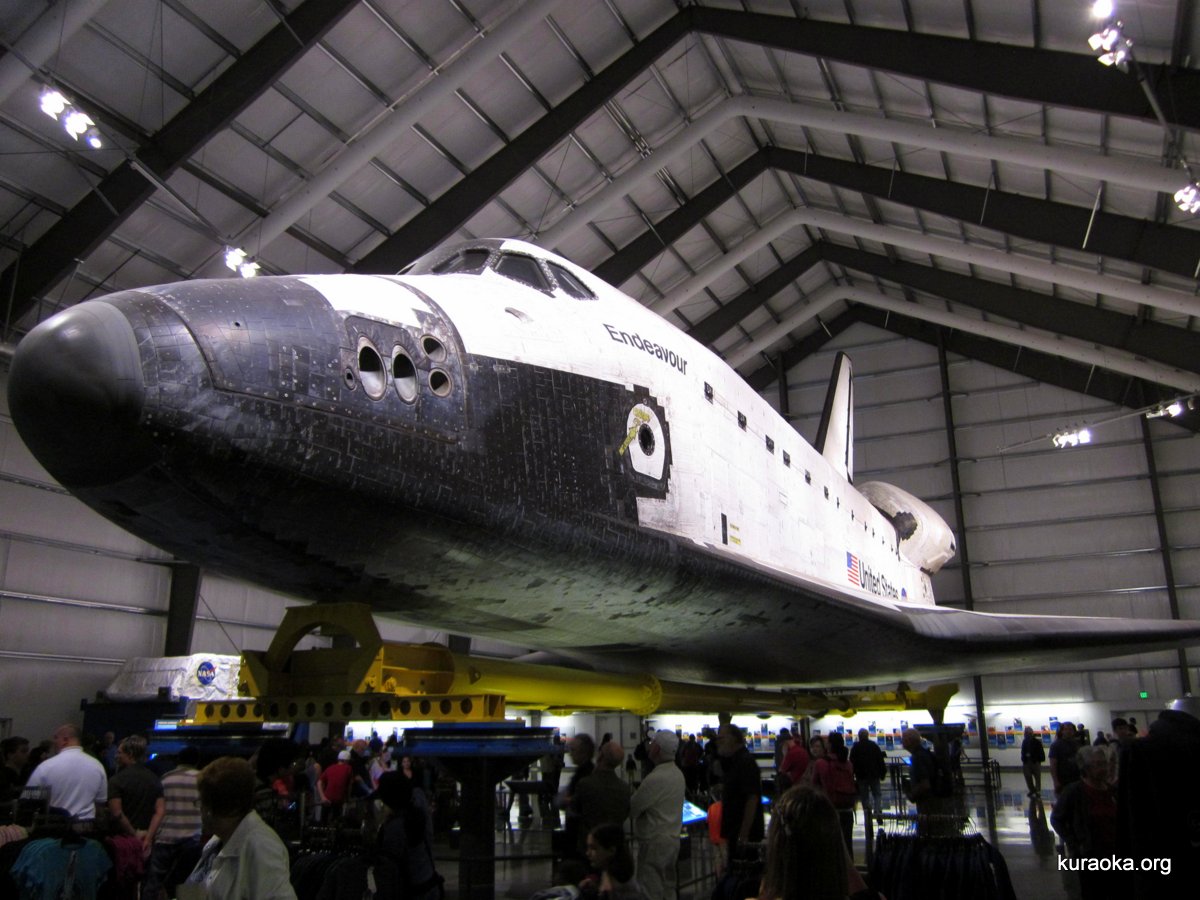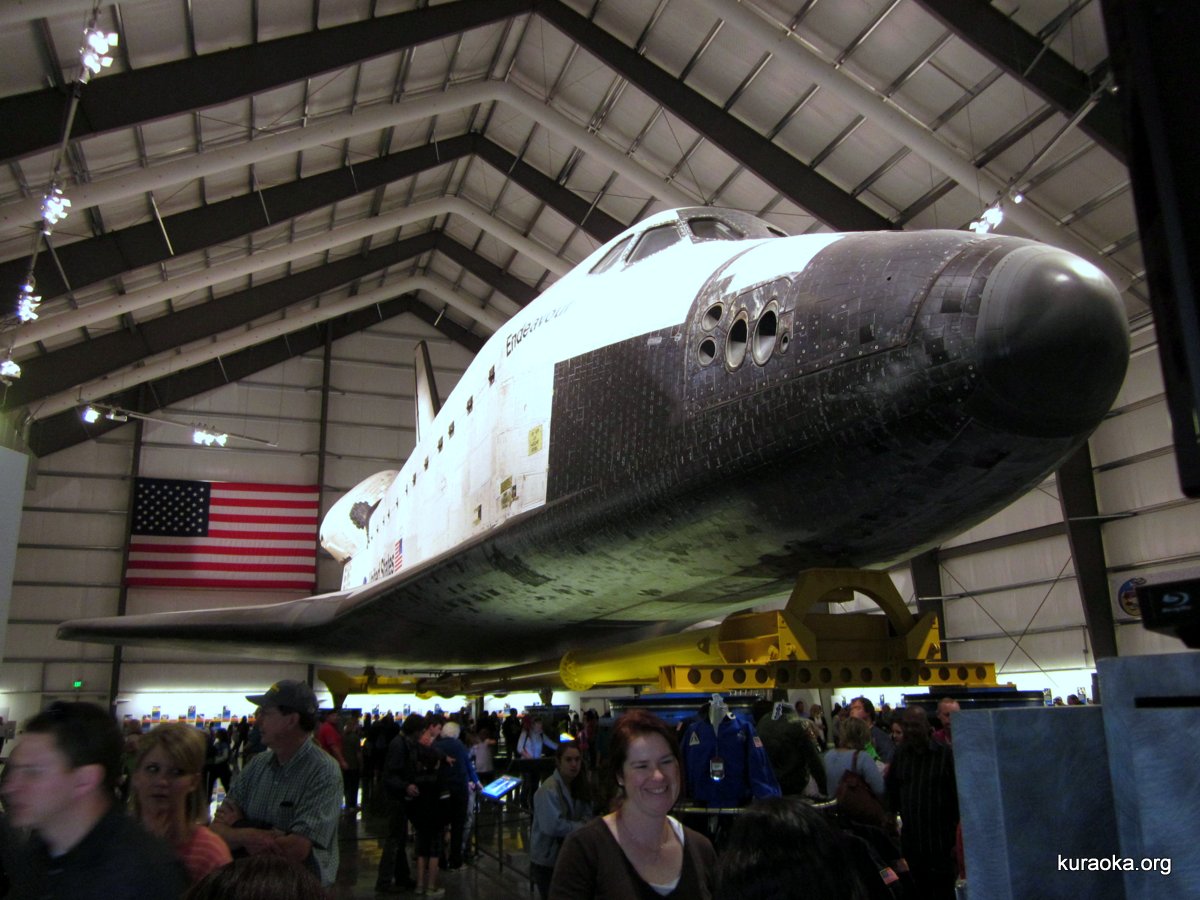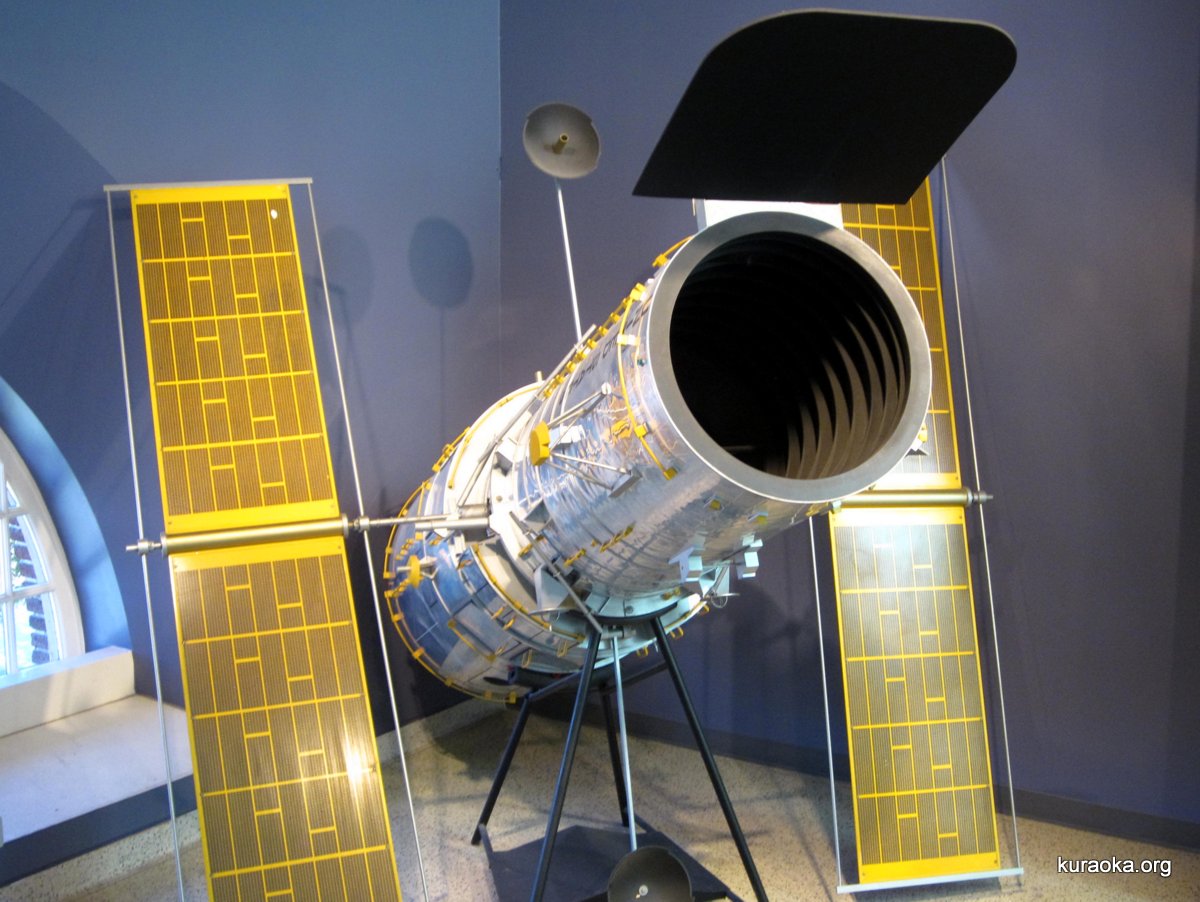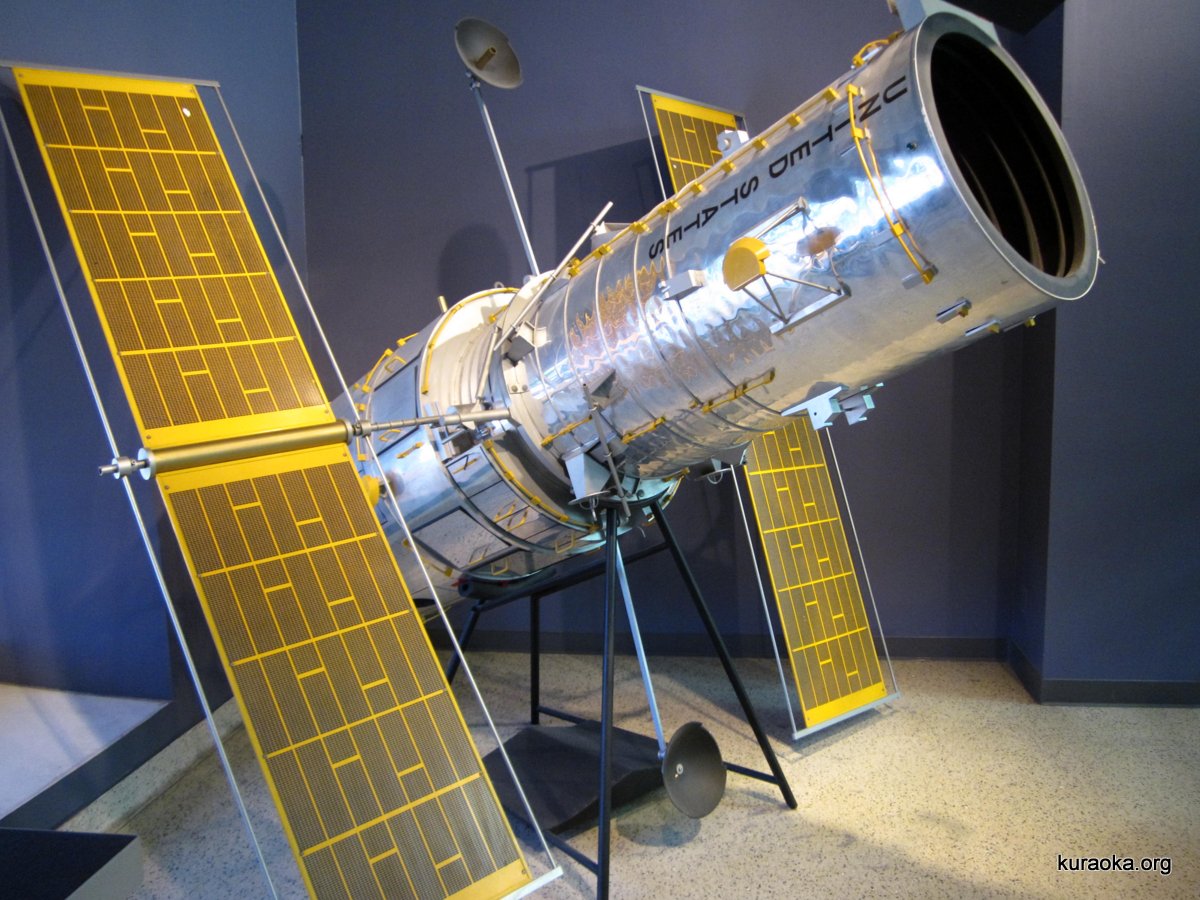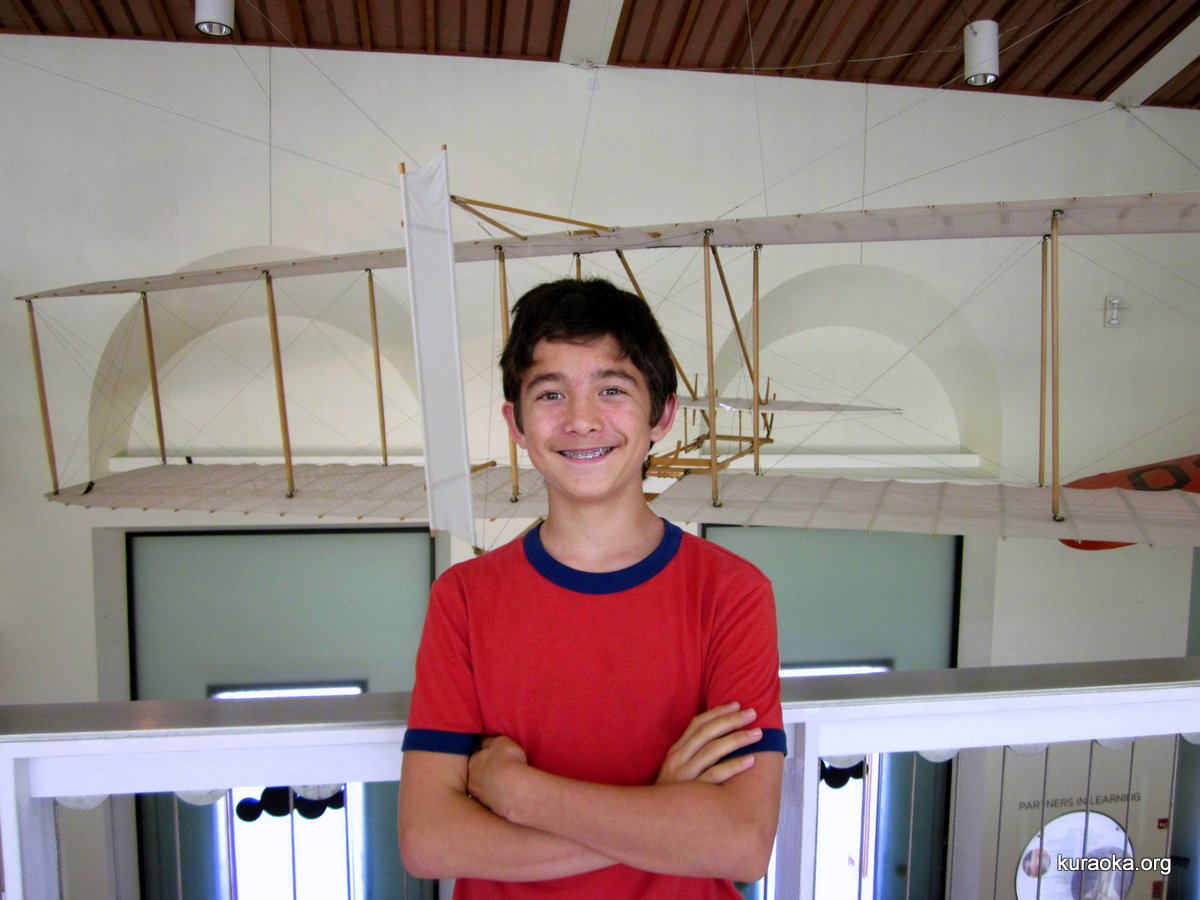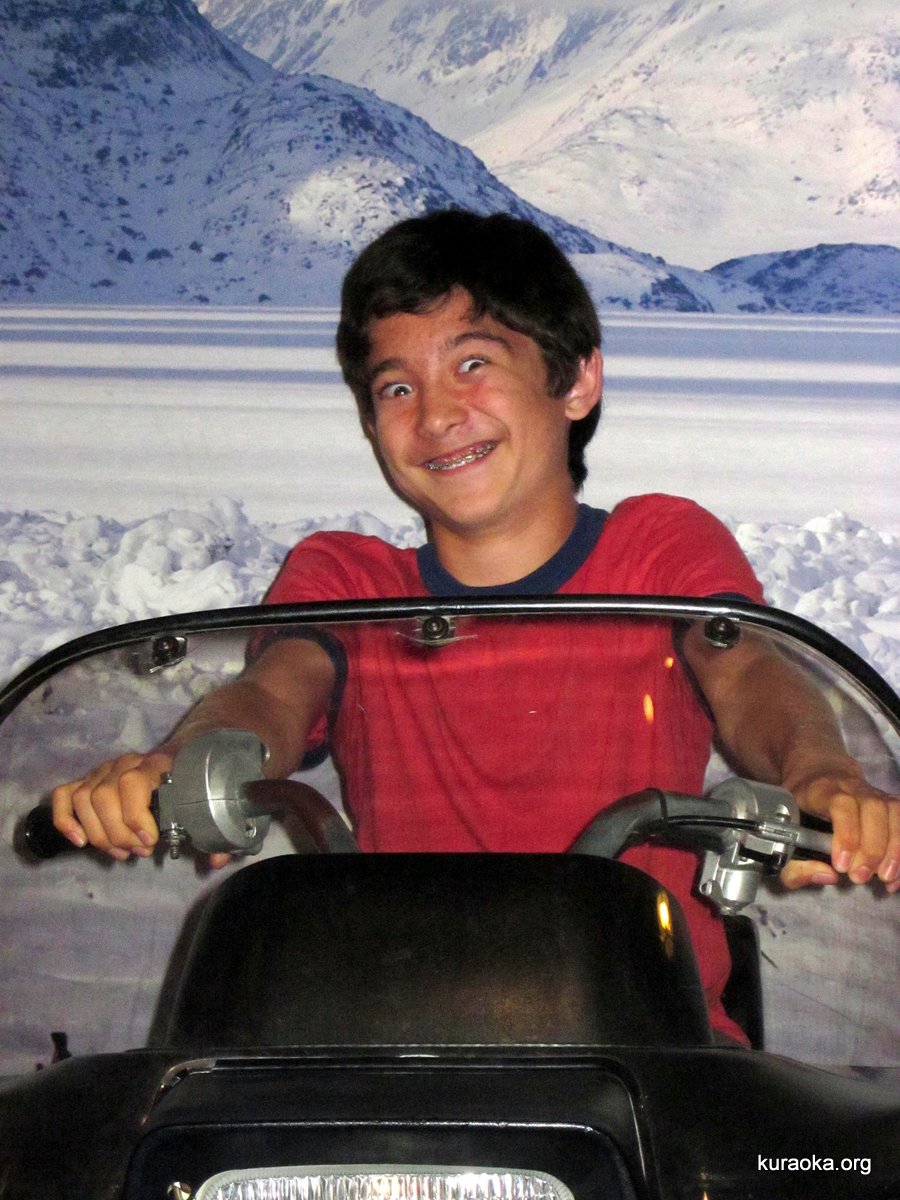 04-01-13 Santa Barbara Mission and Stearn's Wharf! John and the boys took a road trip with Grammy to Santa Barbara! You can read about it here.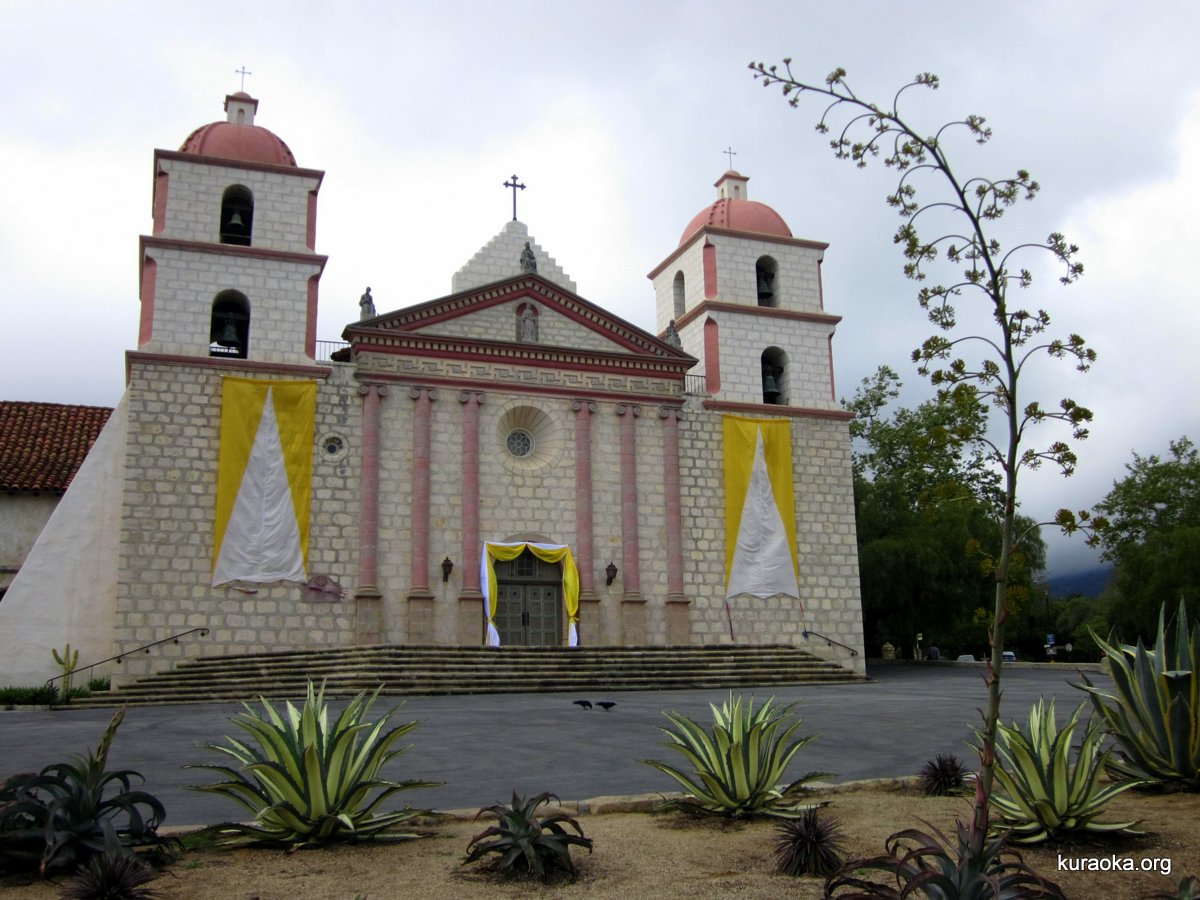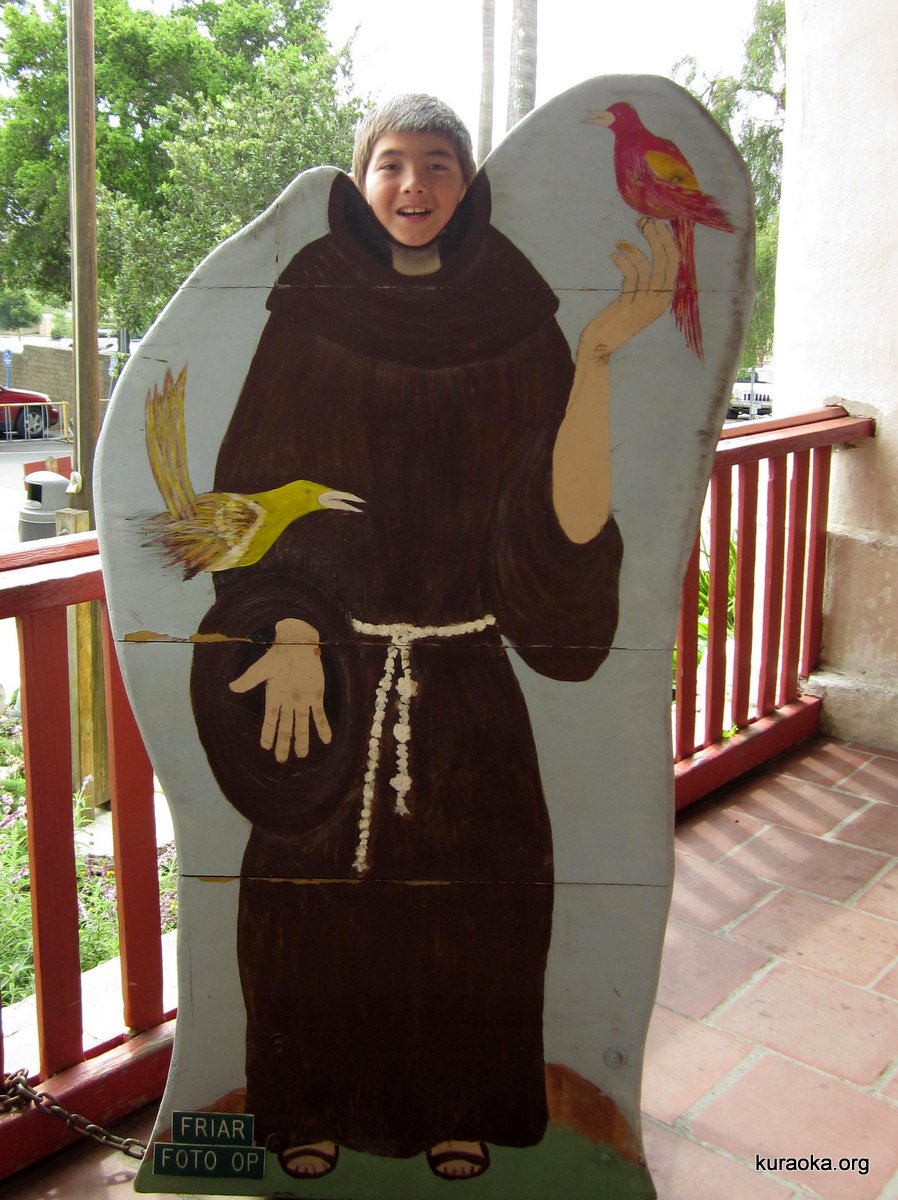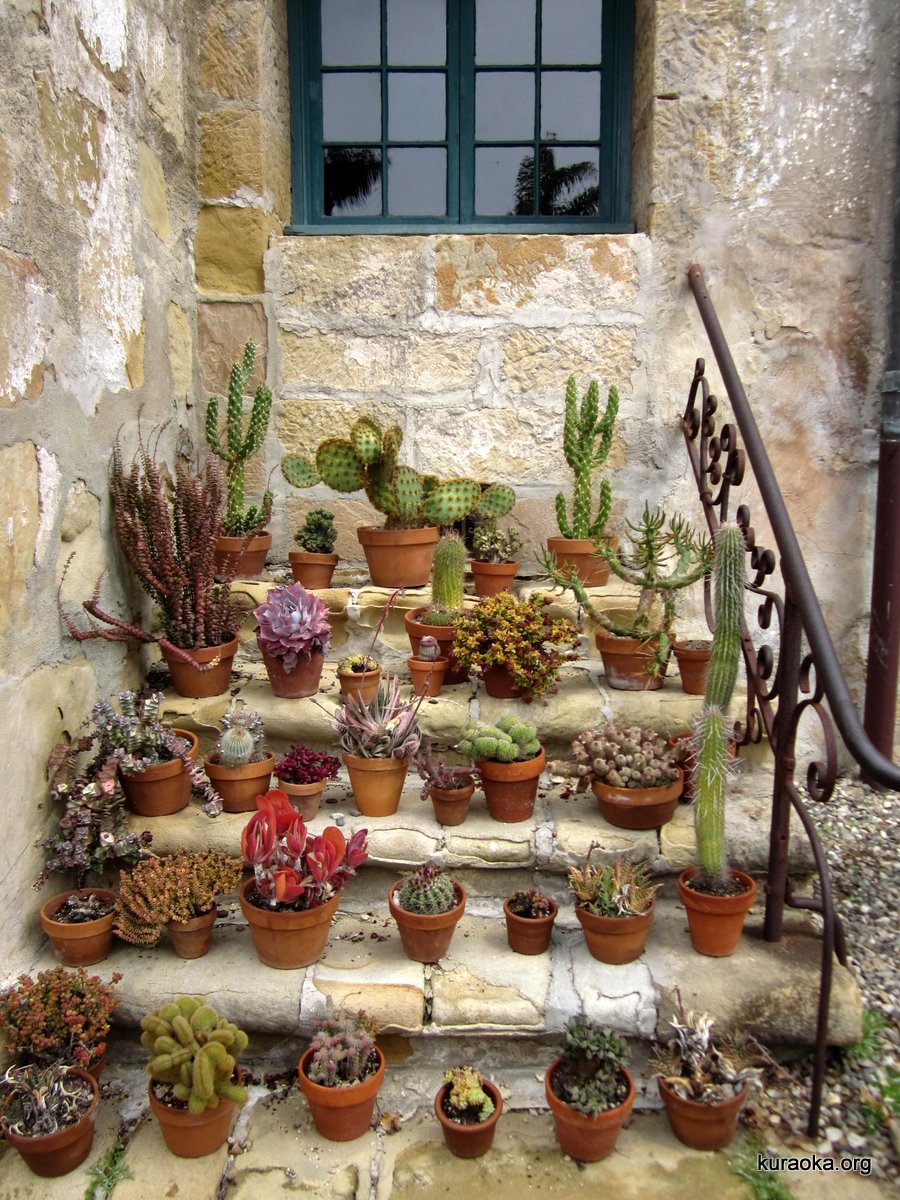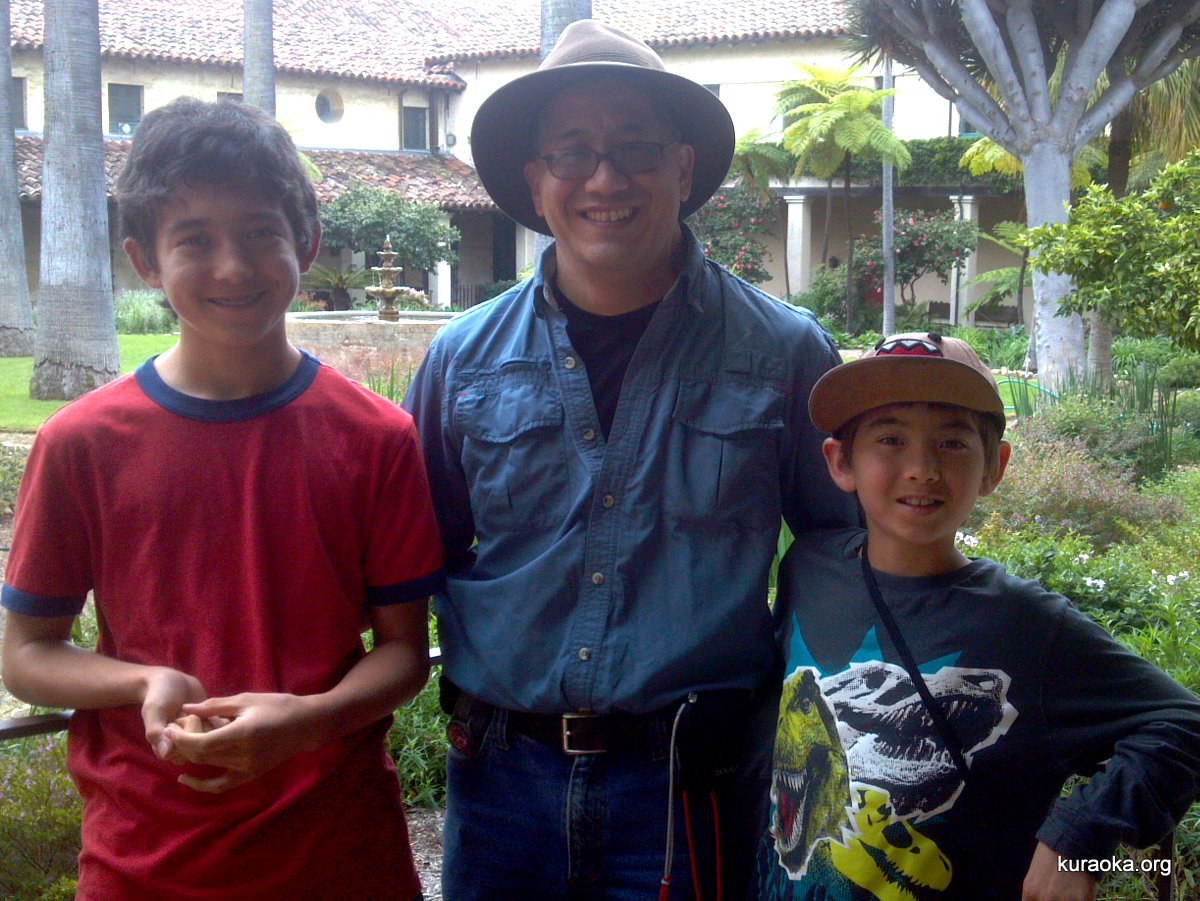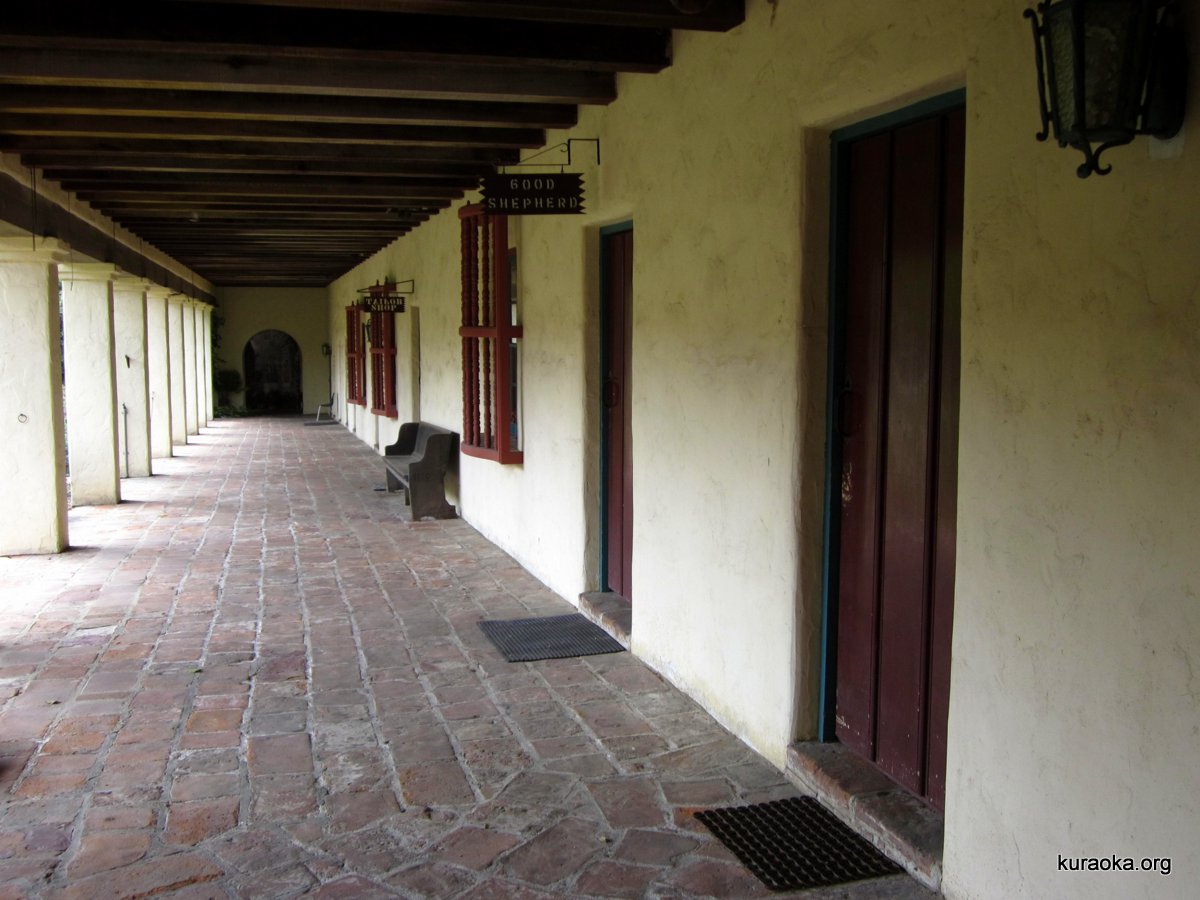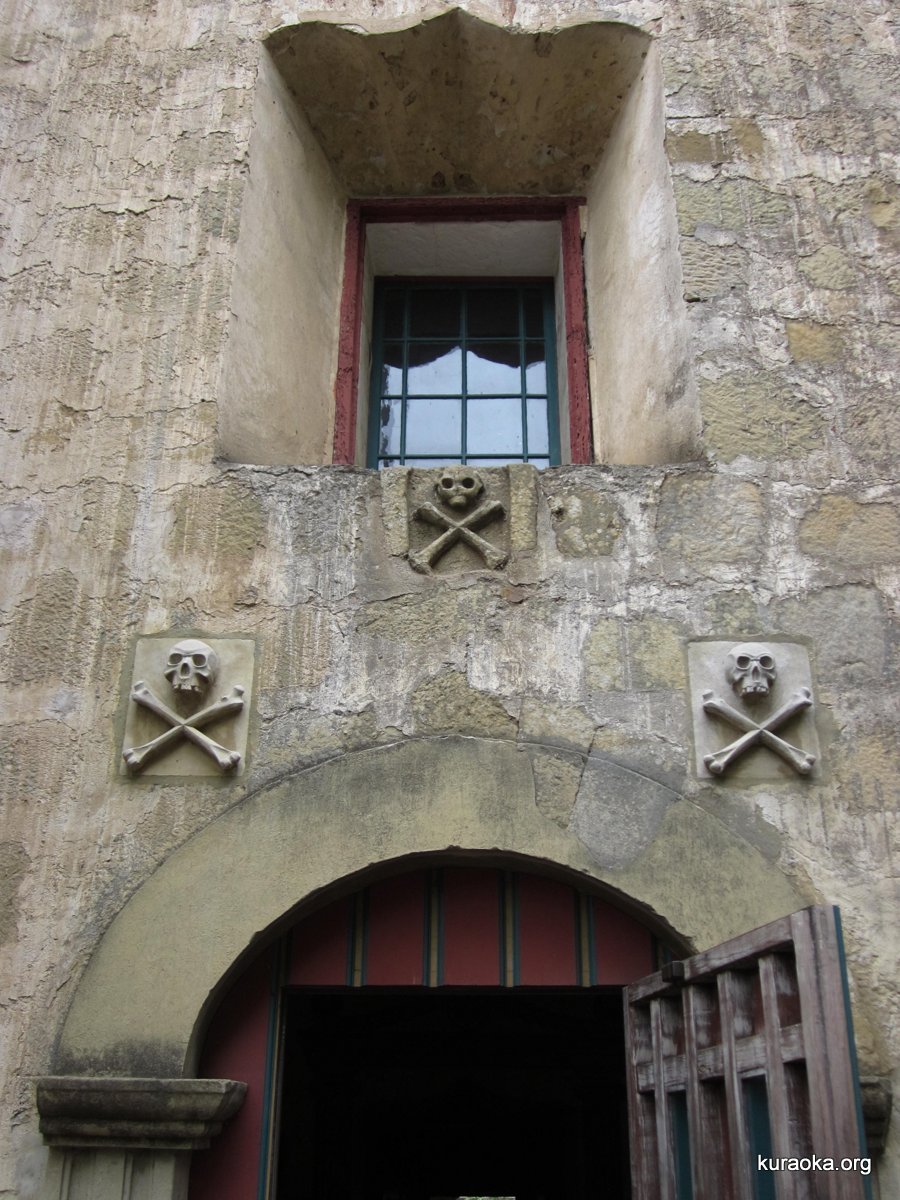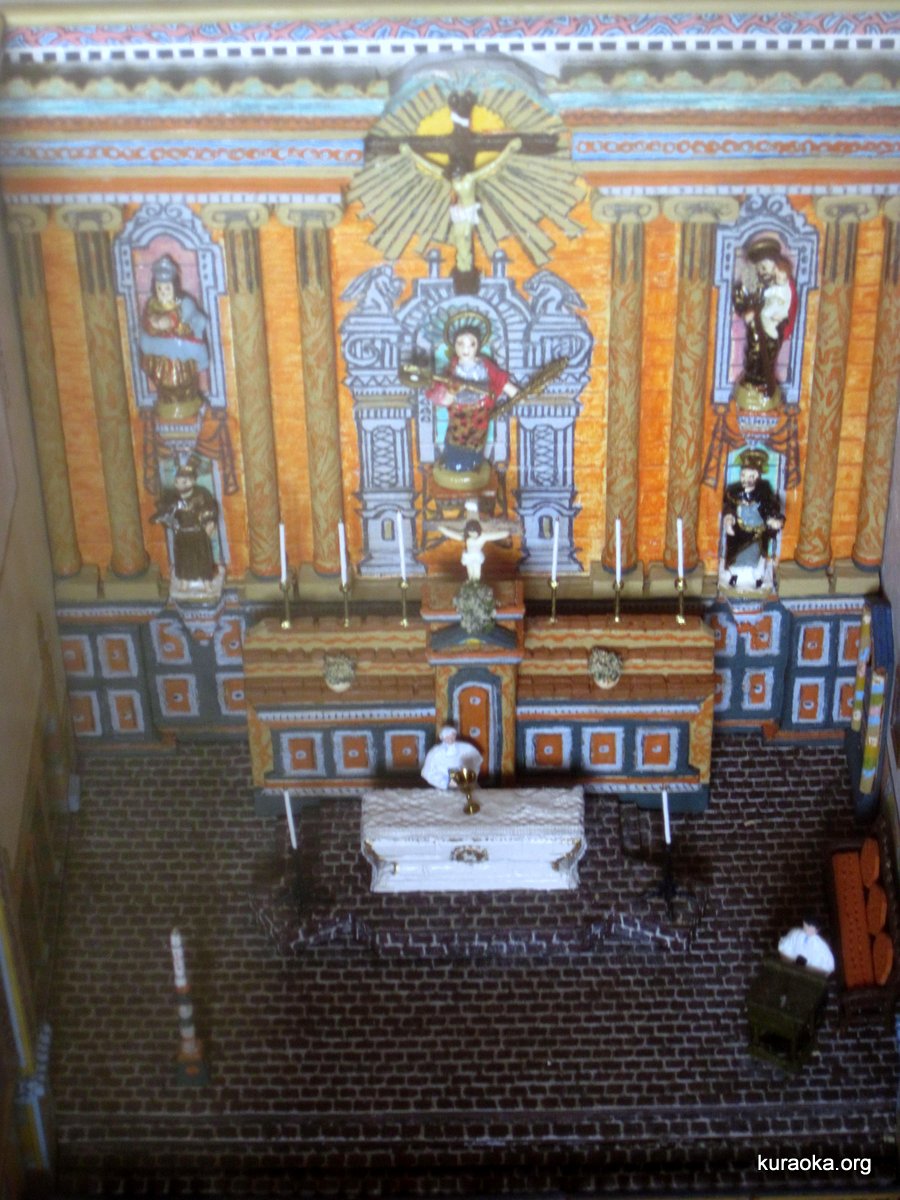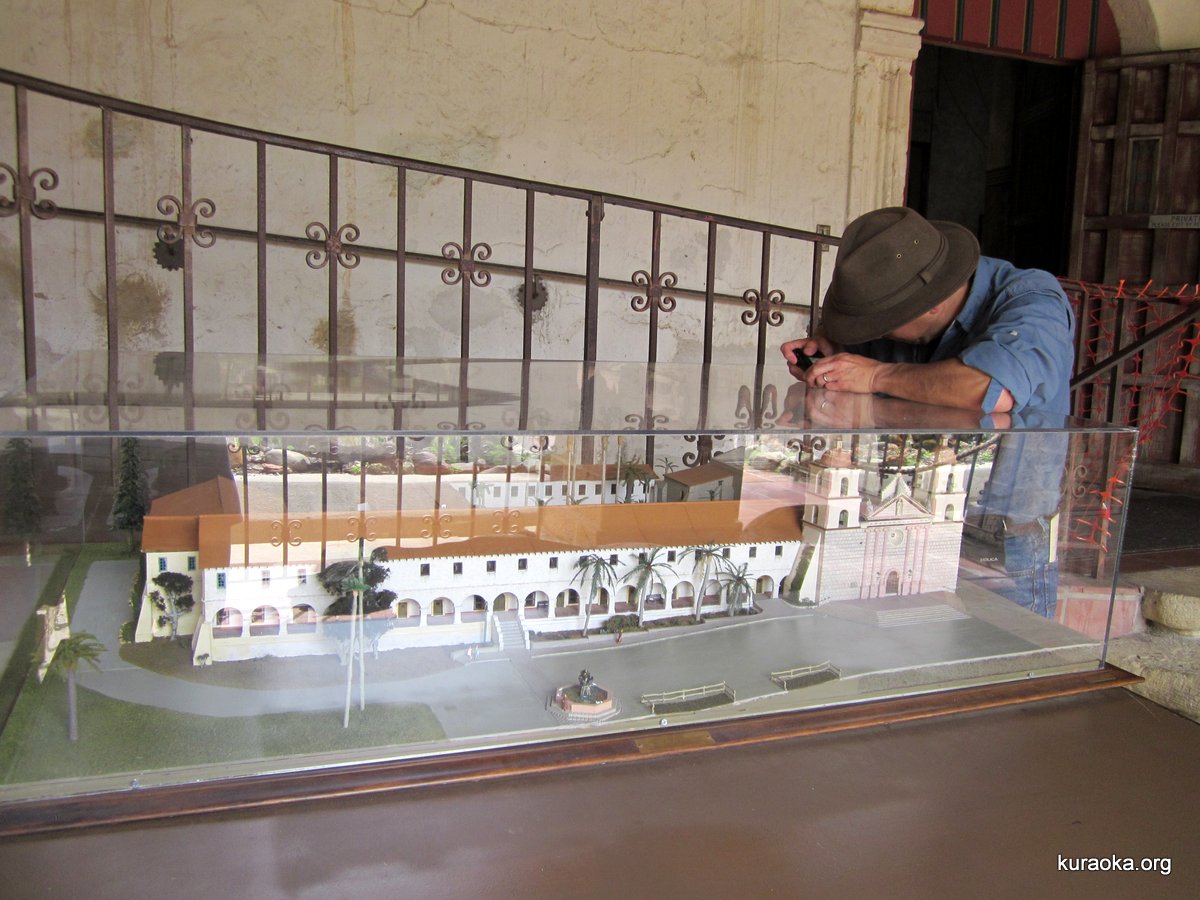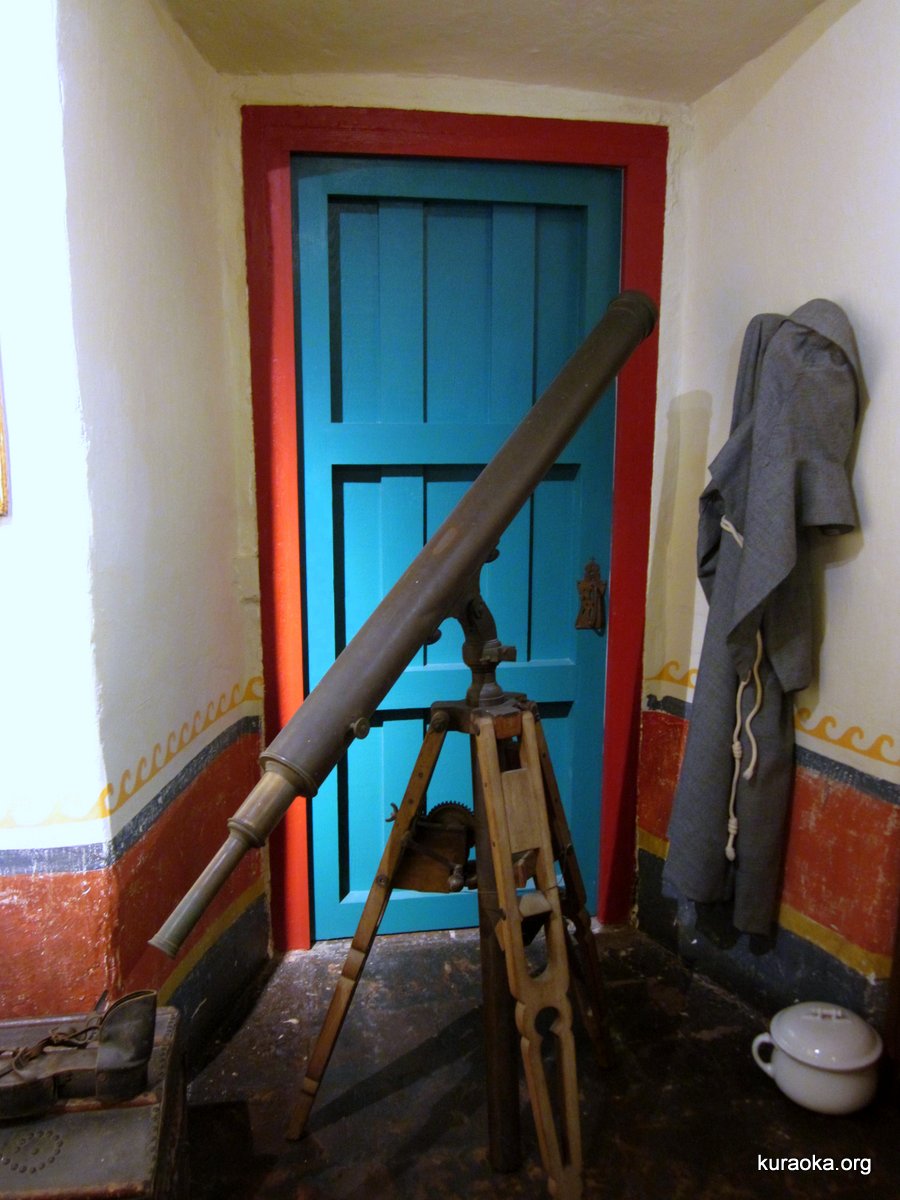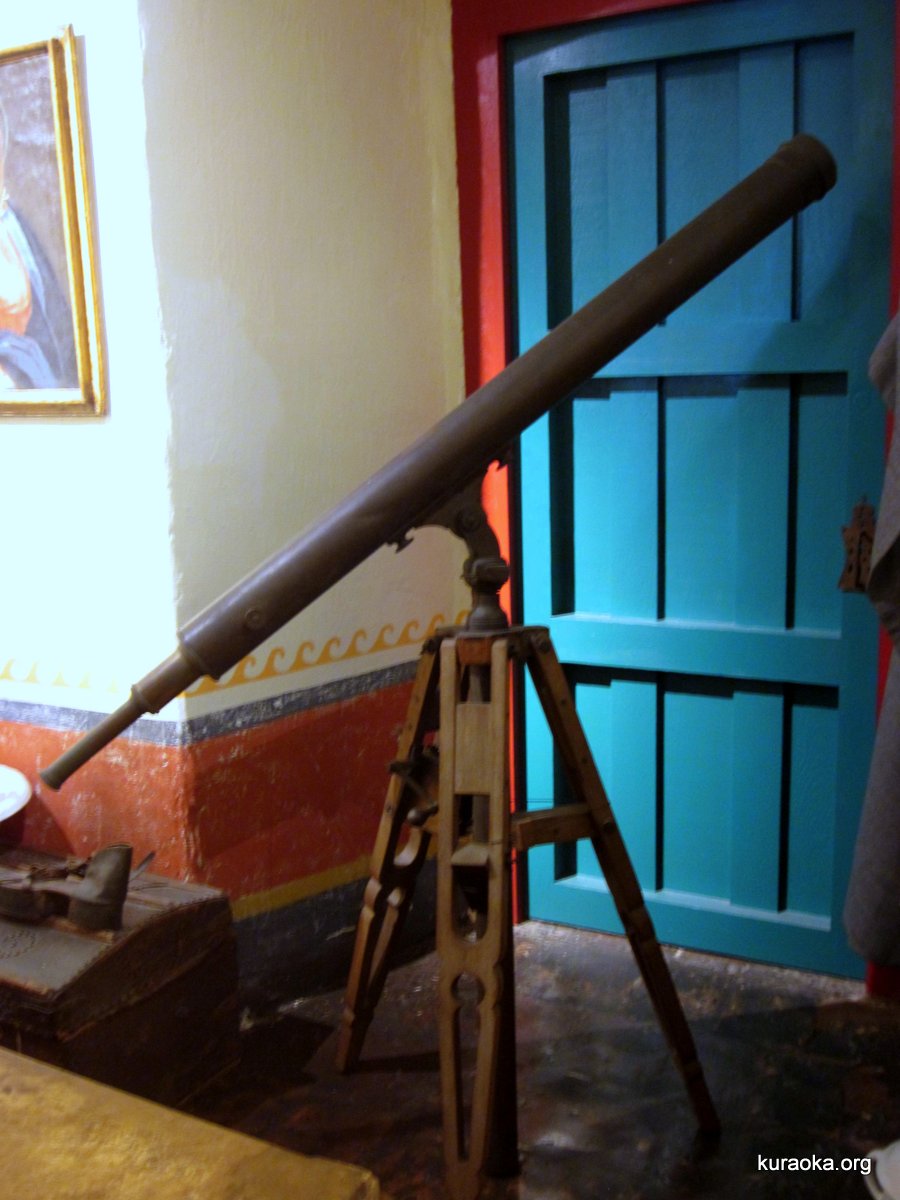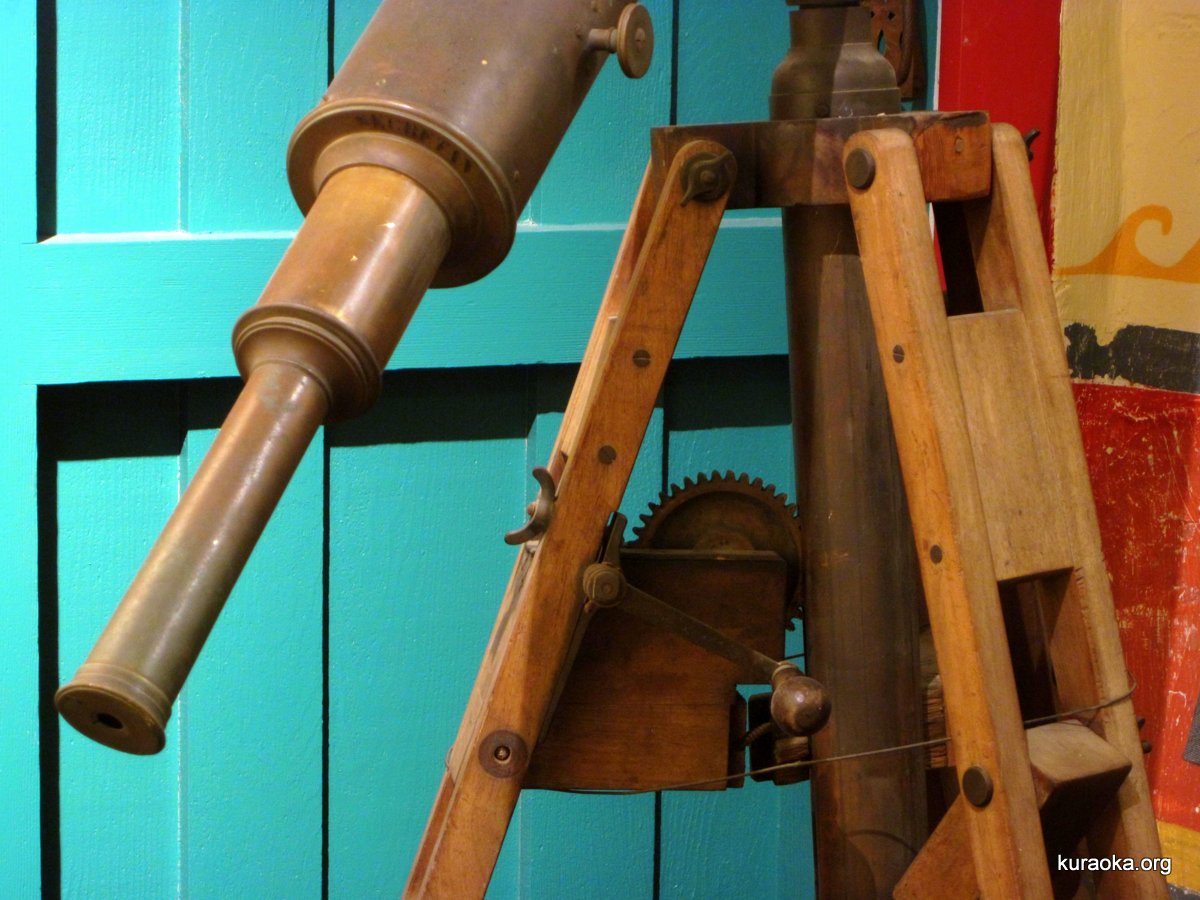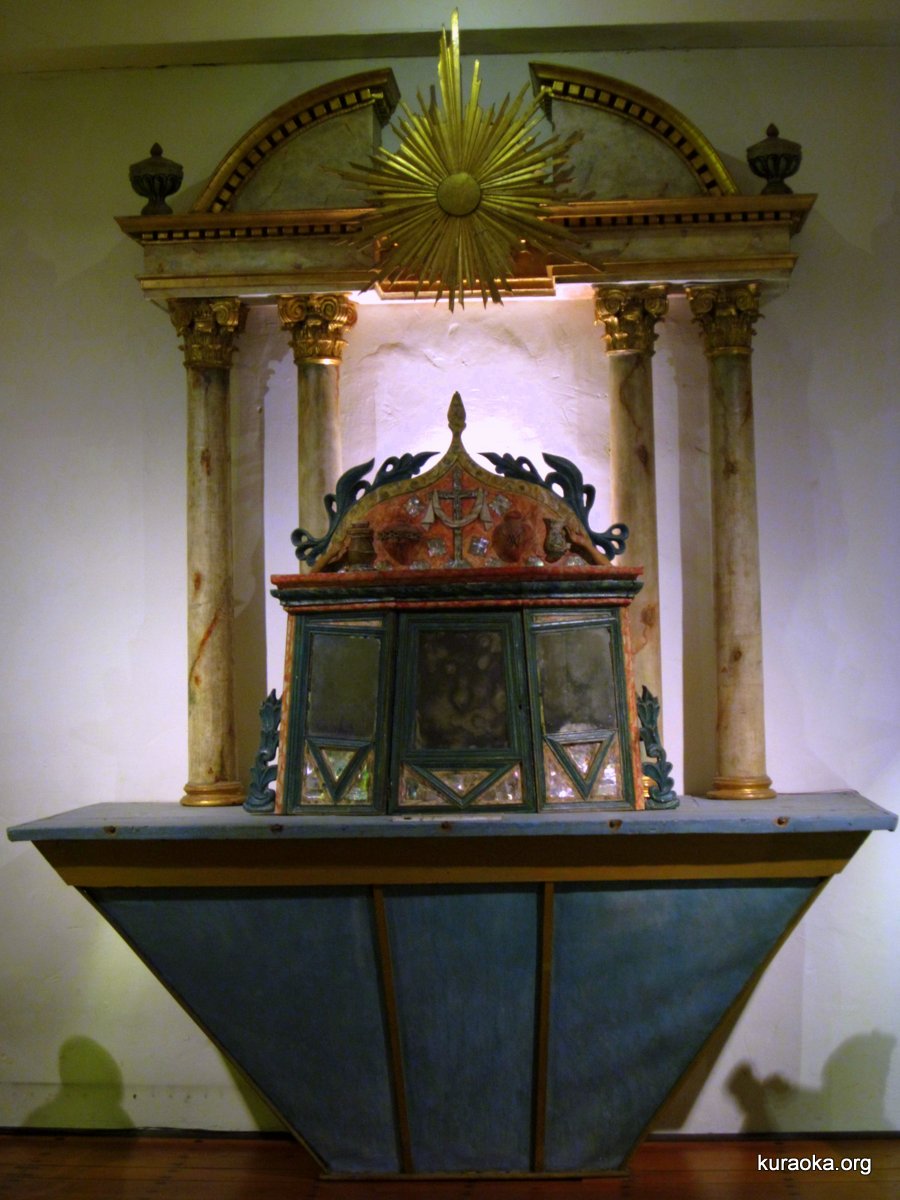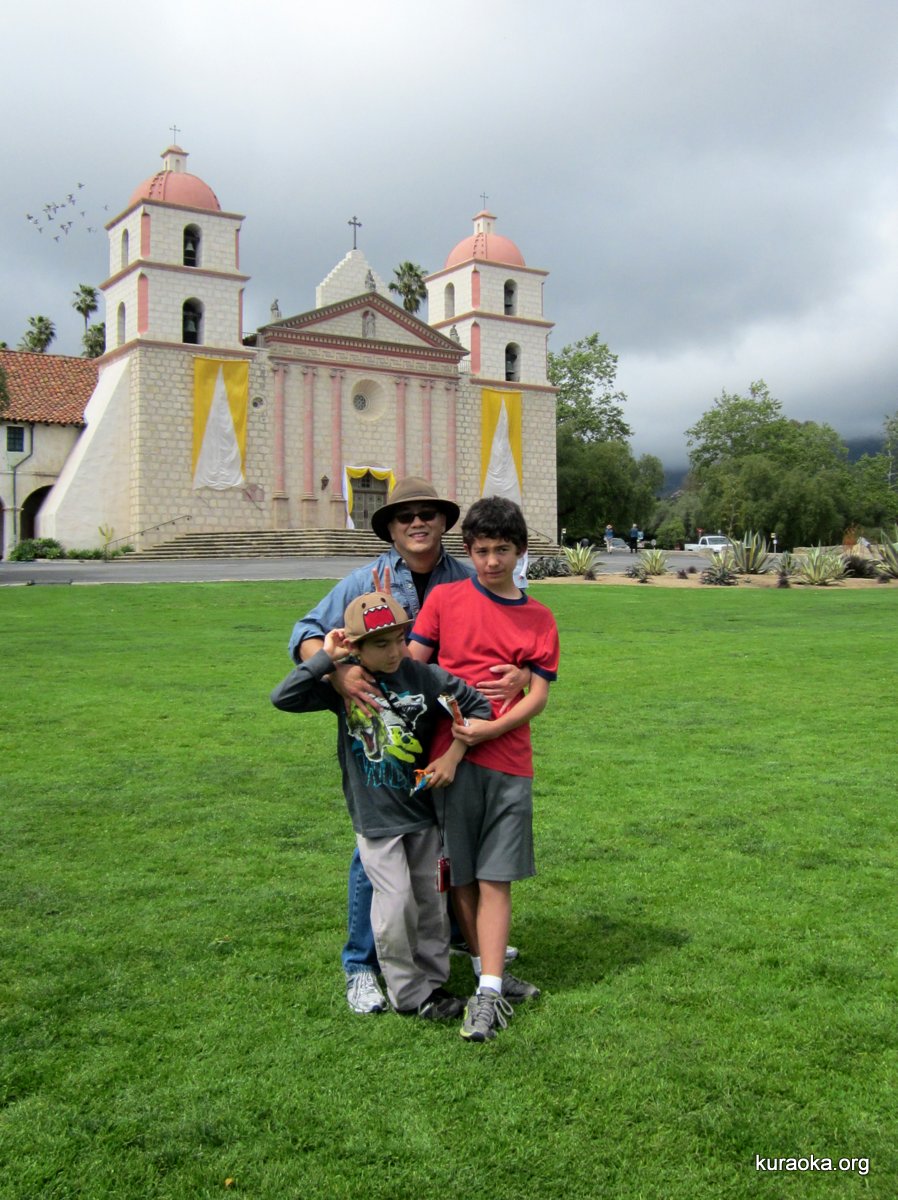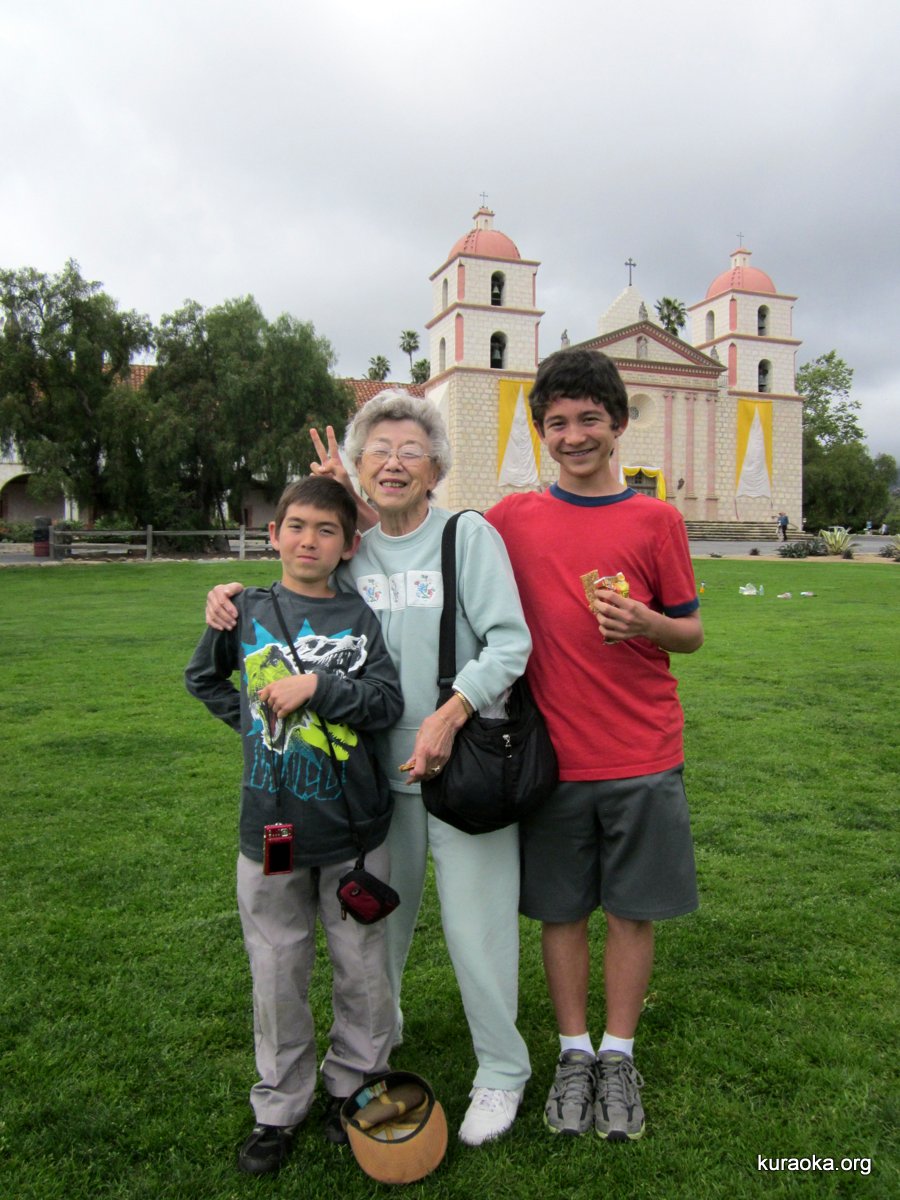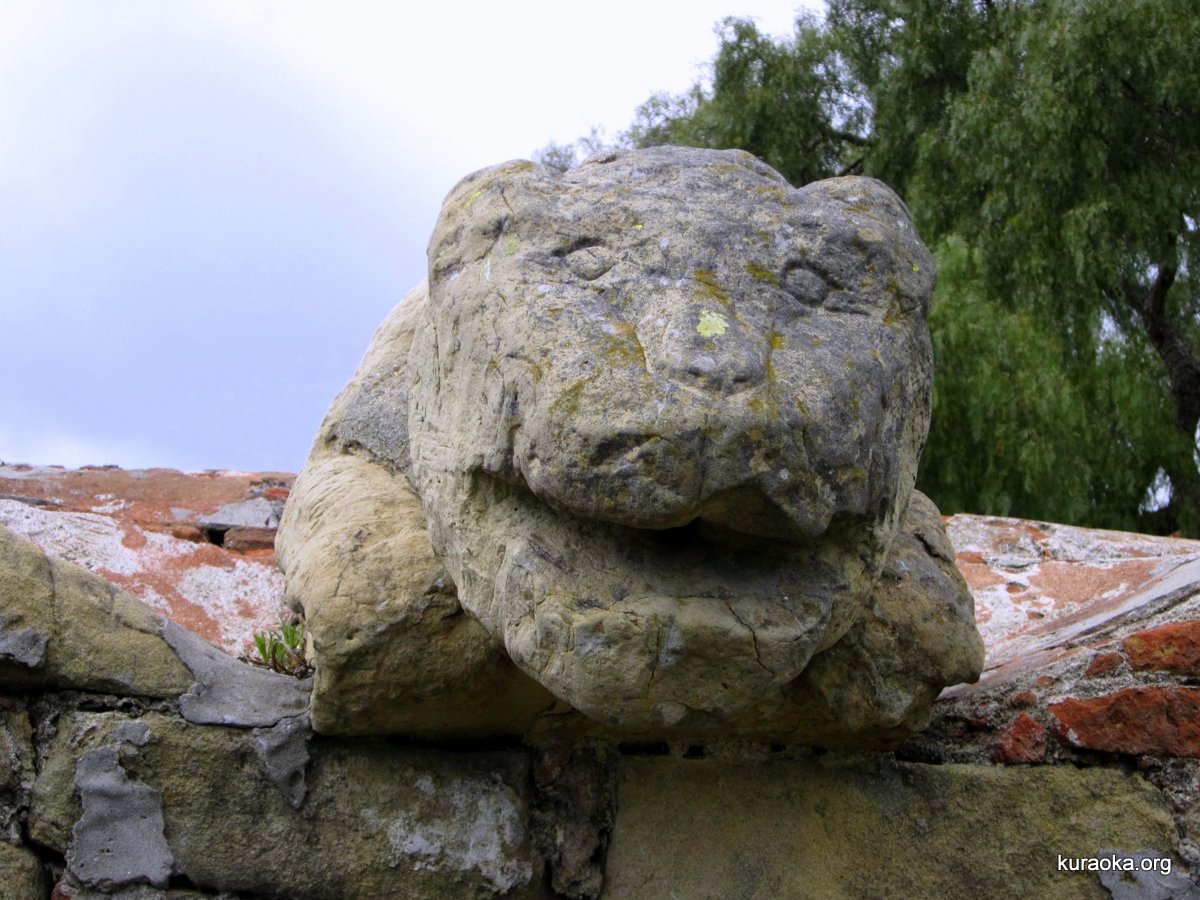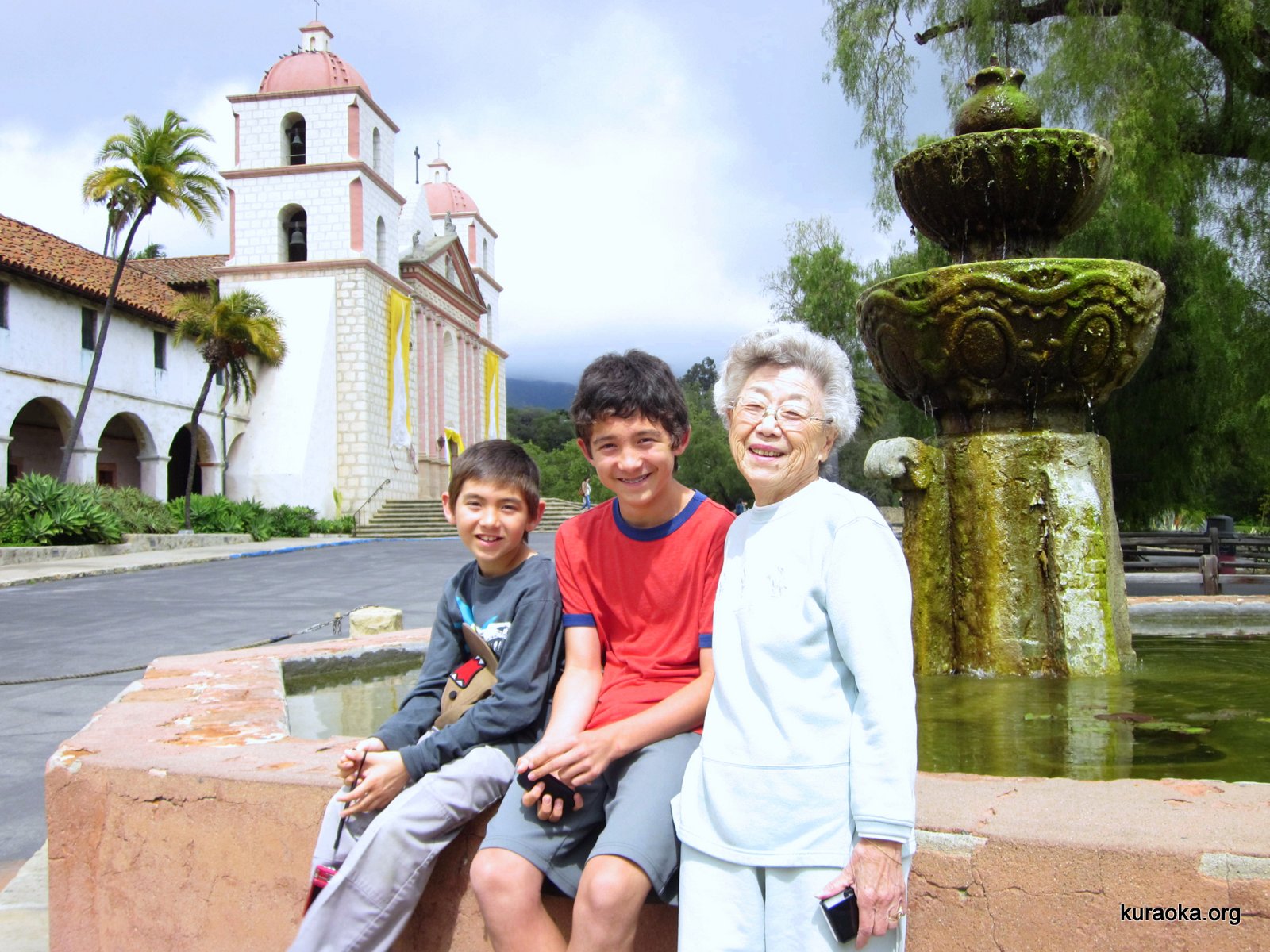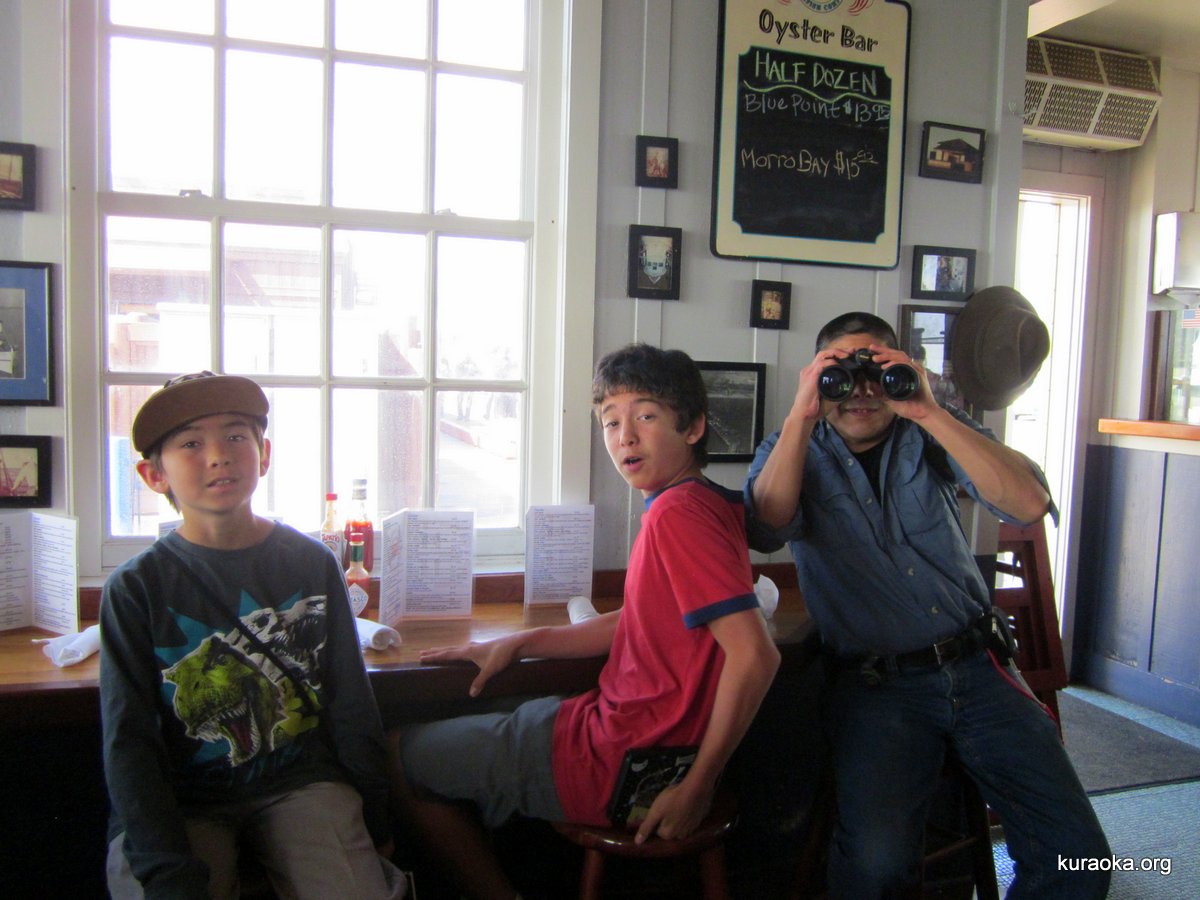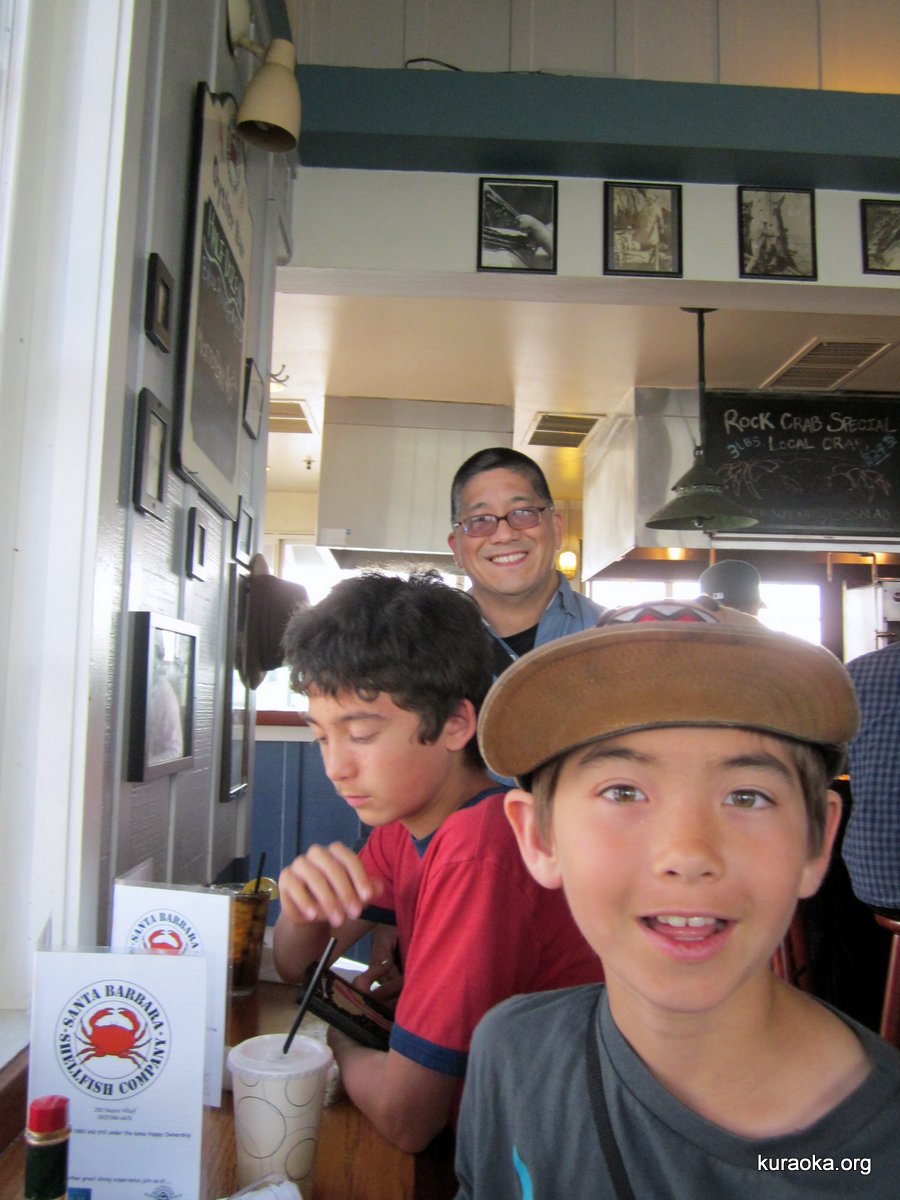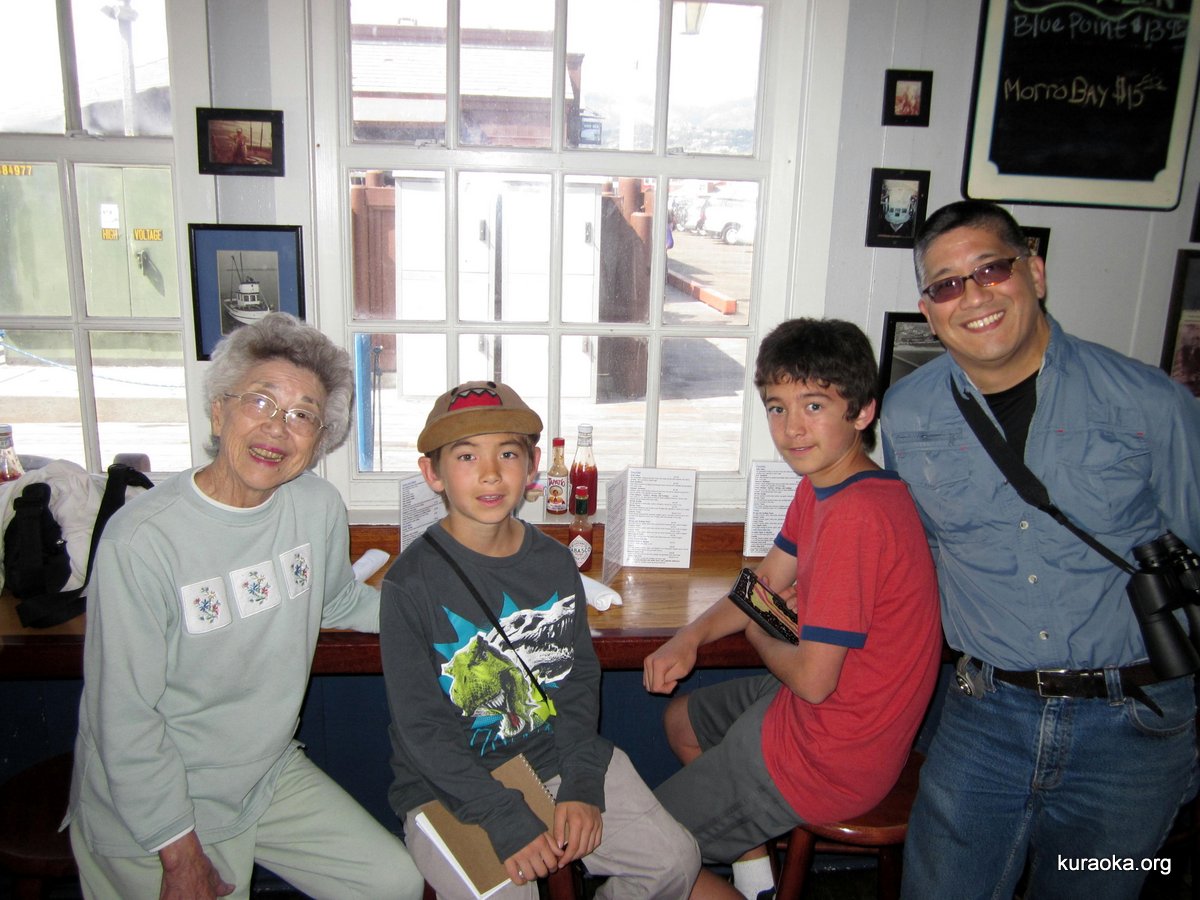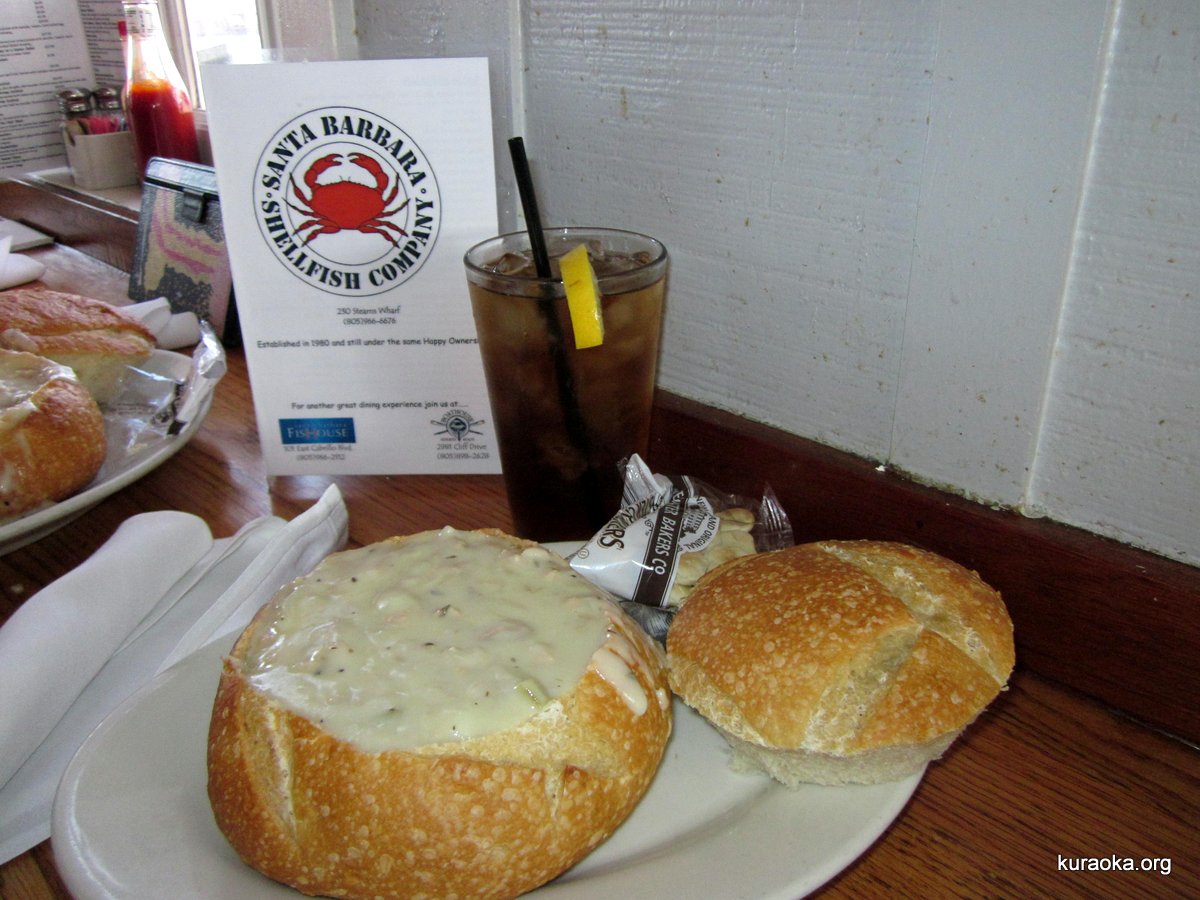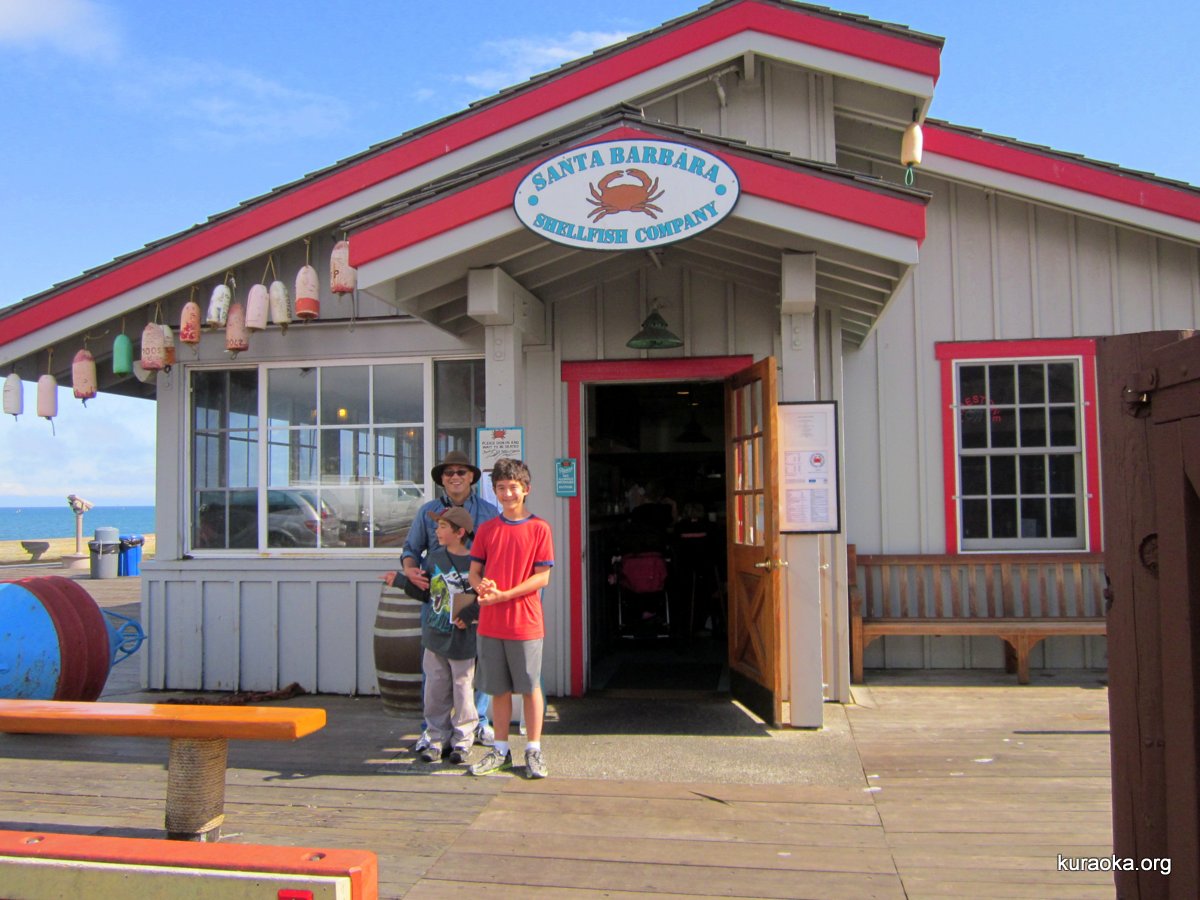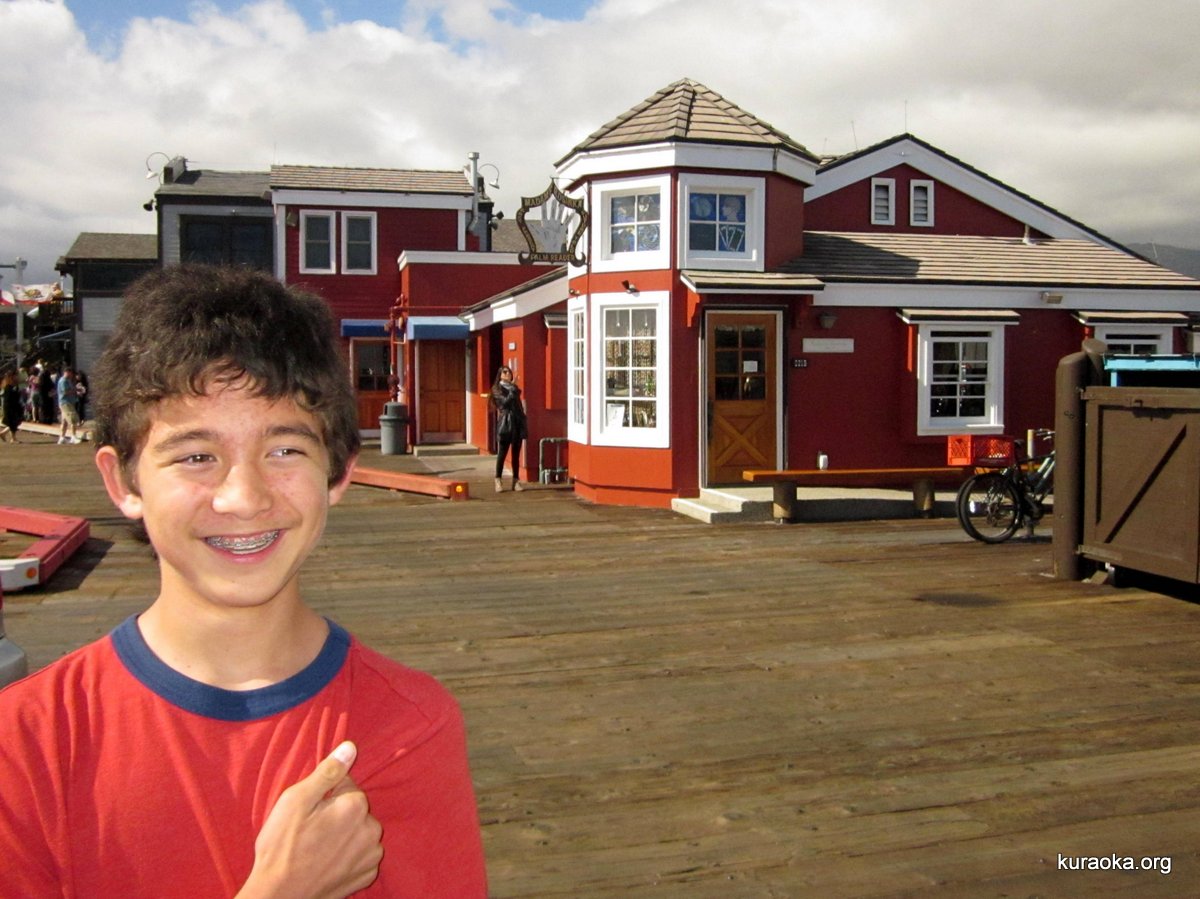 03-31-13 Easter Sunday! Here are Roy and Leo with their Easter backet goodies!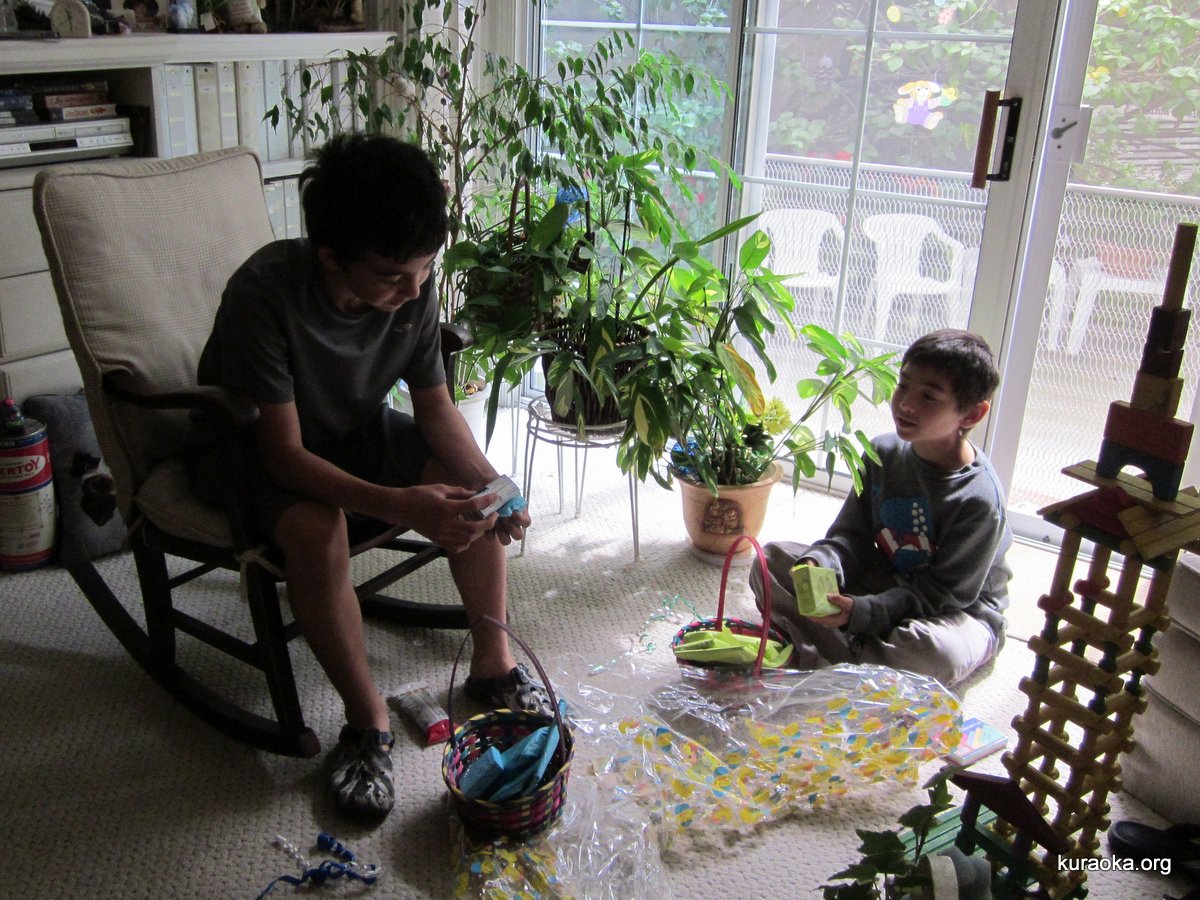 03-20-13 "Breakfast with the Principal!" Leo was selected to receive recognition in a special breakfast! John and Leo stopped off to get donut holes to share. It was a smorgasbord of sweets! Here's Leo with Ondine at the presentation, and then Leo with John.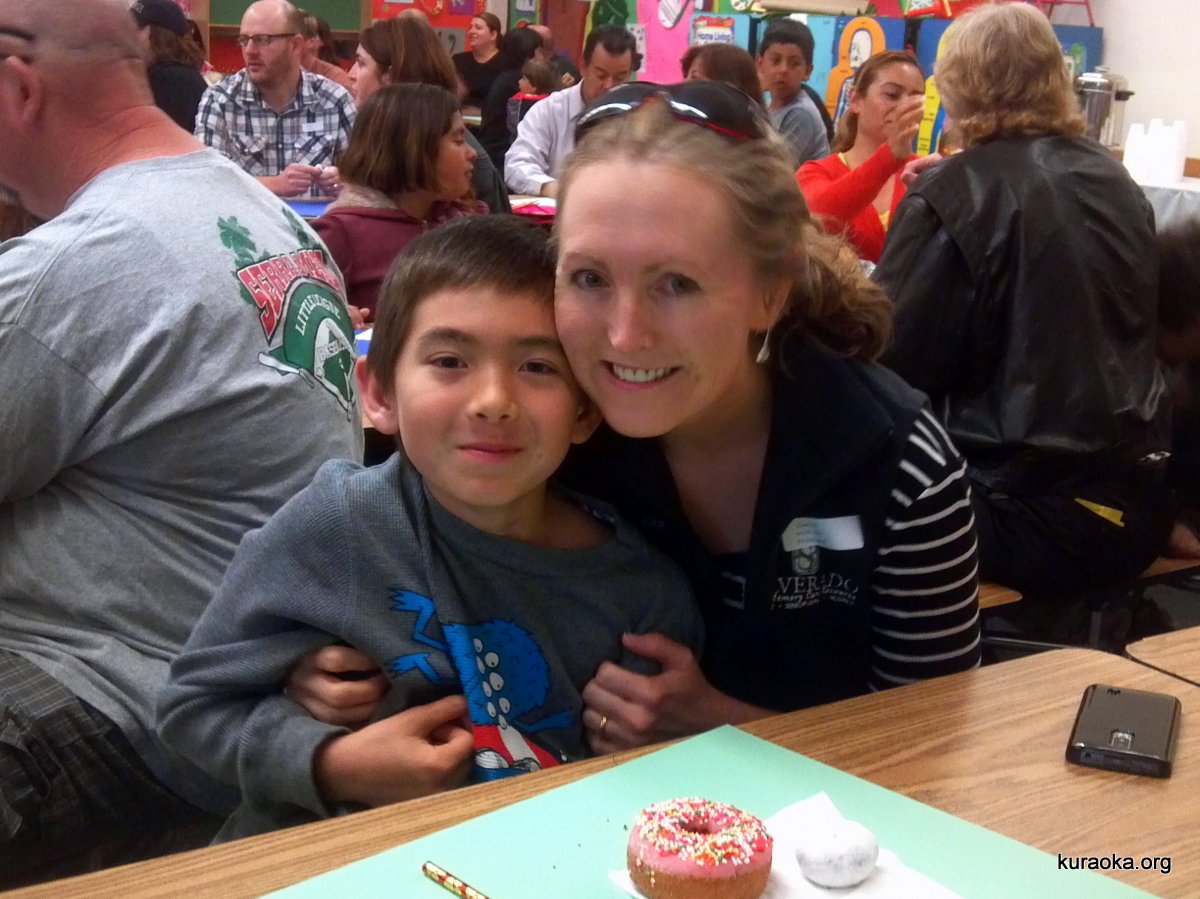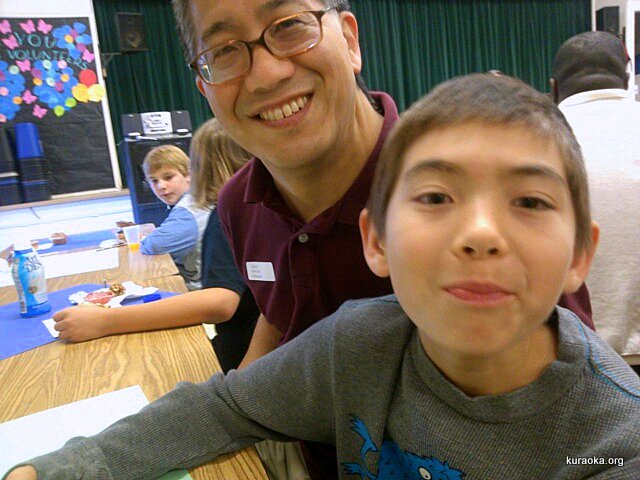 03-12-13 Leo's Piano Keyboard Club recital! Here's Leo playing "Party Rock" and his own composition.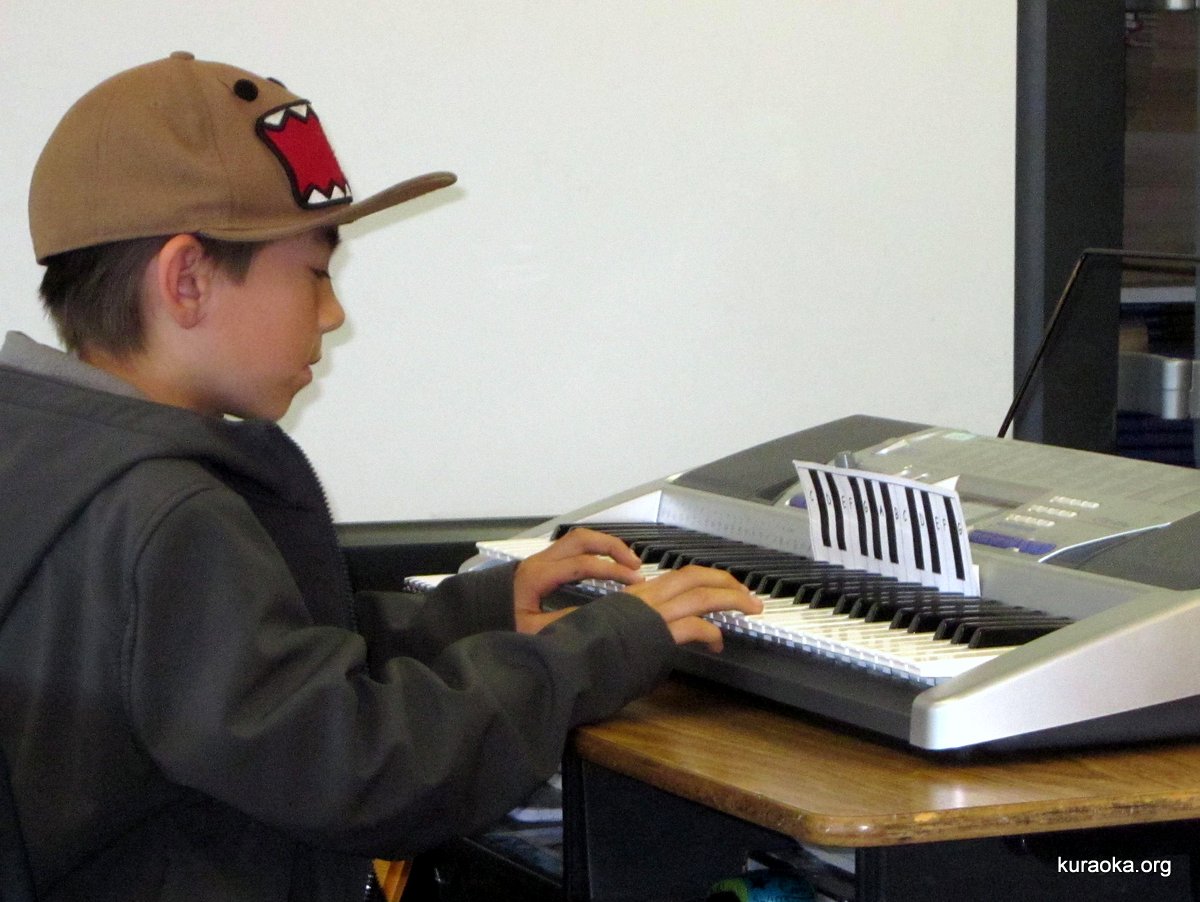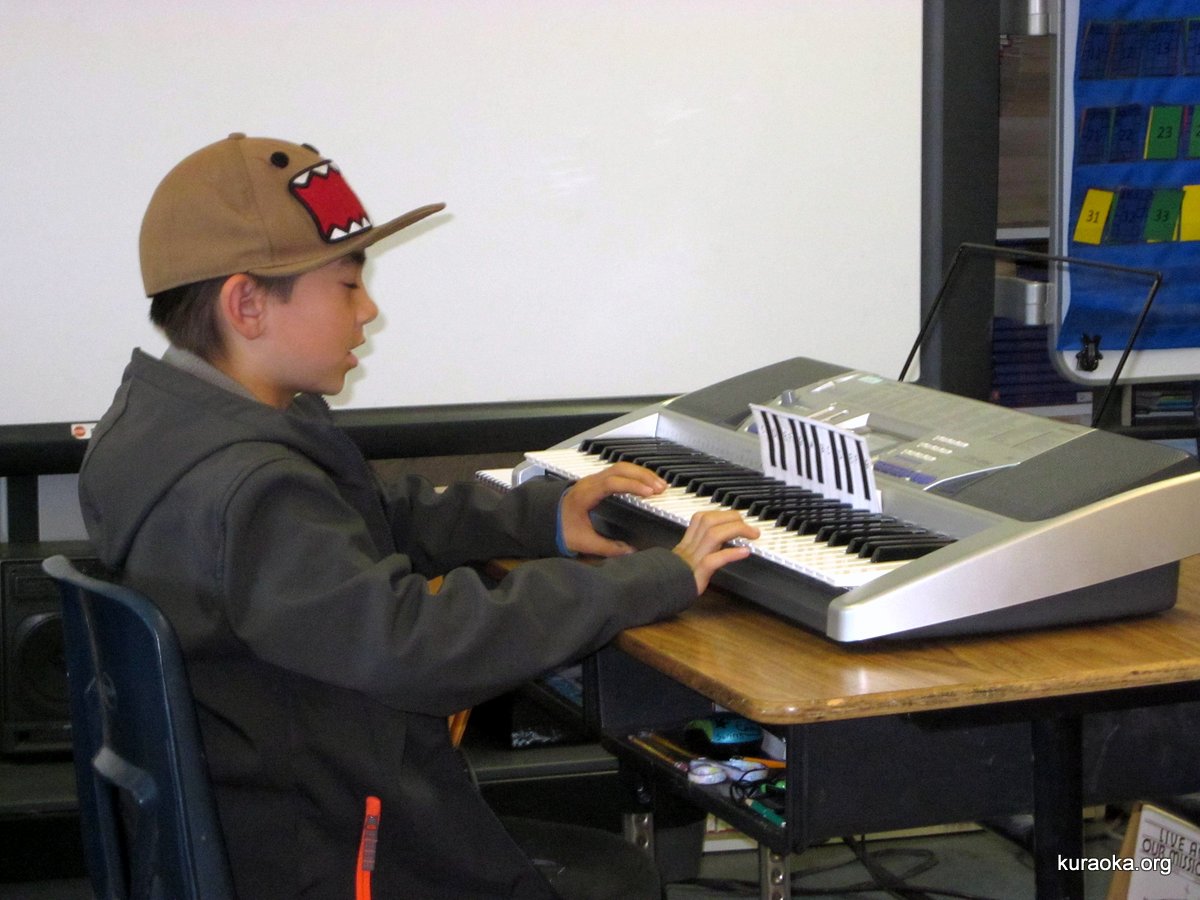 03-08-13 Weather! The morning contained one of the most spectacular rainbows we've seen in a long time, stretching across the western horizon. Then, in the afternoon, the rain, thunder and lightning, and hail hit! Here are views across the street, morning and afternoon. Then, check out the hail on our vegetable beds and roses!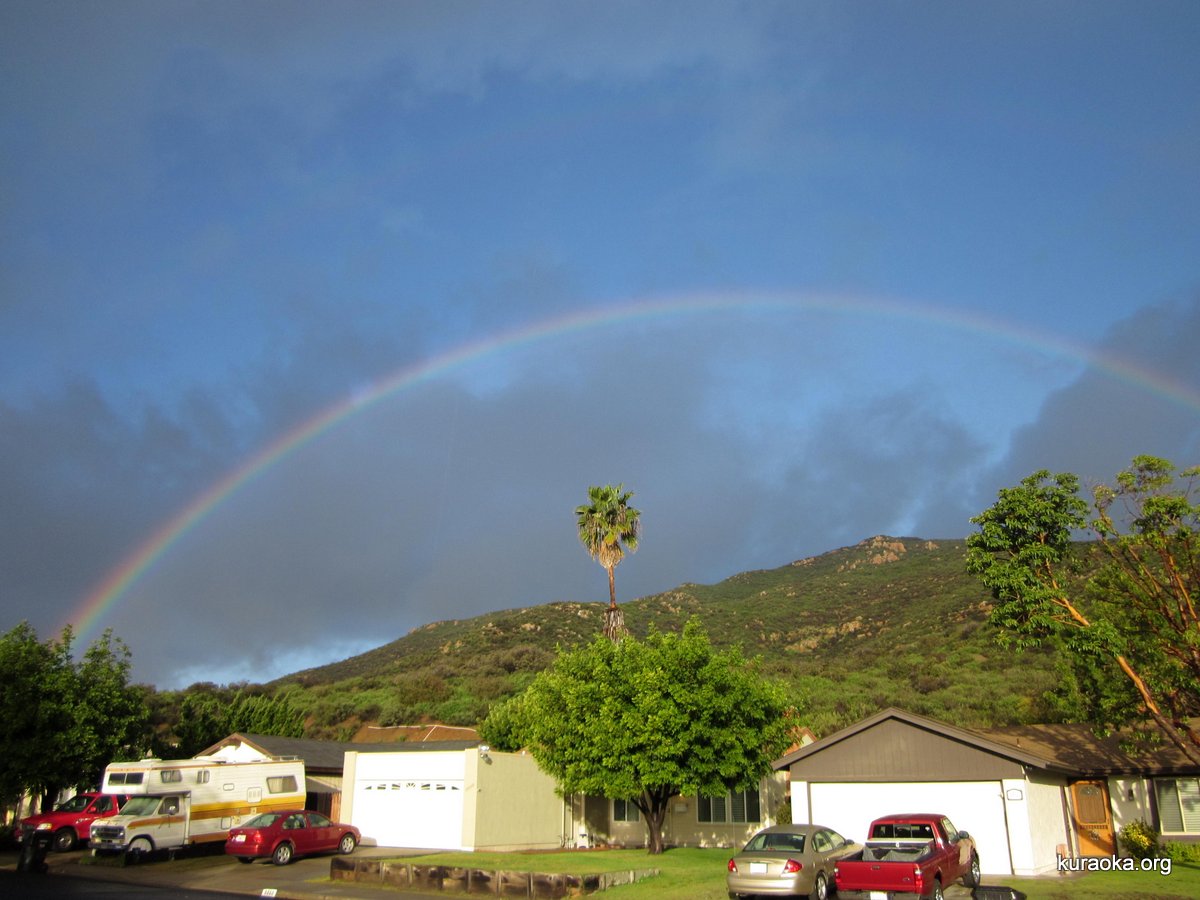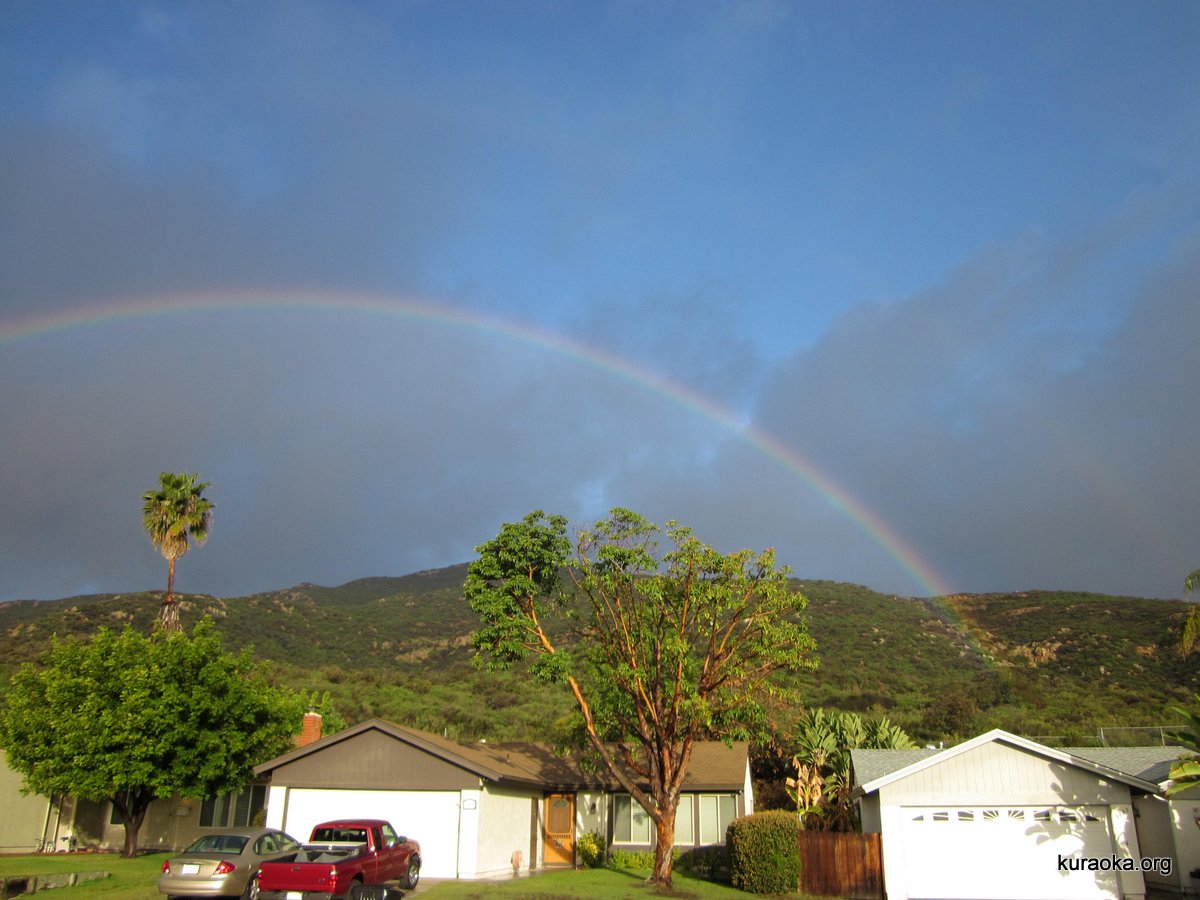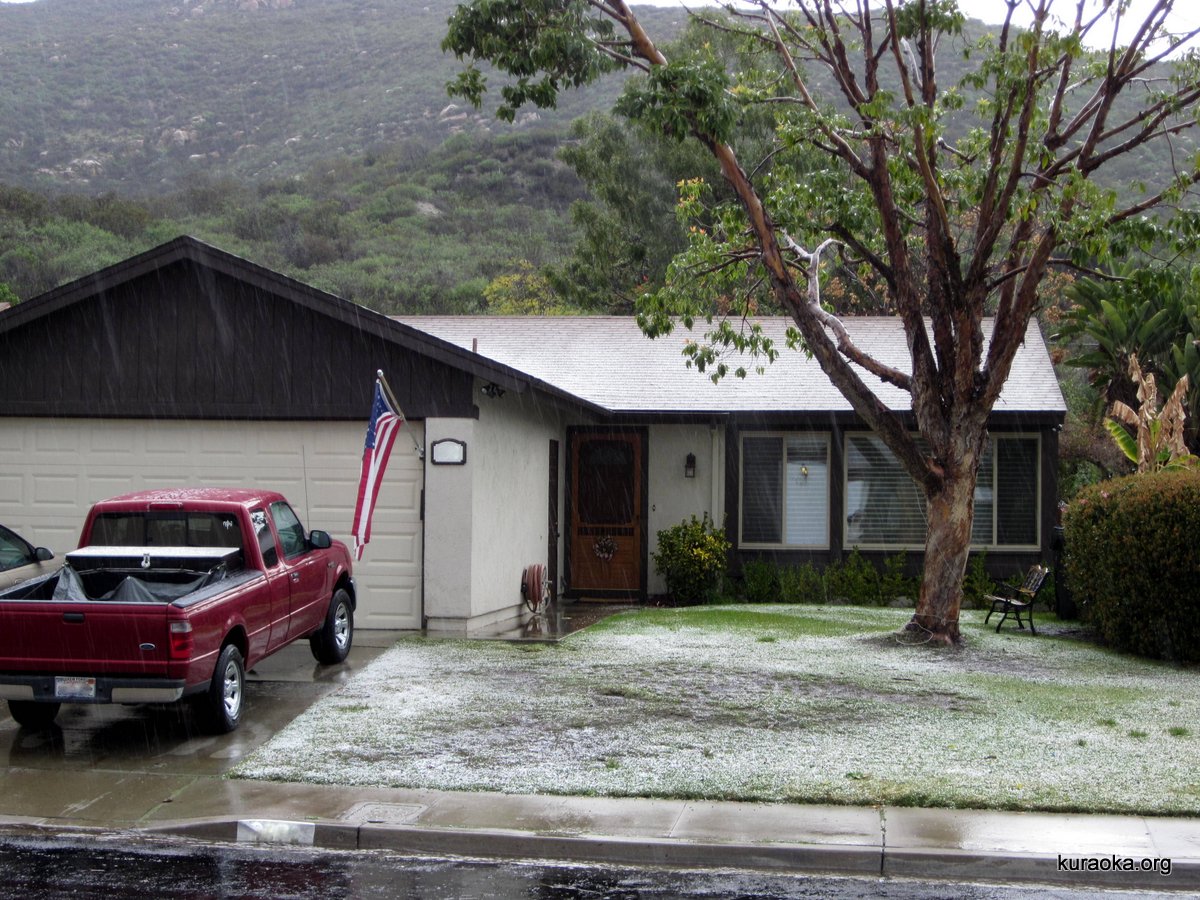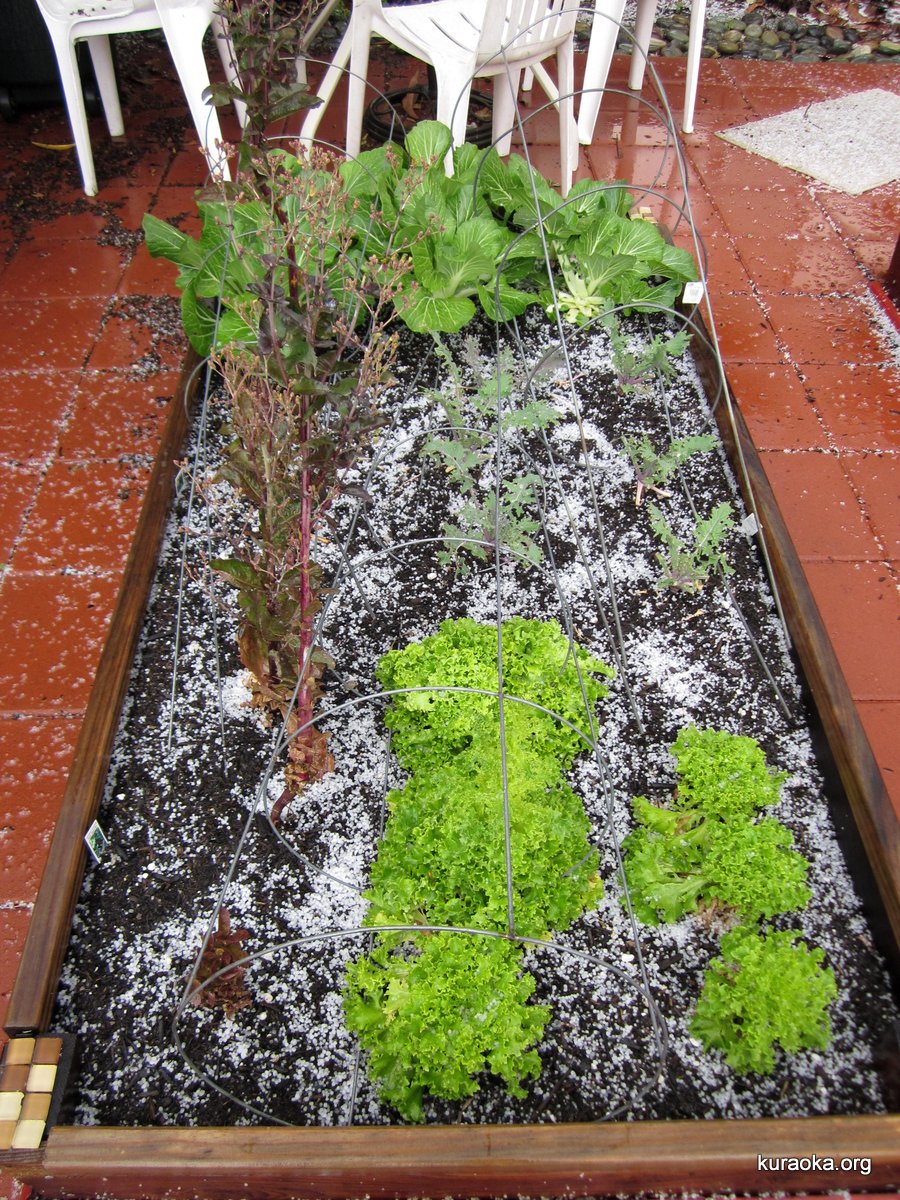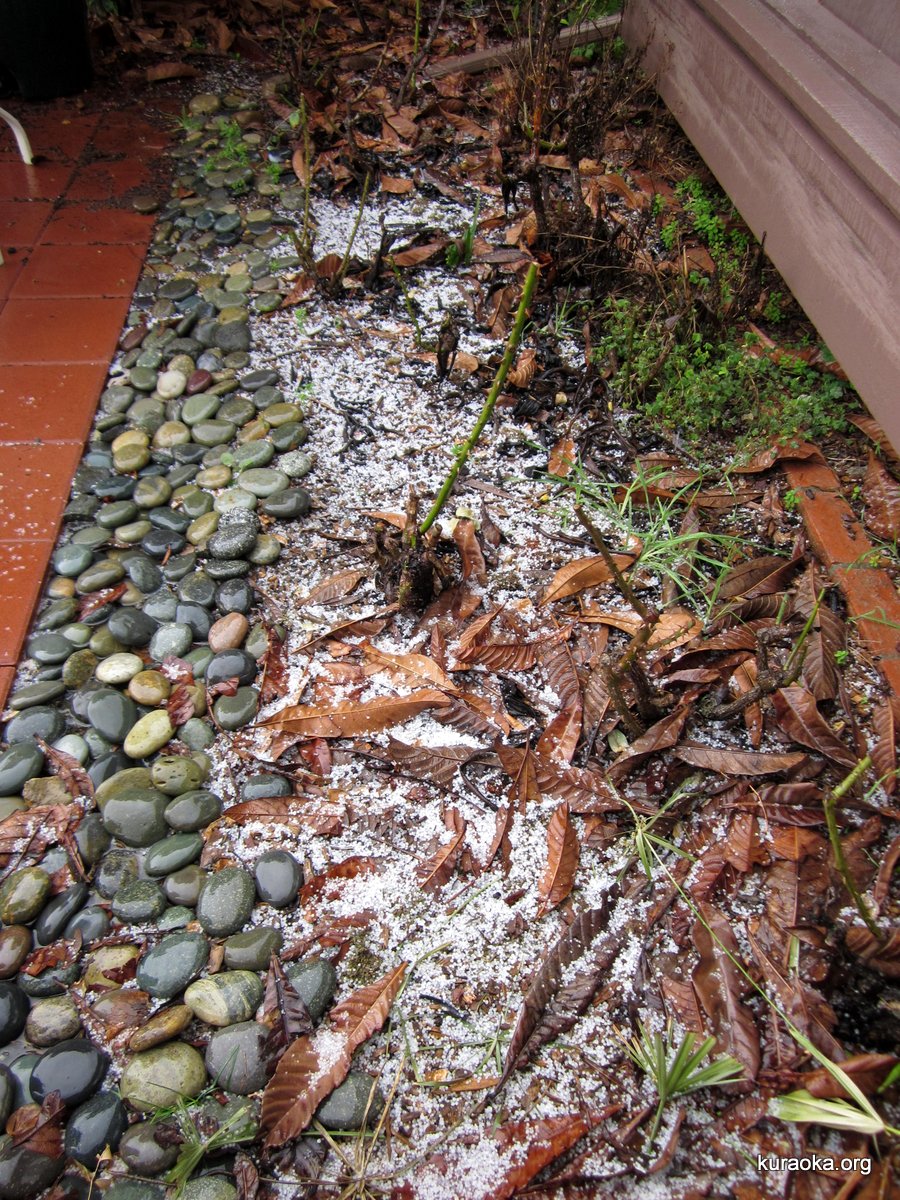 03-03-13 Legoland! We spent the day at Legoland. The boys rode roller coasters (here they are on the Technic coaster) and we all enjoyed Miniland.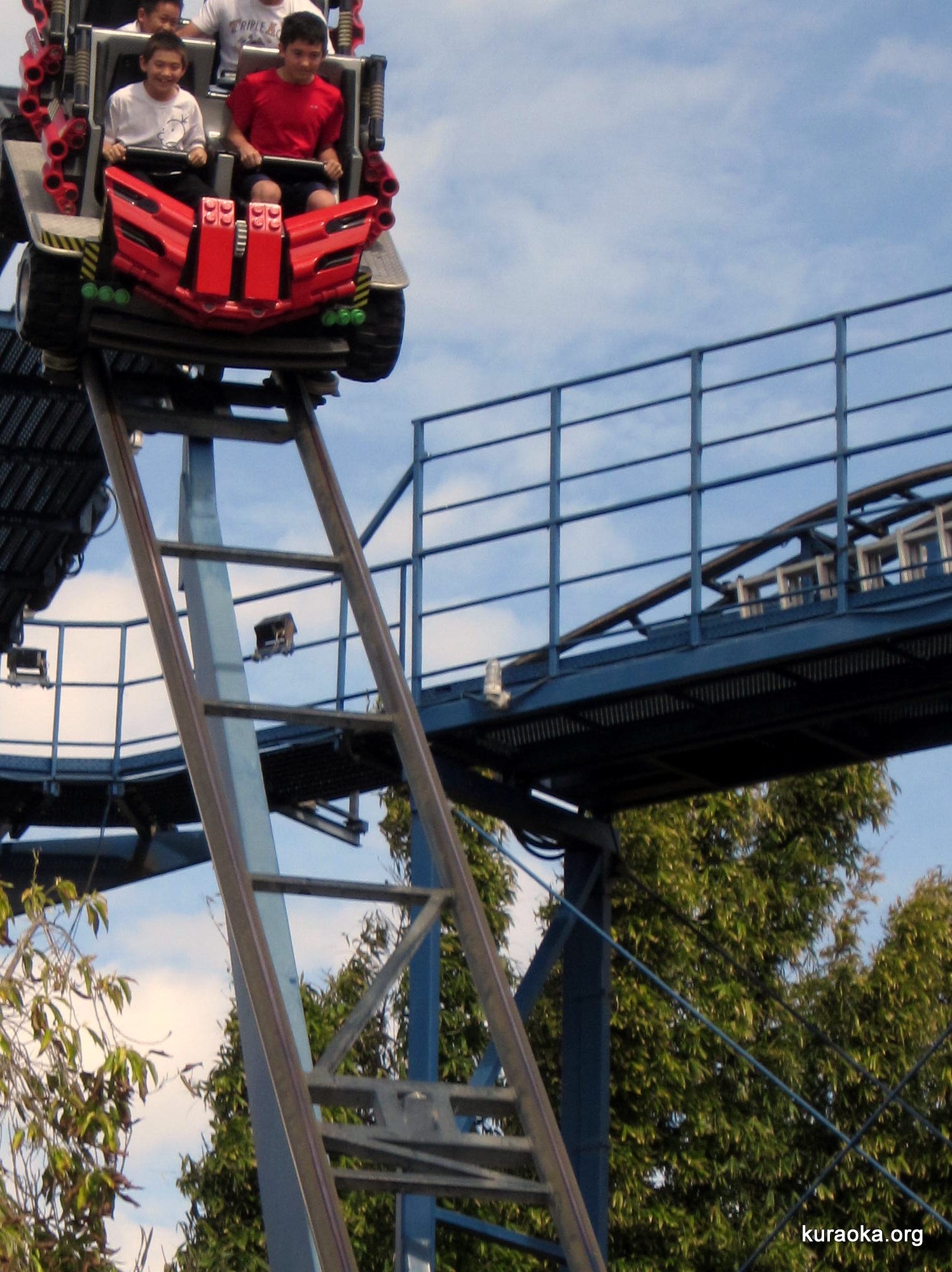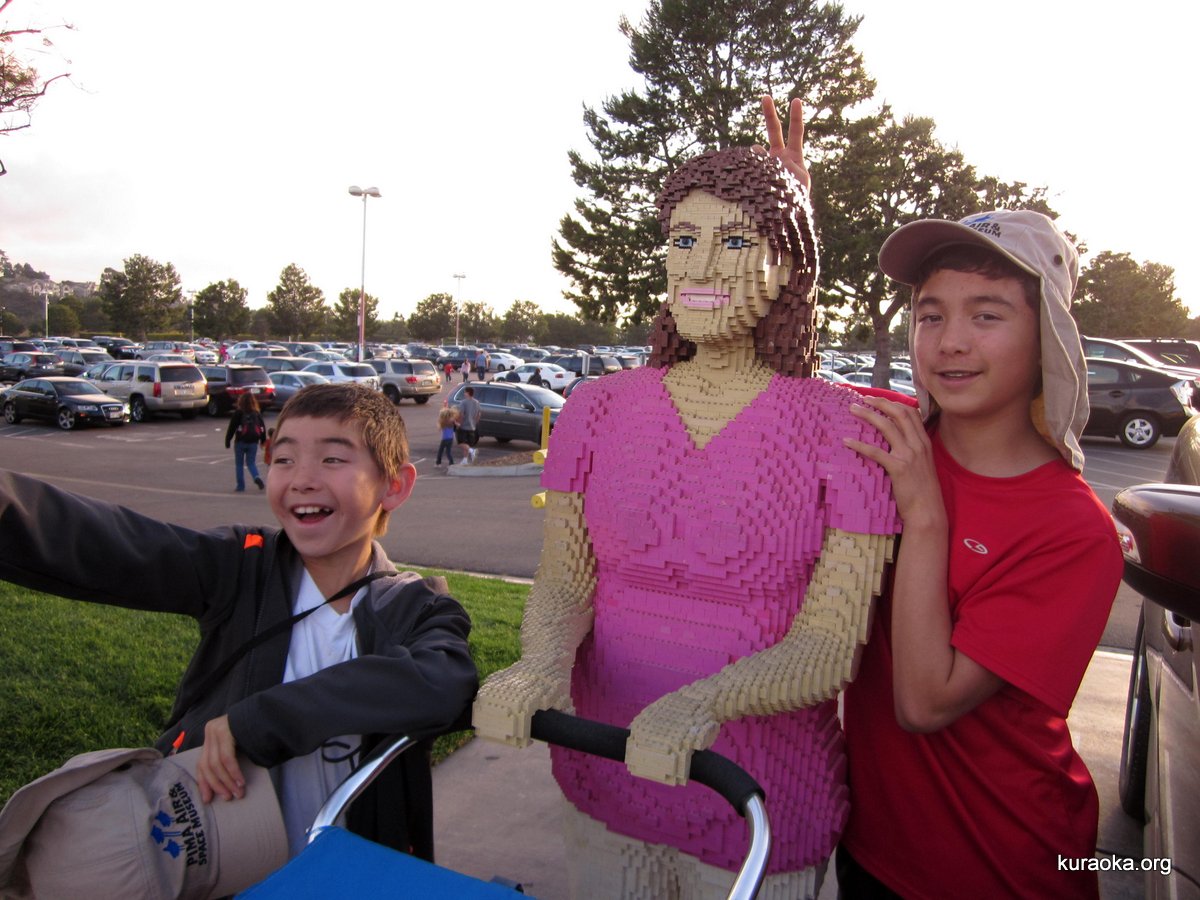 02-11-13 Leo's first day in Safety Patrol! Hearst Elementary just started a Safety Patrol, so this is not only Leo's first day in Safety Patrol, it's also the very first day of Safety Patrol! First, principal Jorgensen shows Leo what to do, opening the car door, helping kids get out quickly, and shutting the door. Then, Leo does it. The line of cars moves at a brisk pace, with Safety Patrol kids (there were just Leo and a girl on duty this morning), school staff, and several parent volunteers. The last shot shows Leo awaiting the next batch of cars.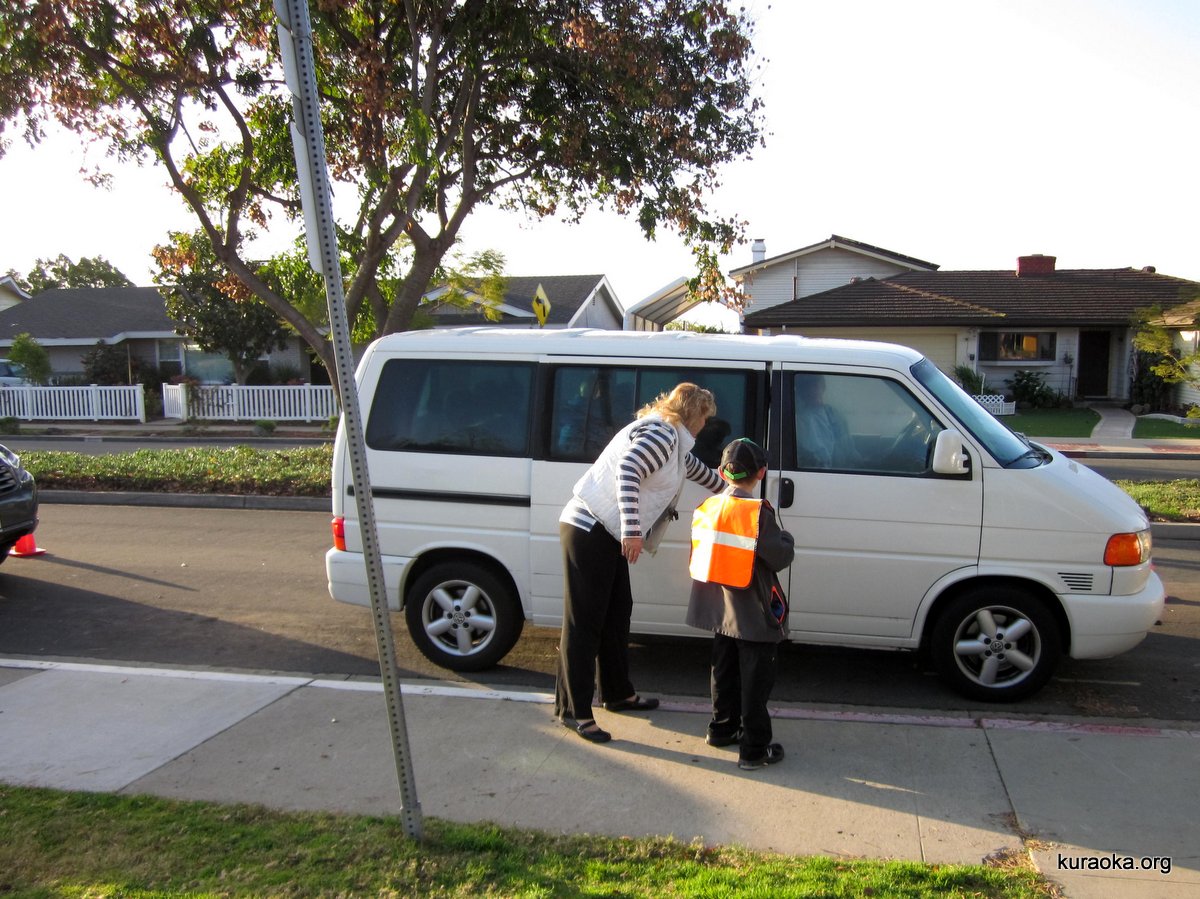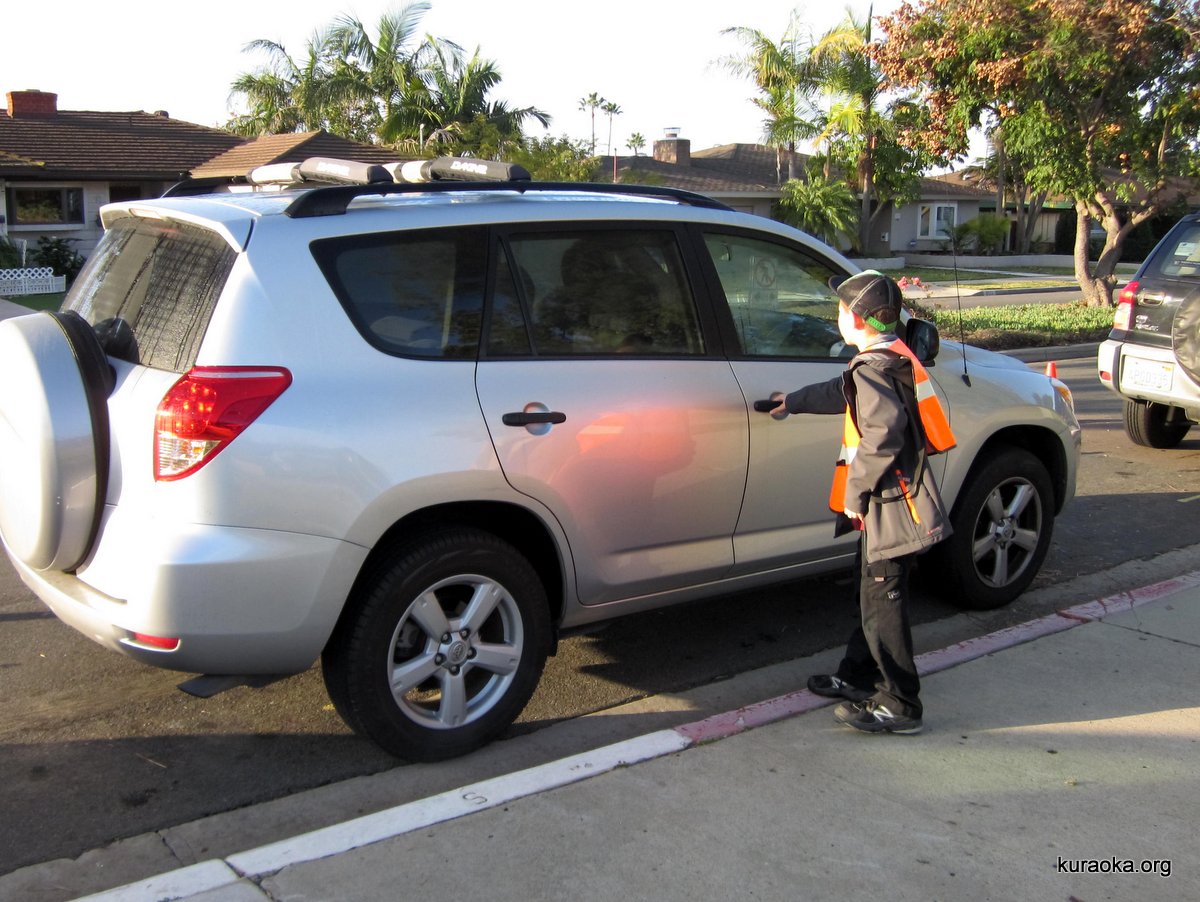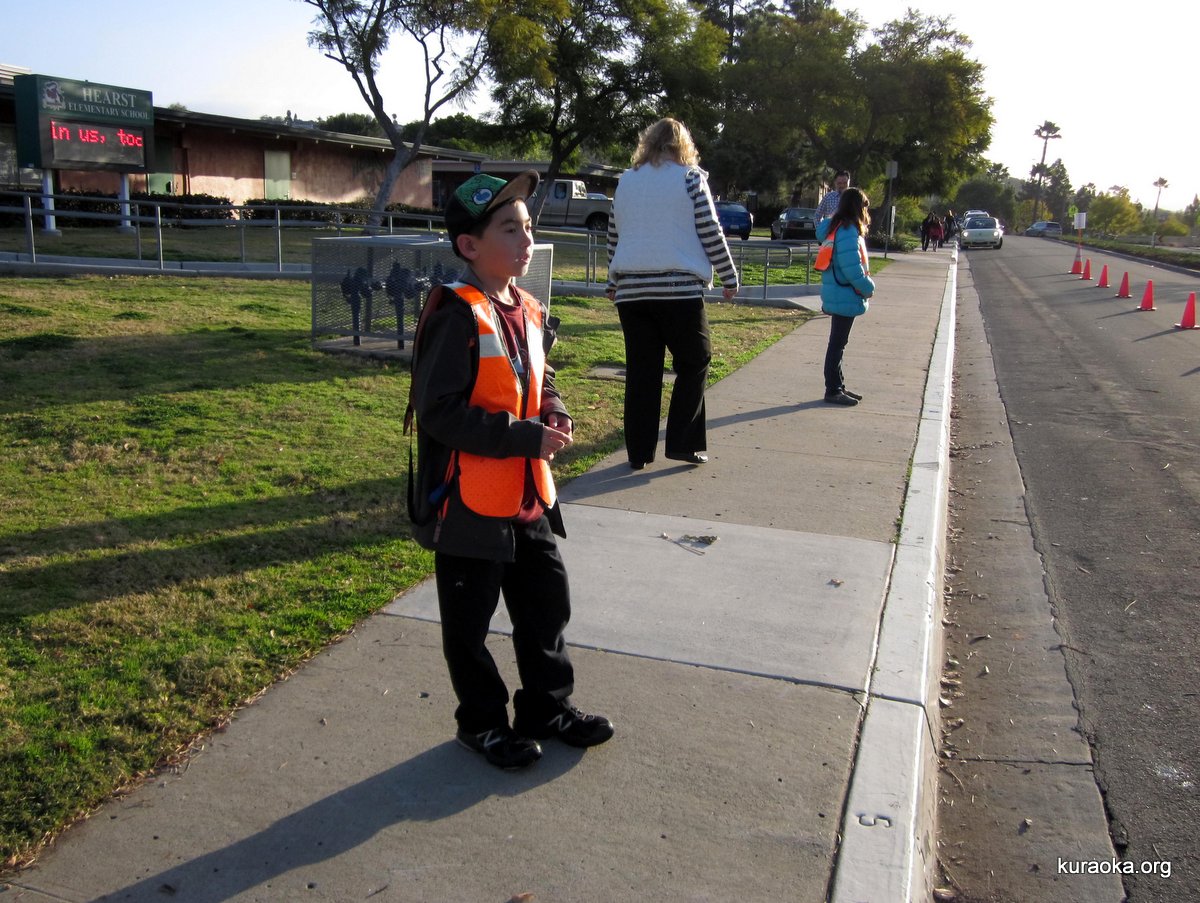 02-10-13 Waffles and a rattlesnake. Leo made waffles for the first time, and they came out perfectly! Here he is holding the very first batch. In the afternoon, we went up the mountain to say hi to Grandpa Bill and Buddy, and on the way down spotted this small rattler soaking up some late-day warmth from the rocks that mark the trail.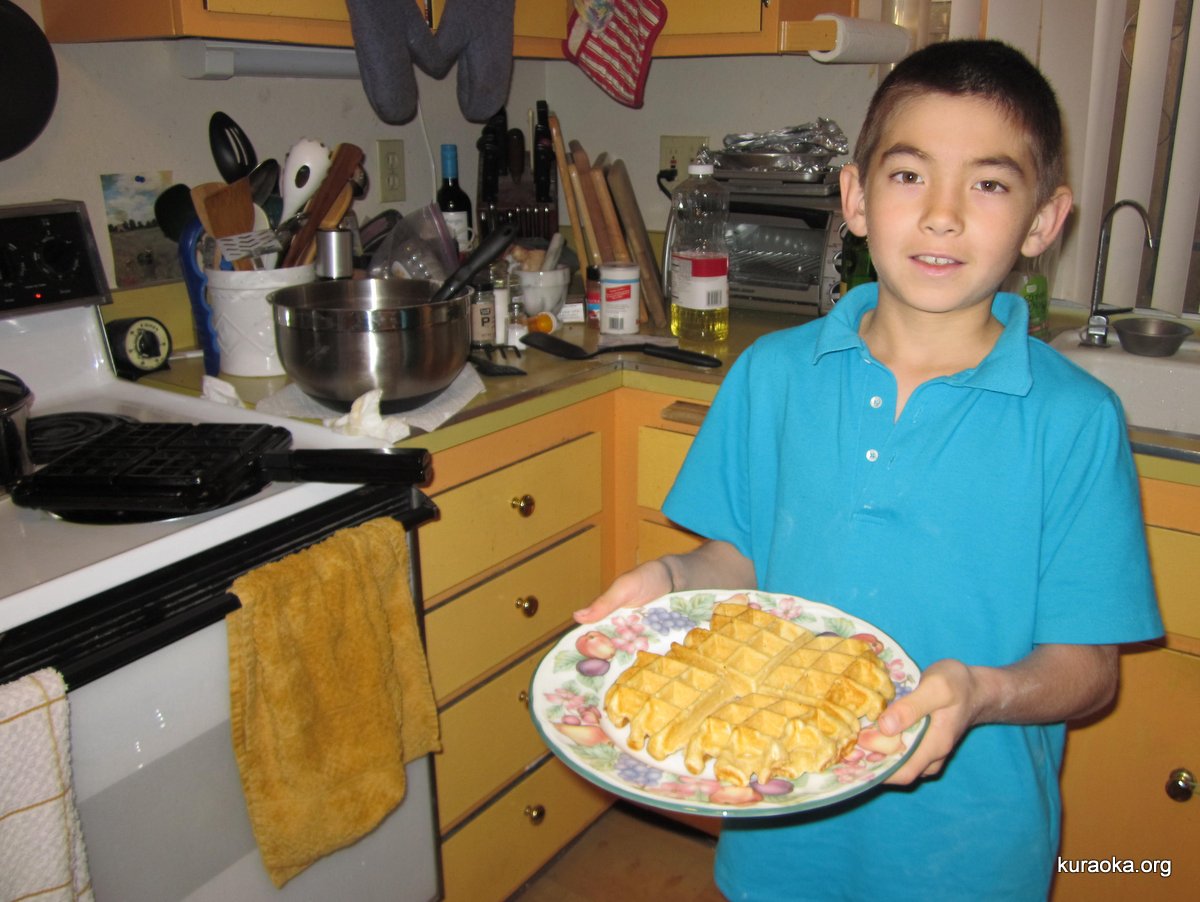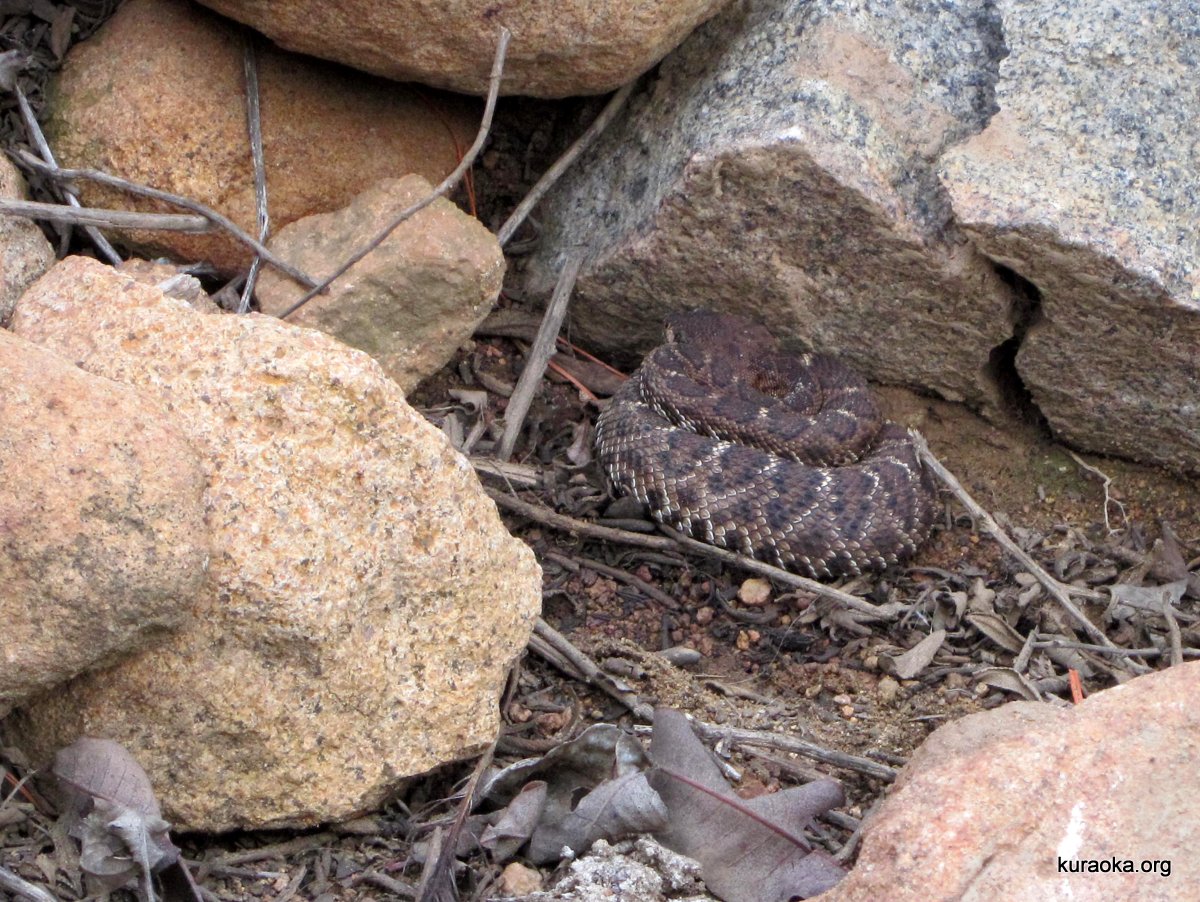 01-23-13 The $95 juice glass. We use repurposed jam jars as drinking glasses. This one cost us $95 when it fell into the drain and fit perfectly and inextricably into the garbage disposal opening and we needed to call a plumber to get it out.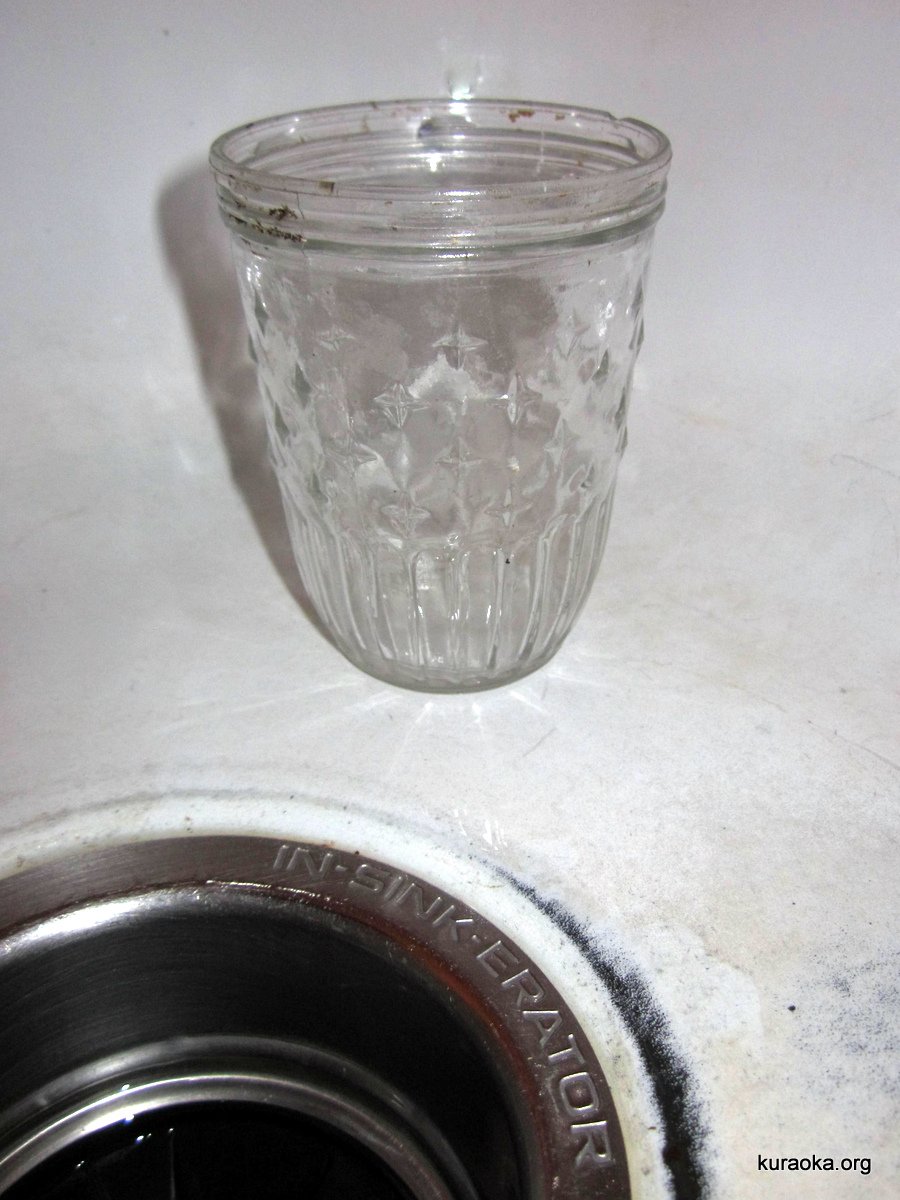 01-13-13 Ice in the birdbath! Don't let anyone say it doesn't get cold in San Diego! Here are Roy and Leo showing off the ice they lifted off the birdbath.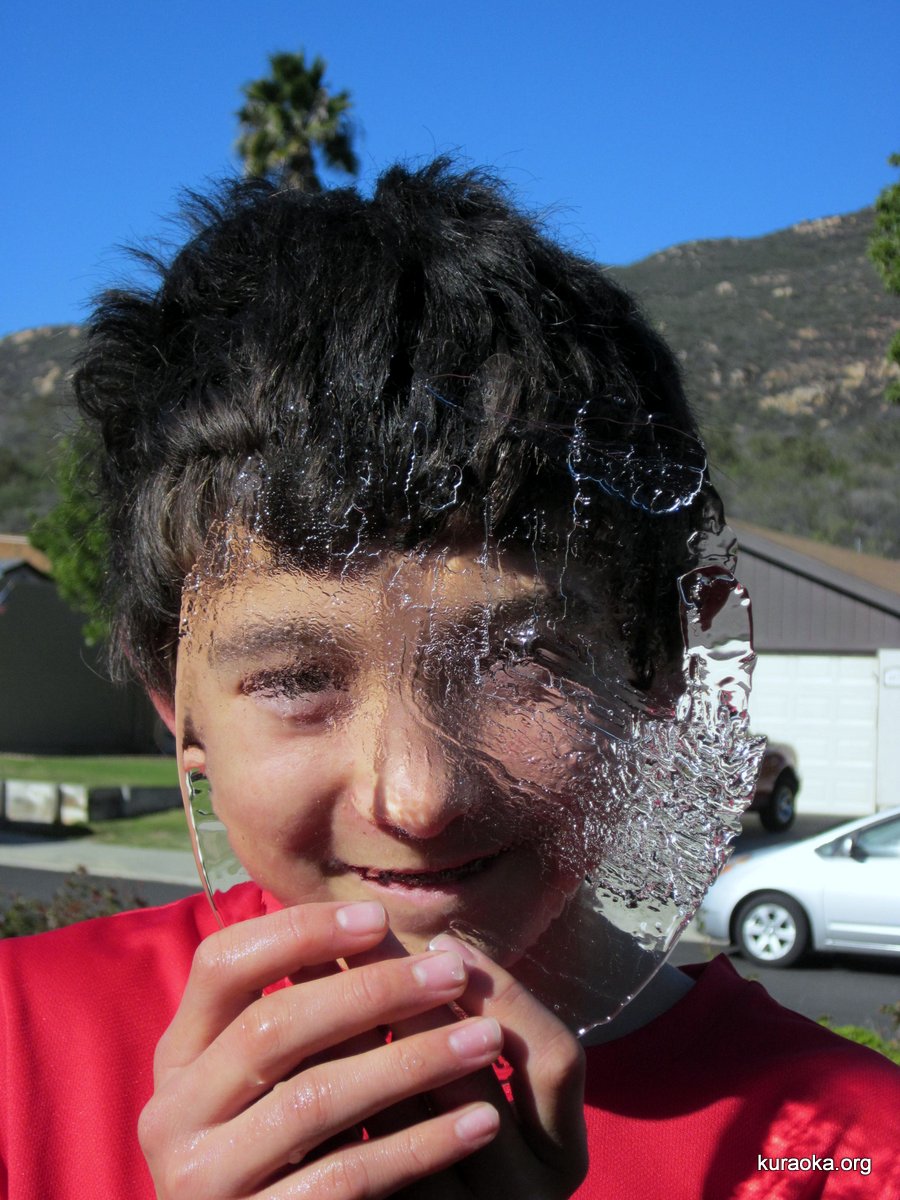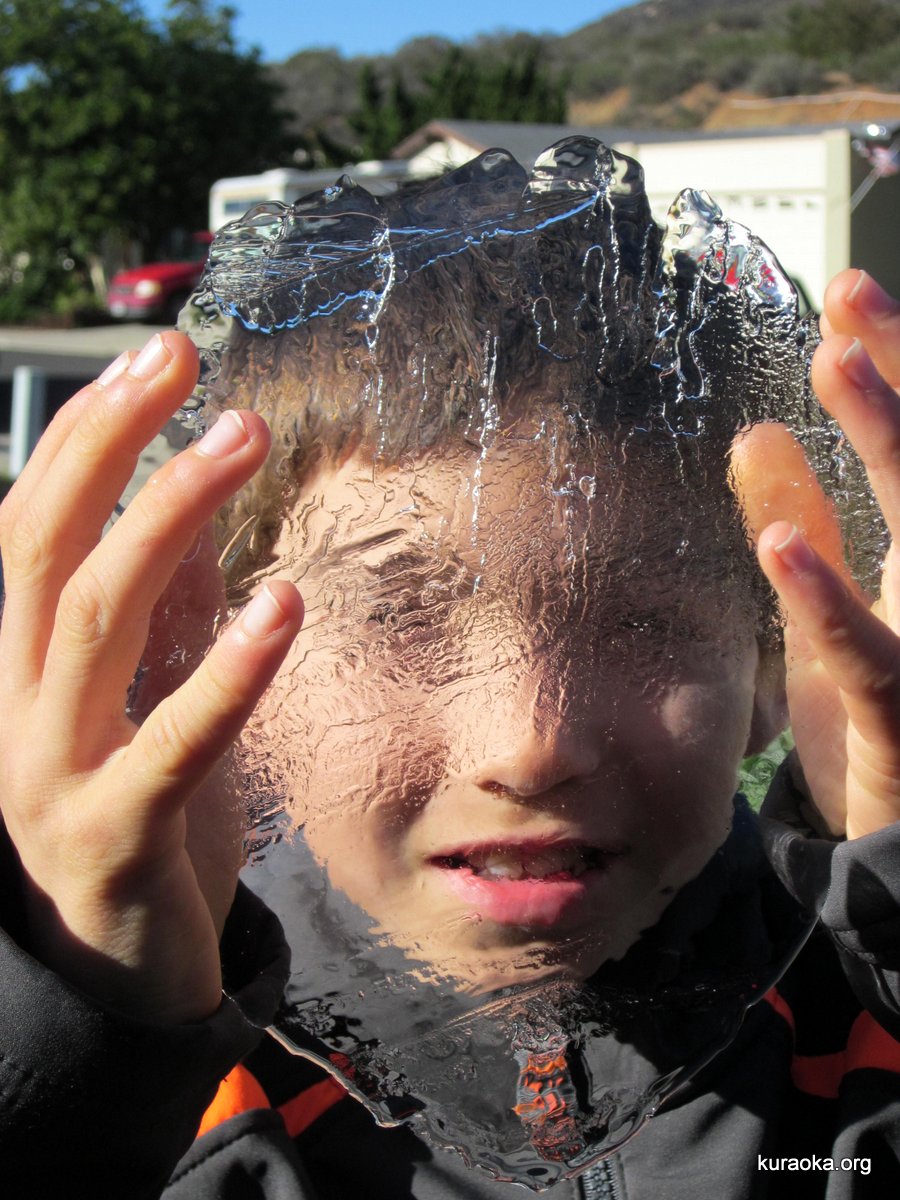 Archived Photos from 2012
Archived Photos from 2011
Archived Photos from 2010
Archived Photos from 2009
Archived Photos from 2008
Archived Photos from 2007
Archived Photos from 2006
Archived Photos from 2005
Archived Photos from 2004
Back to the Kuraoka Family main page