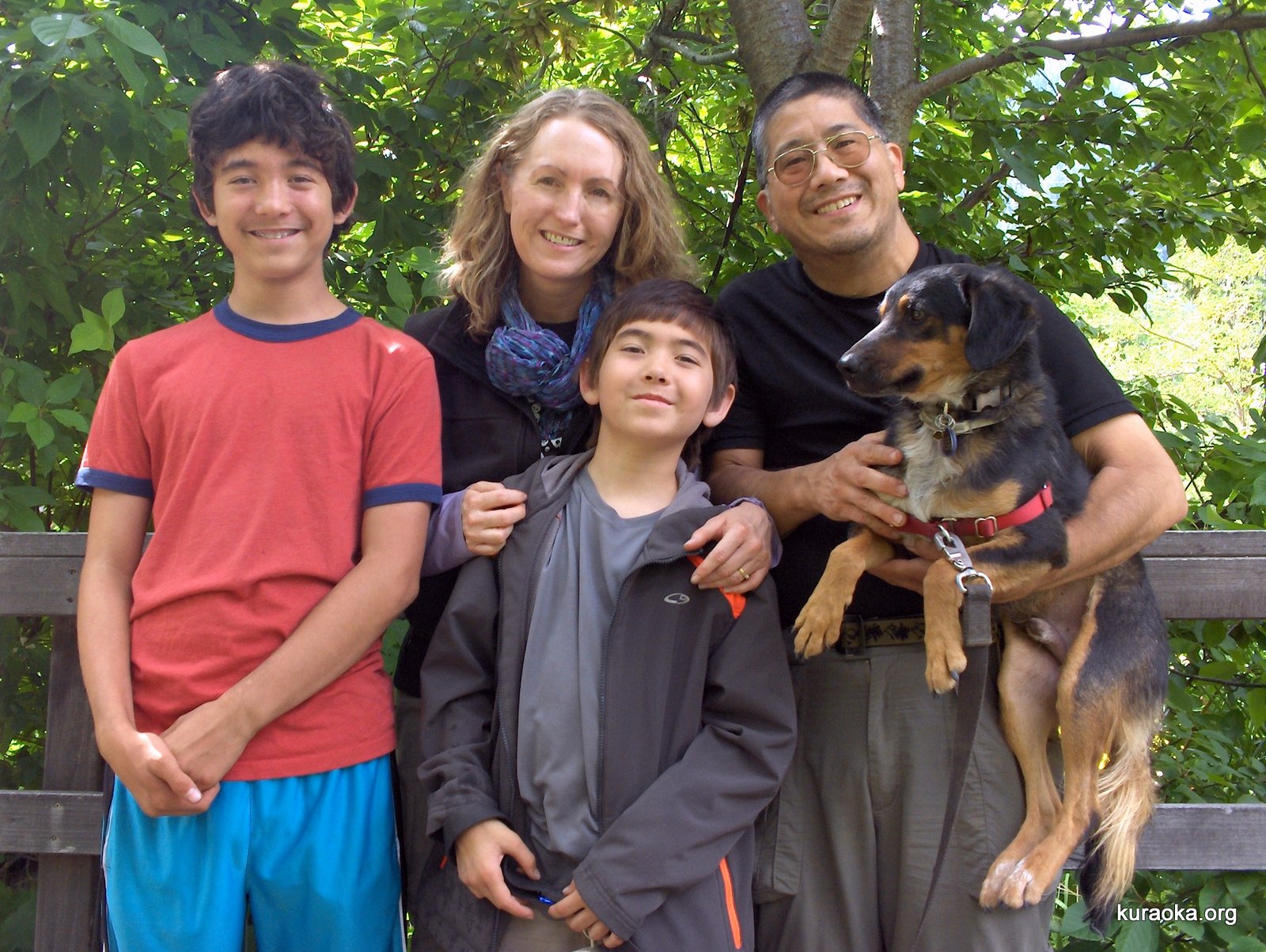 Us, August 8, 2013: Roy, Leo, Shadow, Ondine & John
August 2-19, 2013
Well, we're back from two weeks of excitement here! We went to Sand Pond, our usual annual week-long camping trip. Actually, last year we went to Washington, DC, so it's been two years!
John spent his birthday packing the car and rooftop Piggy Pack, an activity that guaranteed his aging at least a year right there. We'd thought (ha!) about leaving Friday and making an overnight stop at John's Mom's, but events and the pace of packing dictated otherwise and we left San Diego first thing Saturday morning, making a pit stop at John's Mom's for a hearty breakfast. That meant we just missed seeing John's sisters, who headed to Temecula the previous evening for a girl's weekend retreat! Coincidentally, John also missed seeing his old Boy Scout friend, Peter, who was visiting San Diego at the exact time we were heading up to LA! Ondine drove her car separately, so she could leave it at John's Mom's because she had to work the Sunday we returned.
Anyway, we made the longest leg of the trip in one day instead of two, arriving at the Holiday Inn Express Santa Nella in the early evening. John was proud of having achieved 37 mpg with his 18-year-old Infiniti, fully loaded with four people, a dog, camping gear and food for the week, and a fully stuffed Piggy Pack! Barbara had left San Diego a few hours after us, but she drives a brisker pace with fewer stops, so she arrived in Santa Nella before we did, and then after a short visit moved on to her hotel in Westley.
We like the Holiday Inn Express in Santa Nella because the rooms are on outdoor corridors surrounding a central landscaped courtyard with a fenced pool area, making it better suited for the dog. Also, the breakfast buffet has outdoor tables so the dog can join us at breakfast instead of being left alone in the room. Barbara prefers the Holiday Inn Express Westley, about 40 minutes further north, for its interior corridors, plus it's half the price when paying with rewards program points.
The drive was uneventful; the kids and dog managed to entertain themselves in the back seat without too much parental intervention. We only played one ABC game the whole trip. One notable occurrence was that "Jill," our Garmin GPS, couldn't locate our hotel! We handed the device back to Roy, who found a way to use the GPS' hotel finder to pull up directions. Hey, sometimes it helps to have a teen on board!
Jill, by the way, consistently routed us in ways that we've long since learned to avoid. Perhaps they're shorter in mileage, but they're hours longer in real time.
The other notable occurrence came as we were driving through Kern County. We adopted Shadow from a dog rescue organization that had, in turn, pulled him off death row at the Kern County animal shelter. As we drove through Kern County, Shadow got very agitated, standing up and whining and looking around with a furrowed brow and worried eyes. That area was, after all, where someone had abandoned him. Perhaps he thought it was happening again! Anyway, we reassured him, and gave him a rawhide chew, and the kids cuddled him. We later found the rawhide dropped into the back seat footwell, unchewed.
Sunday morning we enjoyed a leisurely Holiday Inn Express breakfast buffet, and left around 9:45. We got to Sardine Lake Campground around 5:00. We circled the campground looking for the posted card indicating our reserved spot. We couldn't find it! So, while John staked out an unmarked spot with the car, Ondine sought out the camp host to see what had happened to our reservation.
It turned out that somehow the posted reservation cards had gotten out of order, so our card was behind the other cards and there was a family encamped in our spot complete with two dogs! The camp host moved them to the open spot, and we moved in.
We had campsite #12. It was on the far end of the loop, by the meadow and the camp host. When the kids were little, we needed the quicker access to the toilets that the more-central sites allowed. Now that they're older, we really appreciated the greater solitude and quiet of having a more secluded site. Campsite #13, across from #12, was also very nice, a large spot with an unobstructed view of the meadow. Barbara and Ulli were in site #11, next door but separated by a wide swath of brush. We think we'll try for #12 or #13 again!
The bear box in site #12 was different from what we're used to, with a detachable handle that fits onto a peg. We bought an $8 bundle of firewood from the camp host to have our inaugural Sand Pond campfire. Bliss!
Ulli pulled in as we were getting settled. Ulli had brought with her a big carton of fresh Oregon blueberries and a birthday present for John: a bag of dark chocolate Moose Munch and a tub of Milk Chocolate Moose Munch! John and Roy helped set up her tent. Ulli brought Diego, who immediately put Shadow in his place, much to Shadow's perplexity.
Shadow continued to do well with other dogs this trip, somewhat inexplicably because he's such a strain with other dogs at home. We think the unfamiliar territory helped, as well as Diego, who showed Shadow who was boss very early on by snapping at him.
Monday was our first full day of camping! Leo walked Shadow around the campground, and when Roy emerged the boys took Shadow to Sand Pond for their first look at the water. Ahh!
The boys accompanied Barbara and Ulli gathering wood. They gathered so much wood, that we still had wood left over after our stay!
Liz and Les dropped by for a visit! They were looking for Barbara and Ulli, who were still out woodgathering. Liz and Les were camped at Berger Creek with their little dog Carmen and their son Sam's little puppy Chewbacca. Shadow was surrounded by tiny dogs!
We went to the spillway for a very late lunch. Shadow did some wading with Leo. Afterwards, we headed to the lodge to look for the boys' initials in the big wooden table. That done, we bought postcards from the lodge. There were a couple nice new ones!
We enjoyed a small fire and John and the boys toasted Peeps! Toasted Peeps are really very good! The sugar coating caramelizes into a sweet and crunchy crust surrounding the molten marshmallow.
That night, Barbara, Ondine, and Leo took a night hike to Upper Sardine Lake. It was a new moon, so the path was lit by a blaze of starlight. The Milky Way looked like a regular terrestrial cloud, magically lit, a glowing streak against the blackness. The Perseids were just starting, and they saw several meteors streak across the sky. John, in camp, enjoyed a bit of quiet and stargazing with his binoculars. Ondine and Leo reported that the water level at Upper Sardine was very low.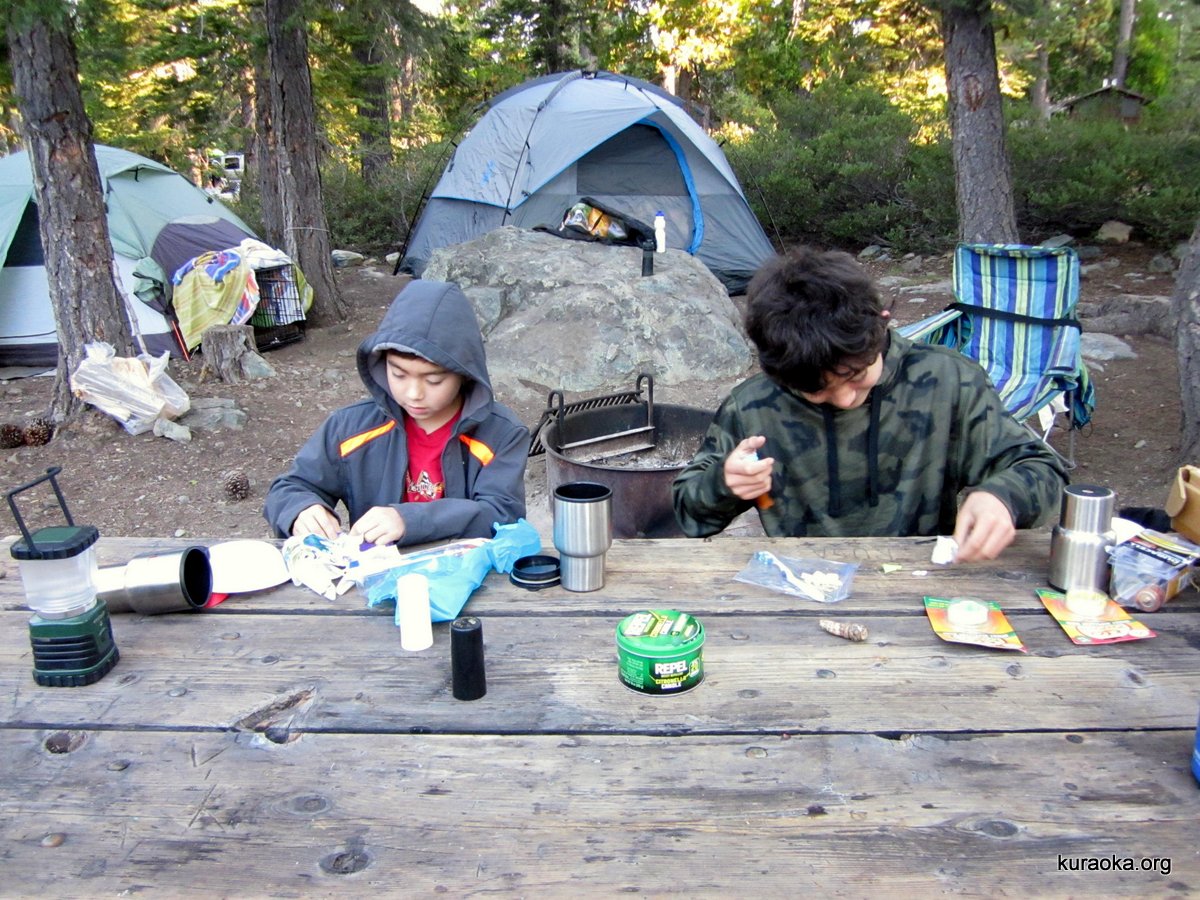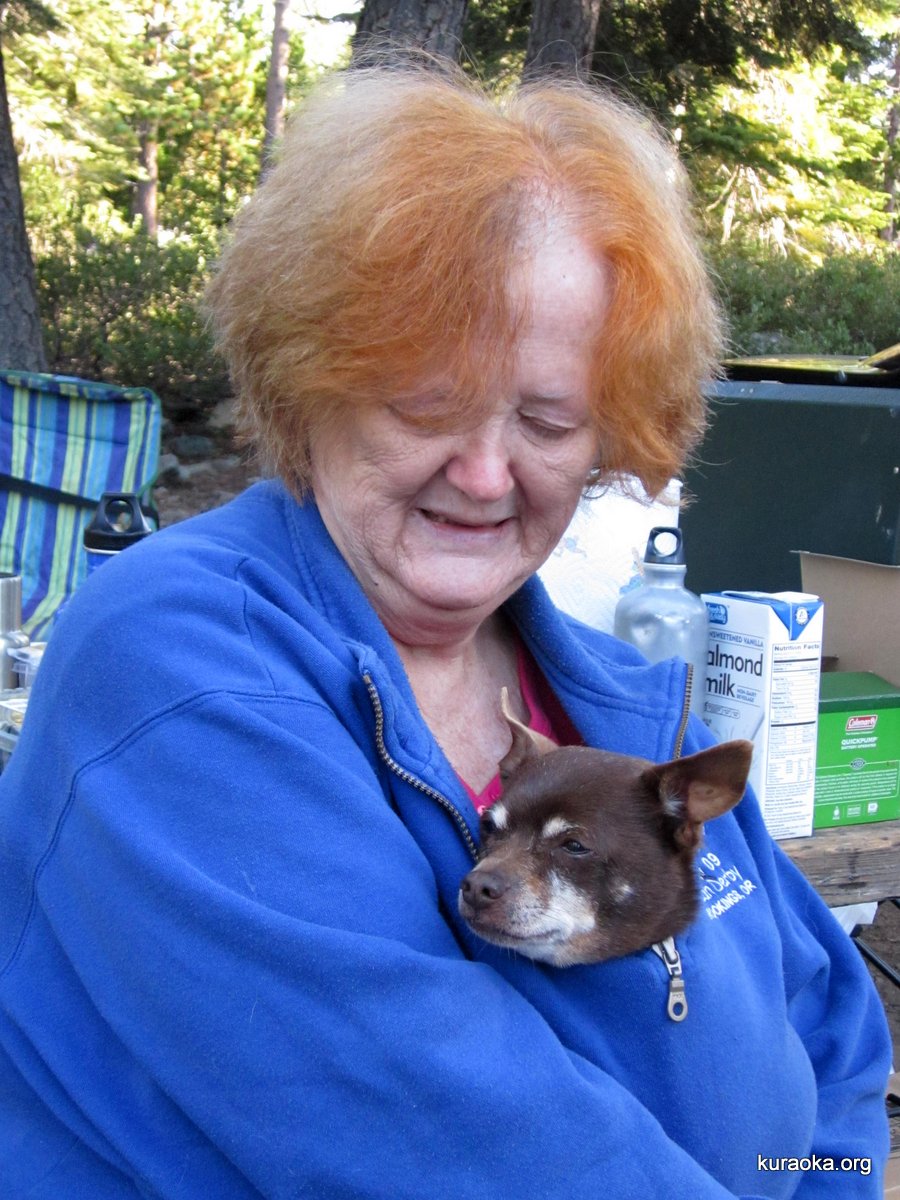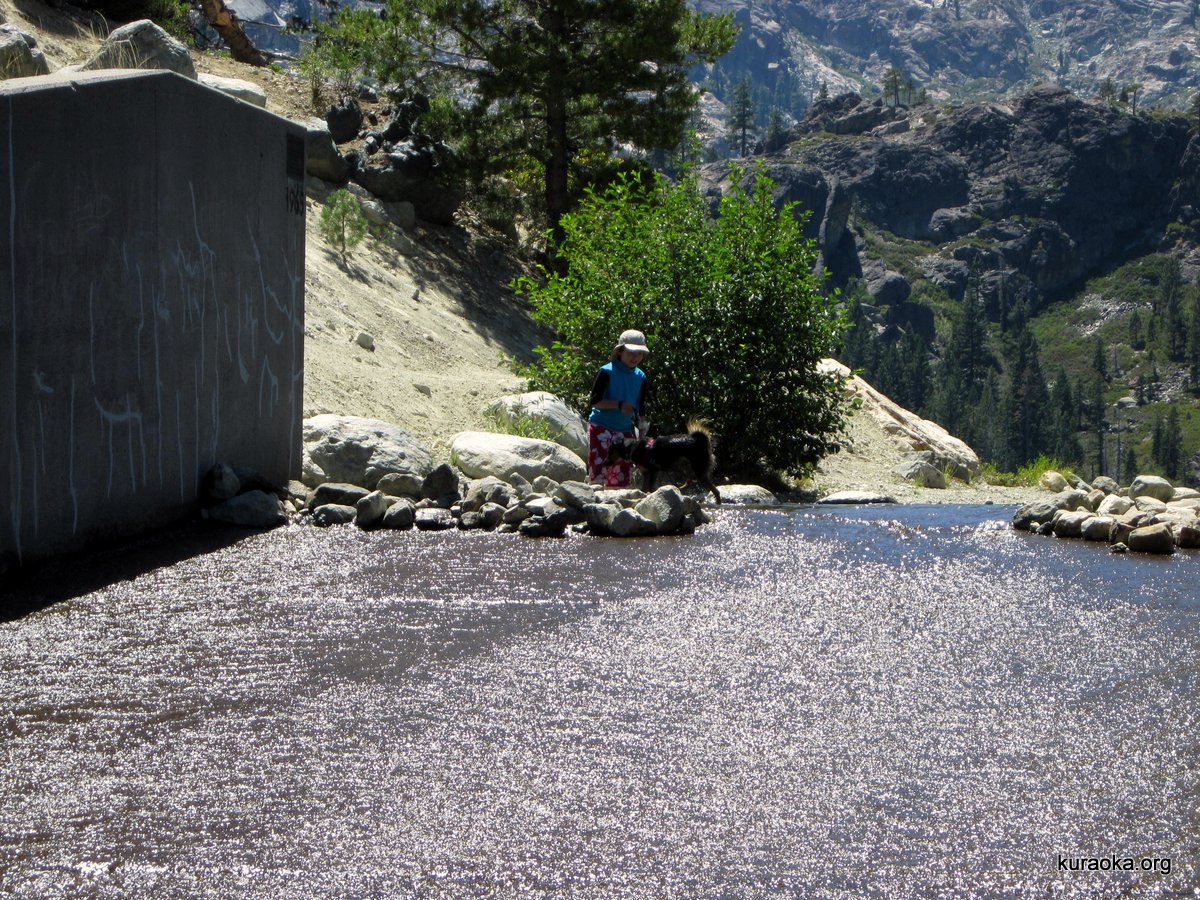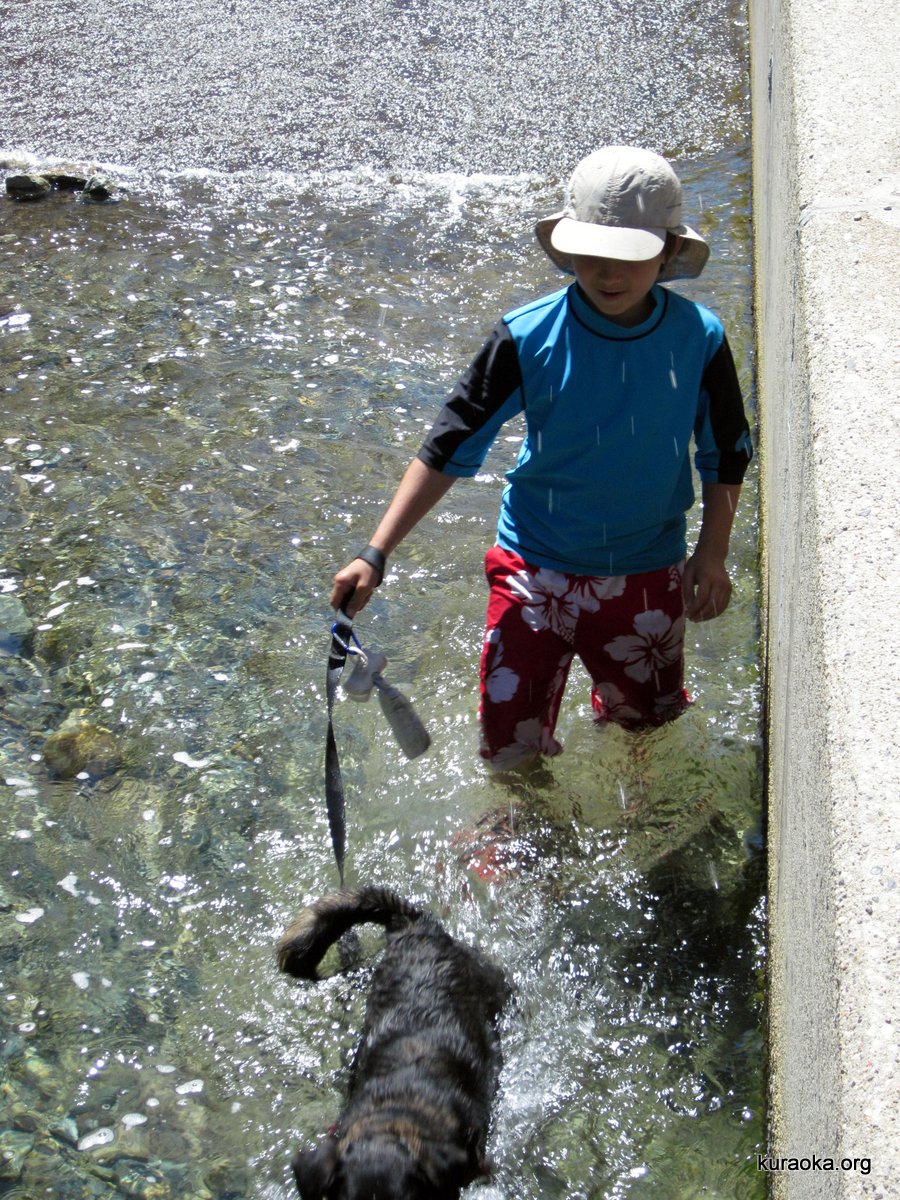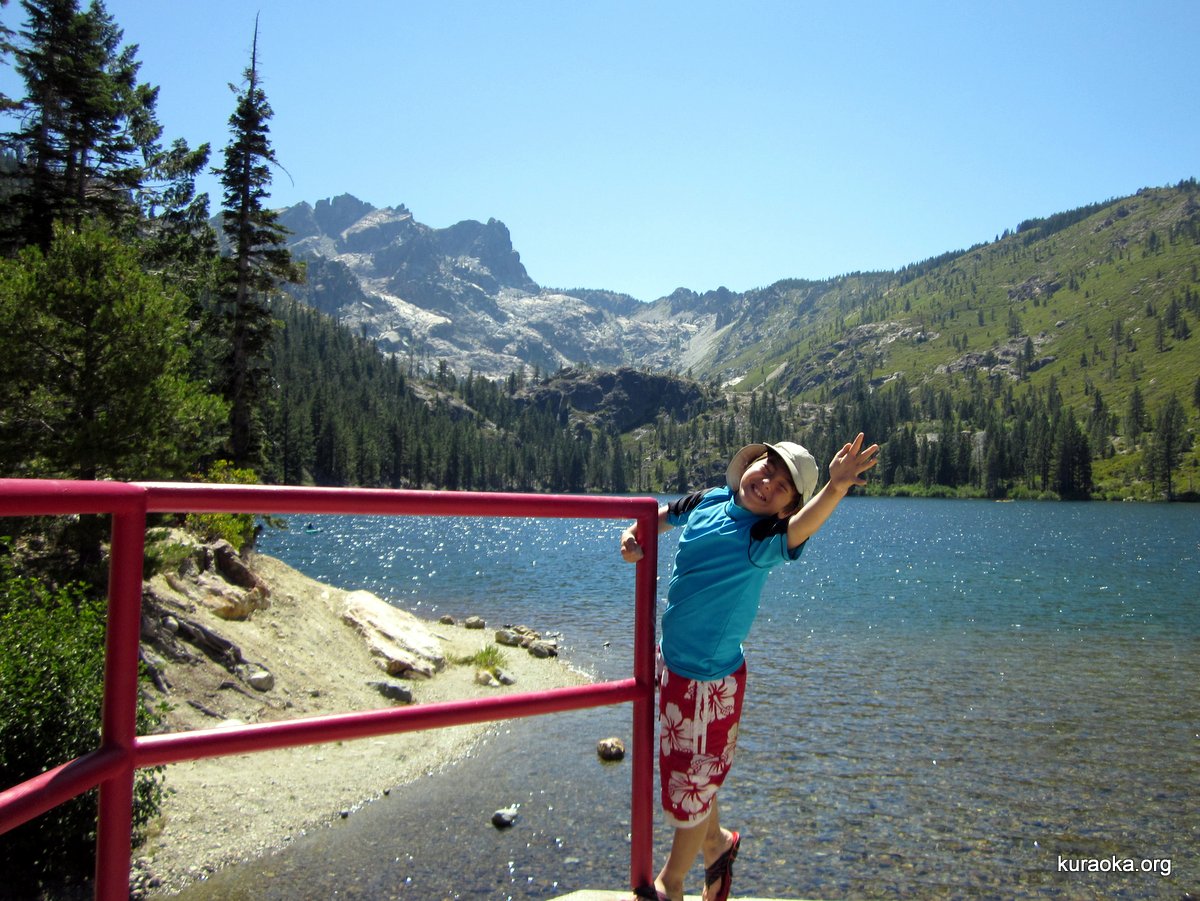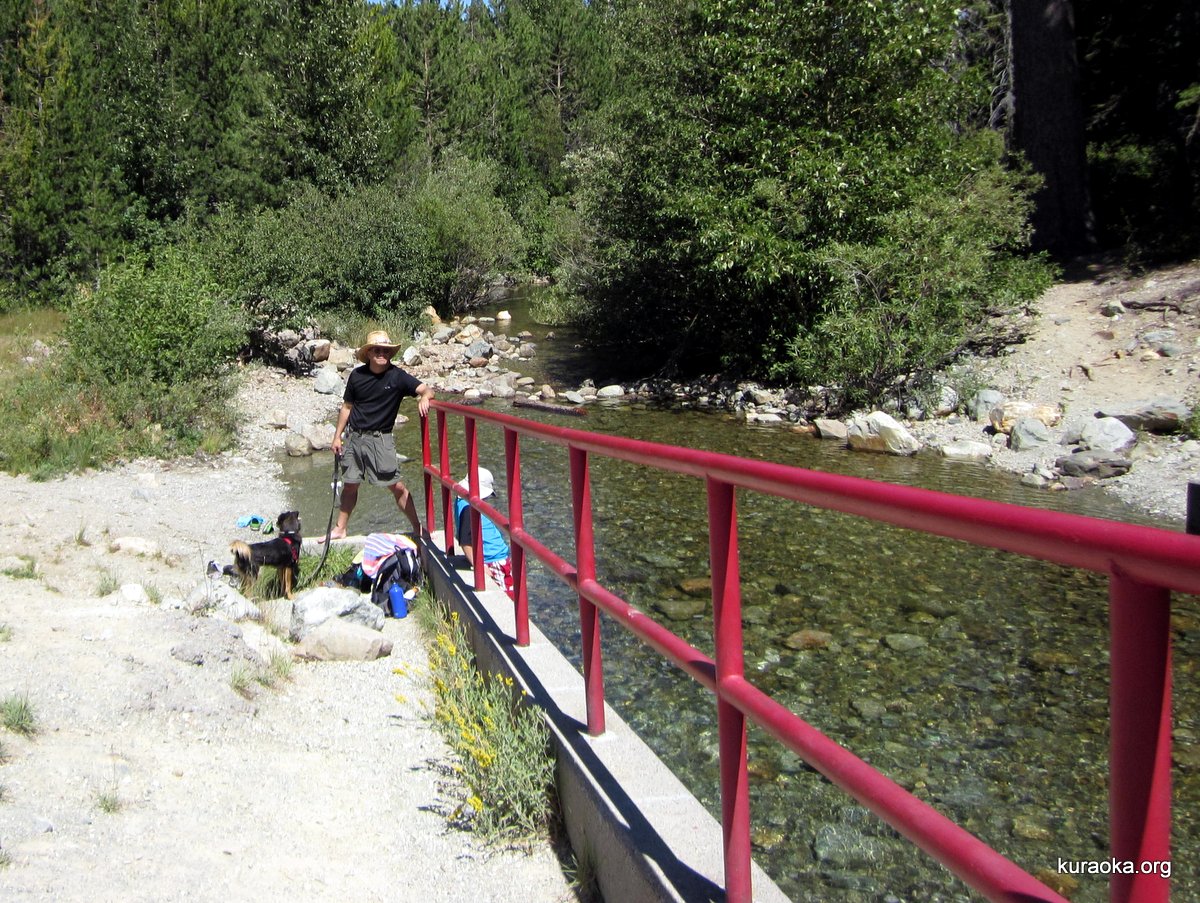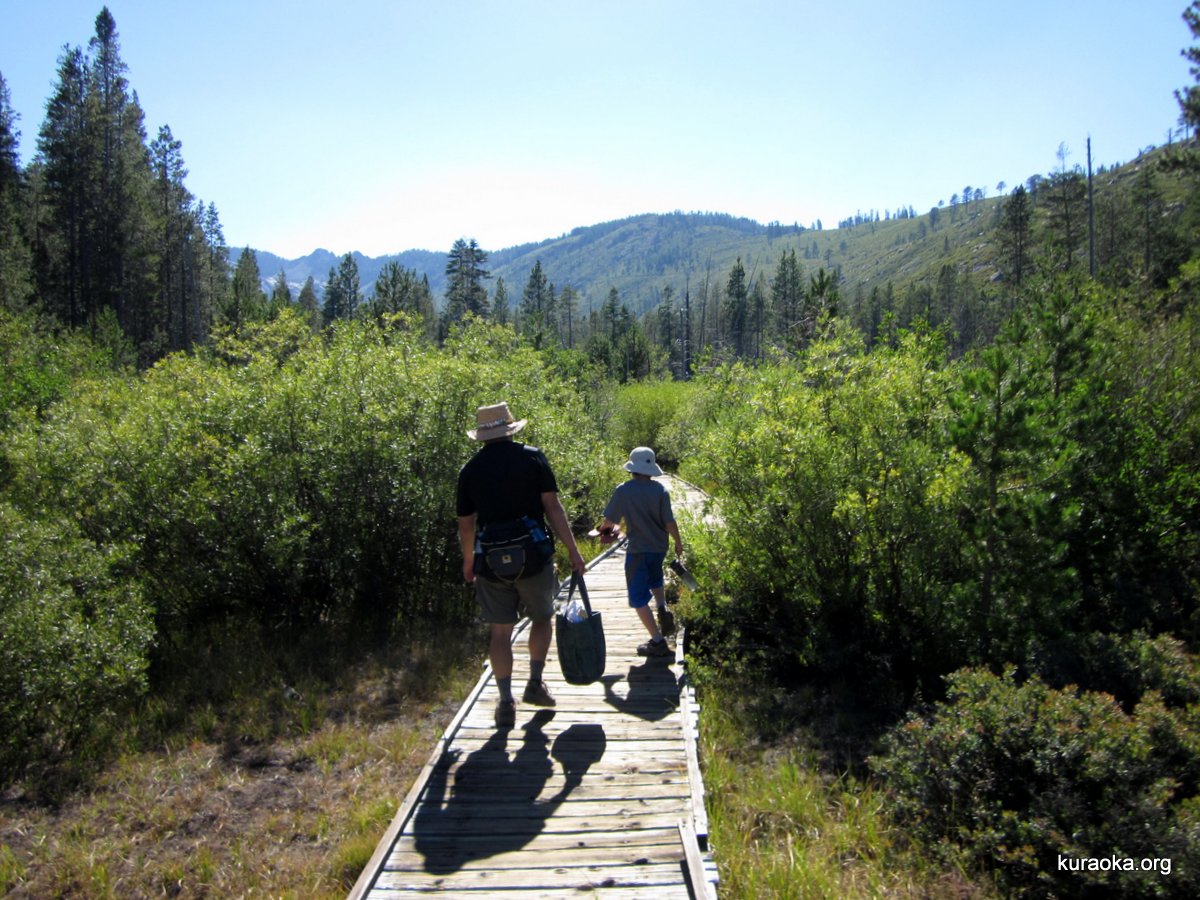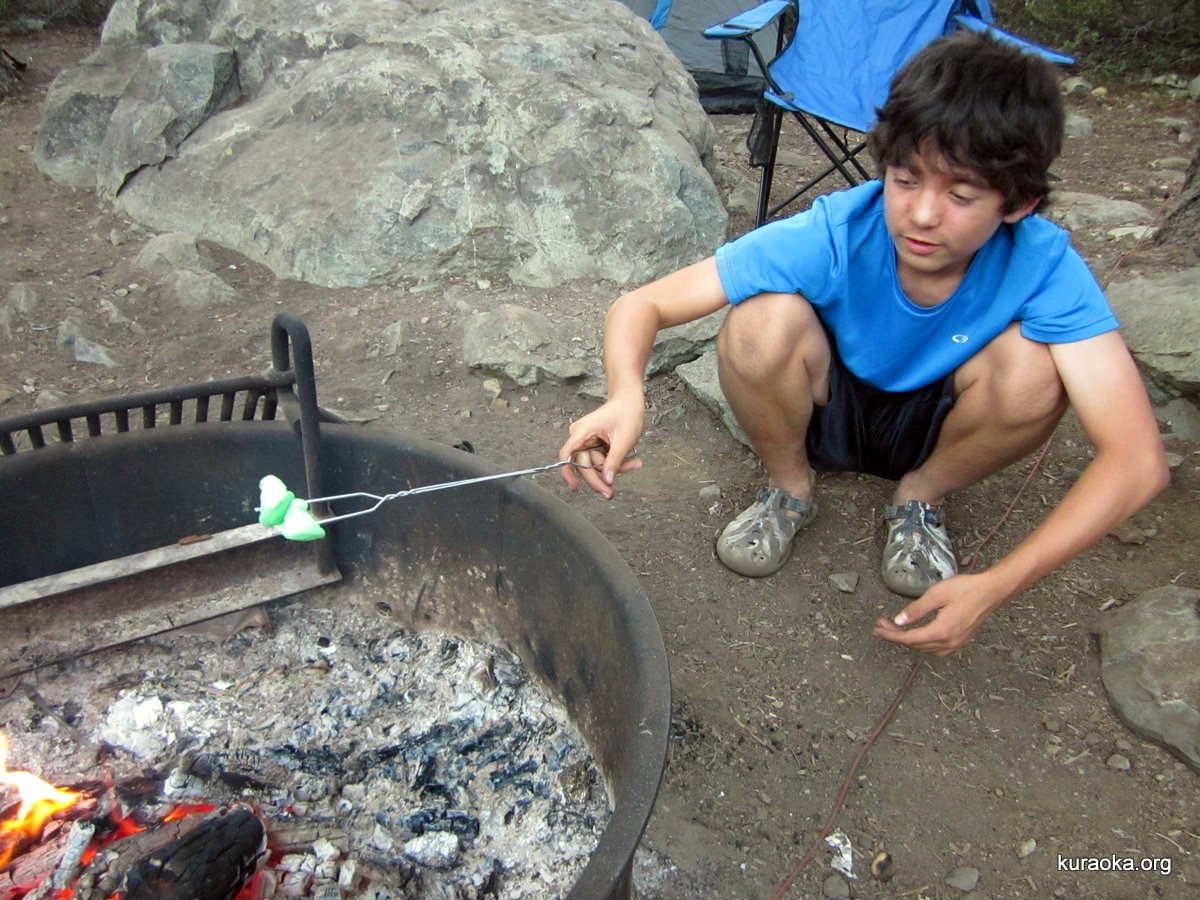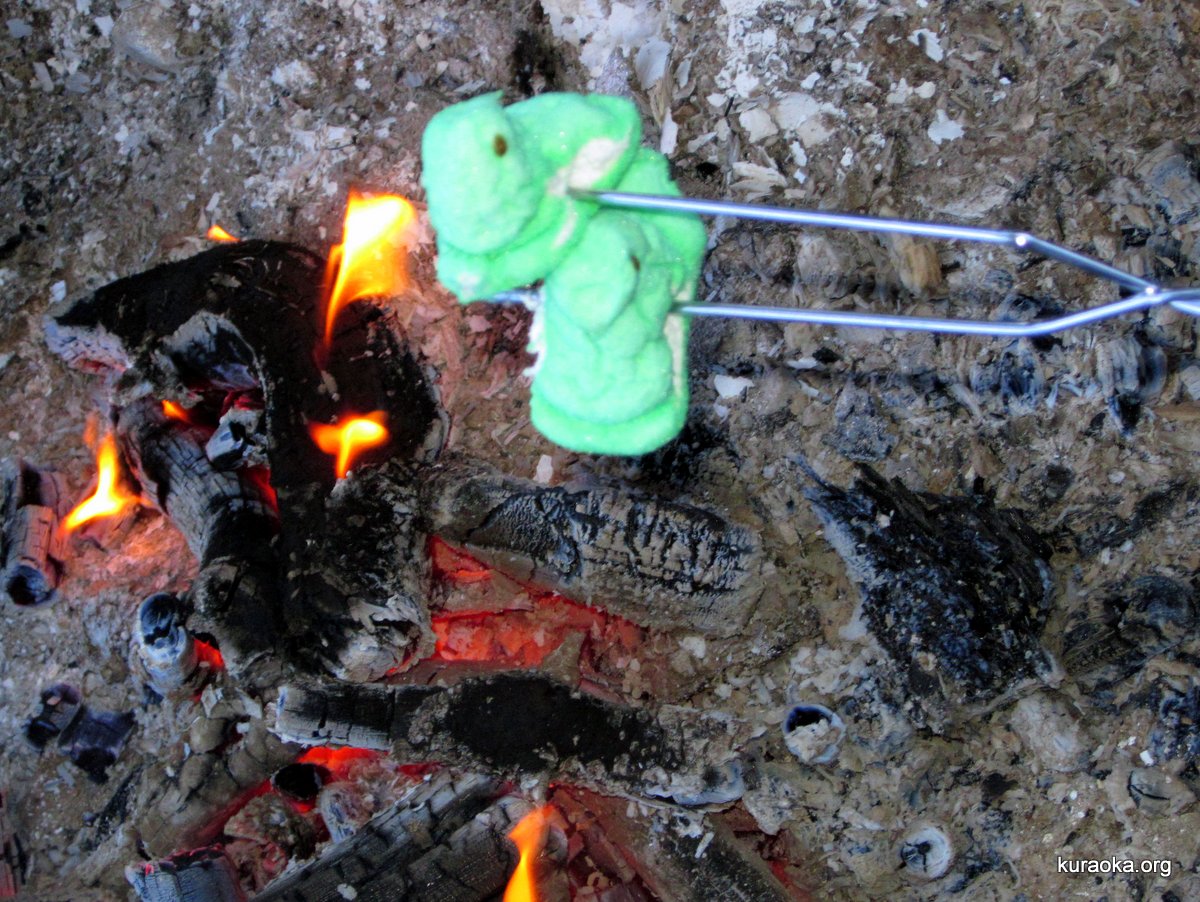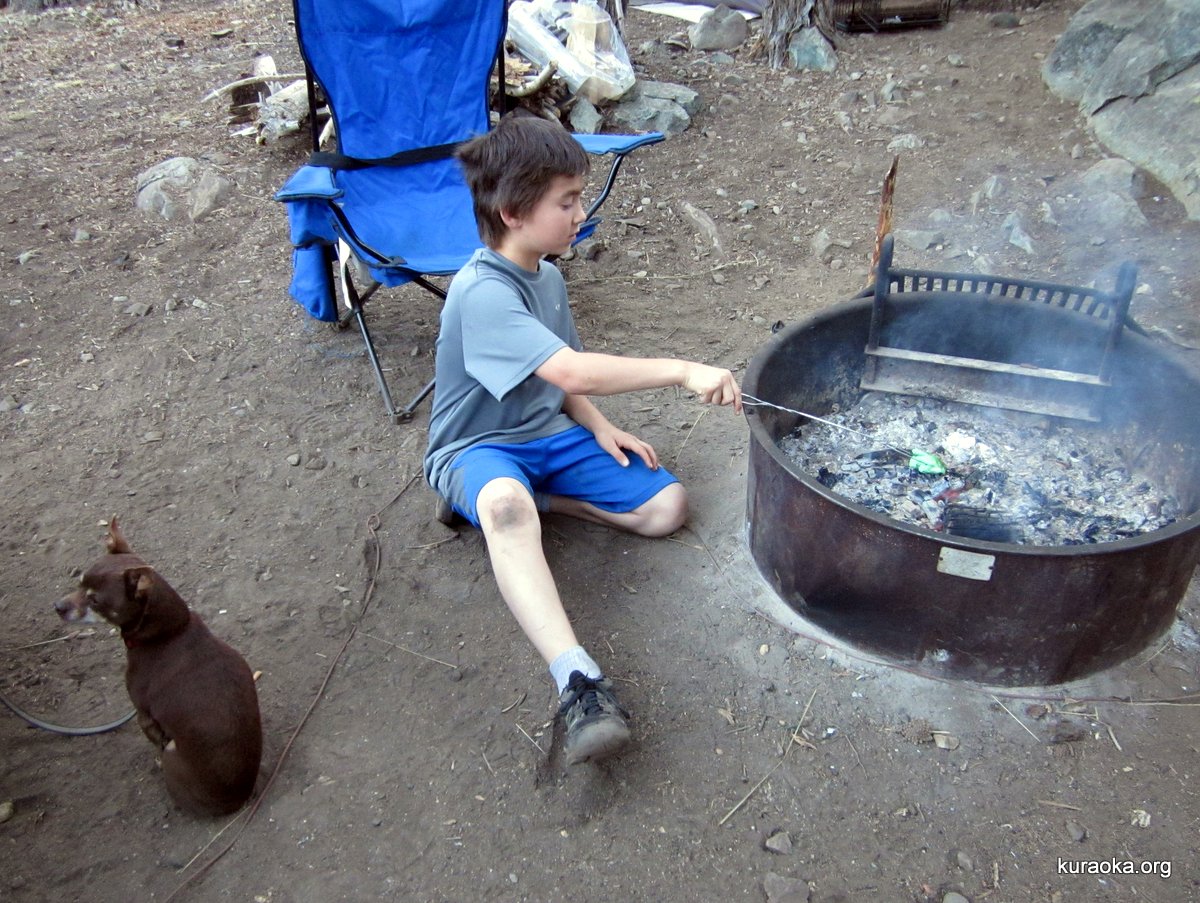 Tuesday we all joined Liz and Ulli on a hike to Saxonia Lake, a good-sized lake we hadn't visited before. We left from Liz and Les' campsite at Berger. Leo, who had a cut foot, wisely peeled off early and returned with Barbara, saving his foot for the Buttes. As we searched for the trail and followed a scruffy draw toward a plausible-looking gap in the mountainside, Liz remembered swimming around the perimeter of the lake with her twin brother Hans. Hans earned the swimming merit badge for his accomplishment; Liz got nothing.
After an hour or so of bushwhacking, log-hopping, and rock scrambling, we arrived at a suspiciously small body of water tucked away in the pines. Liz remembered sugar pines surrounding Saxonia, with their distinctive long cones; there were no sugar pines where we were. We hung out for a while, gazing out over the water and idly wondering what we'd found. We made our way back to Ulli, who'd stopped somewhat below where we were. As we trundled back downhill, Ulli came up with a likely name: Dugan Pond. That snapped everything into focus for Liz, who then knew, or thought she knew, where Saxonia was. Later that day, John bought a topographical map of the area that pretty much confirmed Ulli's identification.
Kani and Bea arrived while we were hiking! Kani had made a special trip to see the boys; she was staying at a "kabin" in town, but would be camping the next week with her daughter Anastasia and Anastasia's partner. Barbara had spent most of the day at Sand Pond with Leo. Liz and Les were there too, and Les had taken Leo across the pond on a log! We all had an early dinner at Barbara' and Ulli's site, and turned in early, hoping to get an early start hiking the Buttes the next day.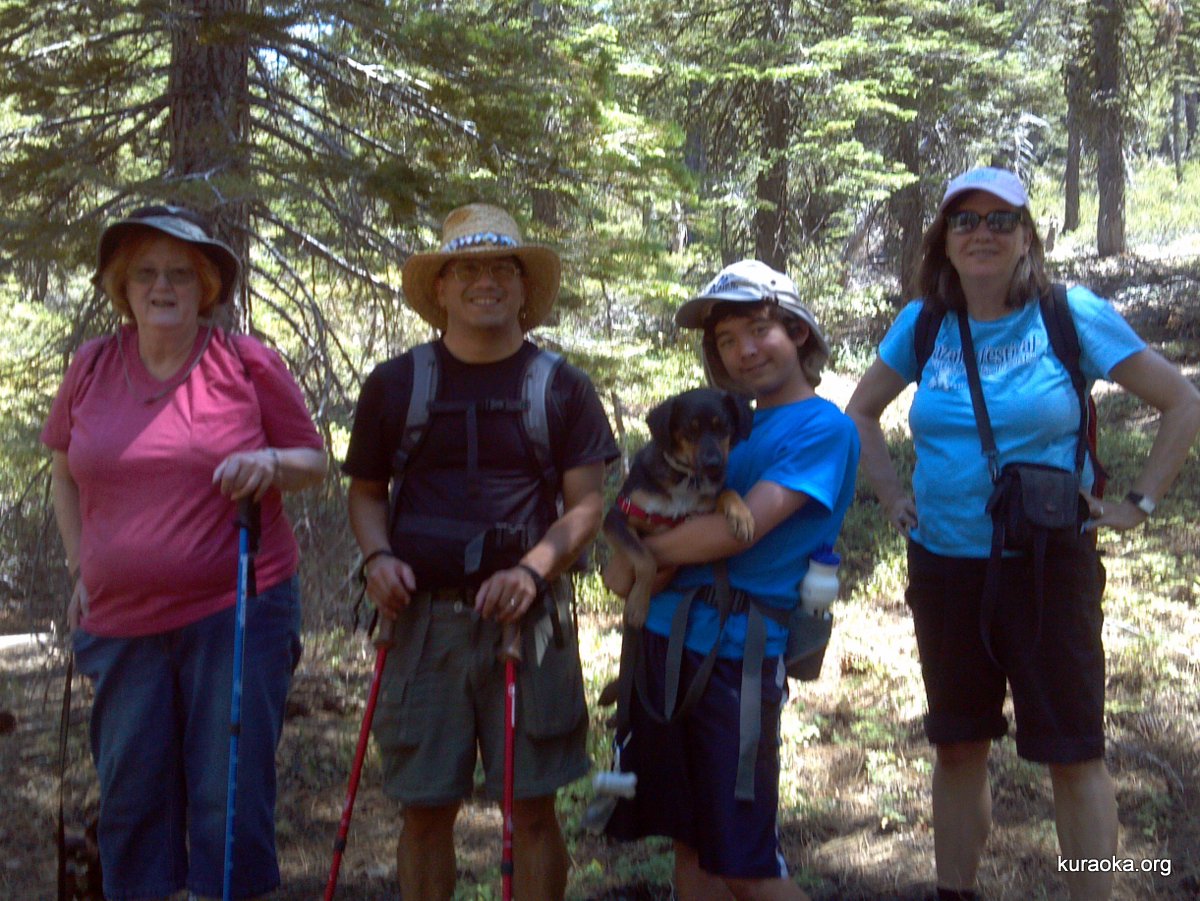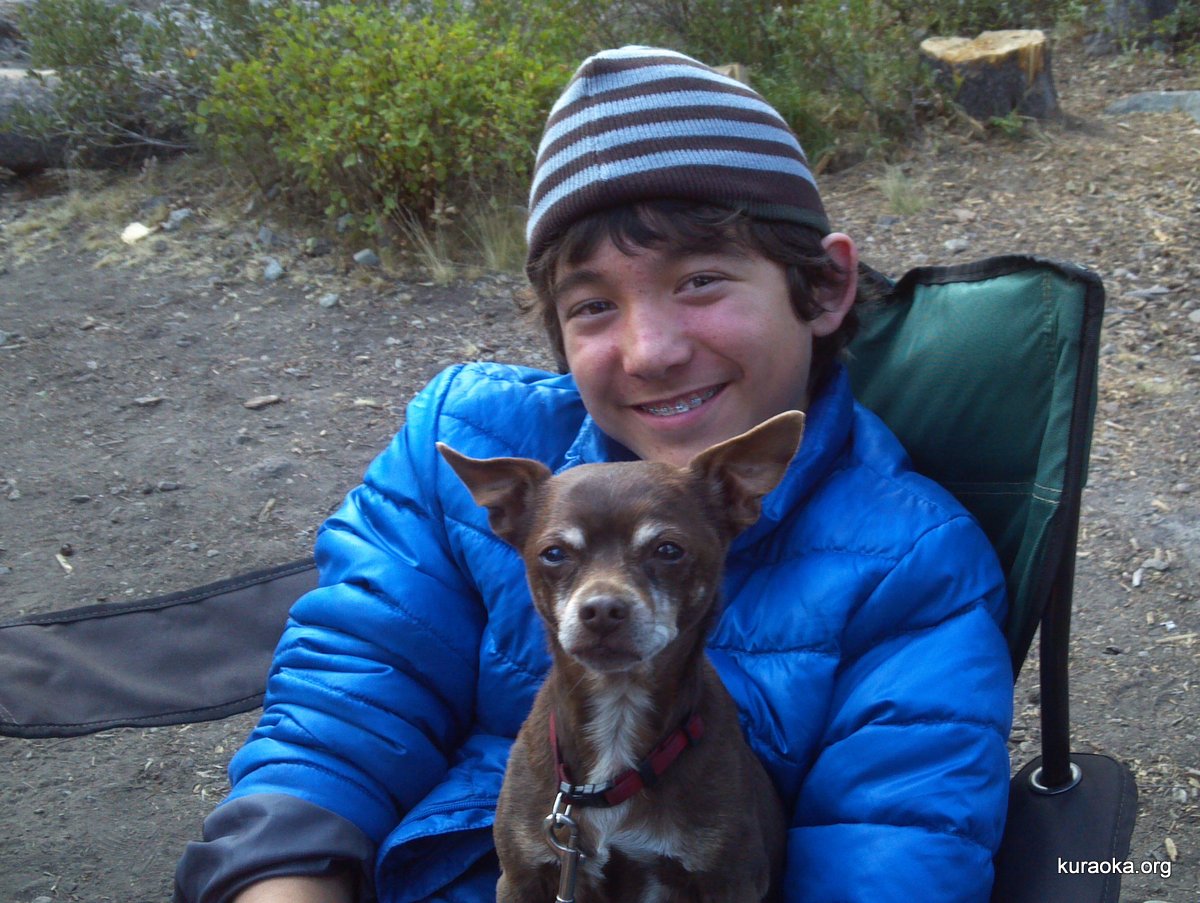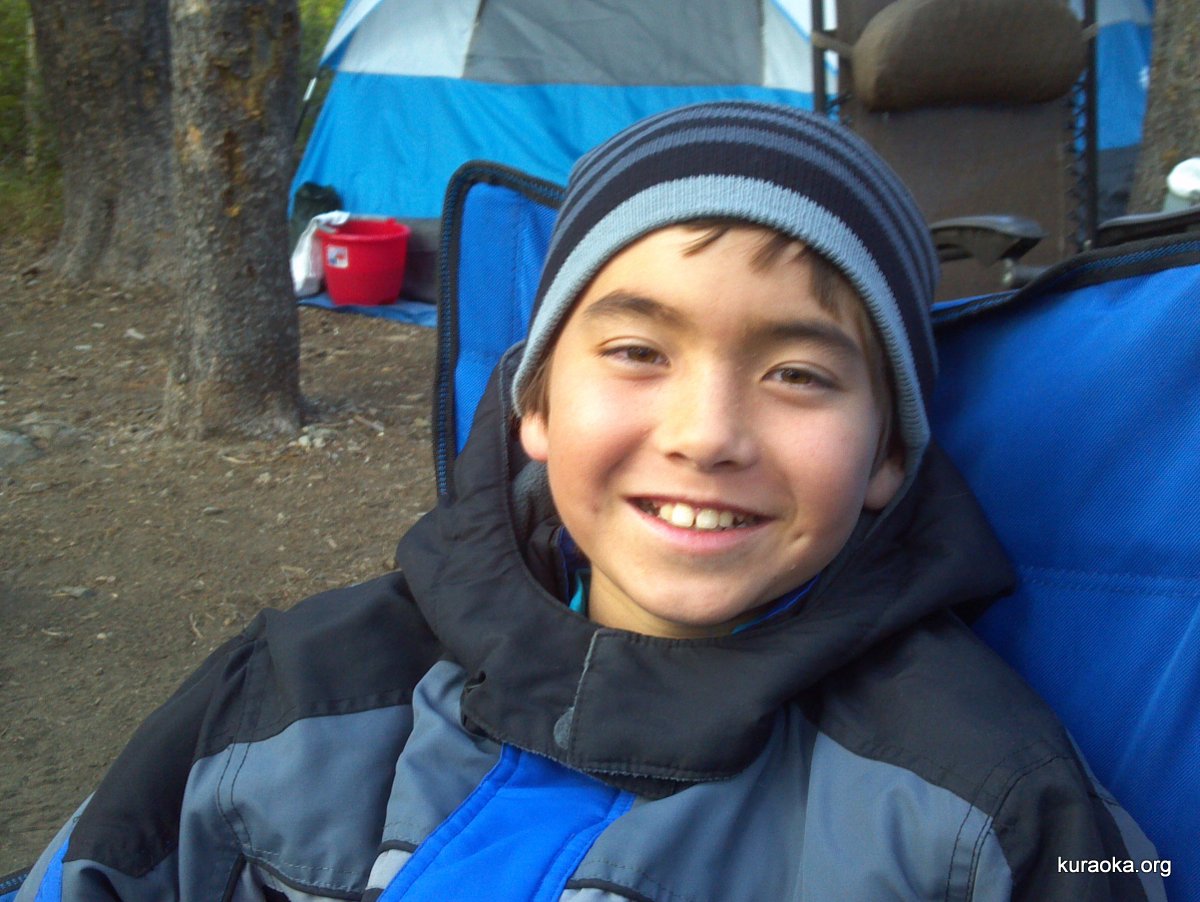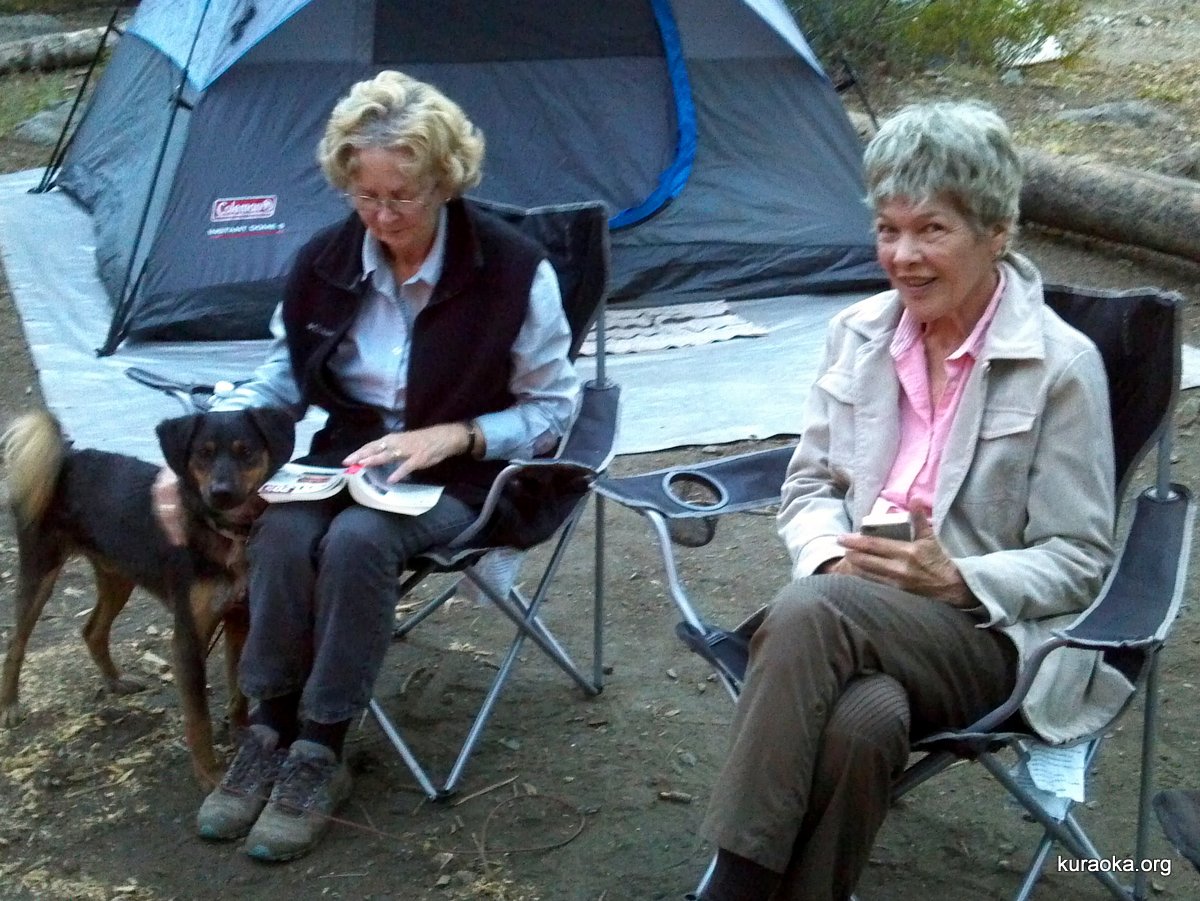 Wednesday we hiked the Buttes! The weather forecast called for Wednesday to be the coolest day, and it was indeed a perfect day for hiking an exposed trail, with plentiful but light cloud cover and a cooling breeze. We picked up Liz and hit the trail by Packer Lake at about 7:30.
It was Roy's third time up the Buttes, Leo's second, and Shadow's first. Everyone did great! We took a long detour and pause to visit Oma's spot overlooking Young America Lake, Upper and Lower Sardine Lakes, and Sand Pond. Still, we summited well before before noon. Shadow refused to venture up the soaring open steel staircase to the lookout tower, so he stayed below with Liz while we went up and enjoyed the view. John had packed up a bag of dark chocolate Moose Munch, a gift from Ulli, which we all enjoyed in a sheltered spot at the summit. Perfect!
Then we descended and it was Liz' turn to ascend the stairs. John thought Shadow needed a snack too, after his hike, so he gave him some kibble. In all, we hung out for over an hour, enjoying the views and keeping a wary eye on a bold squirrel.
On the hike back, Shadow was frisky and energetic, fueled by what amounted to an extra meal. We took a short detour to Upper Tamarack Lake, where Liz went for a cooling swim. We were back in camp by 4:00, scooped up Barbara and Ulli and Liz and Les, and headed over to Bassett's for the traditional celebratory root beer floats!
That evening, Shadow retreated into his crate on his own for the first time this trip, and fell fast asleep. He was one tired dog!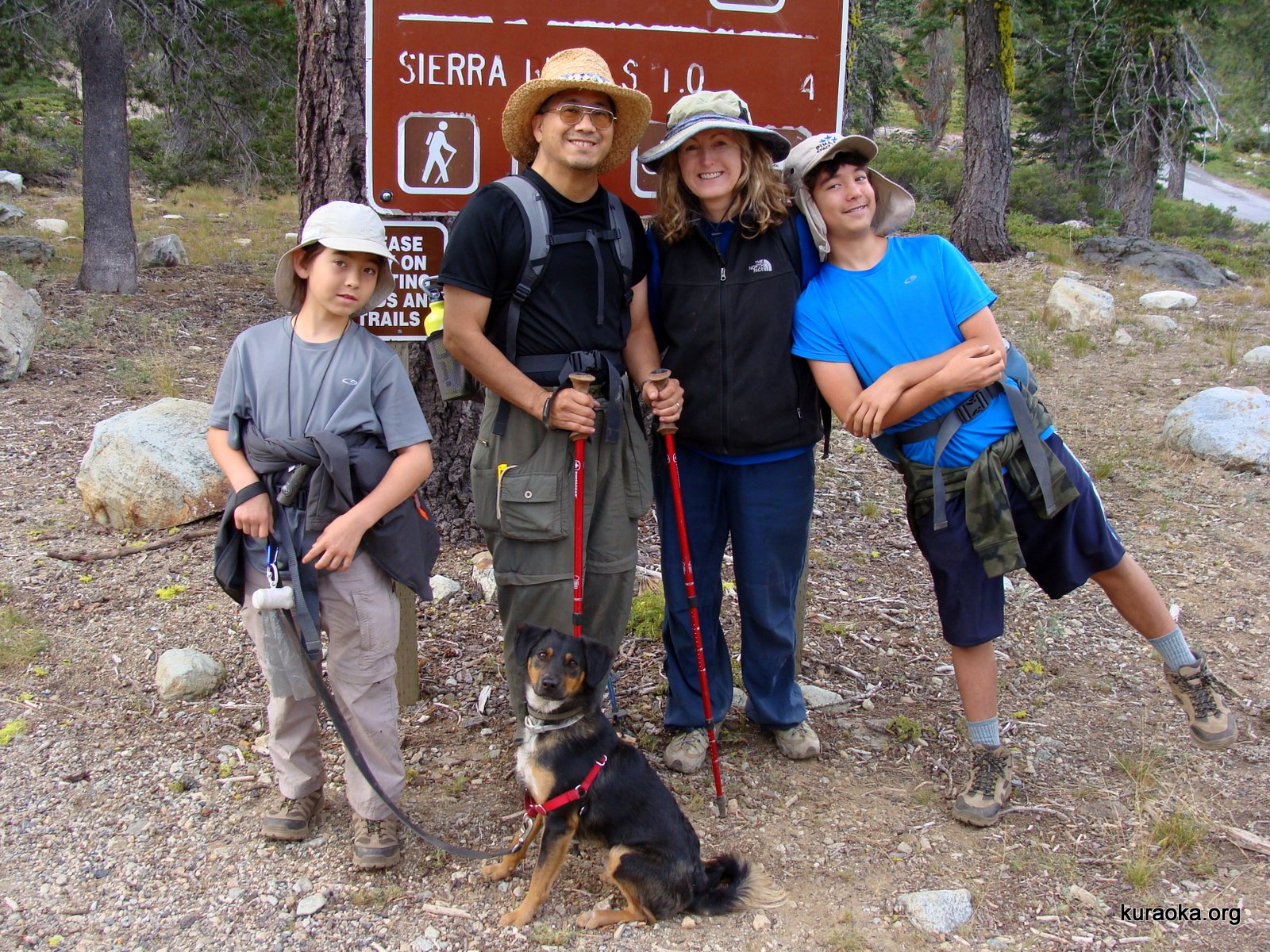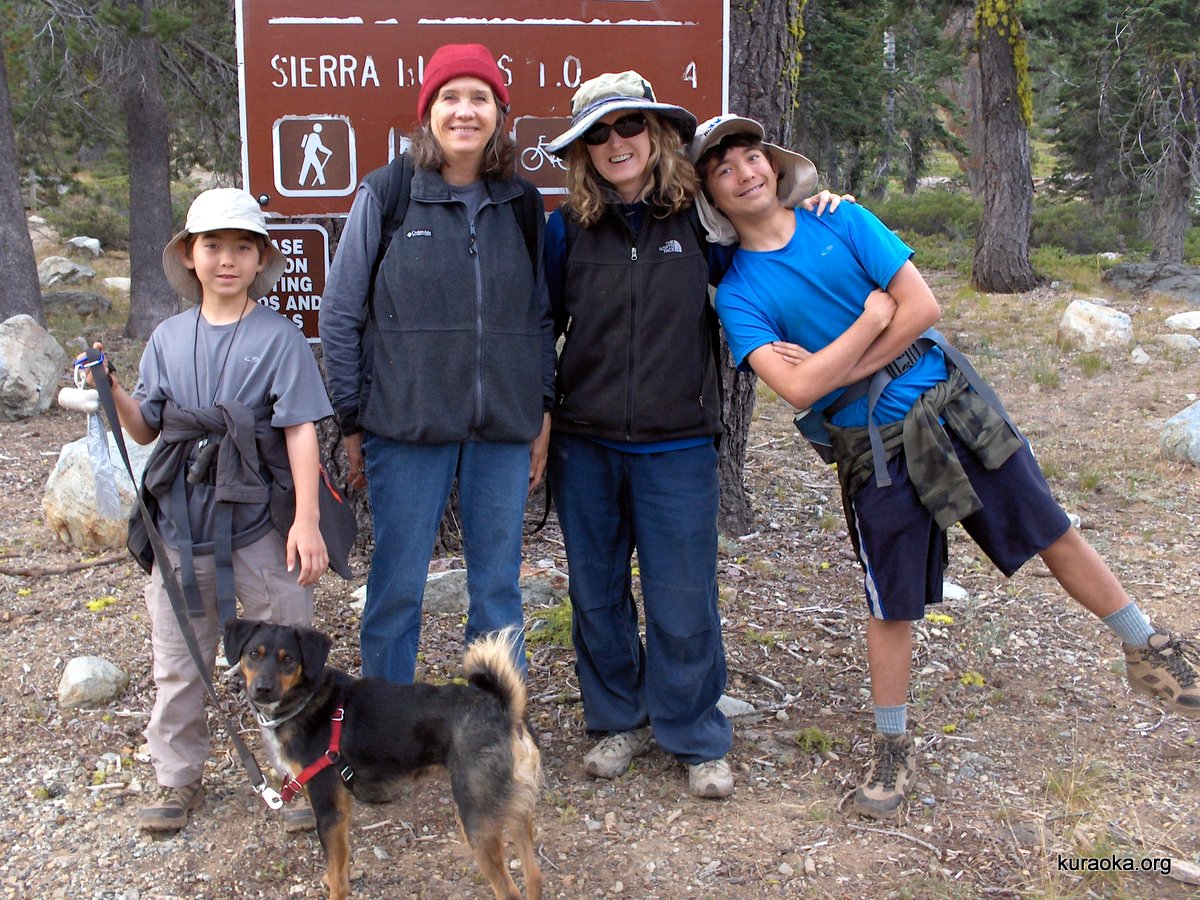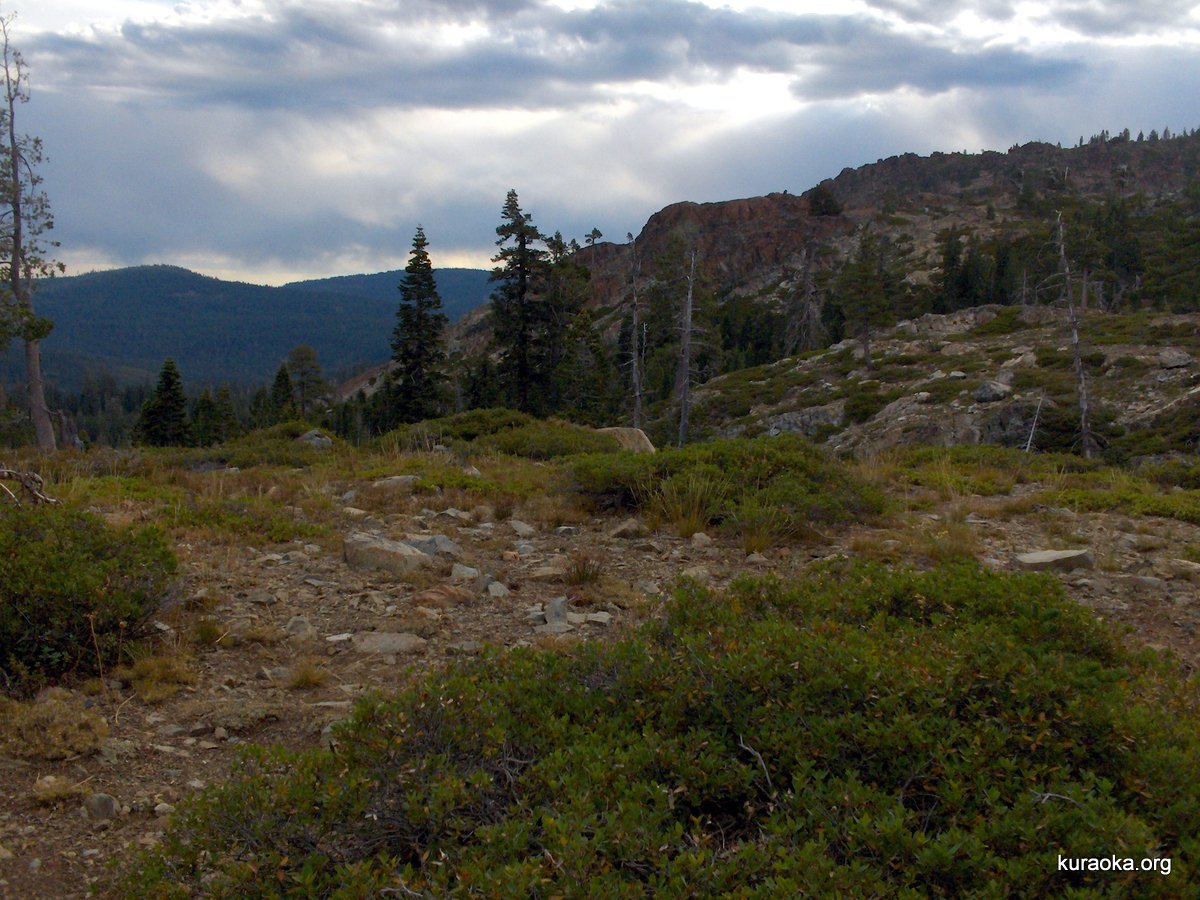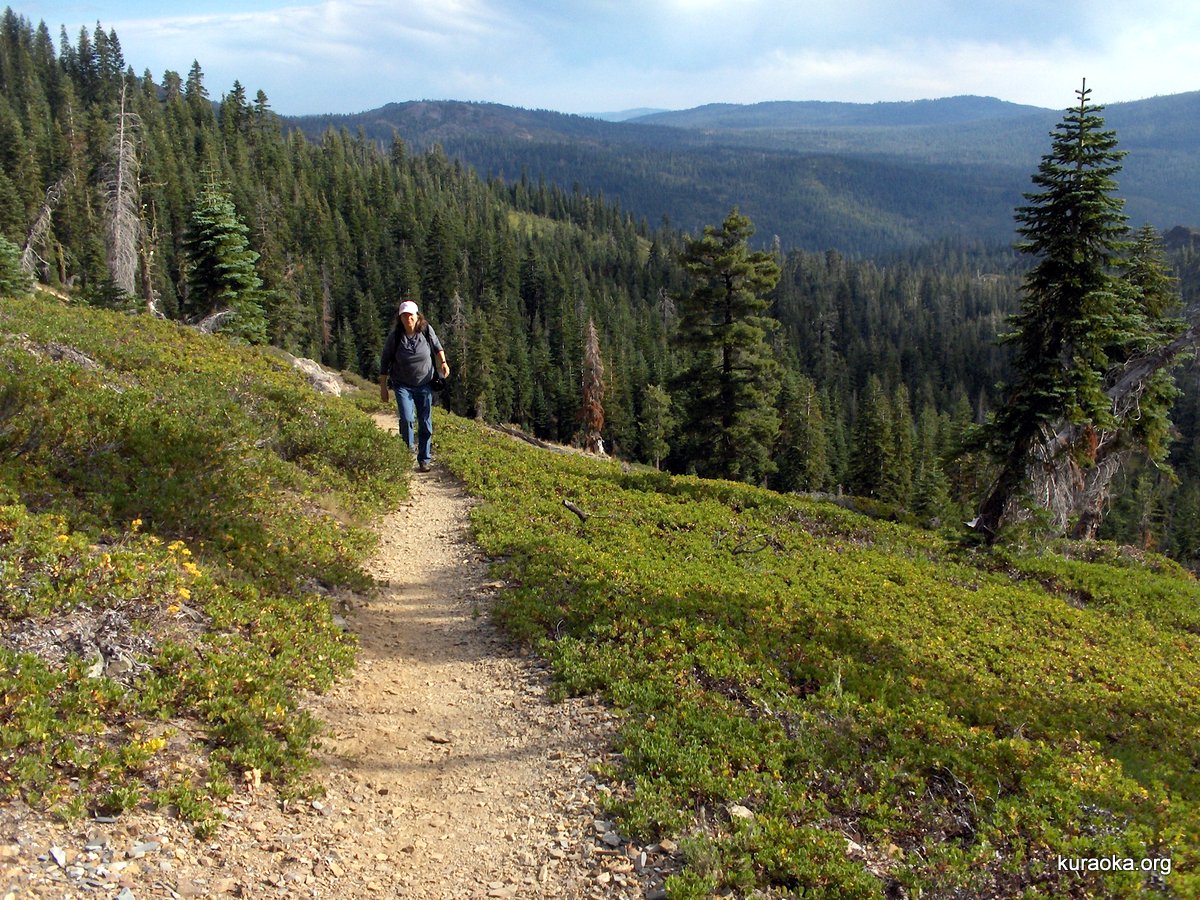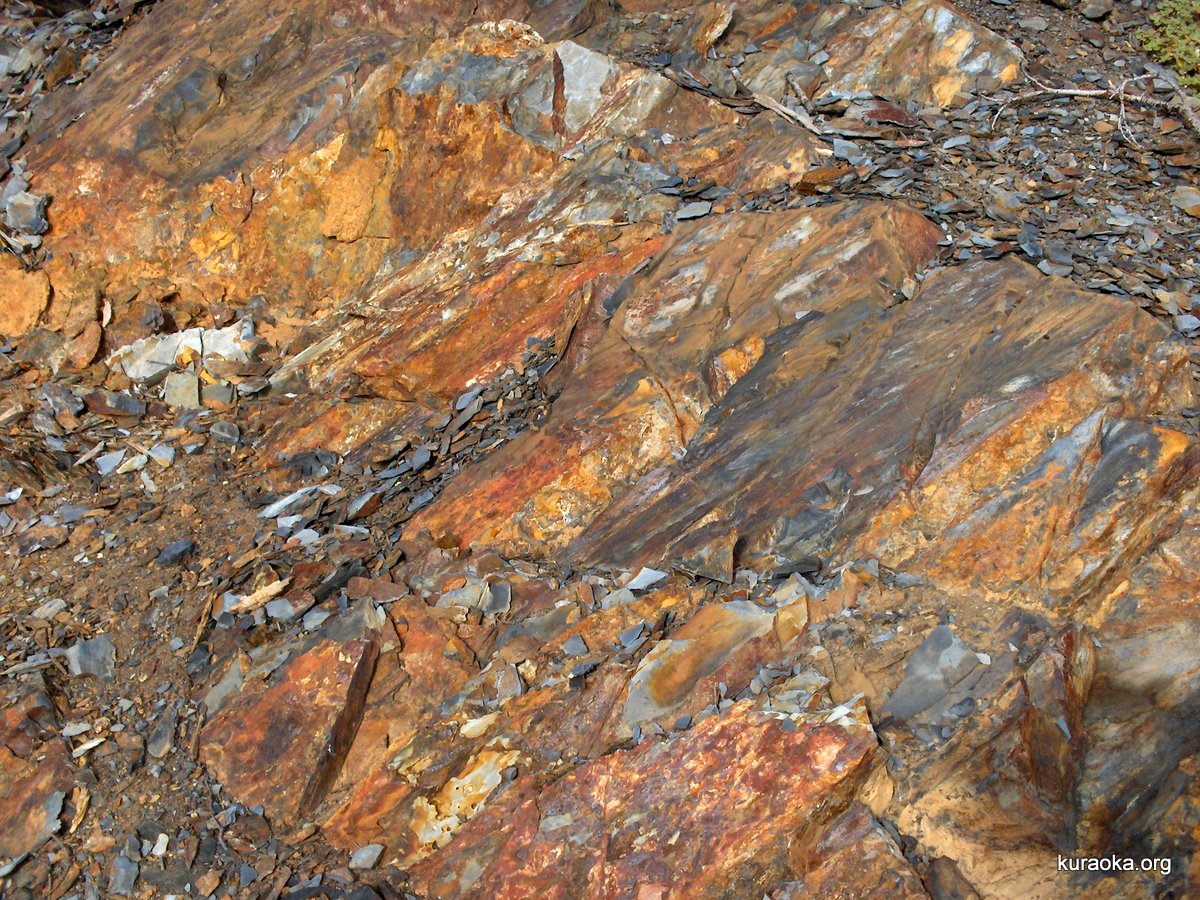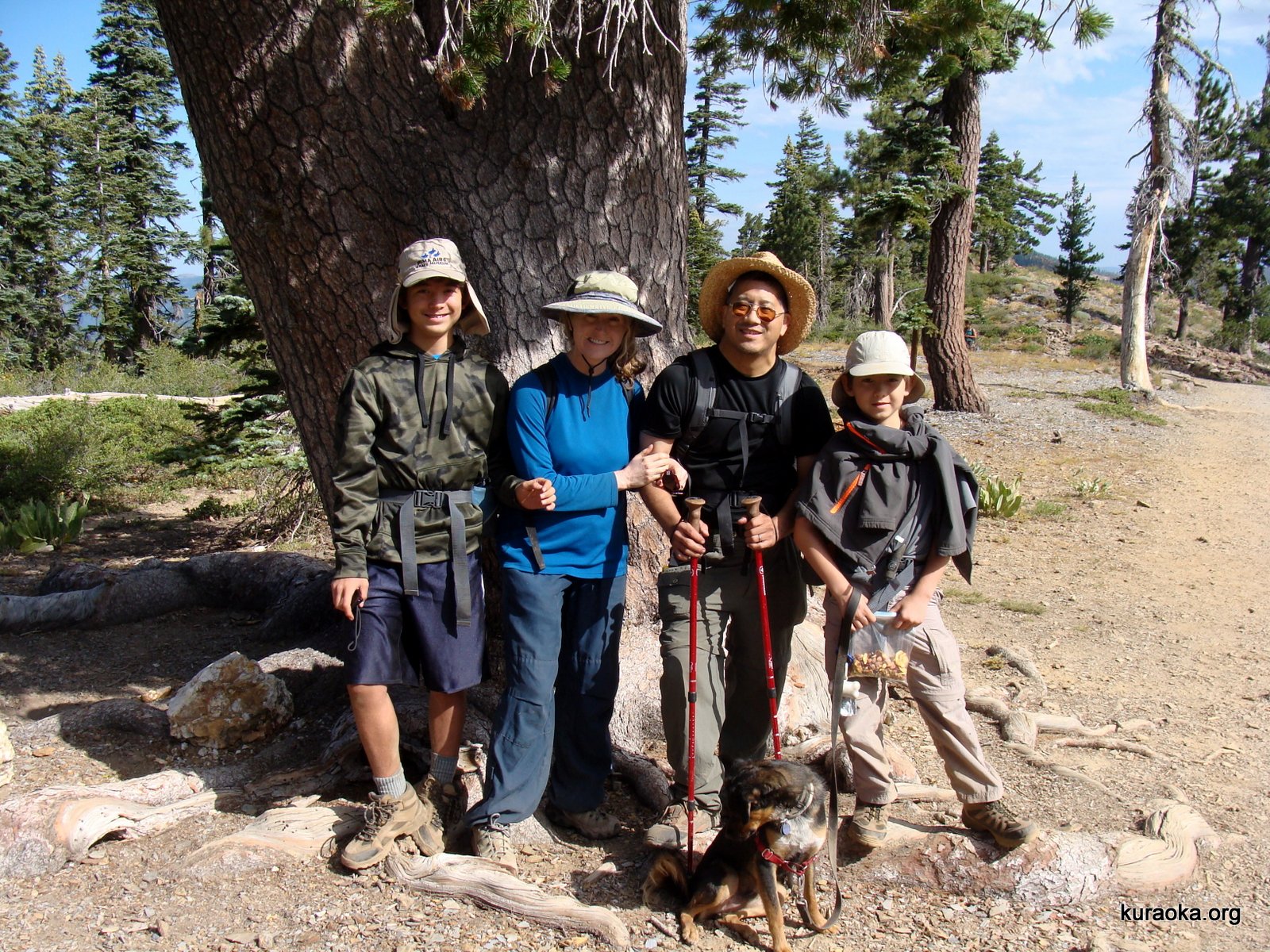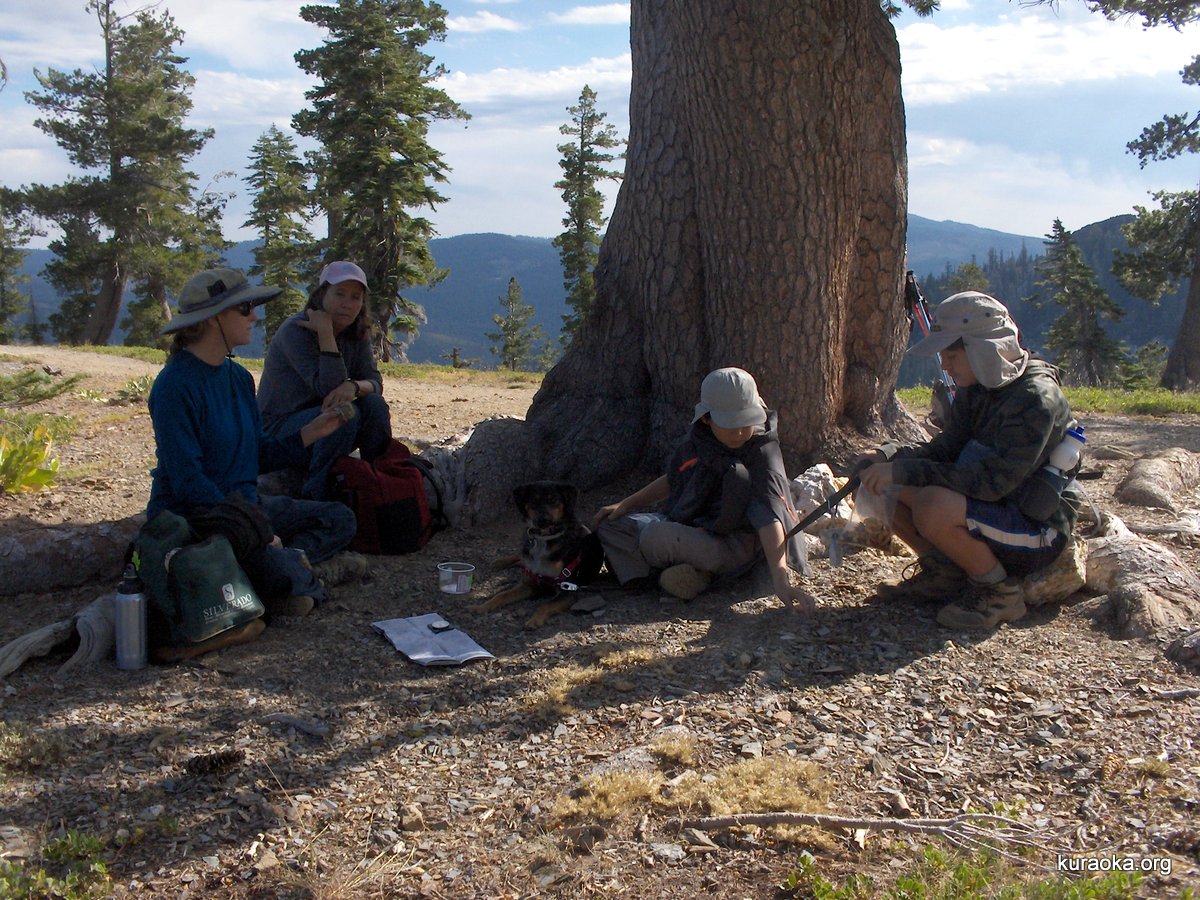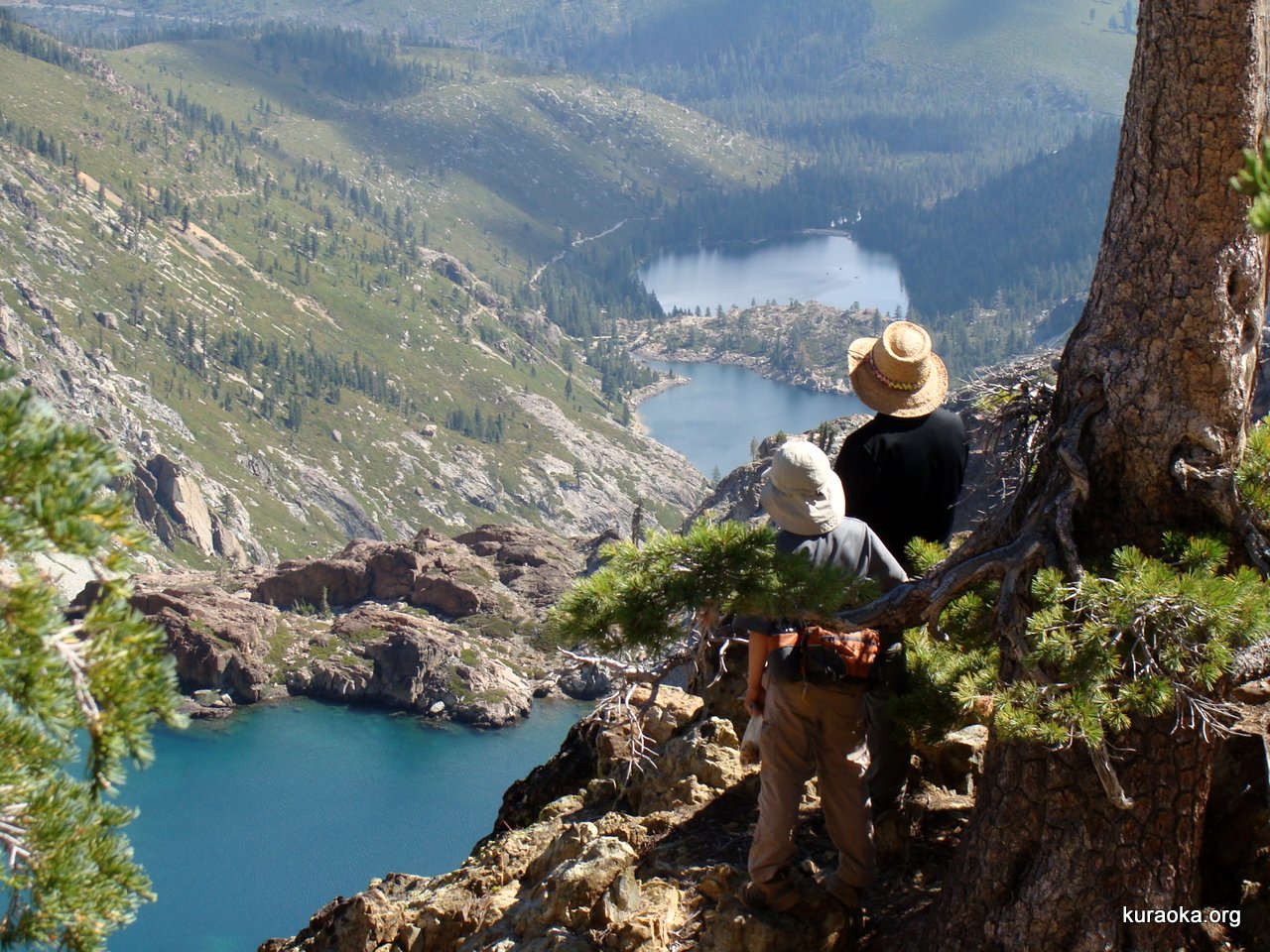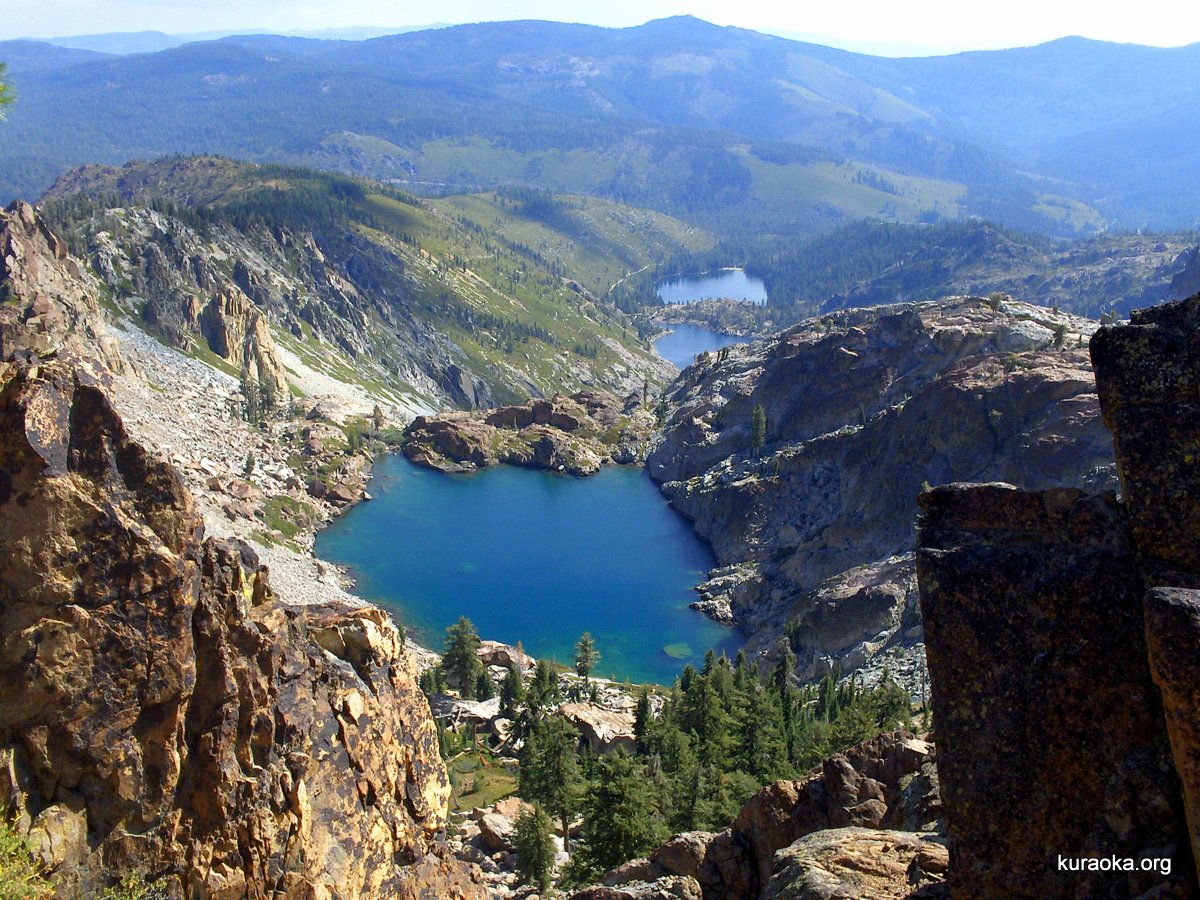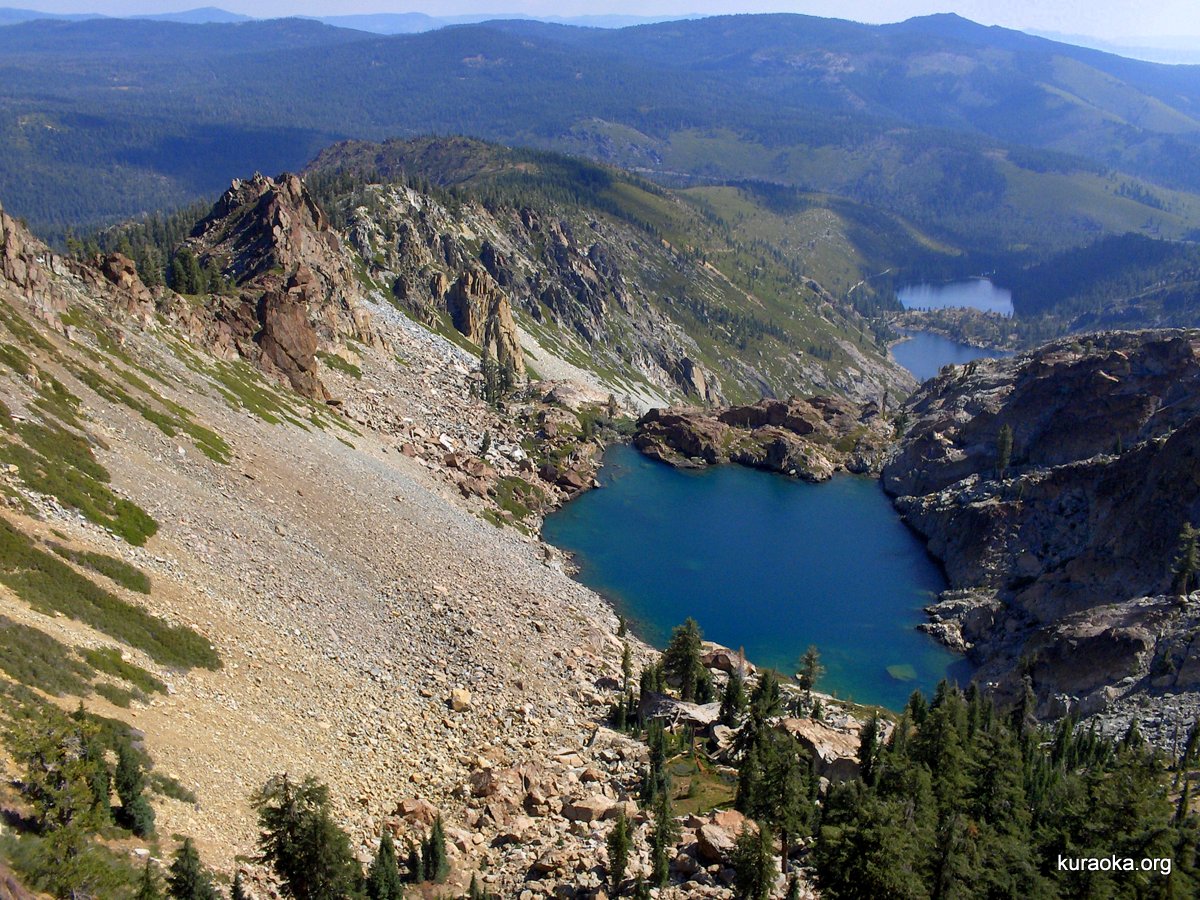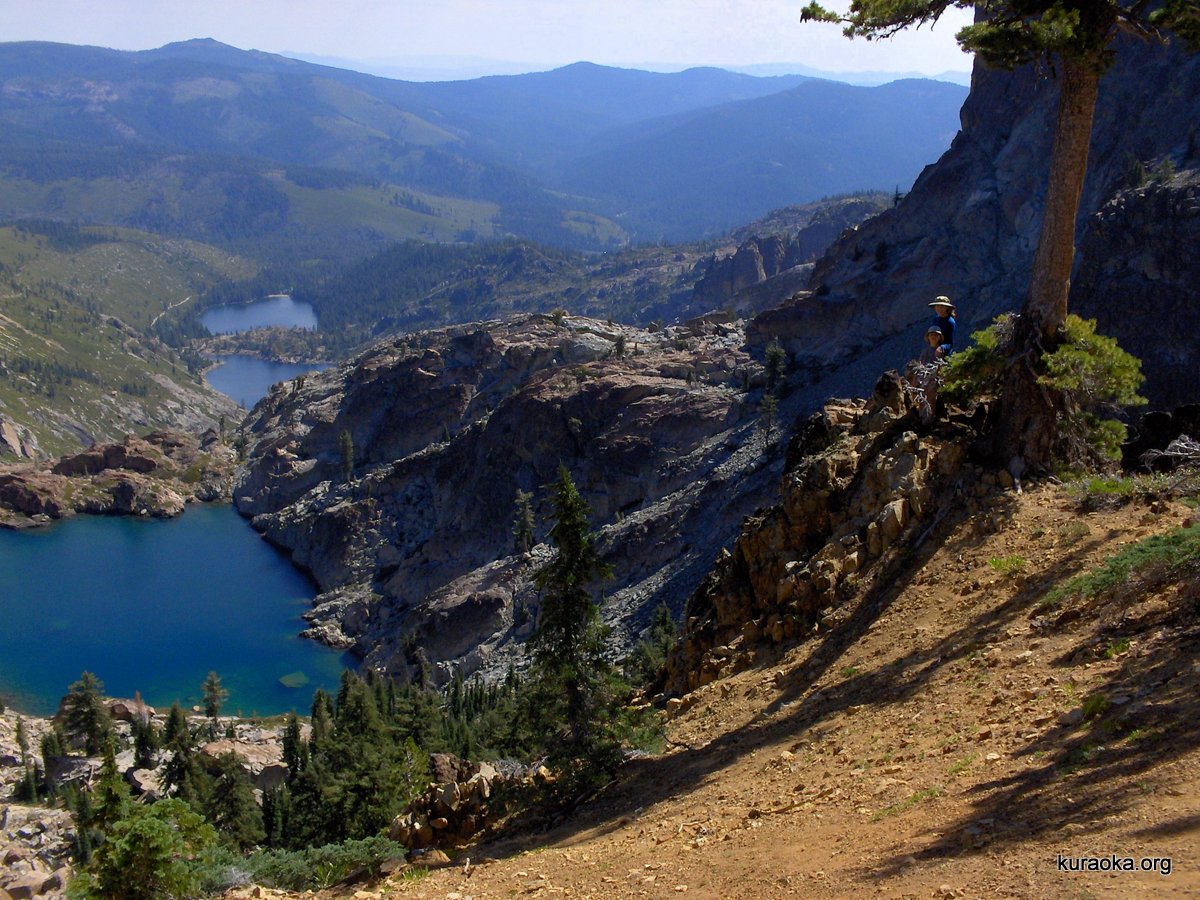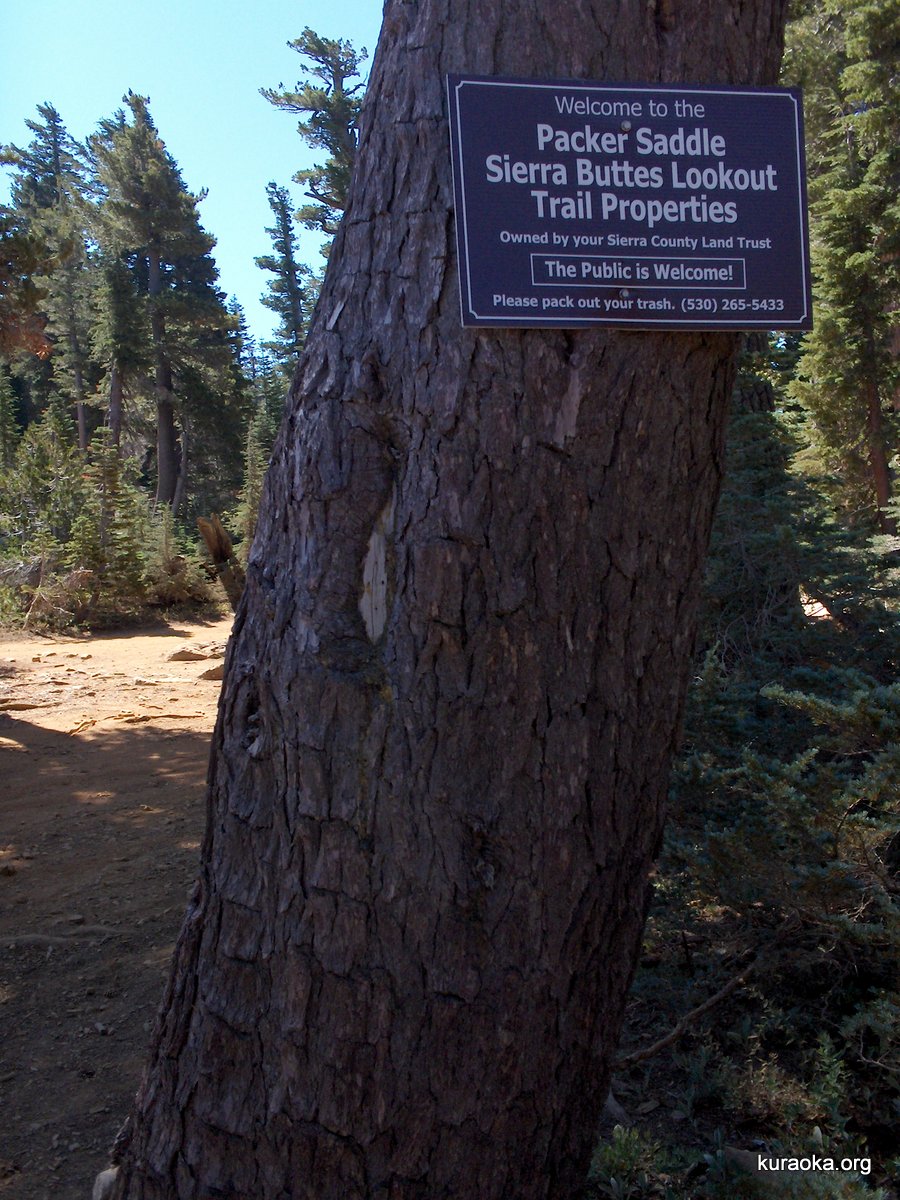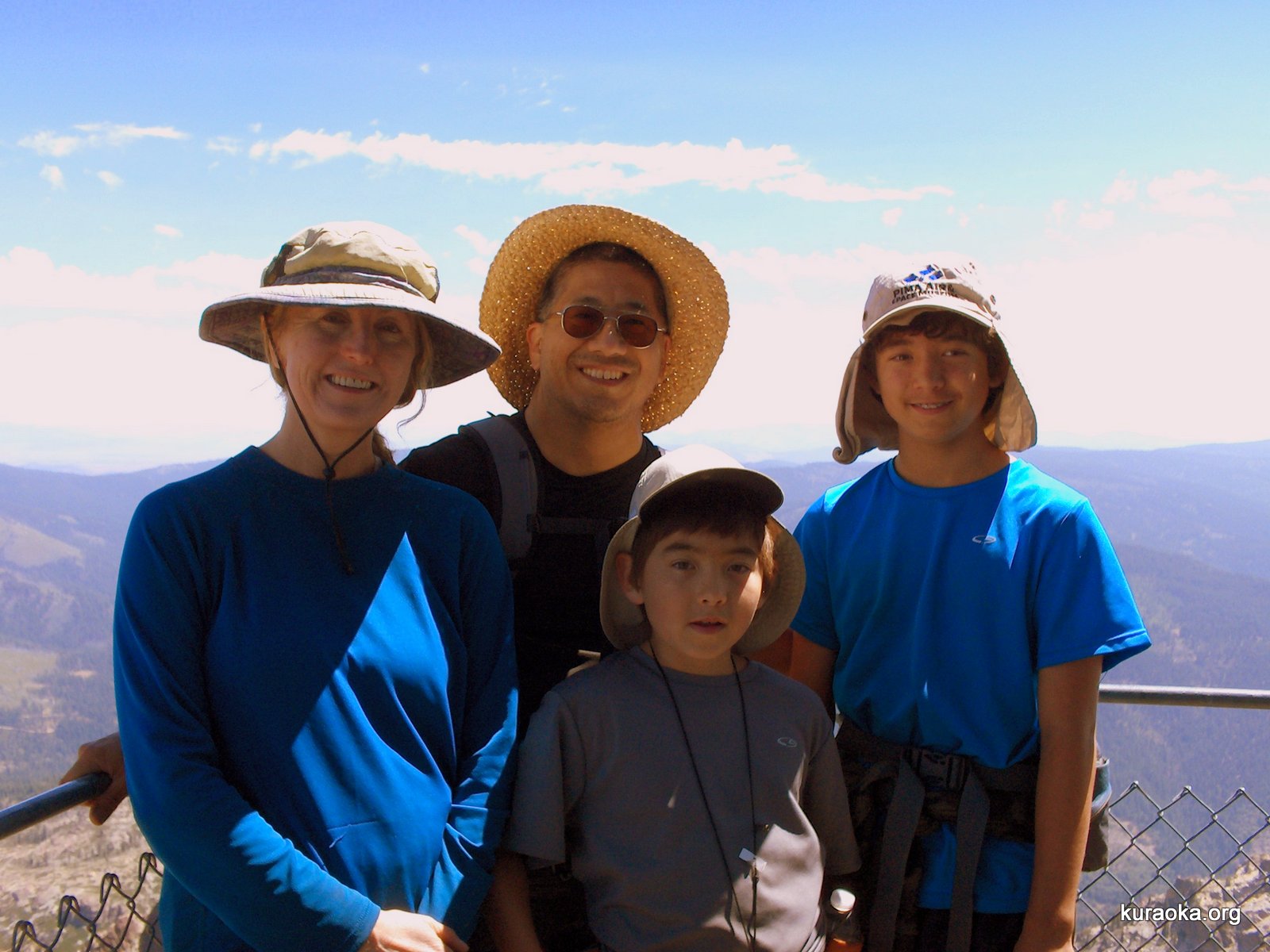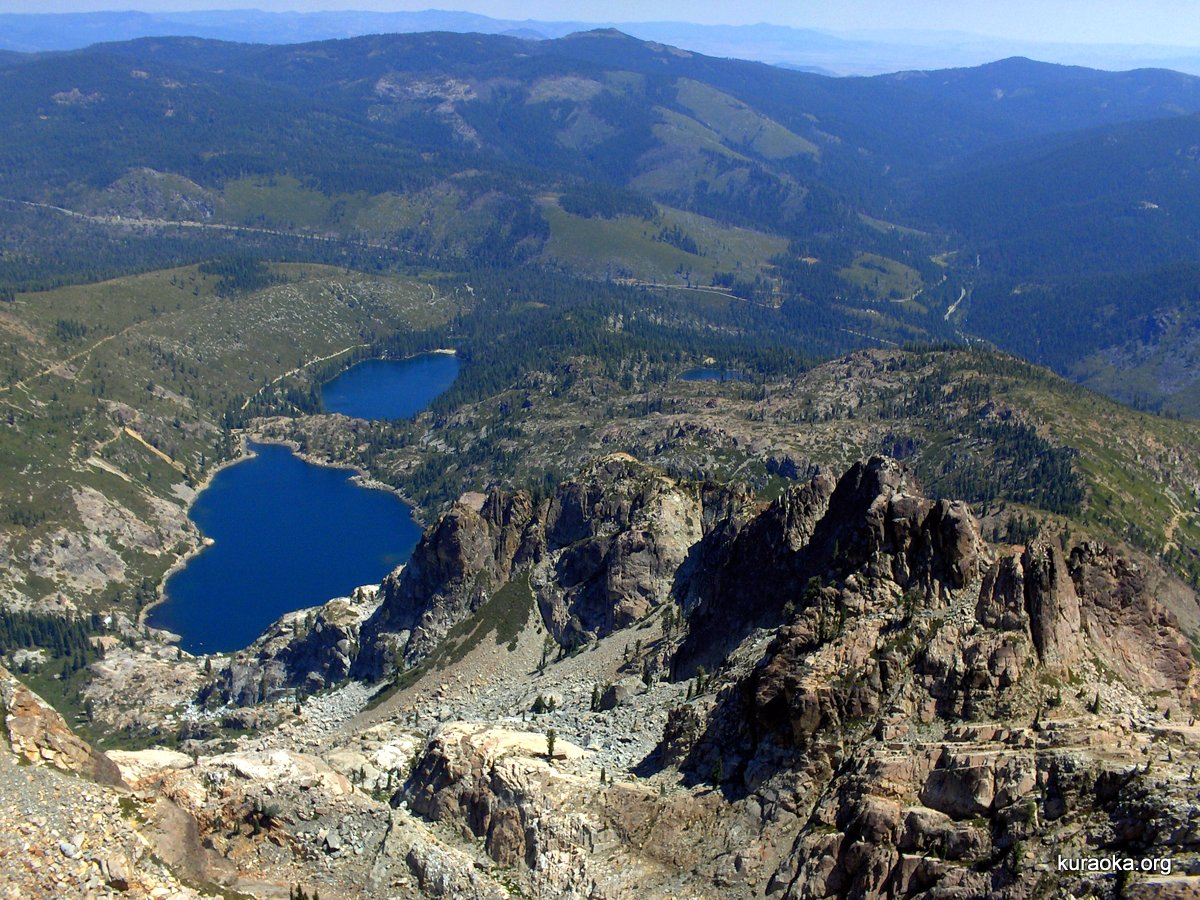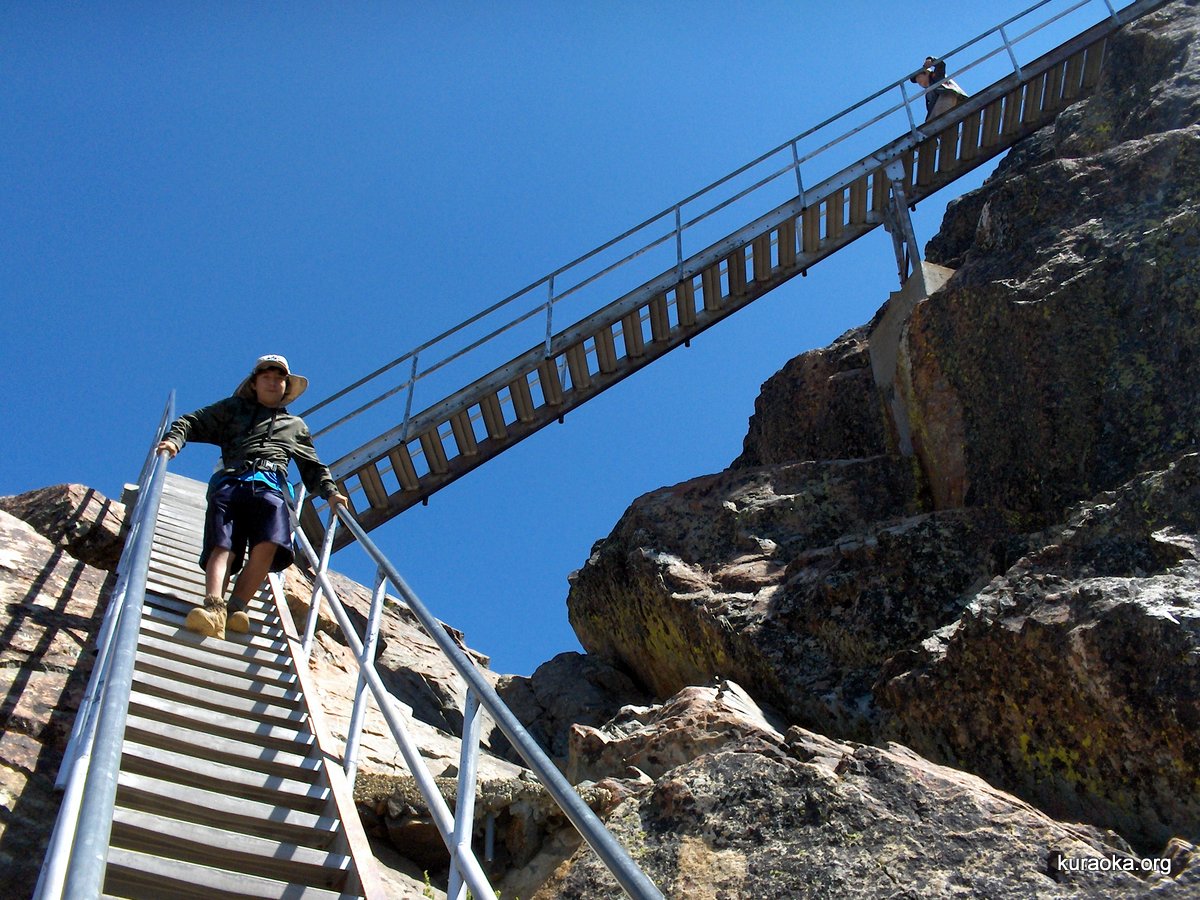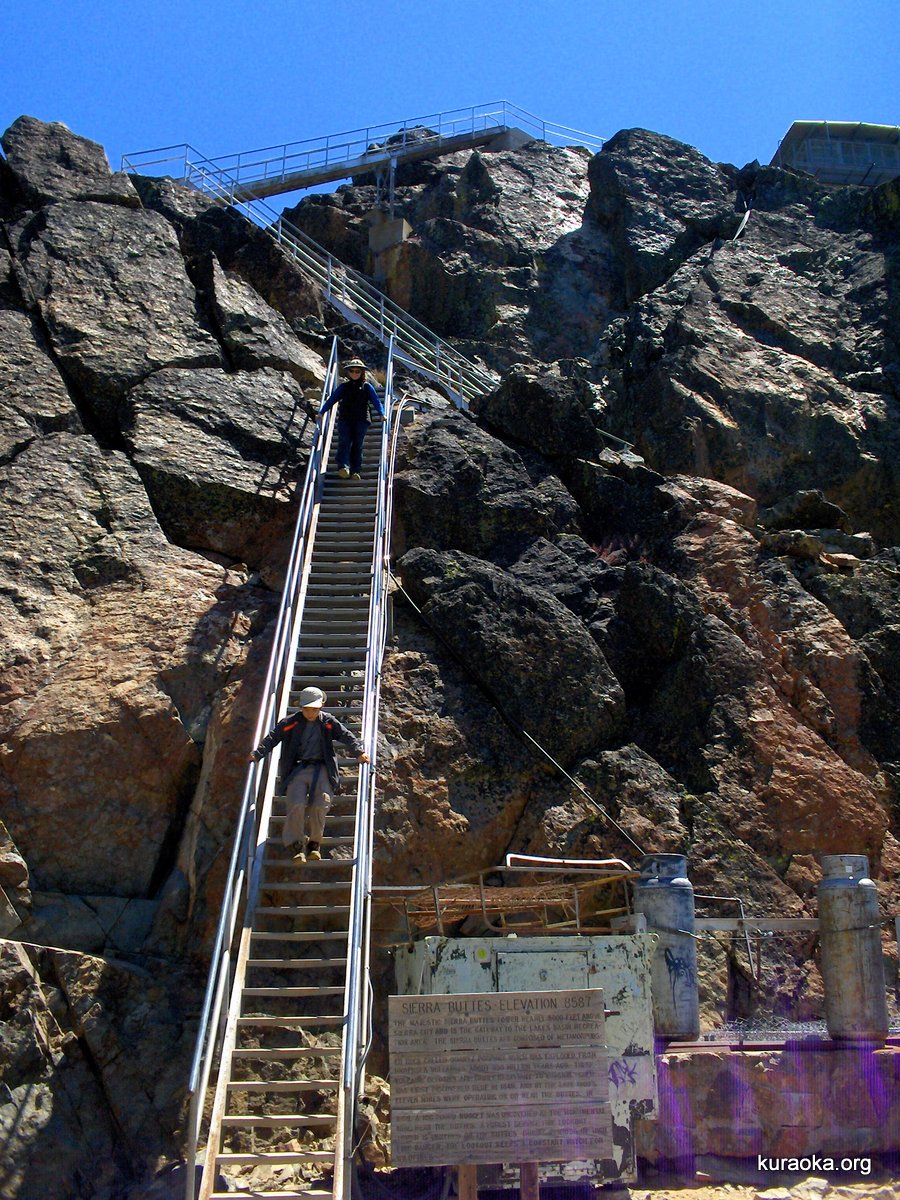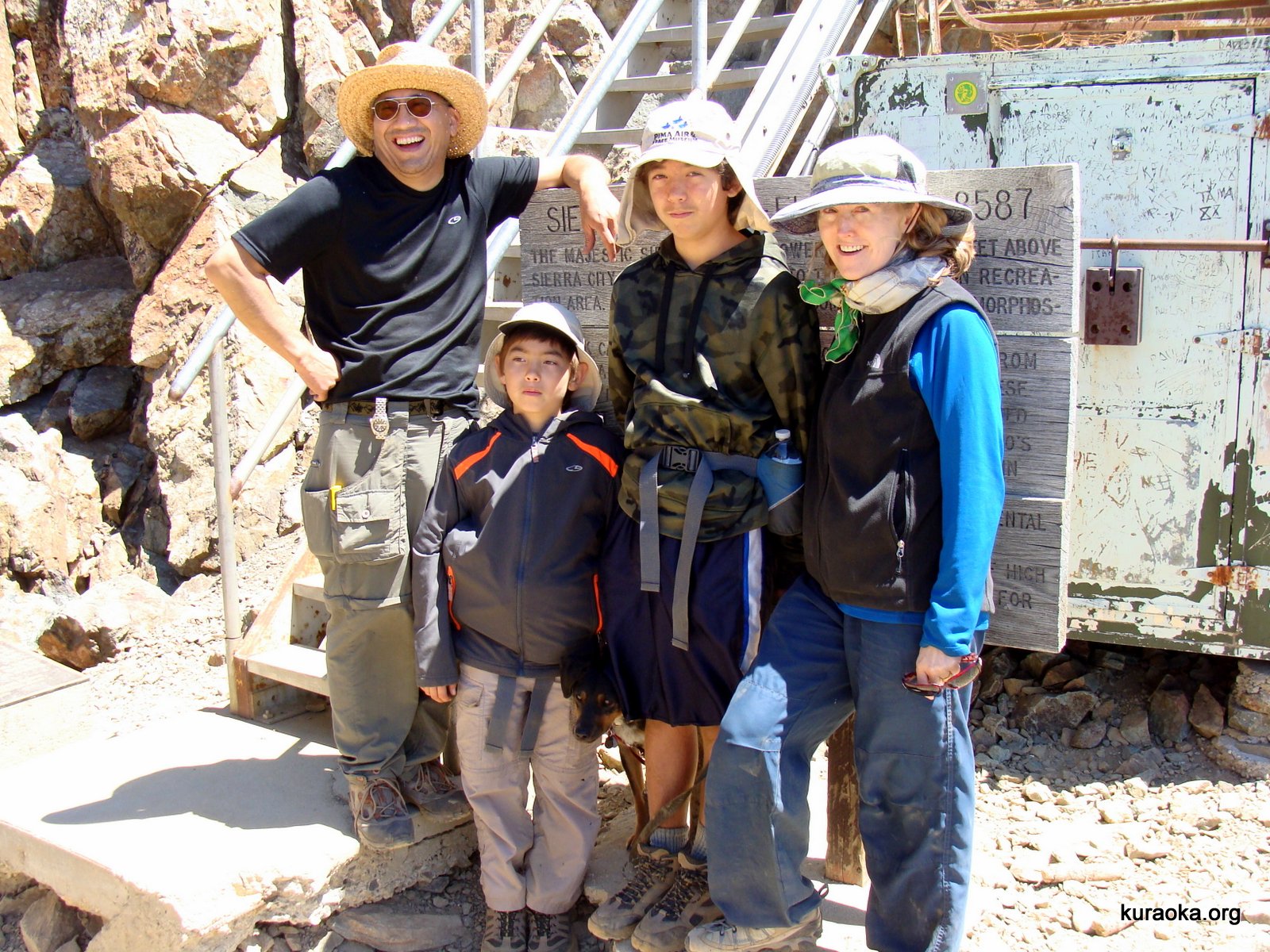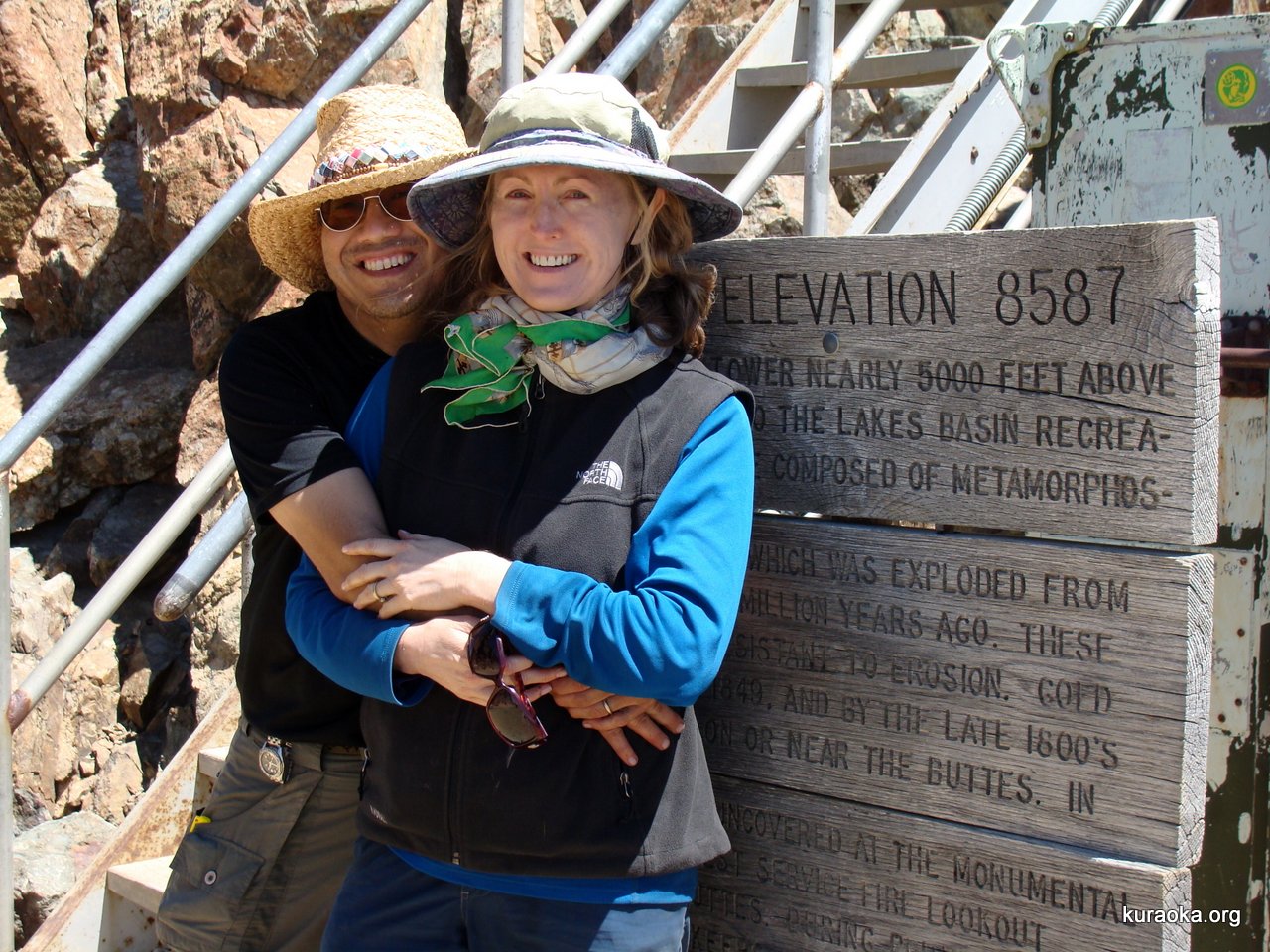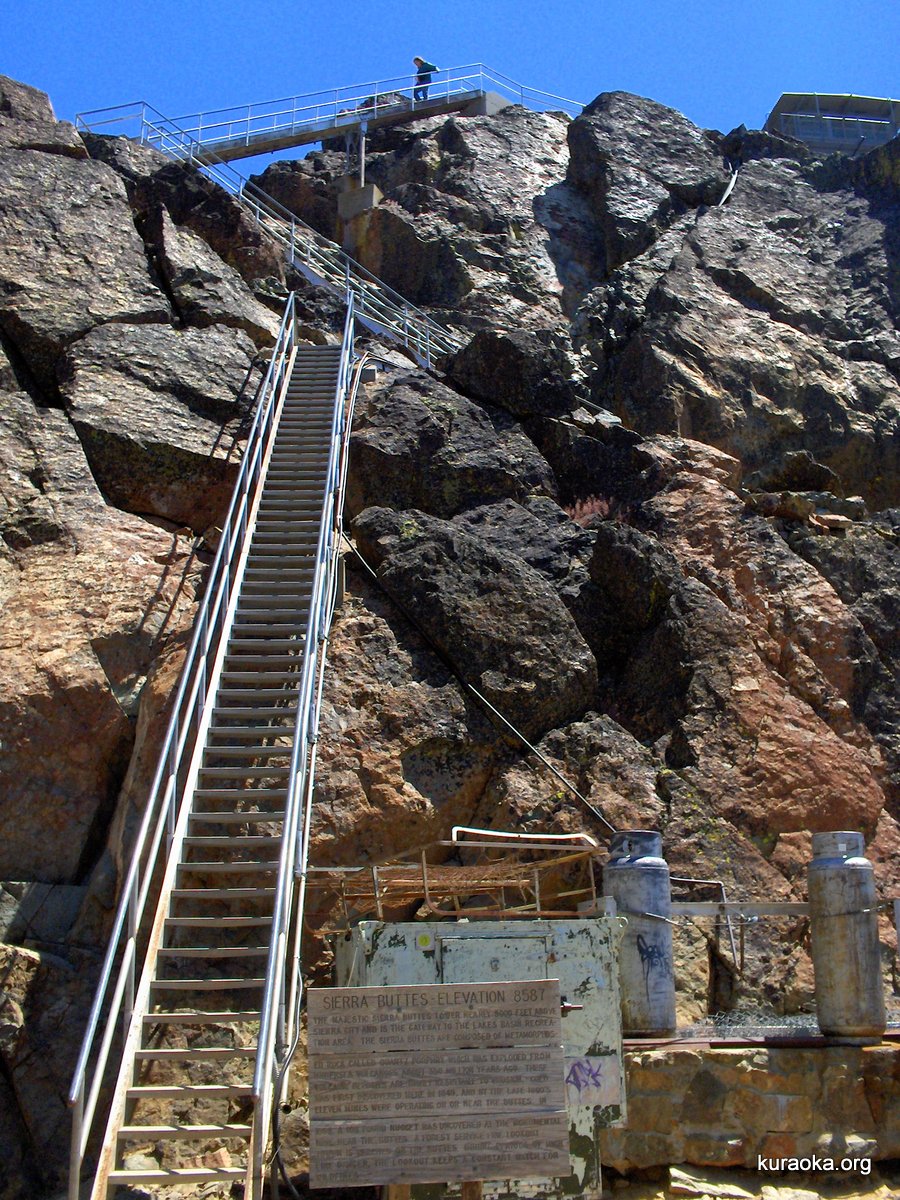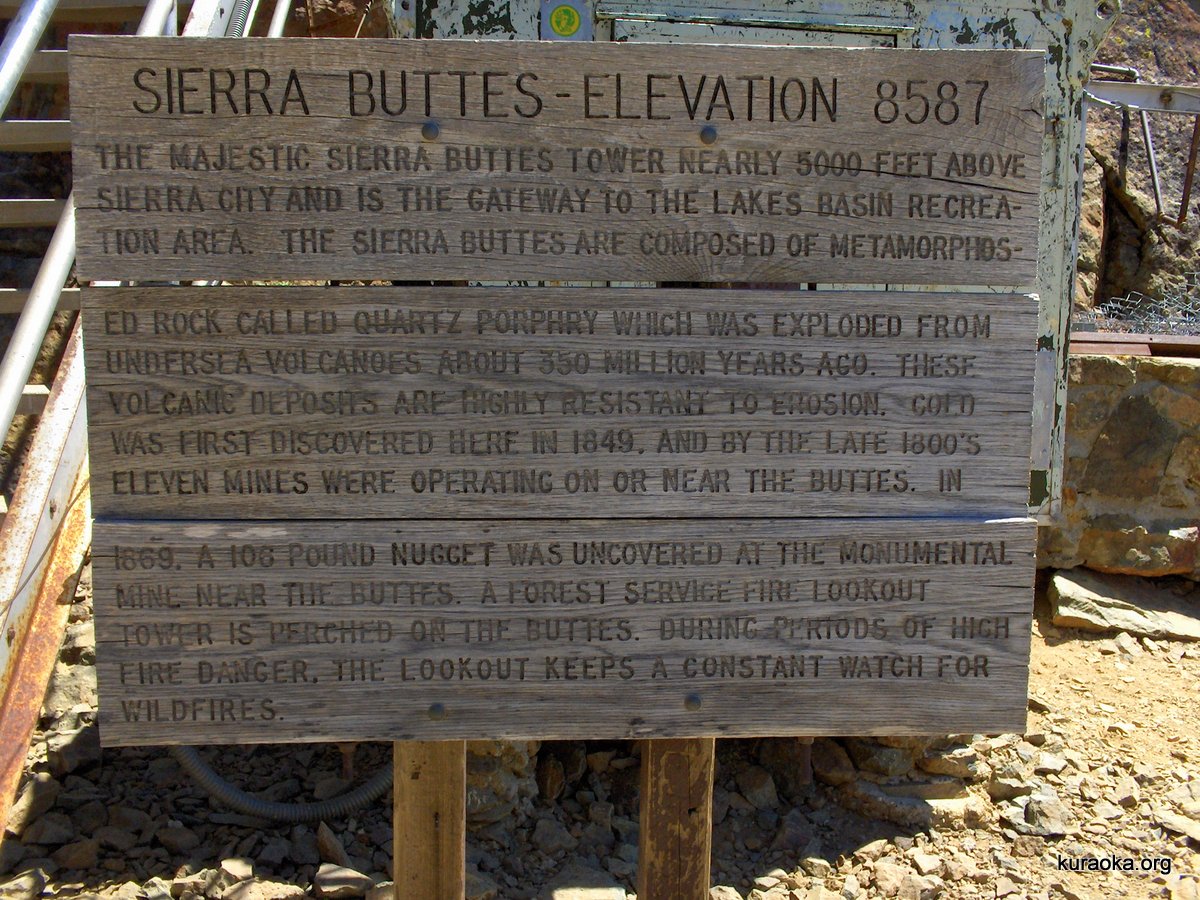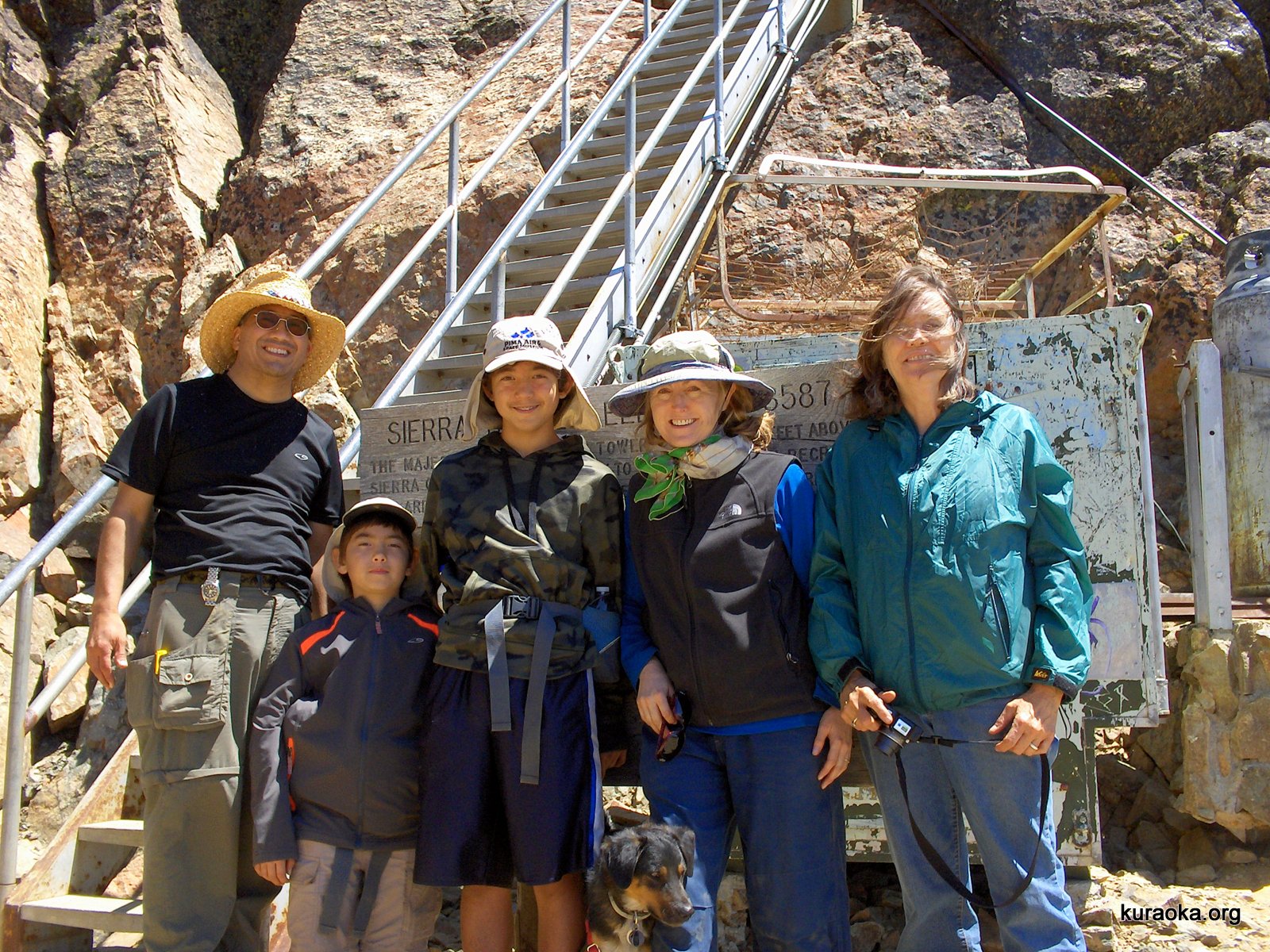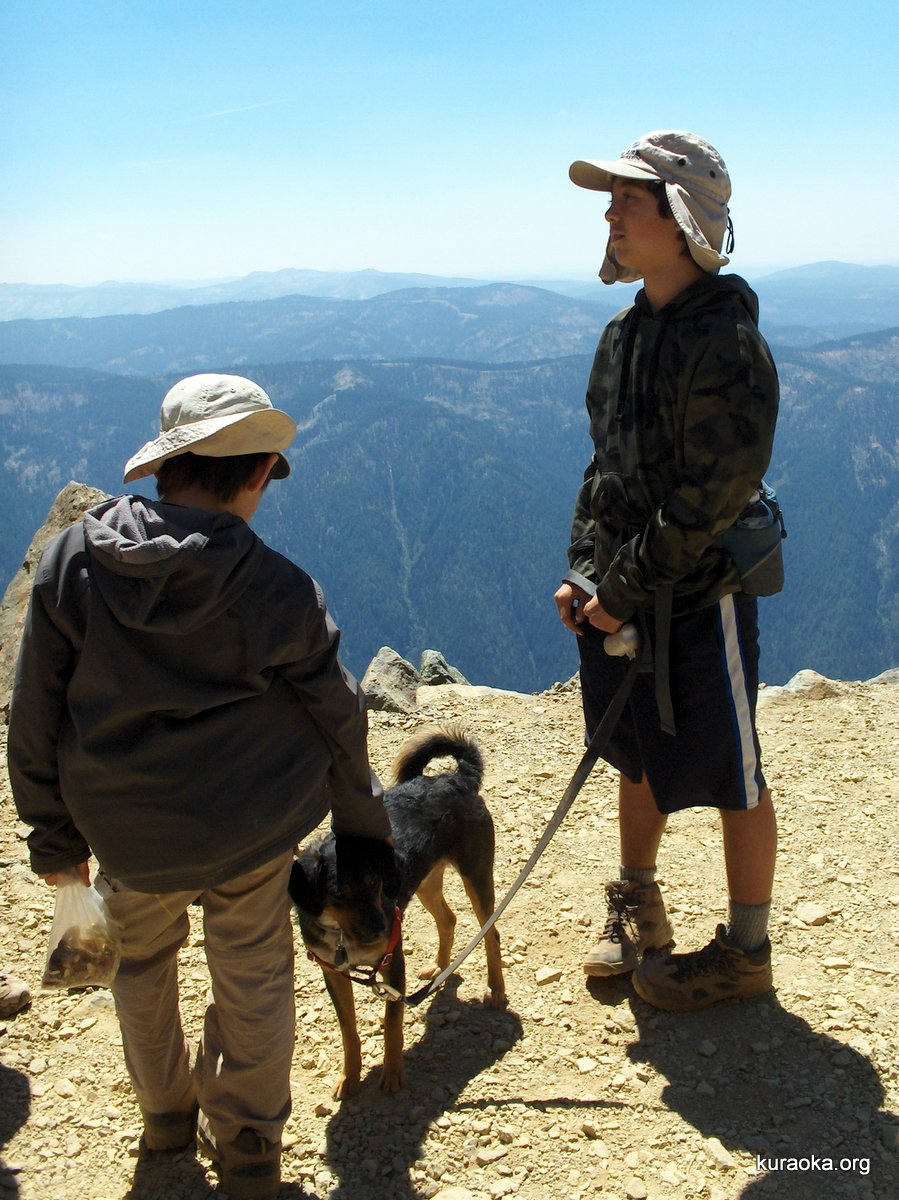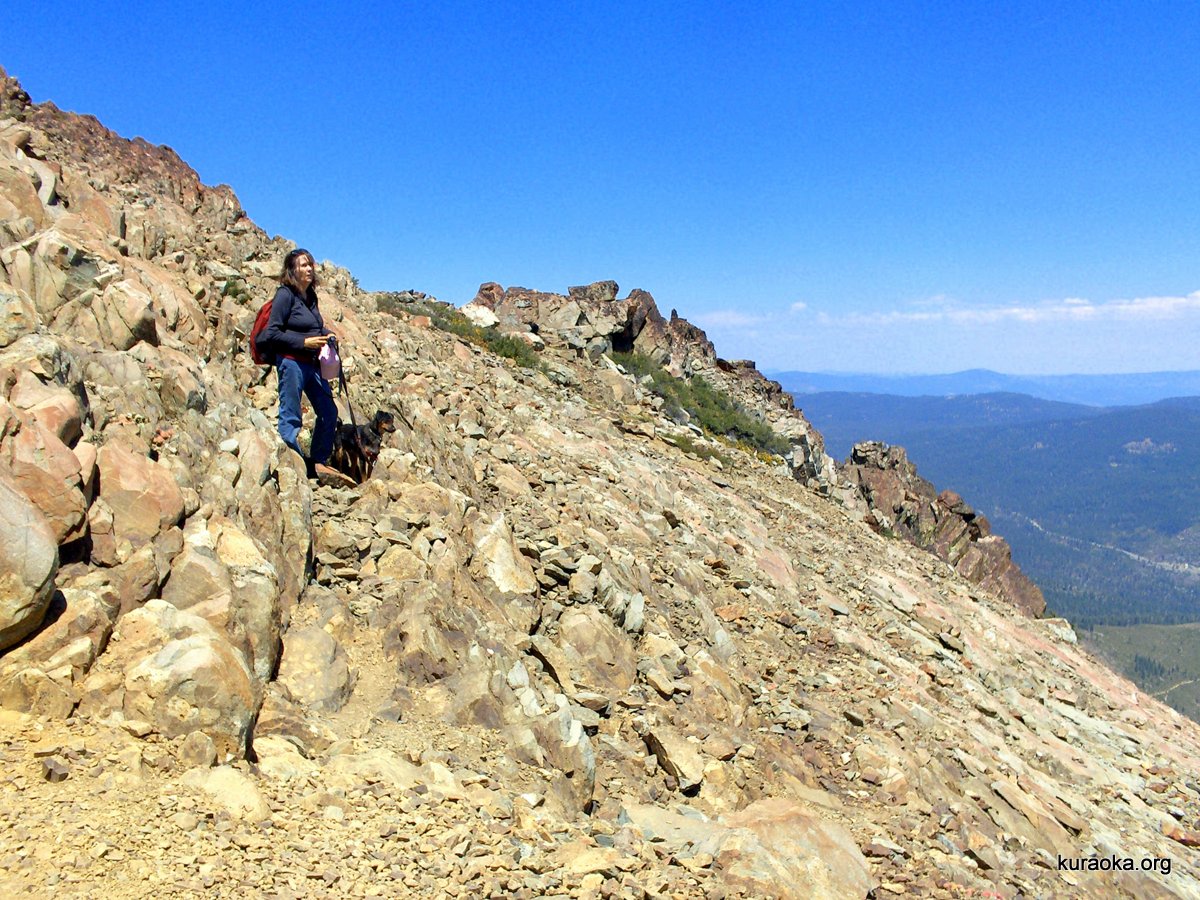 Thursday we continued the post-hike celebration with breakfast at the Mountain Creek Restaurant in Sierra City. Once again everyone joined us, so we had a good crowd on the dog-friendly patio beside a babbling creek. The food there is always delicious, all the more so the morning after a long hike!
We'd stopped en route at Bassett's where John bought two "gold sniffers," small plastic bottles with tubes attached that make it easier to isolate and pick out small gold flakes at the bottom of a gold pan.
After breakfast, everyone went their separate ways. We went to Wild Plum to do some gold panning. John went into the creek, as did Ondine after some persuasion. The boys stayed close to the banks, alternately panning and just enjoying the rocks, sand, and water. The gold sniffers worked great, although we didn't sniff out any more gold than usual, which is to say none at all, really.
Otter! An otter emerged from the river rocks, scampered within two feet of Leo, who was sitting quietly on a rock, glanced at him, and then waddled into the river where it swam upstream for a bit, a mirage of brown against the rocky, gray-green creek bottom. We were delighted! It scrambled out on some boulders just upstream of where we sat, shook off, and trundled into the brush. We'd never seen an otter in the wild before! Now that was treasure to keep!
In Downieville, we found a lovely little strip of grass near the riverbank, shaded by tall trees and protected, as it were, by two mounted mining water cannons. We played some horseshoes there, and John went to the Downieville Grocery to get some ice cream. They were out of his traditional annual It's-It, so he settled for Chips-Its for all of us. Yum!
That evening we once again had dinner together. We toasted marshmallows - the first regular toasted marshmallows of the trip - and polished off the big tub of Moose Munch. What a treat!
John enjoyed some time looking around with the binoculars. Our car is so tightly packed, he couldn't fit in even the telescope he'd bought expressly for camping. But he had managed to wedge in a pair of workable astronomical binoculars, Nikon Action Extreme 10x50s. Nothing could have been better for the situation. He was delighted at the clear view our campsite offered over the meadow toward Sagittarius, and easily picked out M22, M25, and M16, all in a row, each one distinctly different. Then he shifted a bit and picked up M6 and M7. It was still early for the Perseids, but he saw several shoot across the sky, and even had one shoot across his field of view in the binoculars! He also spotted several satellites, including two proceeding in perfect parallel paths. Magic!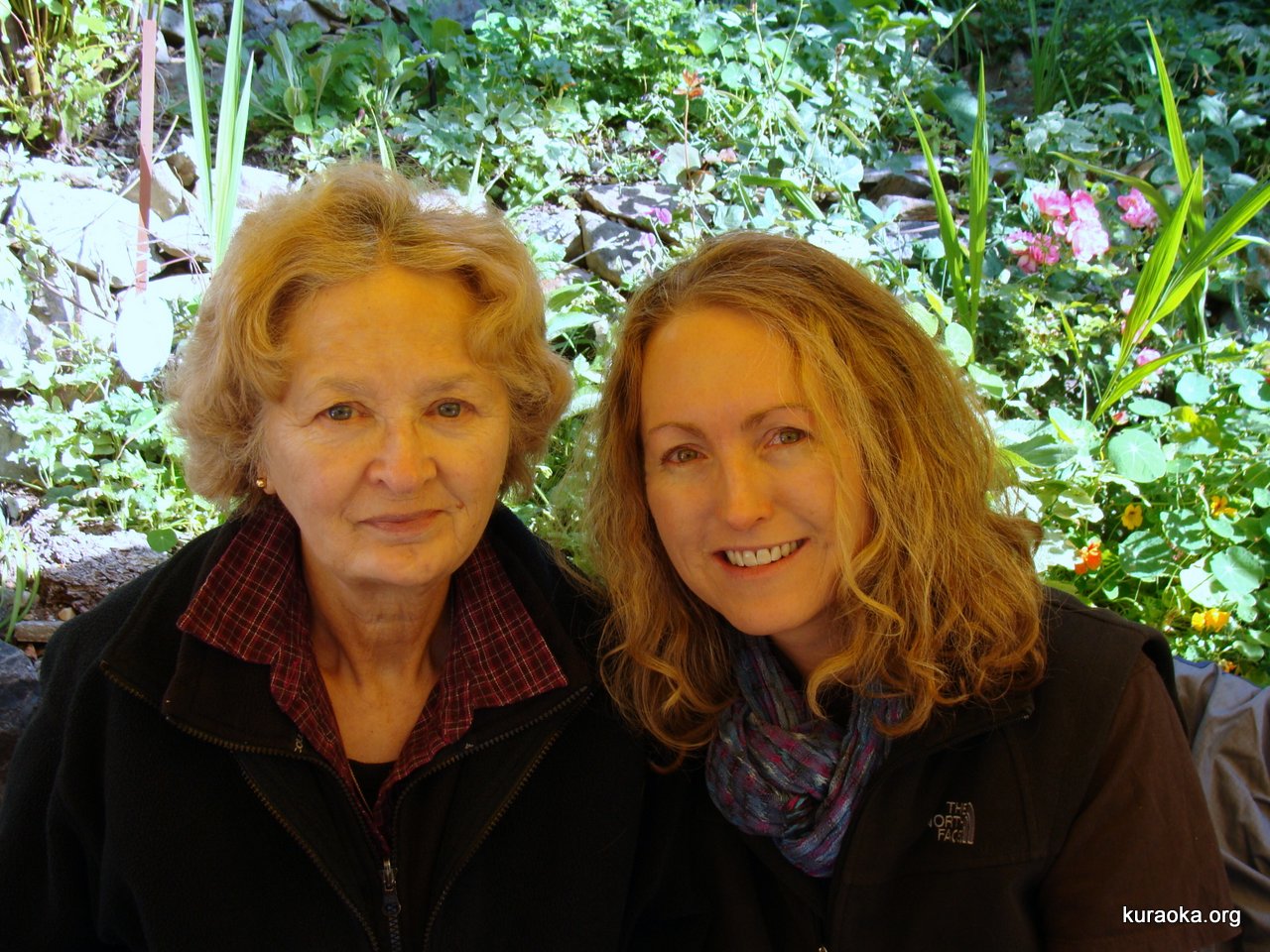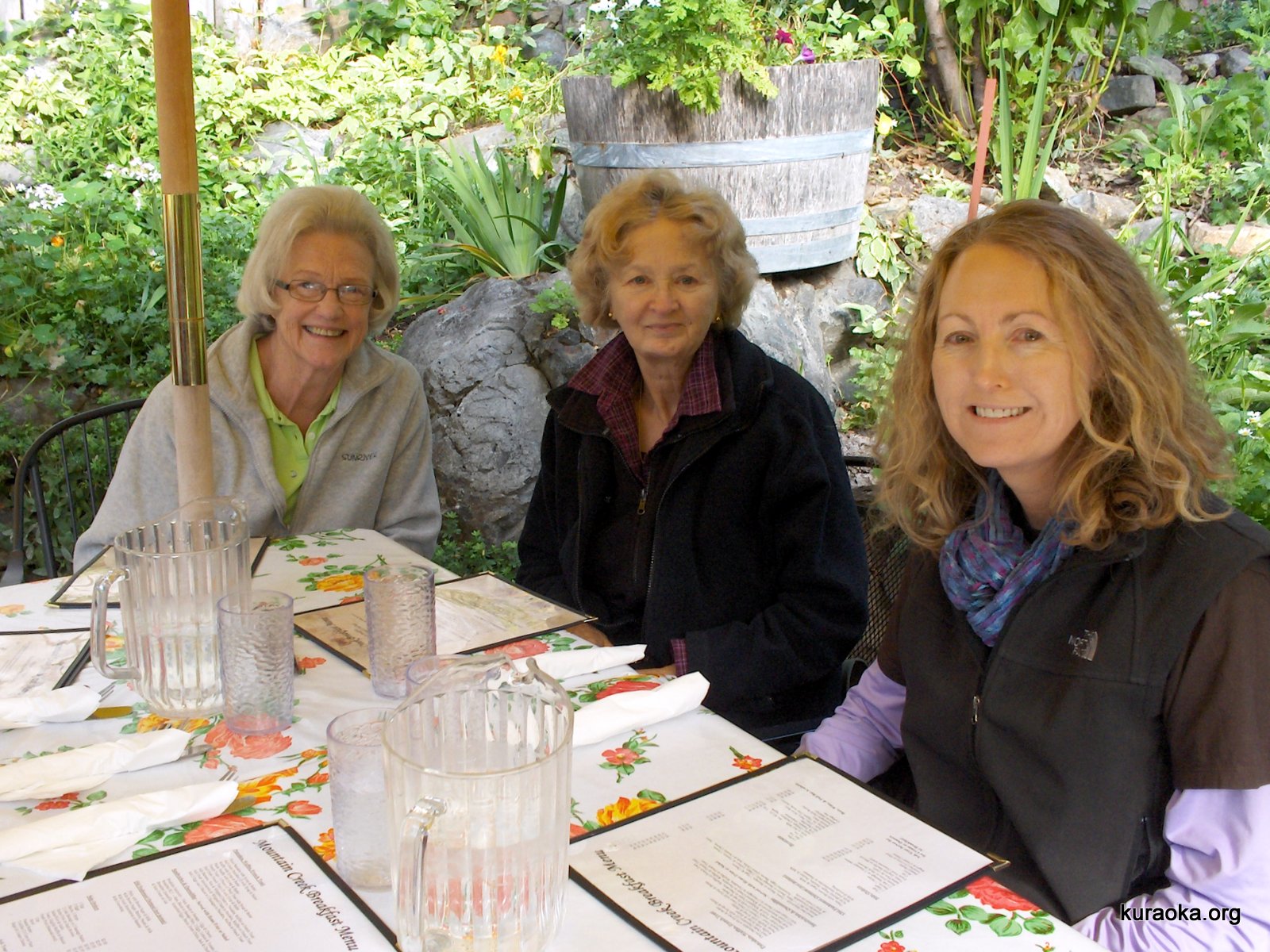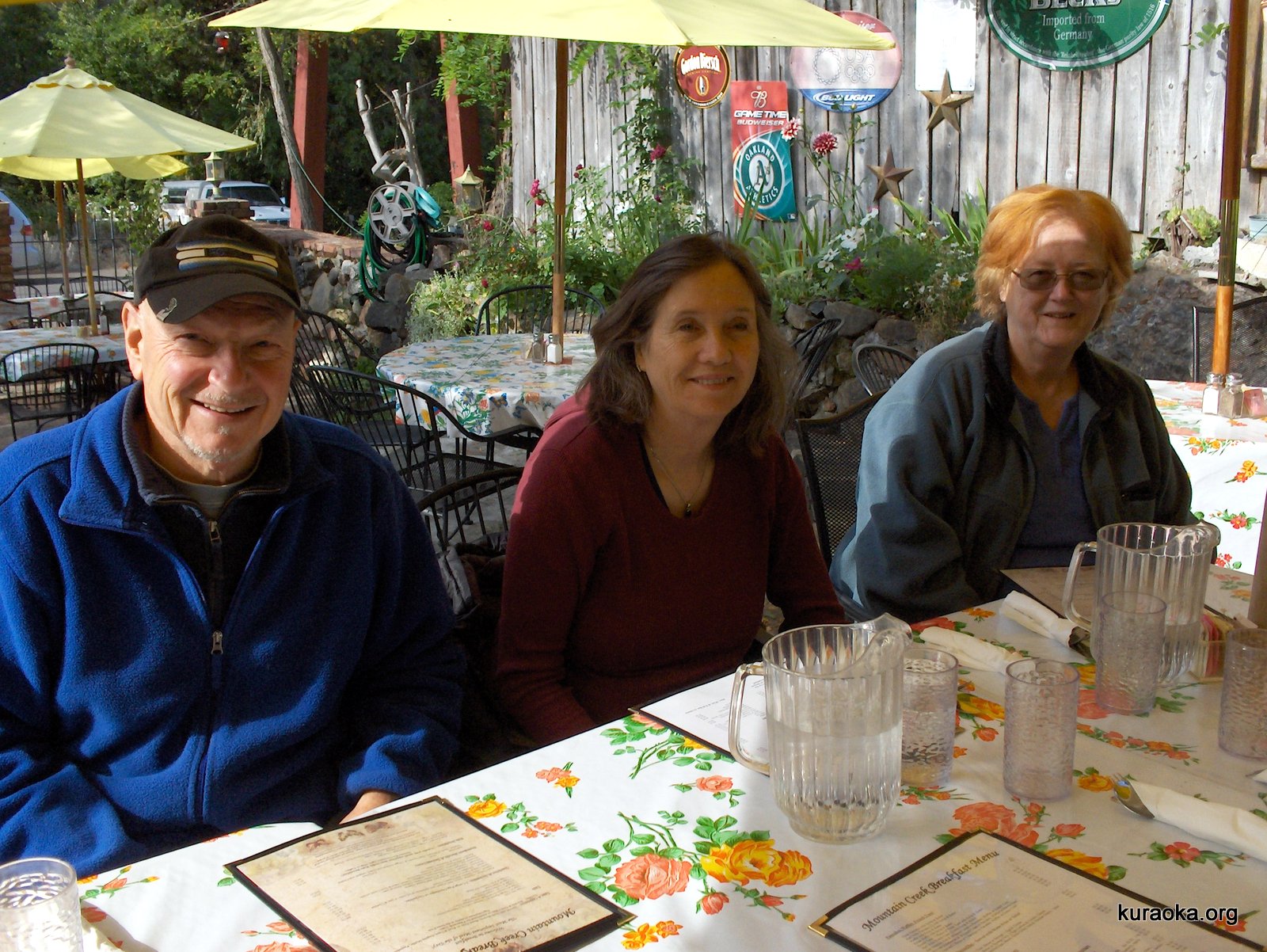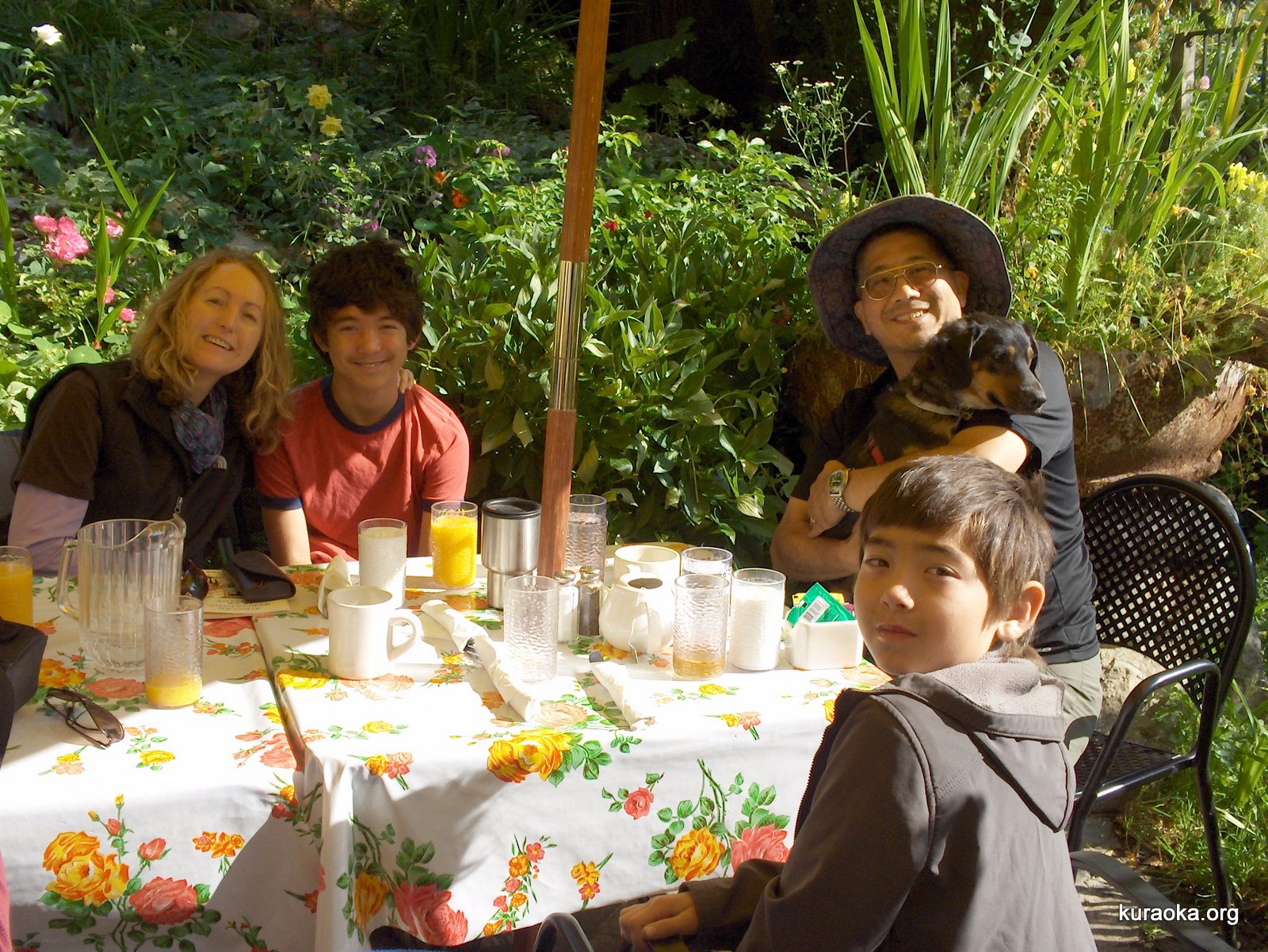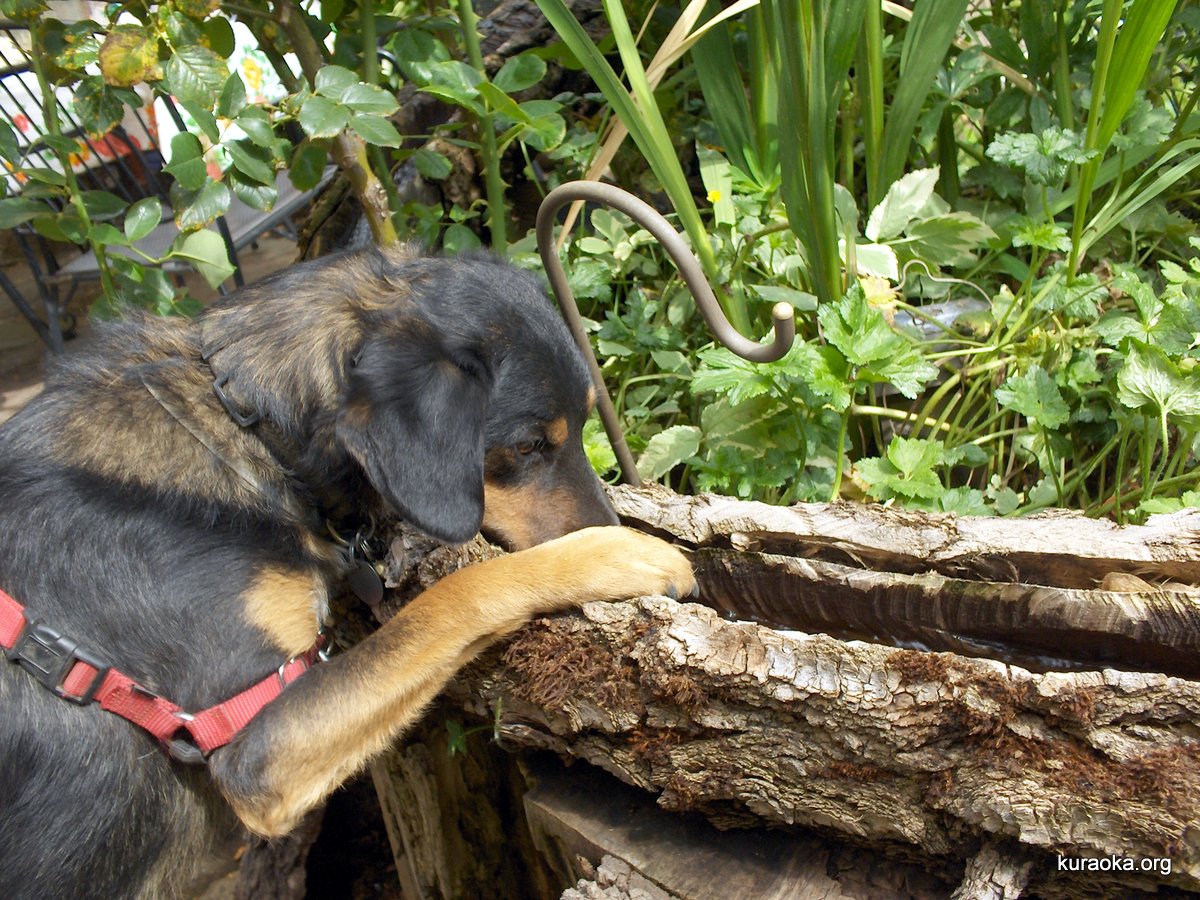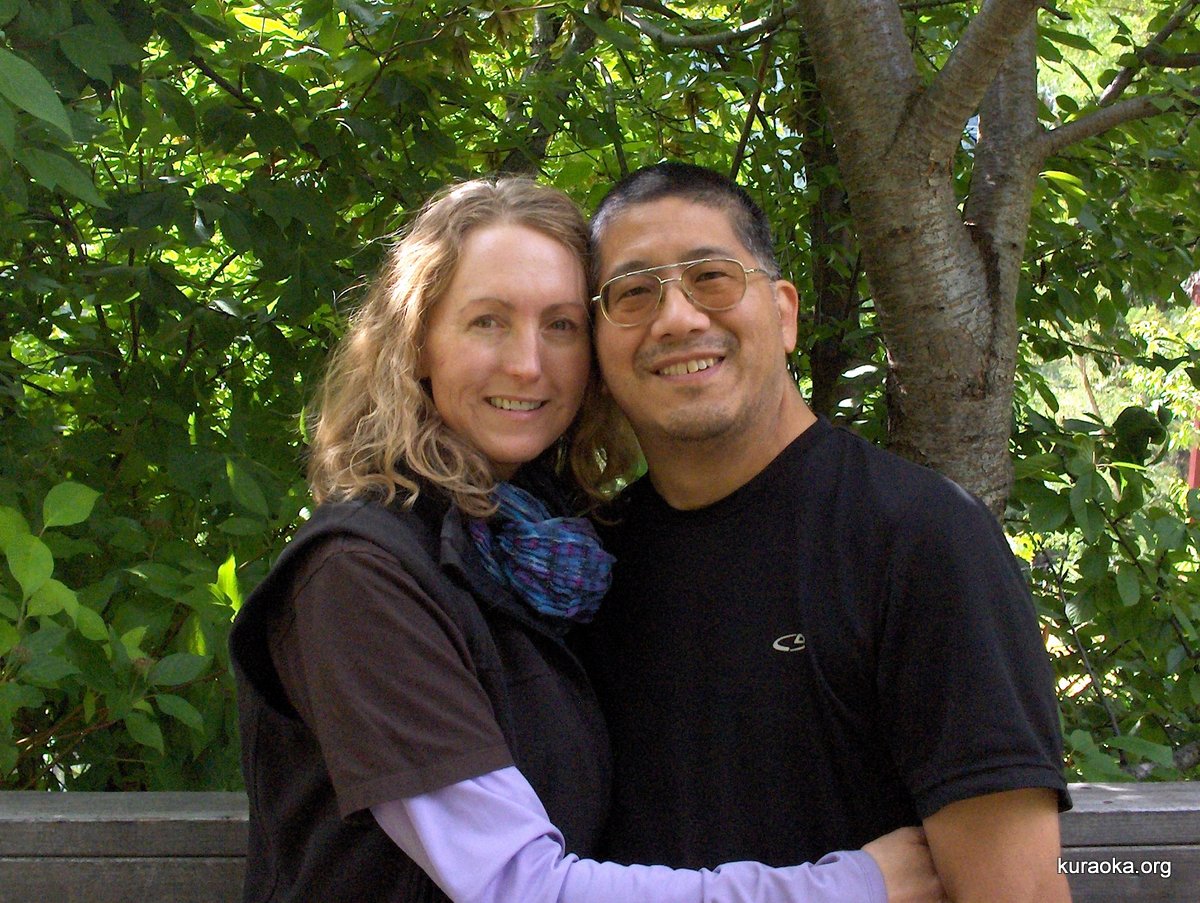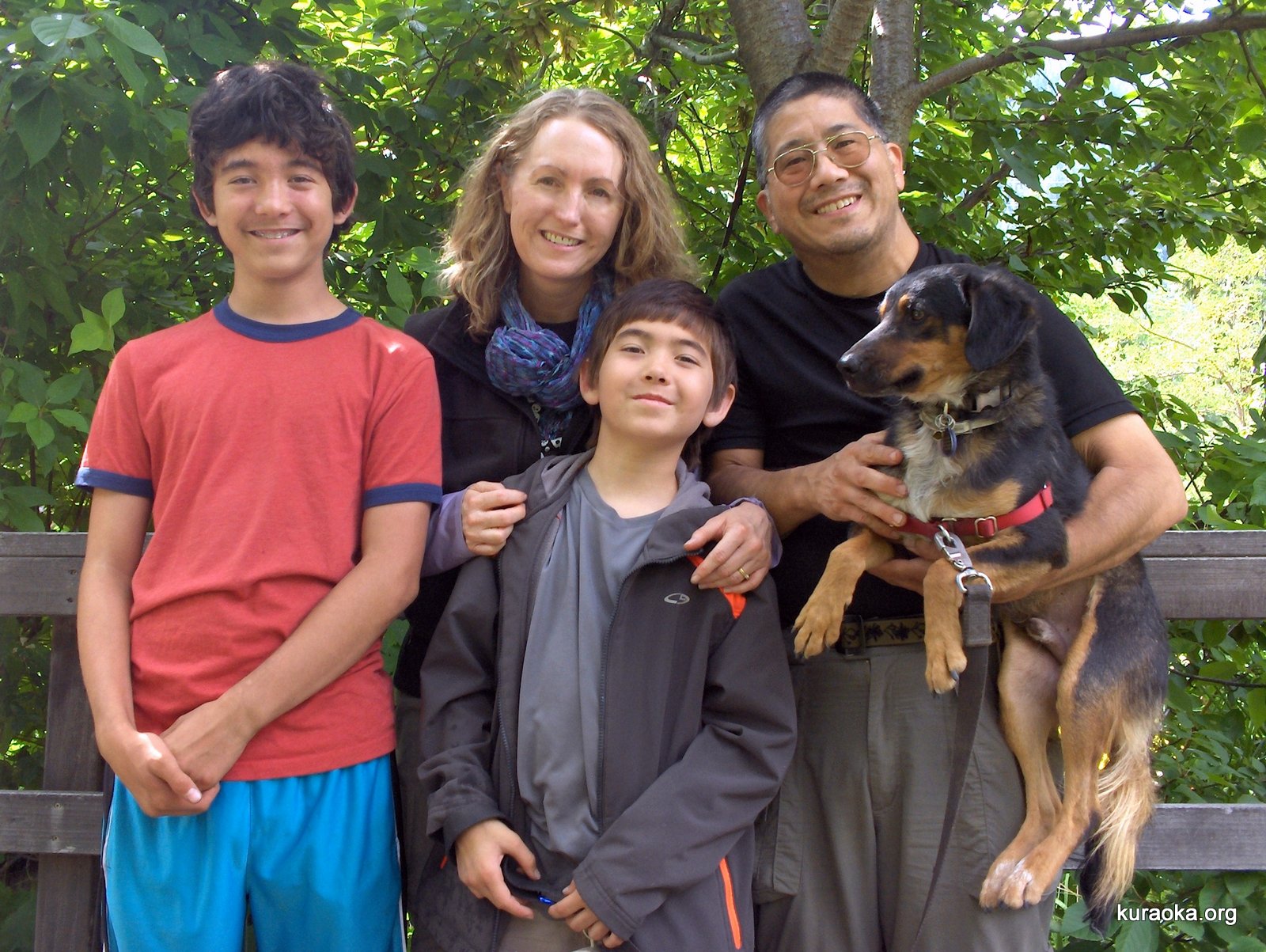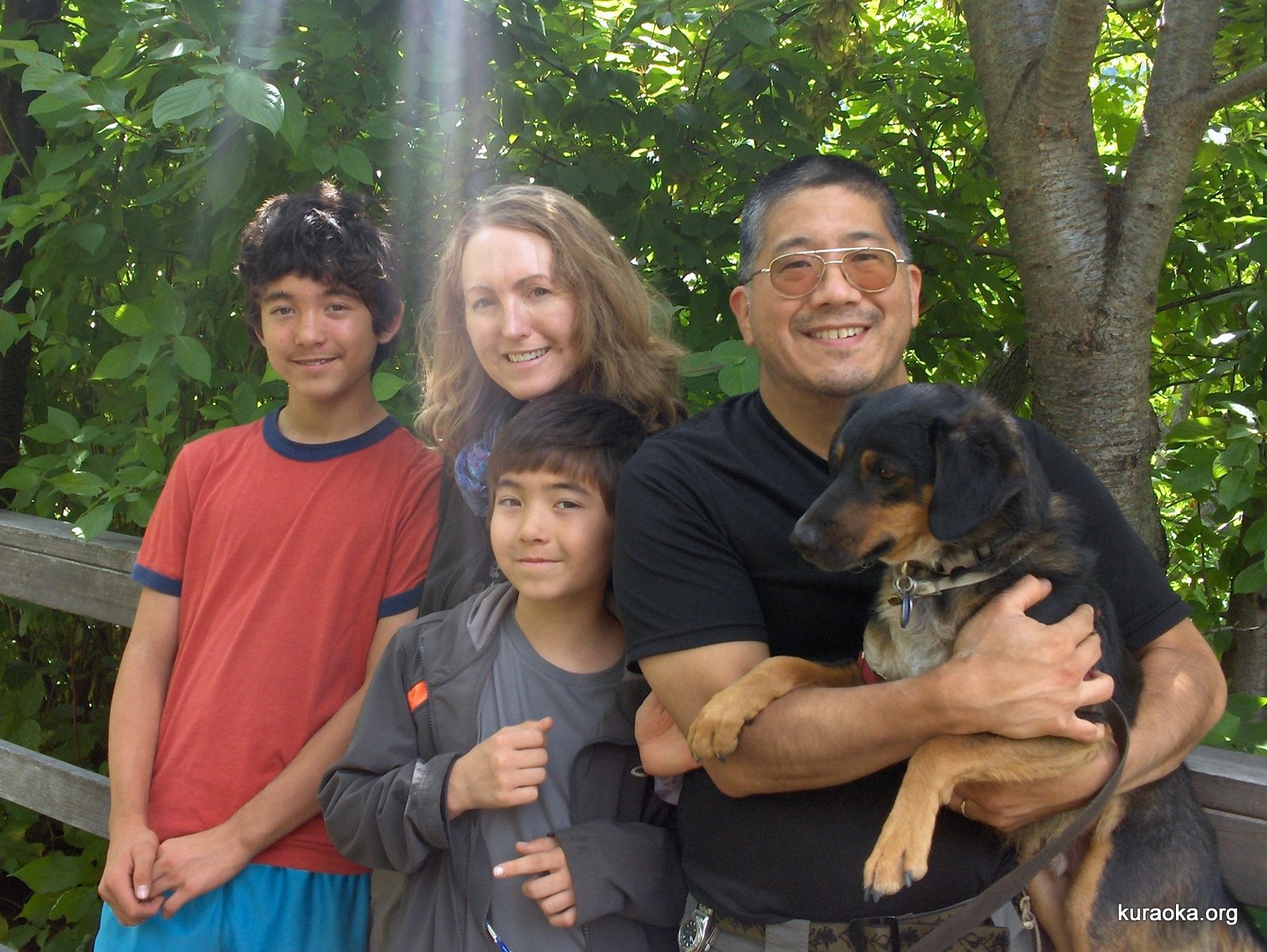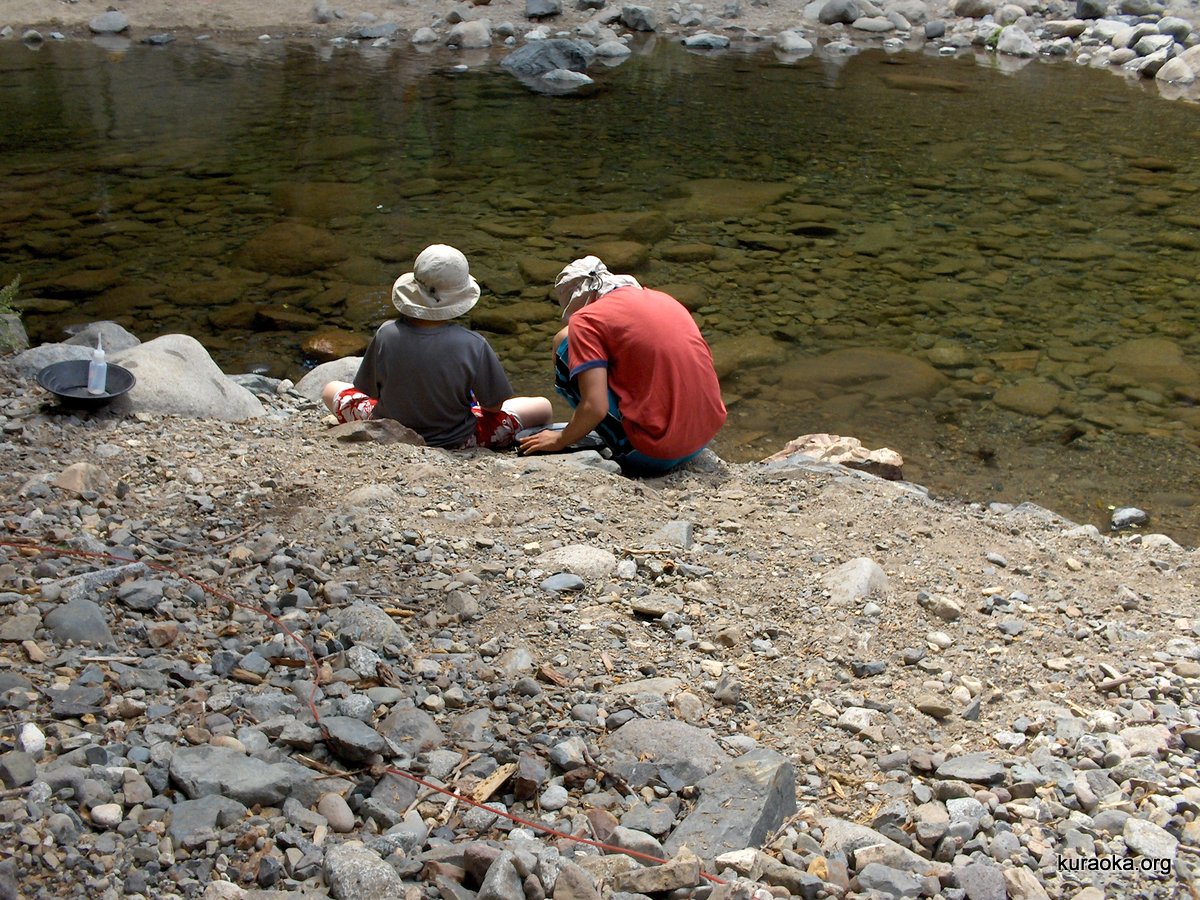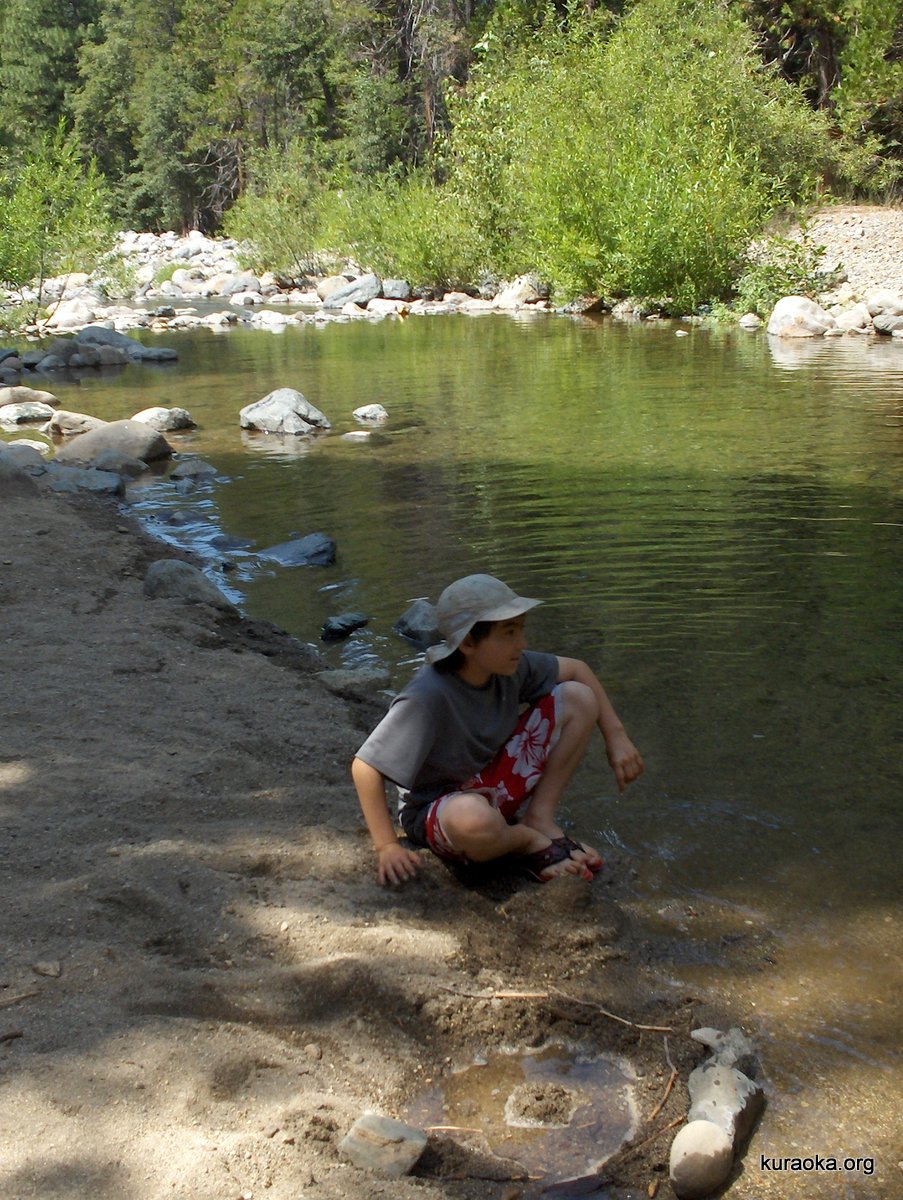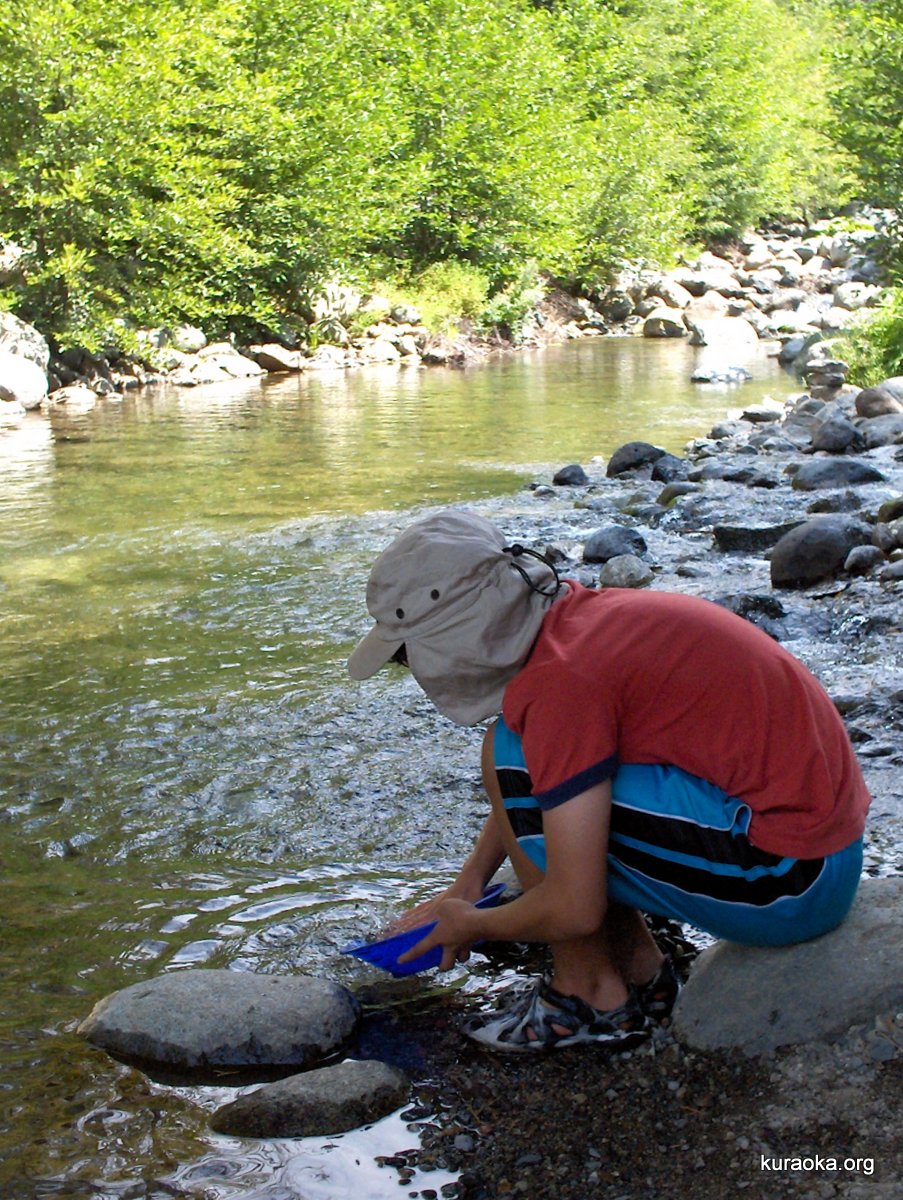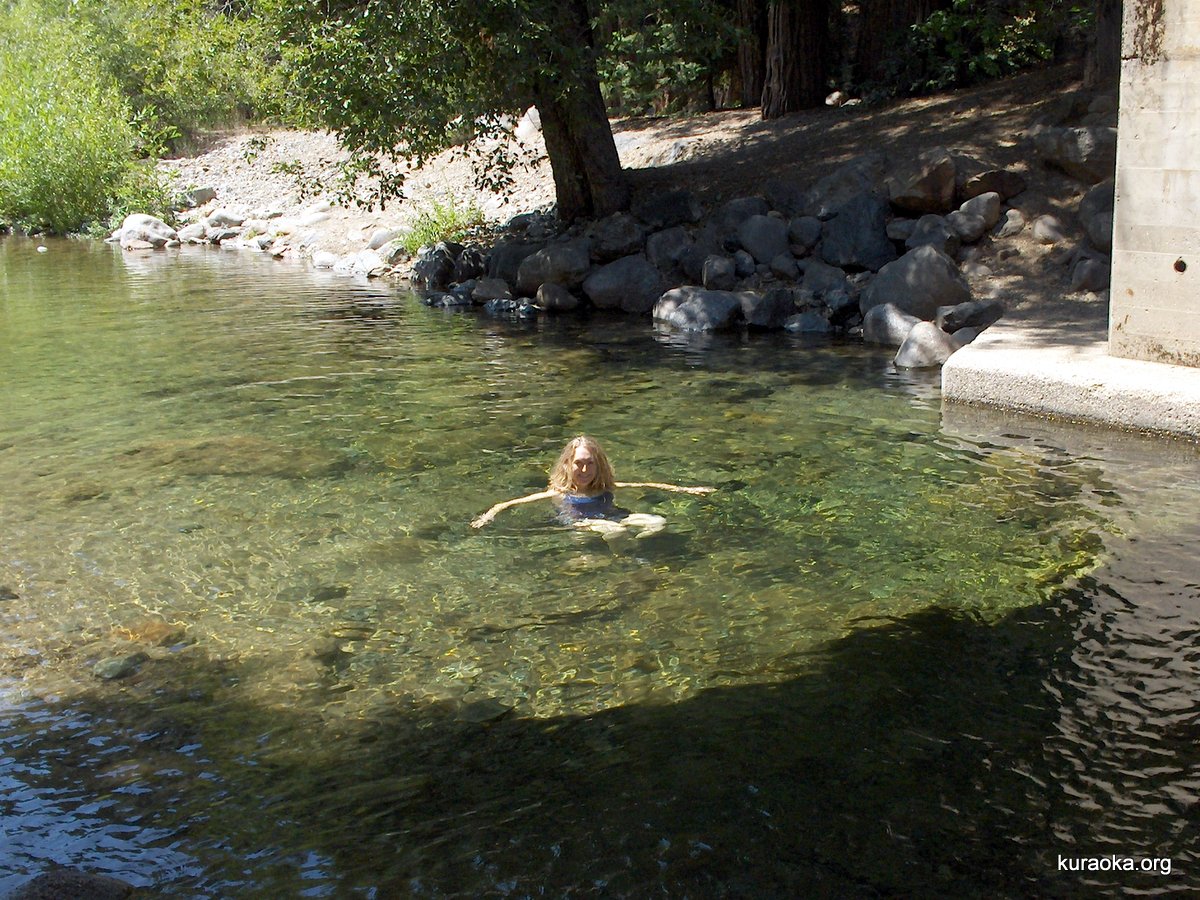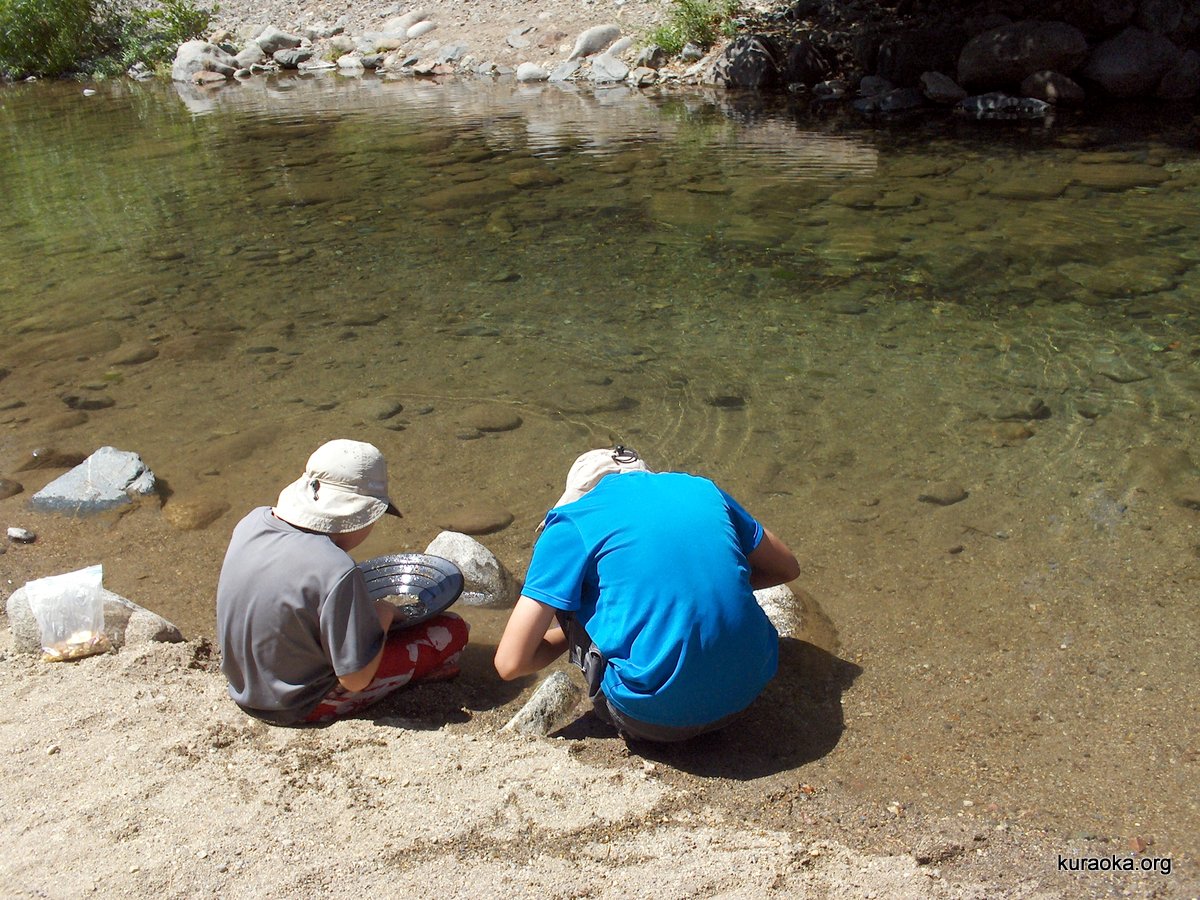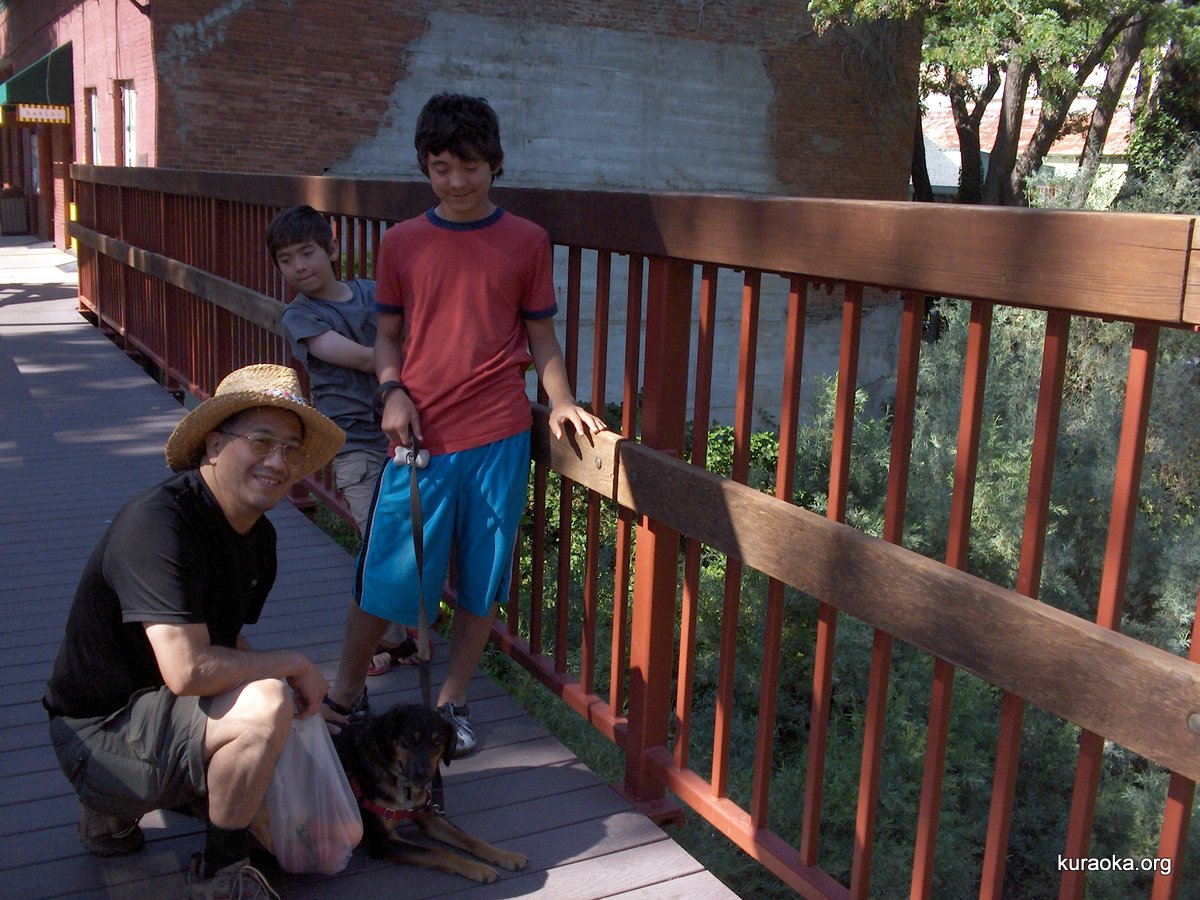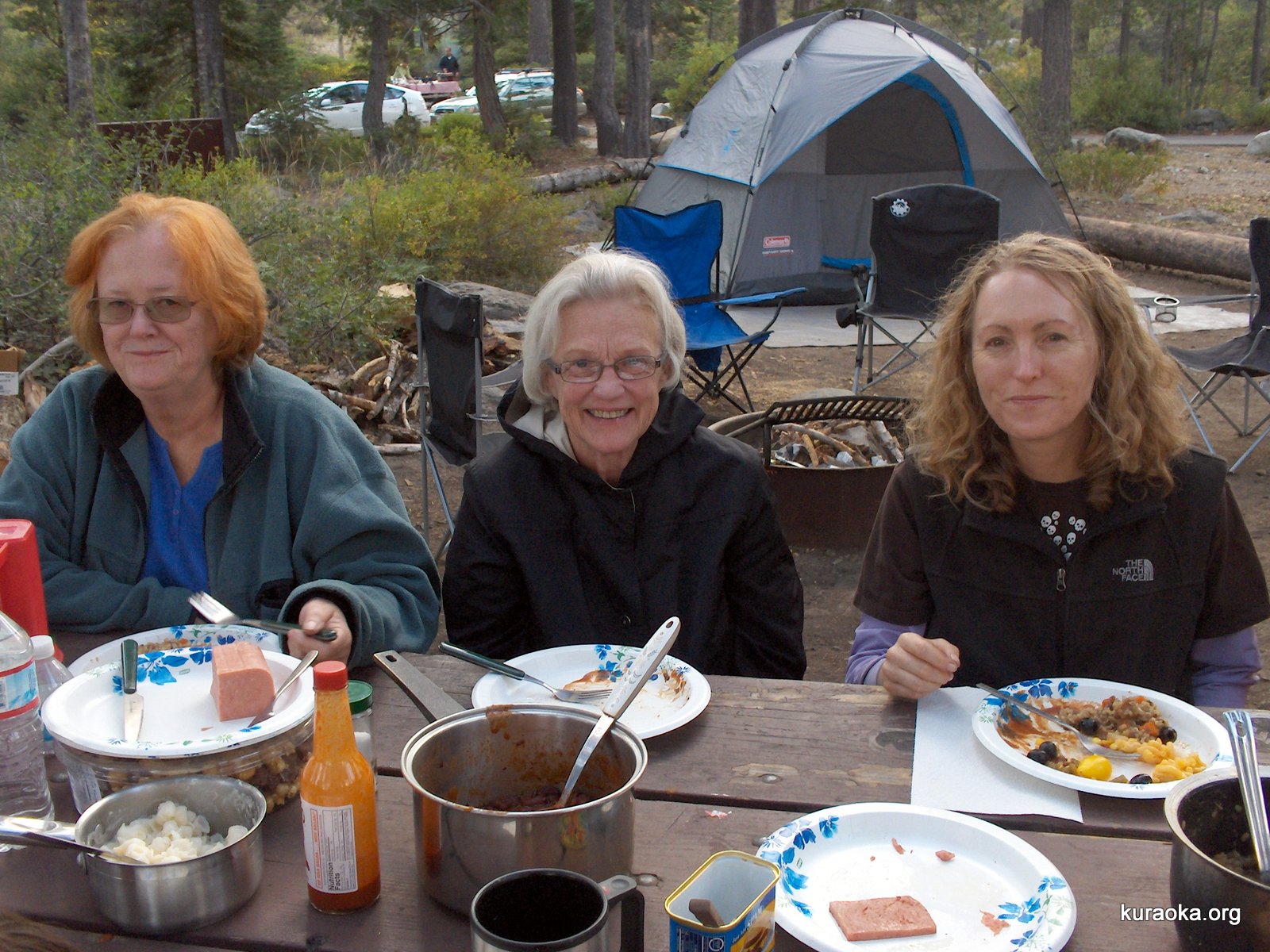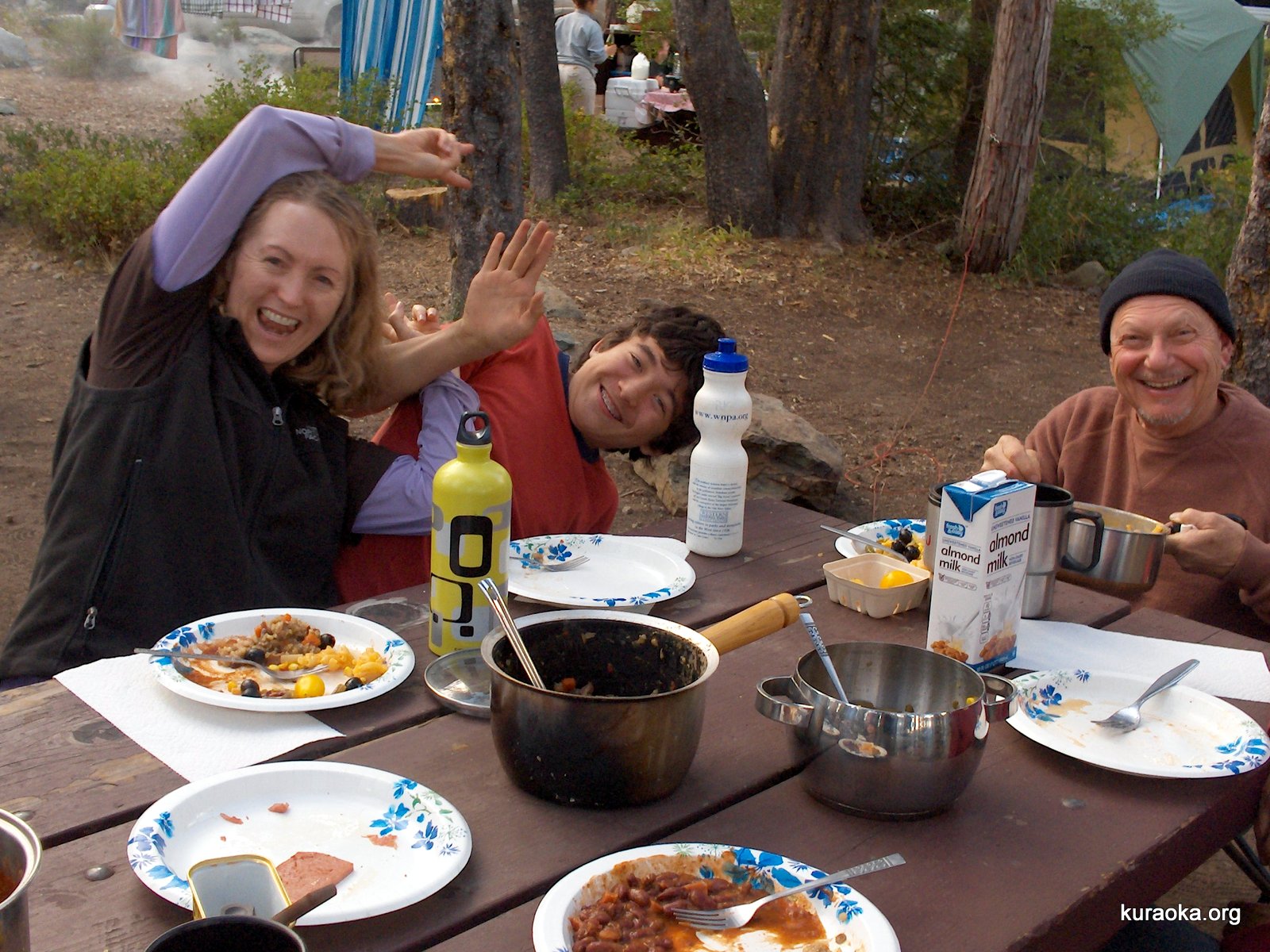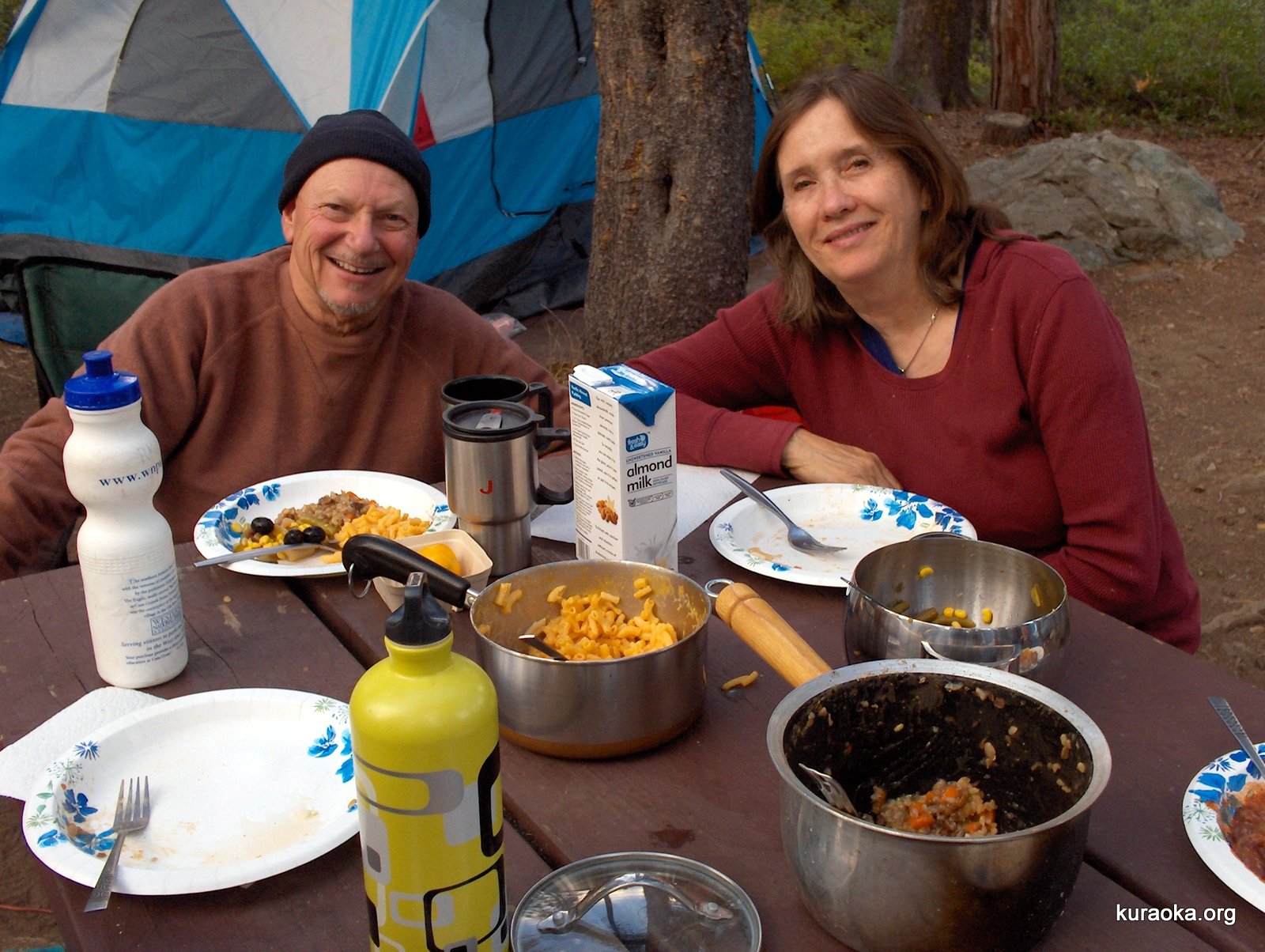 Friday it was already time to pack up. John took Shadow on an early morning walk to Sand Pond for the first time this trip. A mist rose off the water as the shadows in the trees lightened. In the morning chill, the water felt invitingly warm. No one was about.
John secured the dog to a convenient cinder block, and started shucking off. Would he really? Yup, he went in in his skivvies! Shadow was concerned, and danced at the end of his short leash complaining quietly as John paddled back and forth enjoying the water and the magnificent view of the golden light rising against the Buttes. After a while, he reluctantly got out. The air had warmed up by then, so he wasn't cold at all. He began to wish he'd brought a towel, although that would have ruined the impromptu spirit of the thing. Or, that he'd gone ahead and stripped off completely; waiting for underwear to dry, even the wicking kind, is a rather chilly and exposed way to pass the morning.
As soon as John got back to camp, he started breakfast and packing. It took us until lunchtime to get packed up and say our goodbyes. Barbara and Ulli stayed for a few more days. We went to Bassett's for one last lunch together in the Sierras before heading down the mountain to Santa Nella and hot baths or showers for all (including the dog).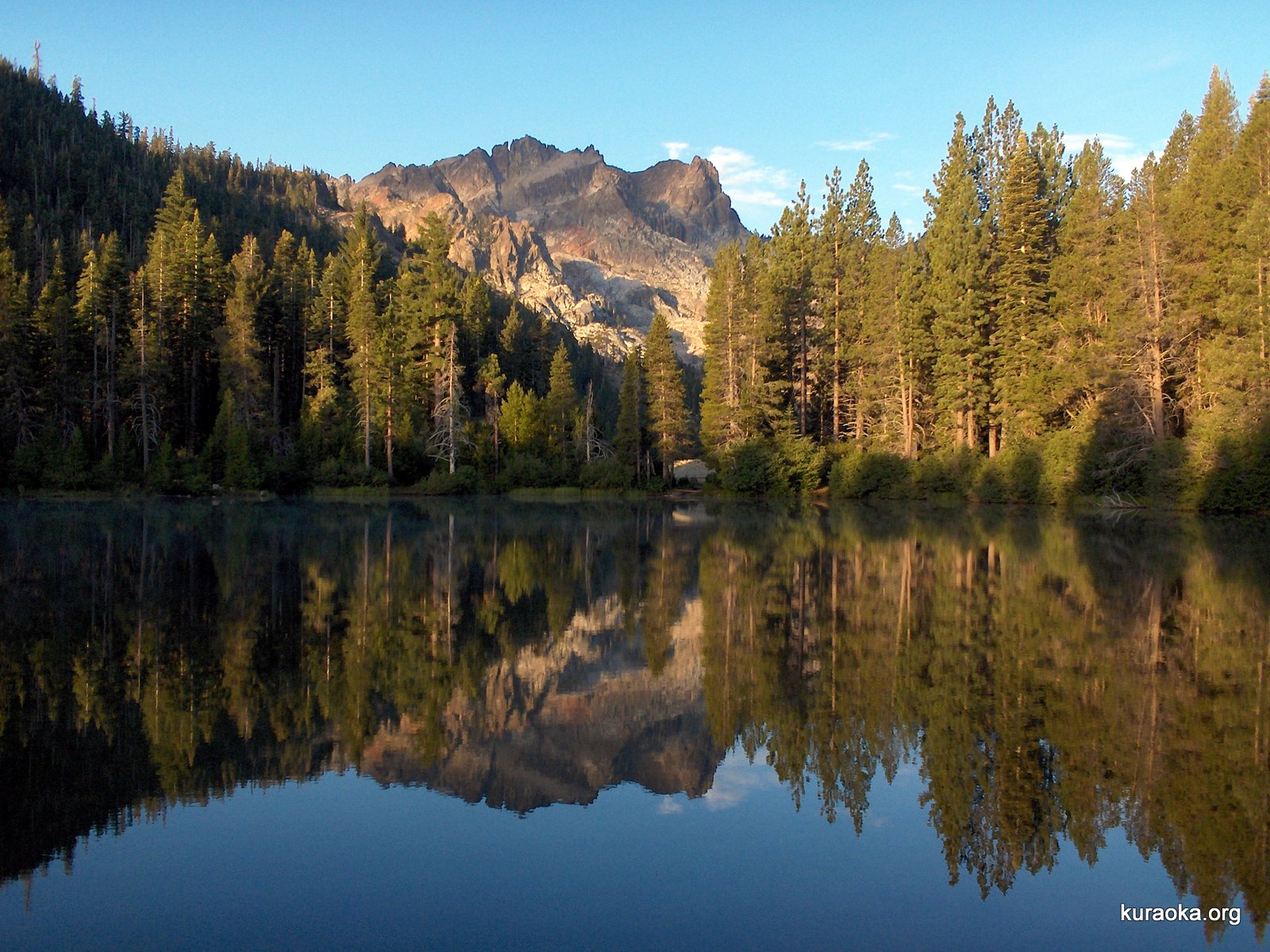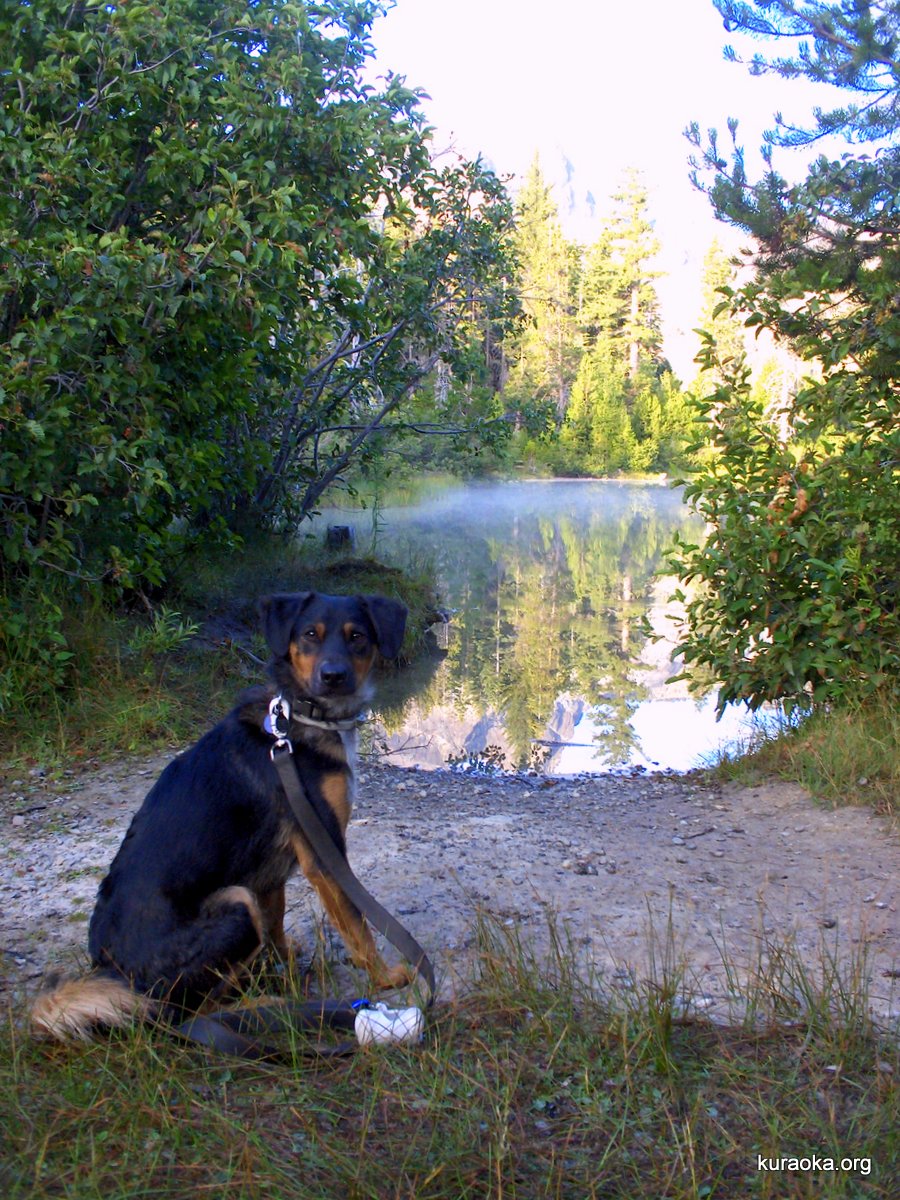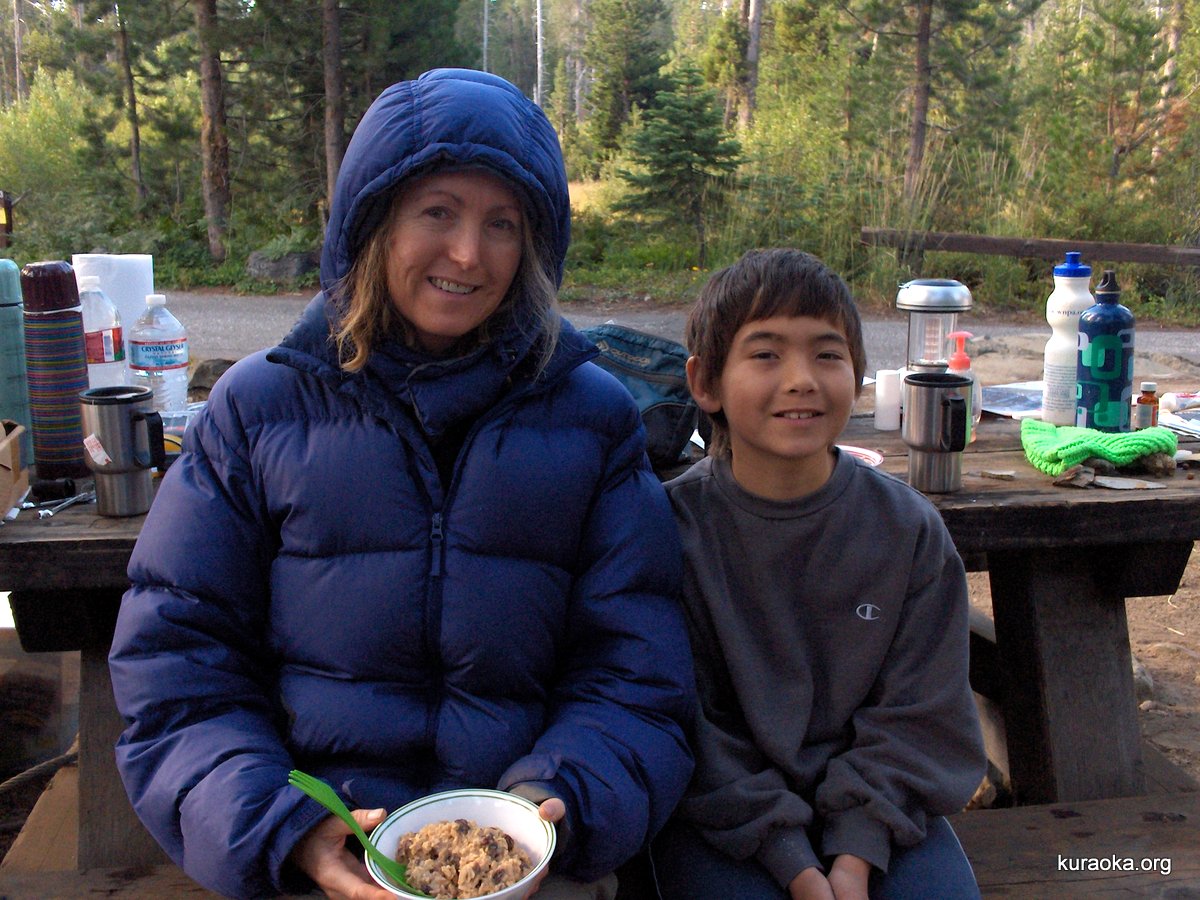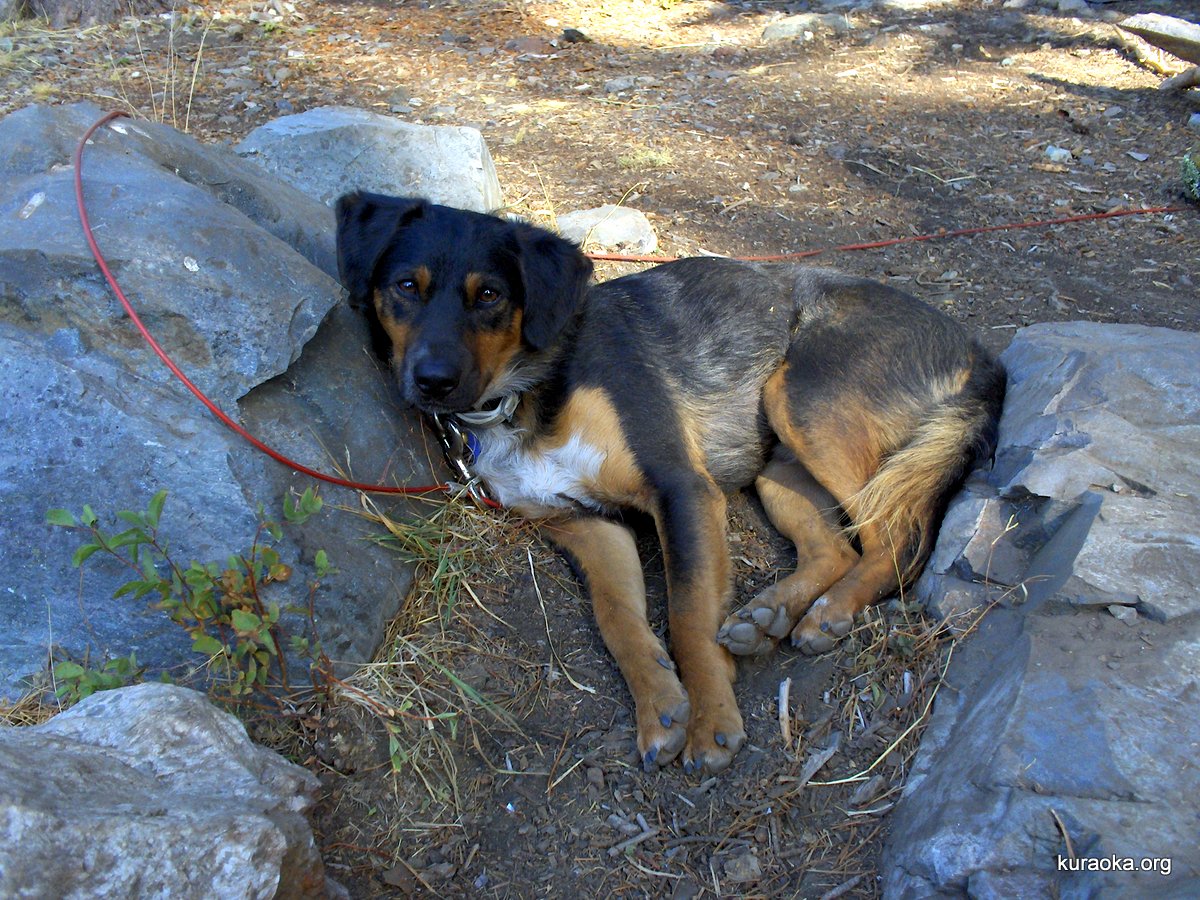 Saturday we awoke clean and in clean sheets for the first time in a week! John had shaved off what Ondine called the "werewolfy" parts of his whiskers, and was trying out longer sideburns and a beard. Yeah, not much he can do with that mug, but he's doing what he can, which isn't much, to mix it up. We really enjoyed the breakfast buffet after a week of camp cooking! We managed to leave by 9:30, bracing ourselves for the long drive back. John took most of the driving to LA, because Ondine had to continue on home with Shadow to San Diego from there, while John and the boys remained at John's Mom's for a few days.
Ondine had a big solo adventure getting home. First, her GPS routed her through surface streets for at least an hour before she was able to get back on the 15. Then, her Check Engine light came on! She nursed the car to a muffler shop that was closing; the mechanics looked her car over and couldn't find anything obviously wrong. Shadow, in the back seat, growled menacingly at the mechanics as they tried to figure out how best to help her. Finally, they told her that most of the things that would cause the Check Engine light to come on were "drivable codes," a probable lie that enabled her to try to make it home. She made it!
Sunday Ondine was on-call here in San Diego. She was very glad she was able to handle everything by phone so she didn't have to drive her car.
John and the boys, meanwhile, lounged around and generally enjoyed a vacation from the vacation. Actually, John decided to partly unpack the Piggy Pack and do laundry, so that was an all-day operation. Some of the camping clothes had to be washed three times to get clean!
Monday Frances, John, and the boys went to the Santa Monica Pier! They enjoyed a picnic lunch on the beach, and then strolled down the pier to Pacific Park, an old-fashioned amusement park built right onto the pier. The boys rode the bumper cars several times, it being one of Leo's favorites. Then they rode the roller coaster three or four times, each time refining their expressions for the roller coaster camera. Then they rode the Dragon Boat, a swinging boat-shaped pendulum, four or five times. Leo announced that that was his new favorite ride!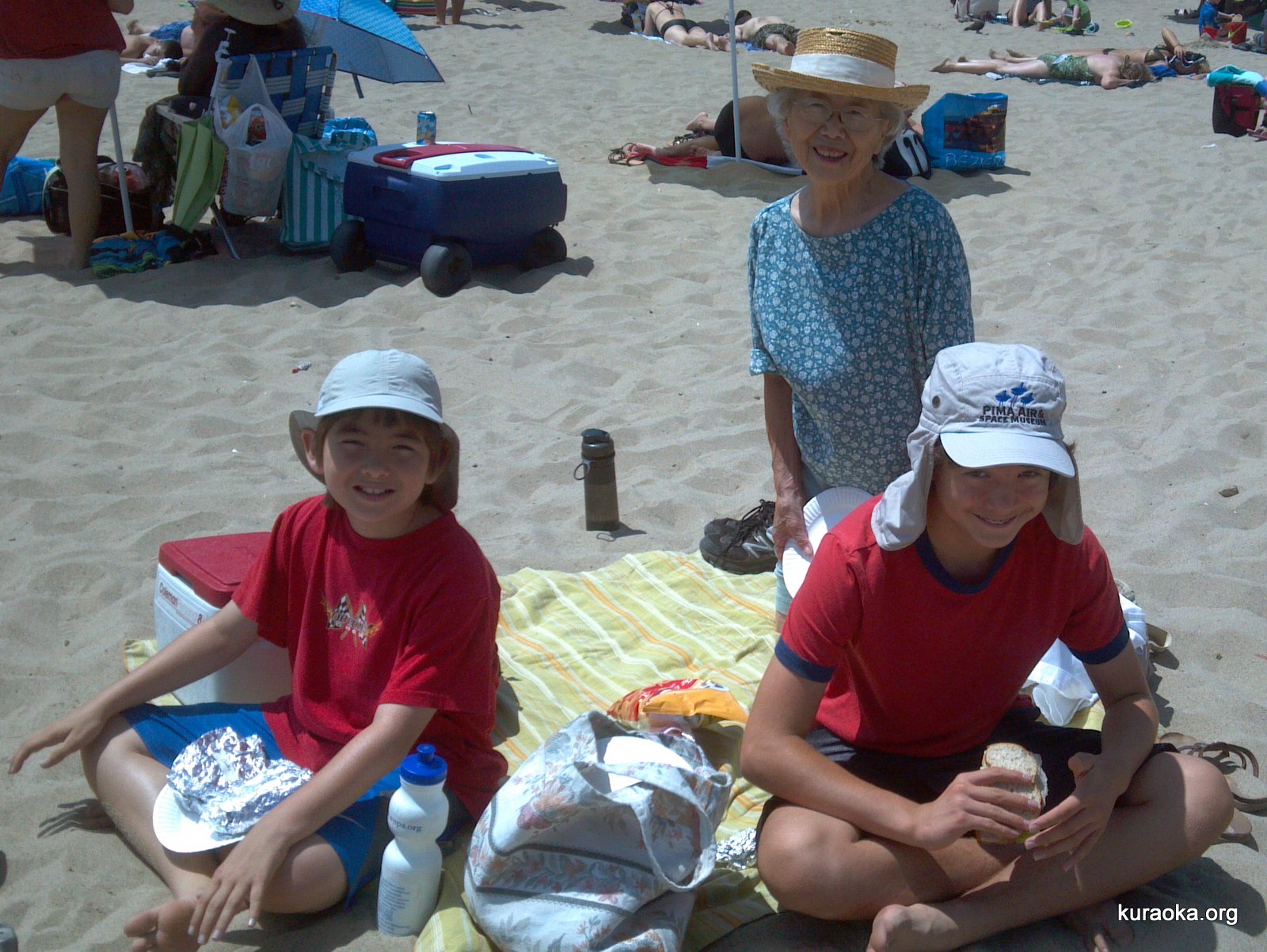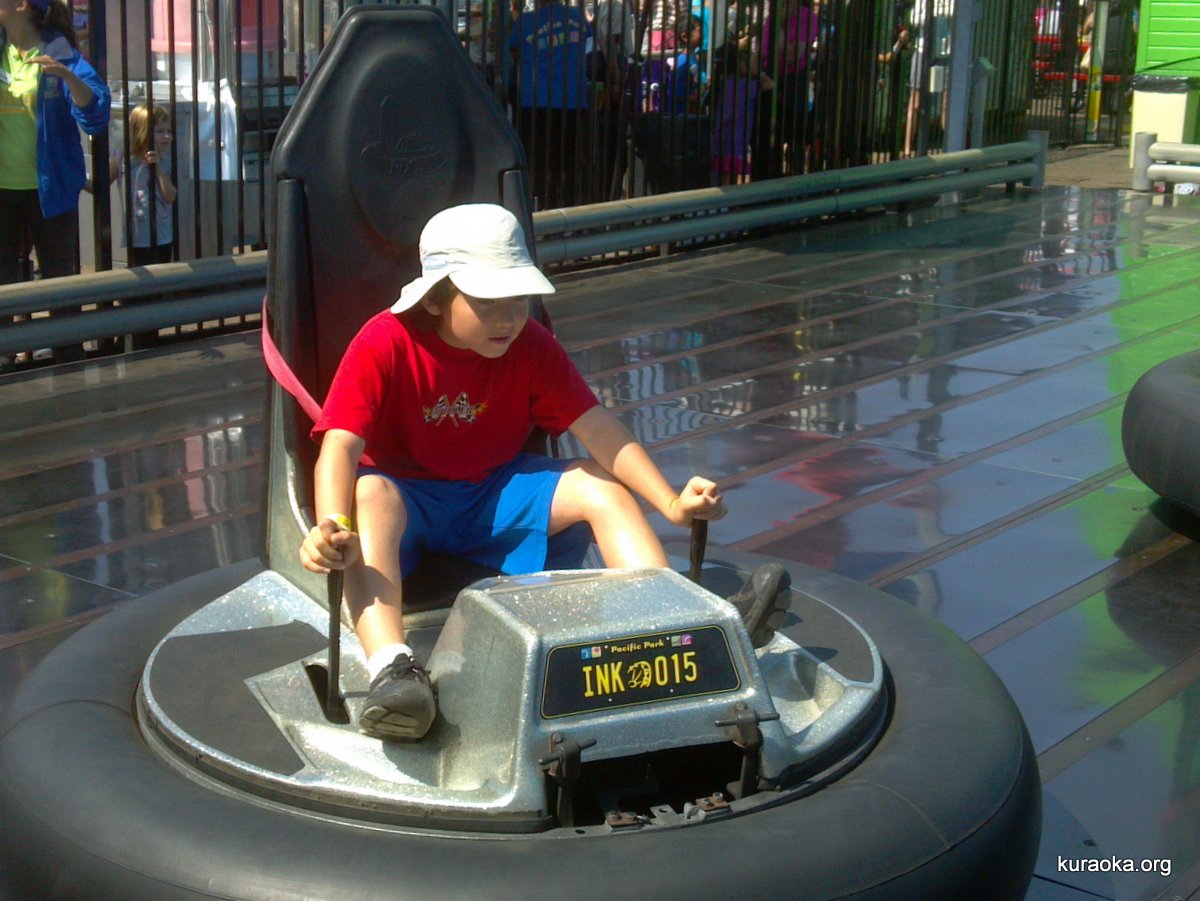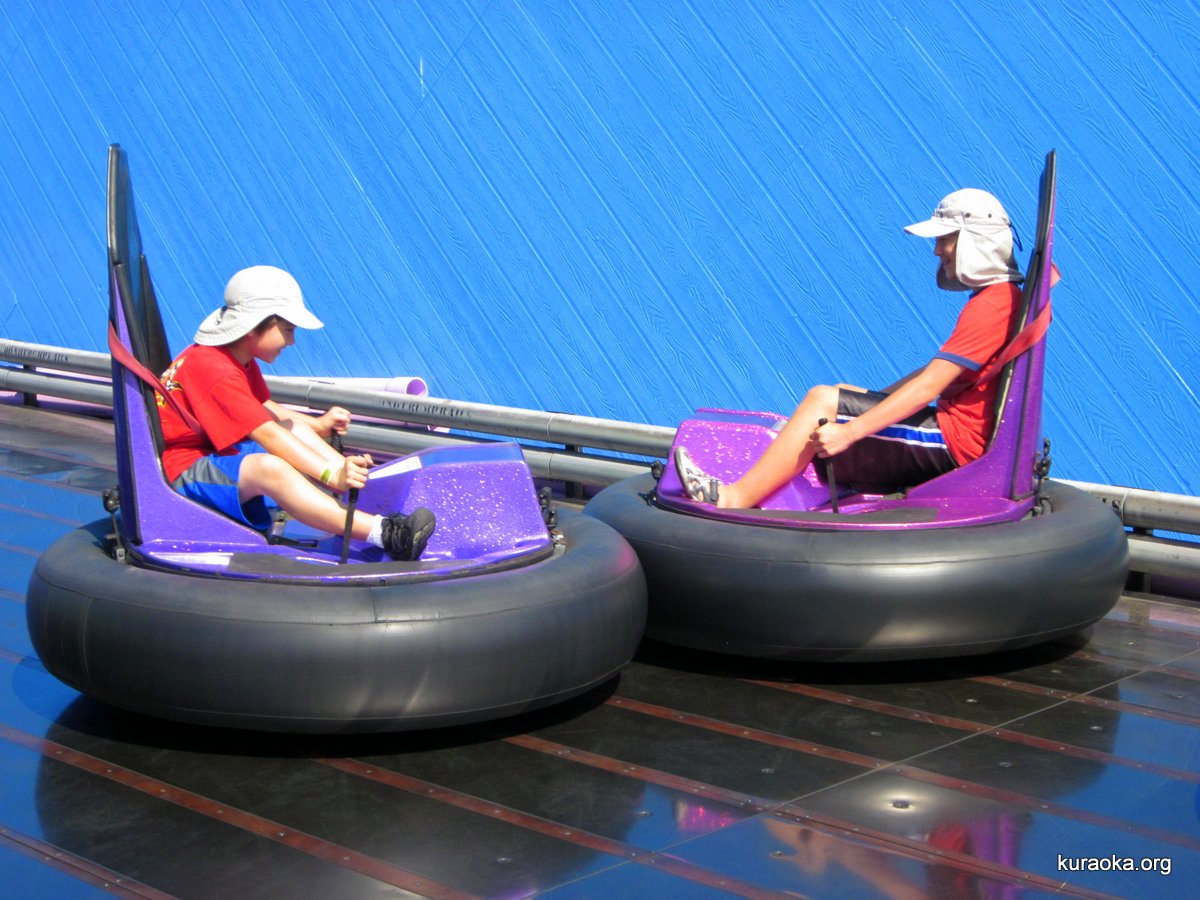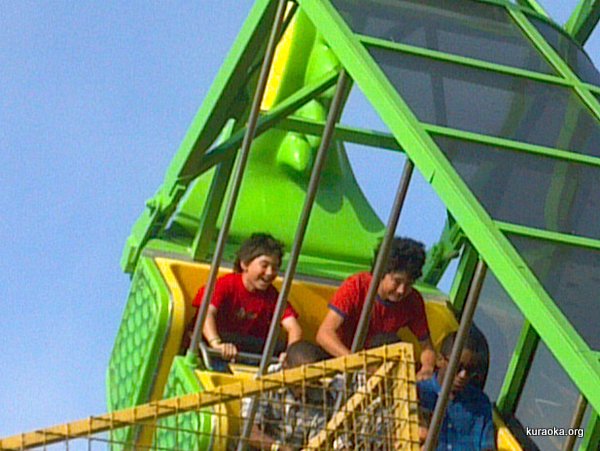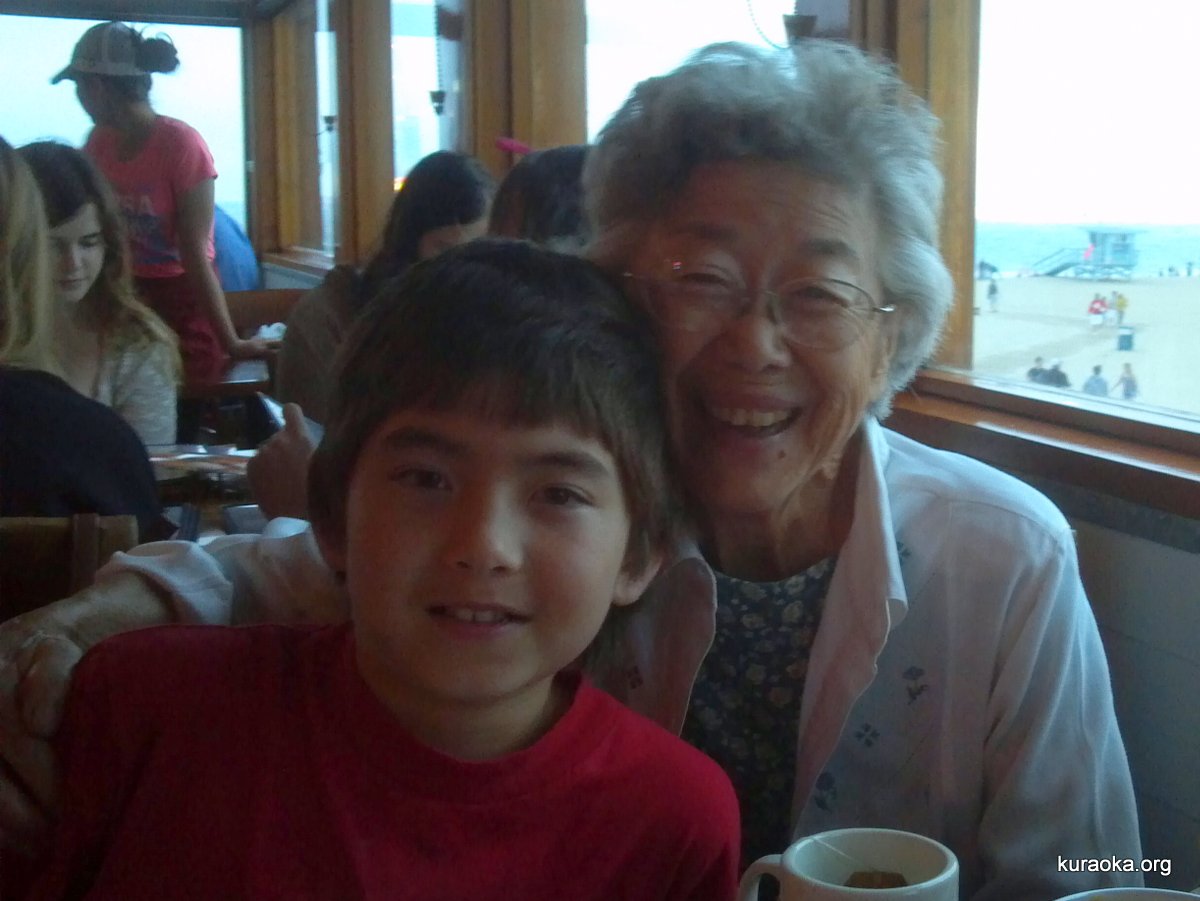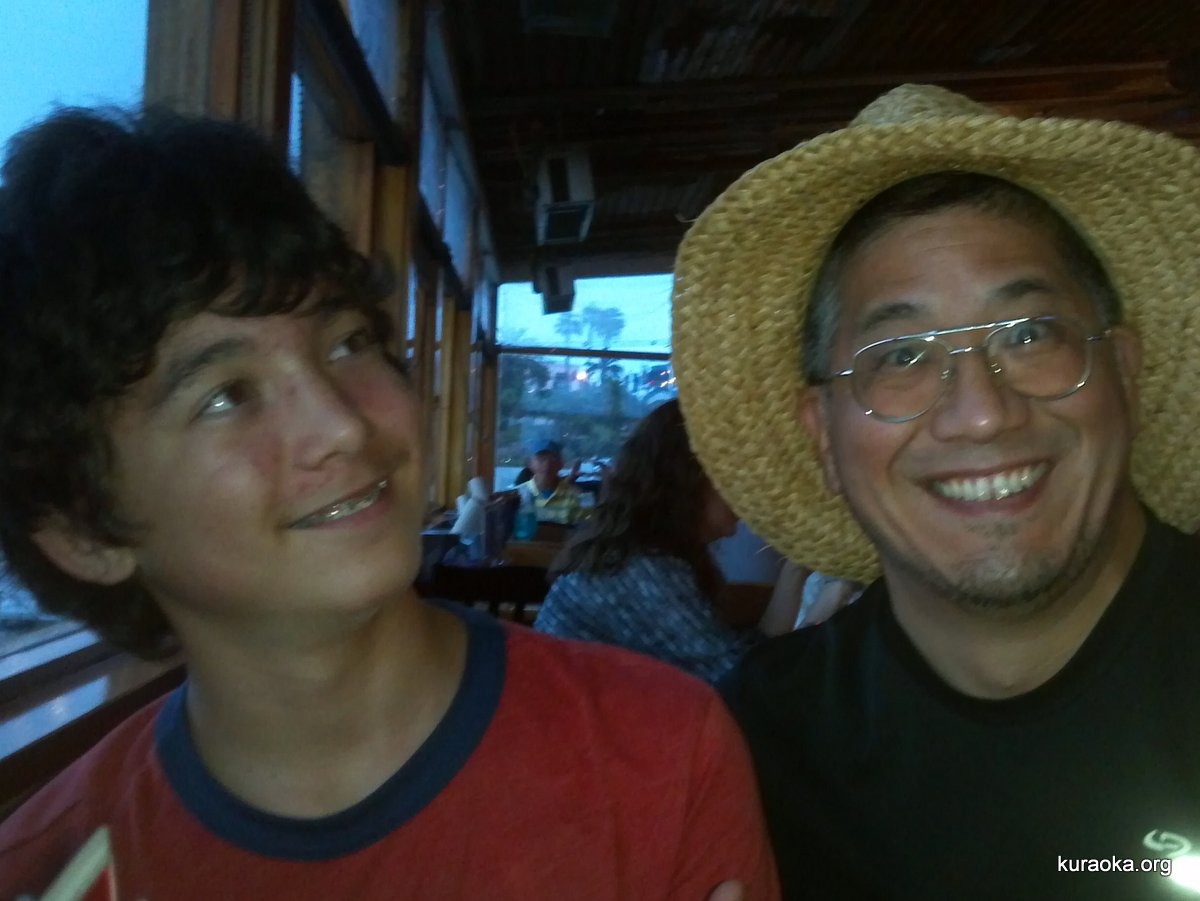 For dinner, Grammy treated everyone to Bubba Gump's - yum! John ordered the boys seasonal watermelon lemonade, which came in light-up cups!
Meanwhile, at home, Ondine worked. She dropped her car off at John's Automotive and rented a car, a Mazda 3. She'd returned to work to two pieces of huge news in the office. First and biggest, the Administrator, the big cheese, was no longer there! Second, the office passed its big internal audit with a 99% rating. Yay!
There was big news in the neighborhood too. Sue, our neighbor across the street, had listed her house for sale! Boy you leave for a week and everything changes!
Tuesday Frances, John, and the boys went to the LA County Museum of Natural History to see a new wing that had recently opened. It's a great museum, well worth another trip or two to see all of it. As it was, they discovered new-to-them sections about Aztecs and Mayan culture, and birds as well as the new interactive wing. They also did the old favorites, the dinosaurs and the gems and minerals. They enjoyed lunch at the museum cafe downstairs, and later met John's sister Elaine and Rod at Min's, a Thai restaurant in La Canada. John and the boys were just being America's guest!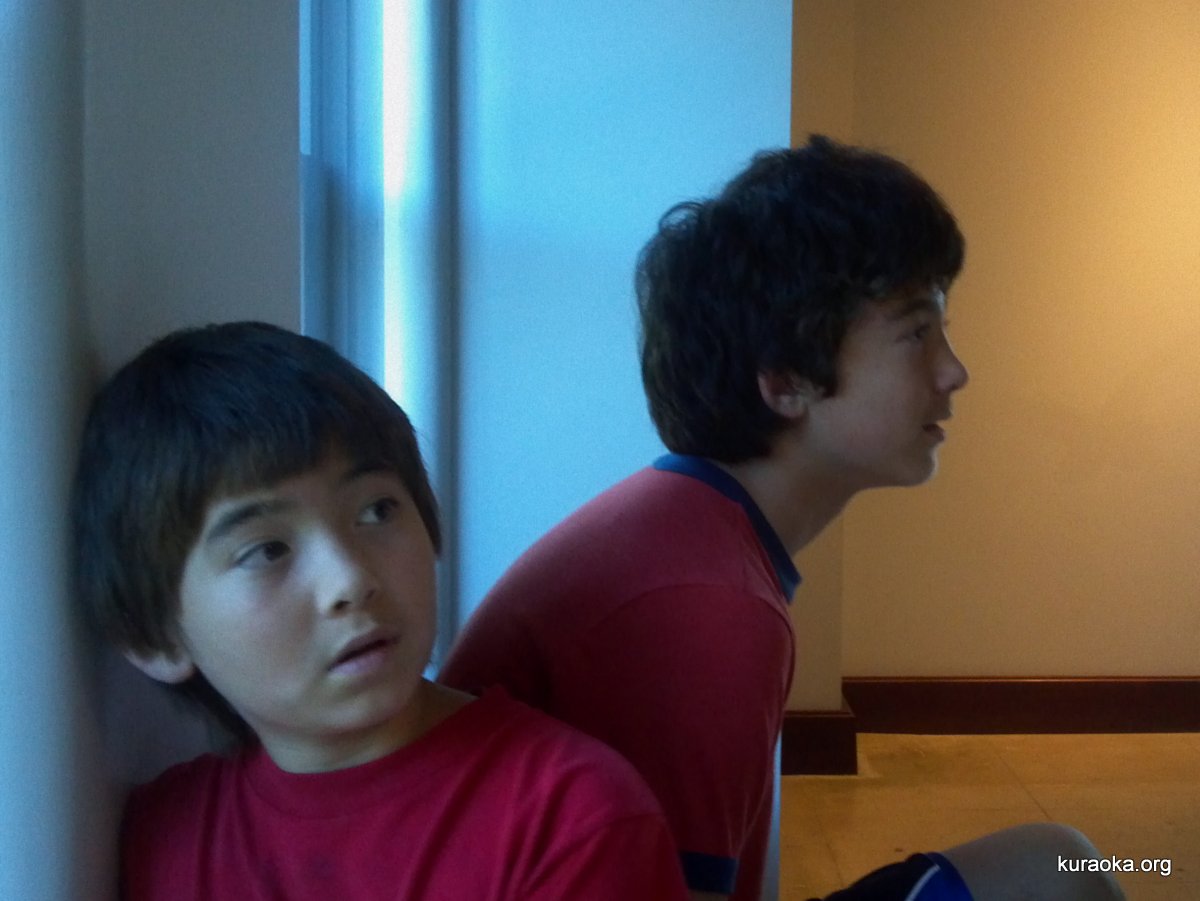 Ondine, meanwhile, learned that her car needed a new catalytic converter and a new timing belt, about $2,000 in repairs! Yipes! The mechanics said this should be the last major repair bill for a couple years at least, which is some consolation.
At her work, a new Administrator was announced, who will be starting in a couple weeks.
Oh, and just to add to her stress, Ondine's garage door opener remote control died, a victim of a decade or more of constant exposure to sunscreen that dissolved the button into mush!
Wednesday John packed up the car. He made a trip to Bargain Box, though, and found a few items: a couple nice shirts, a pair of shorts, and some books. They left La Canada by early afternoon. Barbara, too, had started her homeward trip from Westley that morning. She arrived at John's Mom's house about an hour after they left.
As soon as they got home, John and the boys unpacked the car. John started the laundry (again!) and went out for pizza! So, when Ondine got home from work, things were starting to get put away, and there was a fresh hot dinner on the table. Ahh!
Thursday Ondine retrieved her car, all repaired. John caught up on emails and tried to work, while simultaneously cleaning things up from the week of camping. He also looked, for the first time, at what needs to be done to get the kids ready for school, and went out back-to-school shopping for supplies at Staples and Target. He'd ordered their new JanSport backpacks some time ago, so at least he had those. Roy chose a low-profile steel gray; Leo chose black and gold tiger stripes!
Friday John seriously tried to get back into the swing of work. Among other things, he installed his new computer keyboard, a "gaming" keyboard. It uses mechanical switches so it feels more like the old IBM PC keyboard with its clicky keys. It's a straight keyboard, though, not an ergonomic design, so it's much more compact than his curved and angled Microsoft keyboard. John likes the way the new keyboard feels for writing.
He also let the boys set up their user accounts on the new Gateway laptop he'd bought two months ago. He's glad we bought it before we had a $2,000 auto repair bill! He thought he'd pick up yet another laptop during the back-to-school sales, but he probably won't as our budget's pretty busted! But he is shopping for a wireless printer/scanner/copier for family use.
Speaking of shopping, John ordered a new garage door opener remote control for Ondine.
Saturday the boys returned to judo. The field John uses to run was closed for renovation, so he walked down and ran up Clairemont Drive a few times. That's a good cardio workout! Also, the garage door opener remote John had ordered, which was due to arrive Tuesday, actually arrived Saturday! So he quickly programmed the opener to "learn" the signal from the new remote (a simple matter of pressing a few buttons) so Ondine has a working remote in her car again.
Sunday Leo's friend Matt came over, and Roy arranged to meet Alex and watch Alex and Michael at football practice. Over the weekend, Ondine took and passed several of her required online courses toward her LCSW.
The mild weather has continued, a welcome change from our usual August heatwaves!
Neighborhood gas prices are about $3.95 per gallon for regular unleaded.
Sand Pond Journals through the years: 2011 | 2010 | 2009 |2008 |2007 | 2006 | 2003 |
Back to the Archives page
Back to the Kuraoka Family main page
Forward to the current Weekly Journal.