The Kuraoka Family 2011 Year in Review
www.kuraoka.org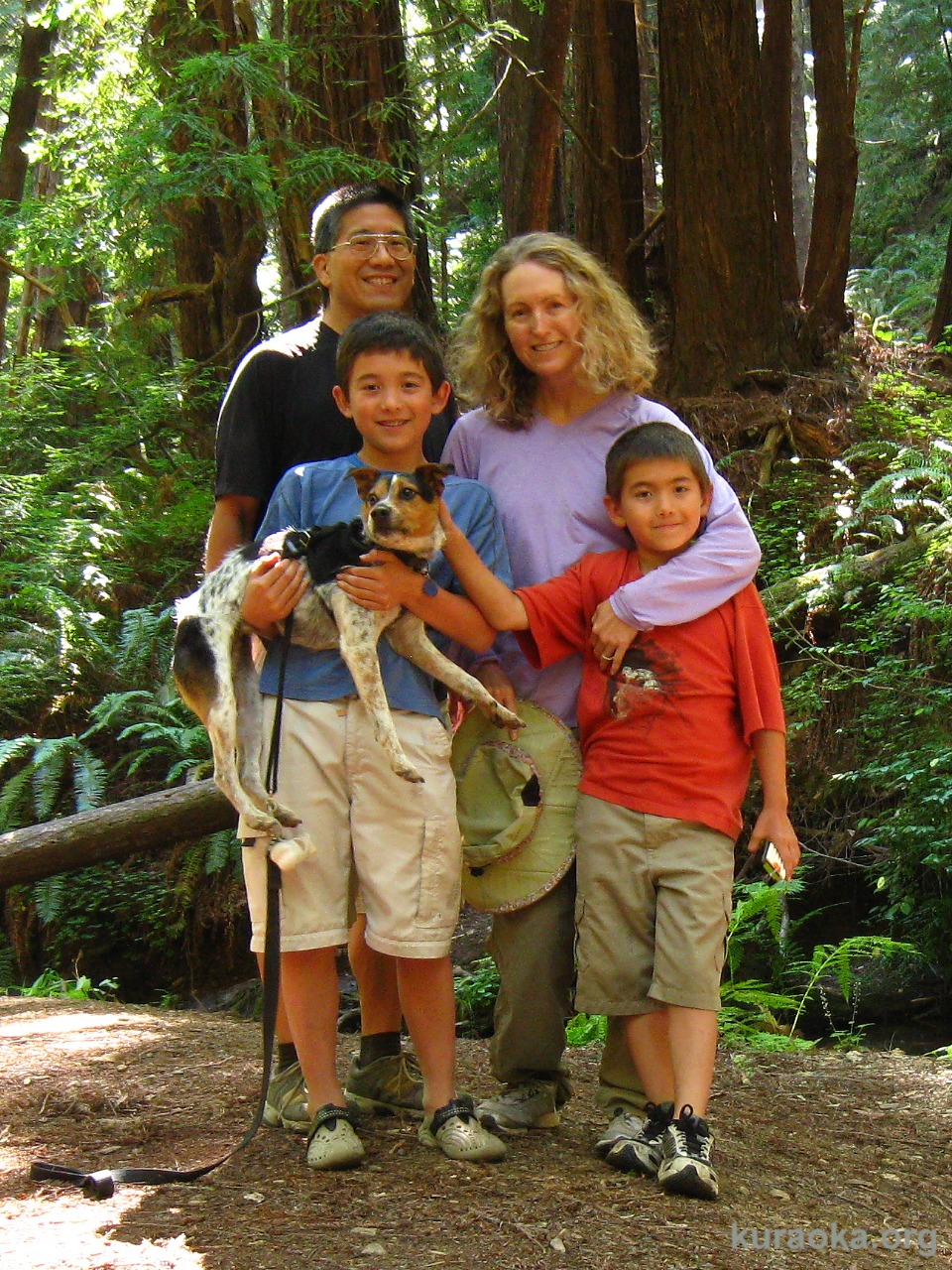 Us in the Redwoods, August 14, 2011: John, Ondine, Roy, Leo, and Buddy
Saturday, December 31 2011
Yes, it's New Year's Eve and time for our annual Kuraoka Family Year-In-Review! Usually we start out with the international (and even intergalactic) news and work our way down to our little corner of the world. But this year the big news is much closer to home.
On December 6, Grandpa Bill died after living with cancer for about four years. He was his upbeat, active self right up through Thanksgiving - we're so grateful to have had that time with him all together as a family.
Just last year we had that wonderful Christmas cruise to Mexico with Barbara and Bill. Ondine and the boys went to the cabin in Big Bear with them, and the boys had an overnight with them in Coronado. Wonderful times and memories for a lifetime!
Roy grew 3-1/4", to 57" tall (4' 9"), and now weighs 85 pounds according to our bathroom scale. He started middle school, a major milestone. He's in sixth grade at Pershing Middle School. He's doing very well so far; his last progress report was straight As! He's also enrolled in the PrimeTime after-school program, where he did stage crew for the Pershing drama department's play, Fiddler on the Roof.
Roy is in Boy Scout Troop 950, in the Ruby Serpents patrol with his buddies Alex and Michael. He had his first camping trip with the Scouts (the Wind Caves), his first (and second) backpacking trip (one with the Scouts and one with friends), and his first weeklong Boy Scout summer camp (Camp Emerson, in Idyllwild). Roy recently earned his Second Class rank.
Roy's birthday party was a slumber party with Alex, Michael, and Stephen. They had a cake of Ding Dongs and Twinkies, and a Doctor Who marathon until things got scary and we switched to The Andy Griffith Show.
Leo grew about 3", to 50-1/4" tall (4' 2"), and our bathroom scale says he weighs 54 pounds. He's in fourth grade Seminar at Hearst elementary. His teacher is Mrs. Vasquez, with about 30 kids in a mixed fourth- and fifth-grade class. He's run over 100 miles with the Hearst before-school running program, for which he earned his 100-mile T-shirt. He's involved in several after-school programs, including piano keyboard club, Spanish class, and one session of Mad Science.
He's a Webelos Scout in Pack 951, although we haven't been very active this year. Leo made the pool party and a day at Indian Hills Camp this summer, though!
Leo's 9th birthday party was at Peter Piper Pizza, something he had long wanted. In the Fall, he got braces on his back teeth to correct a crossbite.
In judo, Roy and Leo both competed in their first tournament, in early November, where each placed third in their divisions! They have both earned their second-degree yellow belts.
John introduced the boys to Doctor Who and Grange Hill. He started Doctor Who with Christopher Eccleston's Ninth Doctor, and then worked his way backwards and forwards. So far, they've seen Eccleston, Patrick Troughton (the Second Doctor), Tom Baker (the Fourth Doctor), Peter Davison (the Fifth Doctor), and David Tennant (the Tenth Doctor). He started them on Grange Hill at Episode 1, the very beginning! Meanwhile, we went through all the Foyle's War episodes this year.
Ondine started a full-time job as a hospice social worker for Silverado Hospice. She really enjoys the work; the hardest part is the documentation. Silverado recently issued her a Blackberry Curve smart phone. Her last piece of freelance writing was a restaurant review for San Diego Family Magazine, where it all started.
John has sort of landed a new job too, in that he's now taking care of the kids after school. (And that's why they're both in after-school programs!) His new clients this year include GTI (Saudi Arabia), DentalSave (New York), Drake Carver (San Diego), and the San Diego County Department of Child Support Services.
Buddy had a quiet year. The only notable event, besides the killings of several rats, was a suspected liver infection that took the edge off him during out trip to Sand Pond. He's now about 7 years old, and his muzzle is getting grizzled.
Vacations this year included various Scout outings, a backpacking trip near San Jacinto to Skunk Cabbage Meadow, camping at Cibbett's Flat with the Fernandez family. Our Sand Pond trip was augmented with an additional few days in the redwoods! And, it was Leo's first hike up the Buttes - we started at the Packer Lake trailhead and all made it to the top!
New acquisitions this year include a brand-new high-definition flat-screen TV! It's a 42" 1080p Panasonic Viera that we got thanks to Barbara and Bill's American Express Rewards points!
John got a new smart phone and switched cell phone carriers, so he now has a Motorola Photon 4G on Sprint ("The Now Network"). Actually, he's on his second Photon because his first failed and was replaced under warranty. His computer has a new hard drive, which cost about the same as a whole new computer would've cost, and he finally replaced his worn-out, food-encrusted Microsoft Natural keyboard with a new version. And, he bought a new uninterruptible power supply after the big power outage showed him that his old one was not longer functional.
New habits include streaming videos to our new TV via Amazon Prime, using John's aging Dell laptop.
John's CPAP failed this year. Kaiser ordered a fresh sleep study for John, and the result was a new APAP, an auto-titrating CPAP, with a humidifier. His new prescription calls for a lot more air pressure than his old one delivered.
Getting back into backpacking drove a spate of new acquisitions for John, including some hefty Propet boots, a new Soto backpacking stove, and a new Sierra Designs tent. He's still using his old sleeping bags and backpack though. Roy, of course, needed to be fully outfitted with clothes, but we're still renting a backpack when he needs one.
We also got a new weed trimmer!
For Christmas, Leo received his first digital camera, a red Kodak Easyshare with 14 MP and a 5x wide-angle zoom lens. Roy got his first digital camcorder, a flat Kodak Playfull waterproof unit that records in HD at 720p.
Outgoing stuff included a lot of clothes, our old weed trimmer, an antique Craftsman push mower with ball bearing wheels, a tube TV or two (the second one was bought used and lasted only a few months), and a whole ton of stuff from the garage.
Passages this year include Richard Horvath from the watch and clock club.
New little people include Kate and Phil's son James Leon Lyle.
San Diego news for 2011 included a multi-day blackout that started on the afternoon of Thursday, September 8. Our power was off for a few days, and our neighborhood was under a boil-water order for about a week afterward. Here's an archived journal entry about our experience during the Great San Diego Blackout.
San Diego Unified School District announced school closures to address a major budget shortfall - targeted schools in our area were Marvin Elementary for the end of this school year and Gage Elementary for "evaluation" at the end of the 2012/13 school year. The closure recommendations were later rescinded. Here's some information about other neighborhood schools that have been closed.
The US Navy celebrated the centennial of naval aviation with a massive air show in the bay. John, Roy, and Leo went with friends; here's the archived journal for the outing.
California banned the sale of 100-watt incandescent light bulbs, one year ahead of the rest of the nation.
In national news, U.S. Representative Gabrielle Giffords was severely wounded in an assassination attempt that killed six people.
The "Occupy" movement spread from Wall Street to Main Street USA, as "the 99%" protested against the "1%" presumed to have brought the economy down while amassing wealth and power. So far there has been more noise than consensus as to concrete actions or viable next steps. Still, candidates from both political parties are jockeying for the support of Occupiers.
The US withdrew its armed forces from Iraq, passing power to the Iraqis. The war in Iraq cost the lives of 4,500 Americans and 110,000 Iraqis, and cost over $800 billion. For now, however, it appears that democracy has been achieved.
In business, the Dow Jones Industrial Average started the year at 11,670.75 and ended at 12,217.56, with highs soaring nearly to 13,000 and lows plunging well below 11,000. Around midsummer, the Dow lost 2,000 points in just 12 days, followed by a 1,500-point gain in October. The US lost its AAA credit rating, as did many other major economic powers. Major bookselling chain Borders went bankrupt and shut down all its stores.
International news included the recent death of North Korean dictator Kim Jong Il; his son seems to be taking over. US Navy SEALs tracked down and killed long-time US foe Osama Bin Laden in an exclusive neighborhood in Pakistan. Libyan dictator Moammar Gadhafi was forcibly removed from power by a popular revolt; he died or was killed shortly after capture. Libya's uprising was part of a pro-democracy "Arab Spring" that saw similar revolts starting in January in Tunisia and spreading throughout the region, including the nations of Egypt, Yemen, Syria, Jordan, and Algeria. Will the world be a little safer for everyone now? Or freer?
Other international passages include Apple pioneer Steve Jobs, and the first democratically elected president of the Czech Republic, Vaclav Havel.
The Japan earthquake (magnitude 8.9 to 9) and tsunami on March 11 killed some 20,000 people and triggered a meltdown at the Fukushima Daiichi nuclear power plant. We have family near there.
The Euro is struggling to survive as a common currency as the nations of the Eurozone tussle over how to contain a massive global debt crisis that spread from Greece to Spain and even Italy. With the UK refusing to replace the pound with the Euro and many of the nations unsure about surrendering economic sovereignty to an international body, it seems the last nations holding the Eurozone together are Germany and France.
A bright spot was the Royal Wedding, of Britain's Prince William to Kate Middleton, on April 29. We watched some of it online.
Reaching beyond Earth, the US ended its Space Shuttle program with a final launch of the Atlantis on July 8, but in November NASA launched the Mars Science Laboratory, named "Curiosity," the biggest and most sophisticated Mars rover yet. Russia's latest and most ambitious Mars probe, Phobos-Grunt, failed to break Earth orbit and eventually fell.
Two potentially "Earth-like" planets have been discovered orbiting distant stars within the zones where life may be possible: Gliese 581d and Keppler 22b.
The Higgs boson, a subatomic particle considered a theoretical possibility, may have been found. Also possibly spotted: a neutrino that seemed to move faster than the speed of light - an initial re-test seemed to confirm the finding but the results are being challenged.
Neighborhood gas prices started the year around $3.37 per gallon. After the usual ups and downs through the year, prices are around $3.75 per gallon now.
This journal started the year with the counter around 33,000; it's now over 35,000 for about 2,000 visitors over the year.
Remember, photos from 2011 can be seen on our 2011 photos page. To see what we're up to now, visit our regularly updated weekly journal!
Back to the Archives page
Back to the Kuraoka Family main page
Forward to the current Weekly Journal.