Click on any photo to see it full-size. All photos copyright John or Ondine Kuraoka, Roy Kuraoka, Barbara Brooks, Bill Nutter, or Frances Kuraoka, or as noted.
12-31-11 New Year's Eve! First up is Frances basting the teriyaki chicken. Then, Roy and Leo make makizushi The last photo shows Roy "staying up until midnight." The time, as noted by the camera, was 11:32 pm.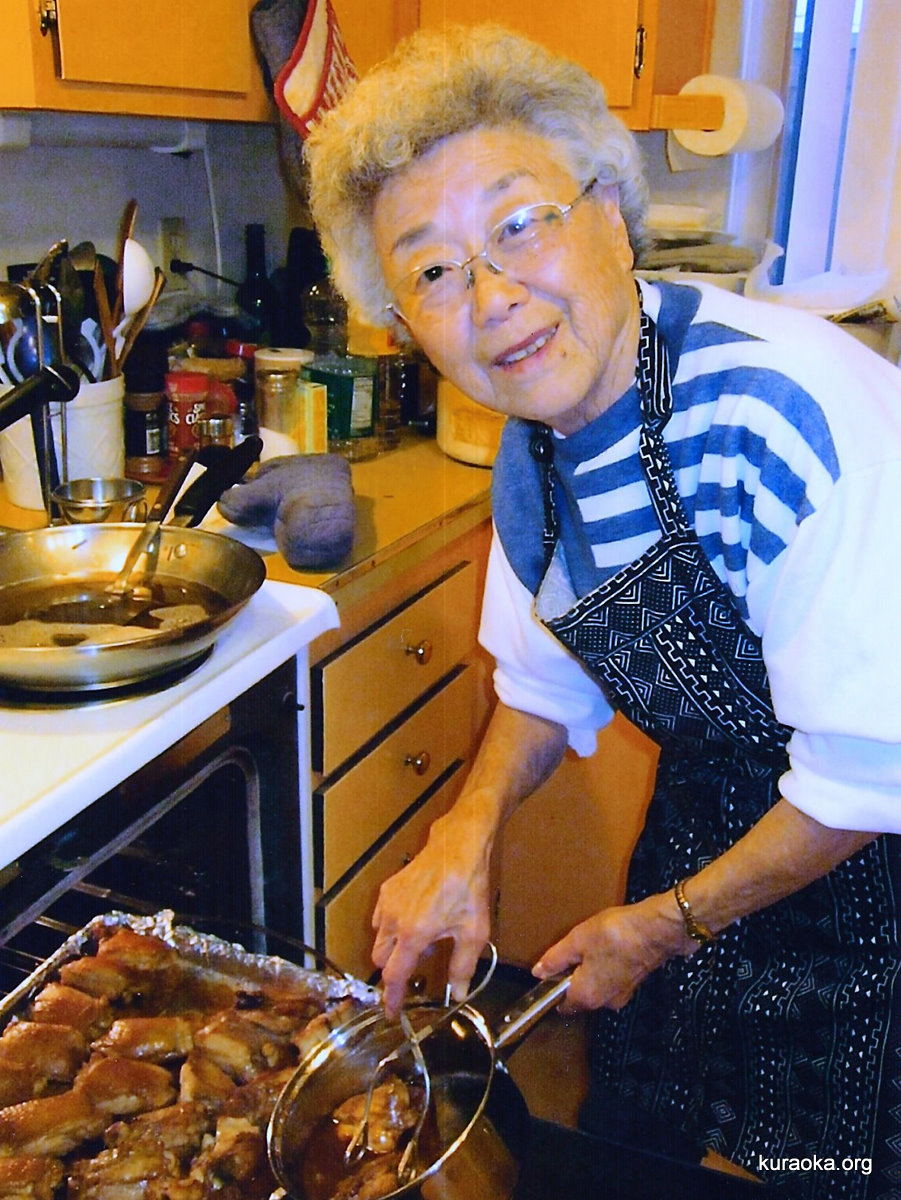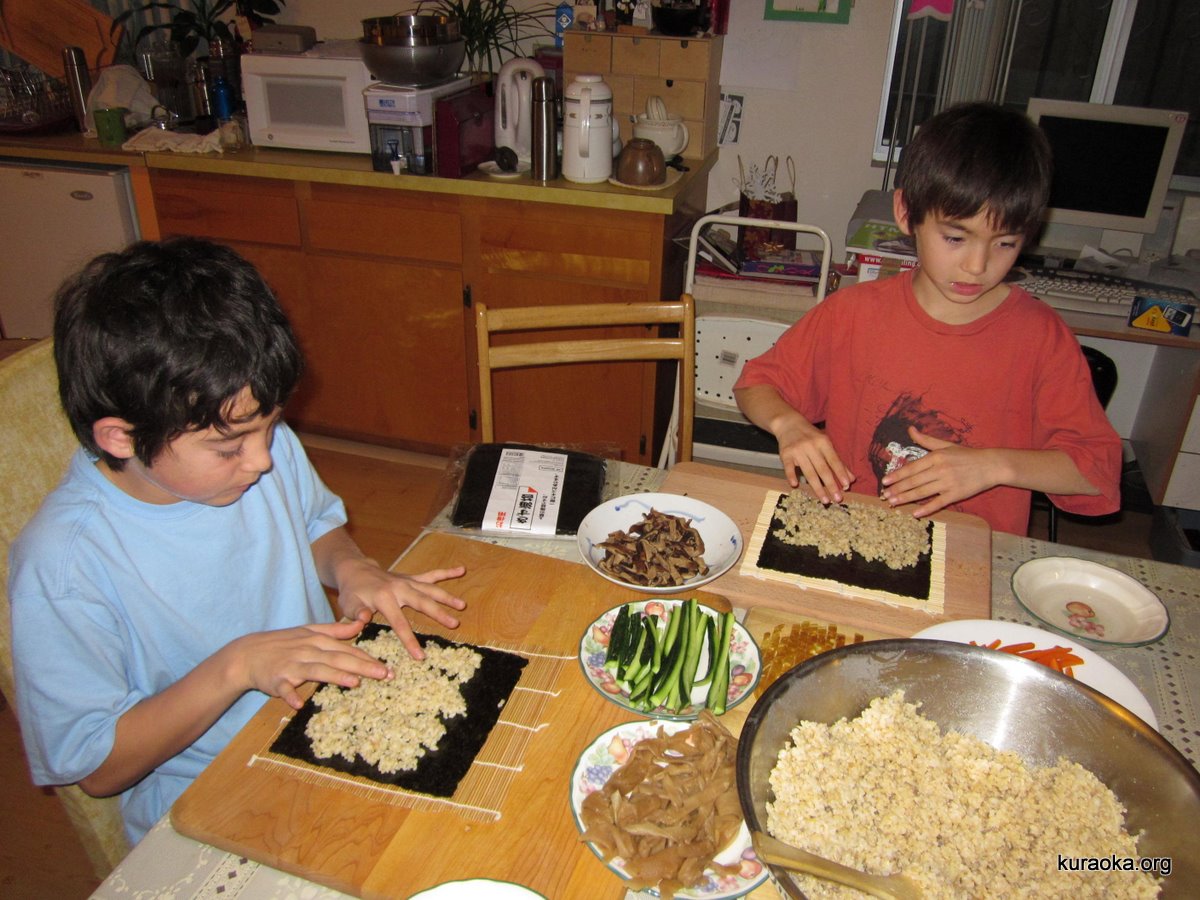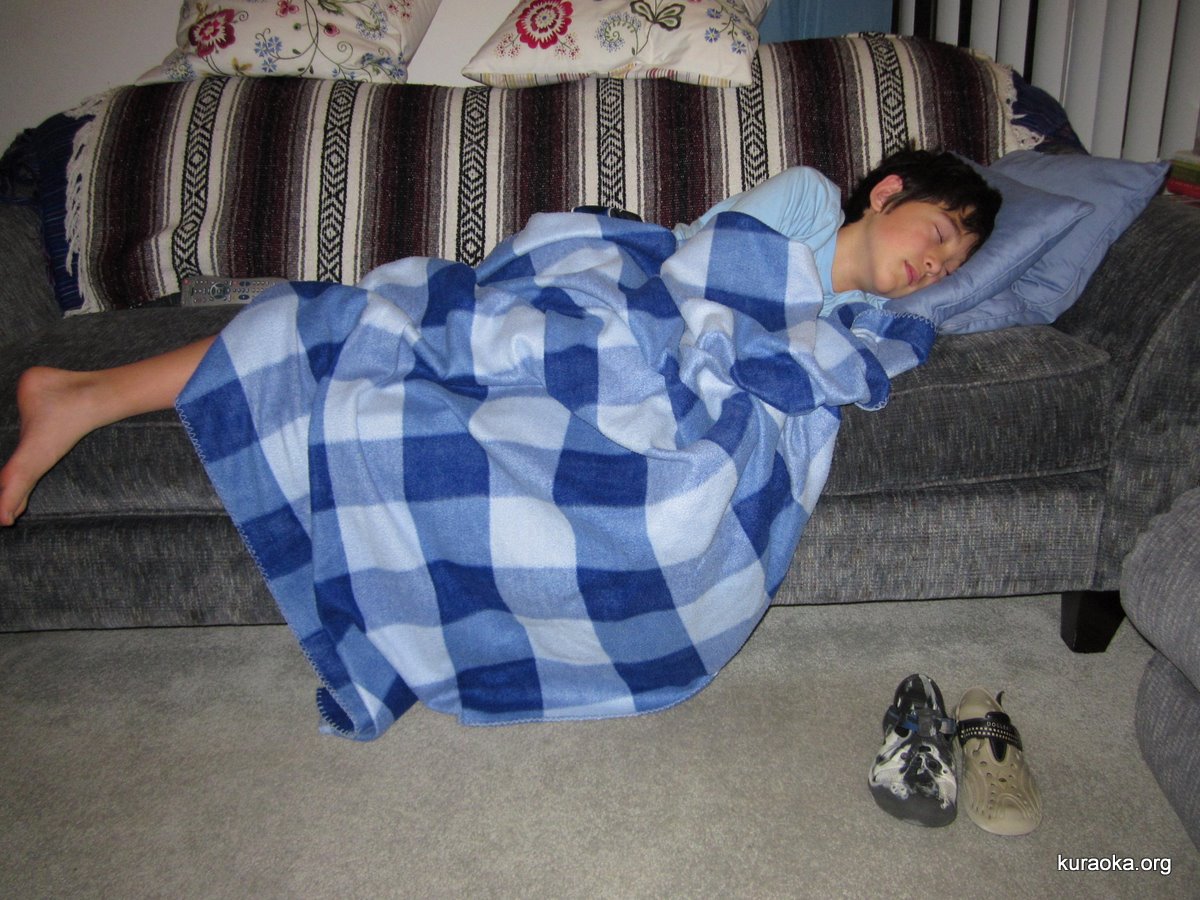 12-25-11 Christmas dinner at the Barnharts'! Frances, John, and Ondine enjoy a yummy dinner.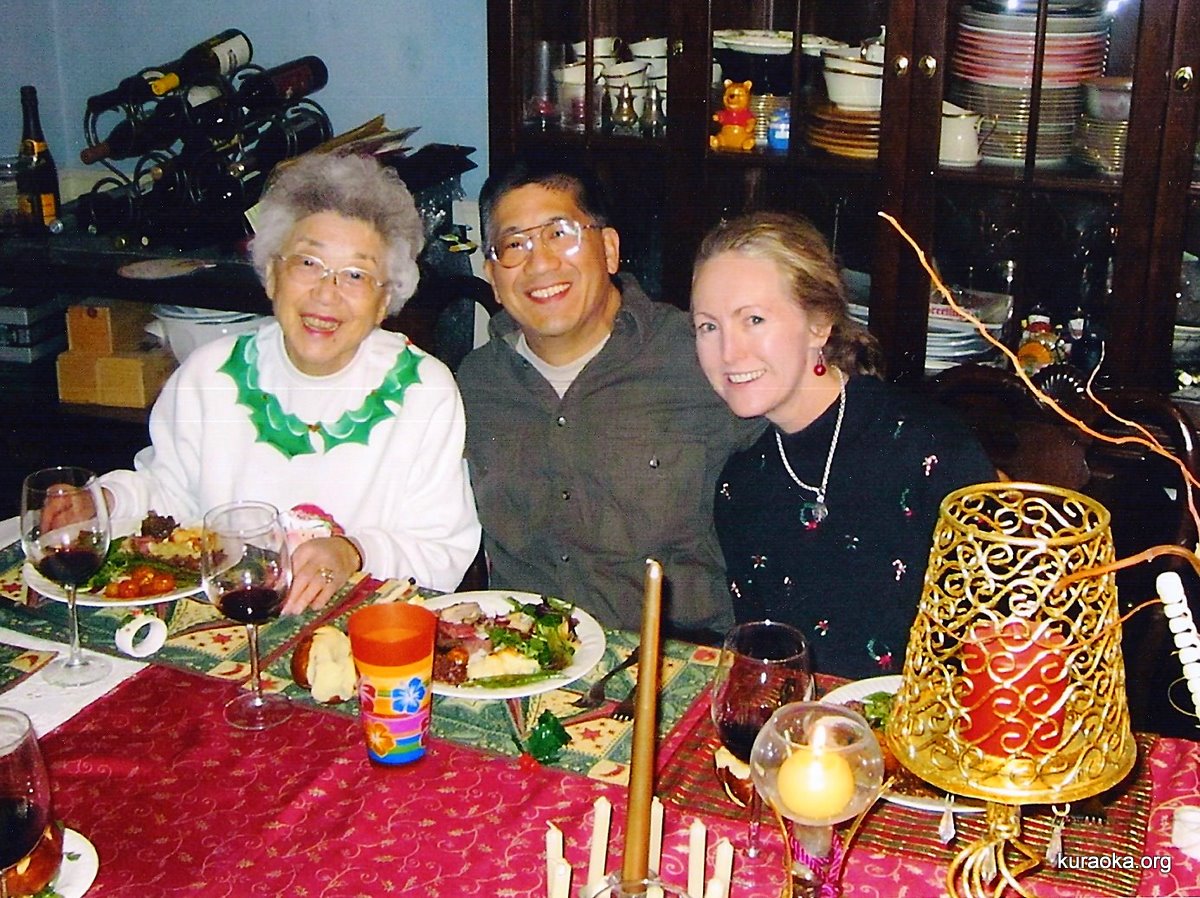 12-24-11 More presents! Here Leo, Roy, and Grammy examine the Natural Parks edition of Monopoly.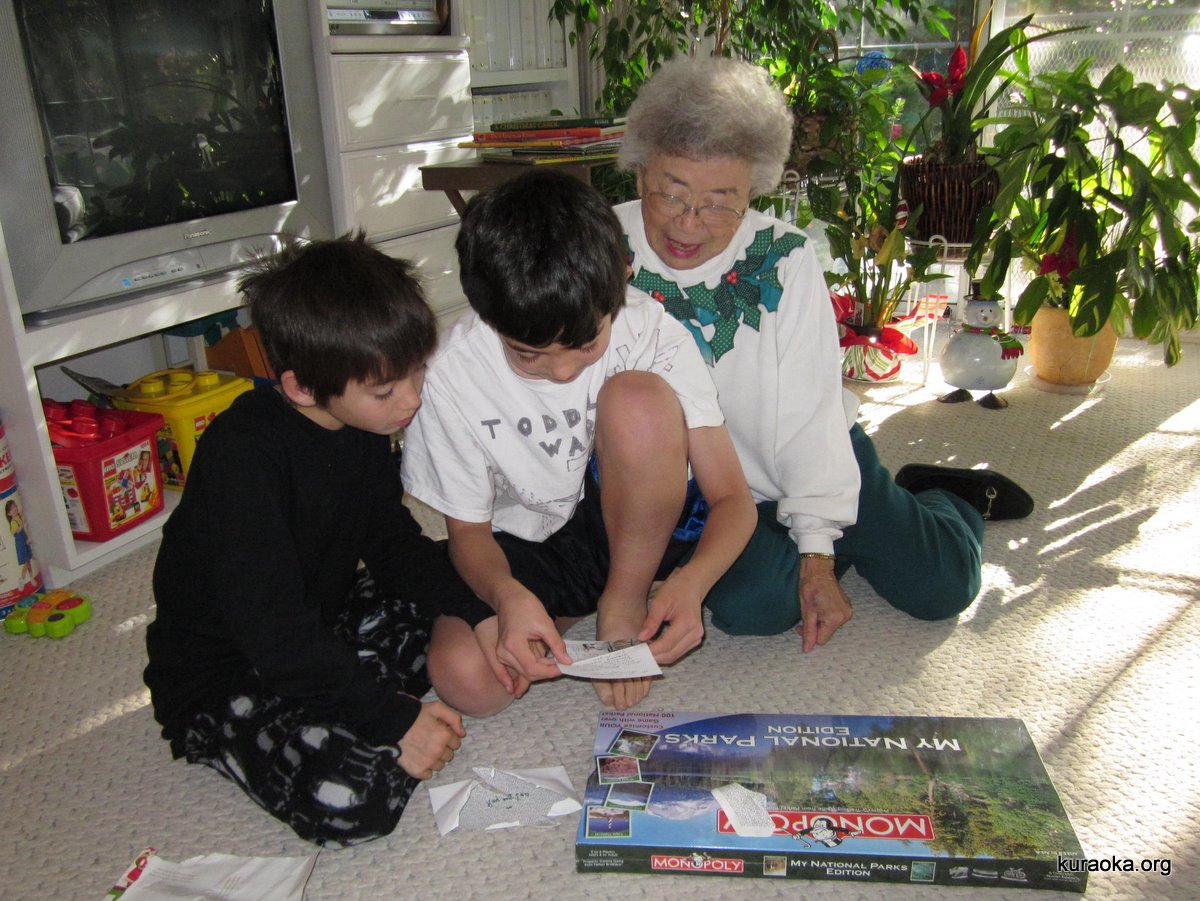 12-18-11 Old Town! Ondine and Leo went to Old Town,. and Leo took his brand new Christmas camera. Here are some photos he took!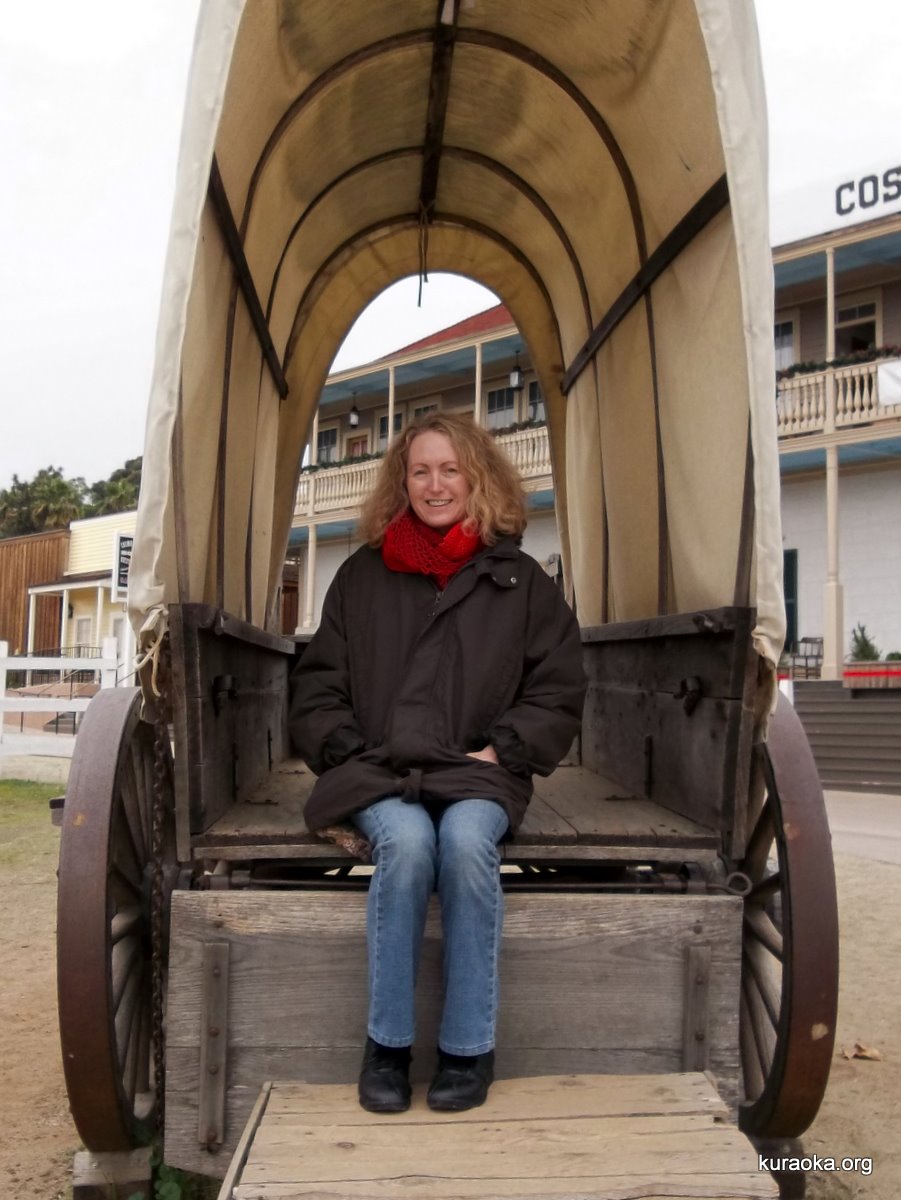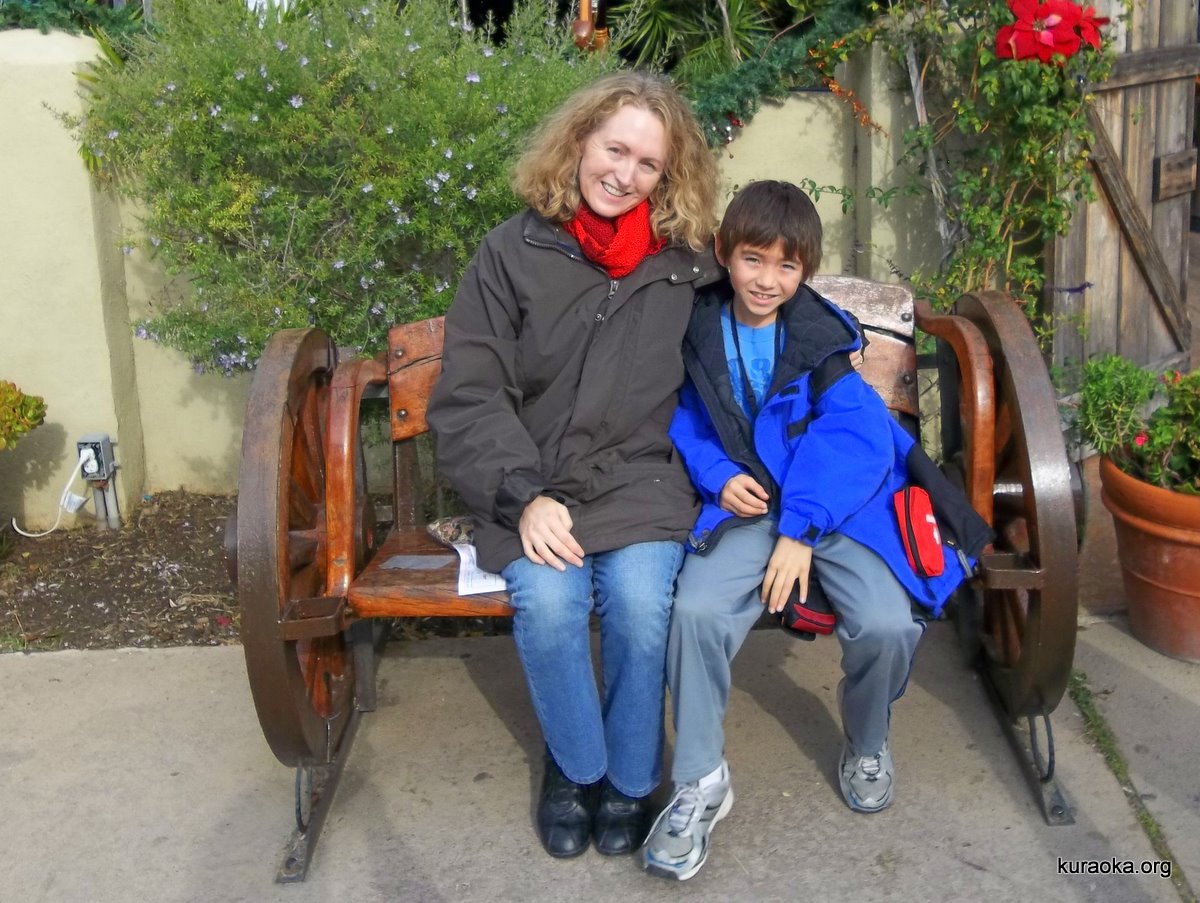 12-17-11 At-Home Christmas! We combined a slightly early Fourth Advent with a very early Christmas Day! Leo's gifts were wrapped in blue, Roy's in silver, and note the careful two-paper wrapping job indicating the two shared gifts. Everyone (but Buddy, who got chews) got slippers!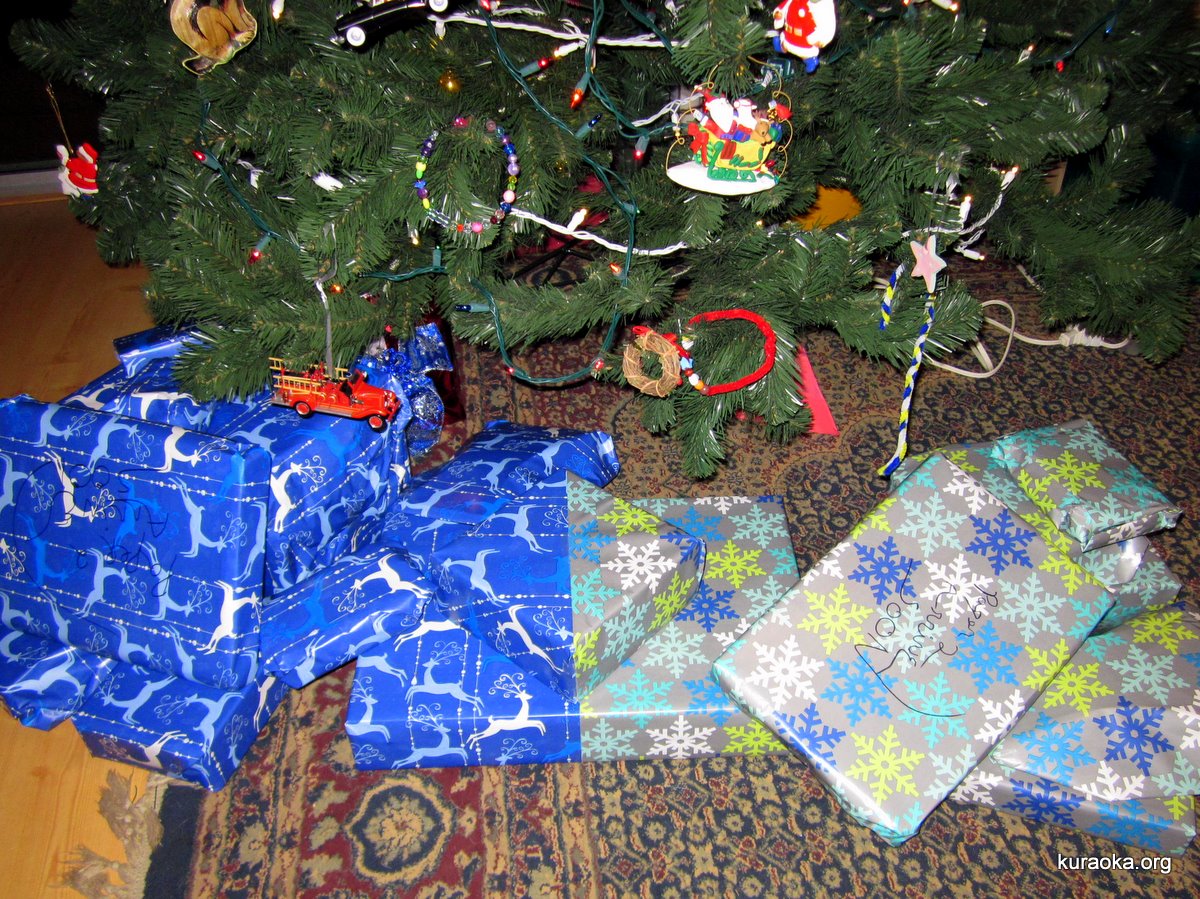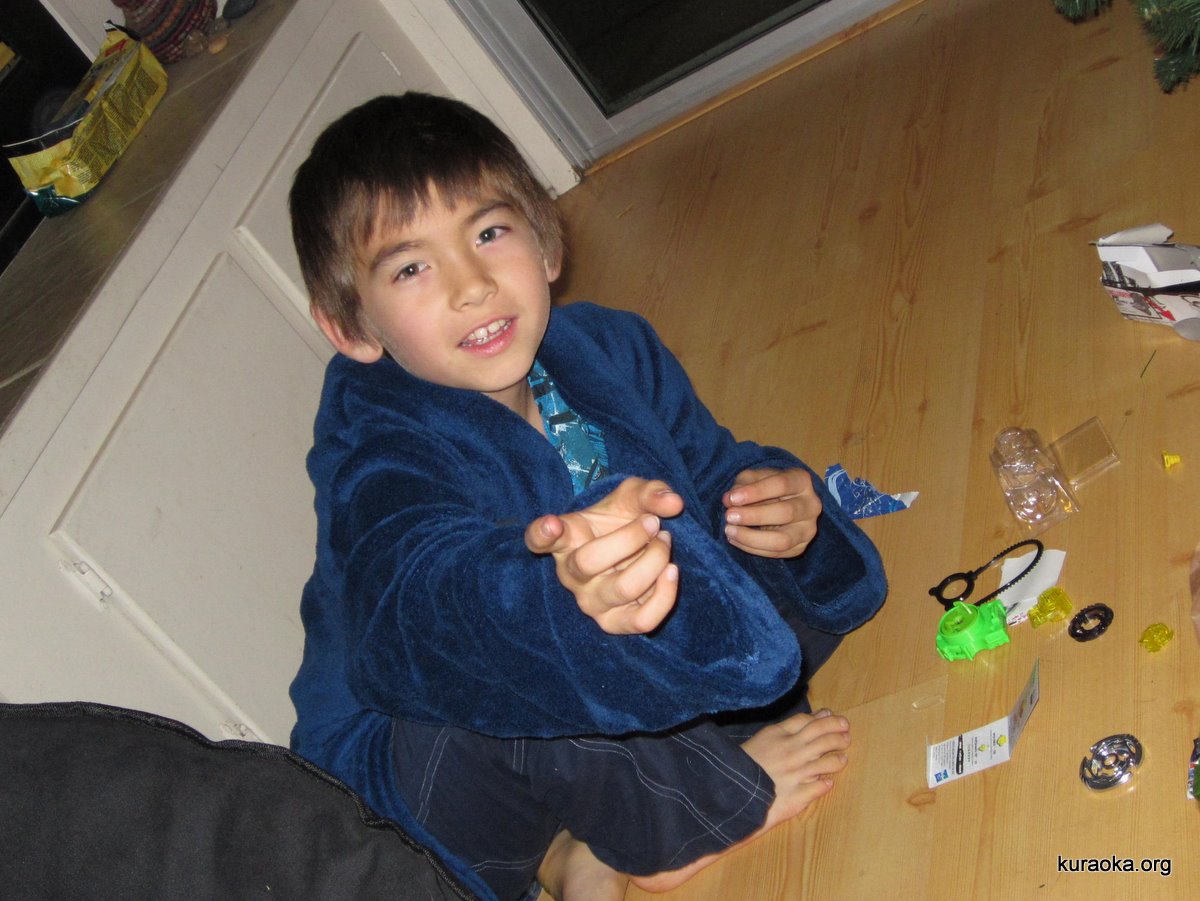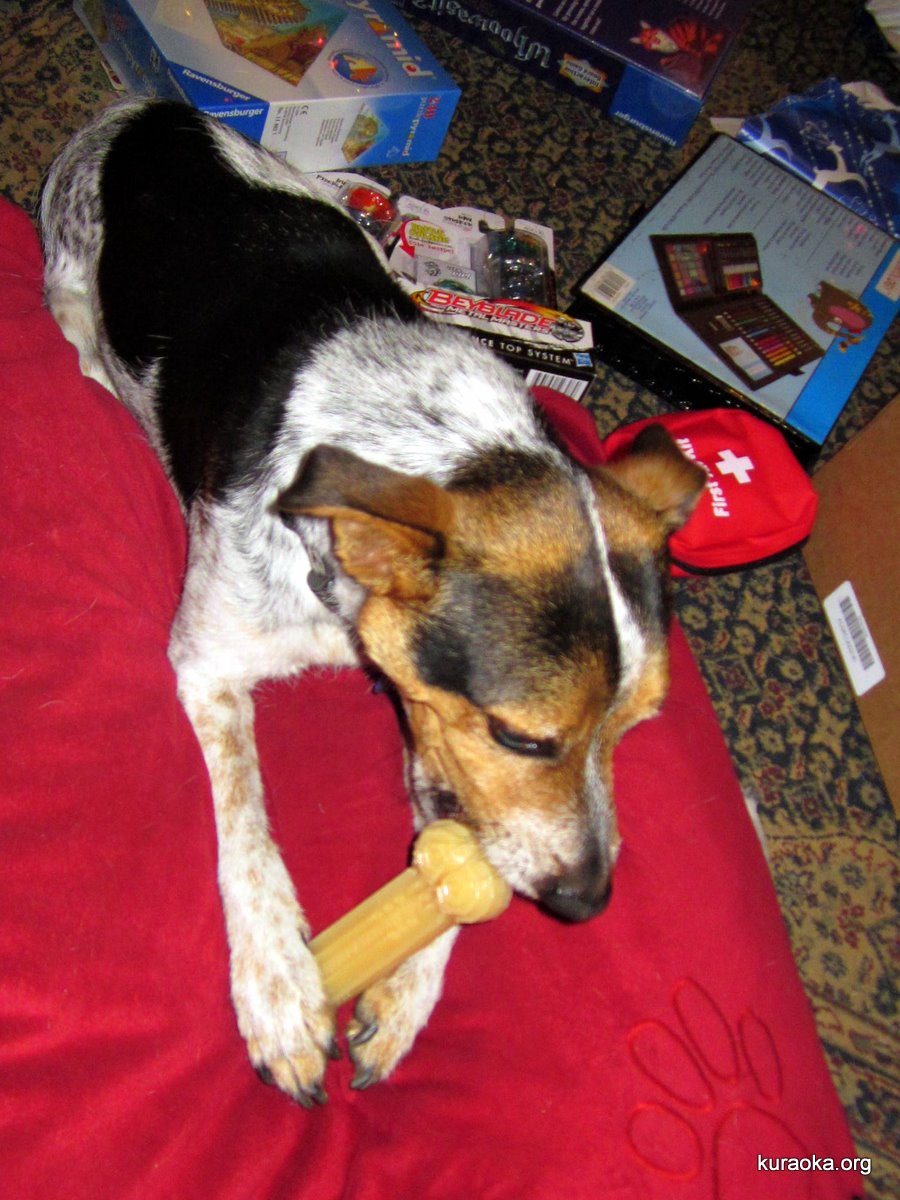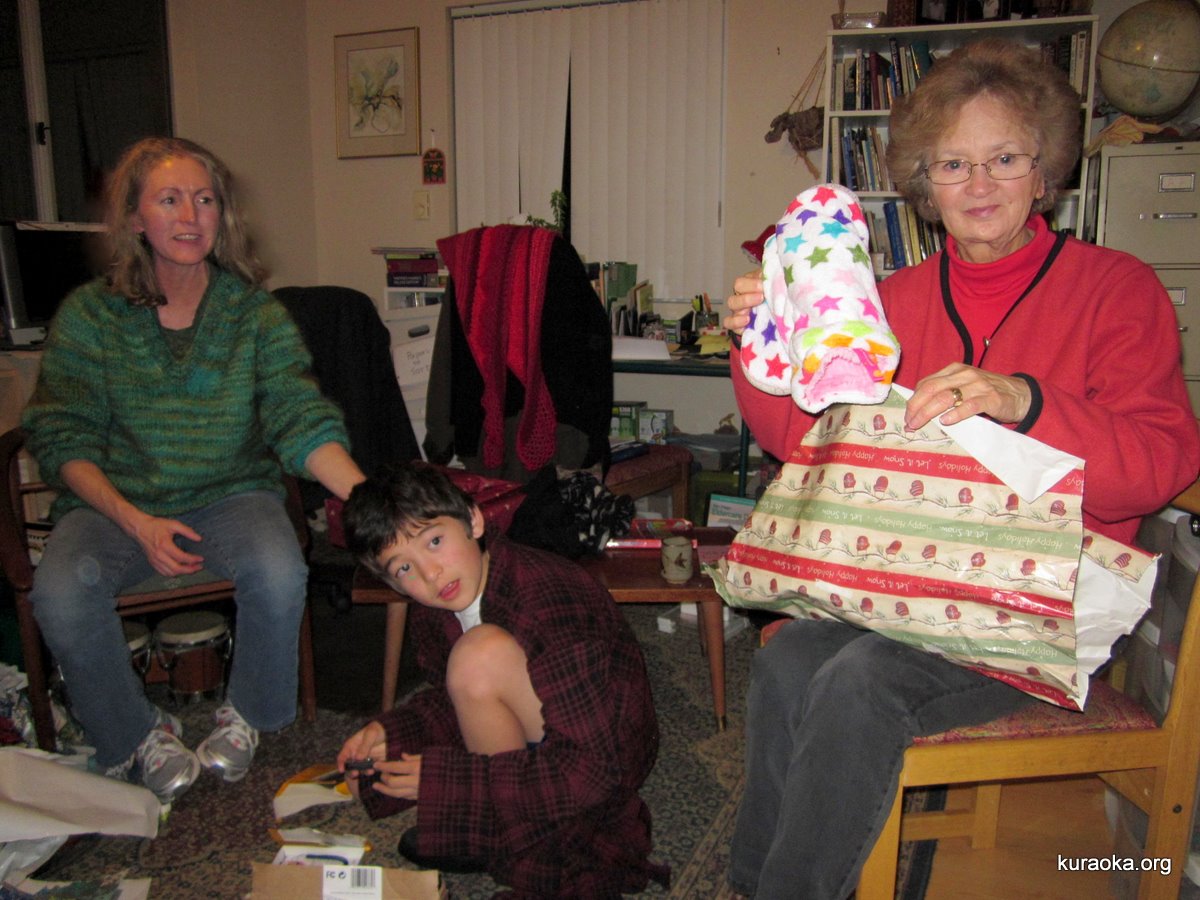 12-17-11 North and South Fortuna Mountains. John and Roy went on a pleasant dayhike with Ernesto, Alex, Nichael, Tim, and David. The first photo shows them at the summit of North Fortuna mountain: John, Roy, Michael, Tim, David, Alex, and Ernesto. The next photo, also at the summit, shows the kids: Michael, Alex, Roy, and David. Then there's the gang misbehavin'. Then the boys (Roy, Alex, Michael, and David) on South Fortuna summit. Afterwards, there was pizza!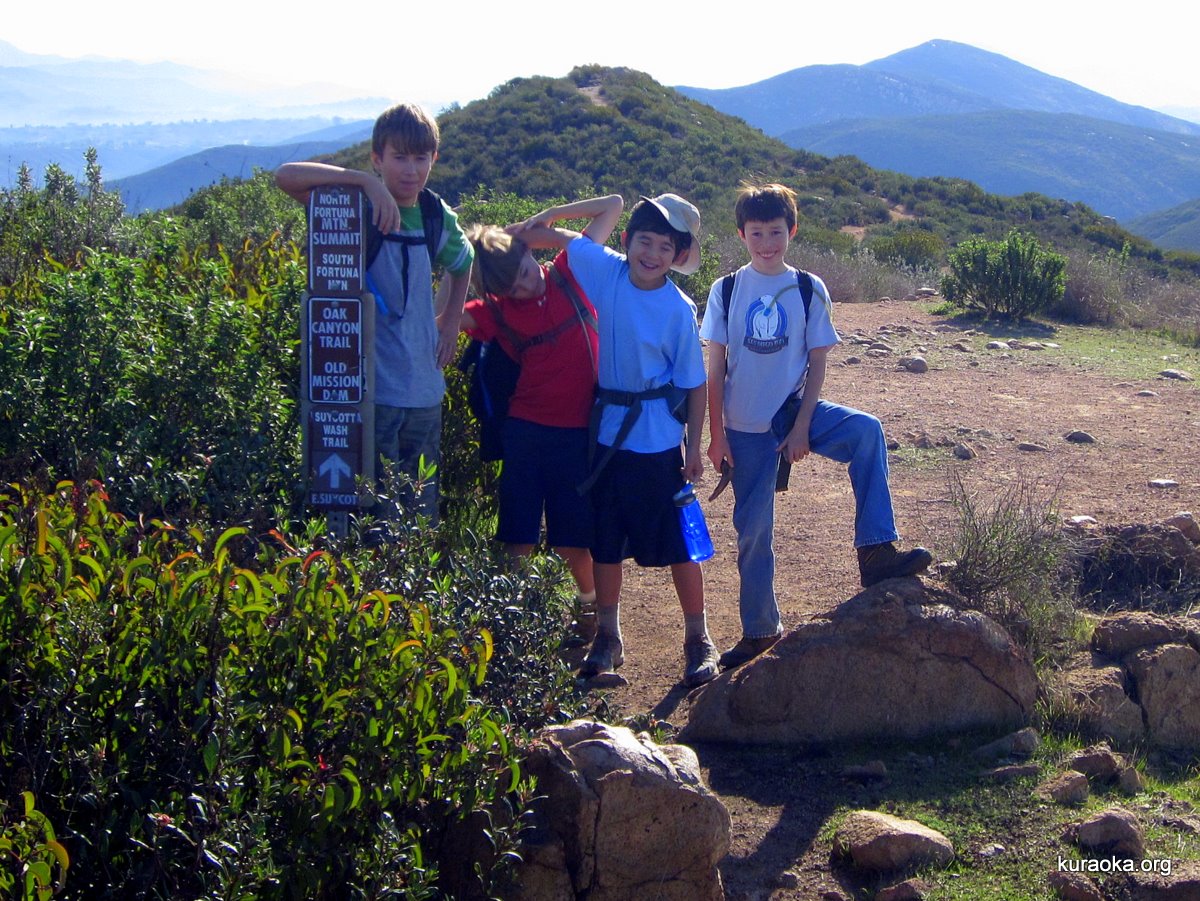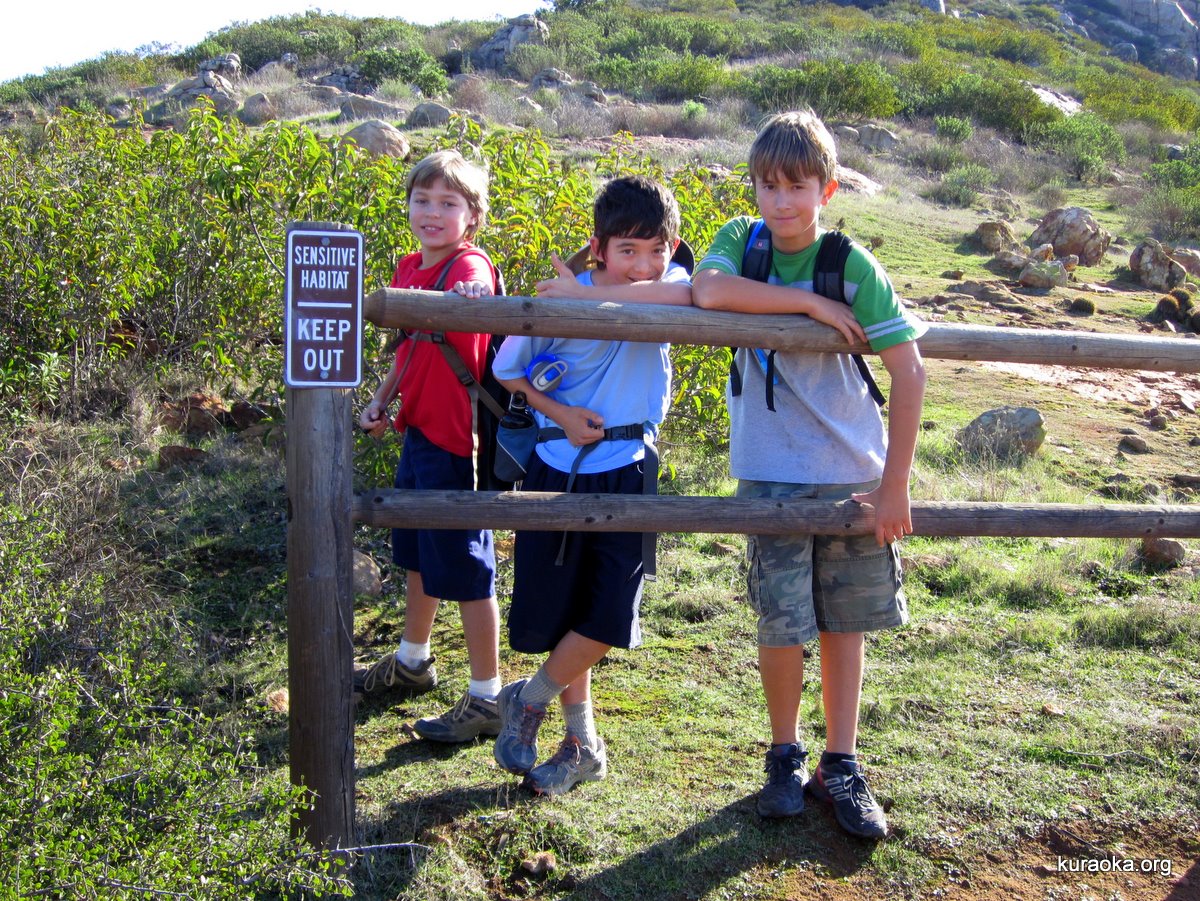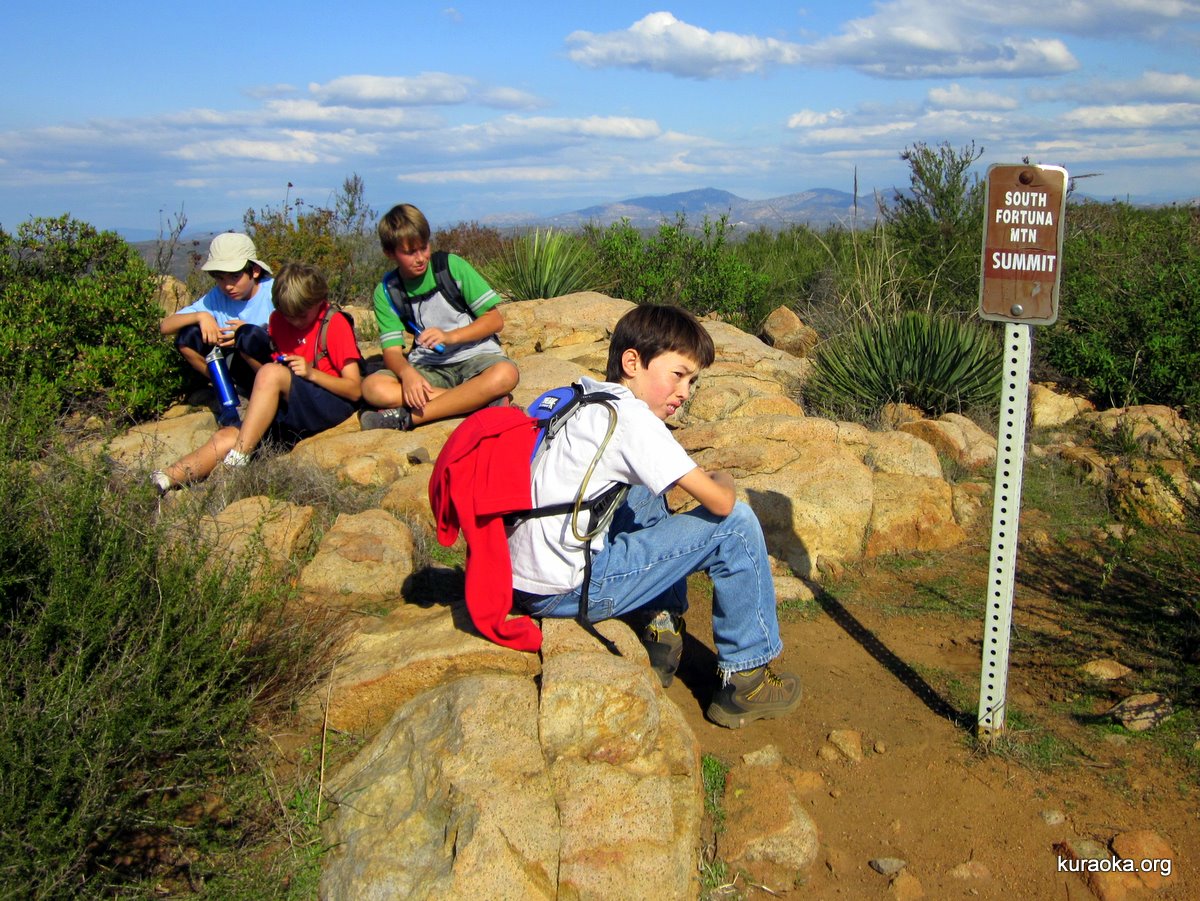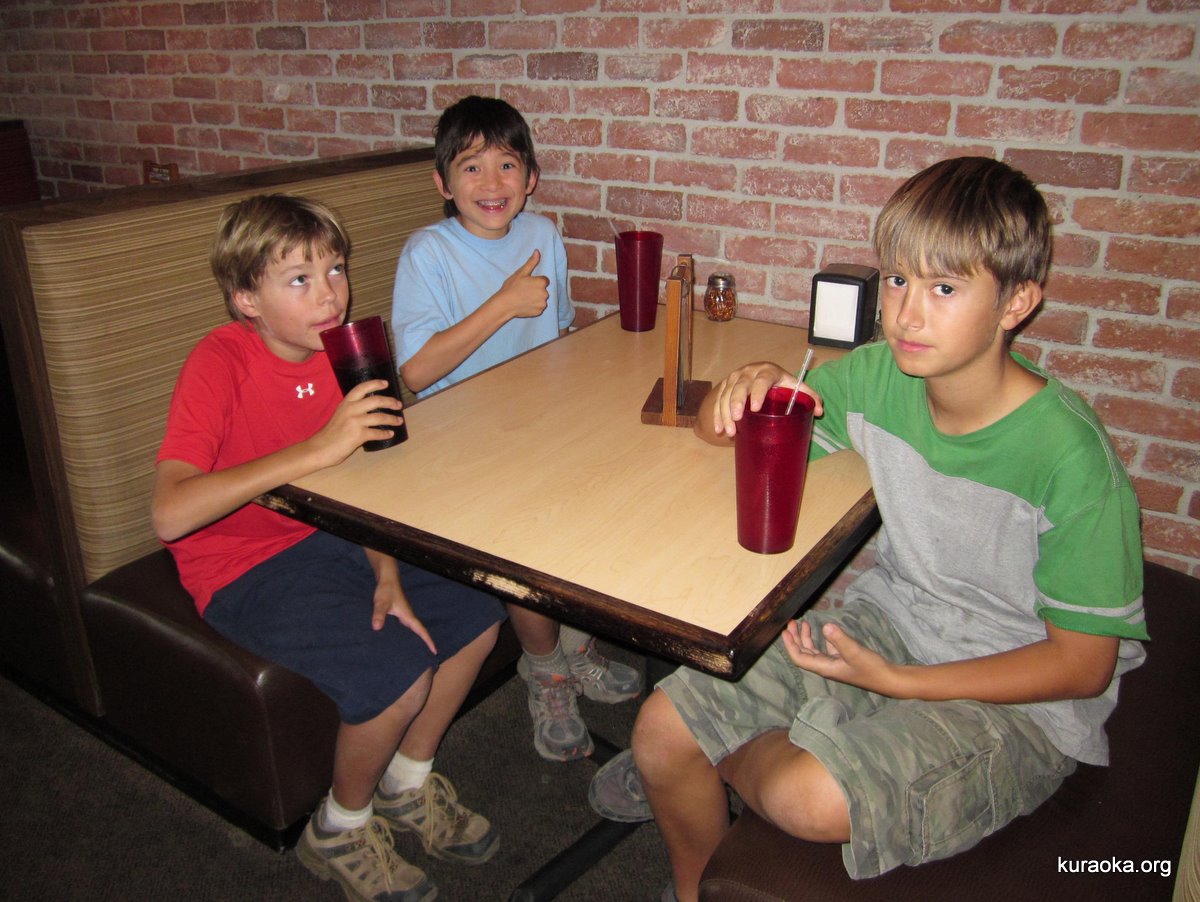 12-11-11 Third Advent. Here is Roy assembling the Christmas tree, Leo hanging ornaments on it, and Leo, Roy, Barbara, and Ondine around the table at our Third Advent gathering – our first without Bill.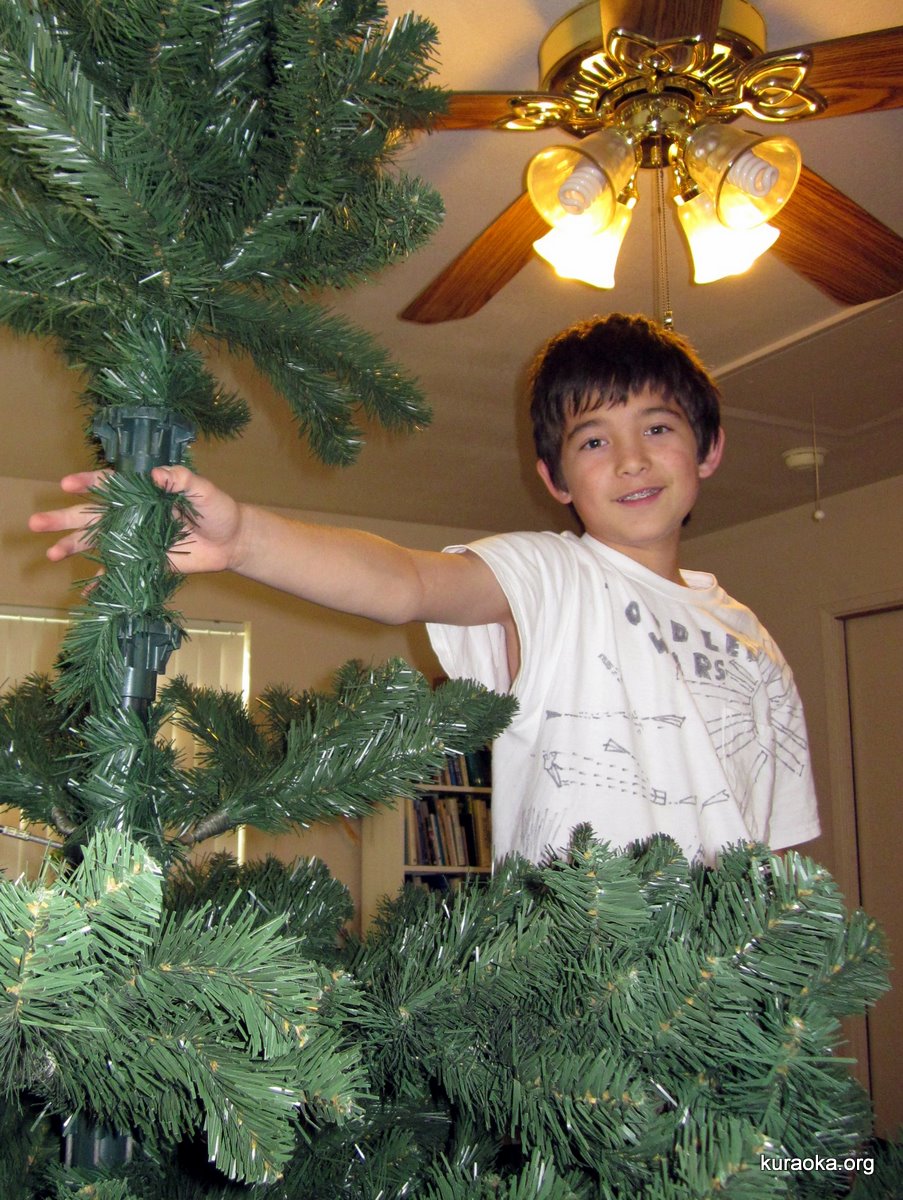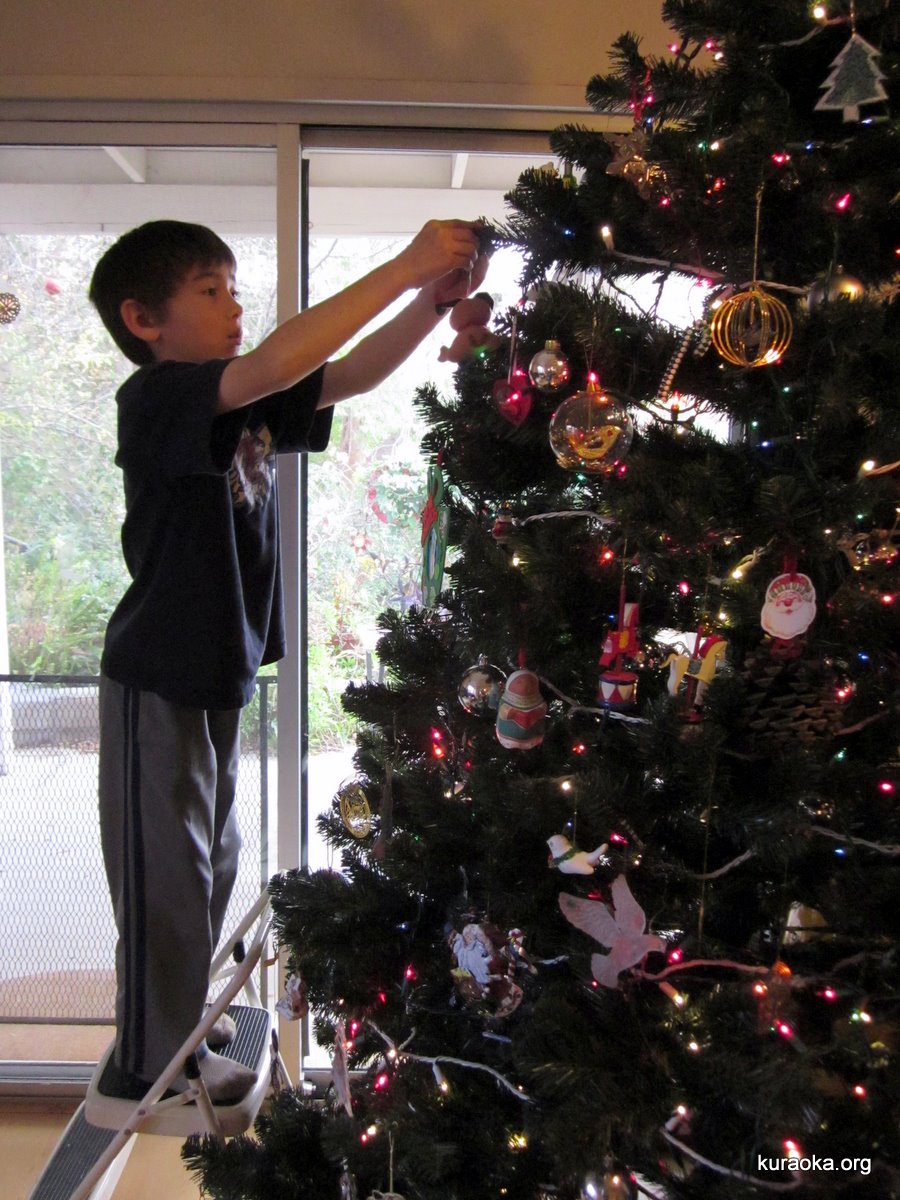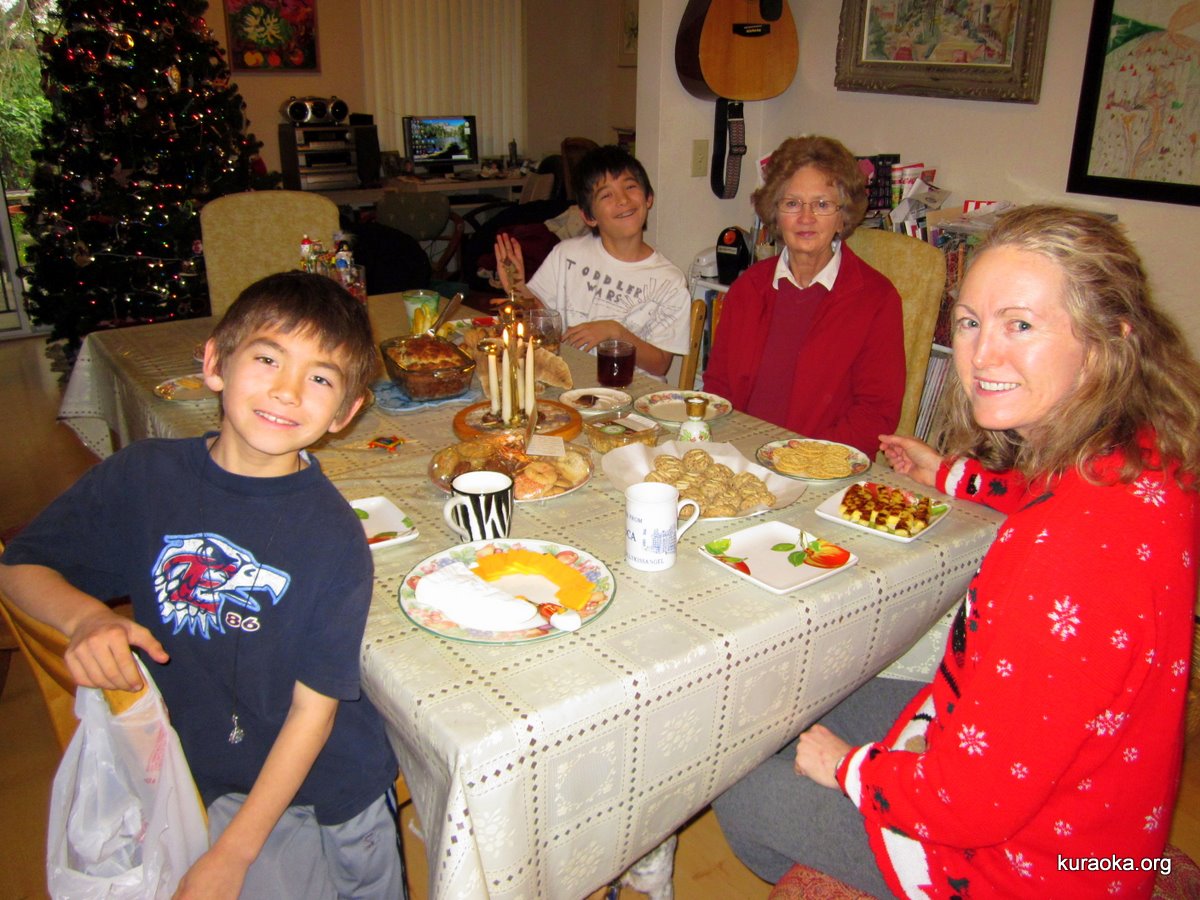 12-06-11 St. Nicholas' Day! The previous evening the boys set out kuchen for St. Nick, and in the morning the stockings were filled with goodies! Buddy is certain at least some of those goodies are eatables. Just time for a quick treat, and then off to school.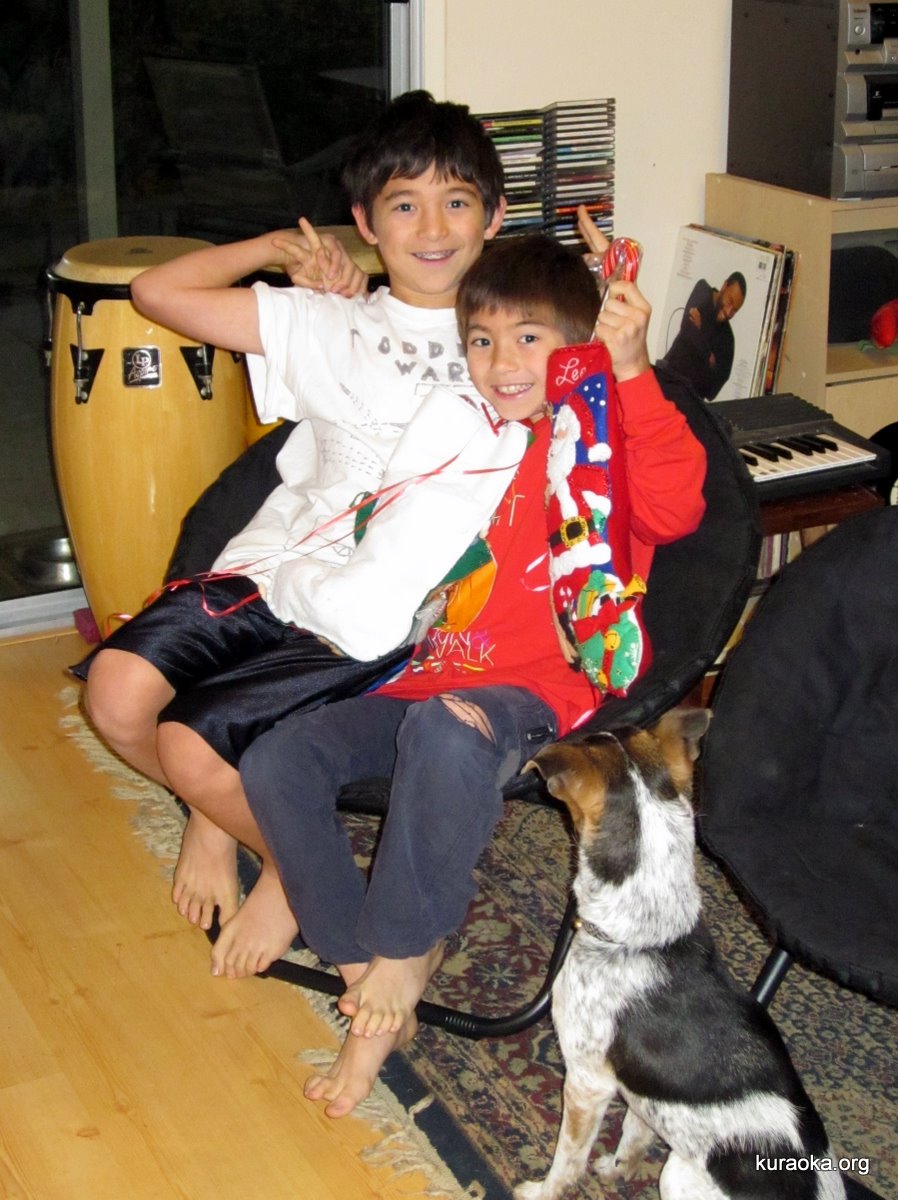 11-24-11 Happy Thanksgiving! Here we are gathered round the table, an intimate group this time. In the first photo, that's Leo, Ondine, Roy, Barbara, and Bill. In the next photo, Roy, Barbara, Bill, John, and Leo. Our dinner was yummy! Afterwards we went next door for pies. That's Leo looking happy behind the bowl of freshly whipped cream, Roy making bunny ears behind a turkey, and Bill enjoying some pie!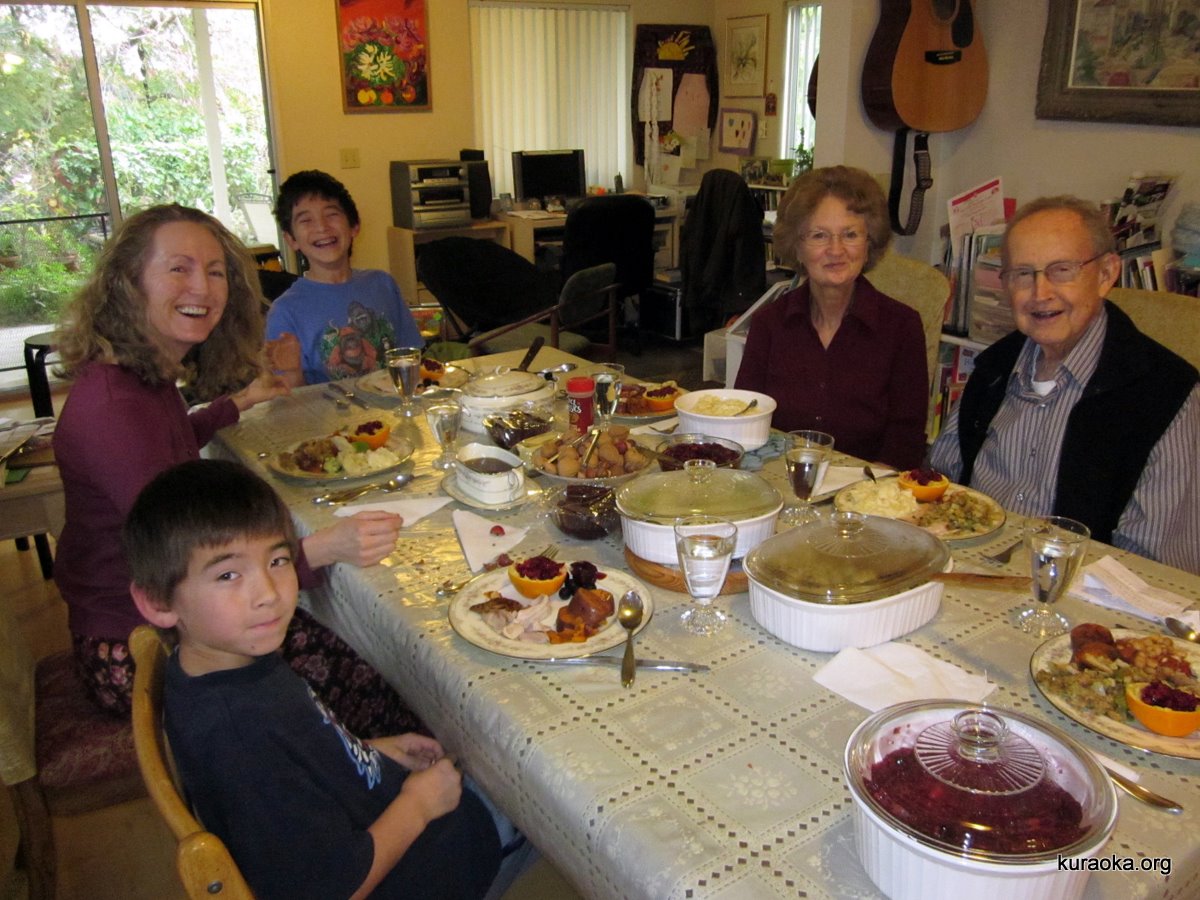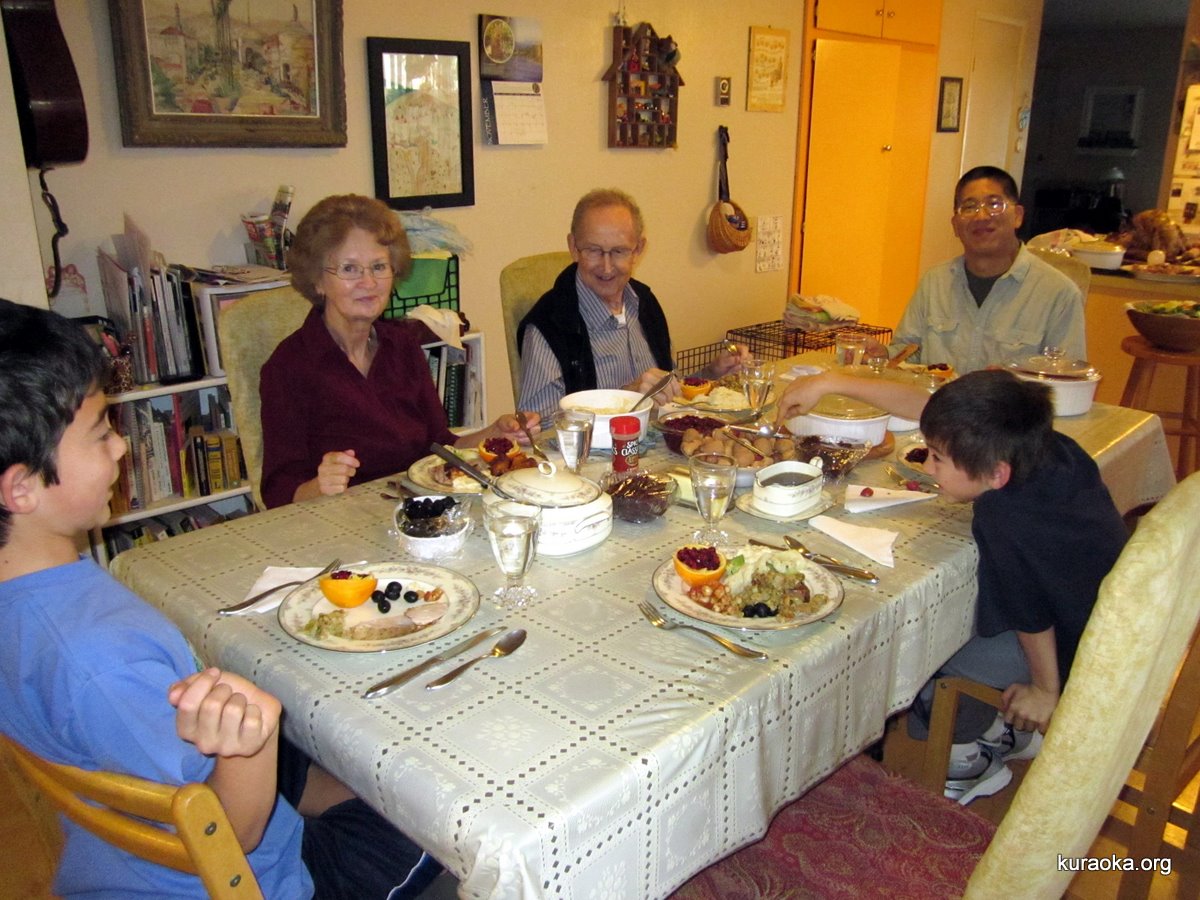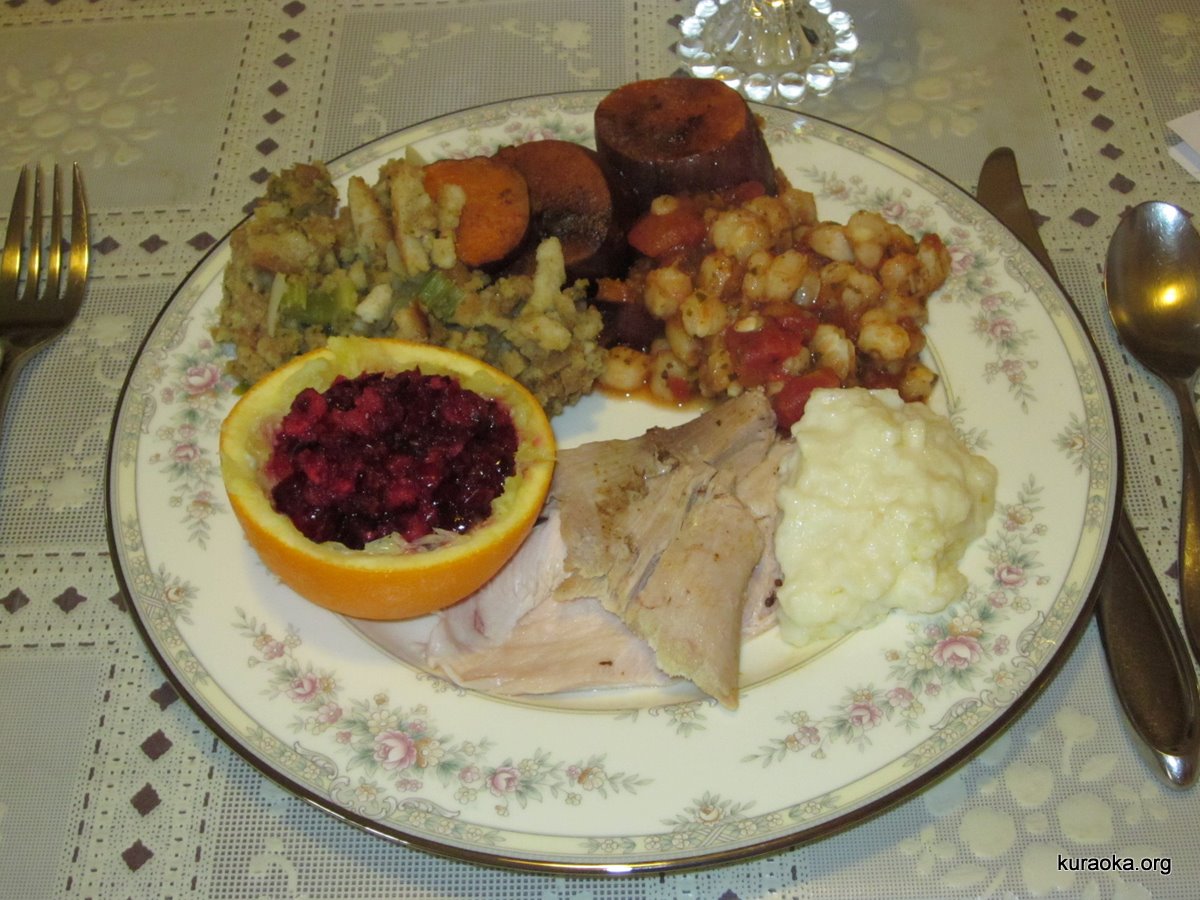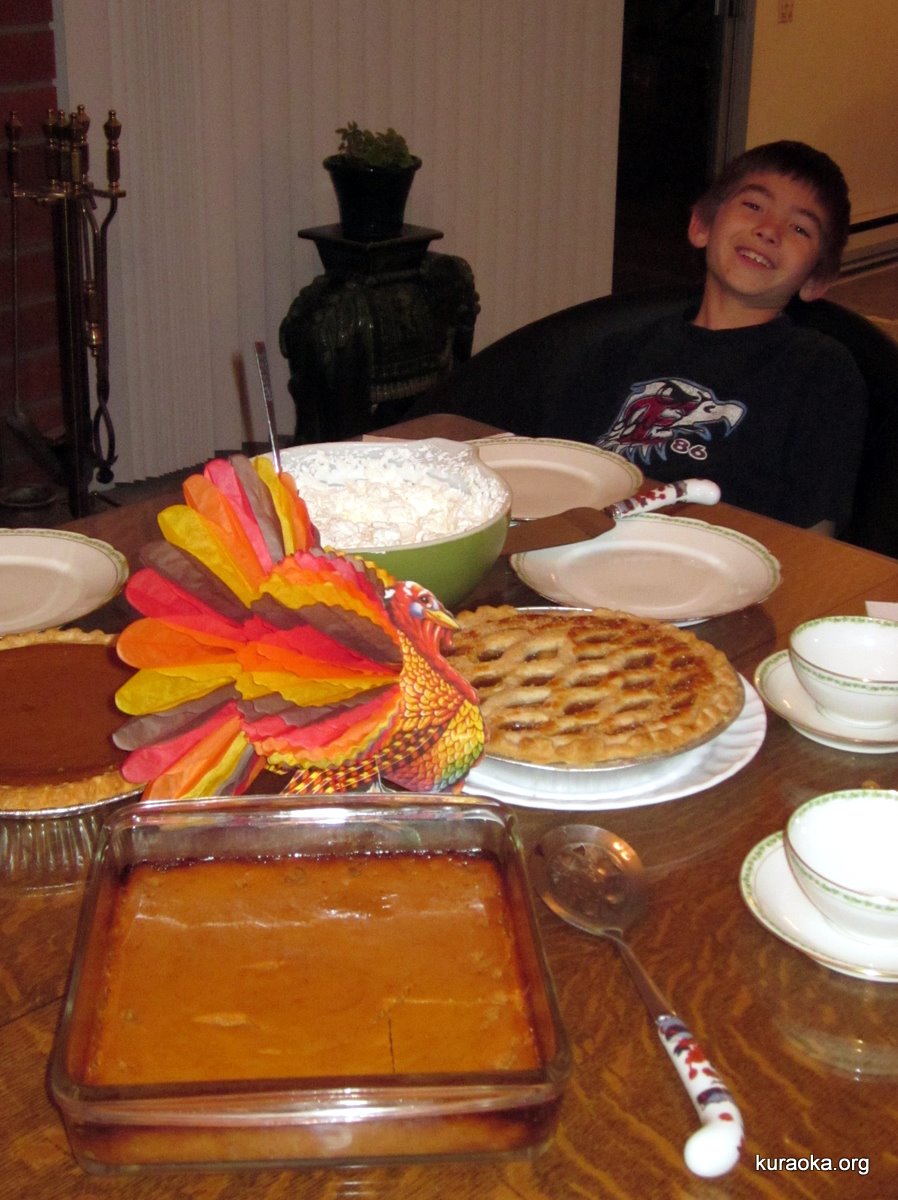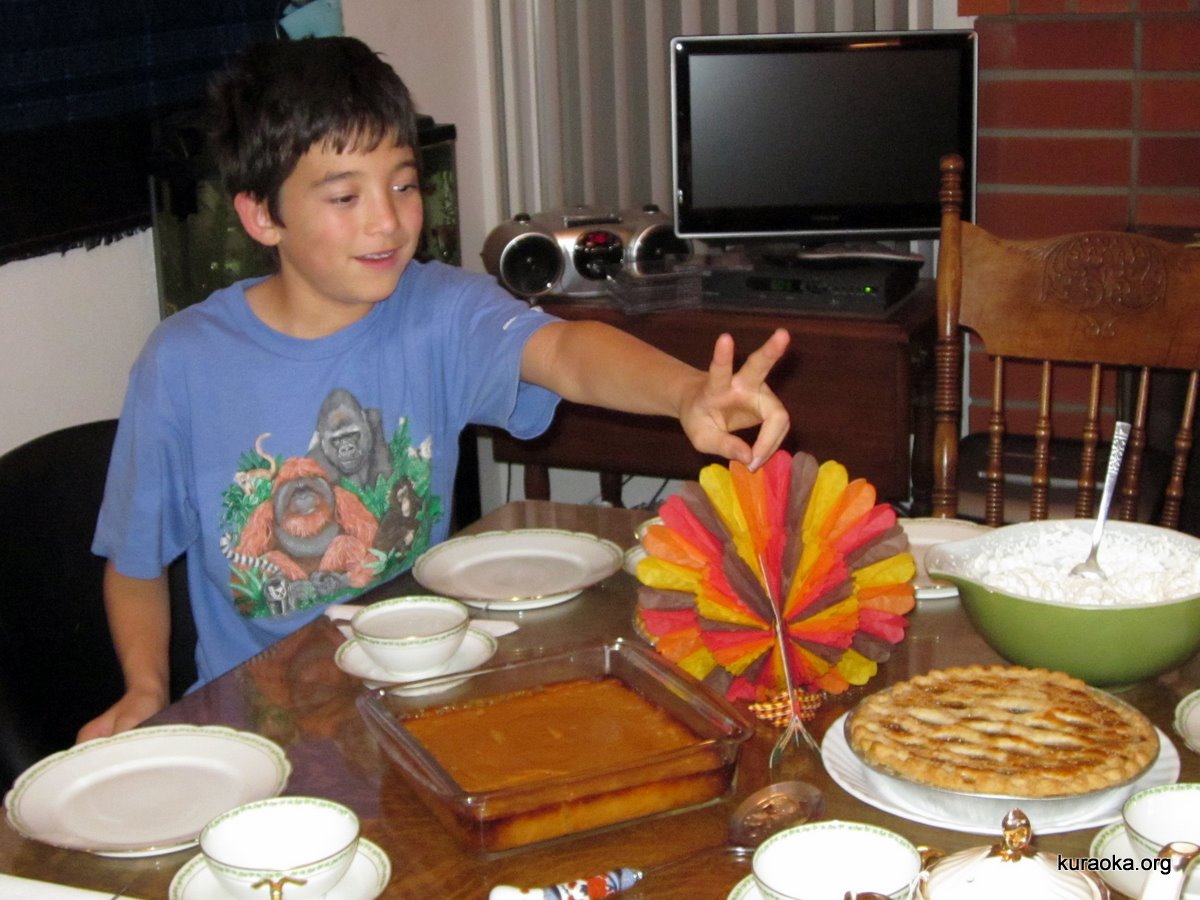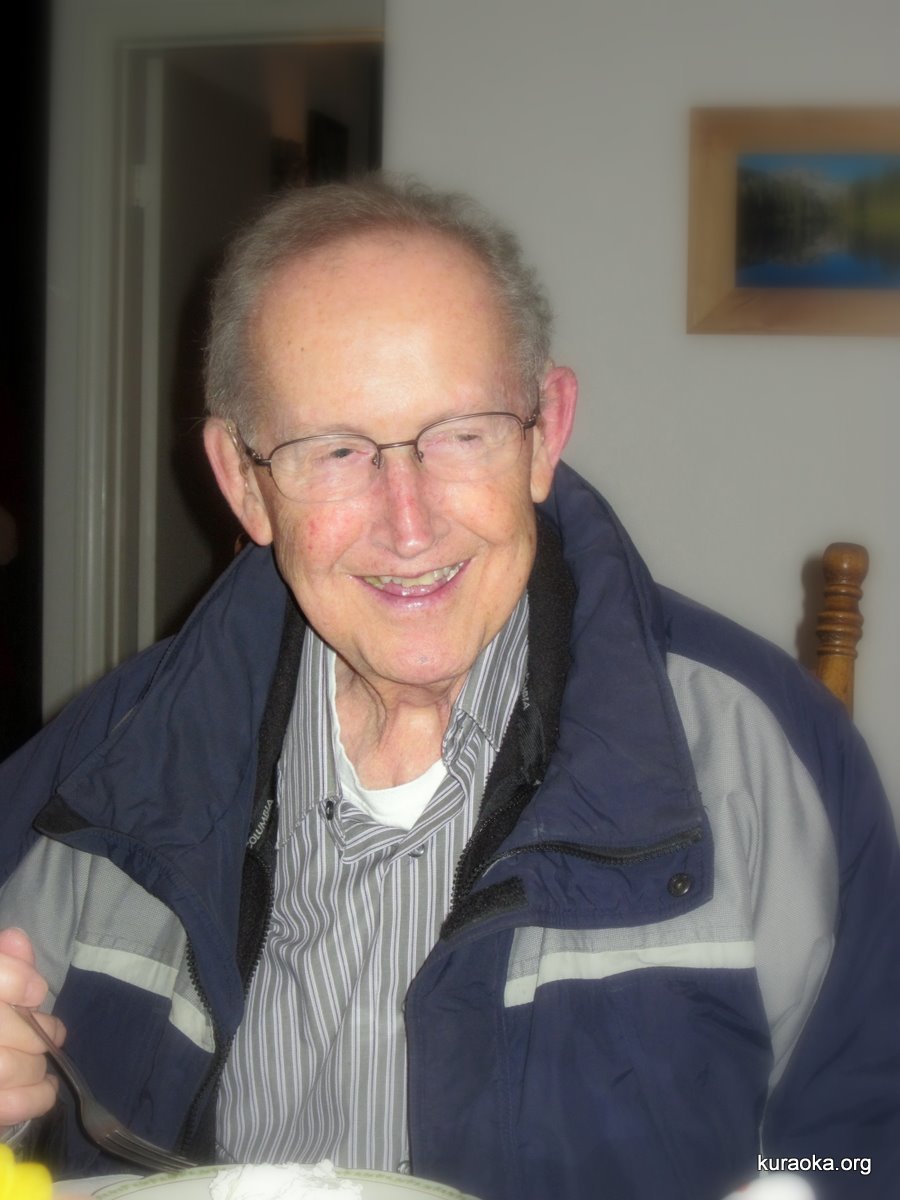 11-19-11 Grammy's visit, John's run. Here is a photo John's Mom took as she played with our Canon A1200. Not sure which shooting mode she was testing, but the subject is John, puffing around the corner in the ninth mile of a 10-mile run. Doesn't he run like an old man? Next is a self-timer test shot that came out rather decently, once it was cropped, of John and his Mom.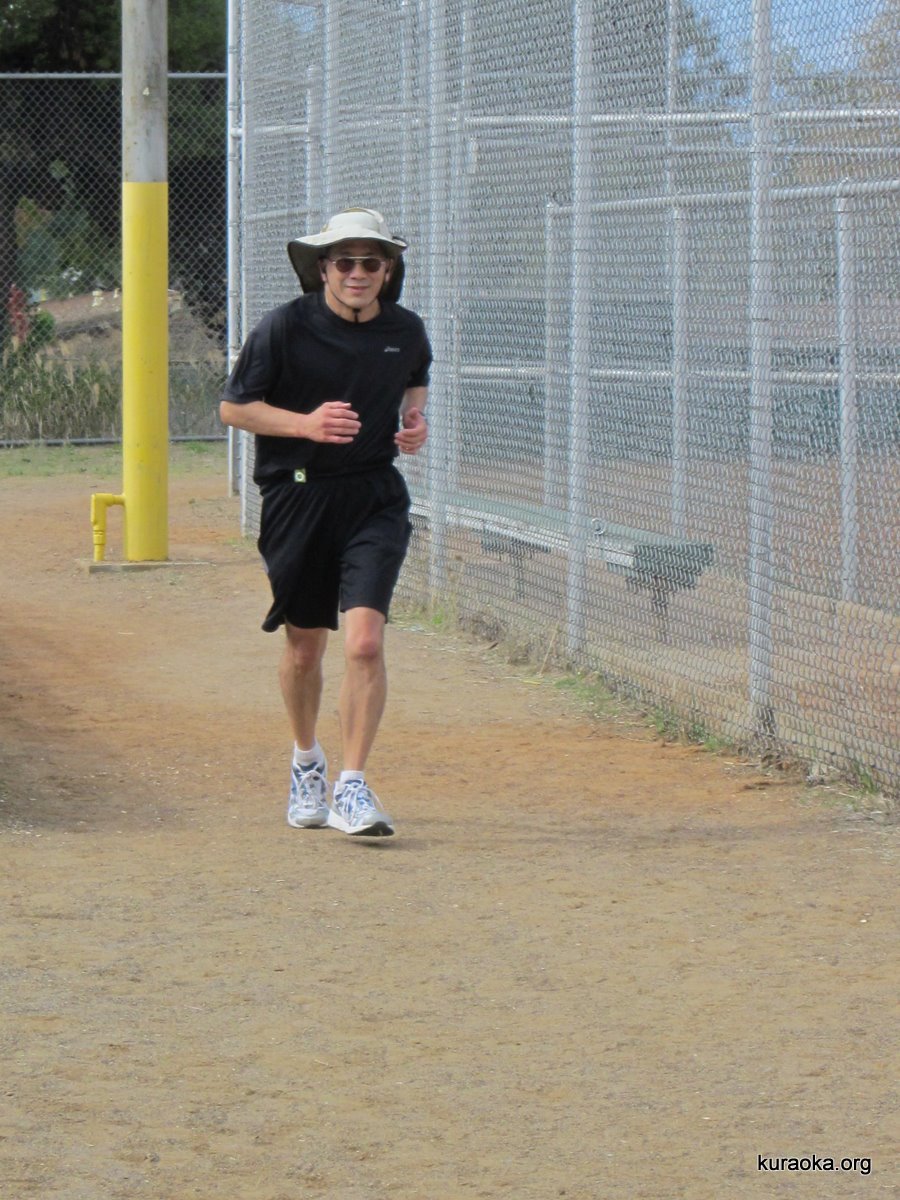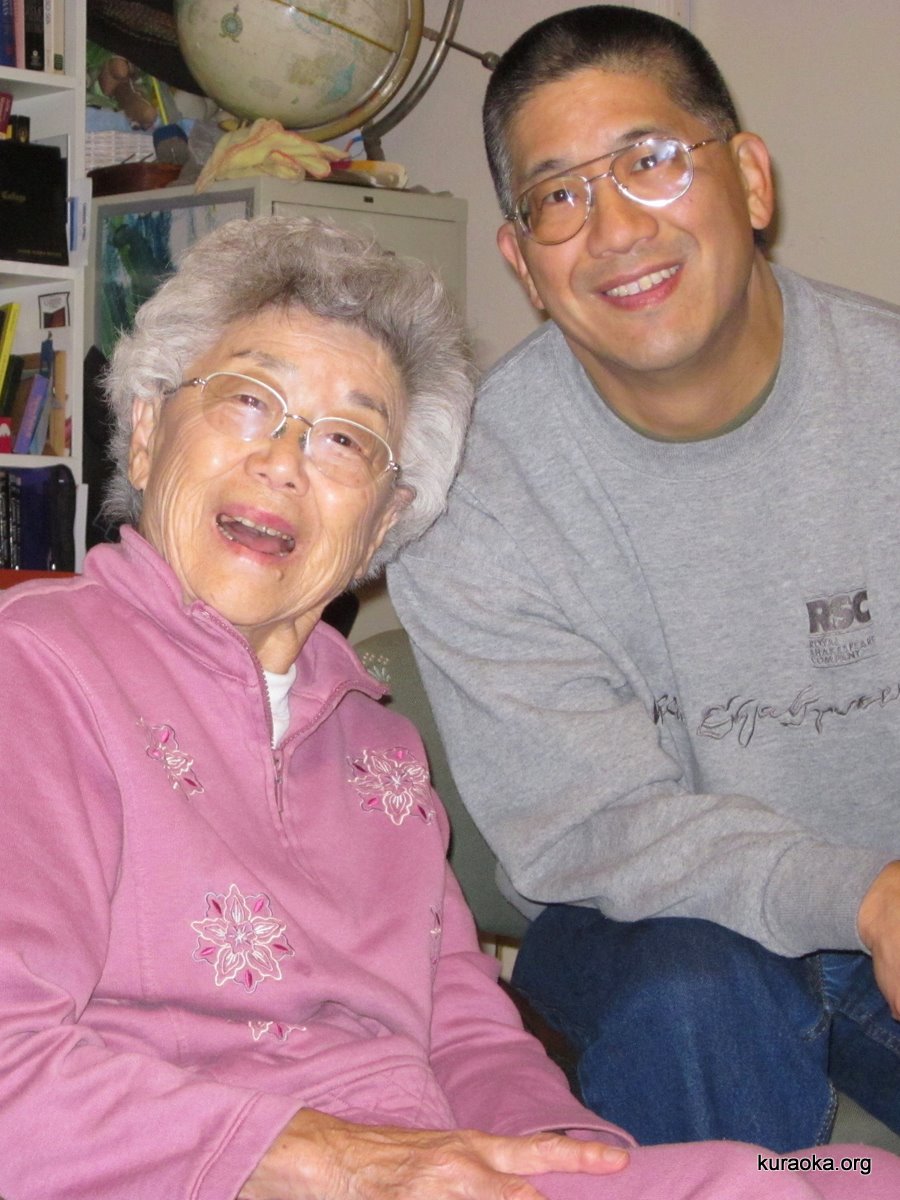 11-18-11 Grammy comes to visit! Here are John's Mom Frances and Ondine, two snapshots taken as John shows his Mom our Canon A1200 digital point-and-shoot (in "Kids & Pets" mode). Before she left, she ordered the same camera for herself.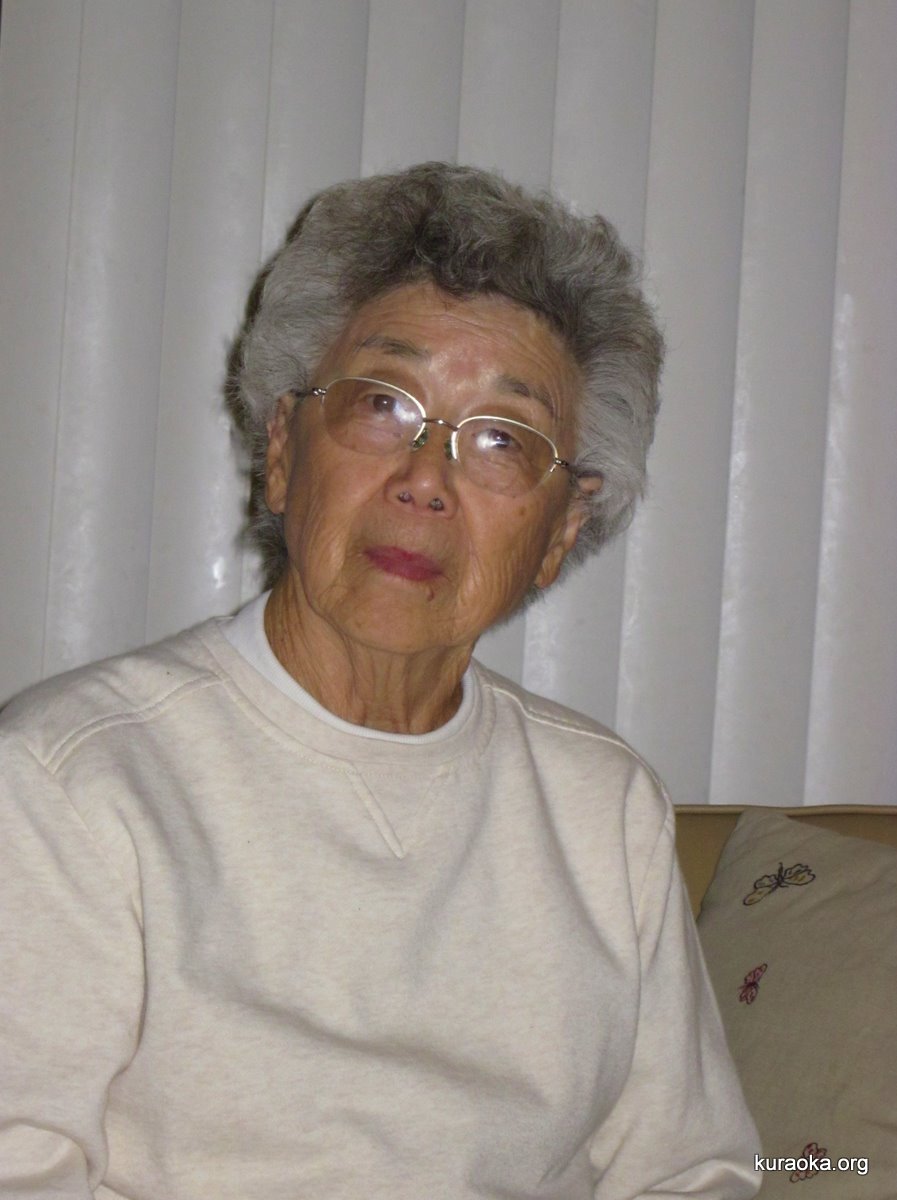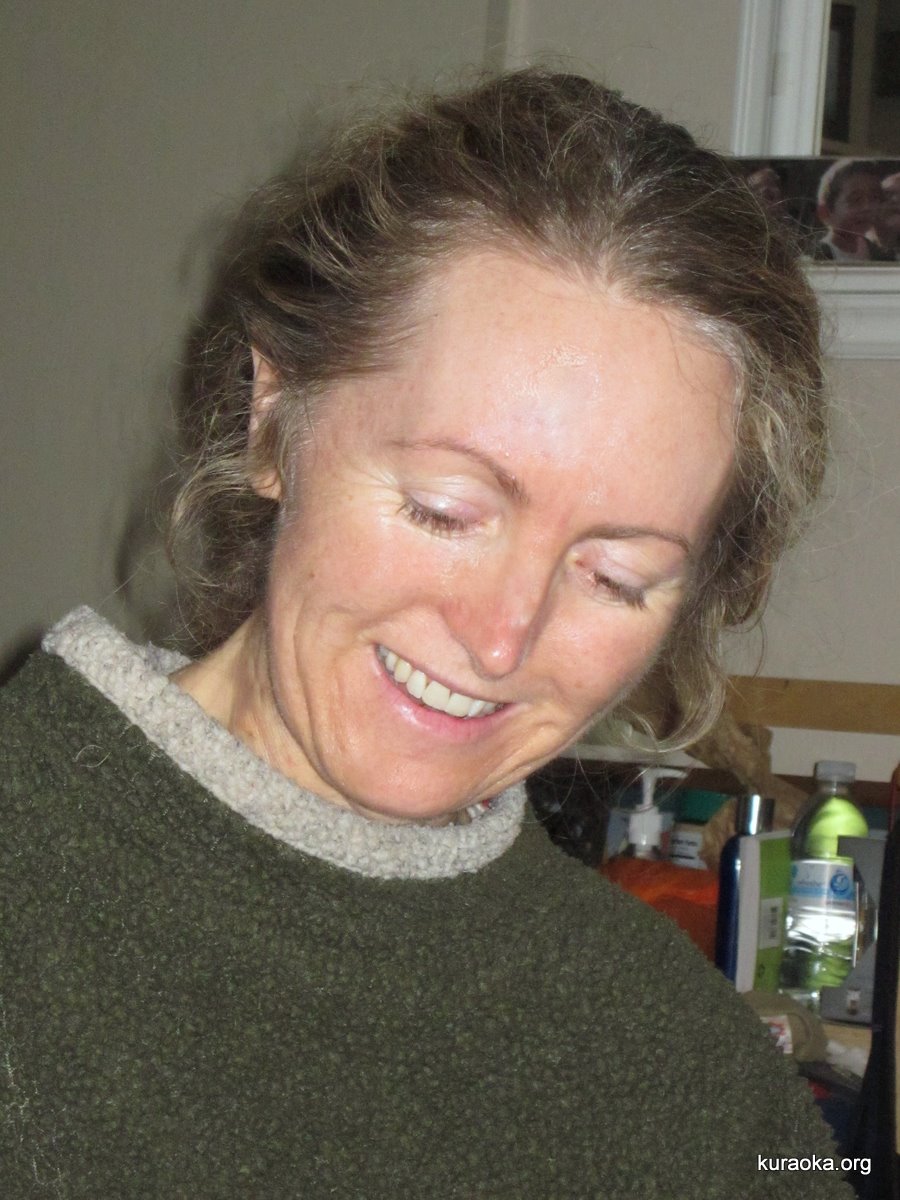 11-14-11 John's new APAP! Here are a couple quickie snaps to show his old dead CPAP (on the left) and his new APAP (on the right). A CPAP delivers constant pressure; an APAP automatically adjusts pressure within a pre-set range so it can blast through as-needed. The first photo shows just the device; although the unit is smaller, the separate power supply makes it nearly as bulky and a bit more unwieldy. The second photo shows the device plus the snap-on heated humidifier.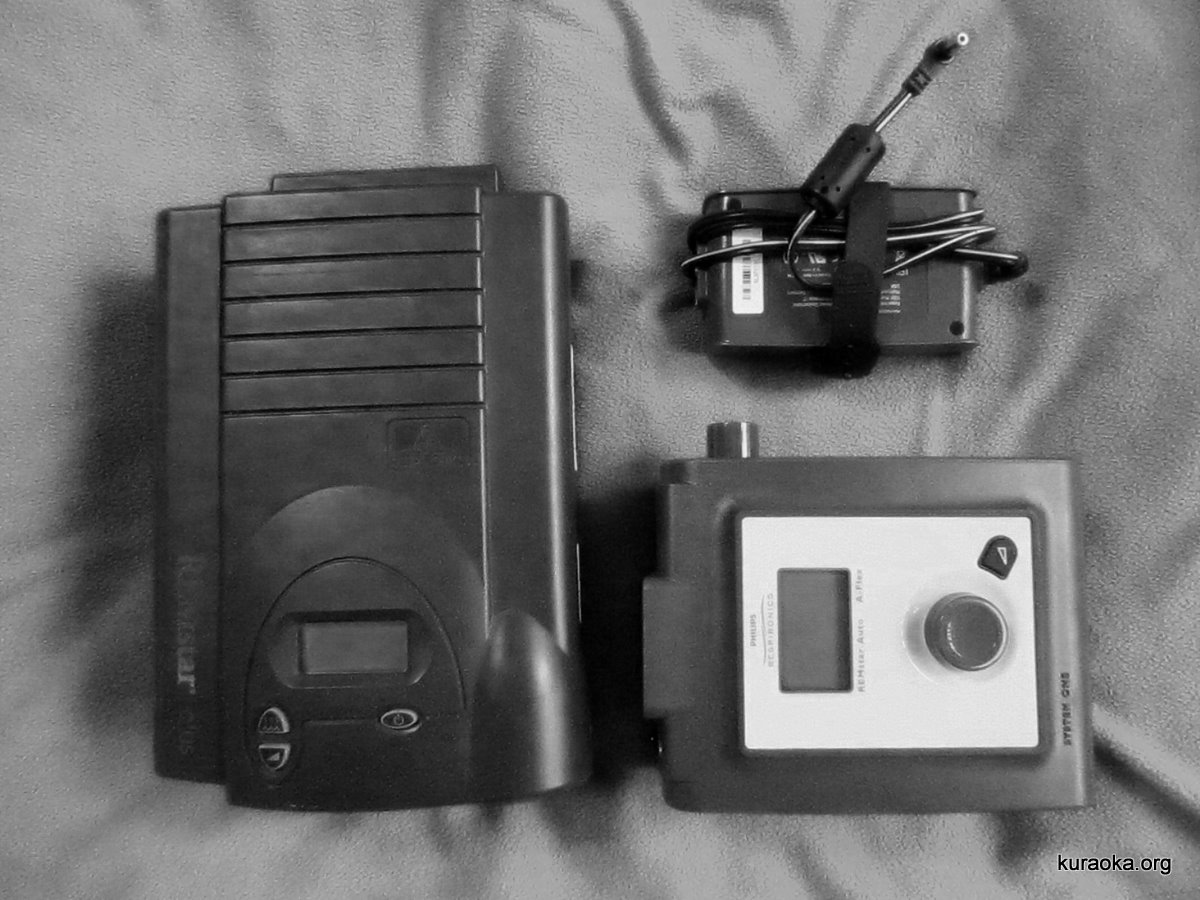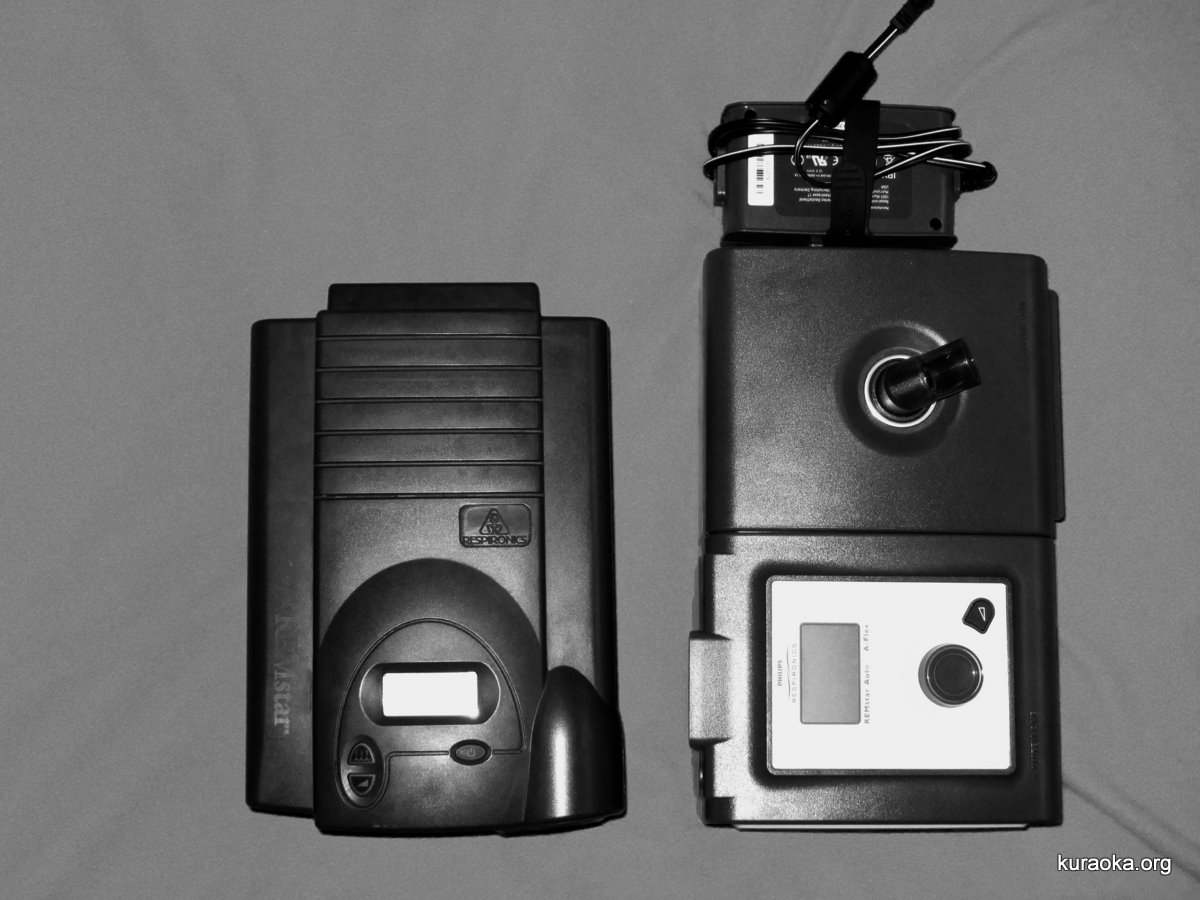 11-06-11 Leo and Roy's first judo tournament as competitors! Here they mug around just prior to the tournament. There were about 100 competitors in several age/weight divisions. Leo and Roy both managed a third-place finish in their respective divisions! Then, on the drive home, we were treated to a special sight: the Oscar Mayer Wienermobile!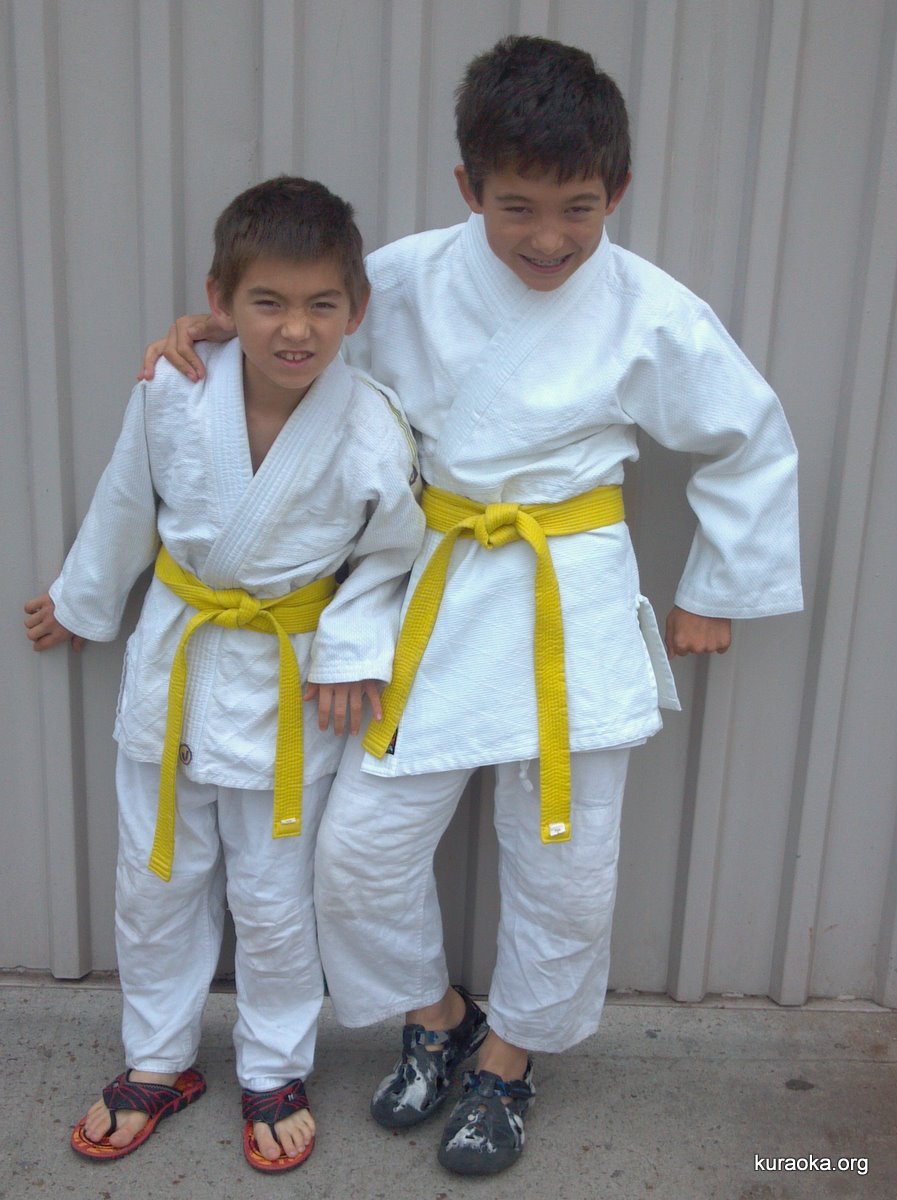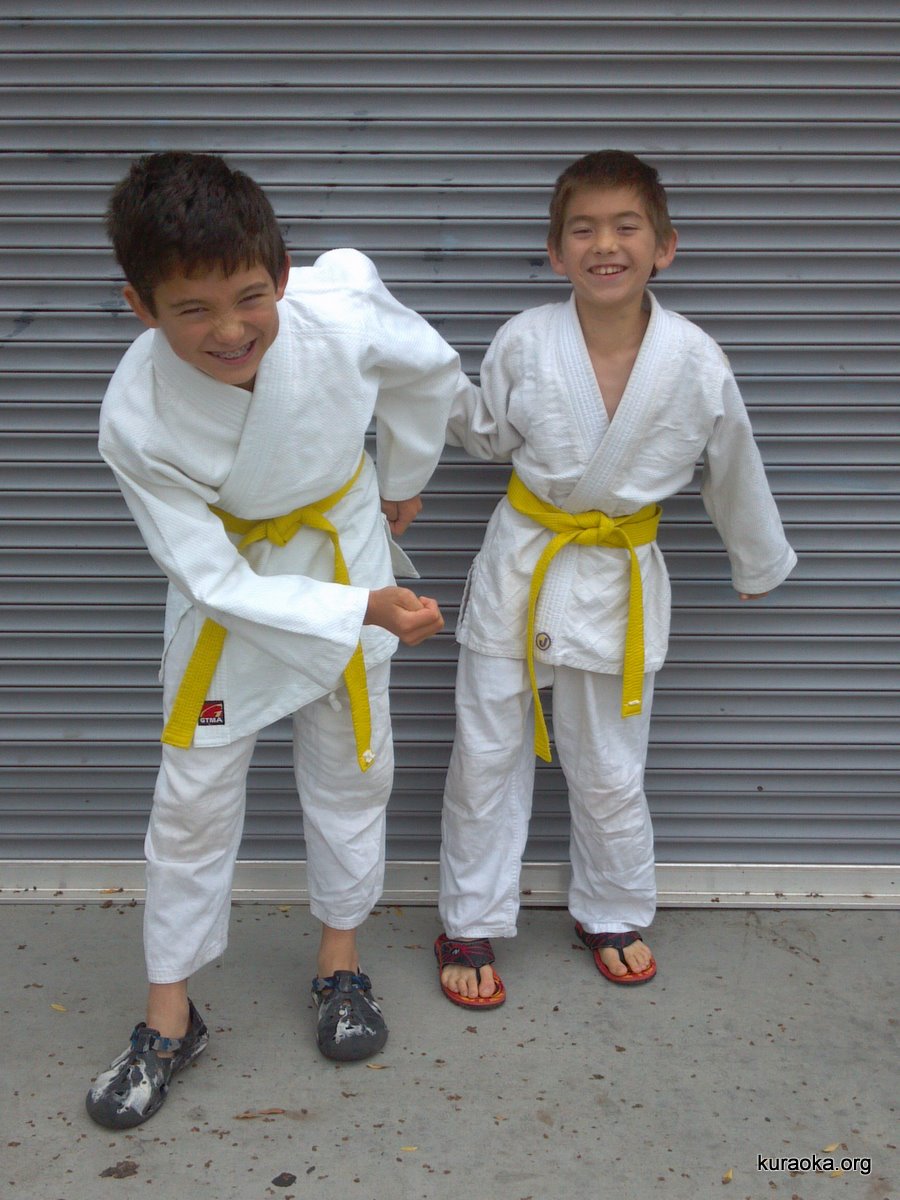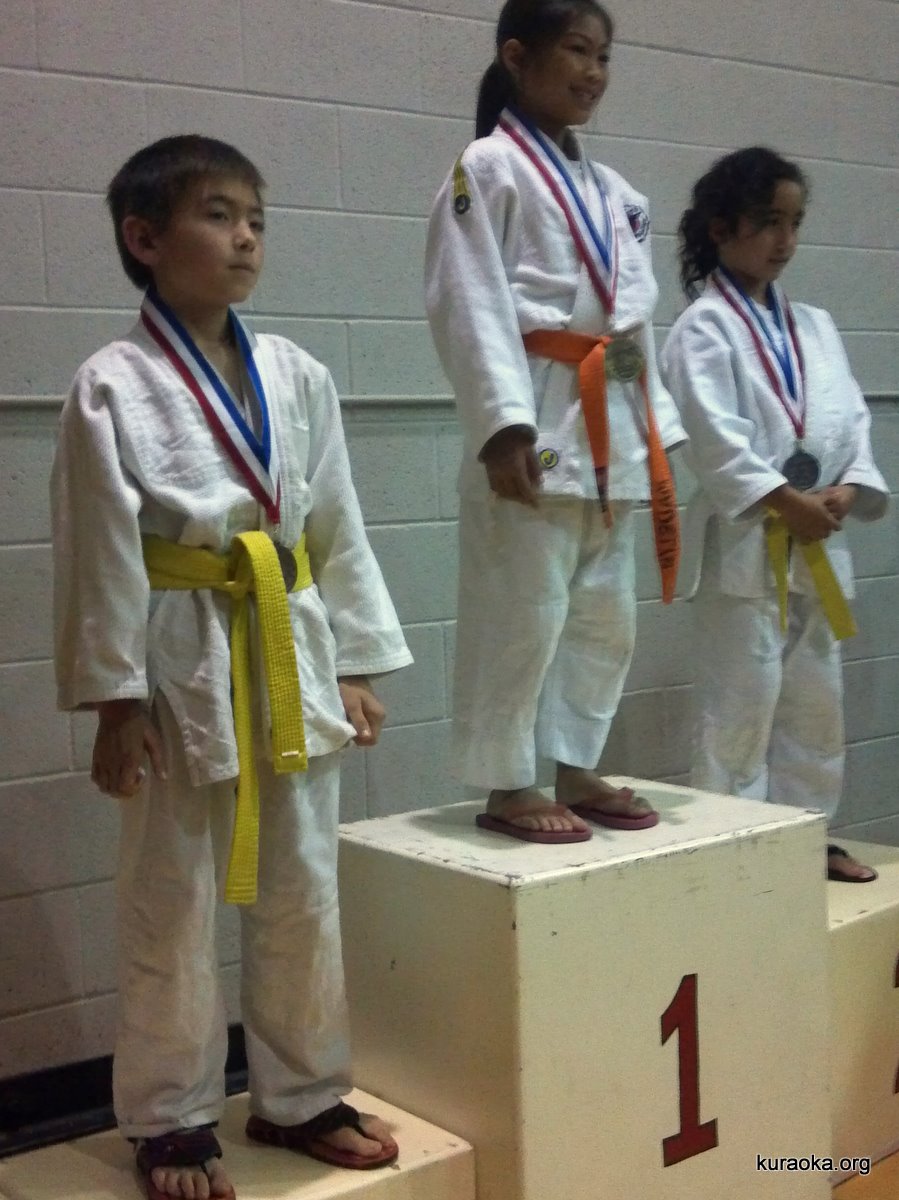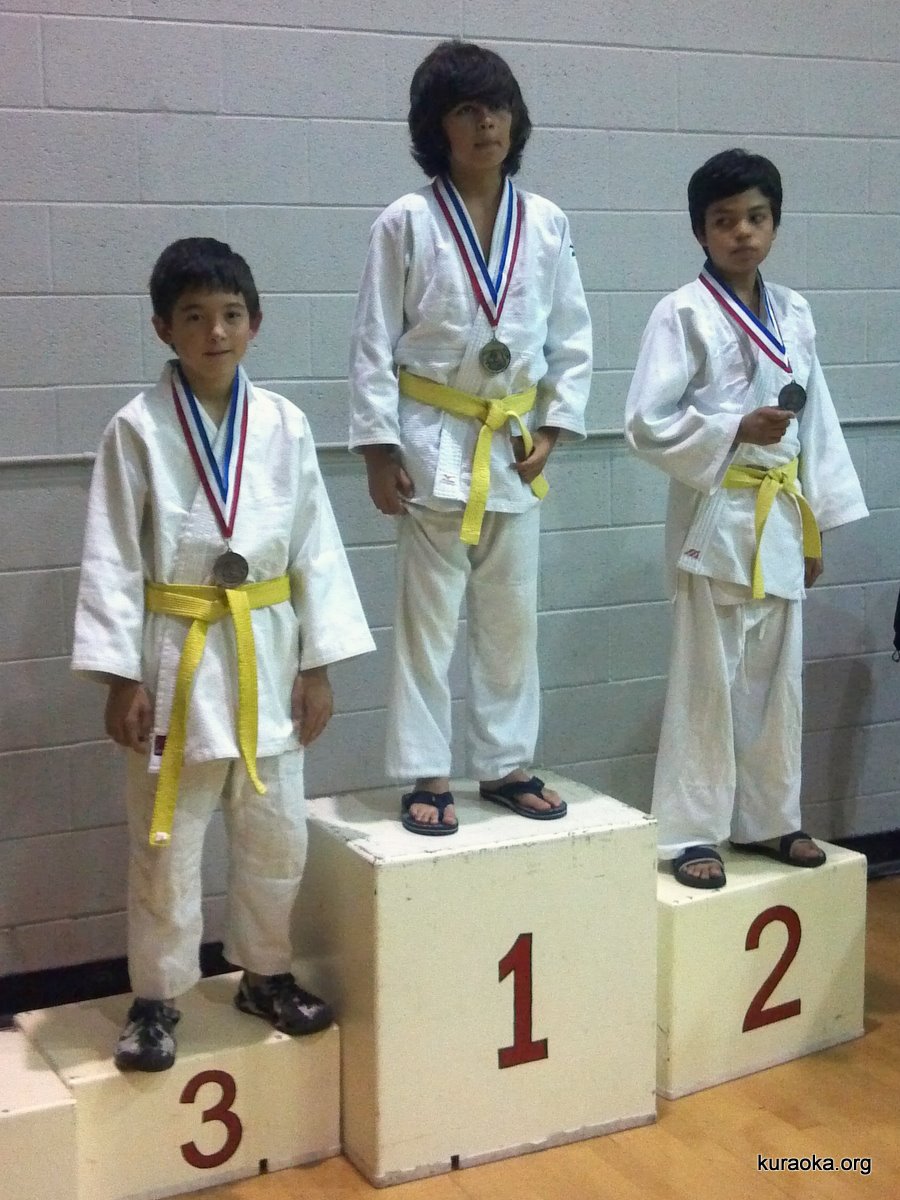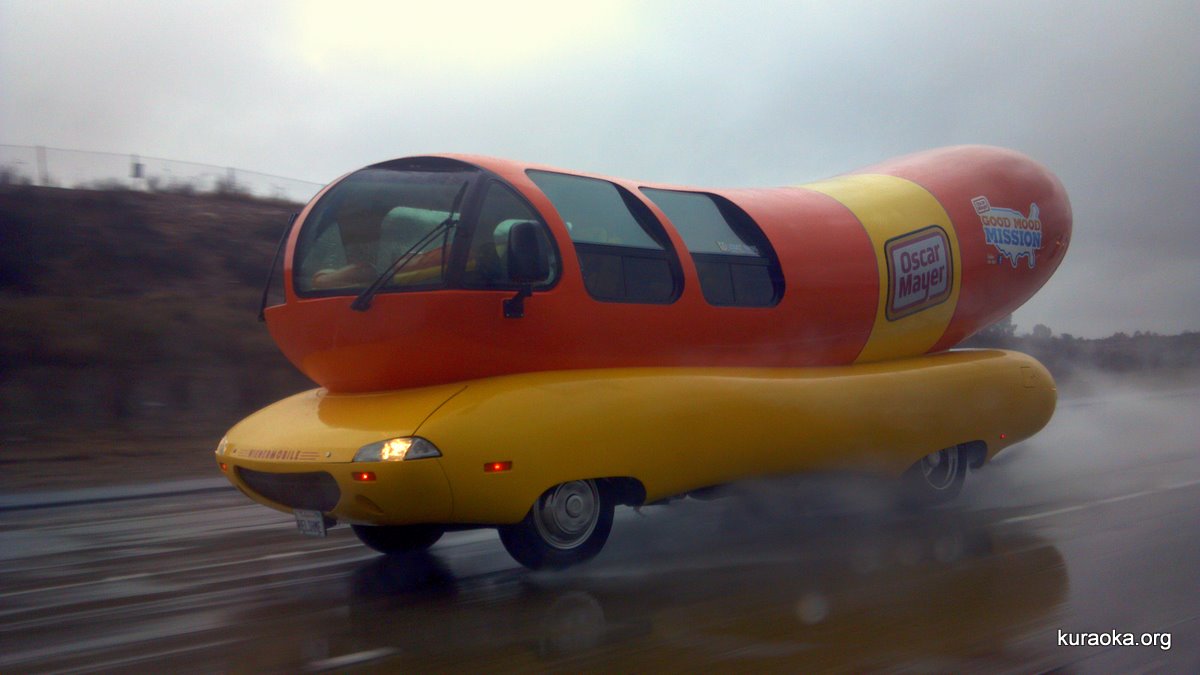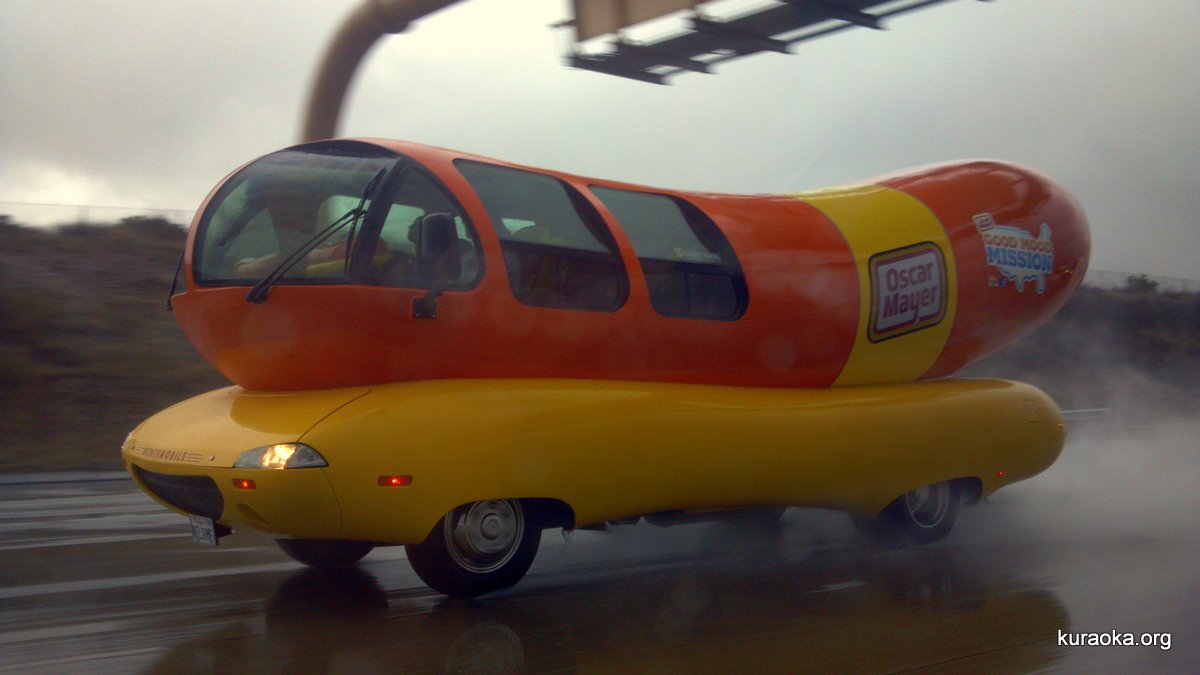 10-31-11 Happy Halloween! Here's Roy looking too cool in his "Nan Cout's Cottage Daycamp Counselor" costume, front and back. Then, Leo and Roy with Jack in Barbara and Bill's front yard. There's Barbara, Ondine, and Bill. And, Bill and Barbara. This was Roy's first Halloween going out on his own, with his buddies.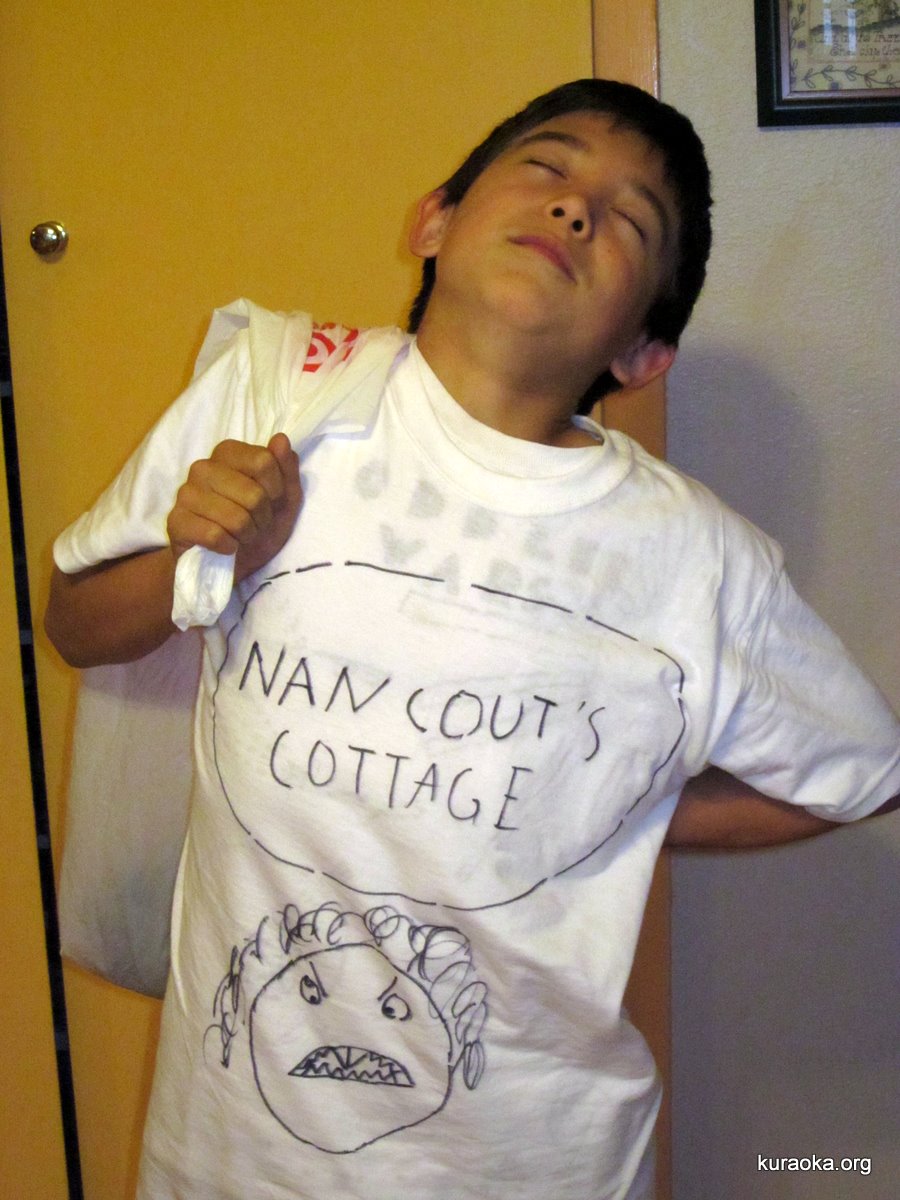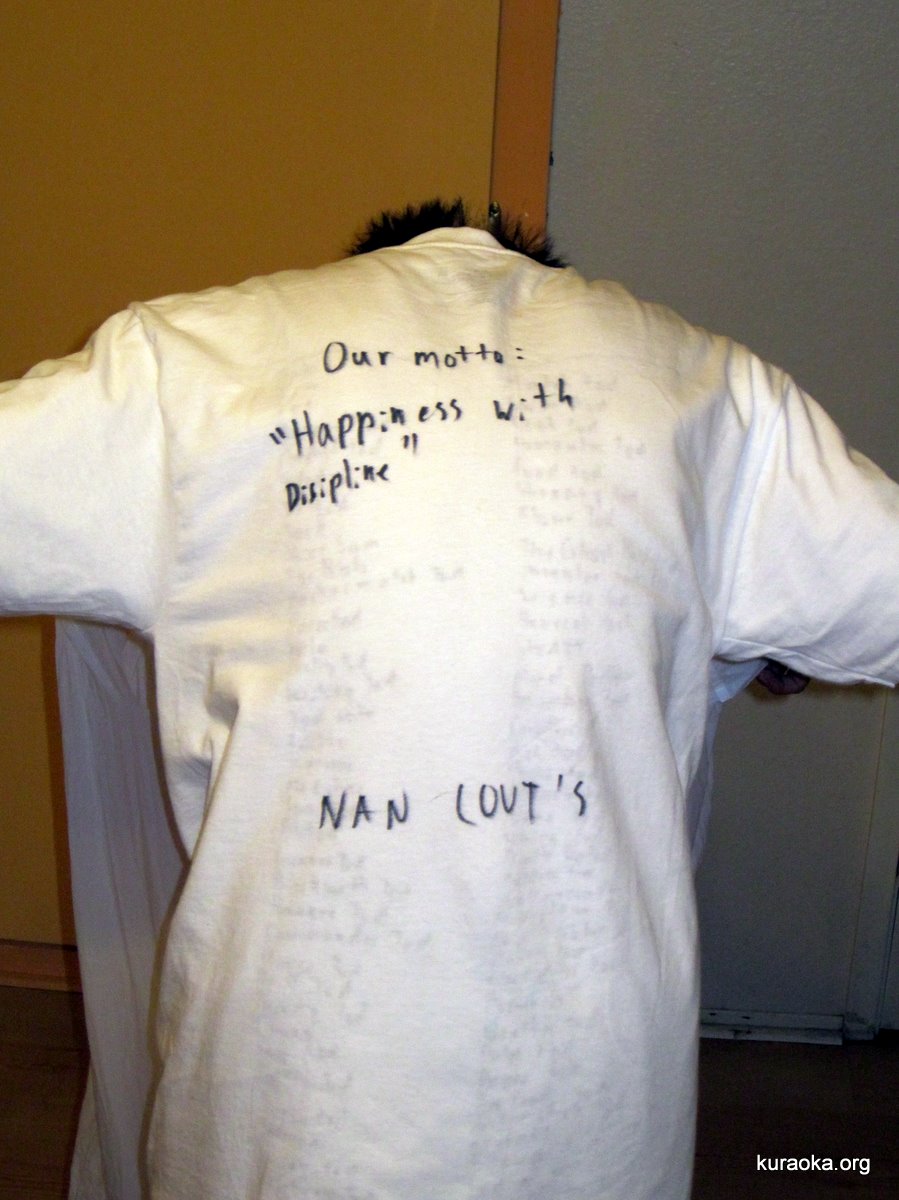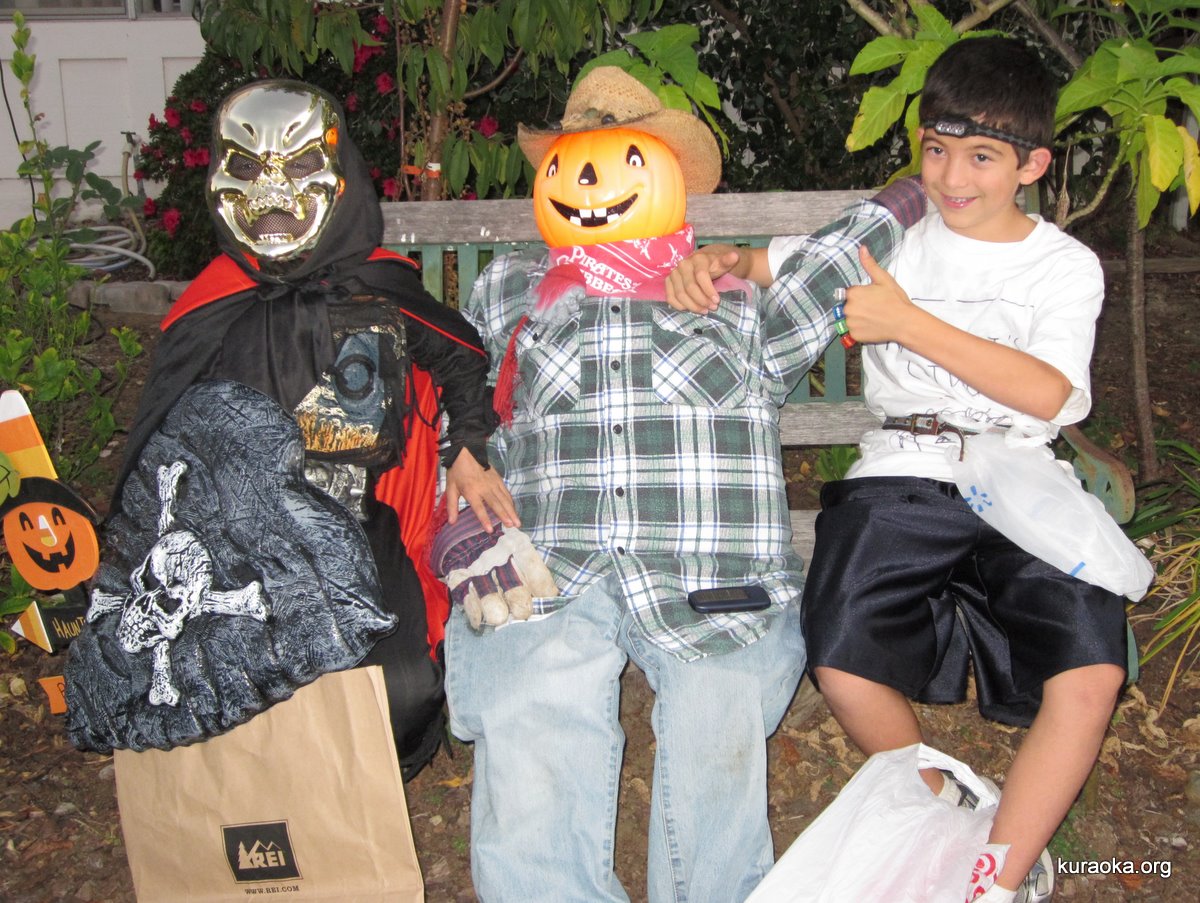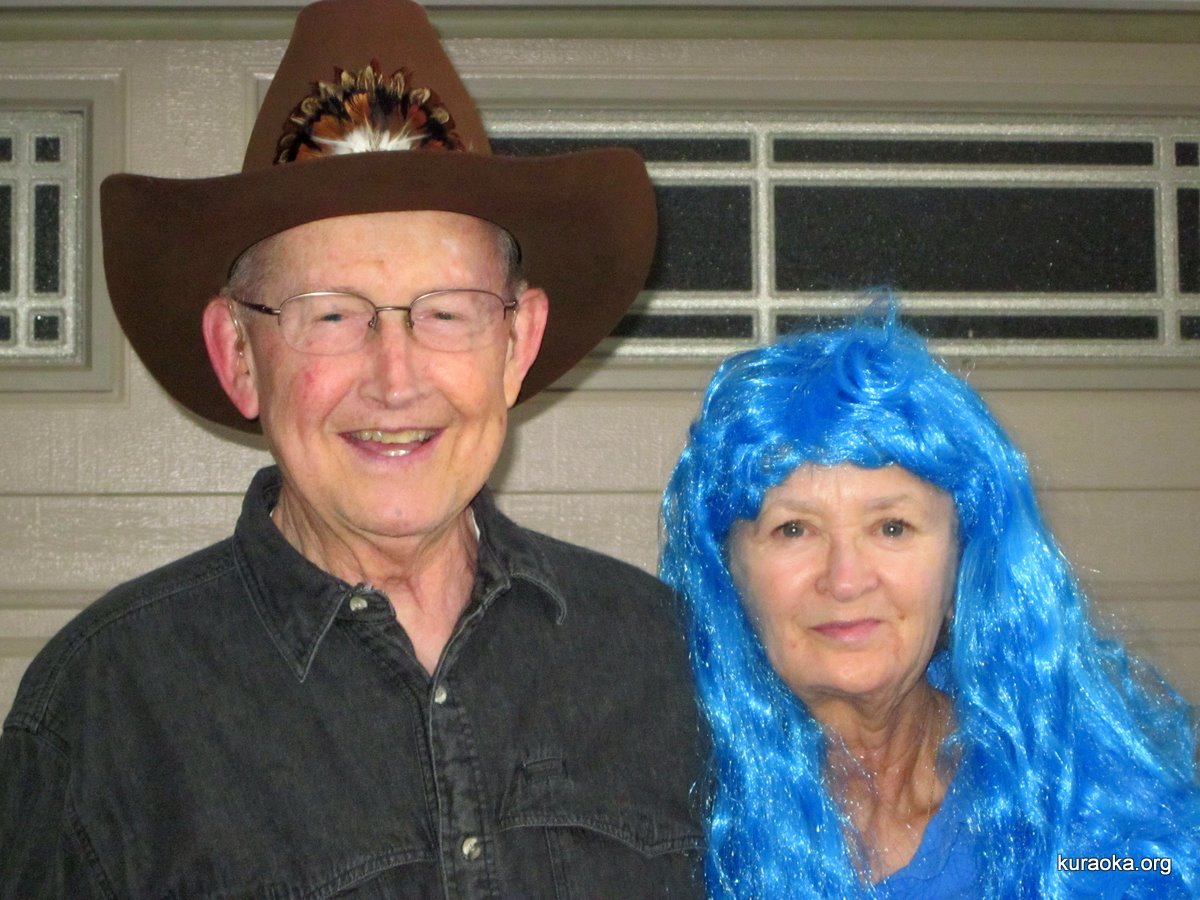 10-30-11 Jack O'Lantern, Roy O'Lantern, Jack O'Lantern, Leo O'Lantern. It's a whole patch o' punkins! And one with Tiger.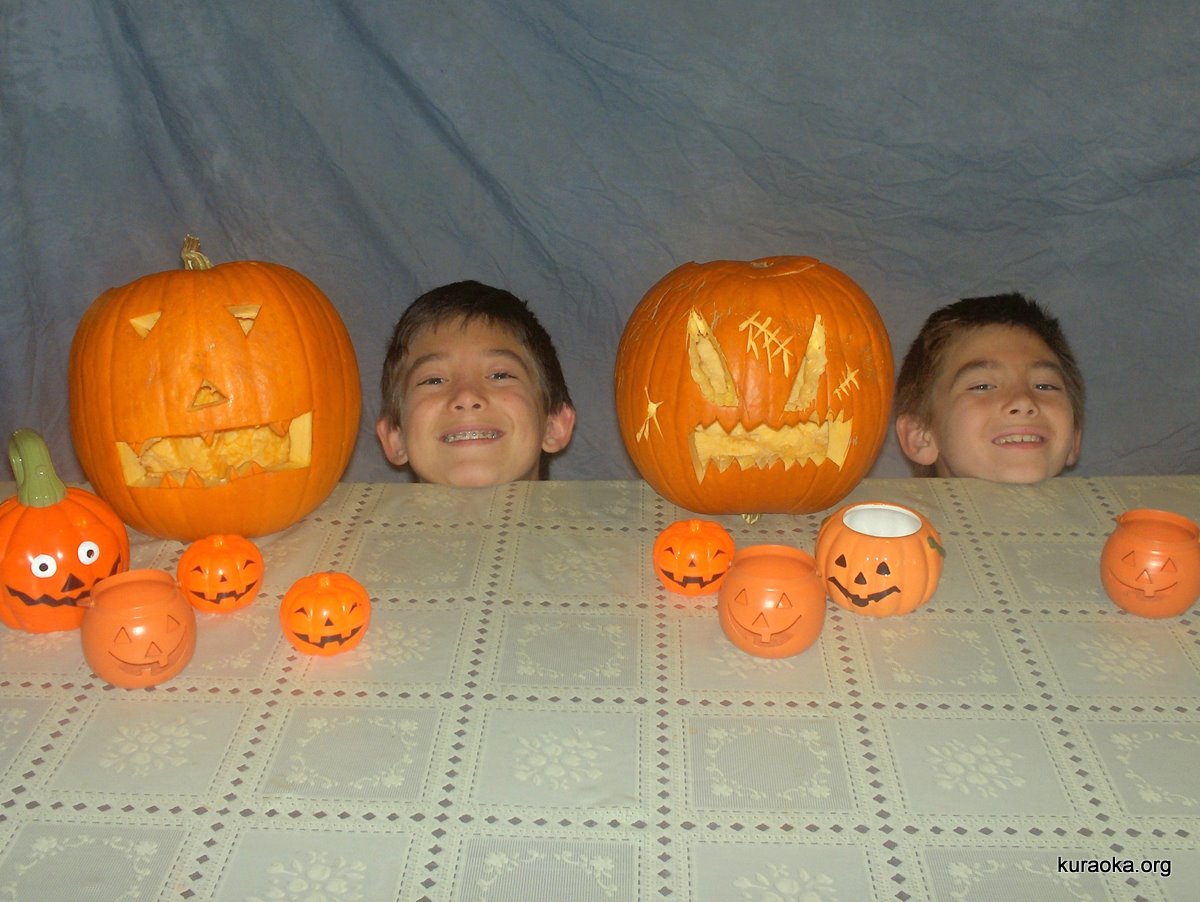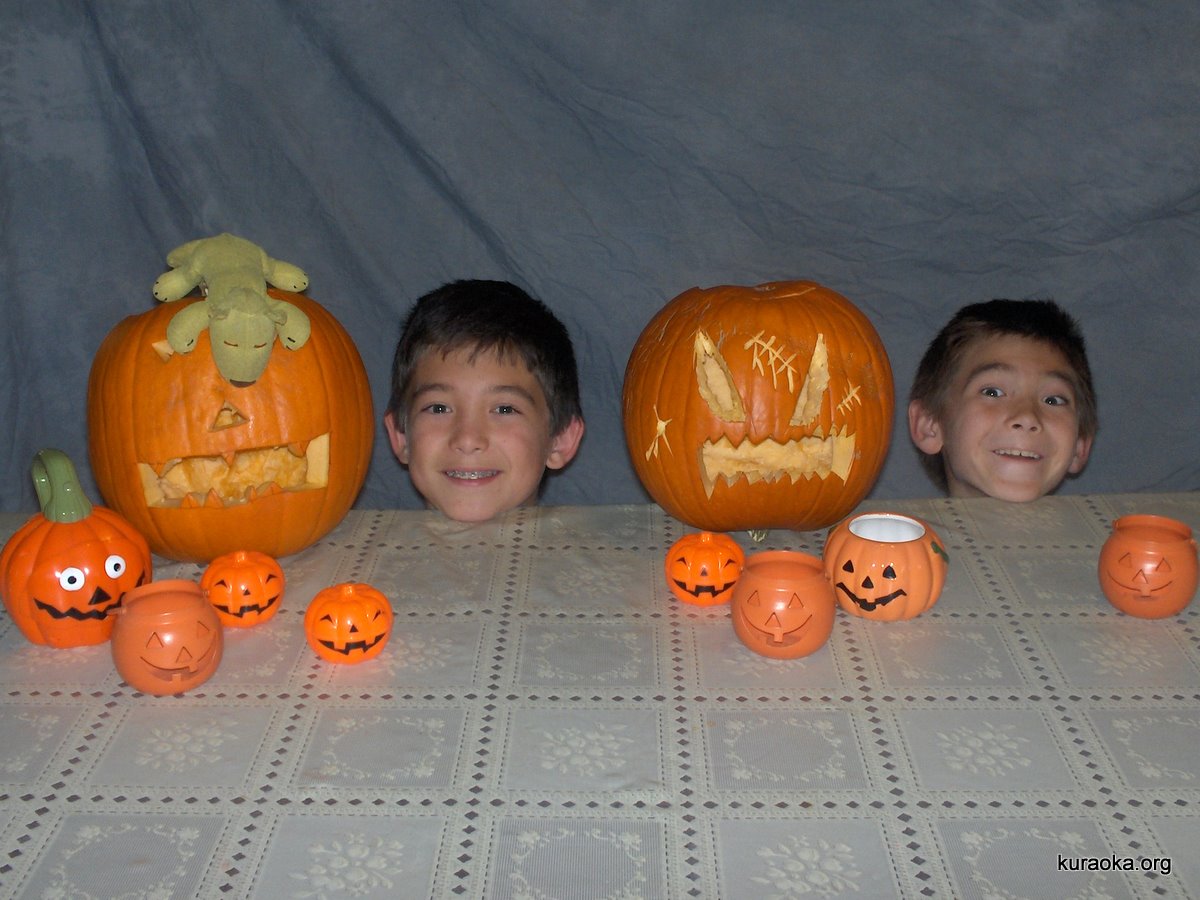 10-29-11 Leo carves his pumpkin. Here he assesses how to best execute his design.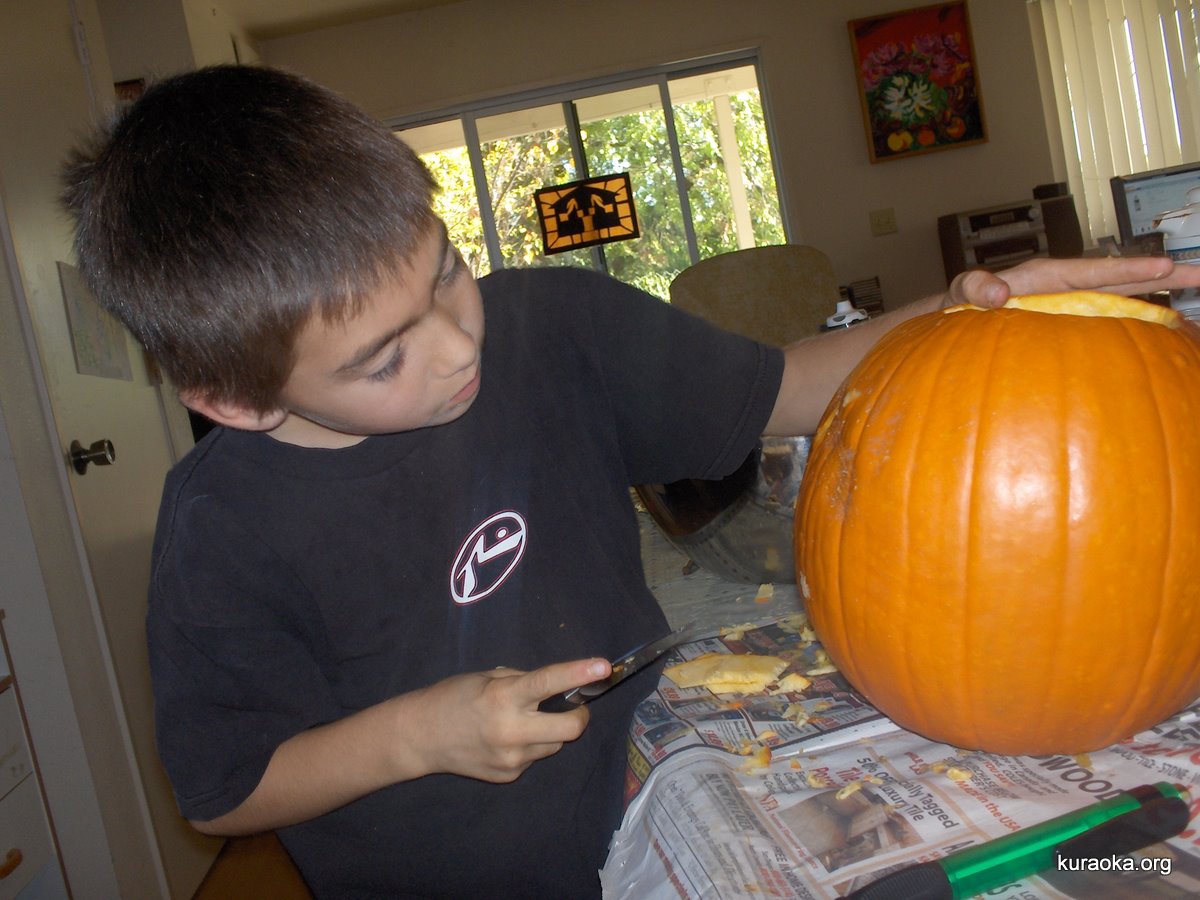 10-26-11 Leo checks his stock portfolio. Don't be fooled by the business section; that's where the U-T puts the comics.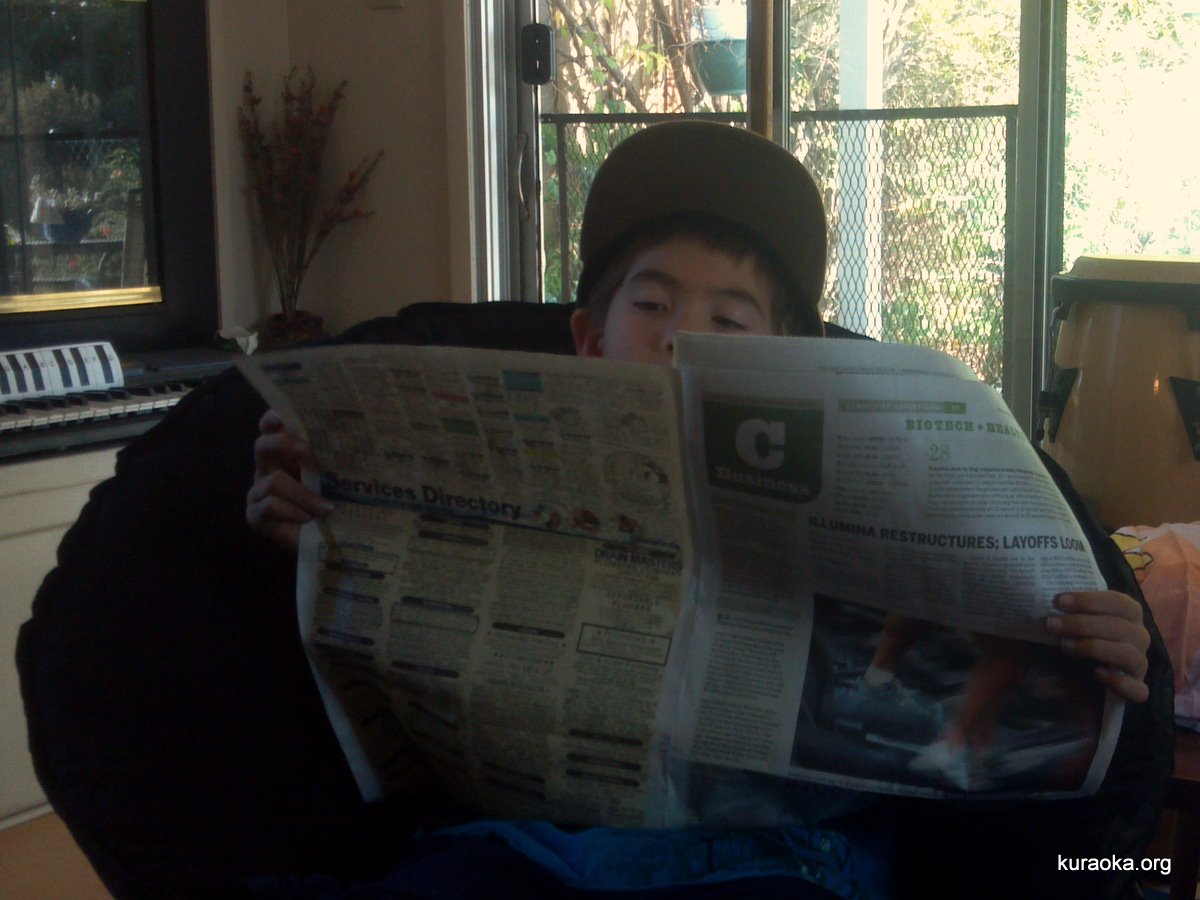 10-16-11 A rare photo. We went to Balboa Park to watch the Czech and Slovakian stage show, and Leo and Roy rested their sweet heads on Mama. Awww. See that glow? It's love. Or, a dirty lens.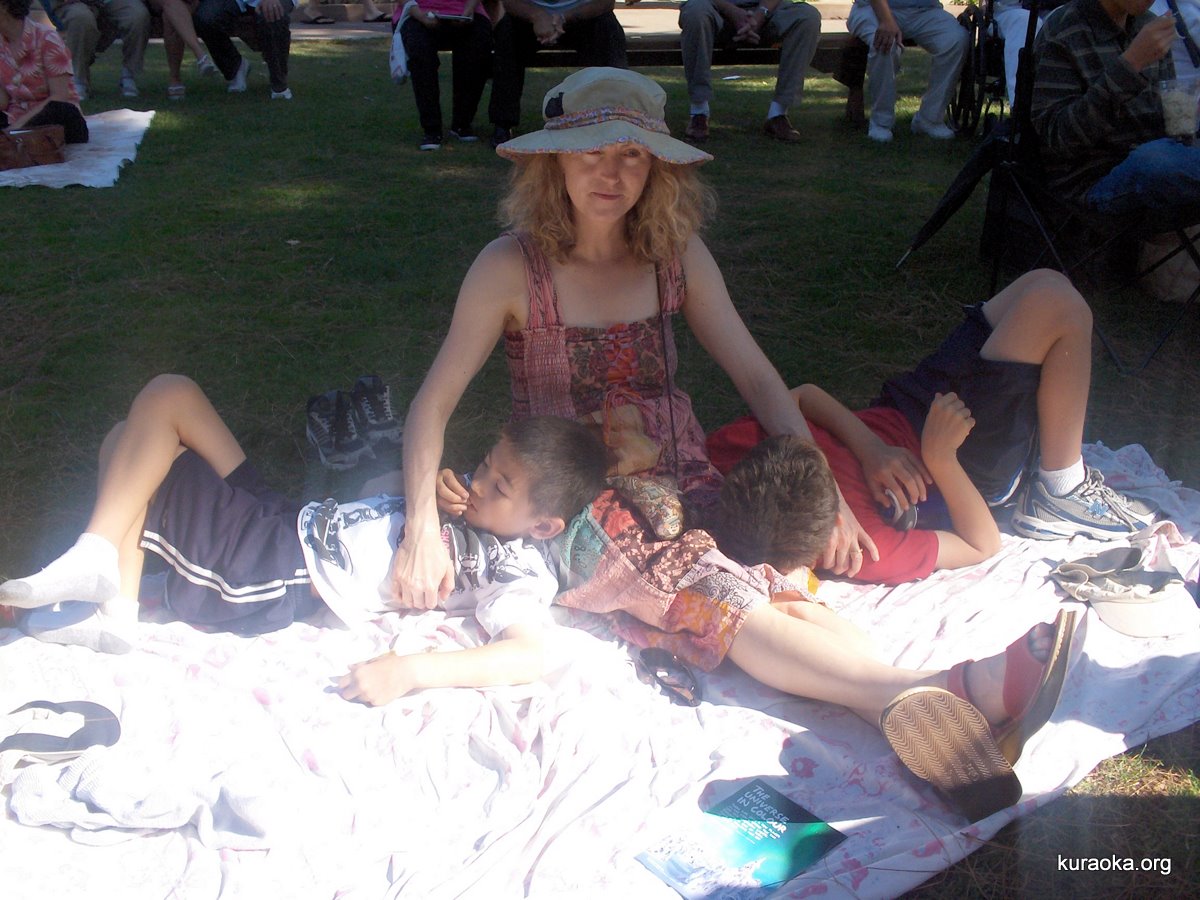 10-08-11 The gang on Stonewall Peak. That's Michael, Roy, John, Ernesto, and Alex at the summit.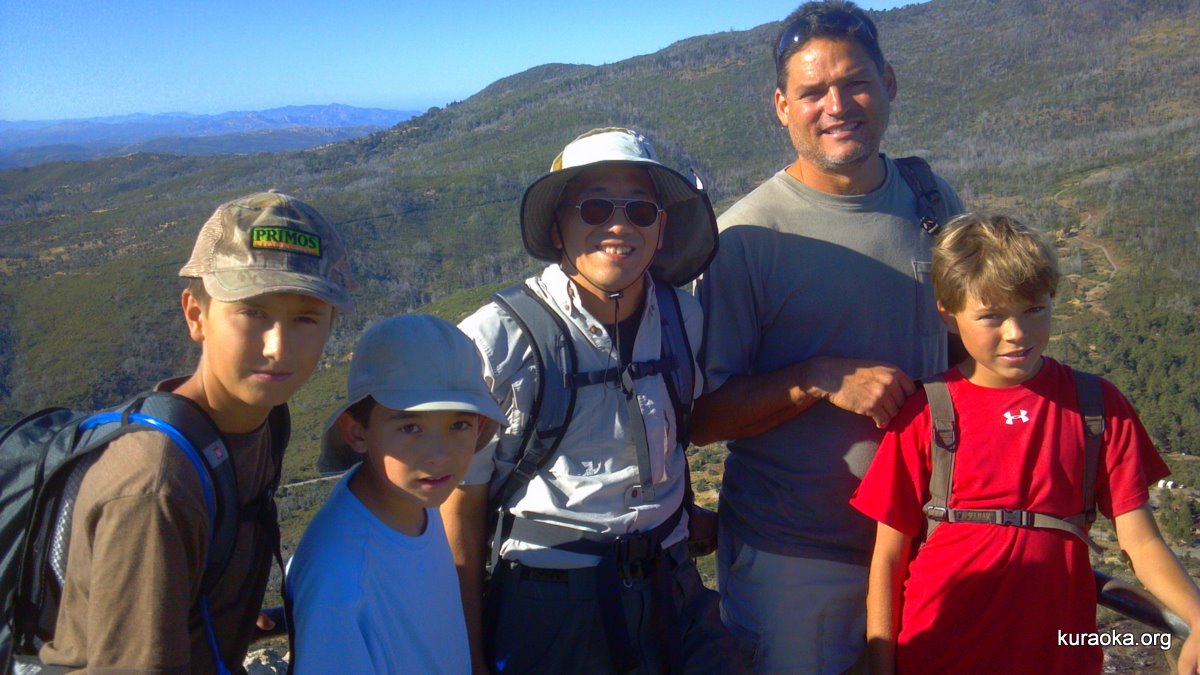 10-01-11 Ondine and Leo at Indian Hills! Here they are spending an adventurous day at Indian Hills with Pack 951. That's "gold" panning, the petting zoo, a very tall slide, the BMX track, and Mom and son.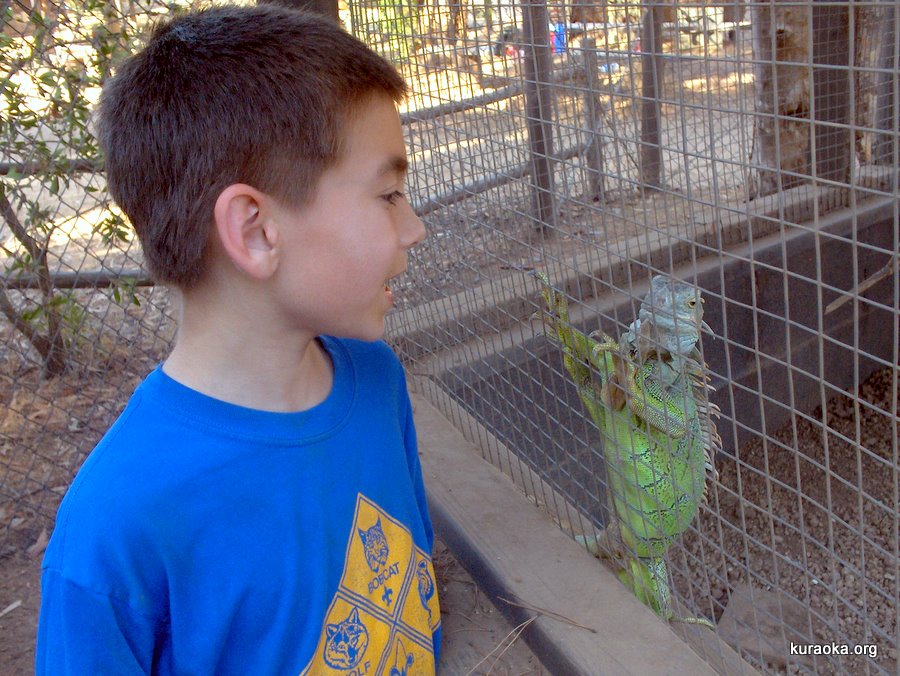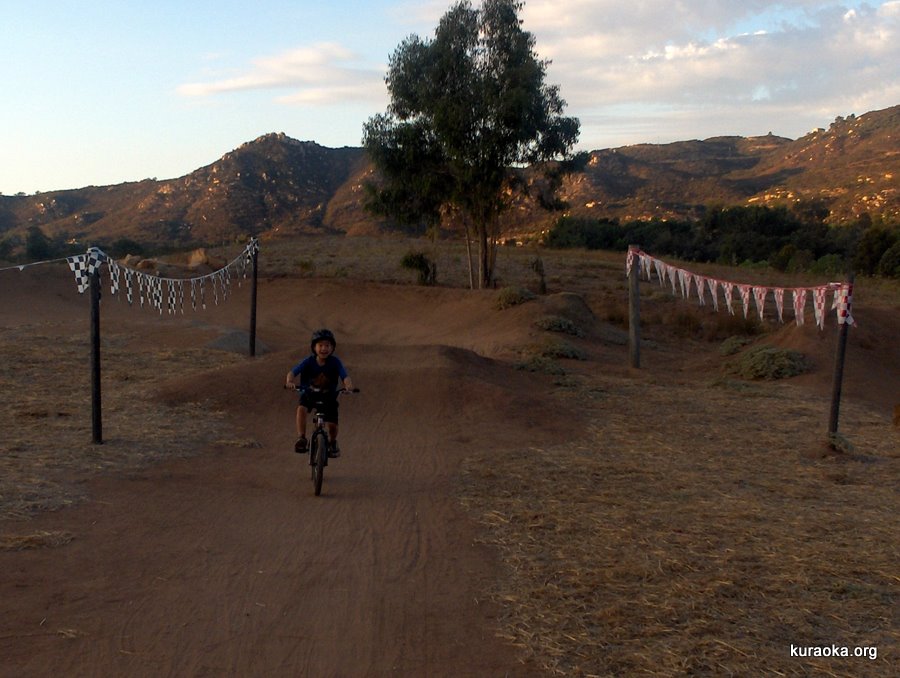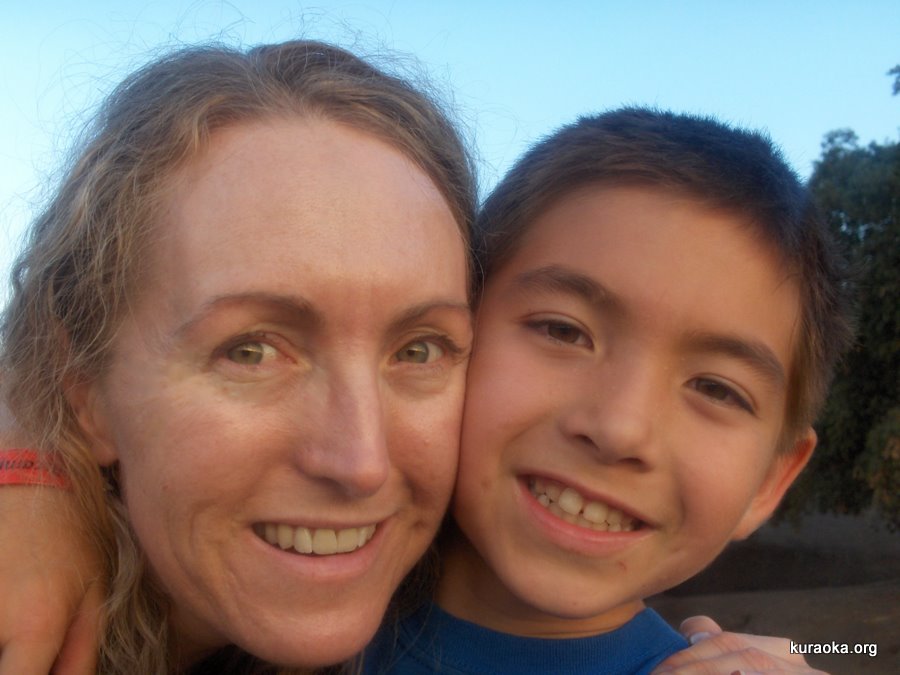 09-22-11 Roy and Leo and Bertie Botts and polished rocks. Grammy gave Roy and Leo some "Bertie Bott's Every Flavour Beans" from the Jelly Belly factory, a wooden wagon kit from Sutter's Fort, and a sack of polished minerals from Old Sacramento. Like the hats? Leo sure did – he wore his to bed as a nightcap!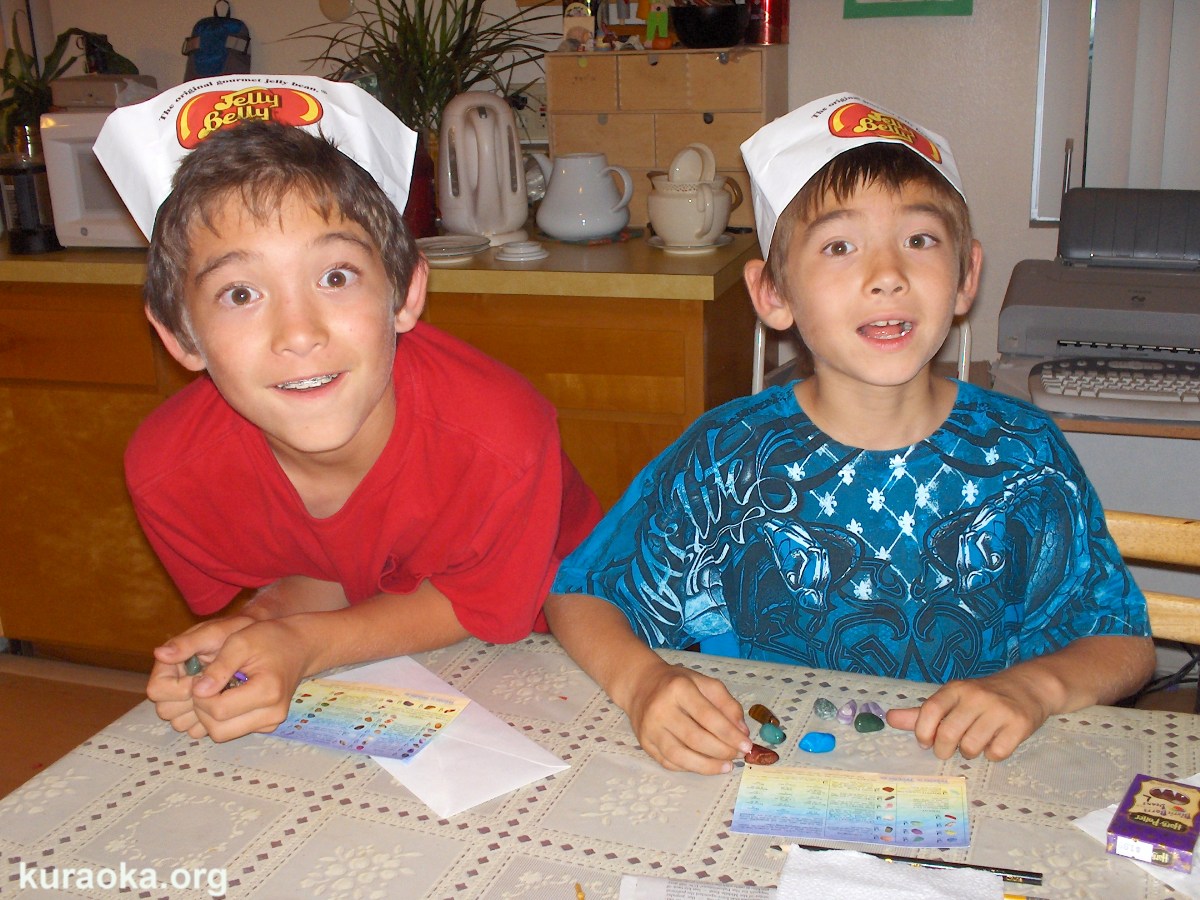 09-06-11 Back to School! First up are Roy and Leo with their Schultueten! Oh boy! Roy met up with Alex for the walk to school. Note the rain! Leo, meanwhile, had carefully cultivated his look, right down to the hat. Here he is in his new fourth-grade classroom.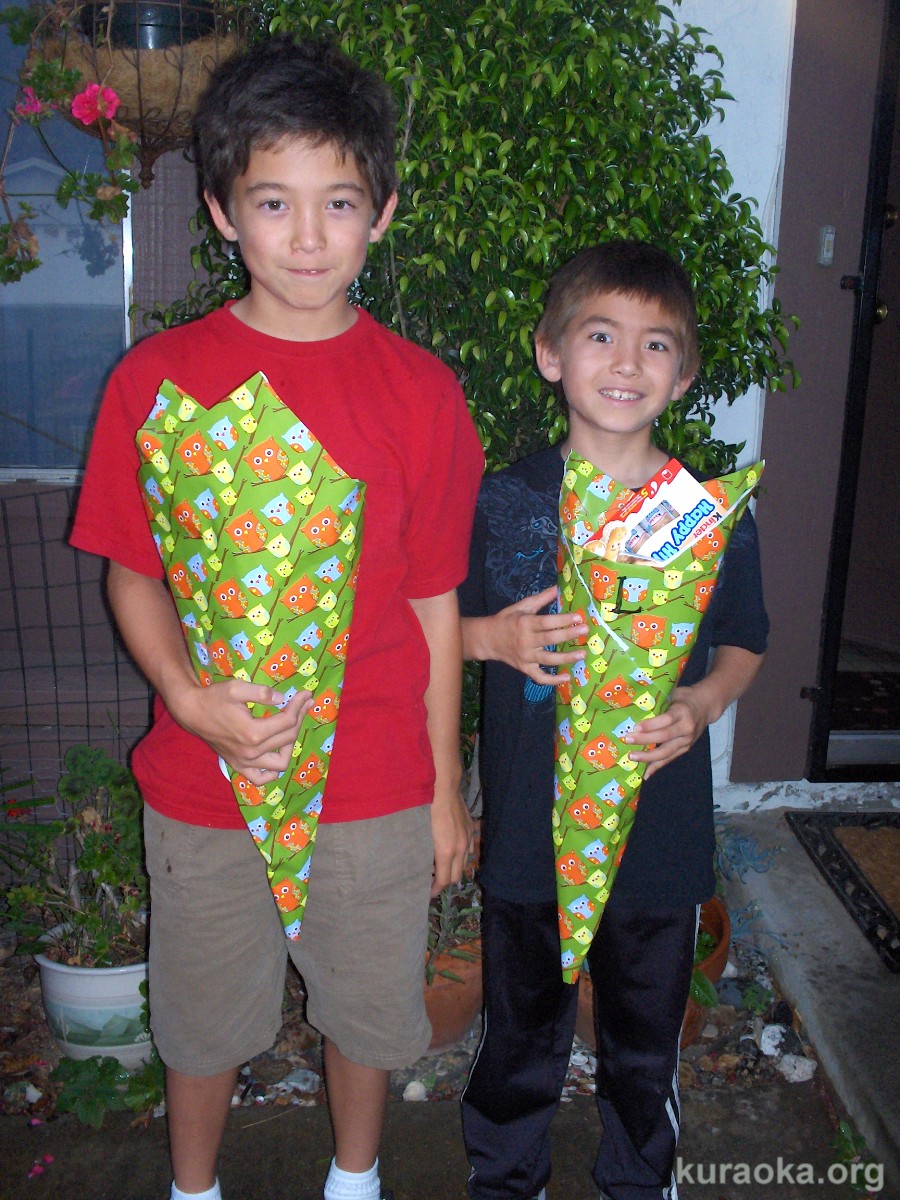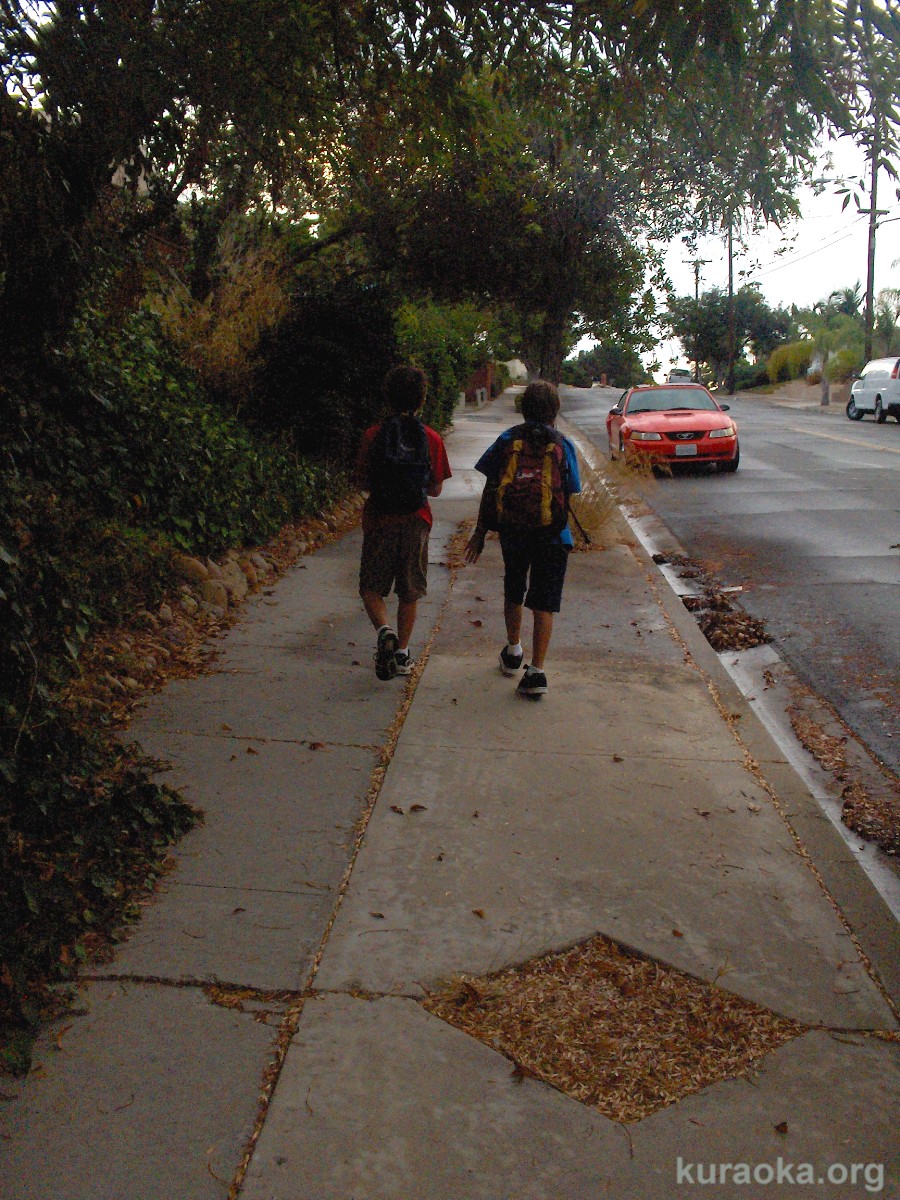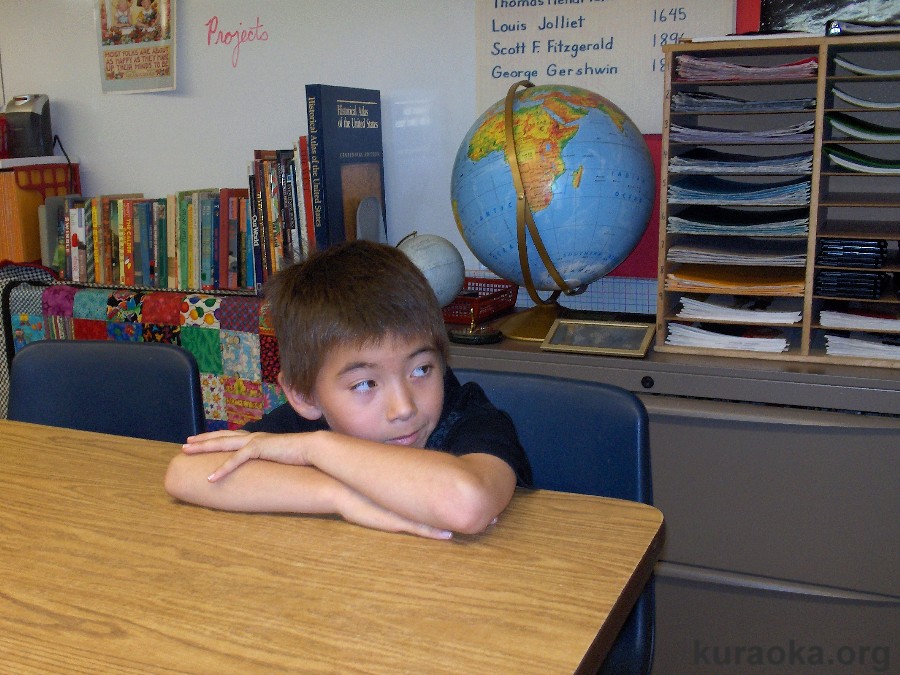 09-03-11 Buddy's new toy! Grammy gave him a soft boomerang. After we threw it a few times, Buddy started tossing it for himself!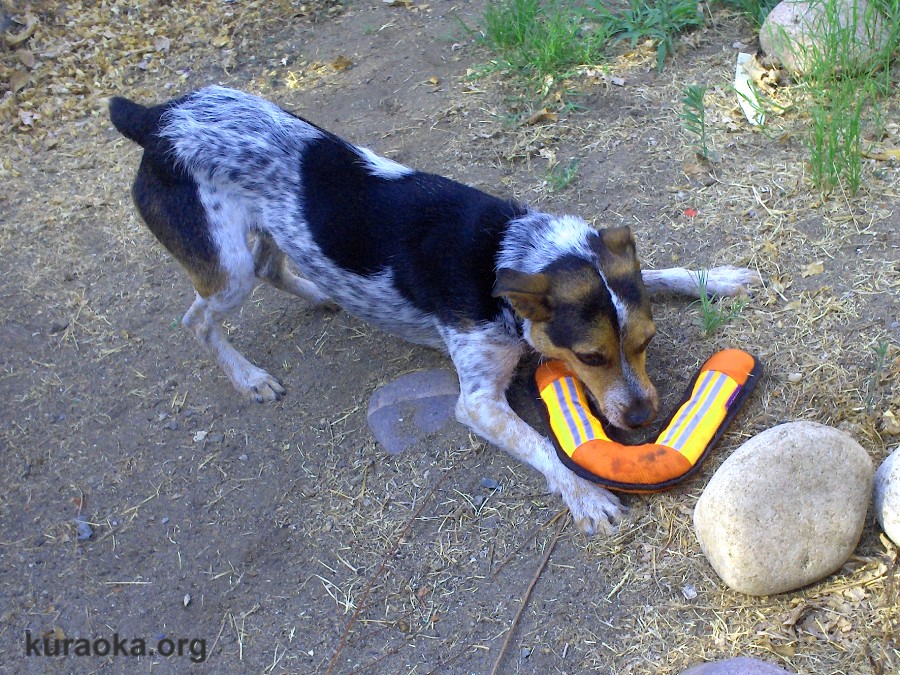 09-02-11 Sour lemons! Michael, Roy, and Alex sample their just-squeezed lemonade. Think it needs more sugar?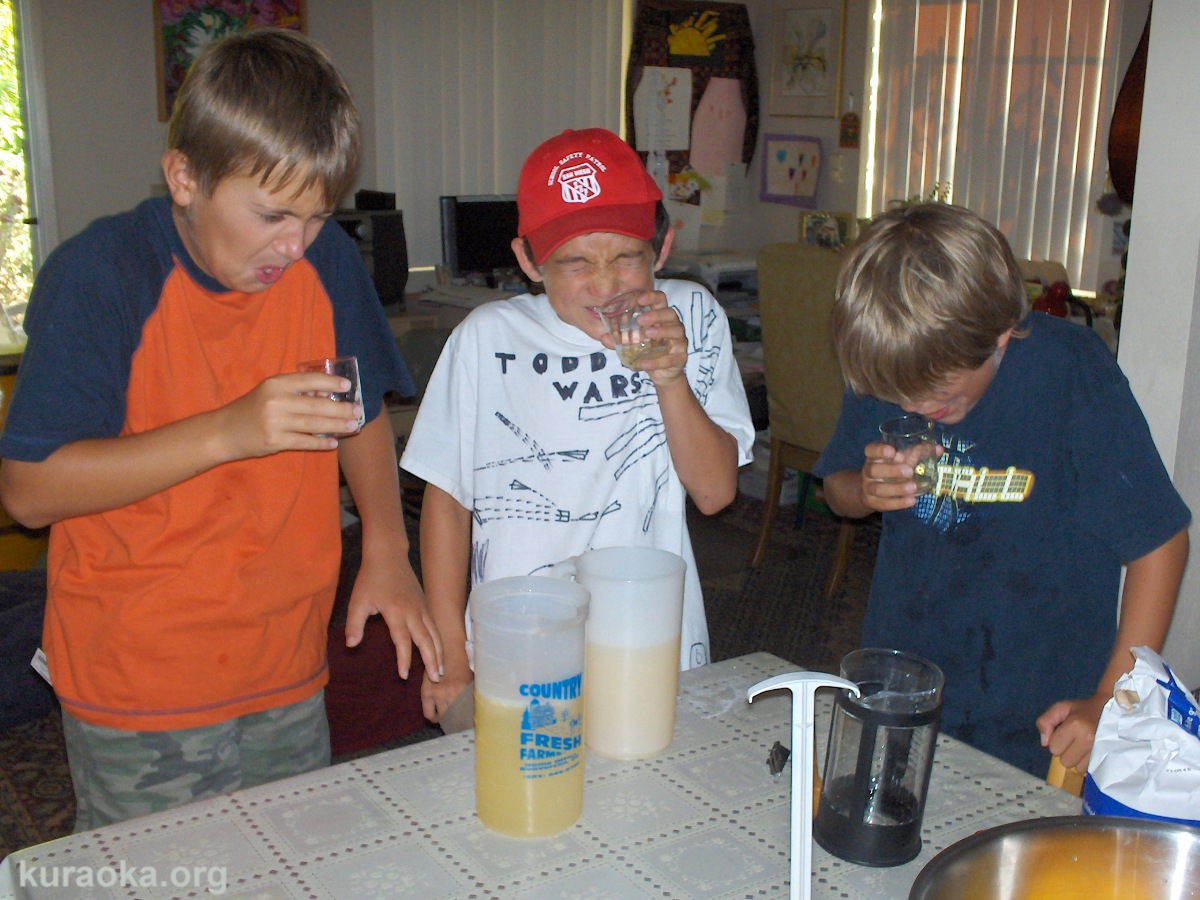 08-22-11 First day of the new job. Here's Ondine leaving Monday morning for her first day at Silverado Hospice.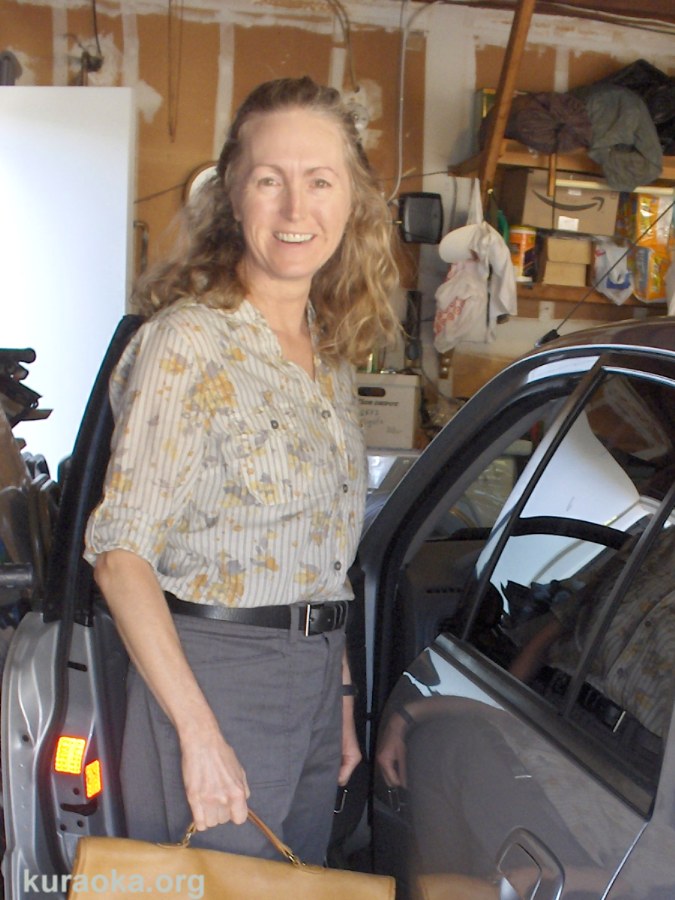 08-06-11 to 08-21-11 Sand Pond, Santa Cruz, and New Job! Click on the photo for our travel journal and then some.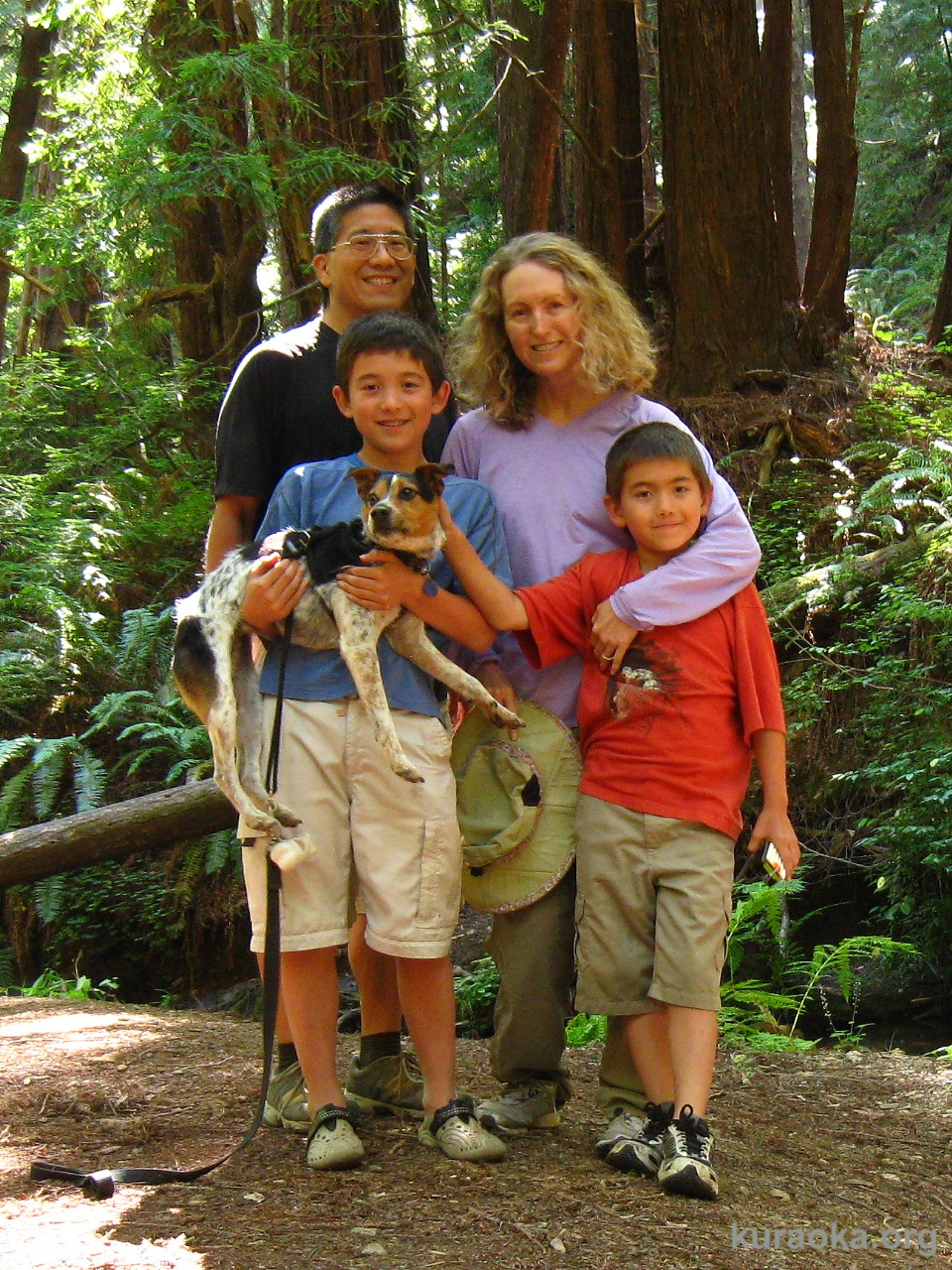 07-24-11 Roy leaves for Boy Scout camp. Of course Roy didn't want his picture taken, but here he is anyway, a snap grab shot of the back seat as Troop 950 heads to Camp Emerson.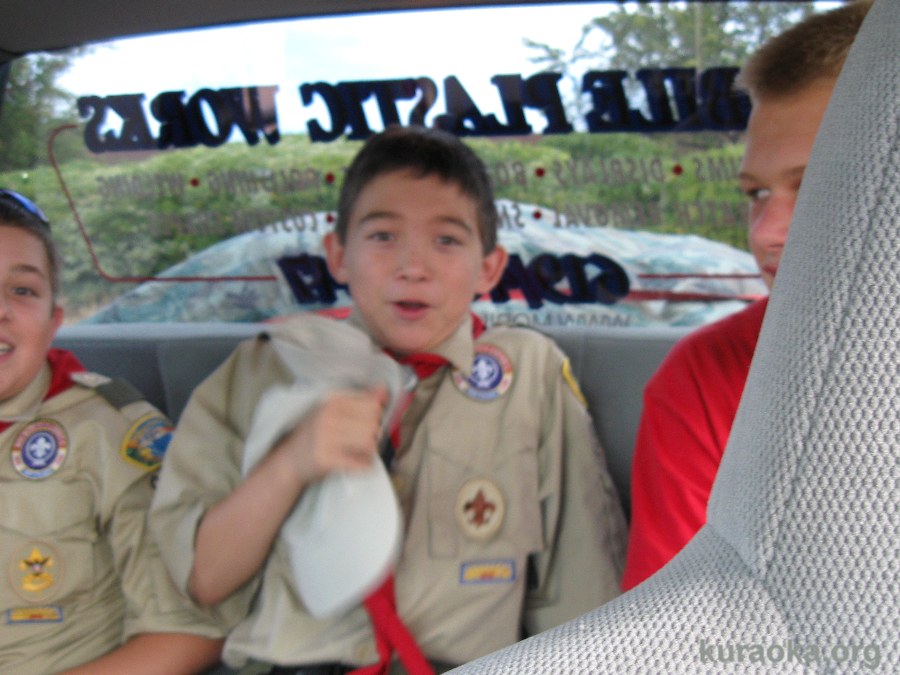 07-20-11 Leo's birthday! Here's Leo with the ice cream cake from Baskin-Robbins (his favorite, mint chocolate chip ice cream over chocolate cake), then opening presents with Roy, Barbara, Bill, and Buddy looking on, some more closely than others.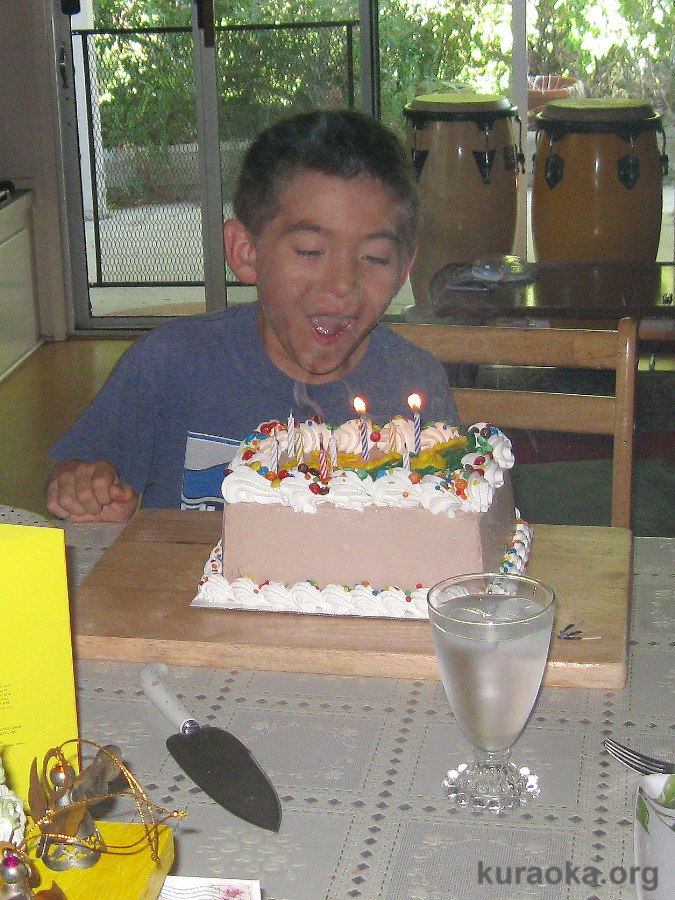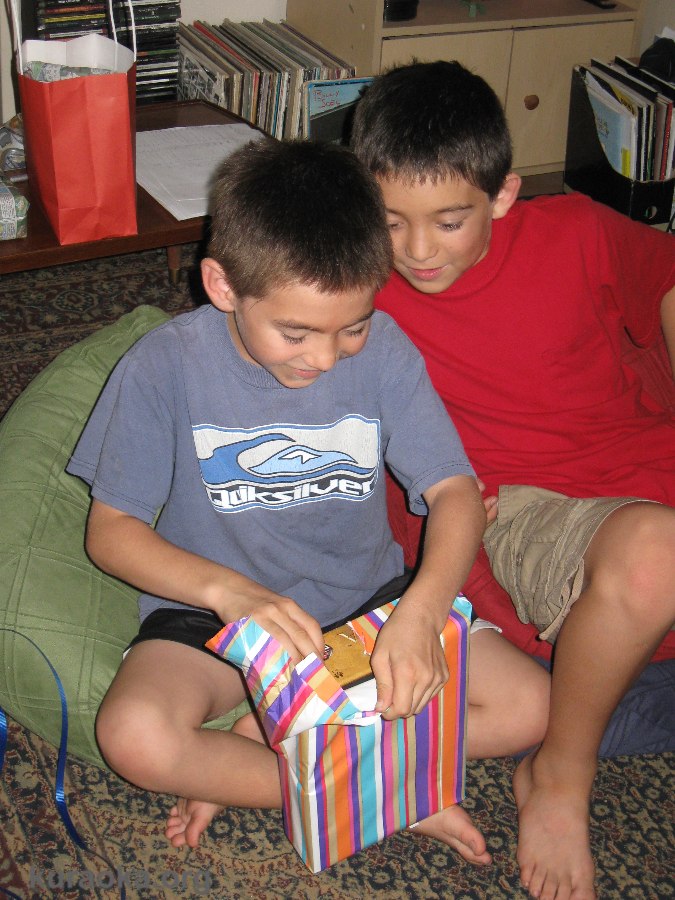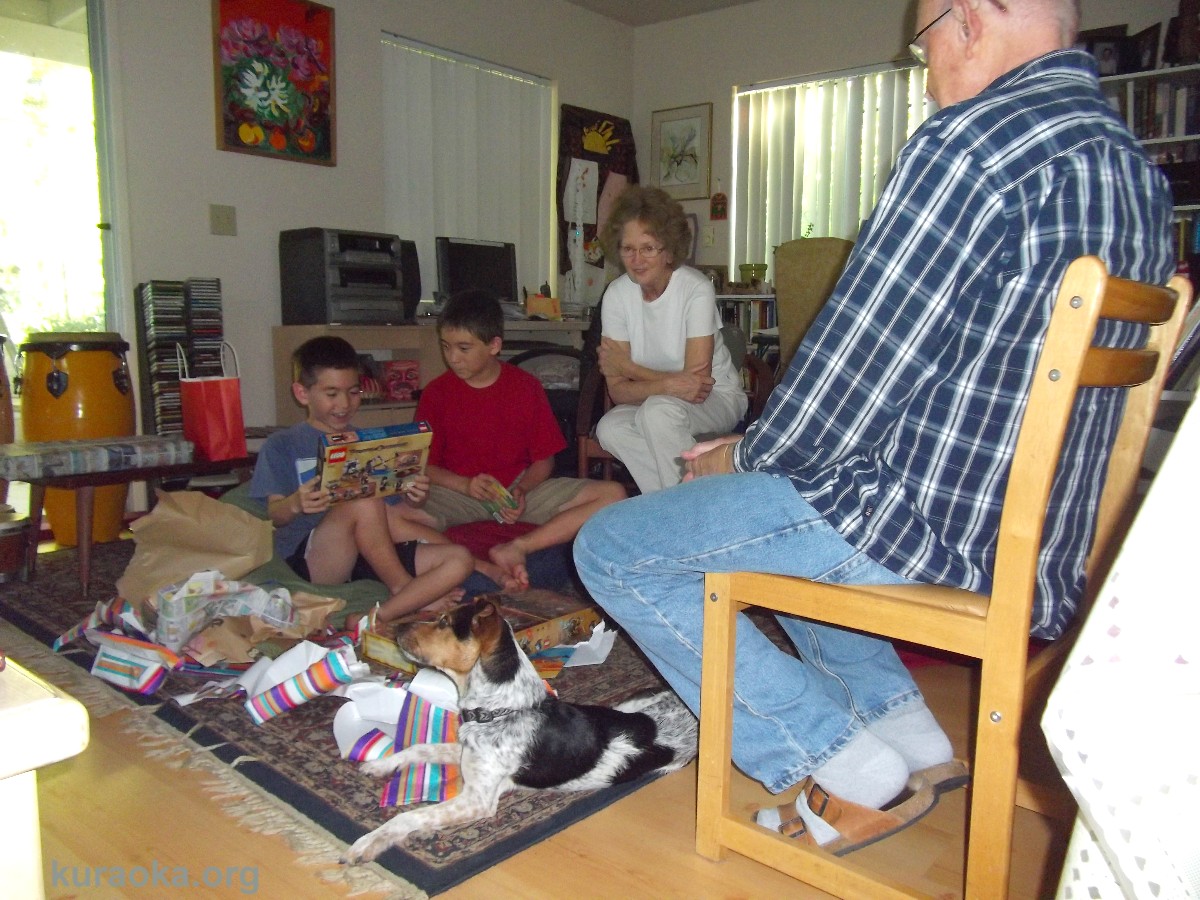 07-17-11 3-D and haircuts! Grammy and Leo look at some amazing 3-D images. Then, it's high time for haircuts! These are the "before" photos.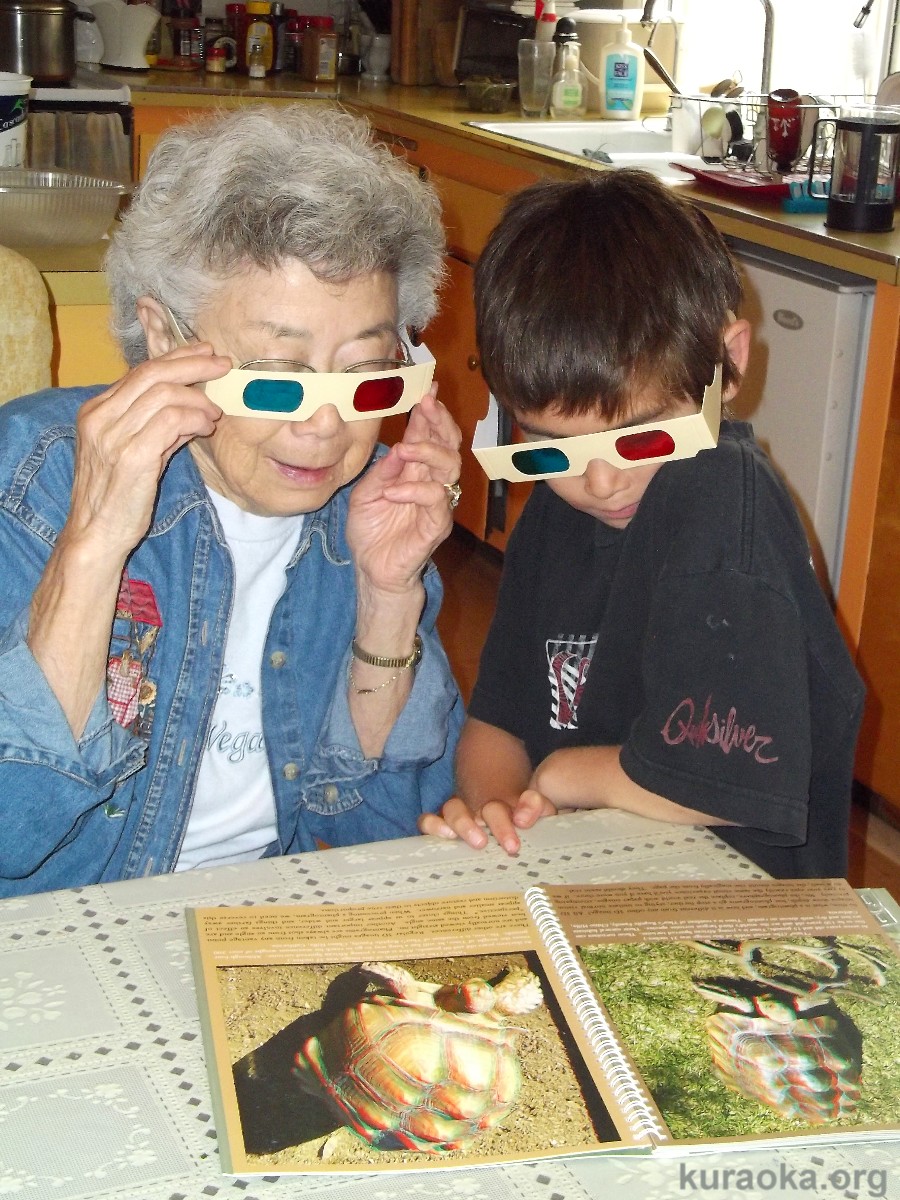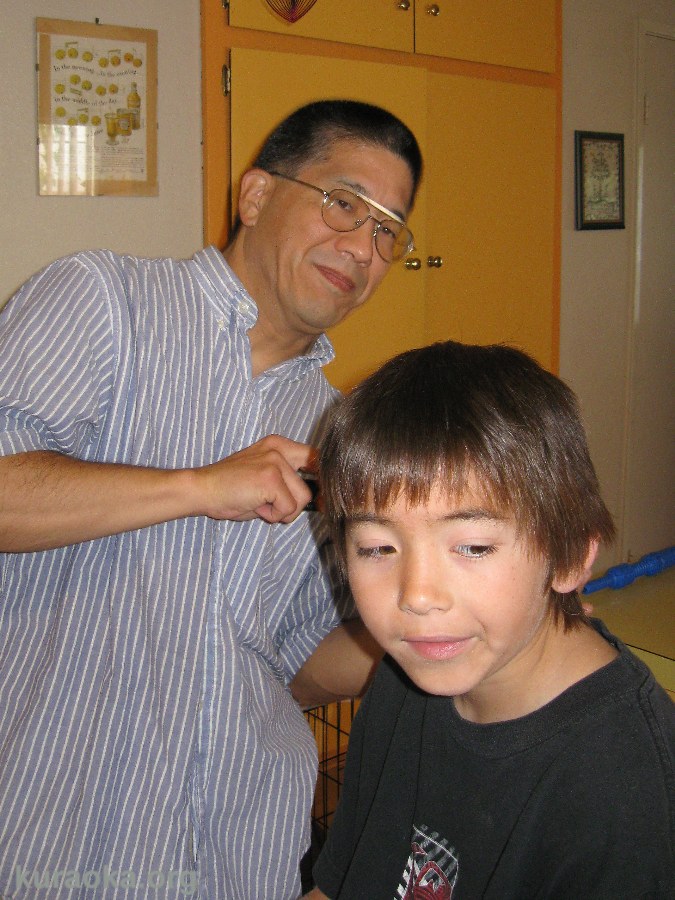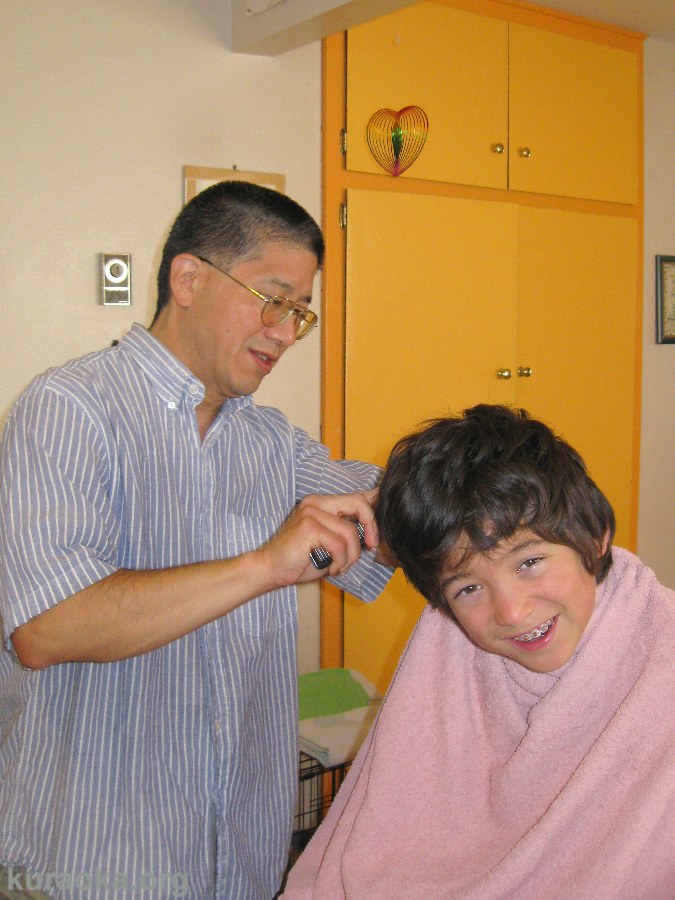 07-16-11 Leo's birthday party at Peter Piper Pizza! This is the first time we've ever hosted one of these pizza place parties. His guests were Charlie, Kieran, and John Carlos (Aden, Sami, and Ben couldn't make it). You can see Roy there too, and Grammy came down for the occasion.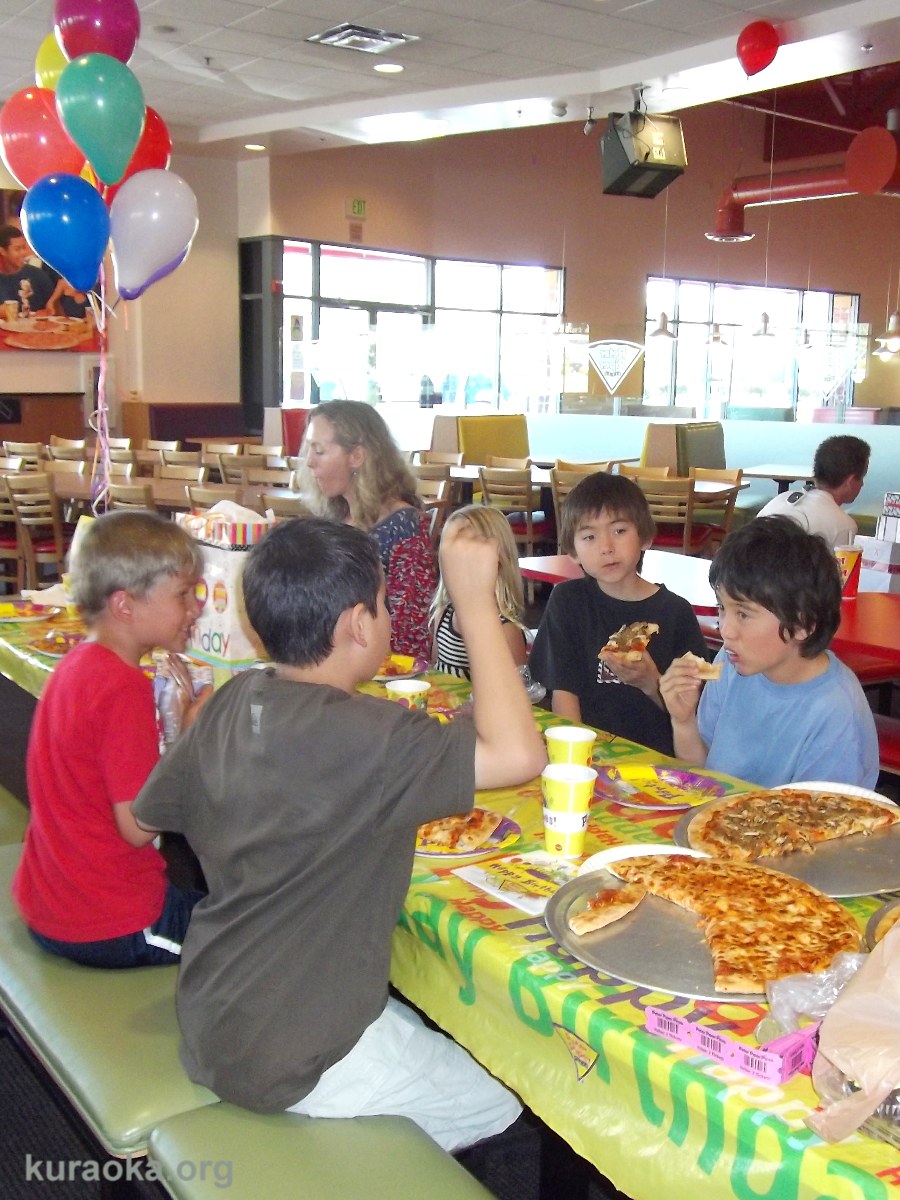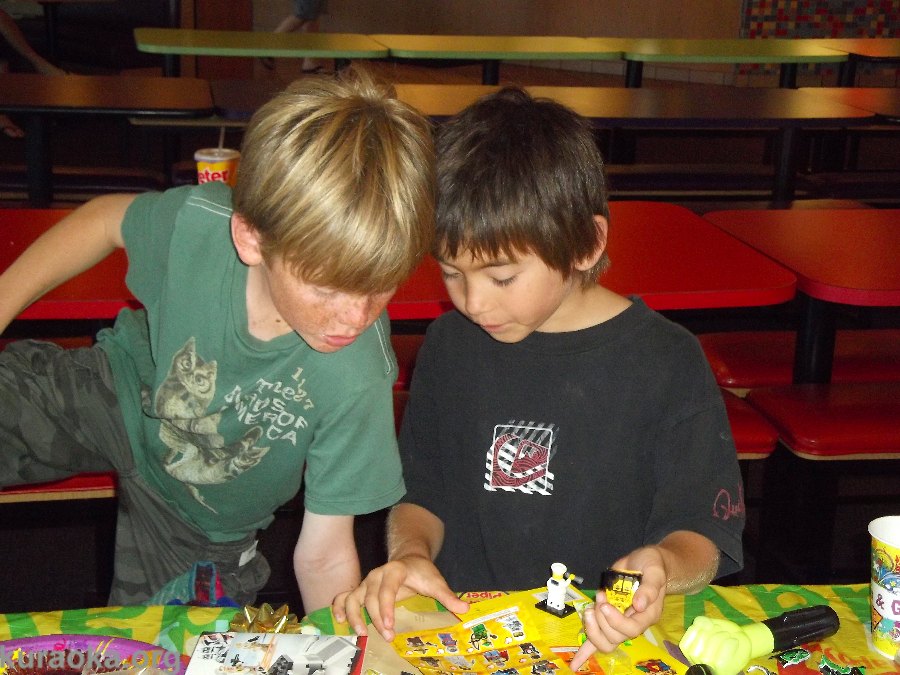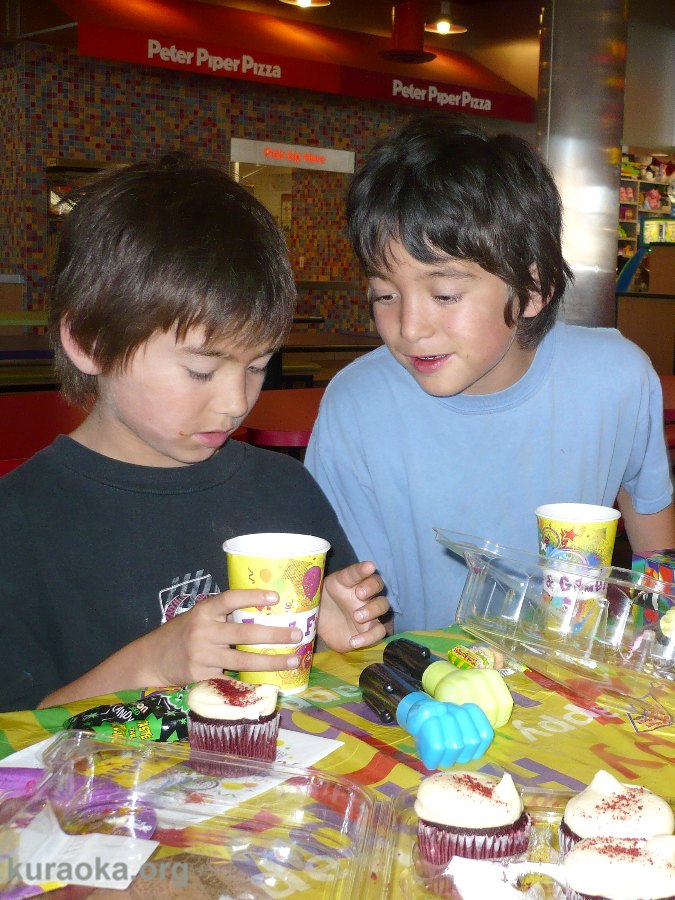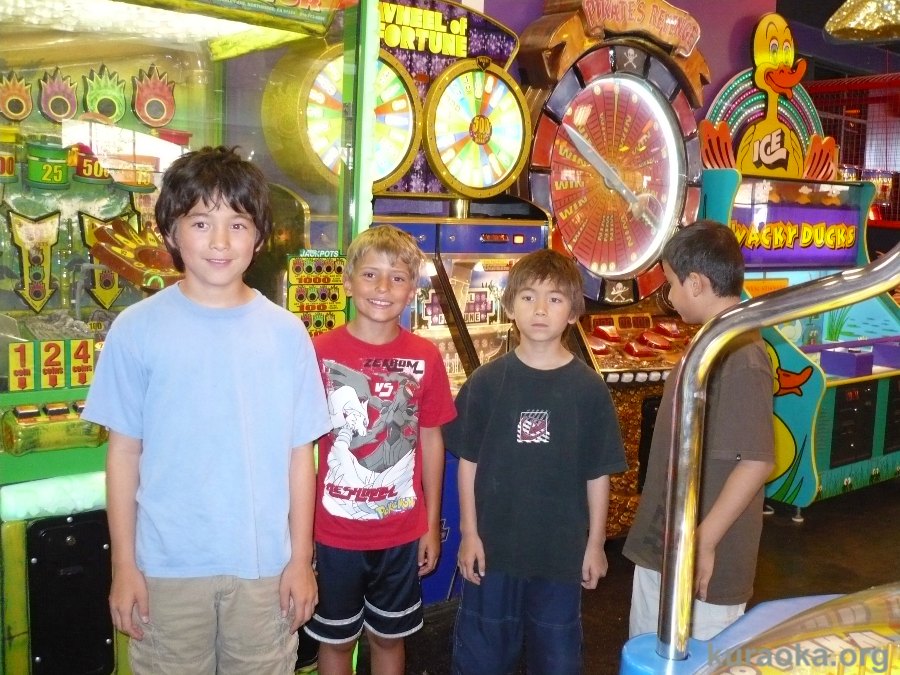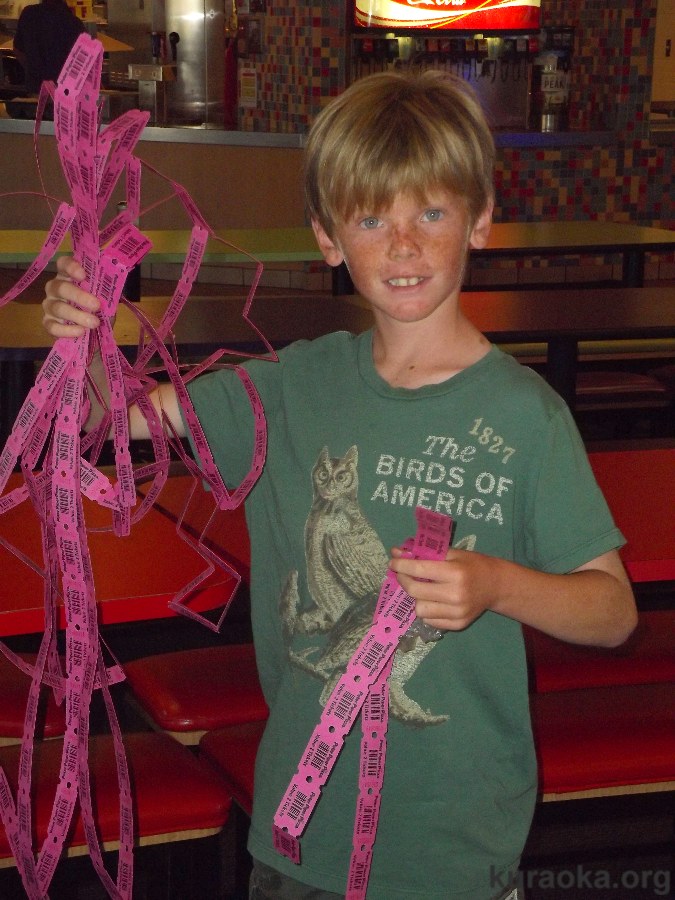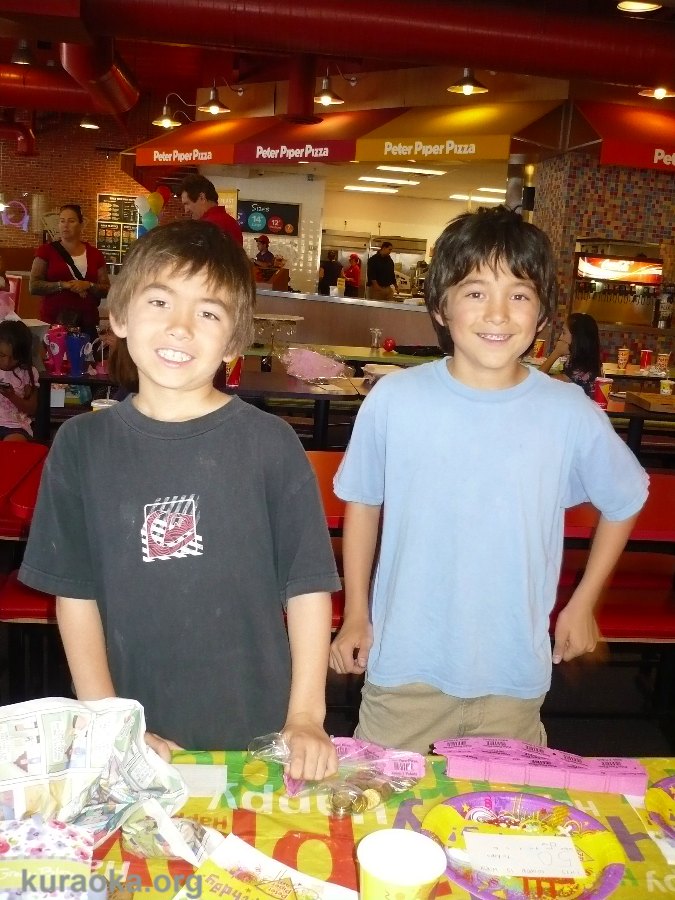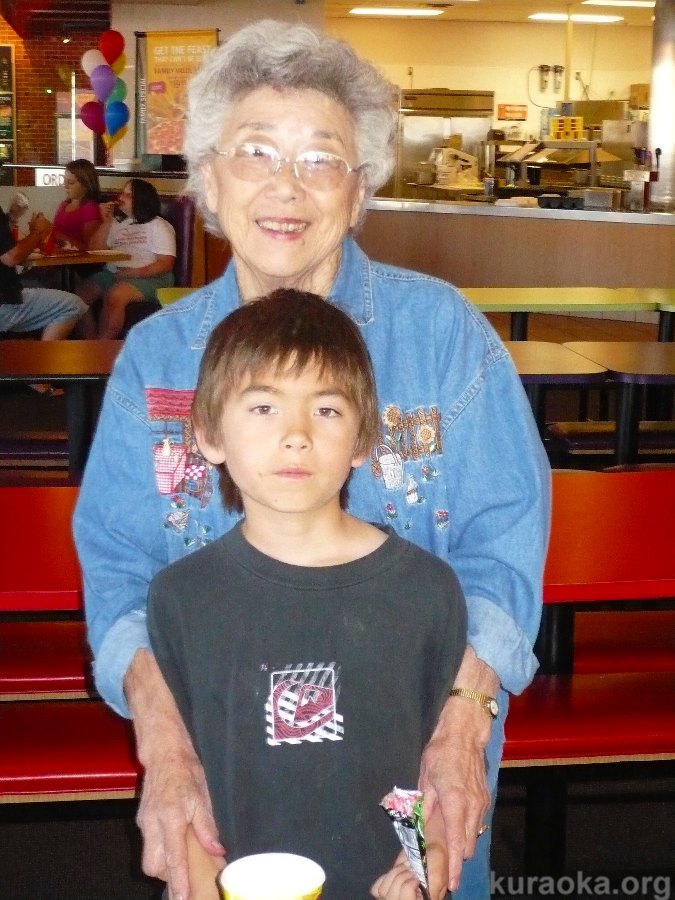 07-15-11 Grammy came for a visit! She and Leo picked a bountiful harvest of tomatoes – yum!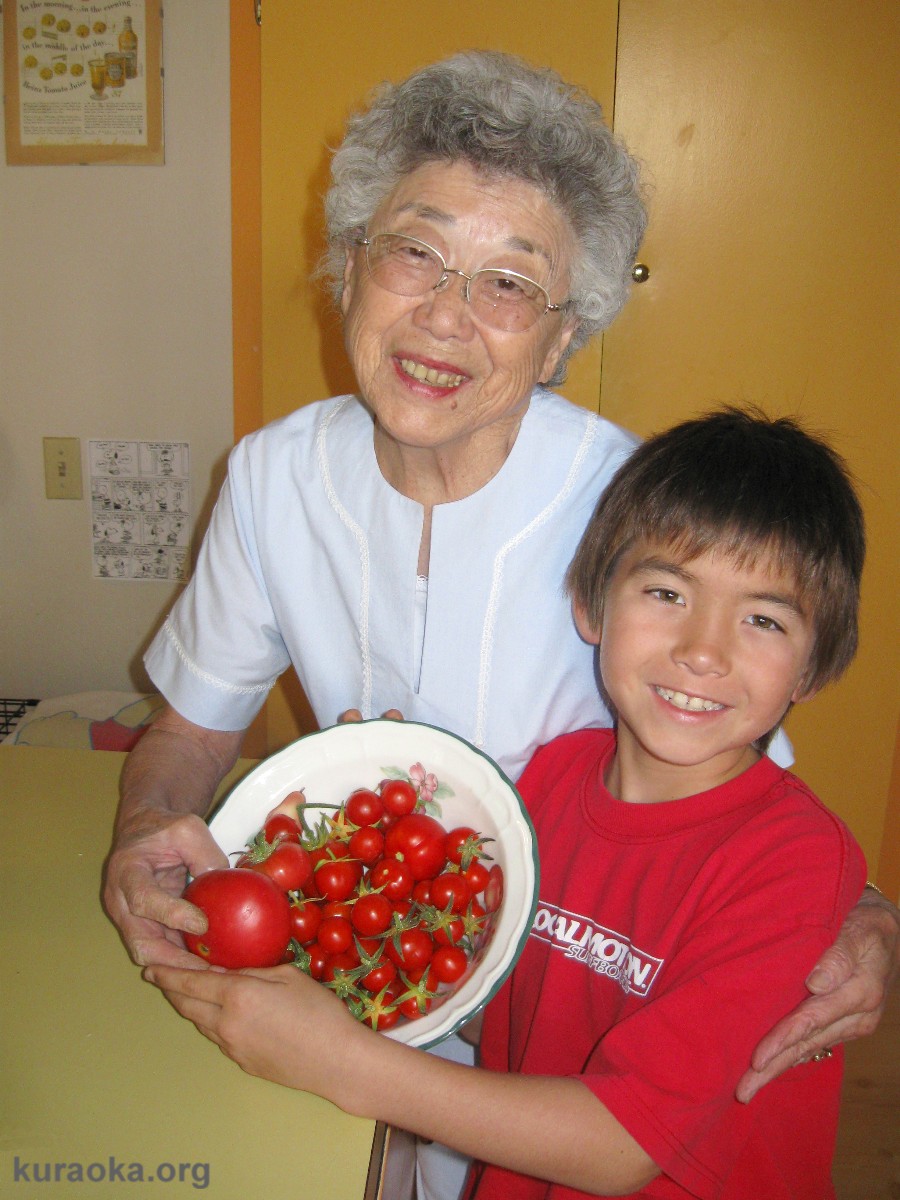 07-11-11 Leo's self-portrait. He painted this last week in art camp. He went to the beach with Carmen and Breeana and rode the waves, made sand castles, and got buried. And, here he is in the evening after swim class.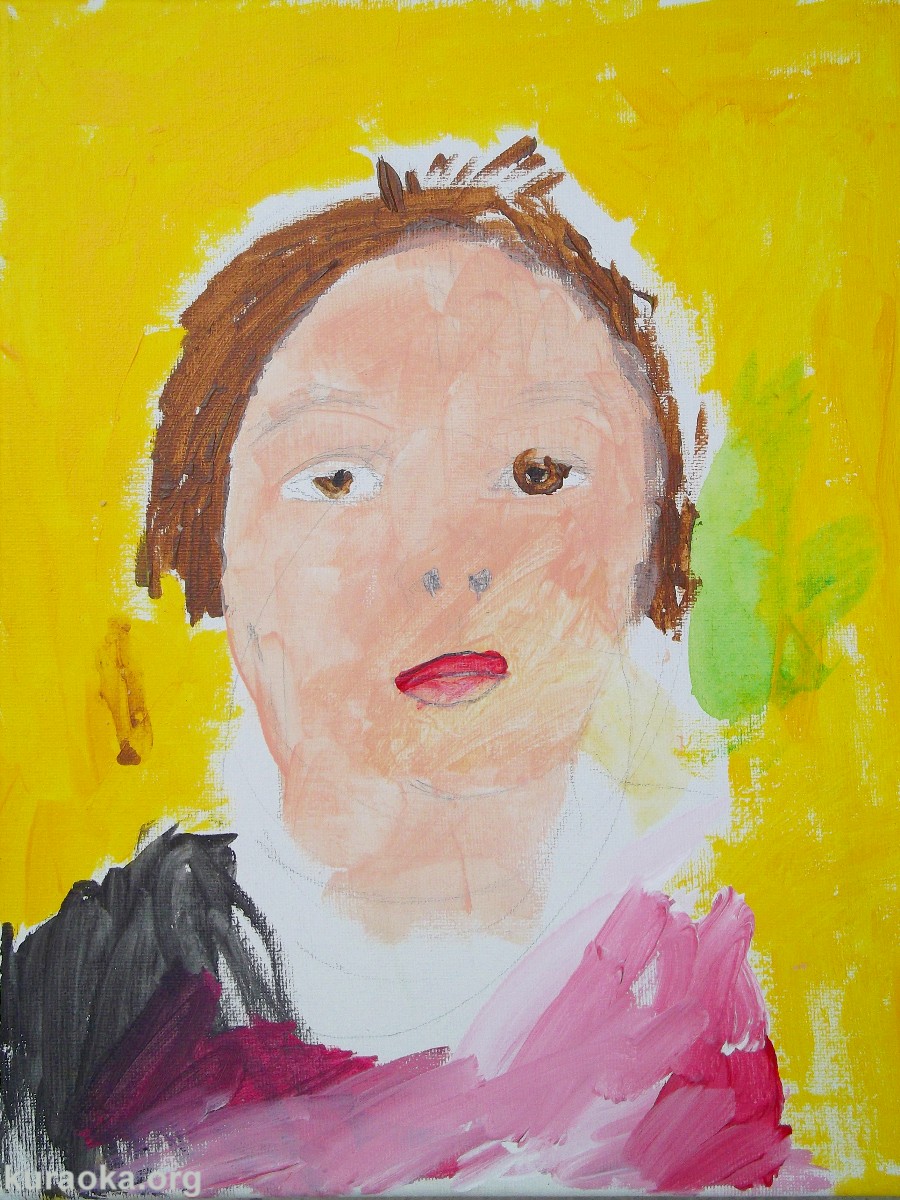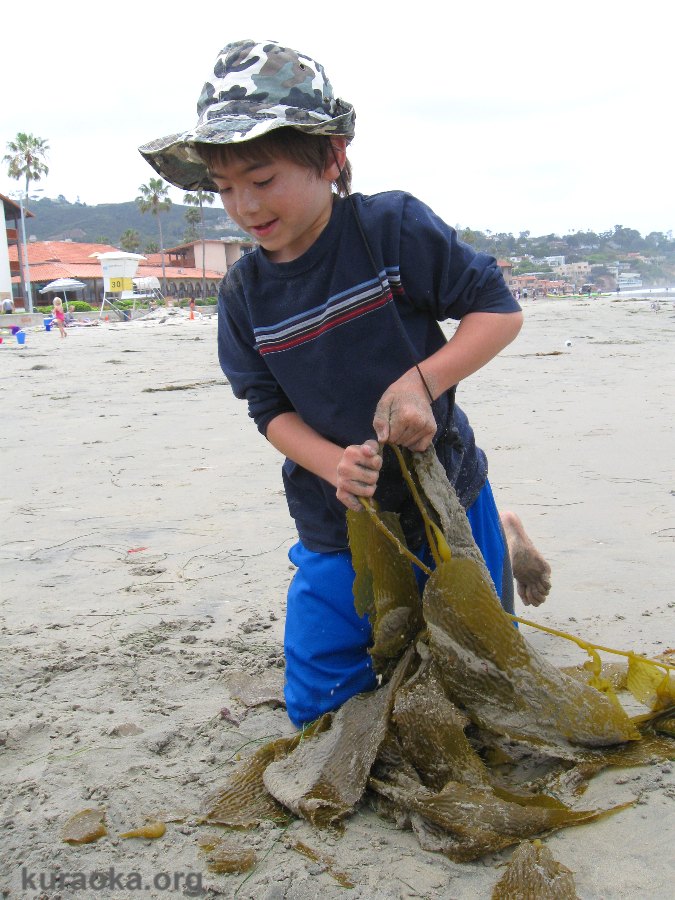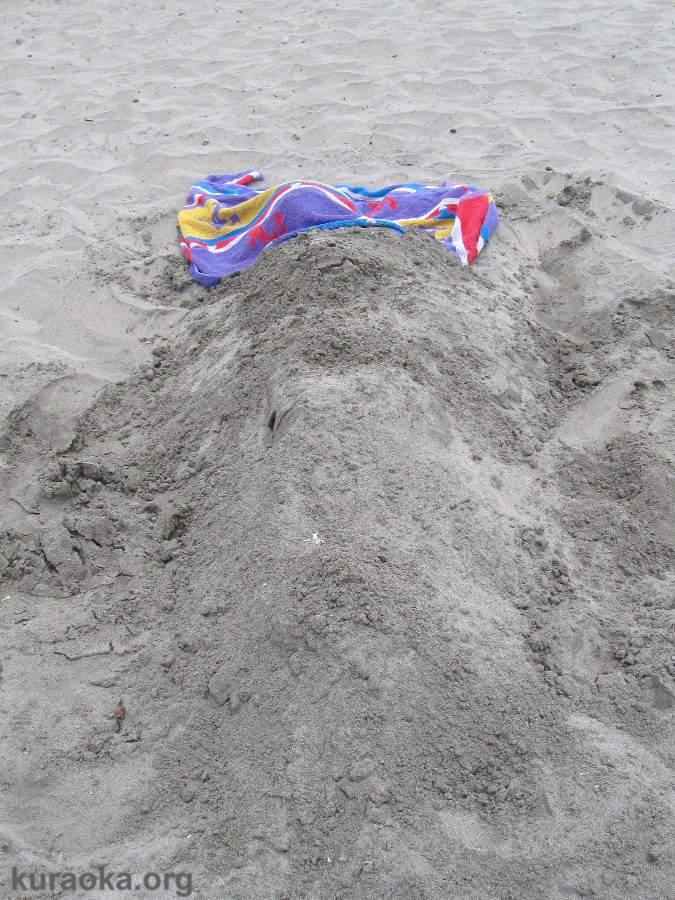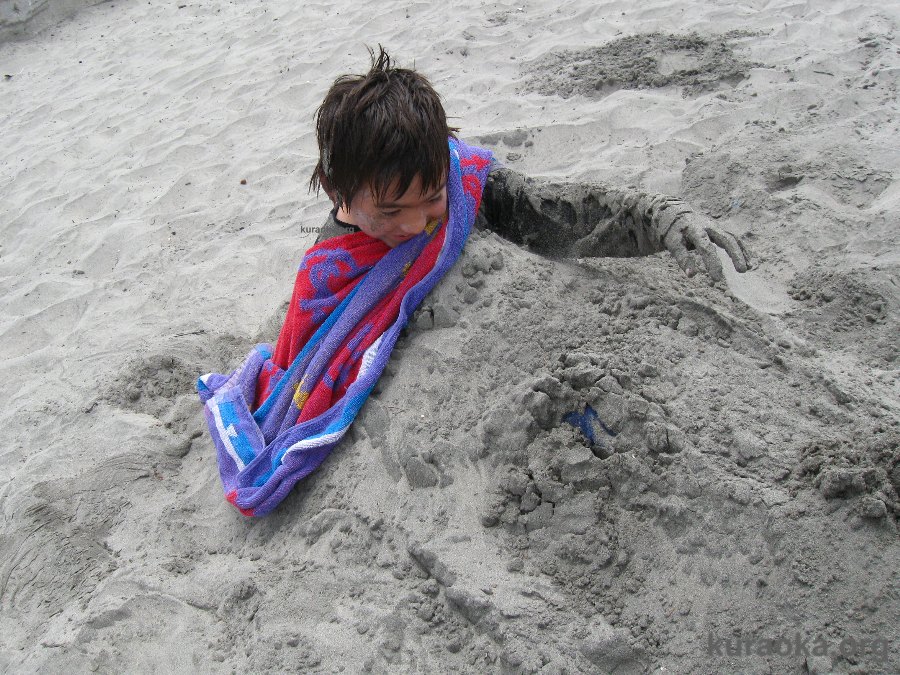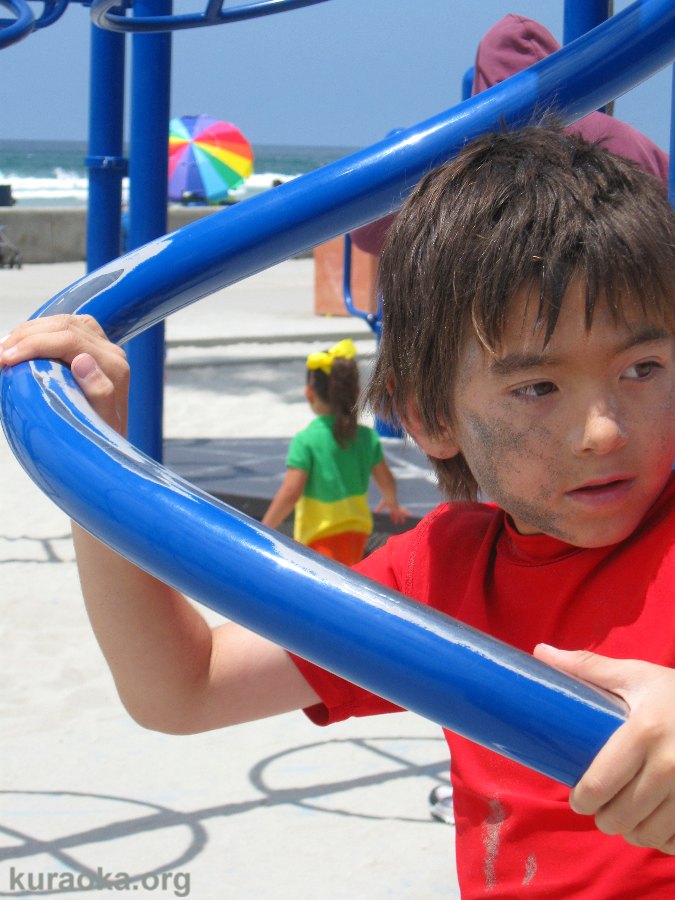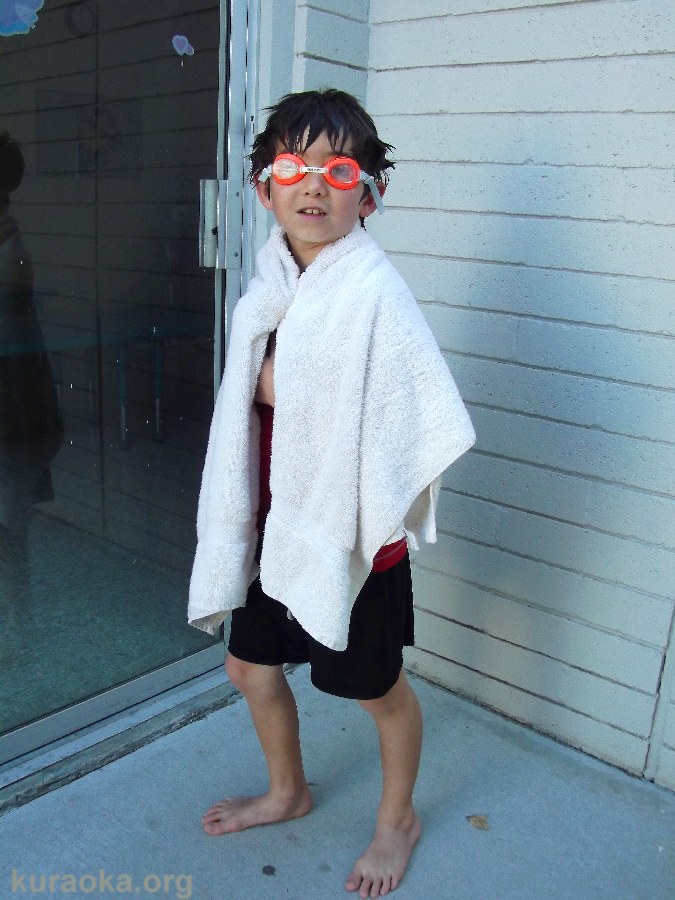 07-10-11 Leo at home. Here's Leo with his udda brudda, Buddy. And some new Lego sets. The last photo shows his reaction to a fortune cookie fortune that said, "Someone is secretly in love with you."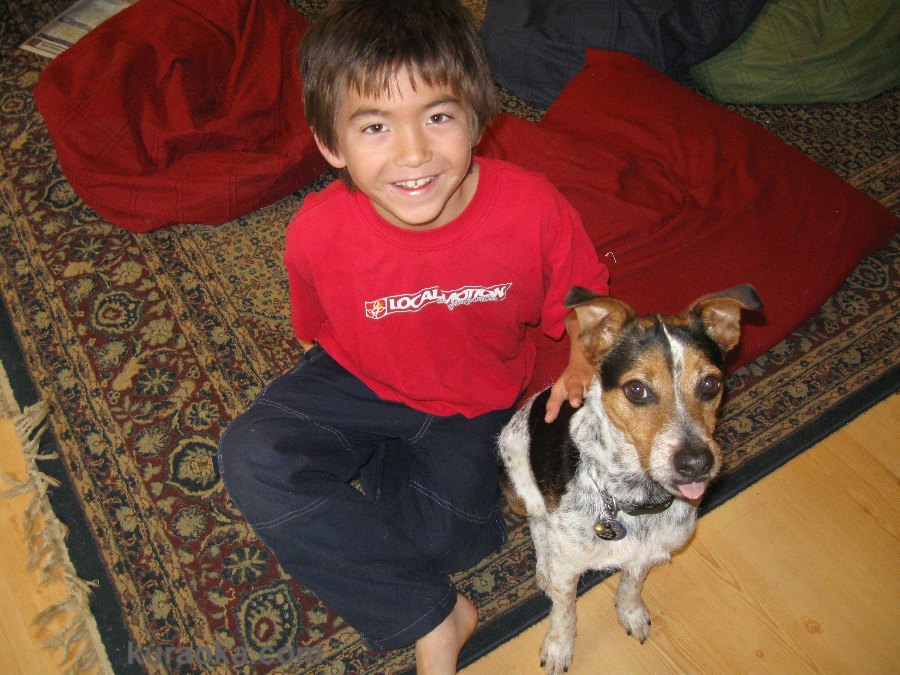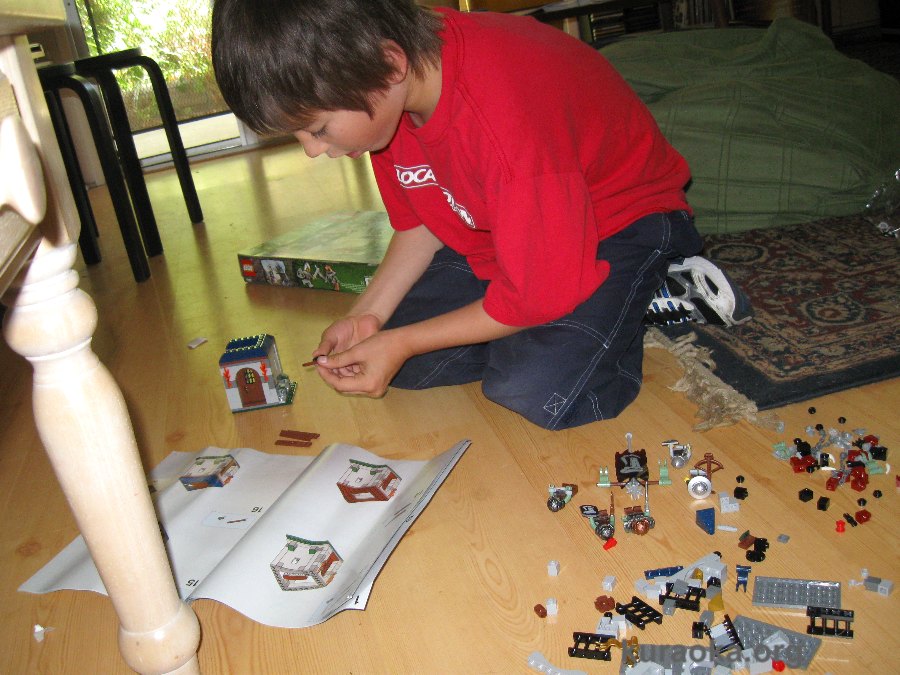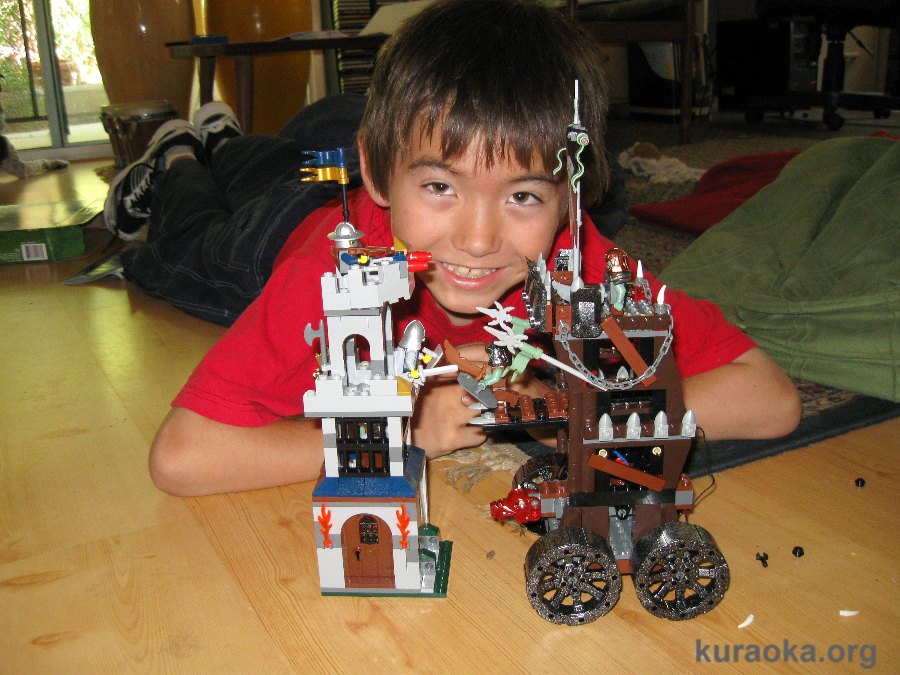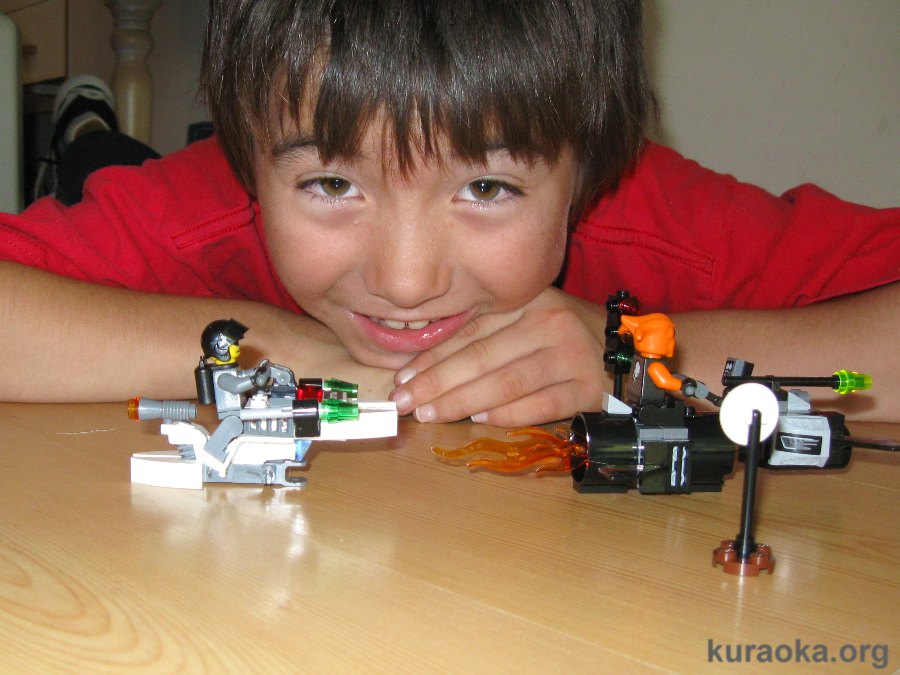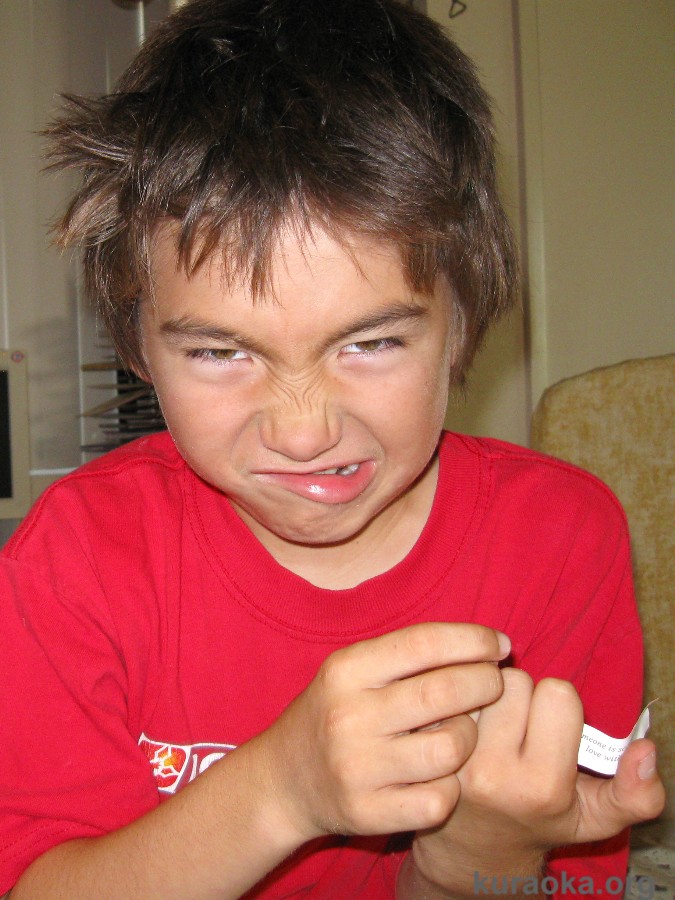 07-09 to 7-10-11 San Jacinto backpack. Roy and John and Alex, Ernesto, and Lucy went on a weekend backpacking trip up the Devil's Slide trail to Skunk Cabbage Meadow, coming back via Tahquitz Peak (elev. 8,846).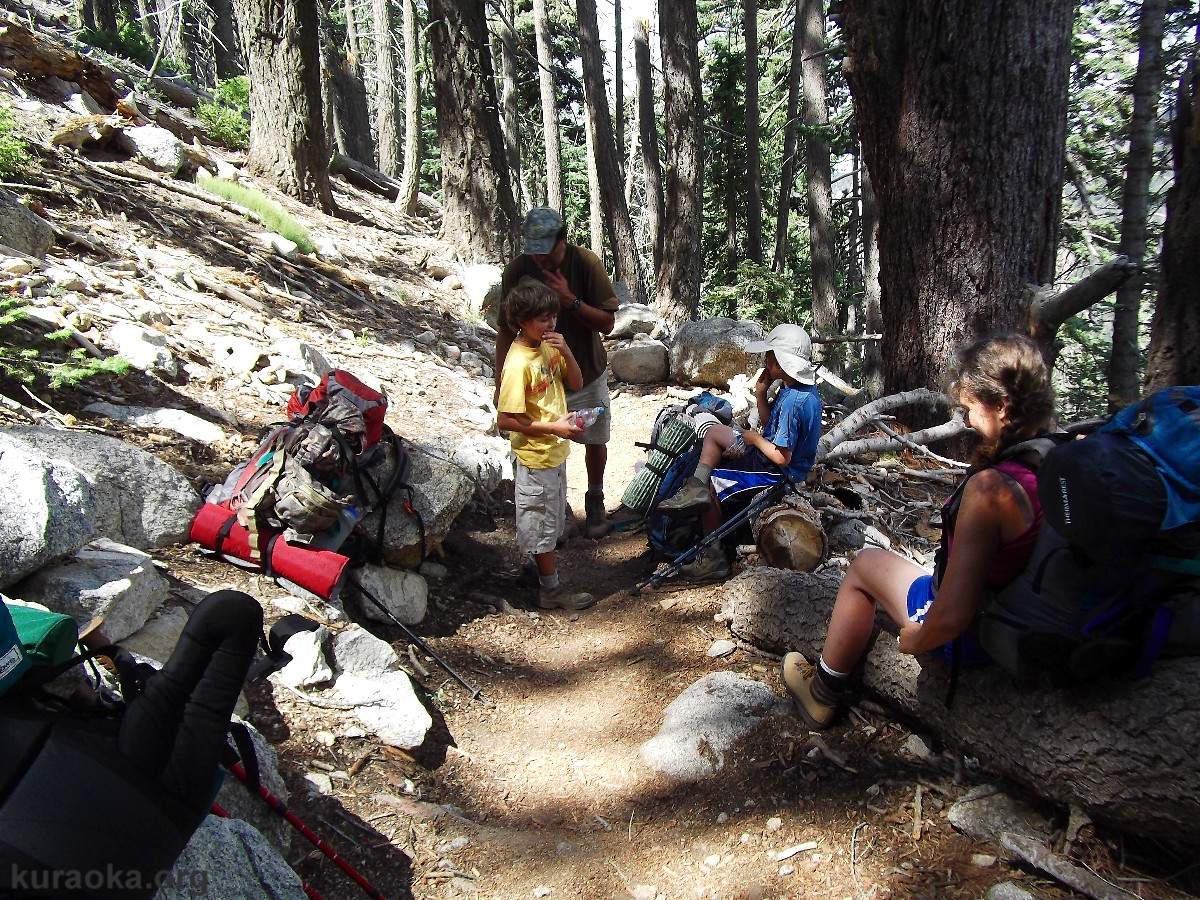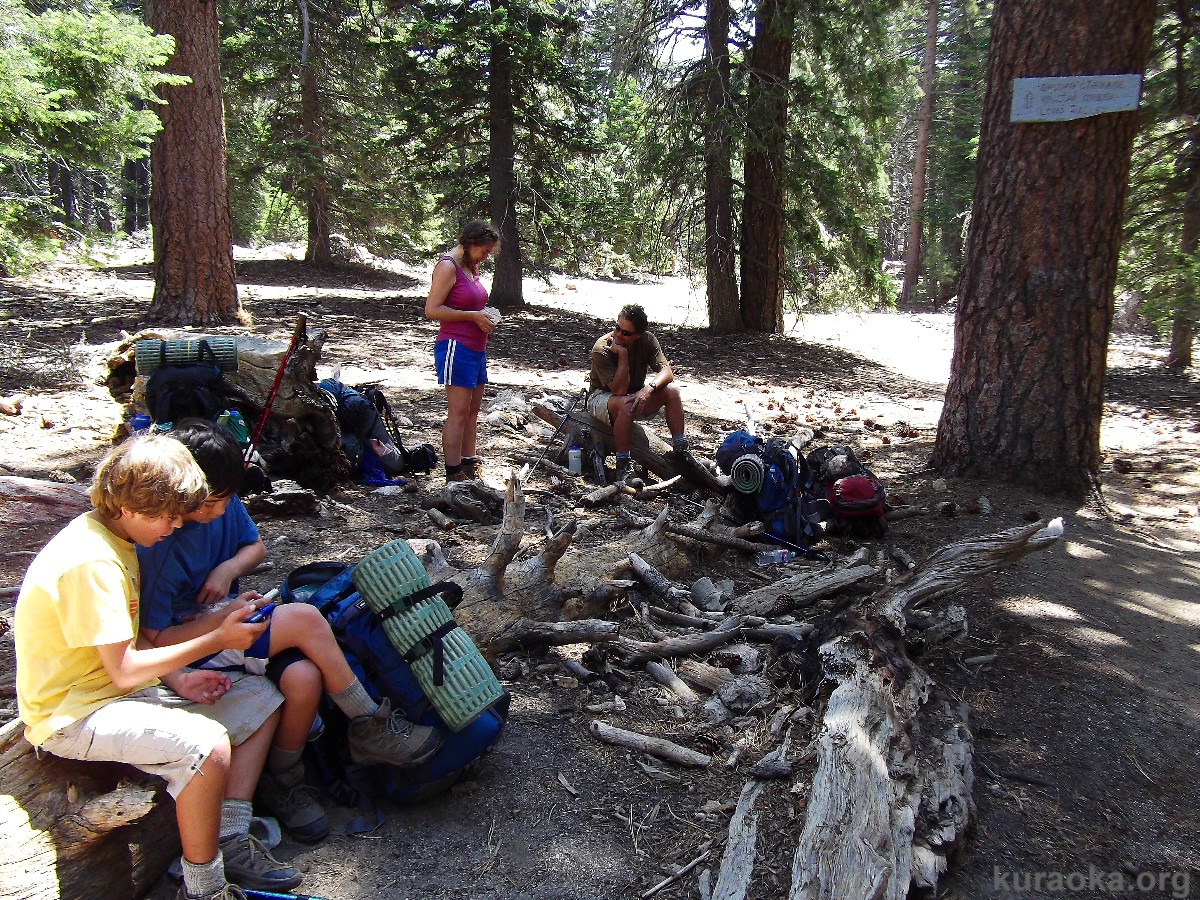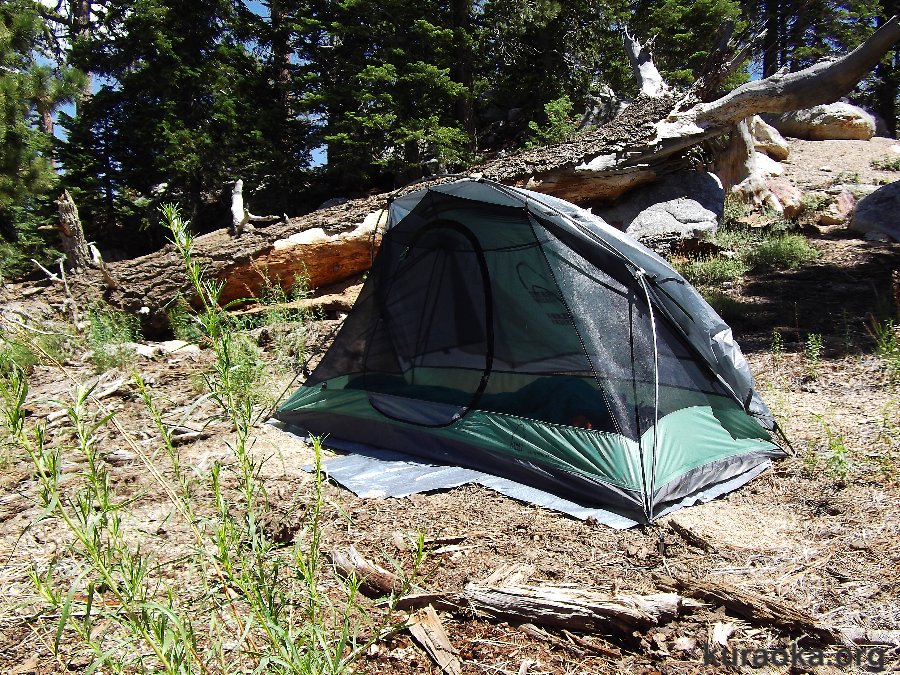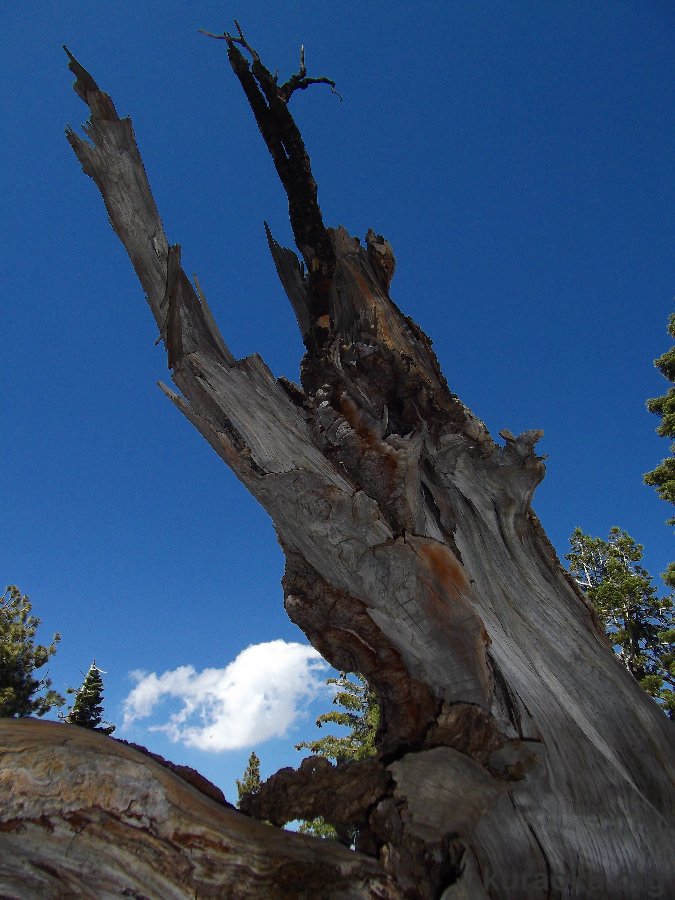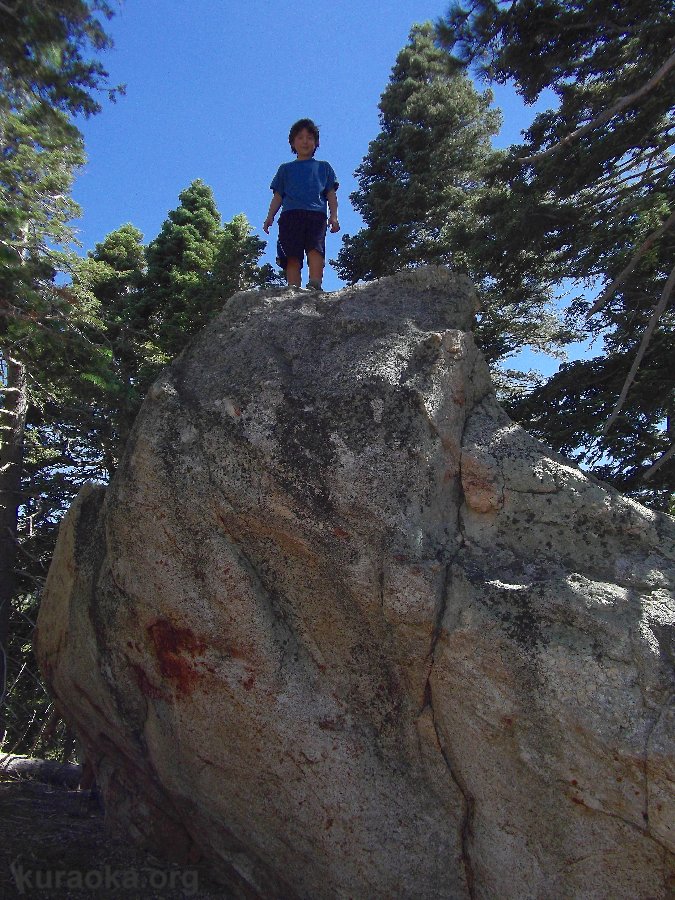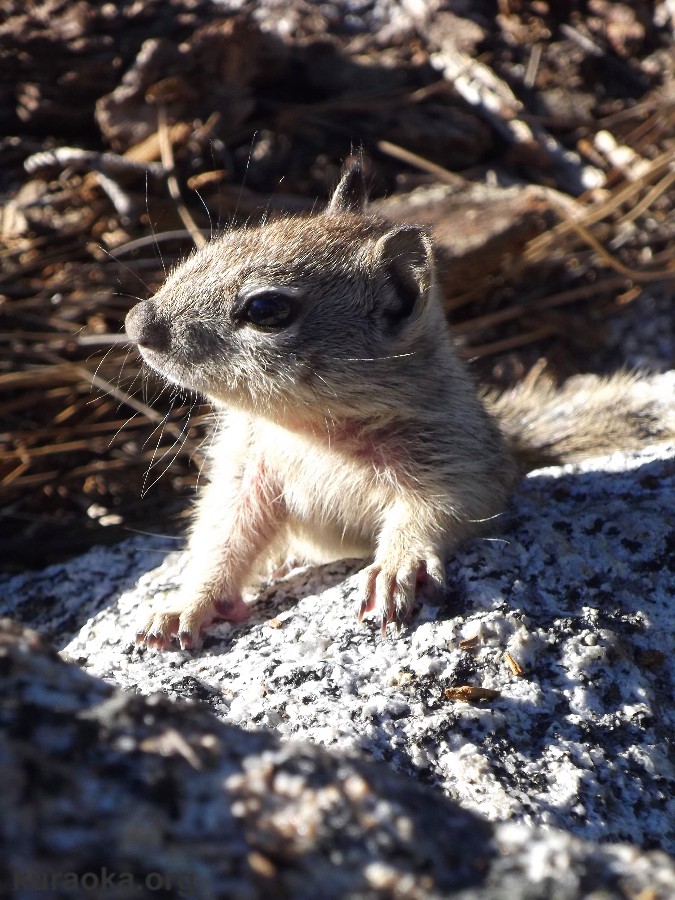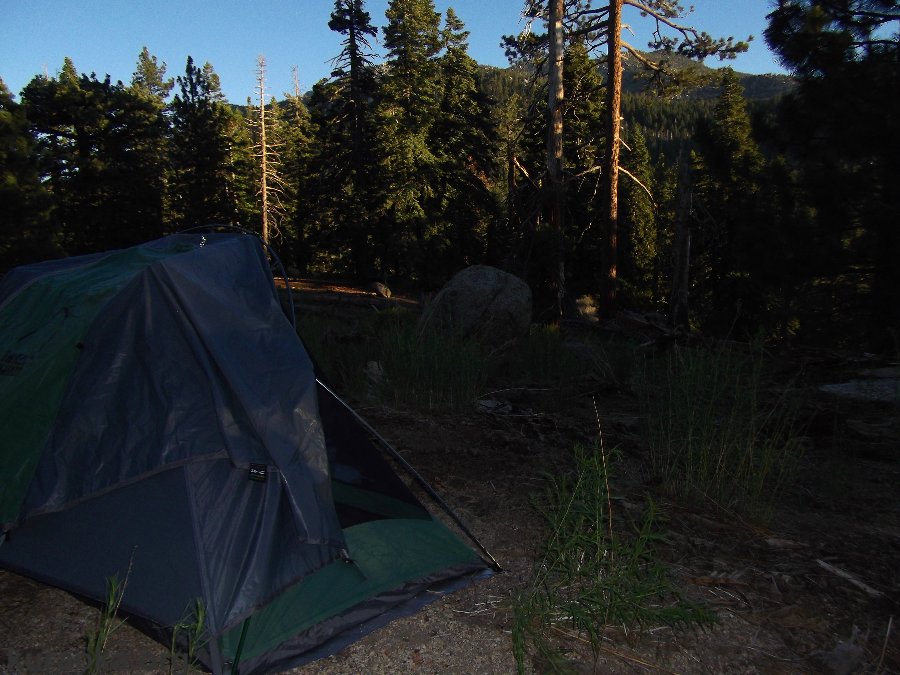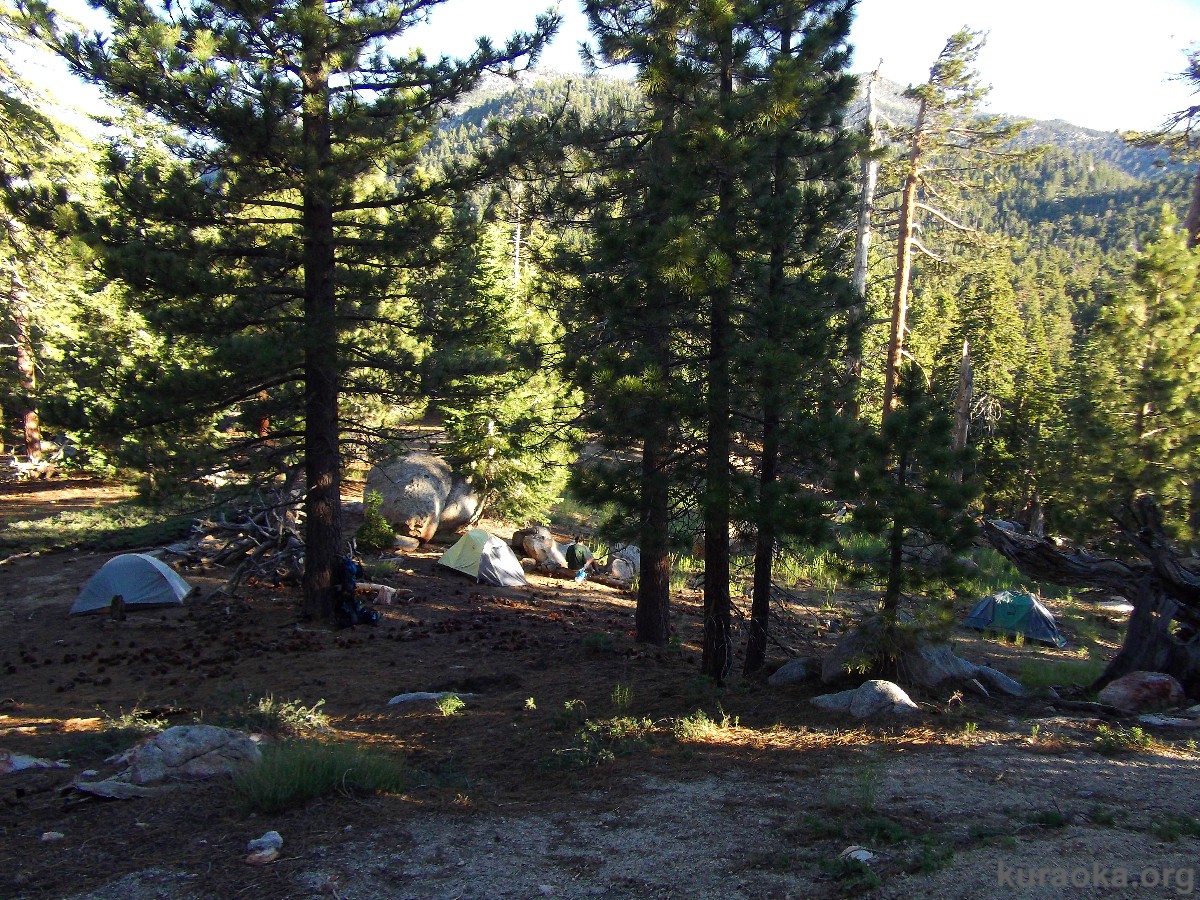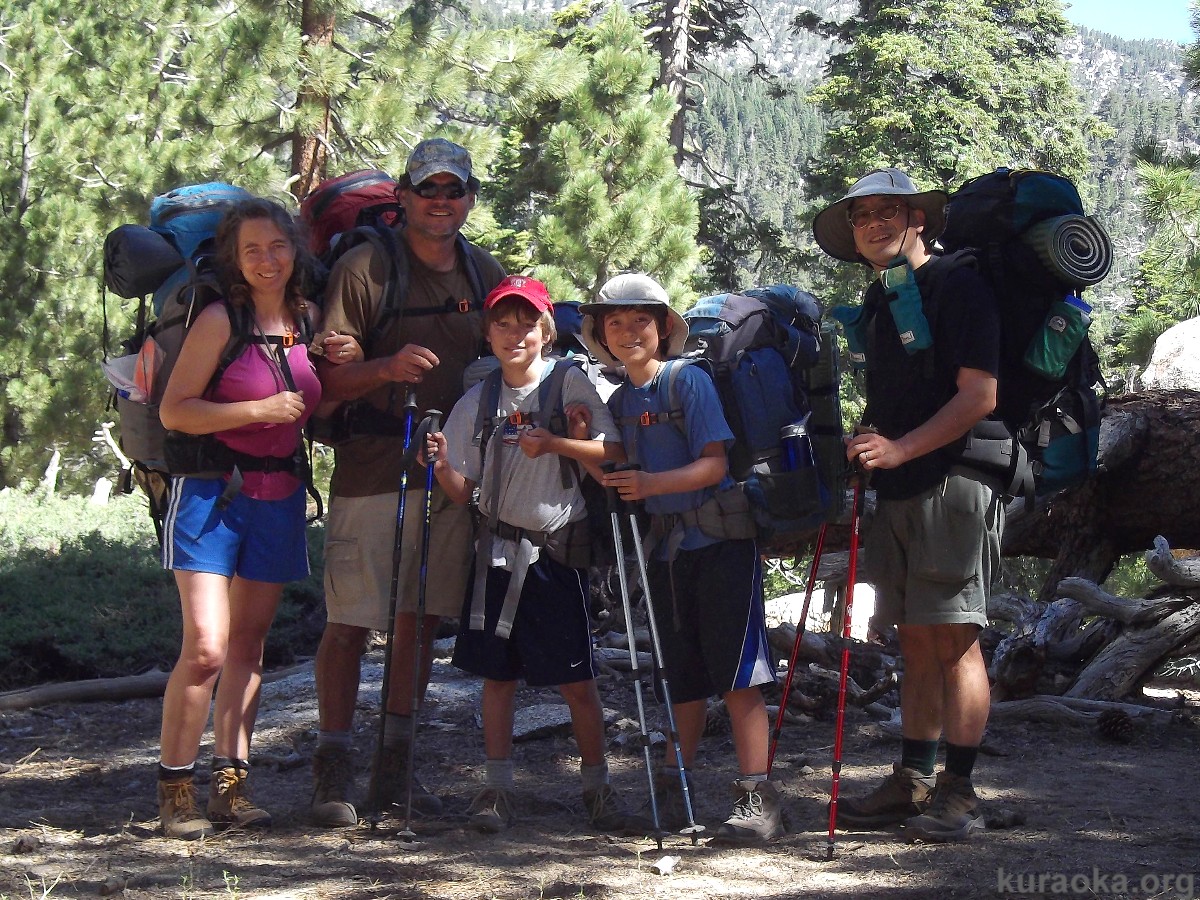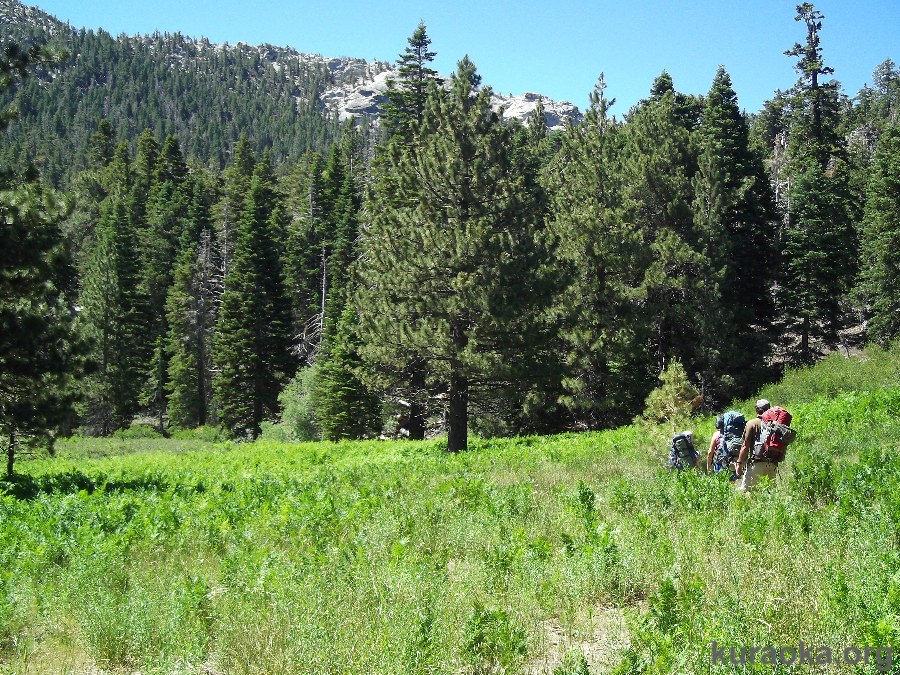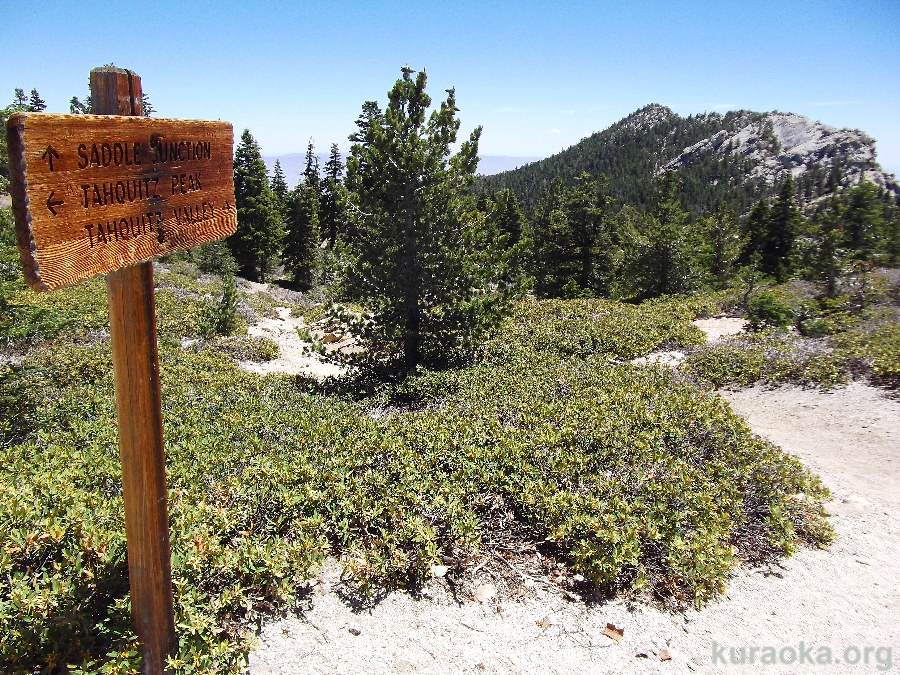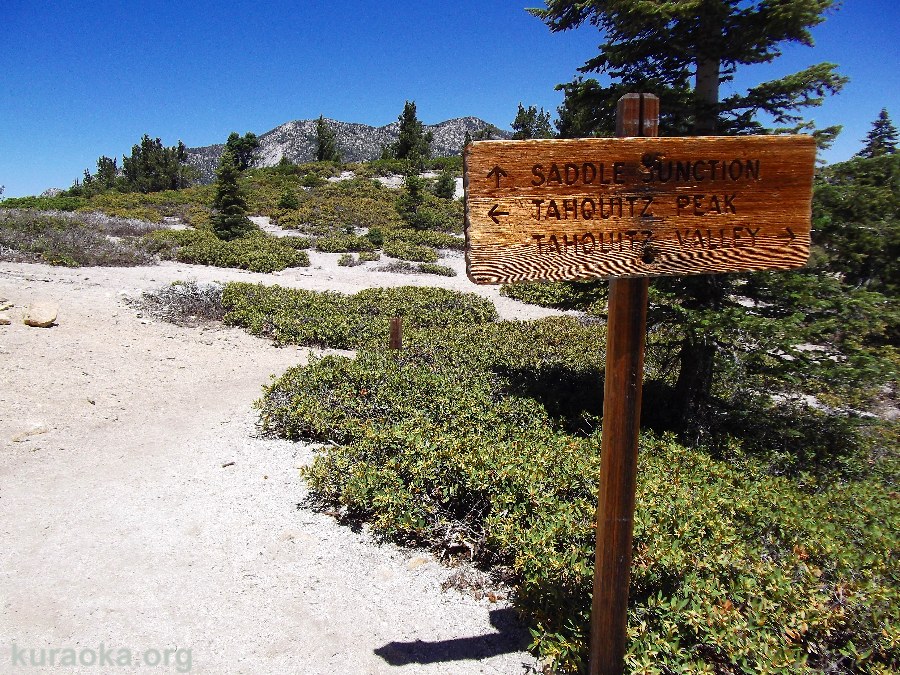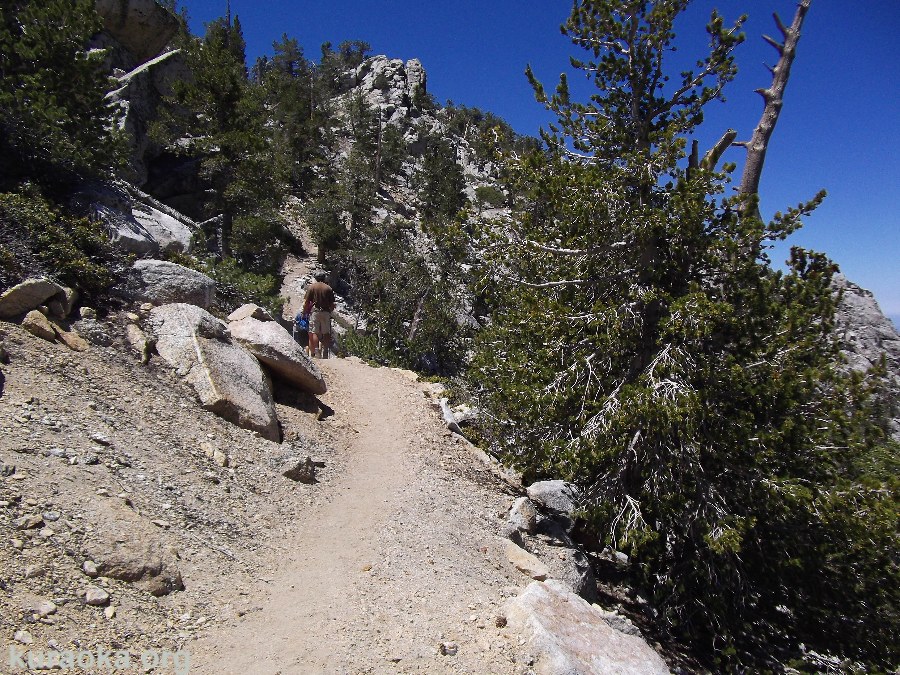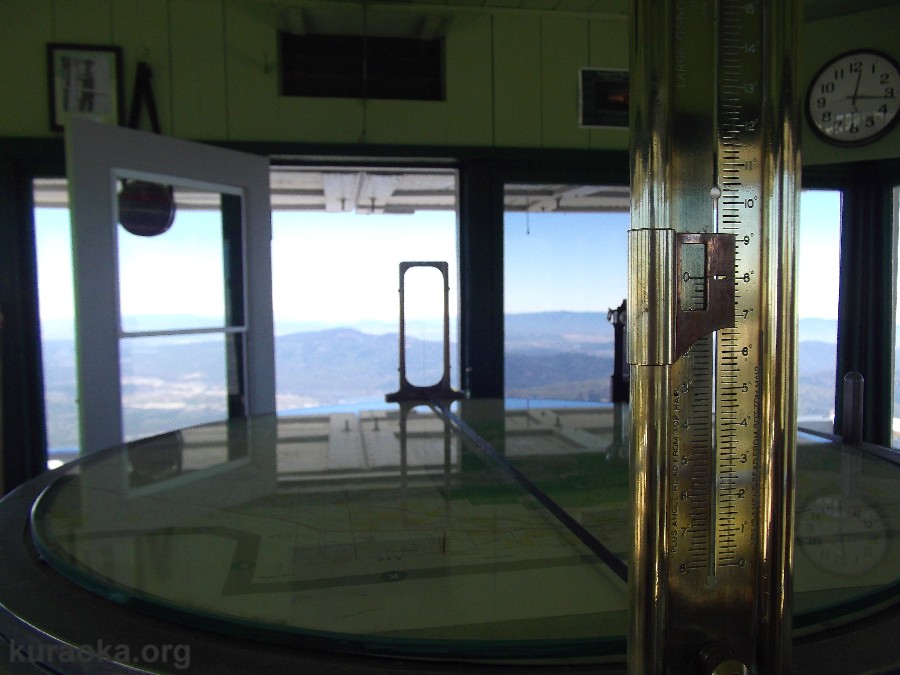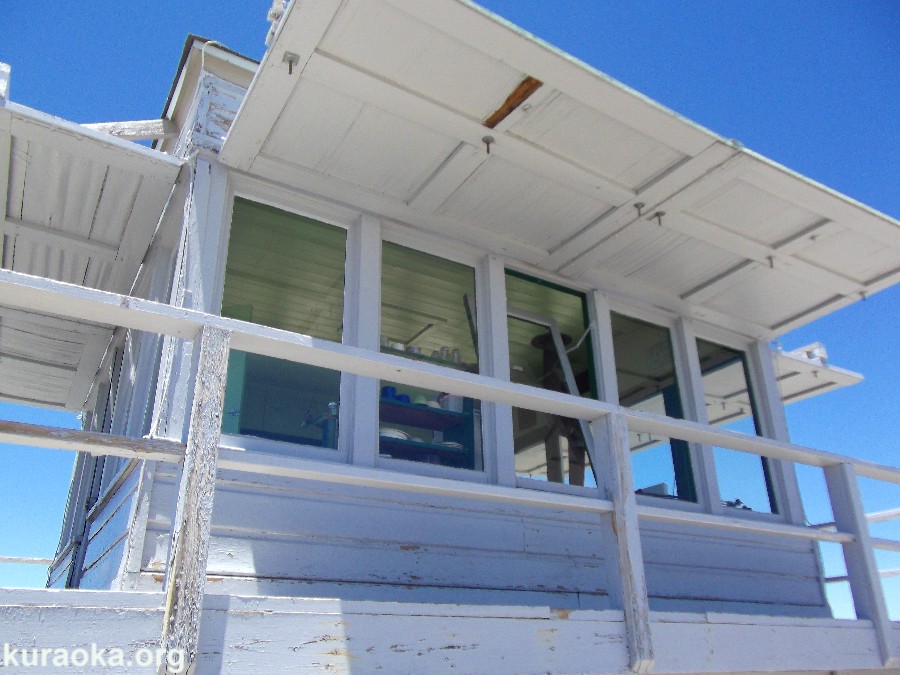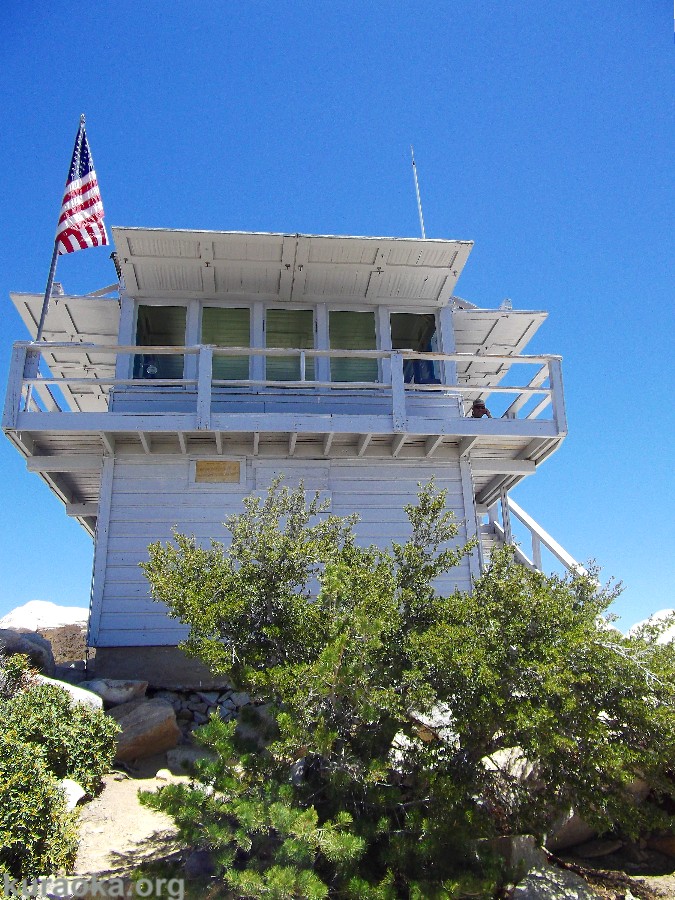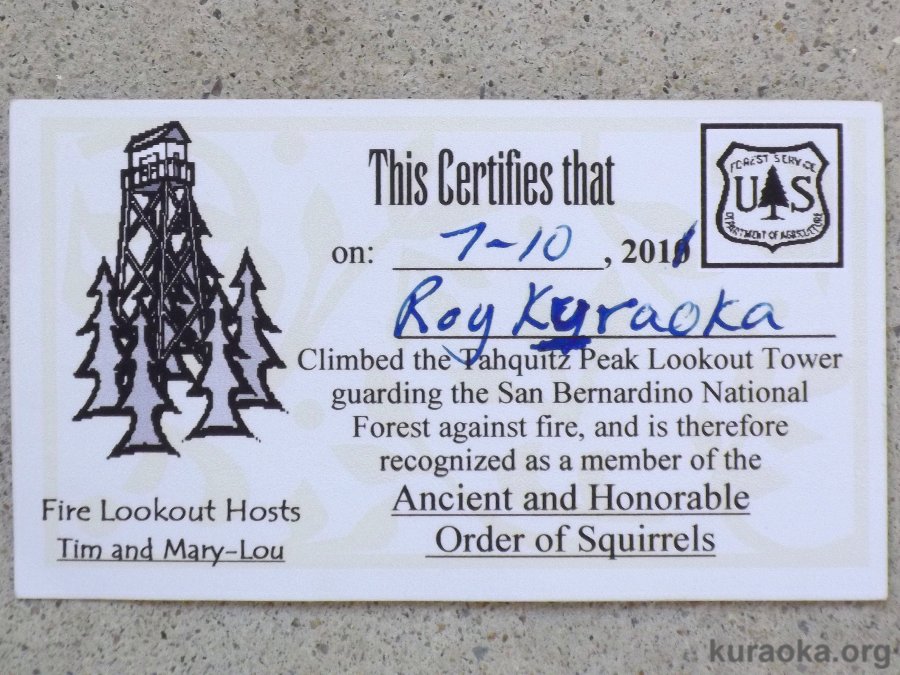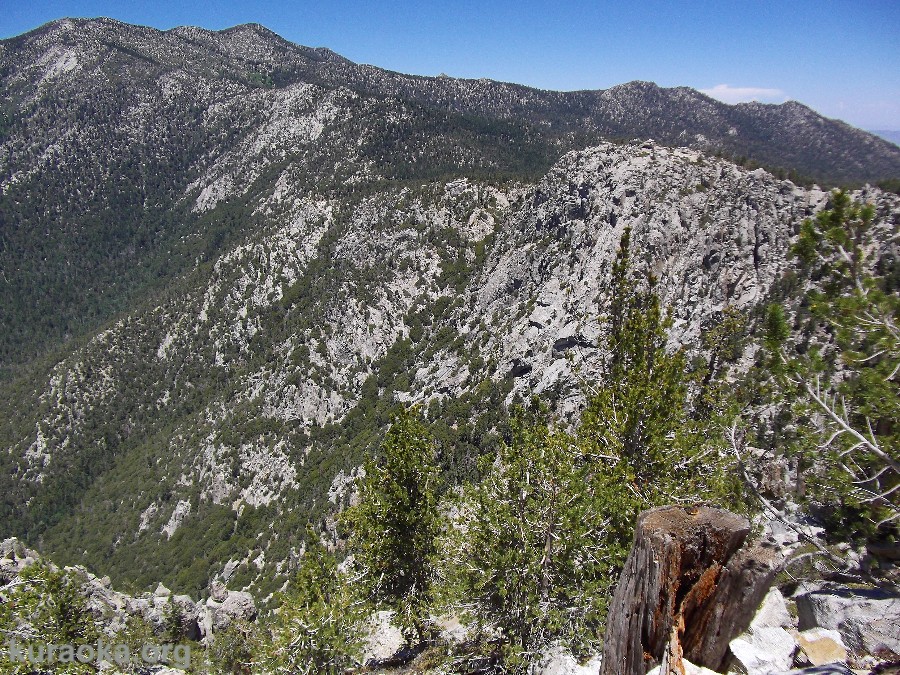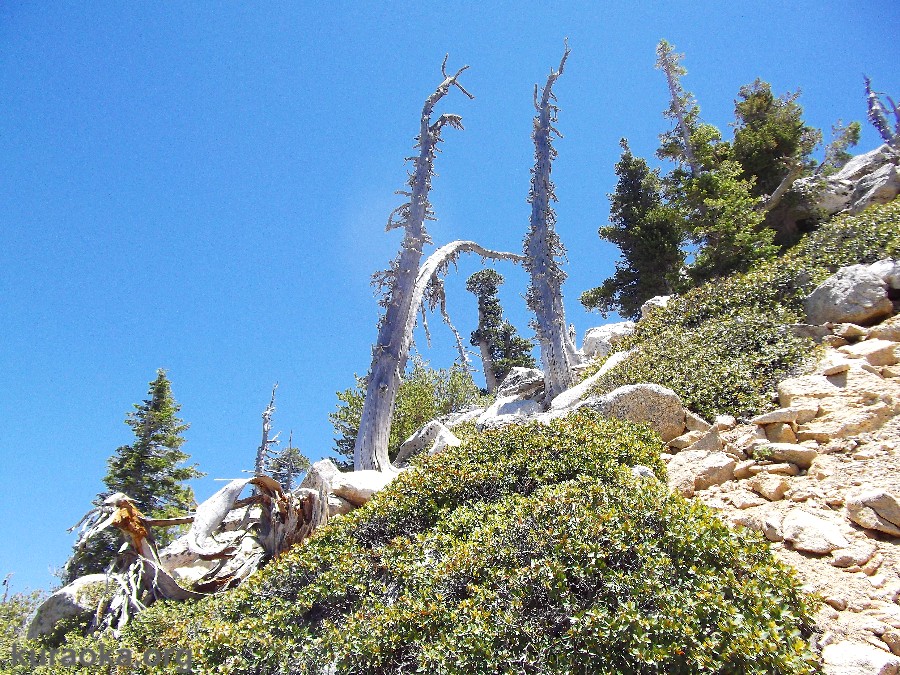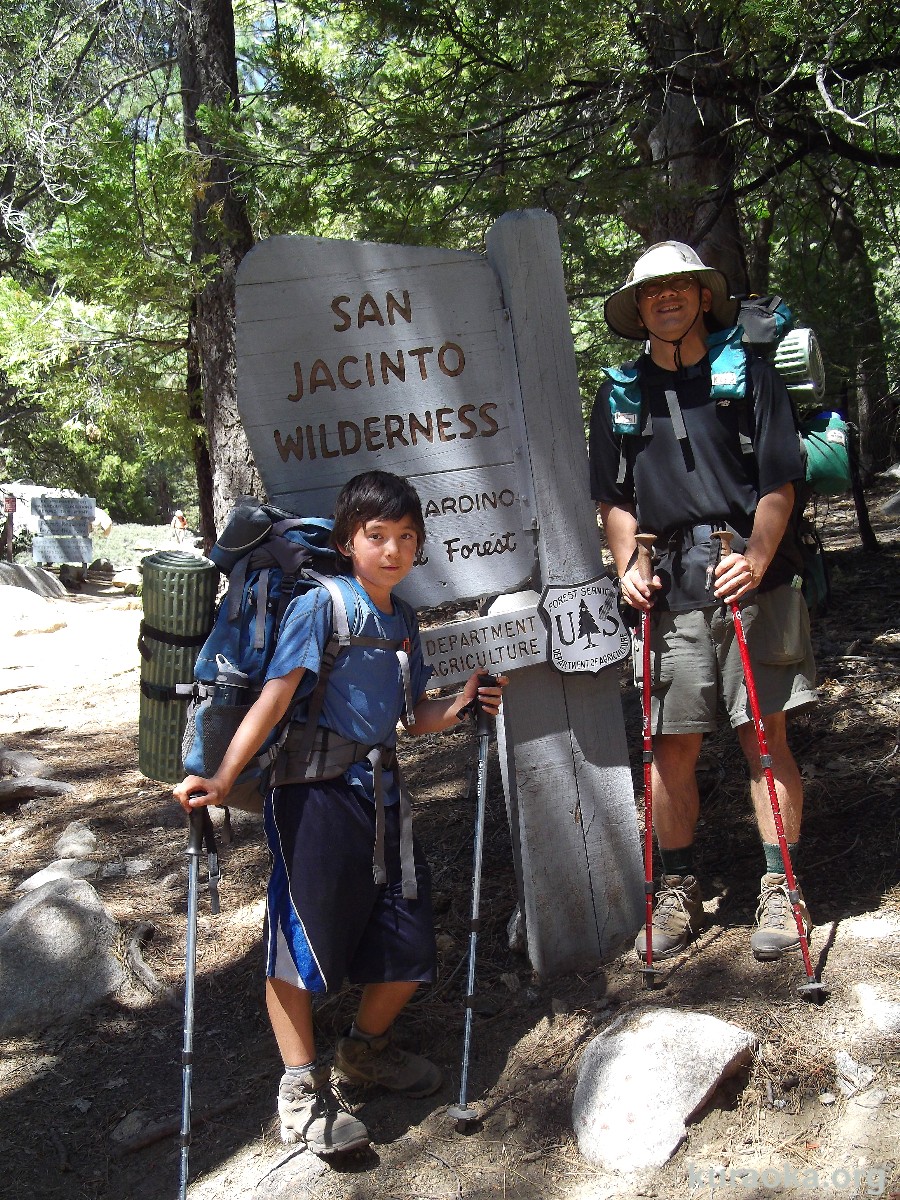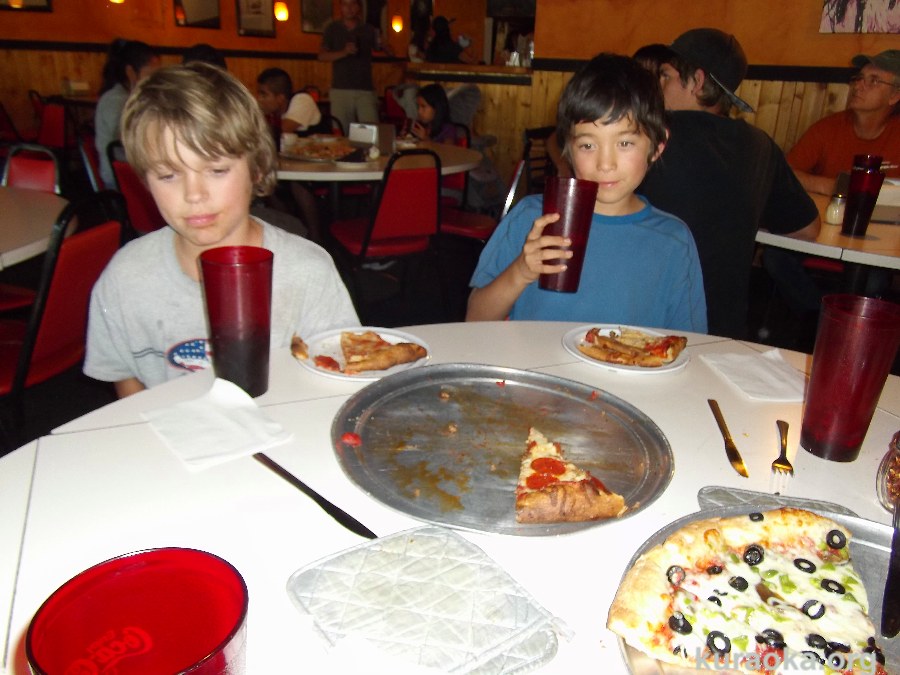 07-04-11 Independence Day! The first photo shows Barbara, Roy, Bill, and Leo enjoying lunch at the villa. Then, we went to the Del Mar Fair, and saw the demolition derby, pig races, kid's collections, and fireworks from the Ferris wheel! Also, Roy enjoyed a last taste of cotton candy before his new braces go on.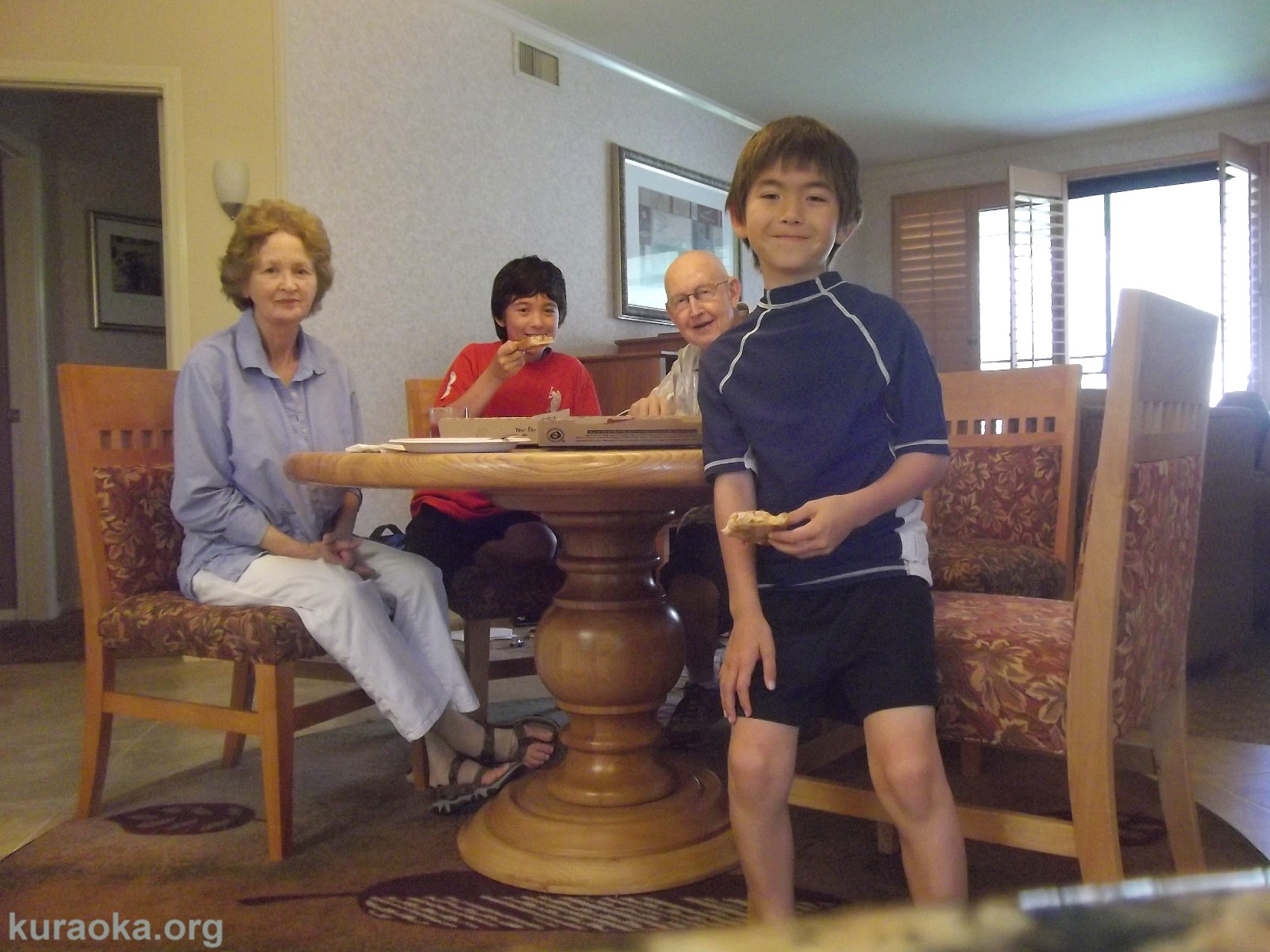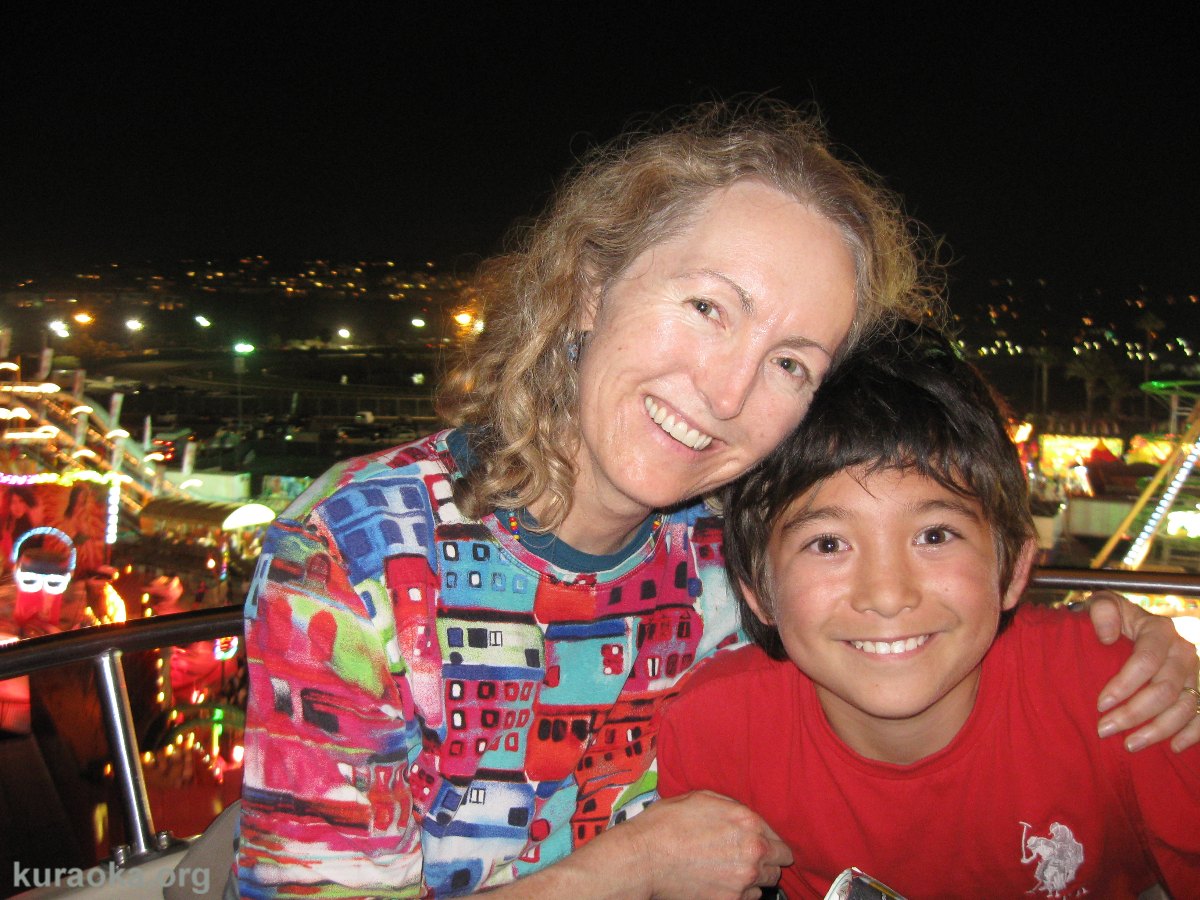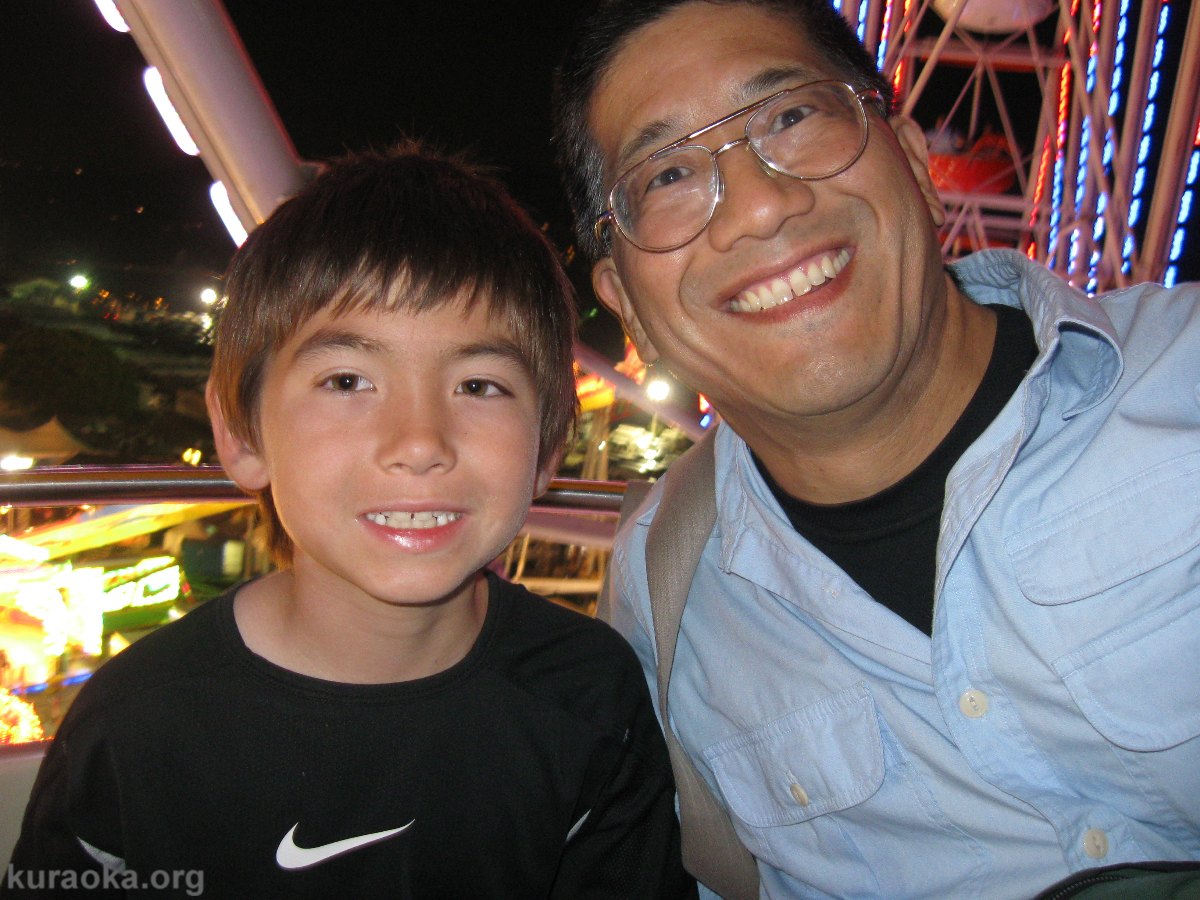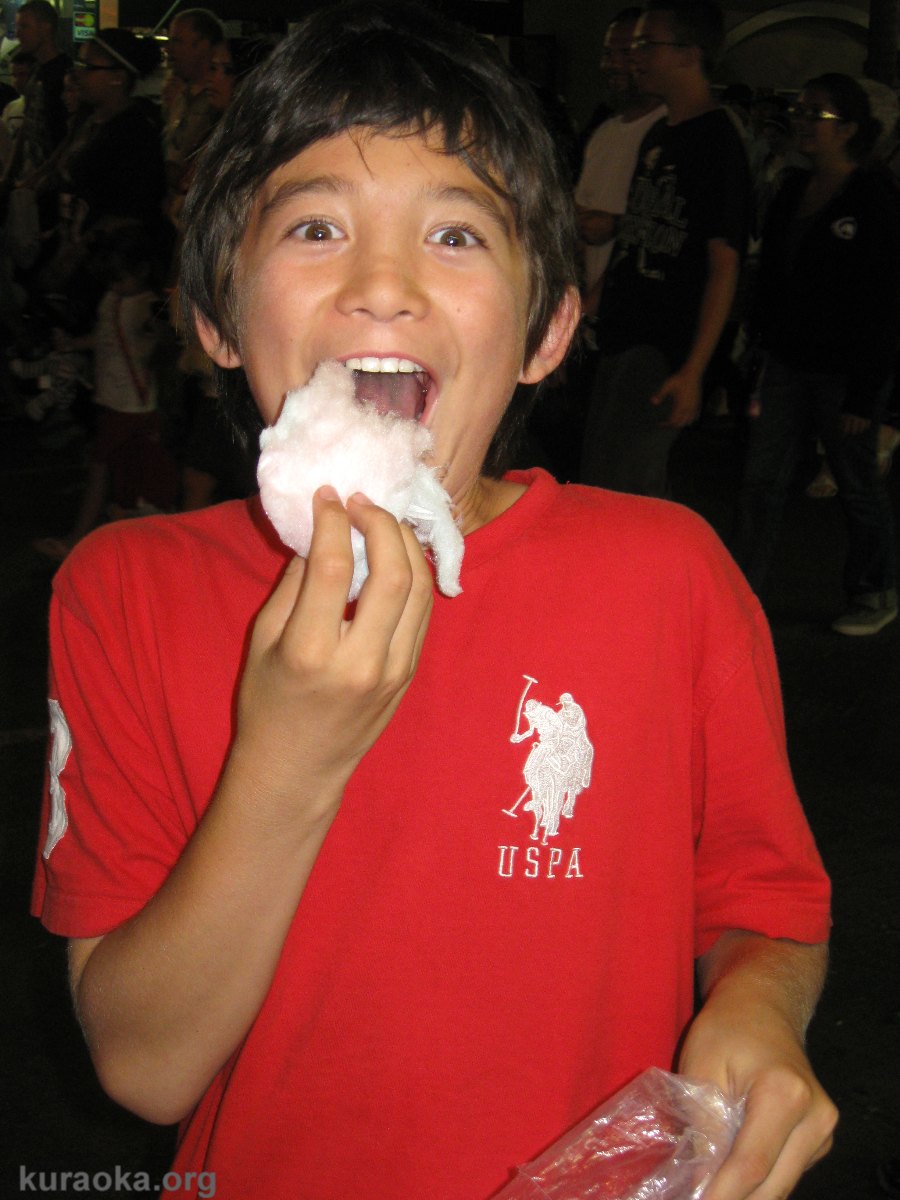 07-03-11 A Weekend Off! Thanks to Barbara and Bill, who took Roy and Leo for the weekend, we had time to ourselves. So, we took a nice bike ride around Mission Bay, enjoying the cool breezes and savoring the scent of many, many barbeques.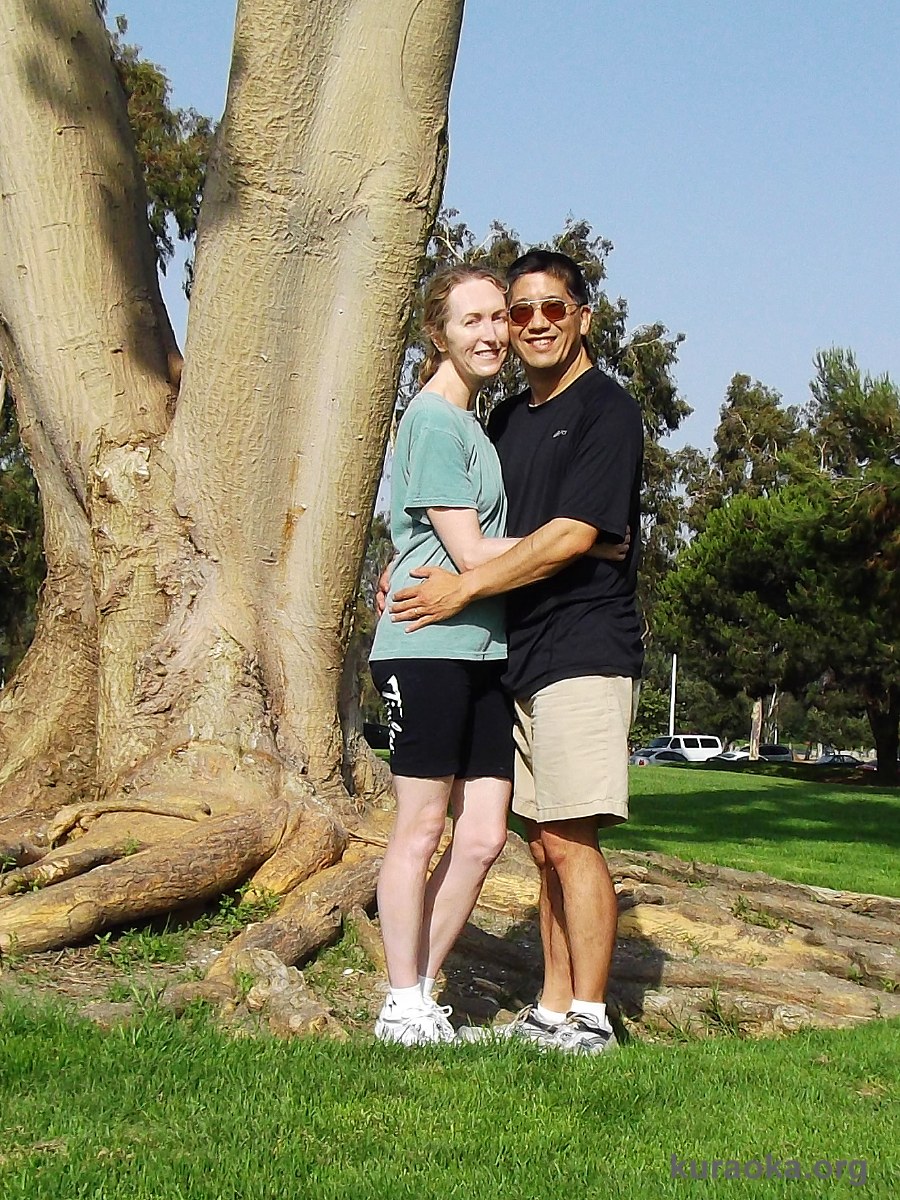 07-01-11 Ah, summer! To celebrate the end of this session of swim class, the boys got Slurpees! Later, we went to Sea World, where Ondine and the boys got so totally soaked on Shipwreck Rapids that they had to dry off in the heated blow drying chamber!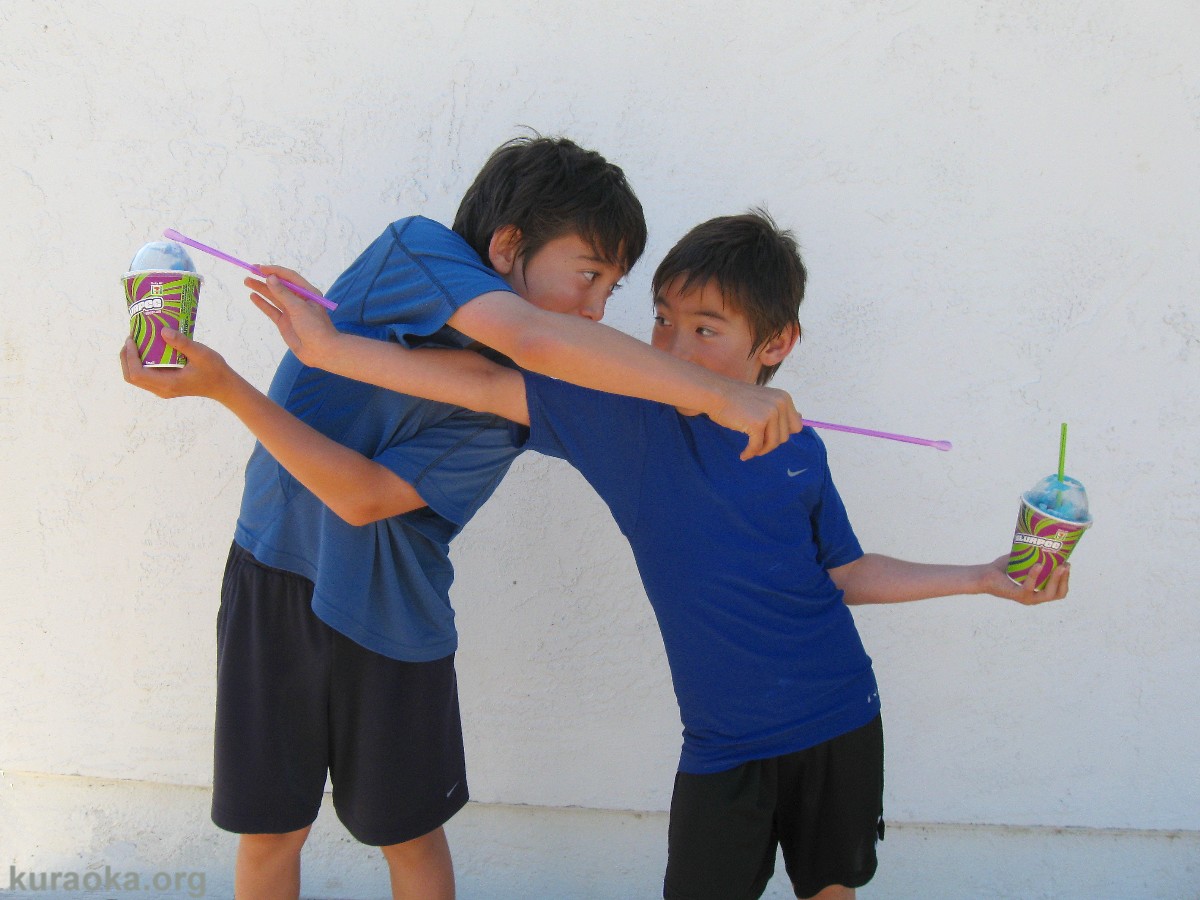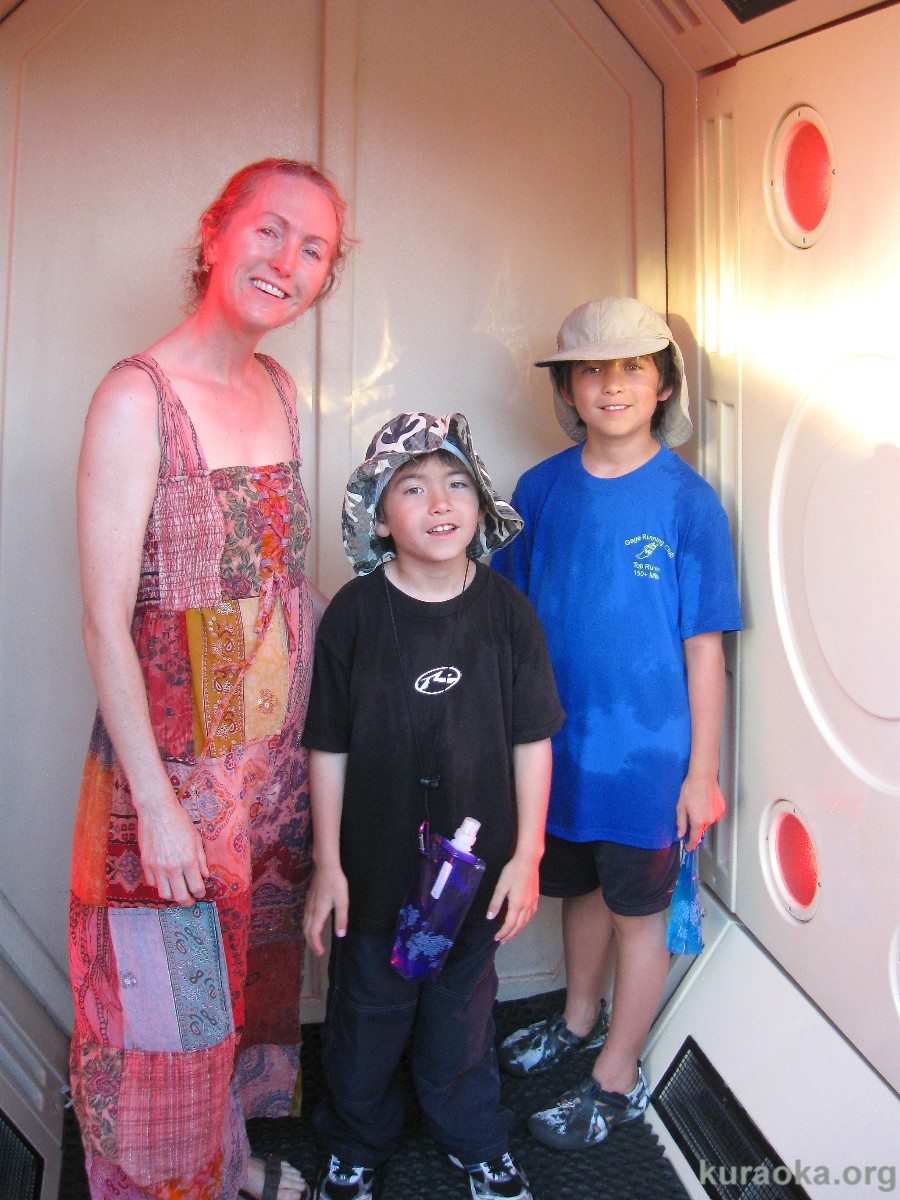 06-28-11 Auf Wiedersehen to Ulli. Here are Leo, Roy, and Auntie Ulli as she prepares to head home.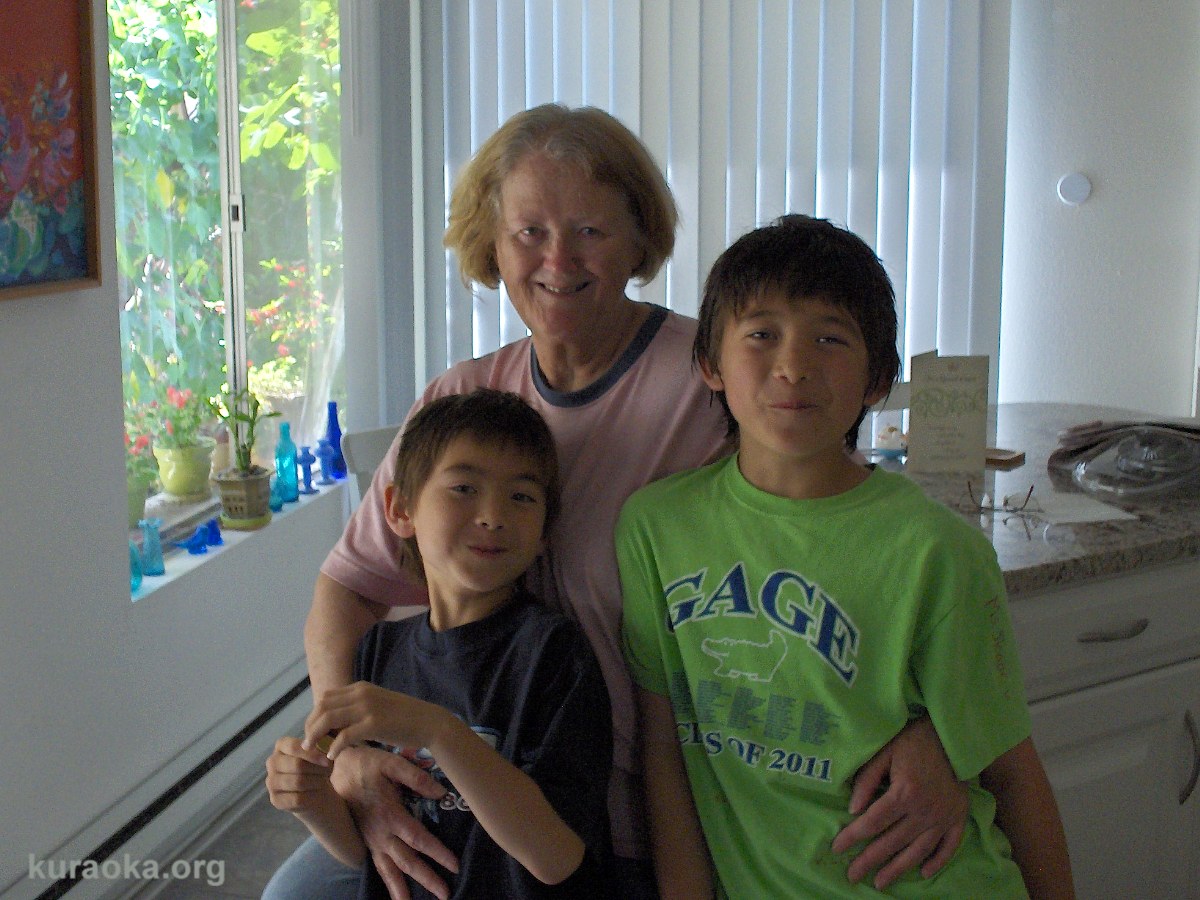 06-27-11 Dinner with Ulli and Barbara and Bill! Here's Leo sharing a moment with Bill.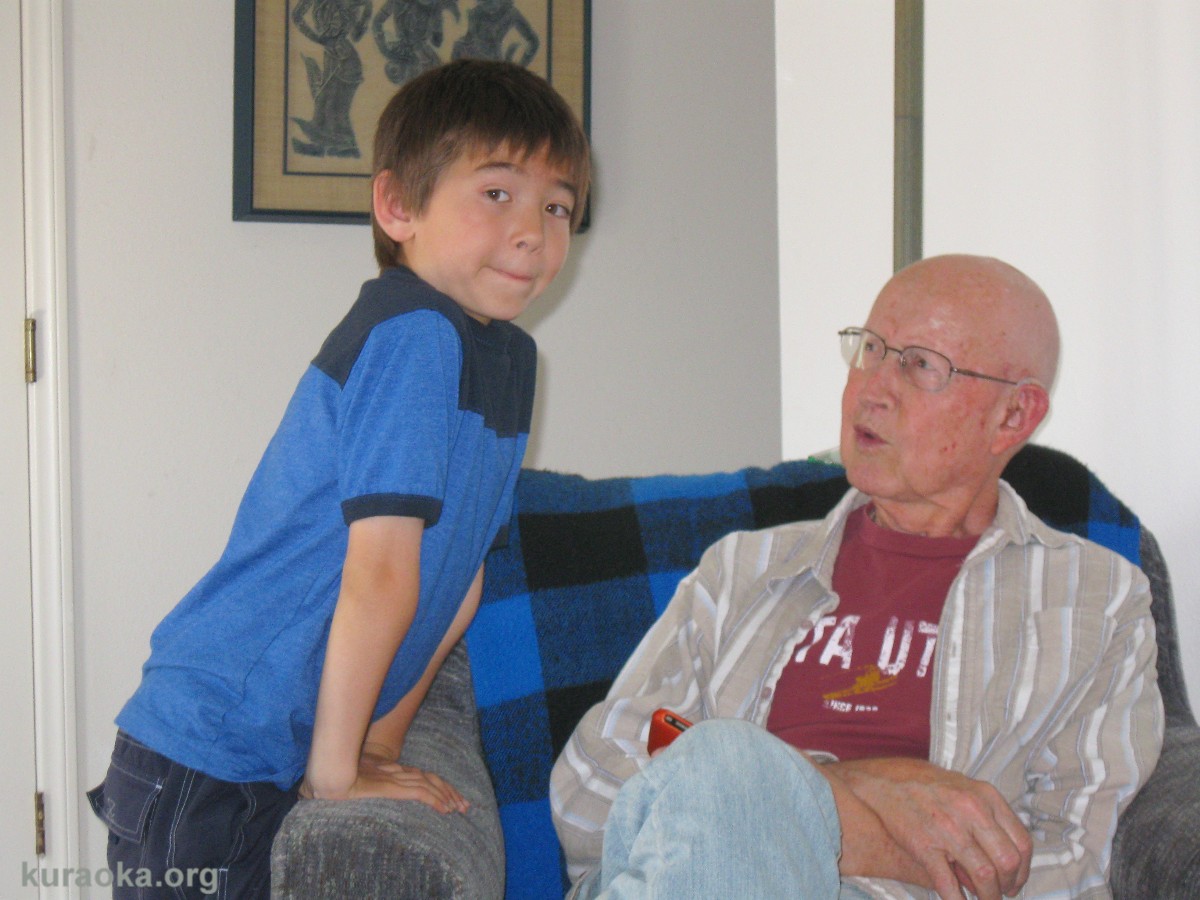 06-26-11 Lemonade Stand Part III! This time we had the whole crew in: Alex, Carmen, Stephen, Michael, Christina, and Nina. Afterward, they all cooled off with a water balloon fight!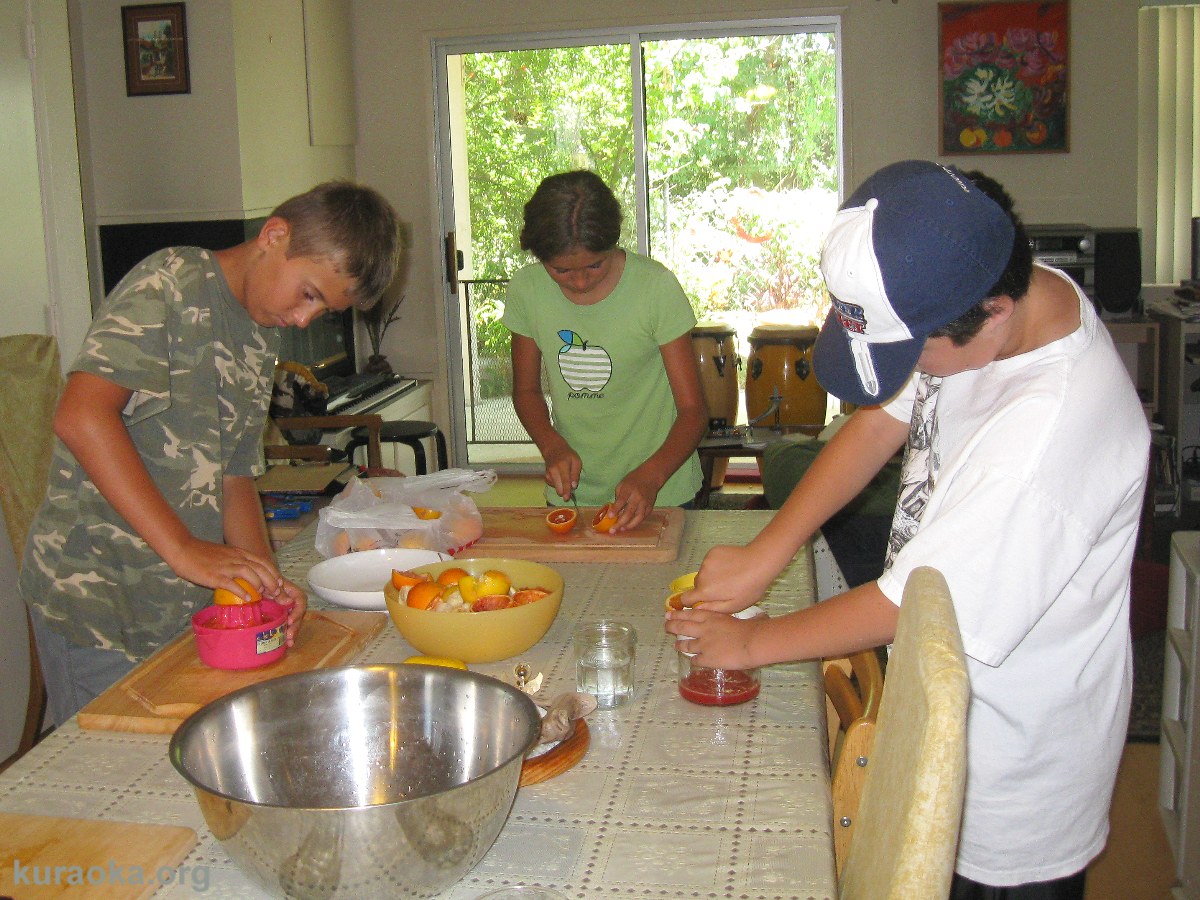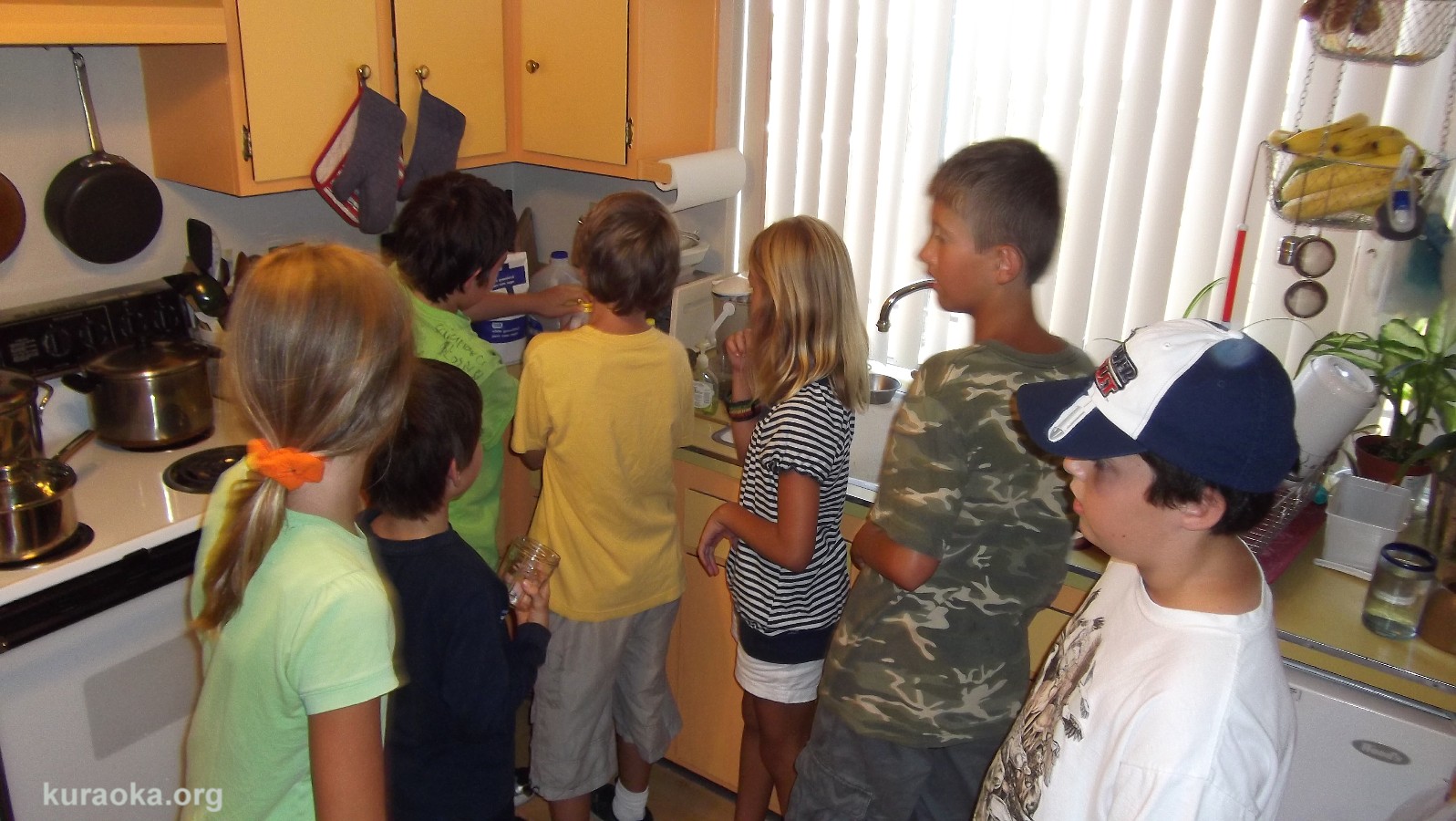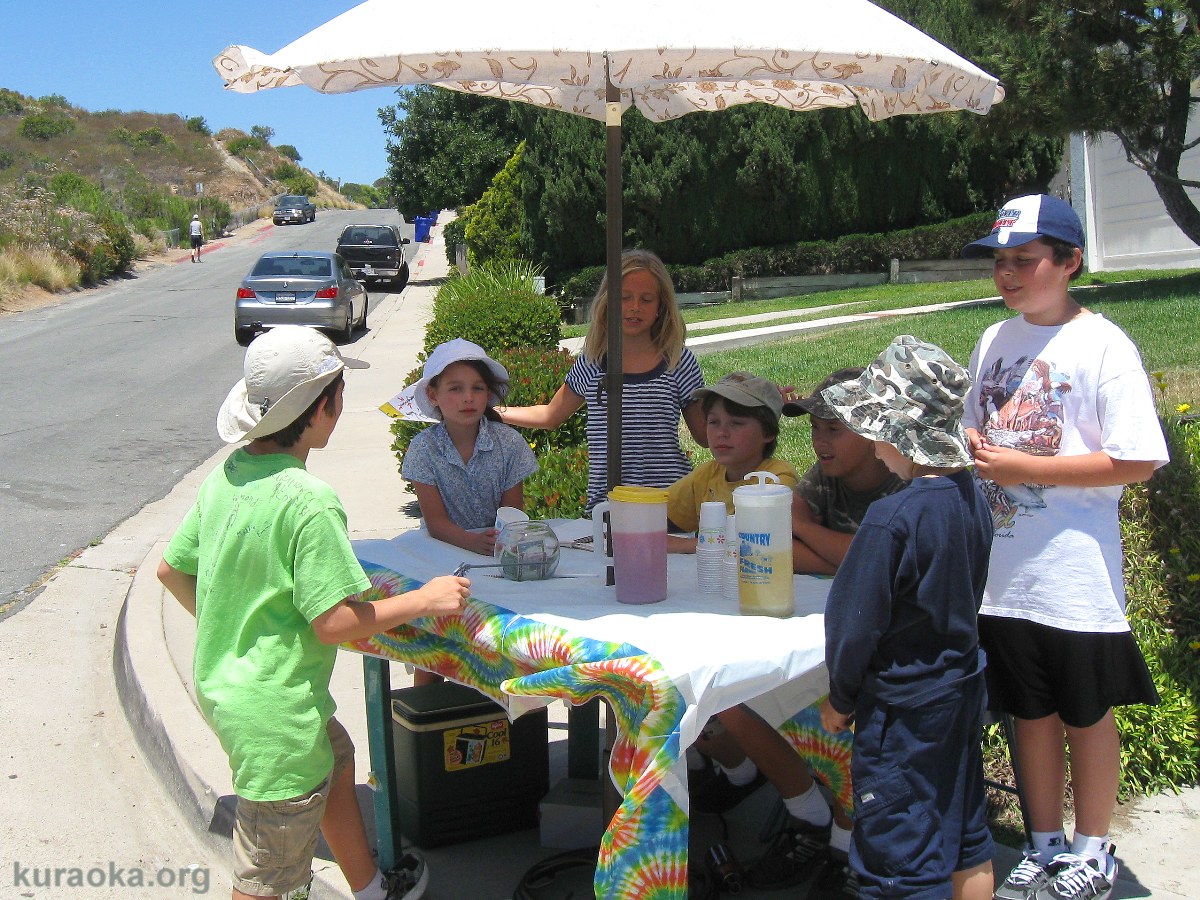 06-25-11 Auntie Ulli brings a gift box from Auntie Liz!! Lots of cool things to study: tide-tumbled stones, graceful driftwood, feathers, seashells, and even a fossil!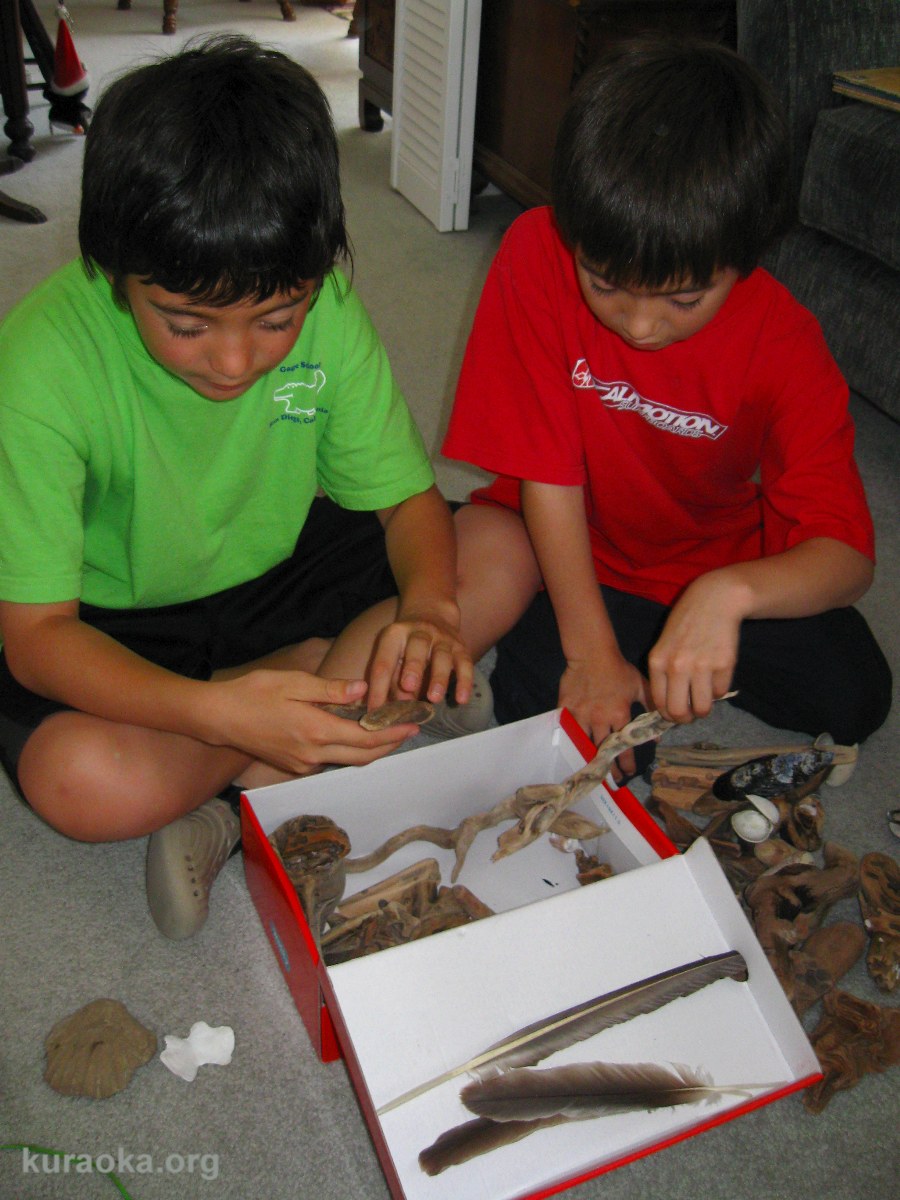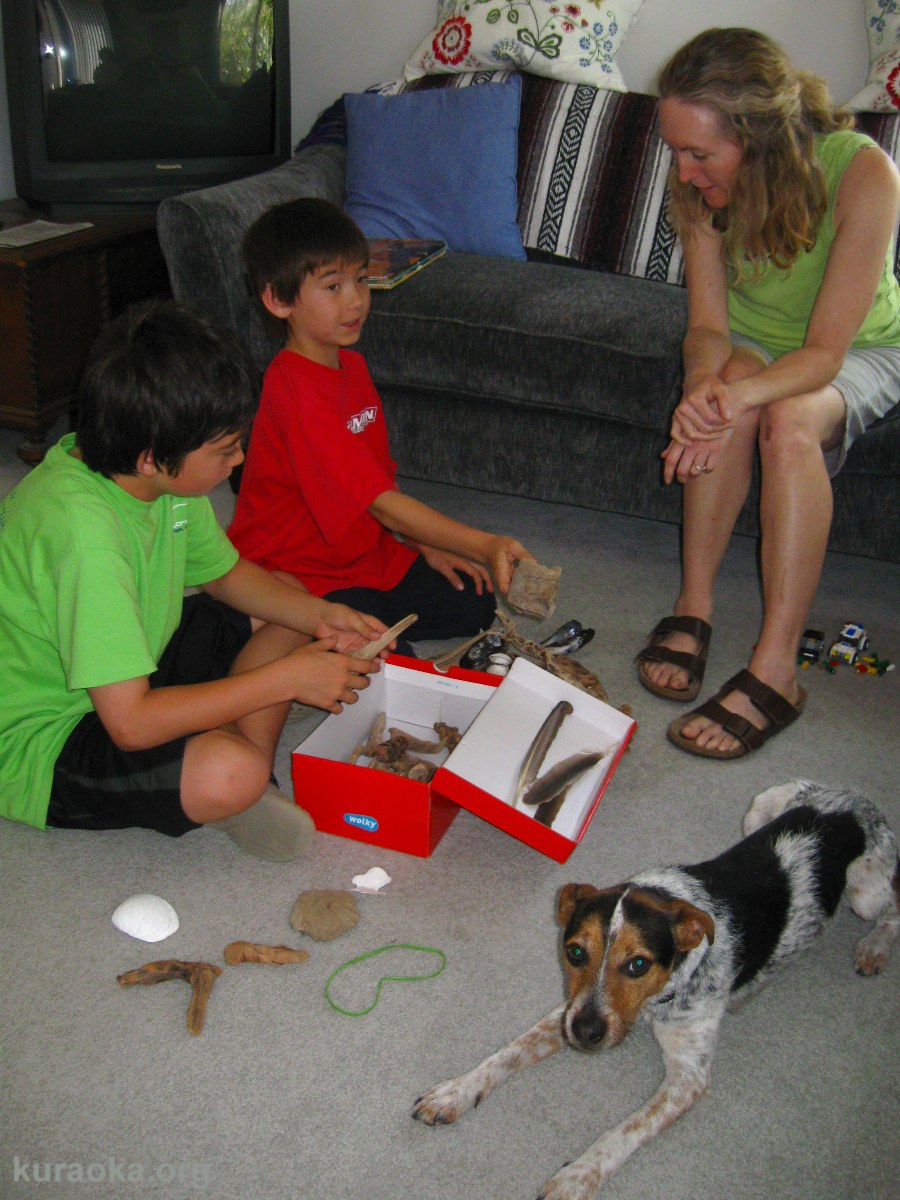 06-20-11 Lemonade Stand Part II! Here Roy, Stephen, and Michael squeeze the lemons and blood oranges for the stand. then, Michael, Stephen, and Roy man the stand.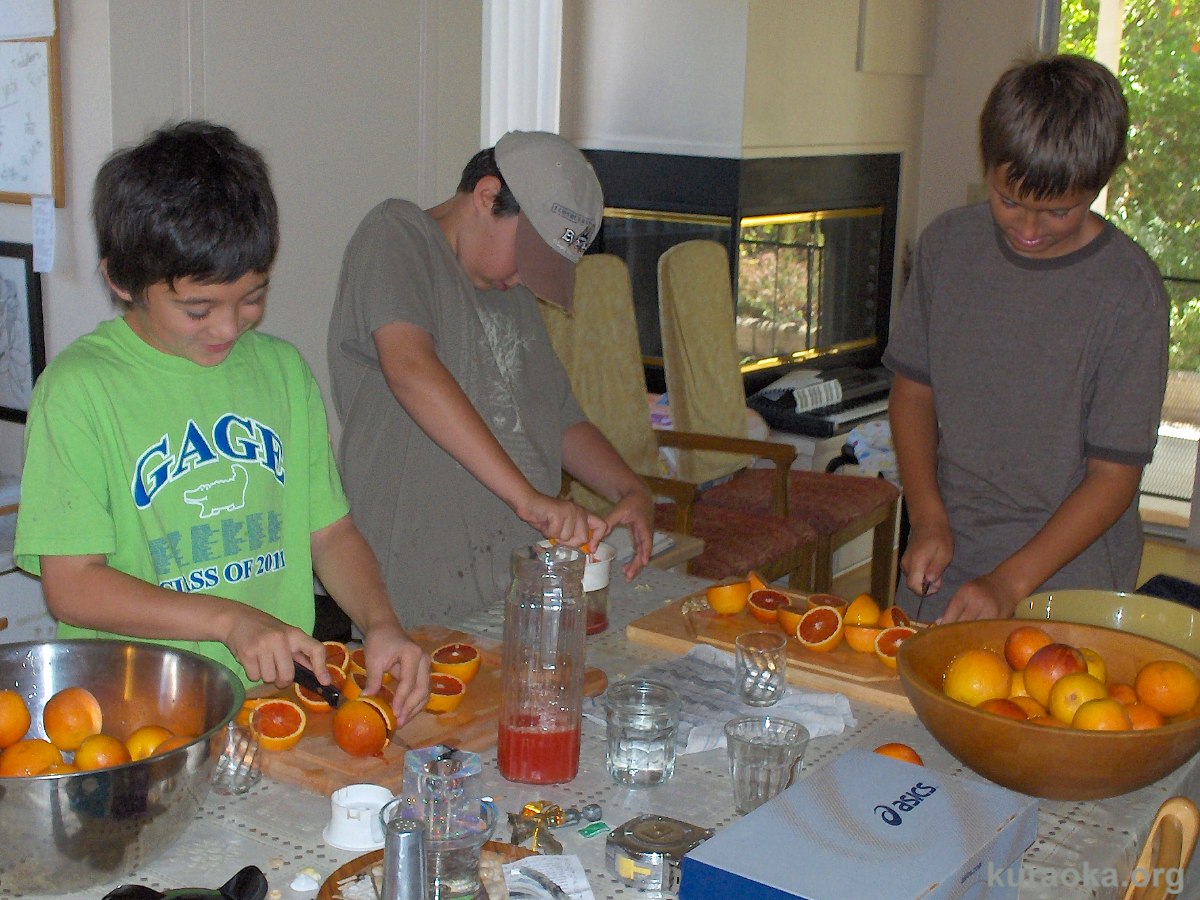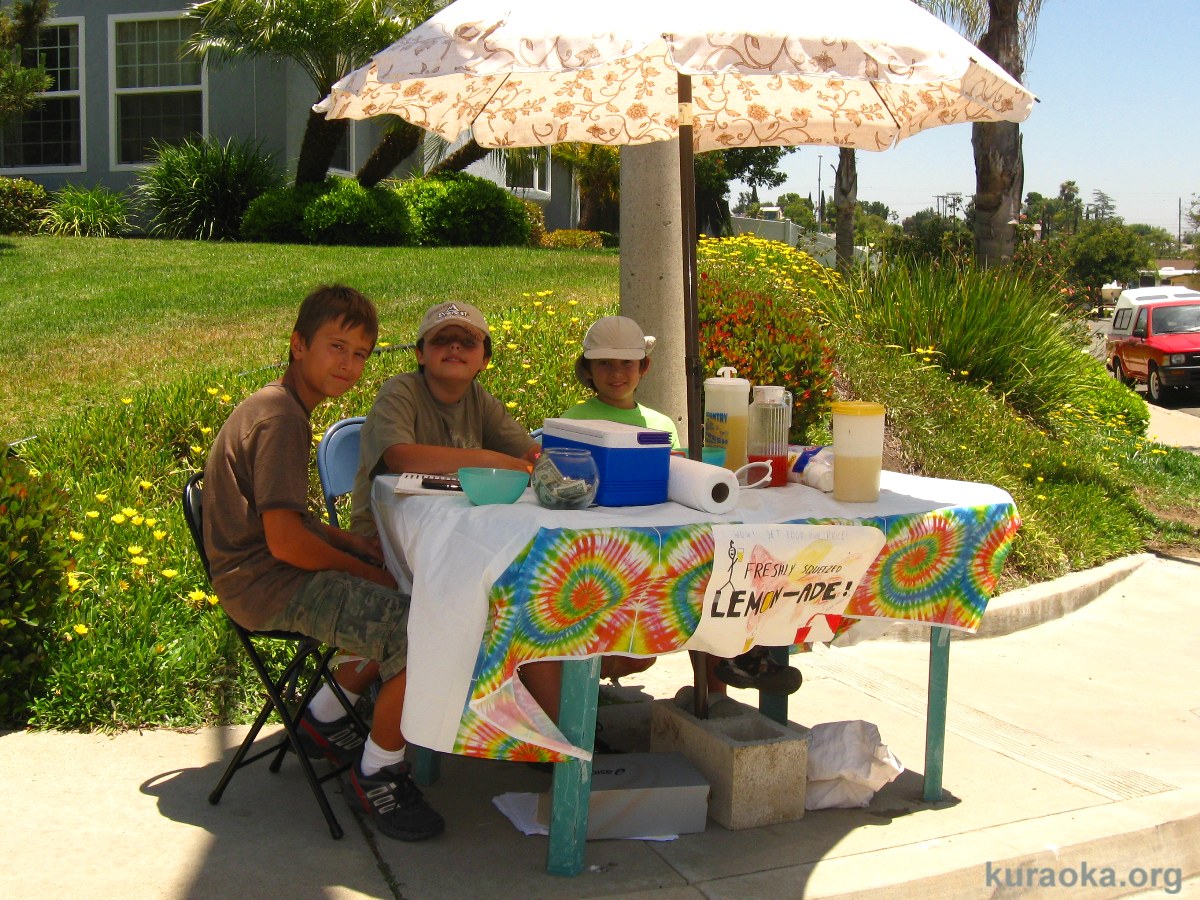 06-17-11 to 06-19-11 Big Bear with Barbara and Bill! Ondine, Roy, and Leo went to Big Bear and rode the chair lift with Barbara and Bill! They also fed the birds, flew paper airplanes, and spotted a very plump coyote and (perhaps a related development) only one squirrel.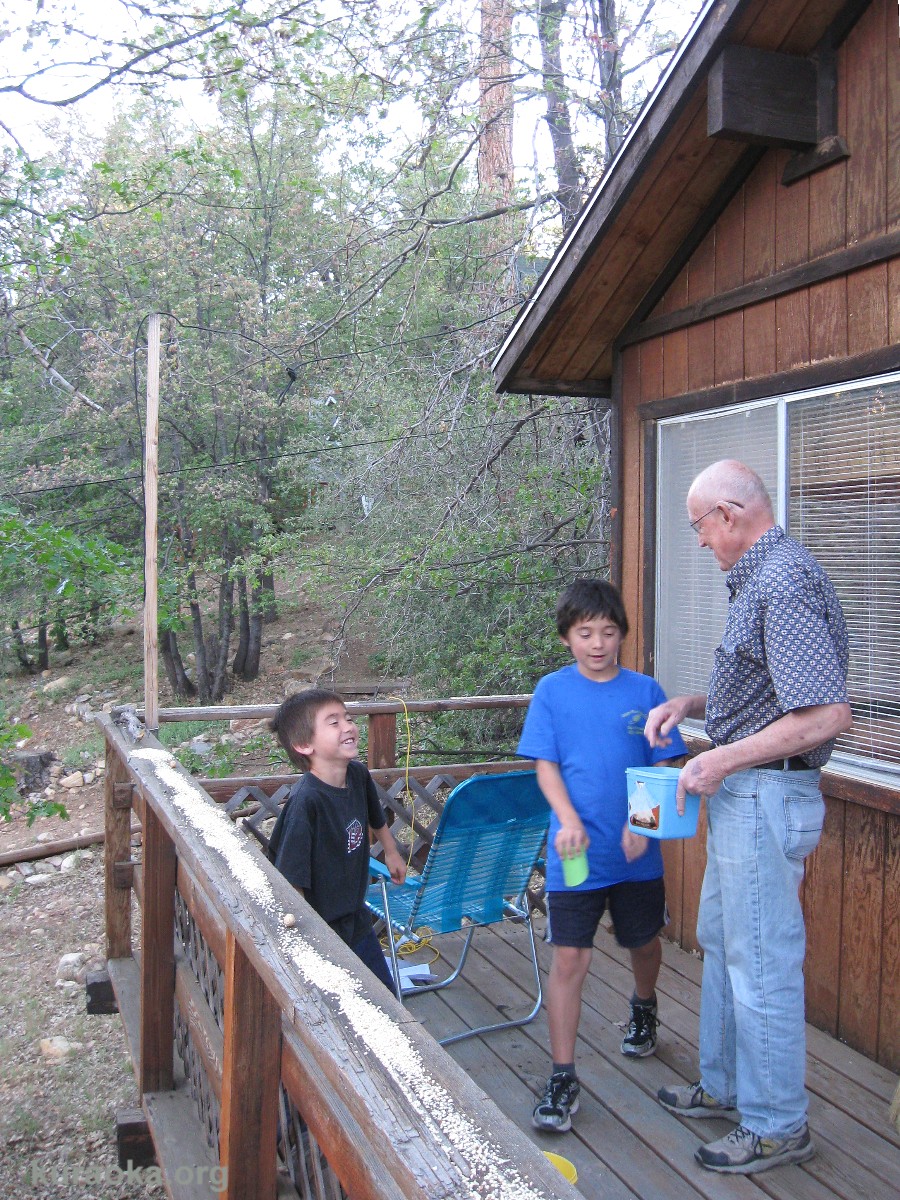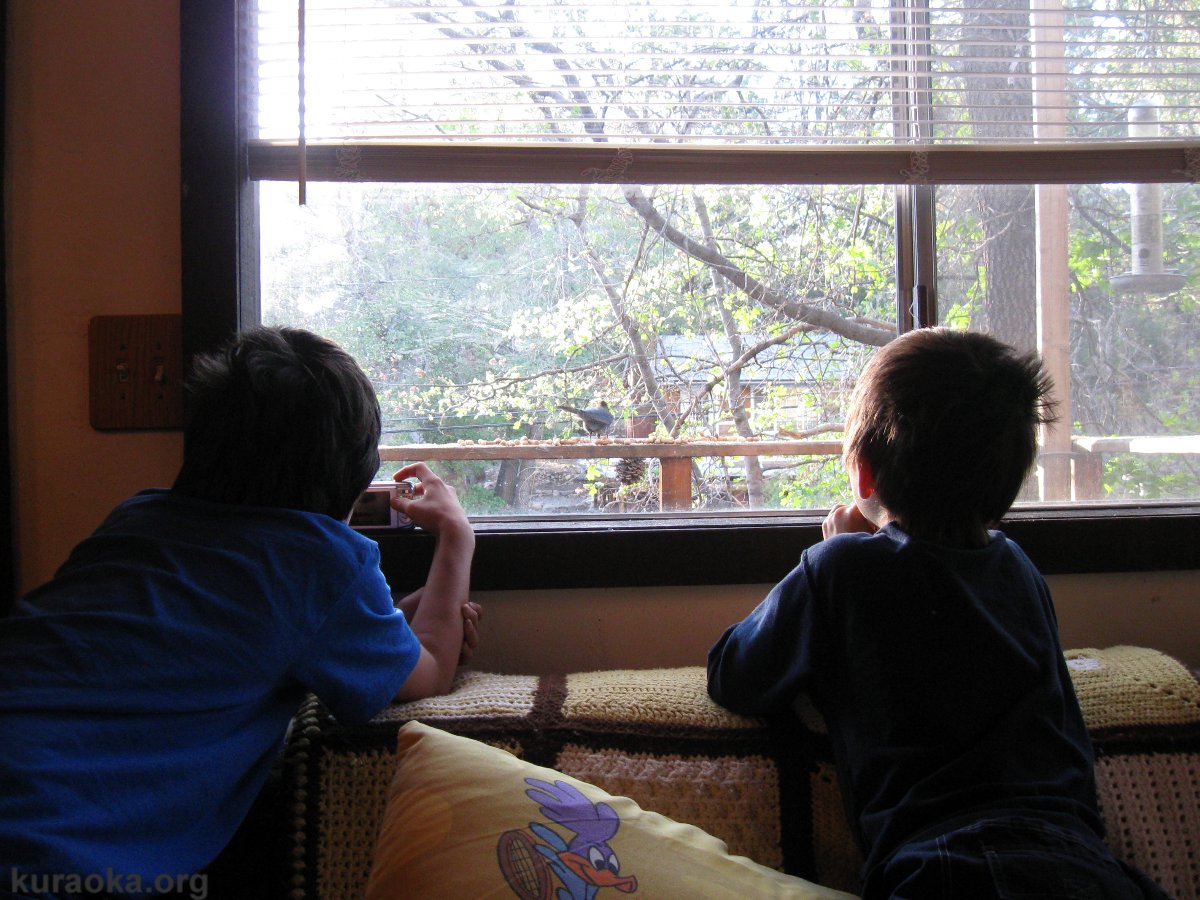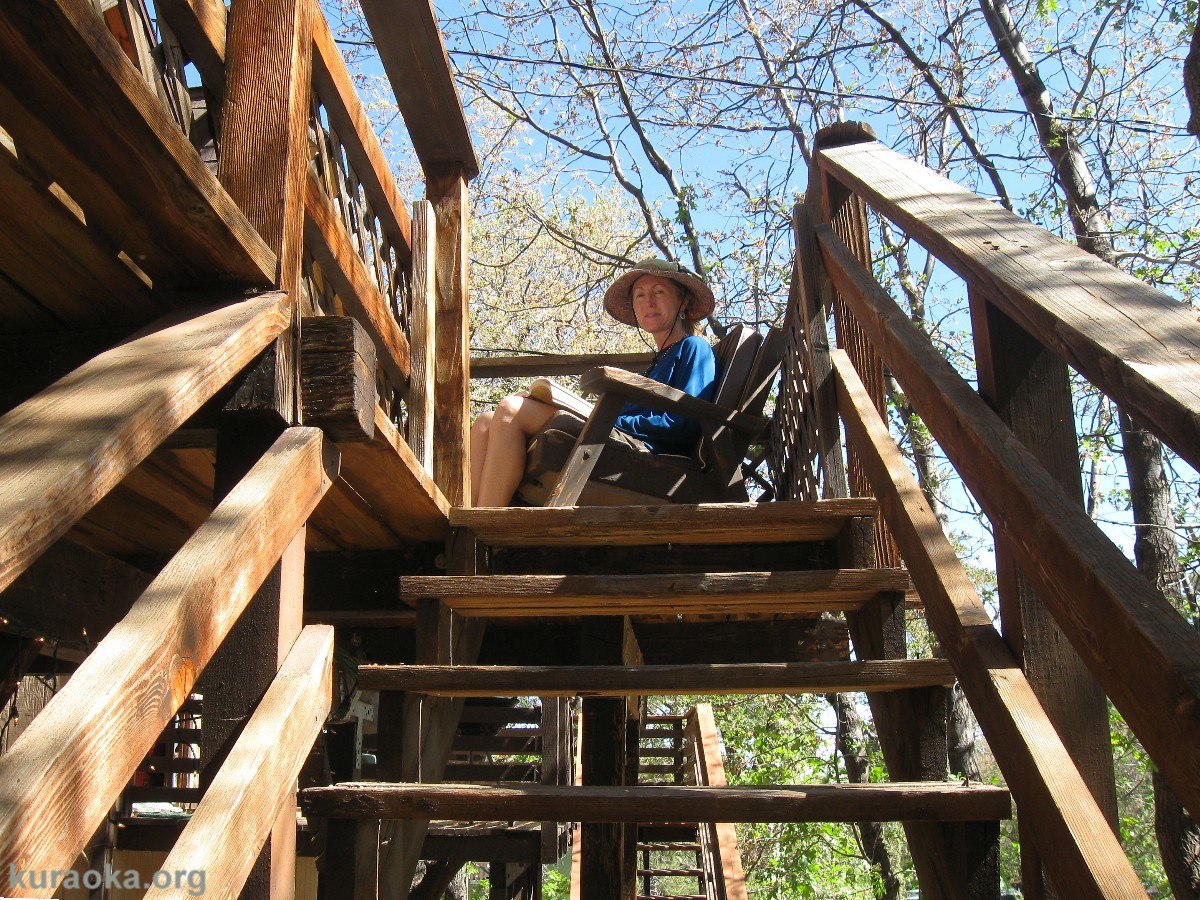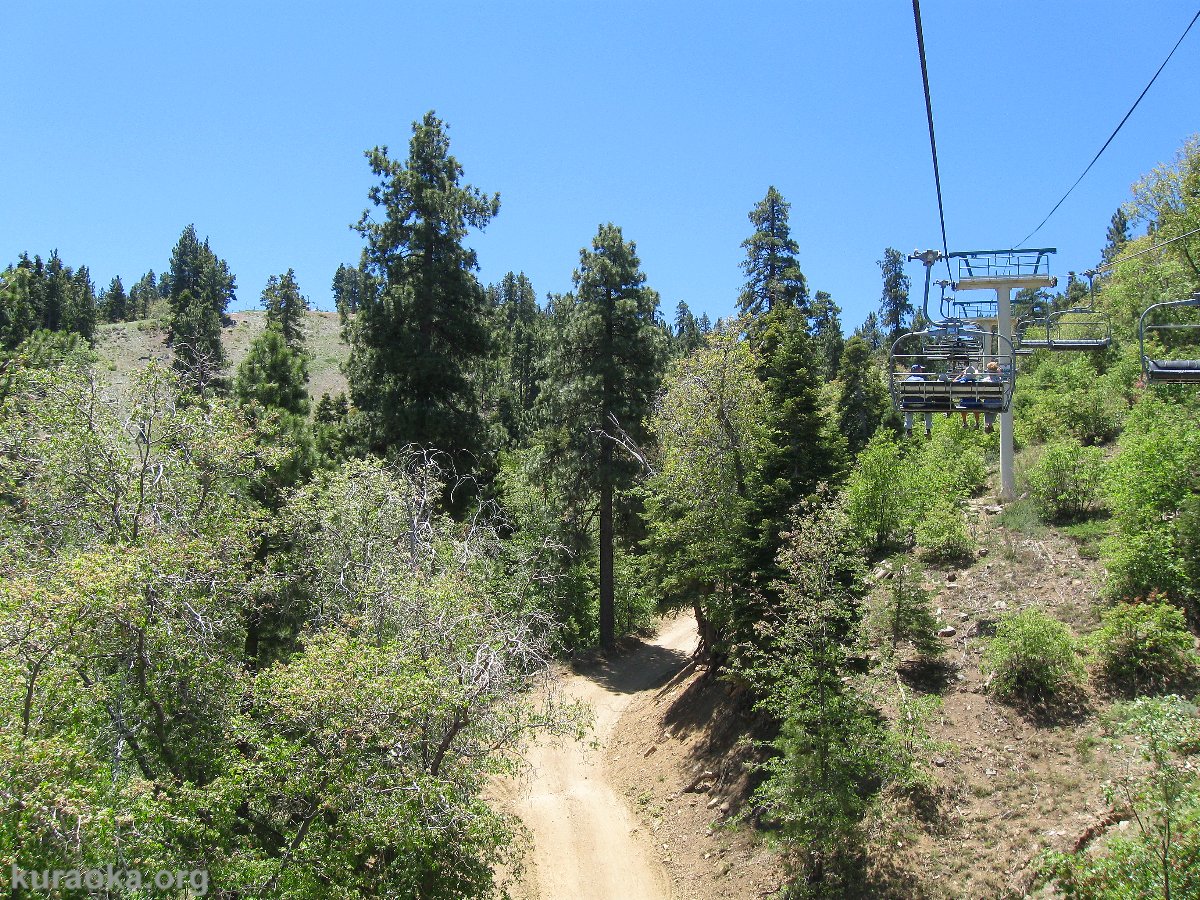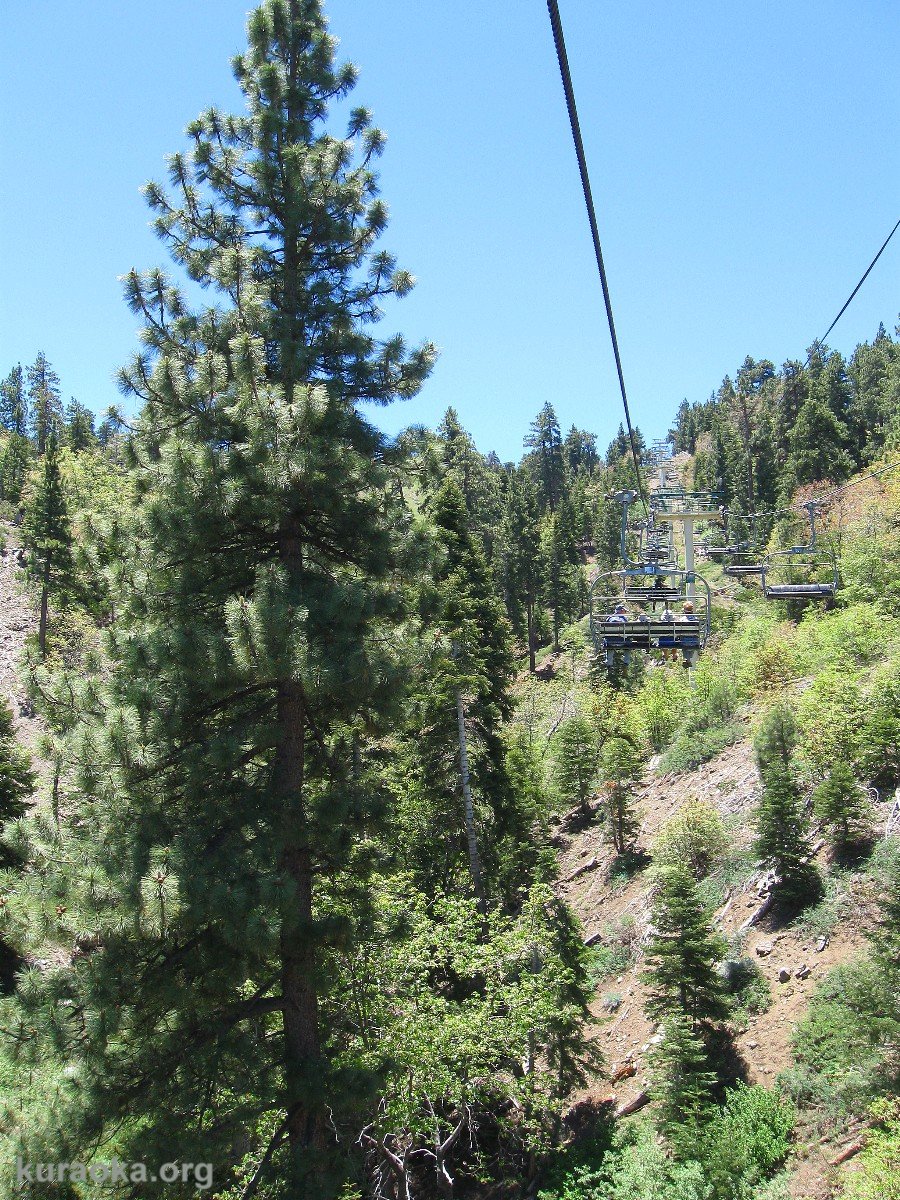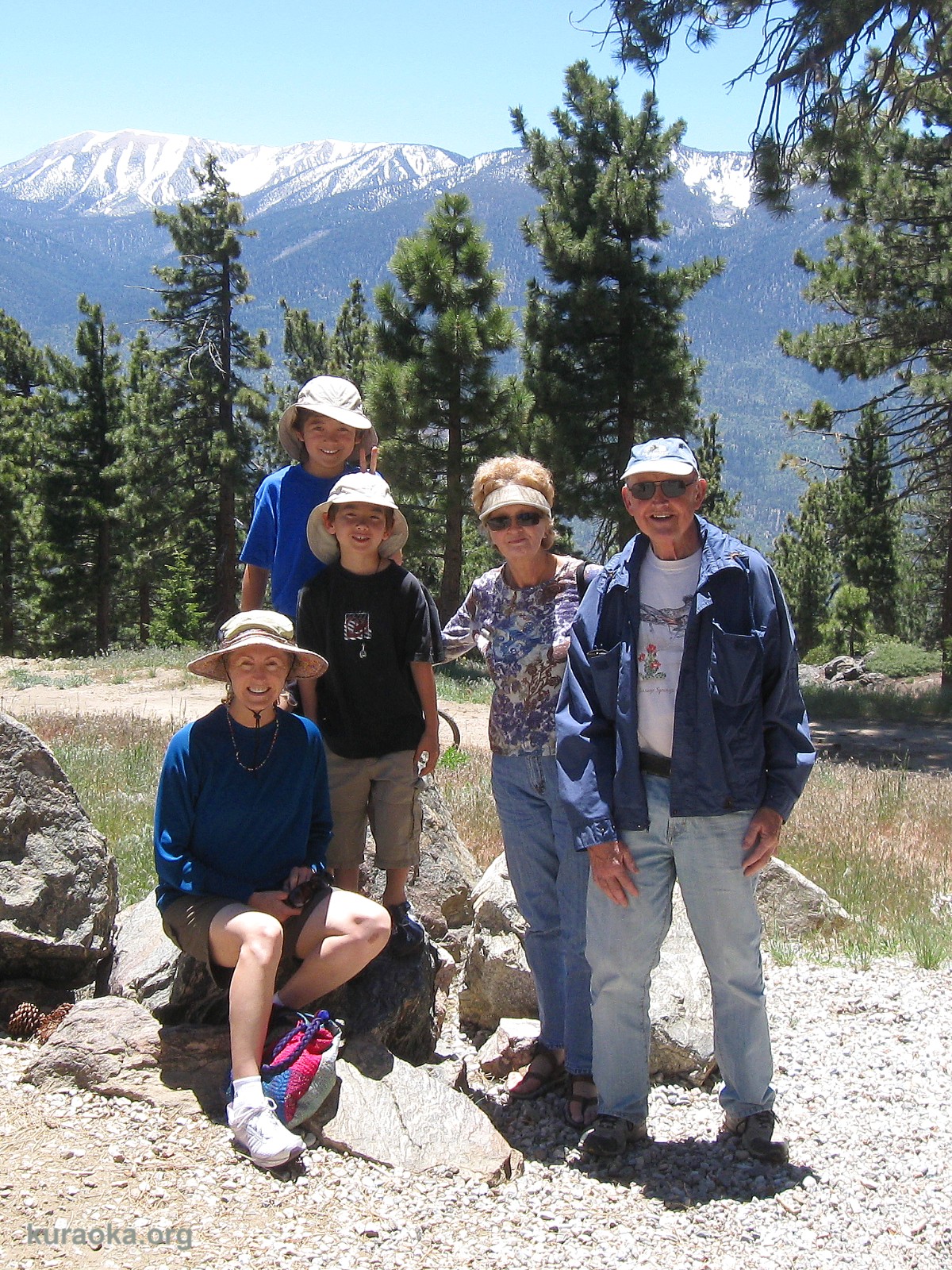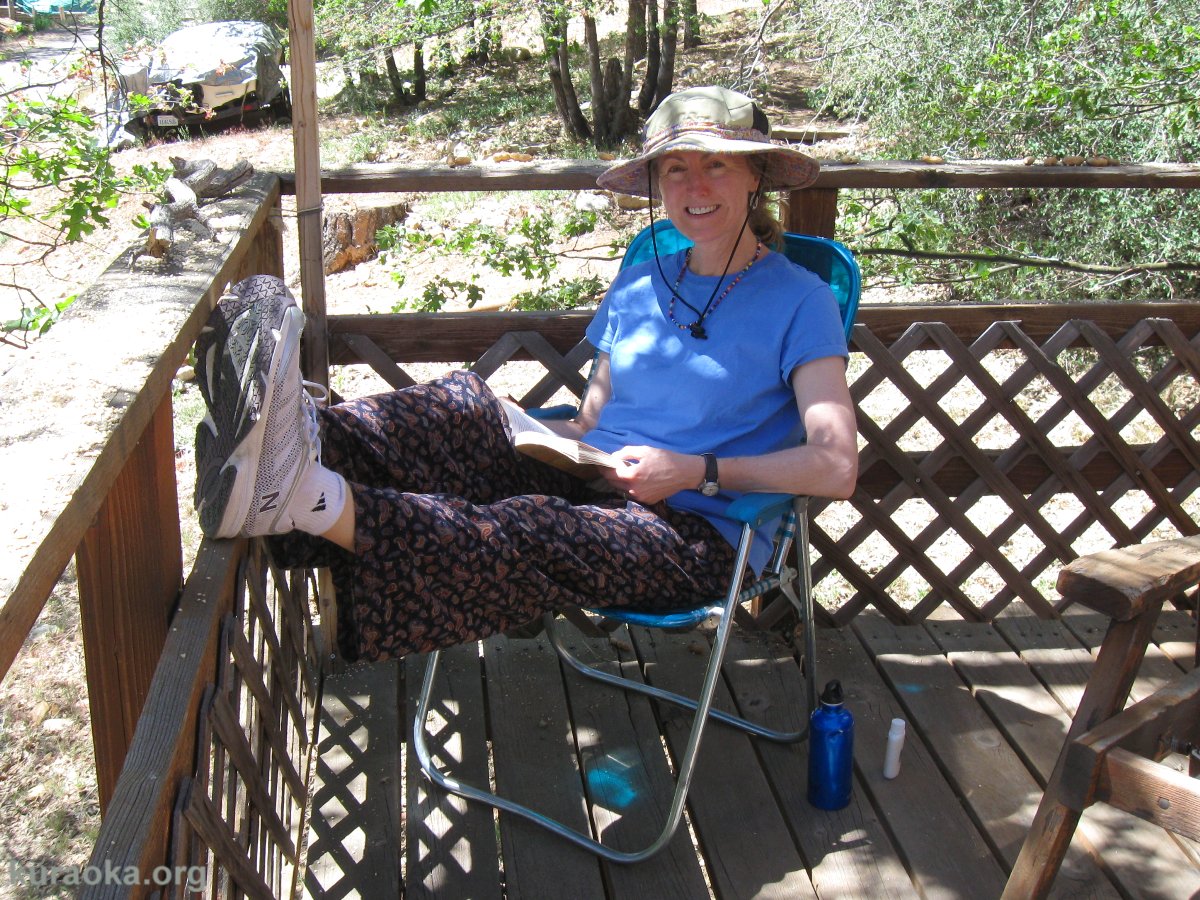 06-16-11 Lemonade Stand! Here Michael and Roy give the lemonade stand concept a trial run before ramping it up for the summer. Set-your-own-price fresh-squeezed lemonade and blood orange-ade from home-grown lemons and blood oranges! In a few hours, they made over $48.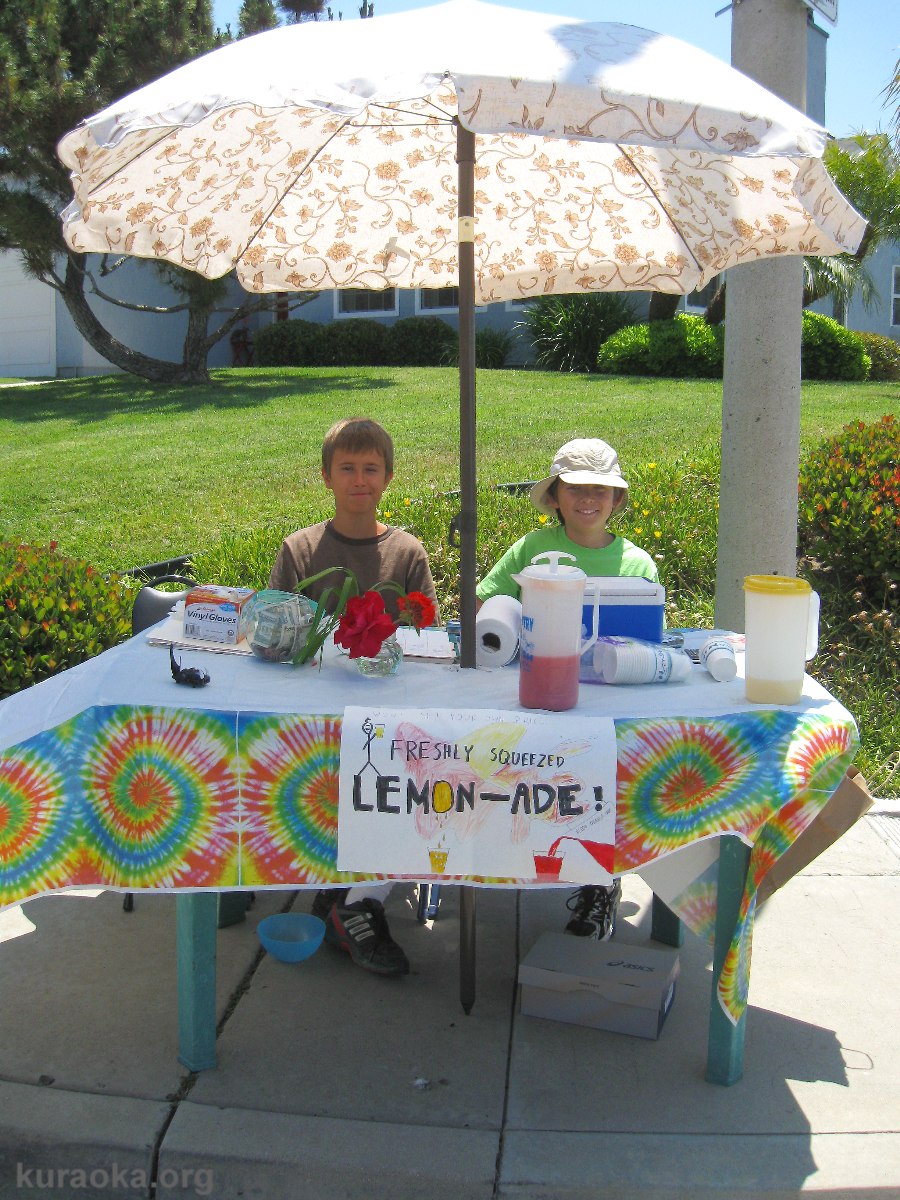 06-13-11 Gage Gator Graduates! Here is Roy at the Gage fifth-grade culmination ceremony, shot from way far away. But, here he is receiving his certificate of completion from his fifth-grade teacher, Ms. Skaar, then posing with Ms. Skaar and the principal, Ms. Burns. The fifth photo shows Roy with his Promotion Certificate and Presidential Gold Award for Outstanding Academic Excellence. Here, too, is Leo with his teacher at Hearst Elementary, Mr. Guadarrama. We all convened at Denny's for a celebratory lunch. The last photo is (at last) our new family portrait.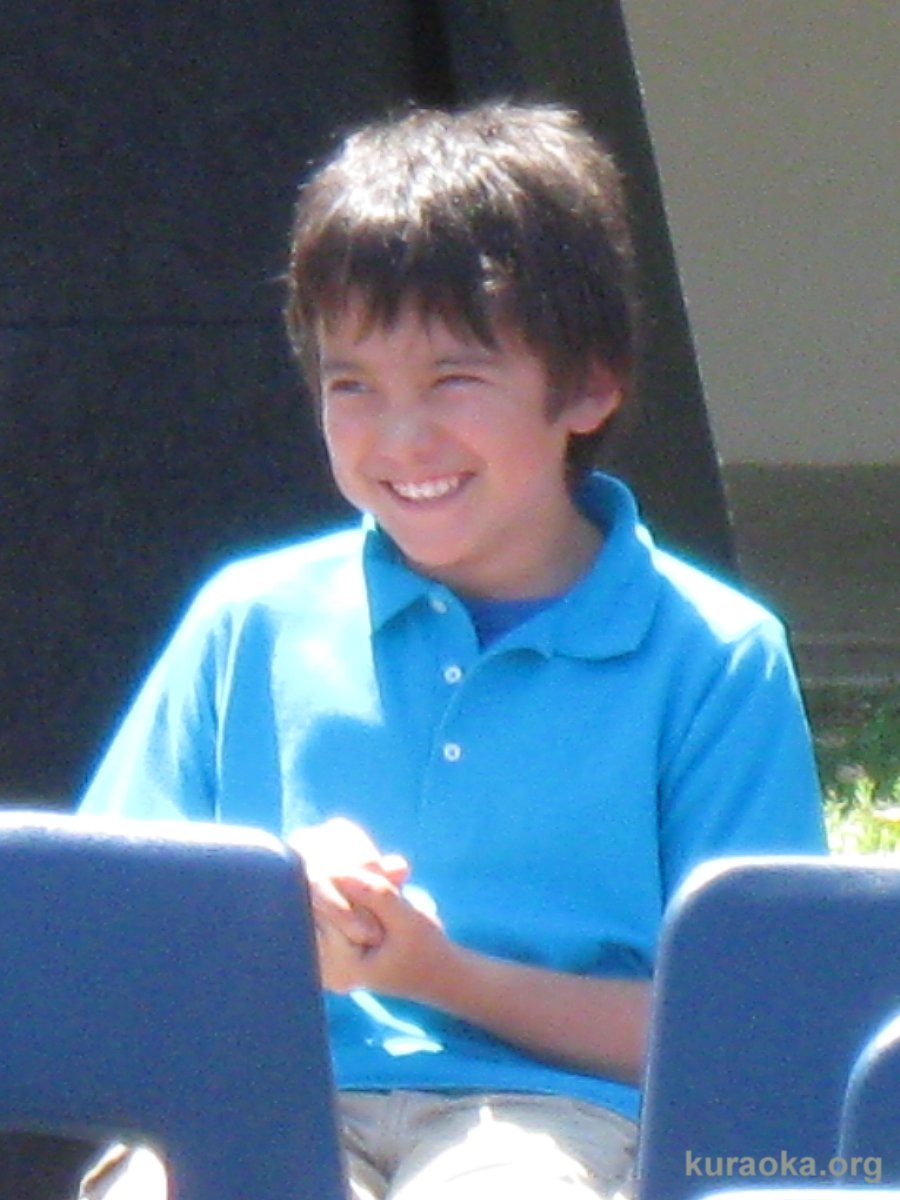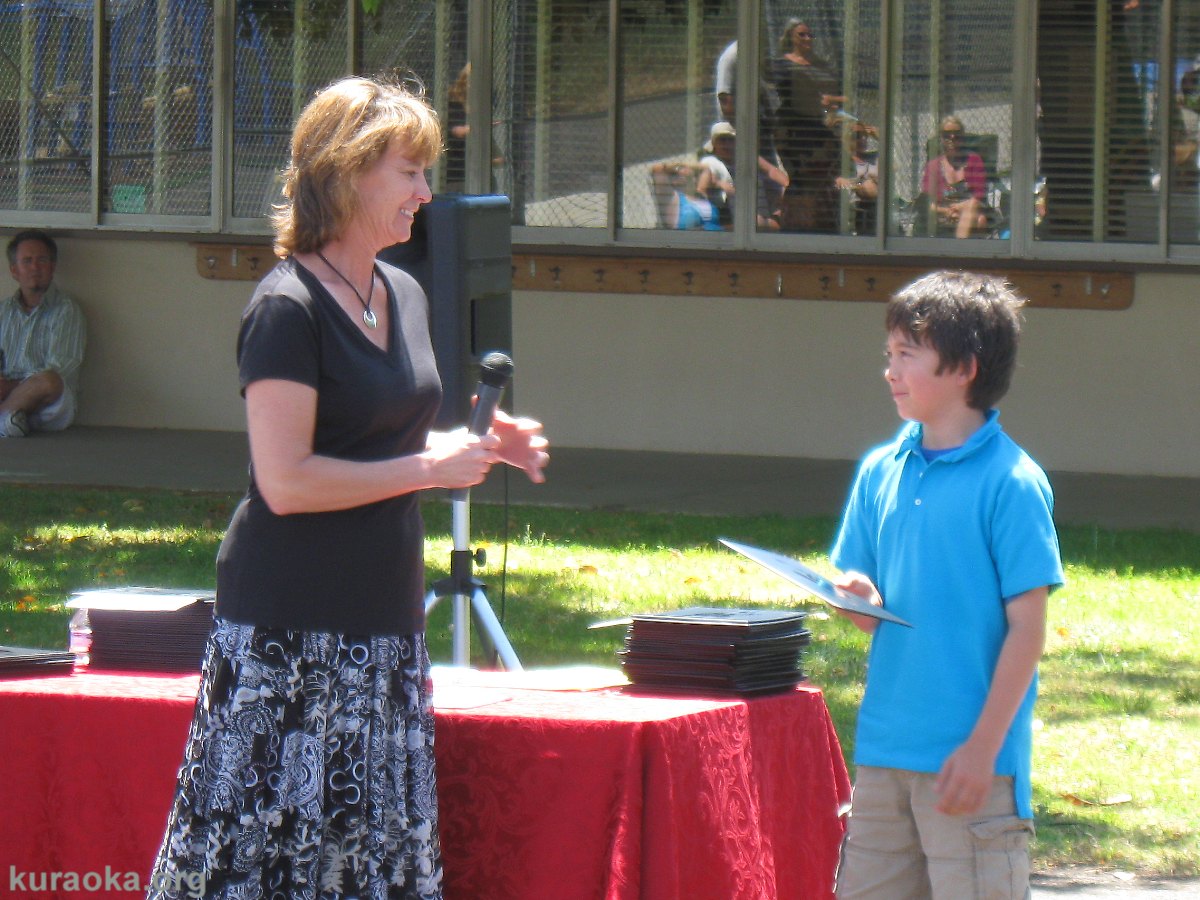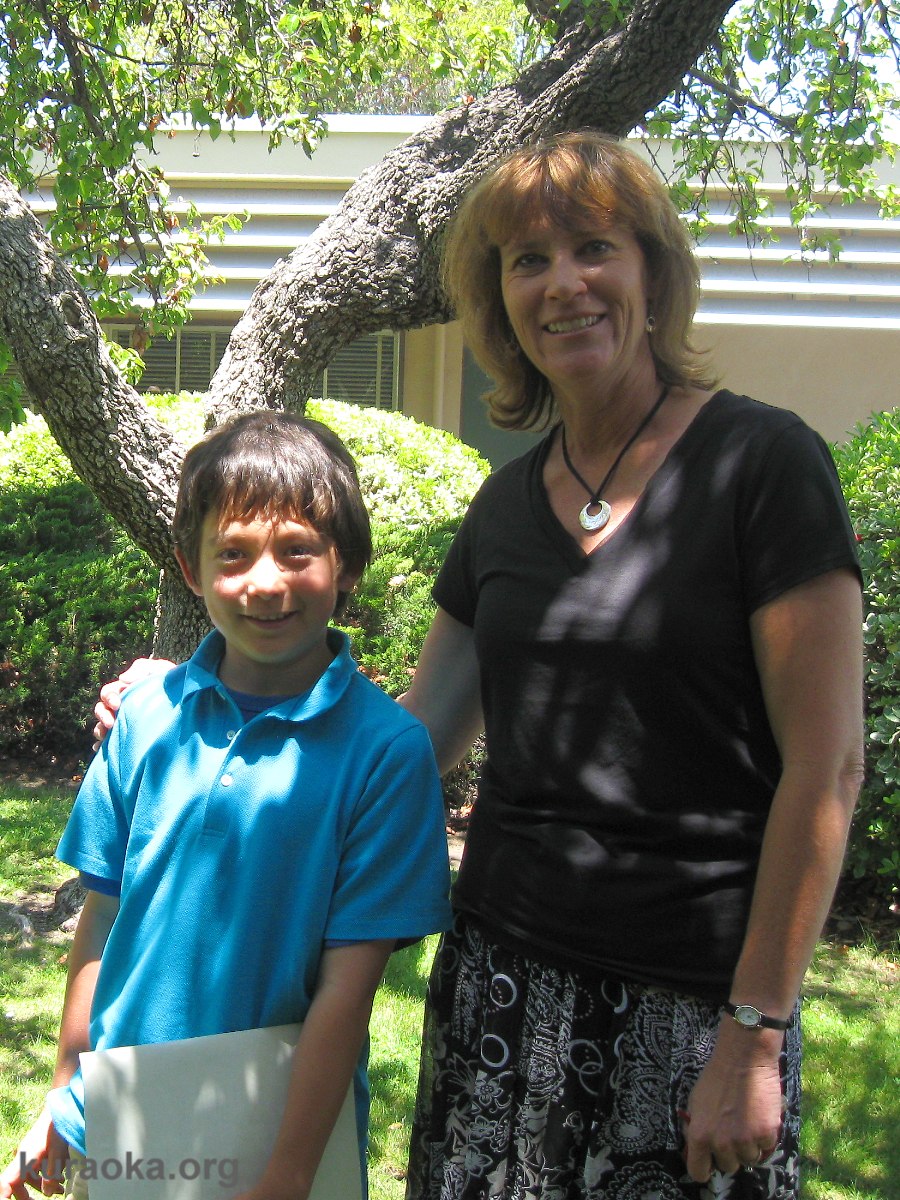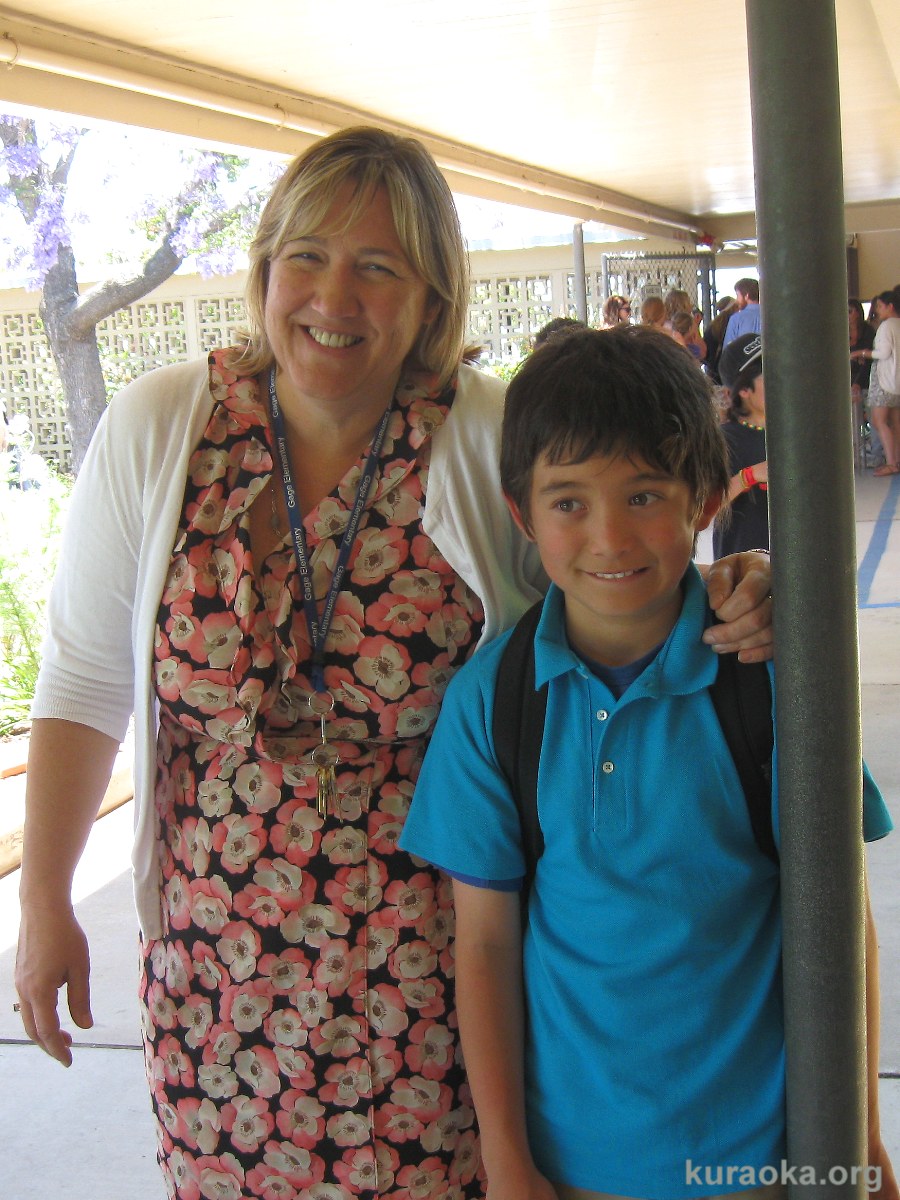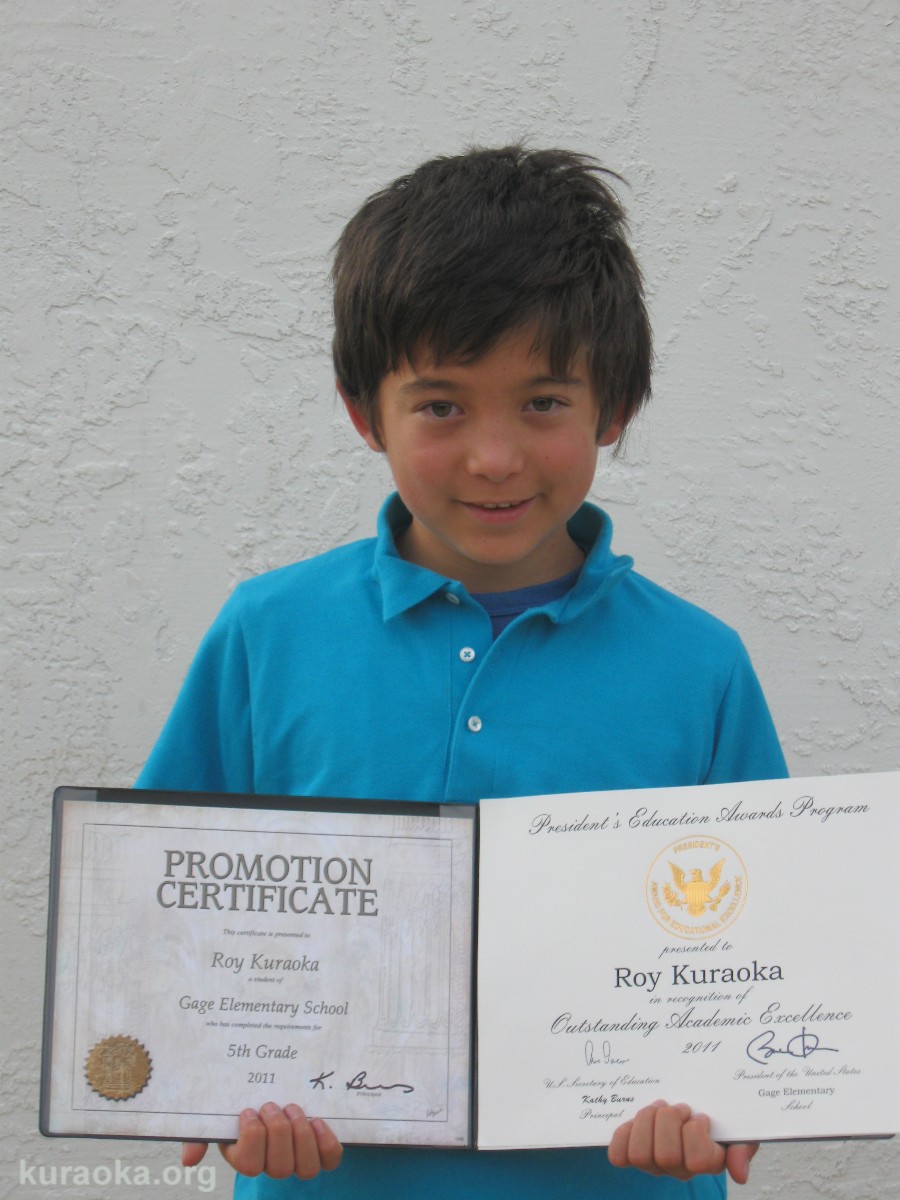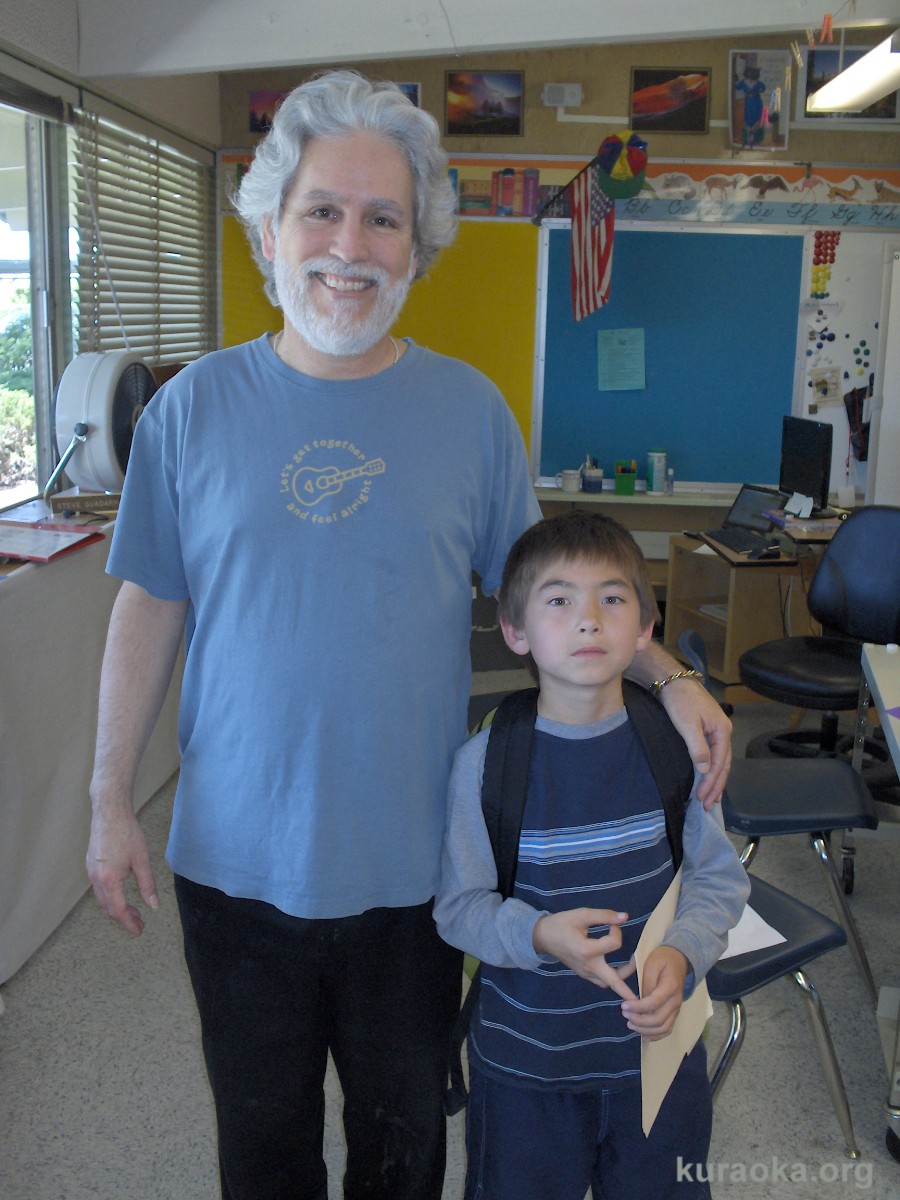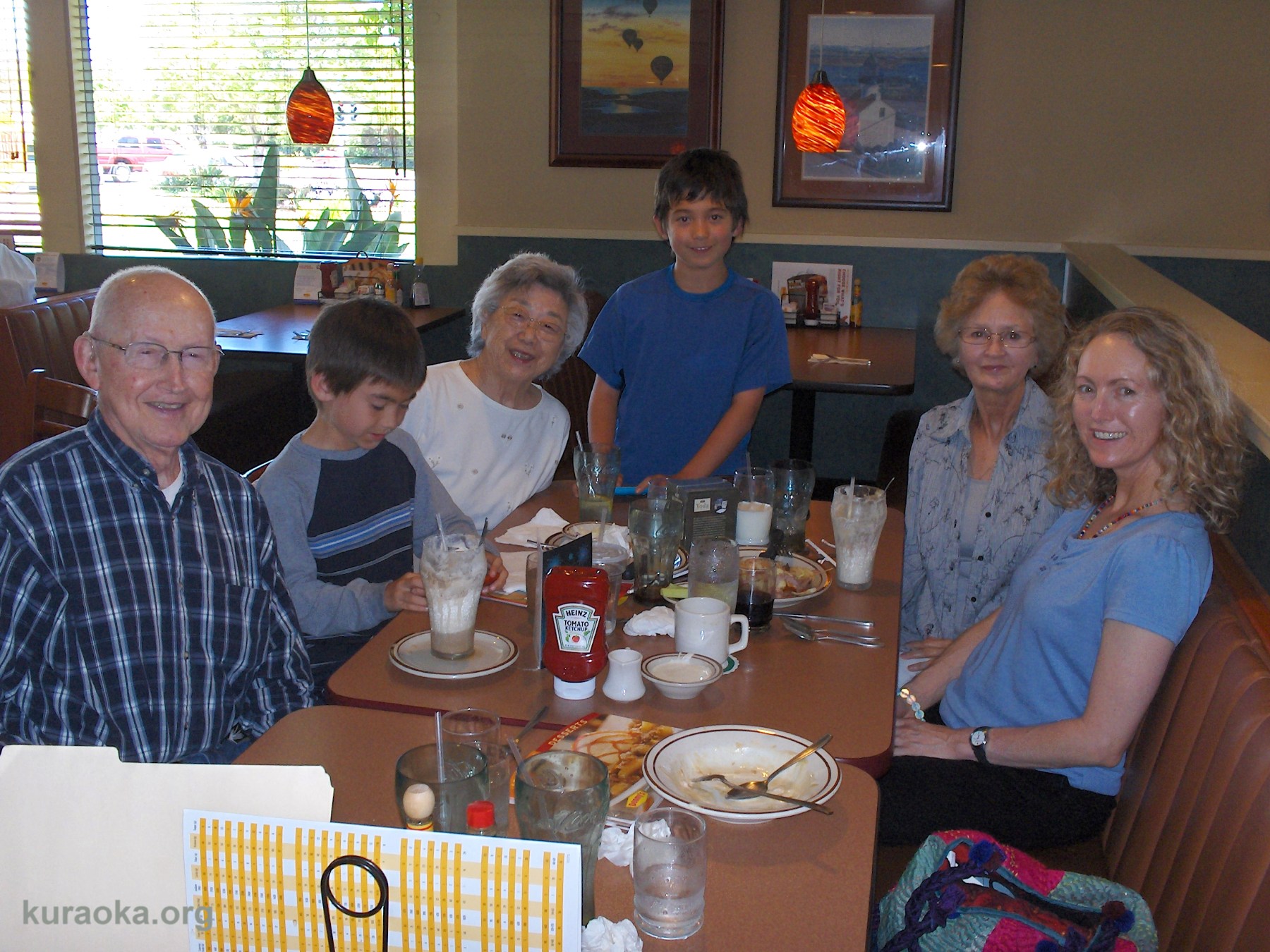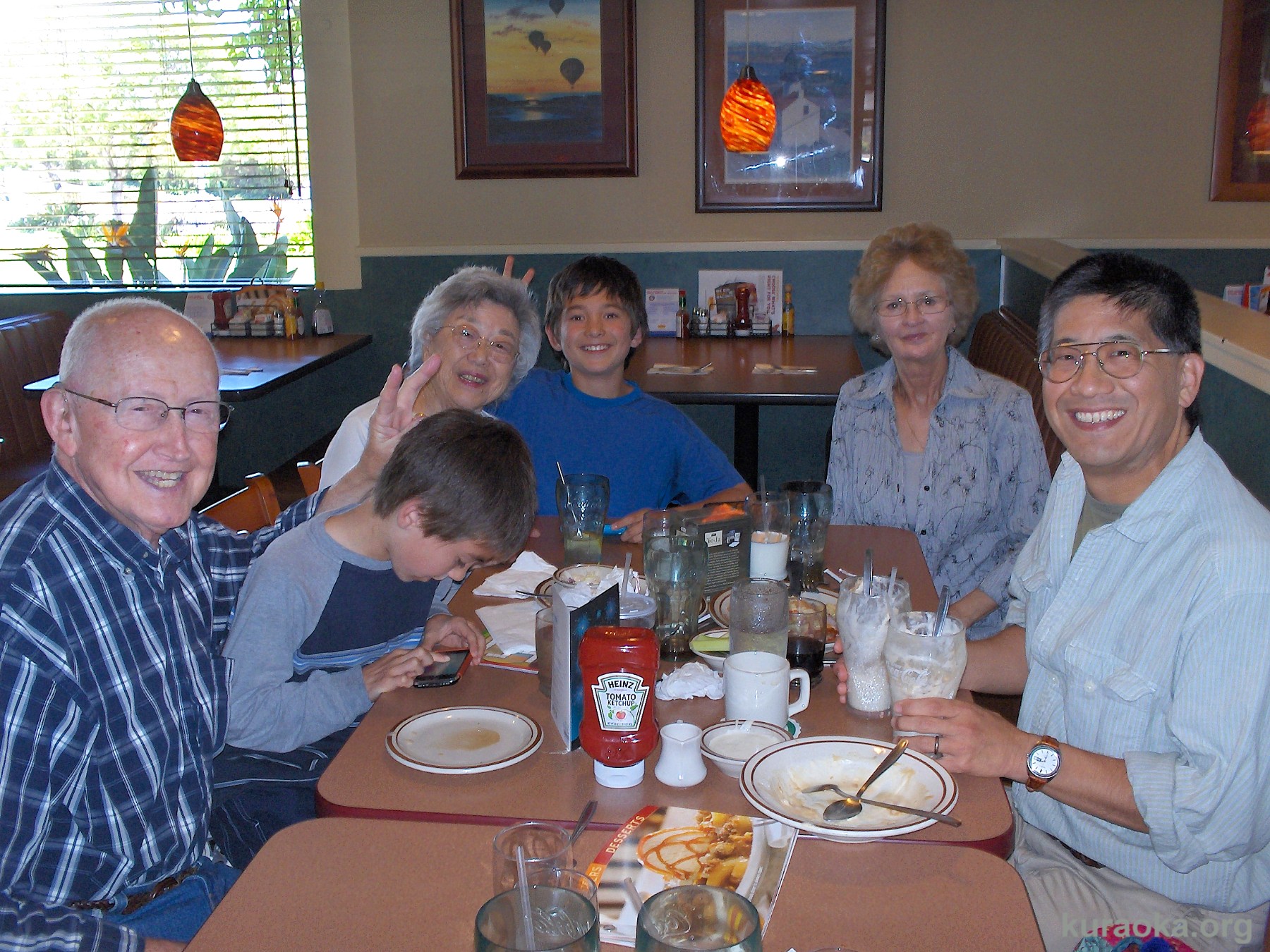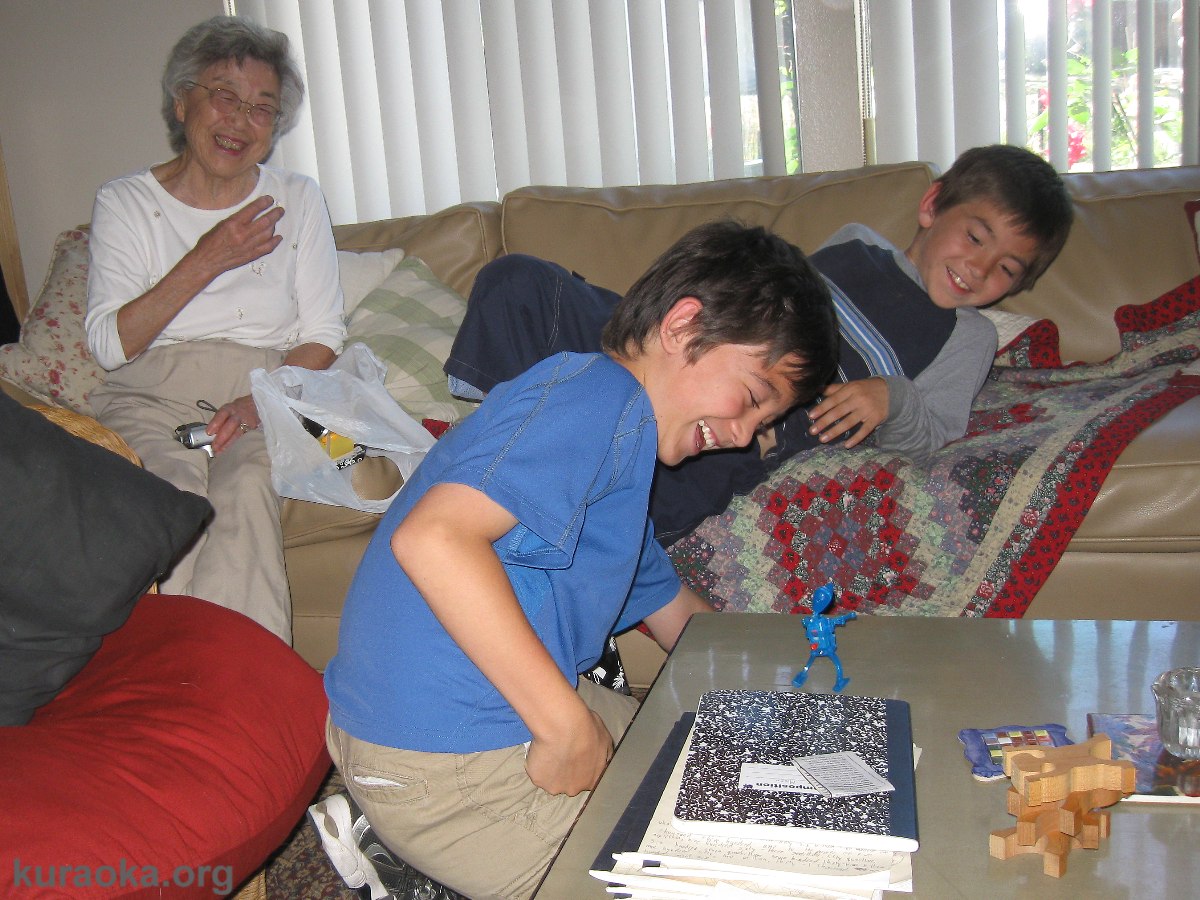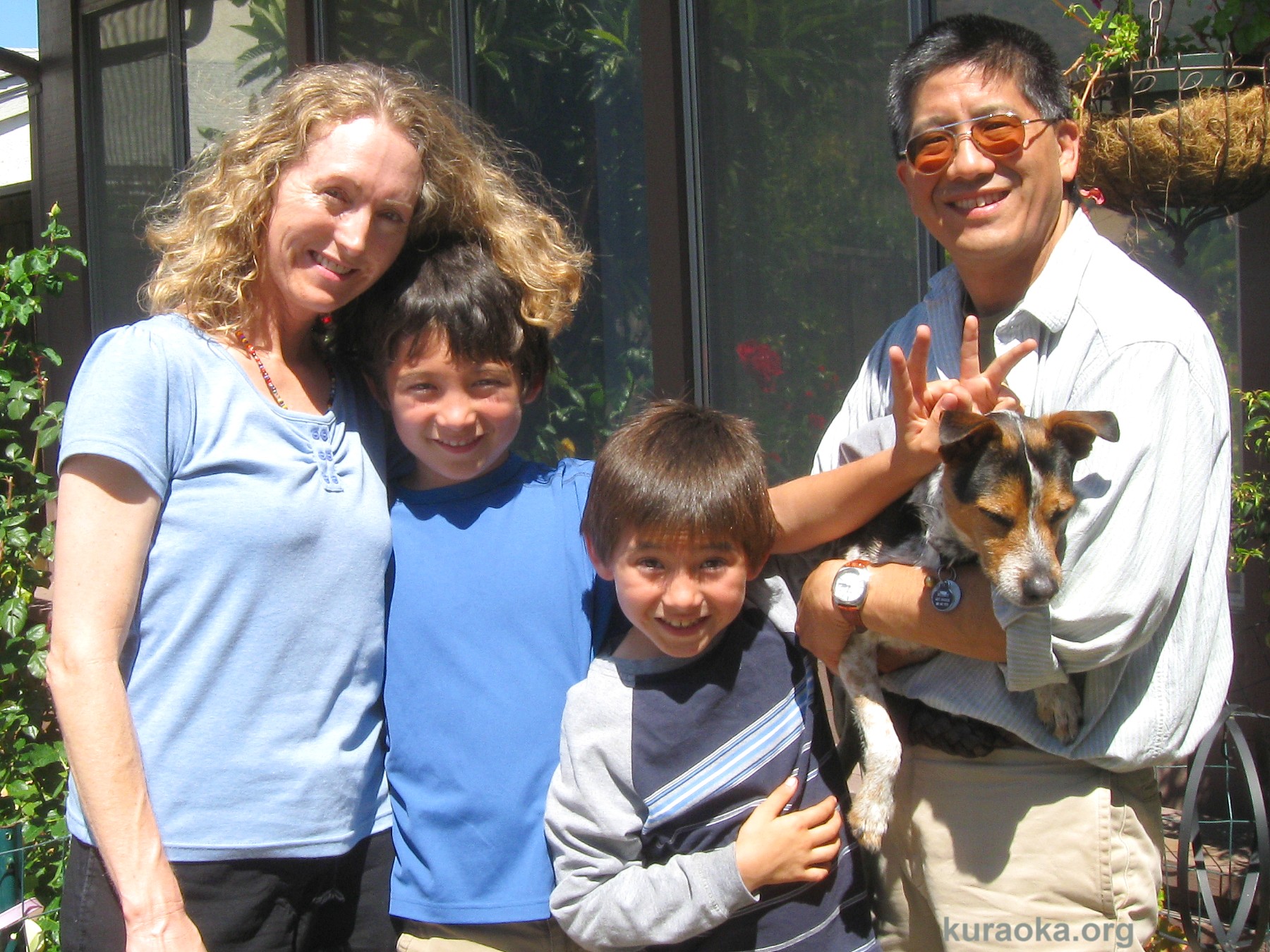 06-12-11 Sunrise Buffet with Grammy! Here we are celebrating a judo promotion for Roy and Leo with lunch at Sunrise Buffet, the boys' favorite place to eat. Then we have a "portrait mode" shoot-out between Roy's Fuji Finepix AX250 (taken the day before and unfortunately set at 640x480 hence the tiny size and low resolution), our old Canon A590IS, and Grammy's old Panasonic Lumix DMC-LS70, all taken using each camera's automatic portrait mode.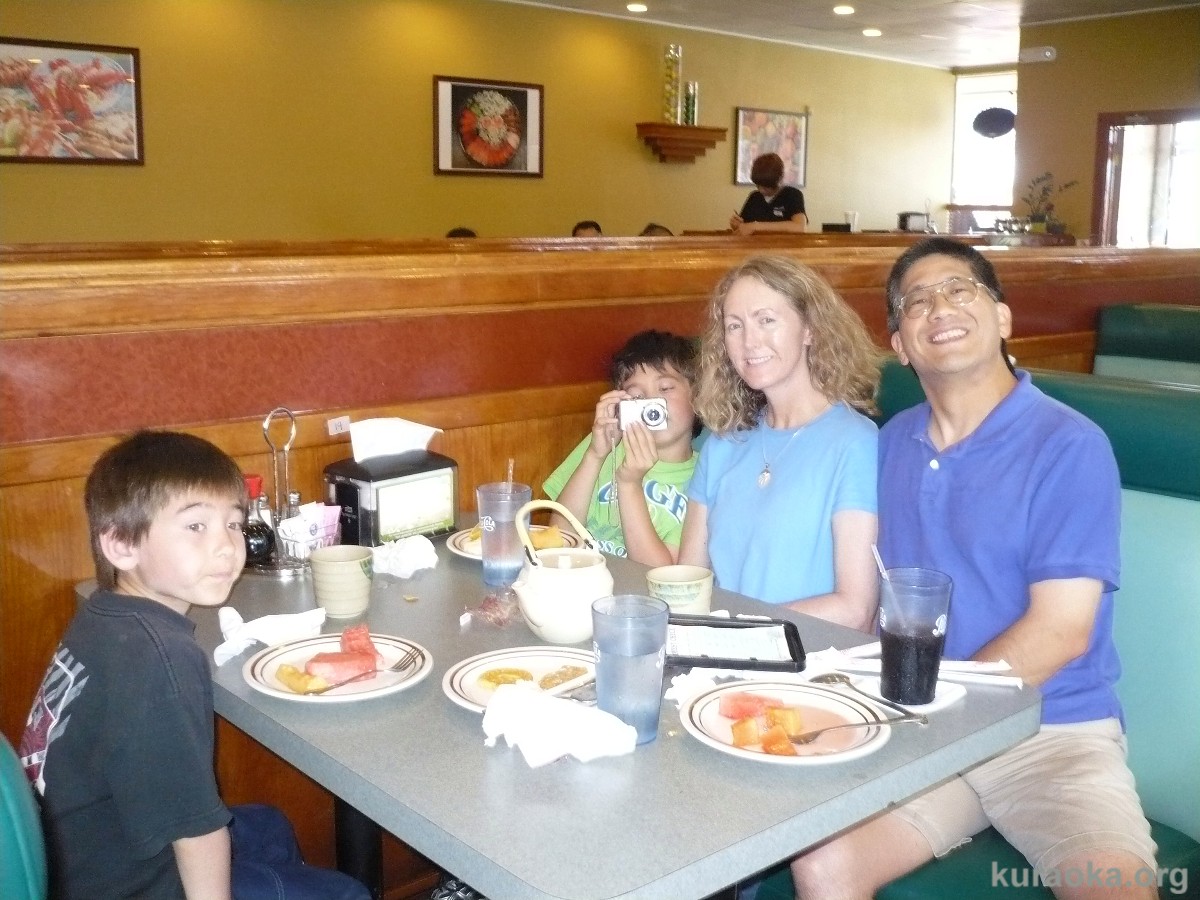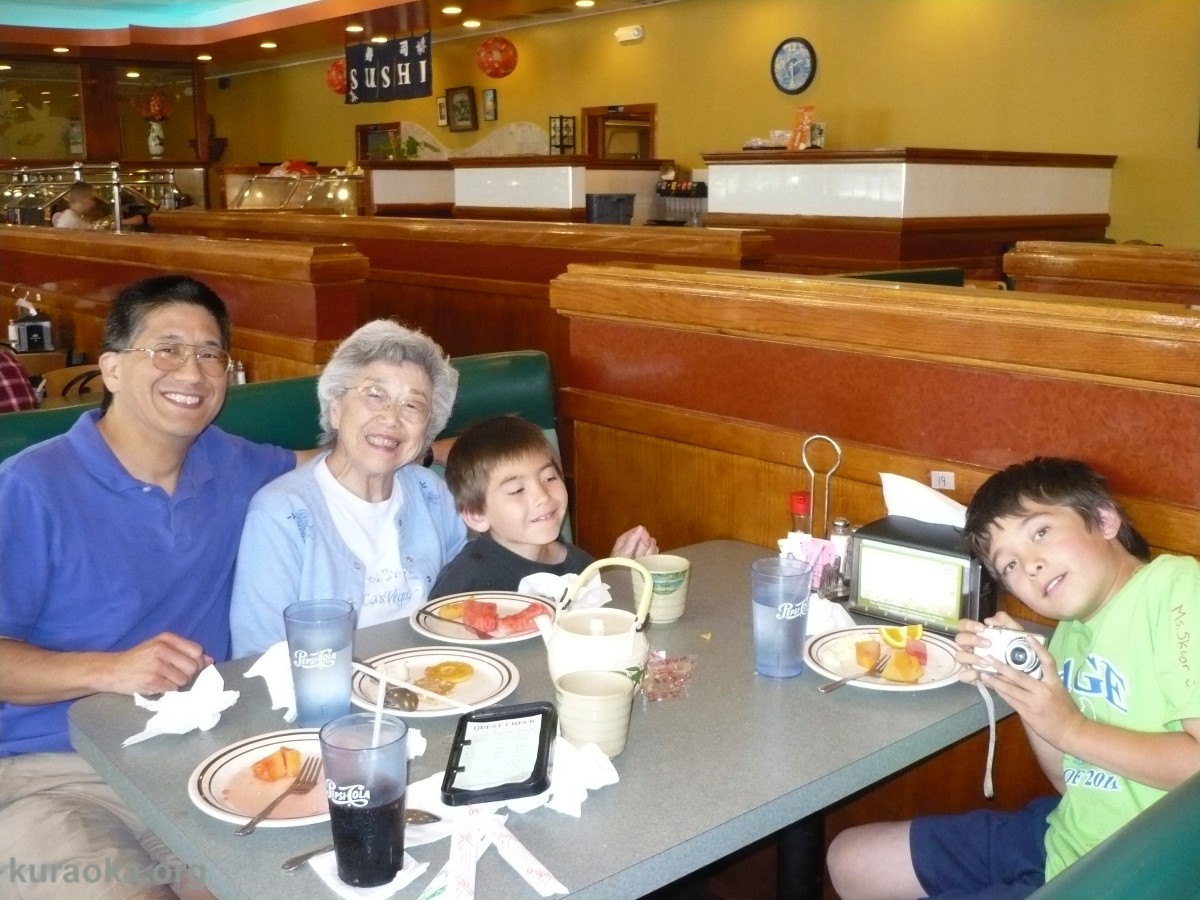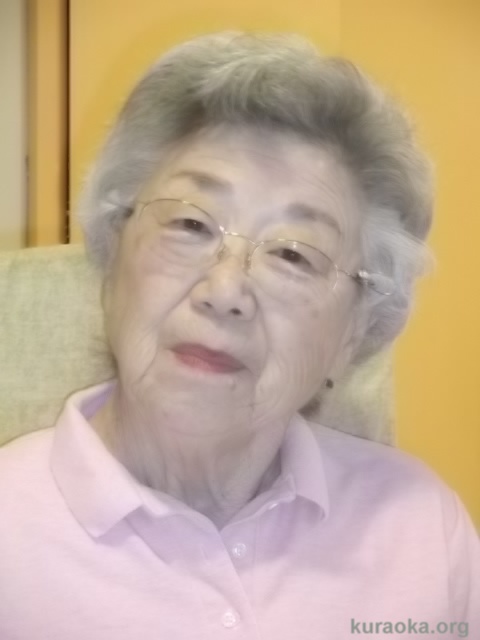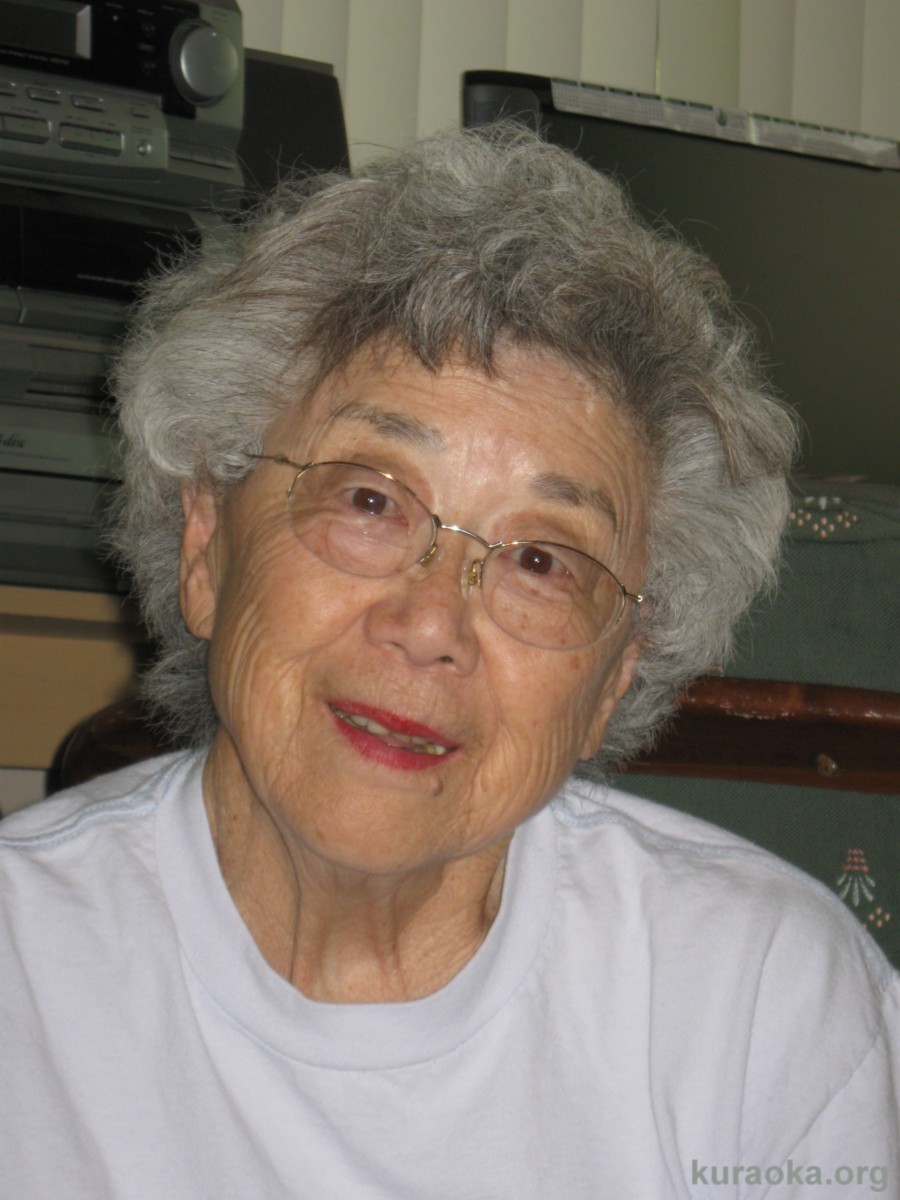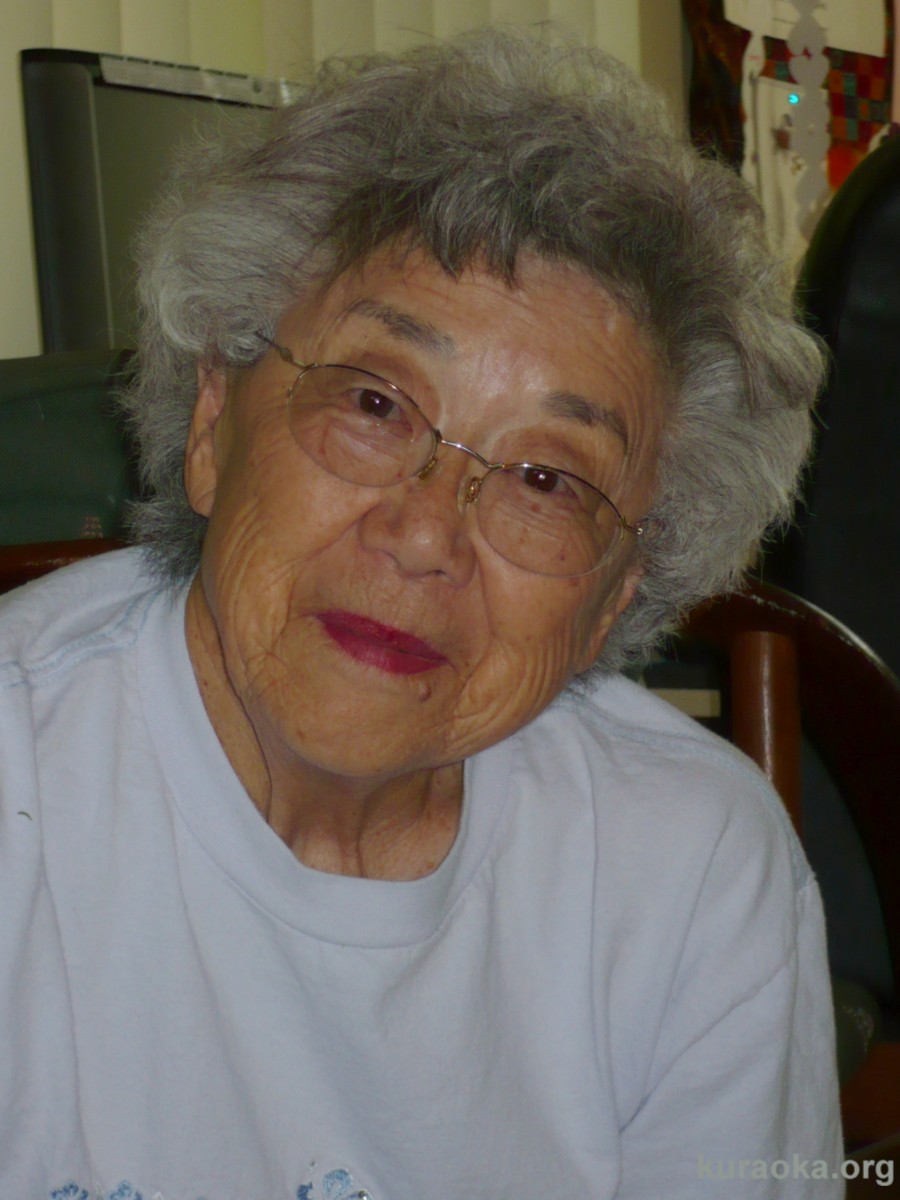 06-10-11 Gage Running Club assembly! The Top Runners (150+ miles) at Gage Elementary are honored at this recognition assembly. Together, the kids ran 30,889.25 miles! Roy ran 162 miles of those. Here is Roy with friends and fellow Top Runners Cory, Stephen, and Phoebe. Later they had a fifth-grade picnic – here are Cory, Roy, Michael, and Alex in a tug-of-war match.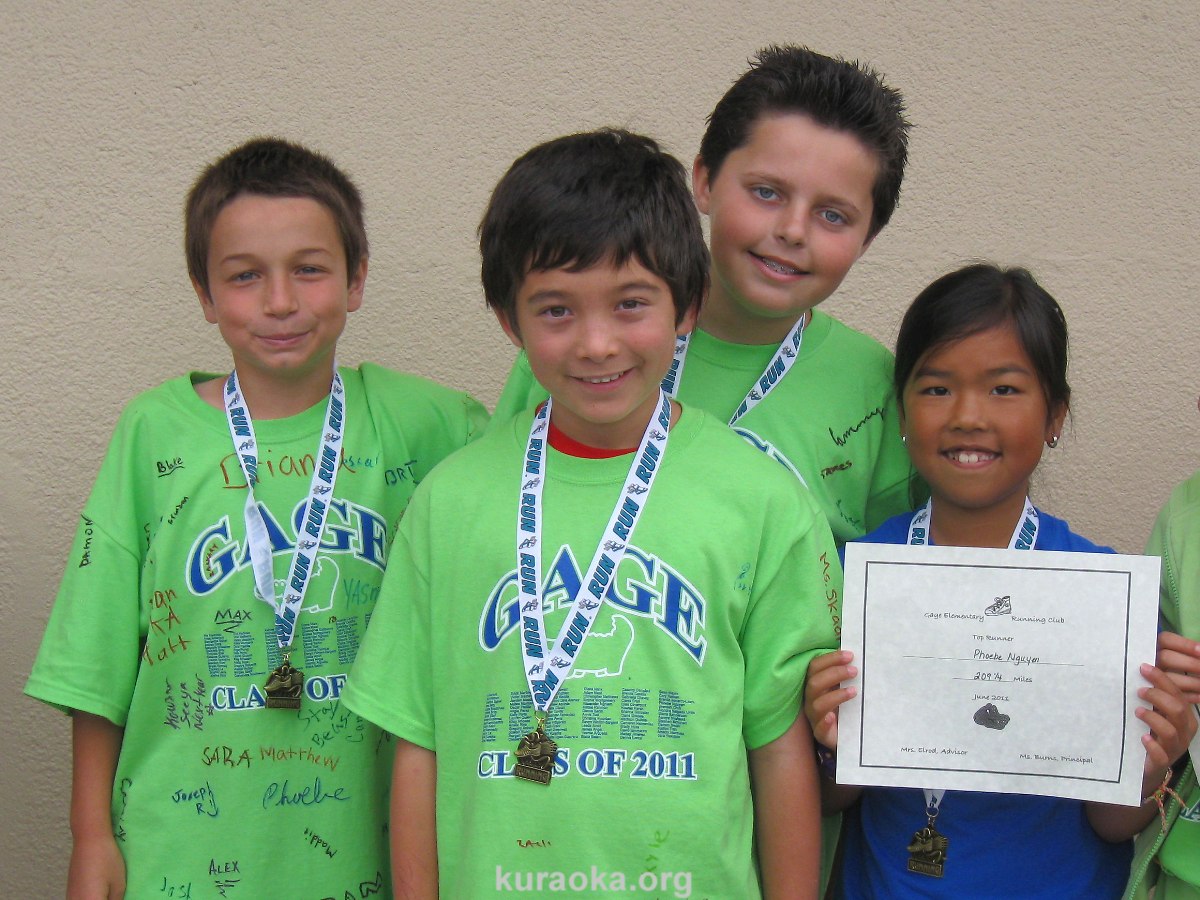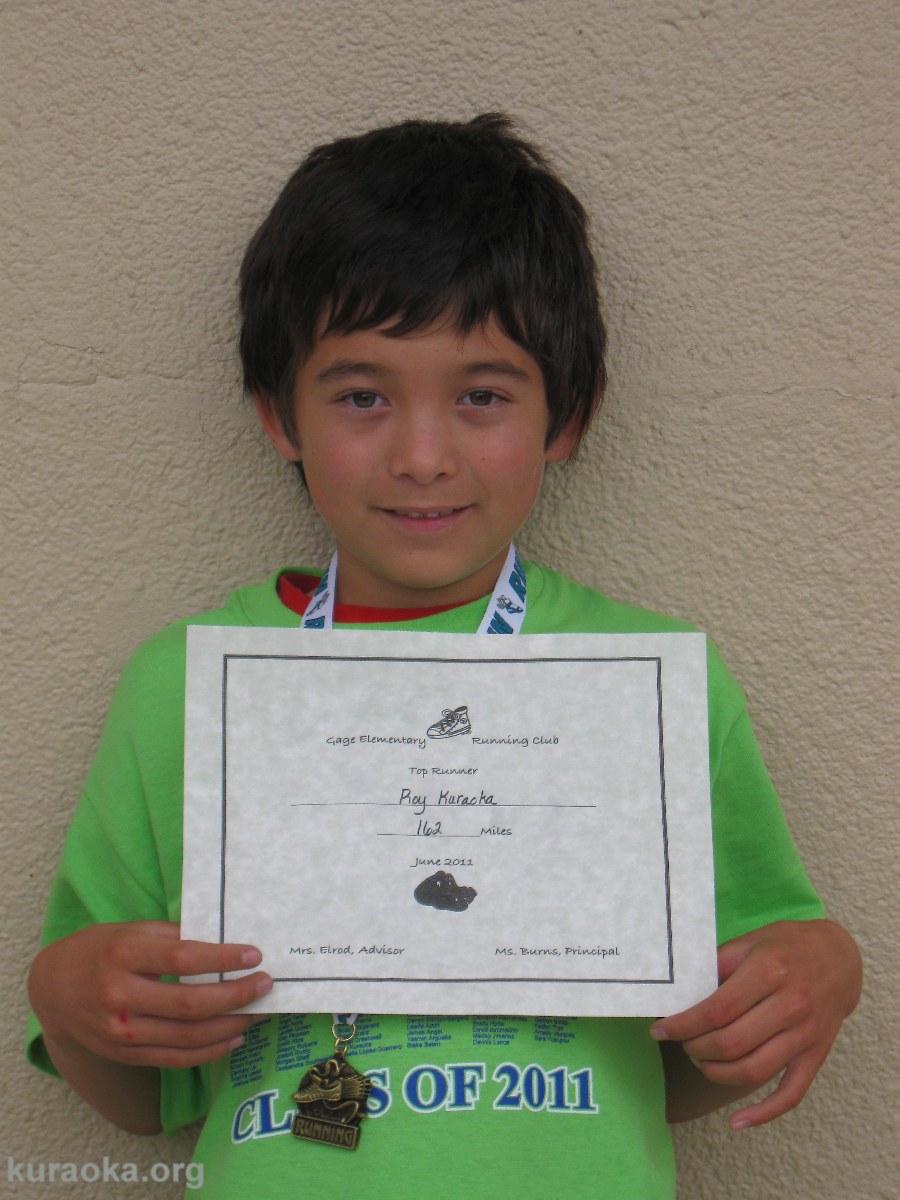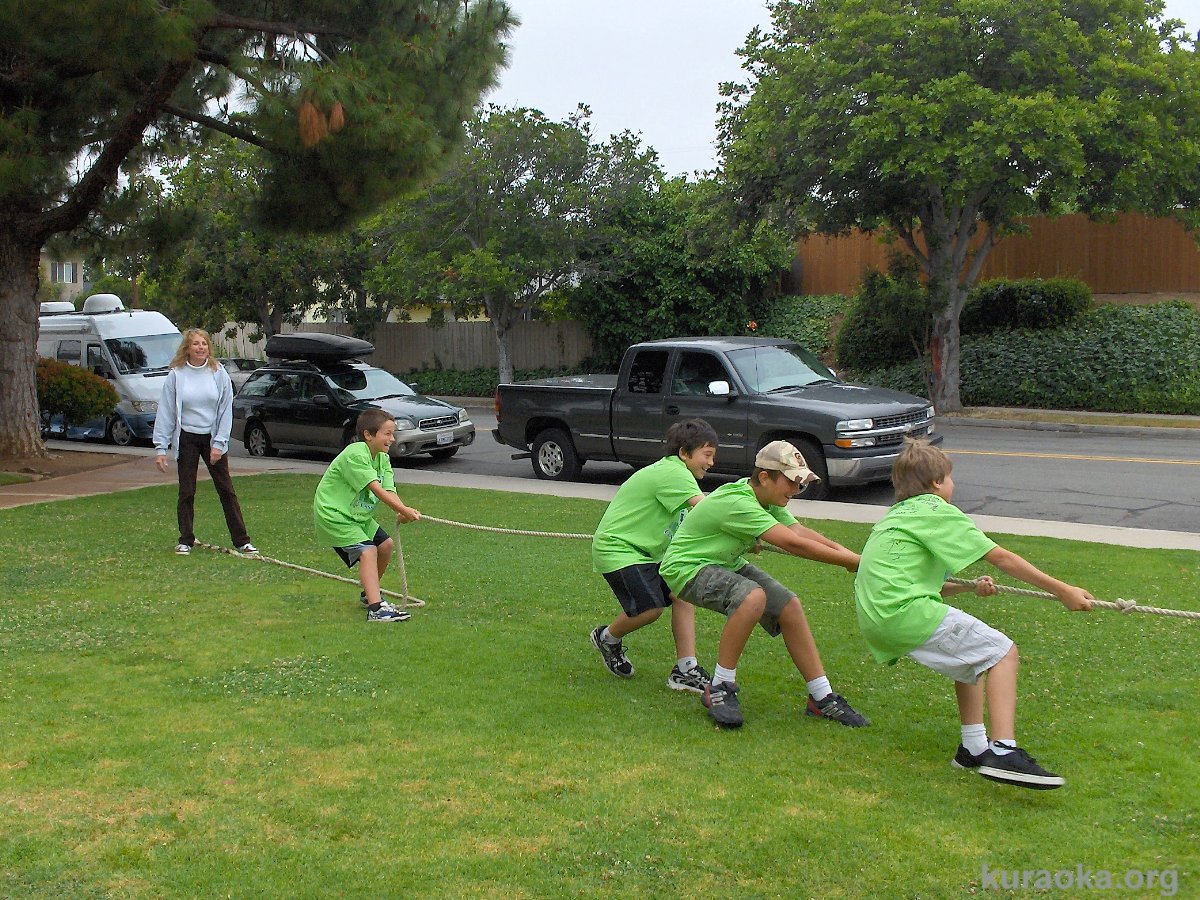 06-04-11 Leo's school award assembly! Leo received a perfect attendance certificate, his 50-mile Running Club ribbon, and his 100-mile Running Club T-shirt, making him one of the few students at Hearst Elementary to run 100 miles in a single school year! You can see he collected a whole plateful of refreshments.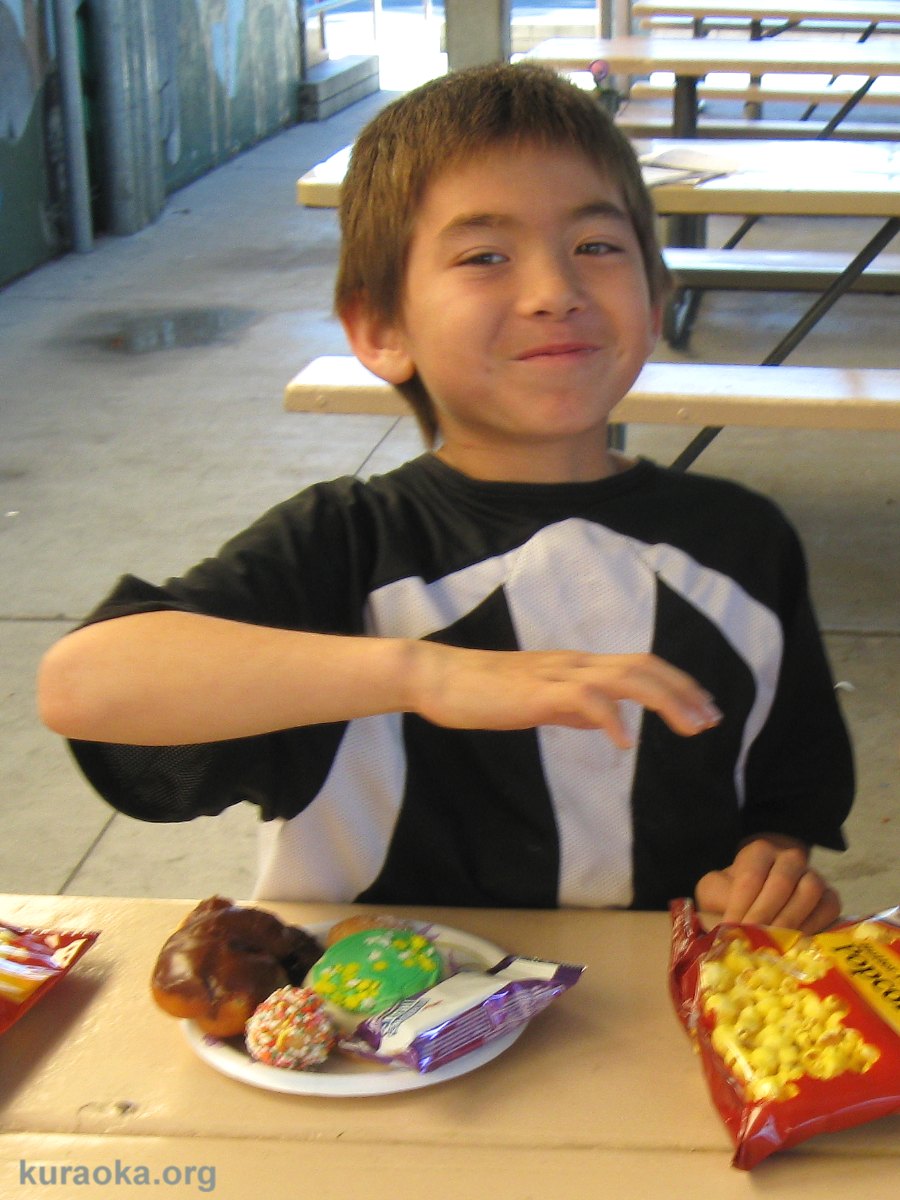 06-03-11 to 06-05-11 Camping at Cibbett's Flat with the Fernandez family! That's Alex, Roy, and Leo taking turns on the rope swing. Later, Alex and Carmen took the plunge! Leo and Carmen share a quiet moment with cards. You can see almost all of us in the middle photo: Ernesto, Carmen, John, Alex, Lucy, Roy, and Leo. Buddy is at the left. Ondine is taking the picture. Then you see Leo, Buddy, and the last two shots are of Ondine, Carmen, and Lucy. And again with the bunny ears!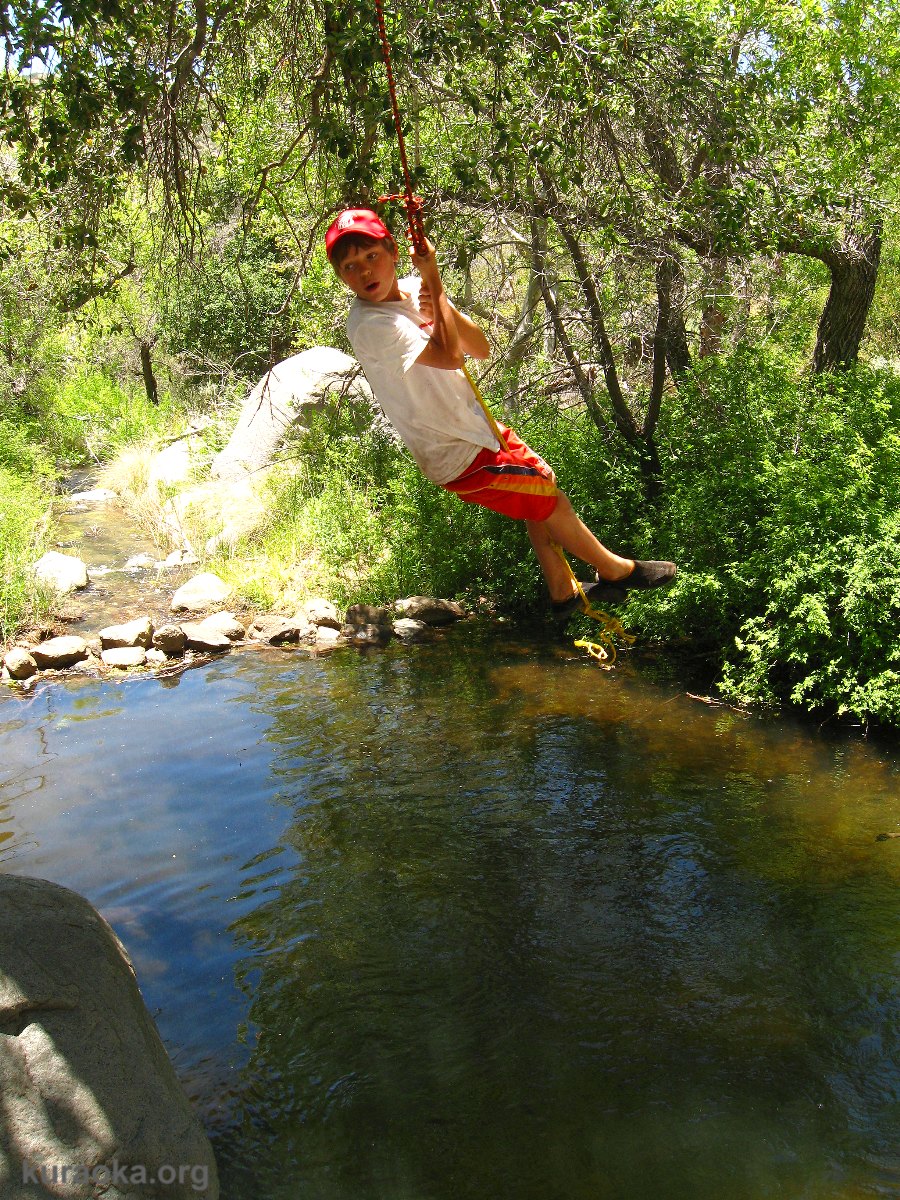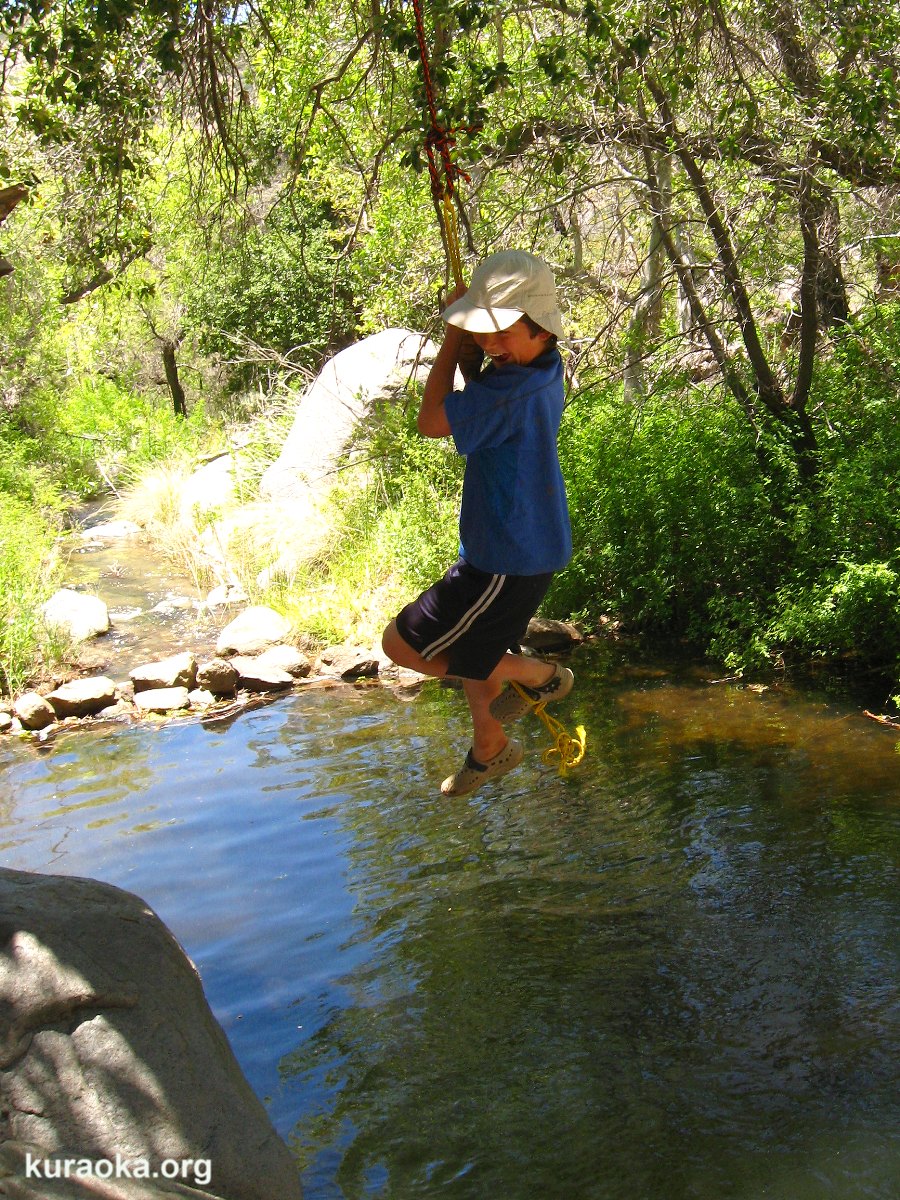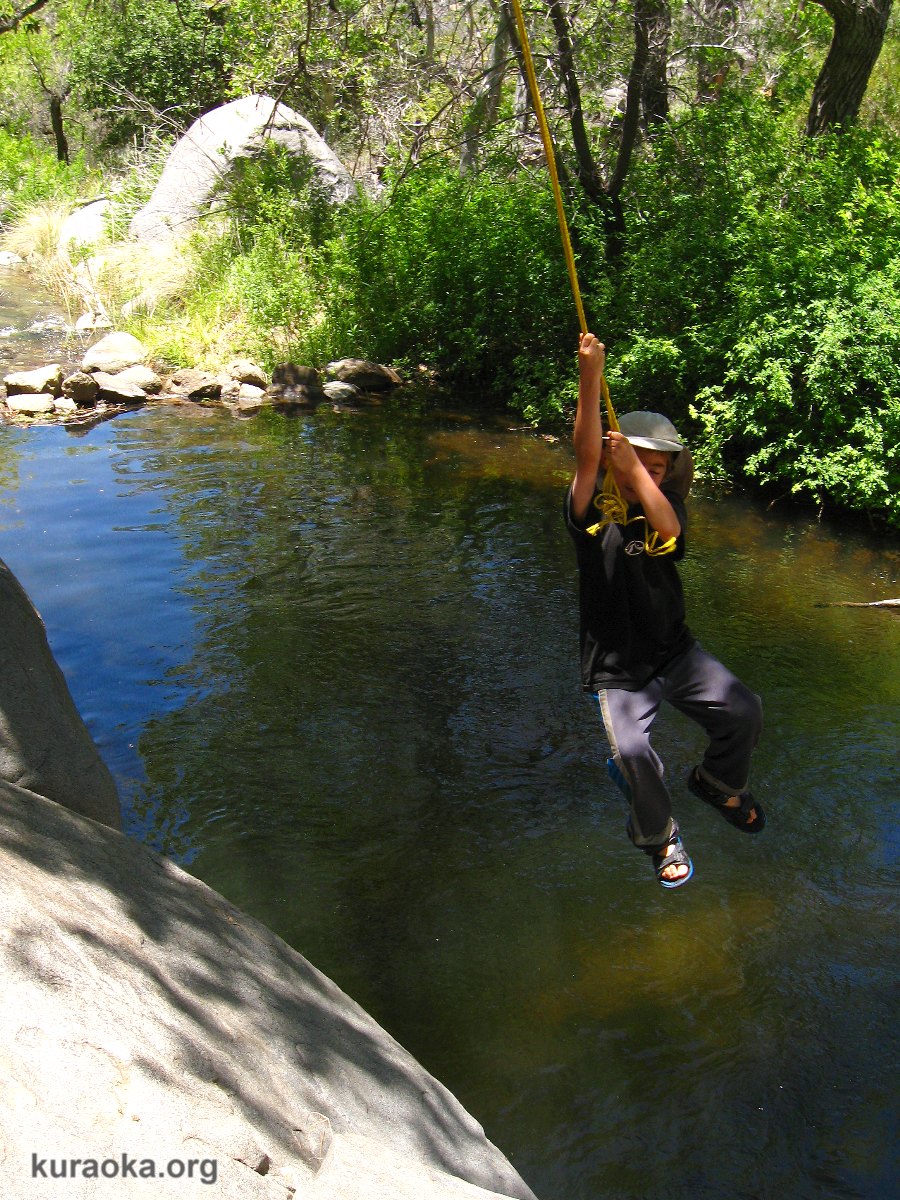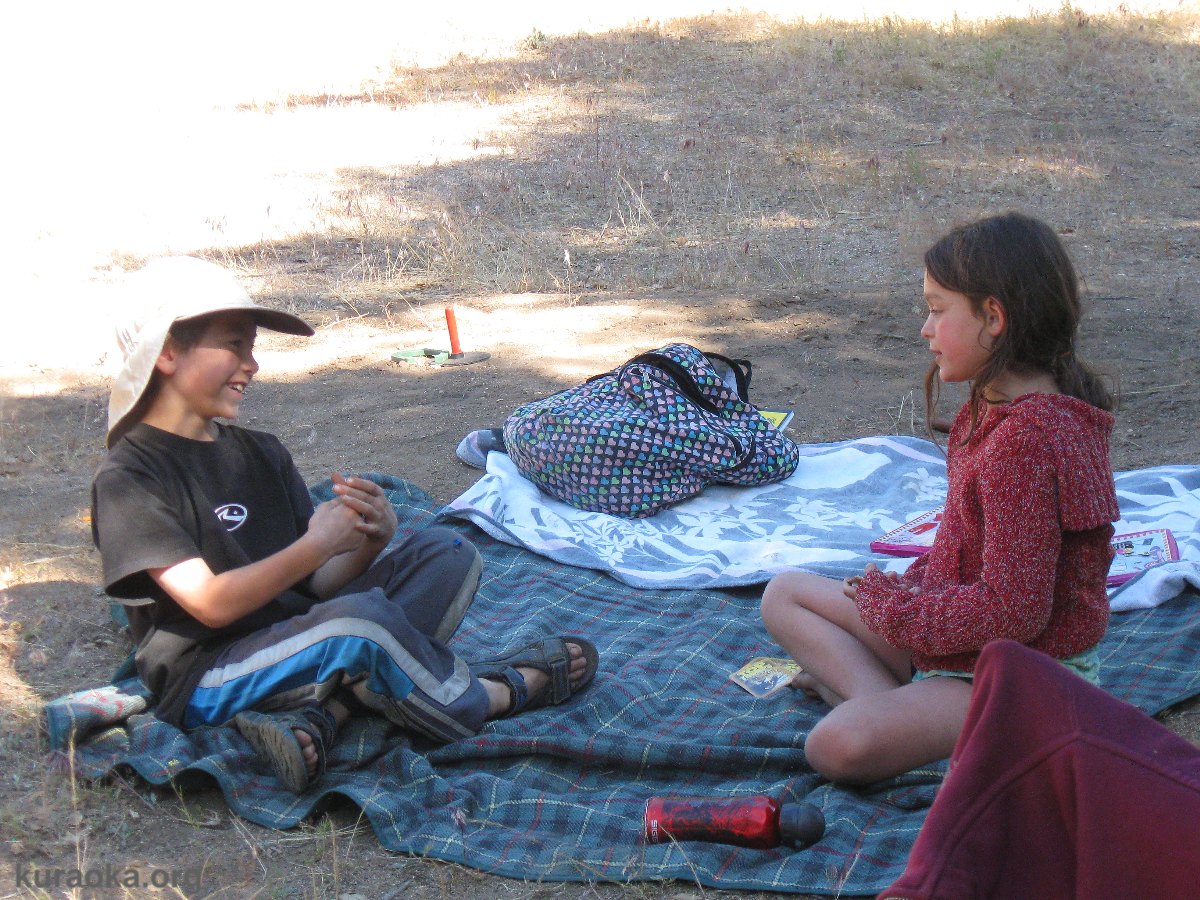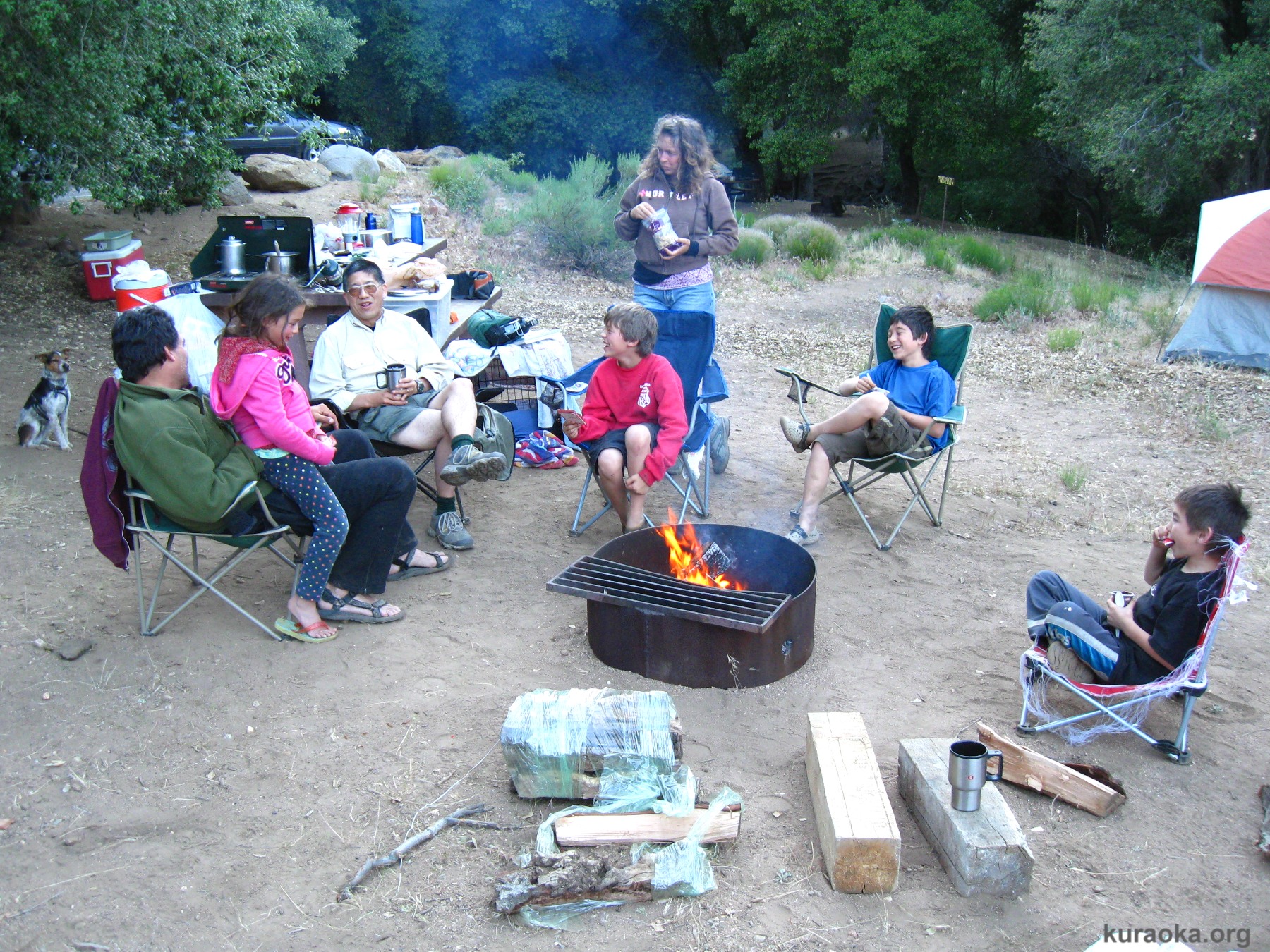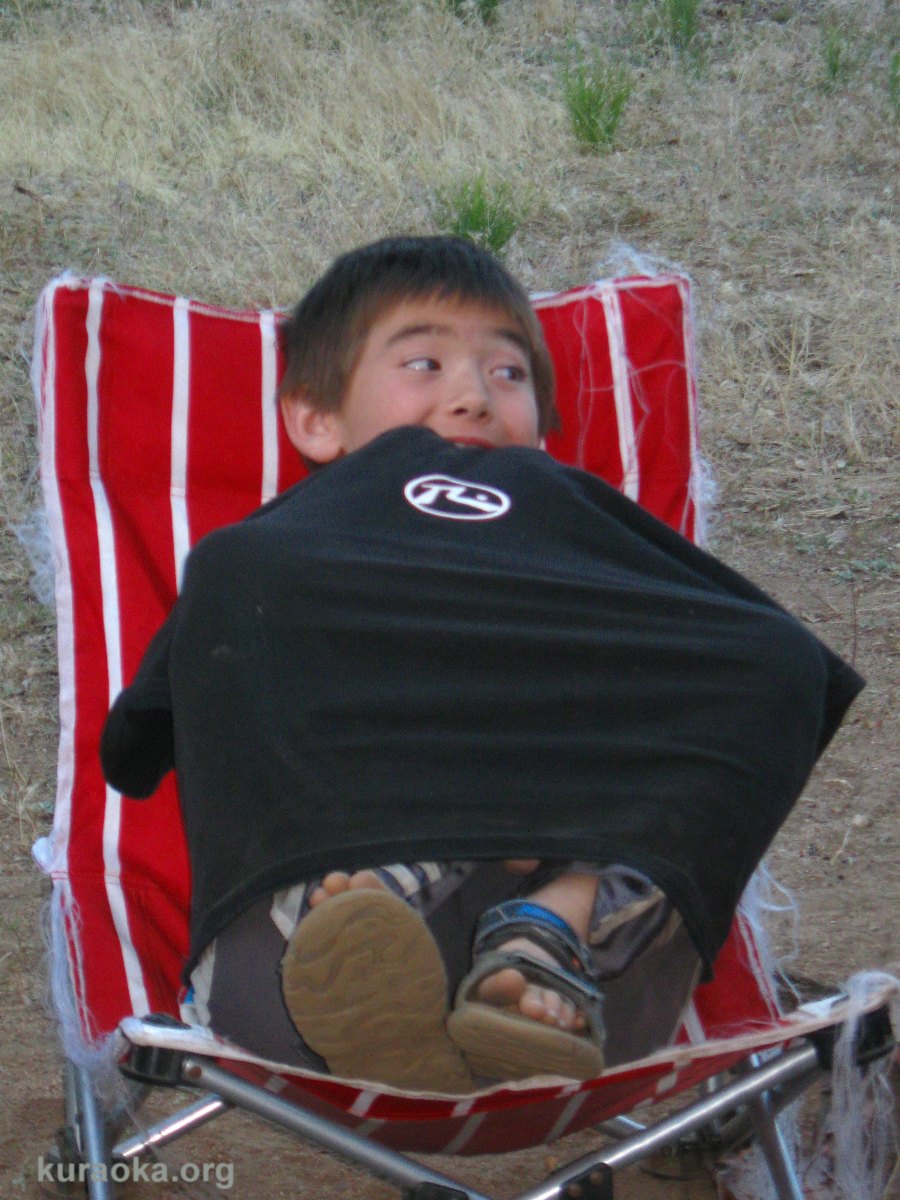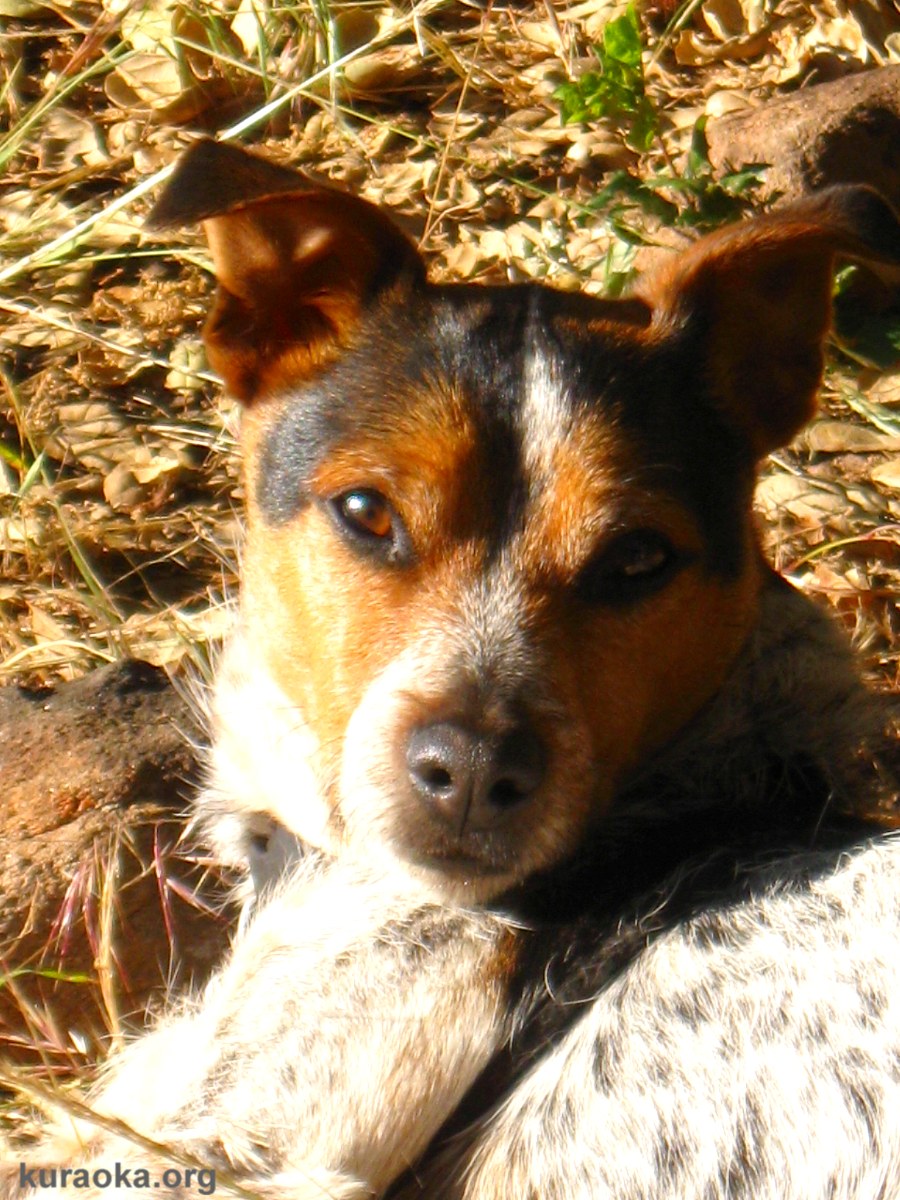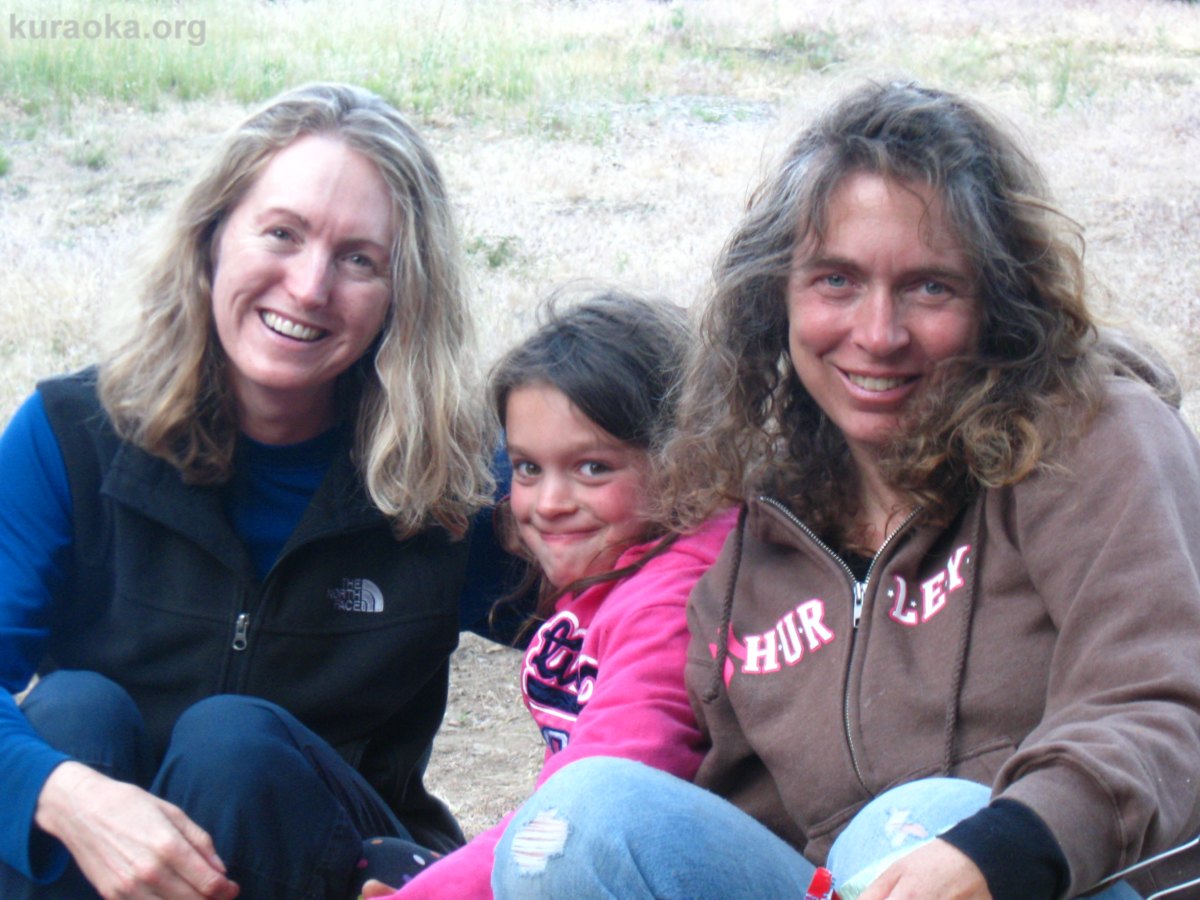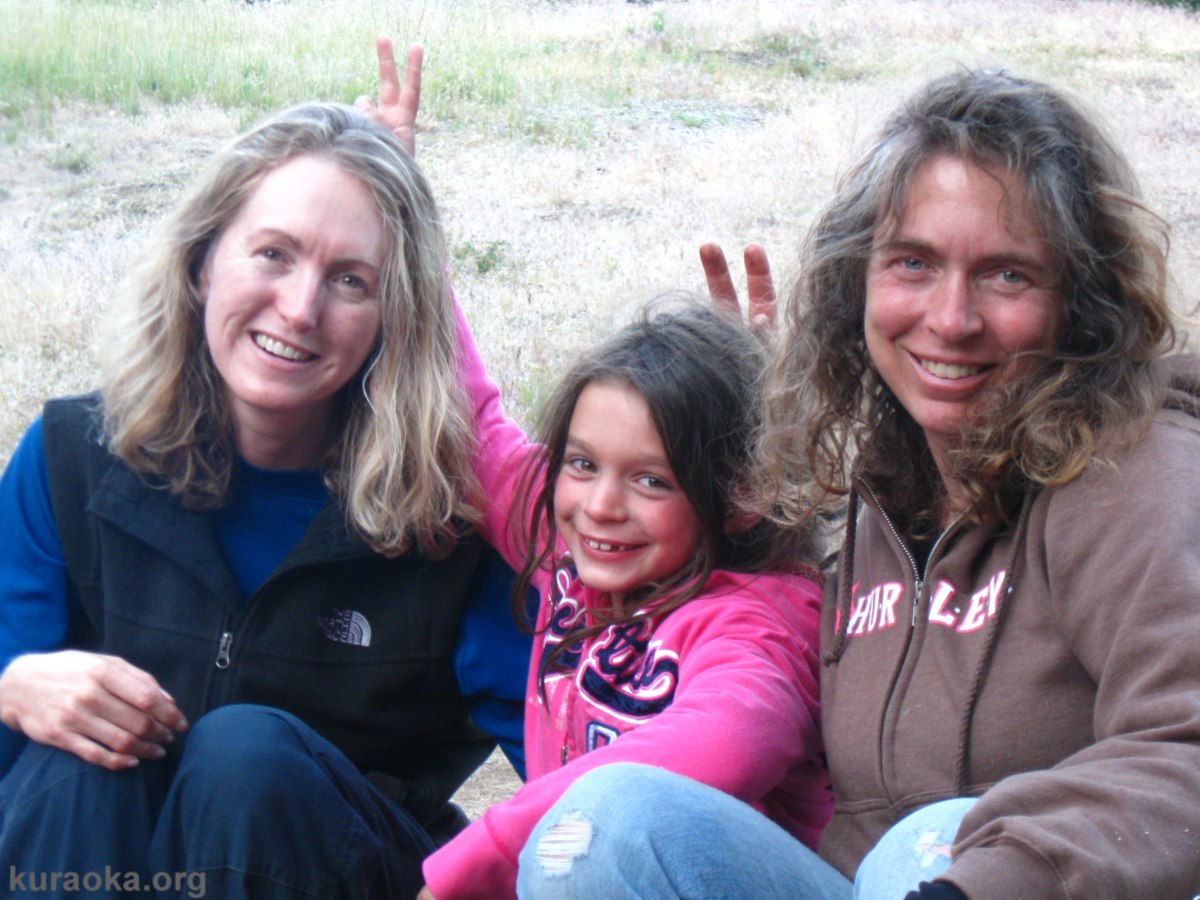 06-02-11 Bill and Roy celebrate their birthdays! That's a lot of candles to blow out! You can see Alex back there playing "Happy Birthday" on the keyboard.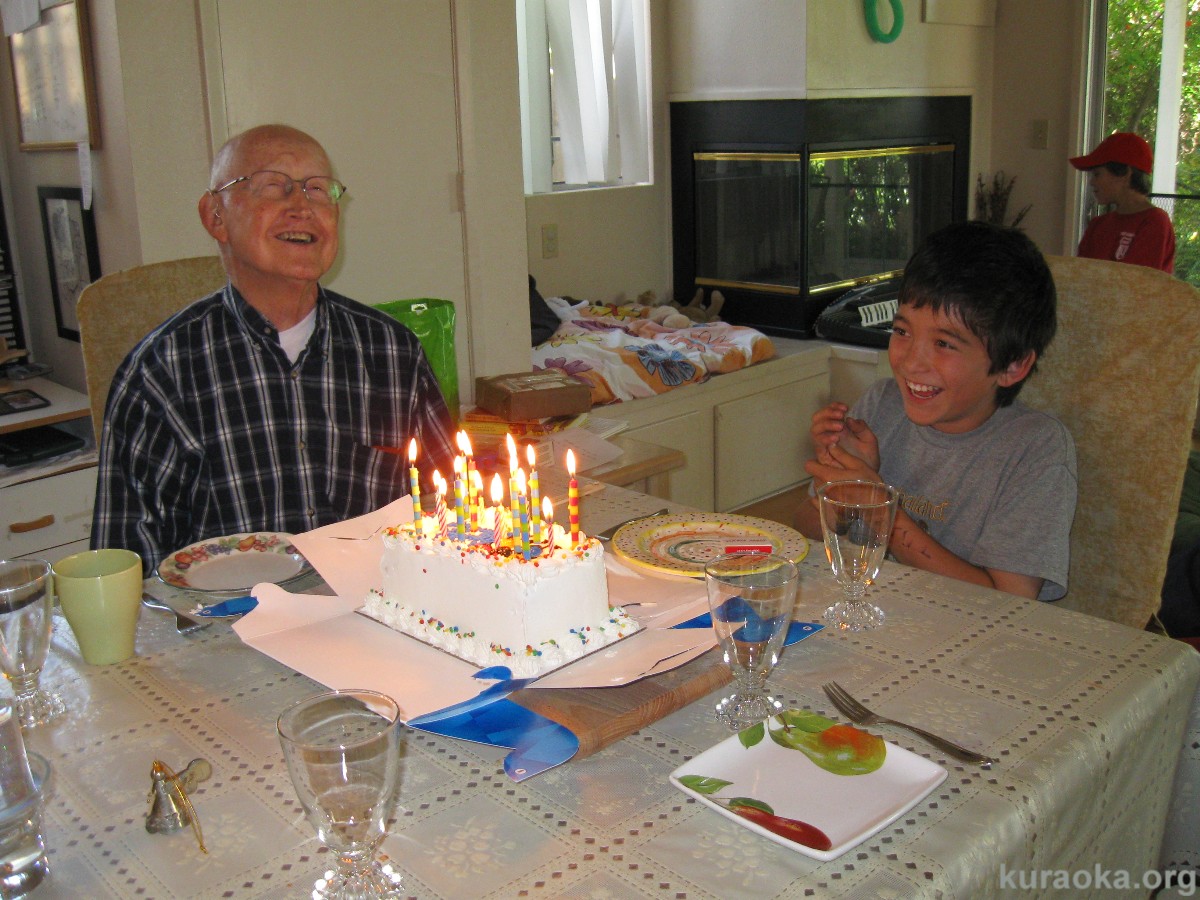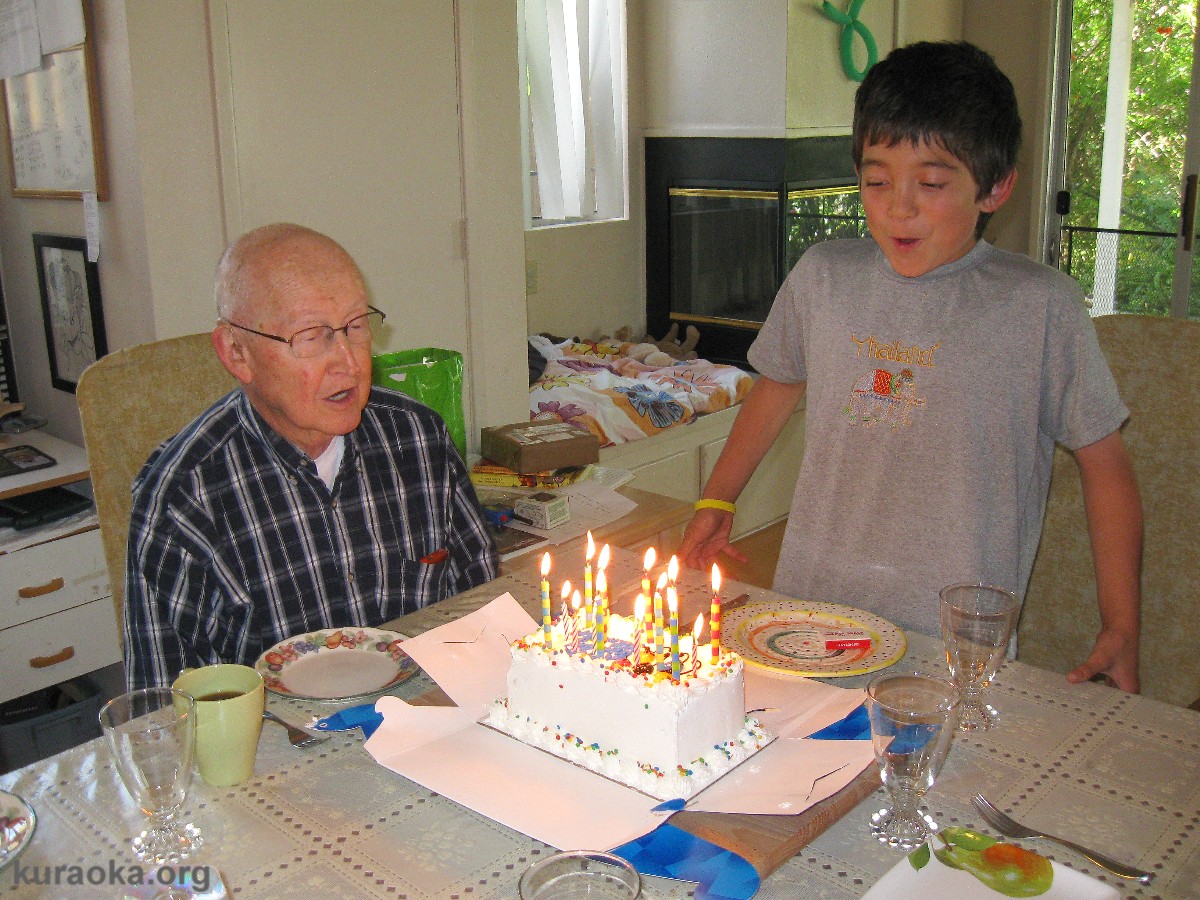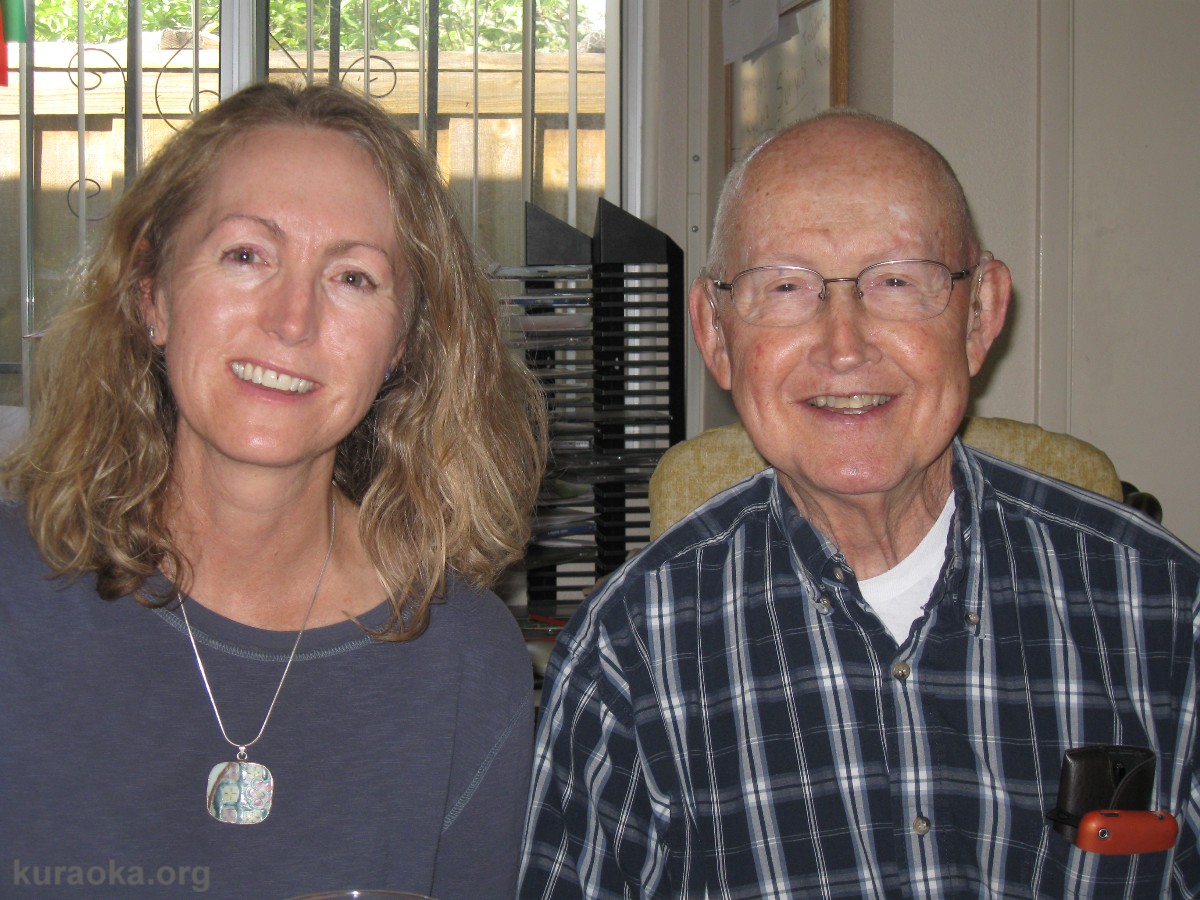 05-31-11 Roy, self-portrait. Roy is an avid back-seat photographer.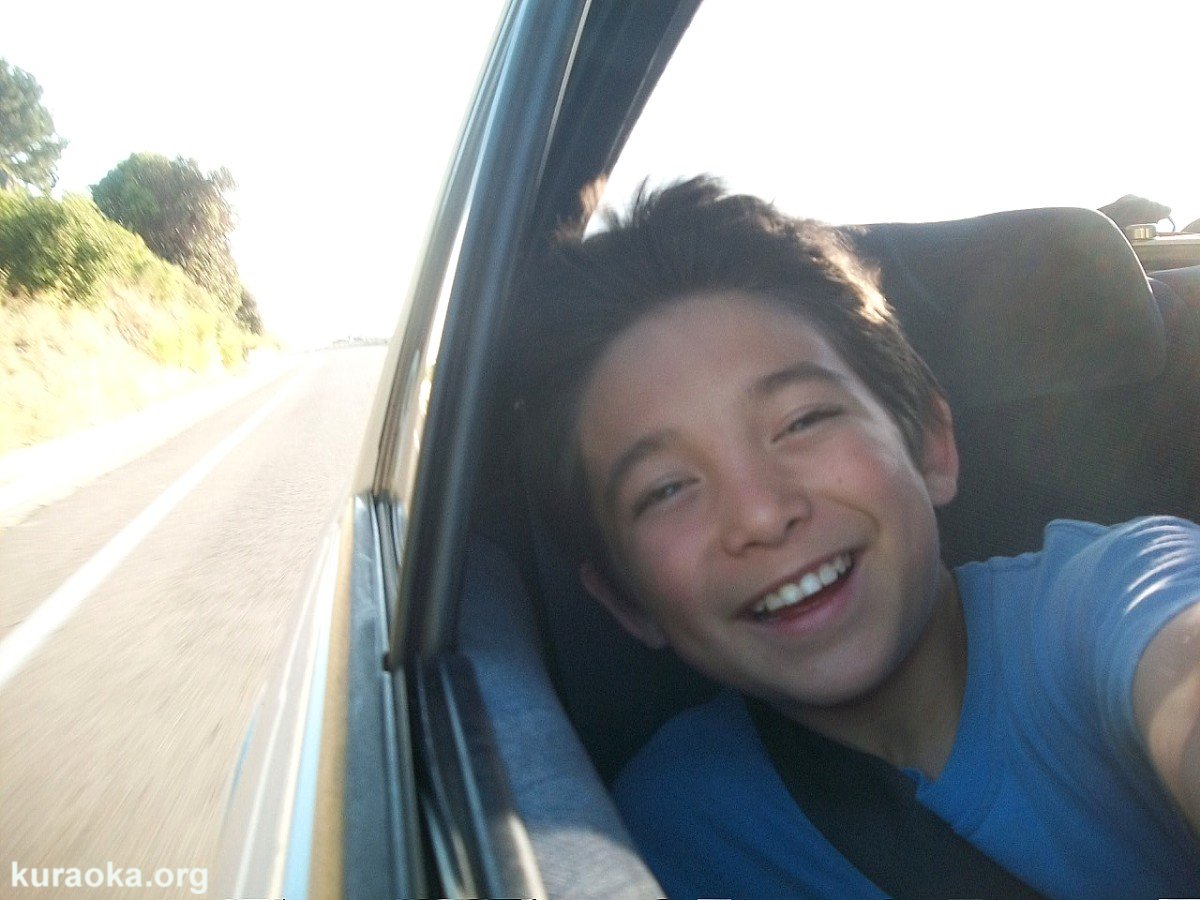 05-27-11 Roy's birthday slumber party! First up, is Ondine, constructing the birthday "cake" – Twinkies and Ding Dongs drizzled with chocolate syrup! Only one of the kids had ever eaten a Twinkie before, and none had eaten a Ding Dong, so it was a culinary adventure for them! Next up are two shots of Michael, Stephen, Alex, and Leo watching Roy open cards and presents (that's Alex's hand-made flip book they're enjoying in the third photo). Last up is the evening's game of Toddler Wars.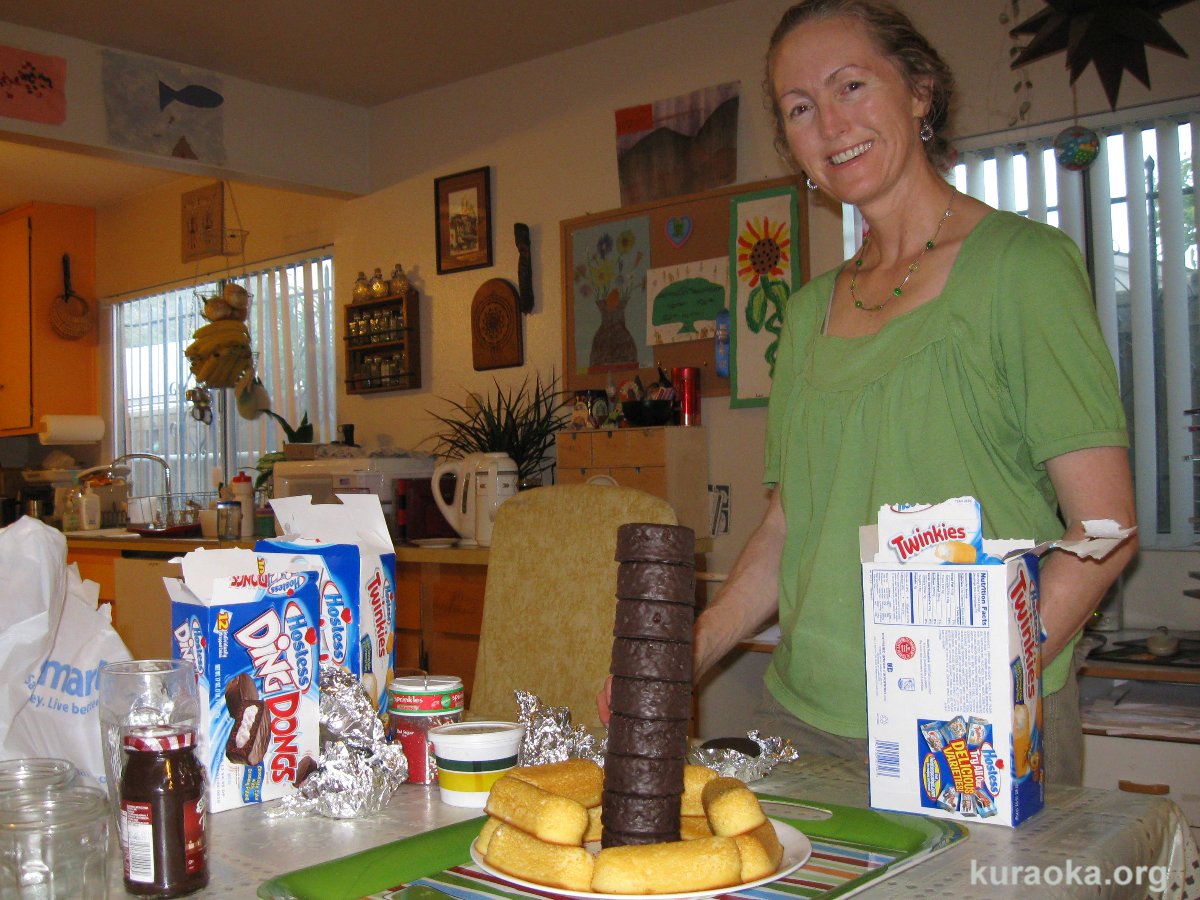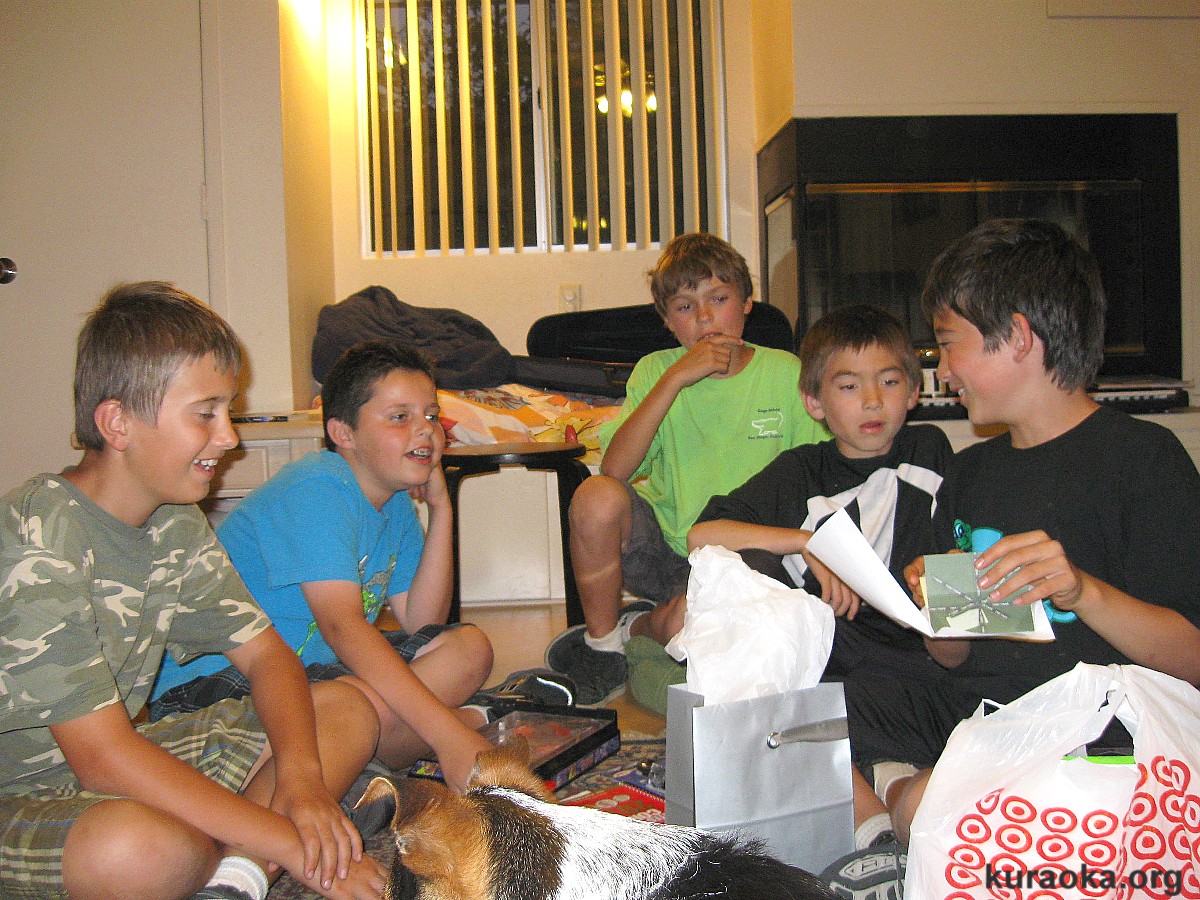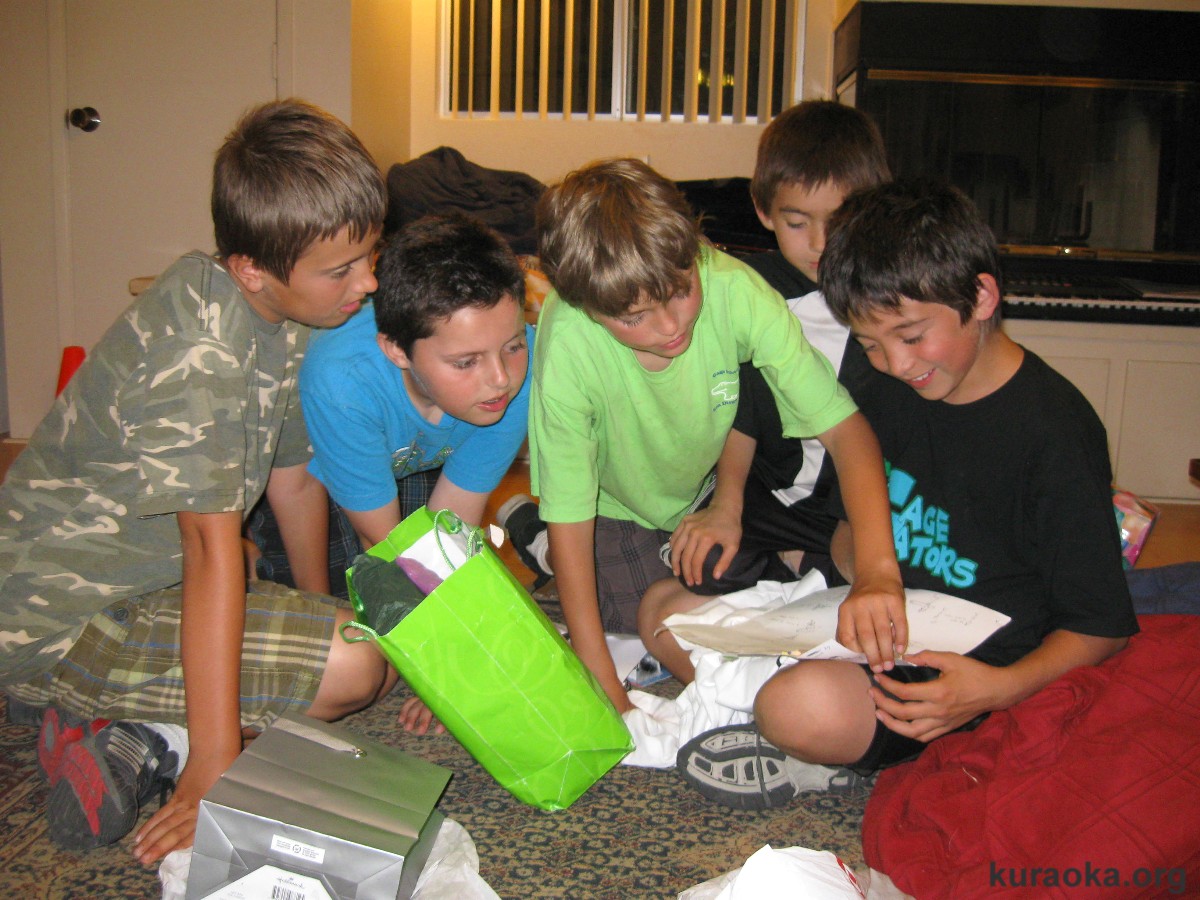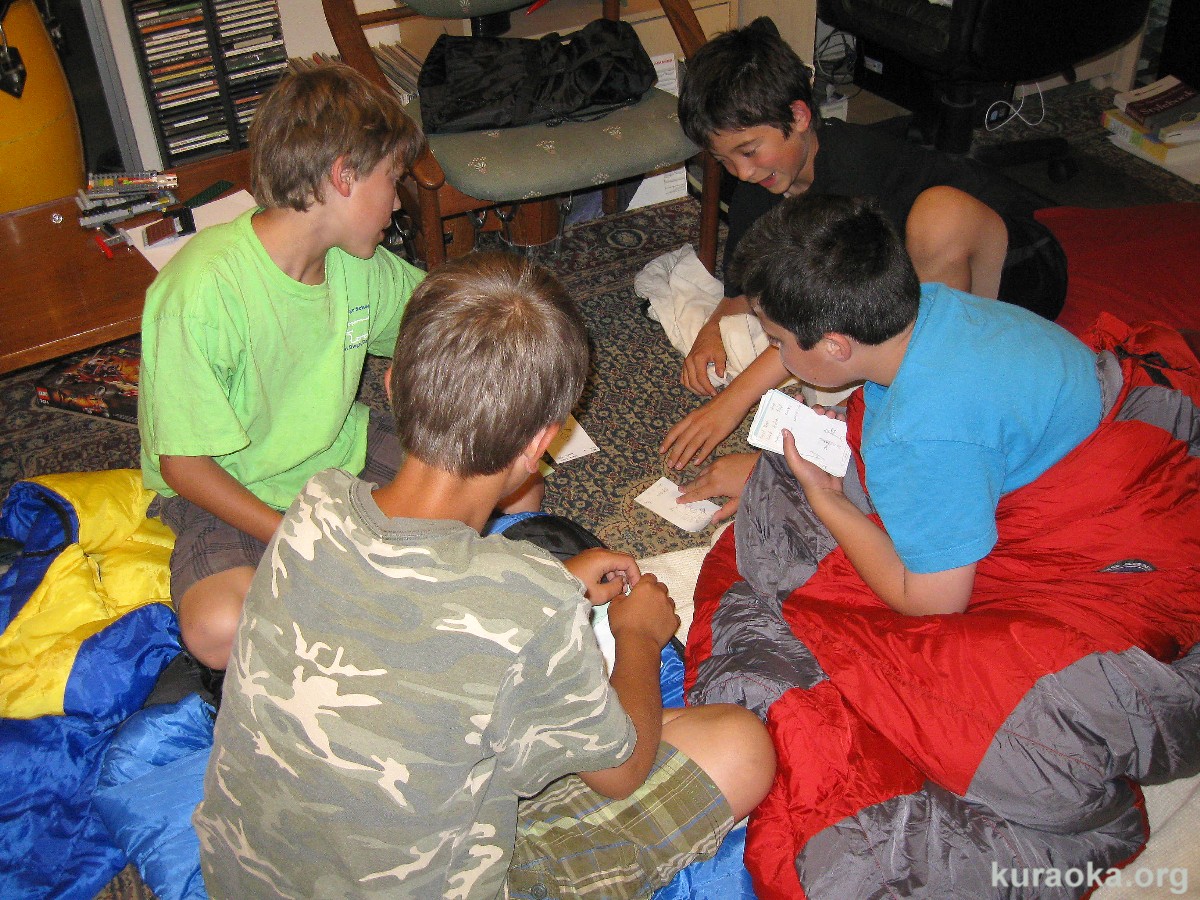 05-14-11 Science Field Day! Here are Roy and friends competing in the district-wide Elementary School Science Field Day! That's Alex, Stephen, Michael, and Roy in the first photo, and Alex, Roy, Ms. Skaar, Michael, and Stephen in the second photo.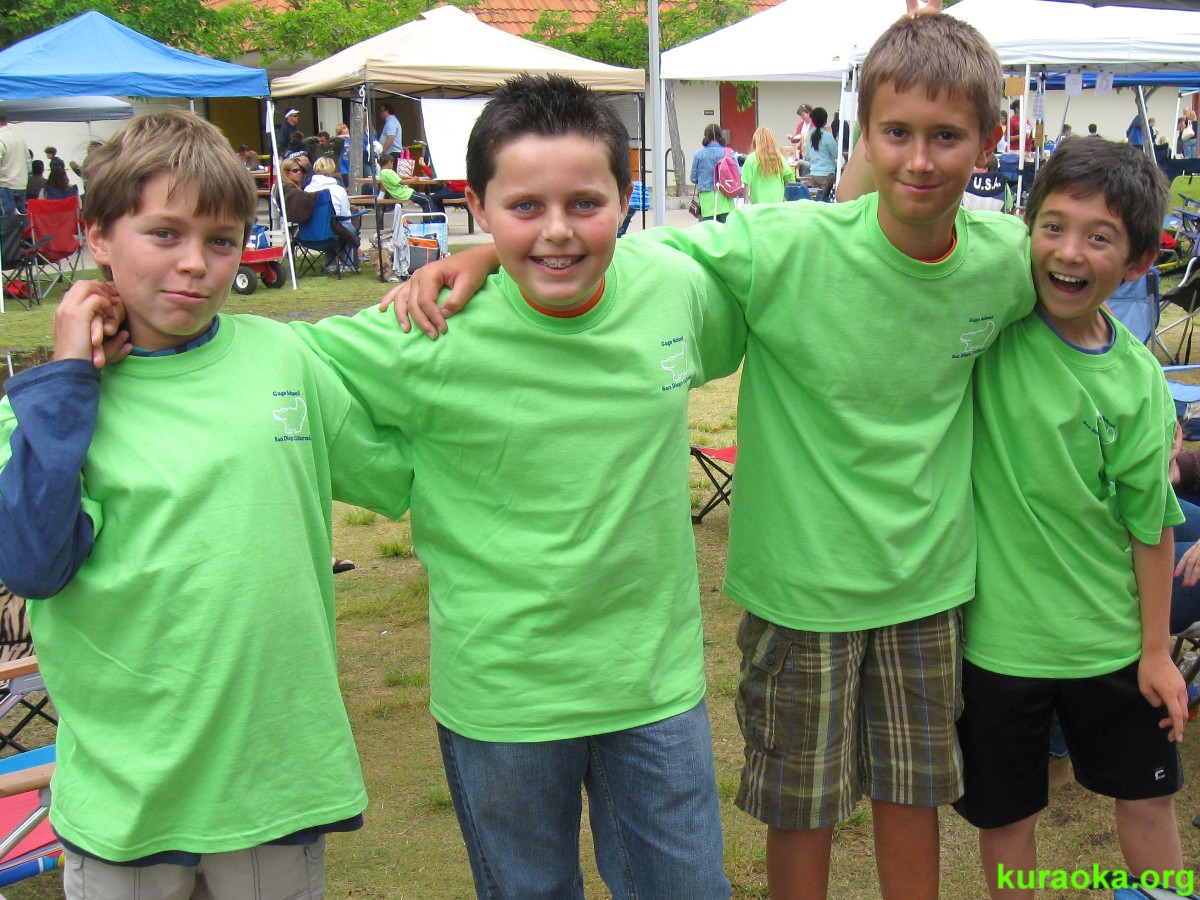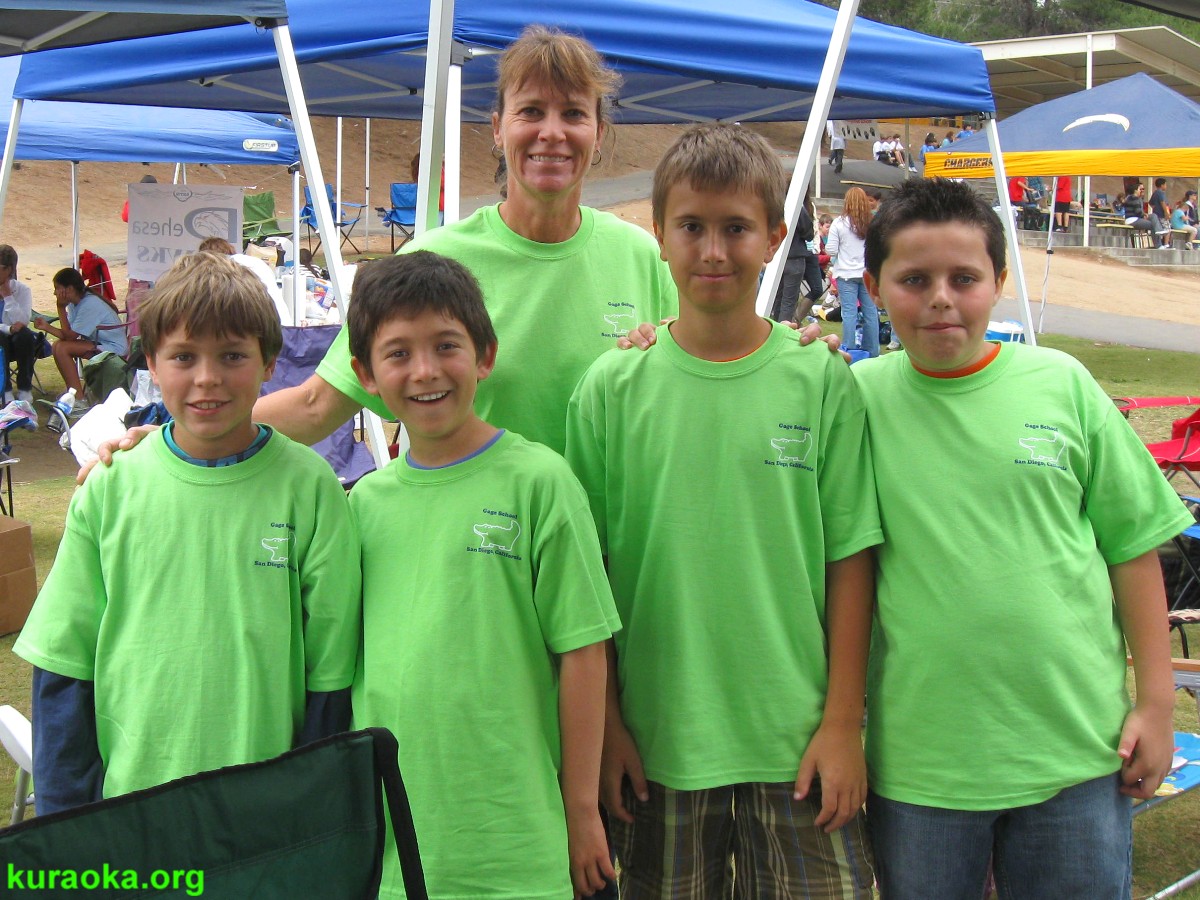 05-07-11 KidSpace with Grammy! Here are Roy and Leo on the climbing wall, then working on reports to trade in for nature stuff.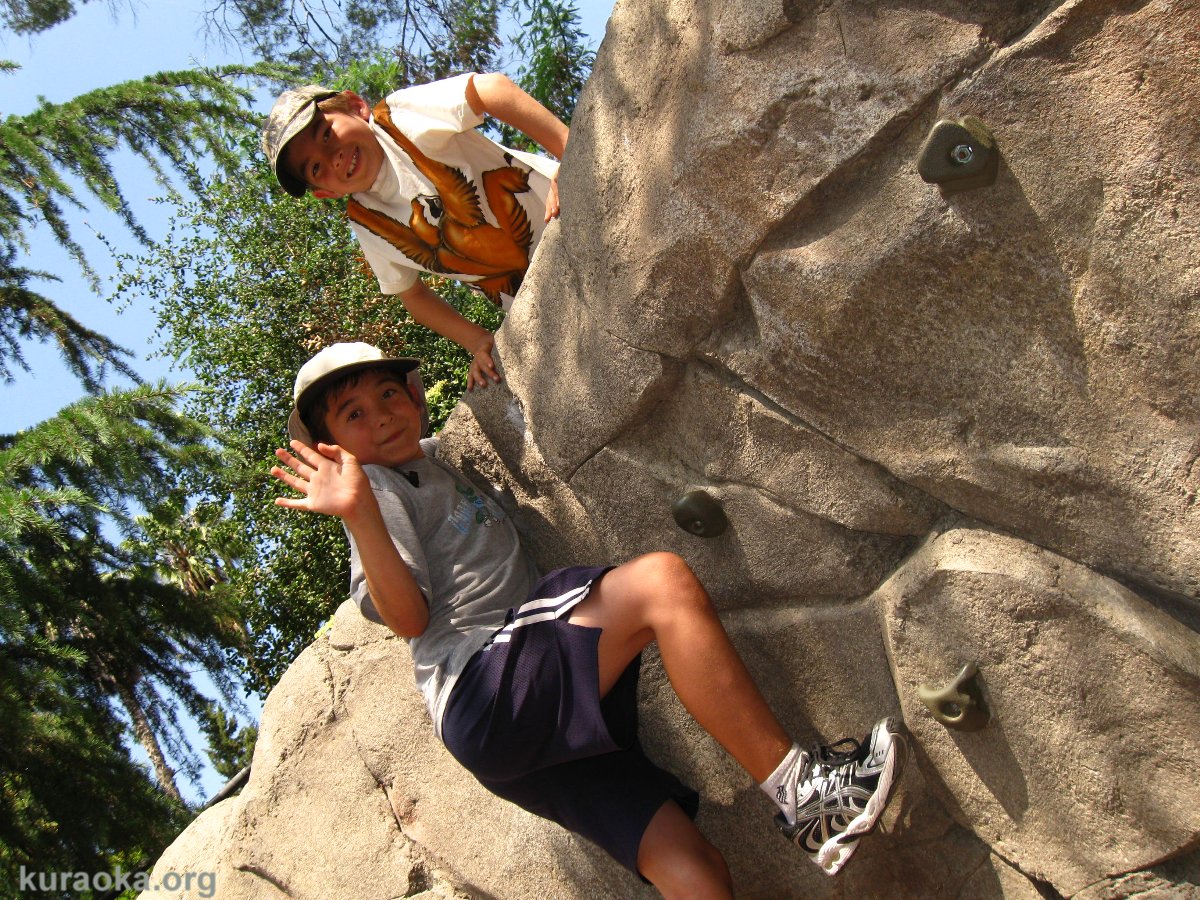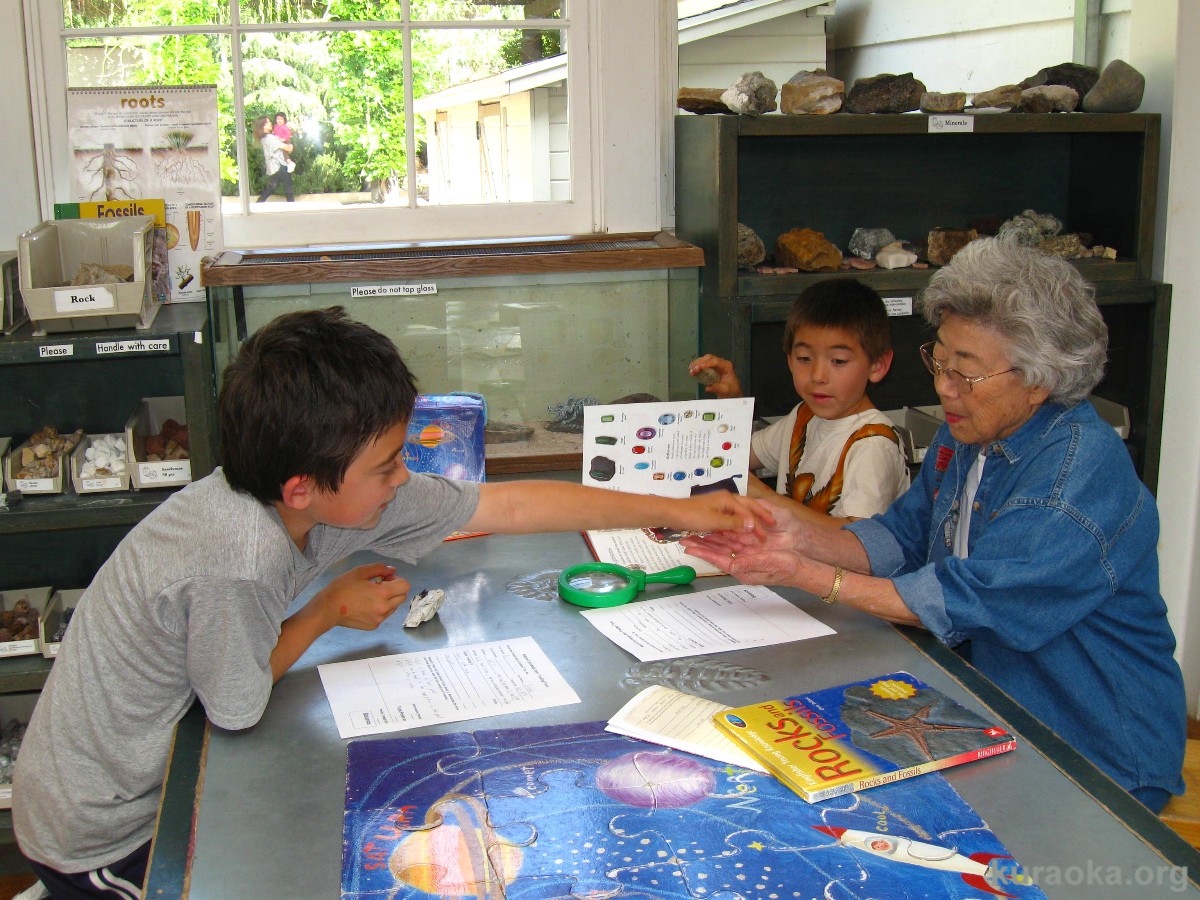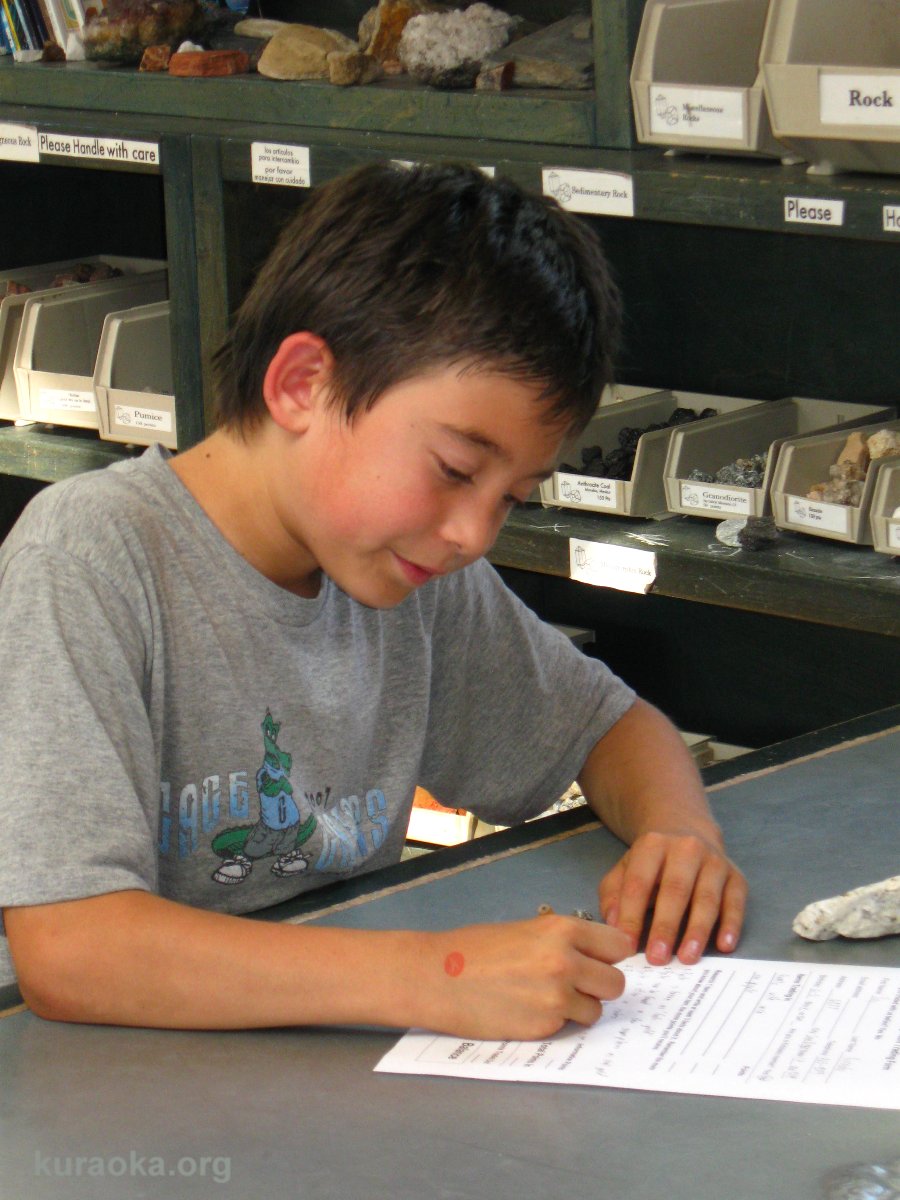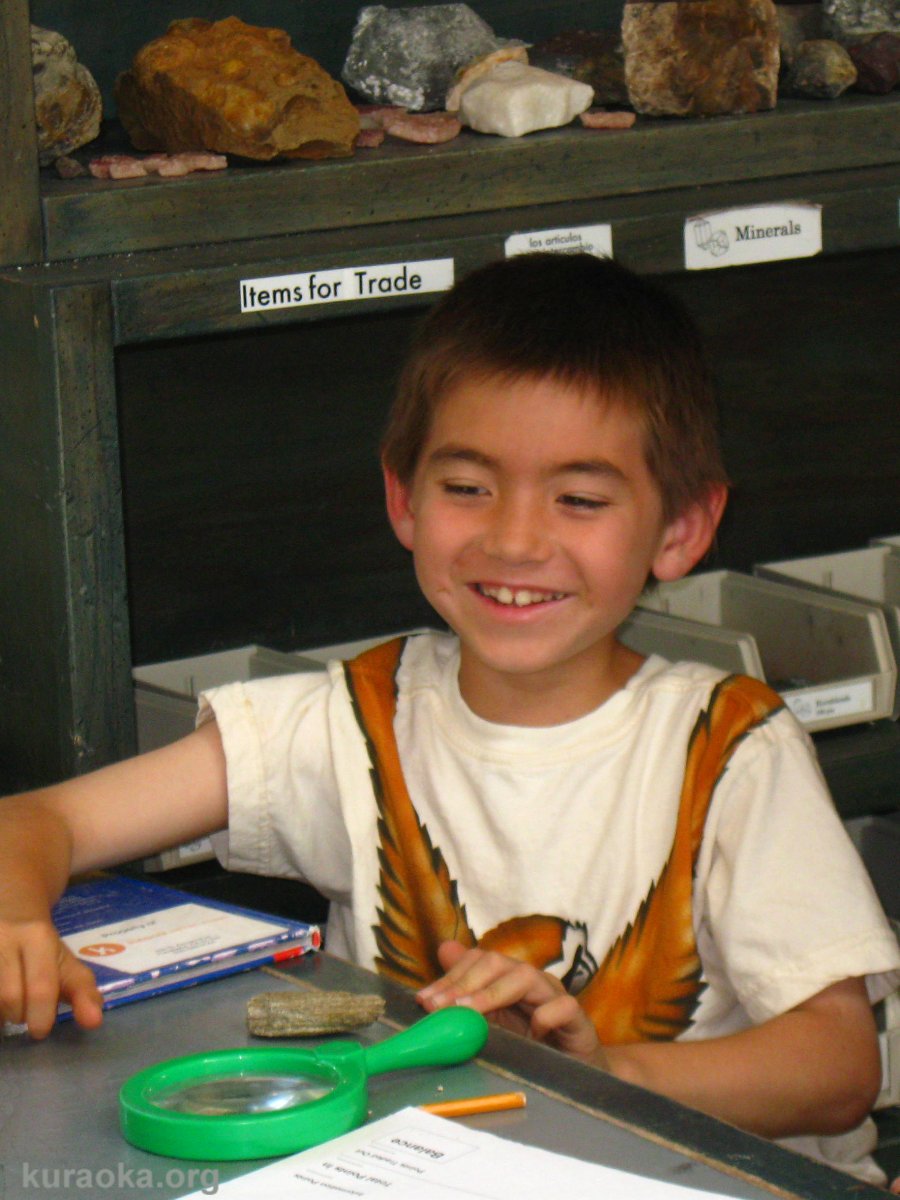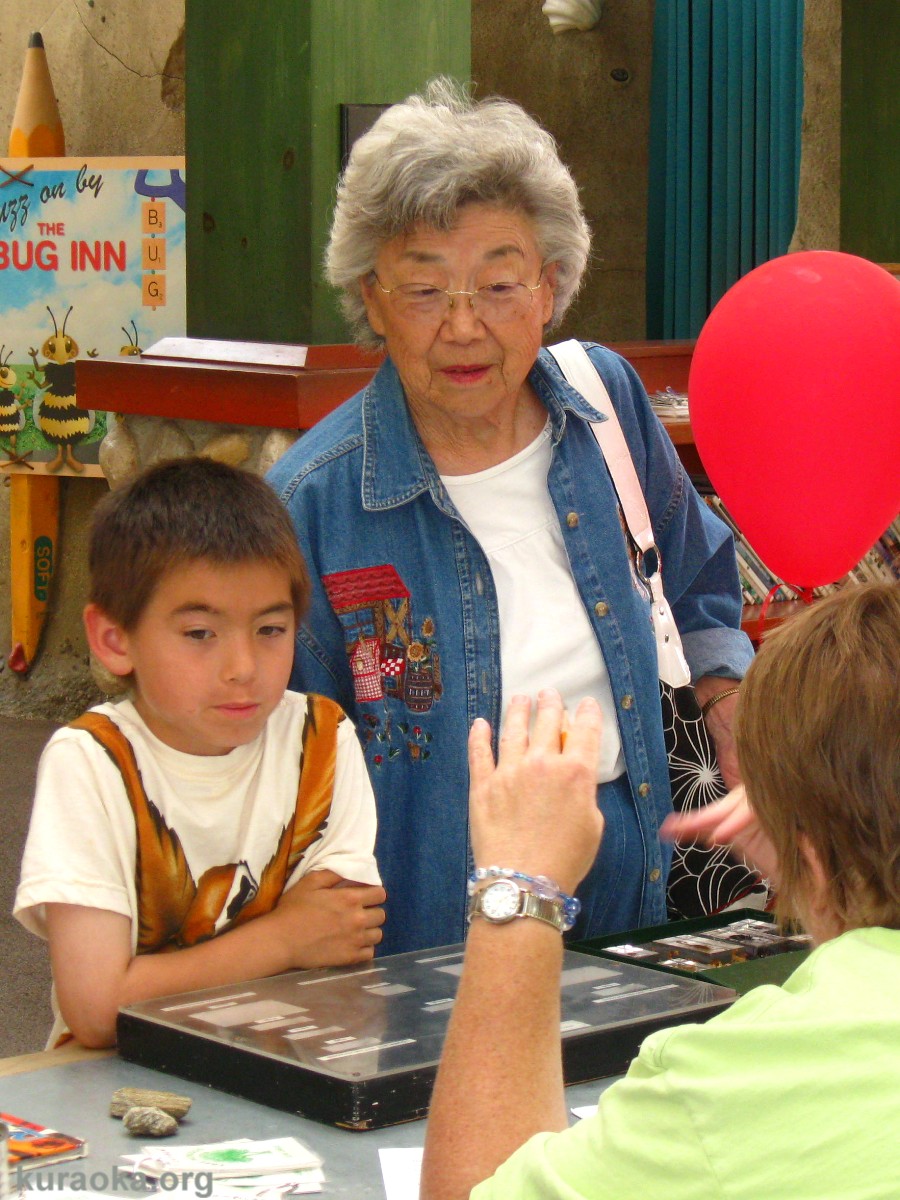 05-03-11 Leo's music recital! Leo has been taking a piano/keyboard class, which culminated in a recital. Here he is playing "The Imperial March" from Star Wars. Afterwards, the kids in the class traded "music dollars" for prizes. Leo chose these noisy chattering teeth and a cunning disguise.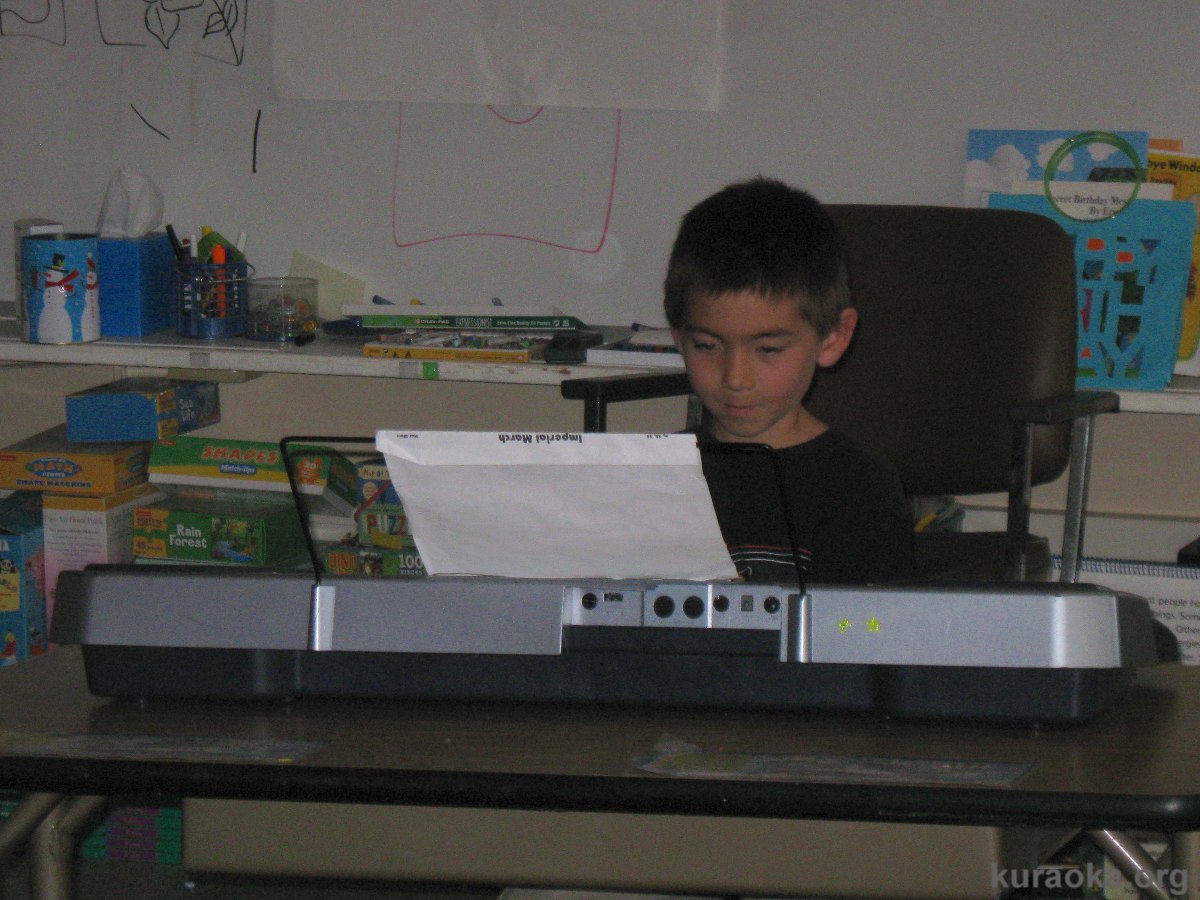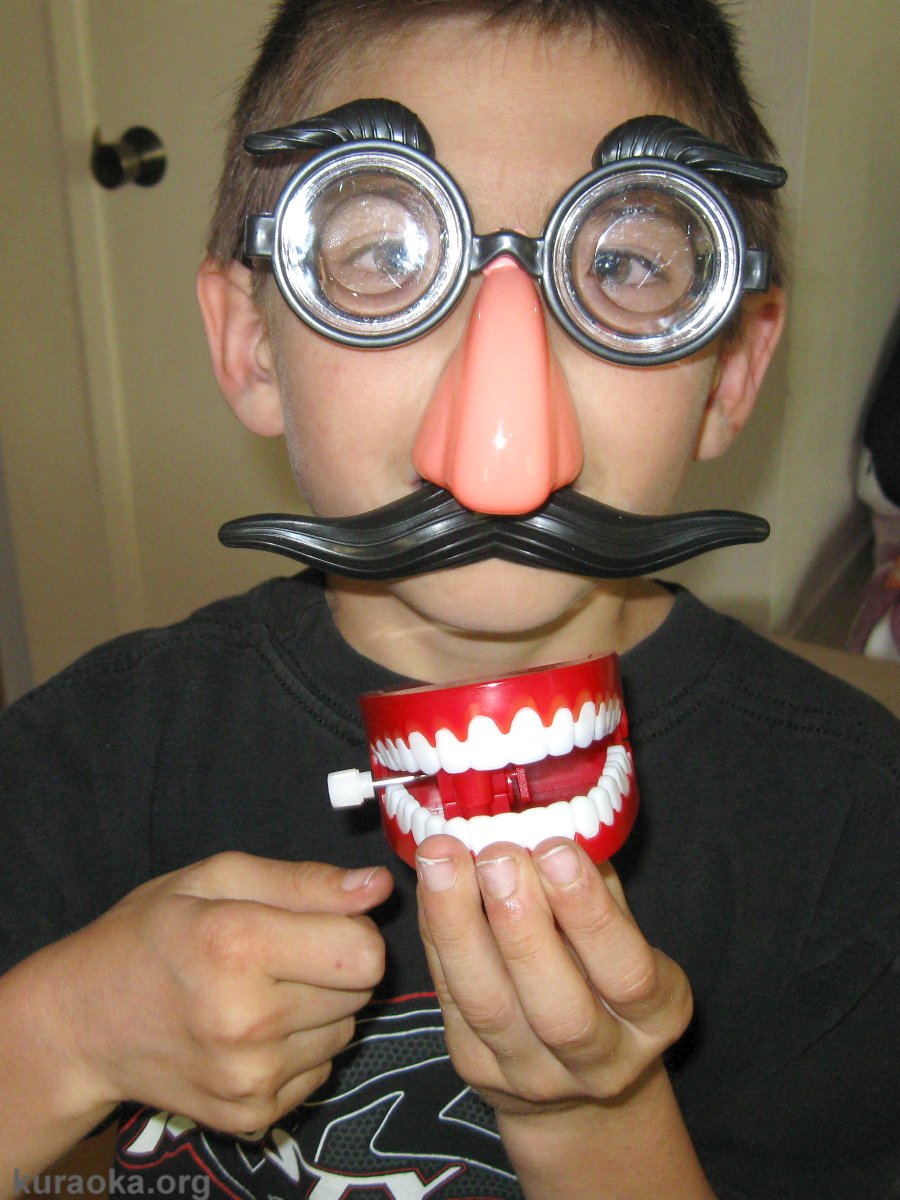 04-24-11 Easter! For the first time, our at-home Easter was actually on Easter Sunday. Here you see Leo and Roy scrambling for eggs, jelly beans, and other treats. The fifth photo shows Roy, Barbara, Bill, John, and Leo at the table gorging. Then Leo, Ondine, and Roy showing off their favorite eggs. Then, a wild-eyed Leo and Roy making chocolate bunny ears on each other. Afterwards, John took them up the mountain to burn off some of the sugar that was coursing through their brains.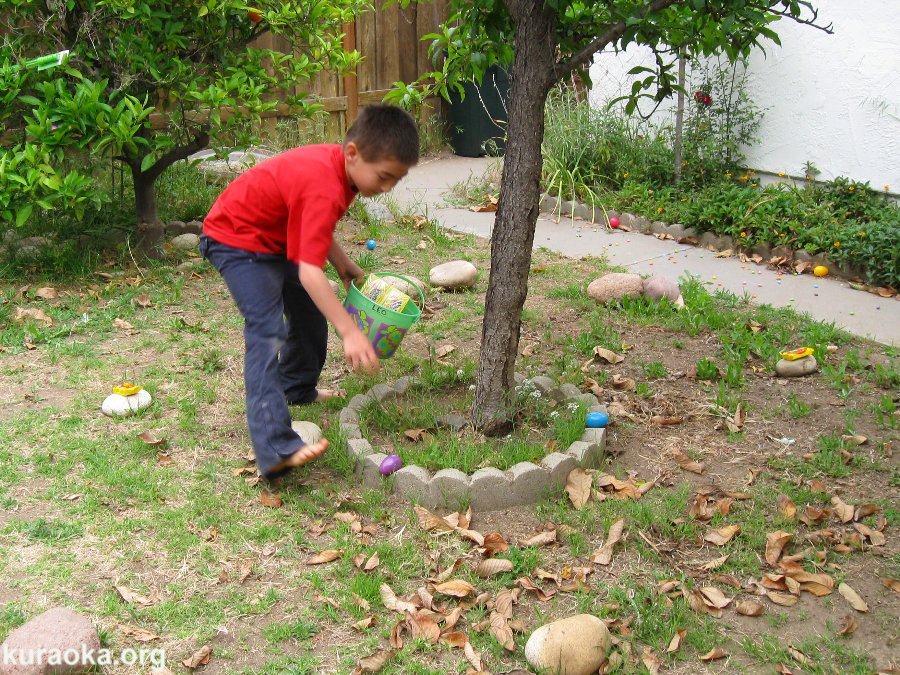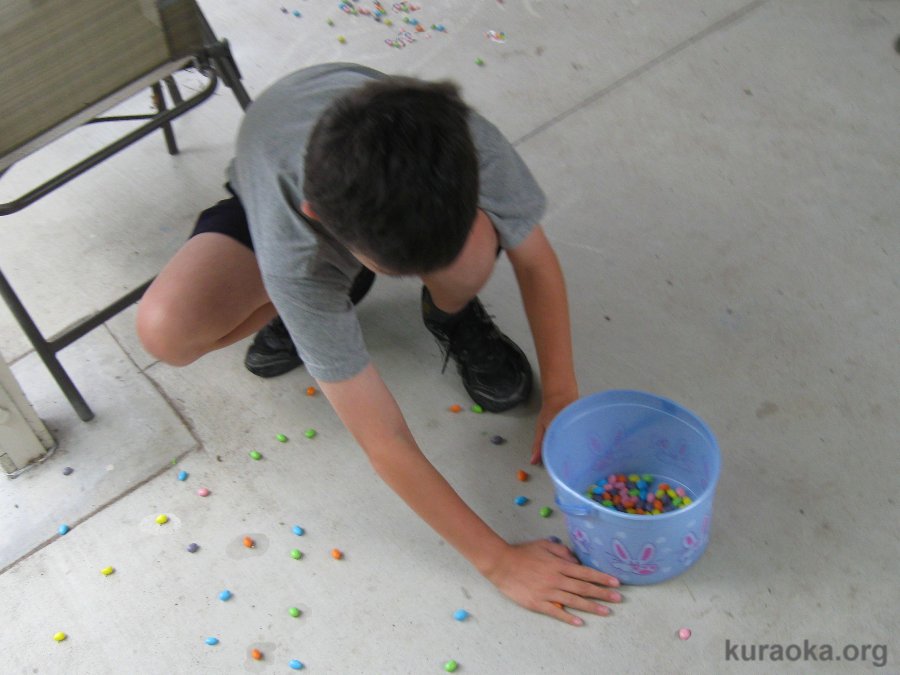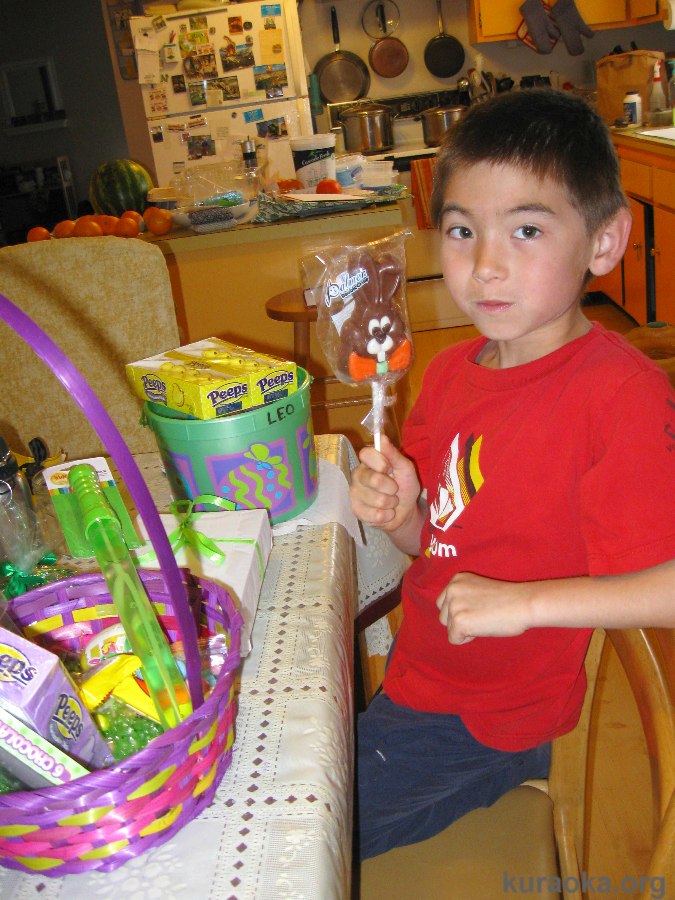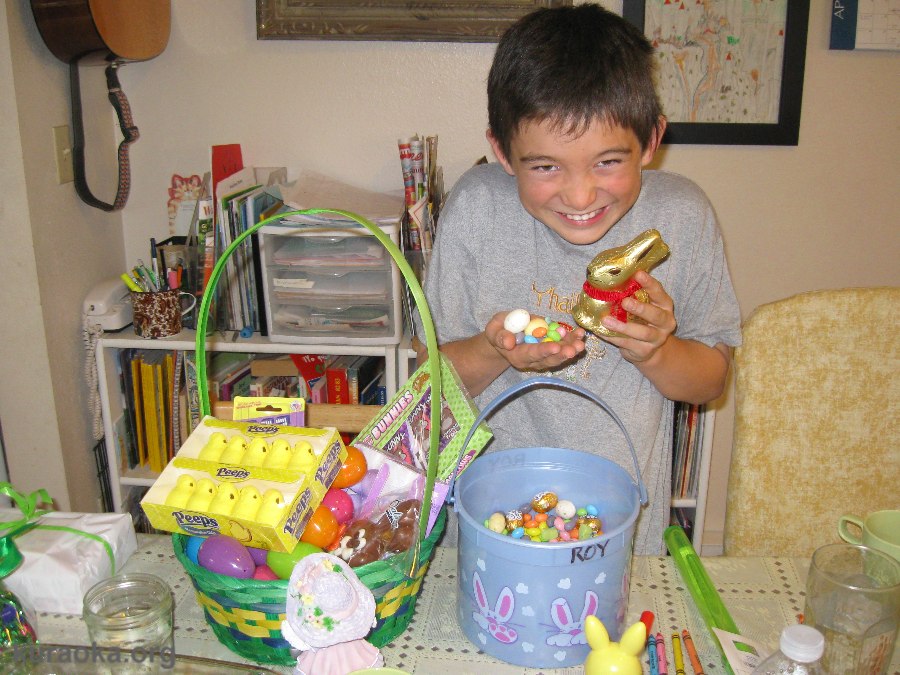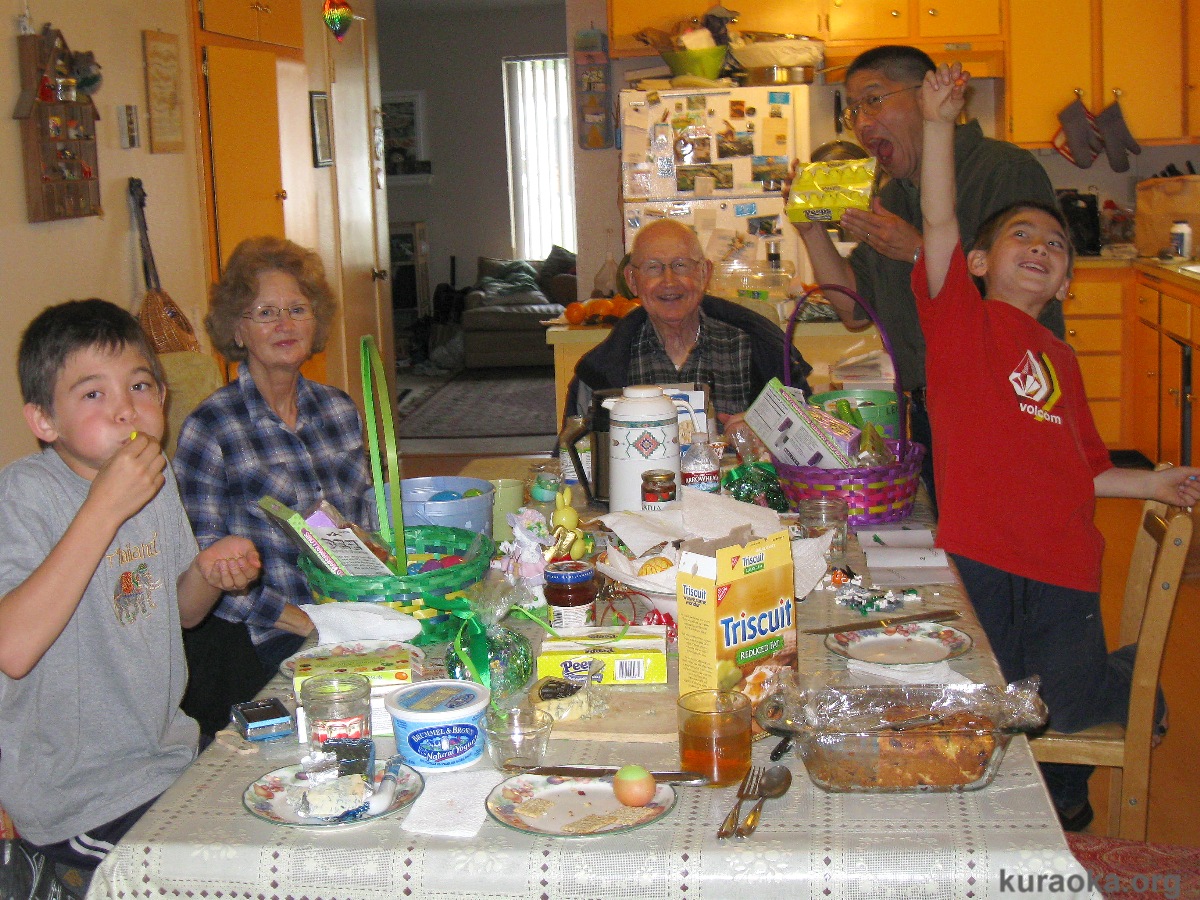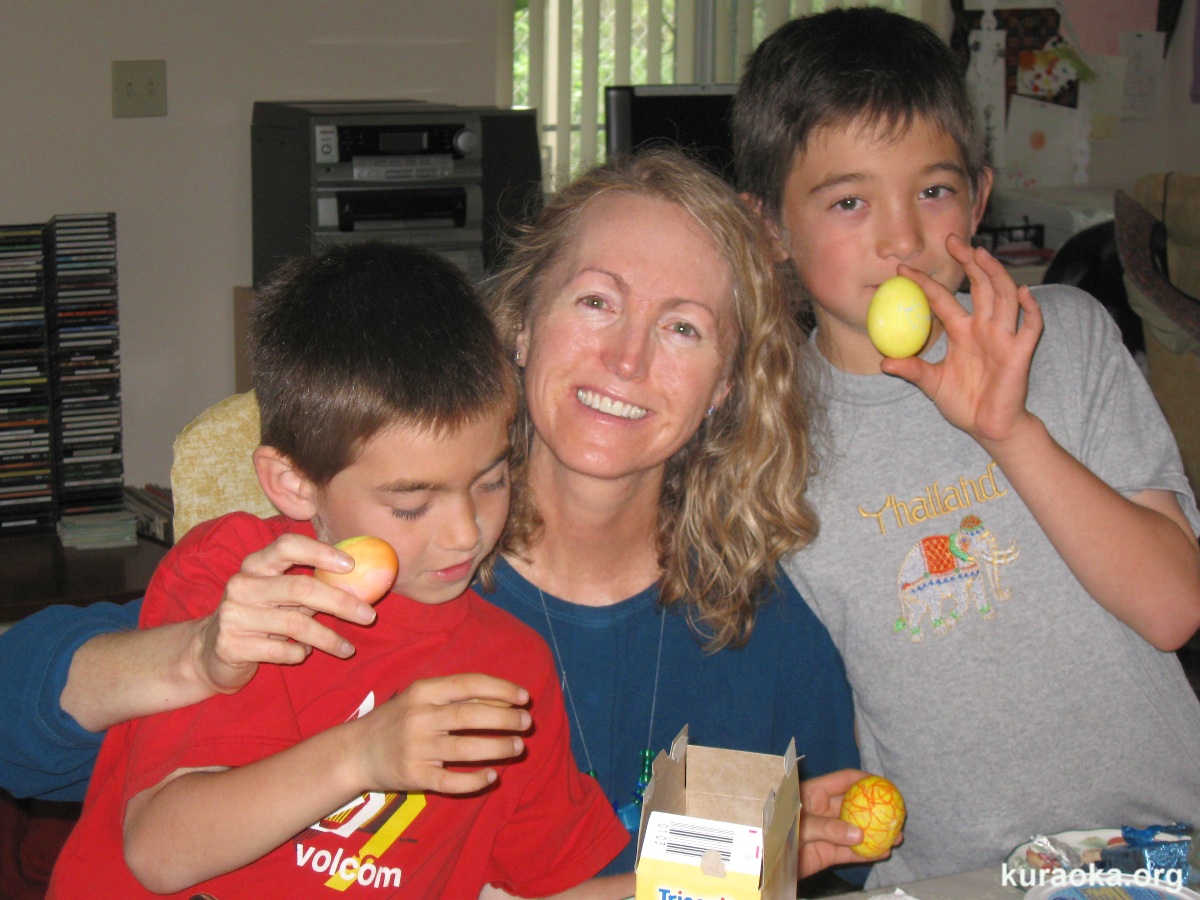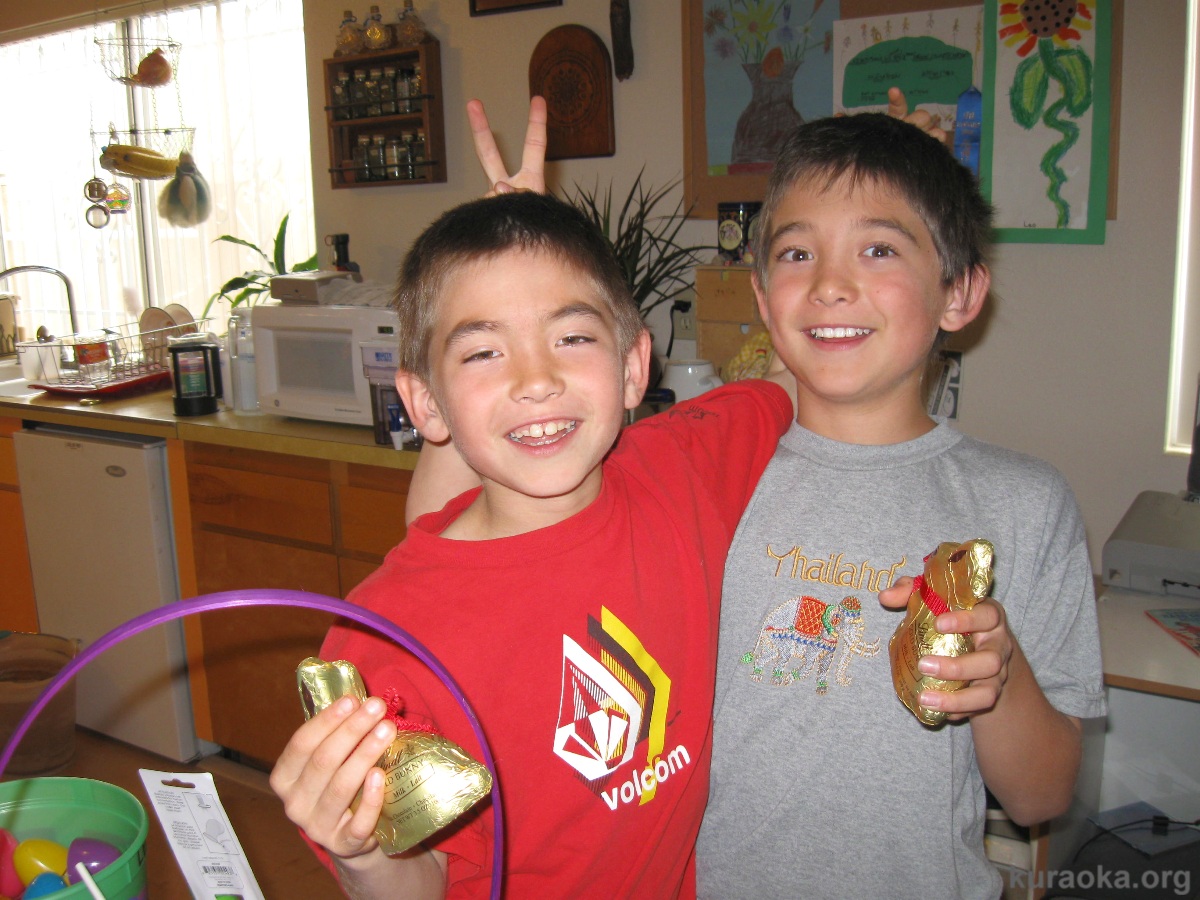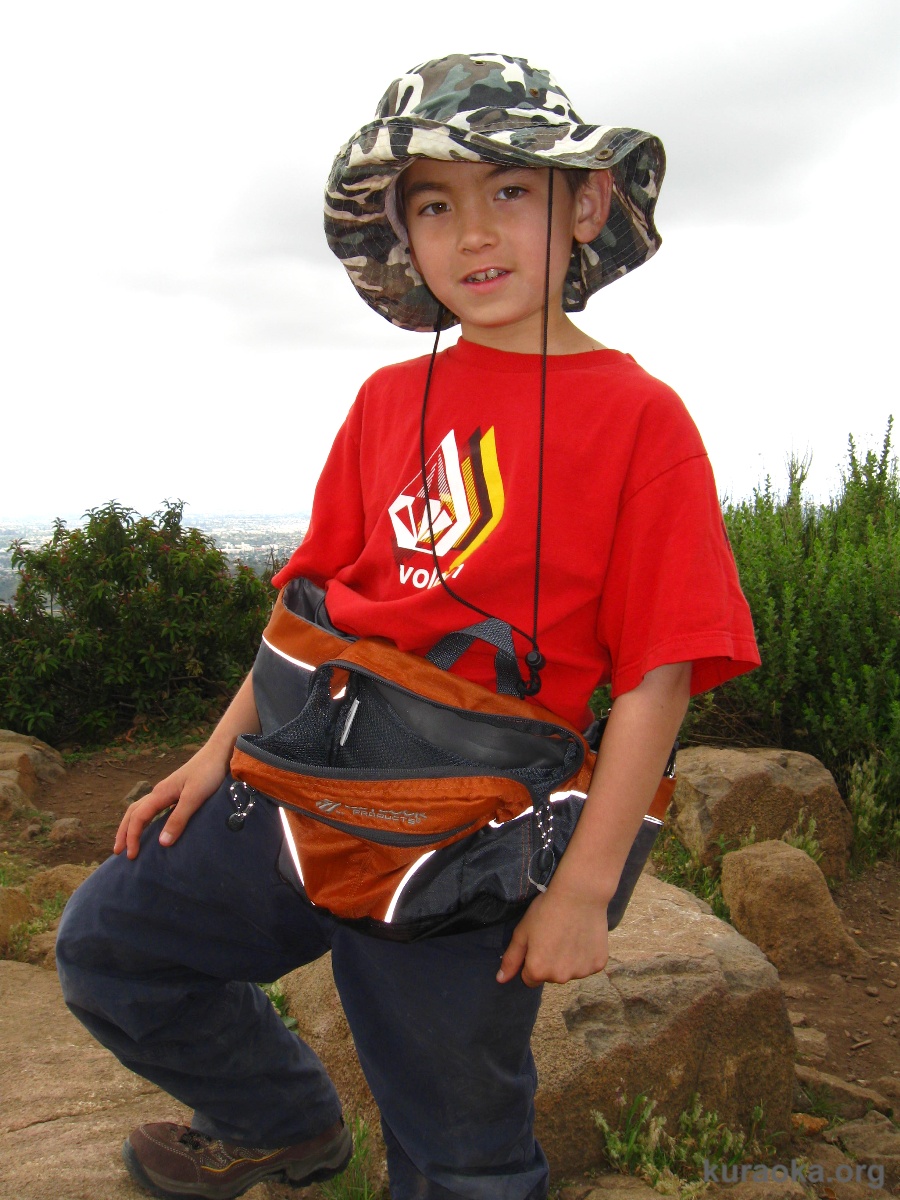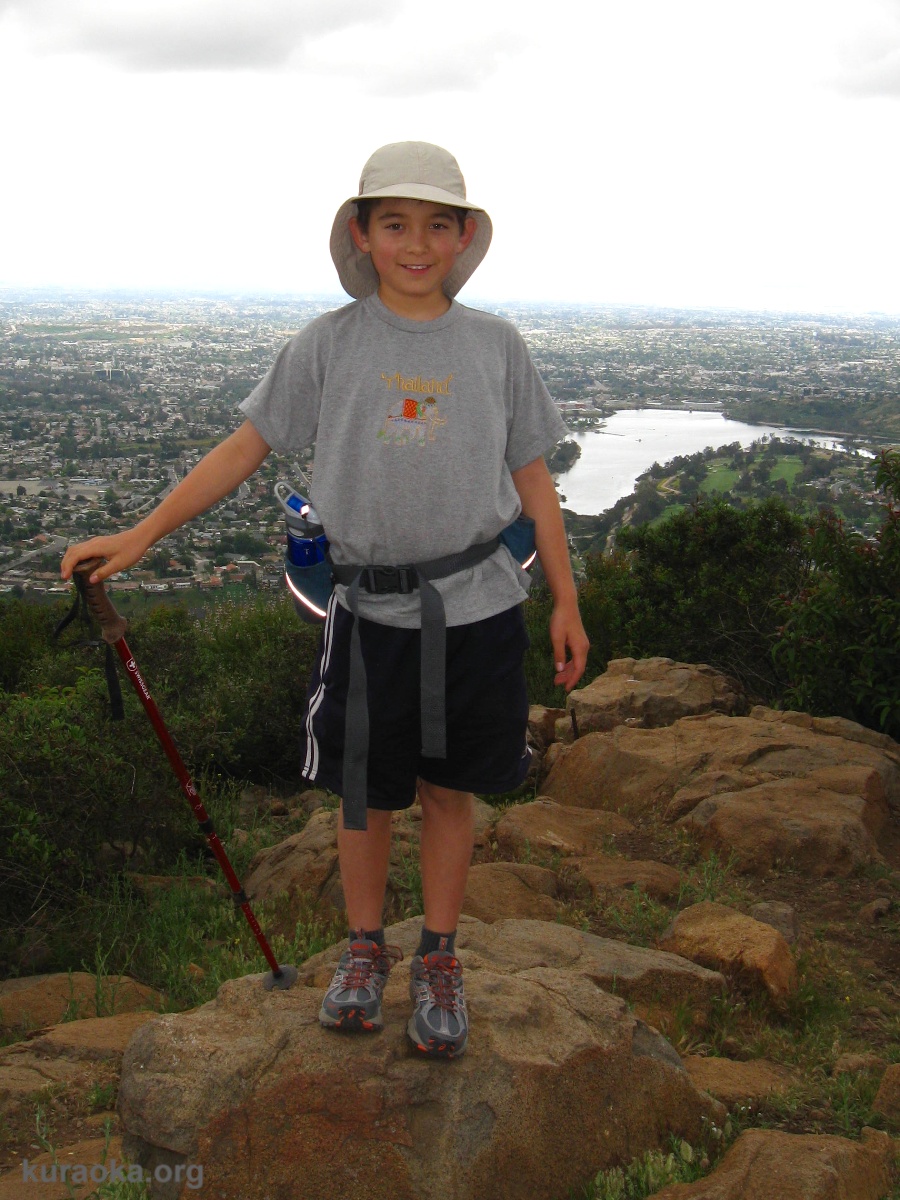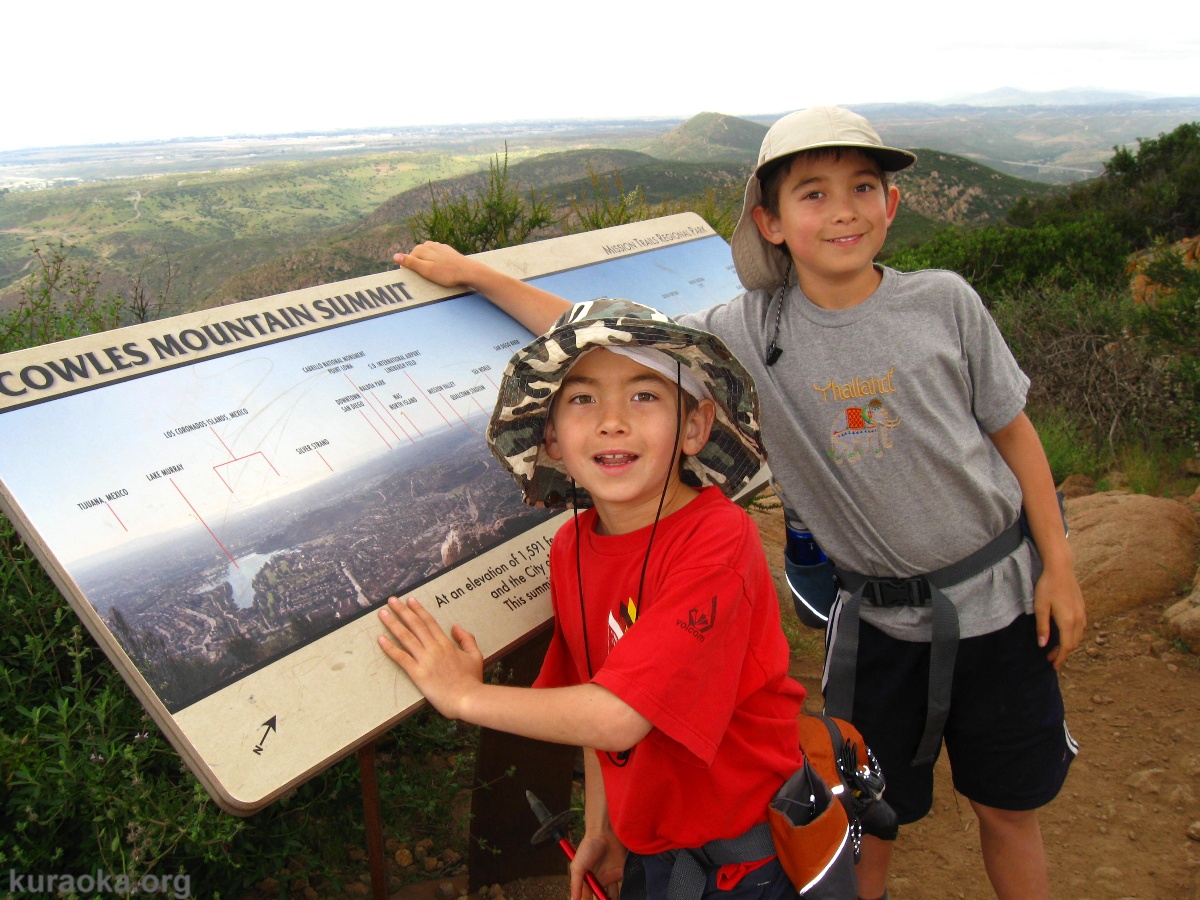 04-17-11 Busker Festival! Leo and Ondine went to the Busker Festival in Seaport Village. Leo just lapped up the acrobatic acts!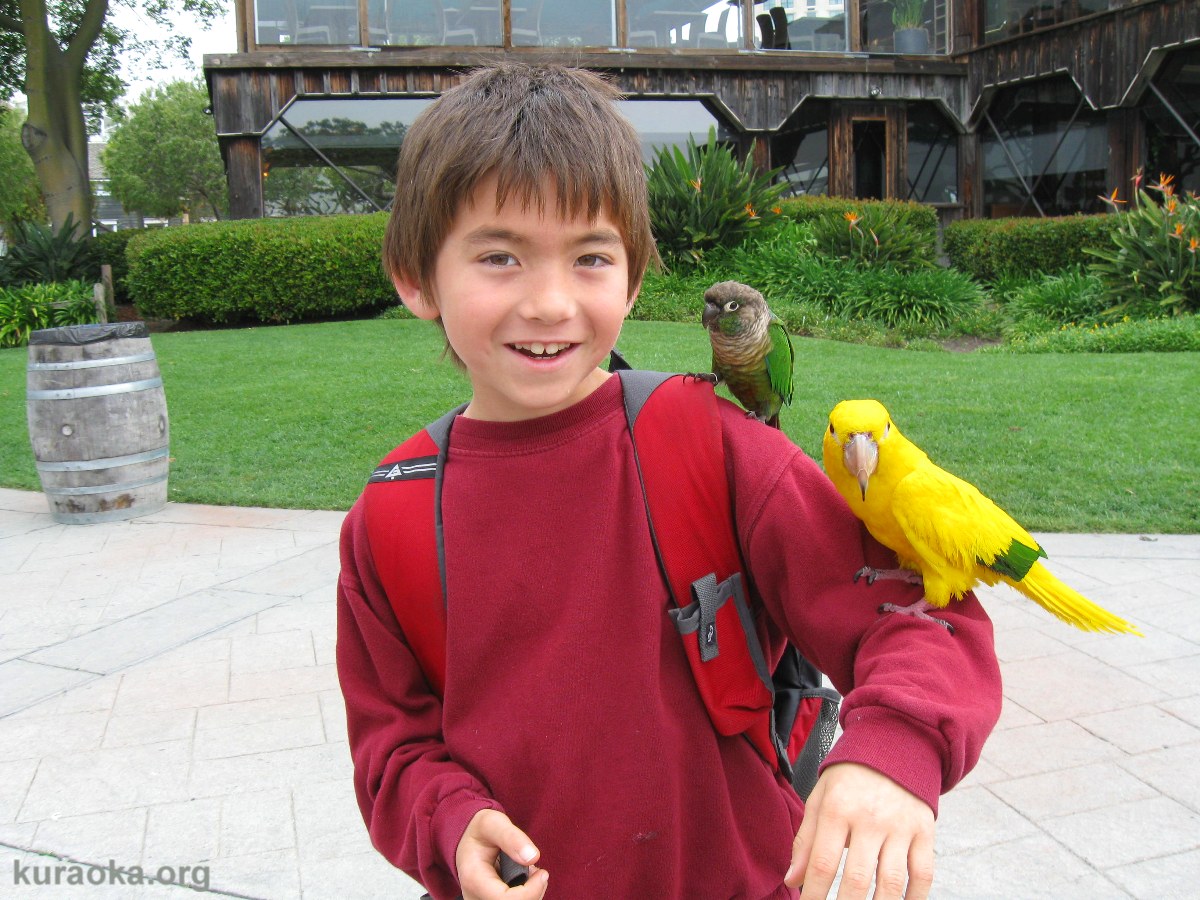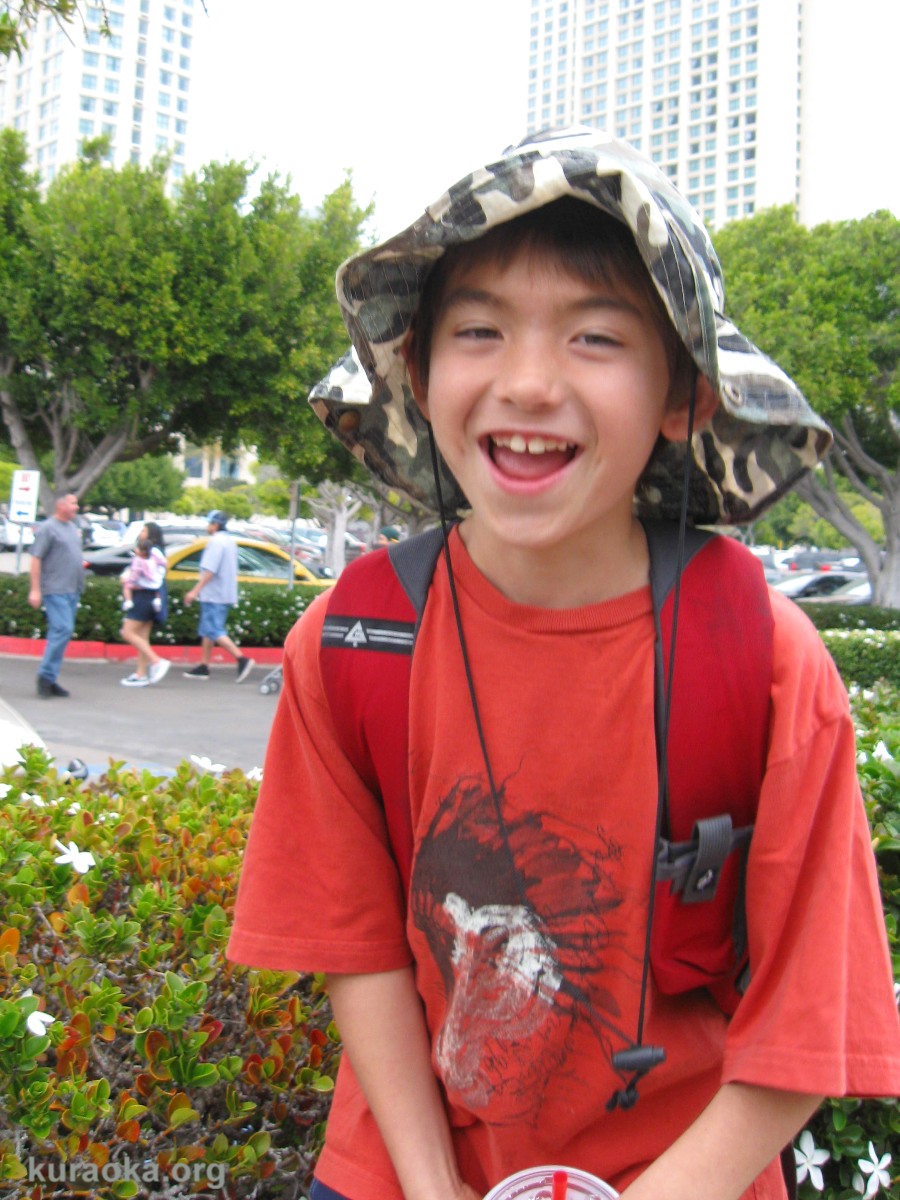 04-16-11 Troop 950 backpacking trip. Roy's first backpacking trip with the Boy Scouts was a real adventure! They rode the tram up from Palm Springs to Long Valley, then backpacked two miles through the snow to Round Valley to camp for the night. The weather was perfect, the trail conditions were deep snow and ice, and the scenery was absolutely spectacular! Unfortunately, and despite ample reports, most of the troop was woefully unequipped and undertrained for snow conditions. John, being rusty but apparently far more experienced, had prepared properly and had a blast, as did Roy, who wished the trip could've been longer! The first photo shows Michael, Roy, and Alex as the troop prepared to cross a stream. The second shows the troop traipsing across the meadow in Round Valley. The third shows John's new Sierra Designs Lightning XT1 tent. The last two photos were taken Sunday morning.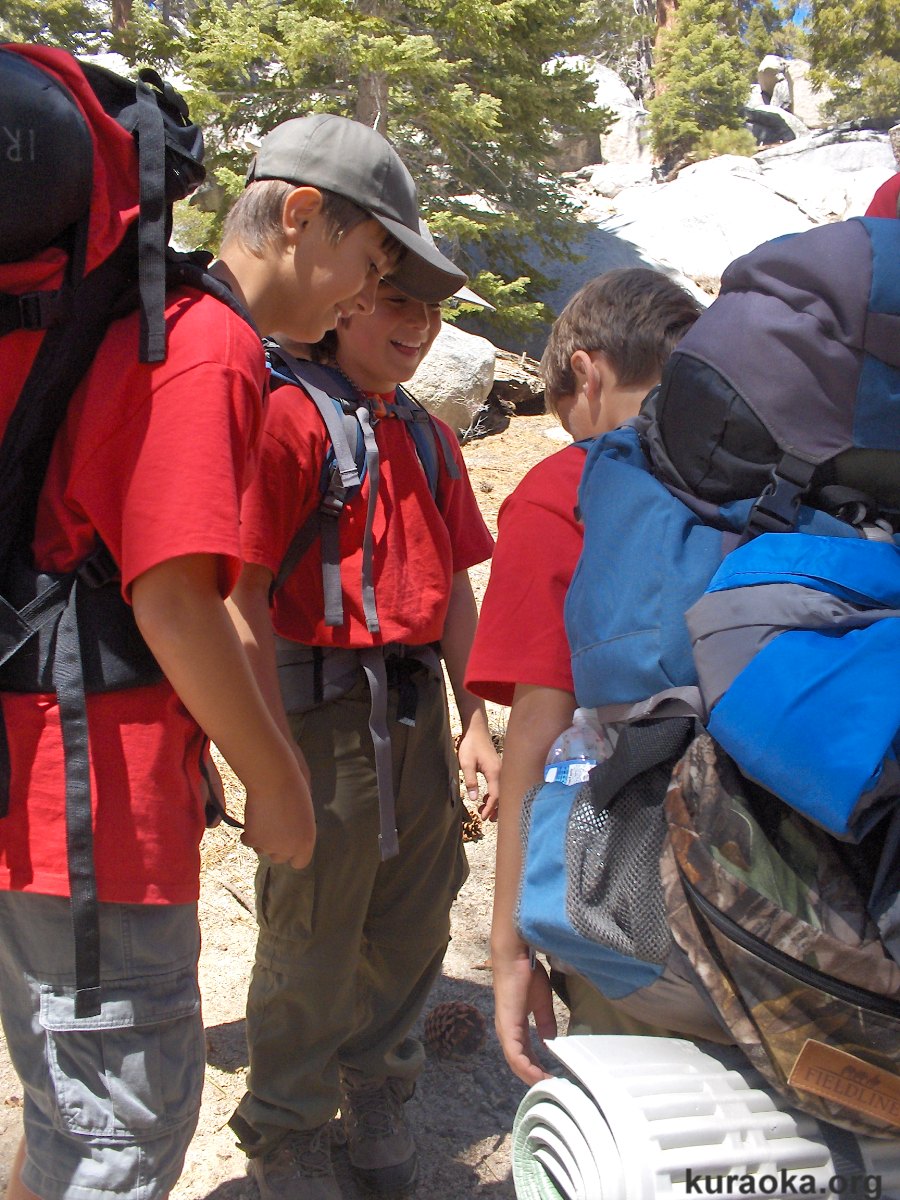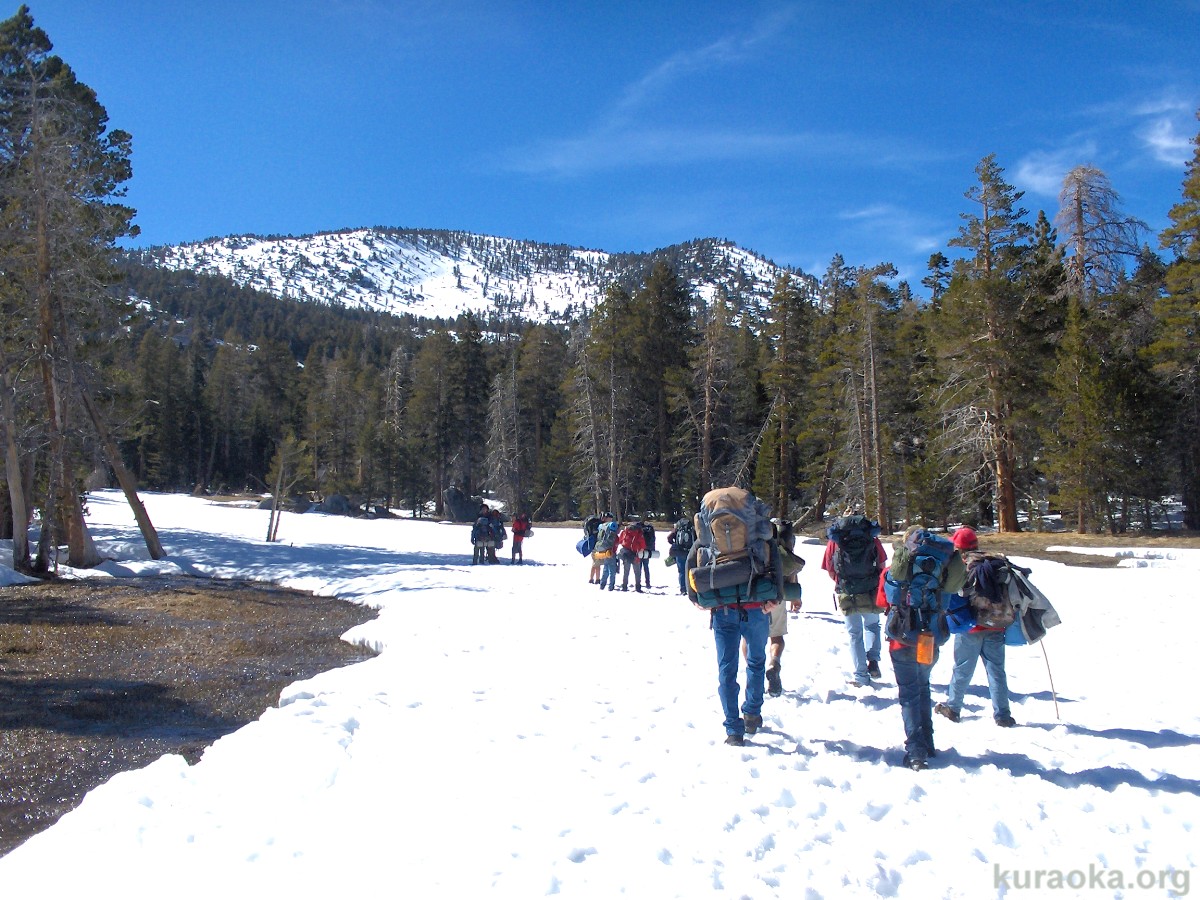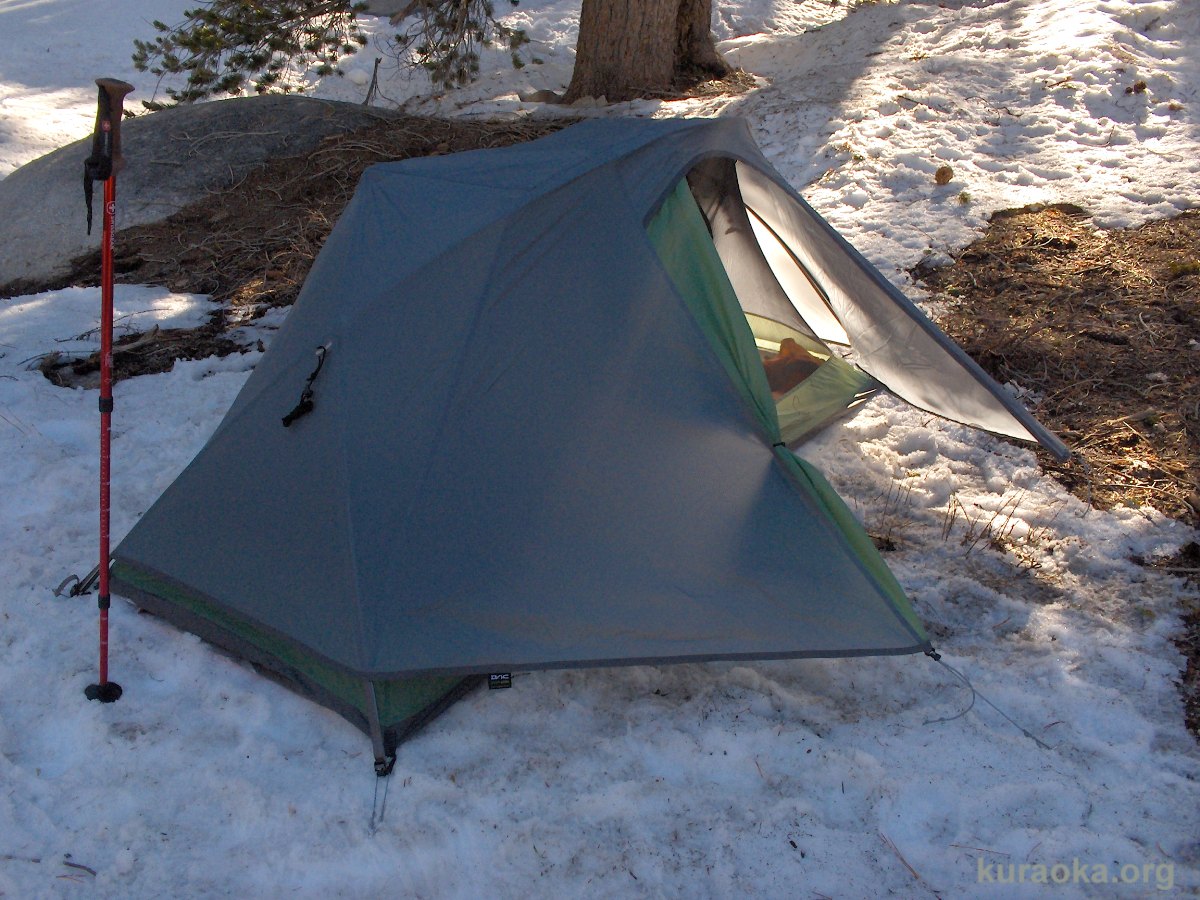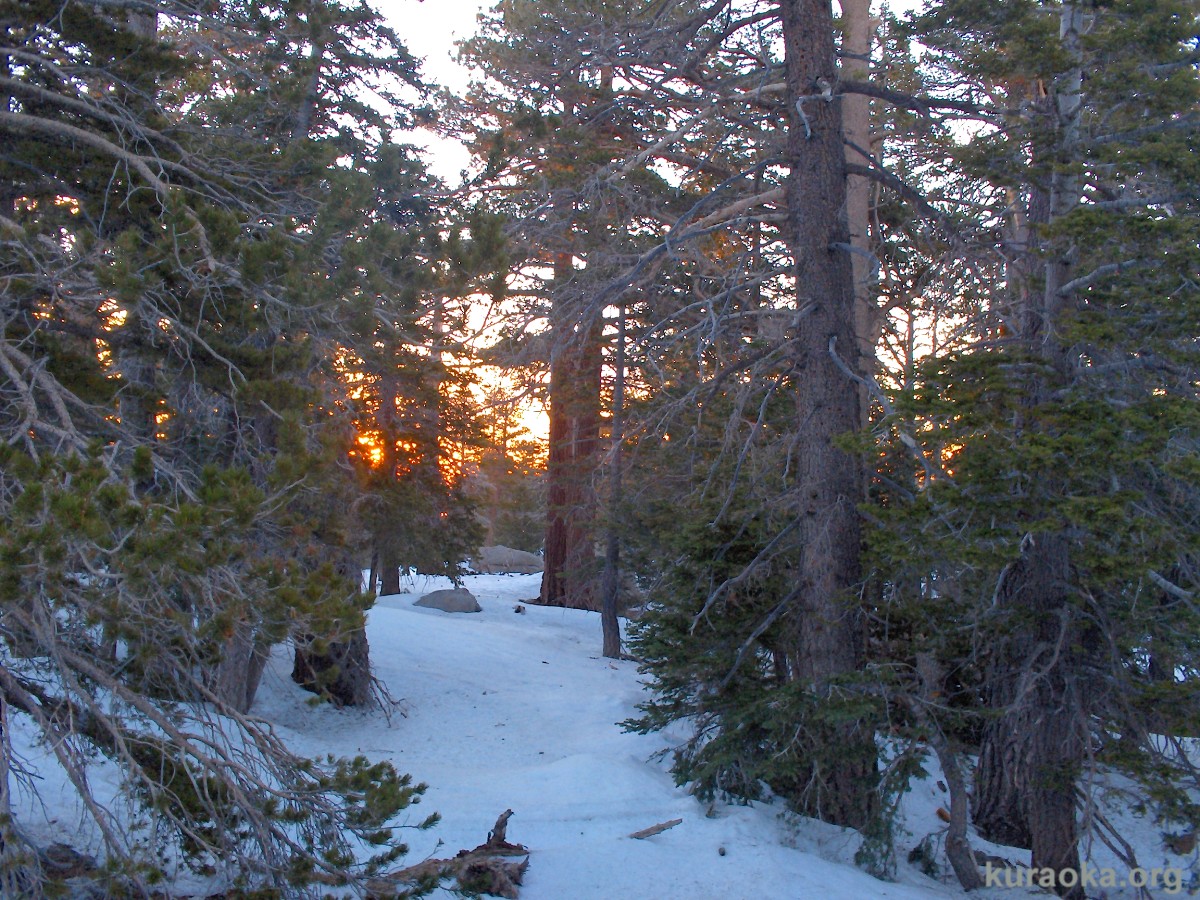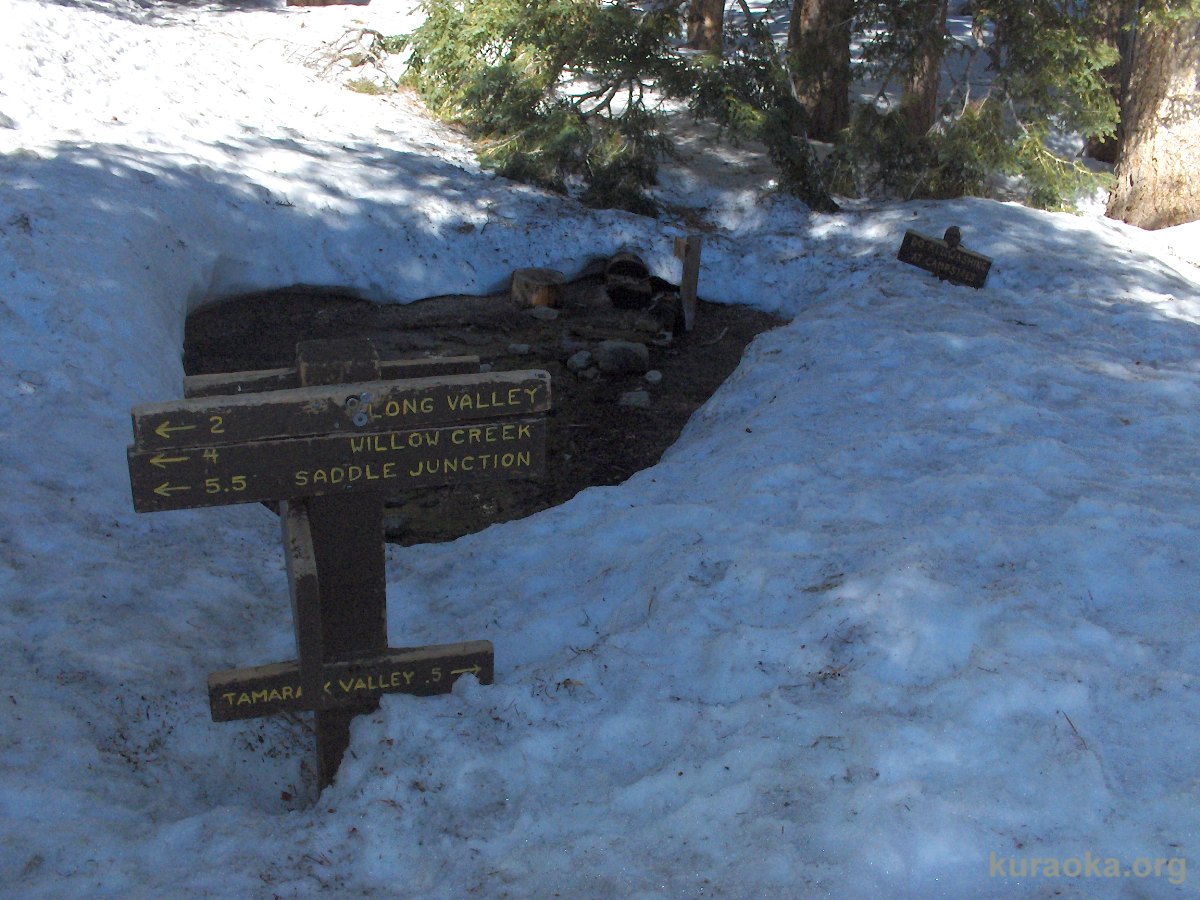 04-10-11 Cowles Mountain. Here are Leo and Roy at the top, some spectacular blooming Spanish Bayonet (or chaparral yucca), and Buddy cooling his paws in a trailside rivulet.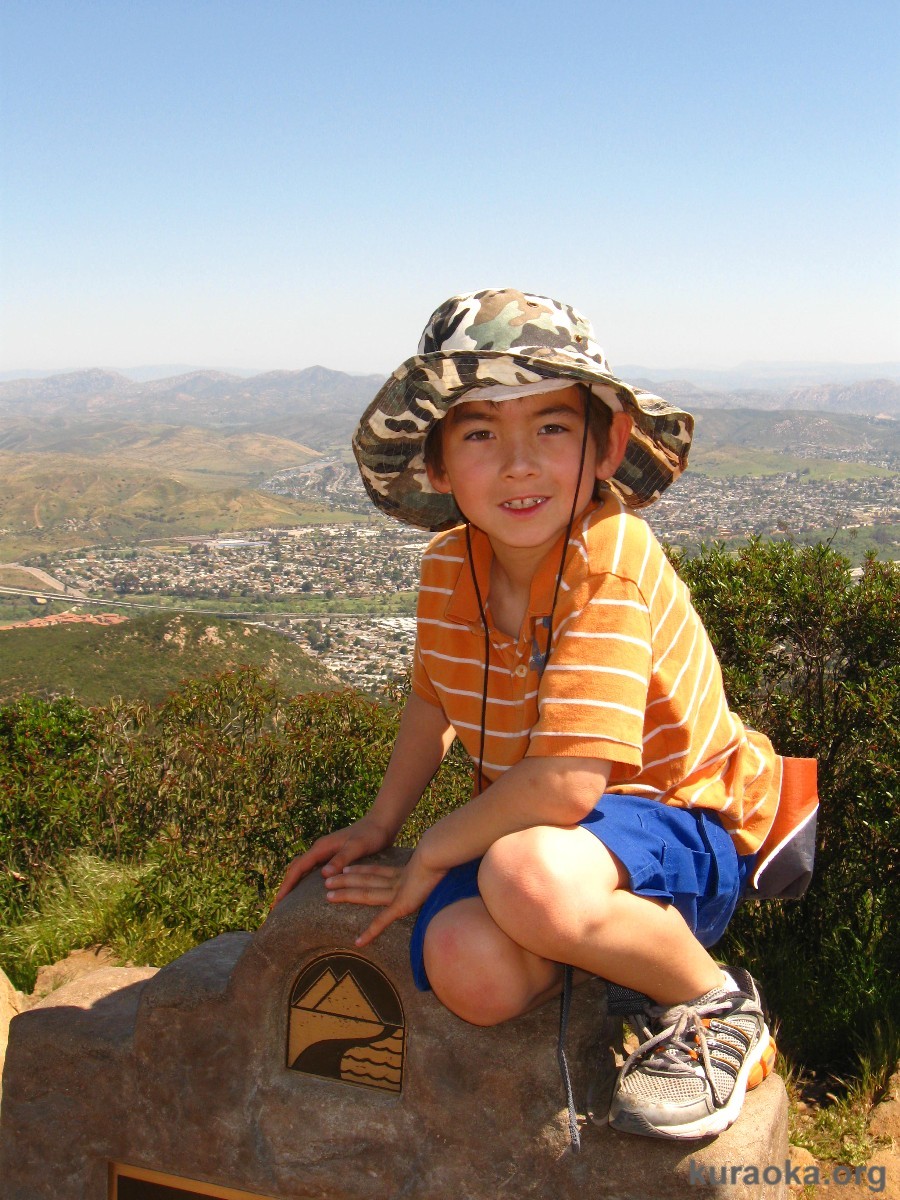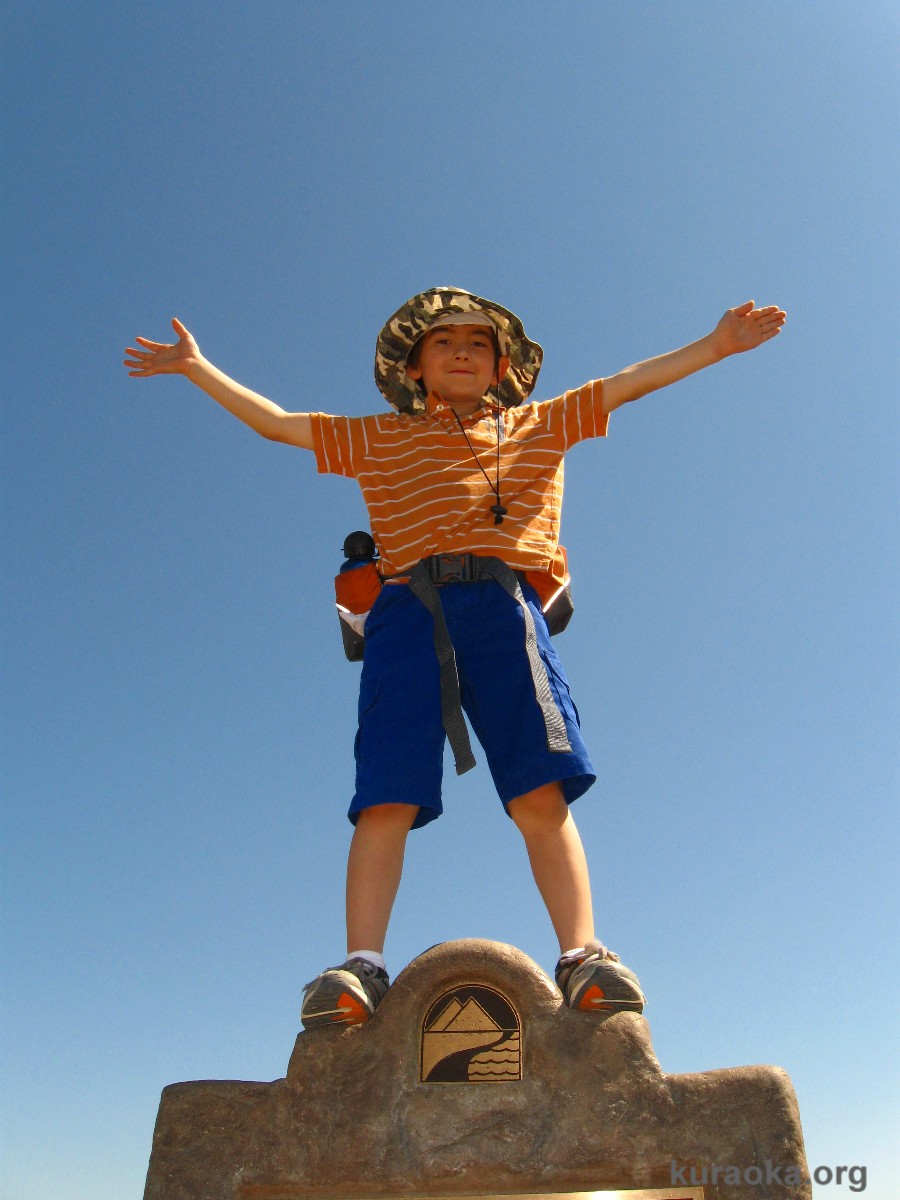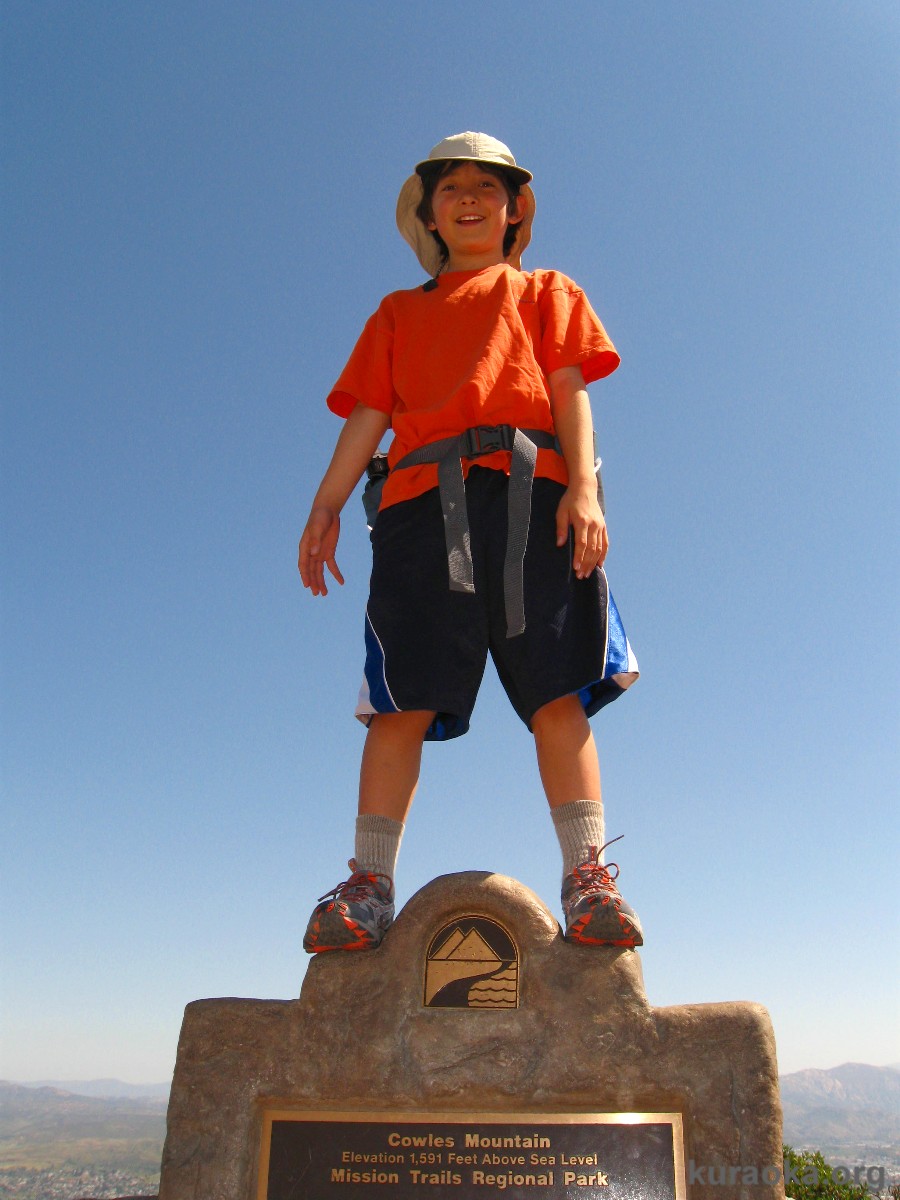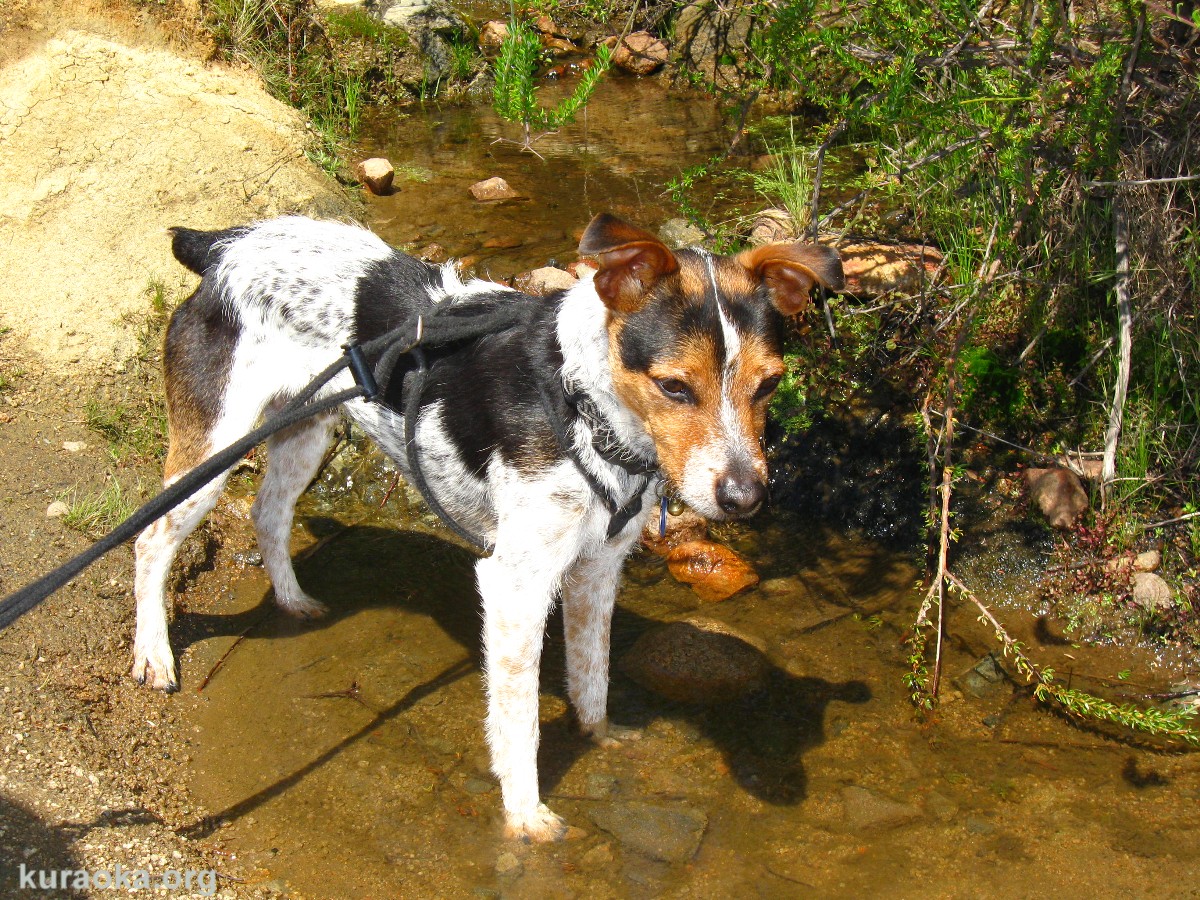 03-30-11 Leo shooting (and hitting) a piece of red licorice with the bow he made with Den 2.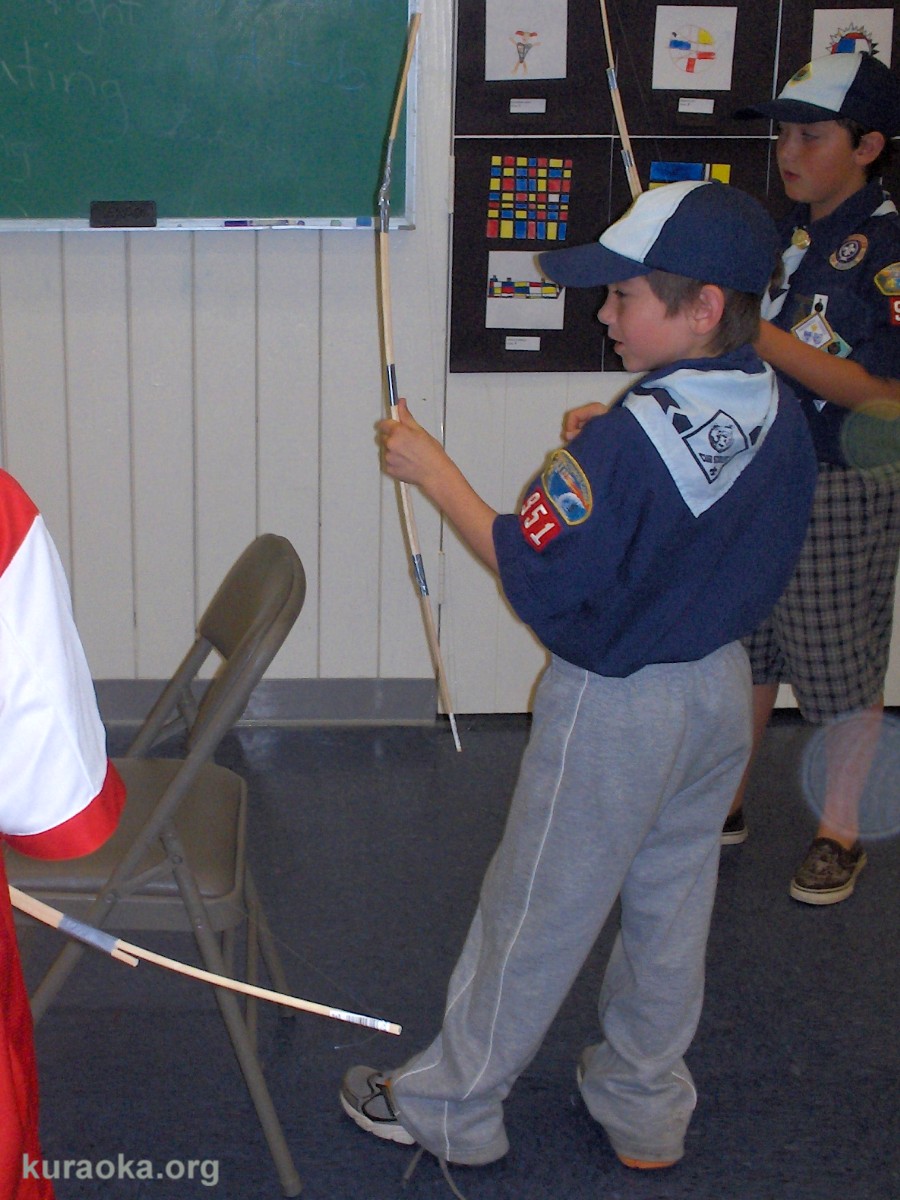 03-29-11 Roy received his promotion to Scout. Here he is with Scoutmaster Eglin, getting his Scout rank patch.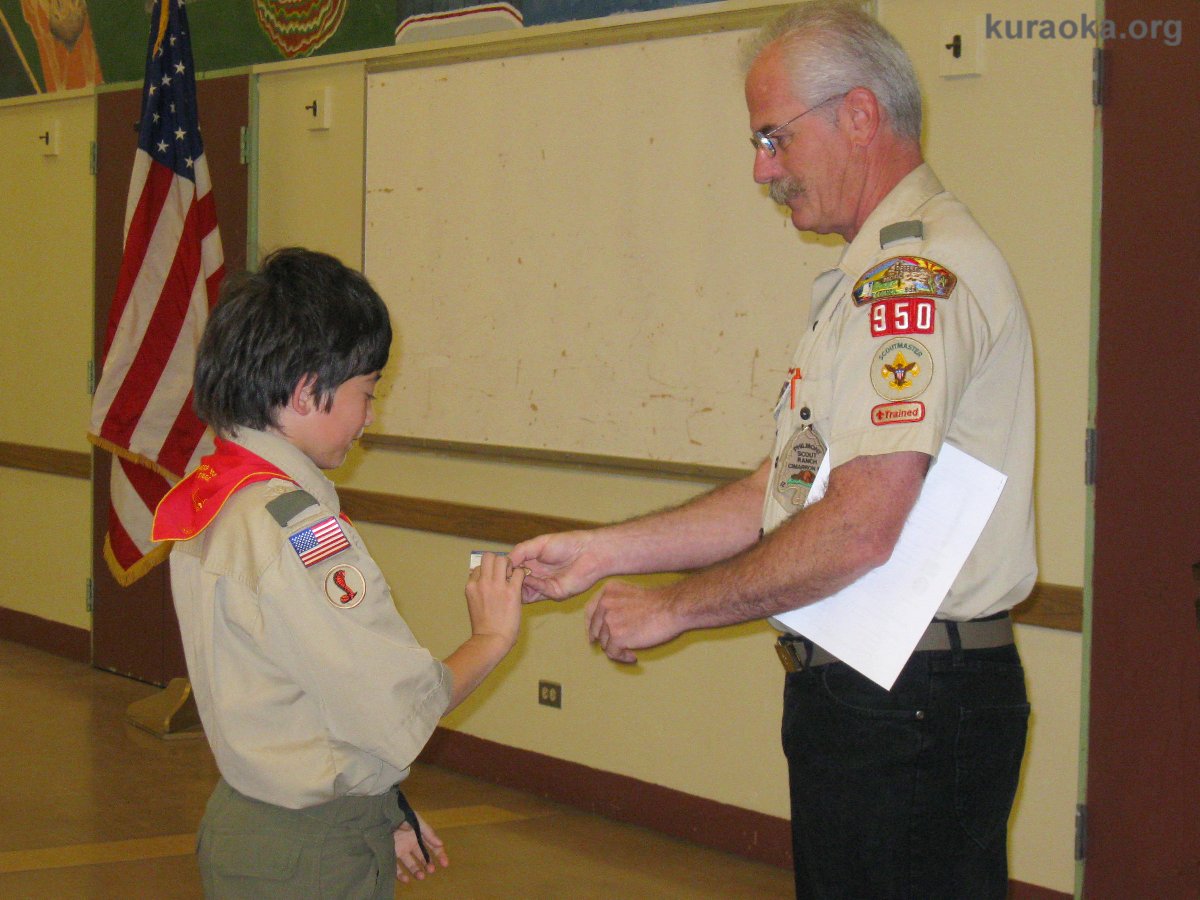 03-27-11 Cowles Mountain. Here are Roy, Leo, and Buddy perched on a boulder (not much point to doing "bunny ears" on a dog, is there?). Next is Leo at the top, and Leo, Ondine, Roy, and Buddy at the top.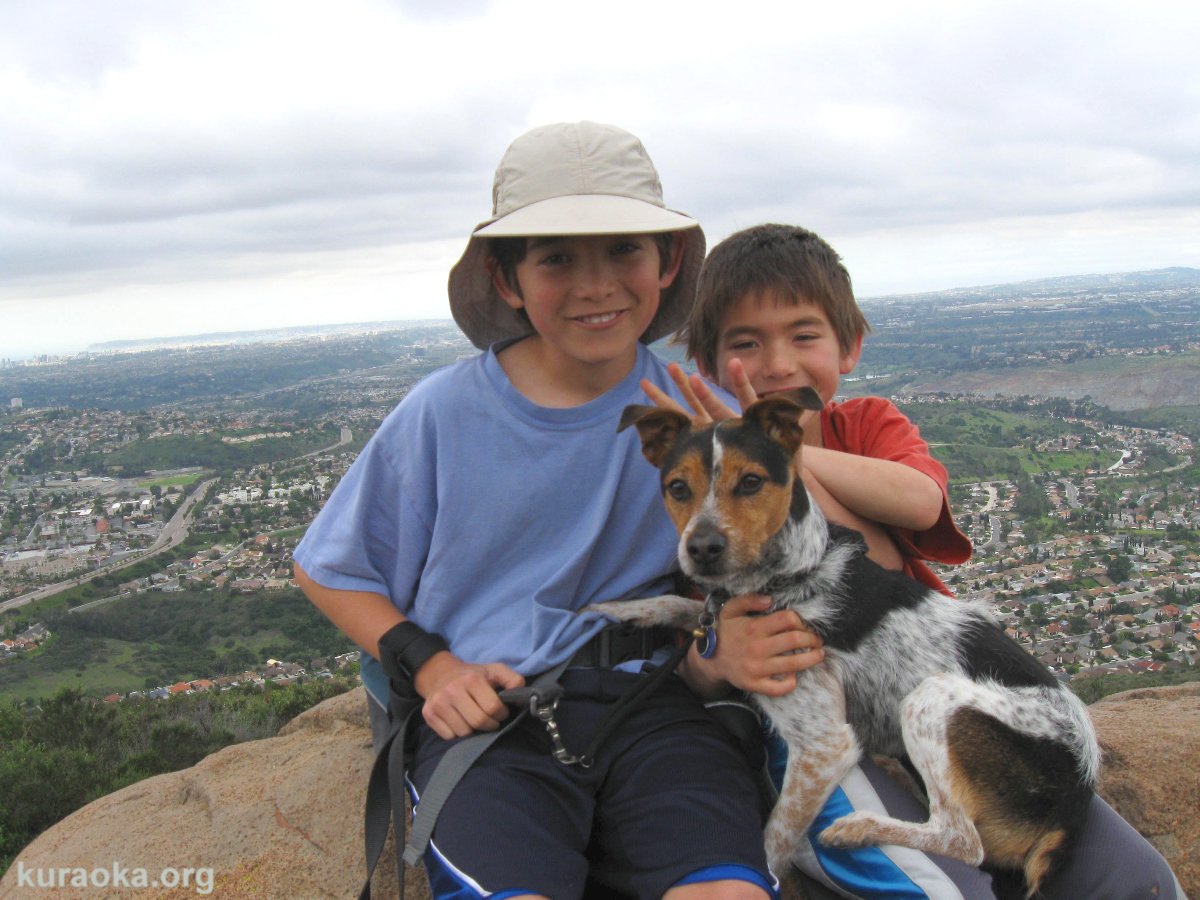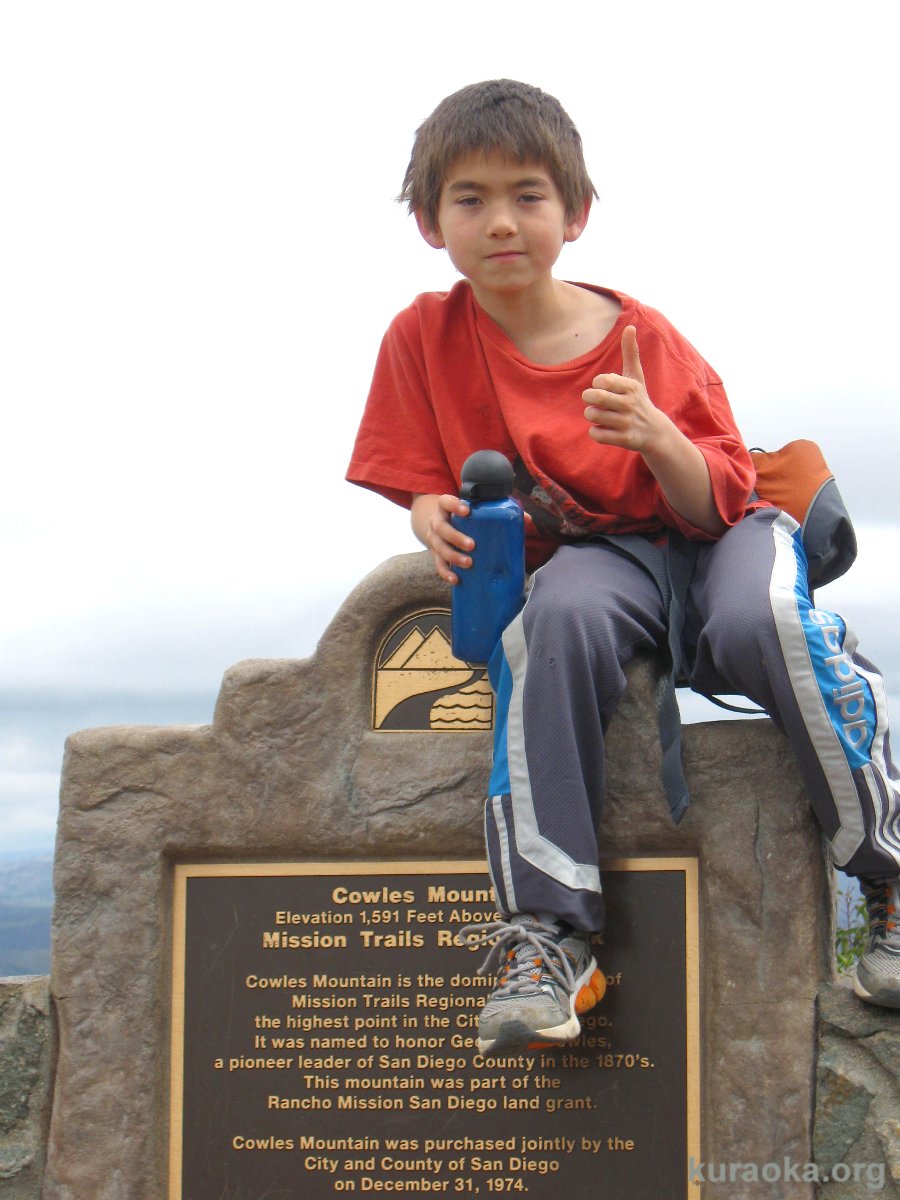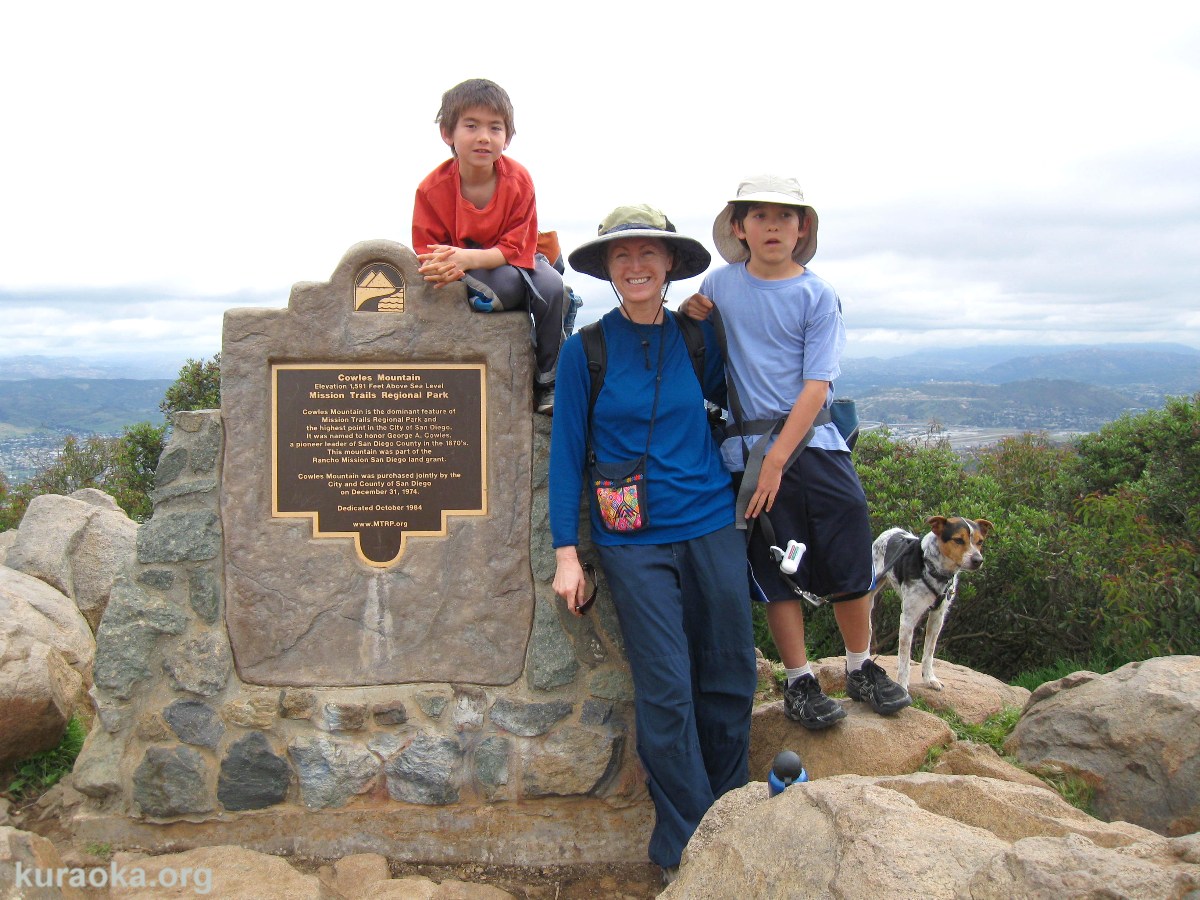 03-20-11 Leo has a lemonade/cookie/yard sale! Here he is cozied in with Buddy, awaiting customers.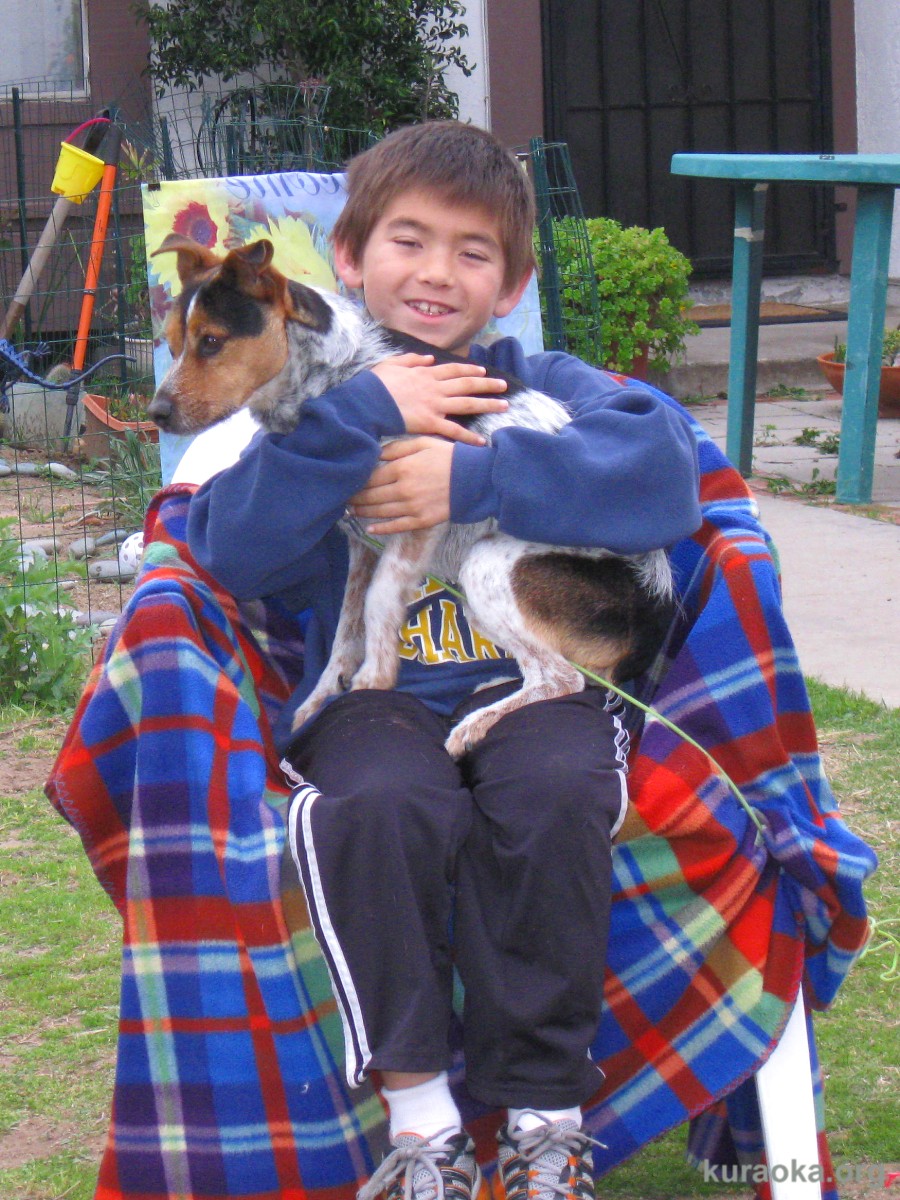 03-19-11 Troop 950 Wind Caves campout. Here you see the campsite, looking toward the wash. That's John's Walrus Warp 2+2 Rapeede tent there. Then, the wind caves – photos don't quite do justice to the surreal, wind-carved landscape. In the third photo, Roy is at the far right; in the fifth photo John is at the far left. Last is a view of the bluff by our campsite. That's probably Skyler at the top, and you can make our Roy at the base (in the hat).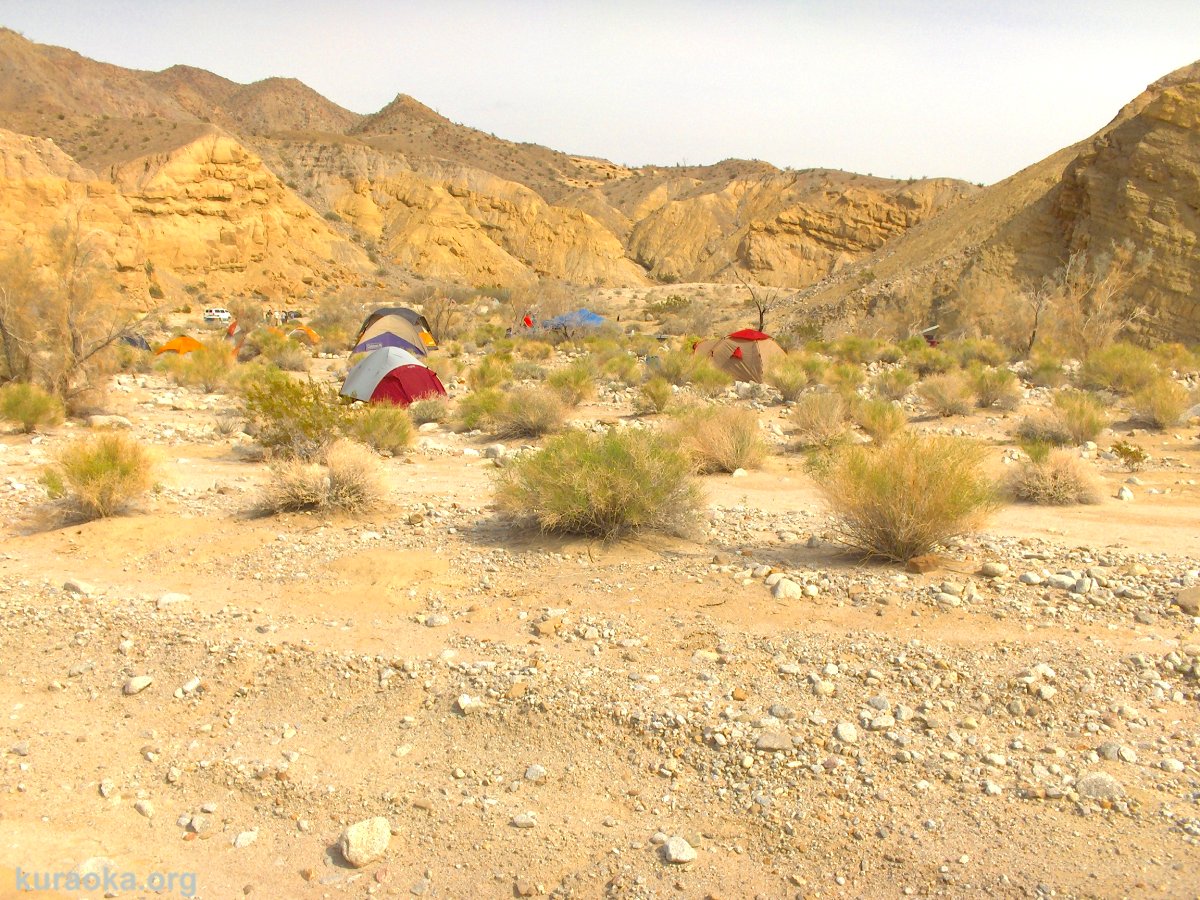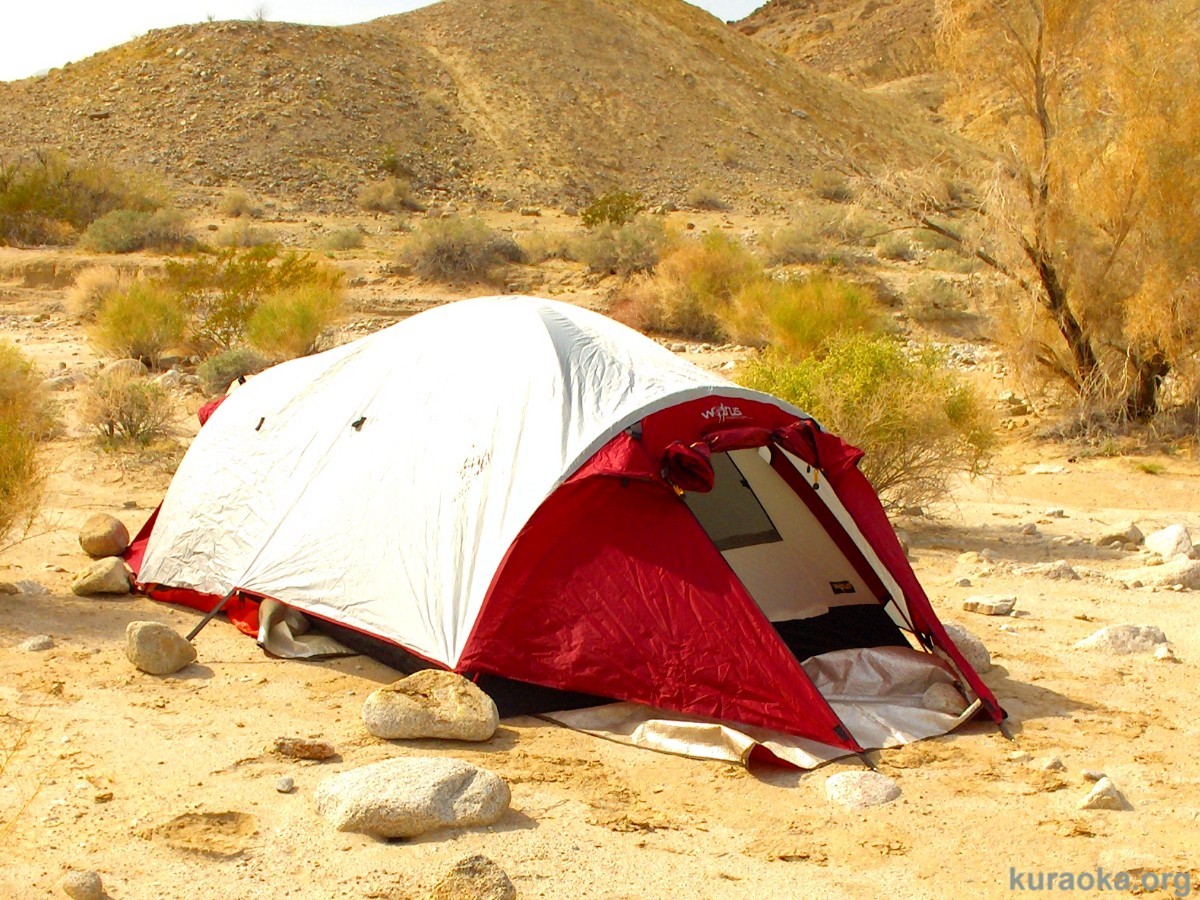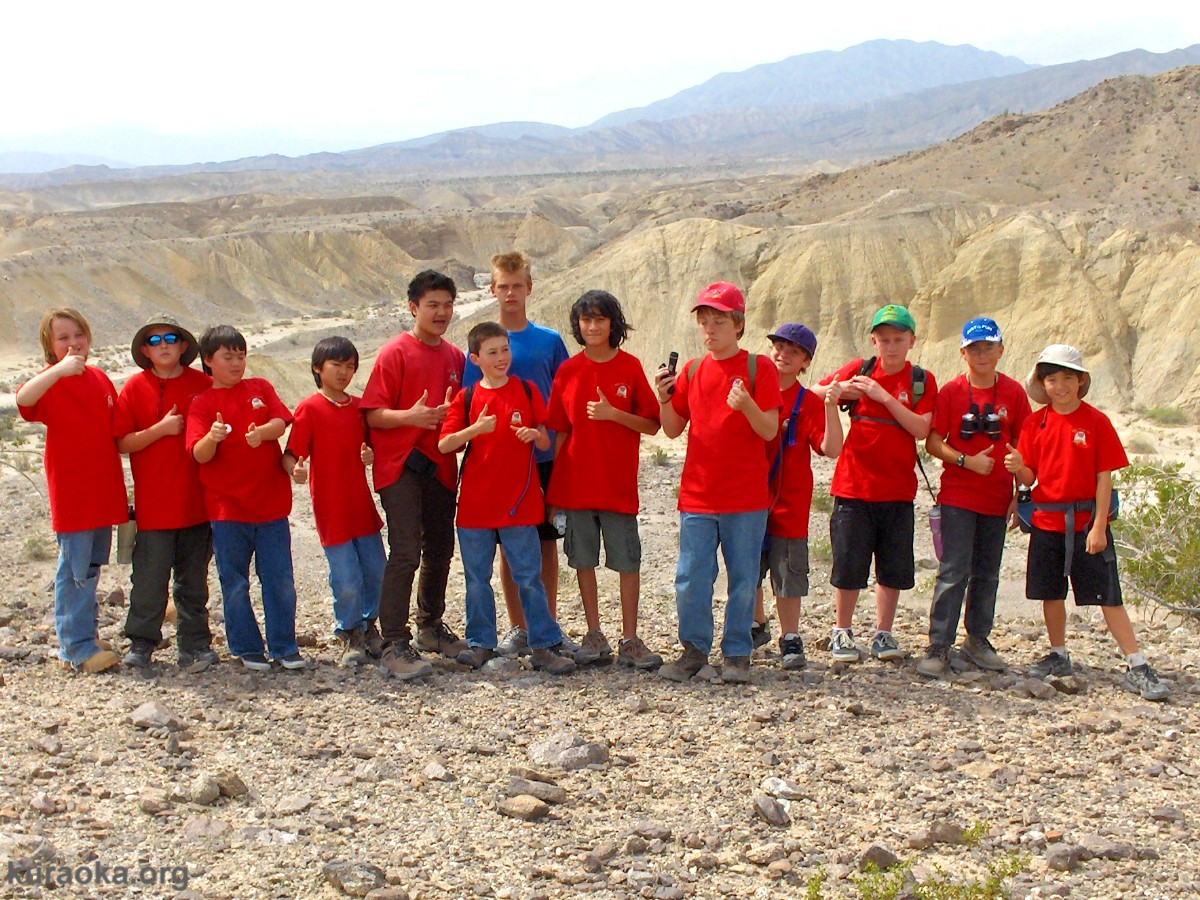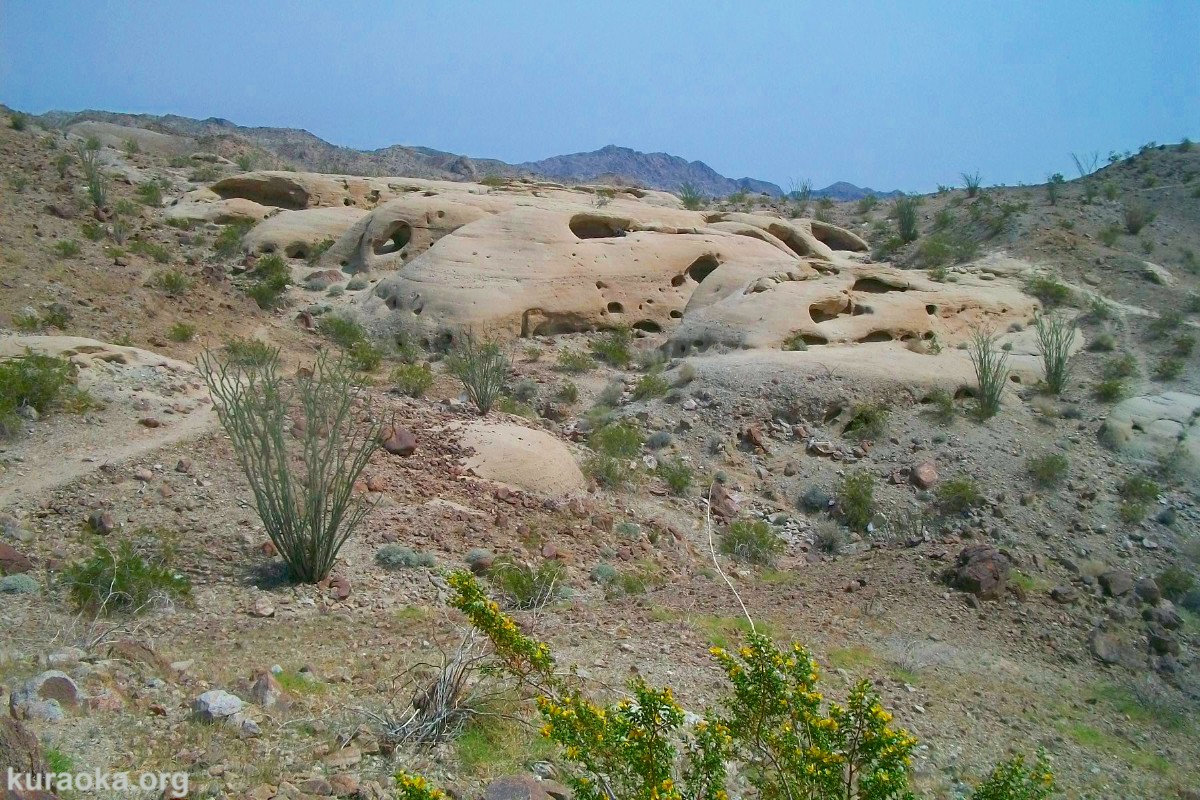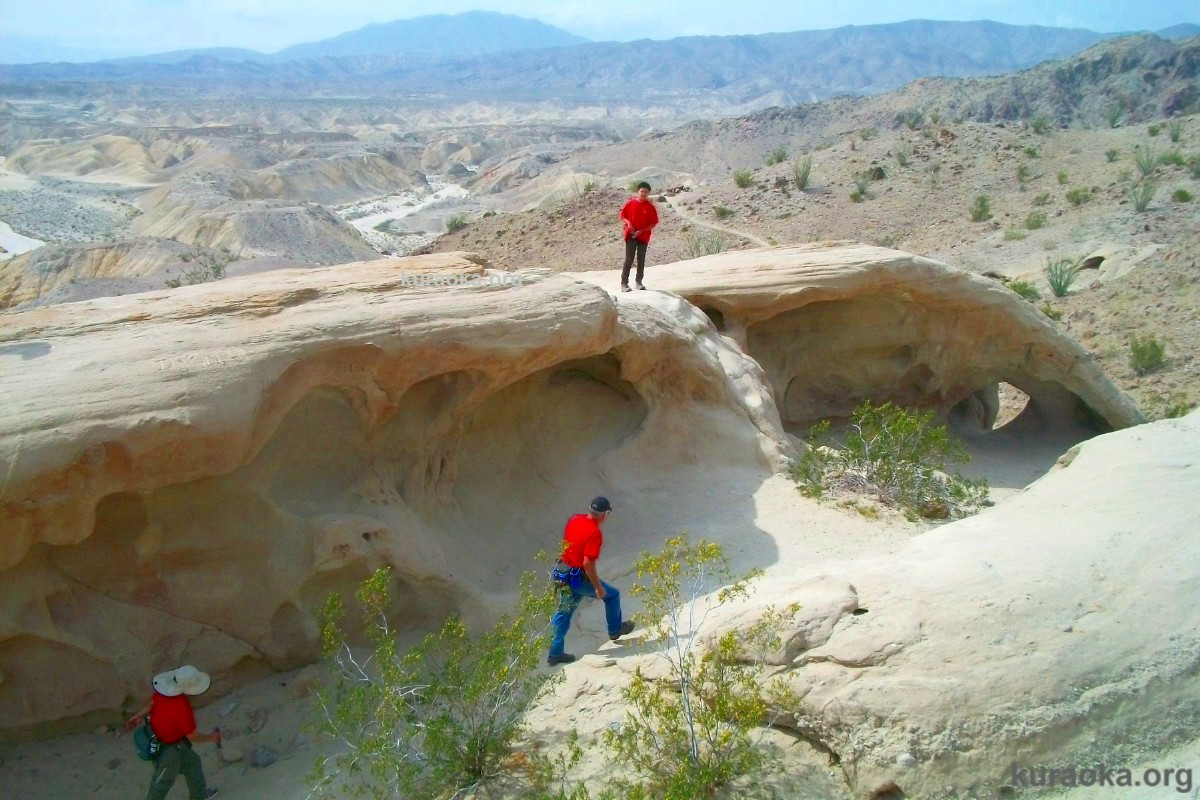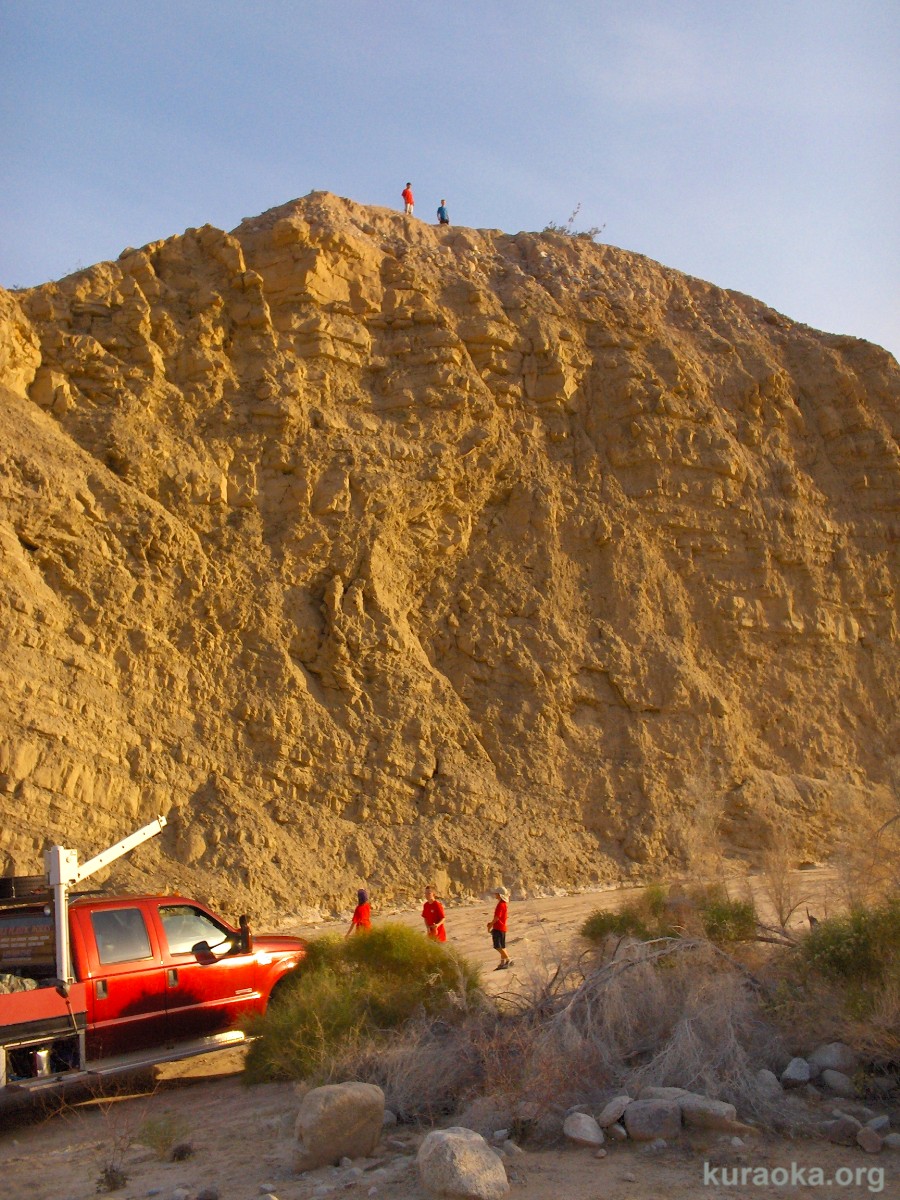 03-16-11 Leo has lunch with the principal! Leo was recognized for his outstanding achievements in class. Yay Leo!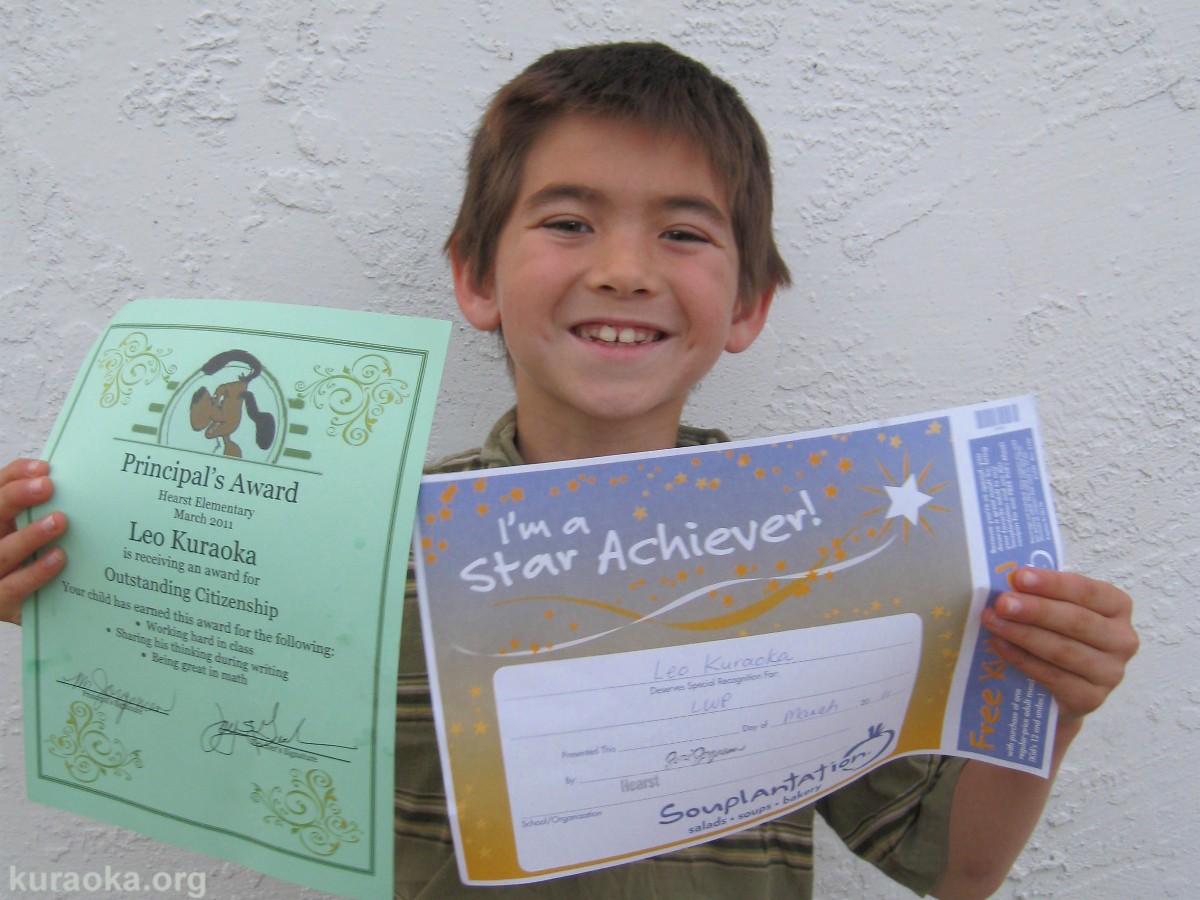 03-13-11 Cemetery and Big Boy. We visited Frances and on our way home stopped at the cemetery to visit John's dad. Here's Leo and the forebear for which he's partly named. Then, John surprised the boys with dinner at Bob's Big Boy in Norco. Note the three spoons headed toward the banana split! Yum! Afterwards, we all posed with the Big Boy.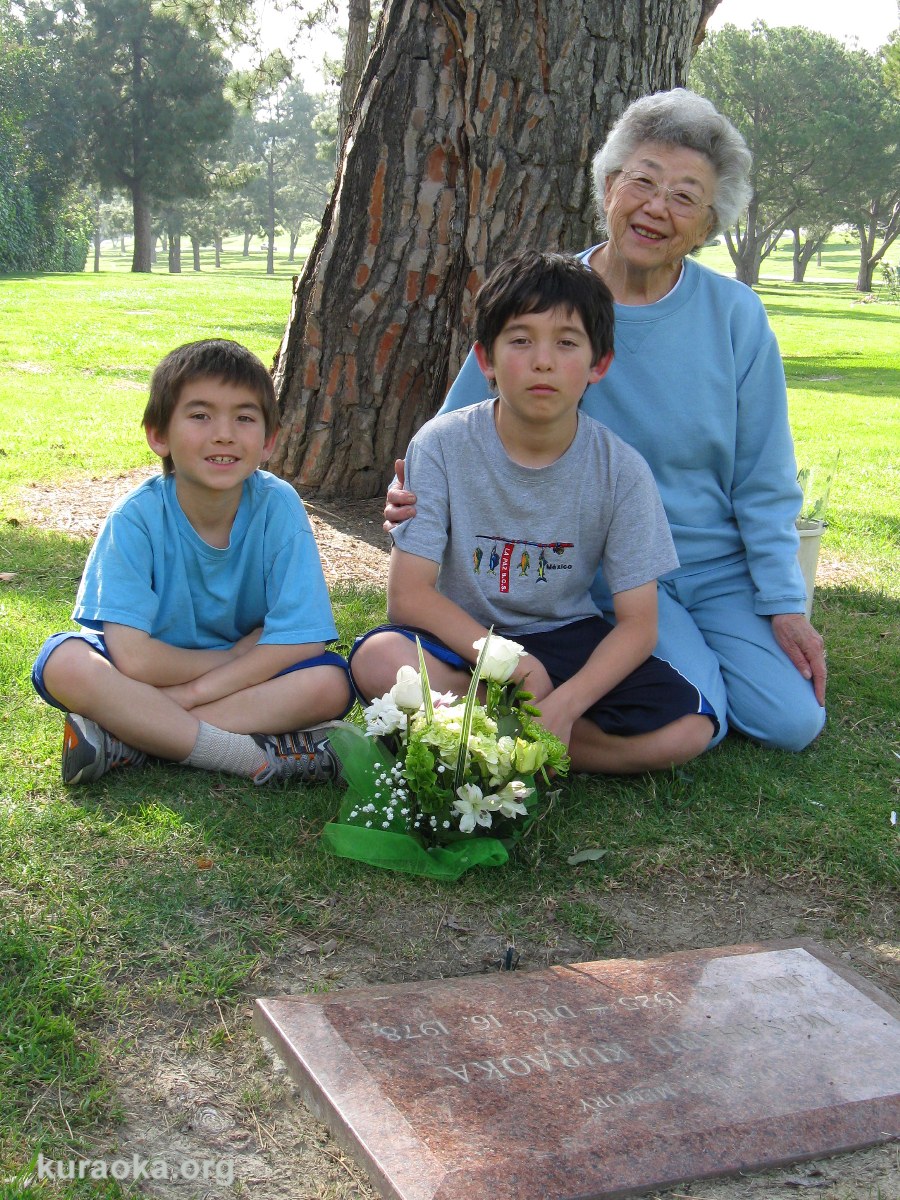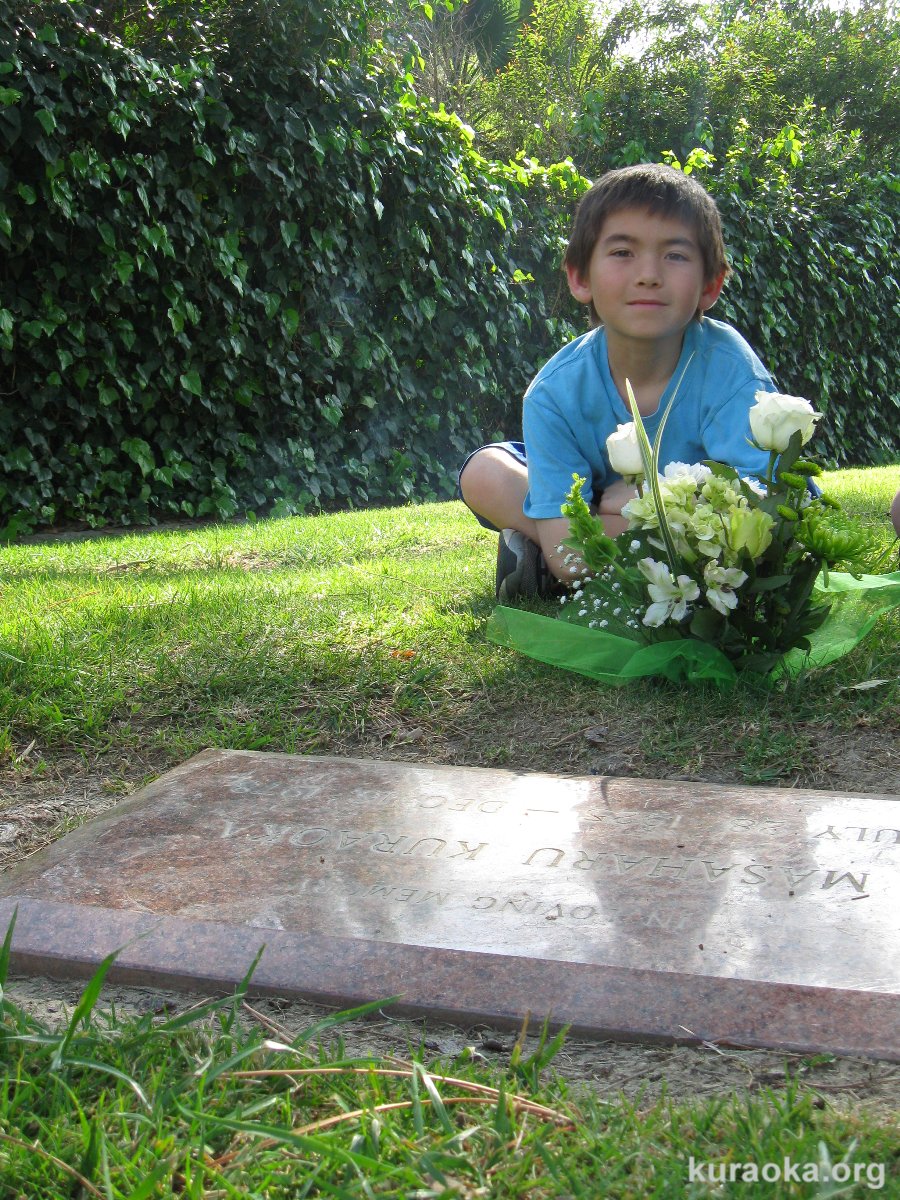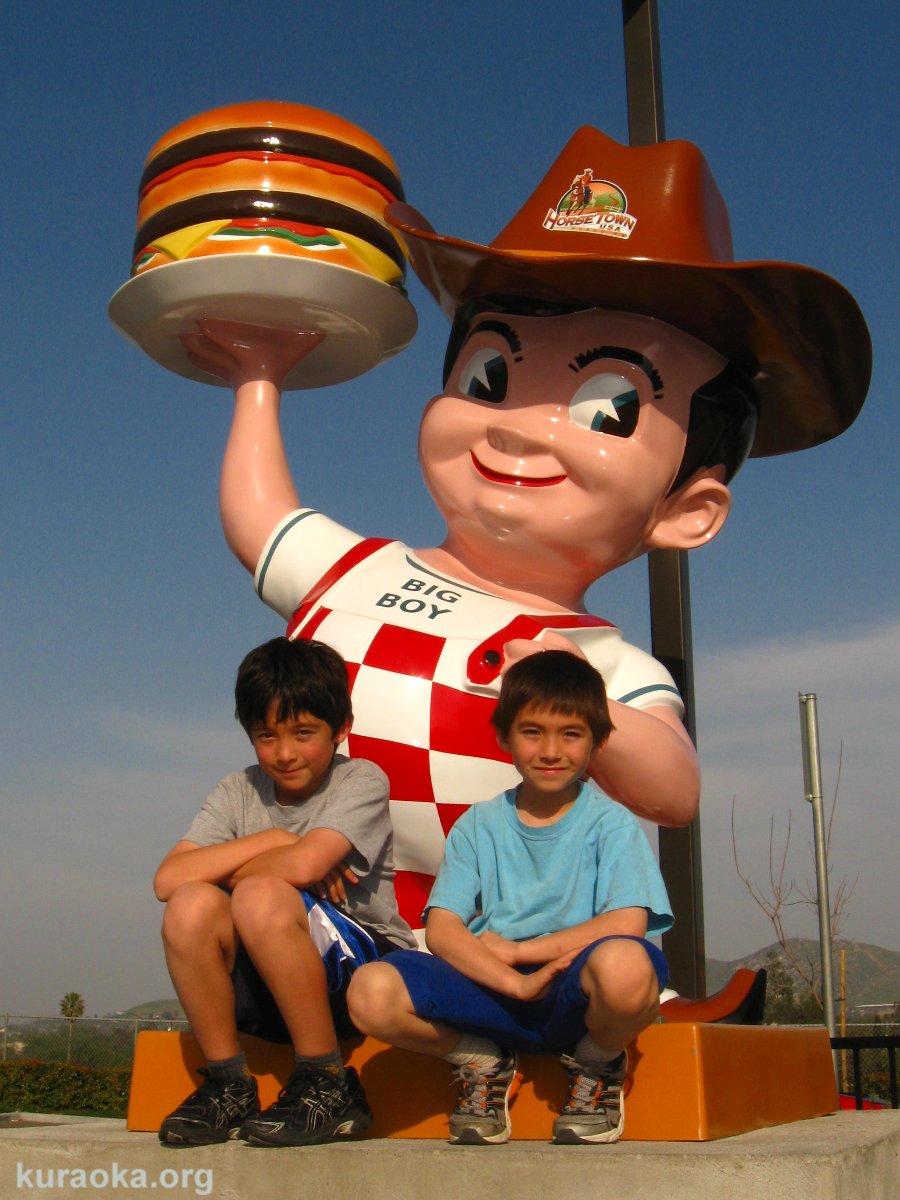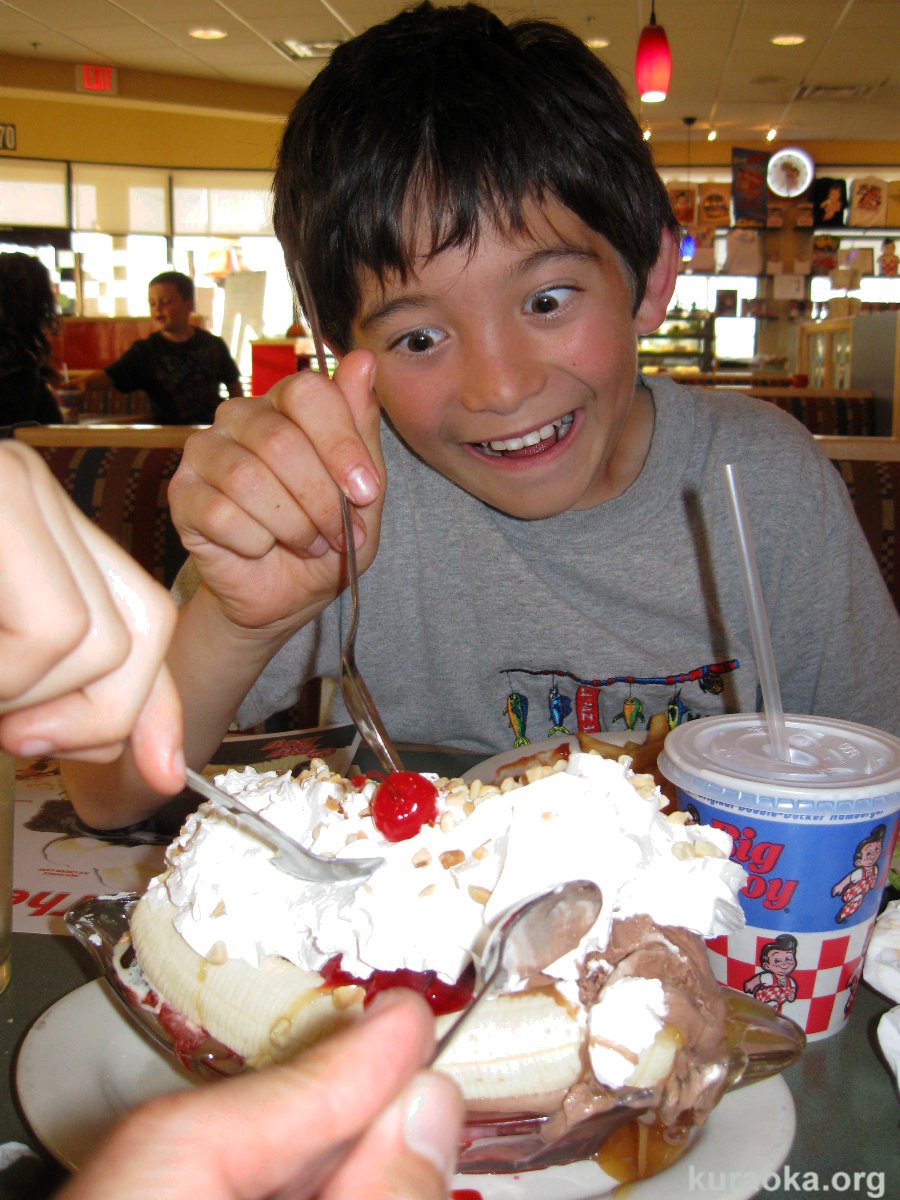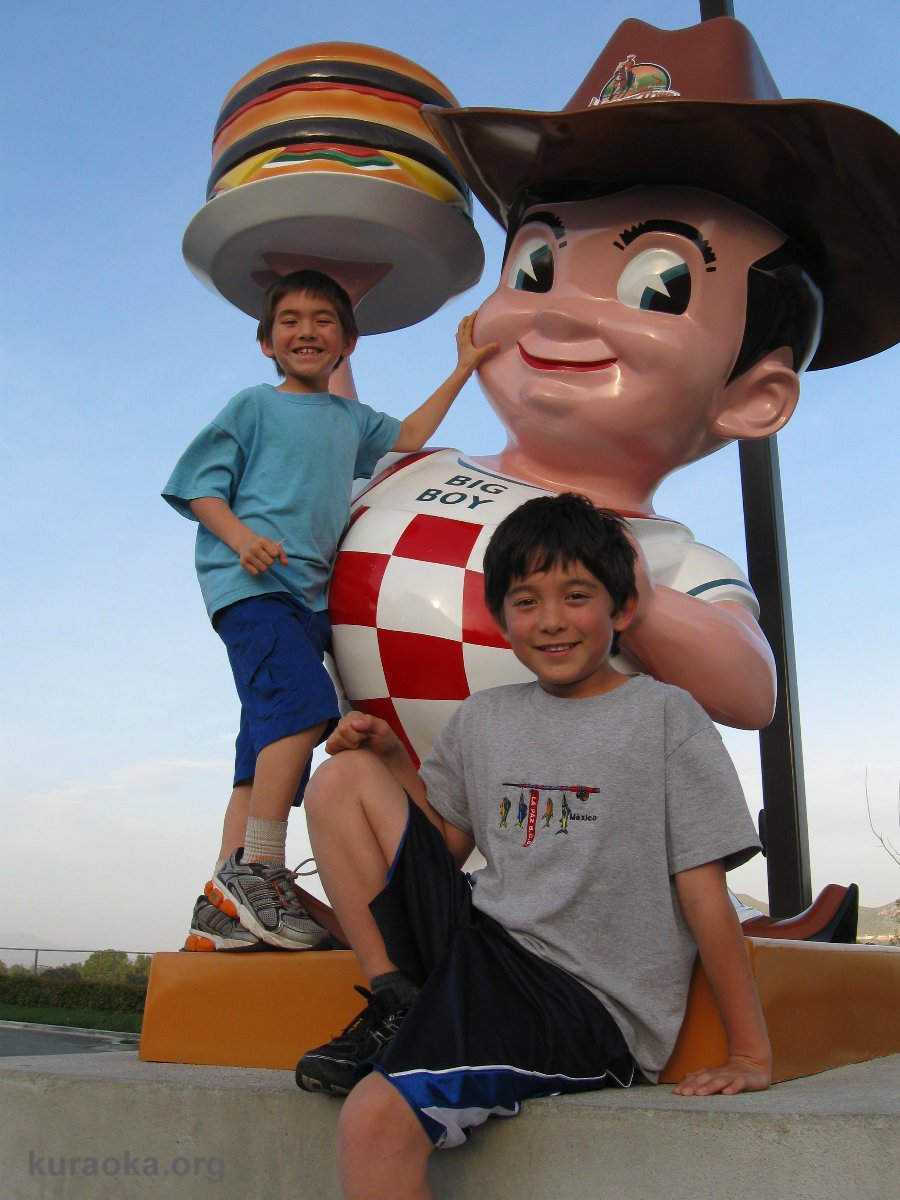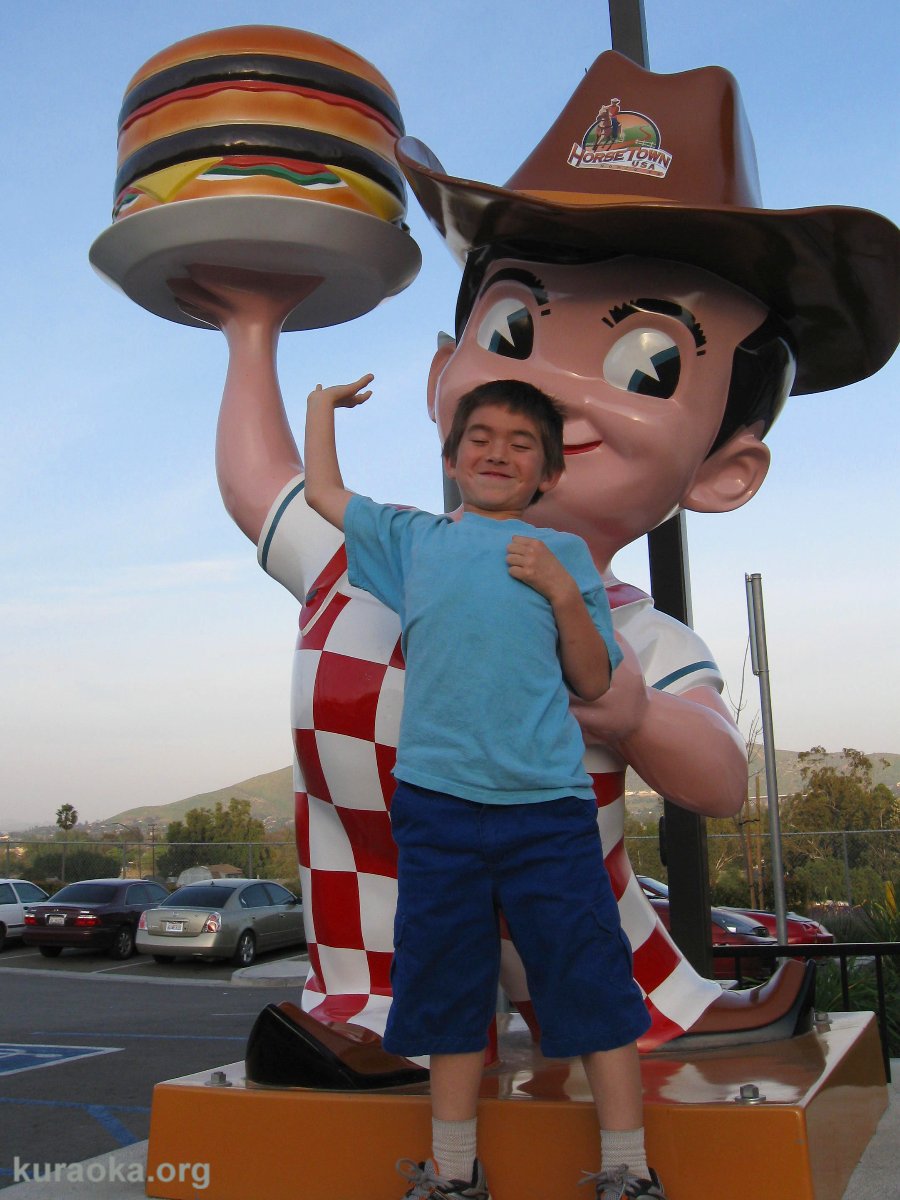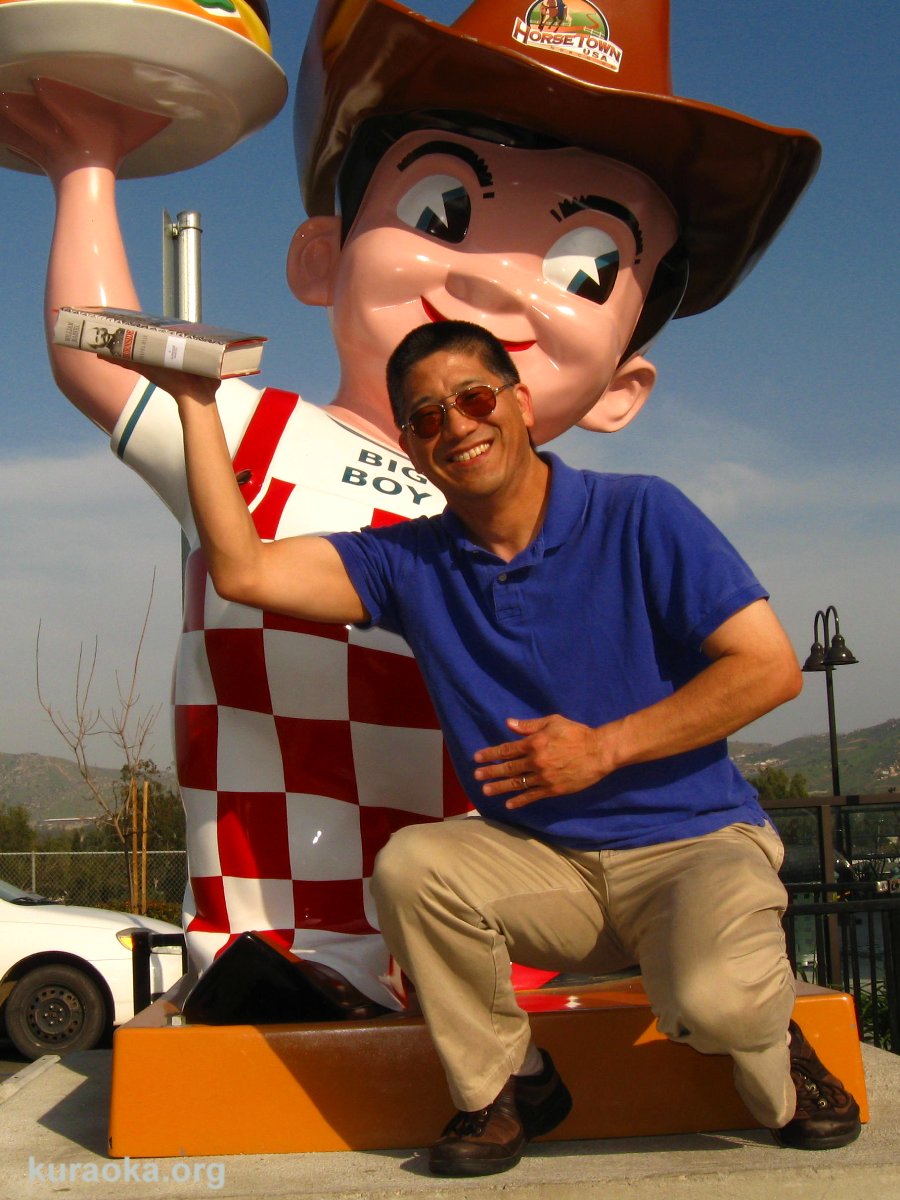 03-06-11 Soap Box Derby! Troop 950 handled the flag ceremony - check out the white gloves and berets! Then, Roy got to race! For real! He learned to get low in the car. Out of 21 cars and 22 drivers, he placed fourth in single elimination and third in double elimination! Check out the trophies ... and the race face.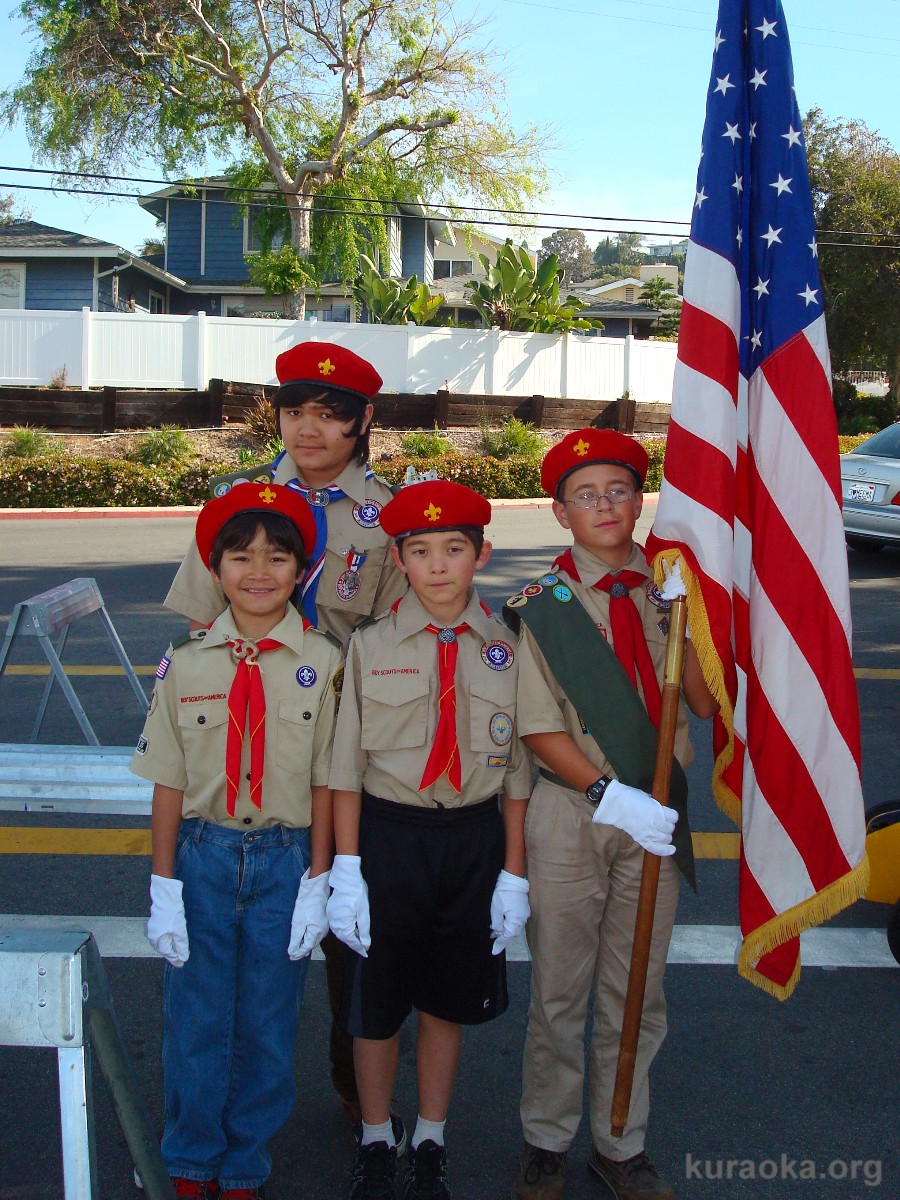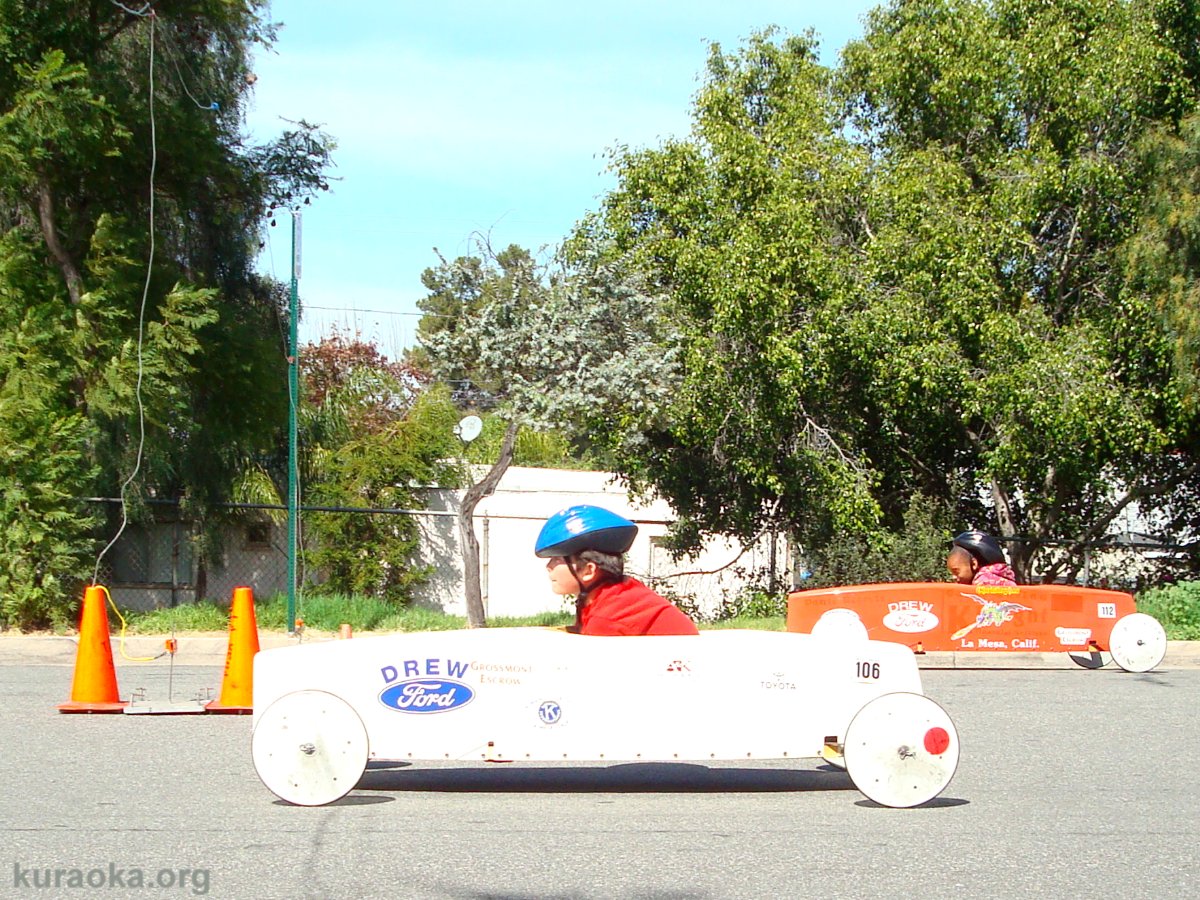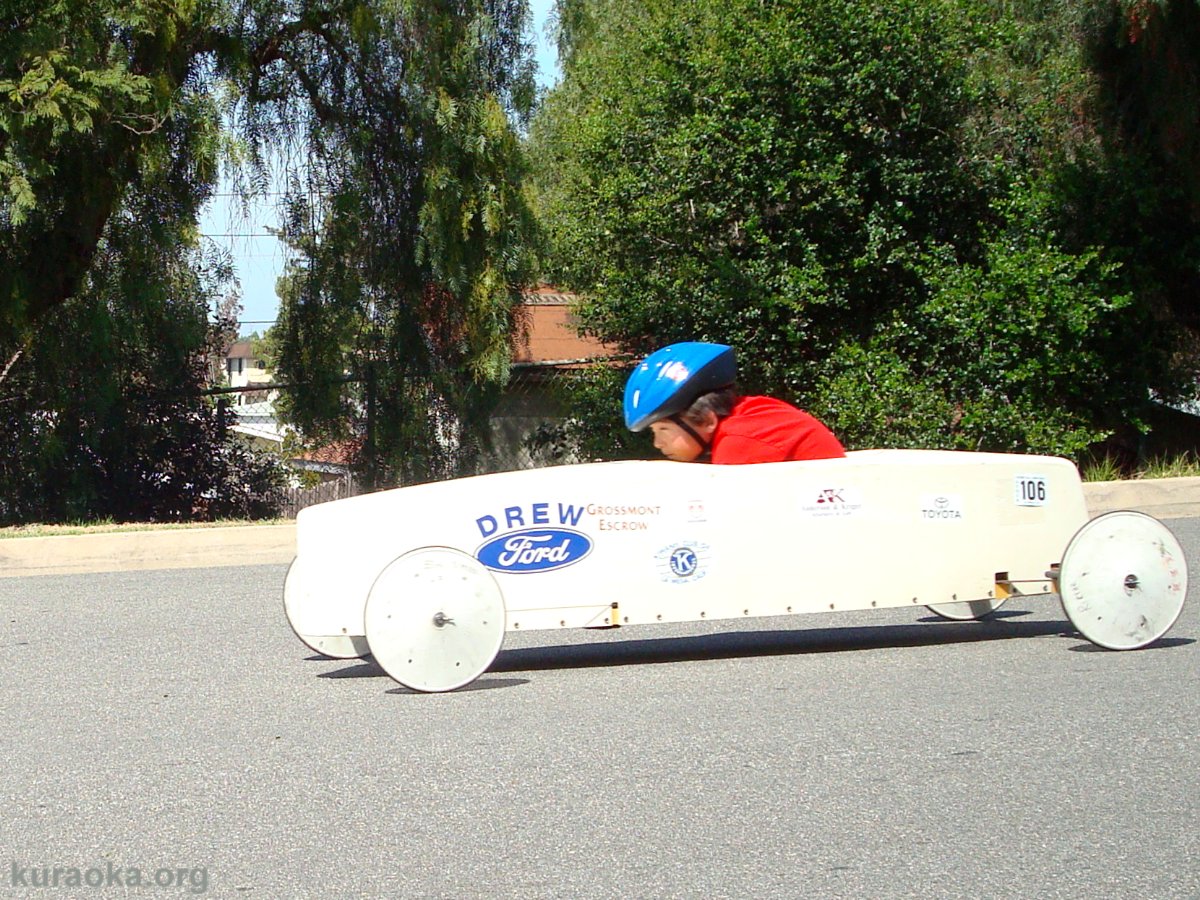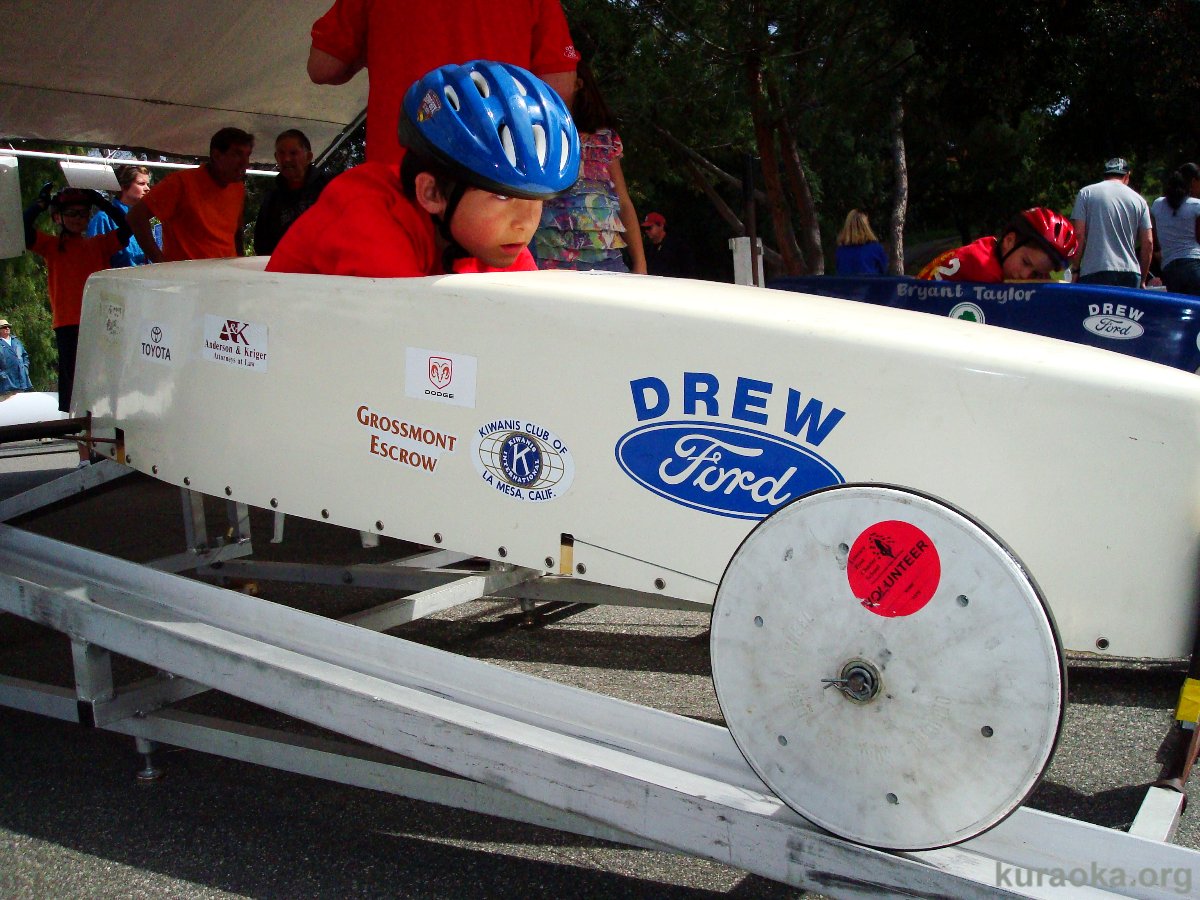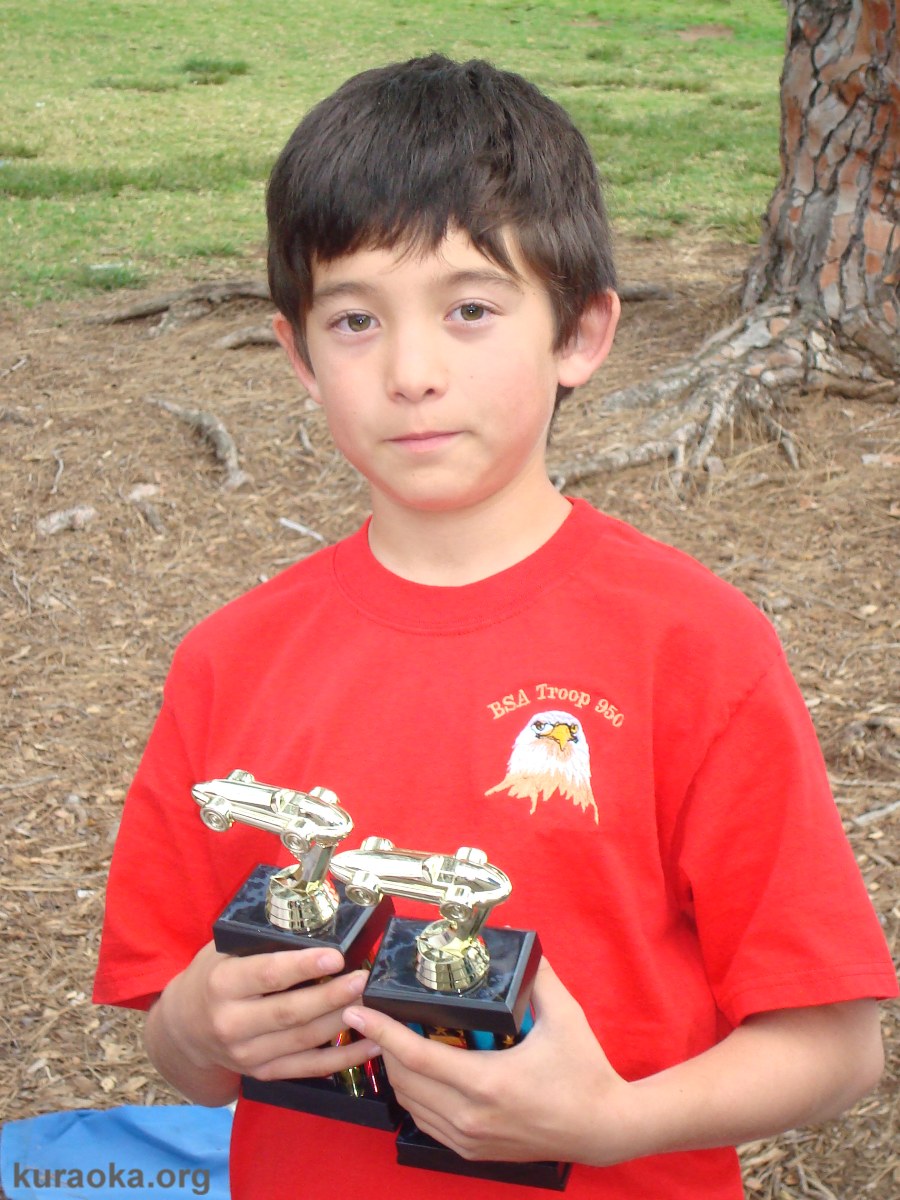 02-27-11 Cowles Mountain. Once again, the mountain was awash in water and life. Two wonderfully rare Mountain Events: both waterfalls were running, and the snow level in the local mountains made for a wintry backdrop to a gorgeous San Diego day. Polliwog Pond was abuzz with croaks of frogs, like being surrounded by ripping canvas. That's Alex and Roy at the top. Afterwards, Roy, Leo, and Alex settled in for a game of Toddler Wars.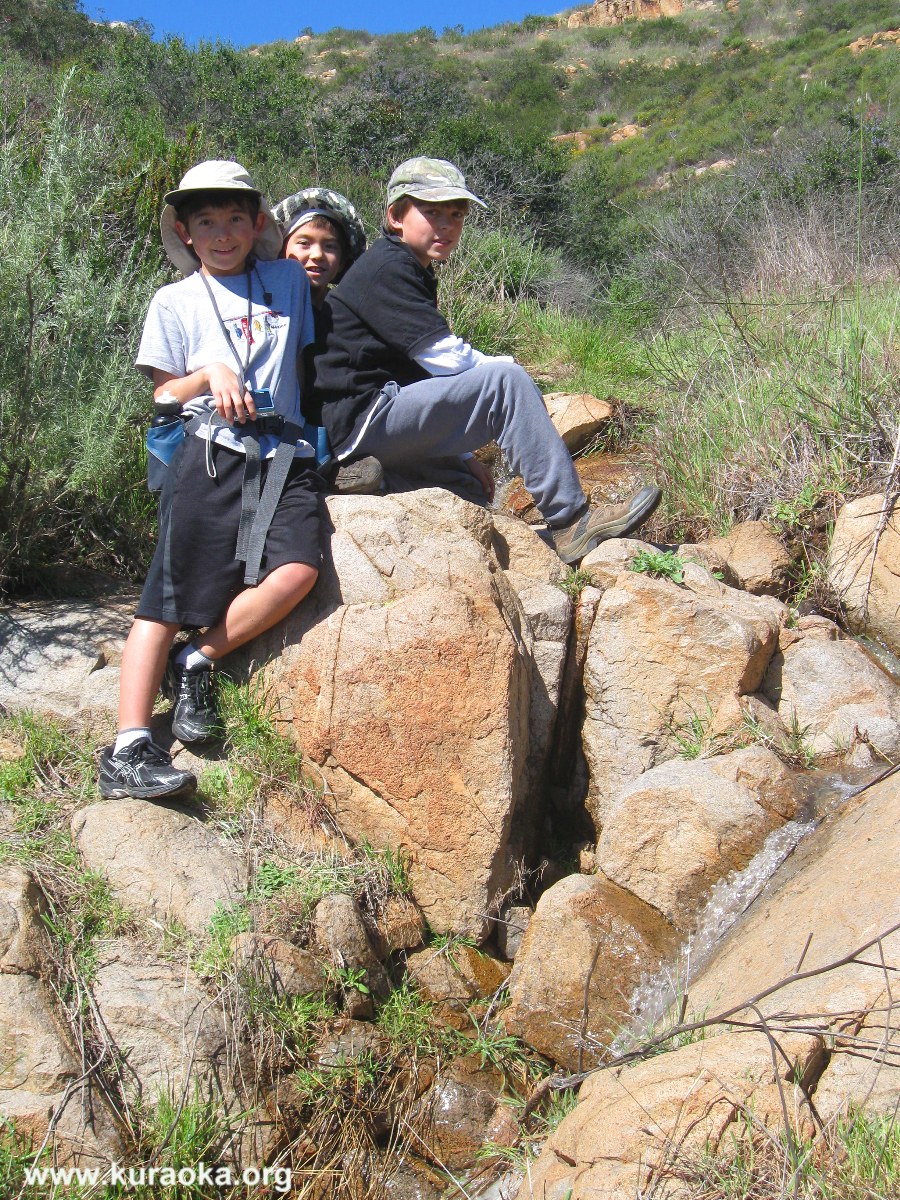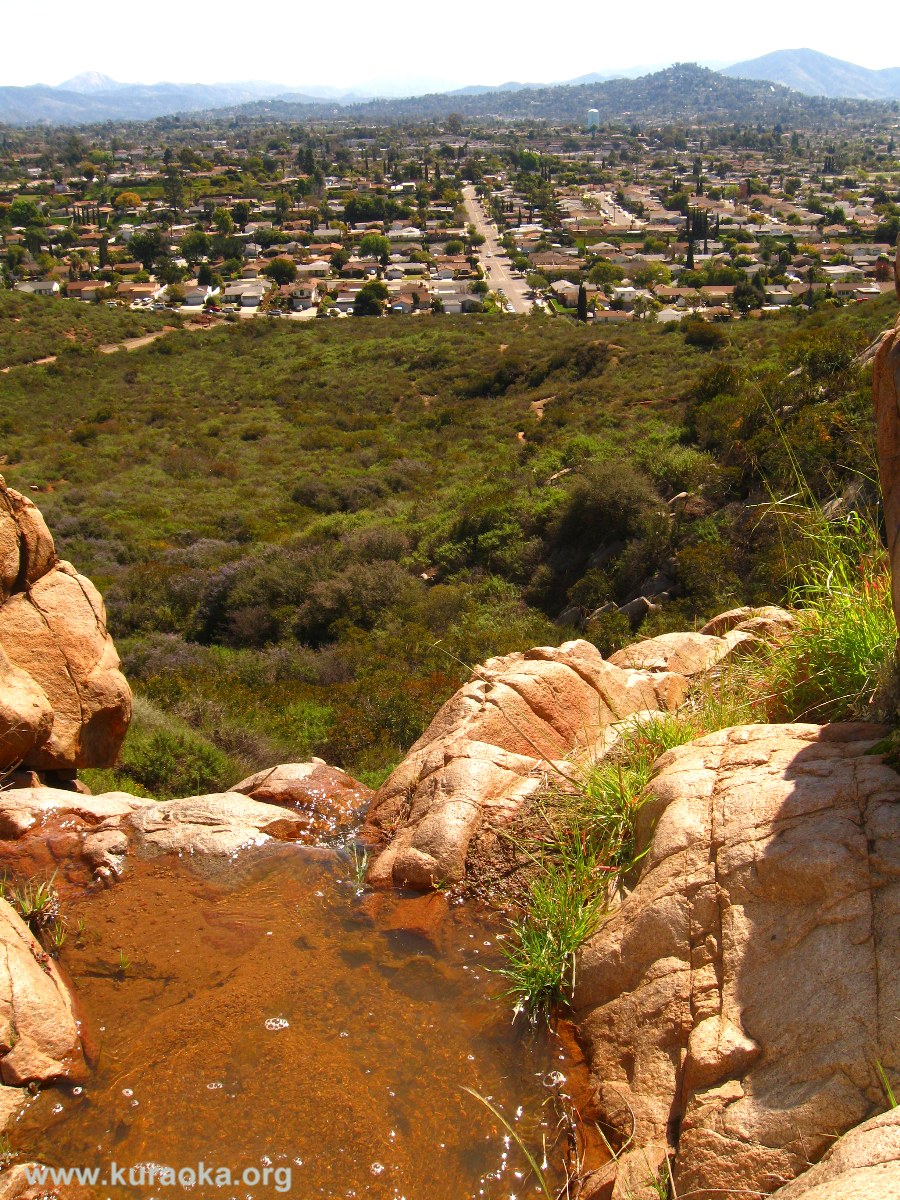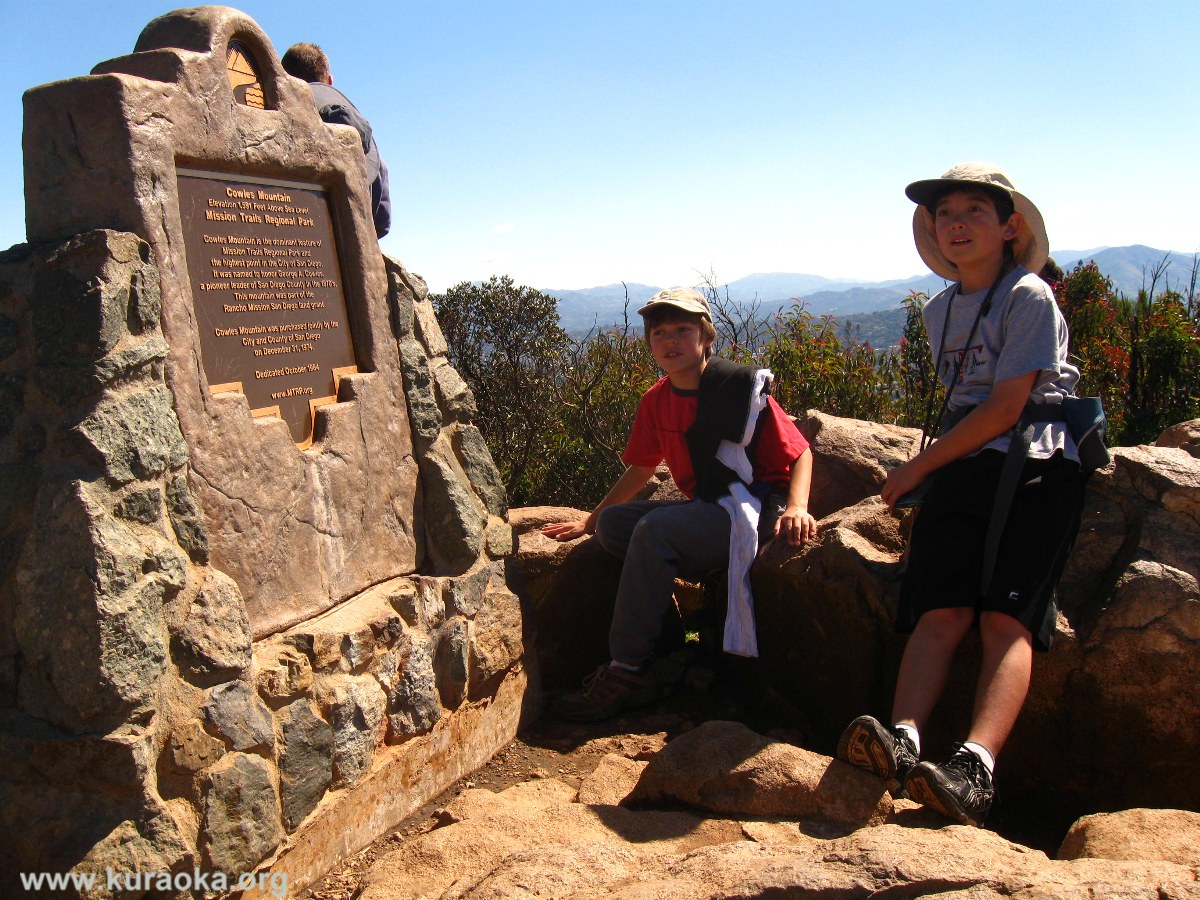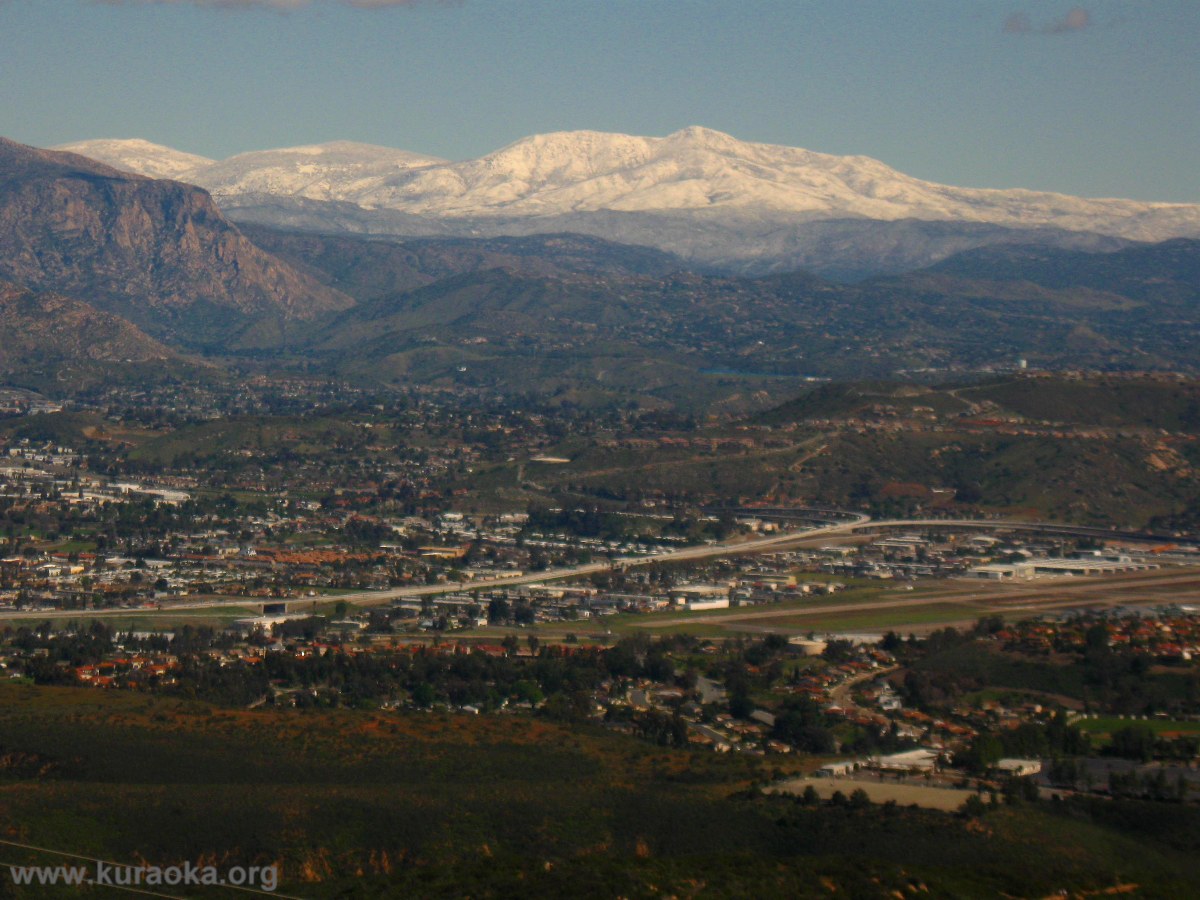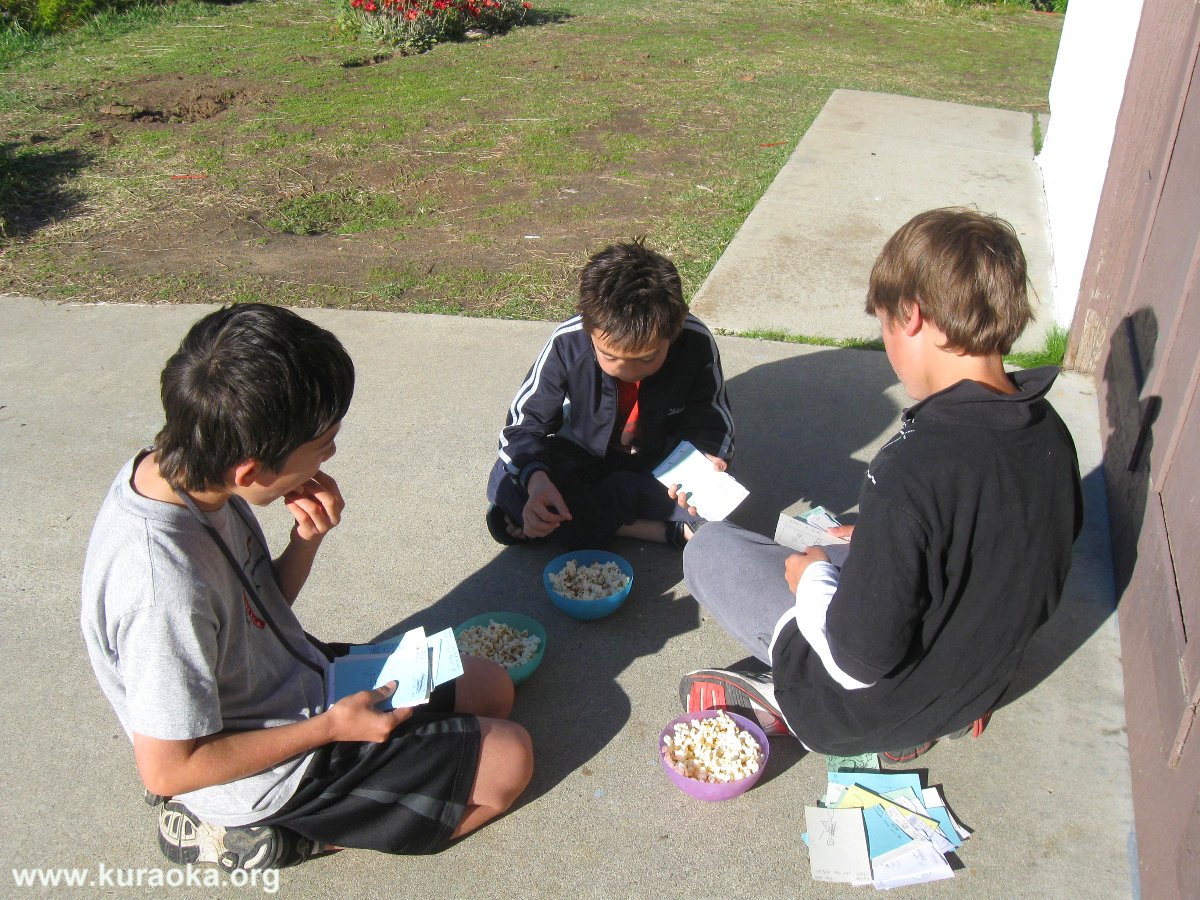 02-26-11 Rainy day game time. Note how Buddy likes to get right into the middle of the pack when there are any family activities.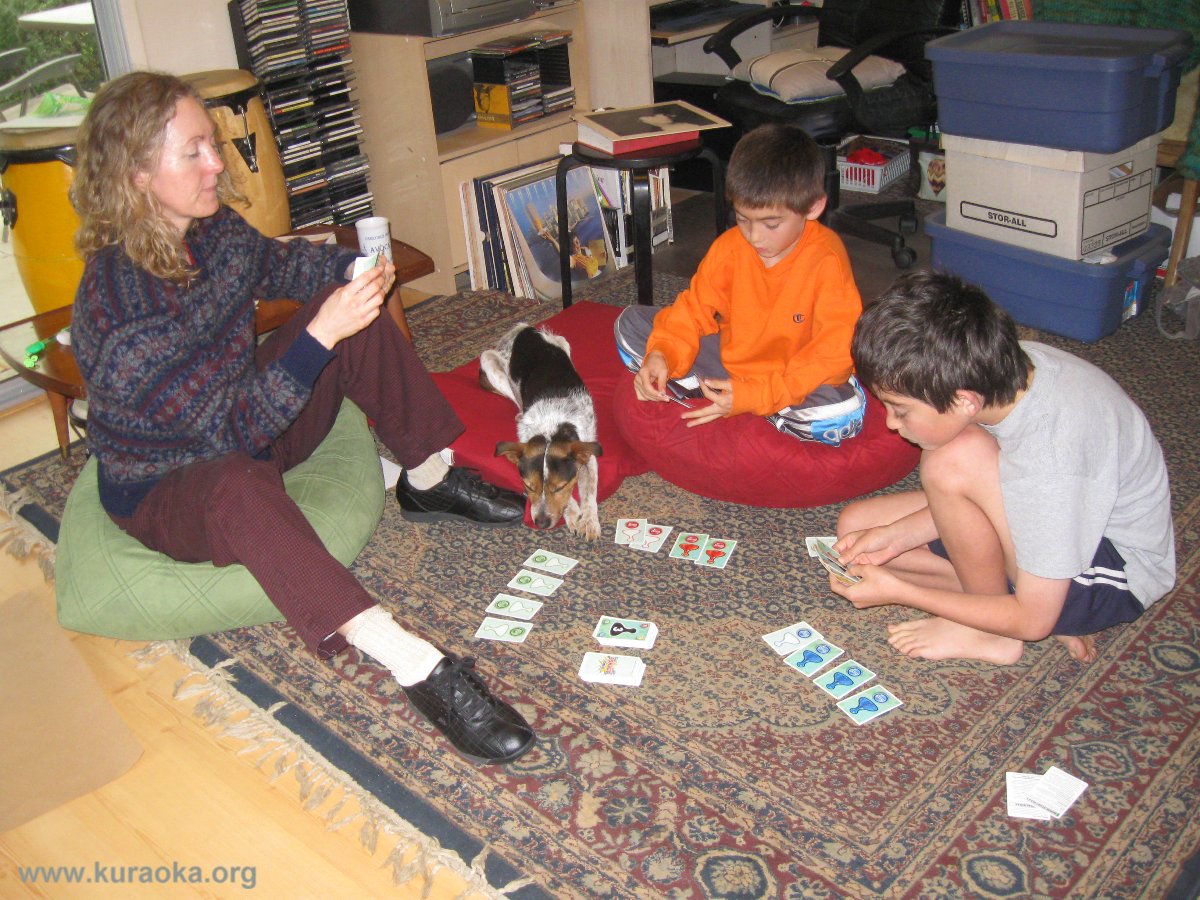 02-20-11 Cowles Mountain. After two days of rain, the mountain was freshly and abundantly alive. Who could resist an afternoon stroll? Not us! Here are Leo and Roy at the top.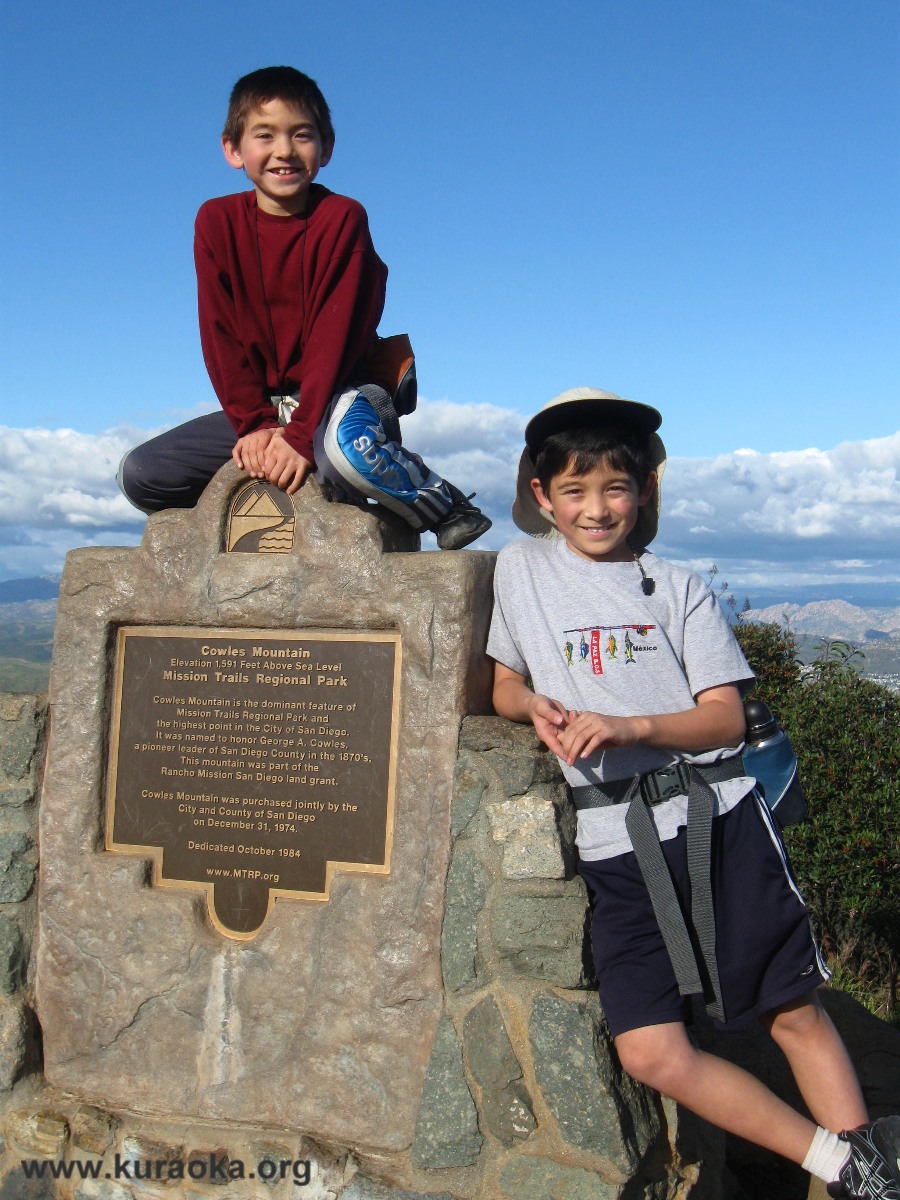 02-18-11 The front garden after hard work by Frances and Ondine weeding and clearing, and Ondine organizing, getting in rocks, creating sections, and planting seeds.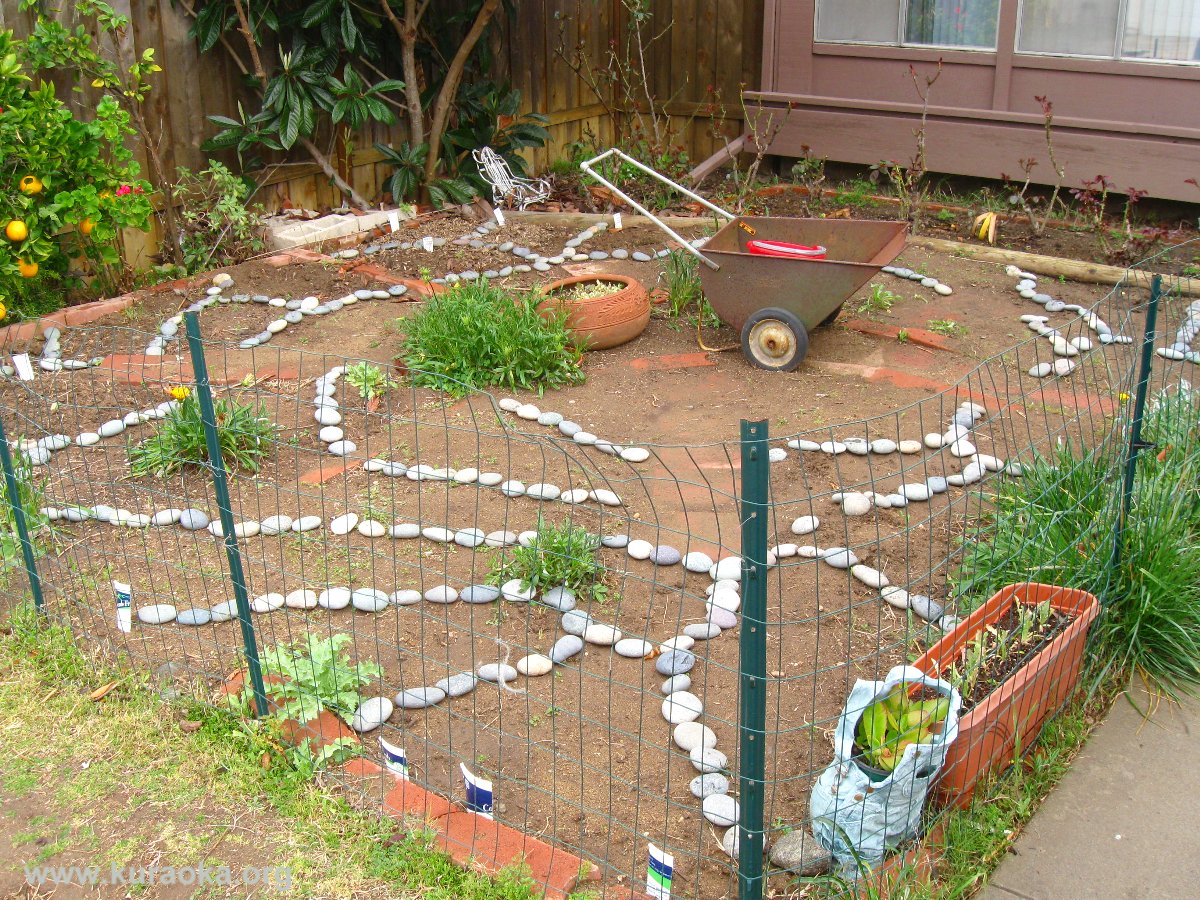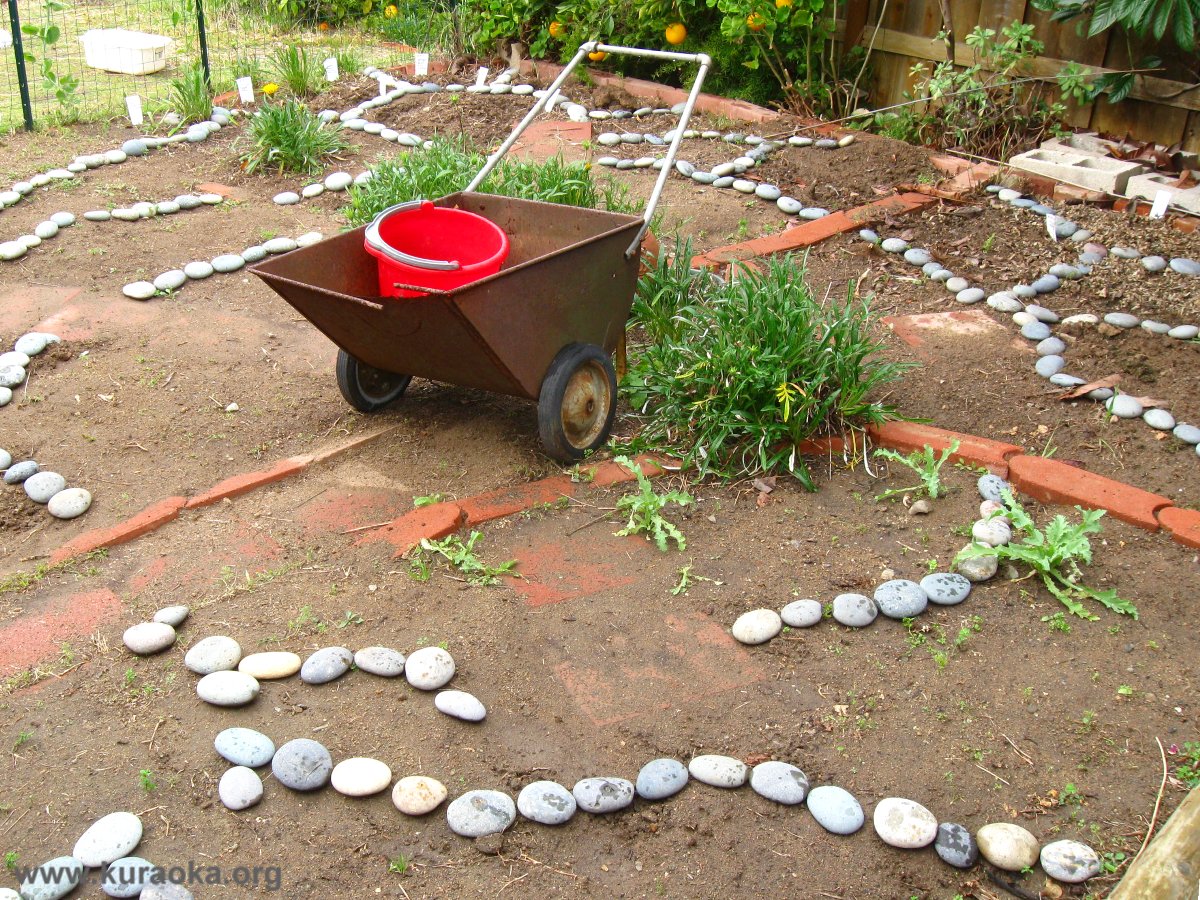 02-08-11 Happy Valentine's Day! Here we are enjoying Ondine's baking, including homemade cookies with homemade frosting, gluten-free cookies, and more!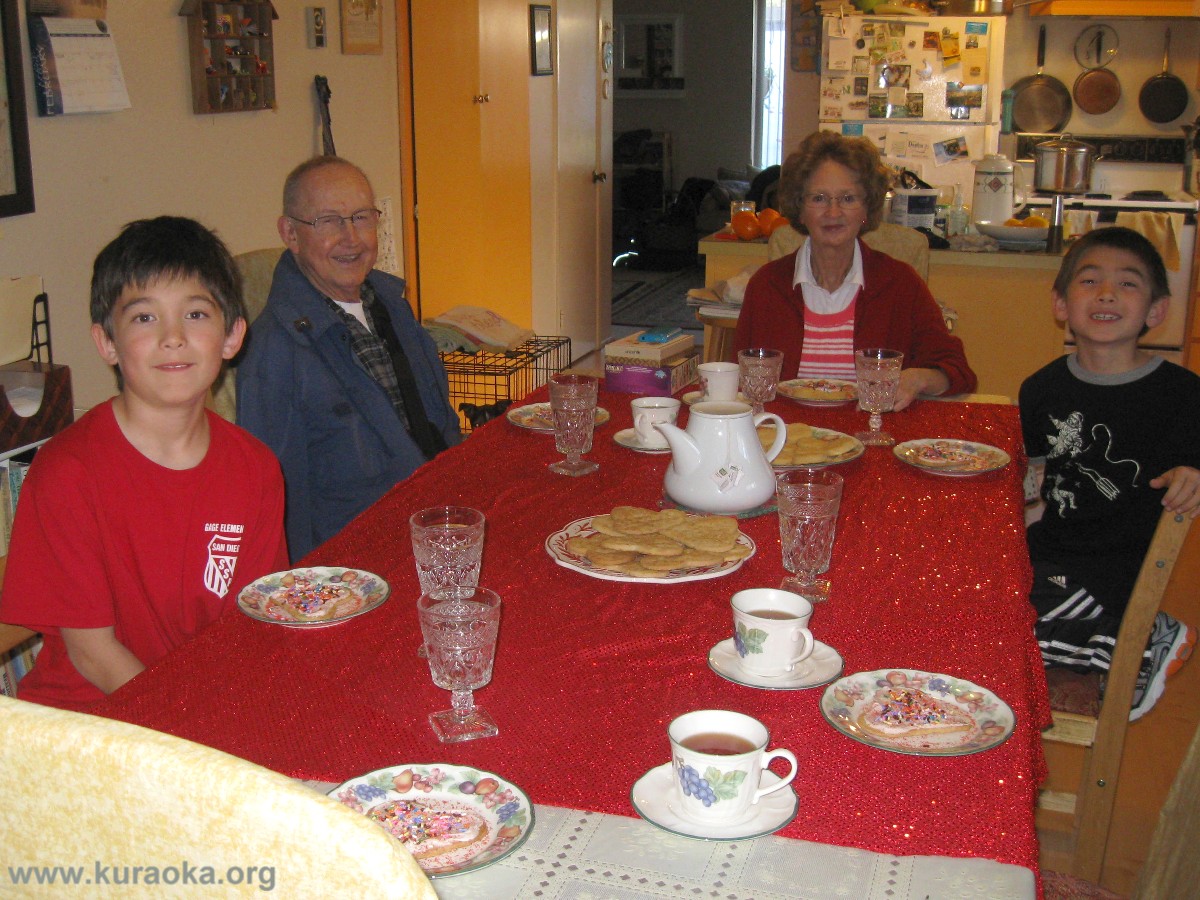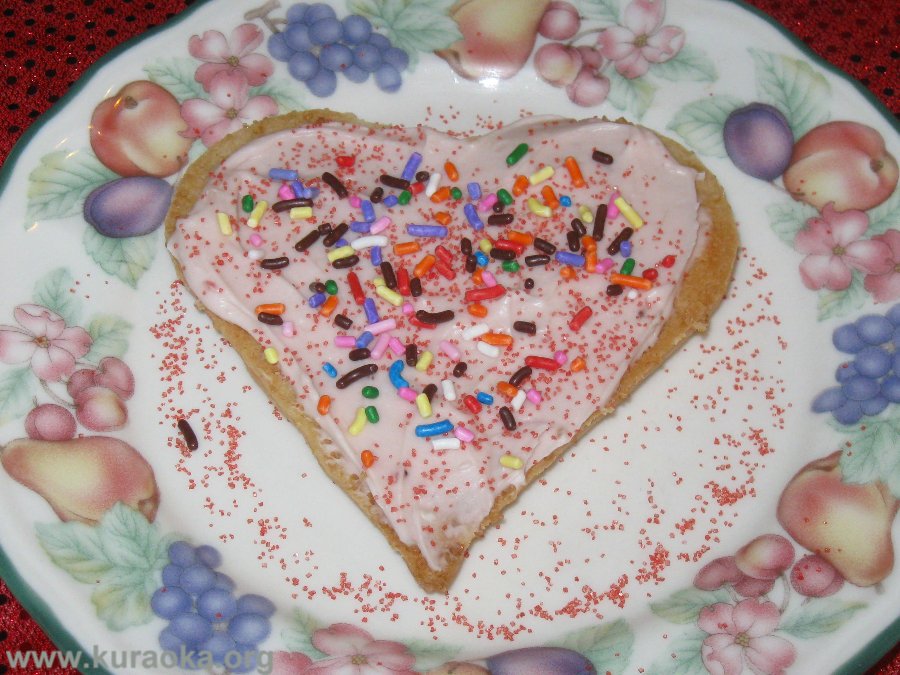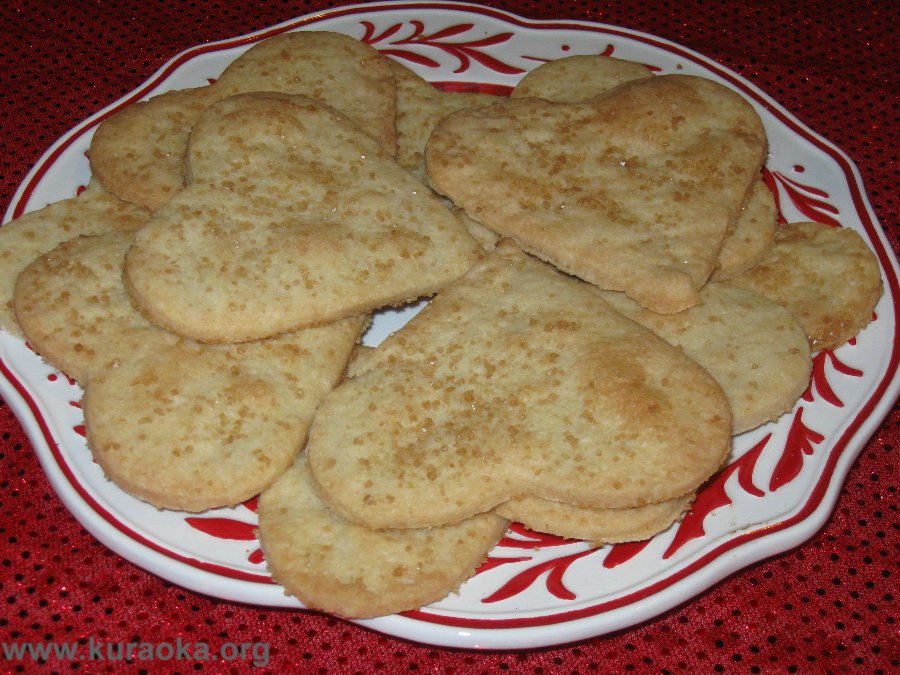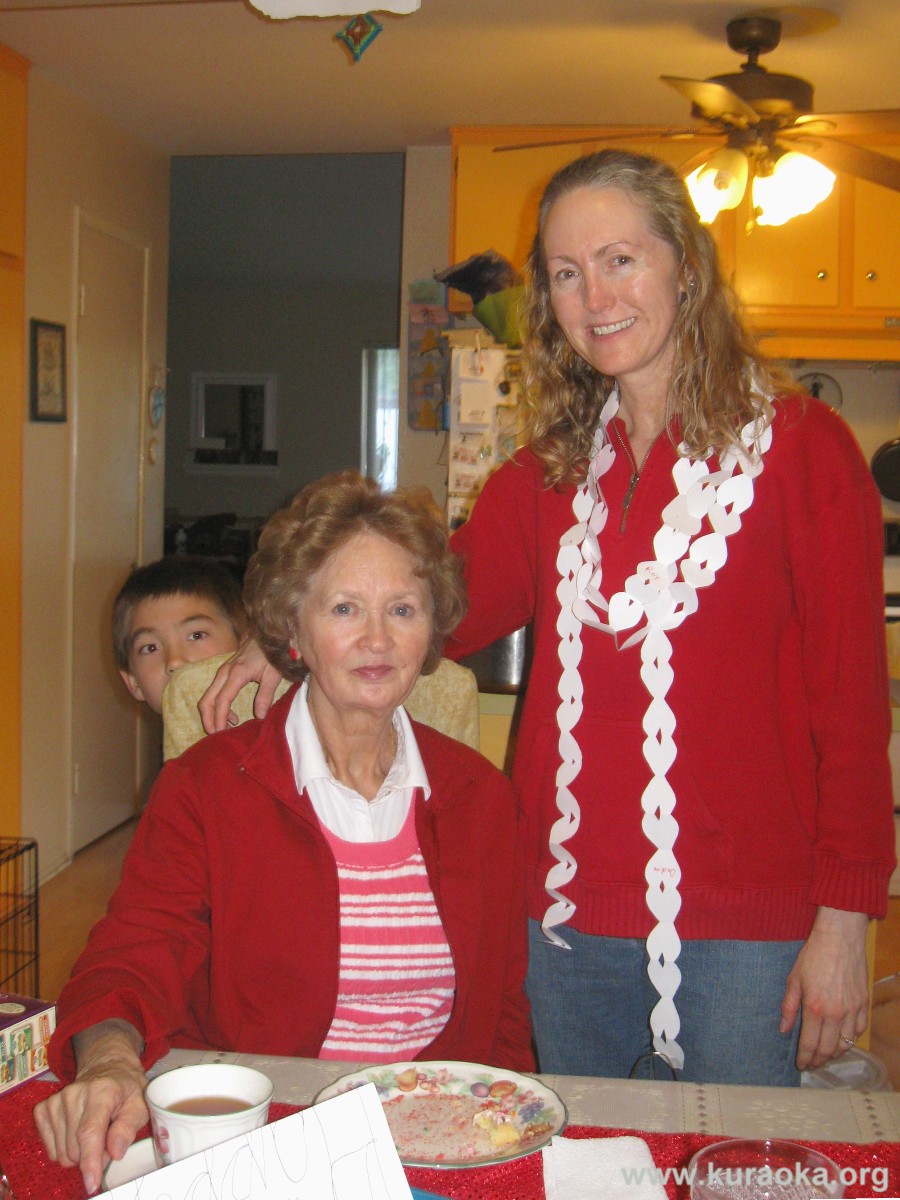 02-12-11 Centennial of Naval Aviation Air Show at NAS North Island! The boys were Michael, Alex, Roy, and Leo, and the dads were Ernesto, Vlado, and John. The aircraft carrier is the nuclear-powered, Nimitz-class John C. Stennis. The air show was spectacular, and we got front-row seats on a sandy beach. You also can see Roy, Alex, Michael, and Ernesto interviewed by KUSI, and Michael interviewed by ABC Channel 10. We archived the journal that included this event, so you can go back in time to February 20 2011.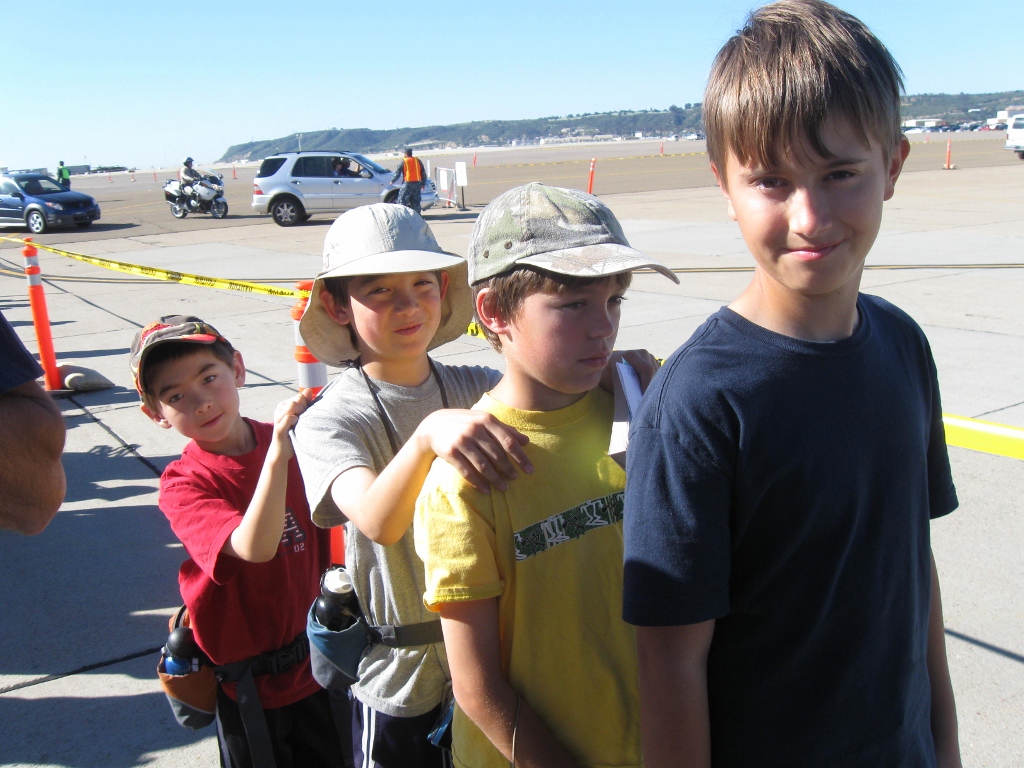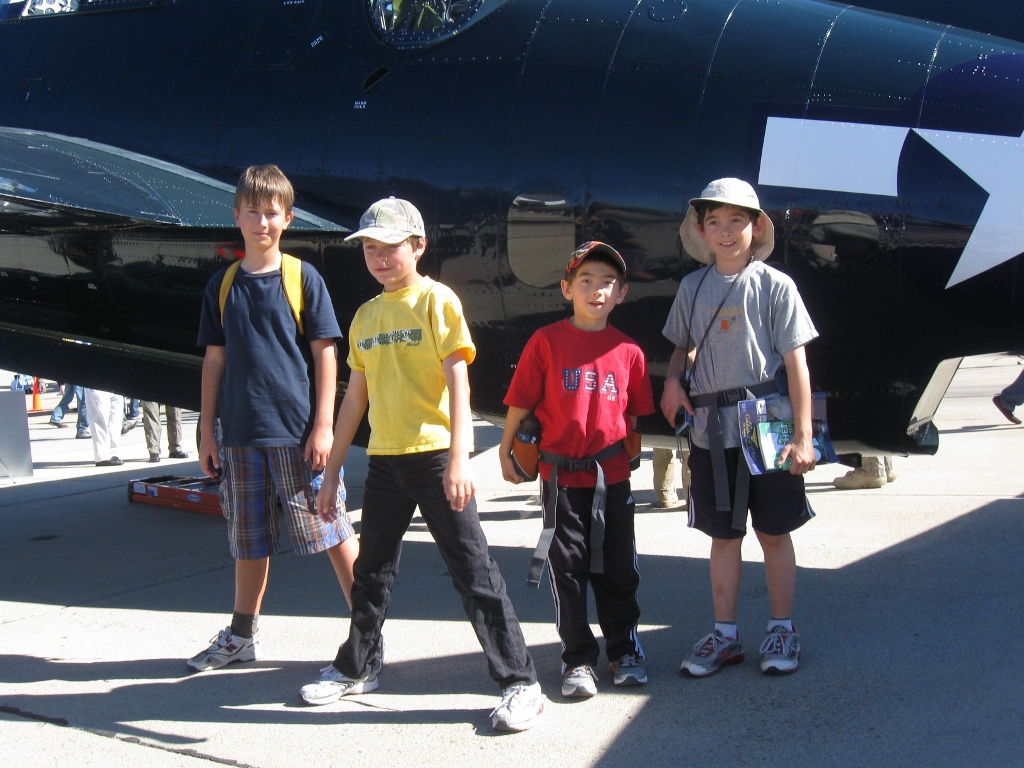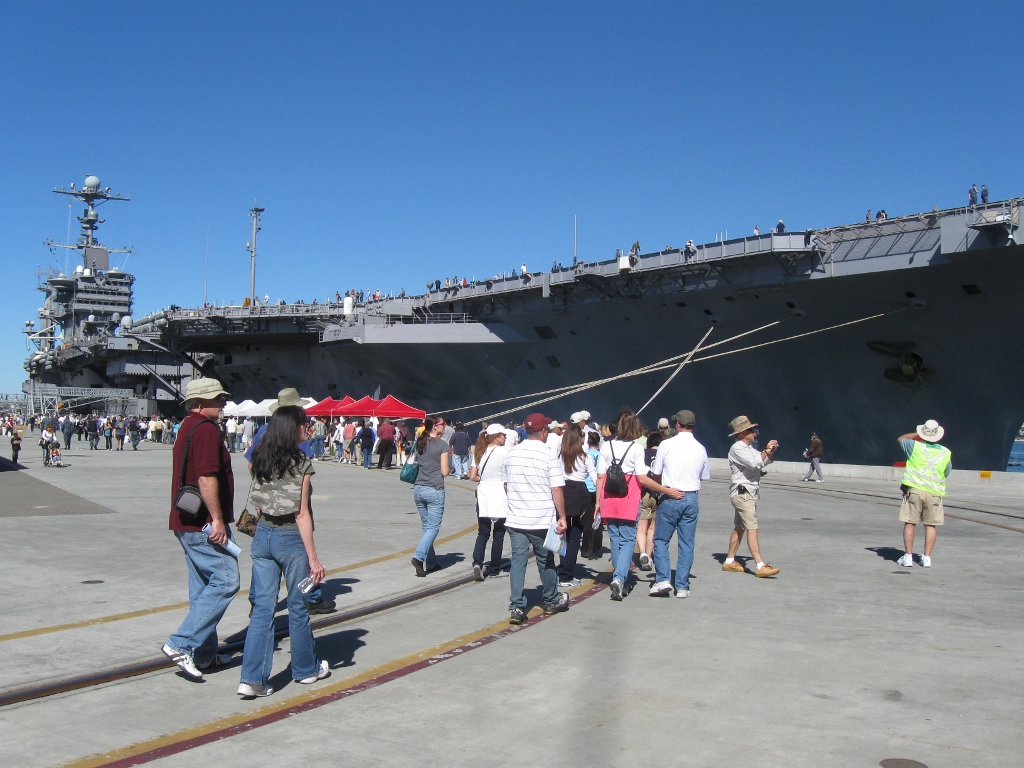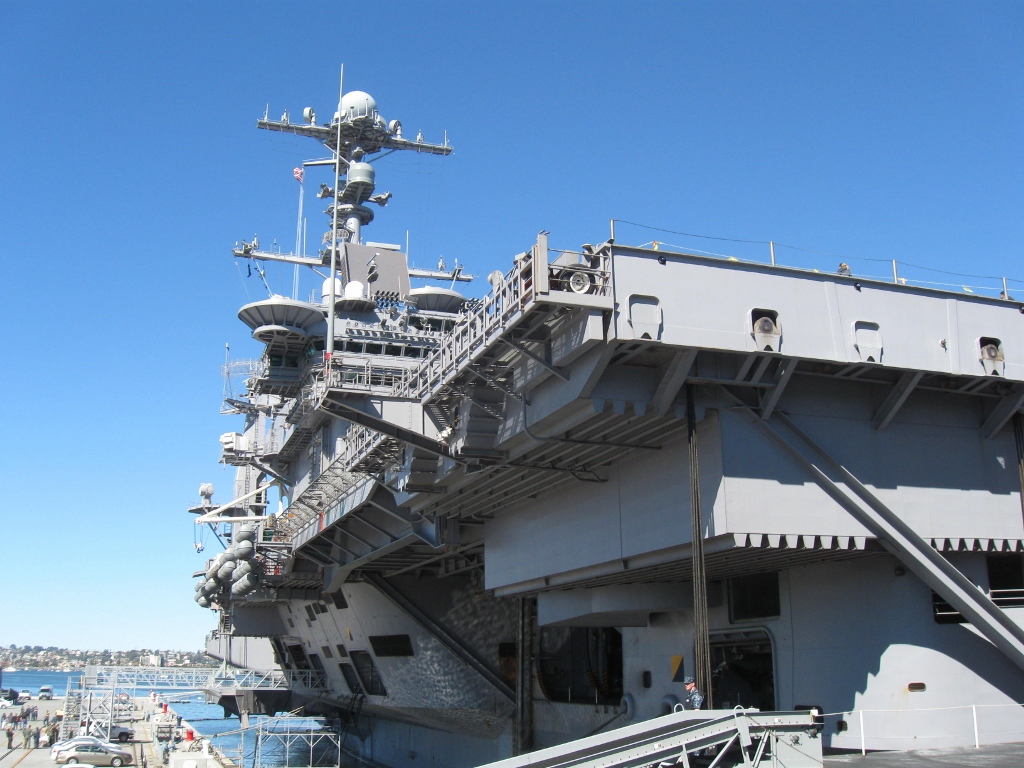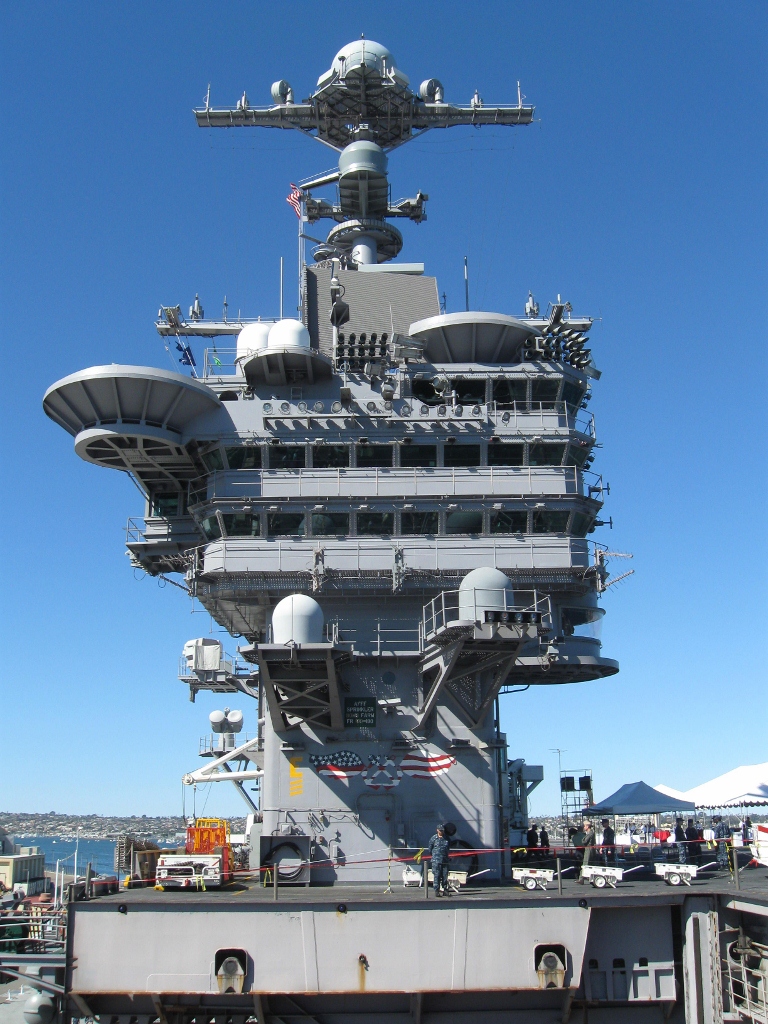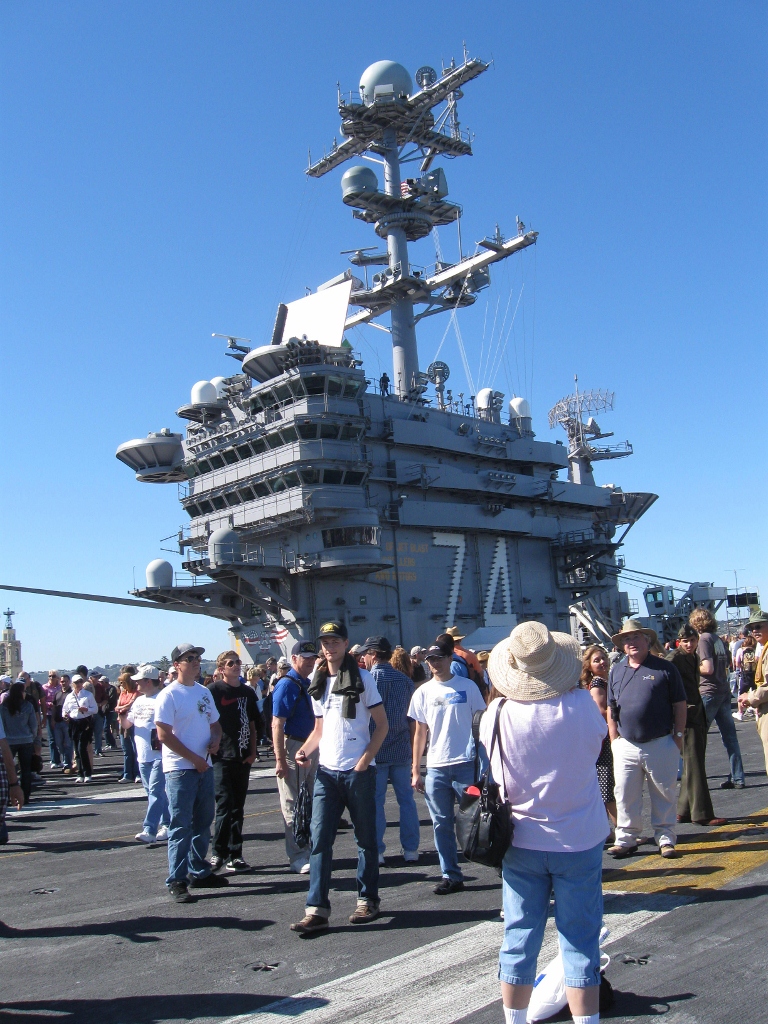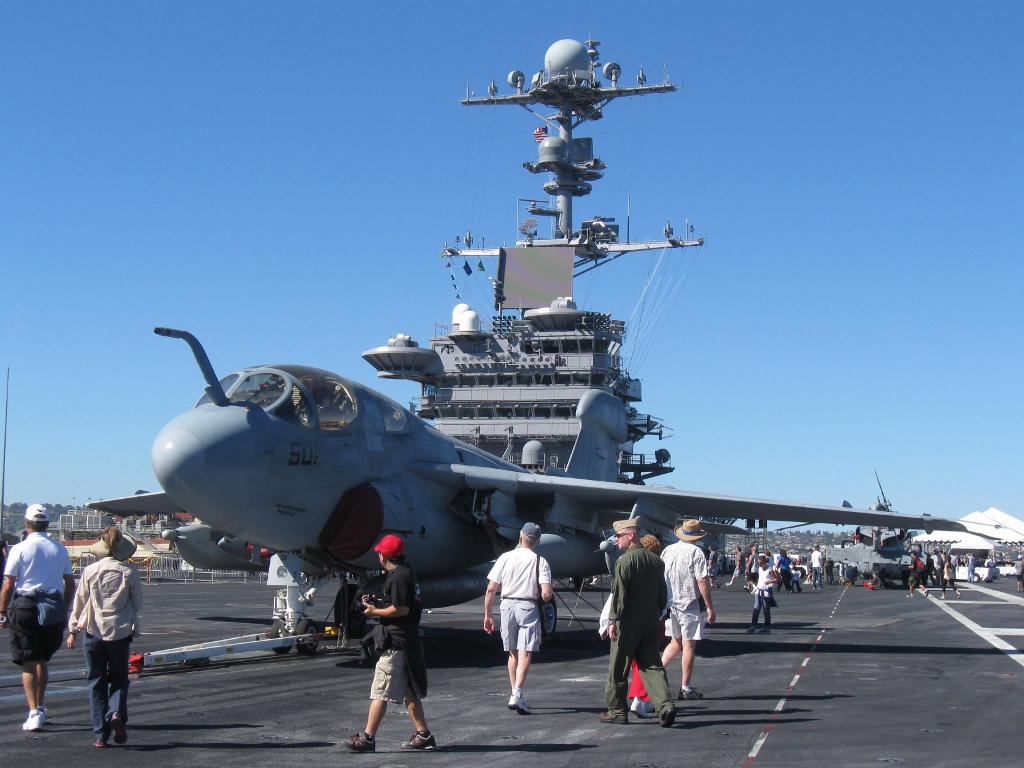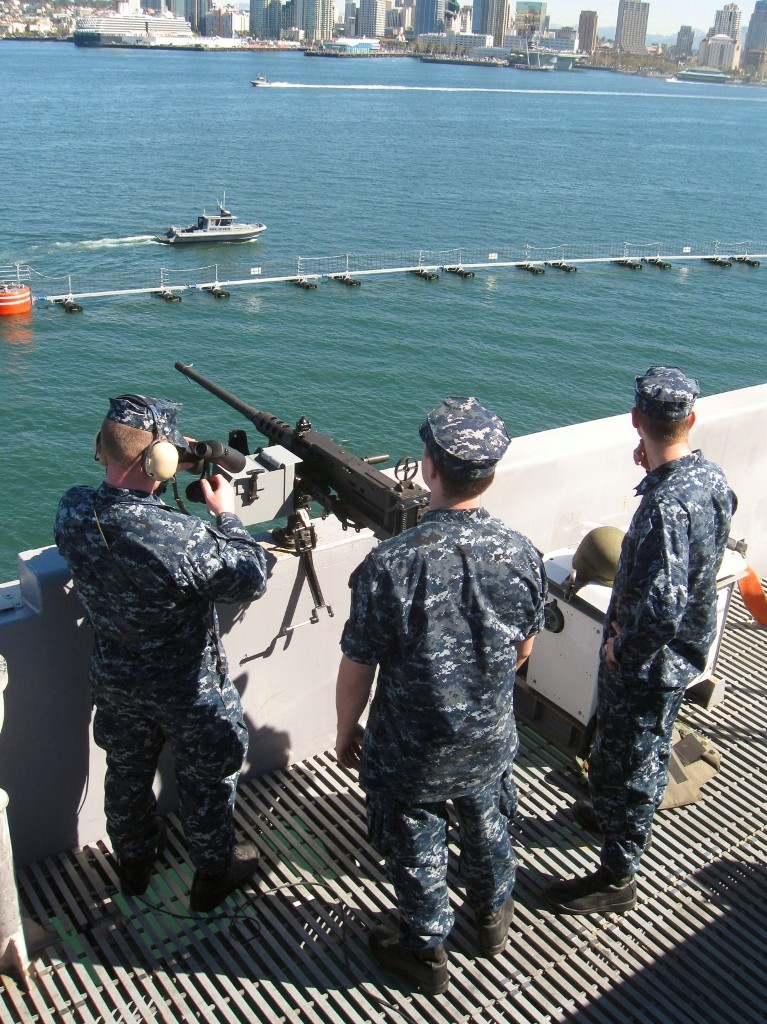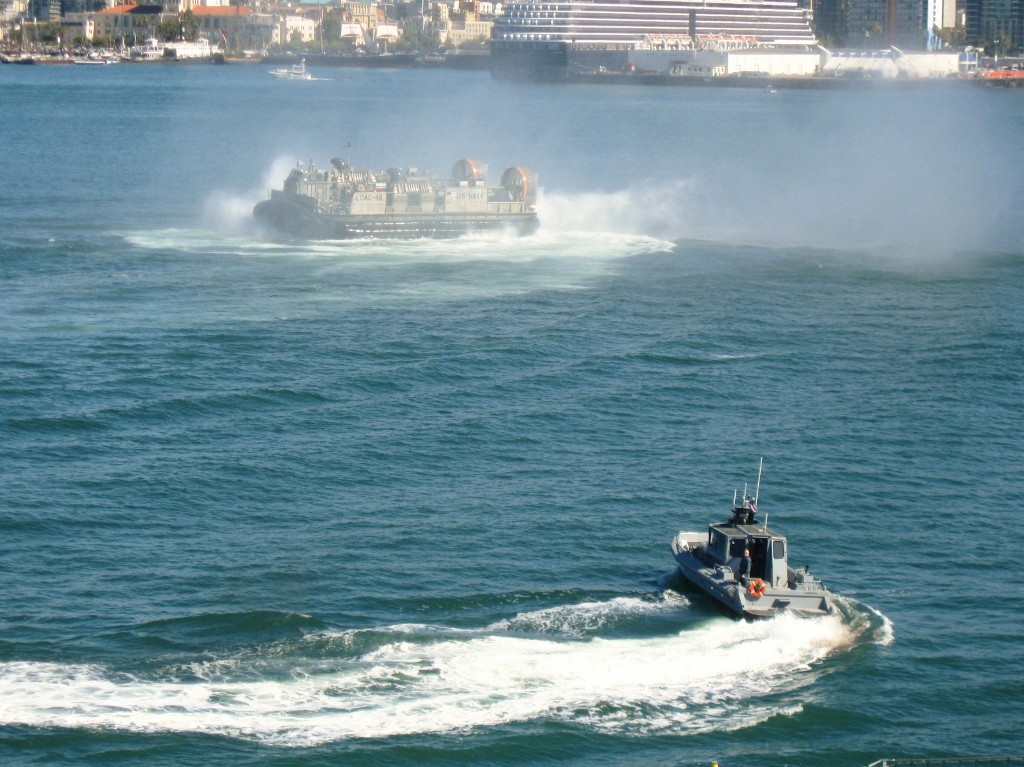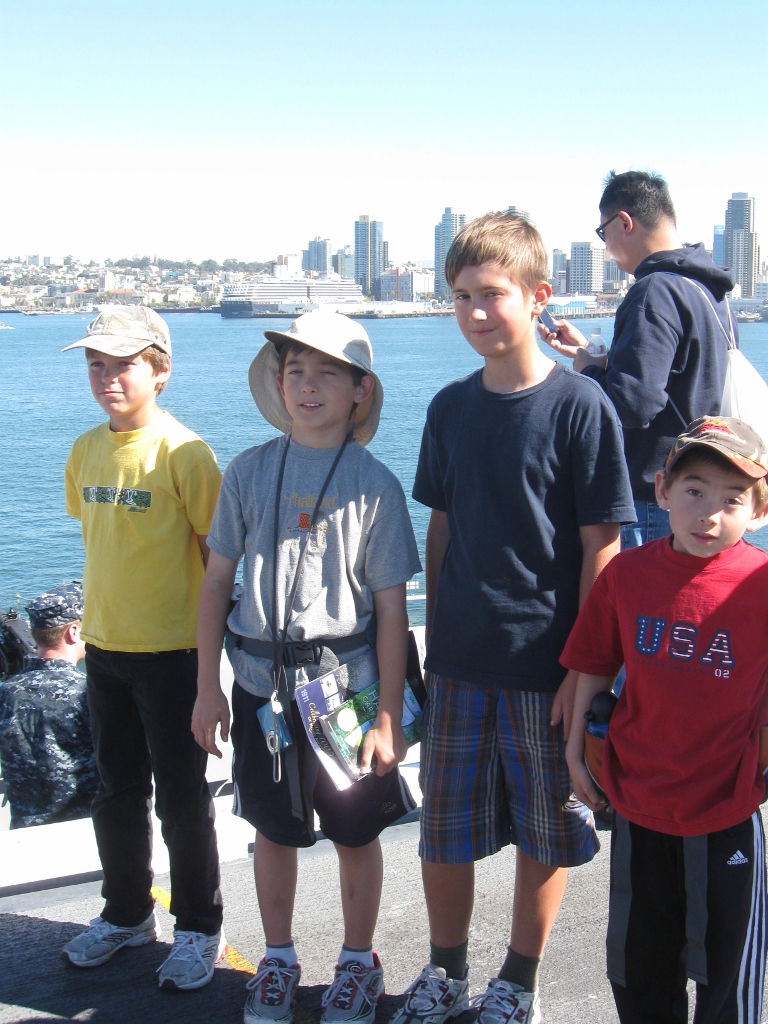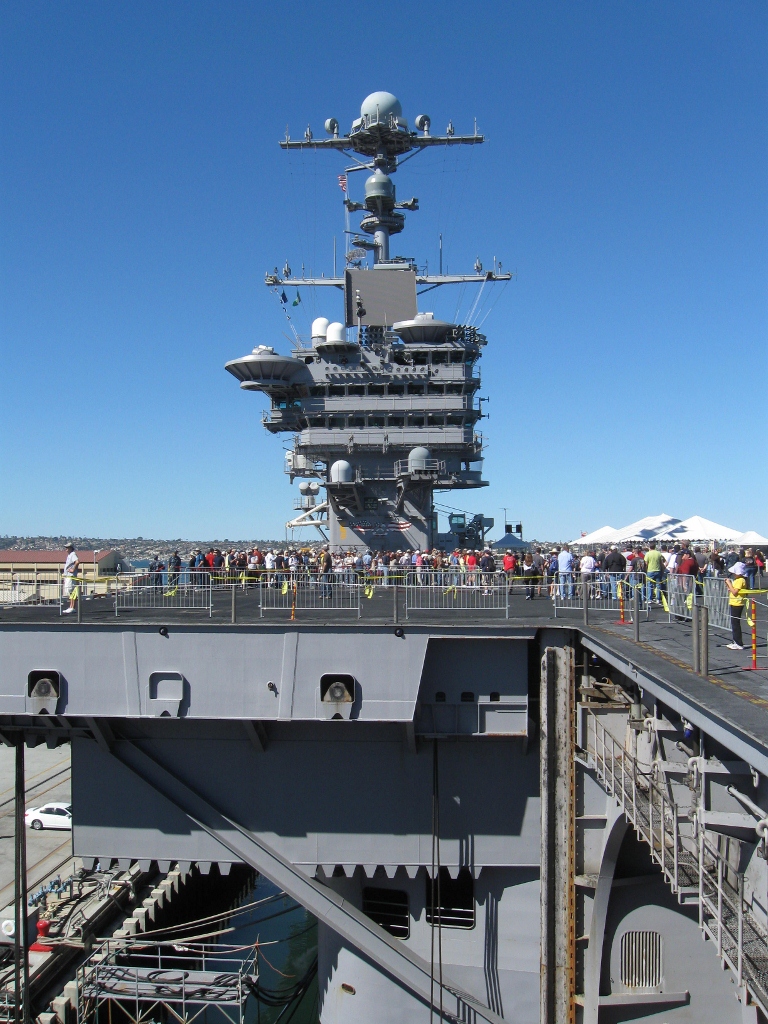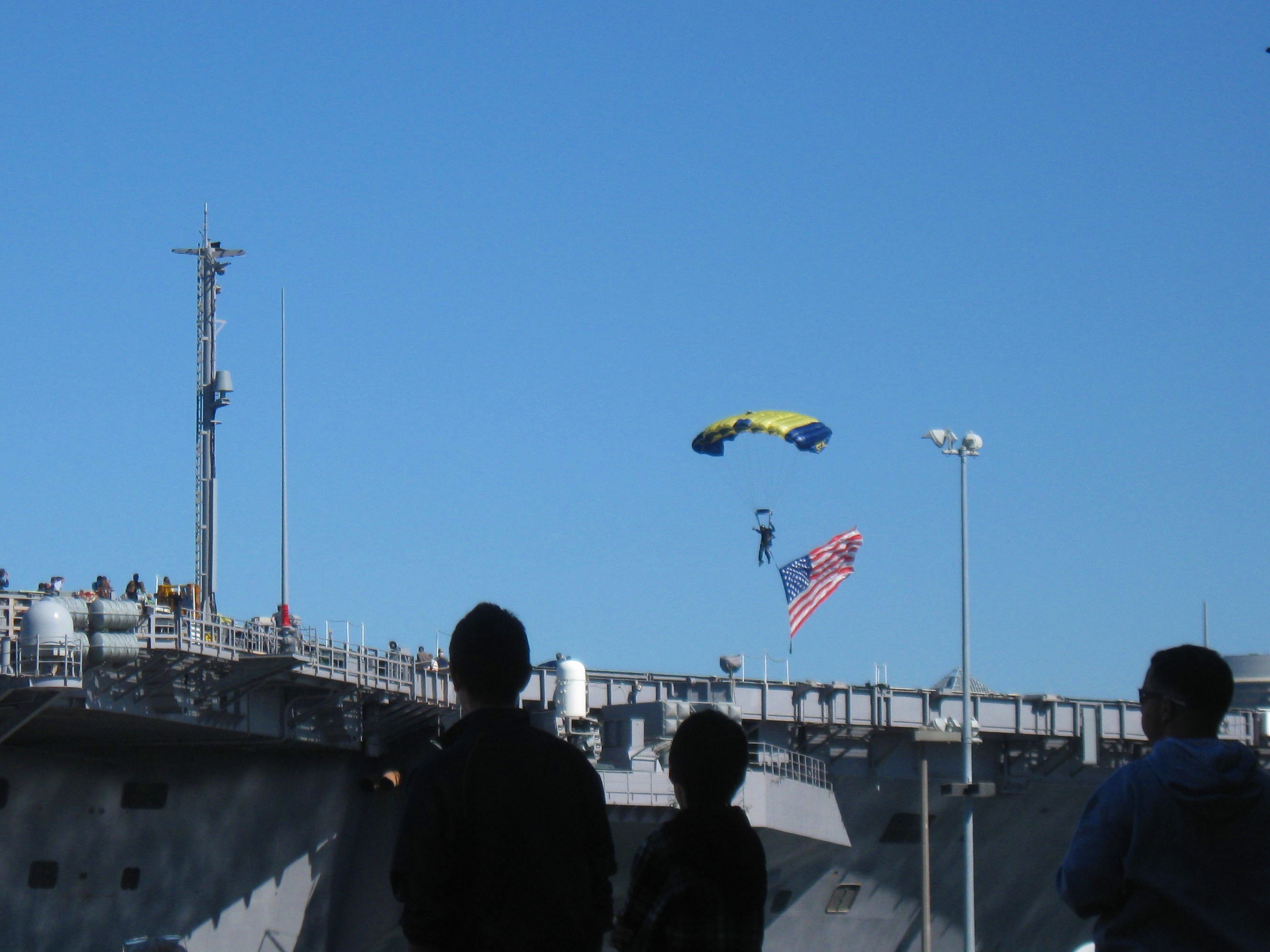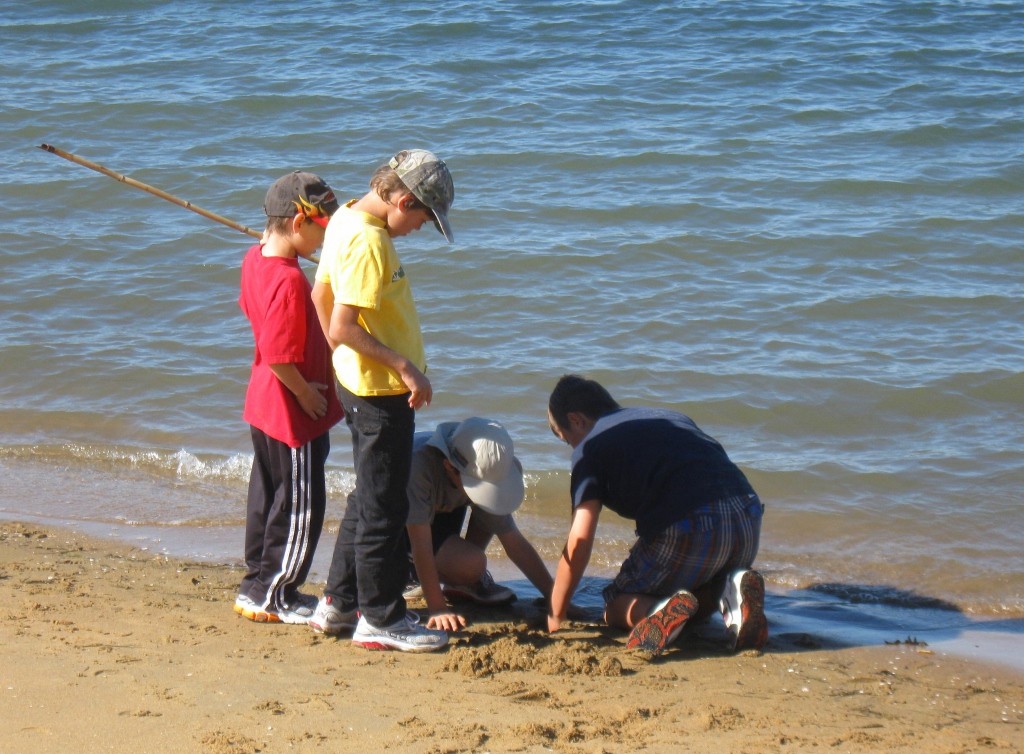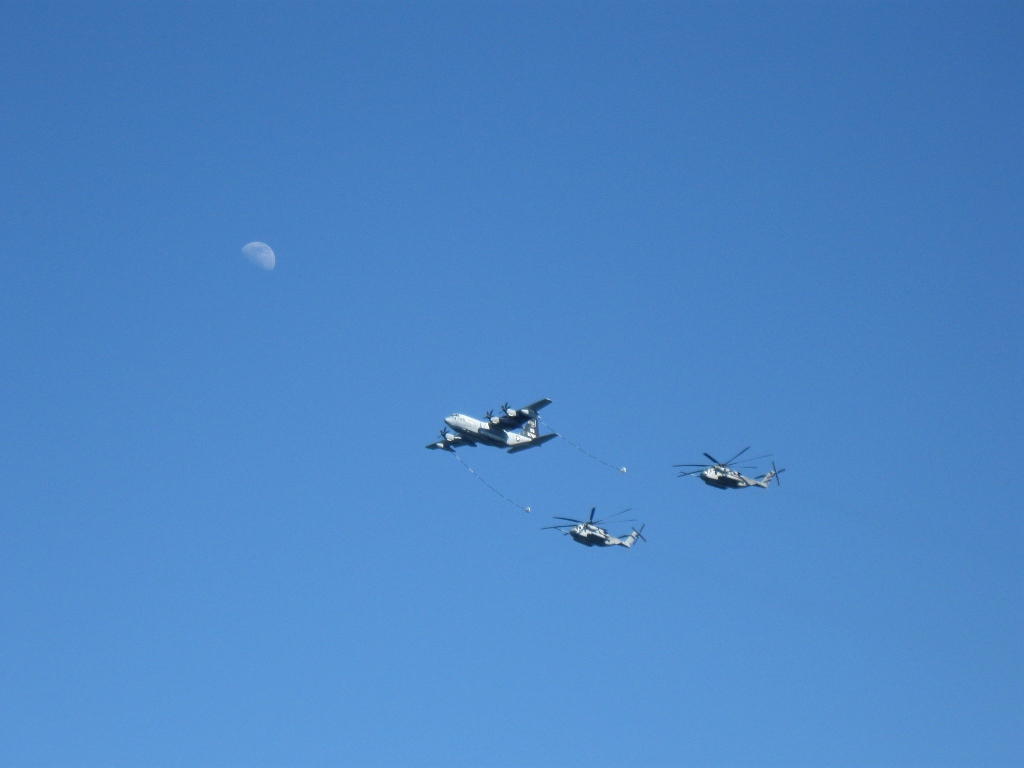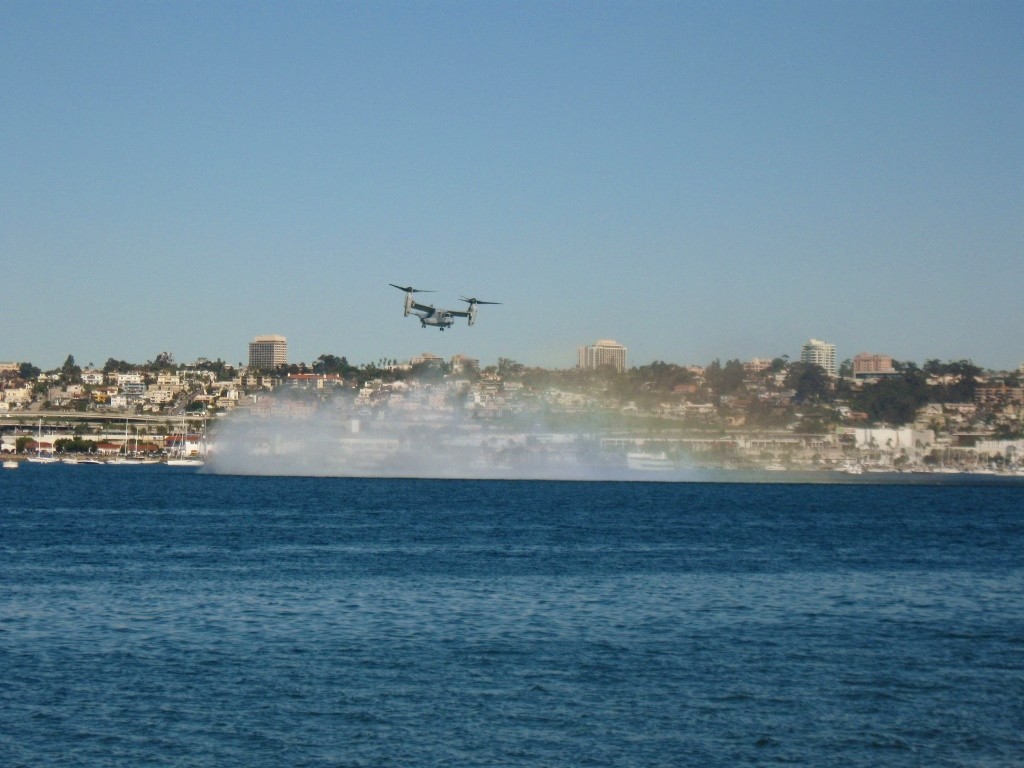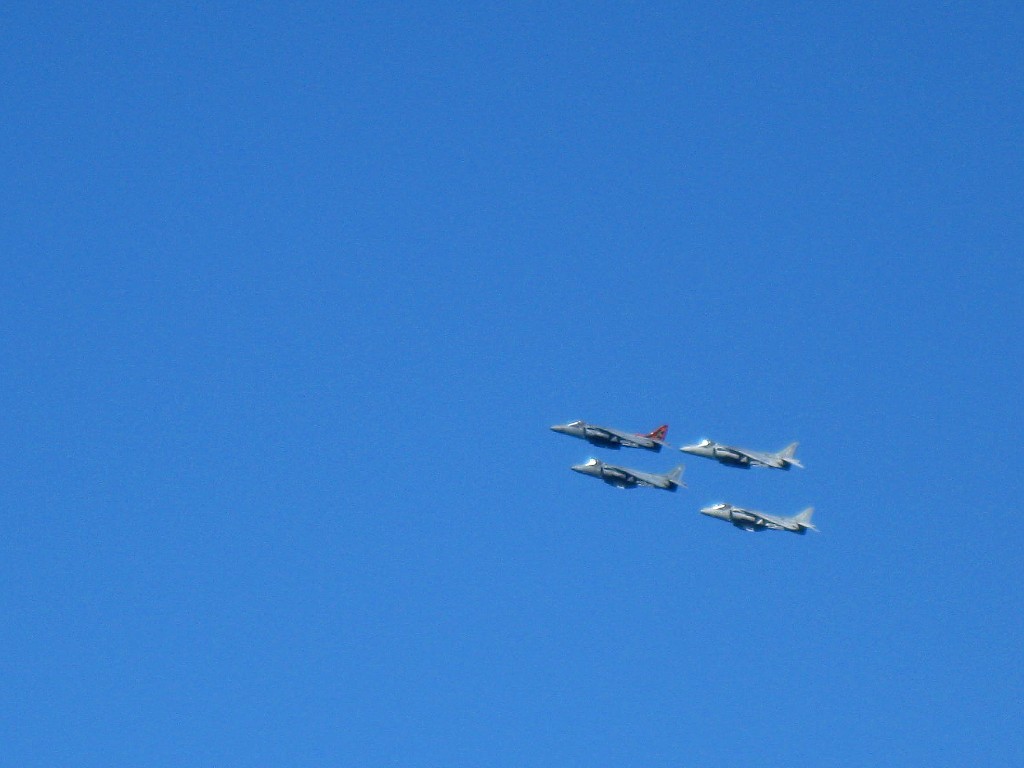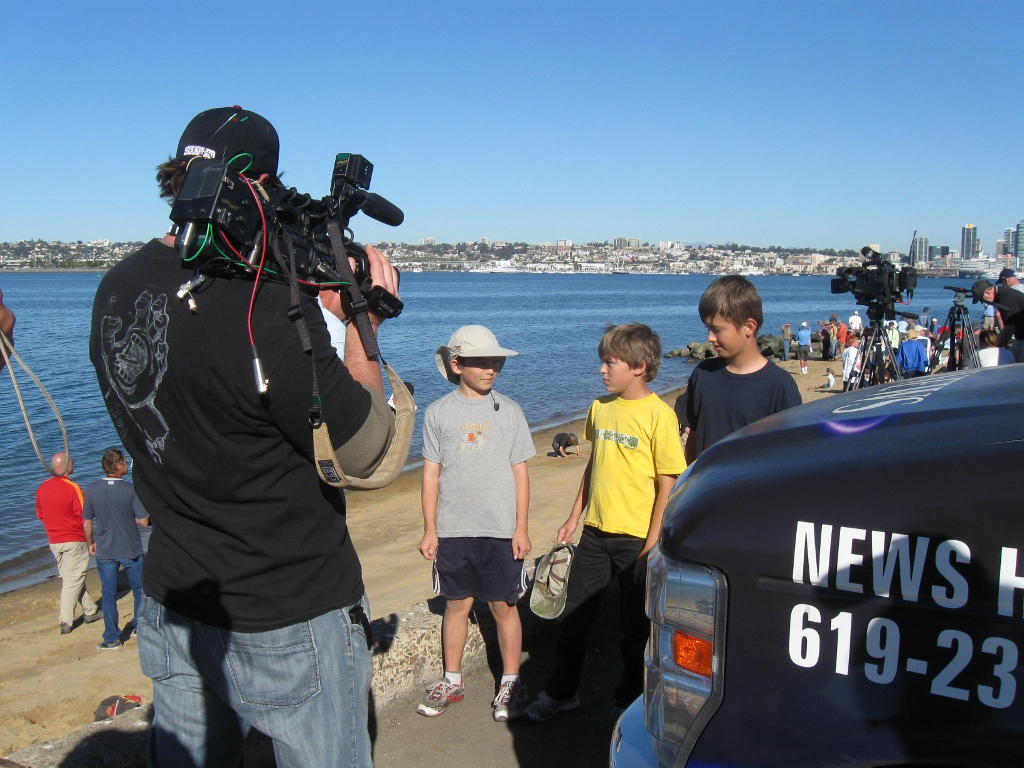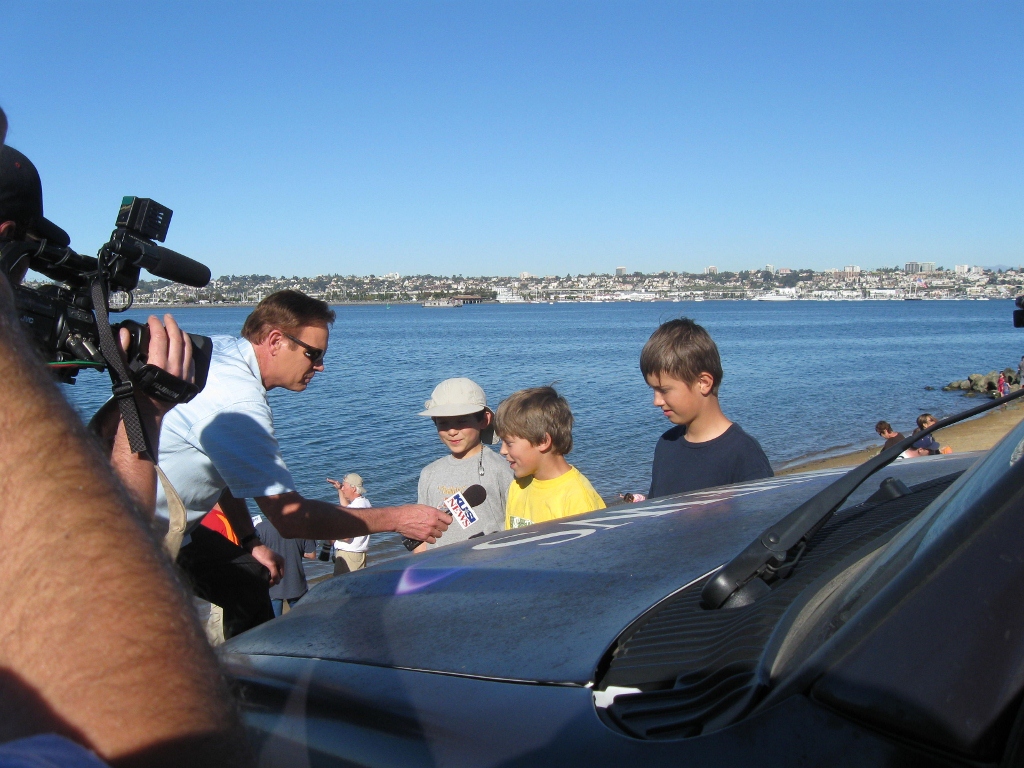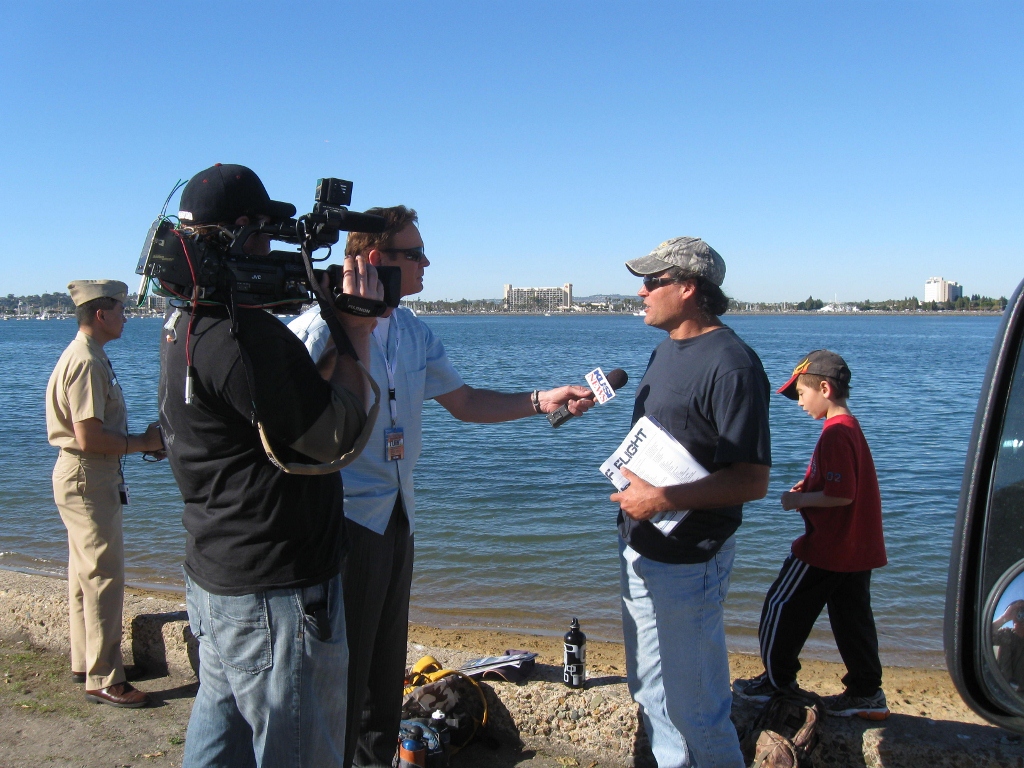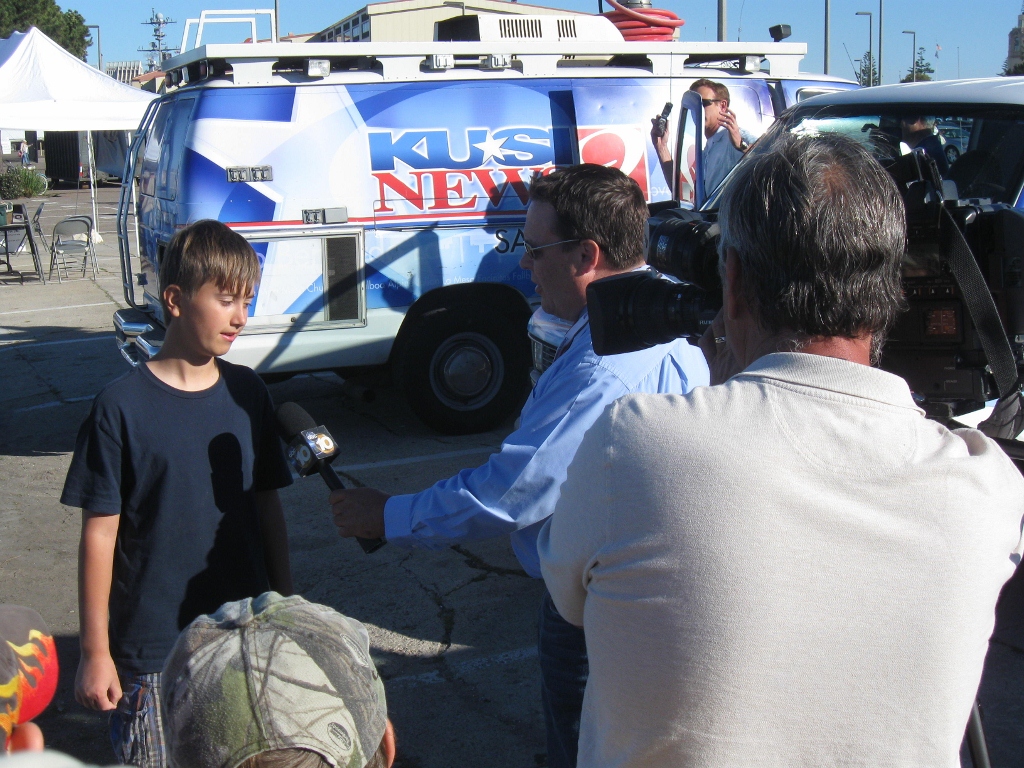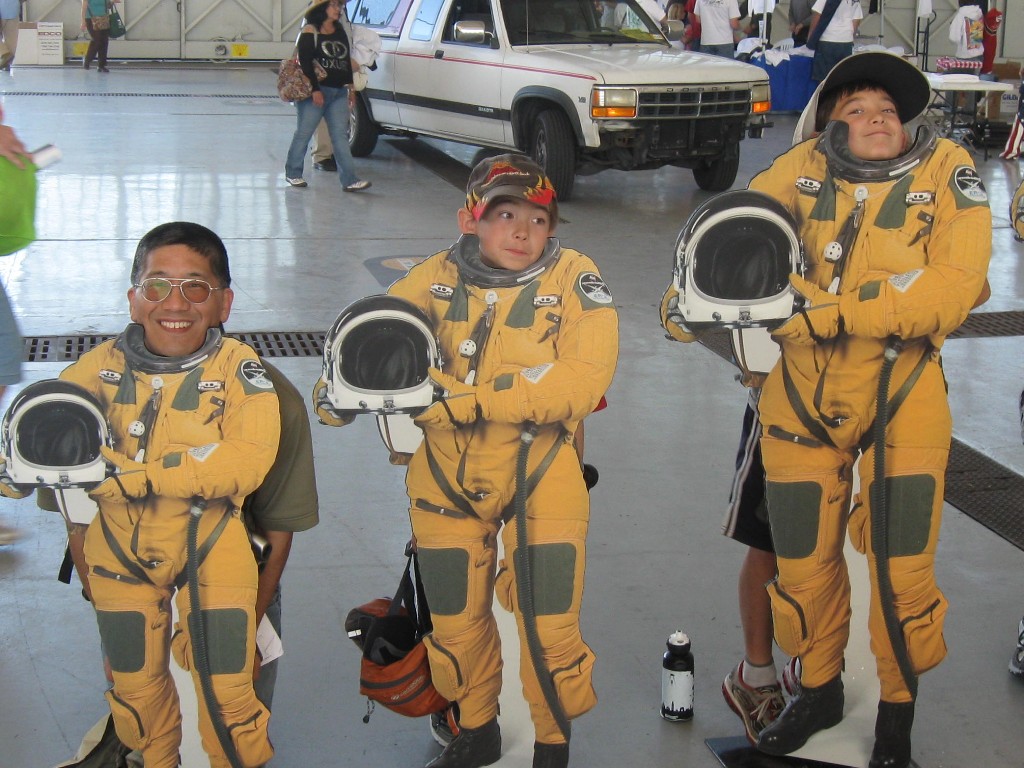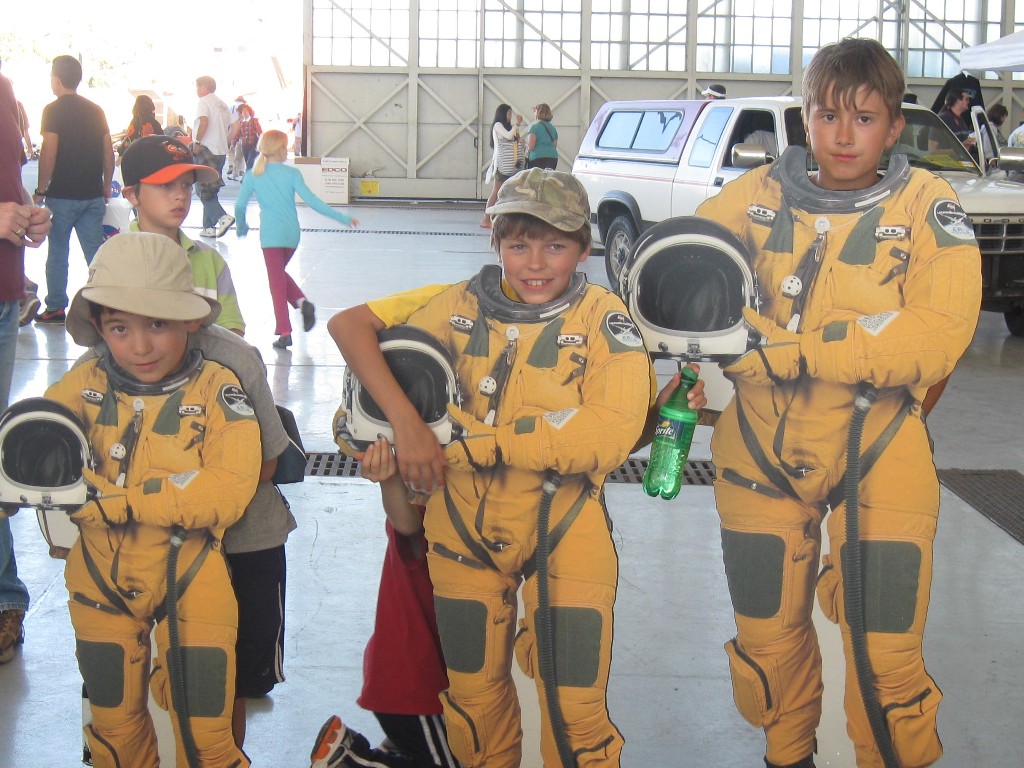 02-08-11 Grammy and Scouts! Here are Roy (Scout, Troop 950), Leo (Bear, Pack 951), John (Eagle Scout, Troop 345 Verdugo Hills), and a proud Grammy!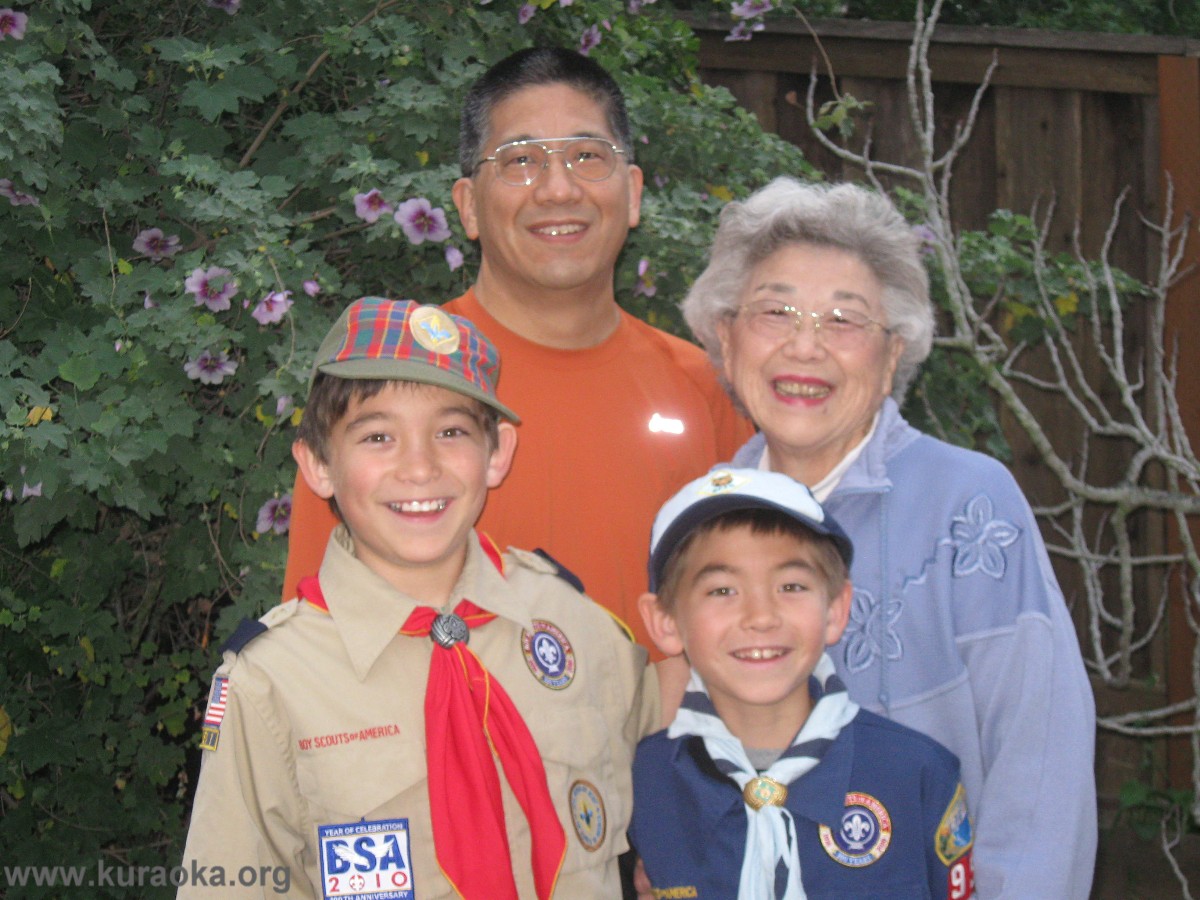 02-07-11 Grammy visits! As you can see, we put her straight to work! Here she helps Ondine put up some new blinds in the kitchen. (Not shown: massive amounts of weeding and clearing in the front garden.) That evening, Pack 951 had its Blue & Gold Dinner and Crossover Ceremony, in which Roy and the rest of his Webelos den crossed over into Boy Scouts! All the grandparents joined in the festivities! You can see Barbara with Leo and, later, Leo saluting the flag. In the middle, Roy receives his Arrow of Light, the highest award in Cub Scouts. The fifth photo shows Roy post-crossover in his new Boy Scout Troop 950 neckerchief, with Grammy and Ondine checking raffle tickets for winners. Grammy bought 20, of which five won! Here's Leo and Bill with the cake Leo chose (donated to Troop 950), and us with the scratch-built, hand-ground wheat cake we chose. Yum! Roy gave one winning ticket to Michael, who split his cake with Alex. The remaining two winning numbers we let slide.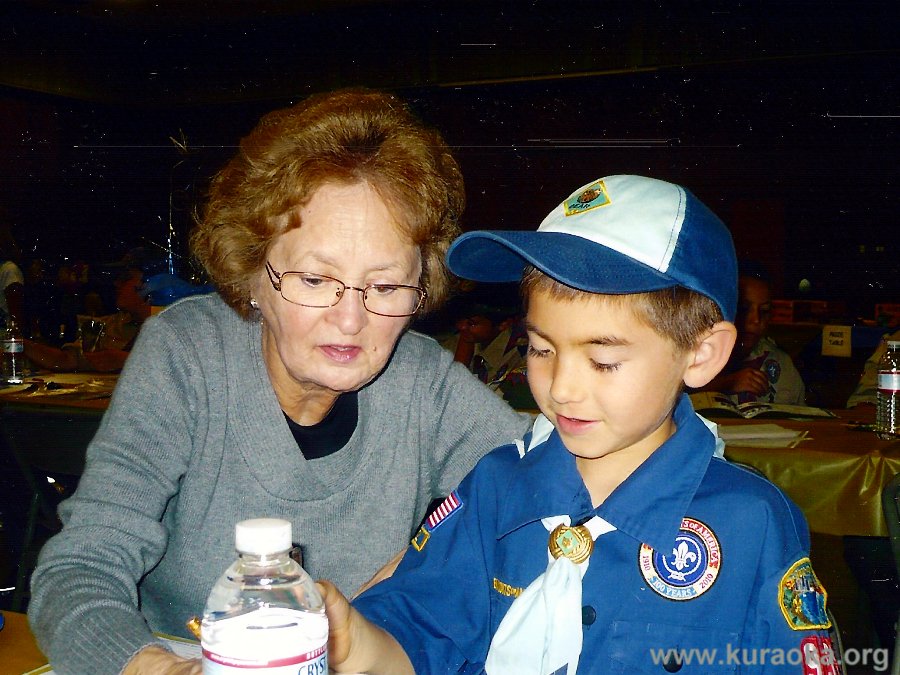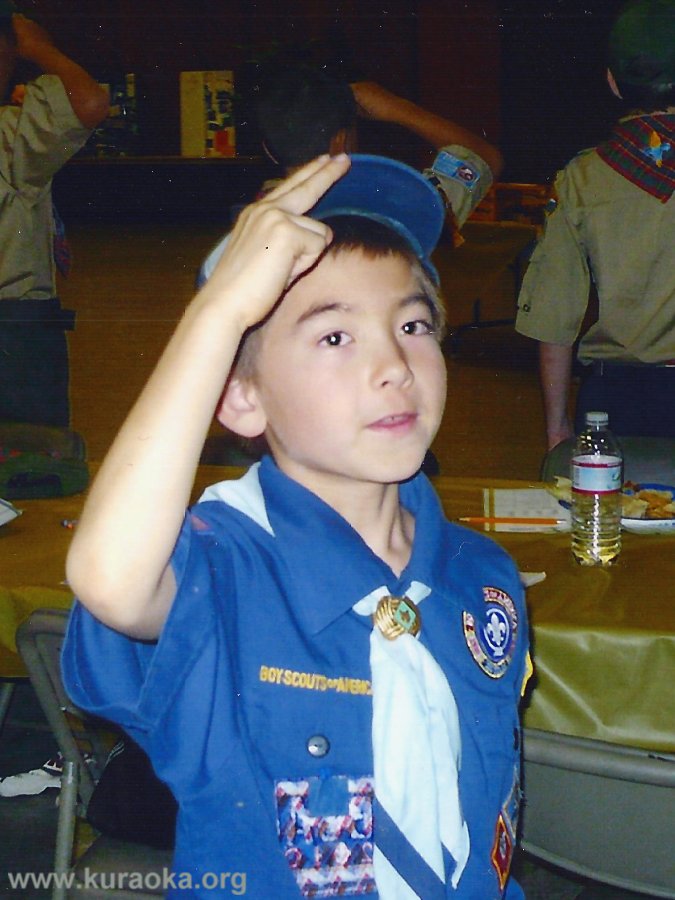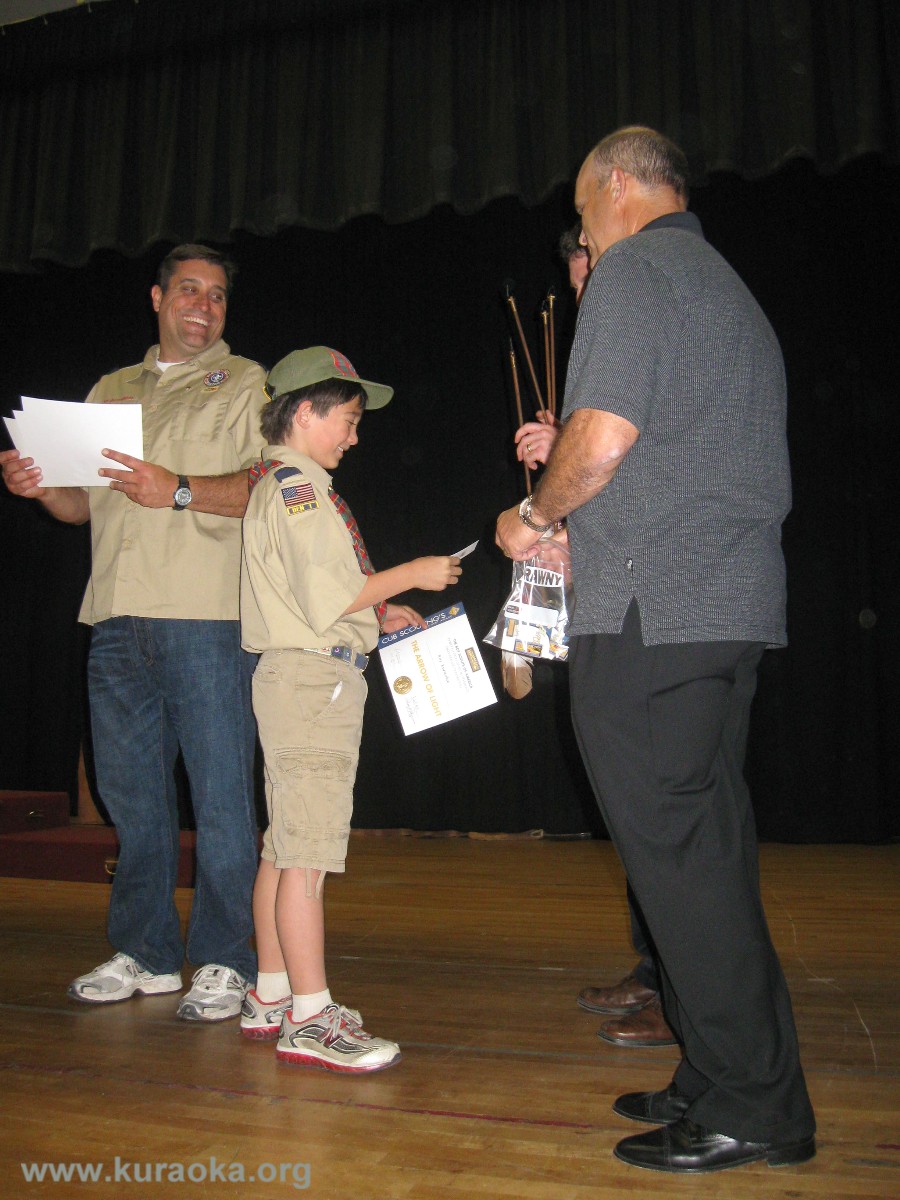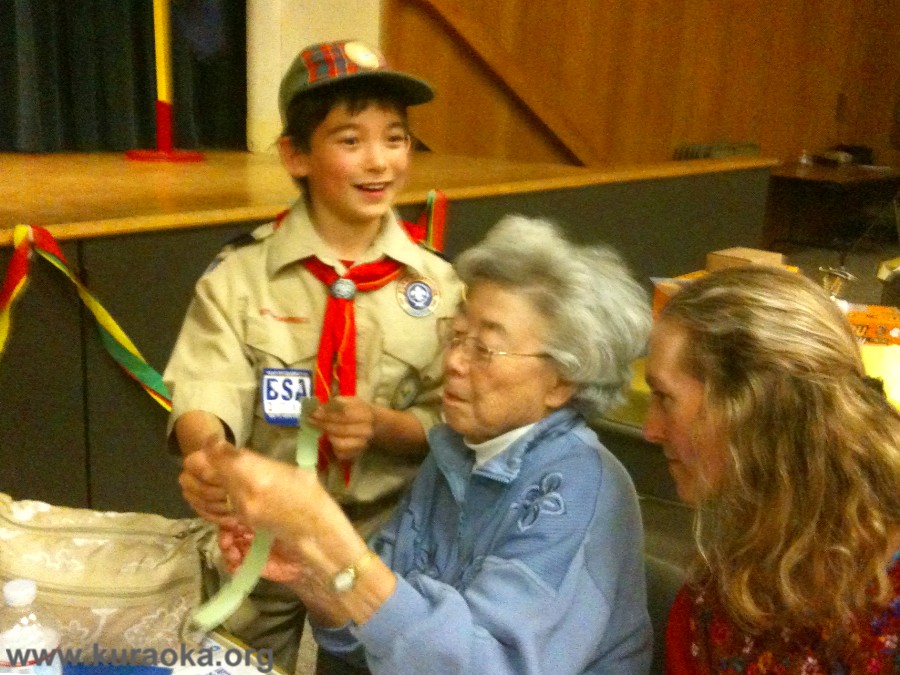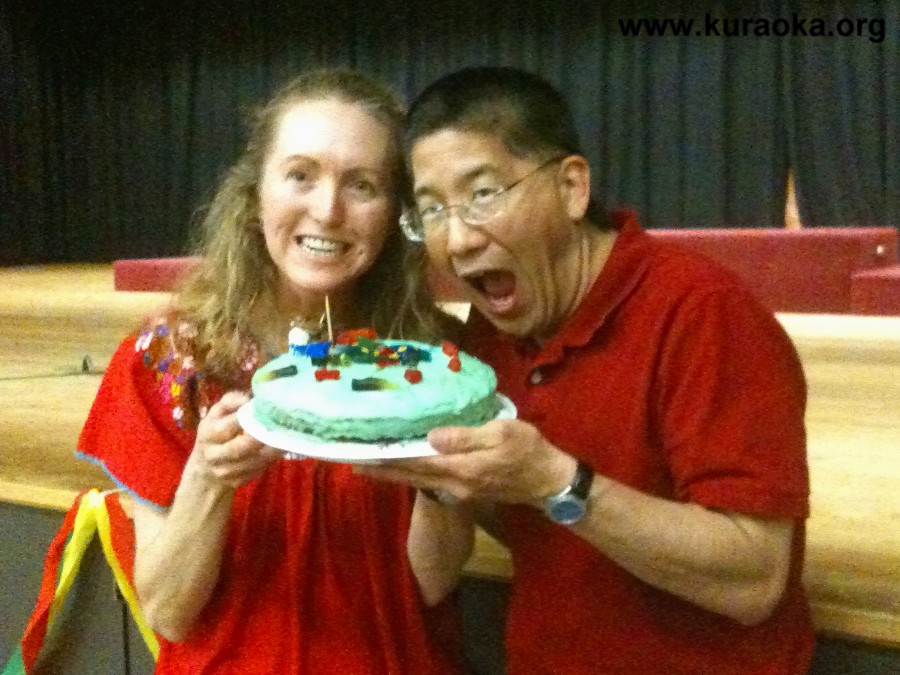 01-29-11 Medieval Times! The King was off at a Knighting Ceremony, but we met the Princess. As you can tell from our crowns, this time we were rooting for the Black & White Knight.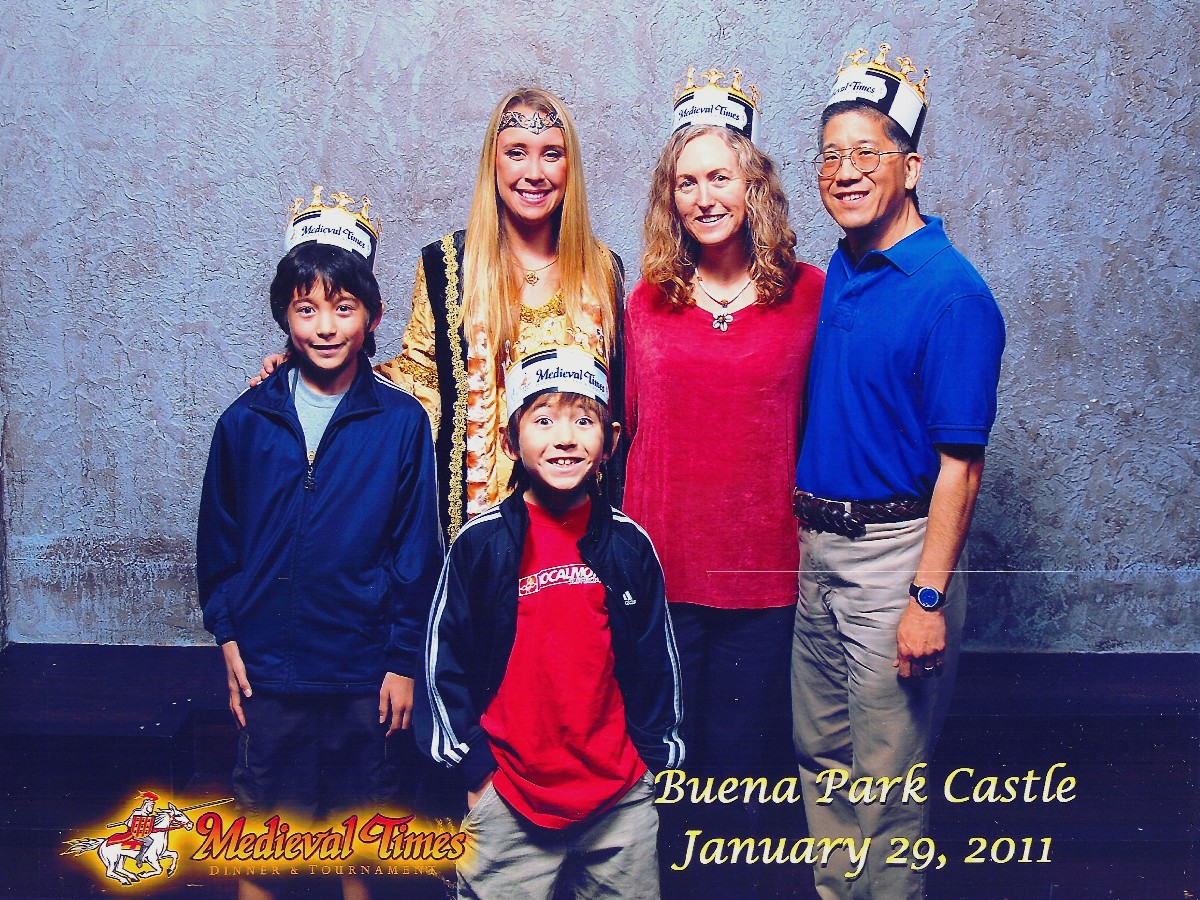 01-09-11 Snow! We went to the Laguna Mountains and enjoyed an afternoon playing in the snow! Here you see Roy, Leo, and Ondine with Buddy.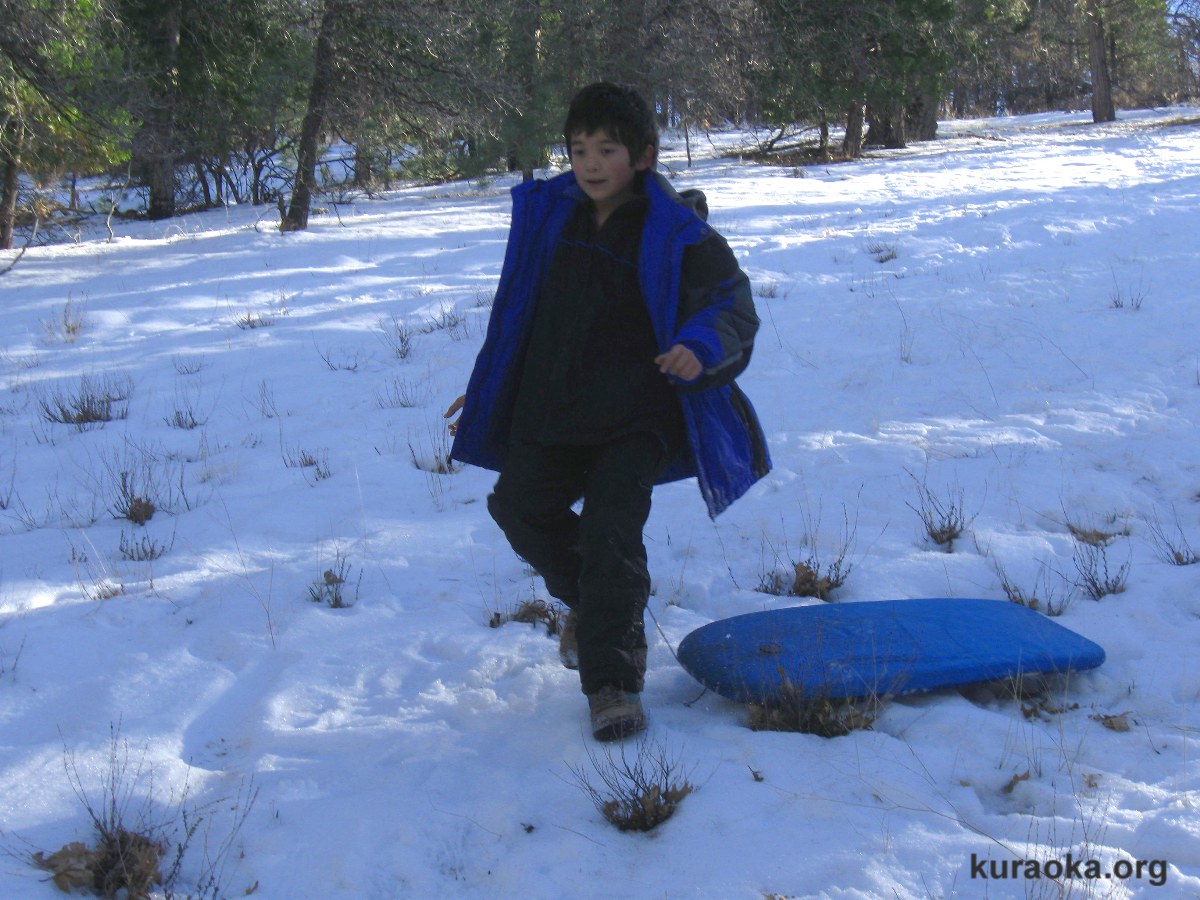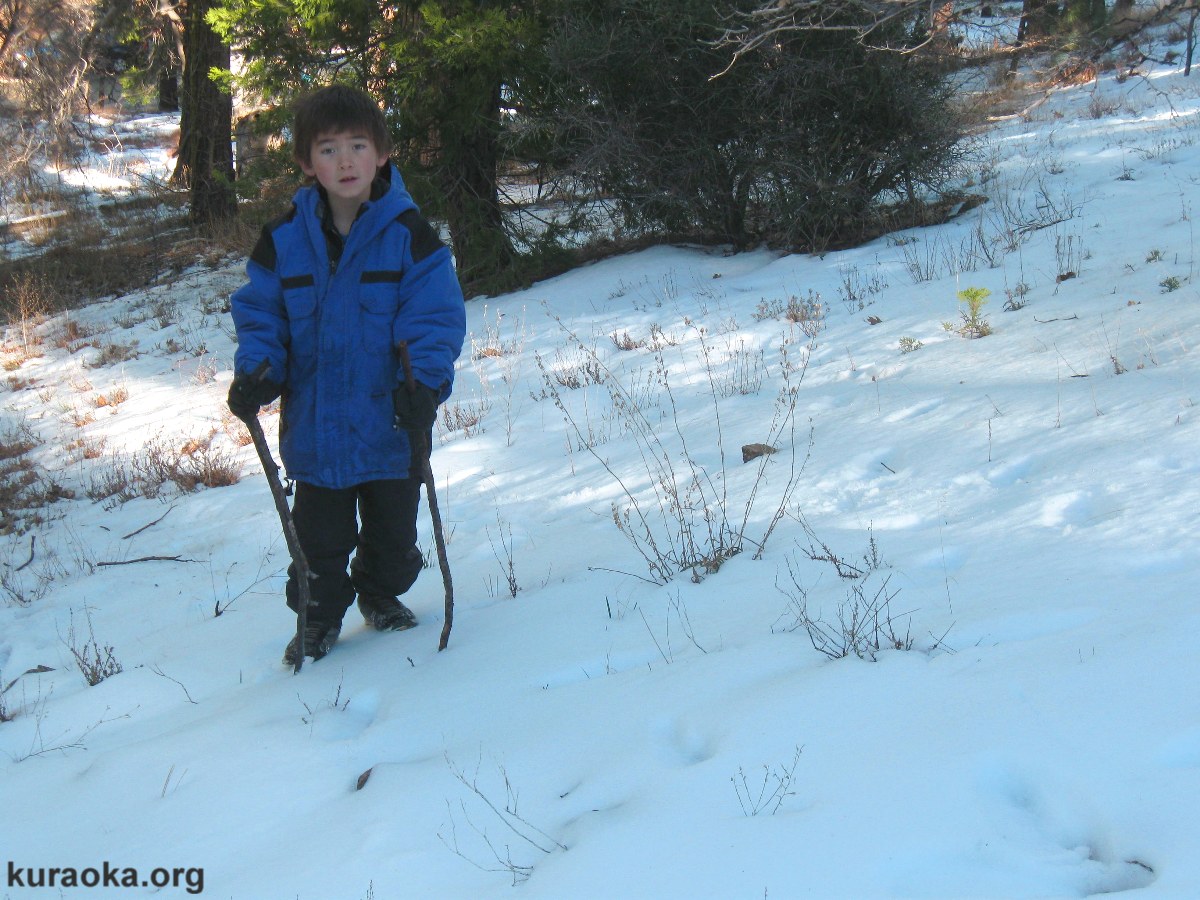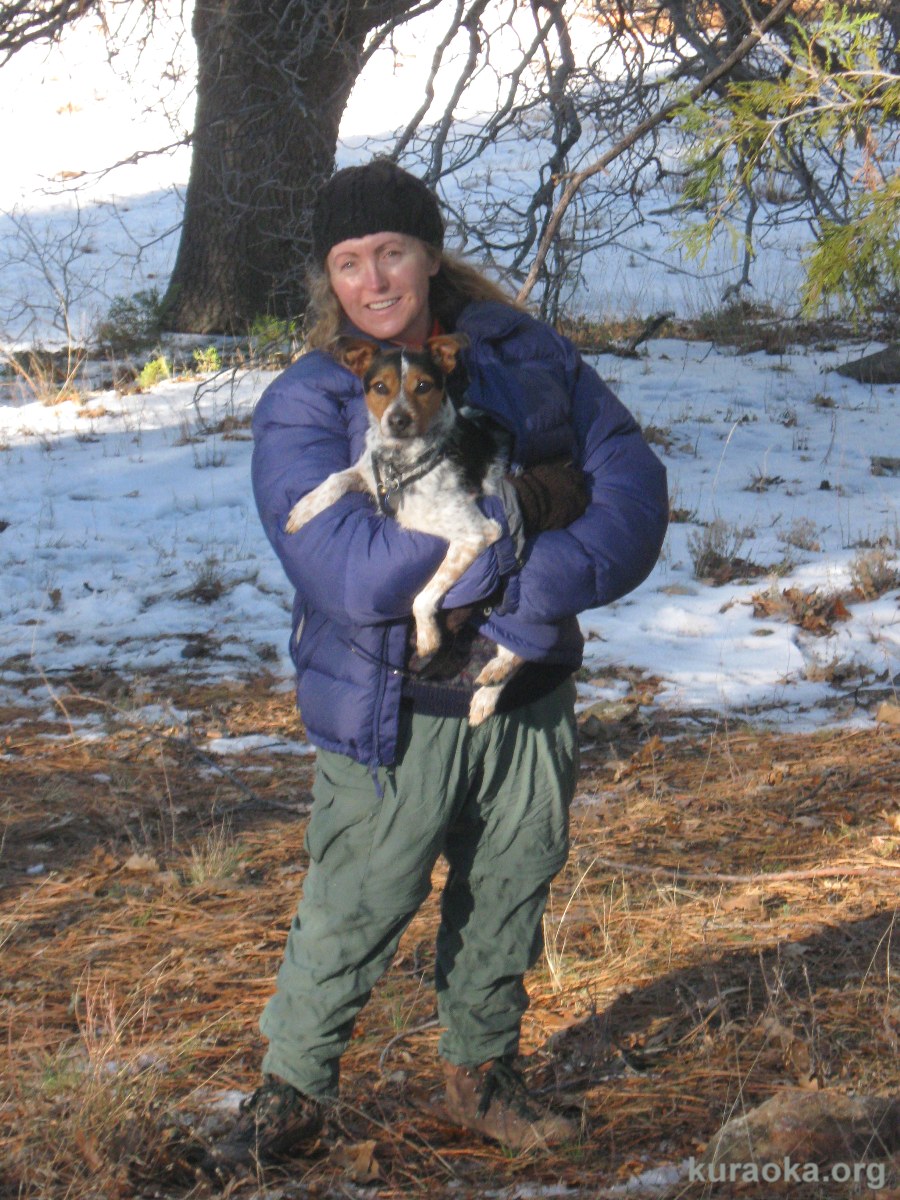 12-19-10 to 12-26-10: We take a 7-day cruise to Mexico with Barbara and Bill! Here we are ready to embark on a wonderful trip! To see more, including about 200 photos, visit our Family Cruise to Mexico pages! Buddy, meanwhile, stayed with Grammy!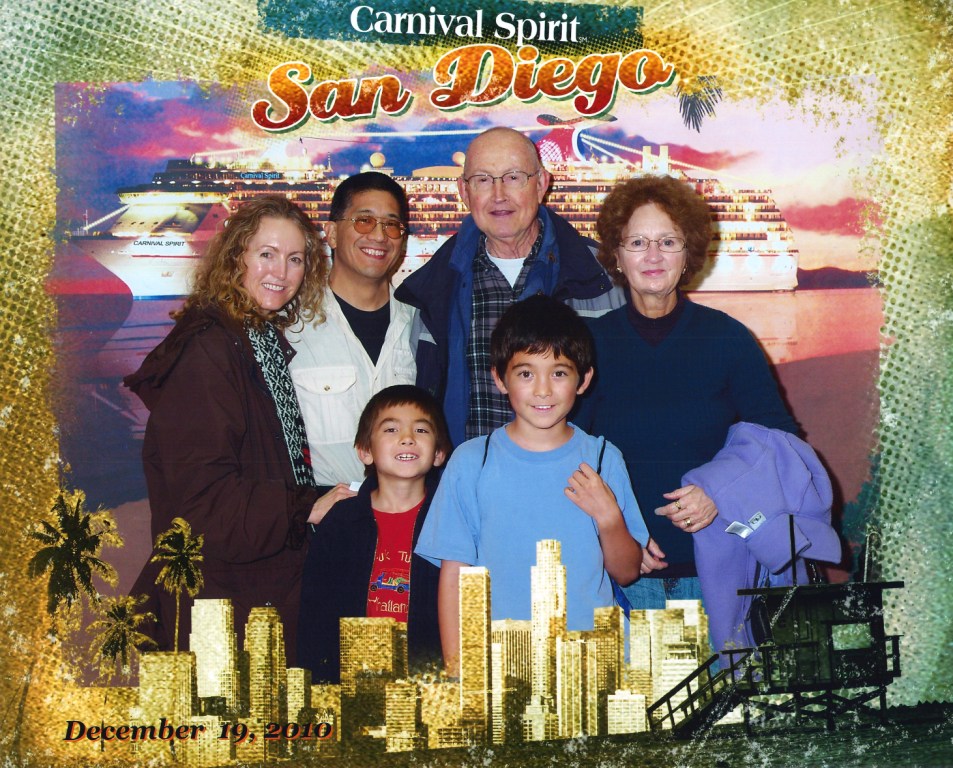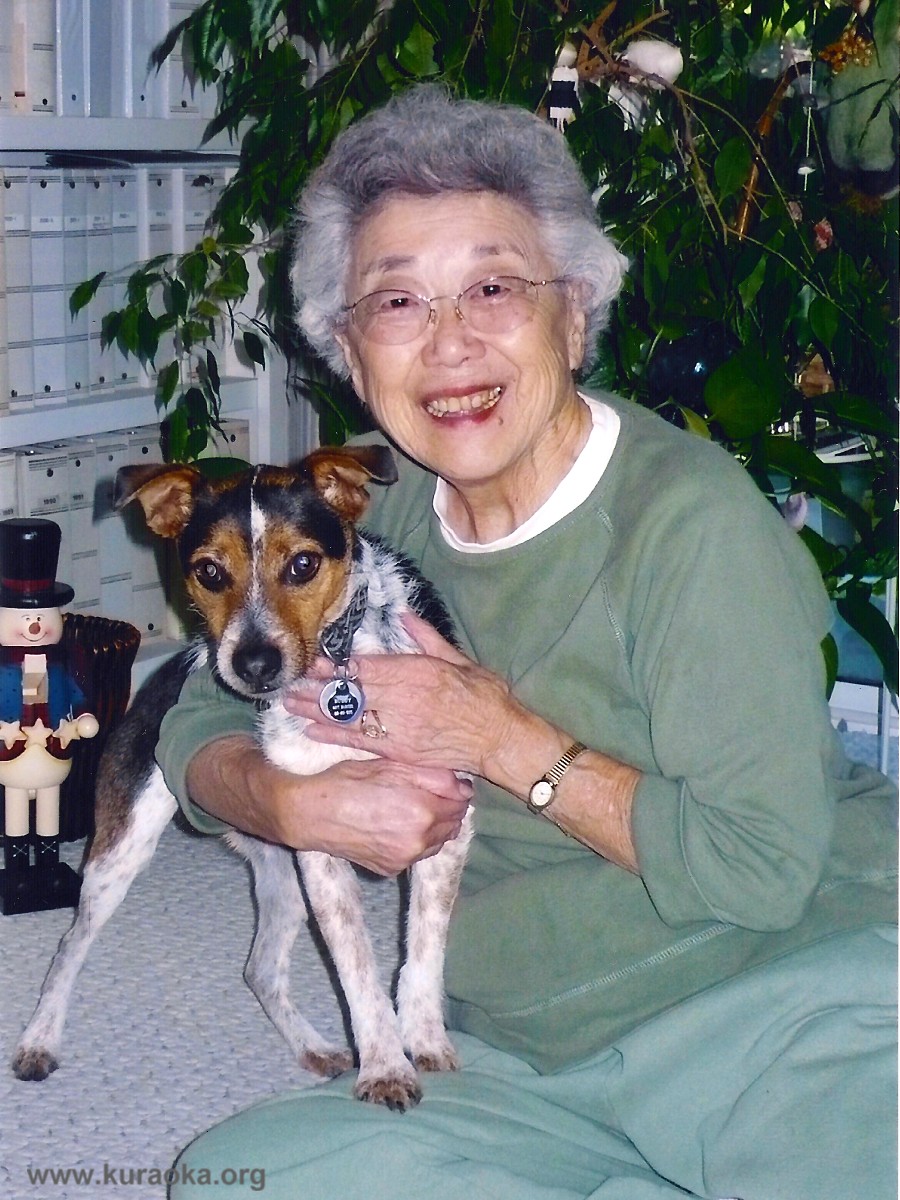 Archived Photos from 2010
Archived Photos from 2009
Archived Photos from 2008
Archived Photos from 2007
Archived Photos from 2006
Archived Photos from 2005
Archived Photos from 2004
Back to the Kuraoka Family main page